Waiting The Right Time Famous Quotes & Sayings
List of top 56 famous quotes and sayings about waiting the right time to read and share with friends on your Facebook, Twitter, blogs.
Top 56 Quotes About Waiting The Right Time
#1. But there are many ways to be powerful. There is power in stillness. There is power in watching, waiting, saying the right thing at the right time to the right person. There is power in being a woman---oh yes, power in these bodies you gaze upon with derision. - Author: Kiersten White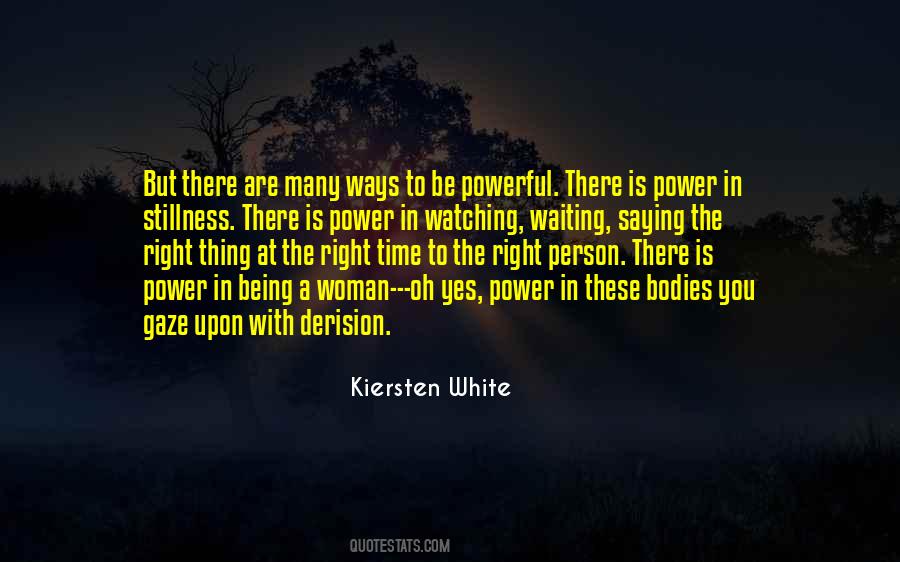 #2. It takes me a lot of time, and it's almost frustrating for the guys sometimes because they're waiting for a new song. And I - it's just so important for me to get the perfect, exact, right song. - Author: Cecile McLorin Salvant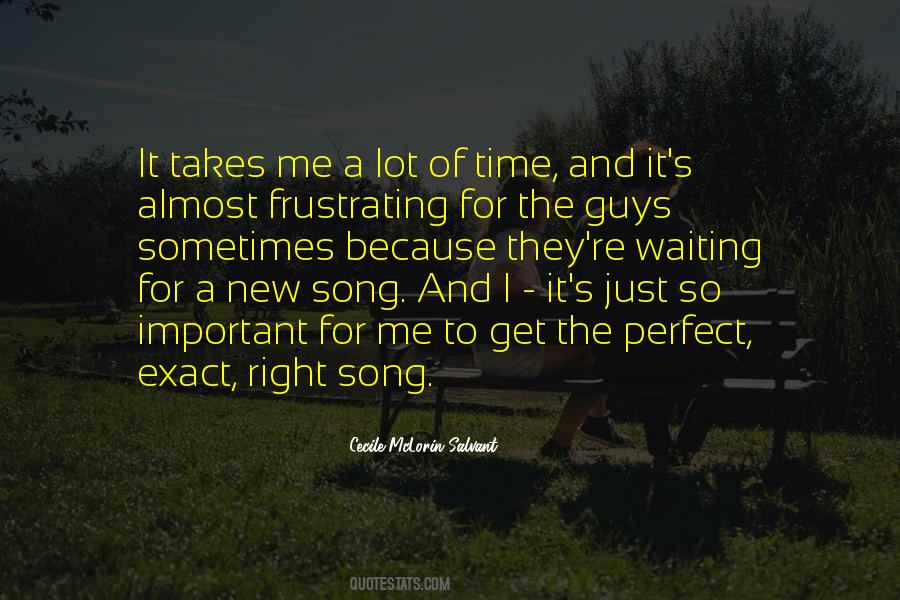 #3. I love not rushing the process. Mind doesn't shift until it does, and when it does shift, it's right on time, not one second too late or too soon. People are like seeds waiting to sprout. We can't be pushed ahead of our own understanding. - Author: Byron Katie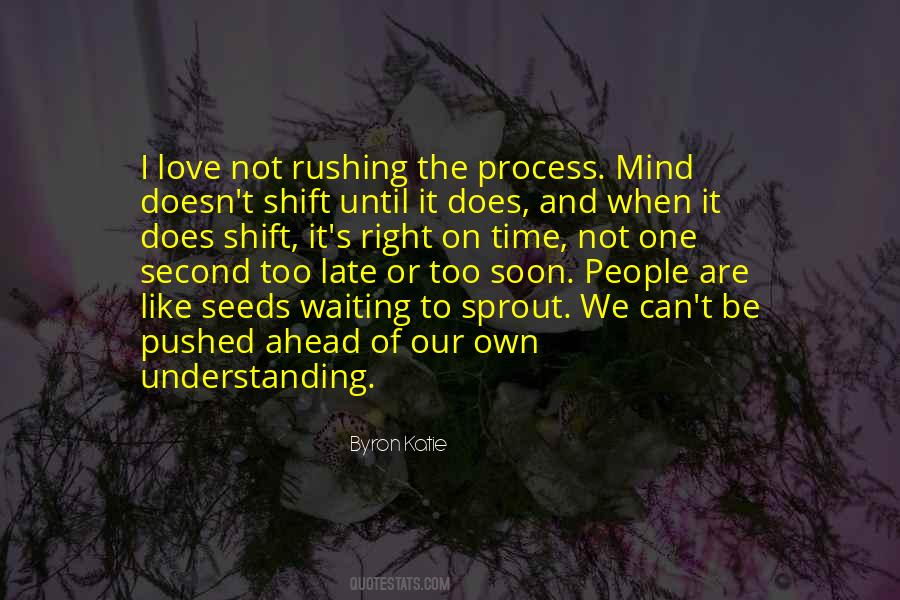 #4. He remained silent, and she gentled her voice. I never planned for this. I never planned to make this a real marriage. But I love you, Nick. I've just been waiting for the right time to tell you. And I'm sorry I sprung it on you like this, but I didn't want to wait. Please say something. Anything. - Author: Jennifer Probst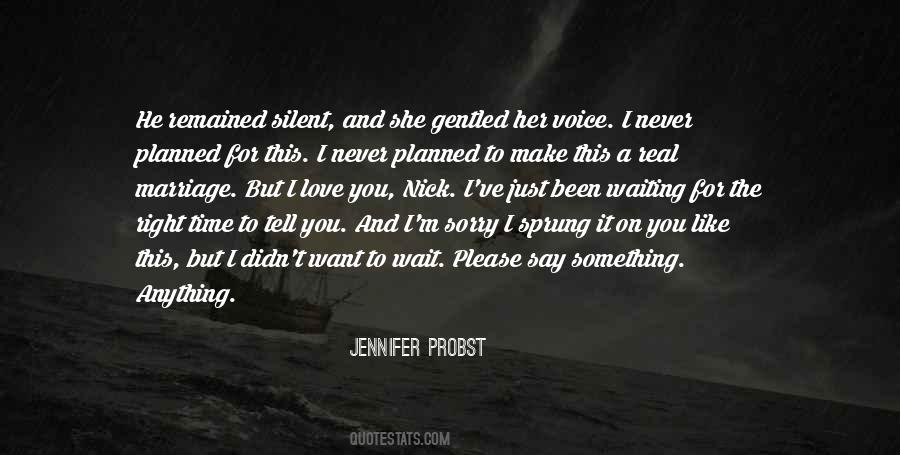 #5. What's done
is done. Say good-bye to the past, and hello to the future And we're
wasting time, when already we've wasted enough. We've got everything
ahead, waiting for us.
Just the right words to make me feel real, alive, free! Free enough to
forget thoughts of revenge. - Author: V.C. Andrews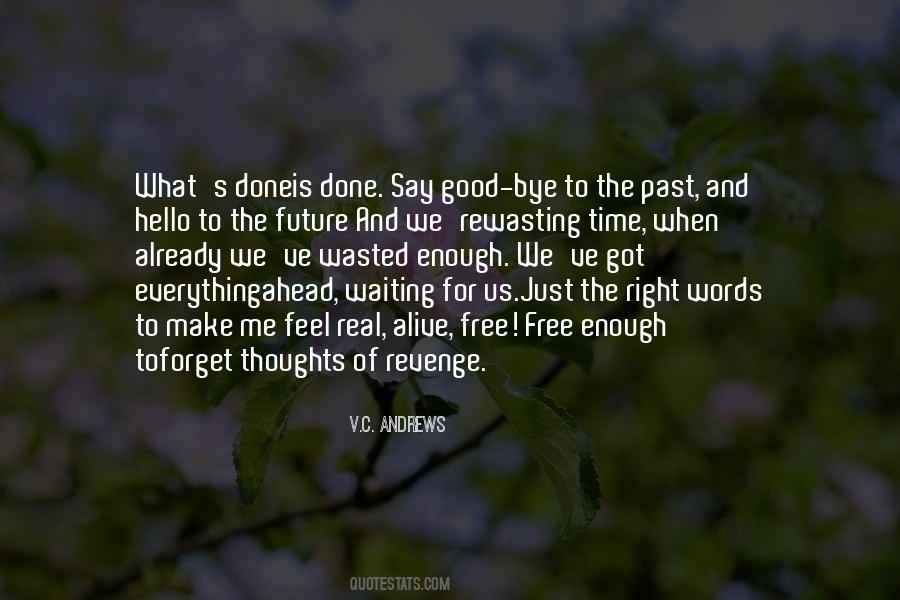 #6. You really don't understand the first thing about writing ... for one thing, early in the morning is the worst possible time. the brain is like a wet sponge at that hour. And for another, real writing is a question of staring into space and waiting for the right ideas. - Author: Cornelia Funke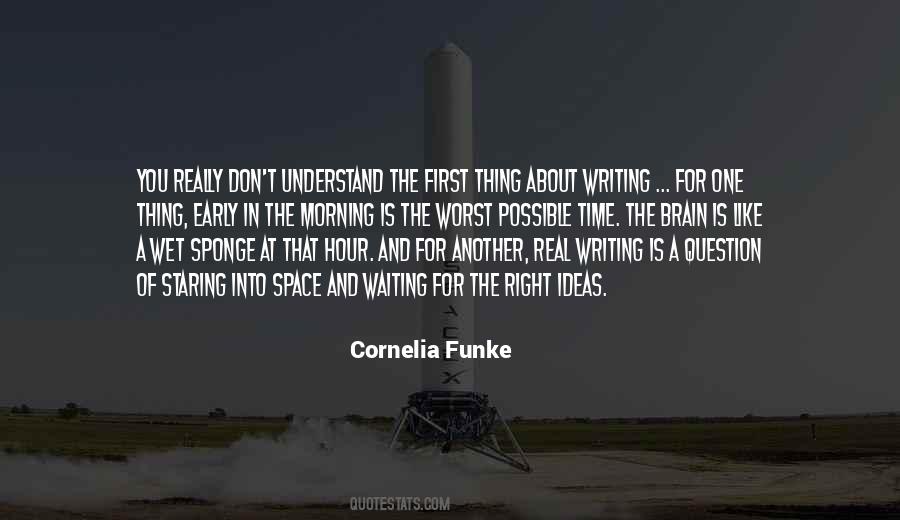 #7. Most species of dragons had retired or, mistaken for dinosaurs, collectively hung their bones in museums, waiting in the wings for just the right time to reemerge, to scorch schools and char church parking lots. - Author: Tom Cardamone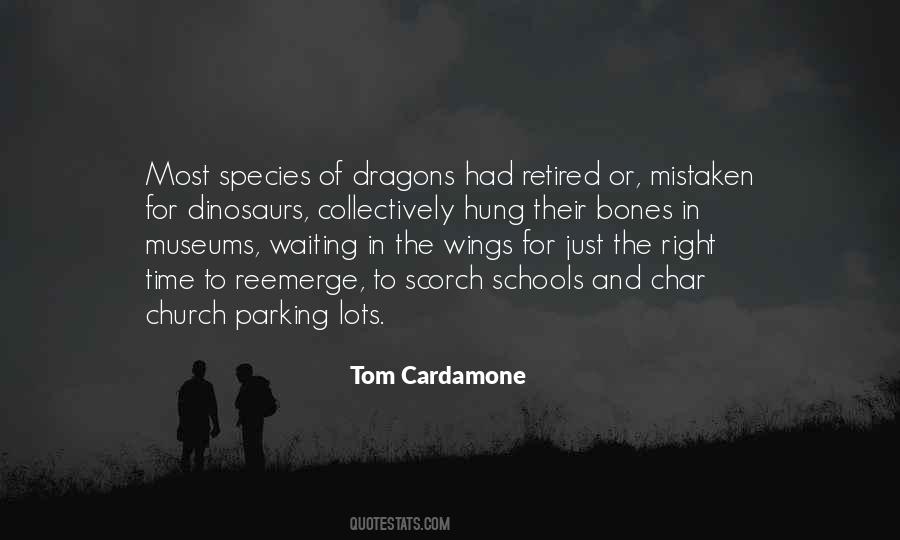 #8. Life goes by rapidly. Don't delay. Don't put it off. Don't wait until you have some spare time. Don't wait until the time's 'right'. - Author: Ken Keyes Jr.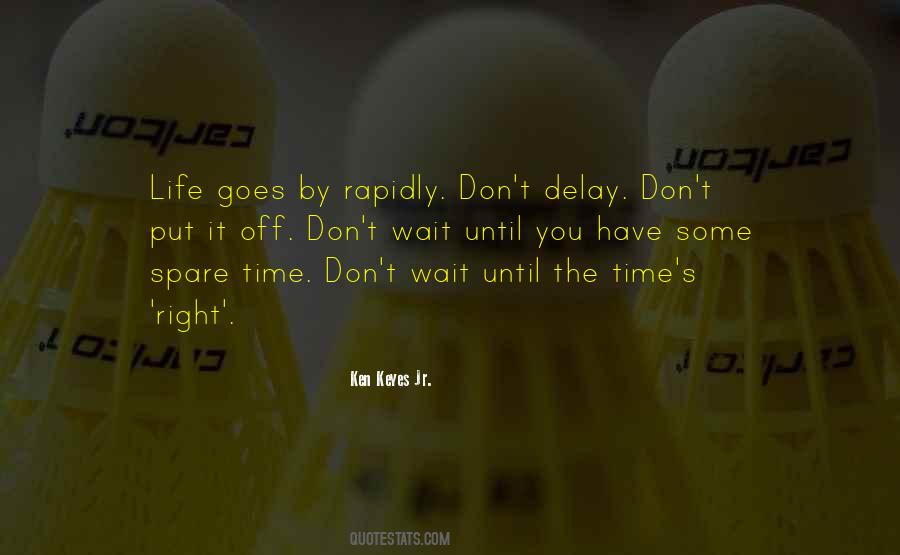 #9. Jiu Jitsu is about waiting for the right time to do the right move. - Author: Ryron Gracie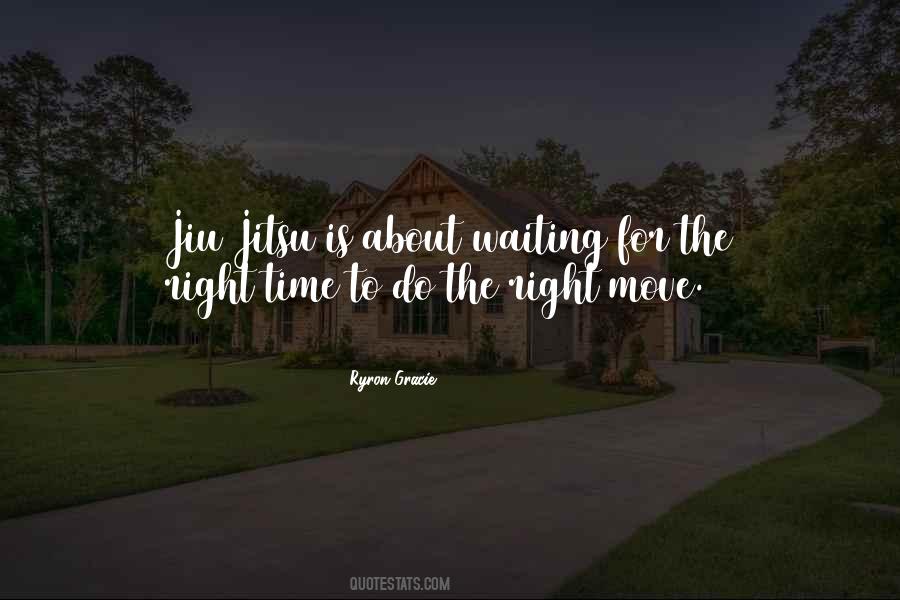 #10. The man I thought I might have been waiting for my whole life. All this time he'd been standing right in front of me, wearing a suit and a sexy-ass smile. - Author: Samantha Young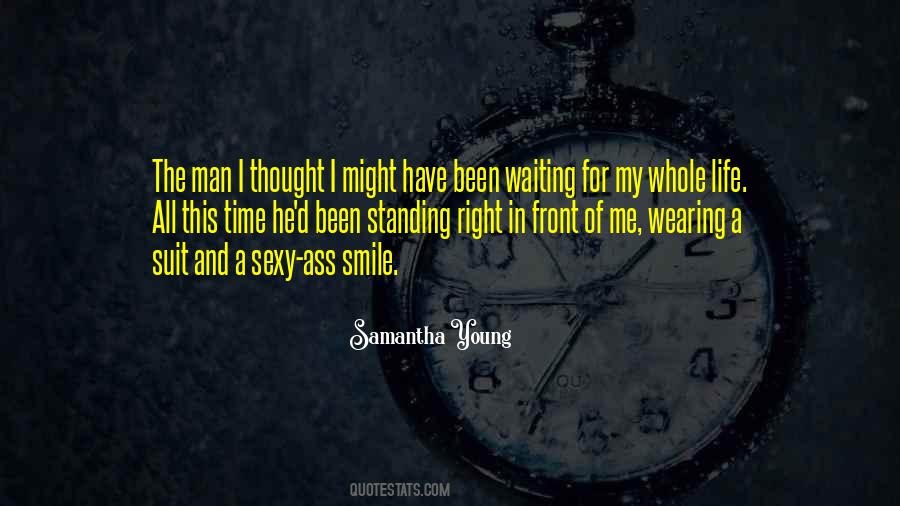 #11. They're not prosthetics. They're my bones. They come out when I'm inspired. They've always been inside of me, but I have been waiting for the right time to reveal to the universe who I truly am. - Author: Lady Gaga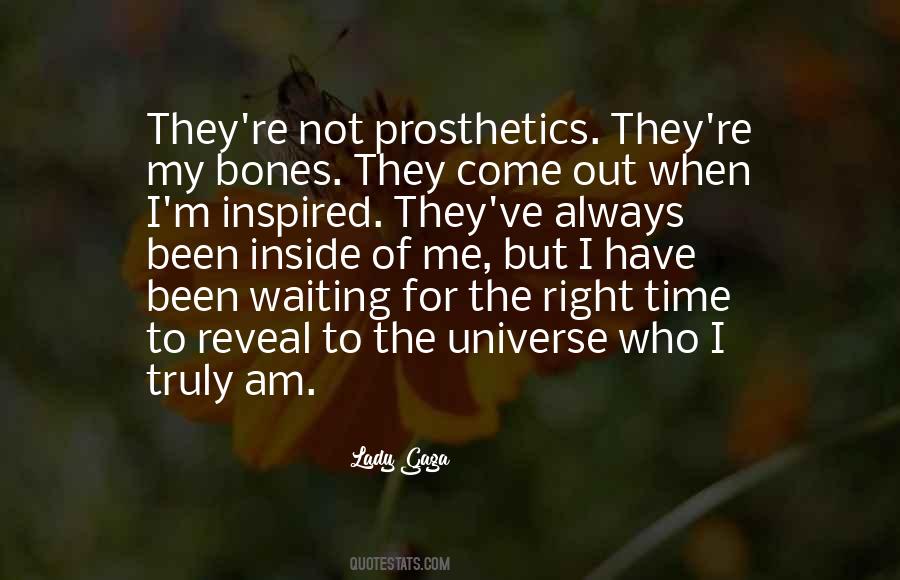 #12. So is this being in love? I stay with the moment, waiting to find out, the space between us fluctuating with uncertainty. The only thing I am sure of is that each time his lips leave mine they are right back again. - Author: Kea Alwang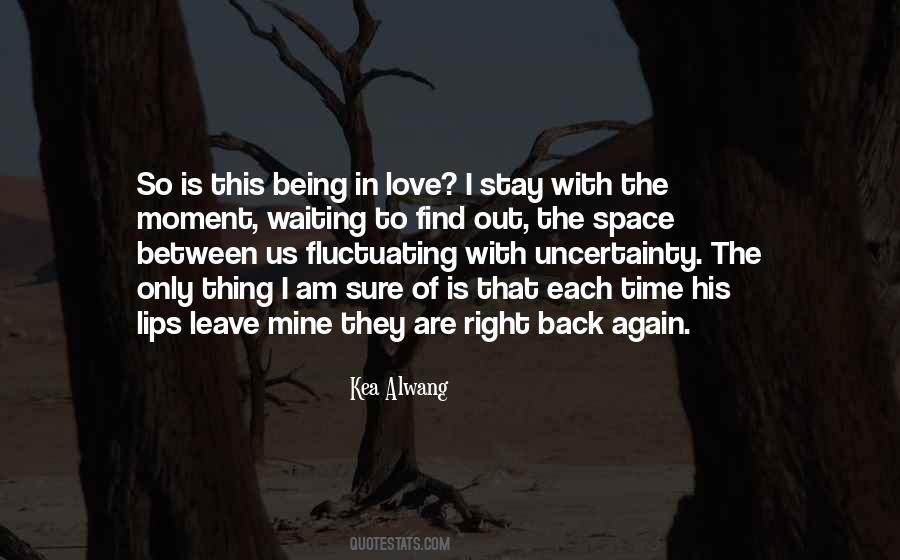 #13. I liked you the first time I saw you. You were sitting on the floor surrounded by books, and you looked up when I opened the door and smiled right at me. It felt like you had been waiting for me, like you were welcoming me home. - Author: Josh Lanyon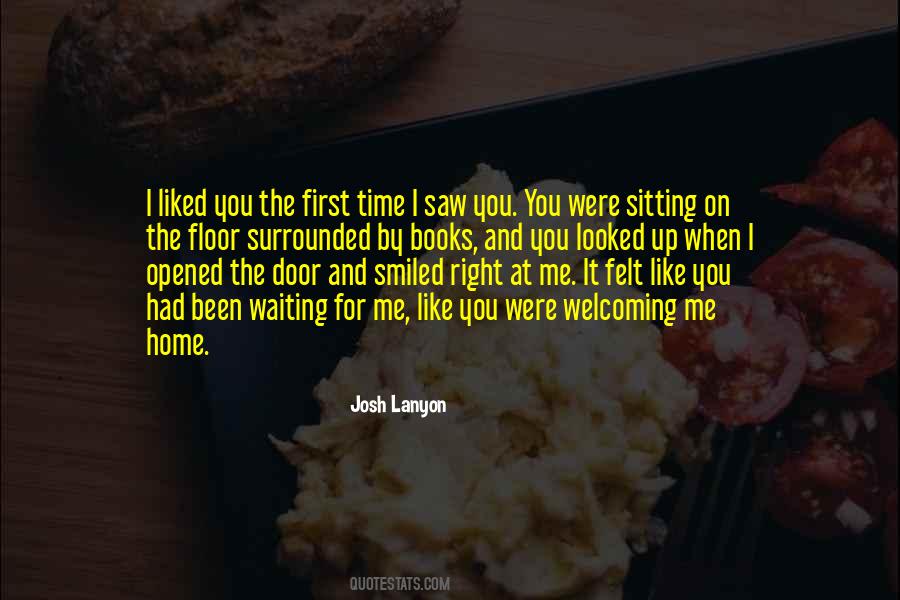 #14. If one waits for the right time to come before writing, the right time never comes. - Author: James Russell Lowell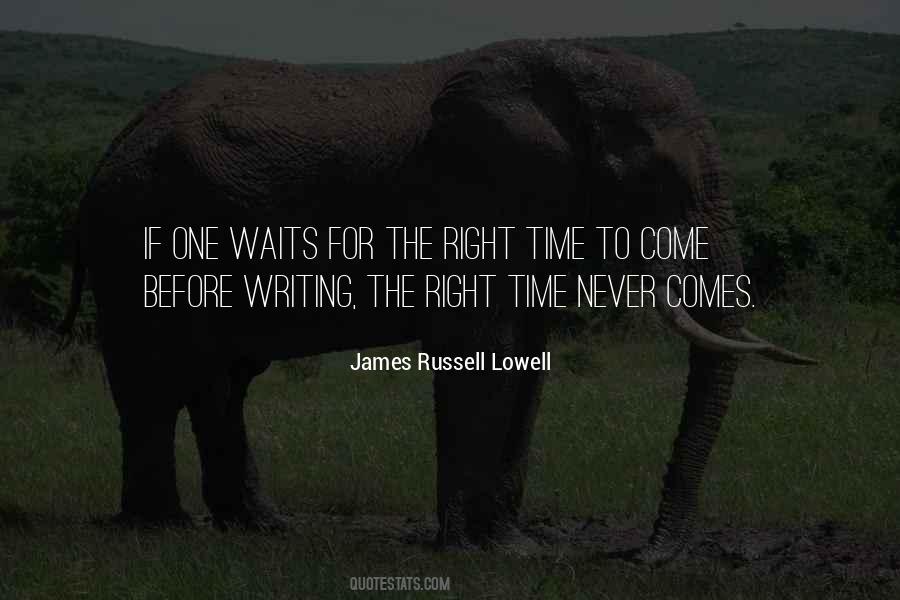 #15. I don't wait till stage to use my sexuality. My zipper's down right now. I mean, I use it all the time. - Author: Joan Jett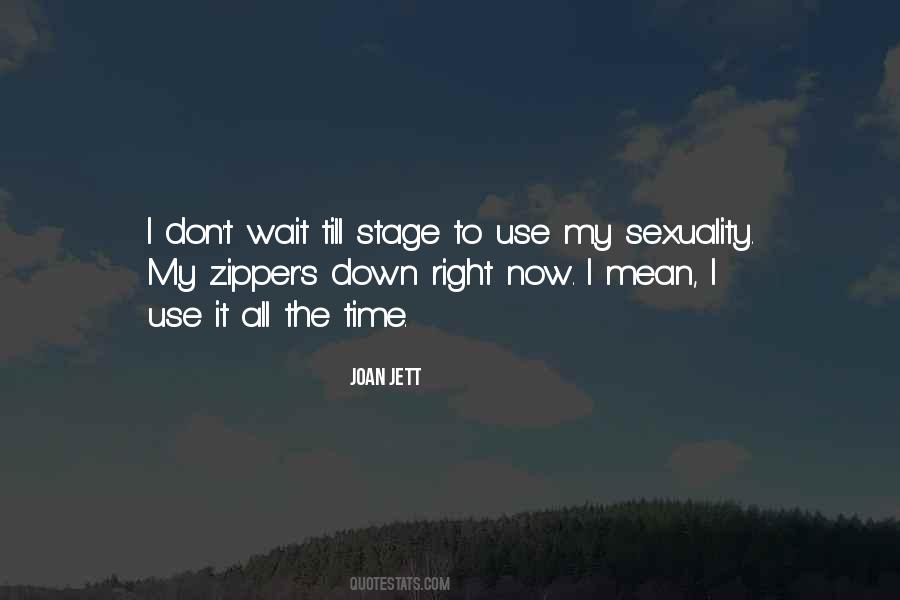 #16. There is a killer in every cowardly man, waiting for the right set of circumstances when the time has been drained of the possibility of reprisals and he feels free to act. - Author: M.D. Lachlan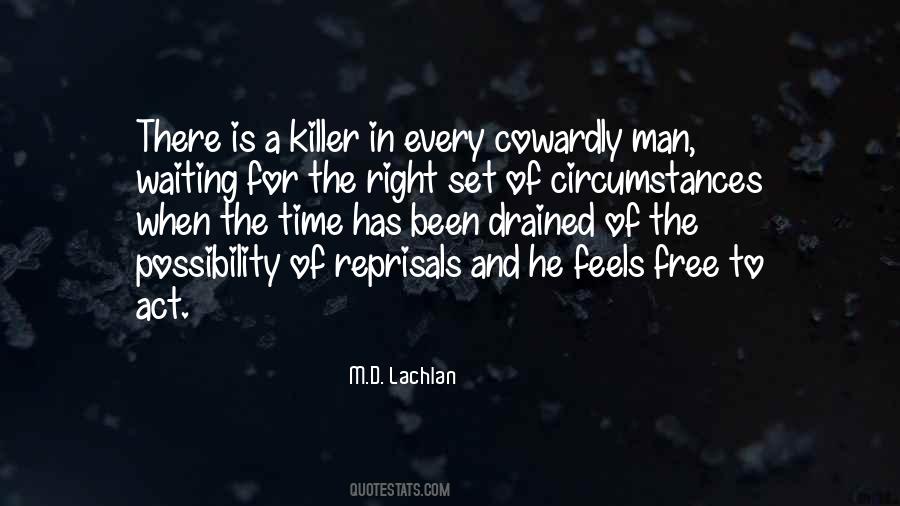 #17. Wisdom always waits for the right time to act, while emotion always pushes for action right now! - Author: Joyce Meyer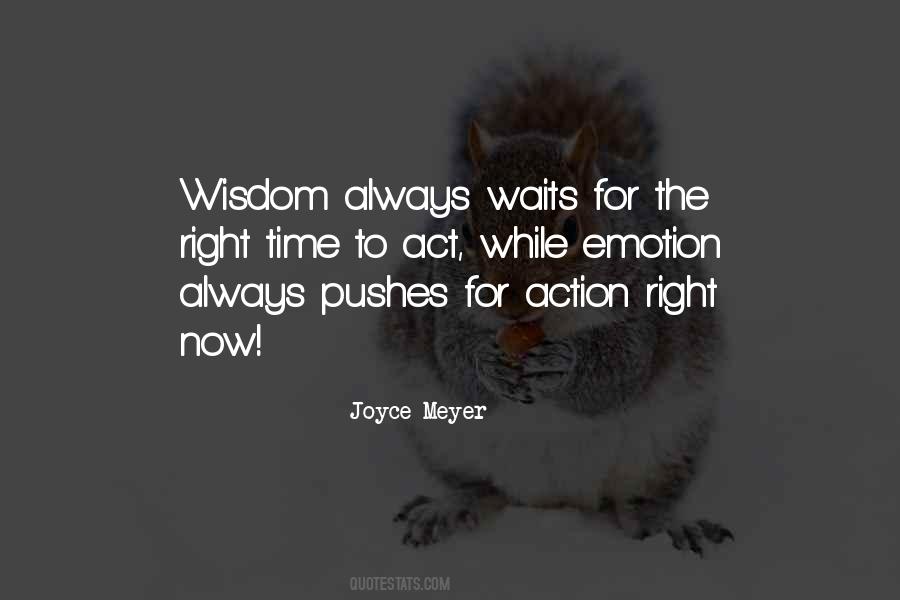 #18. These days that wouldn't happen - waiting for the light to be exactly right. Because it takes time and time is money. And with these big productions with expensive actors, you just don't have the time to get every shot exactly right. - Author: Vilmos Zsigmond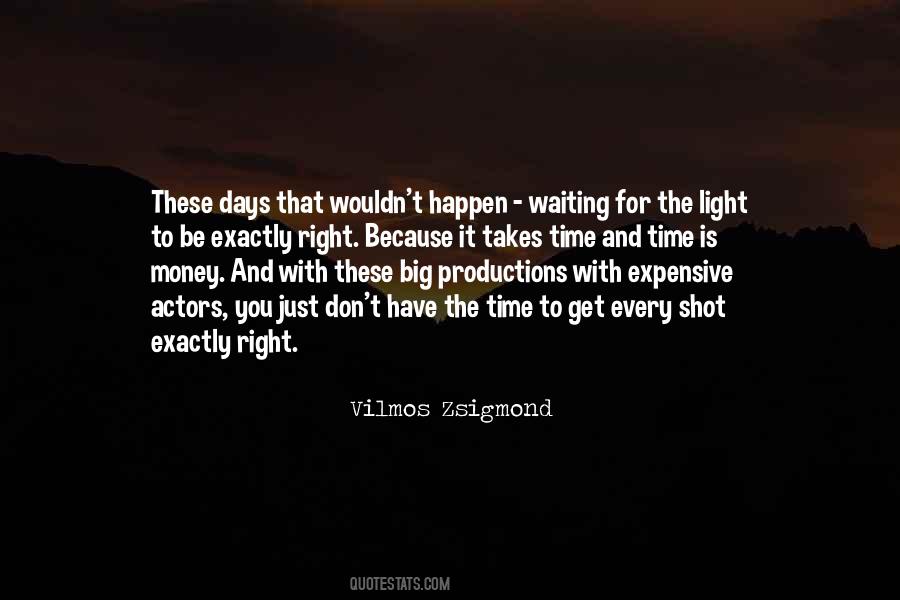 #19. We watch the sky, we watch it alive and we watch it die, looking for signs. We live like wind, with hope in wings that we will get there, never sooner or never later, but at a right time. - Author: Anthony Liccione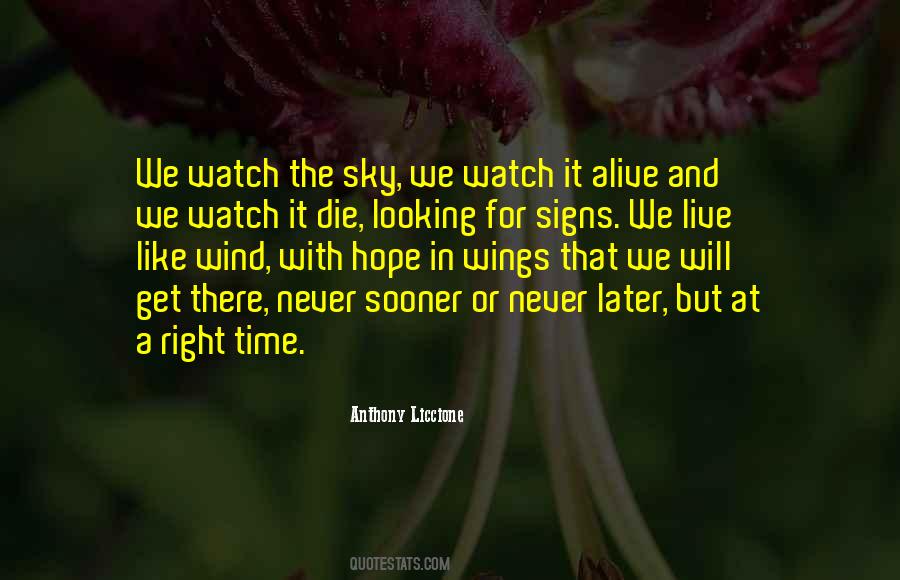 #20. And as anxious as he was to fulfill this vision, Pug knew that musings were rewarded after patient waiting because things always happen for a reason and not before the time is right. - Author: Jackson Dunes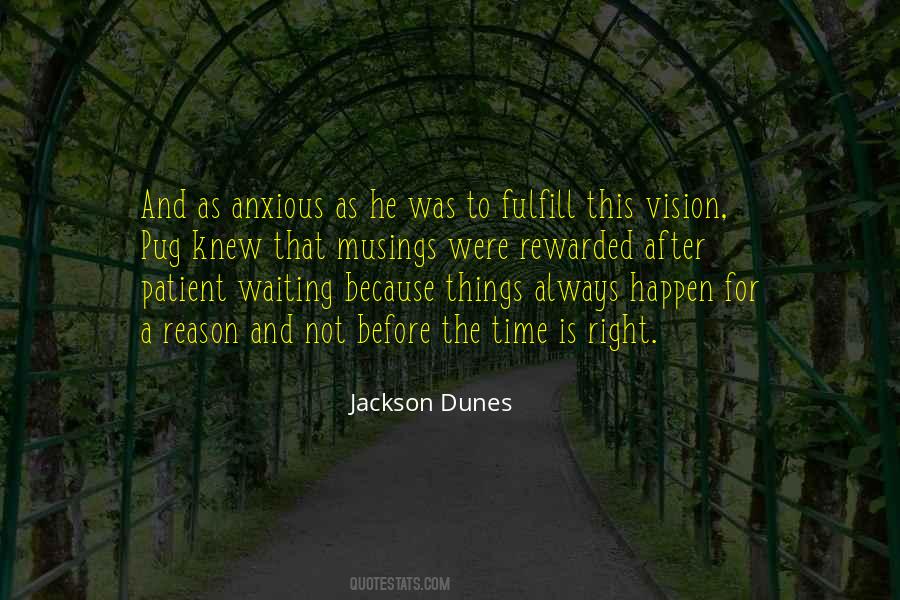 #21. There's a time in everyone's life when I'm sure they wonder if fate is actually some dude watching from beyond, just waiting for the right moment to fuck with us. - Author: Tiffany King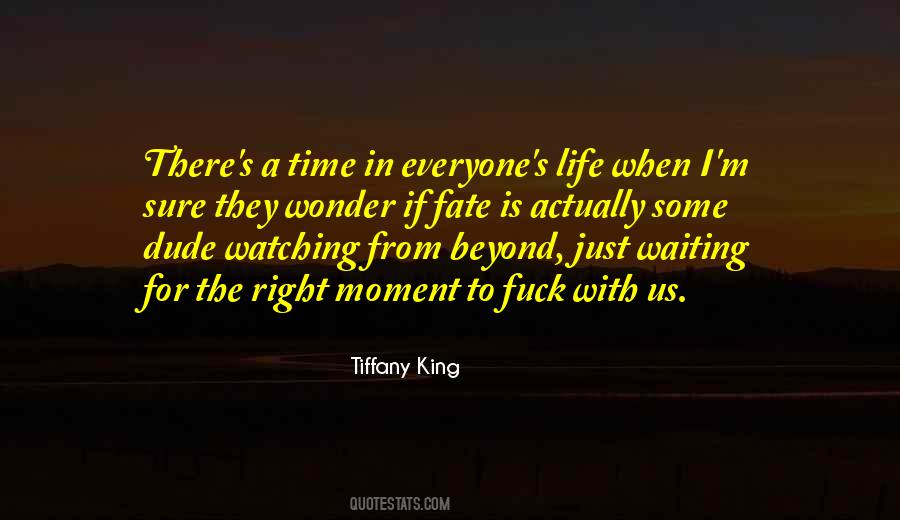 #22. We've been sitting at the compromise table for a long time. We're just waiting for that cold chair to be warmed up by the Republican leadership. They still have time to do the right thing and be responsible. They just seem to be moving further and further away from it. - Author: Debbie Wasserman Schultz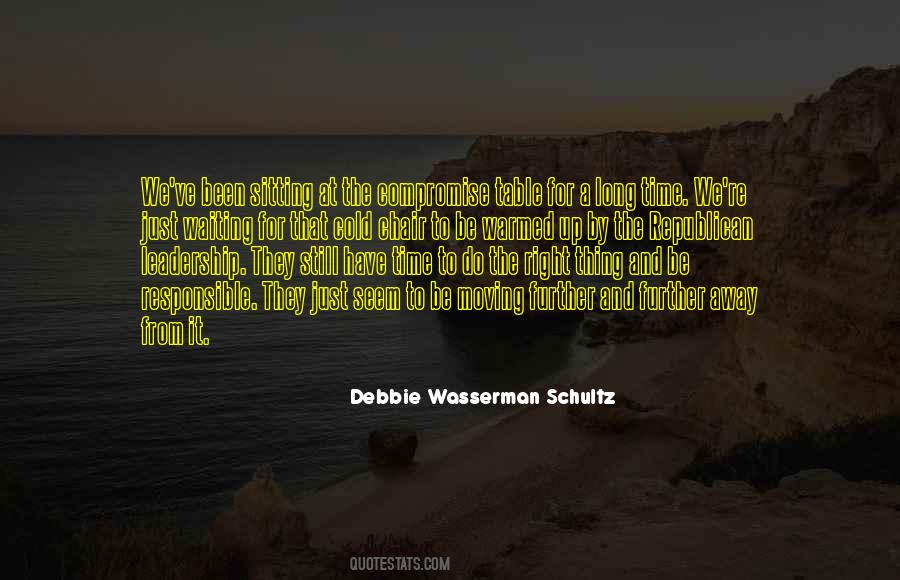 #23. People who make a difference never wait for just the right time. They know that it will never arrive. - Author: Seth Godin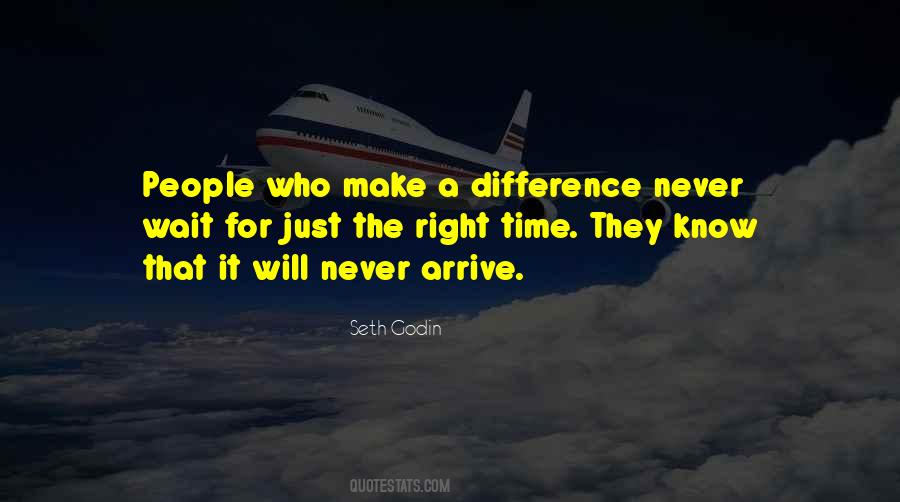 #24. I believe passionately in love, I even believe in 'the one' to a certain exert, but I am willing to play the waiting game and patiently await their arrival rather than dive into relationships I know not to be right in the mean time. - Author: Jon Richardson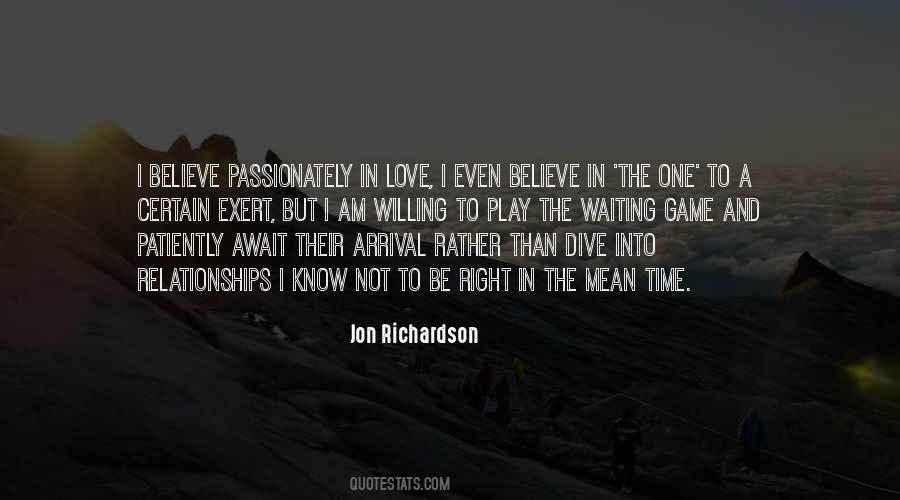 #25. Being honest about being bullied in school and my bipolar was not so much of a 'do I or don't I?'; it was waiting for the right time. Even before I knew what making a mark on the world meant, I knew I wanted to make a difference. - Author: Ruby Rose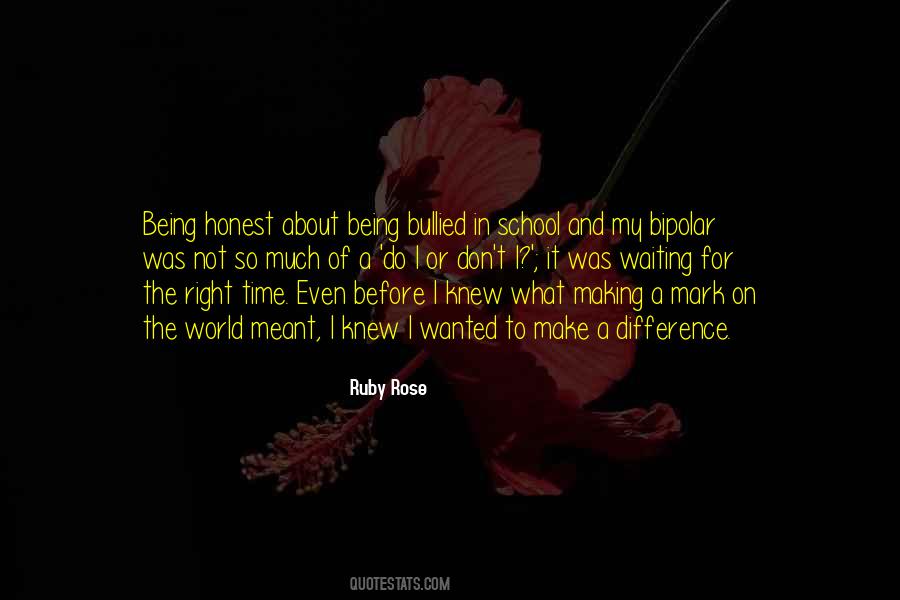 #26. To think, after all this time, after all the searching and all the waiting, after all the regret and the time she'd spent away, she came back to find that happiness was right where she's left it.
On a football field in Mullaby, North Carolina.
Waiting for her. - Author: Sarah Addison Allen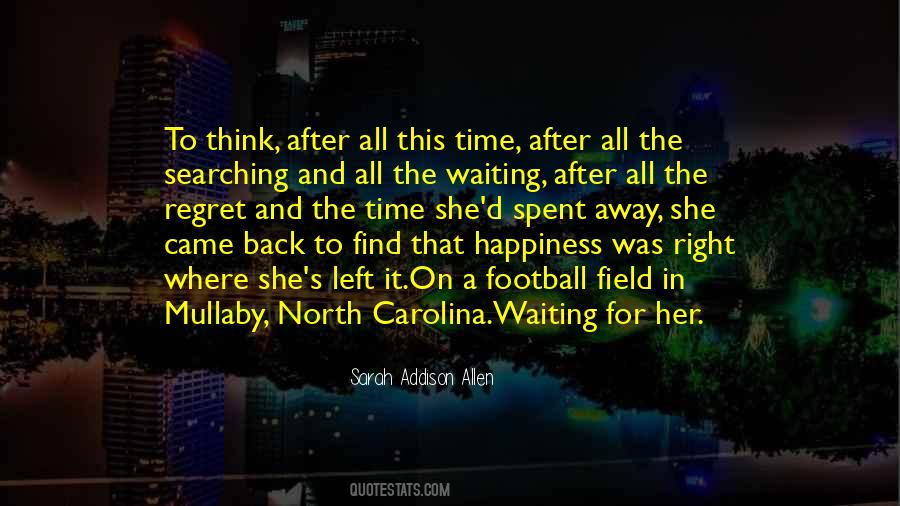 #27. Men aren't waiting to do anything besides finding a way to meet the right woman and making sure that bad dates are over in time to catch SportsCenter. - Author: Vantile Whitfield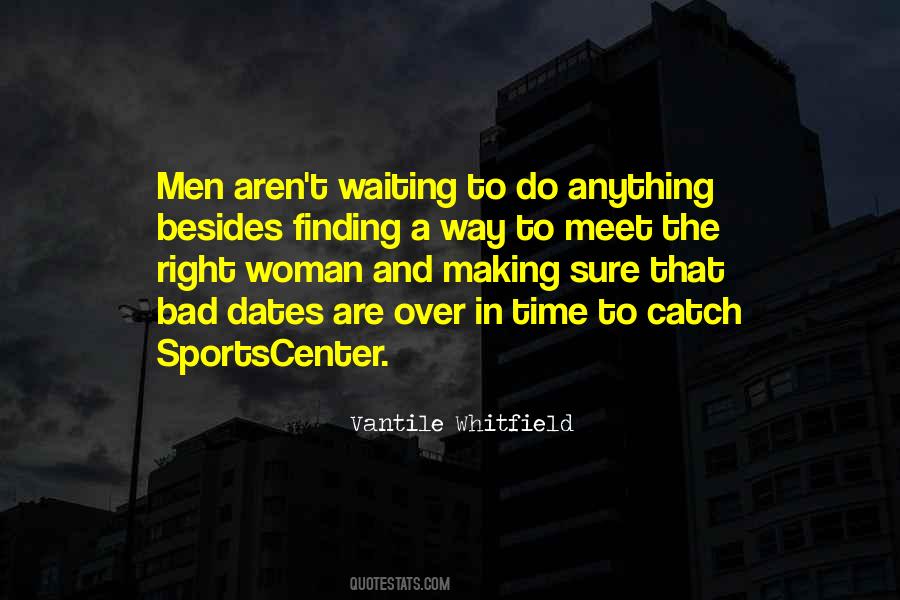 #28. The most inefficient and self-harming thing a person can do is go out looking for love. Let it find you when the time is right and you're out doing what you love to do. Only then will you find it in its truest form. - Author: A.J. Darkholme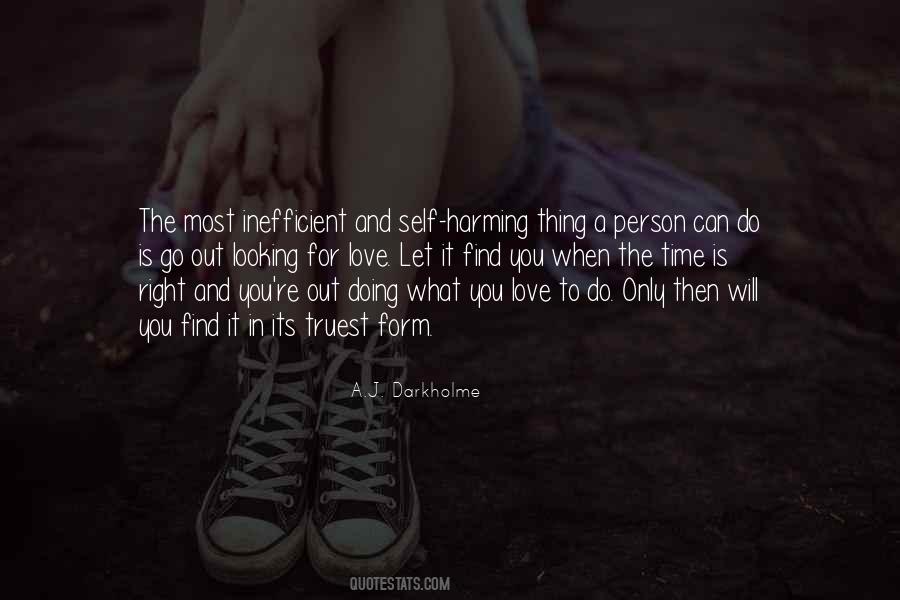 #29. We are sensible of the duty and expediency of submitting our opinions to the will of the majority, and can wait with patience till they get right if they happen to be at any time wrong. - Author: Thomas Jefferson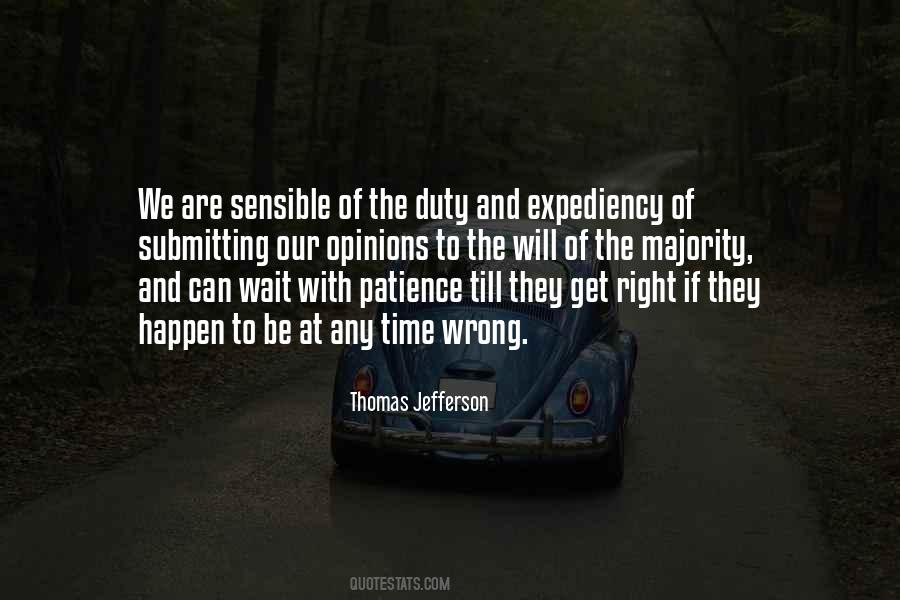 #30. One of the things I've been taught by Native American elders is the importance of patience, of waiting to do things when the time is right. - Author: Joseph Bruchac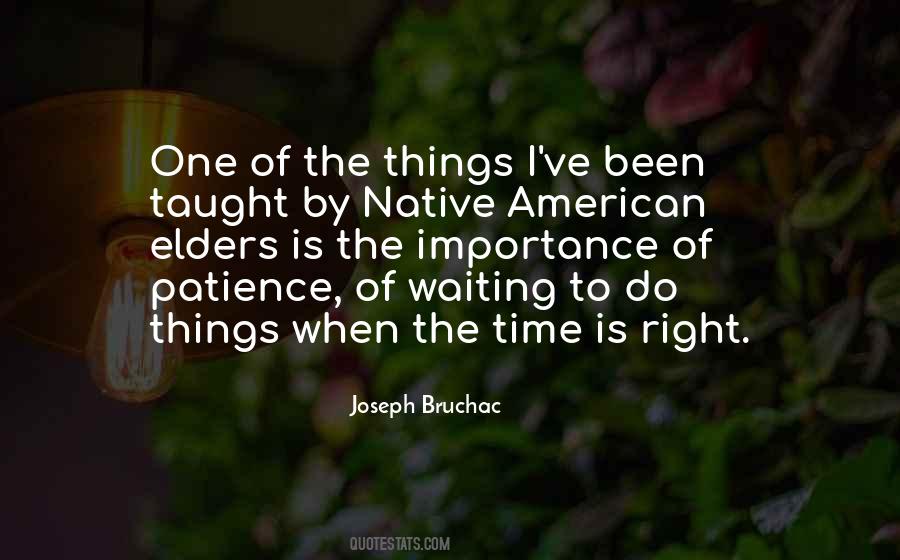 #31. Waiting for the right time is for people who have time! - Author: Anonymous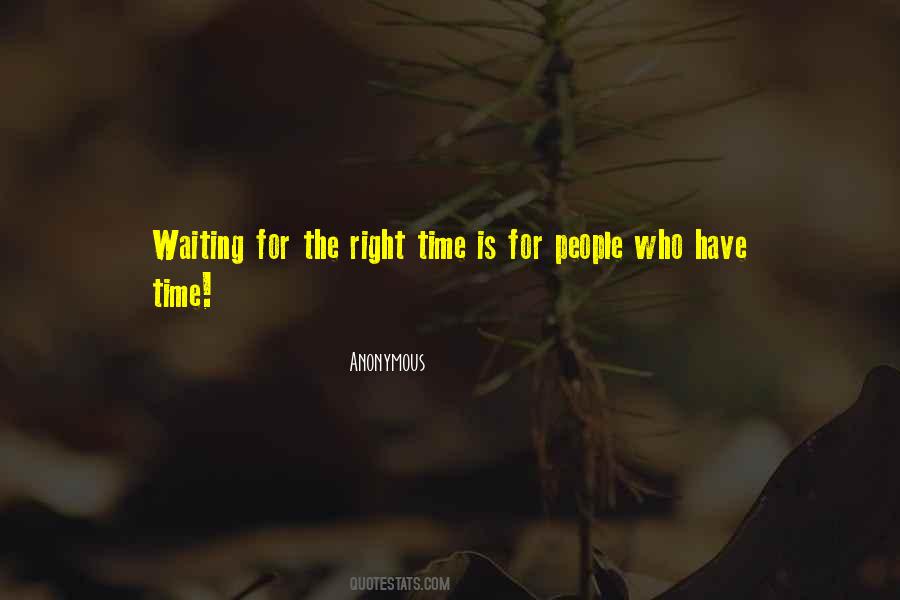 #32. And what the hell had Matt been thinking? Perhaps Matt was just a big old slut who ran around Boston kissing every girl he met, and he'd been waiting for the right time to add Julie to the list. - Author: Jessica Park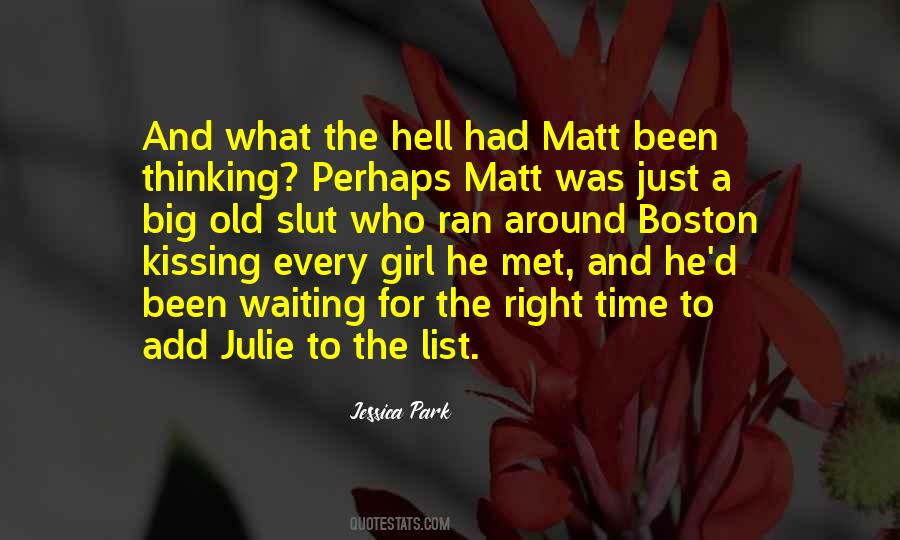 #33. If you are the kind of person who is waiting for the 'right' thing to happen, you might wait for a long time. It's like waiting for all the traffic lights to be green for five miles before starting the trip. - Author: Robert Kiyosaki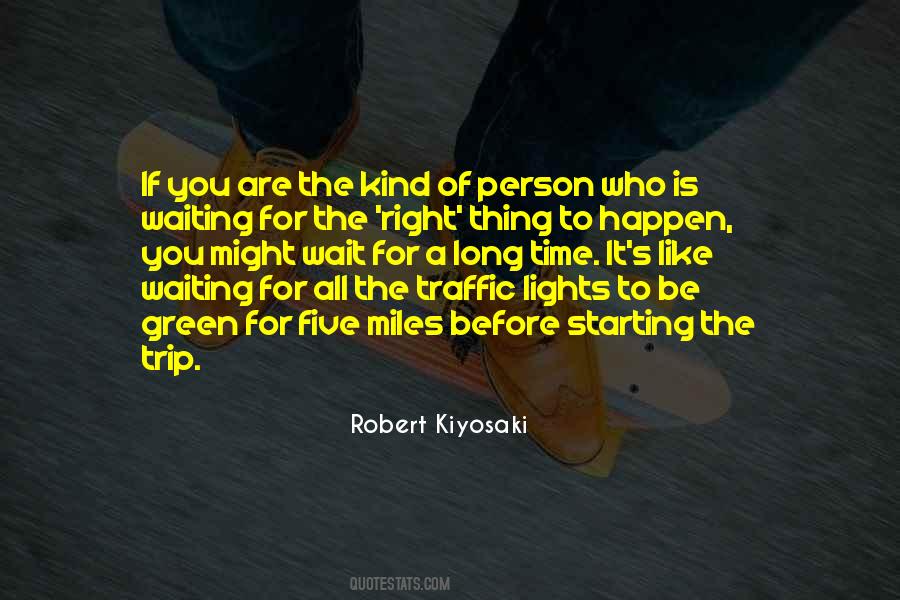 #34. I kept thinking I was always going to meet the right man, but I never did. Kept waiting for this knight in shining armour. 'When's he coming? He's taking a long time, isn't he?' - Author: Samantha Fox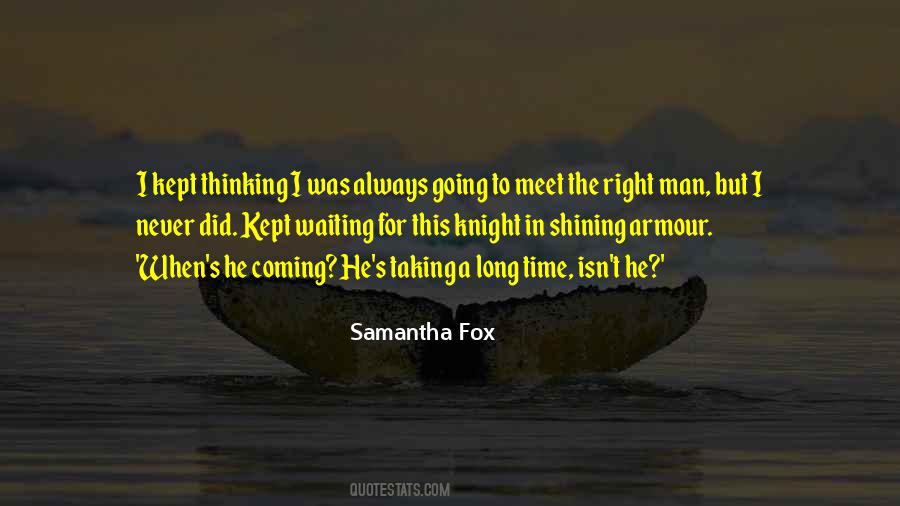 #35. Just because you can't see something doesn't mean it isn't there. It's just waiting for the right time to show itself. - Author: Emma Hart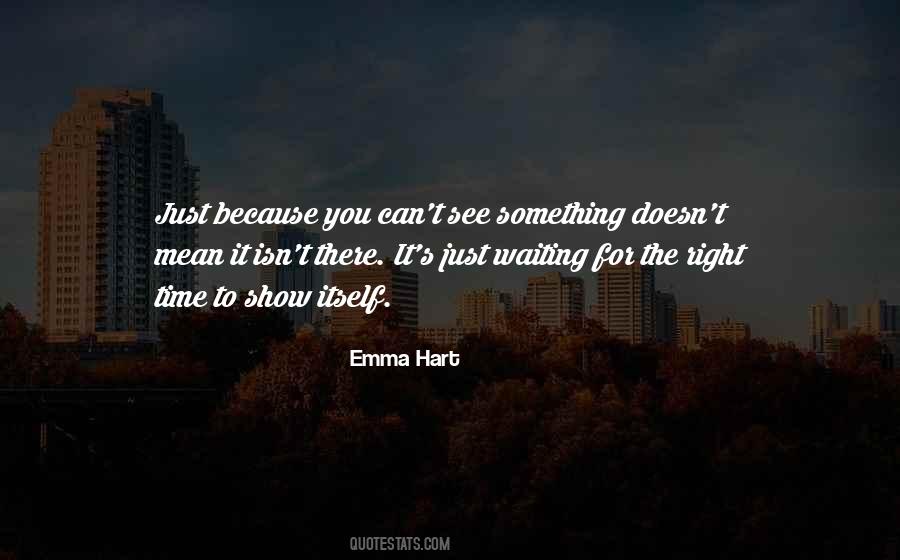 #36. Don't wait the time is never just right. - Author: Mark Twain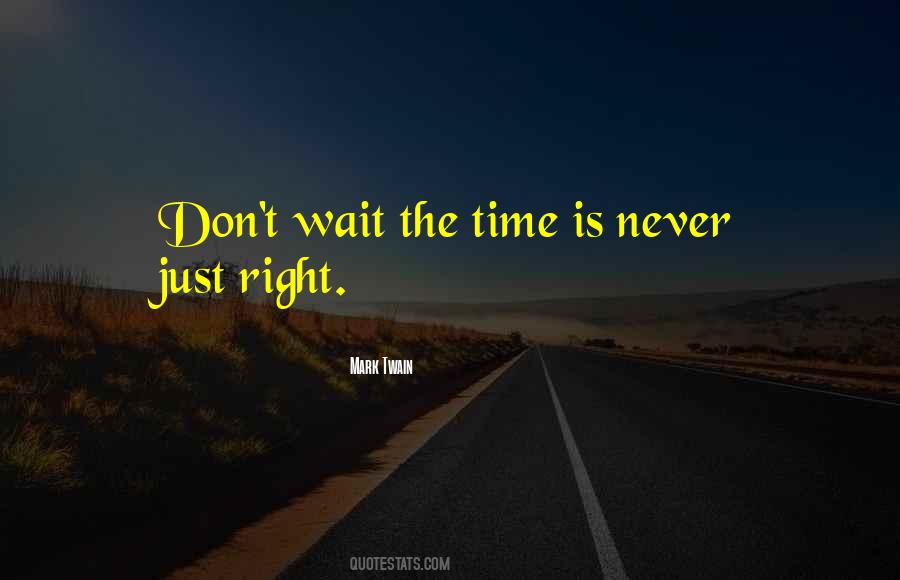 #37. If this is truly the time that will decide, we have no business refusing people who feel the way we do. No right to decide that they must huddle in their homes waiting to see if they are still slaves or not when the summer ends. - Author: Guy Gavriel Kay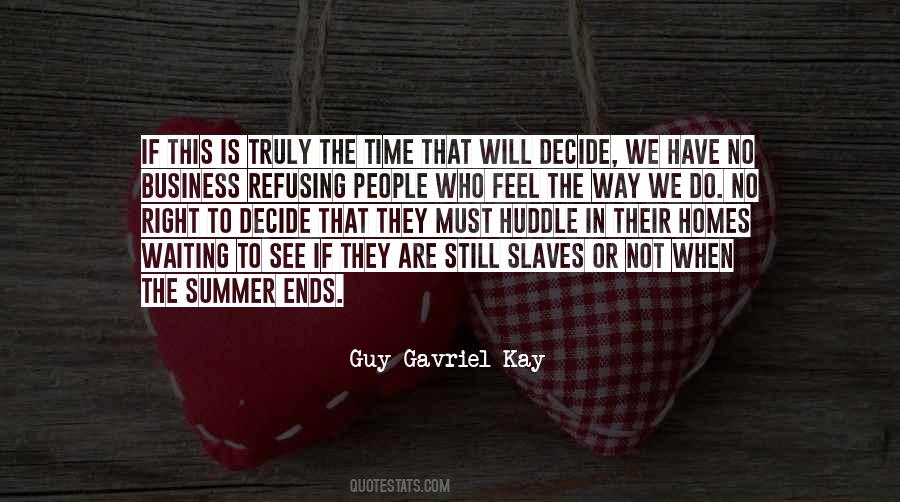 #38. I'll give you three guesses, Rabbit. Digging holes in the ground? Wrong. Leaping from branch to branch of a young oak tree? Wrong. Waiting for somebody to help me out of the river? Right. Give Rabbit time, and he'll always get the answer. - Author: A.A. Milne
#39. If you have been waiting for an answer to prayer for a long time, remember that long waits often occur right before the biggest mountains come down. - Author: Jim Cymbala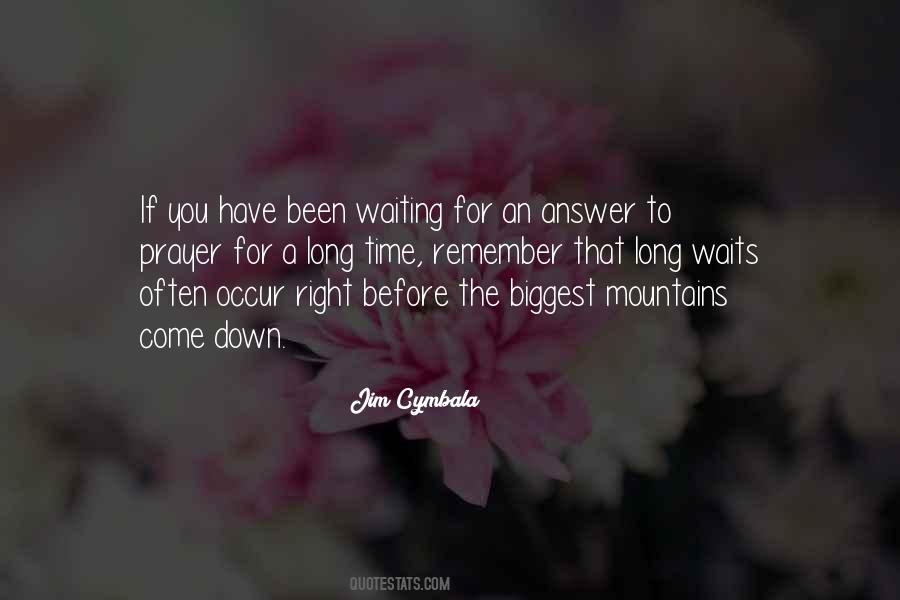 #40. Completing any writing project, particularly a novel, is a daunting prospect. Many people become frozen by the prospect. Others keep waiting for the right time. Some wait for the spark of inspiration. Even experienced writers find it is easier to do anything other than actually write. - Author: Bob Mayer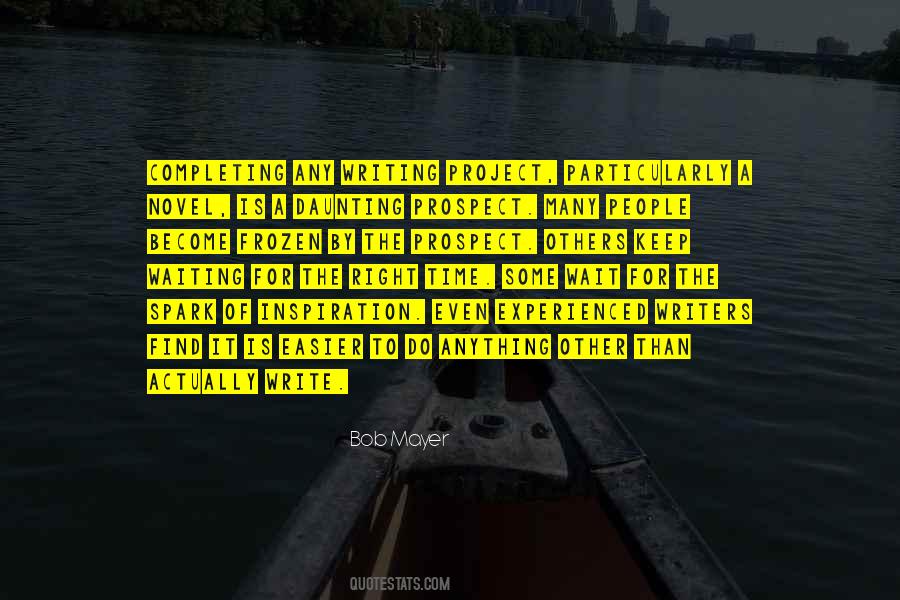 #41. Those who stand at the threshold of life always waiting for the right time to change are like the man who stands at the bank of a river waiting for the water to pass so he can cross on dry land. - Author: Joseph B. Wirthlin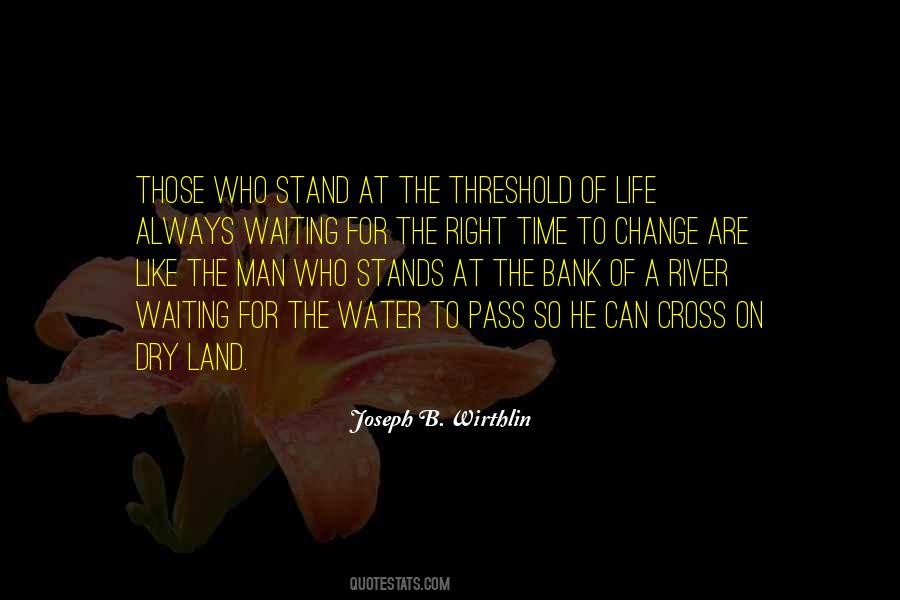 #42. I think when I started acting, the whole time I was working towards one day coming to America. Hollywood, in particular, is seen to be the center of this industry, and I was just waiting for the right time to come. - Author: Liam Hemsworth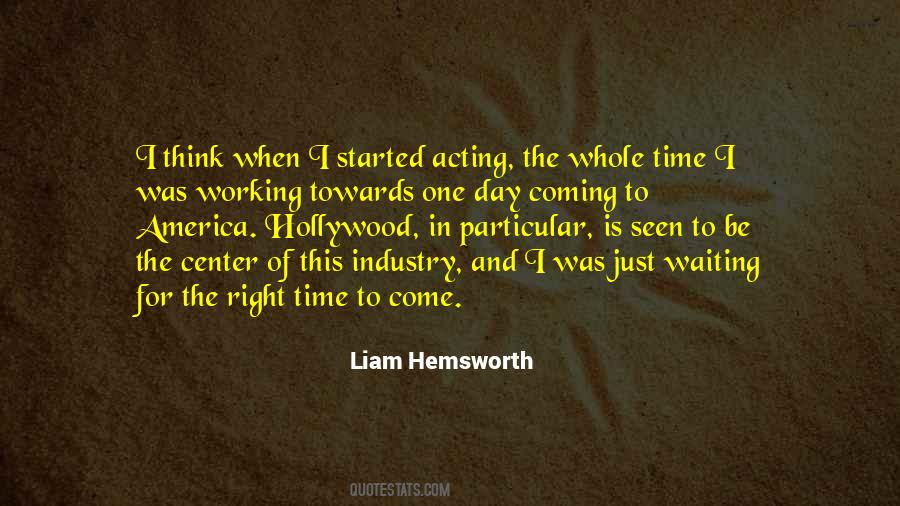 #43. Don't behave like a cat who is patiently waiting for the right time to attack its prey! For you, right time is now, suitable moment is now; use 'now' because any moment after 'now' is just a theory, it may never exist! Stop being patient, stop behaving like a fixed statue and move now! - Author: Mehmet Murat Ildan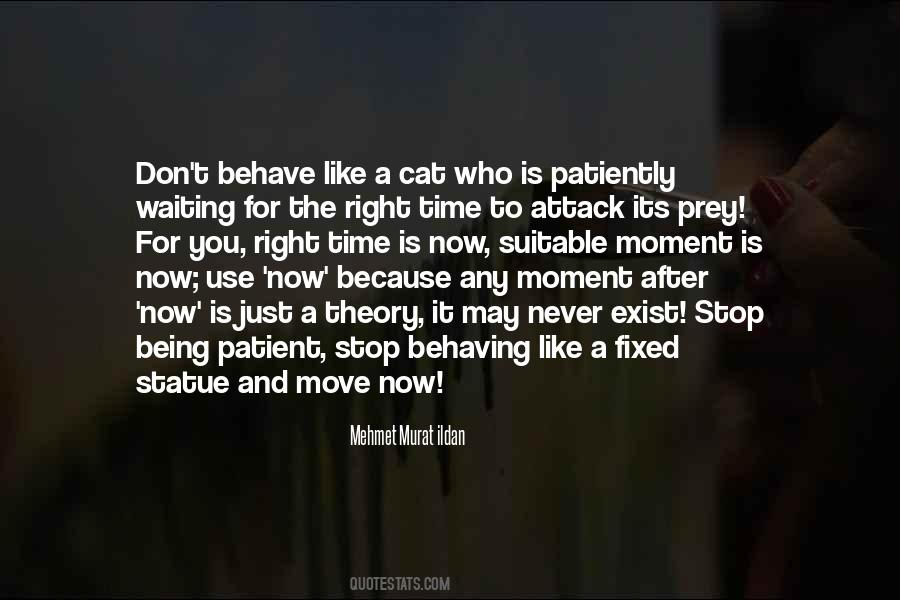 #44. For the first time since our fight in Severen, I felt things were right between us. The silences no longer lay around us like holes in the road. I knew it had just been a matter of waiting patiently until the tension passed. - Author: Patrick Rothfuss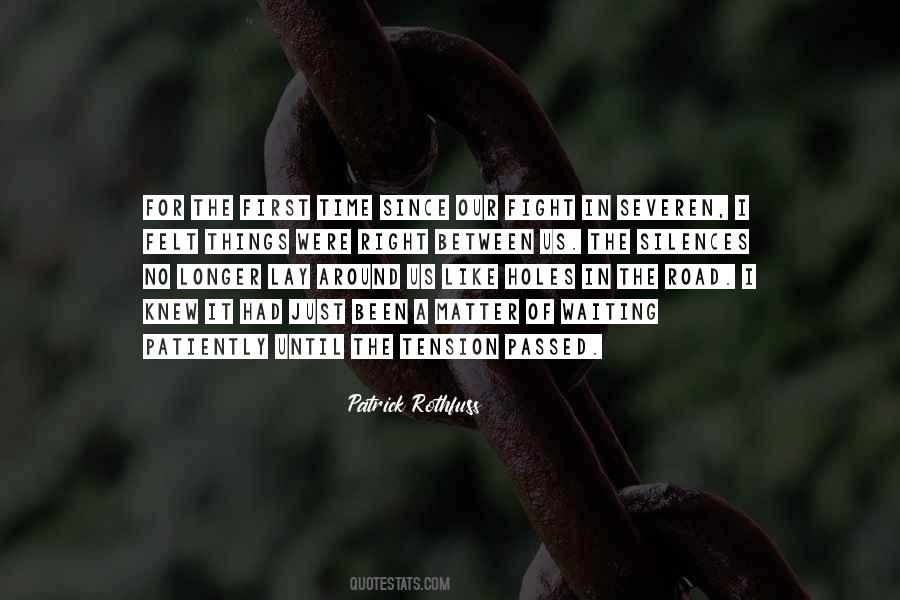 #45. Patience Always Gives You The Best Reward When The Time Is Right ... - Author: Muhammad Imran Hasan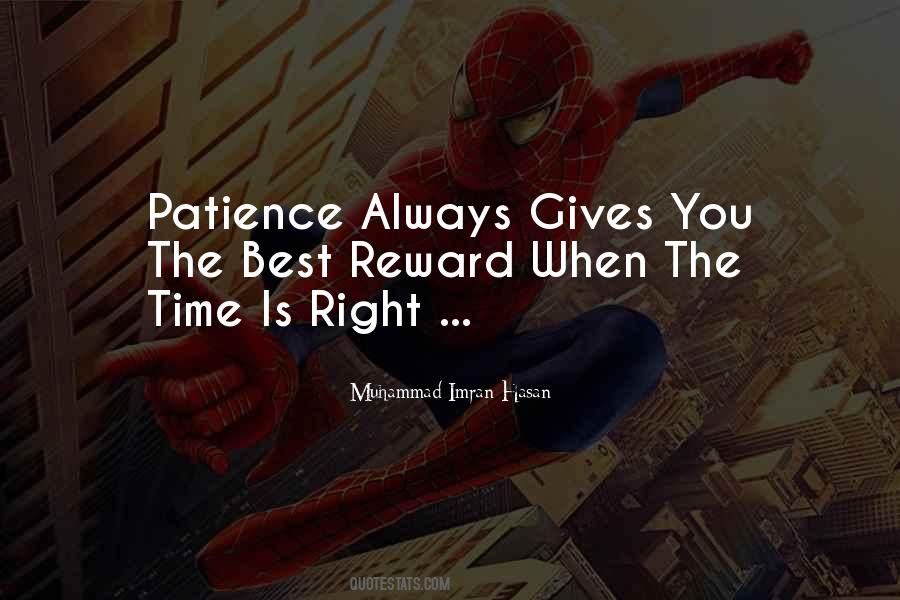 #46. I can understand the natural anxiety of readers when waiting for another installment of a favourite series, but I think it is much more important to get a book right than it is to have it appear on time. - Author: Garth Nix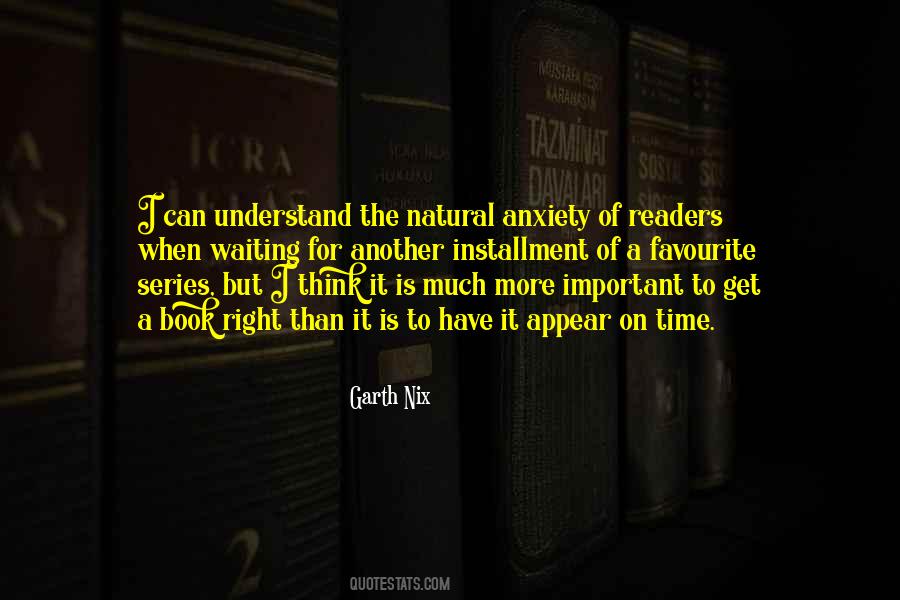 #47. If it is not truthful and not helpful, don't say it. If it is truthful and not helpful, don't say it. If it is not truthful and helpful, don't say it. If it is truthful and helpful, wait for the right time. - Author: Gautama Buddha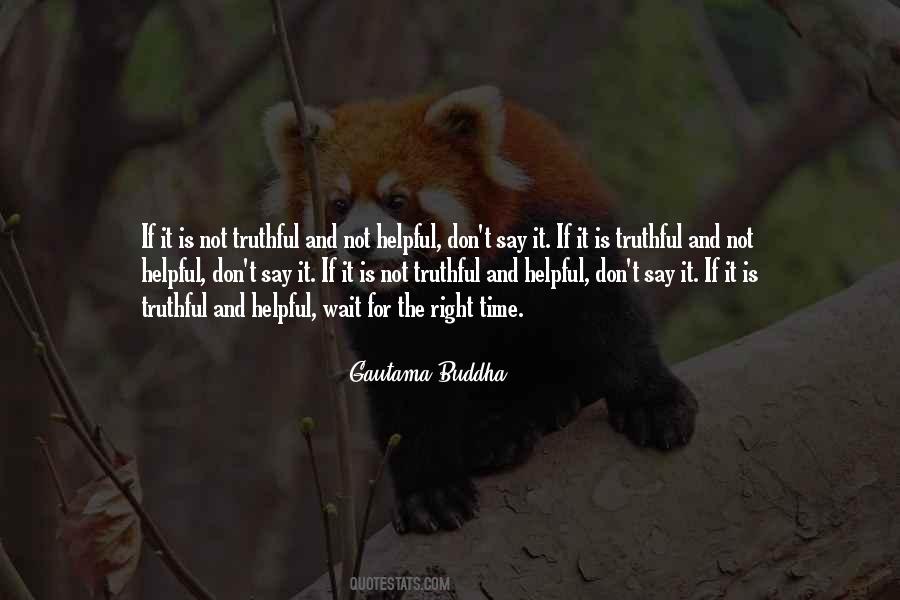 #48. Patience; this is the greatest business asset. Wait for the right time to make your moves. - Author: J. Paul Getty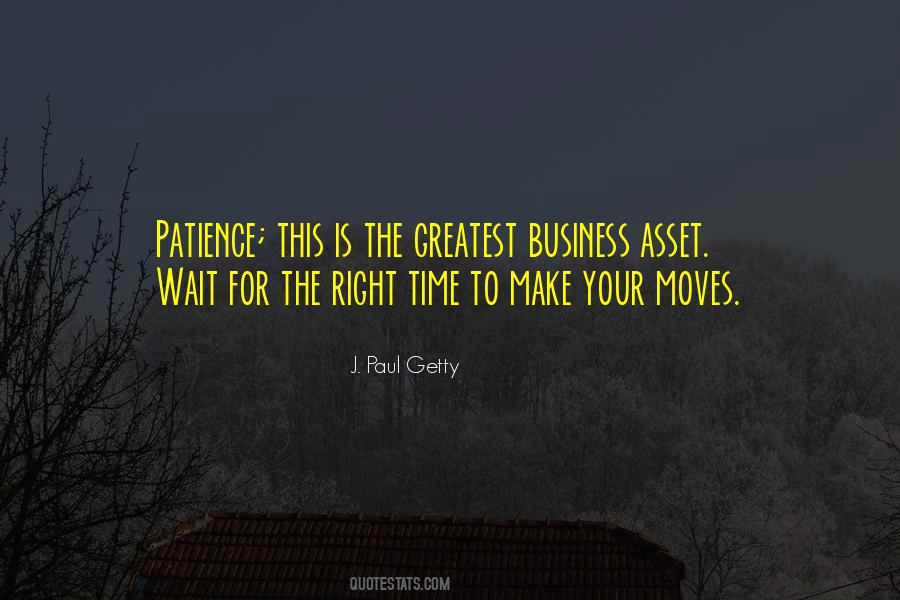 #49. We've been around for a long time, Mr. Dowell. Longer than you or any of your stupid little friends could ever conceive. Sleeping in the shadows and waiting for the right moment. A disease you might call us. A plague. Evil. From beneath the ground, it rises as it has done many times in the past. - Author: Jeyn Roberts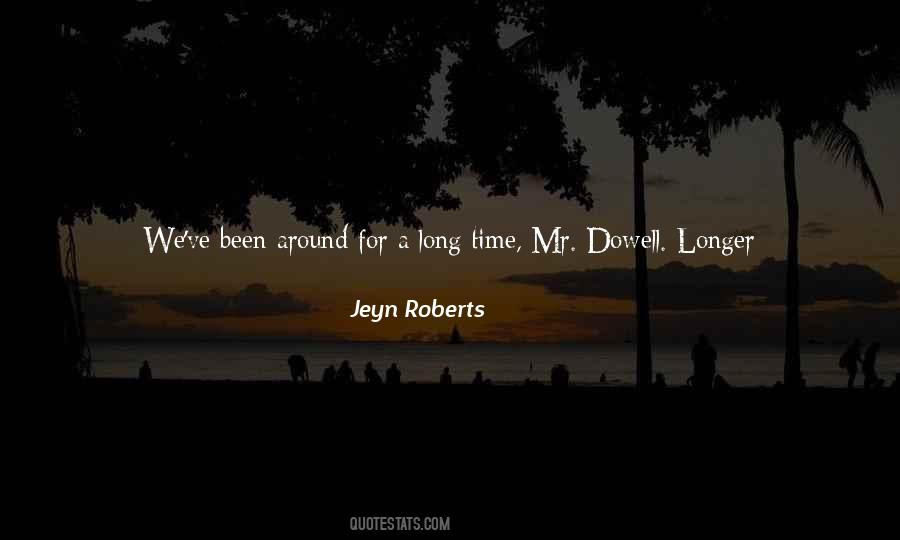 #50. The thing about life is, every time you learn a lesson, another is waiting right at the corner. You never know everything. - Author: Taylor Swift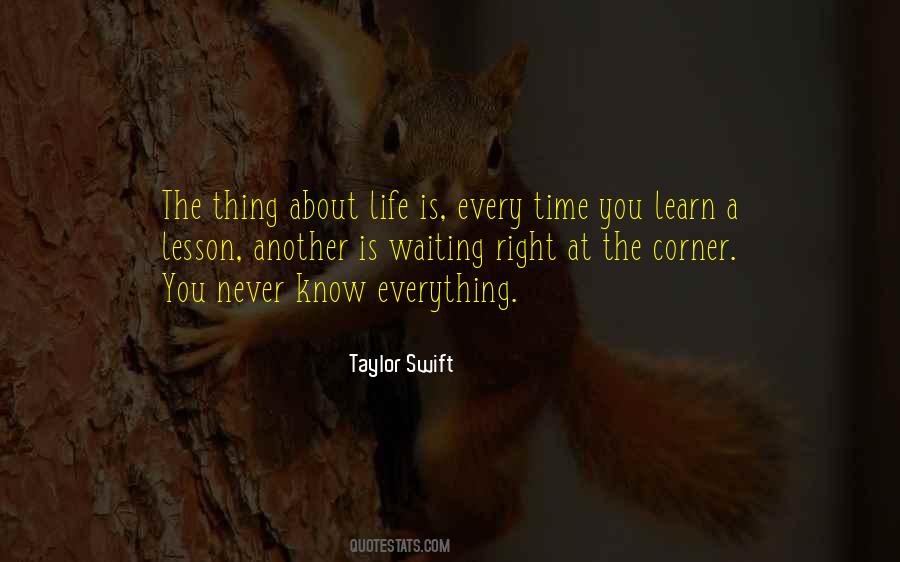 #51. In regard to waiting for the right time to do something: "The stars will never align and the traffic lights of life will never all be green at the same time. - Author: Blake Mycoskie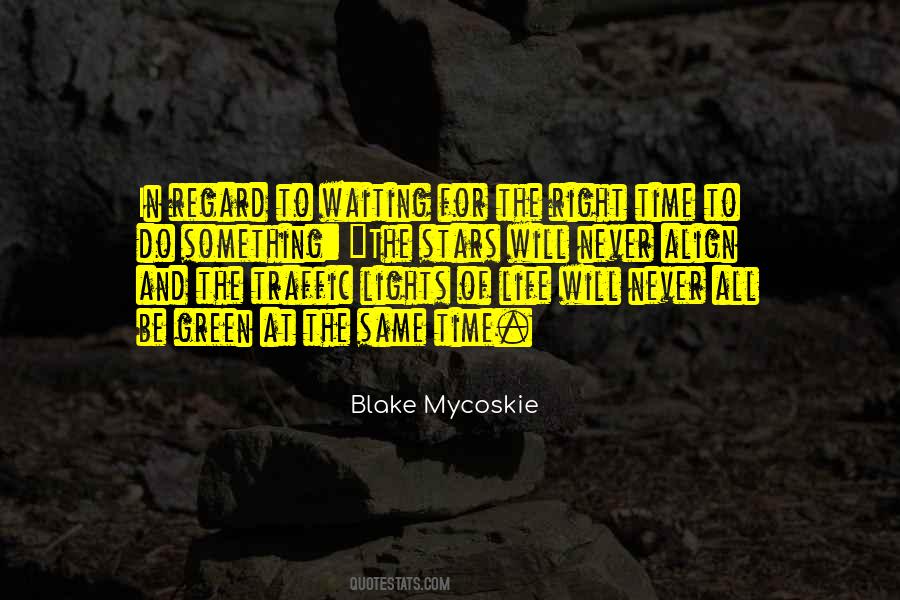 #52. I've spent a life time waiting for the right time, now that you're near, the time is here at last. - Author: Elvis Presley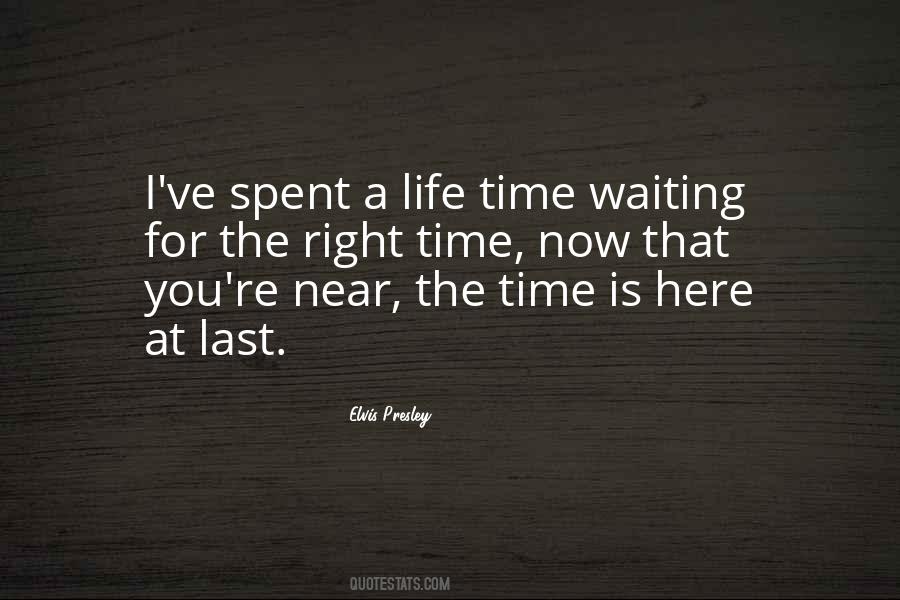 #53. If you keep waiting for the right time, it may never happen. Sometimes you have to make the most of the time you have. - Author: Priya Ardis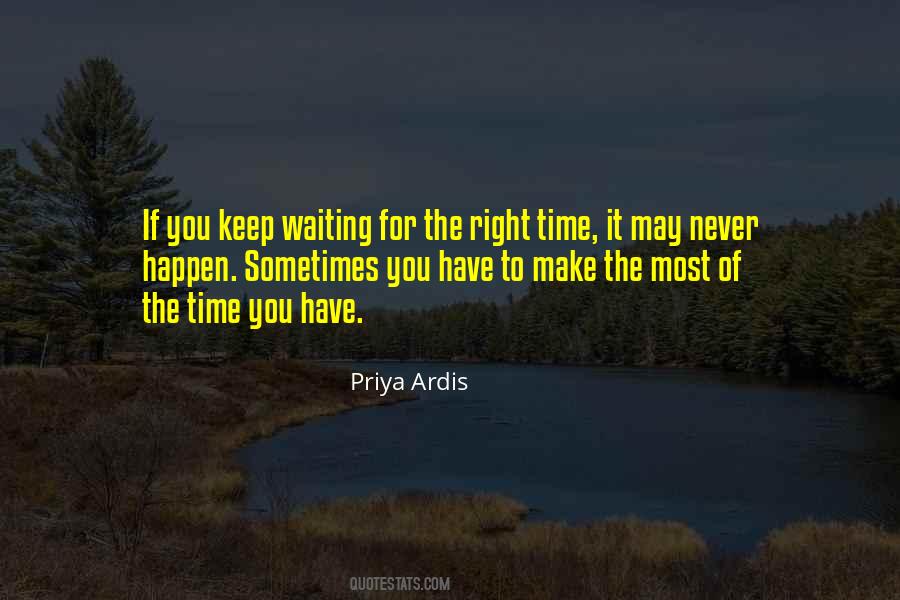 #54. She unclenched her fist and stretched her hands. The sermon was a buzz in her ear, and every time she tried to listen, a stronger voice screamed in her head, What if you gave up the only chance you'll ever have for true love...? - Author: Willowy Whisper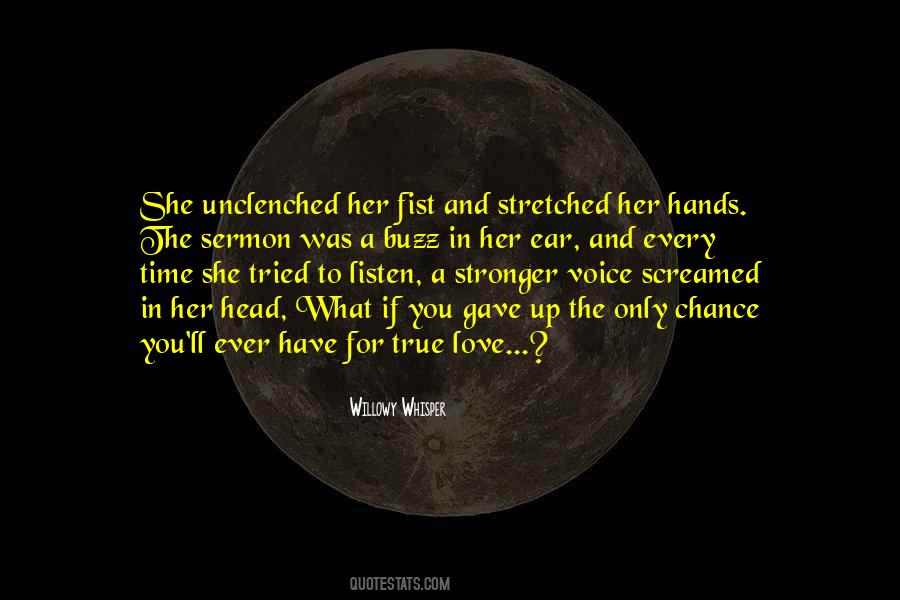 #55. All the while He is just waiting for the time that is right. He hasn't forgotten, nor has He abandoned us. - Author: Angie Smith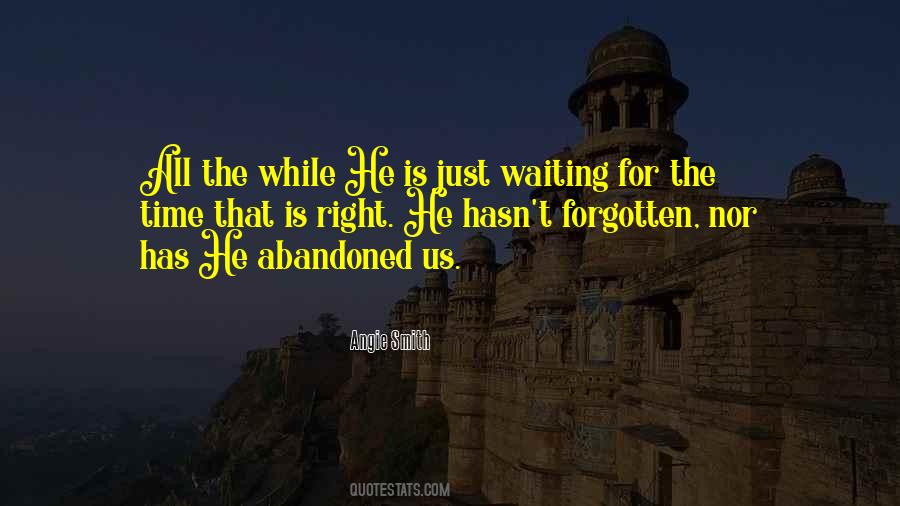 #56. Fog is somewhere under the Golden Gate Bridge waiting to eat us all, but it's staying there, invisible, for the time being, waiting for the right hour to cover and consume us. - Author: Logan Ryan Smith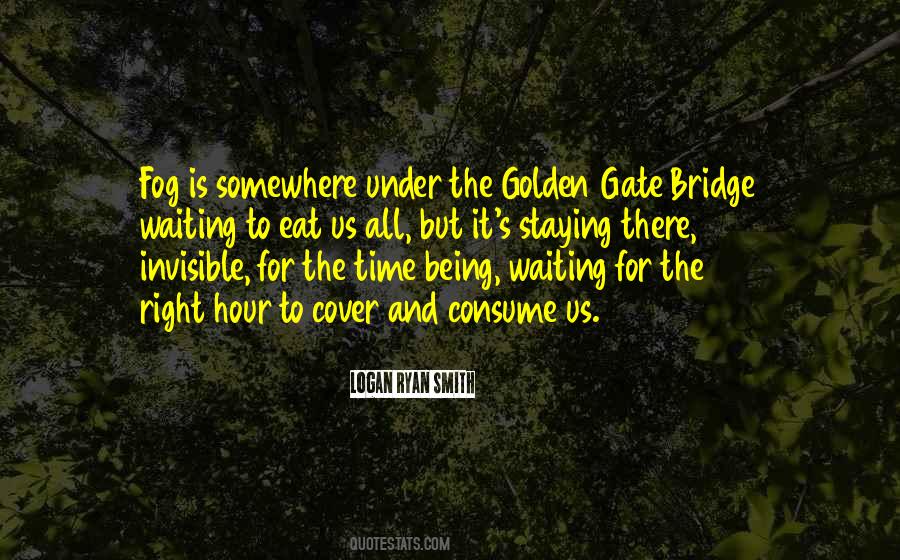 Famous Authors
Popular Topics