Violence And Nonviolence Famous Quotes & Sayings
List of top 42 famous quotes and sayings about violence and nonviolence to read and share with friends on your Facebook, Twitter, blogs.
Top 42 Quotes About Violence And Nonviolence
#1. The choice is not between violence and nonviolence but between nonviolence and nonexistence. - Author: Martin Luther King Jr.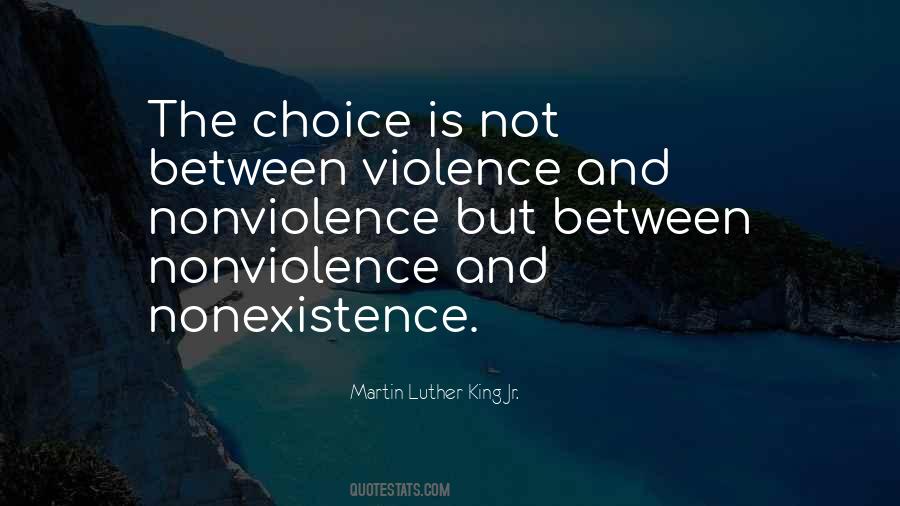 #2. Black Power If the motive is good, and there are no other possibilities, then seen most deeply it [violence] is nonviolence, because its aim is to help others. - Author: Dalai Lama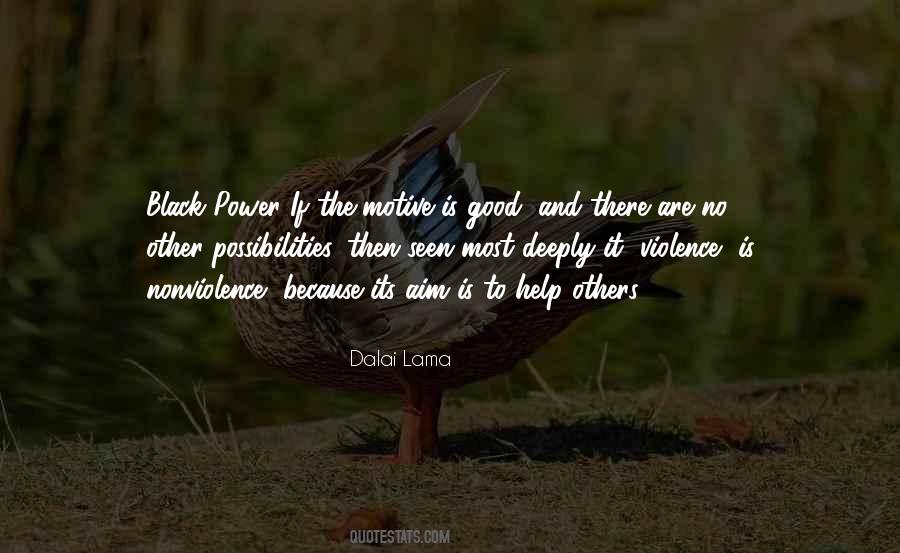 #3. They have the guns, we have the poets. Therefore, we will win. - Author: Howard Zinn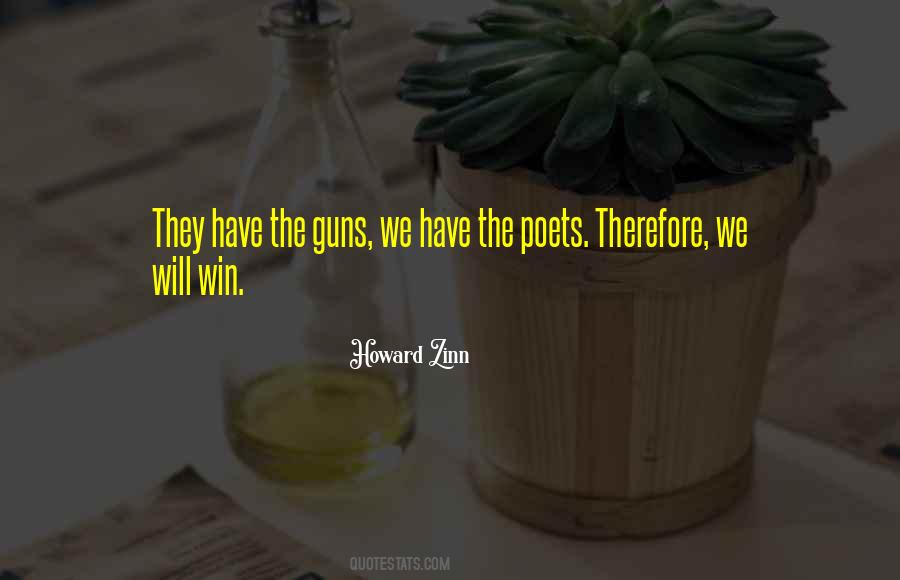 #4. The non-violent resistor not only avoids external, physical violence, but he avoids internal violence of spirit. He not only refuses to shoot his opponent, but he refuses to hate him. And he stands with understanding, goodwill at all times. - Author: Martin Luther King Jr.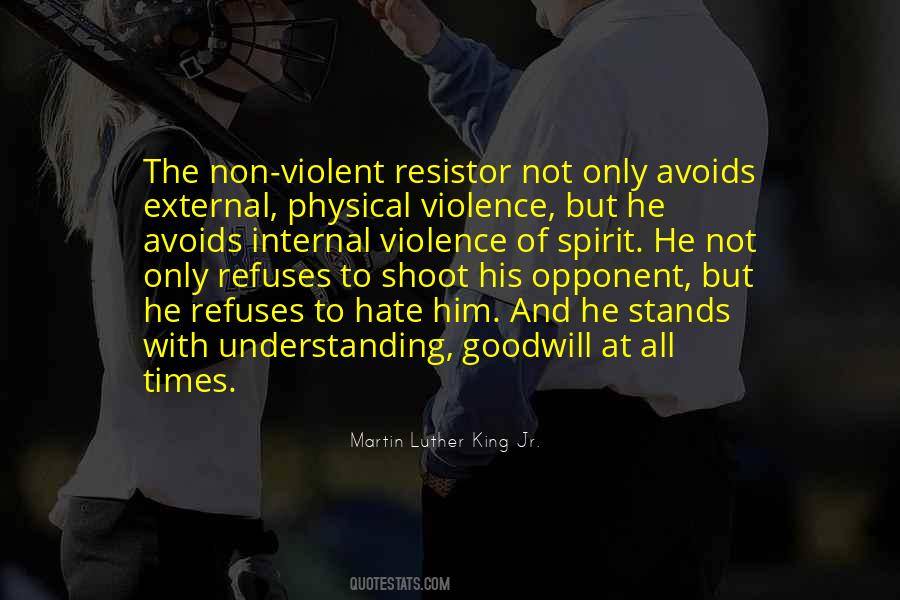 #5. Non Violence and Religion:
Both designed to keep the oppressed from murdering their oppressors. - Author: Darnell Lamont Walker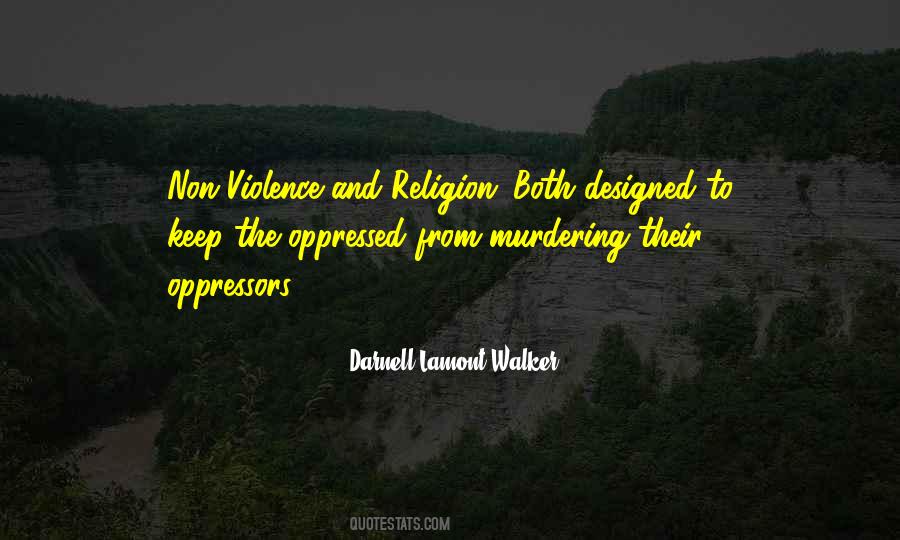 #6. Nonviolence aims at doing no harm to living being. Compassion aims at doing good to all being. - Author: Amit Ray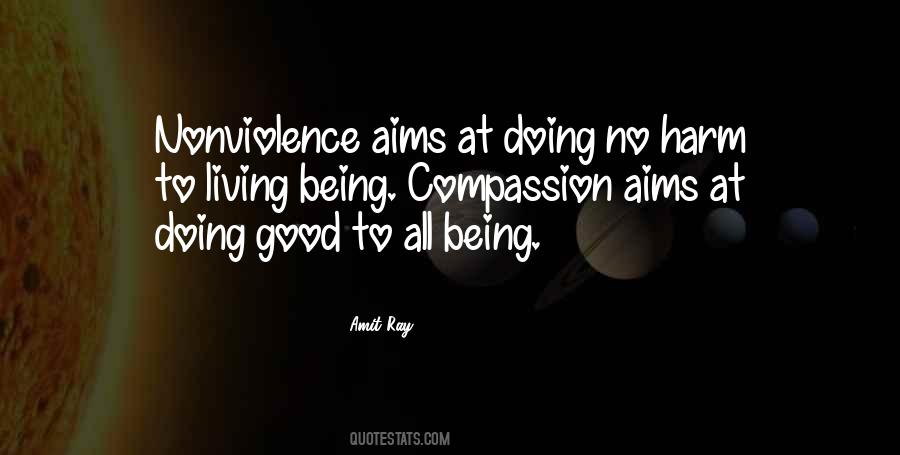 #7. The way of acquiescence leads to moral and spiritual suicide. The way of violence leads to bitterness in the survivors and brutality in the destroyers. But, the way of nonviolence leads to redemption and the creation of the beloved community. - Author: Martin Luther King Jr.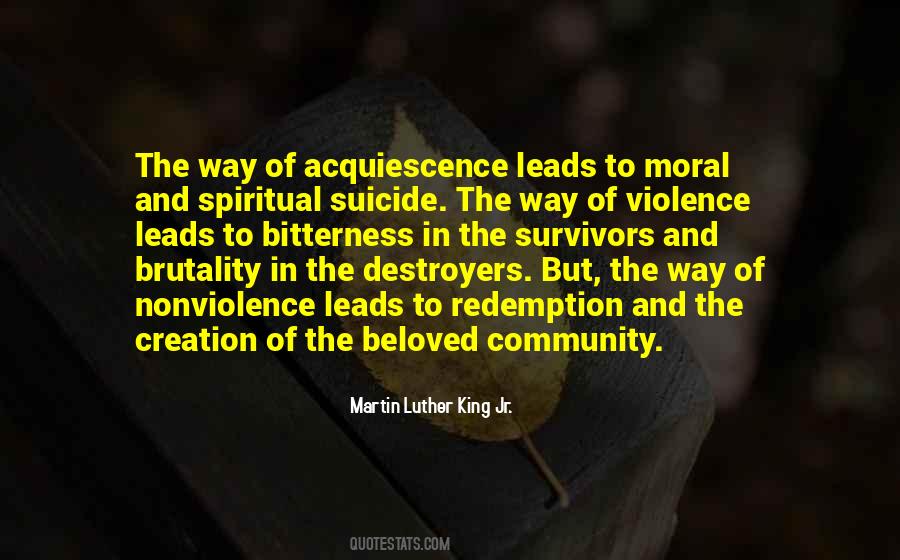 #8. Nonviolence does not admit of running away from danger ... Between violence and cowardly flight I can only prefer violence to cowardice. - Author: Mahatma Gandhi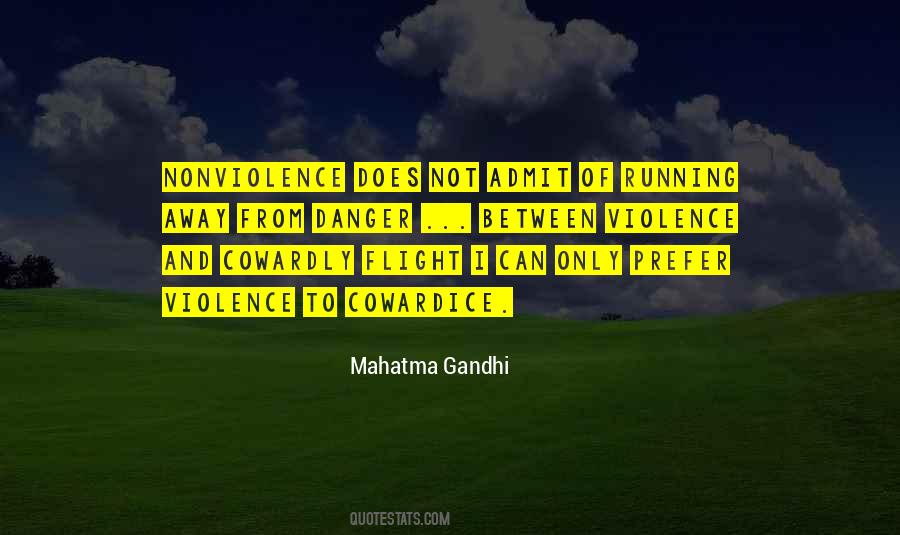 #9. Violence and nonviolence are, after all, two different forms of theater. They both depend and thrive on the response of an audience. - Author: Julia Bacha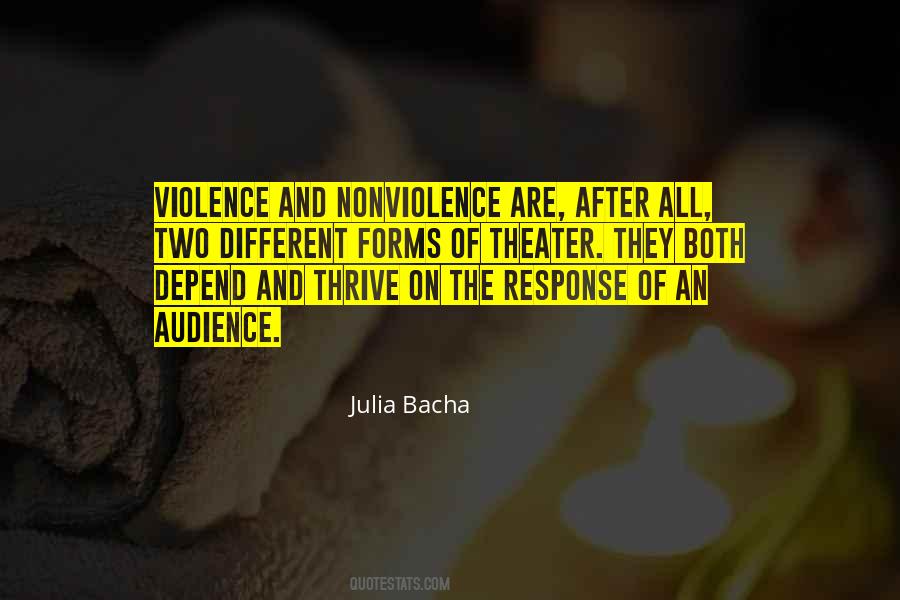 #10. Creativity and intelligence, rather than violence, are the best problem solvers. - Author: Don Roff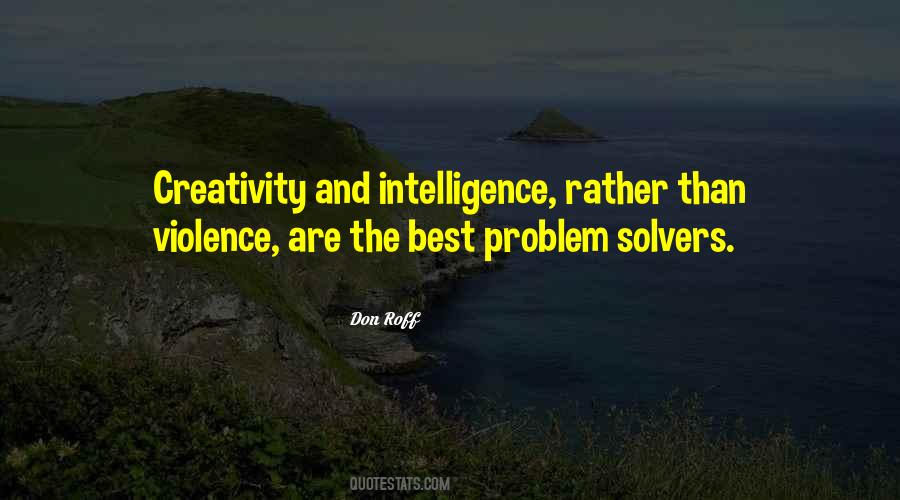 #11. If God holds me to be a pure instrument for the spread of nonviolence in place of the awful violence now ruling the earth, He will give me the strength and show me the way. - Author: Mahatma Gandhi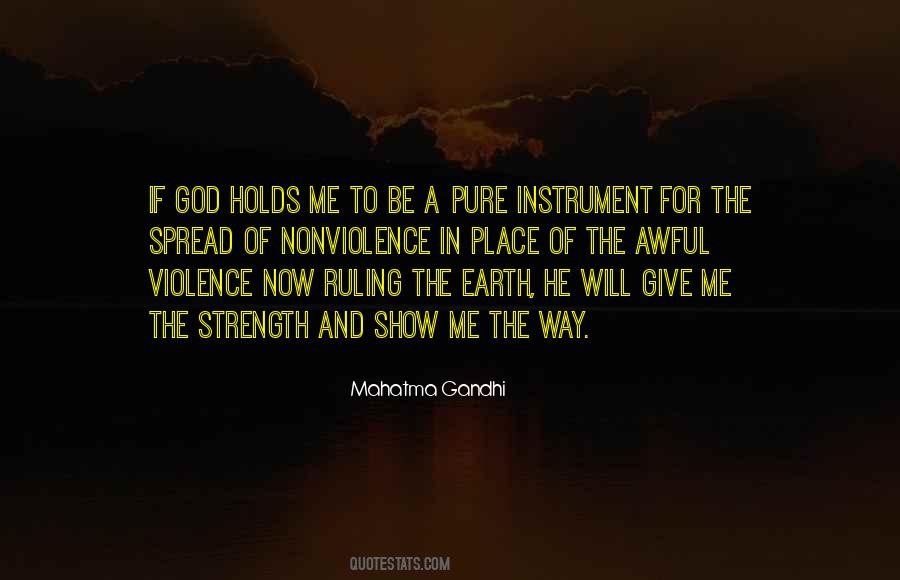 #12. I don't mean go out and get violent; but at the same time you should never be nonviolent unless you run into some nonviolence. I'm nonviolent with those who are nonviolent with me. But when you drop that violence on me, then you've made me go insane, and I'm not responsible for what I do. - Author: Malcolm X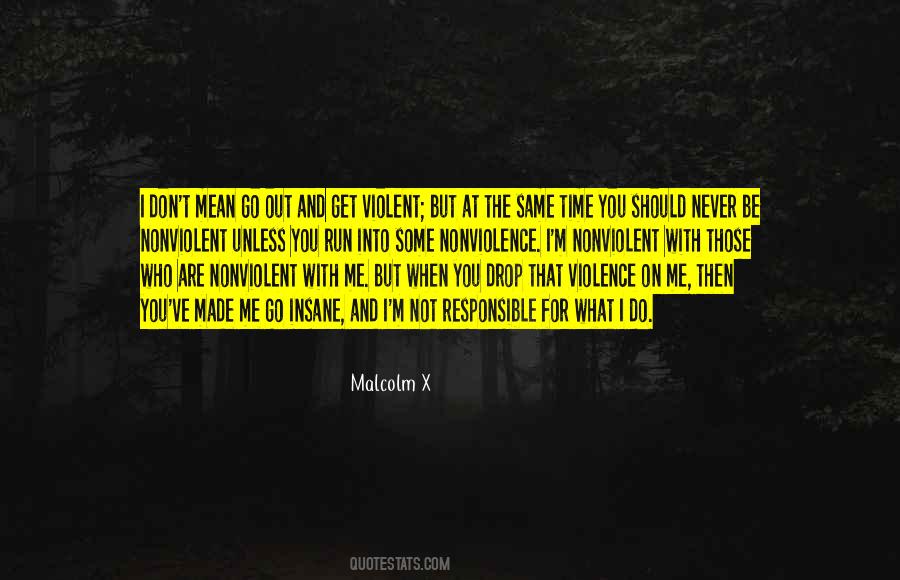 #13. I argue that even as the war is framed in certain ways to control and heighten affect in relation to the differential grievability of lives, so war has come to frame ways of thinking multiculturalism and debates on sexual freedom, issues largely considered separate from foreign affairs. - Author: Judith Butler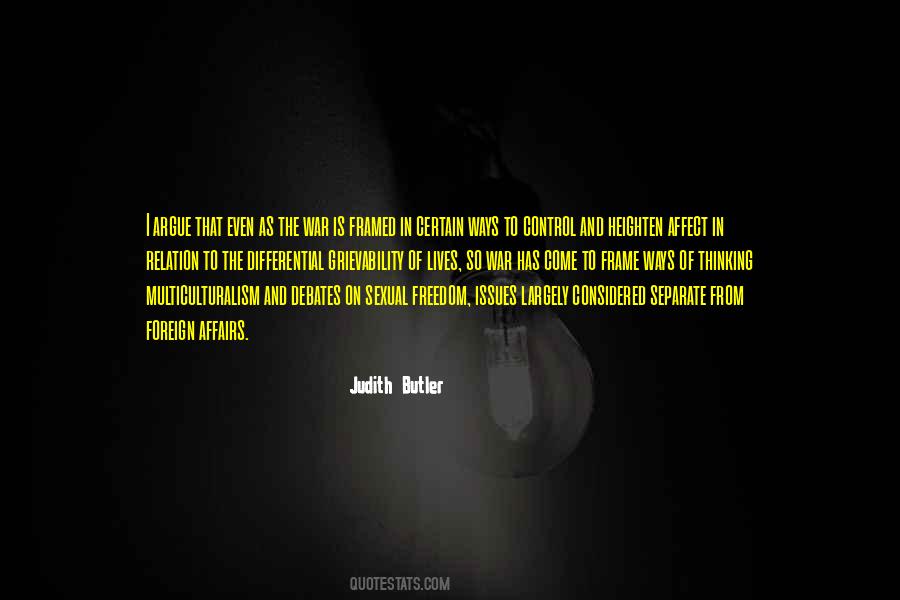 #14. Nonviolence is the law of our species as violence is the law of the brute. The spirit lies dormant in the brute, and he knows no law but that of physical might. The dignity of man requires obedience to a higher laws - to the strength of the spirit. - Author: Mahatma Gandhi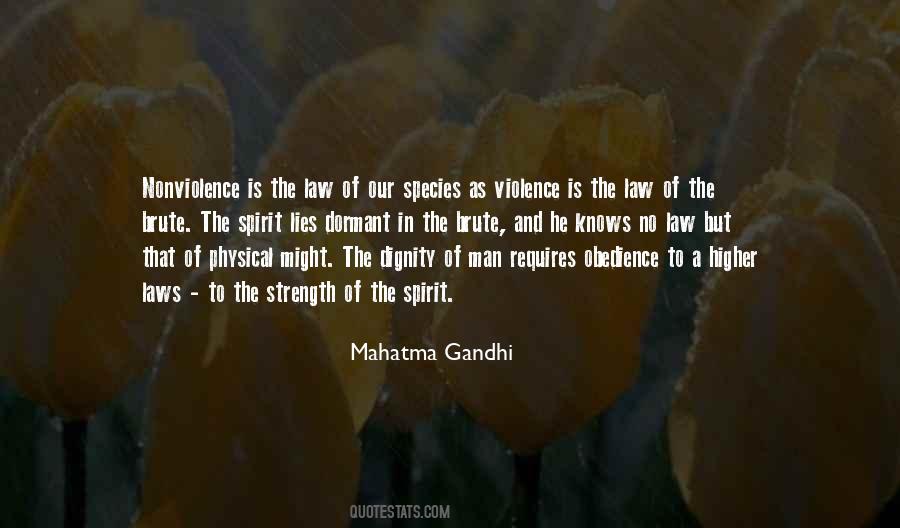 #15. The only thing that's been a worse flop than the organization of nonviolence has been the organization of violence. - Author: Joan Baez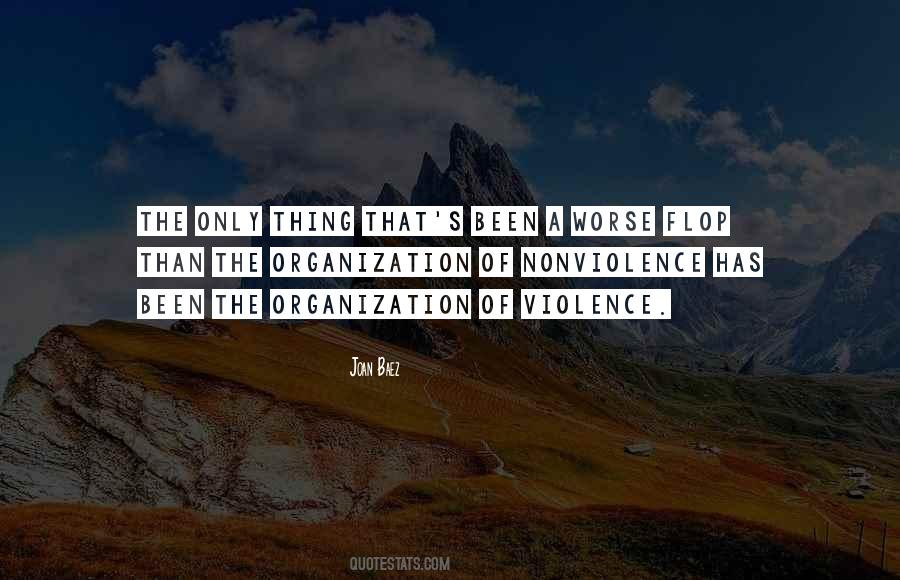 #16. Please be peaceful. We believe in law and order. We are not advocating violence, I want you to love your enemies ... for what we are doing is right, what we are doing is just
and God is with us. - Author: Martin Luther King Jr.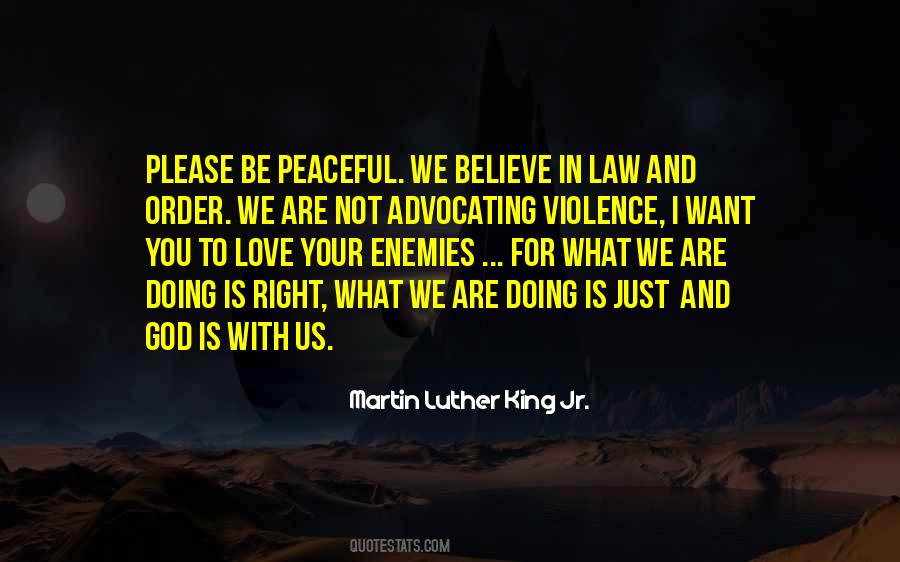 #17. I think that violence and nonviolence are not moral principles, they're tactics. - Author: Jerry Vlasak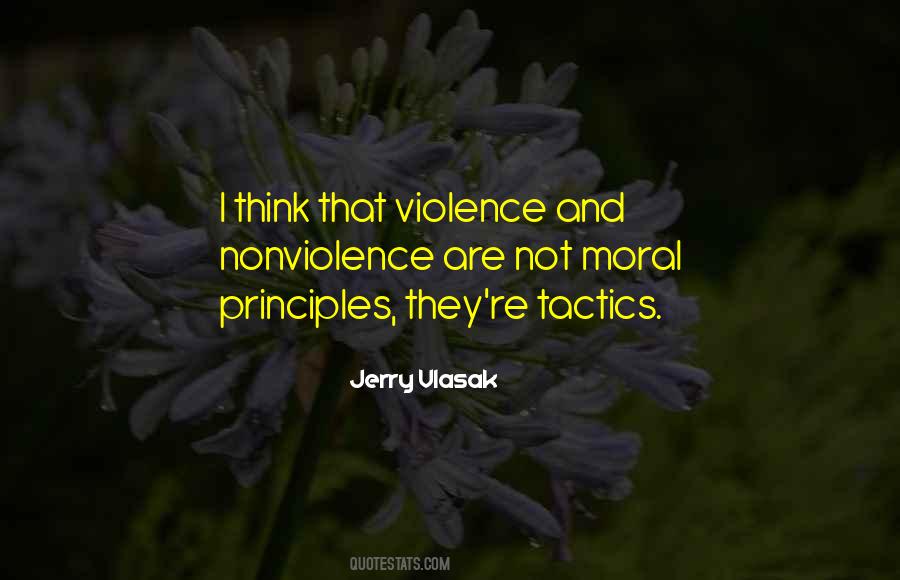 #18. All who affirm the use of violence admit it is only a means to achieve justice and peace. But peace and justice are nonviolence ... the final end of history. Those who abandon nonviolence have no sense of history. Rathy they are bypassing history, freezing history, betraying history. - Author: Andre Trocme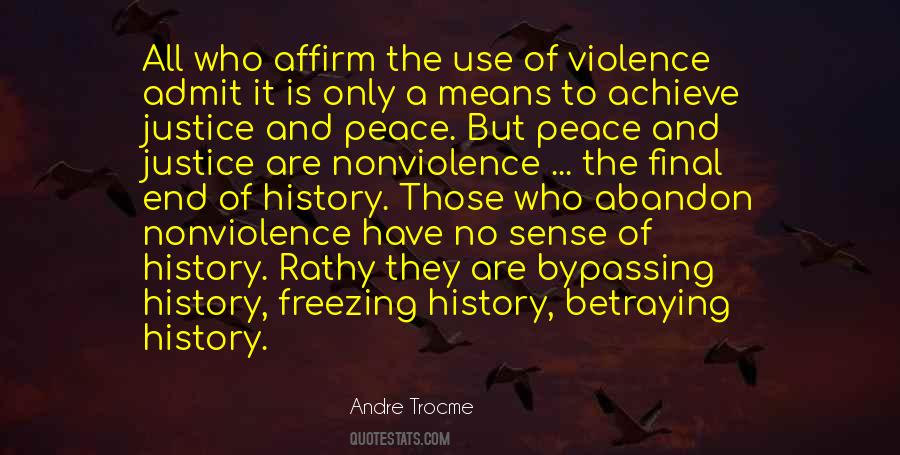 #19. The relationship between violence and nonviolence in this country is interesting. The fact of the matter is, you know, people do respond to riots. The 1968 Housing Act was in large response to riots that broke out after Dr. Martin Luther King was killed. They cited these as an actual inspiration. - Author: Ta-Nehisi Coates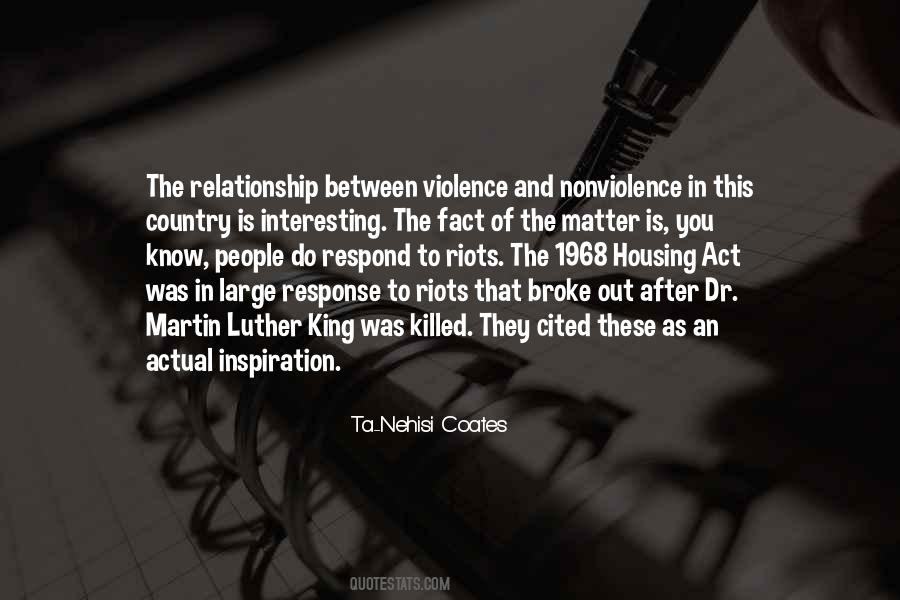 #20. If it is by force that we wish to achieve Swaraj, let us drop nonviolence and offer such violence as we may. - Author: Mahatma Gandhi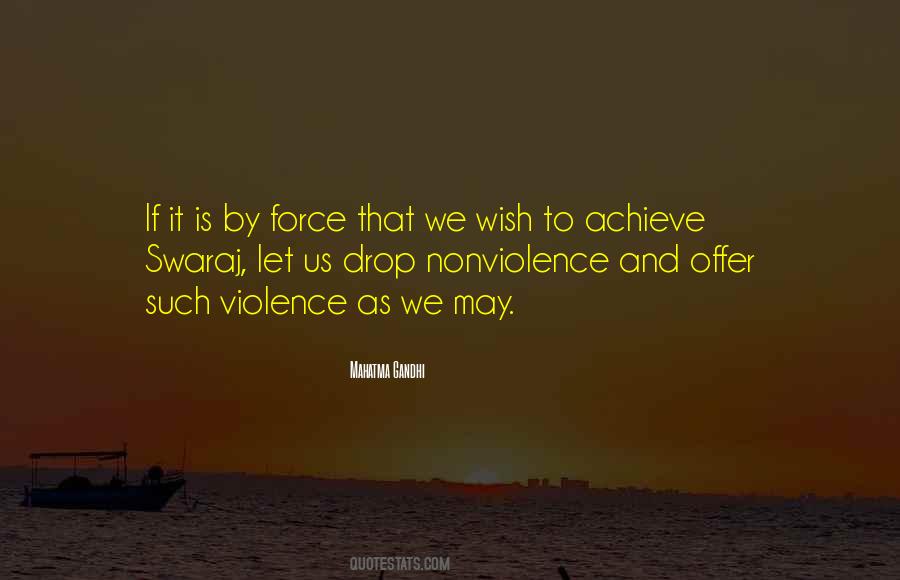 #21. Nonviolence is the only way. Even if you achieve your goal by violent means there are always side effects, and these can be worse than the problem. Violence is against human nature. - Author: Dalai Lama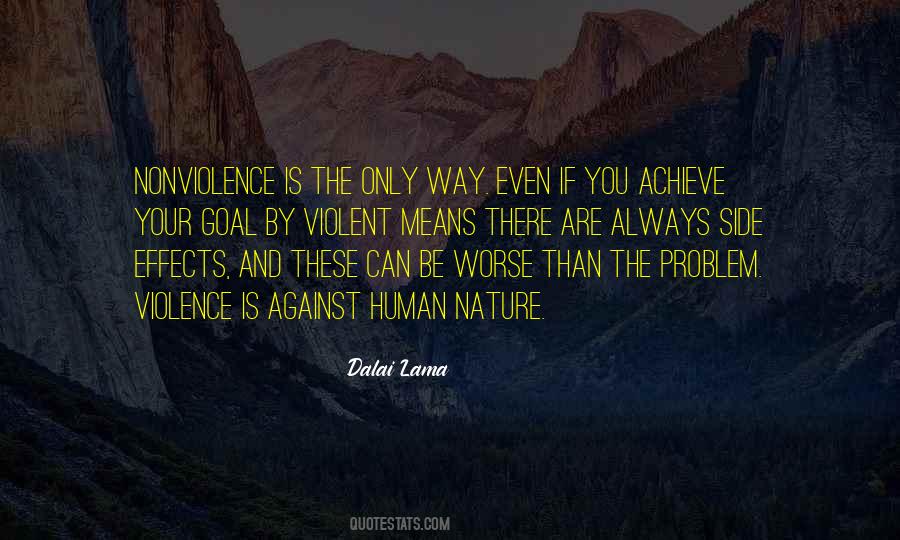 #22. There's a place between passivity and violence. I'll meet you there. - Author: Rivera Sun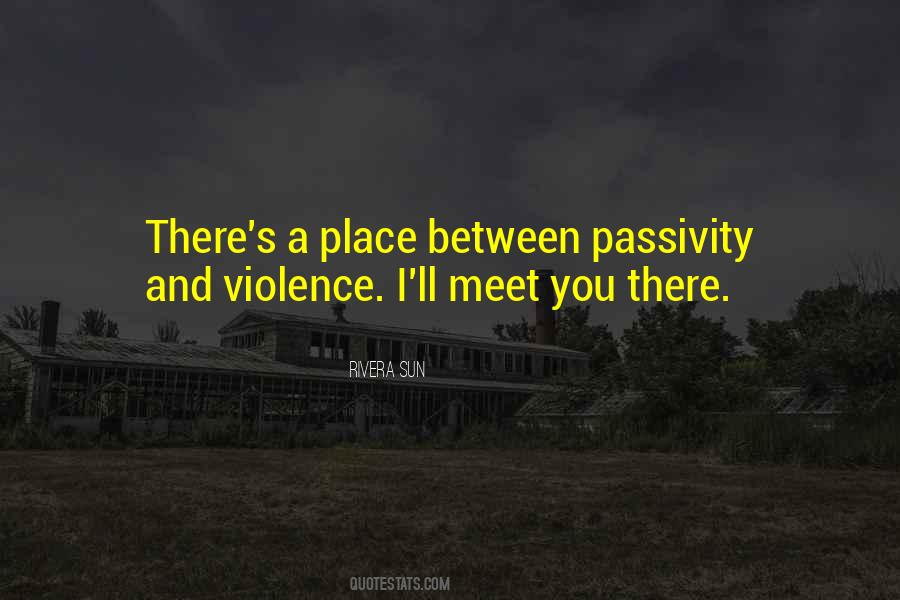 #23. Absolute hospitality would in no way amount to the absence of violence. To the contrary, it would enthrone violence precisely under the guise of nonviolence because it would leave the violators unchanged and the consequences of violence unremedied. - Author: Miroslav Volf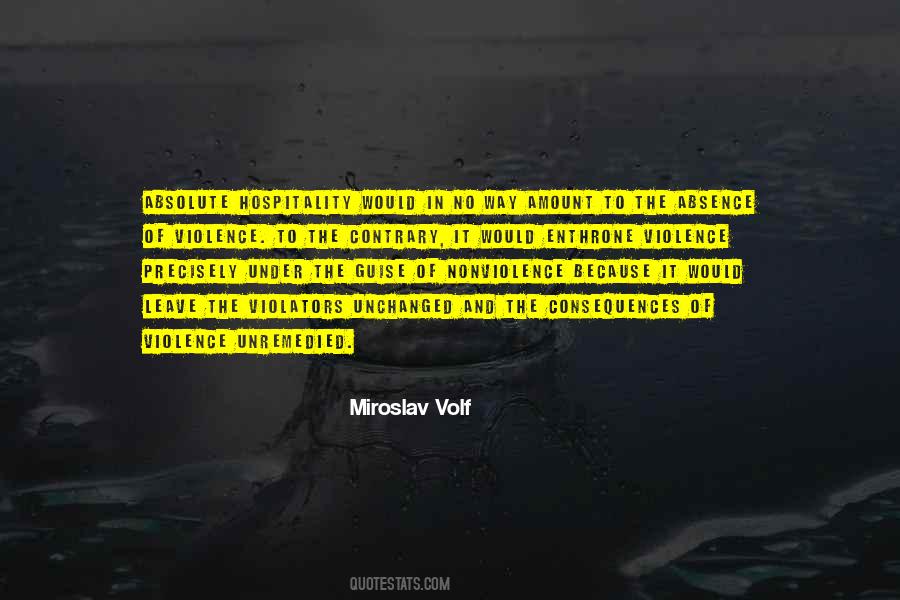 #24. Today it is no longer a choice between violence and nonviolence; it is either nonviolence or nonexistence. - Author: Martin Luther King Jr.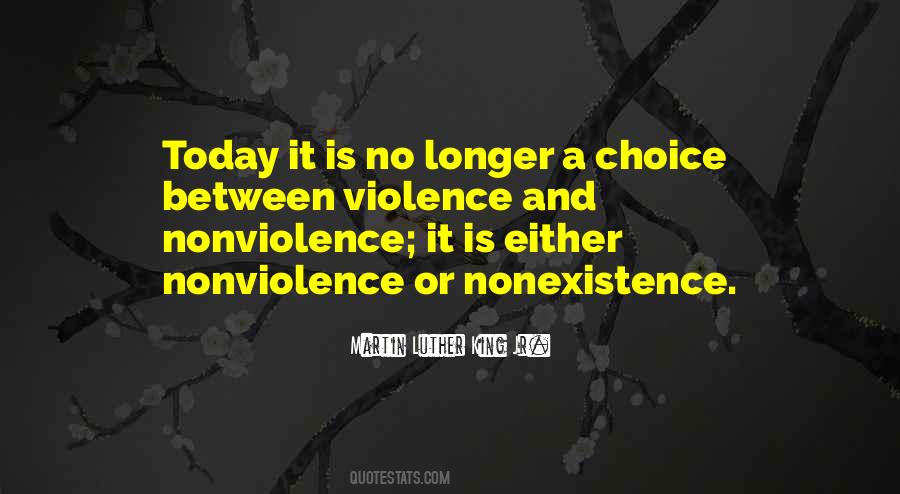 #25. One tended to lose one's bearings in the presence of willful and persistent acts of craziness, and the more gentle the act, the crazier it seemed, as if rage and violence, being closer to the norm, were easier to accommodate. - Author: Tom Robbins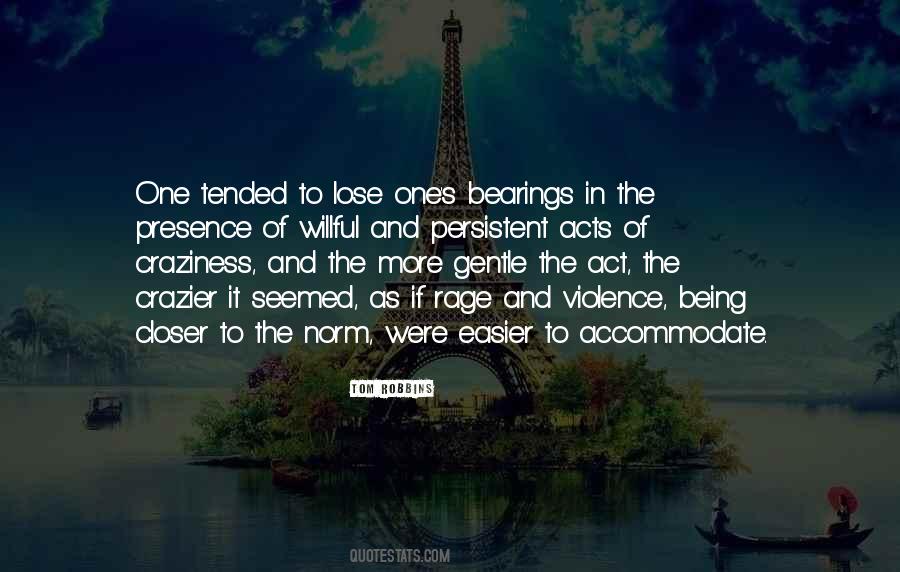 #26. To obtain and possess the kingdoms of the world, with their power and glory, by violent injustice is to worship Satan. To obtain and possess the kingdom, the power, and the glory by nonviolent justice is to worship God. - Author: John Dominic Crossan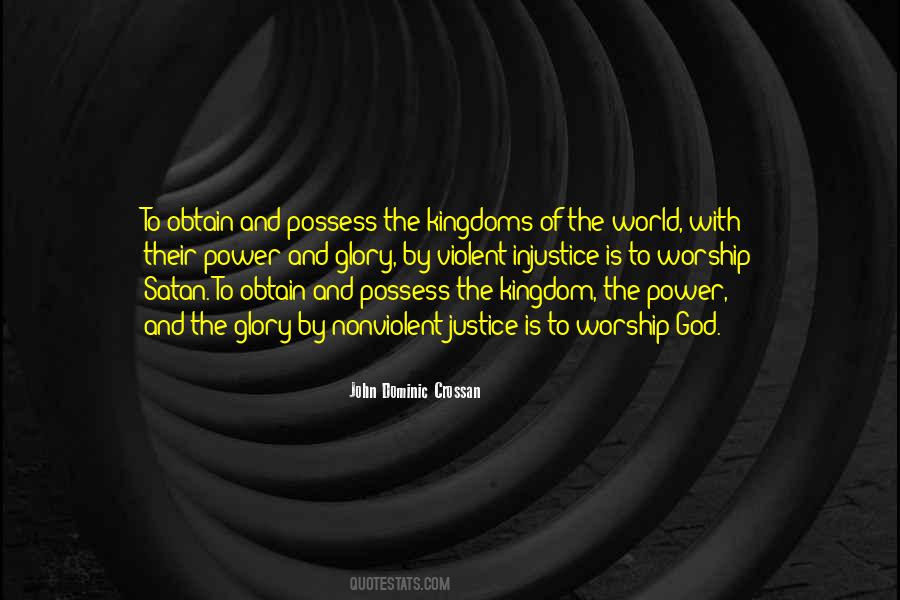 #27. It is no longer a choice between violence and nonviolence in this world; it's nonviolence or nonexistence. That is where we are today. - Author: Martin Luther King Jr.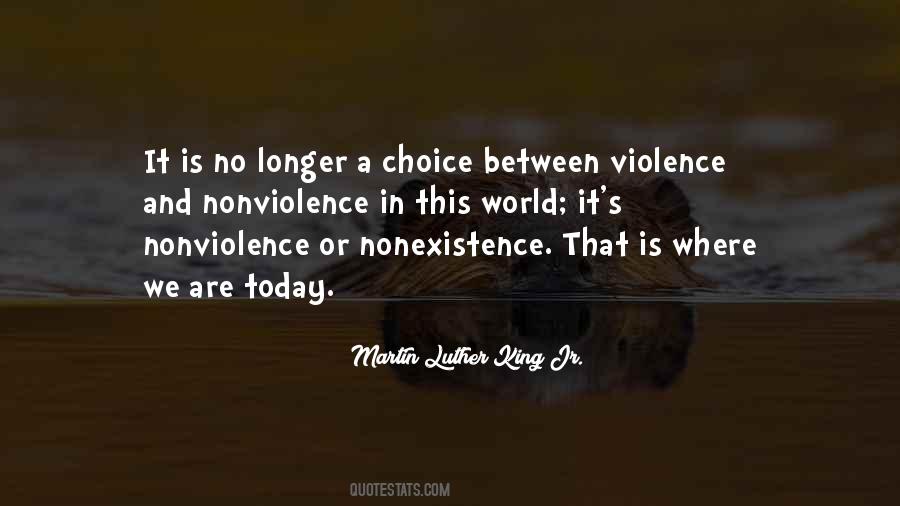 #28. We are constantly being astonished these days at the amazing discoveries in the field of violence. But I maintain that far more undreamt of and seemingly impossible discoveries will be made in the field of nonviolence. - Author: Mahatma Gandhi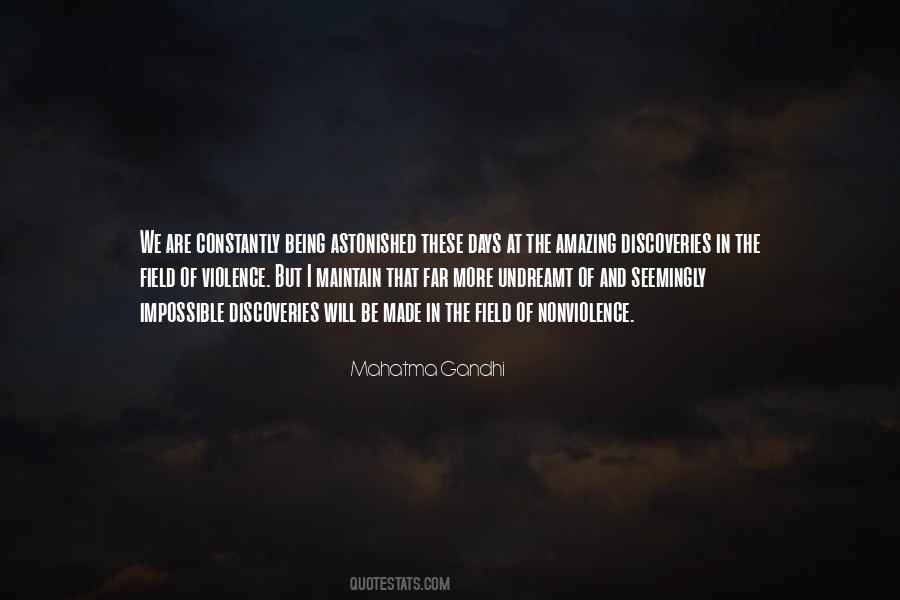 #29. The most efficient action, the most significant testimony to nonviolence, is living a life in which there is no violence-showing that such a life is possible, and even not more difficult than a life of gain, nor more unpleasant than a life of pleasure, nor less natural than an 'ordinary' life. - Author: Lanza Del Vasto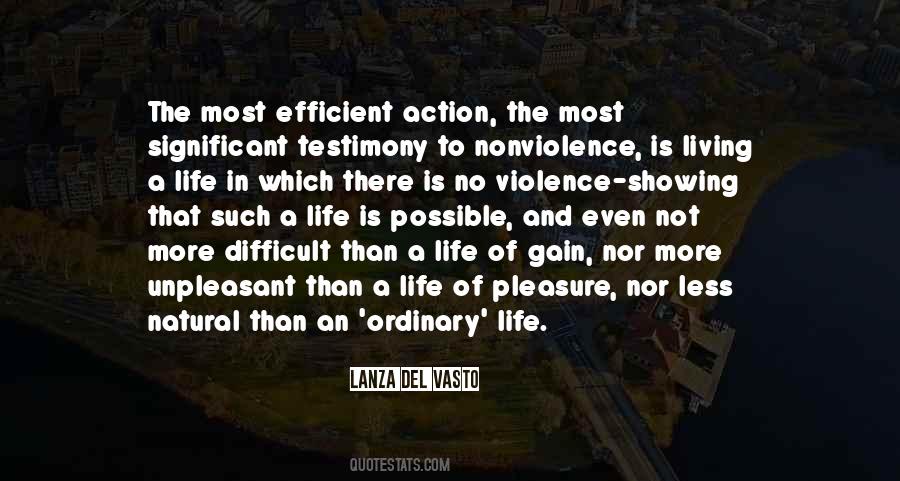 #30. All my adult life I have deplored violence and war as instruments for achieving solutions to mankind's problems. I am firmly committed to the creative power of nonviolence as the force which is capable of winning lasting and meaningful brotherhood and peace. - Author: Martin Luther King Jr.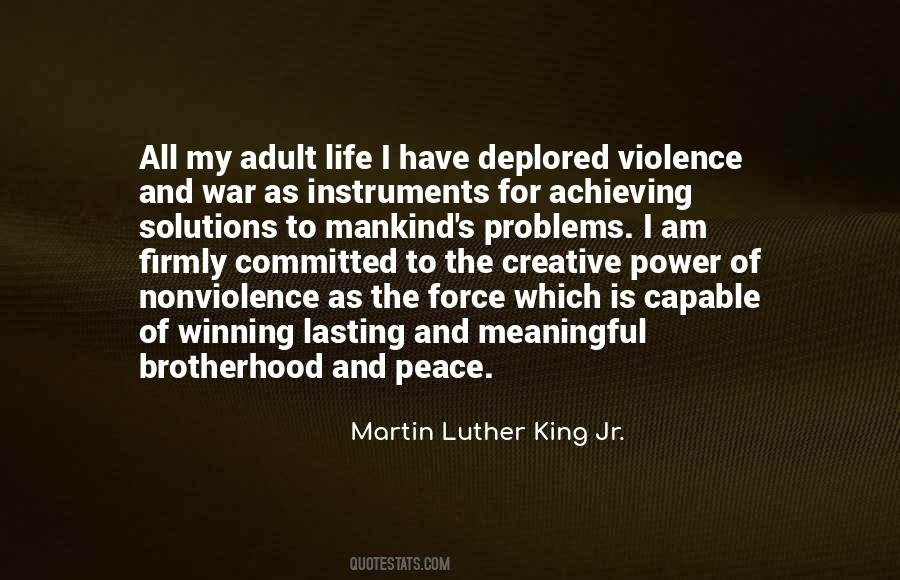 #31. We are killing, every one of us, every moment of the day - just by living. And if one realizes this, is this very realization itself not a conscious consent to murder? If a truly circumspect Jain was truly serious about not killing anything, wouldn't his only recourse be to kill himself? - Author: Mark X.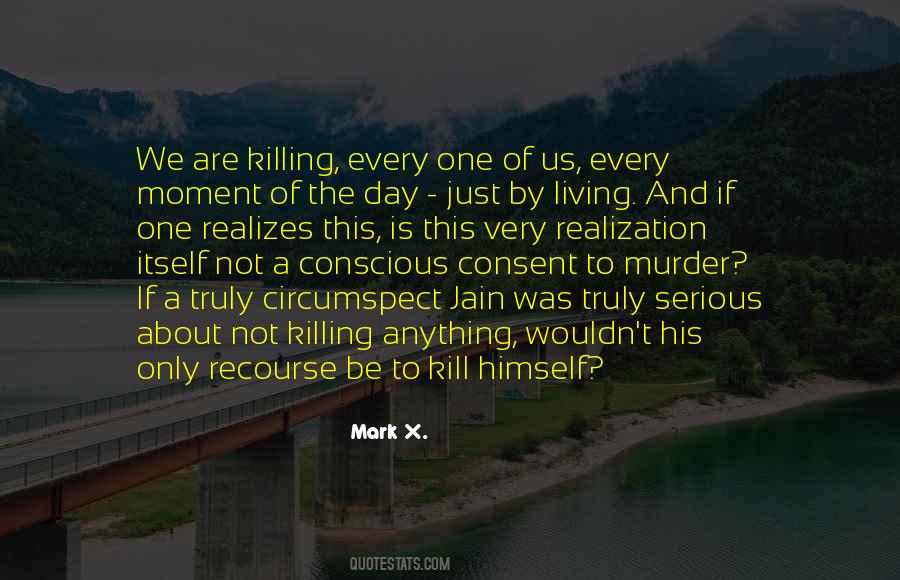 #32. My nonviolence does recognize different species of violence, defensive and offensive. - Author: Mahatma Gandhi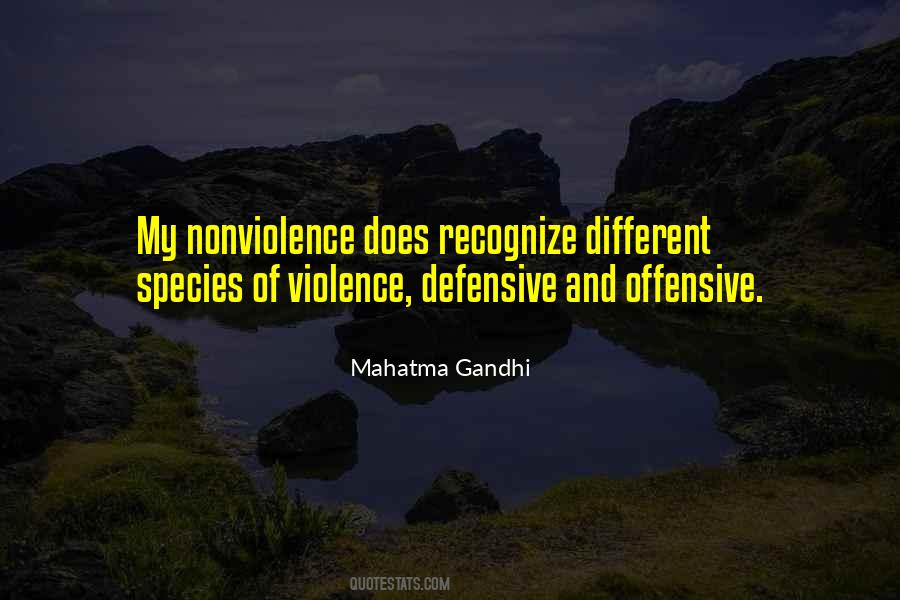 #33. Nonviolence is kindling light of love into the dark places and budding trust from the threshold of hopelessness. - Author: Amit Ray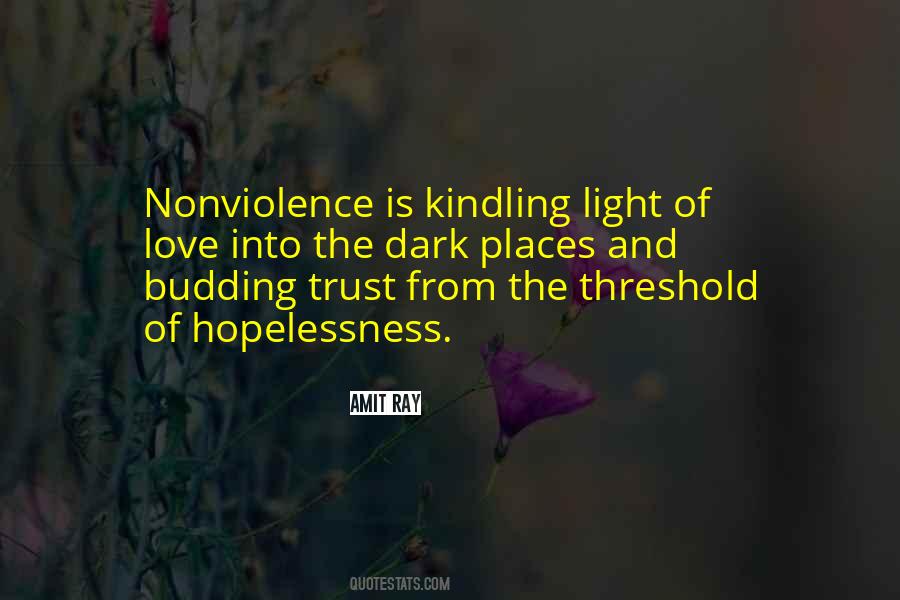 #34. People try nonviolence for a week, and when it 'doesn't work,' they go back to violence, which hasn't worked for centuries. - Author: Zak Ebrahim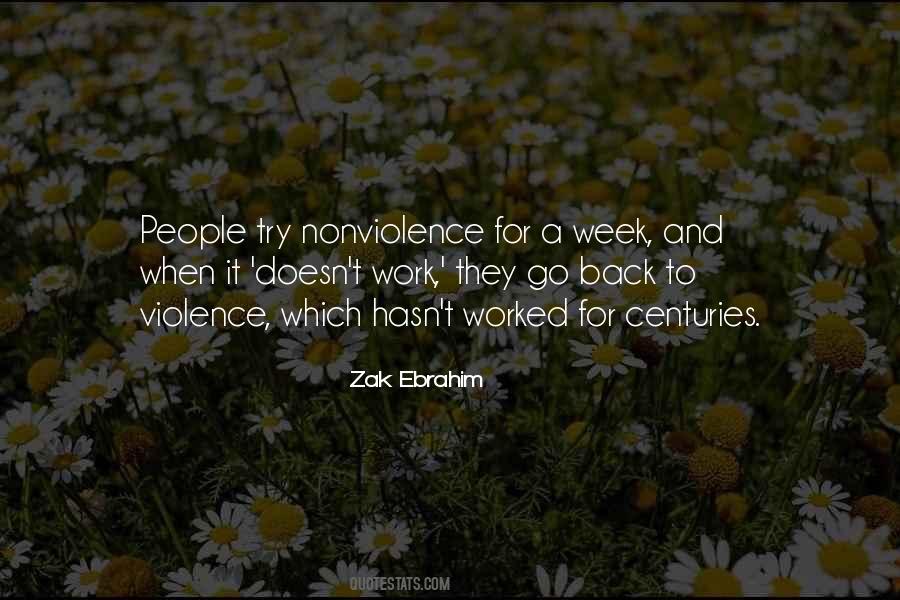 #35. We can't win the world with weapons or violence.
We can win the world with love and practice of nonviolence. - Author: Debasish Mridha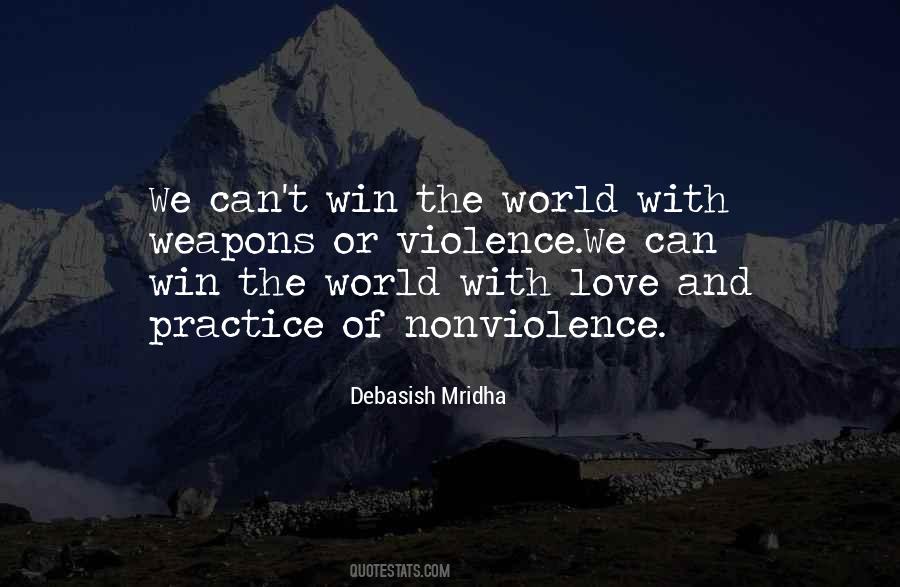 #36. Peace is the alternative to war, and nonviolence should be seen as the antidote to violence, not simply as its opposite. Nonviolence is more concerned with saving life than with saving face. - Author: Jesse Jackson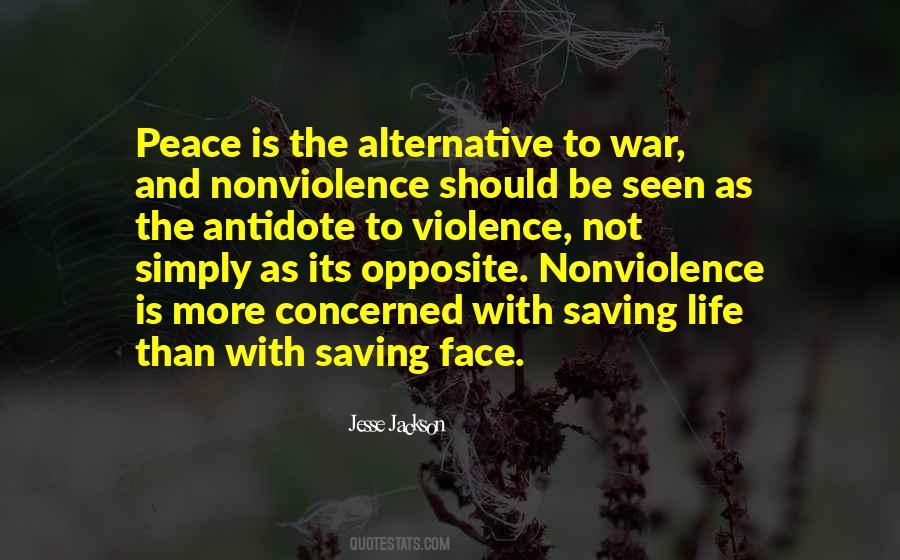 #37. His headstone said
FREE AT LAST, FREE AT LAST
But death is a slave's freedom
We seek the freedom of free men
And the construction of a world
Where Martin Luther King could have lived and
preached non-violence - Author: Nikki Giovanni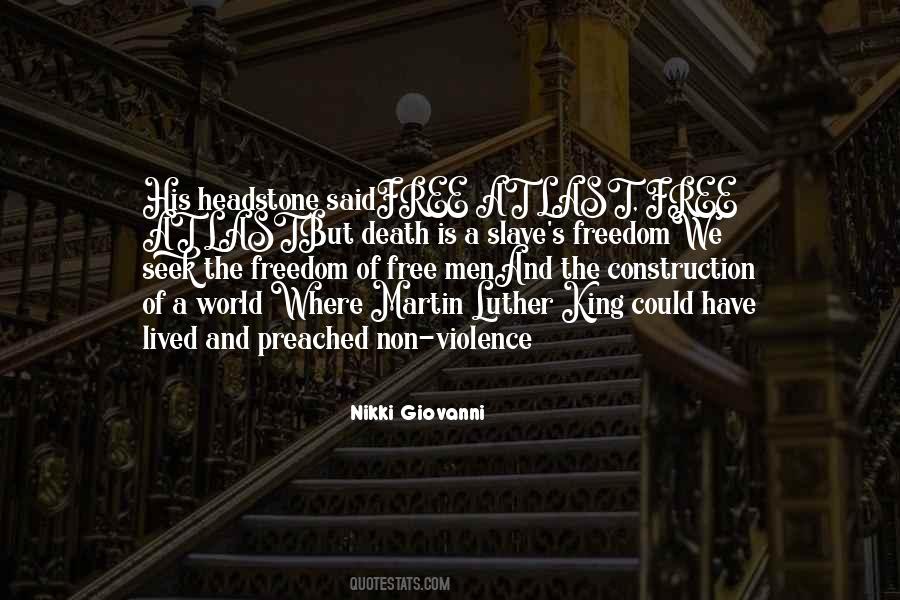 #38. Compassion stands on the pillars of trust, love, awareness and detachment. - Author: Amit Ray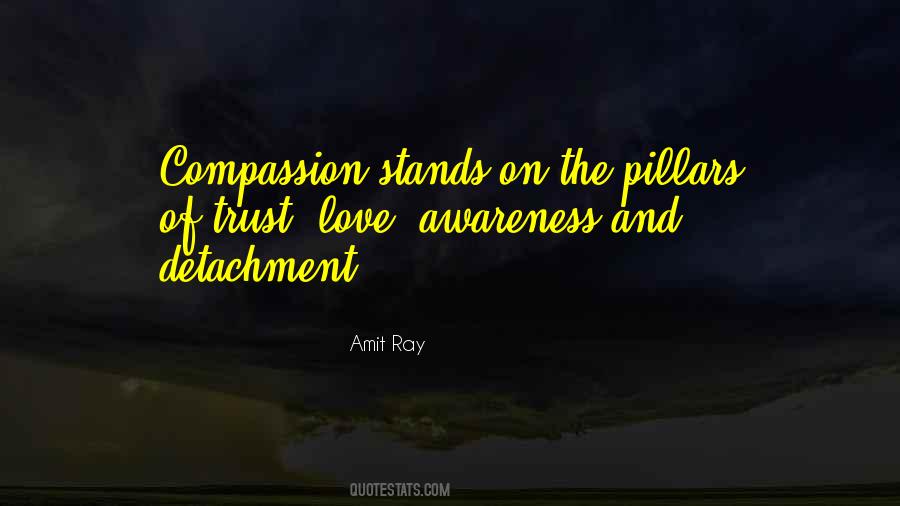 #39. Through Gandhi and my own life experience, I have learned about nonviolence. I believe that human life is a very special gift from God, and that no one has a right to take that away in any cause, however just. I am convinced that nonviolence is more powerful than violence. - Author: Cesar Chavez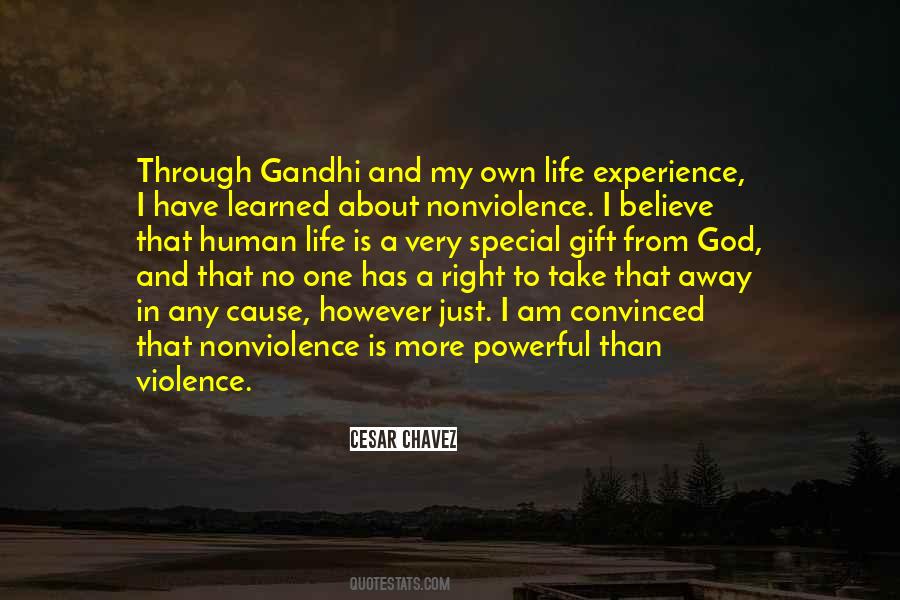 #40. Non-violence is more powerful than violence. Nature eliminates violent animals bit by bit. - Author: Amit Ray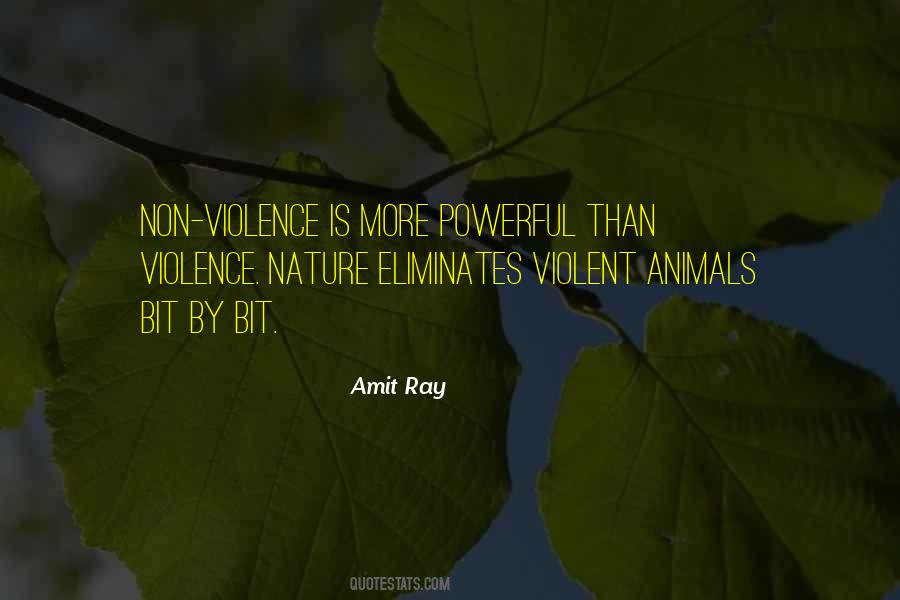 #41. 3. War Peace & Action -
3B.02 LOVE & PEACE
Hatred goes not by hatred,
Violence not by violence,
Disappear hatred and violence,
By love, understanding, non-violence.
[241] - 3B - Author: Munindra Misra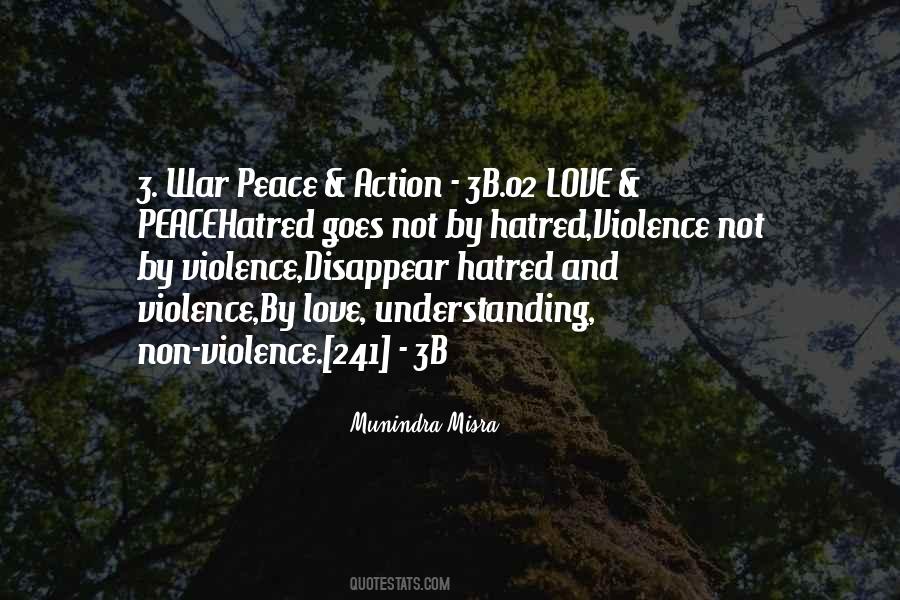 #42. If you are not vegan, please consider going vegan. It's a matter of nonviolence. Being vegan is your statement that you reject violence to other sentient beings, to yourself, and to the environment, on which all sentient beings depend. - Author: Gary L. Francione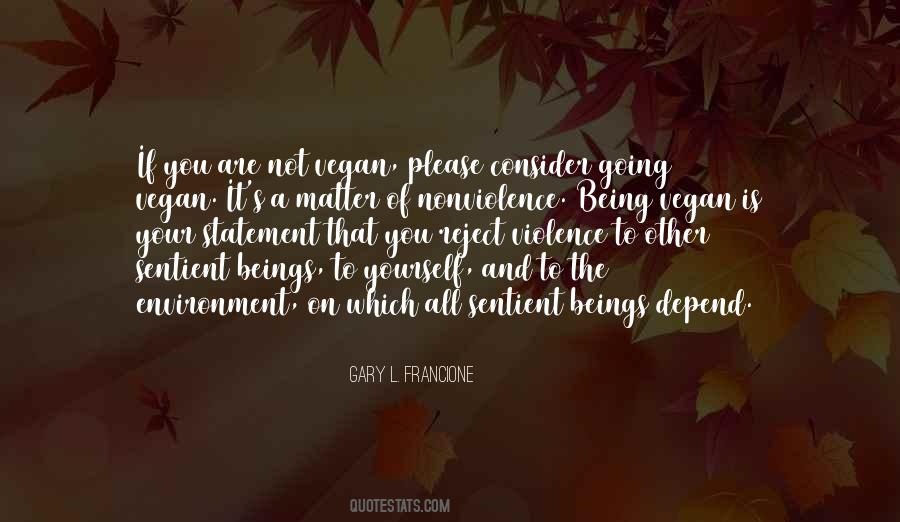 Famous Authors
Popular Topics