Verses Famous Quotes & Sayings
List of top 100 famous quotes and sayings about verses to read and share with friends on your Facebook, Twitter, blogs.
Top 100 Quotes About Verses
#1. So when I'm killed, don't wait for me, Walking the dim corridor; In Heaven or Hell, don't wait for me, Or you must wait for evermore. You'll find me buried, living-dead In these verses that you've read. - Author: Robert Graves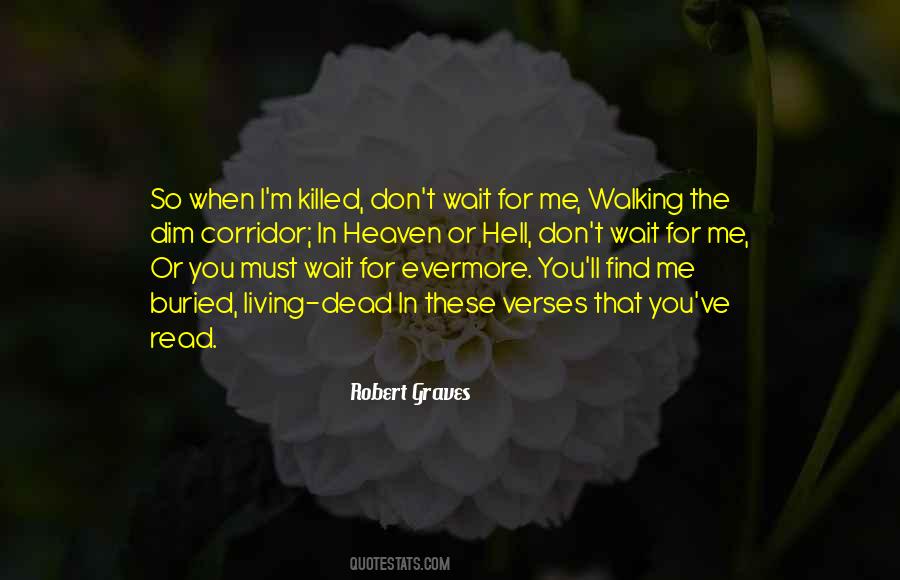 #2. The mad is either insane or he is composing verses. - Author: Horace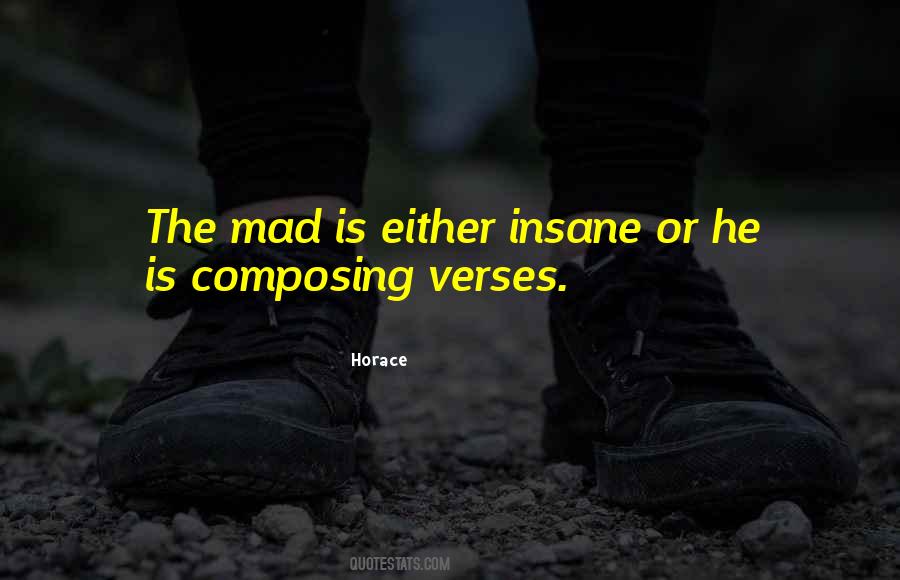 #3. If only the Geologists would let me alone, I could do very well, but those dreadful Hammers! I hear the clink of them at the end of every cadence of the Bible verses - Author: John Ruskin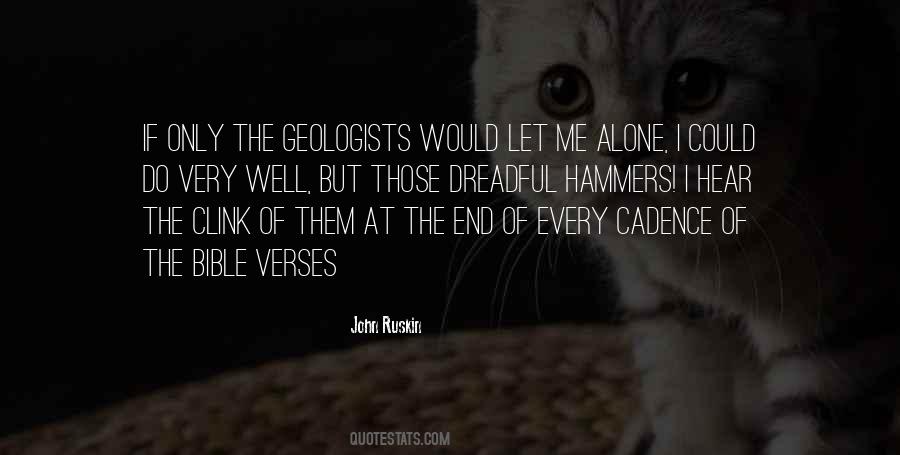 #4. One verse chosen to meet our needs, read ten times and then laid up in the heart, is better than ten verses read once. Only so much of the word as I actually receive and inwardly appropriate for myself, is food for my soul. - Author: Andrew Murray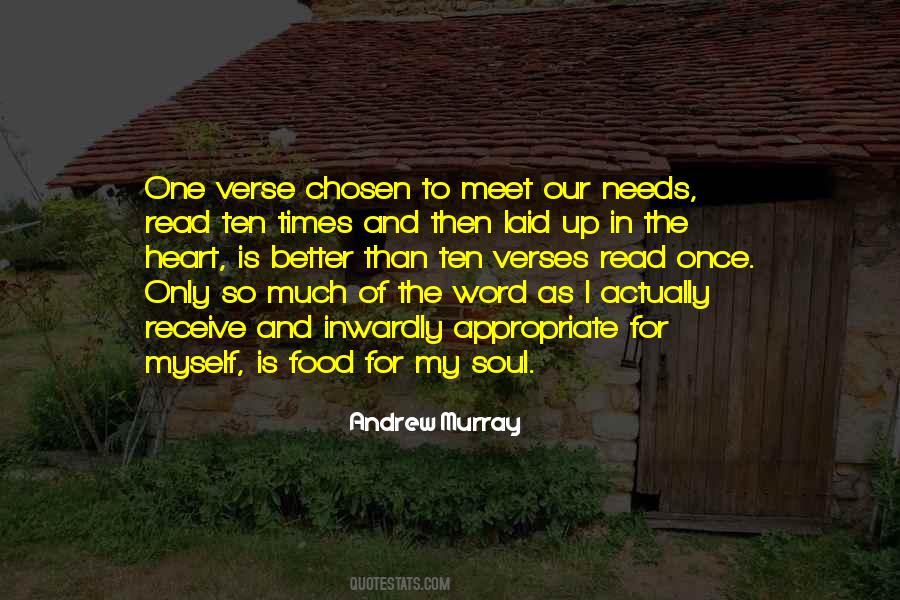 #5. There is poetry even in prose, in all the great prose which is not merely utilitarian or didactic: there exist poets who write in prose or at least in more or less apparent prose; millions of poets write verses which have no connection with poetry. - Author: Eugenio Montale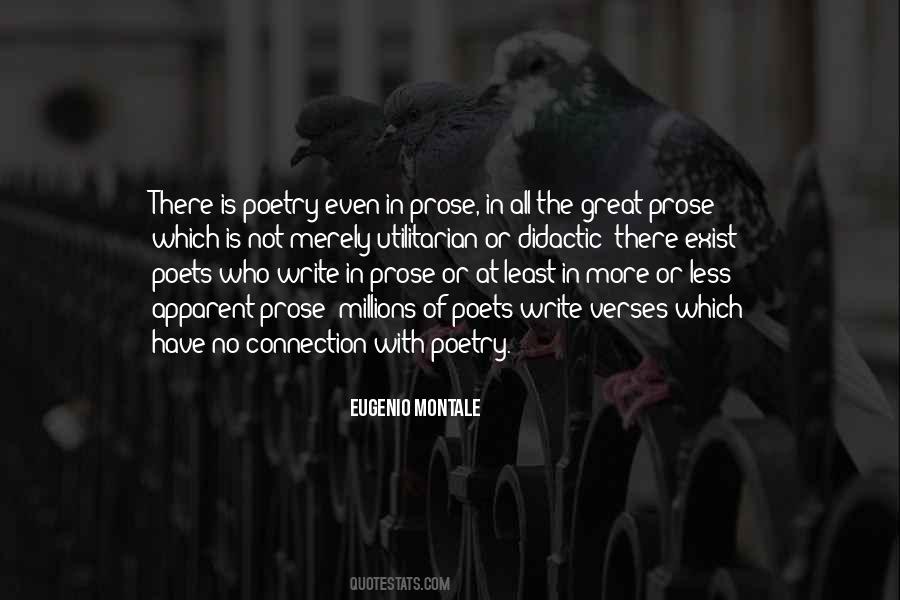 #6. I would have any one, who really and truly has leisure and ability, make verses. I think it a more refining and happy-making occupation than any other pastime accomplishment. - Author: Sara Coleridge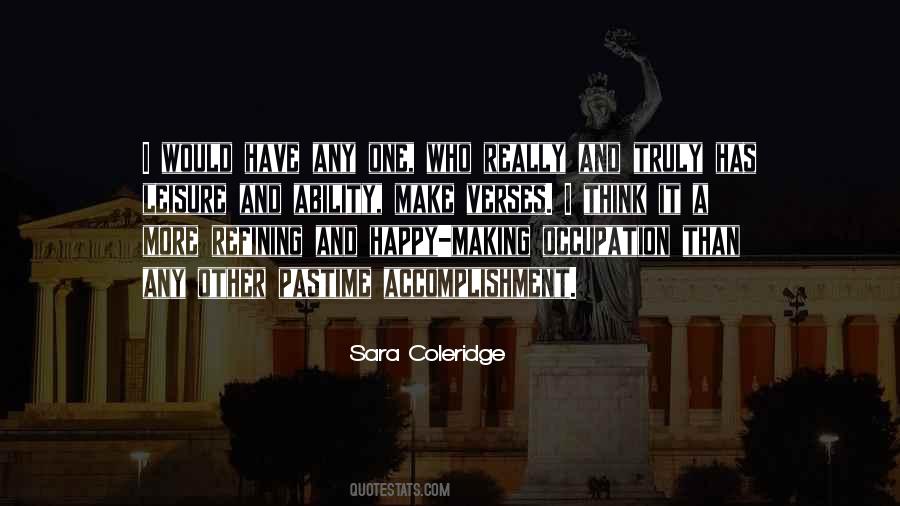 #7. I don't think I've ever quite grown out of it, actually. There was a point where I could recite some of those Elvish verses - which I've mercifully forgotten. But I can still, if really pushed, recite the text of the inside of the ruling ring in the language of Mordor. - Author: Salman Rushdie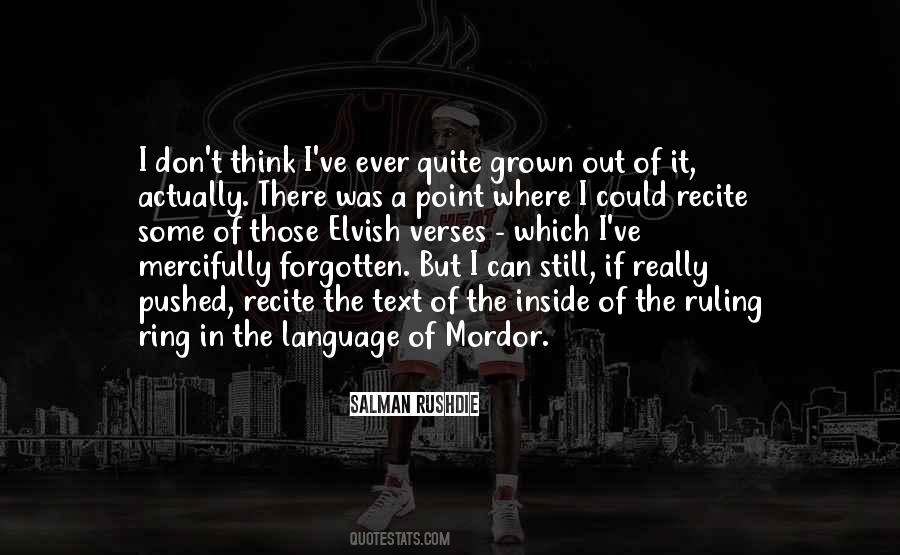 #8. When a man's verses cannot be understood, nor a man's good wit seconded with the forward child understanding, it strikes a man more dead than a great reckoning in a little room. Truly, I would the gods had made thee poetical. - Author: William Shakespeare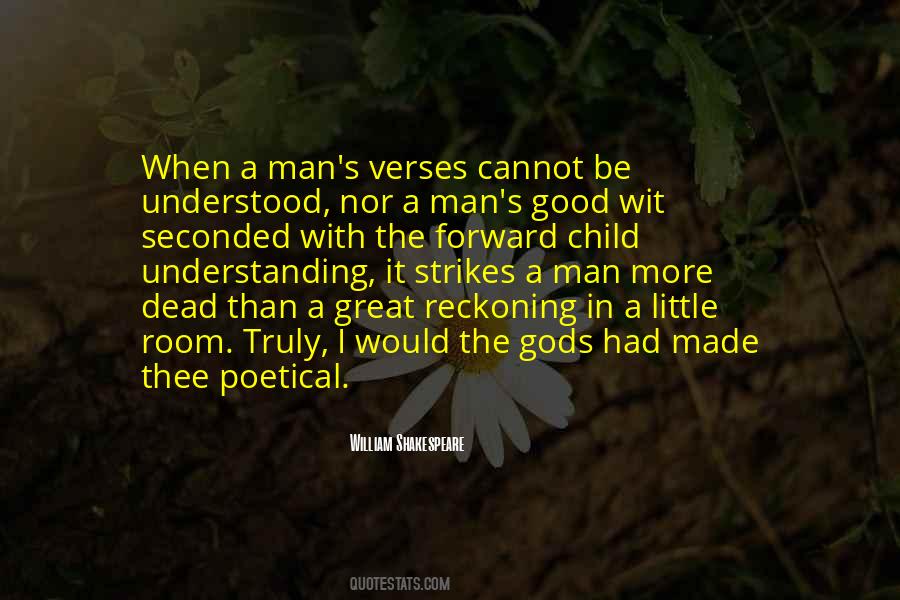 #9. Whenever you see, in an official lectionary, the command to omit two or three verses, you can normally be sure that they contain words of judgment. Unless, of course, they are about sex. But - Author: N. T. Wright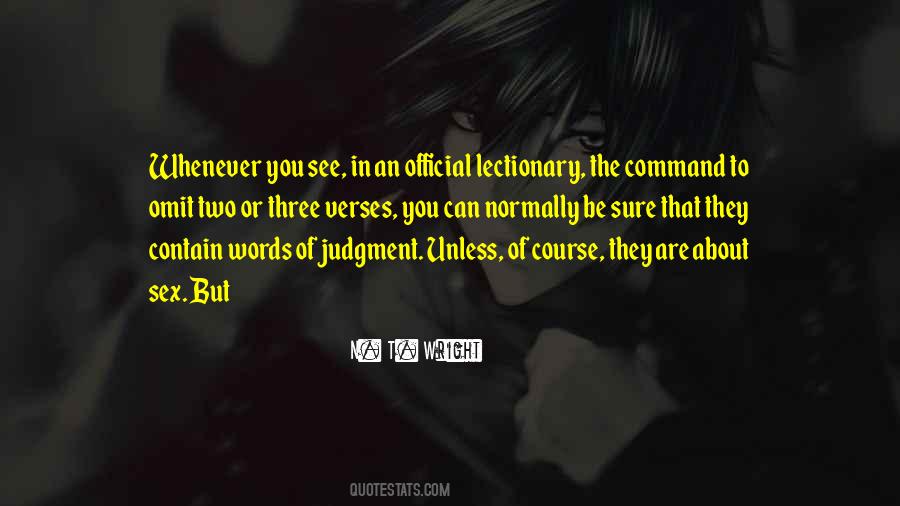 #10. Well, that was enough crazy for one night," she said. "What was that? Greasers verses Socs? - Author: Becca Fitzpatrick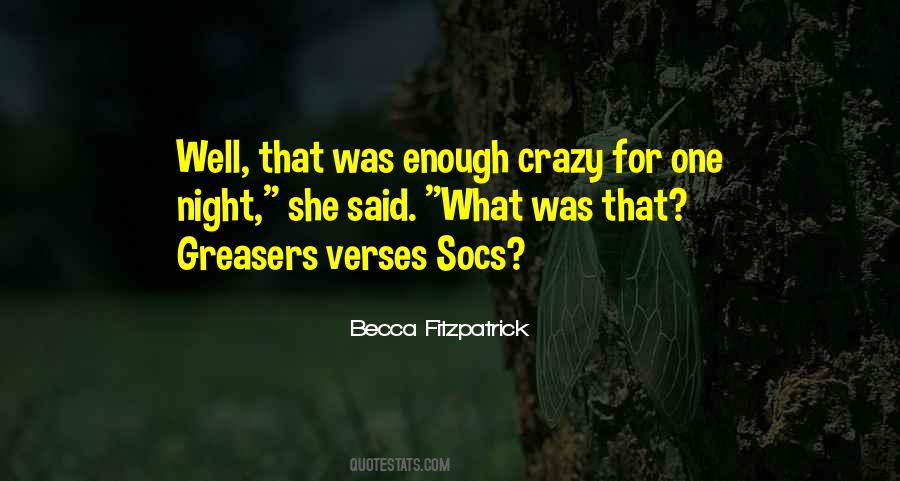 #11. Arjuna, fair or unfair, the results of any action depend on five things: the body, the mind, the instruments, the method and divine grace (luck? fate?). Only the ignorant think they alone are responsible for any outcome. - Bhagavad Gita: Chapter 18, verses 13 to 16 (paraphrased). - Author: Devdutt Pattanaik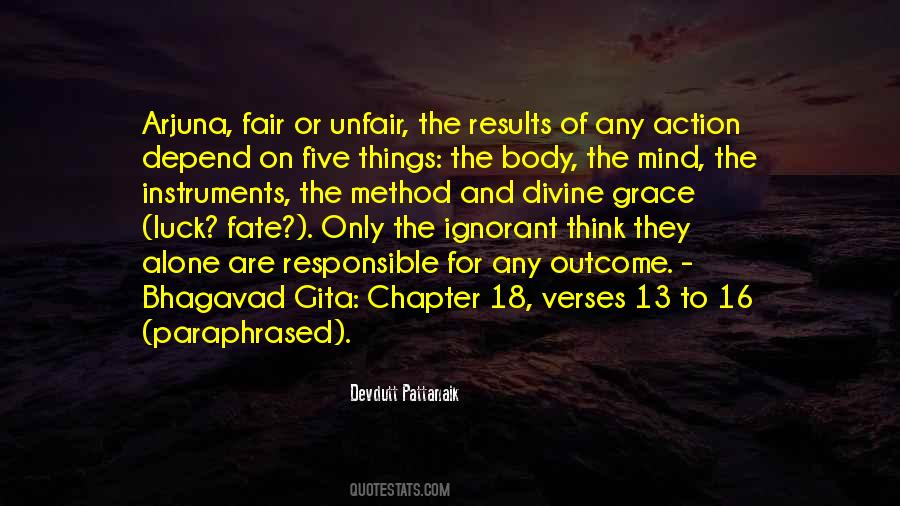 #12. CONCERNED BUT NOT CONSUMED! - Author: Ron Sanders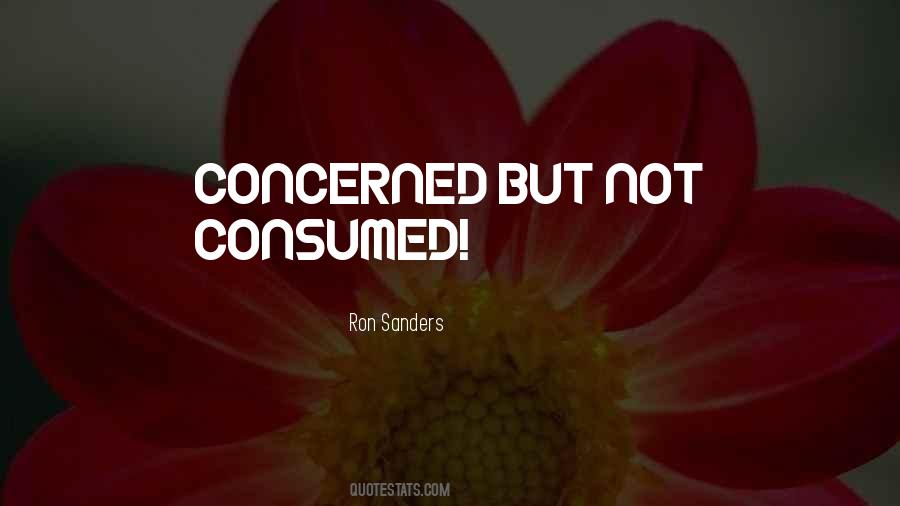 #13. The Qur'an not only lacks any earthly punishment for someone who abandons Islam, it even includes verses that imply that such a change of heart should be a matter of free choice. - Author: Mustafa Akyol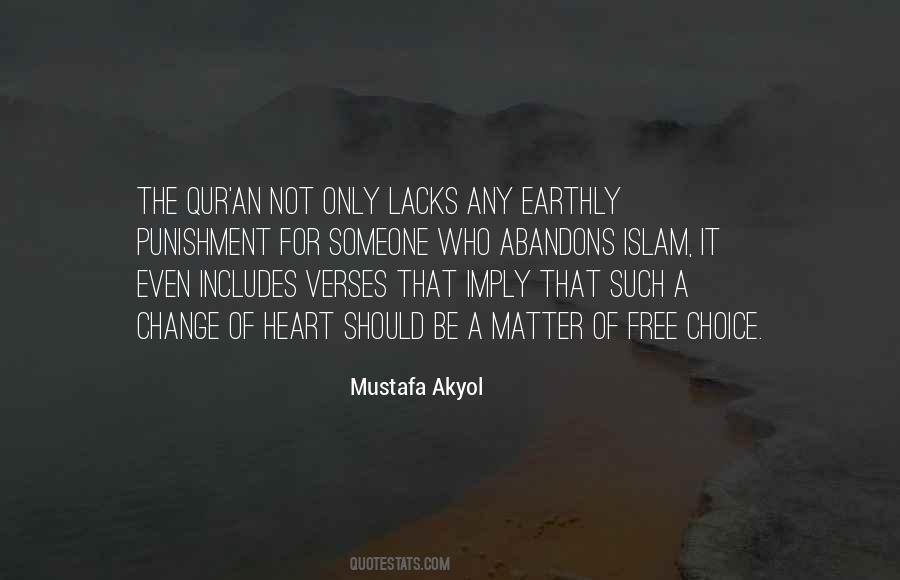 #14. In this they have the support of Blake, a man so sensitive to any trace of "Natural Religion" that he is said to have blamed some verses of Wordsworth's for a bowel complaint which almost killed him. - Author: Geoffrey H. Hartman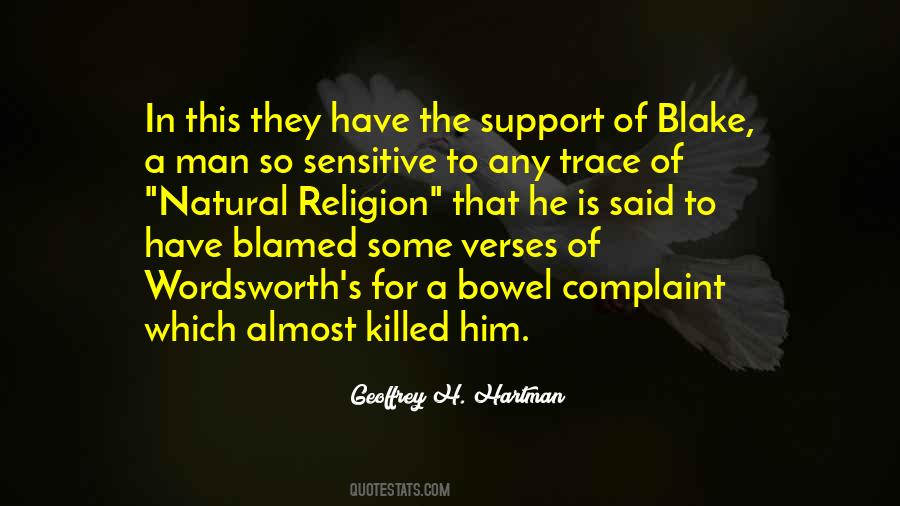 #15. I hate my verses, every line, every word. Oh pale and brittle pencils ever to try One grass-blade's curve, or the throat of one bird That clings to twig, ruffled against white sky. Oh cracked and twilight mirrors ever to catch One color, one glinting flash, of the splendor of things. - Author: Robinson Jeffers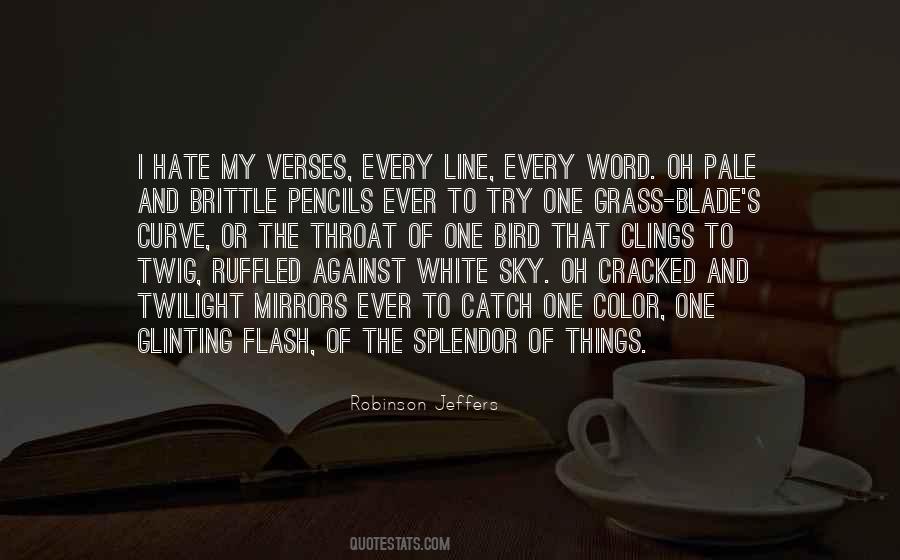 #16. We start a lot with melodies and instrumentation and trying to figure out good melodies for verses and choruses. We get to lyrics sometimes second, so we'll start humming a melody, finding something, and see where the music takes you as far as lyrics are and what you want to say and go from there. - Author: Dave Haywood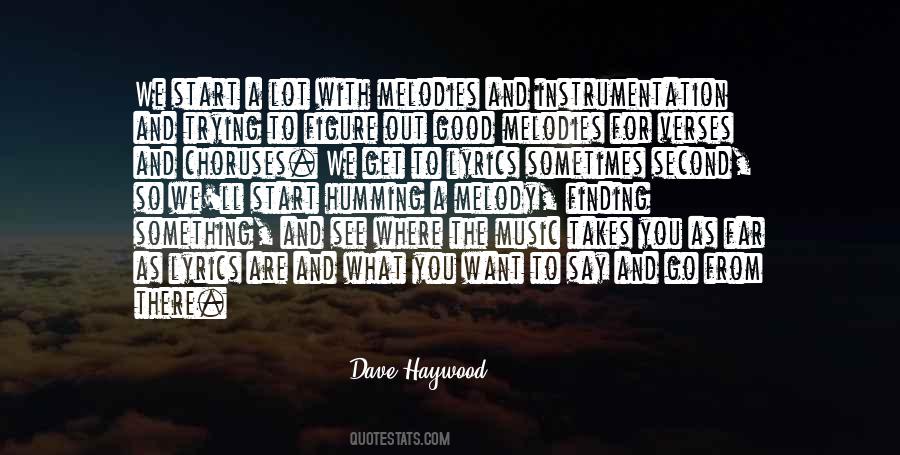 #17. God prefers bad verses recited with a pure heart to the finest verses chanted by the wicked. - Author: Voltaire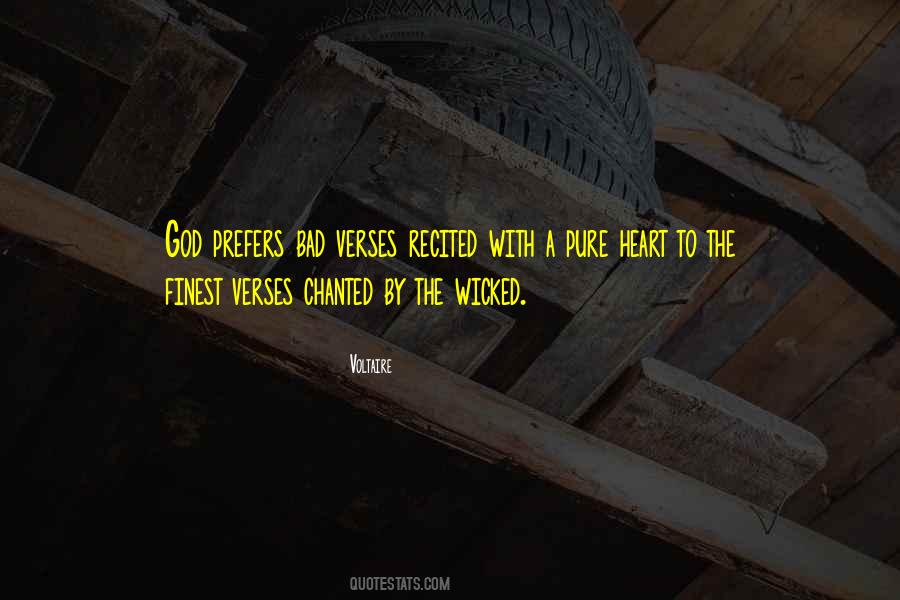 #18. Elrick turned to the proper pages in the Broadman hymnal and gamely sang along to the first, second, and fourth verses. We always ignored the third verse like the crazy aunt in the attic that nobody ever talked about. I never knew why. - Author: Brad Whittington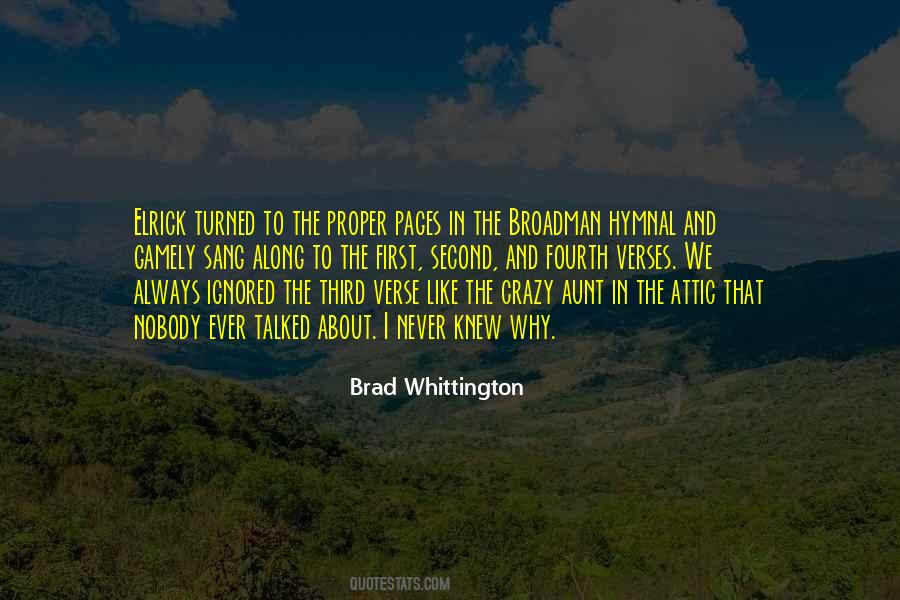 #19. The man is either mad, or he is making verses. - Author: Horace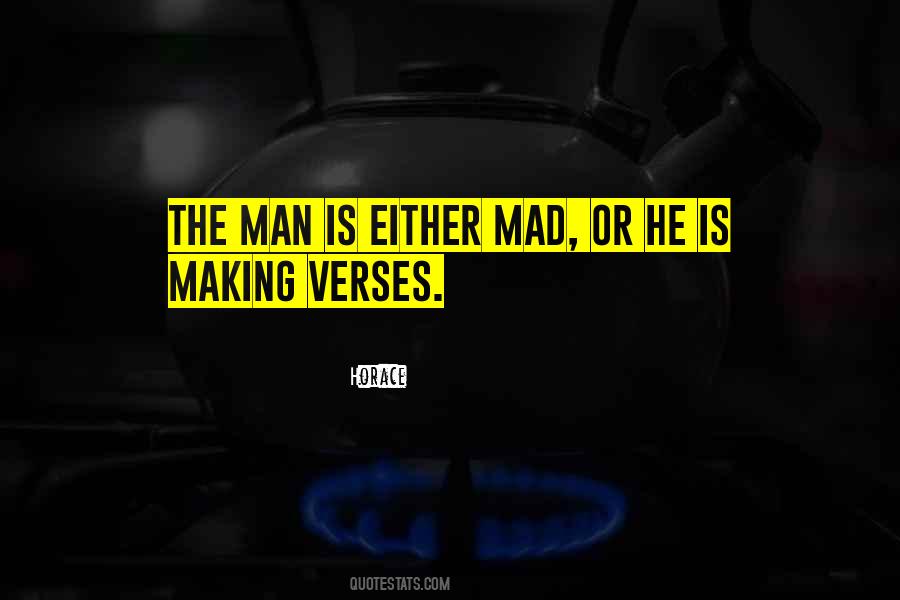 #20. Silence is a deadly weapon - Author: M. Teresa Clayton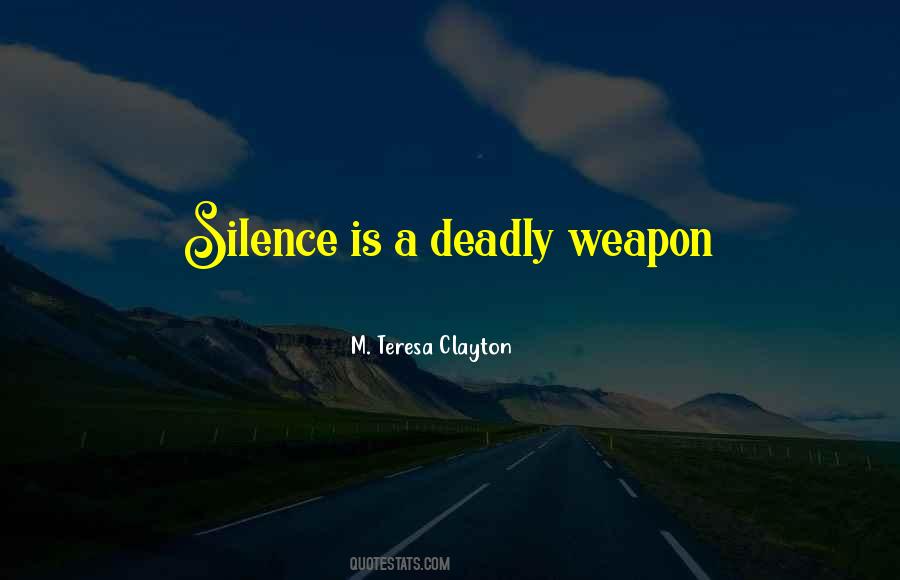 #21. Is that what I've been doing all these years? cutting my path though life? All the blood spilled and lives taken, just verses in a song? - Author: Anthony Ryan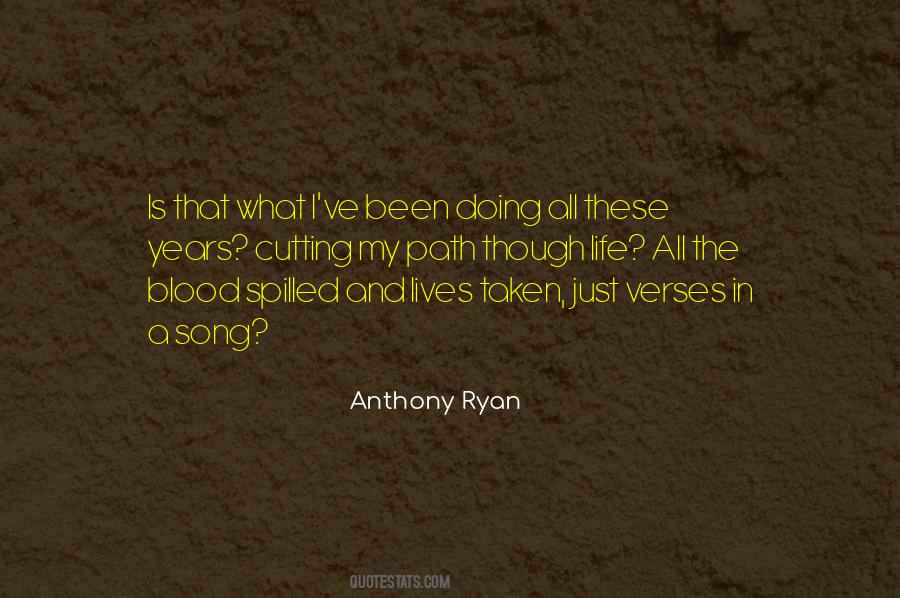 #22. My ex calls the ochre winter 'autumn' as we queue to hear dock boys play jazz fugues in velvet dark. - Broken Verses - Author: Kamila Shamsie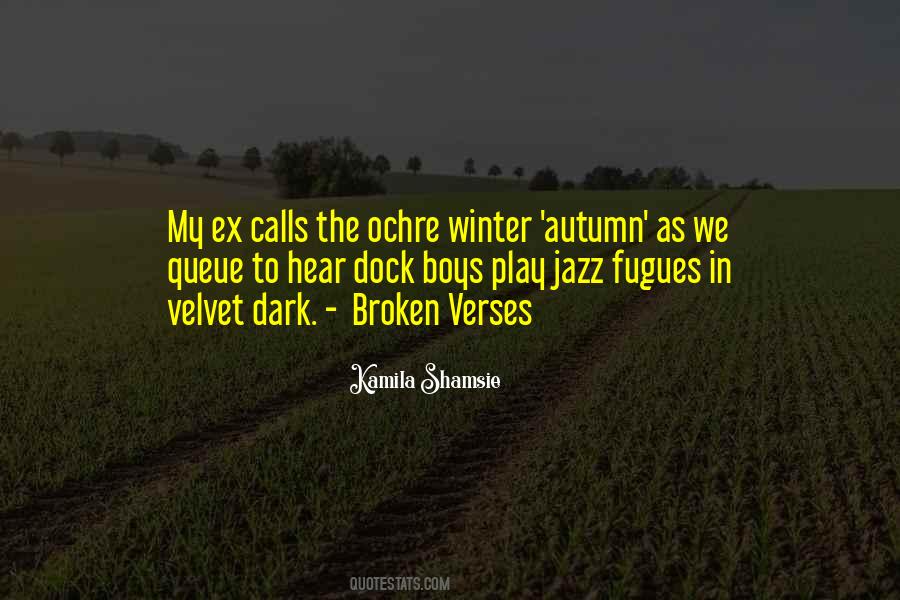 #23. The glorious Dryden, refiner and purifier of English verse, did less for rhyme than he did for metre. - Author: H.P. Lovecraft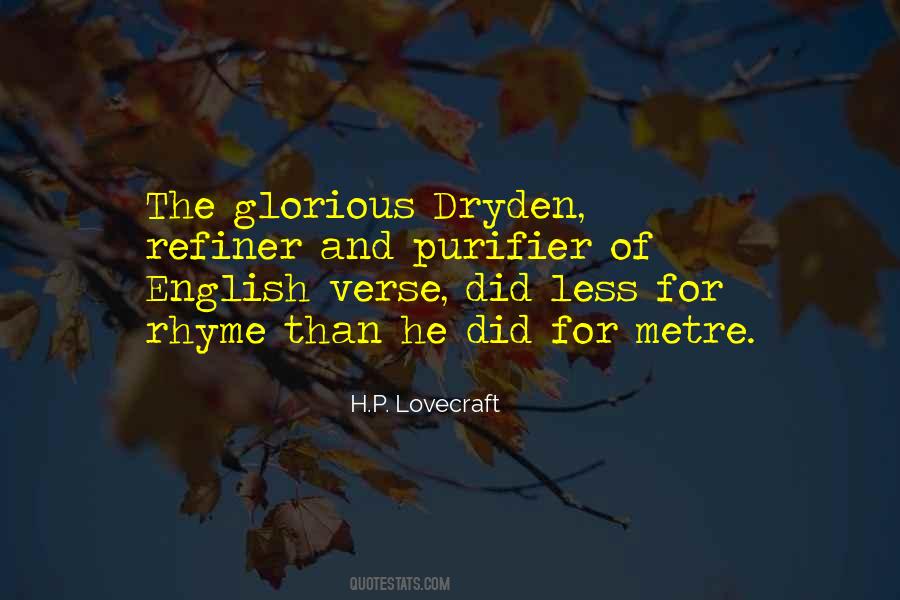 #24. At times Sophie sang songs for her that she had learned on the streets. Sometimes she still remembered verses that her parents had sung for her before they died. But they were only scraps, fragments from the past, linked to the hazy memory of a friendly face or laughter. - Author: Anonymous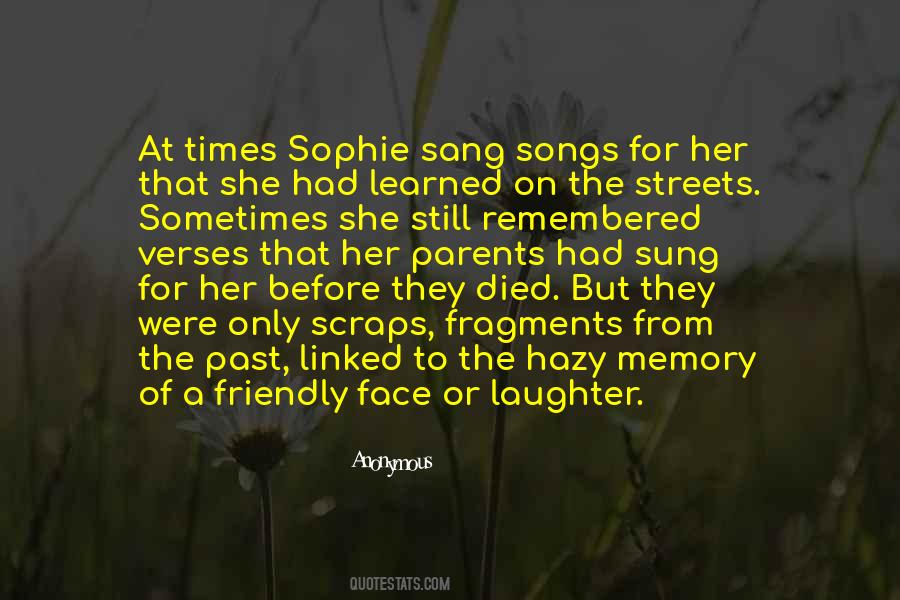 #25. The real 'have' and 'have nots' are between the people who were caught sinning verses the ones who got away with committing sin. - Author: E. Leo Foster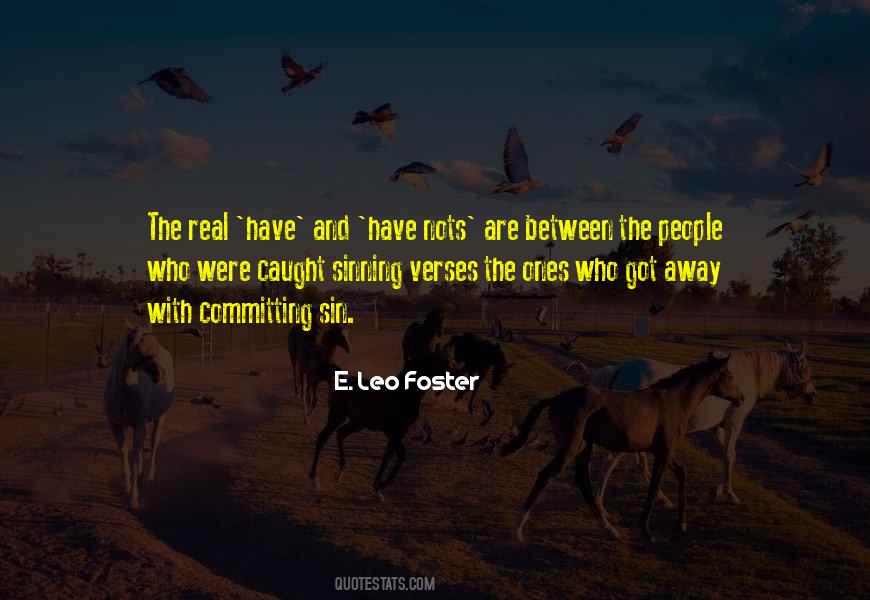 #26. My verses stand gawping a bit. I never get used to this. They've lived here long enough. - Author: Hugo Claus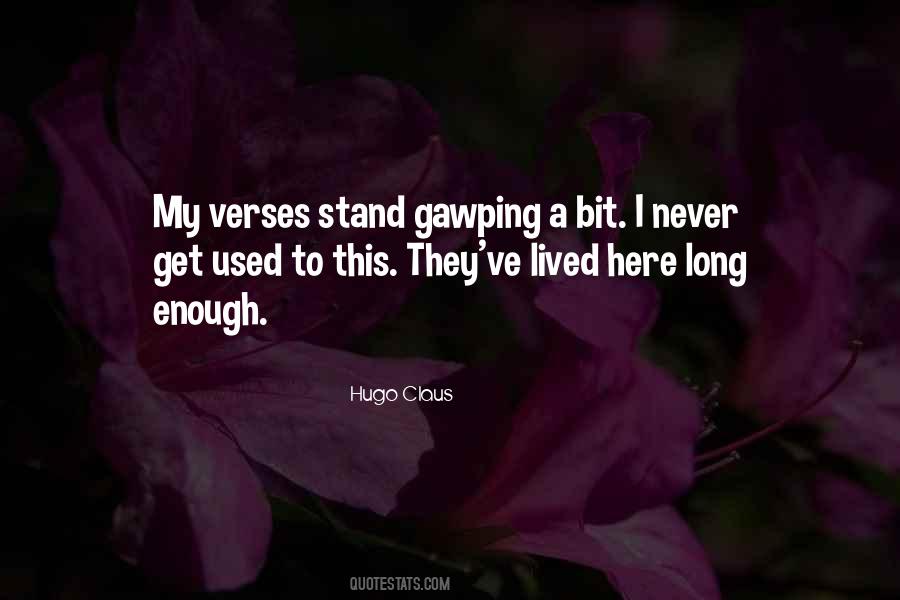 #27. Greater love has no one than this: to lay down one's life for one's friends. - Author: Bible Verses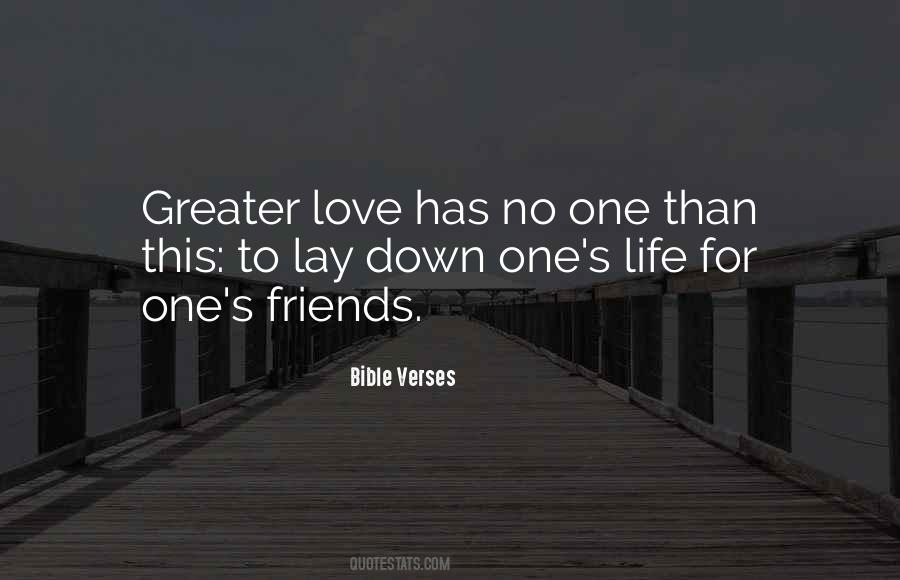 #28. And I just hope that I'm forgiven for carin bout how they livin and loanin a little money and keepin em outta prison I aint lyin in my verses, I'm just tellin you the basics of growin up wit ya friends and becomin the one that made it - Author: Drake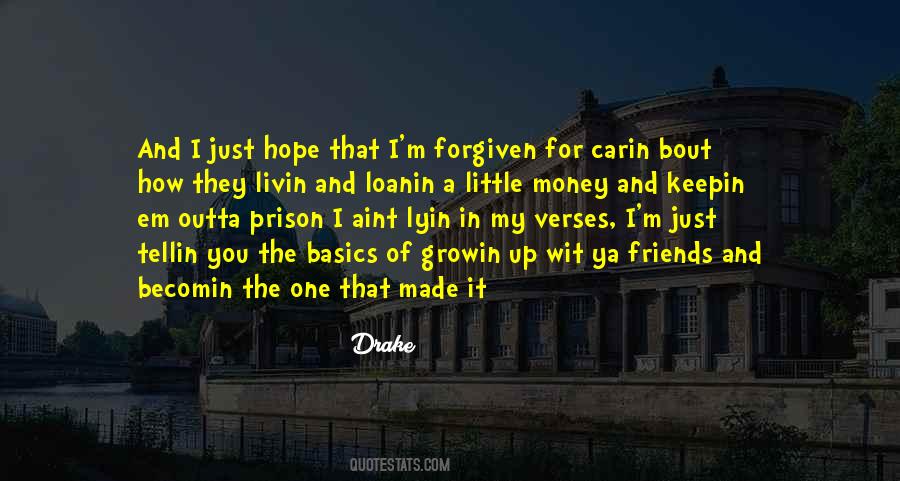 #29. In my last year at Hallmark, we finally began putting verses on computer. It had been all in filing cabinets on index cards. They had to assign a 4 digit serial number to each sentiment, for each area of feeling. - Author: Pat Cadigan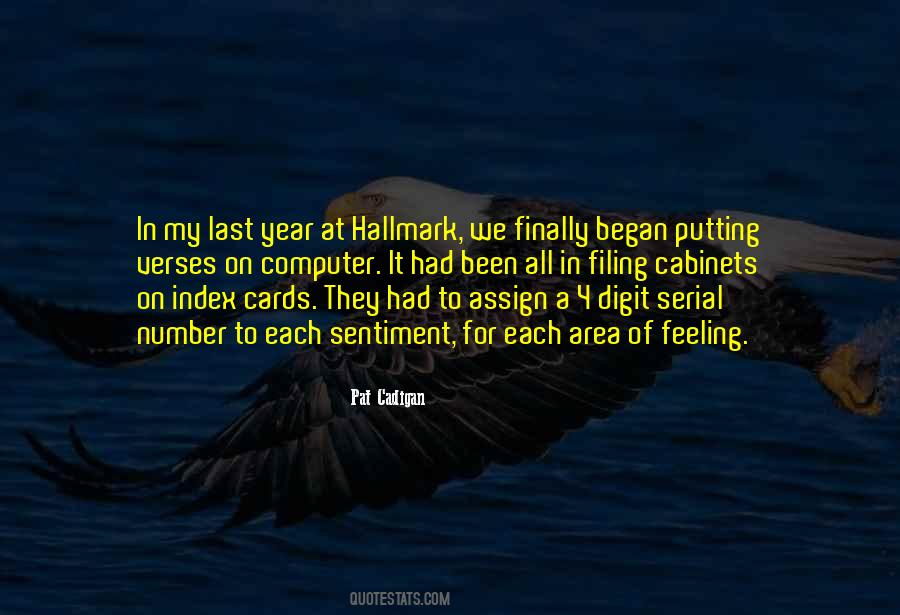 #30. On paper curiously shaped
Scribblers to-day of every sort,
In verses Valentines ycled'd
To Venus chime their annual court.
I too will swell the motley throng,
And greet the all auspicious day,
Whose privilege permits my song
My love this secret to convey. - Author: Henry George Bohn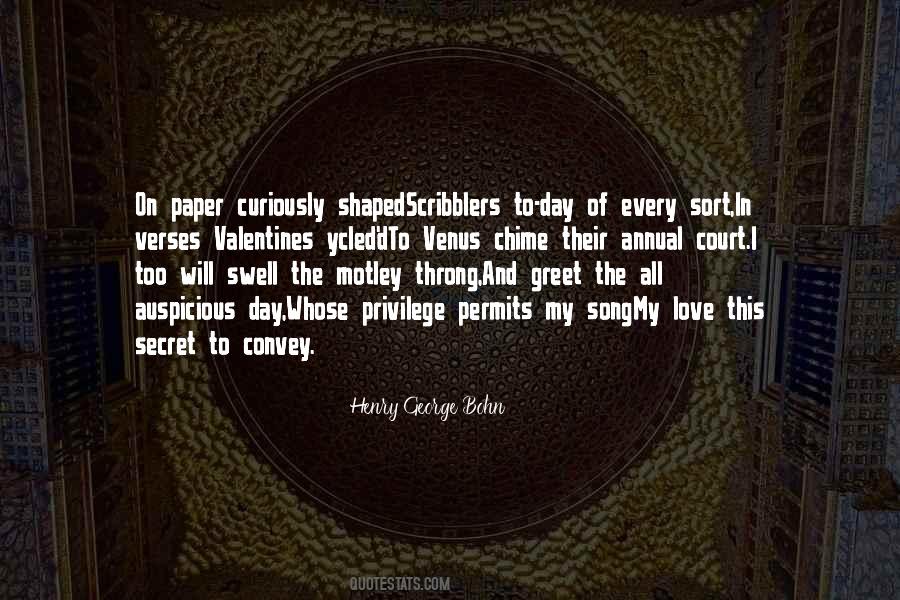 #31. No one born of God makes a practice of sinning ... and he cannot keep on sinning because he has been born of God" (cf. 5:18). On the surface, these verses appear to say that true Christians should not sin at all. - Author: Anonymous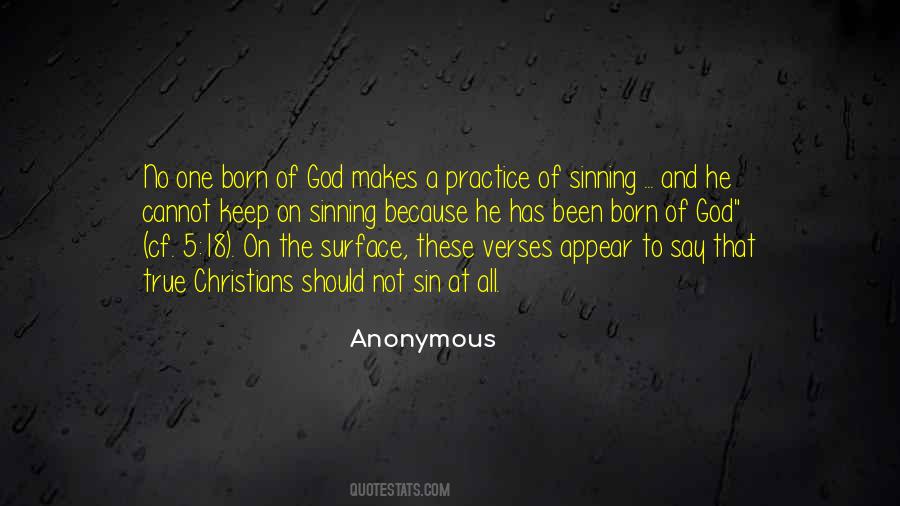 #32. I don't think I've ever had more fun doing anything in my life than trading verses with Daryl Hall on 'Private Eyes.' That's as fun as it gets. - Author: Mayer Hawthorne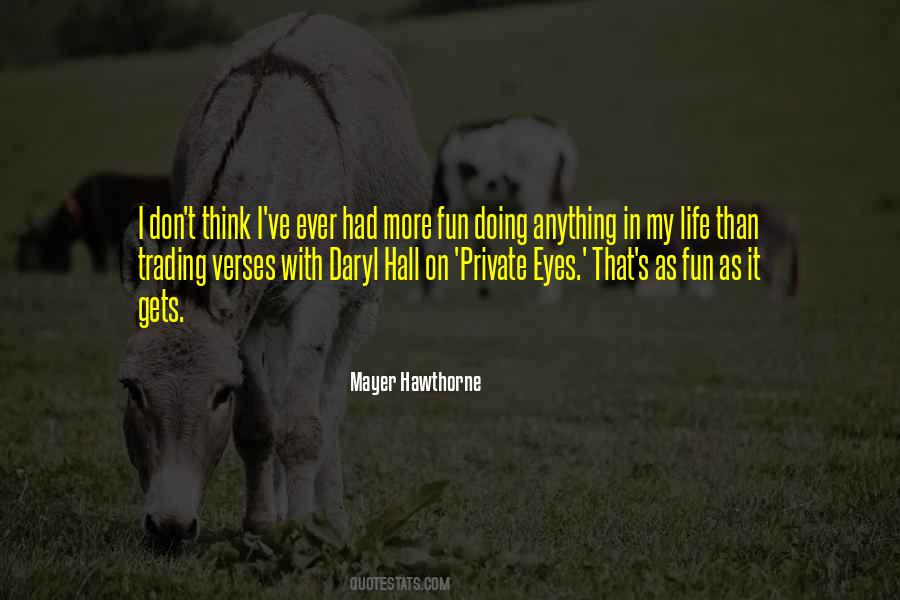 #33. Throughout the whole Stroll album, I'm breaking barriers. Whether I'm doing acoustic hip-hop, singing my own hooks or singing my own verses ... There's always going to be people who don't like it, cause they're stuck in their ways, or they just don't like you in general ... but it's been good. - Author: SonReal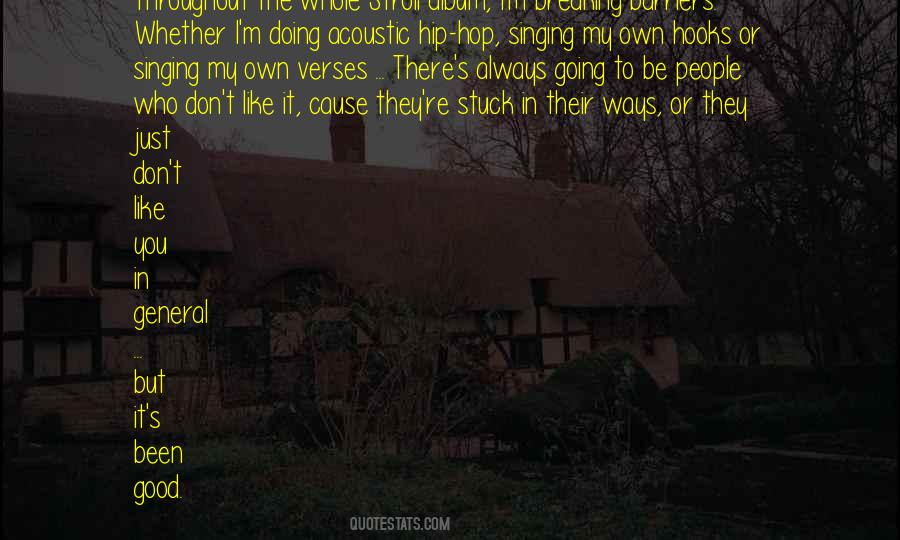 #34. The trouble with true faith is that it is 100% sure and the trouble with scientific knowledge is that it isn't! - Author: David Harold Chester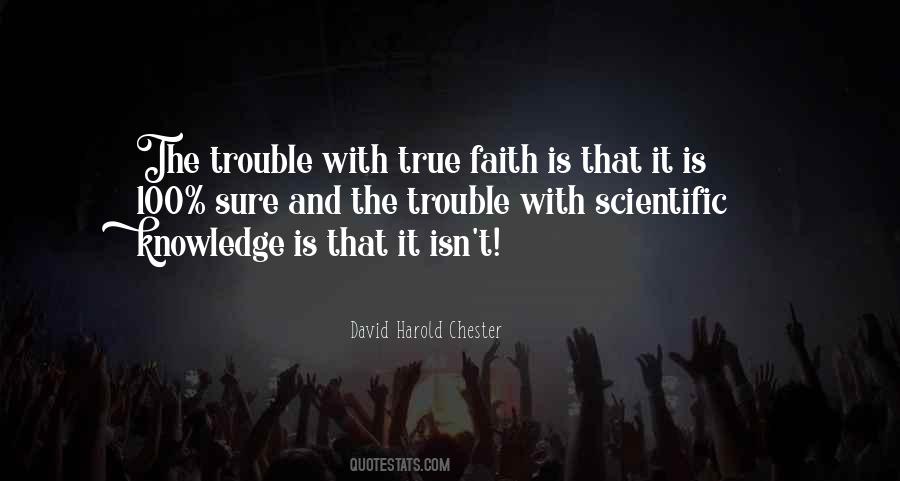 #35. What is hell to a writer? Hell is being too busy to find the time to write or being unable to find the inspiration. Hell is suddenly finding the words but being away from your notebook or typewriter. Hell is when the verses slip away through your fingers and they never return again. - Author: R.M. Engelhardt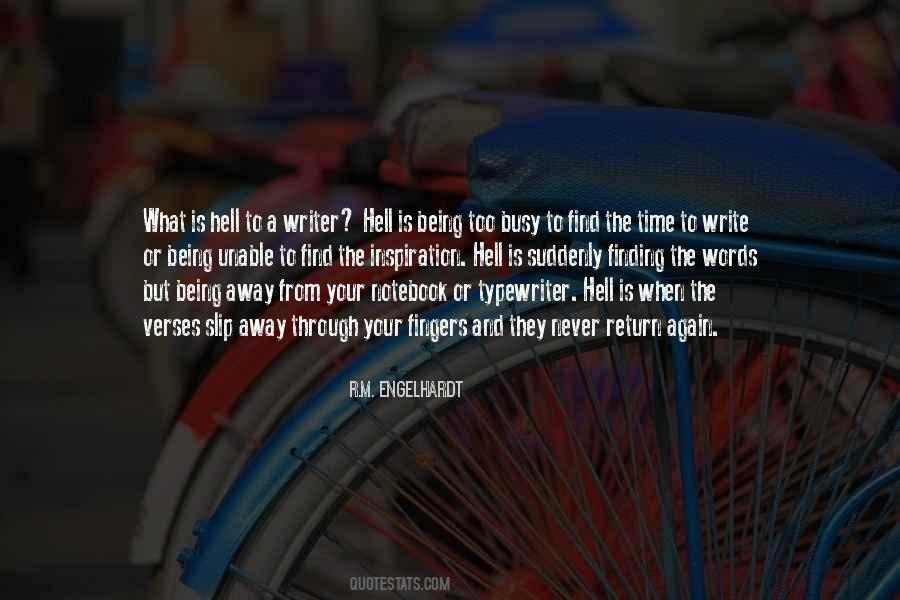 #36. I've always been a spontaneous singer. And all the stuff that you hear on the end of the songs, what they call the ad libs - that just comes out of my head. That's not thought out at all. I have the verses and the choruses, and then after that it's total improvisation. - Author: Daryl Hall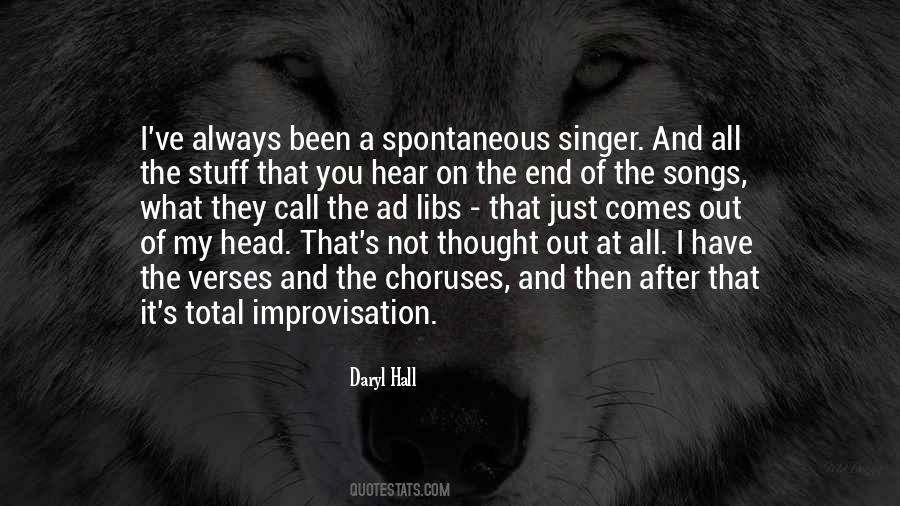 #37. The verses which he published in various reviews from time to time, and the neatly copied poems which he sent to his friends, superiors, and important personages, were neither much better nor much worse than thousands of other verse products of the day. - Author: Ivo Andric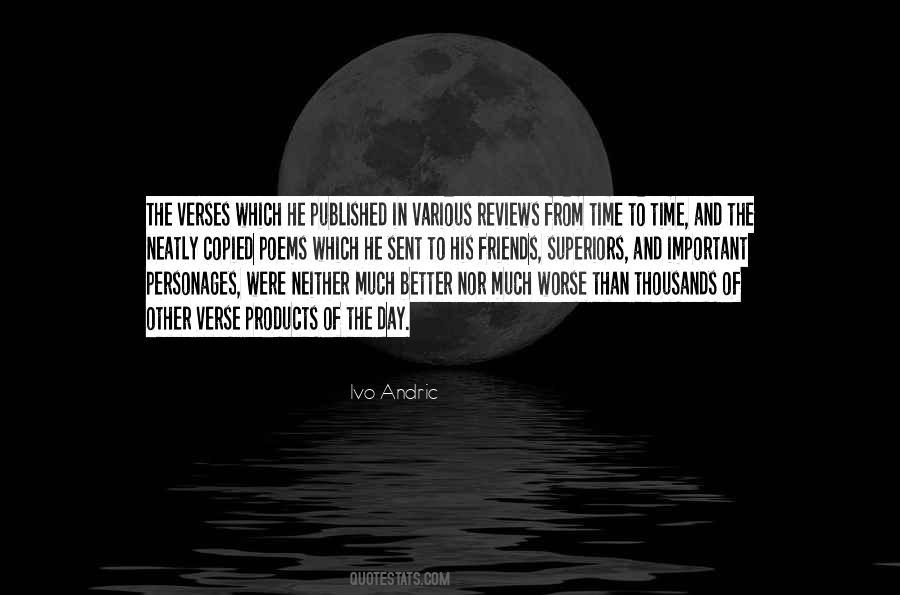 #38. I love Nicki Minaj, I told her I'd admit it, I hope one day we get married just to say we f-cking did it and girl I'm f-cking serious, I'm with it if you with it, cause your verses turn me on and your pants are mighty fitted - Author: Drake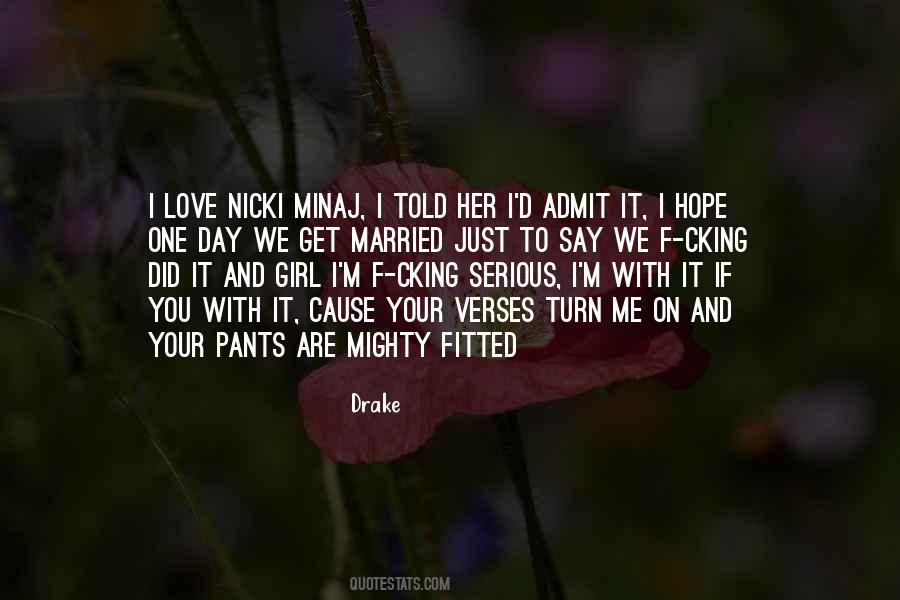 #39. I've been writing verses
For 60 years ... phew!
And d'yer know why I did it?
T'was especially for you - Author: John Walter Bratton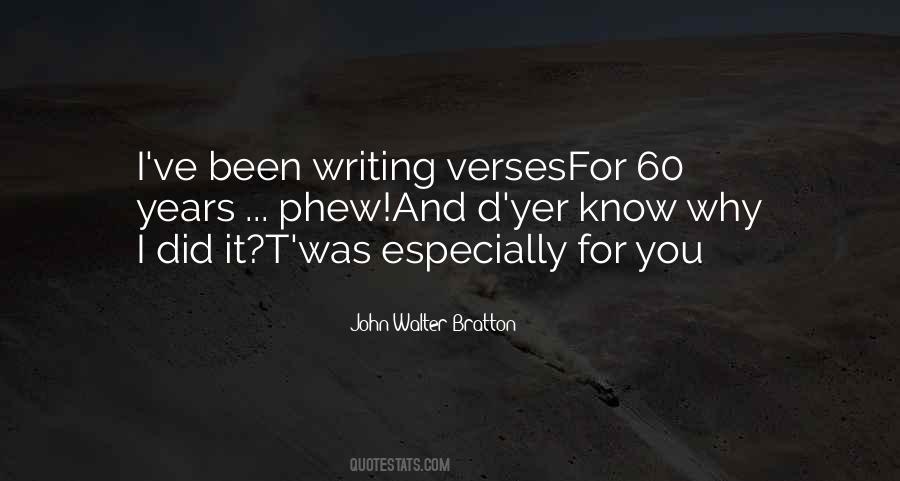 #40. Leaving Verses Poems Quotes
To say goodbye
Isn't a pain
Unless you're never going ... !
(Tee hee) - Author: John Walter Bratton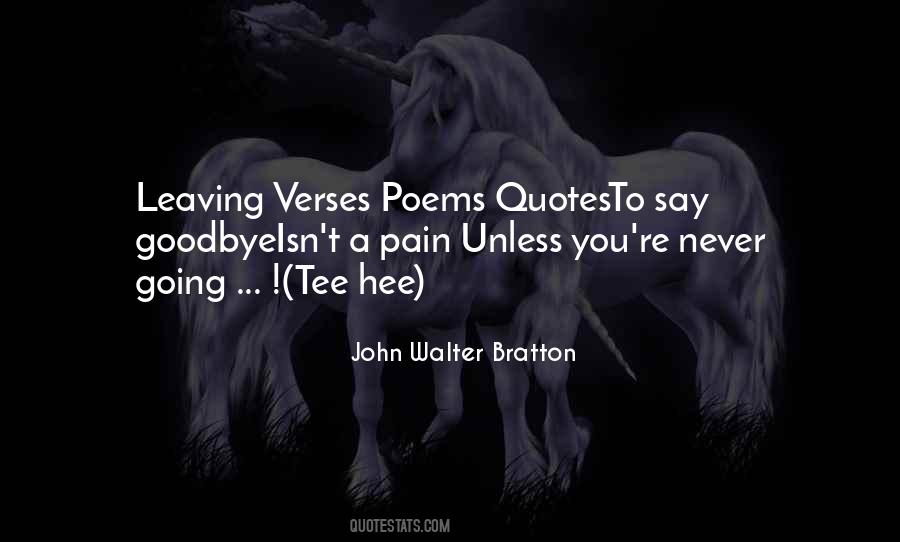 #41. Character is just an invention, but it's an invention that serves as both reason and justification for our behaviour. - Broken Verses - Author: Kamila Shamsie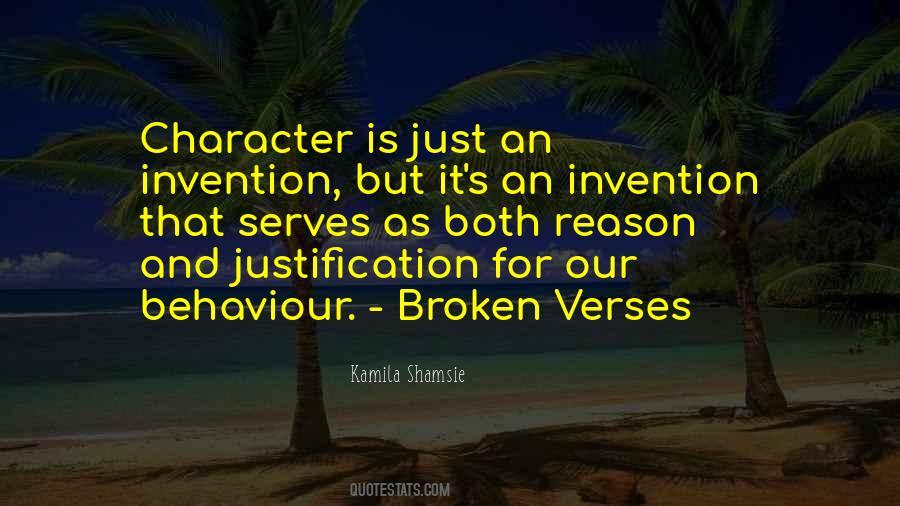 #42. I am most thankful for what I don't have, for had my life's wish list been filled in the manner I had chosen I would be steeped in meaningless trinkets verses bathed in God's treasures. - Author: Craig D. Lounsbrough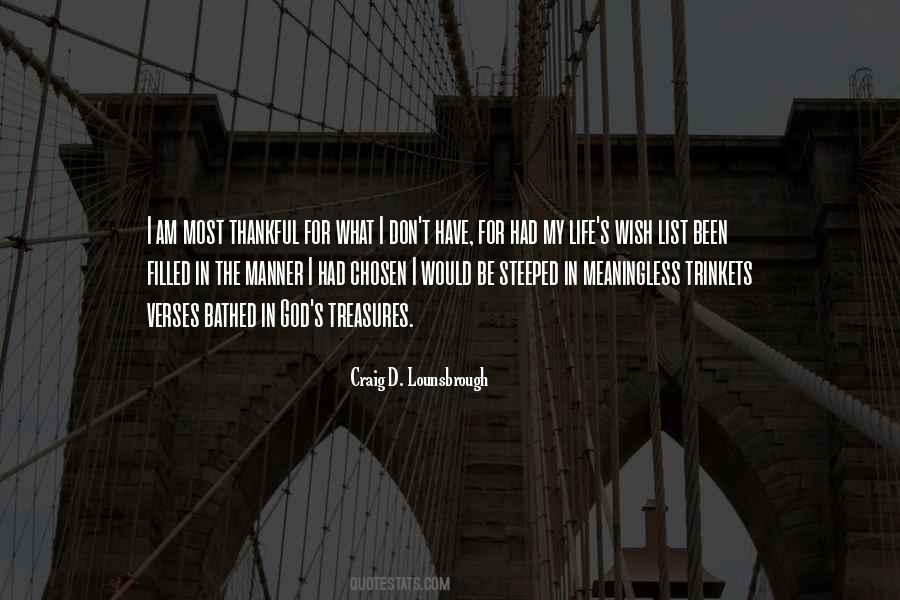 #43. Naomi and Turner, even Ronnie, they all see this is as black and white. Good guys verses bad guys. But I learned a long time ago that the world only functions in shades of gray. - Author: C.M. Stunich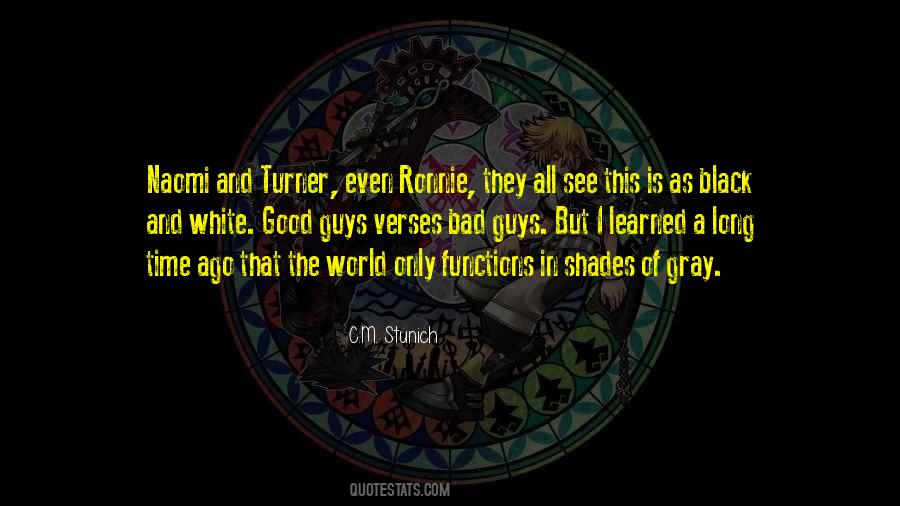 #44. Verses devoid of substance, melodious trifles.
[Lat., Versus inopes rerum, nugaeque canorae.] - Author: Horace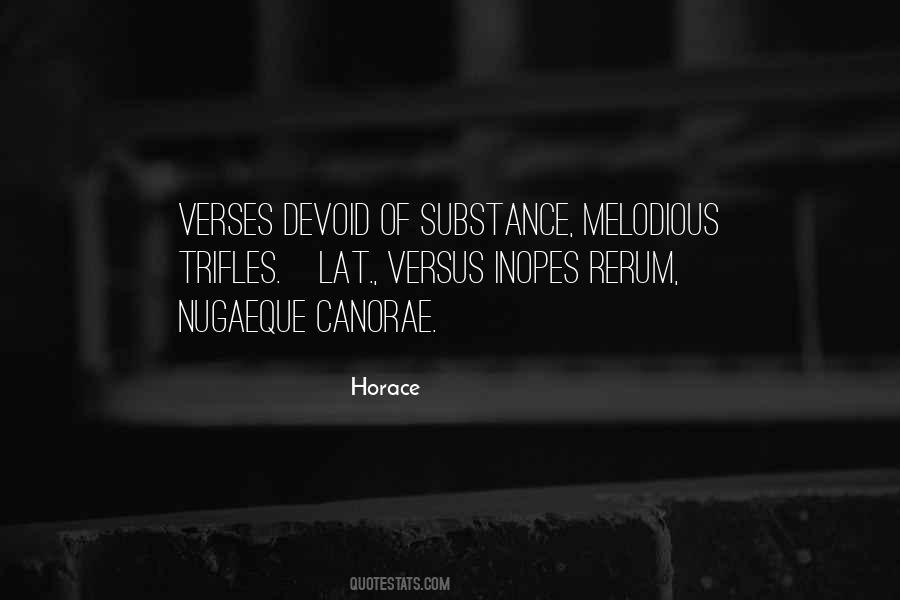 #45. It is true Christians have done terrible things throughout history. But they've always been acting in opposition to their Christian faith. There are no New Testament verses that say, Kill unbelievers. - Author: Robert Jeffress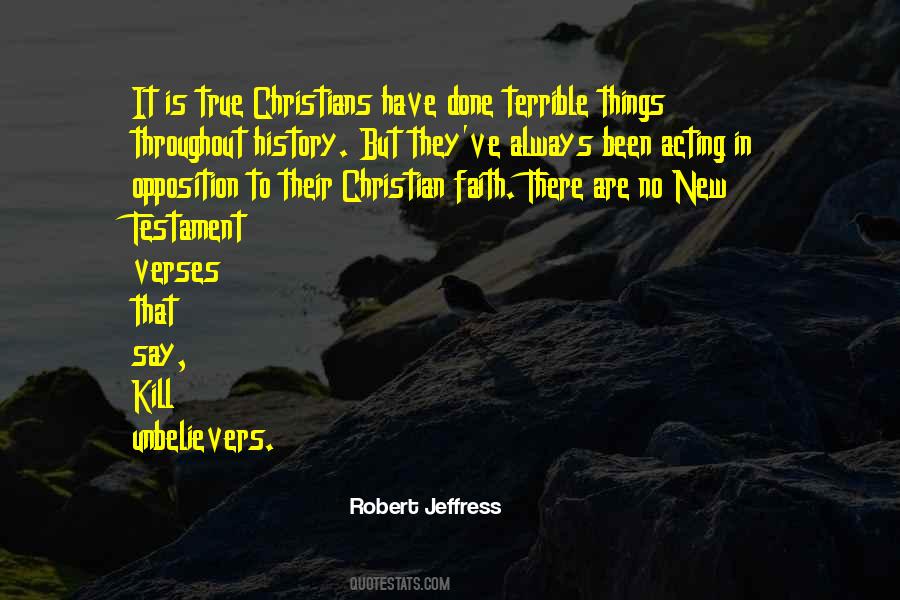 #46. After I'd produced about two dozen pen and ink drawings, one evening I decided that they needed poems to accompany them. I still have no idea where that notion came from, but it took me about two hours to produce verses for these creatures. - Author: Jack Prelutsky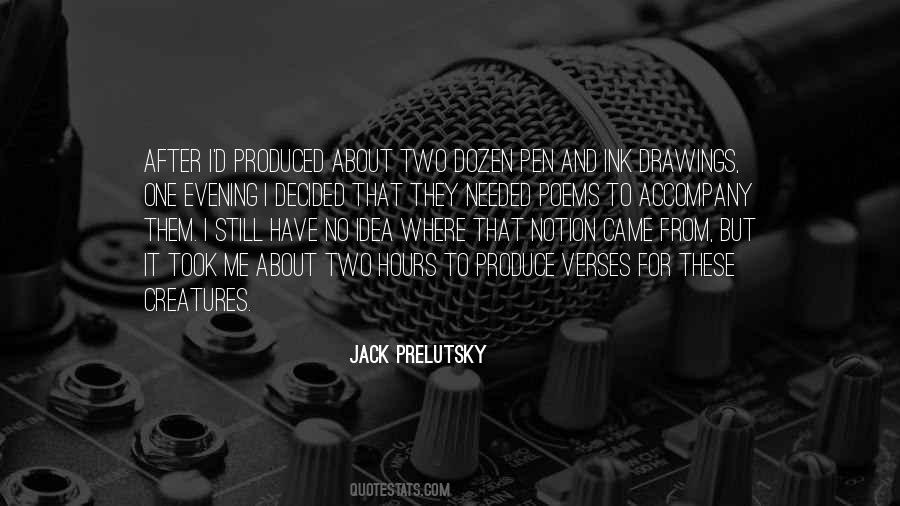 #47. I heard Nirvana, and discovered that songs could be like poetry, but a little bit more refined: you didn't have to have 20 verses to get your point across. - Author: Justin Townes Earle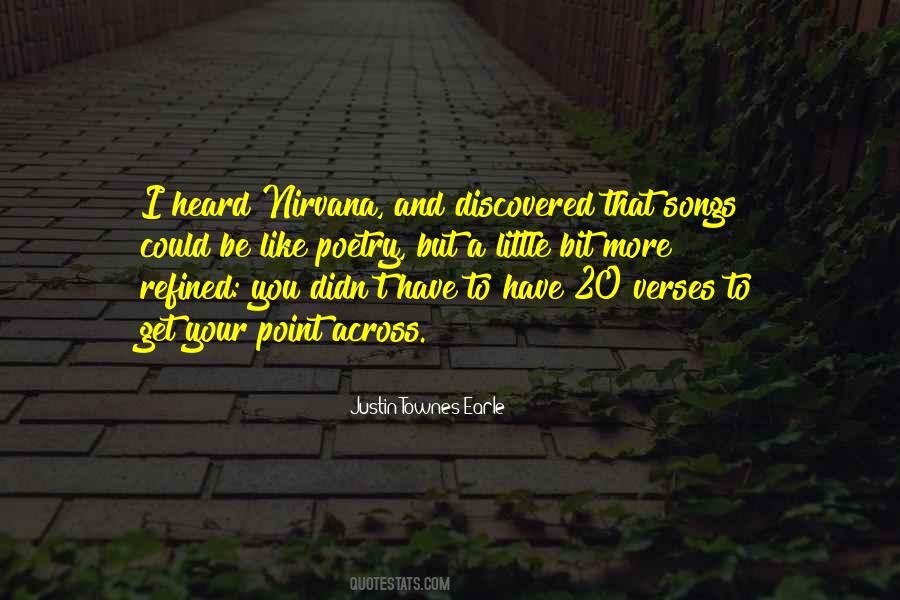 #48. Yet these people slander whatever they do not understand, and the very things they do understand by instinct--as irrational animals do--will destroy them. - Author: Bible Verses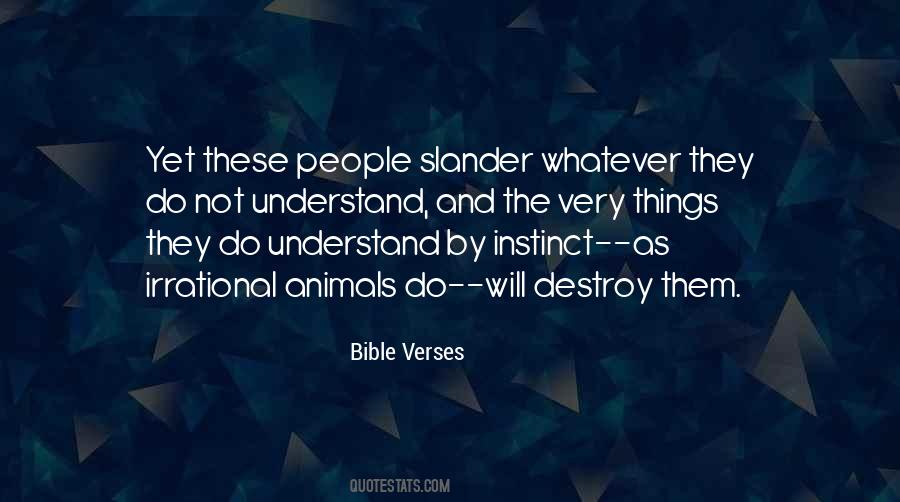 #49. Many biblical verses are like inkblot tests, revealing more about us than about the text in question. - Author: Harold S. Kushner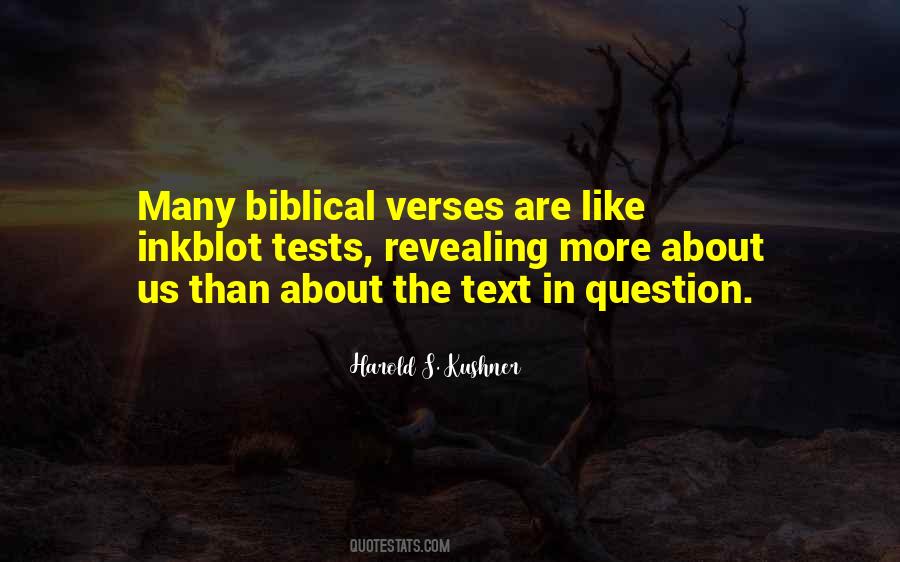 #50. Oh, happy triumph of the poet! - to hear his verses wedded to sweet sounds, and warbled by the woman he loves! - Author: Samuel Lover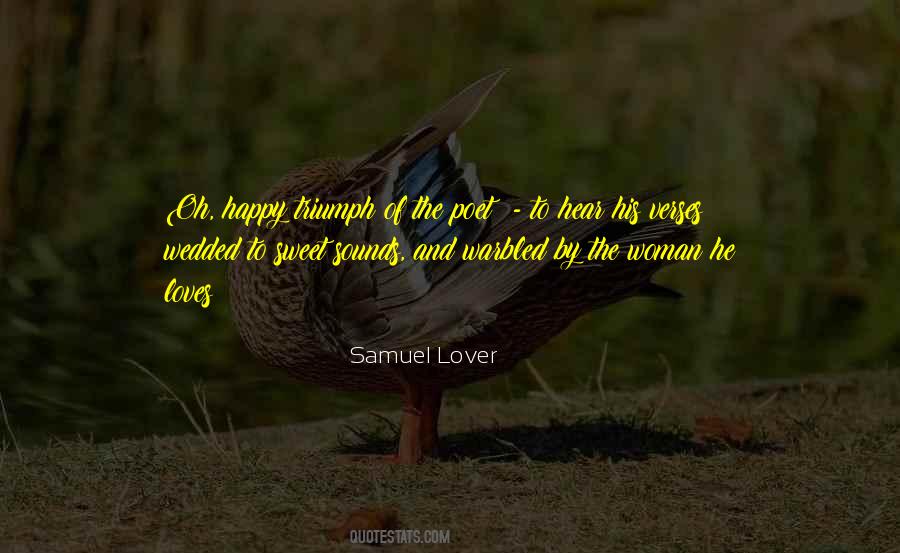 #51. Like most kids, I grew up singing 'This Land Is Your Land' in grammar school, but with the most radical verses neatly removed. This was before I knew it was a Woody Guthrie song. - Author: Steve Earle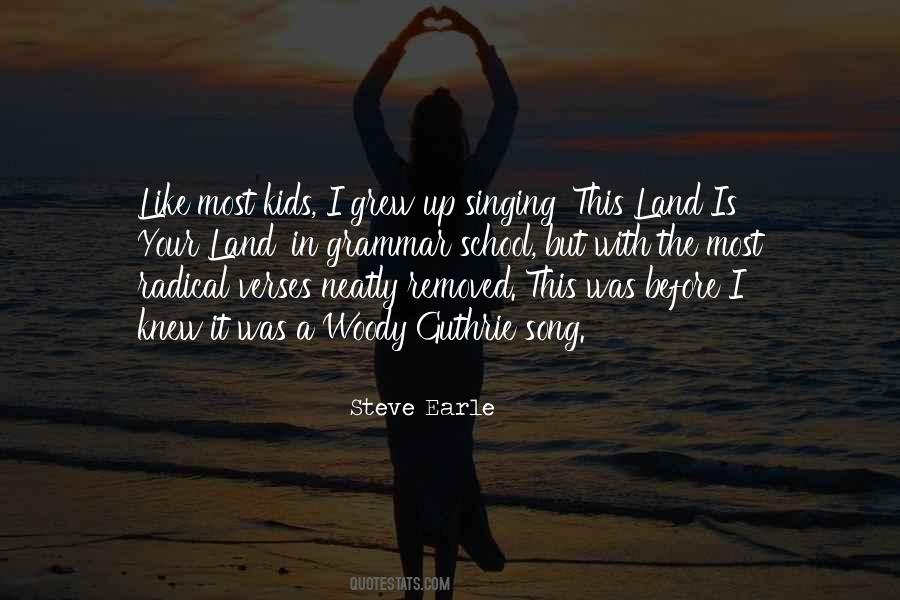 #52. As for my stuff, I'm just doing guest verses for other people's records. I try to stay recording, because if I don't, I get rusty. - Author: Eminem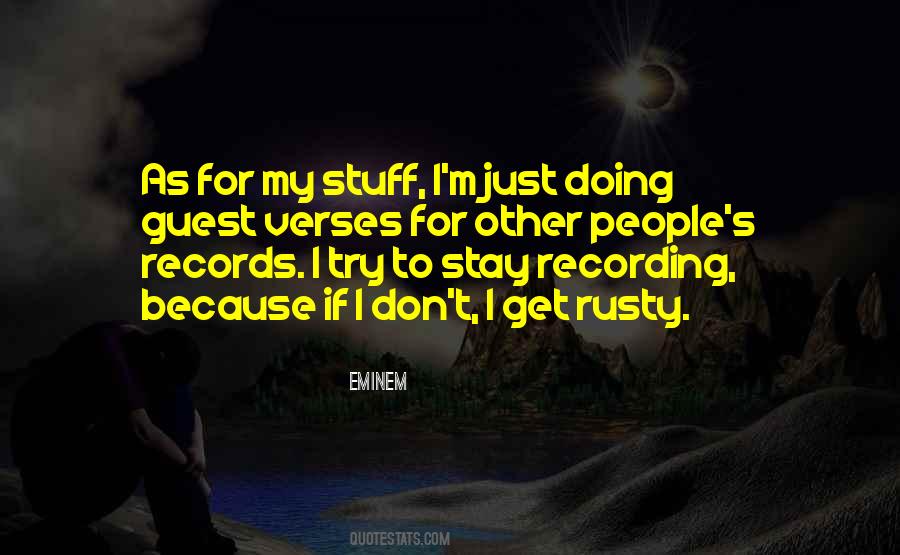 #53. It was Rick's Rubin idea to have the 'Brooklyn' verse repeat. It already was a story, but having that made it a folk song. Instead of this rambling march of verses, Rick understands that music needs hooks. You need that repeated chorus, that everyone can sing along to. - Author: Scott Avett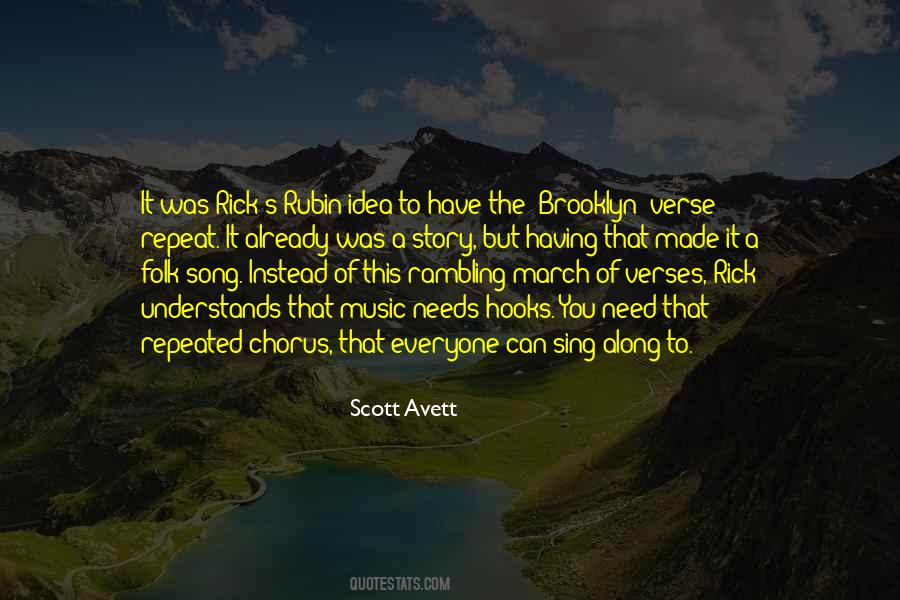 #54. They sang together, fumbling through the verses, hopelessly out of key, until the lanterns burned low. - Author: Leigh Bardugo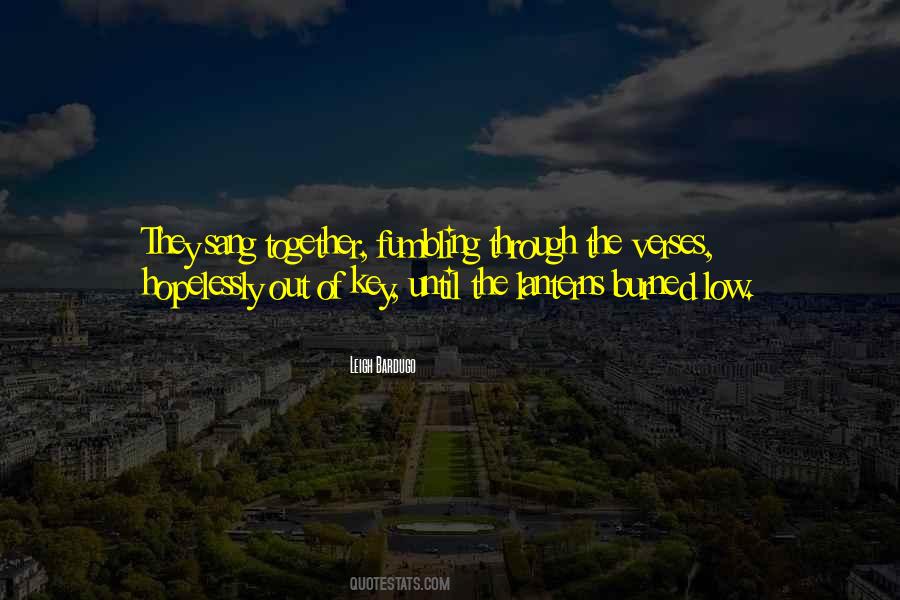 #55. I wouldn't say I'm a very controlling person. For instance, when I talk to the actors, I don't tell them exactly what I want because I want them to surprise me. I even encourage them to change some of the verses of the script if they need to. - Author: Alejandro Amenabar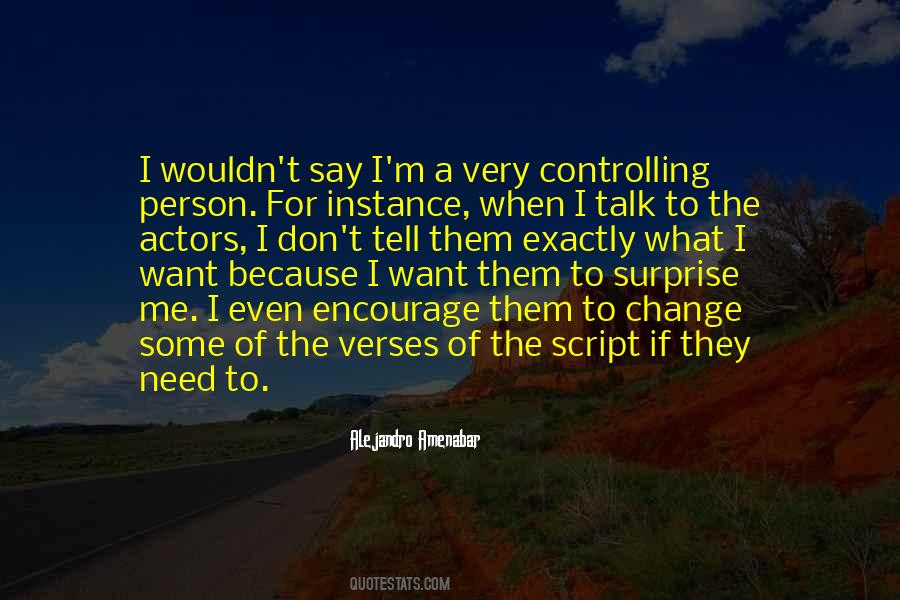 #56. We need the whole song, all the verses and the choruses to serve us as our own story unfolds because- trust me- life is hard, but God is good. - Author: Gloria Gaither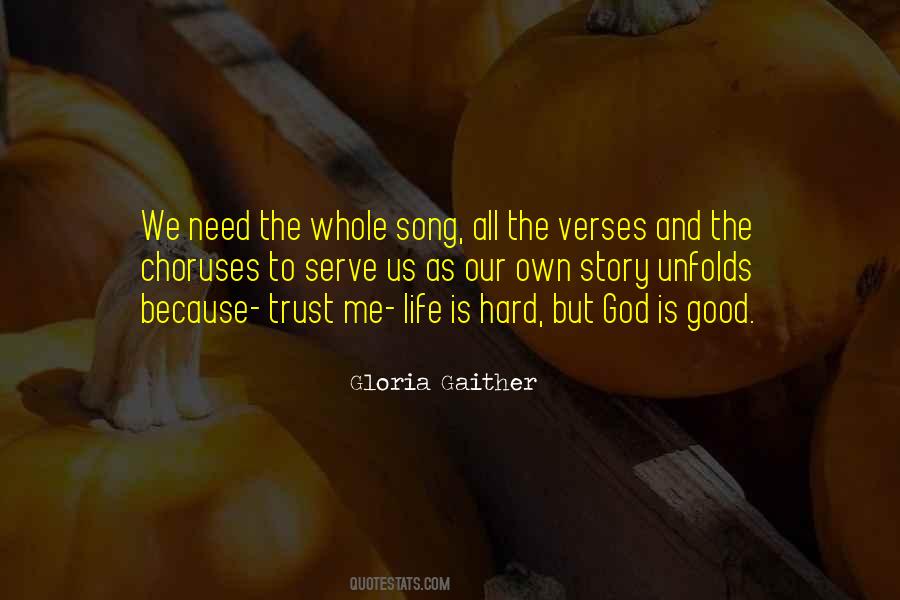 #57. These verses believe; they love; they hope; that is all. - Author: Arthur Rimbaud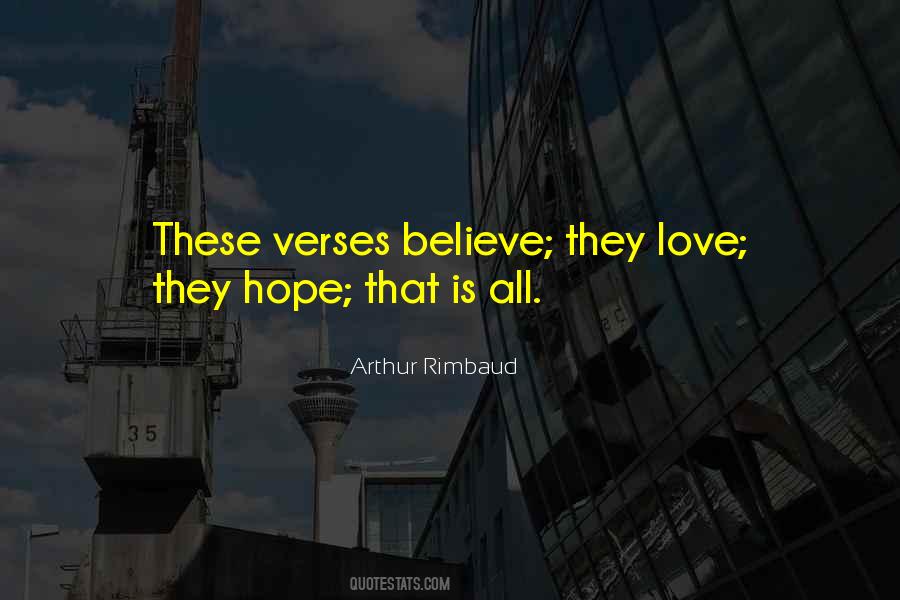 #58. I know as well as thee that I am no poet born
It is a trade, I never learnt nor indeed could learn
If I make verses-'tis in spite
Of nature and my stars I write. - Author: Benjamin Franklin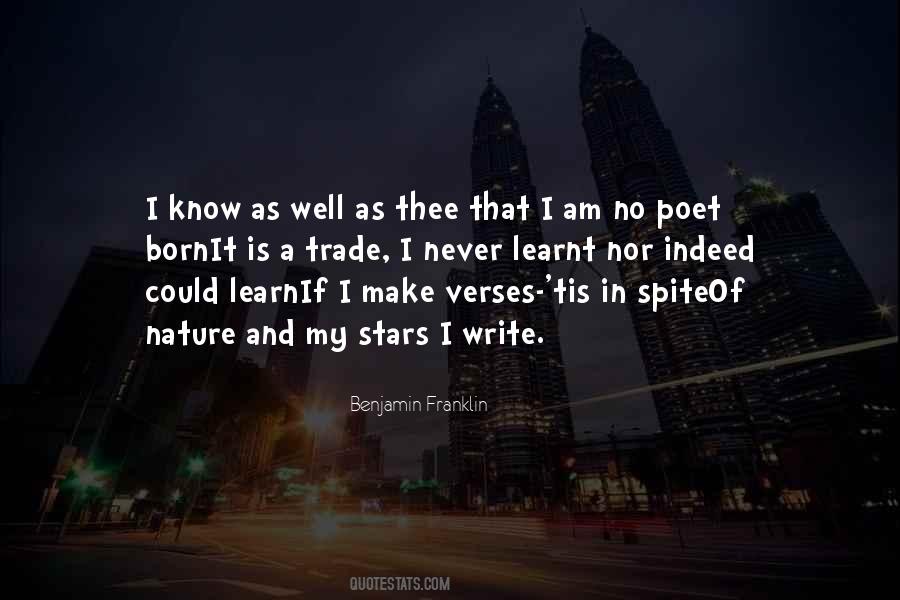 #59. I don't want to go to university. I don't like unity and I hate verses. I just love the choruses of songs. - Author: Emma Forrest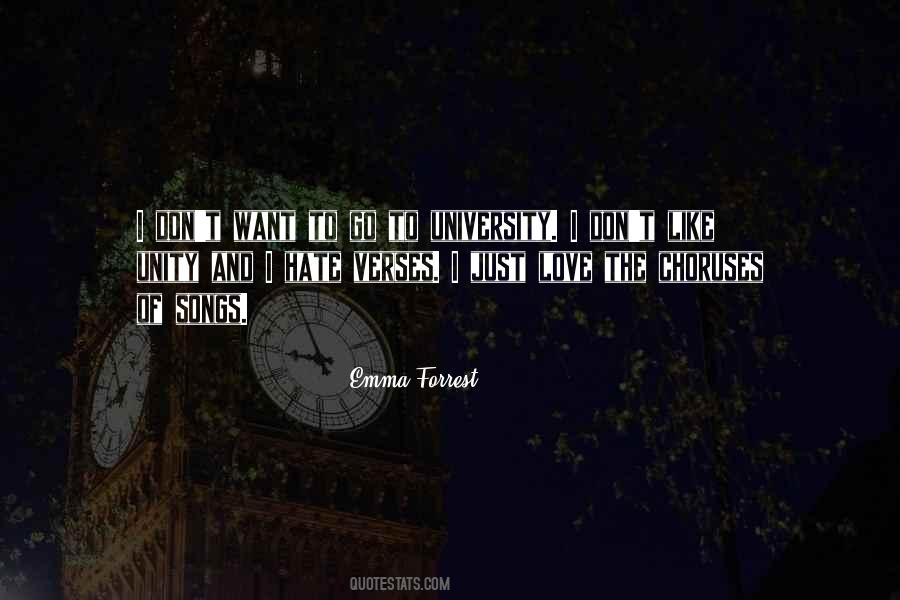 #60. Self-editing is the way I write. Ten verses of a song and it's finished. Then we start playing it and if I see that it's too long, I'll start cutting. - Author: Nick Cave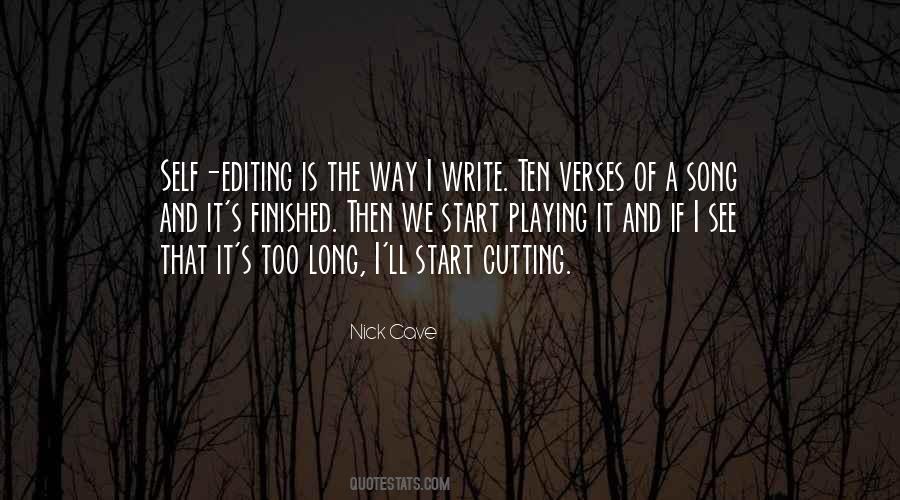 #61. Other nights, Ayrs likes me to read him poetry, especially his beloved Keats. He whispers the verses as I recite, as if his voice is leaning on mine. - Author: David Mitchell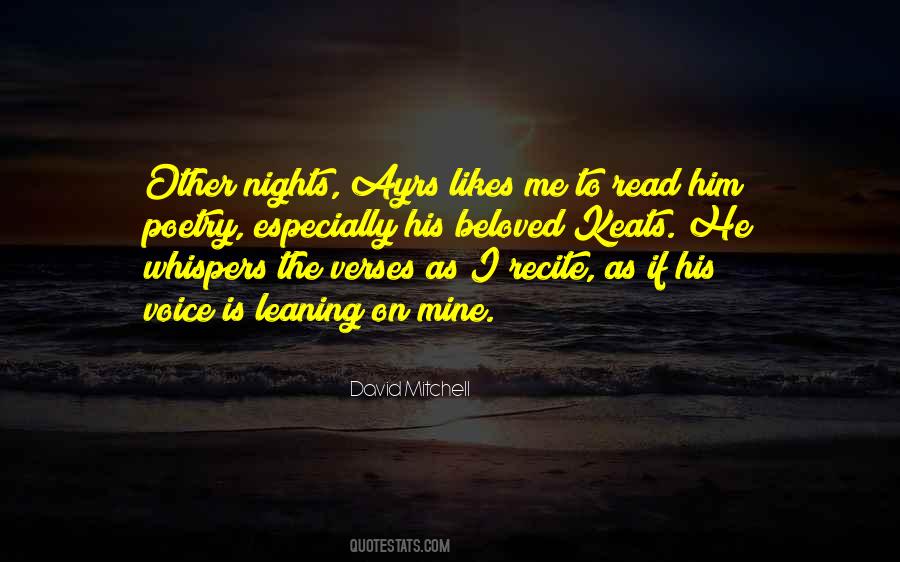 #62. There was "nothing new under the sun," as the beautiful Bible verses in Ecclesiastes put it - not so much because everything had been discovered but because everything would be forgotten. - Author: Nate Silver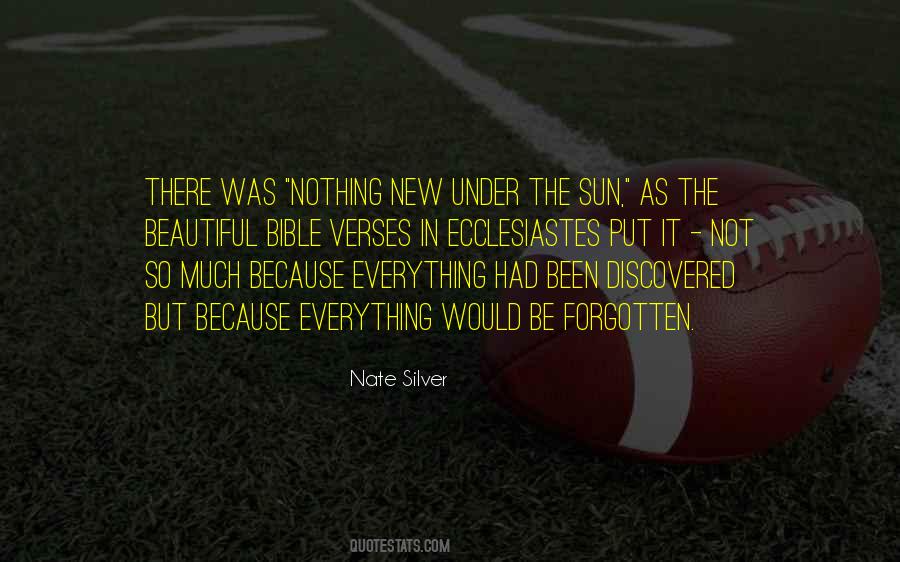 #63. Those who pervert the meaning of Our (revealed) verses are not hidden from Us. Therefore, is the one who is thrown in the Fire better than the one who skirts it safely on the Day of Assembly? Do whatever you like, for He's watching everything you do. [40] - Author: Anonymous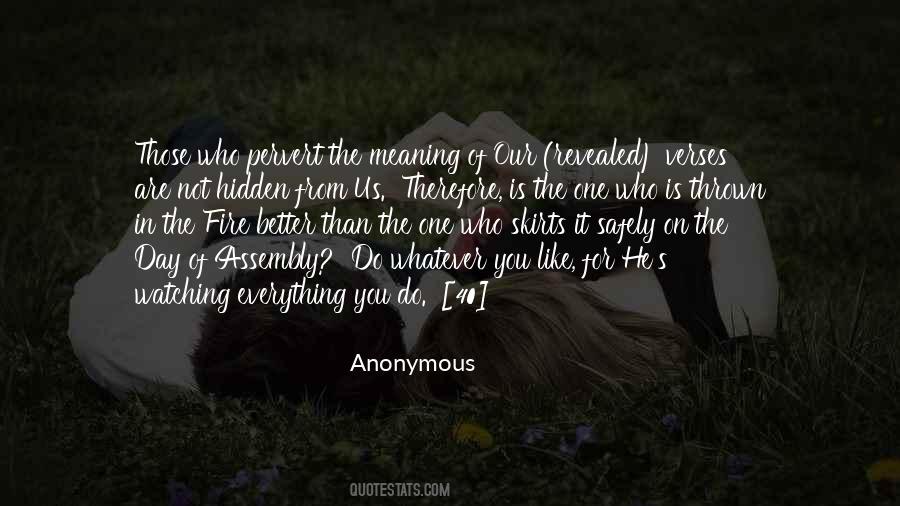 #64. He who writes prose builds his temple to Fame in rubble; he who writes verses builds it in granite. - Author: Edward Bulwer-Lytton, 1st Baron Lytton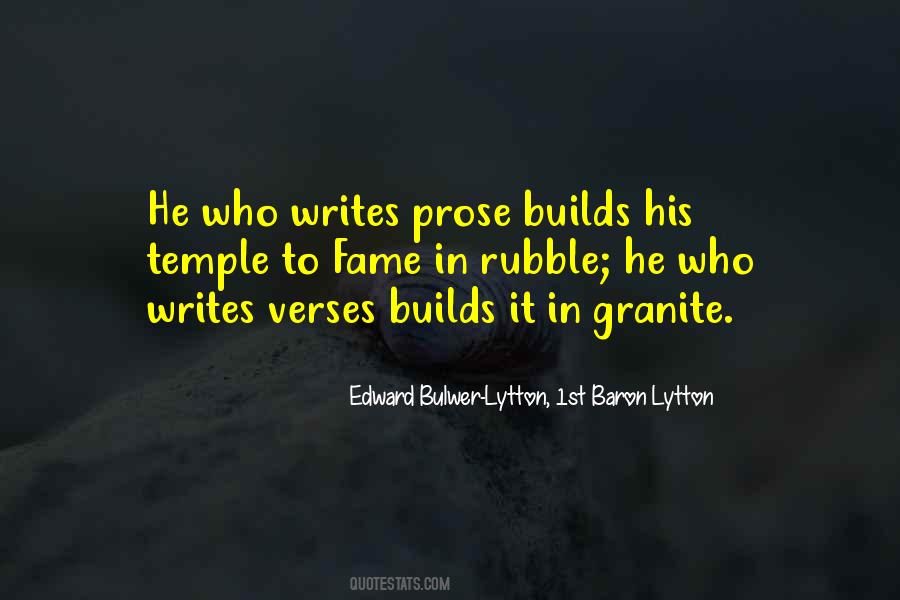 #65. In the future, a new generation of artists will be writing genomes as fluently as Blake and Byron wrote verses. - Author: Freeman Dyson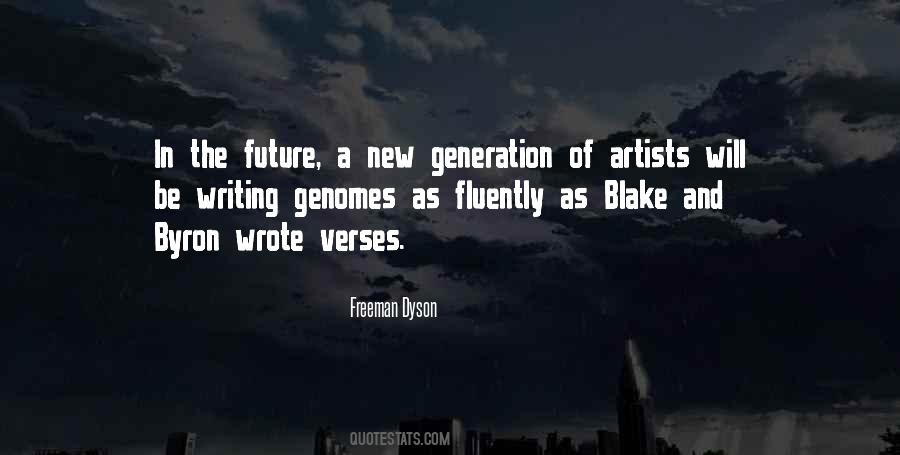 #66. We've seen violent responses to 'Satanic Verses.' We've seen violent responses to the cartoons depicting the Prophet Mohammed in an evil way. - Author: Susan Rice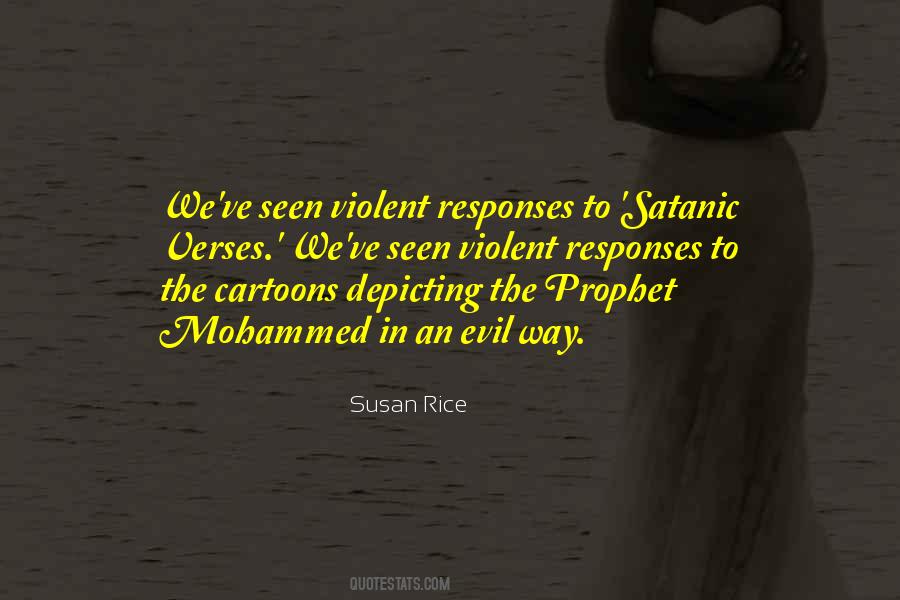 #67. I have wonderful band mates that make music that I'm forced to listen to for hours on end until I come up with verses, and that in itself is an inspiration - they're awesome. - Author: Nikki Jean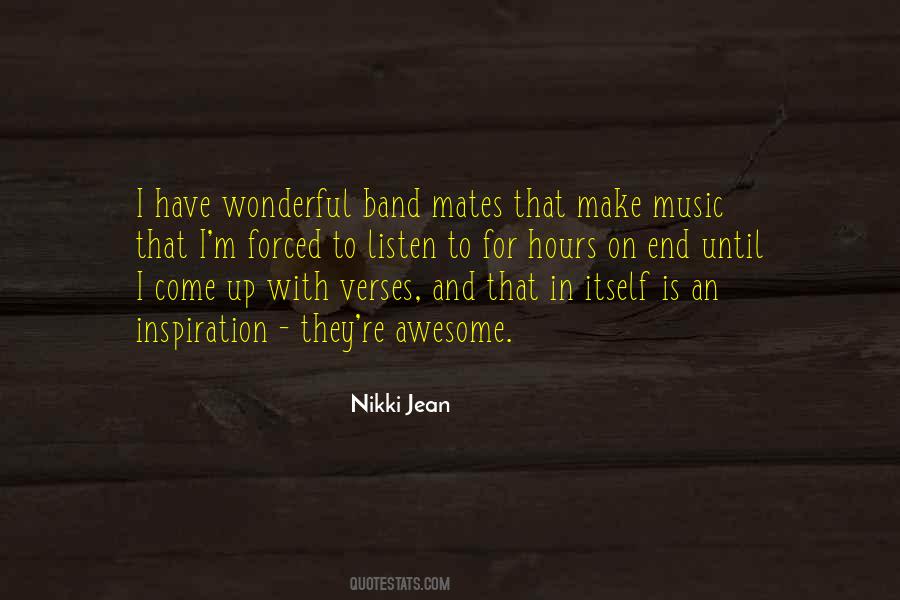 #68. A poet must be a composer of plots rather than of verses, - Author: Aristotle.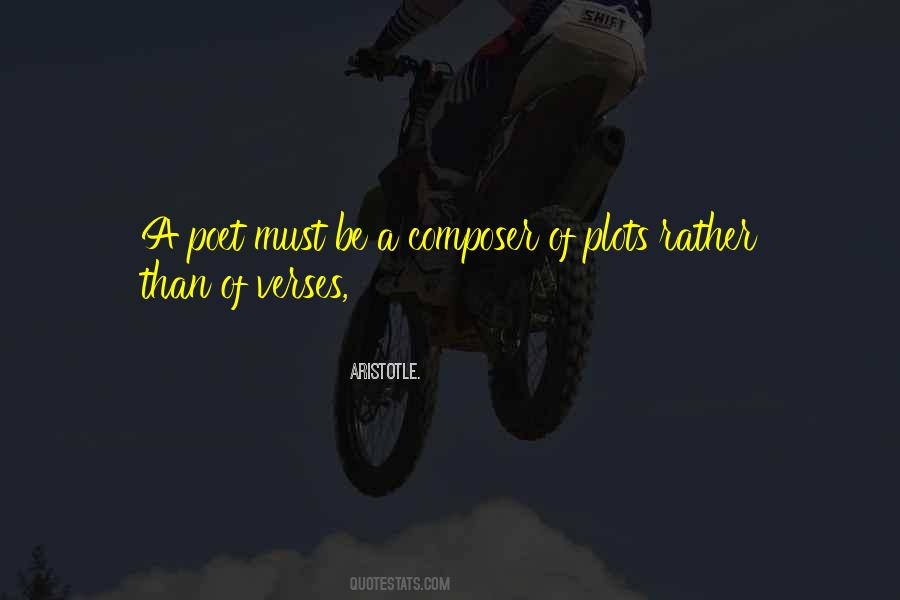 #69. You could play the blues like it was a lonesome thing - it was a feeling. The blues is nothing but a story ... The verses which are sung in the blues is a true story, what people are doing ... what they all went through. It's not just a song, see? - Author: David Edwards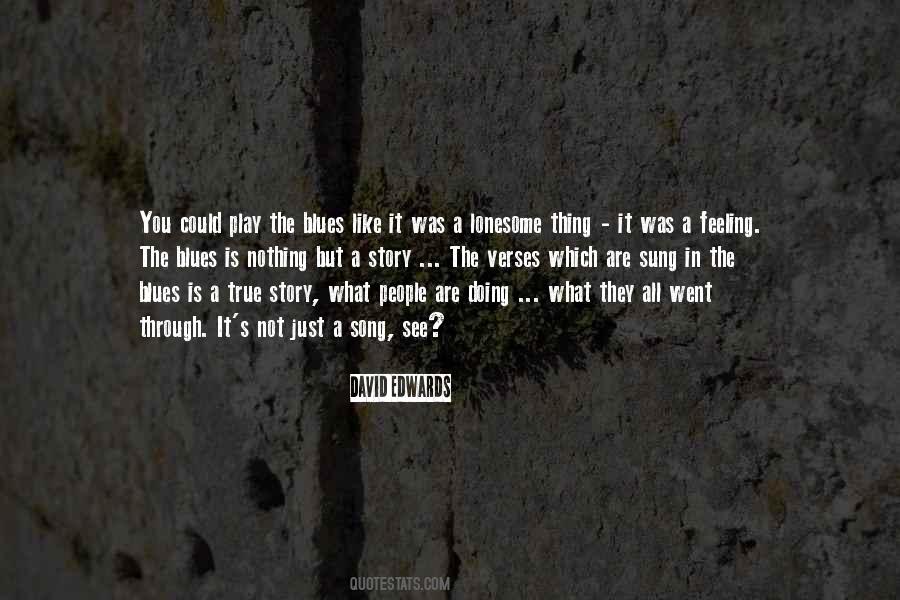 #70. I lay curled in a fetal position one night, listening to my wife's voice. In the evenings, she just talked, speaking light into my darkness by reading verses to me. I needed a touchstone and she knew it, so she kept gently pointing toward Christ. She set aside her fears to speak into my own. - Author: Ben Palpant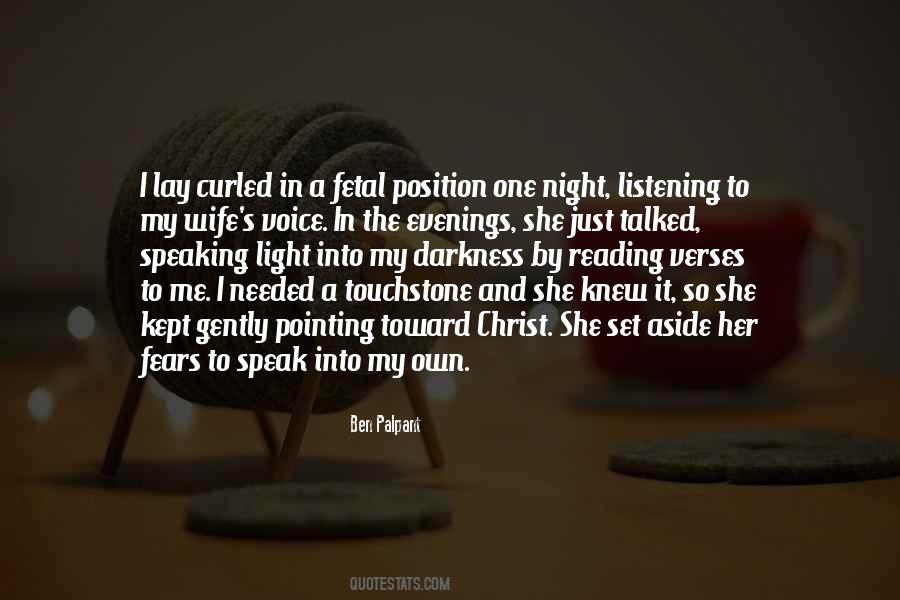 #71. I walk alone, absorbed in my fantastic play,
Fencing with rhymes, which, parrying nimbly, back away;
Tripping on words, as on rough paving in the street,
Or bumping into verses I long had dreamed to meet. - Author: Charles Baudelaire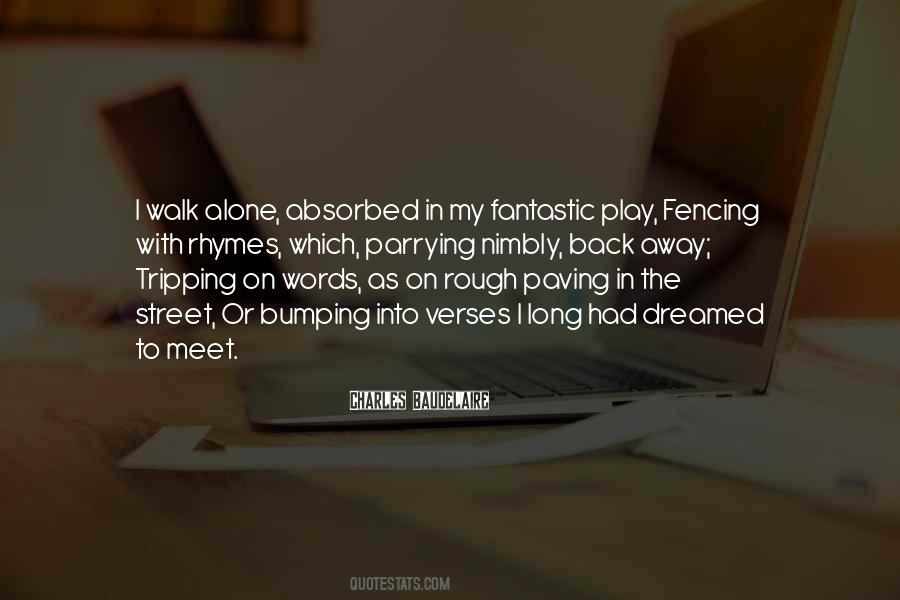 #72. All through childhood, I wrote verses and mysteries. There is, for me, one connection: structure. My poetry is metrical, rhyming. - Author: Sophie Hannah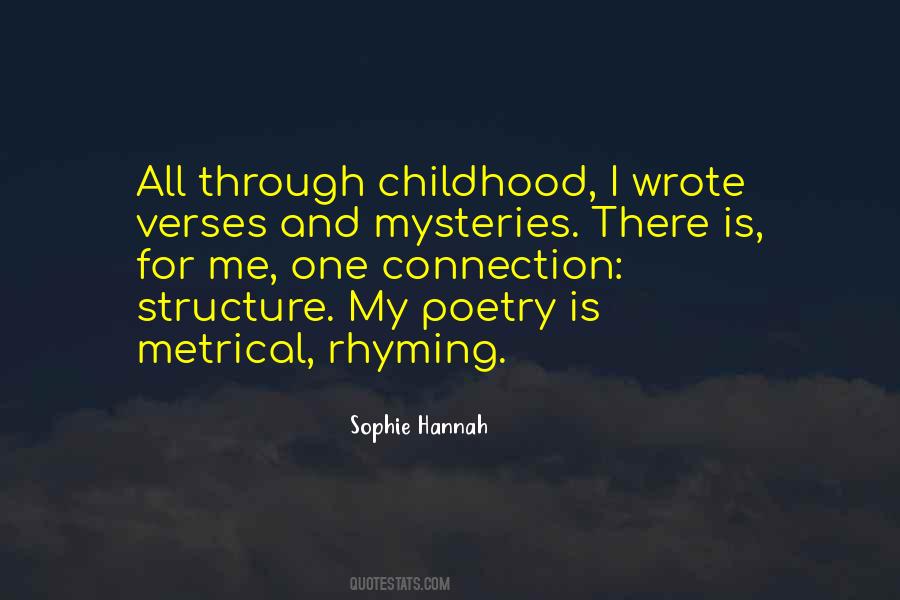 #73. After you have pumped your brains for thoughts and verses, there is a better poetry hinted in whistling a tune on your walk. - Author: Ralph Waldo Emerson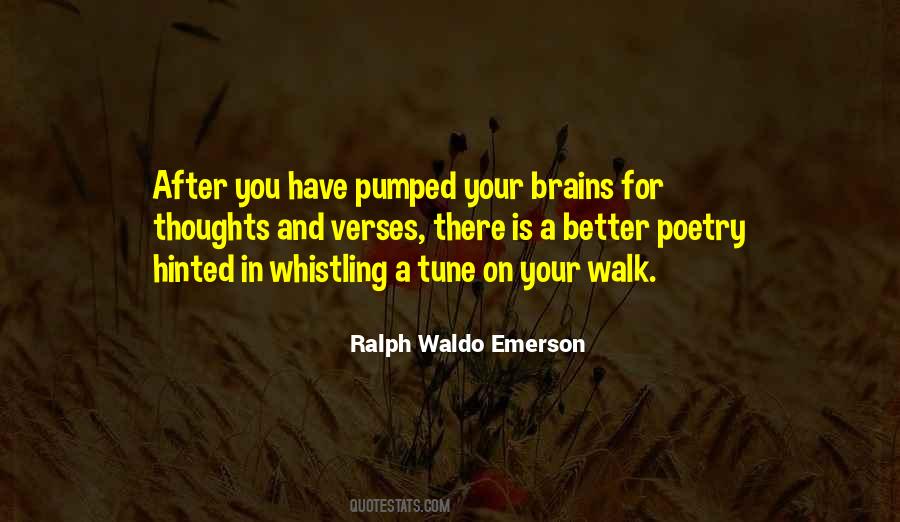 #74. I don't think Bible verses were meant to be thrown like grenades at each other. They were meant for us to use to point each other toward love and grace and invite us into something much bigger. - Author: Bob Goff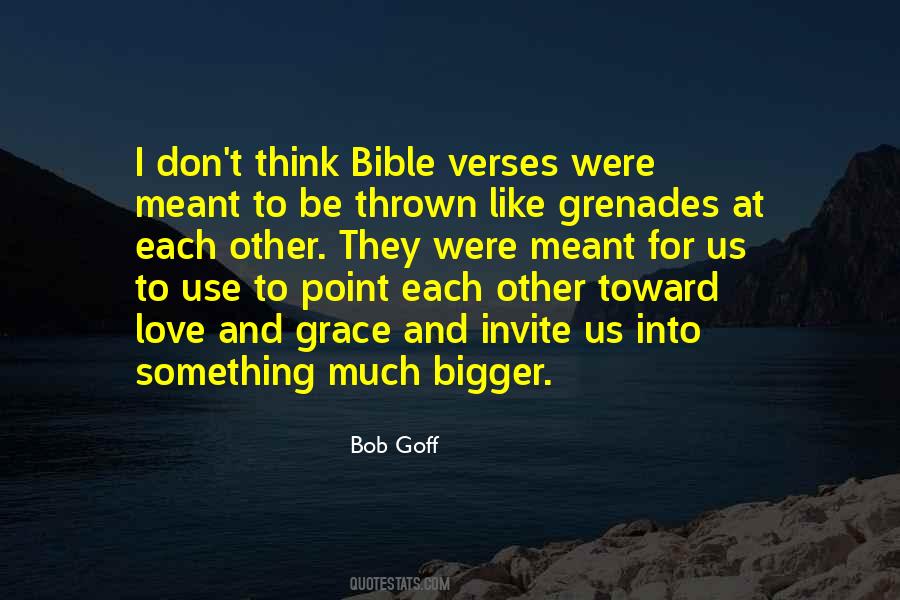 #75. your smile.
is the ultimate
golden dream.
all the poems
in the world
are waking up from. - Author: Sanober Khan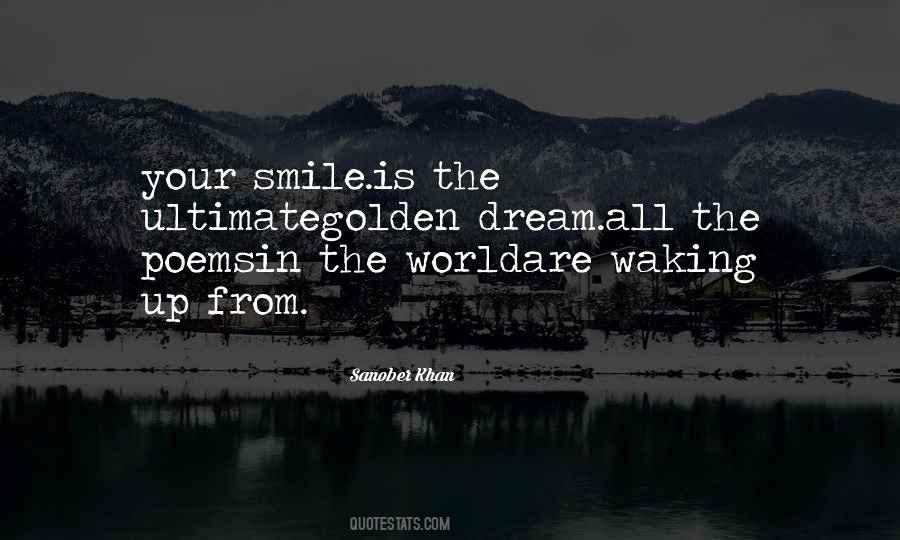 #76. The key point, as Epicurus' disciple Lucretius wrote in verses of unrivalled beauty, was to abandon the anxious and doomed attempt to build higher and higher walls and to turn instead toward the cultivation of pleasure. - Author: Stephen Greenblatt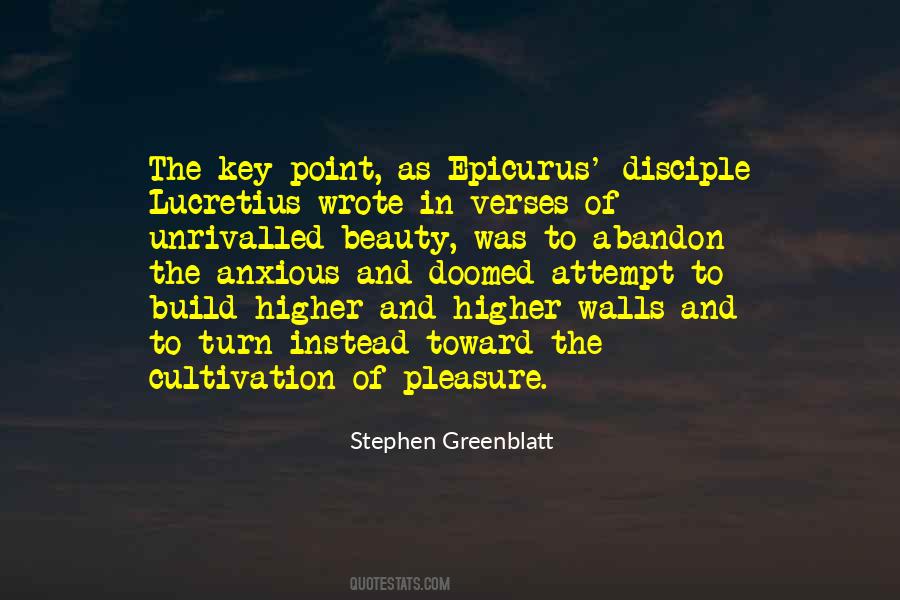 #77. O Heavenly Children, you chant God's name but you have forgotten him. He does not want your verses, or the coins from your purses, but for you to love and embrace each other. To uphold truth, justice and peace - and to respect your father and mother, fellow sisters and brothers. - Author: Suzy Kassem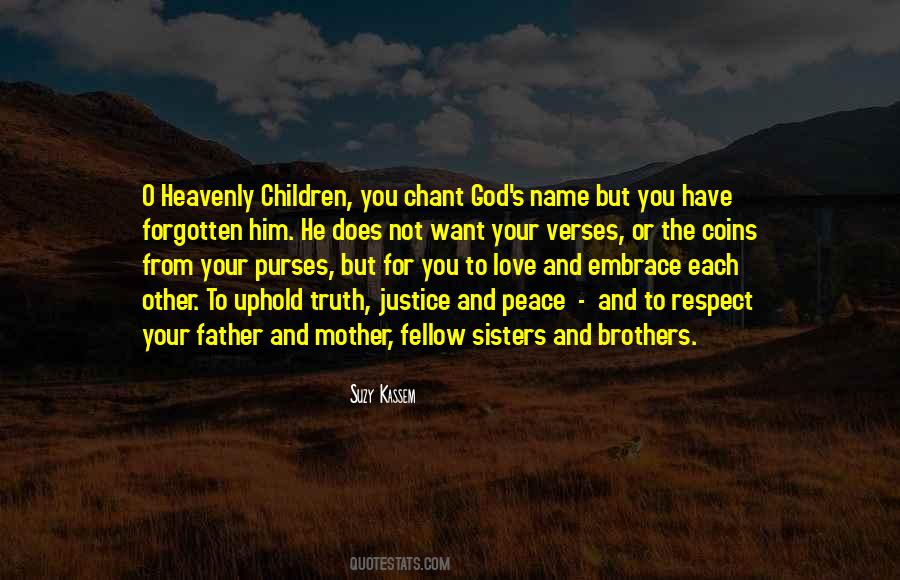 #78. We definitely set out to make a great 'radio' record. We set out to write great hooky choruses-but with verses that said something. - Author: LeAnn Rimes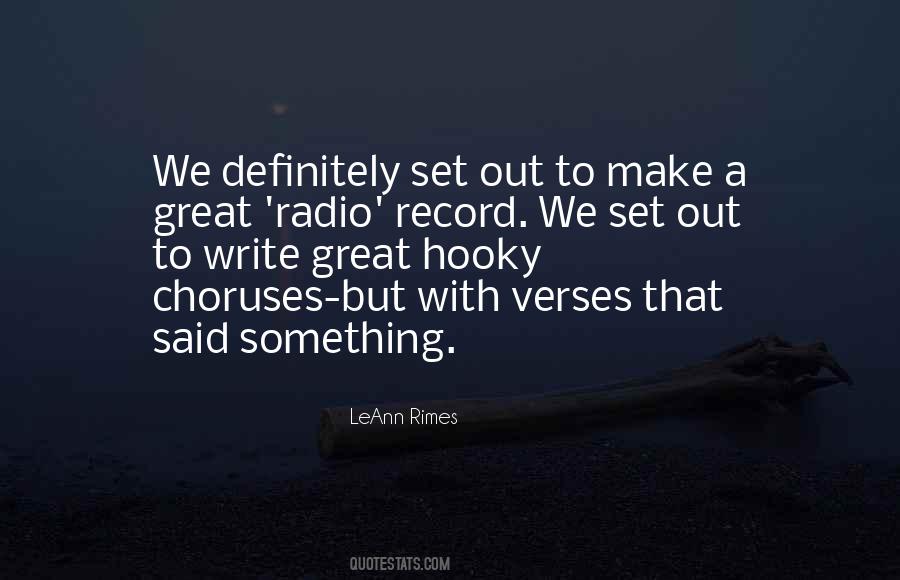 #79. Take my verses too serious ya hate me, cause I'm the one to paint a vivid picture, no HD. - Author: Drake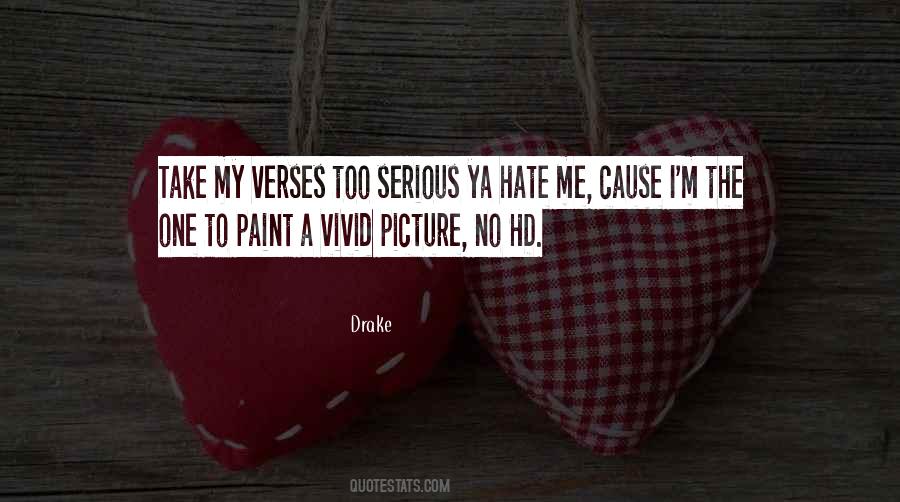 #80. My decisions determine my destination long before I ever get there. And once I do get there, I suddenly realize this is not the destination I had in mind because what I had in mind was the fantasy that my denial had created verses the reality my choices crafted. - Author: Craig D. Lounsbrough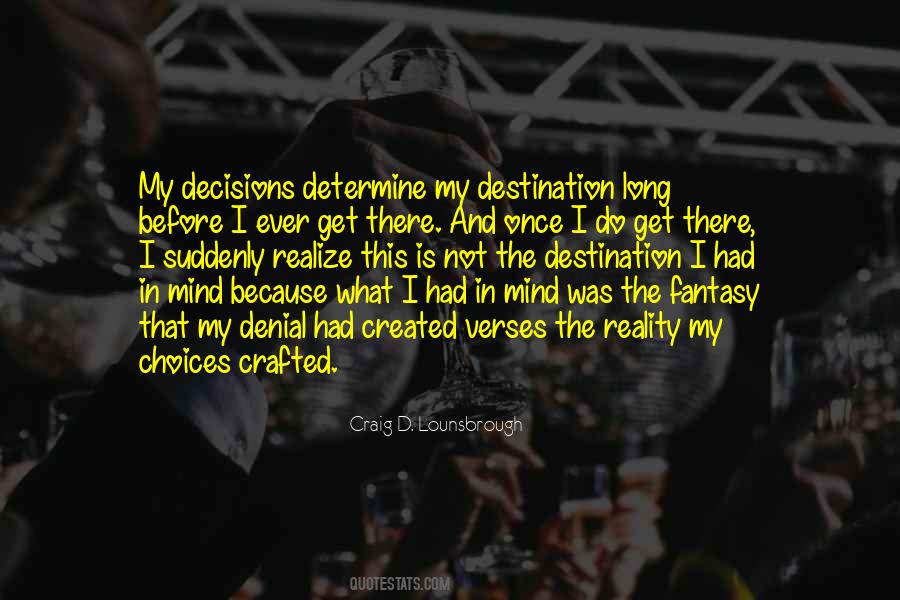 #81. Satanic Verses is a despicable book that could not have been written by a person who wished to behave decently and responsibly. - Author: Orson Scott Card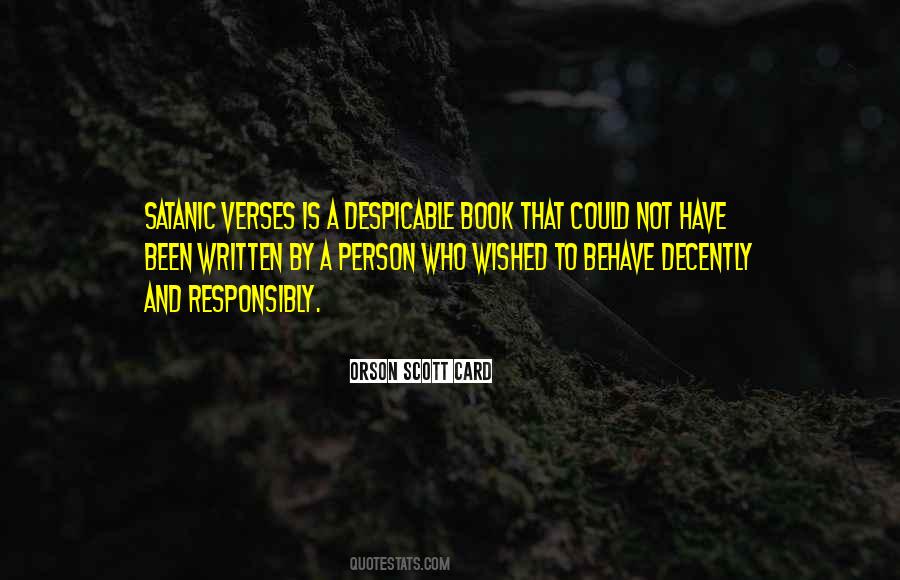 #82. Host: What say you to young Master Fenton? he capers, he
dances, he has eyes of youth, he writes verses, he
speaks holiday, he smells April and May: he will
carry't, he will carry't; 'tis in his buttons; he
will carry't. - Author: William Shakespeare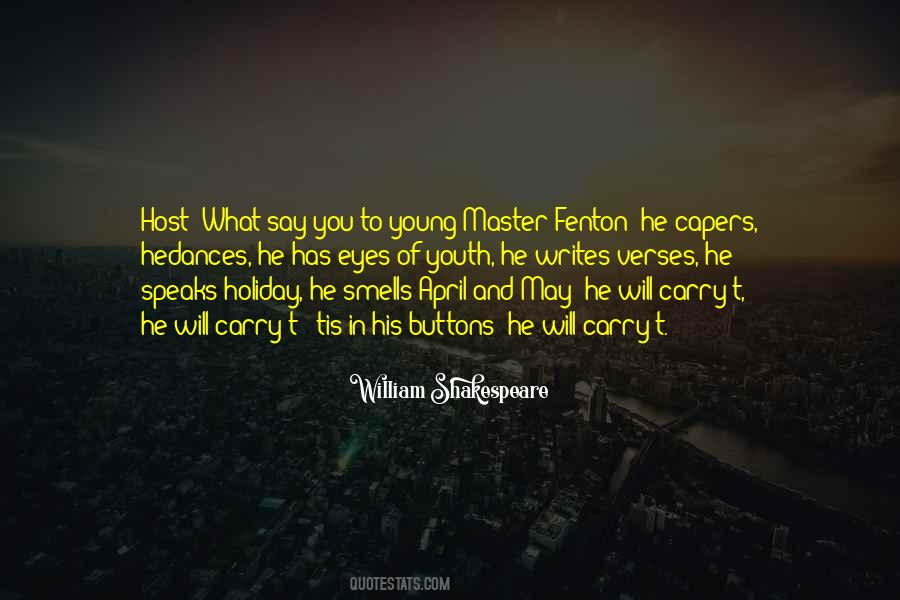 #83. My father was a Baptist preacher, and he used to read the King James Bible to me every single morning. He made me memorize it and repeat verses at night before I went to sleep. - Author: Jay Parini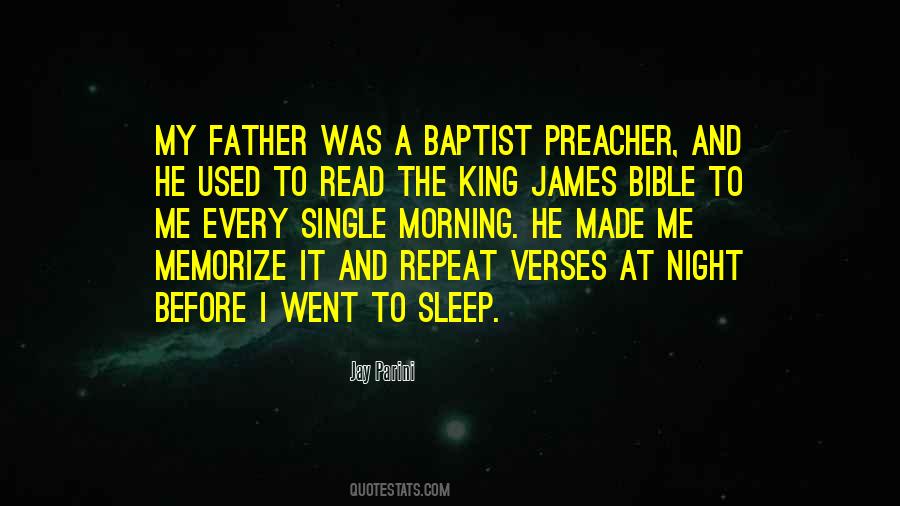 #84. I began a poem in lines of one syllable. It's rather difficult, but the merit of all things lies in their difficulty. The subject matter is gallant. I'll read you the first canto; it's four hundred verses long and takes one minute. - Author: Alexandre Dumas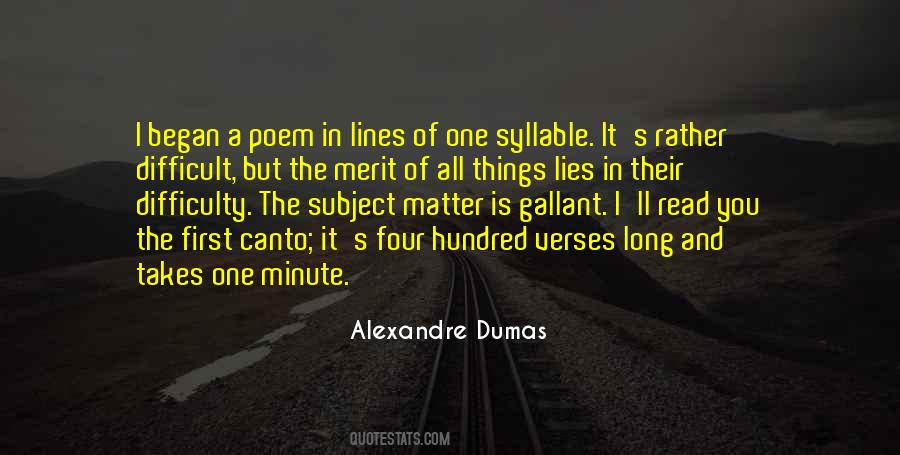 #85. Mealtime
"A mousie squealing in a trap
Woke me from my morning nap.
Wasn't he so very sweet
To tell me it was time to eat?"
(From A CAT'S GARDEN OF VERSES) - Author: Henry N. Beard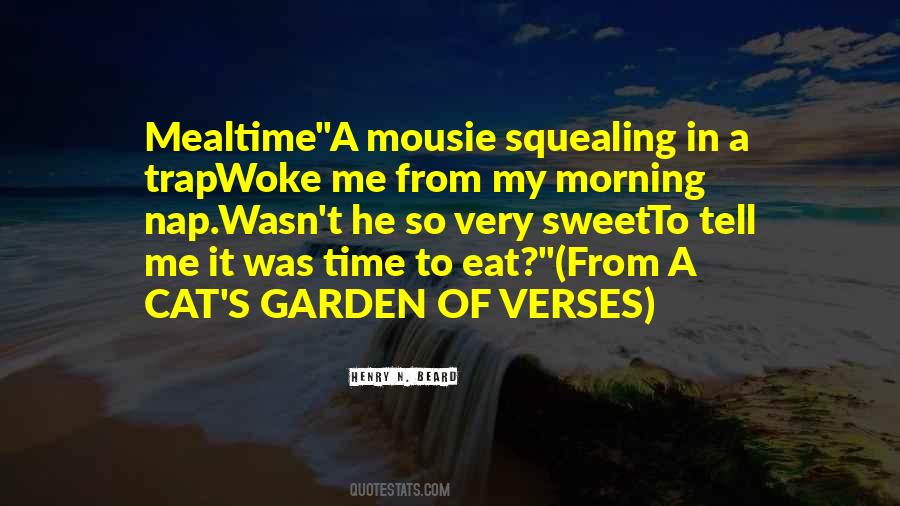 #86. The verses are meant to help us to bring our awareness back to what's happening in the present moment. - Author: Thich Nhat Hanh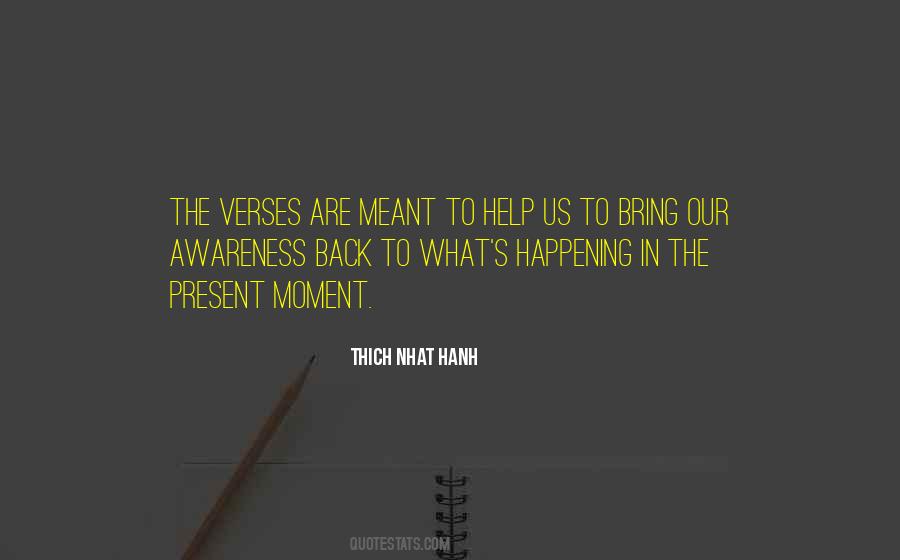 #87. The verses of Byron, Keats or Poe are real whether they are in bootleg form or not. You can still read them for the same effect. - Author: Jasper Fforde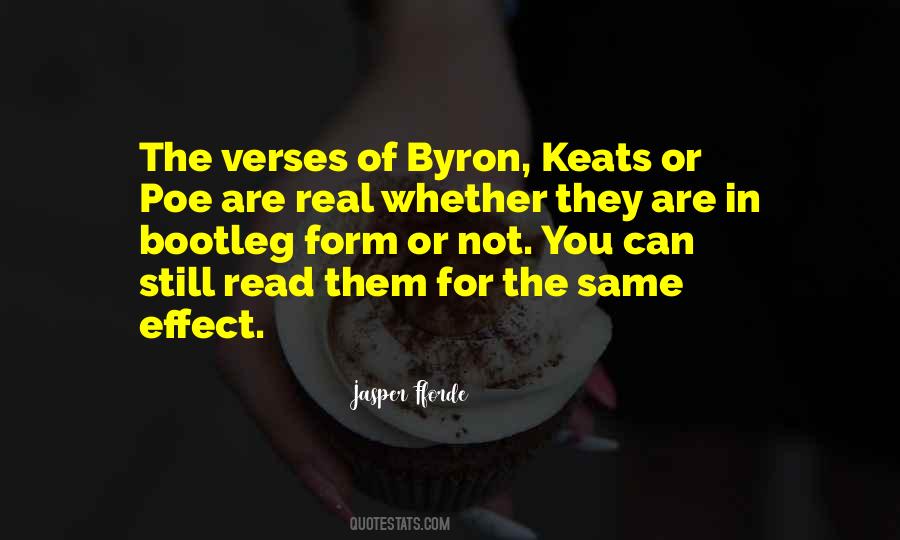 #88. Most of the verses written about praise in God's Word were voiced by people who were faced with crushing heartaches, injustice, treachery, slander, and scores of other difficult situations. - Author: Joni Eareckson Tada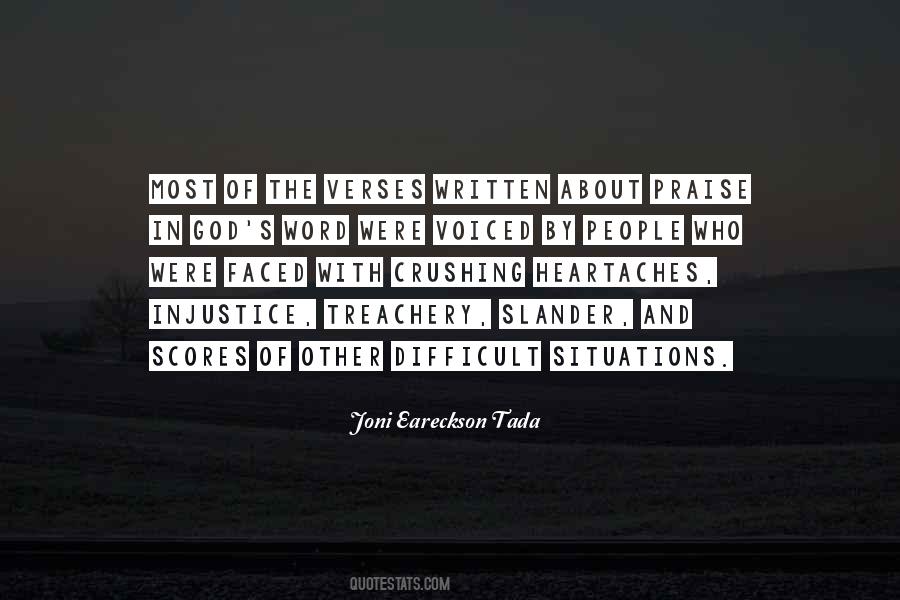 #89. The wonderful 17th Century poet, Robert Herrick, wrote a poem entitled, 'To Live Merrily and to Trust to Good Verses.' Easy to say, Robert Herrick; not always easy to do. But it's a good slogan, I think. - Author: Robert Pinsky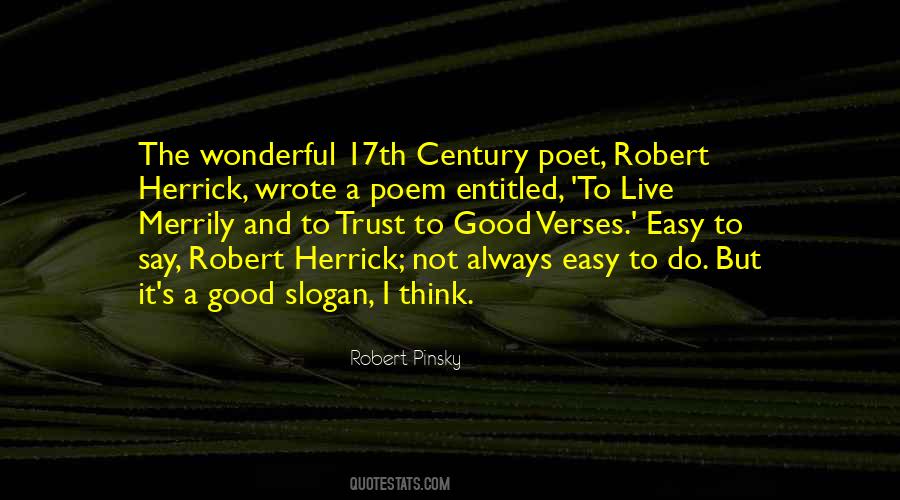 #90. She seemed like a keeper. Housewife material, verses your usual whorehouse type. - Author: J.M. Darhower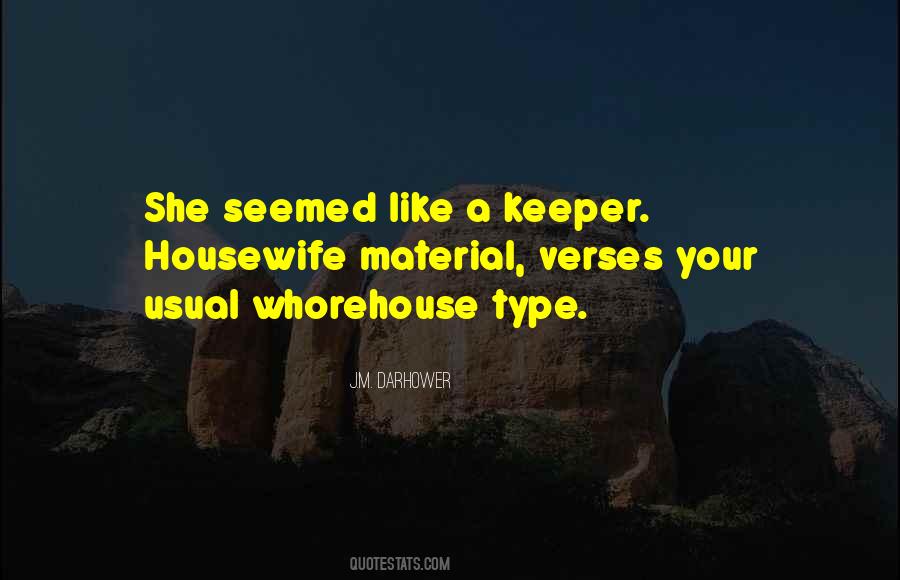 #91. We have errantly romanticized love as something we freely get verses something we sacrifice for in the giving. - Author: Craig D. Lounsbrough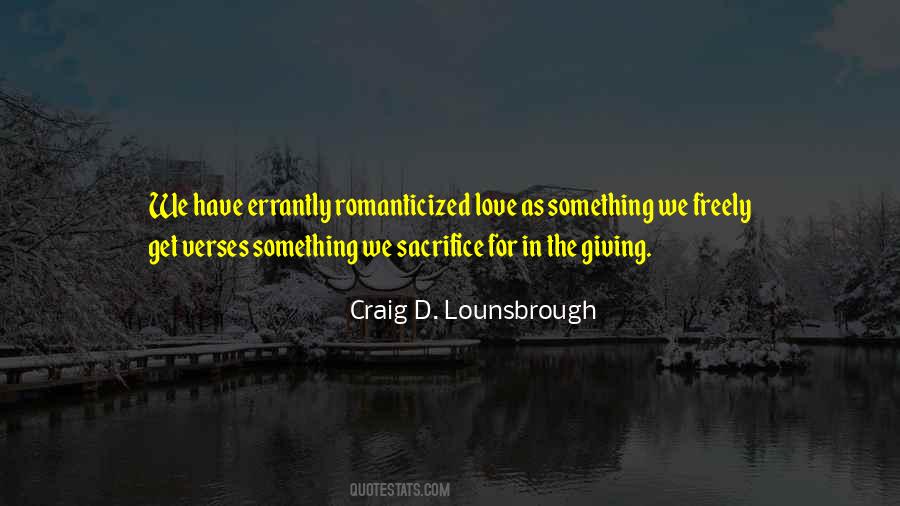 #92. To declaim freedom verses seems like a poem within a poem; freedom requires guns, it requires arms, but no feet. - Author: Franz Grillparzer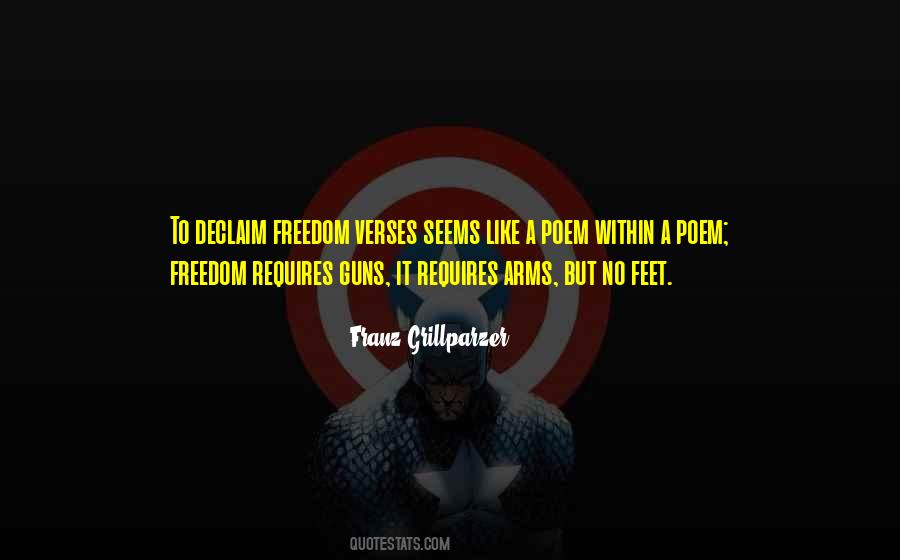 #93. Poetry! Indeed, verses are the only thing that your letter lacks, Makar Alexievitch. And what tender feelings I can read in it - what roseate-coloured fancies! To the curtain, however, I had never given a thought. The fact is that when I moved the flower-pots, it LOOPED ITSELF up. There now! - Author: Fyodor Dostoyevsky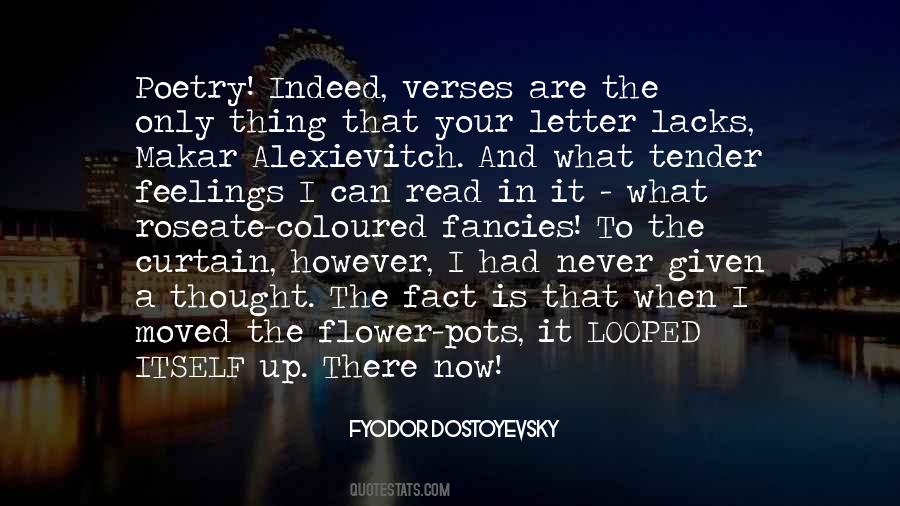 #94. I had a fall out with Satan. Repeating satanic verses. - Author: Layzie Bone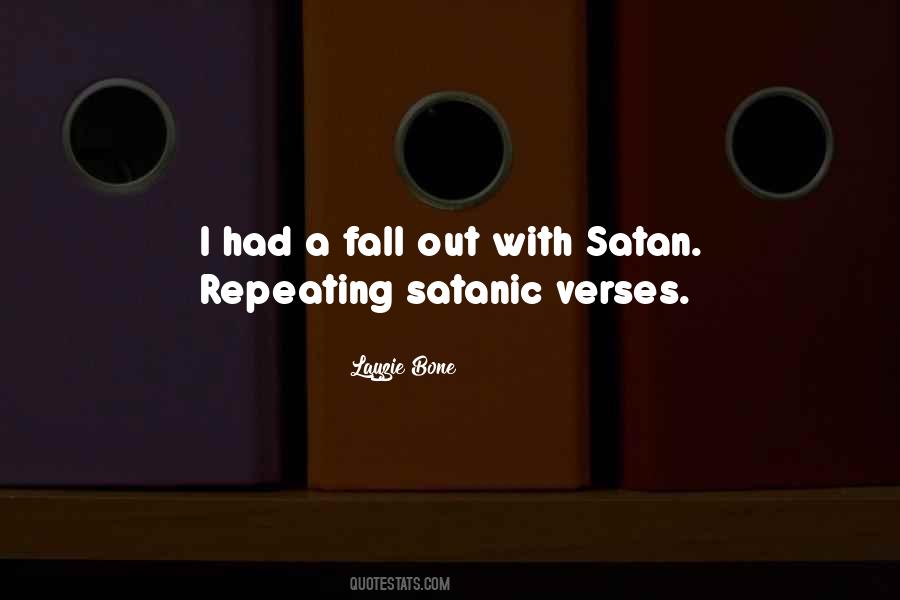 #95. I've written many extra verses to songs that I learned to sing - an extra verse about a friend, or just add some verse - and that led to writing my own songs. - Author: Jackson Browne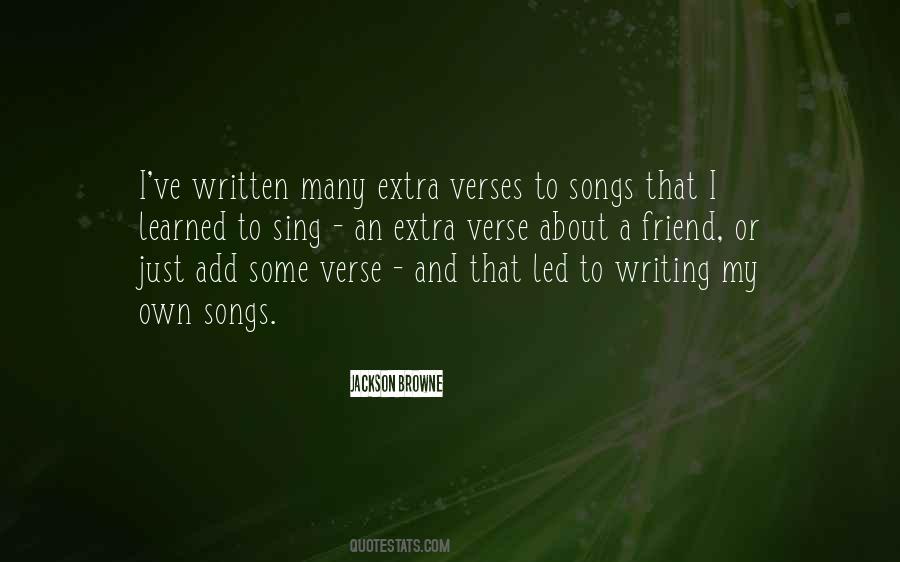 #96. An ending is only happening because at some point it was a beginning. And if an ending is dependent upon a beginning, I would be well advised to focus on the miracle of beginnings verses the pain of endings. - Author: Craig D. Lounsbrough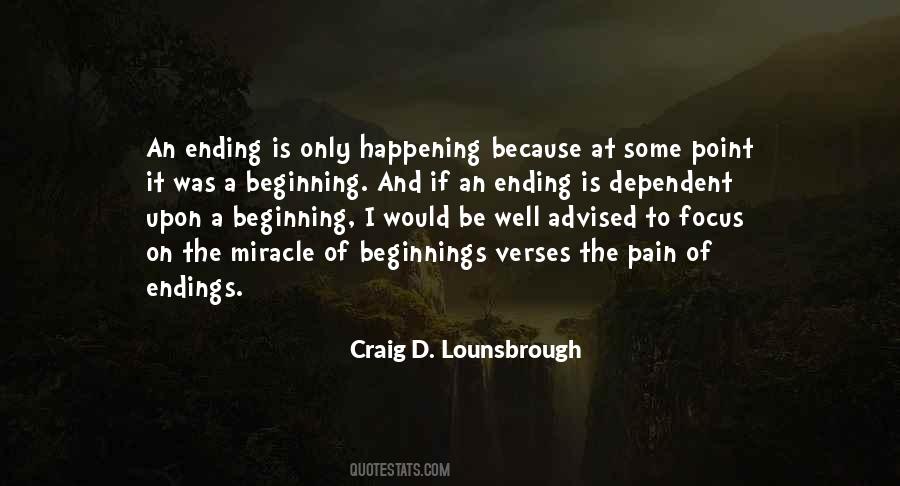 #97. They were high up. If he fell, he'd have time to hum three verses of "She Has No Ankles That I Can See" before he hit. Maybe an extra round of the chorus. - Author: Robert Jordan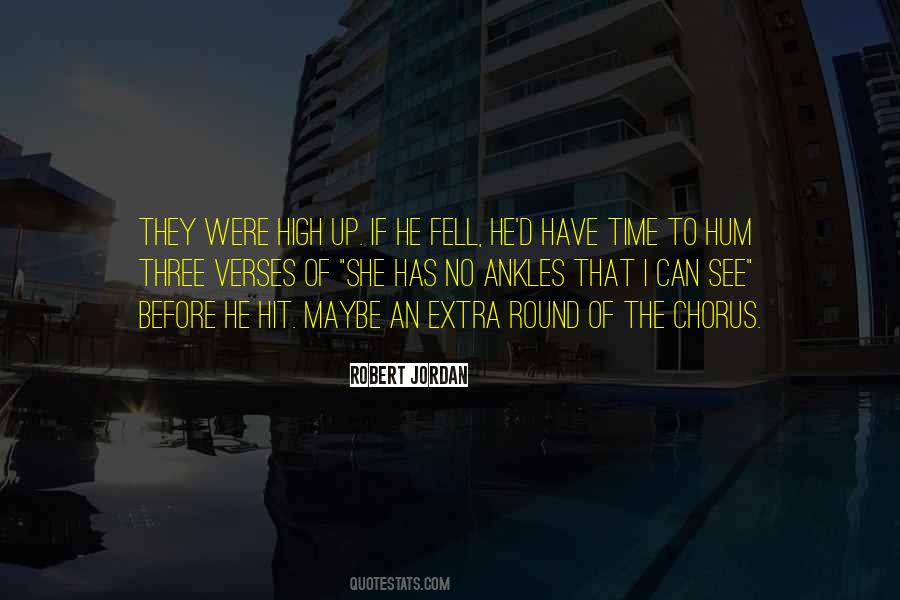 #98. Come back now and help me with these verses. Whisper to me some beautiful secret that you remember from life. - Author: Donald Justice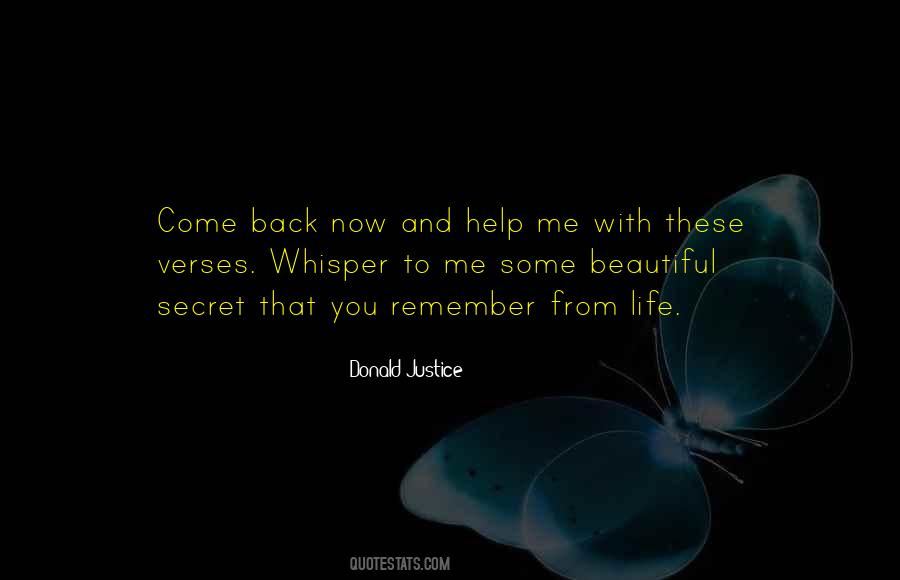 #99. Ann: I feel like I should read verses and be comforted. But it doesn't happen. - Author: K. Howard Joslin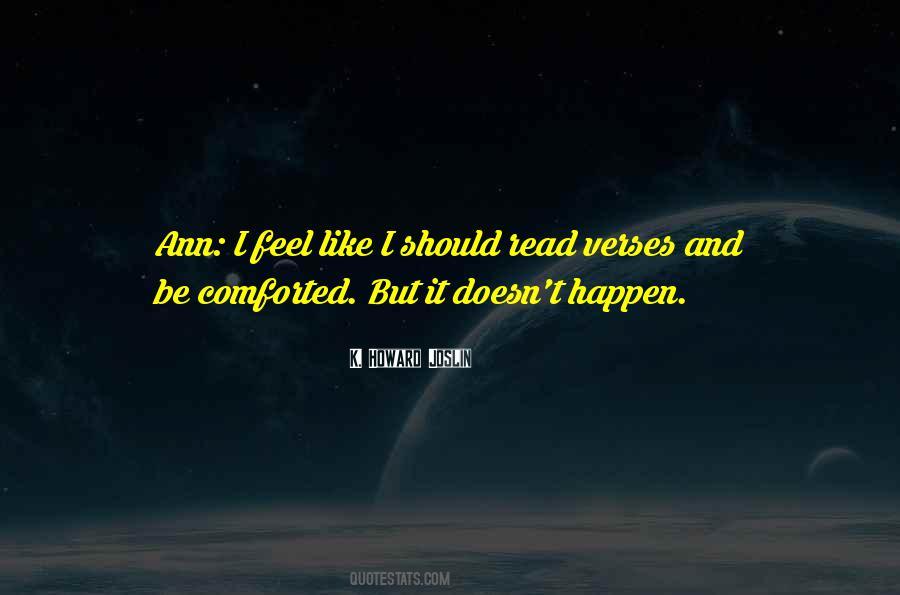 #100. But today I would suggest you ponder these verses from Ecclesiastes: "And he would have seven flights of madness in his soul, who, having hung his clothes beneath the sun, would groan at the hour of rain, - Author: Arthur Rimbaud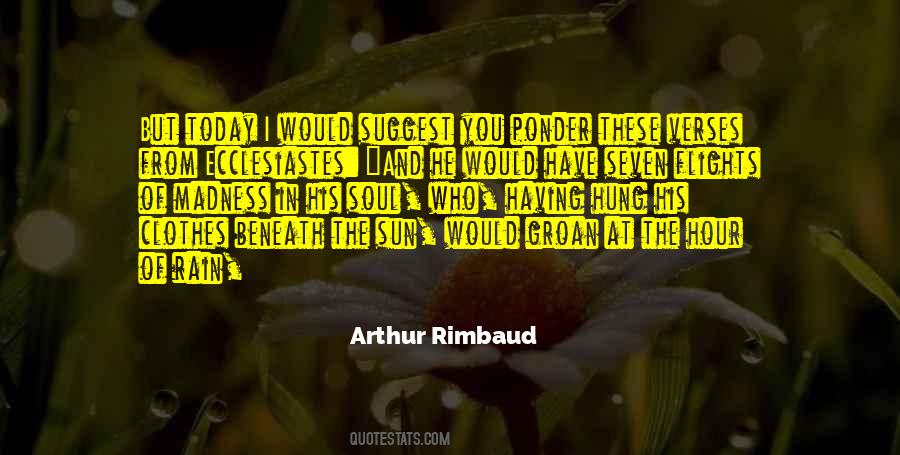 Famous Authors
Popular Topics