Truth Bible Famous Quotes & Sayings
List of top 100 famous quotes and sayings about truth bible to read and share with friends on your Facebook, Twitter, blogs.
Top 100 Quotes About Truth Bible
#1. Every truth in this world stretched beyond its limits will become a false doctrine. - Author: K.P. Yohannan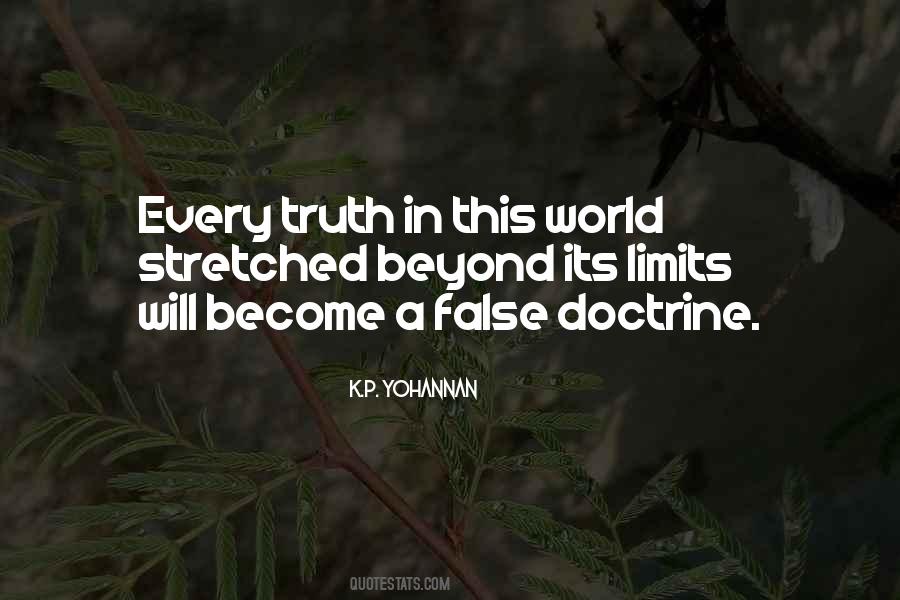 #2. Truth is not a right to be claimed, but a gift for those who are able to conquer it. - Author: Luis Marques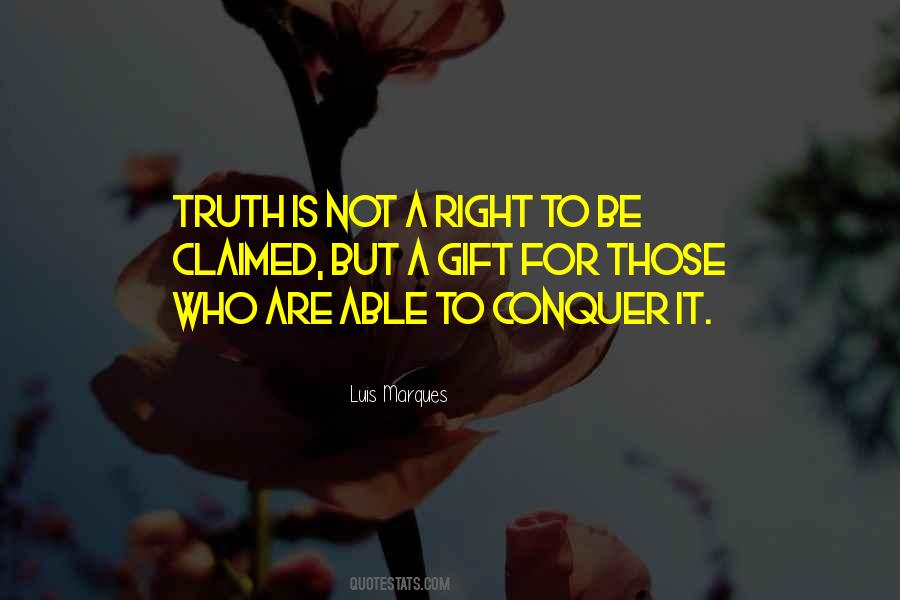 #3. He can heal me. I believe He will. I believe I'm going to be an old surely Baptist preacher. And even if He doesn't ... that's the thing: I've read Philippians 1. I know what Paul says. I'm here let's work, if I go home? That's better. I understand that. - Author: Matt Chandler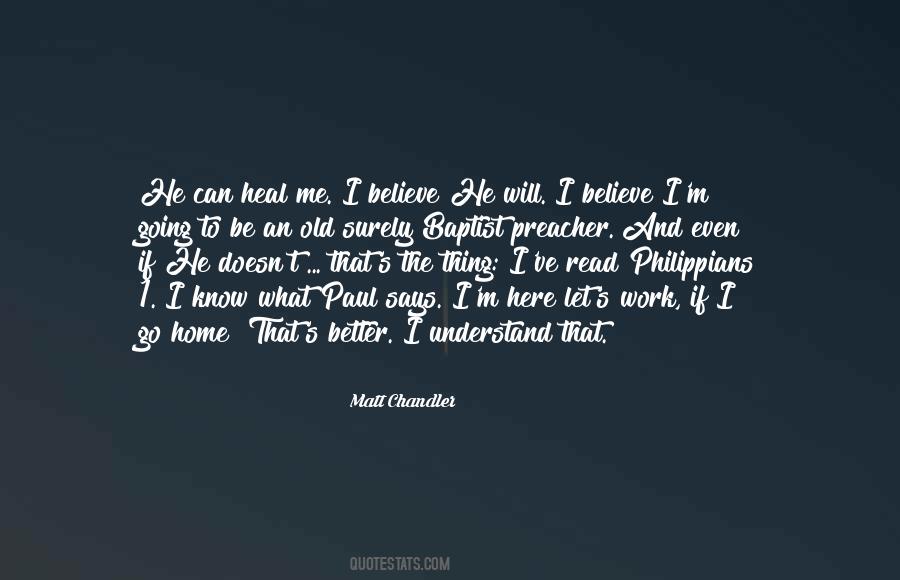 #4. The Bible is one of the greatest blessings bestowed by God on the children of men. It has God for its Author, salvation for its end, and truth without any mixture for its matter. It is all pure, all sincere; nothing too much; nothing wanting! - Author: John Locke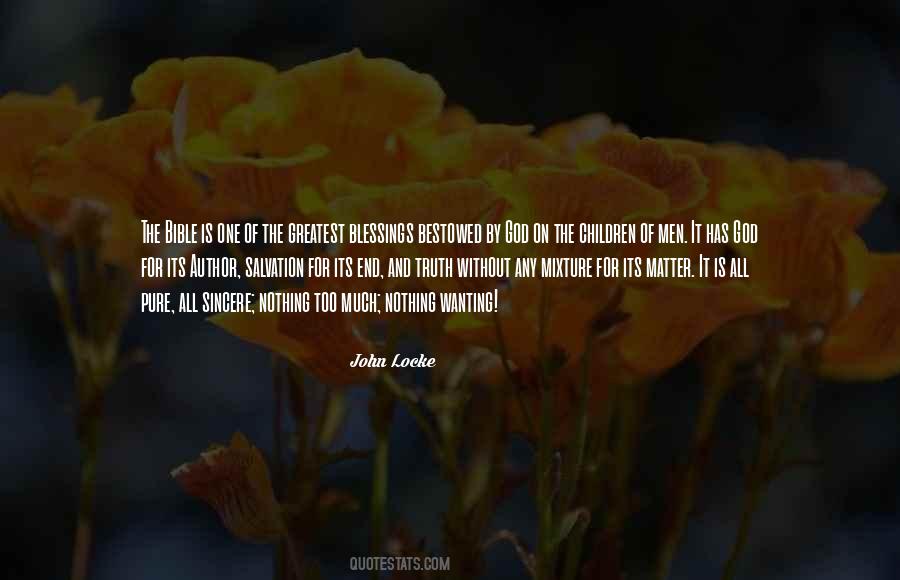 #5. By the word genuine I mean biblical, for only in the Bible do we have truth that is indisputably reliable. For this reason, the Bible must be the guide and test for all of our experiences in the spiritual life, for biblical spirituality is the only genuine spirituality. - Author: Charles C. Ryrie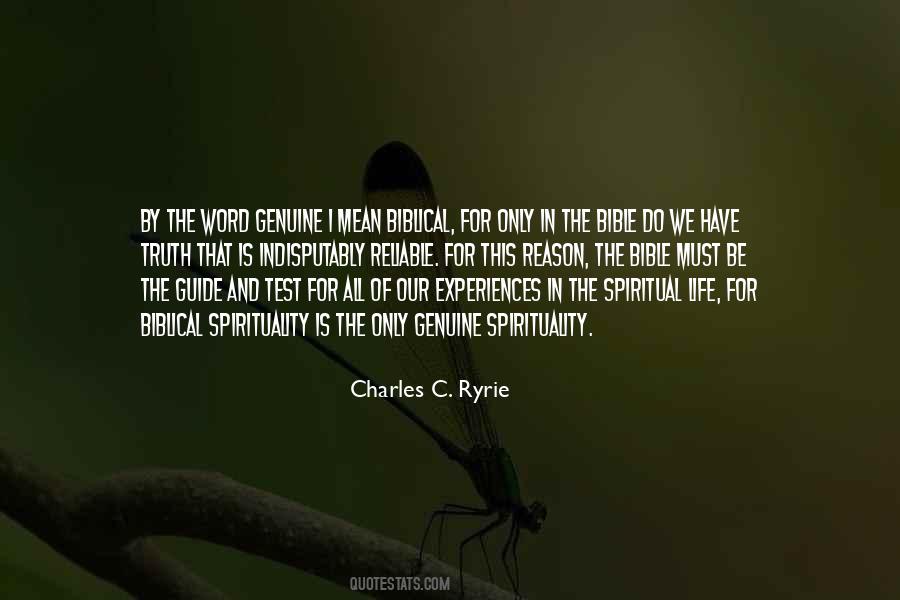 #6. The Bible is there to enable God's people to be equipped to do God's work in God's world, not to give them an excuse to sit back smugly, knowing they possess all God's truth - Author: N. T. Wright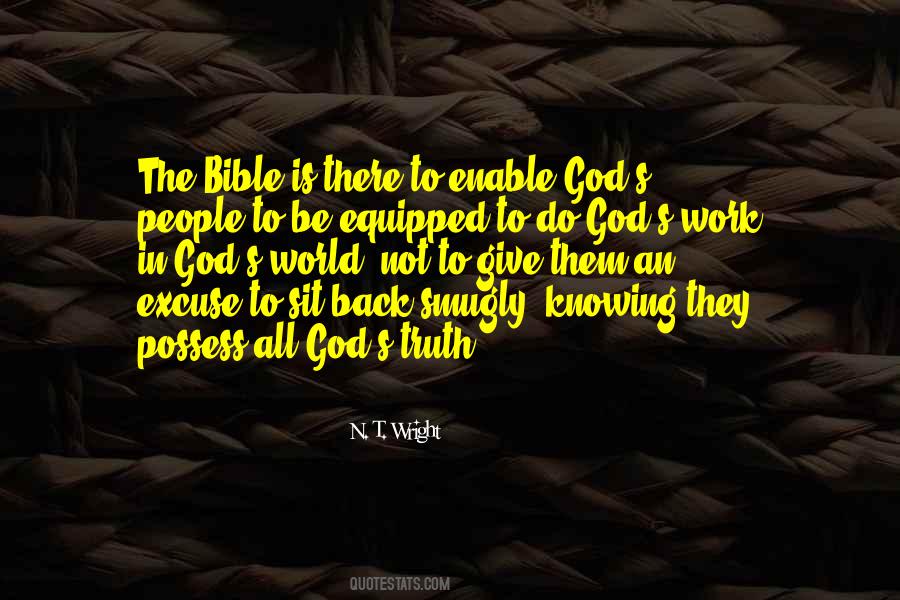 #7. The ability to discern truth comes from learning, growing, and understanding the Bible. - Author: Elizabeth George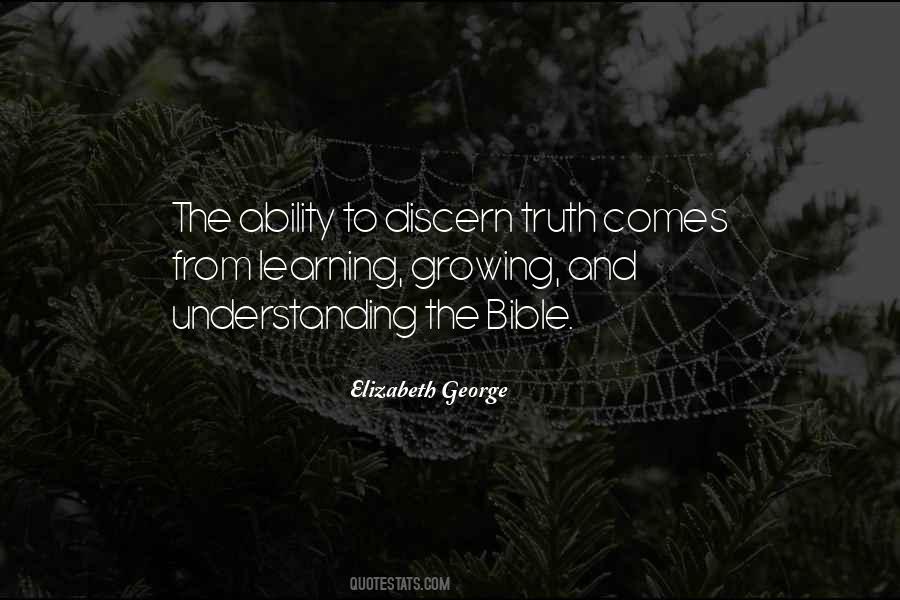 #8. The Bible is the fountain of truth. - Author: Joseph Franklin Rutherford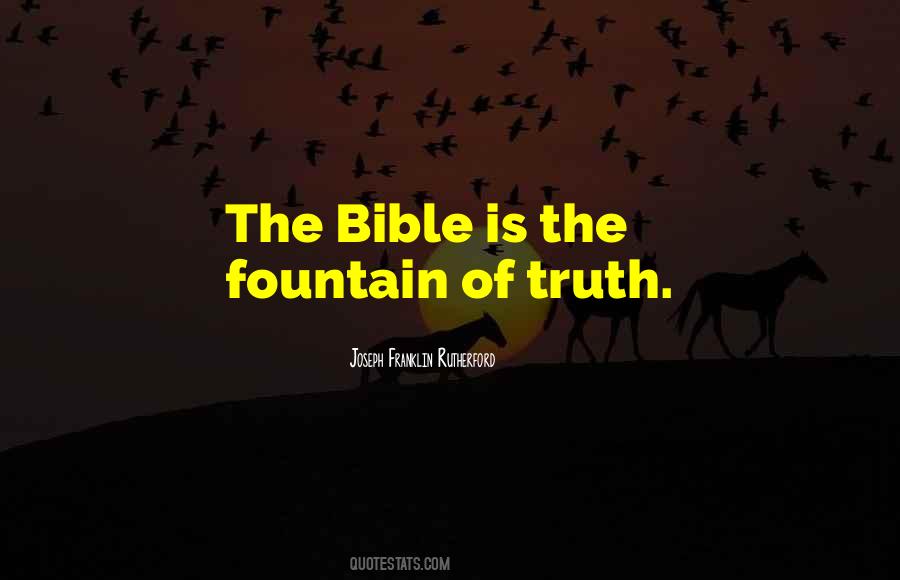 #9. The inerrancy debate is based on the belief that the Bible is the word of God, that the Bible is true because God made it and gave it to us as a guide to truth. But that's not what the Bible says. - Author: Doug Pagitt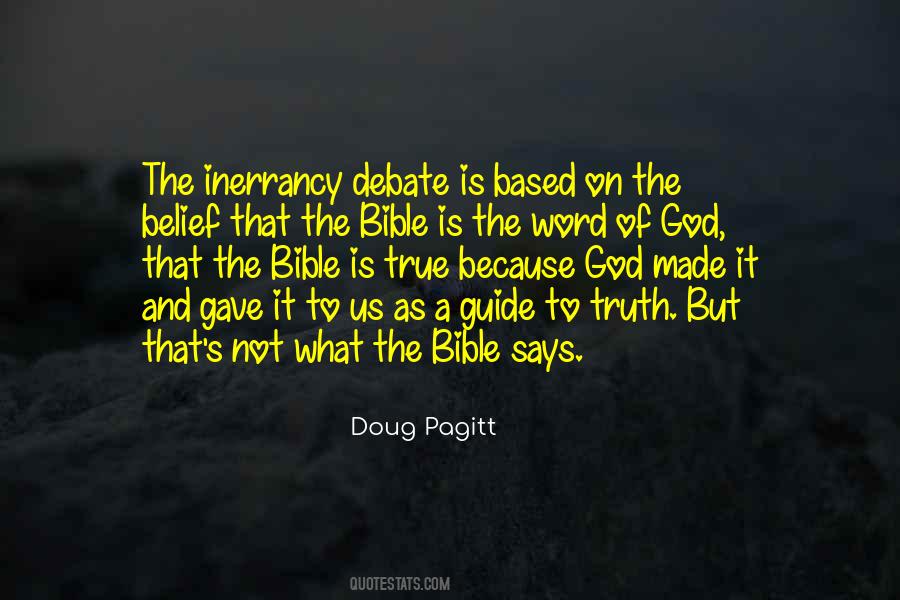 #10. The Bible may be the truth, but it is not the whole truth and nothing but the truth. - Author: Samuel Butler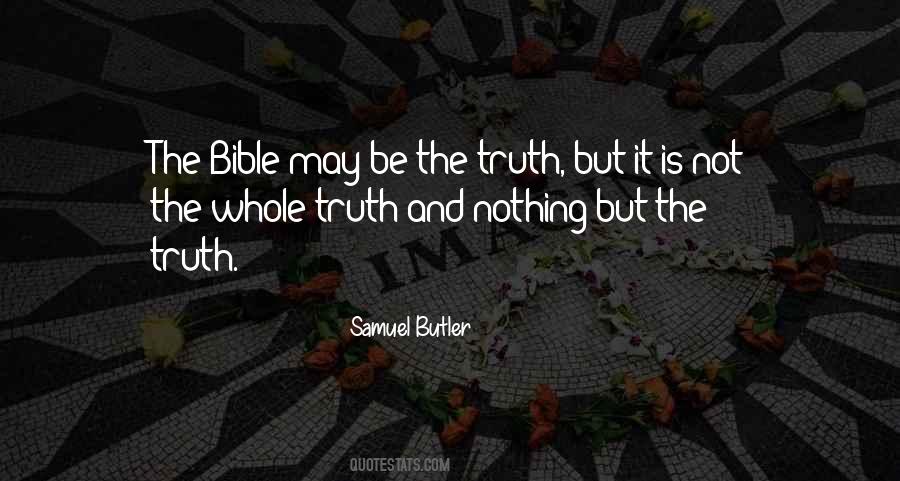 #11. God's Word teaches a very hard, disturbing truth. Those who neglect the poor and the oppressed are really not God's people at all - no matter how frequently they practice their religious rituals nor how orthodox are their creeds and confessions. - Author: Ronald J. Sider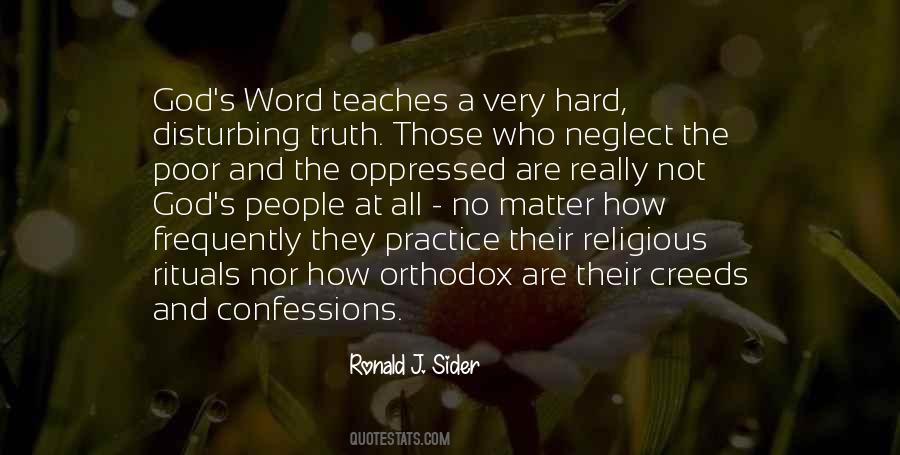 #12. The only Bible-honoring conclusion is, of course, that Genesis 1-11 is actual historical truth, regardless of any scientific or chronological problems thereby entailed. - Author: Henry M. Morris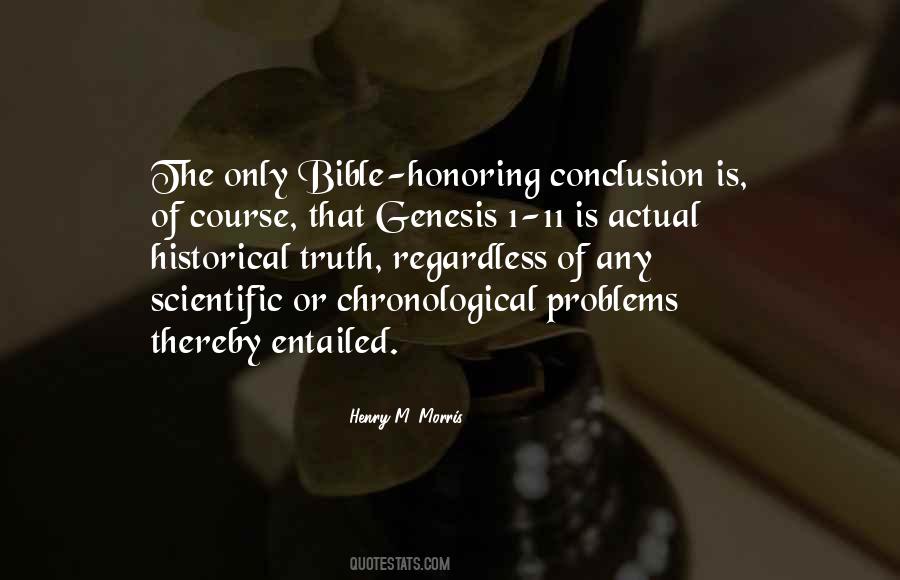 #13. A powerful truth is that if we love the Lord, love His Word, love His people, and love one another, we won't want to gossip. - Author: Elizabeth George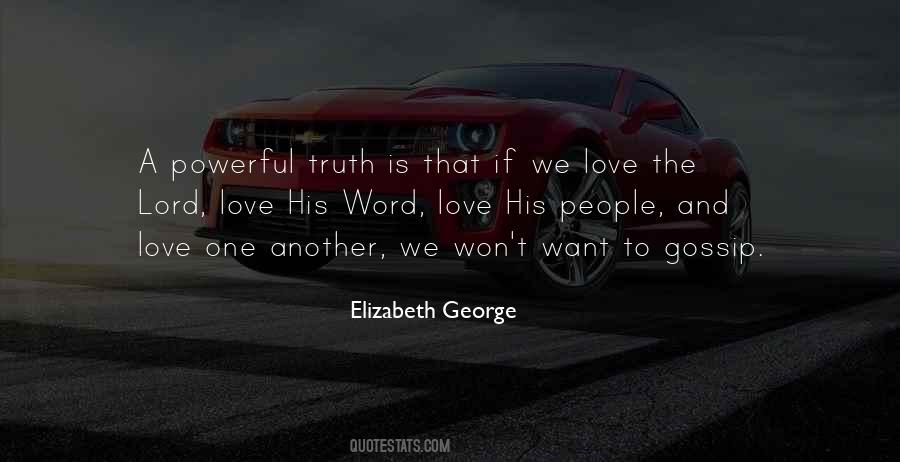 #14. If you believe what you like in the Gospel, and reject what you don't like, it is not the Gospel you believe, but yourself. - Author: Augustine Of Hippo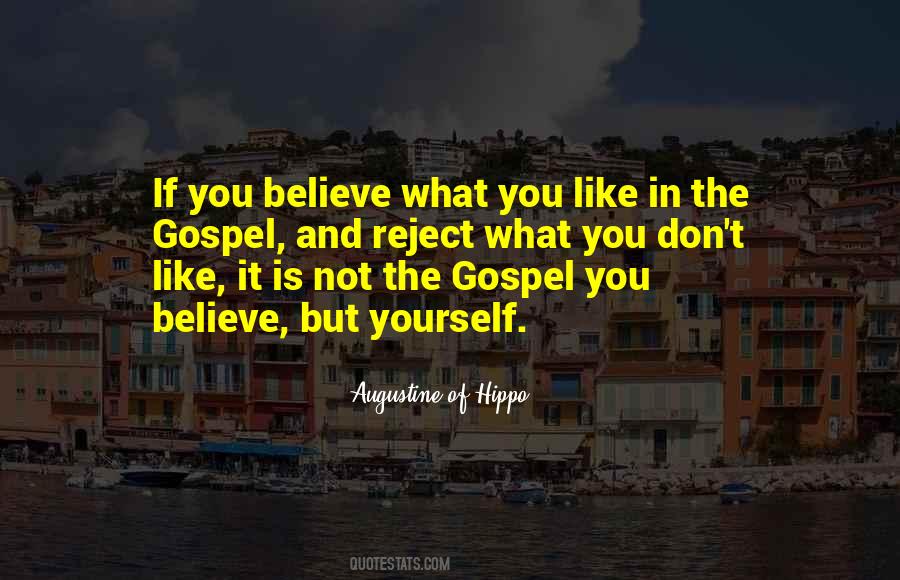 #15. You can always find hope in the truth that our God reigns & He will take care of His own. - Author: Jim George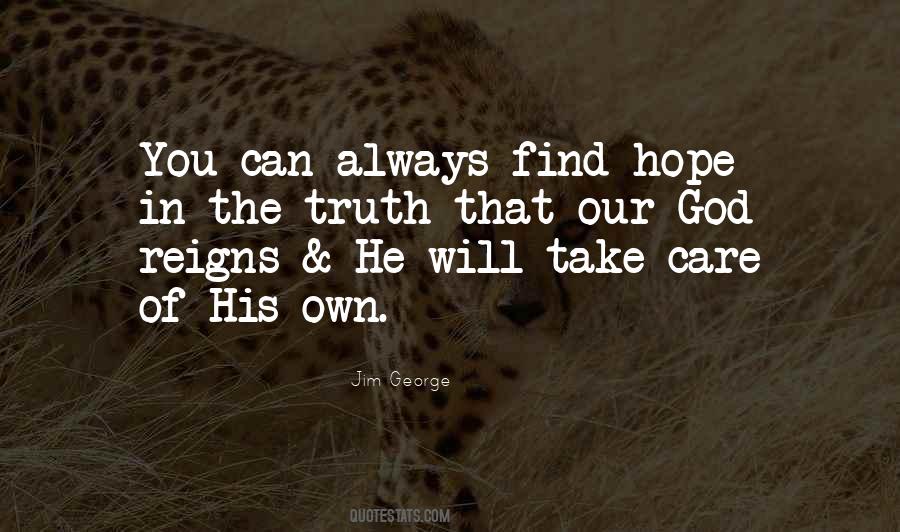 #16. But the truth is, I can't sip from an hour-long church service on Sunday morning or dash off a hasty prayer or gulp down a daily Bible verse and expect them to sustain me any more than I can expect a glass of water to last for a week. - Author: Lynn Austin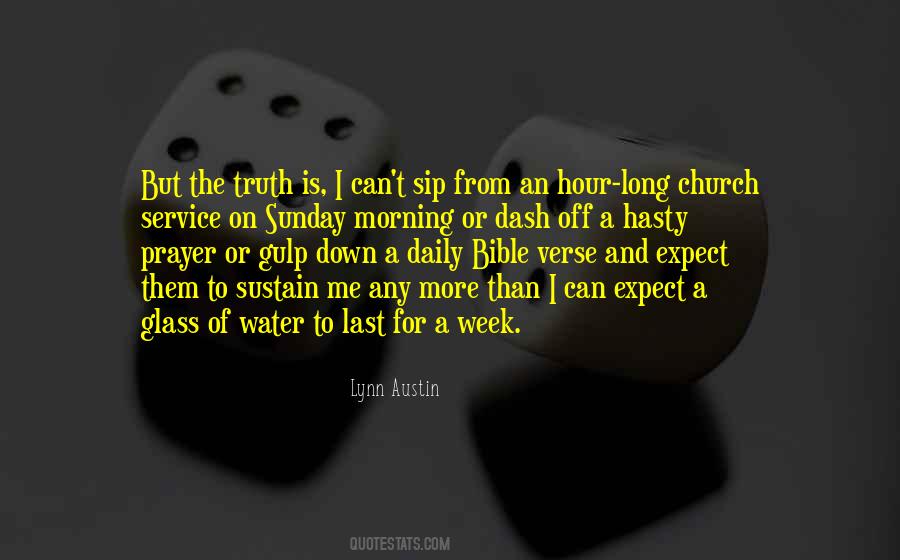 #17. The Bible is endlessly interesting because it is God's story, and God by nature is himself endlessly interesting. The Bible is an ever-flowing fountain. The more you read it, the more you find its truth and beauty to be inexhaustible. - Author: D. A. Carson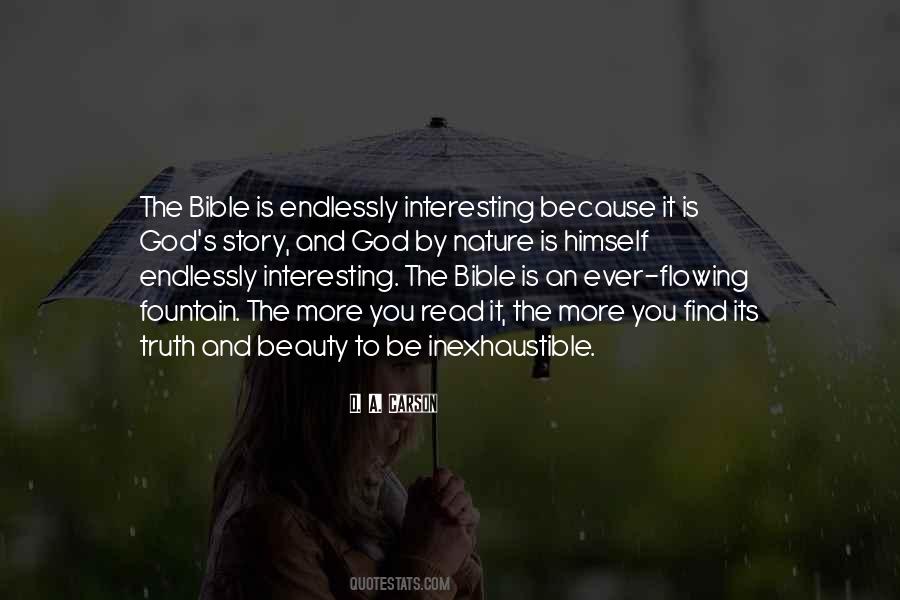 #18. Fill your heart with truth so that the wisdom of Christ will flow fluently from you like a living river moving into the seeking hearts of the thirsty. - Author: Calvin W. Allison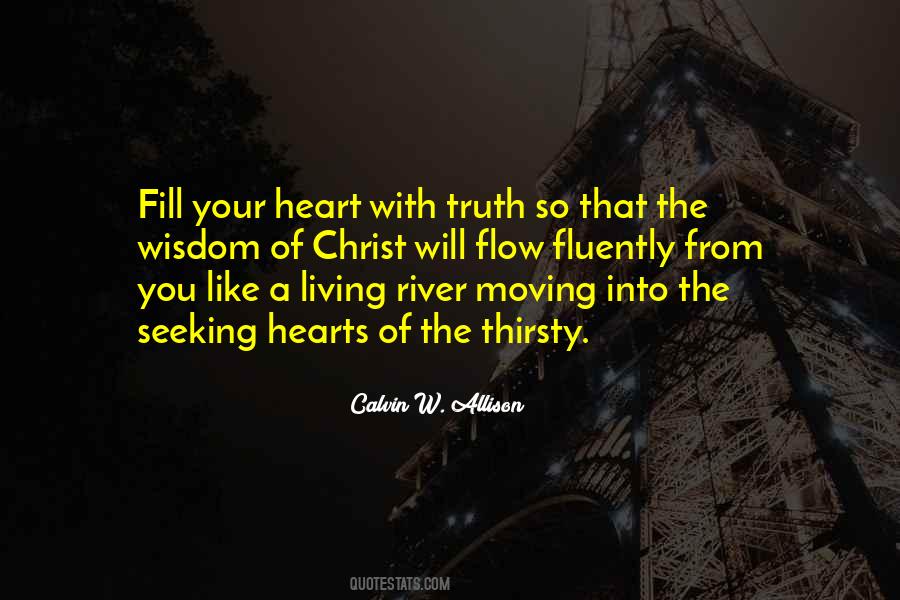 #19. I still believe that many Americans have a deep longing for that glorious moment when a sermon is more Biblical than American. - Author: Criss Jami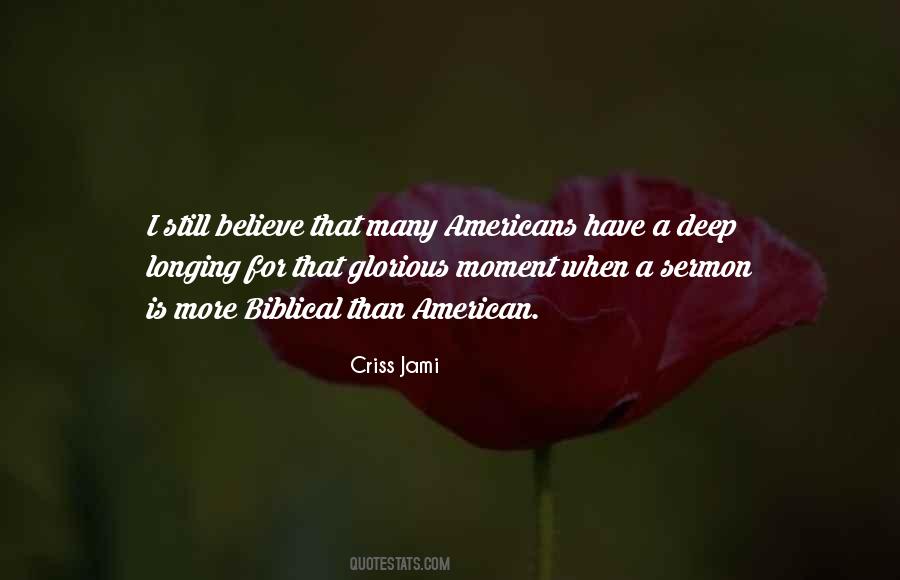 #20. The Bible never divorces the truth of Christ's future return with our present-day responsibilities. - Author: Robert Jeffress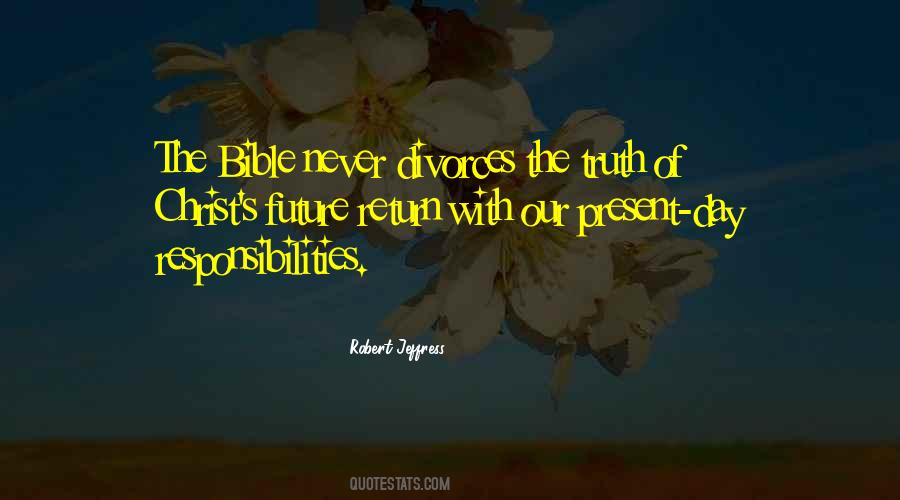 #21. So that originally, and Naturally, there is no such thing as Slavery. Joseph was rightfully no more a Slave to his brethren, then they were to him: and they no more Authority to Sell him, than they had to Slay him. [Genesis 37]. - Author: Samuel Sewall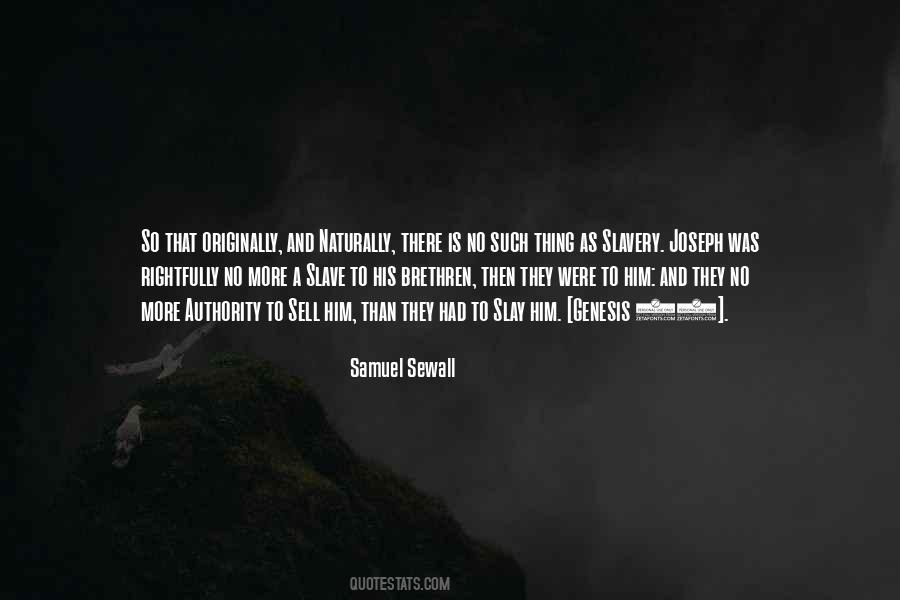 #22. The Bible's blind, the Torah's deaf, the Qur'an is mute; if you burned them all together you'd get close to the truth. - Author: Conor Oberst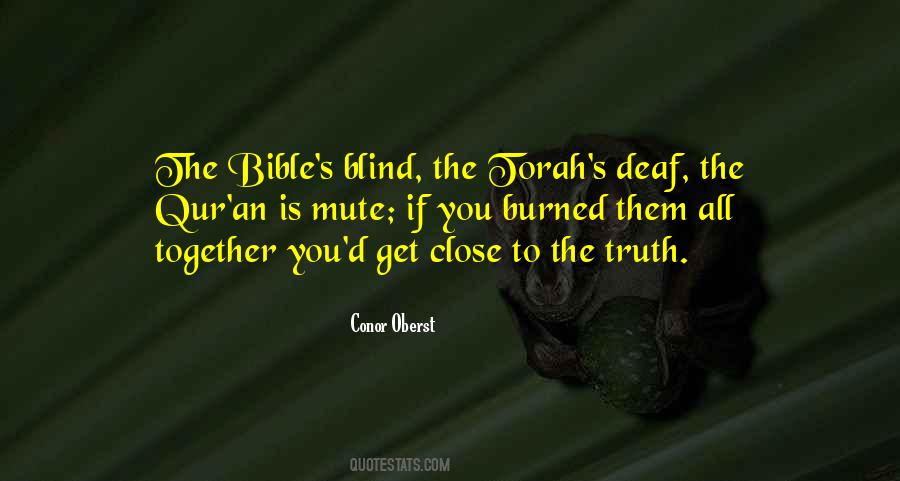 #23. Ignorance of Scripture is the root of every error in religion, and the source of ever heresy. To be allowed to remove a few grains of ignorance, and to throw a few rays of light on God's precious word, is, in my opinion, the greatest honor that can be put on a Christian. - Author: J.C. Ryle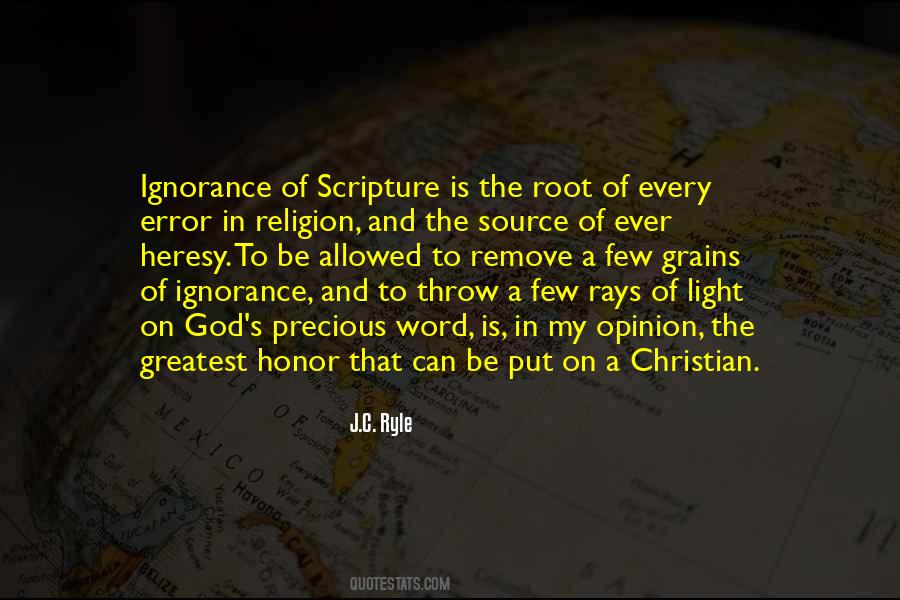 #24. The Bible becomes a dead idol when we call the words between its covers inerrant, infallible, to be taken literally. This is not a dead book. It is alive. Open it carefully because the new truth that might come leaping out at you could change your life forever. - Author: Mel White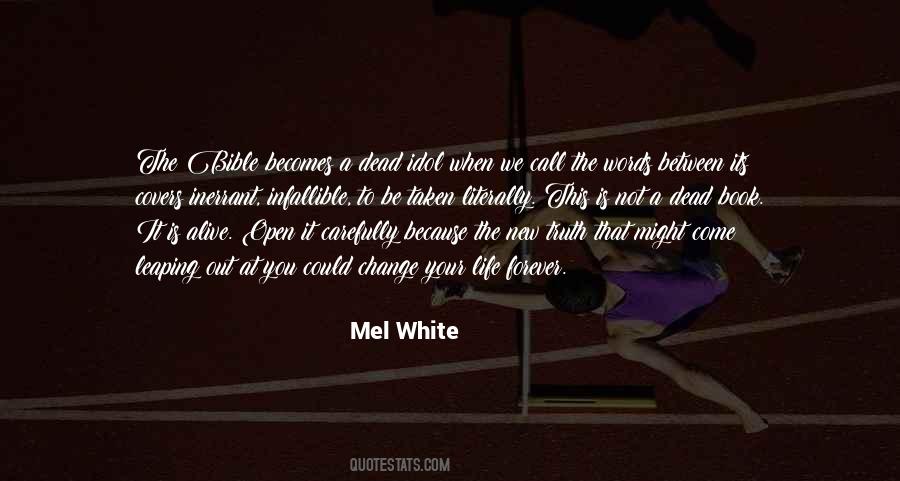 #25. He who teaches the Bible is never a scholar; he is always a student. - Author: Elizabeth George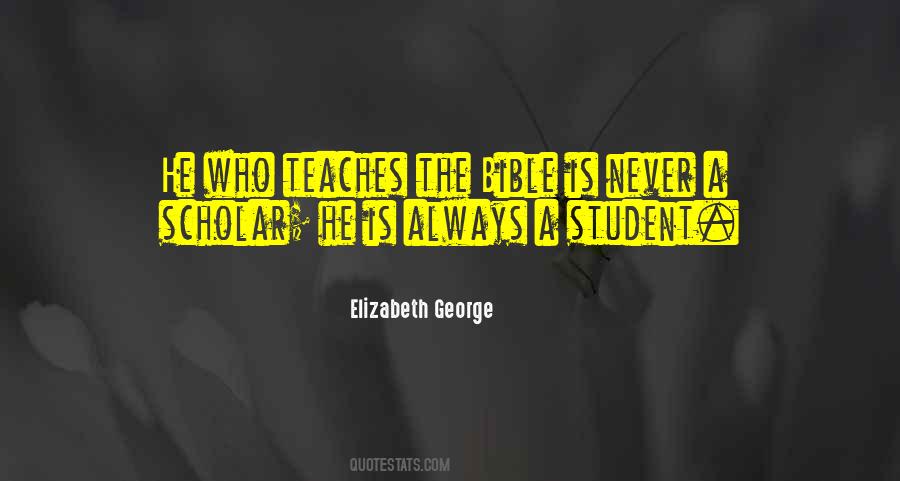 #26. The Bible is clear: Truth exists. It can be known. And when we ground our beliefs in it, we are rational. - Author: Patty Houser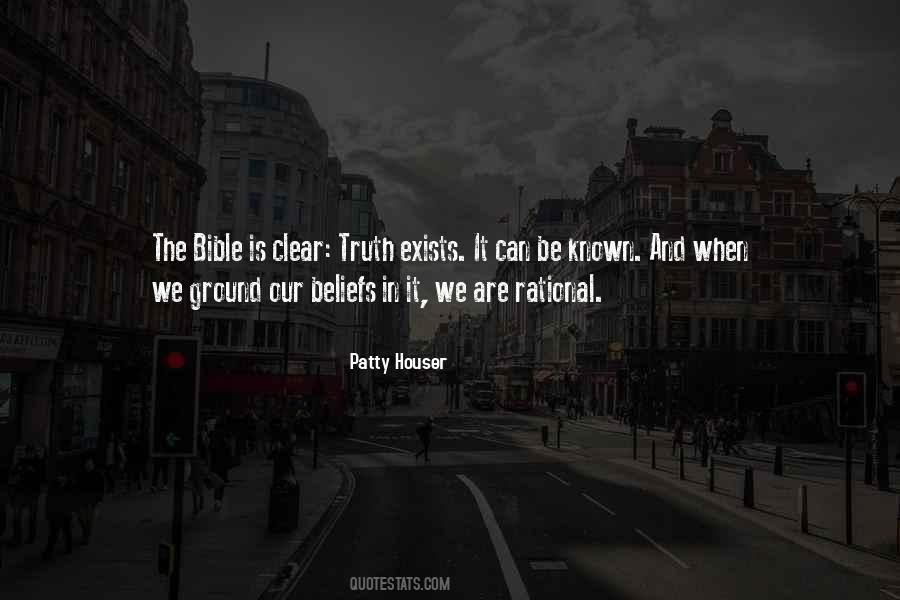 #27. Nothing do I know of the law at all. But I do remember that the Bible likens human justice to a woman's unclean rag - quasi pannus menstruate - and I have little faith in truth as an immediate safeguard, in this world. - Author: Patrick O'Brian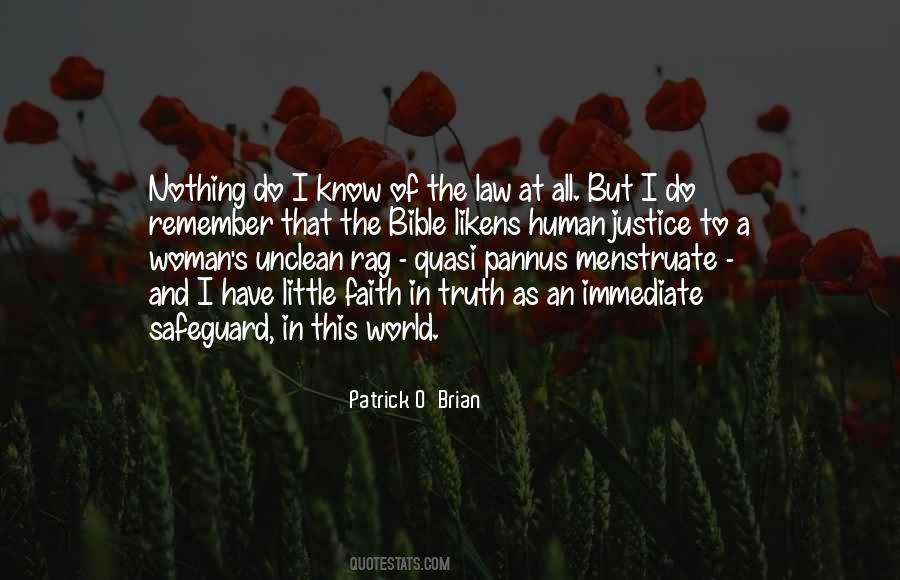 #28. If only religious leaders could be trusted, then maybe there wouldn't be so many problems. They have perverted any truth that the Bible may have. - Author: Ryan Hofmeister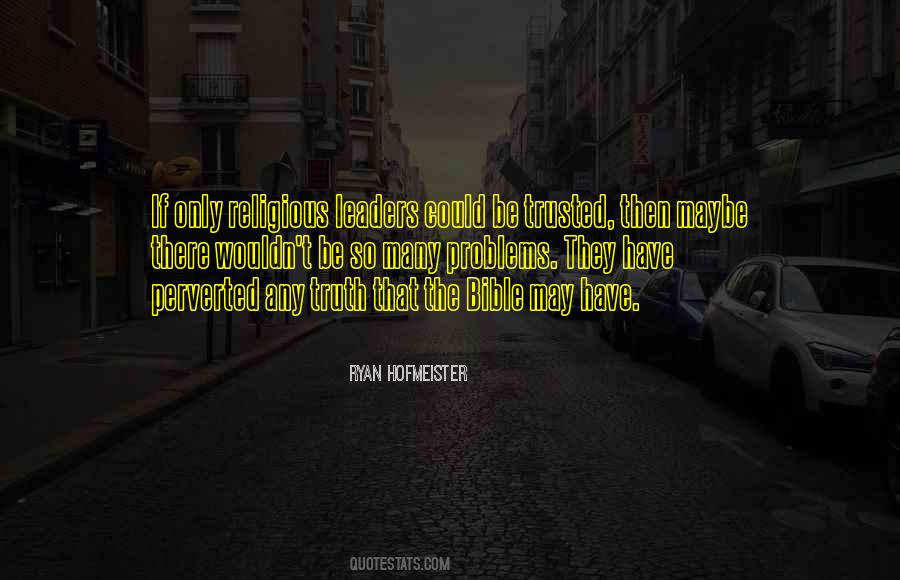 #29. If you want to teach real religion to the kids, throw away the Bible, the Vedas, the Quran and all the scriptures, and teach them the religion of love. - Author: Abhijit Naskar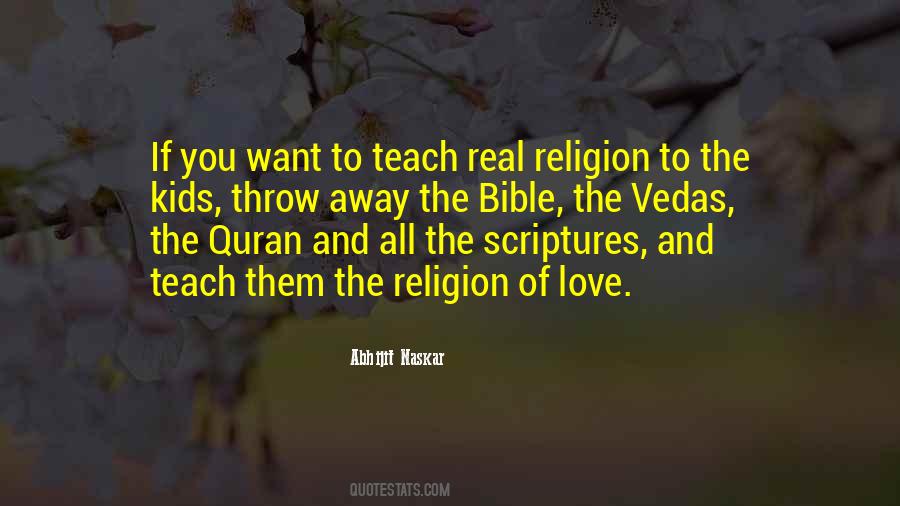 #30. Ann: What if there is no God? What if the Bible isn't true? - Author: K. Howard Joslin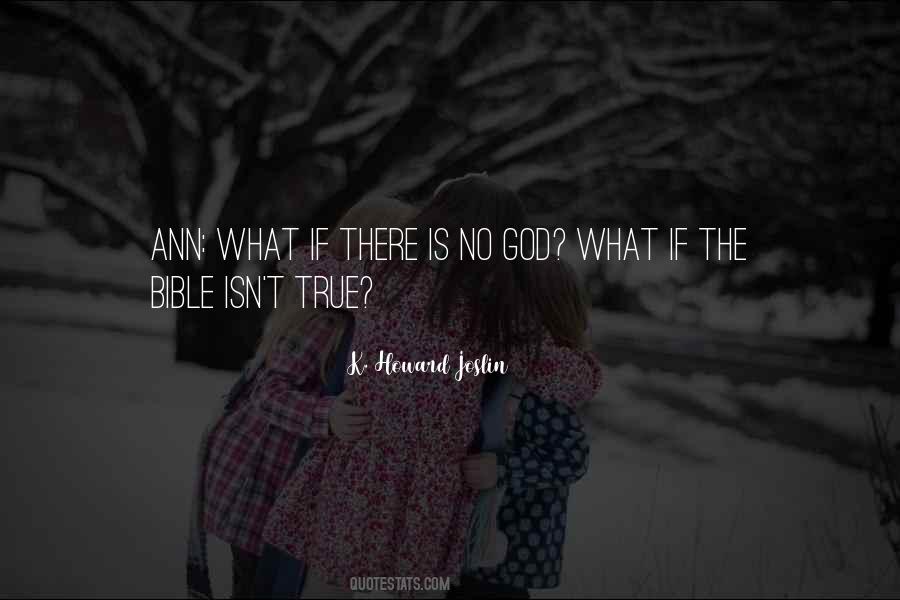 #31. There are certain books in the world which every searcher for truth must know: the Bible, the Critique of Pure Reason, the Origin of Species, and Karl Marx's Capital. - Author: Al Capp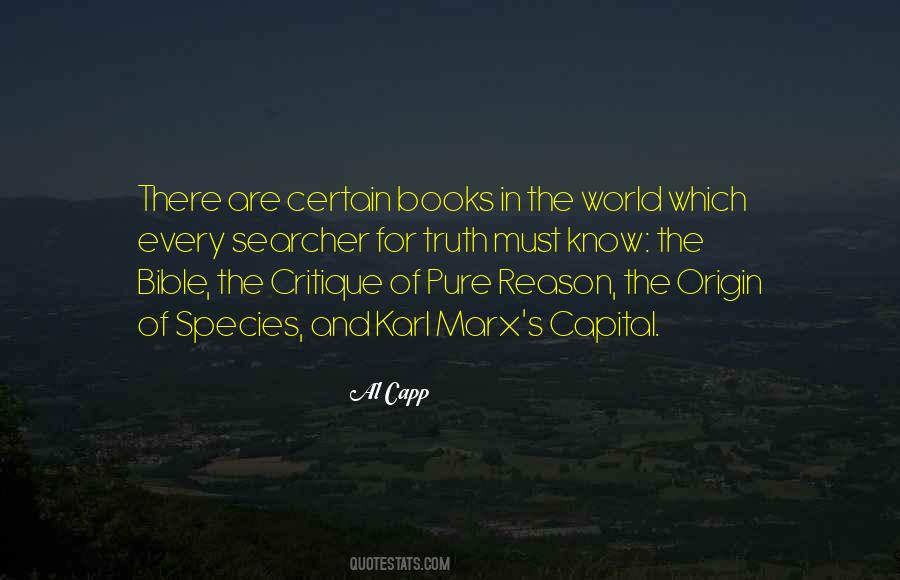 #32. The Bible tells us, "blessed are the poor in spirit, for theirs is the kingdom of heaven", which means heaven that is the true world will become one's own when he discards his false mind completely. - Author: Woo Myung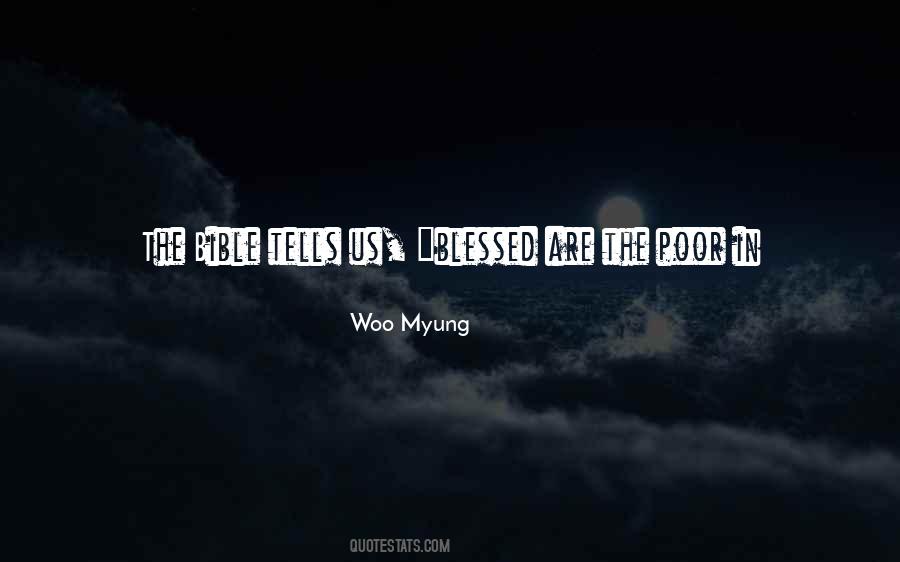 #33. The gift of mental power comes from God, Divine Being, and if we concentrate our minds on that truth, we become in tune with this great power. My Mother had taught me to seek all truth in the Bible. - Author: Nikola Tesla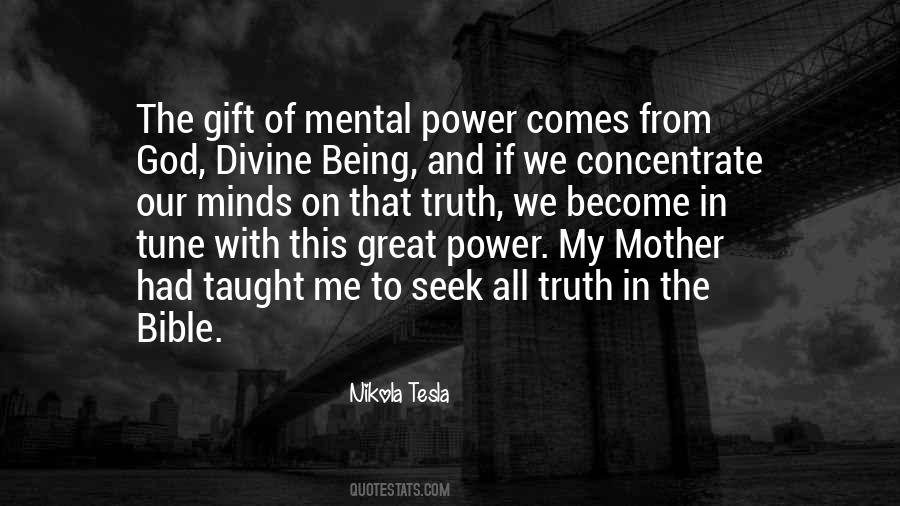 #34. Your decision to open the Bible every day to look into the mirror and see truth from God makes you a light in a world filled with much darkness. - Catherine Martin - Author: Diane Stortz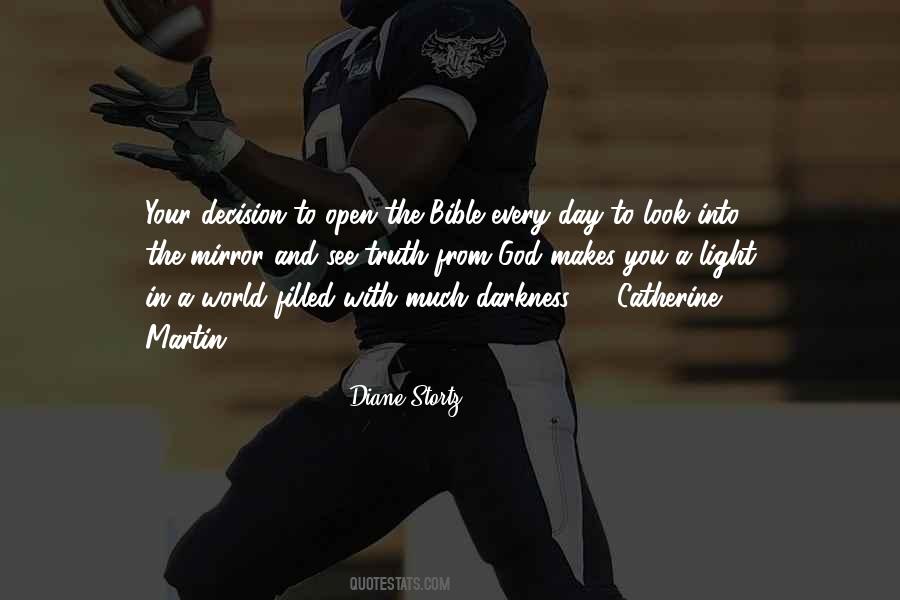 #35. O Word of God incarnate ...
It is the golden casket
Where gems of truth are stored;
It is the heaven-drawn picture
Of Thee, the Living Word. - Author: Walsham How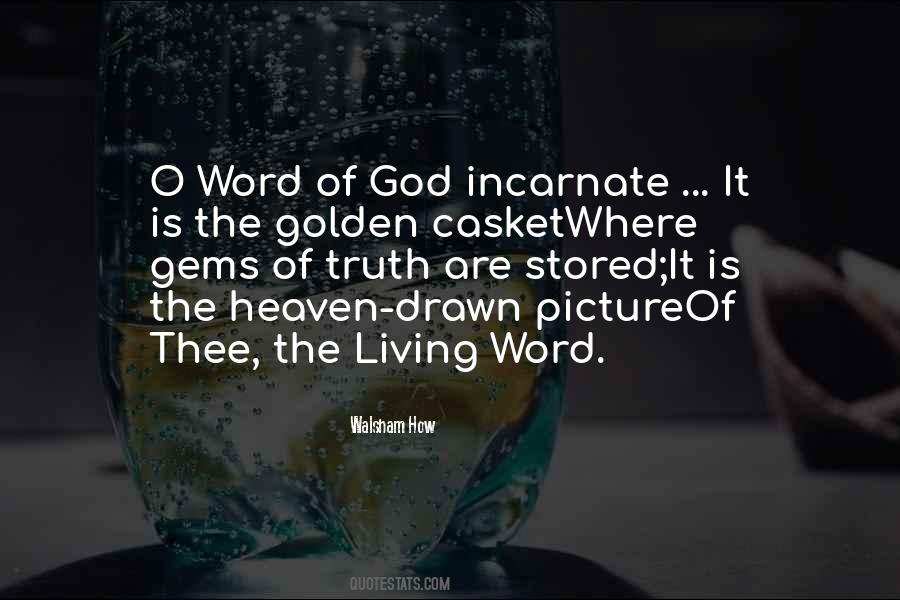 #36. God's standard is expressed in the Bible, and the ultimate example of that standard is Jesus Christ. When we live by the truth, we possess integrity. - Author: Billy Graham
#37. When a man's heart is right with God the mysterious utterances of the Bible are spirit and life to him. Spiritual truth is discernible only to a pure heart, not to a keen intellect. It is not a question of profundity of intellect, but of purity of heart. - Author: Oswald Chambers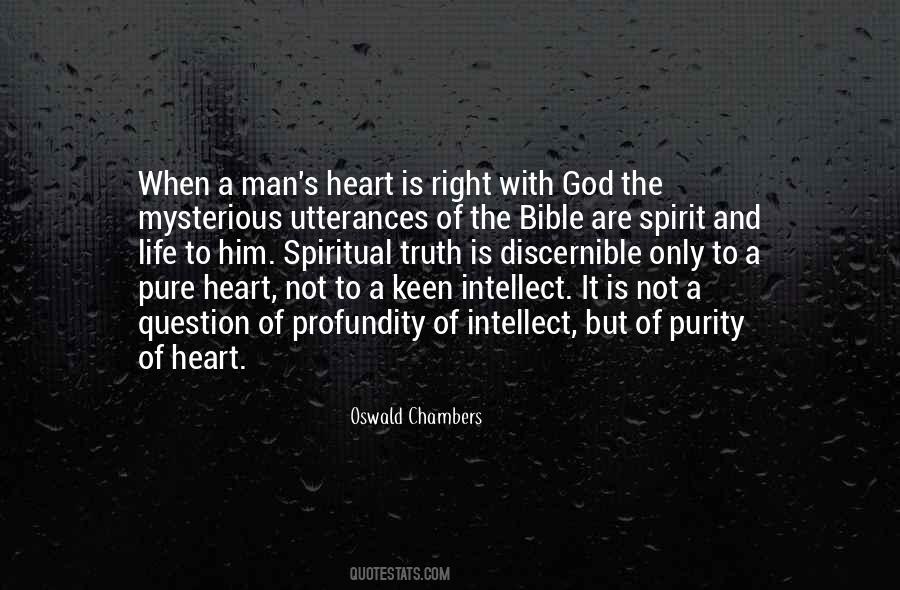 #38. The truth will set you free (The Bible) - Author: Robert Baohm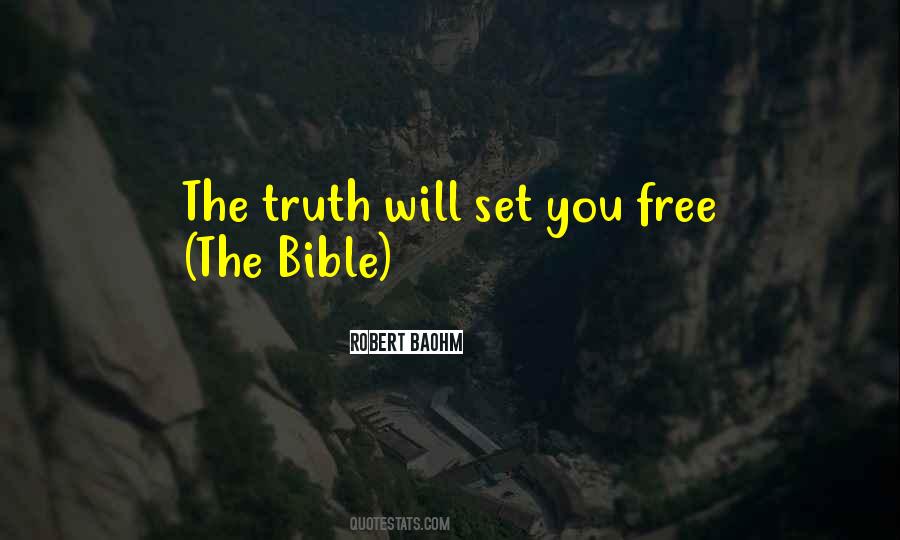 #39. If the Bible is uniquely and inerrantly inspired, then we have certainty; we may know real truth about God - Author: J. Sidlow Baxter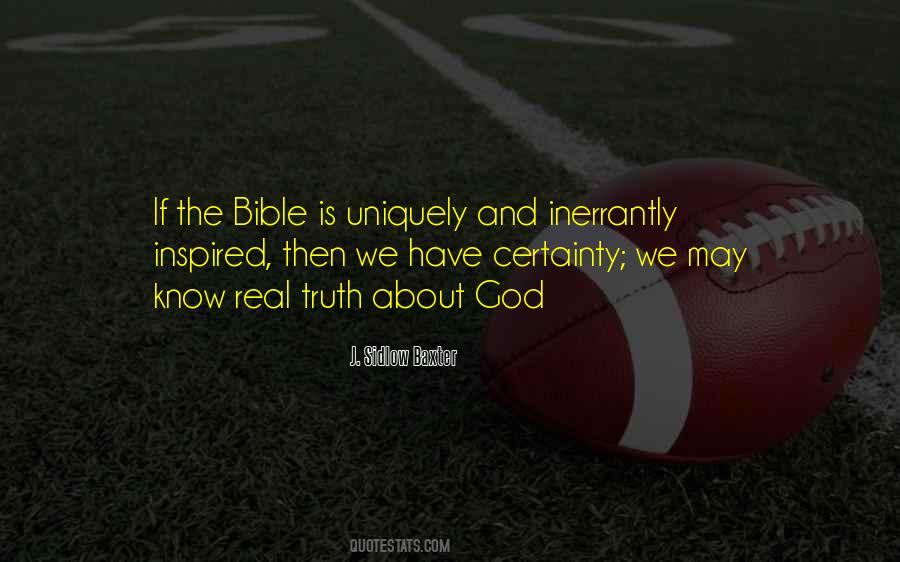 #40. The Bible knows nothing of any contrast between truth and experience, head and heart, theology and practical living. - Author: Michael S. Horton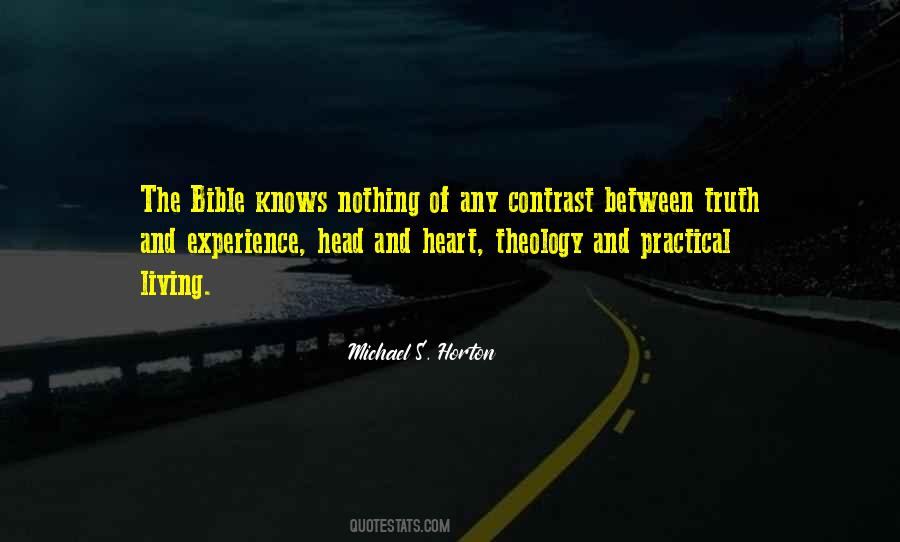 #41. The sword of the Spirit - the Bible - is the weapon God has provided for us to use in this battle between truth and deception. Make it a priority to wield that sword skillfully. - Author: Billy Graham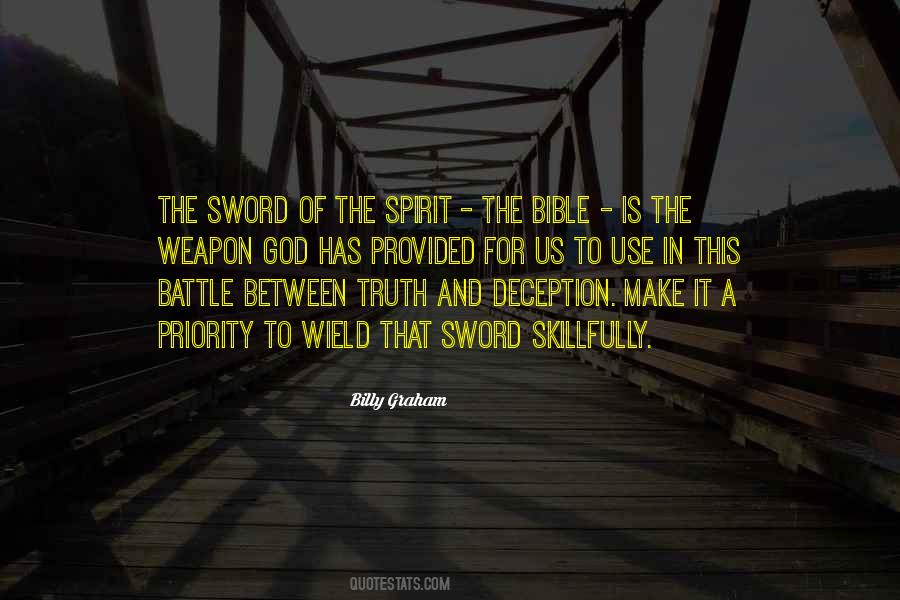 #42. A biblical false prophet was a servant of the devil attempting to lead people away from the truth. - Author: Walter Martin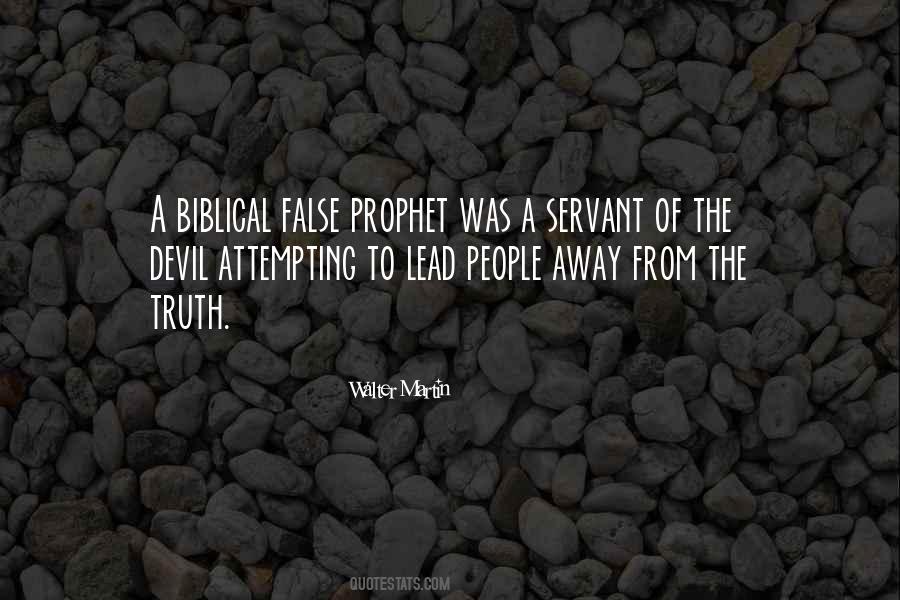 #43. God wants you to understand the Word of God. The Bible is not a mystery book. It's not a book of philosophy. It's a book of truth that explains the attitude and heart of almighty God. - Author: Charles Stanley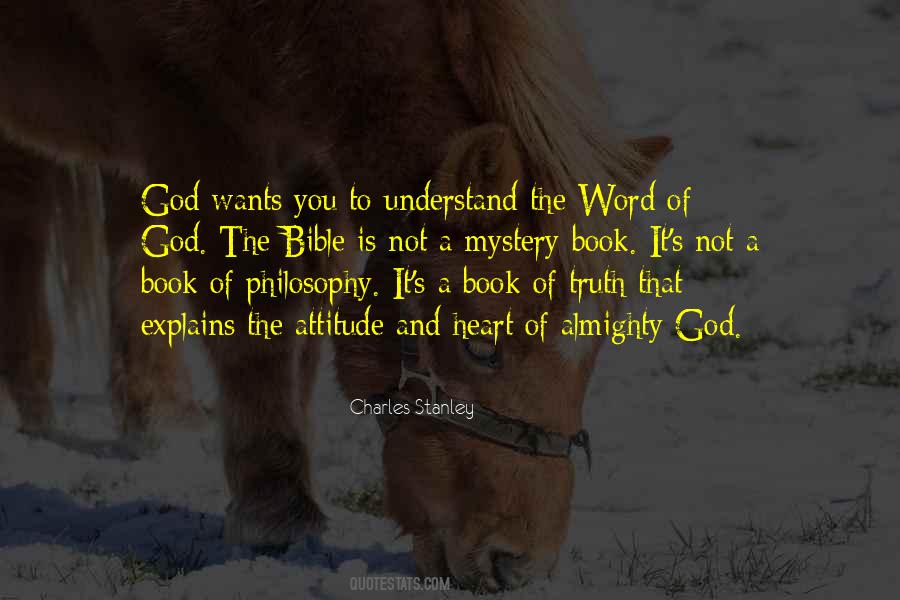 #44. The sweetness of the Scripture is satisfactory to the soul. - Author: Lailah Gifty Akita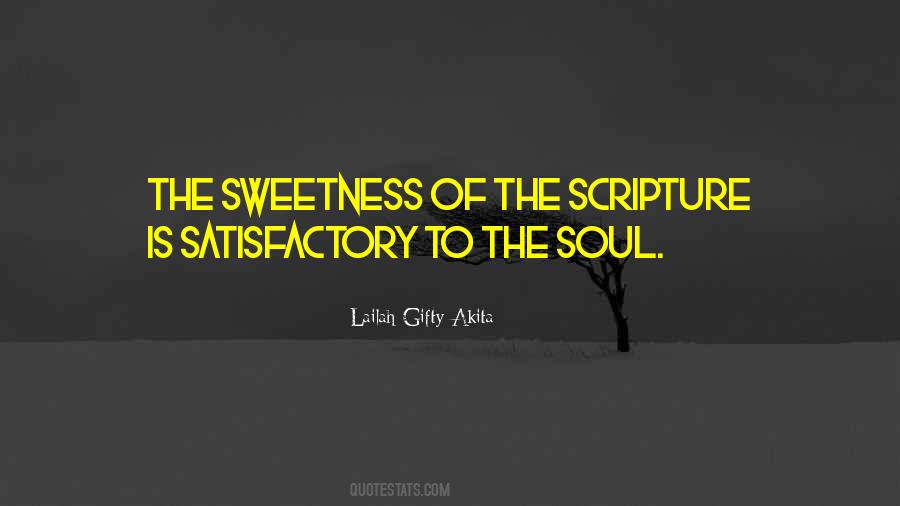 #45. There's a saying in the scientific community, that every great truth goes through three phases. First, people deny it. Second, they say that it conflicts with the Bible. Third, they say that they've known it all along. - Author: Neil DeGrasse Tyson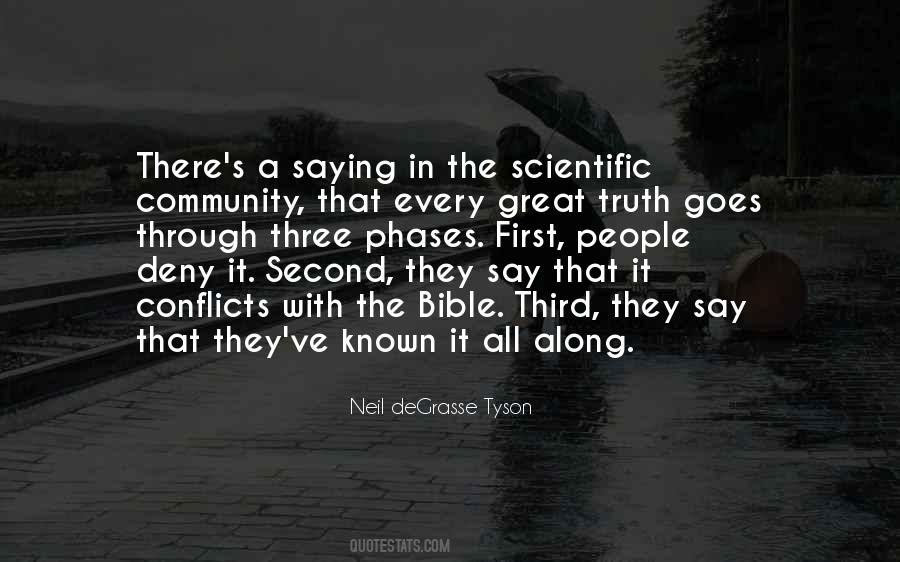 #46. But when you come to Heritage USA, remember to bring your Bible and your VISA card - because the Bible is the Holy Truth, and God doesnt take American Express - Author: Jim Bakker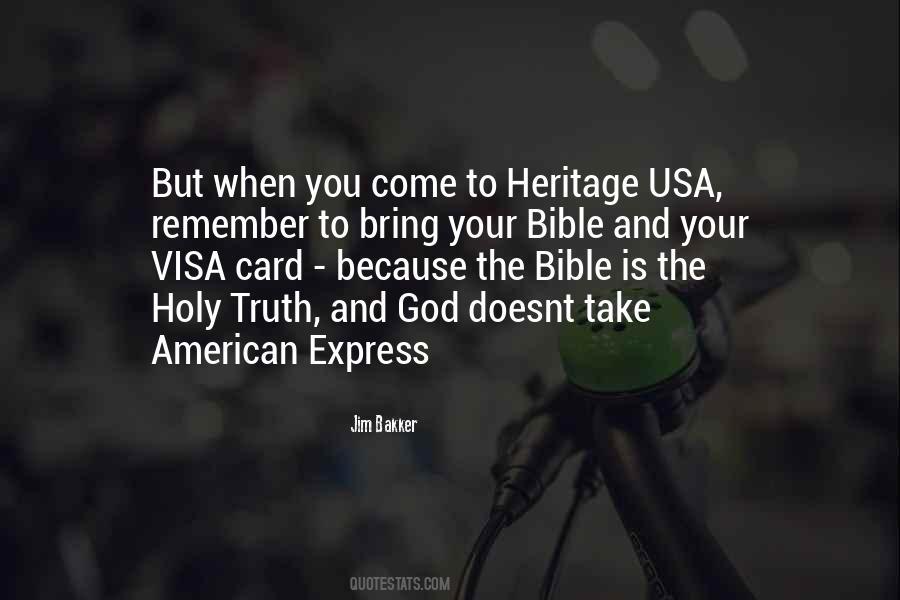 #47. Just knows, and knows no more, her Bible true,- A truth the brilliant Frenchman never knew. - Author: William Cowper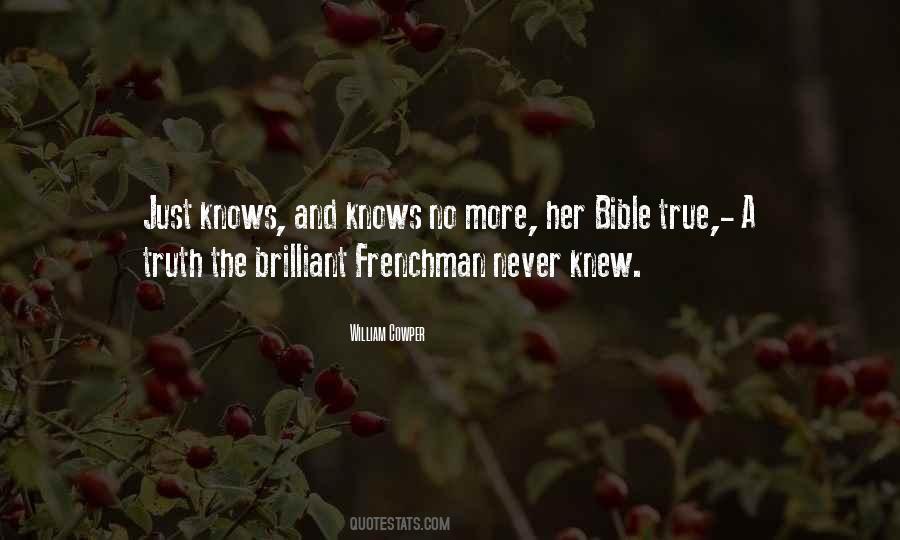 #48. Reading our Bible is actually fundamental, but there is more if we are going to walk in His truth. Even if we read the Bible, if we do not read it by the Holy Spirit, the Spirit of Truth, we will not understand it correctly. - Author: Rick Joyner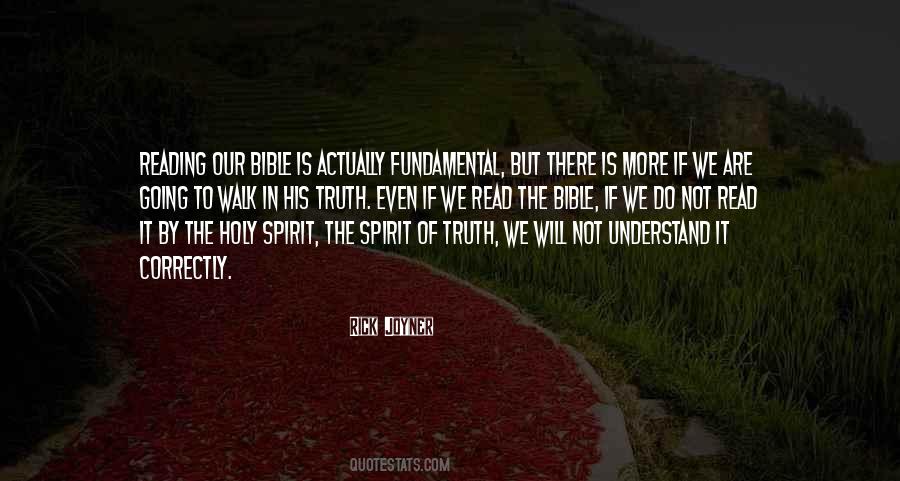 #49. The compass needle tells the truth, Beth, even in a storm. And then one must adjust the rest of one's circumstances in accordance - even though sometimes it feels amiss. It reminds me that the Bible is like that too. It tells us the truth, and then we must adjust our thinking, our actions, to match. - Author: Janette Oke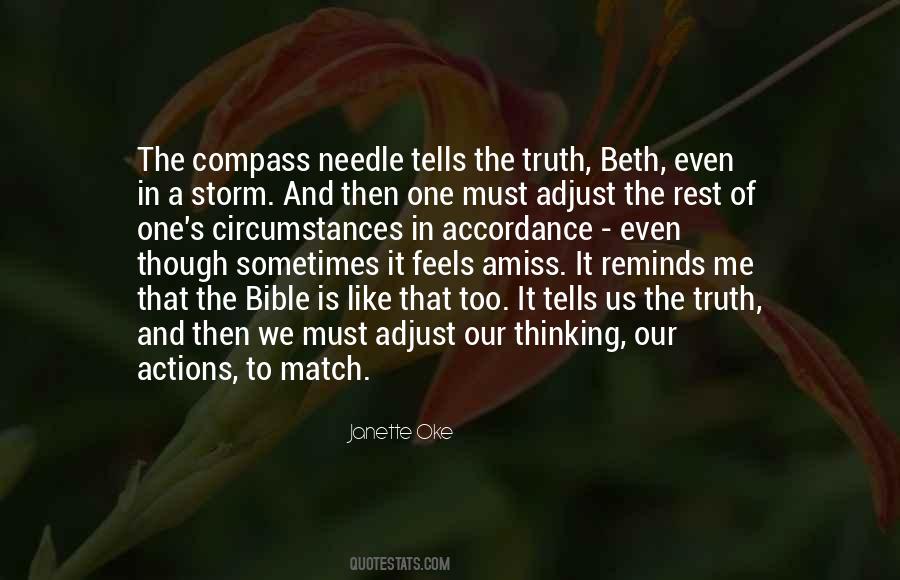 #50. People no longer rely on the Bible as either their standard for living or their source of truth. In fact, few people even bother to read it anymore. - Author: David Jeremiah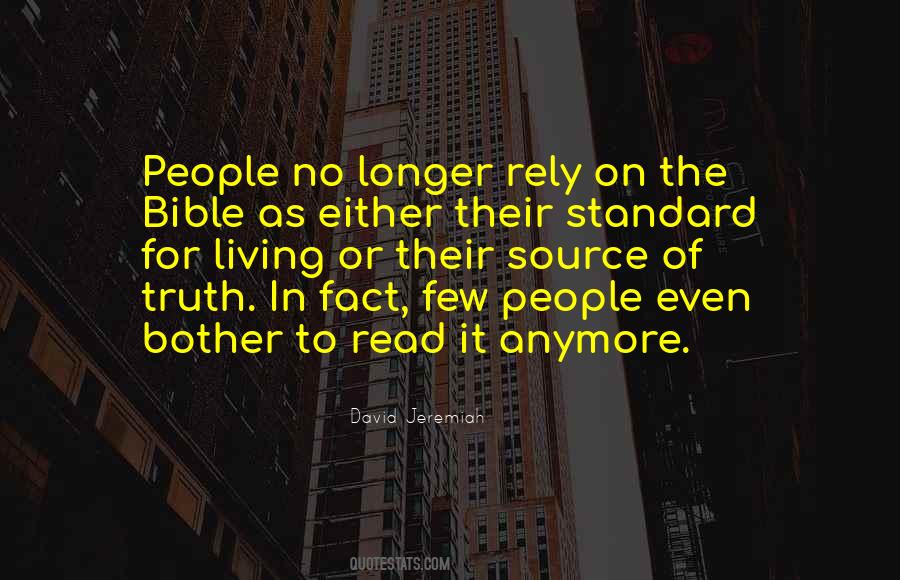 #51. In view of this strong Bible evidence concerning the Times of the Gentiles, we consider it an established truth that the final end of the kingdoms of this world, and the full establishment of the kingdom of God, will be accomplished by the end of A.D. 1914. - Author: Charles Taze Russell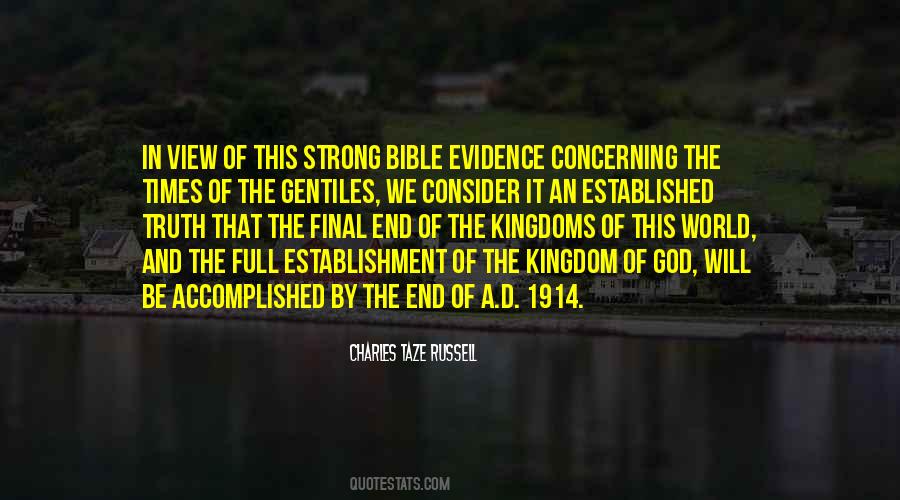 #52. The truth is in Jesus and it leads to the fullness of truth about God, man, creation, history, sin, righteousness, grace, faith, salvation, life, death, purpose, meaning, relationships, heaven, hell, judgement, eternity, and everything else of ultimate consequence. - Author: John F. MacArthur Jr.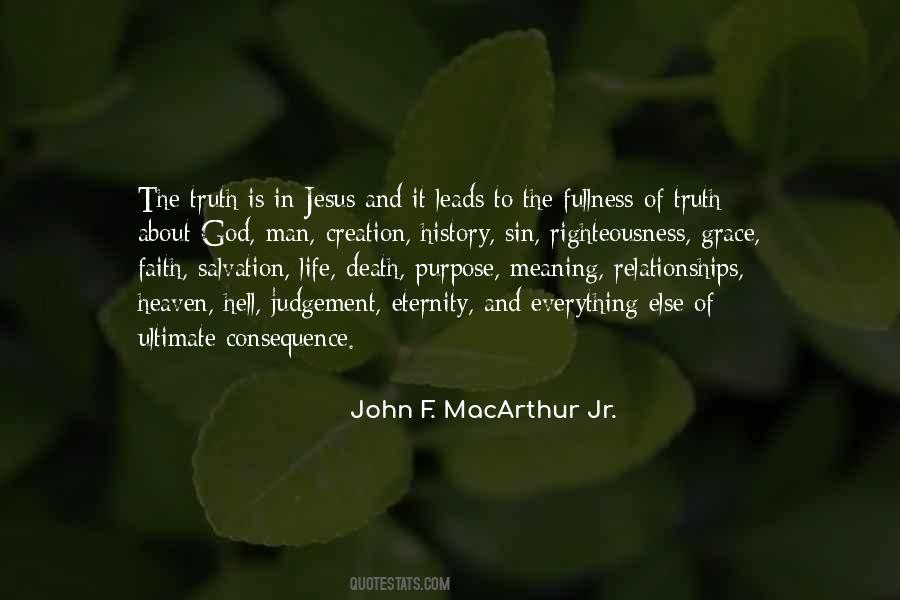 #53. We rarely read the Bible to discover truth; more often, we wish to harmonize it with our belief system and see its meaning in light of our preconceived theological system - Author: Anonymous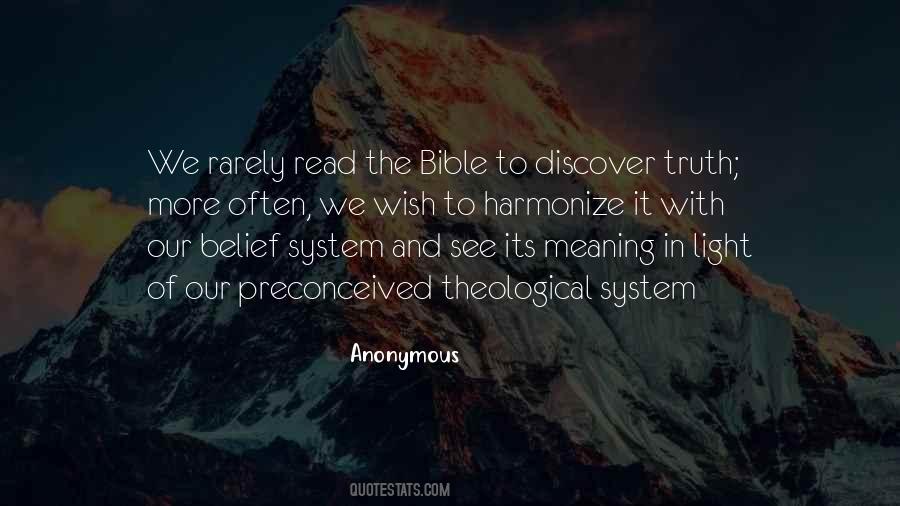 #54. There can be no more reliable authority on earth than God's Word, the Bible. This timeless, trustworthy source of truth holds the key that unlocks life's mysteries. It alone provides us with the shelter we need in times of storm. - Author: Charles R. Swindoll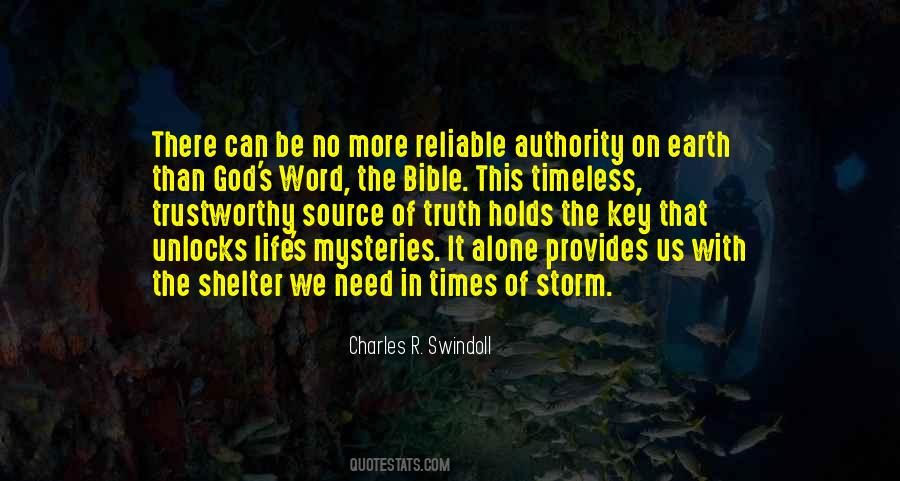 #55. The Bible says, 'The truth shall make you free.' But let's not forget it was Spiro Agnew who said that a good lie will keep you out of jail in the first place. - Author: A. Whitney Brown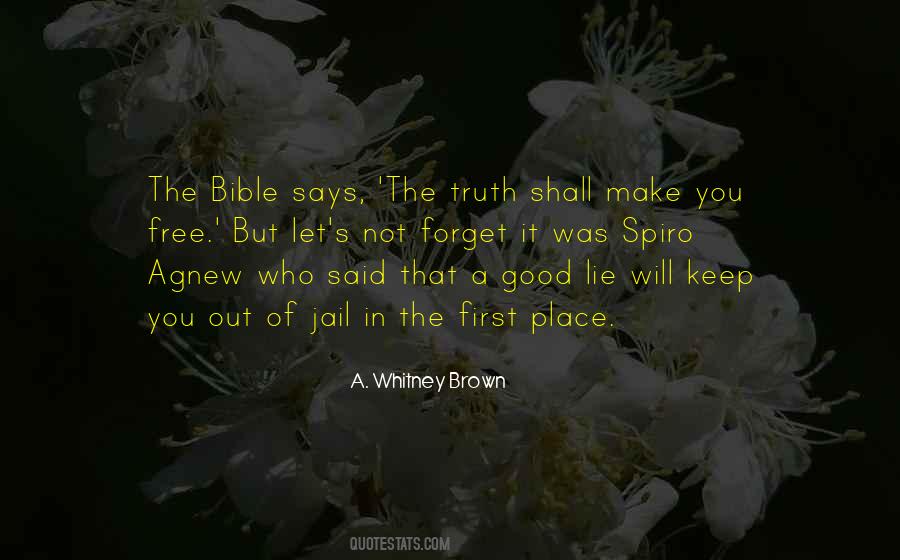 #56. Dignity is never silent. It has a voice, heart and soul. Truth and courage is its foundation. It will stand against the masses and speak the truth. Because every great person has always done what others found fear in doing. - Author: Shannon L. Alder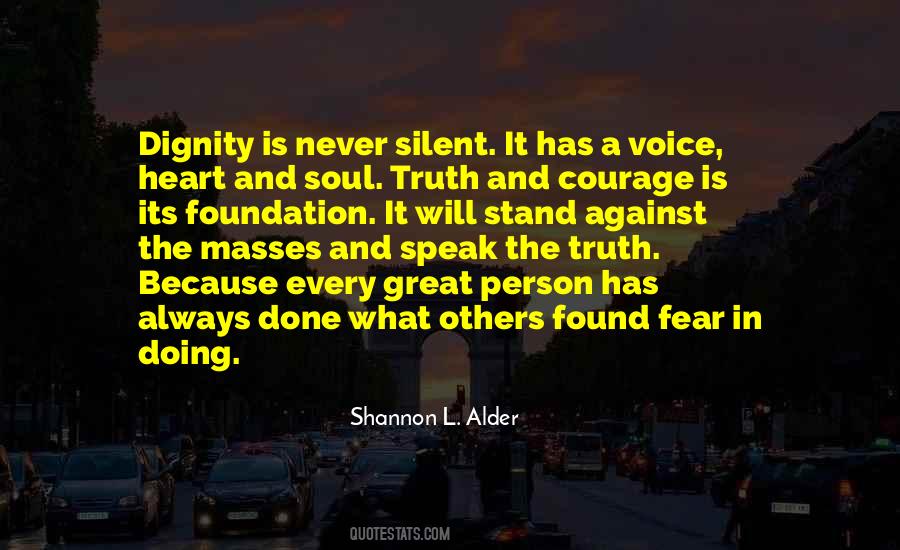 #57. You focus your attention on a single truth from the Bible and then continue to think about it throughout your day. - Author: Rick Warren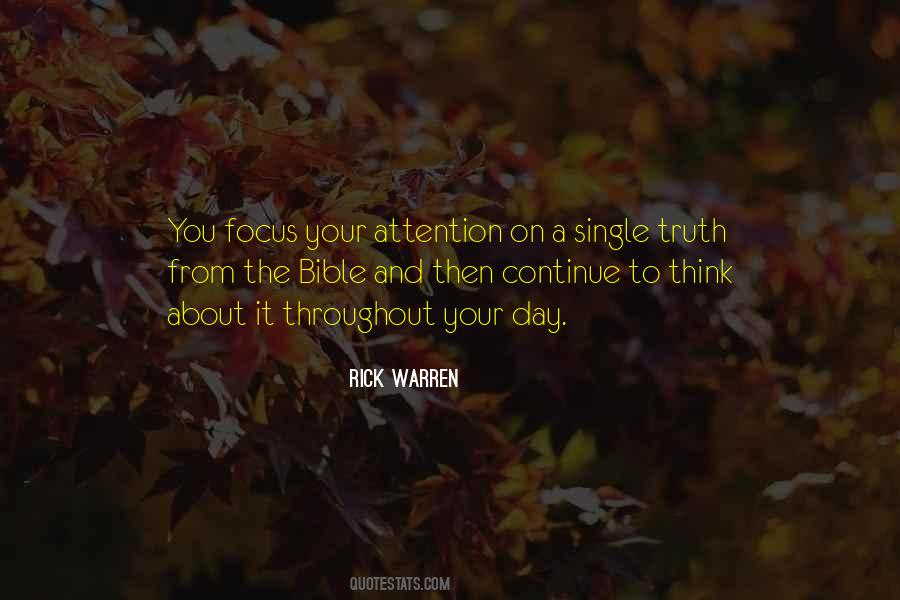 #58. The truth shall set you free only if you cherish the taste of freedom. John 8:31-32 - Author: Felix Wantang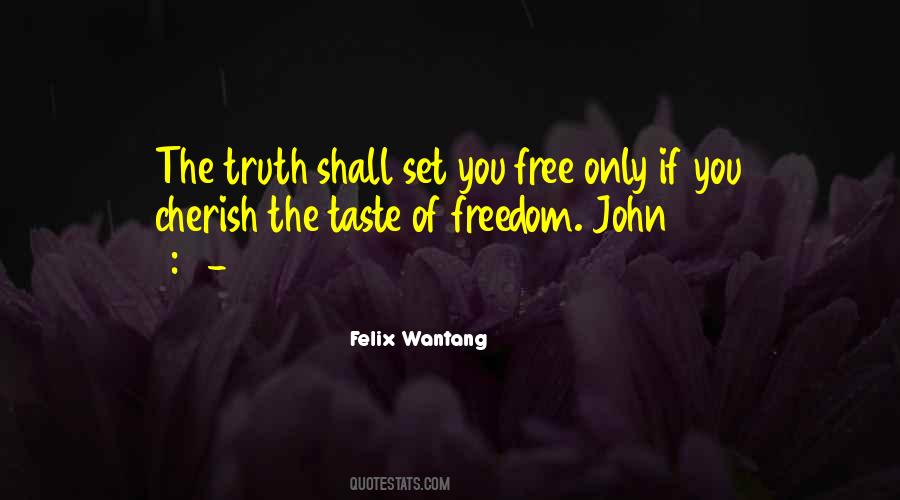 #59. If Christ has risen the Bible is true from Genesis to Revelation. The kingdom of darkness has been overthrown. Satan has fallen like lightning from heaven; and the triumph of truth over error, of good over evil, of happiness over misery, is forever secured. - Author: Charles Hodge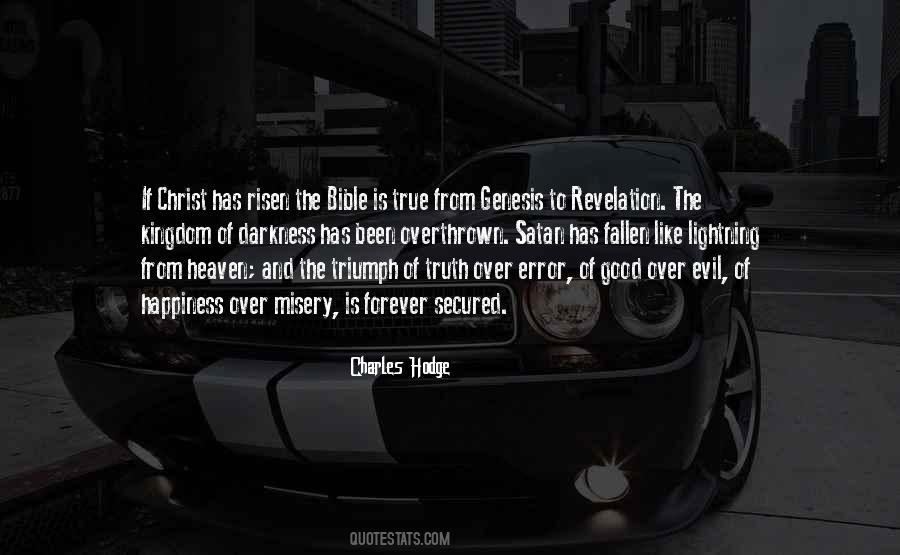 #60. If you want to consume the cream of Christ's philosophy, then don't read the Bible, read Tolstoy. - Author: Abhijit Naskar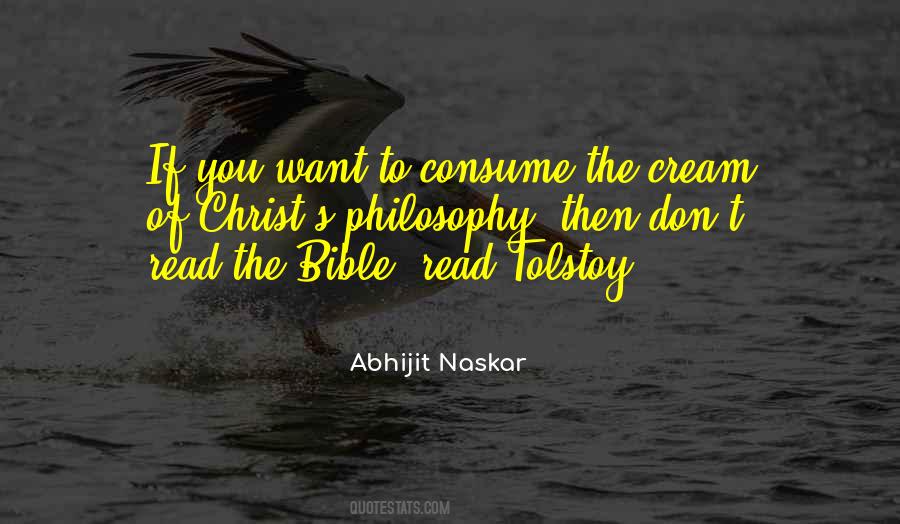 #61. Thy word O Lord is the Truth. - Author: Lailah Gifty Akita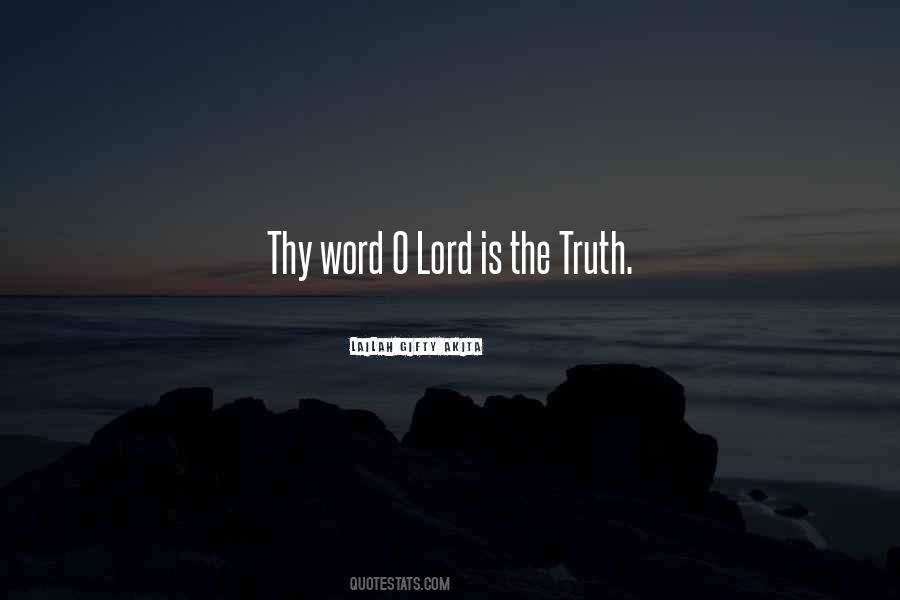 #62. There is a circularity here I do not doubt. I am defending the Bible by the Bible. Circularity of a kind is unavoidable when one seeks to defend an ultimate standard of truth, for one's defense must itself be accountable to that standard. - Author: John M. Frame
#63. Can I really take God at his word? - Author: K. Howard Joslin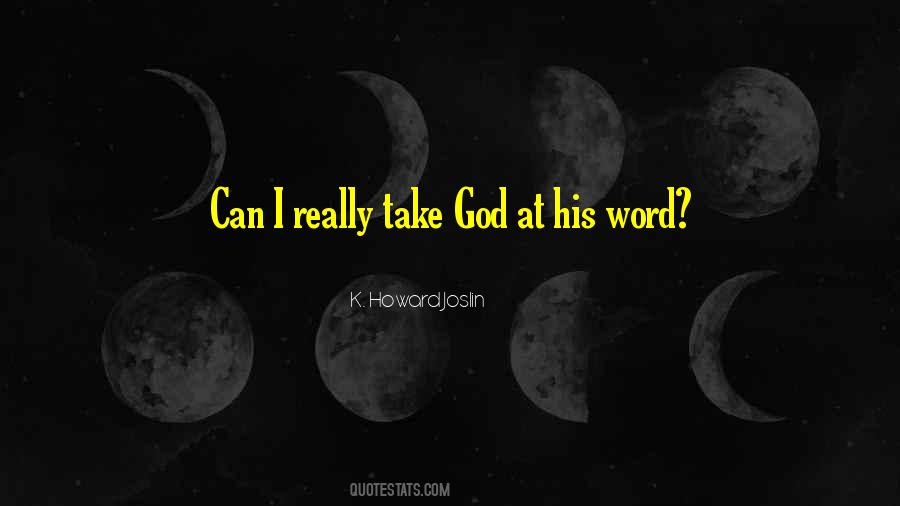 #64. Whatever is true about your heart will show up in your actions. - Author: Jim George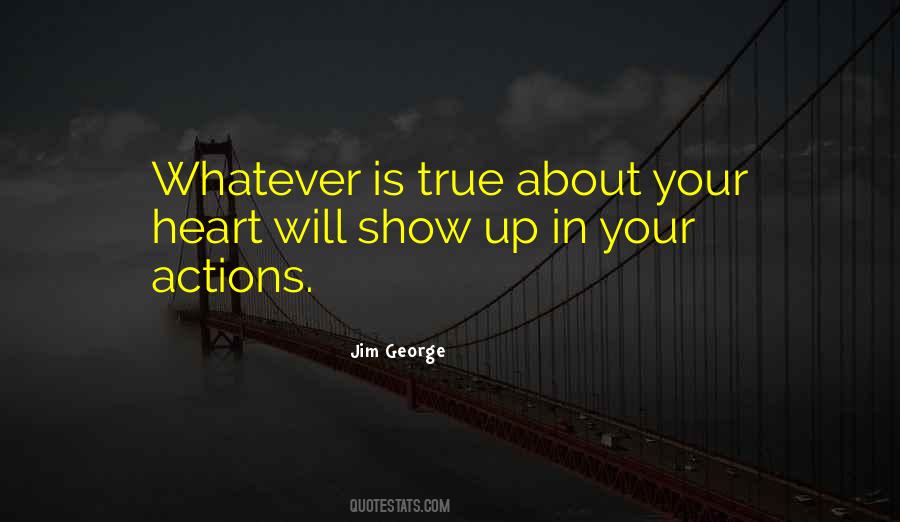 #65. It is impossible to enslave, mentally or socially, a bible-reading people. The principles of the bible are the groundwork of human freedom. - Author: Horace Greeley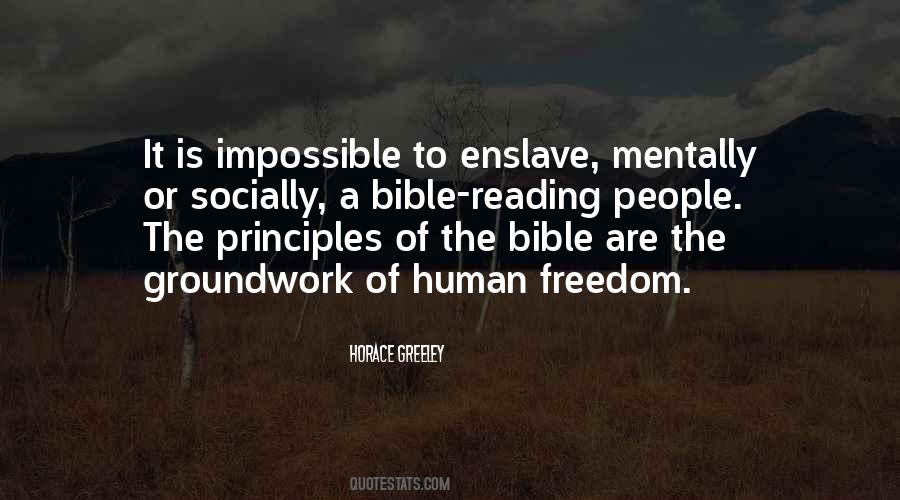 #66. If your attitude is one of gratefully searching for God's truth & goodness in any situation, it will change your life. - Author: Stormie O'martian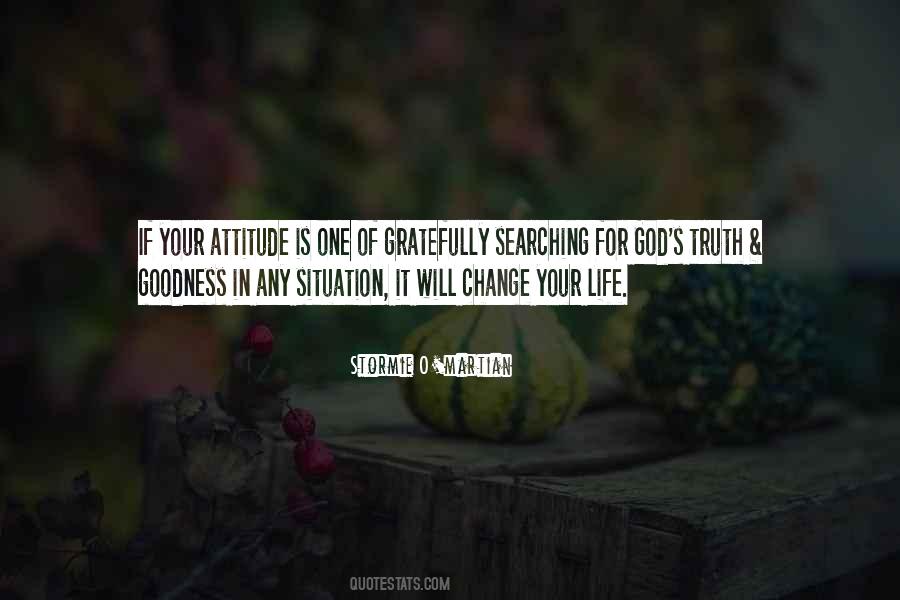 #67. Many who read their Bibles make the great mistake of confining all their reading to certain portions of the Bible which they enjoy. In this way they get no knowledge of the Bible as a whole. They miss altogether many of the most important phases of Bible truth. - Author: R.A. Torrey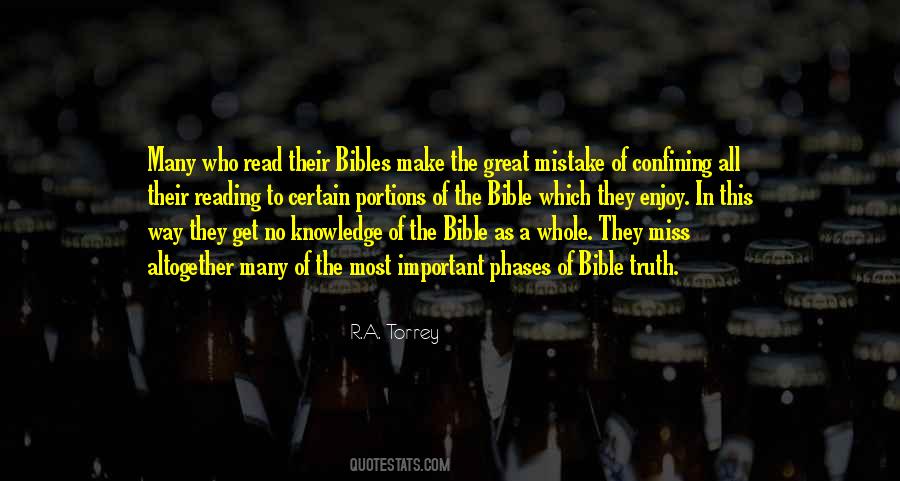 #68. The Christian feels that the tooth of time gnaws all books but the Bible ... 19 centuries of experience have tested it. It has passed through critical fires no other volume has suffered and its spiritual truth has endured the flames and come out without so much as the smell of burning. - Author: W. Sangster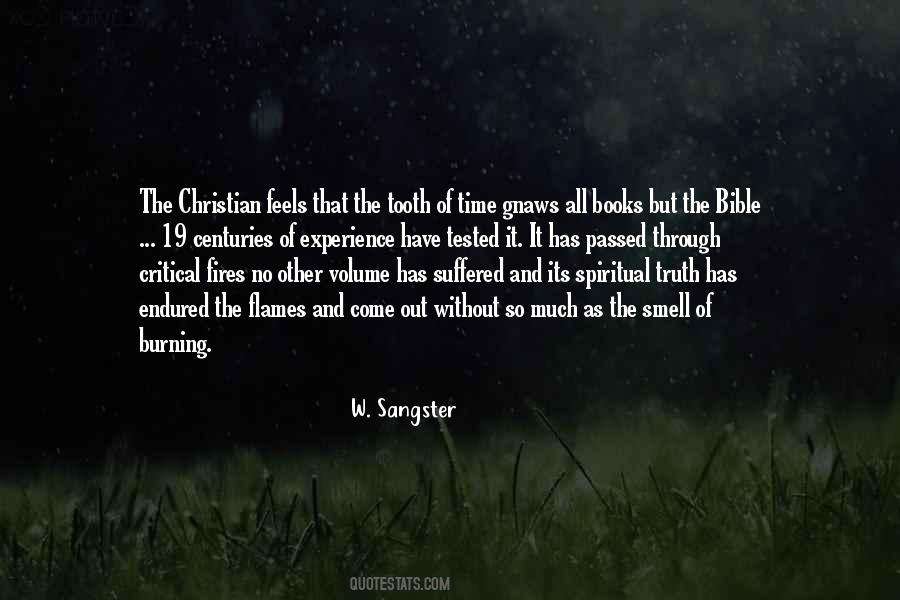 #69. It does not require great learning to be a Christian and be convinced of the truth of the Bible. It requires only an honest heart and a willingness to obey God. - Author: Albert Barnes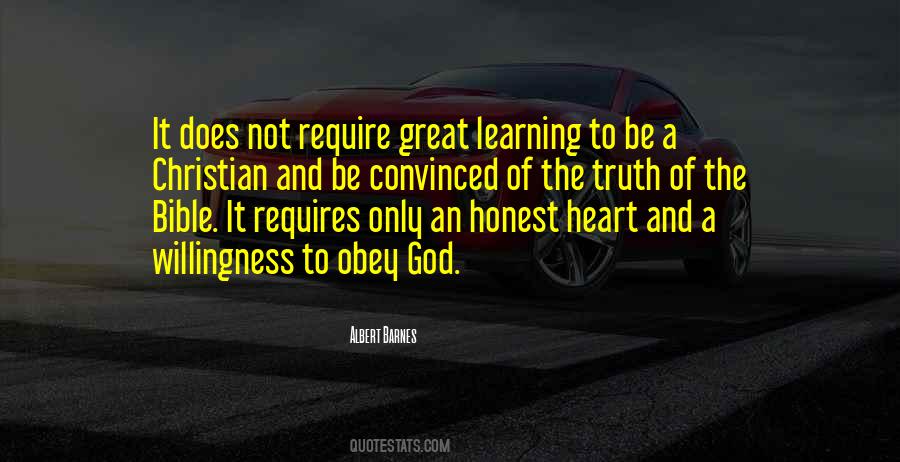 #70. Some will tell you that there are multiple worldviews. The Bible says we have only 2: the Truth and the Lie. - Author: Mark Driscoll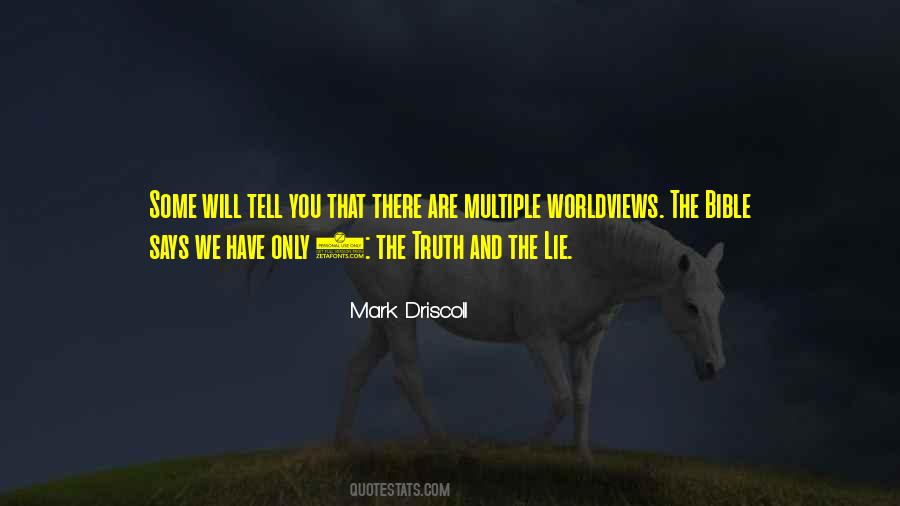 #71. If you replace the word God in the Bible with the word Truth, it reads exactly right. - Author: Ricky Williams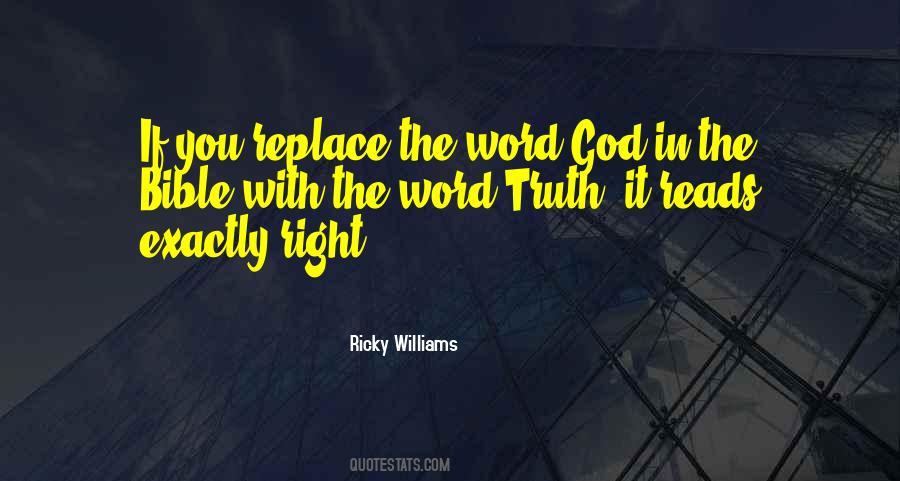 #72. When it comes to the heart and soul, only the Bible can bring true and lasting changes. - Author: Jim George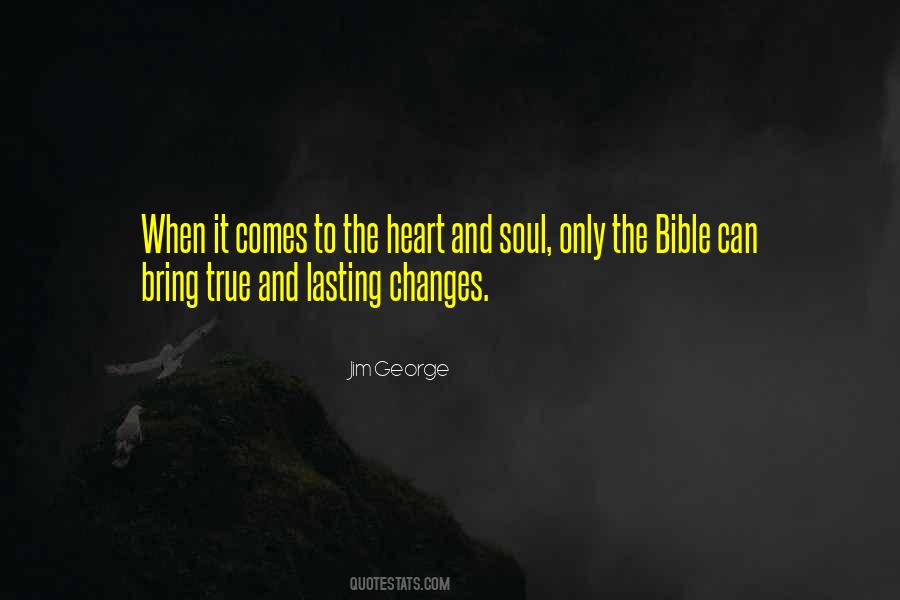 #73. The simple statement, 'God is for us', is in truth one of the richest and weightiest utterances that the Bible contains. - Author: J.I. Packer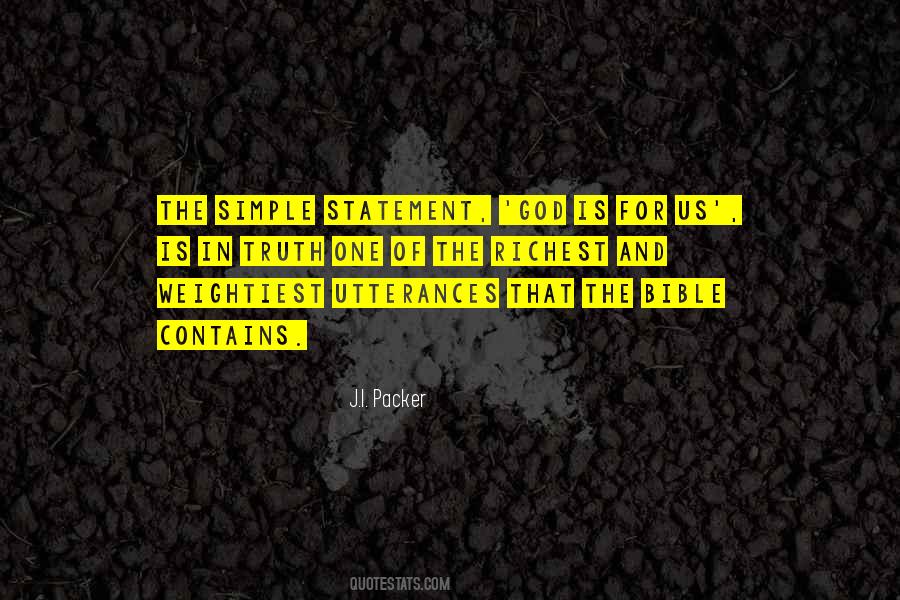 #74. The bible when taken metaphorically, provides us the truth about god; but when taken literally, the bible provides as the truth about man. - Author: Joey Lawsin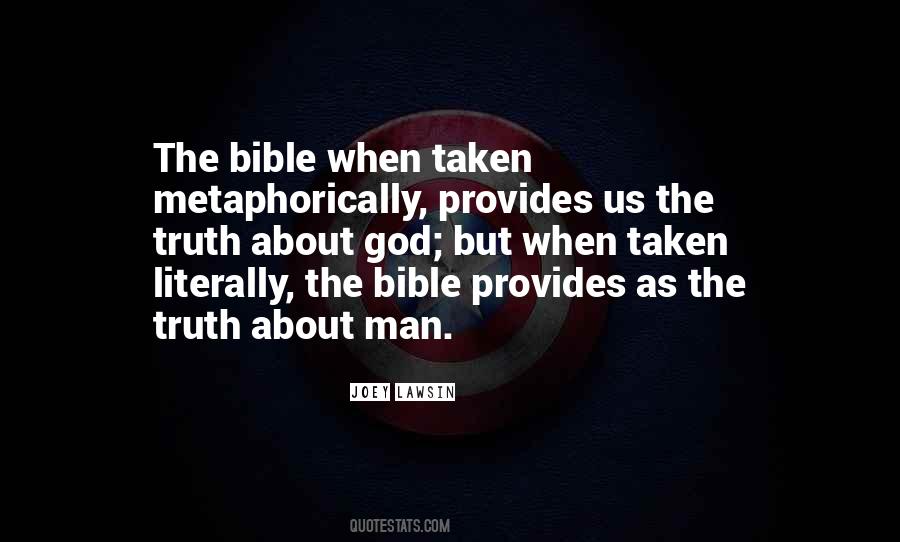 #75. I lifted my Bible in one hand and with my other scooped up all the papers on my adoption. Both hands held paper that contained words printed in black and white ink. Both contained facts. Yet only one held the truth. I had to choose which of these documents I would entrust with my life. - Author: Christine Caine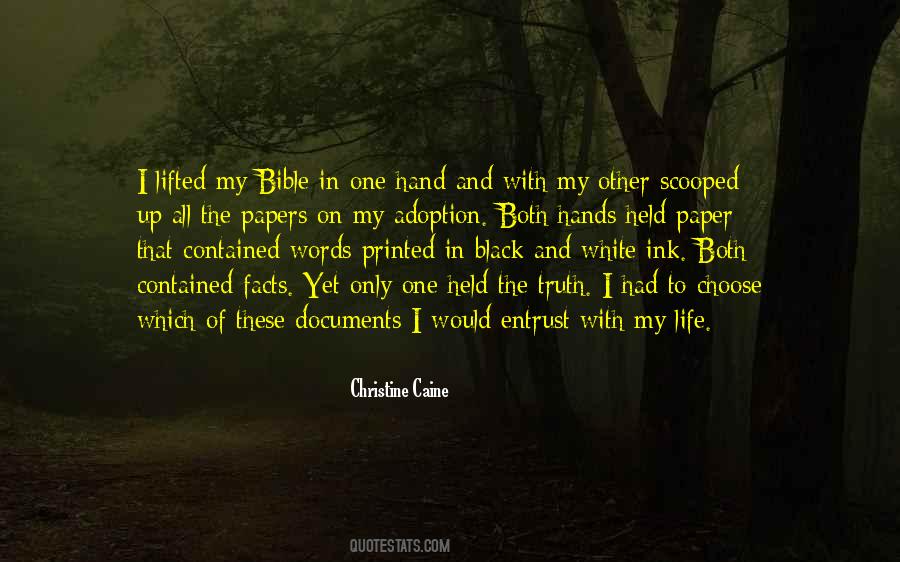 #76. Why study the Bible? You must know truth in order to spot error - Author: Jim George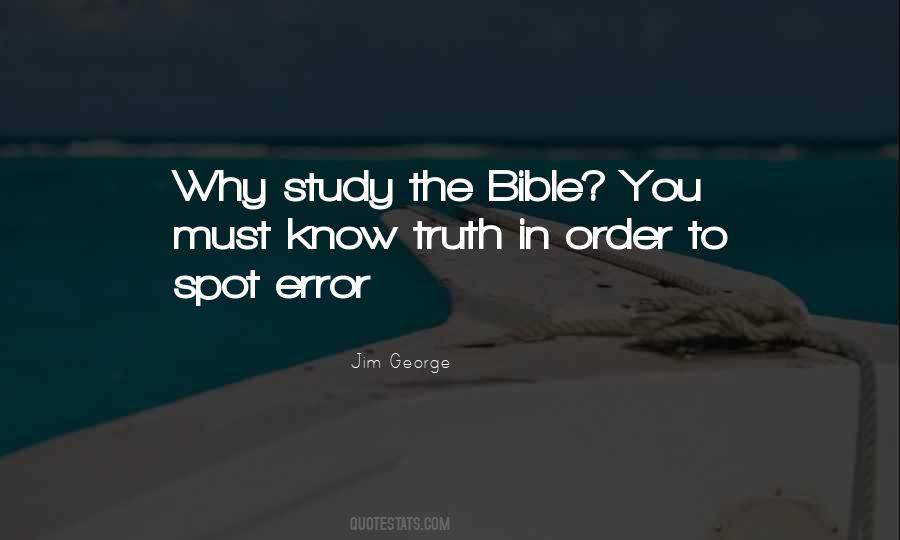 #77. The Bible is not religion, nor are the Vedas. The Torah is not religion, nor is the Quran, or any other scripture on earth. - Author: Abhijit Naskar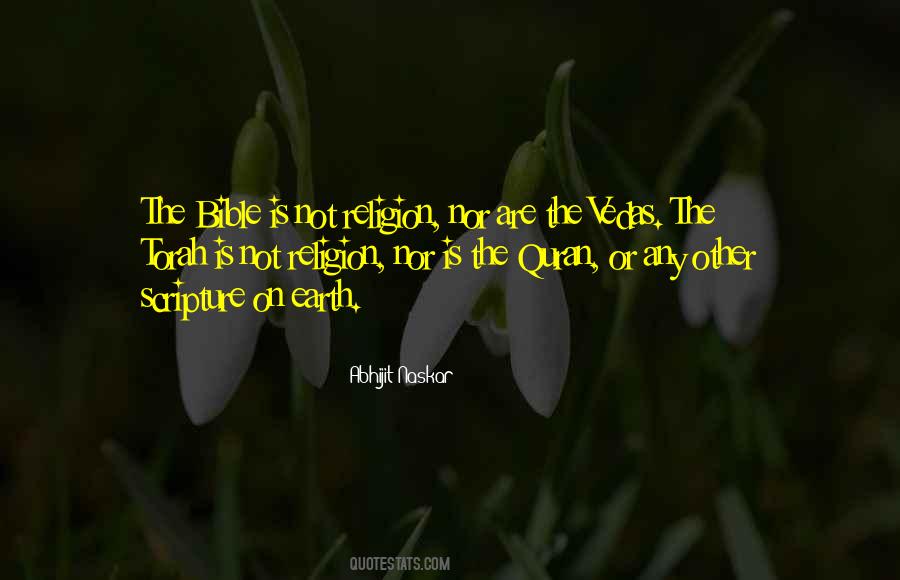 #78. A true prayer is an inventory of needs, a catalog of necessities, an exposure of secret wounds, a revelation of hidden poverty. - Author: Charles Haddon Spurgeon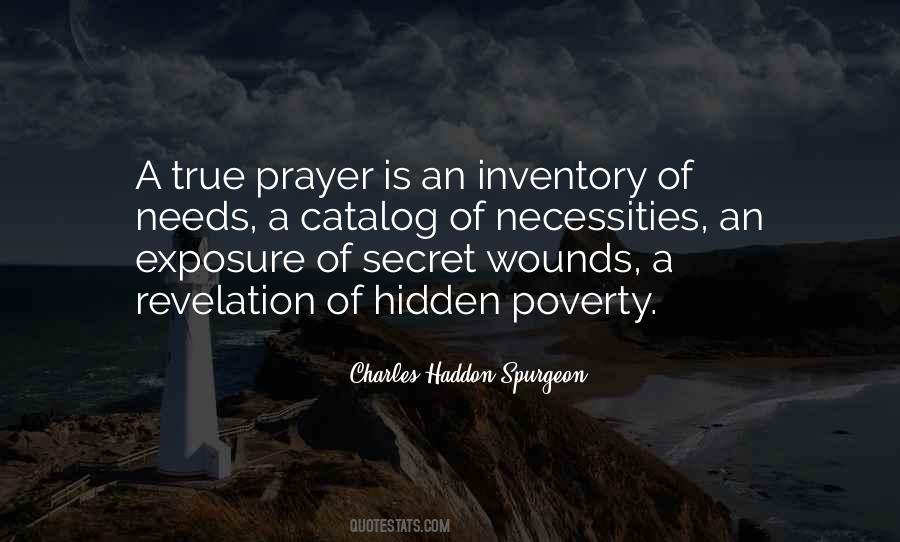 #79. Renew your mind by washing it with truth: God's Word. - Author: Craig Groeschel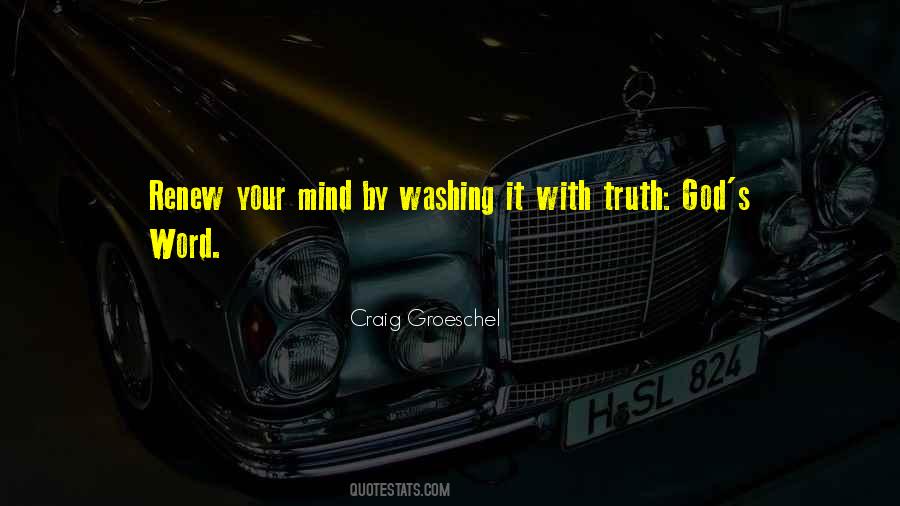 #80. I regard the Bible, especially the Old Testament, the same as I do most other ancient books, in which there is some truth, a great deal of error, considerable barbarism and a most plentiful lack of good sense. - Author: Robert G. Ingersoll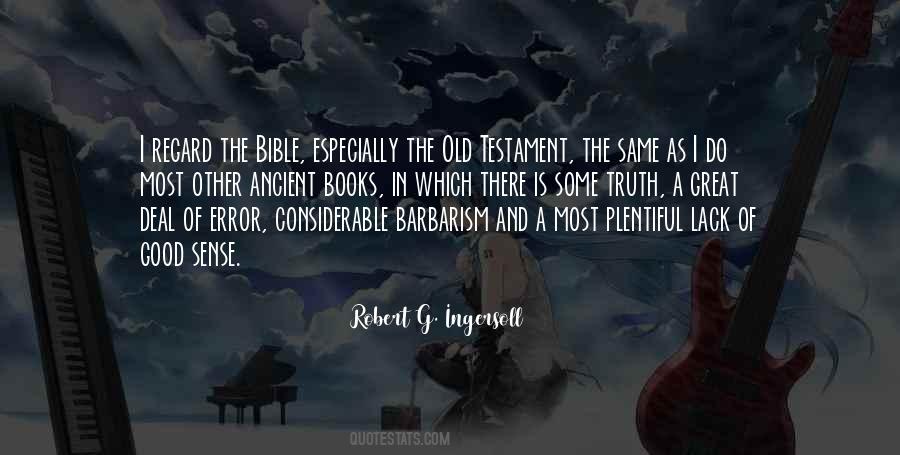 #81. Since the Bible has quite a lot to say about truth - and since it also has plenty to say about how particular individuals relate to that truth - it has become easy to imagine that its claims can and should be reduced to particular, and highly relative and situational, angles of vision. - Author: N. T. Wright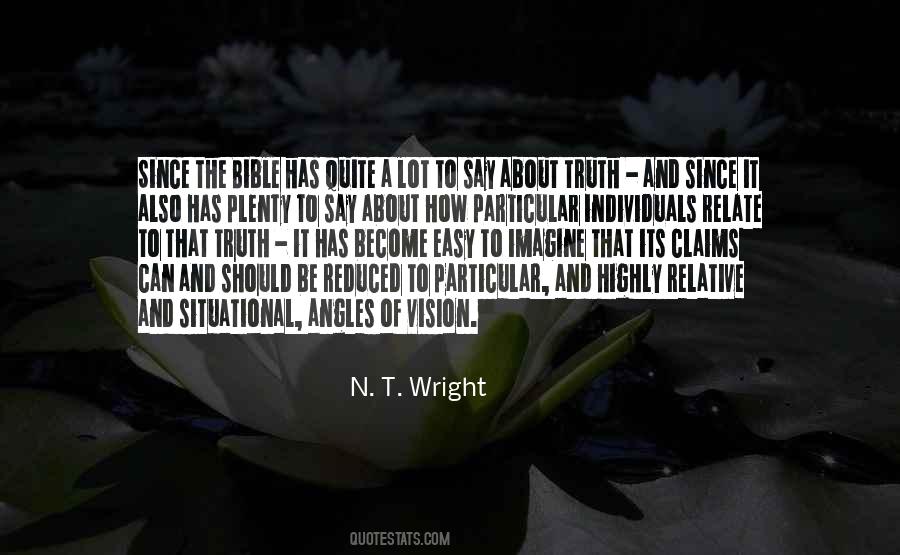 #82. Today, vast stress is laid on the thought that God is personal, but this truth is so stated as to leave the impression that God is a person of the same sort as we are - weak, inadequate, ineffective, a little pathetic. But this is not the God of the Bible! - Author: J.I. Packer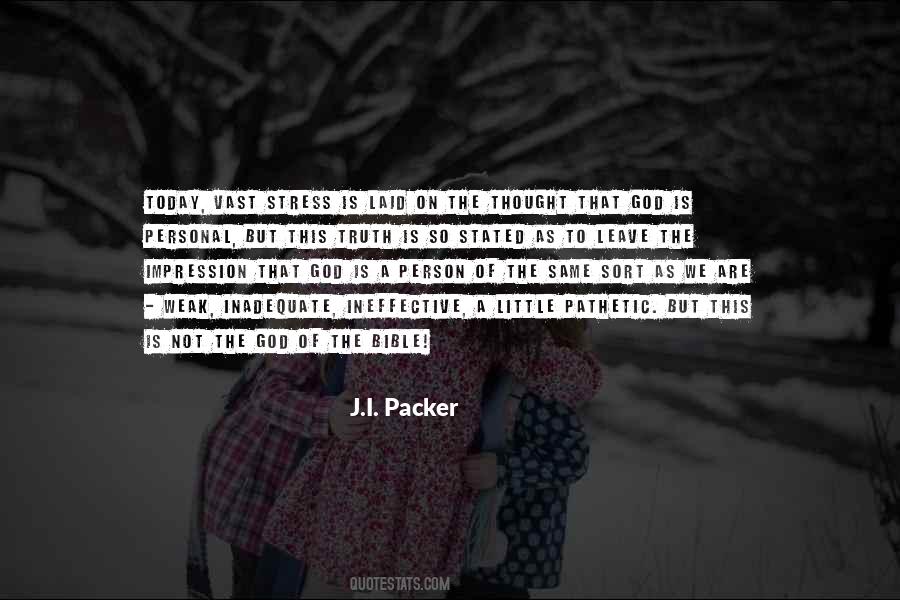 #83. Jesus said to him, 'I am the way, the truth, and the life. No one comes to the Father except through Me. - Author: Anonymous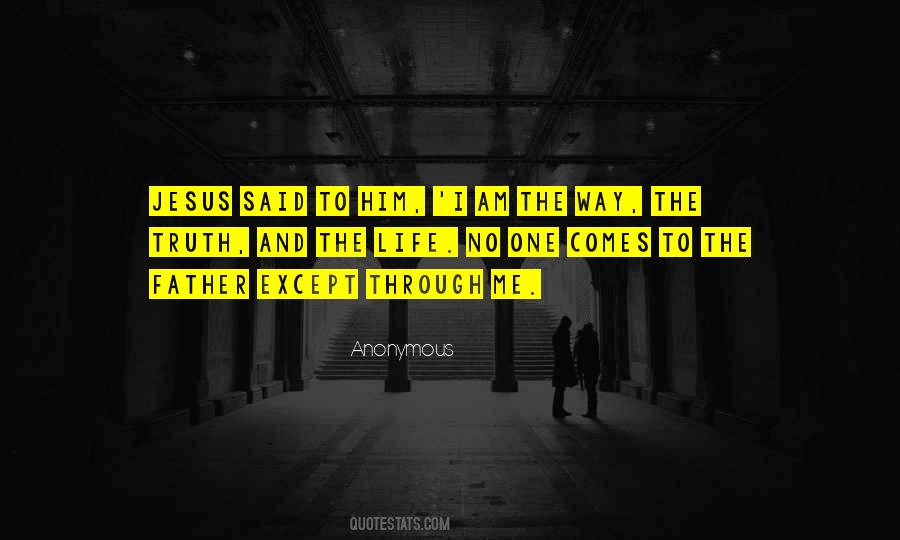 #84. I would love God even if he damned me, because he was so gracious to others. - Author: Charles Haddon Spurgeon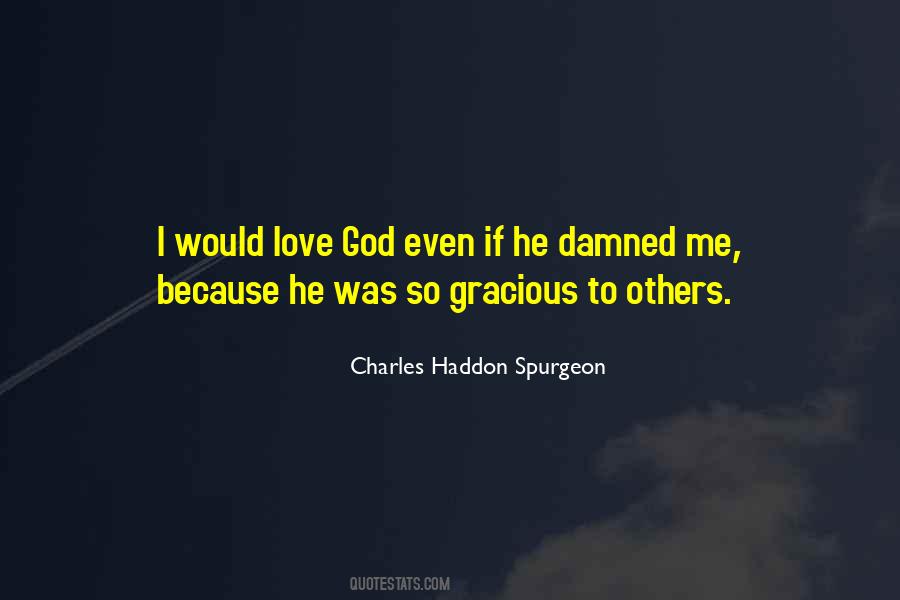 #85. What I like about the Bible is that it doesn't make sense, which makes it more like truth than anything else I've ever read. - Author: Rich Mullins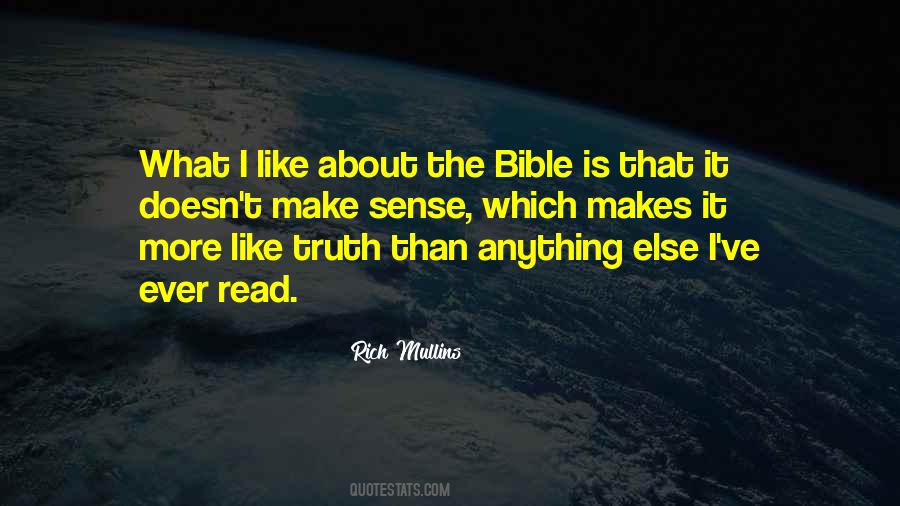 #86. Once I realized the emptiness of life apart from knowing God, when I embraced God and the truth of the gospel and the truth of the Bible, it was a no-brainer decision to see that that was a treasure that was infinitely more valuable than some sort of an atheistic Hollywood party life. - Author: Kirk Cameron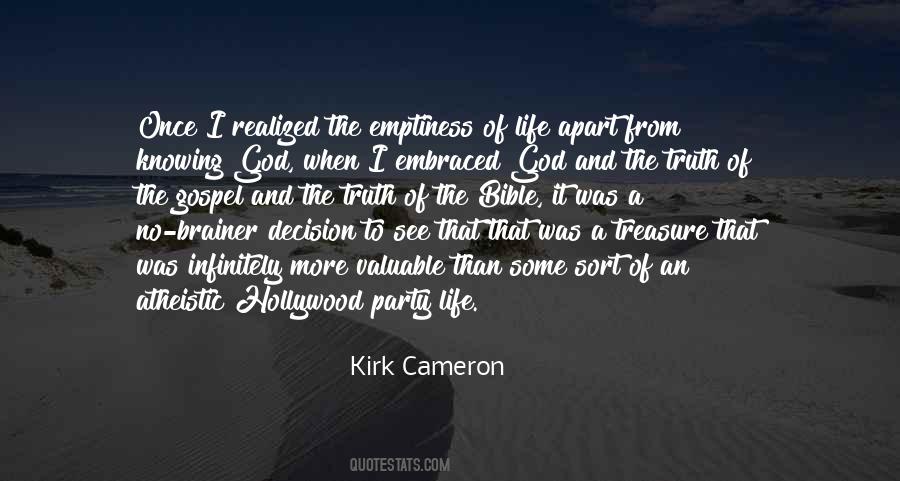 #87. God is the author of the Bible, and only the truth it contains will lead people to true happiness. - Author: George Muller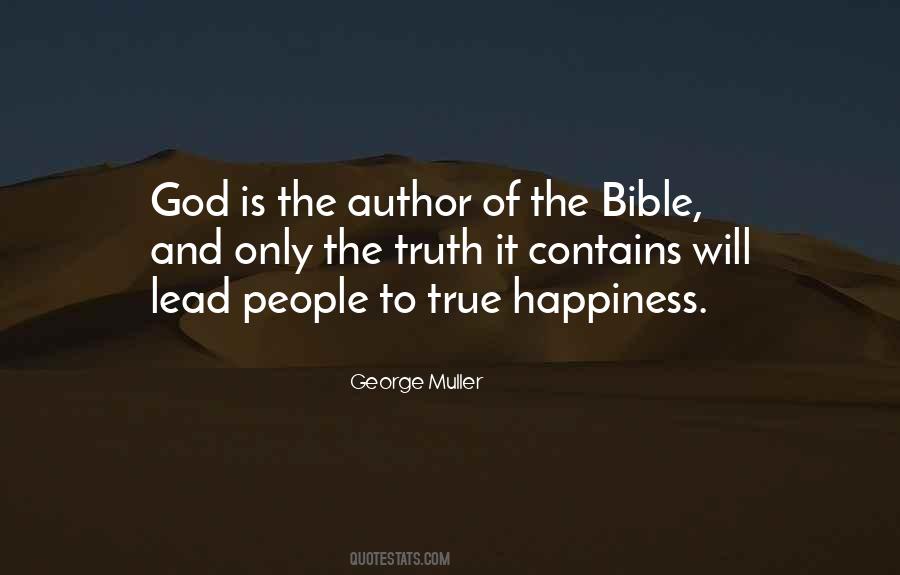 #88. To say that everything in the bible is to be believed , simply because it is found in that volume, is equally absurd and pernicious ... To discard a portion of scripture is not necessarily to reject the truth, but may be the highest evidence that one can give of his love of truth. - Author: William Lloyd Garrison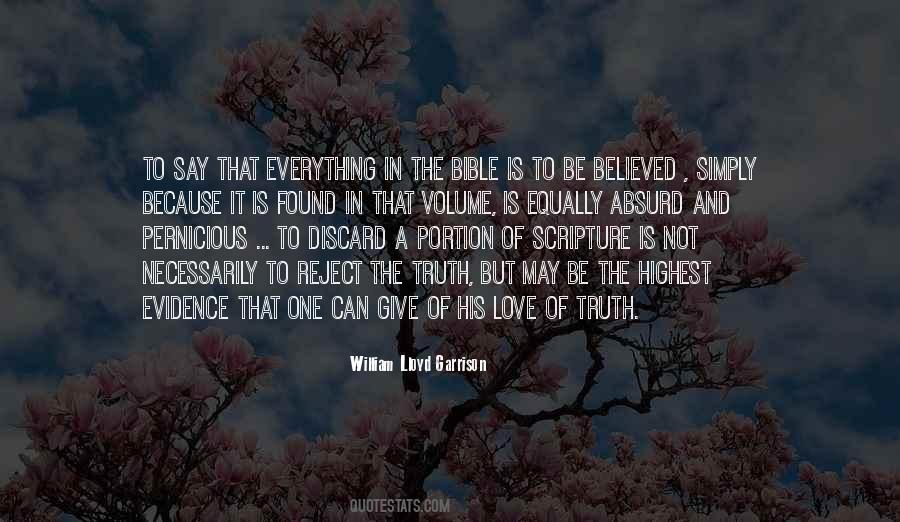 #89. And whereas it is the duty of nations as well as of men, to own their dependence upon the overruling power of God ... and to recognize the sublime truth, announced in the Holy Scriptures and proven by all history, that those nations only are blessed whose God is the Lord. - Author: Abraham Lincoln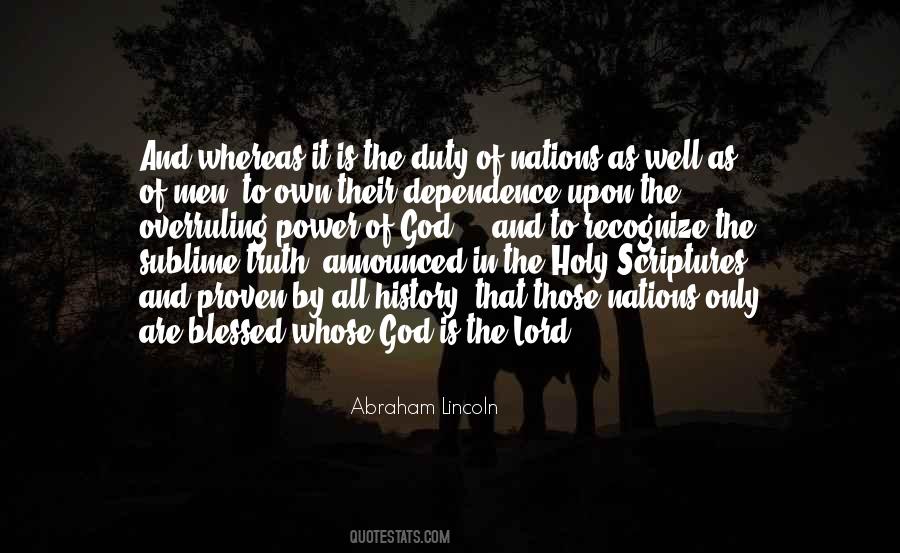 #90. We have to take the biblical truth and start applying it in the statehouse, the schoolhouse, and the marketplace. - Author: Rod Parsley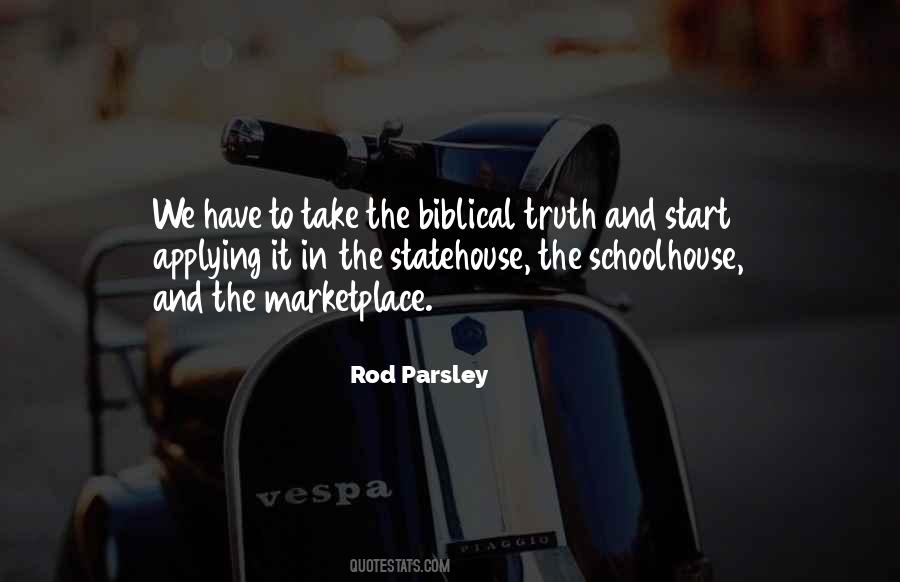 #91. The mindset of a believer every time he opens the Bible must be the conviction that whatever the Bible says is true. We cannot trust our reason to determine what is true or false, right or wrong. - Author: Michael P. V. Barrett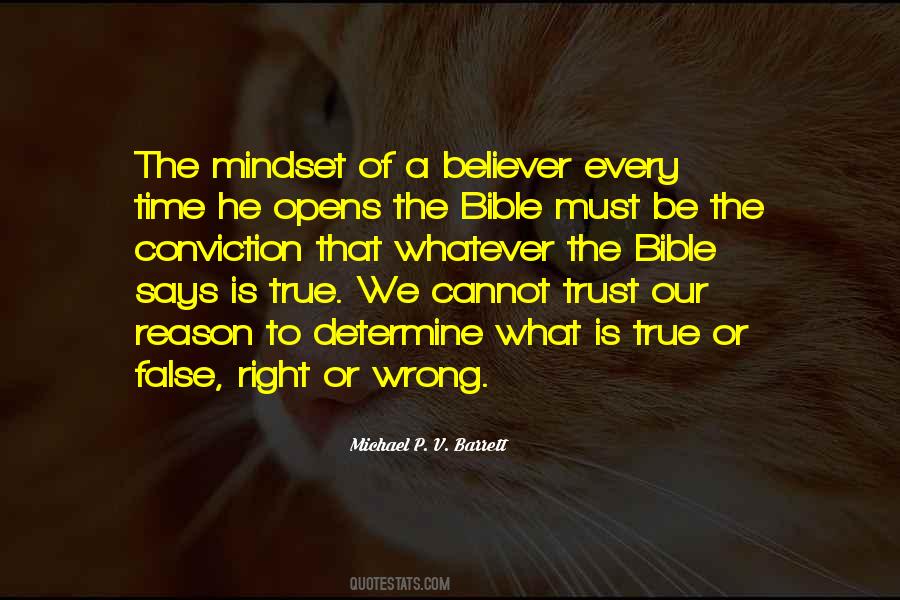 #92. Your words and deeds are seeds, scattered in the wind ... the seeds are light or darkness ... they'll break apart or mend ... Sow light instead of gloom. Sow faith instead of doubt. Sow truth and love, and hope, and peace. Sow light and darkness rout. - Author: Colleen Luntzel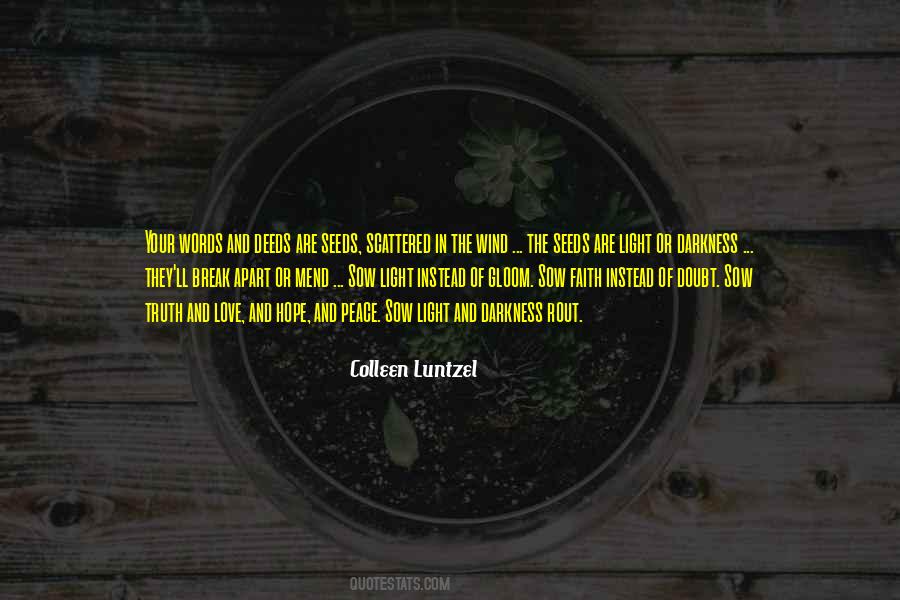 #93. Long before there was ever a King James Version of our Bible, there was a gospel truth ... and long before doctrines and denominations, the preeminence of the gospel was already ripe to harvest. Before man had ever thought about creating symbols to represent spiritual things ... there was a gospel. - Author: Chandel L. White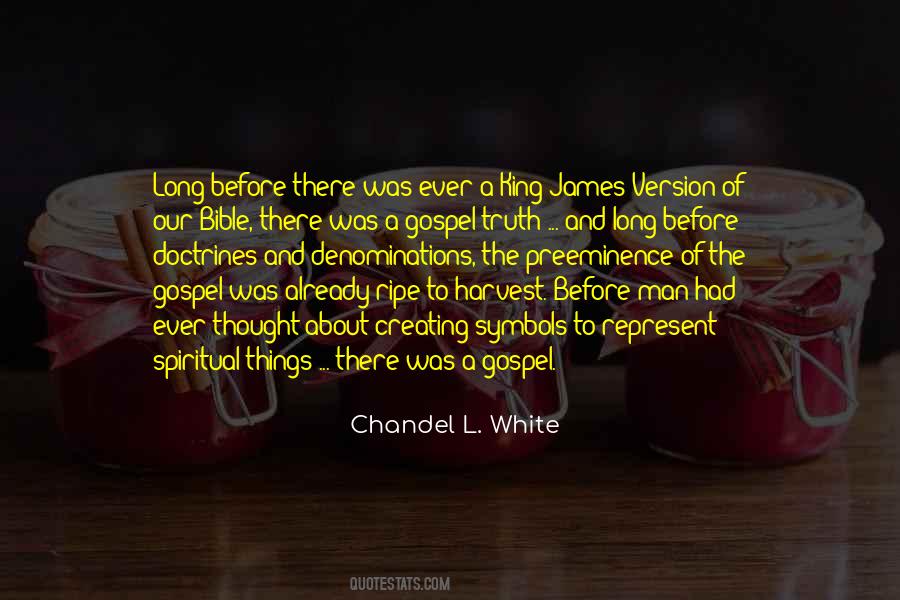 #94. The most precious truth in the Bible is that God's greatest interest is to glorify the wealth of His grace by making sinners happy in Him - in Him! - Author: John Piper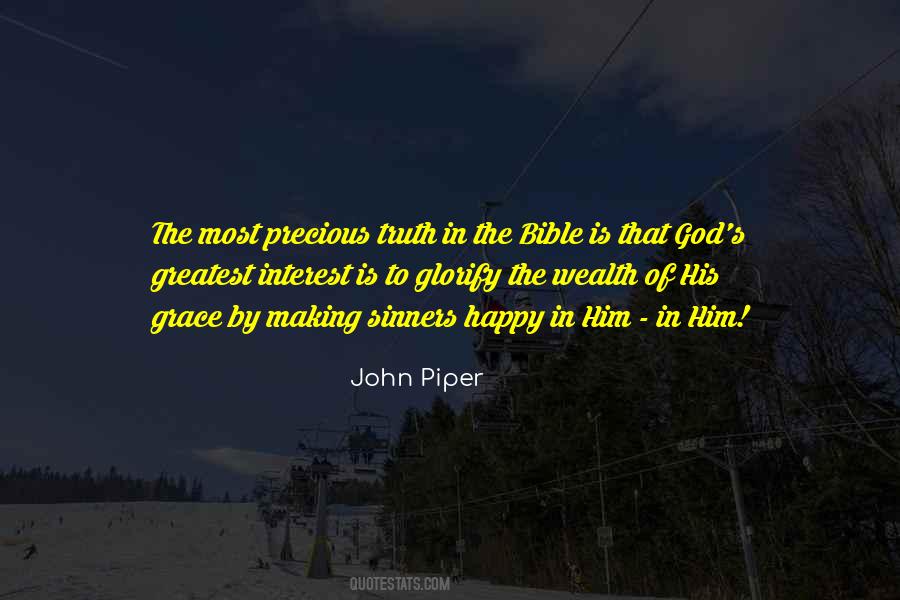 #95. Faith accepts the Bible as the word and will of God and rests upon its truth without question and without other evidence. - Author: Edward McKendree Bounds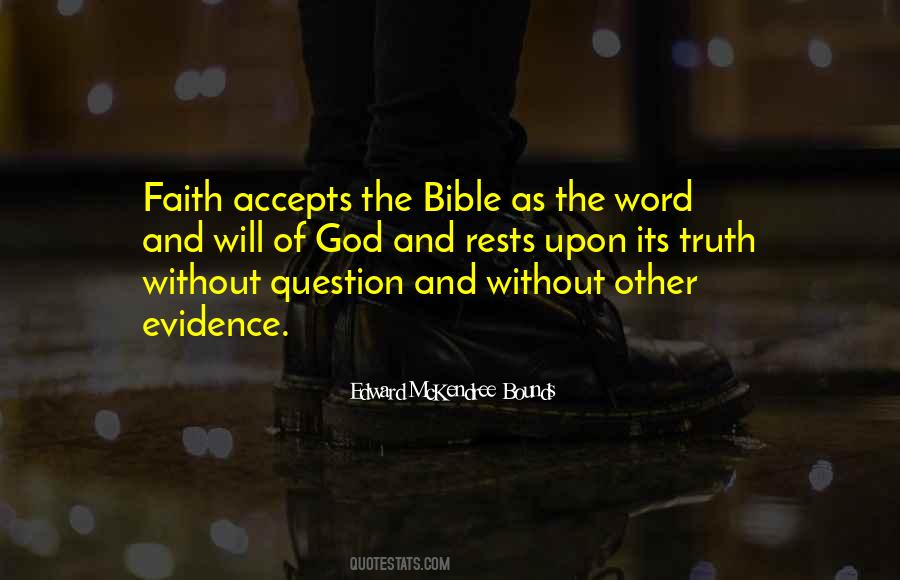 #96. The Bible must be considered as the great source of all the truth by which men are to be guided in government as well as in all social transactions. - Author: Noah Webster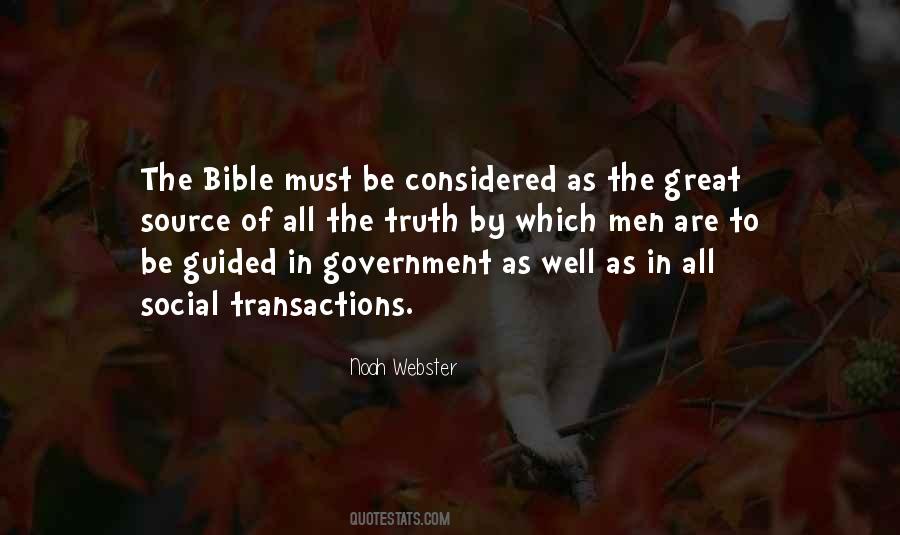 #97. The religion of the Bible is the best in the world. I see the infinite value of religion. Let it be always encouraged. A world ofsuperstition and folly have grown up around its forms and ceremonies. But the truth in it is one of the deep sentiments in human nature. - Author: Rutherford B. Hayes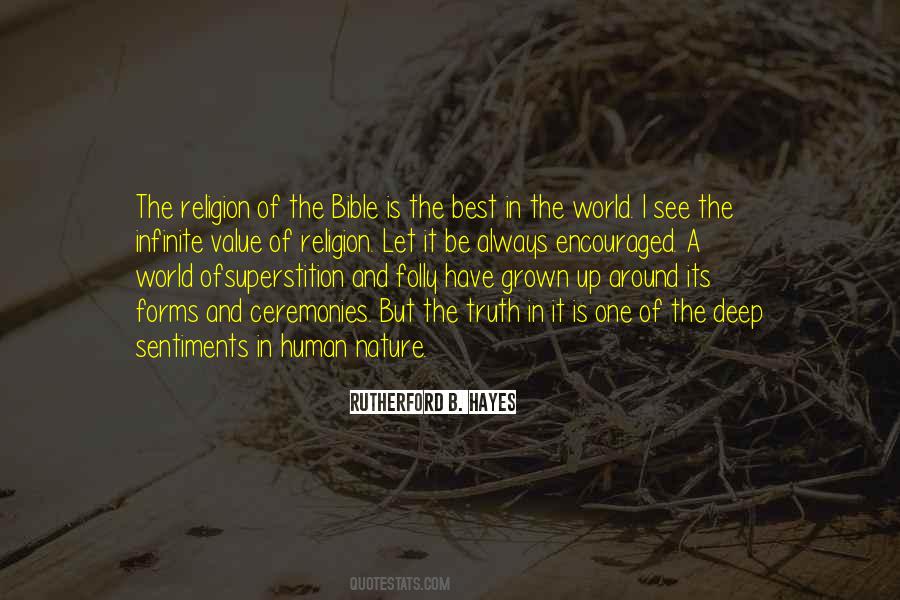 #98. We live in a day of abounding vagueness and indistinctness on doctrinal subjects in religion. Now, if ever, it is the duty of all advocates of clear, well-defined, sharply-cut theology, to supply proof that their views are thoroughly borne out by Scripture. - Author: J.C. Ryle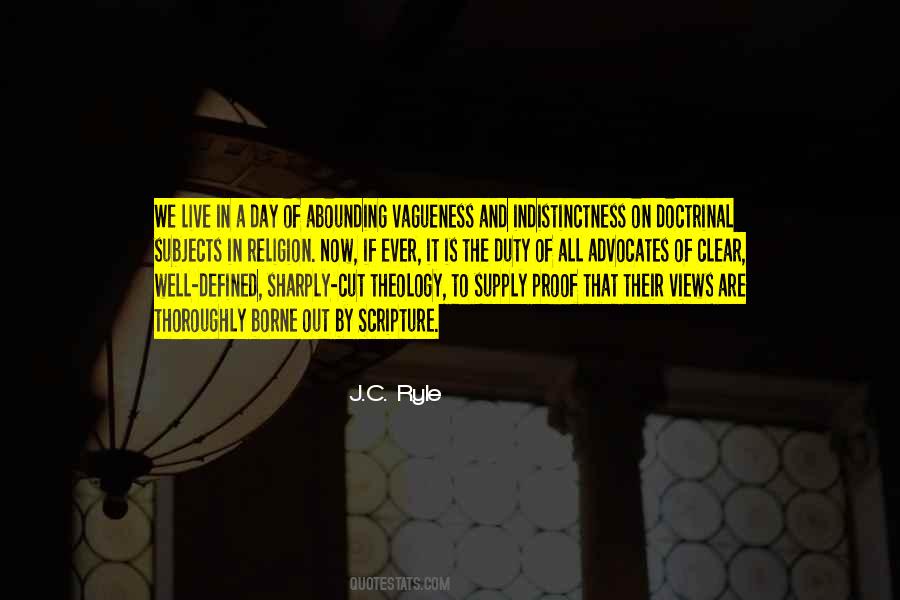 #99. Submit to God and be at peace with him; in this way prosperity will come to you. - Author: Anonymous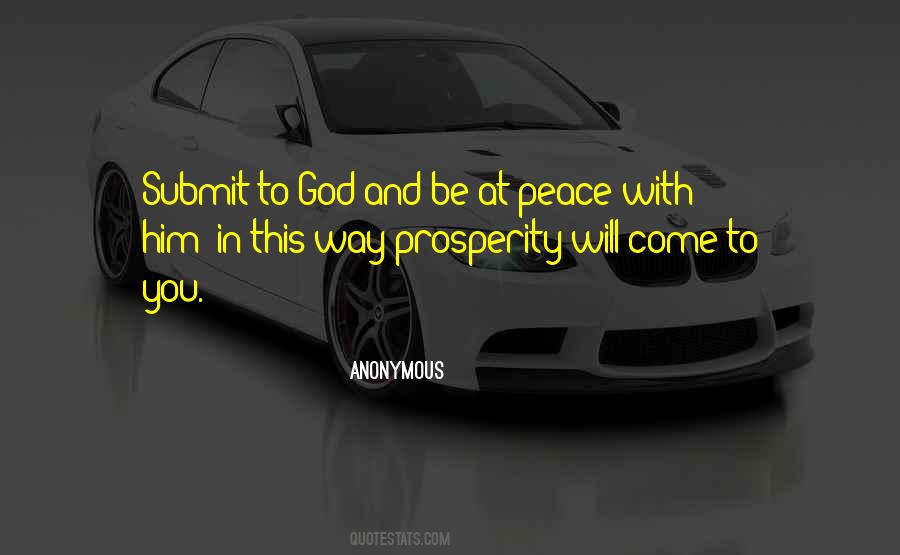 #100. African church is a fusion of half bible truth and abundance of superstition, the latter aspect, leaving nothing remaining for the oracle. - Author: Aihebholo-oria Okonoboh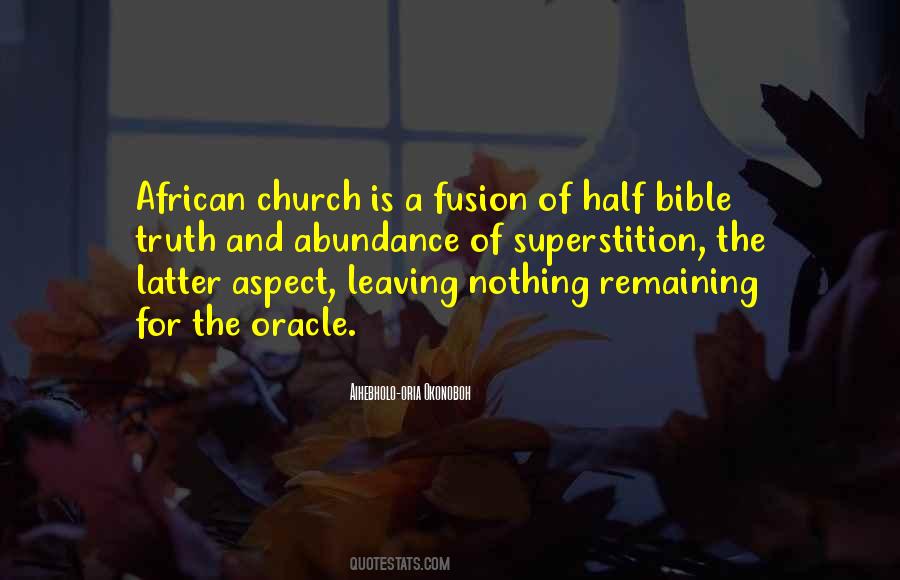 Famous Authors
Popular Topics