Tribulations In Life Famous Quotes & Sayings
List of top 44 famous quotes and sayings about tribulations in life to read and share with friends on your Facebook, Twitter, blogs.
Top 44 Quotes About Tribulations In Life
#1. If one tends to be a humorous person and you have a sense of humor the rest of your life then you can certainly lighten the load, I think, by bringing that to your trials and tribulations. It's easy to have a sense of humor when everything is going well. - Author: Alan Thicke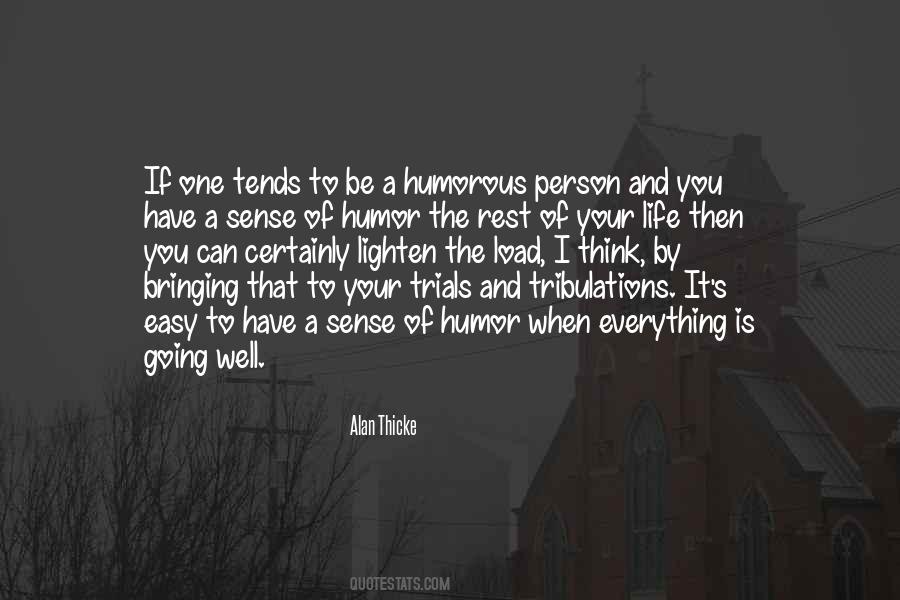 #2. Every single experience, every single thing that's happened in my life, struggle, obstacle, trials and tribulations, I think they've all molded me to become the character and the person who I am. - Author: Apolo Ohno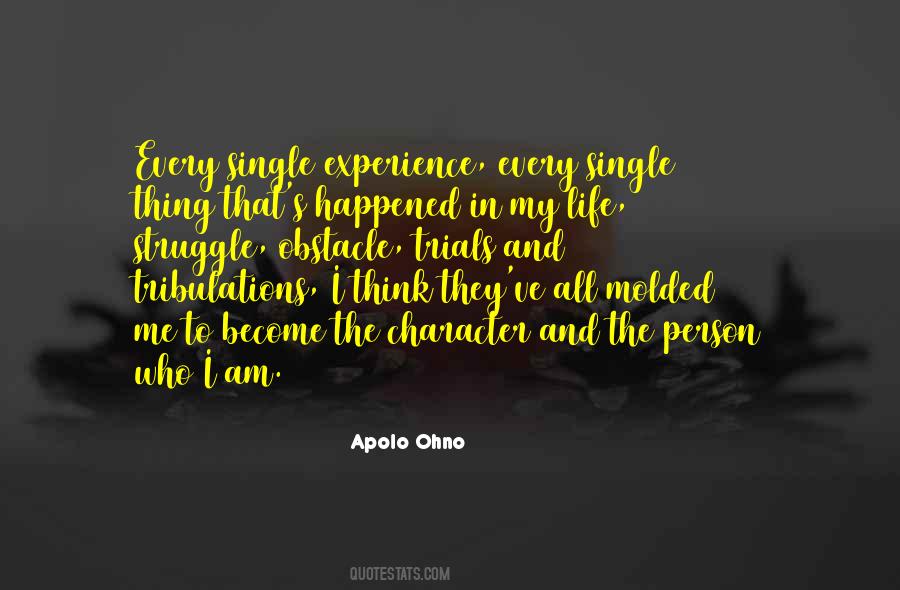 #3. I had to open my eyes, so I could see a new life! - Author: Jonathan Anthony Burkett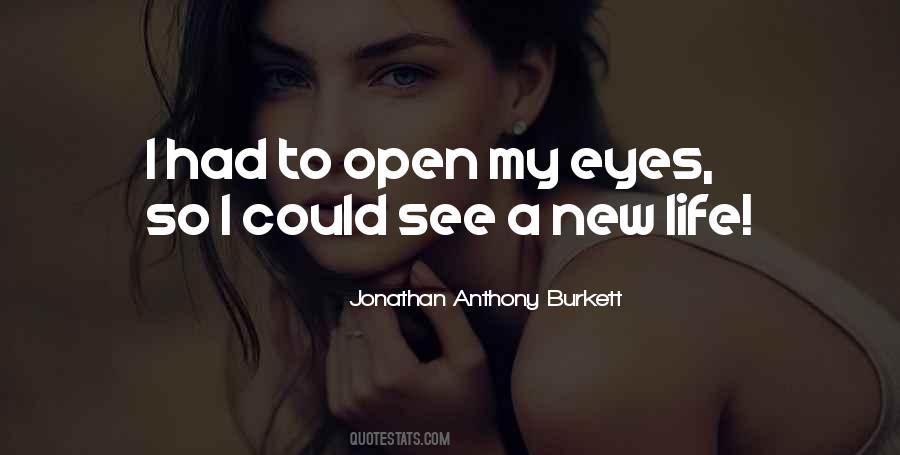 #4. I don't want to talk about my trials and tribulations. Once you reveal even part of what your real problems might be in life, they come back in a deformed way. - Author: W.G. Sebald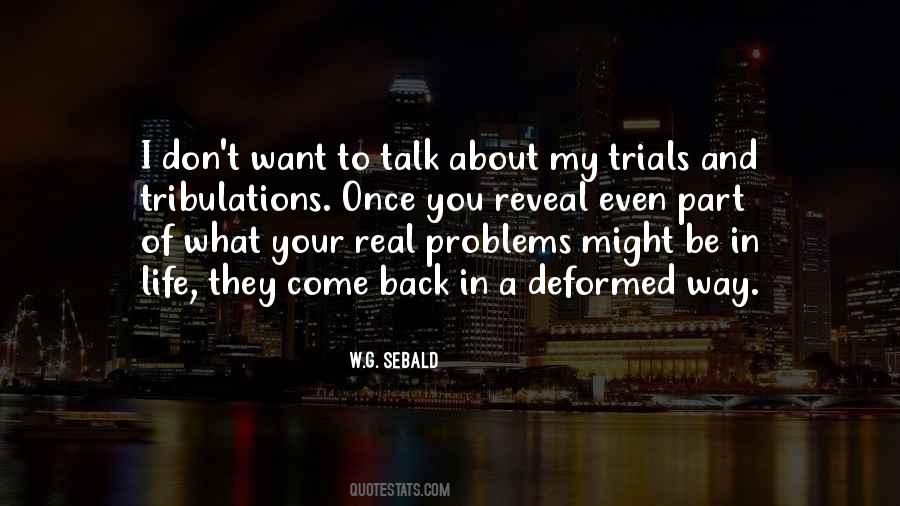 #5. One thing I've learned is that in the midst of your darkest moments of tribulation, there is no such thing as mass friends. - Author: Richelle E. Goodrich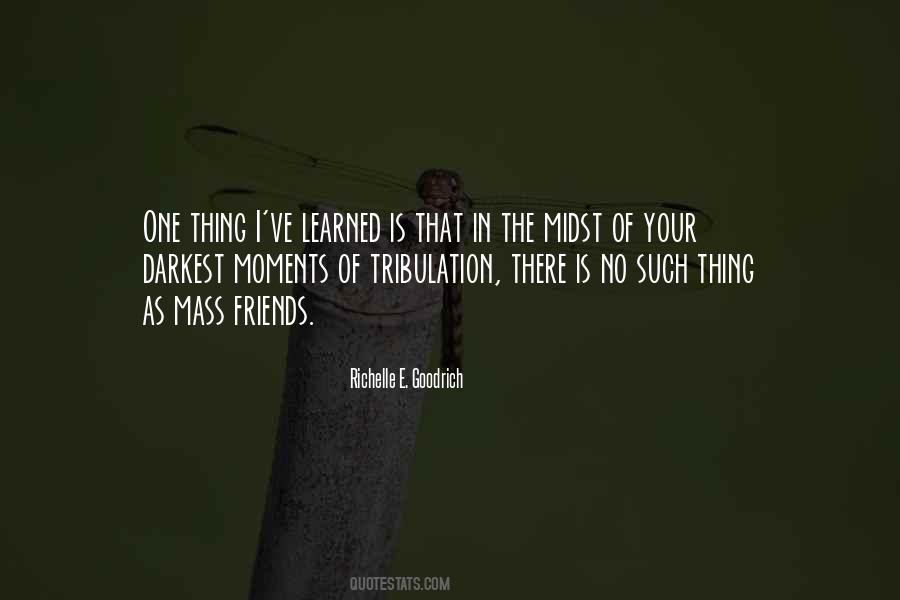 #6. In life we all go through trials and tribulations. So now tell me, will you pass or will you make a mess? - Author: Jonathan Anthony Burkett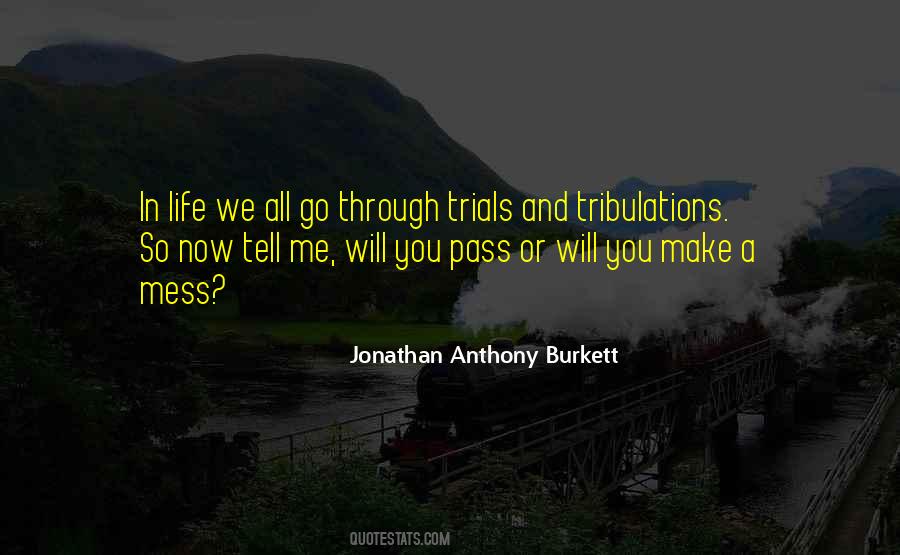 #7. It's okay to lose. Losing teaches you something. Having to try and going through the trials and tribulations to actually overcome, to get there to win, to triumph, that's what makes life interesting. - Author: Elizabeth Banks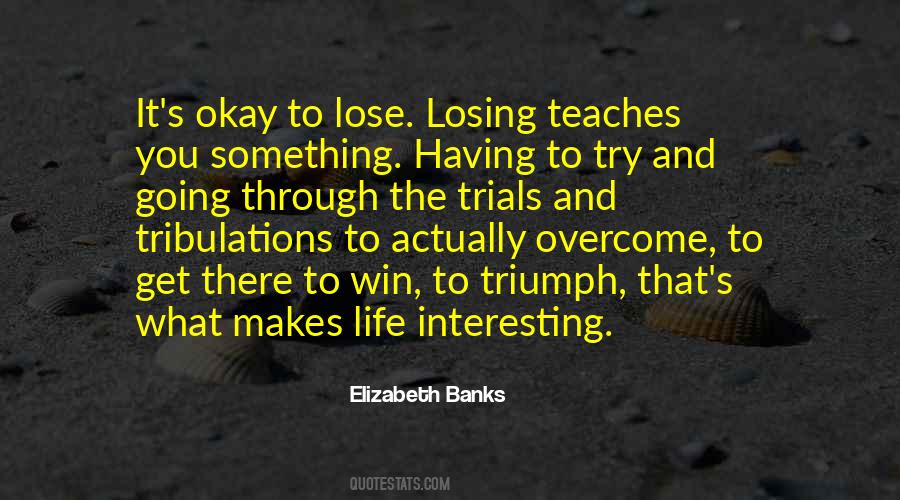 #8. Trials come. Tribulation comes. Fires of refinement come. The purpose of refinement is to bring to light the things hidden in darkness and then remove them - Author: Robin Bertram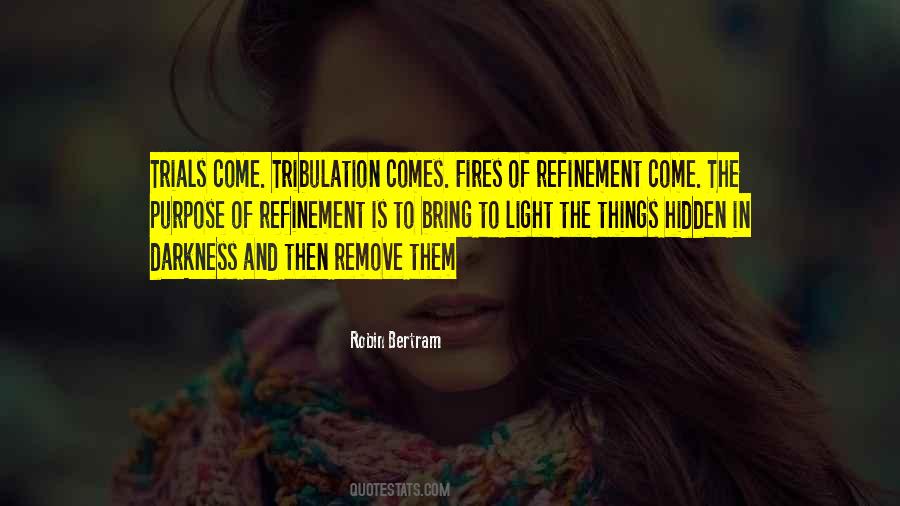 #9. The trials and tribulations in your life make you stronger. - Author: Taylor Swift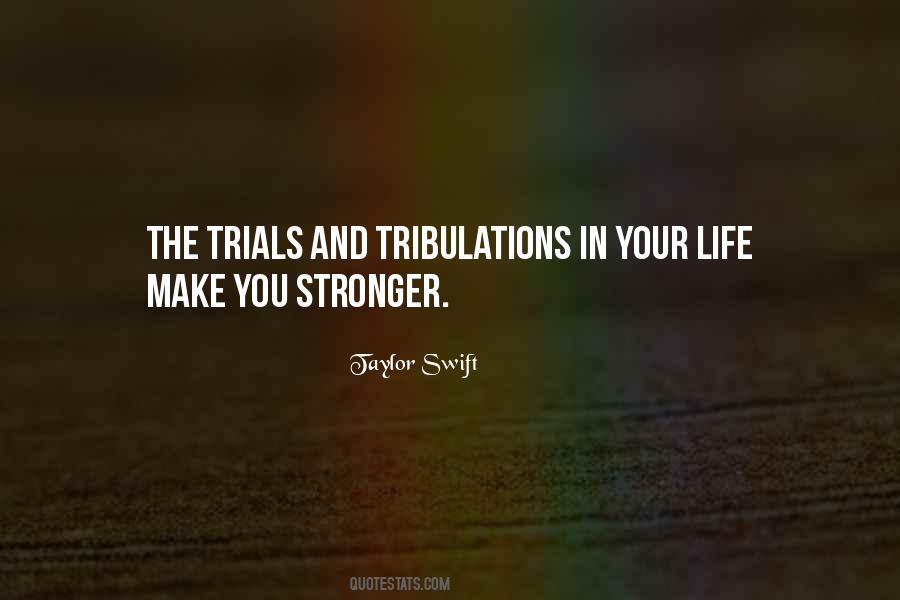 #10. Those things that challenge the worst in us tend to strengthen the best in us. - Author: Richelle E. Goodrich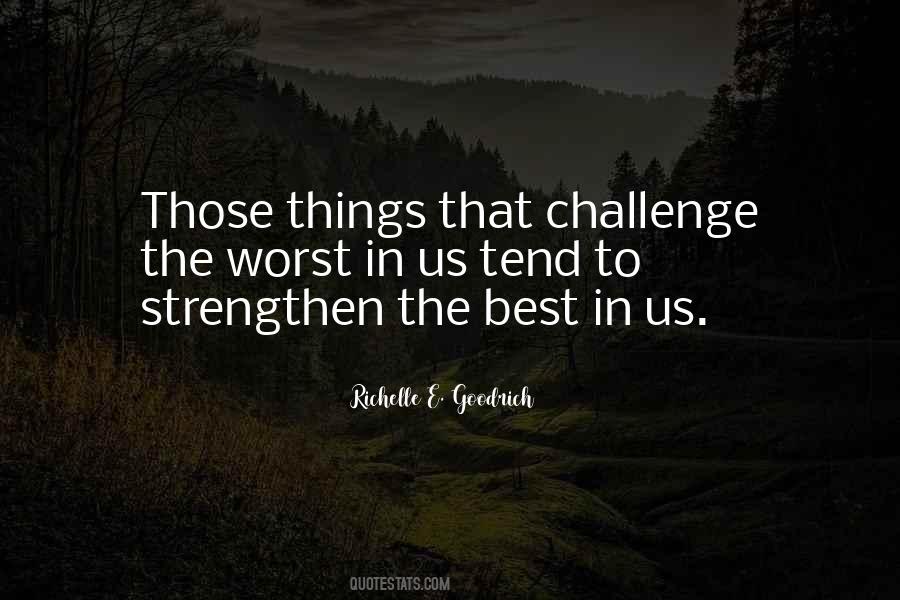 #11. Whoever desires Paradise, proceeds towards goodness; whoever fears Hell, refrains from the impulses of passions; whoever believes firmly in death, detests wordly life; and whoever recognises the worldly life, the trials and tribulations (of life) become slight for him. - Author: Ali Ibn Abi Talib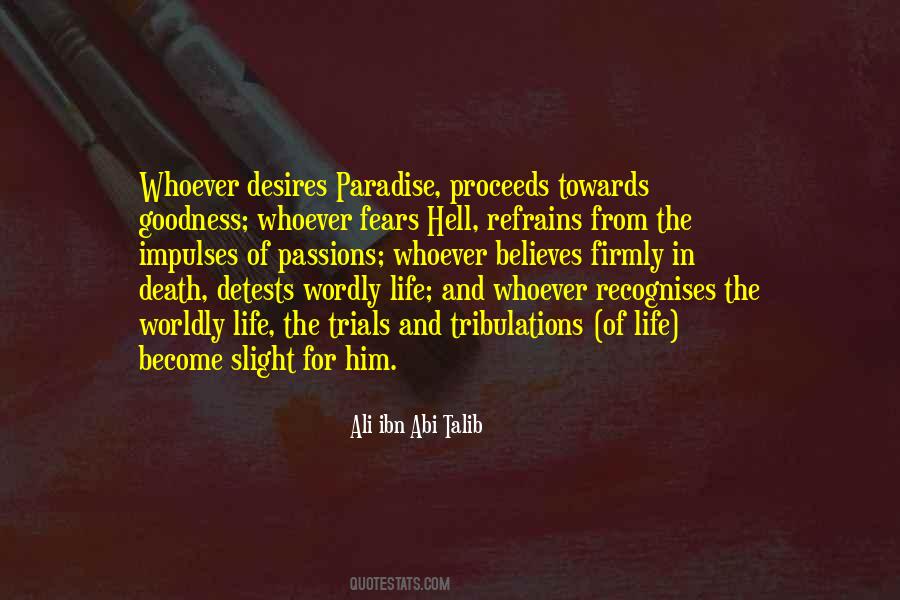 #12. I've been through many years of psychotherapy, psycho-drama, I've taken risks in my life. I've had trials and tribulations just like every body else. You have to really think about who you are. You can't just go through life and sail threw. - Author: Joy Behar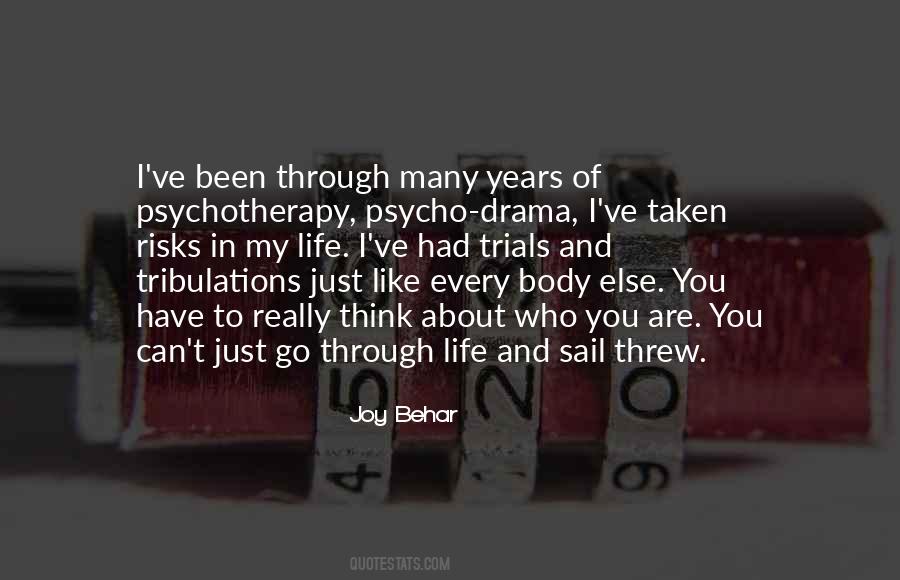 #13. No one is alone during tribulations - there's always someone else thinking, rejoicing or suffering in the same way. This thought gives us strength to face the challenge that lies in front of us. - Author: Paulo Coelho
#14. It took me a long time to get to where I'm at, in my career and as a man. I was going through my trials and tribulations in life, and it gave me the strength to tackle things that have come my way. - Author: Bernie Mac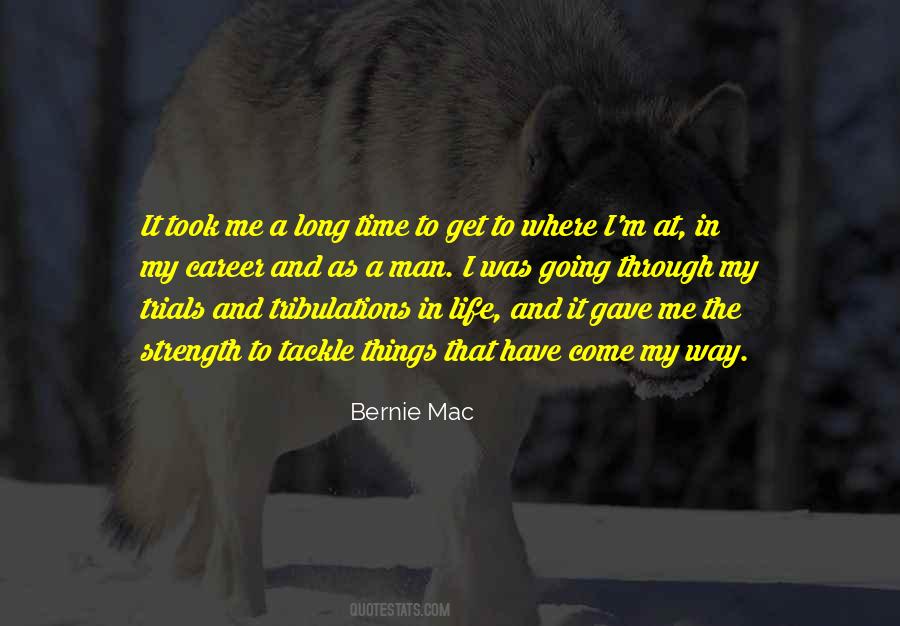 #15. We cannot always control everything that happens to us in this life, but we can control how we respond. Many struggles come as problems and pressures that sometimes cause pain. Others come as temptations, trials, and tribulations. - Author: L. Lionel Kendrick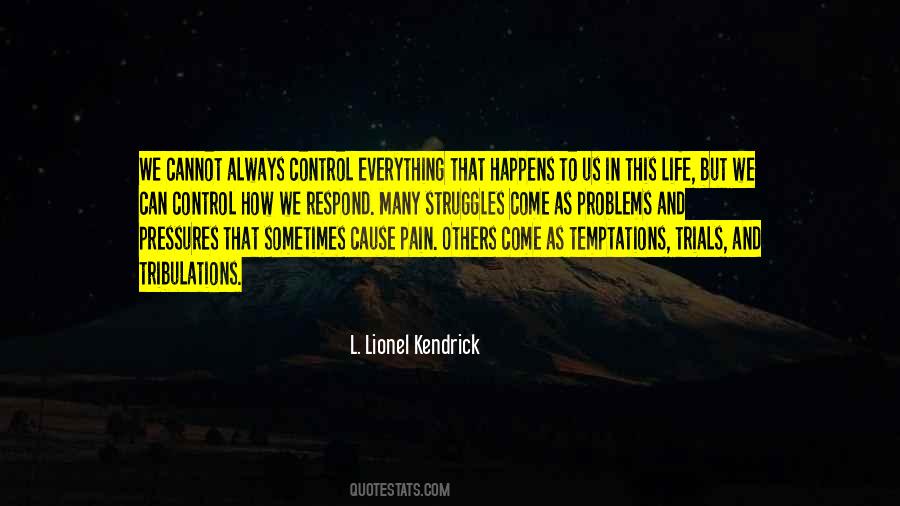 #16. Having lived a full and stimulating life before I had my kids, I've relished every minute I've had to spend with them and felt a degree of confidence in dealing with their trials and tribulations to date. - Author: Mariella Frostrup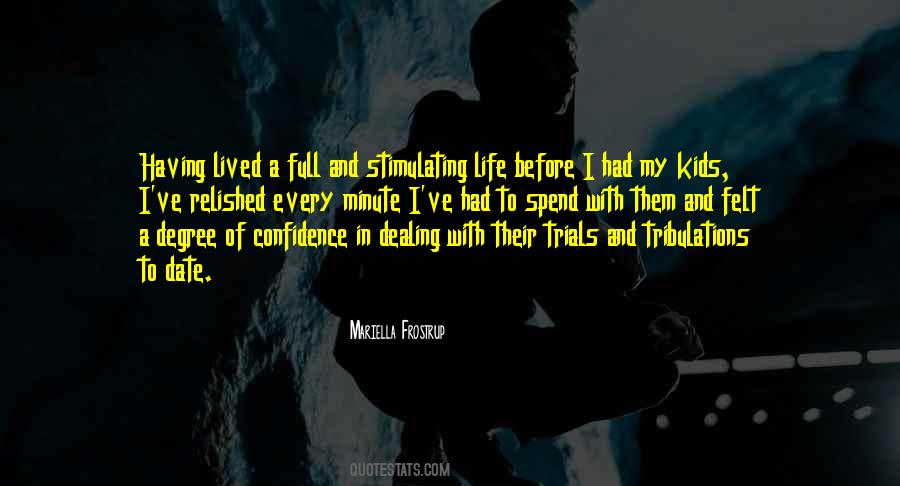 #17. The Countess was of a mind that dinner should provide one with respite from life's trials and tribulations. Thus, she could not countenance discussions of religion, politics, or personal sorrows at her table. - Author: Amor Towles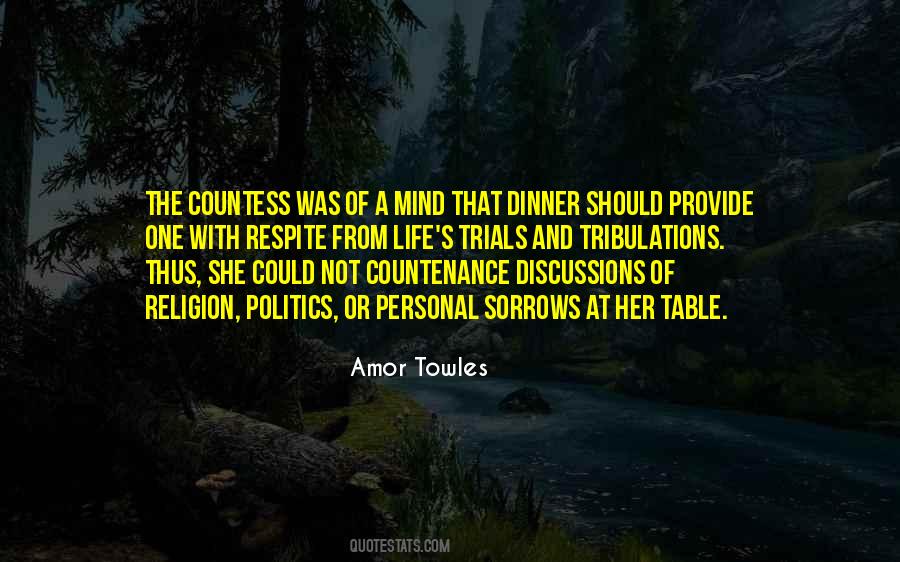 #18. This life is full of trials and tribulations, so you have to capture humor whenever and wherever you can find it. - Author: Steven Callahan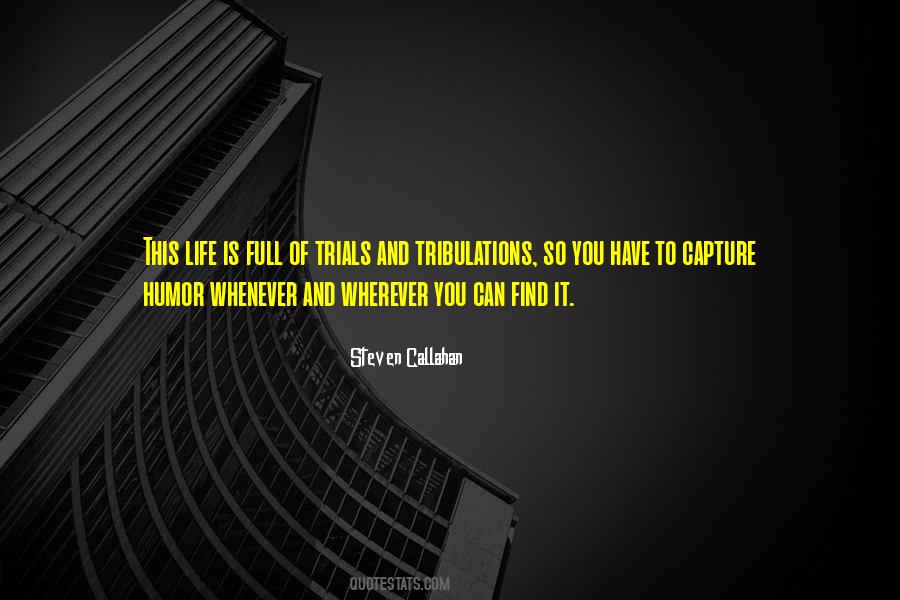 #19. Life is hard and unfair. It is cruel and heartless, painful, trying, disappointing, unapologetic, and frequently downright awful. But that's not important. What's important is that through it all you learn how much you need your Heavenly Father and how much your friends need you. - Author: Richelle E. Goodrich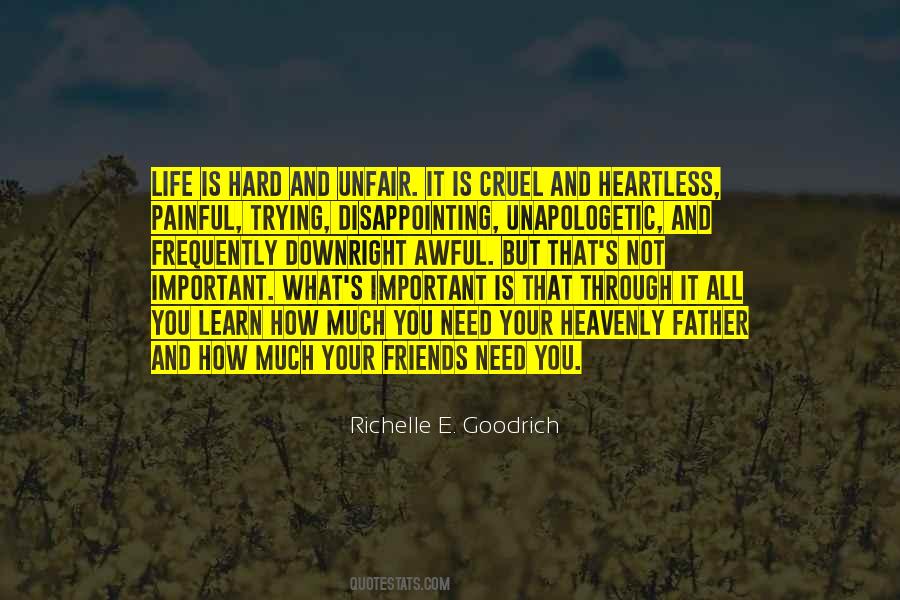 #20. There are two ways to respond to the trials and tribulations of our present and past ... 'Ain't it awful?' ... or ... 'Good information!' Our choice of responses will determine our experience of life. - Author: Bill Crawford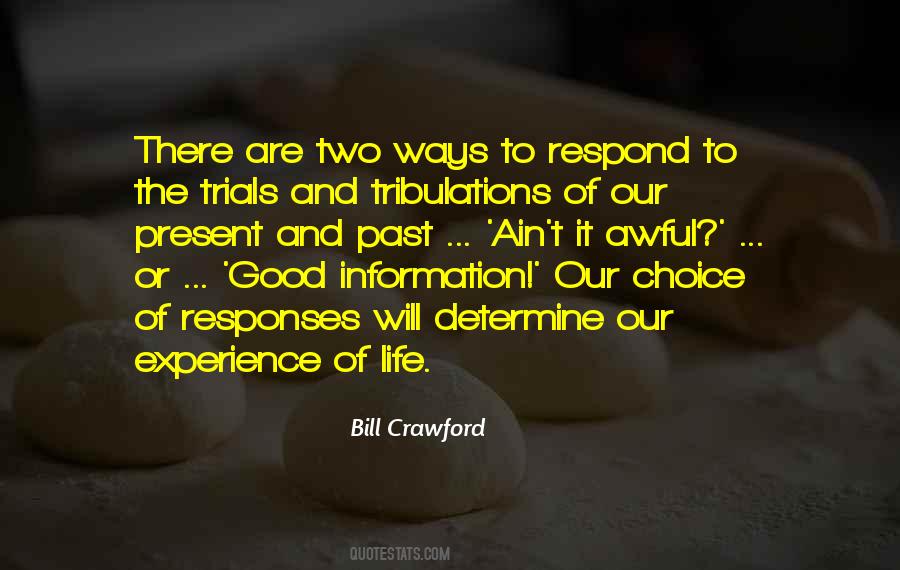 #21. God has blessed me to be where I'm at today. All the trials and tribulations I faced throughout my career and life. Look at where I'm at now, I'm the all-time Packers leading receiver of that franchise. That tells you a lot. - Author: Donald Driver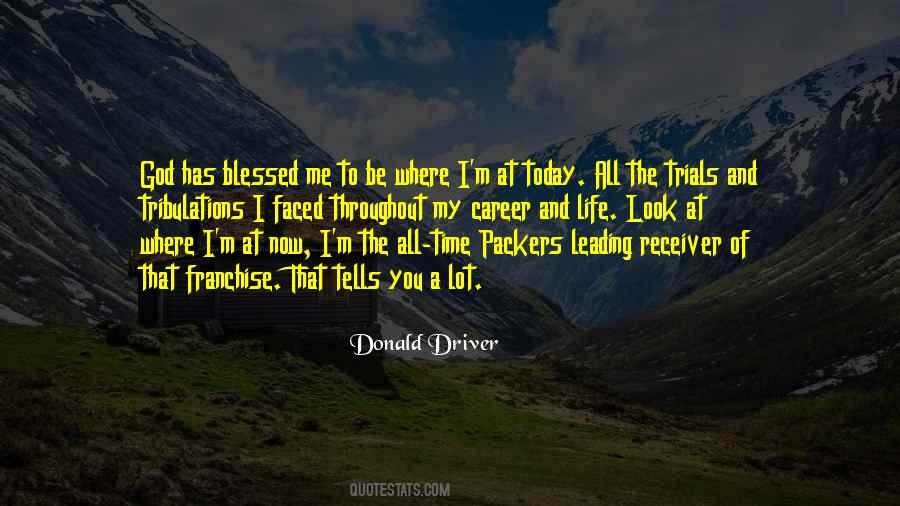 #22. No matter what each day brings -- the trials and tribulations that may cross my path, the turmoil, the ugliness -- when I look at this picture I'm reminded that life is precious and there is still beauty in this world. - Author: Ryan Troske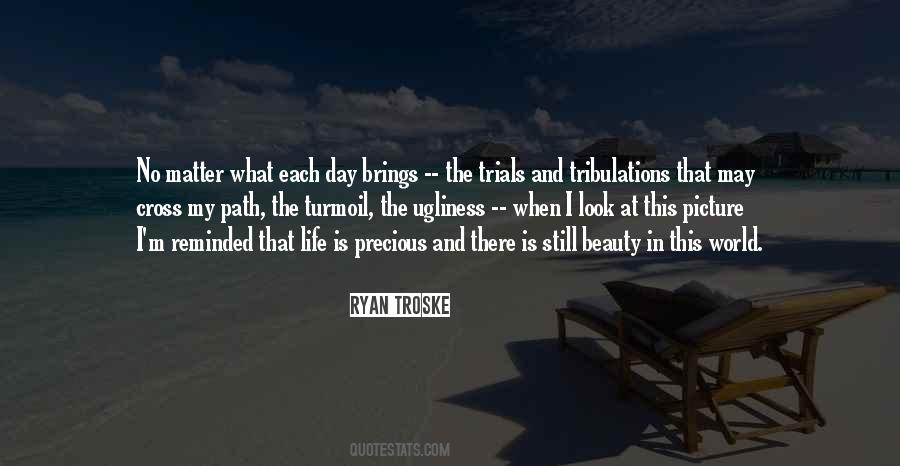 #23. Let our prayers, then, be with St. Bernard: "Give me, O Lord, tribulations through life, that I may never be separated from Thee!" (Serm. 17 in Ps. 90). - Author: Louis Of Granada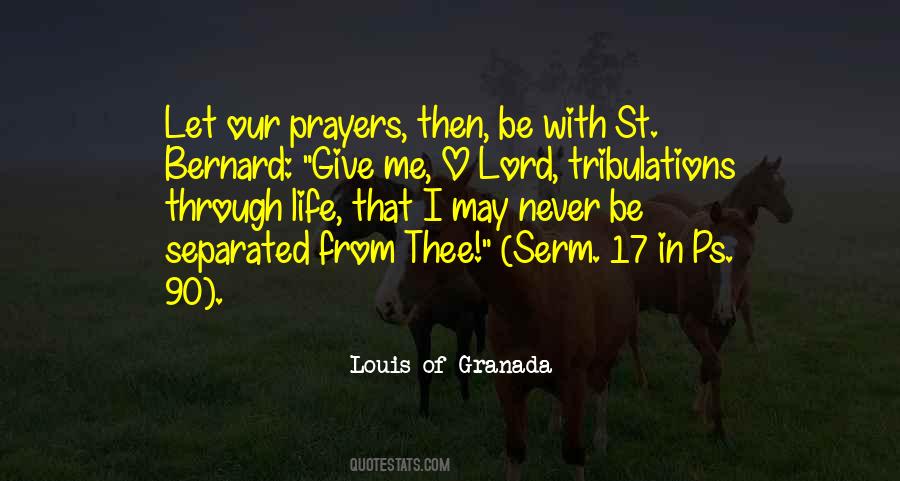 #24. Life is full of trials and tribulations. It's dramatic when you don't treat people right when you're in the tribulations, but I know now how to get out of it. You have to make a decision to say 'No more', and then you know what to do when the trials happen. - Author: Mary J. Blige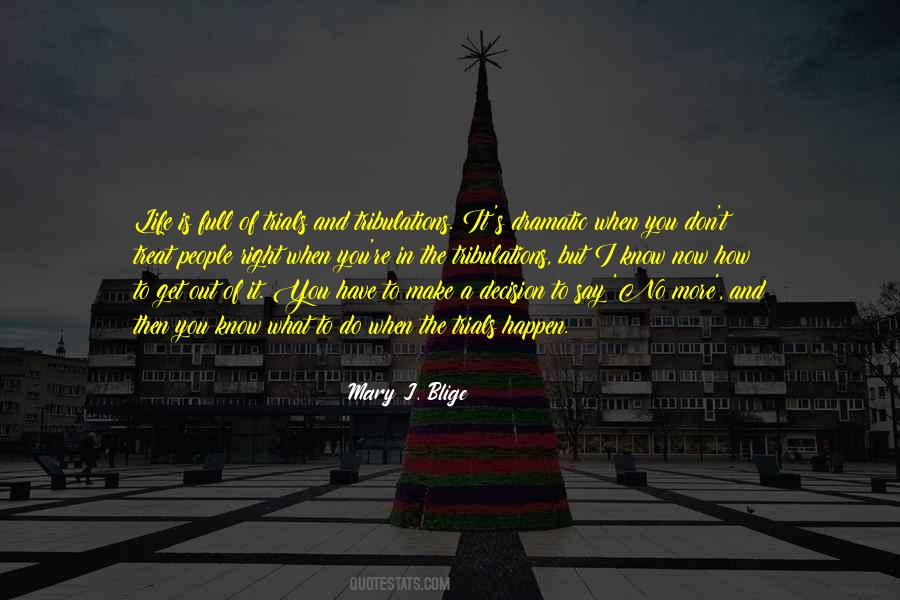 #25. In this life you will have some trials and tribulations. You cannot allow what happens to you to dictate who and what you become. Make a decision to do better and be better. - Author: Bobby F. Kimbrough Jr.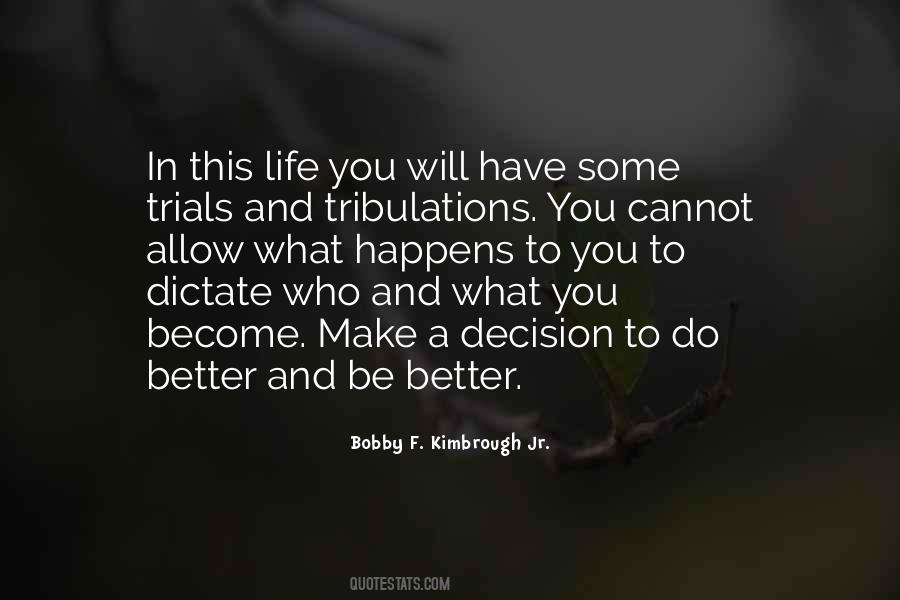 #26. When the same lessons of life that taught them teaches you, you get a good understanding of what made them become who and what they became; you appreciate them better and you uphold the dignity of their integrity in high esteem! - Author: Ernest Agyemang Yeboah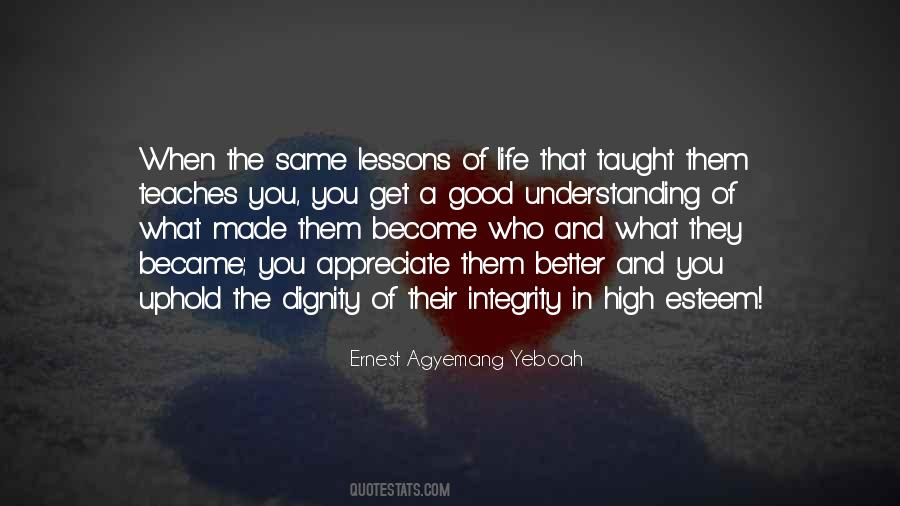 #27. No one is immune to the trials and tribulations of life. - Author: Martin Lawrence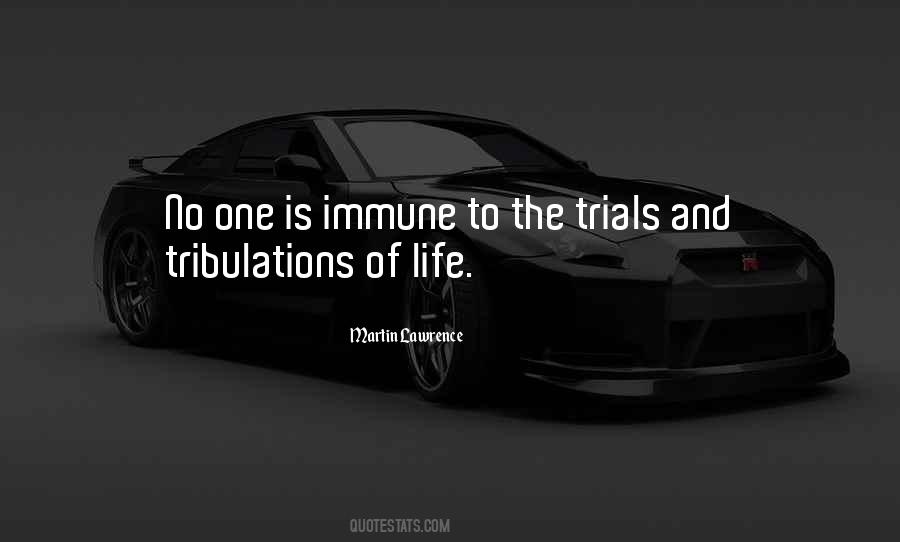 #28. Through the trials and tribulations of life come the openness to receive greatness. - Author: Michelle Cruz-Rosado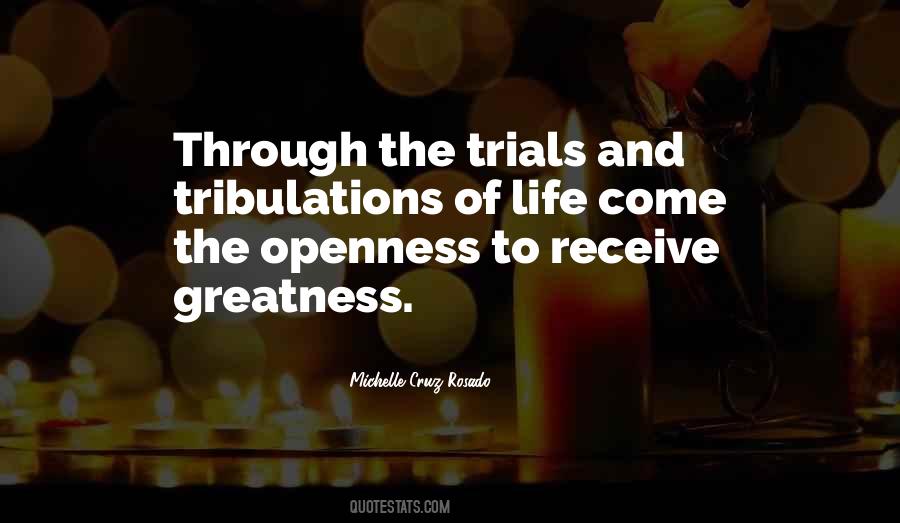 #29. Really, every woman is an example to me, because as women we go through so much pain. We have to live this perfect life when we are messed up inside. We all go through trials and tribulations. - Author: Mary J. Blige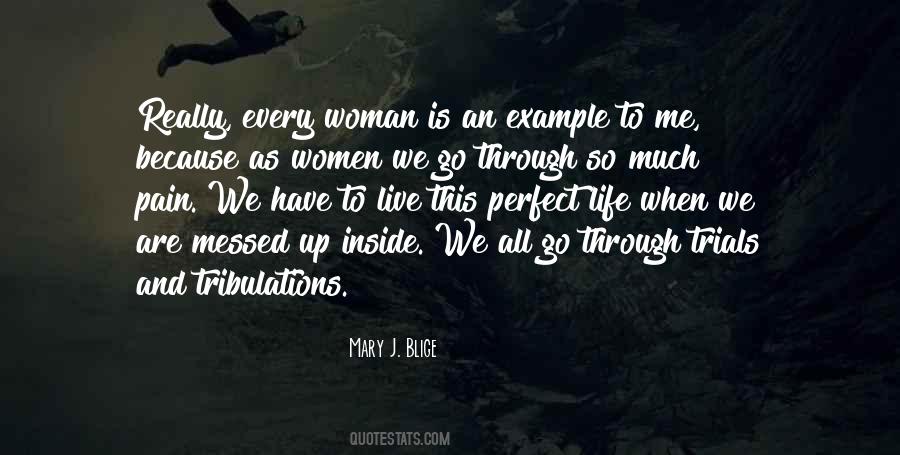 #30. I've learned through a series of trials and errors that the median space is actually what's missing in our daily walk. - Author: Carlos Wallace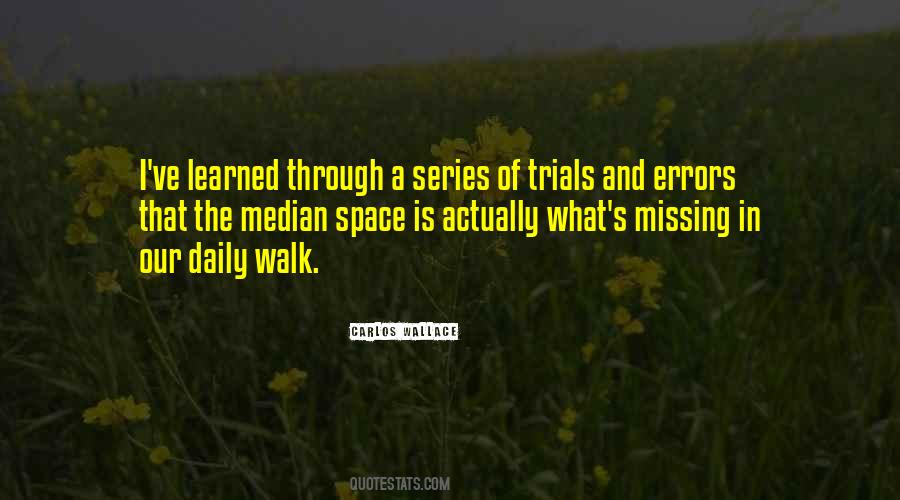 #31. All the trials and tribulations have paid off. In life, you have setbacks ... When you're in your valley, that's when you're tested the most -not when you're at your peak. - Author: Rashad Evans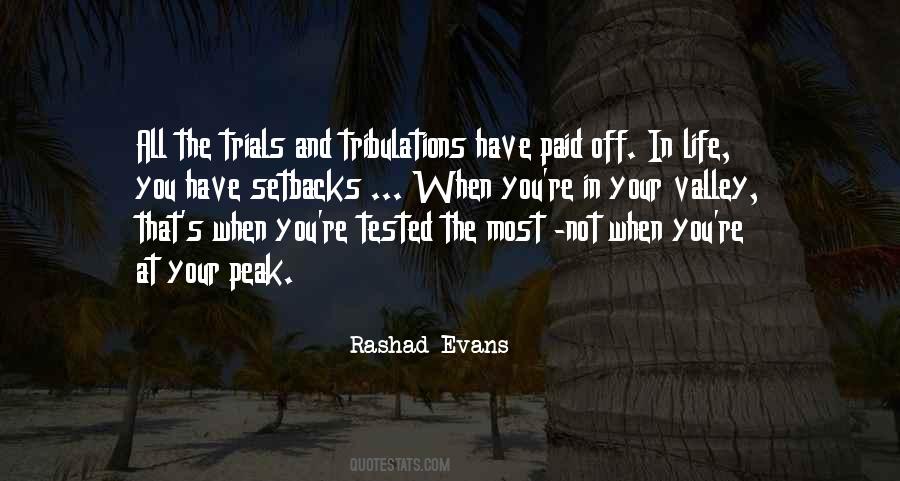 #32. Things always appear clear and simple from behind glass. It is in the thick of tribulations that blurring details arise, complicating my life. You can't rightly judge me, nor can you assist, from a shielded viewpoint. - Author: Richelle E. Goodrich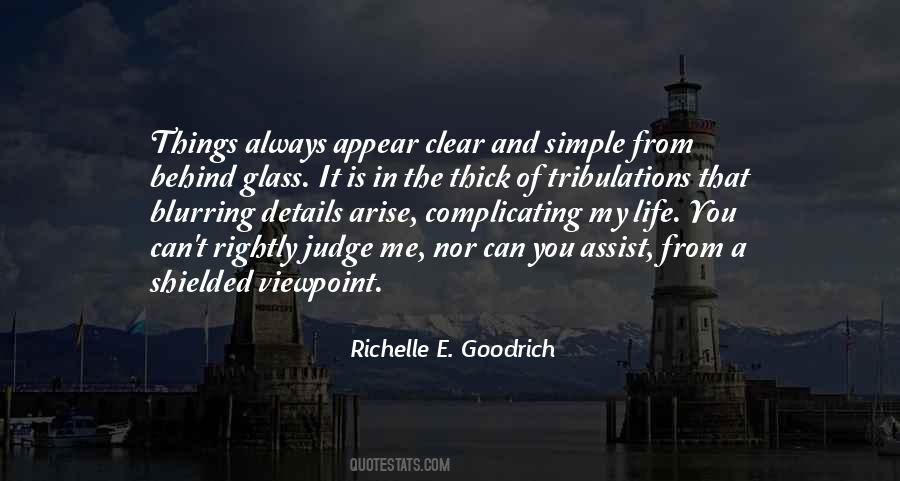 #33. What is life worth without trials and tribulations which are the salt of life. - Author: Mahatma Gandhi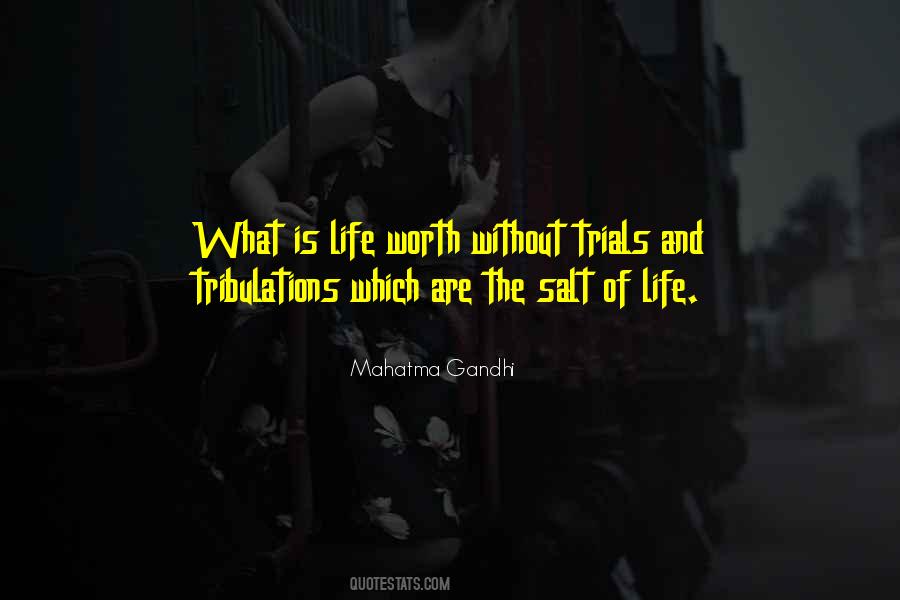 #34. Life, is a chess game you win or loose, but just keep playing. - Author: Auliq Ice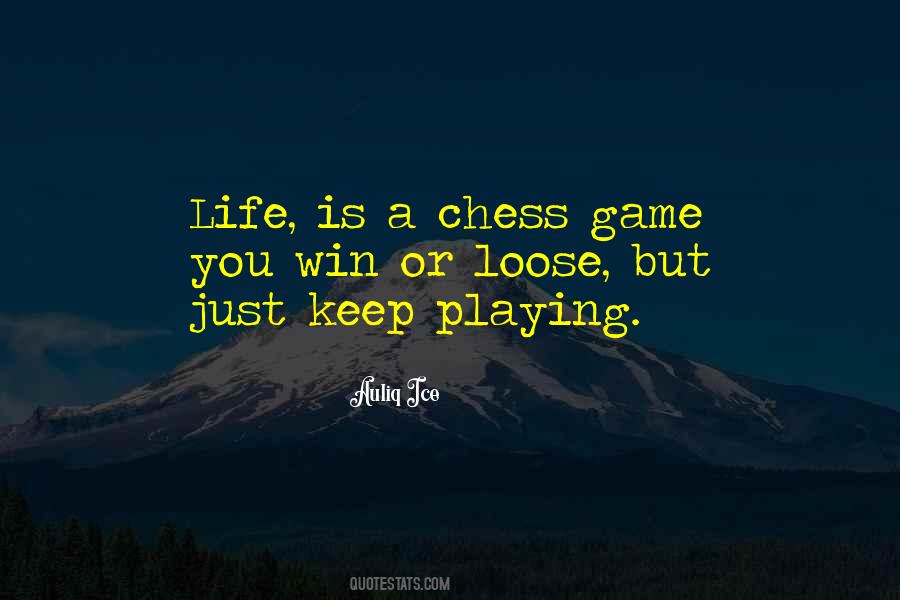 #35. Trials or little tests contain lessons to be learnt. - Author: Norhafsah Hamid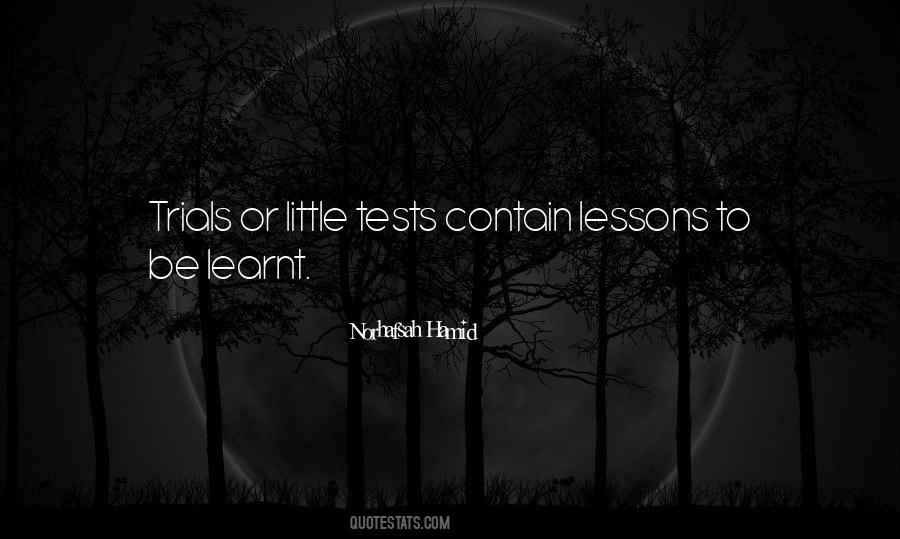 #36. Without the personal traumas, tribulations and 'terribles' that I have experienced throughout life, I wouldn't have gained the information necessary to write this book and my life would never have taken the course it has. - Author: Emma James
#37. The Lord doesn't always make our paths smooth sailing, but He does make it possible to rise above adversity. - Author: Dana Arcuri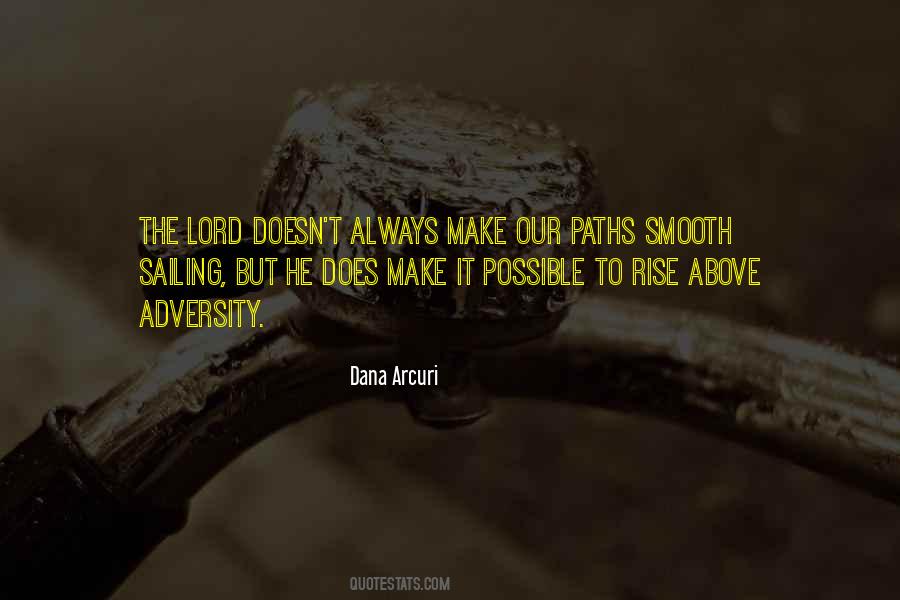 #38. The kind of individual that you see on the outside, is never the same person on the inside. - Author: Jonathan Anthony Burkett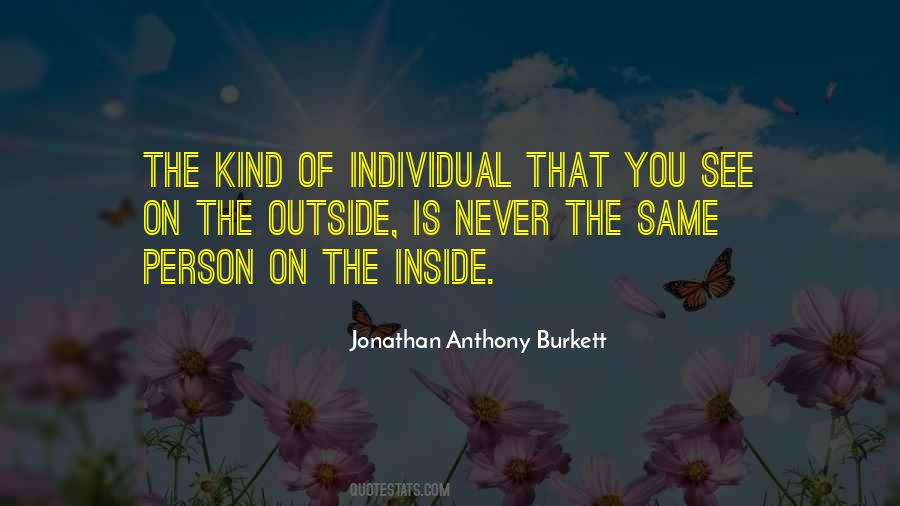 #39. Far more important than the tribulations and heartaches, the thrills, merriment, and pleasures of life is what you learn from it all. It isn't the tunnel we pass through that matters, it's what emerges on the other side. - Author: Richelle E. Goodrich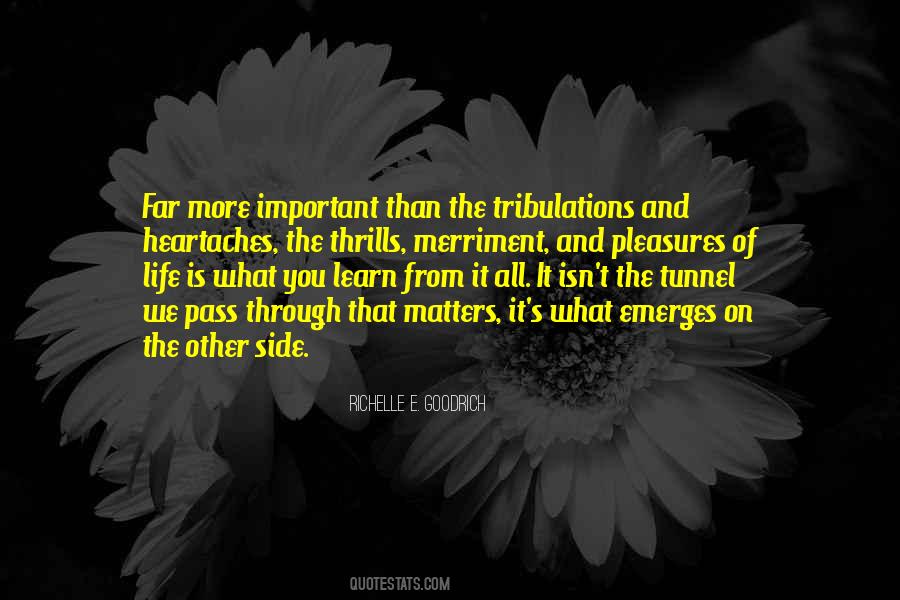 #40. ... nothing surprises God. You have to remember, He knew what was ahead of you, and He has a plan to help you deal with it. - Author: Brenda Minton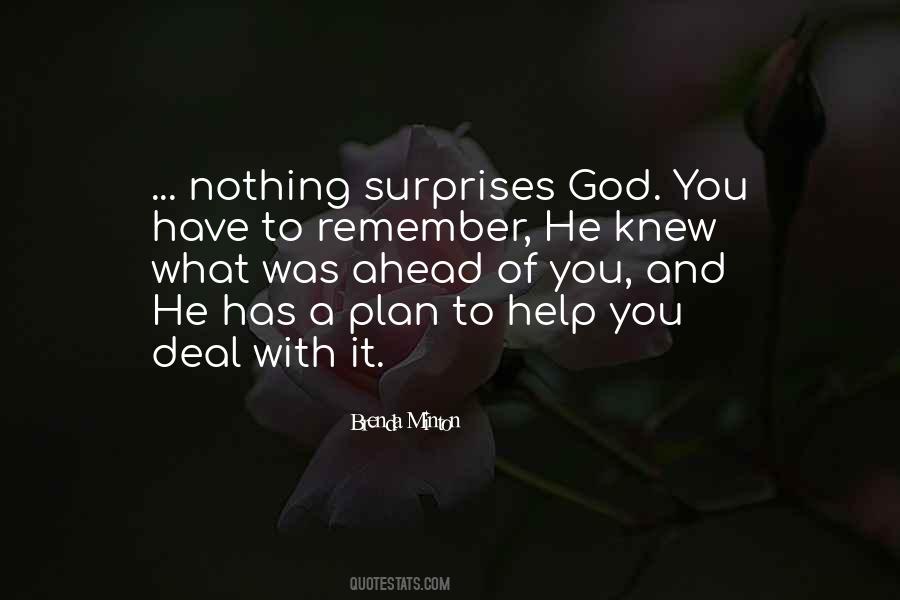 #41. In the wilderness, our faith is tested, and God faithfulness is manifested. - Author: Lailah Gifty Akita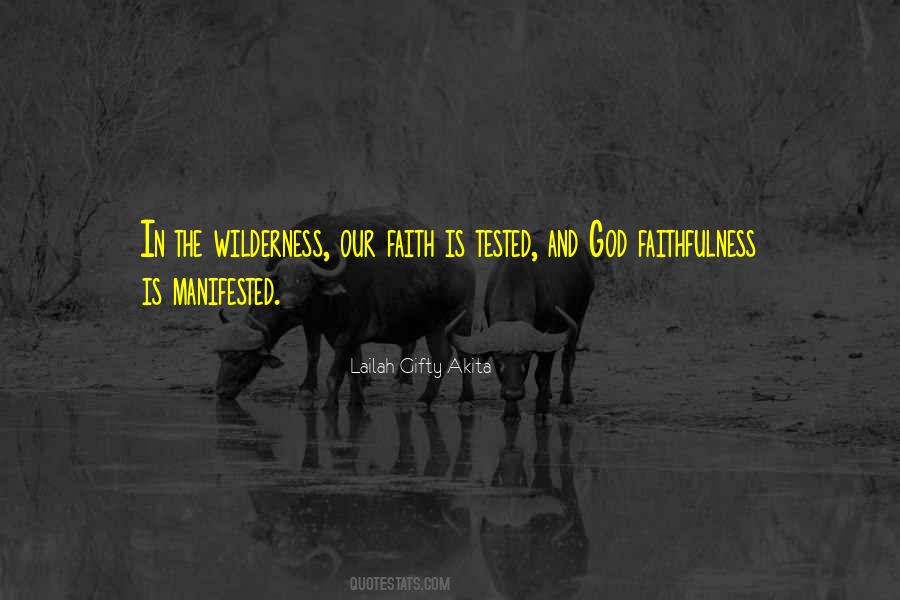 #42. The Father is always intimately entwined in our struggles".

~R. Alan Woods [2013] - Author: R. Alan Woods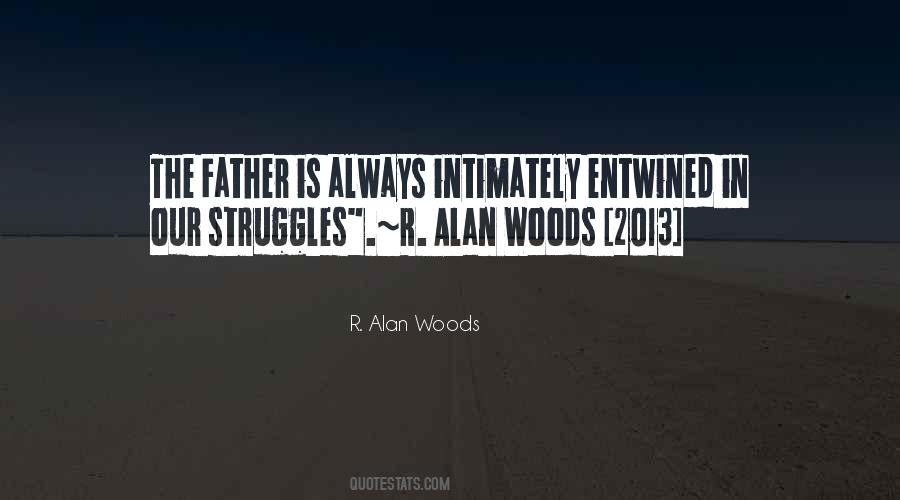 #43. Never forget the tribulations that we have endured. We are all one energy, and we are all part of God. You are one family now. Do not allow yourselves to find reasons to separate yourselves. Share everything; help each other in raising your children. Love each other, and love life. - Author: Aaron B. Powell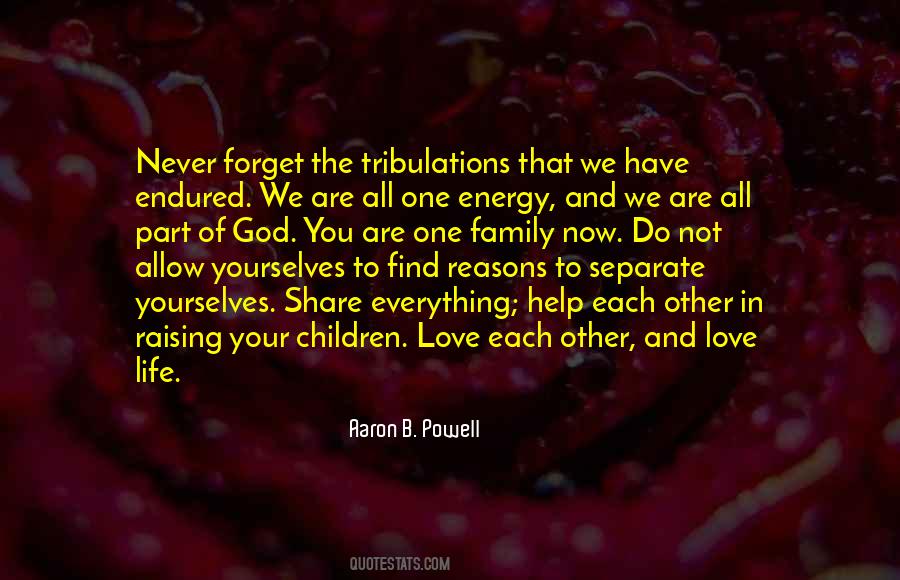 #44. We can choose to see life as a series of trials and tribulations, or we can choose to see life as an accumulation of treasures. - Author: Max De Pree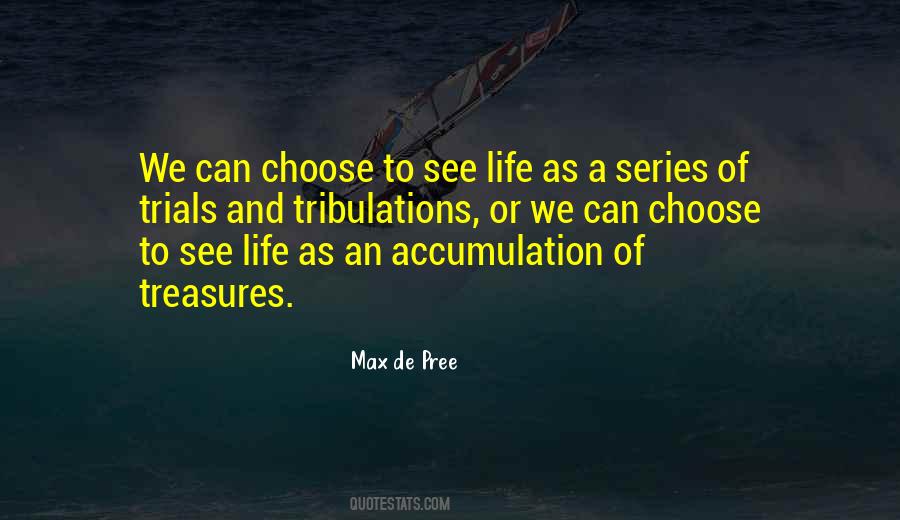 Famous Authors
Popular Topics