Time With Family Famous Quotes & Sayings
List of top 100 famous quotes and sayings about time with family to read and share with friends on your Facebook, Twitter, blogs.
Top 100 Quotes About Time With Family
#1. My time with my family is a priority. - Author: Nick Faldo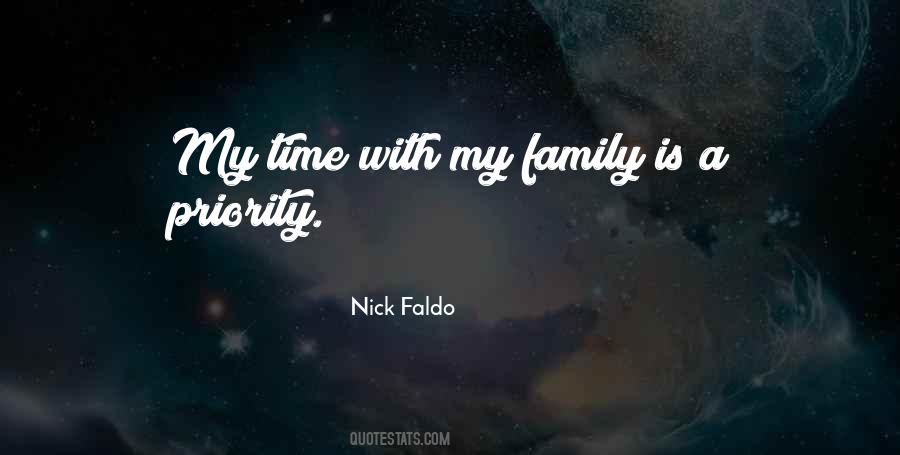 #2. Spending more time with friends and family costs nothing. Nor does walking, cooking, meditating, making love, reading or eating dinner at the table instead of in front of the television. Simply resisting the urge to hurry is free. - Author: Carl Honore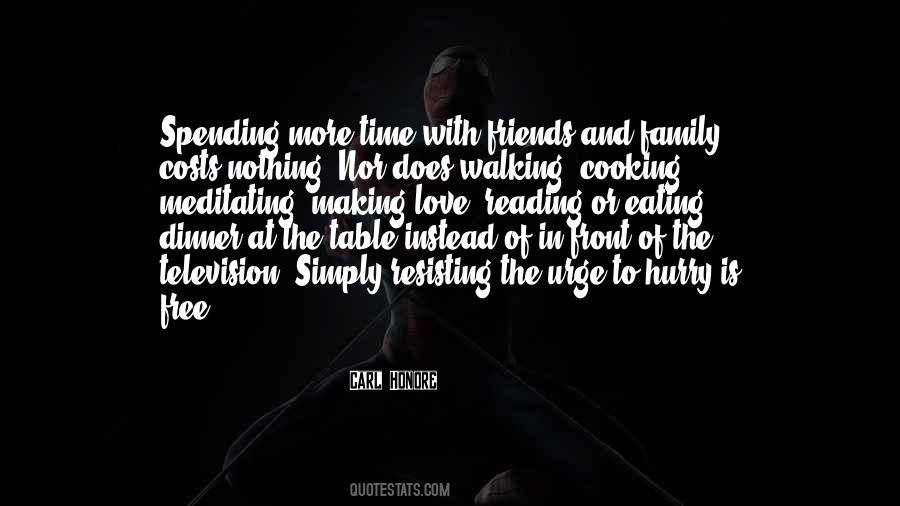 #3. What I like to do and what I have to do are two separate things. I like to read, swim, watch TV, spend time with my family. But I have to work, so I do that. - Author: Jillian Medoff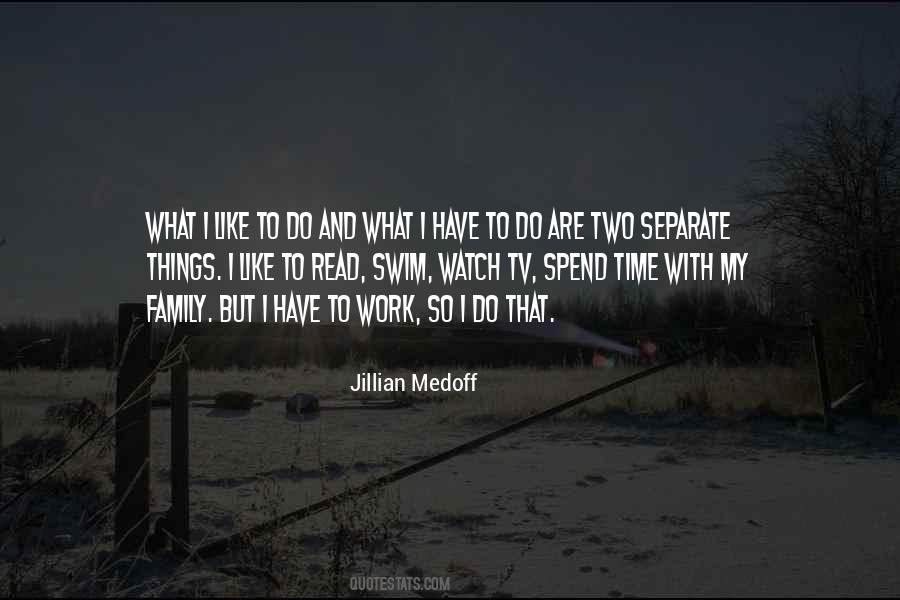 #4. I talked to members of my family, and did some personal research that didn't really have anything to do with the time and place I was writing about, but that gave me a feeling of the experience of being black in a time and place where it was very difficult to be black. - Author: Octavia Butler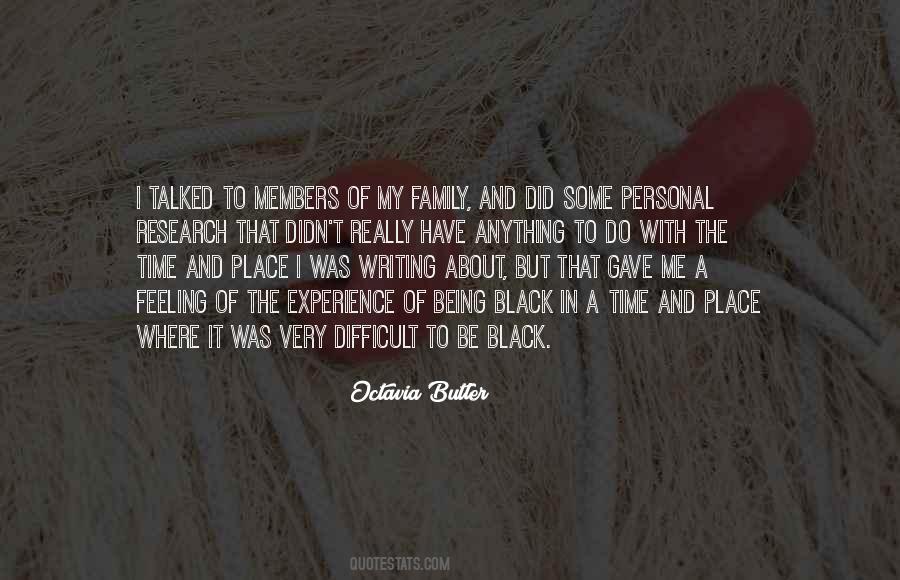 #5. Family is everything!" he always said when he went overboard with sentimentality. "If you don't have family, what do you have? - Author: Sonal Panse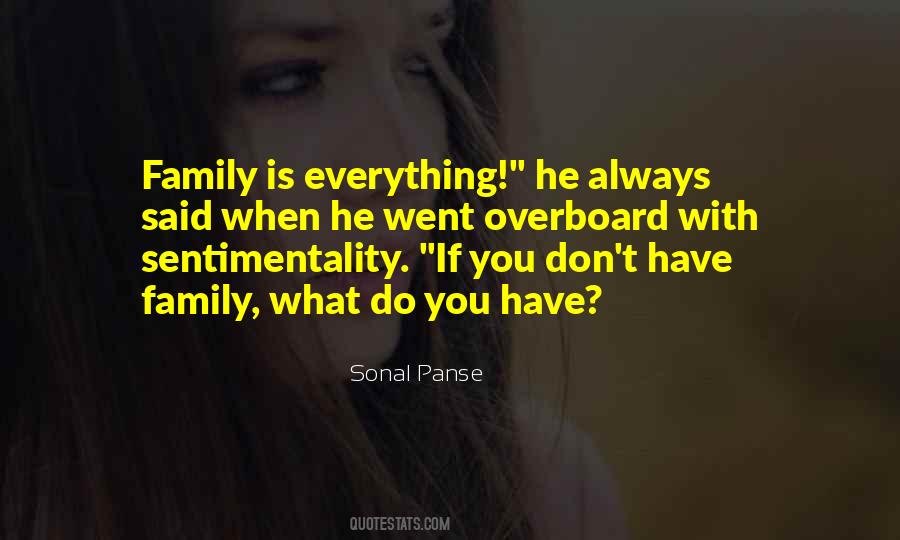 #6. I could write pages and pages about the delights of being a full-time housewife and mother and trying to write and support a family with two babies - but I don't use that kind of language in public. - Author: Marion Zimmer Bradley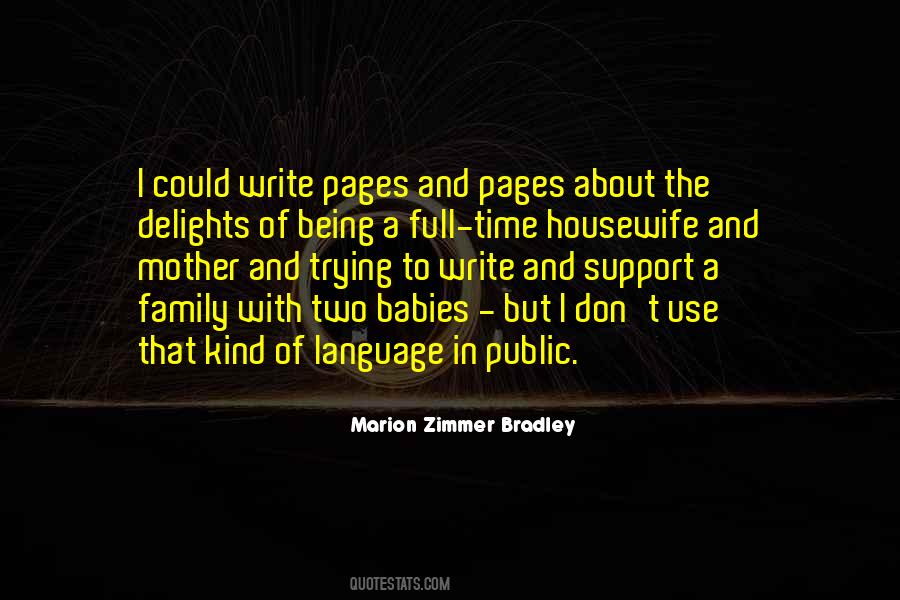 #7. An unemployed father is always considered more detrimental to the family than an unemployed mother, and at the same time, child psychologists kept coming up with new responsibilities for parents that seemed to fall to the mother alone. - Author: Elisabeth Badinter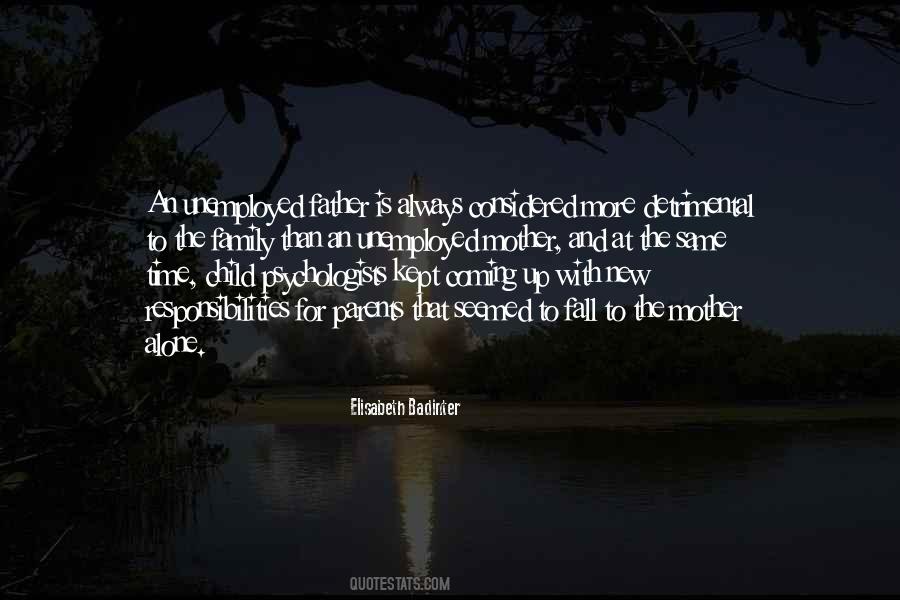 #8. The only way Father is going to be upset in this case, is with the way the two of you are behaving toward one another. We are family, whether you believe it or not. Your lack of faith in Lucifer is what will do the damage in the long run. It has nothing at all to do with the time I spend with him. - Author: Melyssa Winchester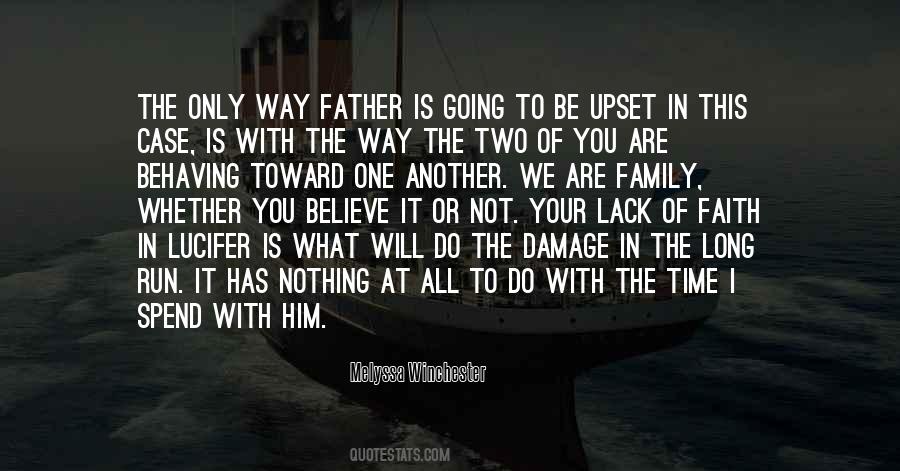 #9. We're travelling through space and time, we're dealing with gods and monsters, but at the heart of the film, from my perspective, is a family - a father, two sons, two brothers, a mother and the fractious, intimate interaction that they have. - Author: Tom Hiddleston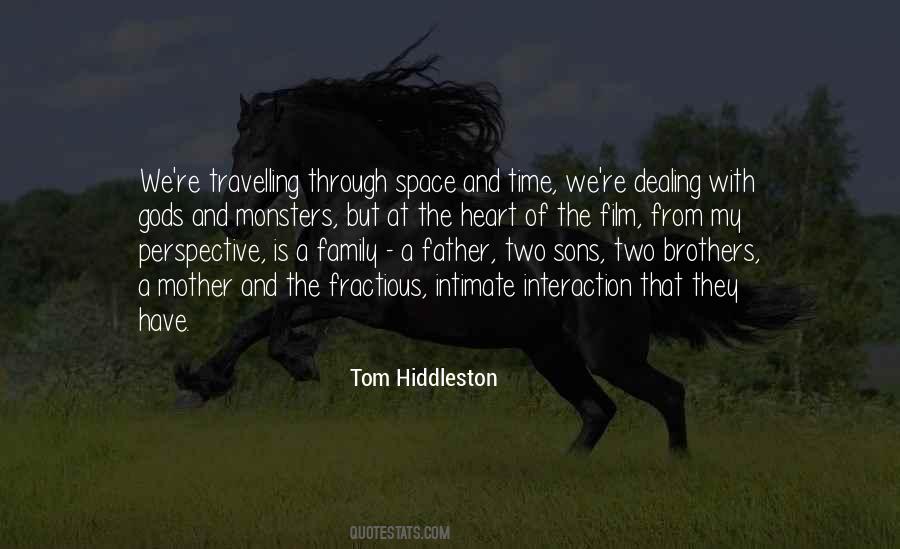 #10. Every time a child organizes and completes a chore, spends some time alone without feeling lonely, loses herself in play for an hour, or refuses to go along with her peers in some activity she feels is wrong, she will be building meaning and a sense of worth for herself and harmony in her family. - Author: Barbara Coloroso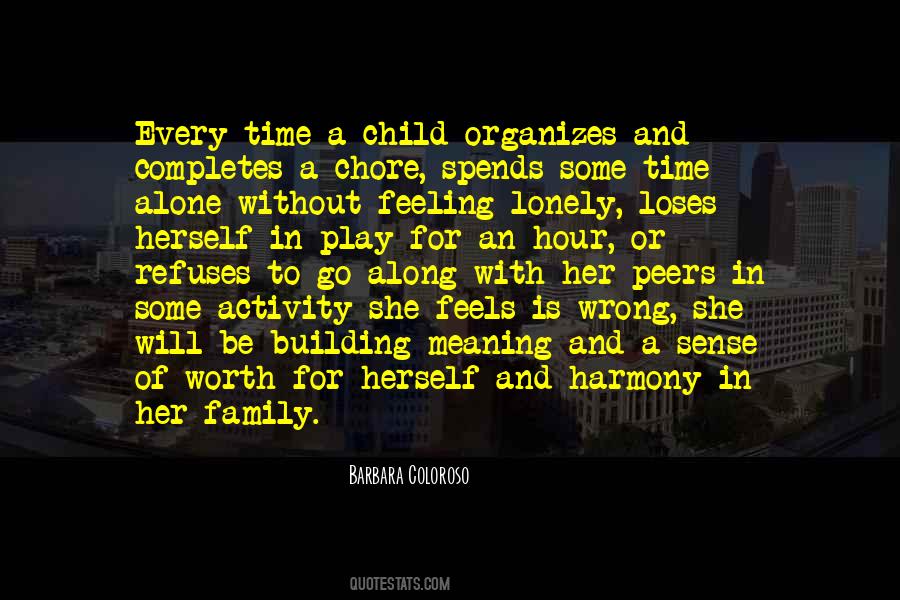 #11. The advantage is I have my family with me all the time. When your daughter takes her first steps or says her first words and your son is going through potty training, I'm not missing any of those things. - Author: Larry Dixon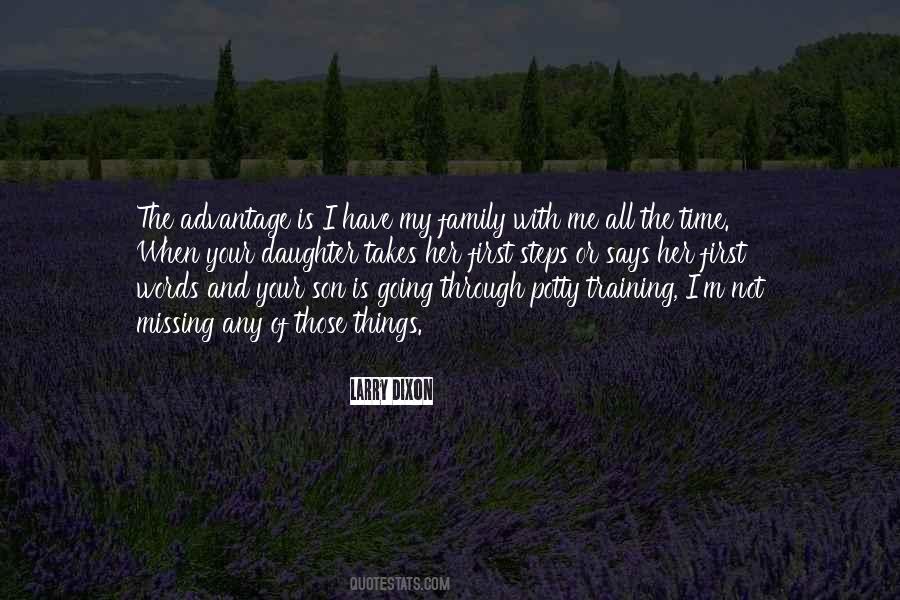 #12. As I child, I came to this idea with a horrified fascination. Once upon a time, I wasn't here. Before that, my parents weren't here. And before that ... - Author: John Burnside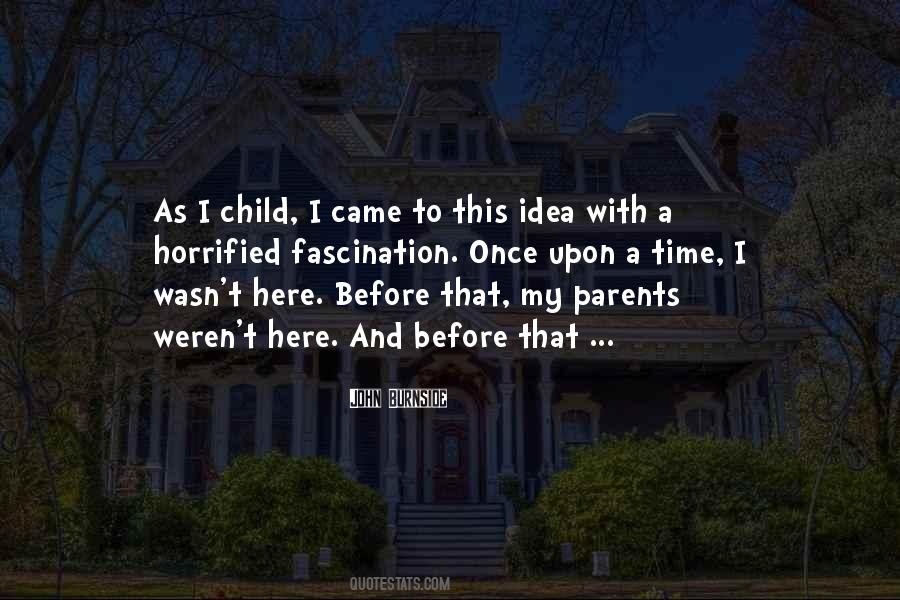 #13. Enjoy the time you have with your friends & family. That doesn't mean spend money you don't have on them. It means enjoy your time with them. - Author: Robert Kiyosaki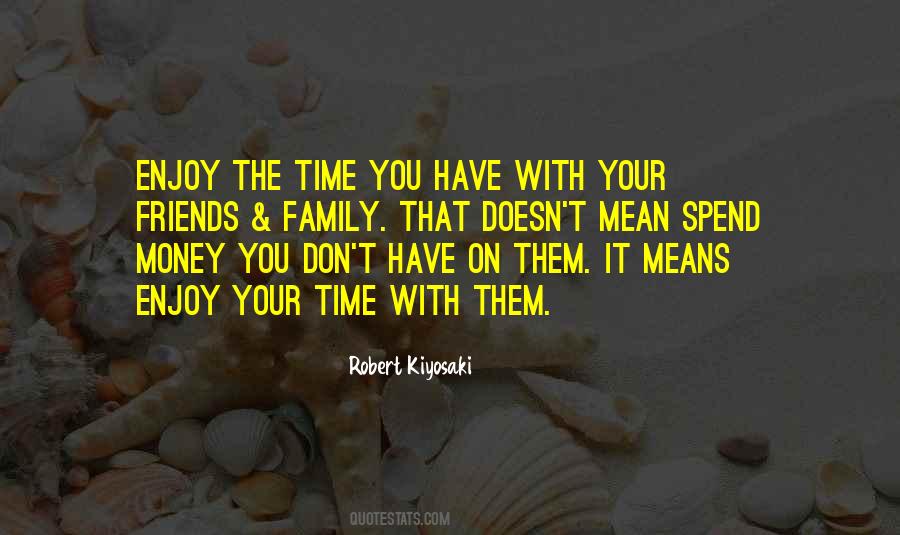 #14. My family was made of good people who did good things with what they were given. What fairness does life show in a time like this? But life is not fair and that is nothing new, so I bottled the pain and loss, and released them through a single tear rolling down my cheek. - Author: B.M. Tolbert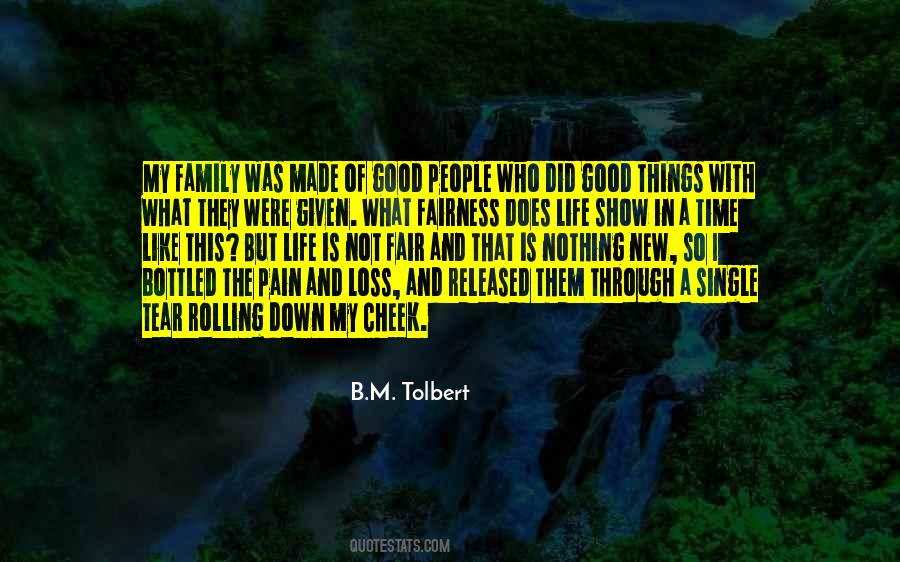 #15. I feel like I grew up being babysat by a television, and all I ever wanted to do was be in movies, direct movies, make movies, but it took me a really long time to be honest with myself about it because my background is that my family was very poor. - Author: Noel Wells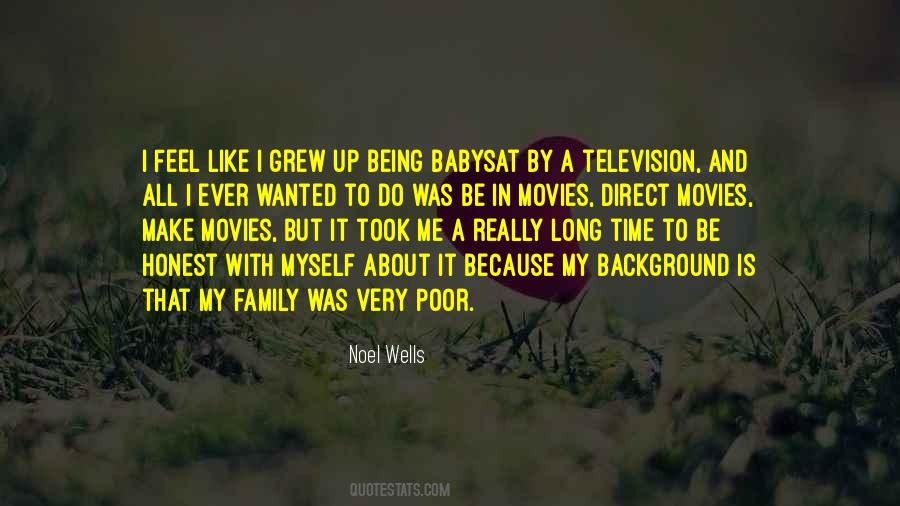 #16. Time flies, whether you're wasting it or not. - Author: Crystal Woods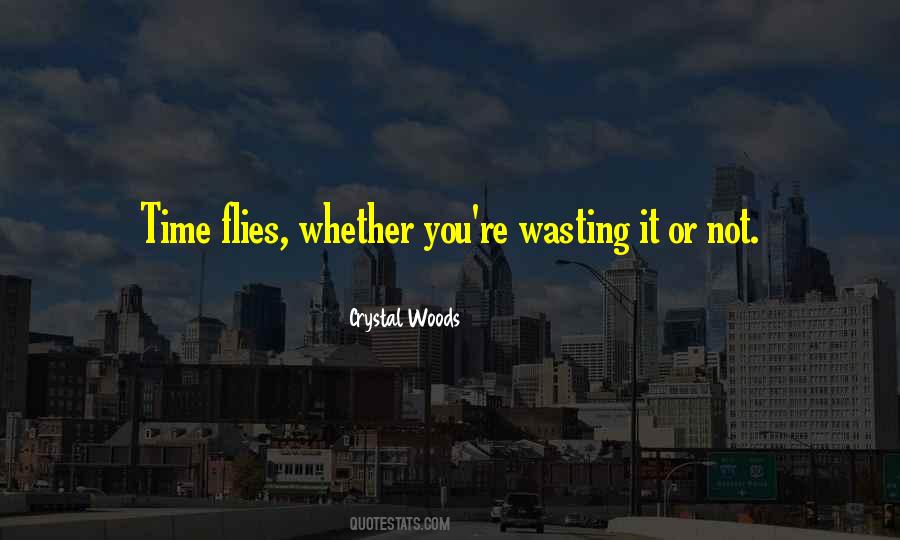 #17. She thought about her cousins in Oklahoma, which was odd, since she'd never spent much time with them. She didn't even know them very well. Now she was sorry about that. - Author: Rick Riordan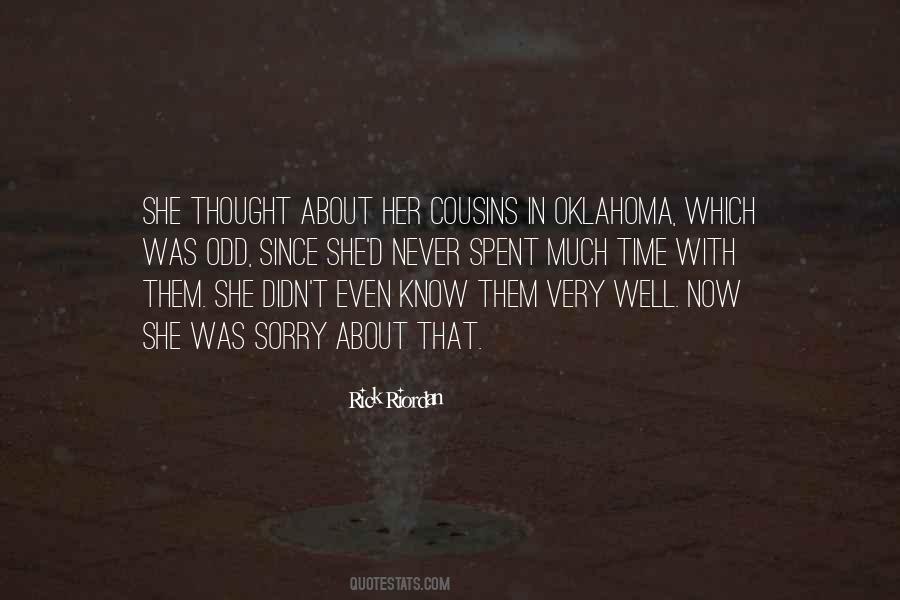 #18. Since retiring I have spent a lot of time with my family, on my boat, and playing football. - Author: Goran Ivanisevic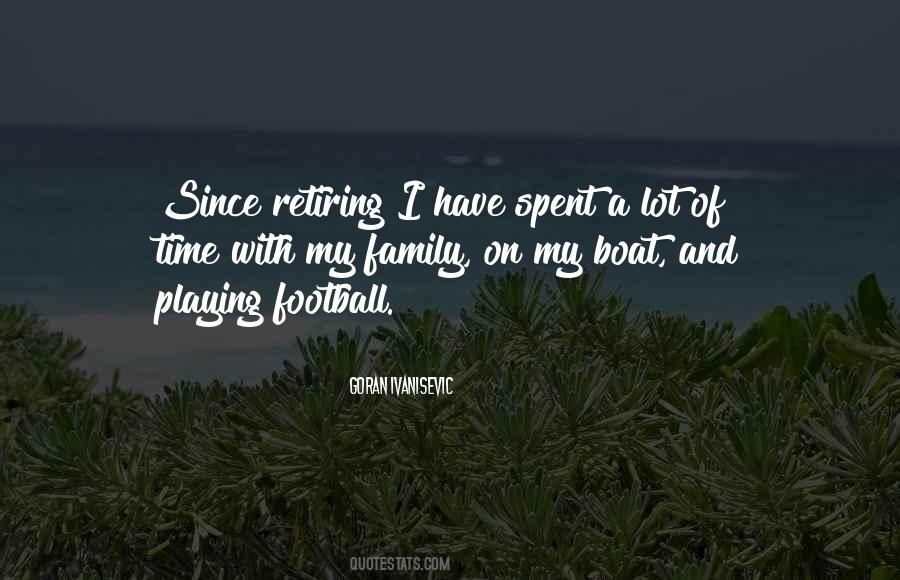 #19. I had a great time making the last movie, 'Eclipse.' We shot my back-story stuff from the 1930's. But I was waiting for 'Breaking Dawn' because I love the relationship Rosalie has with Jacob and the rest of her family and Bella. She also provides comic relief. - Author: Nikki Reed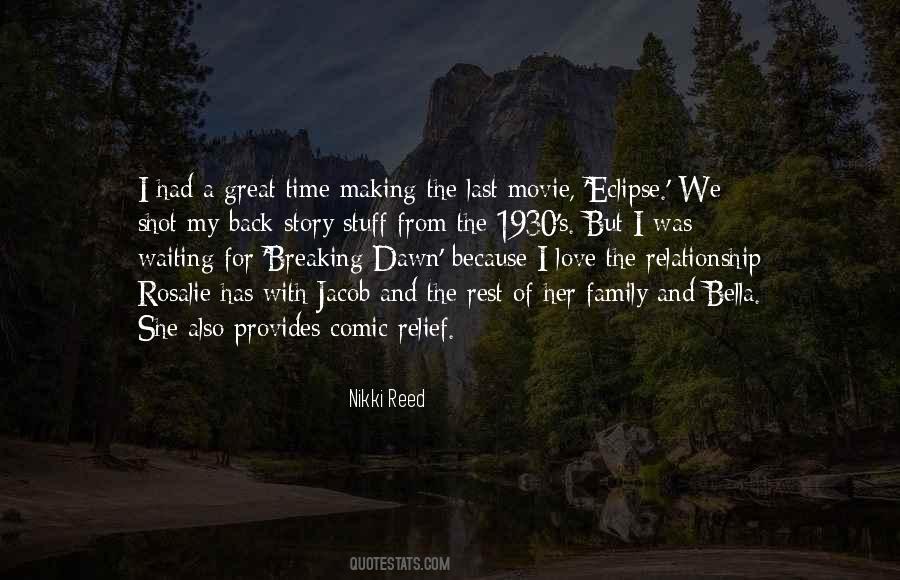 #20. Yeah, I like working in television, a lot. I really enjoyed my time on 'Lost.' I like developing that hint of family with people. I mean, if you're on a happy set. If you're on a set where there's some sour apples, then I don't like working in television. - Author: Terry O'Quinn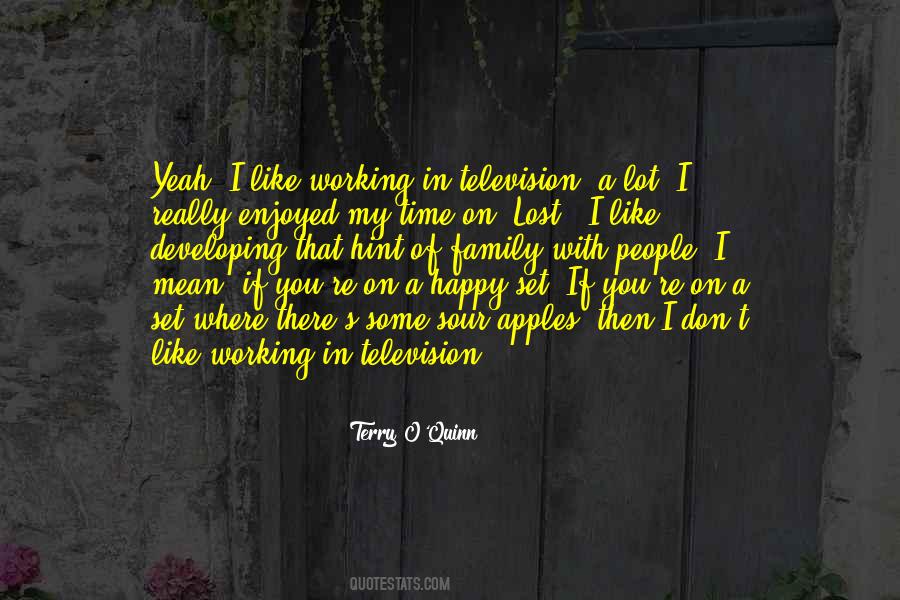 #21. I prioritize the things that need to get done at work, and I ask myself where I'm spending the majority of my time. The answer to that question always needs to be 'with my family.' - Author: Elisabeth Hasselbeck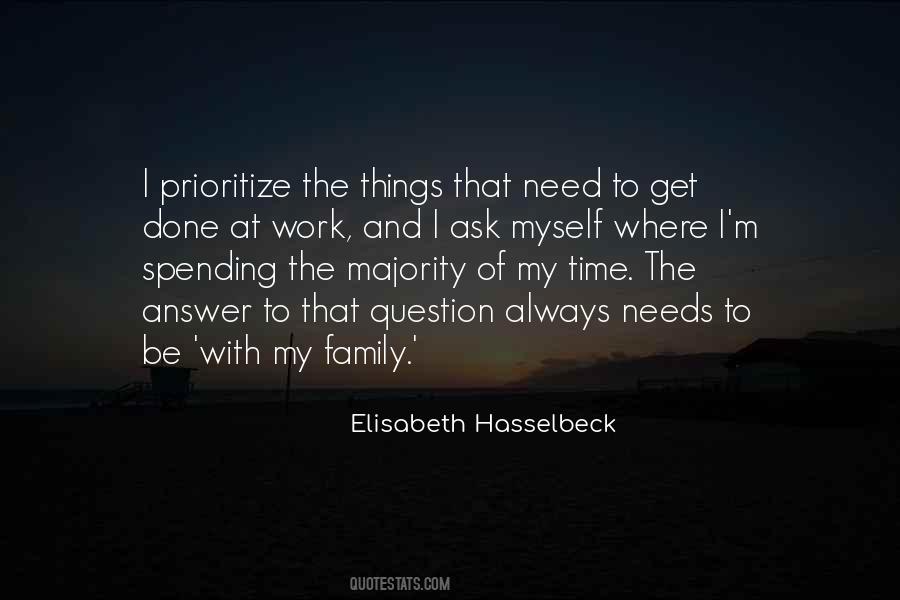 #22. Work is so much fun that it doesn't really seem like downtime when I'm not. But cooking, spending time with my family, friends and dog are what I'm usually doing when I'm not working on something. - Author: Bailee Madison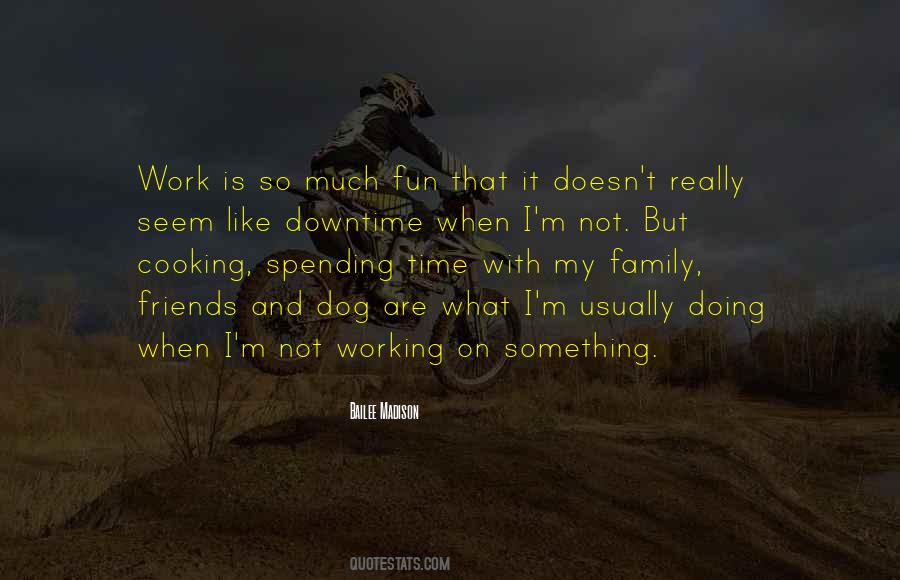 #23. It is not only my laboratory and my place of work but also my home, so that on the 30th October I was able to share my happiness immediately with my students and collaborators and, at the same time, with my wife and family. - Author: George Porter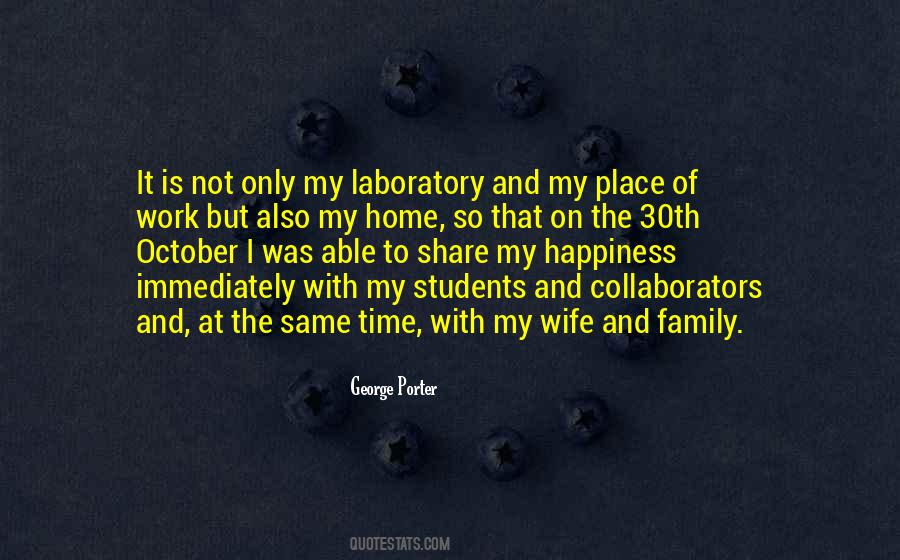 #24. Though all the daughters eventually succeeded in escaping from their families, they felt, even at this time of the interview (while in their 20s and 30s) that they would never be safe with their fathers, and that they would have to defend themselves as long as their fathers lived. - Author: Judith Lewis Herman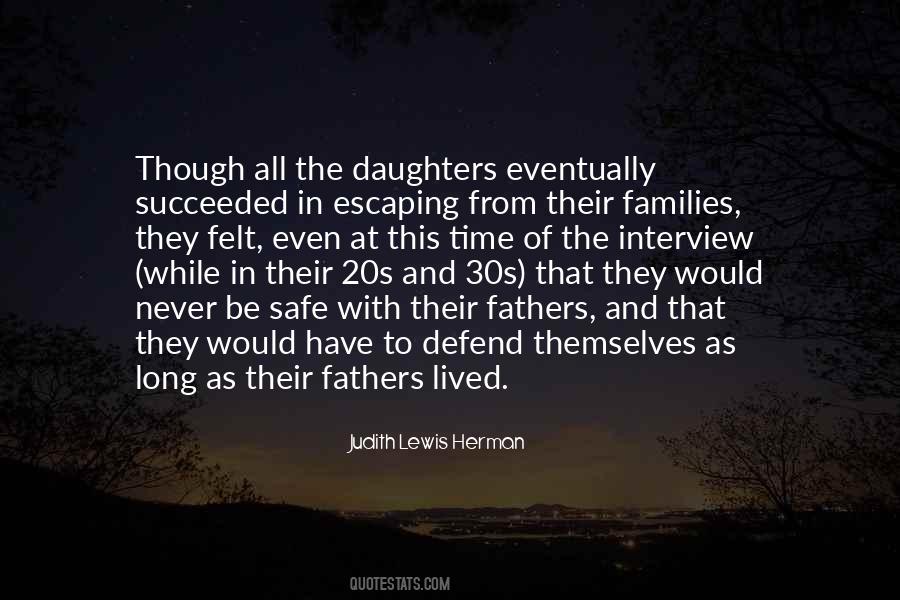 #25. I have family obligations and all that stuff. I get my kids six weeks in the summer, which is a real intense period of time. I'm with them every minute of the day. - Author: Tom Berenger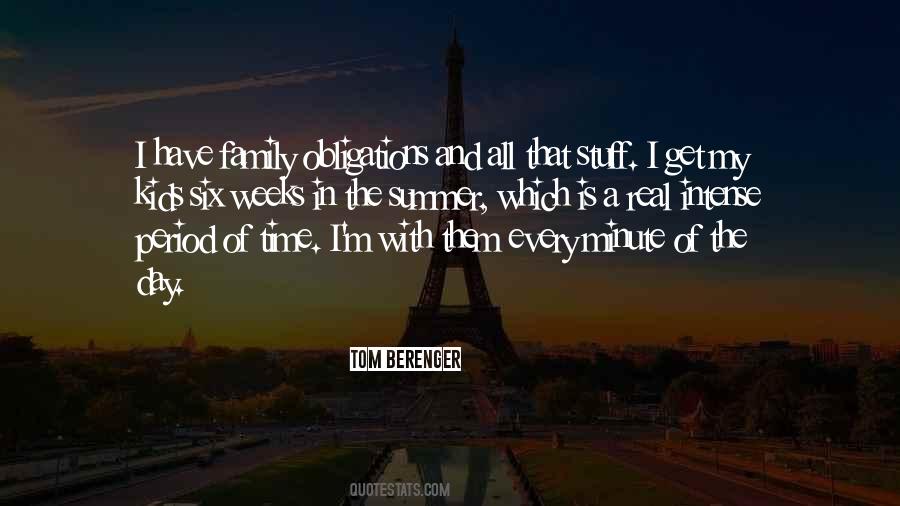 #26. Some surveyors live for the work, putting in weeks or months at a time in remote locations. With a young family and hobbies that I'm passionate about, that isn't the path I've chosen. Like in many careers, you need to make your own decisions and follow your own path. - Author: Mark Mason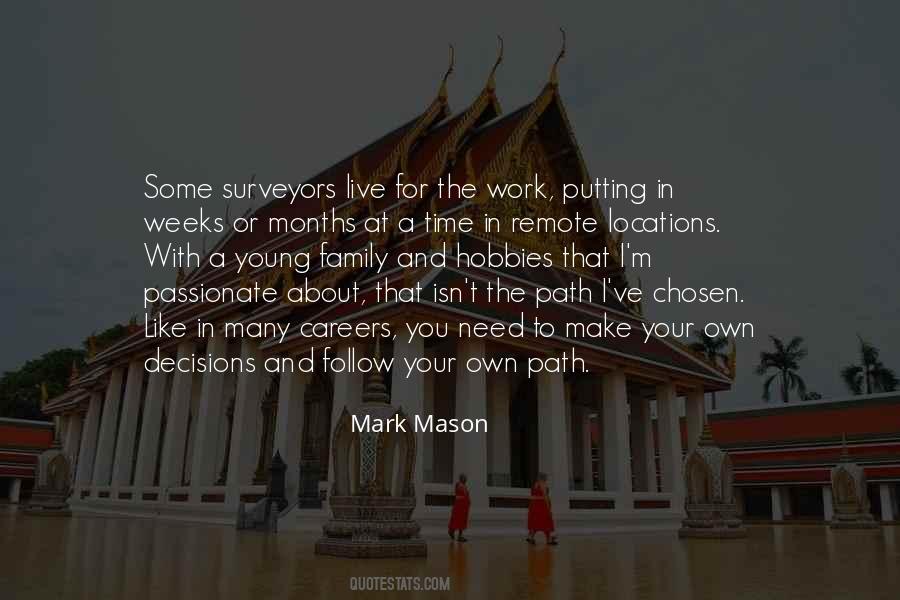 #27. My father was a painter. There was a lot of singing. We hung around with a lot of folk musicians. My family knew a lot of great folk musicians of the time, like Woody Guthrie, Paul Robeson, Leadbelly. They were all people we knew. - Author: Alan Arkin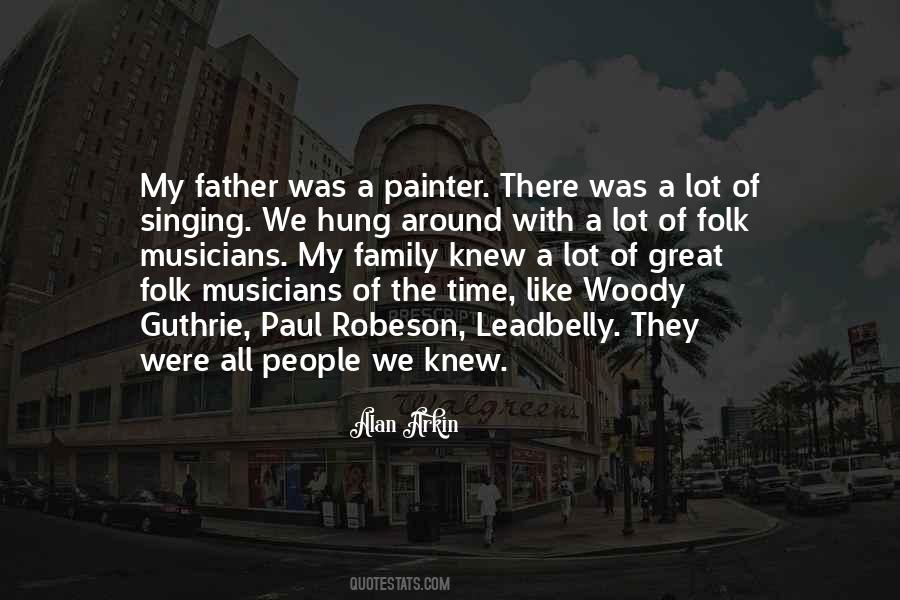 #28. Reading with my children is incredibly important to me and a wonderful way to spend time together as a family, exploring magical worlds through books and stories. - Author: Frank Lampard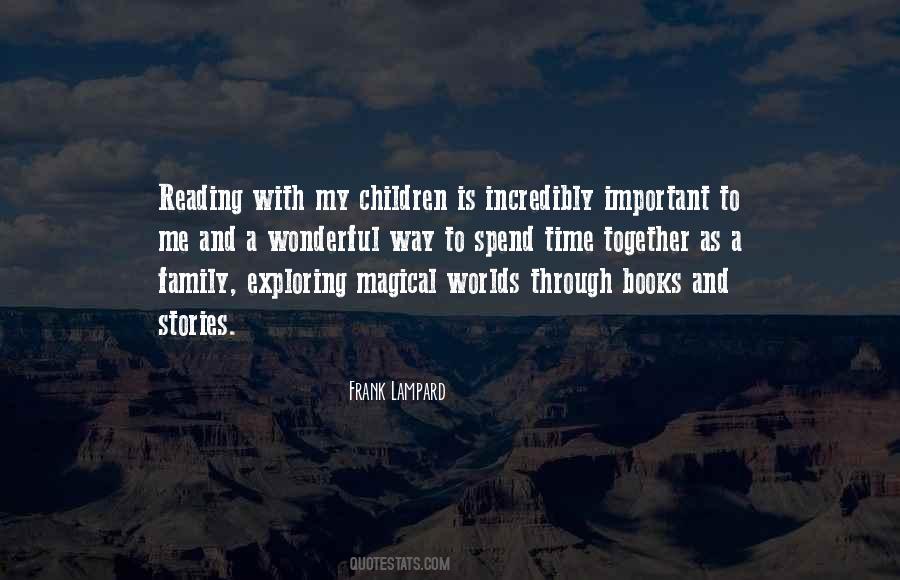 #29. We easily become trapped in the 'someday' mentality. Someday I'll have all the money I need to enjoy life. Someday I'll be able to spent more time with my family. Someday I'll have time to relax and do what i love doing. - Author: Nick Vujicic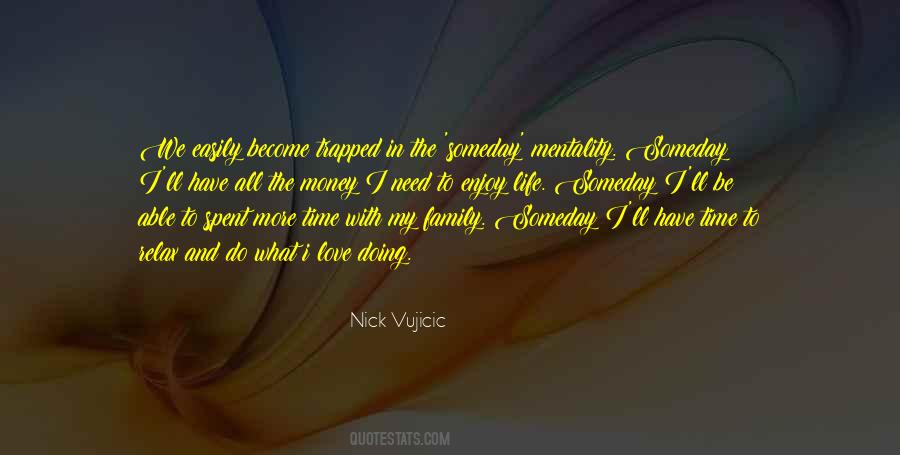 #30. If you should choose to look at those files, you will have to live with the consequences of your choices while, at the same time, being mindful that these choices will not only effect you, but will also infect, sorry, I intended to say effect, our entire family. - Author: Donna K. Childree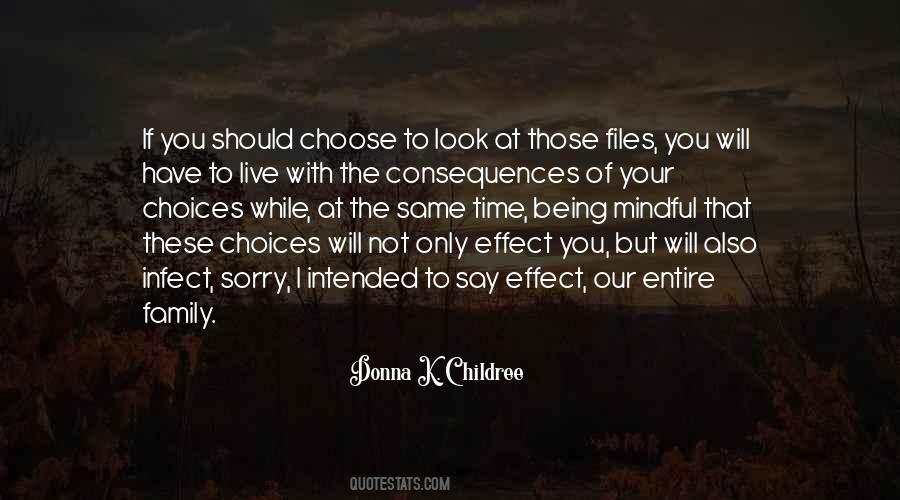 #31. Dad was a very gentle, sweet man. Mum was the matriarch and the patriarch of the family. She ran the roost with a steel fist, but at the same time there was respect and love for her. - Author: Tony Scott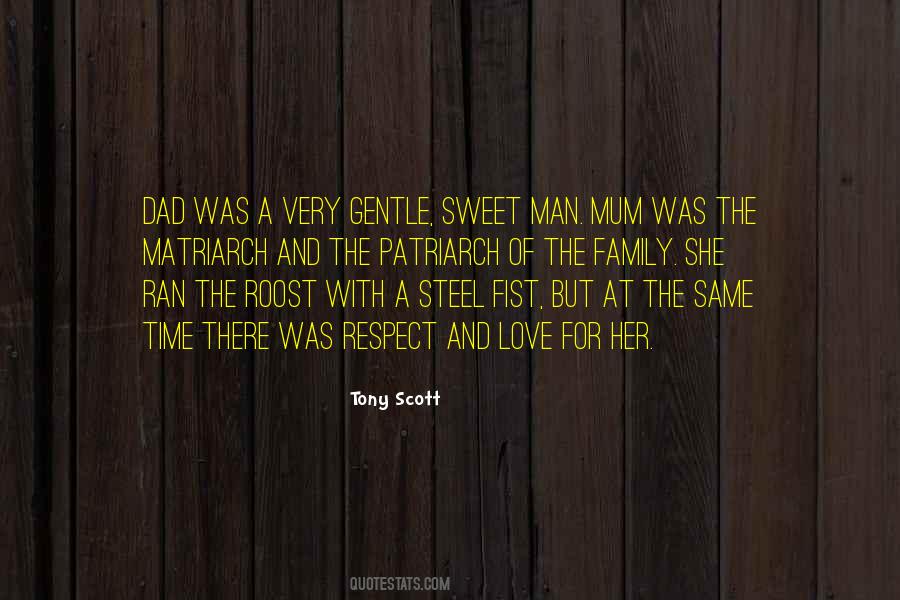 #32. More than anything, having adventures with my siblings and spending time with my family and my husband make me happy. - Author: Daphne Oz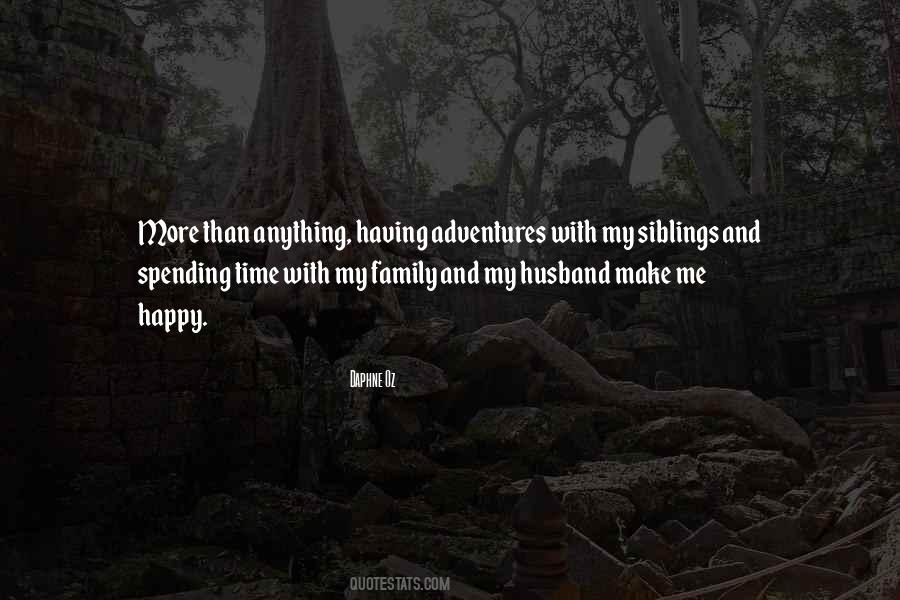 #33. My restaurants are never opened on Thanksgiving; I want my staff to spend time with their family if they can. My feeling is, if I can't figure out how to make money the rest of the year so that my workers can enjoy the holidays, then I don't deserve to be an owner. - Author: Michael Symon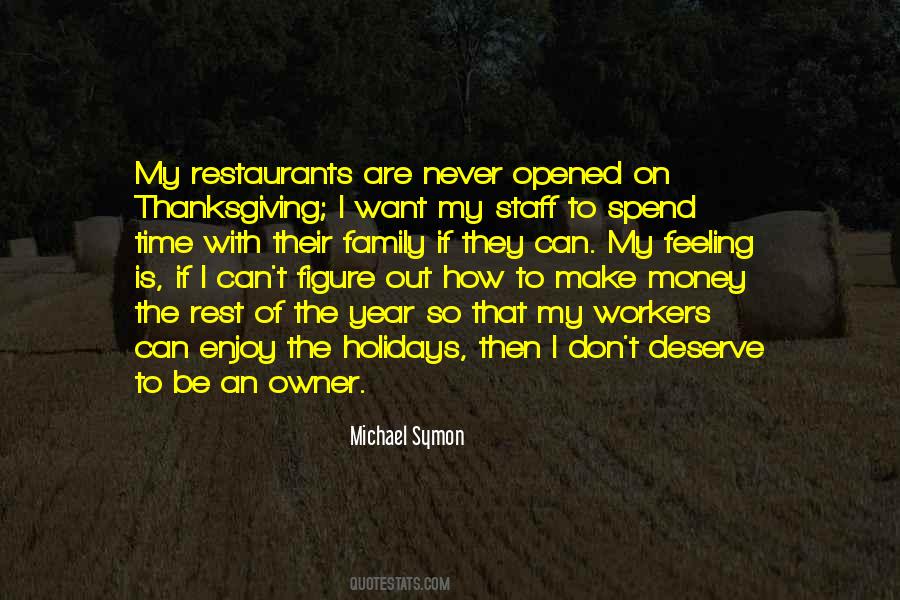 #34. I spend most of my time at the ranch with my family, and enjoy life - watch the sun come up, watch it go down, thank God for another day, and just be happy. - Author: Marcus Luttrell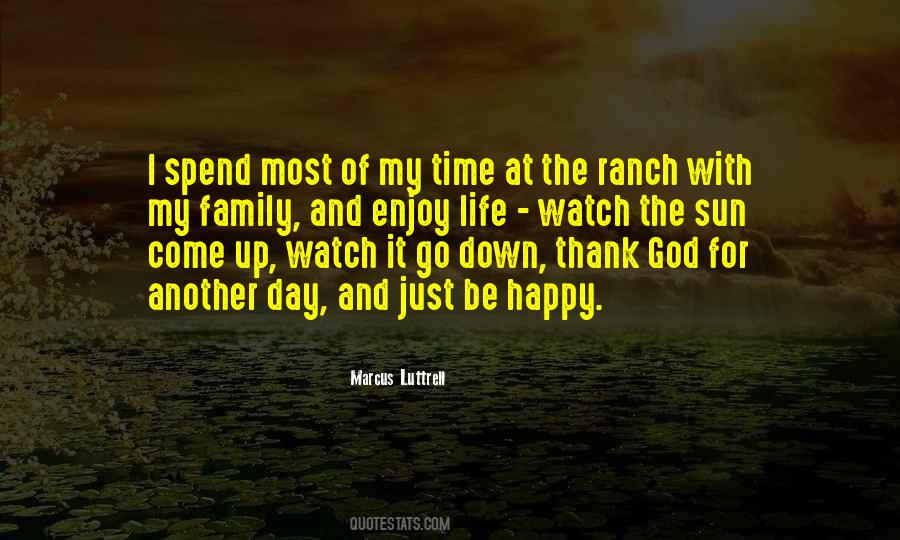 #35. I'm a pretty boring person. I have a dog that I love, and friends that I love, and a family that I love. I'm just trying to spend as much time with them as I can. - Author: Anne Hathaway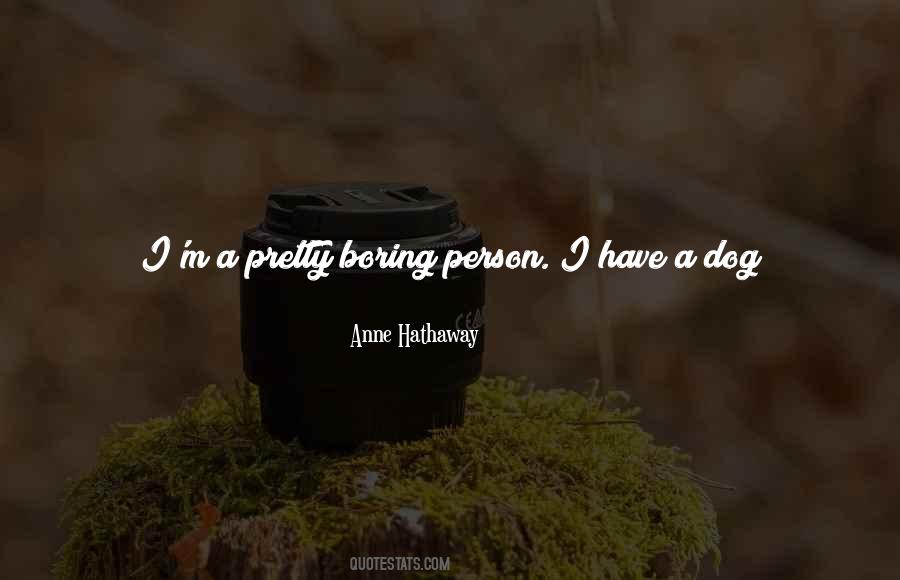 #36. I enjoyed coming home to Crown Heights. There was a certain order to life there. You know, Shabbos, spending time with your family, eating and being in 'shul.' Prayers at nighttime, prayers in the morning. Everyone knows everybody; you walk your kids everywhere. - Author: Matisyahu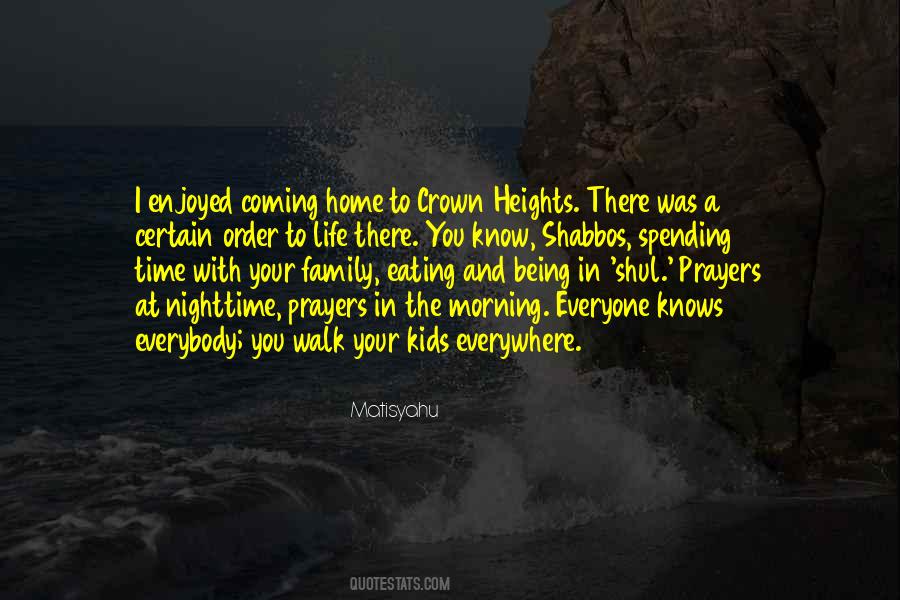 #37. With This Time Lost, Comes Time To Spend.
To Spend On Love, Friends, Family, And Most Of All..
Time To Spend On Life. - Author: Jesse Holdeman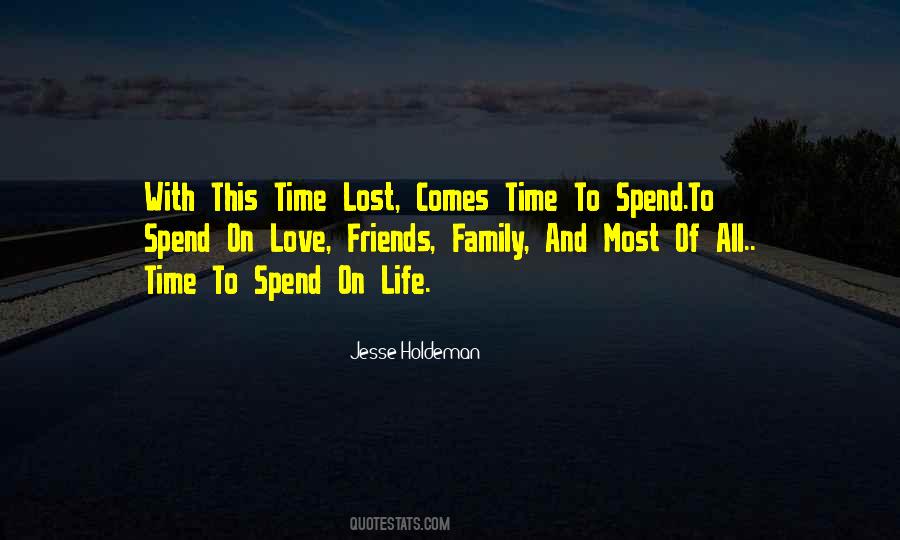 #38. I like to spend time with my family. The majority of my time is spent in London, but I do like to escape and spend time with them in my hometown of Brighton on the south coast. - Author: Katie Price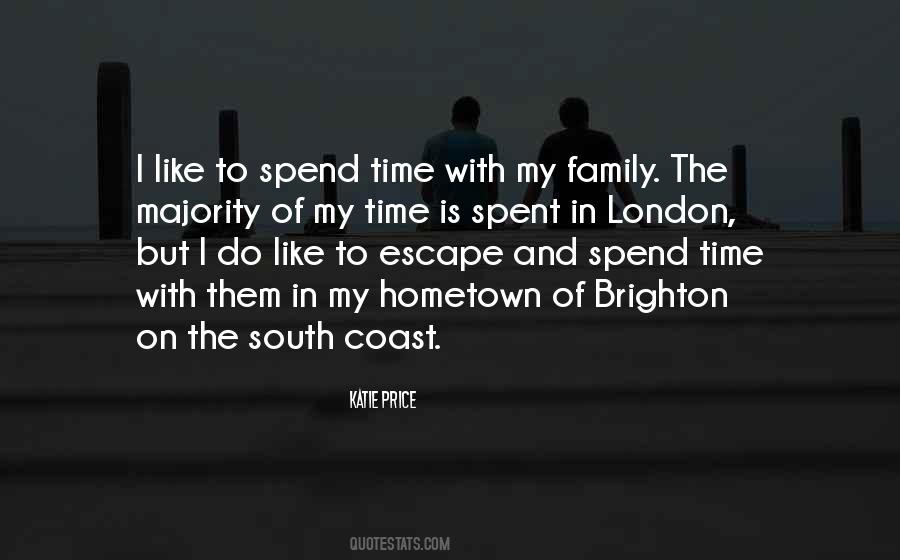 #39. And she didn't once say anything about this being a sin. It used to be I got the word sin slapped in my face every time I did something wrong, but come on, when you live in a sin-free family with sin-free parents and a sin-free sister, well, you can't help but sin a little extra on their behalf. - Author: Han Nolan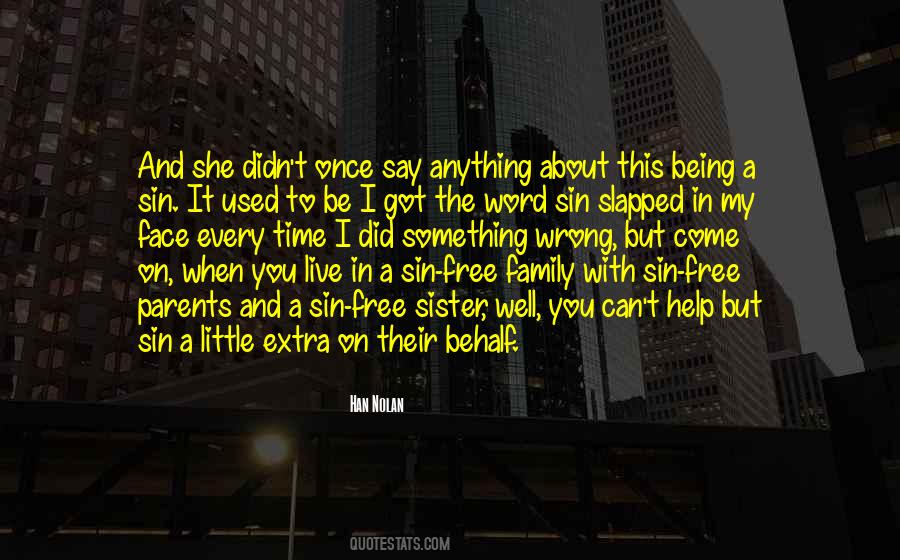 #40. If I'm not working, I have home time with my family, and if I spend that stressing what's going to happen next, then it's a waste. I have a lot to be thankful for. - Author: Ewen Bremner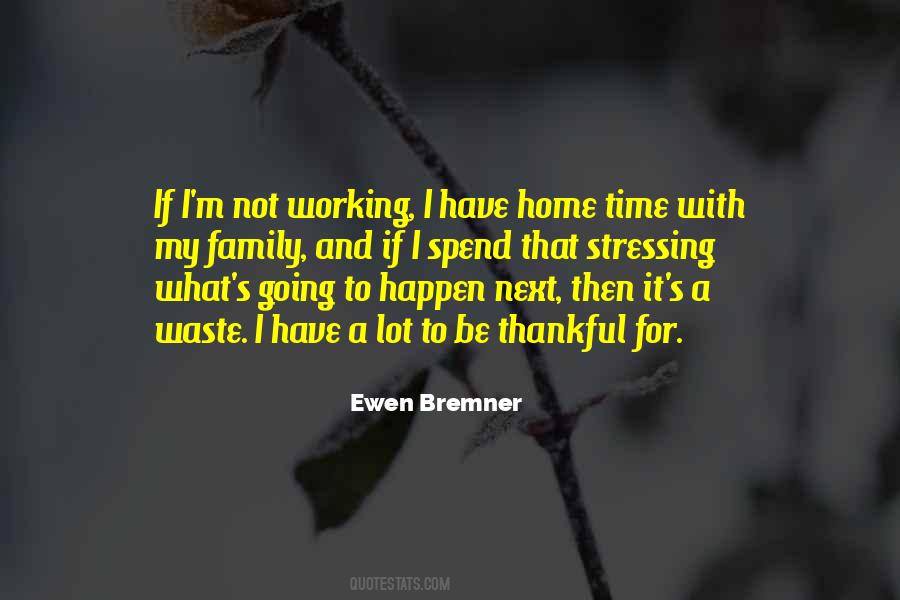 #41. When I was a kid, there was unhappiness in my family - was dealt with partly by escaping to television. And from a very early age, for whatever reason, I became scornful and resistant to and angry about that. And some other time in my life, I realized that there's a lot I loved in television. - Author: Robert Pinsky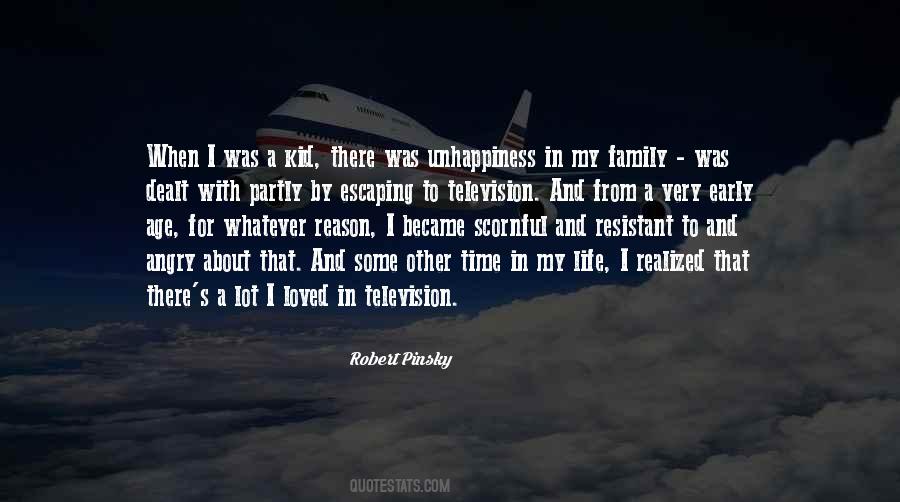 #42. I have time only for cricket, and when I am not playing, I love to be at home, chat with my family, do puja with them, call for some yummy paani puri, etc. Also I love to cook. I can make dal, sabji and chicken! But, at home everybody's a vegetarian, so I can't cook non-veg at home! - Author: Suresh Raina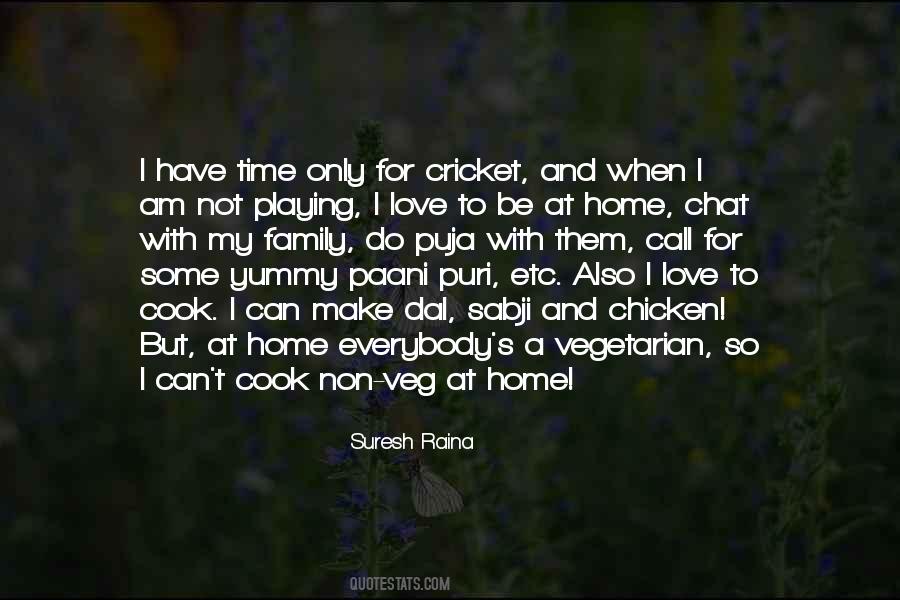 #43. With a novelist's sense of drama and a historian's understanding of the social forces that shape our lives, Tom Gjelten has captured vividly
through the chronicle of a powerful family's fortunes
one of the great political dramas of our time. - Author: Ronald Steel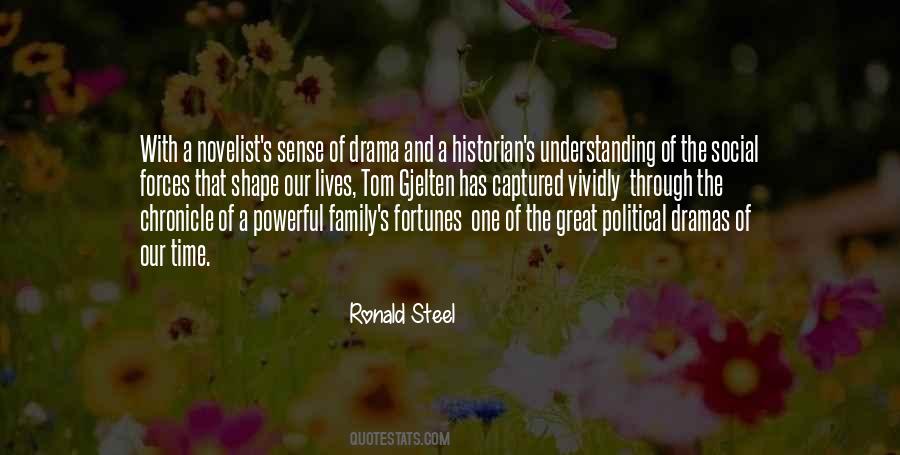 #44. The best part of aging in this business is losing that obsession about work and being able to spend a little more time with family. - Author: Clint Eastwood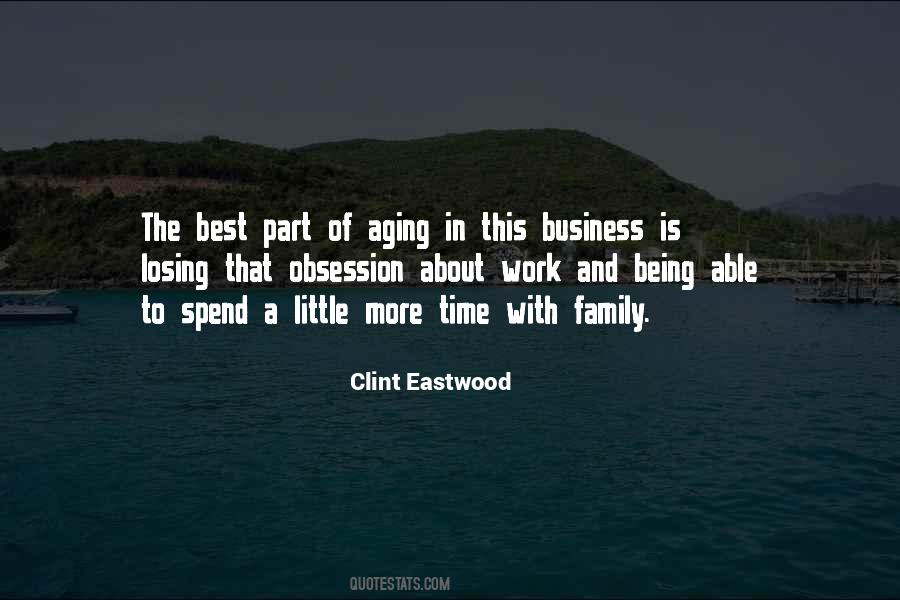 #45. Every recording session and tour is a very valuable time to me in terms of getting to spend time with the musicians - whether they're friends and family or people I've just met - because I don't have a job where I get to interact with people everyday. - Author: Will Oldham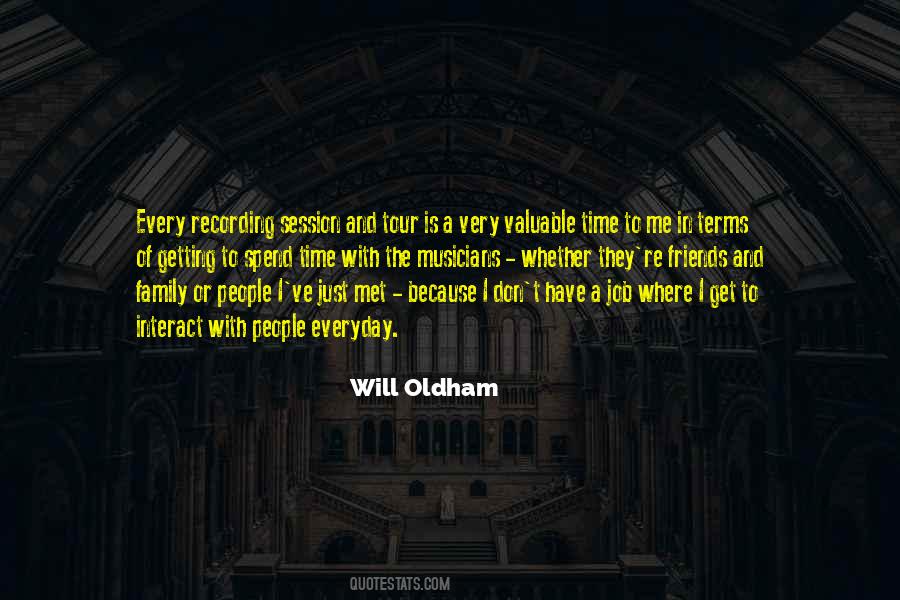 #46. My motivation has to do with what happened to my family. I want to help young people make important decisions at the most important time in their life. If I didn't do this, it would be like my kids died in vain. I want to help them make the right decisions. - Author: George Chuvalo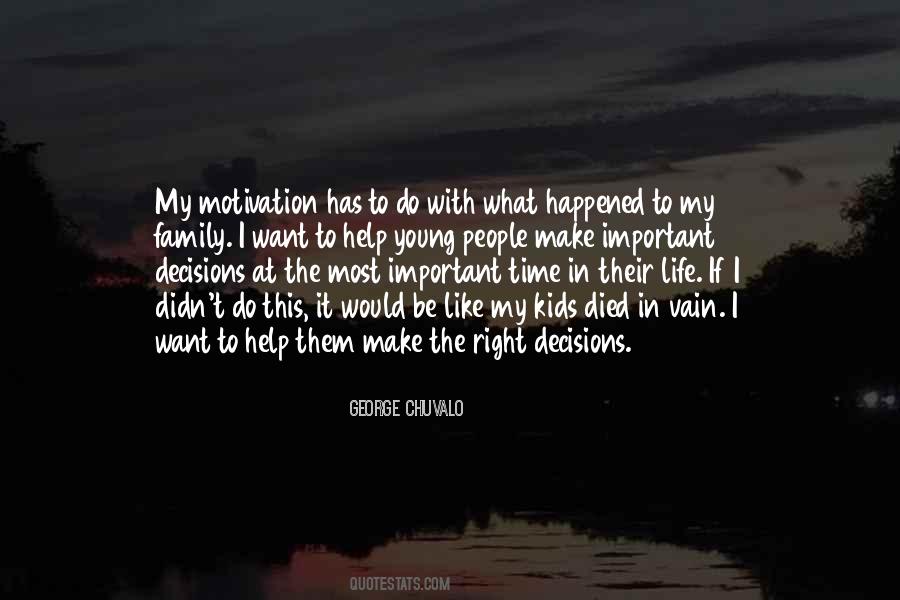 #47. If you're truly in a band and you guys have been together for a long time, there's a family bond that you have. In fact, I've talked about this with therapists, especially if you're talking about a relationship, because when you're with somebody, you're going to your family, and she's alone. - Author: Gary Allan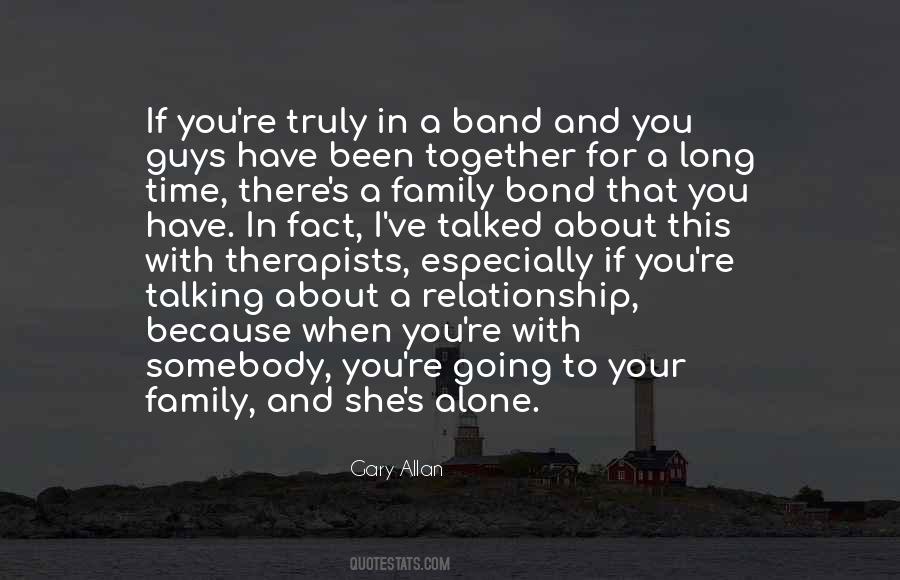 #48. There's also, I think more so in the music business and especially for women, this ceiling that people put on you if you have children or a family and decide to spend time with them. - Author: Juice Newton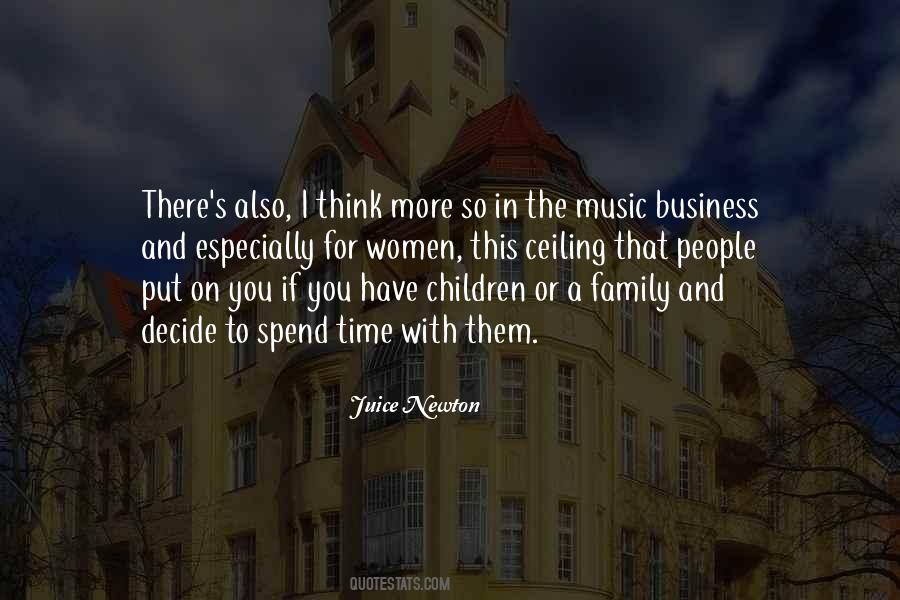 #49. My family life is incredibly important to me. I want to be with them as much as I can. I try to work in New York, or I work in the summer time when my family can come with me. - Author: Julianne Moore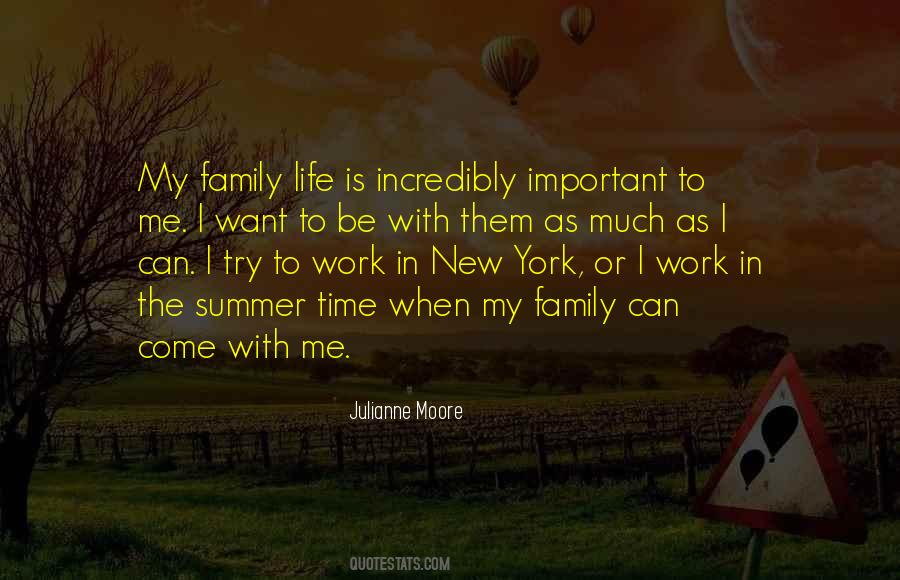 #50. My mother was madly adventurous. My father was an actor - he worked with Gielgud - and my mother came from a very wealthy family. She definitely wasn't meant to marry an actor, but she eloped with him one lunch-time. - Author: Francesca Annis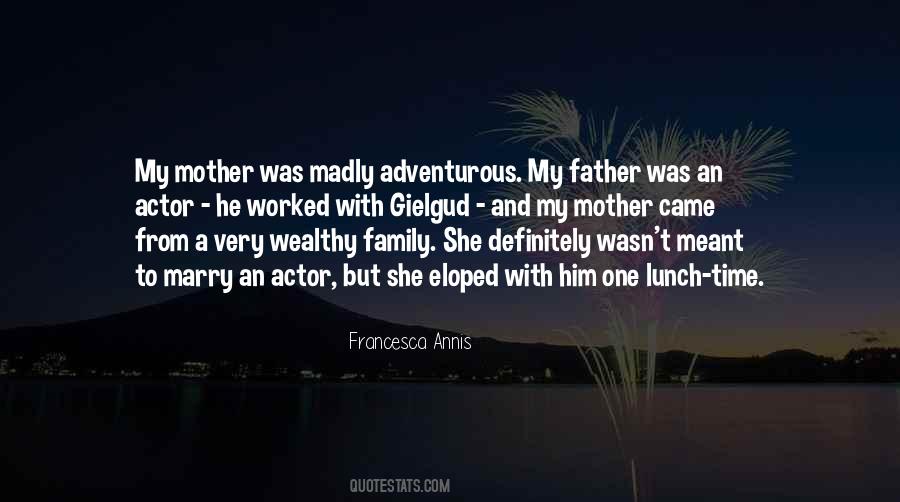 #51. Father always said that money doesn't grow on trees. Well, time doesn't grow on trees either. - Author: Richelle E. Goodrich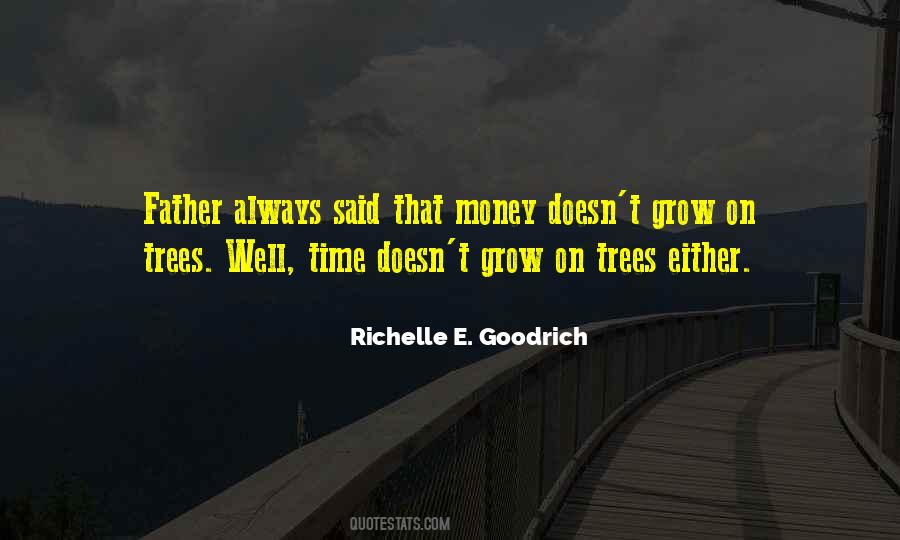 #52. My family and I are so close, it's important to have a close knit relationship and to make time to spend with each other, especially at the holidays. - Author: Gia Coppola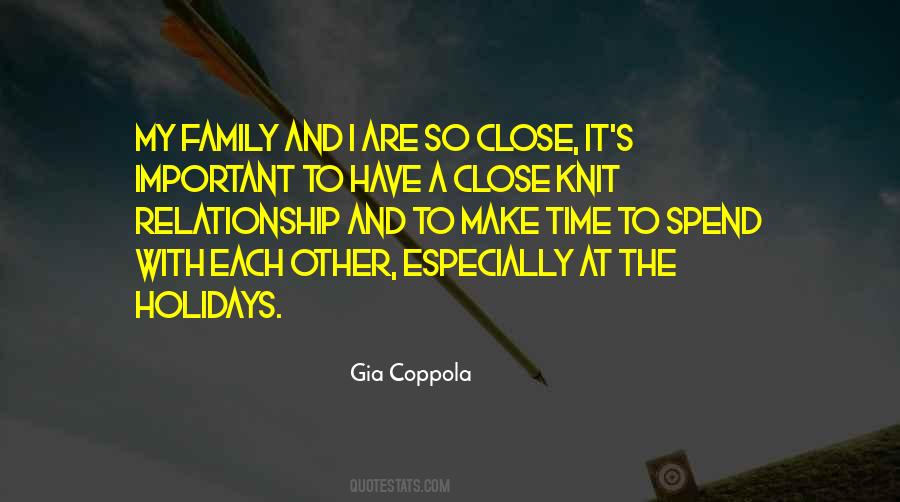 #53. Film is a much lonelier process than theatre. You really don't have any rehearsal time in film. You don't shape it together ... with theatre, there is a complete kind of family atmosphere. The sociable side of this business is the theatrical side, it really isn't the film side. - Author: Keira Knightley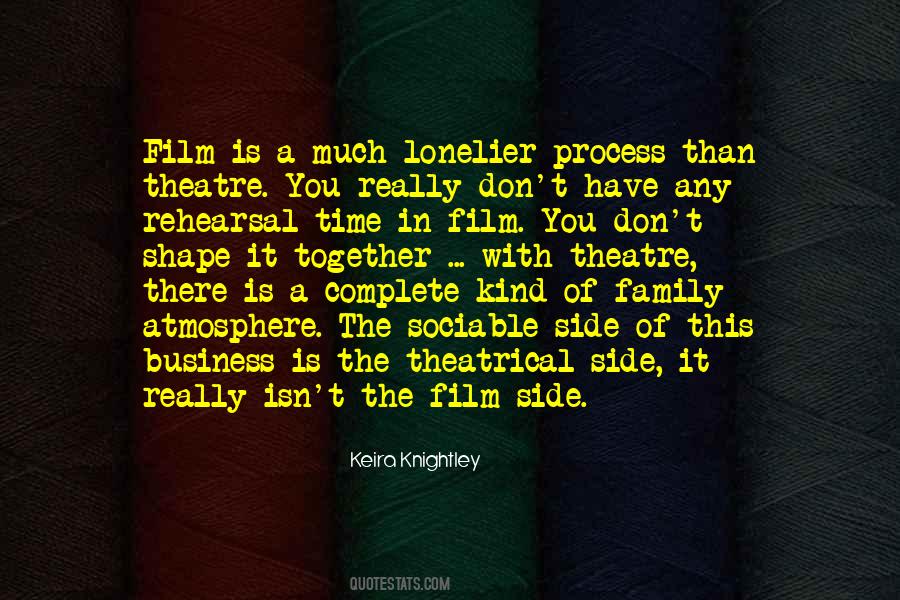 #54. 'Billy Elliot' prides itself on being a family show, and it made sense to specifically cater to a family audience with an earlier evening curtain time. - Author: Eric Fellner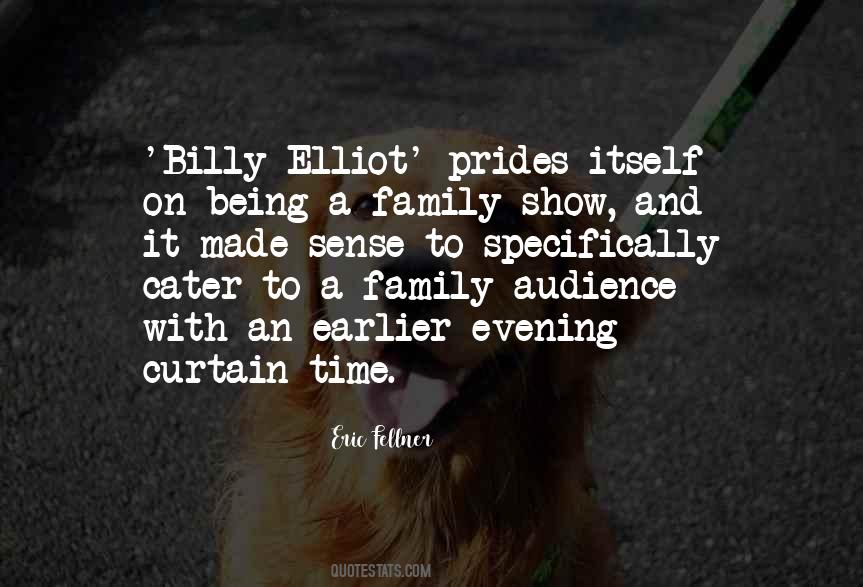 #55. Aaron Spelling always had his finger on the pulse of pop culture, he knew what the public wanted to see. He was one of the most loyal men in this business and believed in me at a time in my career when no one else would. My prayers are with his family. - Author: Alyssa Milano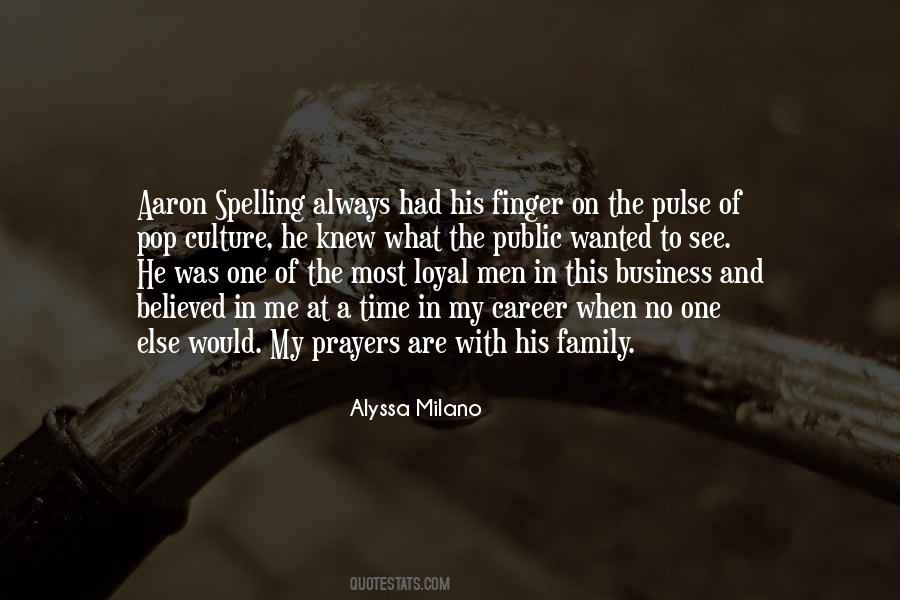 #56. After 4 years on NYPD Blue it has been nice to have the summer off and spend time with family and friends. There are a few projects I am interested in and plan to be working this fall. - Author: Mark-Paul Gosselaar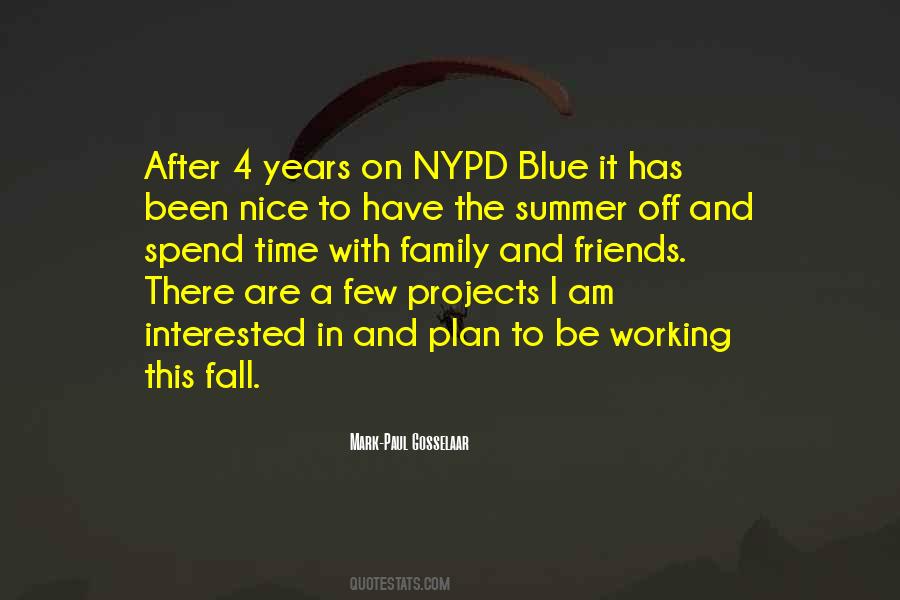 #57. My oldest son started to like 'South Park' and 'Family Guy,' so we'd watch together so I could spend time with him. - Author: Scott Bakula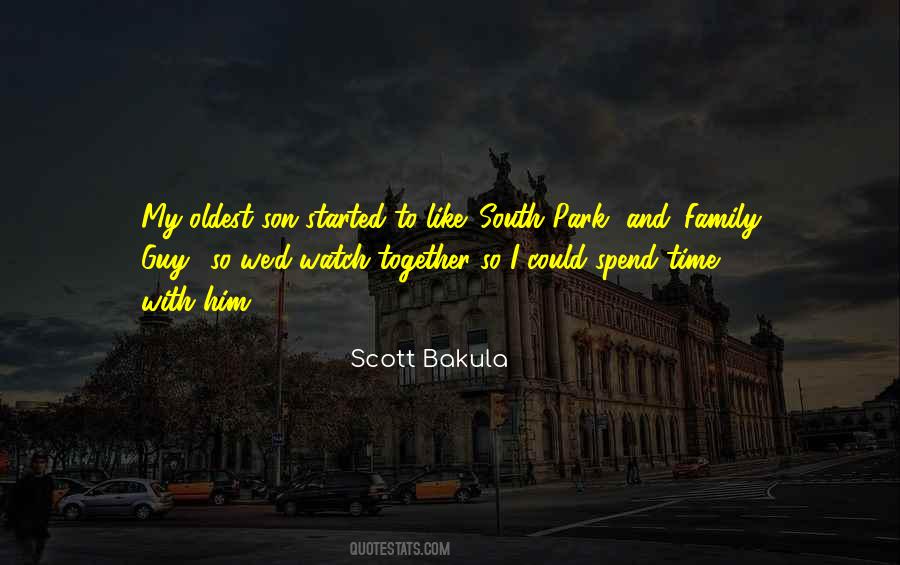 #58. No government can love a child, and no policy can substitute for a family's care. But at the same time, government can either support or undermine families as they cope with moral, social and economic stresses of caring for children. - Author: Hillary Clinton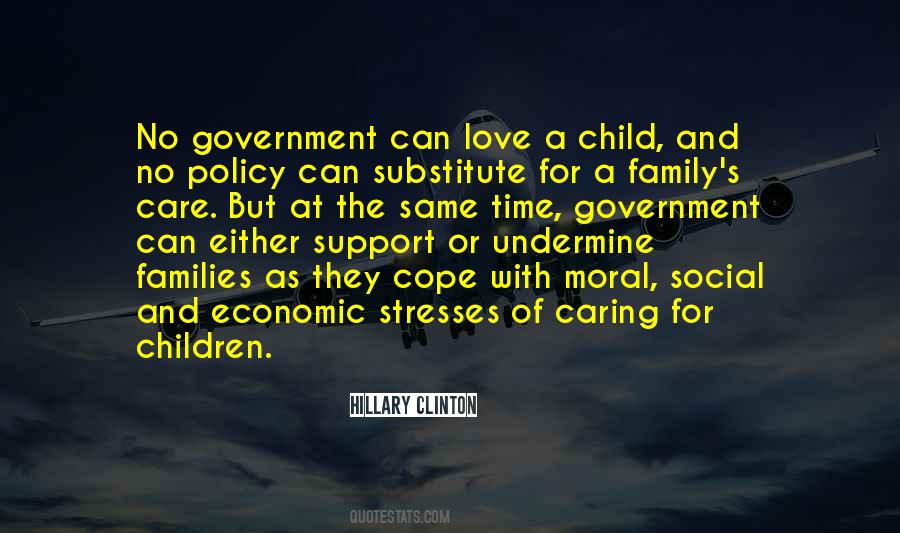 #59. I've spent a great deal of time over the past decade as a caregiver for various family members. It gives me a perspective on the struggles that many New Yorkers face with illness, disability, health care, insurance difficulties, and trying to work with and also take care of family members. - Author: Wendy E. Long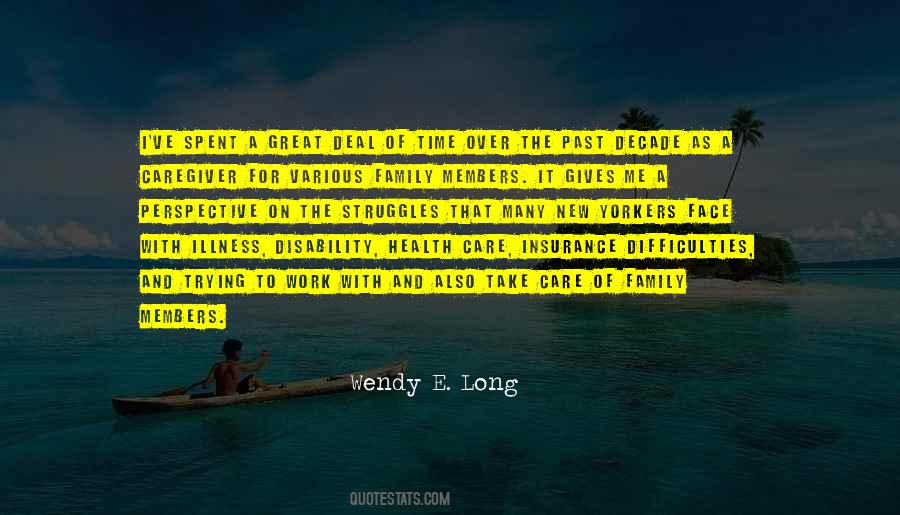 #60. Personal differences, musical differences, business differences, but most of all because I have a better time with my family. - Author: Paul McCartney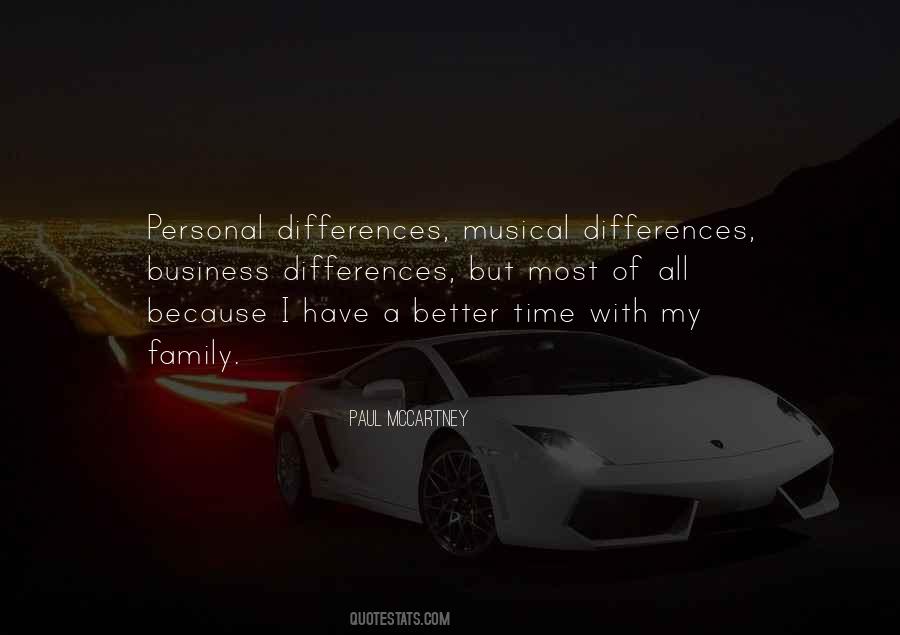 #61. Life has a way of filling up one's time with many different things to do. So much so that you turn a blind eye to the things that really matter. - Author: Innocent Mwatsikesimbe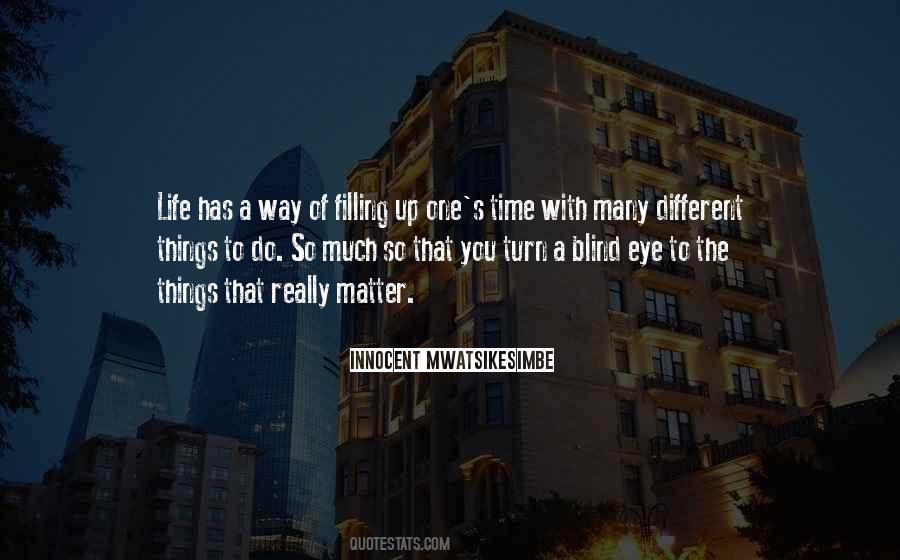 #62. I keep thinking about all the time away from my family this will cause, and the time away from the other family at Pixar," Jobs said. "But the only reason I want to do it is that the world will be a better place with Apple in it. - Author: Walter Isaacson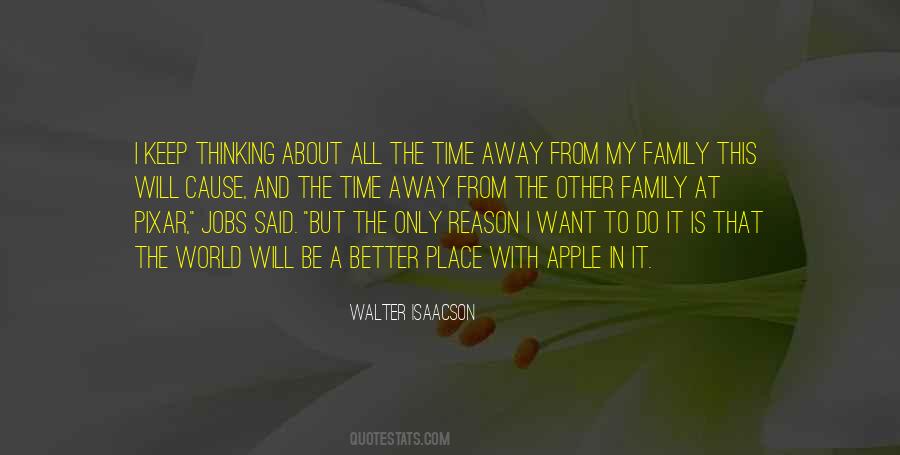 #63. I had some really dear friends who died from AIDS-one in particular. His family wasn't around and he didn't have many friends. I spent a lot of time with him in his later days. - Author: Ed Harris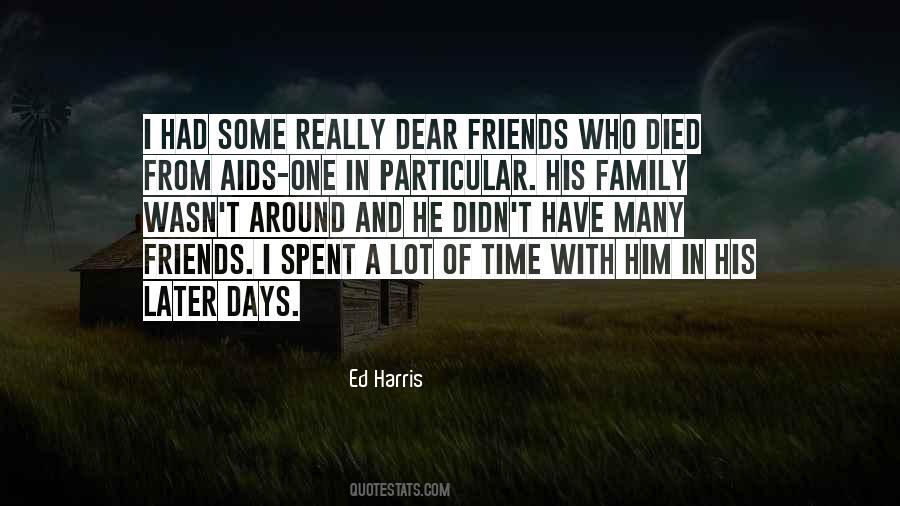 #64. I think if you do not enjoy your time, your life, if you do not live intensely and do not spend time with your family, in one way or another it will be reflected in your career. - Author: Novak Djokovic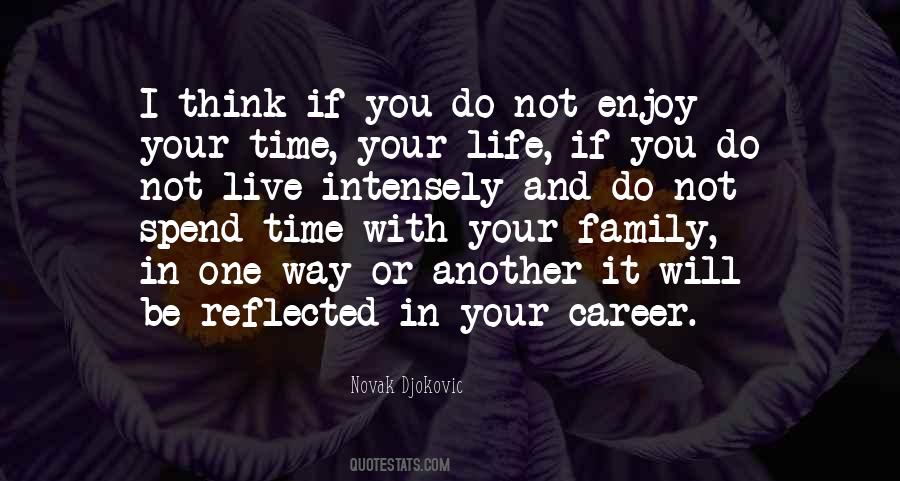 #65. I spend a lot of time with my family. I go to bed early, don't watch too much television, don't read everything that's written about me whether positive or negative. - Author: Heidi Klum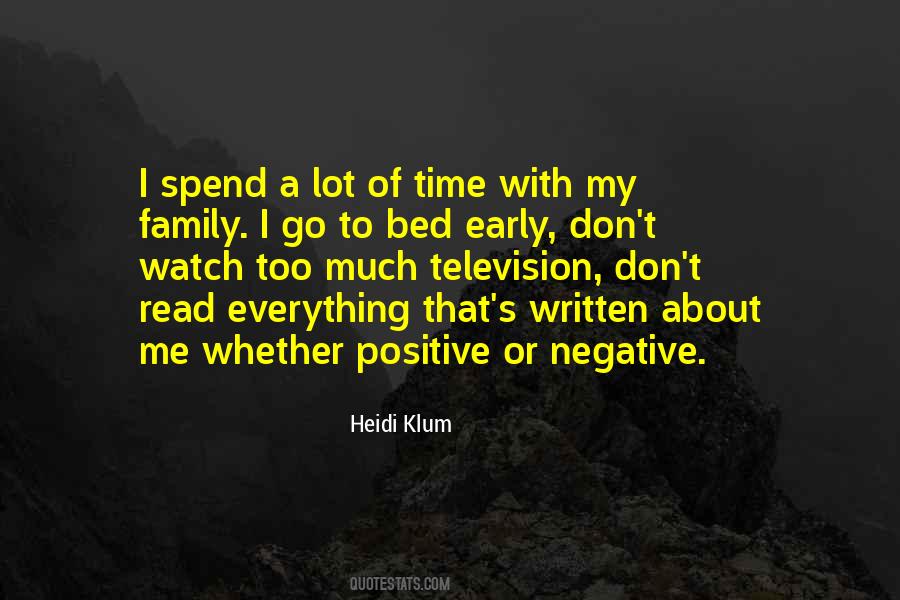 #66. I play in bars all the time in the States, so I'm kind of used to it. I've just got off the road with the family in Australia, and I enjoyed it but it feels really good to be getting back to doing this stuff. - Author: Martha Wainwright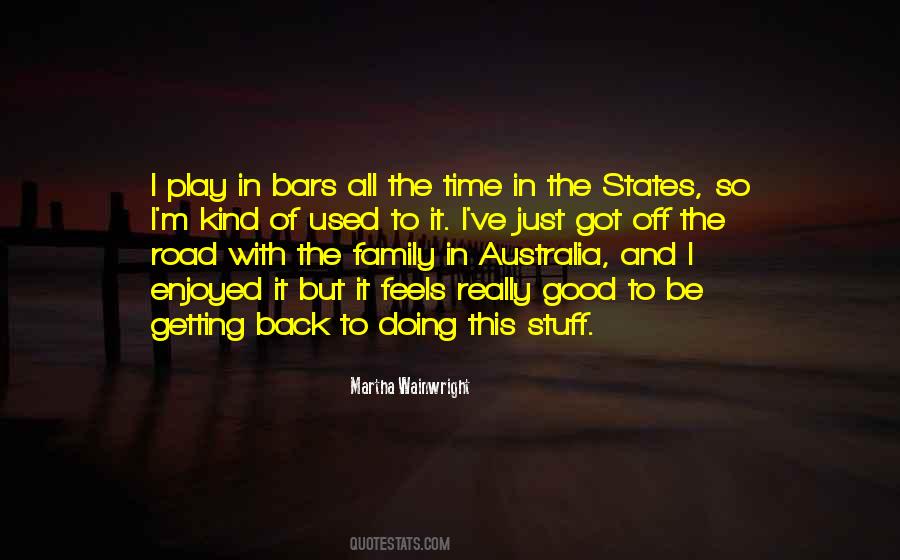 #67. I'm starting to judge success by the time I have for myself, the time I spend with family and friends. My priorities aren't amending; they're shifting. - Author: Brendan Fraser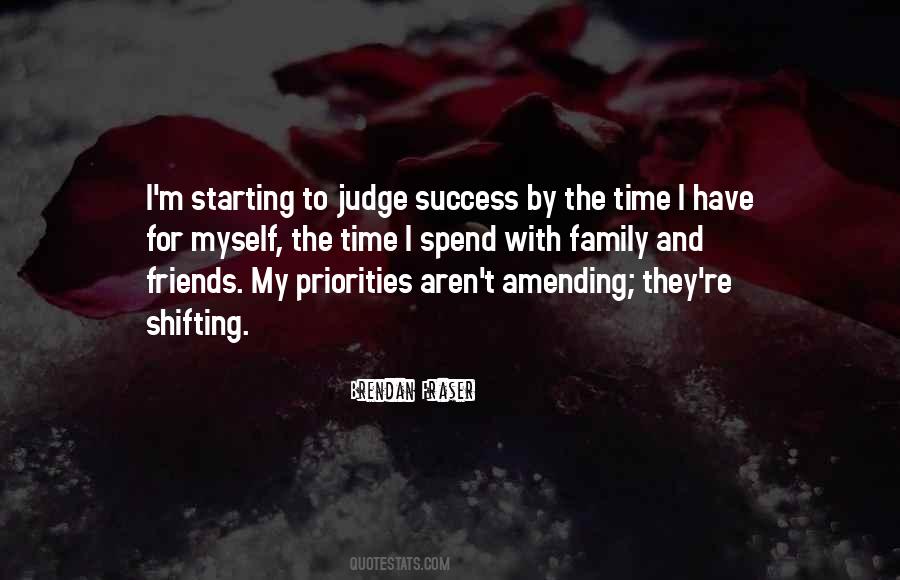 #68. I love to get home and hang out with my family. My brothers and I love spending time at the beach. I enjoy doing all kinds of surf sports and keeping healthy. - Author: Samantha Stosur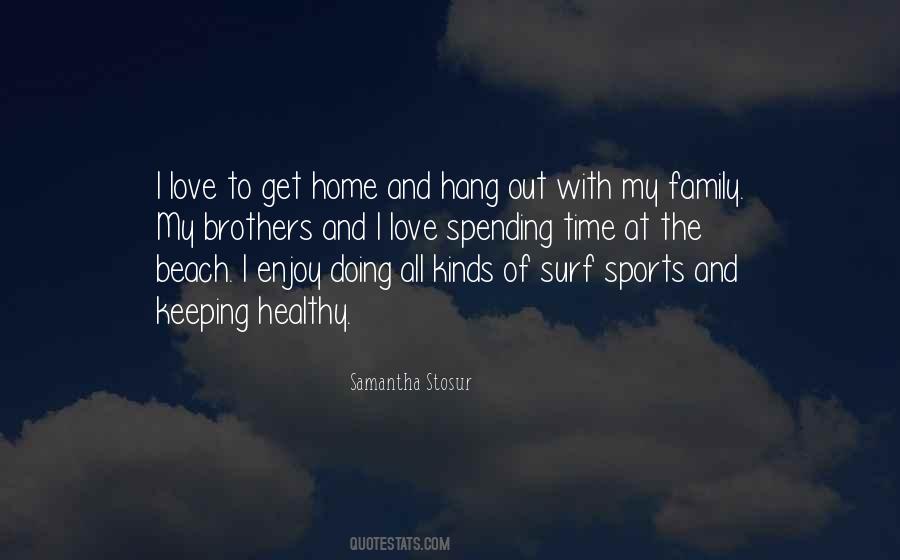 #69. She was few inches taller than him and when for the first time her promising eyes met with his, he knew it would be more than friendship. He was too young to name that feeling then. But love...above all relationships knows no age. - Author: Viraj J. Mahajan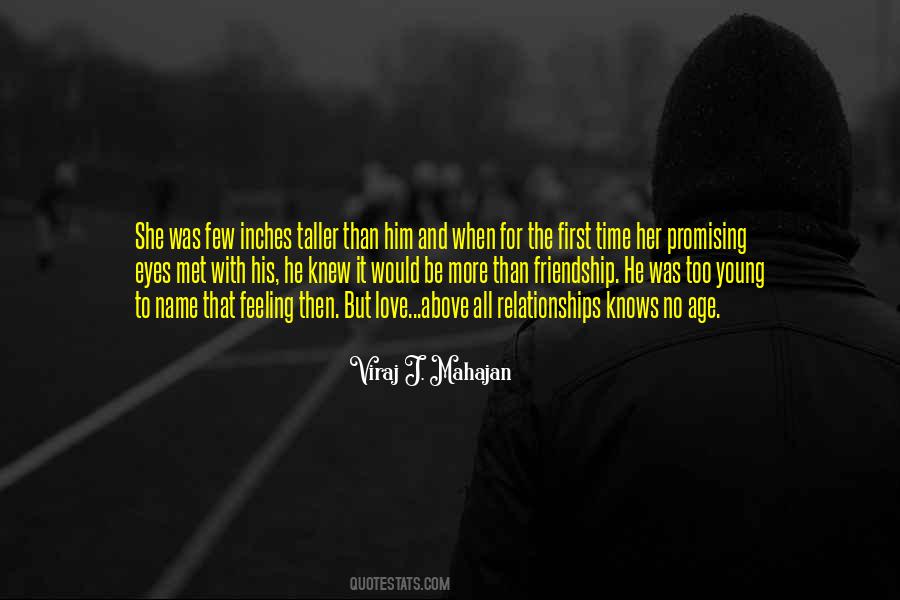 #70. I'm not a showbiz person. I just enjoy talking nonsense on the radio. I'm not bothered about going to clubs or the paparazzi, I genuinely prefer my neighbours. Spending time with my family and watching Coronation Street are what I love best. People are just people, aren't they? - Author: Tony Blackburn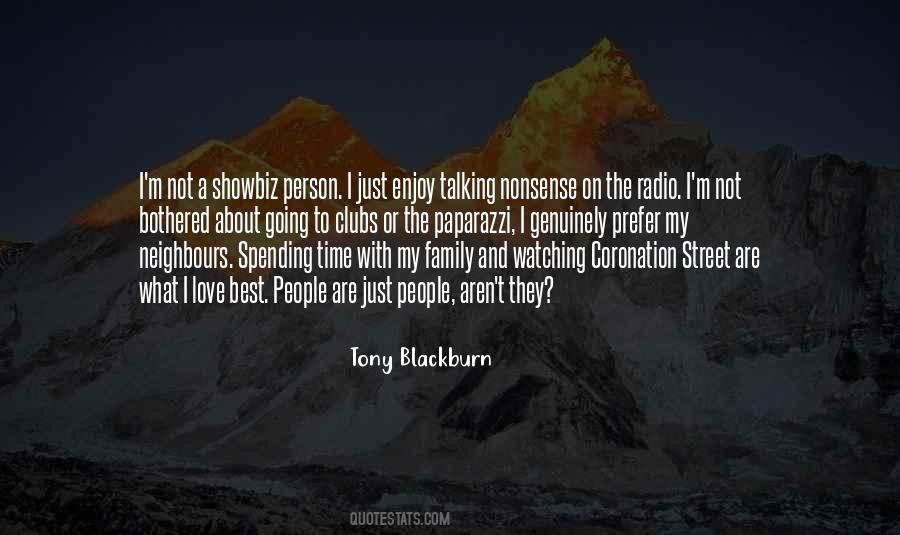 #71. Keep playing games. Make time to play games with your friends and family, because it's surprisingly heartbreaking to wipe a thin layer of dust off a game you love, before you put it back on the shelf because the real world is calling you. - Author: Wil Wheaton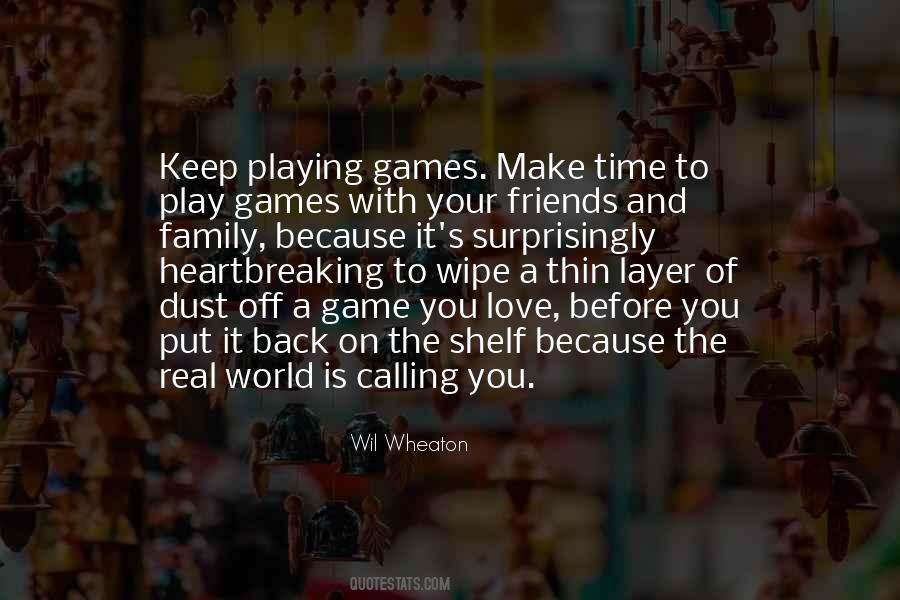 #72. Today, smartphones, tablets, and the Internet have allowed people to conduct business from anywhere at any time. But as we continue to progress, many families find it harder to balance the ever-increasing demands of their work with their desire to care for and be with their family. - Author: Renee Ellmers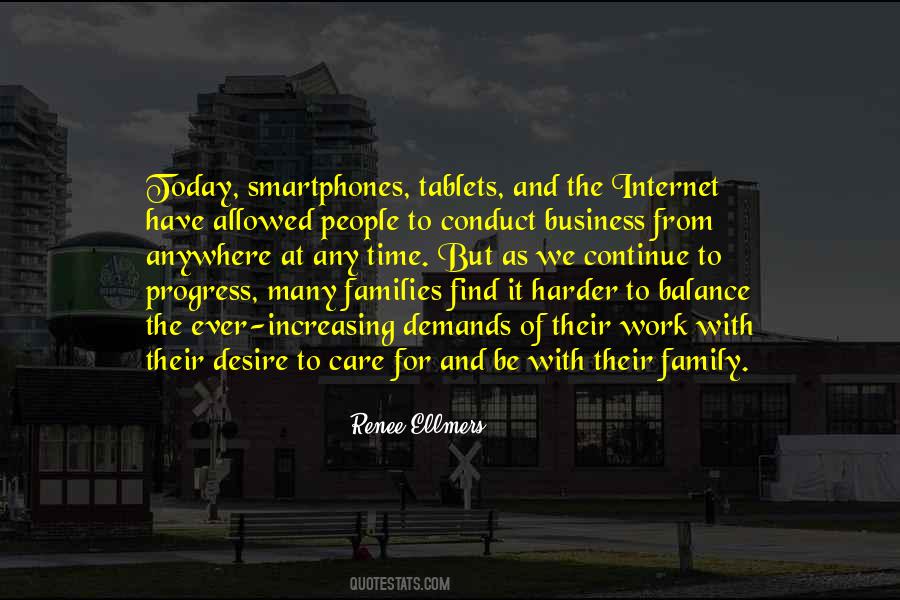 #73. I came from a lower-middle-class postwar family in a time of austerity and retrenchment, with no one in the family who was in any way artistic or a potential mentor to a budding writer, and yet this is what I became. - Author: Graham Swift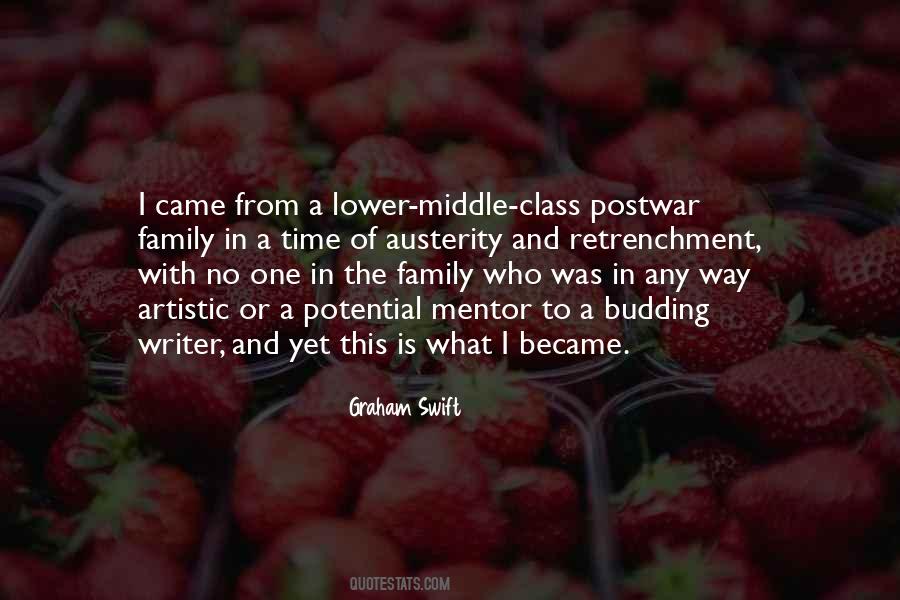 #74. I toured for about 2 1/2 years on twentythree and then I took about a year off. I really just spent some good quality time by myself at my house, cooking, watching movies, hanging with my friends, and family. I just really needed a chance to get away from the music for a minute and decompress. - Author: Tristan Prettyman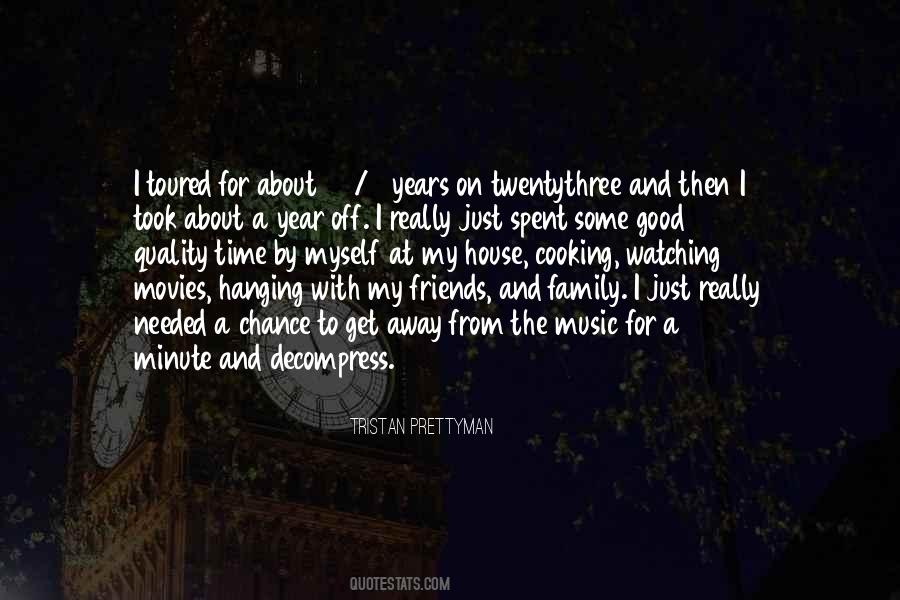 #75. Pre-season isn't just about conditioning but also getting used to each other as a team and a group of men. You spend more time with these people than you do your own family. Pre-season is the time we get used to each other and work out how people work. It can be a lot of fun. Hard but fun. - Author: Colin Kazim-Richards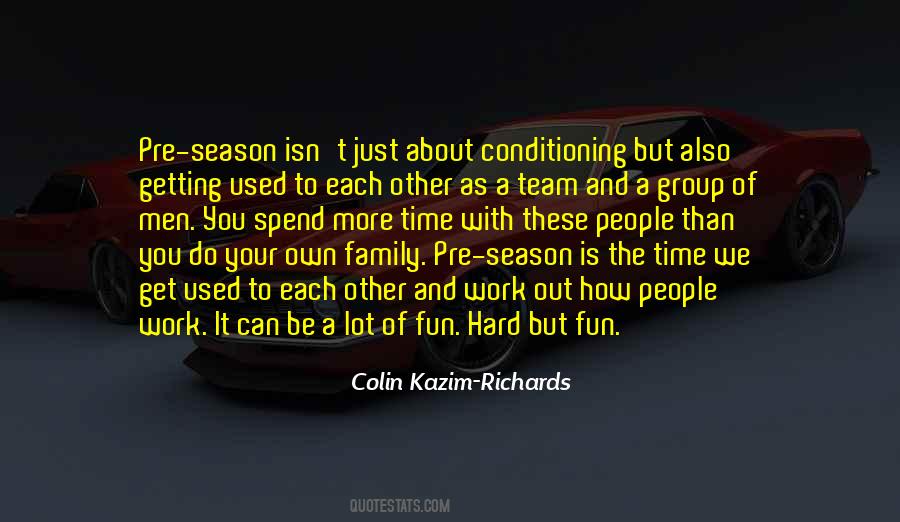 #76. You can kiss your family and friends good-bye and put miles between you, but at the same time you carry them with you in your heart, your mind, your stomach, because you do not just live in a world but a world lives in you. - Author: Frederick Buechner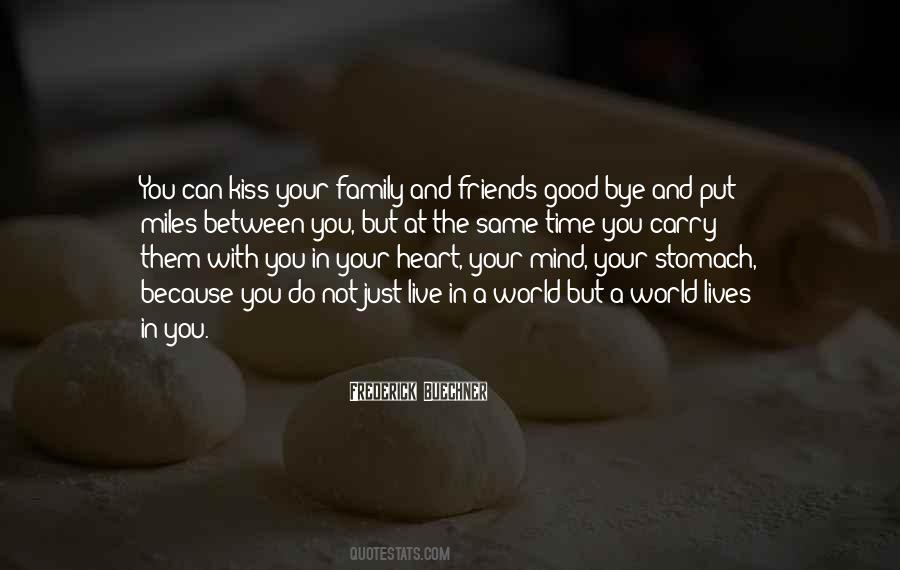 #77. The changes that have occurred in poetry have been minor when you look at it over the scale of human time. It's like a rose, maybe a hybrid with color and size differentials, but the same genus, plucked from the same original blowsy family. - Author: Dorianne Laux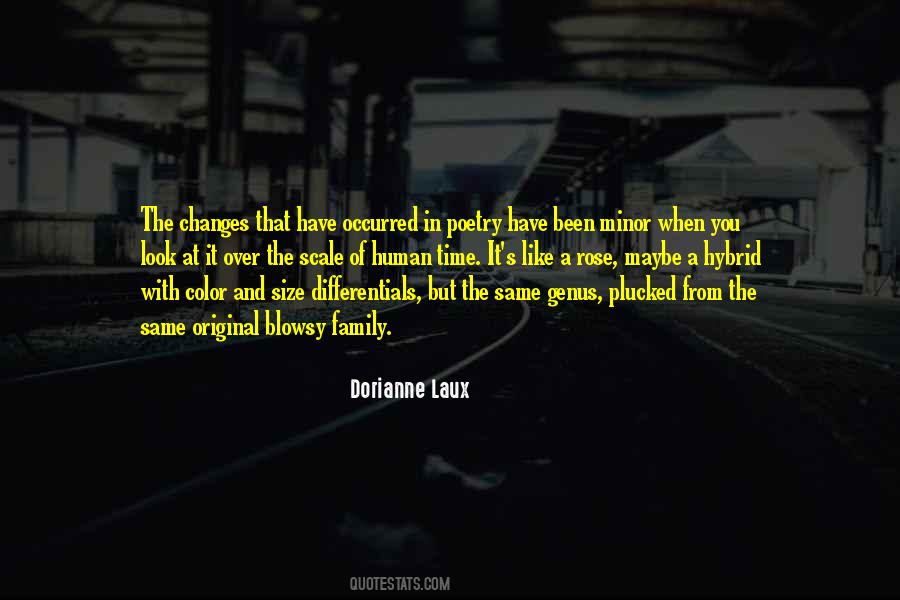 #78. Since I'm always working, my best holiday memories are definitely when I can just go home and spend time with my family. - Author: Chris Brown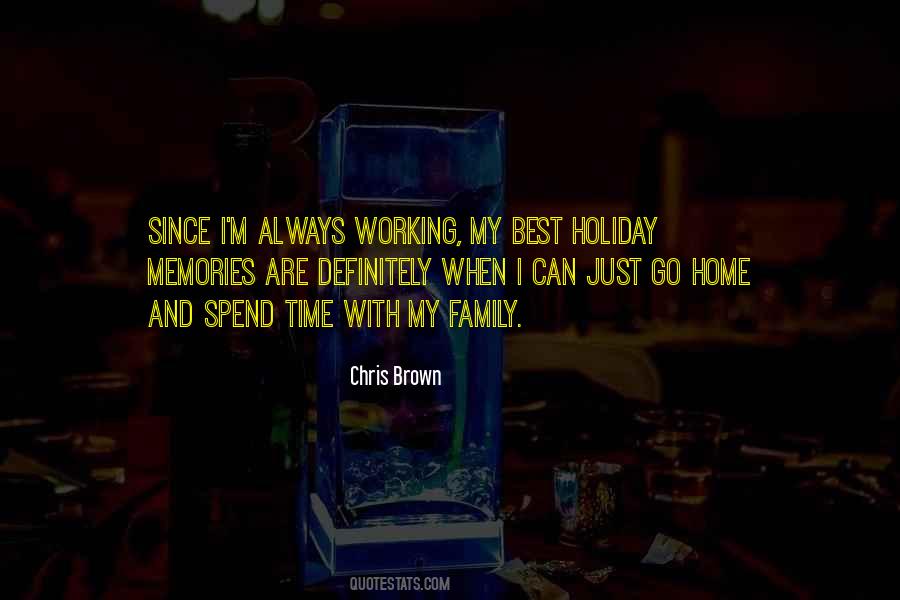 #79. I do spend a lot of weekends on the road. I have to pace myself. It can be pretty busy, but I'm not out in the Afghan desert with 70 pounds on my back, away from my family for a year at a time. I keep a good perspective on it. - Author: Gary Sinise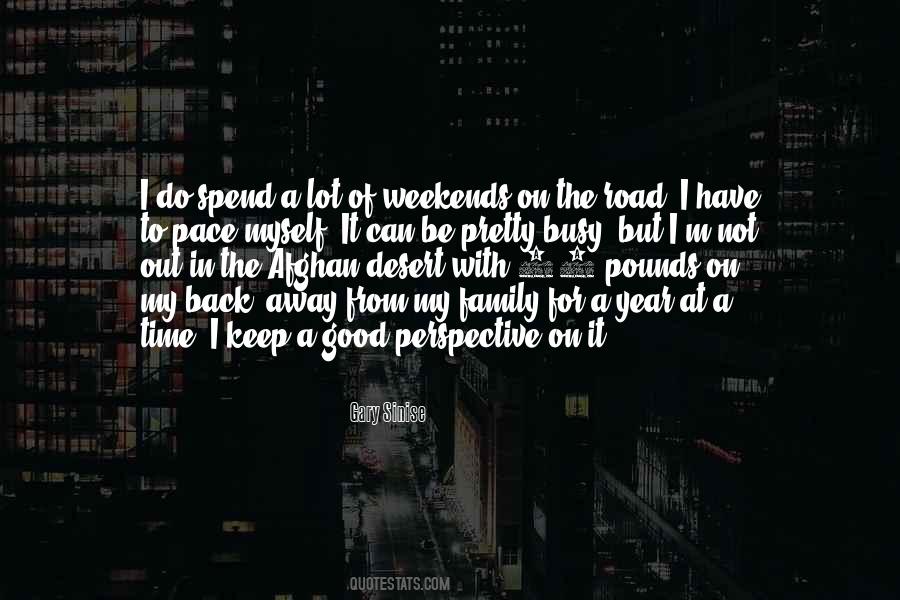 #80. And I look forward to the time when I can become more indulgent with my songwriting. But this band is a family, and it's a process that we have to grow with together. - Author: Stone Gossard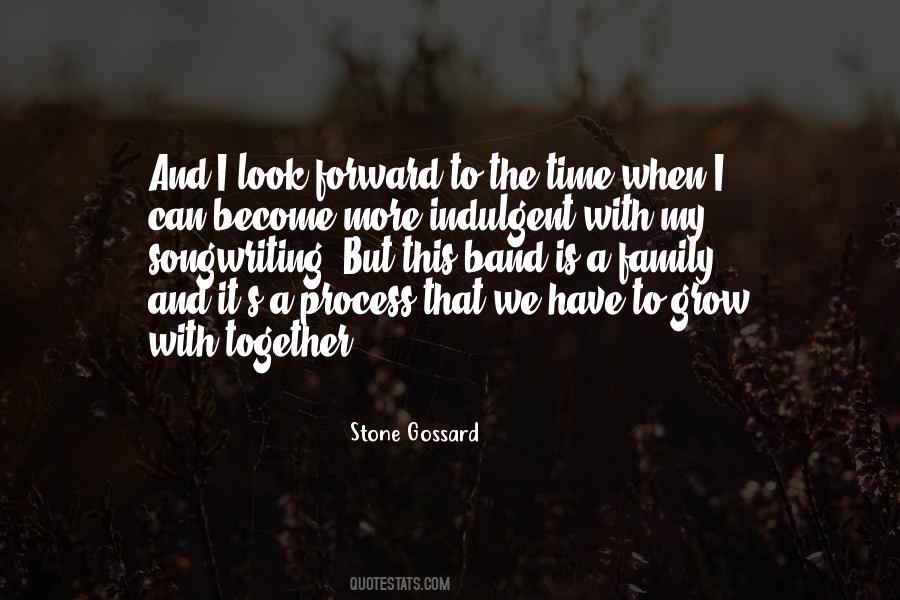 #81. The important thing is that you find some time every day to "break bread" with those you love most and consistently work at building a richer, more meaningful family life. - Author: Robin S. Sharma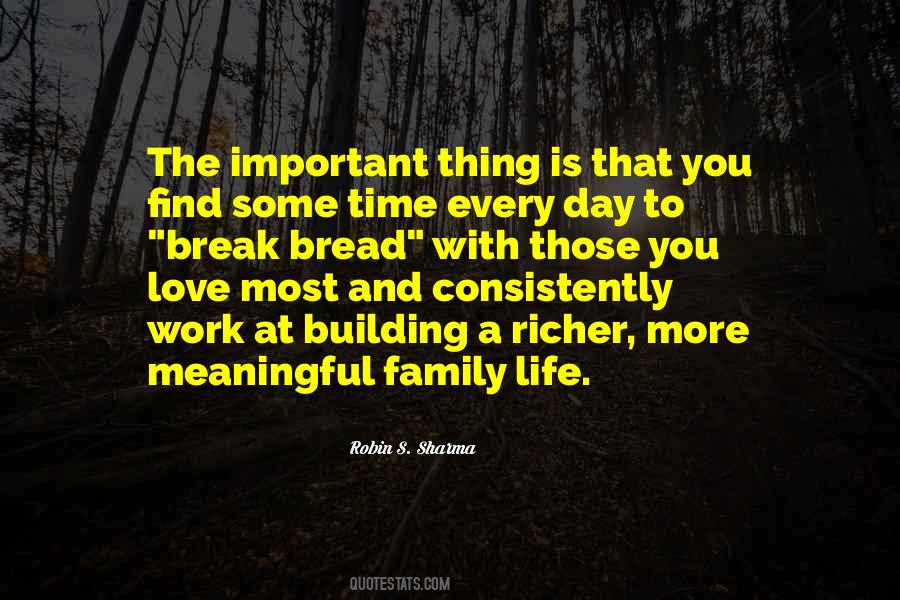 #82. I love time with family and friends, but completely relish time on my own when I have no agenda to follow, no to-do's, just me and time alone. - Author: Jacqueline Winspear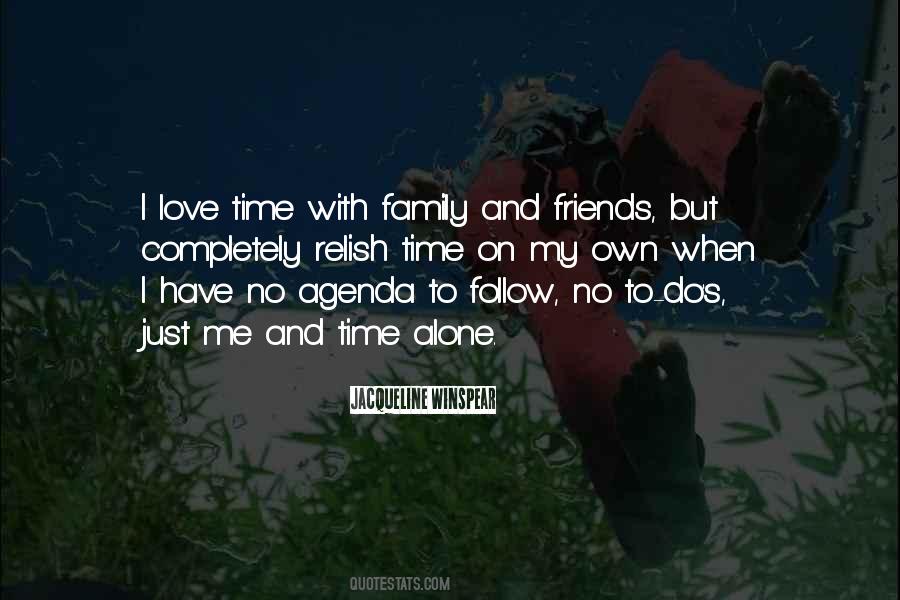 #83. The time spent on family is not a sacrifice. You are living a life with choices; when you make the right ones, you have a good life. - Author: Laura Schlessinger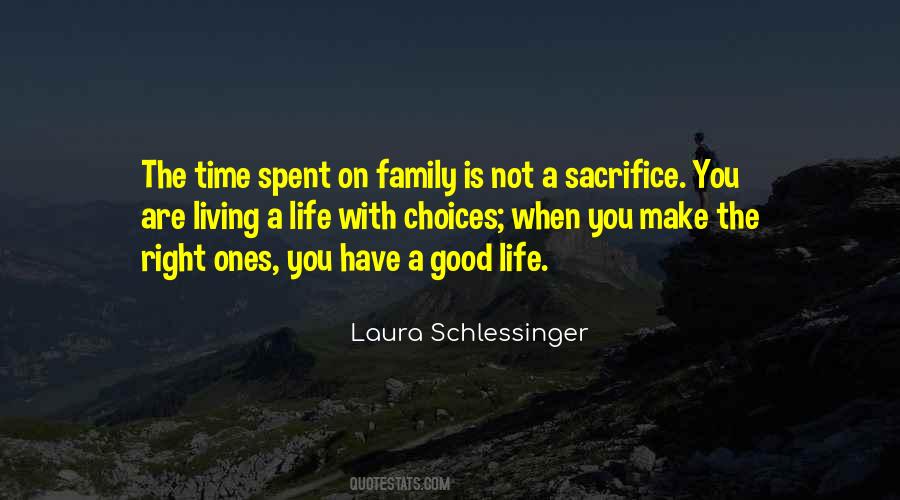 #84. I don't have regrets I didn't spend more time with my family because I've lived my life to the full, and you can't look back in regret. - Author: Lech Walesa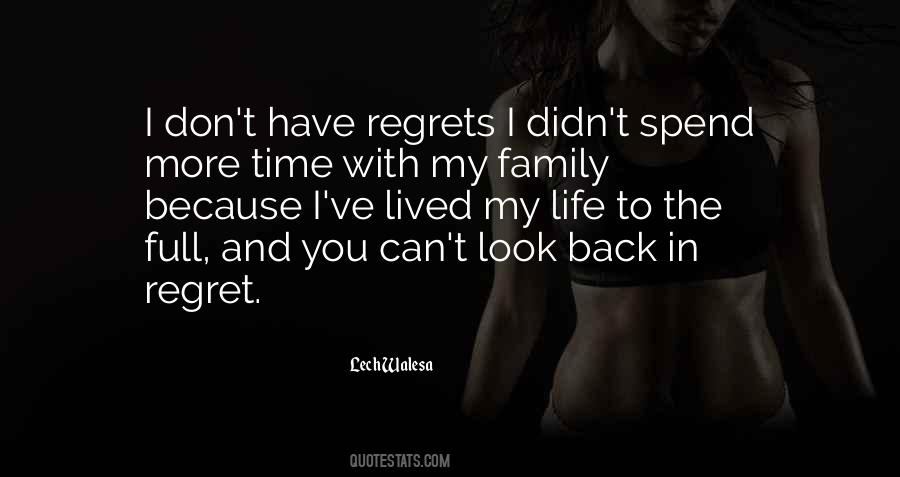 #85. My sister and I would race on the weekends. It was a way for my sister, my mom and me to spend time with my dad. He worked all week and worked a lot so it was a great way for us to spend time as a family and have fun. - Author: Danica Patrick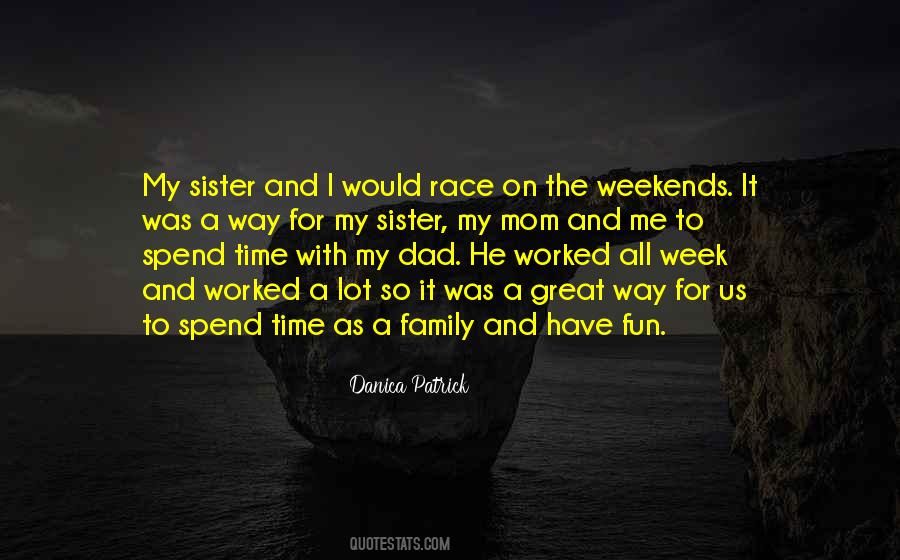 #86. It was actually what my dad did and with the Muppets, the years with the Muppets, it was really all targeted to adults. It was in a time when everything had to be safe for the whole family. But he was targeting adults. - Author: Brian Henson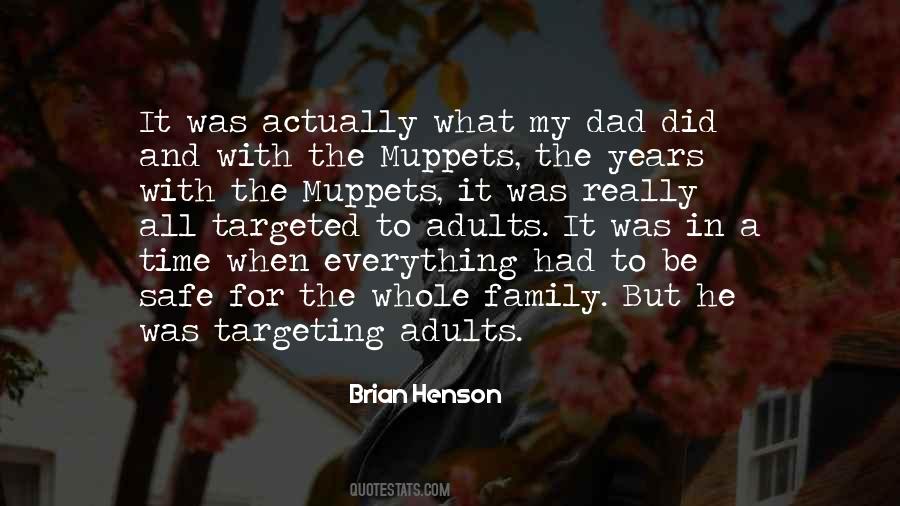 #87. I try to spend as much time as possible with God and my family. That's more important than anything I'm doing in baseball. - Author: Albert Pujols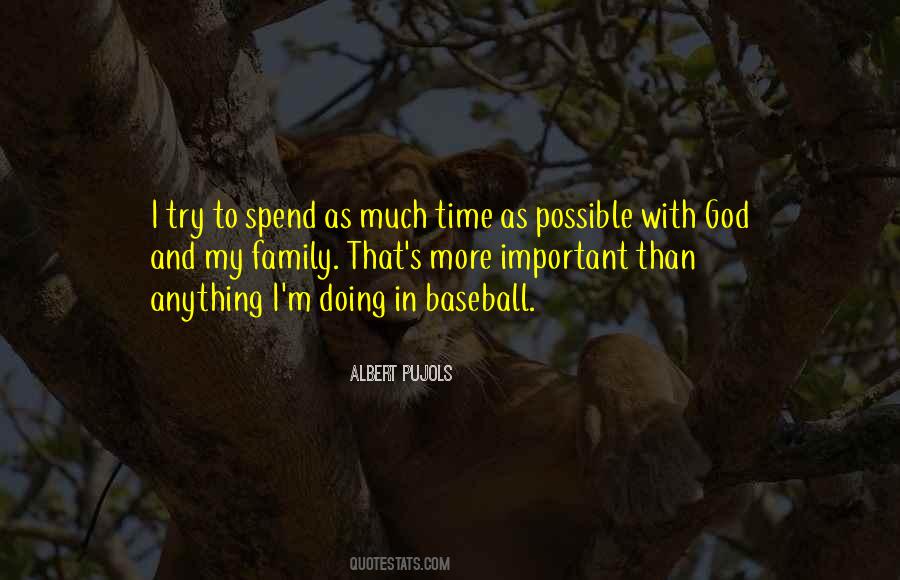 #88. It's really important to me that my niece and nephews can come and see my show, as can my grandad and nan. I love spending time with my family, and music has always bonded us. - Author: Jessie J.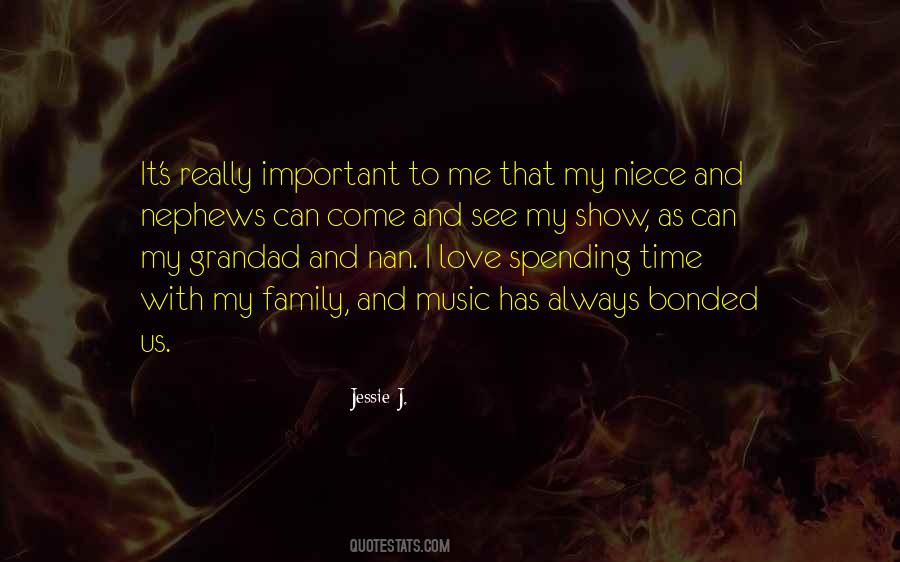 #89. A man who doesn't spend time with his family can never be a real man. - Author: Mario Puzo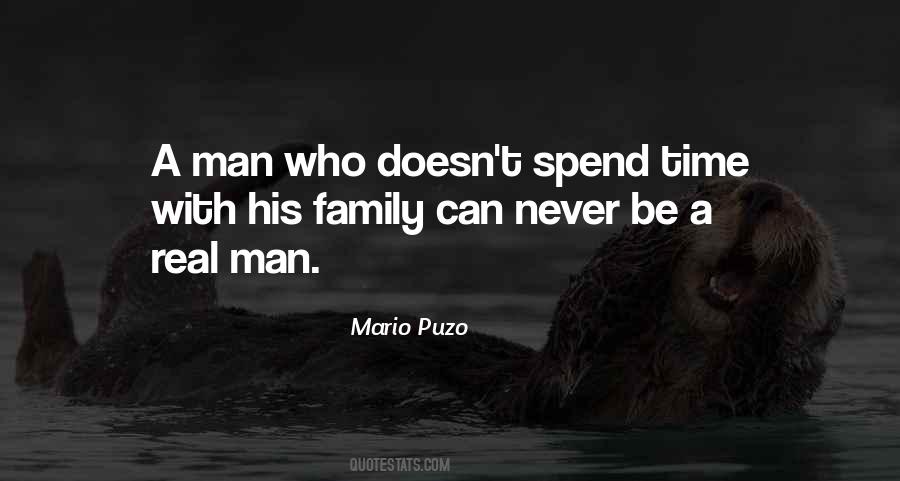 #90. There was simply nothing in his experience that even compared with the thrill of killing to protect his family. In this moment, it was the purpose of his existence. He felt, possibly for the first time in his life, like a fucking man. - Author: Blake Crouch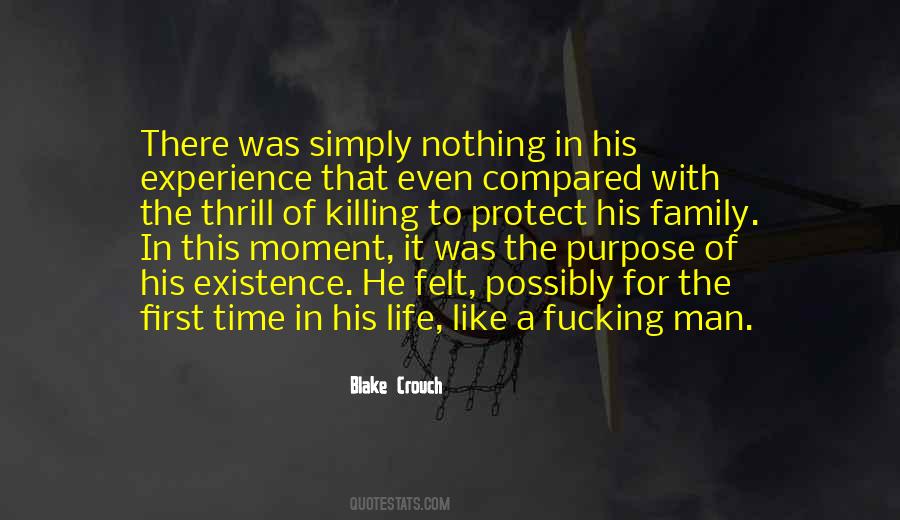 #91. I've been a therapist for more than forty years and certainly there is a place for "wise elders" in the healing process. But most people, most of the time, can heal themselves and those they love, with the help of their family, friends, and community. - Author: Jed Diamond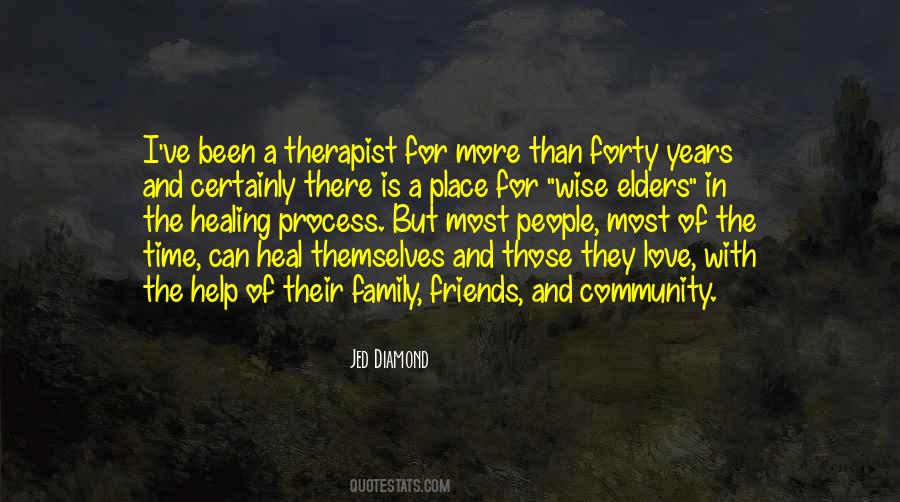 #92. With 70,000 thoughts a day and 95% of our activity controlled by the subconscious mind, no wonder that it feels as though we are asleep most of the time. To awake, we need to train Self-Remembering and Mindfulness. - Author: Natasa Nuit Pantovic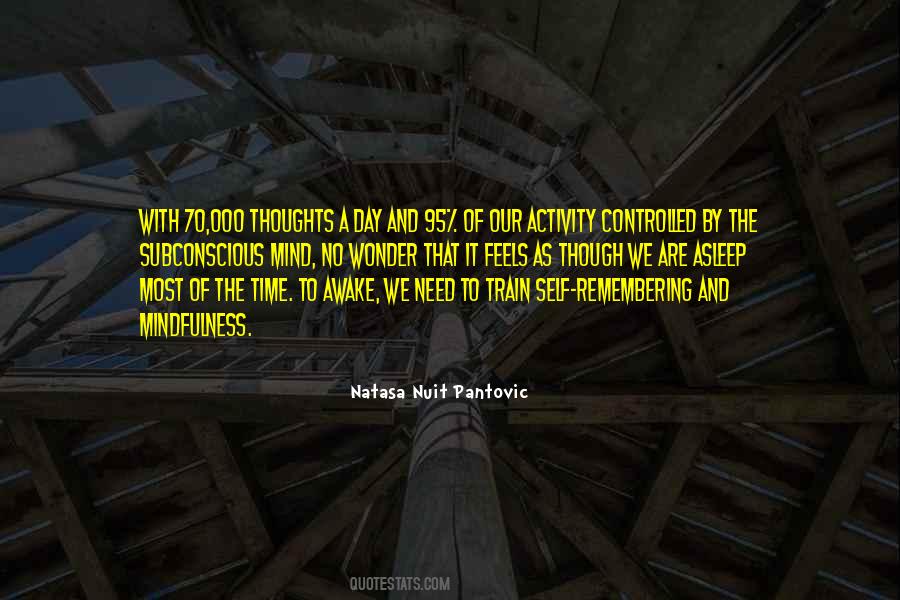 #93. So with imagination, ingenuity and audacity, explore, discover, change the world. And have fun while you're at it. Always take time out to love and to live. You're going to be busy, but never forget family and friends. - Author: Daniel Goldin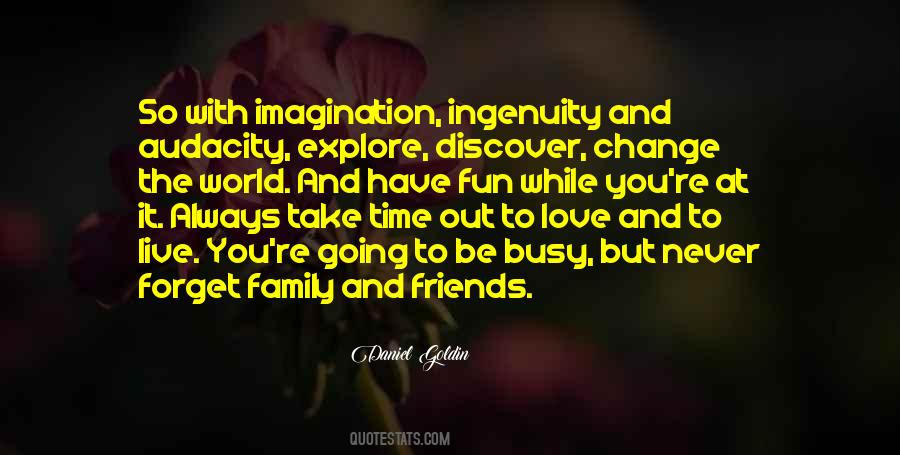 #94. Over the last couple of years, I've really worked toward balancing my life out more, having a little bit more time with friends, family and my boyfriend. There was a period of time when they were way down the list. It was all about music and touring and if everything fell by the wayside, so be it. - Author: Alanis Morissette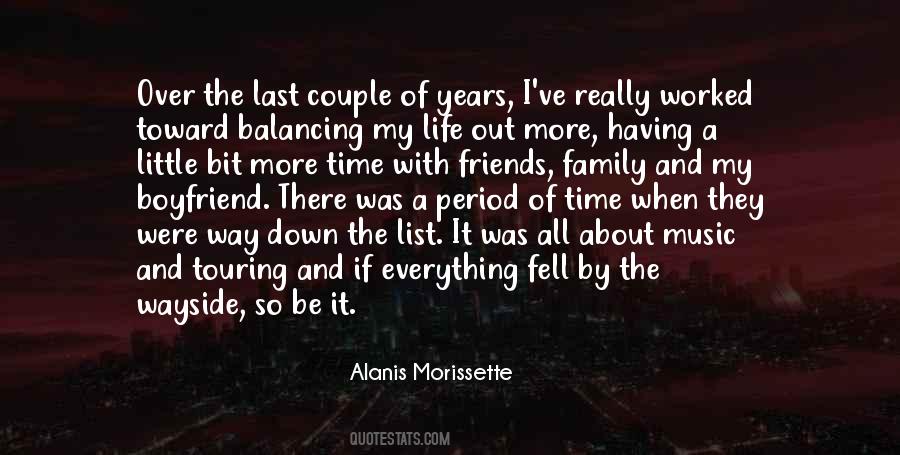 #95. I want to spend more time with my family. - Author: Kenny Chesney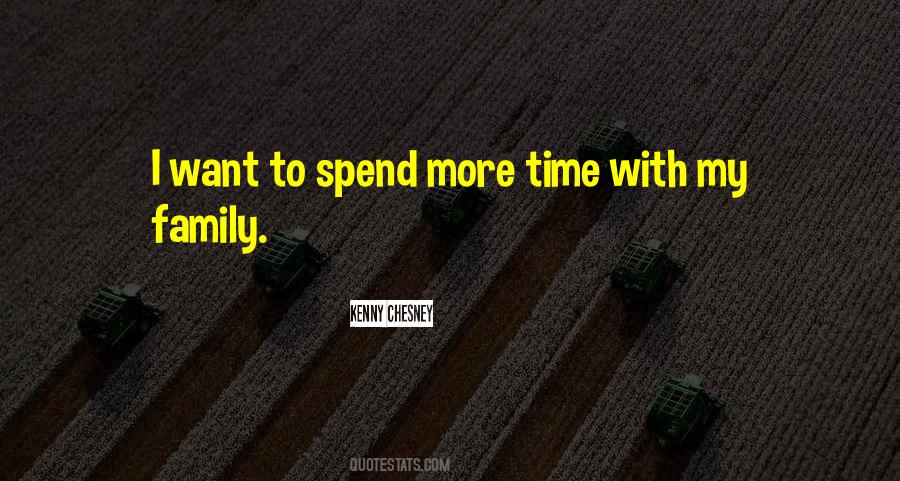 #96. I decided I didn't want to be a slave to any passion any more except for my work, i had too many passions - bridge, horses, gambling. I want to live a different kind of life, be with my family more because I didn't give them enough time. - Author: Omar Sharif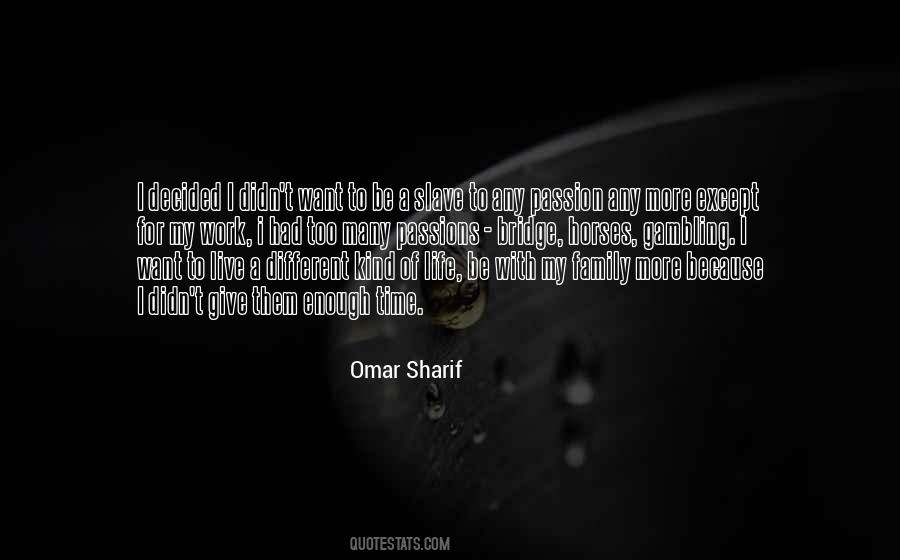 #97. We need to take time to connect with the poor, resist our unceasing cravings, and pray. But we also need to gather with friends and family, share in God's good provision, eat delicious food, tell stories that encourage us all, and celebrate the risen Lord. - Author: Chris Seay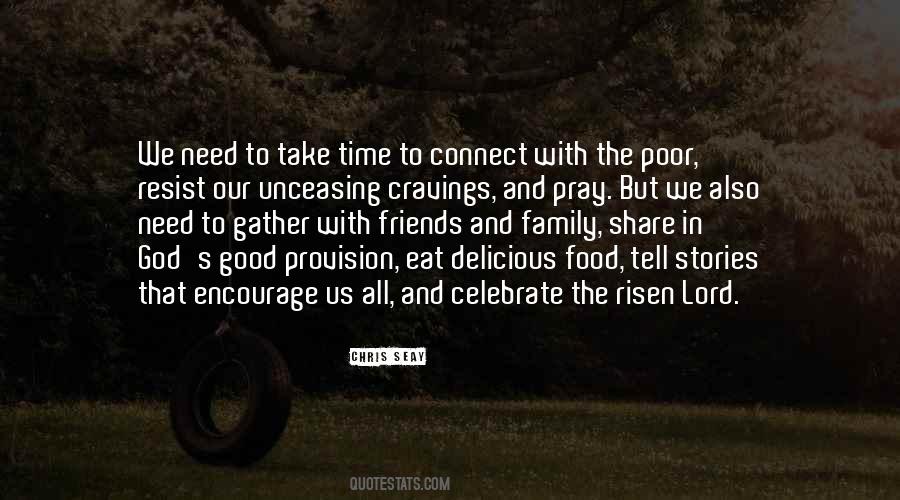 #98. I have excellent relationships with Jewish organizations and participate every year in a Hanukkah celebration with my family. There haven't been any anti-Semitic tendencies in my team for a long time. - Author: Viktor Yushchenko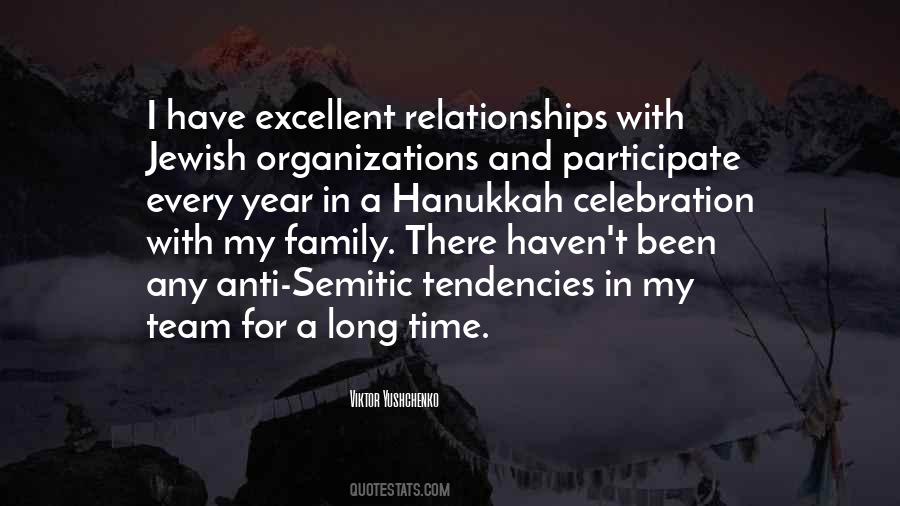 #99. Family violence is an entrenched epidemic that we've lived with since time began, so we've got a long way to go. But I do believe the tide is turned. It's no longer a subject that only occurs behind closed doors - Author: Rosie Batty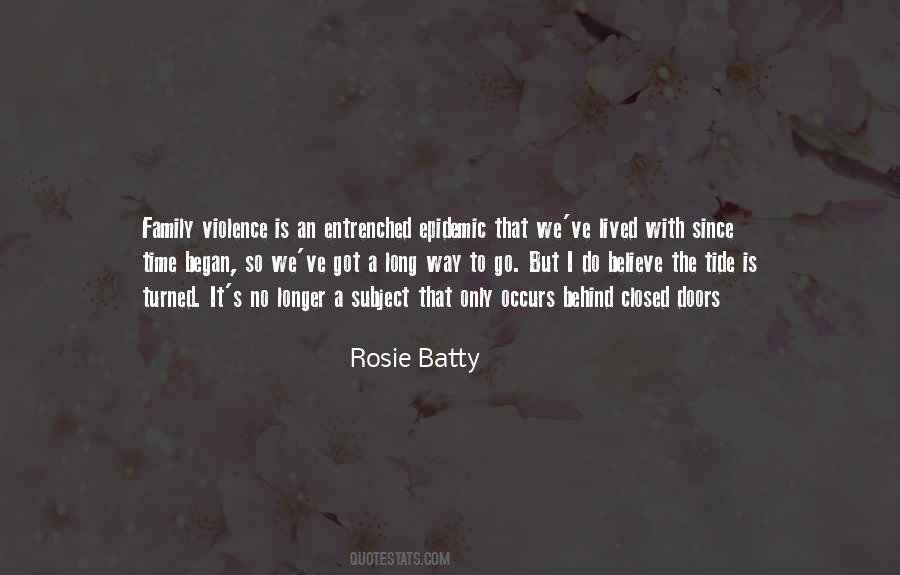 #100. I don't really have many hobbies but one of my favorite things to do is spend time with my family. We have fun together, and building those relationships is very important to me. - Author: Joyce Meyer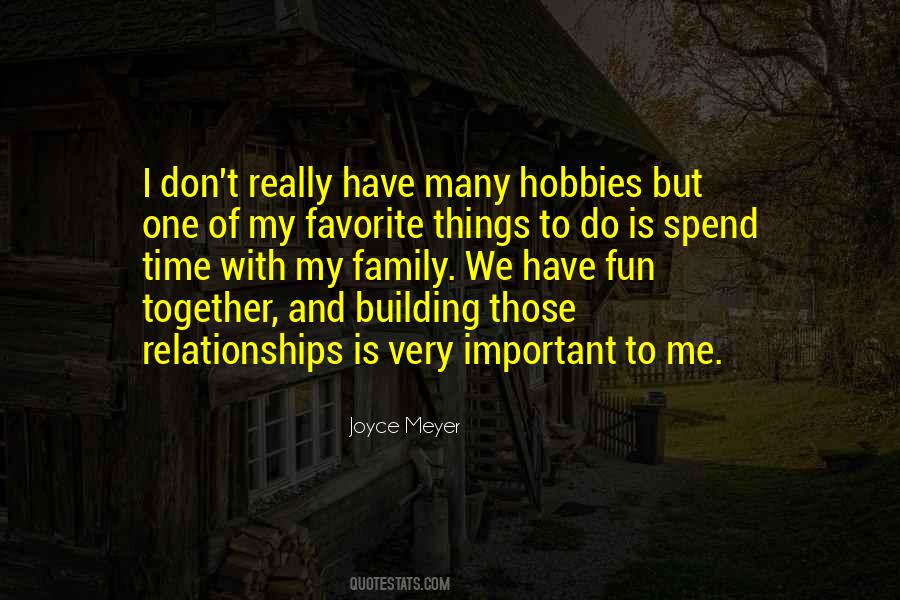 Famous Authors
Popular Topics