The Purpose Of Law Famous Quotes & Sayings
List of top 54 famous quotes and sayings about the purpose of law to read and share with friends on your Facebook, Twitter, blogs.
Top 54 Quotes About The Purpose Of Law
#1. The Universe knows all things and is responding to the vibration that you are sending. When you are sending your vibration on purpose, you are orchestrating what the Universe is aligning for you. - Author: Esther Hicks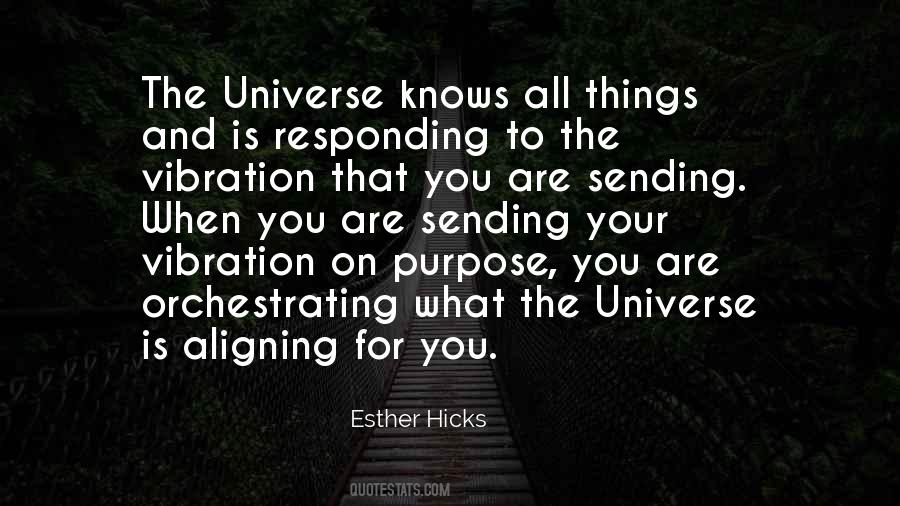 #2. Since God is the universal King, all creation is under His law. Kingship and law are inseparable. A king rules by means of his law, and the law of a king is the expression of his will, purpose, and plan for his realm. - Author: Stephen Mcdowell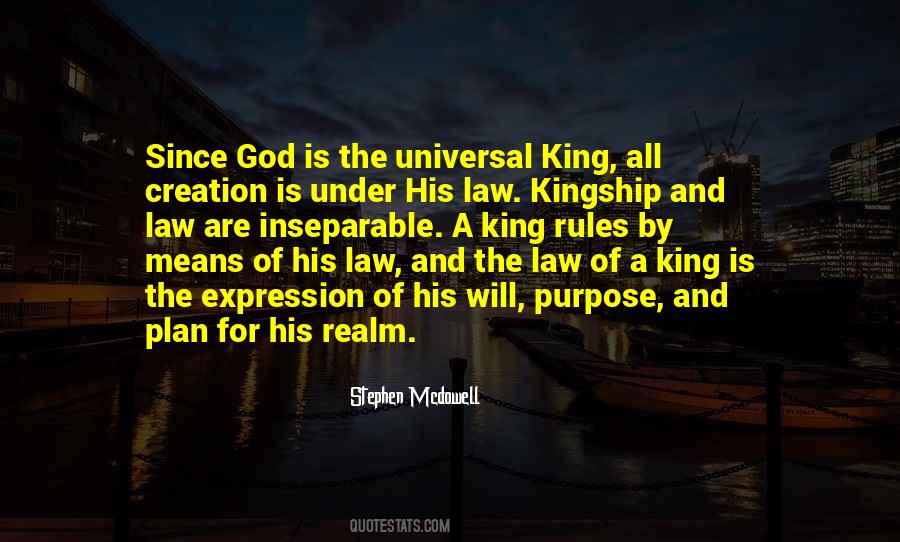 #3. The purpose of science is to develop, without prejudice or preconception of any kind, a knowledge of the facts, the laws, and the processes of nature. The even more important task of religion, on the other hand, is to develop the consciences, the ideals, and the aspirations of mankind. - Author: Robert Andrews Millikan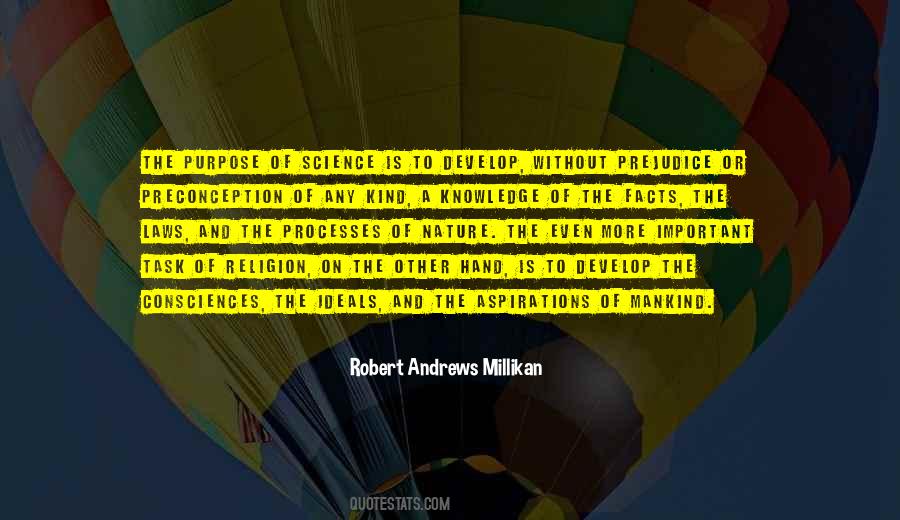 #4. Every instance of a man's suffering the penalty of the law is an instance of the failure of that penalty in effecting its purpose, which is to deter. - Author: Richard Whately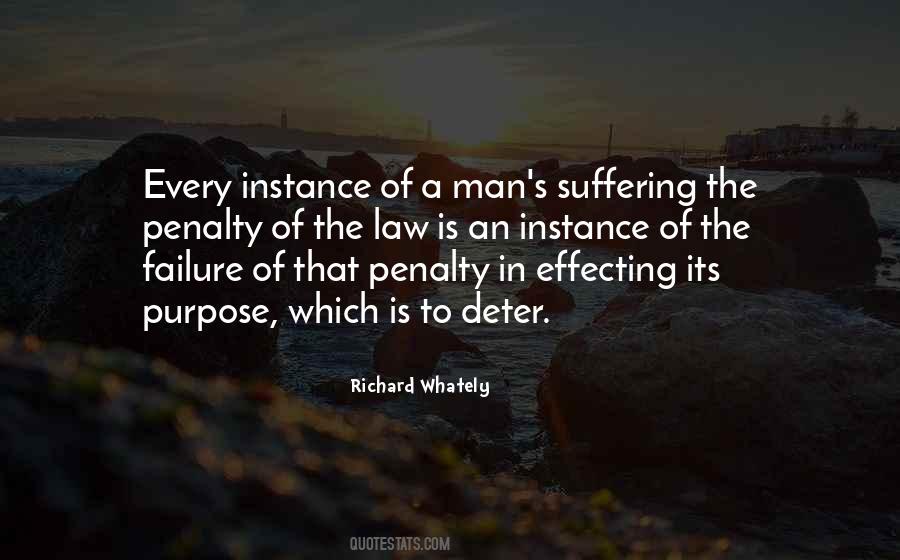 #5. The purpose of the law is not to prevent a future offense, but to punish the one actually committed. - Author: Ayn Rand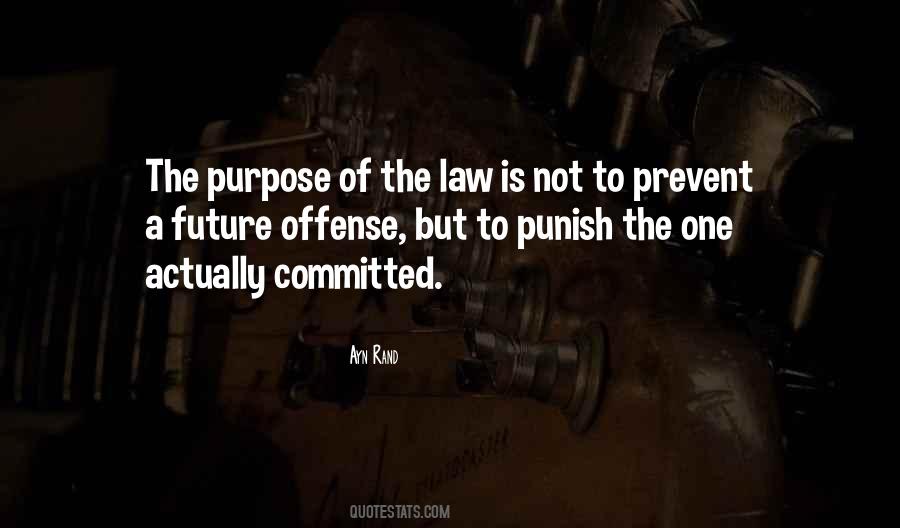 #6. But it was more than a planet; it was the living pulse beat of an Empire of twenty million stellar
systems. It had only one, function, administration; one purpose, government; and one manufactured product, law. - Author: Isaac Asimov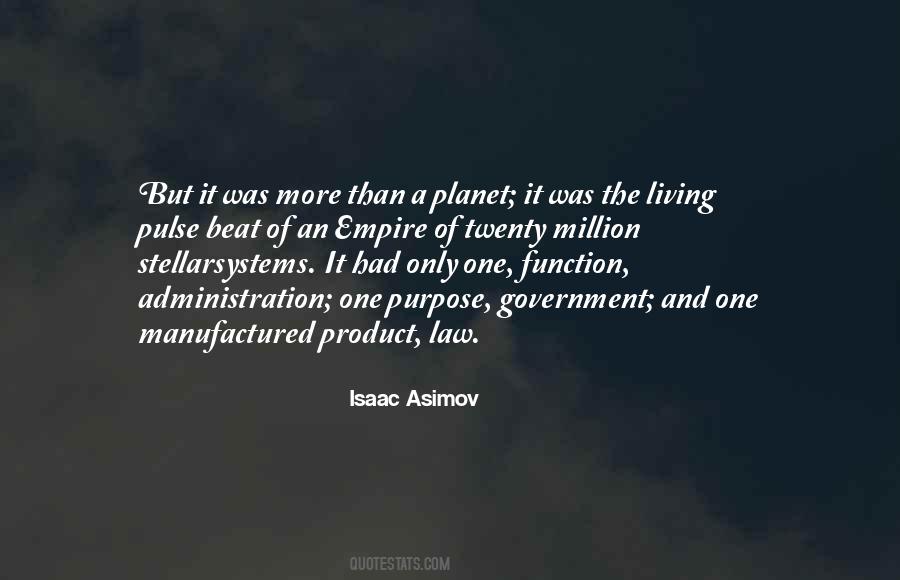 #7. To will is to put your emotion into your desire. Simply wanting is not desire, it is merely an undirected thought with no purpose but to pass the time. - Author: Stephen Richards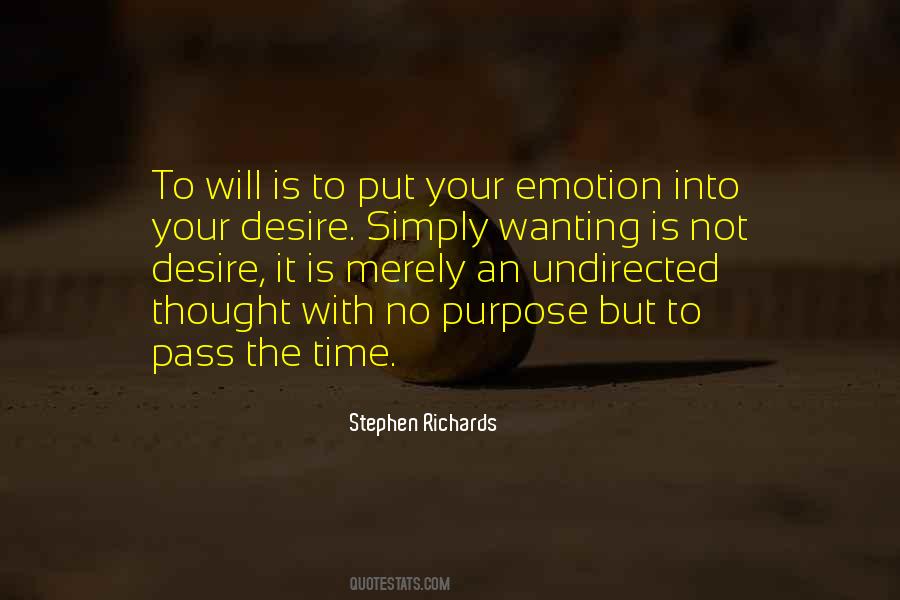 #8. Some lawyers and judges may have forgotten it, but the purpose of the court system is to produce justice, not slavish obedience to the law. - Author: Charley Reese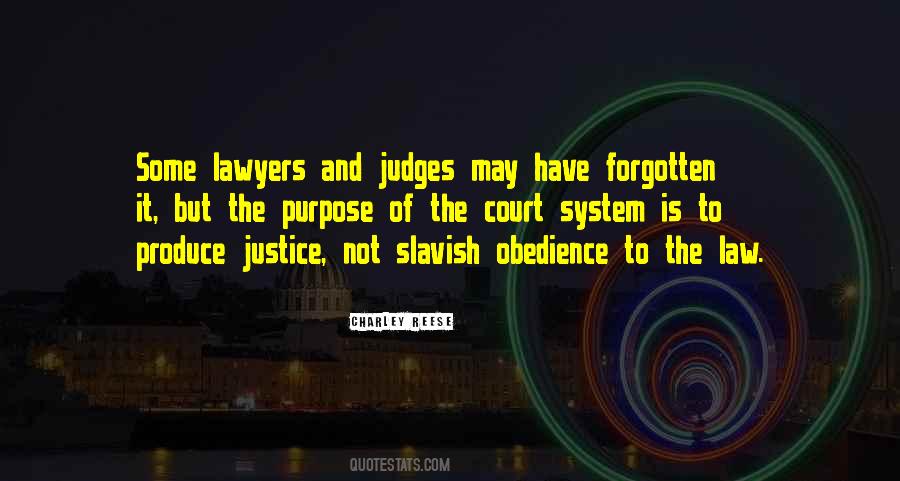 #9. If the end of human law is the promotion of the common good among men, the divine law has for its purpose nothing less than our friendship with God. - Author: Scott Hahn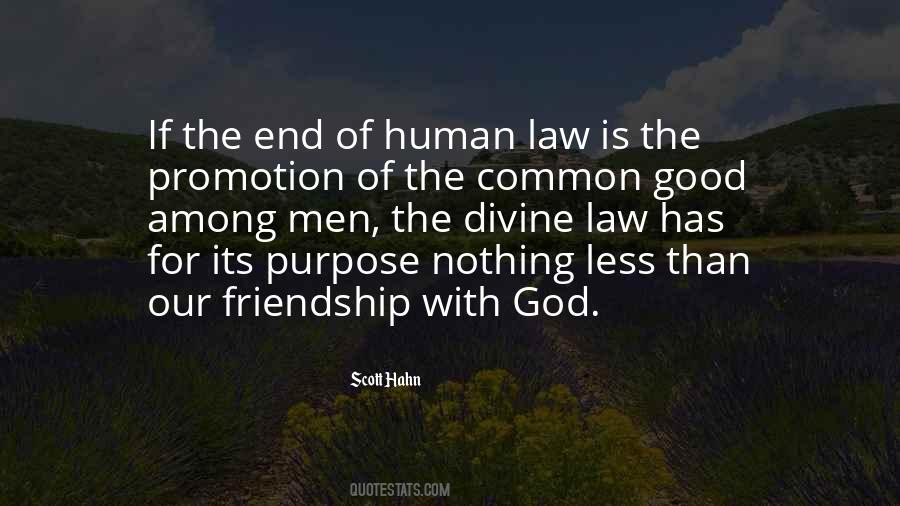 #10. It is a policeman's duty to retrieve stolen property and return it to its owners. But when robbery becomes the purpose of the law, and the policeman's duty becomes, not protection, but the plunder of property - then it is an outlaw who has to become a policeman. - Author: Ayn Rand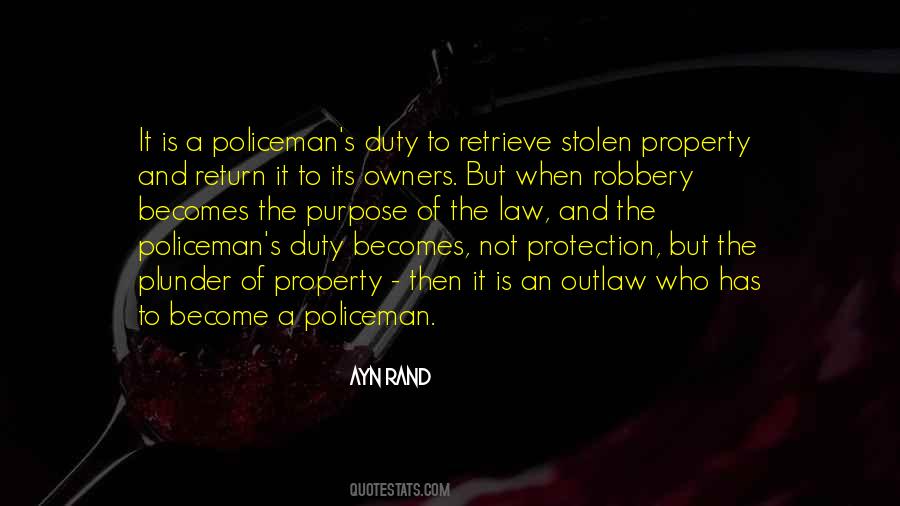 #11. We look upon this shaken earth, and we declare our firm and fixed purpose-the building of a peace with justice in a world where moral law prevails. - Author: Dwight D. Eisenhower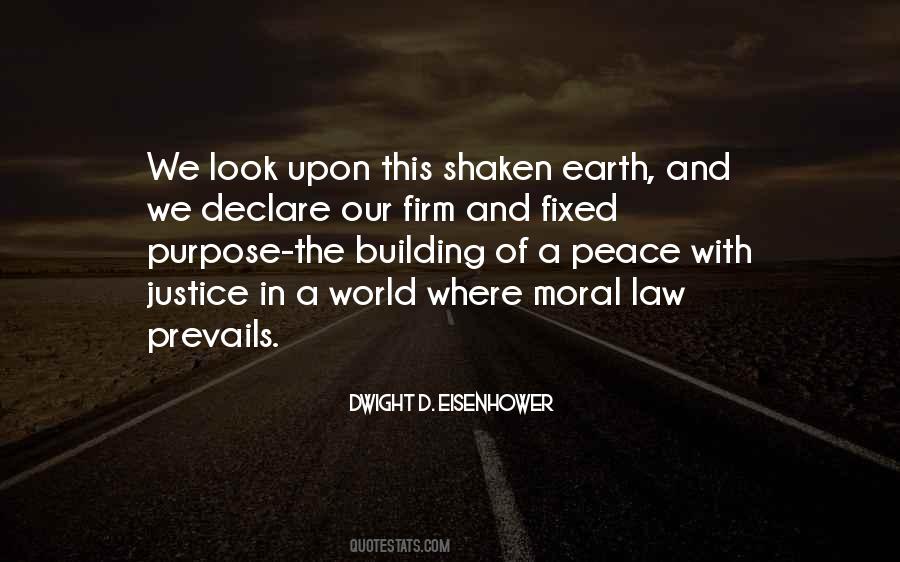 #12. The work of inspection was left to magistrates and clergymen. To the relief of employers, experience showed that magistrates and clergymen had no objection to law-breaking when its purpose was merely the torture of children. - Author: Bertrand Russell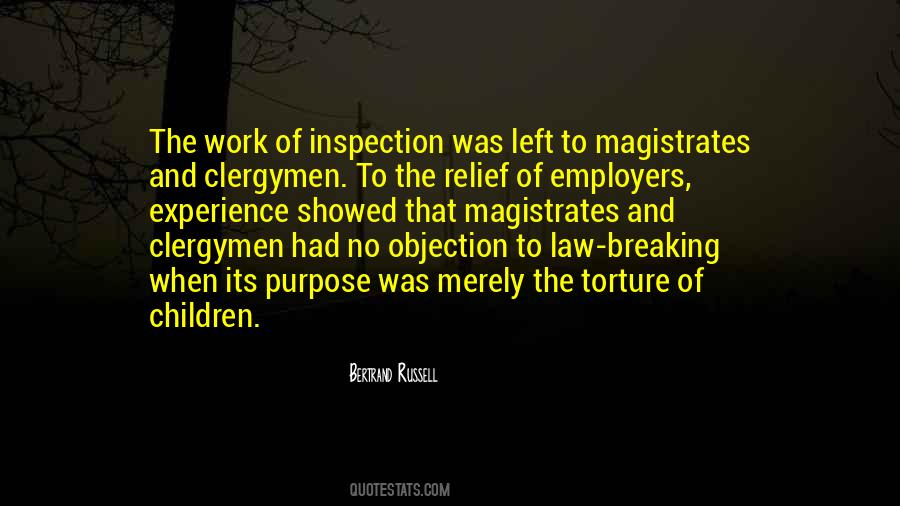 #13. The law of empathy, by which he could, by his will, transfer himself into an object or a work of art, and thus inflence the outer world. He did not feel redeemed by the work he did. He did not seek redemption. He sought to see what others did not, the projection of his imagination. - Author: Patti Smith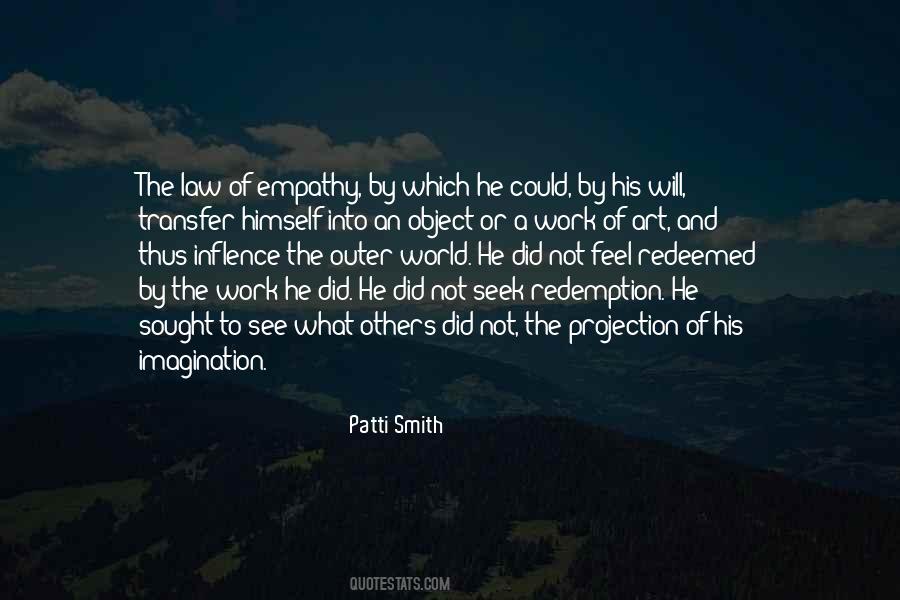 #14. I was proud to share the stories of my friends at Georgetown Law who have suffered dire medical consequences because our student insurance does not cover contraception for the purpose of preventing pregnancy. - Author: Sandra Fluke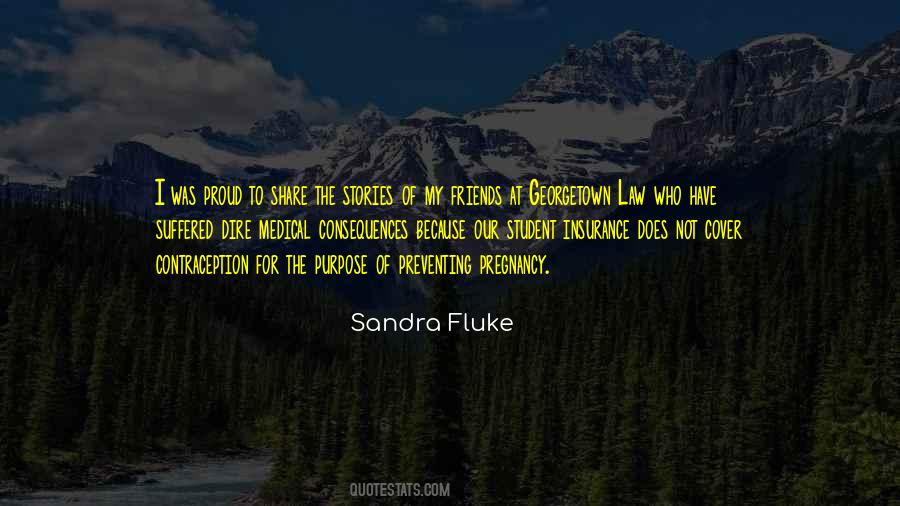 #15. When you realize that the laws of nature must be incredibly finely tuned to produce the universe we see, that conspires to plant the idea that the universe did not just happen, but that there must be a purpose behind it. - Author: John Polkinghorne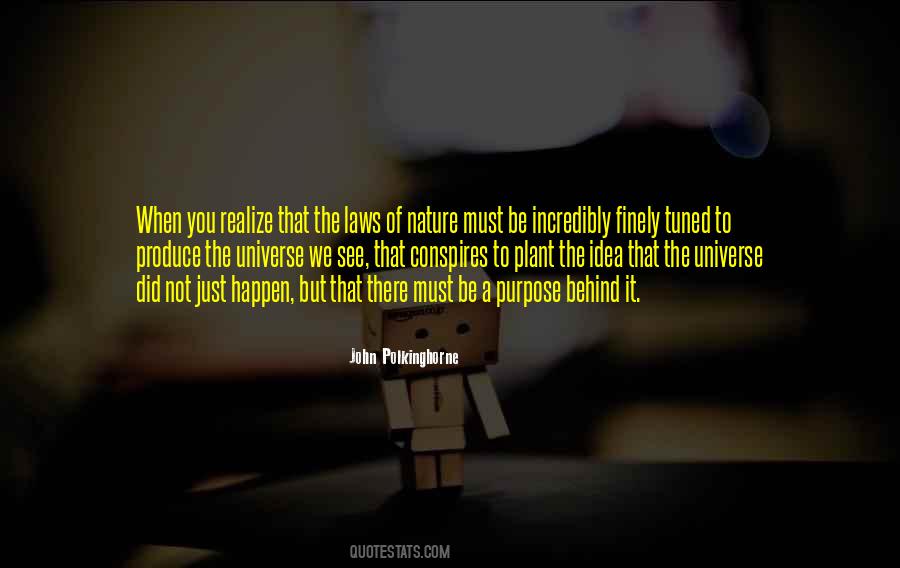 #16. laws are not important. What is important is justice. If the purpose of justice is served by breaking a law, then break it.' 'Lord Ram said that?' asked - Author: Amish Tripathi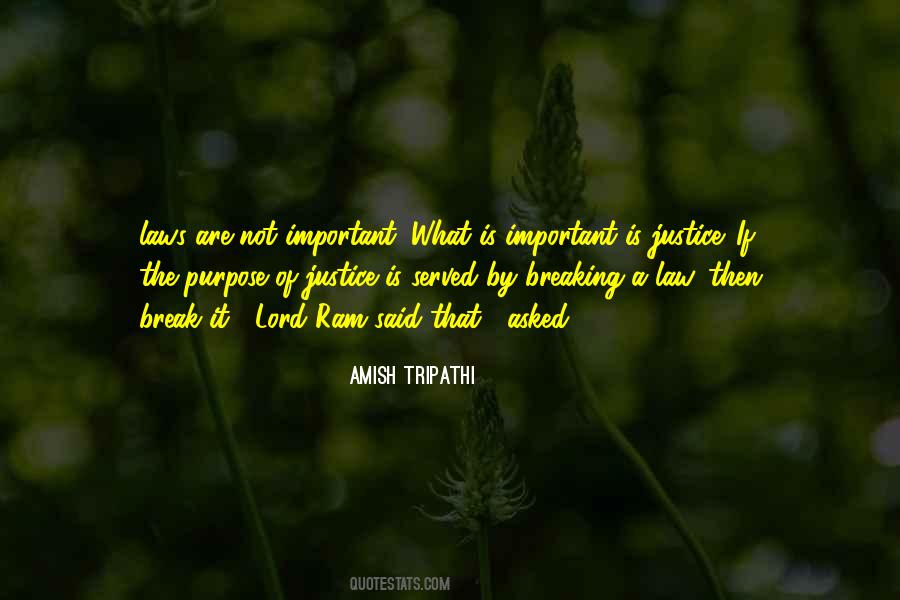 #17. The purpose of privilege is not to place parliamentarians above the law, but rather to allow them to carry out their duties independently and effectively, in the national interest. - Author: John Allen Fraser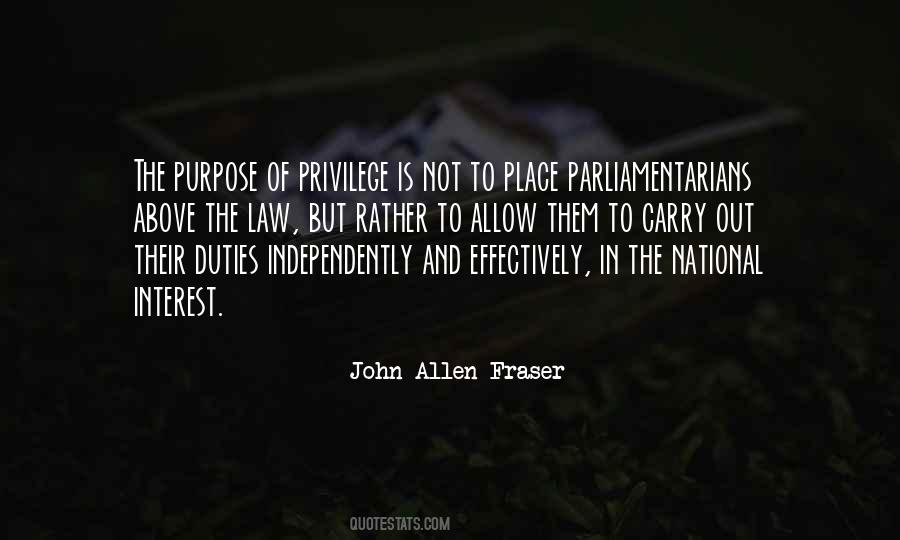 #18. Every object and purpose of justice is effectually answered, and every supposed inconvenience is effectually rebutted by the law as it stands. - Author: Bayley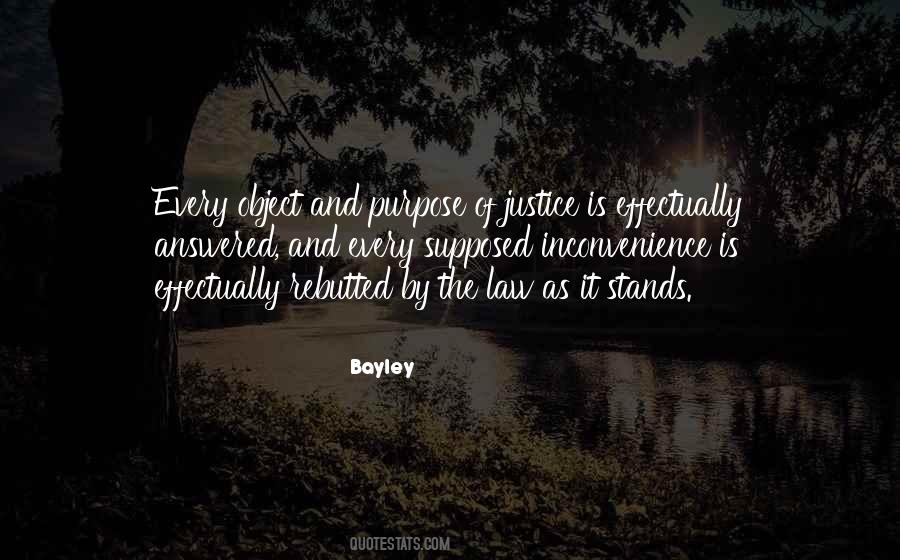 #19. when you obey the rules, the rules obey you - Author: Ernest Agyemang Yeboah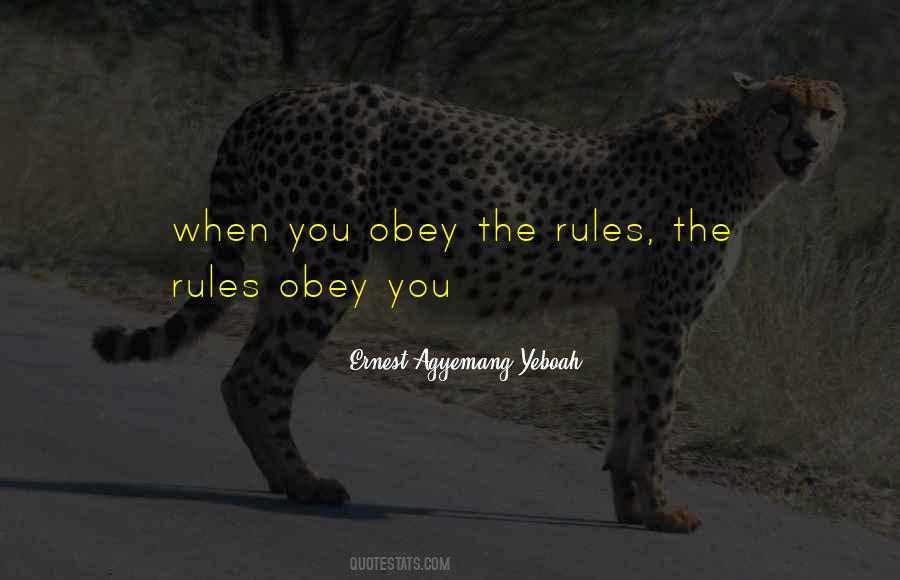 #20. The purpose of criminal law is to punish the enemies of those in power. - Author: Friedrich Nietzsche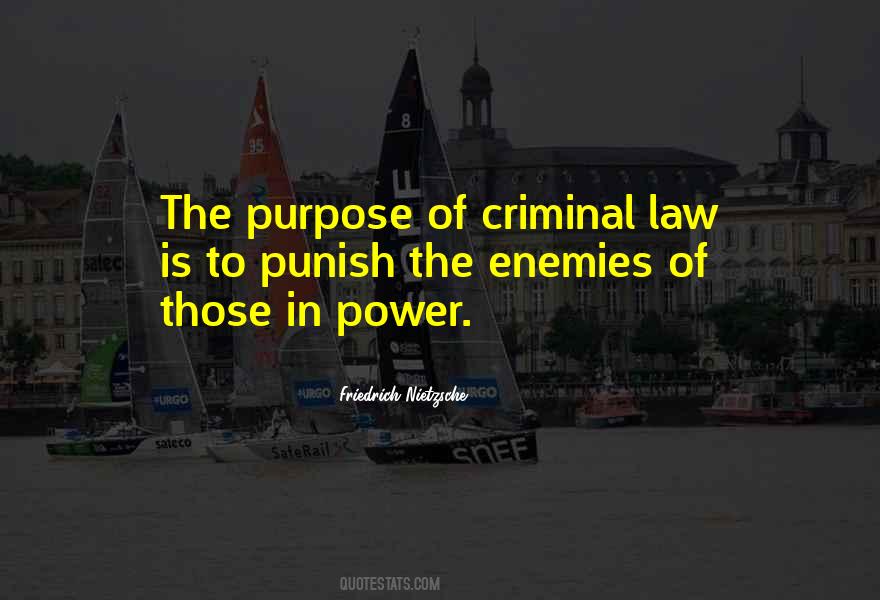 #21. The thing to keep in mind is that laws are framed by those who happen to be in power and for the purpose of keeping them in power. - Author: Mary Brave Bird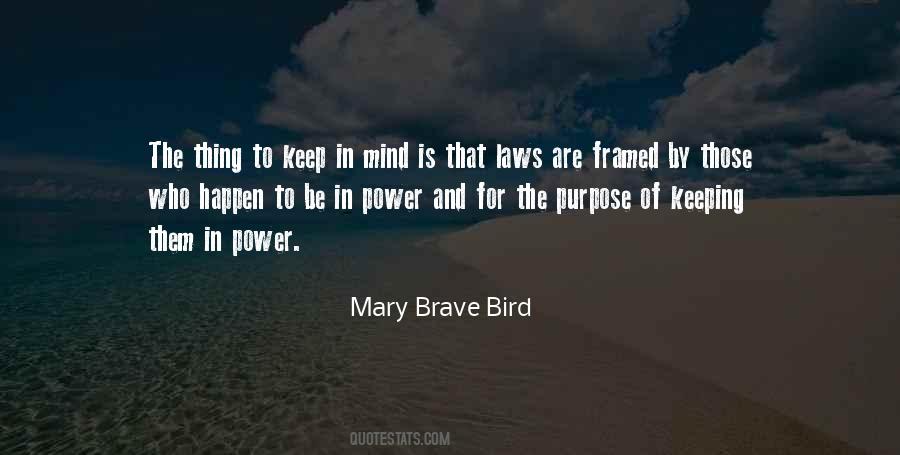 #22. For me, the idea of a creation is not conceivable without invoking the necessity of design. One cannot be exposed to the law and order of the universe without concluding that there must be design and purpose behind it all. - Author: Wernher Von Braun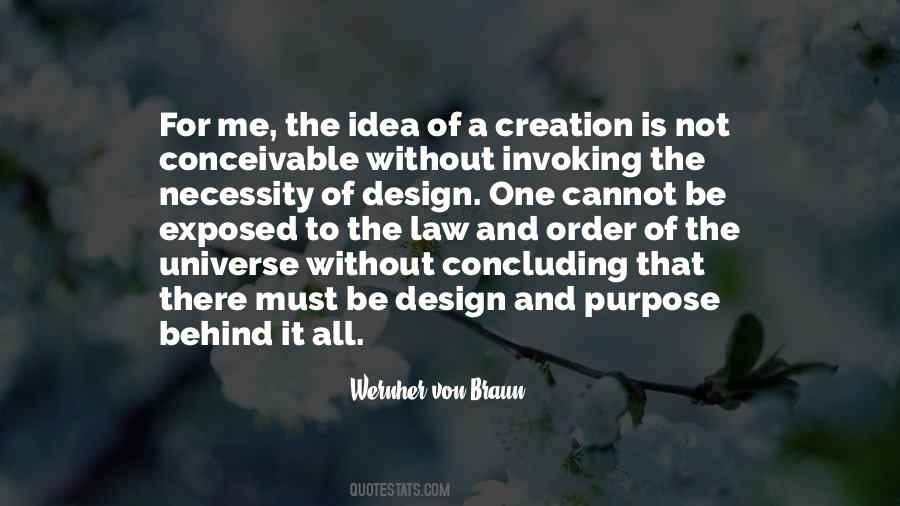 #23. Nothing constructive and worthy of man's efforts ever has or ever will be achieved except by that which comes from a positive mental attitude, based on a definiteness of purpose and activated by a burning desire, and acted upon until the burning desire is elevated to the level of applied faith. - Author: Napoleon Hill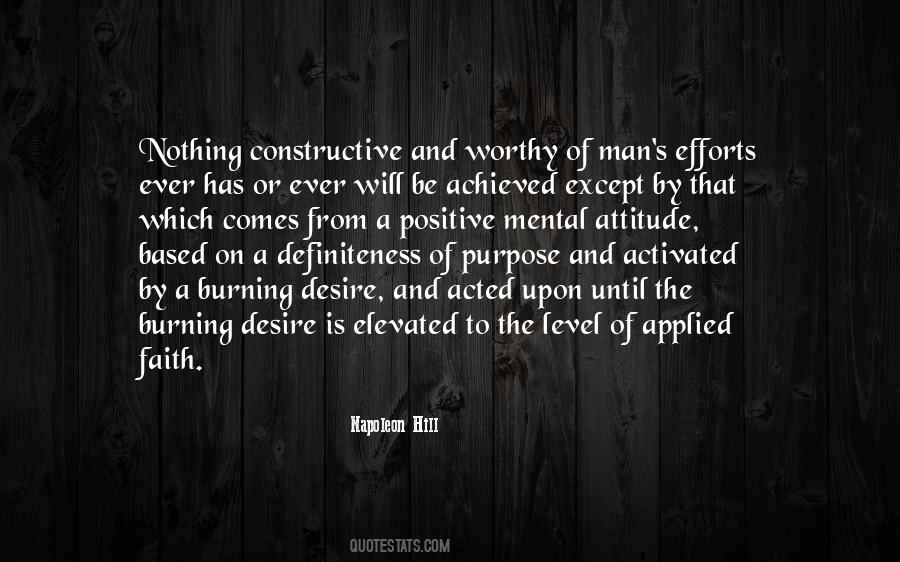 #24. I thought of going to Law, feeling sure that, as the Husband in the matter, any court in the land would uphold my right to decide the use and purpose of that land. - Author: Anonymous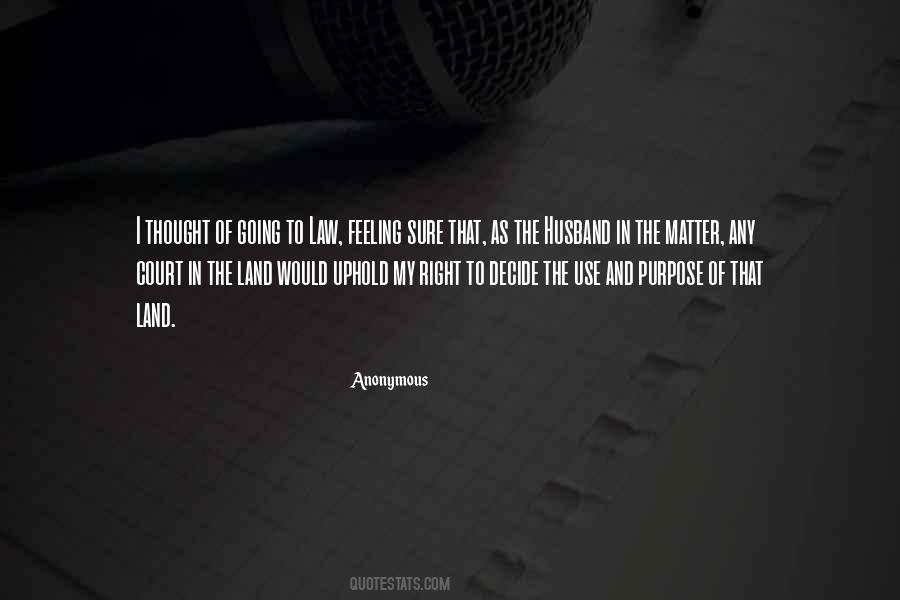 #25. The purpose of problems is to push you toward obedience to God's laws, which are exact and cannot be changed. We have the free will to obey them or disobey them. Obedience will bring harmony, disobedience will bring you more problems. - Author: Peace Pilgrim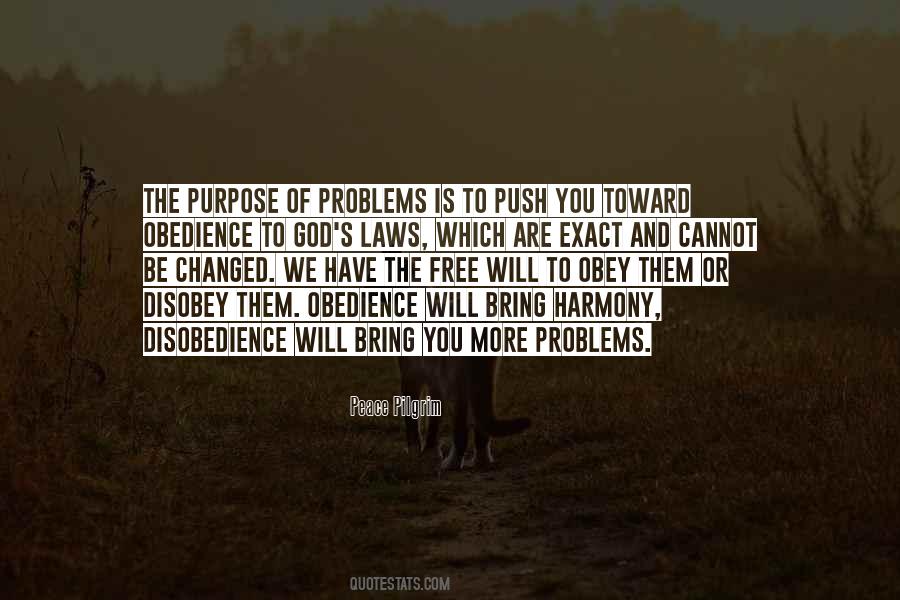 #26. I am opposed to all attempts to license or restrict the arming of individuals ... I consider such laws a violation of civil liberty, subversive of democratic political institutions, and self-defeating in their purpose. - Author: Robert A. Heinlein
#27. In the beginning all souls were as a unity to the God-Force. As self added or subtracted that which was in keeping with God's purpose, ye added or subtracted from the blessings ye might be conscious of in materiality. Thus karma is builded. And the law is perfect - what ye sow, ye reap. - Author: Edgar Cayce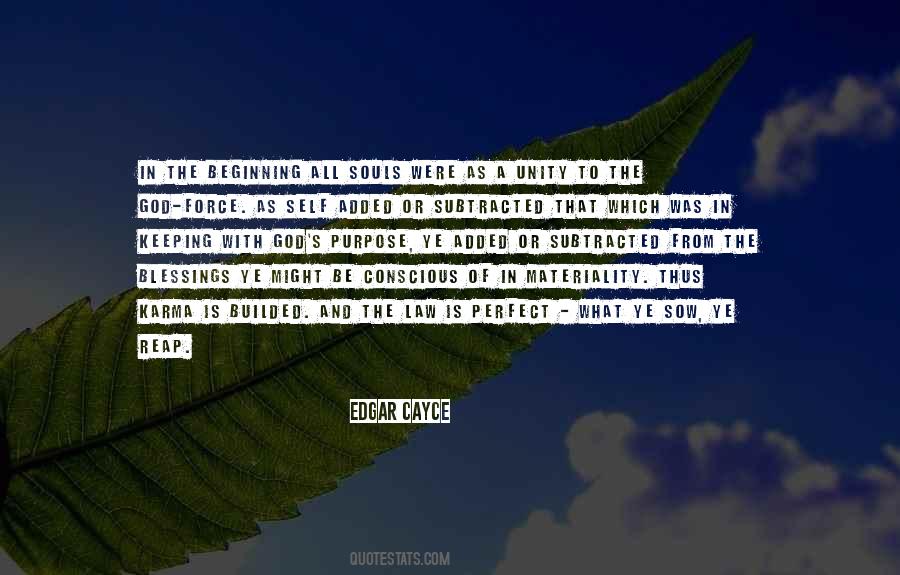 #28. The purpose of law is to prevent the strong always having their way. - Author: Ovid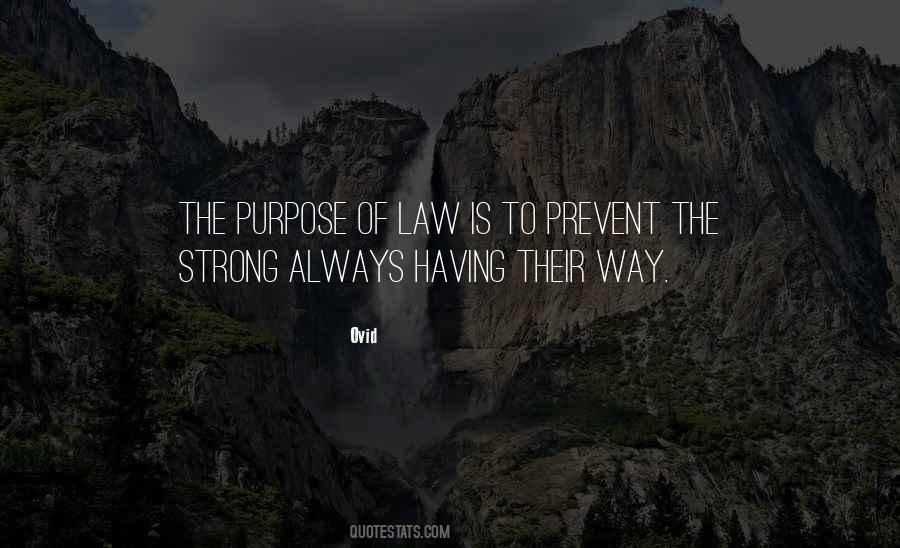 #29. No human law can abolish the natural and original right of marriage, nor in any way limit the chief and principal purpose of marriage ordained by God's authority from the beginning: Increase and multiply. - Author: Pope Leo XIII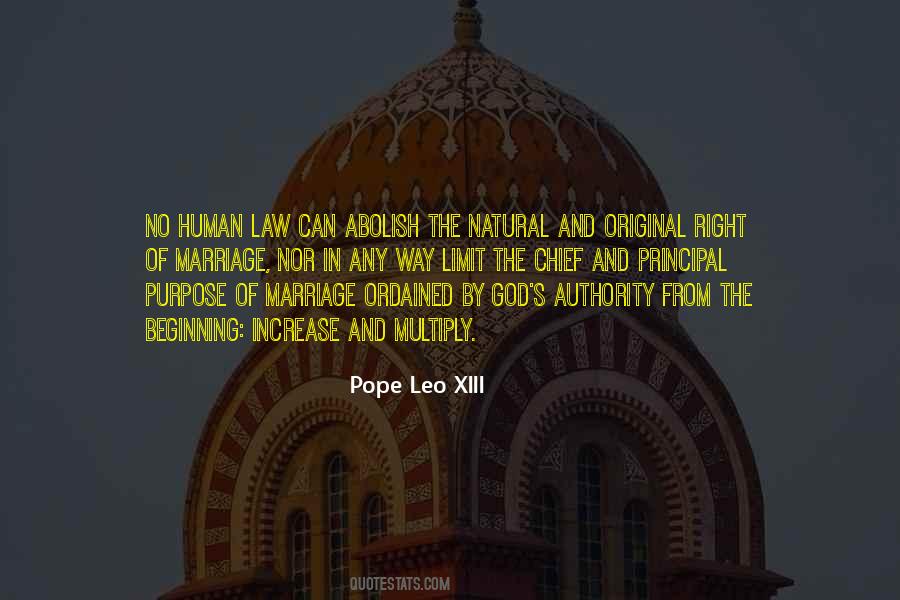 #30. Second, this law has become a special symbol of our Nation's most important purpose: to fulfill the individual - his freedom, his happiness, his promise. - Author: Lyndon B. Johnson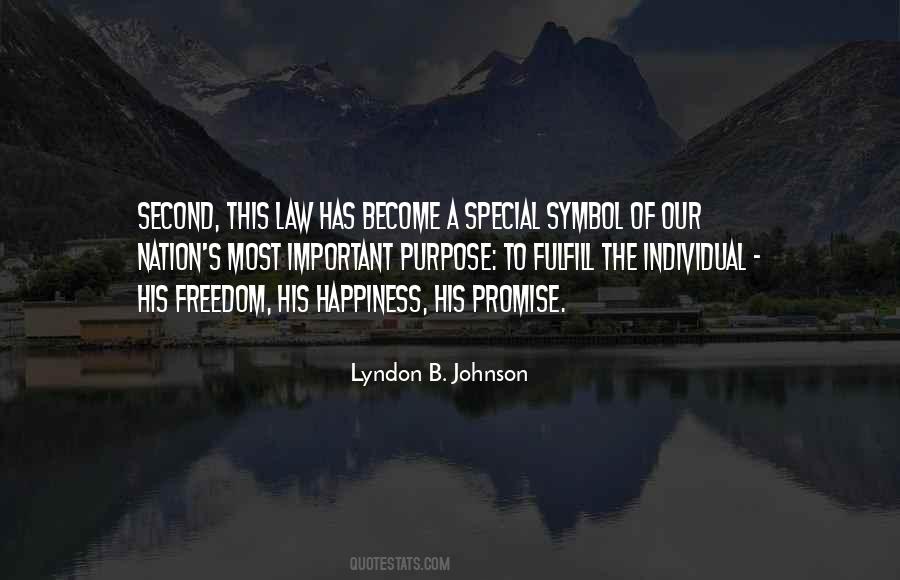 #31. The most effective intention is a desire for a conscious contact with your soul, a deeper connection to your Self. This is the most powerful purpose to intend every time you meditate, pray, or do any spiritual practice. - Author: Derek Rydall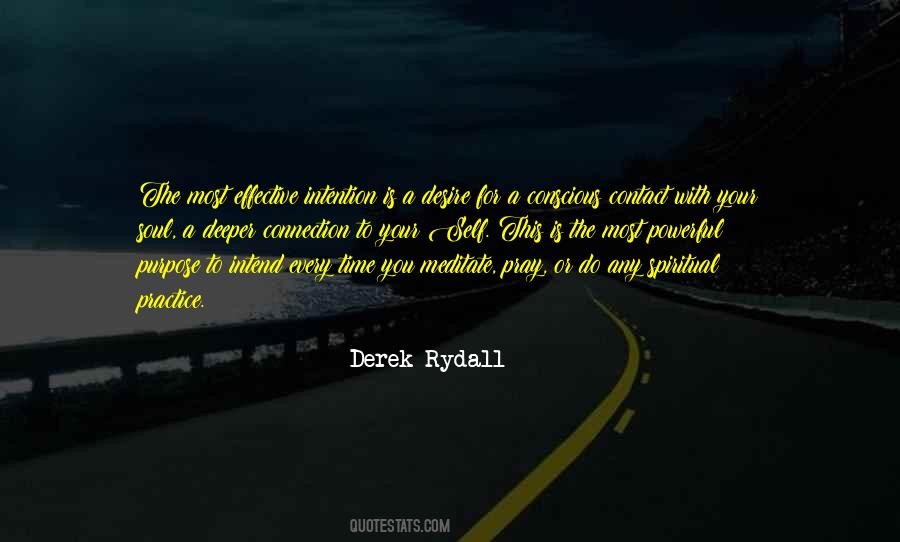 #32. It seems safe to look forward to the time when the conception of attractive and repulsive forces, having served its purpose as a useful piece of scientific scaffolding, will be replaced by the deduction of the phenomena known as attraction and repulsion, from the general laws of motion. - Author: Thomas Huxley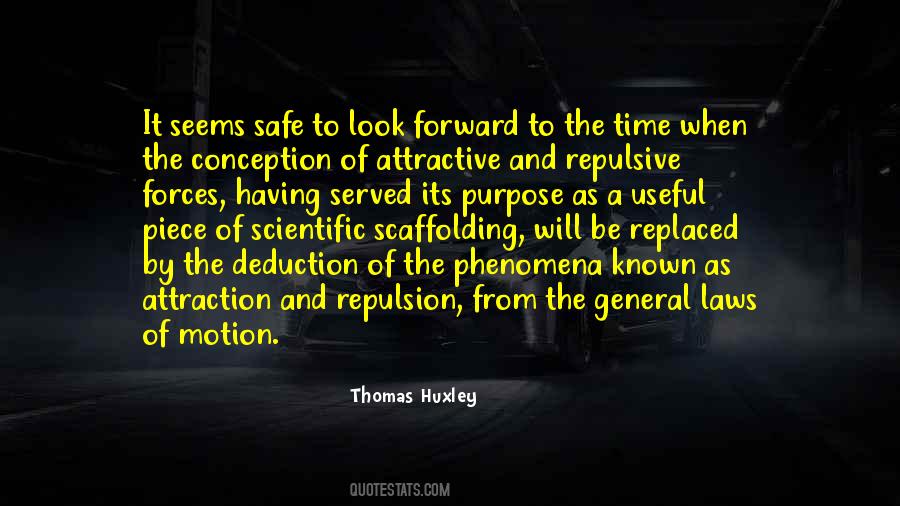 #33. After his failed political career, Lincoln often pondered the question of the purpose of the meaning of life. In 1850 [ten years before he was elected President], Lincoln told Herdon [his law partner] How hard, oh how hard it is to die and leave one's country no better than if one had never lived. - Author: Ronald C. White Jr.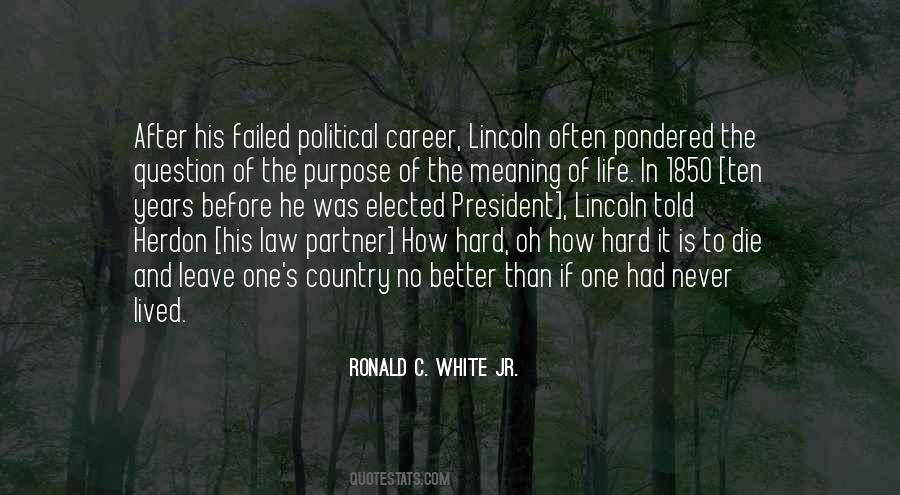 #34. My own definition of leadership is this: The capacity and the will to rally men and women to a common purpose and the character which inspires confidence. - Author: Bernard Law Montgomery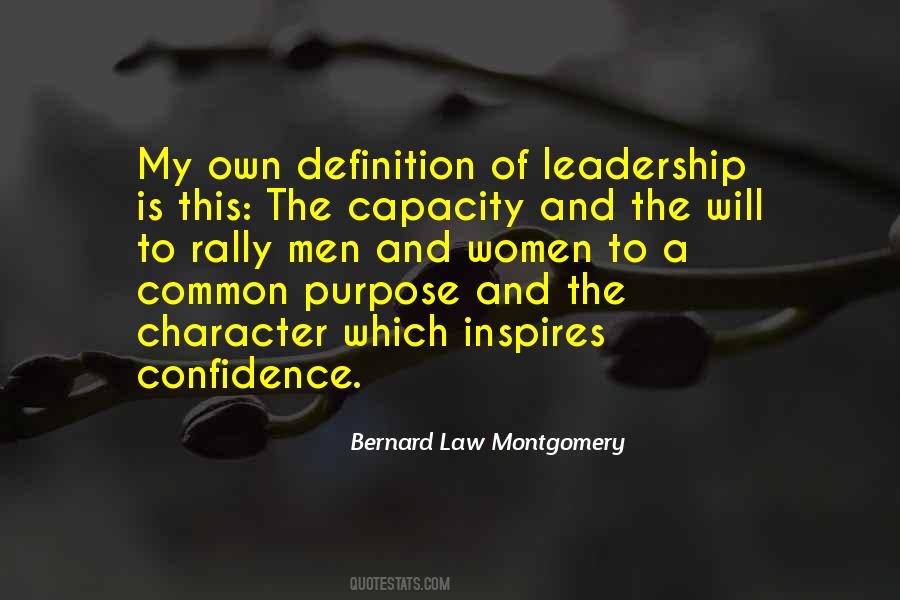 #35. Every individual's purpose in tithing is to open up his/her awareness of universal laws. Tithing opens you, to you. You are an unlimited individual, deprived of a fuller, richer life partly because of lack of the tithing experience and expression in life. - Author: Mark Victor Hansen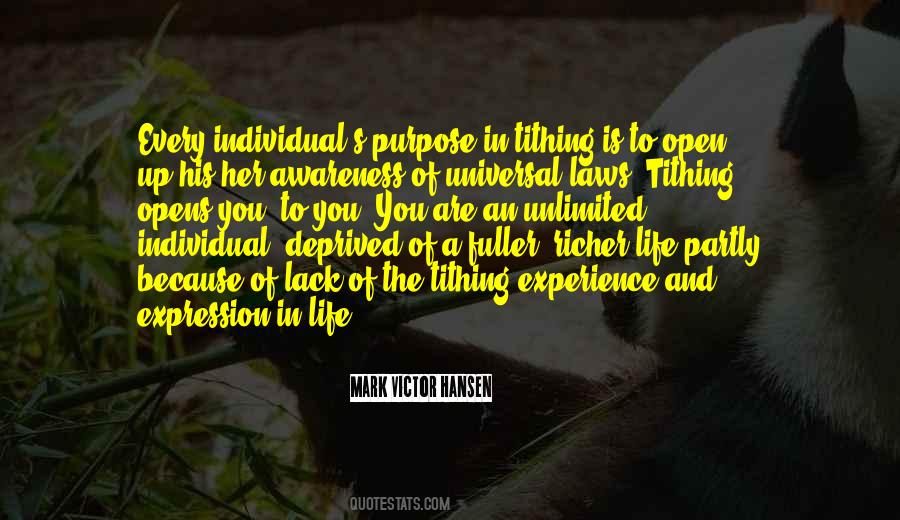 #36. 21I do not nullify the grace of God, for x if righteousness [3] were through the law, y then Christ died for no purpose. - Author: Anonymous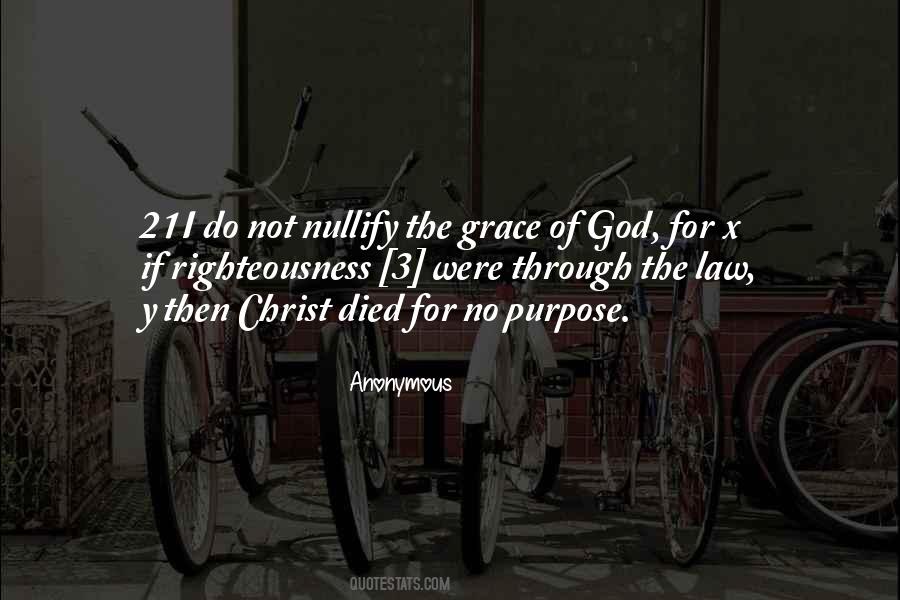 #37. A wise judge, by the craft of the law, was never seduced from its purpose. - Author: Robert Southey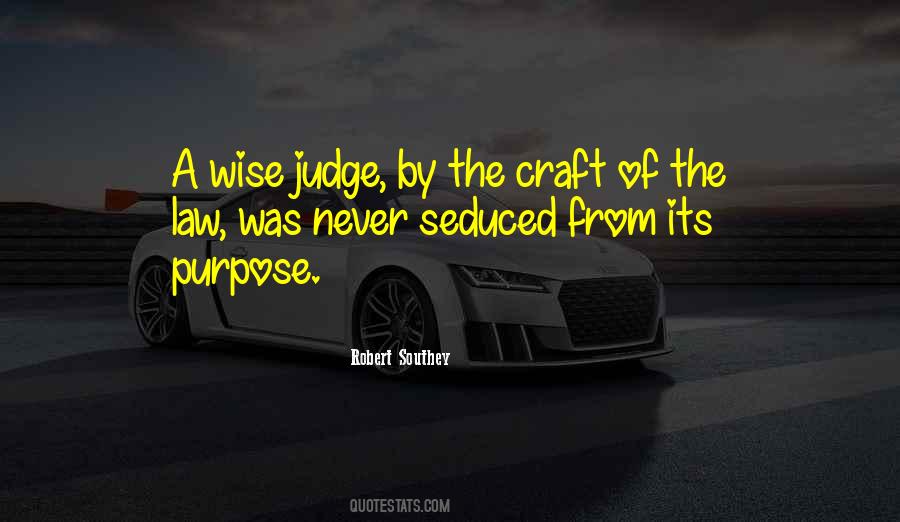 #38. Most of the Ten Commandments are negative. The purpose of law is not to mandate good behavior. That concept comes from the French Revolution. - Author: Randall Terry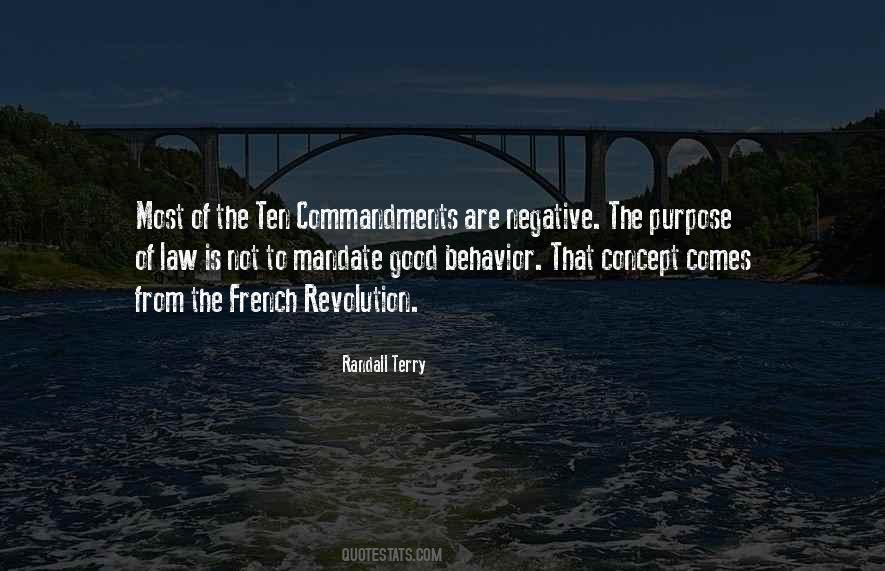 #39. Coercive redistribution of wealth through government's abuse of law and misapplication of rights destroys individual liberty; ambition, productivity, and wealth; and the purpose of the commonwealth. - Author: Mark R. Levin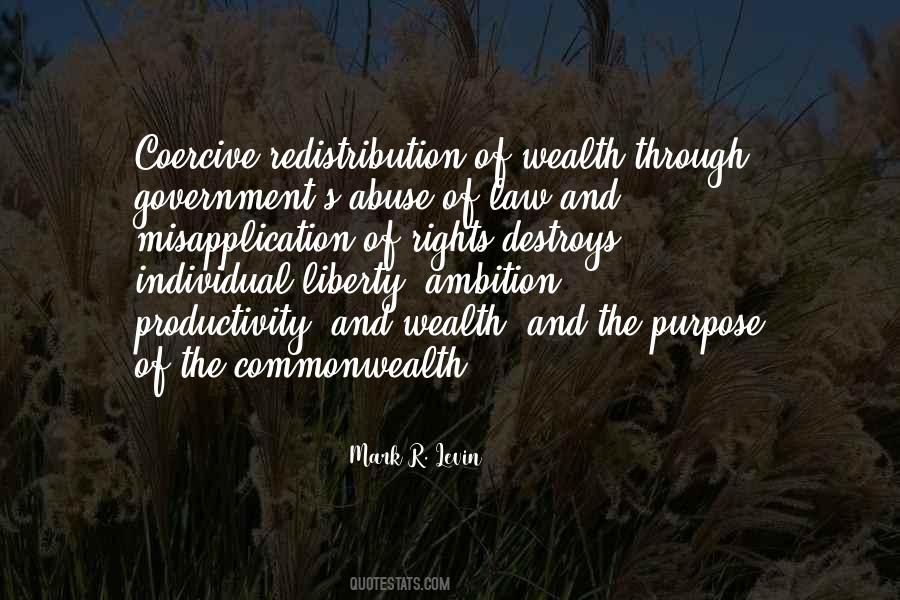 #40. The laws of physics ... seem to be the product of exceedingly ingenious design ... The universe must have a purpose. - Author: Paul Davies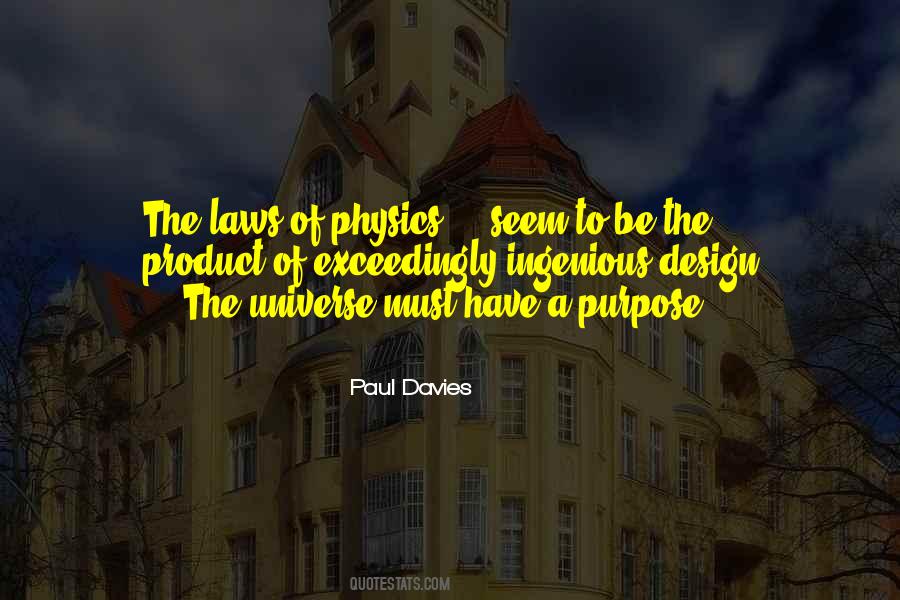 #41. We despise the grace of God when we observe the Law for the purpose of being justified. The Law is good, holy, and profitable, but it does not justify. To keep the Law in order to be justified means to reject grace, to deny Christ, to despise His sacrifice, and to be lost. - Author: Martin Luther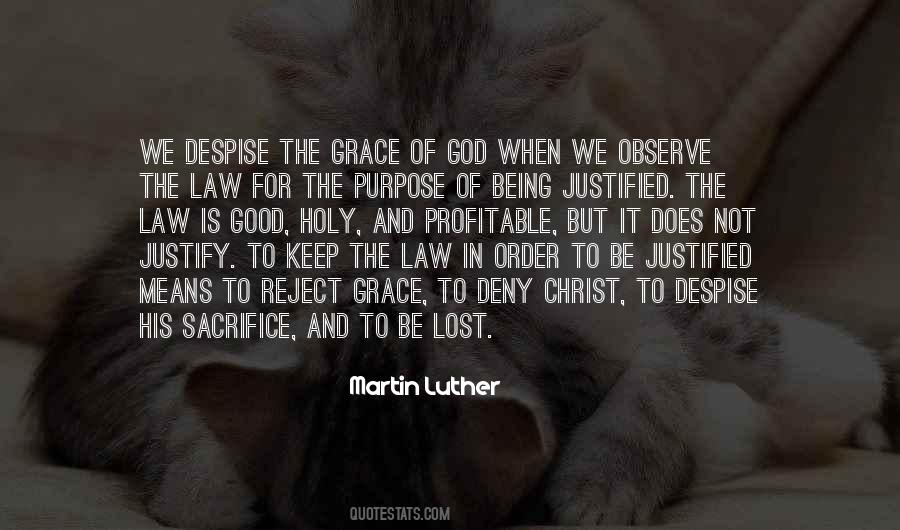 #42. It is not the purpose of a juryman's office to give justice as a favor to whoever seems good to him, but to judge according to law, and this he has sworn to do. - Author: Socrates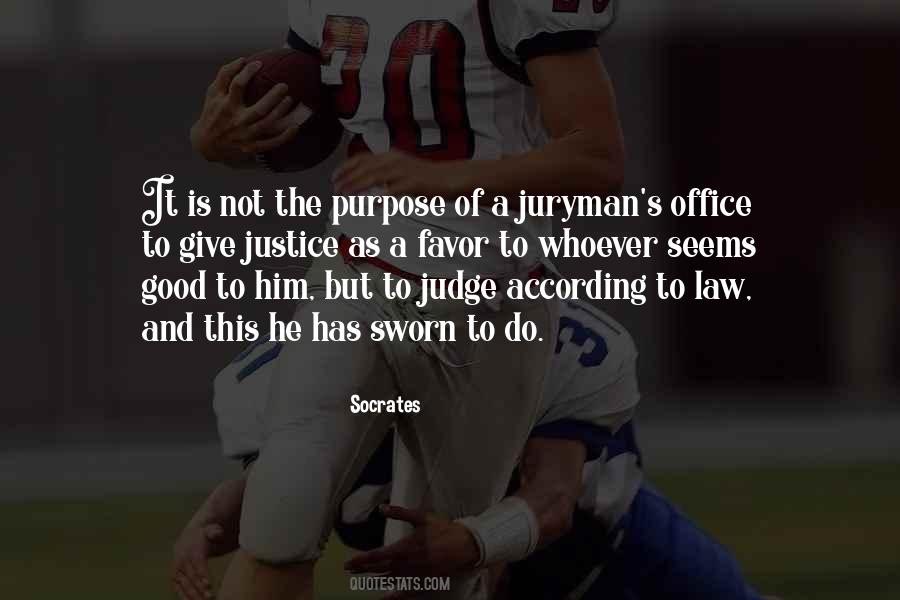 #43. Never obliterate a man unthinkingly, the way an entire fief might do it through some due process of law. Always do it for an overriding purpose - and know your purpose! - Author: Frank Herbert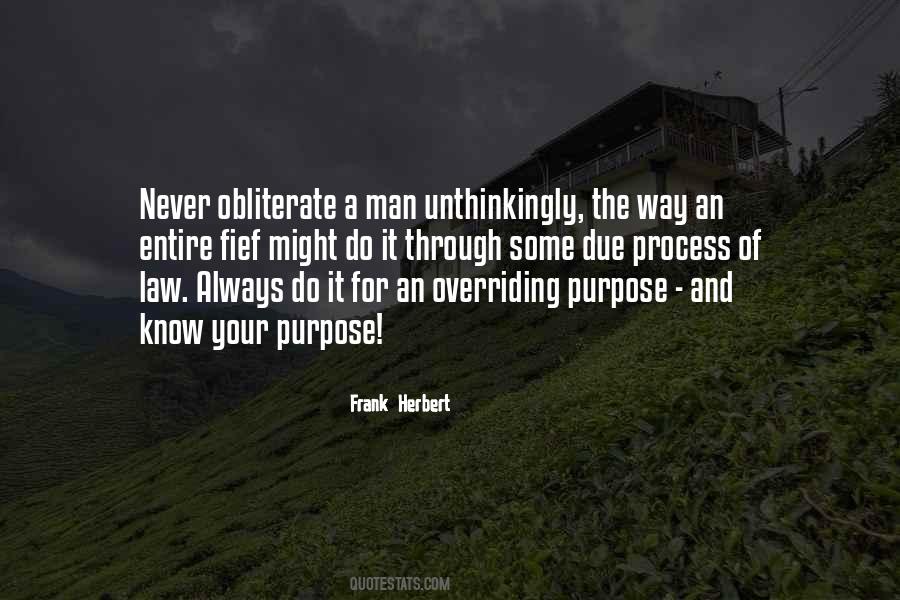 #44. When the purpose of the appointment to ,cohabit with the widow bas been attained in accordance with the law, those two shall behave towards each other like a father and a daughter in law. - Author: Guru Nanak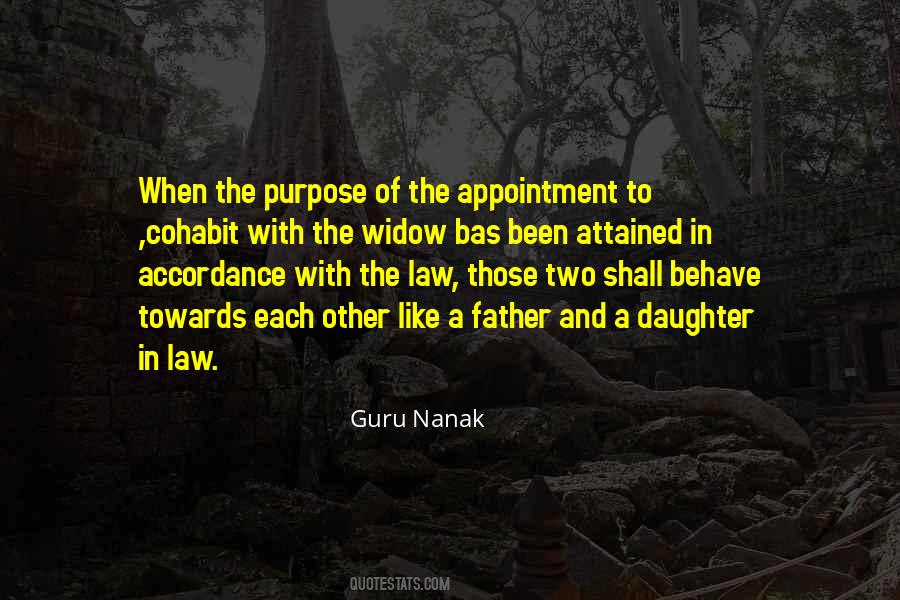 #45. Law and order exist for the purpose of establishing justice. - Author: Martin Luther King Jr.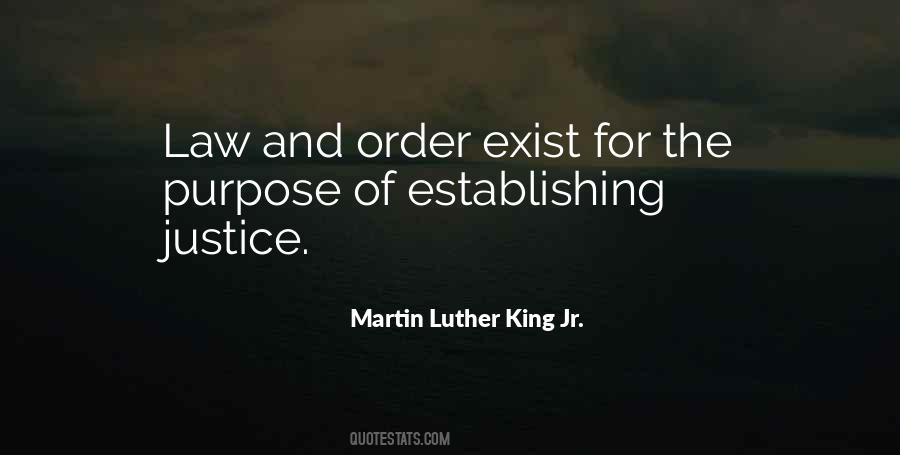 #46. When freedom does not have a purpose, when it does not wish to know anything about the rule of law engraved in the hearts of men and women, when it does not listen to the voice of conscience, it turns against humanity and society. - Author: Pope John Paul II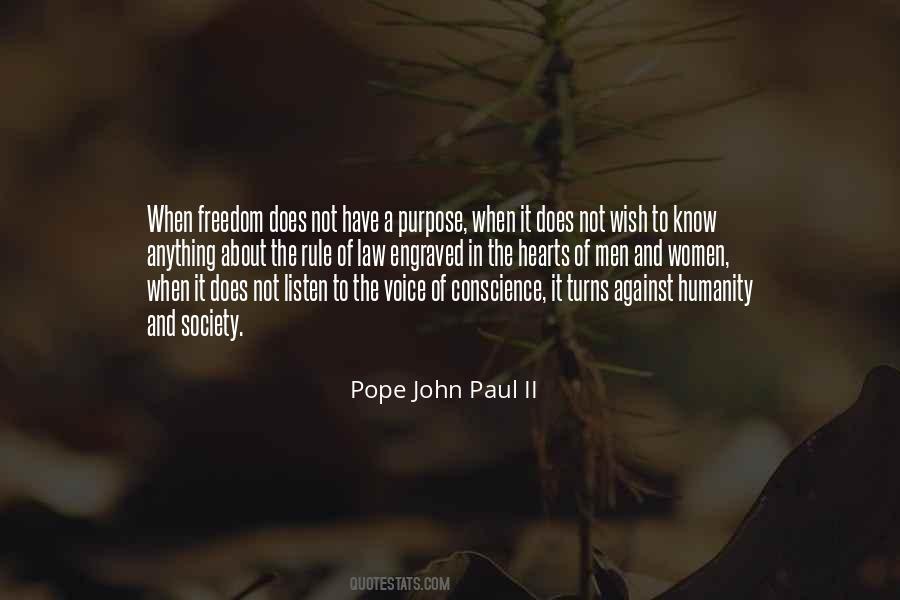 #47. The good of the people must be the great purpose of government. By the laws of nature and of reason, the governors are invested with power to that end. And the greatest good of the people is liberty. It is to the state what health is to the individual. - Author: Denis Diderot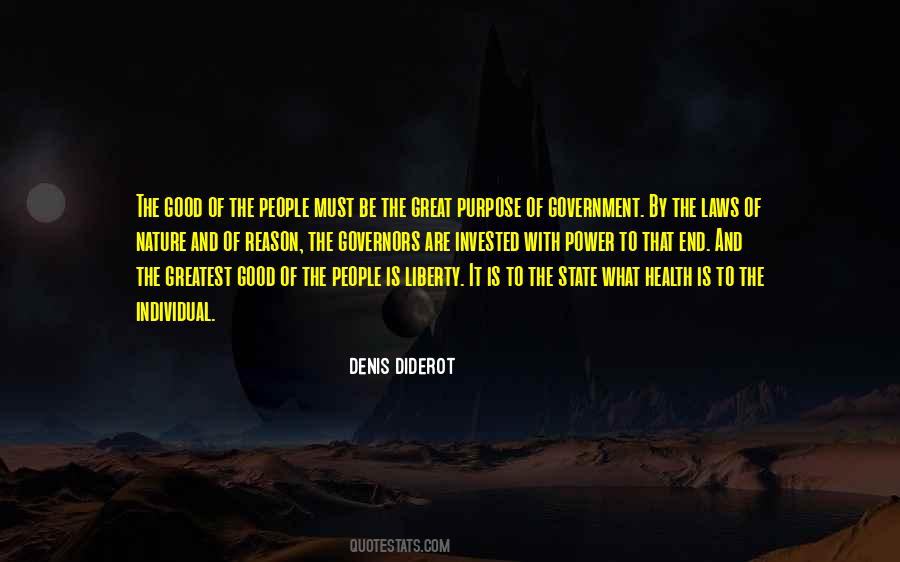 #48. All the research shows that being married, with all its ups and downs, is by far the most effective way of making young men law-abiding and giving them a sense of purpose and self-worth. - Author: Ferdinand Mount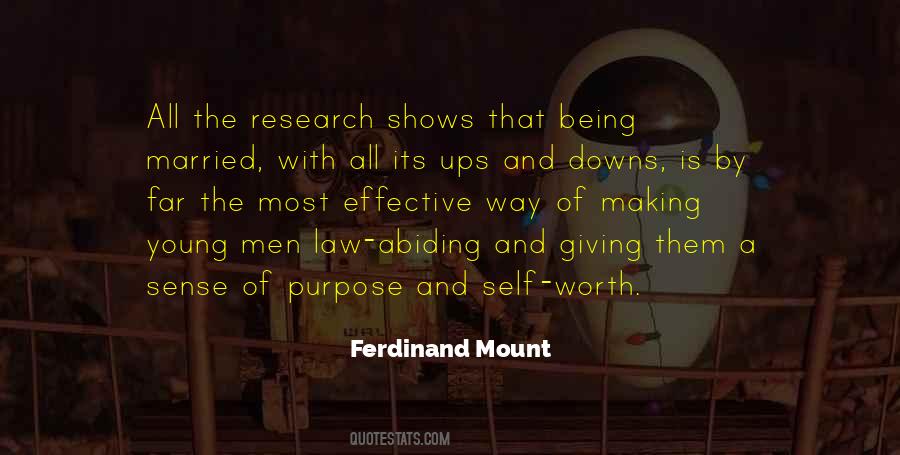 #49. The law of the [Cub Scout] pack guides the boys to move in the direction of being helpful, friendly, courteous, trustworthy and promote qualities which parents and the community are looking for. The whole purpose of scouting is to help the children grow up making good decisions in life. - Author: John C. Maxwell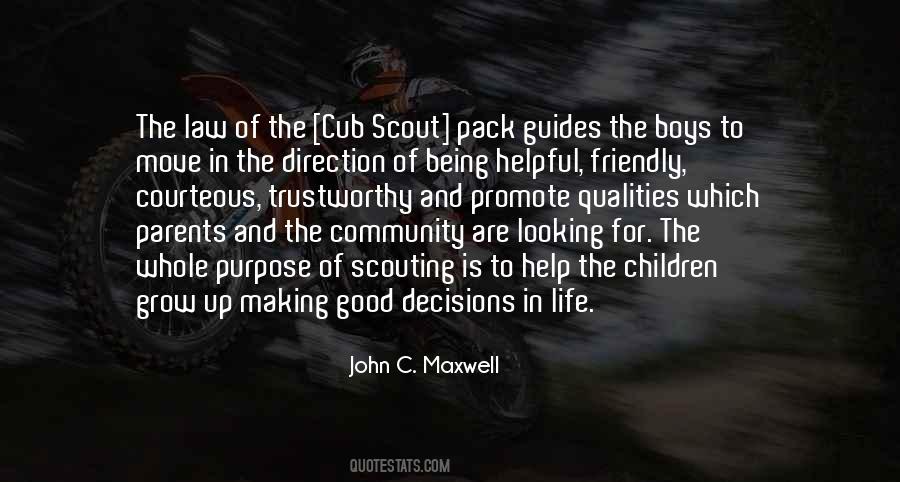 #50. We have a responsibility in our time, as others have had in theirs, not to be prisoners of history but to shape history, a responsibility to fill the role of path-finder, and to build with others a global network of purpose and law. - Author: Madeleine Albright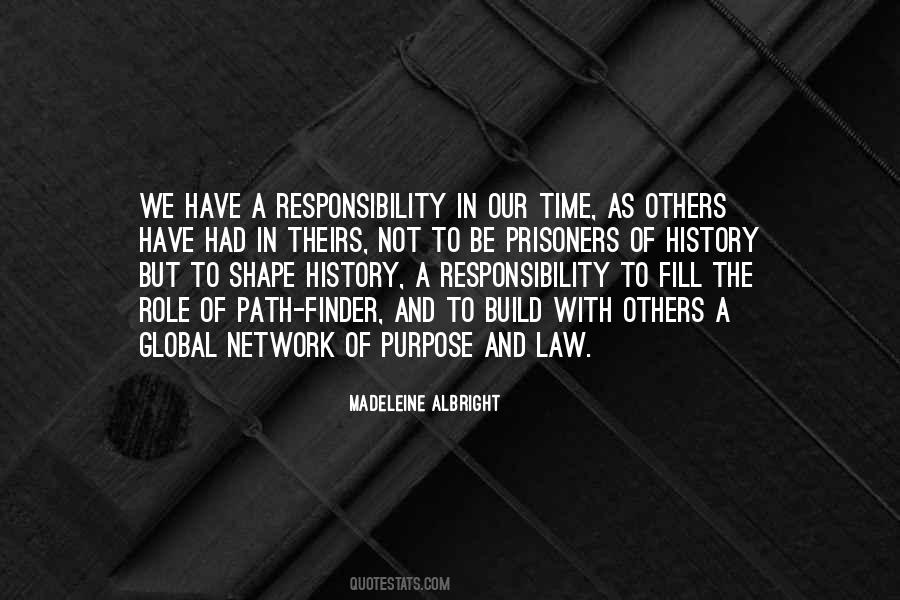 #51. As long as it is admitted that the law may be diverted from its true purpose
that it may violate property instead of protecting it
then everyone will want to participate in making the law, either to protect himself against plunder or to use it for plunder. - Author: Frederic Bastiat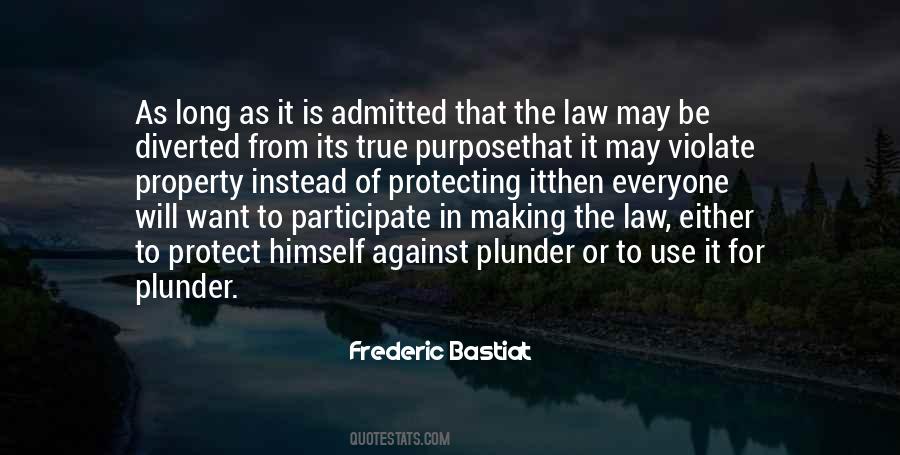 #52. Men are not generally sufficiently aware of the distinction between the law of God and his purpose; they are apt to suppose, that as the temper of the sinner is contrary to the one, so the outrages of the sinner are able to defeat the other; than which nothing can be more false. - Author: John Witherspoon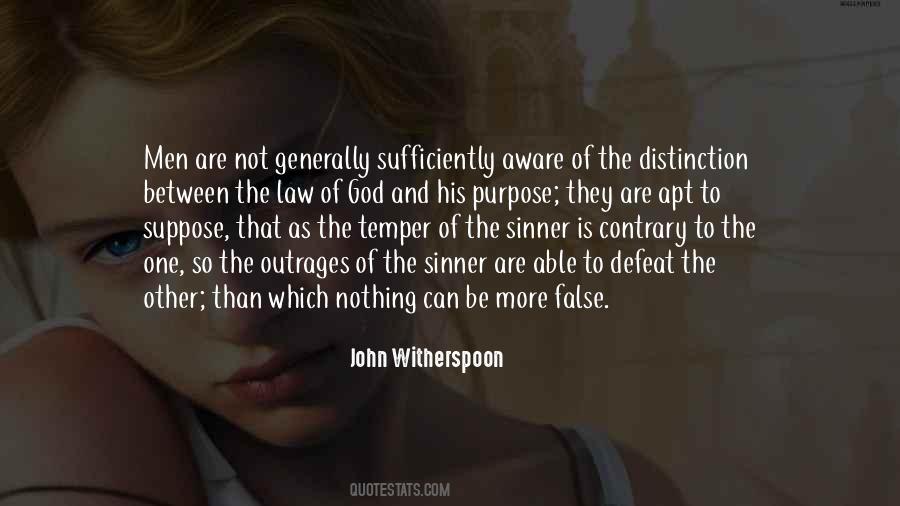 #53. The purpose of pure science is to observe phenomena and to trace their laws; the purpose of art is to produce, modify, or destroy. Strictly speaking there is no such thing as applied science, for, the moment the attempt is made to apply, science passes into the realm of art. - Author: Joseph William Mellor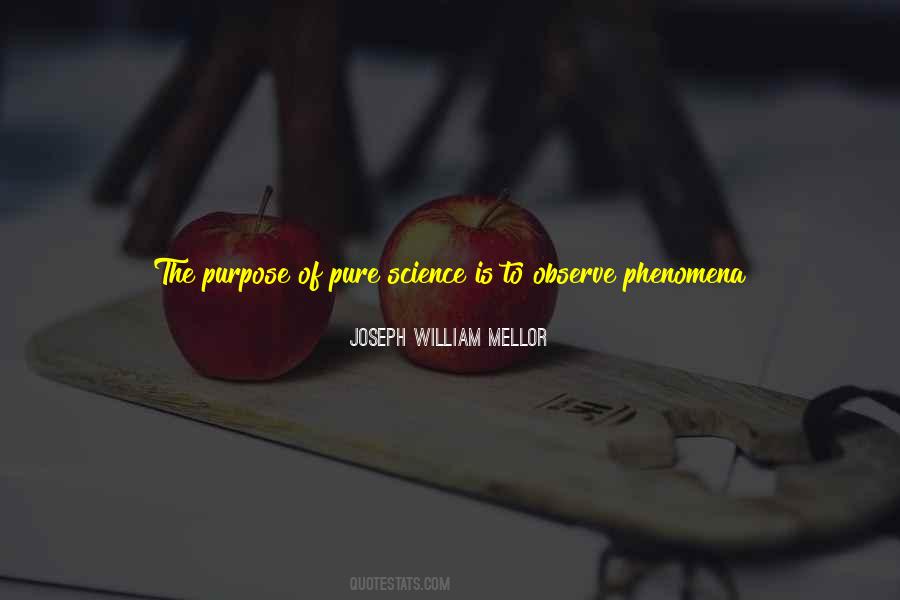 #54. One of the problems with even suggesting that purpose of a Federal law is for law enforcement officers to assist in protecting the public outside their jurisdictions is that it may give them encouragement or even a sense of obligation to do so. - Author: Bobby Scott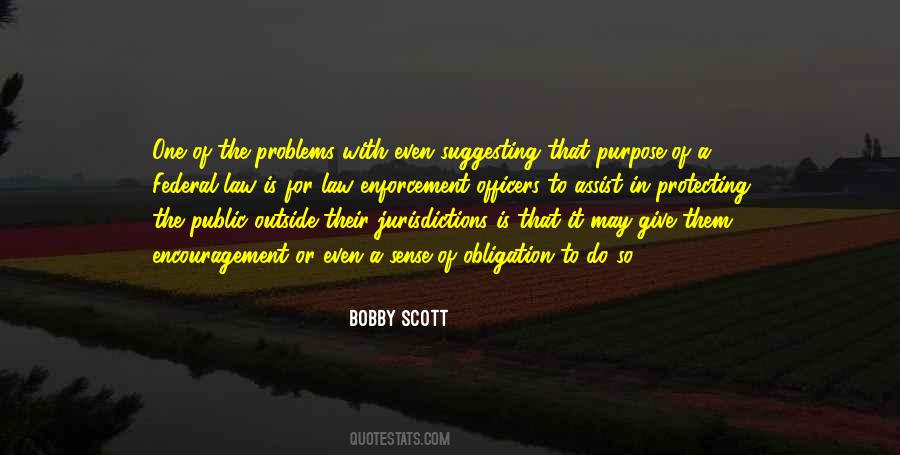 Famous Authors
Popular Topics