The Power Of Our Words Famous Quotes & Sayings
List of top 48 famous quotes and sayings about the power of our words to read and share with friends on your Facebook, Twitter, blogs.
Top 48 Quotes About The Power Of Our Words
#1. Words are the bricks of our world and they have the power to change it. - Author: Enock Maregesi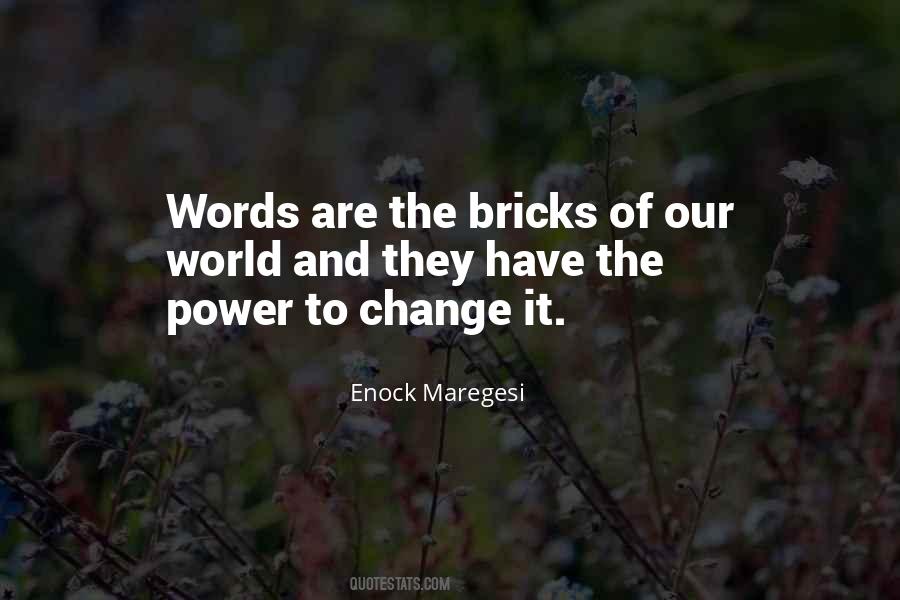 #2. Remember that in the end, the universe responds to our emotions, not to our words. - Author: Stephen Richards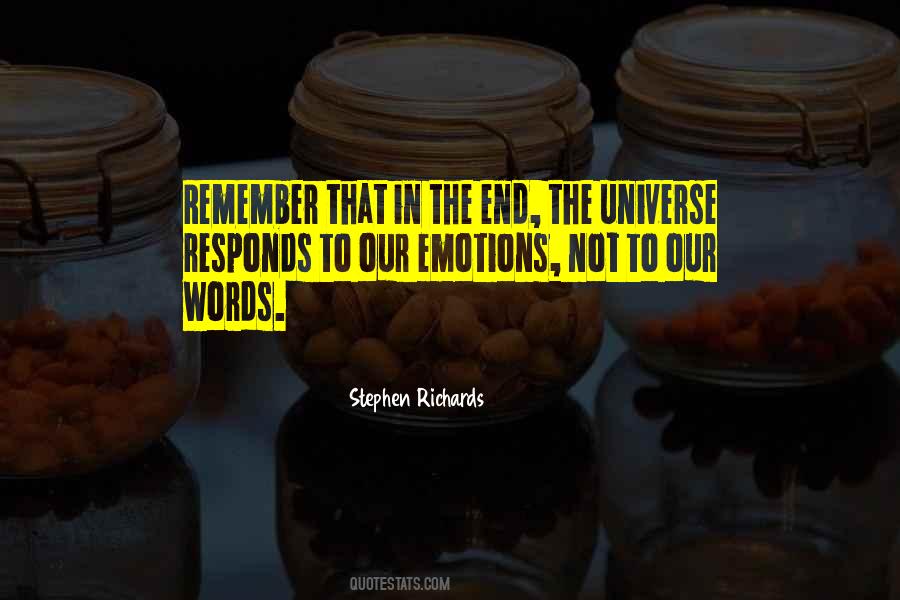 #3. There is no doctrine which I would more willingly remove from Christianity than the doctrine of hell, if it lay in my power. But it has the support of Scripture and, especially, of our Lord's own words; it has always been held by the Christian Church, and it has the support of reason. - Author: C.S. Lewis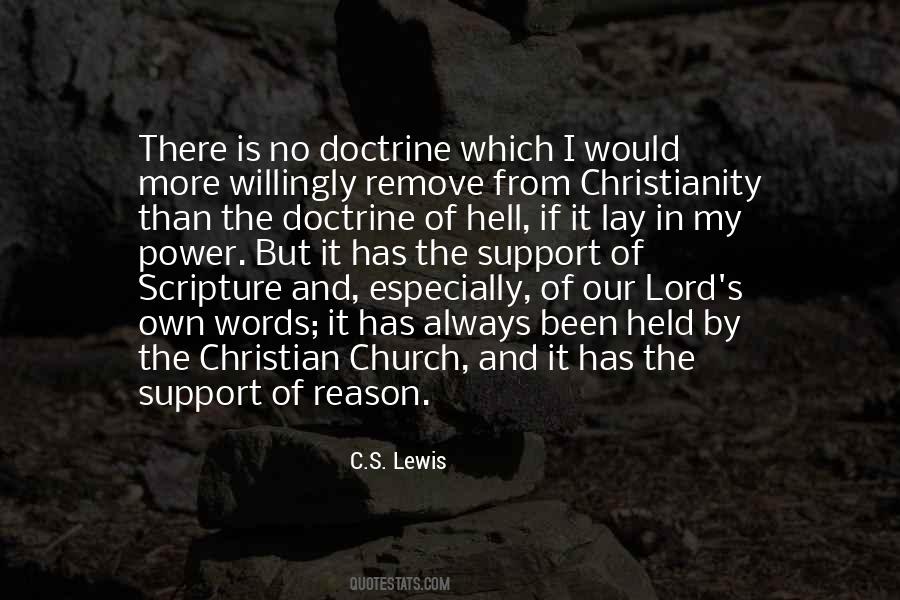 #4. If we were handling a bomb which could go off at any minute as a result of our actions, we would mind ourselves and be delicate. Our words have the same power, yet we wield them around as though they were powerless and insignificant. - Author: Yehuda Berg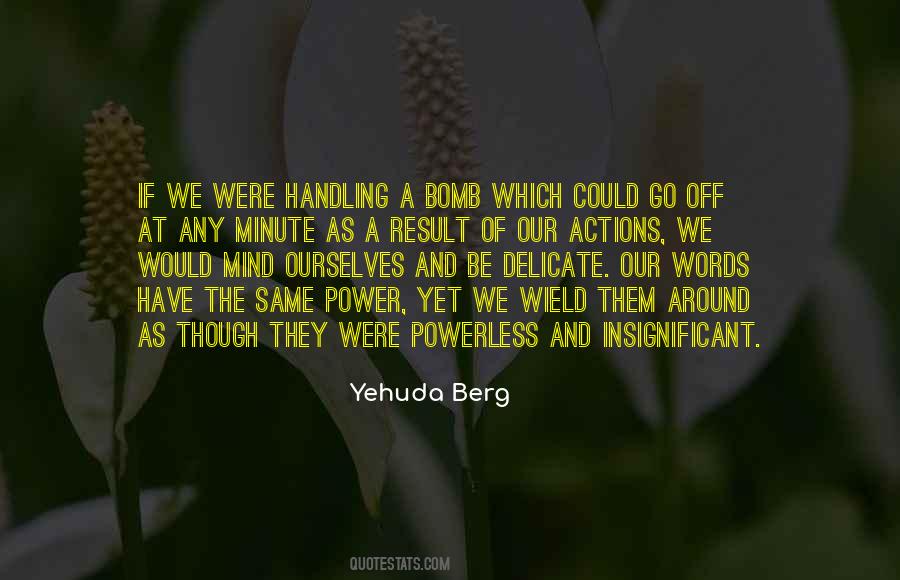 #5. Words are not in the power of men; men are in the power of words. Every time we open our mouths, a thousand dead men speak through us. - Author: Hermann Bahr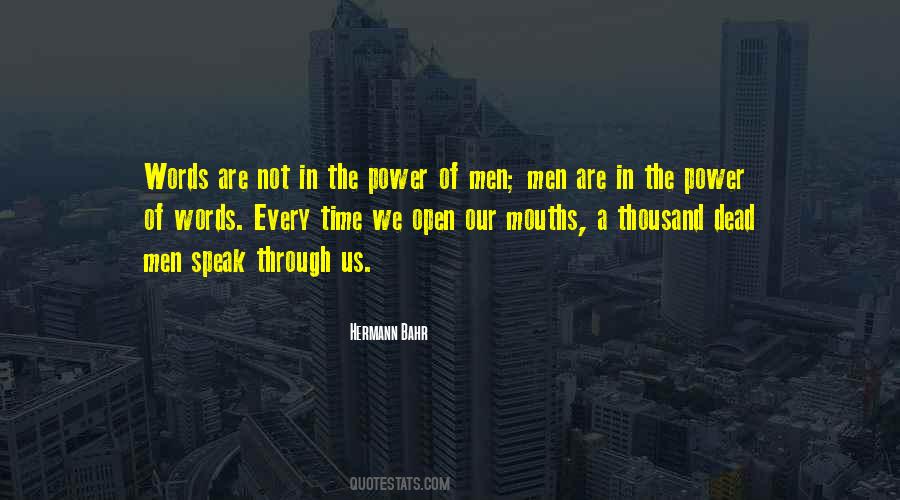 #6. There are many reasons our prayers may lack power. Sometimes they become routine. Our prayers become hollow when we say similar words in similar ways over and over so often that the words become more of a recitation than a communication. - Author: Joseph B. Wirthlin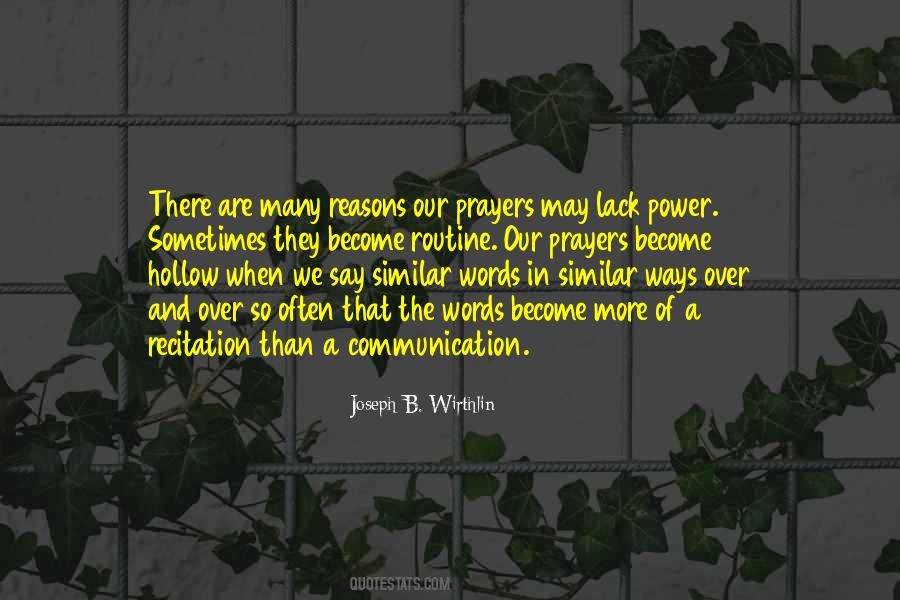 #7. I know that within you there is an energy of forgiveness that forgives me and sets me free. My words and actions have no power over you. You are free and I am free. All is well between our spirits. Peace is the order of the day. - Author: Michael Bernard Beckwith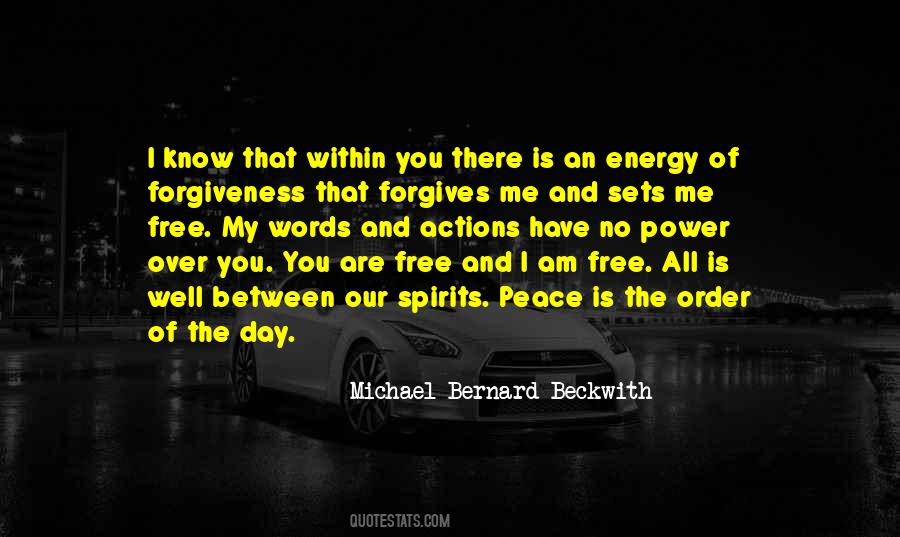 #8. A basic language-literacy of Nature is falling from us. And what is being lost along with this literacy is something perhaps even more valuable: a kind of language-magic, the power that certain words possess to enchant our imaginative relations with Nature and landscape. - Author: Robert Macfarlane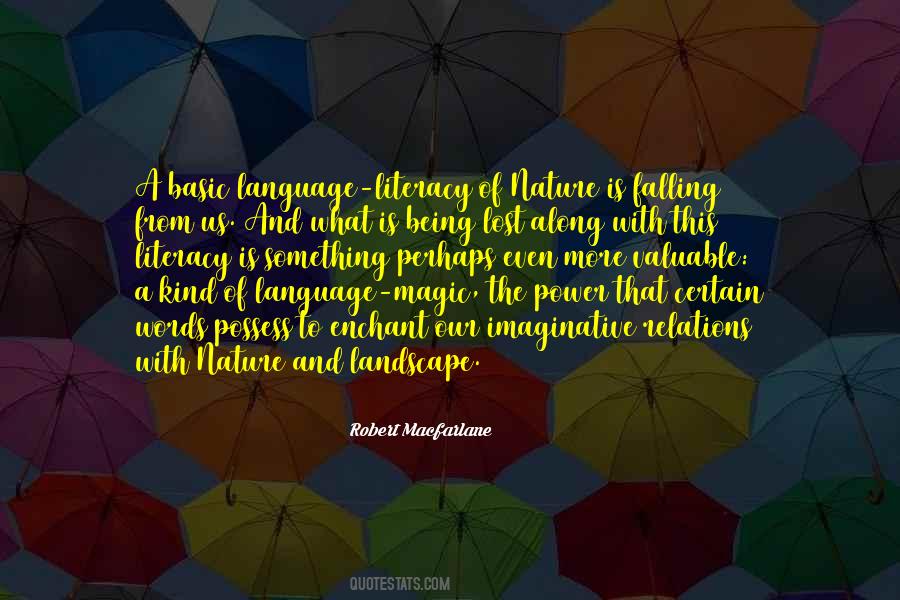 #9. I don't think that three minutes of music on a commercial record is going to bring paradise, but I feel like there is power in music and power in our words and power in what we put out into the world. - Author: Kyp Malone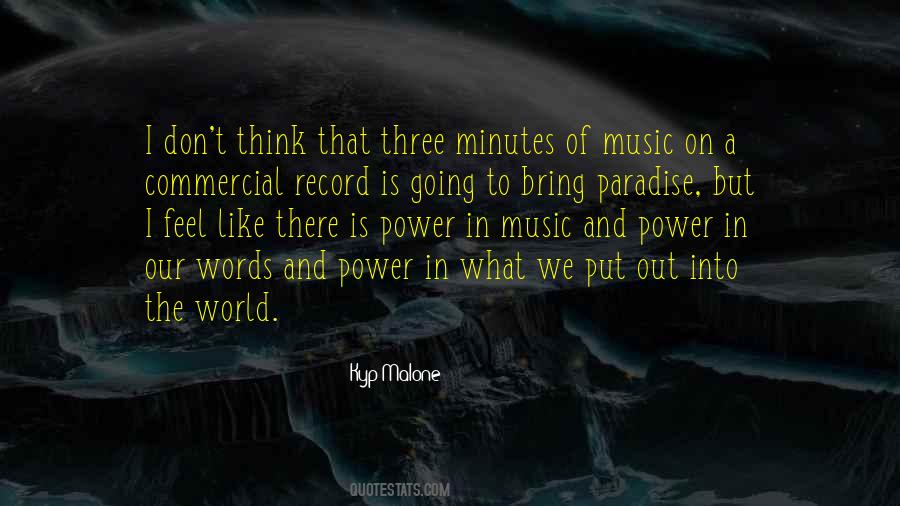 #10. Get over the feeling that the two words don't go together - women and power. The fact is, if we don't put the two together and don't understand how power changes complexion in the hands of women, then we're not going to make it. We have to own our personal power. - Author: Jane Fonda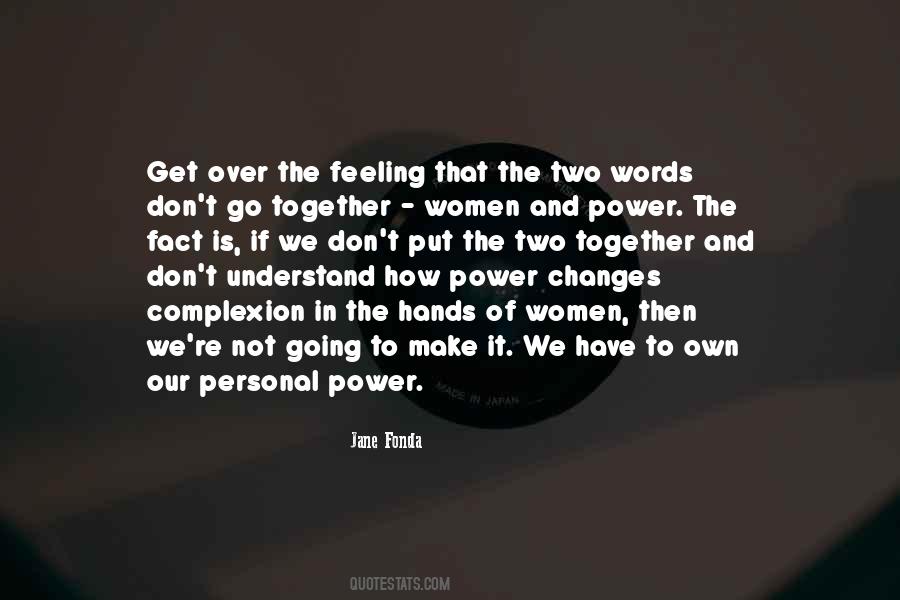 #11. We must believe in the power and strength of our words. Our words can change the world. - Author: Malala Yousafzai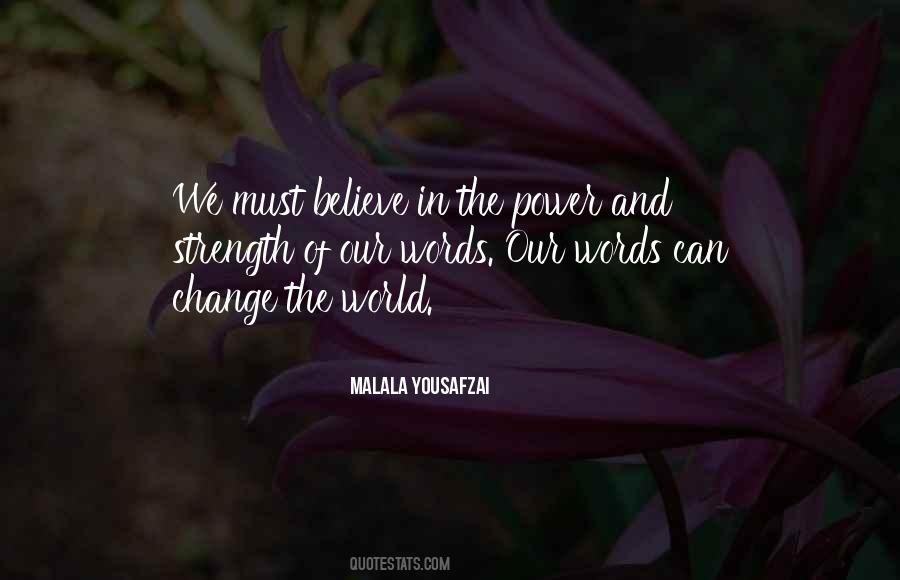 #12. Khomeini has offered us the opportunity to regain our frail religion ... faith in the power of words. - Author: Ruhollah Khomeini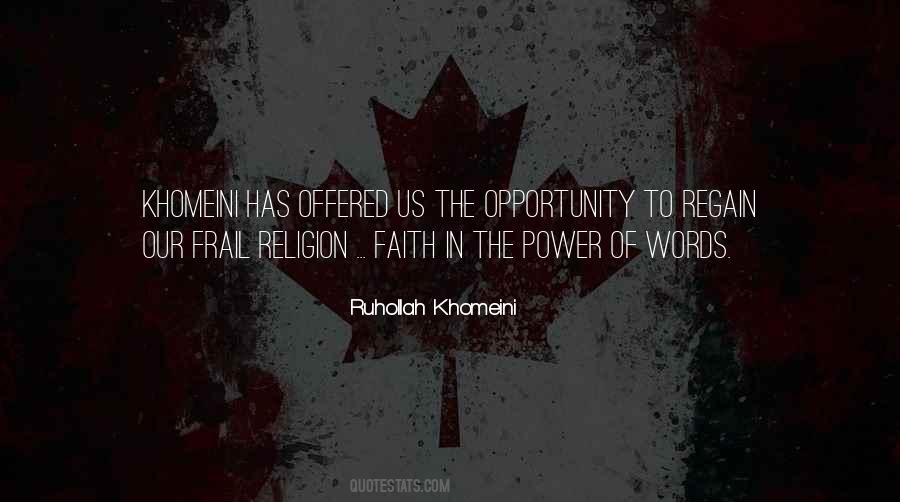 #13. Give us, we pray, the power to discern clearly right from wrong, and allow all our words and actions to be governed thereby, and by the laws of this land. Especially we pray that our concern shall be for all the people regardless of station, race, or calling. - Author: Dwight D. Eisenhower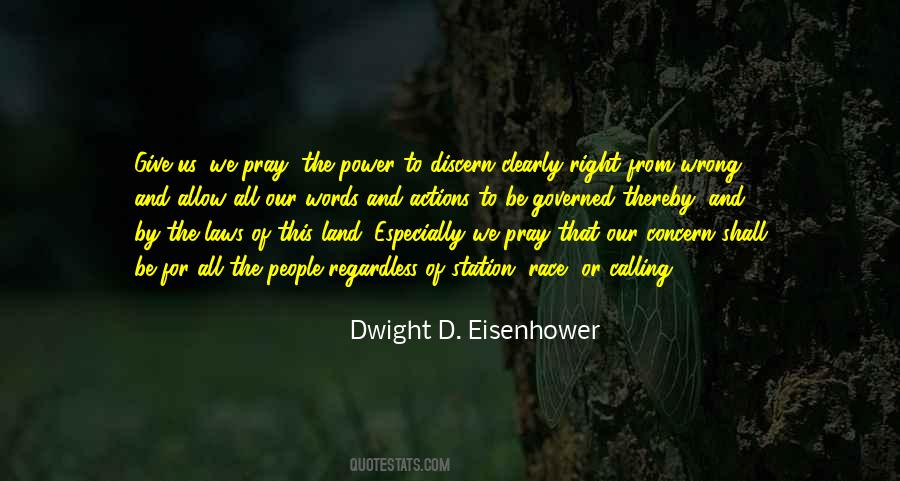 #14. The Greeks understood the mysterious power of the below things. They are the ones who gave us one of the most beautiful words in our language, the word enthusiasm. - Author: Louis Pasteur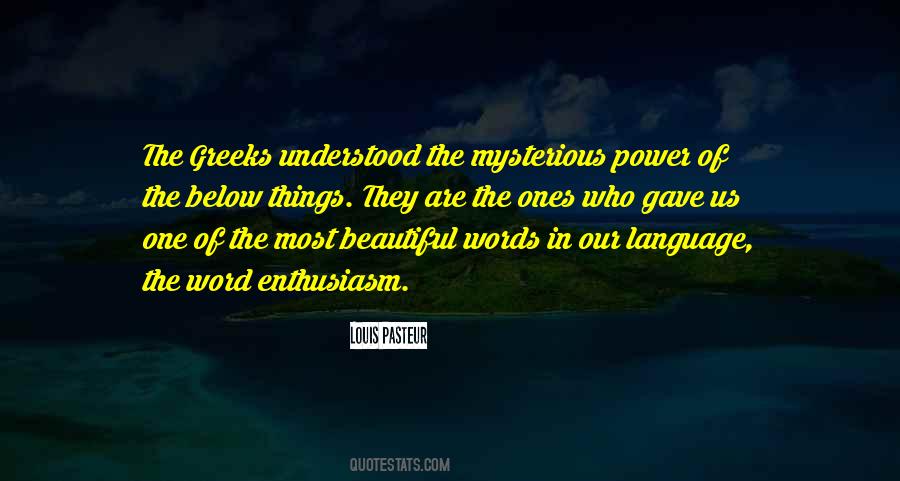 #15. Throughout human history, our greatest leaders and thinkers have used the power of words to transform our emotions, to enlist us in their causes, and to shape the course of destiny. Words can not only create emotions, they create actions. And from our actions flow the results of our lives. - Author: Tony Robbins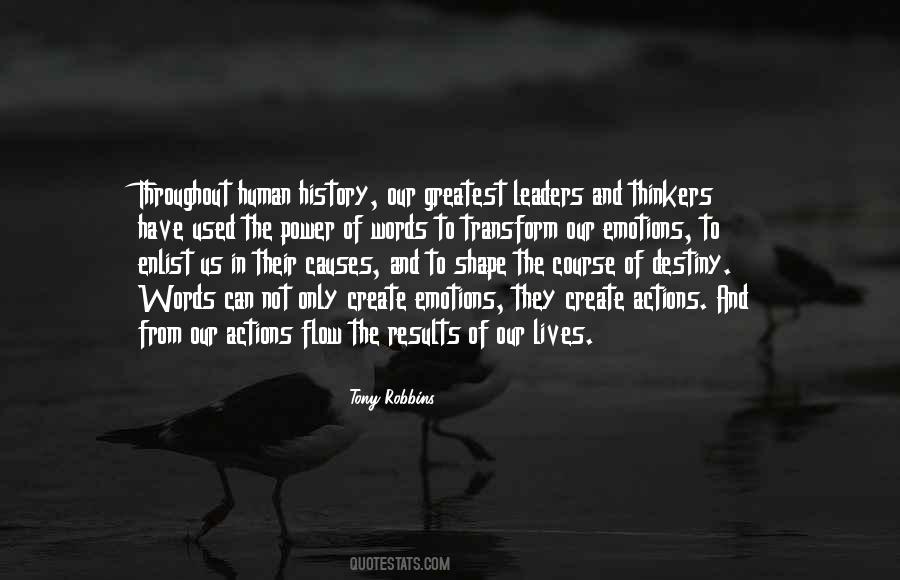 #16. In essence, all of our words evoke, develop, and bring forth our reality. We always have the power to choose our words and our reality. - Author: Julie Reisler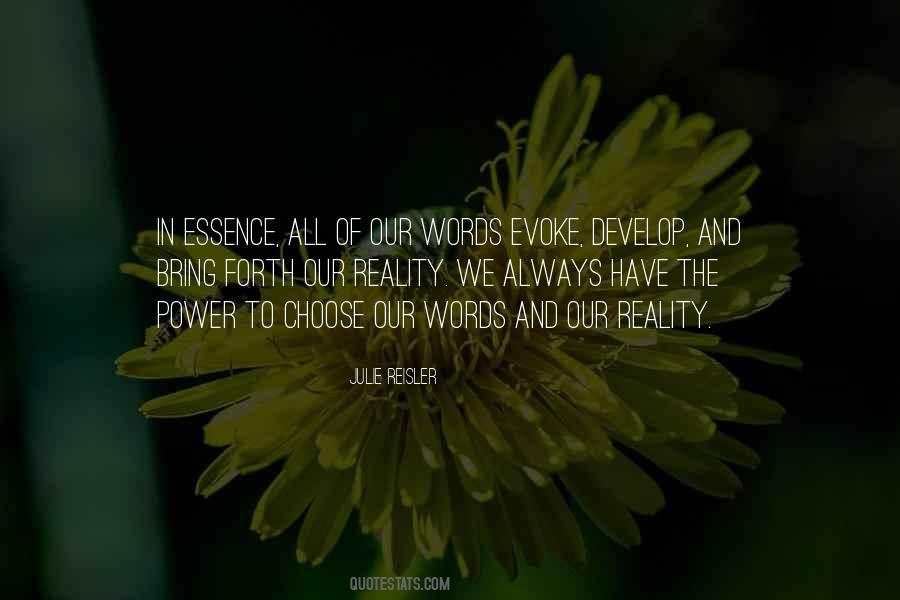 #17. As children we hoard and gloat over words. Words give ownership: we name our world and we claim it ... Children trust the power of words. - Author: Julia Cameron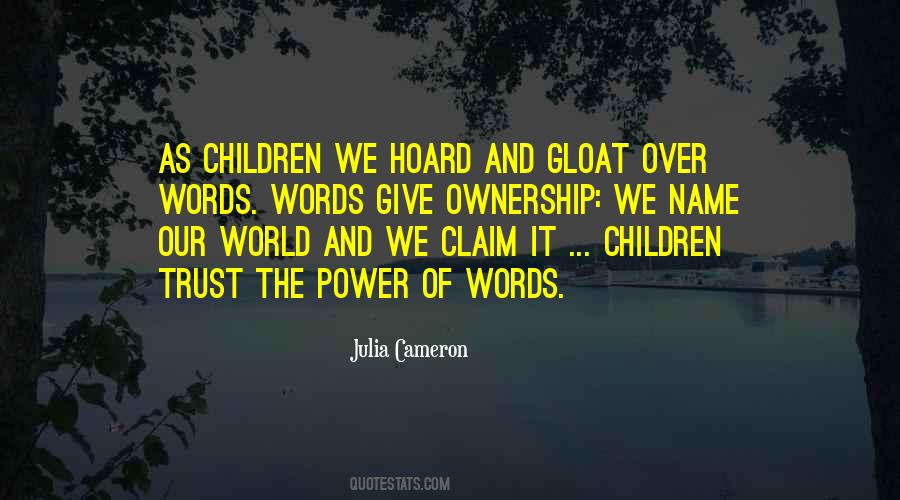 #18. The necessity of poetry has to be stated over and over, but only to those who have reason to fear its power, or those who still believe that language is 'only words' and that an old language is good enough for our descriptions of the world we are trying to transform. - Author: Adrienne Rich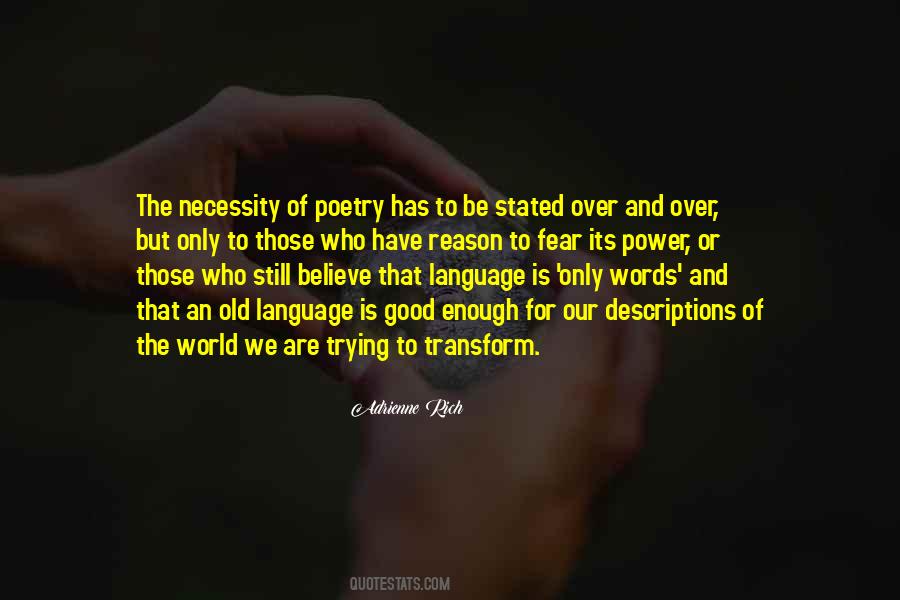 #19. Many can argue that it is our power of intelligence that is the key to the human domination of our planet. I suggest that it is the ability to put our thoughts into words that can be communicated to others. - Author: Yehuda Berg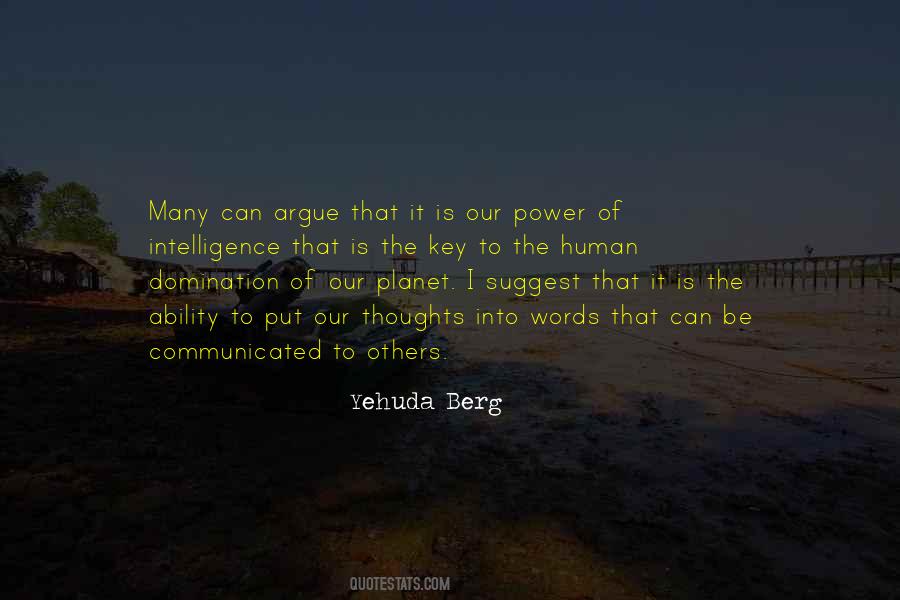 #20. Unfortunately, the people who have the greatest influence in our lives rarely understand the power of their words to shape who we become. They never fully understand that what informs us forms us. Words spoken into a soul are like the hands of a potter pressed against wet clay. - Author: Erwin Raphael McManus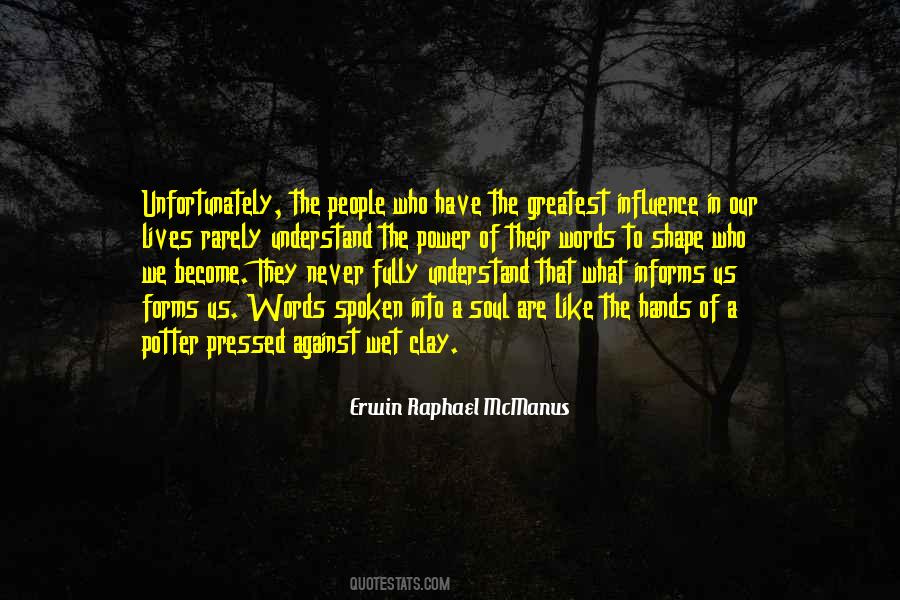 #21. Everything we do in life is creating everything that's coming. Our thoughts and our words become things manifest in our lives. Each time my Master sent me to the right place at the right time. - Author: Kate McGahan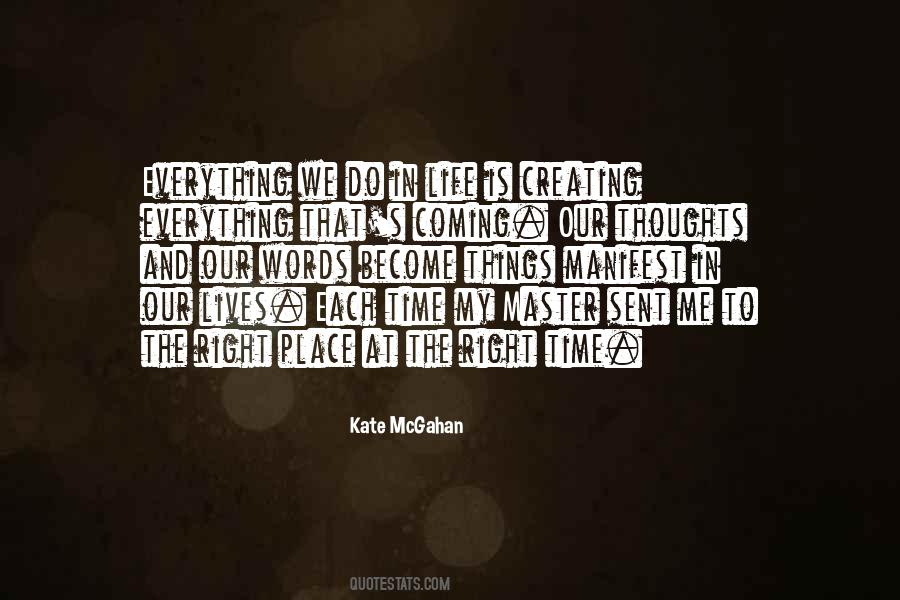 #22. Psalm 107:2 says, "Let the redeemed of the LORD say so." The Scriptures tell us that death and life are in the power of our words (Prov. 18:21). Think about that - death and life are released by what we say. Make sure the words you speak are life-producing words. S - Author: Dutch Sheets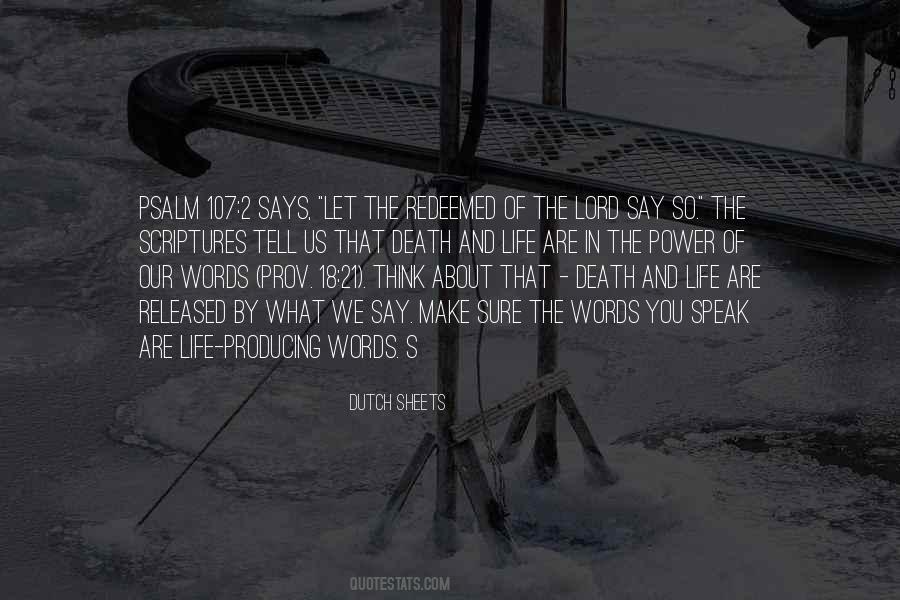 #23. Trust in your story, it's powerful enough. Oftentimes, it is not the lack of power that is our struggle; but it is our unawareness of the power that we do have, which is our biggest hurdle to surmount. - Author: C. JoyBell C.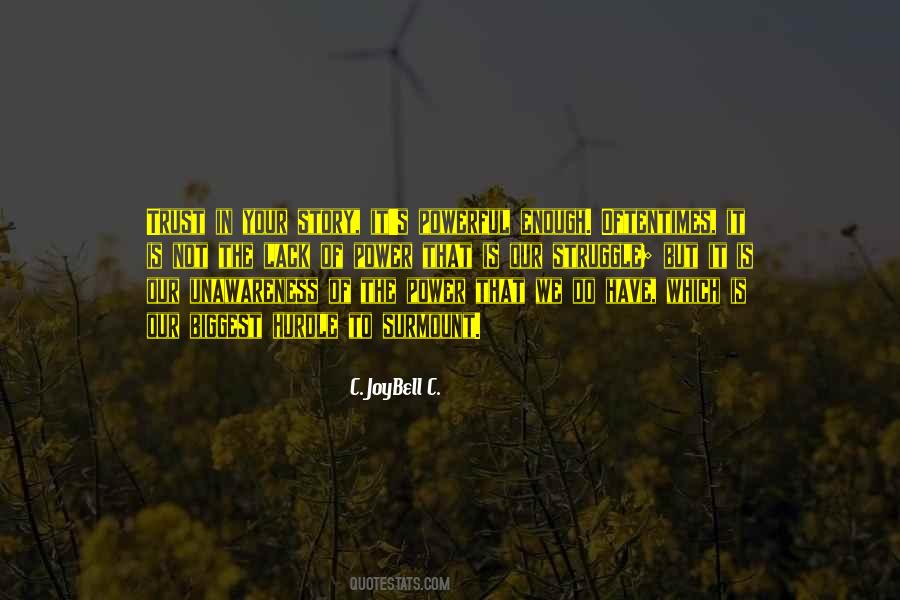 #24. If they will not understand that we are bringing them a mathematically faultless happiness, our duty will be to force them to be happy. But before we take up arms, we shall try the power of words. - Author: Yevgeny Zamyatin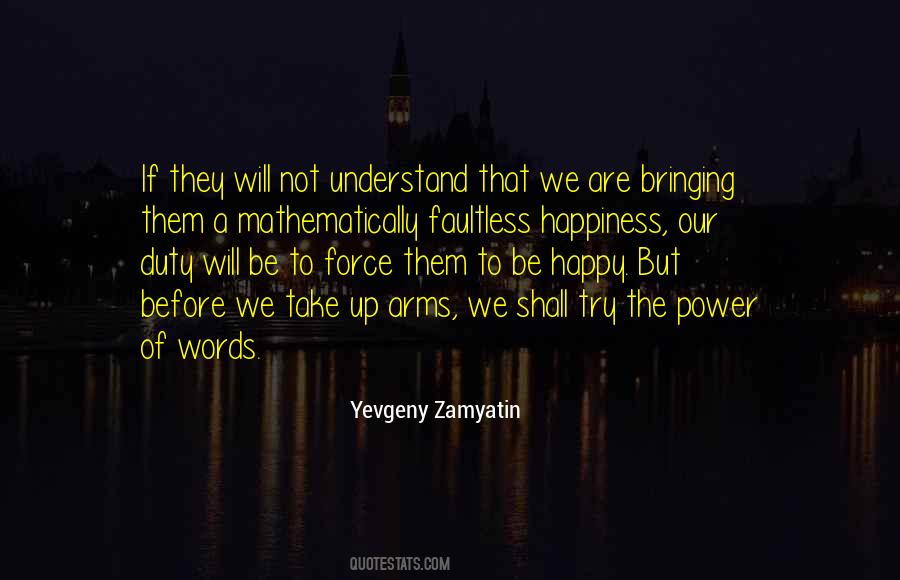 #25. This I have observed: There are no language barriers in the Church. There is a mighty power that transcends the power of messages conveyed by words alone, and this is the power of messages communicated by the Spirit to our hearts. - Author: Joseph B. Wirthlin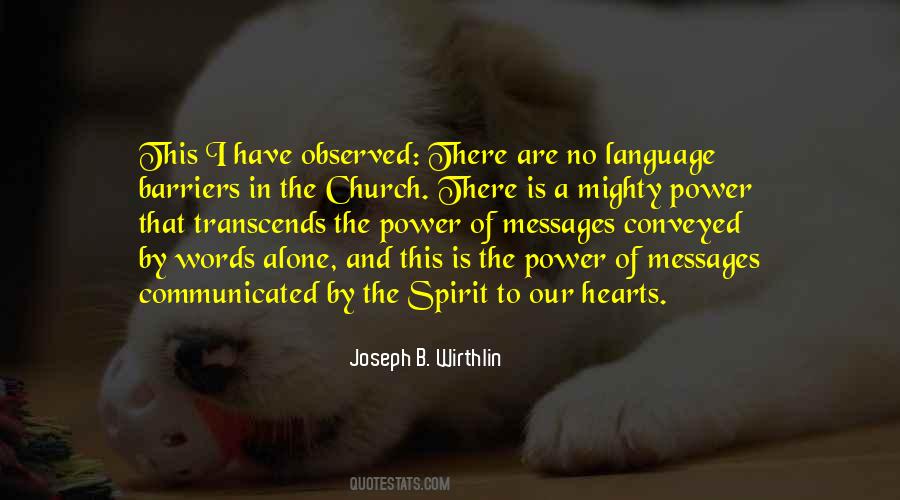 #26. The power we hold comes with an added responsibility to inspire through words or actions and build someone else's life. Our power definitely does not lie in zapping others of their powers. - Author: Tina Sequeira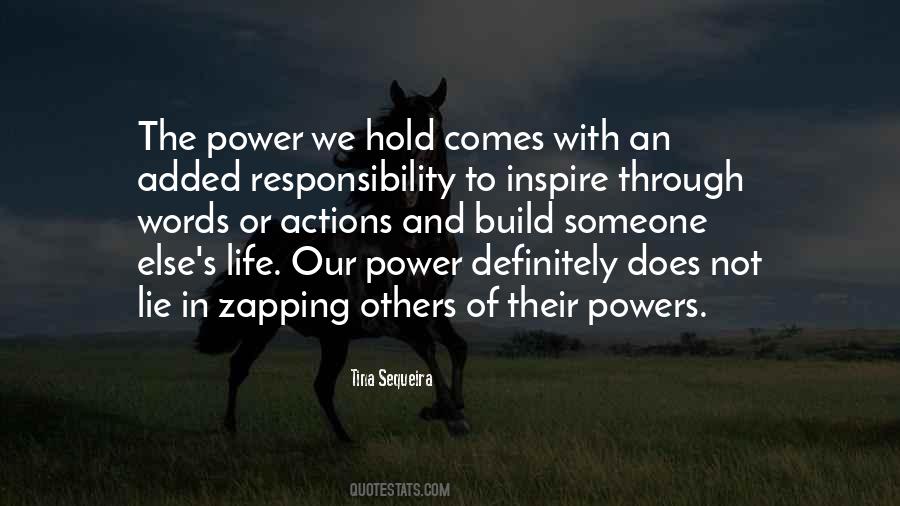 #27. We've been gifted with the power of choice ... in our actions, our thoughts, and our words. The quality of our lives gets better or worse depending on which direction we go with our choices. - Author: Shawn Anderson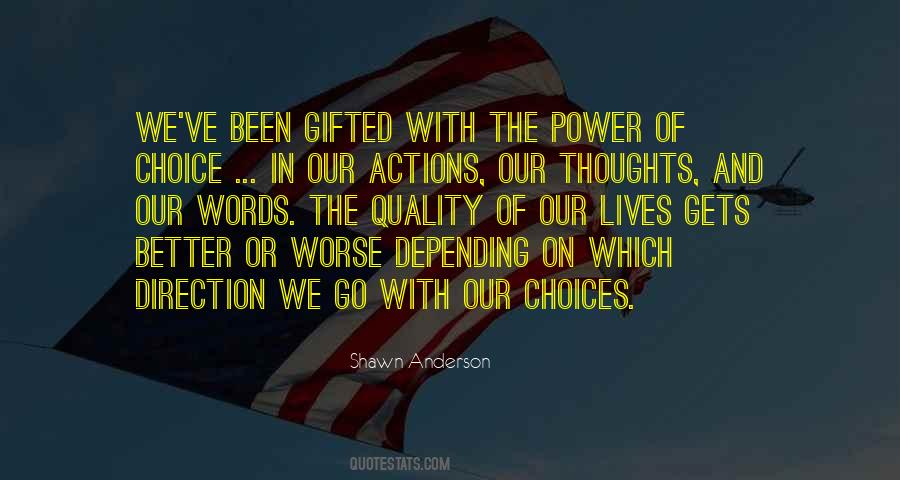 #28. Words enable us to transfer our thoughts from inside our own mind into the mind of another. They have the power to alter history, to describe the past, and to bring meaning and substance to the present. - Author: Jim Rohn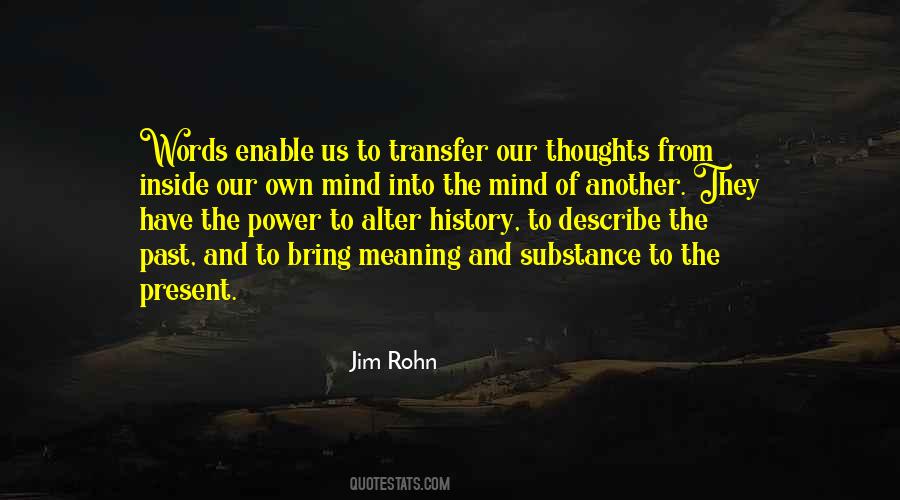 #29. So our task as stewards of the word begins and ends in love. Loving language means cherishing it for its beauty, precision, power to enhance understanding, power to name, power to heal. And it means using words as instruments of love. - Author: Marilyn Chandler McEntyre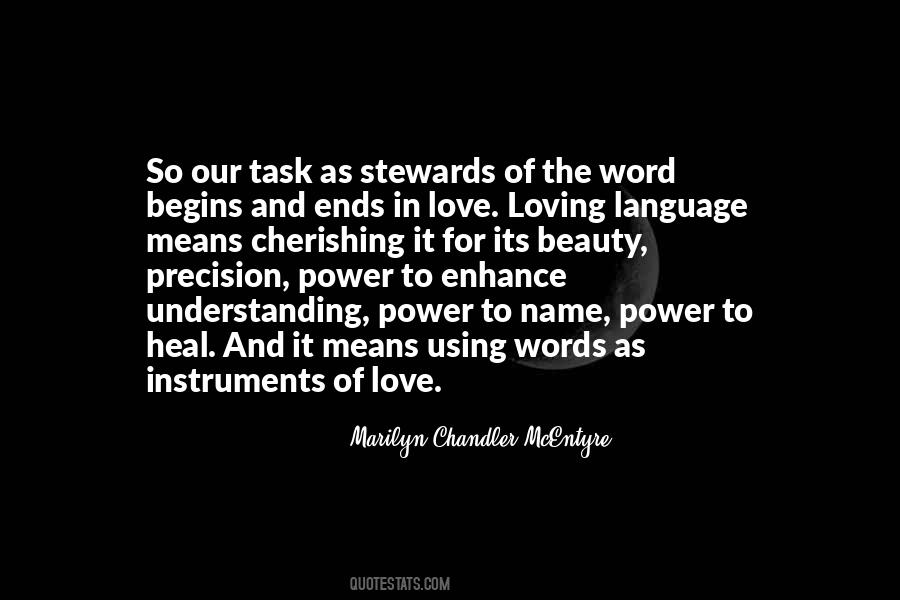 #30. If we understood the awesome power of our words, we would prefer silence to almost anything negative. - Author: Betty Eadie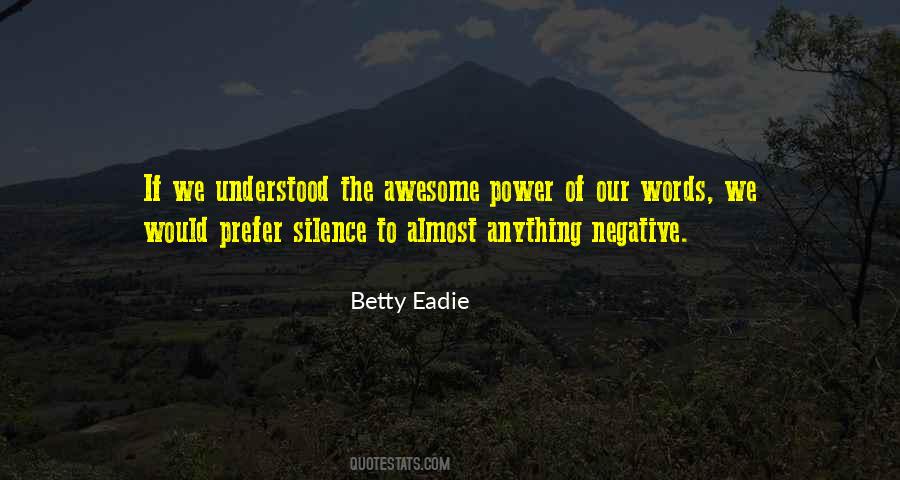 #31. The words we choose can build communities, reunite loved ones, and inspire others. They can be a catalyst for change. However, our words also have the power to destroy and divide: they can start a war, reduce a lifelong relationship to a collection of memories, or end a life. - Author: Simon S. Tam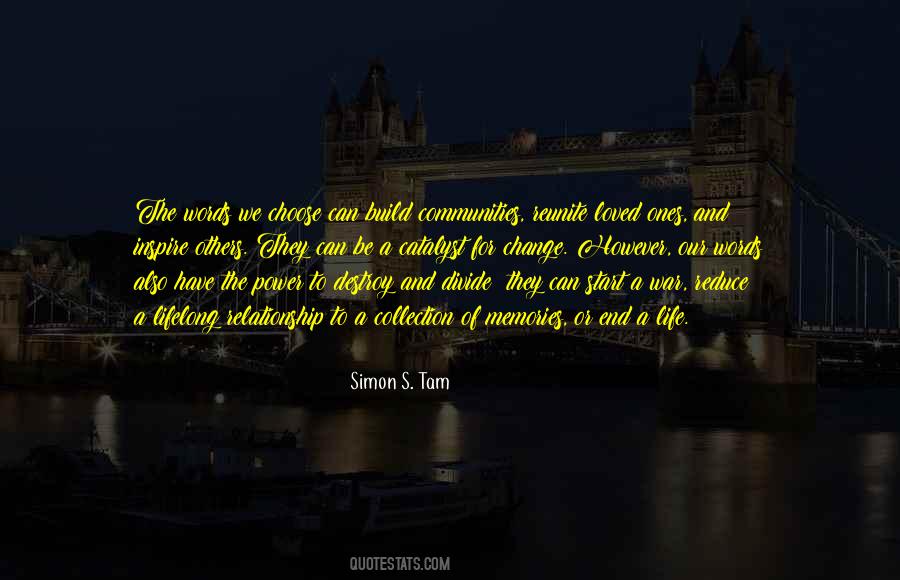 #32. Life is meaningless only if we allow it to be. Each of us has the power to give life meaning, to make our time and our bodies and our words into instruments of love and hope. - Author: Thomas Head Raddall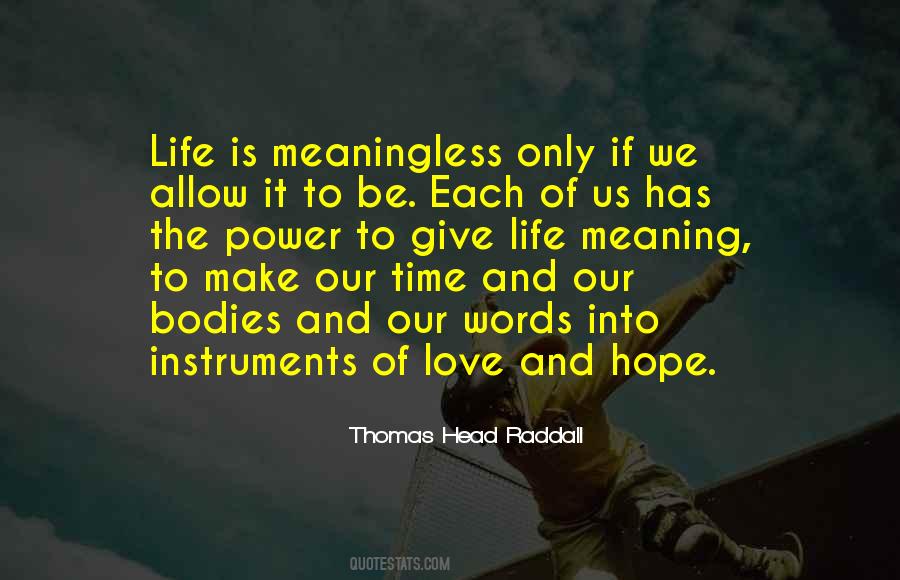 #33. Odors have a power of persuasion stronger than that of words, appearances, emotions, or will. The persuasive power of an odor cannot be fended off, it enters into us like breath into our lungs, it fills us up, imbues us totally. There is no remedy for it. - Author: Patrick Suskind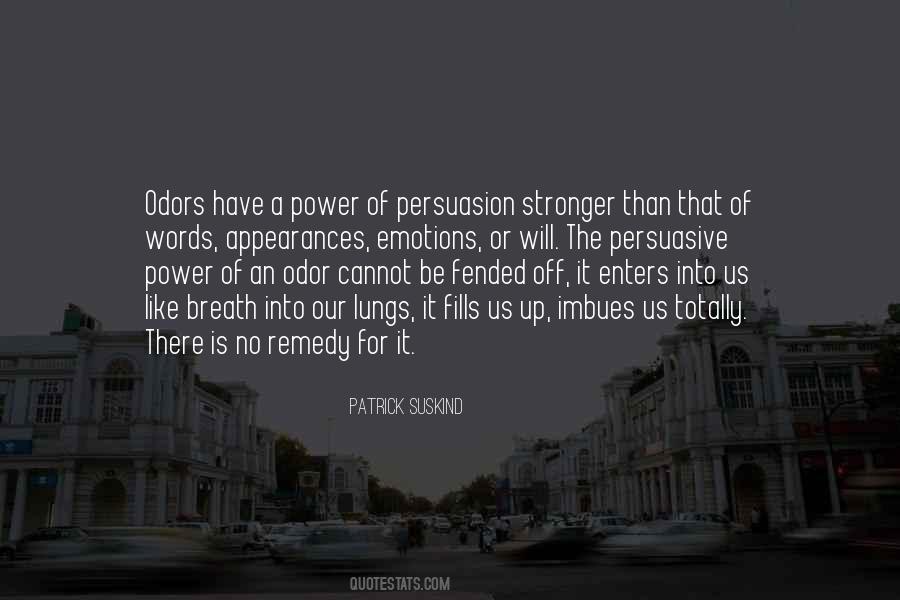 #34. Words start wars and end them, create love and choke it, bring us to laughter and joy and tears. Words cause men and women to willingly risk their lives, their fortunes and their sacred honor. Our world, as we know it, revolves on the power of words. - Author: Roy Williams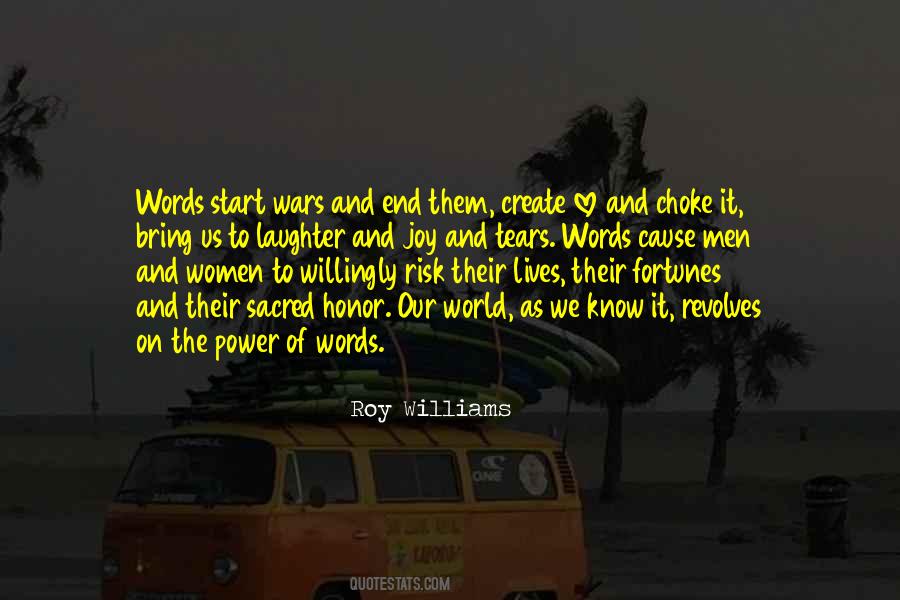 #35. Our words have not the power of the words that become Vedas. - Author: Swami Vivekananda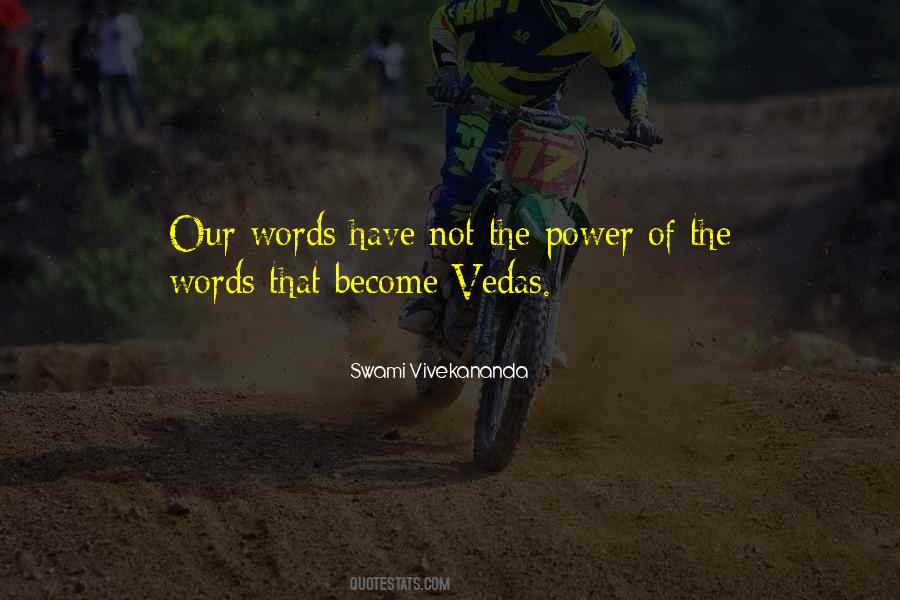 #36. Words wield power, both divine and mortal. We might think of the comparison of the power of words like this: God's words are omnipotent. Our words are potent. - Author: Beth Moore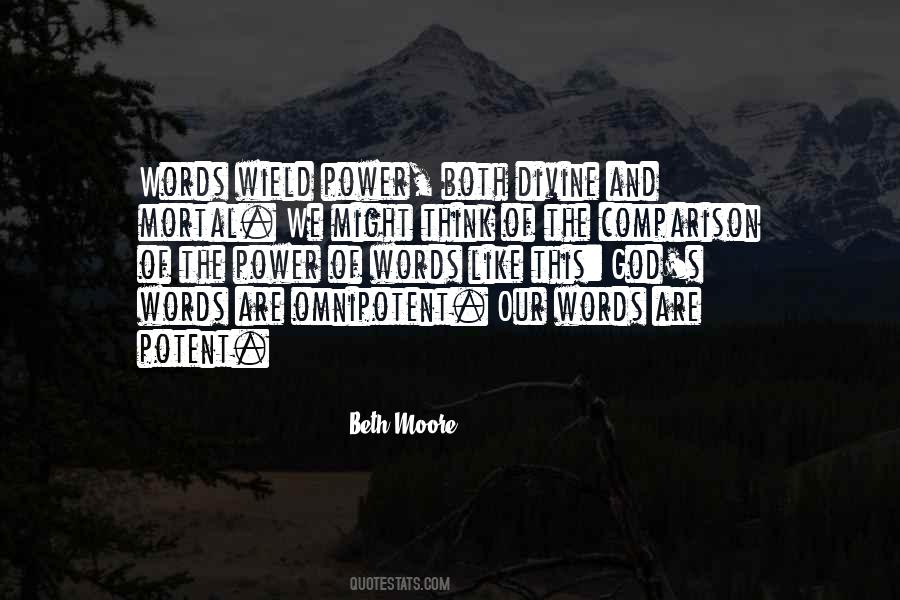 #37. 'Faith' and 'trust' are words that put the power in the hands of an outside force that we are meant to rely on - whether it is God or a person or the universe. Certainty puts the power back in our hands. - Author: Yehuda Berg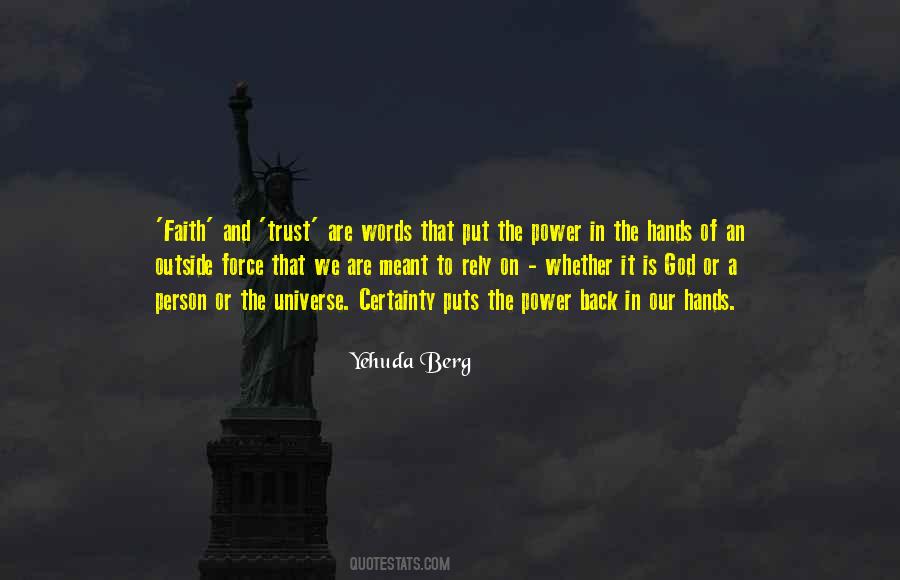 #38. Increase your word power. Words are the raw material of our craft. - Author: P.D. James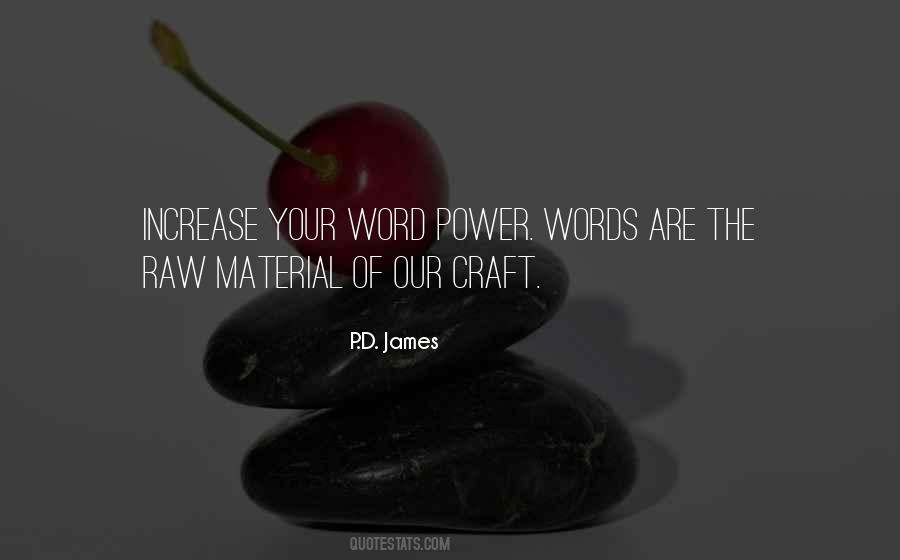 #39. Fear is but another name for lack of power to control our minds, or, in other words, to control the kind of thought we think or put out. - Author: Prentice Mulford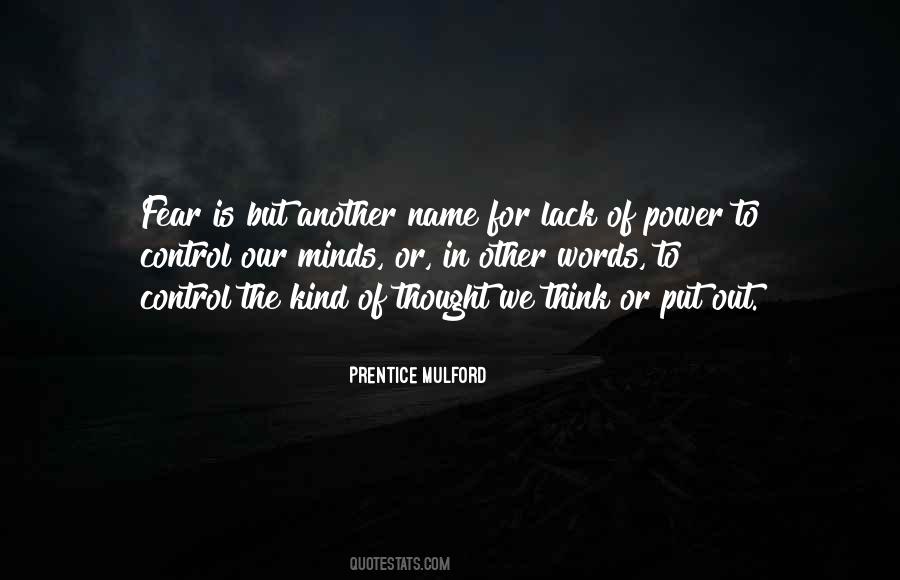 #40. Truth is that we all need facts we cannot continue to eat only the food that is given to us. Sometimes we have to feed ourselves otherwise we set our self up for dependency on the wrong nutrition without realizing that we were being poisoned the whole time. - Author: R. Lewis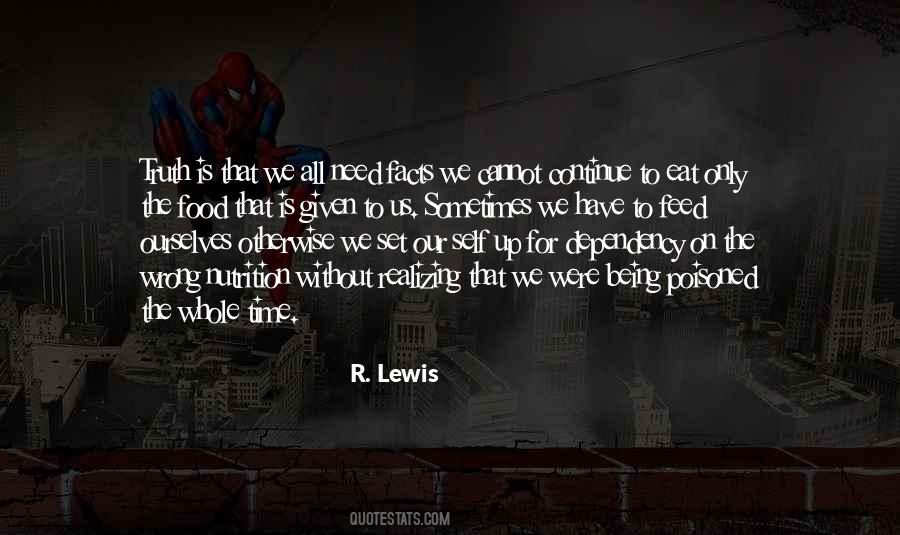 #41. The energy of our thoughts, words, actions, and emotions collectively create the frequency of our vibrational aura. - Author: Alaric Hutchinson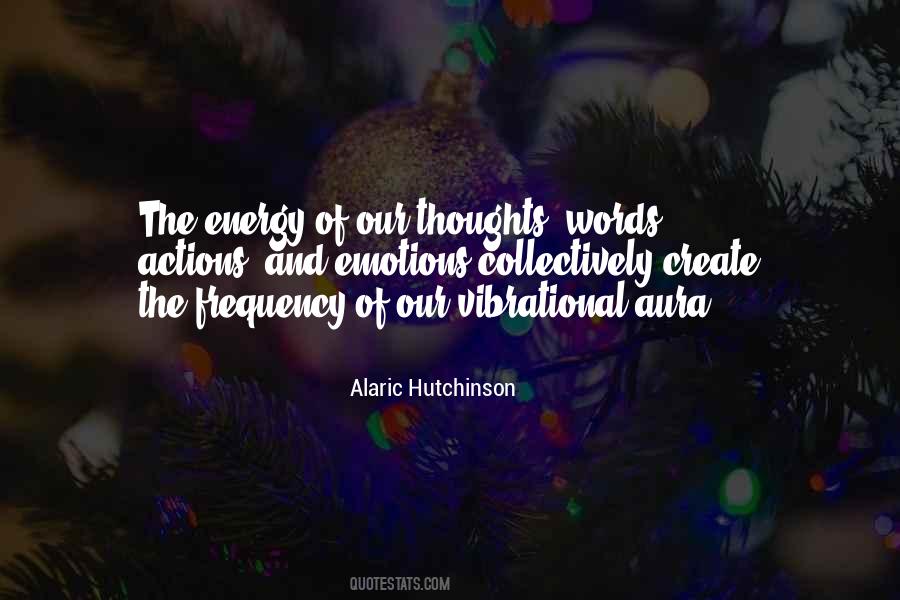 #42. Most of the words we use in history and everyday speech are like mental depth charges. As they descend [through our consciousness] and detonate, their resonant power is unleashed, showering our understanding with fragments of accumulated meaning and association. - Author: James Axtell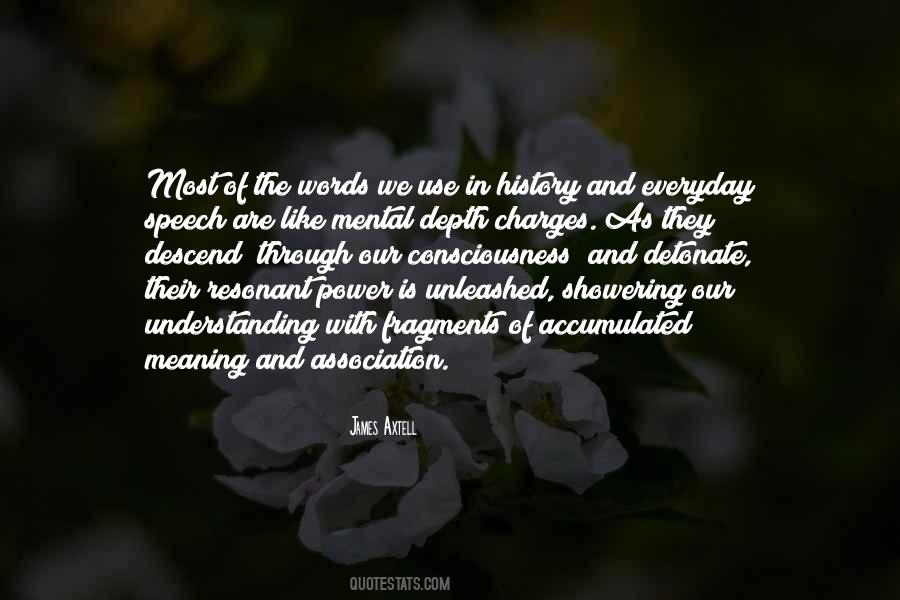 #43. No one can read our Constitution without concluding that the people who wrote it wanted their government severely limited; the words "no" and "not" employed in restraint of government power occur 24 times in the first seven articles of the Constitution and 22 more times in the Bill of Rights. - Author: Edmund A. Opitz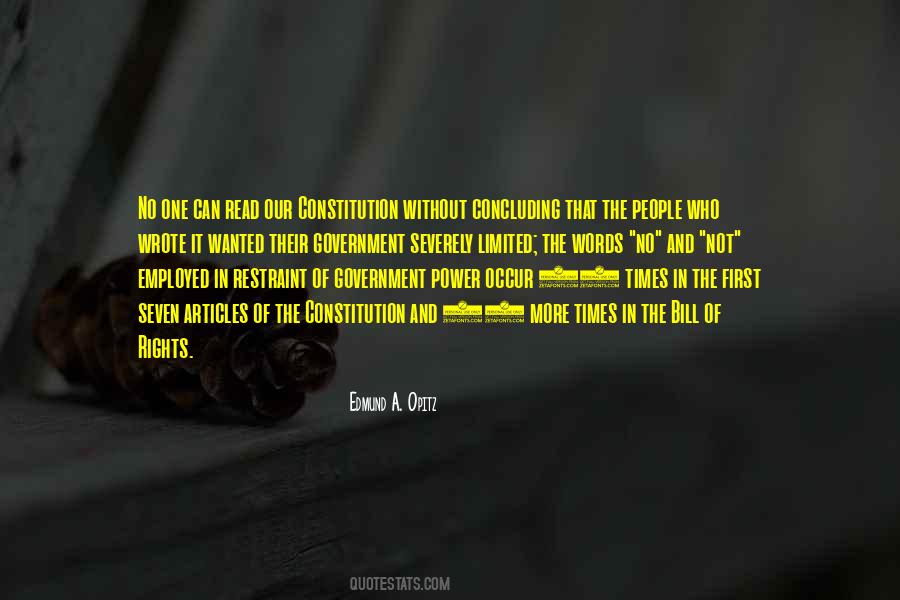 #44. As doctors, we are not trained to communicate and understand the power of our words as they relate to a patient's ability and desire to survive. - Author: Bernie Siegel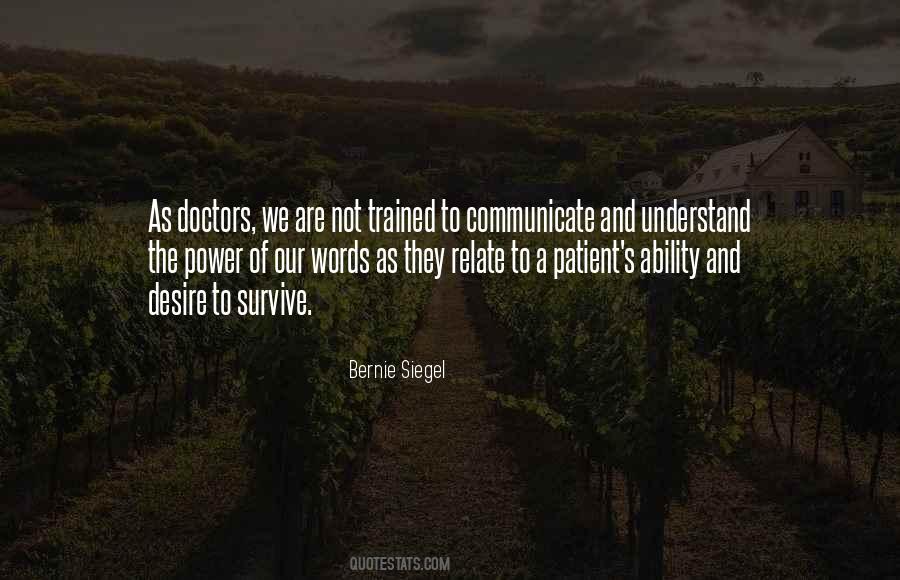 #45. May our conscience be renewed by the WORD of GOD. - Author: Lailah Gifty Akita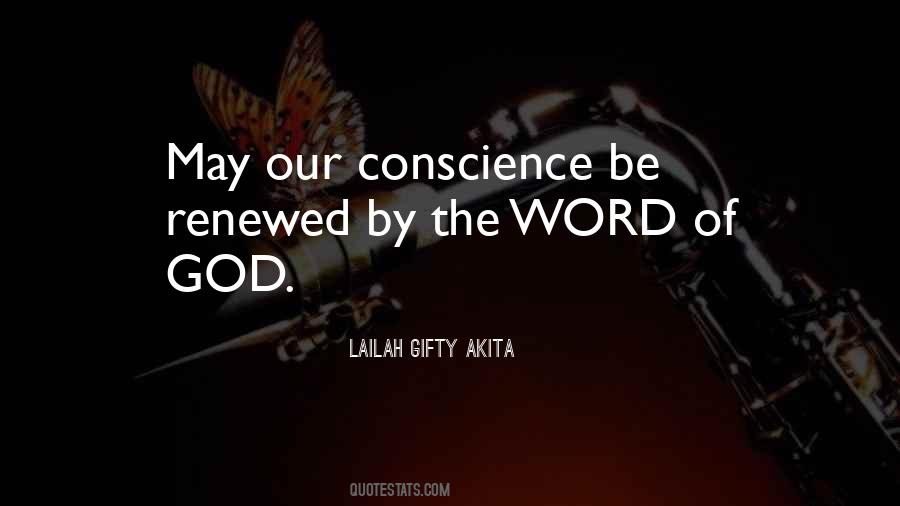 #46. It doesn't matter what one reveals or what one keeps to oneself. Everything we do, everything we are, rests on our personal power. If we don't have enough personal power the most magnificent piece of wisdom can be revealed to us and it won't make a damn bit of difference. - Author: Carlos Castaneda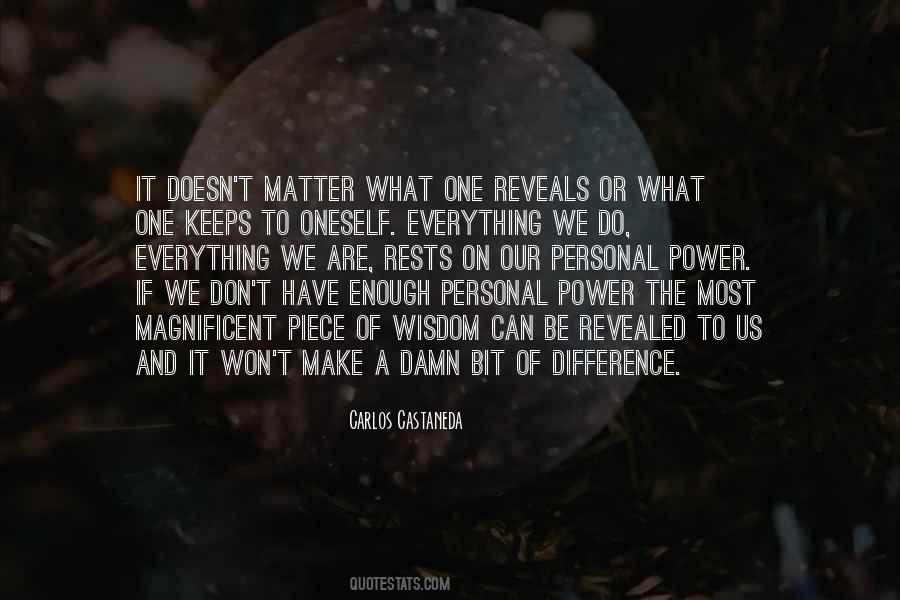 #47. It's in the nature of the humans and the entire animal kingdom to return blow for blow, cheating for cheating, lie for lie, to hit back with all our might. But what makes us true humans is the power to not hit back. - Author: Abhijit Naskar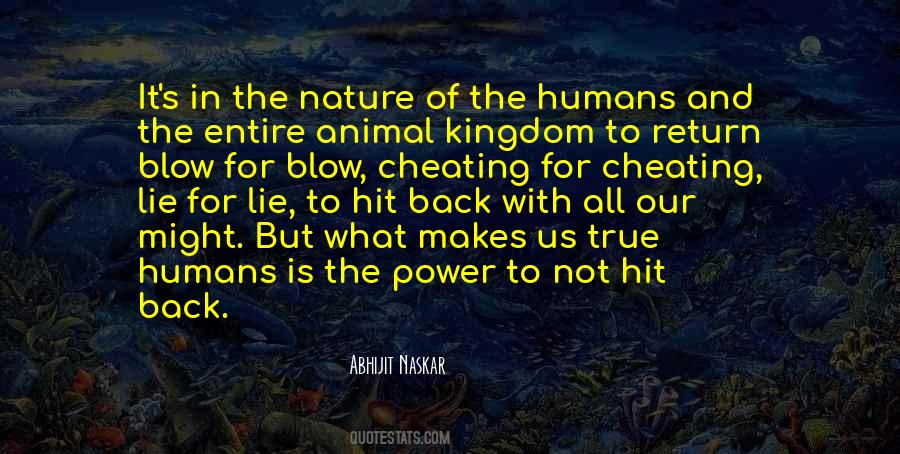 #48. I know many people on the left are suspicious of words like Americanization. To them, it can sound like a cover for white privilege and warmongering. It suggests arrogance and groupthink. But these connotations are not fixed. It is in our power to reshape them by recalling the best of America. - Author: Eric Liu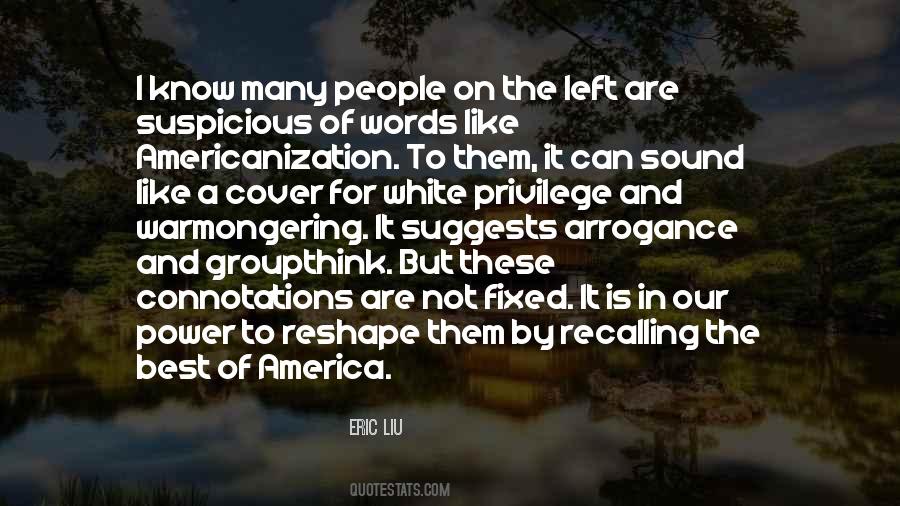 Famous Authors
Popular Topics