Sorrow And Loss Famous Quotes & Sayings
List of top 64 famous quotes and sayings about sorrow and loss to read and share with friends on your Facebook, Twitter, blogs.
Top 64 Quotes About Sorrow And Loss
#1. This, I suspect, is the territory that lies just ahead and around the curve of today. A place where loss grows more familiar, where joy is harmonized by sorrow, where endings outnumber beginnings, and where kindness becomes a sacrament. - Author: Katrina Kenison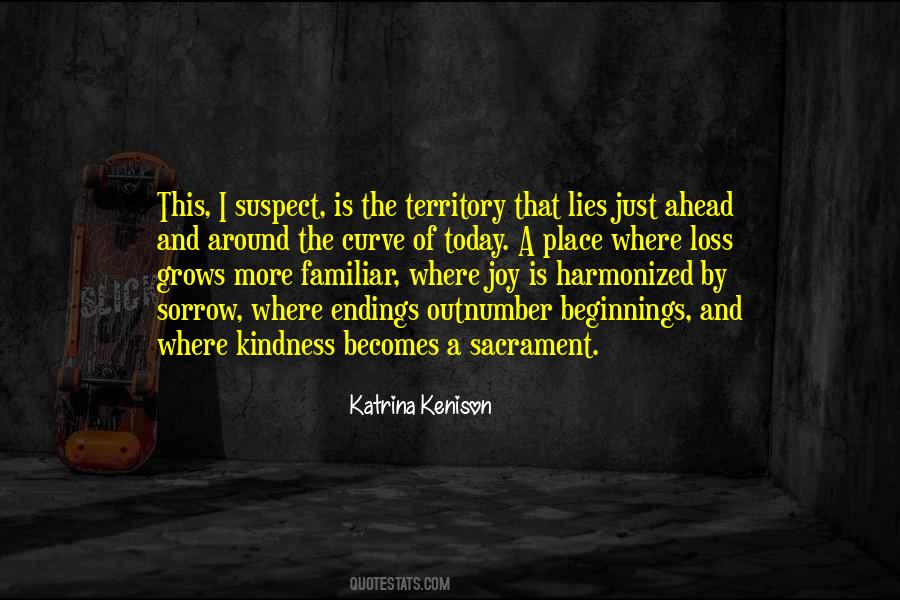 #2. Sorrow and loss are meant to prepare us for the vision of God to purge the inward eye that it may see Him. - Author: Alexander MacLaren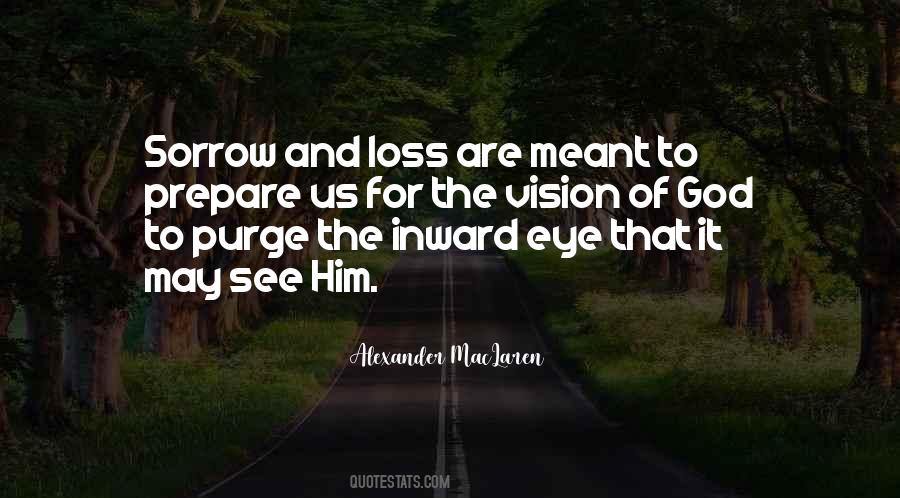 #3. In the caves of my heart, where pain taps out its rhythms and sorrow sets its loss, i am without direction. - Author: Nick Bantock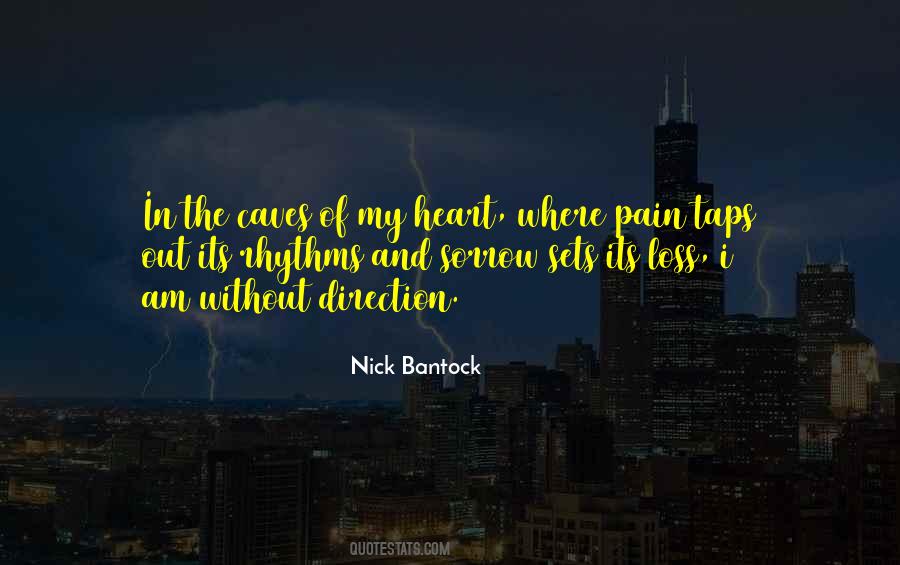 #4. Sorrowers tend to avoid what they are most fond of and try to give vent to their grief. - Author: Seneca.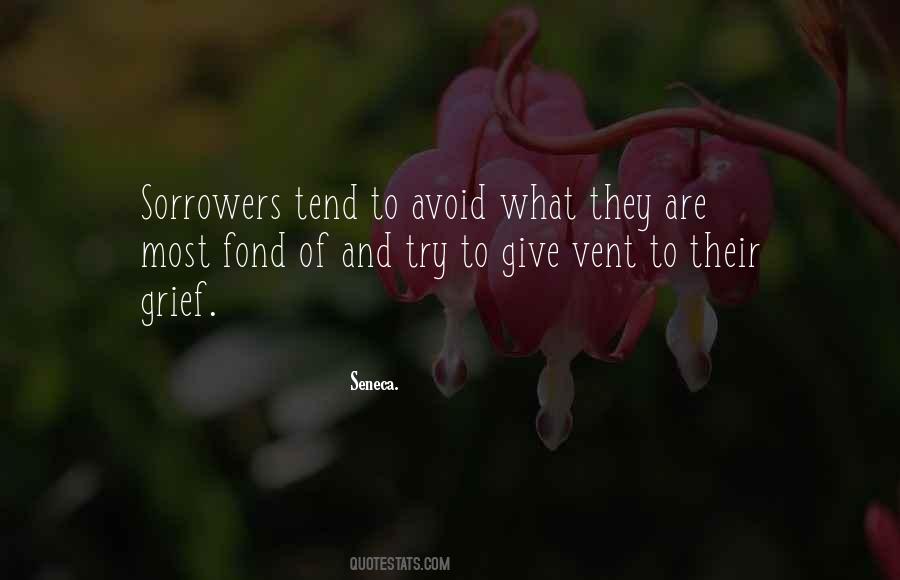 #5. I need to confront my loss, not run away from it. I wanted to wade in with my eyes open and all my senses alert. I wanted to register everything, from the giant waves of sorrow to the inkiest ripples of remorse. I didn't want to miss any of it. - Author: Alex George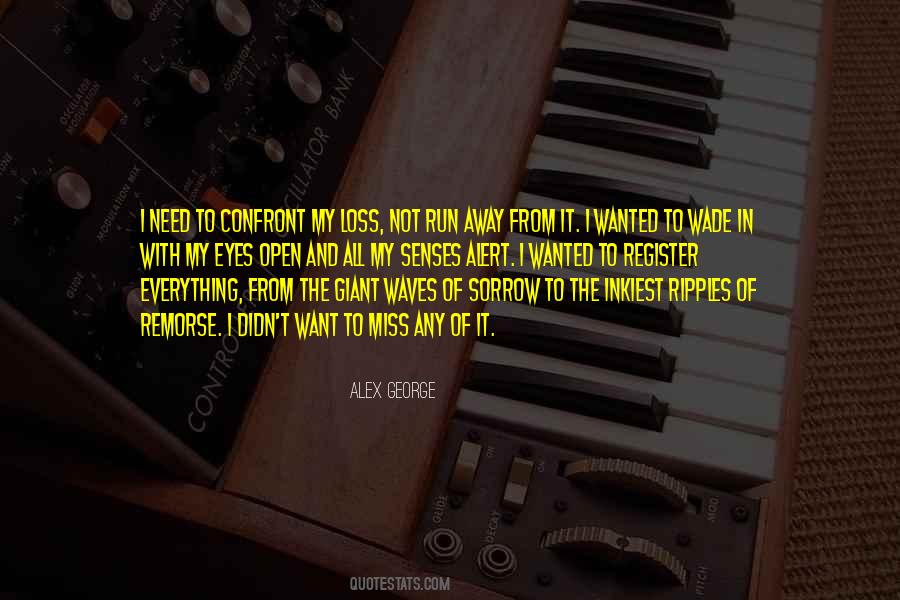 #6. If we do not suffer a loss all the way to the end, it will wait for us. It won't just dissipate and disappear. Rather, it will fester, and we will experience its sorrow later, in stranger forms. - Author: Elizabeth Lesser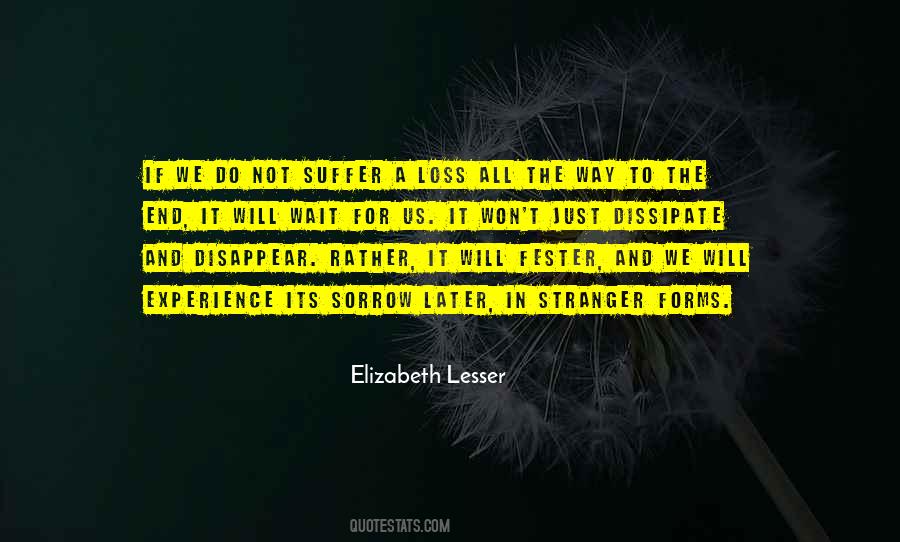 #7. That is fundamentally the only courage which is demanded of us: to be brave in the face of the strangest, most singular and most inexplicable things that can befall us - Author: Rainer Maria Rilke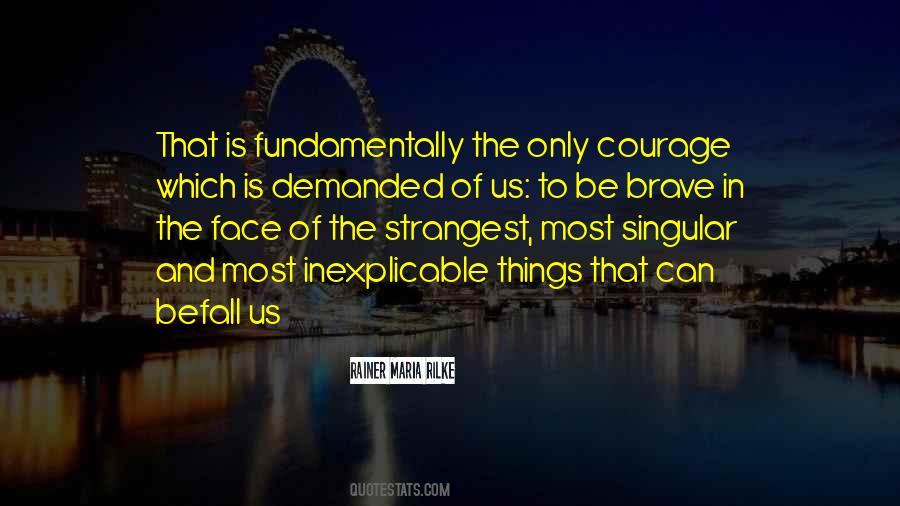 #8. If there is an evil in this world, it is sorrow and heaviness of heart. The loss of goods, of health, of coronets and mitres, is only evil as they occasion sorrow; take that out, the rest is fancy, and dwelleth only in the head of man. - Author: Laurence Sterne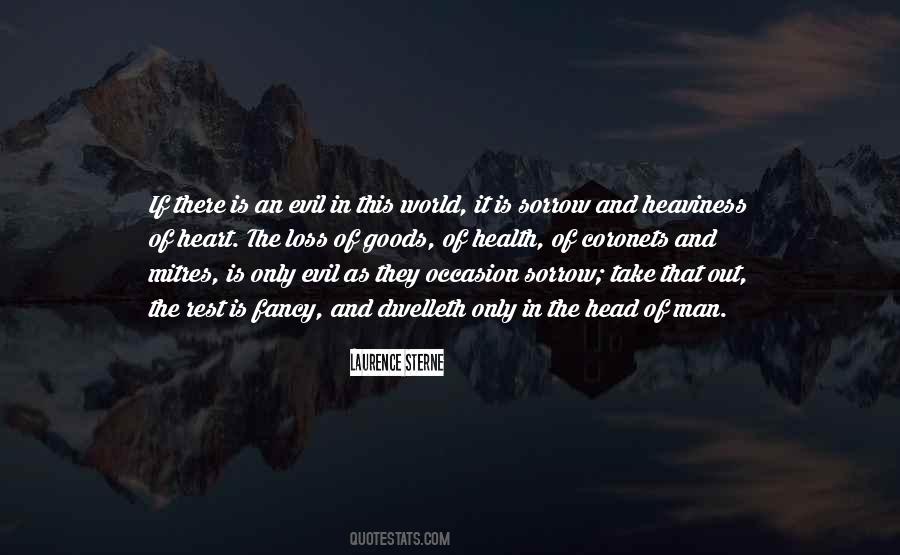 #9. Grief and love are sisters, woven together from the beginning. Their kinship reminds us that there is no love that does not contain loss and no loss that is not a reminder of the love we carry for what we once held close. - Author: Francis Weller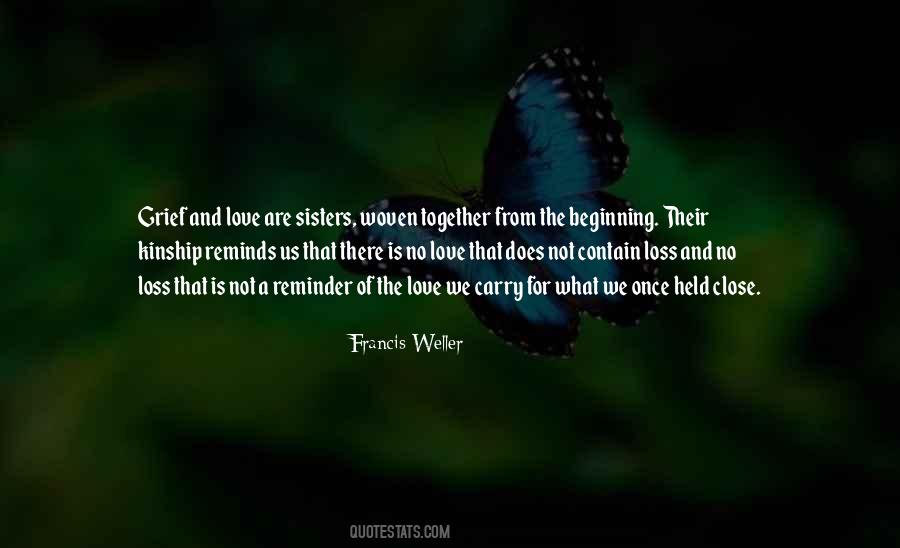 #10. There is the softest of sobbing as the coffin is lowered into the ground, but it is difficult to pinpoint who it is coming from, or if it is instead a collective sound of mingled sighs and wind and shifting feet. - Author: Erin Morgenstern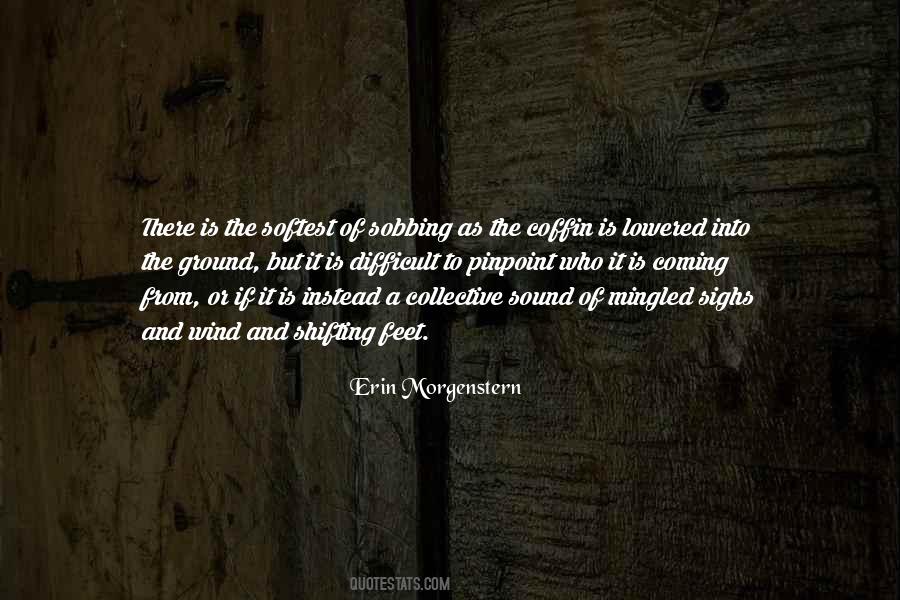 #11. In the world we live, we don't create or destroy- we just convert entities from one form to another. Loss and Sorrow too. If these are growing in your life- remember you are feeding them. - Author: Jasleen Kaur Gumber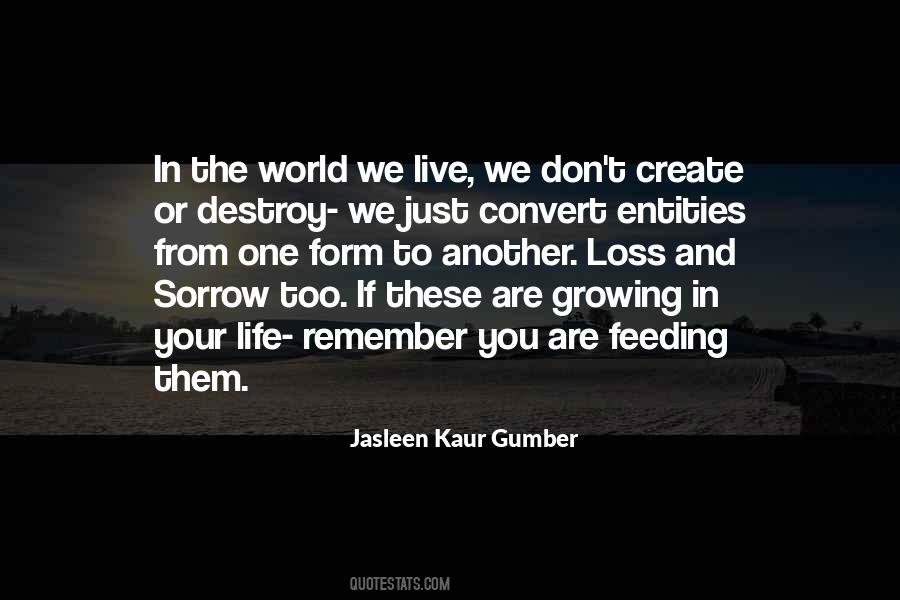 #12. She did not like seeing her loved ones like this, bent over with sorrow; everything in her wanted to cry out, to thrash and scream at the sight of it. But she knew that great grief came from great love, and that their grief was an honor to her. And she did love them so very much. - Author: Anne Ursu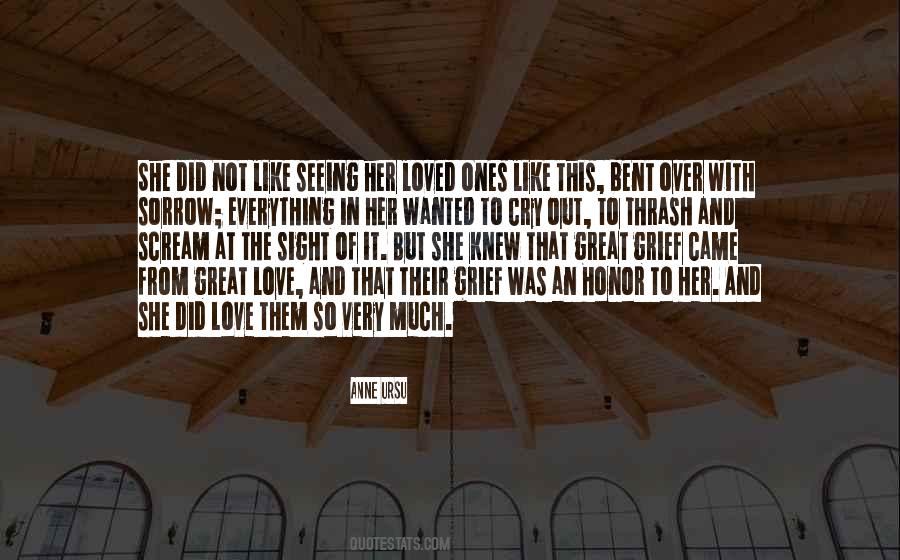 #13. Decades of sorrow and loss, he had suffered. And all of them caused by this woman crouching in front of him with his blood on her lips. - Author: Stephen Lloyd Jones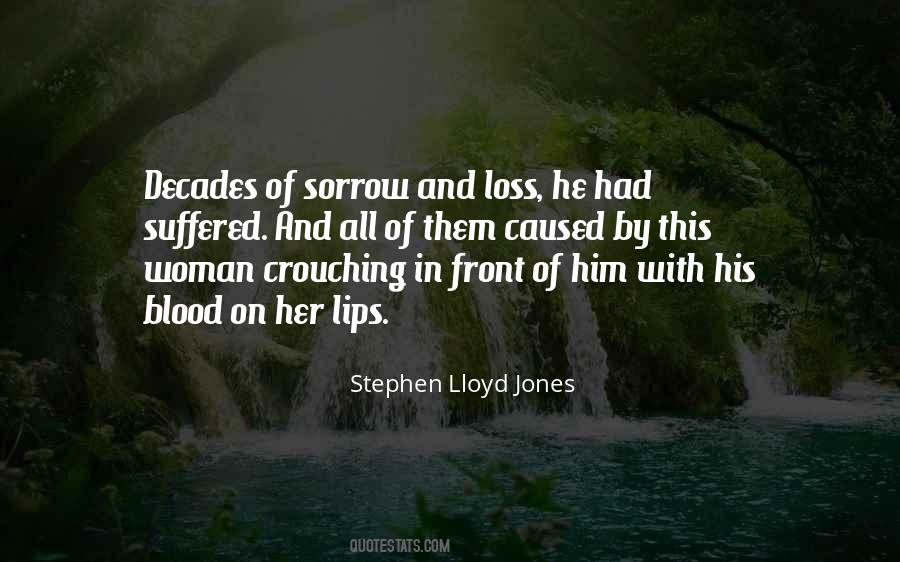 #14. Love for the beauty of the soul.
I shall love you always.
When the flower of life has gone,
ever I shall find you.
When all is lost and winter comes,
I shall be your spring time.
And memory fades and wilts then,
I shall always find you ...
I shall always find you ... - Author: Laurel A. Rockefeller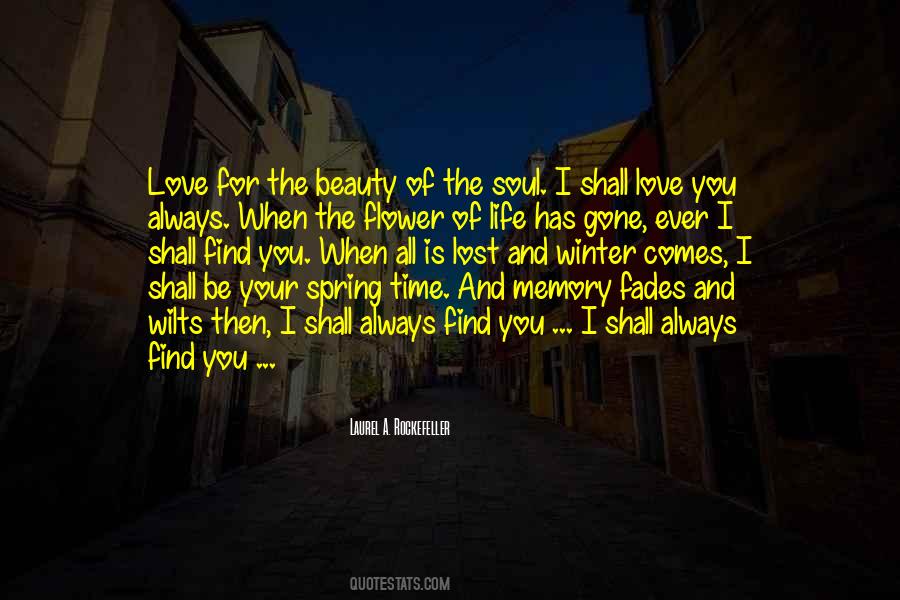 #15. You're gone and you left me. My heart has dissipated. The only thing I can feel is the blood rushing through my veins and the strings that hold my fragile heart together. - Author: Karen Quan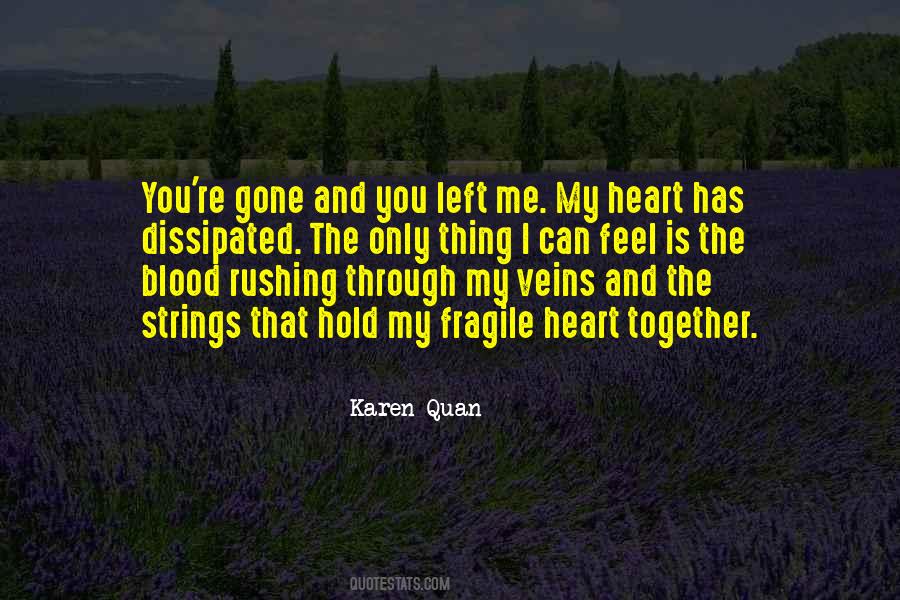 #16. The lessons we learn in sadness and from loss are those that abide. Sorrow clarifies the mind, steadies it, and forces it to weigh things correctly. The soil moist with tears best feeds the seeds of truth. - Author: Theodore T. Munger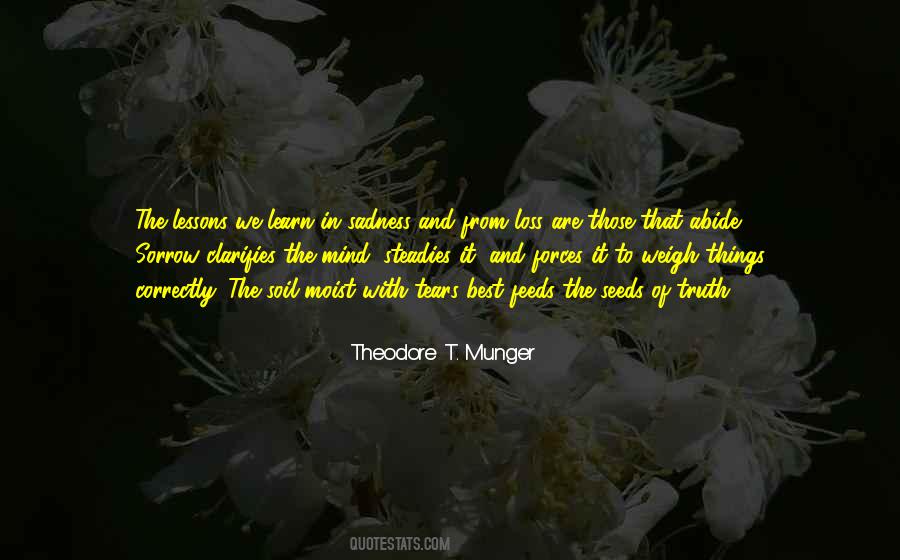 #17. Tears and sorrows and losses are a part of what must be experienced in this present state of life: some for our manifest good, and ail, therefore, it is trusted, for our good concealed;
for our final and greatest good. - Author: Leigh Hunt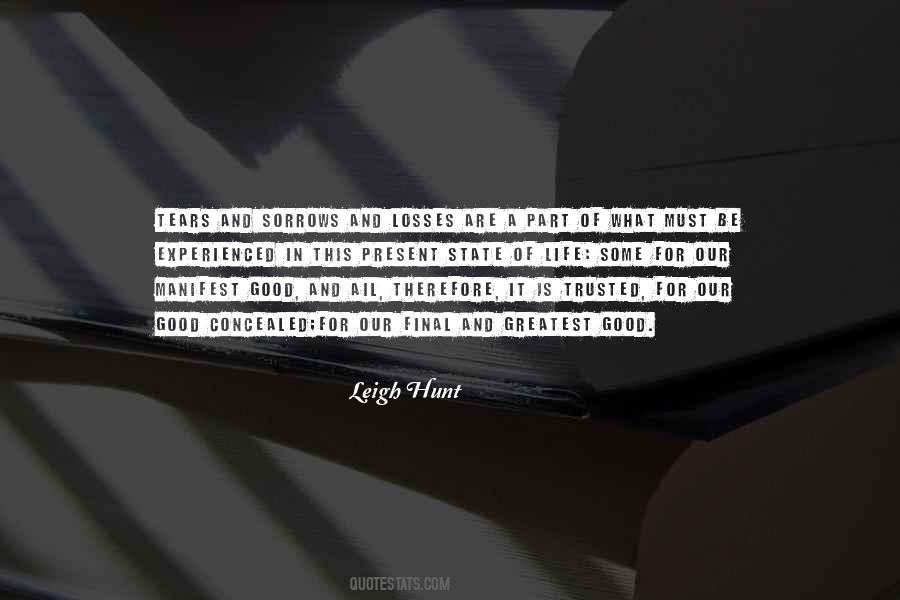 #18. Perfect devices: doctors, ghosts and crows. We can do things other characters can't, like eat sorrow, un-birth secrets and have theatrical battles with language and God. - Author: Max Porter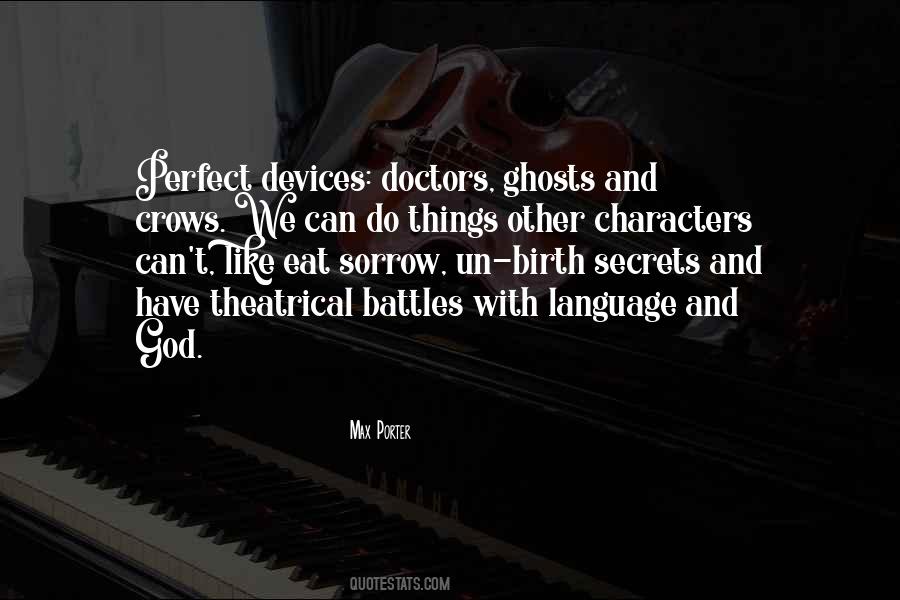 #19. The closet bond that we share with our brethren is that of grief. Every community knows sorrow. - Author: Kilroy J. Oldster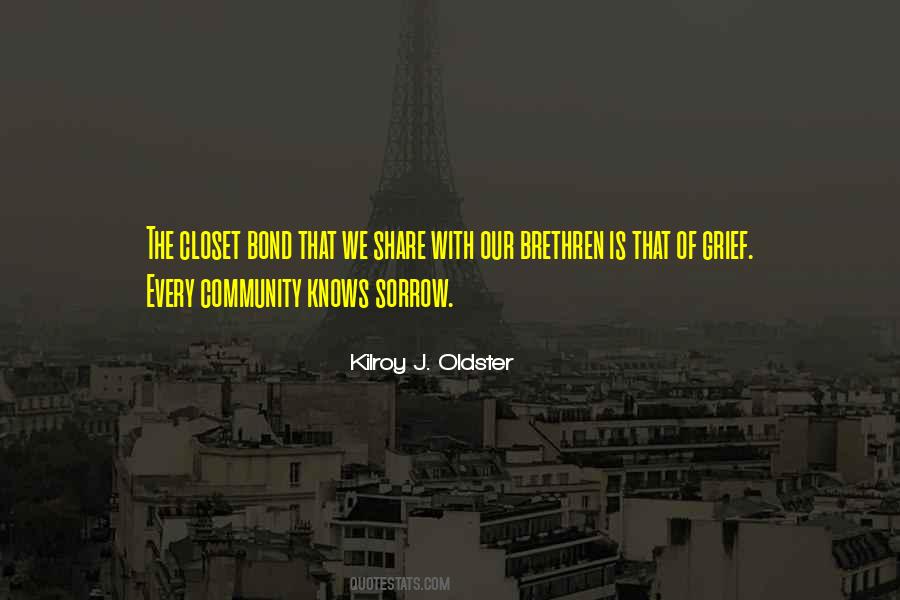 #20. Emotionally, grief is a mixture of raw feelings such as sorrow, anguish, anger, regret, longing, fear, and deprivation. Grief may be experienced physically as exhaustion, emptiness, tension, sleeplessness, or loss of appetite. - Author: Judy Tatelbaum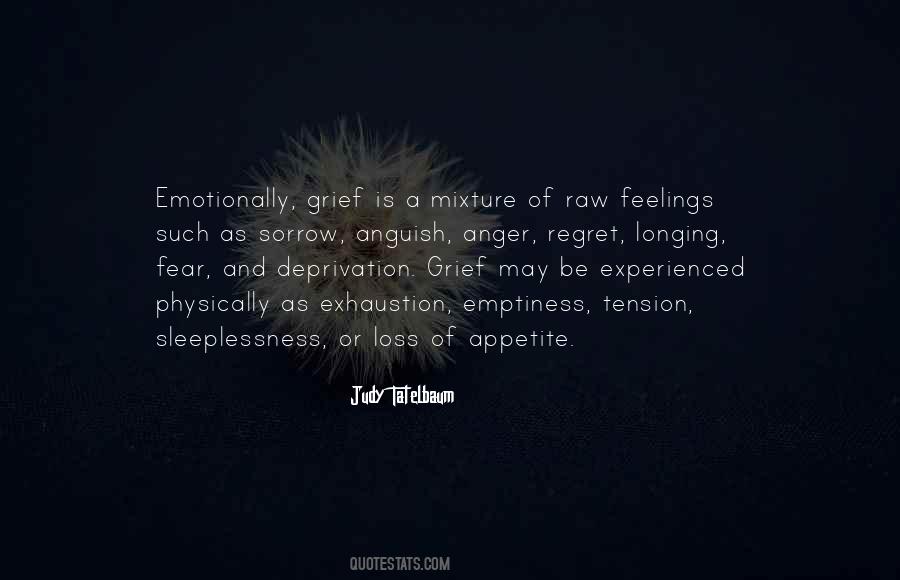 #21. But it turns out Joy is a house built from the same bricks as Sorrow. Pleasure is a poem, and it uses the same words as Pain. - Author: Julio Alexi Genao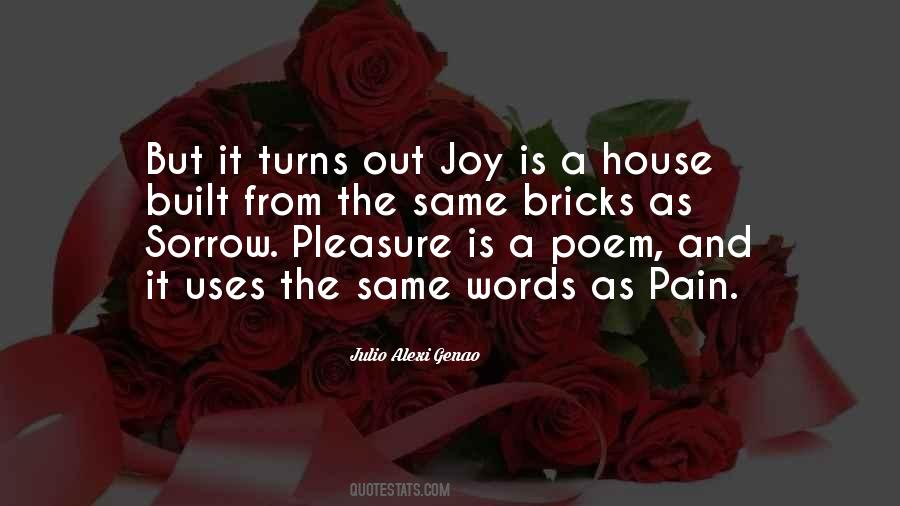 #22. The completely profound senselessness of my own existence explodes into it's own blissful freedom. There is no impending moment, no past moment, only this one, and without past there is no sorrow, and without future there can be no loss. - Author: Carol Cassella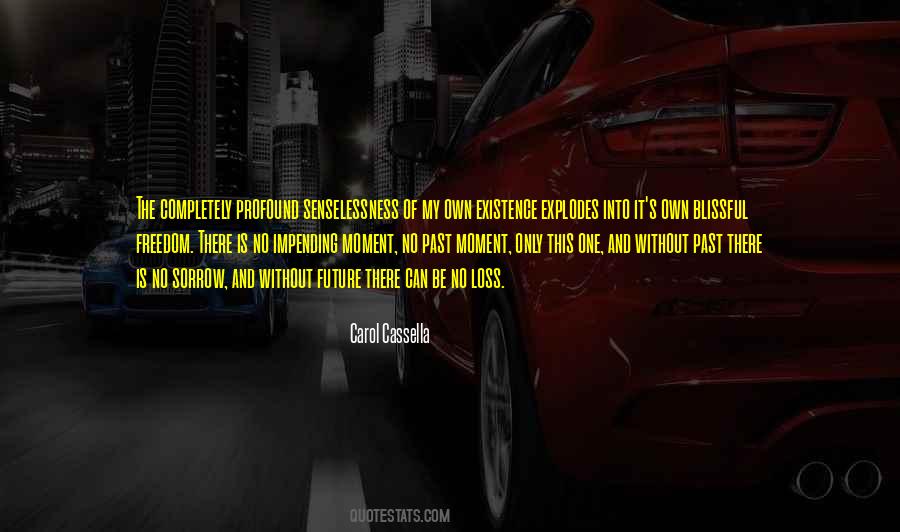 #23. If one bad thing befell me, I immediately linked it to every bad thing that had happened in the last week or might happen in the coming week. And when I became sad, I was prone to wallow in grief, piling up my woes and sprawling on them like a dragon on a hoard. - Author: Robin Hobb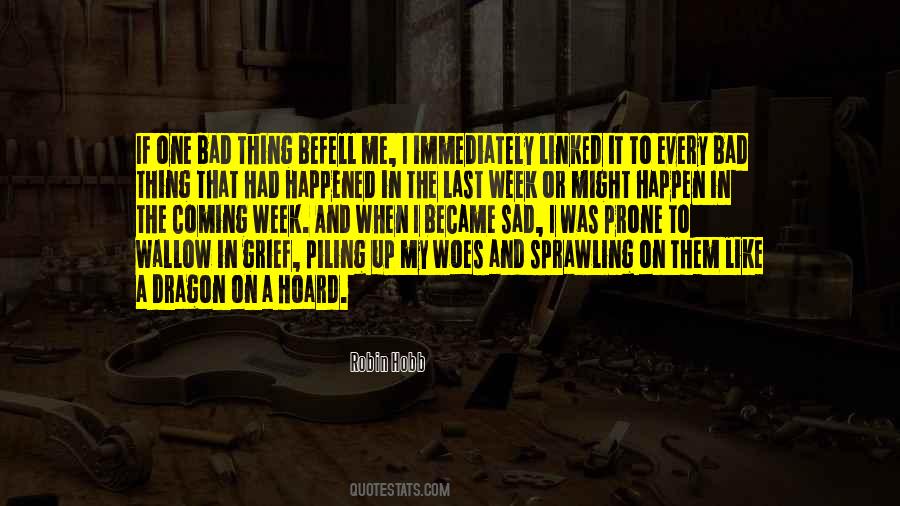 #24. Only where there is disillusionment and depression and sorrow does happiness arise; without the despair of loss, there is no hope. - Author: Haruki Murakami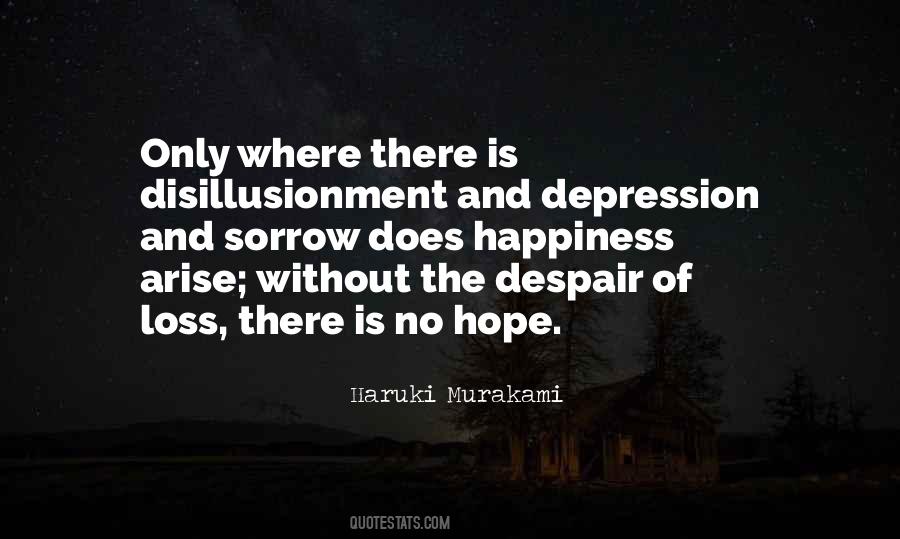 #25. After your visits, I twisted my blinds shut every night. I locked out the stars and I never saw lightning again. Each night, I simply turned out the lights and went to bed. - Author: Jay Asher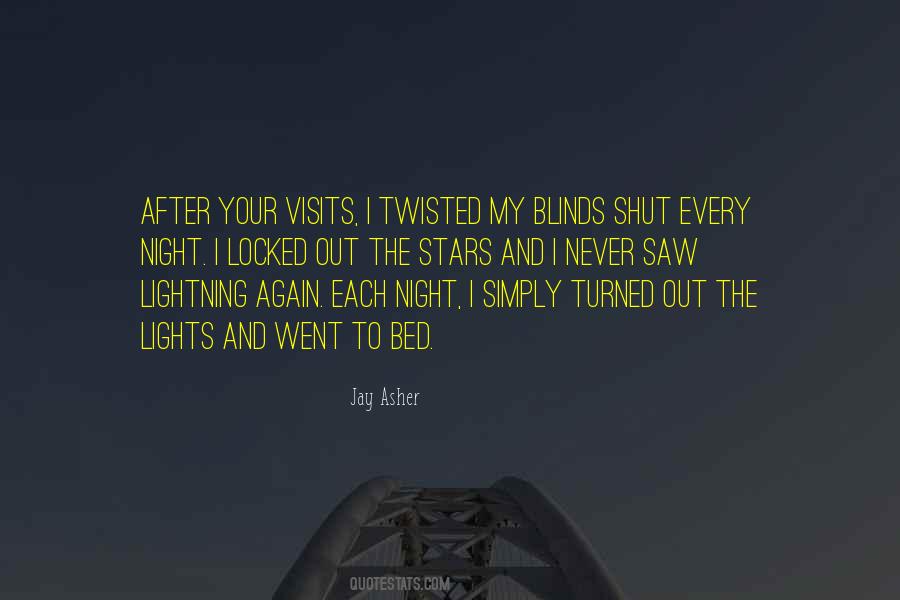 #26. He felt like his own heart might stop beating just from acknowledging the concept. The sadness, the sorrow, and the loss, they were living things, funnily enough. - Author: Adam P. Knave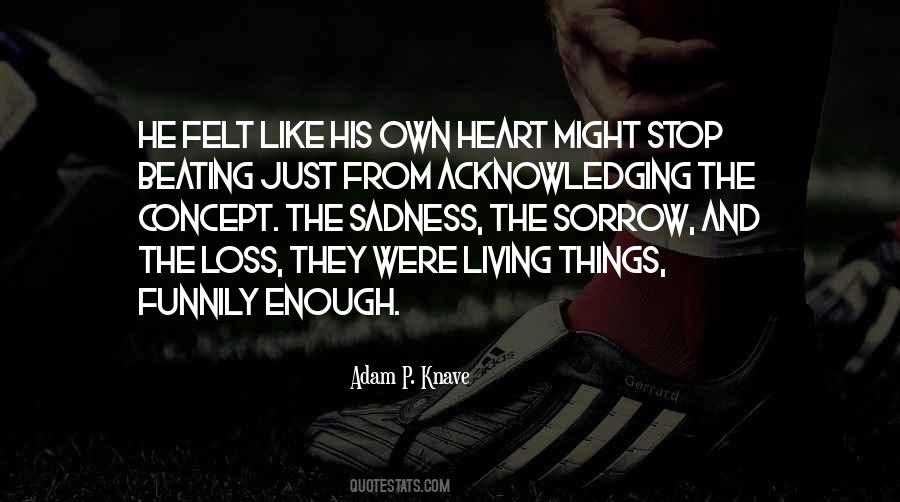 #27. Some natural sorrow, loss, or pain That has been, and may be again. - Author: William Wordsworth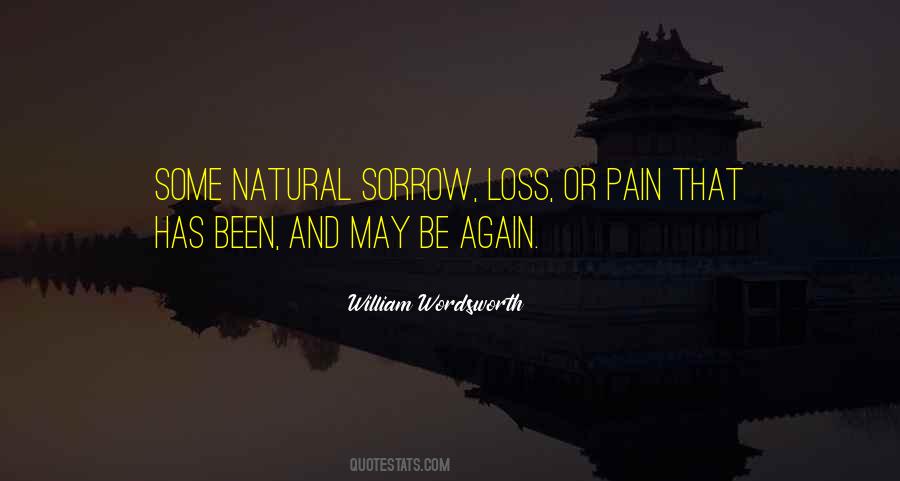 #28. Music is joy and sorrow, celebration and loss. healing and pain, bondage and freedom. Whatever you are... music is. - Author: Angelique La Fon-Cox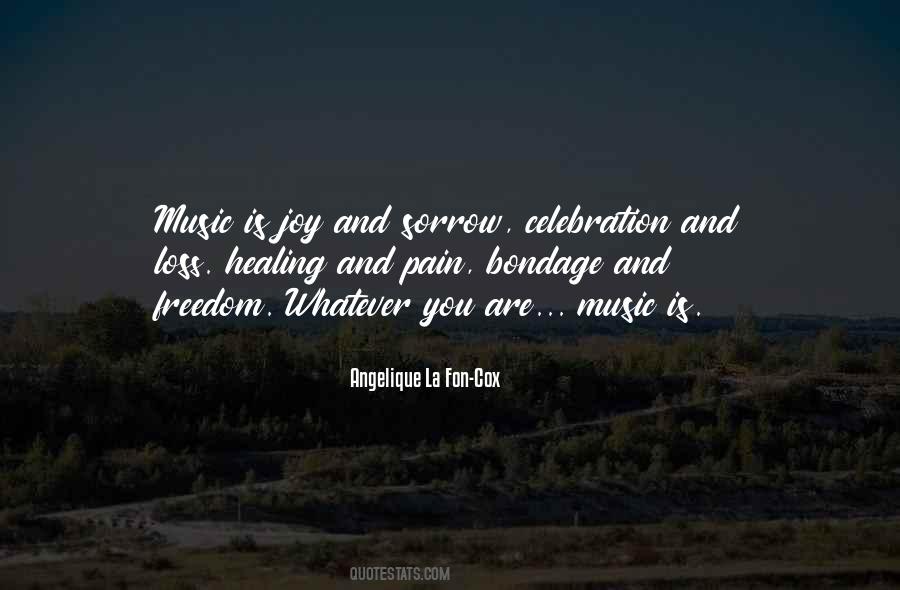 #29. Man may be doomed to loss, sorrow, and desolation, but if he tries his strength and will, however briefly, upon the indifferent vast hostility of the elements, he rages against futility and asserts his right of being - Author: Jim Perrin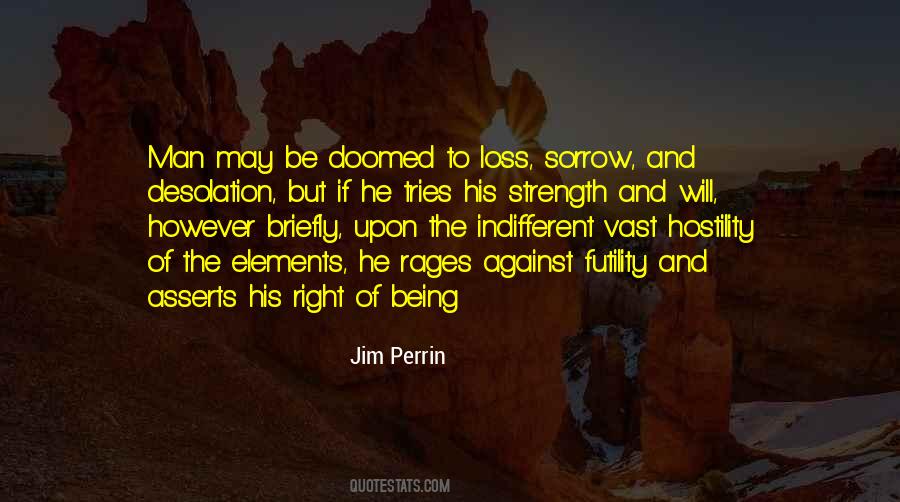 #30. Beneath their wary smiles, the people were warm and friendly. They had known sorrow and loss, but their spirit survived. - Author: Amanda Grange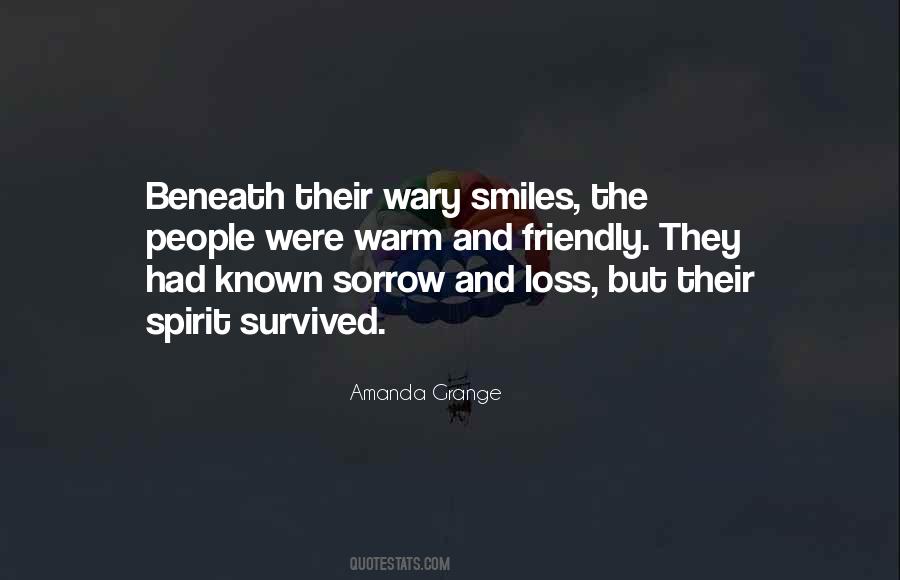 #31. I know it is difficult to believe in your own courage or fortitude when everything inside of you feels weak and shattered. But do not believe what you feel. You will not be easily broken. - Author: Rachel L. Schade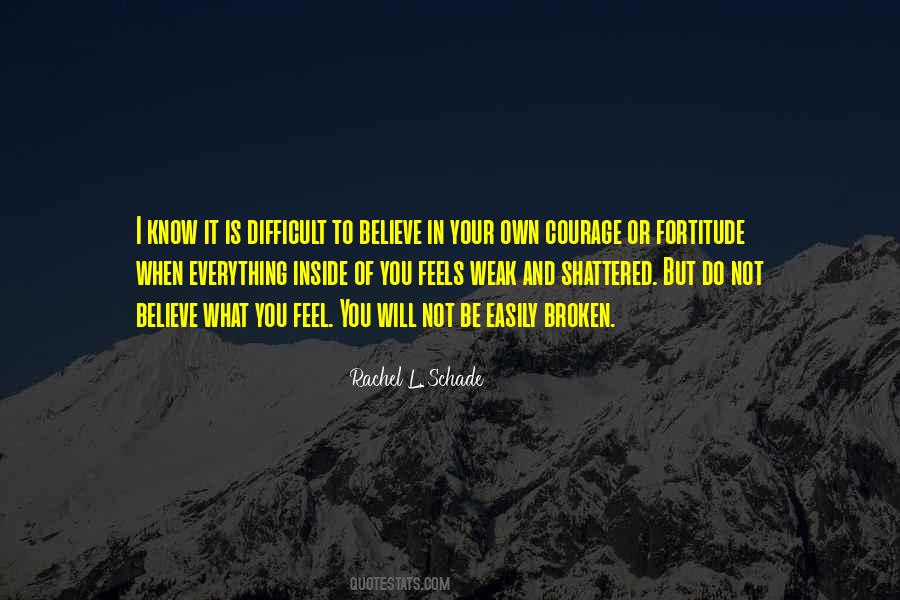 #32. It's a time of sorrow and sadness when we lose a loss of life. - Author: George W. Bush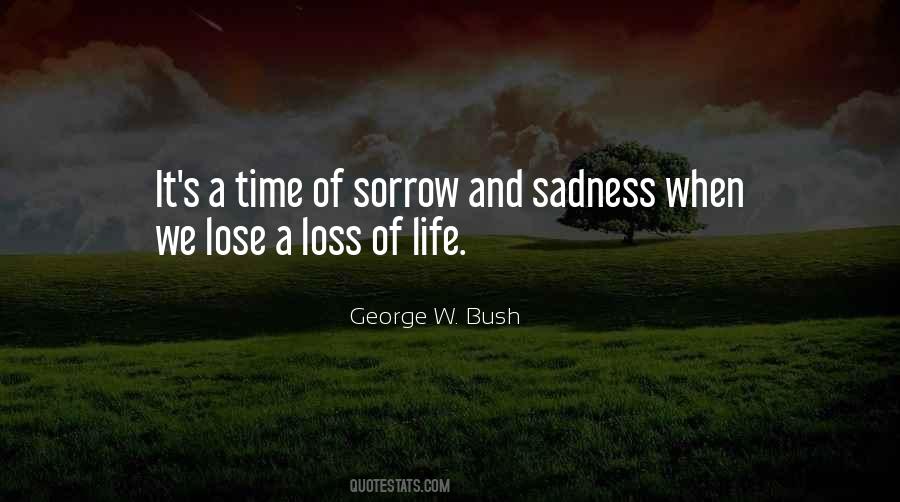 #33. Empathy feels these thoughts; your hurt is in my heart, your loss is in my prayers, your sorrow is in my soul, and your tears are in my eyes. - Author: William Arthur Ward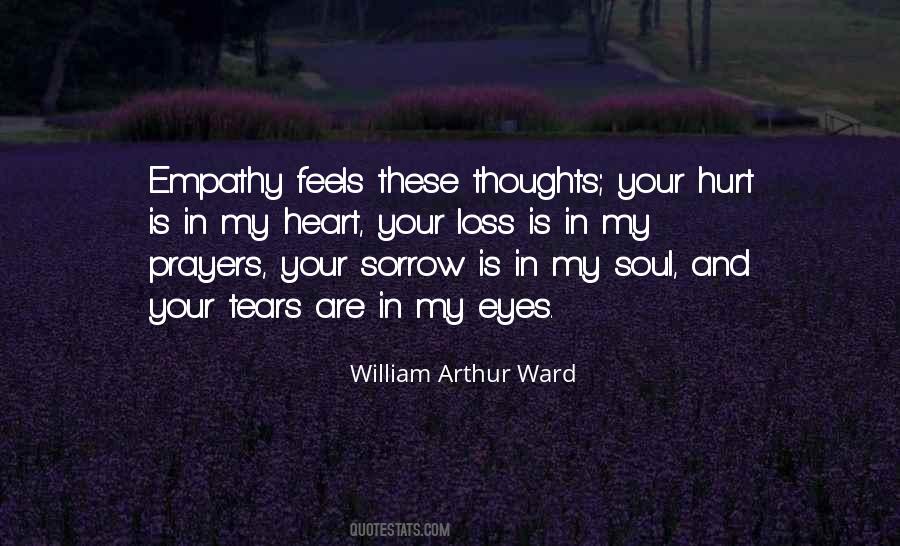 #34. Give sorrow words; the grief that does not speak knits up the o-er wrought heart and bids it break. - Author: William Shakespeare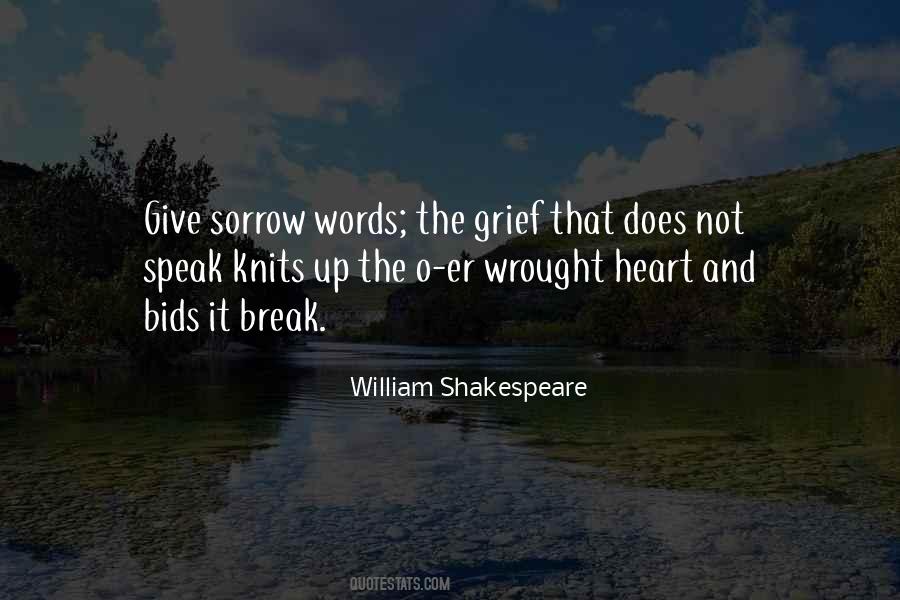 #35. It was that you had to be so careful with grief. Grief sought connections: it stacked, or swarmed. It was only the first time you experienced sorrow that it stood alone, with nothing attached to it. - Author: Meg Howrey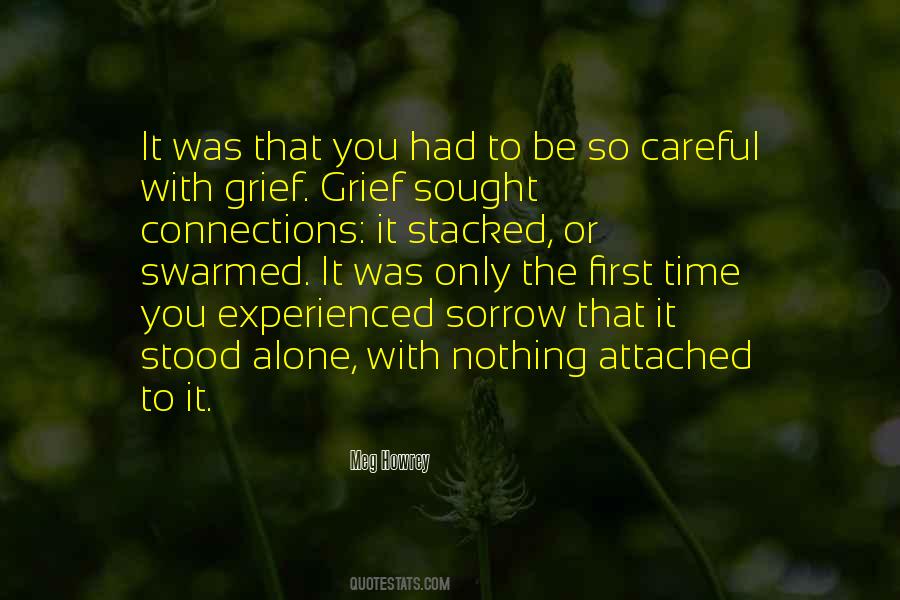 #36. Come away, O human child!
To the waters and the wild
With a faery, hand in hand,
For the world's more full of weeping than you can understand. - Author: W.B.Yeats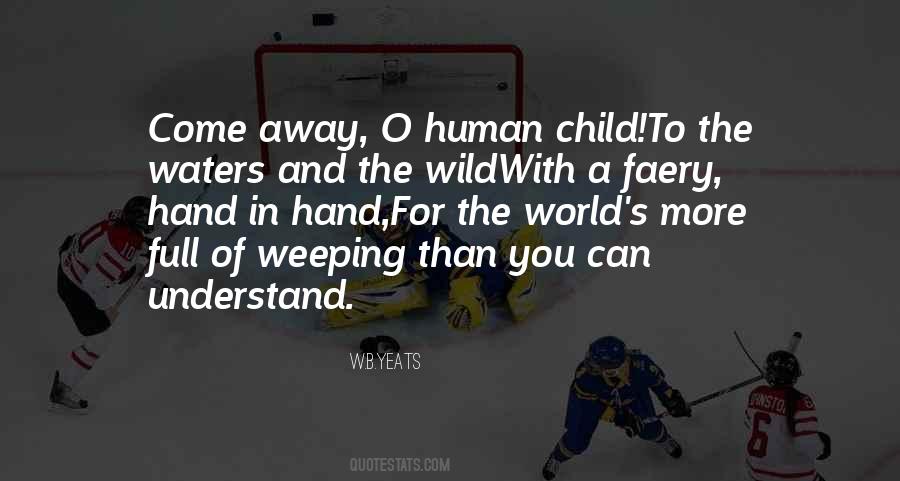 #37. I have the right to try to overcome the challenges in my own life, she continued fiercely. Who's to say that's not what makes as strong and decent? How much character and strength do you think someone who's never had any sorrow or loss of hardship possesses, My lord? - Author: Joey W. Hill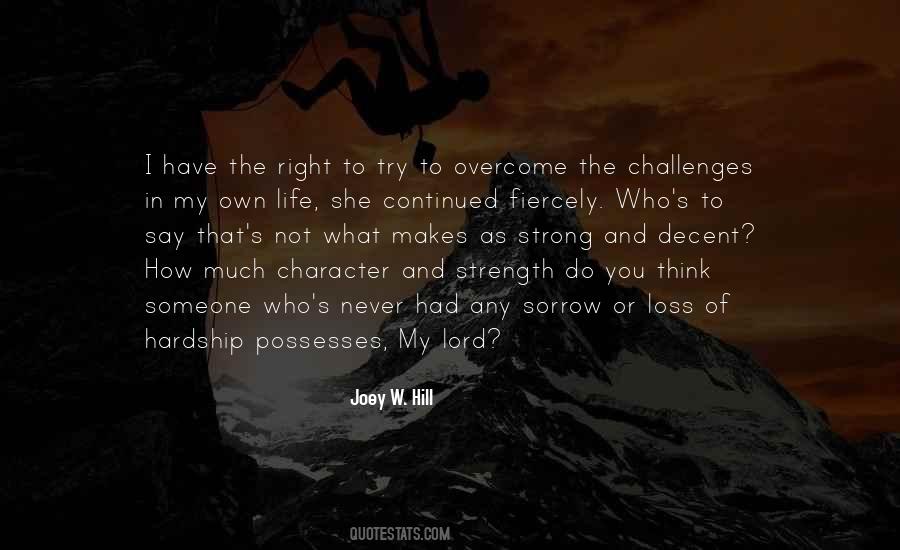 #38. Sorrow and loss never die. We can put them away in a chest and lock it tight, but whenever it is opened, even a crack, the aroma of lost sweetness will rise to fill our lungs to heaviness. - Author: Robin Hobb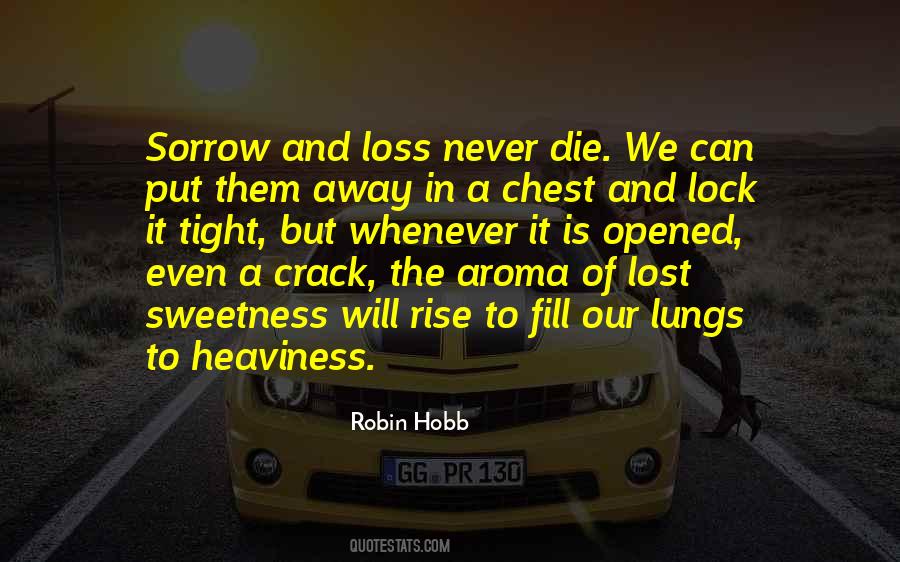 #39. How can you know love, and lose it, and go on living without it, and not feel the loss forever?"
"You can't," Feather answered. "You feel the loss forever. But you put it in a corner of yourself, and bit by bit some of your sorrow changes into joy. And that's how you go on living. - Author: Sonya Hartnett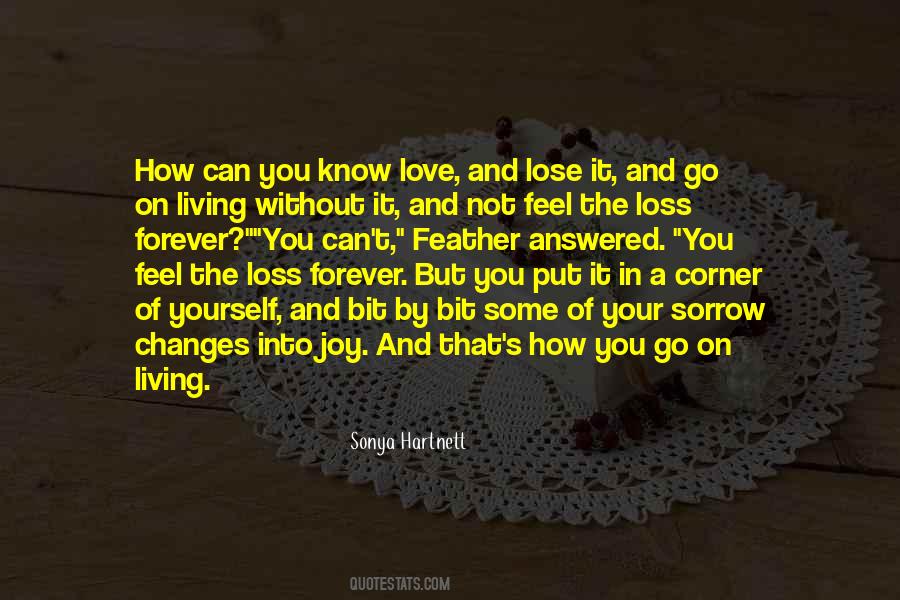 #40. Thus ended the first and adventurous part of his existence.
What followed was so different that, but for the reality of sorrow which remained with him, this strange part must have resembled a dream. - Author: Joseph Conrad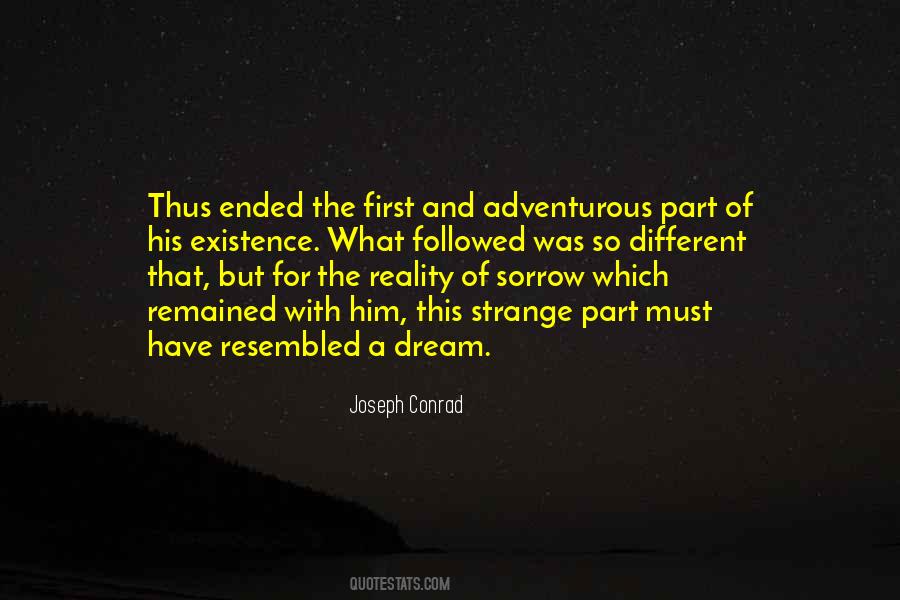 #41. This is not to say that joy is a compensation for loss, but that each of them, joy and loss, exists in its own right and must be recognised for what it is ... So joy can be joy and sorrow can be sorrow, with neither of them casting either light or shadow on the other. - Author: Marilynne Robinson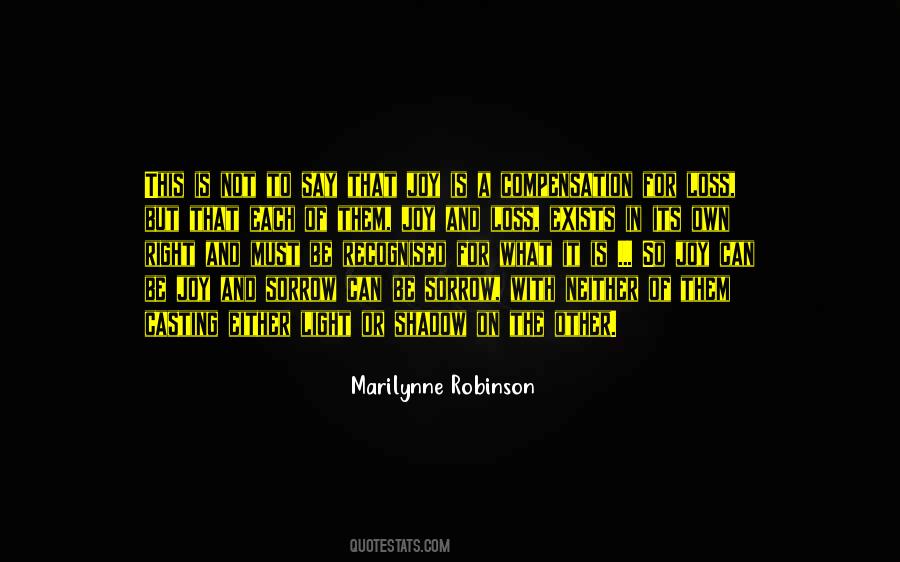 #42. The kindness sent from one compassionate soul to another during the time of loss of one held so dear allows the sorrow-filled heart to open wide, filling the space of emptiness that grief may have created with a renewed sense of peace, compassion, and love. - Author: Molly Friedenfeld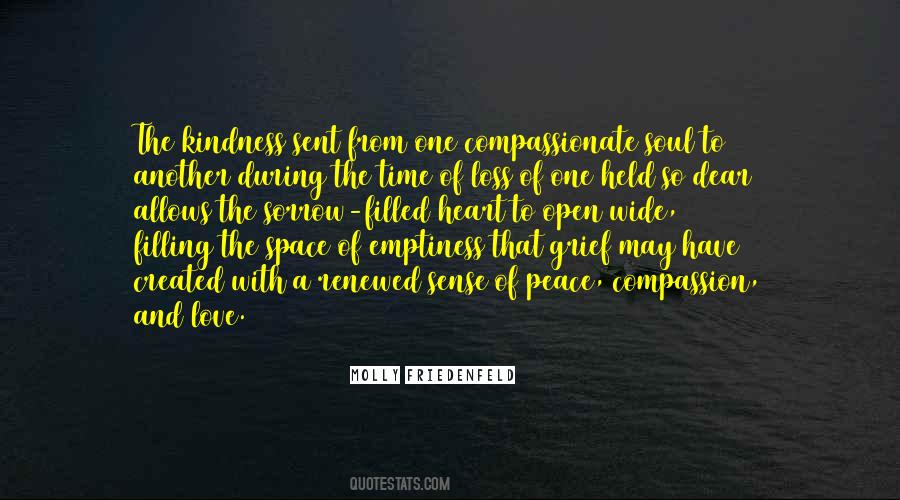 #43. No one ever told me how sorrow traumatizes your heart, making you think it will never beat exactly the same way again. No one ever told me how grief feels like a wet sock in my mouth. One I'm forced to breathe through, thinking that with each breath I'll come up short and suffocate. - Author: Sarah Noffke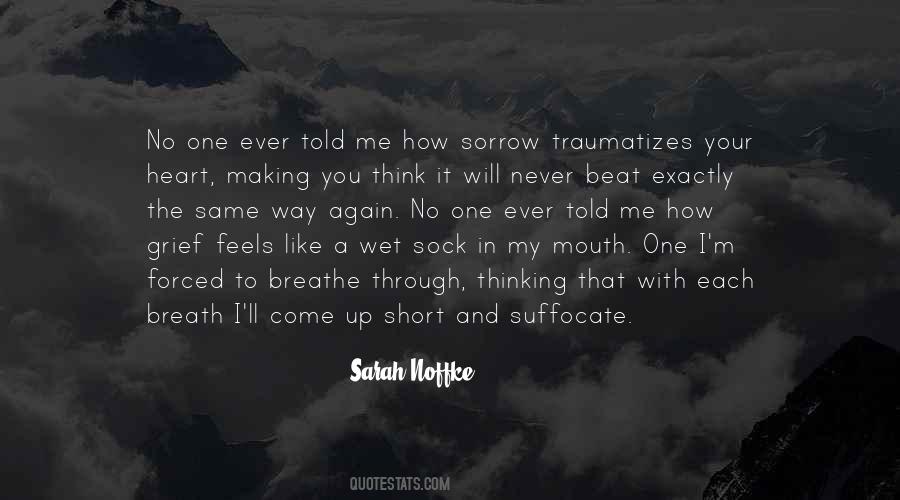 #44. Loss leaves us empty- but learn not to close your heart and mind to grief. Allow life to replinish you. When sorrow comes it seems impossible- but new - Author: Pam Brown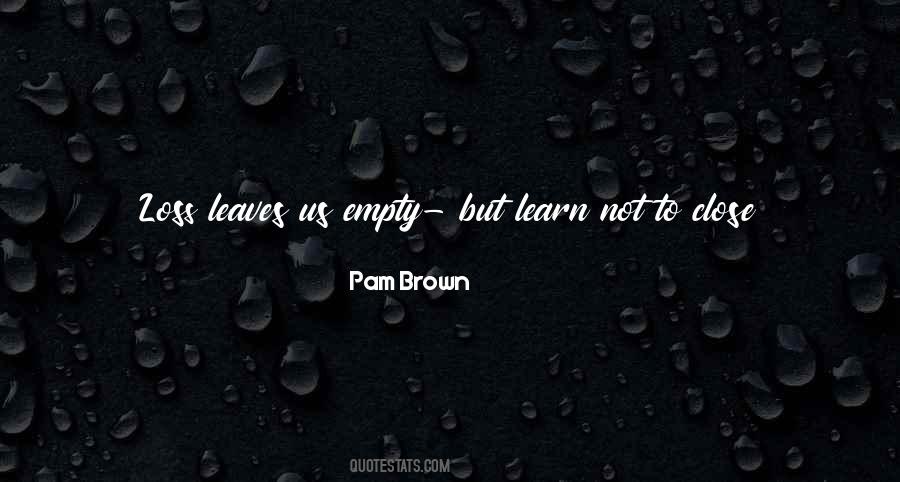 #45. For it is now to us itself ancient; and yet its maker was telling of things already old and weighted with regret, and he expended his art in making keen that touch upon the heart which sorrows have that are both poignant and remote. - Author: J.R.R. Tolkien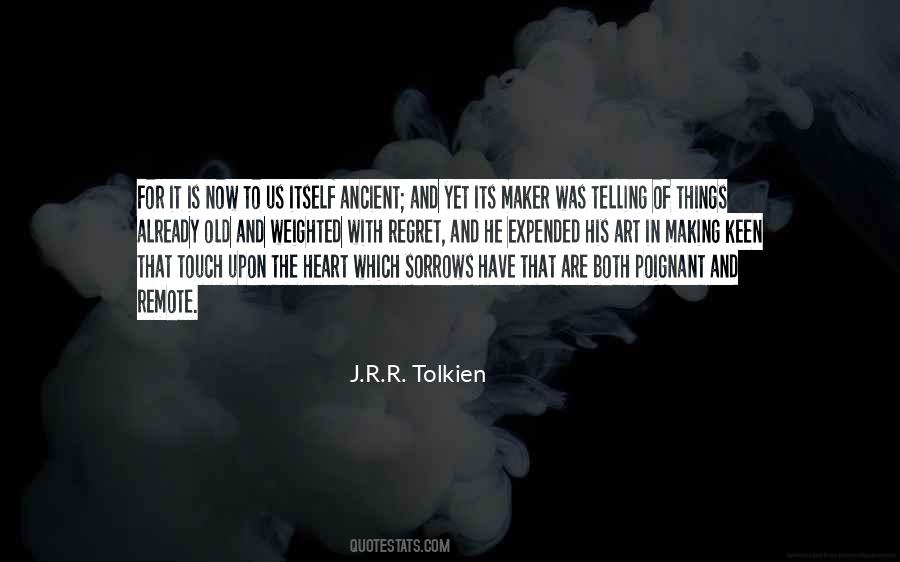 #46. For to be afflicted with endless sorrow at the loss of someone very dear is foolish self-indulgence, and to feel none is inhuman callousness. - Author: Seneca.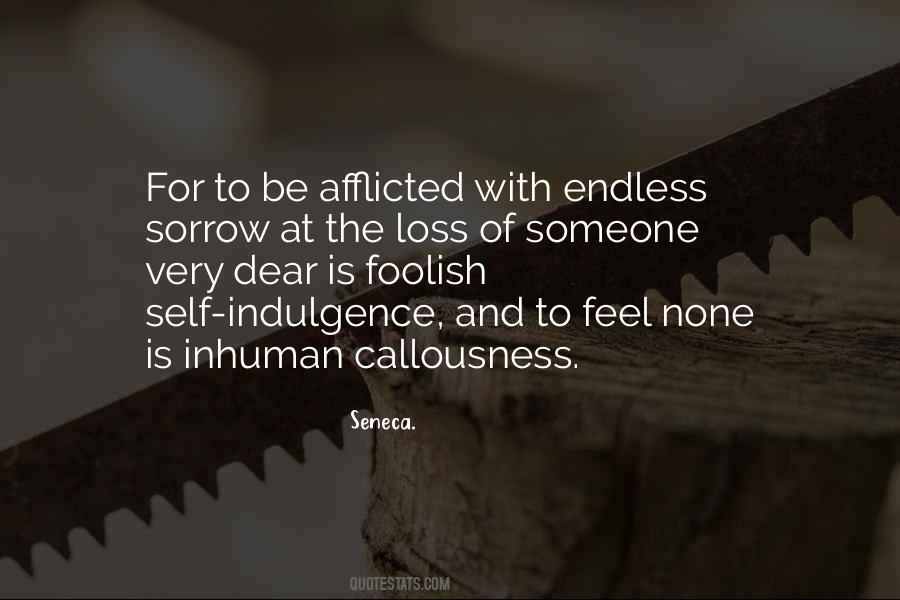 #47. Hope lives. No matter the mistakes we make, no matter our blunders and misunderstandings, no matter the grief and sorrow and loss, no matter how deep the darkness, hope lives. - Author: Margaret Weis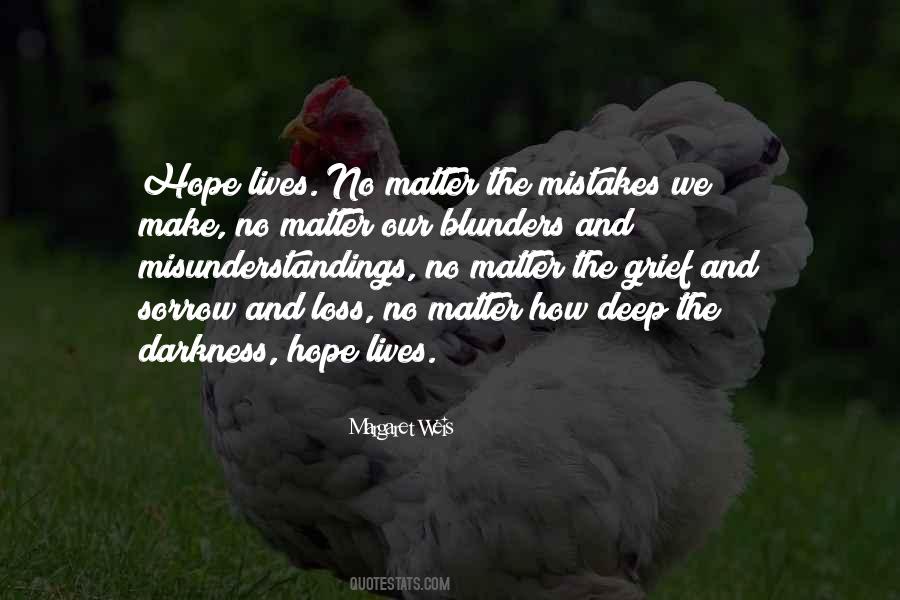 #48. We carry the dead with us only until we die too, and then it is we who are borne along for a little while, and then our bearers in their turn drop, and so on into the unimaginable generations. - Author: John Banville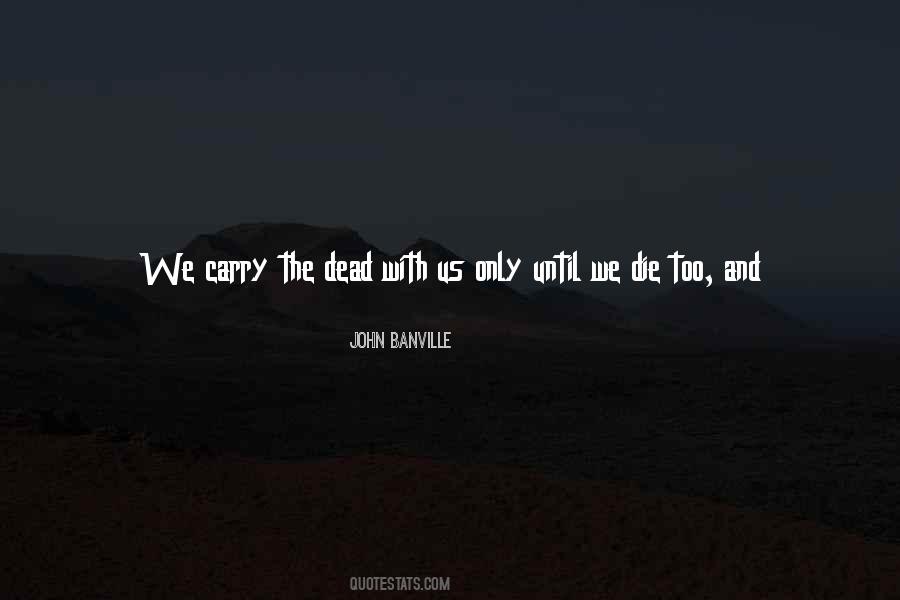 #49. And when I lift my head to scream out my fury, a million stars turn black and die. No one can see them, but they are my tears. - Author: N.K. Jemisin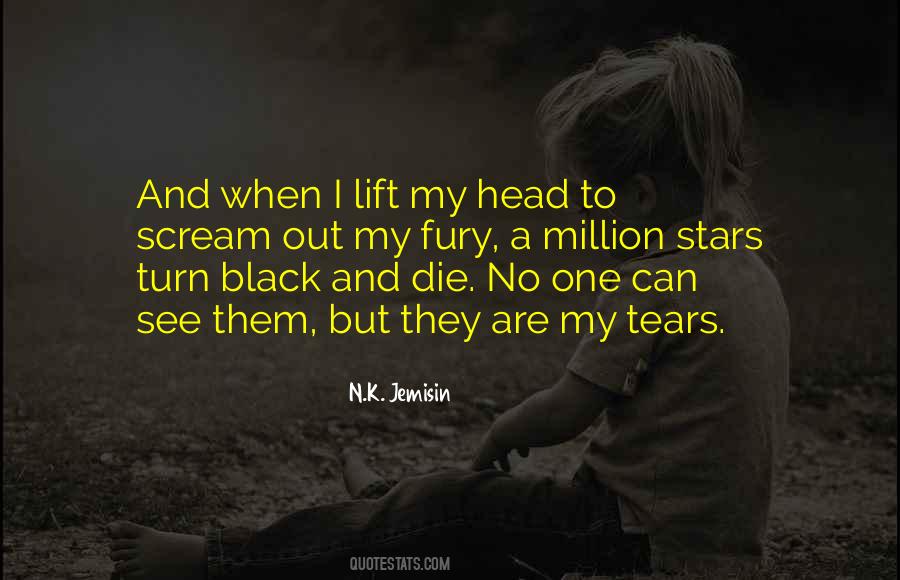 #50. I have suffered through enough illnesses, trauma and heartbreak to finally understand that life will keep moving forward inexorably, if terribly at times. I am starting to realize that it can be delightful too, if I let it. My love is not diminished if I let go of sorrow. I almost believe that. - Author: Jenny Qi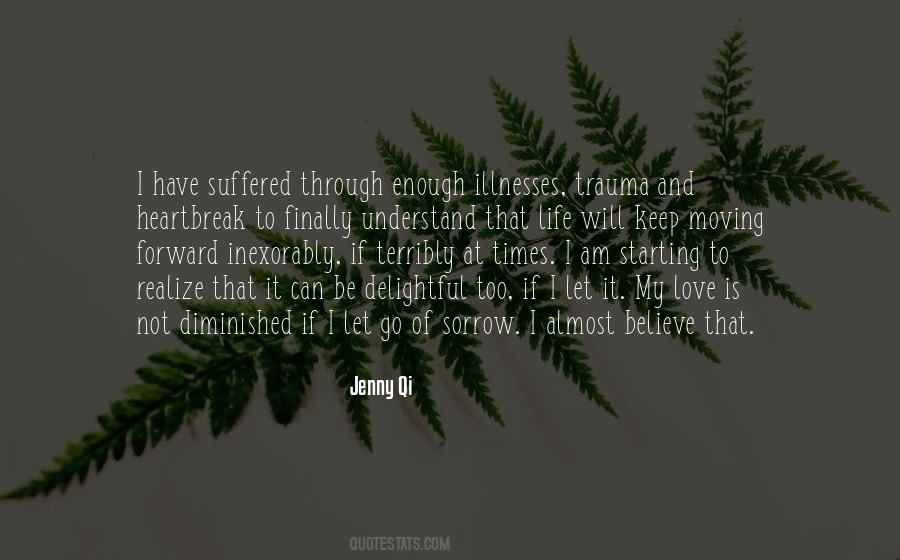 #51. If sorrow and beauty are all tied up together, then perhaps maturity brings with it not what Nabhan calls abstraction, but an aesthetic sense that partially redeems the losses time brings and finds beauty in the faraway. - Author: Rebecca Solnit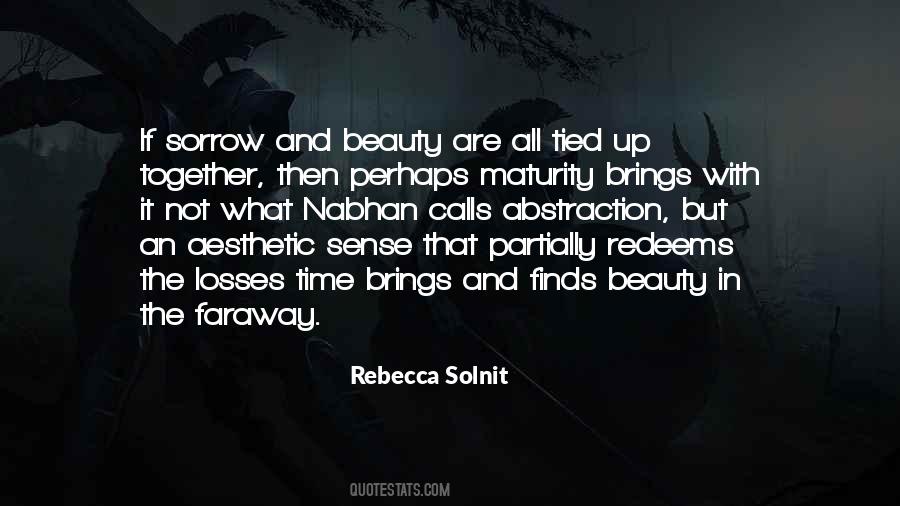 #52. The cross stands as the final symbol that no evil exists that God cannot turn into a blessing. He is the living Alchemist who can take the dregs from the slag-heaps of life - disappointment, frustration, sorrow, disease, death, economic loss, heartache - and transform the dregs into gold. - Author: Catherine Marshall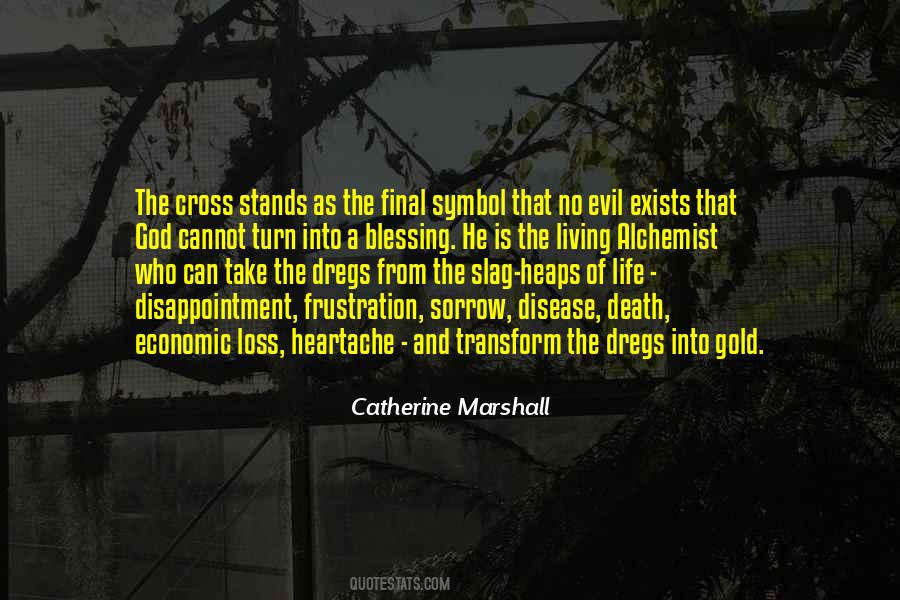 #53. ... struck. Once. And into that blow he put his childhood, his grief, his loss. He put his mother's sorrow and his sister's longing. The menorah, weighed down with that, crushed the Hermit's skull. - Author: Louise Penny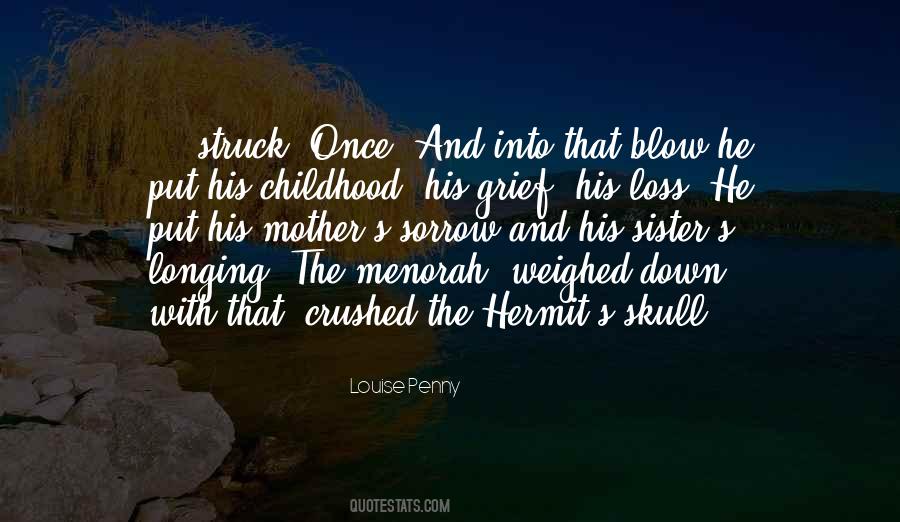 #54. I lived my grief; I slept mourning and ate sorrow and drank tears. I ignored all else. - Author: Robin Hobb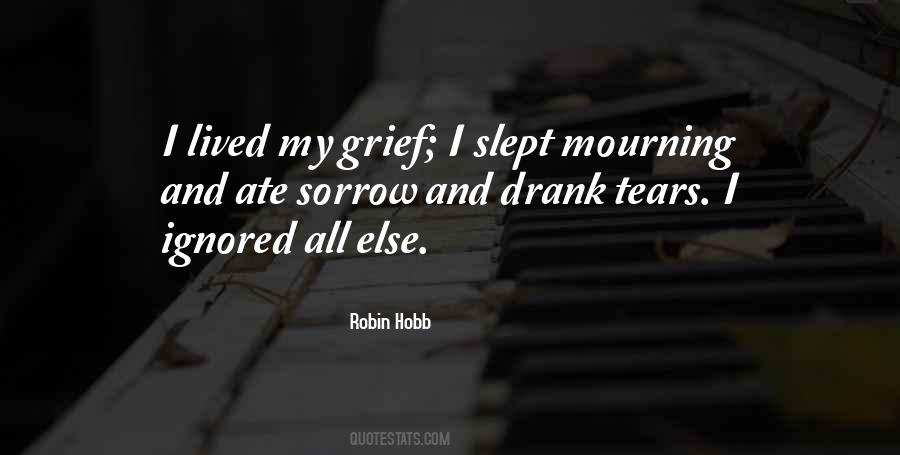 #55. I always think of my father when I sing arias about loss and love and longing. It gave me that definite deep sorrow that one can only get from life experience, you know? - Author: Sondra Radvanovsky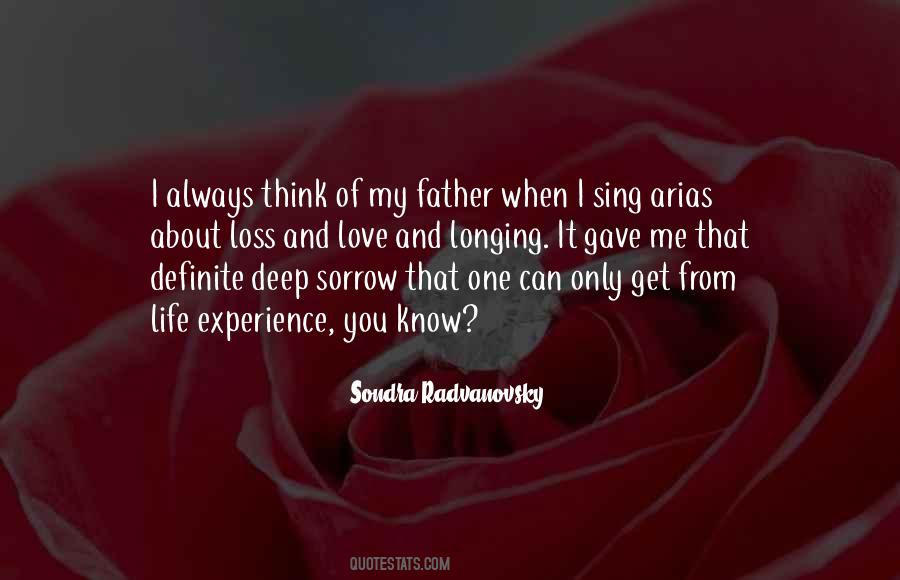 #56. Let no man pray that he know not sorrow, Let no soul ask to be free from pain, For the gall of to-day is the sweet of to-morrow, And the moment's loss is the lifetime's gain. - Author: Ella Wheeler Wilcox
#57. Retirement revives the sorrow of parting, the feeling of abandonment, solitude and uselessness that is caused by the loss of some beloved person. - Author: Simone De Beauvoir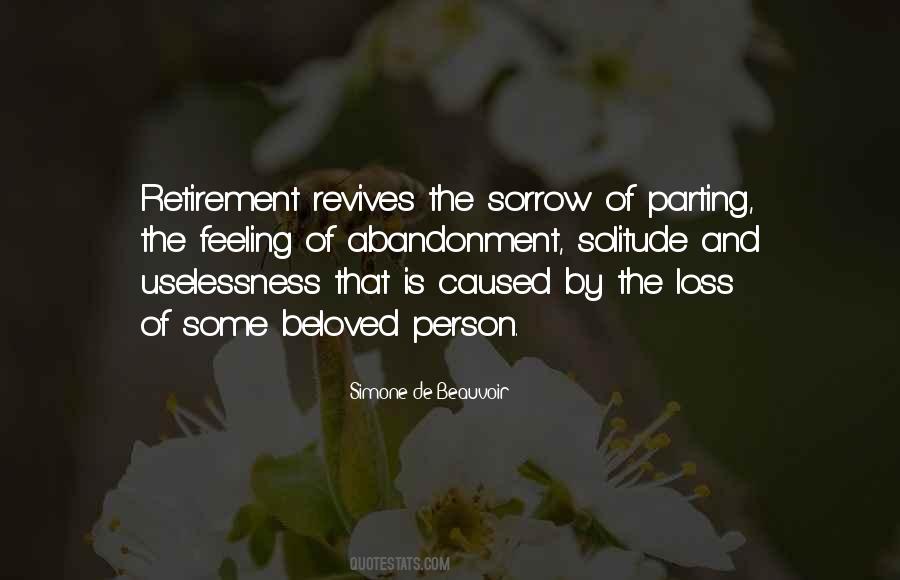 #58. How do you recover from an extraordinary loss? Take stock of the loved ones around you. Hug them, love them, and cherish them. When you appreciate the joys in your life, it makes sorrow that much easier to swallow. Every day is a new day. Hope floats, so let it rise. God is love. - Author: Joseph Simmons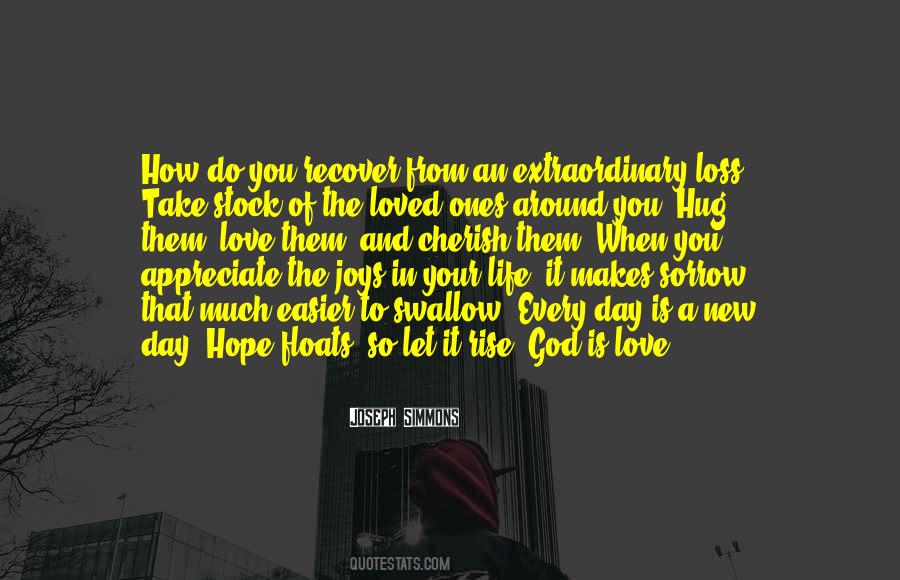 #59. Impatience turns an ague into a fever, a fever to the plague, fear into despair, anger into rage, loss into madness, and sorrow to amazement. - Author: Jeremy Taylor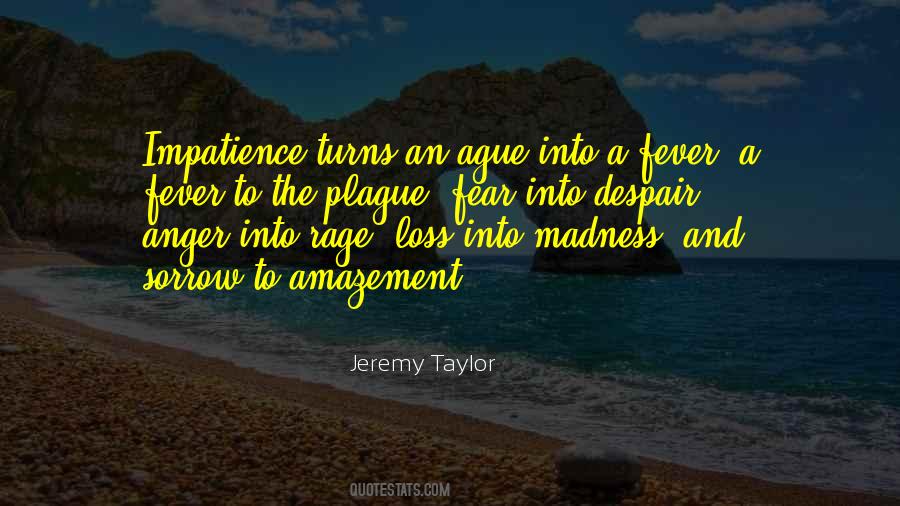 #60. Yes, it's worth it. The pain of sorrow is terrible and hard to bear, but the joy of love makes it worthwhile. p123 - Author: Kate Sherwood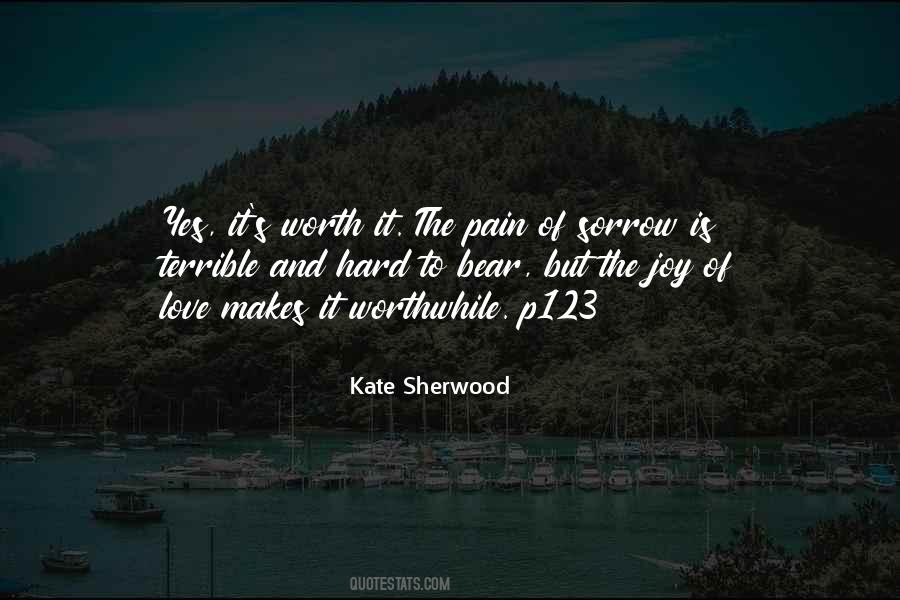 #61. Liquor is not necessary either for health or for so-called gracious living ... It is the cause of untold sorrow, suffering, and material loss, not to mention the spiritual implications of drinking. - Author: Billy Graham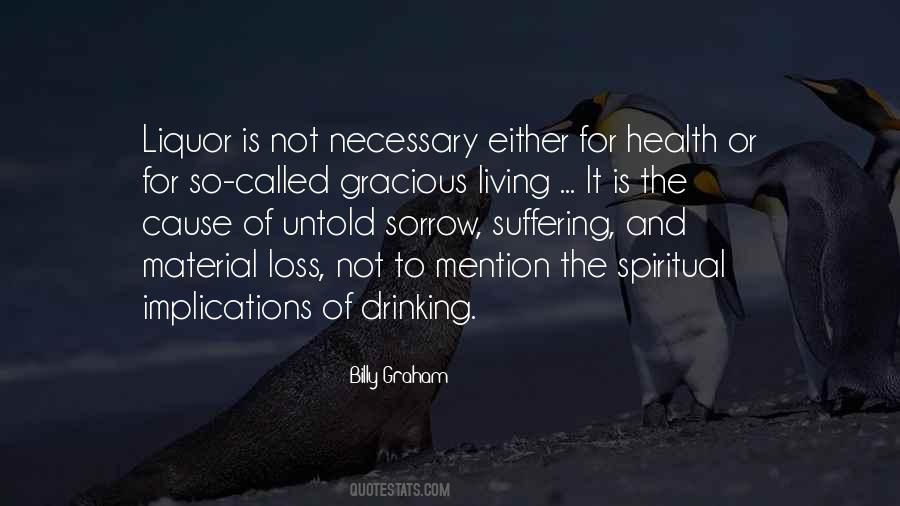 #62. All of us know about learning life's lessons through pain, struggle, and loss. But few of us realize that it is often the gentlest lessons that teach us most. Serendipity can instruct us as much as sorrow. - Author: Sarah Ban Breathnach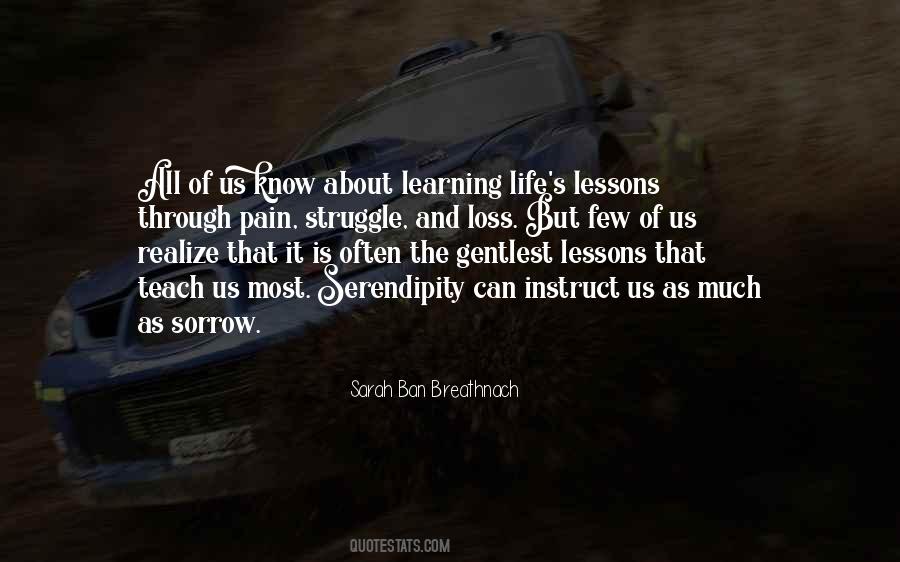 #63. Every sacred mission, every hunt for hidden relics, every pilgrimage from one end of the earth to the other ... I was looking for you. - Author: Dianna Hardy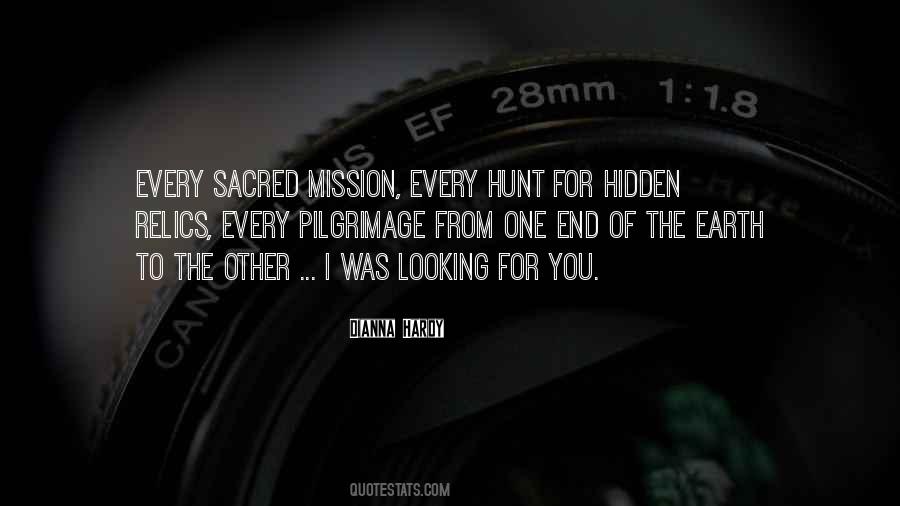 #64. The photograph of my brother that is in this album shows a young man, beautiful and perfect in the way of young people, for young people are always perfect and beautiful until they are not, until the moment they just are not. - Author: Jamaica Kincaid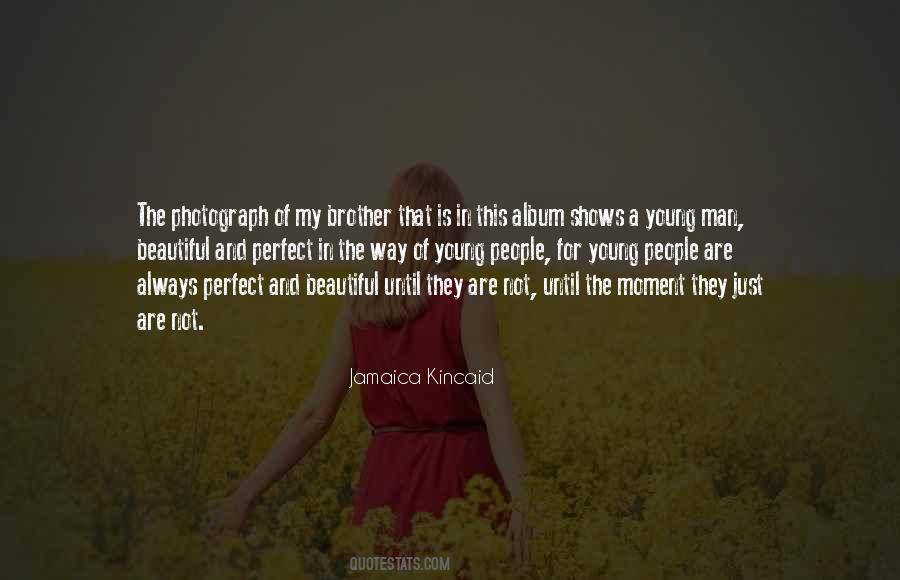 Famous Authors
Popular Topics