Someone You Love Dies Famous Quotes & Sayings
List of top 78 famous quotes and sayings about someone you love dies to read and share with friends on your Facebook, Twitter, blogs.
Top 78 Quotes About Someone You Love Dies
#1. Love never dies but the affection/passion you have for each other may fade over time when you don't personally connect with each other. - Author: Kemi Sogunle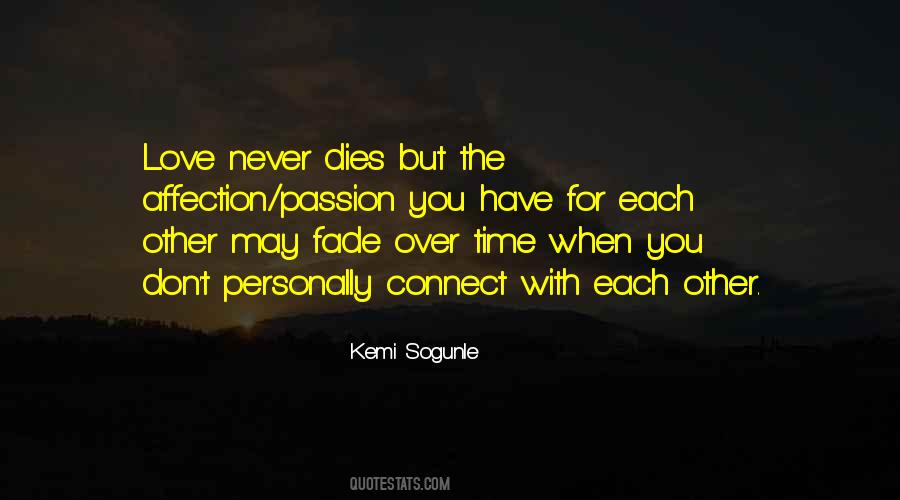 #2. Advisory: If your husband catches an ebolavirus, give him food and water and love and maybe prayers but keep your distance, wait patiently, hope for the best-- and, if he dies, don't clean out his bowels by hand. Better to step back, blow a kiss, and burn the hut. - Author: David Quammen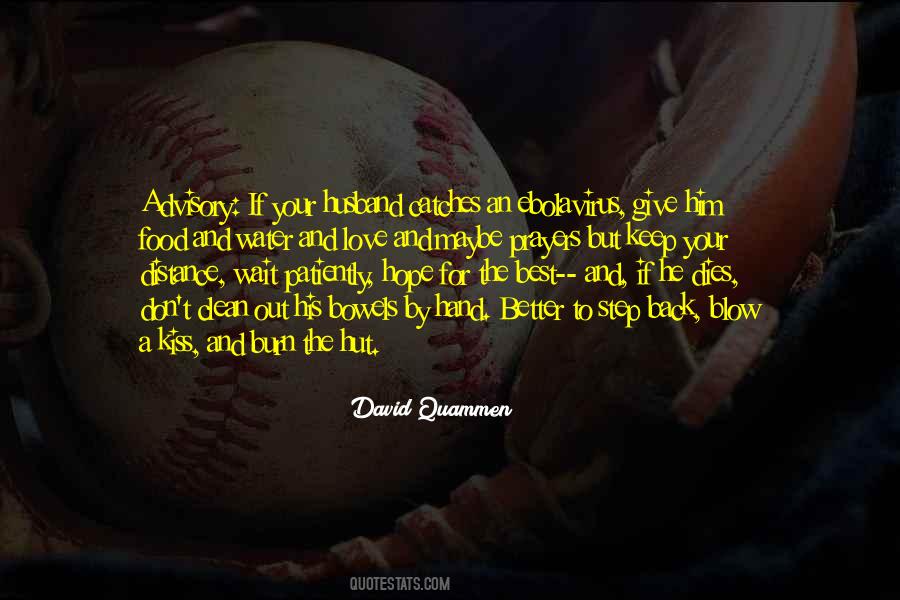 #3. And that's just it, isn't it? That's how we manage to survive the loss. Because love, it never dies, it never goes away, it never fades, so long as you hang on to it. - Author: Gayle Forman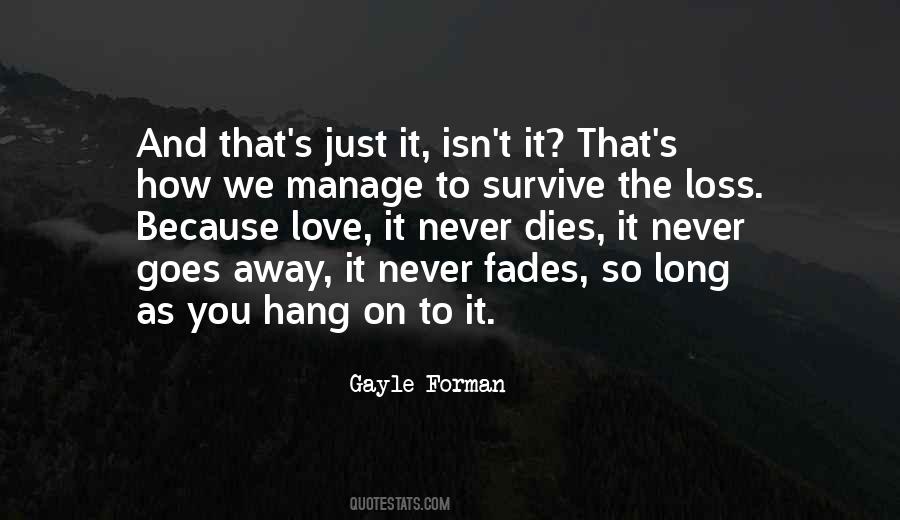 #4. We are born to love, we live to love, and we will die to love still more. - Author: Saint Joseph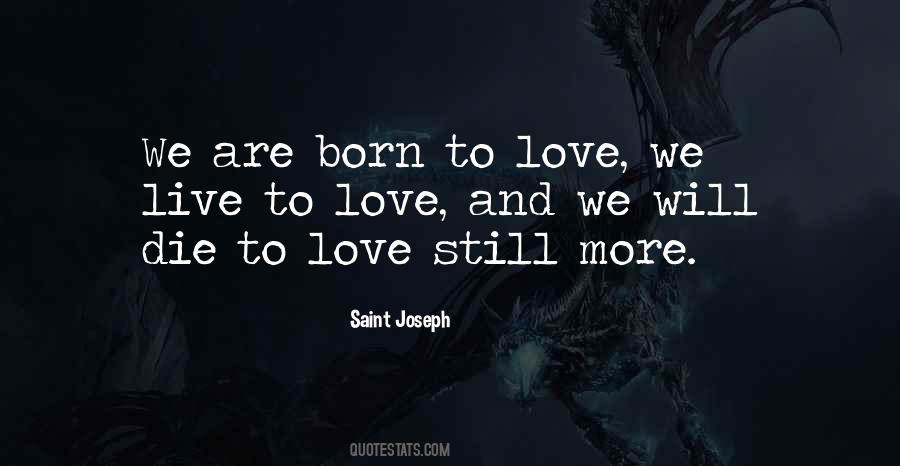 #5. Love either starves to death and becomes a shadow, or else it dies young and remains a dream. - Author: James Jones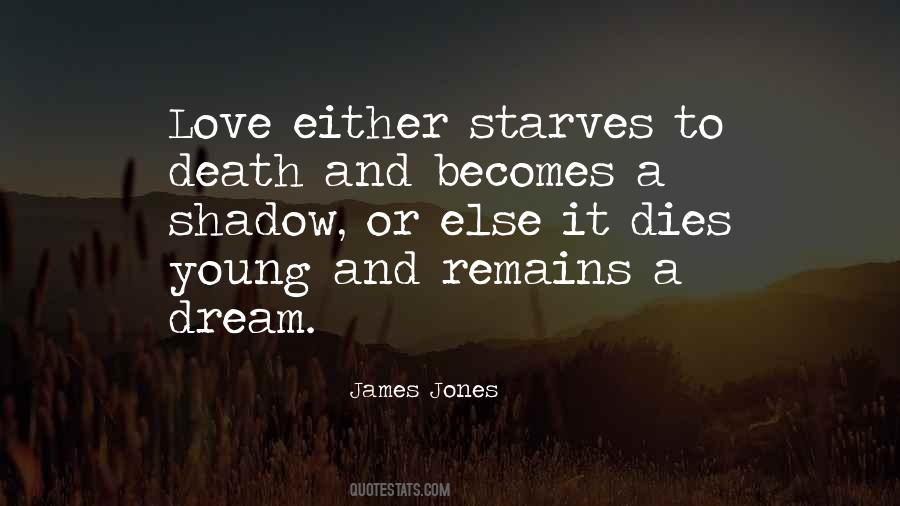 #6. When the last female dies, the gateway to the earth closes to man. - Author: Ernest Agyemang Yeboah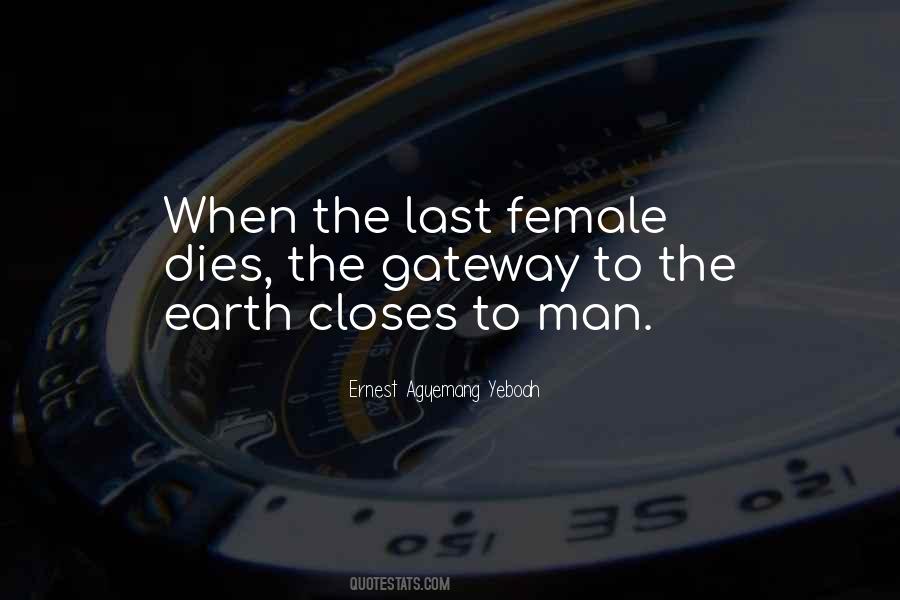 #7. Die before the one whom you love; to live after he dies is to live a worthless life in this world. - Author: Guru Angad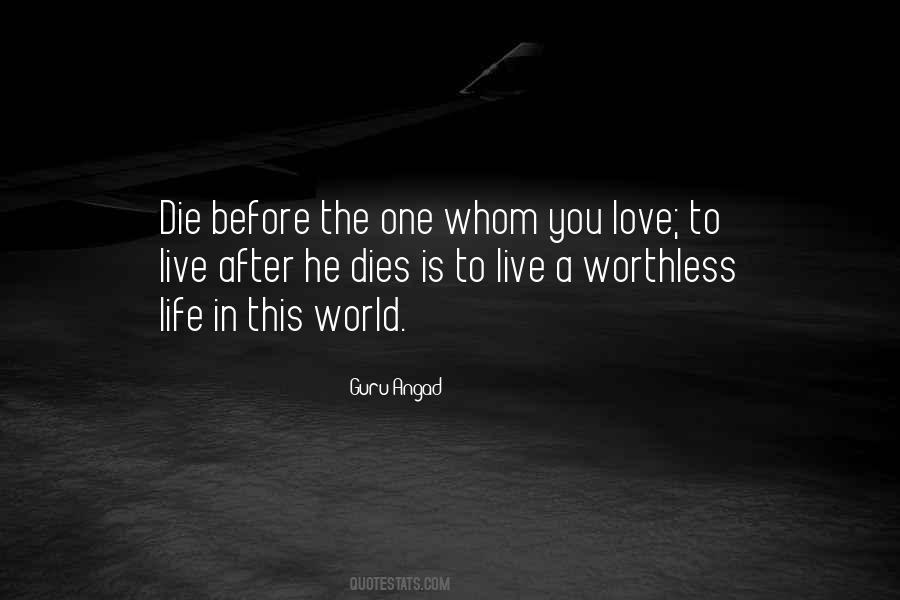 #8. The love of gardening is a seed once sown that never dies. - Author: Gertrude Jekyll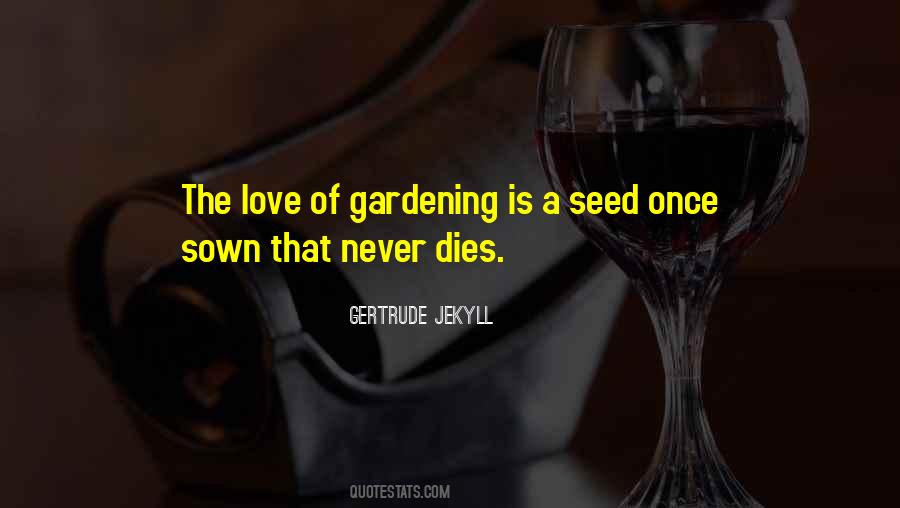 #9. Love dies in many different ways, and it's natural for the grass to seem greener on the other side. But it's not a competition; there's plenty of pain to go around. - Author: Rob Sheffield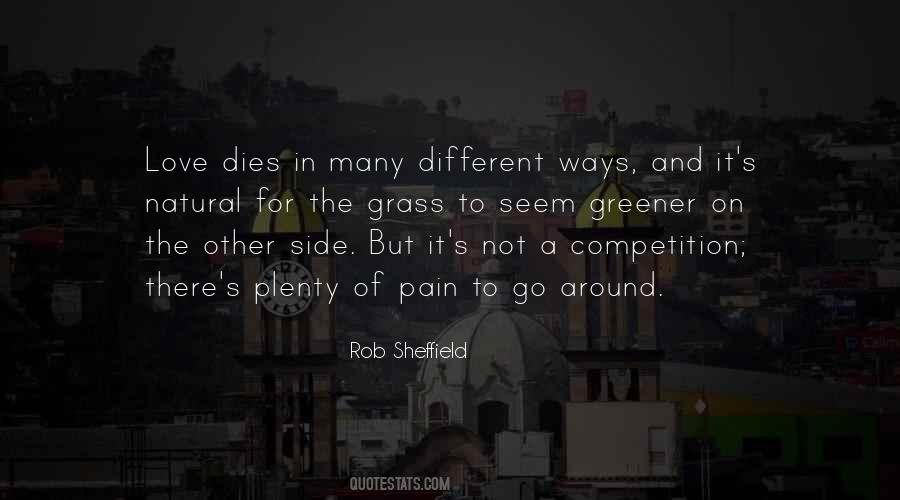 #10. The heart can never break if you believe love never dies. - Author: Kate McGahan
#11. Love that is fed by jealousy dies hard. - Author: Ovid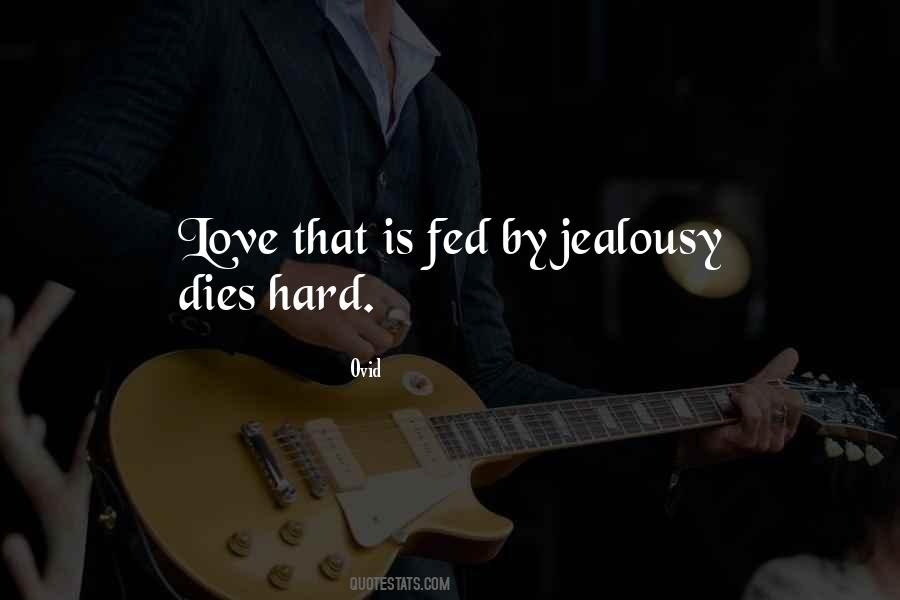 #12. A Heart dies when it is not able to share its "Feelings" But A Heart kills it self when another Heart does not understand its "Fellings - Author: David Self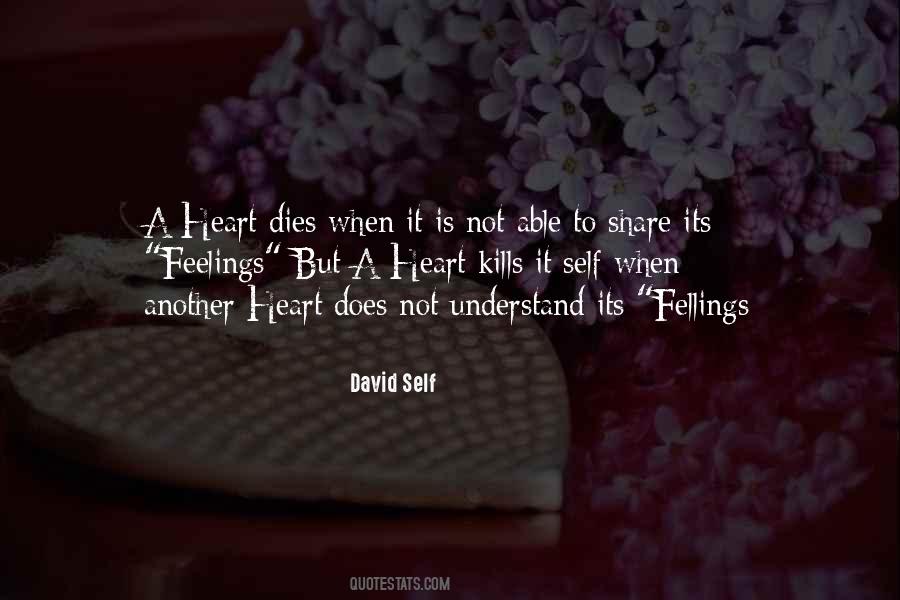 #13. And the Top spoke no more of his old love; for that dies away when the beloved objects has lain for five years in a roof gutter and got wet through; yes, one does not know her again when one meets her in the dust box. - Author: Hans Christian Andersen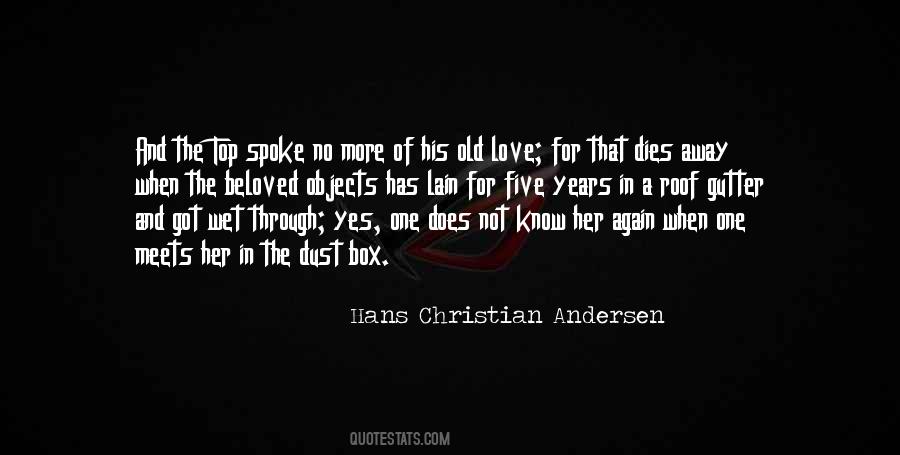 #14. One fancies that what one loves cannot die. - Author: Eugenie De Guerin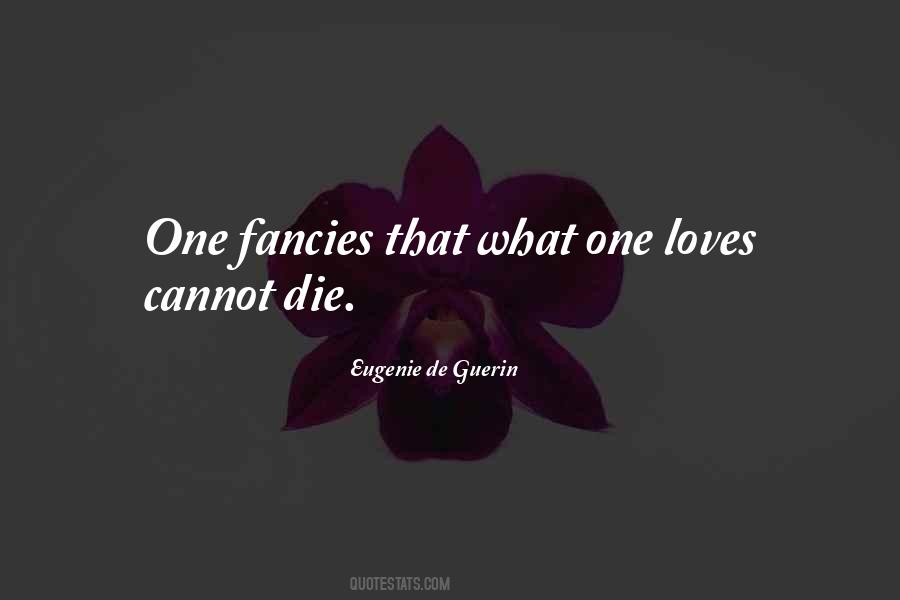 #15. I didn't know who to
believe
but
one thing I do
know: when a man is
living
many claim relationships
that are hardly
so
and after he dies, well,
then it's everybody's
party. - Author: Charles Bukowski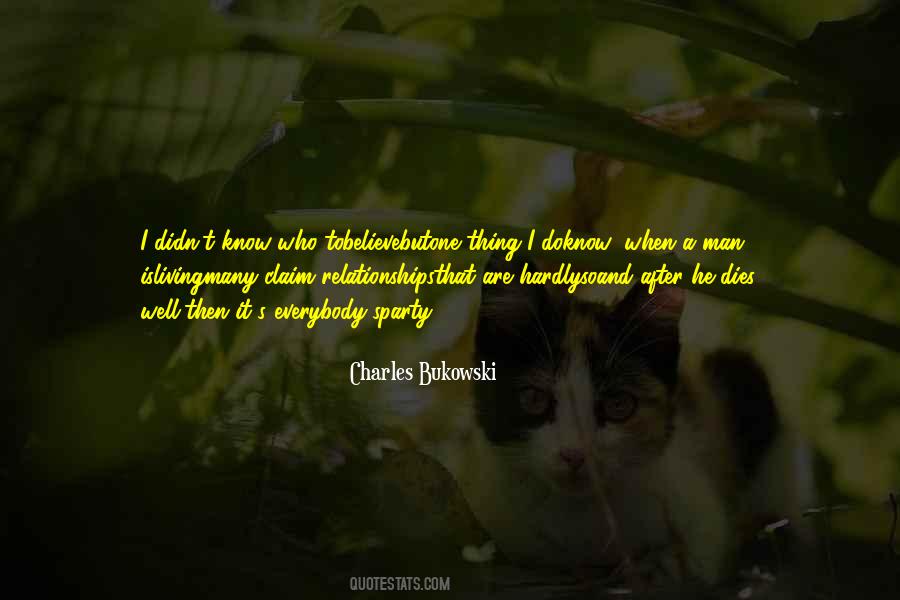 #16. When someone we love dies suddenly and tragically, it's like seeing the curvature of the earth. You always knew it was round, a contained sphere floating in space. But when you see the bend in the horizon line, it changes your perspective on everything else. - Author: Lisa Unger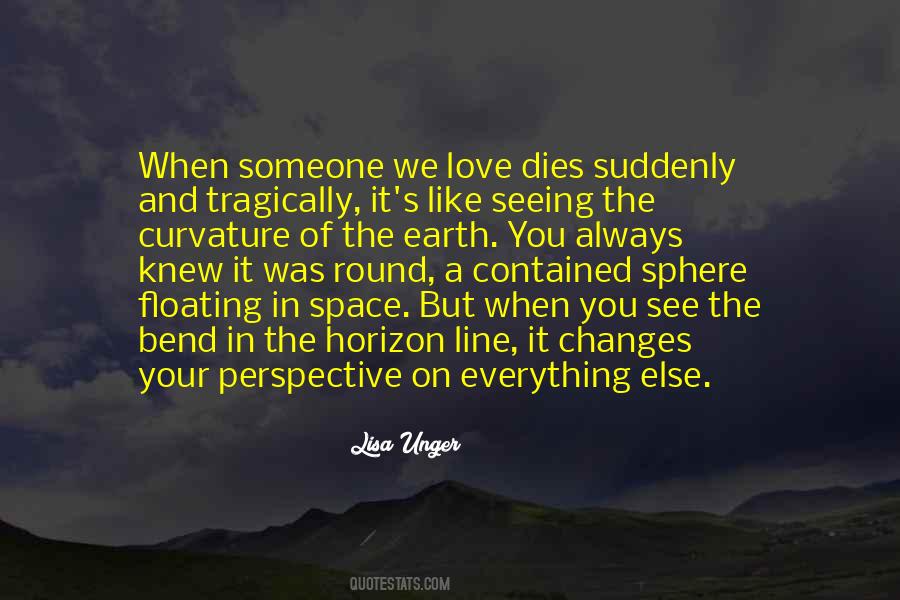 #17. Every living thing dies, Art. That's why we cherish it while we have it. That's why we respect the decisions our loved ones make for themselves. That's why we love, and why we care, and why we hurt. Because everything dies. - Author: Reilyn J. Hardy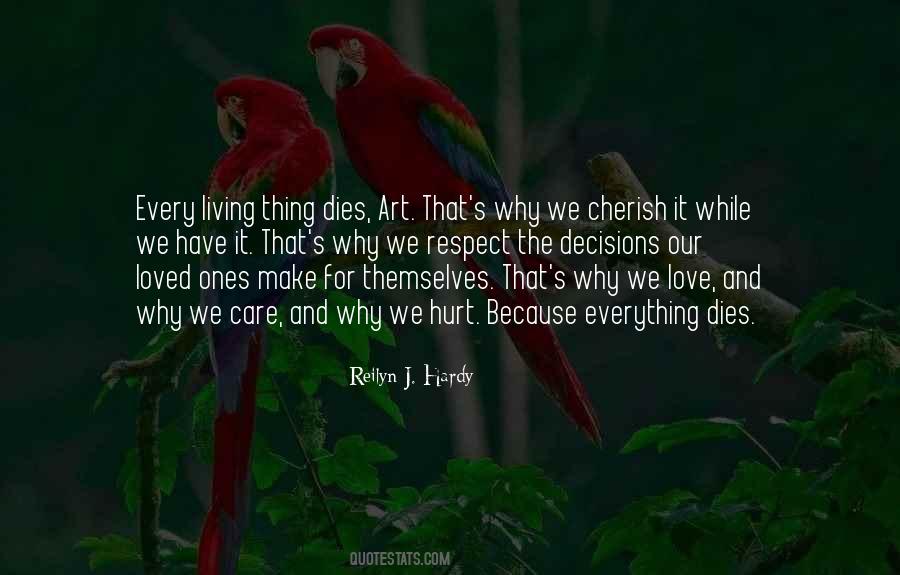 #18. A love that dies has never lived. - Author: Franz Grillparzer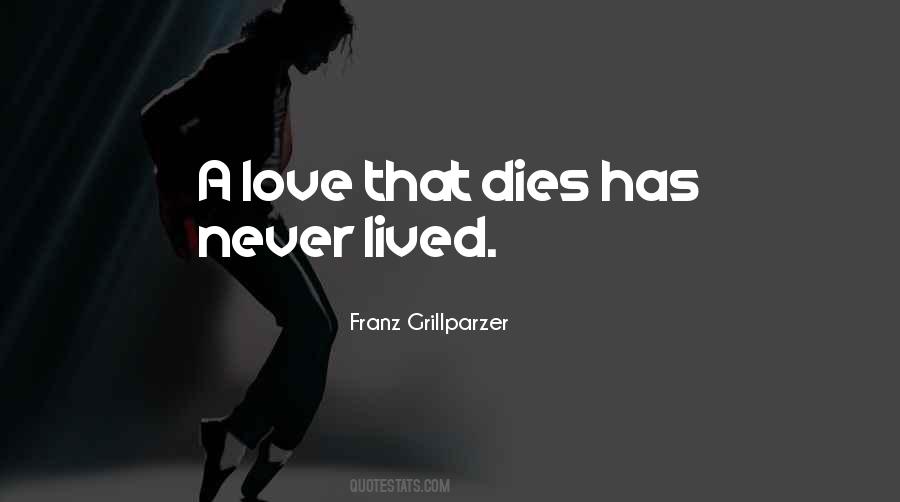 #19. Wail not too wildly for expiring Love: The Love that dies was never quite alive. - Author: Richard B. Garnett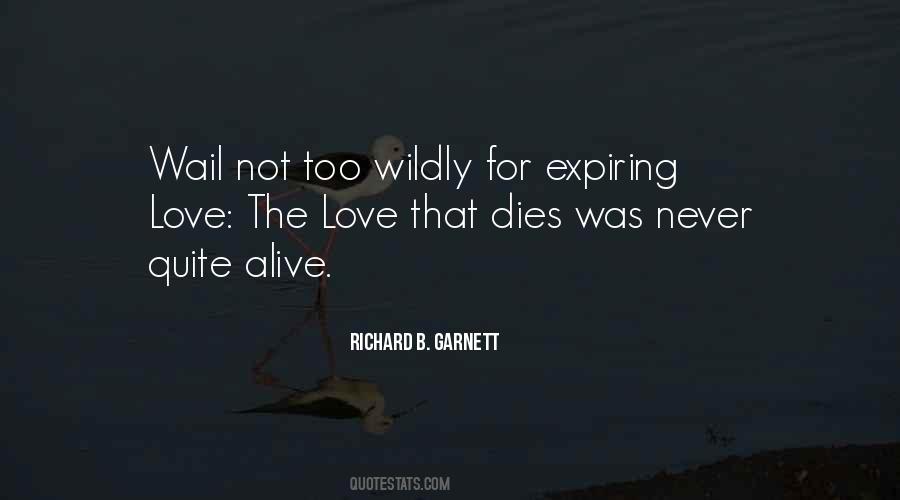 #20. Our lives are not fully lived if we're not willing to die for those we love, for what we believe. - Author: Martin Luther King Jr.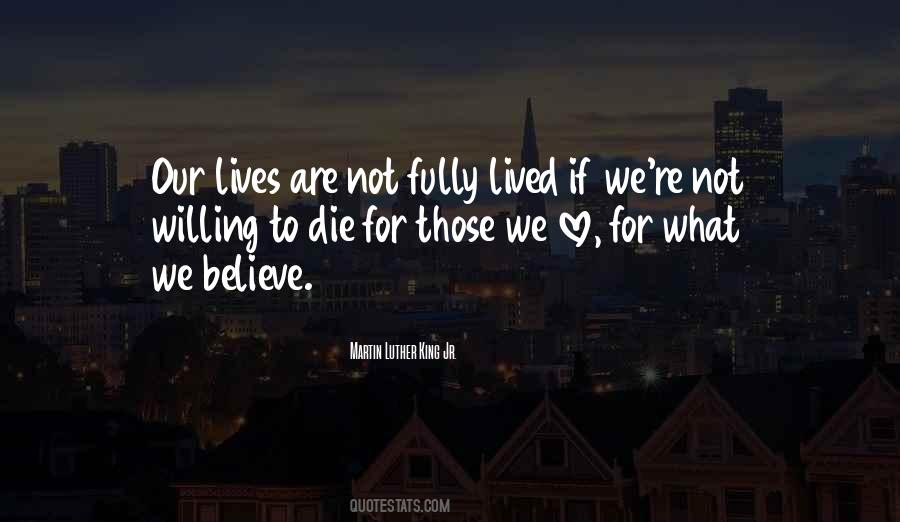 #21. Things always change when someone you love dies. You just can't prepare yourself for those changes no matter what you do in advance.
The only thing that's a certainty in always wondering who's going to be next. - Author: J.A. Redmerski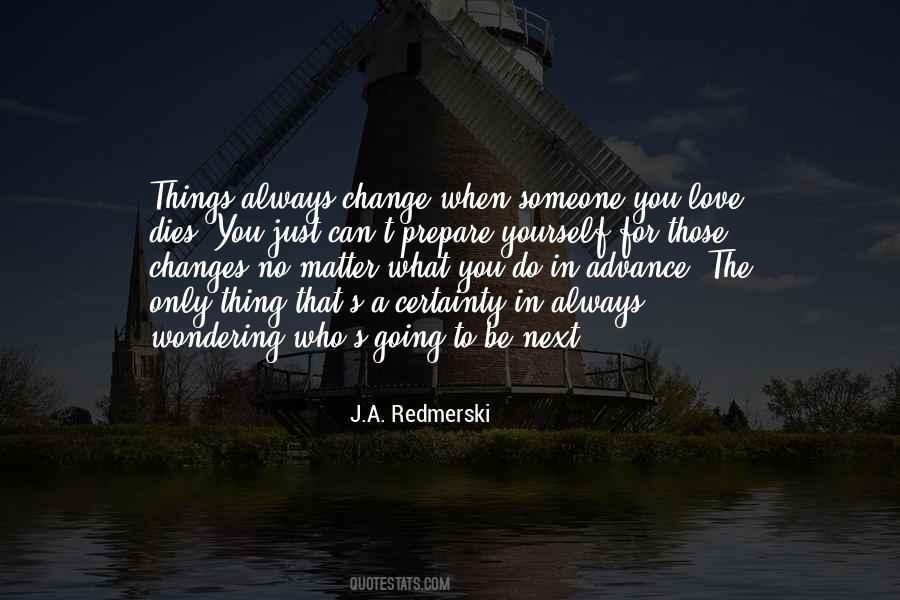 #22. If you love someone, and that person dies, all that love becomes a burden, a weight accumulating, pooling inside you, with nowhere to go. - Author: Lia Mills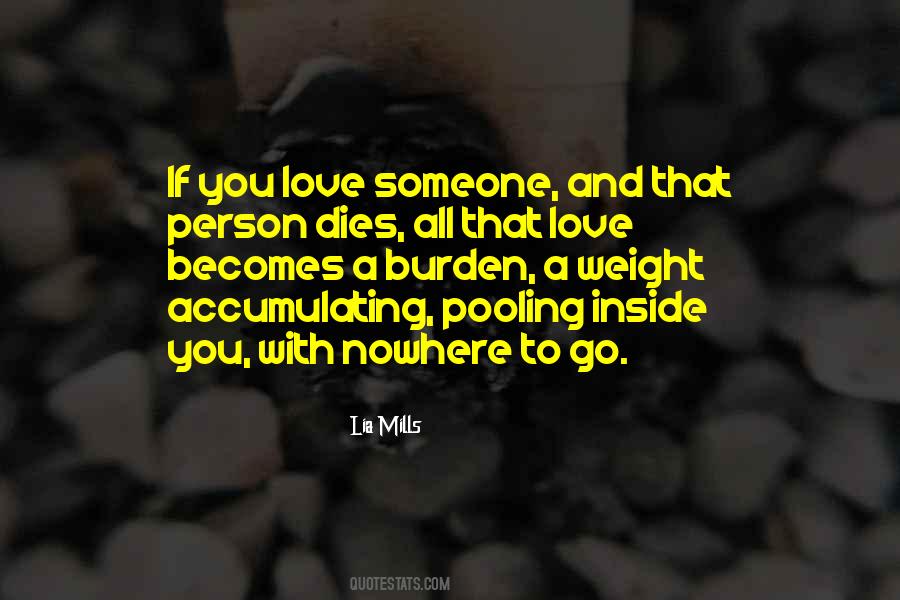 #23. When someone you love dies,part of you dies with them. It's why you're never the same after losing someone. - Author: Shannon Messenger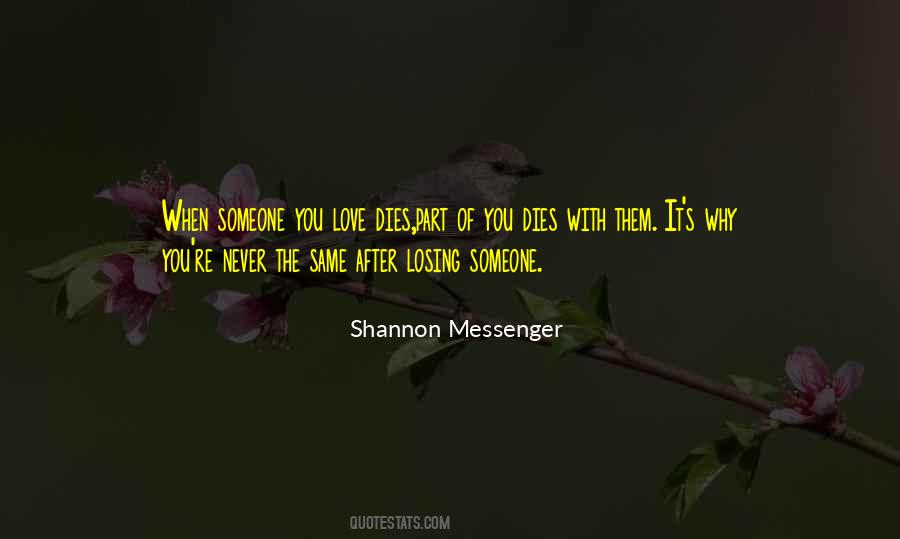 #24. When somebody you love dies, you want the world to just stop, but it doesn't ... everything keeps going, and so it's up to you to catch the moment ... to savor that time ... years ago when you ran hand in hand down the hill with your sister. - Author: Wes Adamson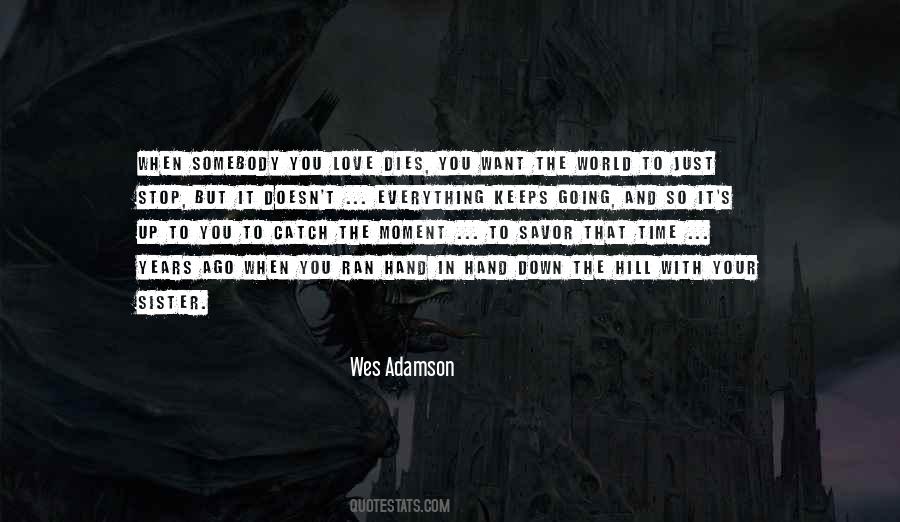 #25. Cause if you shoot a bullet someone dies. If you drop a bomb many die. You hit a woman, love dies. But if you say the F-word ... nothing actually happens. - Author: Richard Curtis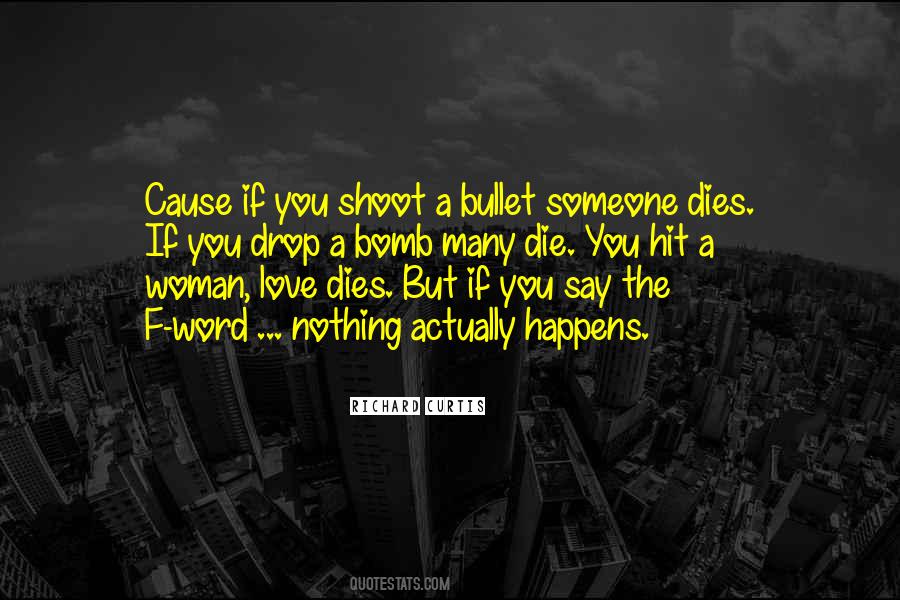 #26. When someone that you love dies..it's like fireworks suddenly burning out in the sky and everything going black. - Author: Muriel Barbery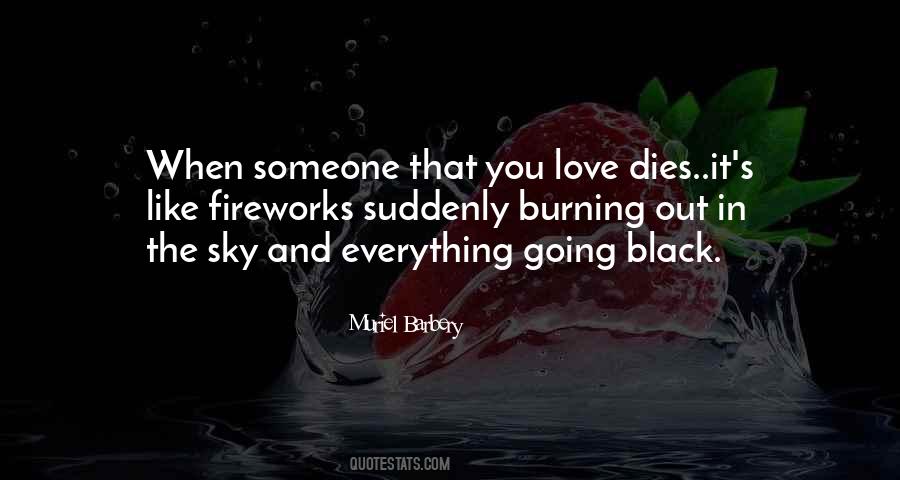 #27. The grief changes over time. You keep busy. Sometimes your mind even forgets the pain for a little while. But when someone you love dies, there will always be a hurt inside you, like a splinter, and when you give yourself over to thinking on it, the ache comes back. - Author: Colleen Houck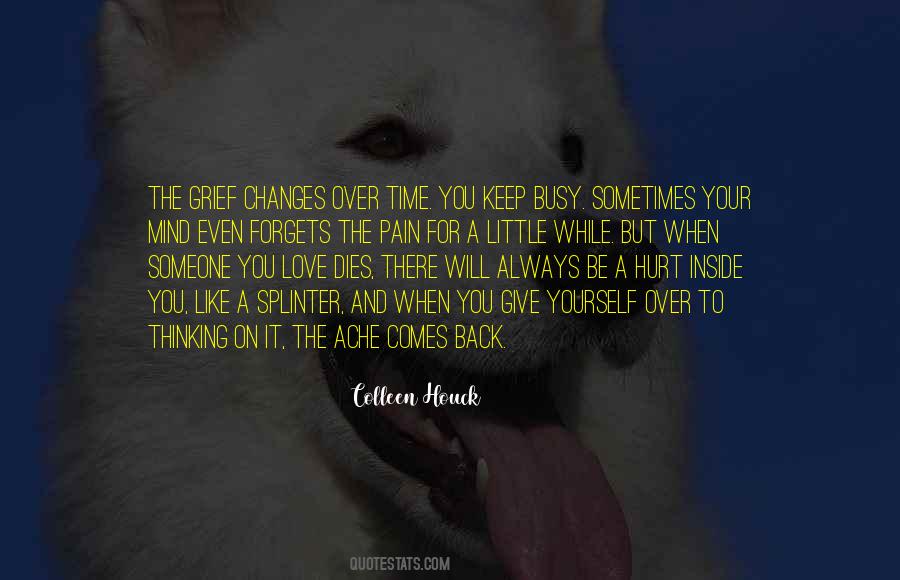 #28. Depression is the flaw in love. If you were married to someone and thought, "Well, if my wife dies, I'll find another one," it wouldn't be love as we know it. There's no such thing as love without the anticipation of loss, and that specter of despair can be the engine of intimacy. - Author: Andrew Solomon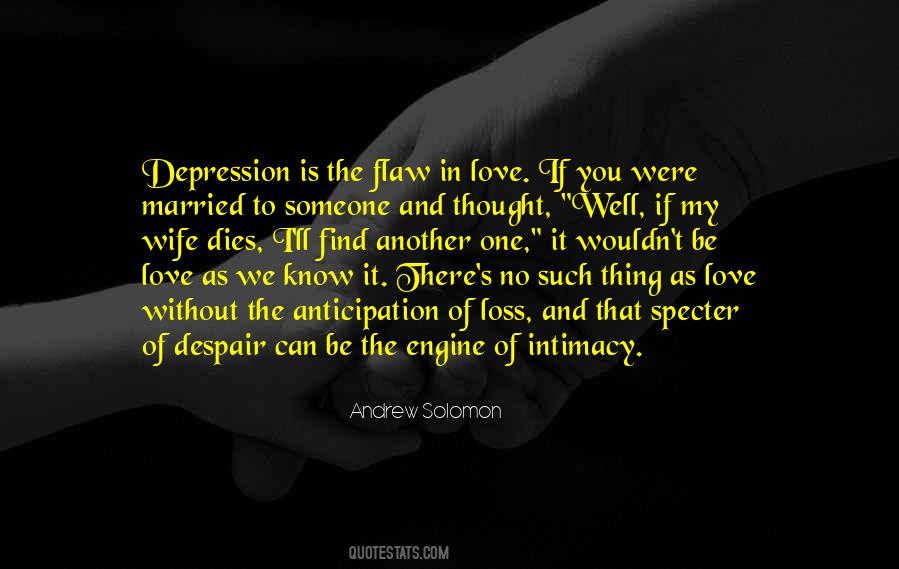 #29. When someone you love dies, you get a big bowl of sadness put down in front of you, steaming hot. You can start eating now, or you can let it cool and eat it bit by bit later one. Either way, you end up eating the whole thing. There's really no way around it. - Author: Ralph Fletcher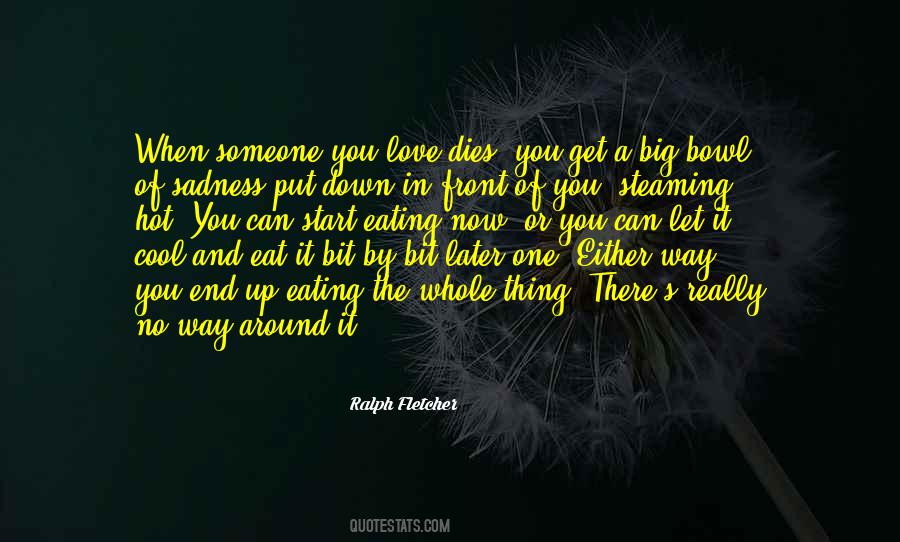 #30. When someone dies but love remains, it like a star you can never touch. All its beauty remains so real; in the end, you would never wish it away. - Author: S.L. Northey
#31. In Narnia a girl might ring a bell in a deserted temple and feel the chime in her eyes, pure as the freeze that forces tears. Then when the sound dies out, the White Witch wakes. It was like, I want to touch you, and I can touch you, now what next, a dagger? - Author: Helen Oyeyemi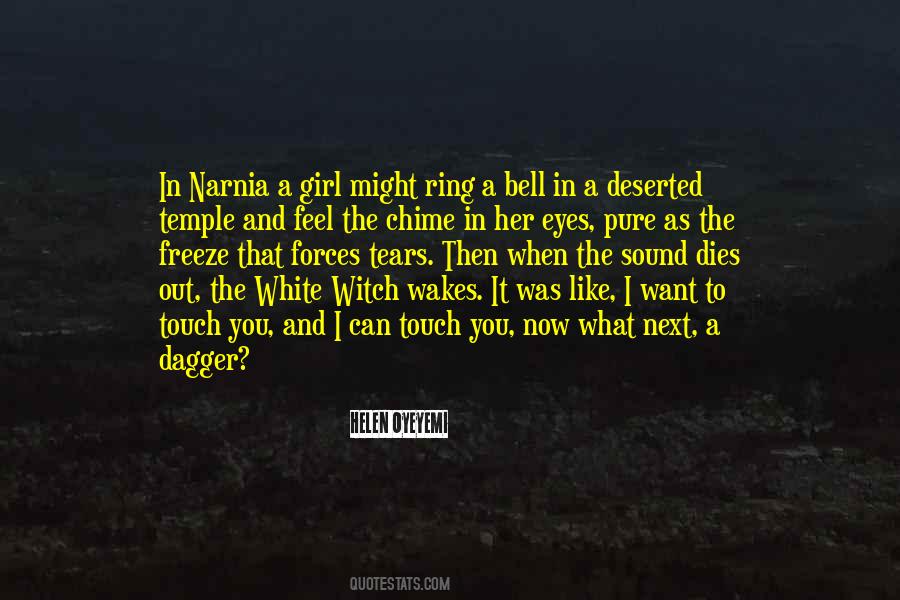 #32. When someone you love dies you pay for the sin of outliving her with a thousand piercing regrets. - Author: Simone De Beauvoir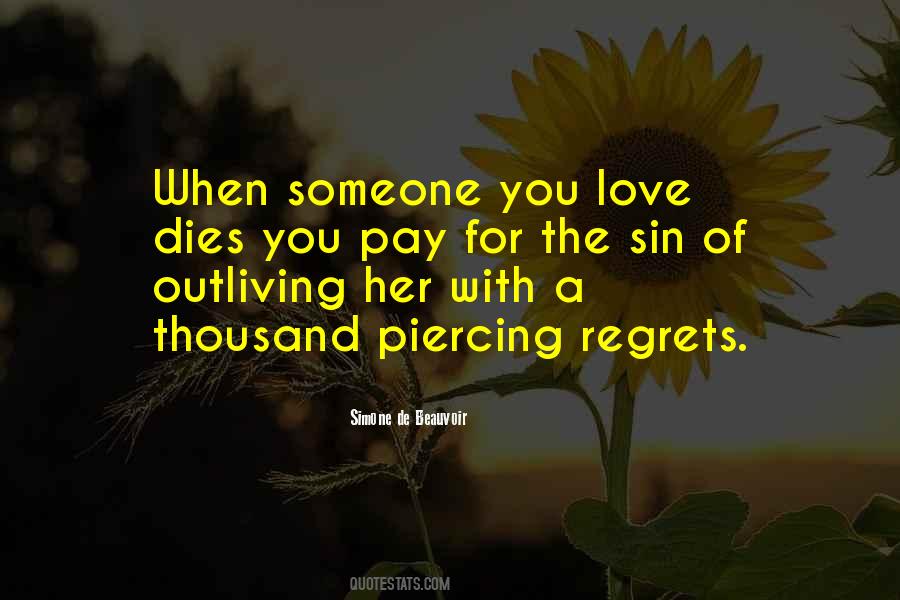 #33. I believe that whenever someone you love dies, a part of you goes with them. I also think that every time someone new is brought into your life, a part of you is reborn. The circle of life and death is a balancing act, God's way of making things even. - Author: Dani Amore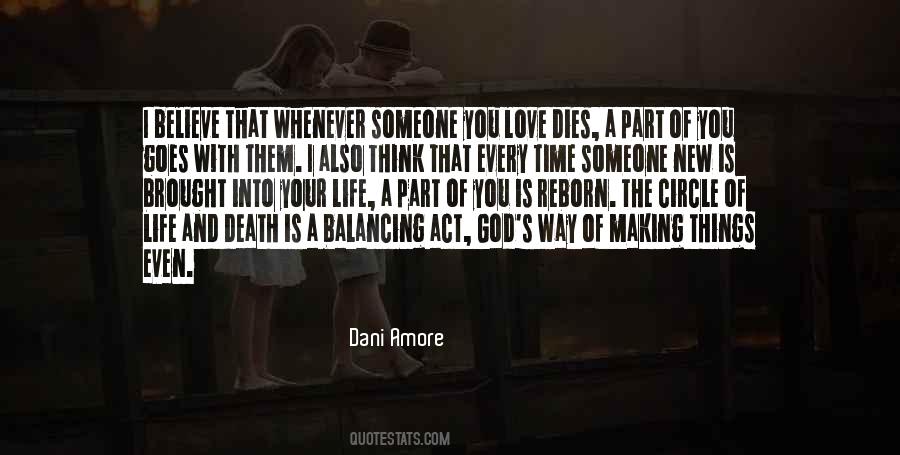 #34. In poetry you can express almost inexpressible feelings. You can express the pain of loss, you can express love. People always turn to poetry when someone they love dies, when they fall in love. - Author: Erica Jong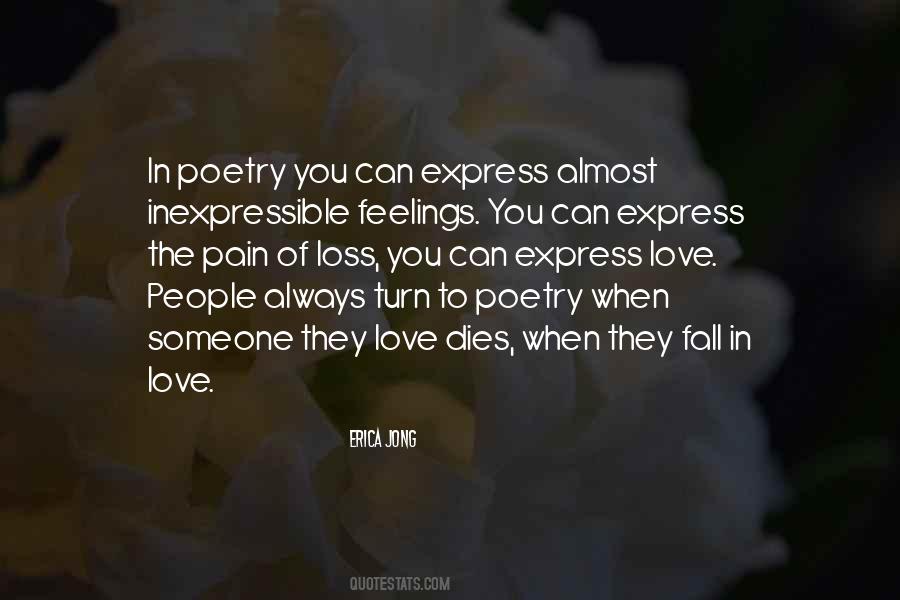 #35. When someone you love dies, he becomes your enemy; he fights you tooth and nail from a hidden position; he successfully raids what small provisions you have gathered to keep yourself going. - Author: Rosalyn Drexler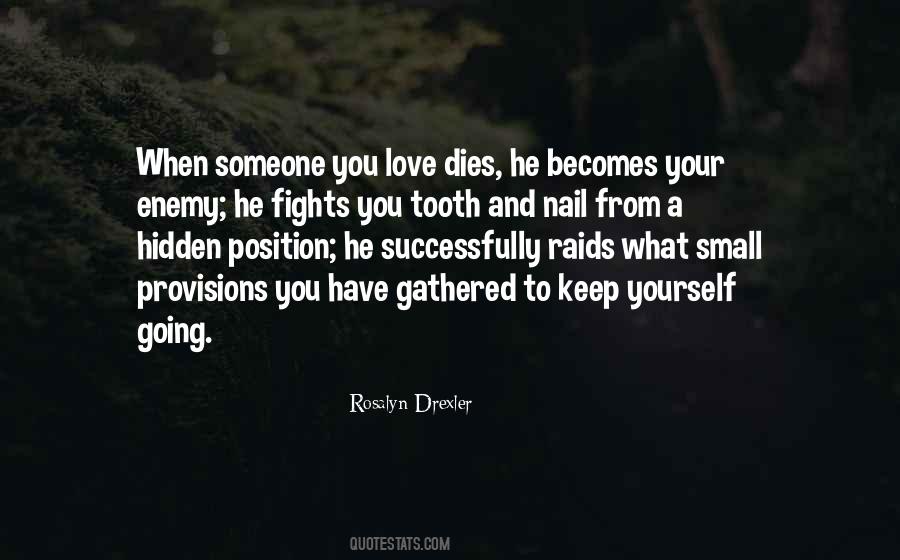 #36. When a person you love dies, it doesn't feel real. It's like it's happening to someone else. It's someone else's life. I've never been good with the abstract. What does it mean when someone is really truly gone? - Author: Jenny Han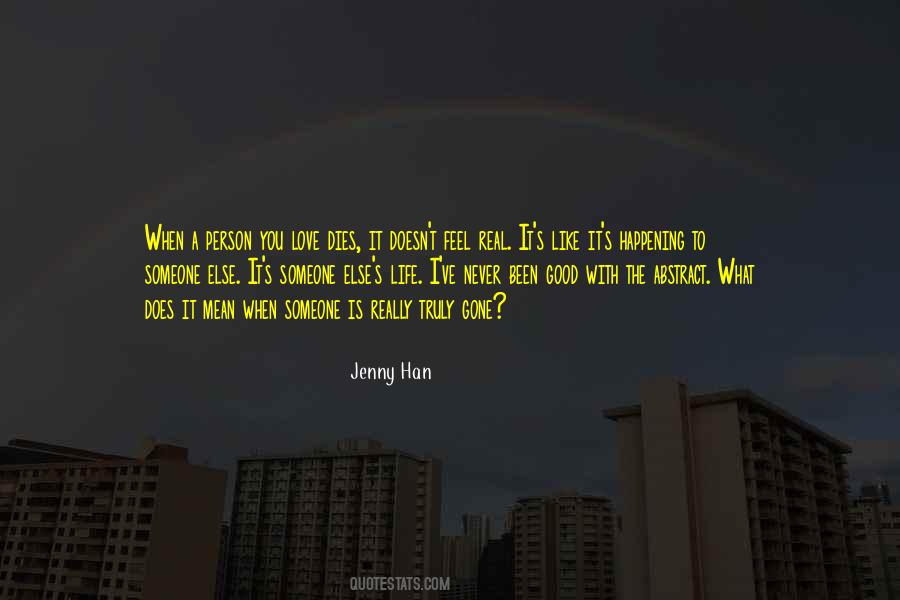 #37. Usually time alters and affects everything, but when someone you love dies time cannot change that, no amount of time will ever change that, so time stops having any meaning. - Author: Rosamund Lupton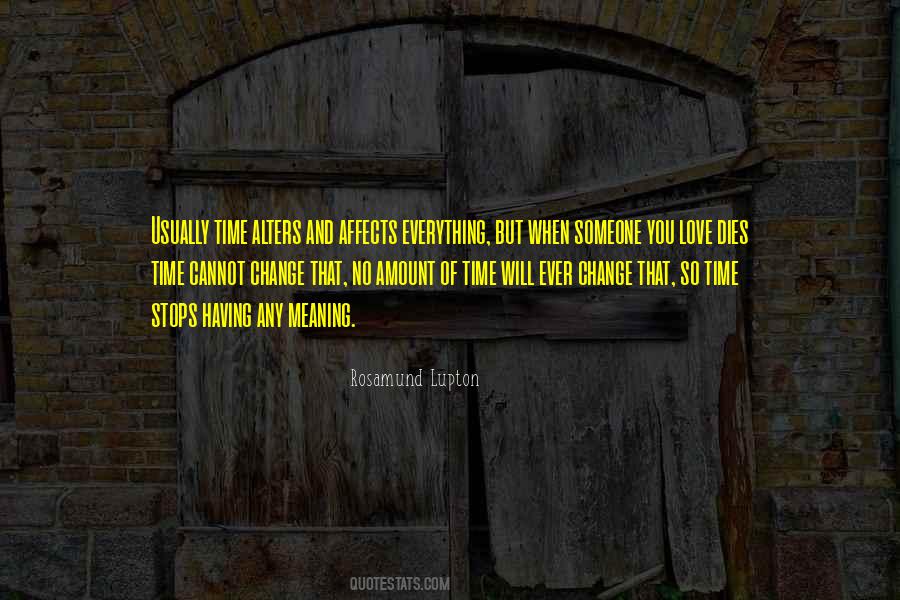 #38. It's not hard to read about death abstractly. I do find it tough when a character I love dies, of course. You can truly miss characters. Not like you miss people, but you can still miss them. - Author: Will Schwalbe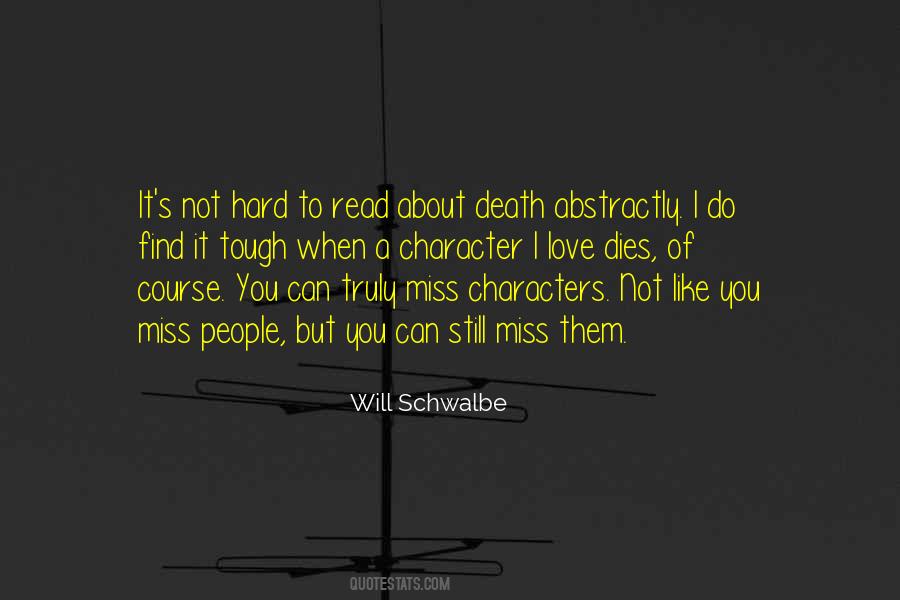 #39. Oh well, it's over for you. Call the code at 2:03 p.m."
My eyes widened in shock. "That's what they say when someone dies."
"Exactly." He nodded. "Woman have fallen in love with me after staring like that for only thirty seconds and
I think you just took a full minute. You're doomed. - Author: Michele Jaffe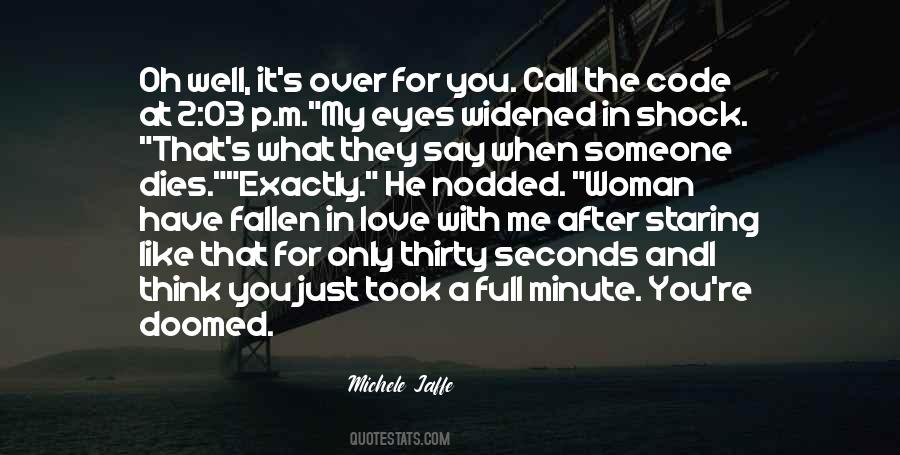 #40. The heart never lies - Author: Christine Love Never Dies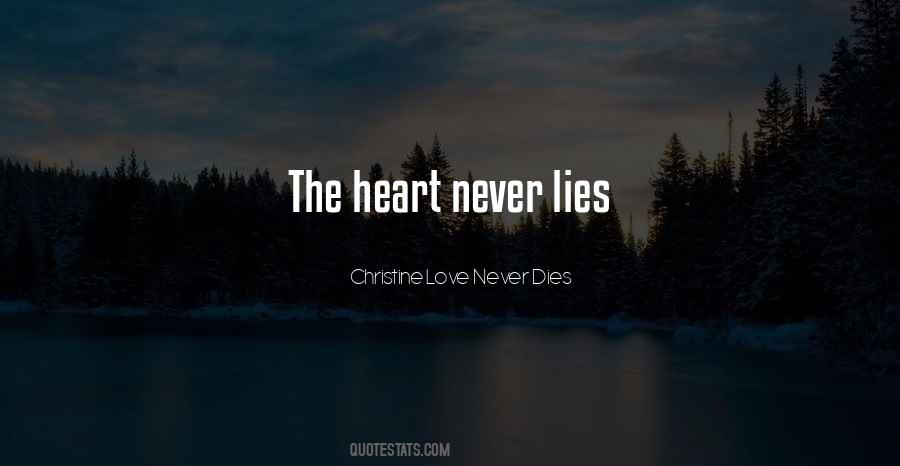 #41. Heaven be thanked, we live in such an age when no man dies for love except upon the stage. - Author: John Osborne
#42. Your life, unfortunately - and I mean this - your life is built on when love dies. There's a lot of love in your life that will simply die. And you wish that you died with it, you know? But you don't. And you go, oh, well, here I am. - Author: Wayne Coyne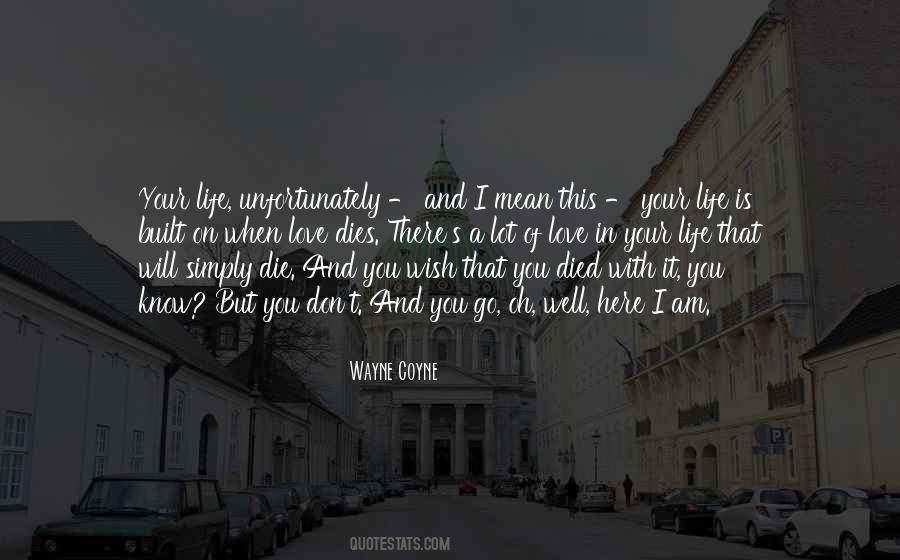 #43. The first time you fall in love, it's like you've created the first love in the universe, and the first time someone you love dies, you grieve the universe's first death. What does it help to be told that what you feel is nothing new? - Author: Leah Stewart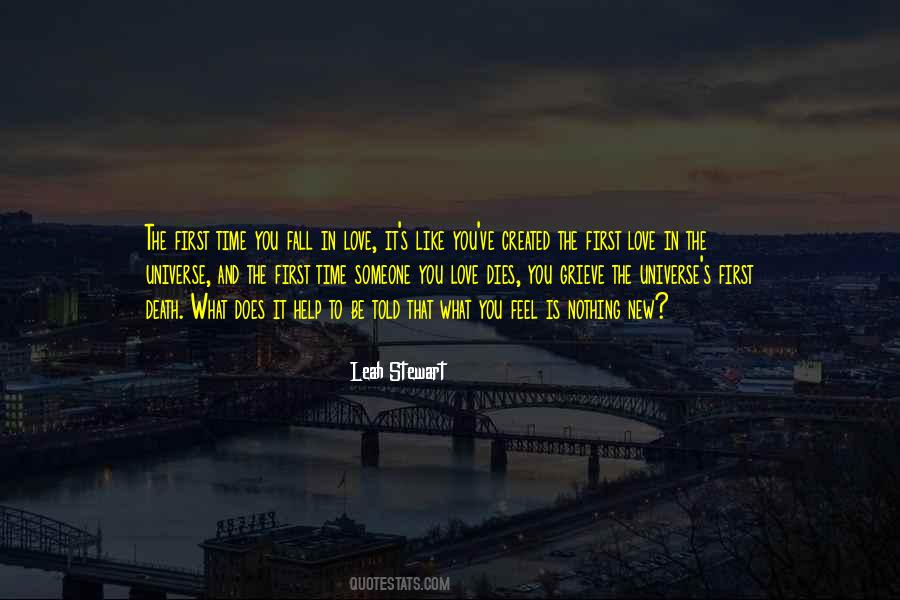 #44. That's the thing about young love in a small town - it never dies. - Author: Corinne Michaels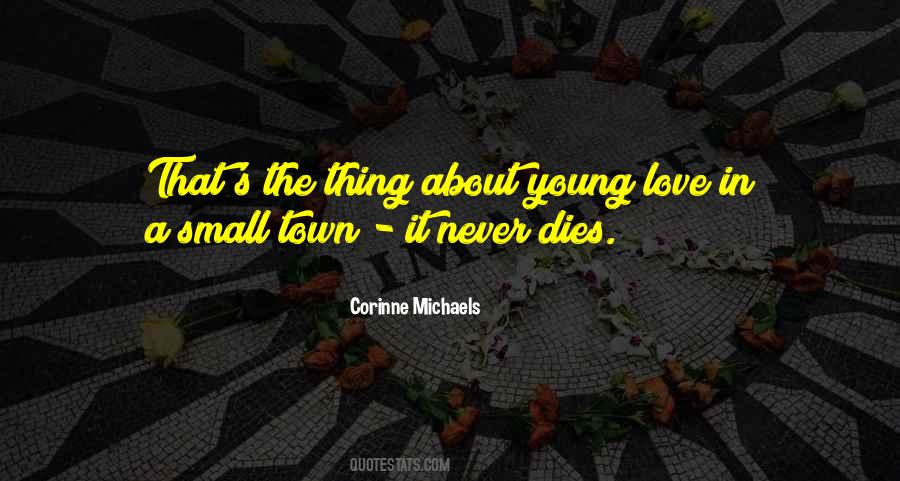 #45. Beauty has wings, and too hastily flies, and love, unrewarded, soon sickens and dies. - Author: George Edward Moore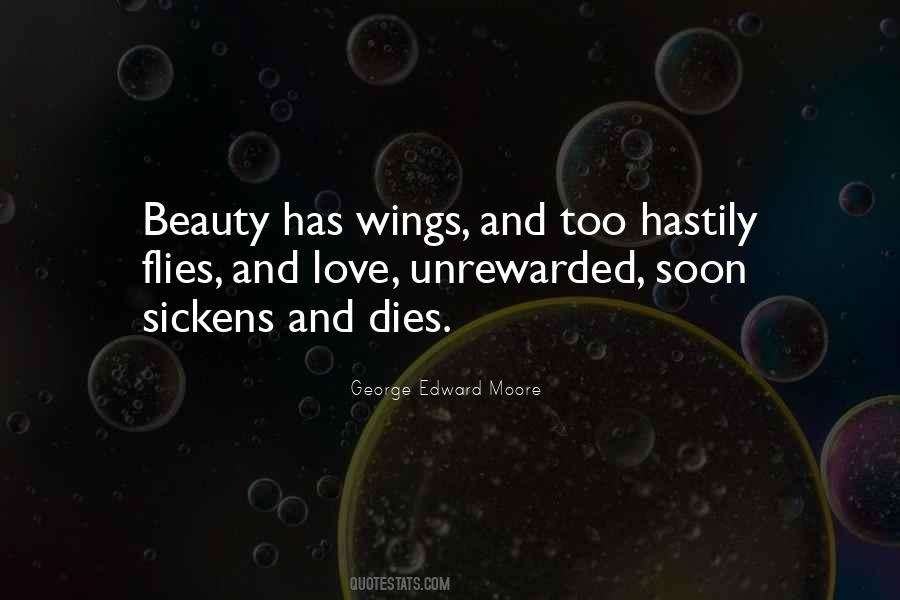 #46. Before you pledge your undying love to someone, make them promise they won't die. - Author: Robert Breault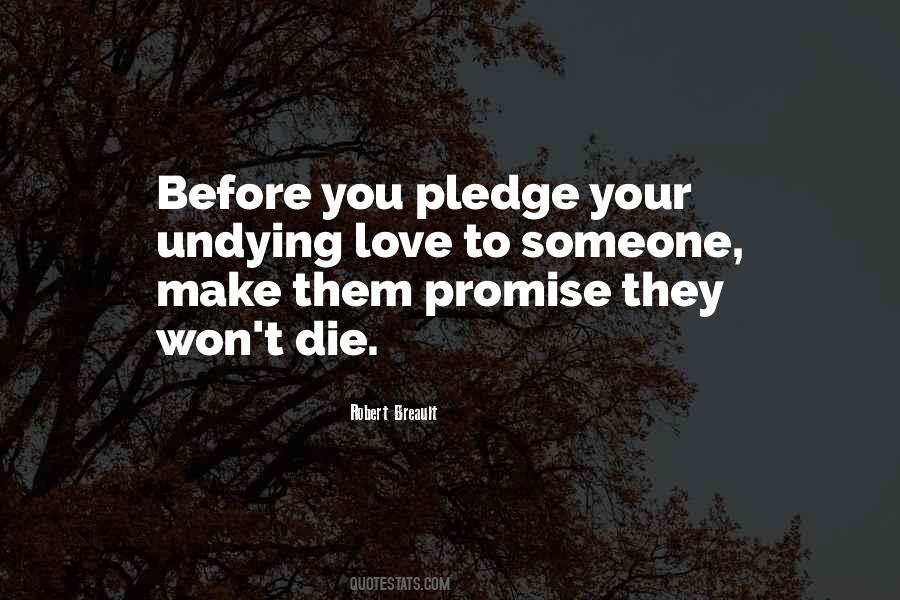 #47. Forgiveness is healing - everything is energy - thoughts create - we are all connected - what you resist persists - true love never dies - the soul's immortality is the only true immortality - - Author: Alyson Noel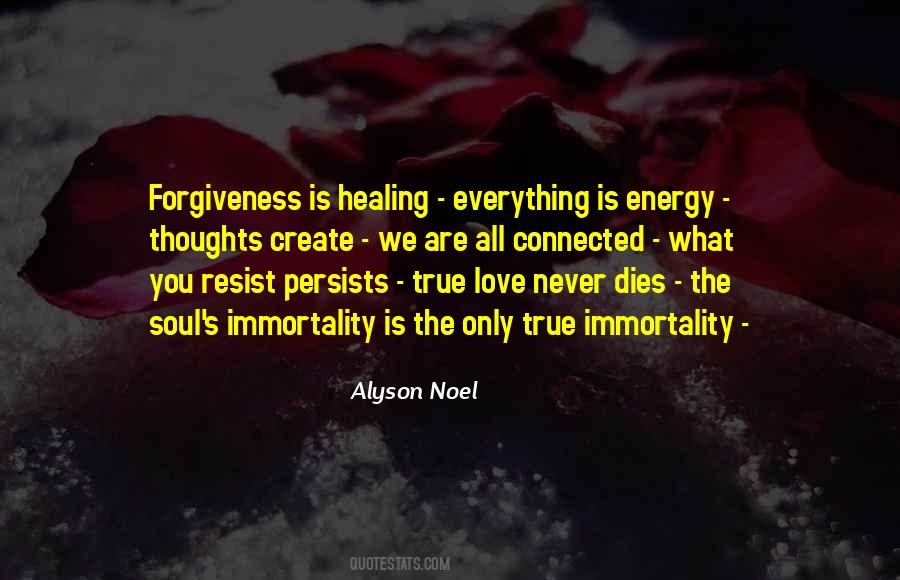 #48. Bitter, bitter was the pain, and wilder and wilder grew her song, for she sang of the Love that is perfected by Death, of the Love that dies not in the tomb. - Author: Oscar Wilde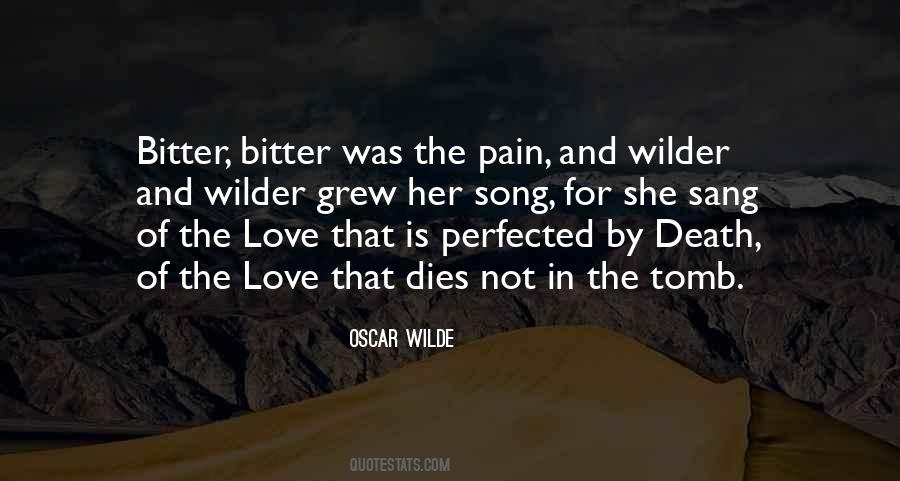 #49. When two people are free to disagree, they are free to love. When they are not free, they live in fear, and love dies. - Author: Henry Cloud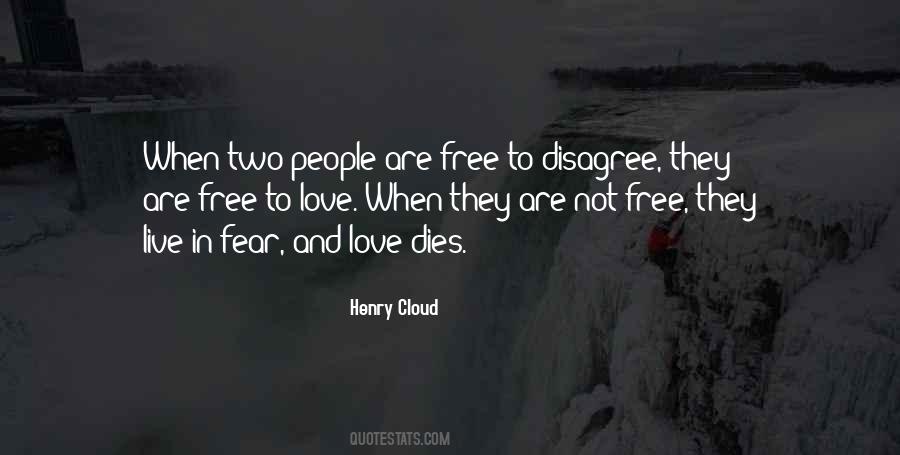 #50. It is my belief that love dies from overuse, and the heart dies from a lack of interest in life without it. - Author: Abigail Brown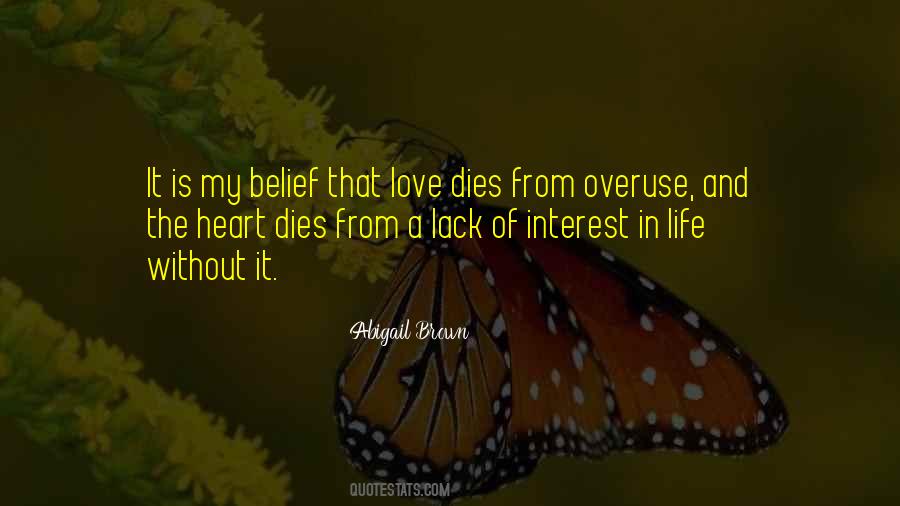 #51. I love sad stories," said Enoch. "Especially ones where princesses get eaten by dragons and everyone dies in the end. - Author: Ransom Riggs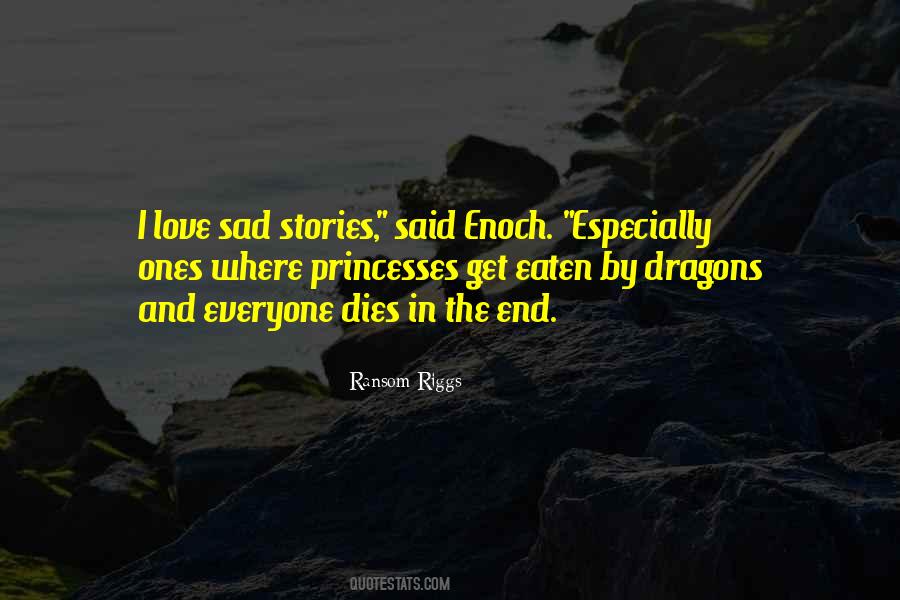 #52. Love comforeth like sunshine after rain,
But Lust's effect is tempest after sun.
Love's gentle spring doth always fresh remain;
Lust's winter comes ere summer half be done.
Love surfeits not, Lust like a glutton dies;
Love is all truth, Lust full of forged lies. - Author: William Shakespeare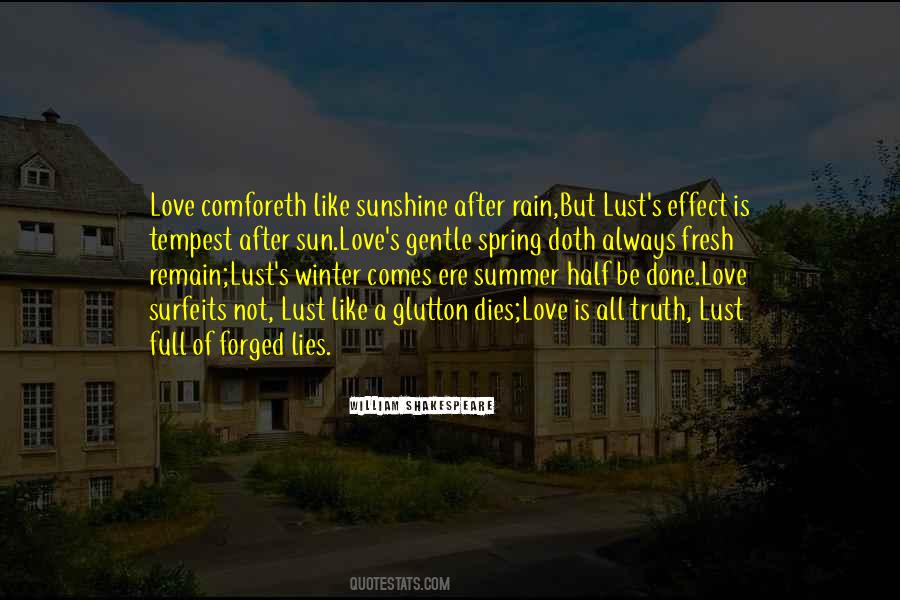 #53. A coward can die many times, but love can only die once. - Author: Kim Hyun-joong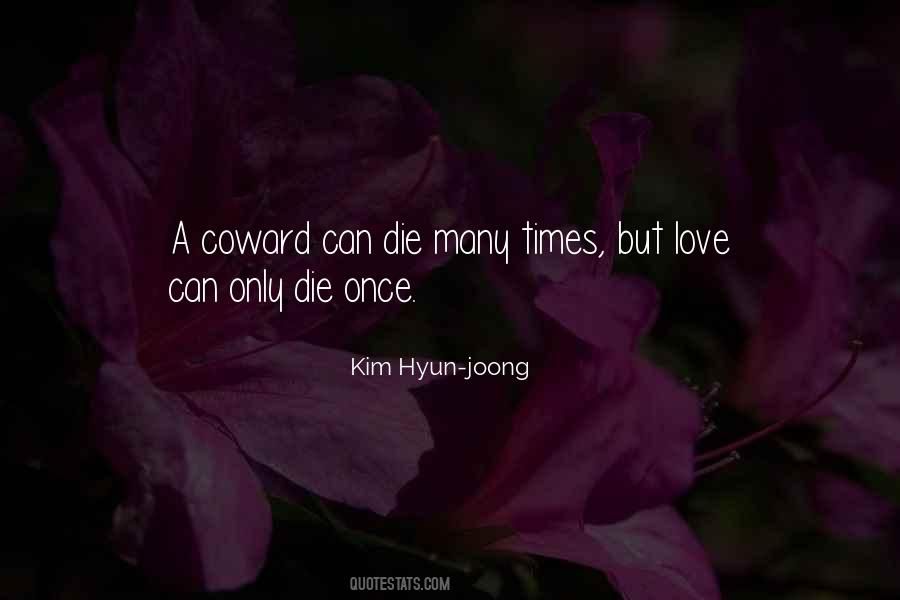 #54. In this part of the story I am the one who
dies, the only one, and I will die of love because I love you,
because I love you, Love, in fire and in blood. - Author: Pablo Neruda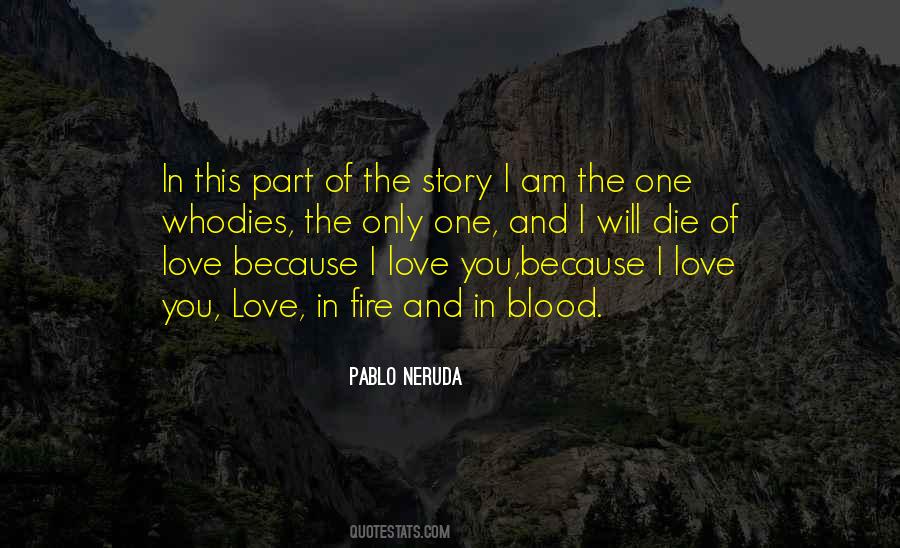 #55. Every time you try to flirt with her, a puppy dies. - Author: Maureen Johnson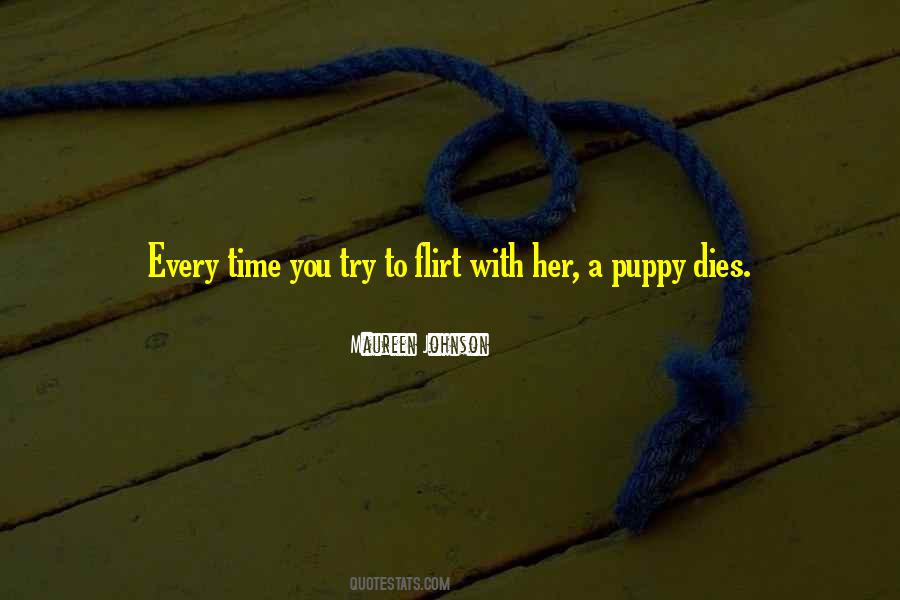 #56. Ye Noble men of Honor know this ... the voice of love never dies, Hope be its companion that rides upon the rays of the SUN by day and the MOON by night and it says hold on to me as we wait for him to arrive ... that be LOVE. - Author: Tonny K. Brown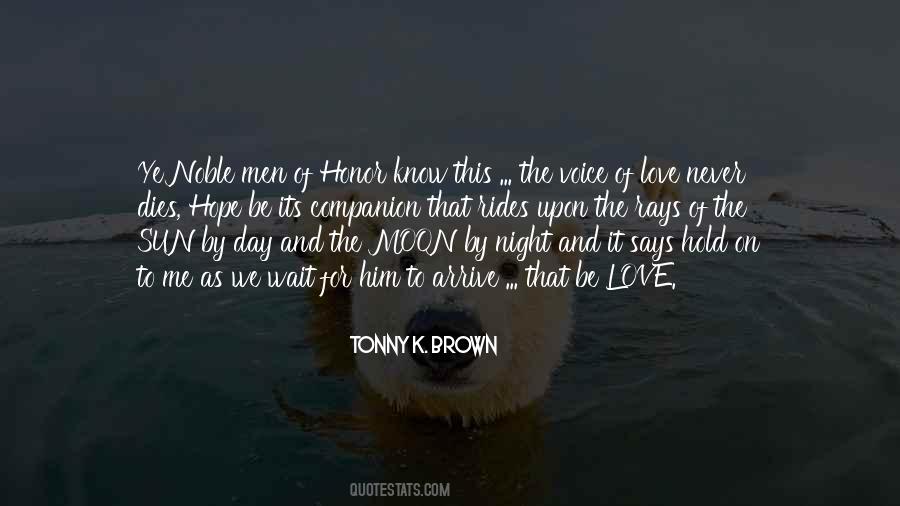 #57. Love is mainly an affair of short spasms. If these spasms disappoint us, love dies. It is very seldom that it weathers the experience and becomes friendship. - Author: Jean Cocteau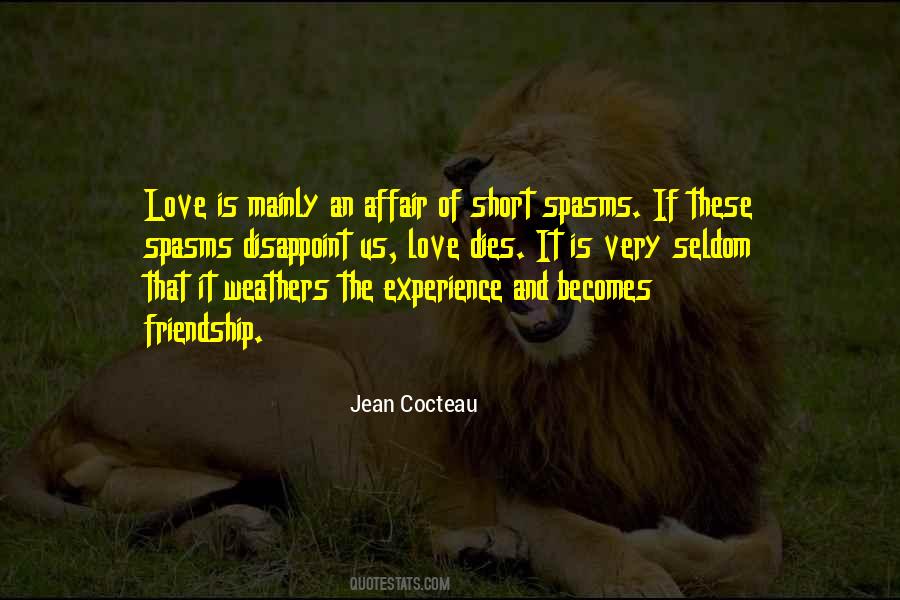 #58. Love never dies, it become the wealth of the universe when we die. - Author: Debasish Mridha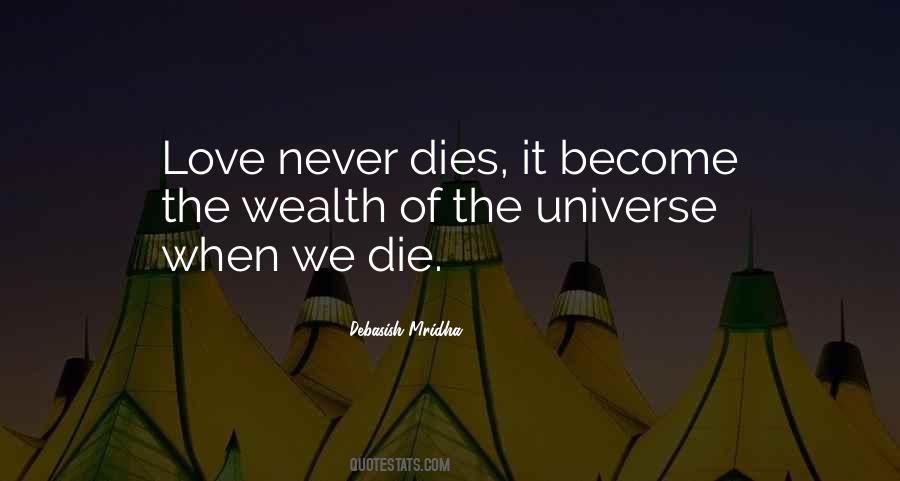 #59. There's extra suffering when someone you love dies by their own hand. The ones left breathing got to find their own way to survive and make it through living still. - Author: Sandi Morgan Denkers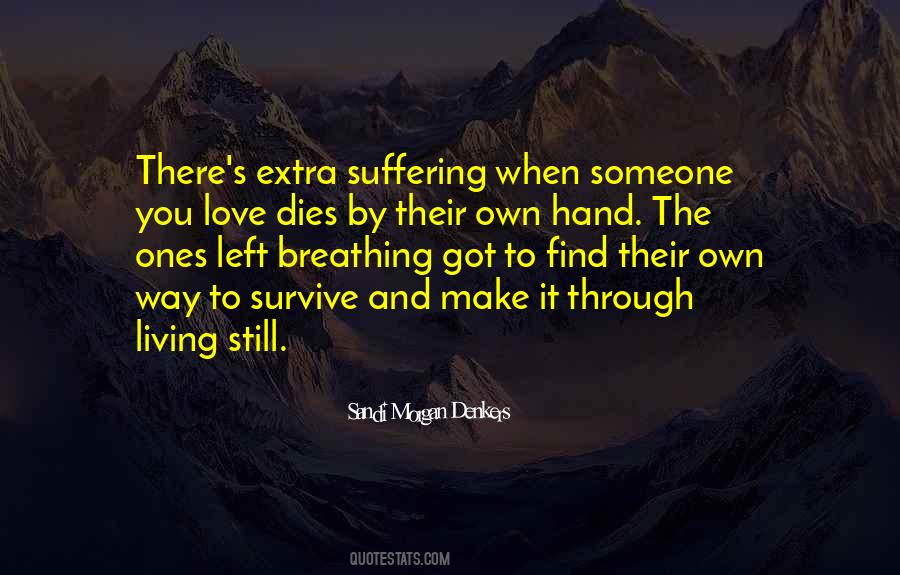 #60. And when he dies, cut him out in little stars, and the face of heaven will be so fine that all the world will be in love with night and pay no heed to the garish sun. - Author: William Shakespeare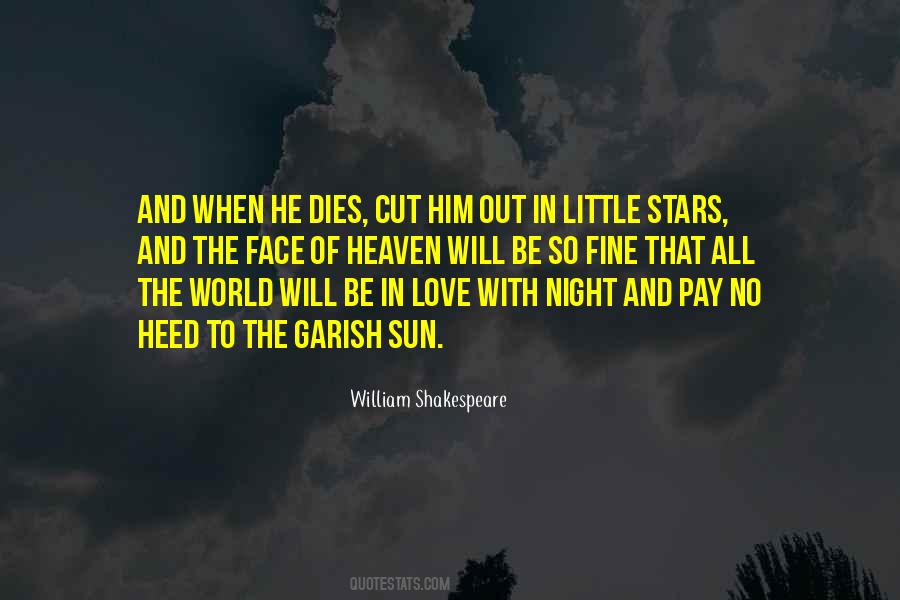 #61. Love is the heartbeat of the universe; without it, everything dies. - Author: Matshona Dhliwayo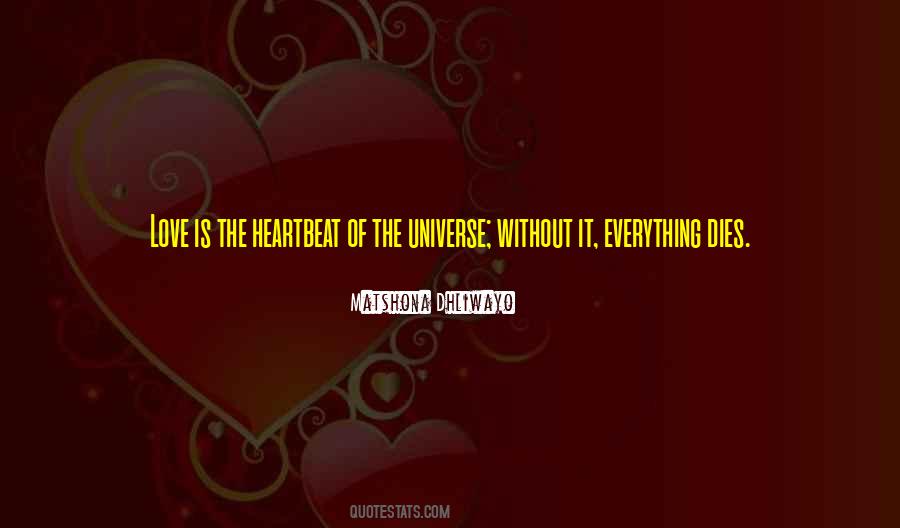 #62. When the love of your life dies, the problem is not that some part of you dies too, which it does, but that some part of you is still alive. - Author: Jackie Kay
#63. When someone you love dies, you don't lose them all at once. You lose them in pieces over time, like how the mail stops coming. - Author: Jim Carrey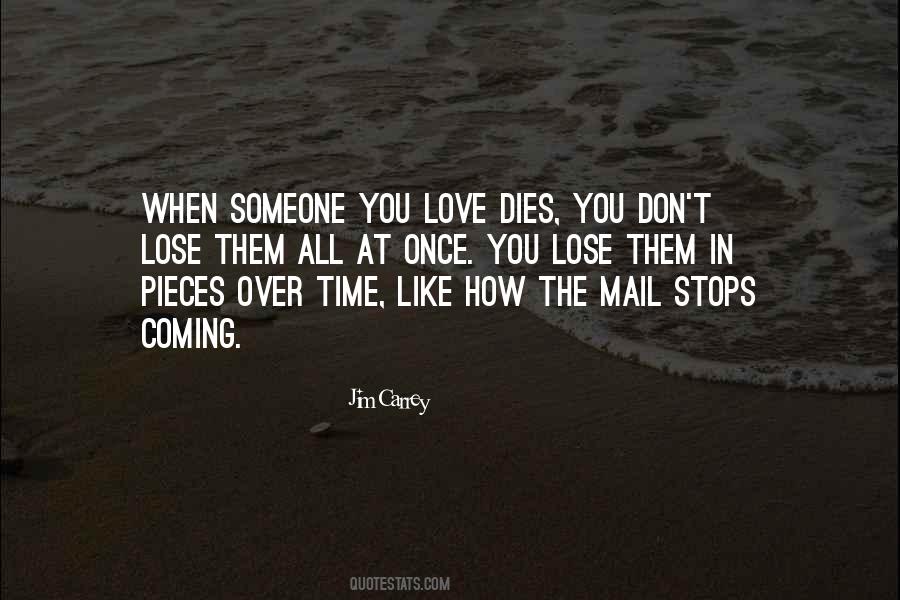 #64. -What is the song about? I asked.
-Death, he answered with a laugh. But don't worry, nobody dies, it is the death of love. - Author: Patti Smith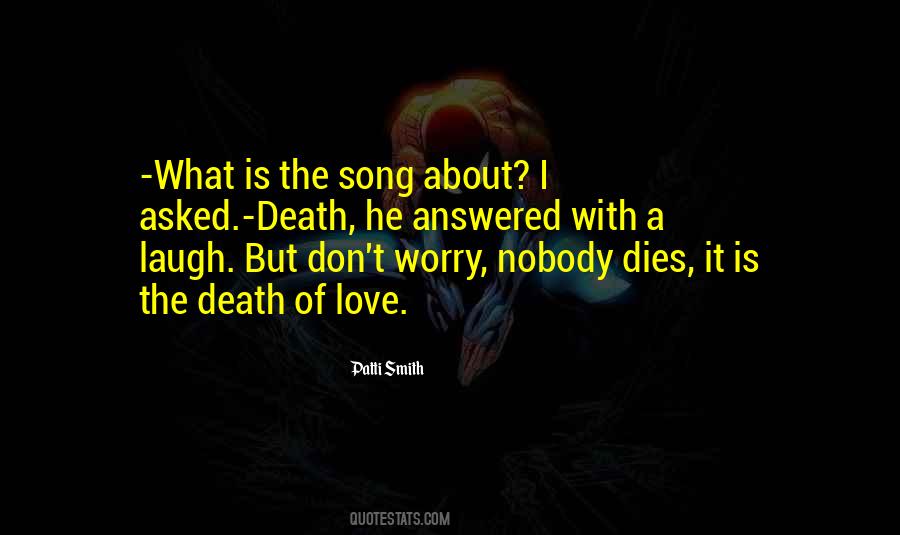 #65. The first reading of a Will, where a person dies worth anything considerable, generally affords a true test of the relations' love to the deceased. - Author: Samuel Richardson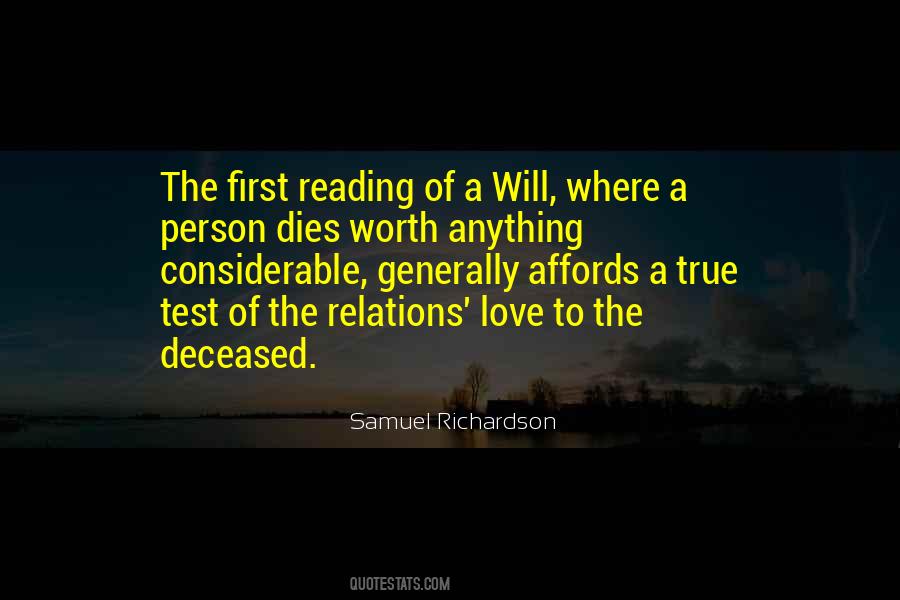 #66. There's nothing new about this story of ours, such things happen. Love misses its mark, arrives too early or too late. Nobody dies, except in novels. - Author: Aminatta Forna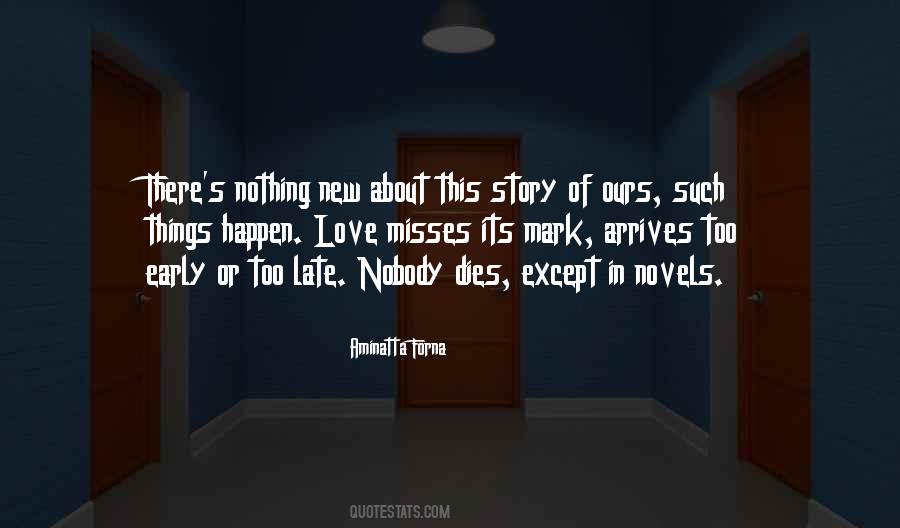 #67. The only love language is 'die to self.' - Author: Christine Caine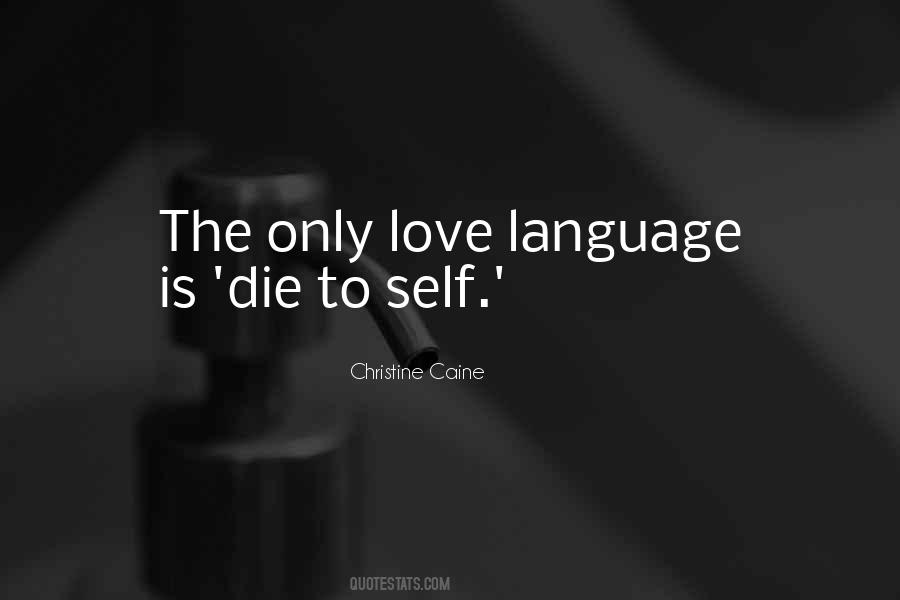 #68. Hearts are like tapers, which at beauteous eyes Kindle a flame of love that never dies; And beauty is a flame, where hearts, like moths, Offer themselves a burning sacrifice. - Author: Omar Khayyam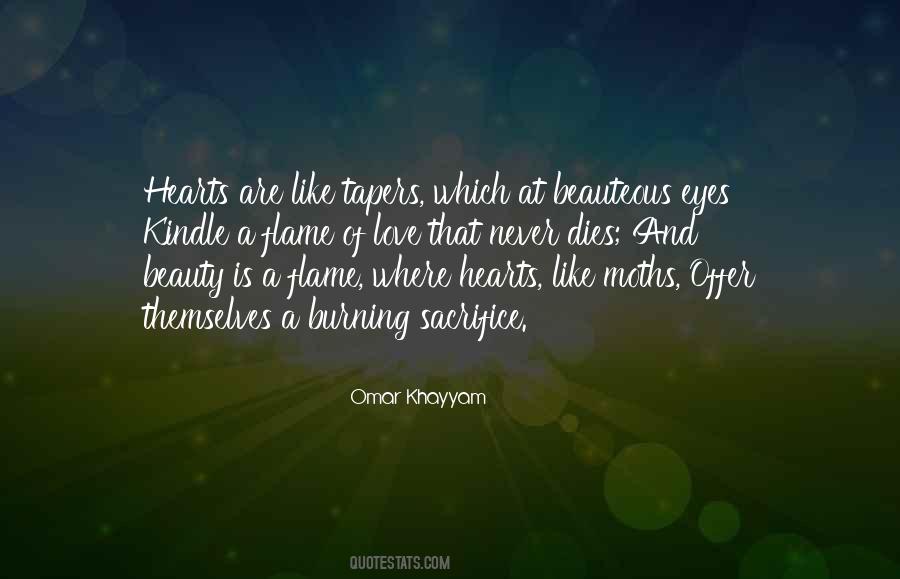 #69. Love never dies a natural death. It dies because we don't know how to replenish its source. It dies of blindness and errors and betrayals. It dies of illness and wounds; it dies of weariness, of witherings, of tarnishings. - Author: Anais Nin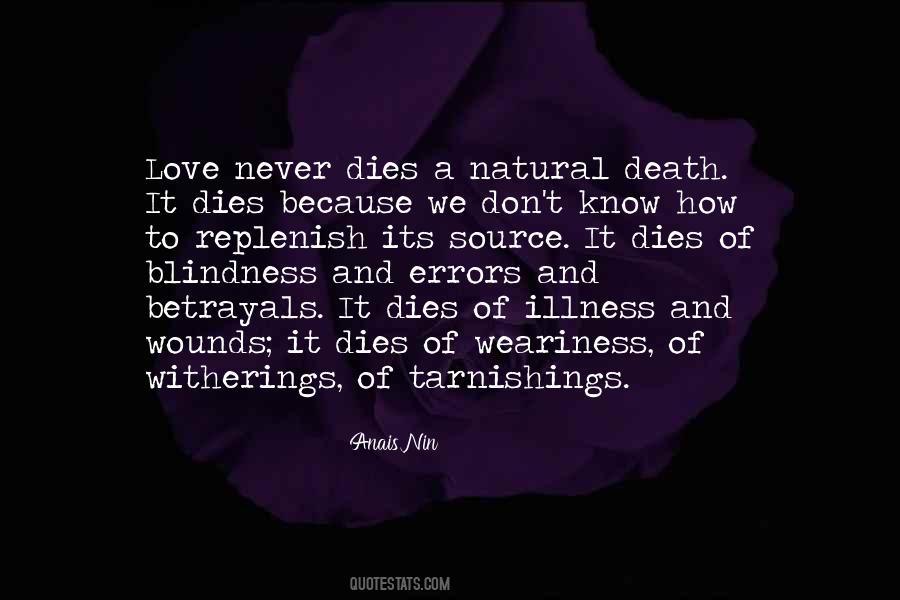 #70. Love, like energy, never dies. You lose people only in the moment. But time is a long road that circles back. At some point the missing turns into love and returns. - Author: M.J. Rose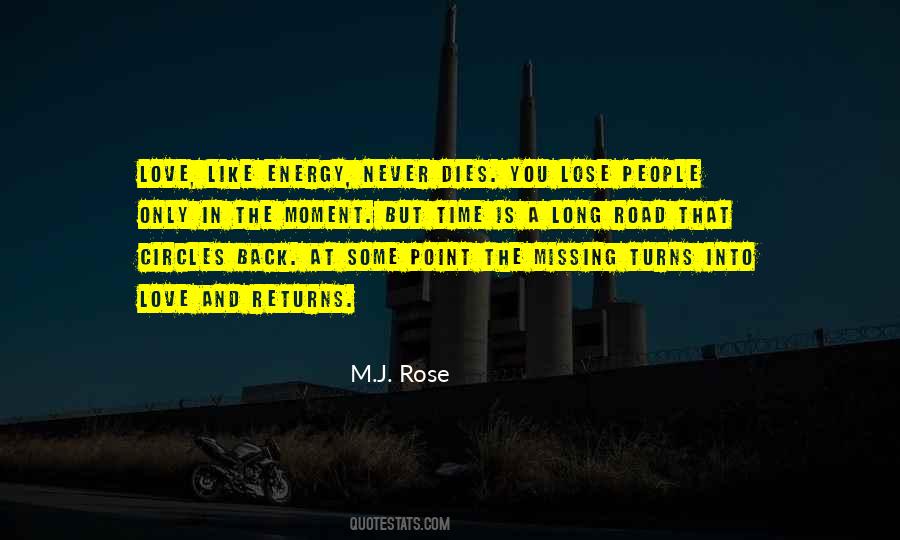 #71. When an animal dies, it gives you the chance to love another animal. That's an insightful and profound way to look at it. - Author: Jon Katz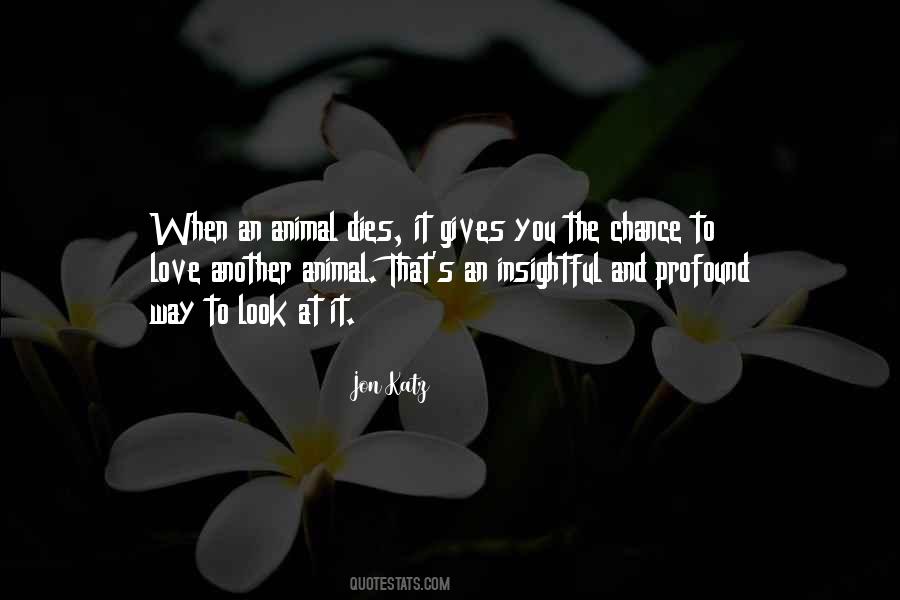 #72. Everybody dies, and everybody loses people they love-everybody-and that is not an excuse for you to fucking die. I love you, and I need you to be my mother, and I need you to have a life. So get over yourself. - Author: Cynthia Hand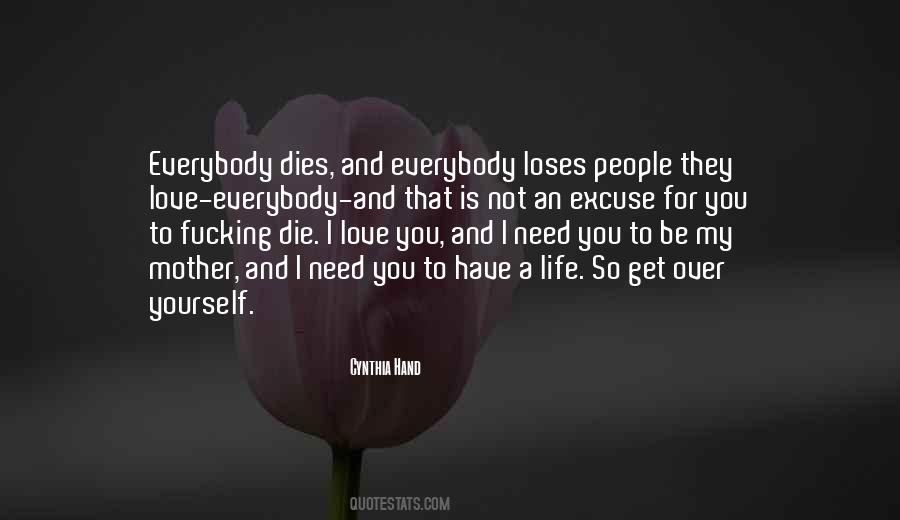 #73. Men's loyalty to their women dies hard - and almost always too late. ("I'm Dangerous Tonight") - Author: Cornell Woolrich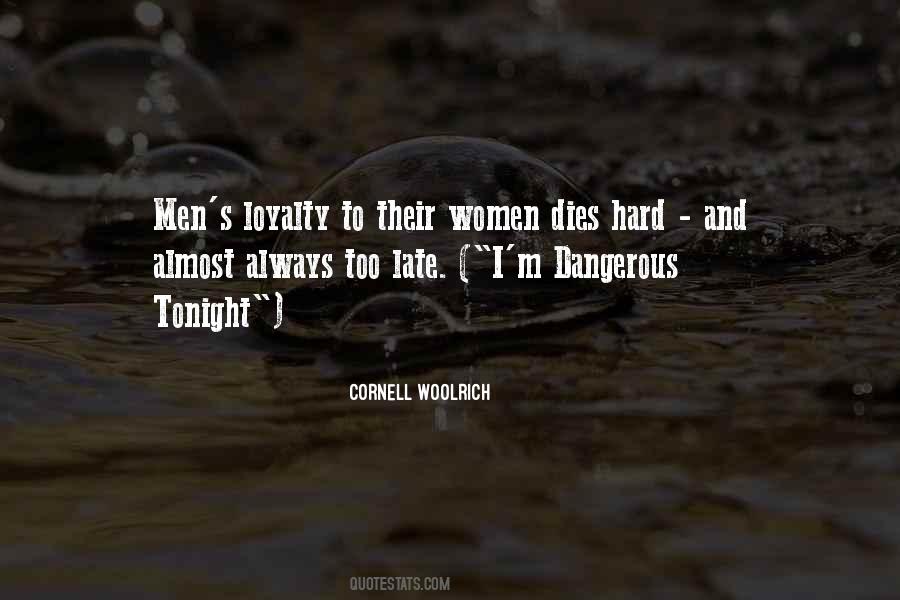 #74. Accepting death doesn't mean you won't be devastated when someone you love dies. It means you will be able to focus on your grief, unburdened by bigger existential questions like, "Why do people die?" and "Why is this happening to me?" Death isn't happening to you. Death is happening to us all. - Author: Caitlin Doughty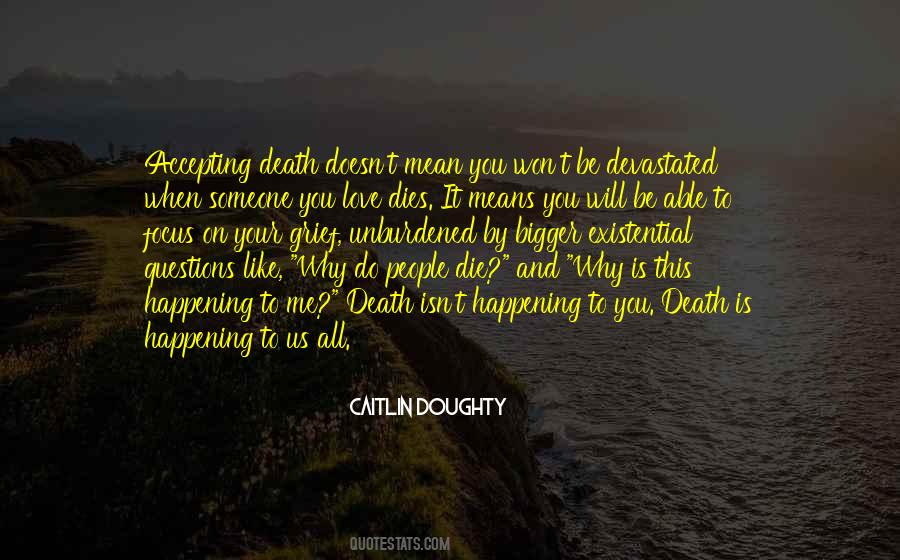 #75. Small said, "But what about when we are dead and gone, will you love me then, does love go on?"
... Large (replied) "Look at the stars, how they shine and glow, some of the stars died a long time ago. Still they shine in the evening skies, for you see ... love like starlight never dies ... - Author: Debi Gliori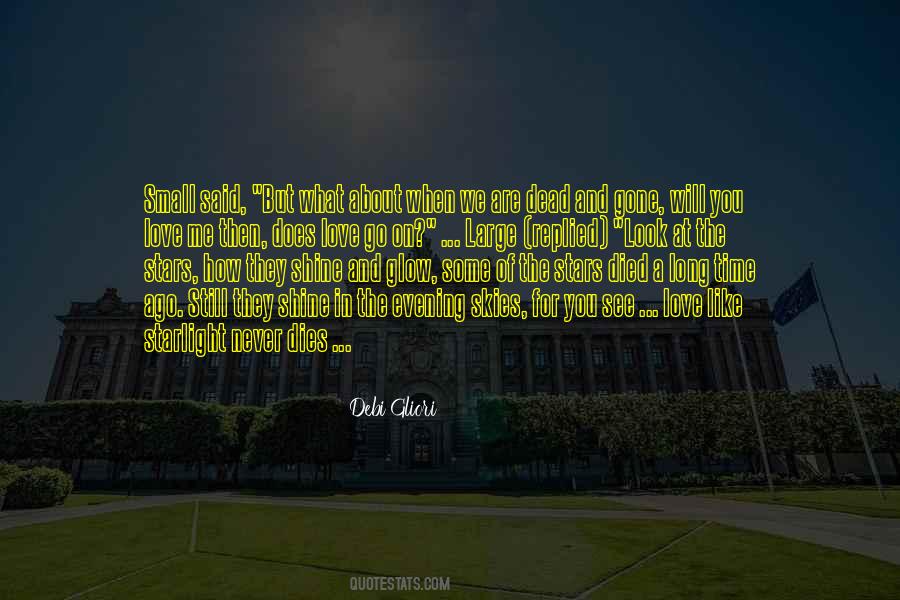 #76. Love is like a flower, even the most beautiful kind dies. - Author: Till Lindemann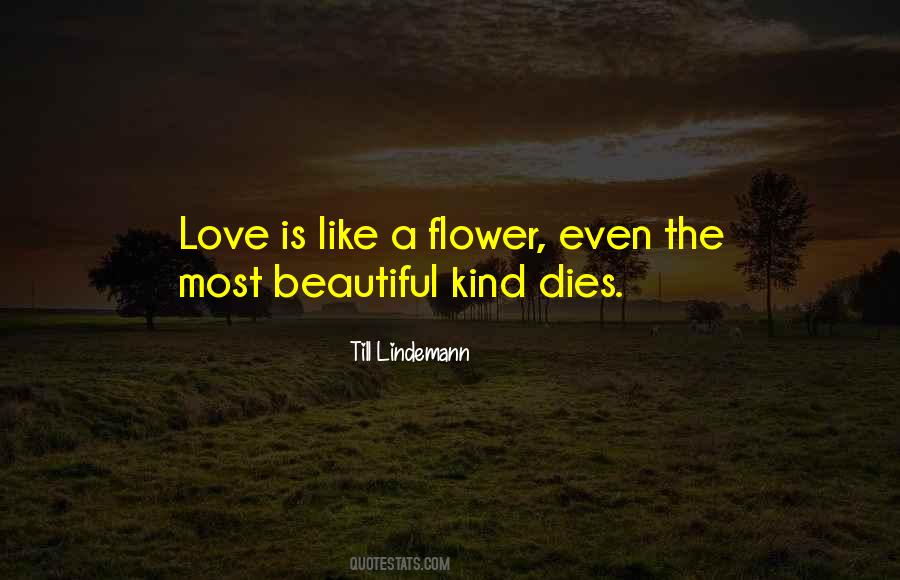 #77. What fades, vanishes, decays, dies-that's what one must love. - Author: Marty Rubin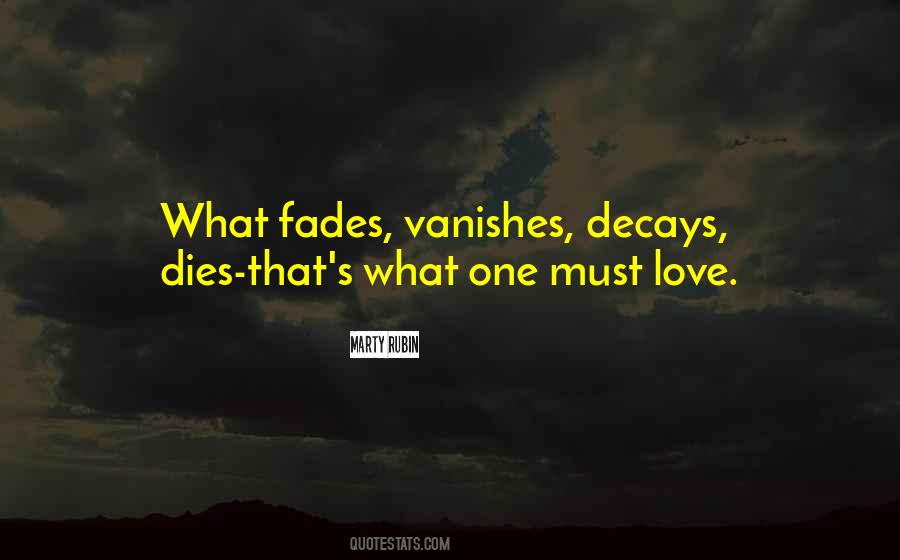 #78. And forgive me if this is harsh, but I don't want you getting it into your head that the love you have for Ridge will be enough to hold you over until the day Maggie dies. Because Maggie isn't dying, Sydney. Maggie's living. She'll be around a lot longer than Ridge's heart could ever survive you. - Author: Colleen Hoover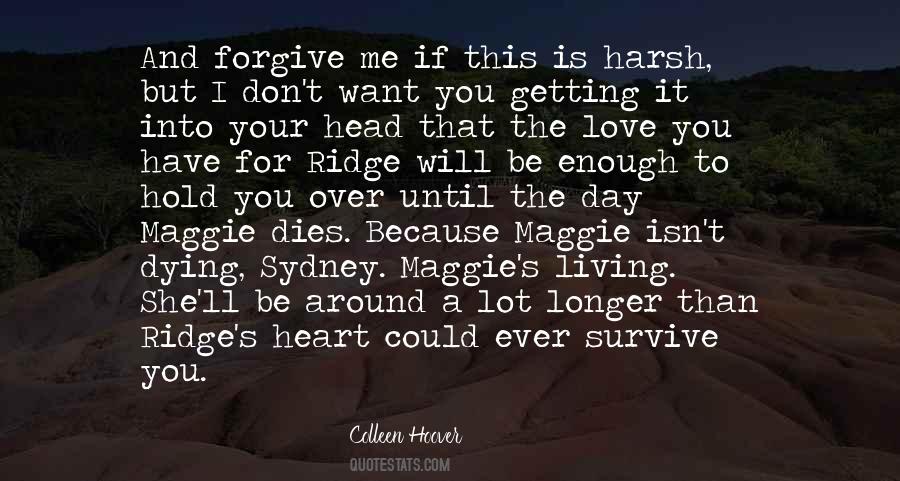 Famous Authors
Popular Topics