Socialism Freedom Famous Quotes & Sayings
List of top 67 famous quotes and sayings about socialism freedom to read and share with friends on your Facebook, Twitter, blogs.
Top 67 Quotes About Socialism Freedom
#1. The Revolution introduced me to art, and in turn, art introduced me to the Revolution! - Author: Albert Einstein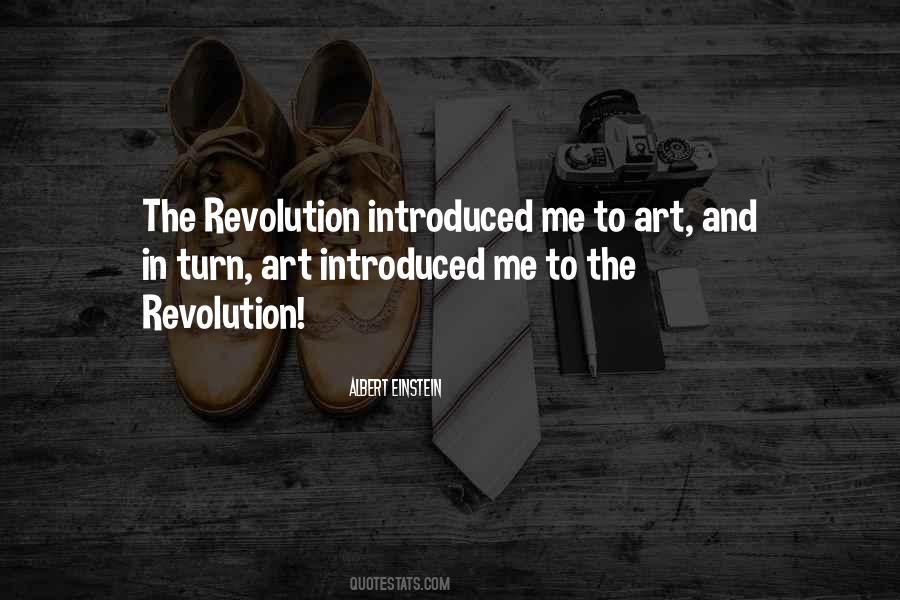 #2. Freedom, democracy, and socialism can only ever exist together; it is impossible to have any one without the other two. - Author: Michel Templet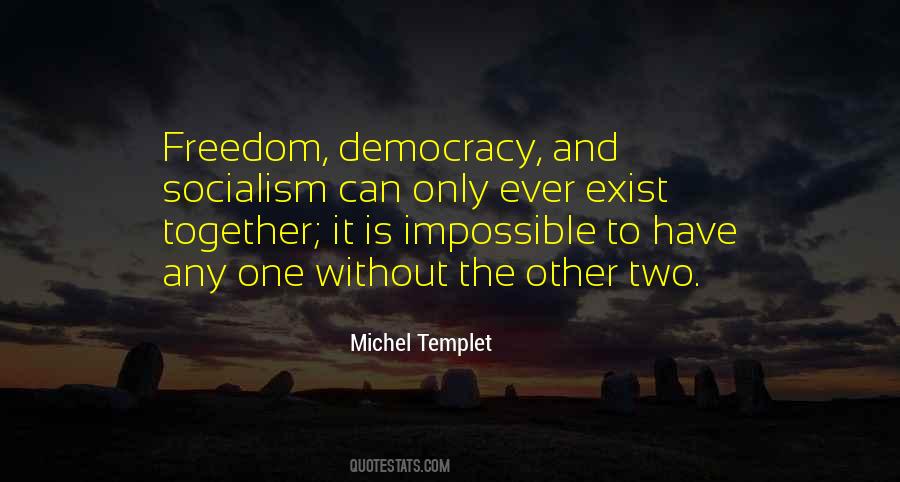 #3. A child who does not think about what happens around him and is content with living without wondering whether he lives honestly is like a man who lives from a scoundrel's work and is on the road to being a scoundrel. - Author: Jose Marti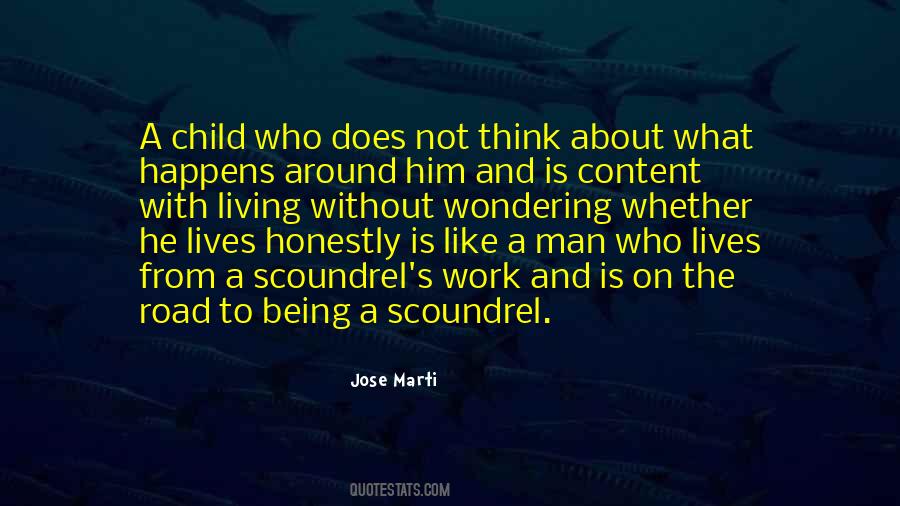 #4. We certainly hoped perestroika would win out and that there would be changes. We knew all along that socialism could flourish only with a certain amount of freedom and democracy. - Author: Stefan Heym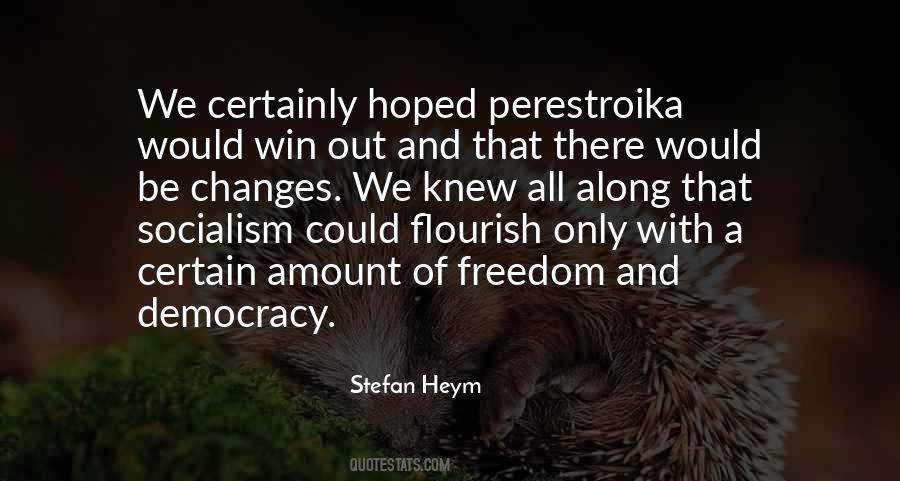 #5. Why am I a socialist? Simple: Because I believe in freedom. - Author: Michel Templet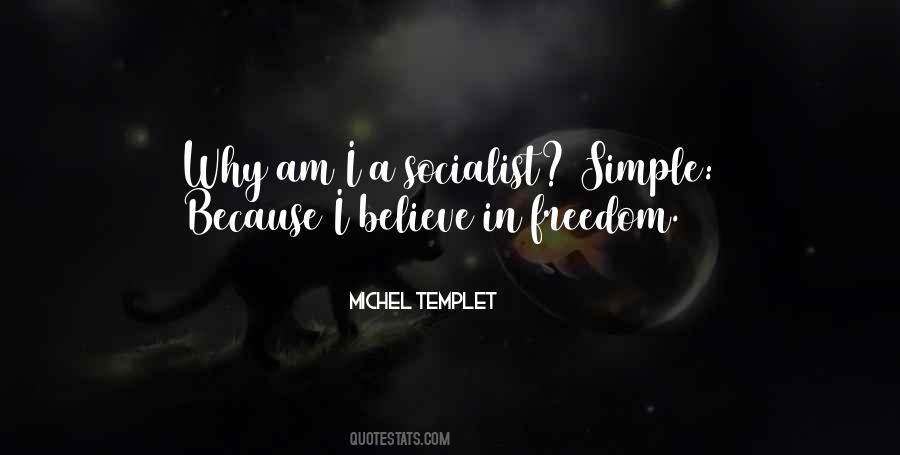 #6. If socialism gave more prosperity than capitalism does, I would still prefer capitalism - as it gives more freedom. Luckily, though, I do not have to face this dillema ... - Author: Janusz Korwin-Mikke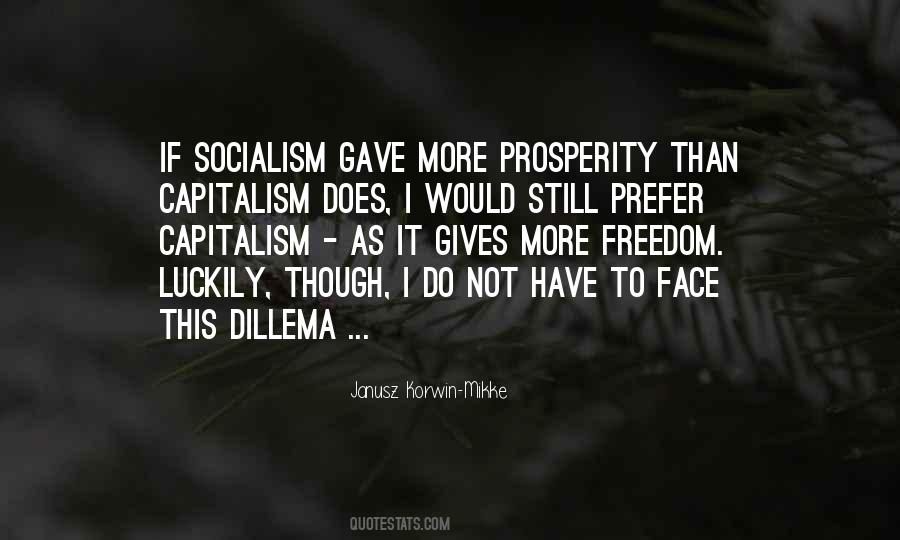 #7. The problems of financing the universities and their intellectual freedom, threatened by political and bureaucratic interference, are problems which are invariant under the ism transformations: socialism, communism, capitalism, or any other ism or ology. - Author: Serge Lang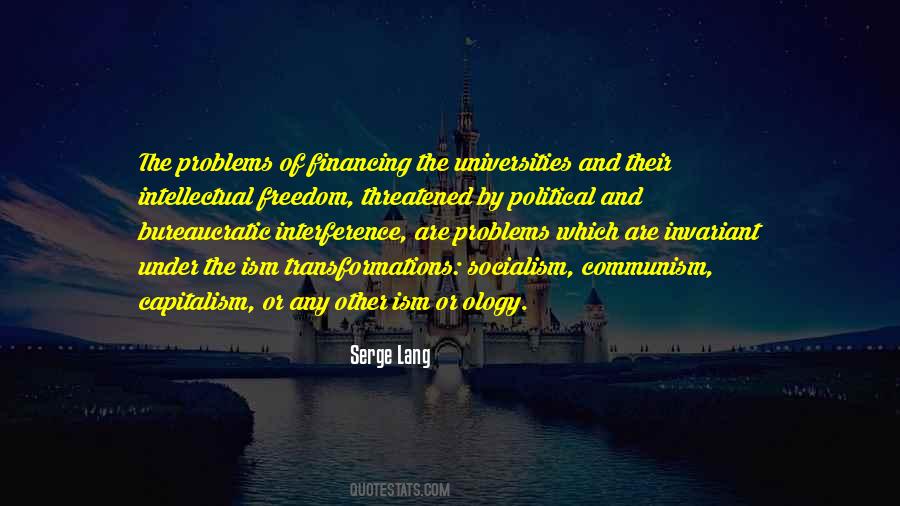 #8. When one makes a Revolution, one cannot mark time; one must always go forward - or go back. He who now talks about the 'freedom of the press' goes backward, and halts our headlong course towards Socialism. - Author: Vladimir Lenin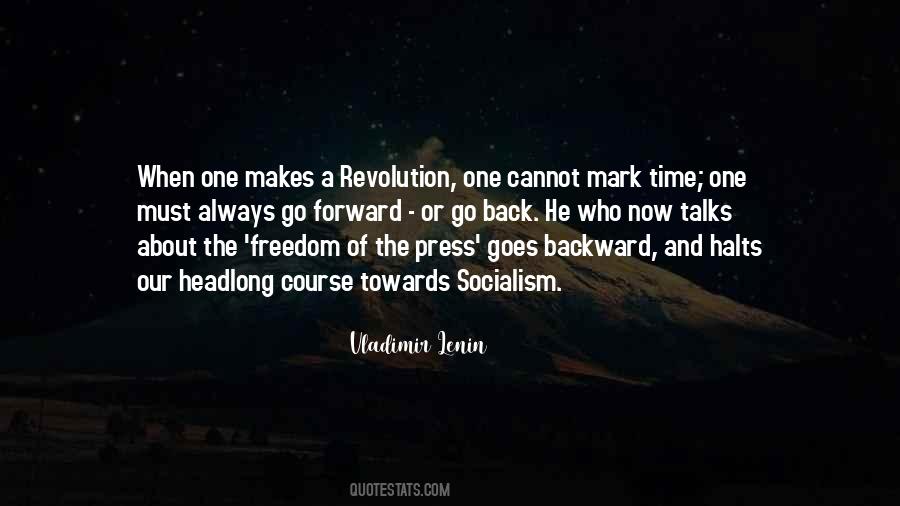 #9. Freedom in capitalist society always remains about the same as it was in ancient Greek republics: Freedom for slave owners. - Author: Vladimir Ilyich Lenin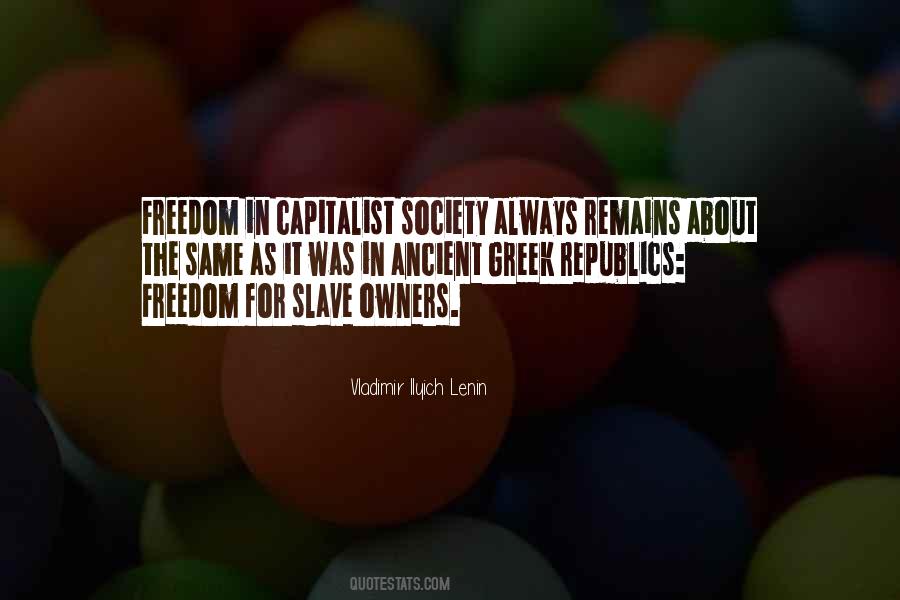 #10. A society based on the freedom to choose is better than a society based on the principles of socialism, communism and coercion. - Author: Milton Friedman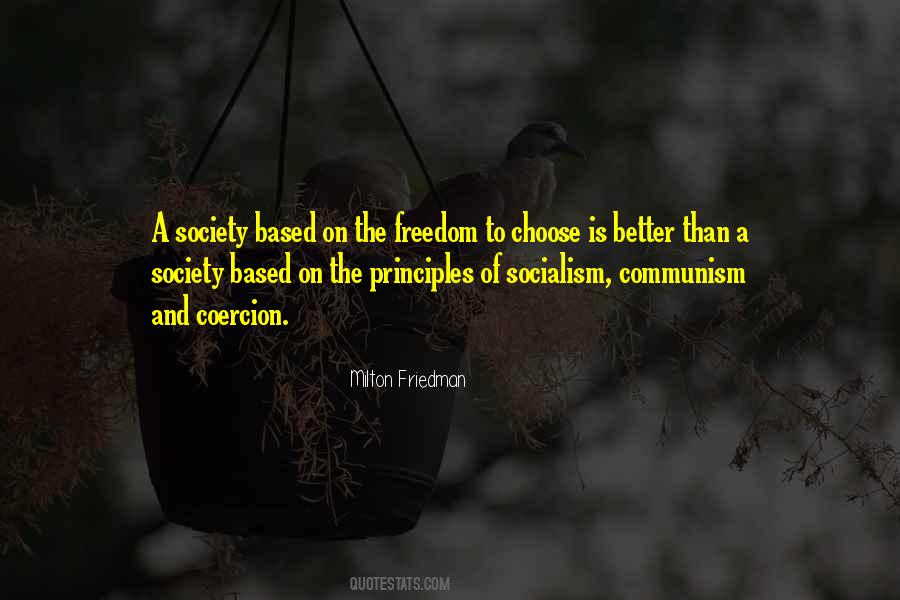 #11. Income inequality has no necessary connection with poverty, the lack of material resources for a decent life, such as adequate food, shelter, and clothing. A society with great income inequality may have no poor people, and a society with no income inequality may have nothing but poor people. - Author: Robert Higgs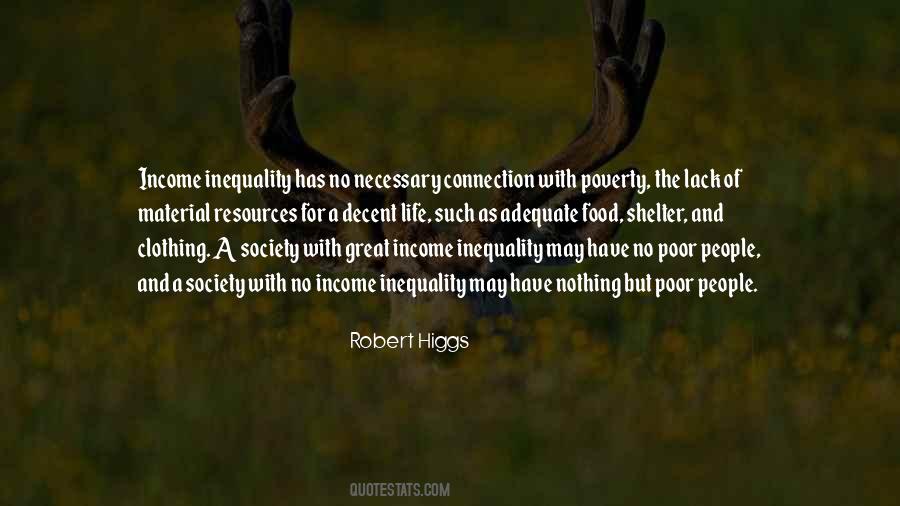 #12. The term "Socialism" becomes a common label for the various theories of attack upon the principle of property, the various policies of communal control at the expense of the family and individual freedom. - Author: Hilaire Belloc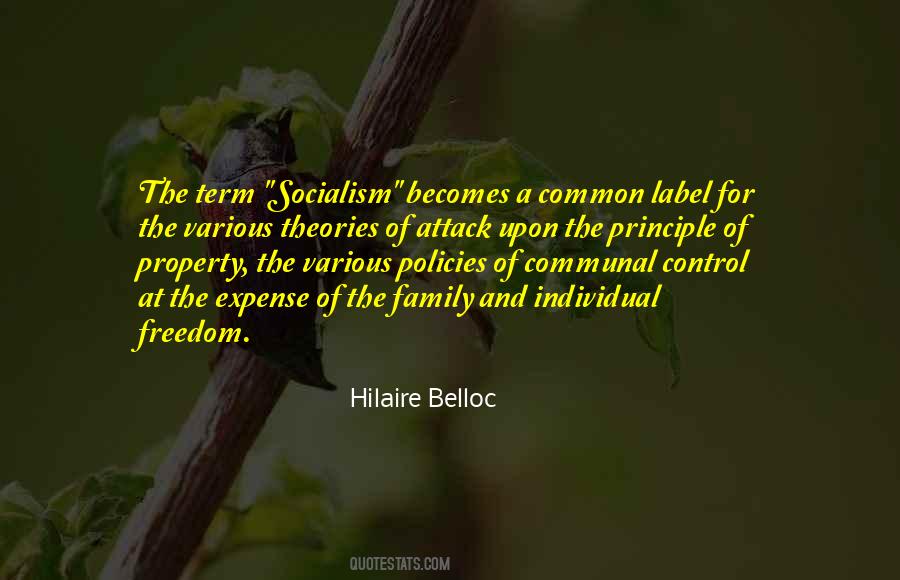 #13. Whenever socialism appears it destroys at least one thing: diversity. Everything has to be "the best", but in reality as we know best things are scarse.. Let me remind you again, that for the Reds, "best" things are these things that they consider "the best" for us, not these that we like!! - Author: Janusz Korwin-Mikke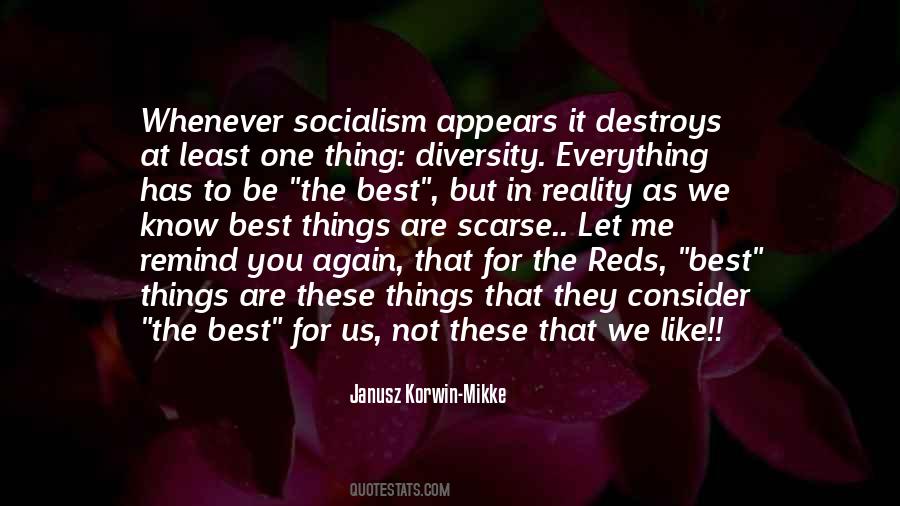 #14. A society that robs an individual of the product of his effort, or enslaves him, or attempts to limit the freedom of his mind, or compels him to act against his own rational judgment ... is not, strictly speaking, a society, but a mob held together by institutionalized gang-rule. - Author: Ayn Rand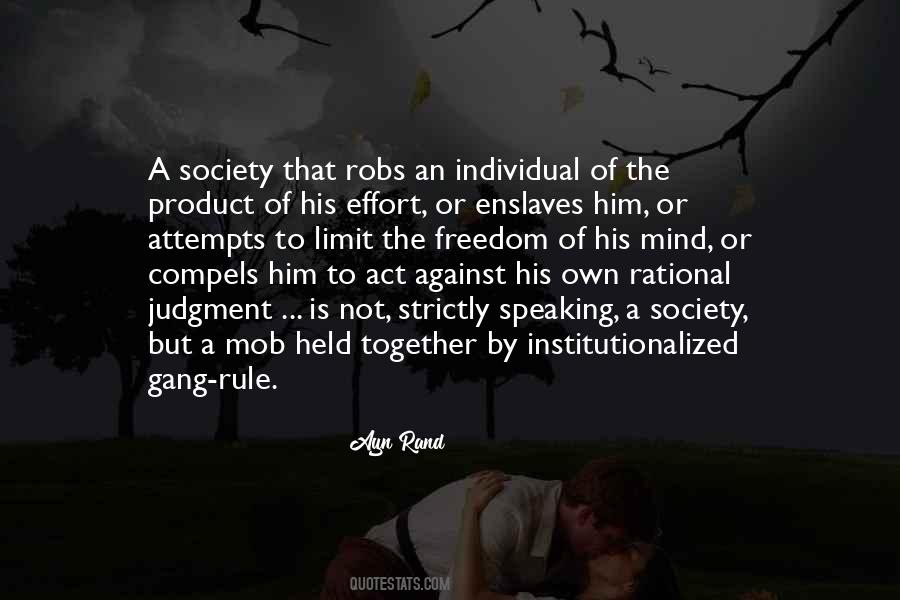 #15. My idea of socialism is no state monopoly. There should be stress on the subjectivity of the human being. You need good material conditions, a high level of culture, much freedom and friendship. And it won't come today or tomorrow. It's a long and winding road - Author: Marek Edelman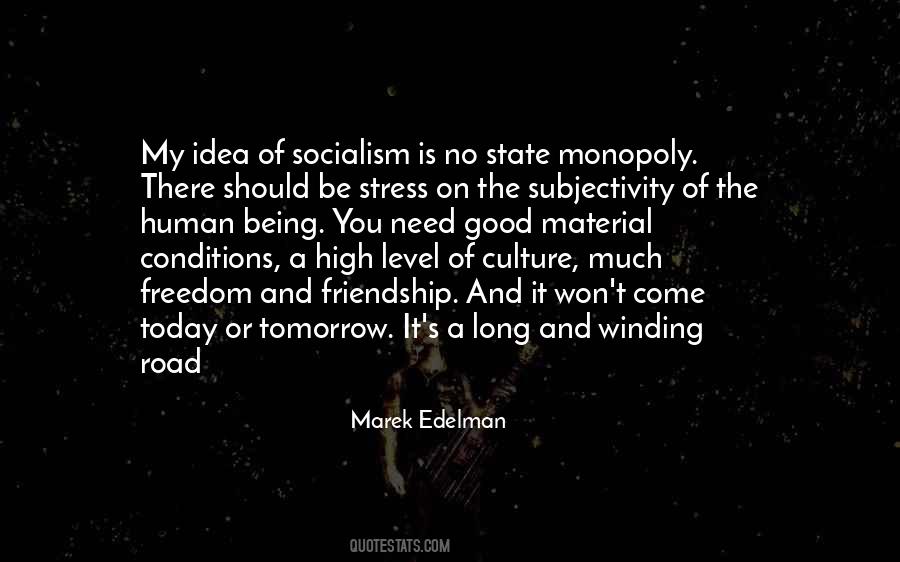 #16. Proletarians of the world, look into the depths of your own beings, seek out the truth and realise it yourselves: you will find it nowhere else. - Author: Peter Arshinov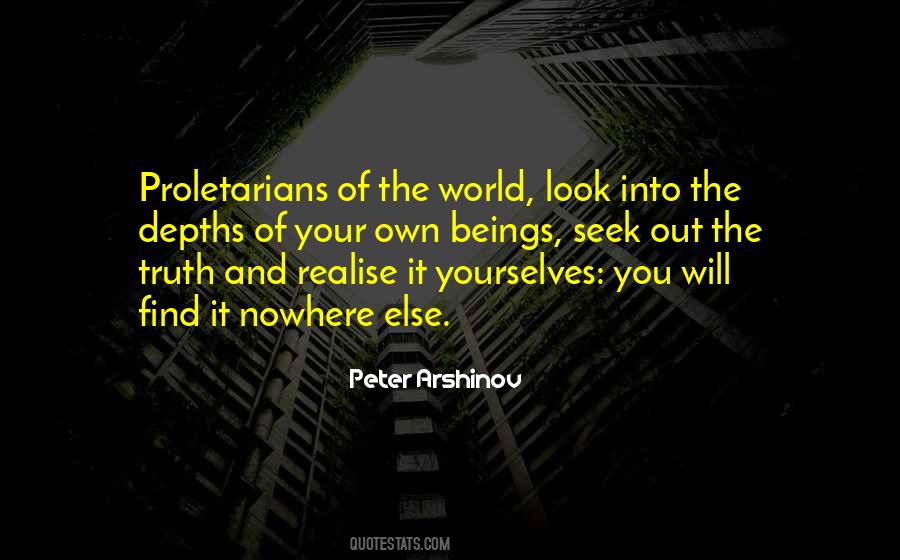 #17. And Marx spoke of the fact that socialism will be the kingdom of freedom, where man realizes himself in a way that humankind has never seen before. This was an inspiring body of literature to read. - Author: Albert Maltz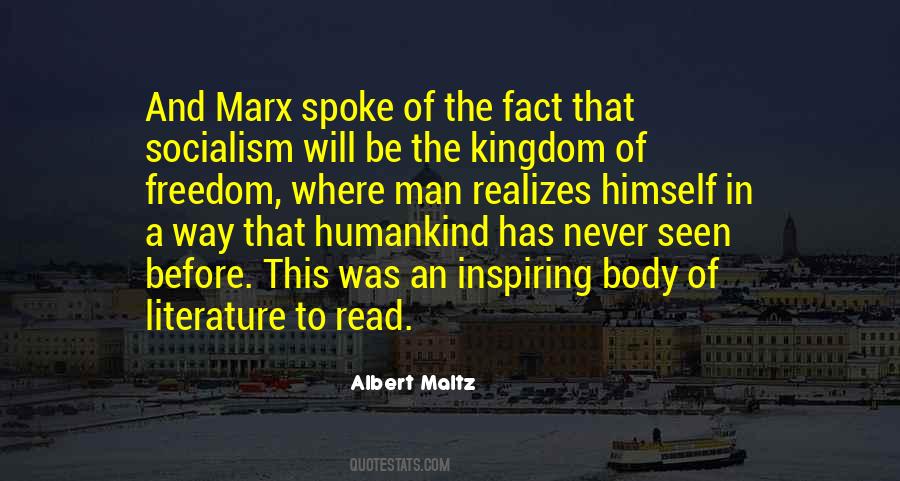 #18. Unity is a great thing and a great slogan. But what the workers' cause needs is the unity of Marxists, not unity between Marxists, and opponents and distorters of Marxism. - Author: Vladimir Ilyich Lenin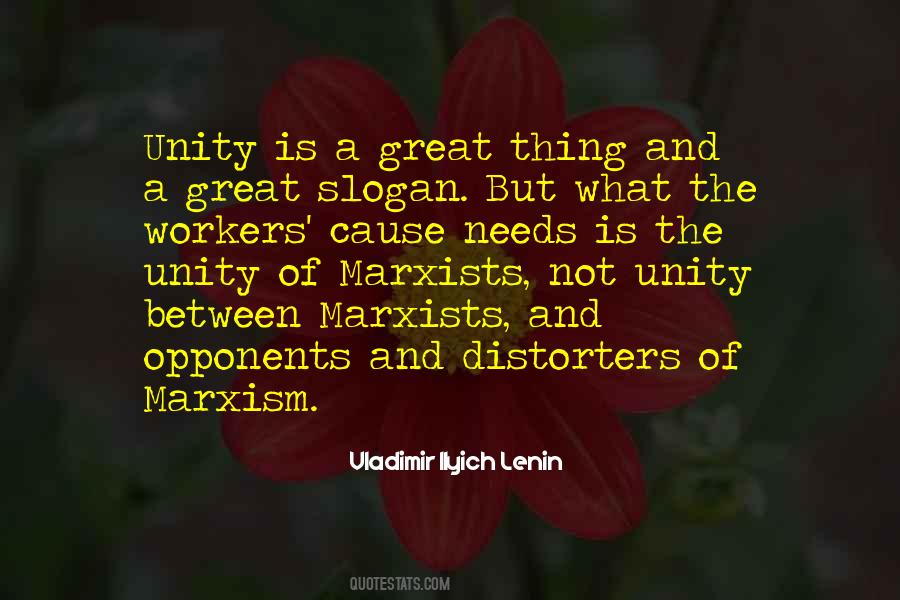 #19. I certainly hoped that in the Eastern part of Germany, what was just beginning to be called the German Democratic Republic, you would develop a system of socialism with freedom and democracy. - Author: Stefan Heym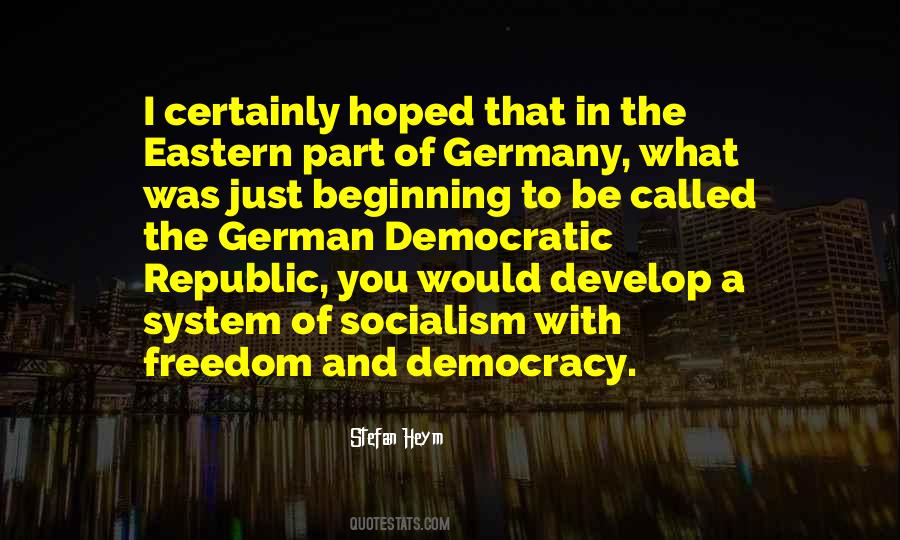 #20. It's not an endlessly expanding list of rights - the 'right' to education, the 'right' to health care, the 'right' to food and housing. That's not freedom, that's dependency. Those aren't rights, those are the rations of slavery - hay and a barn for human cattle. - Author: Alexis De Tocqueville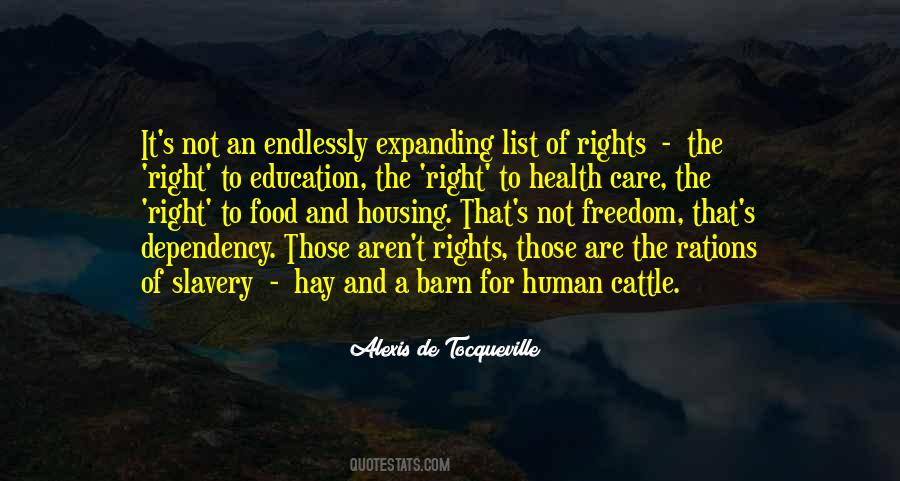 #21. The first duty of a man is to think for himself - Author: Jose Marti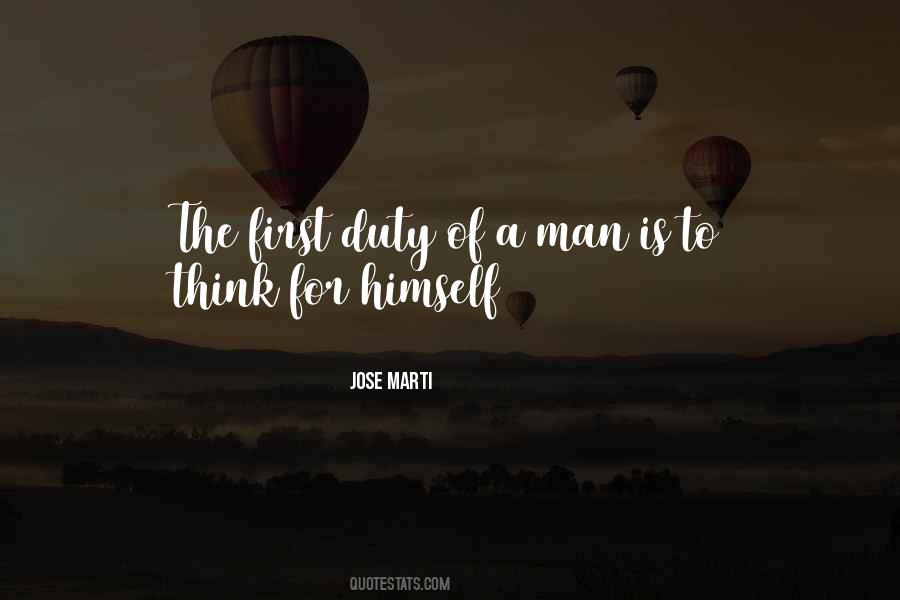 #22. Making universal prosperity a right is the surest way to universal poverty. - Author: J.S.B. Morse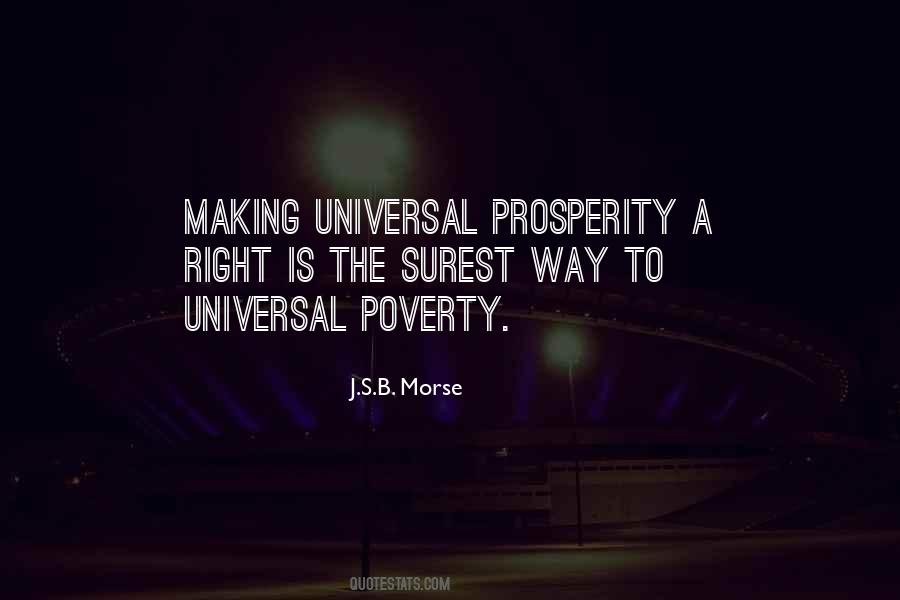 #23. The fear of capitalism has compelled socialism to widen freedom, and the fear of socialism has compelled capitalism to increase equality. East is West and West is East, and soon the twain will meet. - Author: Will Durant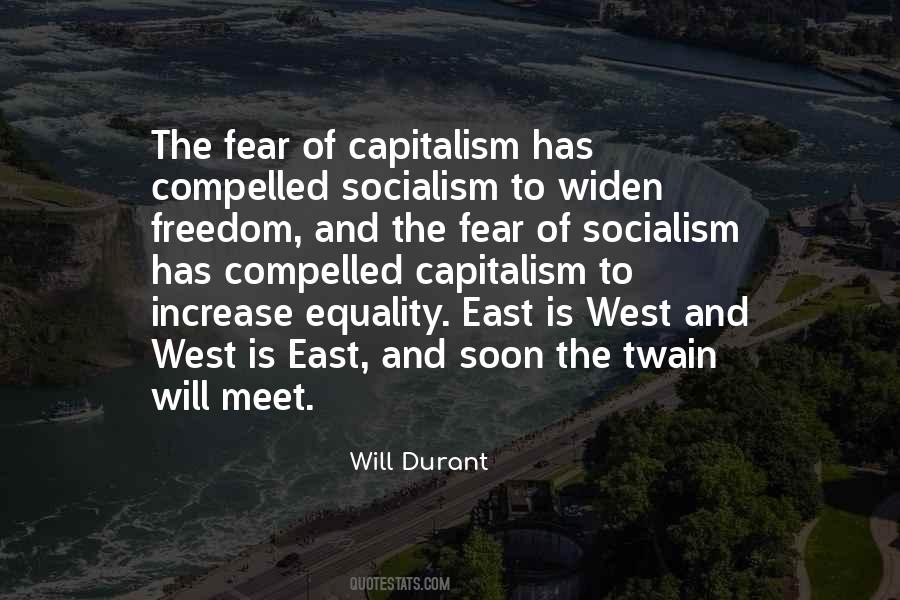 #24. The real division in the world today is not between socialism and capitalism, it's between freedom and totalitarianism. - Author: Frank Underhill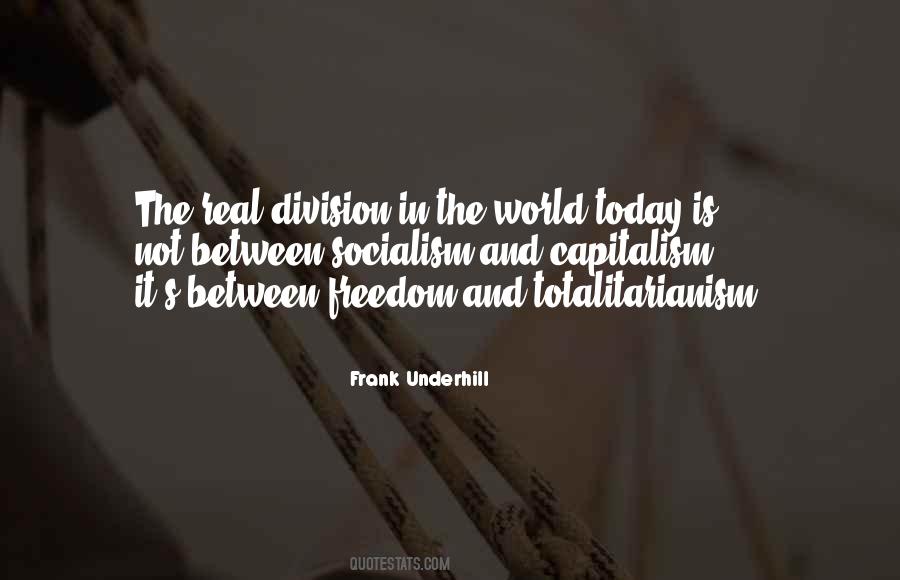 #25. The choice facing the nation is between two totally different ways of life. And what a prize we have to fight for: no less than the chance to banish from our land the dark, divisive clouds of Marxist socialism and bring together men and women from all walks of life who share a belief in freedom. - Author: Margaret Thatcher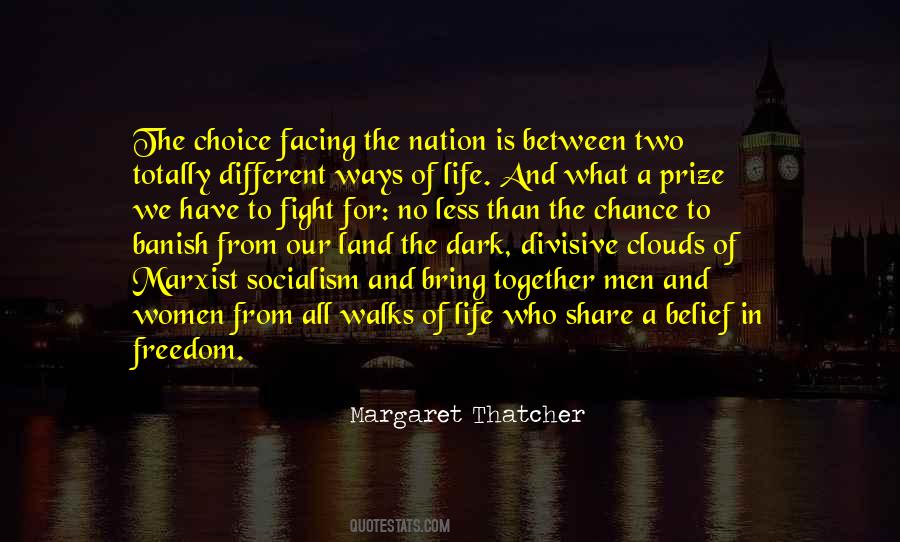 #26. The man who is not permitted to own is owned. - Author: George Santayana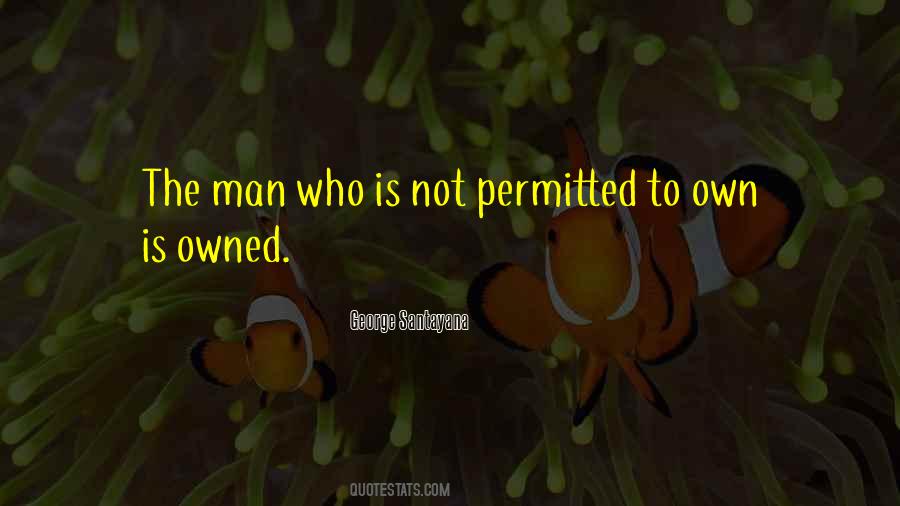 #27. Without Revolutionary theory, there can be no Revolutionary Movement. - Author: Vladimir Ilyich Lenin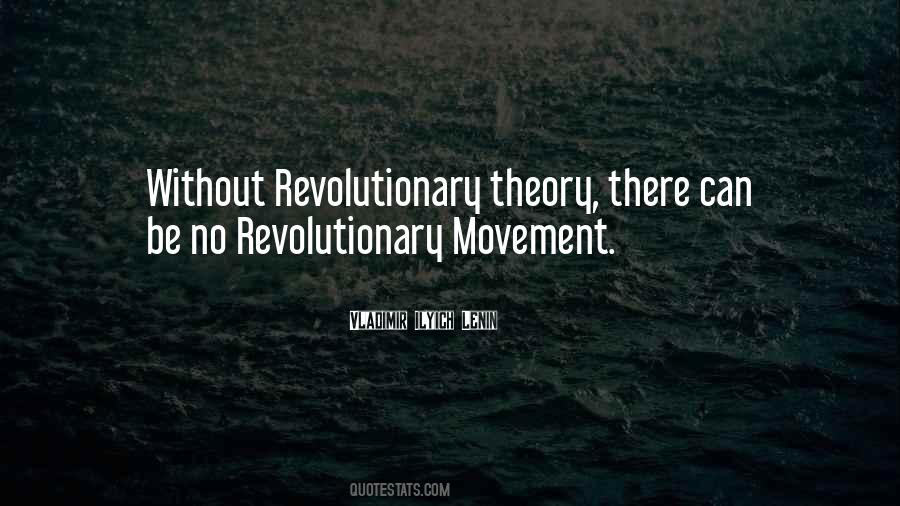 #28. We cannot restore traditional American freedom unless we limit the government's power to tax. No tinkering with this, that, or the other law will stop the trend toward socialism. We must repeal the Sixteenth Amendment. - Author: Frank Chodorov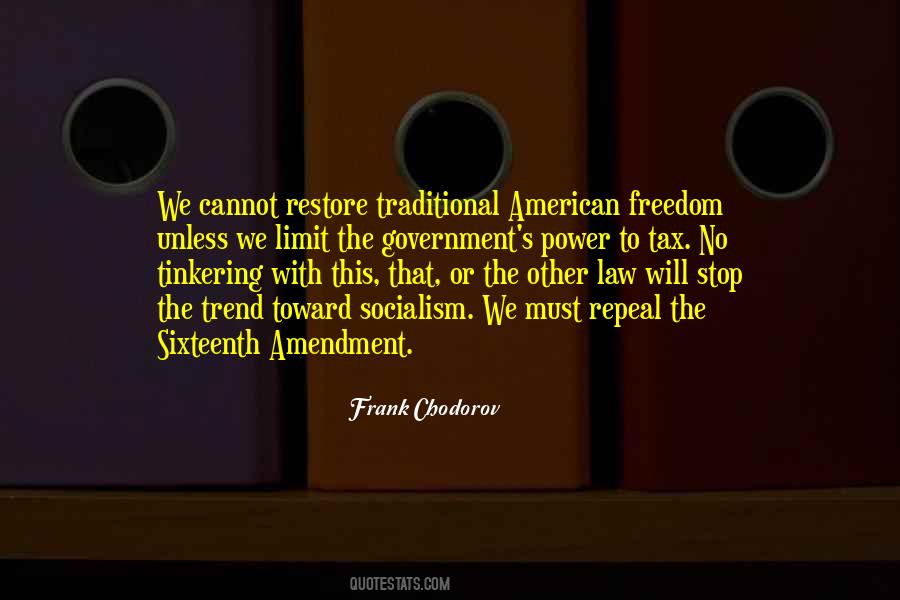 #29. The greatest purveyor of violence in the world : My own Government, I can not be Silent. - Author: Martin Luther King Jr.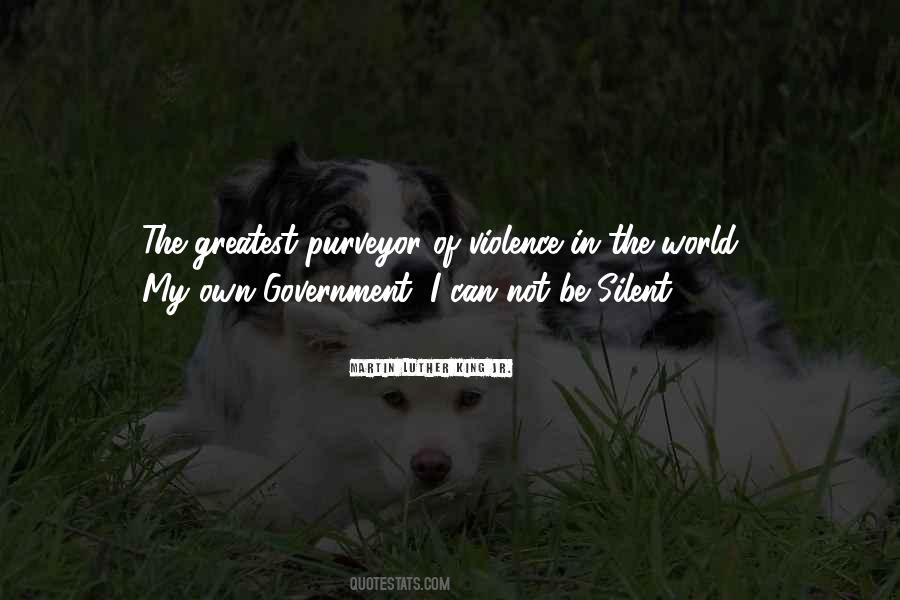 #30. Tyranny is the wolf cast by the shadows of sheep. - Author: Stefan Molyneux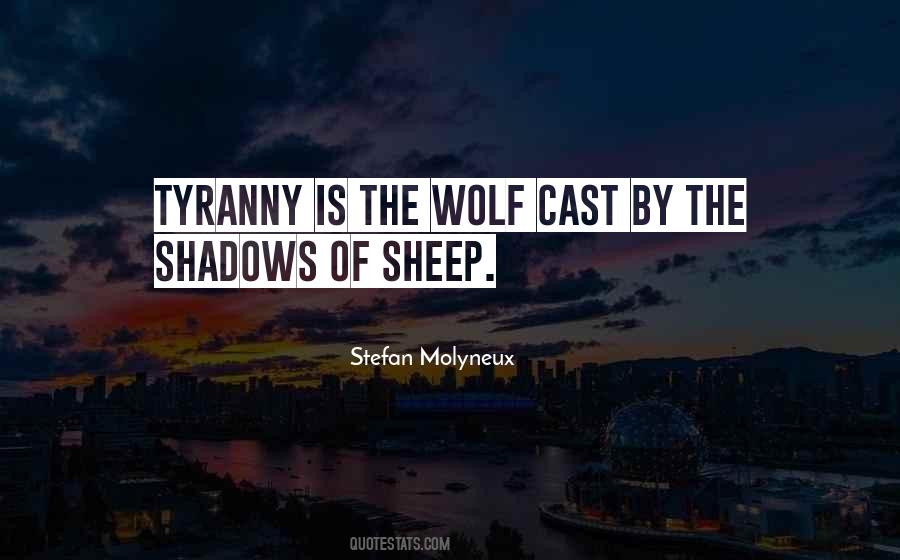 #31. There is no freedom without groceries. There are no groceries without freedom. What people call 'capitalism' and 'socialism' are actually one and inseparable. It's a virtuous circle. - Author: Rick Perlstein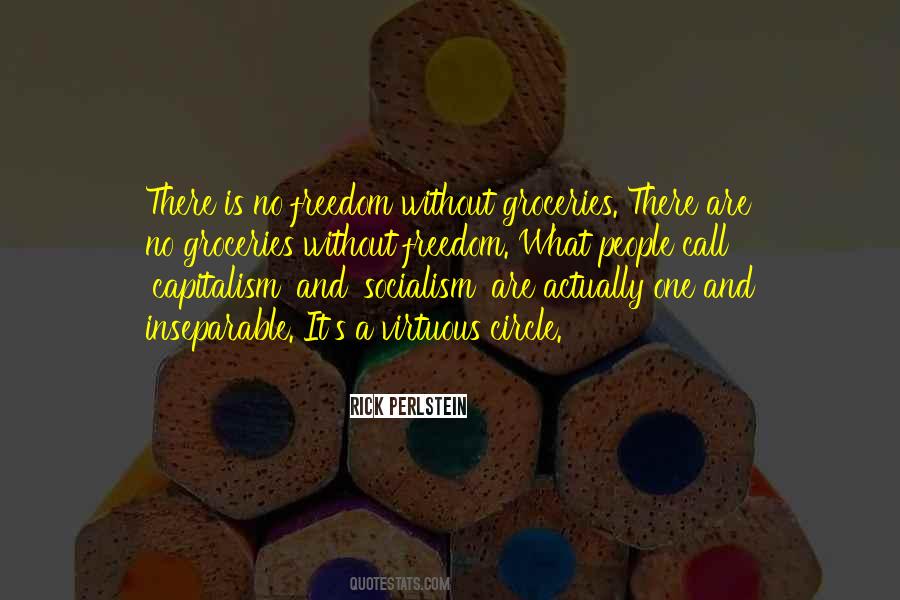 #32. I don't like the spirit of socialism - I think freedom is the basis of everything. - Author: Bertrand Russell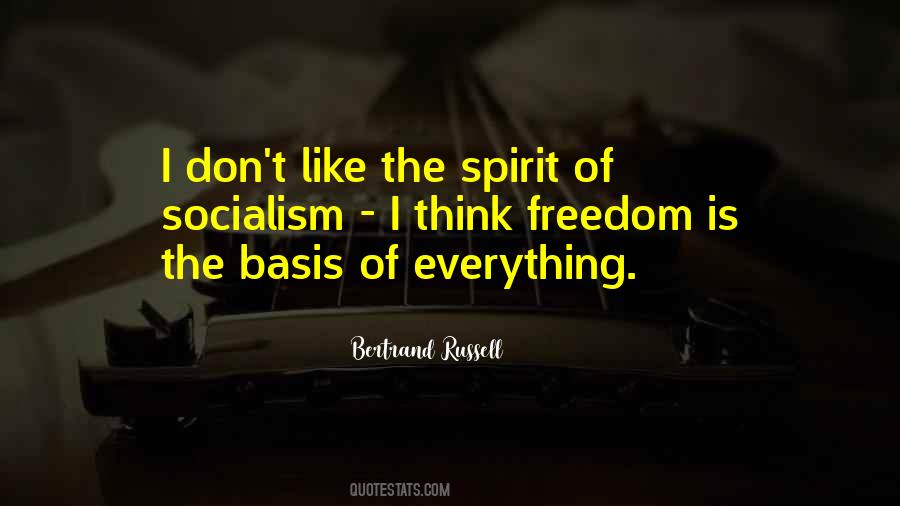 #33. I knew I was alone in a way that no earthling has ever been before. - Author: Michael Collins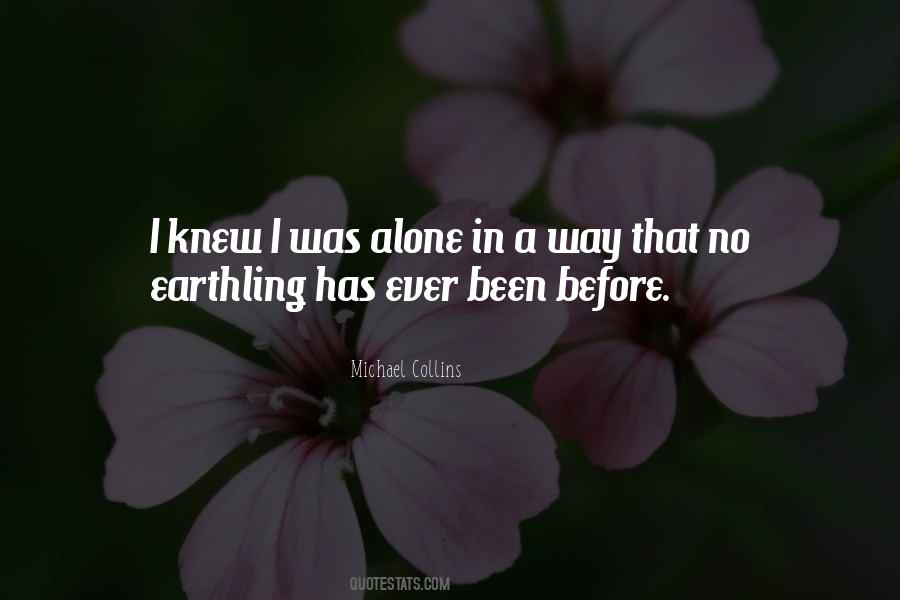 #34. The end may justify the means as long as there is something that justifies the end. - Author: Leon Trotsky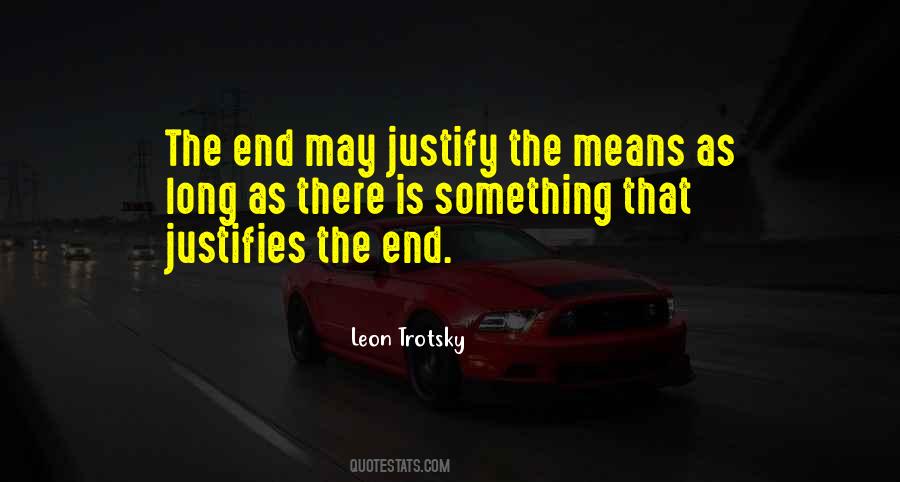 #35. If you can convince people that freedom is injustice, they will then believe that slavery is freedom. - Author: Stefan Molyneux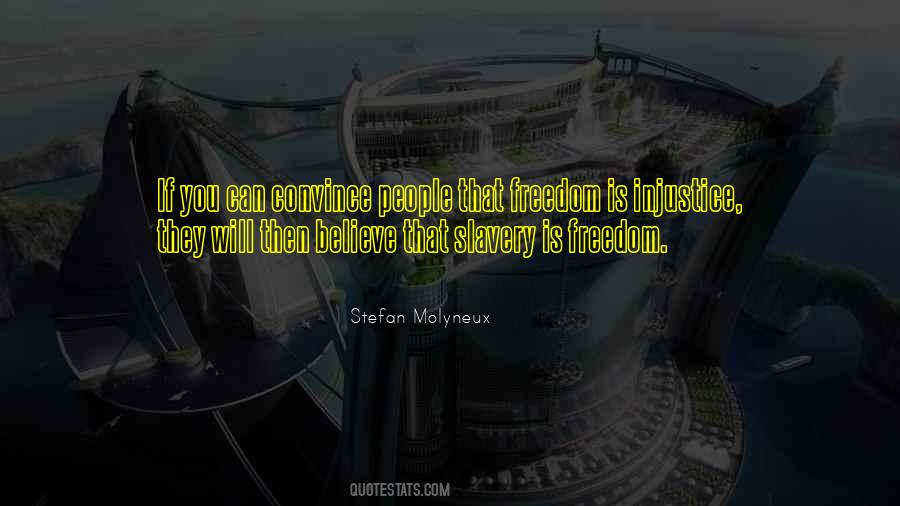 #36. Today the apologists of socialism are forced to distort facts and to misrepresent the manifest meaning of words when they want to make people believe in the compatibility of socialism and freedom. - Author: Ludwig Von Mises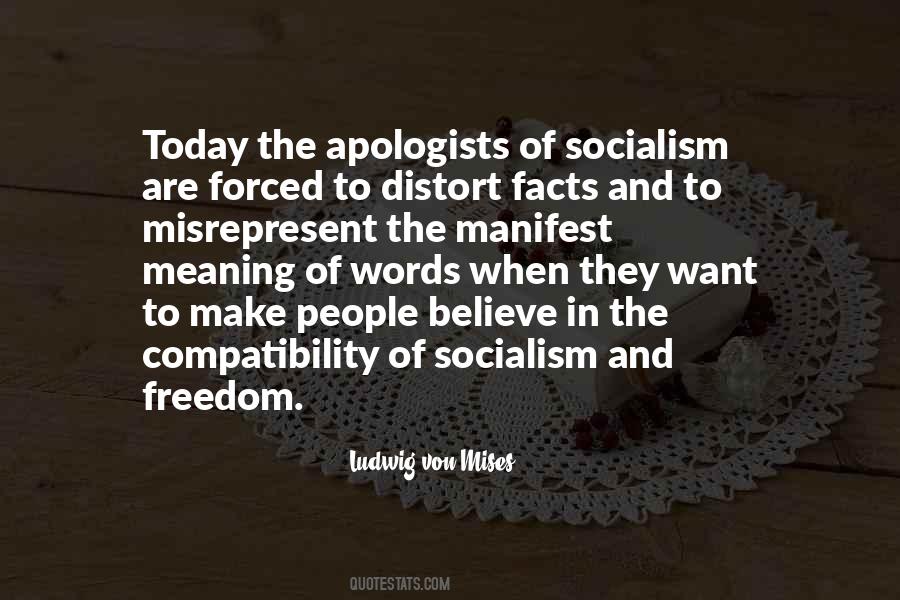 #37. The free worker receives a wage; the slave an education, food, care, clothing; the money that the master spends to keep the slave is drained little by little and in detail; one hardly perceives it.1 - Author: Alexis De Tocqueville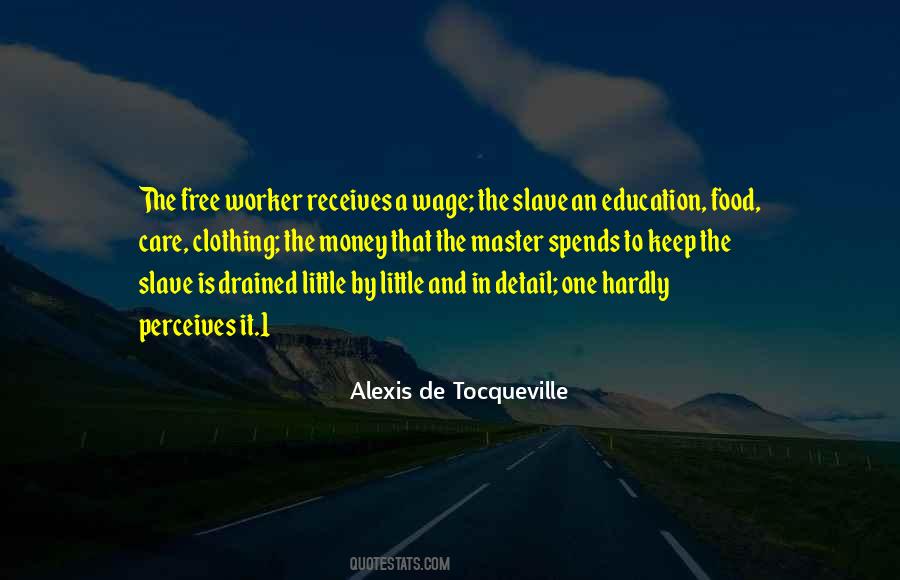 #38. The right to "liberty" and "pursuit" of happiness is incompatible with a government that makes choices for you. - Author: A.E. Samaan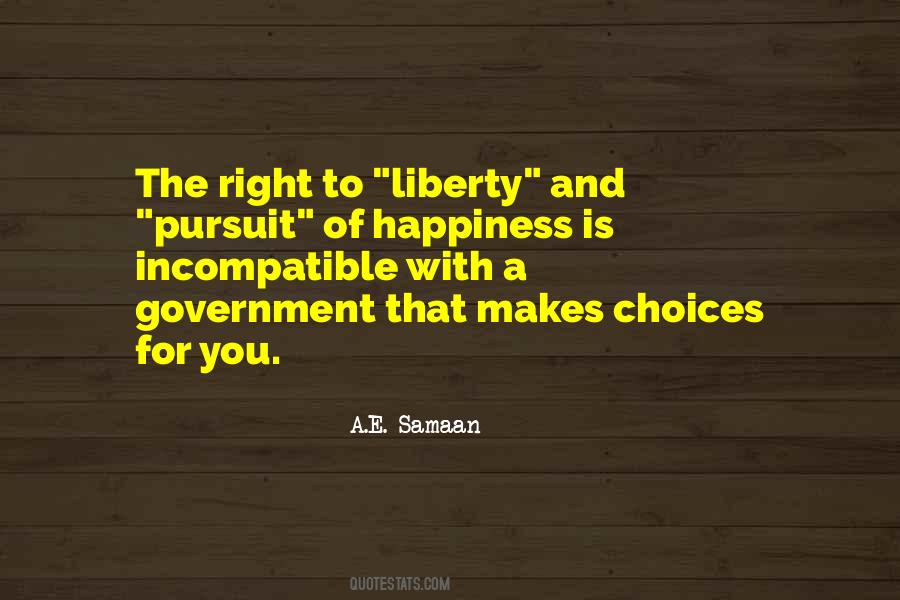 #39. You show me a capitalist, and I'll show you a bloodsucker - Author: Malcolm X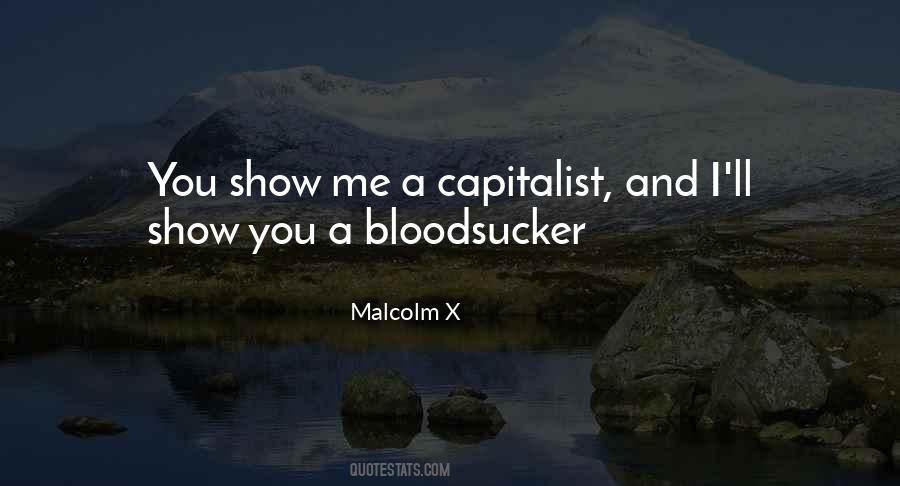 #40. Despair is typical of those who do not understand the causes of evil, see no way out, and are incapable of struggle. - Author: Vladimir Ilyich Lenin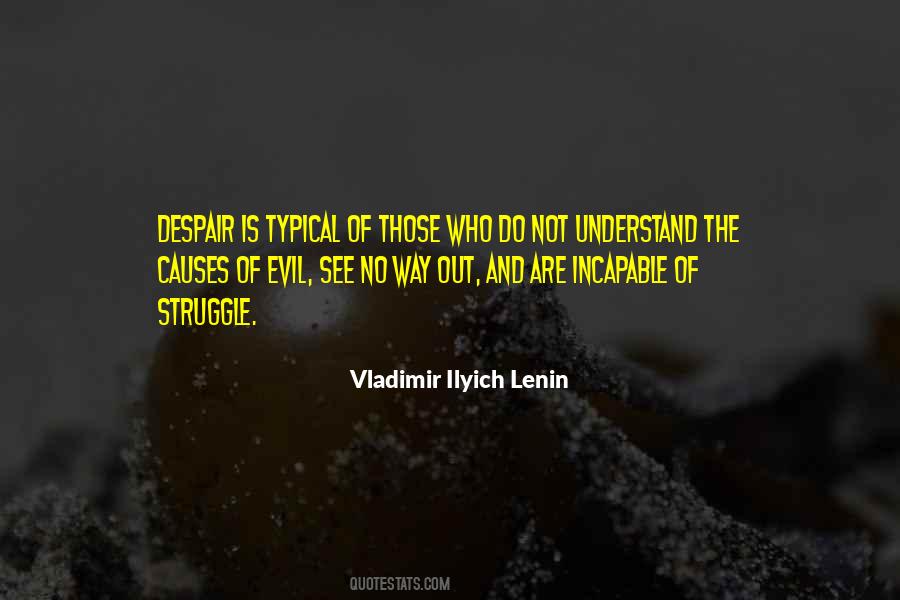 #41. You either limit the government, or you limit the scope of your life. Why is the government that precious to you in the first place? - Author: A.E. Samaan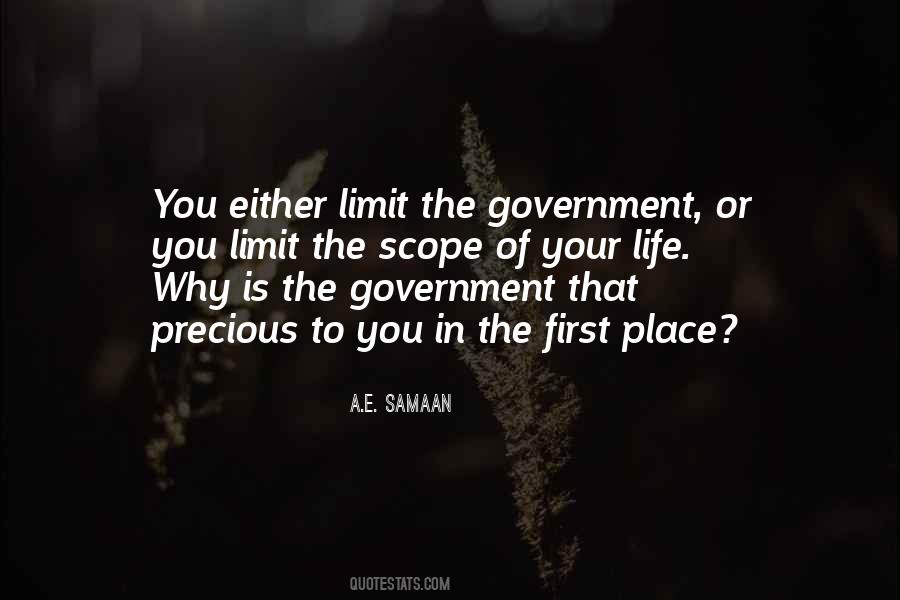 #42. Civil government, so far as it is instituted for the security of property, is in reality instituted for the defense of the rich against the poor, or of those who have some property against those who have none at all. - Author: Adam Smith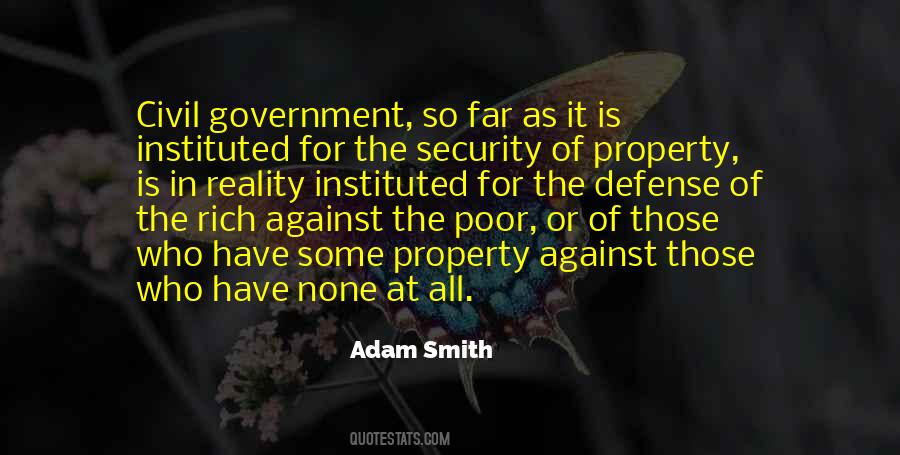 #43. Government is a gang, but not merely as meritorious as a private gang because it claims legal legitimacy. It pillages and uses violence but under the cover of law, and seeks legitimacy not through competition but through the myth of the social contract. - Author: Jeffrey Tucker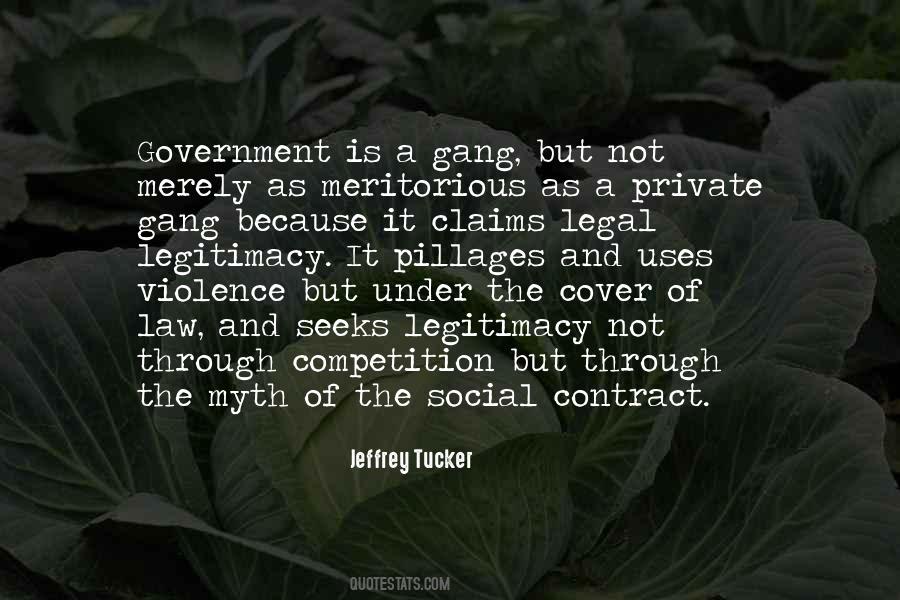 #44. Only in community with others has each individual the means of cultivating his gifts in all directions; only in the community, therefore, is personal freedom possible. - Author: Karl Marx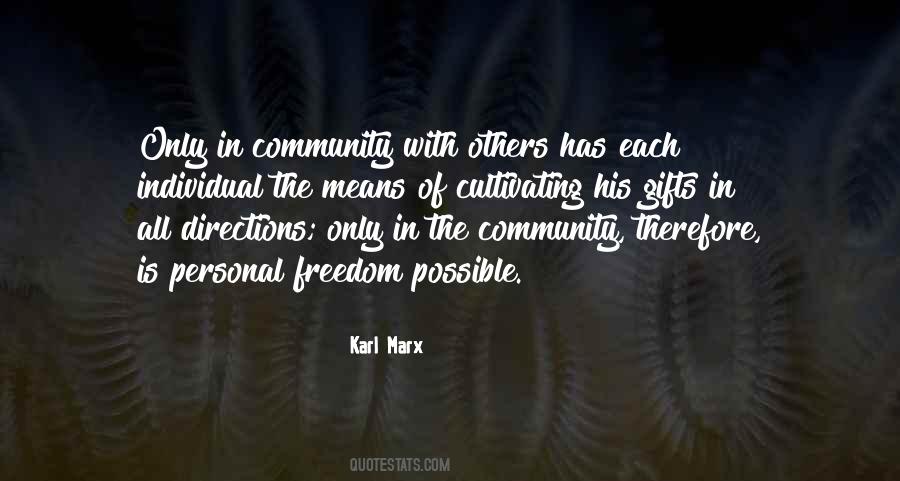 #45. But love, like the sun that it is, sets afire and melts everything. what greed and privilege to build up over whole centuries the indignation of a pious spirit, with its natural following of oppressed souls, will cast down with a single shove. - Author: Jose Marti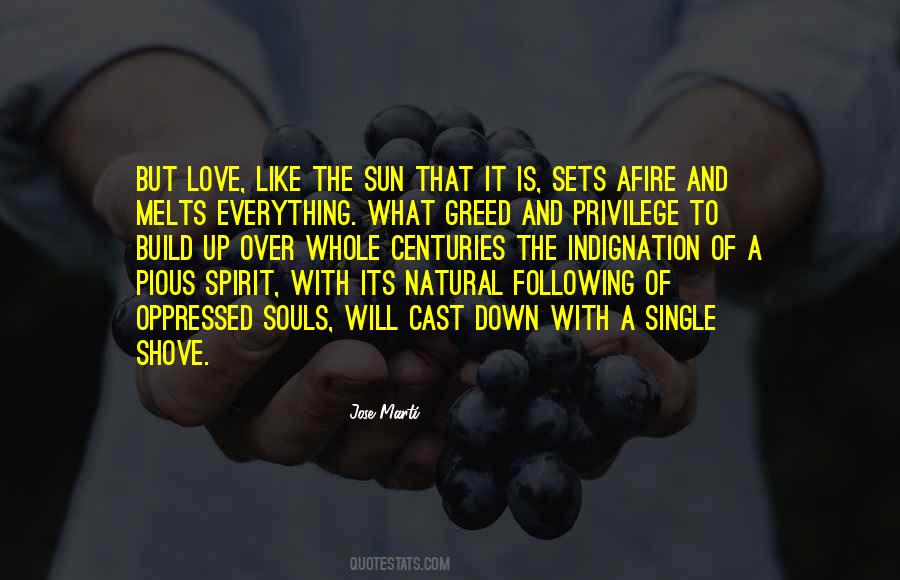 #46. Many people consider the things government does for them to be social progress but they regard the things government does for others as socialism.
[Address to National Press Club in Washington DC, as quoted in Freedom and Union (April 1952)] - Author: Earl Warren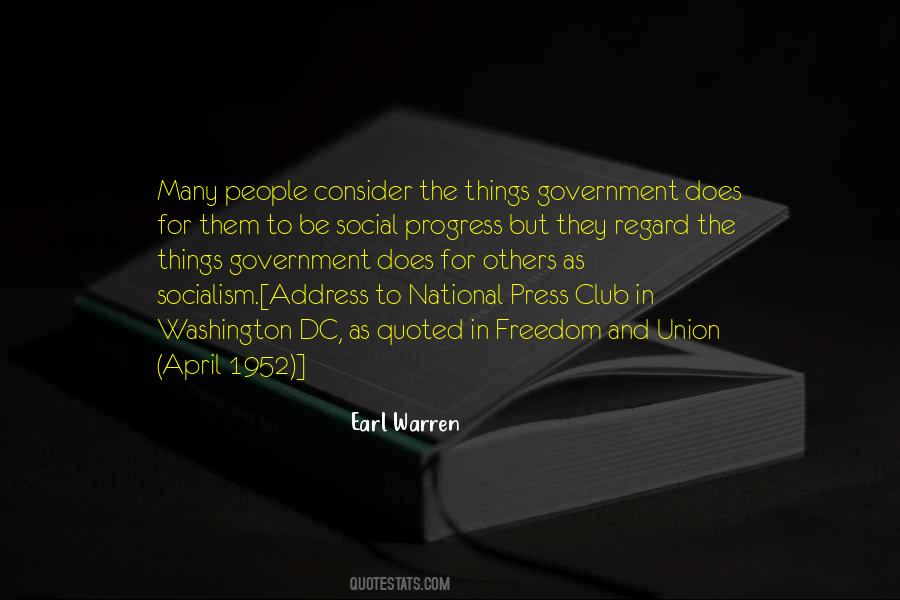 #47. Fuck socialism!
No, really..... fuck socialism. Socialism sucks! - Author: A.E. Samaan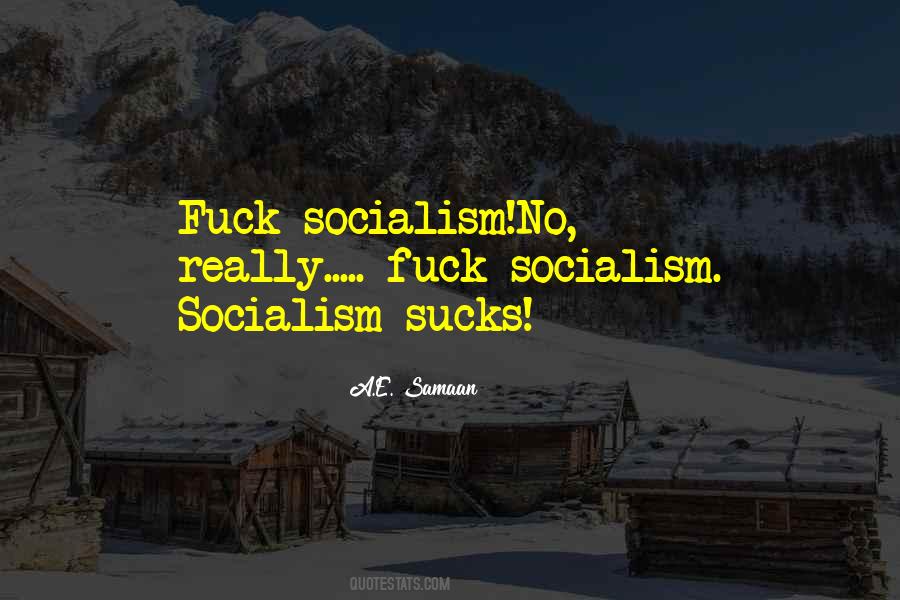 #48. If you demand the collective to pay for your medical expenses, then be prepared for the collective to demand to make your medical decisions for you. - Author: A.E. Samaan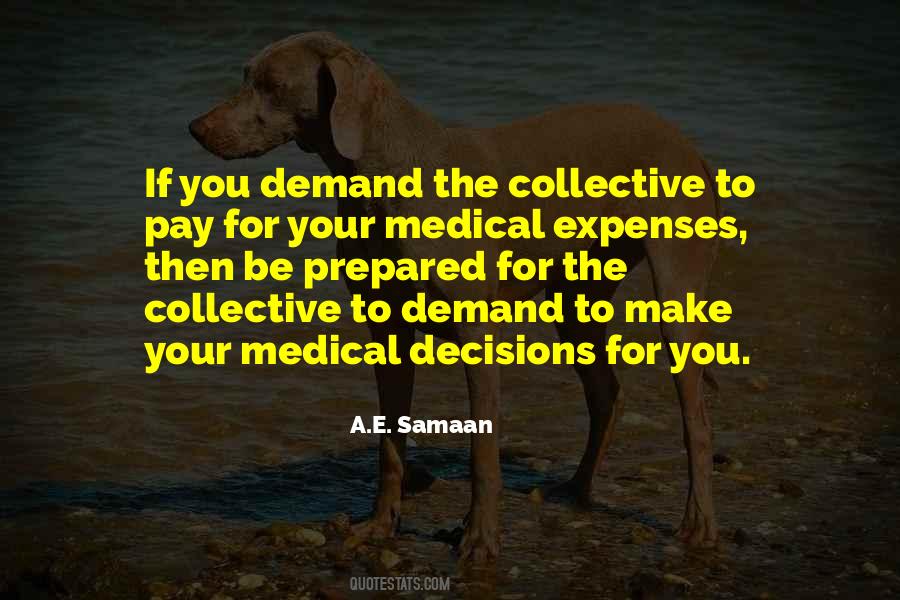 #49. Democratic Socialism is simply Totalitarianism that allows you the illusion of a voice in the matter. - Author: A.E. Samaan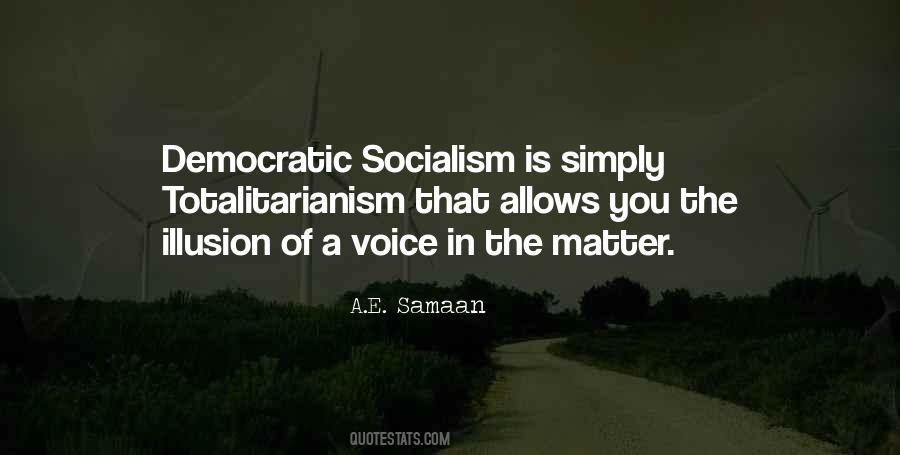 #50. The welfare state is the oldest con game in the world. First you take people's money away quietly and then you give some of it back to them flamboyantly. - Author: Thomas Sowell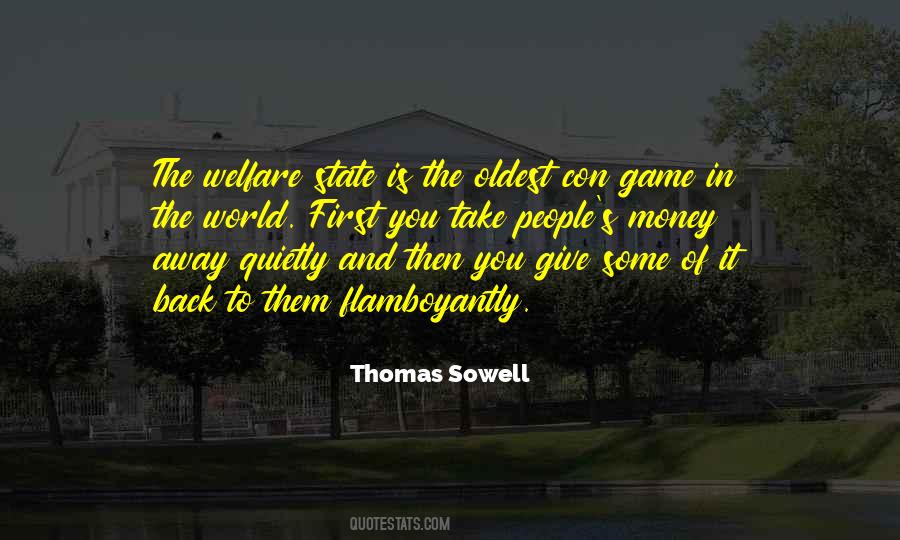 #51. The fact that so many successful politicians are such shameless liars is not only a reflection on them, it is also a reflection on us. When the people want the impossible, only liars can satisfy. - Author: Thomas Sowell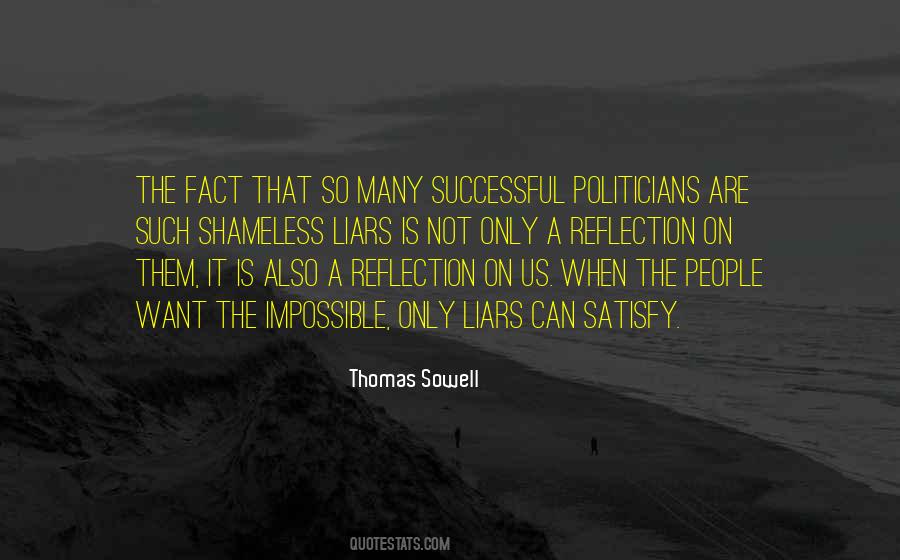 #52. What we have at present is a system of loss socialism. Whatever goes wrong is shouldered by the general public and anything that works is privatised. Worshippers of market freedom have suspended the most important economic principle: Risk and liability go hand in hand. - Author: Sigmar Gabriel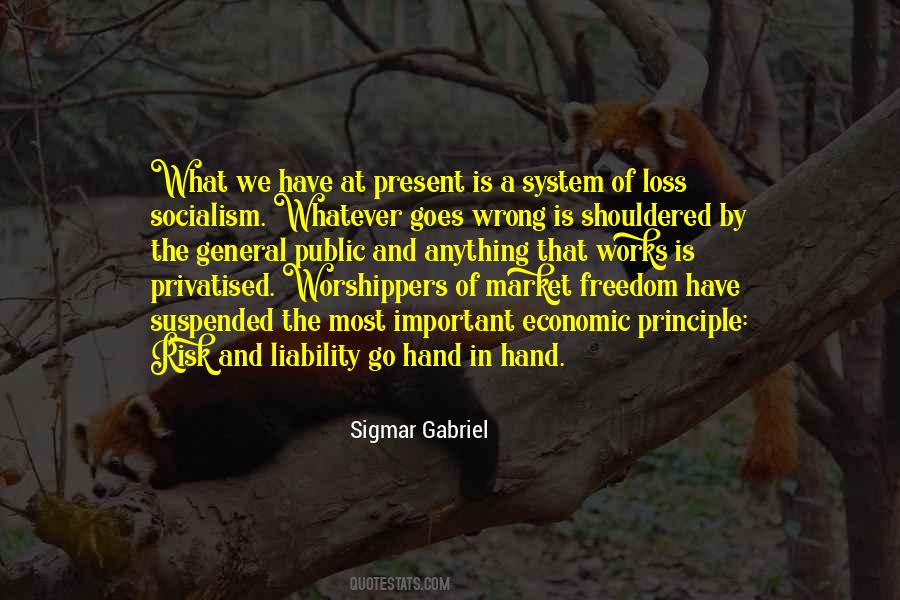 #53. Let us not seek to satisfy our thirst for freedom by drinking from the cup of bitterness and hatred. - Author: Martin Luther King Jr.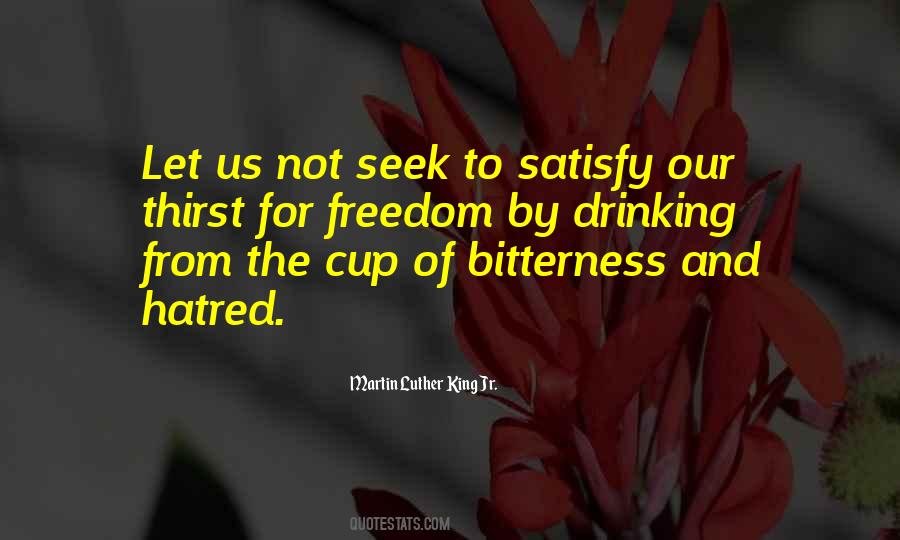 #54. The more laws and restrictions there are,
The poorer people become.
...
The more rules and regulations,
The more thieves and robbers. - Author: Lao-Tzu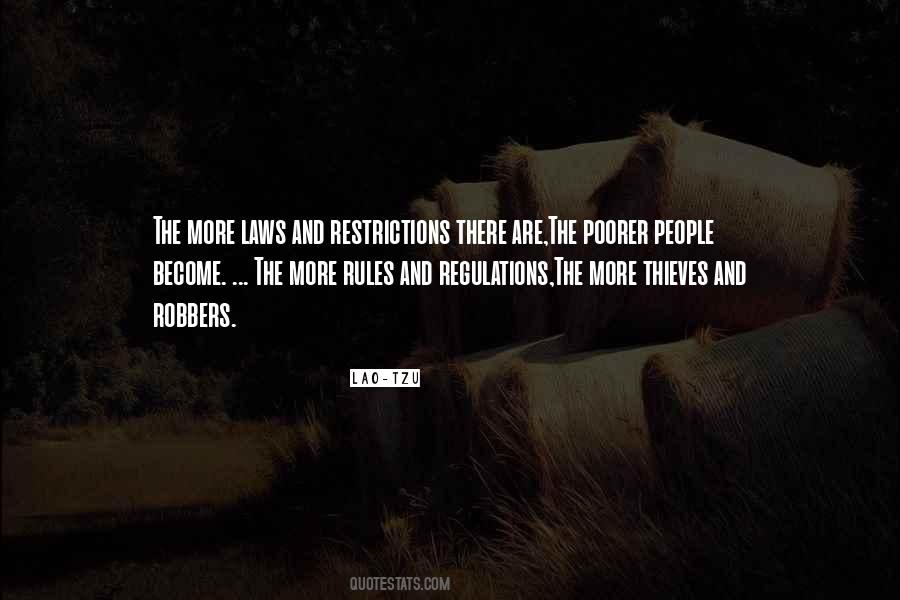 #55. Freedom without socialism is privilege and injustice; socialism without freedom is slavery and brutality - Author: Bakunin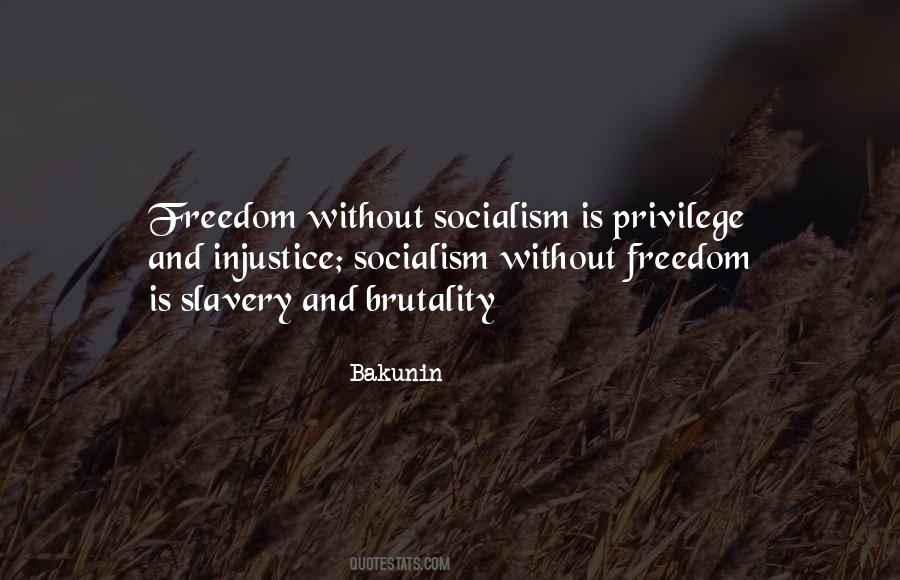 #56. Labor in the white skin can never free itself as long as labor in the black skin is branded. - Author: Karl Marx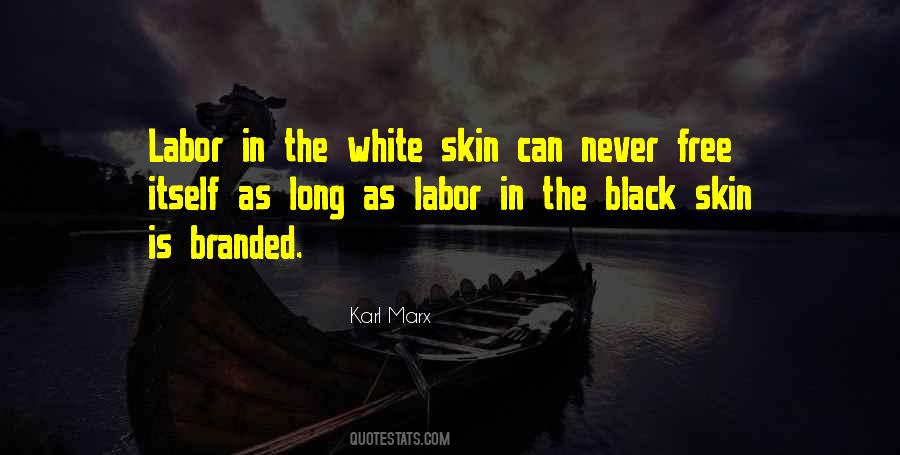 #57. It is easy to be conspicuously 'compassionate' if others are being forced to pay the cost. - Author: Murray N. Rothbard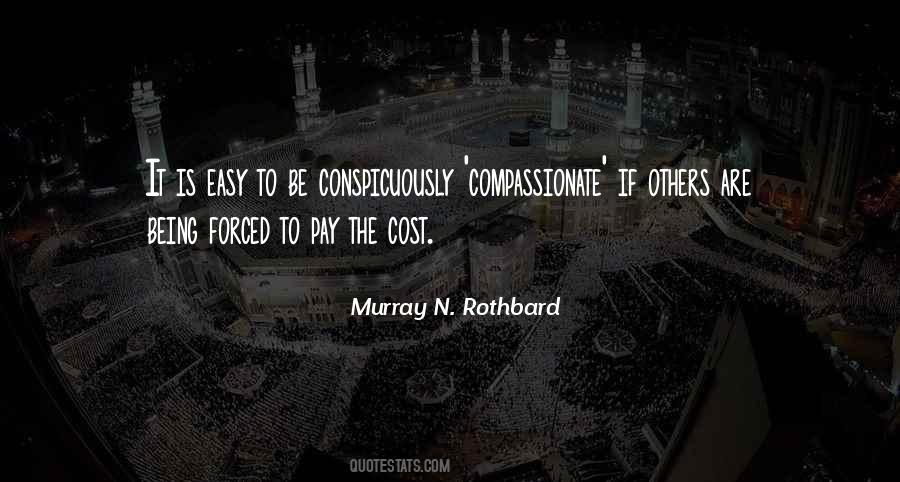 #58. When plunder becomes a way of life for a group of men in a society, over the course of time they create for themselves a legal system that authorizes it and a moral code that glorifies it. - Author: Frederic Bastiat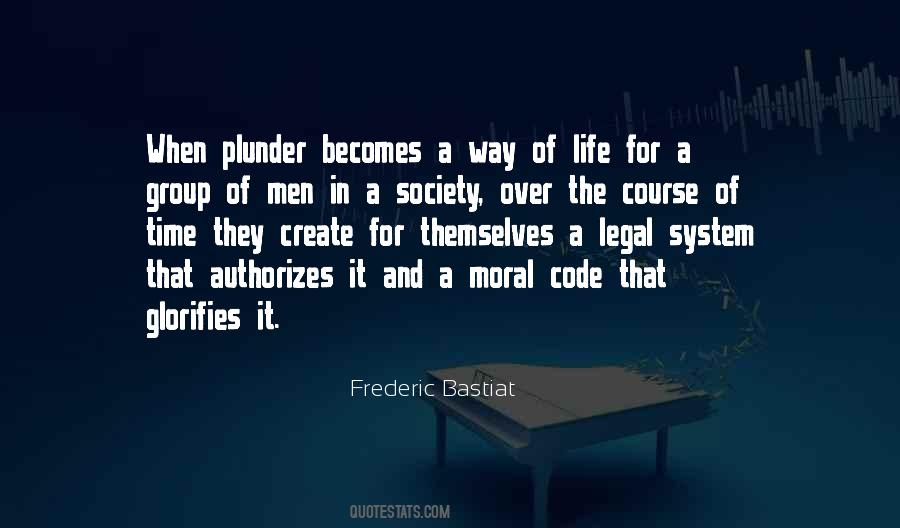 #59. Everything is relative in this world, where change alone endures. - Author: Leon Trotsky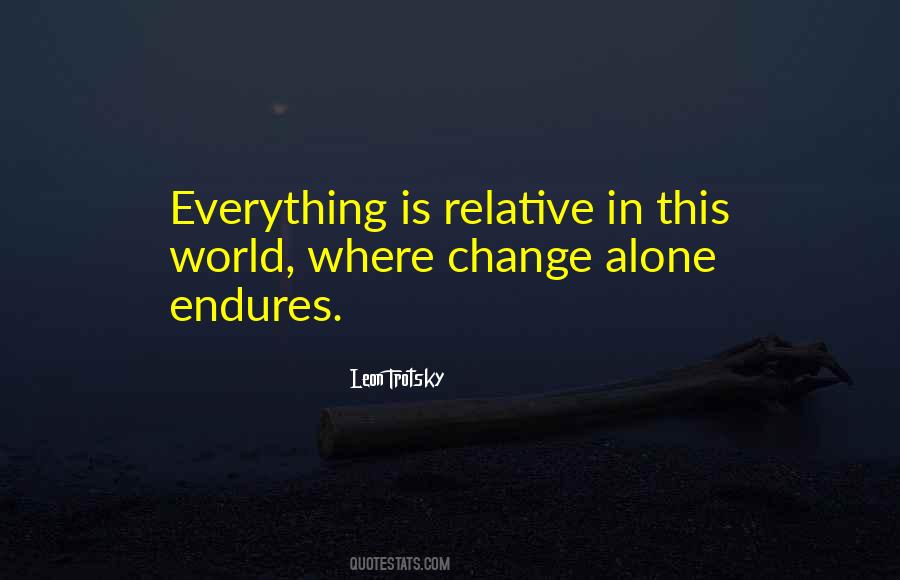 #60. Equality cannot be imagined outside of tyranny. - Author: Charles Forbes Rene De Montalembert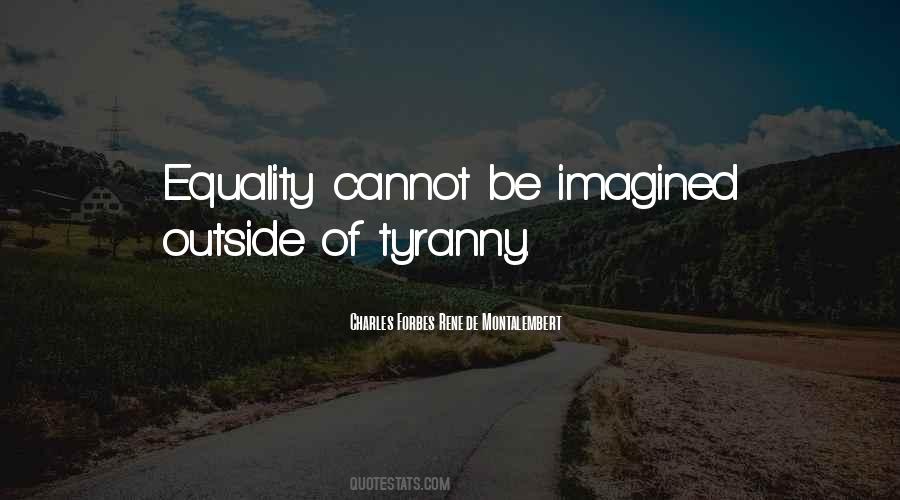 #61. The largest threat to freedom, democracy, the market economy and prosperity, is no longer socialism. It is, instead, the ambitious, arrogant, unscrupulous ideology of environmentalism. - Author: Vaclav Klaus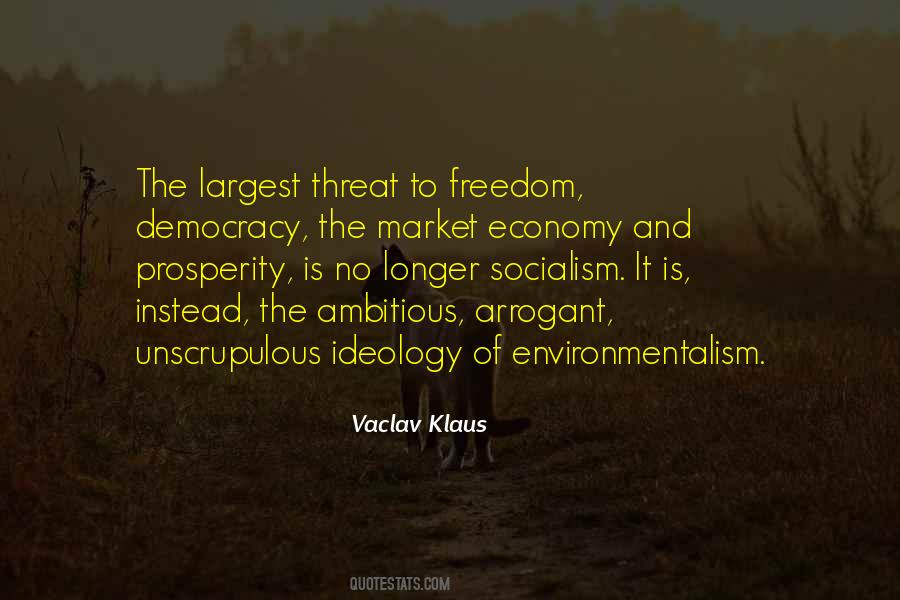 #62. Proposed Roads to Freedom
In this book Russell weighs the respective advantages and disadvantages of Socialism, Marxism and Syndicalism. - Author: John Stuart Mill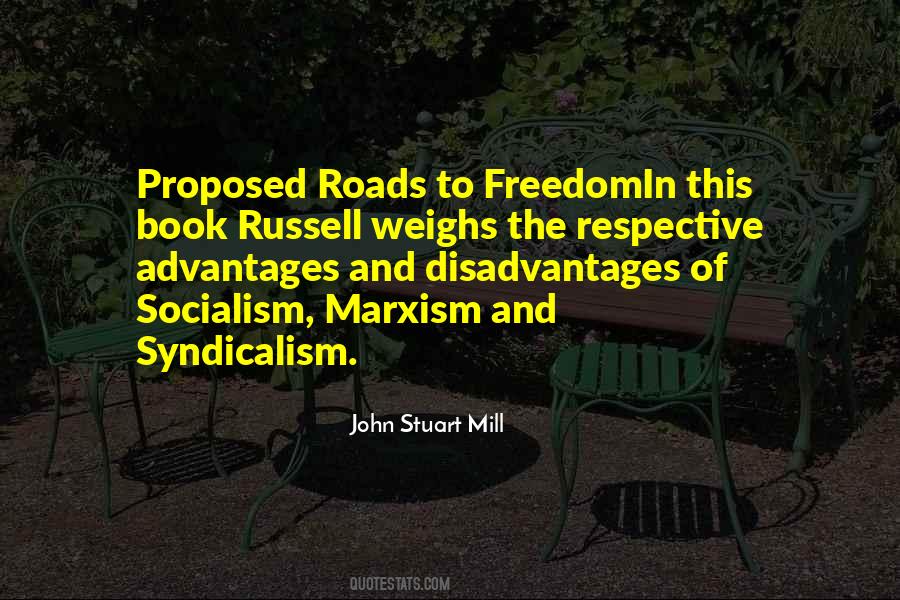 #63. In proportion as you give the state power to do things for you, you give it power to do things to you. - Author: Albert Jay Nock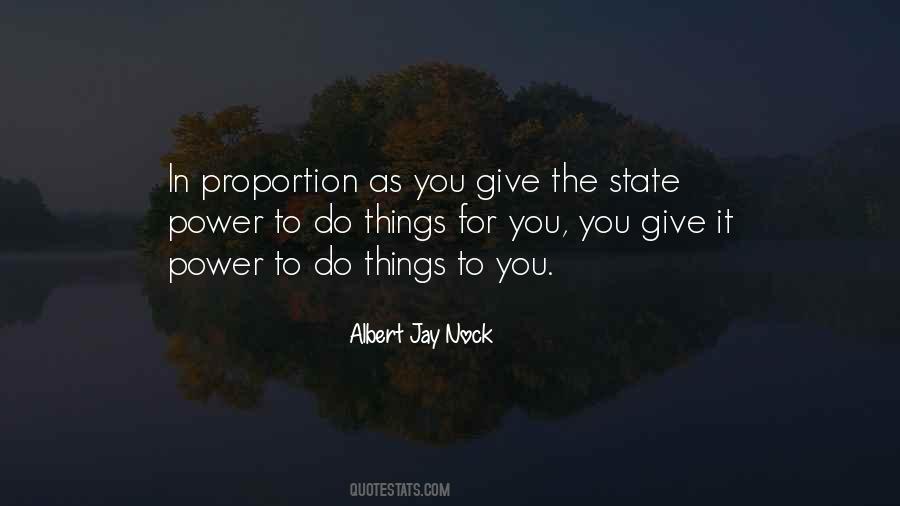 #64. The sick in soul insist that it is humanity that is sick, and they are the surgeons to operate on it. They want to turn the world into a sickroom. And once they get humanity strapped to the operating table, they operate on it with an ax. - Author: Eric Hoffer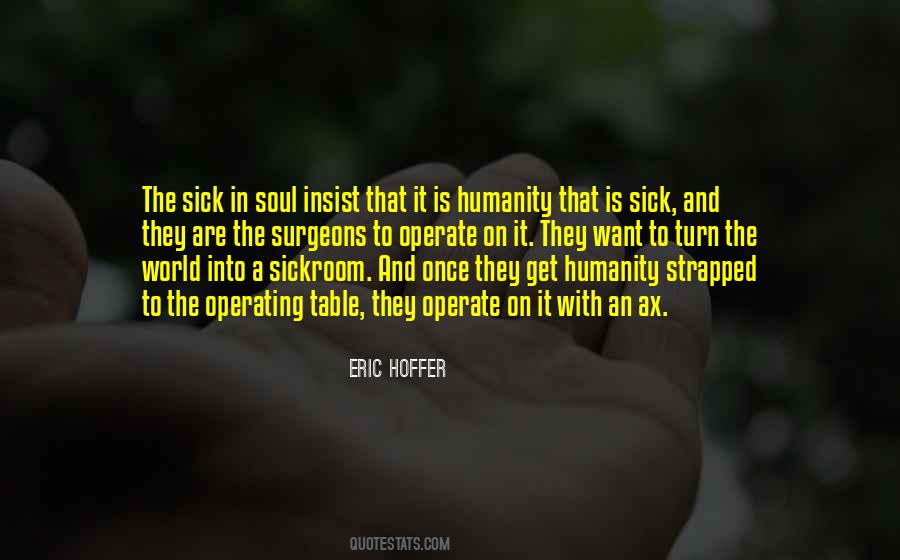 #65. Socialists and Progressives confuse compassion and compulsion. - Author: A.E. Samaan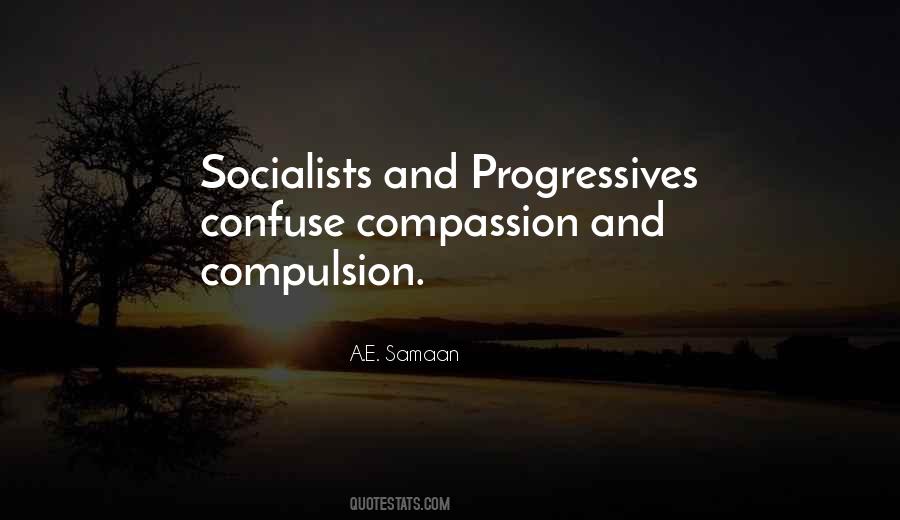 #66. The only way we'll get freedom for ourselves is to identify ourselves with every oppressed people in the world. We are blood brothers to the people of Brazil, Venezuela, Haiti, Cuba
yes Cuba too. - Author: Malcolm X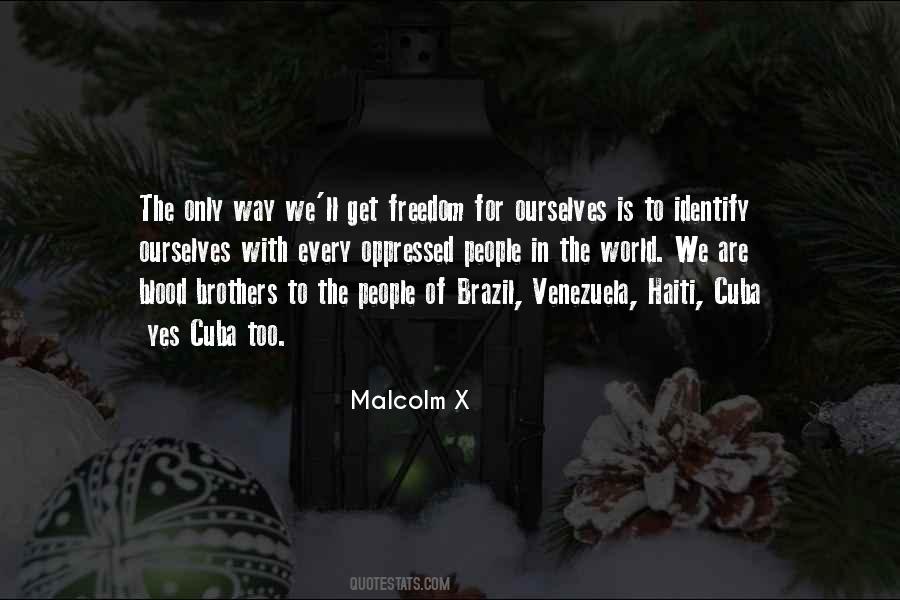 #67. I also believe that academic freedom should protect the right of a professor or student to advocate Marxism, socialism, communism, or any other minority viewpoint - no matter how distasteful to the majority, provided ... - Author: Richard M. Nixon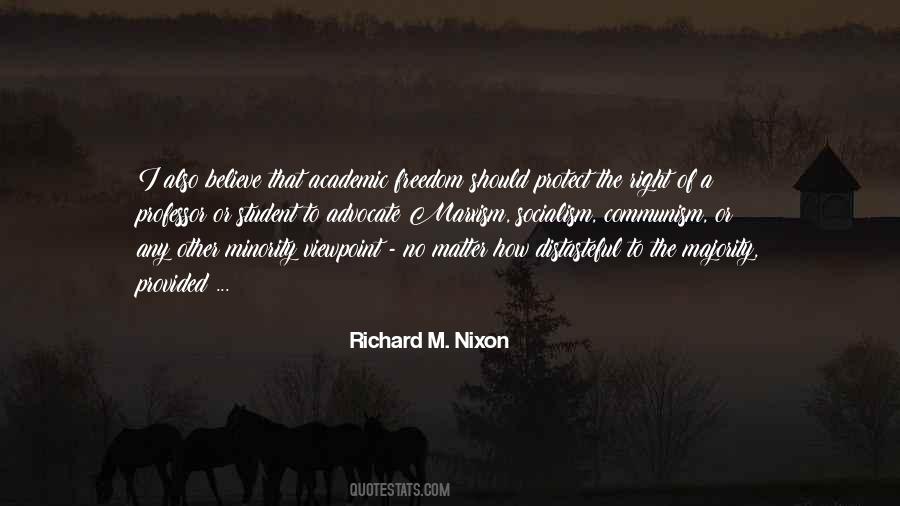 Famous Authors
Popular Topics