Soap Operas Famous Quotes & Sayings
List of top 47 famous quotes and sayings about soap operas to read and share with friends on your Facebook, Twitter, blogs.
Top 47 Quotes About Soap Operas
#1. People don't want to pay 8 or 9 dollars to go see a problem that they have in their life, on screen. They pay to get away from that. That's why they watch soap operas. - Author: Omar Epps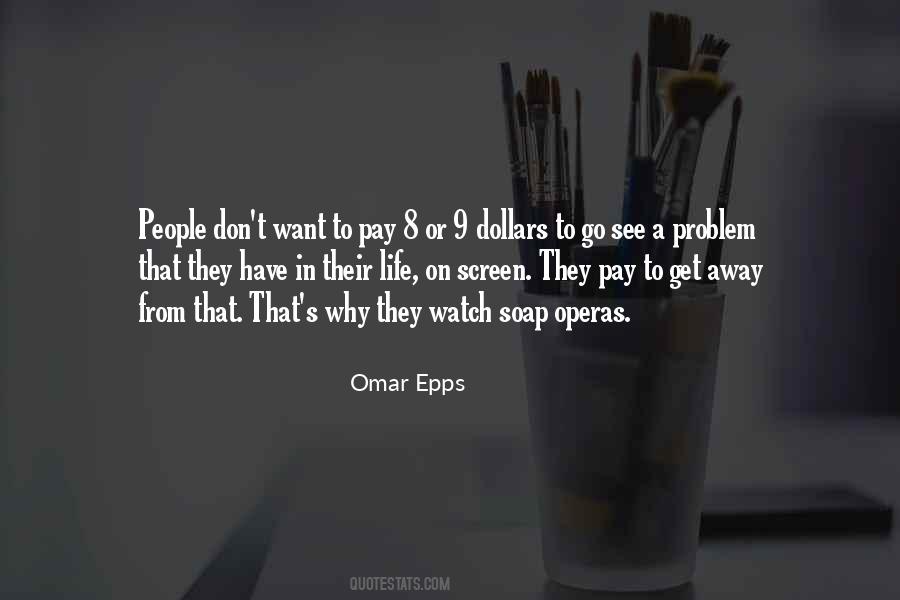 #2. I think that baseball games are like soap operas. If you watch five in a row, you know enough to get hooked. - Author: Jennifer Garner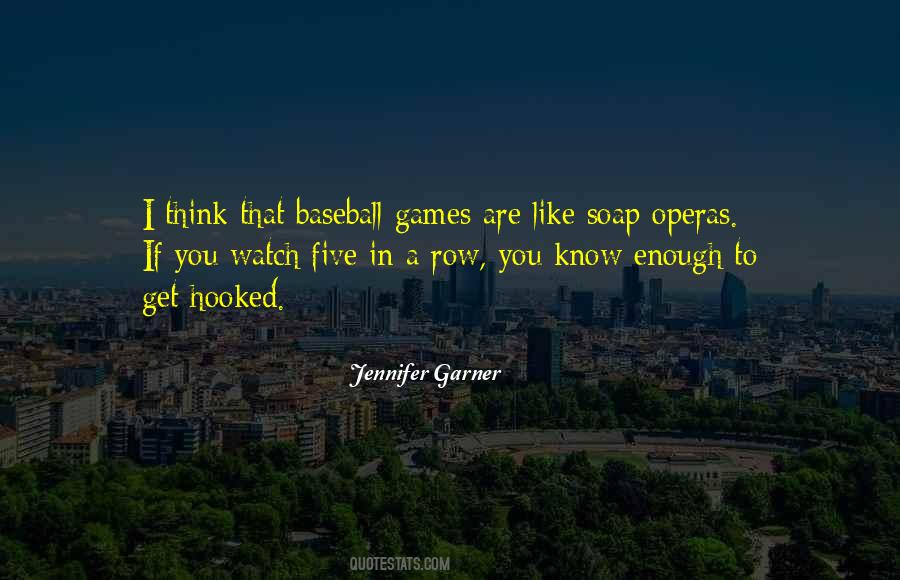 #3. I watch soap operas. I bake brownies. Normalcy is coursing through my veins. - Author: Parker Posey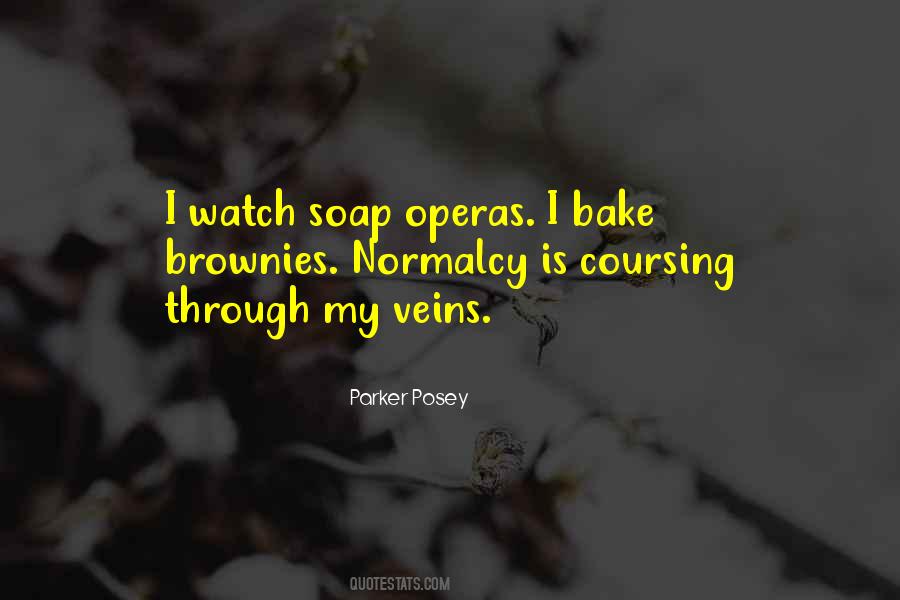 #4. Most of the soap operas always use the Christmas special to kill huge quantities of their characters. So they have trams coming off their rails, or cars slamming into each other or burning buildings. It's a general clean-out. - Author: Julian Fellowes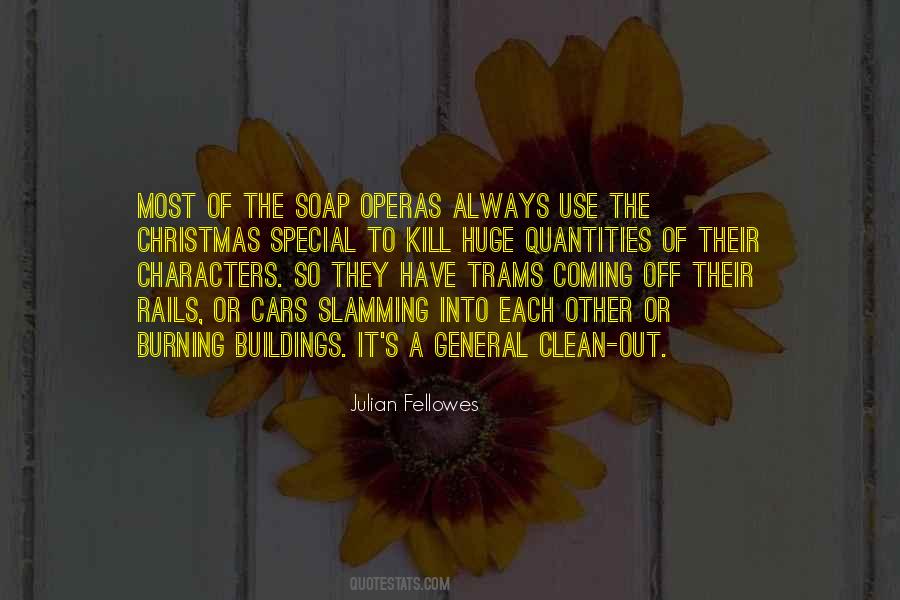 #5. When I was in school, I was always writing scripts and dressing up as characters. I'd constantly be that guy who'd get up on stage. I used to write imaginary TV shows, like soap operas, for fun. - Author: Chris Lilley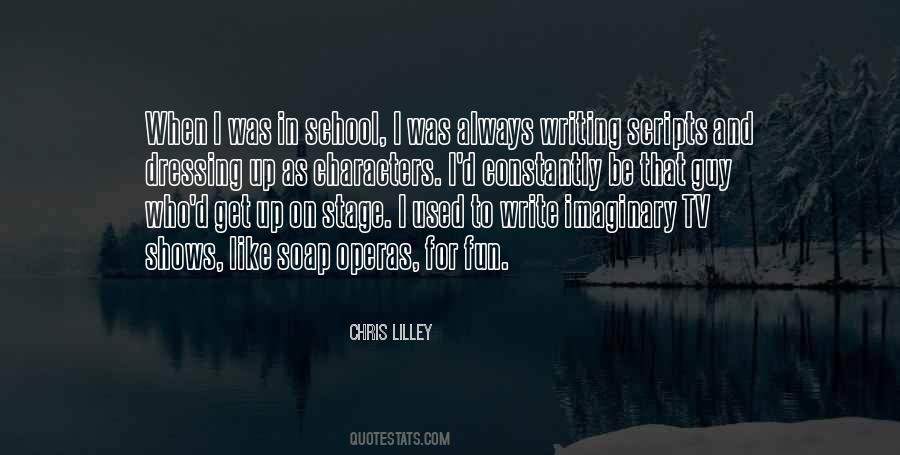 #6. Brains cause technology, society, art, science, soap operas, sin. A remarkable set of effects for such a small chunk of coagulated atoms. - Author: Colin McGinn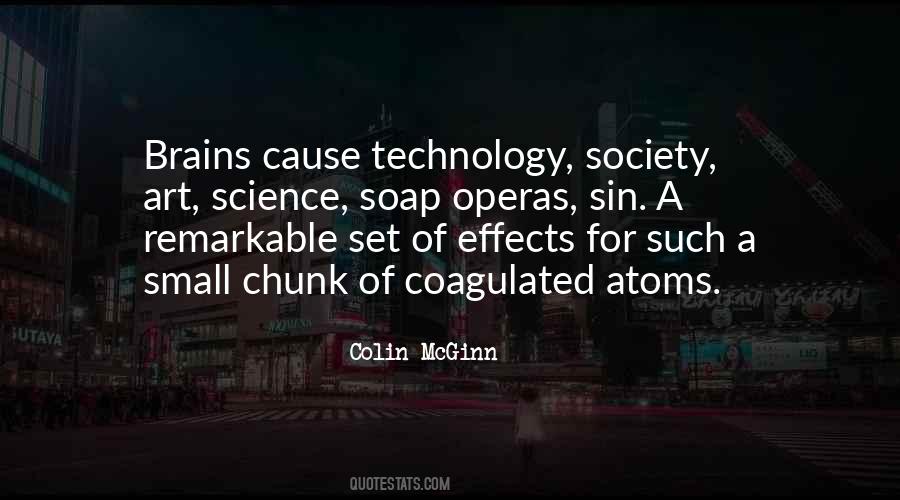 #7. I've finally figured out why soap operas are, and logically should be, so popular with generations of housebound women. They are the only place in our culture where grown-up men take seriously all the things that grown-up women have to deal with all day long. - Author: Gloria Steinem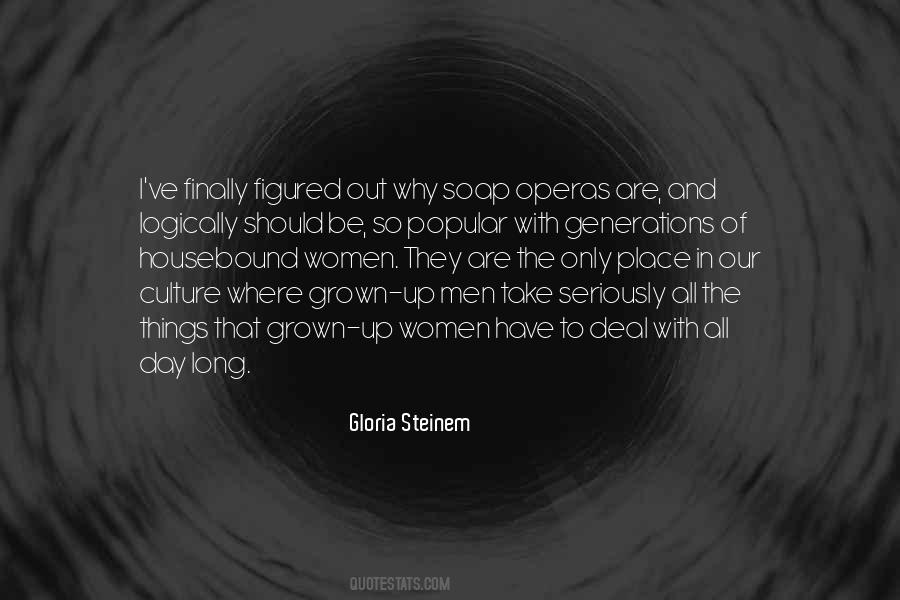 #8. You have to think about the WWE as soap operas. - Author: Linda McMahon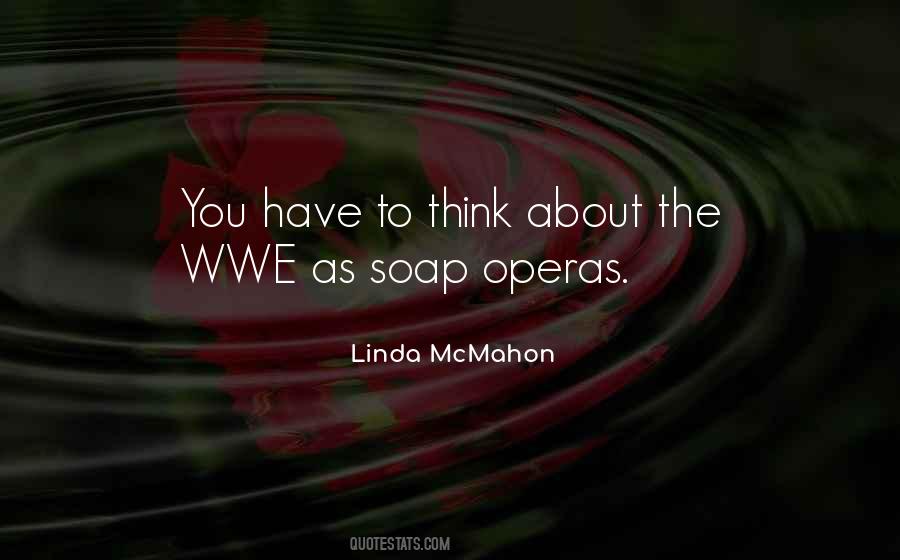 #9. Growing up female in America. What a liability! You grew up with your ears full of cosmetic ads, love songs, advice columns, whoreoscopes, Hollywood gossip, and moral dilemmas on the level of TV soap operas. What litanies the advertisers of the good life chanted at you! What curious catechisms! - Author: Erica Jong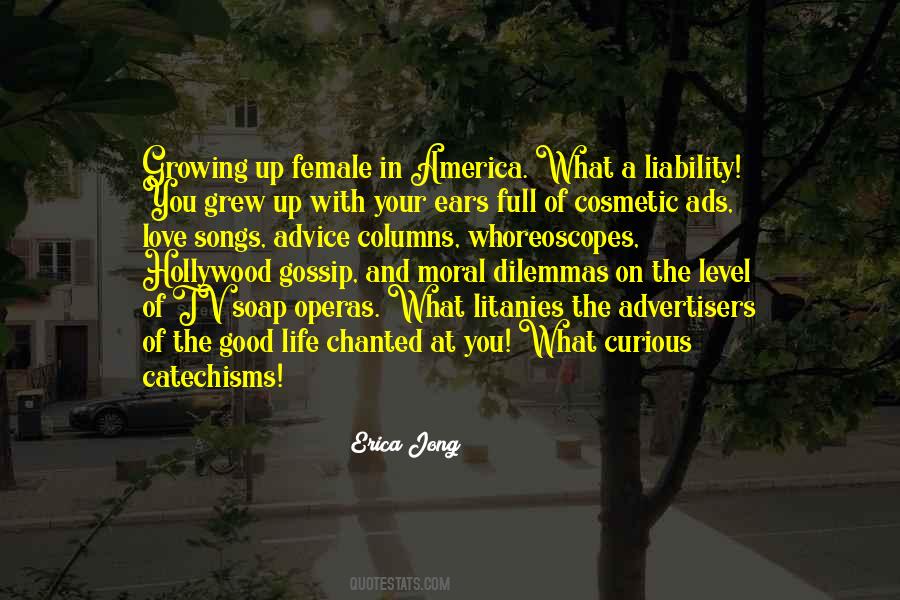 #10. If I knew how to operate a DVR, you'd find episodes of 'The Tavis Smiley Show,' 'Democracy Now!' and lots of stuff from TV Land. What you can find now on my Hulu account are Korean soap operas, 'Grey's Anatomy' and films from the Criterion collection. - Author: T'Keyah Crystal Keymah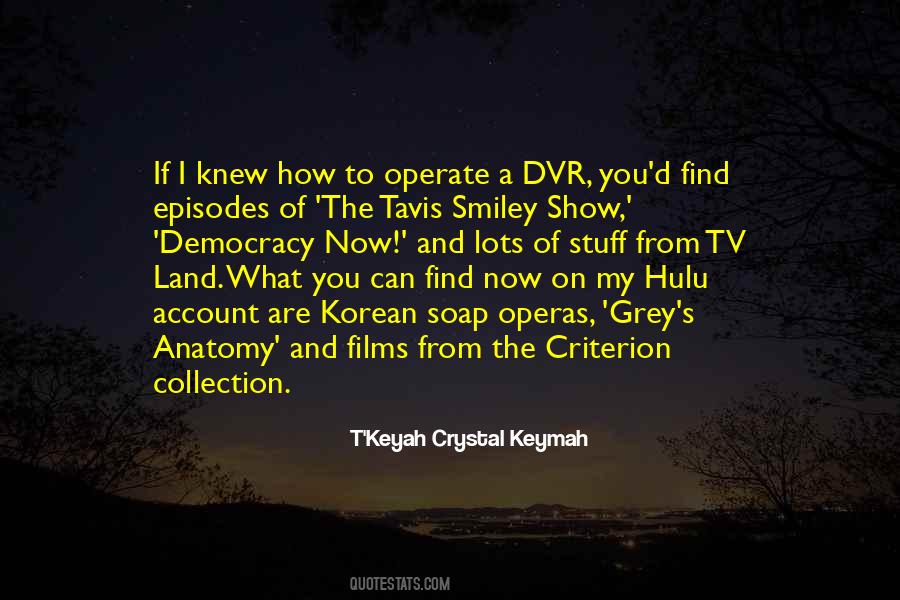 #11. Don't think you can watch all the romantic movies, soap operas, TV shows and read all the romantic books out there and not be affected. Ninety-nine percent of the romantic stuff out there is garbage ... and what you put in always comes out ... UGLIER! - Author: Osayi Emokpae Lasisi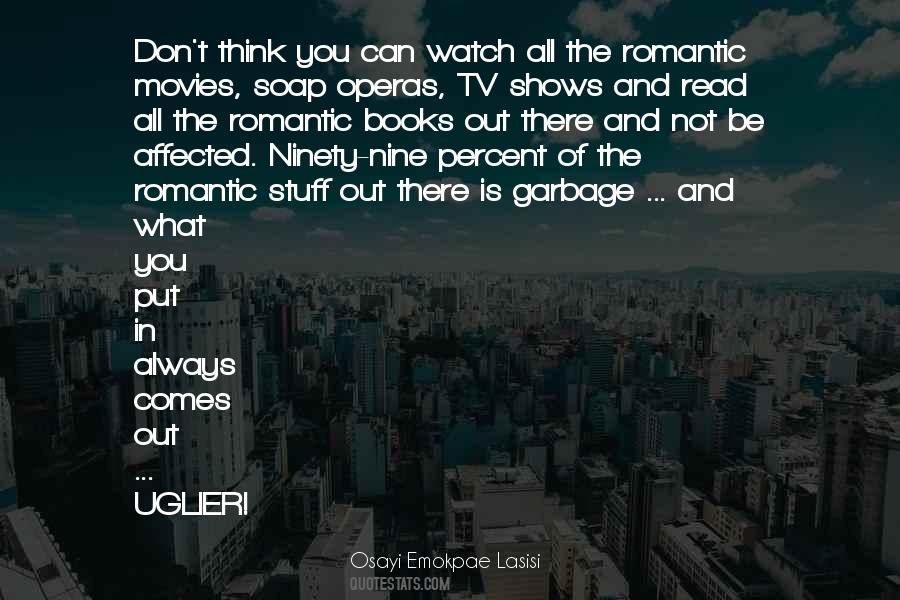 #12. The soap opera was so long ago - the thing about soap operas, and there's something to be said for doing it, but you do a script a day. I don't want to say it's a training ground; it really isn't, but what it does teach you is discipline. - Author: Frank Grillo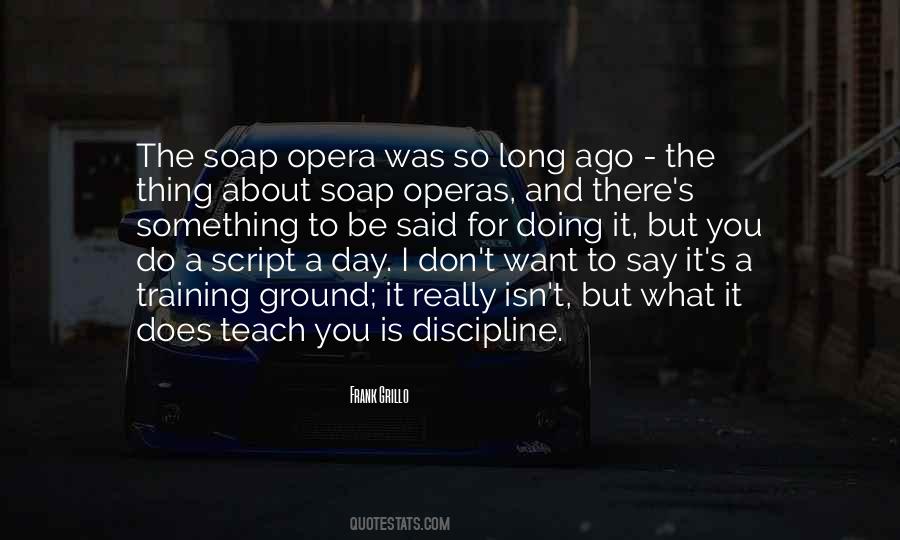 #13. Reality TV has totally destroyed soap operas. They're gone. They used to be the biggest thing in the world - they're gone. - Author: Gilbert Gottfried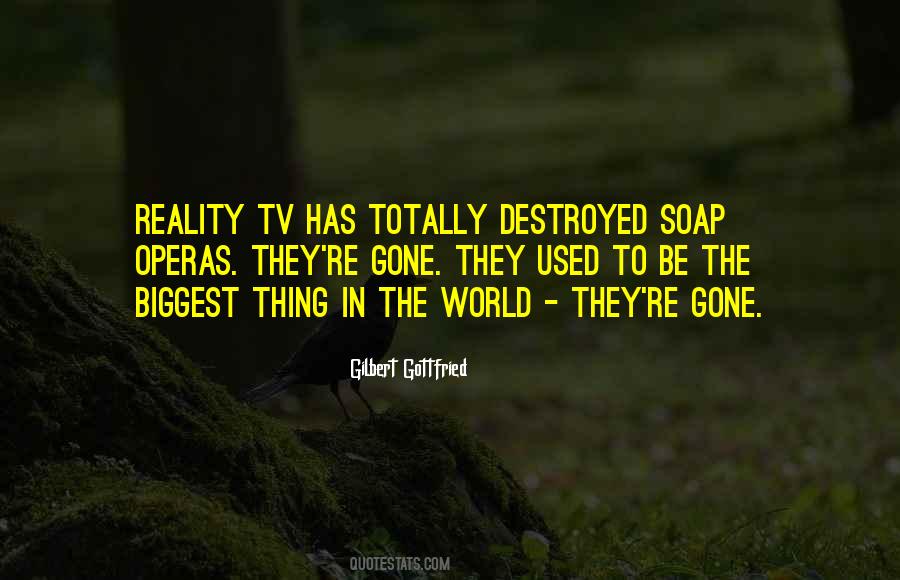 #14. I have nothing but admiration for the actors on soap operas. It is unbelievably challenging to put out an hour show in one day. - Author: Catherine Mary Stewart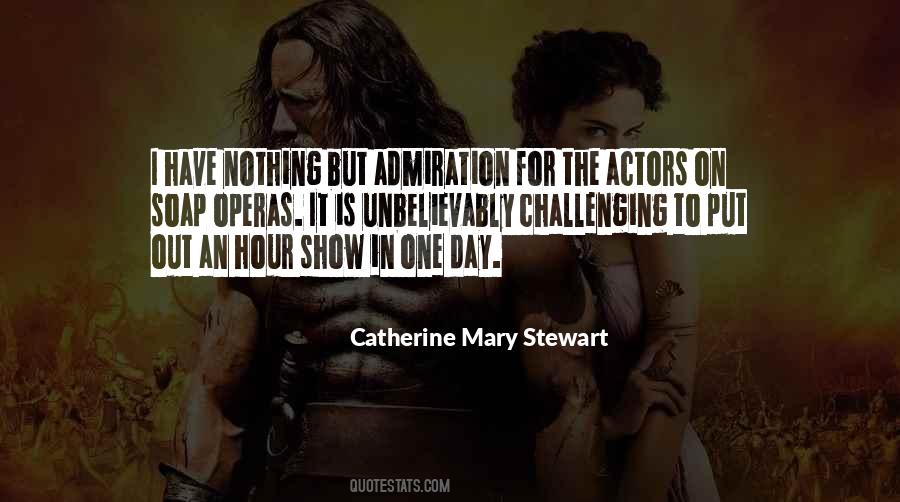 #15. Daytime soap operas, which I used to adore, have been declining in quality and importance for over a decade, and I gradually stopped monitoring them. - Author: Camille Paglia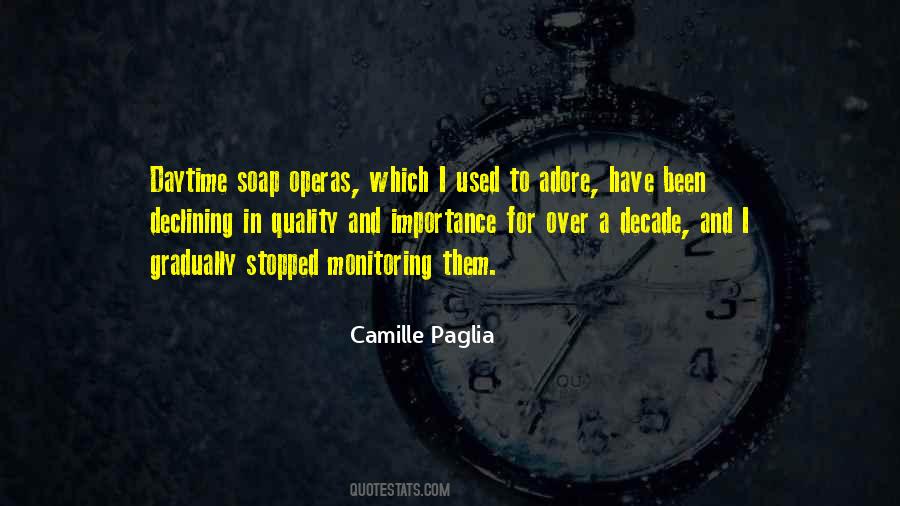 #16. I spend my days watching soap operas, eating bonbons and plotting society's downfall. - Author: Tana French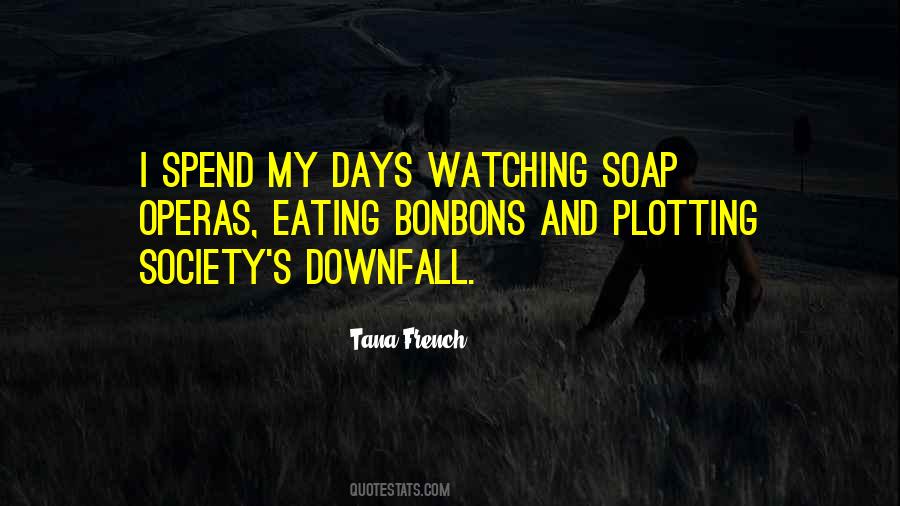 #17. I started in this business on soap operas. - Author: Lauren Holly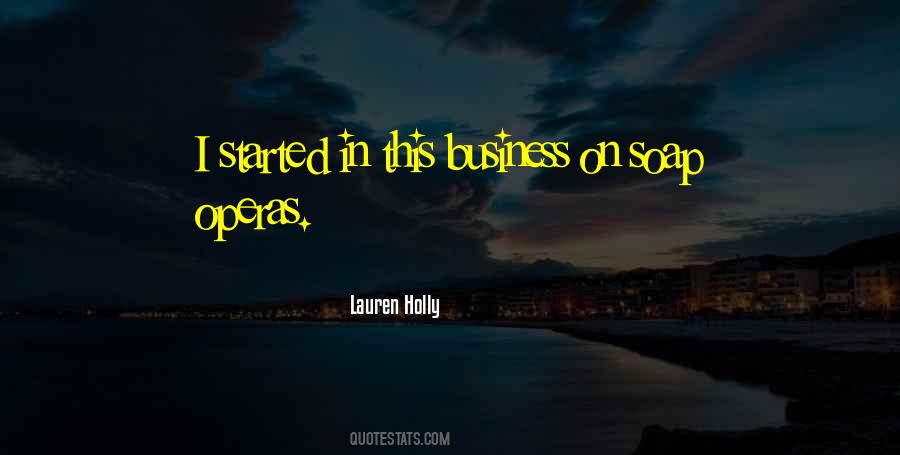 #18. I was a regular on 'Holby City,' and I did daytime; that's how I started off. Off in Hong Kong doing stuntman stuff, then coming back to England doing daytime soap operas. - Author: Scott Adkins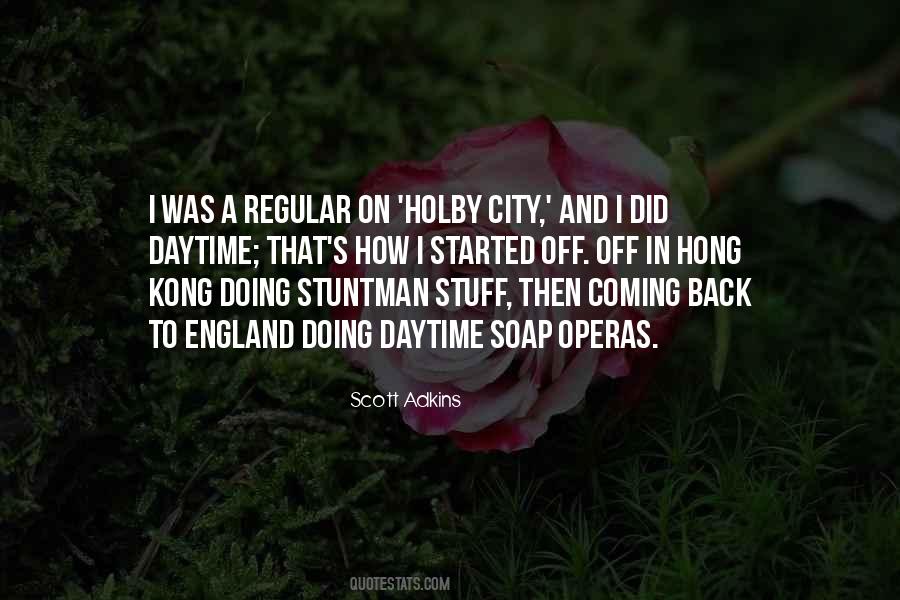 #19. Twentieth-century culture's disease is the inability to feel their reality. People cluster to TV, soap operas, movies, theater, pop idols and they have wild emotion over symbols. But in the reality of their own lives, they're emotionally dead. - Author: Jim Morrison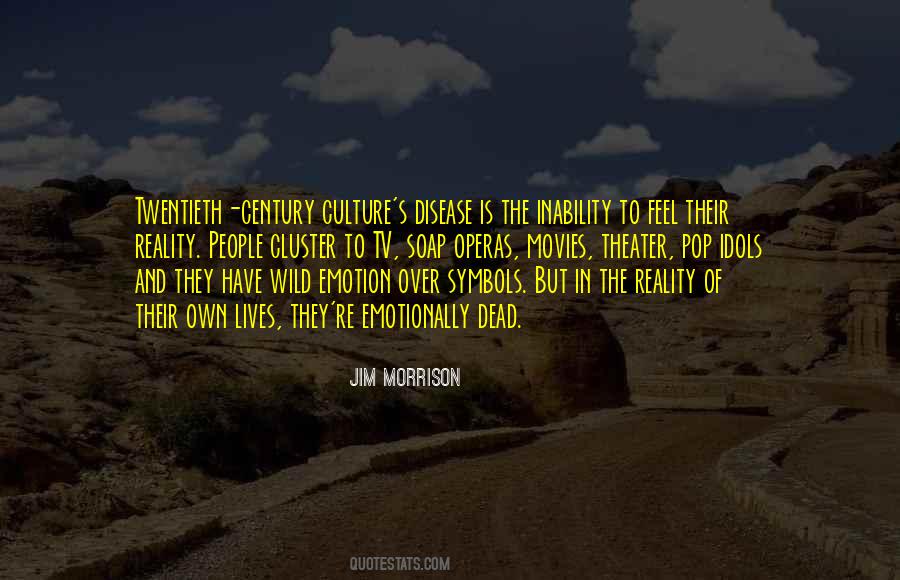 #20. Women in Hollywood are tiny, but women in soap operas are the tiniest people alive! - Author: Julie Bowen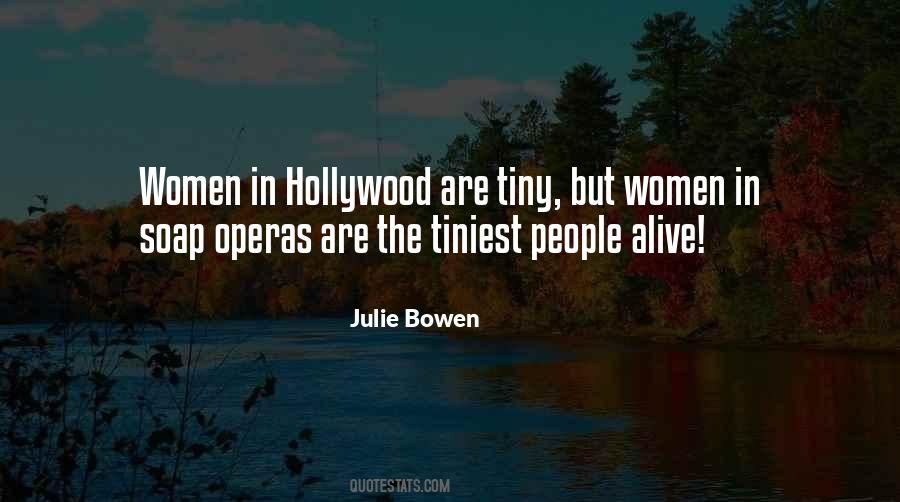 #21. I was 11 and watching soap operas with my mom, and I thought it would be cool to be an actor. I thought soap operas was going to be the dream at the time - it's obviously now not the dream, but I think soap operas are really cool. Maybe I'll go back to that. - Author: Britt Robertson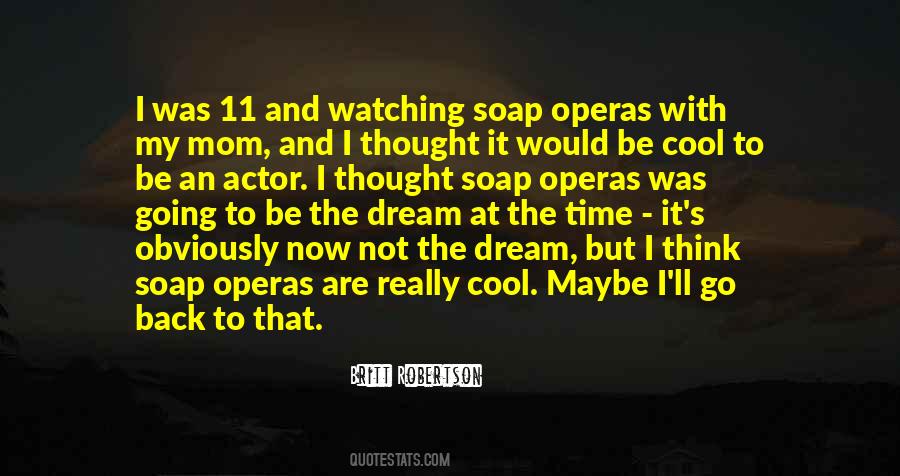 #22. I love soap operas - the stories, the plots! And I love the game shows and the courtroom dramas and the detectives - Jessica Fletcher, 'Columbo,' 'Perry Mason,' 'L.A. Law.' Any sense of guilt appeals to me in a television program - a sense of guilt, or a sense of making a lot of money. - Author: Peter Ackroyd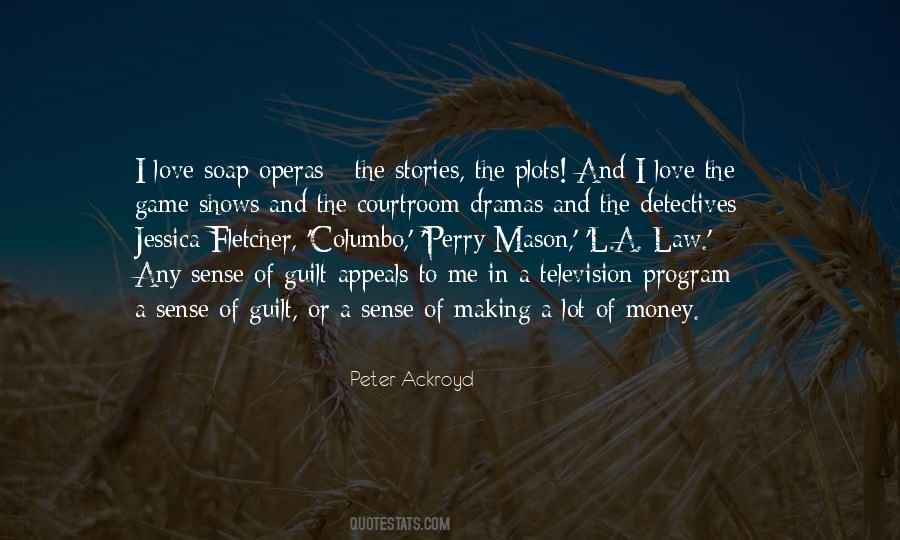 #23. I think if you study people in the street today, you do sometimes feel that they have taken their behavior and their language from things that they have seen rather than read - from soap operas and movies and so on. - Author: Ronald Frame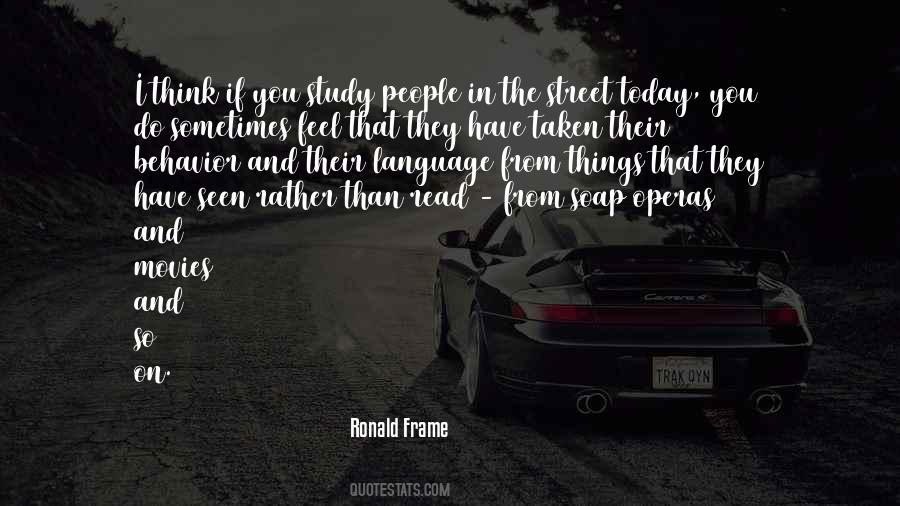 #24. Since I was eight years old. I didn't have a TV, so comic books were definitely my television, my soap operas, and all that. - Author: Method Man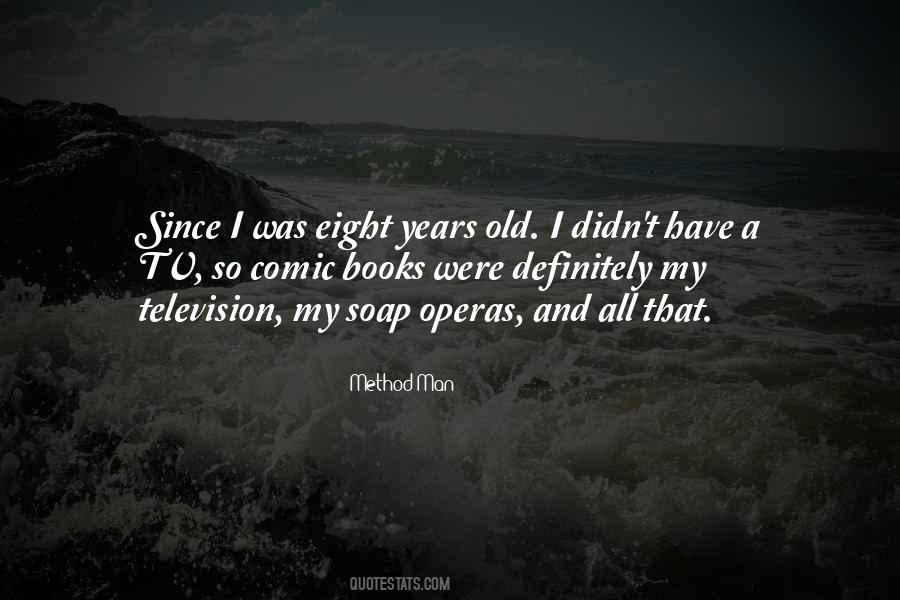 #25. My soap operas have been seen by a billion people all around the world. - Author: Thalia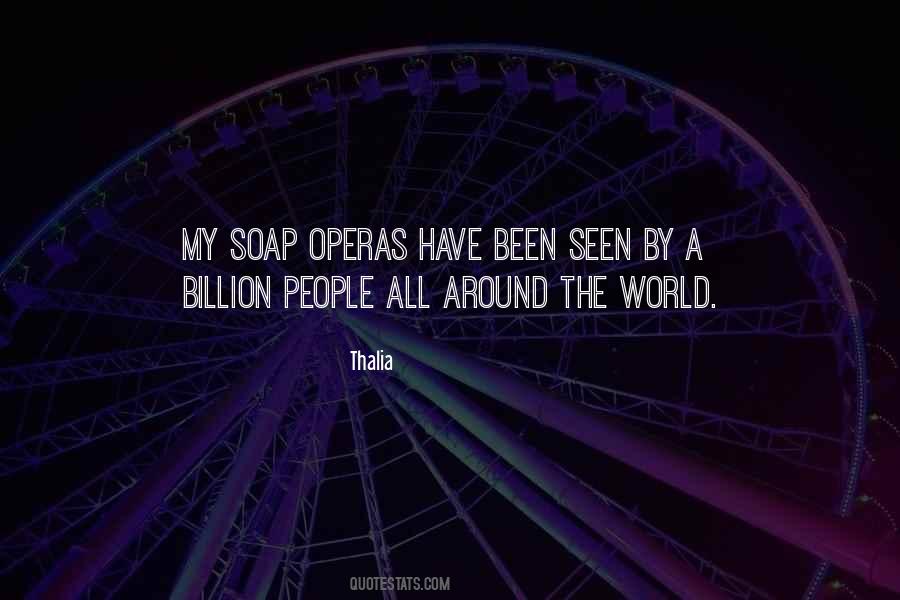 #26. I think I'm aware of entering my late 30s versus being in my late 20s, when the web was coming out as this new thing. It reminds me of how people used to tell me about my great-grandmother and how they used to gather around a radio listening to soap operas. - Author: Kalup Linzy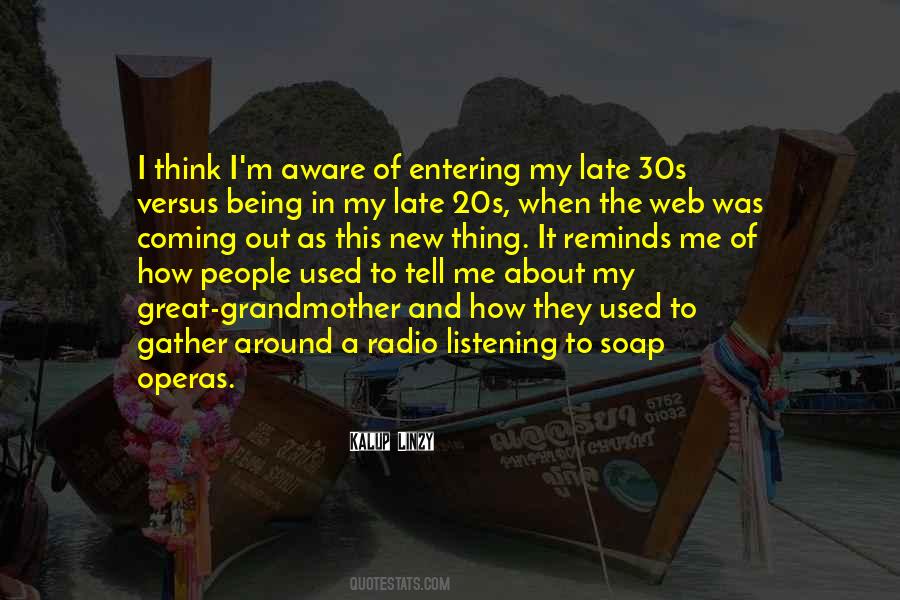 #27. One week before my 17th birthday, I had a blind date with June Rose, a television actress on network soap operas, a model, and a regular on the popular Dick Clark's Saturday night 'American Bandstand' show from New York. We were married five years later, one week after my graduation from Columbia. - Author: Robert C. Merton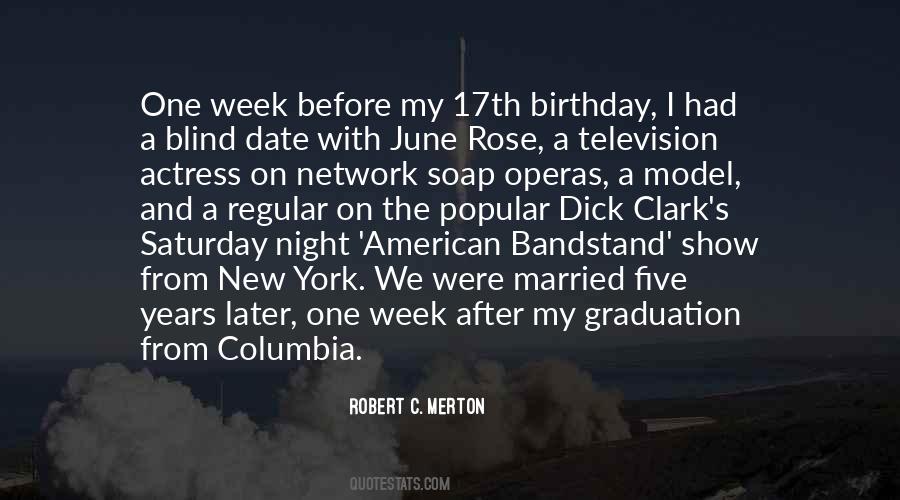 #28. I used to listen to the soap operas with my grandmother. - Author: Bob Edwards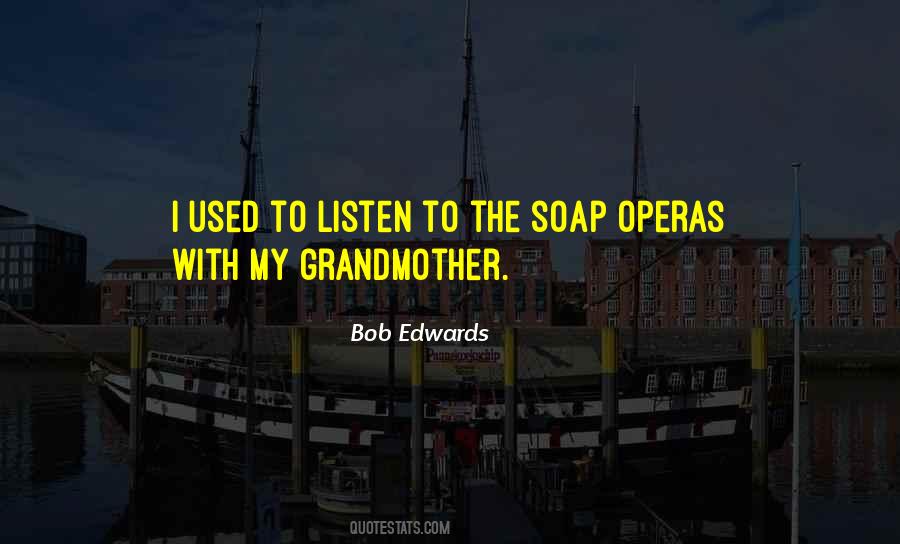 #29. If you find it difficult to get along with your boss, try to reason with him and talk through your differences. If that doesn't work, drive him to suicide and take over the company. - Author: Anthony Rubino Jr.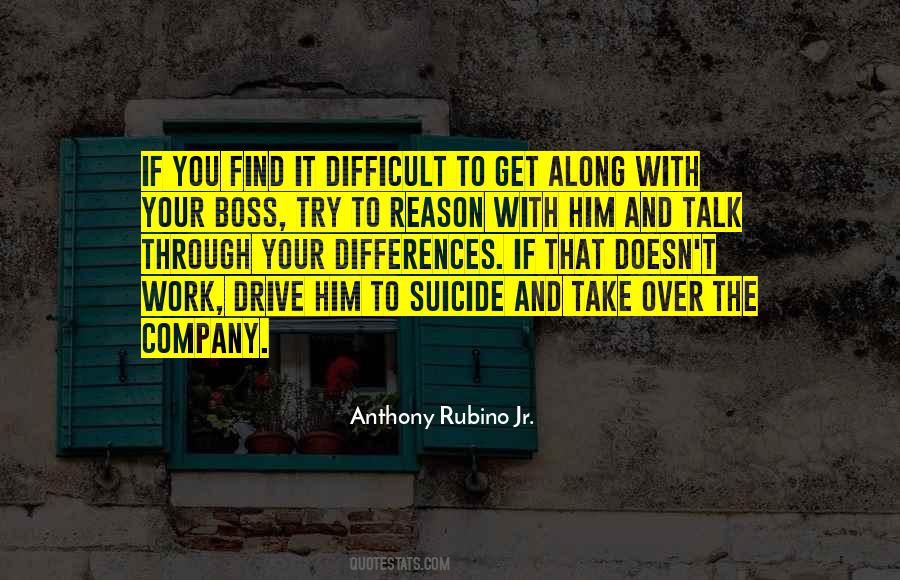 #30. I am a living soap opera. - Author: Virginia Graham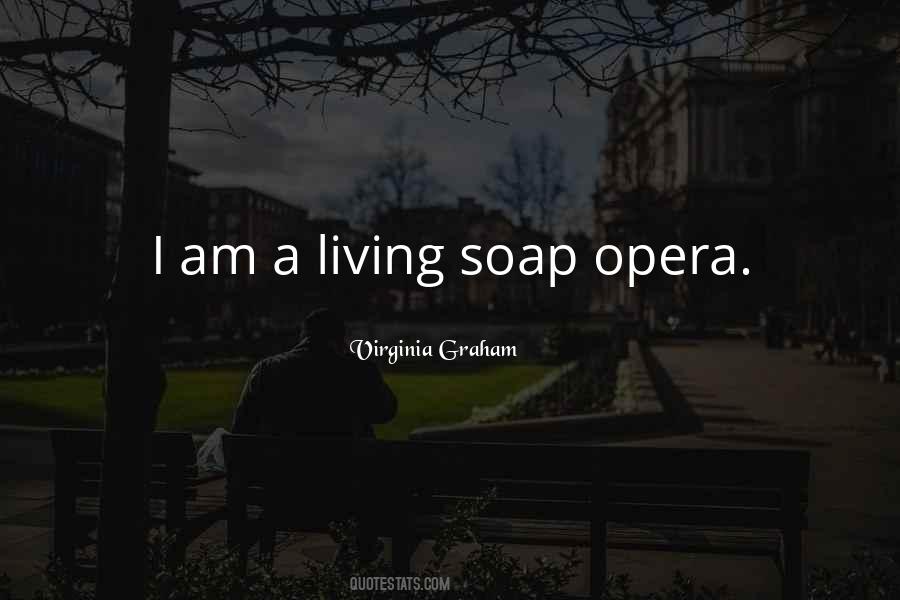 #31. Soap operas are such a great way to break-in to the industry. The diminishing landscape of daytime TV means it's going to be harder for young talent to get discovered. - Author: Josh Duhamel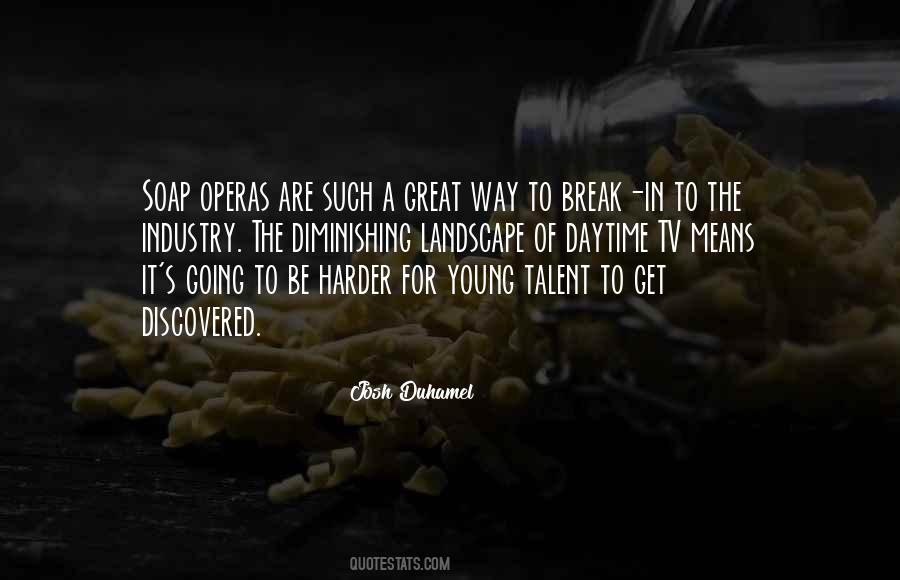 #32. I never learned music. I'm quite uneducated, and usually I sat in front of the TV, with soap operas on, in England. It was very inspiring for me, I'd done all this traveling around, I came back living with my parents, everyone around me was like they're living in a soap opera. - Author: Graham Parker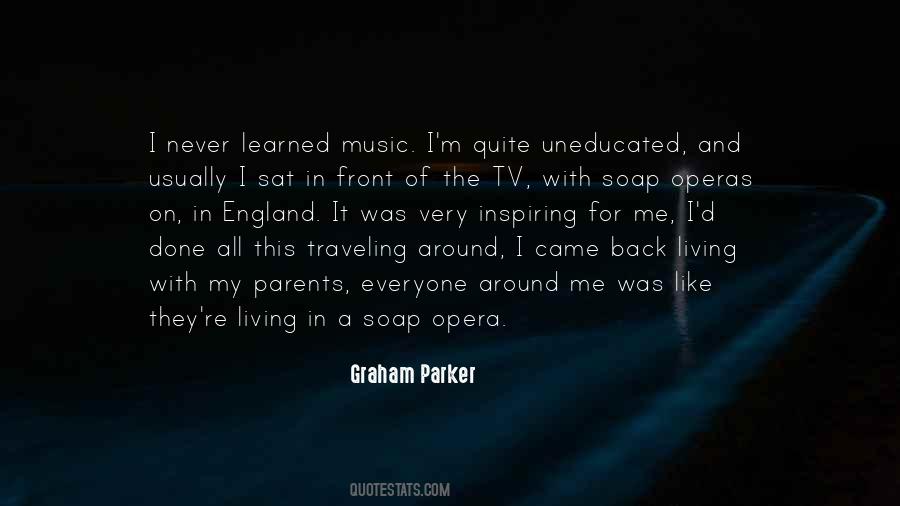 #33. So many actors started on soap operas. So yeah, I'd graduated Julliard and done some theater. I've done a few guest spots on TV but nothing that long-term. I did a little 'E.R.' back when it was on, and a pilot for 'Cold Case.' - Author: Finn Wittrock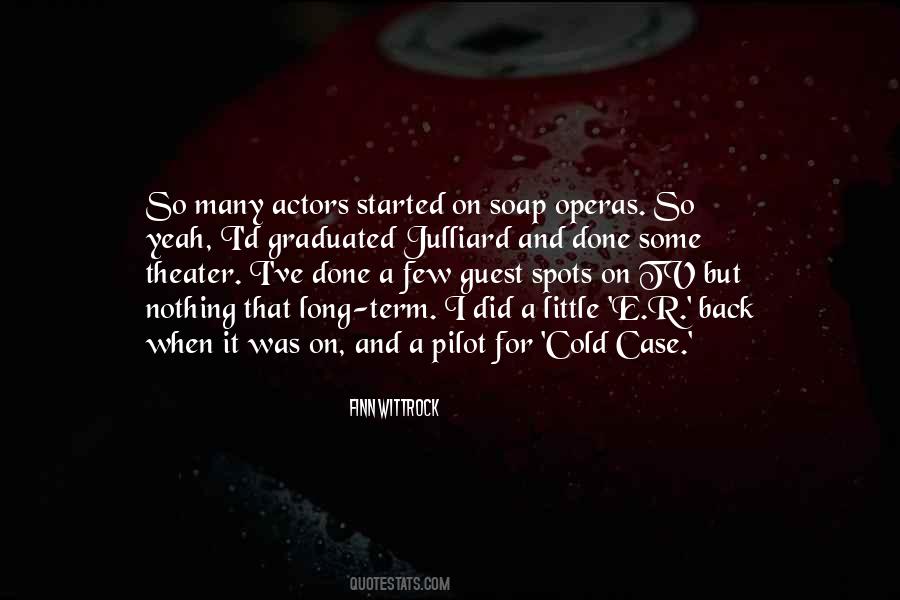 #34. I'd better be on the road, or I'll be going nuts. I'm not the kind of guy who sits around with a pipe and slippers watching soap operas. - Author: Tommy Shaw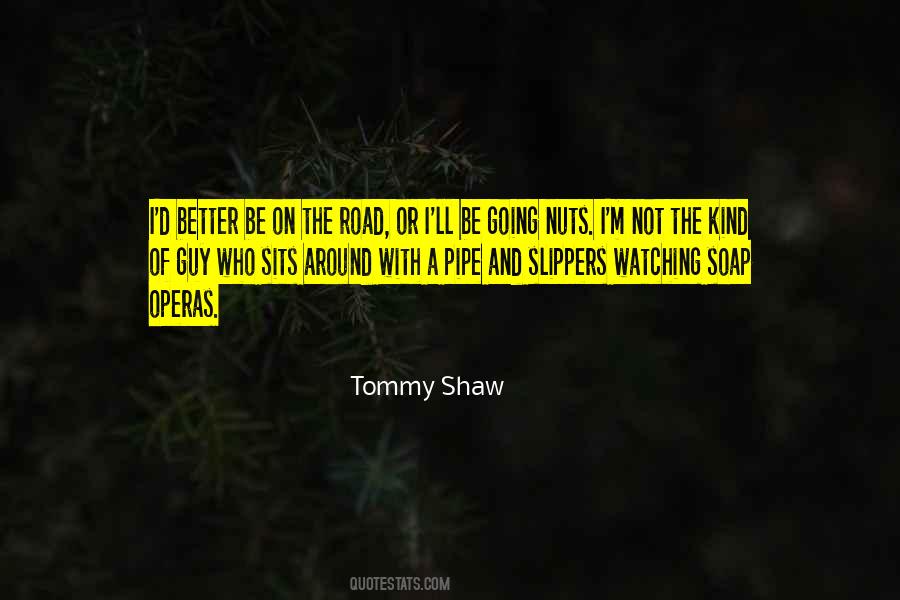 #35. To be able to make a good living in a challenging medium like soap operas is great. The best is that I get to act and am rewarded for it. And the people I work with are great. Funny, intelligent, hard working. They're all great to be around. - Author: David Canary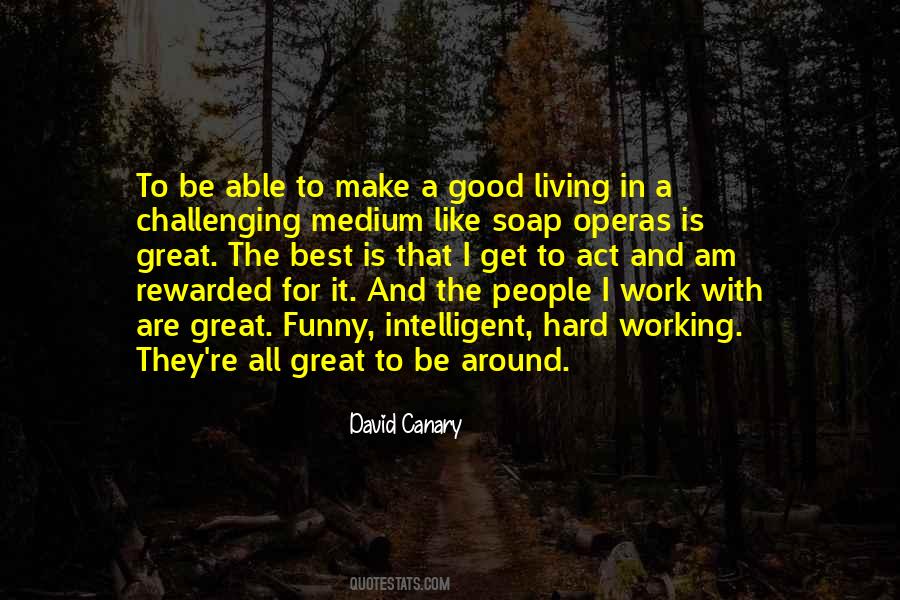 #36. Julianne Moore and Michael Keaton began in 1980s soap operas and 1970s sitcoms, respectively, such ancient history by show business standards that you need carbon dating to measure their careers. - Author: Steve Erickson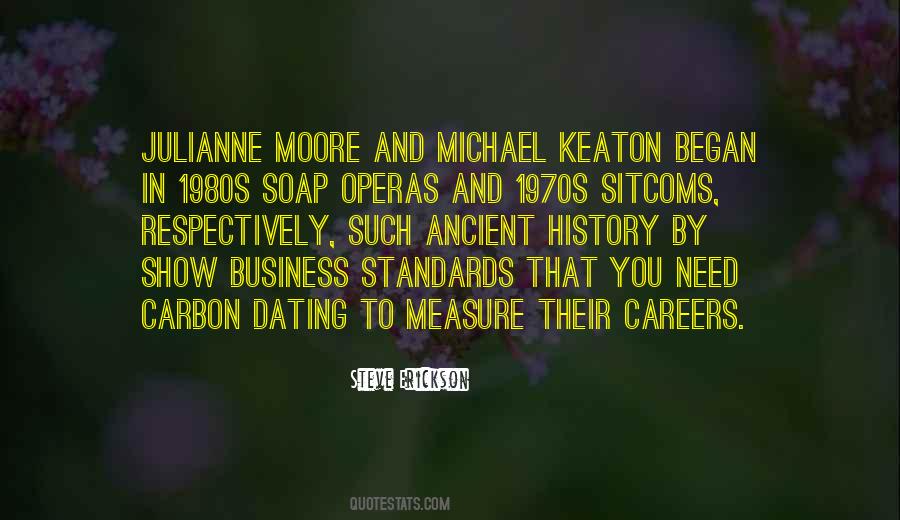 #37. We are riveted by the soap operas of public lives. We admire the famous most for what makes them infamous: it reassures us that they are not better and no happier than all the people with their noses pressed hard against the glass. - Author: Maureen Dowd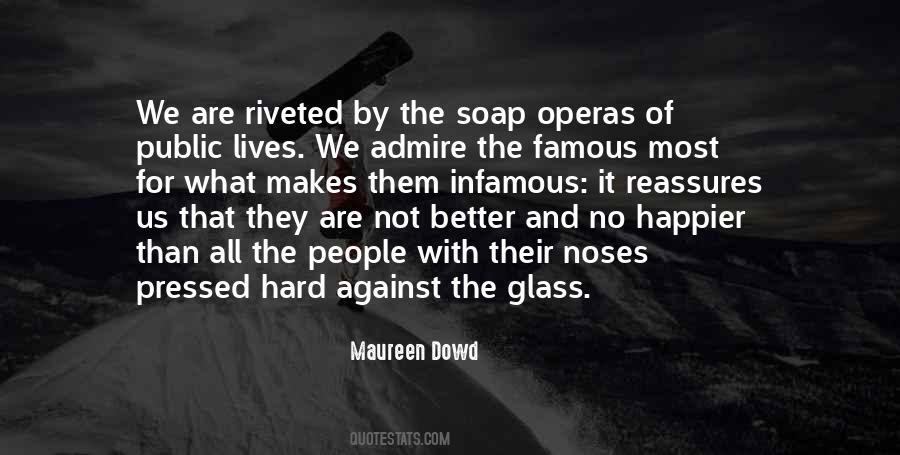 #38. My parents watch too many soap operas, that's their trouble. In fact, they were probably hoping I was pregnant. By my wicked married lover whom they could then murder and bury under the patio. - Author: Sophie Kinsella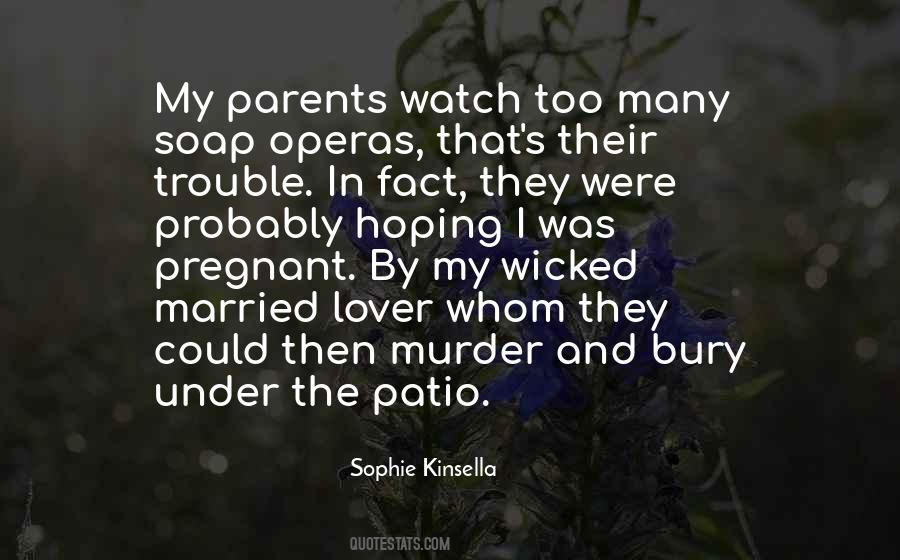 #39. For awhile I taped soap operas and watched them at night when I thought I might be forgetting what it was like to be human. After a while I stopped, because from the examples I saw on those shows, forgetting humanity was a good thing. - Author: Charlaine Harris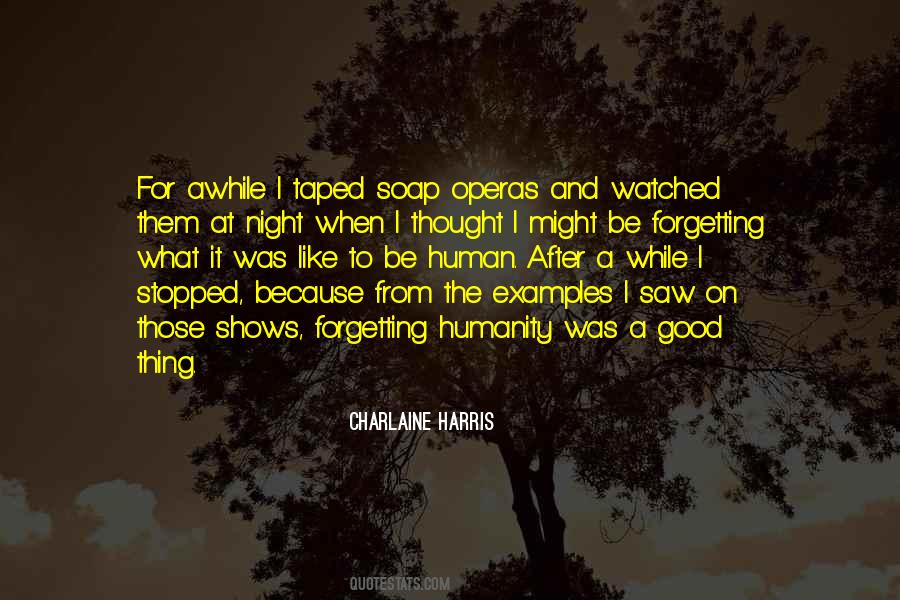 #40. I worry that our lives are like soap operas. We can go for months and not tune in to them, then six months later we look in and the same stuff is still going on. - Author: Jane Wagner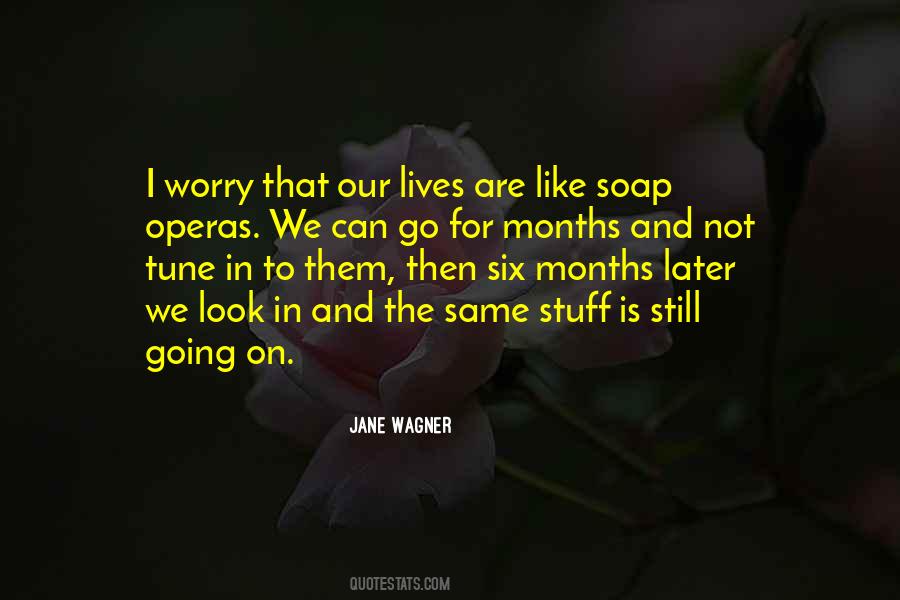 #41. My grandmother was this unbelievably smart, phenomenally cool woman and [soap operas] were just always on in her house. I just realized that I live in a soap opera, and it's awesome. - Author: Ian Somerhalder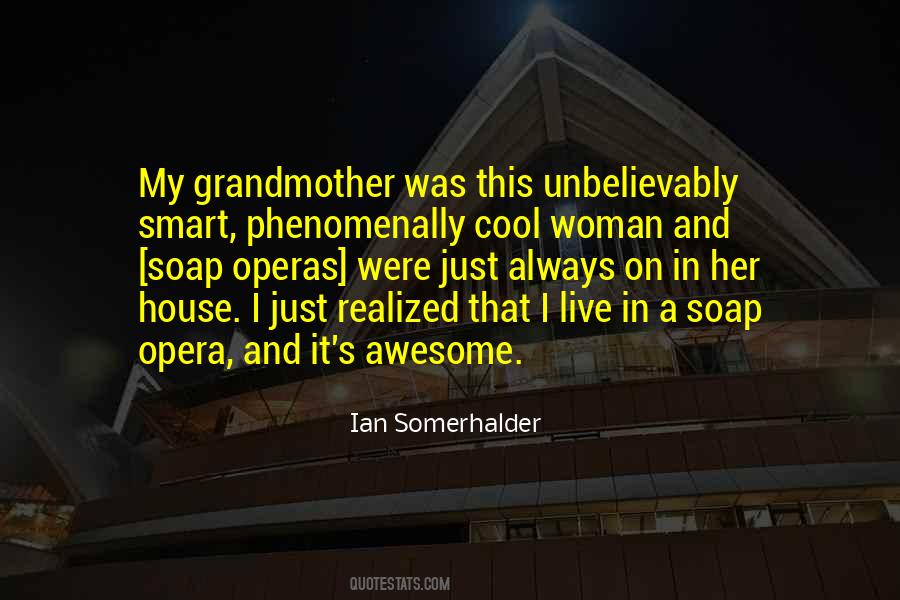 #42. I loved him, but love isn't enough. All the fairy tales, the romance novels, the soap operas; they're all lies. Love does not conquer all. - Author: Laurell K. Hamilton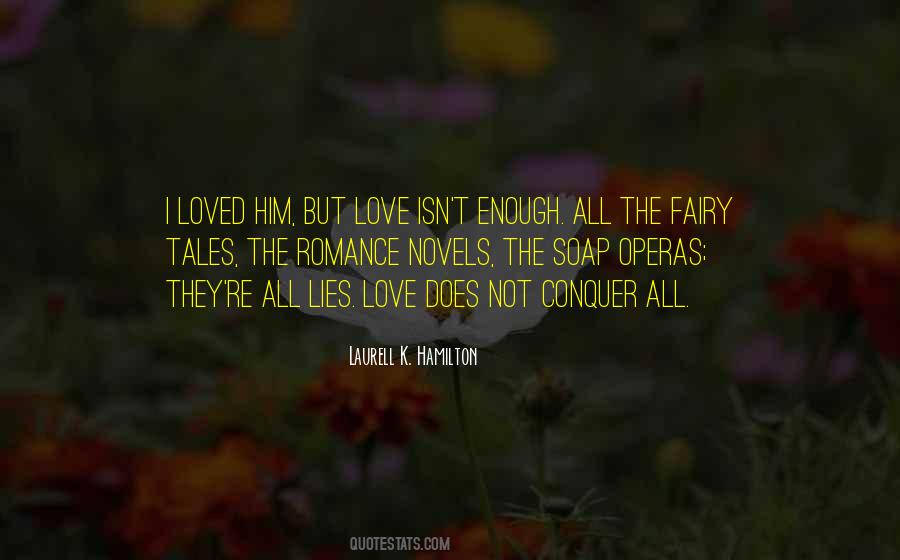 #43. Why does one never hear of government funding for the preservation and encouragement of comic strips, girlie magazines and TV soap operas? Because these genres still hold the audience they were created to amuse and instruct. - Author: John Updike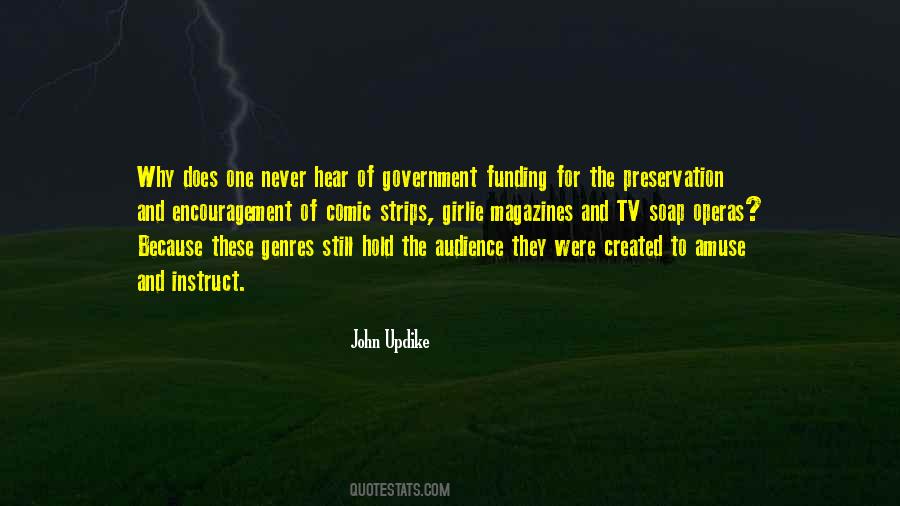 #44. If you want to do other things, you have to leave soap operas, otherwise you'll be there forever, which is not bad, you know. Some people have made a great living off of being on soap operas. But if you want to branch out you have to leave early, otherwise you'll never get the shot. - Author: Jackee Harry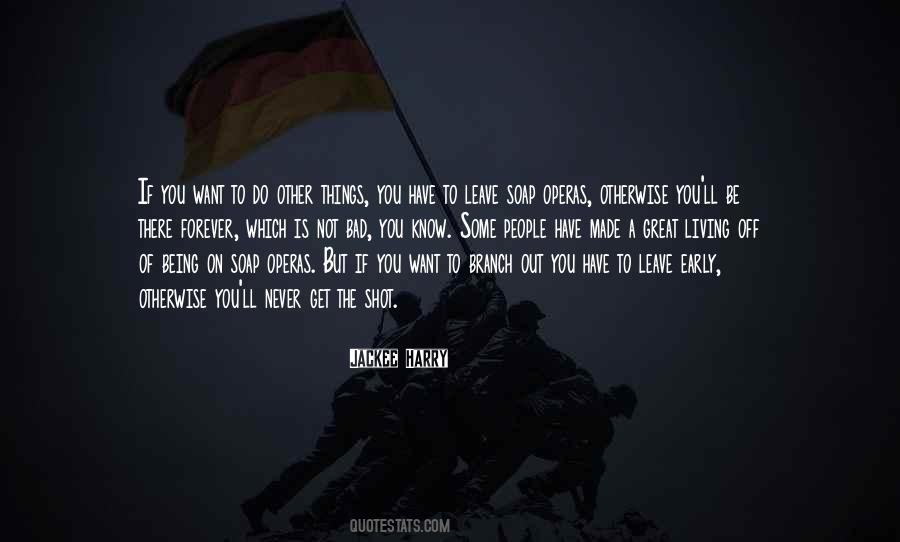 #45. Soap operas got nothing on my family history. - Author: Kiersten White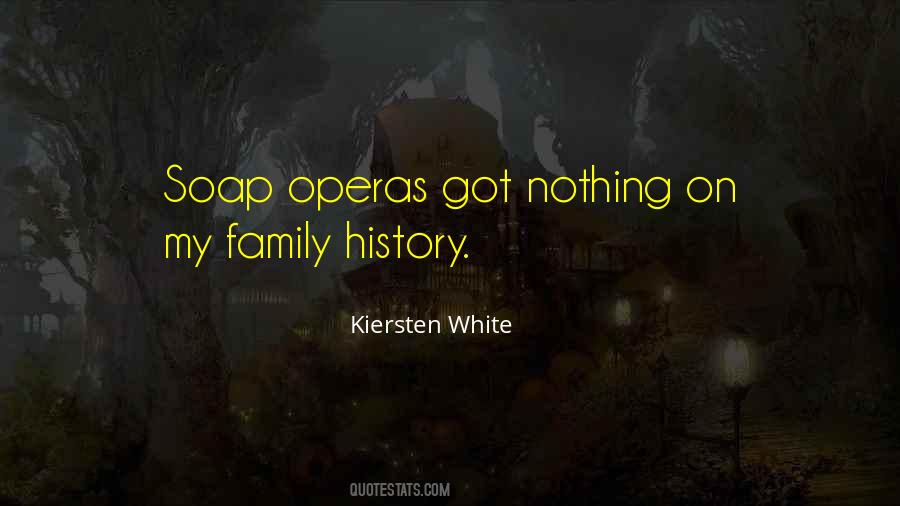 #46. If TV seems improved, I think it's been enhanced by violence and sex permissible on cable, as well as better cinematography, but in the end it's really only soap operas like your grandmother's afternoon "stories" and that's all it wants to be or has to be. - Author: William Monahan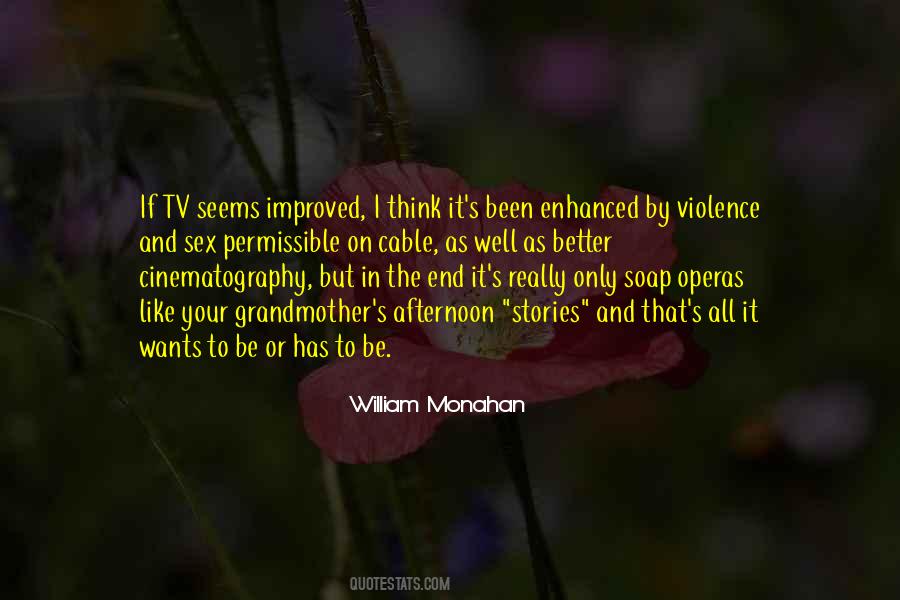 #47. Don't overreact. For example, if someone inadvertently embarrasses you in public, don't let anger get the best of you. It really isn't necessary to frame the person for a murder he/she didn't commit. Wouldn't it be enough to simply break up his or her marriage instead? - Author: Anthony Rubino Jr.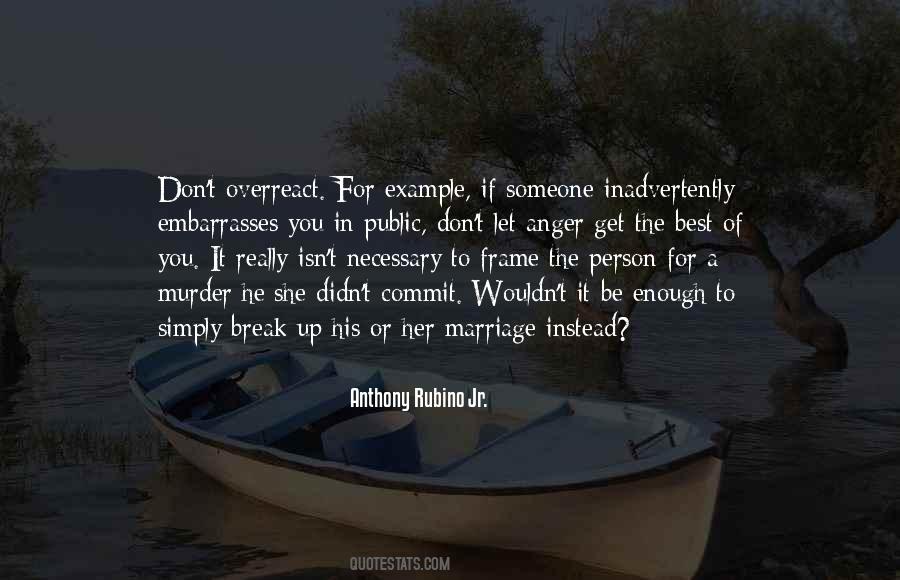 Famous Authors
Popular Topics