Road Ahead Famous Quotes & Sayings
List of top 100 famous quotes and sayings about road ahead to read and share with friends on your Facebook, Twitter, blogs.
Top 100 Quotes About Road Ahead
#1. It's easy to forget to look up when all you do is focus on the road straight ahead. - Author: Jessi Kirby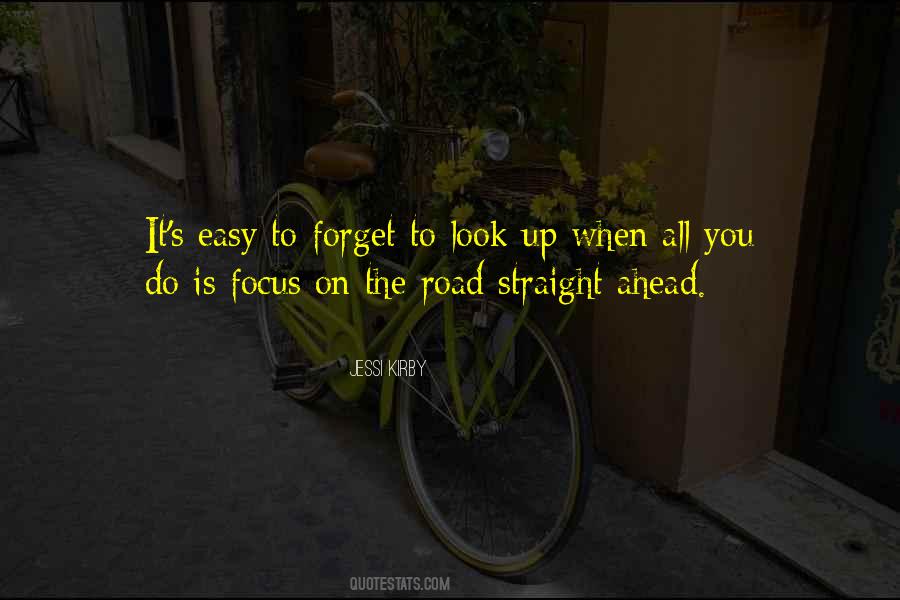 #2. The road ahead was full of perils, he knew, but what of it? All men must die. All he asked was time. - Author: George R R Martin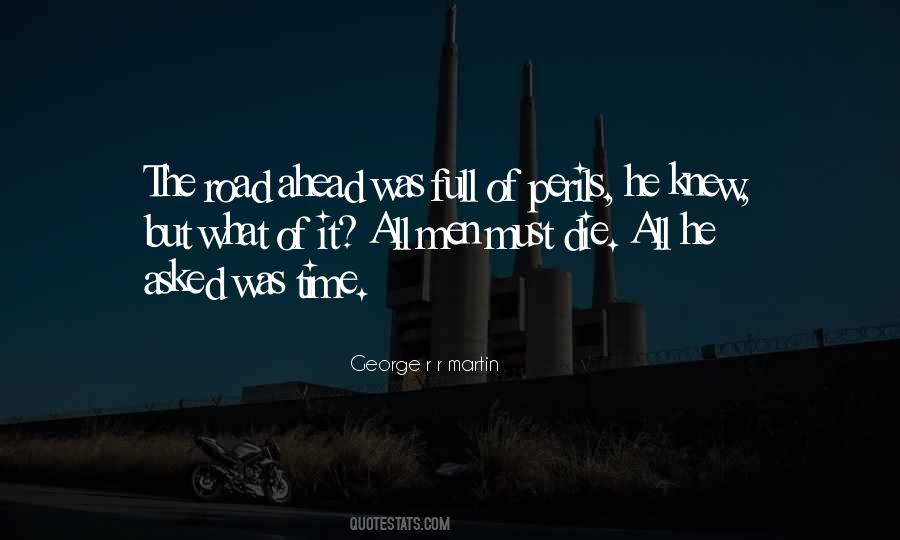 #3. The road lay long and black ahead of them and the heat was coming now through the thin soles of their shoes. There were young beans pushing up from the dry brown fields, tiny rows of green sprigs that stretched away in the distance. - Author: Larry Brown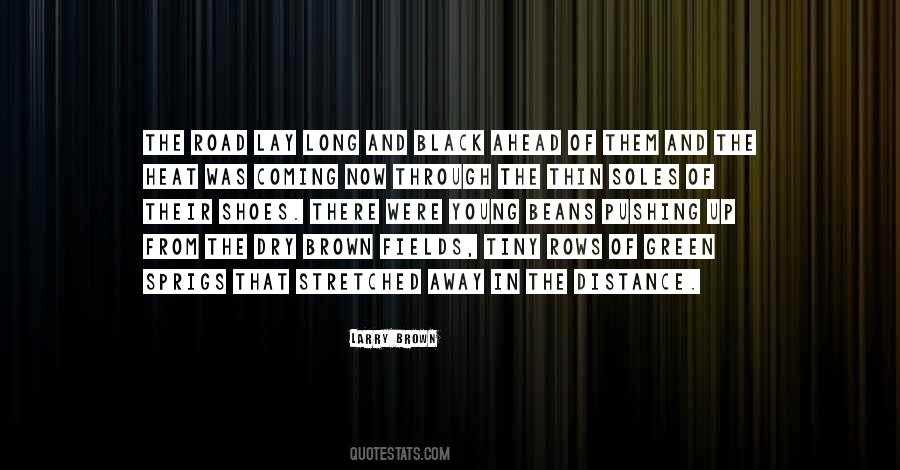 #4. Leave it all on the track. Live with no regrets. Spend less time looking in life's rearview mirror and more time looking ahead at the road stretched before us and the opportunities that await. Why not, indeed? - Author: Mike Dellosso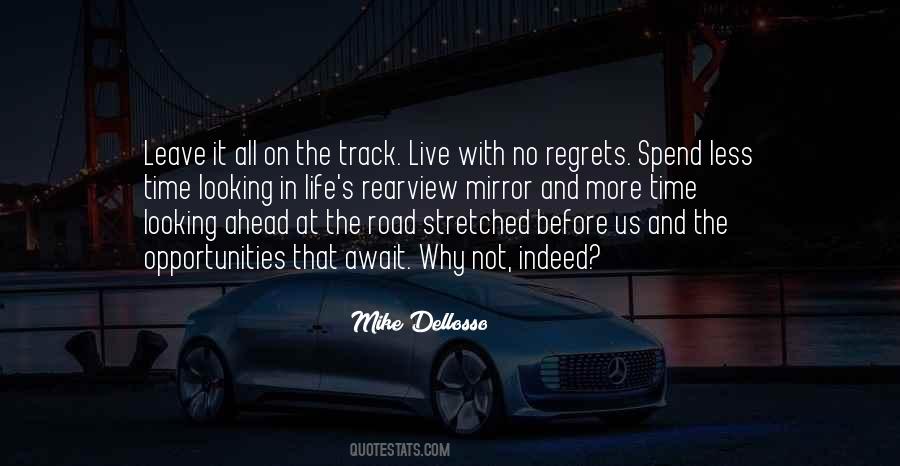 #5. The road may bend out of sight at times, but I know what lies ahead: the faraway horses. - Author: Buck Brannaman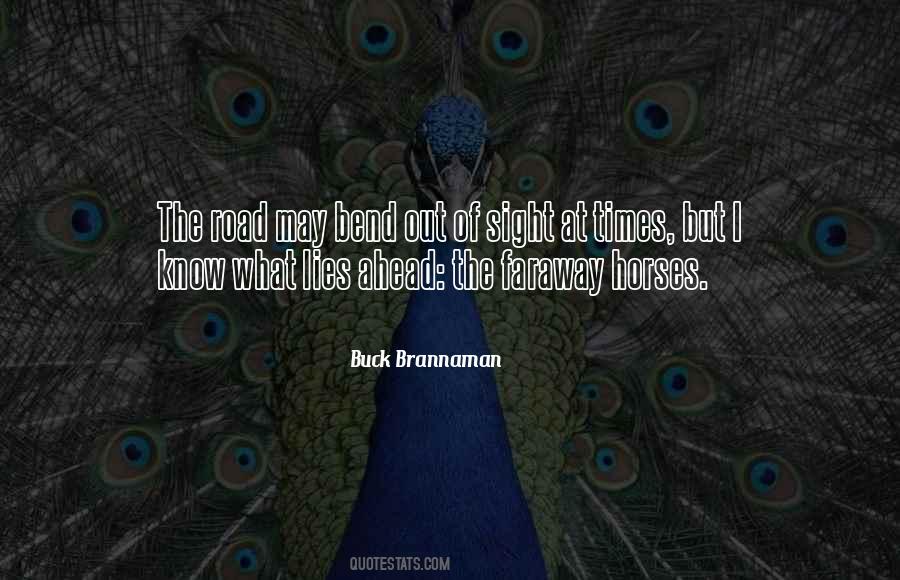 #6. The Kenyans beat up on the American runners in every road race every weekend of the year, but we're way ahead of them in the number and quality of our Elvis impersonators. We get our X-Men and gorillas. - Author: Don Kardong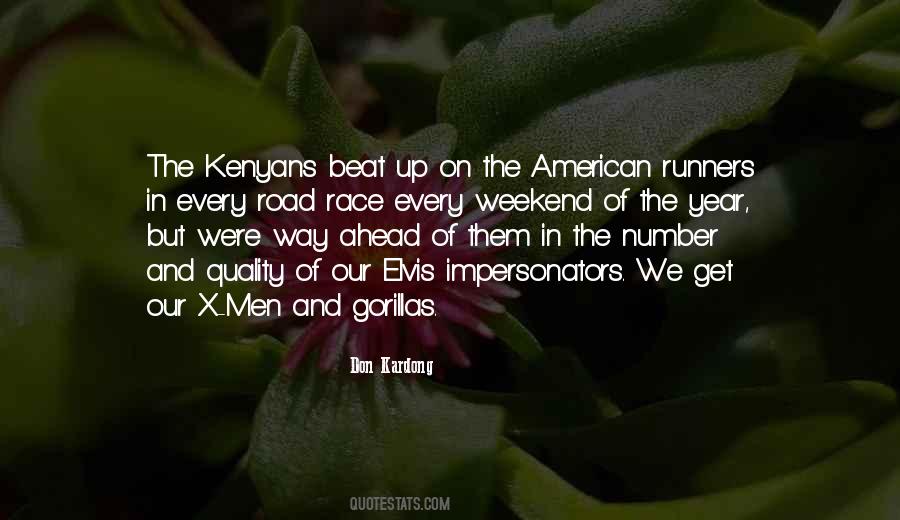 #7. A little bump in the road is just a bump. There's more ahead until you reach your destination. - Author: China Cancio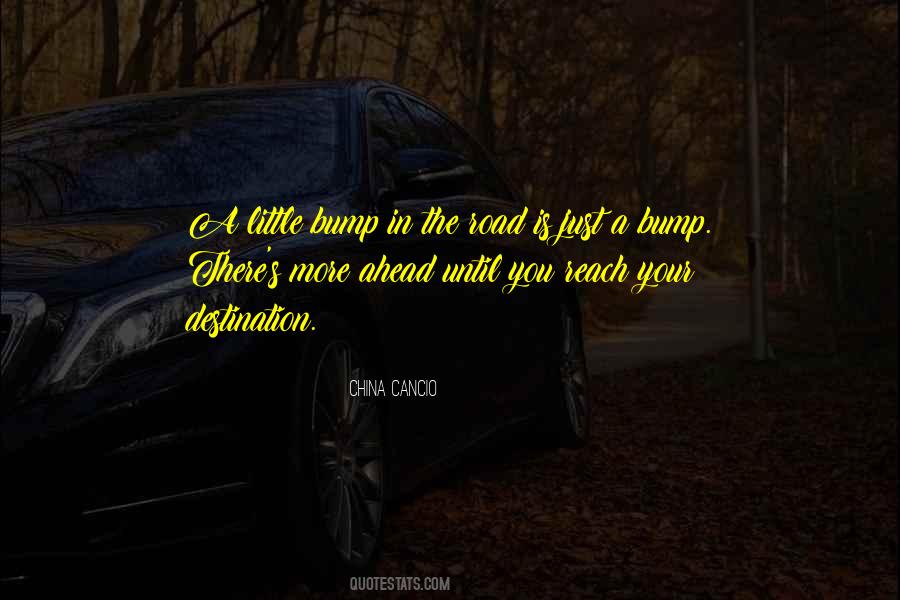 #8. A few hundred yards ahead a Michelin post showed where a small parochial road crossed with the highway. - Author: Ian Fleming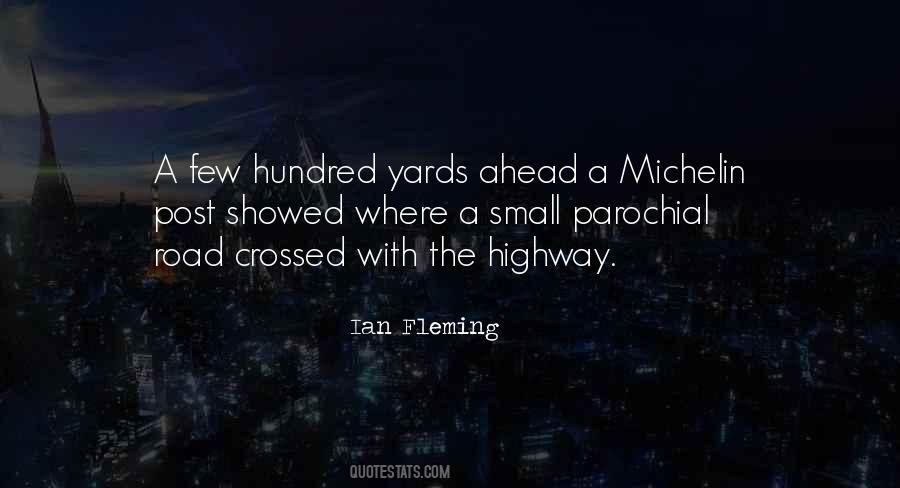 #9. Maybe there's only a dark road up ahead. But you still have to believe and keep going. Believe that the stars will light your path, even a little bit. - Author: KAORI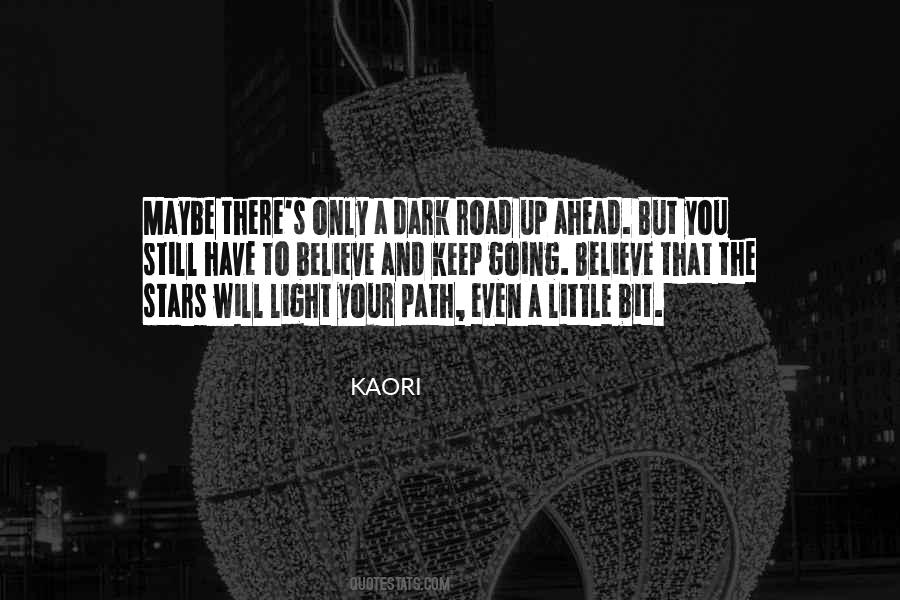 #10. For all of us today, the battle is in our hands. The road ahead is not altogether a smooth one. There are no broad highways to lead us easily and inevitably to quick solutions. We must keep going. - Author: Martin Luther King Jr.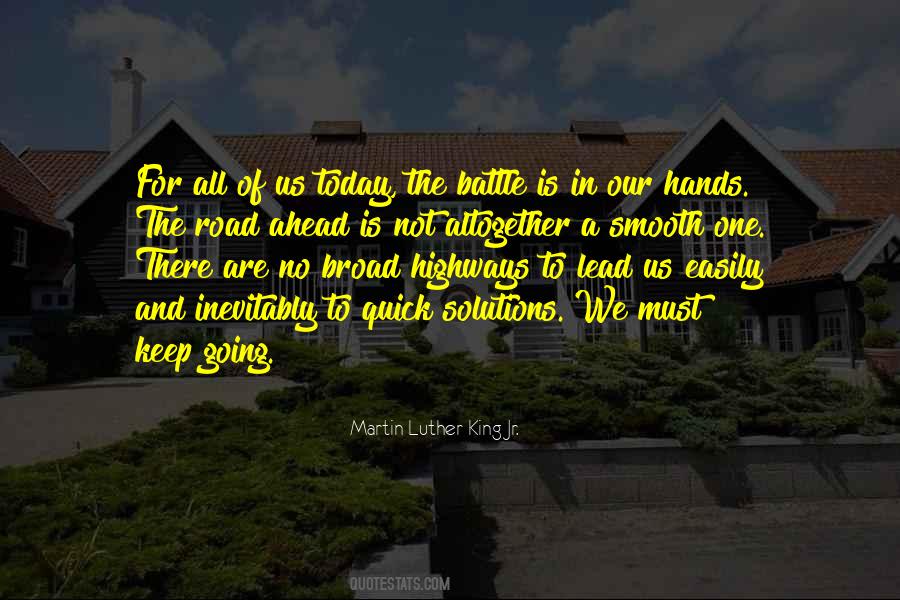 #11. I figure when you come to a crossroads, you have a choice: right turn, left turn, straight ahead. Or you can just pull over to the side of the road and call it quits. But if you've got a good stretch of road up ahead and someone fun to travel it with, why stay stuck in the galdern ditch? - Author: Chris Grabenstein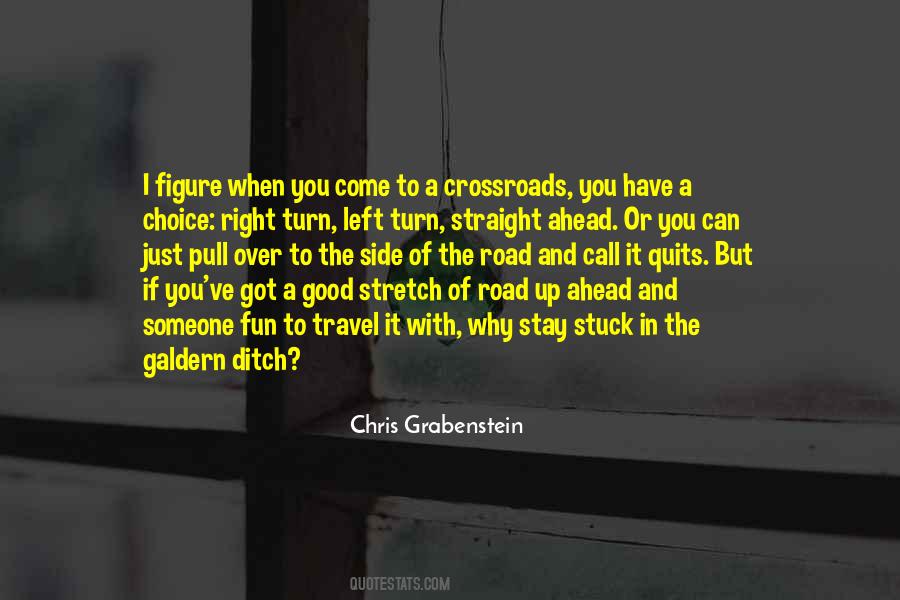 #12. He knew the road would get
more interesting, especially ahead, always ahead. - Author: Jack Kerouac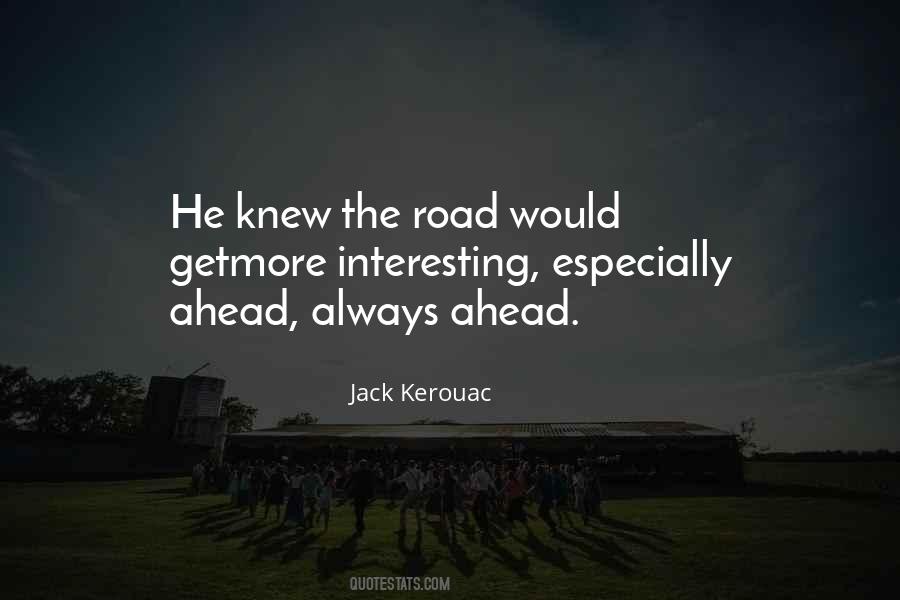 #13. Progress is rarely a straight line. There are always bumps in the road, but you can make the choice to keep looking ahead. - Author: Kara Goucher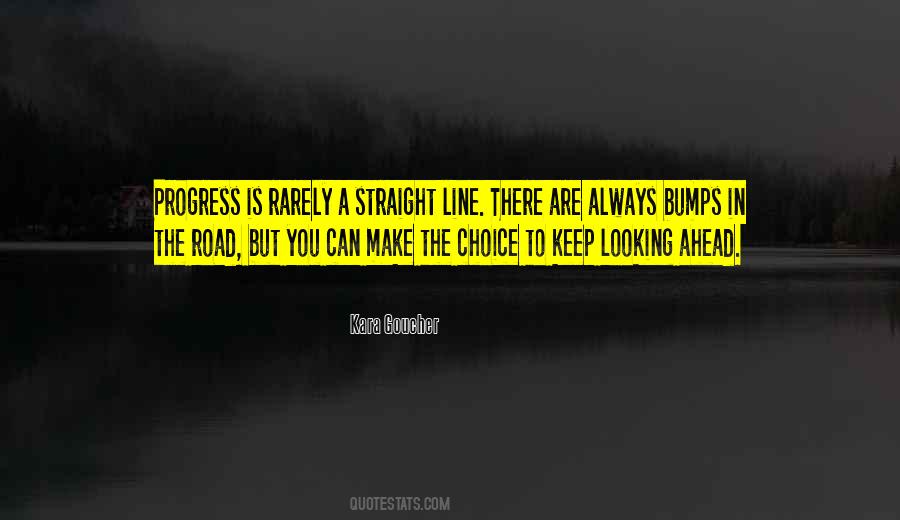 #14. each had felt that he was offered a choice between a shadow full of fear that lay ahead, and something that he greatly desired: clear before his mind it lay, and to get it he had only to turn aside from the road and leave the Quest and the war against Sauron to others. - Author: J.R.R. Tolkien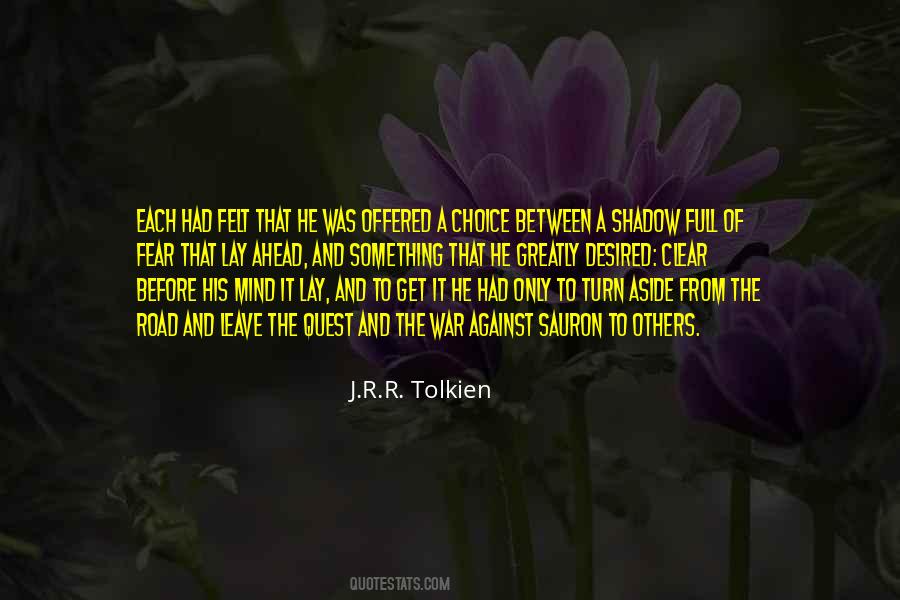 #15. When I listen to candidates spend all their time attacking Barack Obama, I'm glad they're not driving this bus because they'd be looking through the rear-view mirror. I look through the windshield at the road ahead. - Author: John Kasich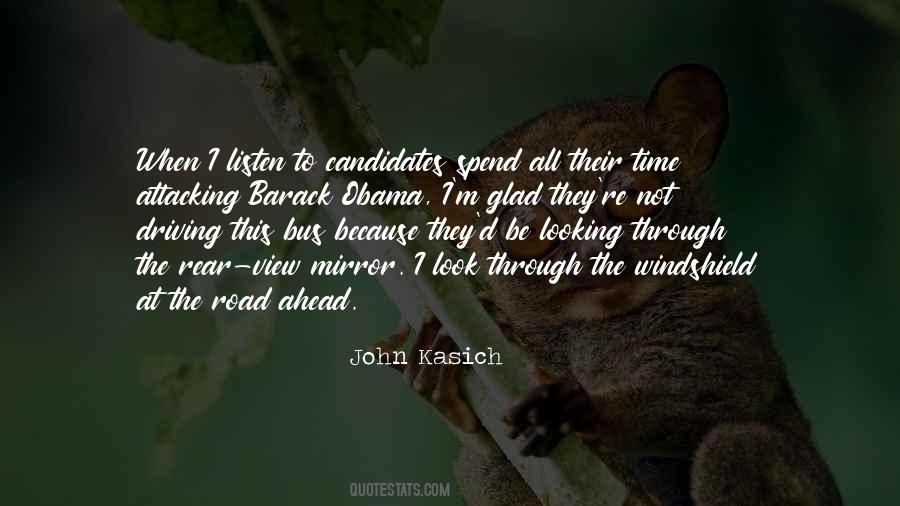 #16. Because Ove, as Parvaneh had soon realized, was the sort of man who, when he was not quite certain where he was going, just carried on walking straight ahead, convinced that the road would eventually fall into line. - Author: Fredrik Backman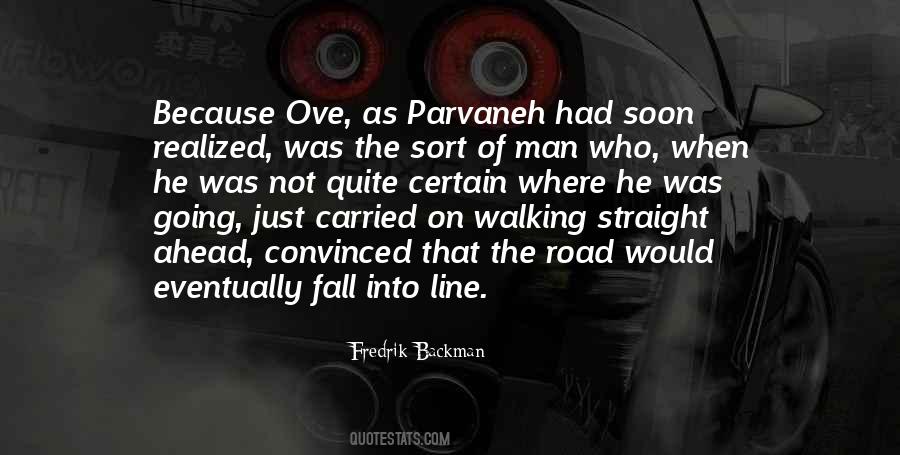 #17. If your diet is dialed in, you can train in a pretty subpar manner and still get passable results. On the other hand, if your training is fantastic but your diet is crap, you have a harder road ahead of you. - Author: John Romaniello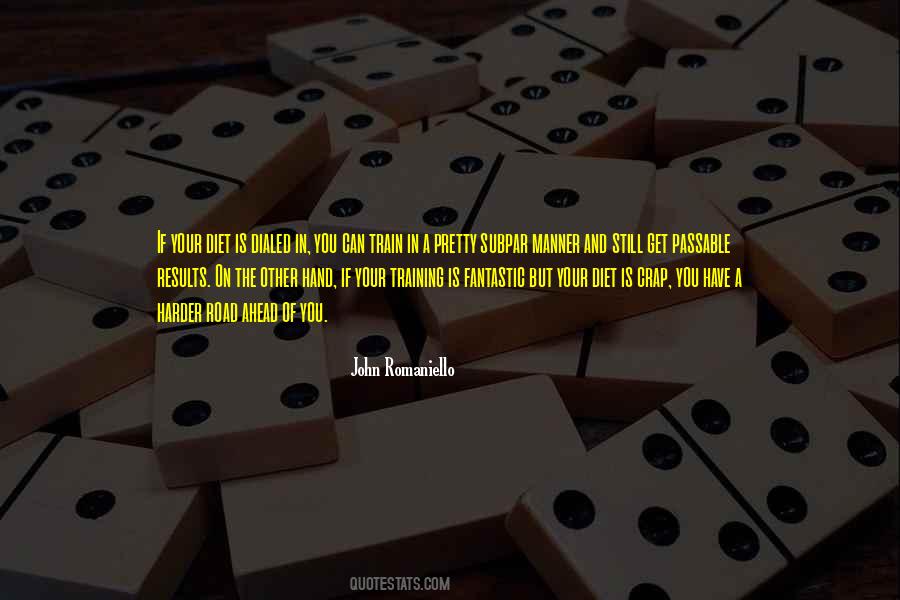 #18. Sometimes, when we pray for miracles what we are really praying for is God to do the work that we are too afraid to take action about. Often, the miracle resides in us and we need to simply "be all in", rather than standing on the fence waiting. - Author: Shannon L. Alder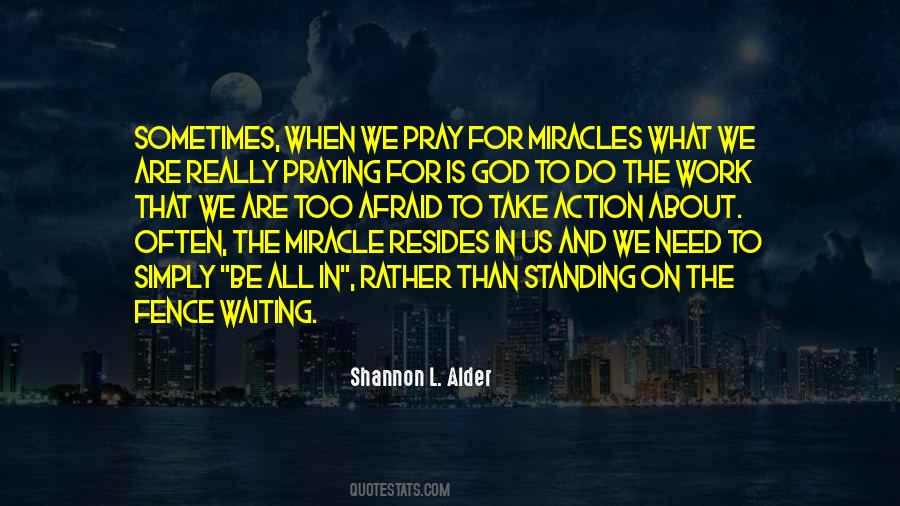 #19. When people look for the road in the clouds
The cloud road disappears
The mountains are tall and steep
The streams are wide and still
Green mountains ahead and behind
White clouds to east and west
If you want to find the cloud road
Seek it within - Author: Hanshan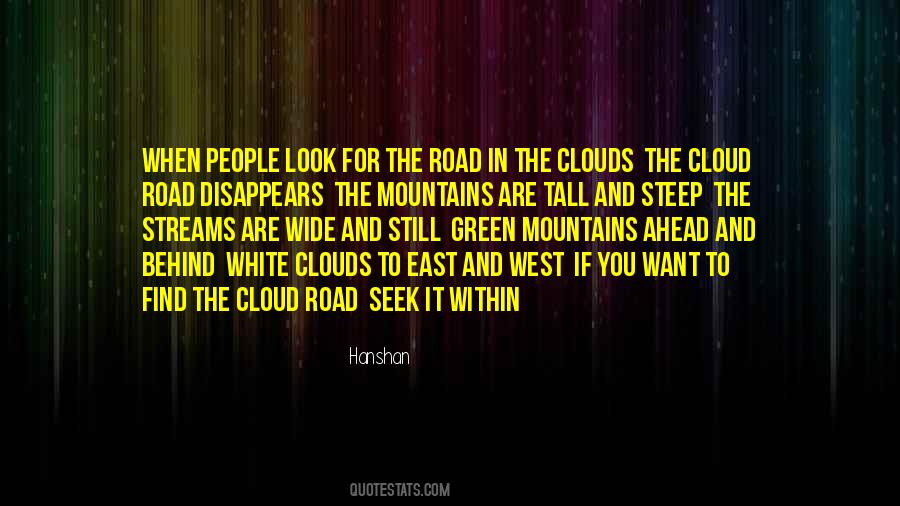 #20. Most of the time the road is not clear ahead. We have roadblocks and obstacles and stumble because of them. Are you courageous enough to map your way around them and continue on? - Author: Tony Curl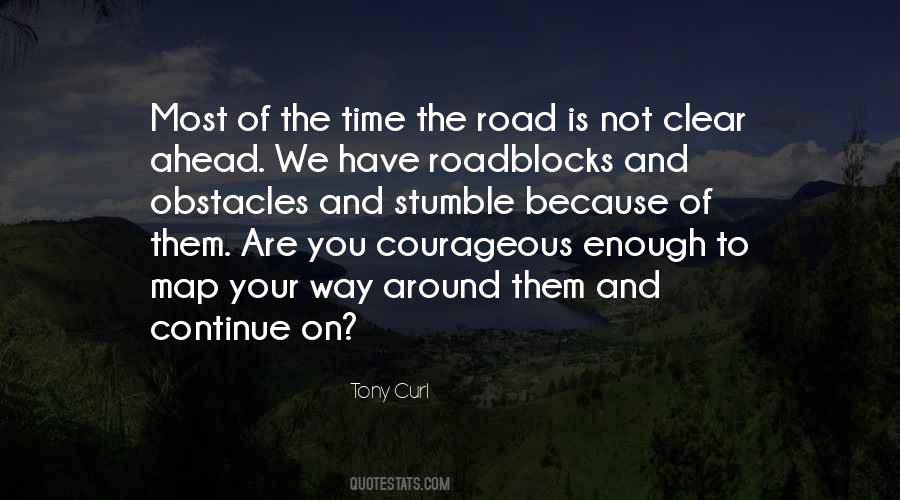 #21. The motorcycle's headlights cut through the darkness. Ahead the road was nothing but a black hole. She roared toward it. - Author: B. J. Daniels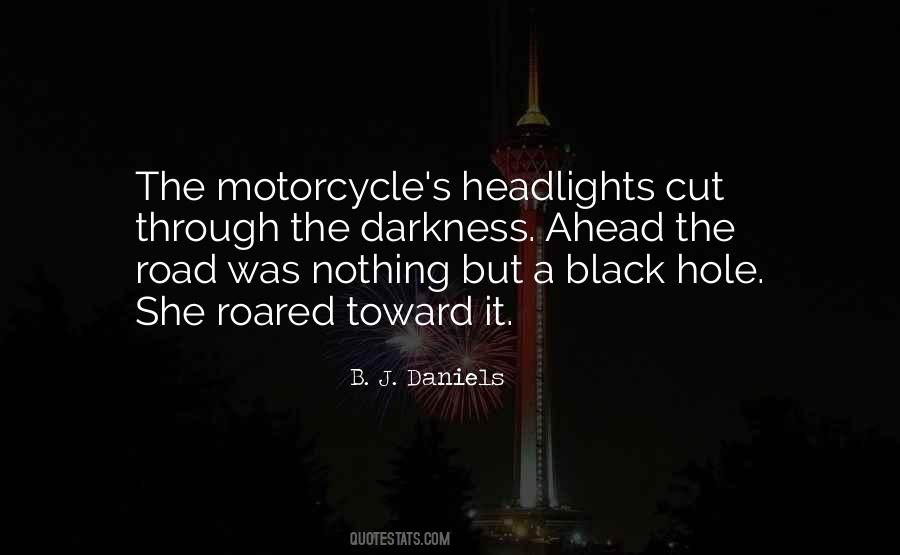 #22. Kids who enter 'adulthood' without any strong attachments to people who know and care about them have a rough road ahead, to say the least. - Author: Rhea Perlman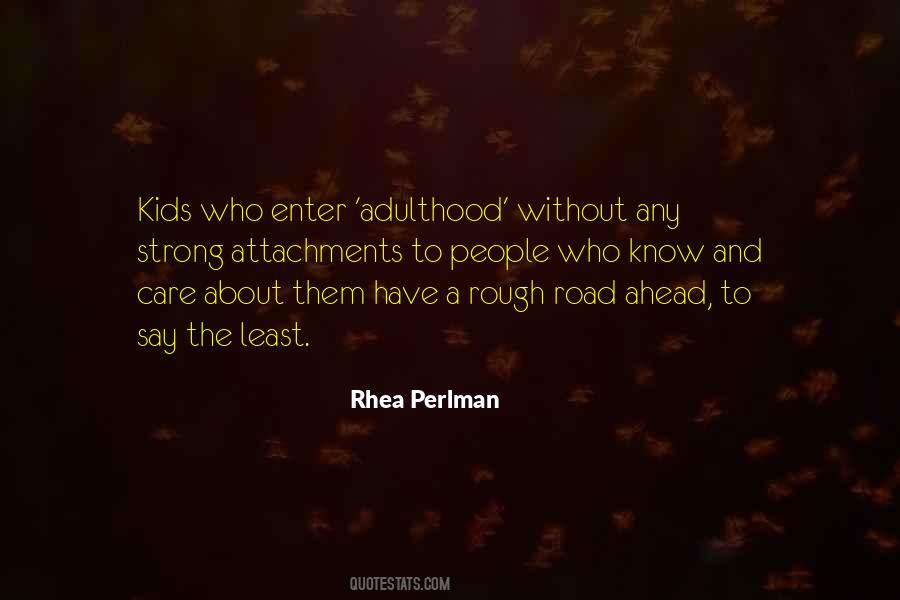 #23. Nothing behind me, everything ahead of me, as is ever so on the road. - Author: Jack Kerouac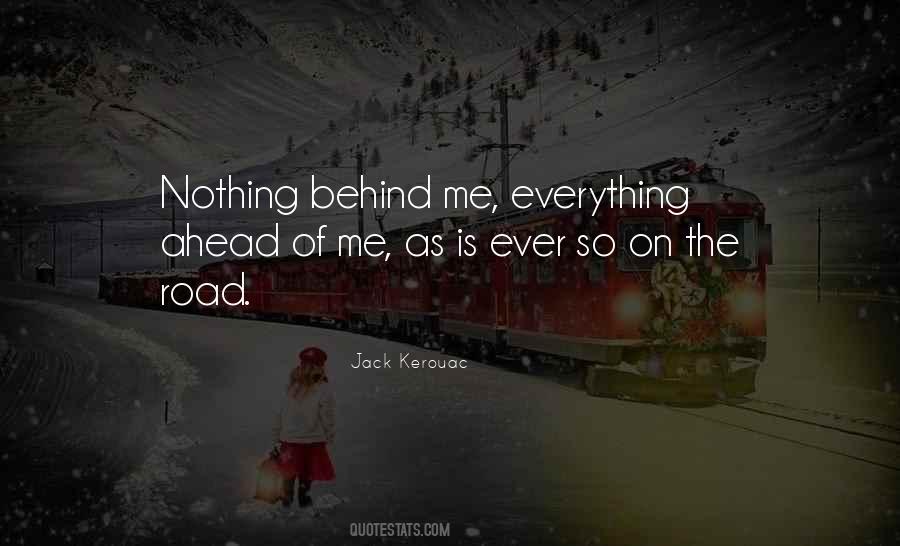 #24. It's a long hard road ahead for you, little warrior. Enjoy a happy day while you can. - Boldred - Author: Brian Jacques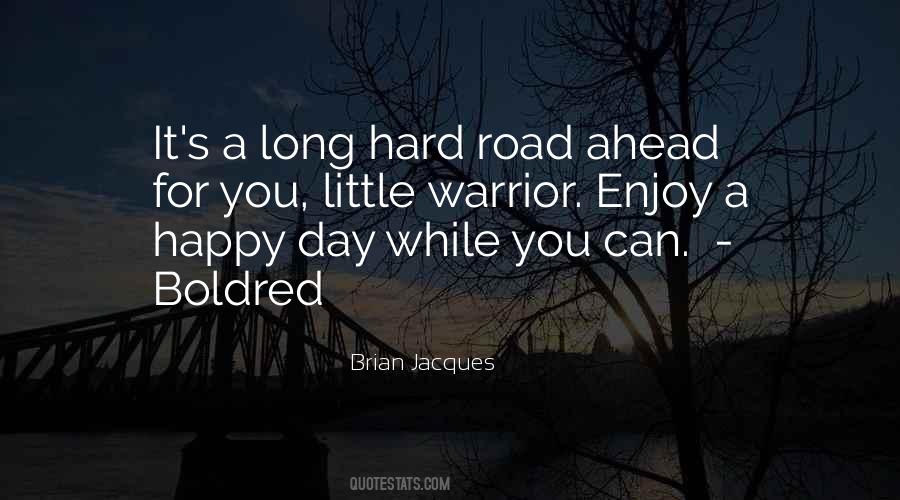 #25. Even if you can't see the whole road ahead, you can ask for the one step that will lead you forward. - Author: Catherine Carrigan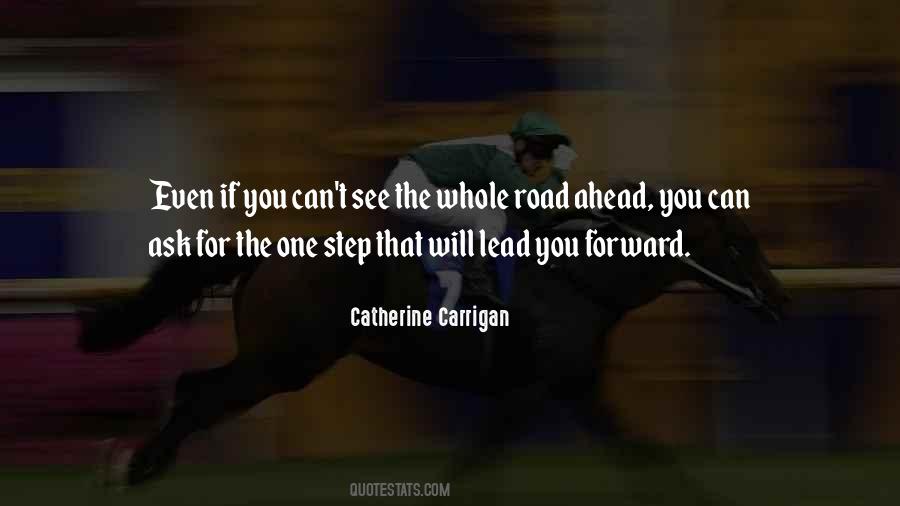 #26. Life is a journey. As you walk along the road you can either look back or you can look ahead ... Look ahead. Always look for the very next step. - Author: Glenn Beck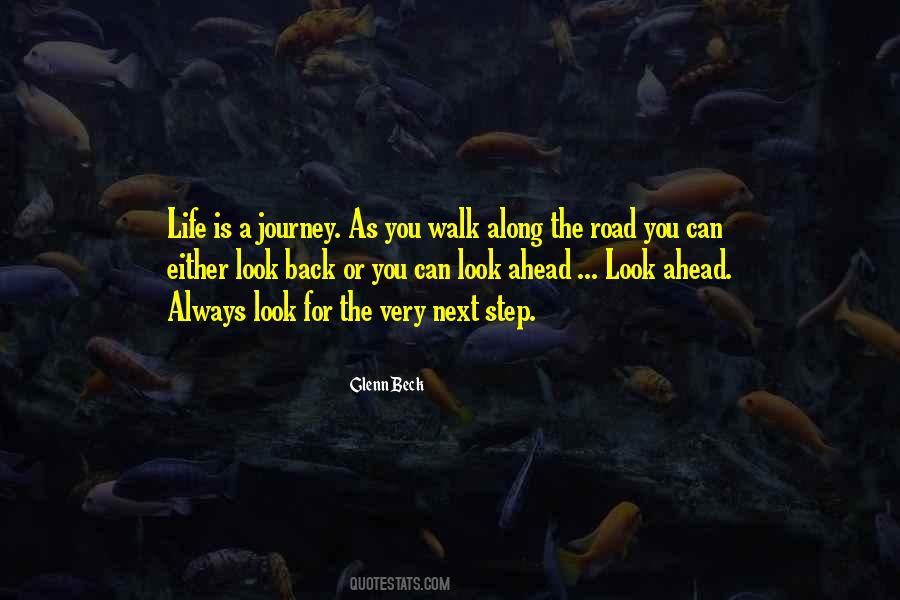 #27. My favourite road sign is 'Falling Rocks'. What exactly am I supposed to do with that information? They may as well have a sign saying "Random accidents ahead", "Life's a lottery, Be lucky." - Author: Jimmy Carr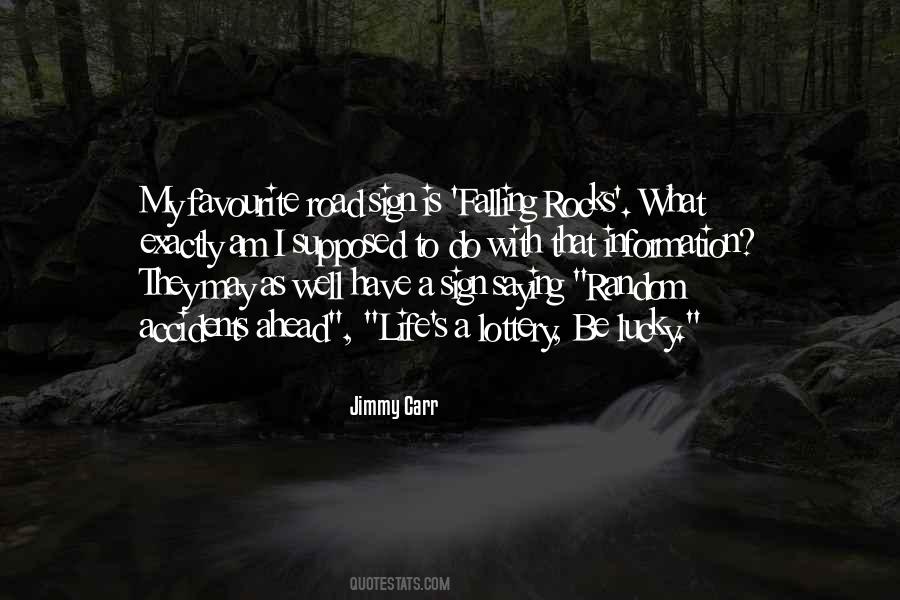 #28. Sometimes you get a glimpse of a semicolon coming, a few lines farther on, and it is like climbing a steep path through woods and seeing a wooden bench just at a bend in the road ahead, a place where you can expect to sit for a moment, catching your breath. - Author: Lewis Thomas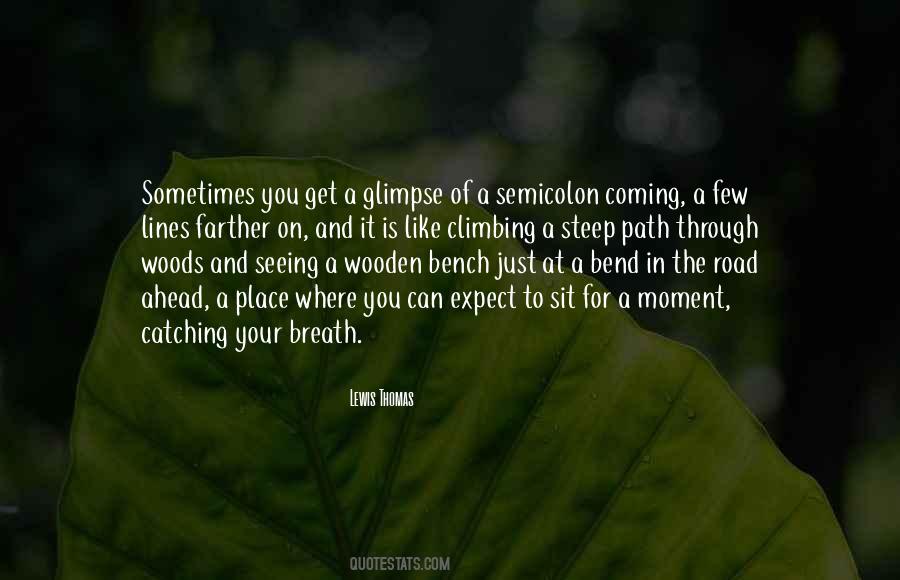 #29. She woke up in time to see the sun sending up spies ahead of him to mark out the road through the dark. He peeped up over the door sill of the world and made a little foolishness with red. - Author: Zora Neale Hurston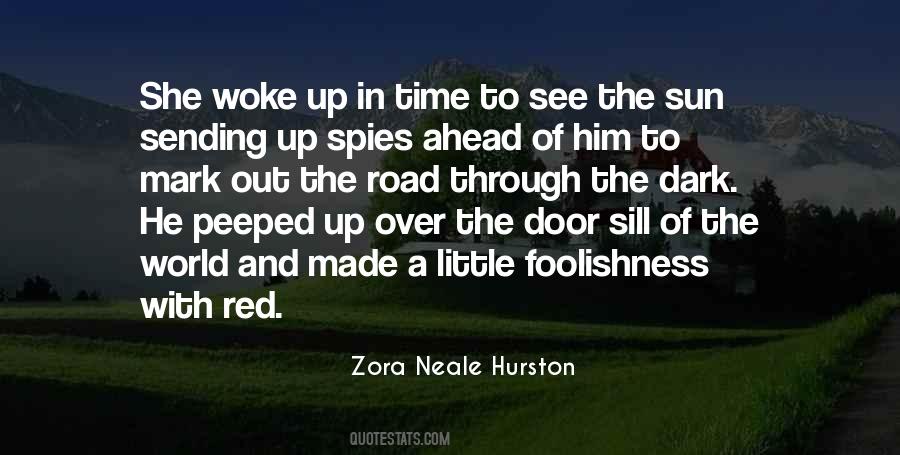 #30. We know how rough the road will be, how heavy here the load will be, we know about the barricades that wait along the track, but we have set our soul ahead upon a certain goal ahead and nothing left from hell to sky shall ever turn us back. - Author: Vince Lombardi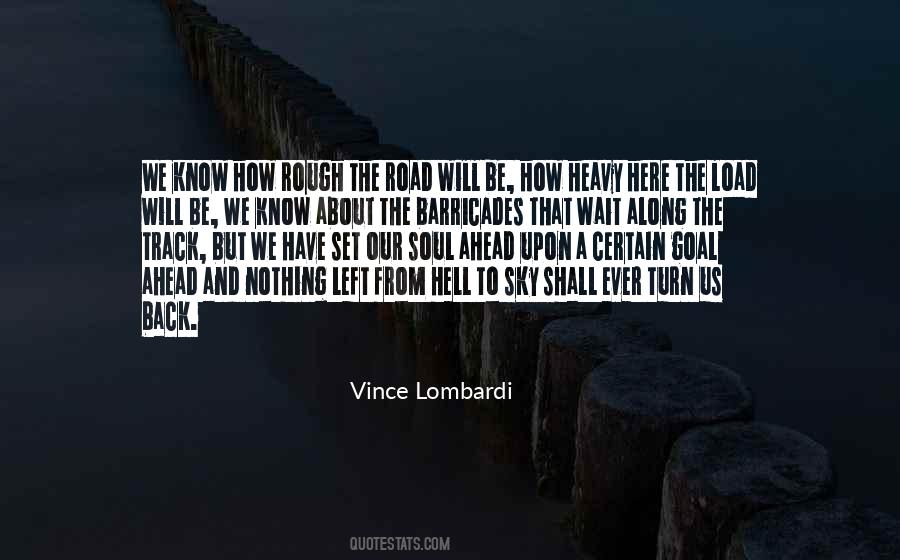 #31. The road ahead may be difficult for all Australians, but we need not be divided on partisan lines. - Author: Tony Whitlam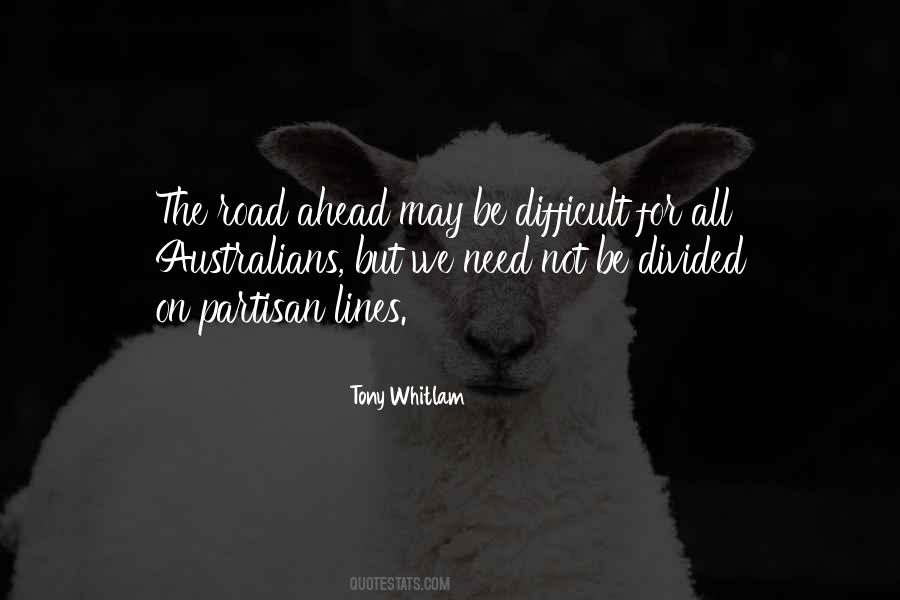 #32. It's all a complete farce you understand? We're born into a losing struggle ... I've investigated the road up ahead. No one comes out of this a winner. In the meantime I think one must show some contempt and some defiance and the best means of doing that that I know are irony and obscenity. - Author: Christopher Hitchens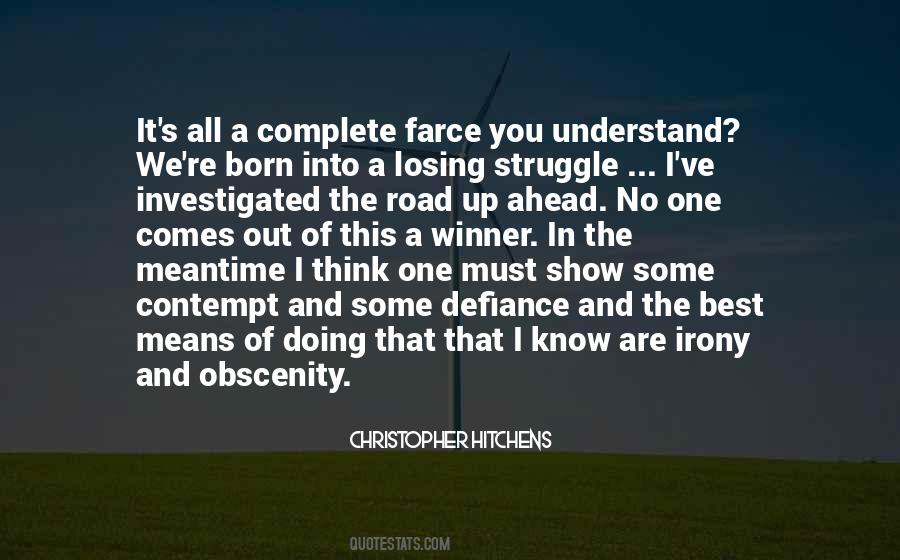 #33. I'm the dumb kid from the West Side of Chicago who has no business being at a place like this. I've got one long, tough road ahead of me. - Author: Michael J. Collins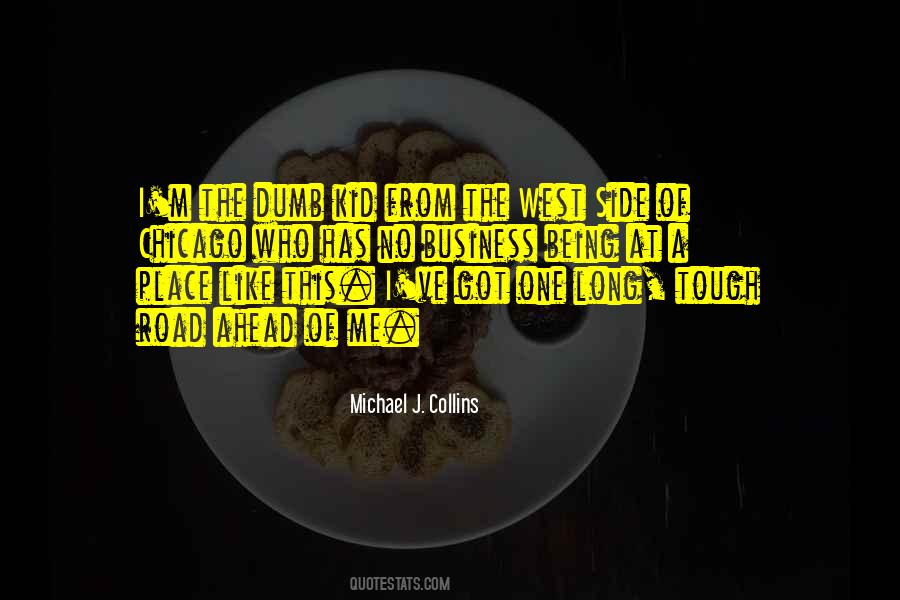 #34. How did I come to such a dark place? I don't know where my road now leads but I fear the shadowlands that lie ahead. But it is not the darkness of the path I fear. Just the loneliness of the trail. - Author: Richard Paul Evans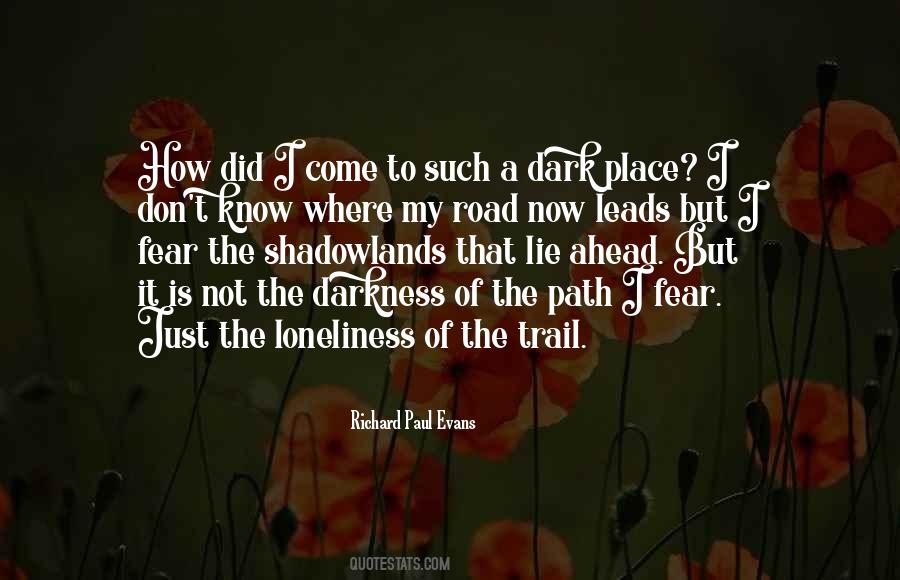 #35. It is both a blessing and a curse that one could never see too far down the road ahead - Author: Kirsten Beyer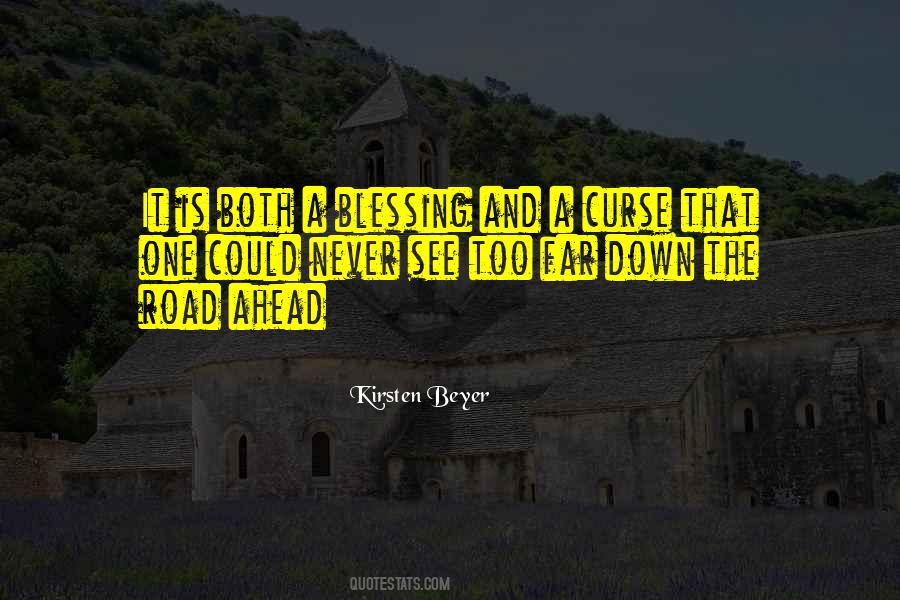 #36. Turning away, I stared at the long road winding off ahead of me.
I sighed. This trip might take awhile.
"Then start walking, Rose," I muttered to myself.
I set off, off to kill the man I loved. - Author: Richelle Mead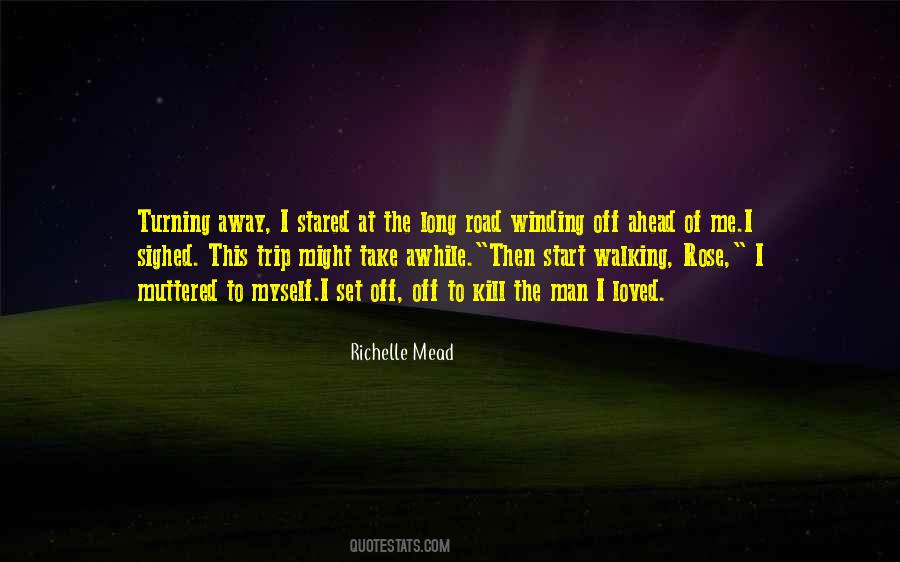 #37. And that - he pointed ahead - is the road to Hell. That's where we're going. I have always heard it was paved with good intentions, said Simon - Author: Cassandra Clare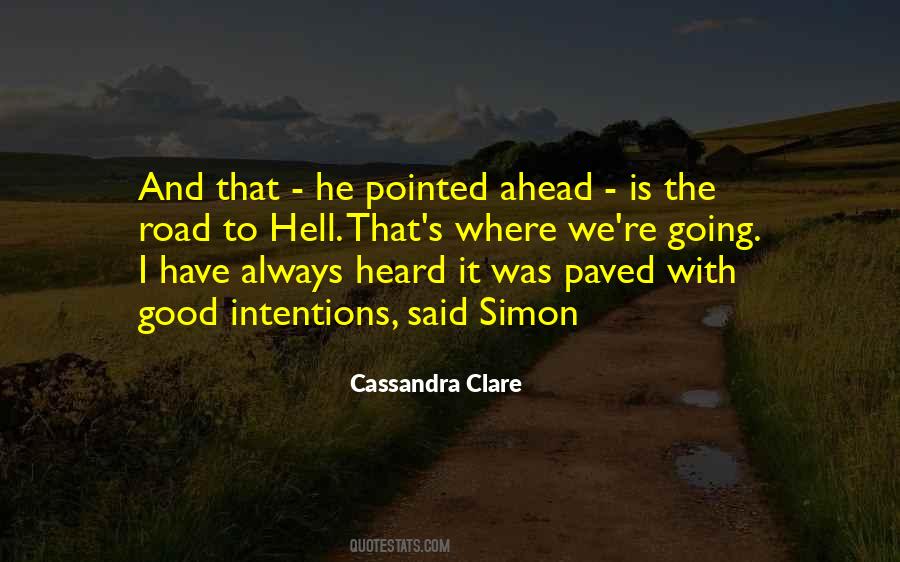 #38. I know now that it is going to be a tough and long road ahead of me - Author: Susan Smith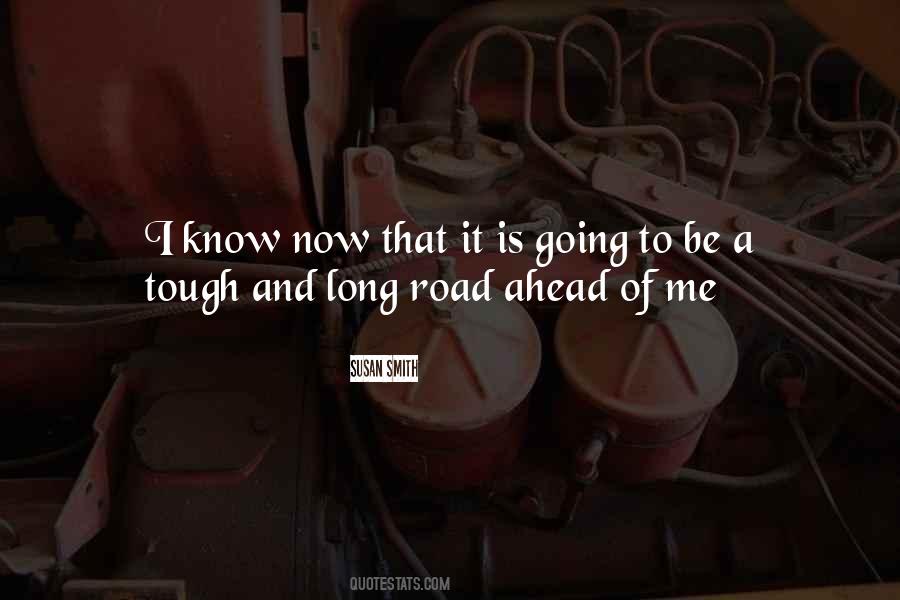 #39. Murphy nodded, frowning at the road ahead of her. "The reason treachery is so reveiled," she said in a careful tone of voice, "is because it usually comes from someone you didn't think could possibly do such a thing. - Author: Jim Butcher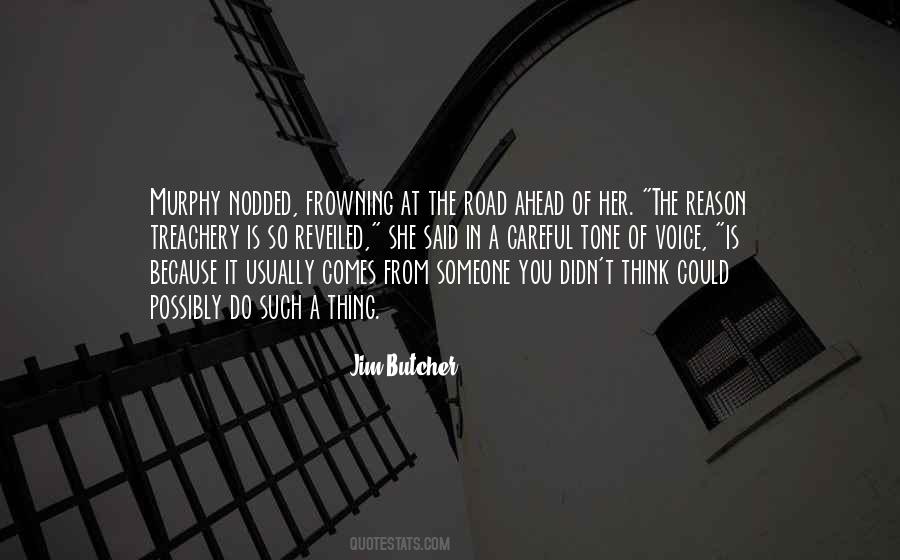 #40. Look beyond now.The road ahead offers a good voyage. - Author: Lailah Gifty Akita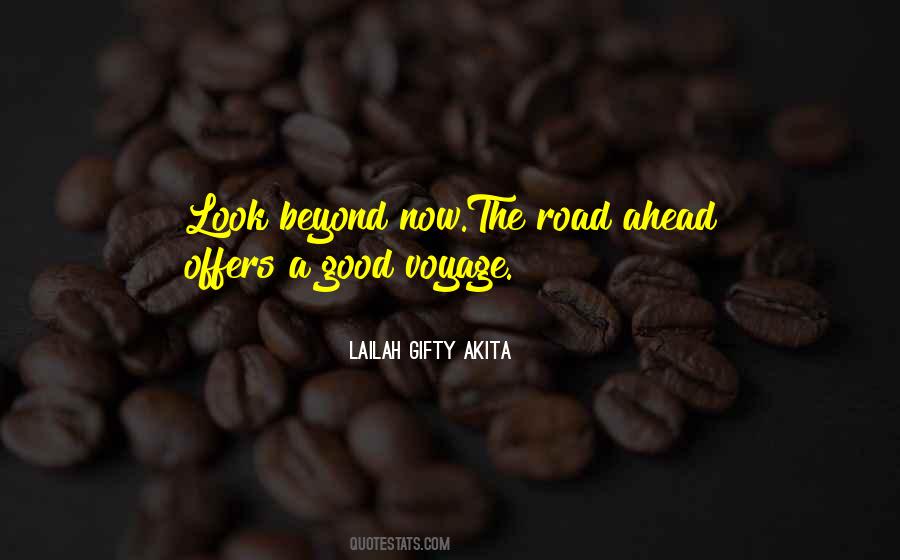 #41. The road to success is a zigzag, first pointing this way and then that. If we start with high intention, then magic and coincidence will guide us there despite our lack of knowledge about what lies ahead. - Author: Susan Collins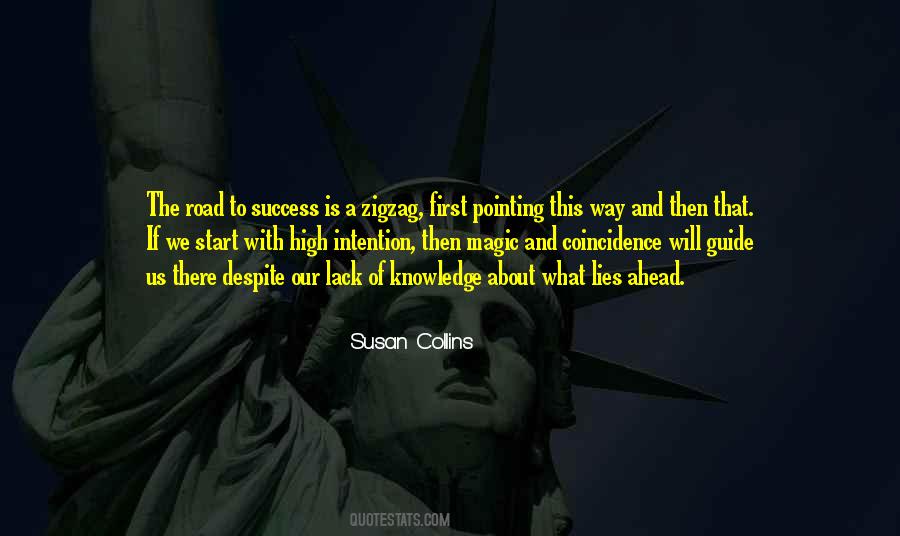 #42. Be positive about the future. The road ahead will be worth it! - Author: Denise Austin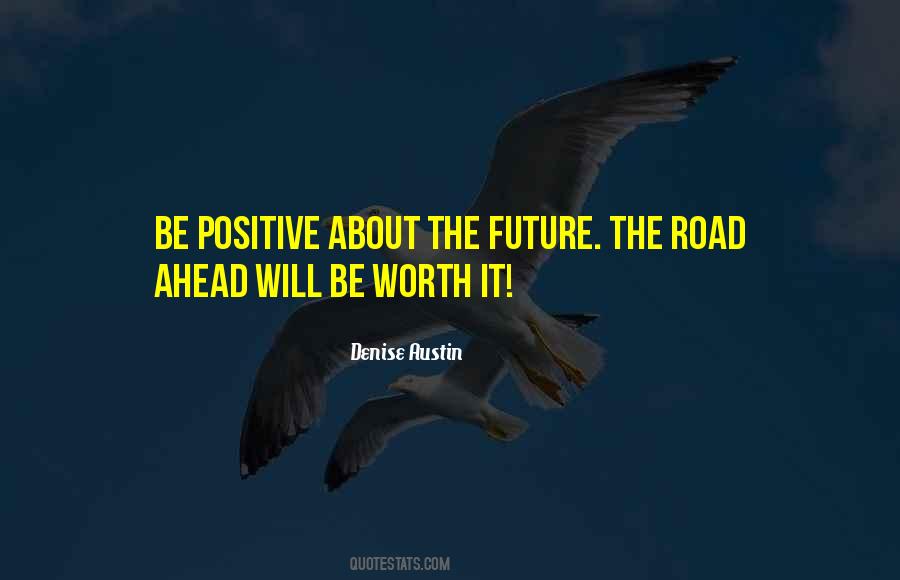 #43. What a joy it is that the road ahead is an uphill climb. For where it leads is all the way to the top. - Author: Ralph Marston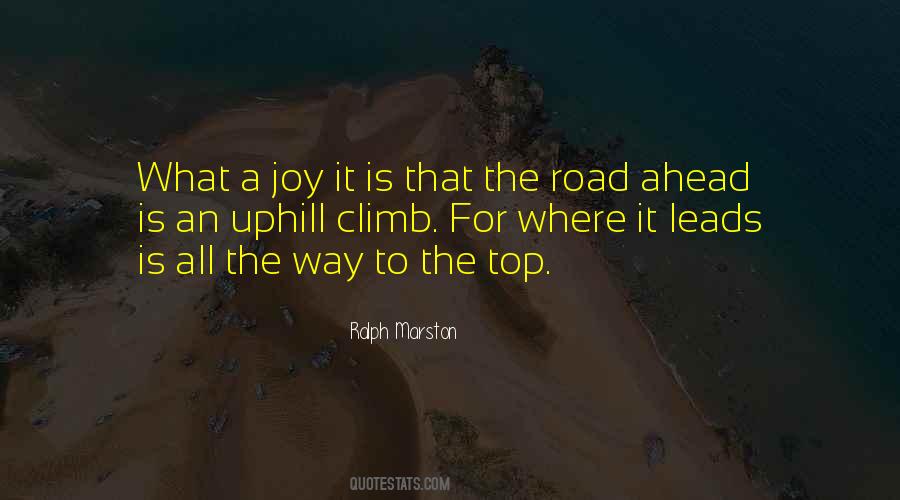 #44. There will always be rocks in the road ahead of us. They will be stumbling blocks or stepping stones; it all depends on how you use them. - Author: Friedrich Nietzsche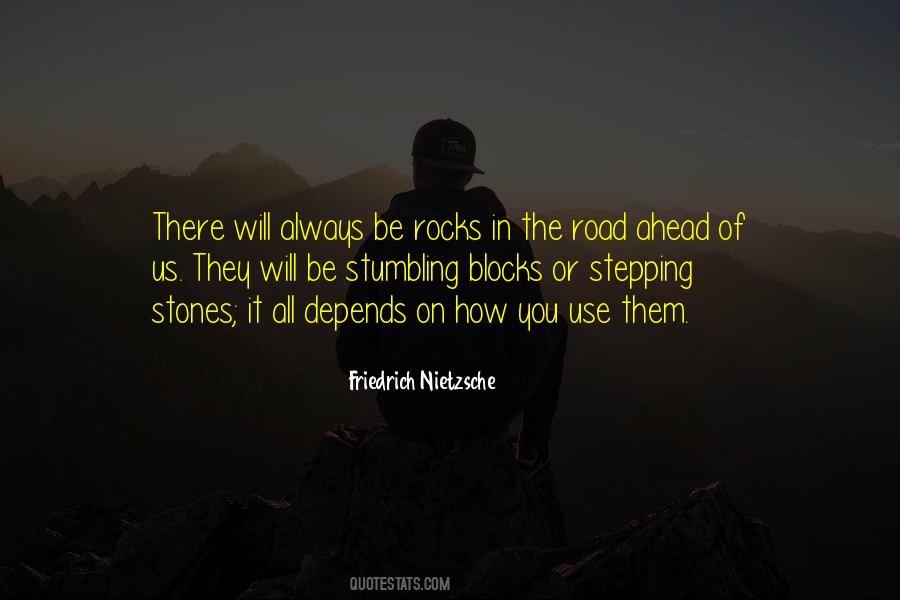 #45. Life is all about change. We constantly transform all our life. Struggle is nothing more than a signal and confirmation of the needed changes that are ahead of us on the road of our lives - Author: Timothy Pina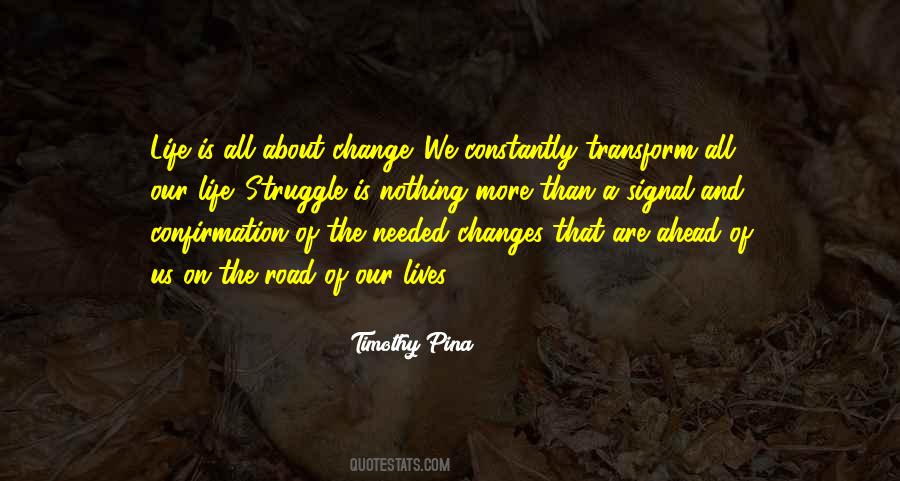 #46. We would all prefer to see much further ahead. We want the road map and to know the short cuts. But usually we only have enough light for the next step. To get anywhere we must take that. - Author: Tim Costello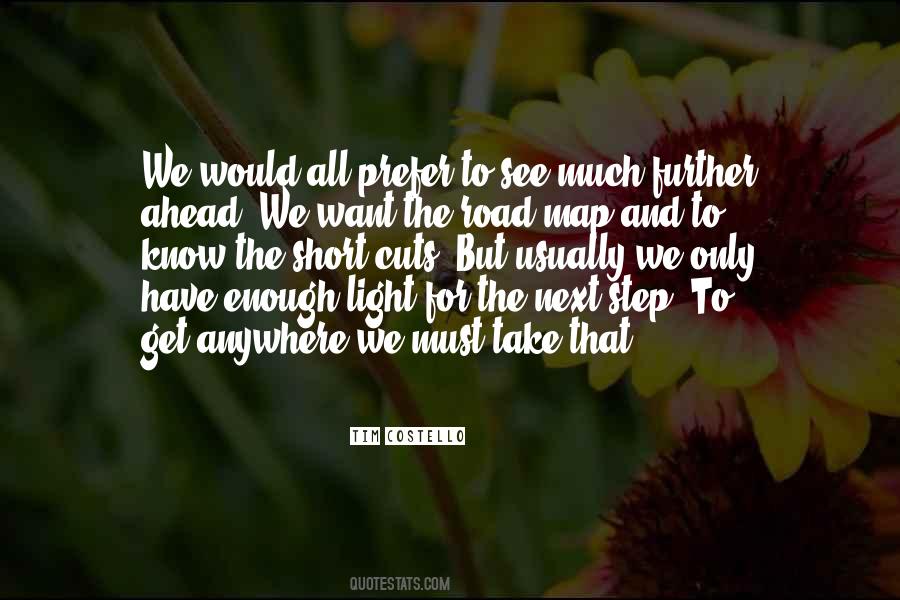 #47. When the road looks rough ahead, remember the 'Man upstairs'
and the word HOPE.
Hang onto both and 'tough it out'. - Author: John Wayne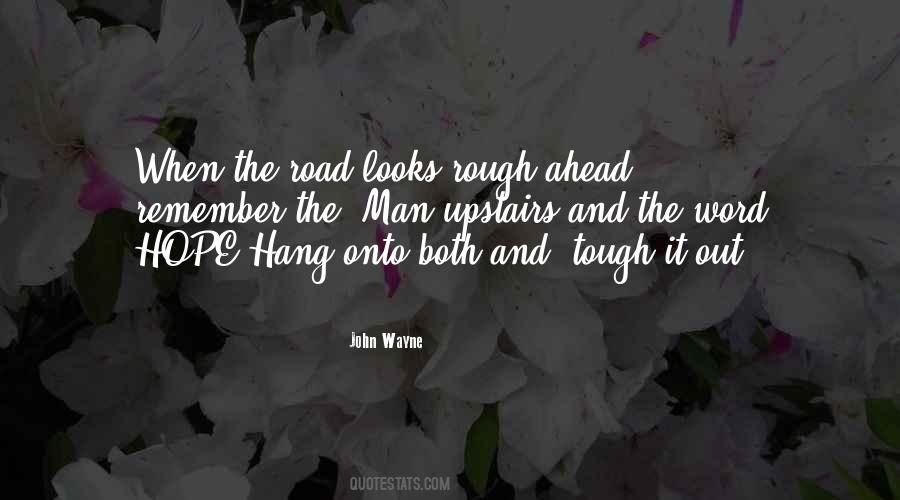 #48. Everything I was I carry with me, everything I will be lies waiting on the road ahead. - Author: Ma Jian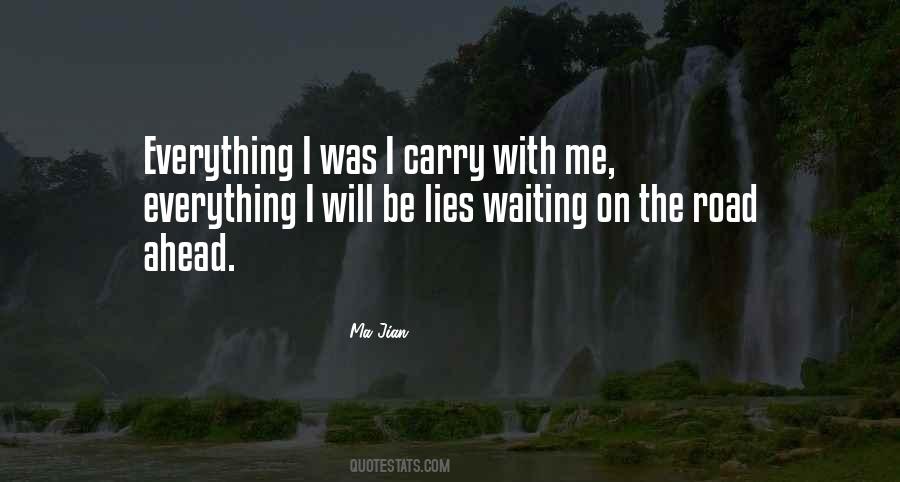 #49. No matter where you are on your journey, that's exactly where you need to be. The next road is always ahead. - Author: Oprah Winfrey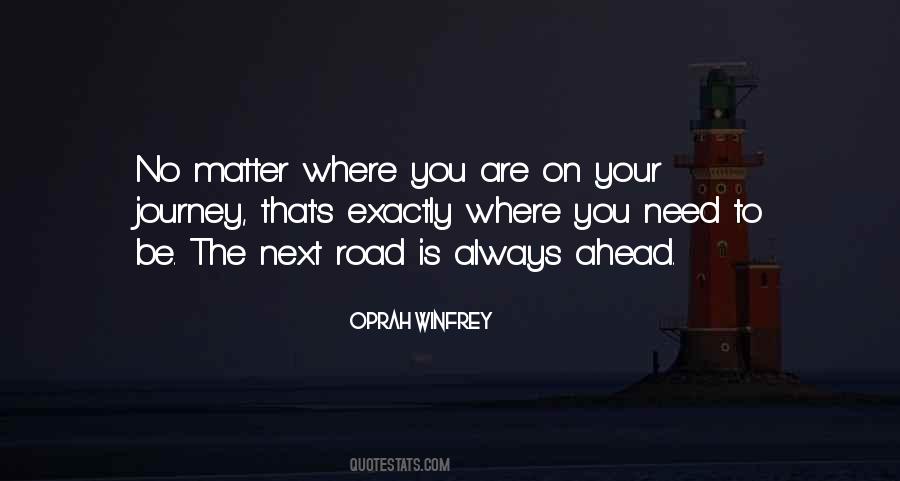 #50. Down from the door where it began. Now far ahead the Road has gone, And I must follow, if I can, Pursuing it with weary feet, Until it joins some larger way, Where many paths and errands meet. And whither then? I cannot say. - Author: J.R.R. Tolkien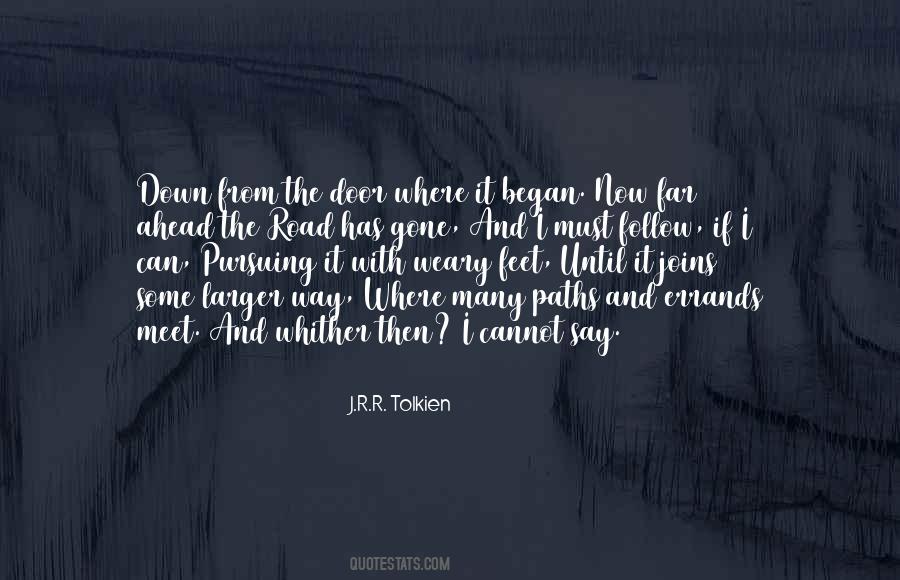 #51. Concentrate on the road ahead, not on the road behind! - Author: Mehmet Murat Ildan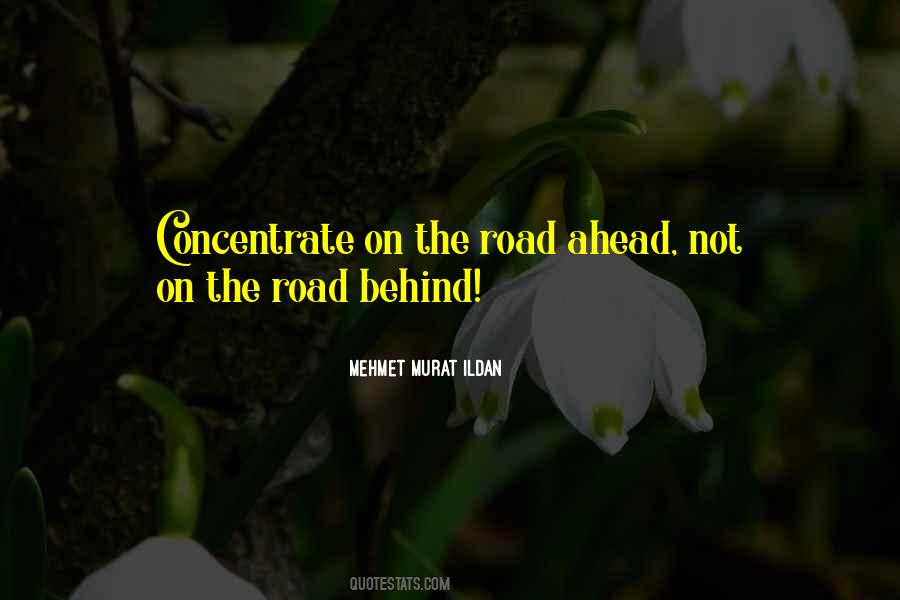 #52. The road home is tinged with regret and the road forward is full of the unknown. - Author: Joaquin Lowe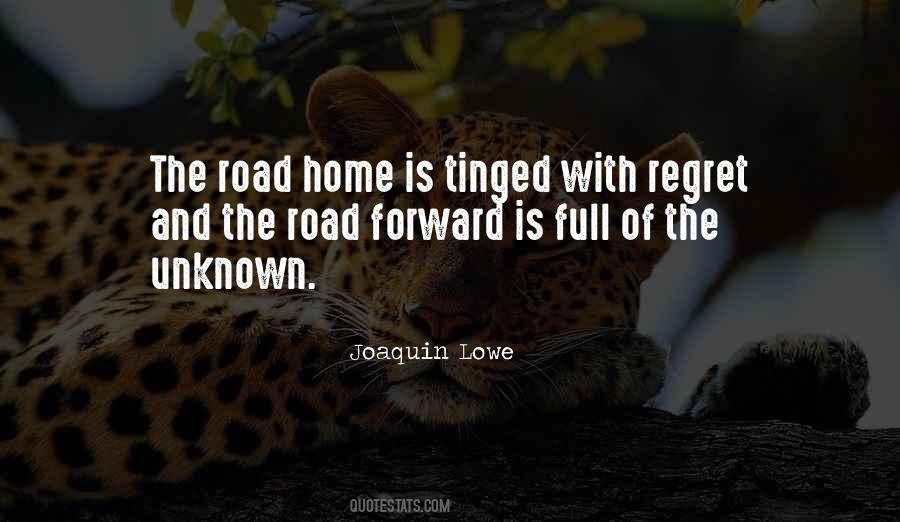 #53. A hundred feet ahead, a dog trotted along the side of the road. Dick swerved toward it. It - Author: Truman Capote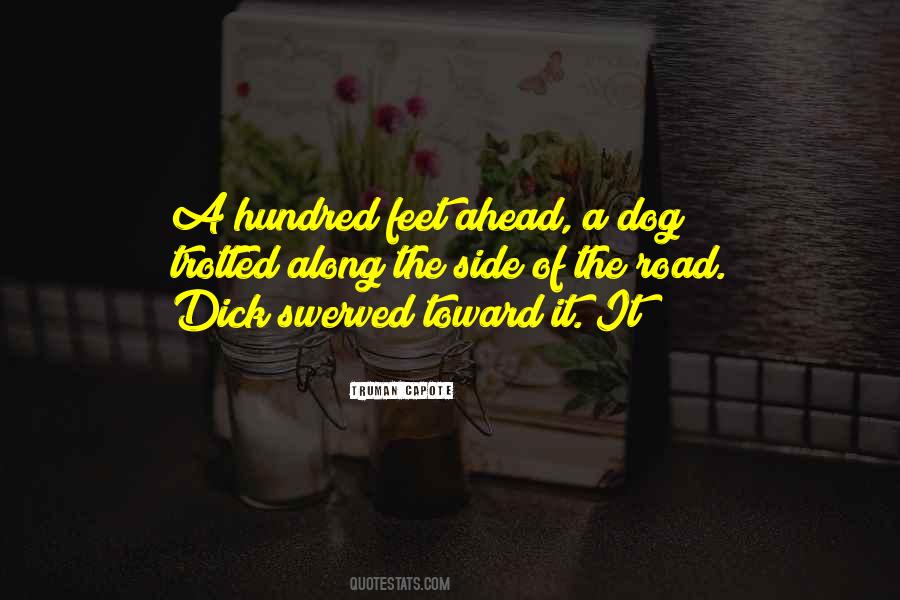 #54. It takes time,patience and endurance to become a devout Muslim. No one, not even God, expects anyone to become an angel overnight. That's fortunate, I thought, because I sensed that the road ahead might be a long one - Author: Kristiane Backer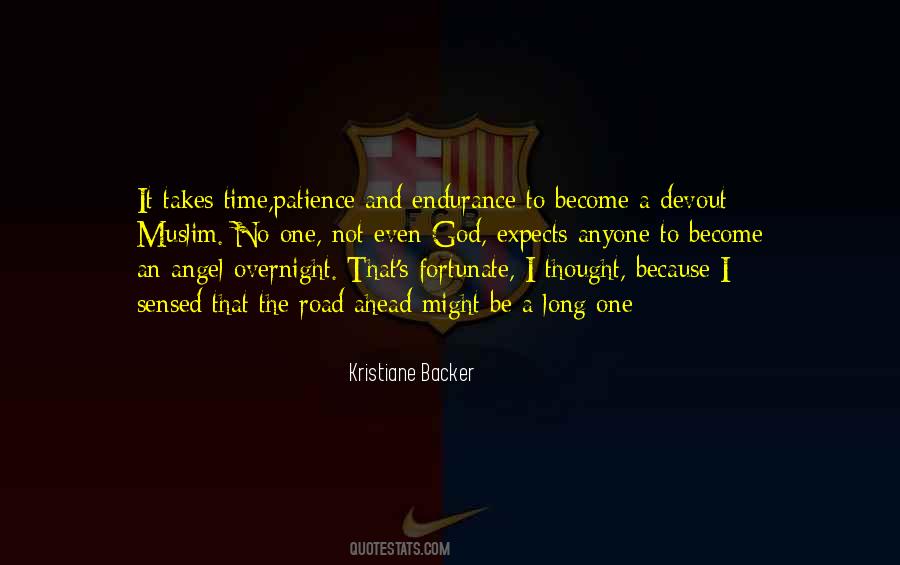 #55. The past is called the past for a reason. If you are constantly looking behind you, your eyes aren't on the road ahead. You don't drive the car that way, so why should you live your life that way? - Author: Rachel Van Dyken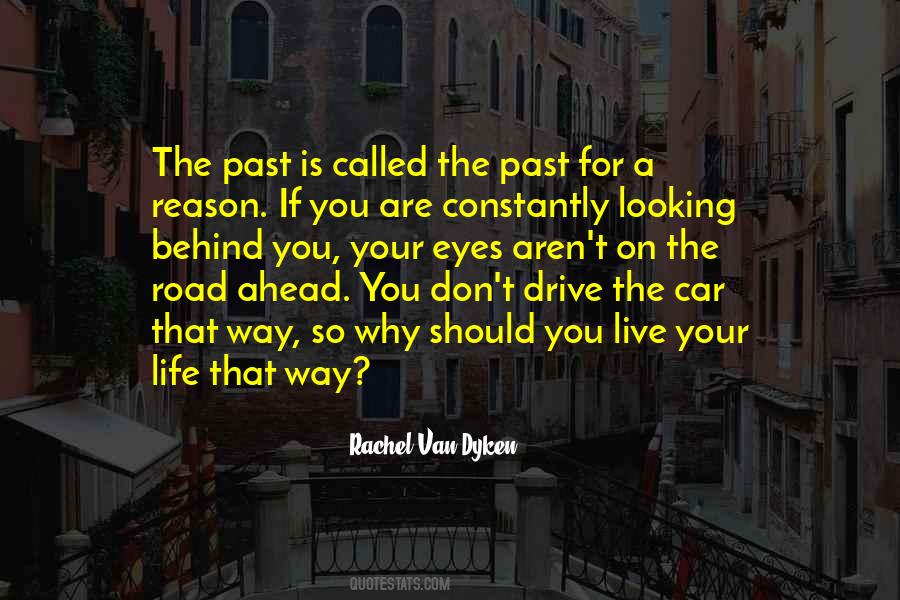 #56. There's something nice about the silence of a car ride in the dark, going home. When you were tired of the radio and conversation, and it was okay to just be alone with your thoughts and the road ahead. If you're that comfortable with someone, you don't have to talk. - Author: Sarah Dessen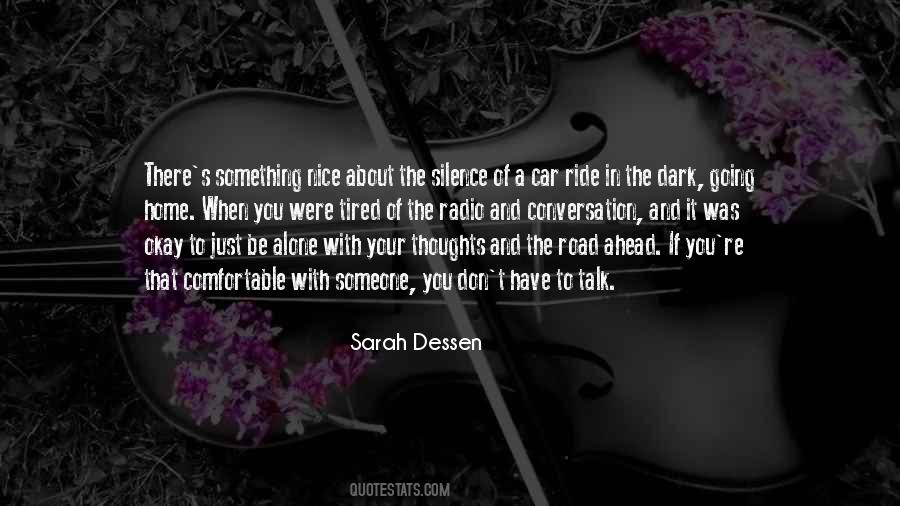 #57. When we are sure that we are on the right road there is no need to plan our journey too far ahead. No need to burden ourselves with doubts and fears as to the obstacles that may bar our progress. We cannot take more than one step at a time. - Author: Orison Swett Marden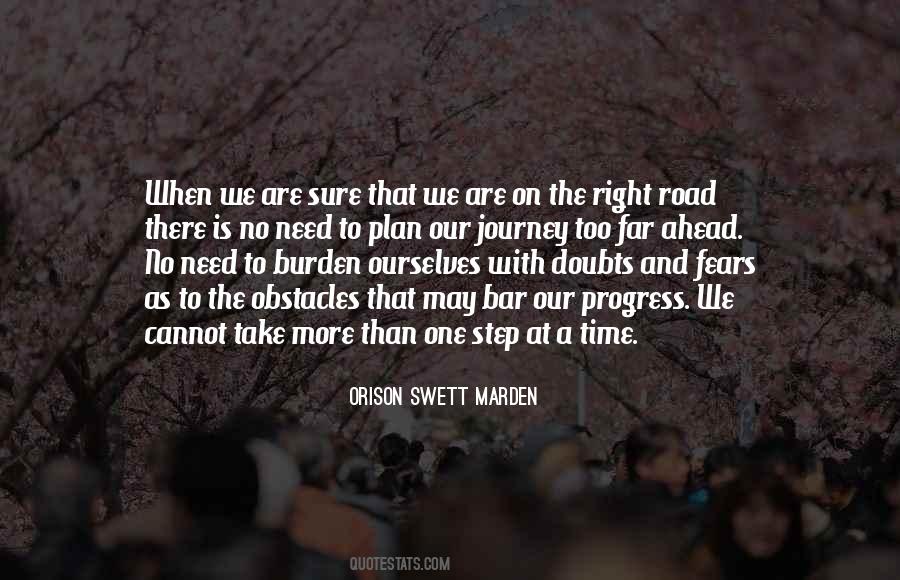 #58. When you can look forward, and the road is clear ahead, and now you are going to create something - that's as happy as I'd want to be. - Author: Alfred Hitchcock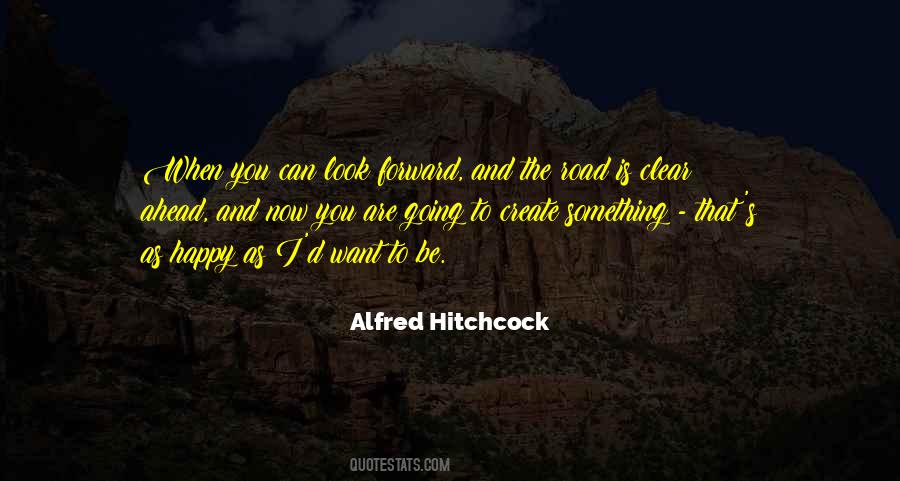 #59. I always wanted to put a sign up on the road to Yale saying, 'Beware: Deconstruction Ahead.' - Author: Gloria Steinem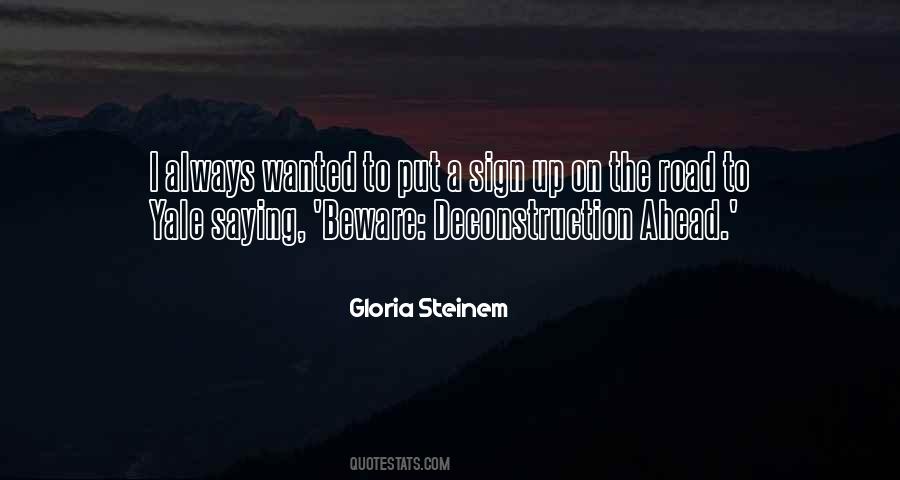 #60. If we had a reliable way to label our toys good and bad, it would be easy to regulate technology wisely. But we can rarely see far enough ahead to know which road leads to damnation. Whoever concerns himself with big technology, either to push it forward or to stop it, is gambling in human lives. - Author: Freeman Dyson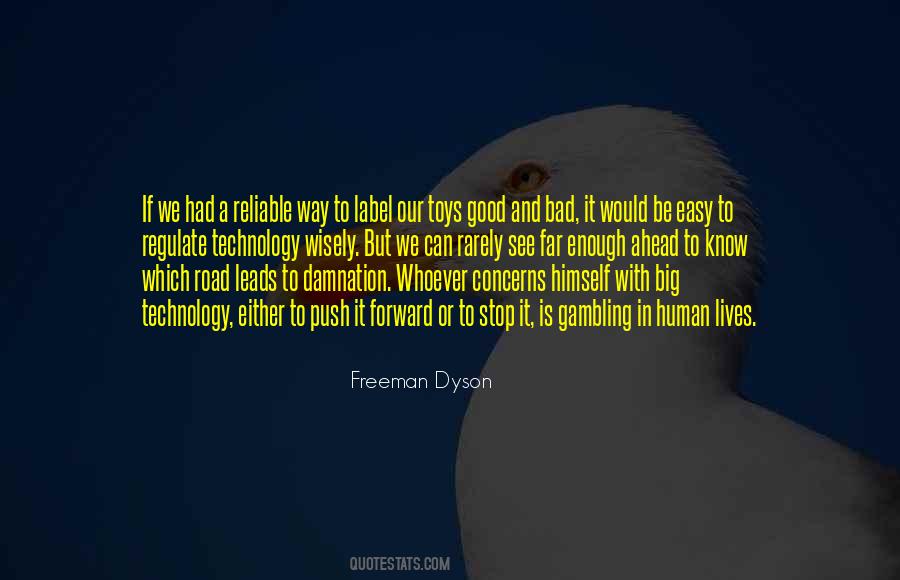 #61. If you want to be an actor and you love acting, you can do it whether you're doing something else or not. You can be connected with community theater or make your own little movies. But if you want to be a movie star, you've got a tough road ahead of you. - Author: Alan Arkin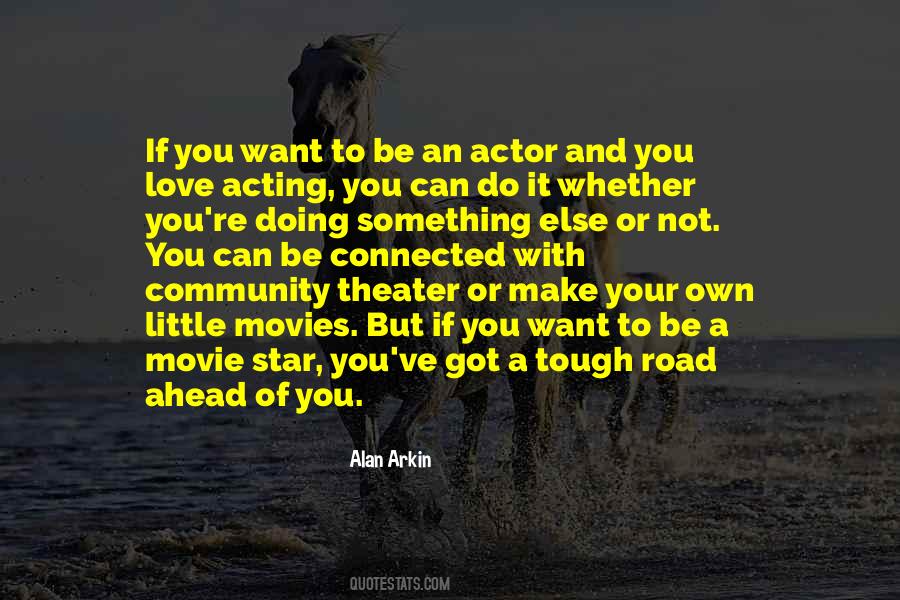 #62. One of the cries from the people was, don't forget us. They have a long road ahead of them. Operation Blessing has found those little fishing towns. They will not be getting what other towns are getting from the government. - Author: Connie Sellecca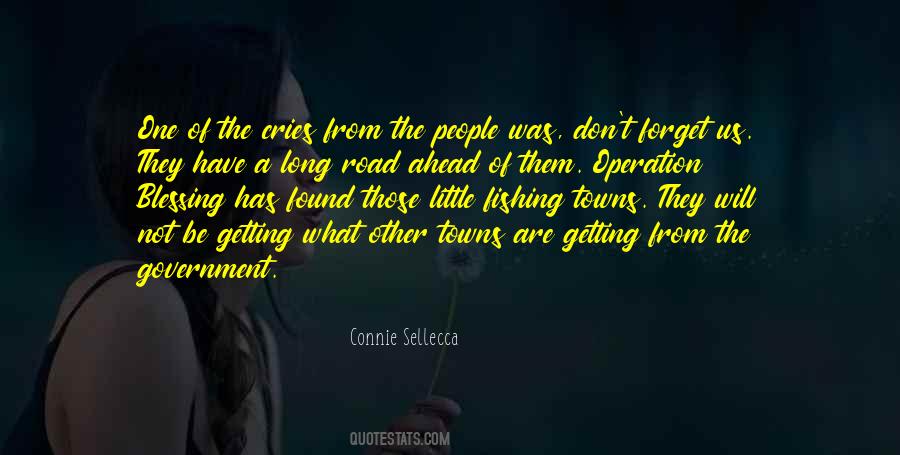 #63. We make our own destiny, not because we can see the road ahead, but because we cannot see the road ahead. It is the road, the motion, the forward movement, that takes us to ourselves. - Author: Chloe Thurlow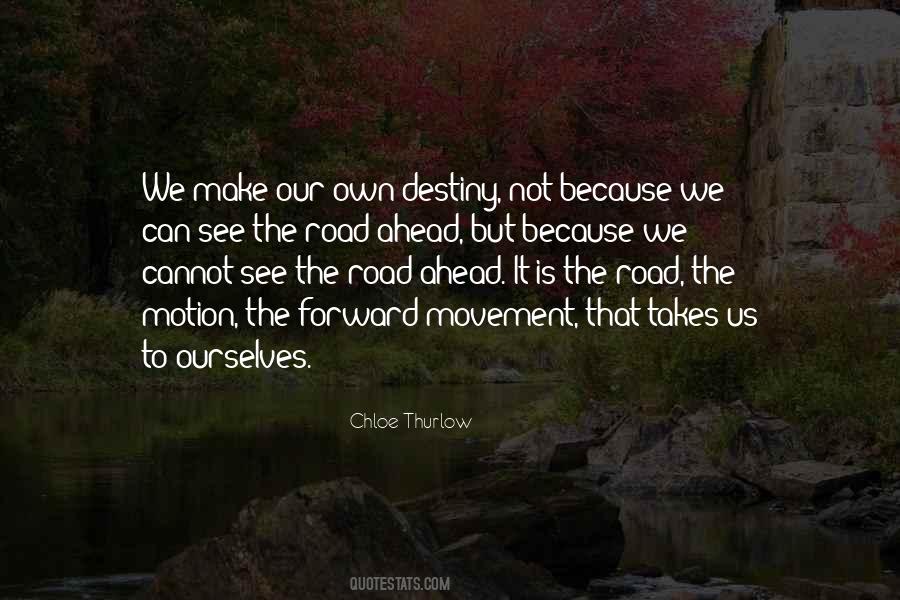 #64. I'm so sorry because it's still not easy. You have a long, hard, terrible road ahead. There are lots of ways to travel it, but they all suck and they all involve letting go. - Author: Laurie Frankel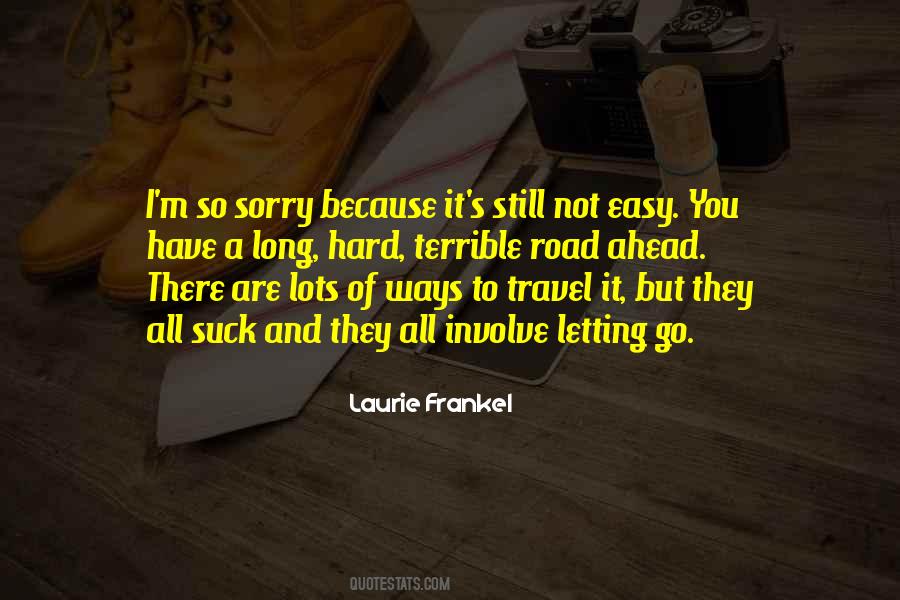 #65. Assuming that his talent can survive the increasing strain, there is one scarcely avoidable danger that lies ahead of the pupil on his road to mastery. - Author: Eugen Herrigel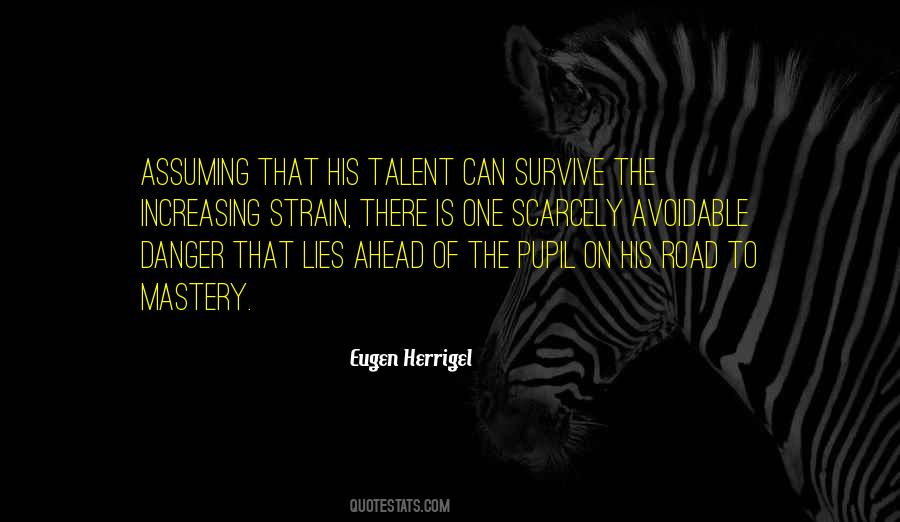 #66. The tragedy of my species xxx is that it does not live in its own time. Homo sapiens is locked on history's rearview mirror, never the road ahead, bent on catching some presumed lost paradise xxx
xxx
The human race is destroying itself with nostalgia ... - Author: James K. Morrow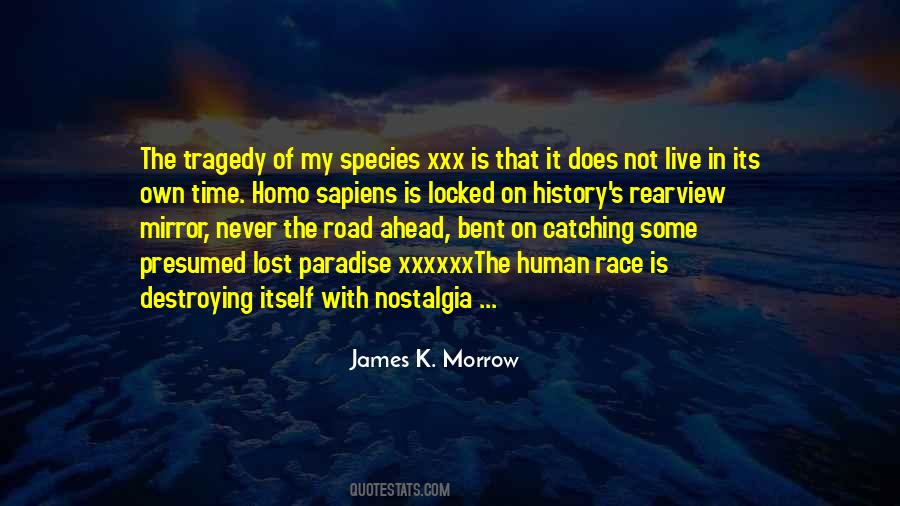 #67. We're all on the road to ruin but some are further ahead than others. - Author: Anthony Horowitz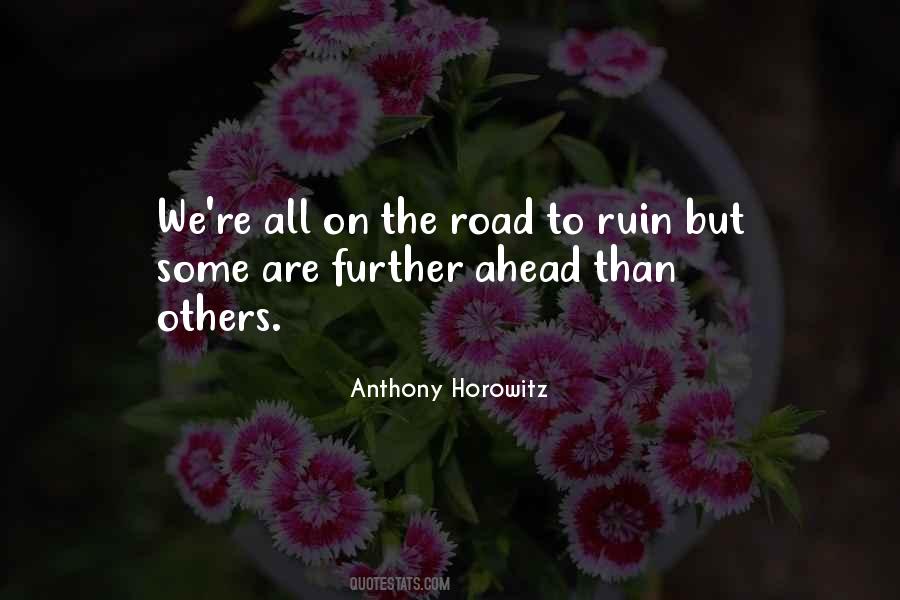 #68. What the road really was, she fancied, was this hypodermic needle, inserted somewhere ahead into the vein of a freeway, a vein nourishing the mainliner L.A., keeping it happy, coherent, protected from pain, or whatever passes, with a city, for pain. - Author: Thomas Pynchon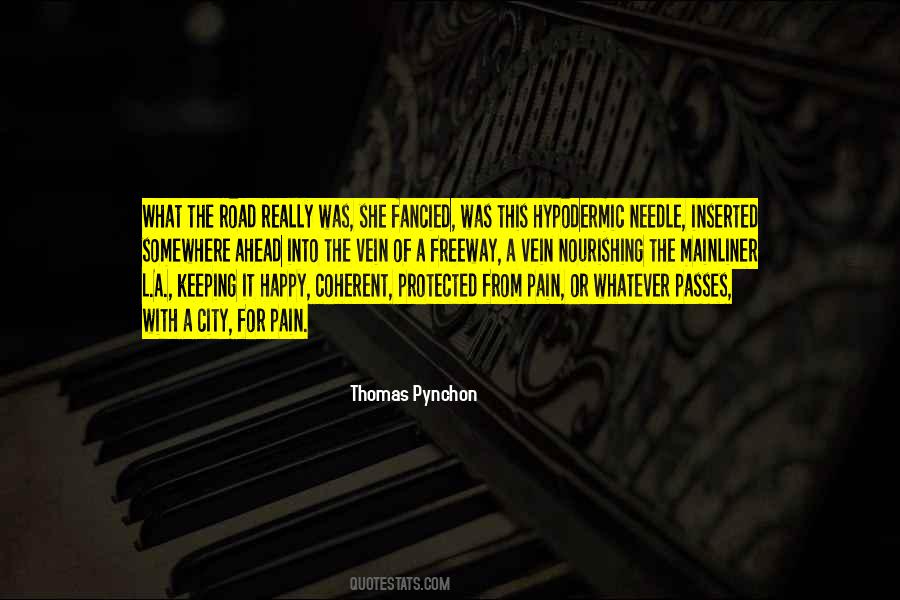 #69. The two of them walked toward the road and the stone marker. Behind them, other cars were pulling out. A woman began screaming abruptly. Unconsciously, Garraty and McVries drew closer together. Neither of them looked back. Ahead of them was the road, wide and black. - Author: Stephen King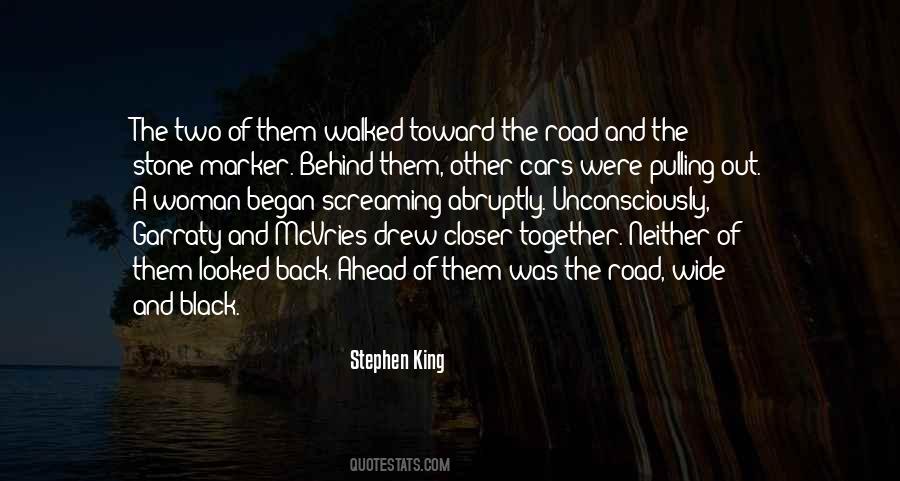 #70. You can spend your life competing in a world that talks too loud / You can lose your own direction getting lost among the crowd / Confusion - is it any wonder that the road ahead's not clear / Well you can try too hard to find it now I realise it's here - Author: Kim Wilde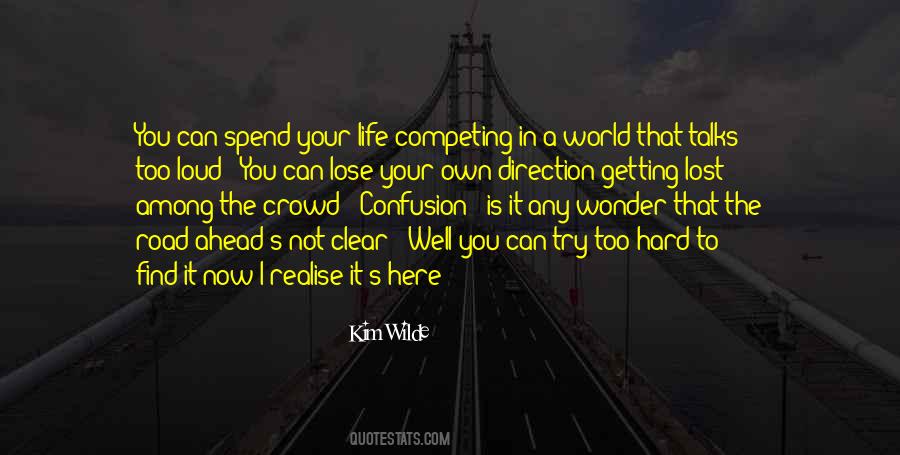 #71. Remember to celebrate milestones as you prepare for the road ahead. - Author: Nelson Mandela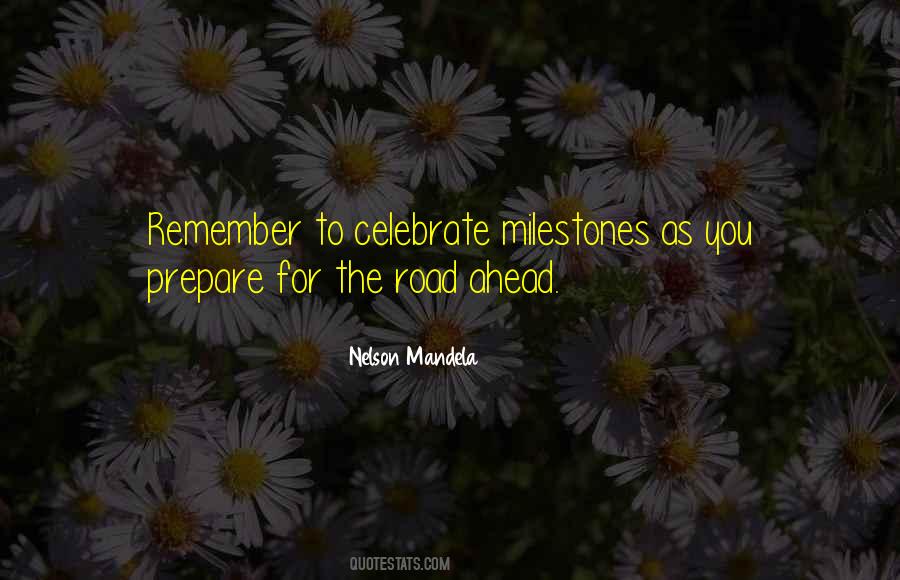 #72. A playful mind is inquisitive, and learning is fun. If you indulge your natural curiosity and retain a sense of fun in new experience, I think you'll find it functions as a sort of shock absorber for the bumpy road ahead. - Author: Bill Watterson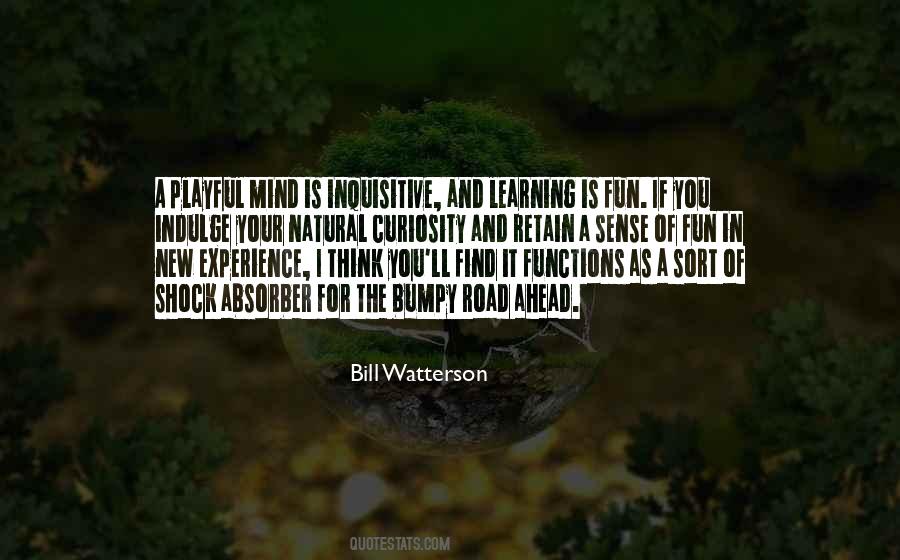 #73. I'm ready. No matter what's ahead for us. I'm ready to go down any road with you. Go through any door. I know that now, more than I ever did. - Author: Jim Clancy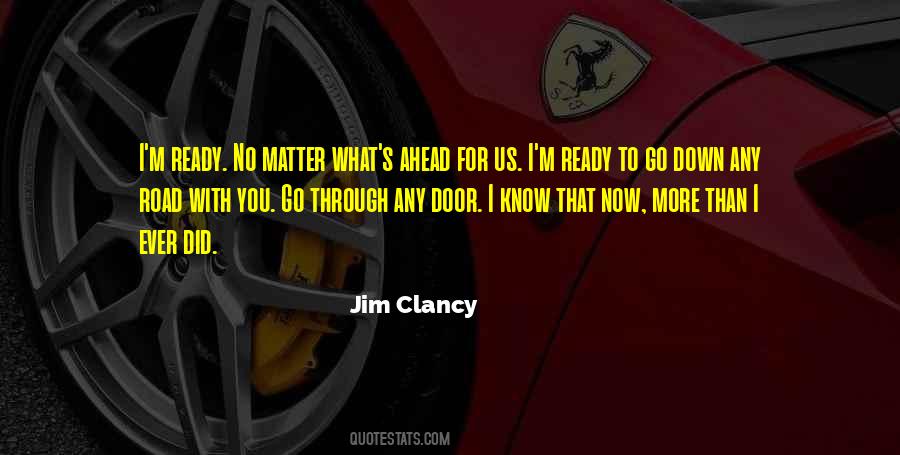 #74. The road to Manderley lay ahead. There was no moon. The sky above our heads was inky black. But the sky on the horizon was not dark at all. It was shot with crimson, like a splash of blood. And the ashes blew towards us with the salt wind from the sea. - Author: Daphne Du Maurier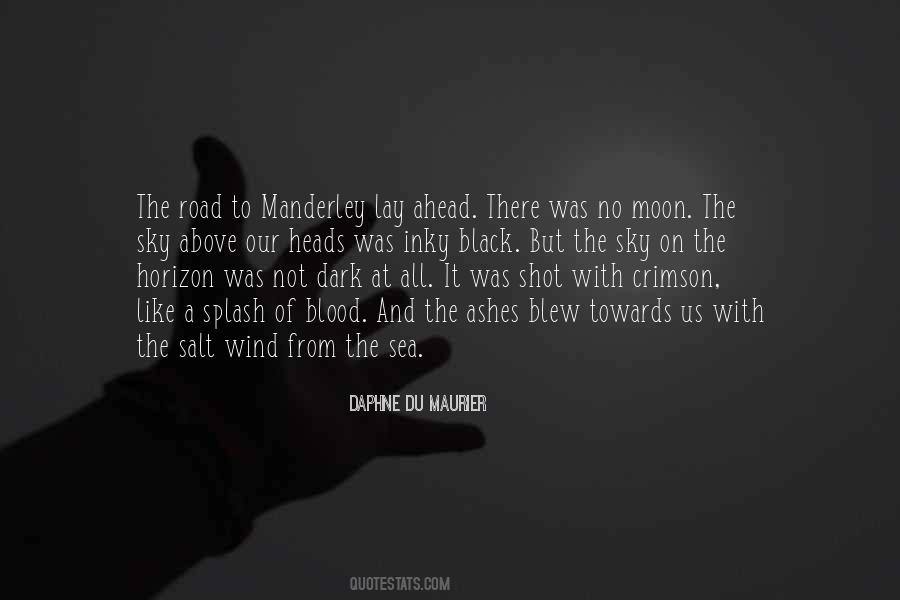 #75. You get up morning; the whole day is ahead of you! You must know that your day is full of endless possibilities, of endless dangers, of endless opportunities! For you, all heavens are open and all hells are open too! Every day is a road going to all the directions! - Author: Mehmet Murat Ildan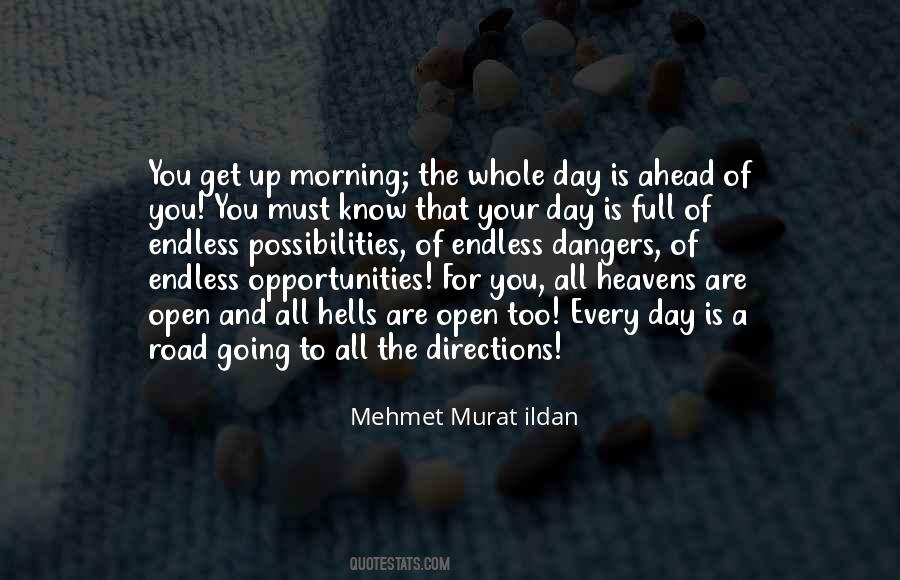 #76. If you know the road is steepy with many potholes and curves ahead, you will be informed to drive the car at a required speed. Knowledge is a guide you need to make choices in life. - Author: Israelmore Ayivor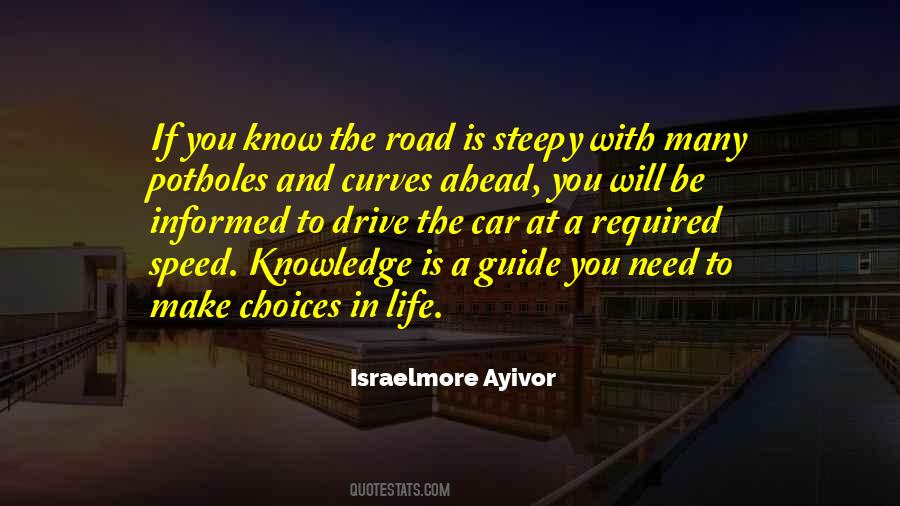 #77. When the road ahead seems impossible, start the engine - Author: Benny Bellamacina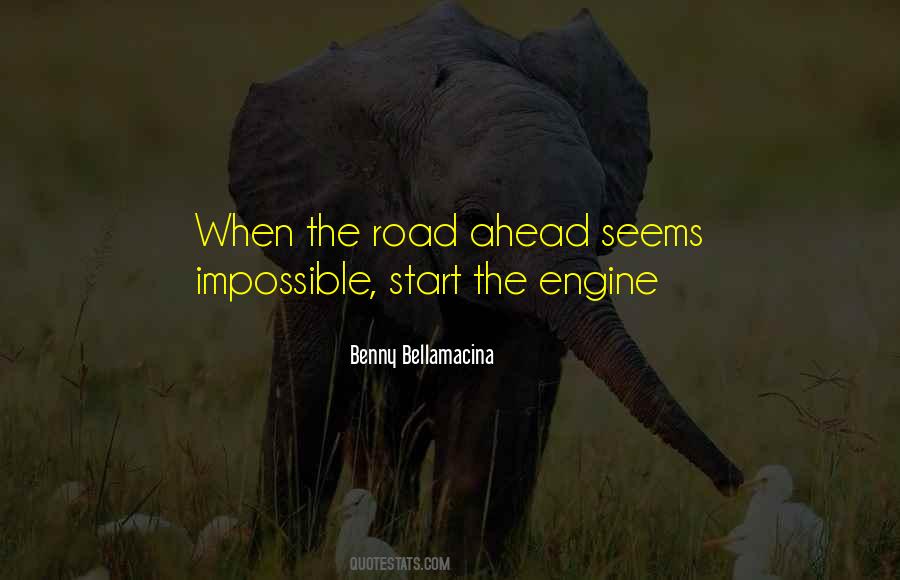 #78. The road ahead is what you leave behind - Author: Brad Perks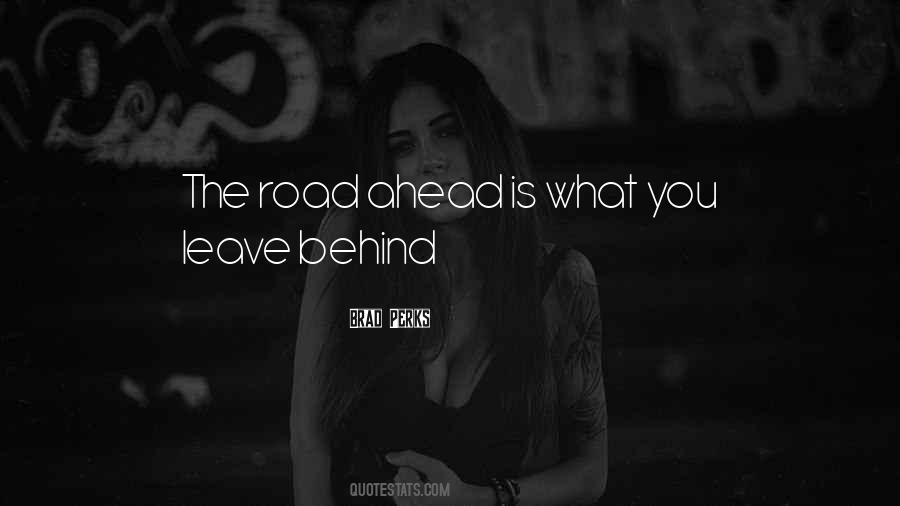 #79. Everything has seemed beckoning and ahead, though I am unsure now if life has not suddenly passed me like a big rumbling semi and left me flattened here by the road. - Author: Richard Ford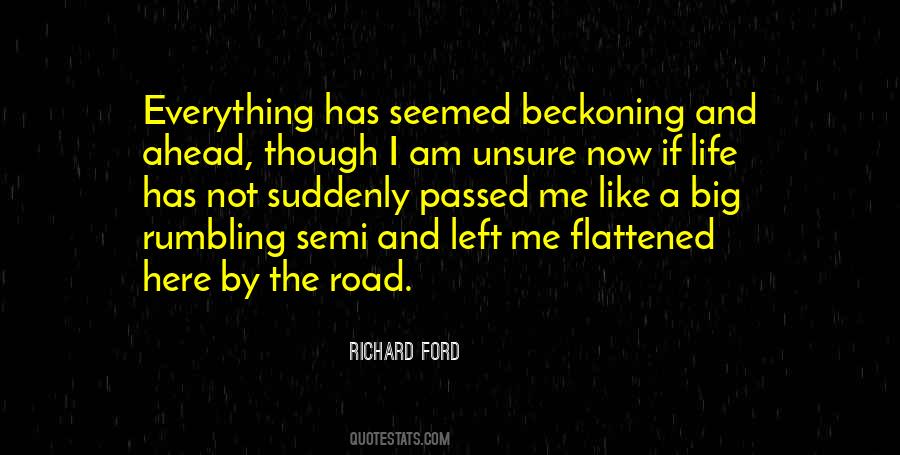 #80. How this life speeds right by, the odometer forgetting how fast it sped. Grinding the foot and pressing the metal, not counting road side markers ahead - Author: S.L. Northey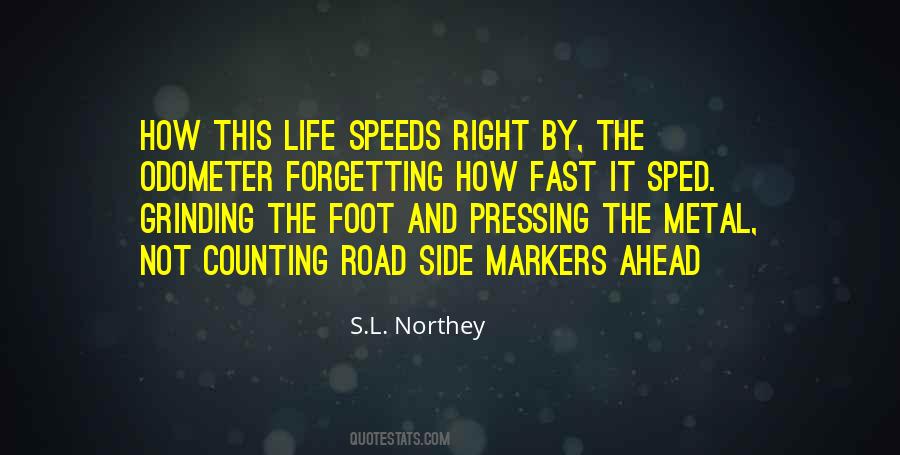 #81. The road ahead is unknown to all. I cannot offer you wisdom or guidance. Only the promise that I will never leave you. - Author: Andrea Cremer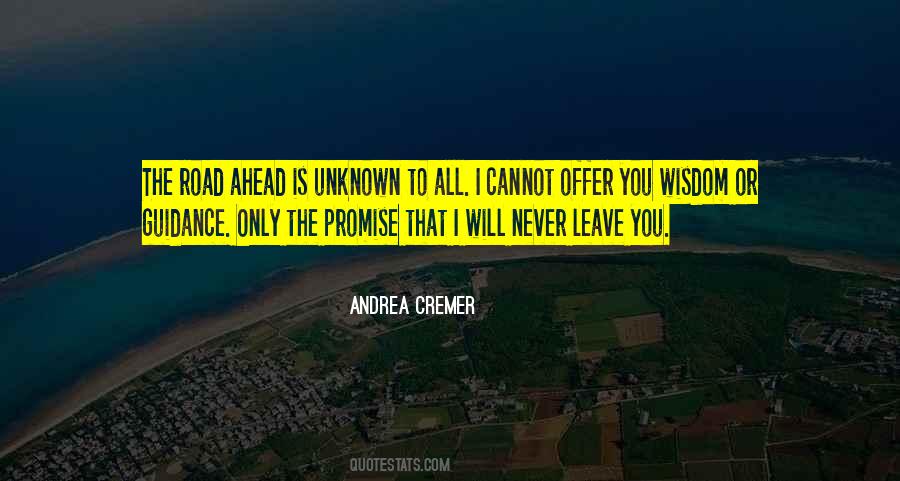 #82. The road ahead is not easy. Iraq is currently the center of the war on terror. - Author: Doc Hastings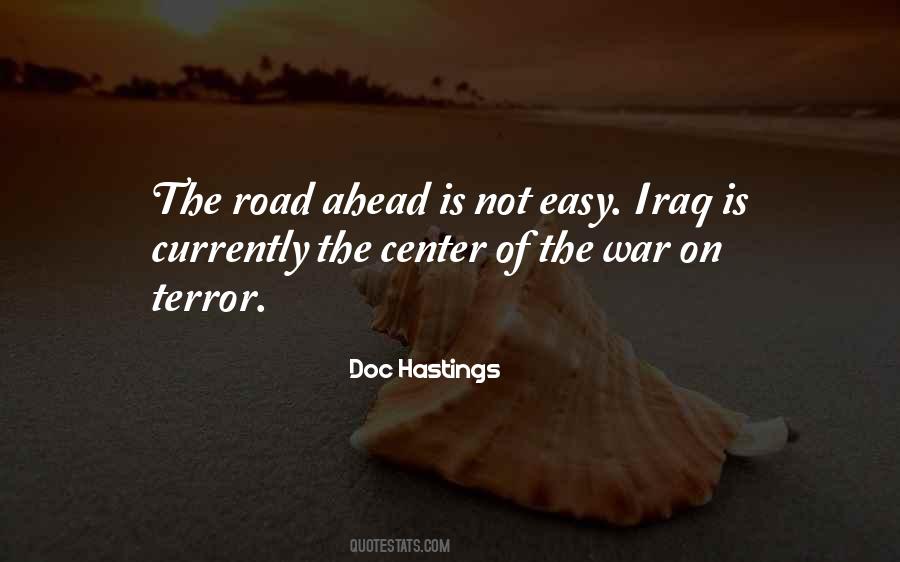 #83. No matter how scary the road ahead may seem, never be afraid to chase your dreams. - Author: Melaina Rayne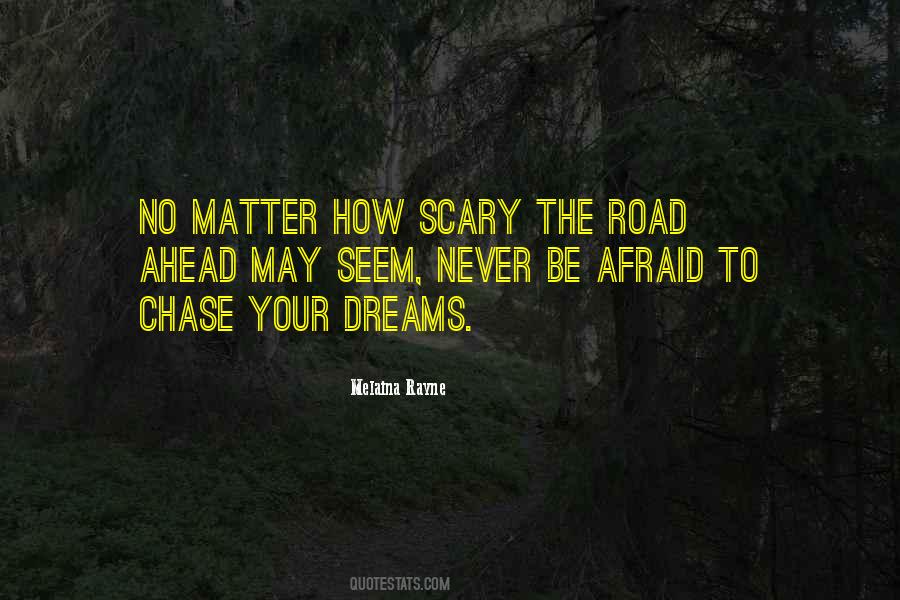 #84. Lincoln's heartbeat picked up a little, the way it always did when he rounded that last bend in the road and saw home waiting up ahead.
Home. - Author: Linda Lael Miller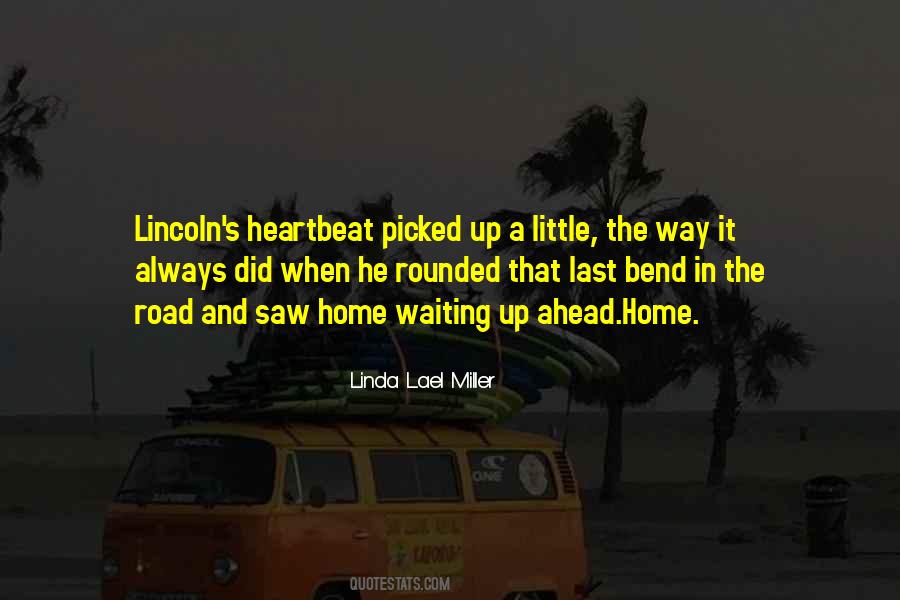 #85. I GOT A LONG ROAD AHEAD OF ME TO MAKE PEOPLE BELIEVE I'M NOT ACTUALLY A HUGE DOUCHE. - Author: Kanye West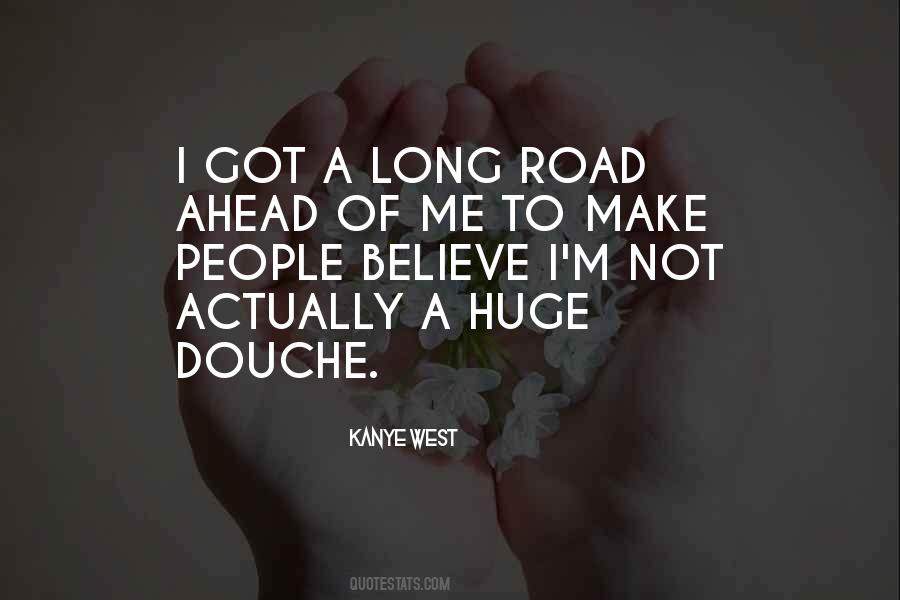 #86. There is only one perfect road and that road is ahead of you, always ahead of you. - Author: Sri Chinmoy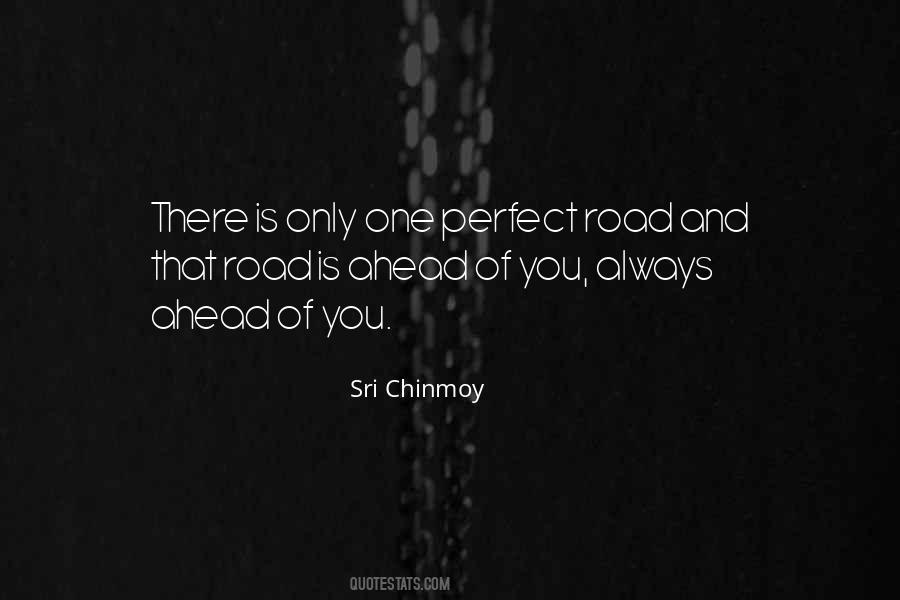 #87. When the road you're on begins to crumble, forge ahead - better it crumble behind you than ahead of you. - Author: John Avery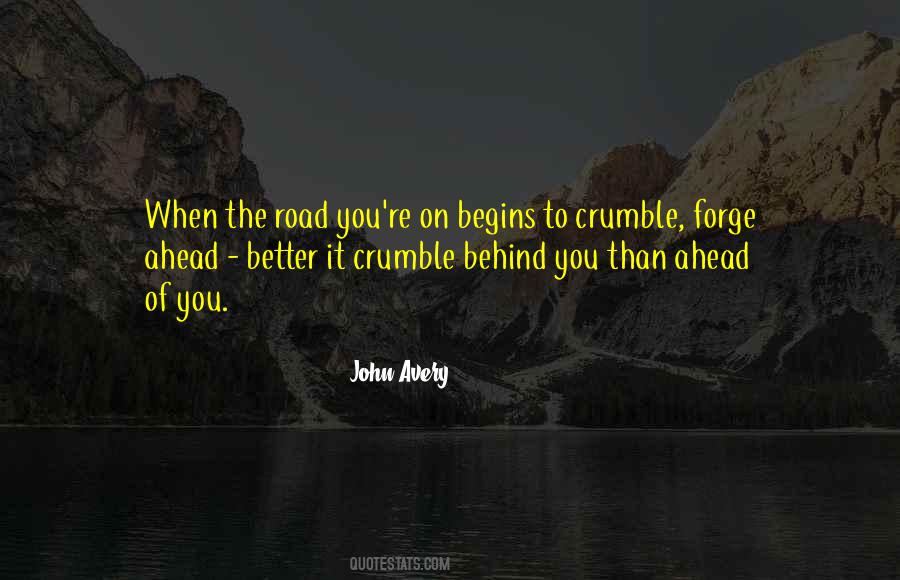 #88. Cameras are simple tools designed to capture images. Images that tell us more about ourselves than we realize. They remind us of the long journey we've taken. The loved ones who traveled alongside of us. Those we lost along the way. And those waiting for us on the road ahead. - Author: Mary Alice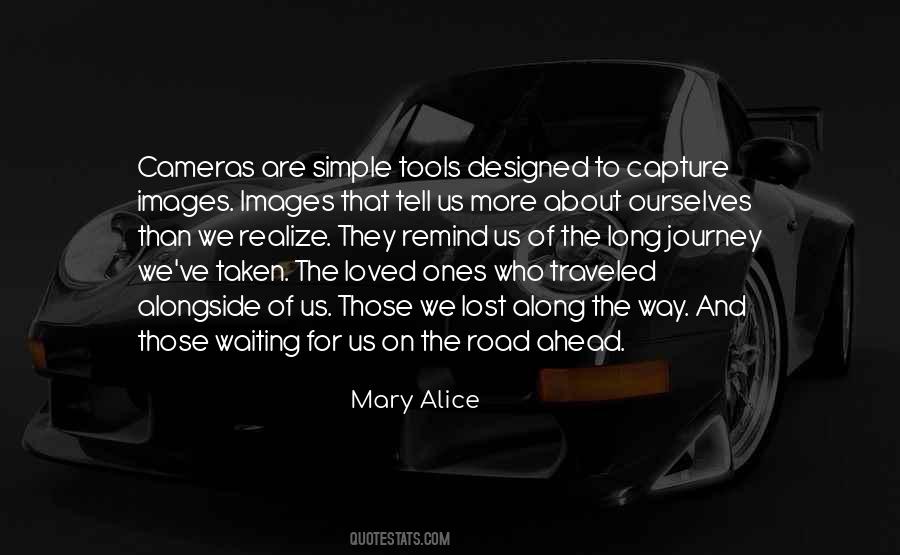 #89. Stuart rose from the ditch, climbed into his car, and started up the road that led toward the north ... As he peeked ahead into the great land that stretched before him, the way seemed long. But the sky was bright, and he somehow felt he was headed in the right direction. - Author: E.B. White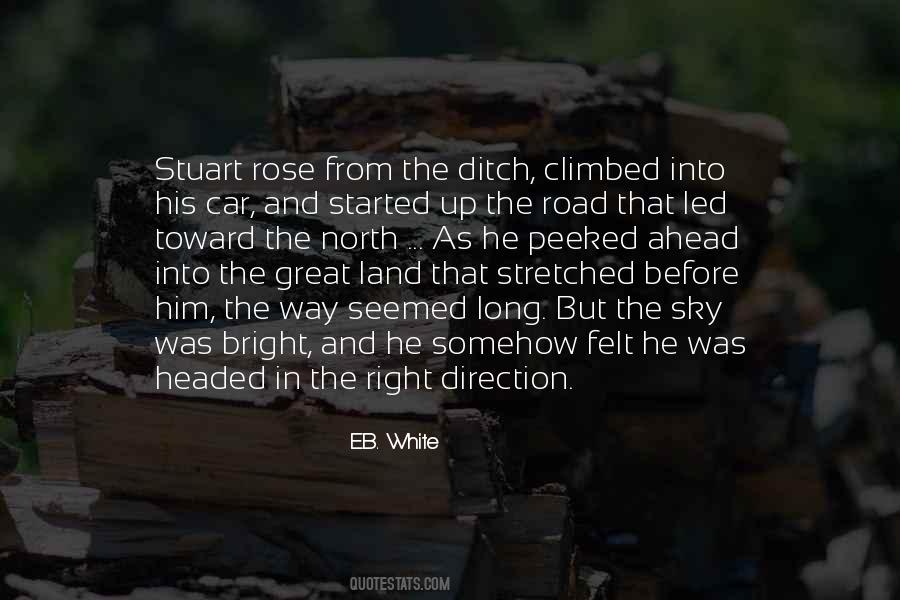 #90. There would be nothing but darkness, same darkness as everywhere else, an enormous darkness that swallowed up the road two steps ahead of us, only a little sliver of road about the size of your tongue was spared by the darkness. - Author: Louis-Ferdinand Celine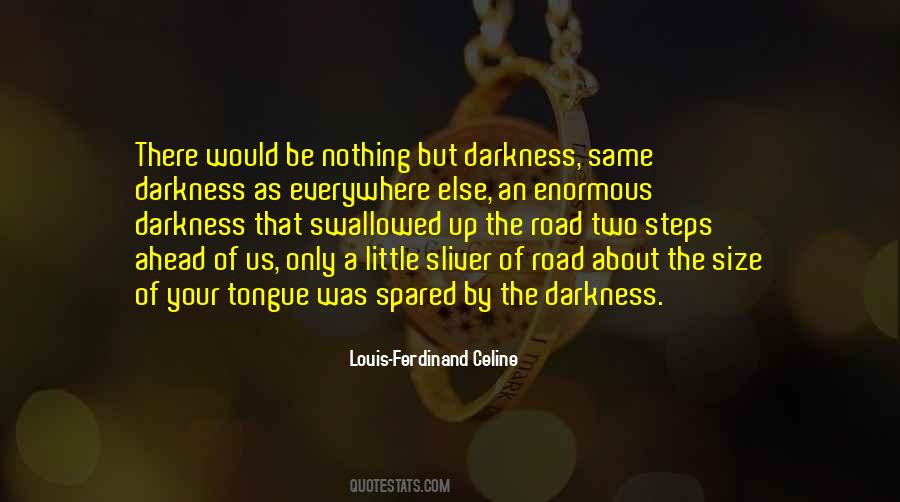 #91. The road ahead holds many tests challenging everything she ever believed. I whispered a prayer for her inner strength to guide her on her path. She was going to need it. - Author: Cambria Hebert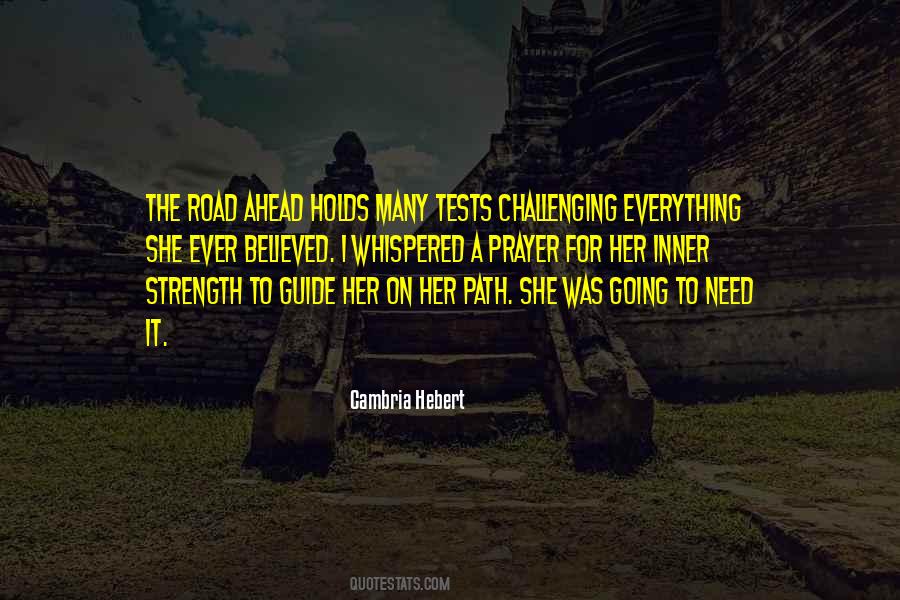 #92. Our enemy is motivated by hatred and will not stop planning more plots against until they are ultimately defeated. Today was an important and necessary victory in the war, but there is a long road ahead. We must remain committed if we are to succeed and protect our liberty. - Author: Timothy Murphy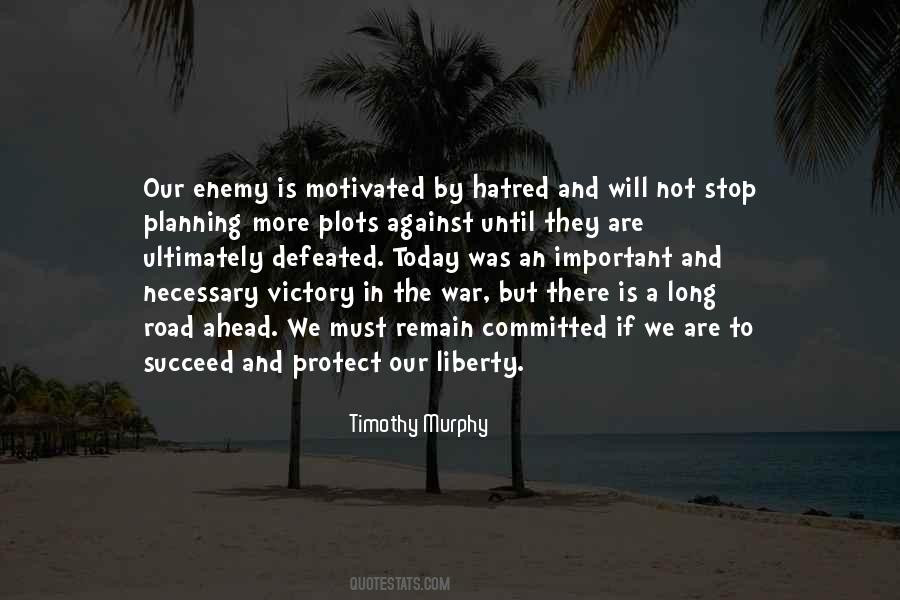 #93. I've reached that point in my journey, where there is more scenery in the rear view mirror than there is roadway ahead, I now have the time to write. I would rather hit the end of the road at full throttle than coast to a stop in the sunset. - Author: Dennis Randall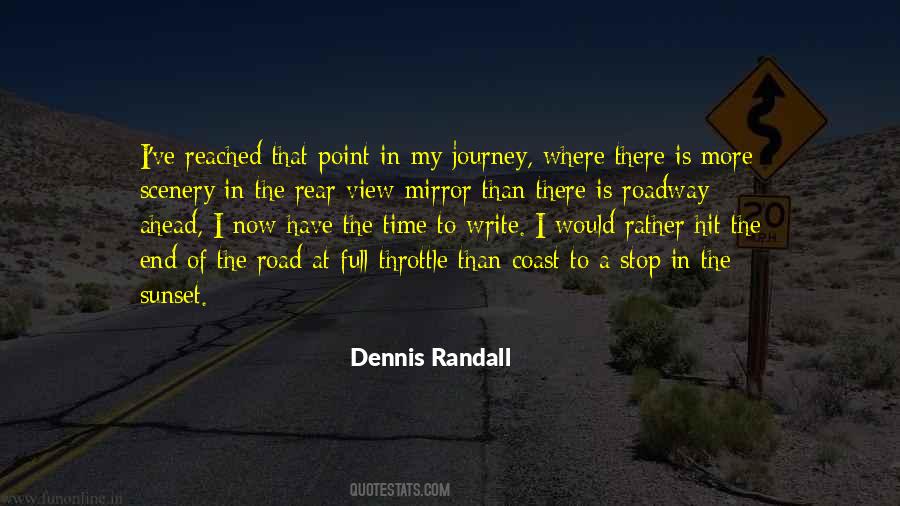 #94. She sits quite still, her possessions gathered into her hand for dismounting. She is looking ahead, to where the road curves on and away, crossslanted with shadows. - Author: William Faulkner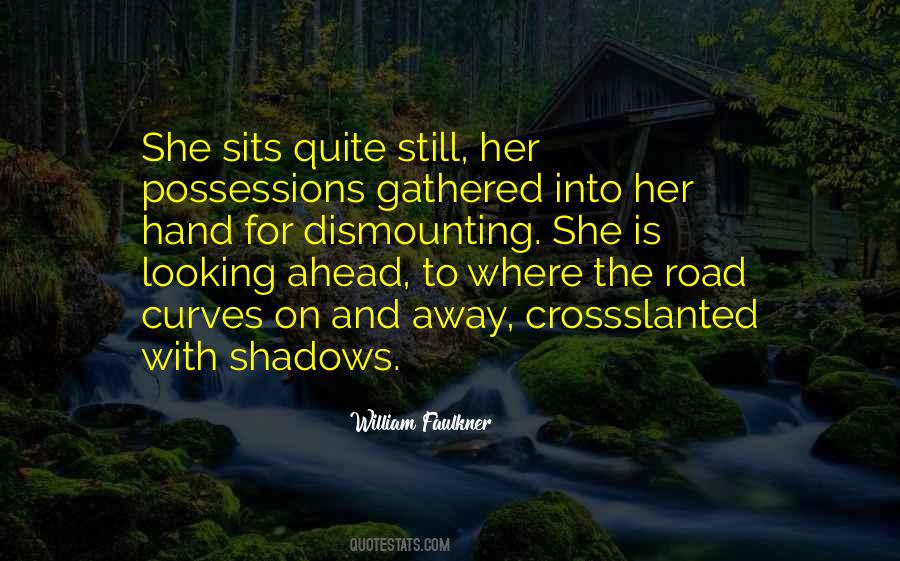 #95. The road ahead of you is long, dark, and, I very much fear, bloodstained. I also very much fear that you will take us all down that road. But you must live to reach the end of it. - Author: Robert Jordan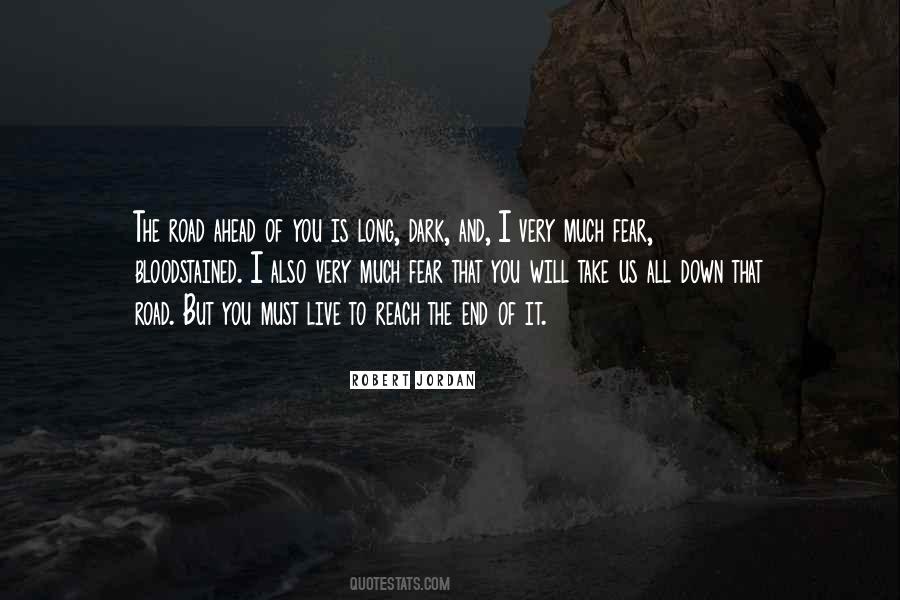 #96. It's important to keep your options open.It's important to live and not get s hung up on the past.The past is called the past for a reason.If you are constantly looking behind you, your eyes aren't on the road ahead.You don't drive a car that way, so why would you live your life that way?. - Author: Rachel Van Dyken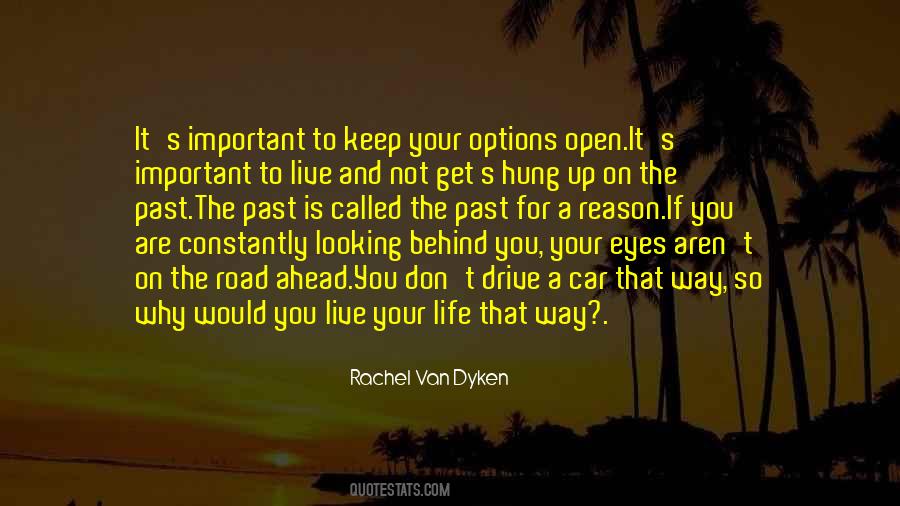 #97. Looting and site destruction are global problems. We have a tough road ahead, and one key will be developing more collaborations and using new technologies like satellite imagery. - Author: Sarah Parcak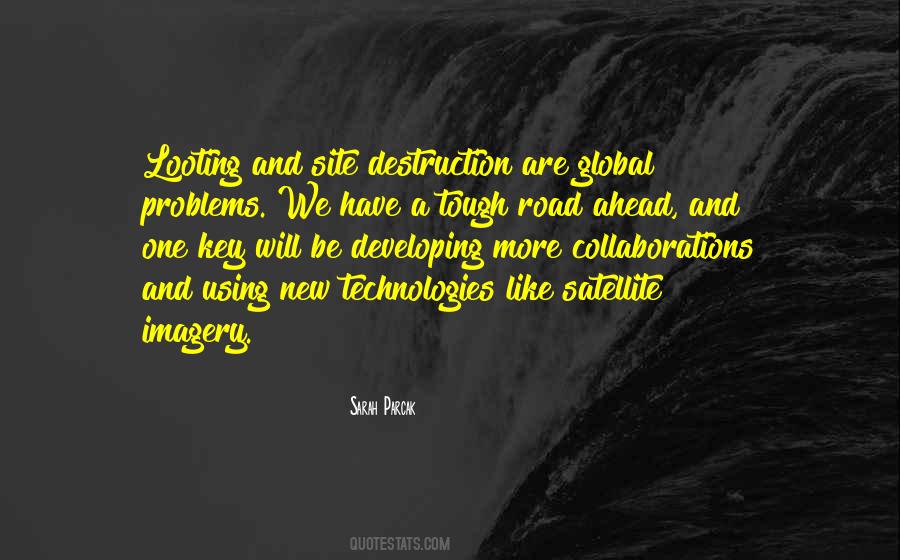 #98. [H]istory is seen in a rear-view mirror while the future is the dark, foggy road ahead, filled with unknown trouble. - Author: Alan Caruba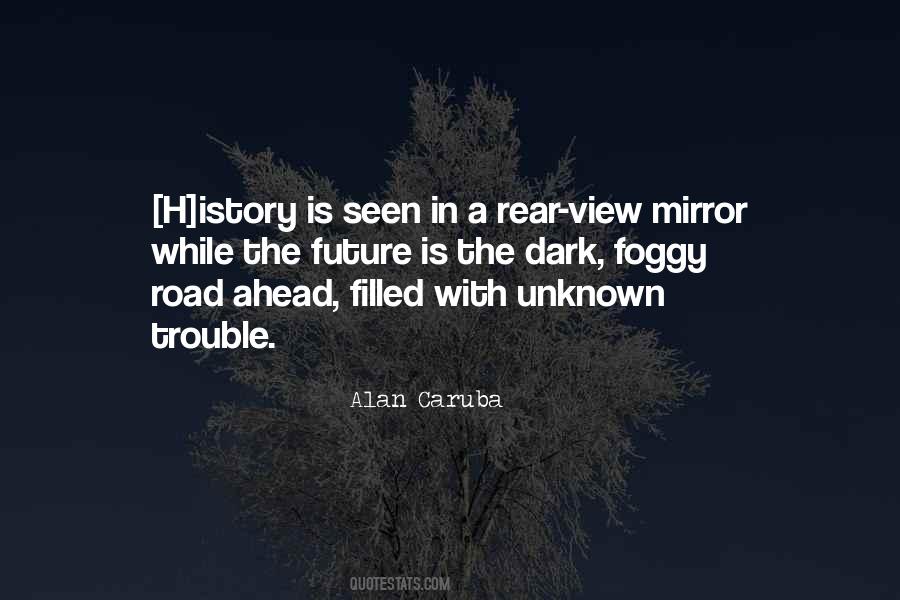 #99. Italy's assets are her style, her beauty, her creativity, her passion, her energy, her technology; and these will be core brand values of all our cars. Fiat as a company has a long way to go and a steep road ahead. - Author: Lapo Elkann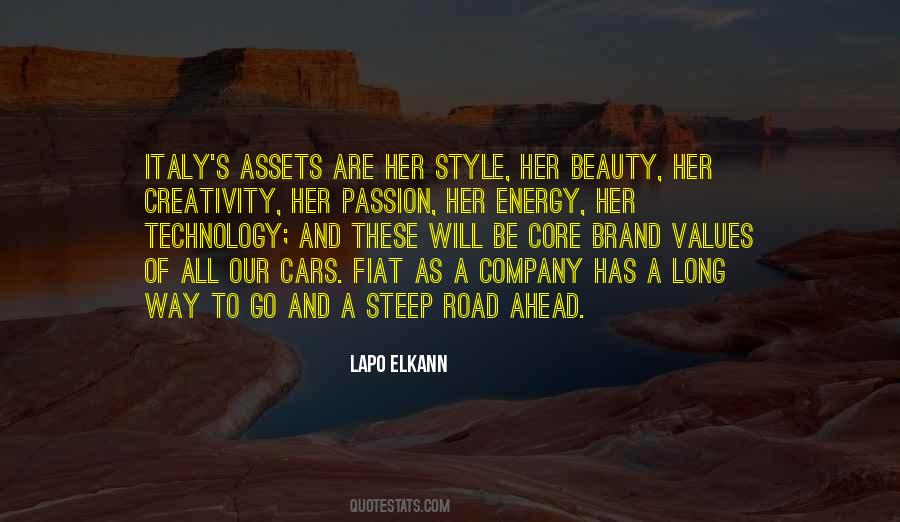 #100. The next road is always ahead. - Author: Oprah Winfrey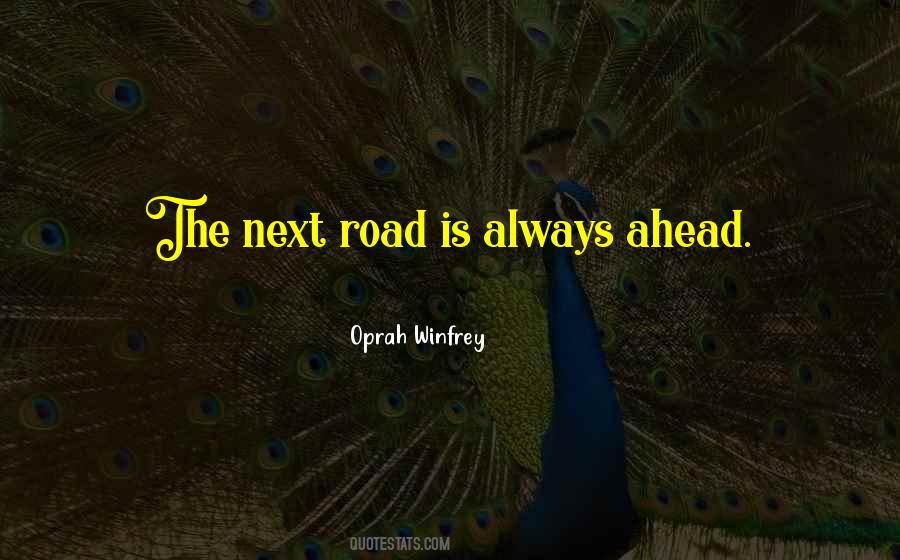 Famous Authors
Popular Topics