Praises To God Famous Quotes & Sayings
List of top 38 famous quotes and sayings about praises to god to read and share with friends on your Facebook, Twitter, blogs.
Top 38 Quotes About Praises To God
#1. Earth, with her thousand voices, praises God. - Author: Samuel Taylor Coleridge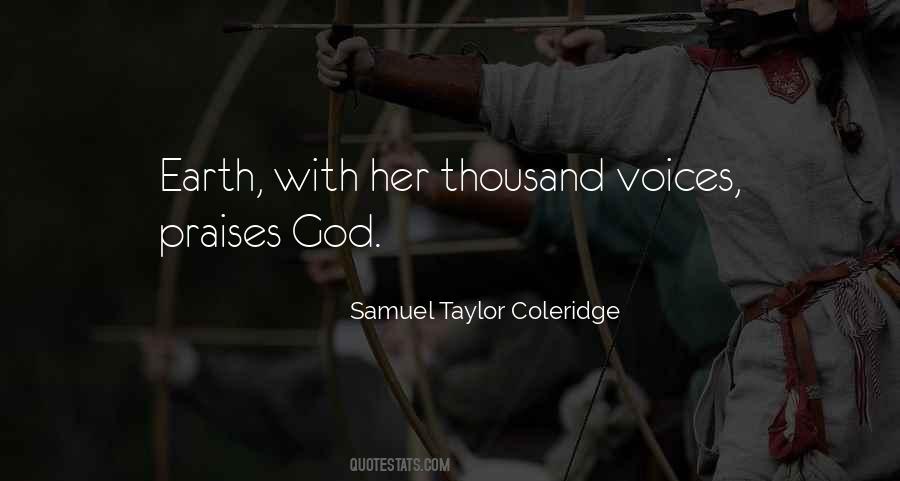 #2. But there are many fools in the world. One praises God for their existence and keeps out of their way. - Author: Agatha Christie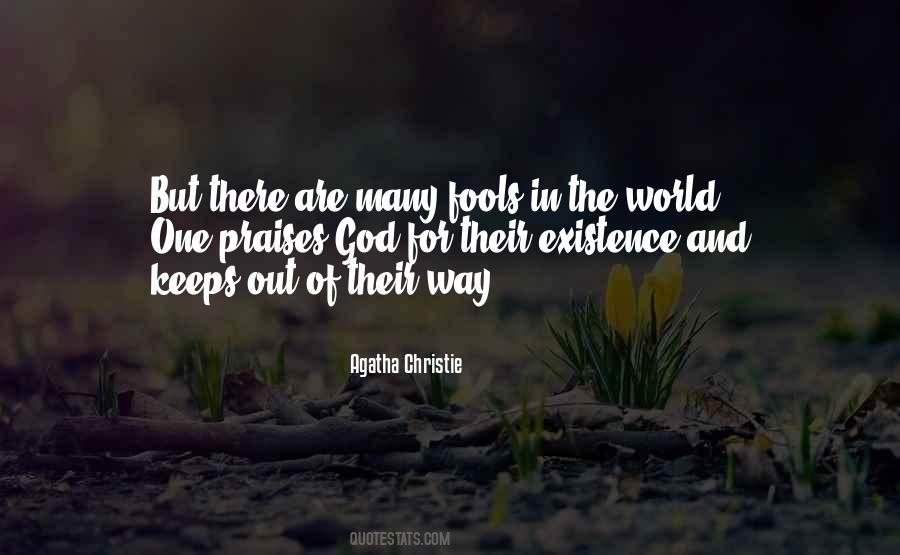 #3. God is solitary in His excellency. "Who is like unto thee, O LORD, among the gods? who is like thee, glorious in holiness, fearful in praises, doing wonders?" (Exo 15:11). - Author: Arthur W. Pink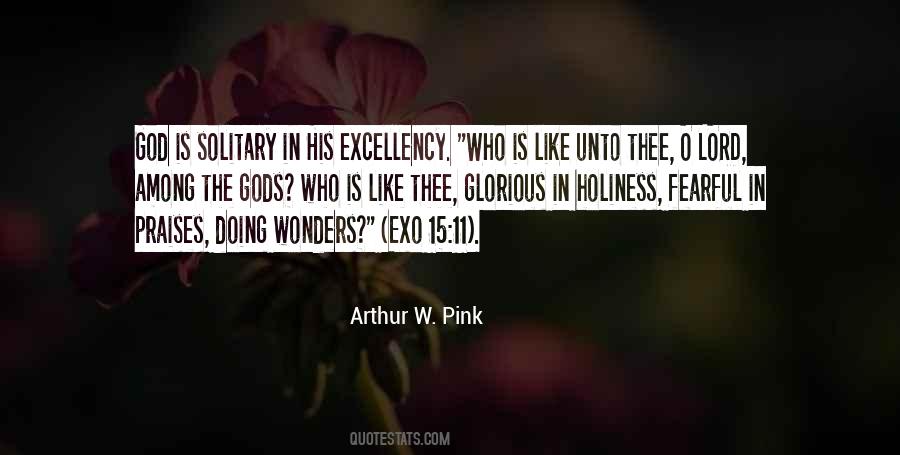 #4. Whoever praises God will always receive victory - Author: Sunday Adelaja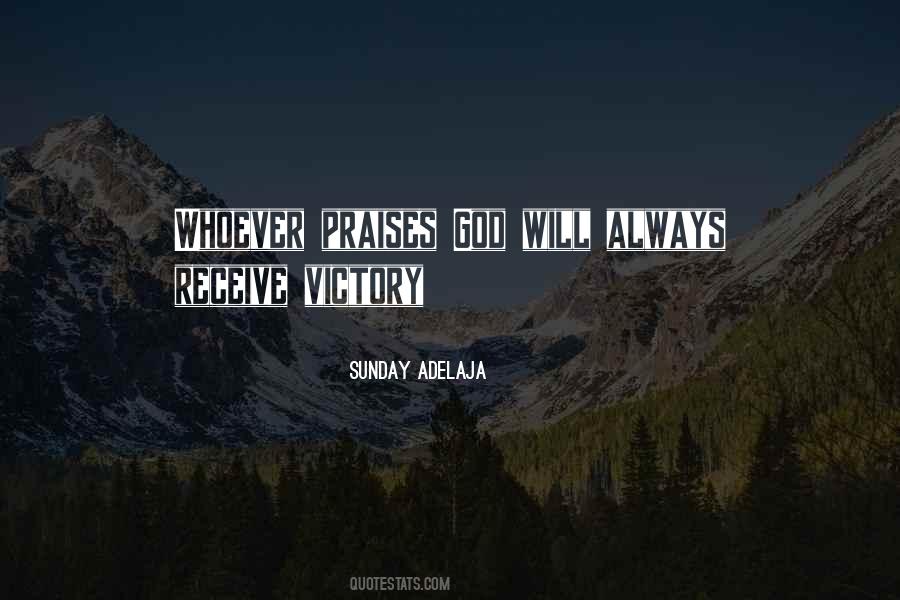 #5. The whole life of a Christian should be nothing but praises and thanks to God; we should neither eat nor sleep, but eat to God and sleep to God and work to God and talk to God, do all to His glory and praise. - Author: Richard Sibbes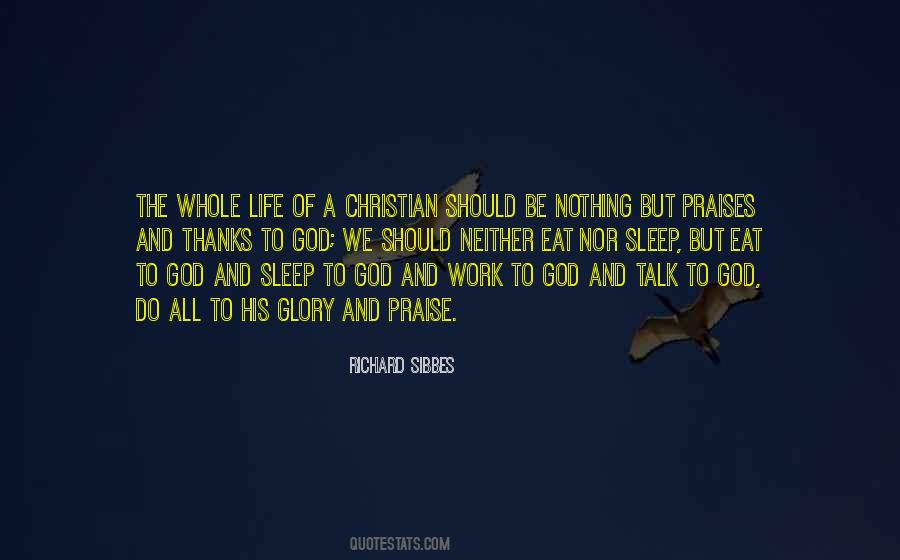 #6. In theory, the idea of eternity in heaven singing God's praises sounds really good, but when I realize I have to go through the death part to get there, I'm not quite so enamored with the idea. - Author: Kim Hunt Harris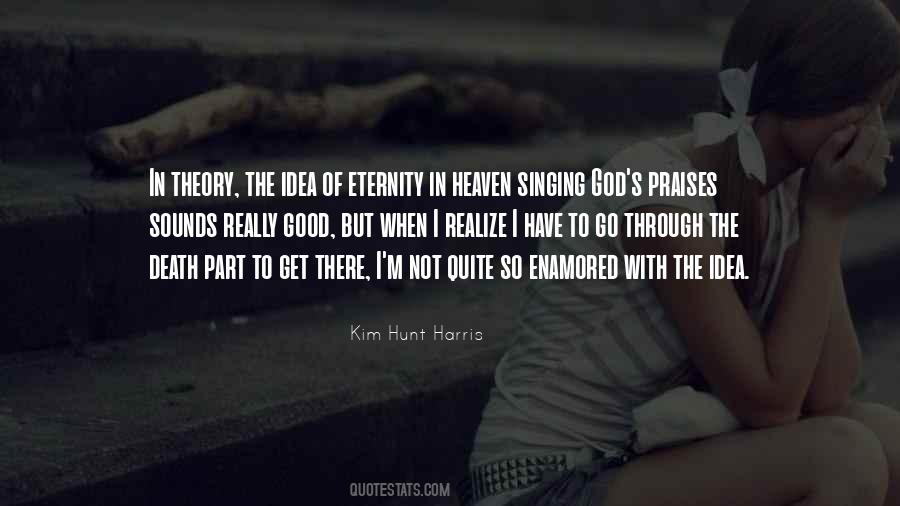 #7. I find that I spend a tremendous amount of time chasing the praises of men rather than sitting with the praises of God. The former is something I attempt to catch, the latter catches me. - Author: Craig D. Lounsbrough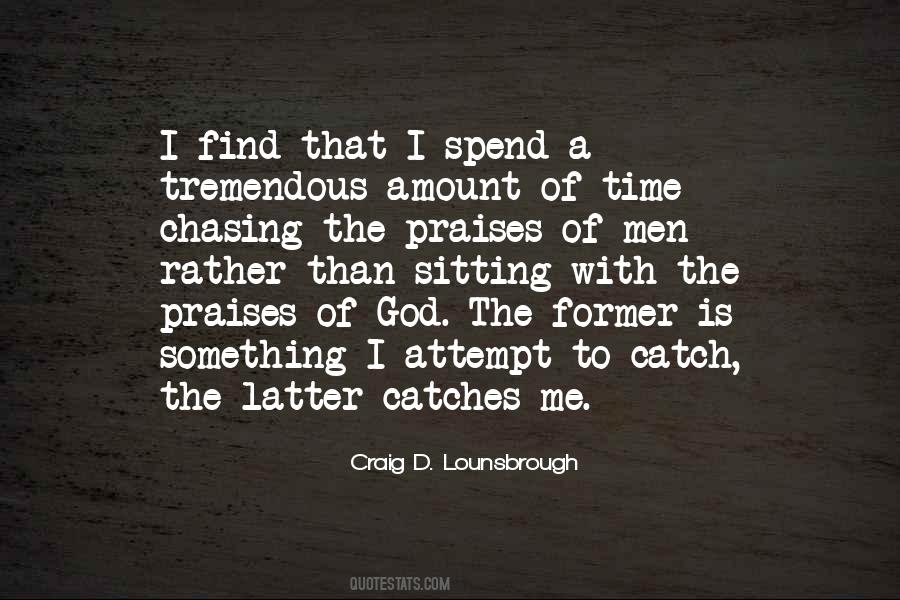 #8. Certain it is, that as nothing can better do it; so there is nothing greater, for which God made our tongues, next to reciting His praises, than to minister comfort to a weary soul. - Author: Jeremy Taylor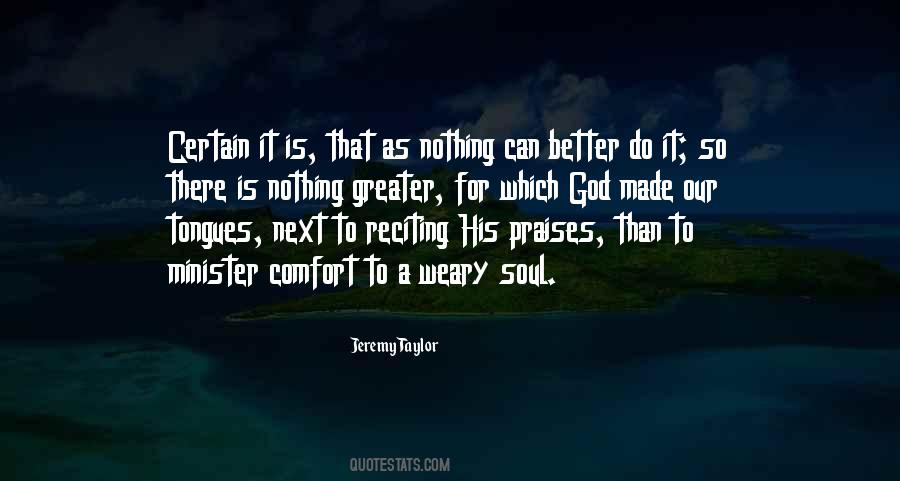 #9. If a man just stops to think what he has to praise God for, he will find there is enough to keep him singing praises for a week. - Author: Dwight L. Moody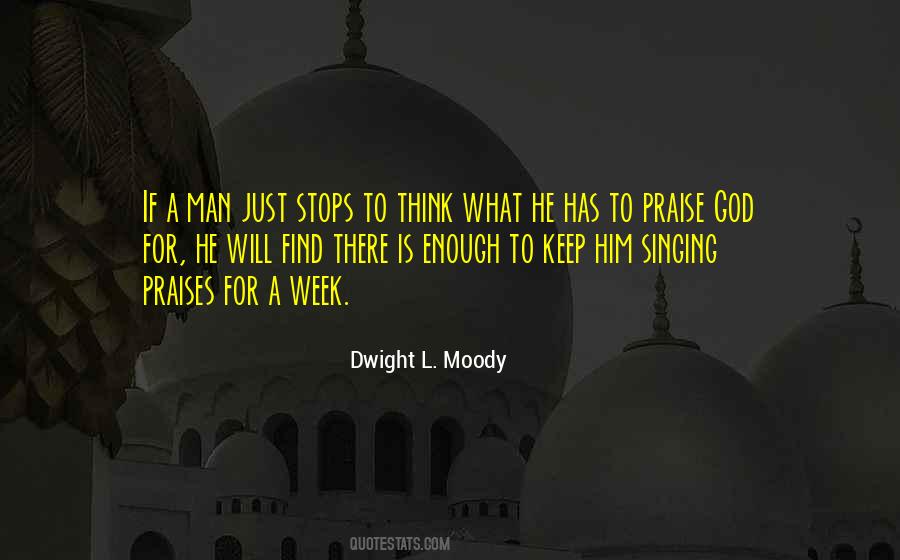 #10. Why is it when I pursue the praises of men I find myself with everything that I've looked for but nothing that I need? That's because I have an extraordinary habit of looking for the wrong thing in the wrong place. - Author: Craig D. Lounsbrough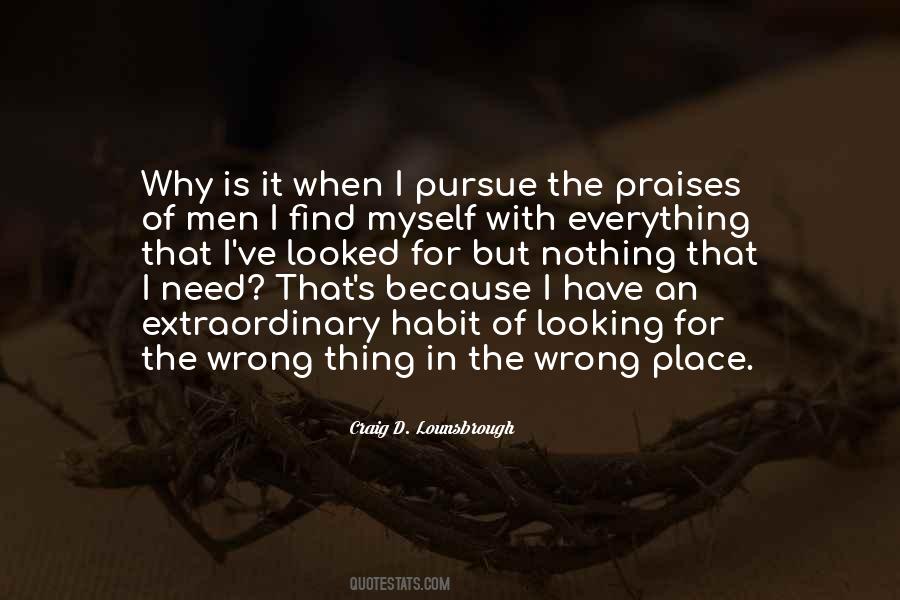 #11. In my ballets, woman is first. Men are consorts. God made men to sing the praises of women. They are not equal to men: They are better. - Author: George Balanchine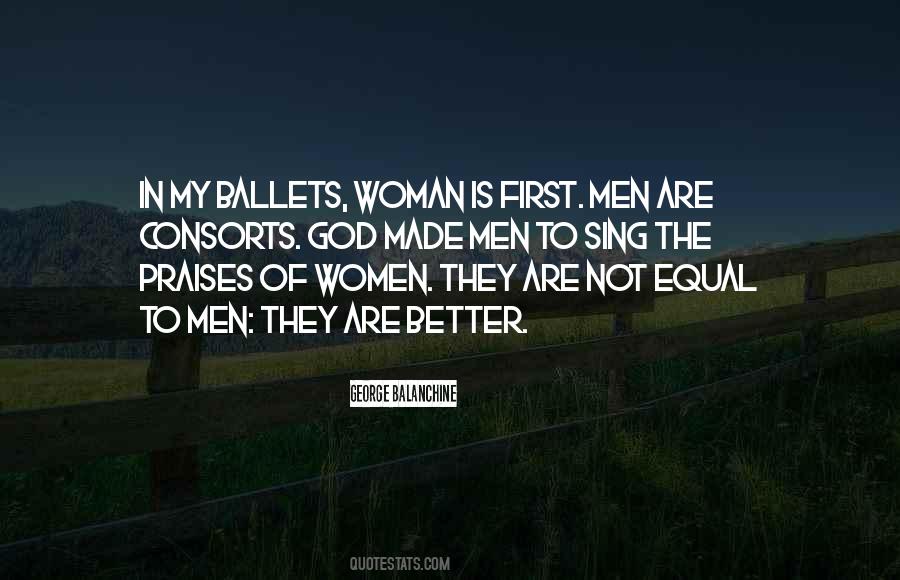 #12. The best worship that we ever render to God is far from perfect. Our praises, how faint and feeble they are! Our prayers, how wandering, how wavering they are! When we get nearest to God, how far off we are! When we are most like Him, how greatly unlike Him we are! - Author: Charles Spurgeon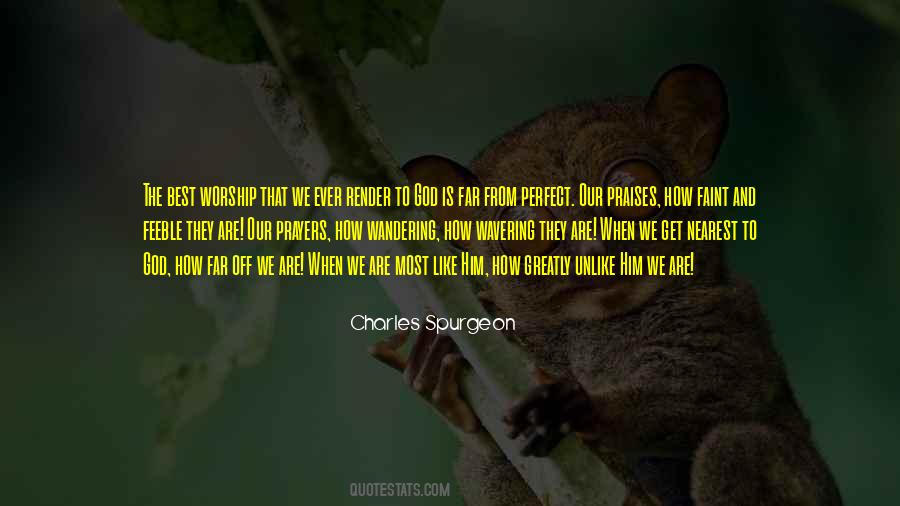 #13. God directs his people not simply to worship but to sing his praises "before the nations." We are called not simply to communicate the gospel to nonbelievers; we must also intentionally celebrate the gospel before them. - Author: Timothy Keller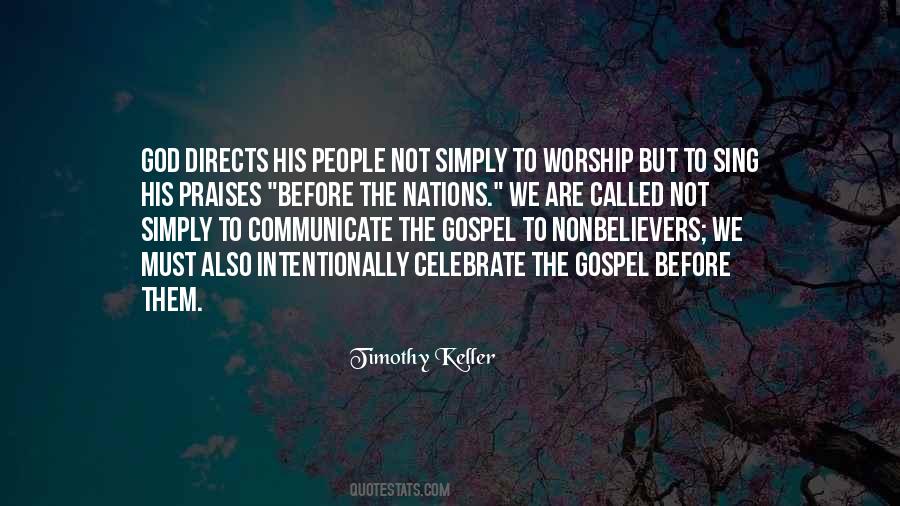 #14. Music praises God. Music is well or better able to praise him than the building of the church and all its decoration; it is the Church's greatest ornament. - Author: Igor Stravinsky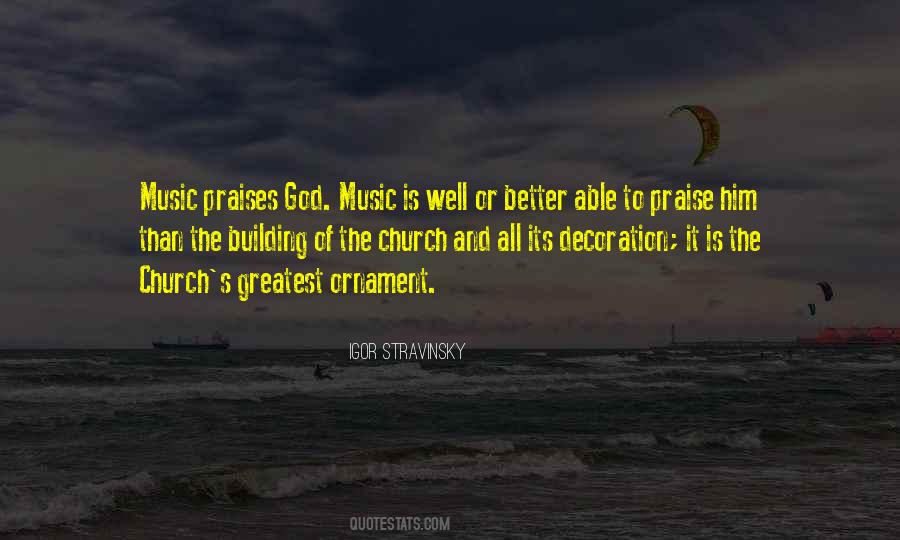 #15. God inhabits the praises of His people. And when the King is present, all things are possible. So - Author: Mike Harland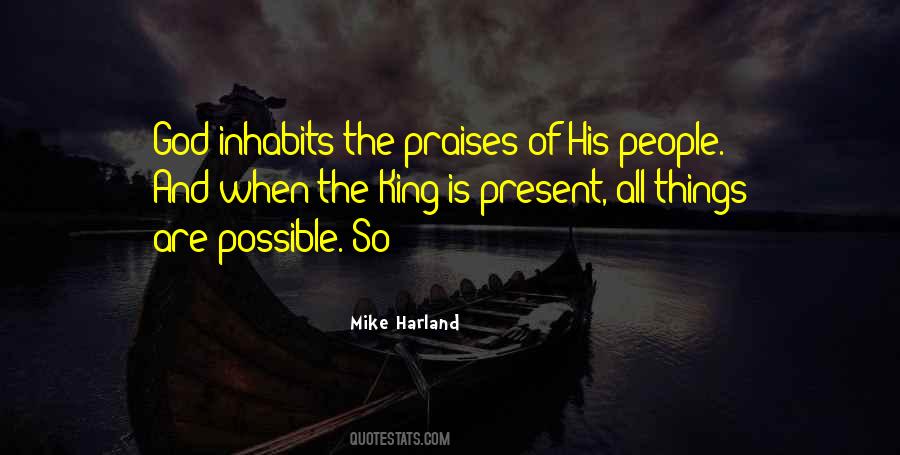 #16. So well do I love you, I go to my god singing your praises. When I meet my father, I will tell him I fought beside you. - Author: Janet Morris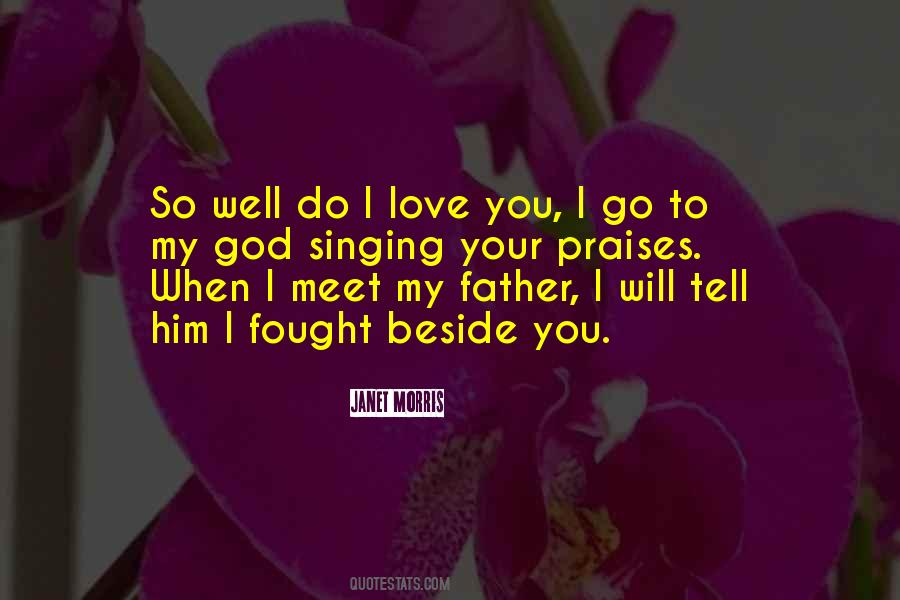 #17. I fear only God, all praises to Him. - Author: Muqtada Al Sadr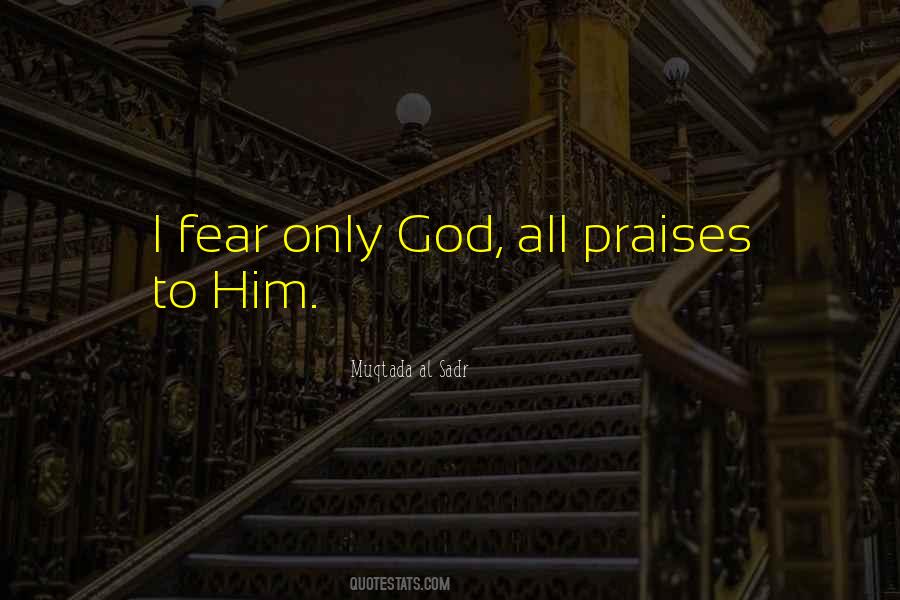 #18. God is love precisely because He relentlessly pursues the praises of His name in the hearts of His people. - Author: John Piper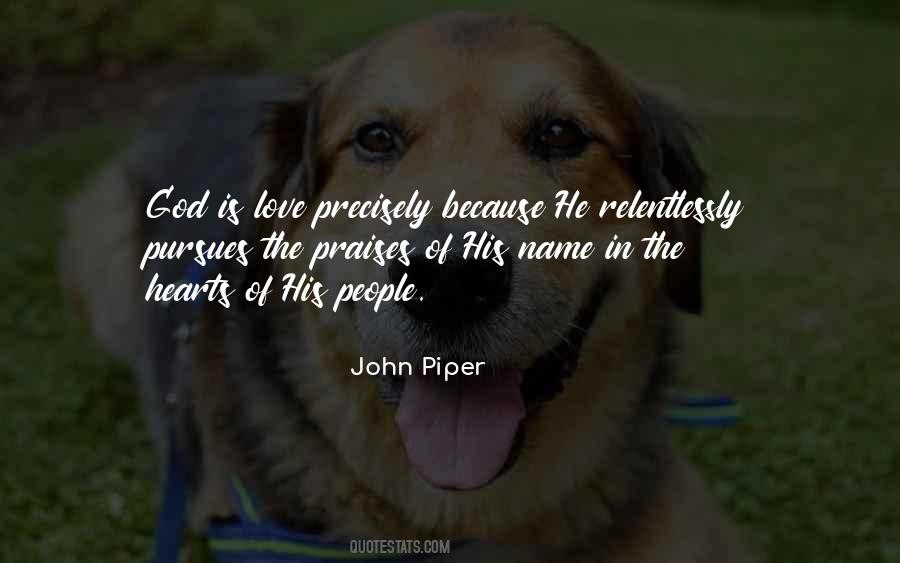 #19. Praise your God in a silent and humbly manner instead of rubbing his back with loud praises while silently committing horrendous acts. - Author: Gloria D. Gonsalves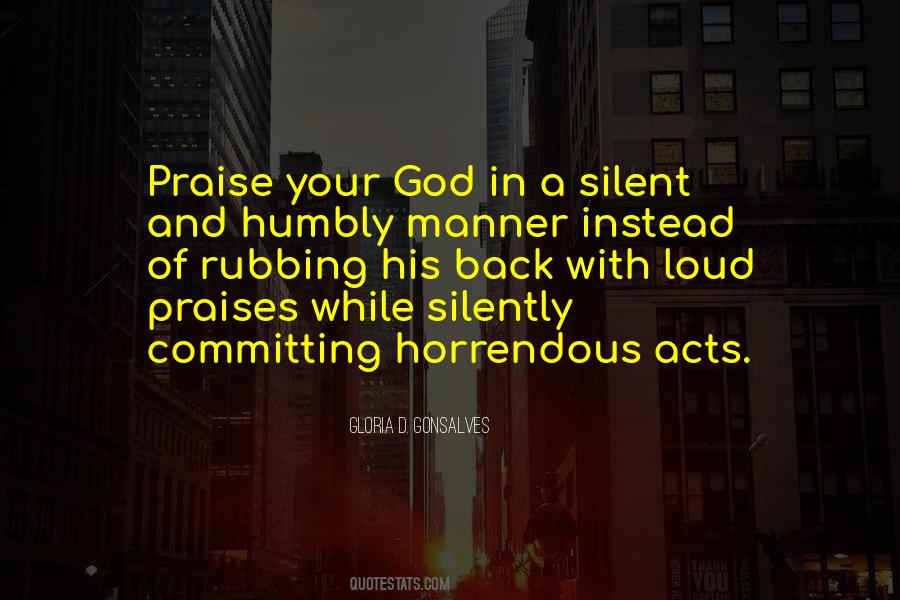 #20. A three-day-old baby is a saint?'
Willibald flapped his hands. 'Miracles happen, lord,' he said, 'they really do. They say little Rumwold sang God's praises whenever he suckled.'
'I feel much the same when I get hild of a tit,' I said, 'so does that make me a saint? - Author: Bernard Cornwell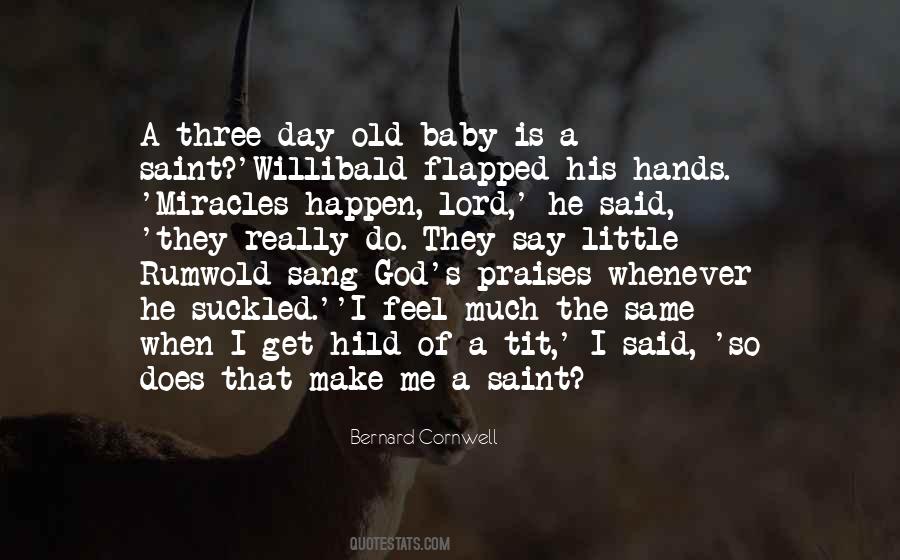 #21. Praise the LORD! For it is good to sing praises to our God; For it is pleasant, and praise is beautiful. - Author: John F. MacArthur Jr.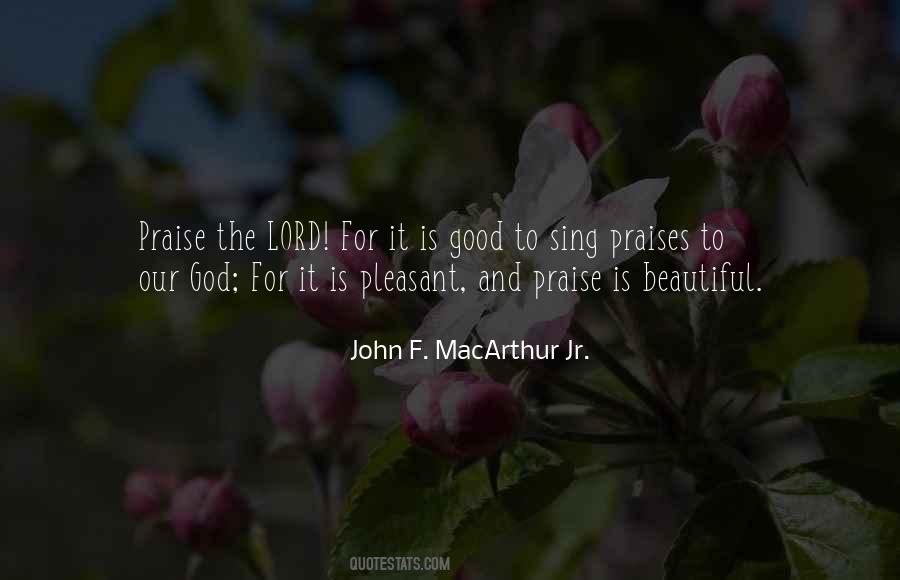 #22. Some people only go to church for the social life. They like having all the friends in church or getting the praises of men by doing certain things, but they don't go there to actually worship God. They go there so others can worship THEM instead. - Author: Lisa Bedrick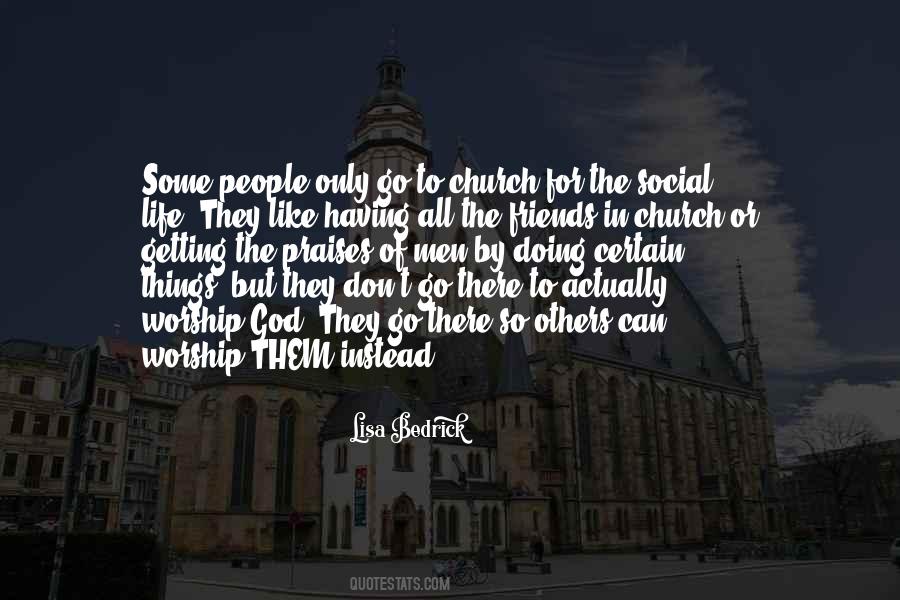 #23. Offering thanks and singing praises to God, compels the Lord to act in our behalf, to either calm the storm to a whisper, or to give us the strength to endure the storm. Whichever He chooses, He brings us out of our distress and into His peace." Meet Him on the Mountain pg. 138. - Author: Sheldon K. Bass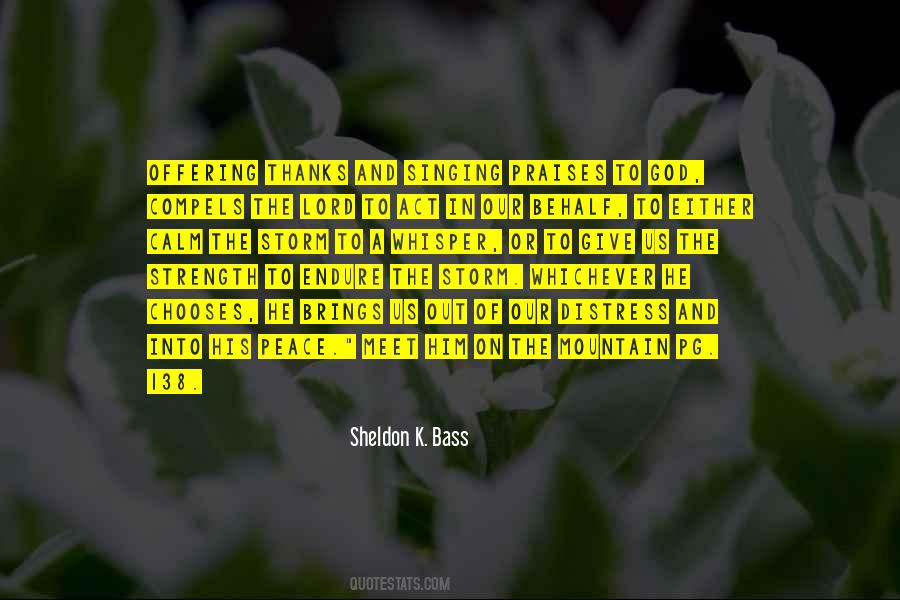 #24. The fire has its flame and praises God.
The wind blows the flame and praises God.
In the voice we hear the word which praises God.
And the word, when heard, praises God.
So all of creation is a song of praise to God. - Author: Hildegard Of Bingen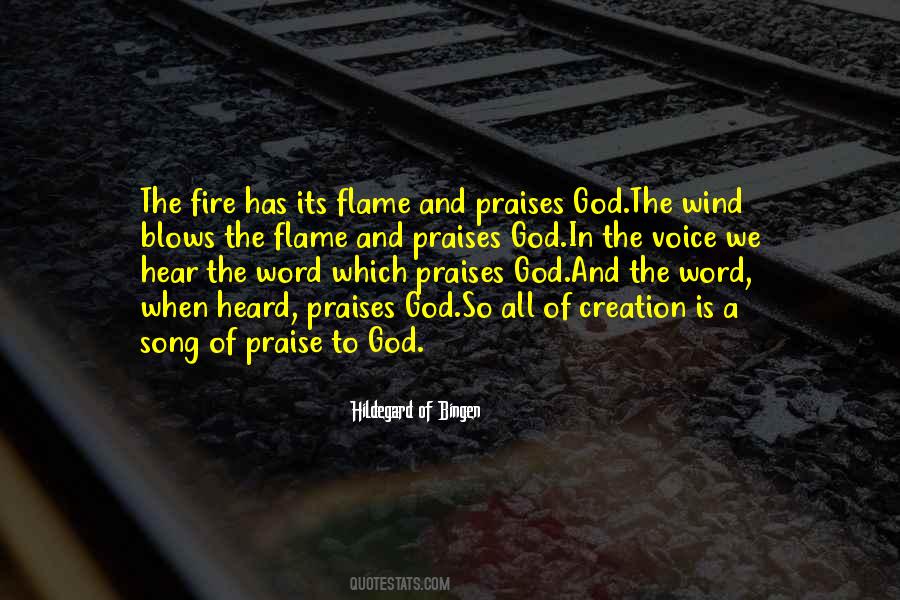 #25. If the Church would have her face shine, she must go up into the mount, and be alone with God. If she would have her courts of worship resound with eucharistic praises, she must open her eyes, and see humanity lying lame at the temple gates, and heal it in the miraculous name of Jesus. - Author: Frederic Dan Huntington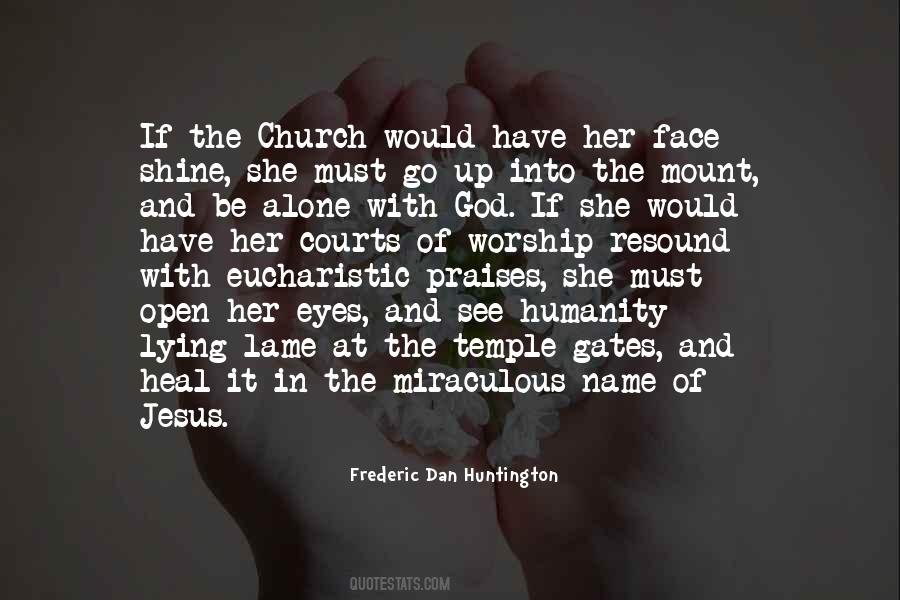 #26. Do you want to sing and play psalms? Then not only must your voice sing God's praises but your actions must keep in tune with your voice. - Author: Calvin R. Stapert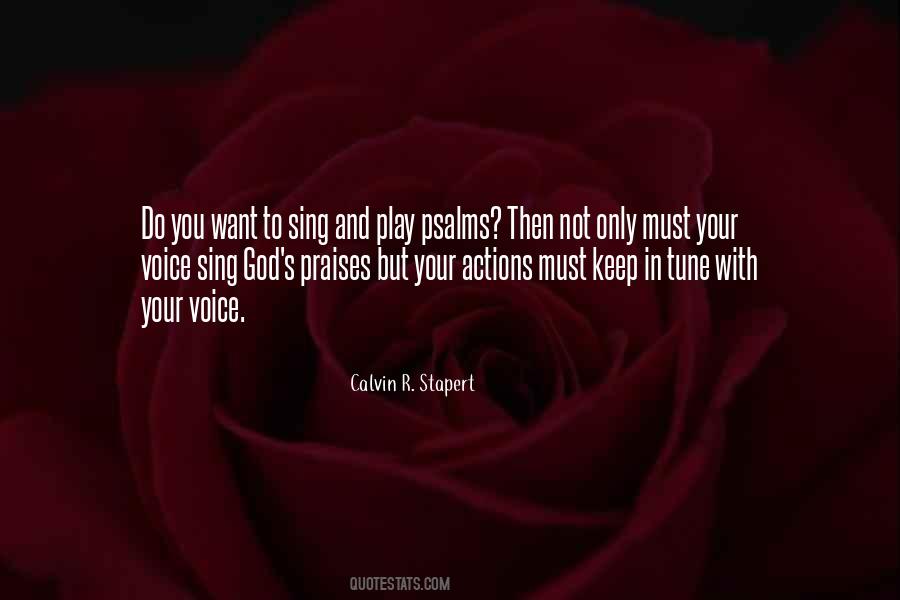 #27. The person who praises God is on the tracks of justice. - Author: Soren Kierkegaard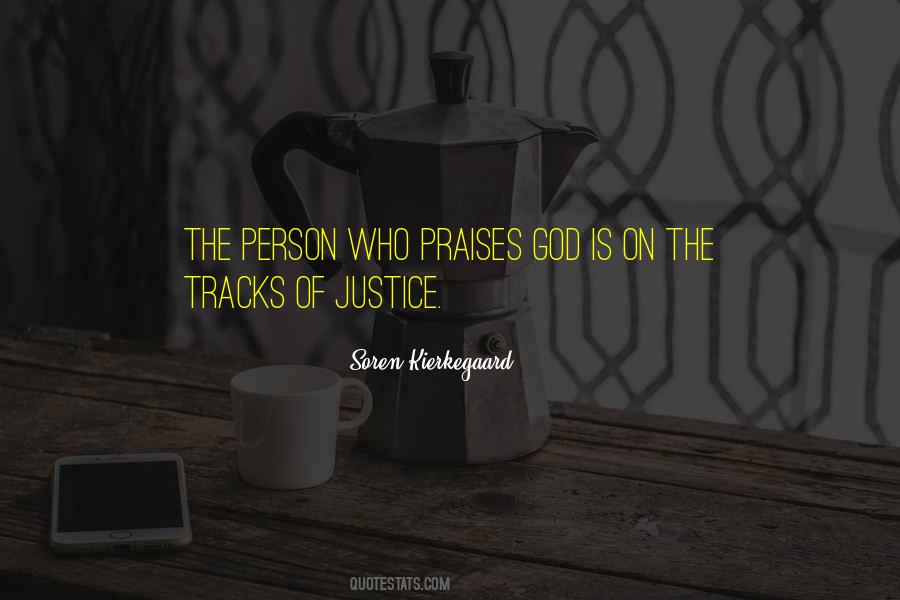 #28. I've been a non-believer all of my life, but I'd drop to my knees and sing the praises of any righteous god who collapsed this Tower of Babel and scattered men across the Earth in a million virile, competing cultures, tribes, and gangs. - Author: Jack Donovan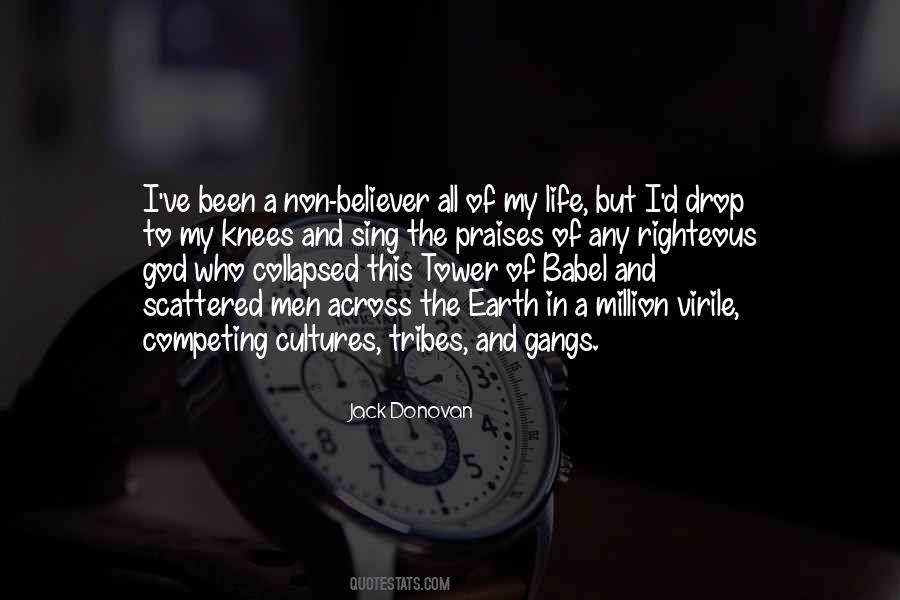 #29. When the Christian praises and gives thanks to God, this not only pleases God, but it enriches the Christian's life with joy. It is a reciprocating transaction between God and man. - Author: Rick Warren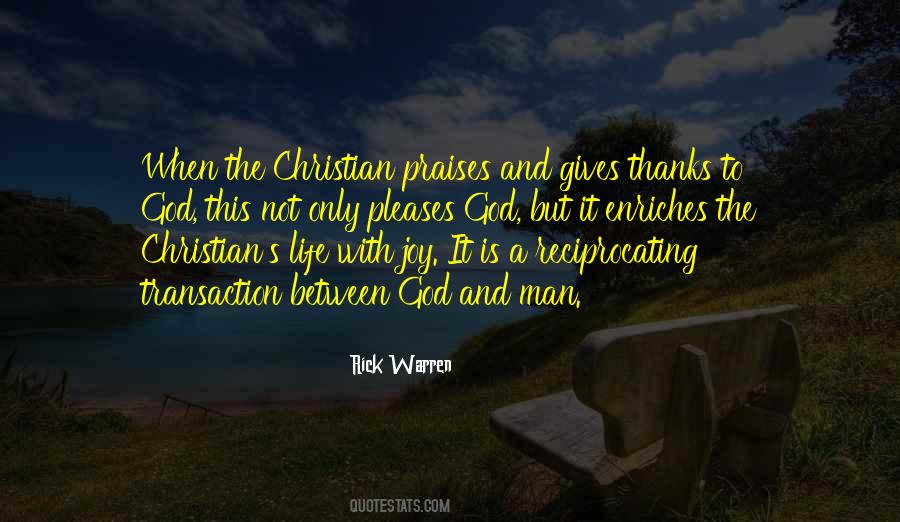 #30. All ages serve and worship the same God, gather under the same gospel and add to the collective song that praises the faithfulness of God as each generation shares in his promises to us. - Author: Keith Getty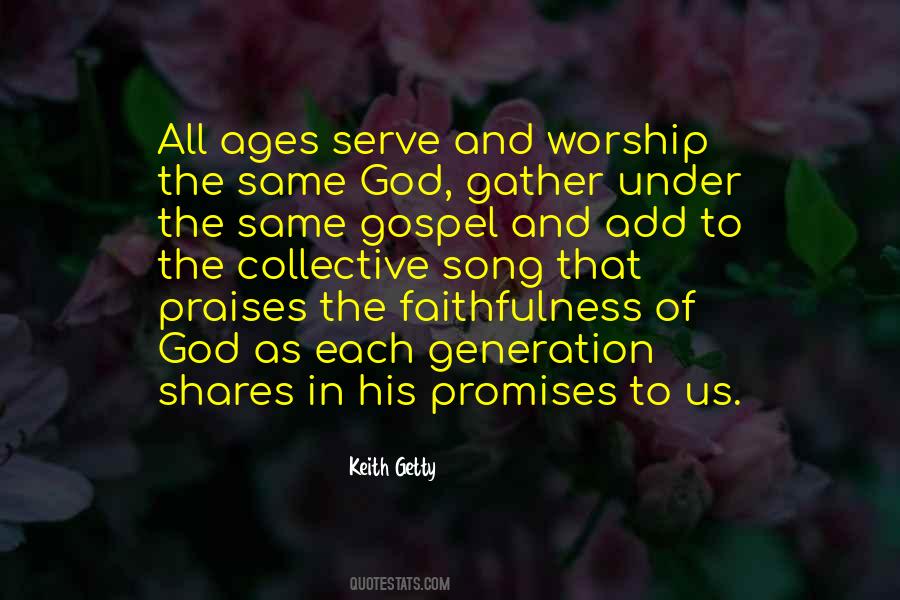 #31. Those that forget to attend God with their praises may perhaps be compelled to attend him with their prayers. - Author: Matthew Henry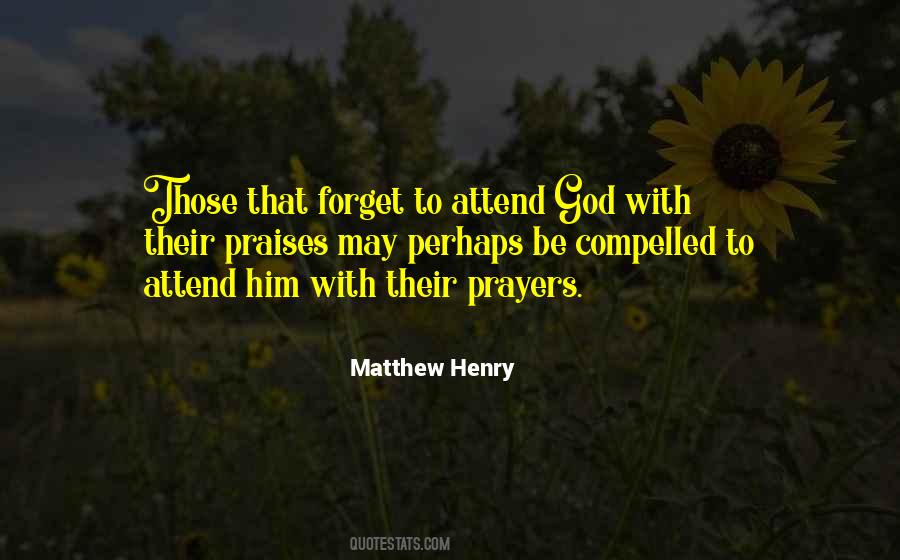 #32. Replace the negative talk that will hinder you. Replace it with praises for God, who will deliver you. - Author: Lysa TerKeurst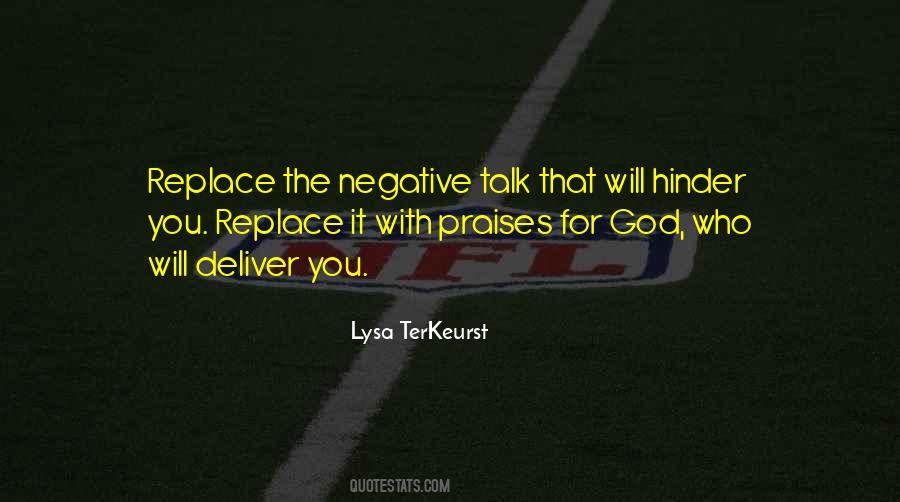 #33. Shout! Play instruments! Praise our God and King; sing praises to Him who is worthy. 7For He is the King of all the earth. Sing praise, all who can. Put words to music, and then sing - Author: Anonymous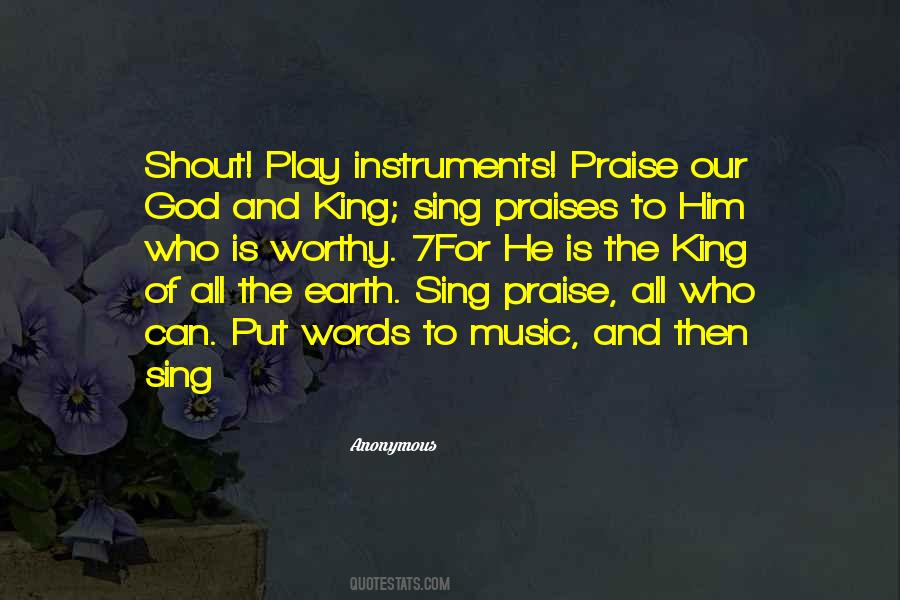 #34. God cherises praises , admires thanksgiving and embraces prayer . - Author: Osunsakin Adewale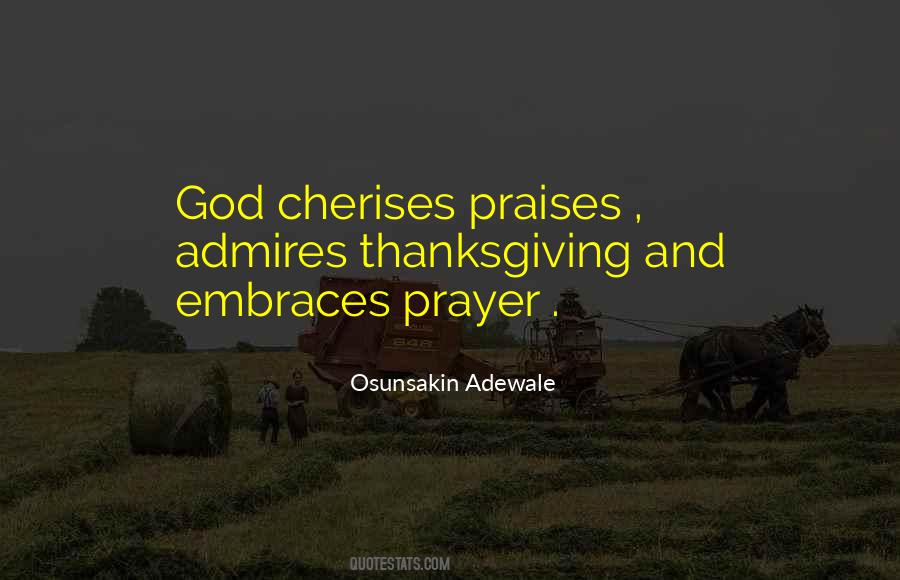 #35. It is He who makes the lightning flash upon you, inspiring you with fear and hope, and gathers up the heavy clouds. The thunder sounds His praises, and the angels, too, in awe of him. He hurls his thunderbolts at whom He pleases. Yet the unbelievers wrangle about God. - Author: Anonymous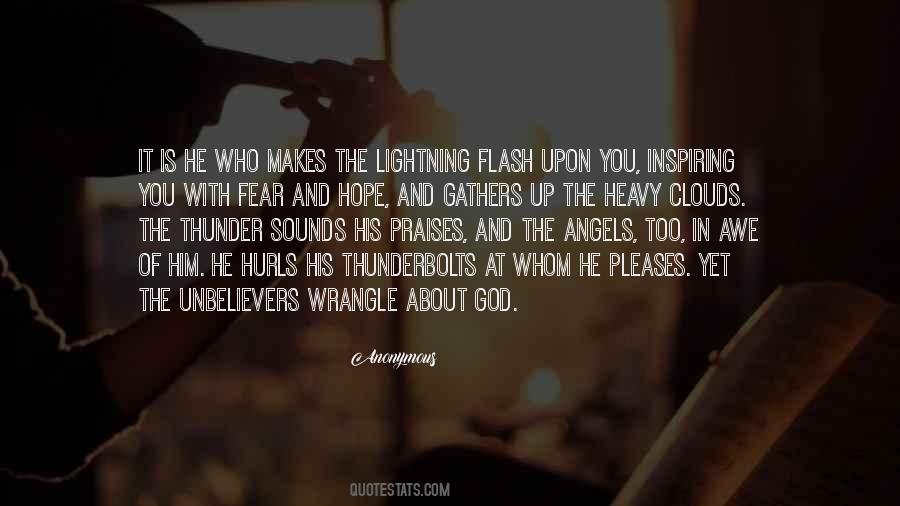 #36. It's not that we should declare the praises of God. It's that we may. - Author: Louie Giglio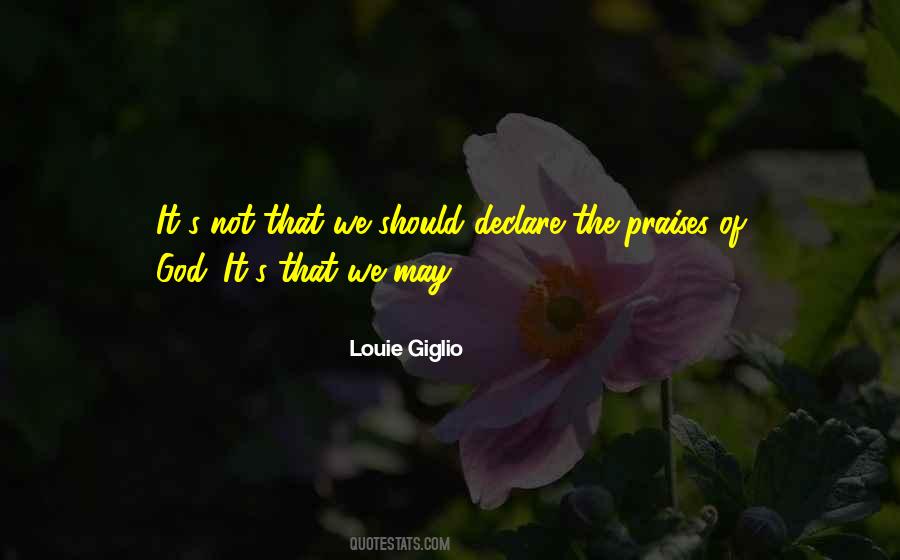 #37. So vile a thing is a lie that even if it spoke fairly of God it would take away somewhat from His divinity; and so excellent a thing is truth that if it praises the humblest things they are exalted. - Author: Leonardo Da Vinci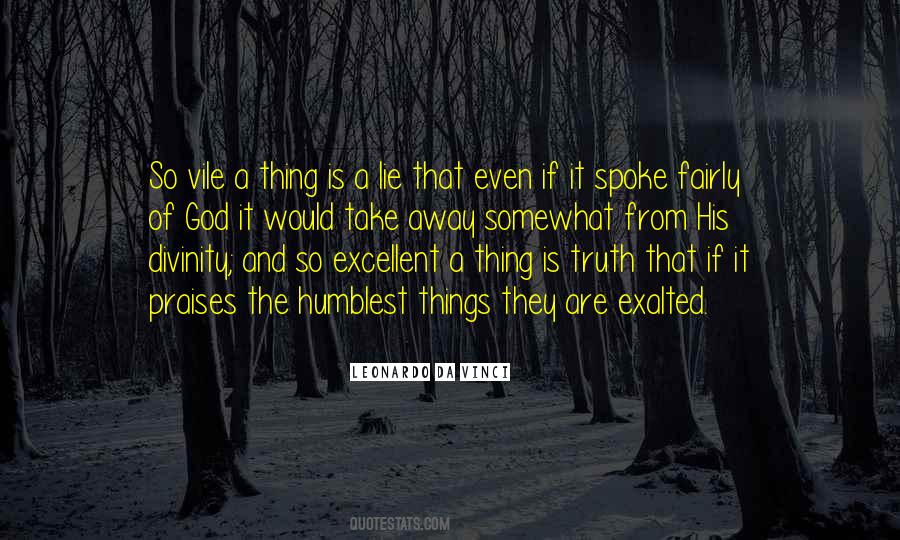 #38. In some of the best worship songs we bring our praises to God - yet at the same time also end up preaching to ourselves. - Author: Matt Redman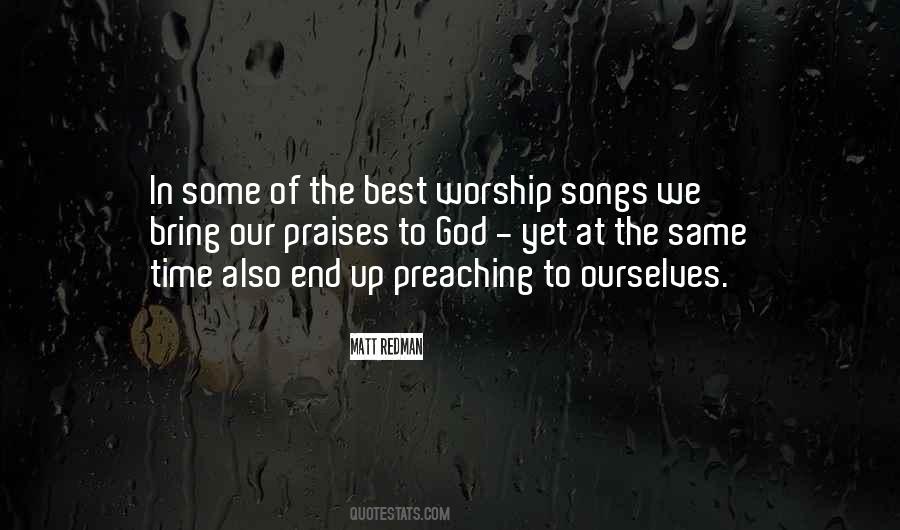 Famous Authors
Popular Topics