Playing Records Famous Quotes & Sayings
List of top 61 famous quotes and sayings about playing records to read and share with friends on your Facebook, Twitter, blogs.
Top 61 Quotes About Playing Records
#1. My band is the best band in the world, period. So, I insist on every song being better then it is on the record. So by the end of the tour, we have to be playing the song better then how it's recorded. - Author: Ben Harper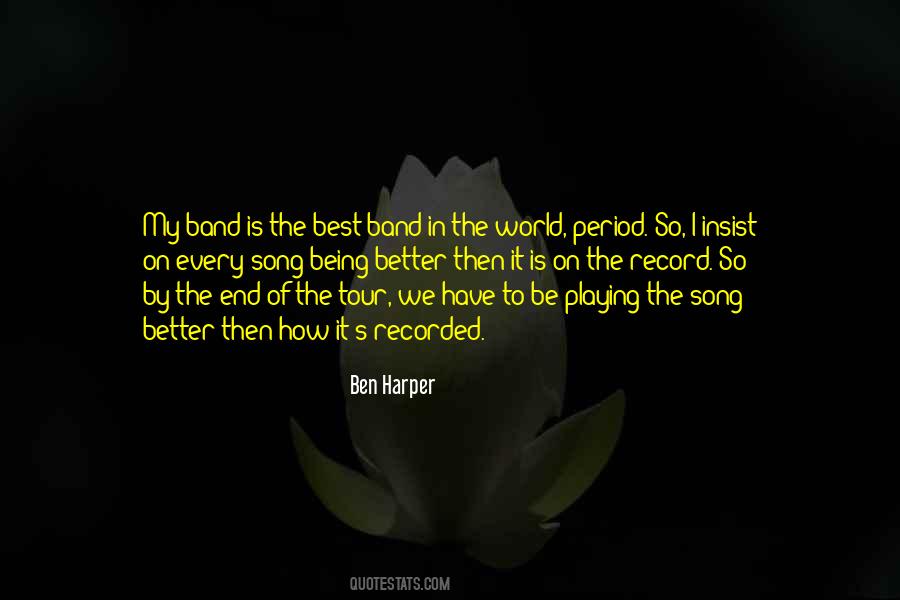 #2. People used to make records, as in the record of an event, the event of people playing music in a room, and now everything's cross-marketing, its about sunglasses and shoes, or guns and drugs that you choose. - Author: Ani DiFranco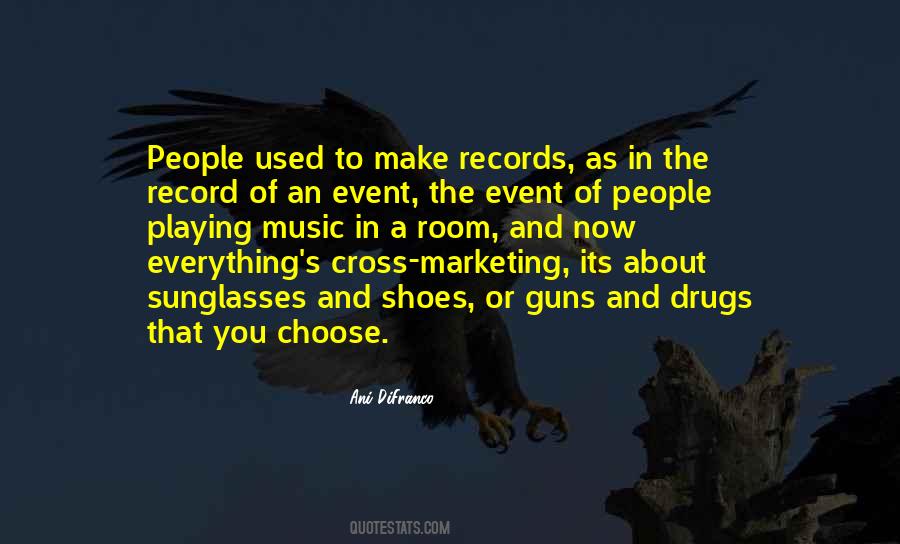 #3. Century-old records are the closest thing we have to a time machine. To listen to the voice of Theodore Roosevelt or the piano playing of Claude Debussy is to feel the years falling away like autumn leaves from a maple tree. - Author: Terry Teachout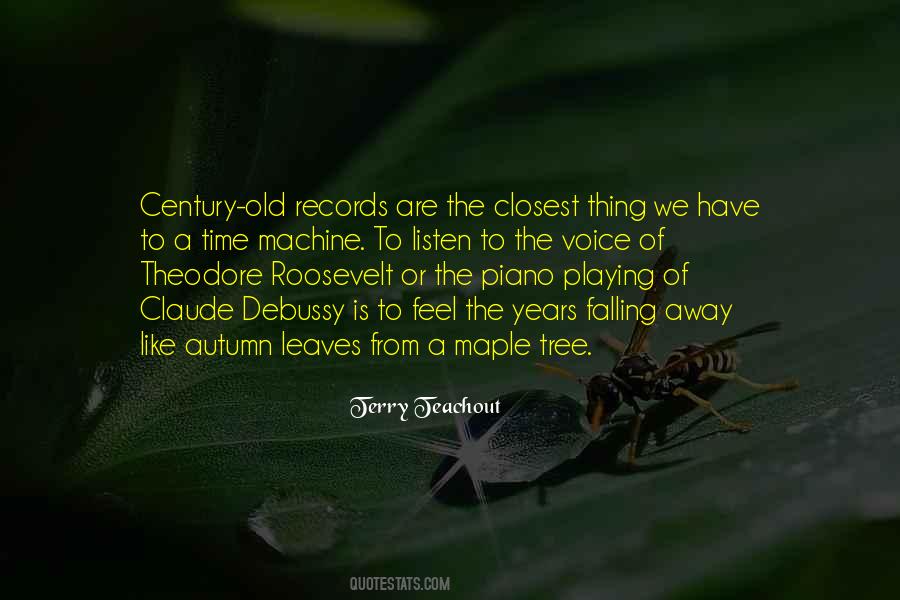 #4. I think that where it came from and the initial birth of it - it did come out of a jam at Bruno's studio, you know? He was playing drums. And Jeff Bhasker, who co-produced the record with us, is on synths, and I was playing bass. - Author: Mark Ronson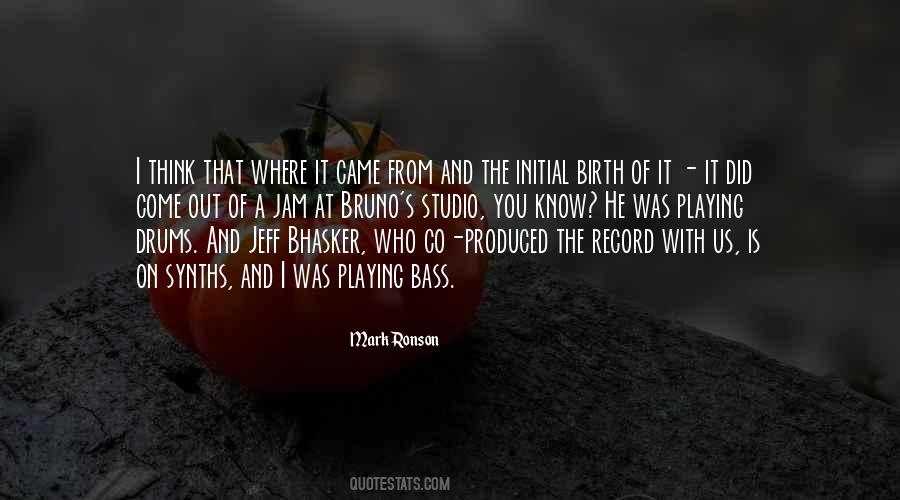 #5. I go to clubs and if I notice the DJs are playing the records faster, then I'll push the beats a little on the next record I make. A lot of people don't know how to watch out for things like that. - Author: Jermaine Dupri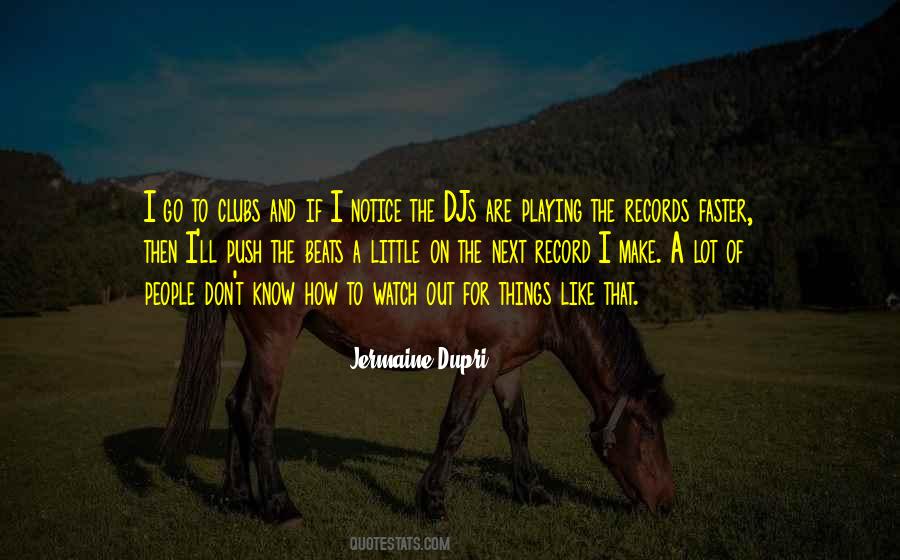 #6. English banjo players really were a law unto themselves - you don't find that kind of brisk banjo playing on the original Louis Armstrong or Bix Beiderbecke records. - Author: Pete Townshend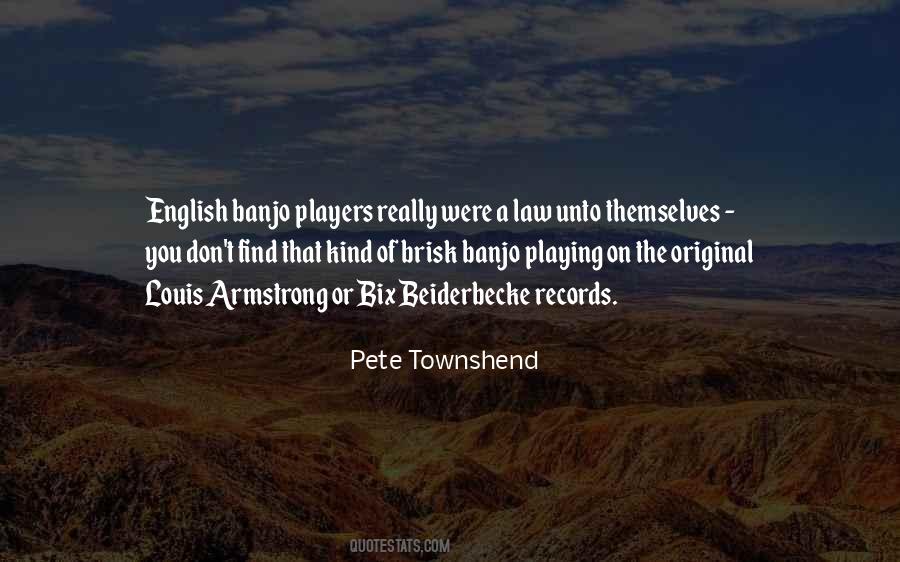 #7. Playing Etta James in the movie 'Cadillac Records' really changed me. It was a darker character, and I realized that if anything is too comfortable, I want to run from it. It's no fun being safe. - Author: Beyonce Knowles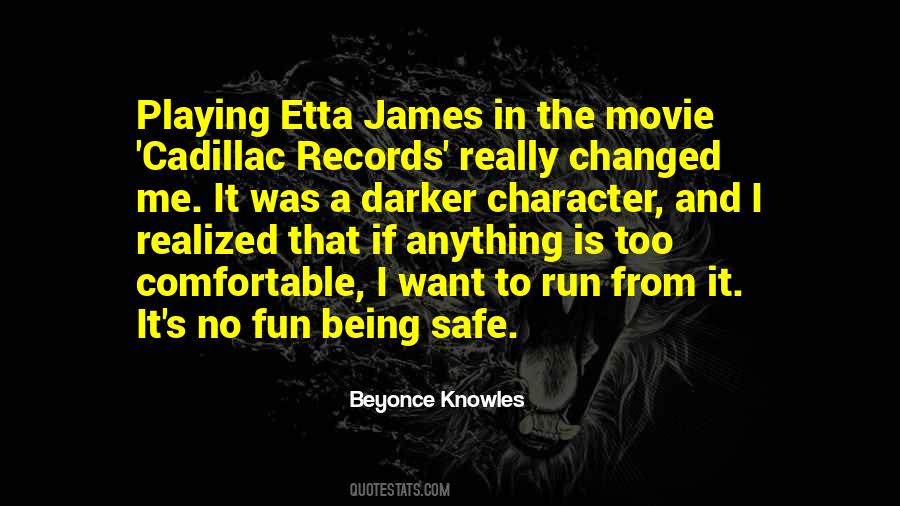 #8. Aqualung was a difficult and very tense album to record ... while I was playing the solo, Jimmy Page walked into the control room and started waving, I thought, should I wave back and mess up the solo or should I just grin and carry on ? ... I just grinned - Author: Martin Barre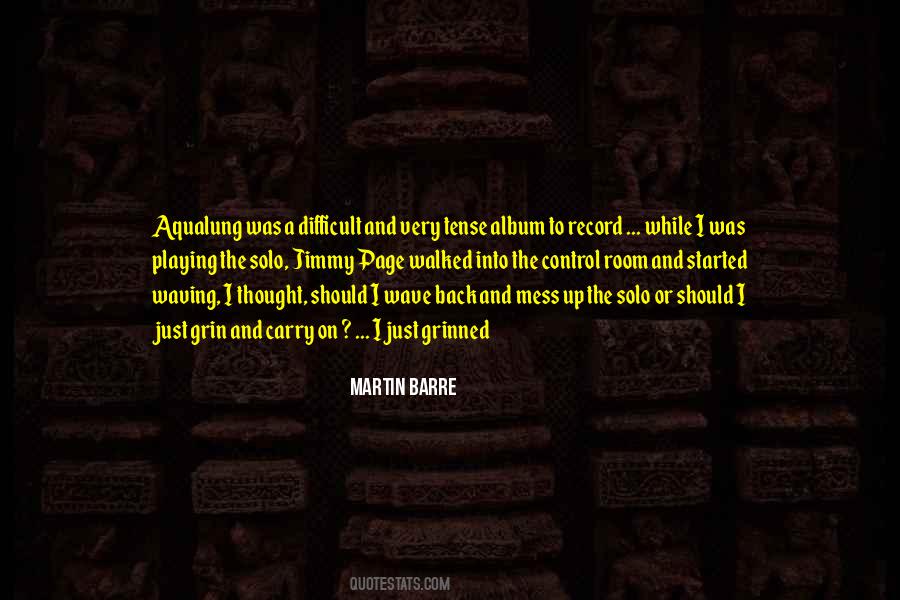 #9. The alternate media are becoming important and viable alternatives to playing live. Records, videos, that kind of thing. They're going to start to count for something. Because there's only a limited amount of us-time available to us. - Author: Jerry Garcia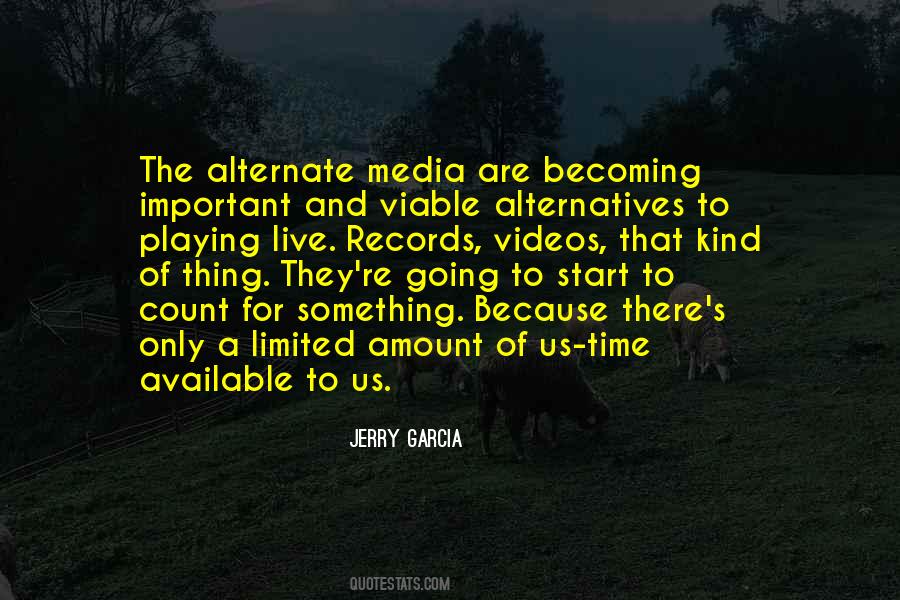 #10. With Dollars And Cents on the album, we had it as a band jam and I sometimes spend evenings playing with records over the top of things we were working on to see what works. - Author: Colin Greenwood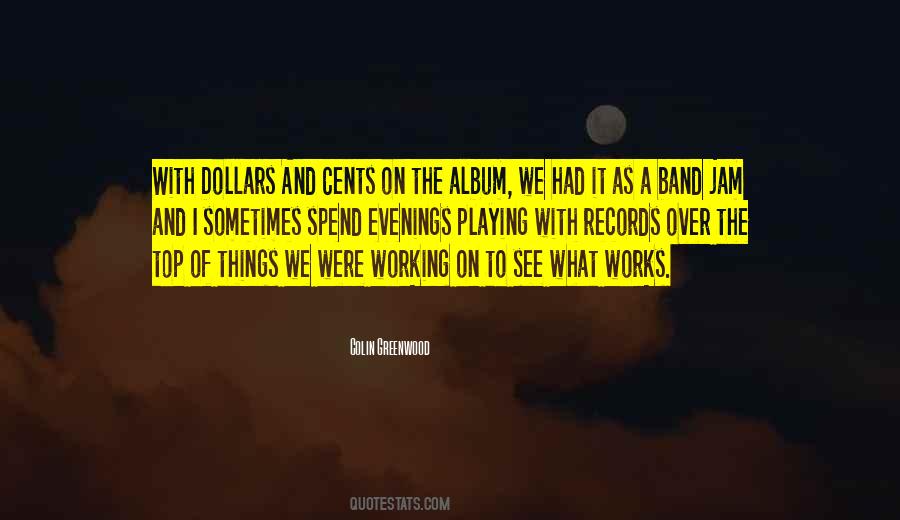 #11. All I want is to have fun in what I'm doing every day. I don't want to break records. To become the greatest player ever could take me like ... 10 more years and I don't think I'll still be playing at 31. - Author: Serena Williams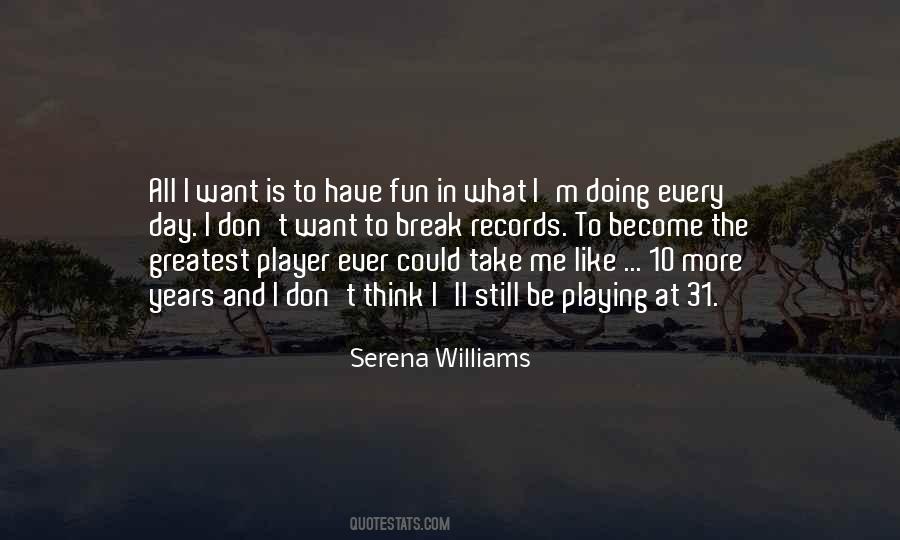 #12. The whole having records and selling records and being on TV, that was something that I didn't ever think would be for me. I thought that would be for other people. All I wanted to do was make a living playing the drums. - Author: Phil Collins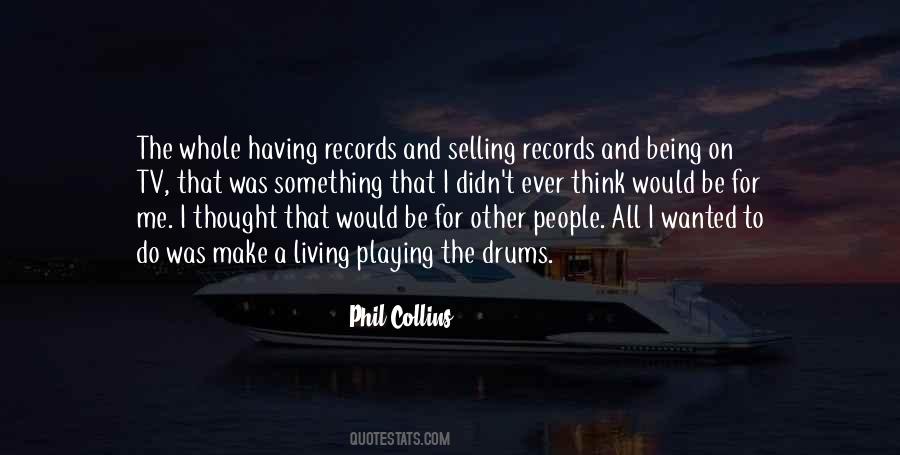 #13. We play some smaller songs larger than they are the record, and vice versa. It took me a while to get used to playing live. - Author: Iron & Wine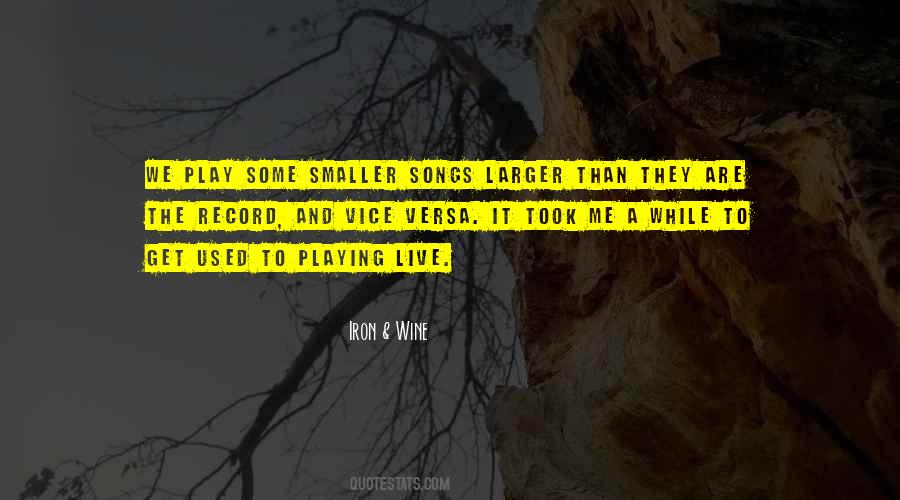 #14. I started off playing the clarinet, after I was inspired by listening to my dad's Benny Goodman records. - Author: Alvin Lee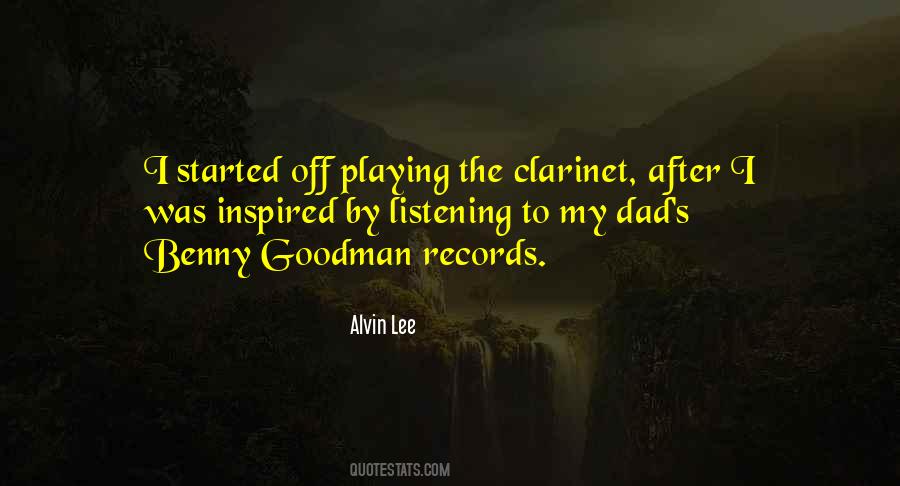 #15. It's hard if you're just touring constantly. It's like, "What am I going to write about? I'm in the van, I'm playing another show ... " I'm still writing about heartbreak that happened years ago. I don't see the point of writing and putting out another record until I can do something else. - Author: Sharon Van Etten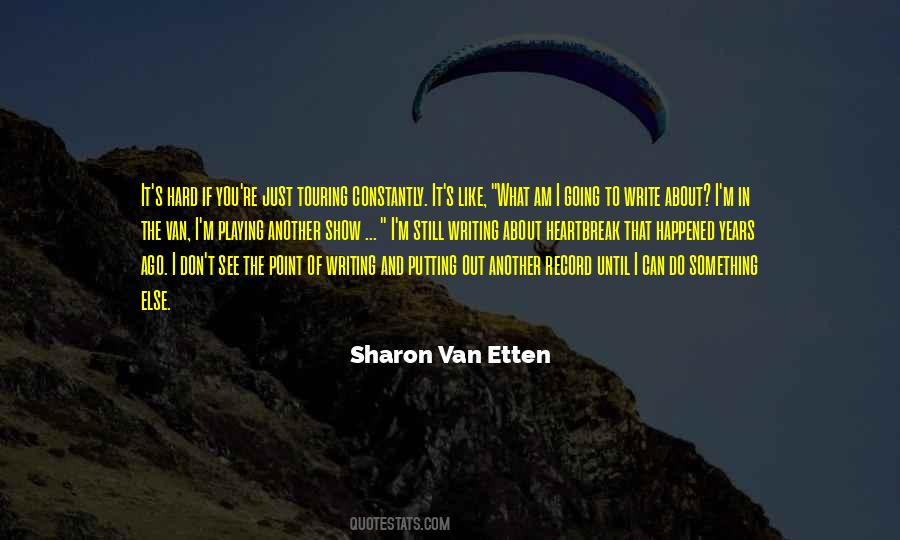 #16. No one's playing records anymore, so find your favorite and frame it, then get rid of the rest - try selling or donating them. - Author: Niecy Nash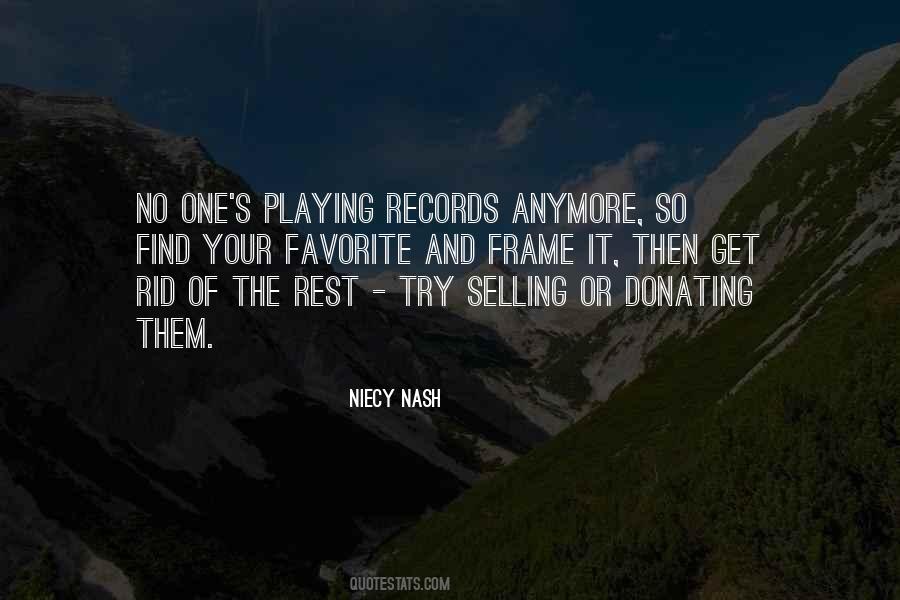 #17. I didn't start to collect records and listen to guitar players properly until I went to art school, when I'd already been playing for five years. So my style was already formed, and that's why I think it's so unique. - Author: Pete Townshend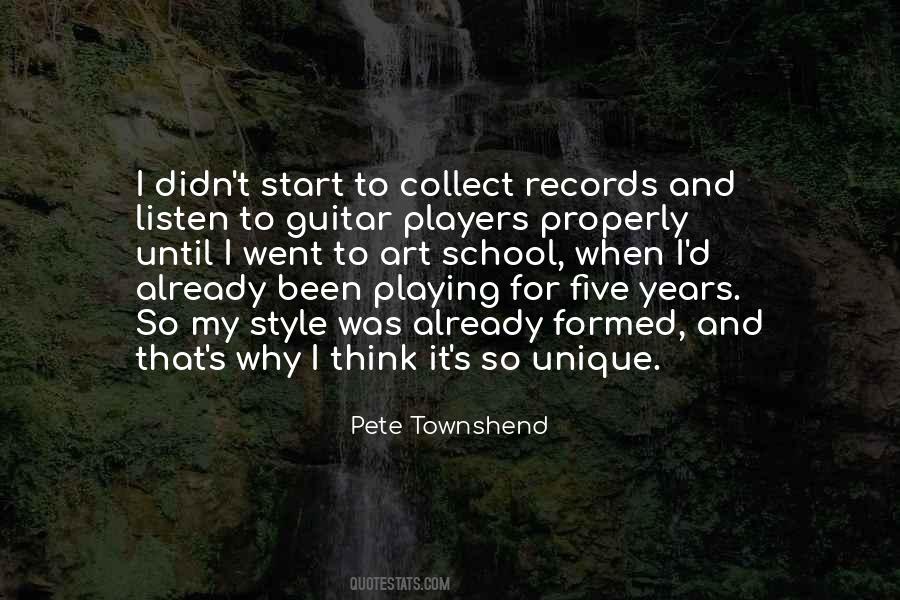 #18. Playing shows and making records keeps been getting easier and more fun. - Author: Jonathan Richman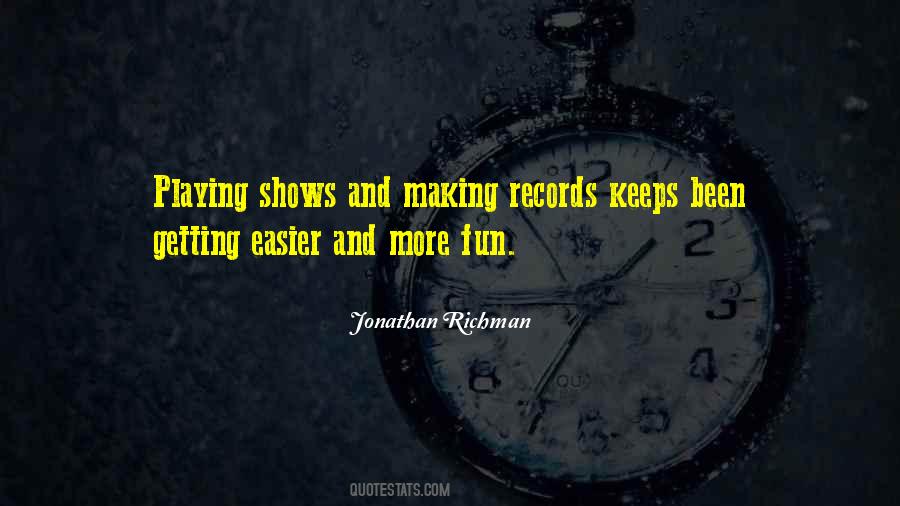 #19. I don't think about goals and records. Competition is what keeps me playing. - Author: Lou Brock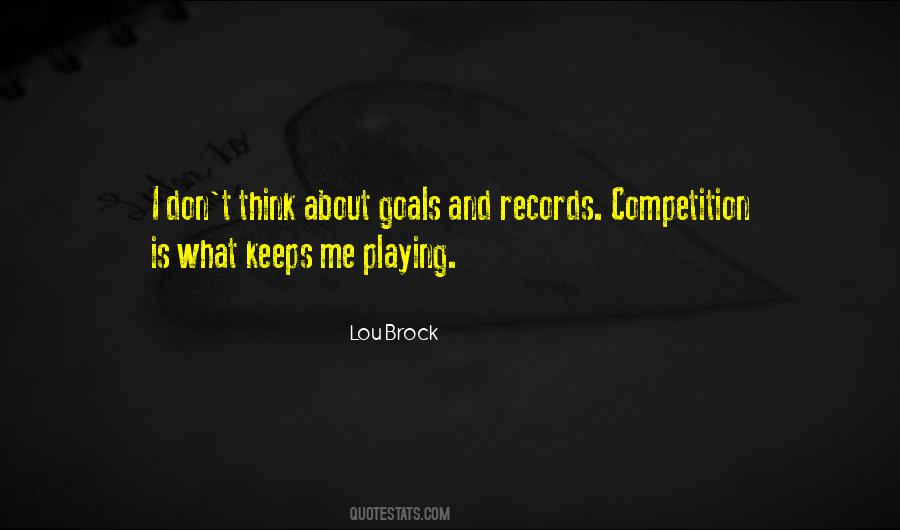 #20. My dad is a huge folk music fan, so growing up, there were always records playing in my house. Carole King, James Taylor, Simon and Garfunkel, the Beatles - I grew up with this music, and I was aware of how special this music was to a lot of people. - Author: Jake Epstein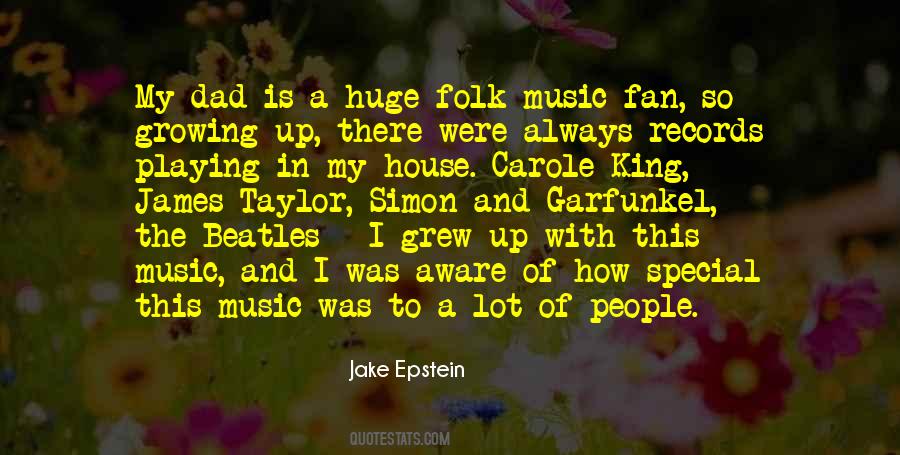 #21. I remember singing around the house to records that were playing. All kinds of music. And the great James Cleveland was often in our house, and I grew up with his sound as well. - Author: Aretha Franklin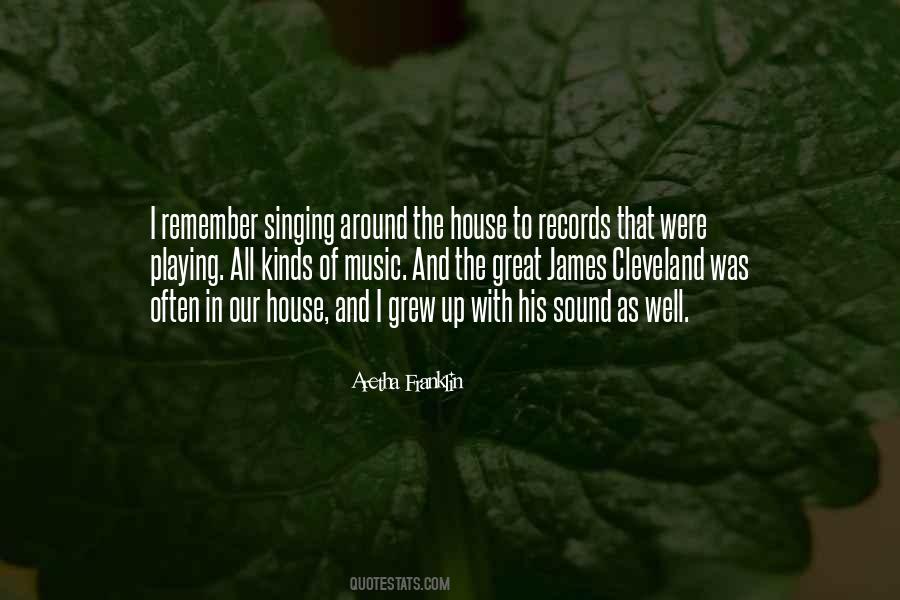 #22. Because my mother was in love with Bobby Darin, I grew up with his records playing in our house all the time. - Author: Kevin Spacey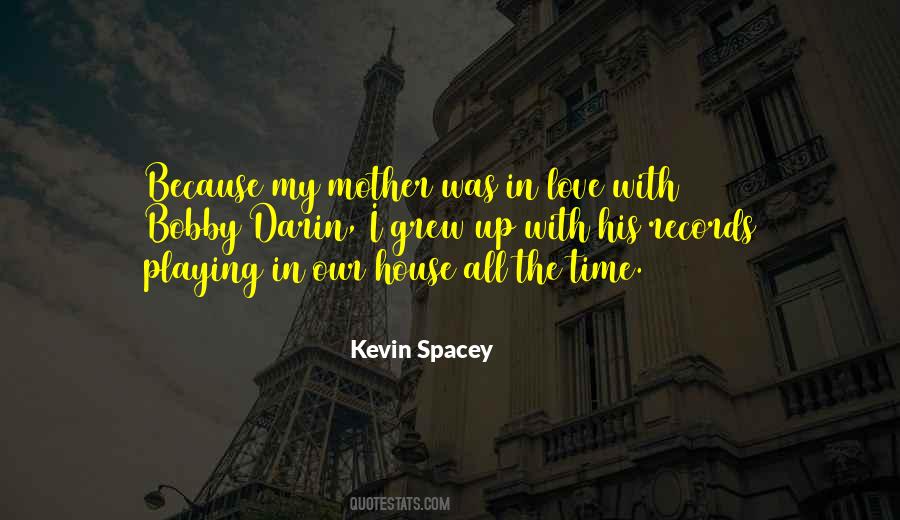 #23. No one starts playing my kind of music to make a fortune. But I do want to keep doing what I do and I do want to continue selling records. And I would, eventually, quite like some money. - Author: Laura Marling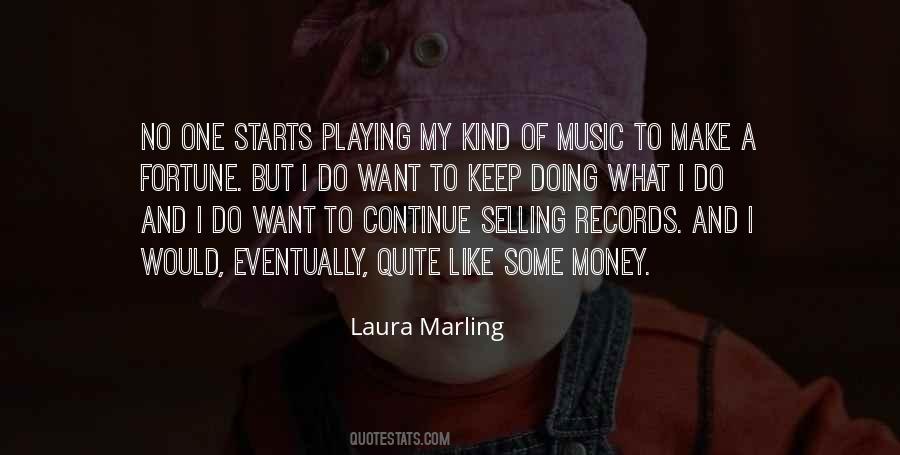 #24. I guess I probably took New York for granted. Growing up, playing in the street, going down to the Avenue to the record store and to the grocery store and stuff like that. - Author: Noah Baumbach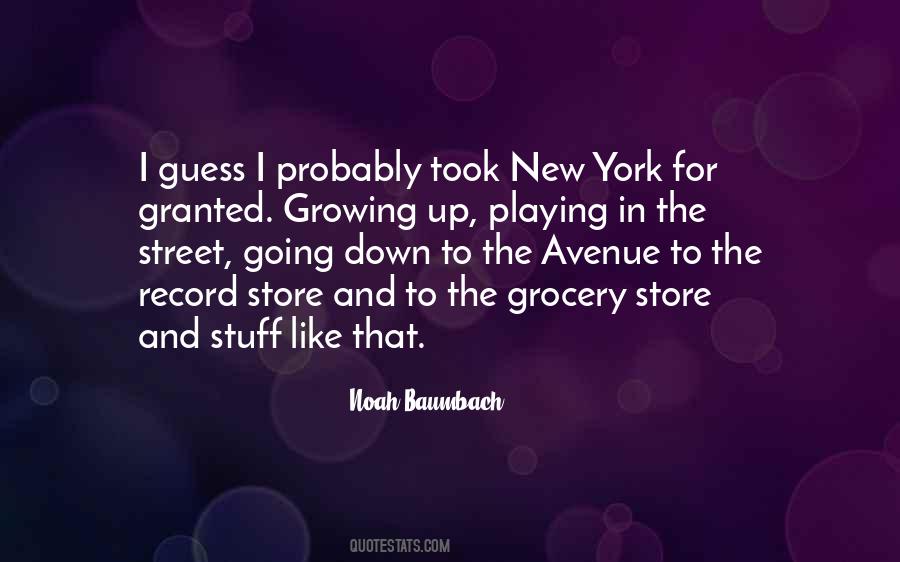 #25. If you're in music, you're in music, and if you're in music you just want to keep making records and playing. That's what it's about, isn't it? At least, that's what I always thought it was about, anyway. - Author: Paul Weller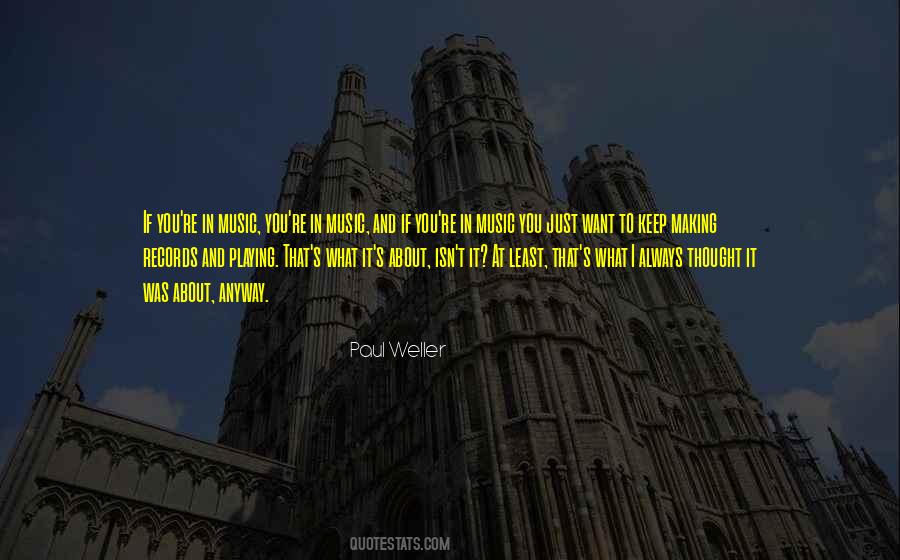 #26. If you're successful in what you do over a period of time, you'll start approaching records, but that's not what you're playing for. You're playing to challenge and be challenged. - Author: Lou Brock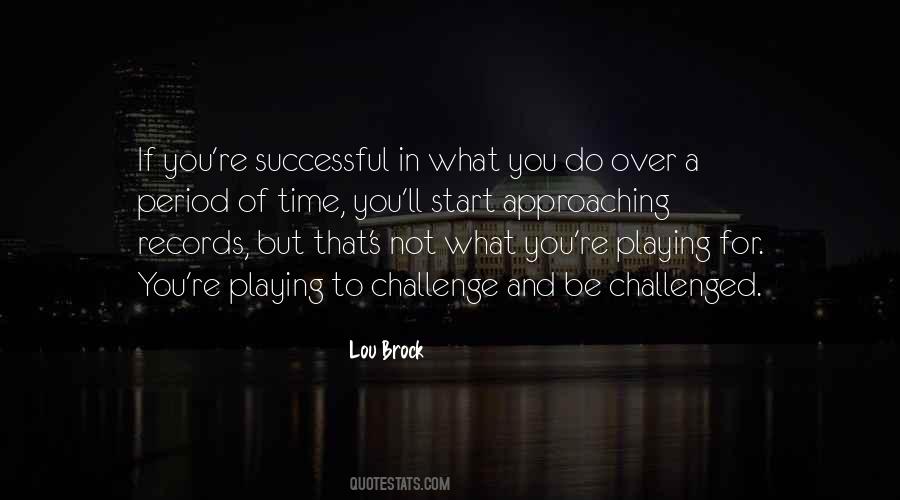 #27. The last two records I liked playing a lot. - Author: Kim Gordon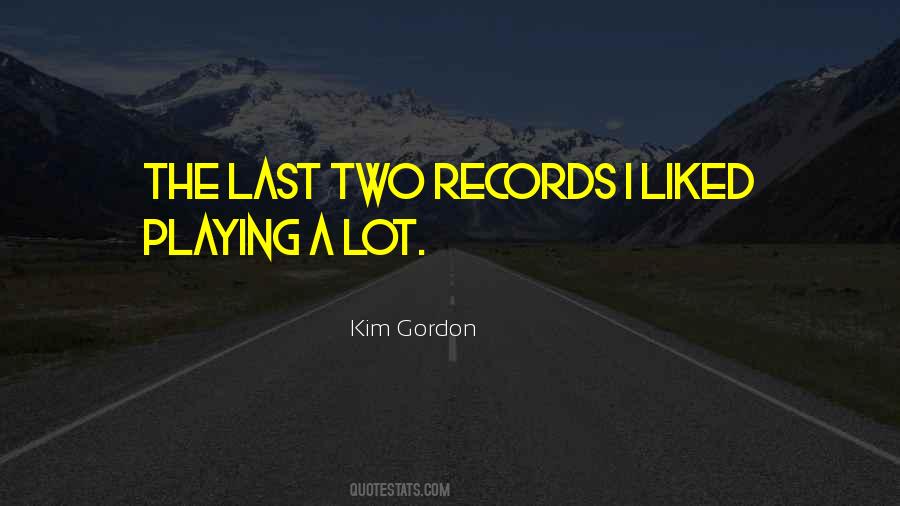 #28. I used to tell myself when I was much younger that I didn't want to wake up one day and be 32 years old and still playing records. It's just not going to happen. Well, the joke is on me, because I'm 56 years old now. - Author: Frankie Knuckles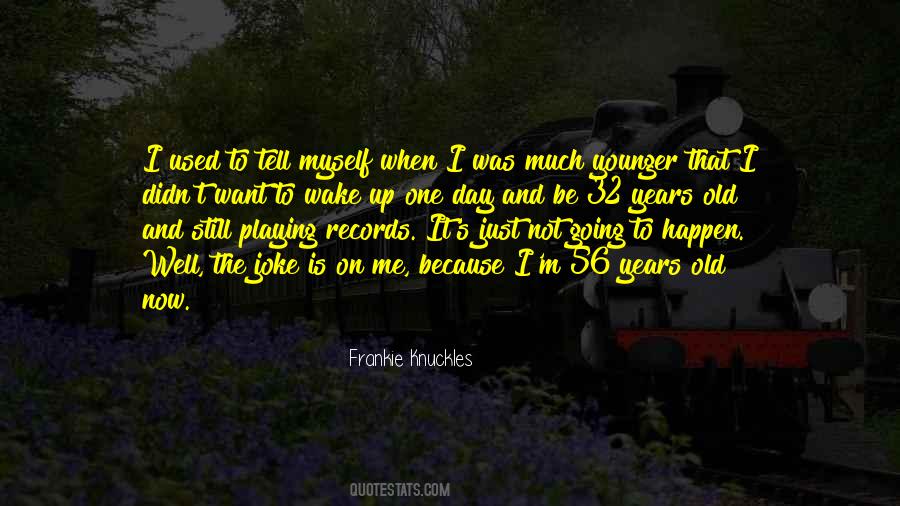 #29. You don't often get a chance to record with the other actors who are playing the characters, mainly due to the fact that you don't have to, the actors' schedules are all over the place, and it's difficult to get everyone in the same room. - Author: Elijah Wood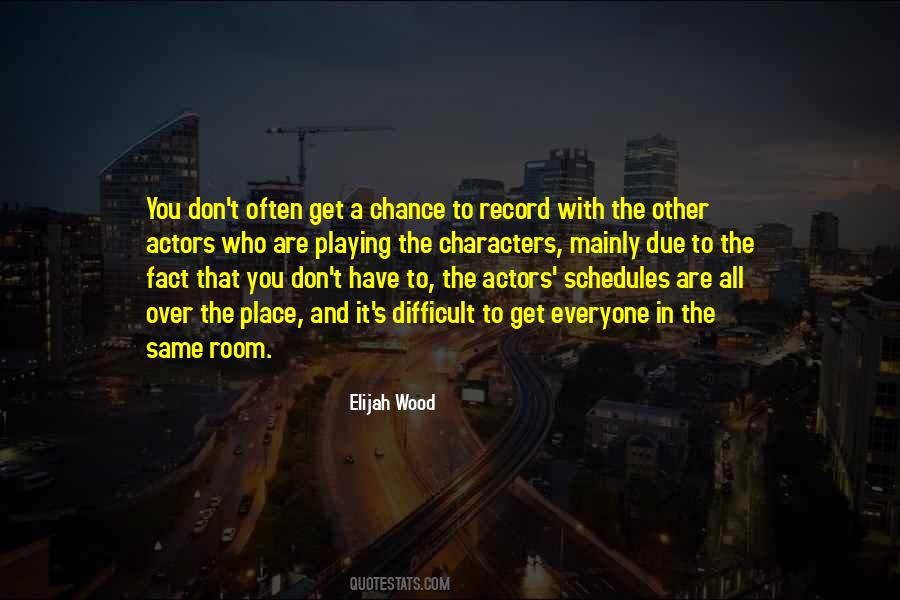 #30. We listened to a lot of Rolling Stones and Beatles records when we were recording. They were really good at not playing loud, but generating really big sounds out of everything. - Author: Mike Lowry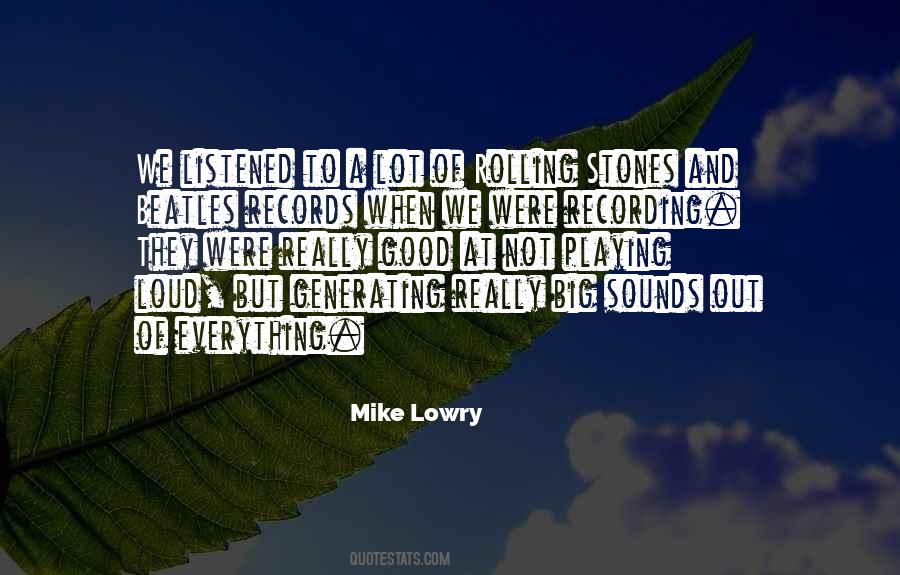 #31. In the years between 2000 and 2004, I always got the feeling that people were just starting to hear about me, and they were all late to the game. I'd be out playing shows for records that I recorded back in 1999 that were just coming out. - Author: Ariel Pink
#32. I missed out on the Spice Girls. I missed out on all those big pop phenomenon and missed out even on the Madonna records. It's okay, cuz I'm playing catch-up on everything now. - Author: Katy Perry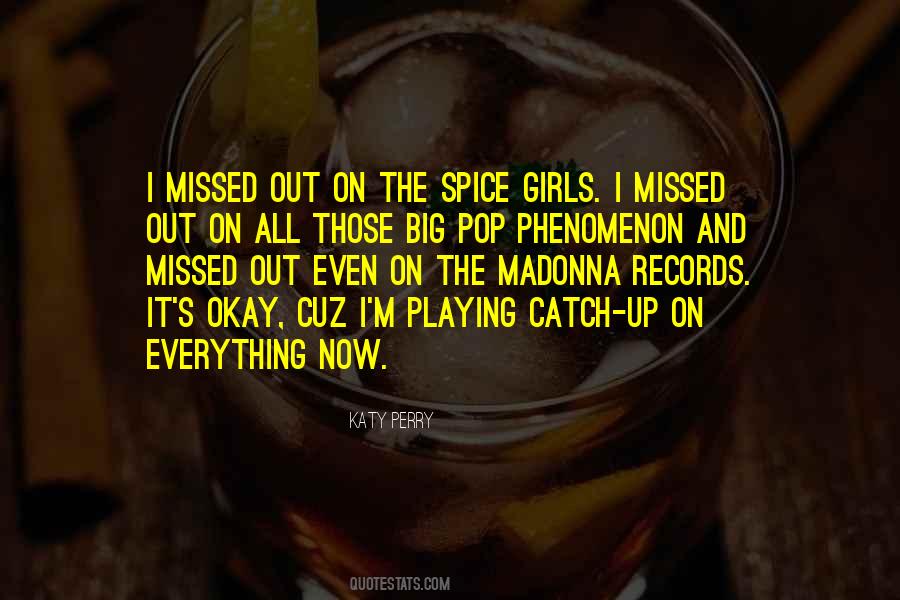 #33. The most important thing is how you program and how you choose your records. That really does sort out who is a good DJ and who is just playing records. - Author: John Digweed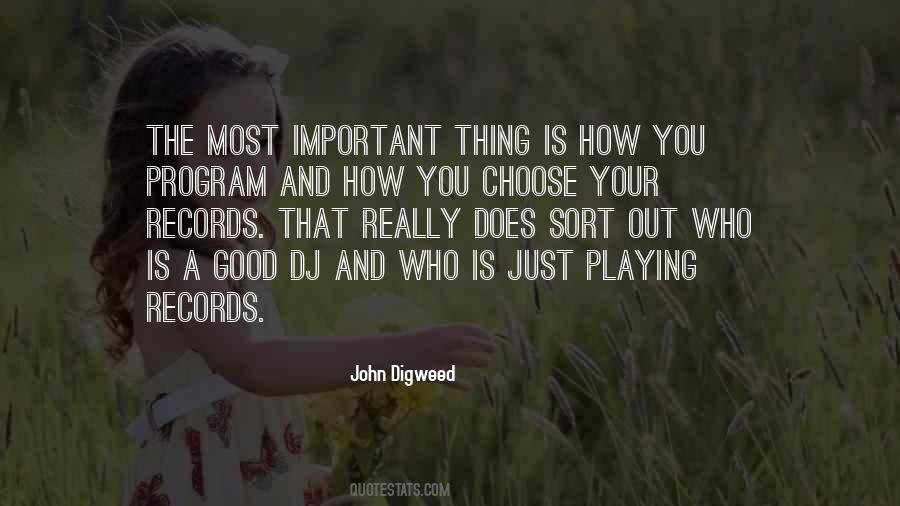 #34. I've always spent a lot of time on my records with what I think were unique rhythmic approaches ... but no one ever writes about your rhythm playing - Author: Joe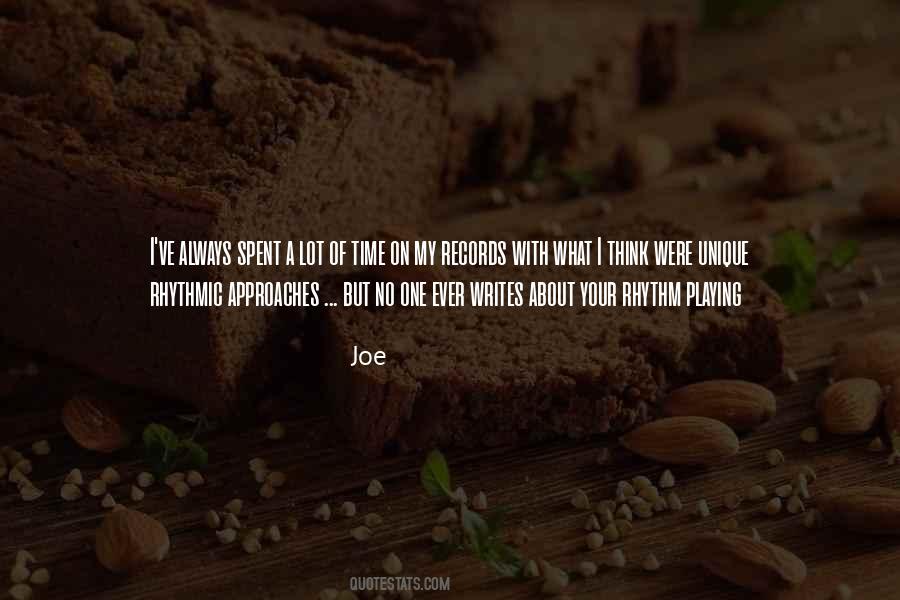 #35. I learned how to play guitar by playing along to Jane's Addiction records and Smashing Pumpkins records, things you can totally hear if you listen to my guitar. - Author: Chino Moreno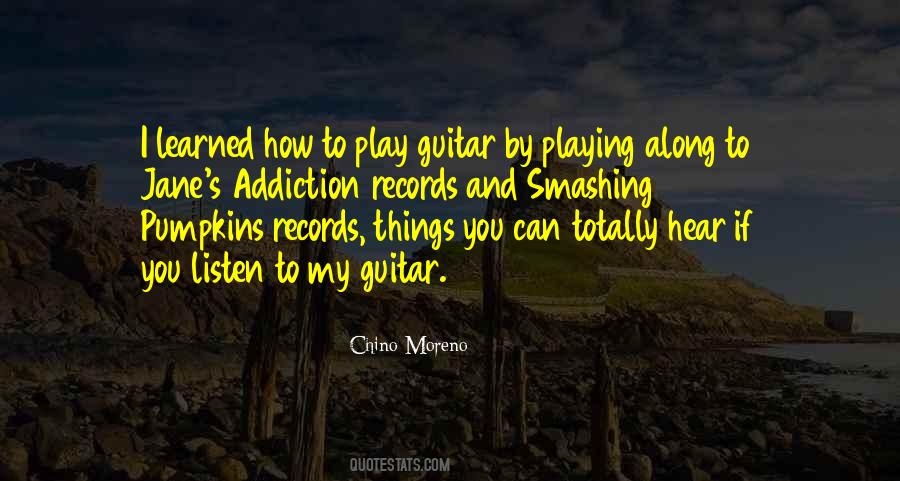 #36. I also hope that with the assistance and expertise of Dome Records, that I will be able to further pierce the UK and European market. I really like playing there and I want to do more! I've found that the audiences get quite involved and really listen to what's happening. - Author: George Duke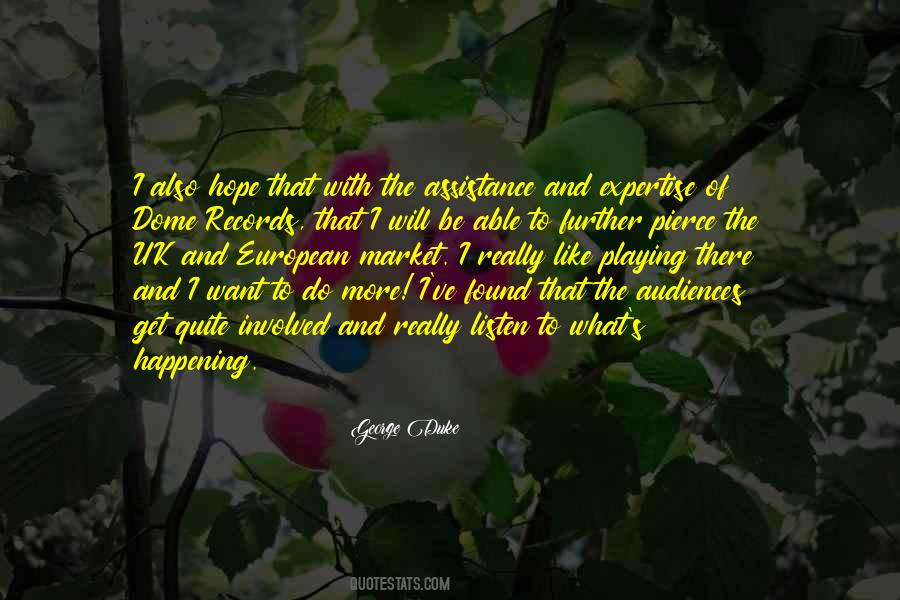 #37. Playing an old record doesn't interest me at all. It's exactly the opposite of what I want to do. - Author: Michael Gira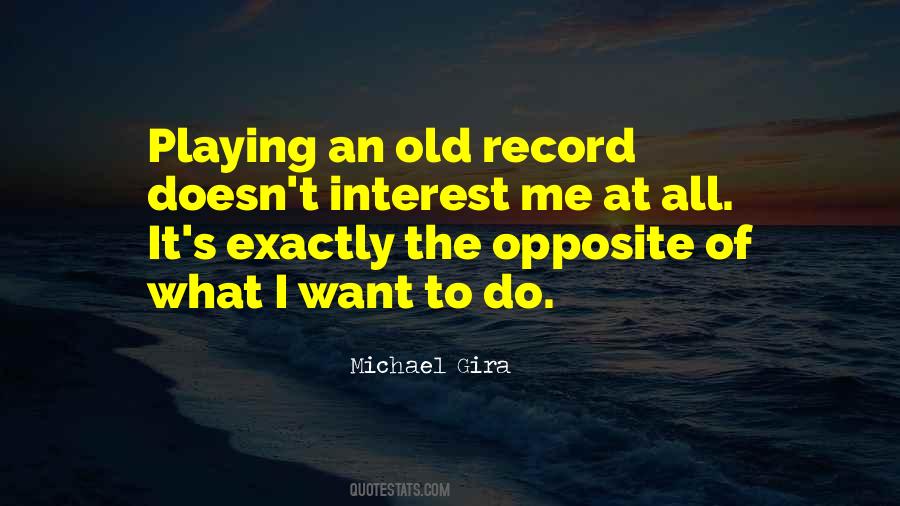 #38. Records are just moments of achievement. They're like receipts for work done. Time goes on and people keep playing music. - Author: Bill Laswell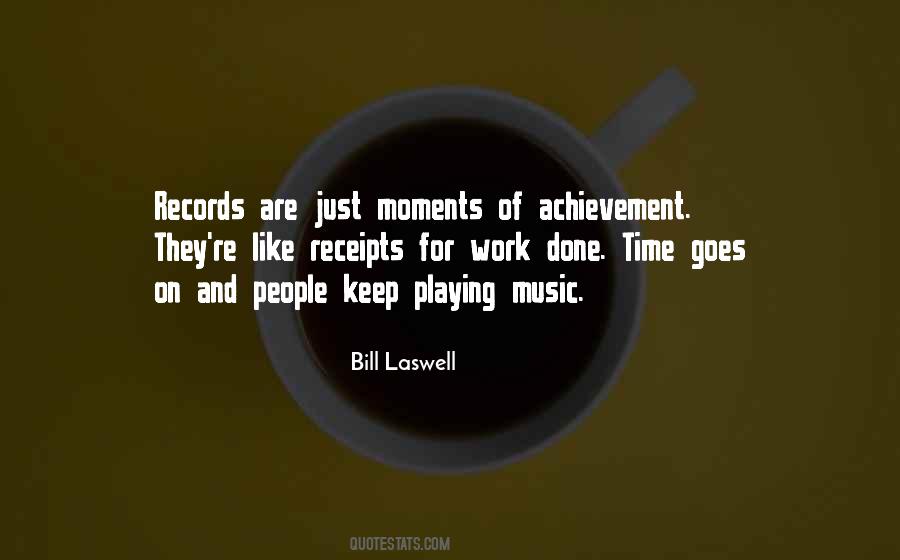 #39. People who love our record love us even more when they hear us live?playing live is what it is all about and that is our main focus. - Author: Jeff Martin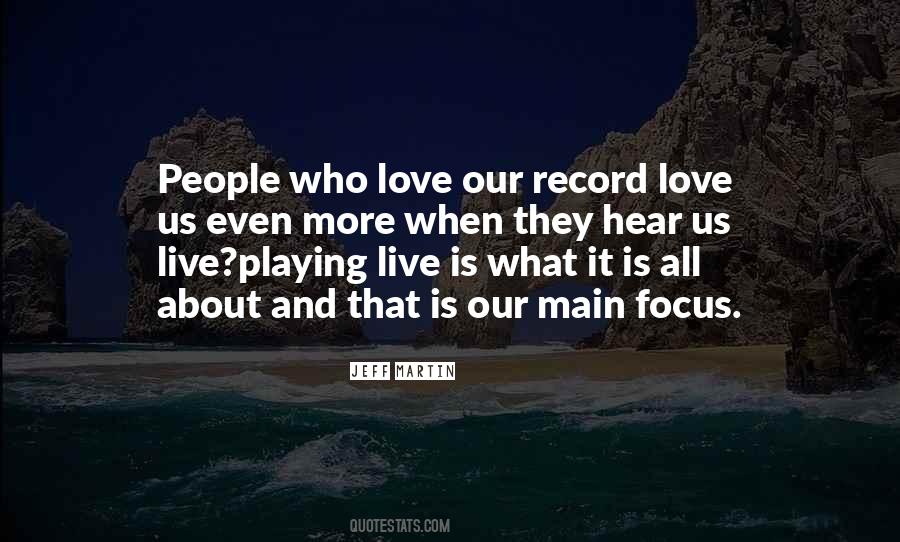 #40. I live for playing live. All my records are live, since After the Gold Rush, with the exception of Trans and the vocals on Landing on Water. - Author: Neil Young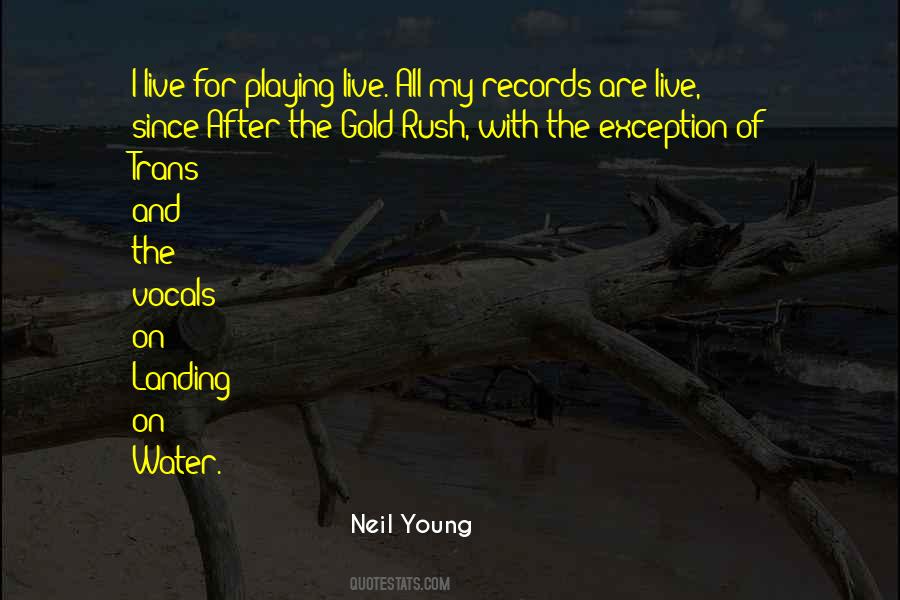 #41. They were playing old Bob Dylan, more than perfect for narrow Village streets close to Christmas and the snow whirling down in big feathery flakes, the kind of winter where you want to be walking down a city street with your arm around a girl like on the old record cover - Author: Donna Tartt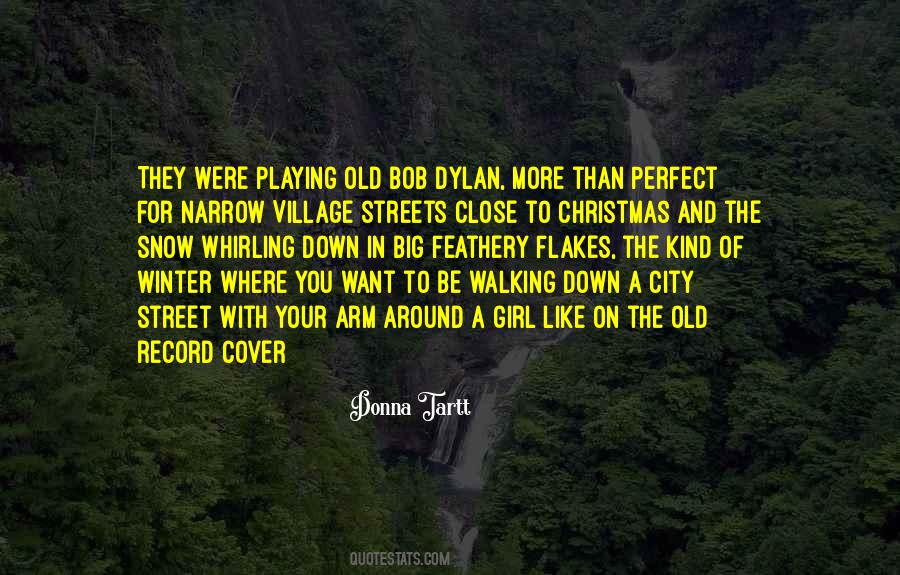 #42. Playing along with records is key. And as far as equipment goes it has gotten so much more affordable and the drum sets are of great quality. I play Pearl; their Export Series is great for a beginner. - Author: Chad Smith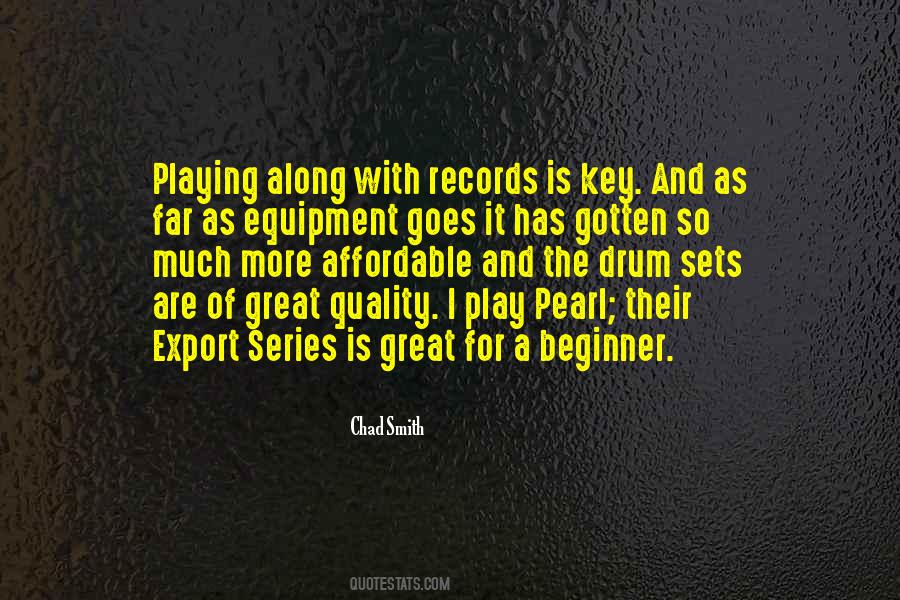 #43. In every corner a gramophone shop
in every shop a hundred gramophones
in every gramophone a hundred records
in every record
an alive person playing with a dead one.
Take the steel needle and separate them
if you can. - Author: Giorgos Seferis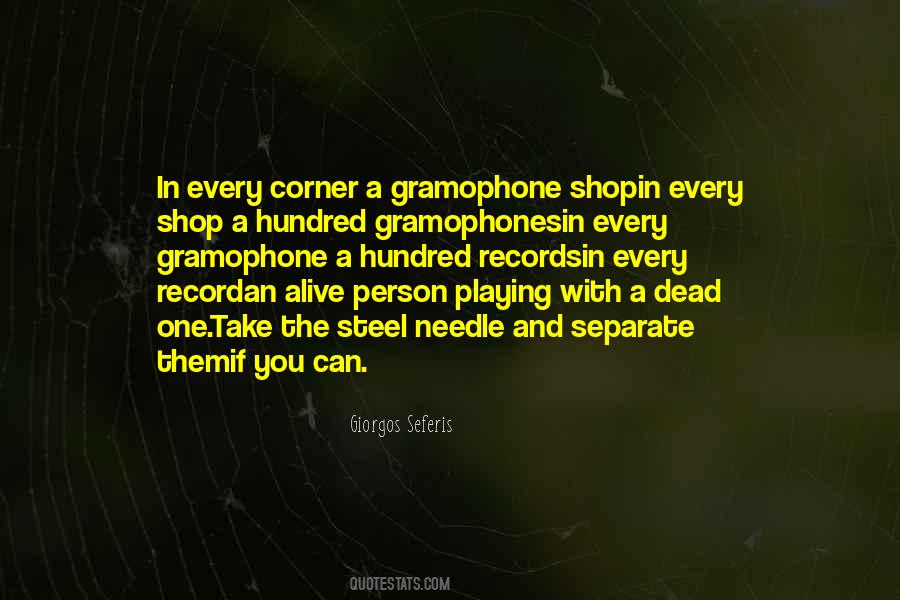 #44. When I die, just keep playing the records. - Author: Jimi Hendrix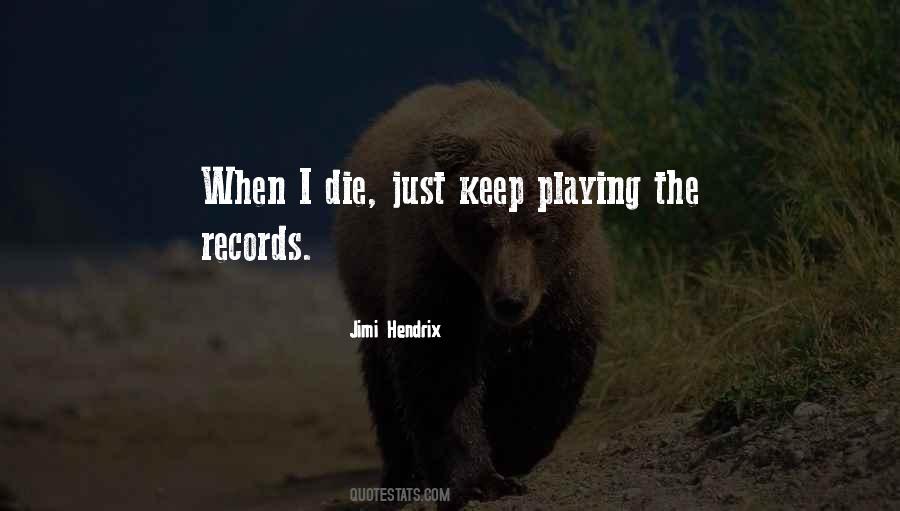 #45. I just kinda like playing. I don't necessarily go on tour to promote my albums. I'm on the road all the time. The fact that I have a new record is out is a coincidence. - Author: David Sanborn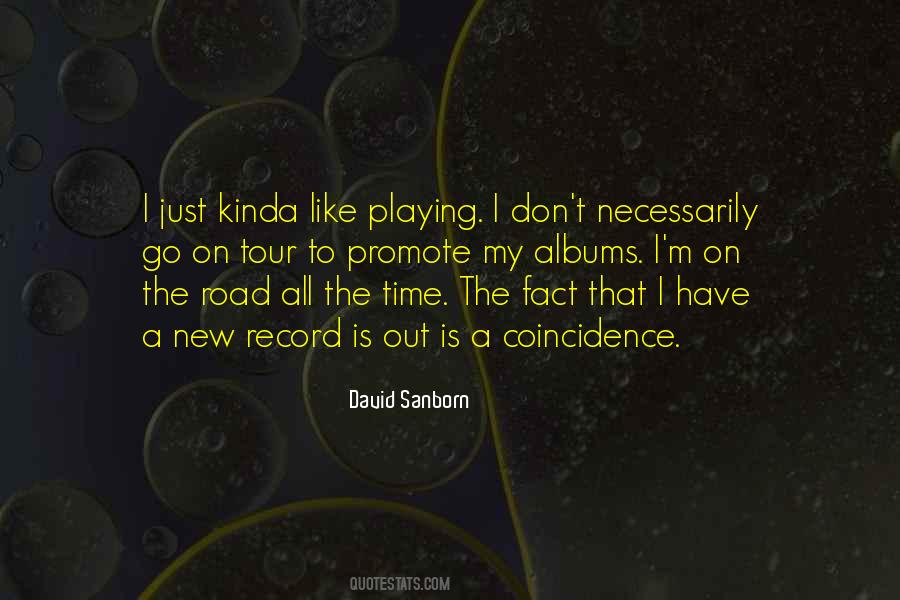 #46. I'm playing to the sort of people who like the same records. - Author: Nick Lowe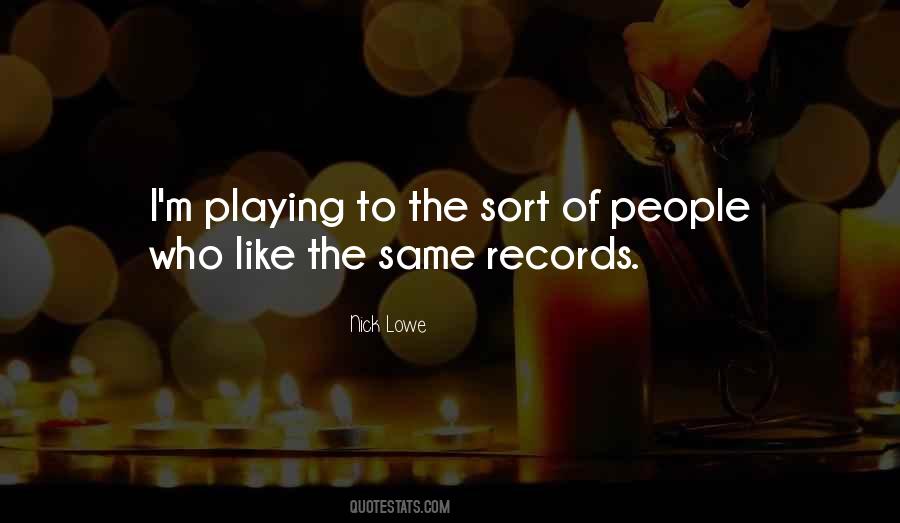 #47. Nobody heard records of you playing whatever the melody was on those low strings. It worked out good, you know, about 25 or 26 million records later. I guess it worked out alright. - Author: Lee Hazlewood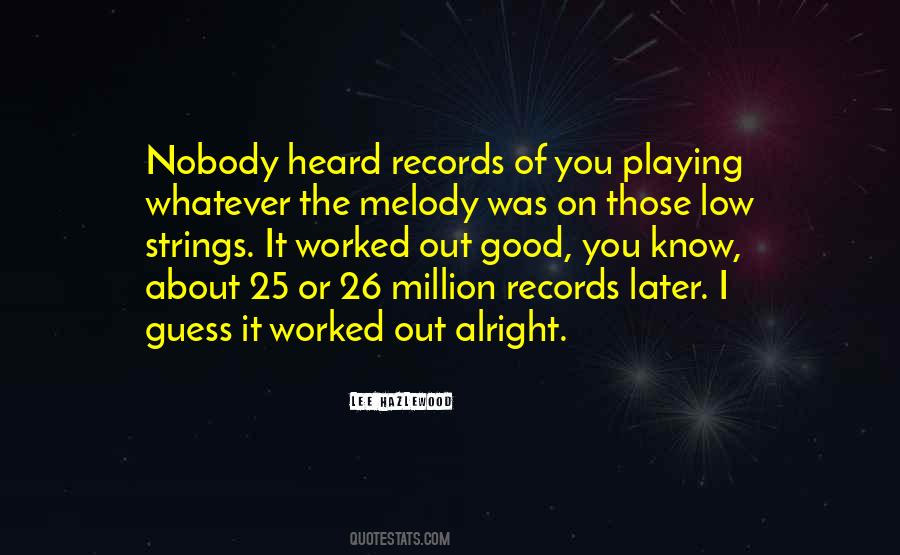 #48. (As a boy) I was listening to Sonny Boy Williamson's (I) records and I would close my eyes and I could visualize myself playing the harp. - Author: Junior Wells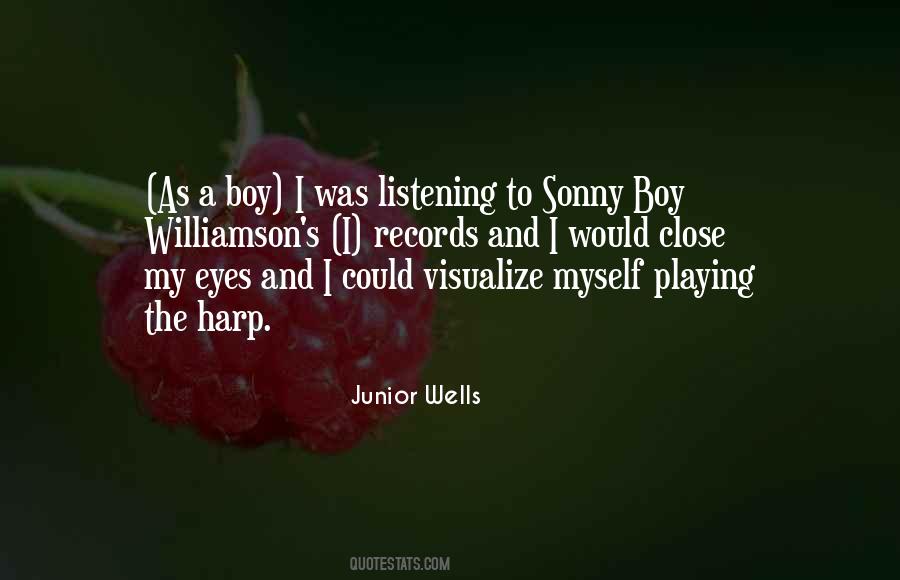 #49. I started playing jazz by slowing down Tal Farlow records and analyzing his runs - Author: Lenny Breau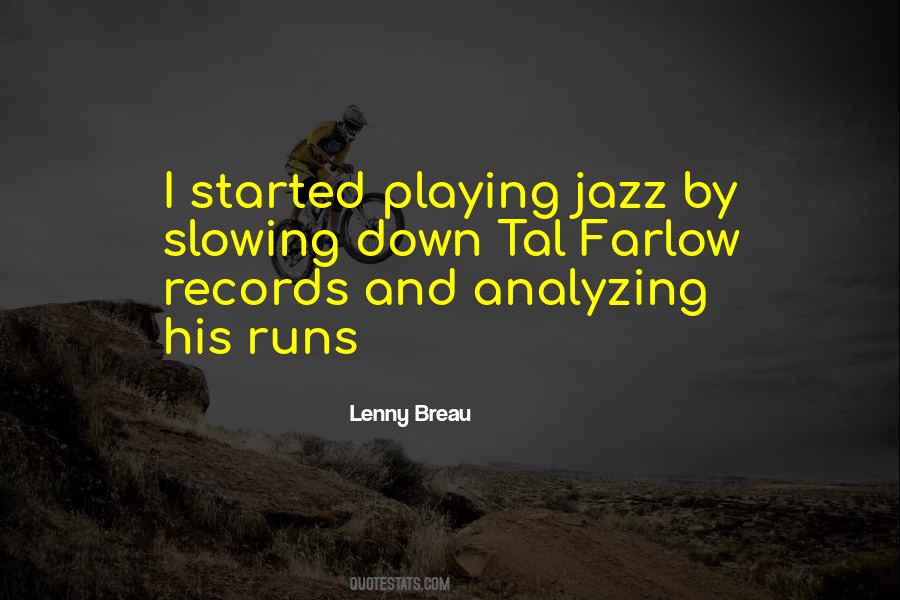 #50. My favorite records are by bands where the musicians are all playing like themselves, but those personalities connect in an exciting way and create music that is one cohesive unit. It's not catchy like a pop song, but it's a really cool song. - Author: Dylan Baldi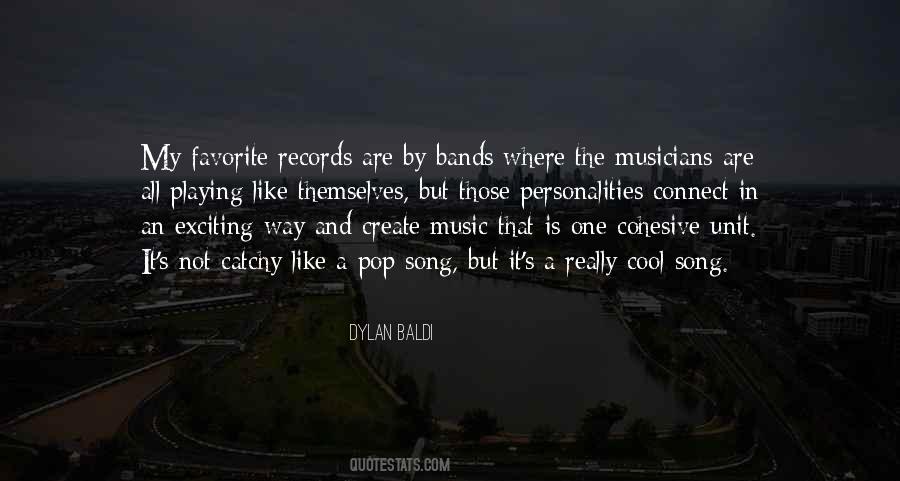 #51. There is nothing like a Bach fugue to remove me from a discordant moment ... only Bach hold up fresh and strong after repeated playing. I can always return to Bach when the other records weary me. - Author: Edward Weston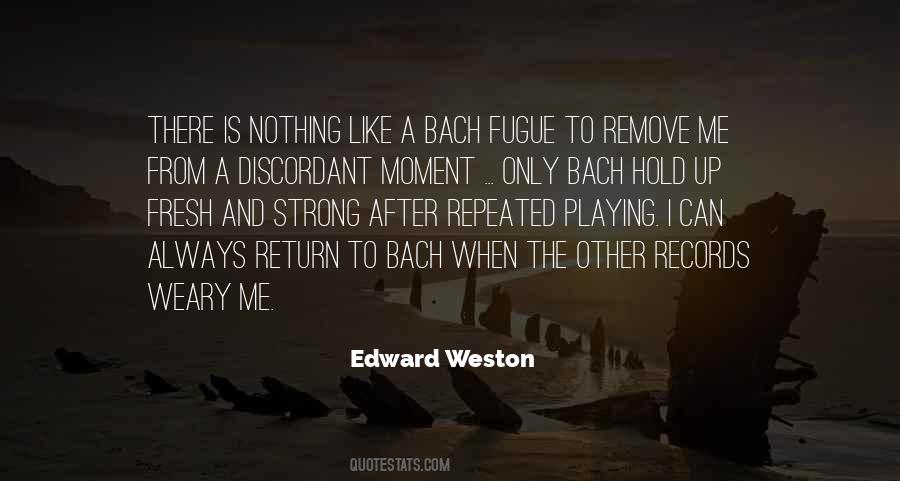 #52. The record of a month's roulette playing at Monte Carlo can afford us material for discussing the foundations of knowledge. - Author: Karl Pearson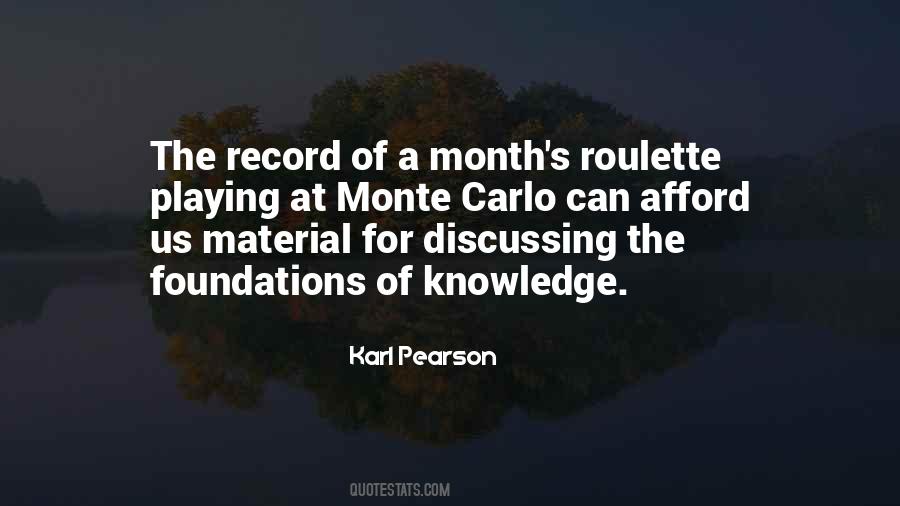 #53. My mum loved Joan Armatrading and used to play her records all the time and even took me to see her a couple of times when I was really quite young. I didn't really like her music back then because my mum was always playing it, but I've grown to appreciate it more. - Author: Katy B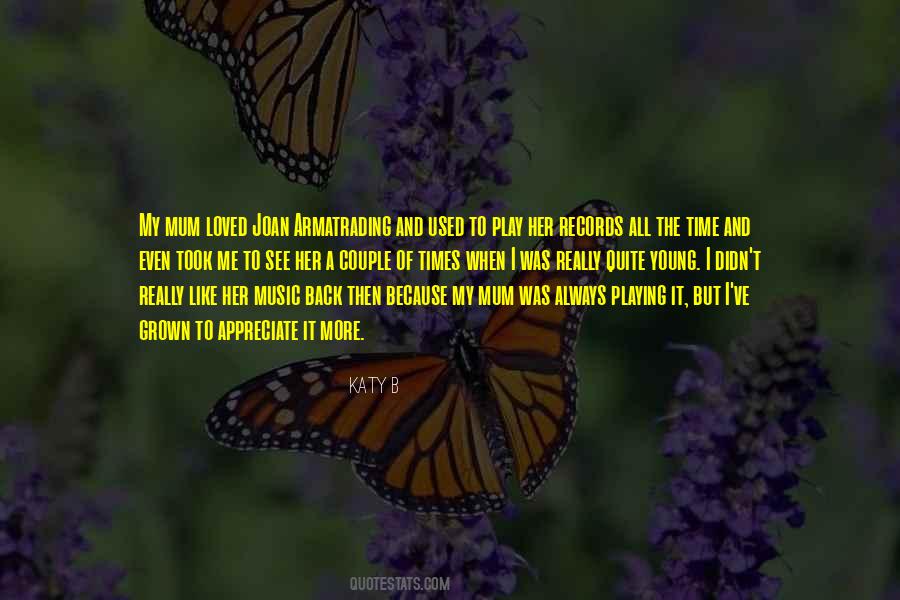 #54. It's a pleasure playing your big hit records and it's a real joy to see the audience. - Author: Martin Fry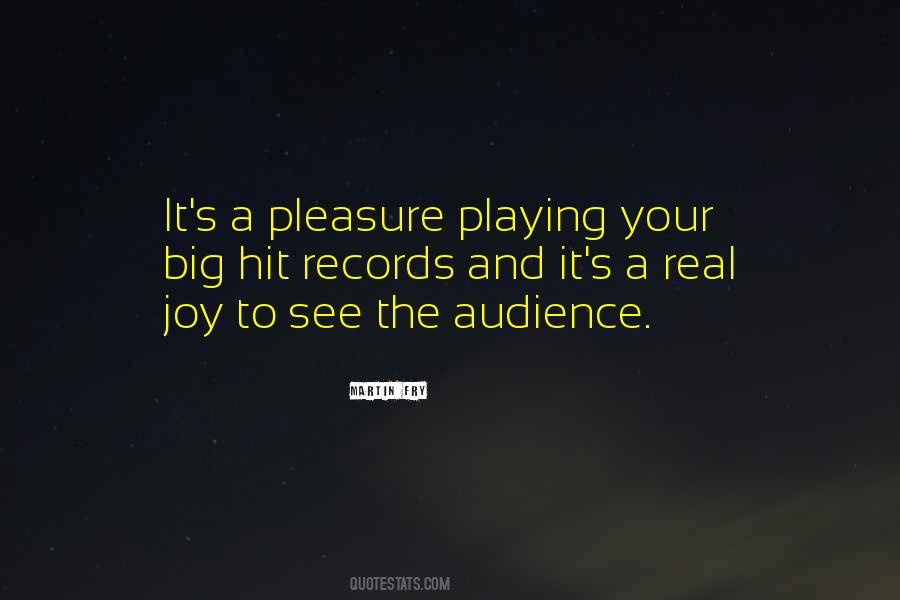 #55. My mother was the only one who encouraged and inspired me for singing. She was singing all the time in the house, playing records also. - Author: Bonnie Tyler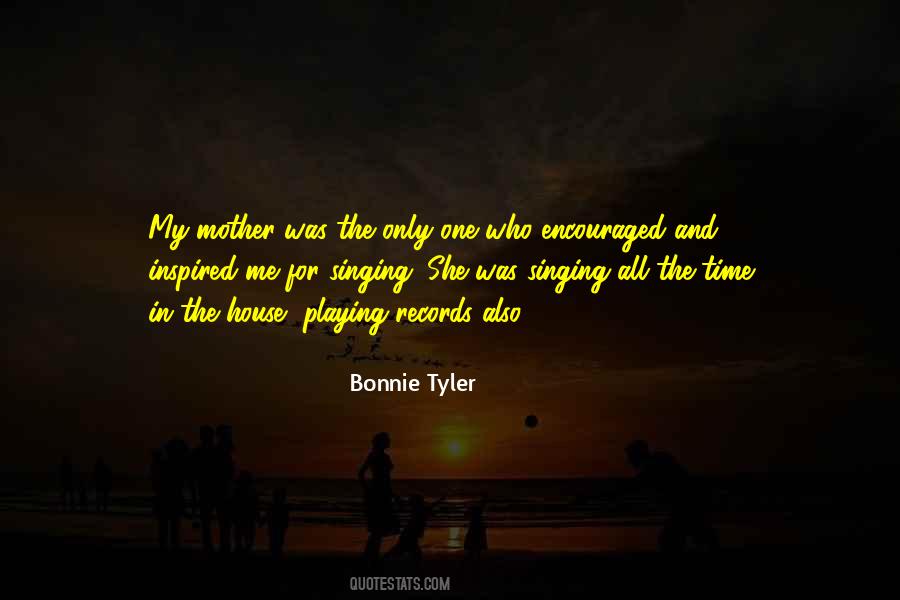 #56. Some of us have been playing the same self-defeating records over and over again in our heads for so long that we don't know how to think any differently about ourselves. - Author: Steve Harvey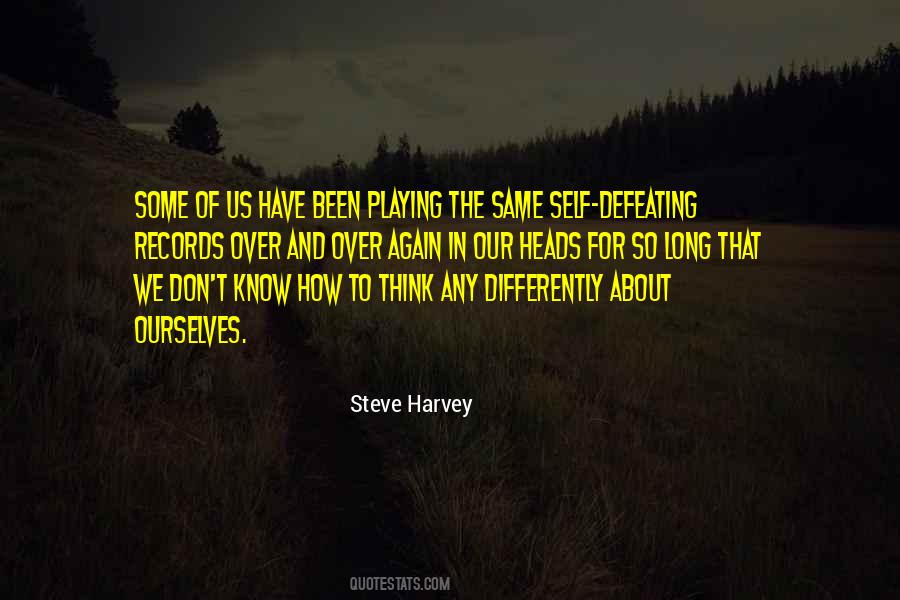 #57. I've played with so many people that I never really noticed that I was playing with so many people until after it was compiled on the Internet. I just kept going. I haven't even heard half the records I've played on, to tell you the truth. - Author: Harvey Mason Jr.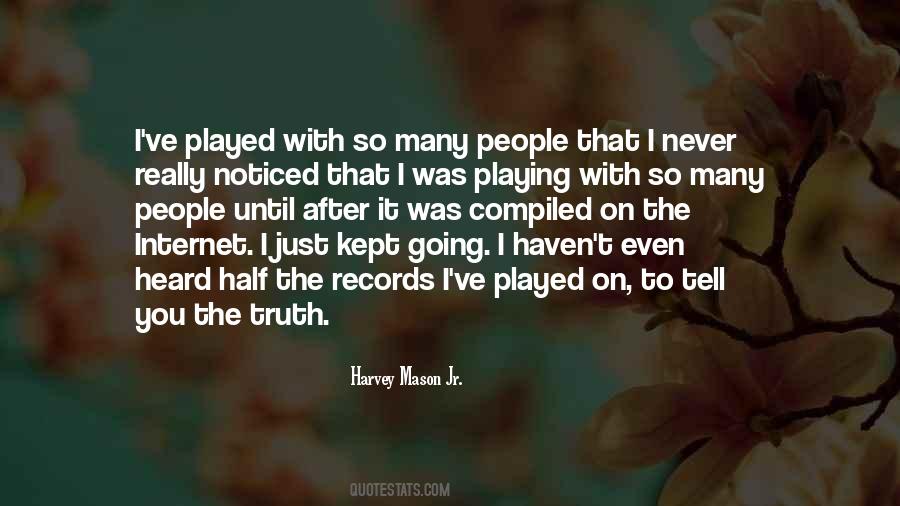 #58. The real amazing thing about all of this is I think I've maintained the mentality of a musician throughout it all, which I'm proudest of. And I'm still playing on people's records and singing on people's records. - Author: Vince Gill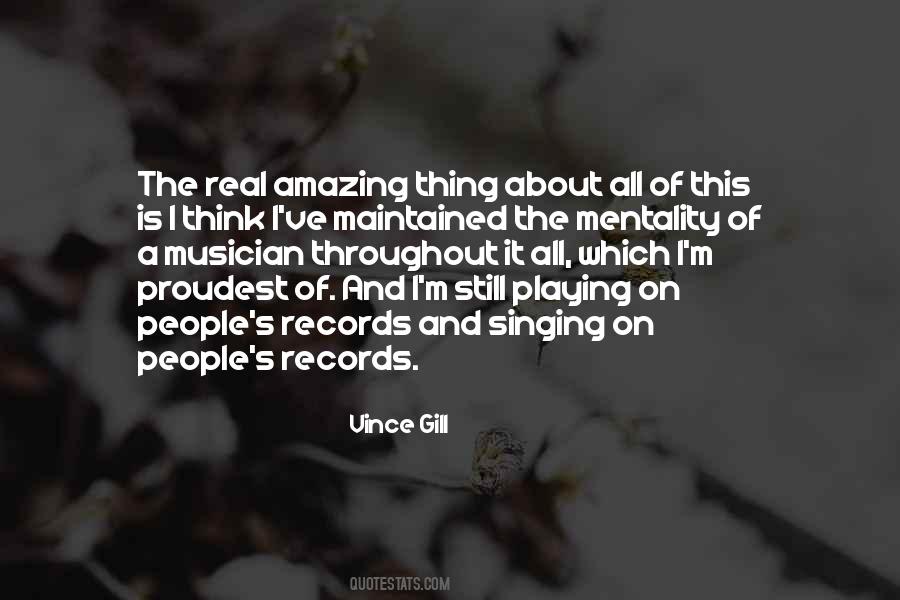 #59. Partying means drinking. It also means playing records by Lou Reed and Chicago, which I thought was a city but is also a band it turns out. - Author: Ron Currie Jr.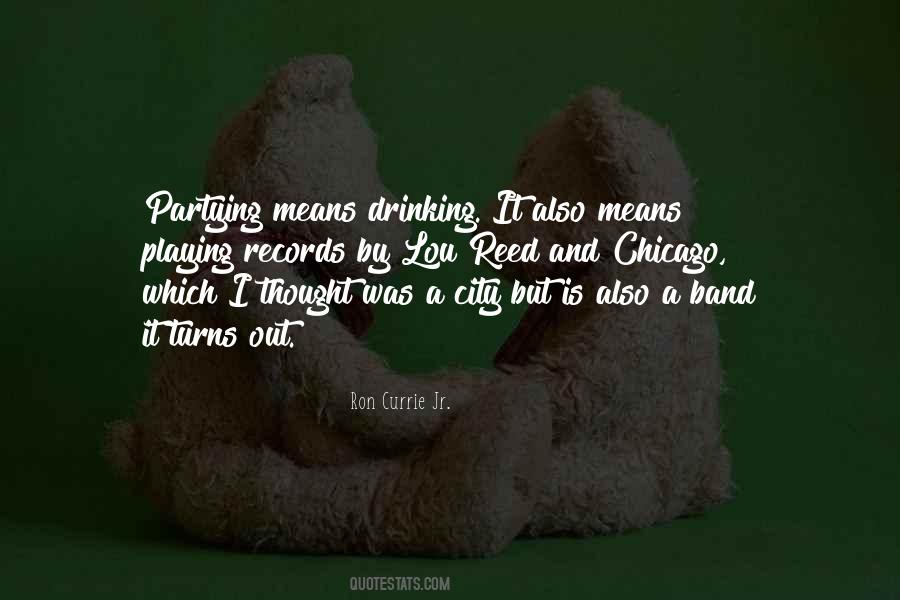 #60. In all the time that people have known me, has anyone ever heard me talk about the importance of rushing records or finishing with the most touchdowns? So if that's never been important to me, then why would that be a motivation to keep playing? - Author: Barry Sanders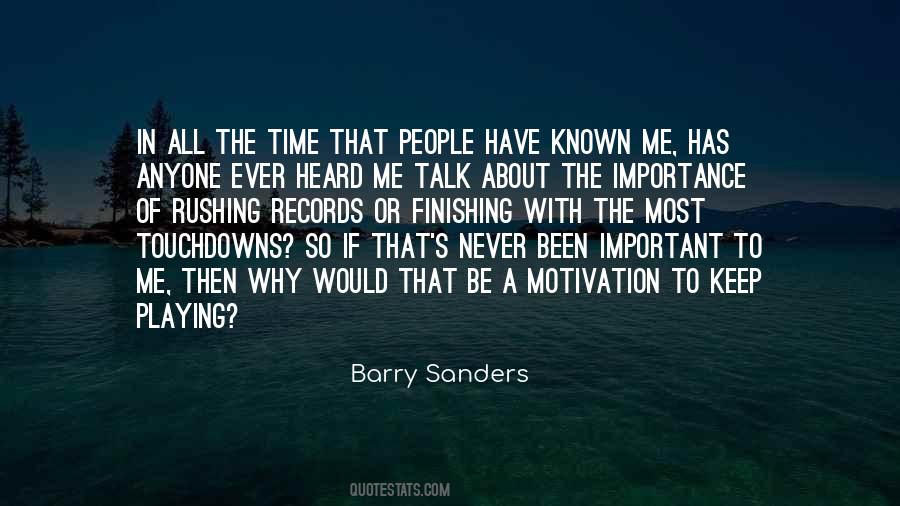 #61. When I started playing music, people weren't selling 5 million records. That was not the standard; that was not the focus. - Author: Prince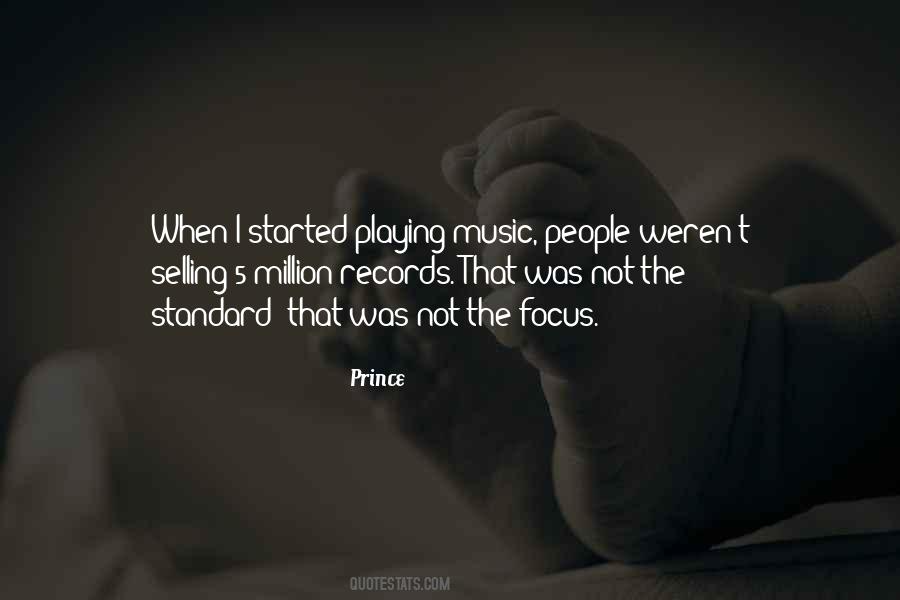 Famous Authors
Popular Topics