Persecutions Famous Quotes & Sayings
List of top 33 famous quotes and sayings about persecutions to read and share with friends on your Facebook, Twitter, blogs.
Top 33 Quotes About Persecutions
#1. Government as well as religion has furnished its schisms, its persecutions and its devices for fattening idleness on the earnings of the people. - Author: Thomas Jefferson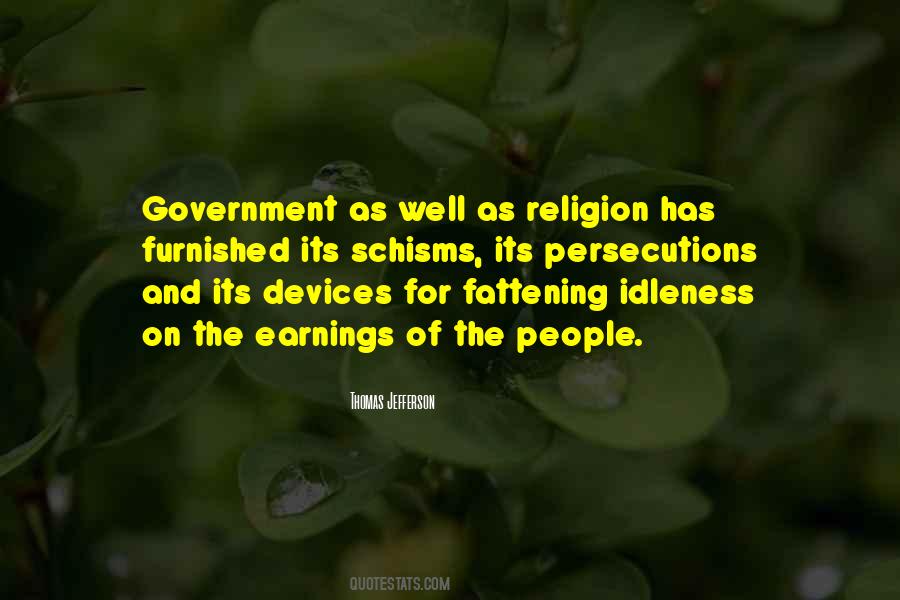 #2. Constancy, far from being a virtue, seems often to be the besetting sin of the human race, daughter of laziness and self-sufficiency, sister of sleep, the cause of most wars and practically all persecutions. - Author: Freya Stark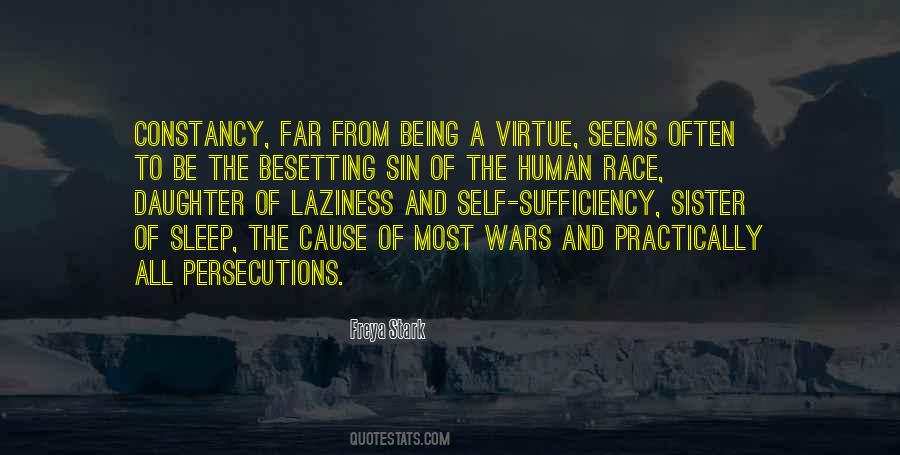 #3. The fabled origin of the laurel is this. Daphne, daughter of the river Peneus, offended by the persecutions of Apollo, implored succour of the gods, who changed her into a laurel tree. Apollo crowned his head with the leaves and ordered that forever after, the tree should be sacred to him. - Author: Dorothea Dix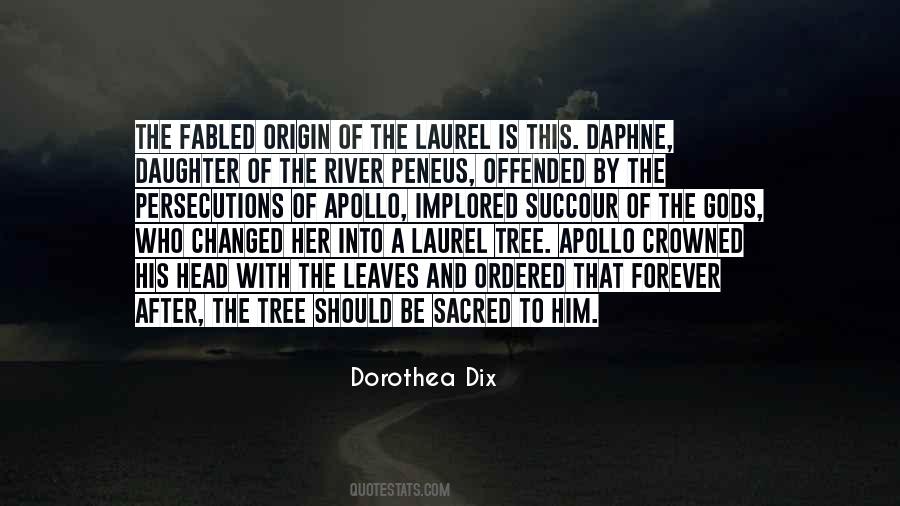 #4. Afflictions, persecutions, imprisonments, and death, we must expect, according to the scriptures, which tell us that the blood of those whose souls were under the altar could not be avenged on them that dwell on the earth, until their brethren should be slain as they were. - Author: Joseph Smith Jr.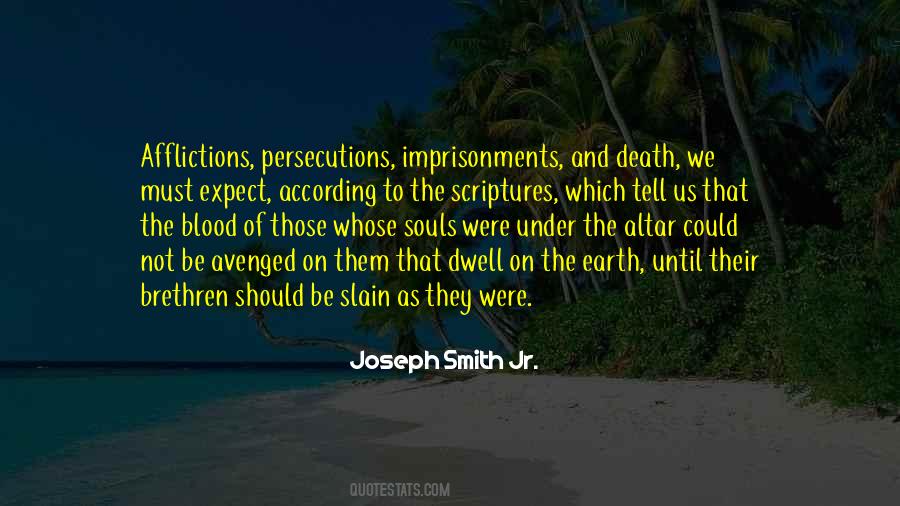 #5. Jews survived all the defeats, expulsions, persecutions and pogroms, the centuries in which they were regarded as a pariah people, even the Holocaust itself, because they never gave up the faith that one day they would be free to live as Jews without fear. - Author: Jonathan Sacks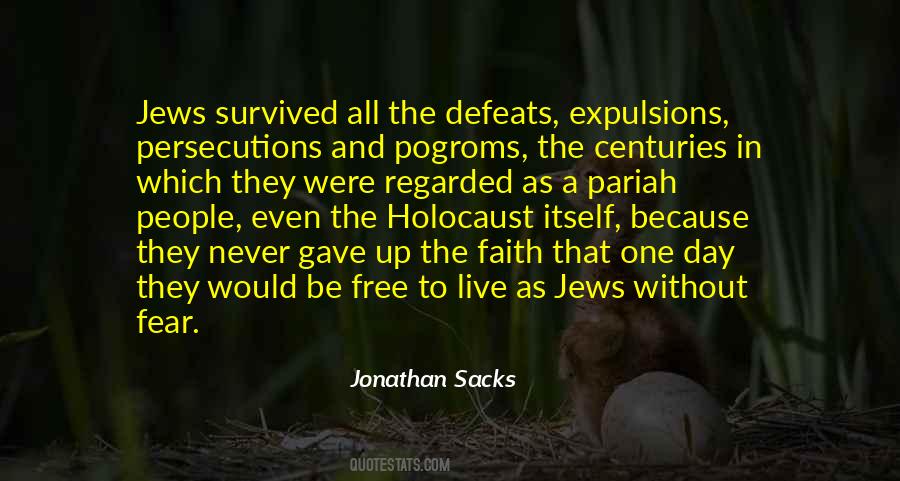 #6. Tests and persecutions will eventually lead to deliverance from bondage and make us stronger if we respond right to them - Author: Sunday Adelaja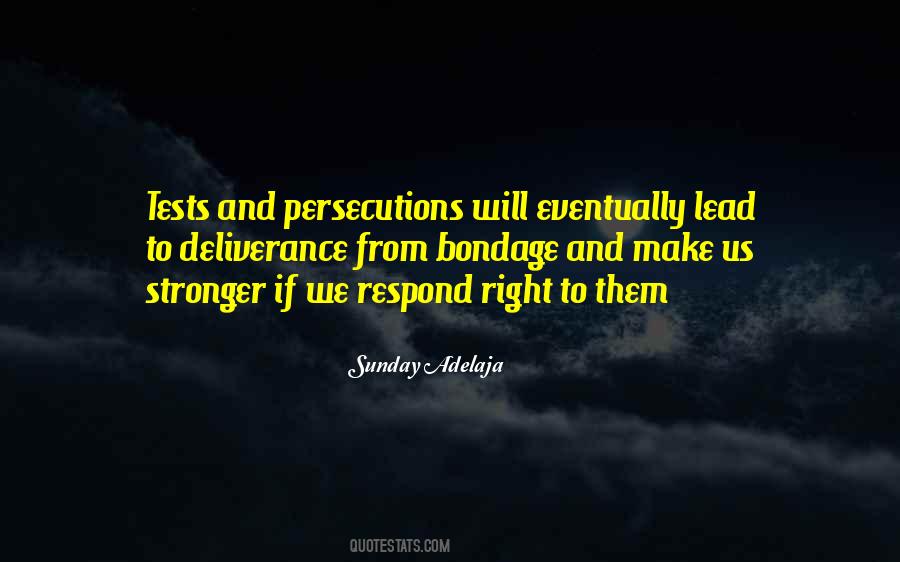 #7. All religion seems to need to prove that it's the only truth. And that's where it turns demonic. Because that's when you get religious wars and persecutions and burning heretics at the stake. - Author: John Shelby Spong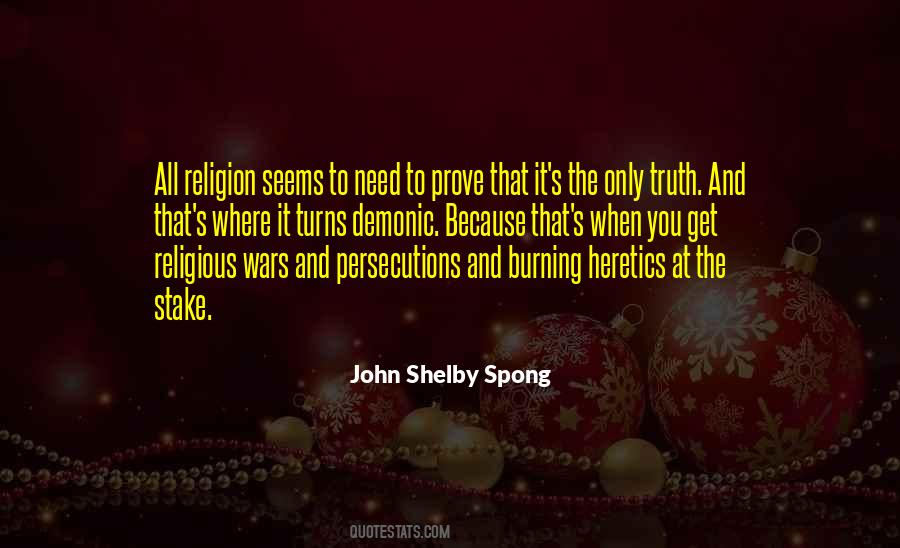 #8. The Lord challenges us to suffer persecutions and to confess Him. He wants thiose who belong to him to be brave and fearless. He himself shows how weakness of the flesh is overcome by courage of the Spirit ... A christian is fearless. - Author: Tertullian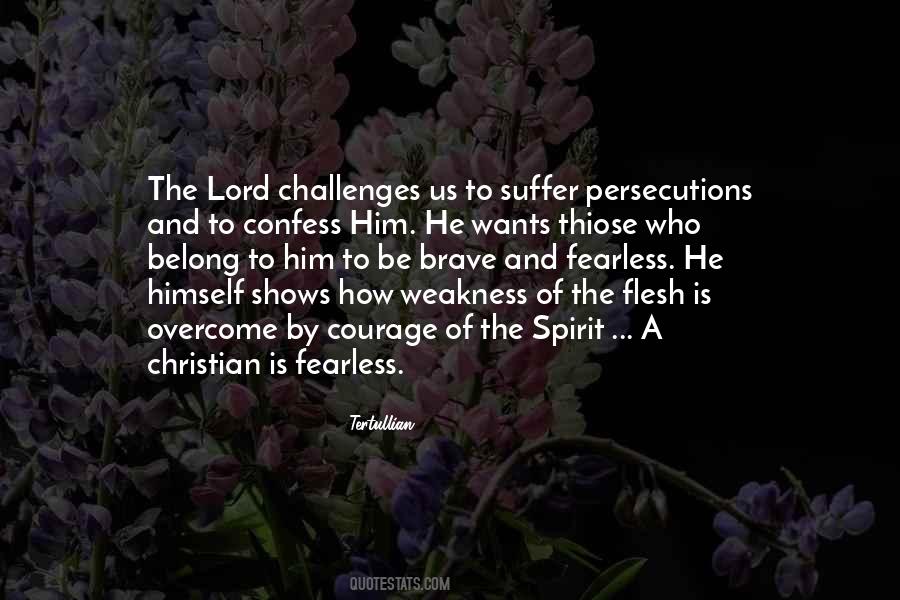 #9. Secularism is a religion, a religion that is understood. It has no mysteries, no mumblings, no priests, no ceremonies, no falsehoods, no miracles, and no persecutions. - Author: Robert Green Ingersoll
#10. The saints rejoiced at injuries and persecutions, because in forgiving them they had something to present to God when they prayed to Him. - Author: Teresa Of Avila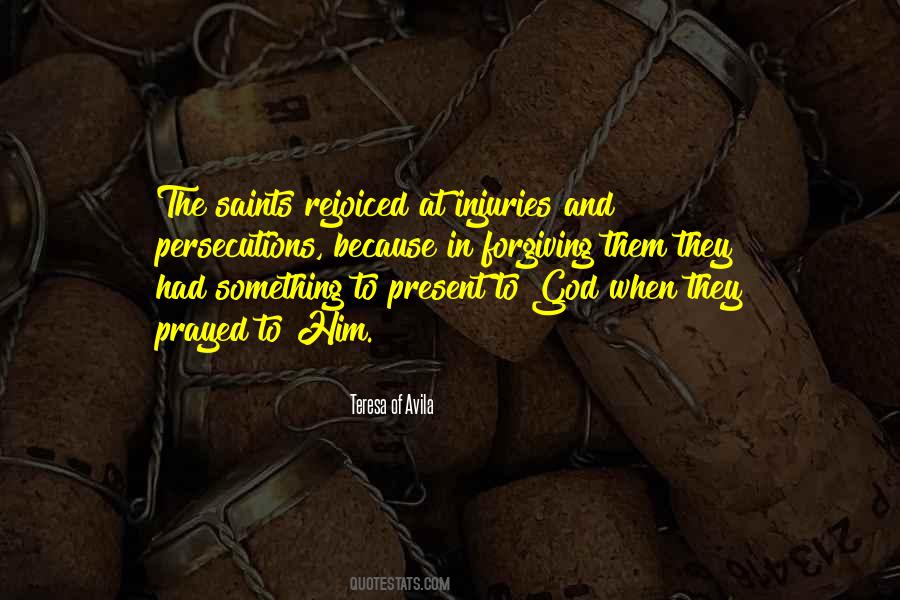 #11. Cruel persecutions and intolerance are not accidents, but grow out of the very essence of religion, namely, its absolute claims. - Author: Morris Raphael Cohen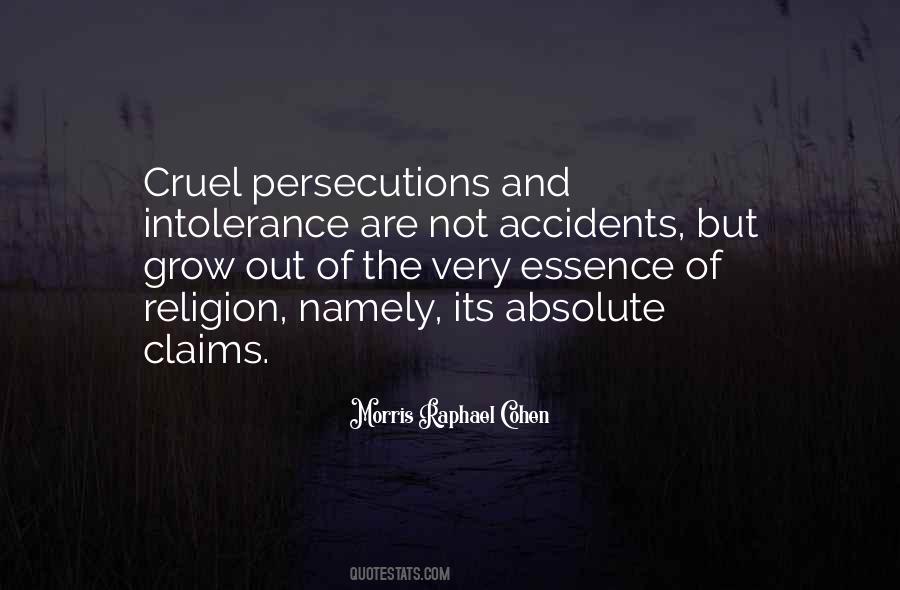 #12. The early Church was birthed and sustained in almost constant persecution and pressures - Author: Greg Gordon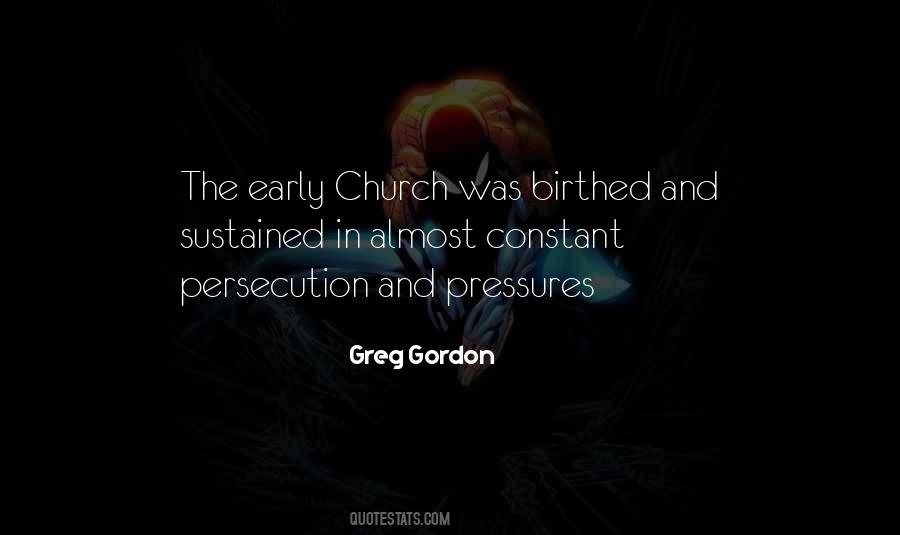 #13. As knowing God becomes more important to you, you will stop thinking about discouragements and persecutions; you will stop worrying altogether - Author: Sunday Adelaja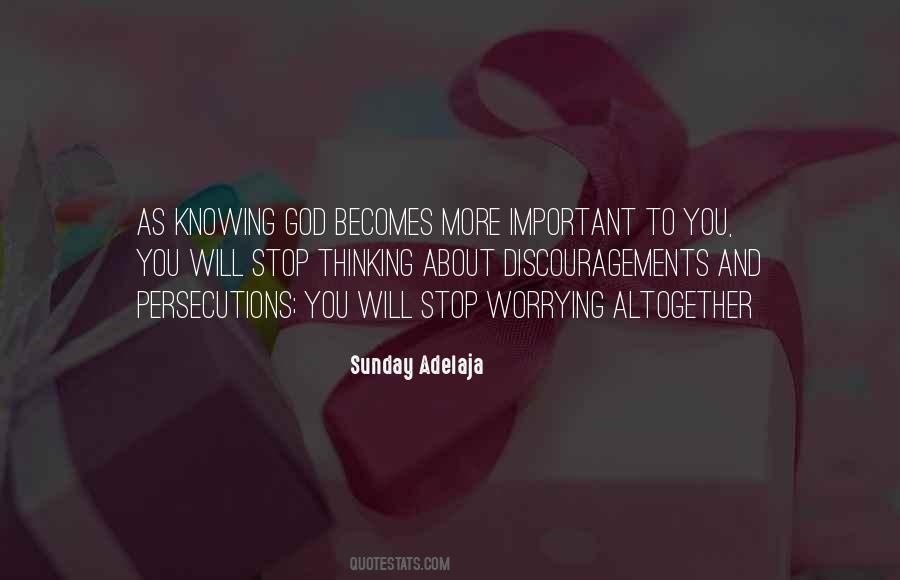 #14. The Church of Christ has been founded by shedding its own blood, not that of others; by enduring outrage, not by inflicting it. Persecutions have made it grow; martyrdoms have crowned it. - Author: St. Jerome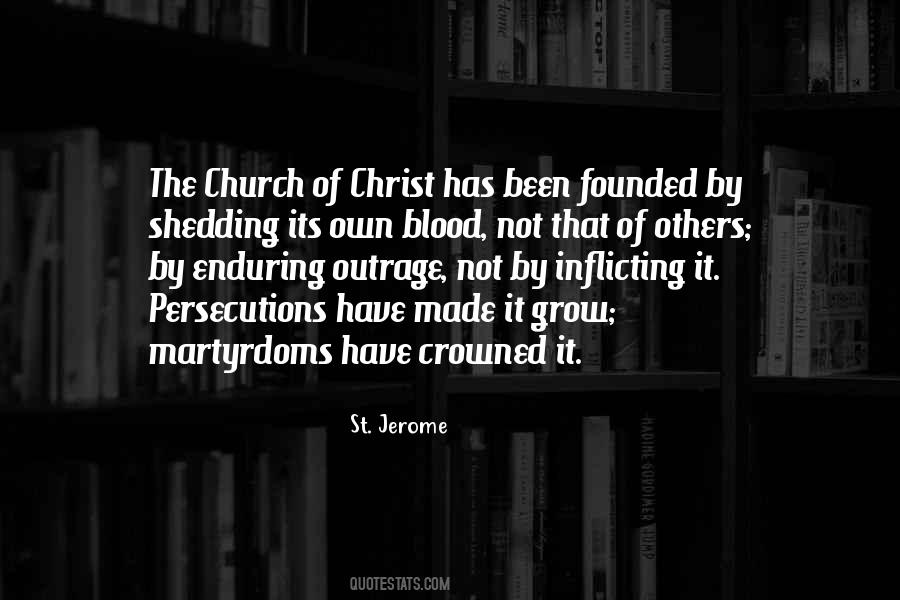 #15. Therefore, we ourselves speak proudly of you among the churches of God for your perseverance and faith in the midst of all your persecutions and afflictions which you endure.(2 Thessalonians 1:4 NASB) - Author: Alexander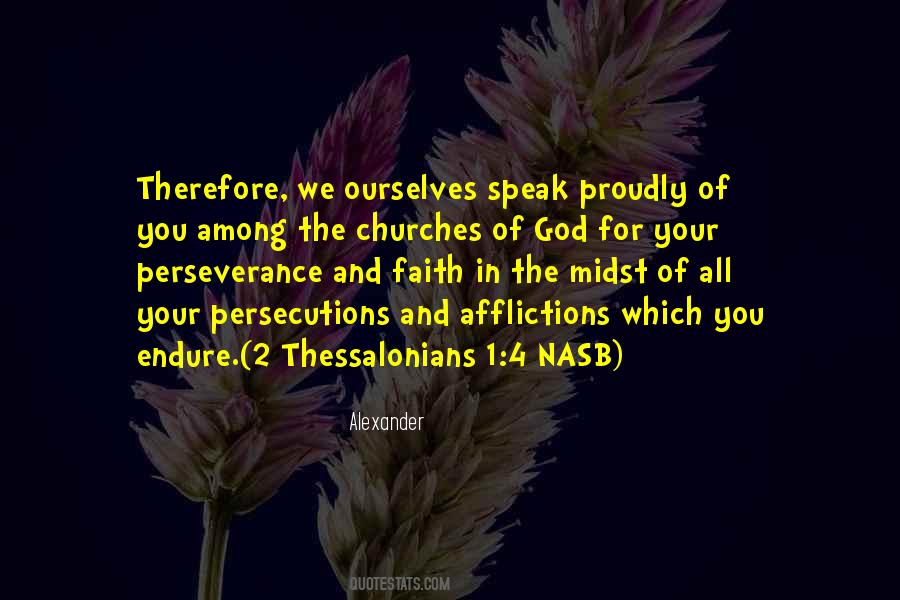 #16. Earnest Freethinkers need not worry themselves so much about the persecutions of the past. Before the Liberal idea is dead or triumphant we shall see wars and persecutions the like of which the world has never seen. - Author: G.K. Chesterton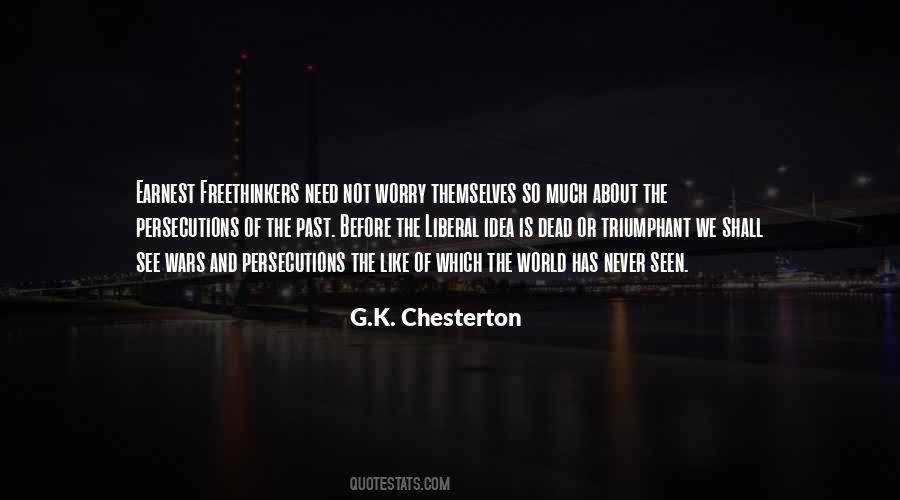 #17. The blessing we receive for following Jesus comes also with persecutions, which, if we have faith to accept them, can also be a blessing. - Author: Lori Stanley Roeleveld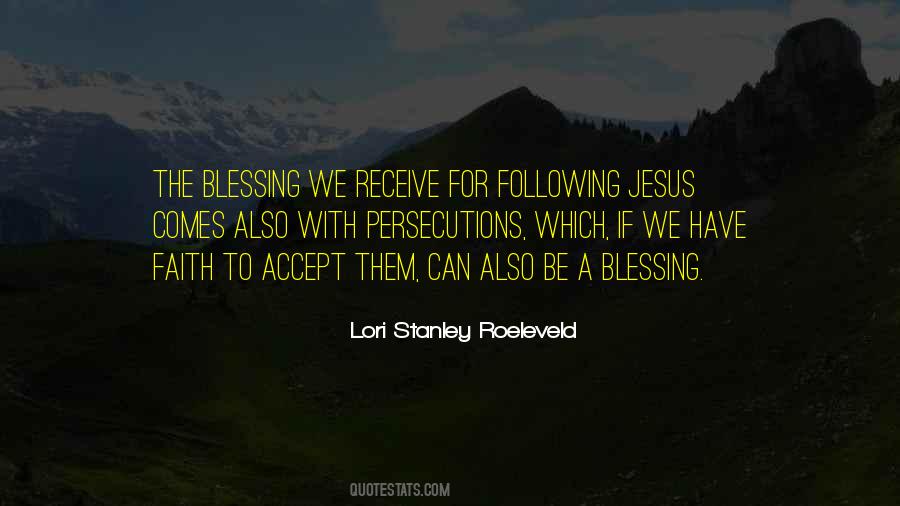 #18. To be a Jew is to be strong with a strength that has outlived persecutions. It is to be wise against ignorance, honest against piracy, harmless against evil, kind against cruelty - Author: Phyllis Bottome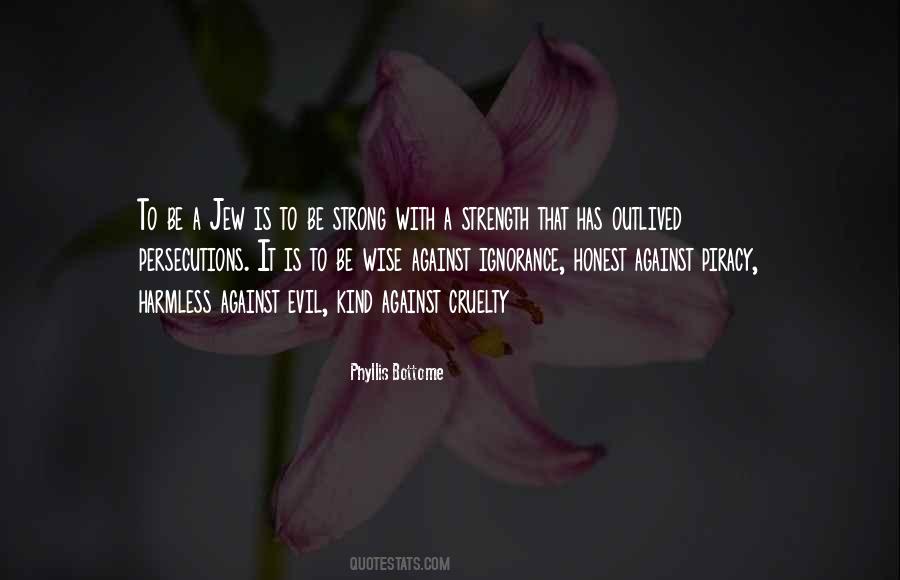 #19. Despite his persecutions, Mr. [Upton] Sinclair reveals himself in Money Writes! to be an enviable man. Always the thing he desires to believe is the thing he feels he knows to be true. - Author: Dorothy Parker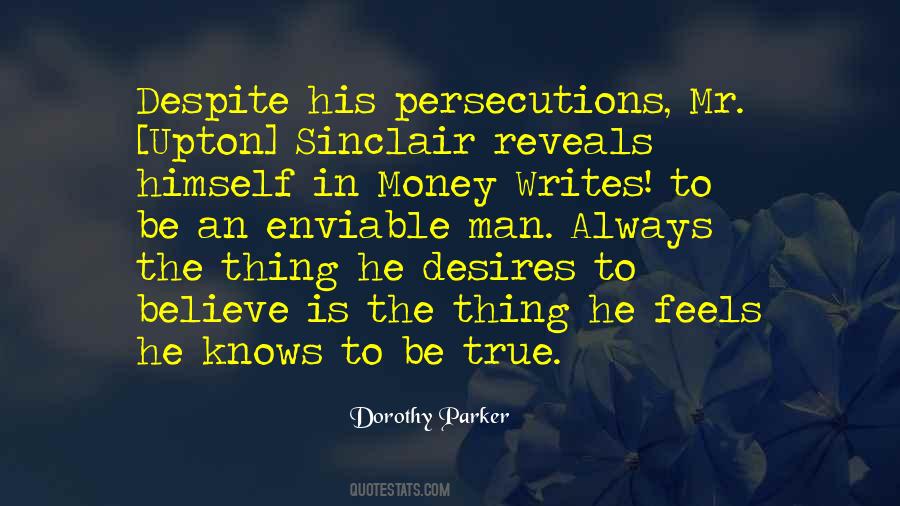 #20. Therefore I am content with weaknesses, insults, hardships, persecutions, and calamities for the sake of Christ; for whenever I am weak then I am strong. - Author: Anonymous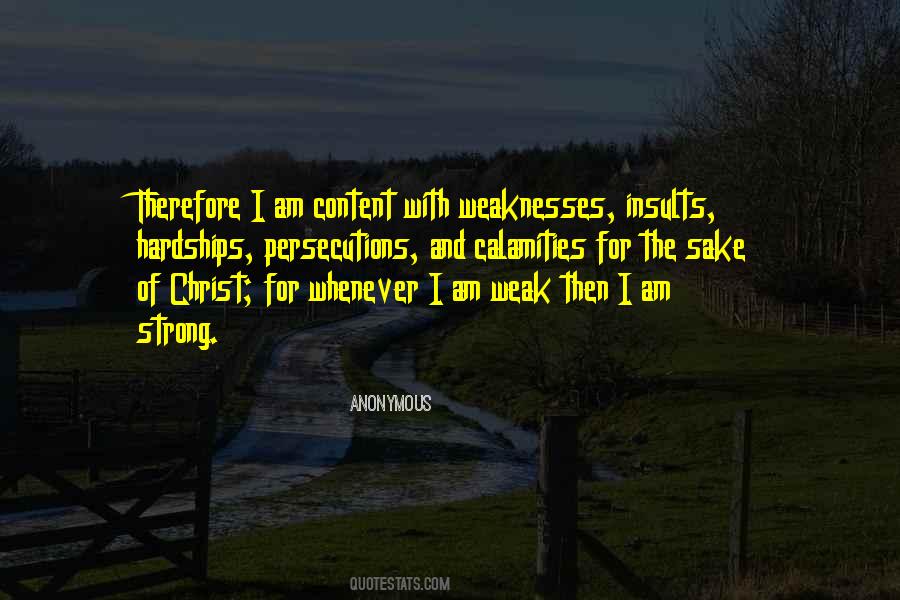 #21. People who prefer to believe the worst of others will breed war and religious persecutions while the world lasts. - Author: Dorothy L. Sayers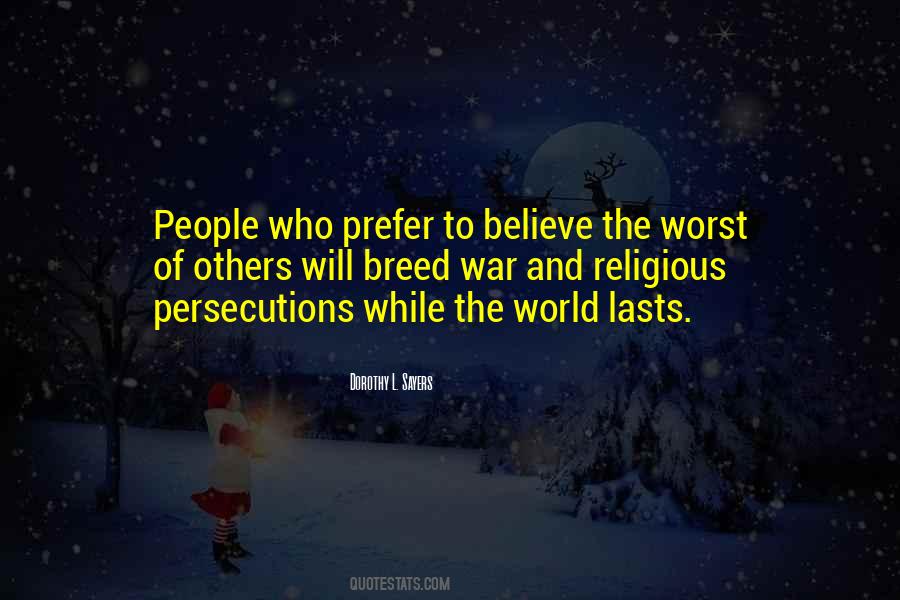 #22. How easily we abandon those who have suffered the same persecutions as we have. How quickly we grow impatient with their inability to transcend the conditions of our lives. - Author: Larissa Lai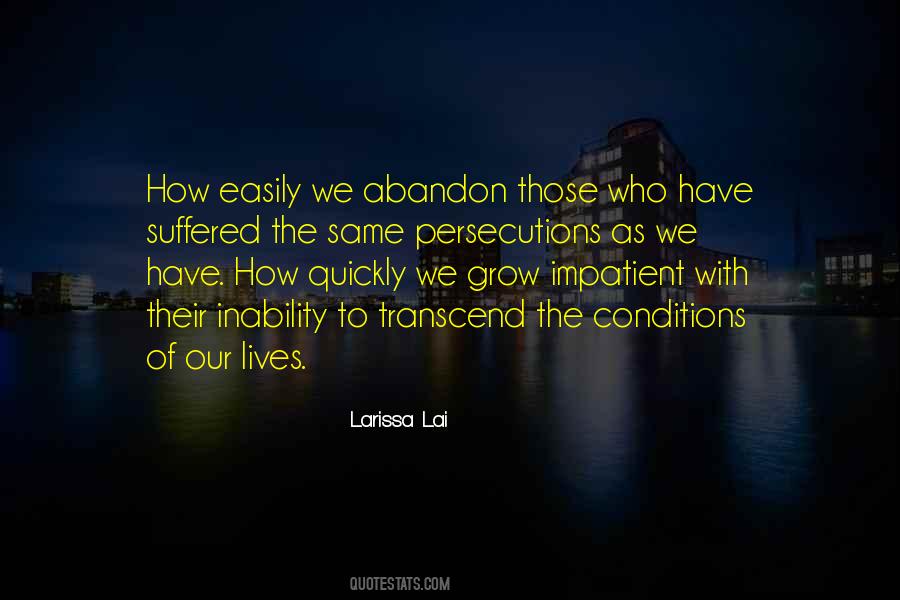 #23. More Christians died for their faith at the hands of fellow Christians
than had died before in all the persecutions. - Author: Ramsay MacMullen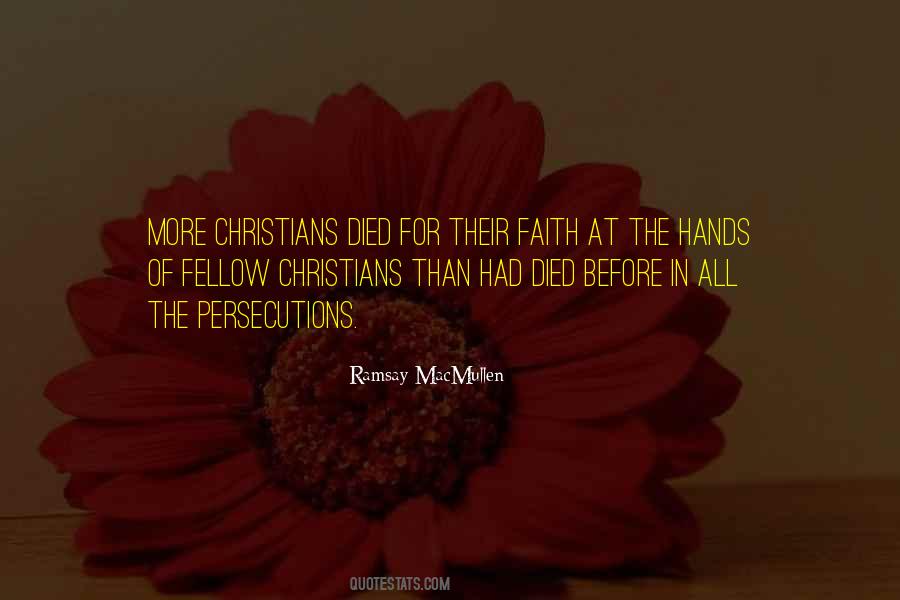 #24. The early church was married to poverty, prisons and persecutions. Today, the church is married to prosperity, personality, and popularity. - Author: Leonard Ravenhill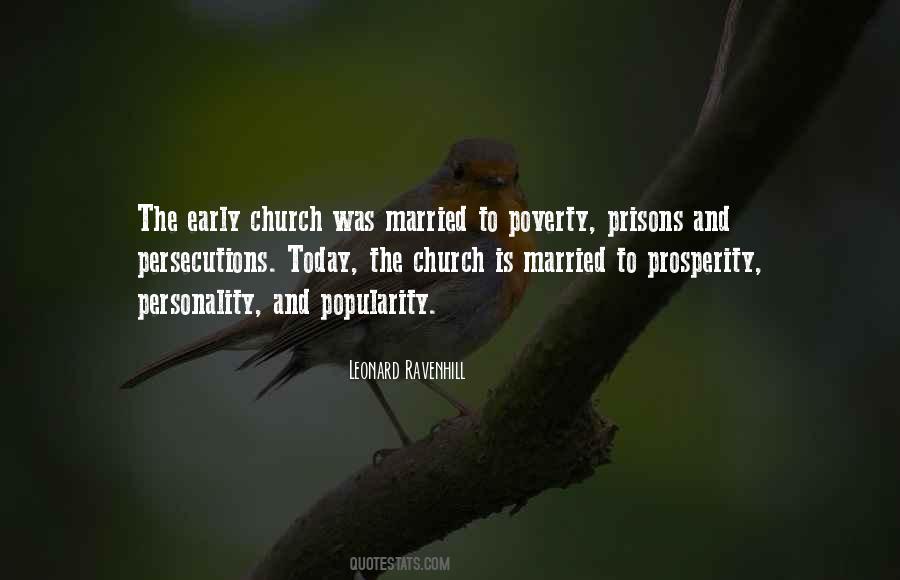 #25. You must either suffer in this life or give up the hope of seeing God in Heaven. Sufferings and persecutions are of the greatest avail to us, because we can find therein a very efficient means to make atonement for our sins, since we are bound to suffer for them either in this world or in the next. - Author: Jean-Marie Le Pen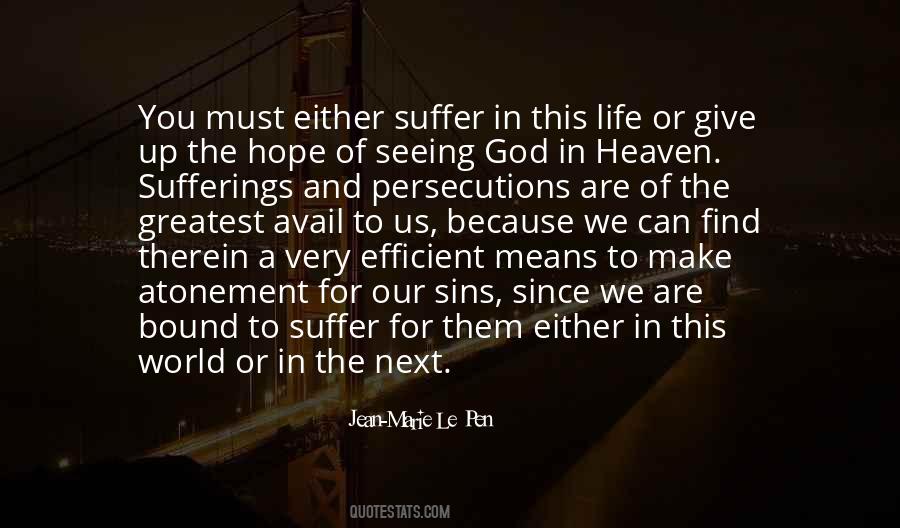 #26. Persecutions are inevitable as a Christian. We are not greater than our Master, Jesus Christ, in whose Holy Spirit we gain strength to endure. - Author: Monica Johnson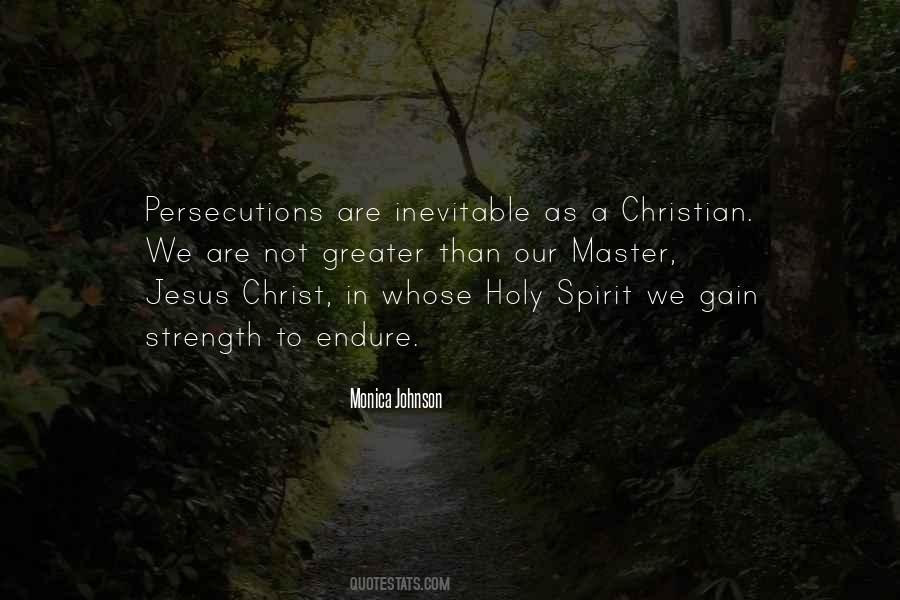 #27. The biggest religious wars and persecutions in history occur when religions, each claiming their own absolute truths, come into conflict. - Author: Susan Jacoby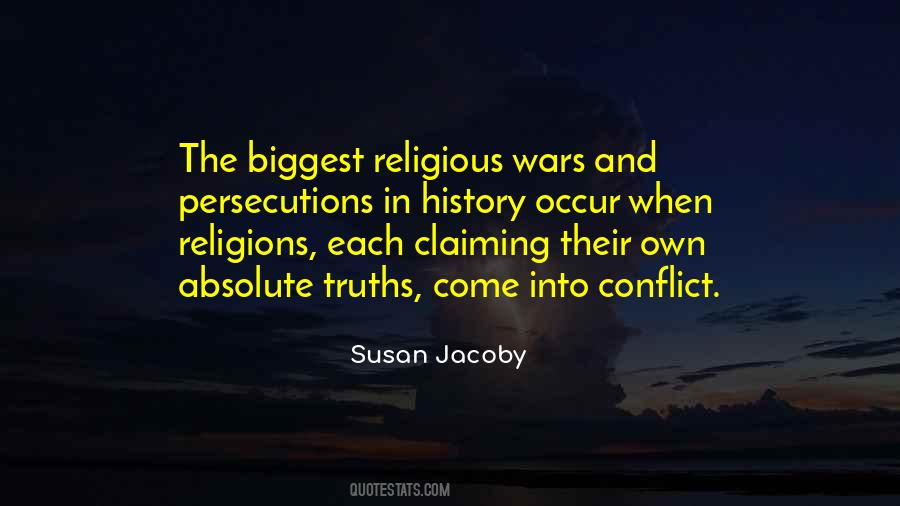 #28. Le silence est la plus grande perse cution: jamais les saints ne se sont tus. Silence is the greatest of all persecutions: no saint was ever silent. - Author: Blaise Pascal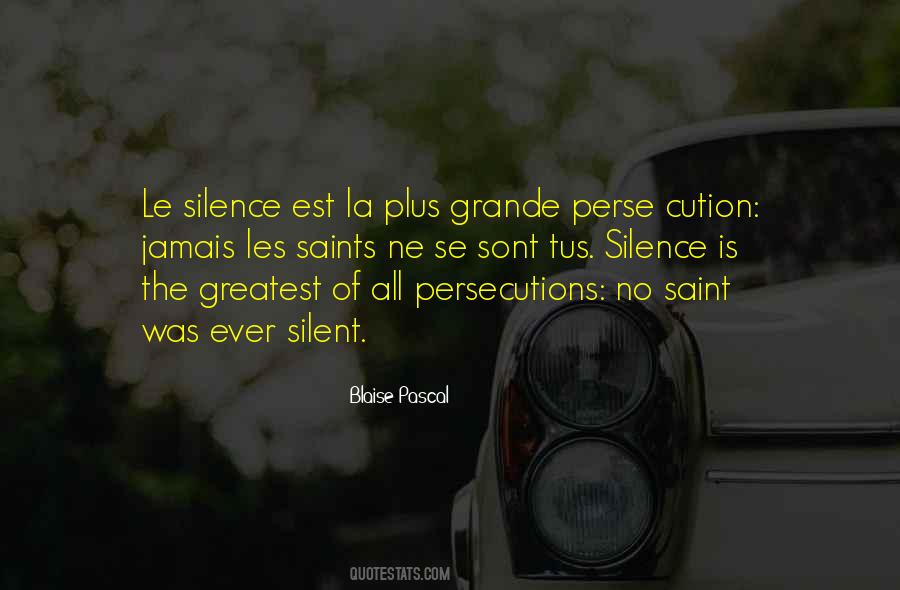 #29. Once again, through myself, the Church, in the words of the well-known declaration Nostra Aetate, 'deplores the hatred, persecutions and displays of anti-Semitism directed against the Jews at any time and by anyone.' I repeat, 'By anyone.' - Author: Pope John Paul II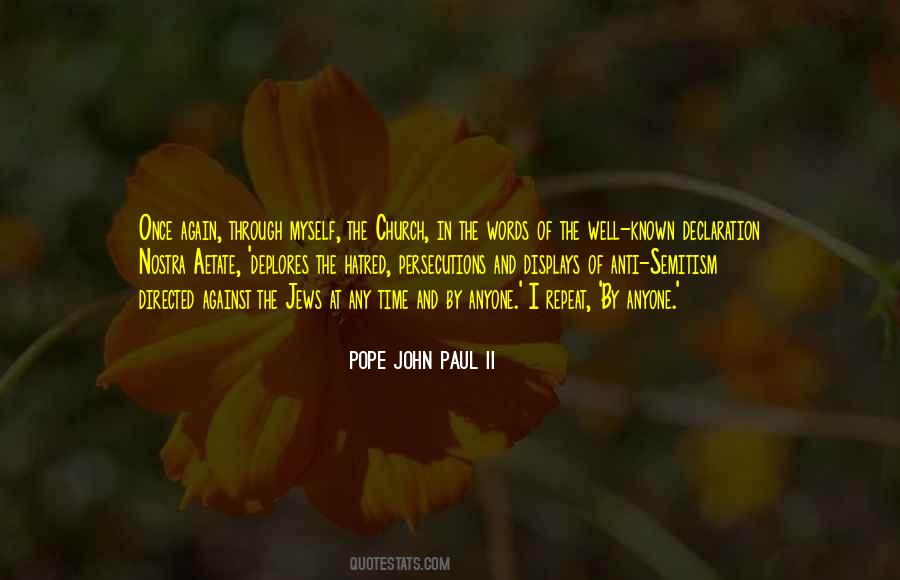 #30. It has often been found that profuse expenditures, heavy taxation, absurd commercial restrictions, corrupt tribunals, disastrous wars, seditions, persecutions, conflagrations, inundation, have not been able to destroy capital so fast as the exertions of private citizens have been able to create it. - Author: Thomas B. Macaulay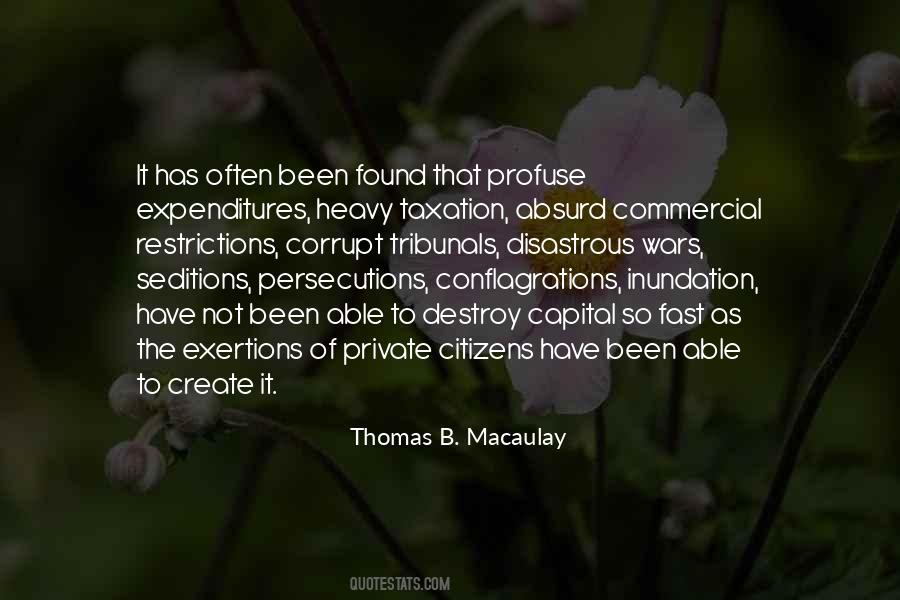 #31. The whole history of the last thousands of years has been a history of religious persecutions and wars, pogroms, jihads, crusades. I find it all very regrettable, to say the least. - Author: Steven Weinberg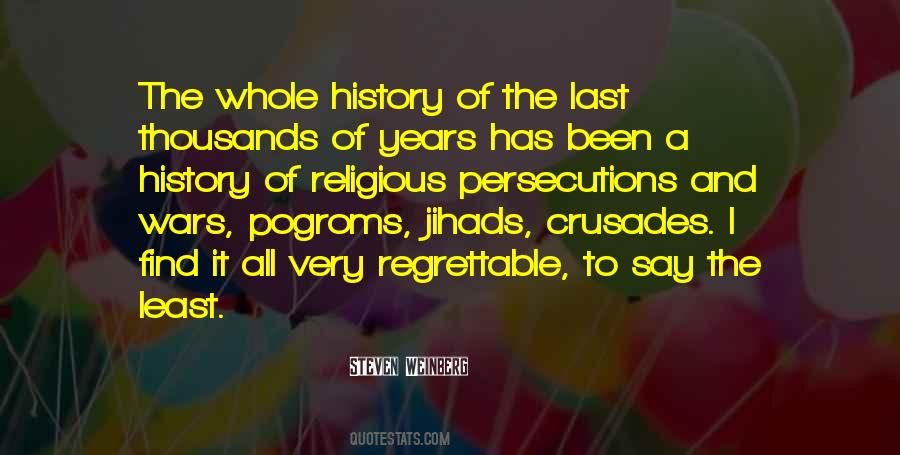 #32. Some places[/people] are like that: they can suffer through wars, persecutions, and indifference, but they still remain sacred. Finally someone comes along, senses that something is missing, and rebuilds them. - Author: Paulo Coelho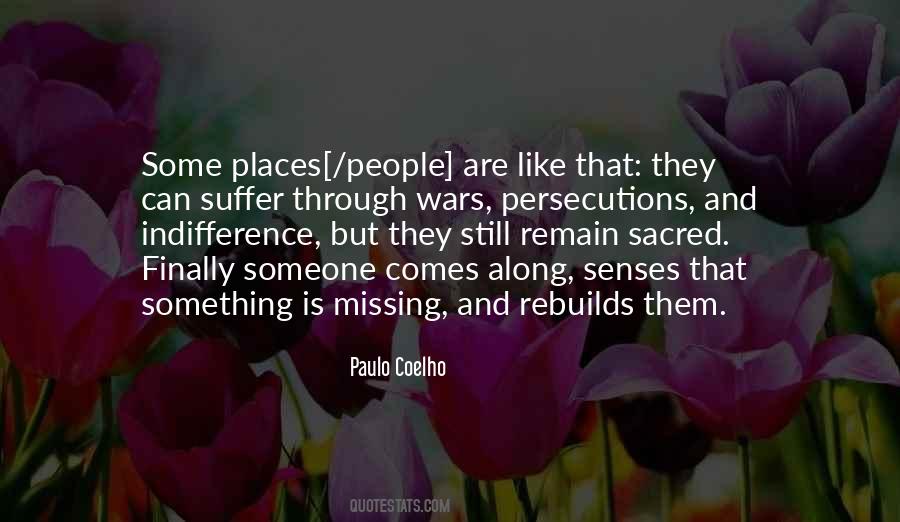 #33. In Constantinople, more Christians were slaughtered by Christians in the years 342-343 than by all the persecutions by pagans in the history of Rome. - Author: Will Durant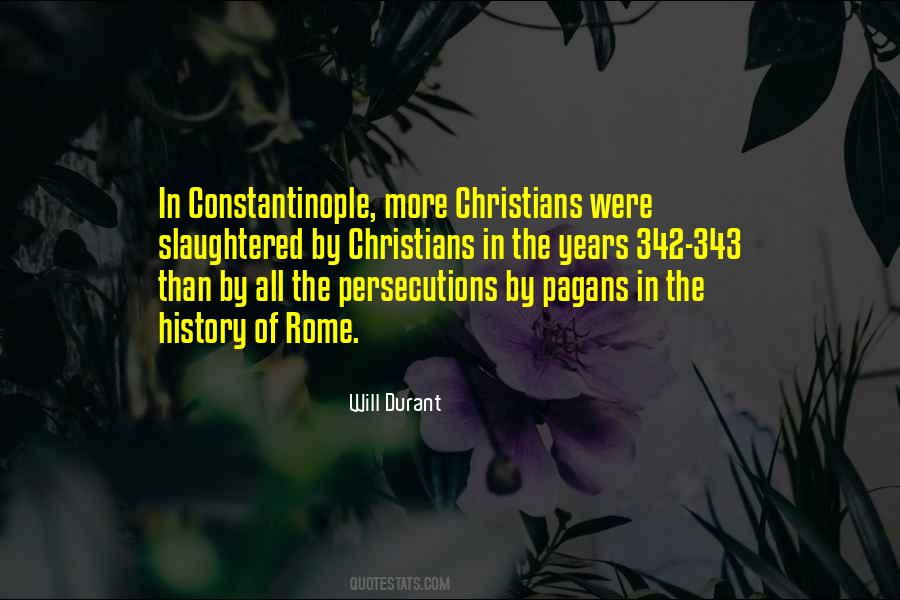 Famous Authors
Popular Topics