Passion And Hard Work Famous Quotes & Sayings
List of top 57 famous quotes and sayings about passion and hard work to read and share with friends on your Facebook, Twitter, blogs.
Top 57 Quotes About Passion And Hard Work
#1. Persistence and passion will make you invincible. - Author: Christian Baloga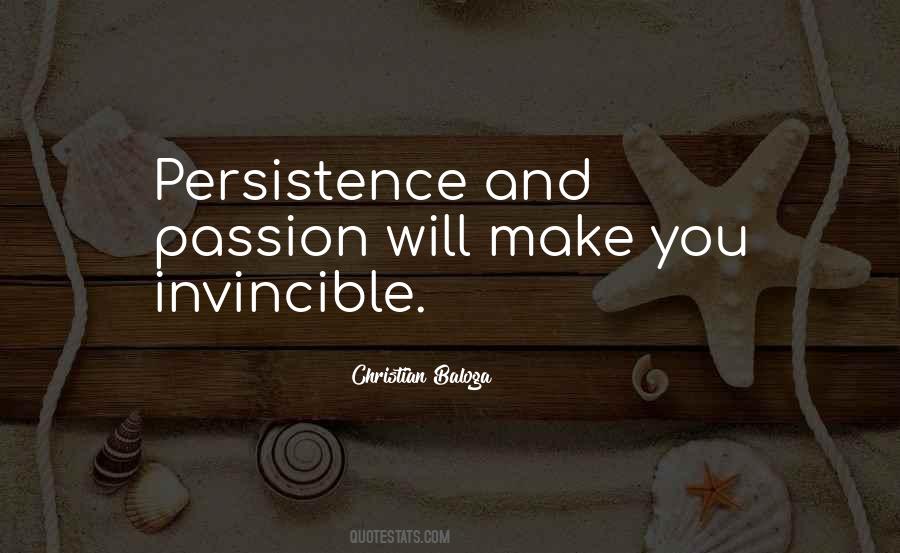 #2. The best part about being a Blazer is the fans. The fans here are so loyal it feels like a college team with how close the fans and players are. They have such a great passion for the team that it makes it fun to be a part of and makes you want to work harder to make the team successful. - Author: LaMarcus Aldridge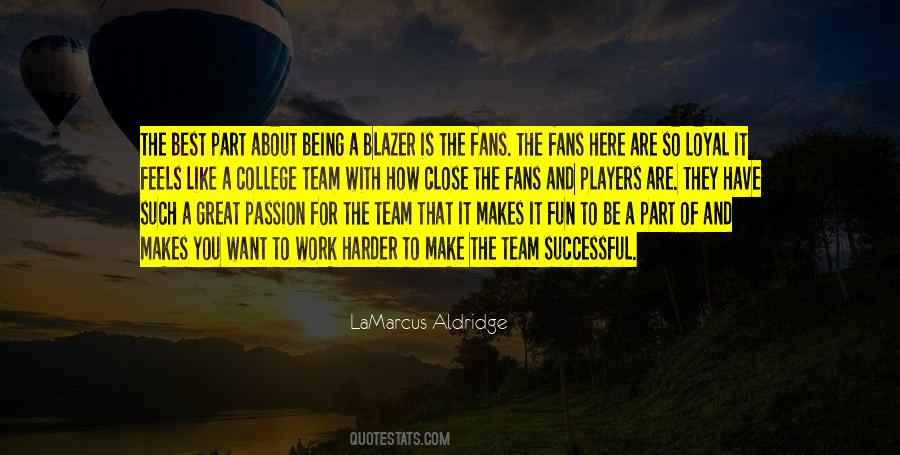 #3. One play down and 497 to Go! - Author: Ray S. Jones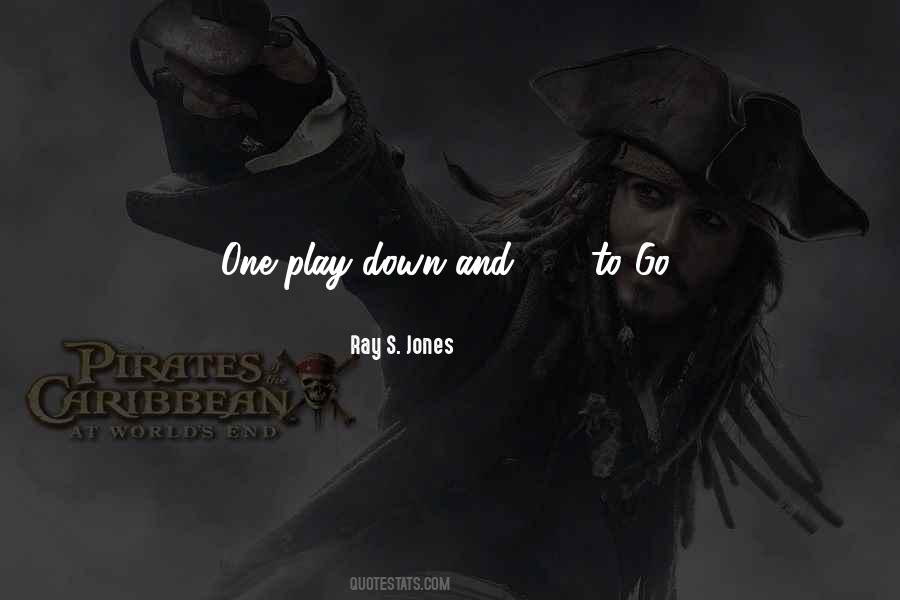 #4. I was offered more work after the Oscar. When I was younger, I would take whatever I was offered because it was money and work and experience. In a way, choosing is the hard part. I know that's a luxury problem, but it's true. I try to go where passion takes me. - Author: Rachel Weisz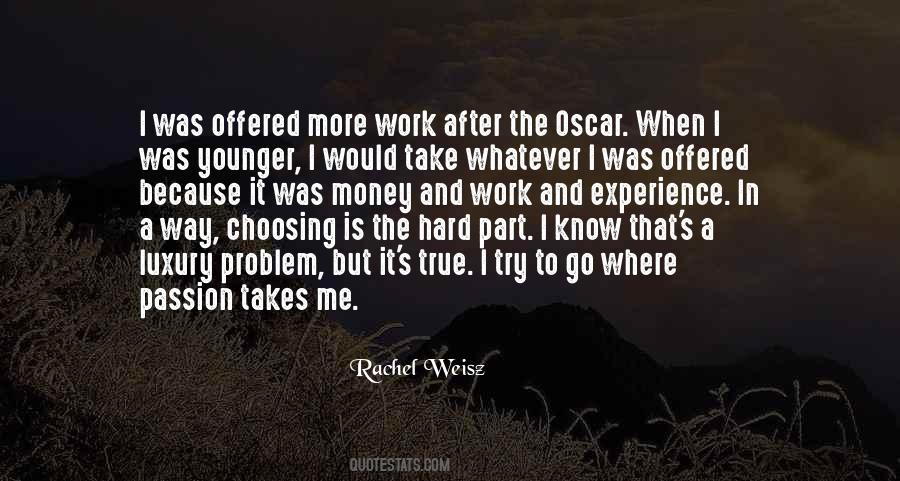 #5. Be spectacularly great at what you do. Wear your passion on your sleeve and hold your heart in the palm of your hand. And work hard. Really hard. - Author: Robin S. Sharma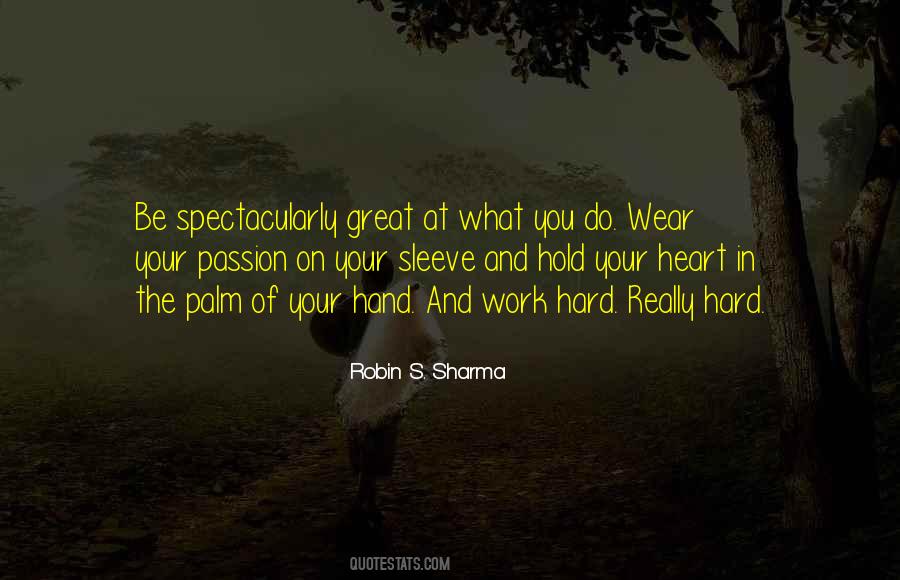 #6. You can accomplish amazing things with this if you have a passion and you work hard - I just think it's a cop out to say 'I wasn't born with this, so it's OK if I fail'. You can make up the difference with hard work and devotion. - Author: Buck Brannaman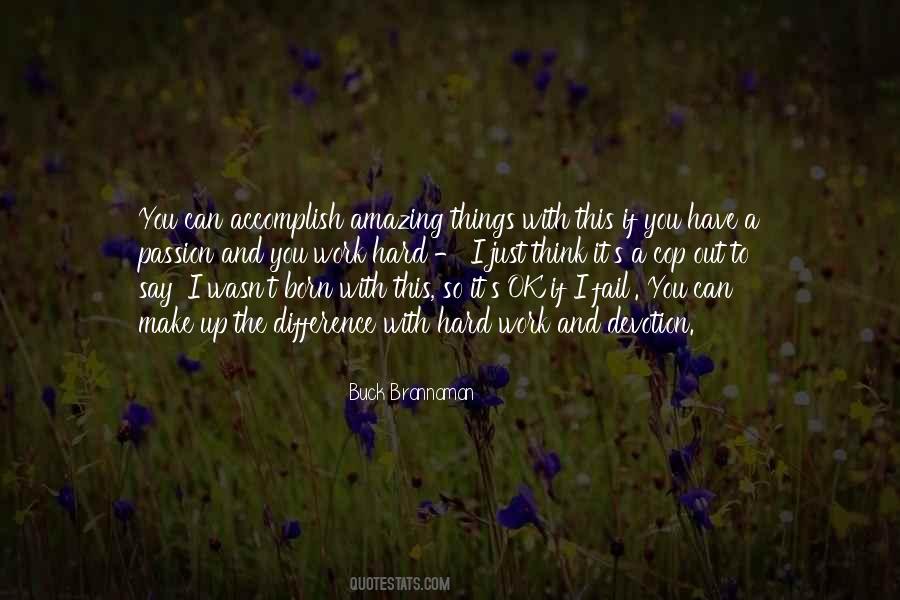 #7. I am always a big believer that if you work hard enough and you work out of passion, a person can do anything. - Author: Kelly Blatz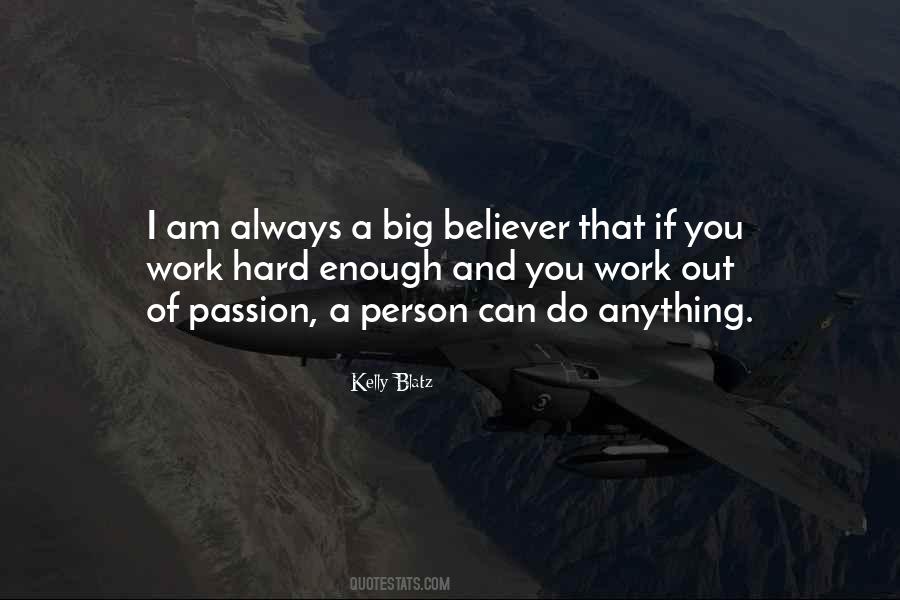 #8. If someone tells you it can't be done. Smile and humbly agree. Then go back and work so hard that you can prove them wrong equally as fast. - Author: Avijeet Das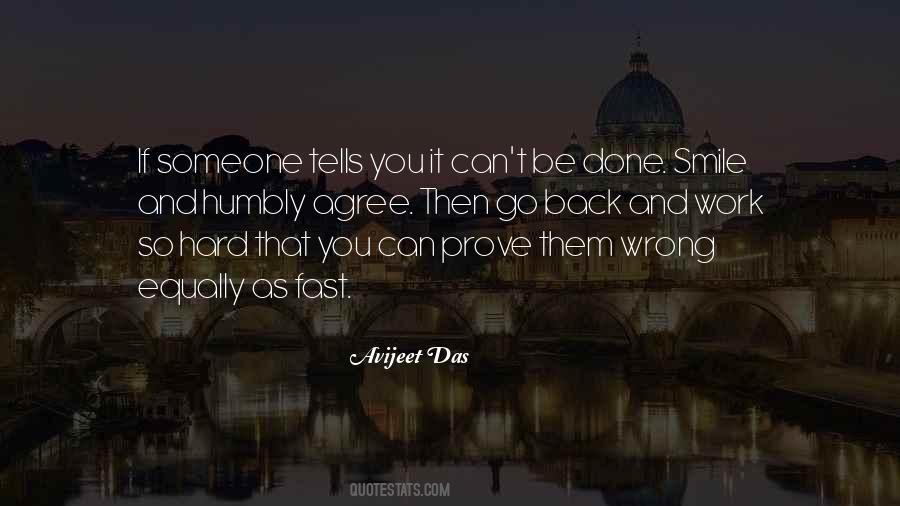 #9. The road to success is not easy to navigate, but with hard work, drive and passion, it's possible to achieve the American dream. - Author: Tommy Hilfiger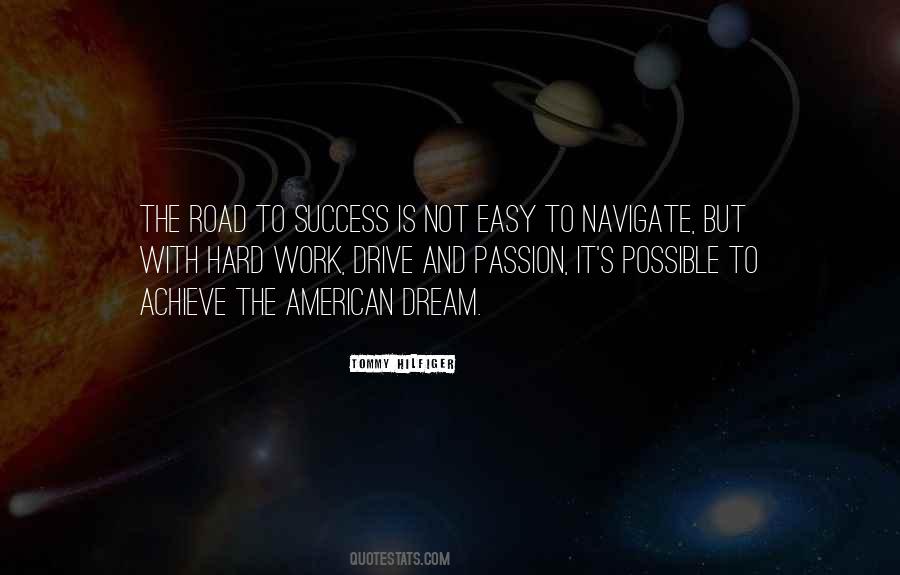 #10. You try and work hard and get better each week. I play the game with passion. I enjoy the game. It's a lot of fun when I'm out there. That's the way I play. For some reason, people like that. - Author: Tony Romo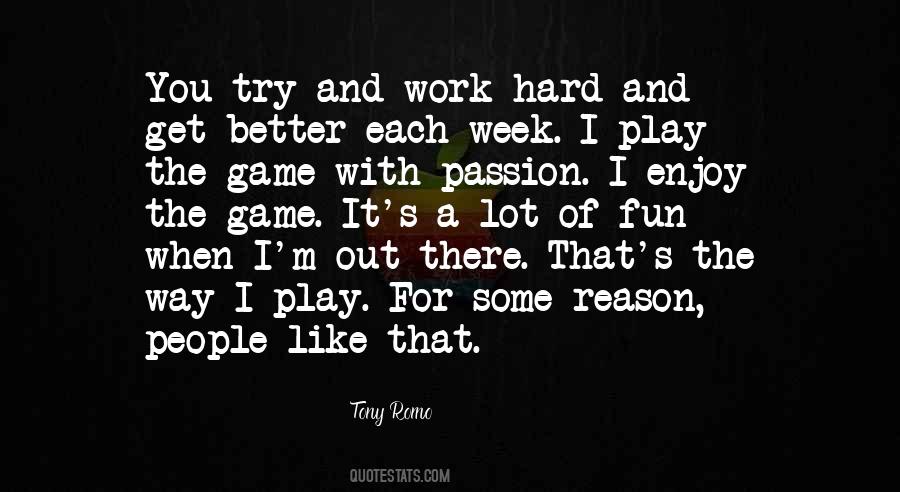 #11. I do a lot of running, and I do it every day. I run on a track, I run hills and I work the stair-stepper extremely hard. I do some type of cardio every day. In addition, I have a passion for golf, and that helps me stay fit, too. - Author: Jerry Rice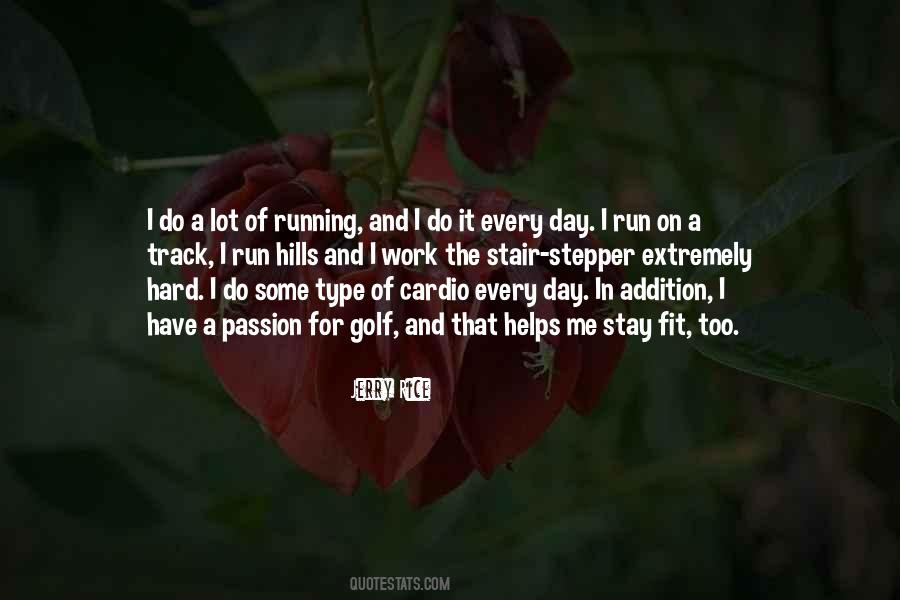 #12. Passion and persistence are what matter. Dreams are achievable and you can make your fantasy come true, but there are no shortcuts. Nothing happens without hard work. - Author: Diane Von Furstenberg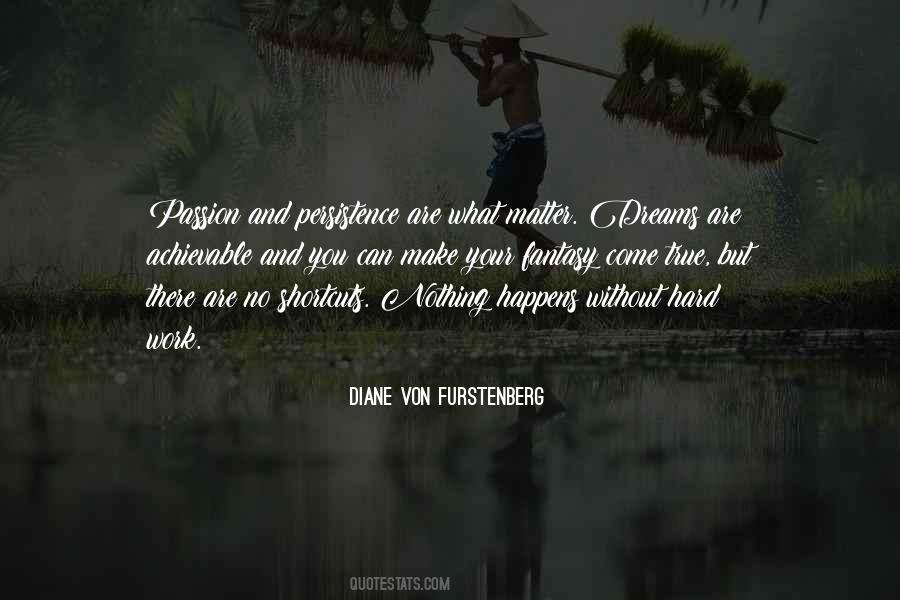 #13. Passion and hard work makes a great player, but the courage to get up every time you fall is what makes a champion. - Author: Jeanette Lee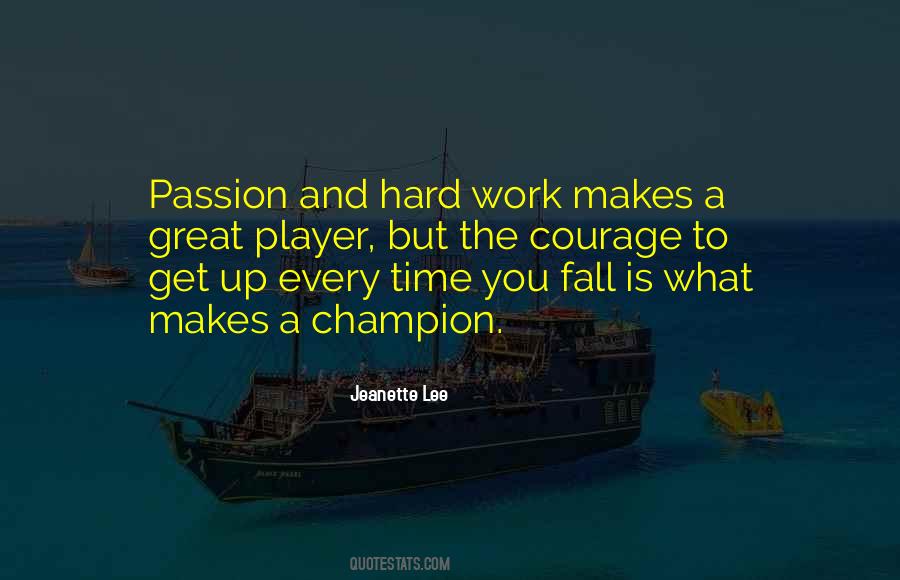 #14. You had to work tremendously hard. You had to have that commitment to training, you had to have that innate ability. It's similar in my profession as well. You can have the ability, but without the work, passion and the commitment, you won't really get there. - Author: Paul Rankin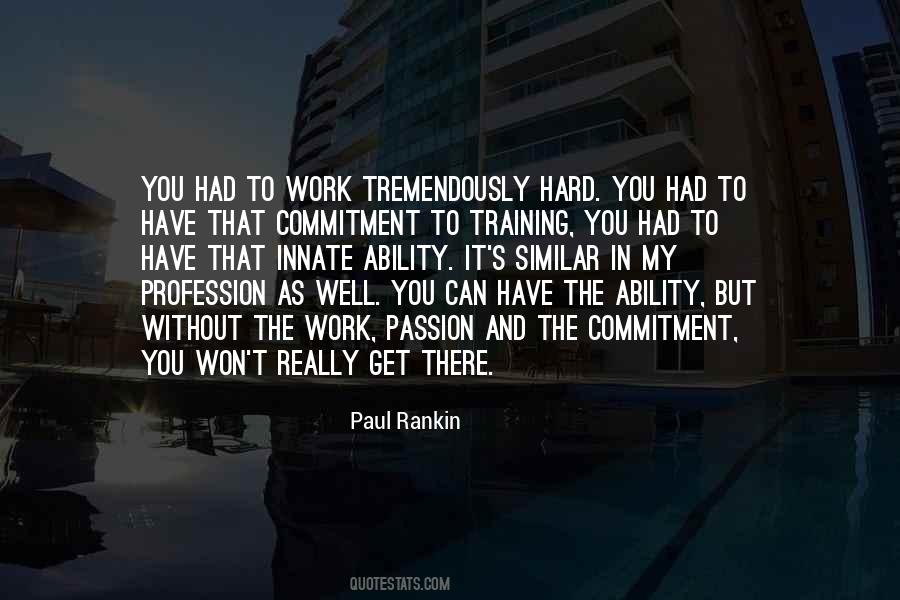 #15. Work hard with passion and courage. Life is a marathon of contribution. You really must work hard to accomplish something ... Find your passion and get good at it. - Author: Jeffrey R. Immelt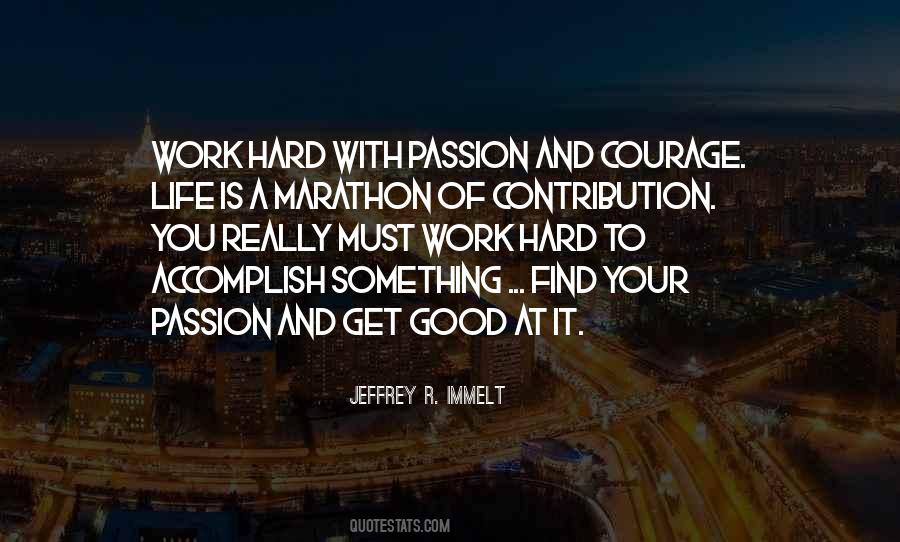 #16. My father worked real hard. I admired him. My father taught me you needed to work with your brain and not your back. I've made that a passion. - Author: Don Cornelius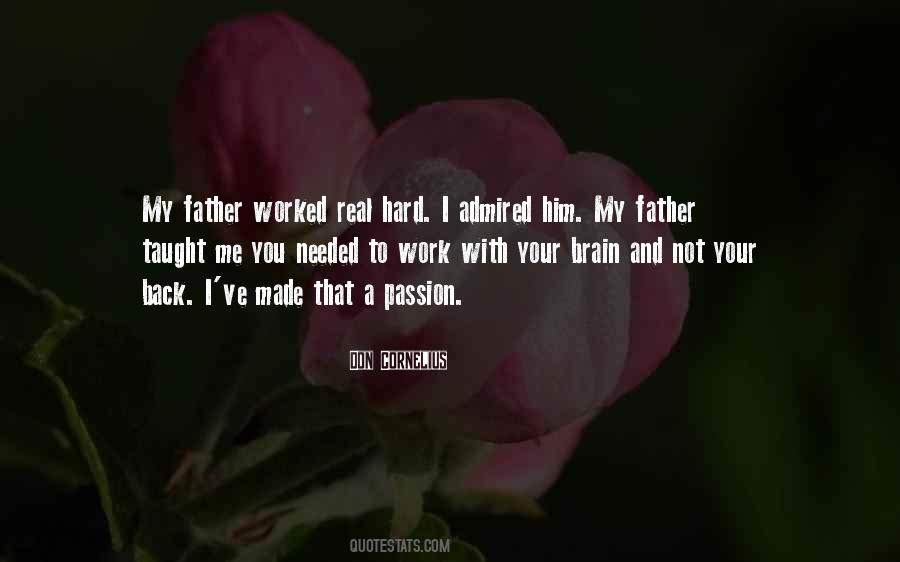 #17. Laziness is when your sleep overcomes your passion, not under the influence of drugs but under the control of excuses and procrastination! - Author: Israelmore Ayivor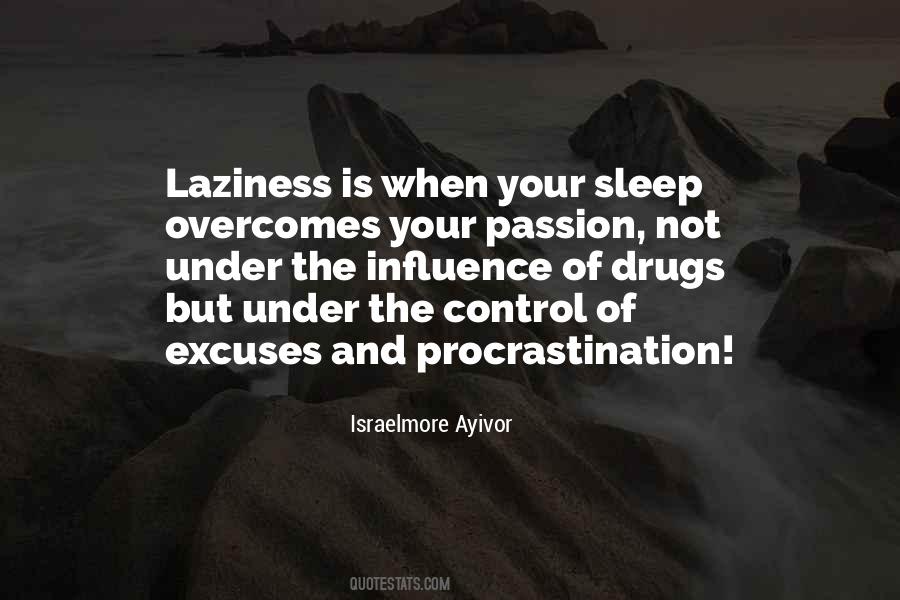 #18. My path was simple: Follow your passion. Pour in your heart and soul. Settle for nothing less than excellence. And with enough hard work and faith in yourself, you can realize your dream. - Author: Robert Mondavi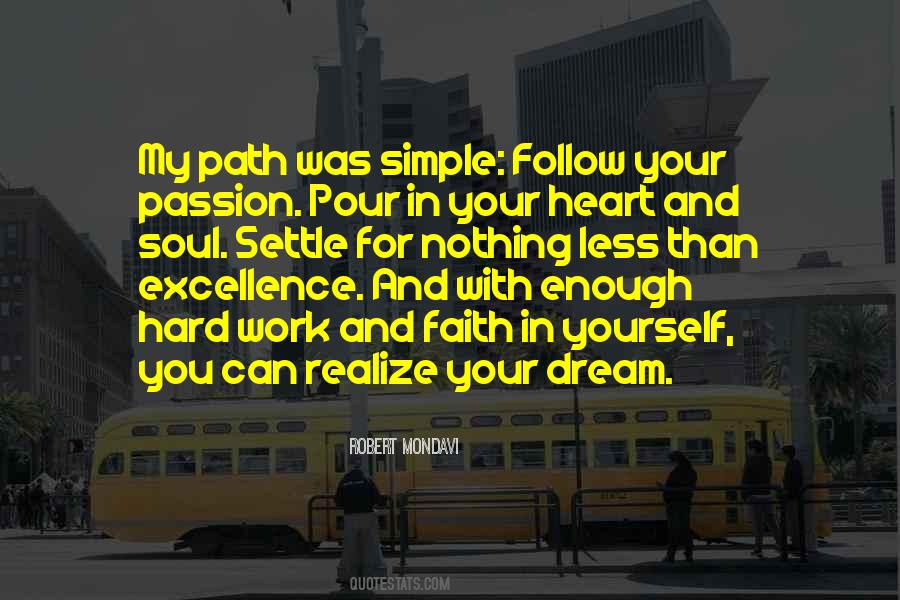 #19. I think passion is something that's more powerful than even love. It's something that you're not willing to let go of, and you'll work really hard to make sure that stays a part of your life. - Author: Bethany Hamilton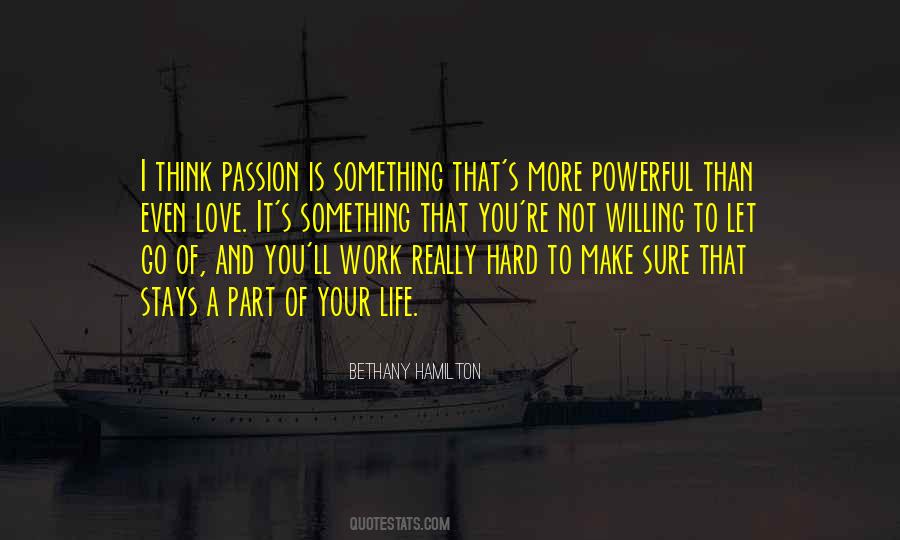 #20. There is a difference between working hard to create a life that truly serves you
and working hard to create a life that you've been told you should want. - Author: Vironika Tugaleva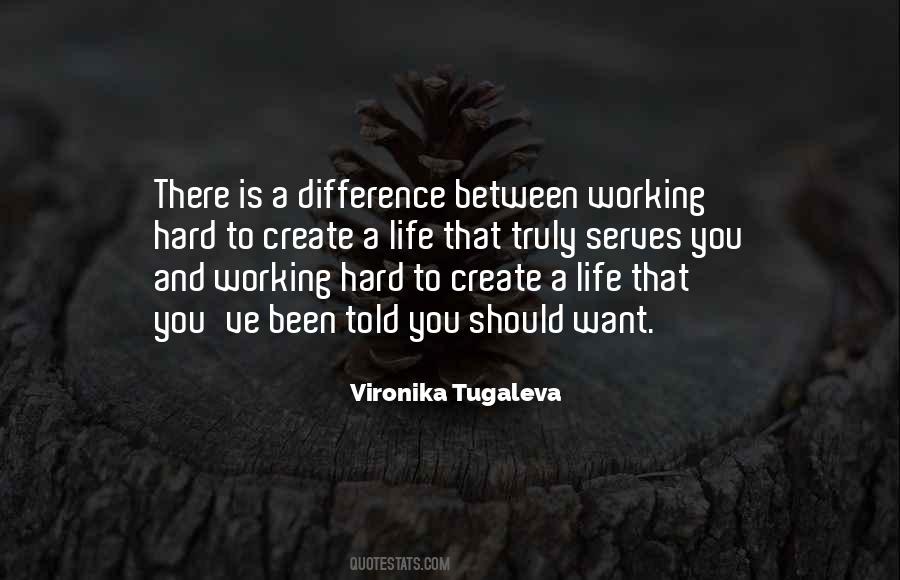 #21. Work hard! In the end, passion and hard work beats out natural talent. - Author: Pete Docter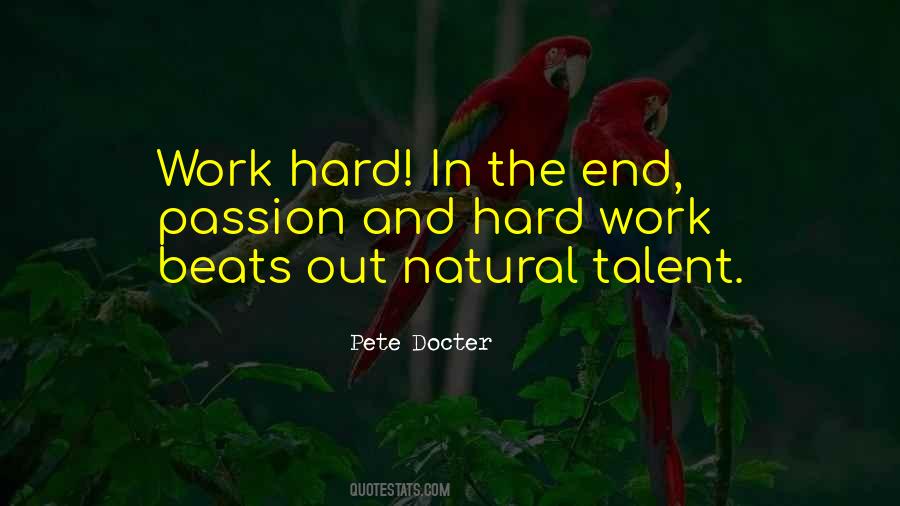 #22. Follow your passion. Help people along the way. Work very very hard and always come prepared. - Author: Rita Zahara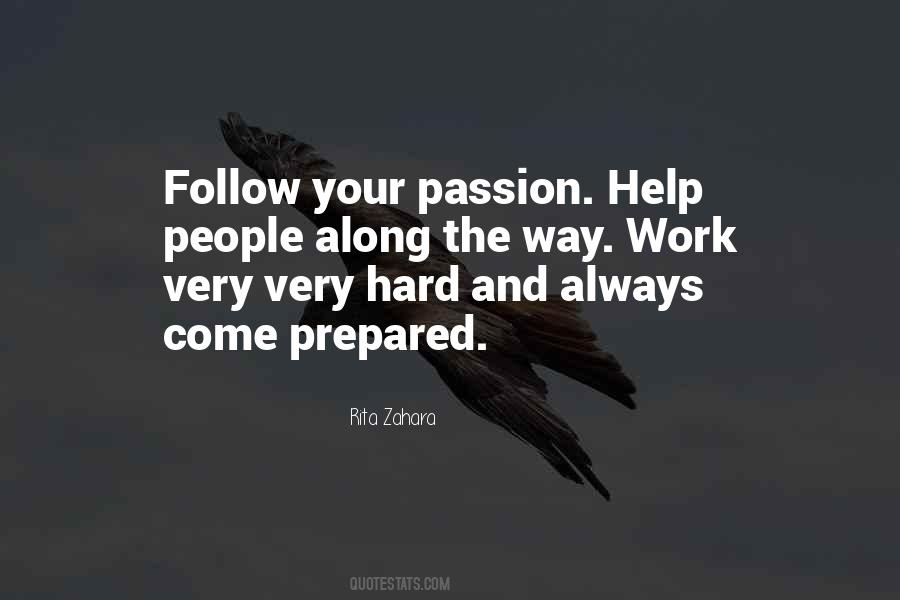 #23. Dreams can come true, but there is a secret. They're realized through the magic of persistence, determination, commitment, passion, practice, focus and hard work. They happen a step at a time, manifested over years, not weeks. - Author: Elbert Hubbard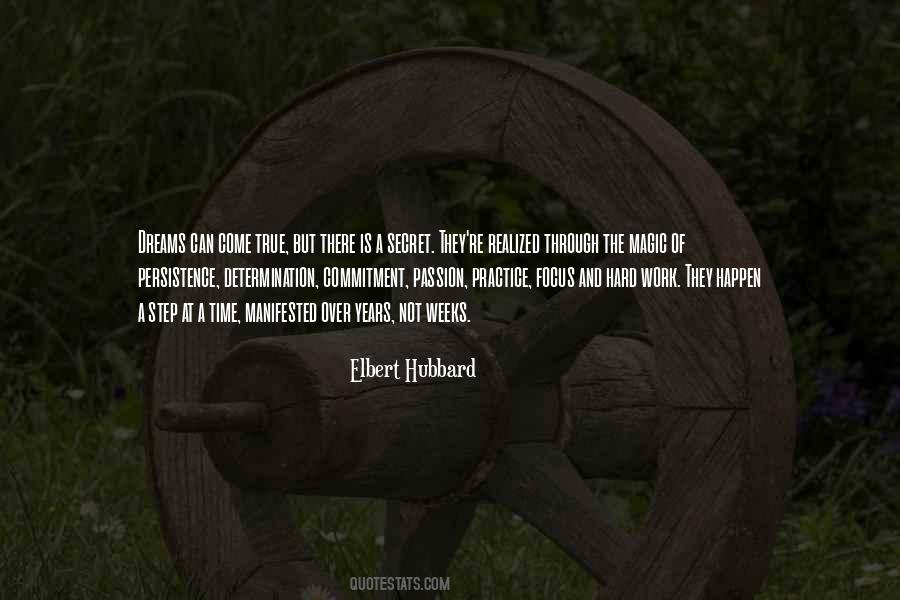 #24. Do you have a passion for what you do and do you love what you do? If you don't, then it can be drudgery, it can be hard, it can be work. But when you find something that you enjoy a lot, then you're more willing to sacrifice a lot of things in order to be successful as a teacher. - Author: Tubby Smith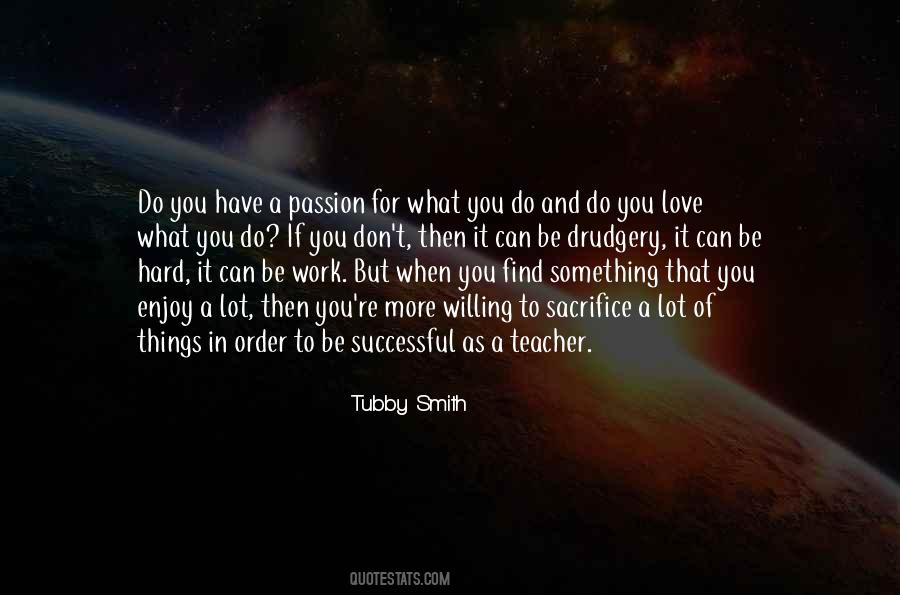 #25. You have to have a passion for your work. How can we expect people to be passionate if you, as their coach, does not have a passion? Coaching has to be something that gives you passion and energy. - Author: Lord Byron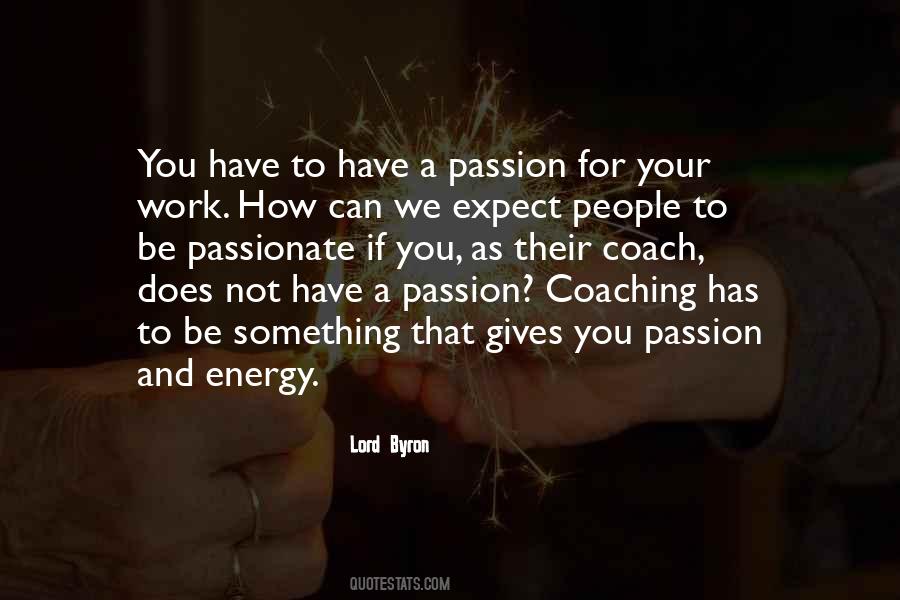 #26. A good man: body serves his will and enjoys hard work, clear intellect that understands the truths of nature, full of passion for life but controlled by his will, well-developed conscience, loves beauty in art and nature, despises inferior morality, respects himself and others. - Author: Thomas Huxley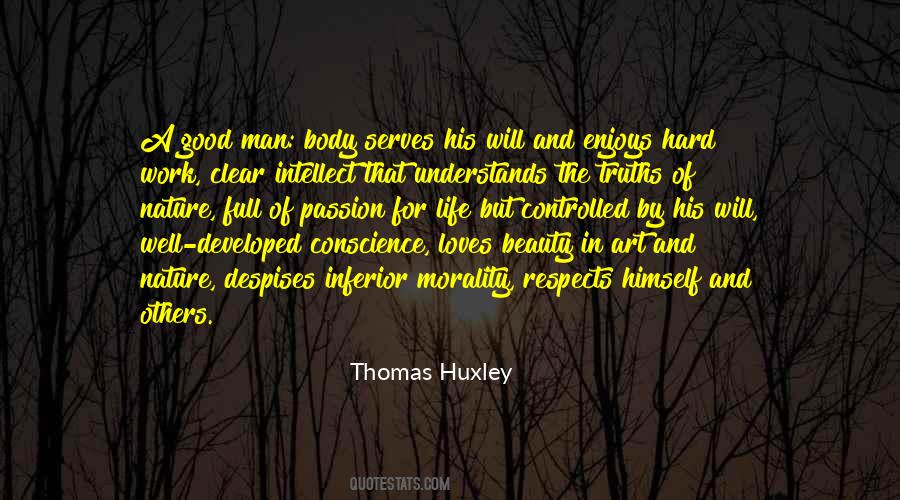 #27. When the thing that your heart strongly loves to do is the thing world hungers and thirsts to see done, then that's what you were called to do. You must never leave it undone! - Author: Israelmore Ayivor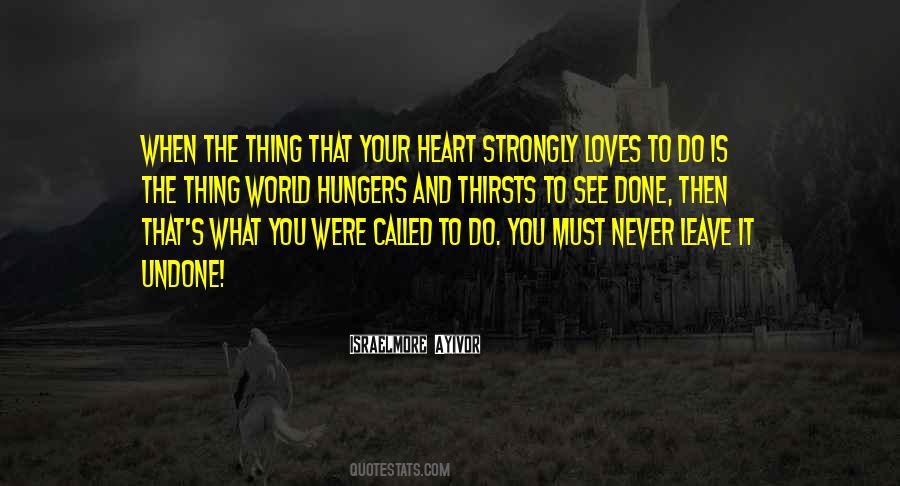 #28. There are a lot of different paths through the jungle, but ... the simplest thing you can do is make yourself useful. Be easy to work with, be a hard worker and help people get the job done. And do it with as much passion and quality as you can. - Author: Harrison Ford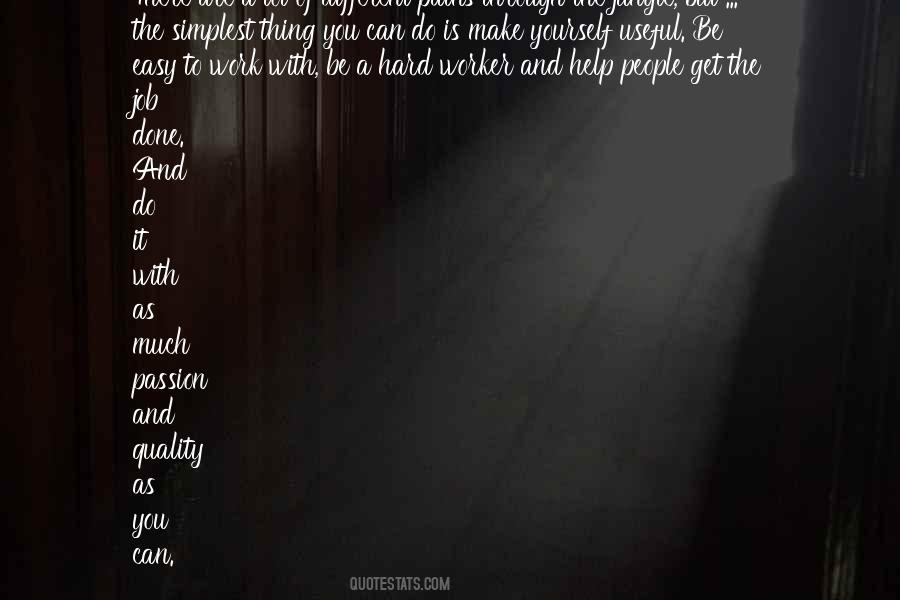 #29. You should follow your passions, you know? And you should make sure you do something you love. That's all I've learned, is that if you're doing something you love you'll work harder at it and make it happen, I can promise you that. - Author: Tom DeLonge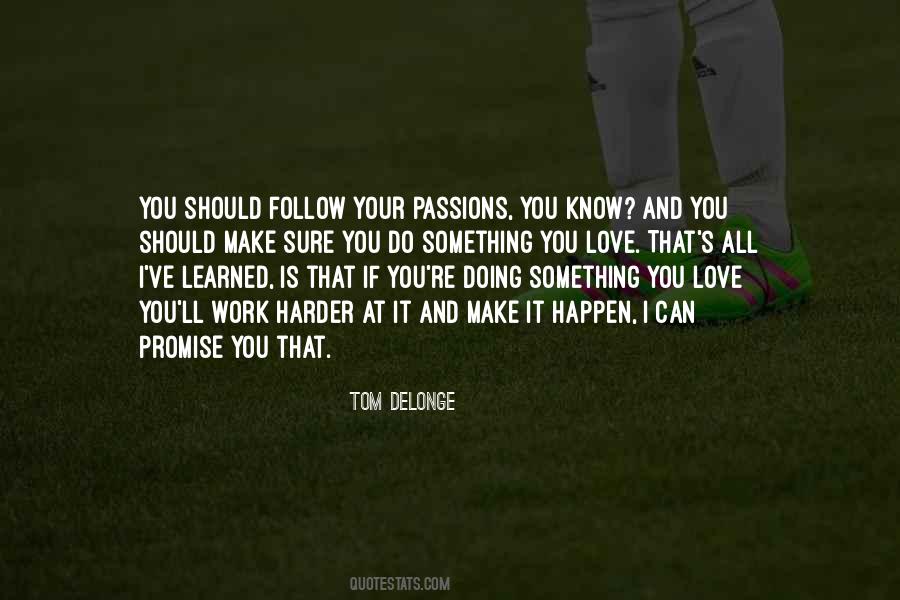 #30. AERIN is saturated with the qualities that have surrounded me my entire life, many of which came from my grandmother, Estee: passion, style, hard work, family, and, of course, all things beautiful. - Author: Aerin Lauder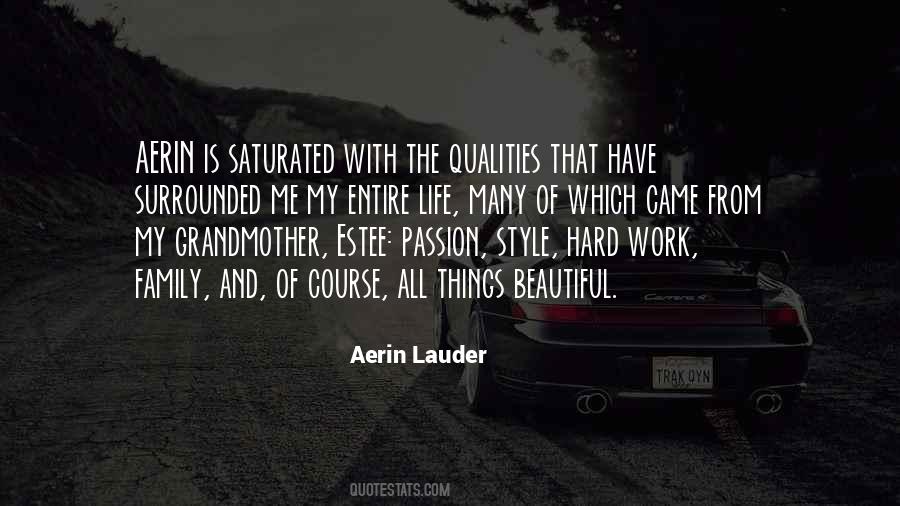 #31. There is no 'master plan' on the road to the Nobel Prize. It represents a lot of hard work, a passion for that work and ... being in the right place at the right time. For me, that place was Caltech. - Author: Ahmed Zewail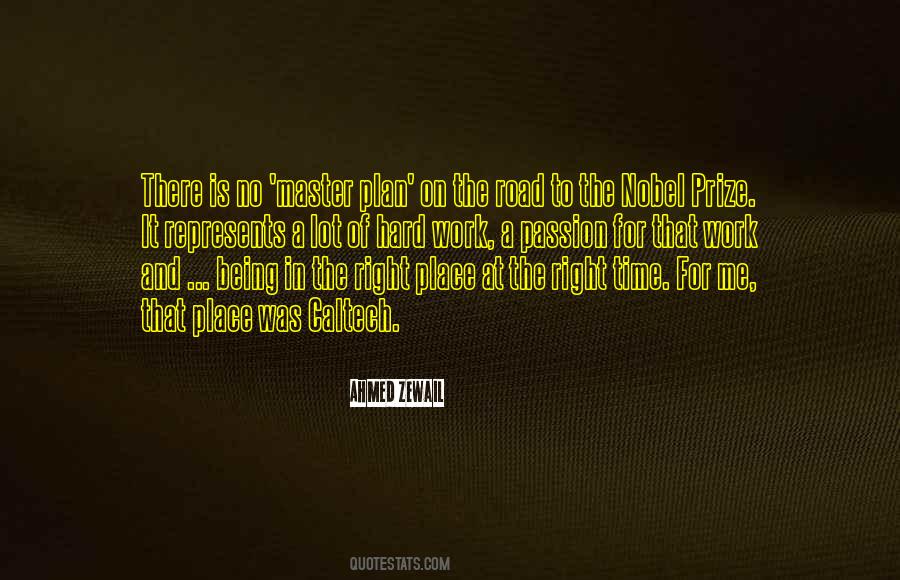 #32. Drive, determination, passion and hard work are all free and more valuable than a pot of cash. - Author: Richard Branson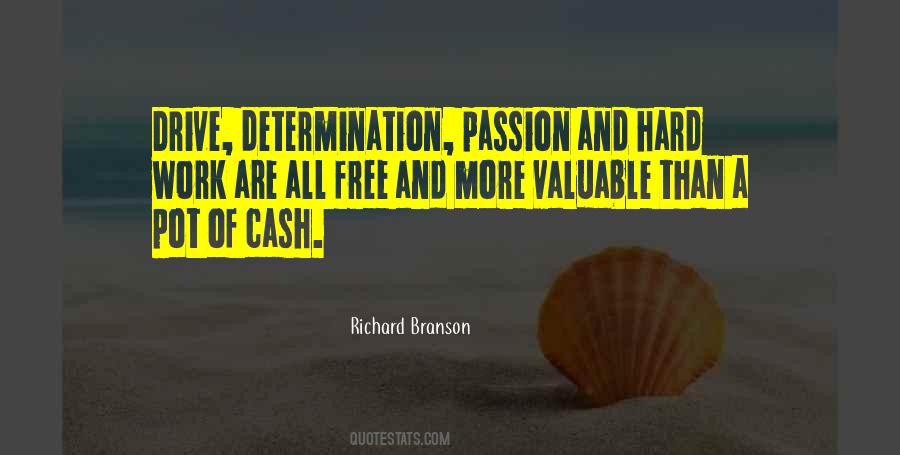 #33. Work as if there's no one to help you, and learn as if everybody is with you. - Author: Saransh Garg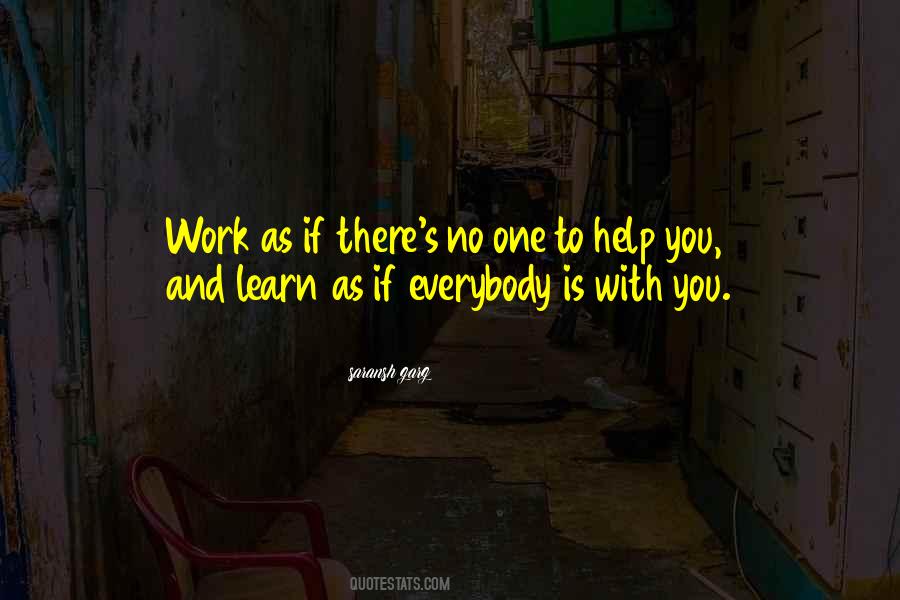 #34. Sex is just not about love or pleasure.
It has its share of passion, hard work and creativity - Author: Subhasis Das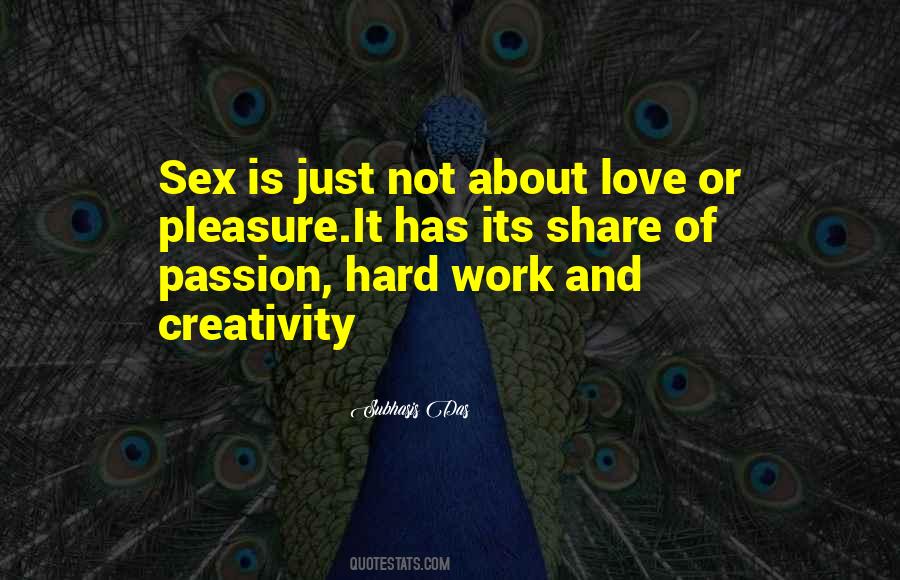 #35. Passion. Confidence. Gratitude. The possibility of making positive change in the world. It's the sort of "spark" one gets the moment they decide to go after what they want, really fight for it, work hard, and not give up. I love that spark; it's beautifully contagious. - Author: Beth Riesgraf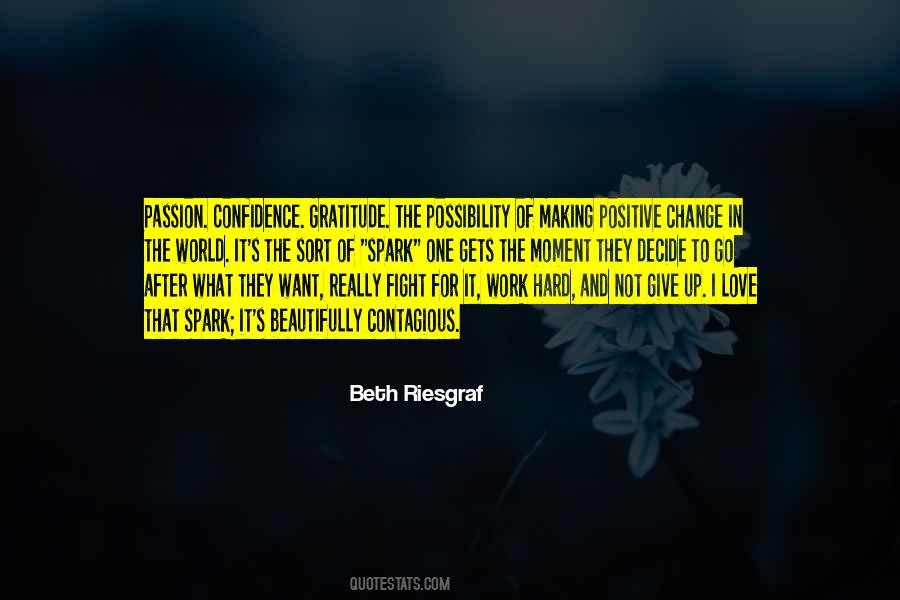 #36. Jobs suck, but when you work on your passion, it is never a job, no matter how hard and how long you have to work. - Author: Ben Tolosa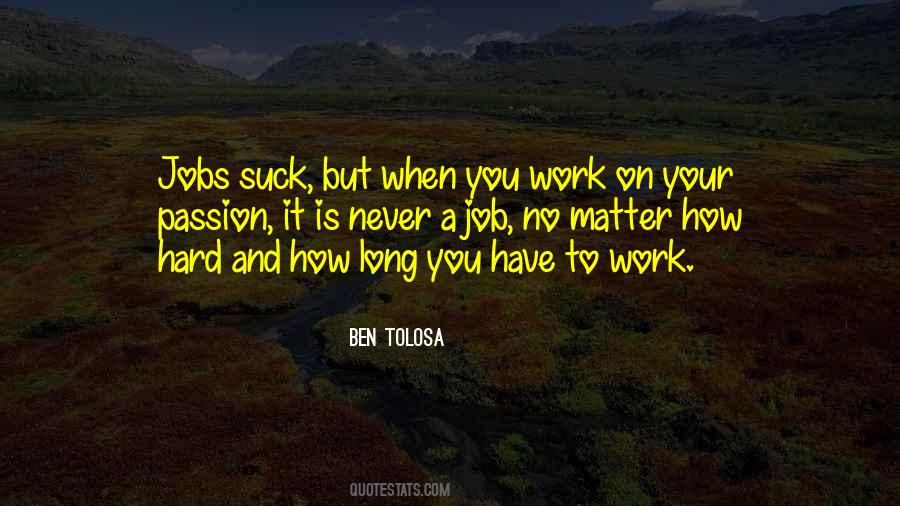 #37. Someone with less passion and talent and poorer content can totally beat you if they're willing to work longer and harder than you are. Hustle is it. - Author: Gary Vaynerchuk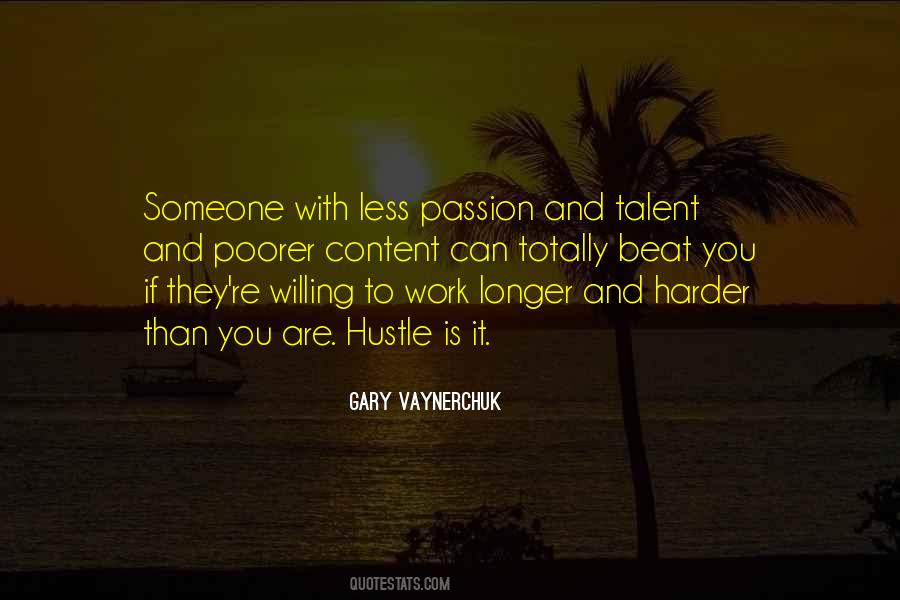 #38. Life is not a competition.
There is enough work for everybody.
Find your passion and fulfill it. - Author: Lailah Gifty Akita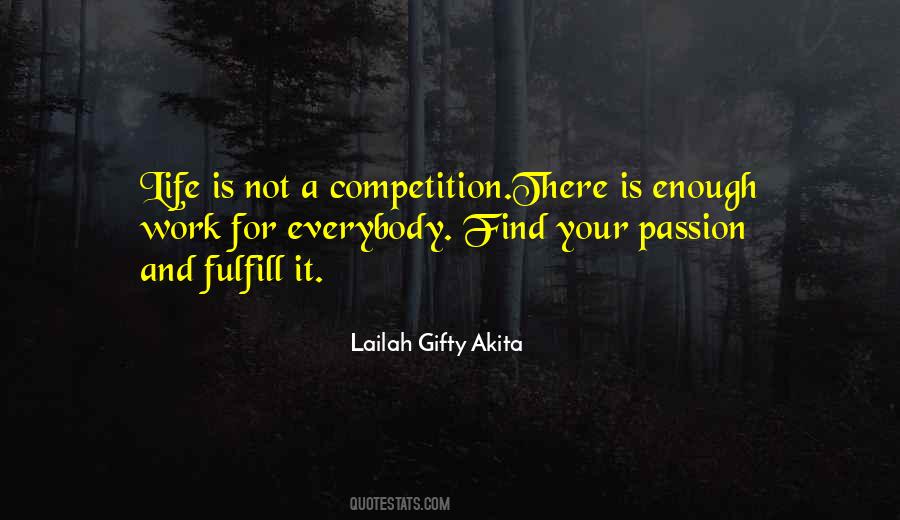 #39. You don't need to provide answers to question like "why were you born?". Be committed to what excites you and what excites you will provide the answers! - Author: Israelmore Ayivor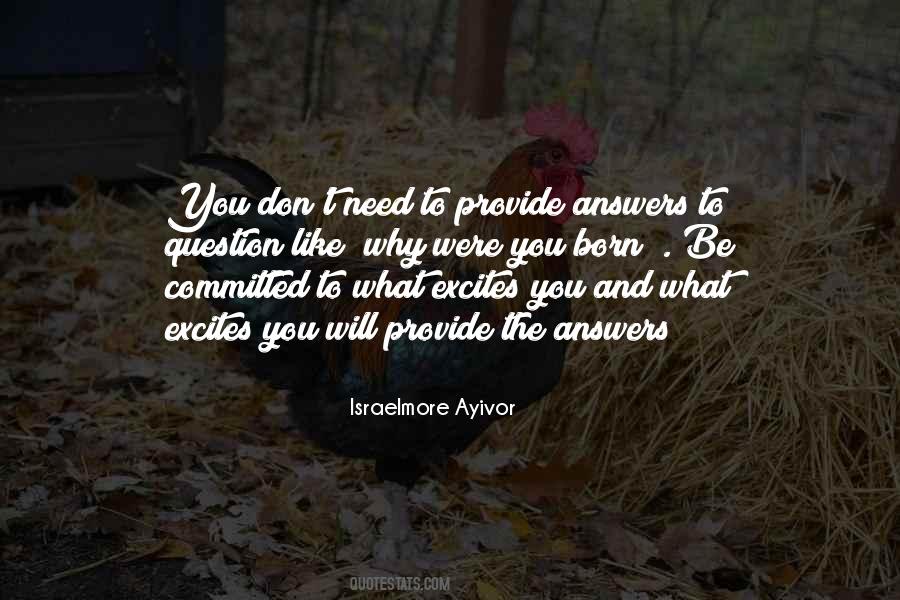 #40. The binding factor between knowing something and doing it is "passion". When your passion is concentrated in what you know, your work output will bind well. - Author: Israelmore Ayivor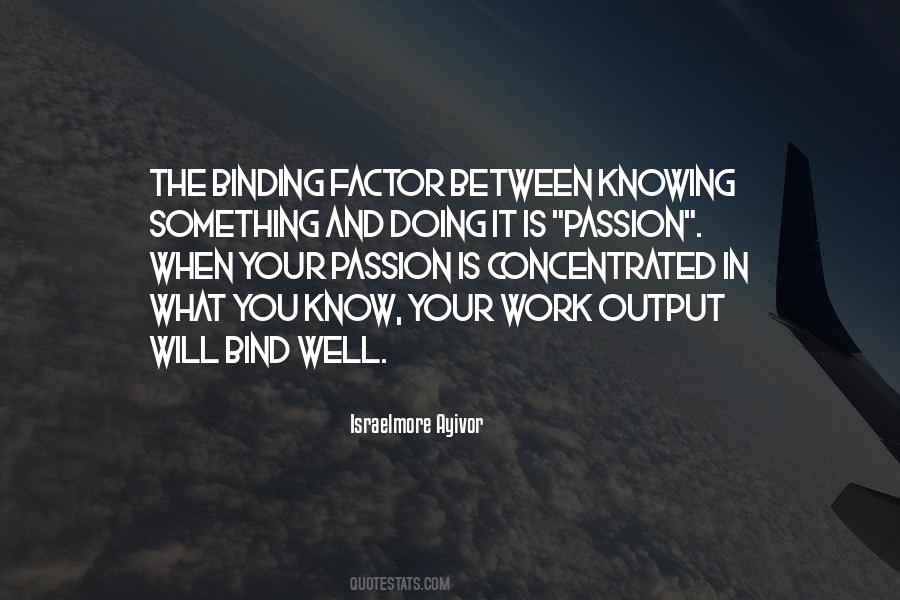 #41. Creativity...passion...sweat...heartbreak...inspiration...and lots of hard work...that is what books are made of! - Author: Tara Fairfield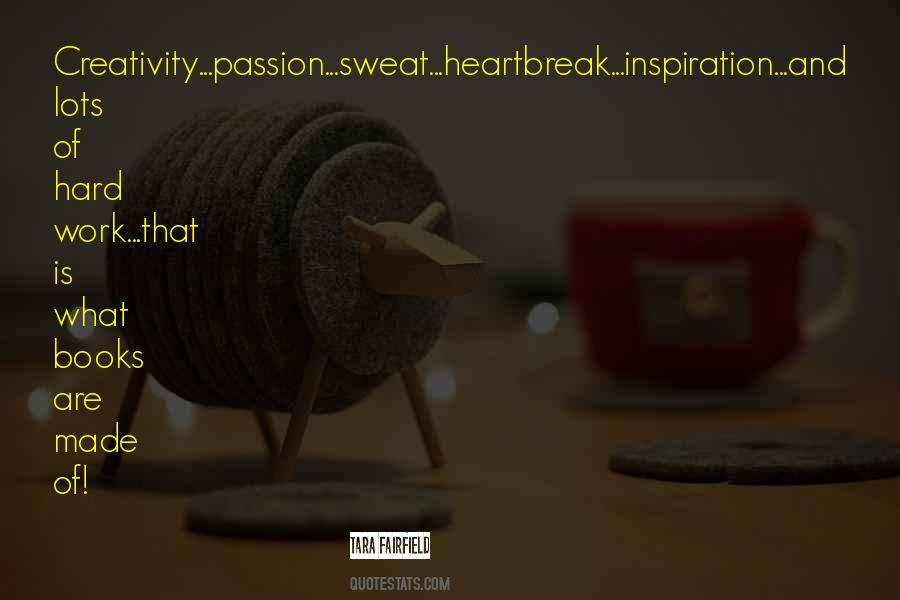 #42. What often separates the good from the great is a layer of innate ability, a gift, so it's partly that. There's many people with great gifts who don't work hard enough, or perhaps take it for granted, and therefore they don't have the passion and the commitment for it. - Author: Paul Rankin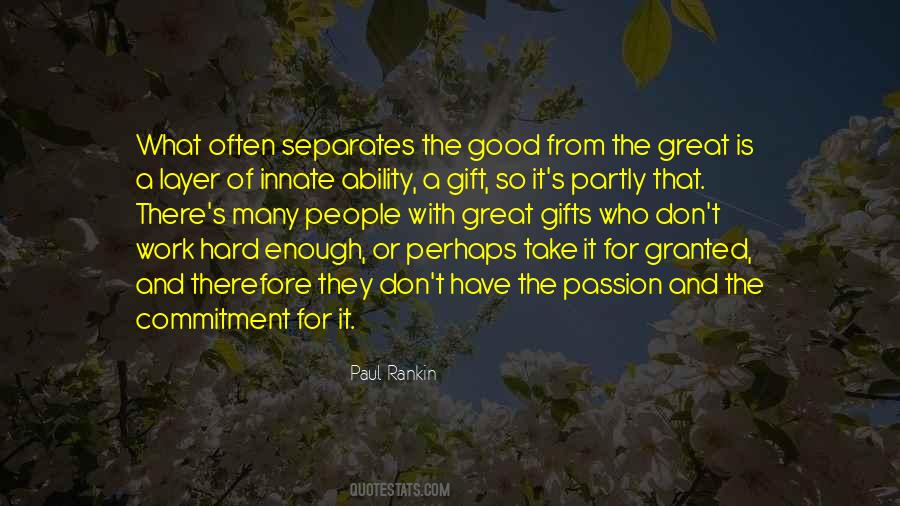 #43. Our lives are inpired by the dreams we have from the earliest stages of our youth. When you combine passion and hard work, then success is always possible. While no road is ever straight, dedication and persistance will always lead you to your dreams. - Author: Arte Moreno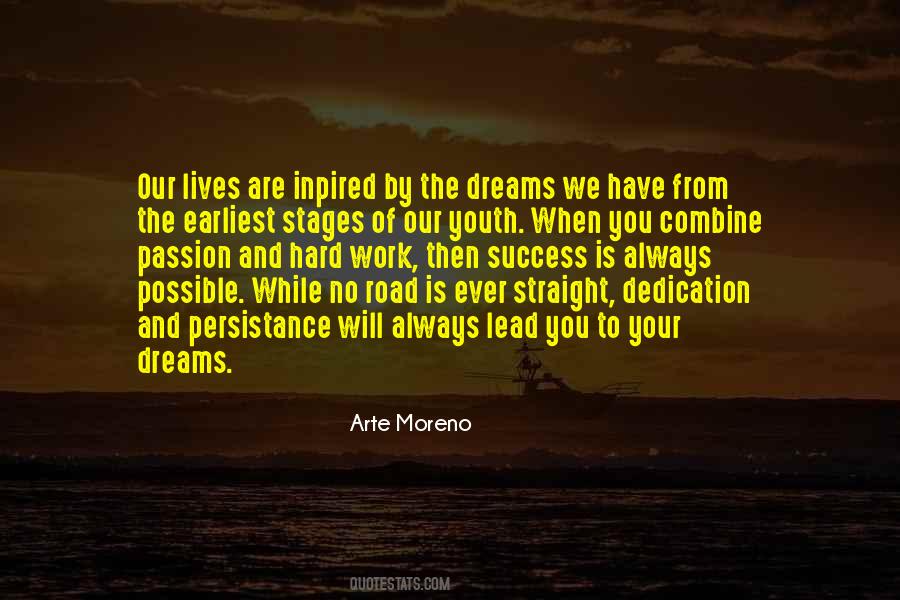 #44. Whatever you want to do, do with full passion and work really hard towards it. Don't look anywhere else. There will be a few distractions, but if you can be true to yourself, you will be successful for sure. - Author: Virat Kohli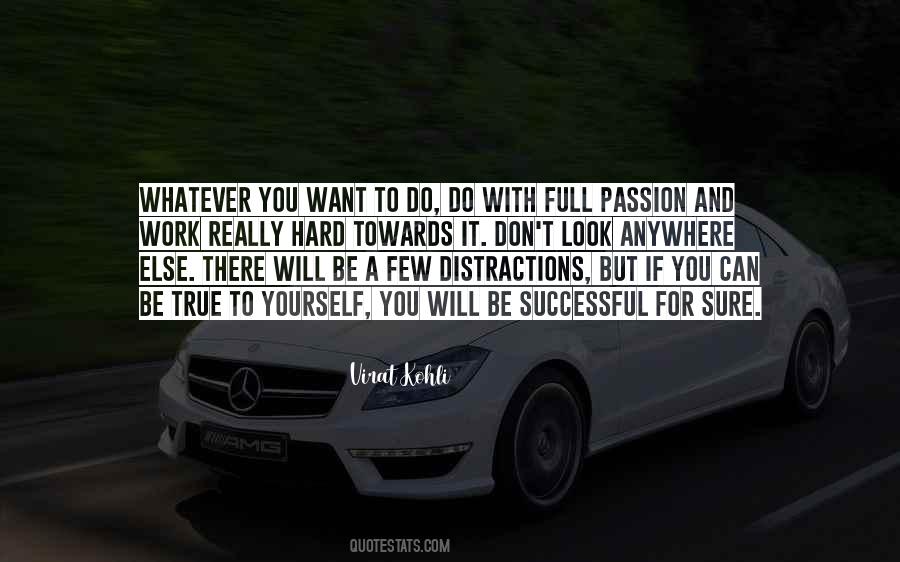 #45. Follow your passion, be prepared to work hard and sacrifice, and, above all, don't let anyone limit your dreams. - Author: Donovan Bailey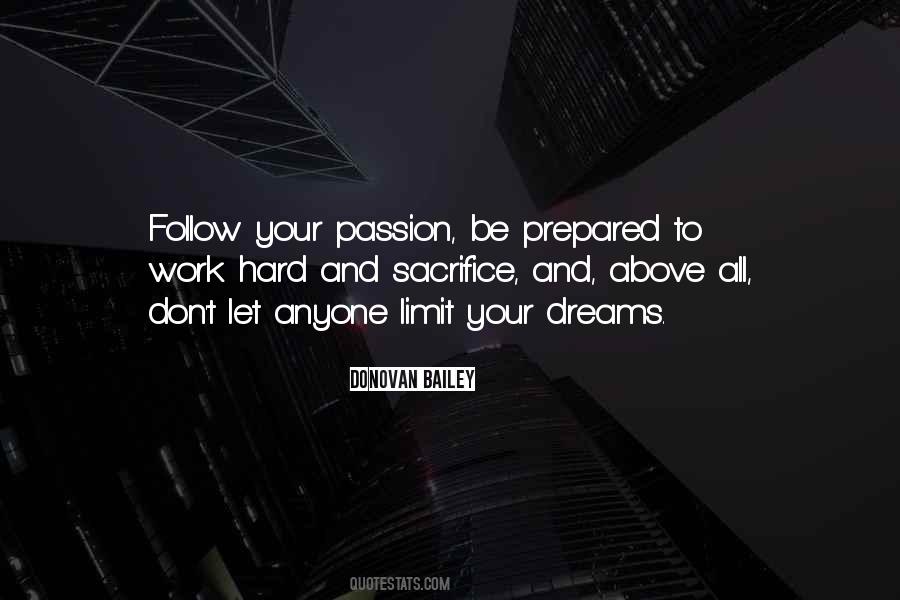 #46. My three keys to success: One, work hard. Two, be your own person. And three, have a passion for what you're doing. - Author: Juli Inkster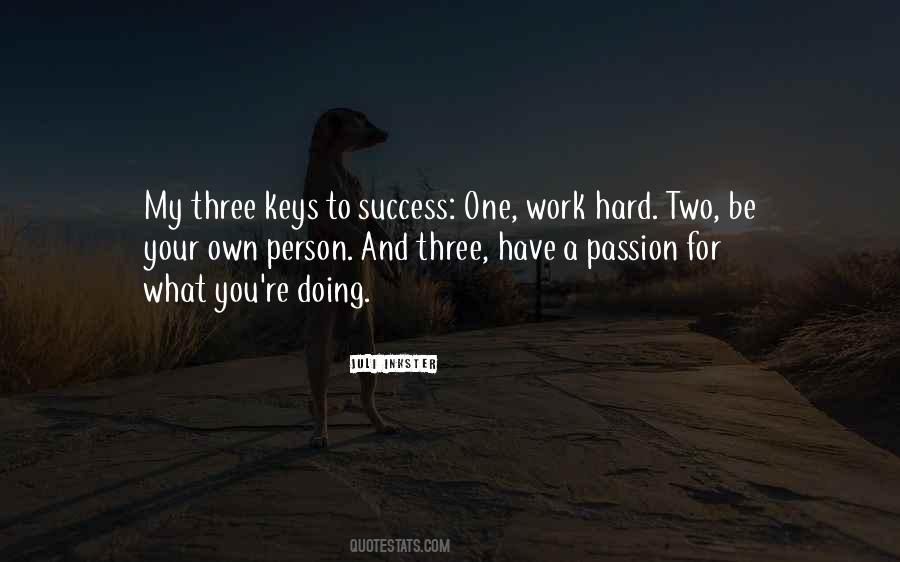 #47. Her parents' professional lives served as shining examples of what could be gained from setting lofty and individually unique goals and pursuing them with passion and hard work. - Author: Lisa Genova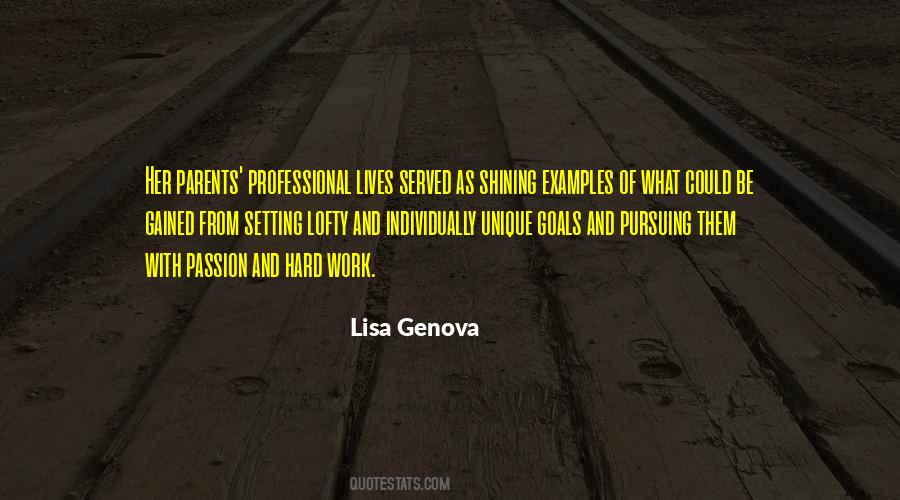 #48. Find out what your passions are and gauge your limit. Because success requires hard work and perseverance and sadly, not everyone has the two. - Author: Nik Halik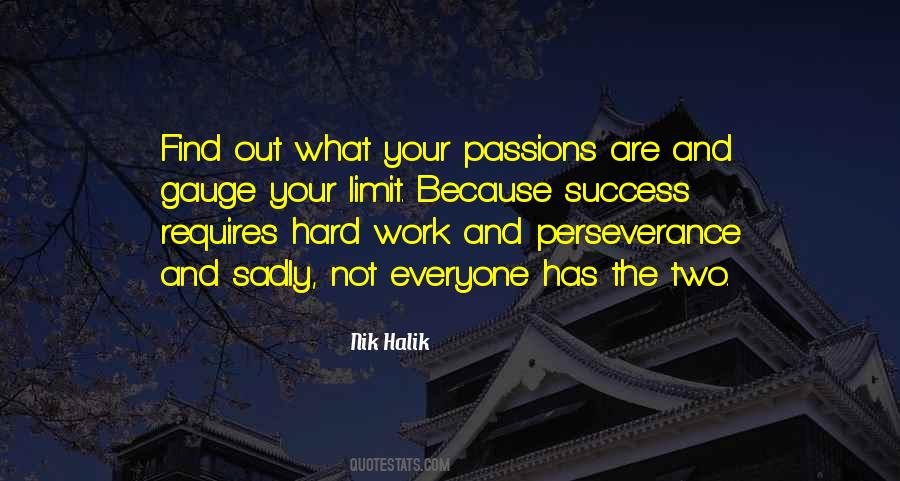 #49. I think it's very important to recognize talent in all facets of filmmaking. Making a movie is such a lengthy and intense experience, so it's wonderful to honour actors, directors, producers and all crew members who put so much hard work and passion into a project. - Author: Eva Green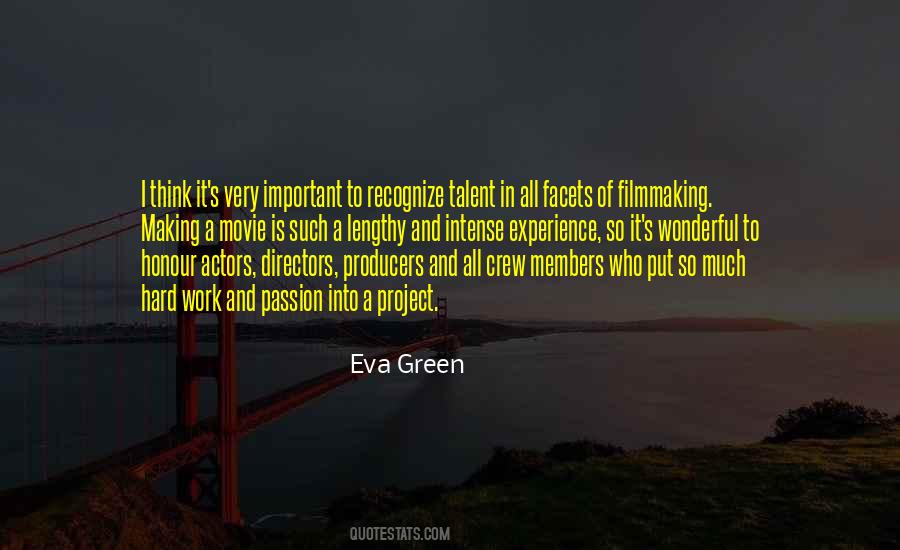 #50. In a world where women work three times as hard for half as much, our achievement has been denigrated, both marriage and divorce have turned against us, our motherhood has been used as an obstacle to our success, our passion as a trap, our empathy for others as an excuse to underpay us. - Author: Erica Jong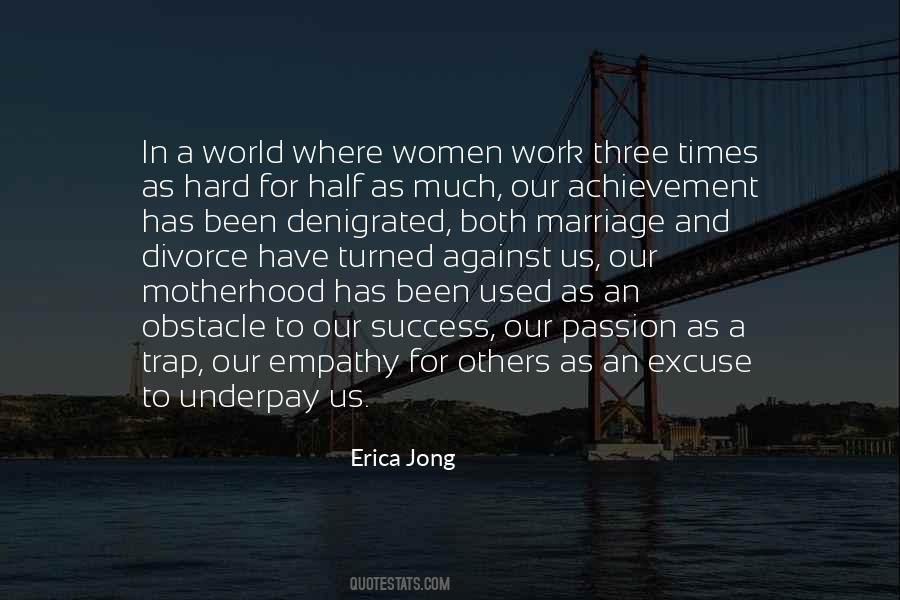 #51. I was offered seven deals from seven different major labels between 2009-2011, and to be quite honest ... nowadays, you need a hit record, a great radio team, an amazing PR firm, social media, a big budget, a team that is ready to work extremely hard, and the drive and passion to win! - Author: Ashanti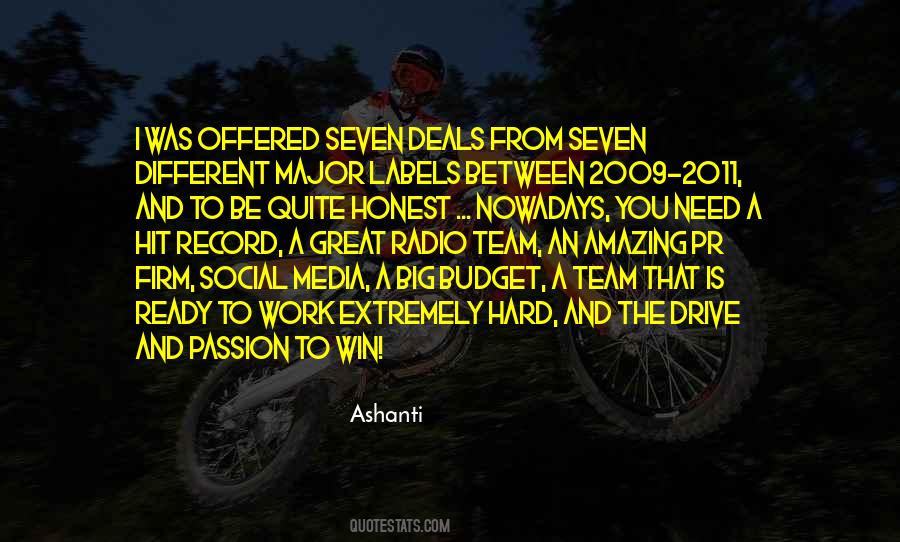 #52. We are seeing some challenges and some changes in American business, American enterprise, but the Malcolm Baldrige National Quality Award is a reminder of things that must never change: the passion for excellence, the drive to innovate, the hard work that goes with any successful enterprise. - Author: George W. Bush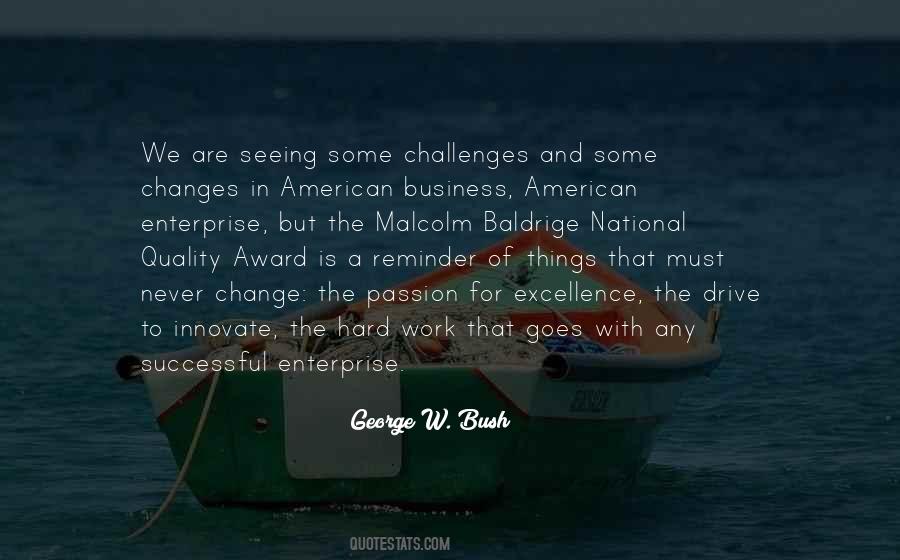 #53. Love what you do, do it with passion, work hard, and never give up. Money and happiness will come to you. - Author: Joseph C. Kunz Jr.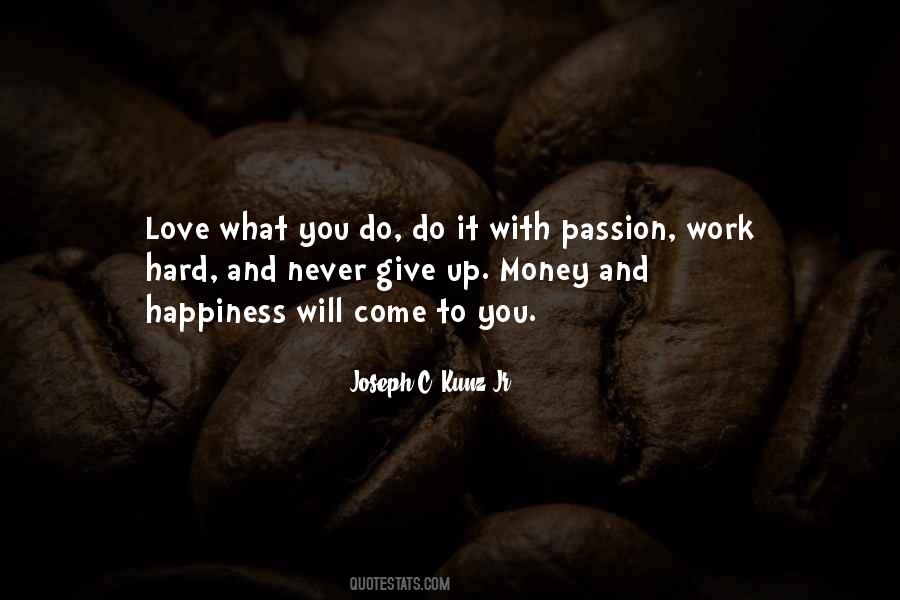 #54. If you have the passion to do something, work hard, stay honest and nothing can stop you to accomplish it. - Author: Jahangir Khan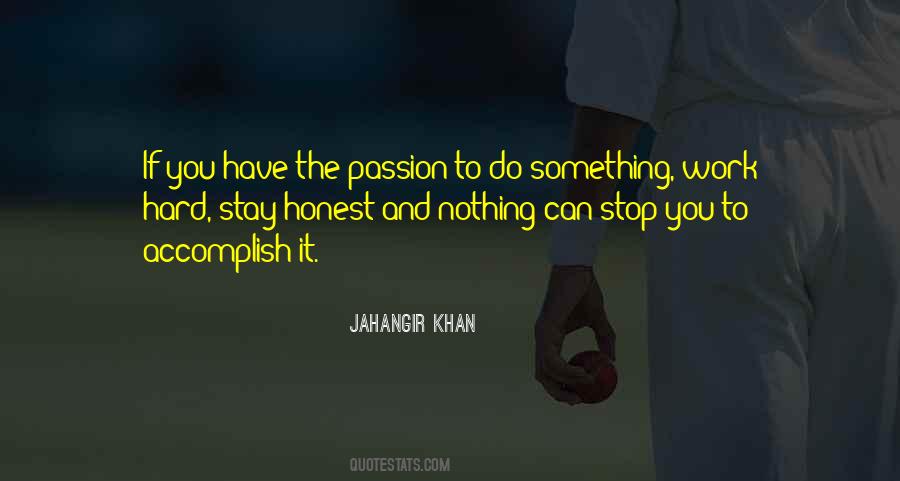 #55. The future will belong to those who have passion and are willing to work hard to make our country better. - Author: Paul Wellstone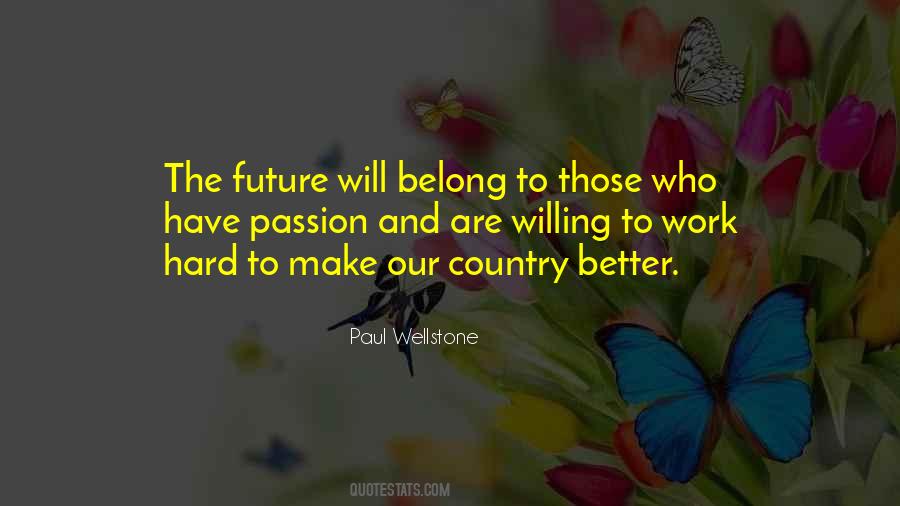 #56. You should pursue your passion. If you're passionate about something and you work hard, then I think you will be successful. - Author: Pierre Omidyar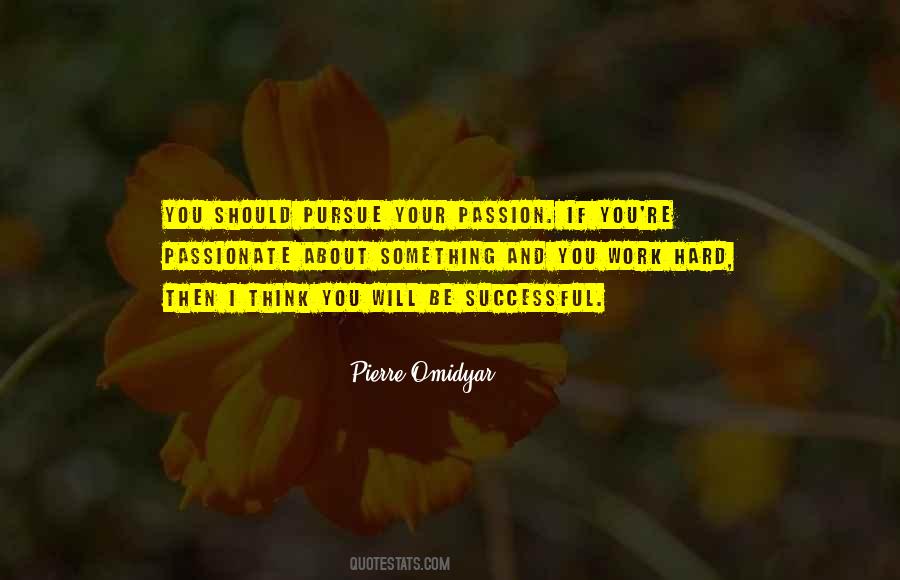 #57. Charlie and I discovered at a really young at that we had a passion for figure skating, and I think that passion drives us to work every day to improve and grow. We have really learned to love our sport more and more, year to year. And the hard work really pays off. - Author: Meryl Davis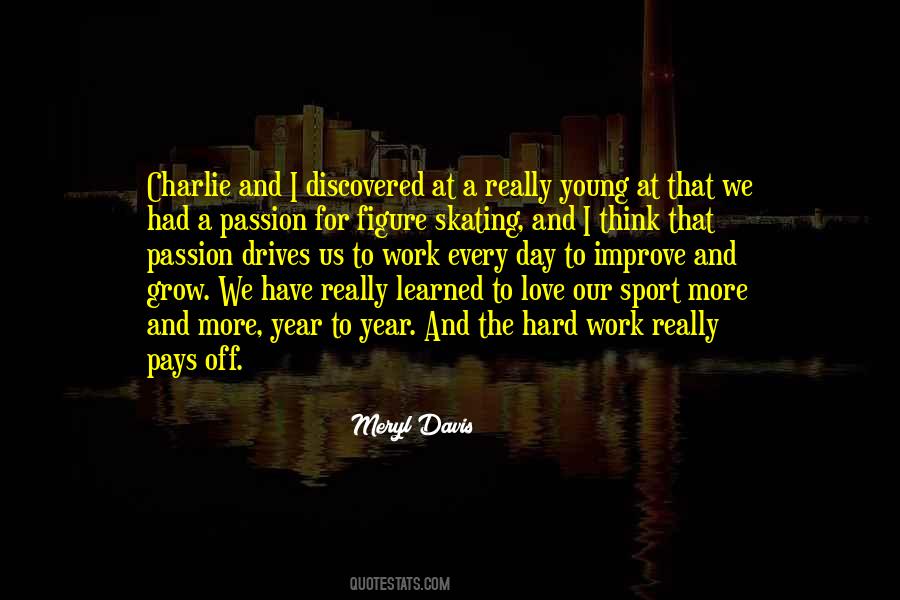 Famous Authors
Popular Topics