Our Soul Famous Quotes & Sayings
List of top 100 famous quotes and sayings about our soul to read and share with friends on your Facebook, Twitter, blogs.
Top 100 Quotes About Our Soul
#1. The cavity which suffering carves into our souls will one day also be the receptacle of joy. - Author: Neal A. Maxwell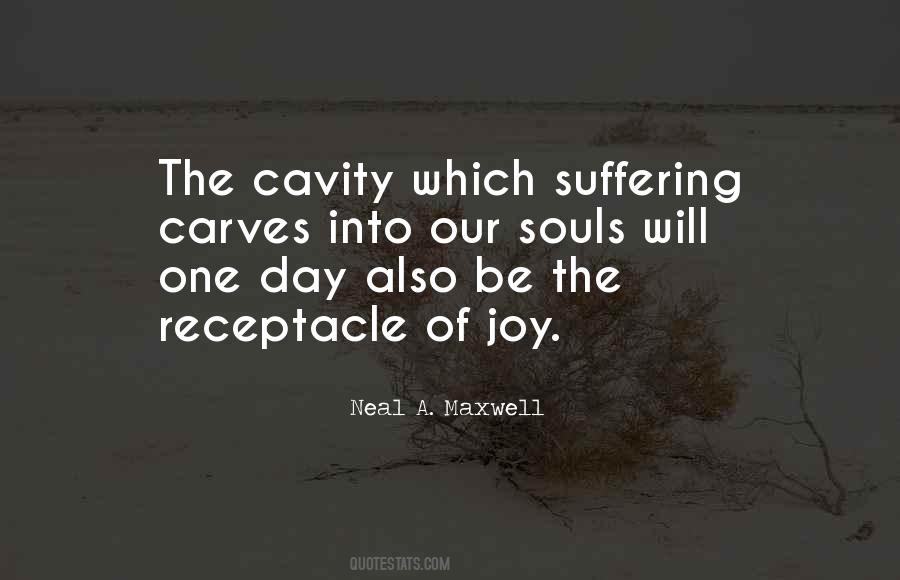 #2. Everything science has taught me strengthens my belief in the continuity of our spiritual existence after death. I believe in an immortal soul. Science has proved that nothing disintegrates into nothingness. Life and soul, therefore, cannot disintegrate into nothingness, and so are immortal. - Author: Werner Von Braun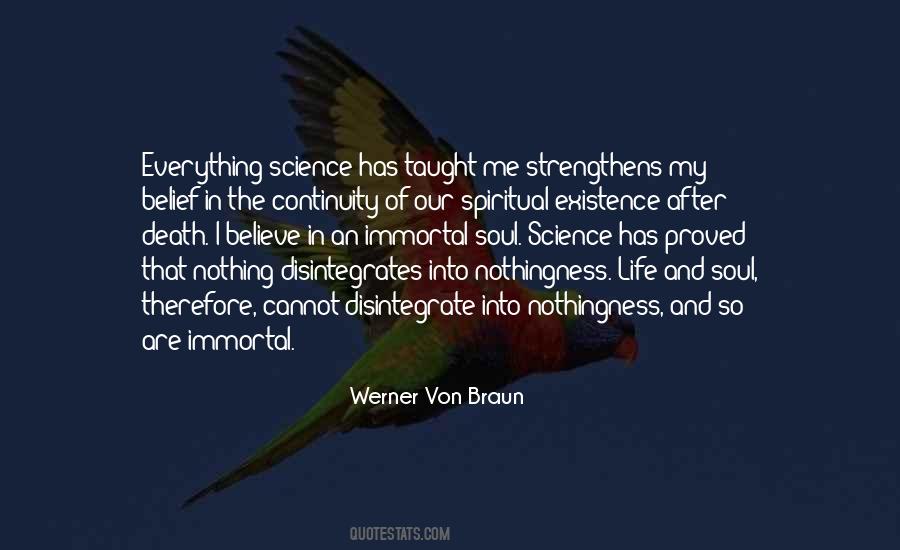 #3. We are slowed down sound and light waves, a walking bundle of frequencies tuned into the cosmos. We are souls dressed up in sacred biochemical garments and our bodies are the instruments through which our souls play their music. - Author: Albert Einstein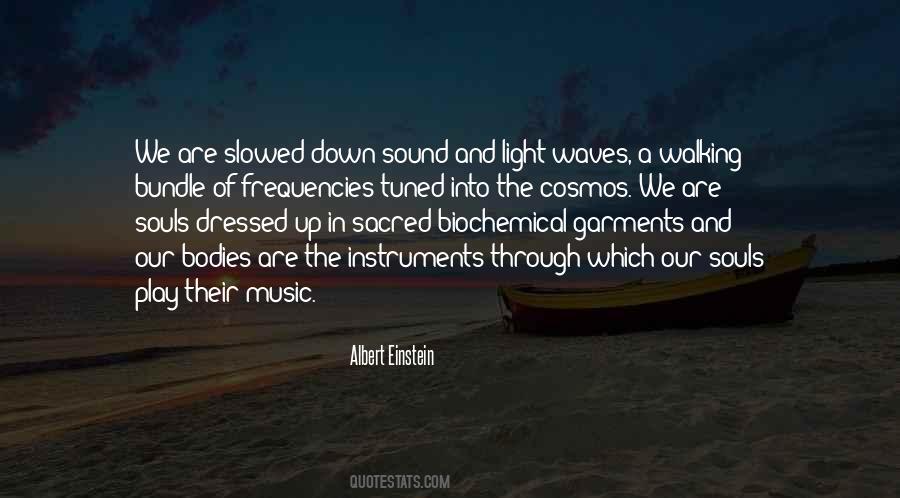 #4. Appalling is the soul of a man! Better might one be pushed off into the material spaces beyond the uttermost orbit of our sun, than once feel himself fairly afloat in himself. - Author: Herman Melville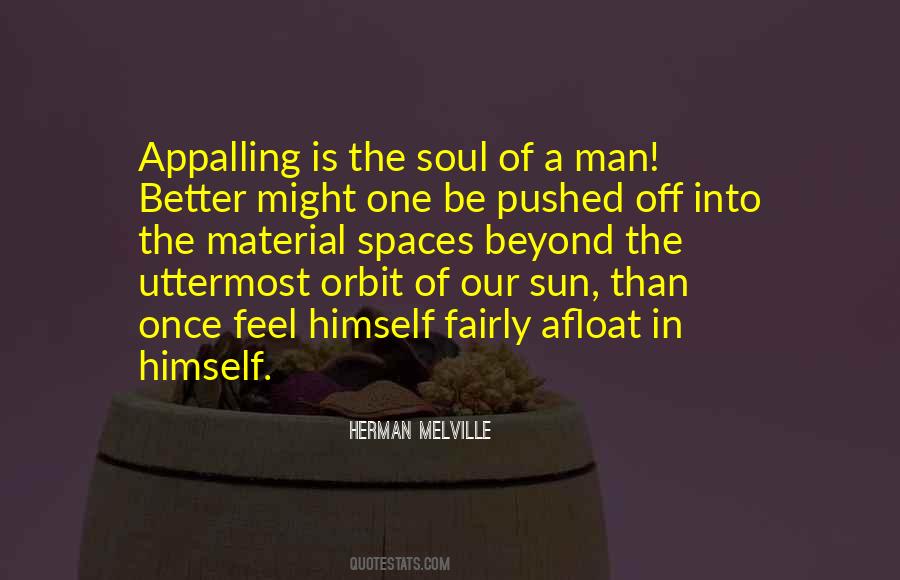 #5. I believe we move in soul groups; we meet the same people over different lifetimes; we have to finish the unfinished business with those people. And when we do, they walk away from our lives. - Author: Shilpa Shetty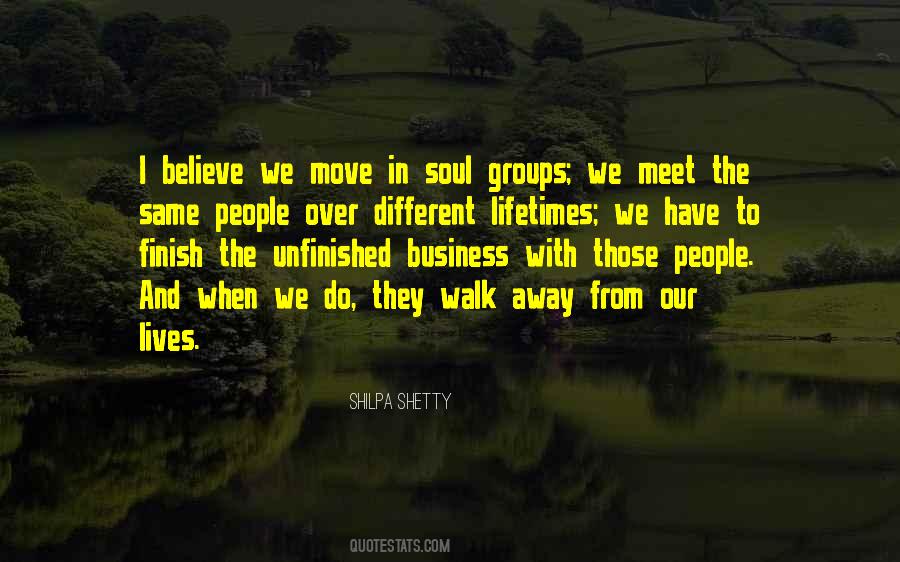 #6. The schematicism by which our understanding deals with the phenomenal world ... is a skill so deeply hidden in the human soul that we shall hardly guess the secret trick that Nature here employs. - Author: Immanuel Kant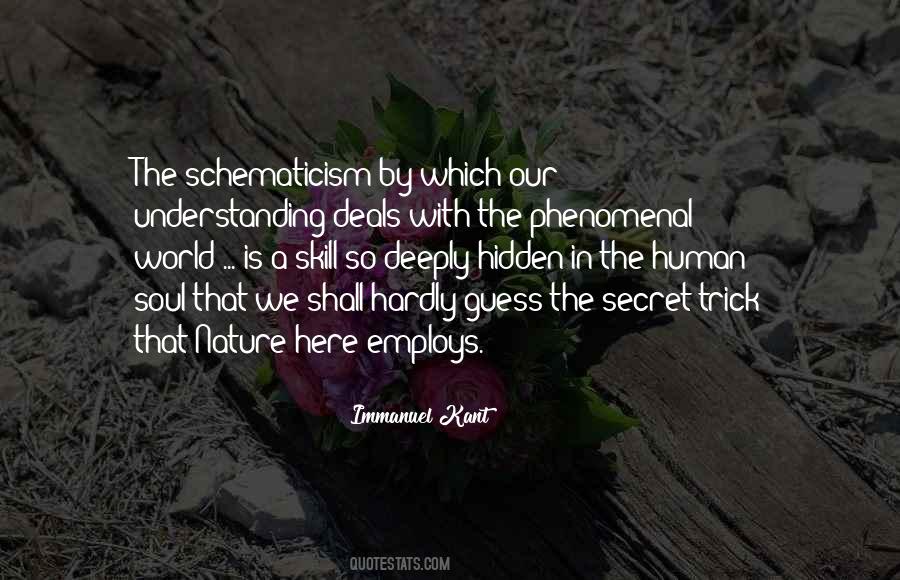 #7. When we fill our souls up with creativity, artistry and intelligence ... we have a better chance at avoiding the behavior that leads to destruction. - Author: Rick DellaRatta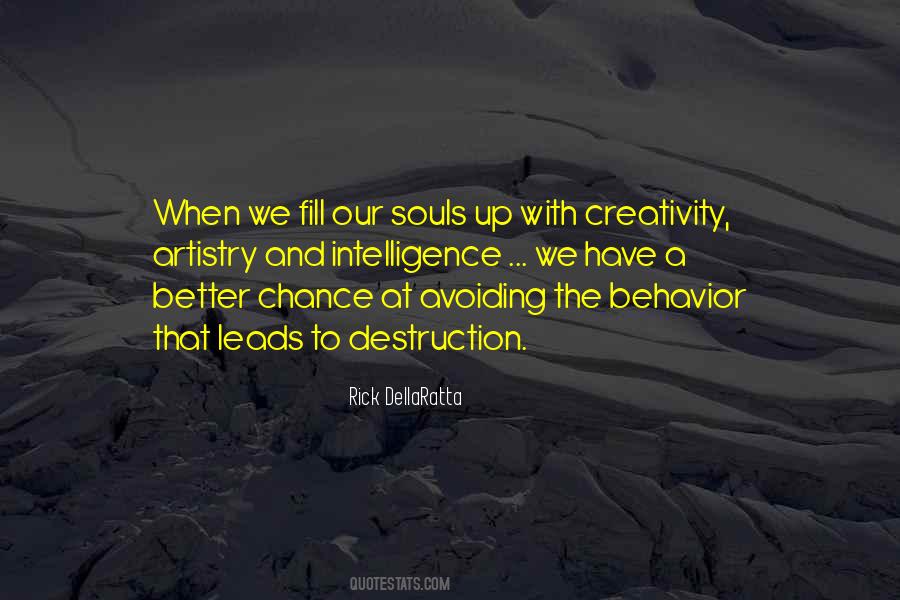 #8. Cameras and lenses are simply tools to place our unique vision on film. Concentrate on equipment and you'll take technically good photographs. Concentrate on seeing the light's magic colors and your images will stir the soul. - Author: Jack Dykinga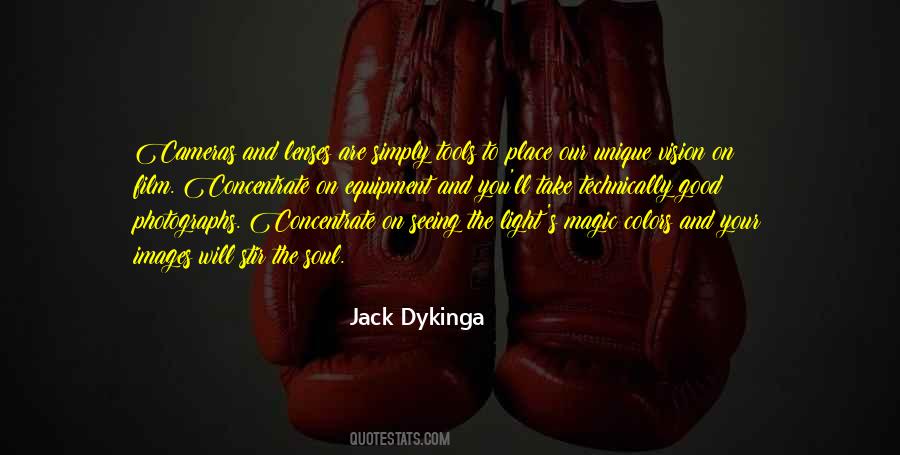 #9. It is demonstrable and observable that our morals are based on our earliest spiritual beliefs. Matters of the Mind in no small measure have reflected matters of the Soul. - Author: Neale Donald Walsch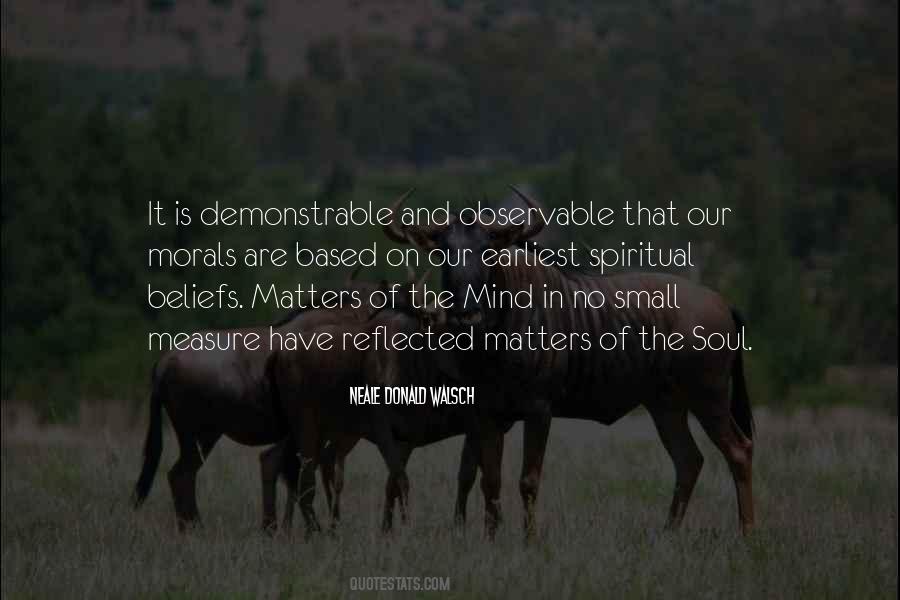 #10. Alas ... I too have known love, that ruler of hearts, that soul of our soul: it's never brought me anything except one kiss and twenty kicks in the rump. How could such a beautiful cause produce such an abominable effect on you? - Author: Voltaire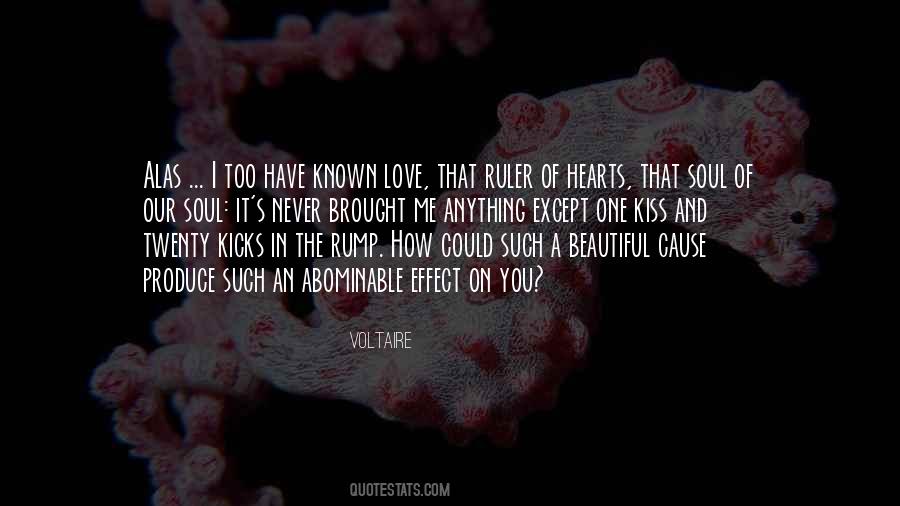 #11. The right use of leisure is no doubt a harder problem than the right use of our working hours. The soul is dyed the color of its leisure thoughts. - Author: William Ralph Inge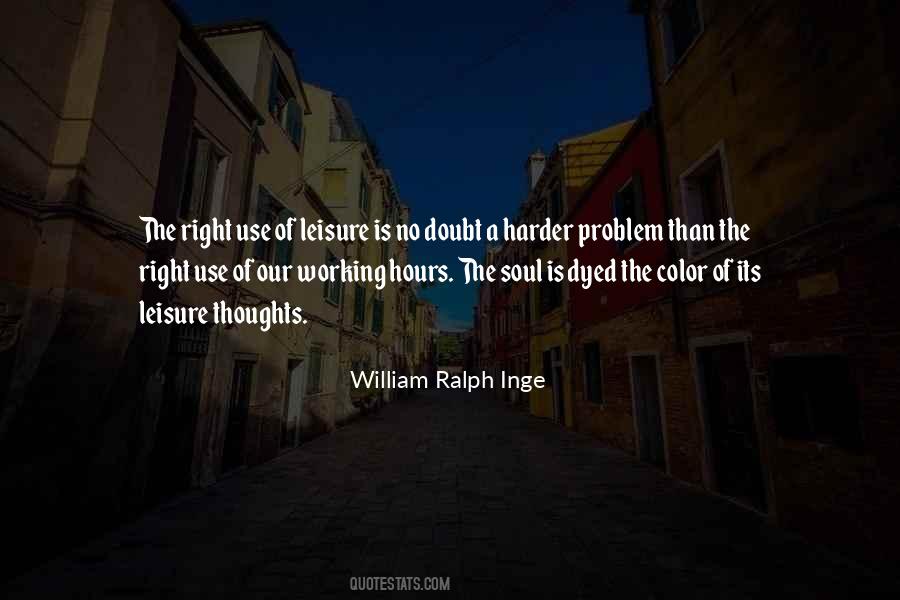 #12. Our souls as well as our bodies are composed of individual elements which were all already present in the ranks of our ancestors. The "newness" in the individual psyche is an endlessly varied recombination of age-old components. - Author: Carl Jung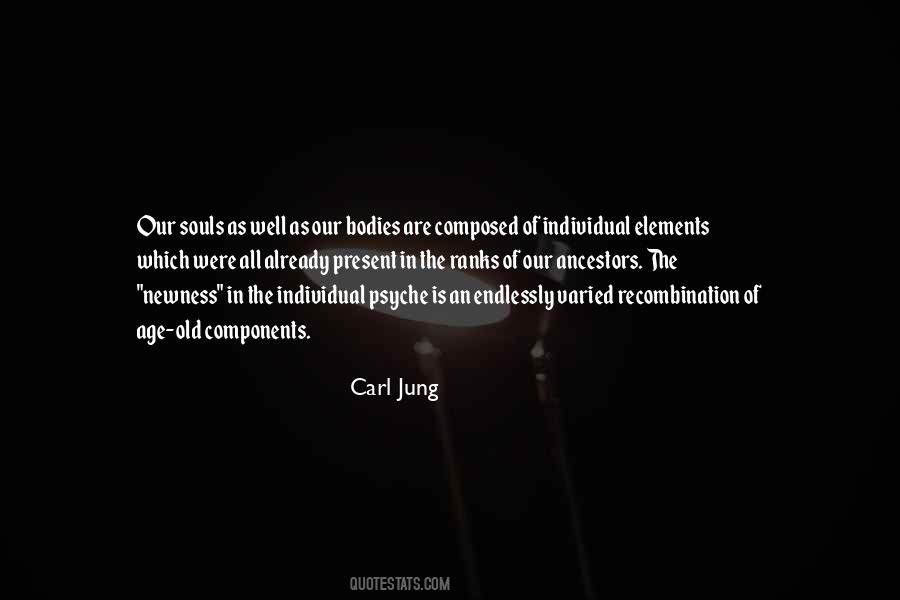 #13. Our angels often come to us in the times when we are unconscious because those are the times we are free of the continual thoughts of our mind. It is here that we remember who we really are. We remember who we are in our soul. We are greater than the physical life we have been living on earth. - Author: Kate McGahan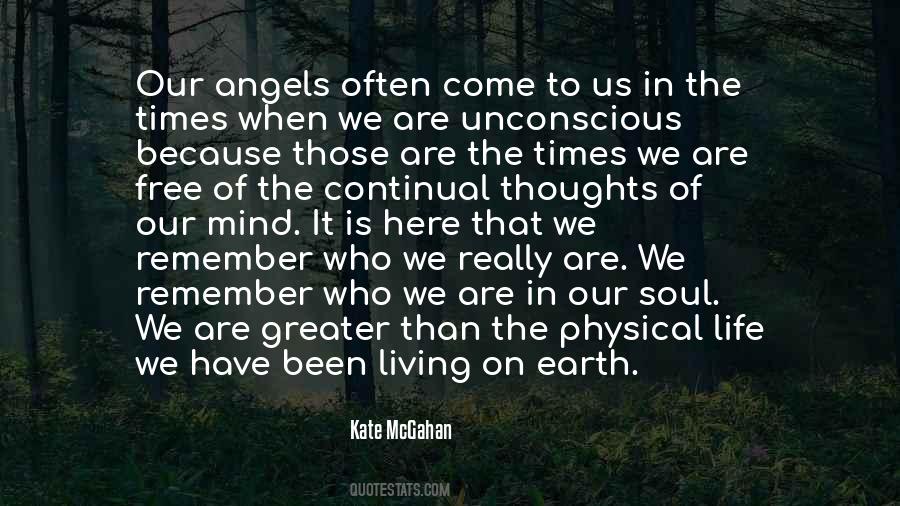 #14. When our eyes met, I felt that I was growing pale. A curious sensation of terror came over me. I knew that I had come face to face with some one whose mere personality was so fascinating that, if I allowed it to do so, it would absorb my whole nature, my whole soul, my very art itself. - Author: Oscar Wilde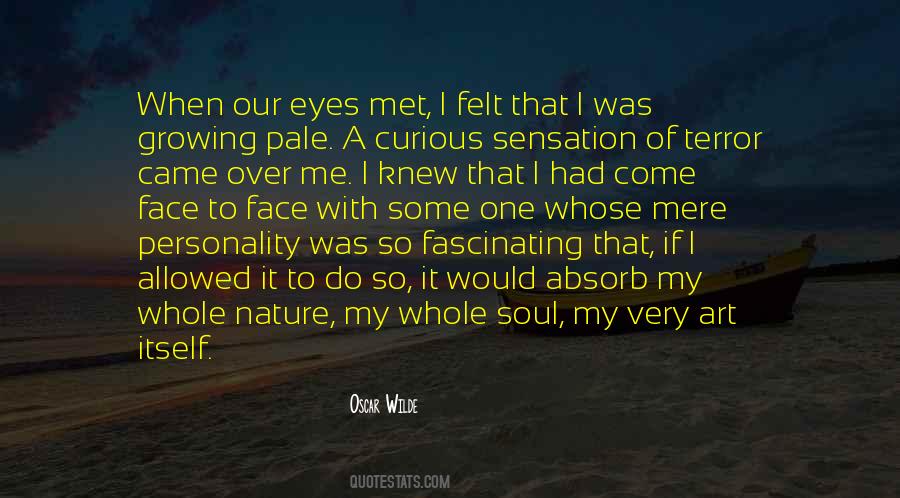 #15. Have you ever noticed that our maximum loss of energy occurs when we try to
restrain the flow of whatever that is coming from within? - Author: Deep Trivedi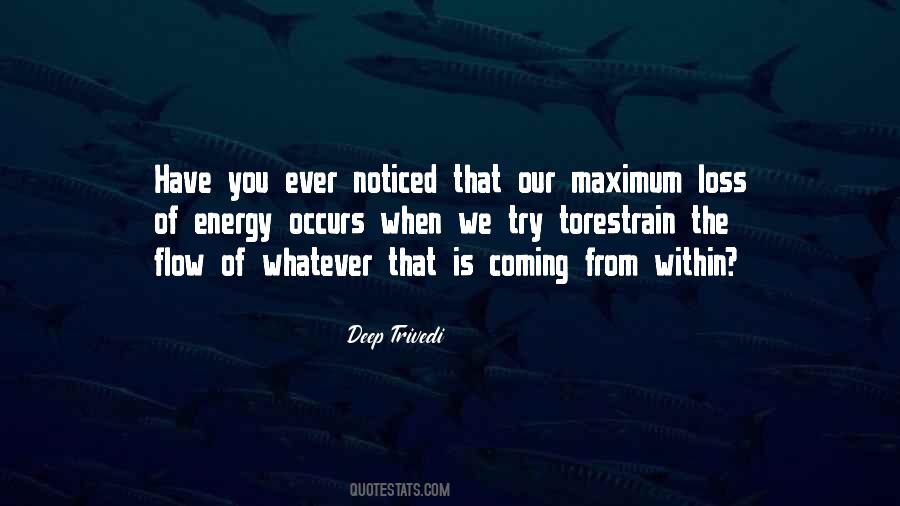 #16. Sorrow has a great refining influence on our sacred souls. - Author: Lailah Gifty Akita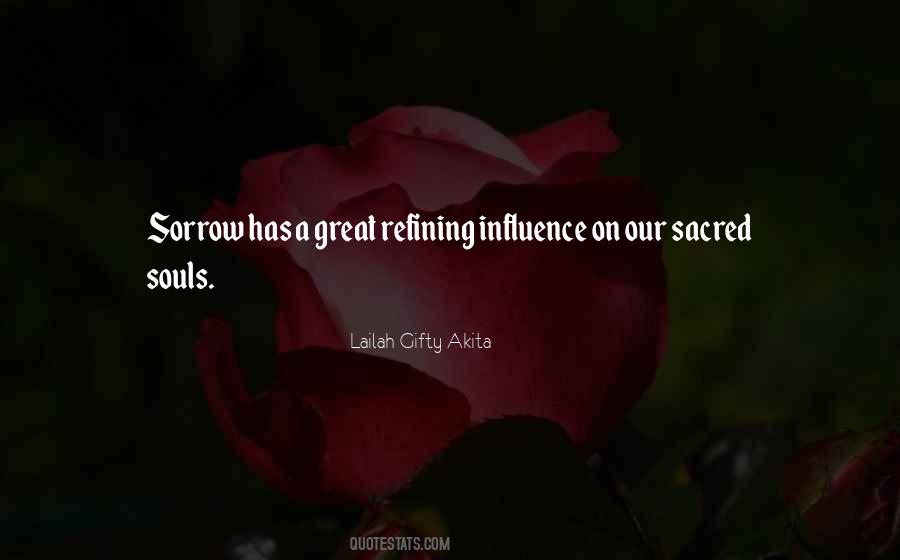 #17. The word Christ uses for "life" is the word psyche - the word for our soul, our inner self, our heart. He says that the things we do to save our psyche, our self, those plans to save and protect our inner life - those are the things that will actually destroy us. - Author: John Eldredge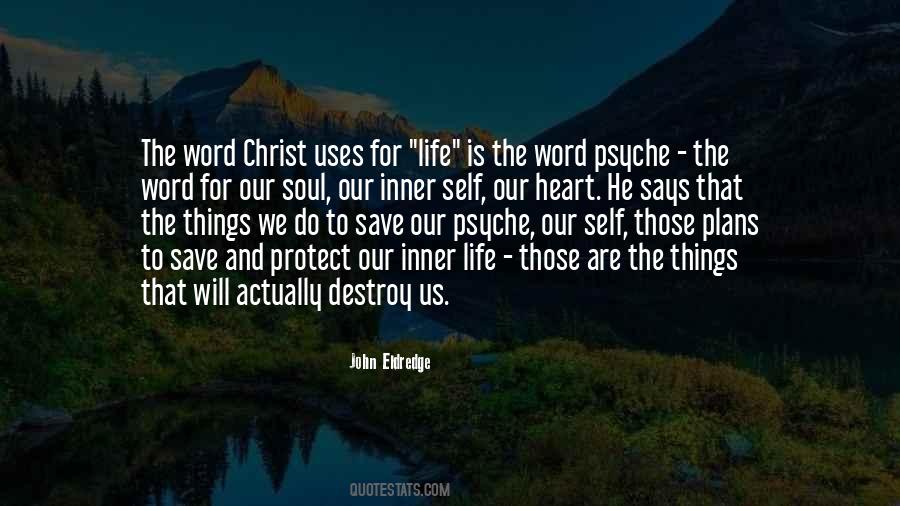 #18. It is the illusion that if we find our one true soul mate, everything wrong with us will be healed; but that makes the lover into God, and no human being can live up to that. - Author: Timothy Keller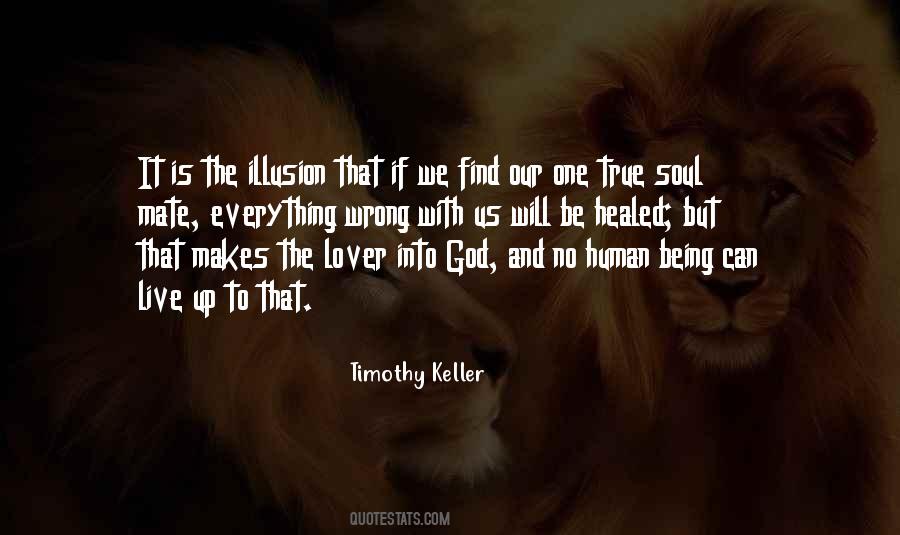 #19. We lay there completely bared to each other. Fully clothed but our souls naked! - Author: Avijeet Das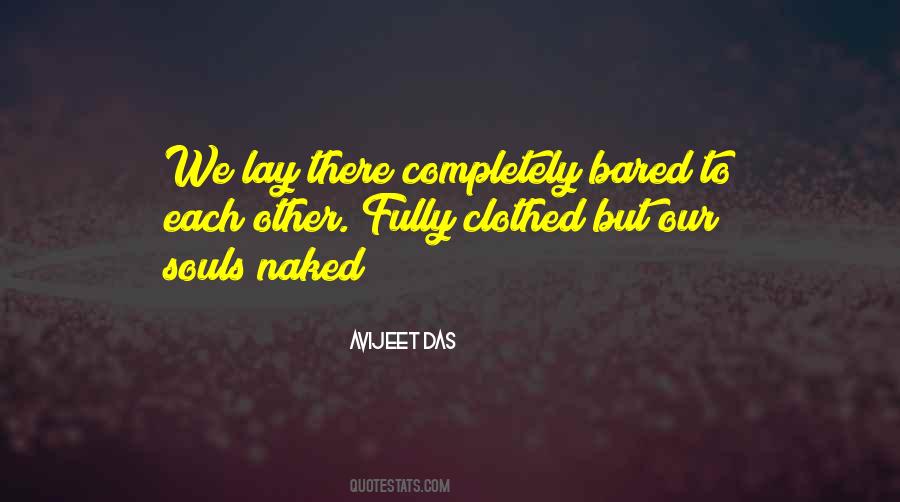 #20. Yet we do not need to put any strain on our longing. If we believe that the body is in the soul and the soul is divine ground, then the presence of the divine is completely here, close with us. - Author: John O'Donohue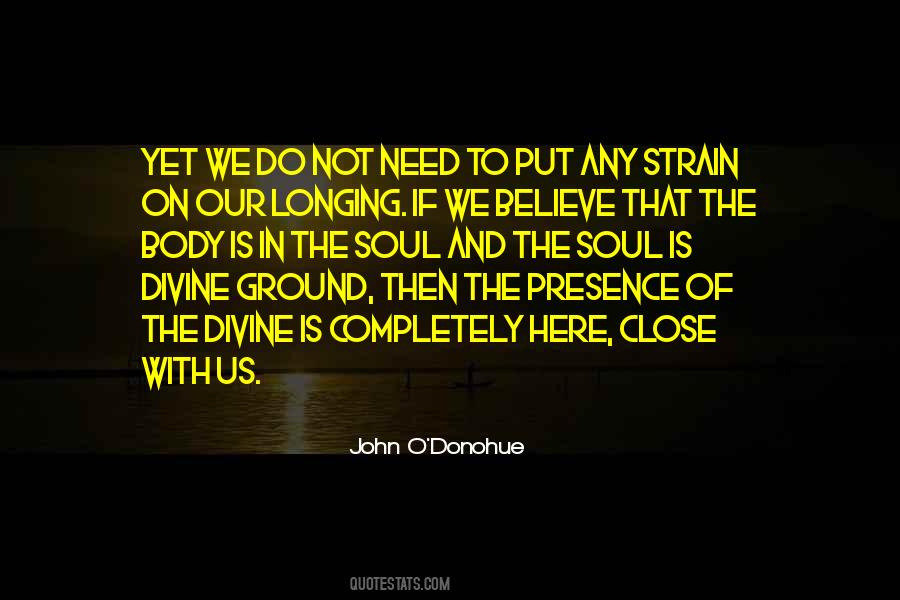 #21. In the world of the present, in our time, we feel that suffering, anguish, the torments of body and soul, are greater than ever before in the history of mankind. - Author: Eyvind Johnson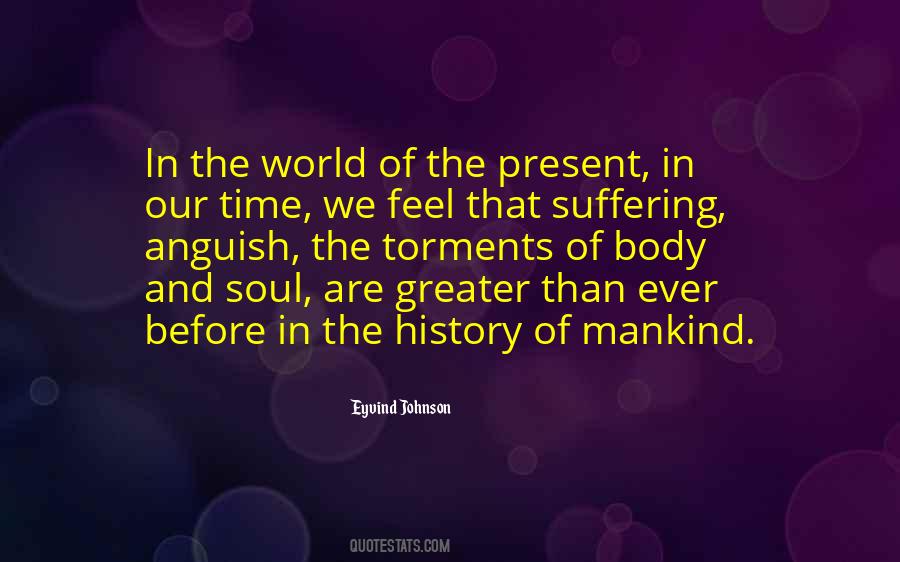 #22. It is our actions and the soul's active exercise of its functions that we posit (as being Happiness); - Author: Aristotle.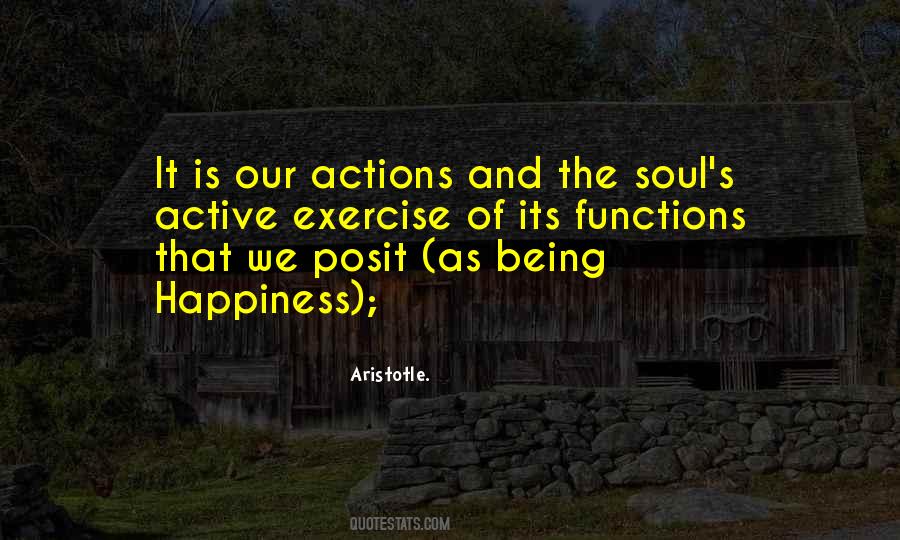 #23. As for my father, few souls are less troubled. He can be simply pleased with us, pleased that we exist, and, from the vantage point of his wondrously serene old age, he contemplates our lives almost as if they were books he can dip into whenever he wants. His back pages, perhaps. - Author: Angela Carter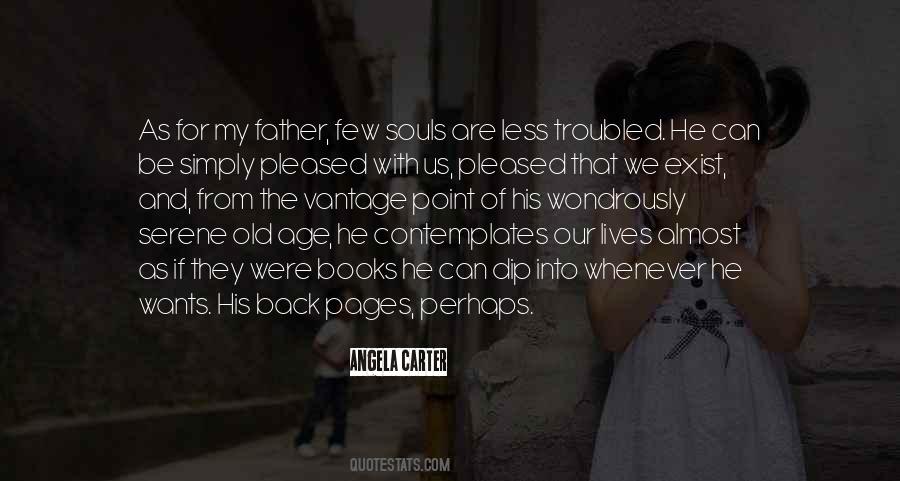 #24. PRAYER O God, our merciful Father in heaven, fill our hearts with patience under the cross, strengthen our faith, and so govern us that we give offense to none, neither in word nor deed. Grant us also this day all that we need for body and soul. Amen. - Author: Martin Luther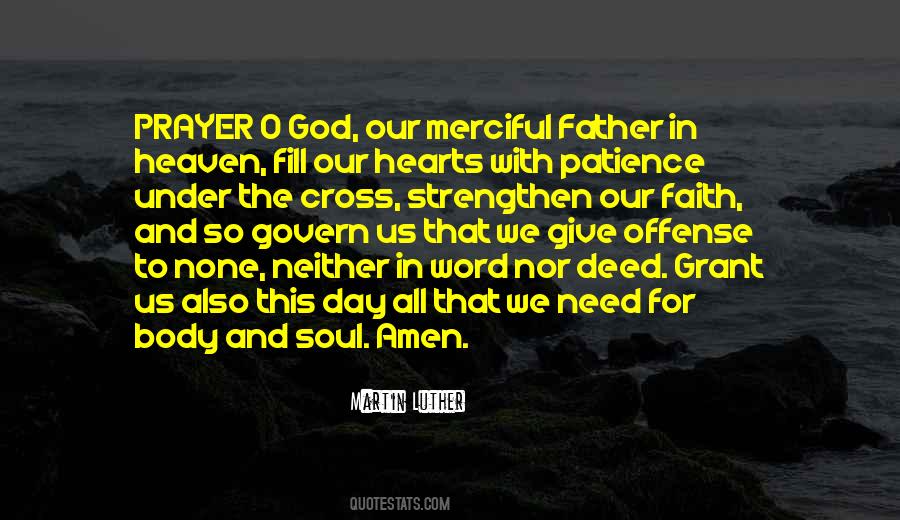 #25. We may avoid much disappointment and bitterness of soul by learning to understand how little necessary to our joy and peace are the things the multitude most desire and seek. - Author: John Lancaster Spalding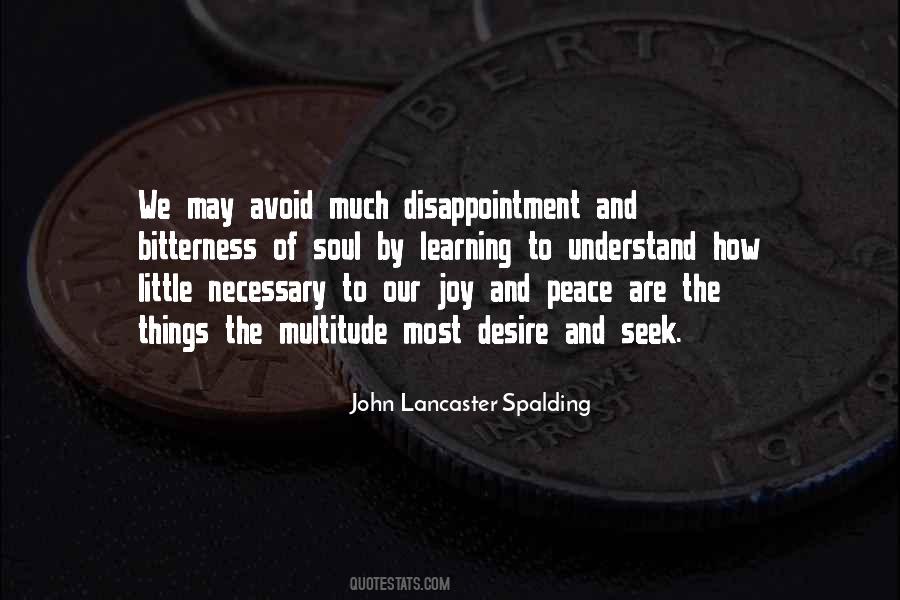 #26. The main purpose of life is to live rightly, think rightly, act rightly. The soul must languish when we give all our thought to the body. - Author: Mahatma Gandhi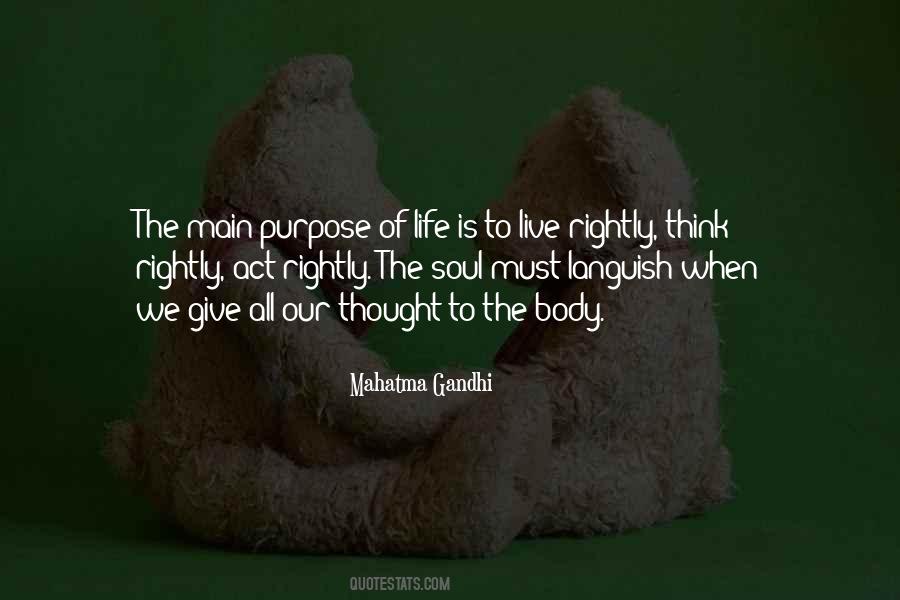 #27. Hope is the whisper of our soul. It is always with you. So never give up. Persist with love. - Author: Debasish Mridha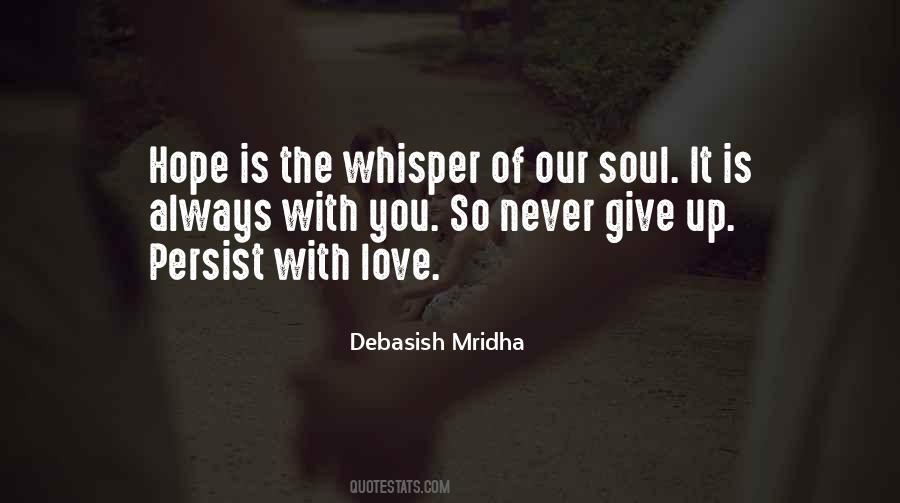 #28. When we are young and don't cultivate a healthy lifestyle, we will grow-older and our bodies will reflect the neglect.-Serena Jade - Author: Serena Jade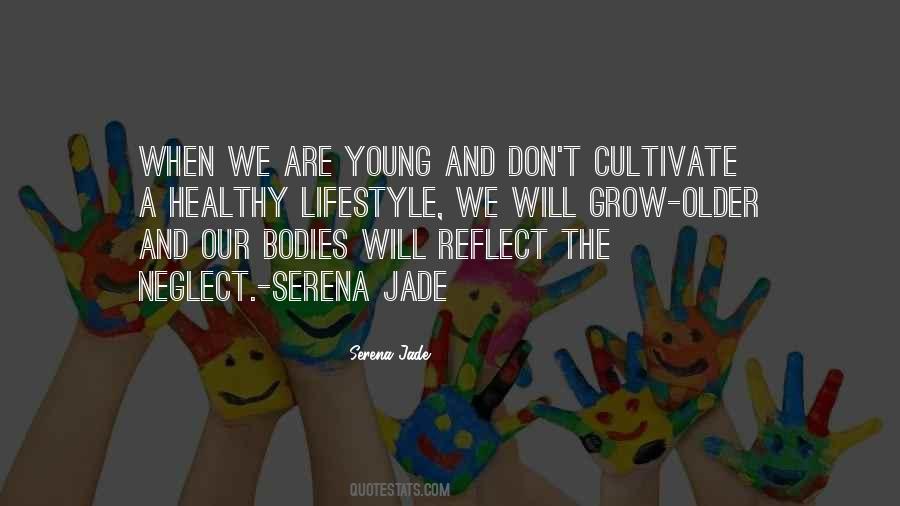 #29. Every time you open up your heart in obedience to God and worship Him with all your heart, all your mind, and all your soul, our beautiful Lord responds with His magnificent presence. - Author: Darlene Zschech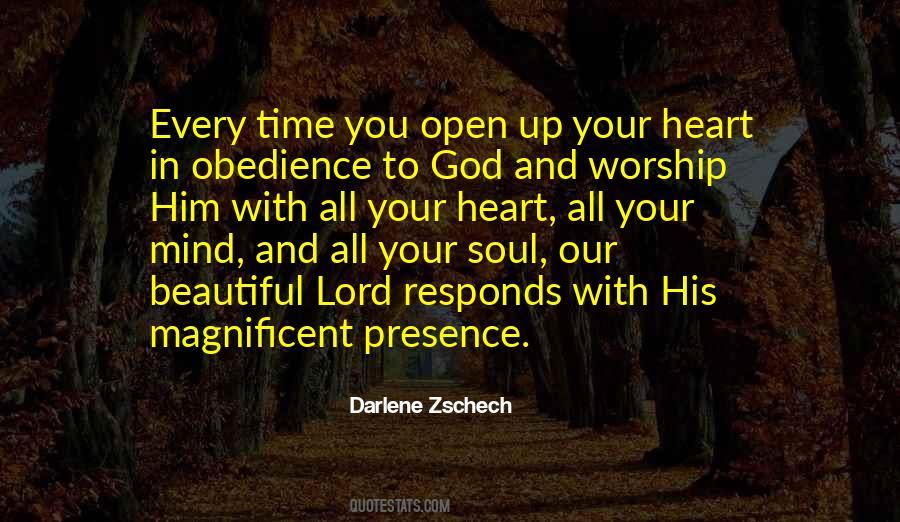 #30. Most fires made by underestimated sparks, the greatness fire inside ourselves is lit by the spark of the change, came across a small corner in our souls where the conscience still whispering. - Author: Ammar Moussa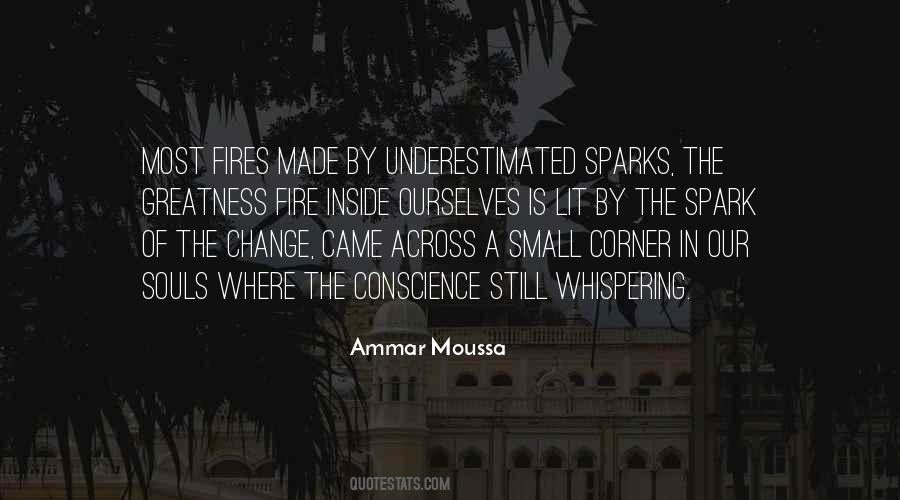 #31. I wrote this about you, about our love, our story. And I feel so damn lucky that others in this world, strangers in other parts, can steal a piece of what we have and feel so lucky too. - Author: Crystal Woods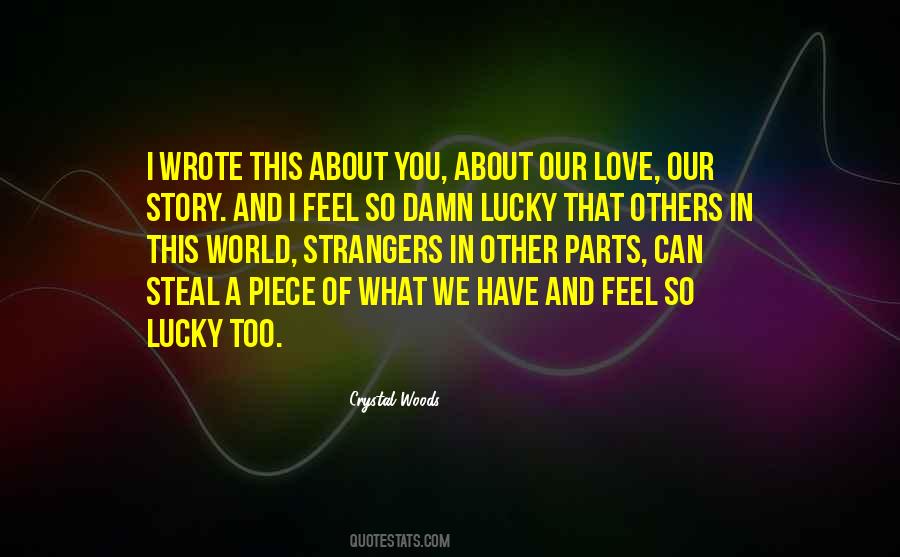 #32. In the midst of our daily lives, we must find the juice to nourish our creative souls. - Author: SARK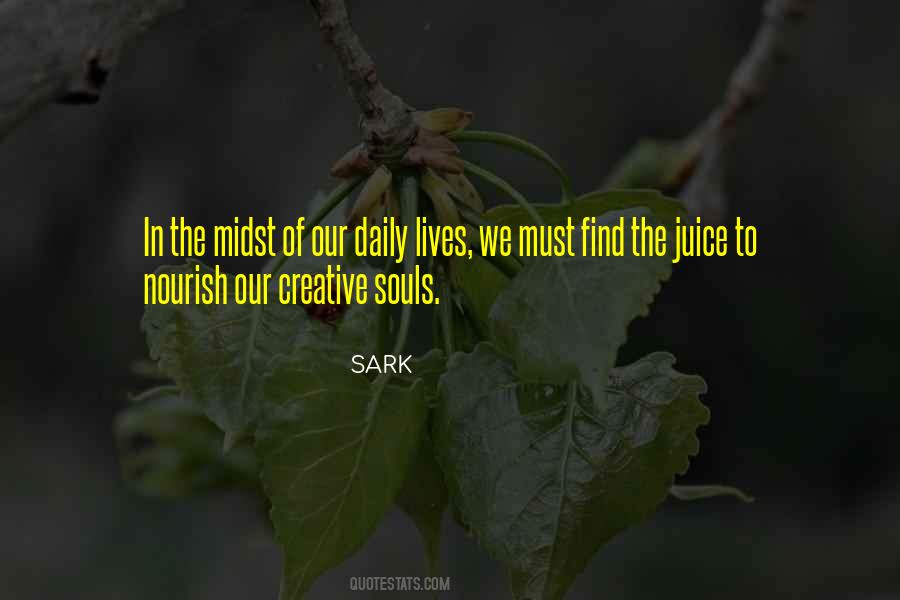 #33. Upon first glance I felt a sense of familiarity with you. Like we had been down this road a thousand times before, why I felt this with a complete stranger I am yet to know but I trust further down the road our chance meeting will make perfect sense. - Author: Nikki Rowe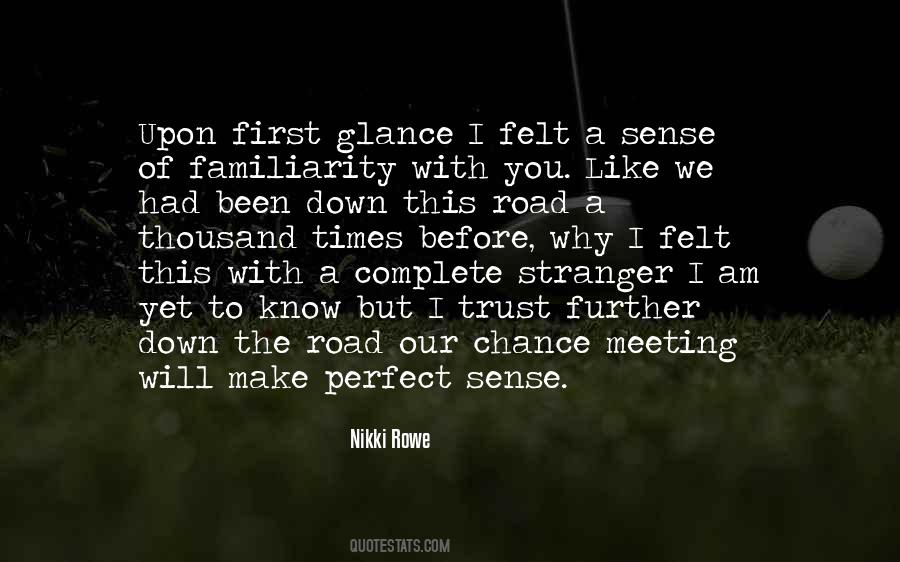 #34. Sometimes the Lord rides out the storm with us and other times He calms the restless sea around us. Most of all, He calms the storm inside us in our deepest inner soul. - Author: Lloyd John Ogilvie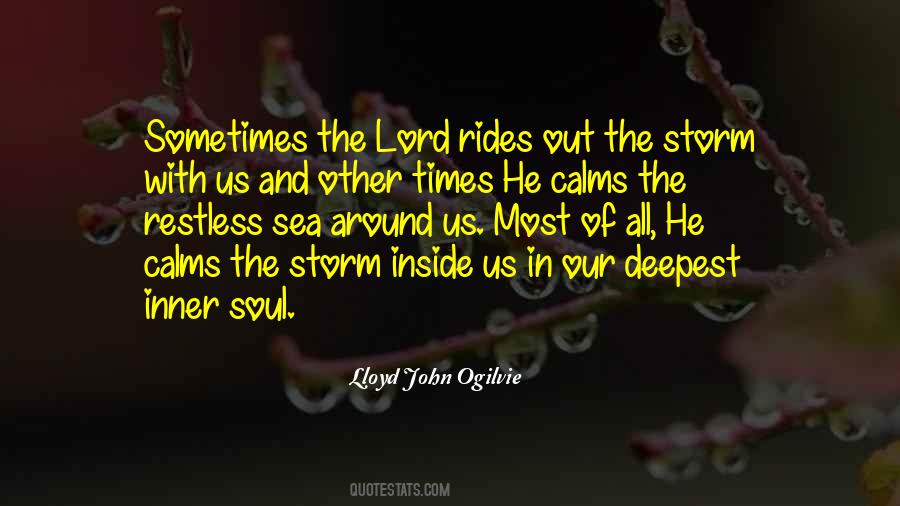 #35. Hope is to our spirits what oxygen is to our lungs. Lose hope and you die. They may not bury you for awhile, but without hope you are dead inside. The only way to face the future is to fly straight into it on the wings of hope ... hope is the energy of the soul. Hope is the power of tomorrow. - Author: Lewis B. Smedes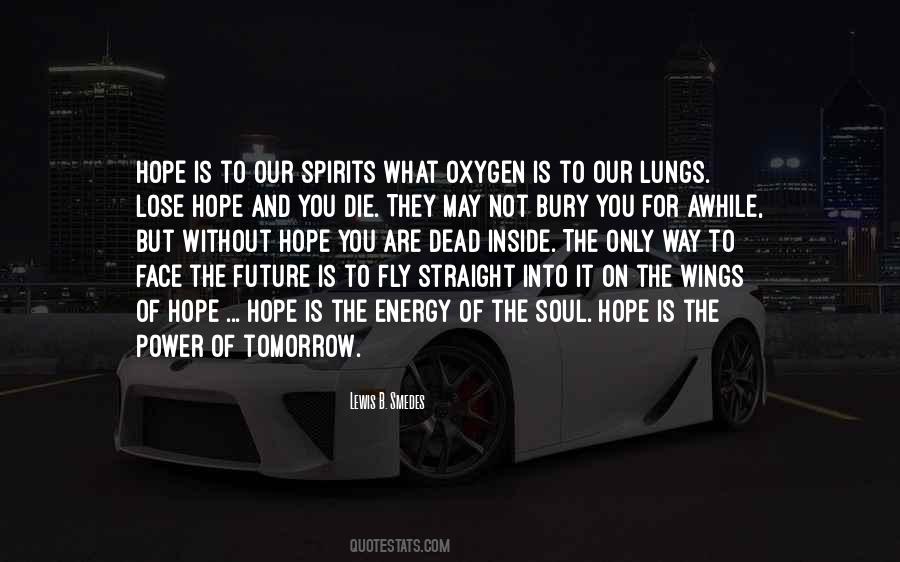 #36. Our whole soul meets in heaven and the depth of the connection is imprinted on one another forever. - Author: Serena Jade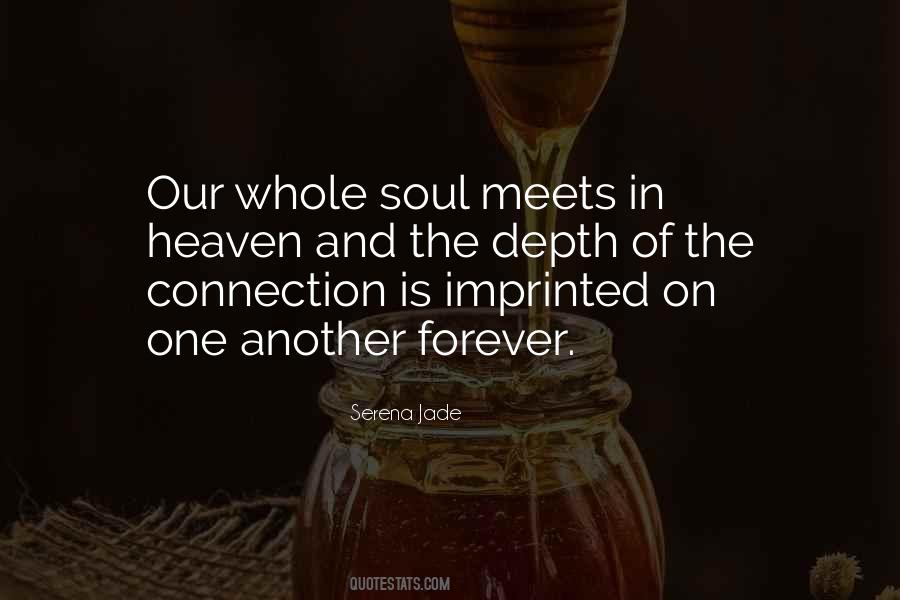 #37. Where do people earn the Per Capita Income? More than one poor starving soul would like to know. In our countries, numbers live better than people. How many people prosper in times of prosperity? How many people find their lives developed by development? - Author: Eduardo Galeano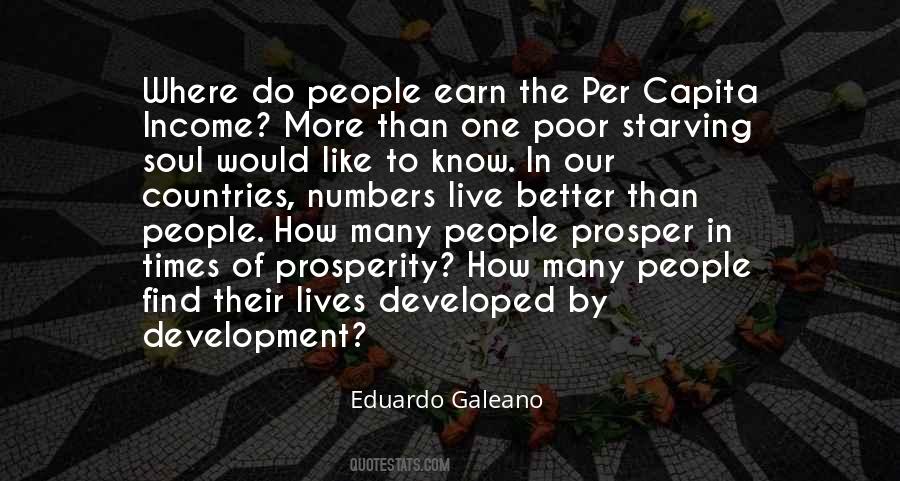 #38. The birth of a child is the imprisonment of a soul. The soul must work its way out of prison, and, in doing so, provide itself with wings for a future journey. It is for each of us to determine whether our wings shall be those of an angel or a grub! - Author: William Gilmore Simms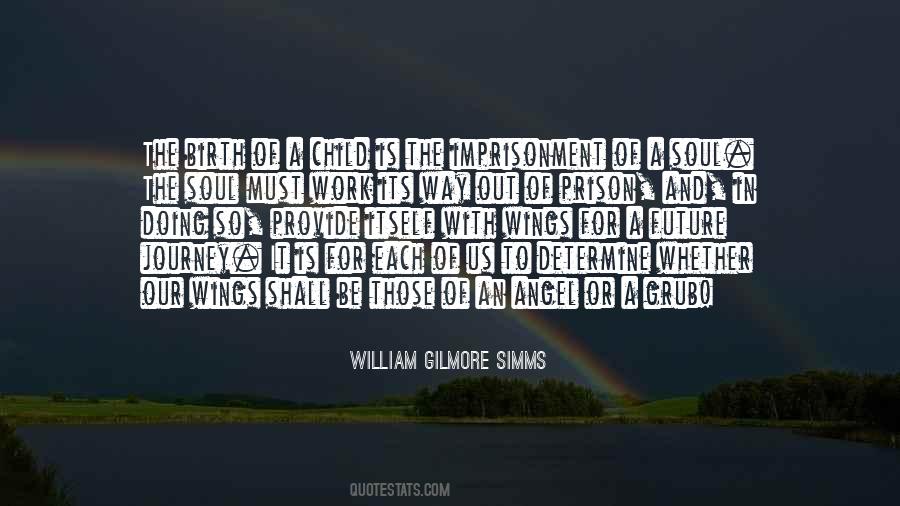 #39. There is some awe mixed with the joy of our surprise, when this poet, who lived in some past world, two or three hundred years ago, says that which lies close to my own soul, that which I also had wellnigh thought and said. - Author: Ralph Waldo Emerson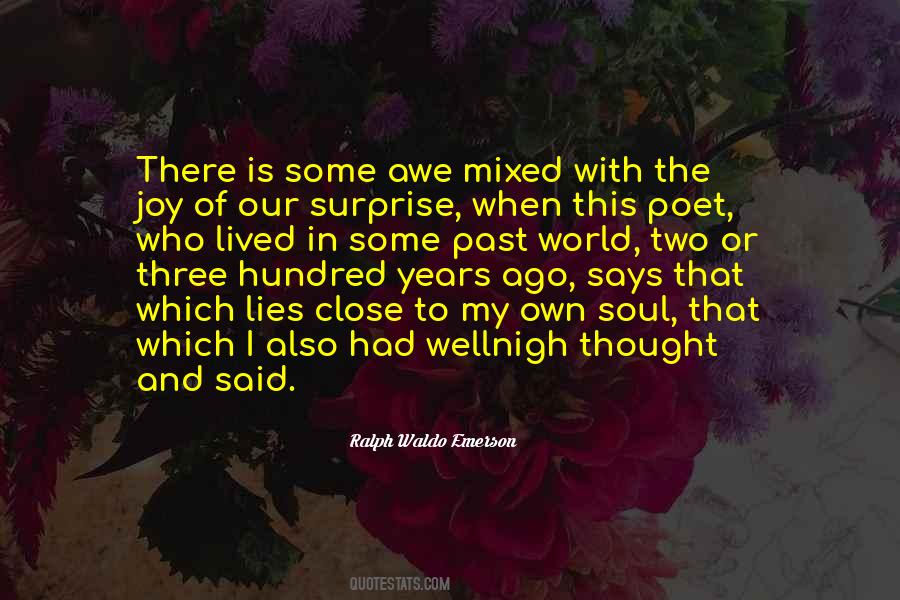 #40. For knowledge to become wisdom, and for the soul to grow, the soul must be rooted in God: and it is through prayer that there comes to us that which is the strength of our strength, and the virtue of our virtue, the Holy Spirit. - Author: William Mountford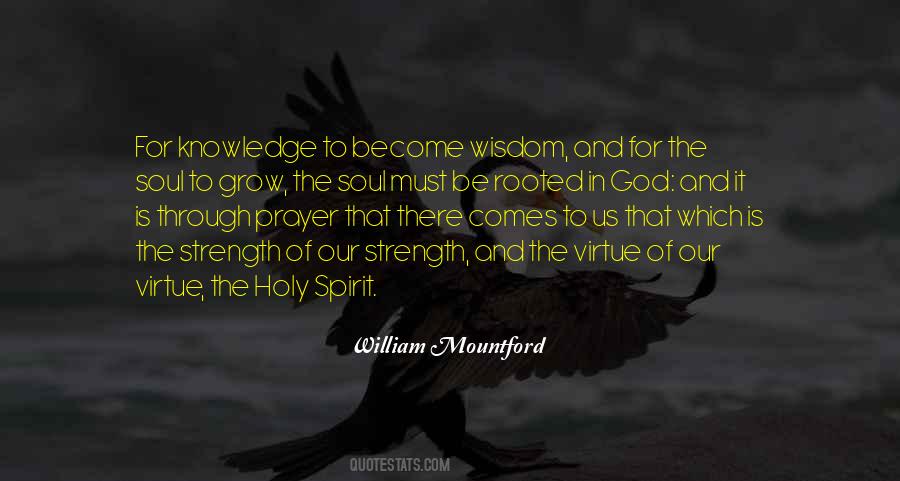 #41. There is soul in side body all life we live with it but we do not meet with our soul and our soul leaves our body when we die But Our soul meet with us when we on dead bed. - Author: Mohammed Zaki Ansari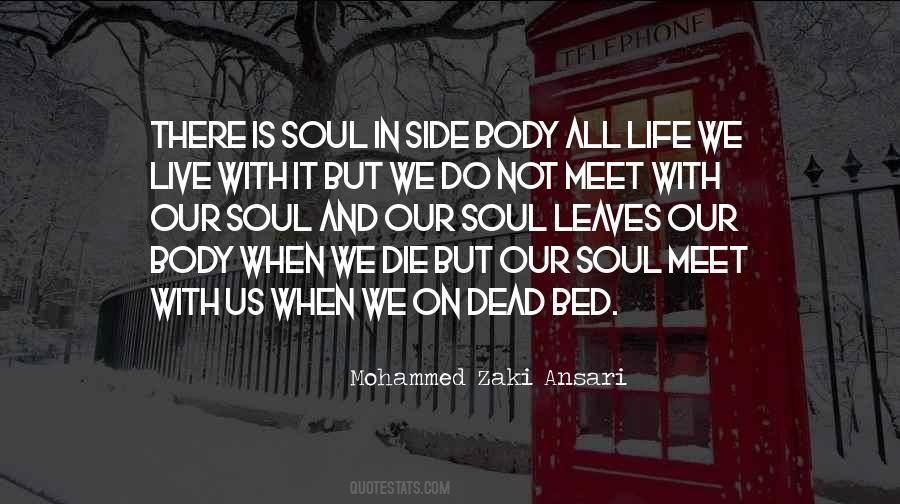 #42. Forgiveness is a powerful expression of the love within our soul. - Author: Anthony Douglas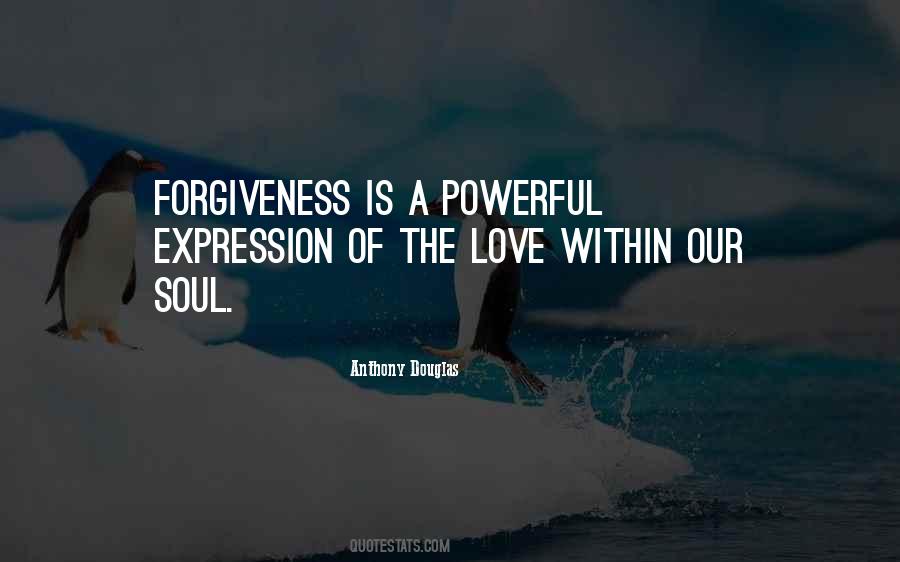 #43. The souls of all our brethren are ever hovering about us, craving for a caress, and only waiting for the signal. - Author: Maurice Maeterlinck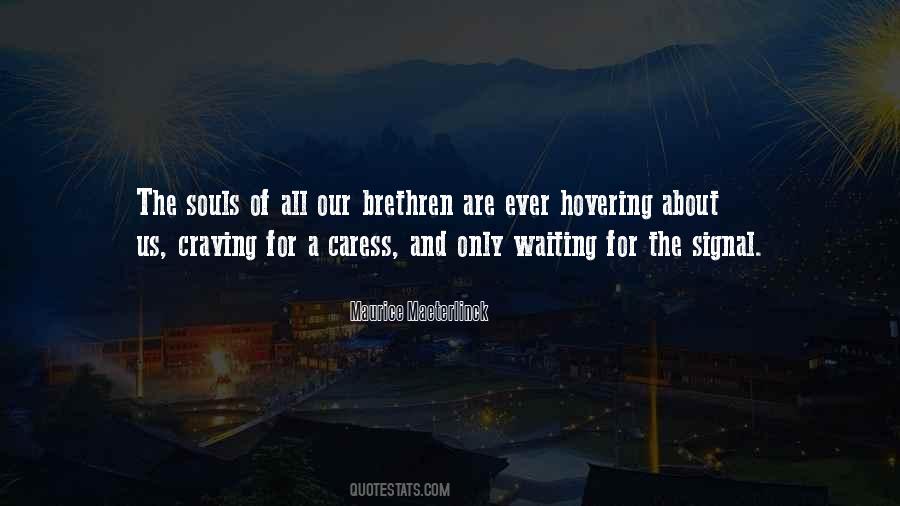 #44. We are currently too attached to our worldly toys, rather than to the lessons our playing could impart to further the maturity of our collective soul. - Author: Ilchi Lee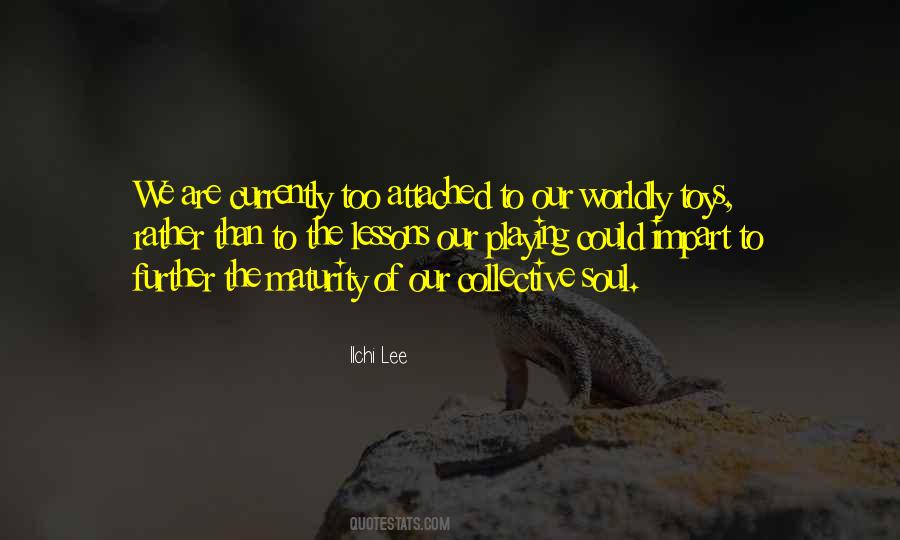 #45. Our happiness lies in the happiness of other people. Give them their happiness; you will get your own happiness. - Author: Pravin Agarwal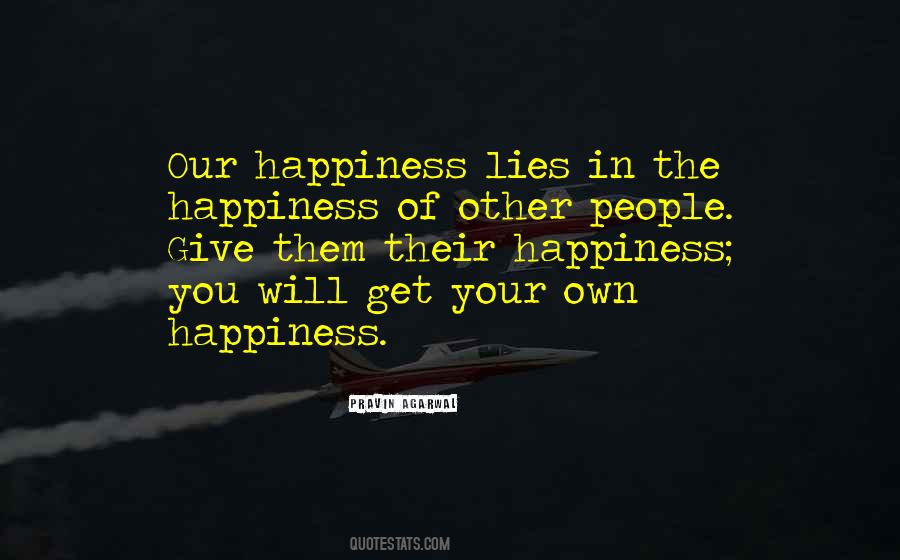 #46. Some people walk into our lives to touch our hearts and others to touch our soul! - Author: Avijeet Das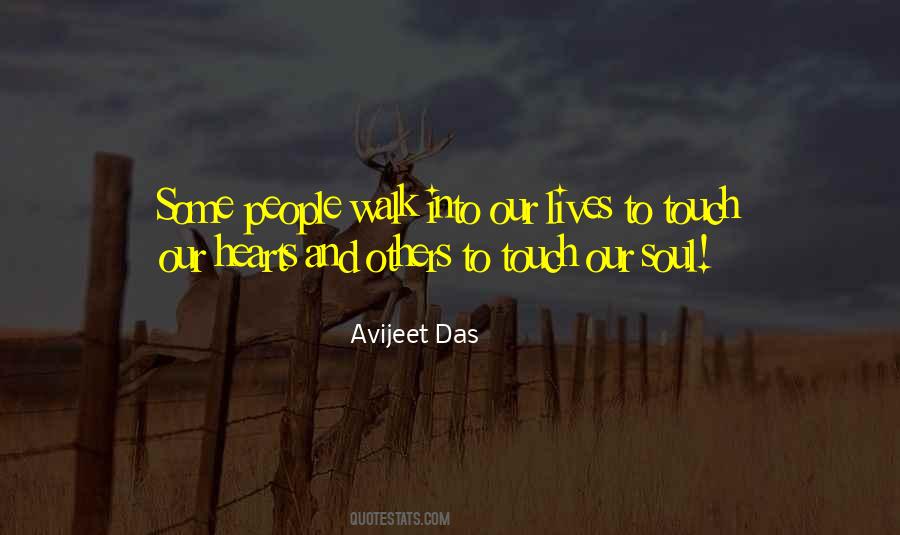 #47. Not believing in the glory of our own soul is what the Vedanta calls atheism. - Author: Swami Vivekananda
#48. Love in the Arab world is like a prisoner, and I want to set (it) free. I want to free the Arab soul, sense and body with my poetry. The relationships between men and women in our society are not healthy. - Author: Nizar Qabbani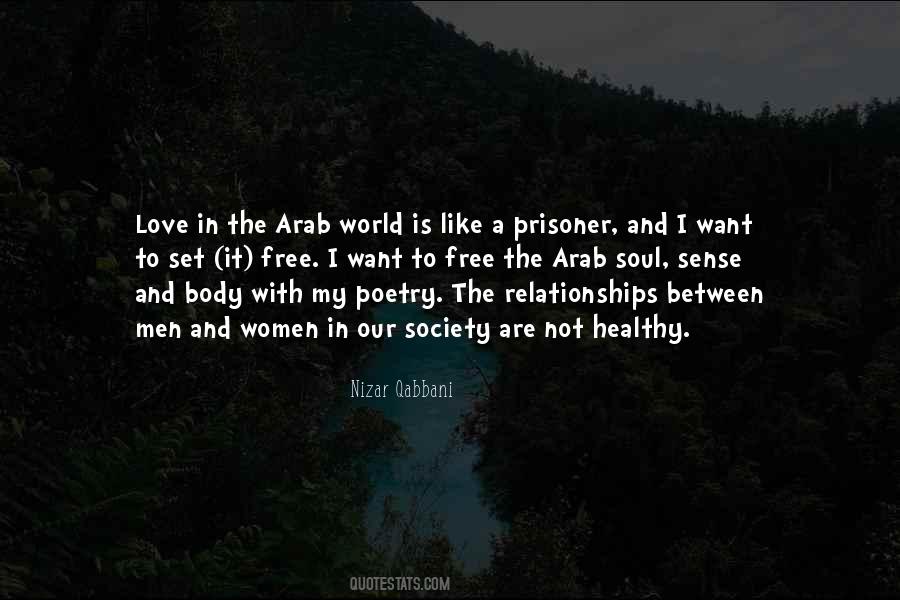 #49. Love is the great truth we all know in our hearts and must eventually recognize. - Author: Laurence Overmire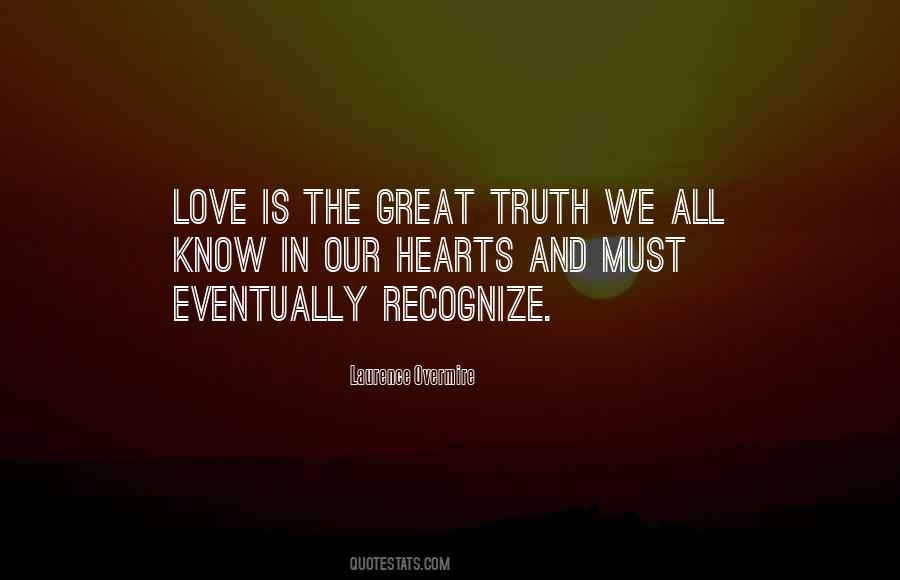 #50. It is hard for the human soul not to love something, and our mind must of necessity be drawn to some kind of affection. - Author: St. Jerome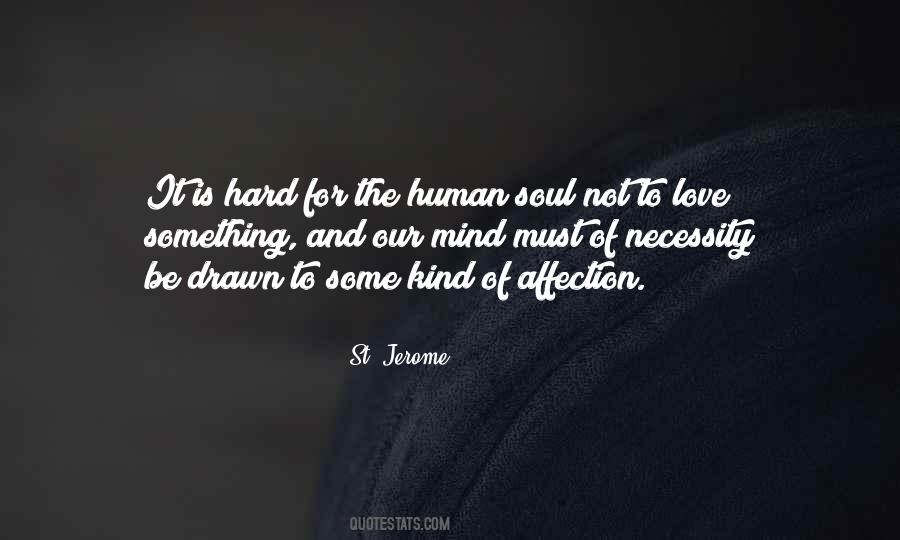 #51. The sun of God's glory was made to shine at the center of the solar system of our soul. And when it does, all the planets of our life are held in their proper orbit. - Author: John Piper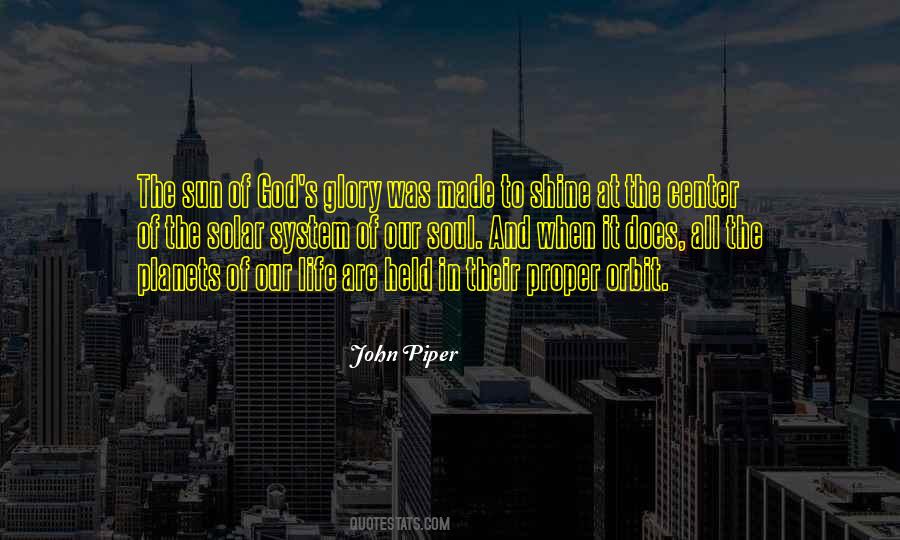 #52. I trust so much in the power of the heart and the soul; I know that the answer to what we need to do next is in our own hearts. All we have to do is listen, then take that one step further and trust what we hear. We will be taught what we need to learn. - Author: Melody Beattie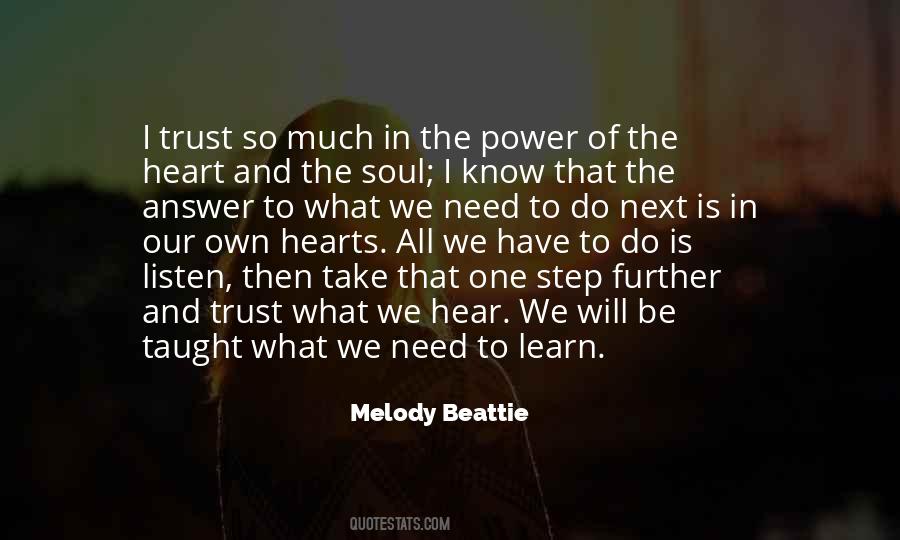 #53. We do not choose who we love but rather
our souls choose for us. - Author: N.R. Hart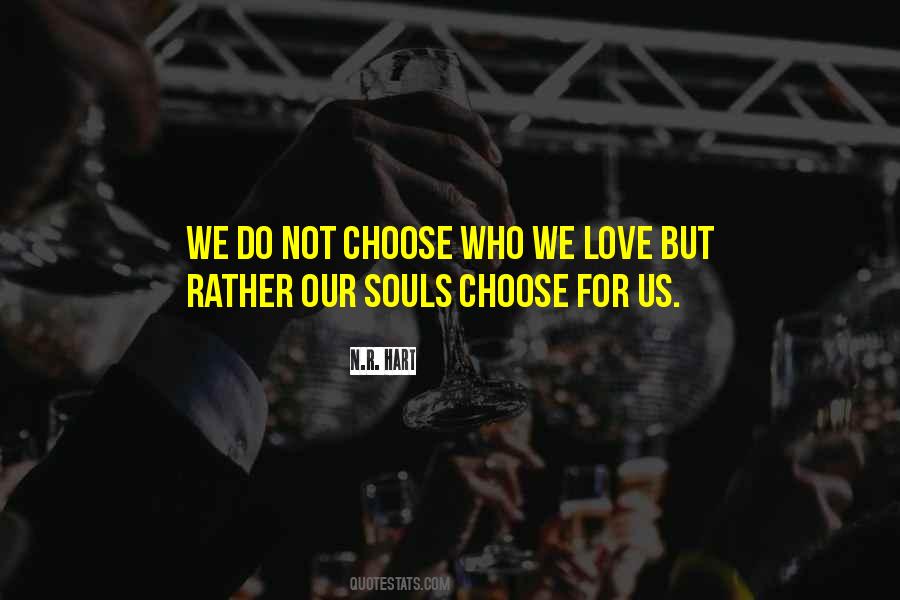 #54. This child whom we Love, Brings daylight Into our soul. - Author: Victor Hugo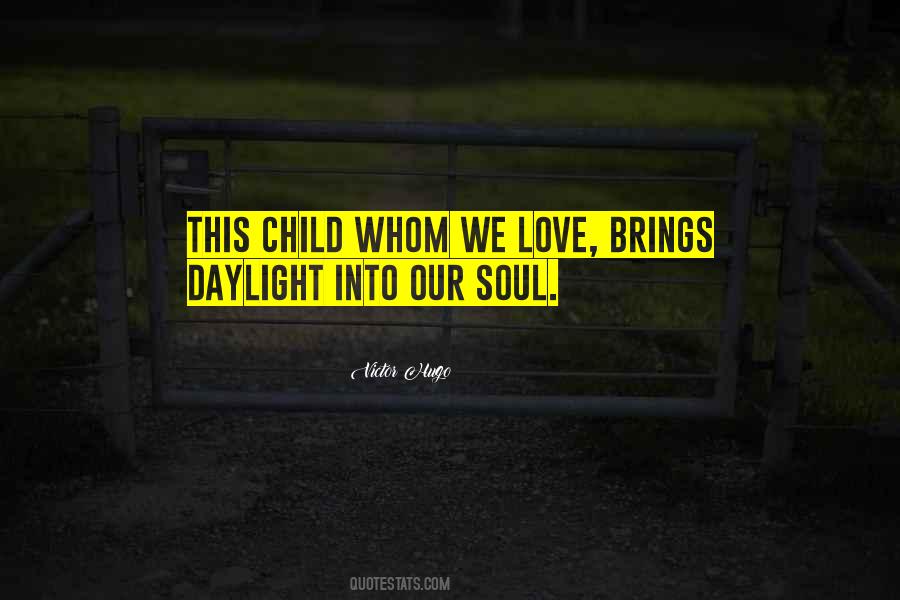 #55. Speed is not neutral. Fast living used to mean a life of debauchery; now it just means fast, but the consequences are even more serious. Speeding through life endangers our relationships and our souls. - Author: Mike Yaconelli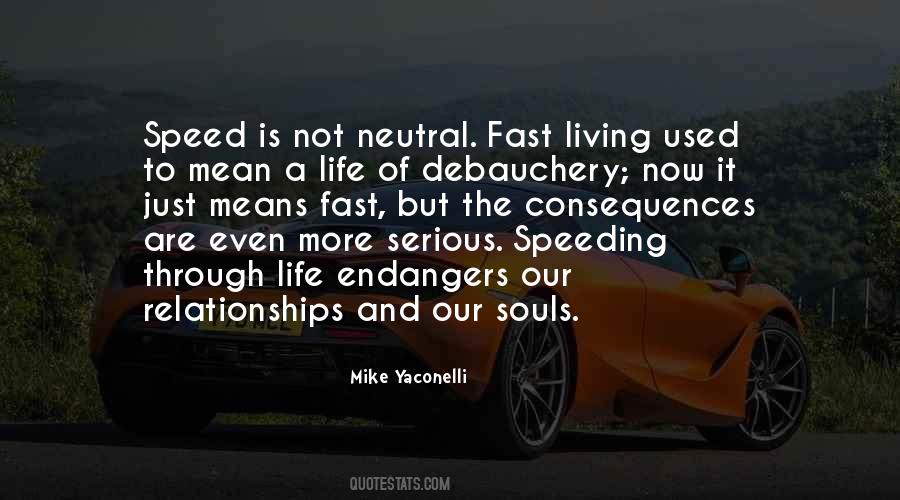 #56. Assuredly there is no more lovely worship of God than that for which no image is required, but which springs up in our breast spontaneously when nature speaks to the soul, and the soul speaks to nature face to face. - Author: Johann Wolfgang Von Goethe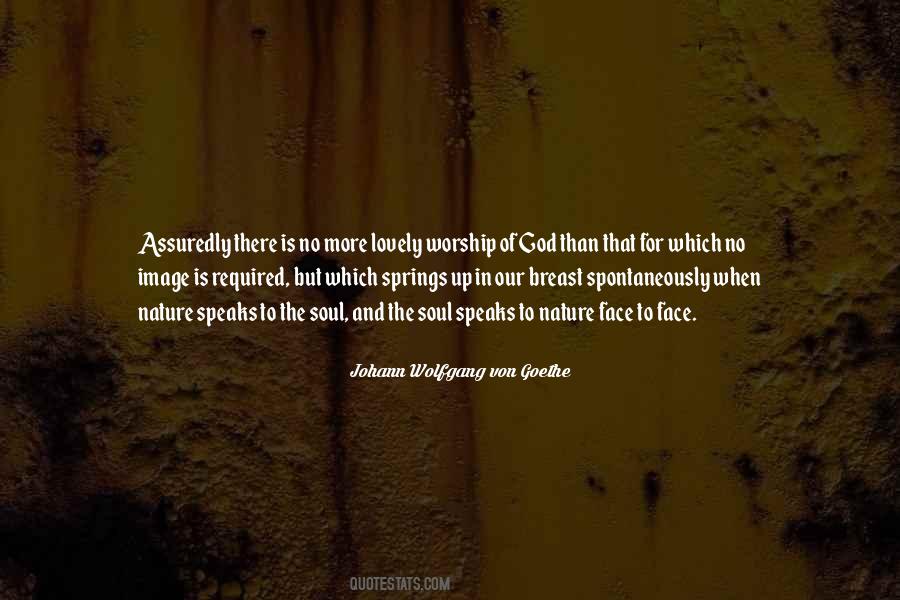 #57. A darker storm stands over the world. It puts its mouth to our soul and blows to get a tone. We are afraid the storm will blow us empty. - Author: Tomas Transtromer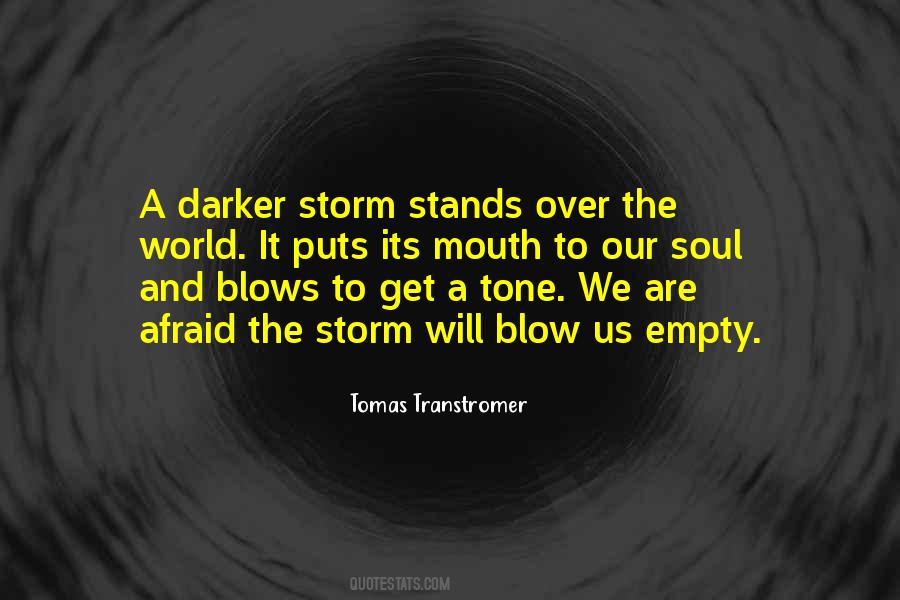 #58. Humans are not a commodity, nor is our humanity. Fight to save the lives of those who can not save themselves, and in turn, you will have saved your soul. - Author: L.M. Fields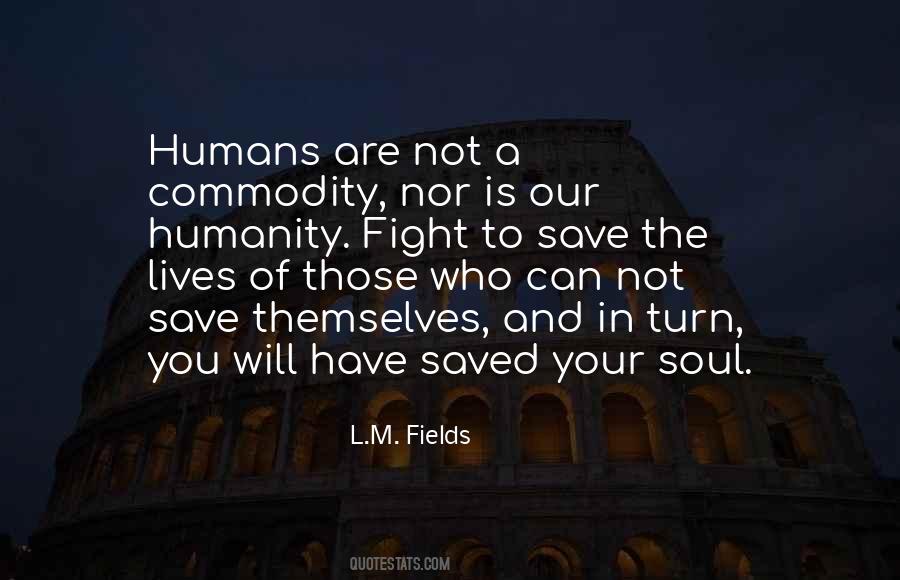 #59. Until we align our minds with our souls,
we will continue to grieve for our highest selves as individuals, a society, and as a world family. - Author: Leta B.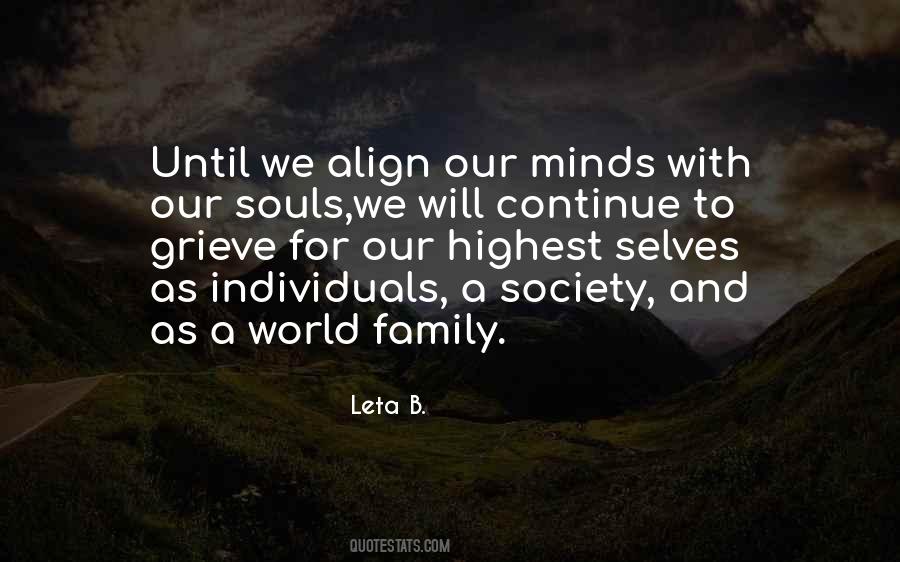 #60. The Lord's way is the only way for us to experience enduring happiness. His way brings sustained comfort to our souls and perennial peace to our homes. - Author: Russell M. Nelson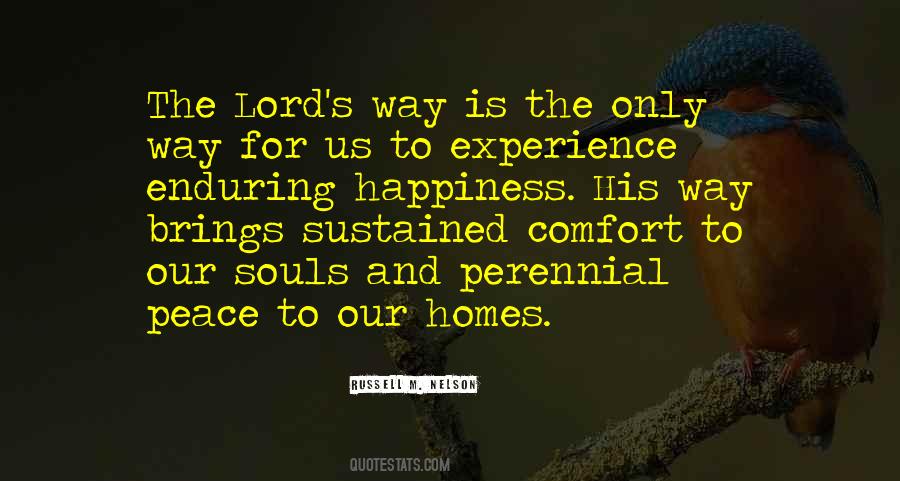 #61. We should chiefly depend not upon that department of the soul which is most superficial and fallible (our reason), but upon that department that is deep and sure, which is instinct. - Author: Charles Sanders Peirce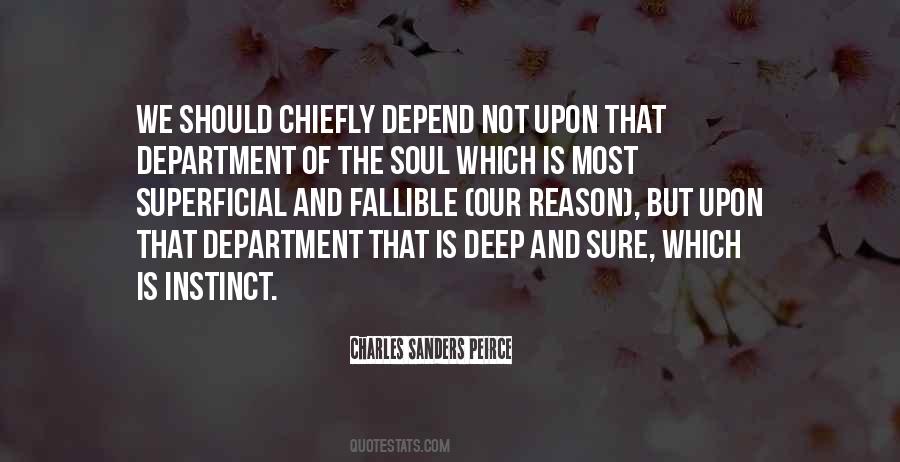 #62. The effectance motive helps explain the progress principle: We get more pleasure from making progress toward our goals than we do from achieving them because, as Shakespeare said, Joy's soul lies in the doing. - Author: Jonathan Haidt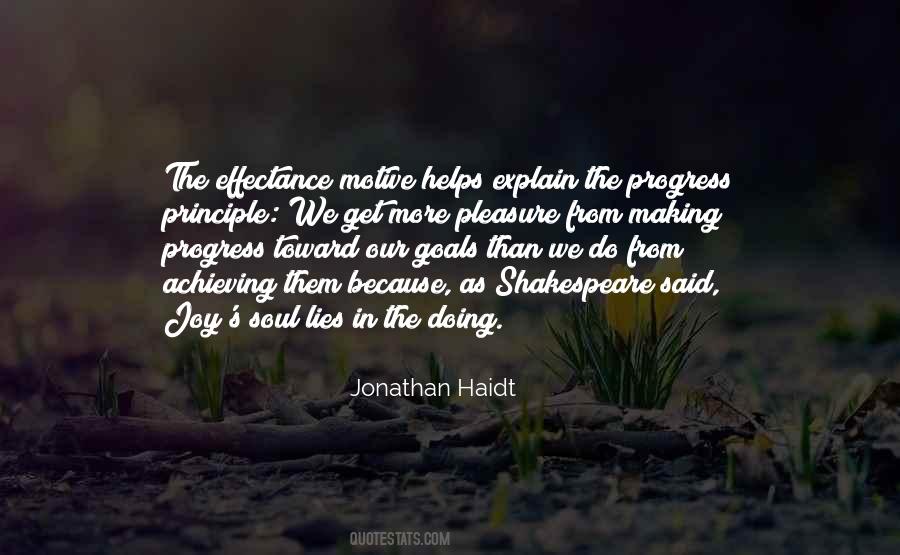 #63. Body and soul are not two different things, but only two different ways of perceiving the same thing. Similarly, physics and psychology are only different attempts to link our experiences together by way of systematic thought. - Author: Albert Einstein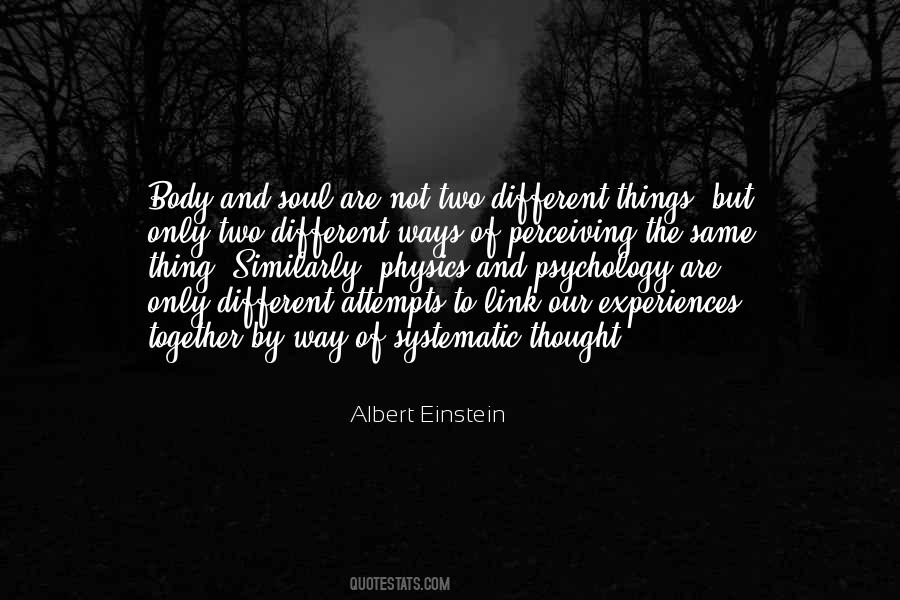 #64. The more we get away from believing and studying literature, the worst we become, the more we lose our soul. - Author: Shane Warren Jones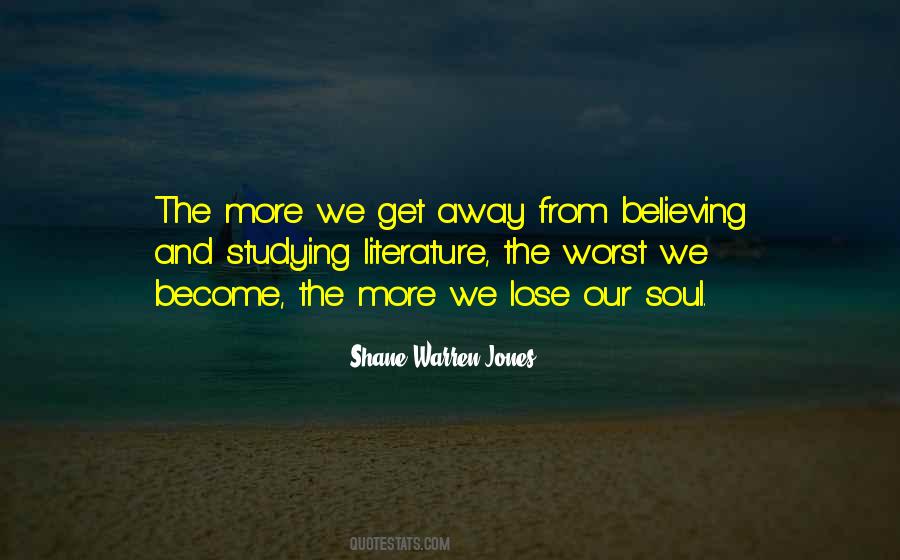 #65. Making one object, in outward or inward nature, more holy to a single heart is reward enough for a life; for the more sympathies we gain or awaken for what is beautiful, by so much deeper will be our sympathy for that which is most beautiful,
the human soul! - Author: James Russell Lowell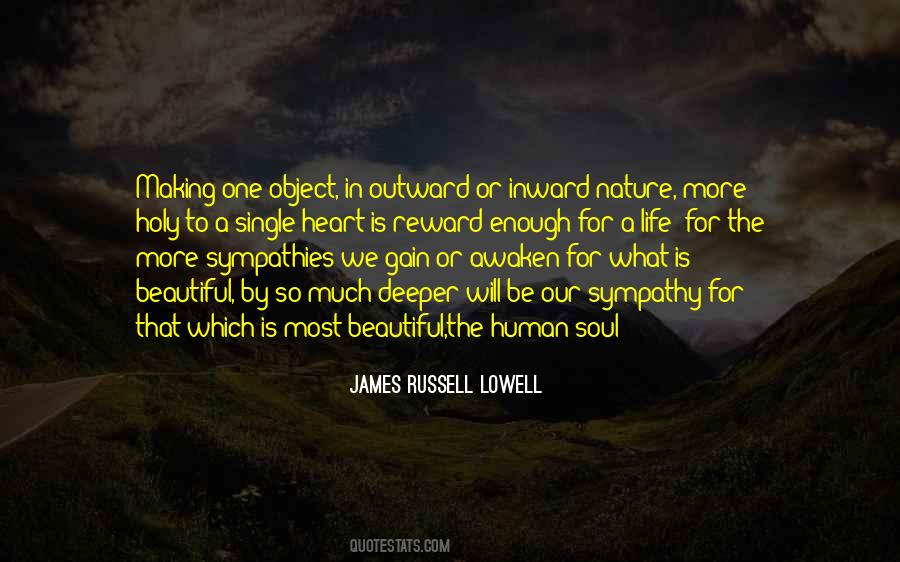 #66. Another reason why we must love our enemies is that hate scars the soul and distorts the personality. - Author: Martin Luther King Jr.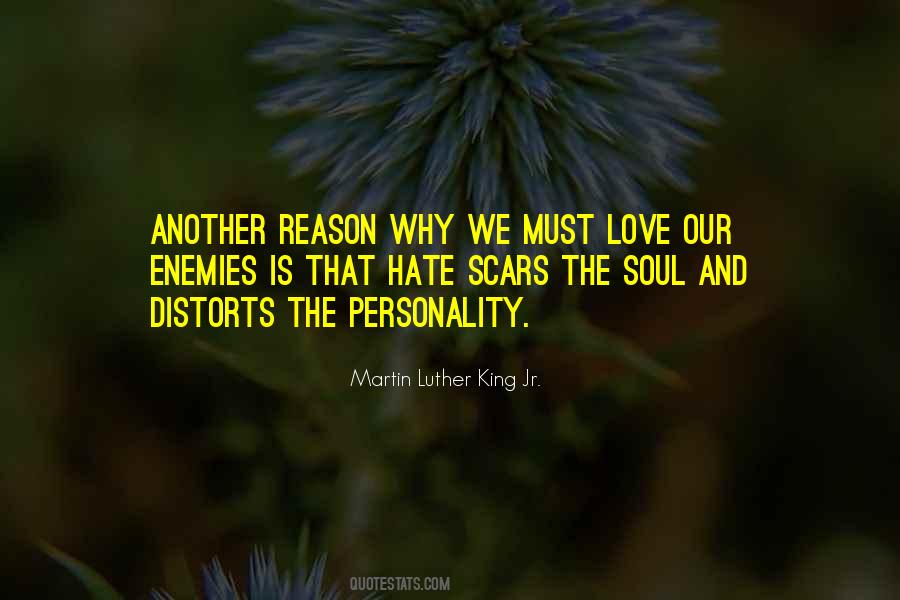 #67. Because when push comes to shove, we really don't want to have sex with our friends ... unless they're sexy. And sometimes we do want to have sex with our blackhearted, soul-sucking enemies ... assuming they're sexy. - Author: Chuck Klosterman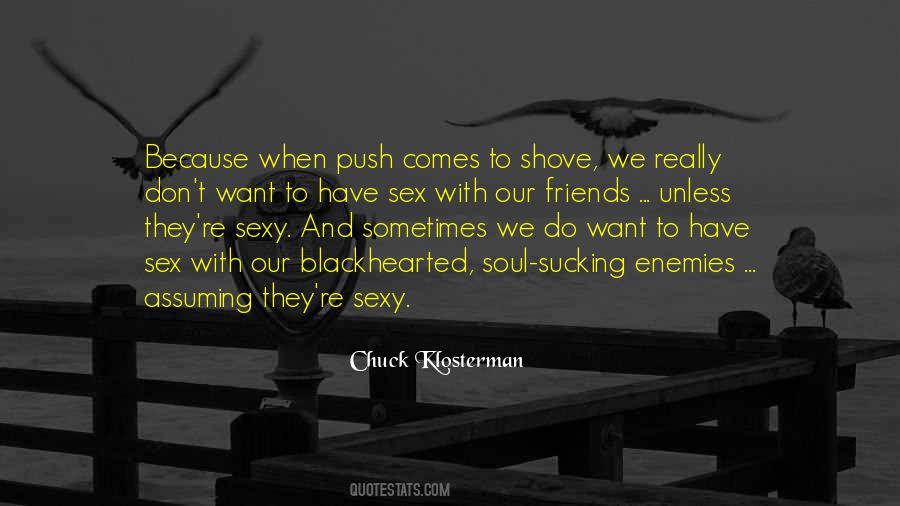 #68. Anxious to know, yet only too happy to ignore, we seek in what is, a remedy for what is not; and in what is not a relief from what is. Now the real, now illusion is our refuge; and the soul has finally no other resource but the true, which is her weapon
and falsehood, which is her armor. - Author: Paul Valery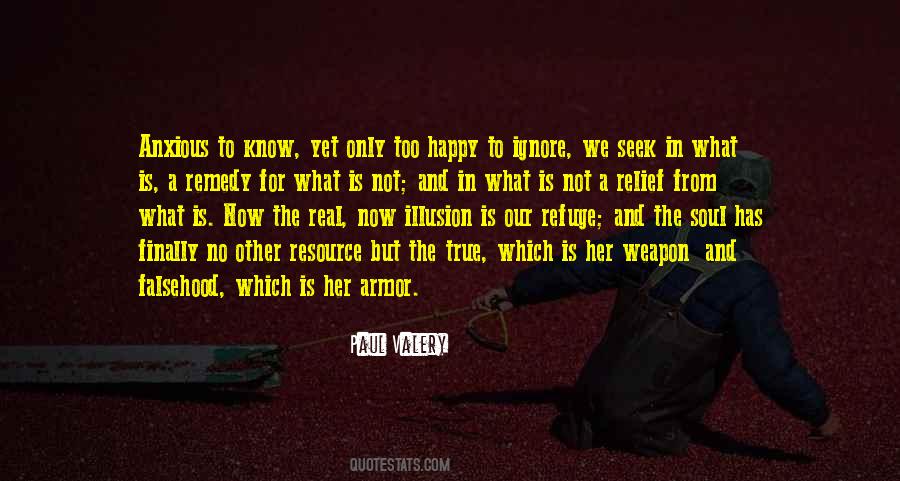 #69. Not that I've noticed." She looked down at my gun. "What a nice Glock. My sister carries a Glock, and she just loves it. I was thinking about trading in my .45, but I couldn't bring myself to do it. My dead husband gave it to me for our first anniversary. Rest his soul. - Author: Janet Evanovich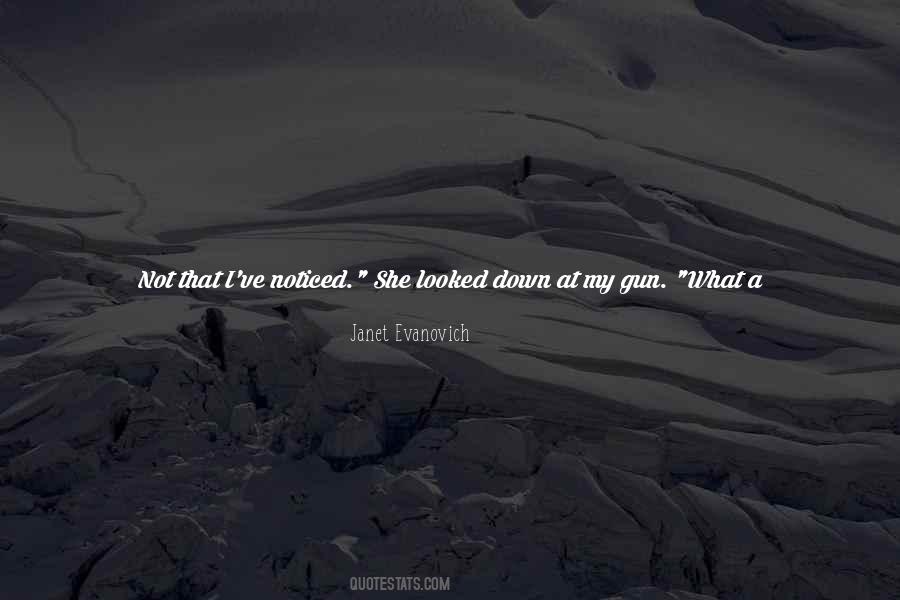 #70. 23 Now may the God of peace make you holy in every way, and may your whole spirit and soul and body be kept blameless until our Lord Jesus Christ comes again. 24 God will make this happen, for he who calls you is faithful. - Author: Anonymous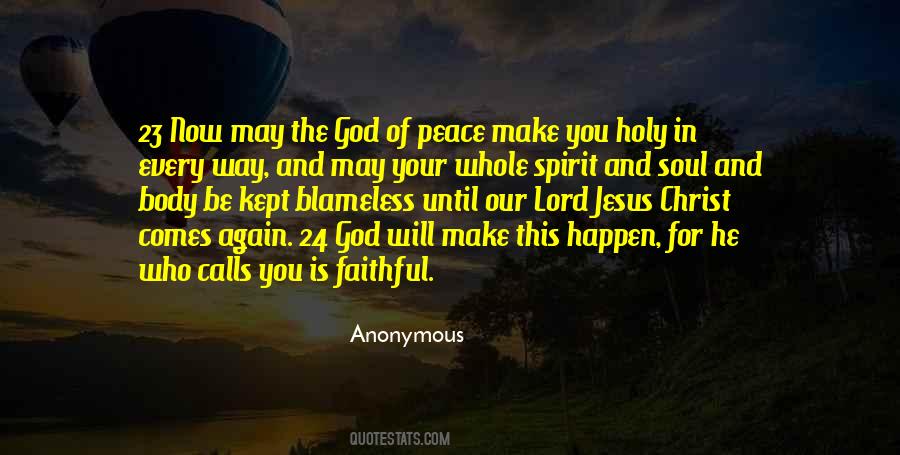 #71. There is a light within our soul that burns brighter than the sun. And we ignore it. - Author: Basith
#72. Our daily deeds as ordinary South Africans must produce an actual South African reality that will reinforce humanity's belief in justice, strengthen its confidence in the nobility of the human soul, and sustain all our hopes for a glorious life for all. - Author: Nelson Mandela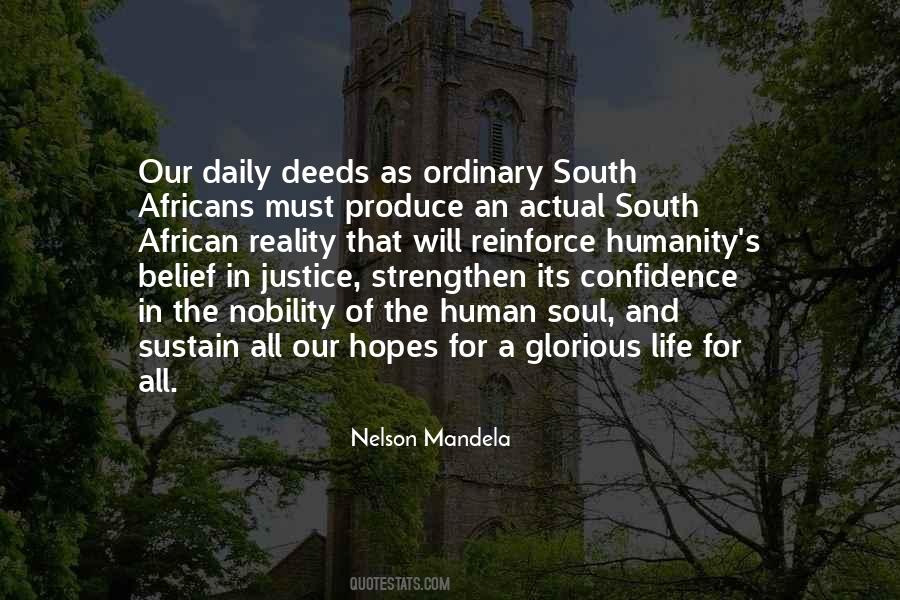 #73. Dance is the music of our body, sound is the rhythm of our feeling, silence is the symphony of our soul. - Author: Nelly Mazloum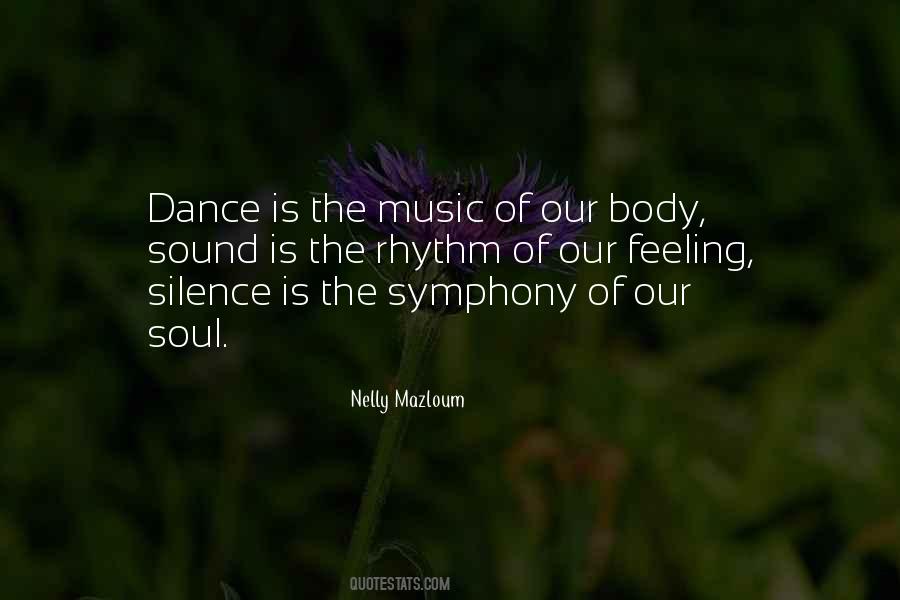 #74. And if one day there's distance
Between your hand and mine,
When our hands join once again,
My heart and soul will shine. - Author: Glyncora Murphy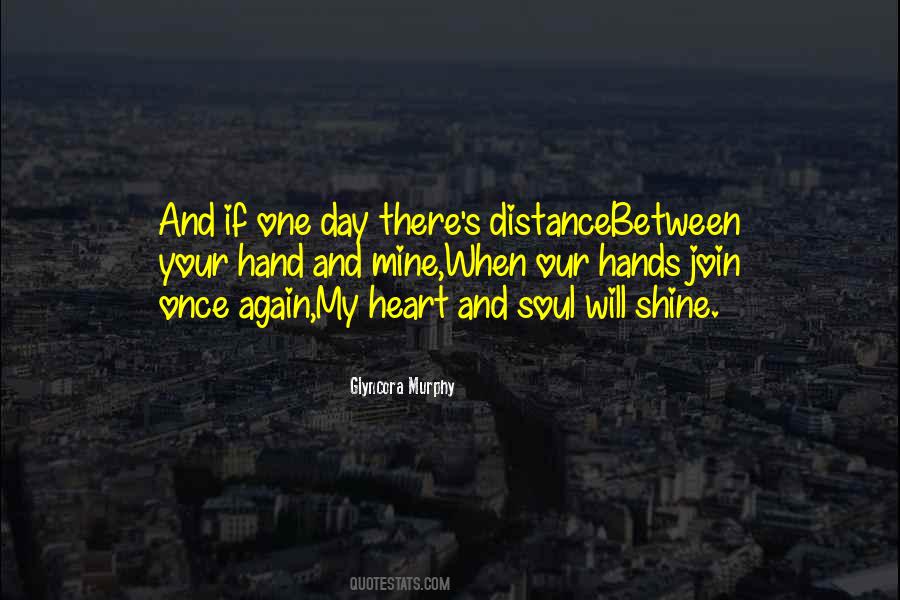 #75. So, let us push on now, and remember ourselves back to the wild soul. Let us sing her flesh back onto our bones. - Author: Clarissa Pinkola Estes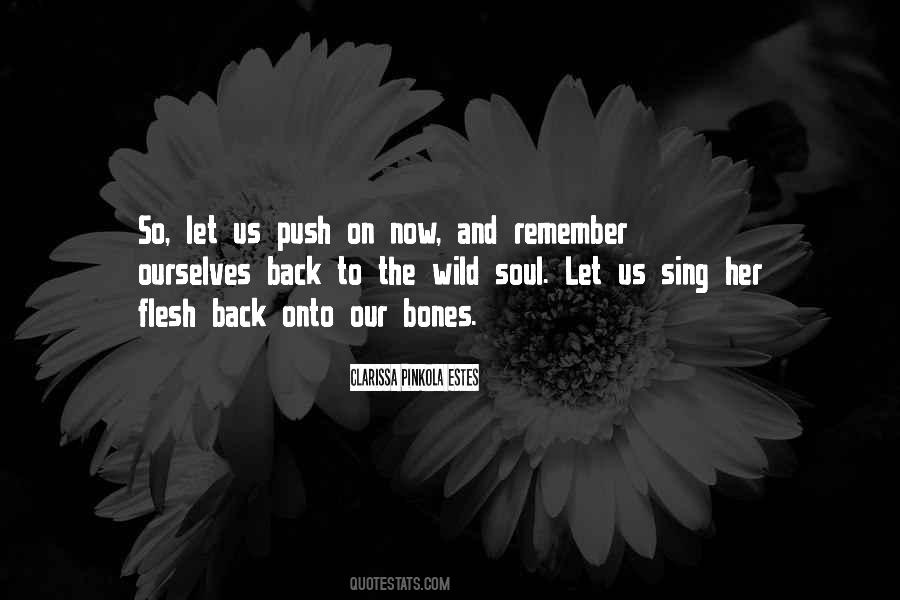 #76. For me, spirit is the impulse towards life, the Eros in a person leaping forward, whereas soul refers to something possibly long.. suffering, where meanings are made, where there is a sense of this gathering of perceptions, that our death is not the most important thing, nor our life. - Author: Michael Leunig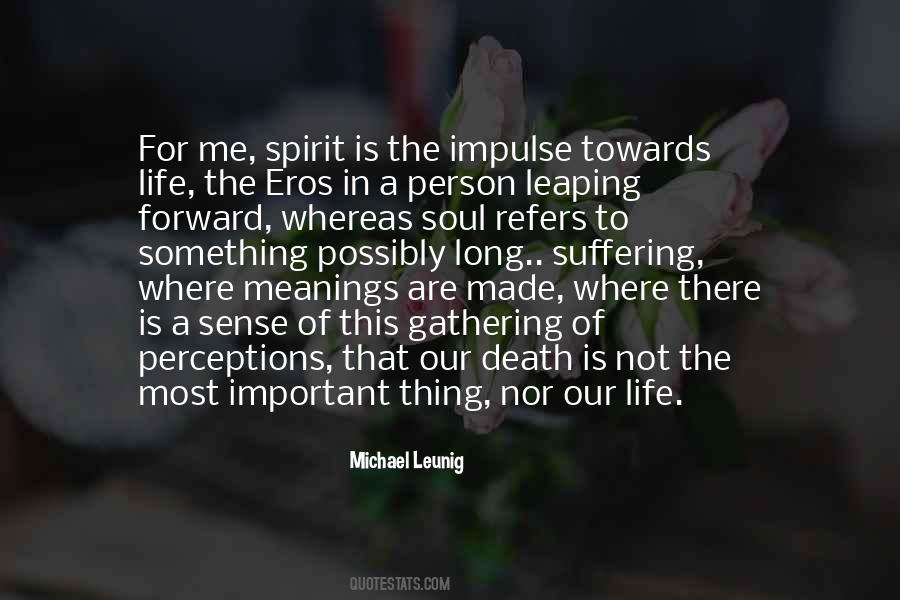 #77. Soul Mates mirror our Divine nature.-Serena Jade - Author: Serena Jade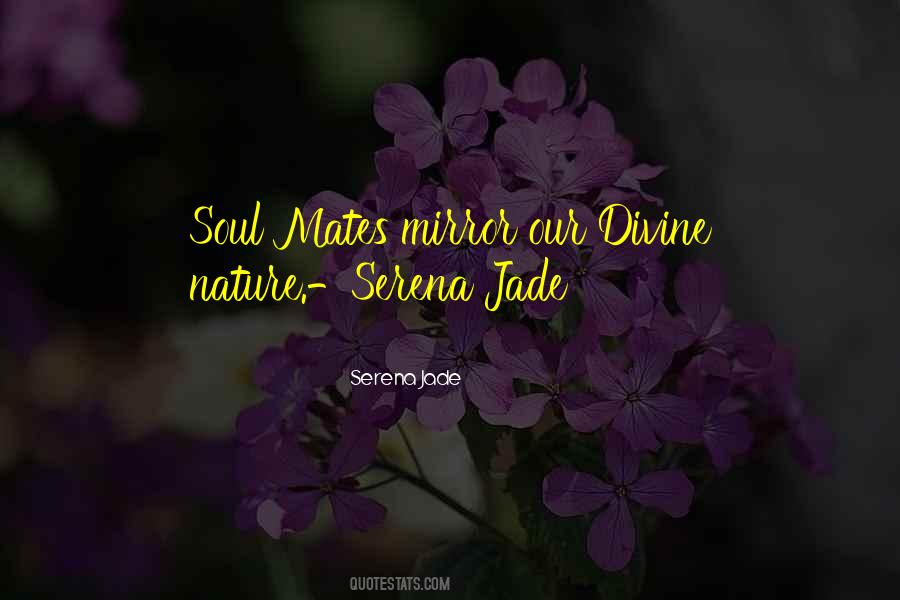 #78. Our soul can find in the Blessed Sacrament all the joys and consolations it desires. - Author: Teresa Of Avila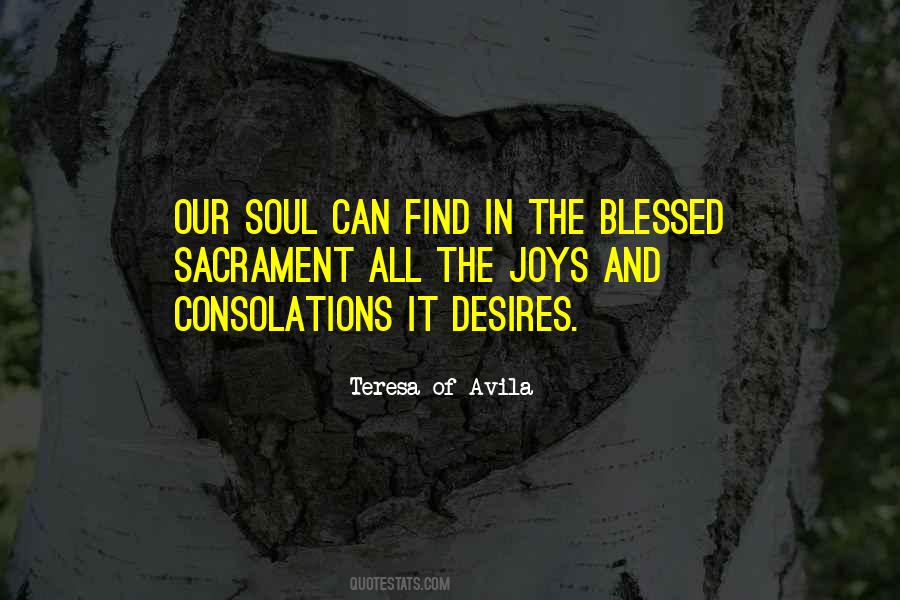 #79. Our soul should be a mirror of Christ; we should reflect every feature: for every grace in Christ there should be a counterpart in us. - Author: Robert M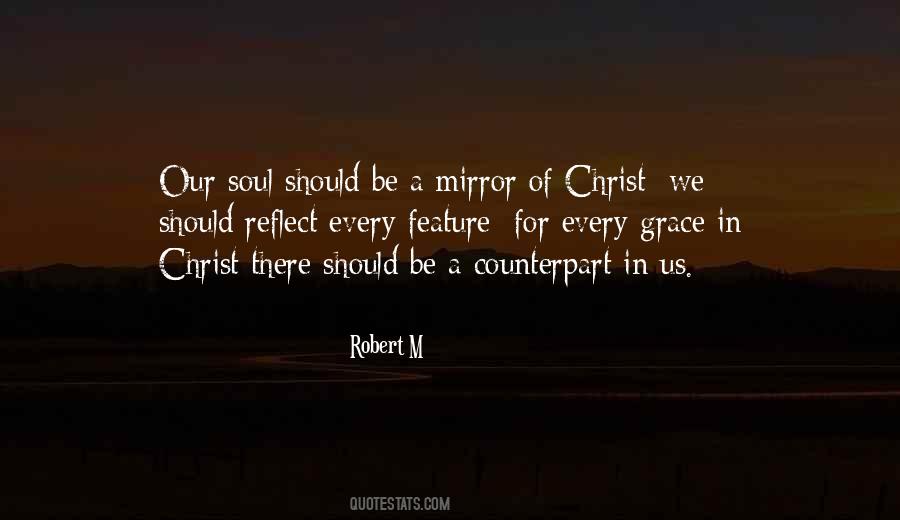 #80. An act of kindness may take only a moment of our time, but when captured in the heart the memory lives forever. - Author: Molly Friedenfeld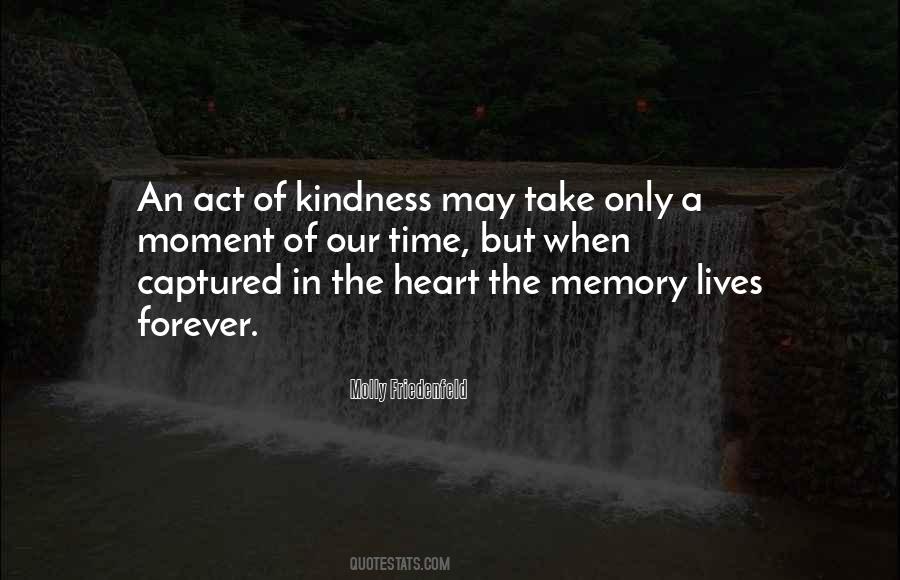 #81. Our ceaseless craving for more, though it can kill us when unredeemed, may be a hint of the joy that we were made for when the soul finds its center in God. - Author: John Ortberg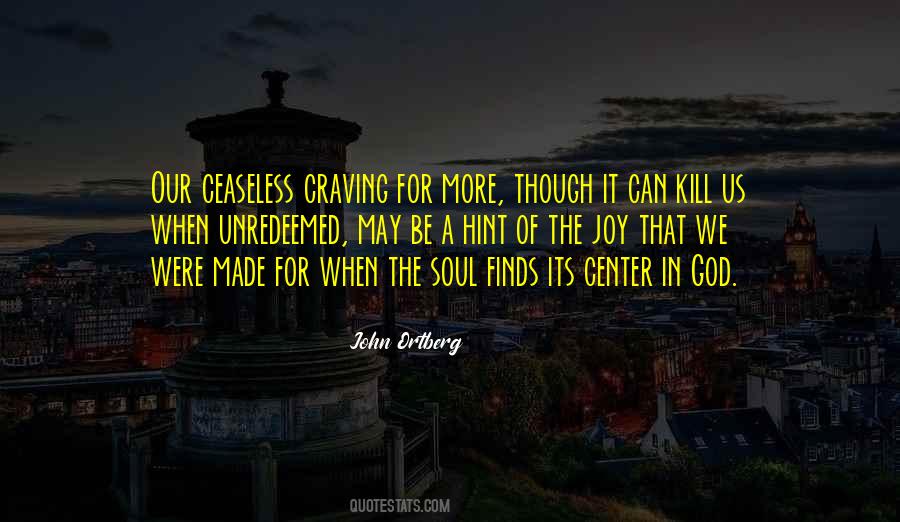 #82. It is through weakness and vulnerability that most of us learn empathy and compassion and discover our soul. - Author: Desmond Tutu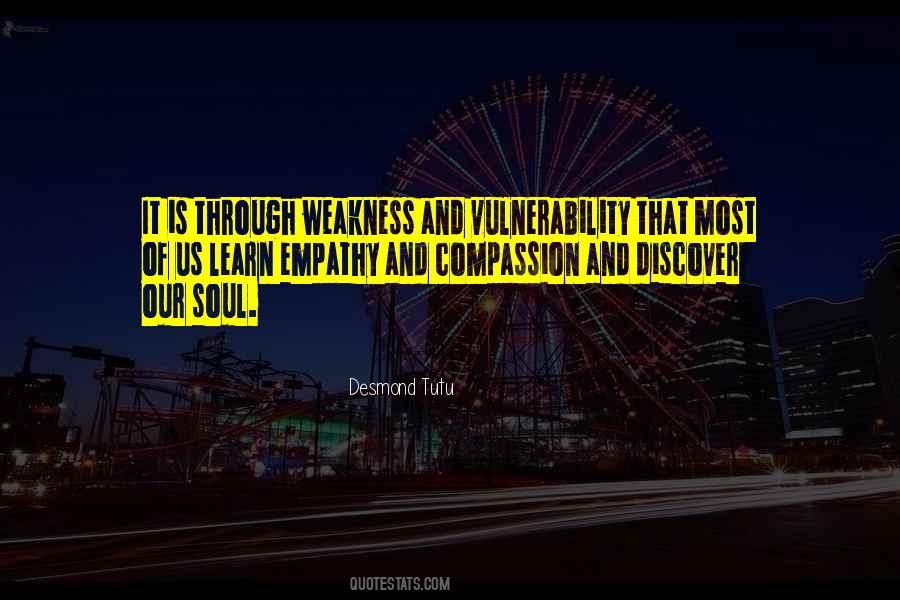 #83. Lord our God, restore us again by the repose of sleep after the fatigue of our daily work, so that, continually renewed by your help, we may serve you in body and soul. Through Christ our Lord, Amen. The Lord grant us a quiet night and a perfect end. AMEN - Author: Uniersalis Publishing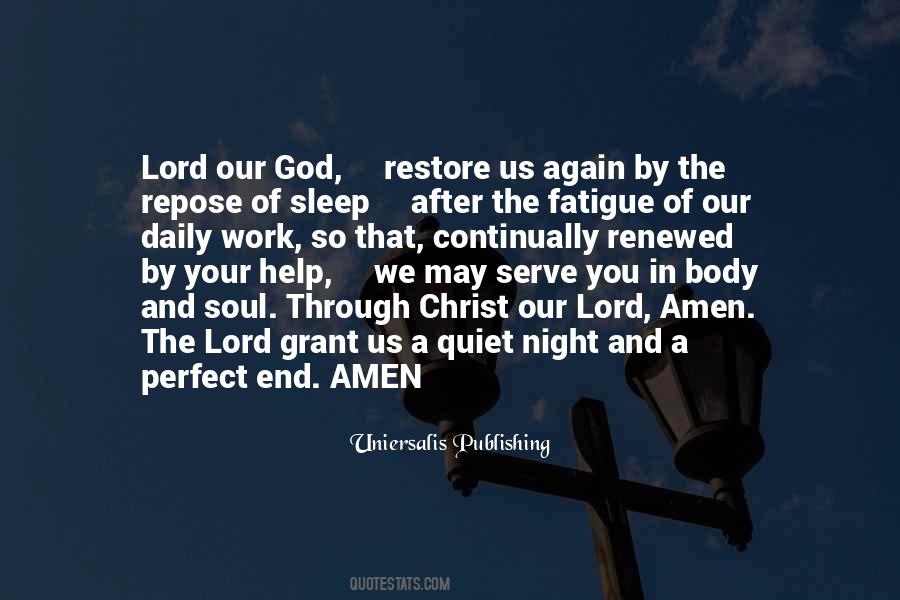 #84. Oftentimes we don't manifest what we want in our lives, because our energy is too focused on what others are doing in their lives. This lack of focus in our own life, dilutes our energy and we leak our creative potential into other people's soul experience. - Author: Sabrina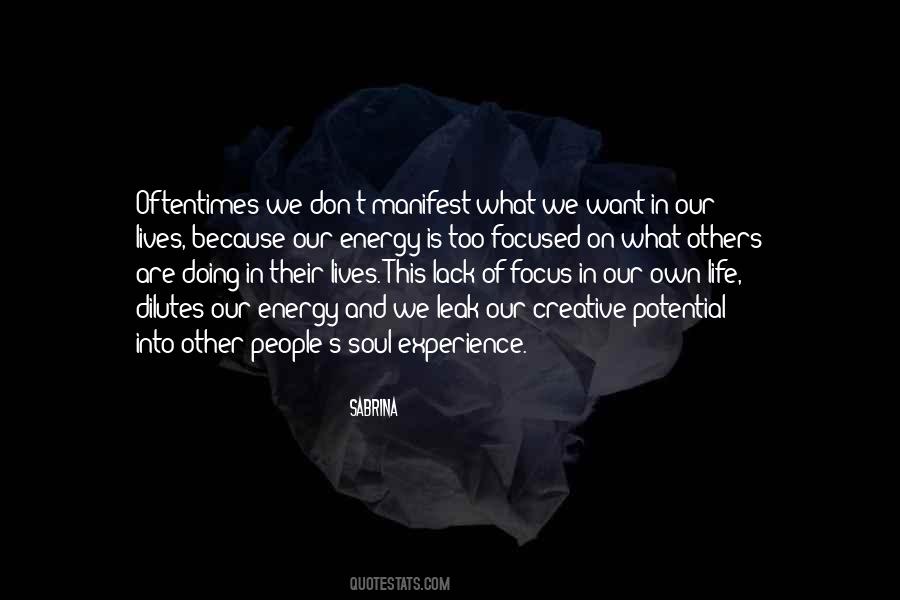 #85. In hatred is love, we grow like the thing we brood upon. What we loathe, we graft into our very soul. - Author: Mary Renault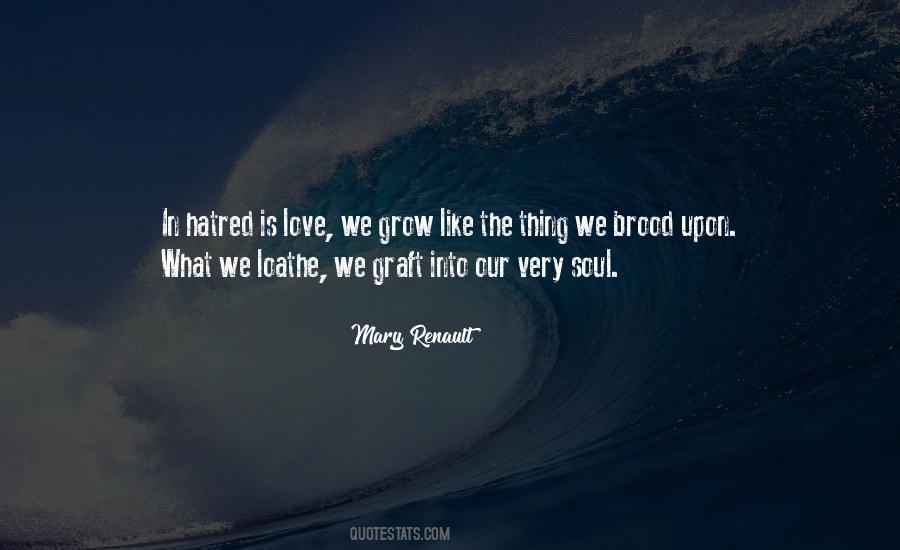 #86. We are learning to work with intuition, which actually is Soul giving us gentle guidance to make our life better. - Author: Harold Klemp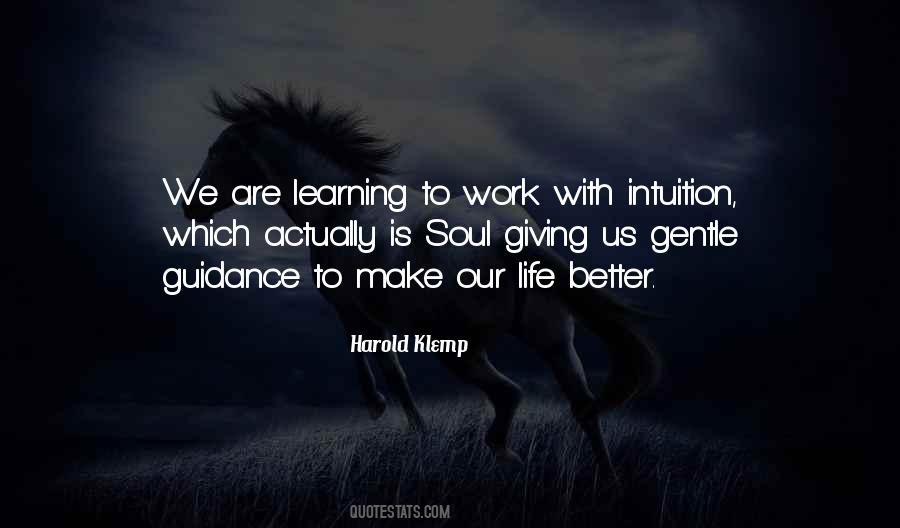 #87. Smiles are the dance of our soul,
with the music of love,
to express the beauty of mind,
for the happiness of spirit,
and for the joy of the world. - Author: Debasish Mridha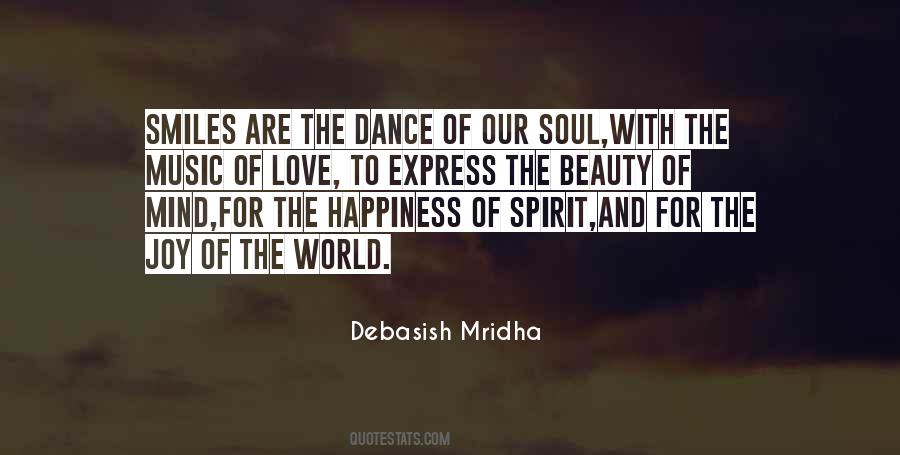 #88. That's the sacred intent of life, of God
to move us continuously toward growth, toward recovering all that is lost and orphaned within us and restoring the divine image imprinted on our soul. - Author: Sue Monk Kidd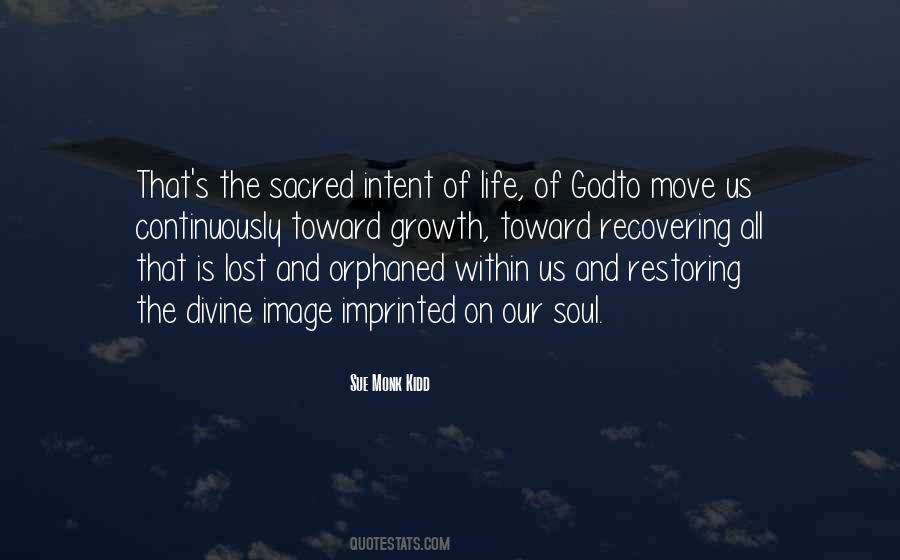 #89. When we are forced to stop the noise around us and in us, we begin to hear everything that is not us, and this is the beginning of humility and the renewal of our soul's energy; as only by listening to all that is larger than us can we discover and feel our place in the Universe. - Author: Mark Nepo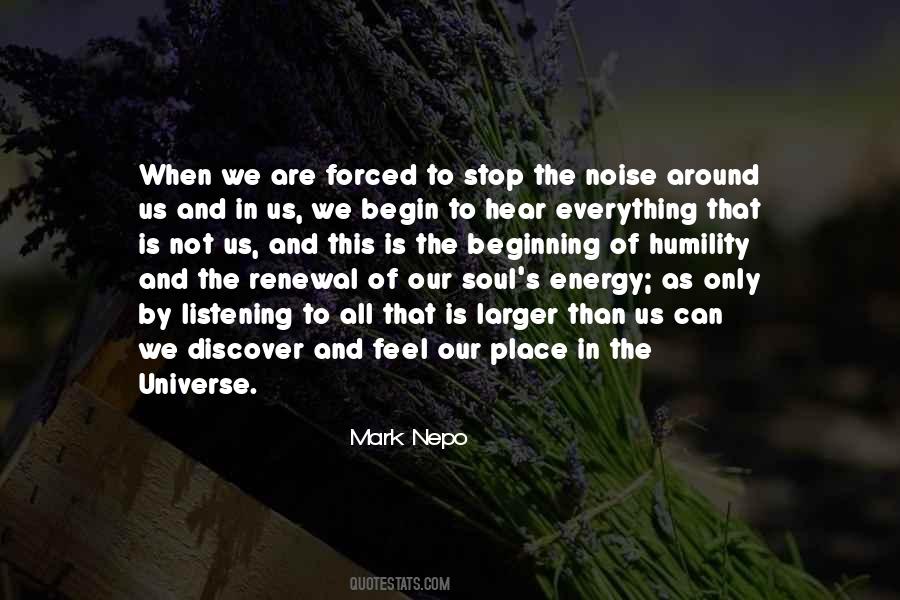 #90. Stewart loves me with a tiger's intensity, his need taking my breath away, his confidence in our relationship strong enough to not be bothered by the presence of another man. He stares into my soul as if he owns it, and shows his love with money, sex, and rare moments of time. - Author: Alessandra Torre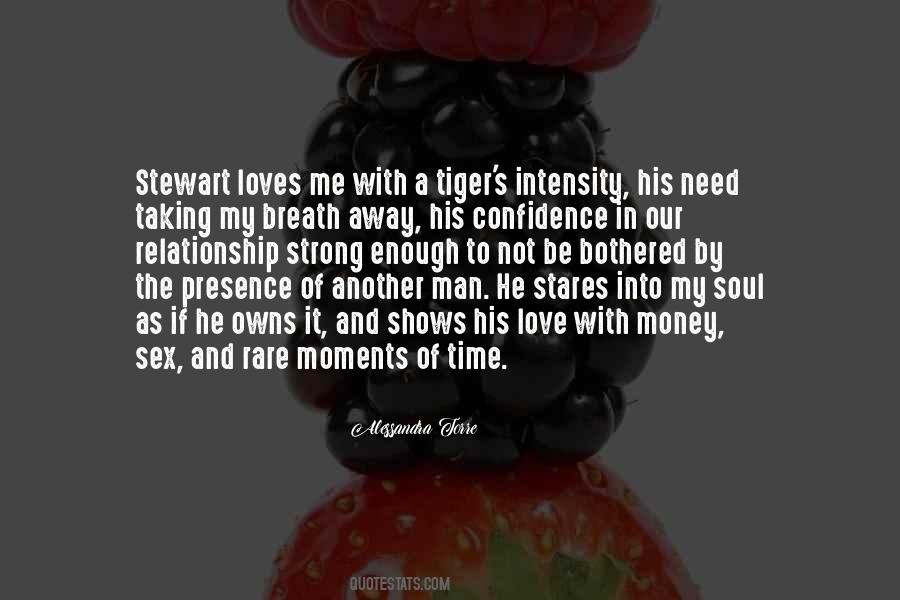 #91. The purest lesson our era has taught is that man, at his highest, is an individual, single, isolate, alone, in direct soul-communication with the unknown God, which prompts within him. - Author: D.H. Lawrence
#92. We may argue and have our ups and downs, but any poor soul who ever tries to get between us will find out that our love is stronger than ever. - Author: Steve Maraboli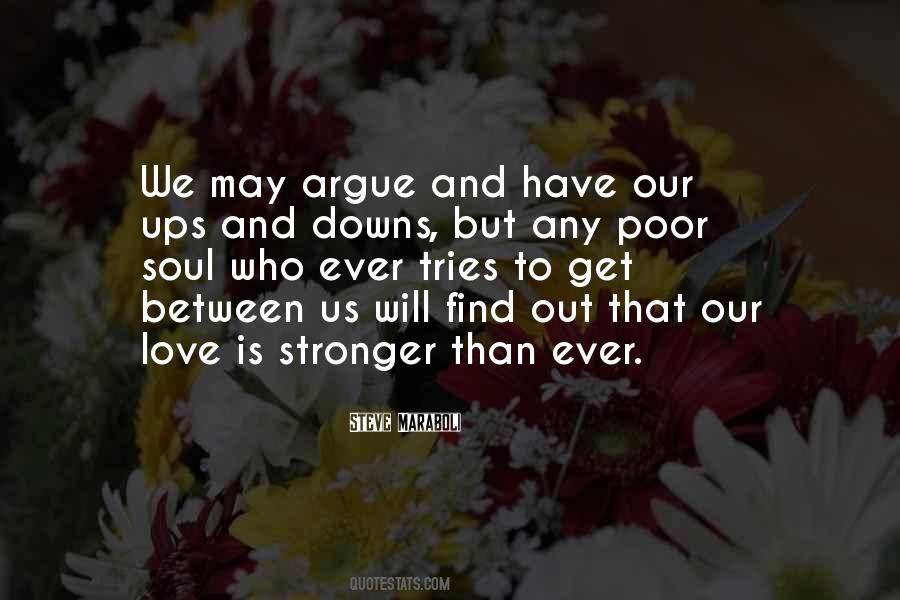 #93. Loneliness can't be seen. It's a worse feeling that can only be felt, We experience a lots of feeling in our life but loneliness is such a feeling that kills us from inside yet we can't help it. We only see our self being destroyed day by day,yet nothing to do. - Author: Debolina Bhawal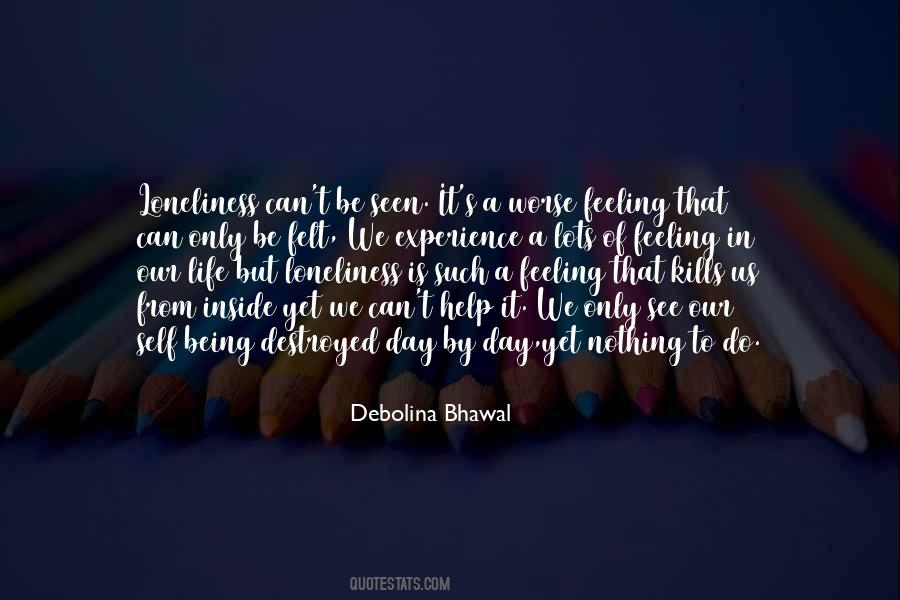 #94. The accidents of life separate us from our dearest friends, but let us not despair. God is like a looking glass in which souls see each other. The more we are united to Him by love, the nearer we are to those who belong to Him. - Author: Elizabeth Ann Seton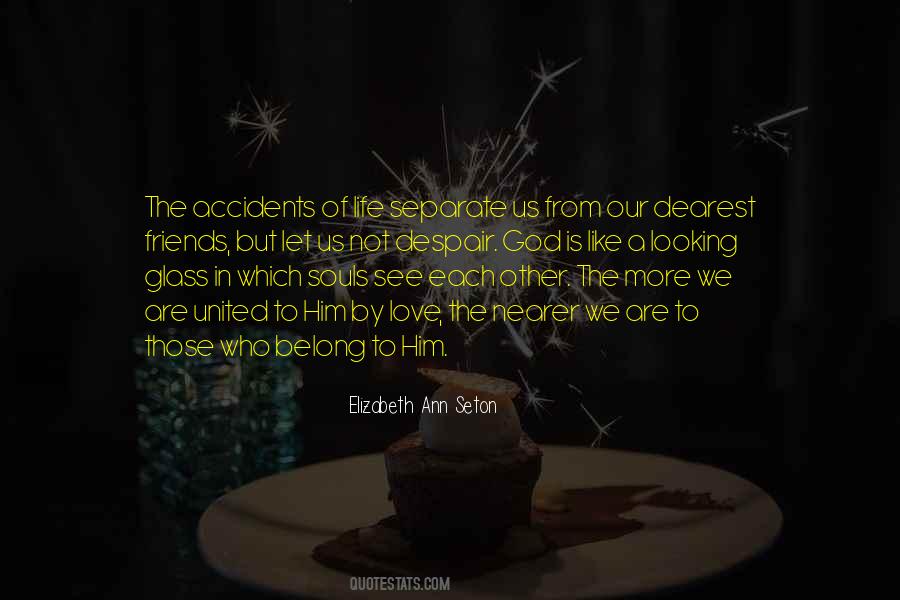 #95. The waves of love roll throughout the Universe, and overflow in our hearts..
Everything is ONE! - Author: Dave Zebian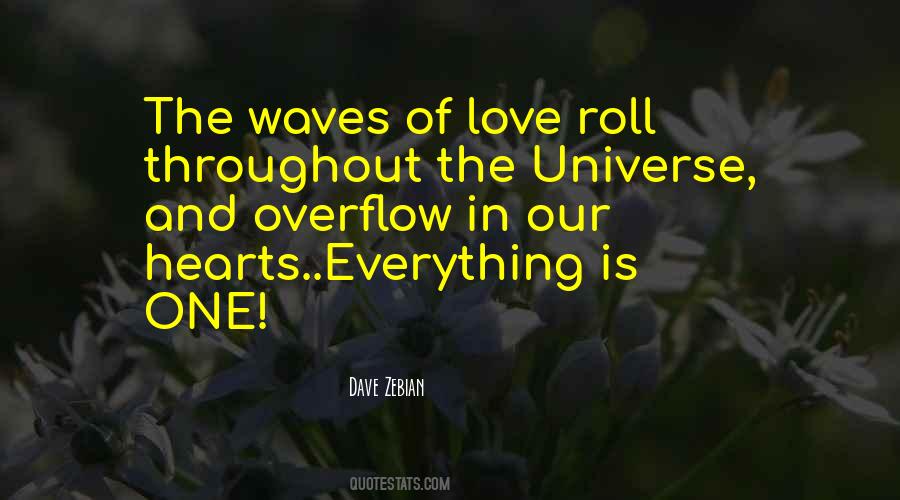 #96. The progress of our soul is like a perfect poem. It has an infinite idea which, once realised, makes all movements full of meaning and joy. - Author: Rabindranath Tagore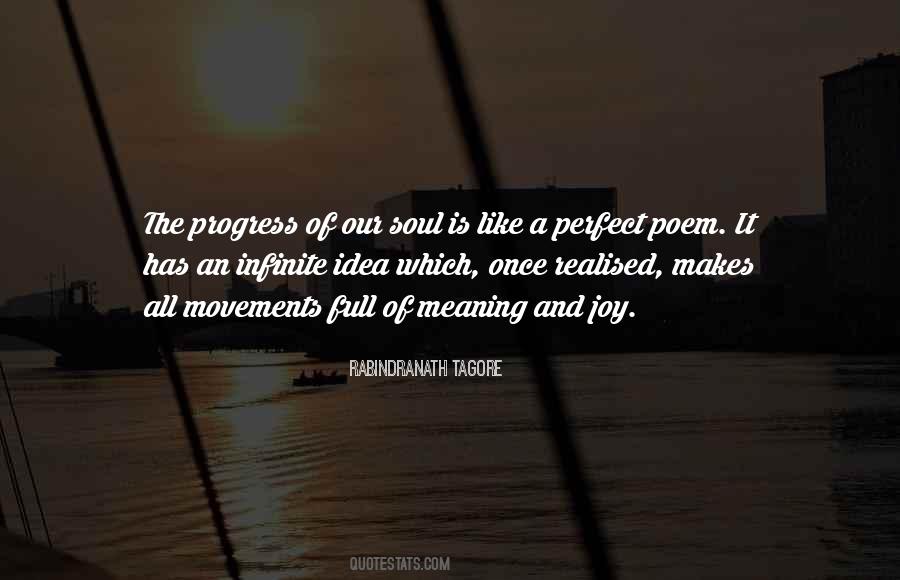 #97. Since we are mortal, friendships are best kept to a moderate level, rather than sharing the very depths of our souls. - Author: Euripides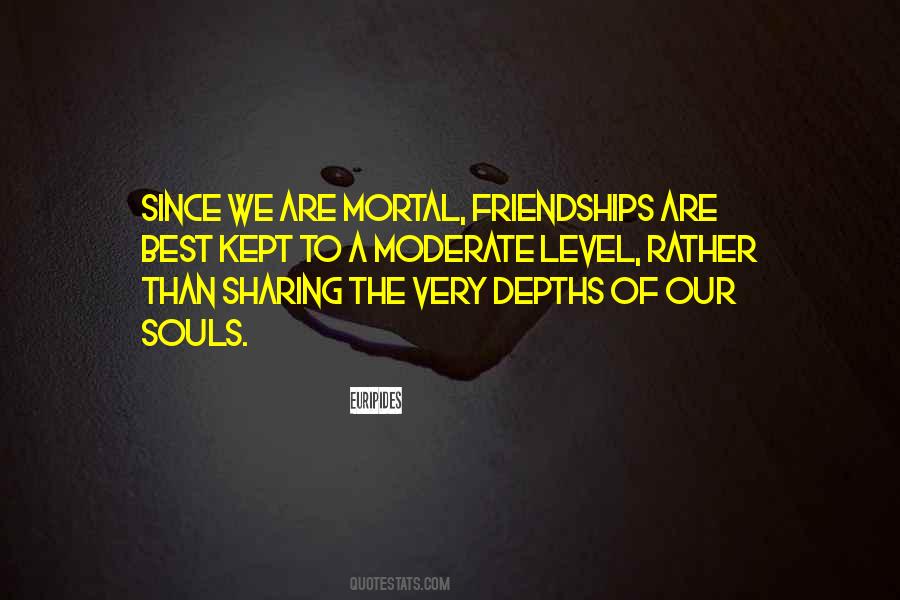 #98. We never let our people just go. (Joe) What are you? Wolfram and Hart? (Steele) Oh, no, sweetie, they just take your soul for service. We intend to take even more than that. (Tee) - Author: Sherrilyn Kenyon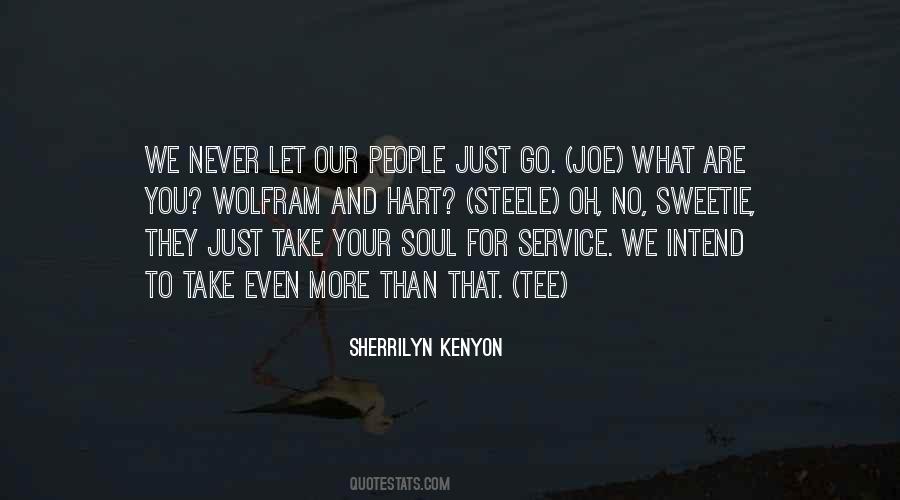 #99. She doesn't speak, and I say nothing more. We just stare at each other, letting the tears roll down our cheeks. That's what tears are for, after all. A way for the soul to bleed. - Author: Cody McFadyen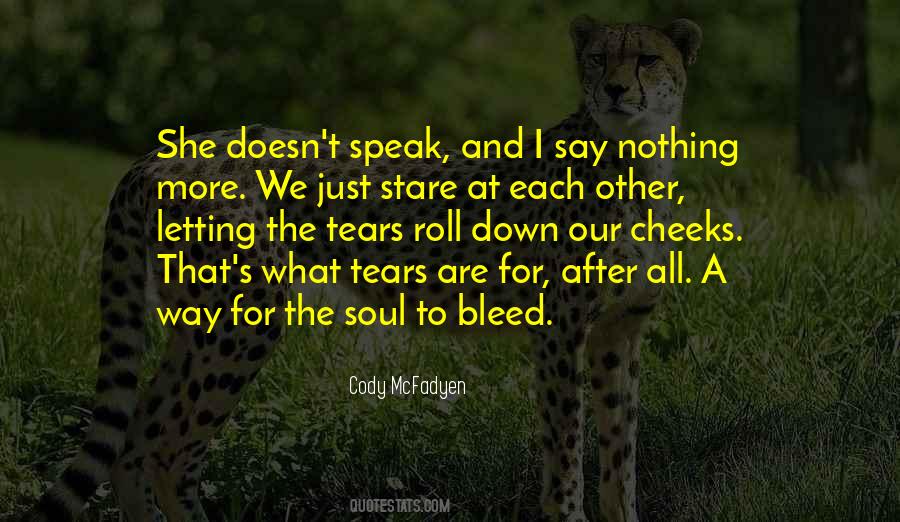 #100. Most risks we might not take if we could see what we would have to go through to reach our goal. Yet, we would never not take most risks if we knew the great learning experience and soul enrichment they would bring. - Author: Linda Eyre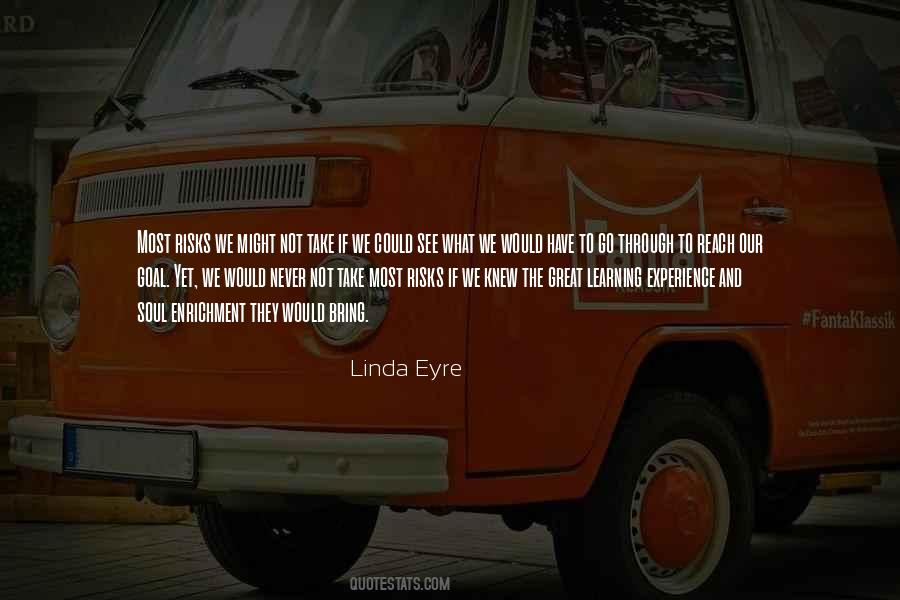 Famous Authors
Popular Topics