Our Future Together Famous Quotes & Sayings
List of top 62 famous quotes and sayings about our future together to read and share with friends on your Facebook, Twitter, blogs.
Top 62 Quotes About Our Future Together
#1. Freedom is more than just a willingness to live; it is a force that binds us all. Being truly free is seeing America as our "heart and home." Uniting around a common good will help bring us together in true happiness into the future. - Author: Phil Mitchell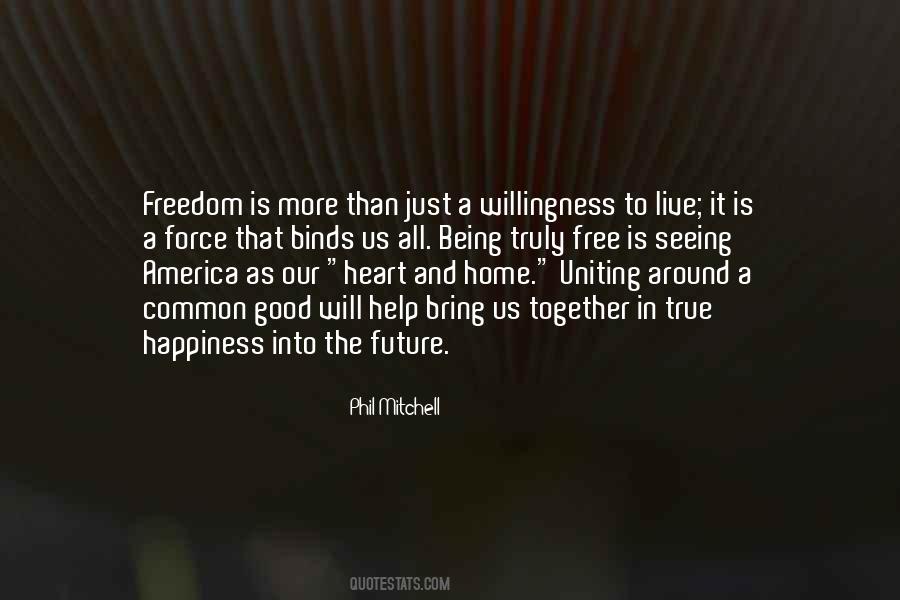 #2. We consider it vital that the community of nations be drawn together in an orderly, disciplined, rational way to review the history of our global environment, to assess the potential for future climate change, and to develop effective programs. - Author: George H. W. Bush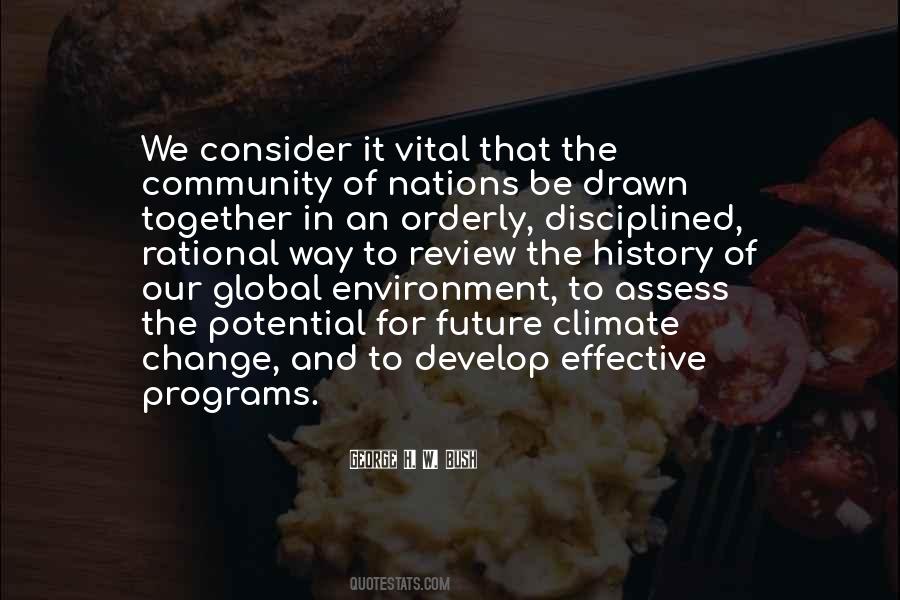 #3. I want to believe that those who have been appointed to accomplish this mission will be totally committed, devoting all their skills and determination to their work. I urge you to lend them your support so that, together, we can build that bright future worthy of our country. - Author: Paul Biya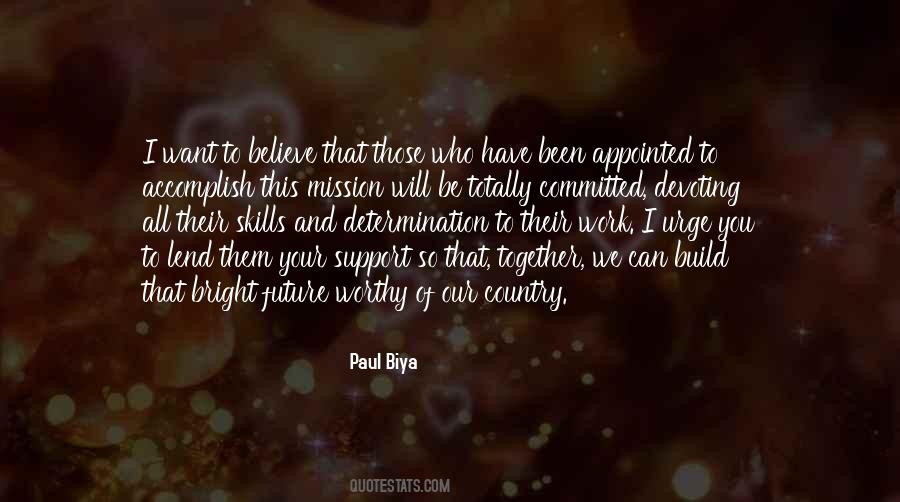 #4. It's a simple idea: We all do better when we work together and invest in our future. - Author: Elizabeth Warren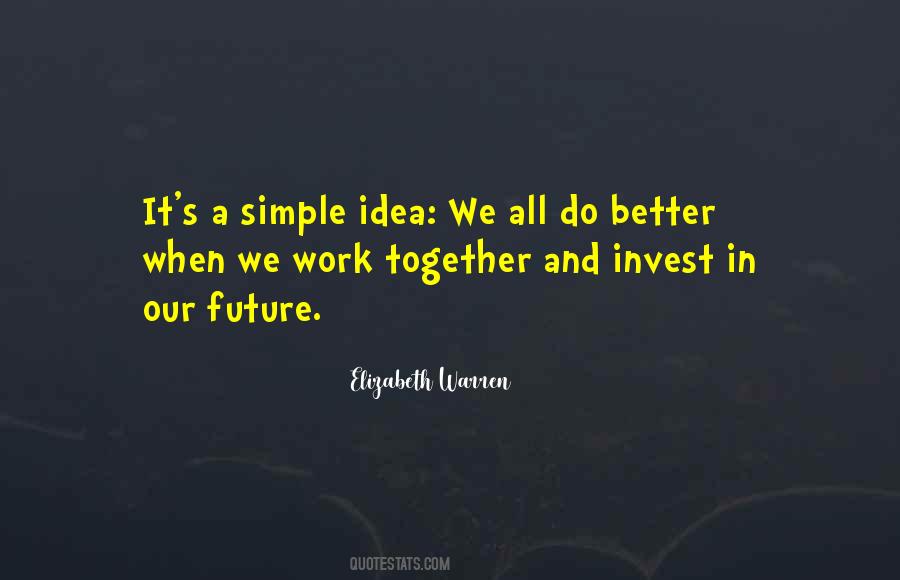 #5. It is not more bigness that should be our goal. We must attempt, rather, to bring people back to ... the warmth of community, to the worth of individual effort and responsibility ... and of individuals working together as a community, to better their lives and their children's future. - Author: Robert Kennedy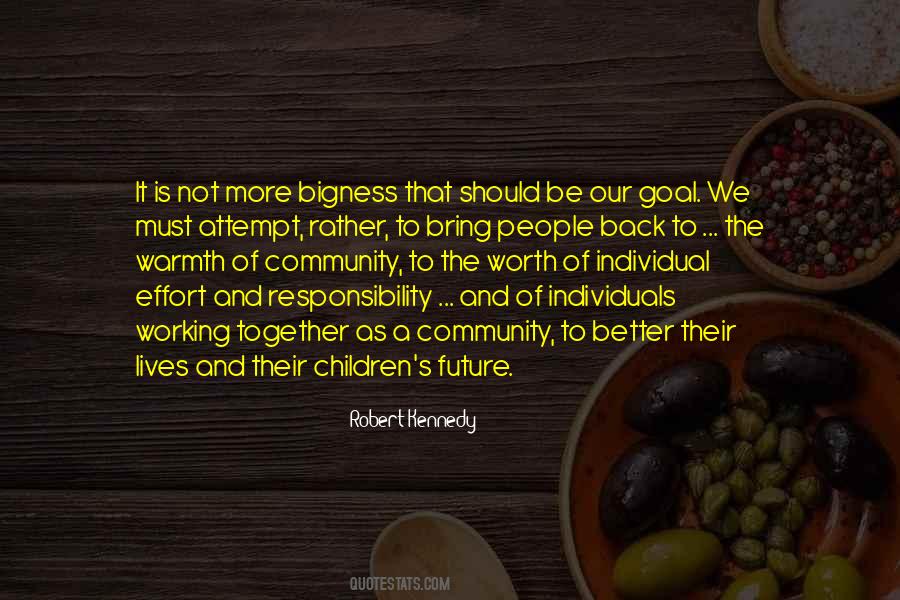 #6. I decided at that moment that we would find a way to be together. The future was terrifying, but we would face it together ... our pelts brushing,our tails twined. Our hearts in love,forever. -CrowfeatherXLeafpool. Secrets of the Clans pg.122 - Author: Erin Hunter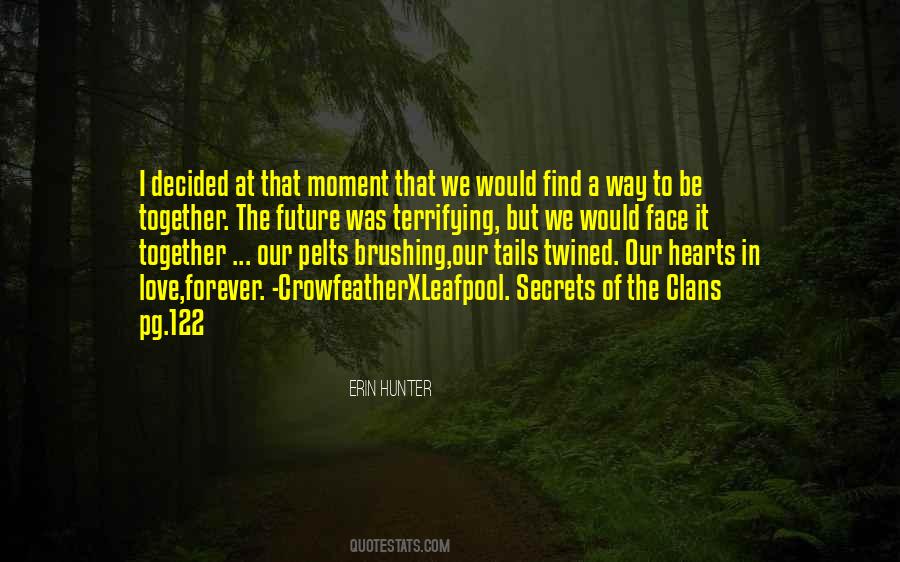 #7. Death is a part of Life, they are dancing together the dance of infinity in front of the gates of Time. We can live our dreams as we are dreaming our future. Time is the Endless Consciousness - Author: Grigoris Deoudis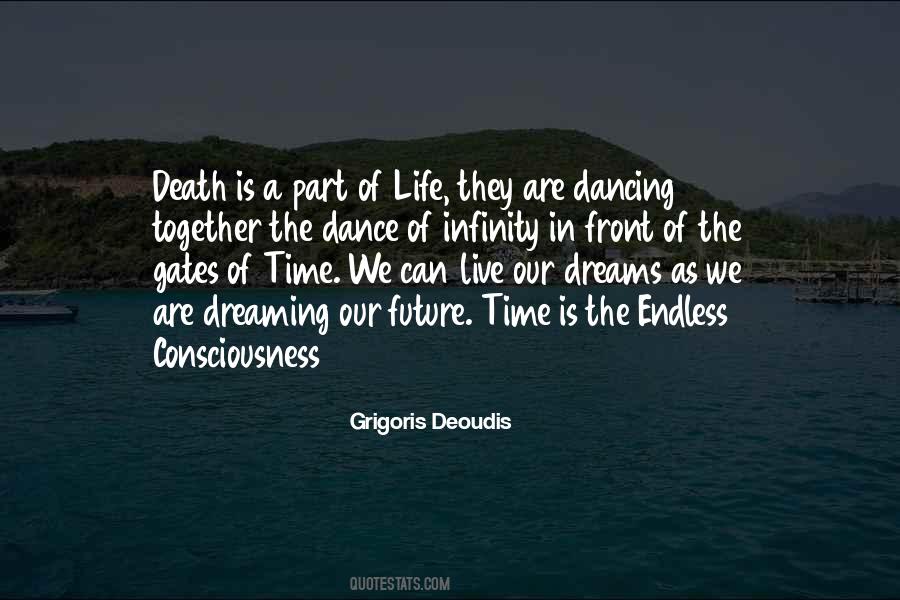 #8. But we had plenty of time for youthful indecision, both apart and together, for limping into the future past the unforgettable ash heaps of our histories. - Author: Robyn Schneider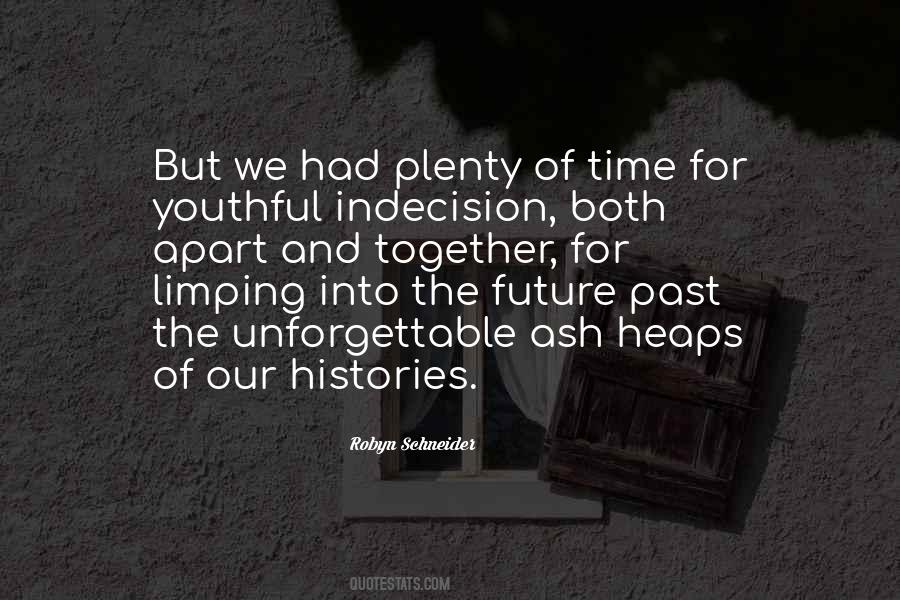 #9. Come, then, let us go forward together with our united strength - and win a better future for generations to come. - Author: Van Jones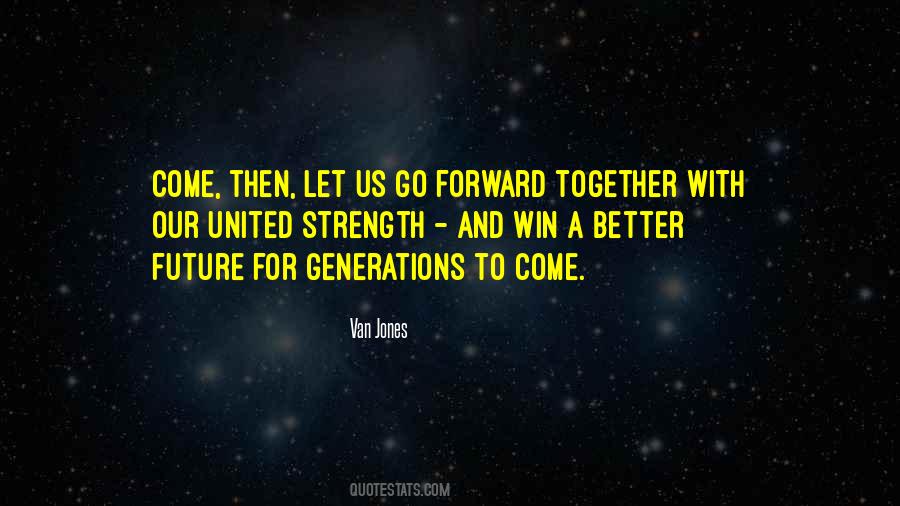 #10. Tell the people of all lands Let's get together the future is in our hands. United nations have to agree To say no to war, and yes to peace. - Author: Country Joe McDonald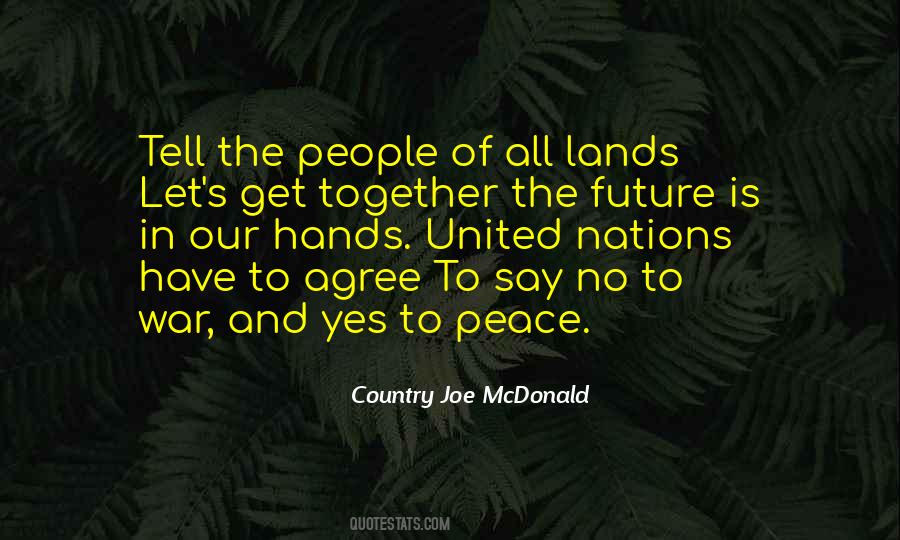 #11. If you send me on my way today," I whispered "If you tell me to get the hell out of your life and never come back ... I'll accept it. But it will be the one and only permanent regret of my life: that we never made love.That we lost our future together. - Author: Charles Sheehan-Miles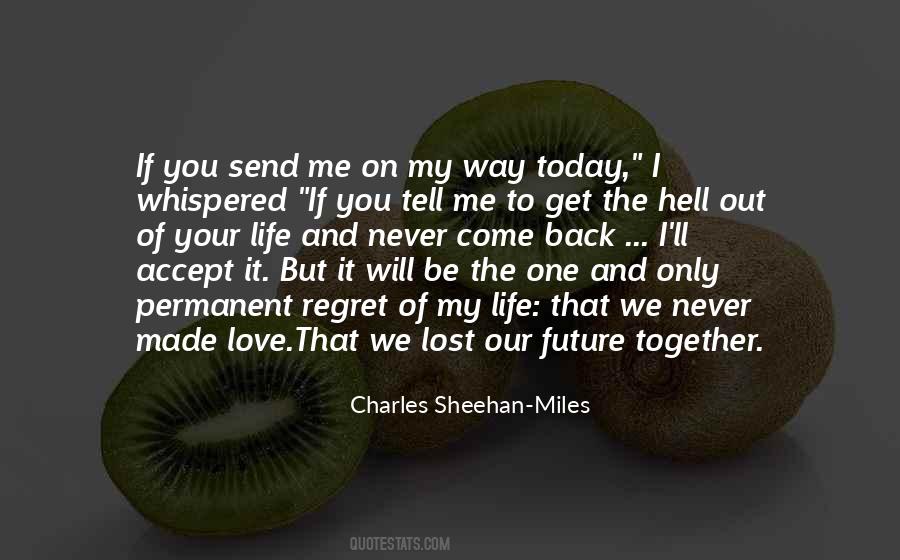 #12. I want things that I can name, and some things that I can't. I want this one moment to last forever, but I don't want to miss all the other moments to come. I want our entire future together, but I want it here and now. - Author: Nicola Yoon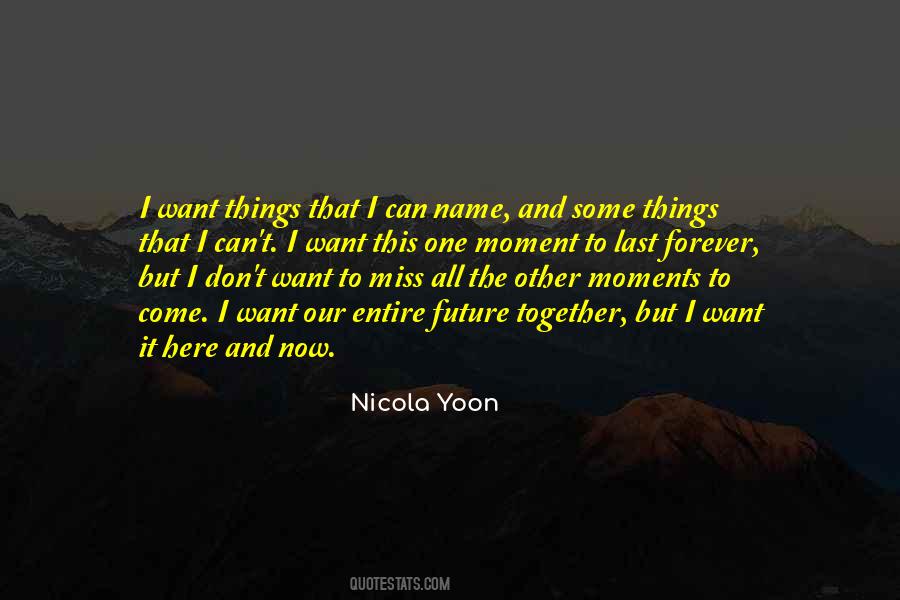 #13. By working together to focus on our national priorities today we can ensure that the state of our union is strong for the future. - Author: Patty Murray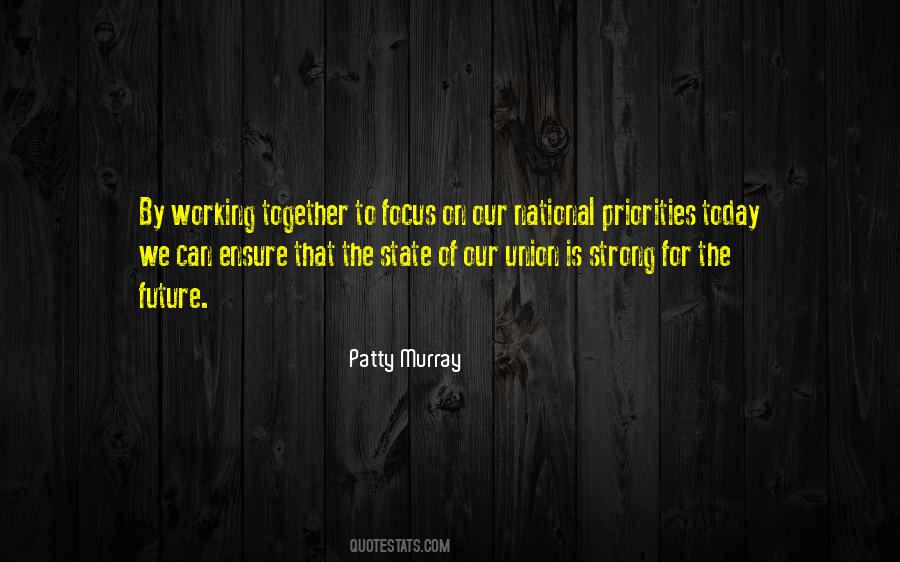 #14. When I look at President Obama, I see a leader with a cool head, a caring heart and an open mind, a president who has demonstrated through his demeanor and through his deeds that he is uniquely qualified to heal our divisions, rebuild our nation and lead us to a brighter future together. - Author: Charlie Crist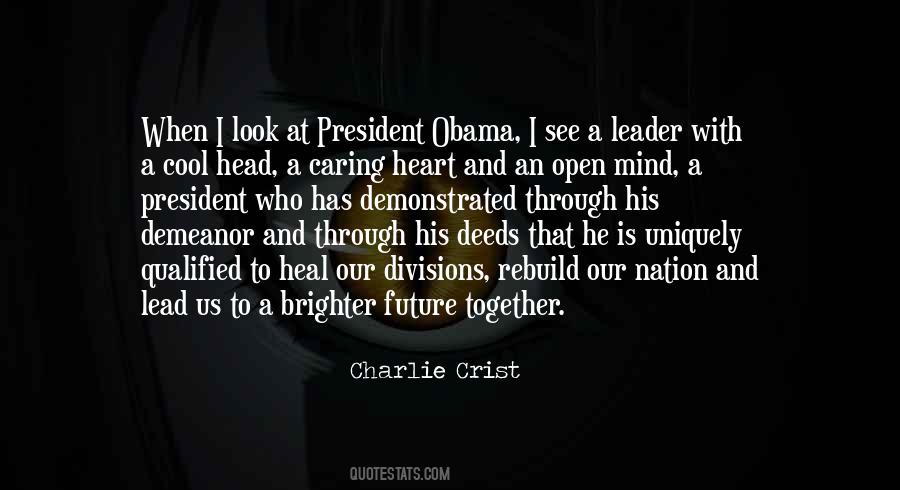 #15. It was our duty to expand. Those who cannot or will not join us are to be pitied. What we want to do, we can do and will do, together. A glorious future! - Author: Ingvar Kamprad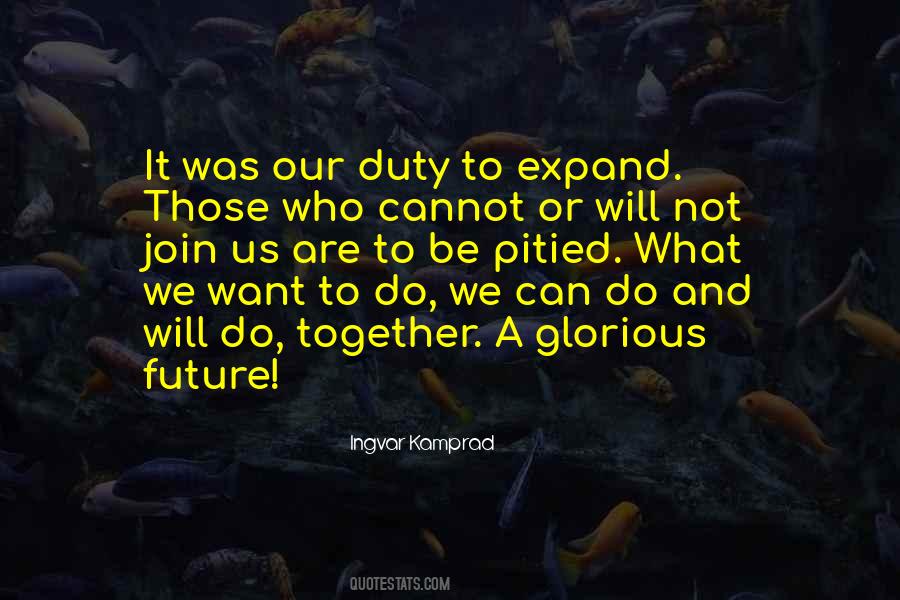 #16. These are challenging times at home and around the world. We will have to work together in a bipartisan spirit and with our international partners if we are going to achieve progress and peace now and for future generations. - Author: Susan Collins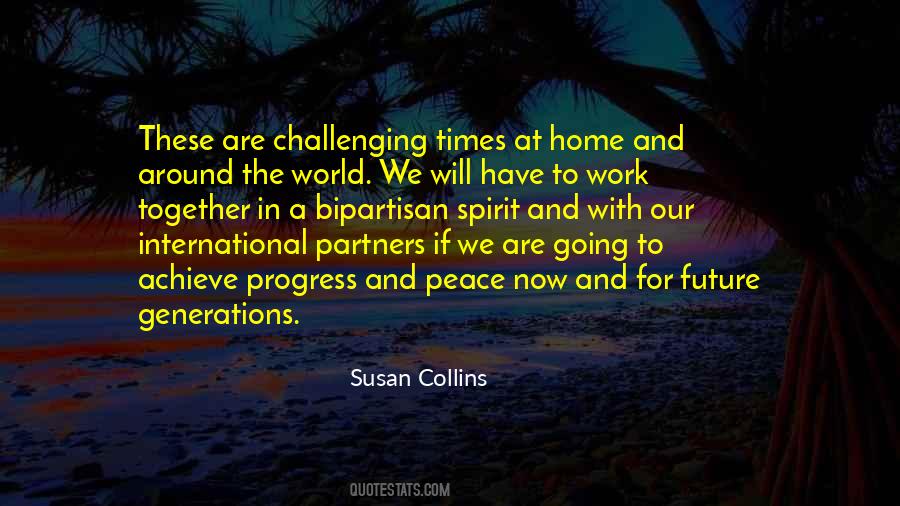 #17. Our lives are like single threads meticulously woven together - the result an exquisite tapestry of past, present, and future. Bound by unflappable trust, our hearts, our desires, her life woven into mine. - Author: Jillian Dodd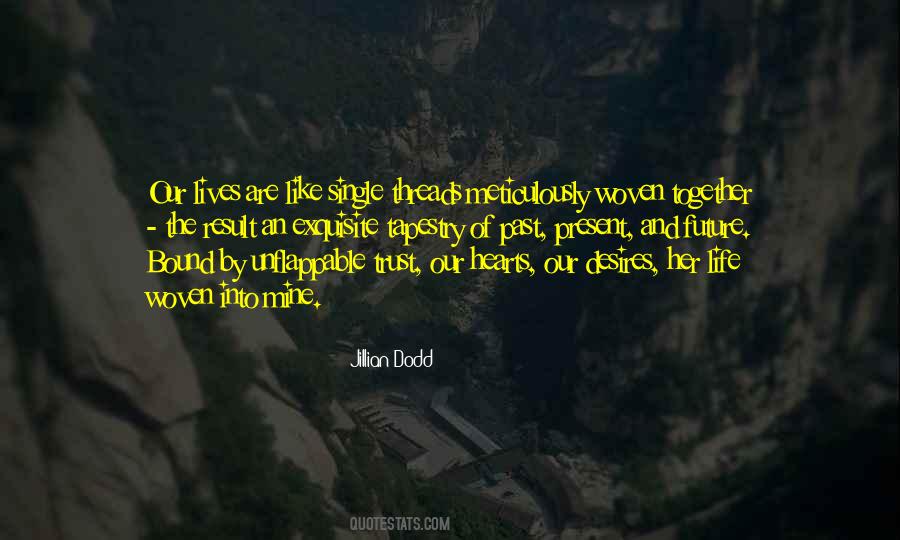 #18. Together we can prevent genocide from happening again. Together we can make a better future for our children. - Author: Dith Pran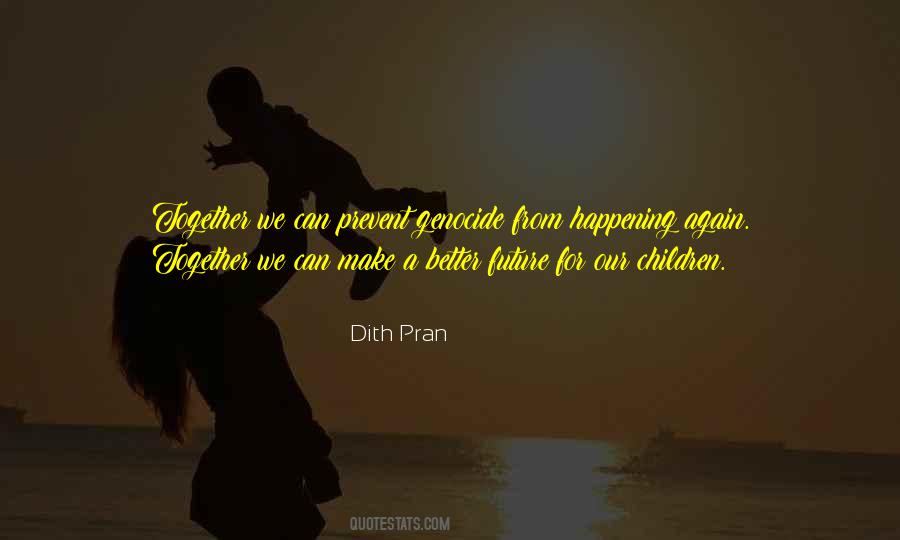 #19. I hope that we can continue this cooperation on other critical issues related to America's future technological competitiveness. We must work together to encourage the creative talents that have made our country the world leader in technology. - Author: Dan Lipinski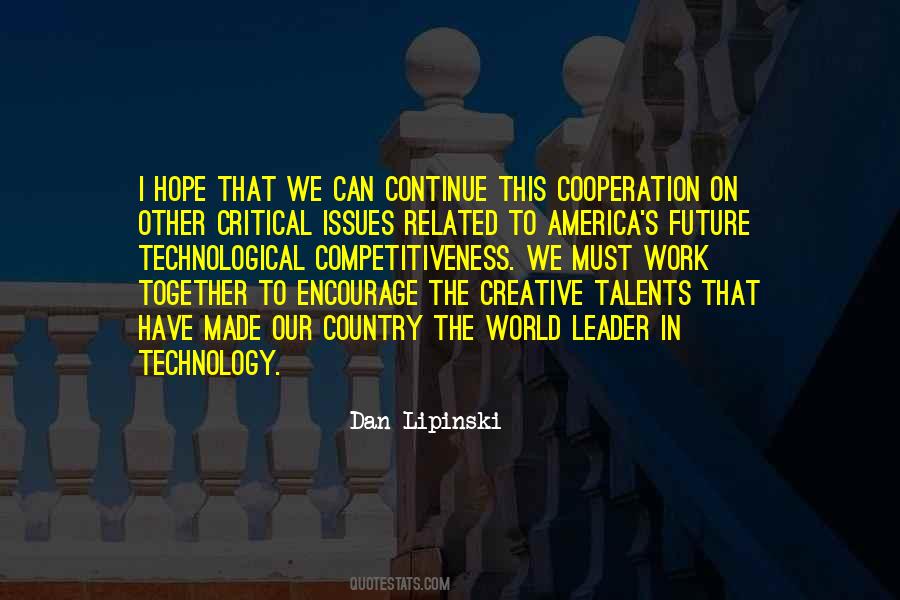 #20. We need to do whatever it takes to get our children together and pay attention to them, because that's our future. What's in the hearts and minds of our children is what's in our future. - Author: Louis Gossett Jr.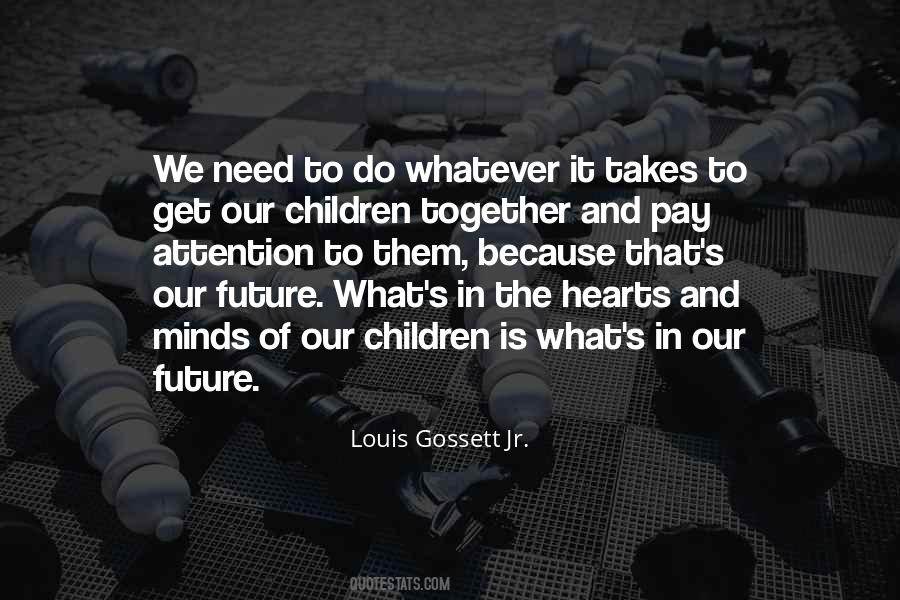 #21. It is time for us to turn a corner and come together, put our differences behind us and focus on the future. - Author: Christine Gregoire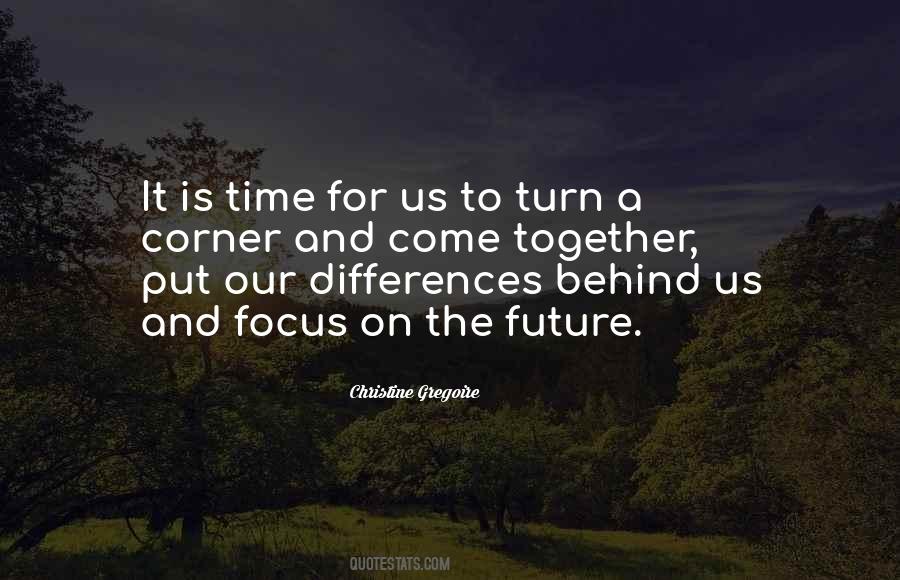 #22. Our lives as we lead them as passed on to others, whether in physical or mental forms, tingeing all future lives together. This should be enough for one who lives for truth and service to his fellow passengers on the way. - Author: Luther Burbank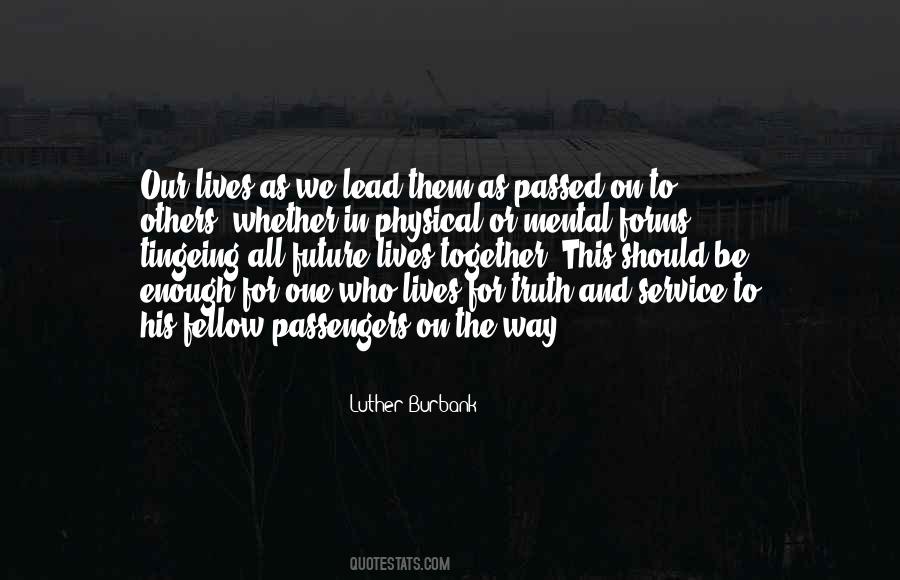 #23. Together we can and must fight for justice for our children and protect them from draconian tax cuts and budget choices that threaten their survival, education and preparation for the future. If they are not ready for tomorrow, neither is America. - Author: Marian Wright Edelman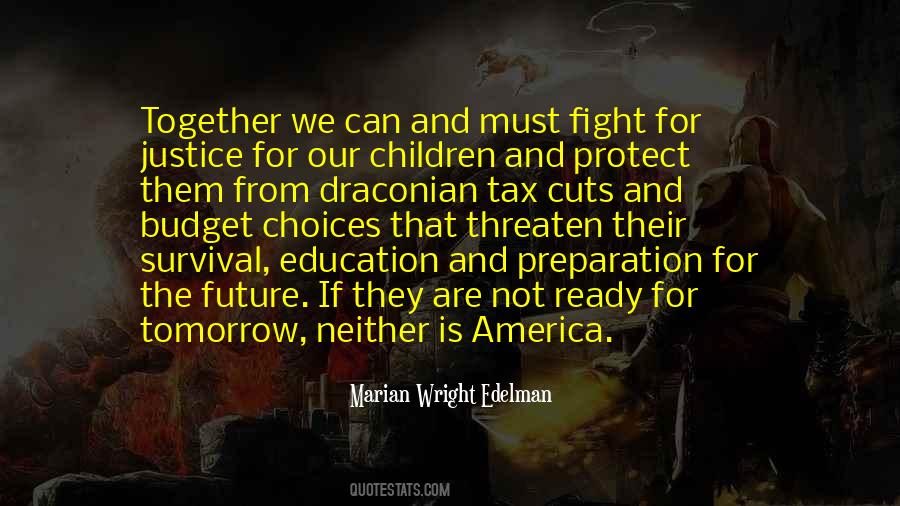 #24. Let's stand against the killing of innocent civilians. It is time to make the future better than today. Together we can bring peace and unity to our communities. - Author: Widad Akreyi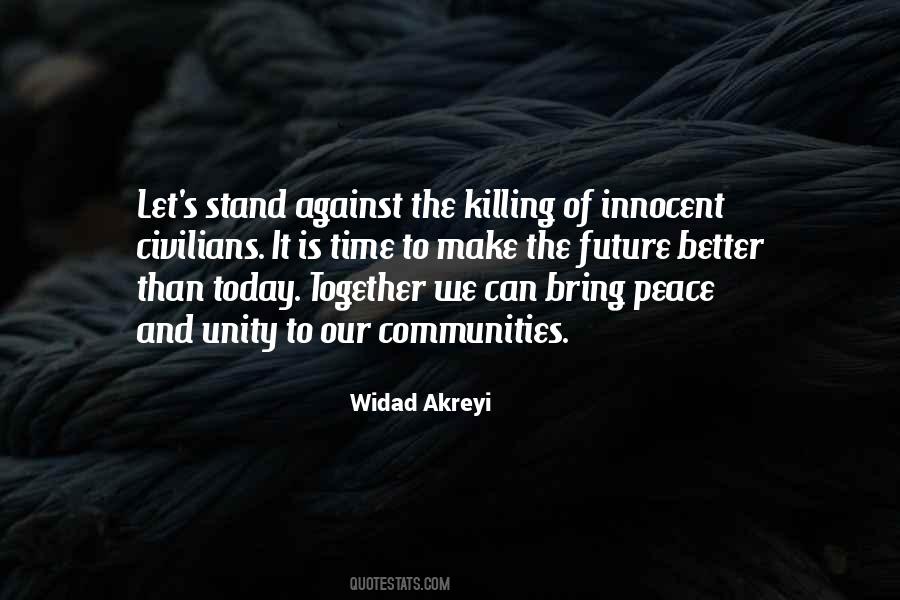 #25. Cooperation will save the future. And America should lead it. Every time humanity has been in danger of extinguishing itself, our consciousness and our conscience have led us to come together. That's the big issue of the 21st century. - Author: William J. Clinton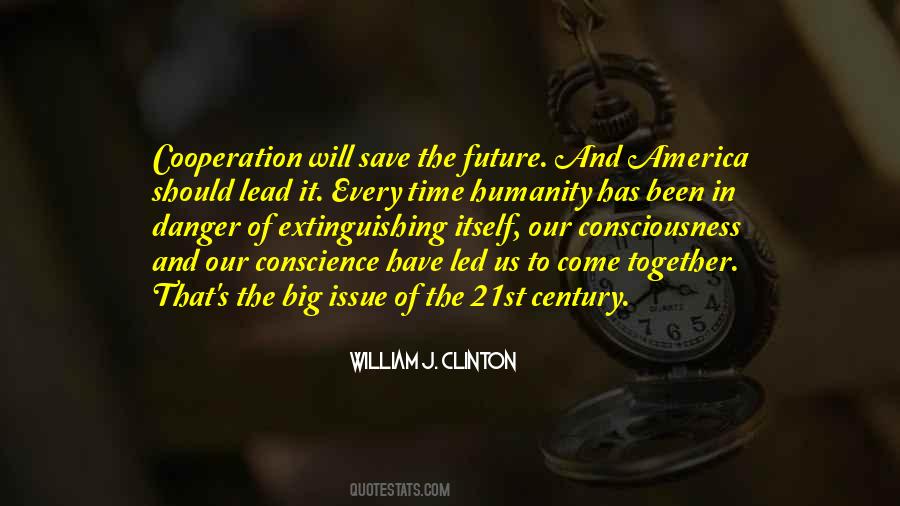 #26. That is America. That is America. Those bonds of affection; that common creed. We don't fear the future; we shape it. We embrace it, as one people, stronger together than we are on our own. - Author: Barack Obama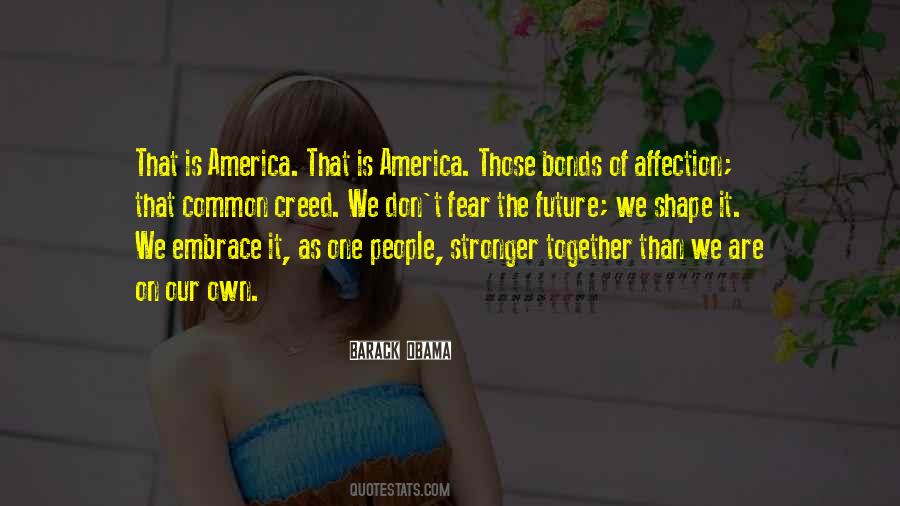 #27. This is it-the life I saw when I dreamed of our future. It was always you, me, and her, but this is just the beginning. There's so much more to come. More life together. More happiness. More babies. - Author: Georgia Cates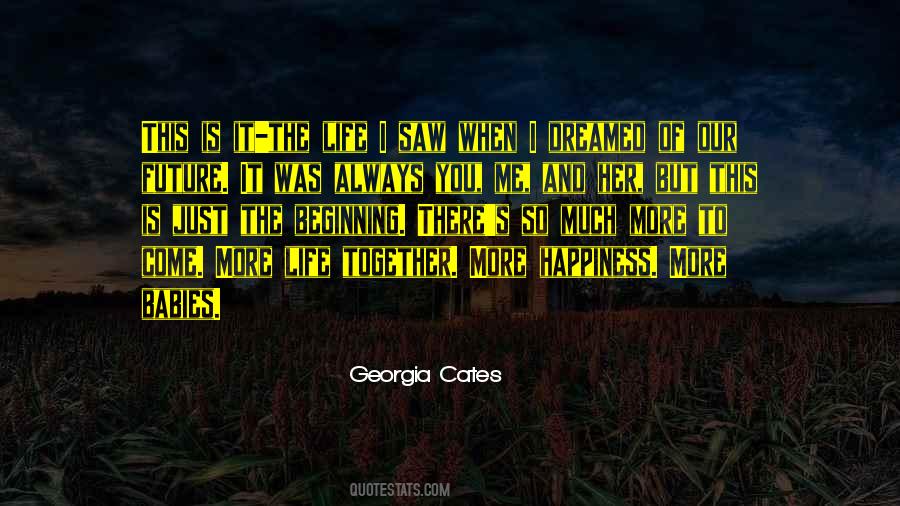 #28. Whatever the future holds, we'll face it together, Jack. Our job is not to predict the future, but rather to build it. - Author: Matt Myklusch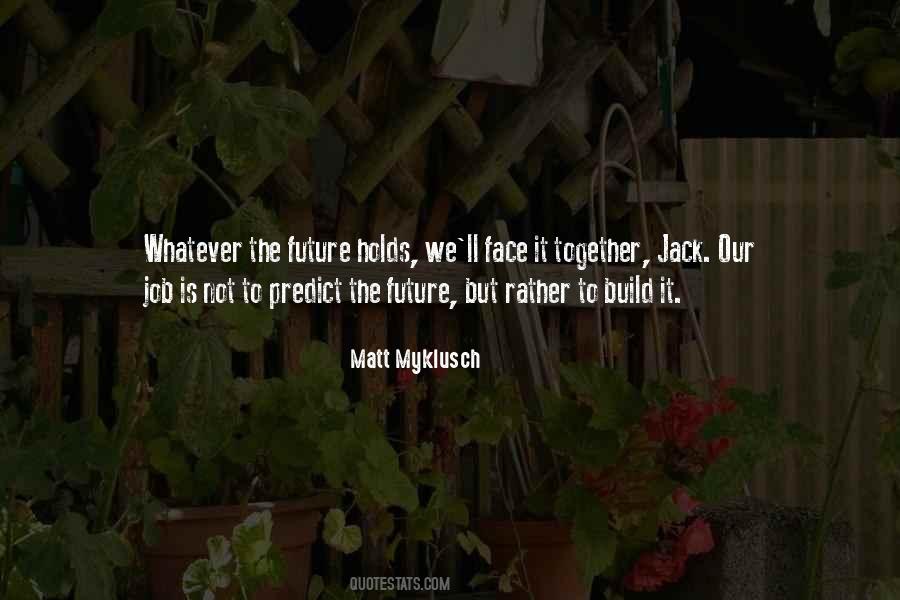 #29. Were Gabriel and I going to fall in love? Be together forever? Live our lives happily as soul mates? Who the hell knew something like that? I
sure didn't. I can't see the future.
All I knew was that I would love finding out. - Author: Kim Harrington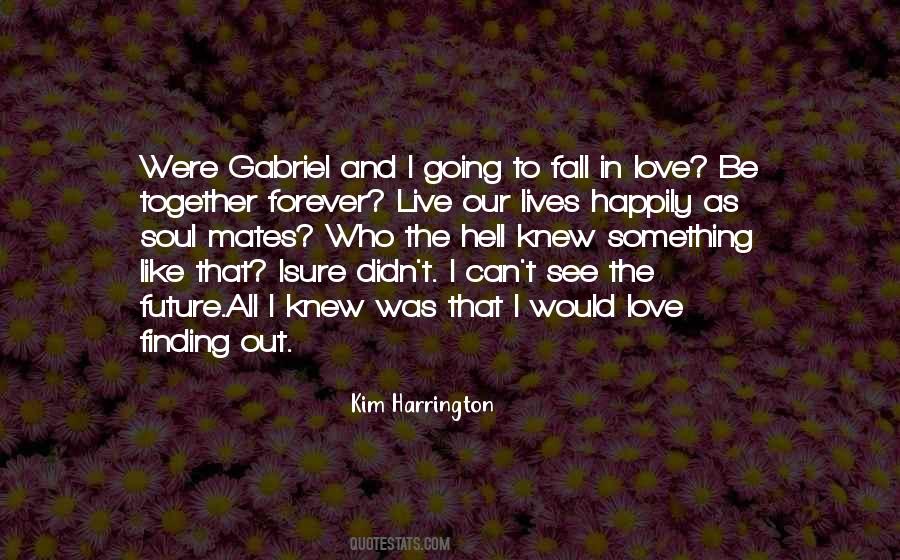 #30. We sail across dominions barely seen, washed by the swells of time. We plow through fields of magnetism. Past and future come together on thunderheads and our dead hearts live with lightning in the wounds of the Gods. - Author: Norman Mailer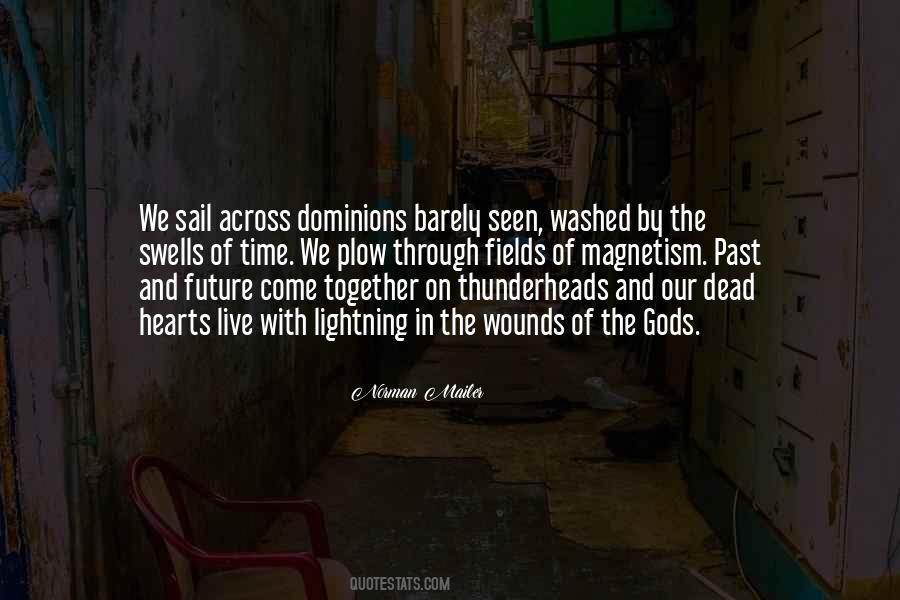 #31. I believe it's time for direct action on climate change, standing together as ordinary Australians to take control of our shared future. - Author: David Pocock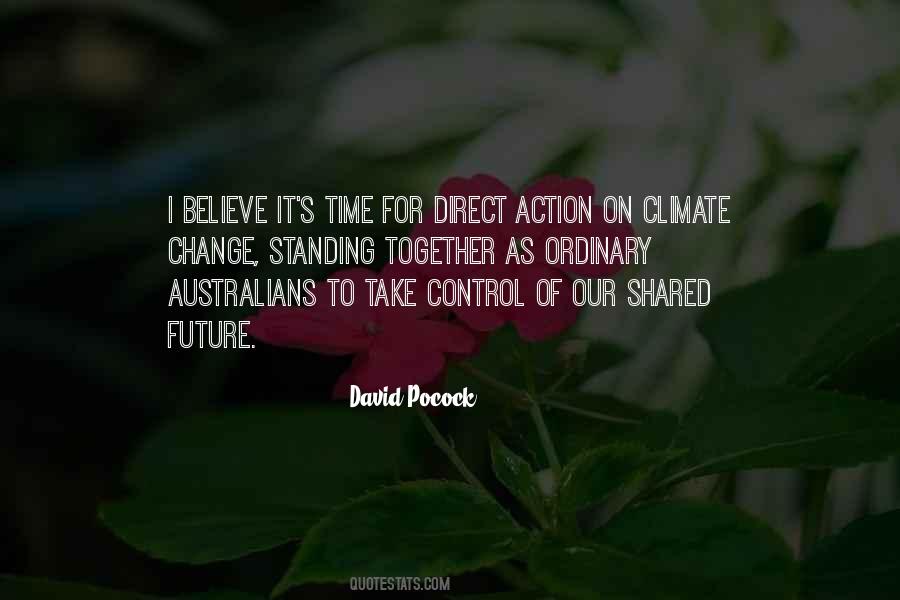 #32. We hold the future in our hands, together, we must ensure that our grandchildren will not have to ask why we failed to do the right thing, and let them suffer the consequences. - Author: Ban Ki-moon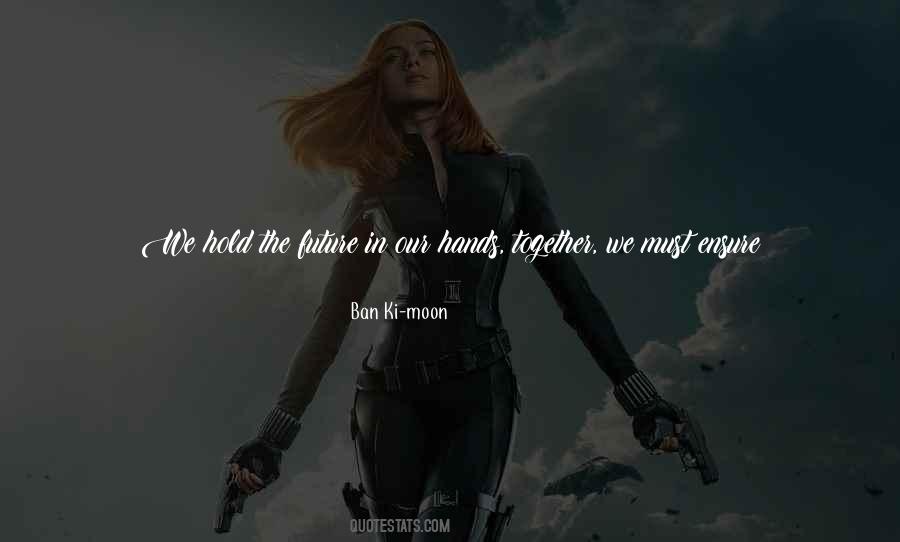 #33. Kids are our future, and we hope baseball has given them some idea of what it is to live together and how we can get along, whether you be black or white. - Author: Larry Doby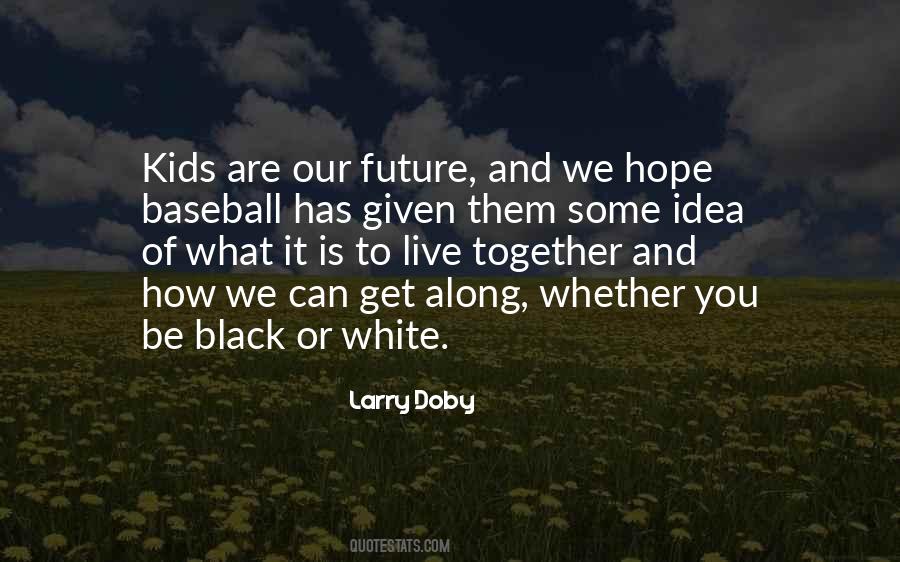 #34. My kids are the future of the Mayweather family and of the Mayweather brand. I feel our family is stronger if we stay together. - Author: Floyd Mayweather Jr.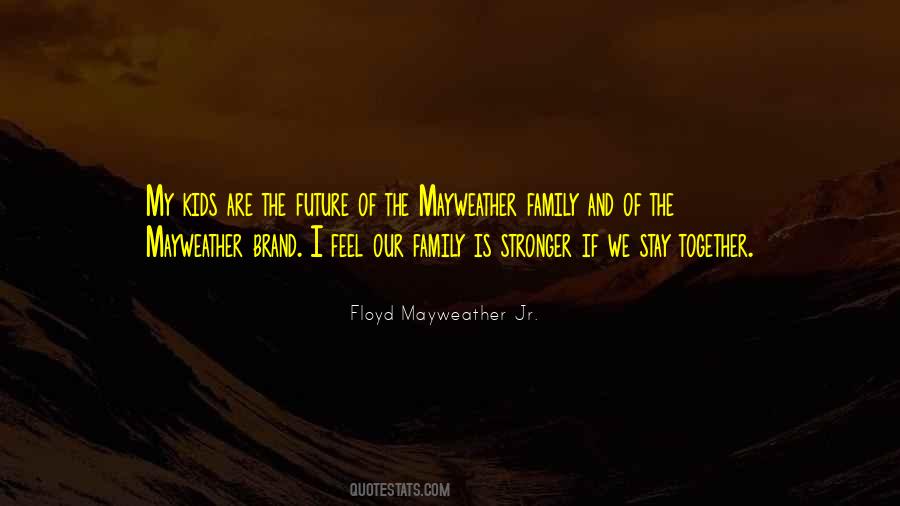 #35. The ongoing conflict between us has caused heavy suffering to both peoples. The future can and must be different. Both our peoples are destined to live together side by side, on this small piece of land. This reality we cannot change. - Author: Ariel Sharon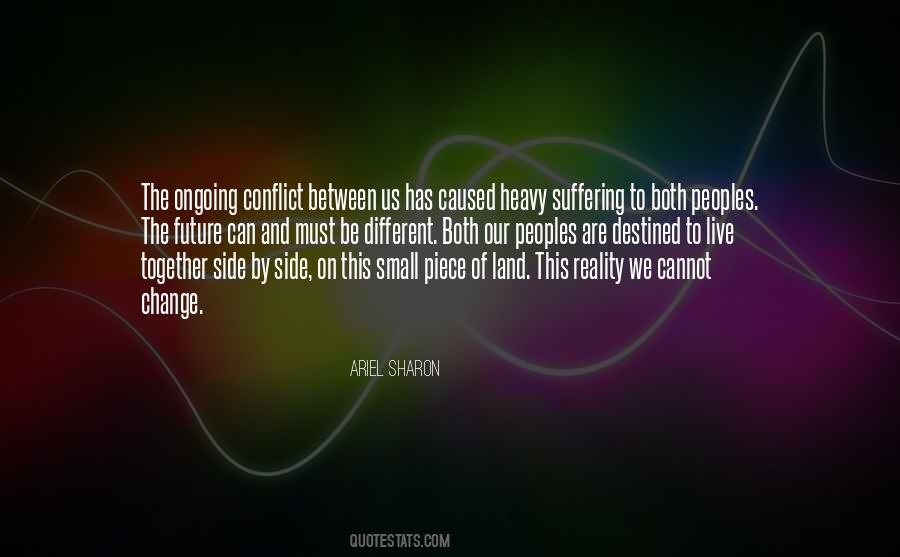 #36. That future depends on the values of self-government, our sense of duty, loyalty, self-confidence and regard for the common good. We are a diverse country, and getting more diverse. And these virtues are what keep this great country together. - Author: Jeff Miller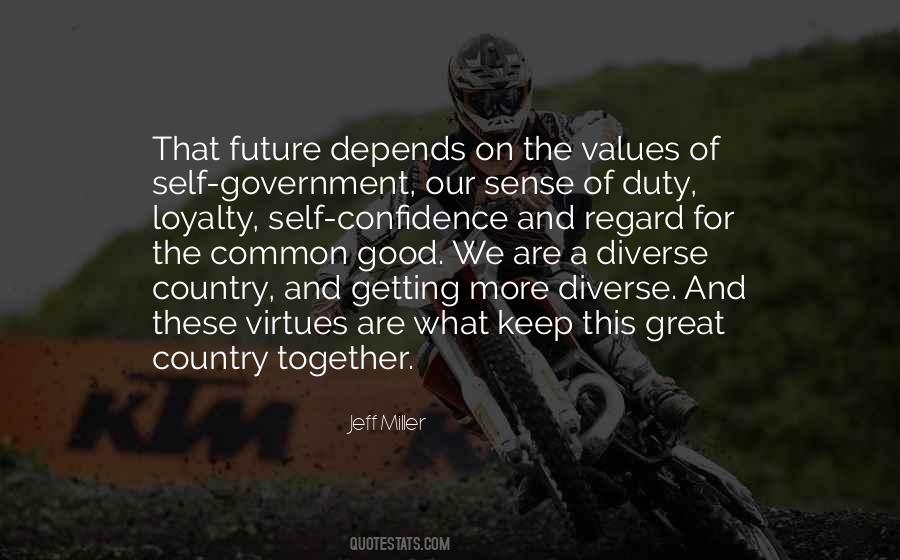 #37. We must not become the new puritans and reject our society. We must address and master the future together. It can be done if we restore the belief that we share a sense of national community, that we share a common national endeavor. It can be done. - Author: Barbara Jordan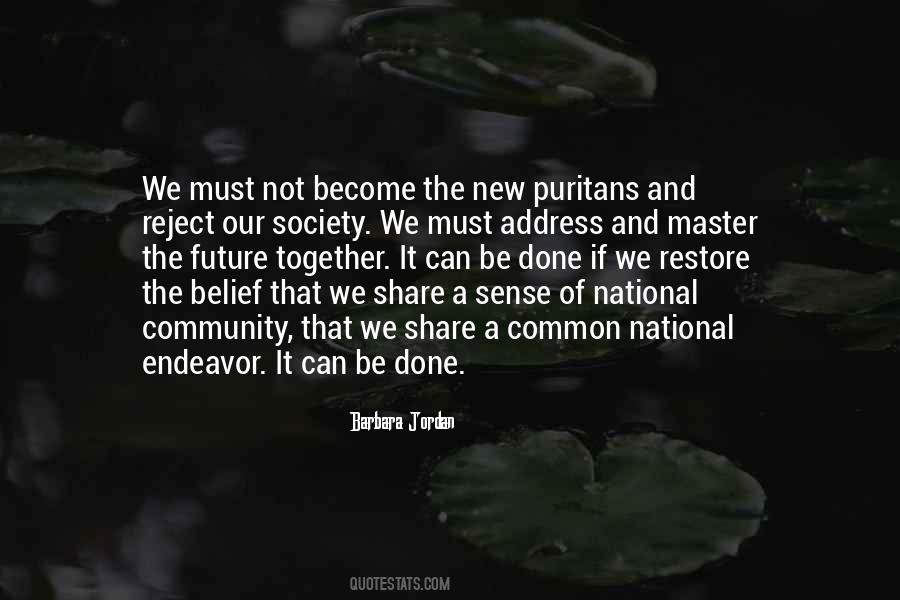 #38. Unless physicians stand together to fight threats and injustices, our practices cannot remain viable in the future. - Author: Samuel Wilson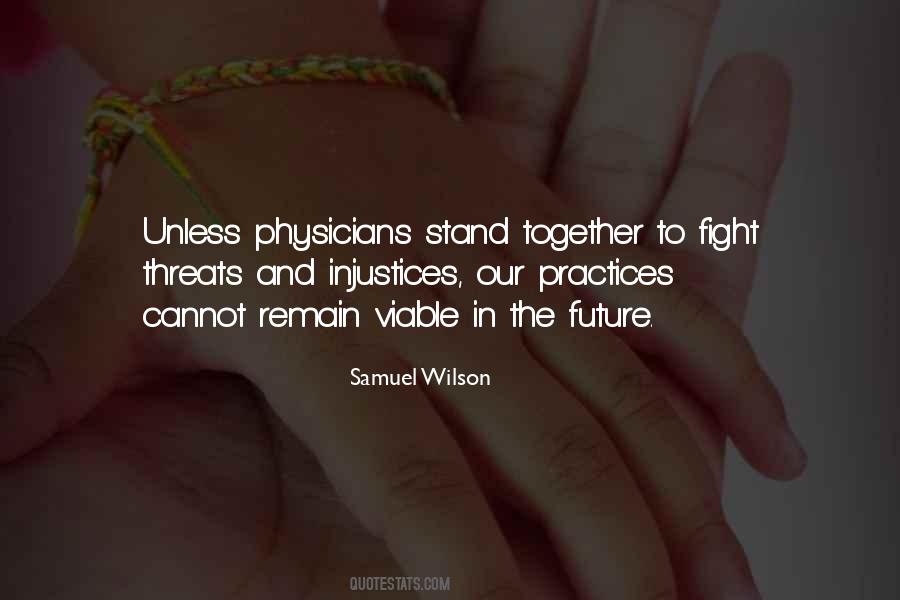 #39. We are creating the future. It is not determined. If we get our act together and solve our current problems, we could have a sustainable, abundant future. If we don't, we could wipe ourselves out. We are on the verge of doing it with our current politics. It is regressive, going back the other way. - Author: Edgar Mitchell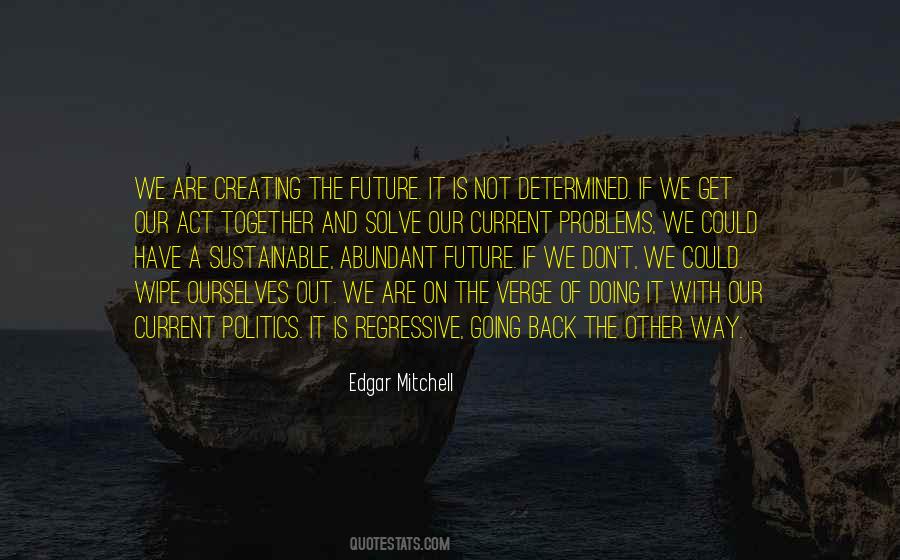 #40. Despite everything that has befallen us, do we not continue to hold the destiny of this shattered and magnificent nation, together with the future of all our children-girls and boys alike-in the palm of our hands? - Author: Greg Mortenson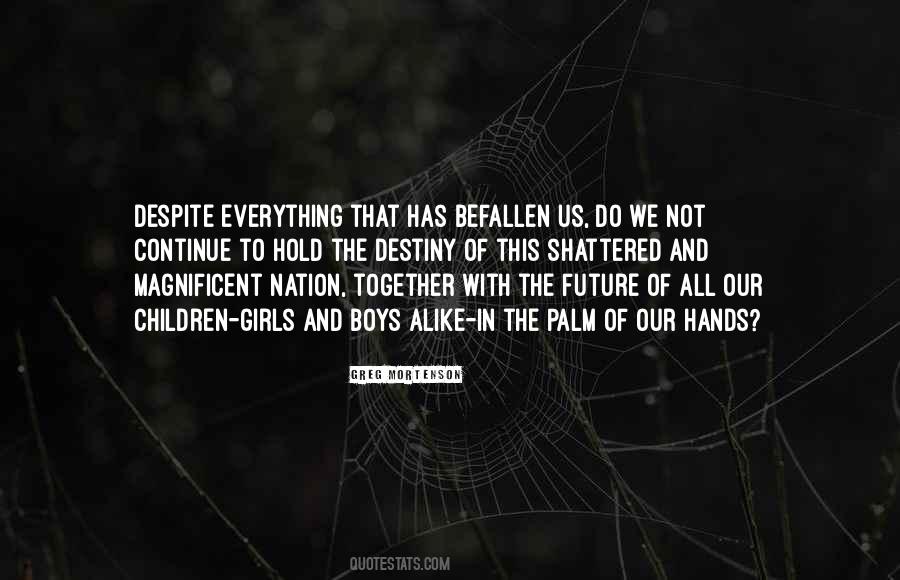 #41. We run through the remnants of our pain, and more importantly, we run for our present and for our future.
Together we kick heartbreak's ass. - Author: Jessica Park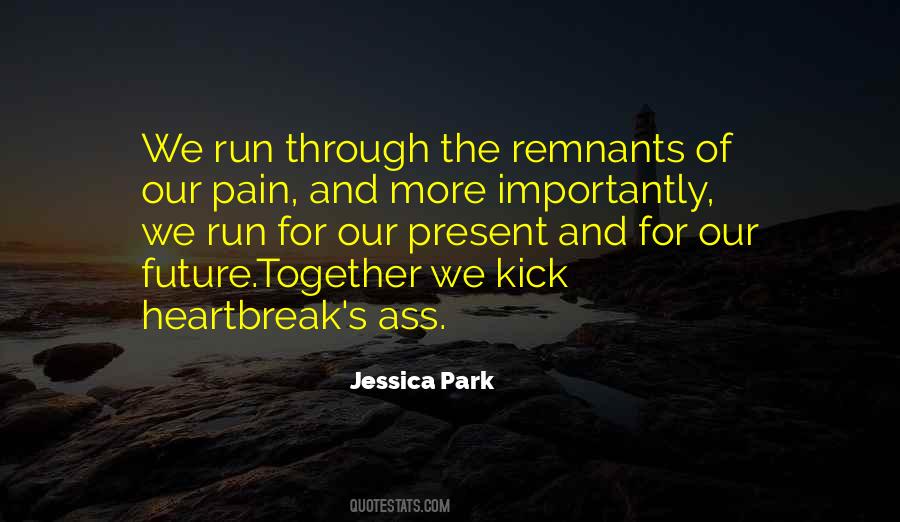 #42. After the Berlin Wall came down I visited that city and I will never forget it. The abandoned checkpoints. The sense of excitement about the future. The knowledge that a great continent was coming together. Healing those wounds of our history is the central story of the European Union. - Author: David Cameron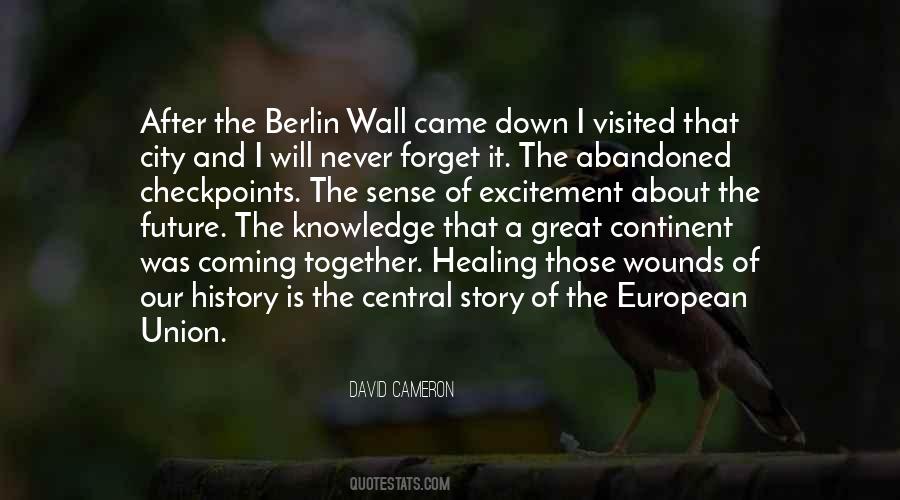 #43. I think that's the job of each of us - to show our best toys and our best tricks that lift us and our friends to higher and higher levels. There is no end to this bootstrapping process. The future of the human mind and body and the future of humans together is endlessly bright. - Author: Terence McKenna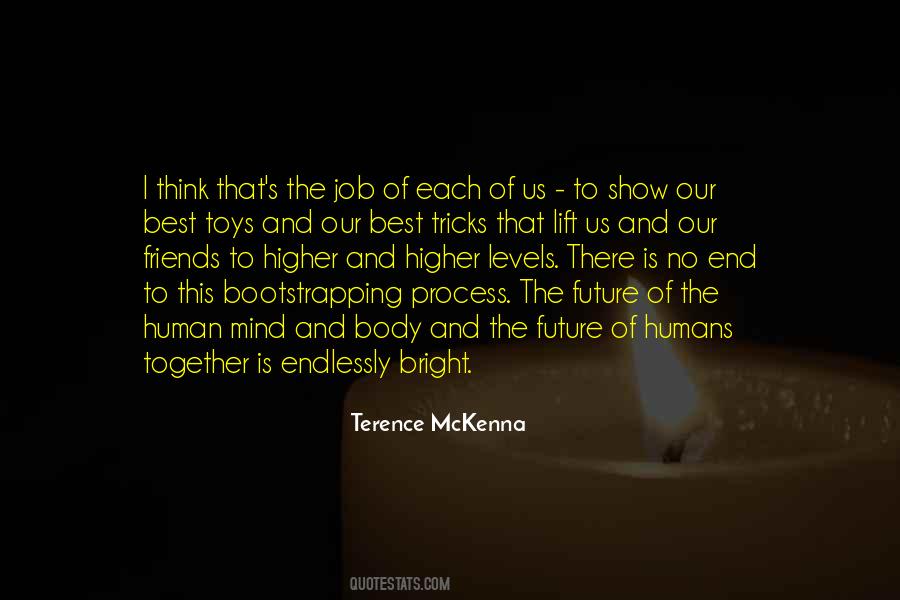 #44. We can seize this future together because we are not as divided as our politics suggests. - Author: Barack Obama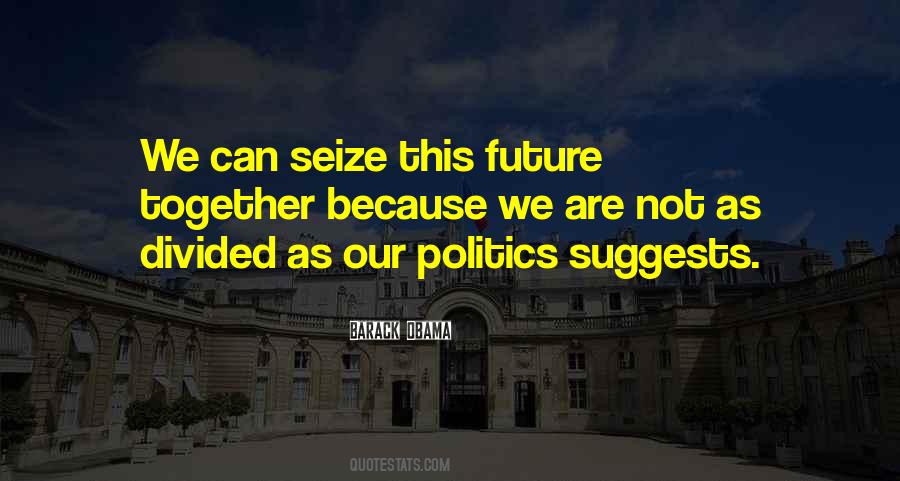 #45. You're so beautiful," he says, dragging his hands through my hair. When our mouths meet, it's less desperate, less frantic than before, because we know we have all the time in the world in front of us. No more roadblocks, no more missed opportunities, our future starts now, together. - Author: Heather Leigh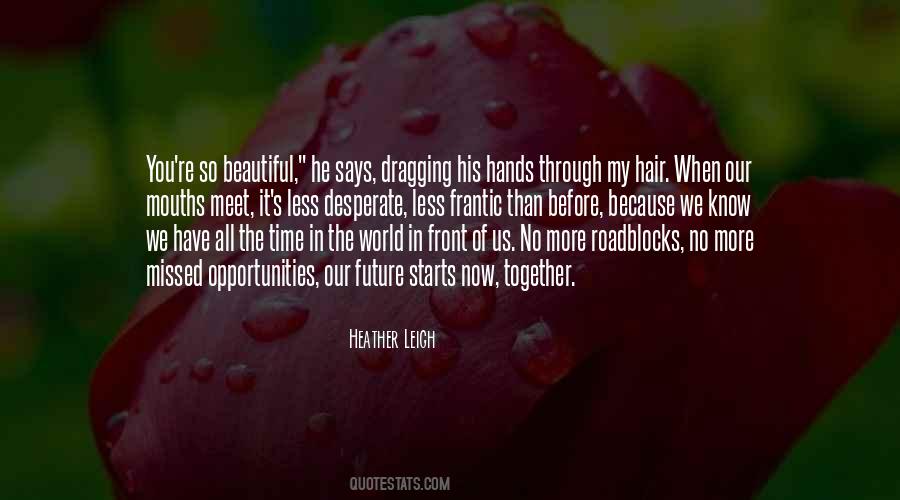 #46. I wanted it to be a day you'd remember forever- the day we stepped into our future together. - Author: Caylie Marcoe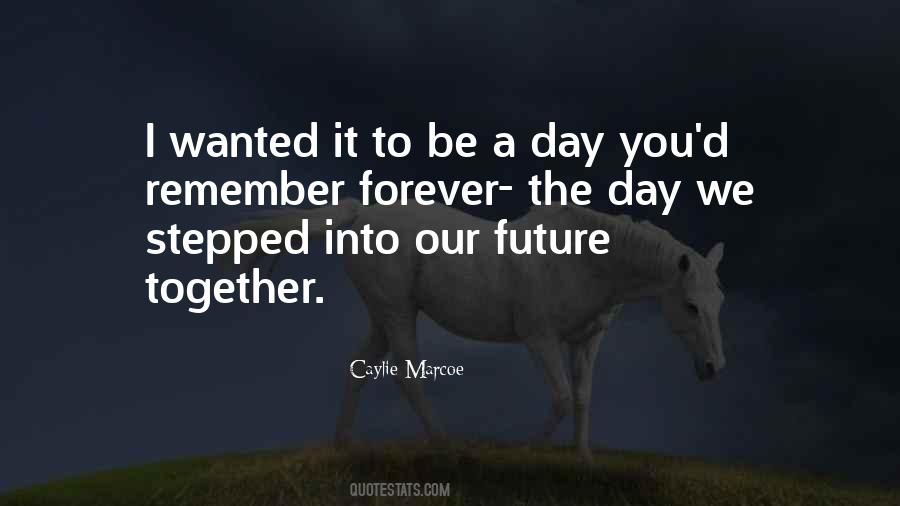 #47. Let's pursue excellence together. Let's make art. Let's build the future. Let's be our best selves. - Author: Jo Walton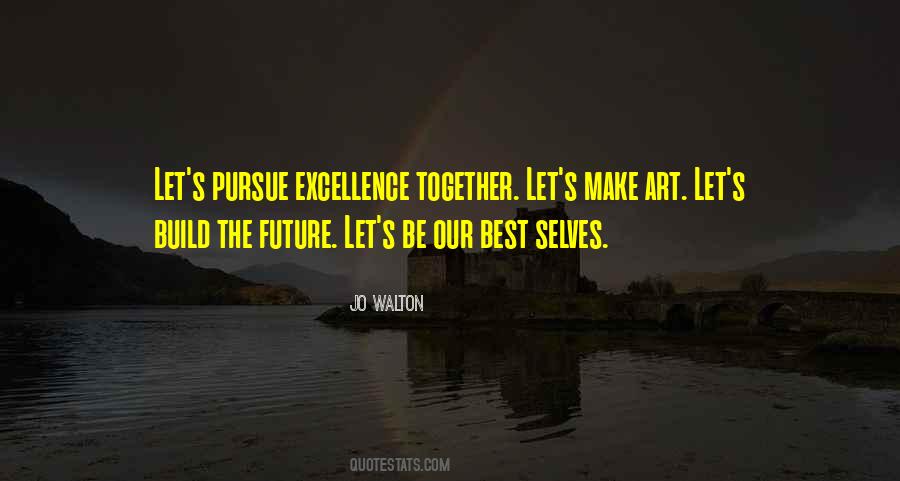 #48. APA is another evolution in my career; they have unique vision and share my goals for the future. I look forward to expanding our horizons together. - Author: Paul Oakenfold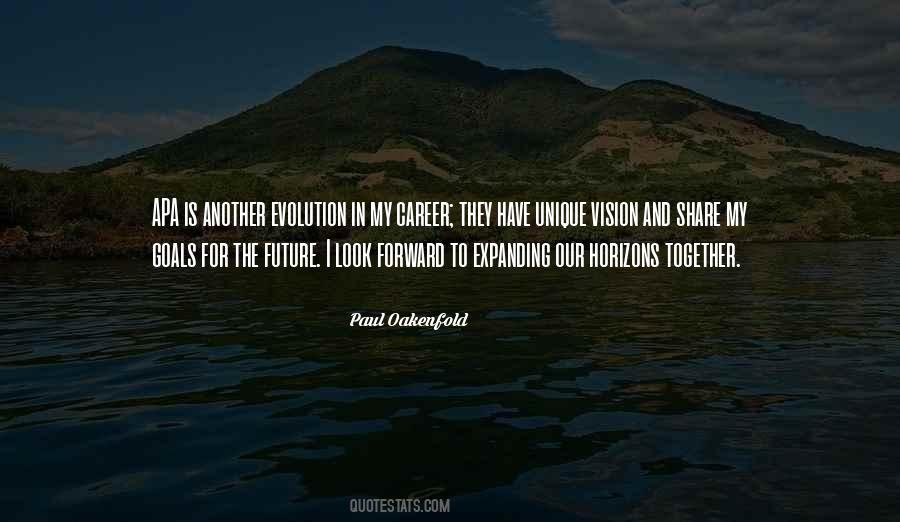 #49. Americans simply ask for, not just Democrats in the House but also the Senate has asked the President for a clear plan as it relates to dealing with the issue of Iraq and our troops and making sure that we can bring families together in the very near future. - Author: Kendrick Meek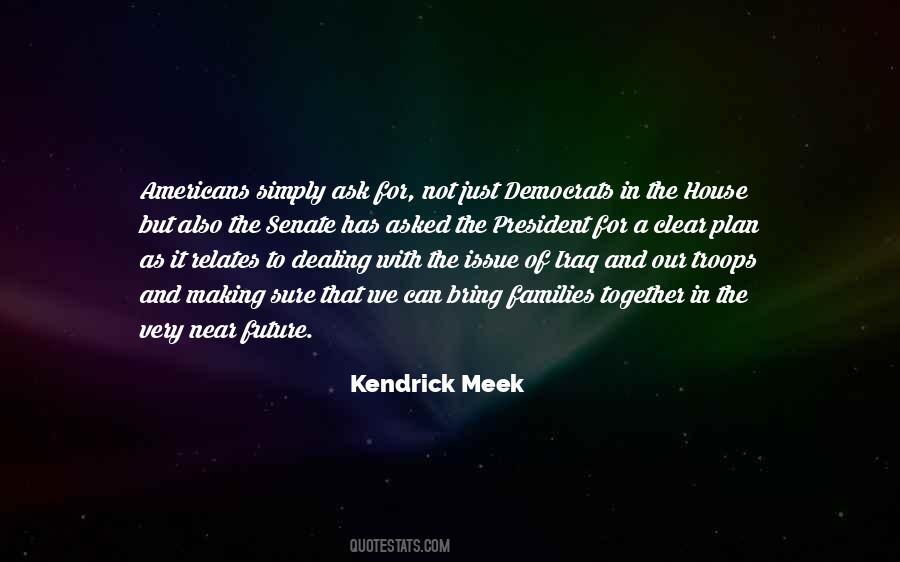 #50. I want you to have the best of everything I can give you. And I'm not talking money here, Tru. I'm talking memories. Our life together. - Author: Samantha Towle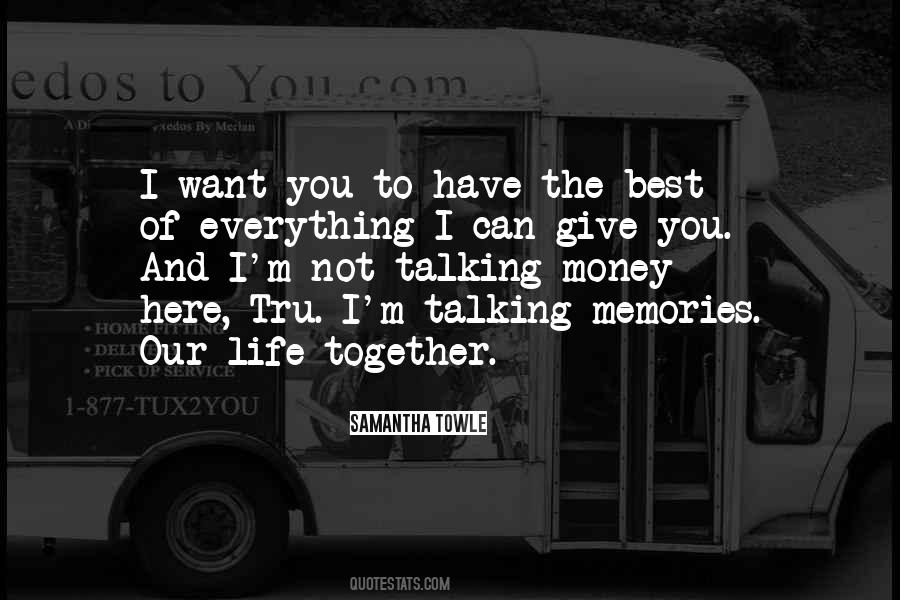 #51. One day, we will sit together and remember how we changed things. We will remember the way things used to be, and teach our children to be better than us. The generations that follow will remember with us. In that day, we will all be free, I vowed. - Author: Rachel Higginson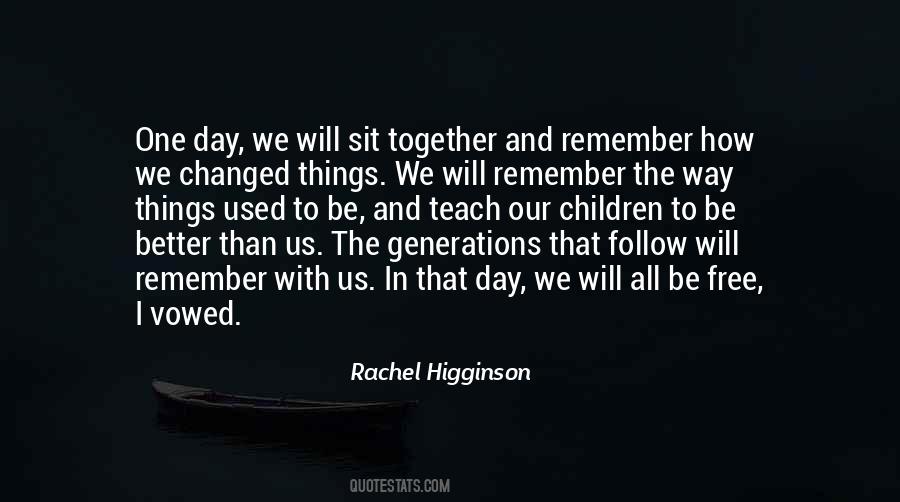 #52. It is equally important that we now secure the right deal for Britain - and the next leader must have the skill and credibility to put together the right team to renegotiate our exit from and future relationship with Europe and explain the final terms to the British people. - Author: Nicky Morgan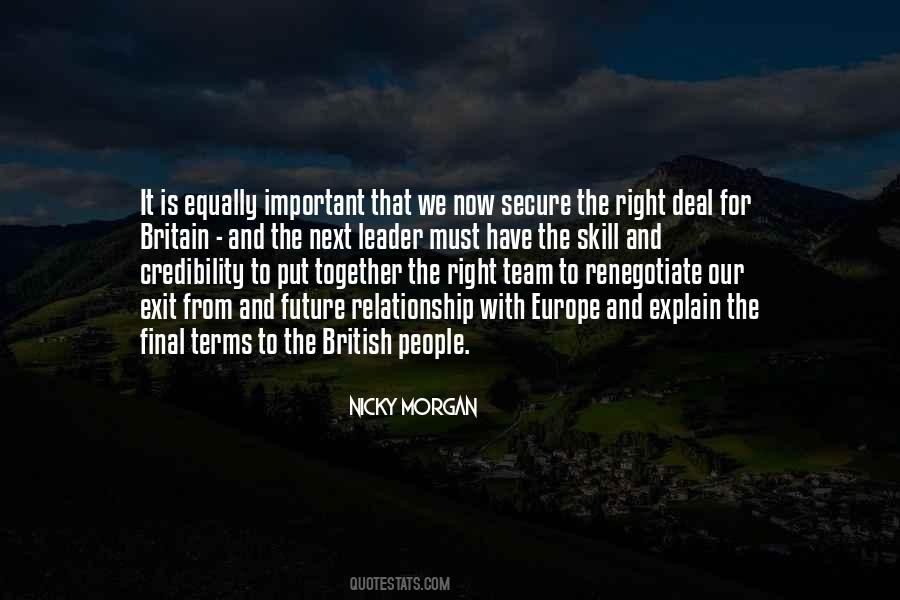 #53. Thank you for giving me the opportunity to represent you in the United States House of Representatives. Together, we will continue fighting to protect our Texas conservative values and the preservation of the America we know and love for future generations to come. - Author: Mike Conaway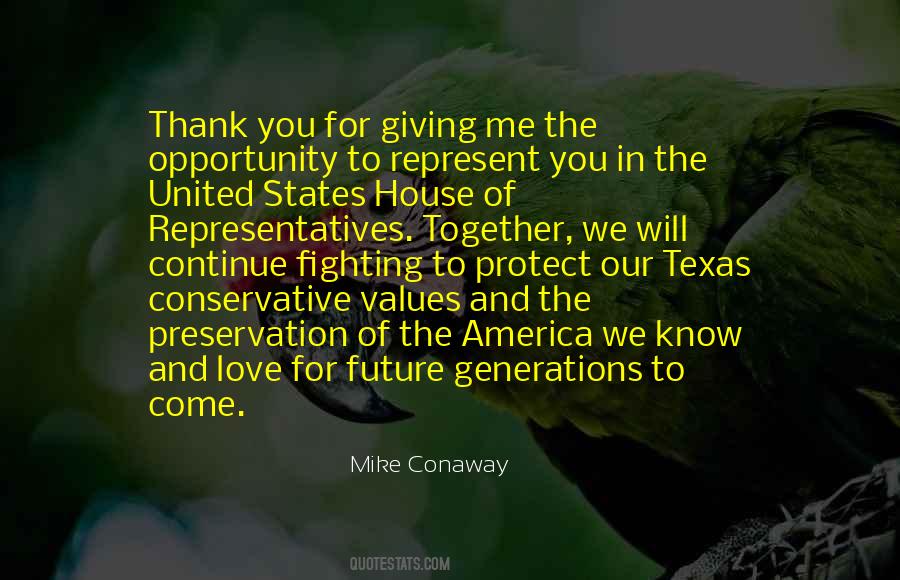 #54. None of our republics would be anything if we weren't all together; but we have to create our own history - history of United Yugoslavia, also in the future. - Author: Josip Broz Tito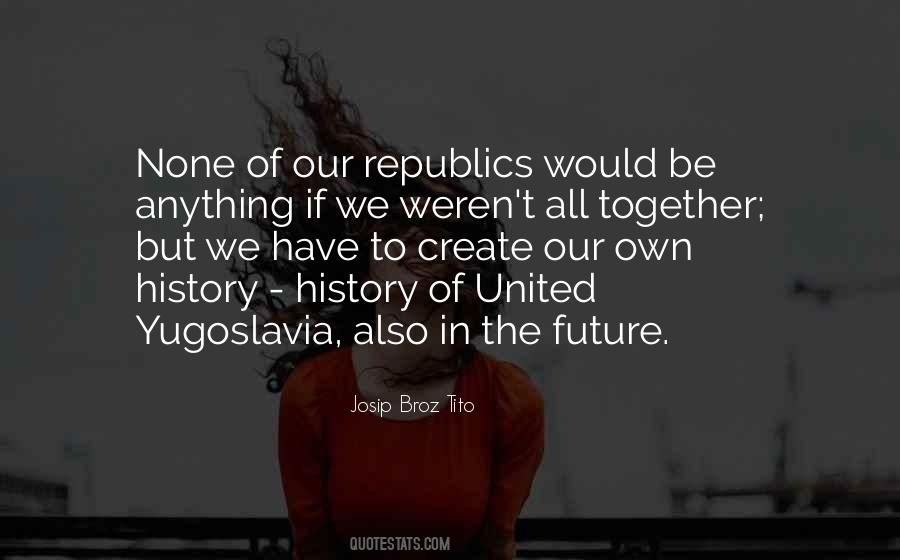 #55. Healing in America is being able to call it our home, to build a future for our children, to still believe in tough times, to remember our forefathers, and stepping forward together towards a common solution - Author: Phil Mitchell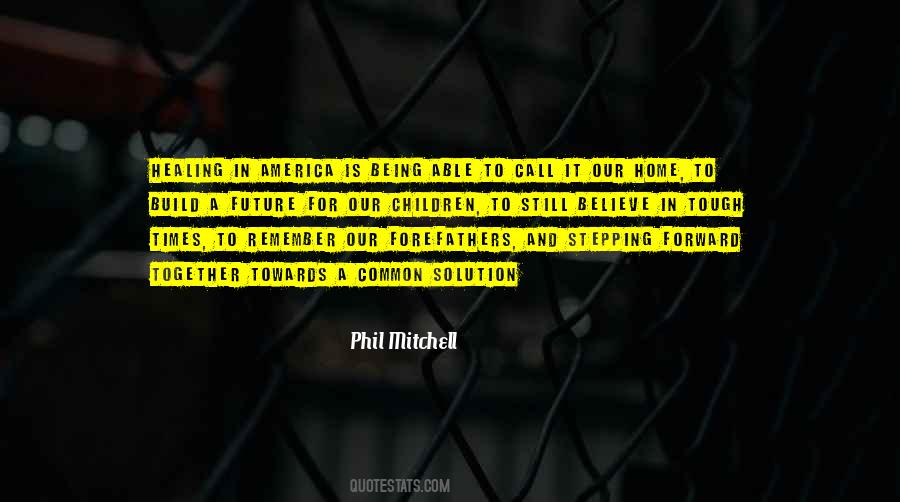 #56. Let the future say of our generation that we sent forth mighty currents of hope and that we worked together to heal the world. - Author: Jeffrey Sachs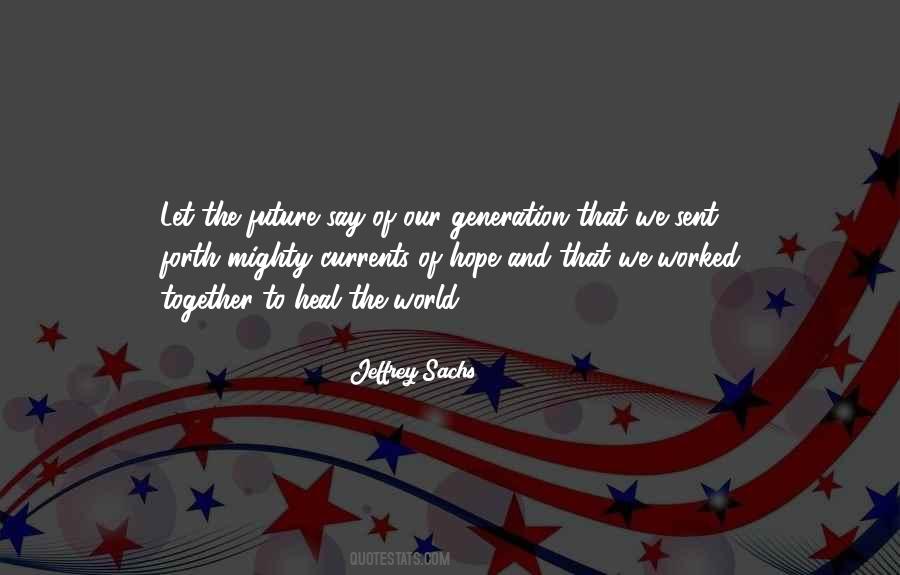 #57. You broke up with me. You gave up on us - on our entire future together. You basically reached in and ripped my heart out and now you're asking me if I'm okay? How the hell am I supposed to be okay, Juliette? What kind of question is that? - Author: Tahereh Mafi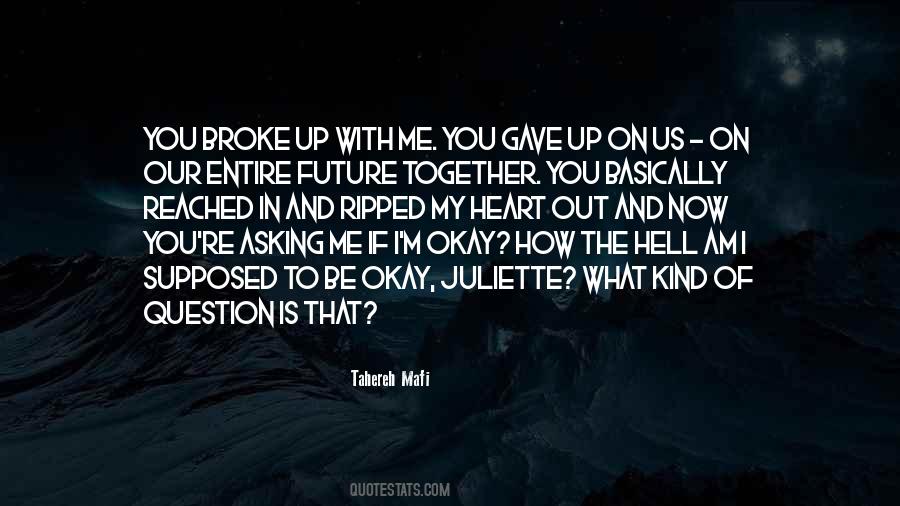 #58. Because the time has come, well and truly come, for all peoples of our great country, for all citizens of our great commonwealth, for all Australians - those who are indigenous and those who are not - to come together to reconcile and together build a new future for our nation. - Author: Kevin Rudd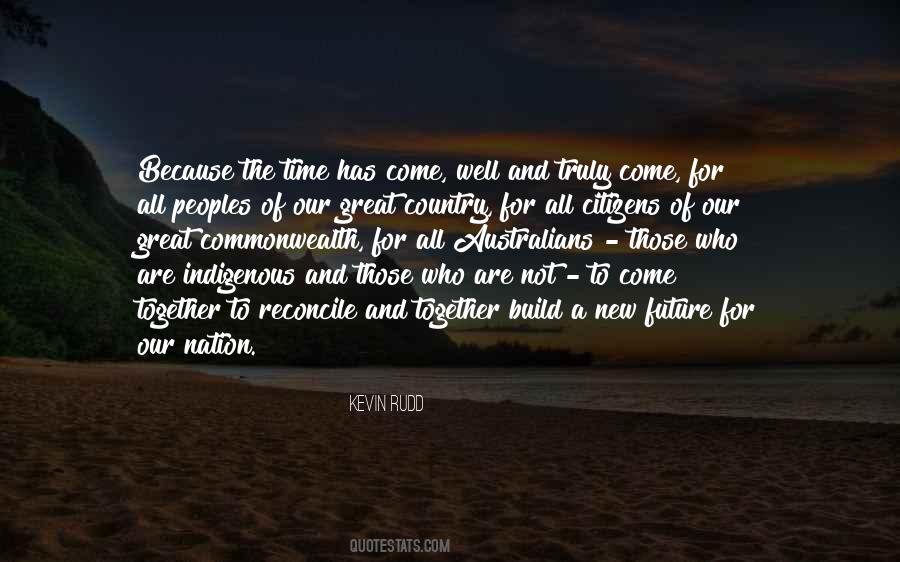 #59. I have no word of yours to assure me that our brief friendship held for you the same significance it held for me, but I must go on believing so. Every hope of the future is meaningless unless I have faith that you and I will share it together. - Author: Elizabeth George Speare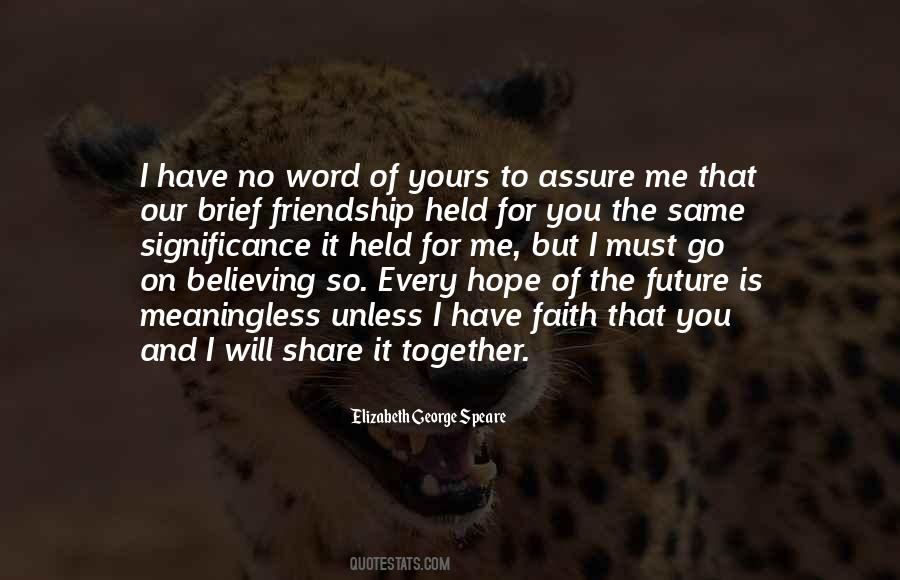 #60. We stand together as we did two centuries ago, One people under God determined that our future shall be worthy of our past. - Author: Ronald Reagan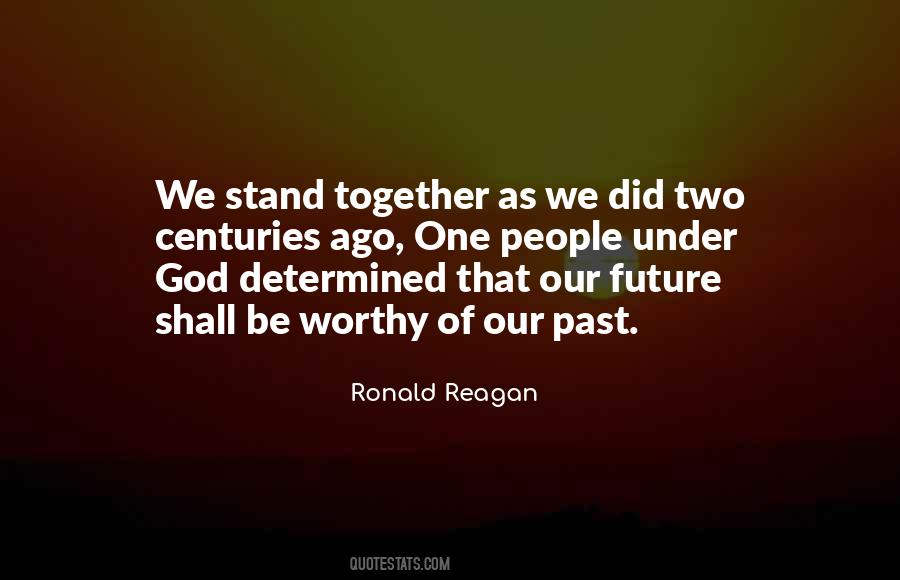 #61. I imagined my first night alone in bed with my stranger. I conjured our future years together unhampered by worries about money or officialdom. We would enjoy the day, the night, a smile, a word, a kiss, a glance. All lovely thoughts. All pointless dreams. - Author: Lisa See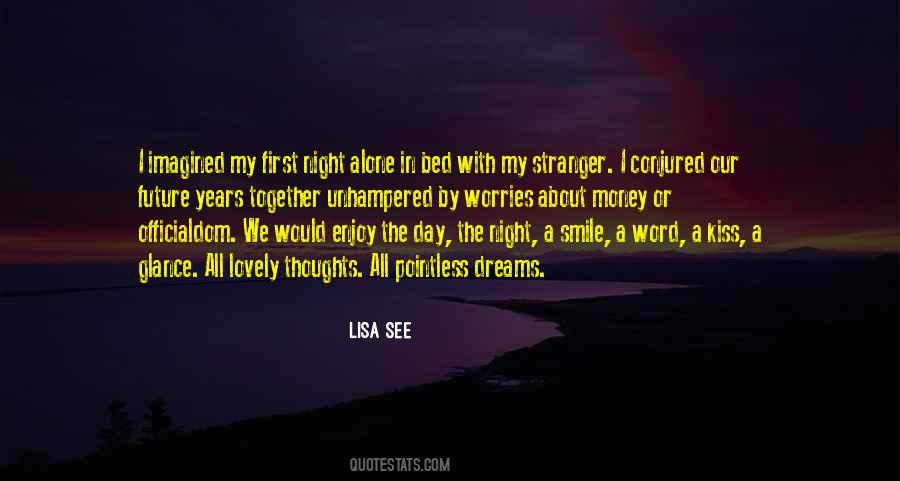 #62. Let us put our minds together and see what life we can make for our children. - Author: Sitting Bull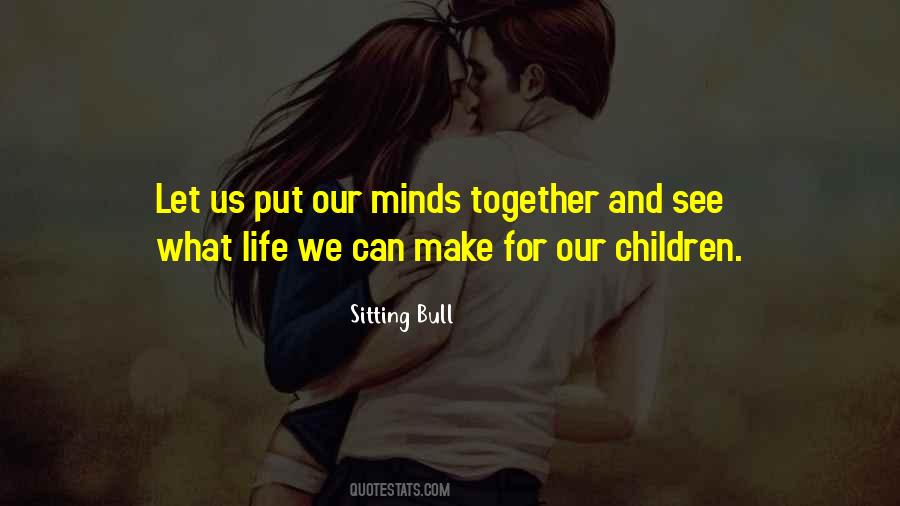 Famous Authors
Popular Topics