List of top 45 famous quotes and sayings about obligation and responsibility to read and share with friends on your Facebook, Twitter, blogs.
Top 45 Quotes About Obligation And Responsibility
#1. Pets are humanizing. They remind us we have an obligation and responsibility to preserve and nurture and care for all life.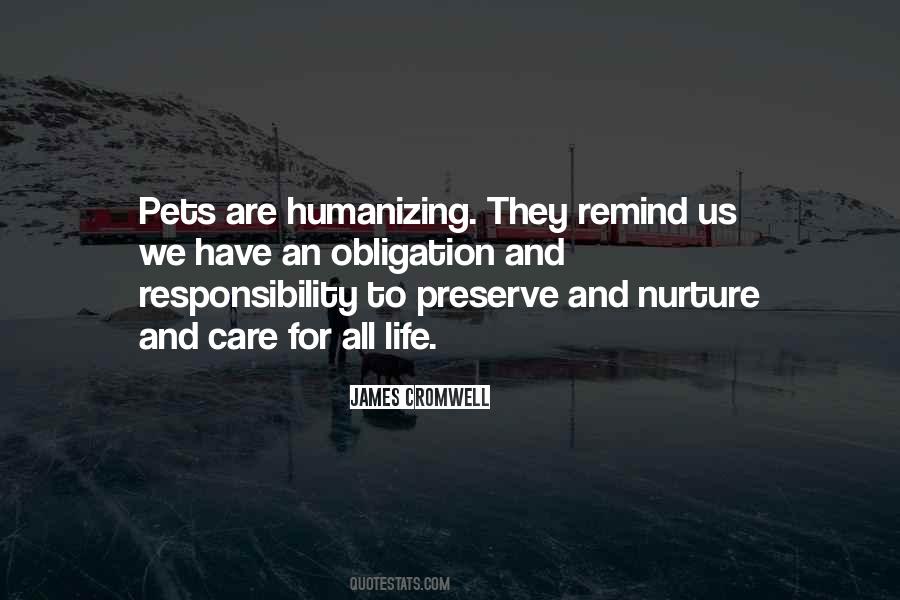 #2. I believe strongly in an author's moral responsibility. But his first obligation is to write good books.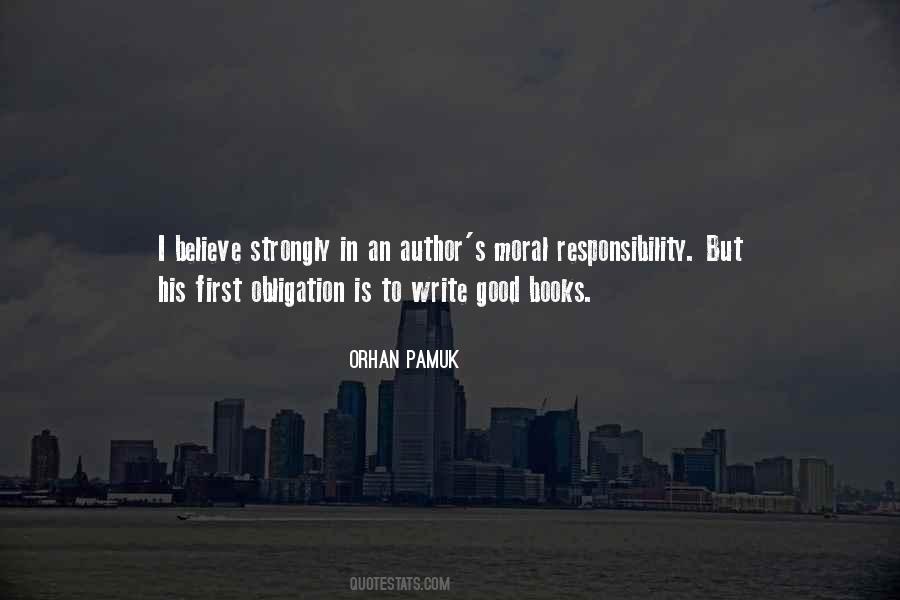 #3. Everything you have, whether it's money or stuff, is an obligation. It is as much your duty to care for and nurture any object you own as it would be if that object were your child. All possessions come with responsibilities. More possessions equals greater responsibility.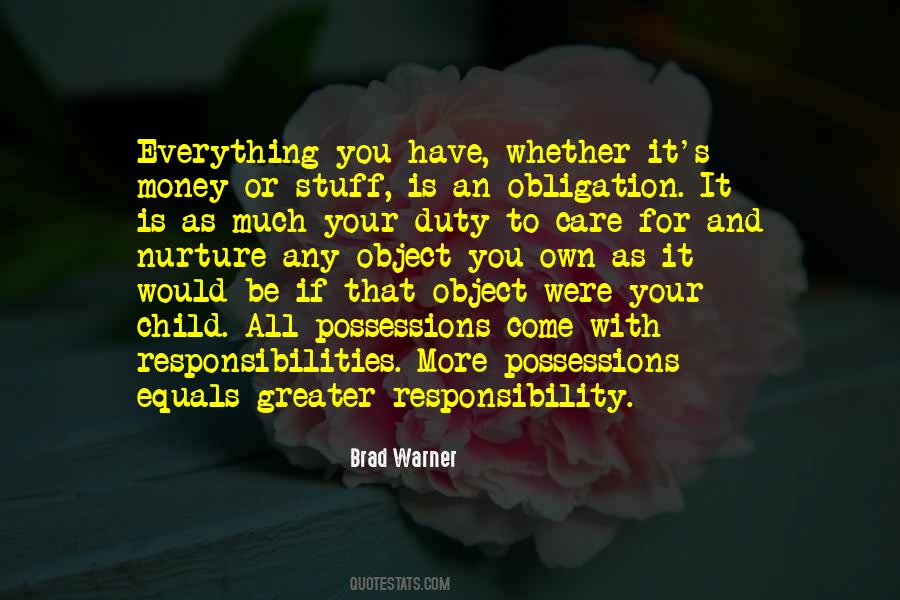 #4. Responsibility is a grace you give yourself not an obligation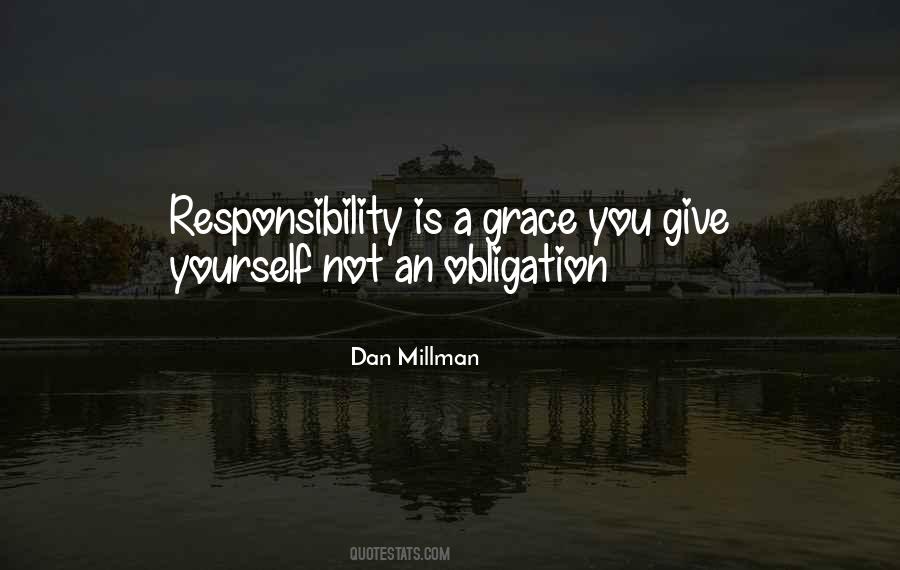 #5. I'm thankful for the ability to share my faith in a lot of different places. It's something that I take as a responsibility and an obligation to handle as best as I can.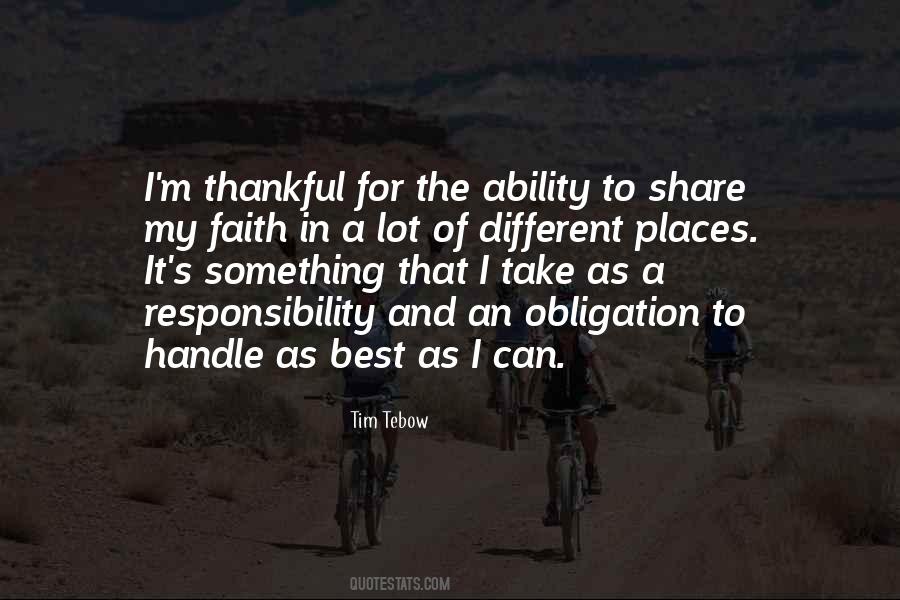 #6. Your responsibility is to not question God's actions or what looks like a lack of action. Your obligation is to count on God's character.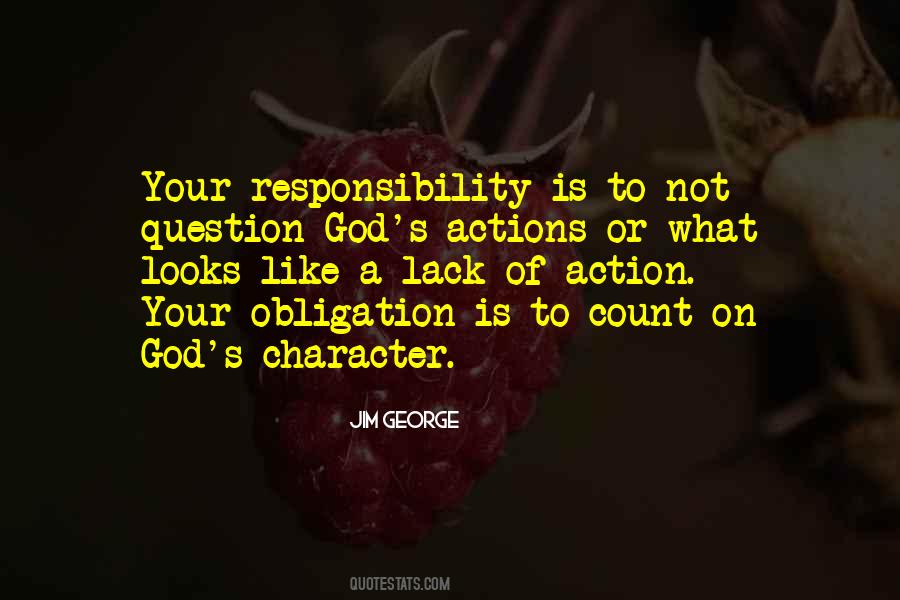 #7. Daley may not feel a moral responsibility to eliminate discrimination but he has a legal obligation to do so.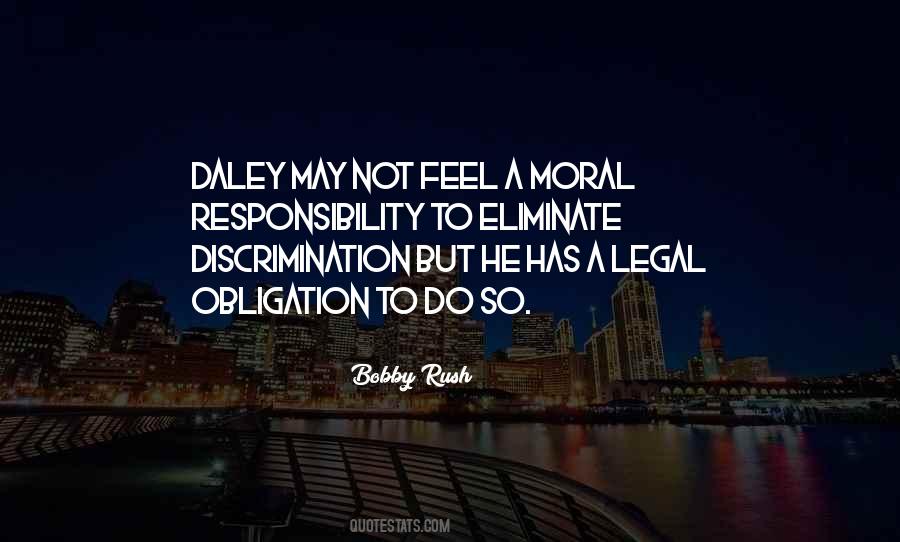 #8. I think that when you are in the limelight it is part of your obligation to be a good role model. A lot of kids look up to you, and you are given a God-given talent, so it is your responsibility. It isn't hard to deal with. I never have to think twice about doing anything.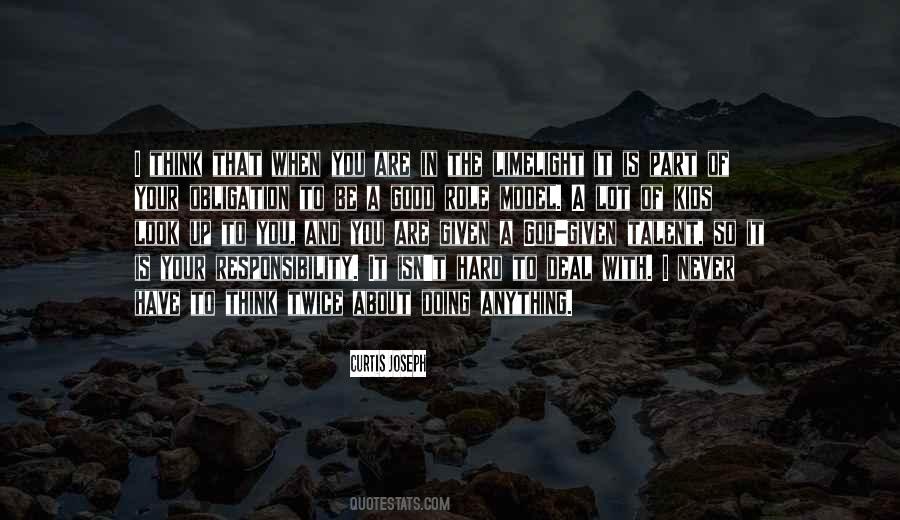 #9. But there are a couple of places where it is clear to me that there should be no ambiguity of corporate responsibility - the environment and civil rights, .. As a corporation, you cannot let the desire for unanimity override your obligation for fairness.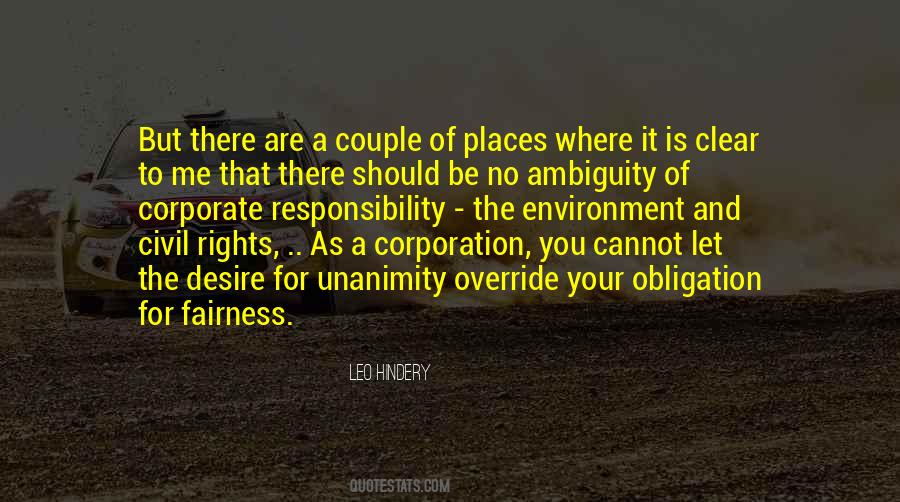 #10. My major obligation or responsibility is to work to integrate gender issues throughout the work of the State Department.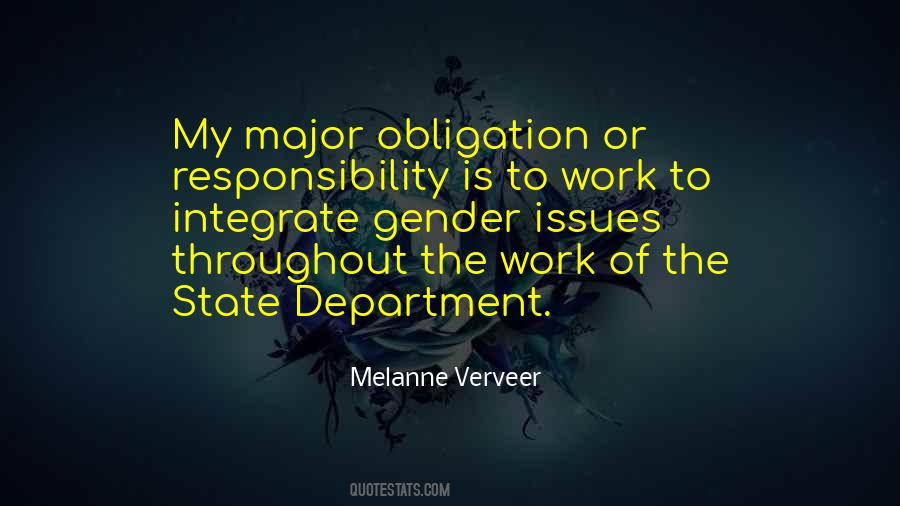 #11. It is our responsibility to keep telling these tales--to tell them in a way that they teach and entertain and give meaning to our lives,' he [Jim] said later. 'This is not merely an obligation, it's something we must do because we love doing it.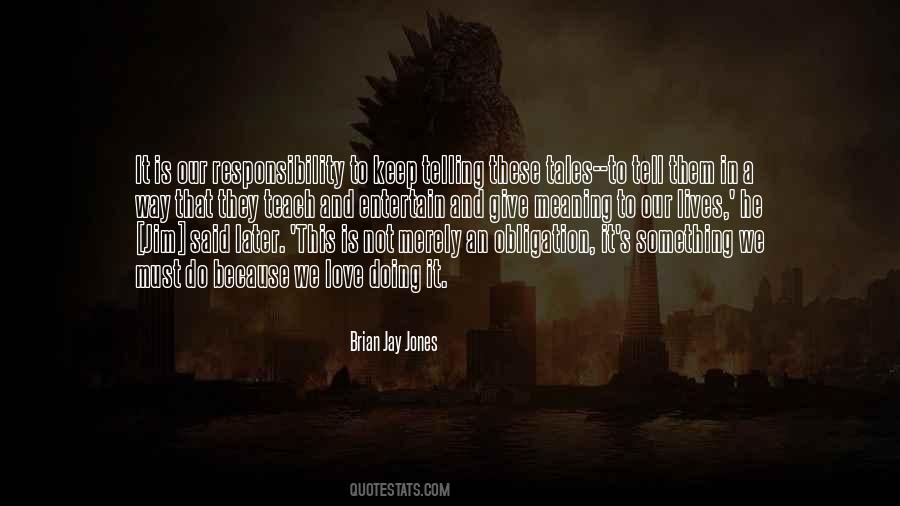 #12. Within your sphere of responsibility you have as serious an obligation as do I within my sphere of responsibility. Each of us should be determined to build the kingdom of God on the earth and to further the work of righteousness.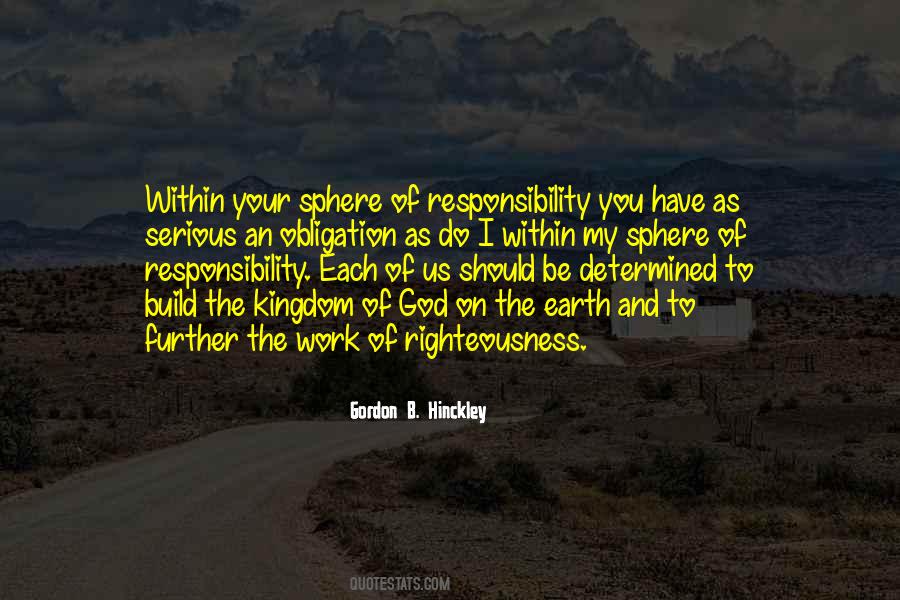 #13. We have to remind the people: Congress has the constitutional obligation and public responsibility to oversee these issues and the Department of Justice's operations.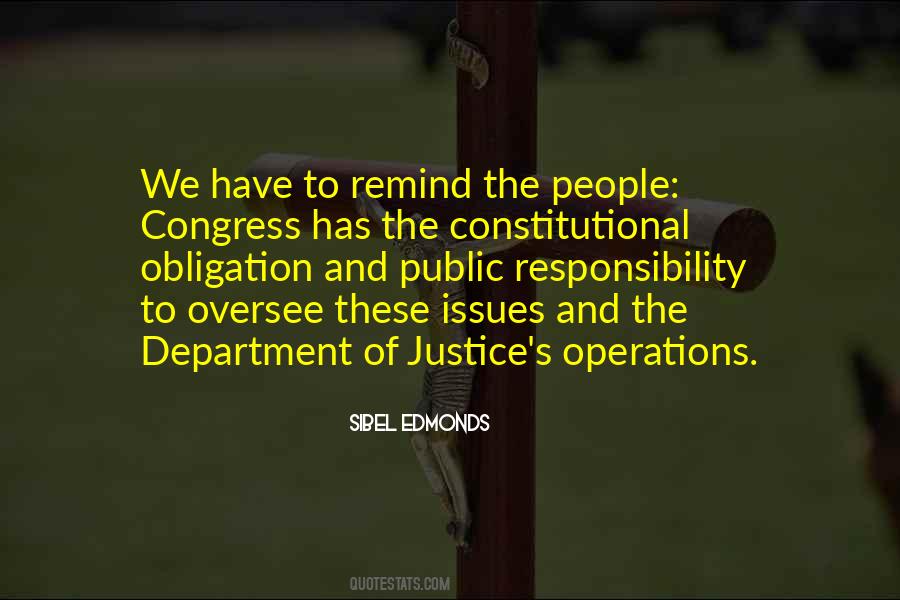 #14. I remind mothers everywhere of the sanctity of your calling. No other can adequately take your place. No responsibility is greater, no obligation more binding than that you rear in love and peace and integrity those whom you have brought into the world.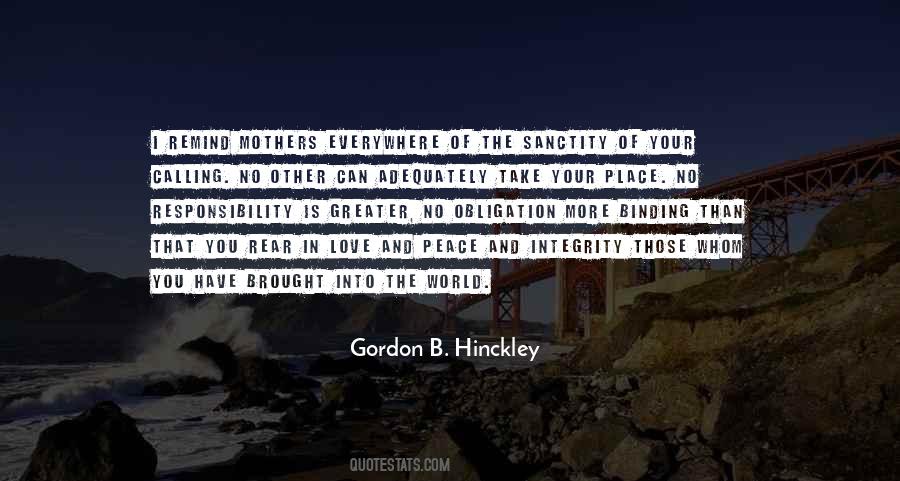 #15. Success is your duty, obligation and responsibility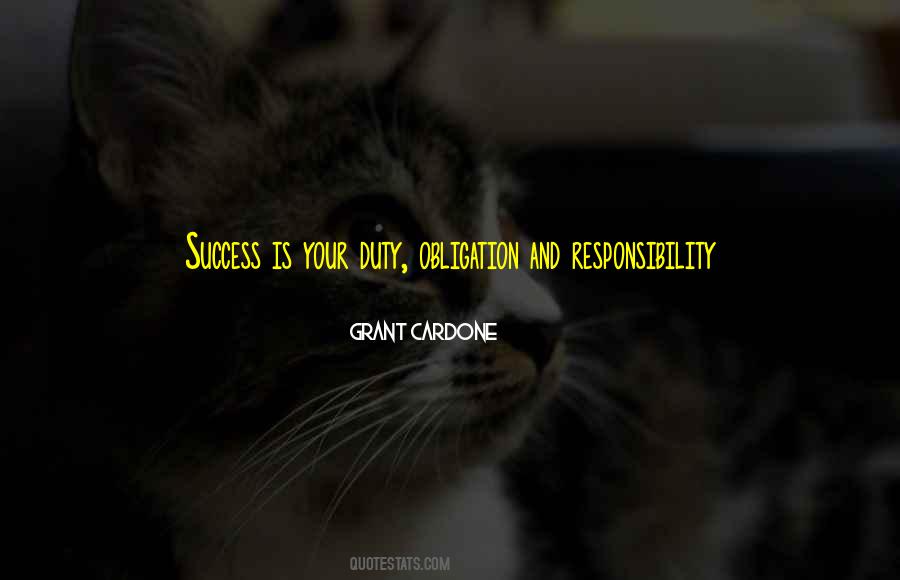 #16. We have a responsibility as a state to protect our most vulnerable citizens: our children, seniors, people with disabilities. That is our moral obligation. But there is an economic justification too - we all pay when the basic needs of our citizens are unmet.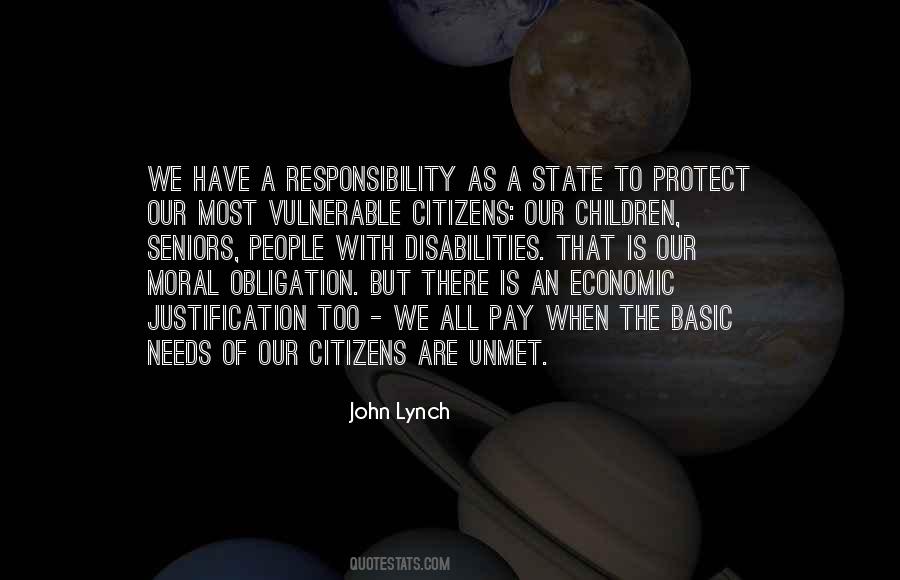 #17. I feel like it's my responsibility and my obligation to stand up and to say that which I believe to be the truth.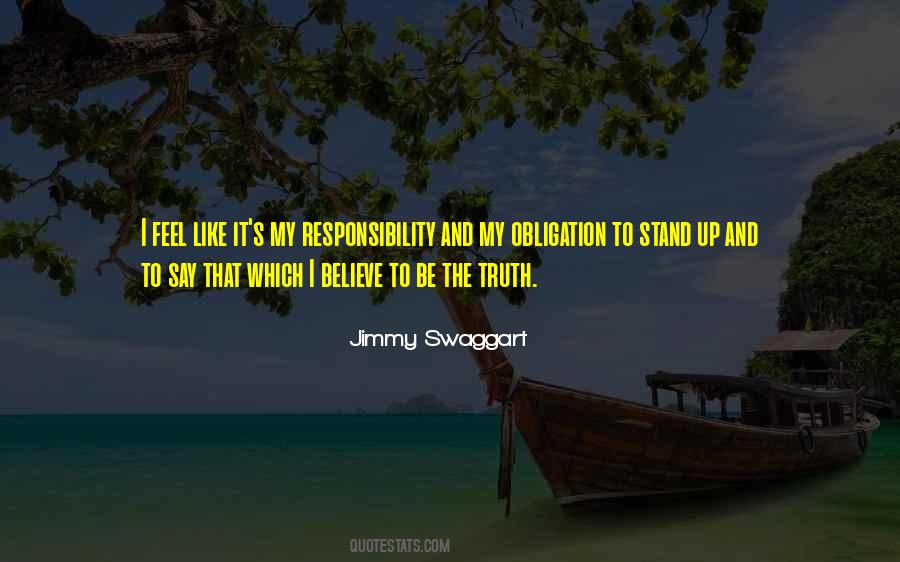 #18. The natural world is a gift that we have the obligation to treasure and use carefully. It is our moral responsibility to protect it from damage, and to pass it on to our heirs in good condition. To do less is to dishonor the Giver and the gift.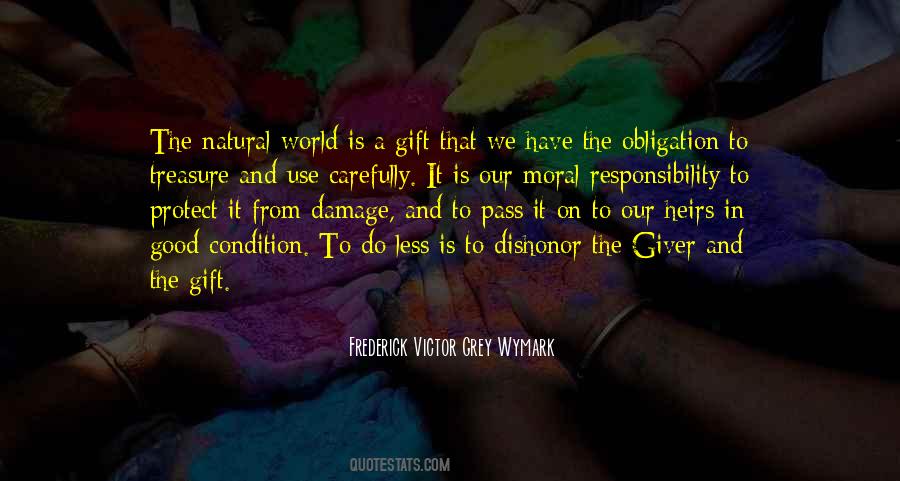 #19. There are values that transcend race or culture, that move us forward, and there's an obligation for all of us individually as well as collectively to take responsibility to make those values lived.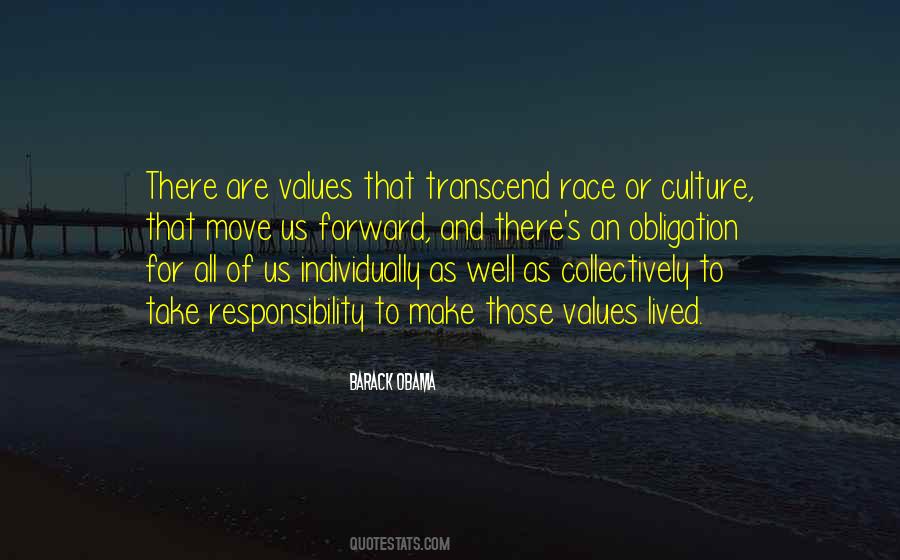 #20. You don't only have the need to do it well because leading a country is something quite important, but also because I am the first woman I have the obligation to do it the best possible way so my country can continue voting for women in the future. It is a big responsibility.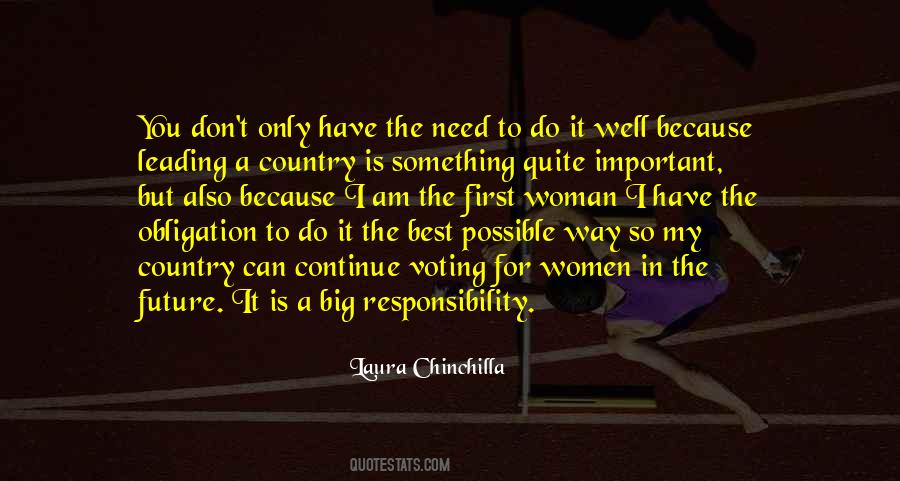 #21. All critics have the responsibility to tease out the social ideas and social problems in a movie. I don't feel an obligation to do that because I'm black.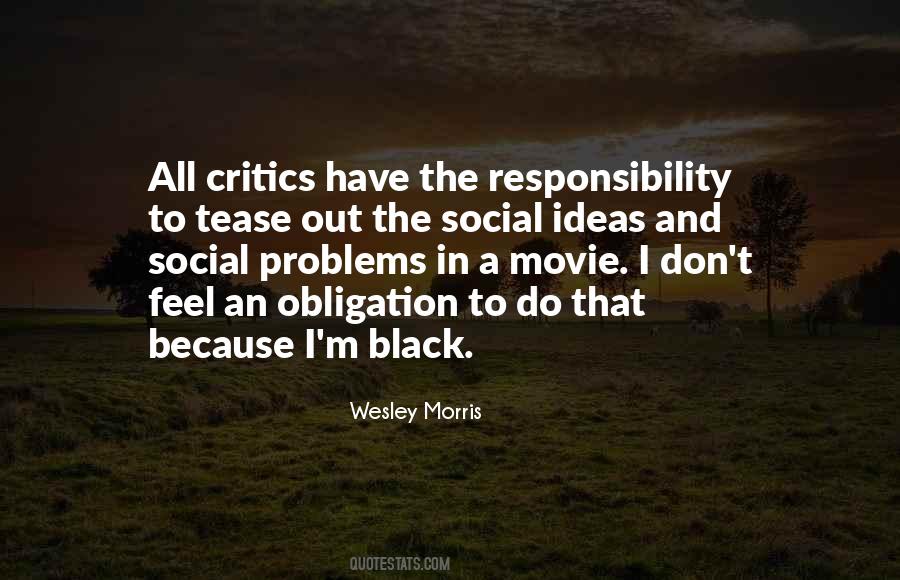 #22. "We have a responsibility and an obligation to do everything we can to try to make this work."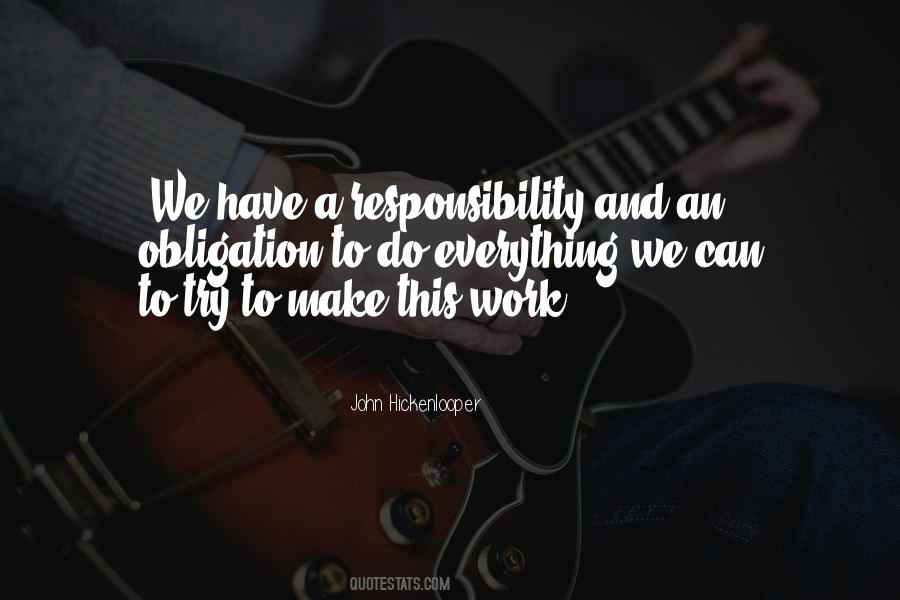 #23. I've got enough money in my life to retire now and do nothing. But I've got a duty and obligation to see if we can create more jobs in this state, and the government's got an obligation to approve projects and to assess them for the benefit of the people of Queensland.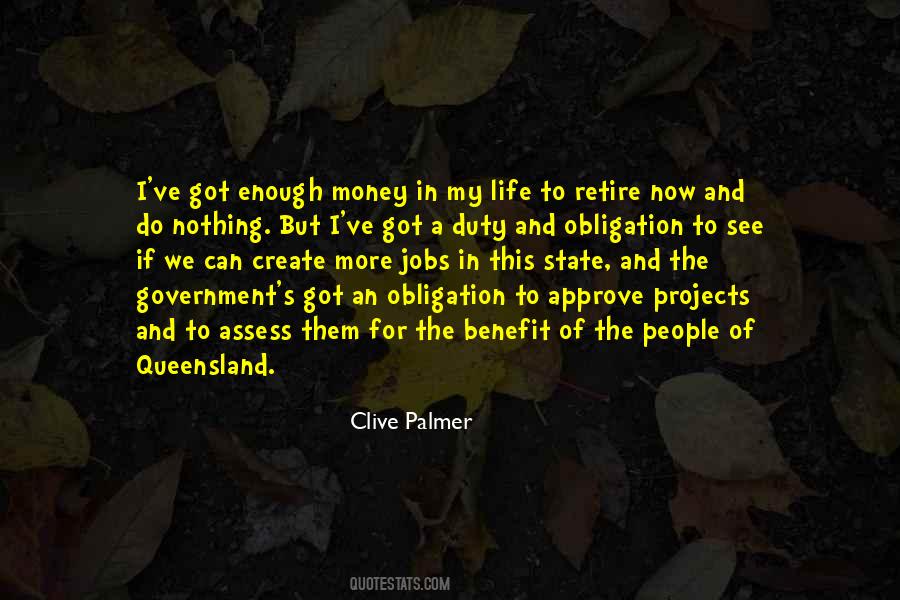 #24. We are here to assist our Father in His work and His glory, 'to bring to pass the immortality and eternal life of man' (Moses 1:39). Your obligation is as serious in your sphere of responsibility as is my obligation in my sphere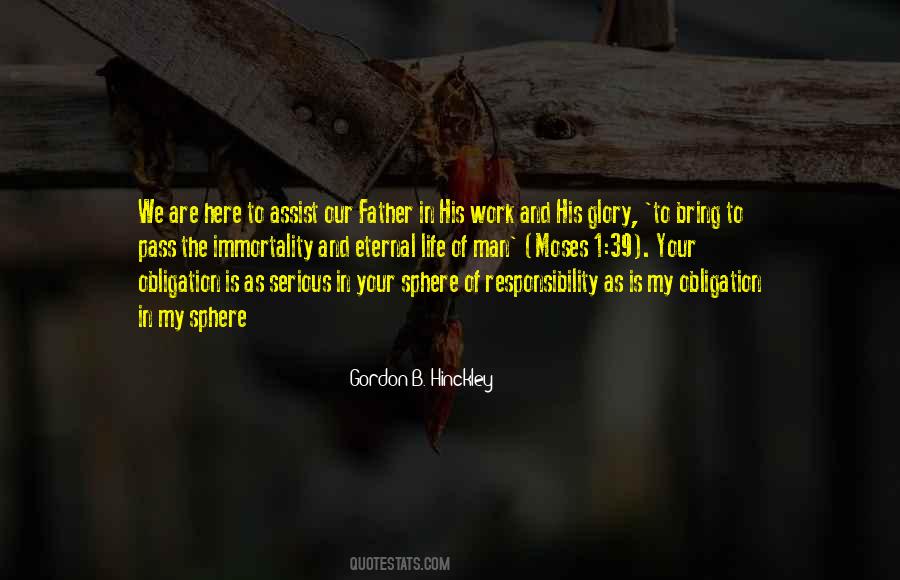 #25. He provides a vision. He often reminds countries of their responsibilities in a way that makes it seem not only like a legal obligation but a moral responsibility.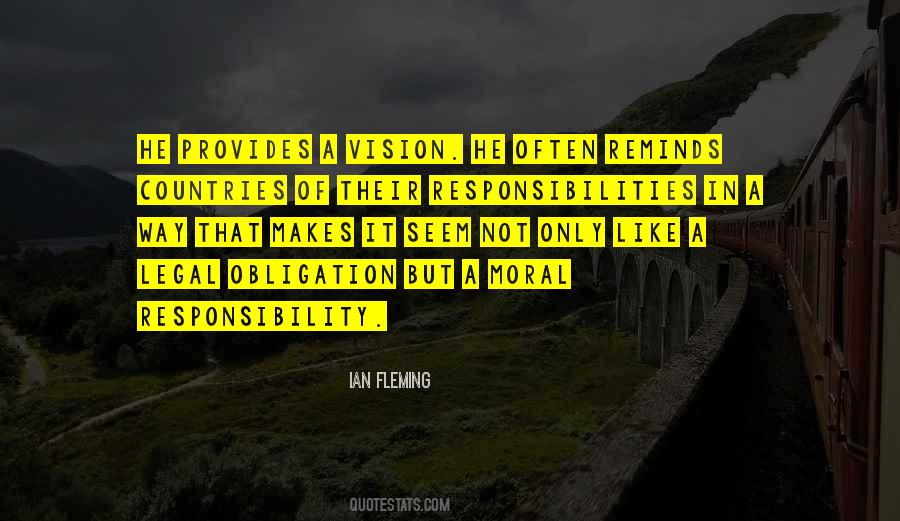 #26. One has a moral obligation to take responsibility for one's actions, and that includes one's words and silences, yes, one's silences, because silences rise to heaven too, and God hears them, and only God understands and judges them, so one must be very careful with one's silences.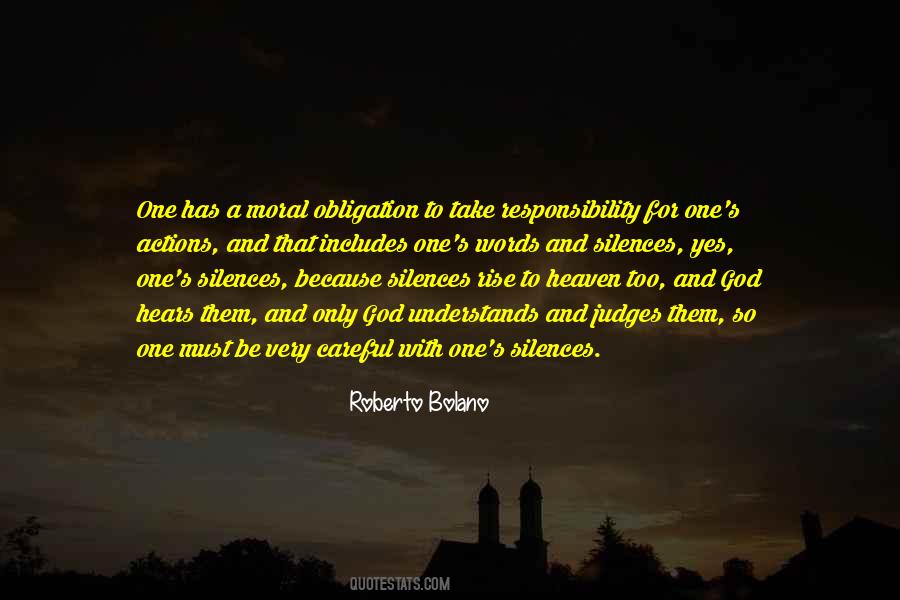 #27. We as a Congress have a moral obligation to bring justice to the families of these victims. Furthermore, as a society based on laws, we have a responsibility to ensure that criminals don't go unpunished.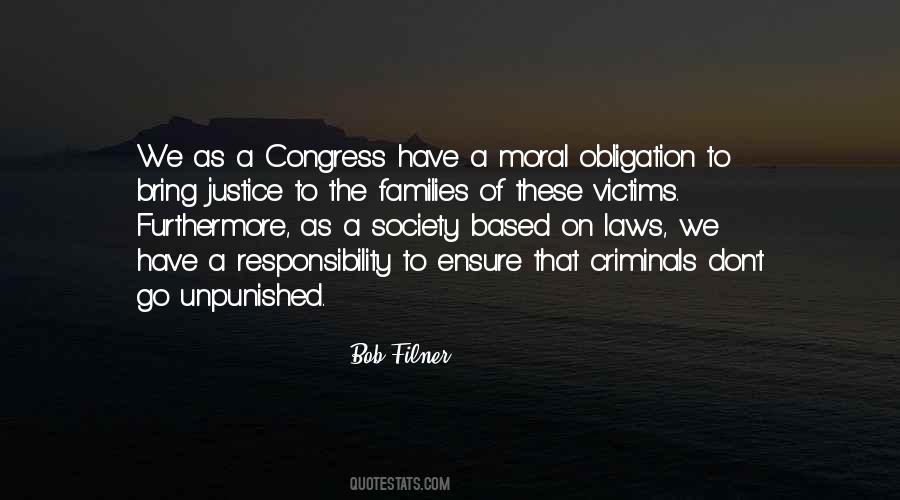 #28. As much as I had always longed to be freed of my duties and obligations, being released from such bonds was as much a severing as an emancipation.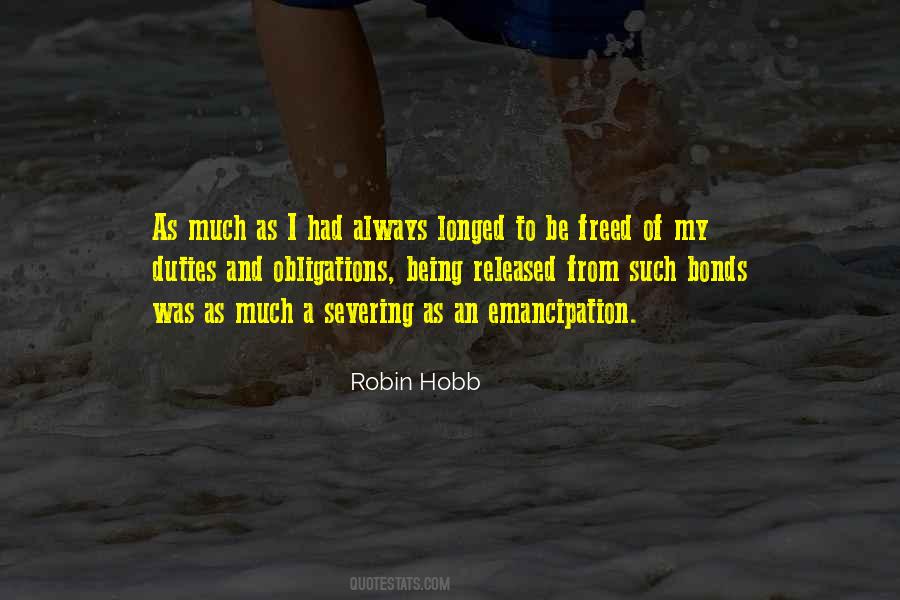 #29. So I had to be careful. I recognized the responsibility that, whether I liked it or not, I had to accept whatever the obligation was. That was to behave in a manner, to carry myself in such a professional way, as if there ever is a reflection, it's a positive one.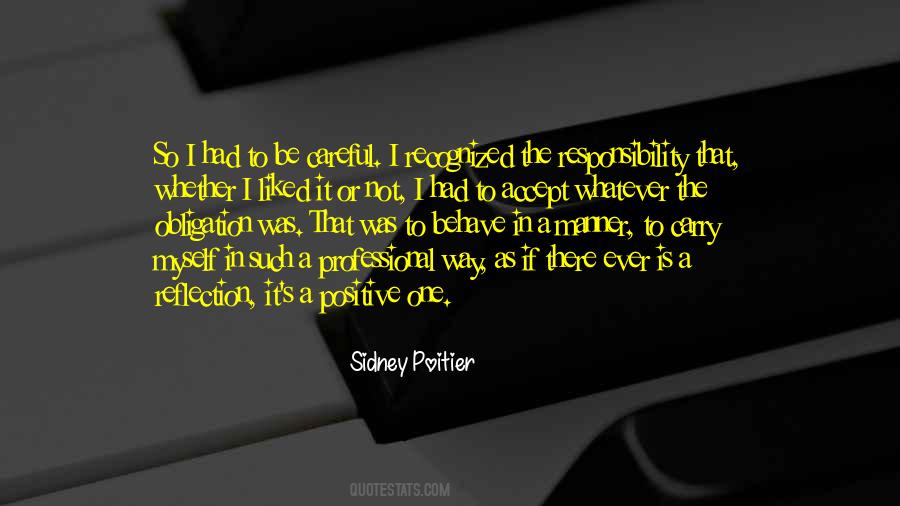 #30. We do not owe any soul, except that which played the most vital role in our lives.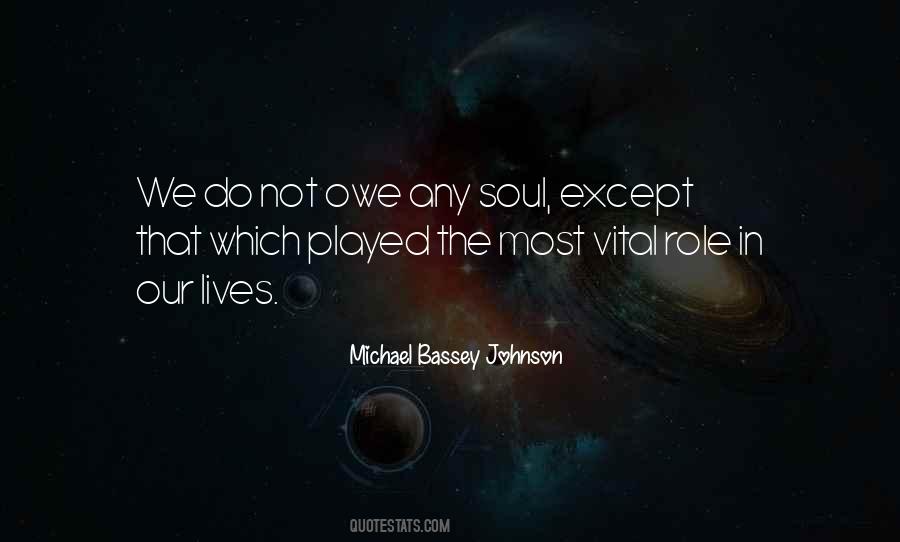 #31. We have a social responsibility, a constitutional opportunity and a moral obligation to help others.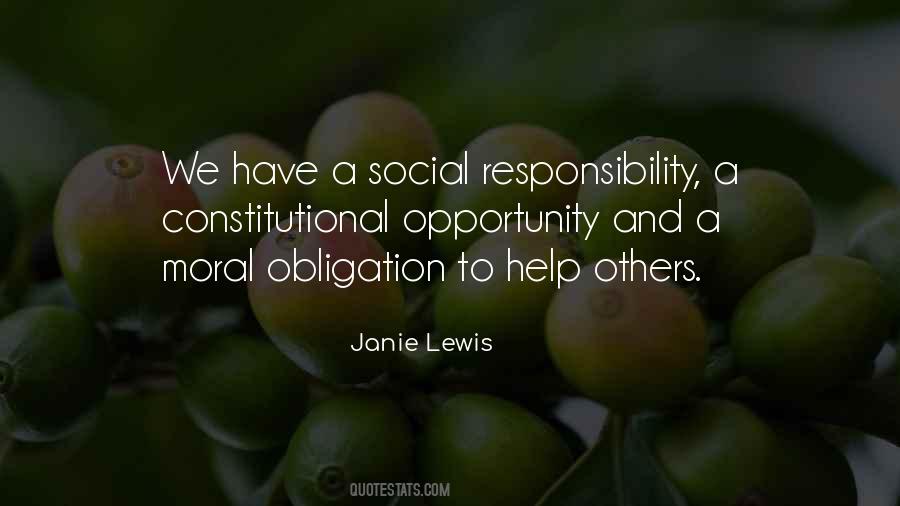 #32. We have an obligation and a responsibility to be investing in our students and our schools. We must make sure that people who have the grades, the desire and the will, but not the money, can still get the best education possible.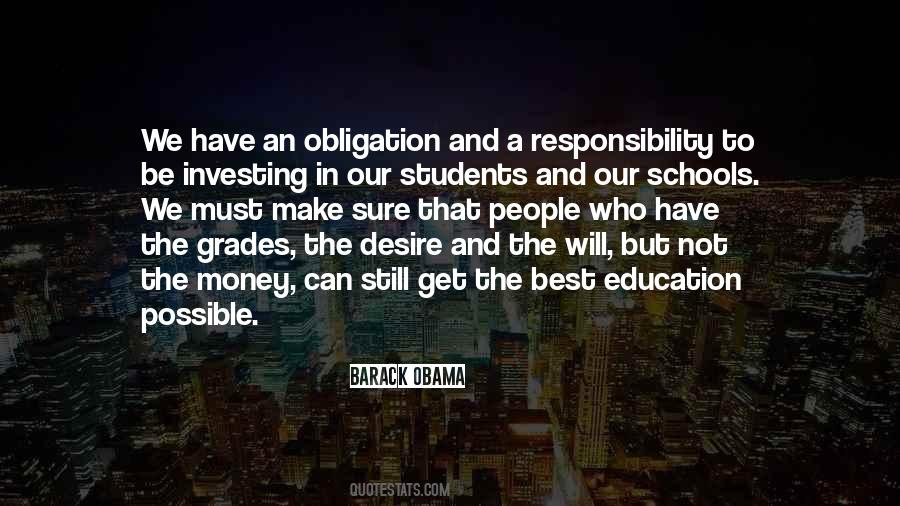 #33. Friendship is not an obligation or duty. It is a sweet responsibility.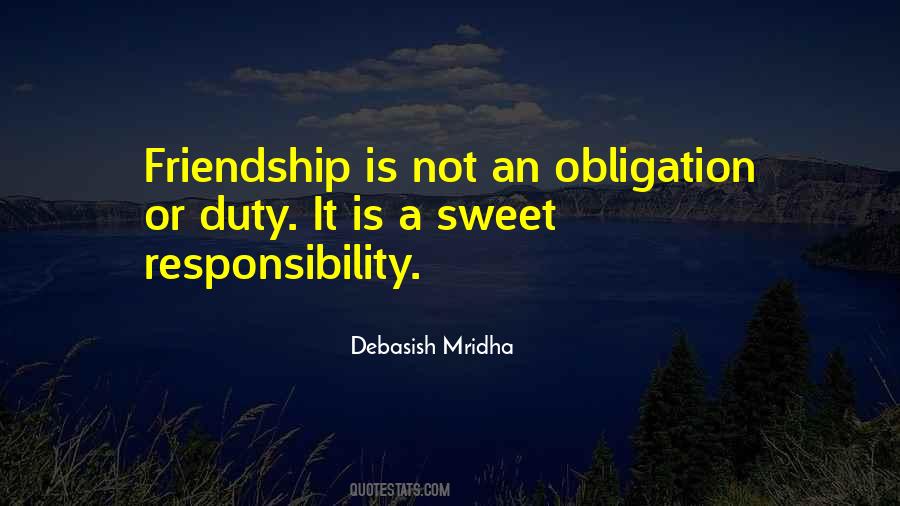 #34. Privilege was obligation; command was service; power, the gift itself, entailed a heavy loss of freedom.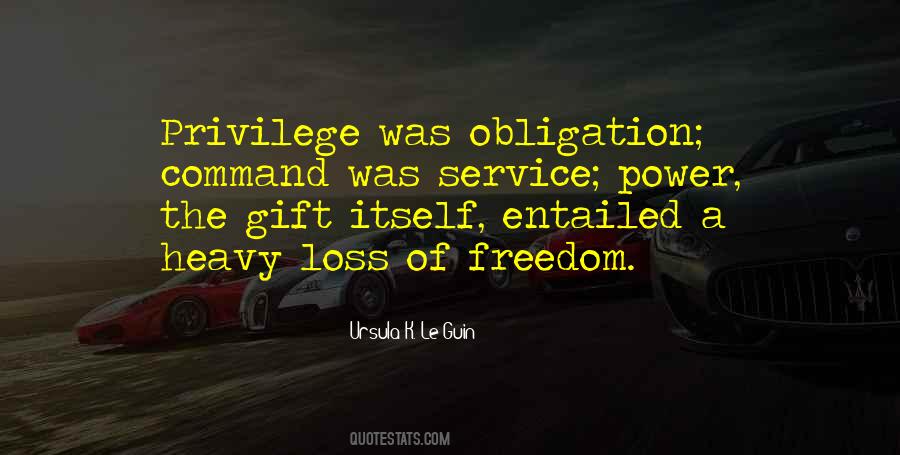 #35. The responsibility to seek learning by faith rests upon each of us individually, and this obligation will become increasingly important as the world in which we live grows more confused and troubled.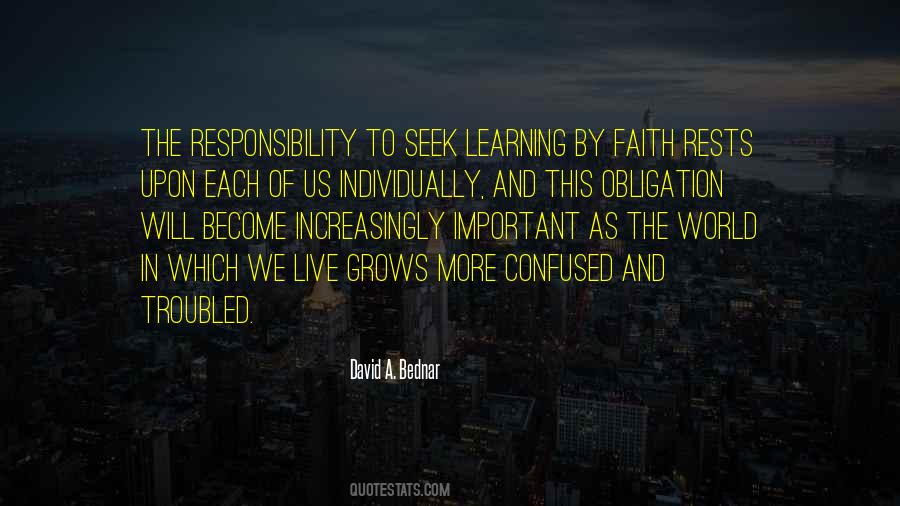 #36. As Christians, we have an obligation and responsibility to abide by the principles of the Bible.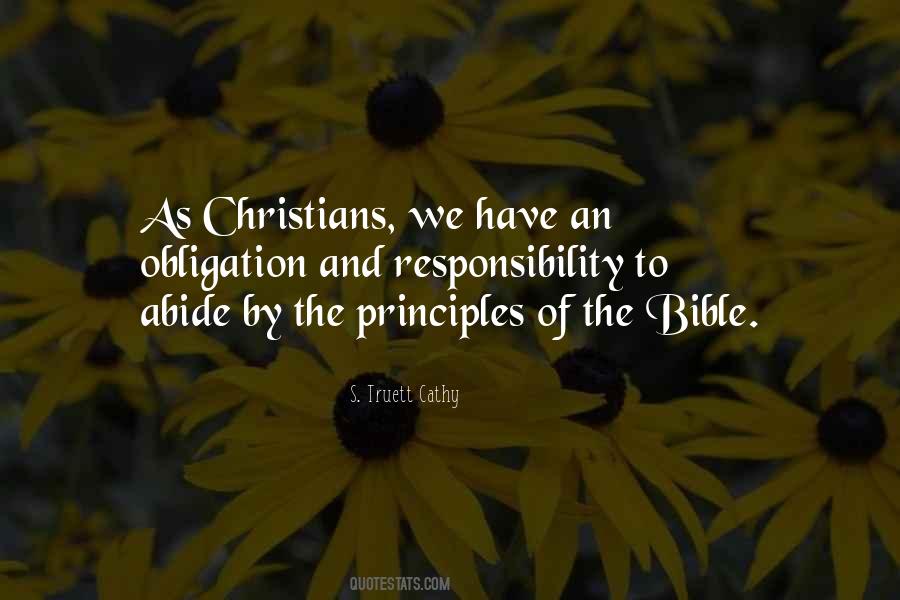 #37. Regardless, for me, I feel a personal obligation and a social responsibility.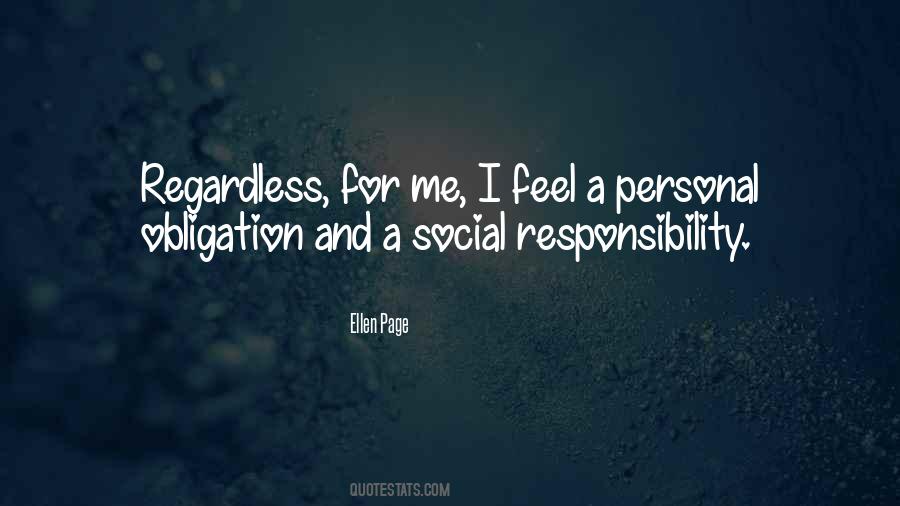 #38. I am a Filipino, inheritor of a glorious past, hostage to the uncertain future. As such, I must prove equal to a two-fold task -- the task of meeting my responsibility to the past, and the task of performing my obligation to the future.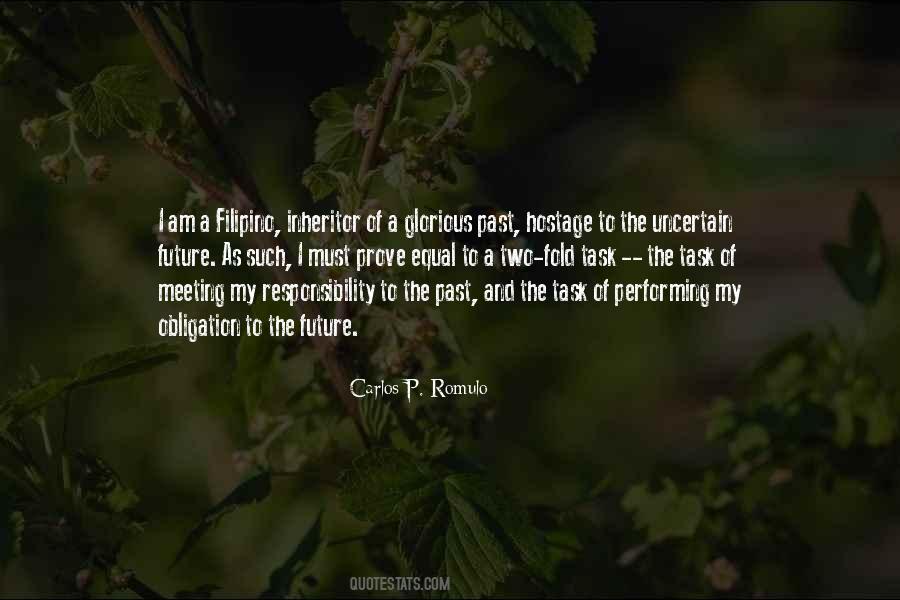 #39. I came to the United States in the early '80s and was welcomed with open arms and given the opportunity to pursue my dreams. God has been very kind to us. My family and I are fortunate enough to be successful and we feel a tremendous responsibility and obligation to give back to our great country.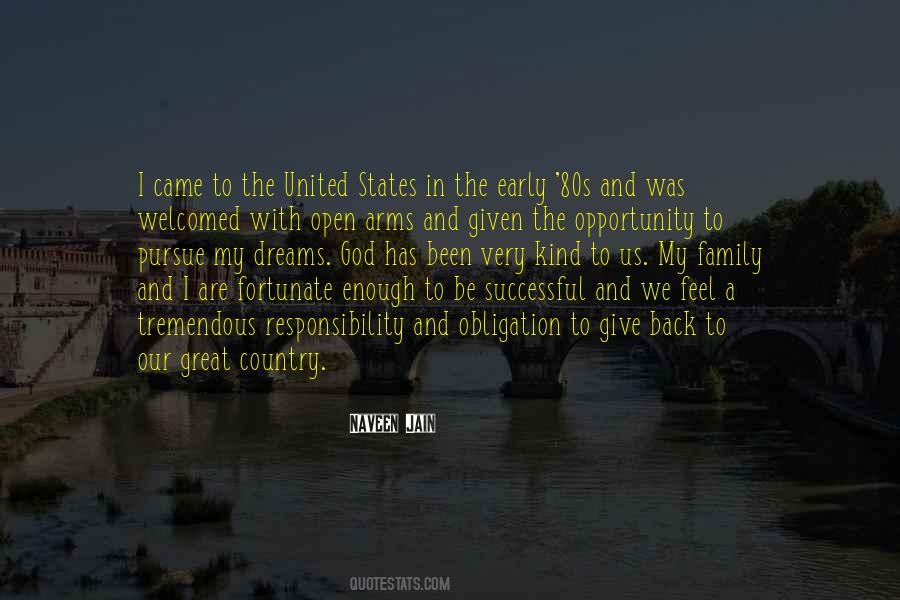 #40. Remember always that you not only have the right to be an individual you have an obligation to be one.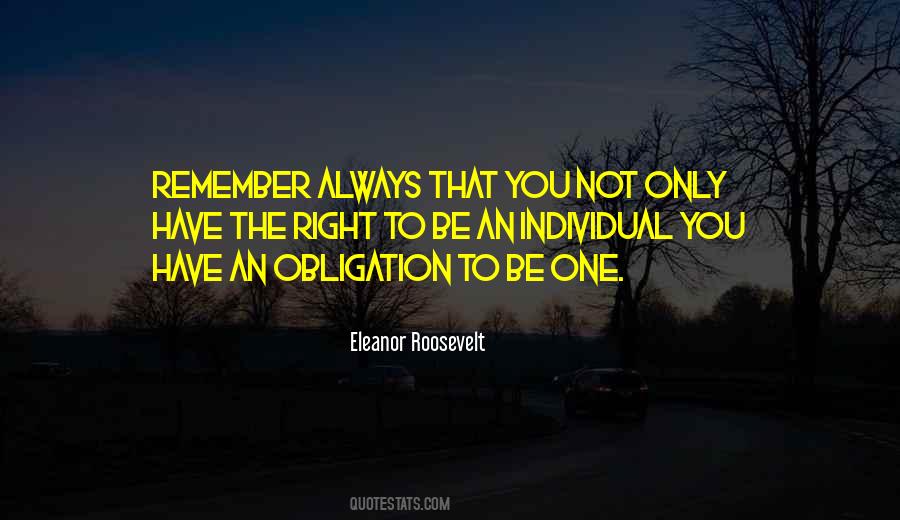 #41. I believe that every right implies a responsibility; every opportunity, an obligation; every possession, a duty.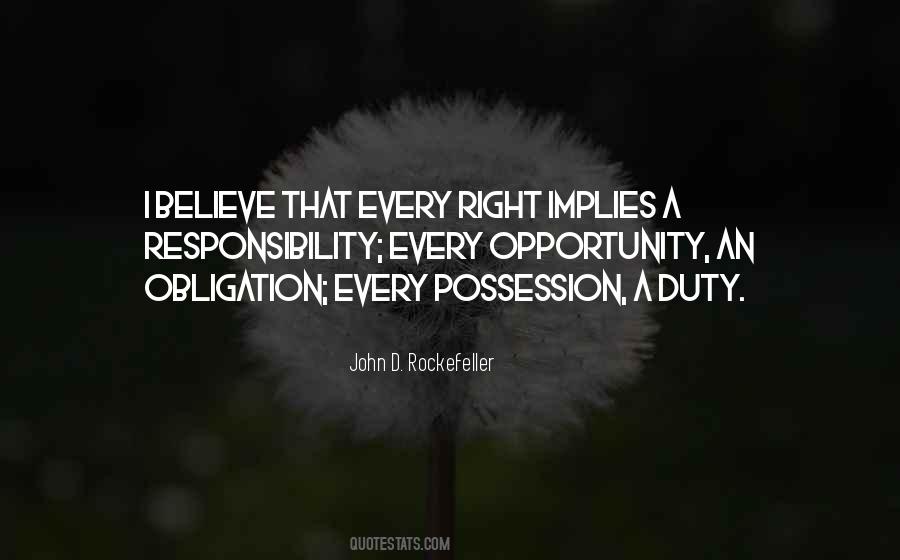 #42. They just want to continue playing their little game of power. And I feel that us people have the responsibility and also the obligation to demand to our leaders to give us the pacifist solutions. To give us a world in peace.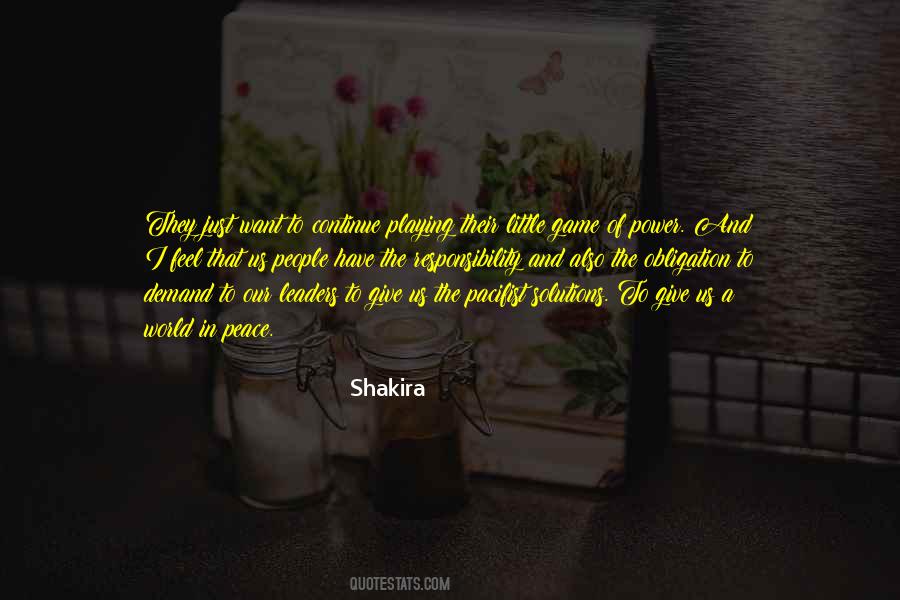 #43. You can awaken each day to obligations you never chose - or you can decide now to choose them.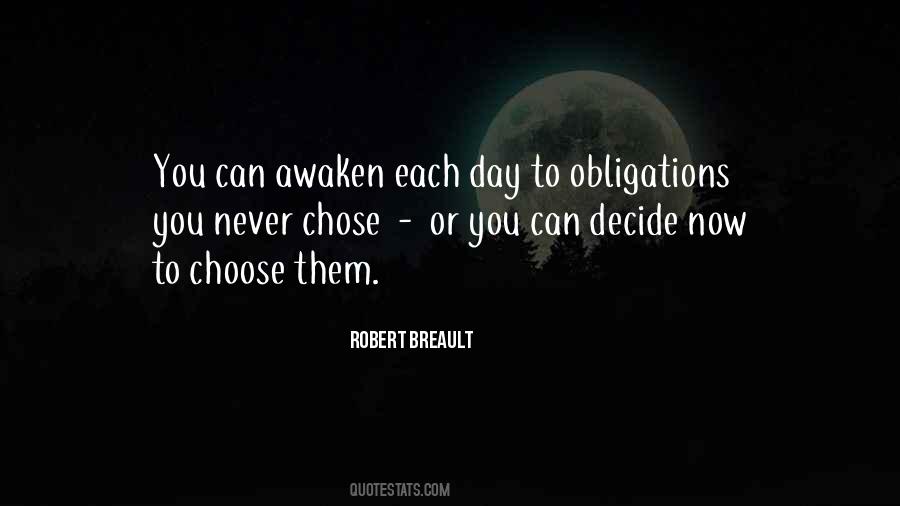 #44. Men and women who live in America ... have a responsibility greater than that yet borne by any other people. Theirs the duty, the obligation to preserve not only the Constitution of the land but the Christian principles from which sprang that immortal document.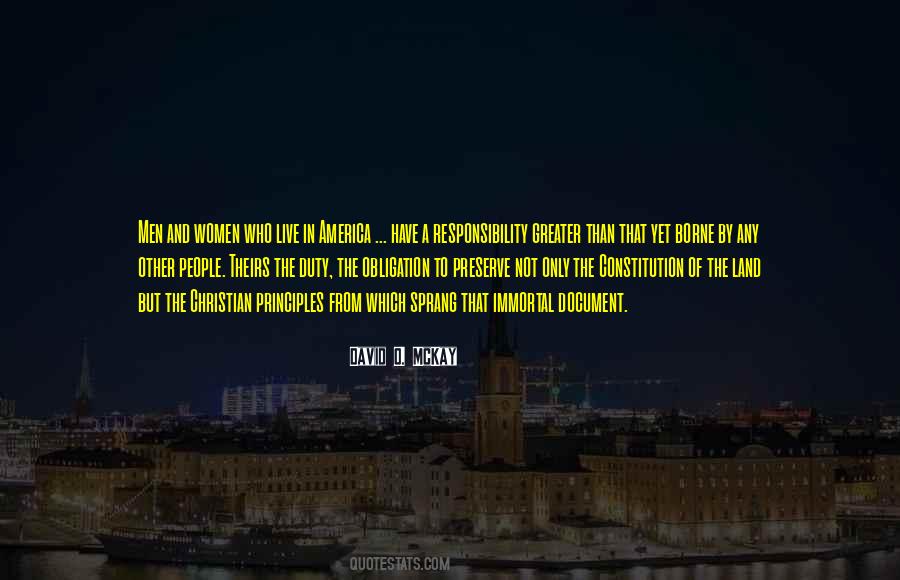 #45. When you're in the public eye - whether it be entertainment, sports, medicine, politics, whatever way - you have an opportunity, and I think also an obligation and a responsibility, to disseminate good information.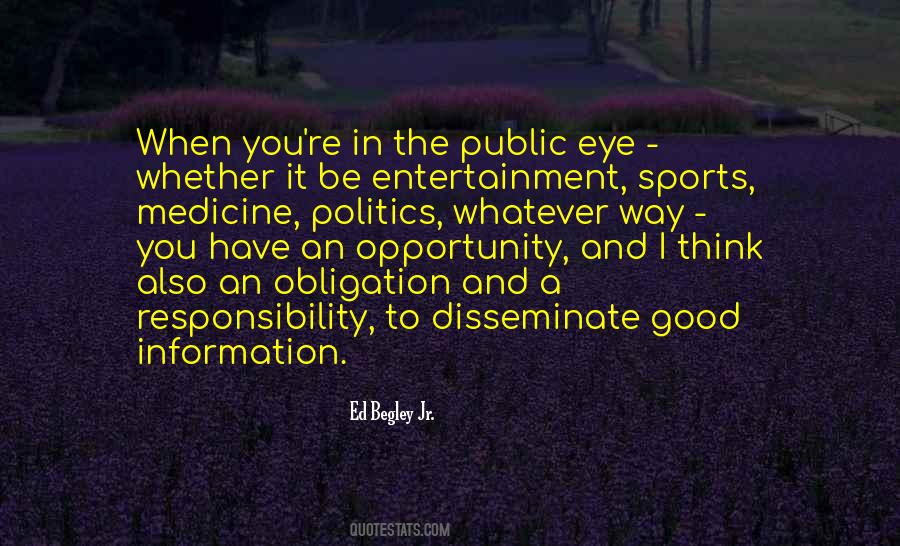 Famous Authors
Popular Topics