Not Following Your Heart Famous Quotes & Sayings
List of top 44 famous quotes and sayings about not following your heart to read and share with friends on your Facebook, Twitter, blogs.
Top 44 Quotes About Not Following Your Heart
#1. If you give your people halfhearted leadership, you'll get a halfhearted following. But if you invest yourself in them, if you have a heart for them, your people will return your investment with a heartfelt following. - Author: Kevin Leman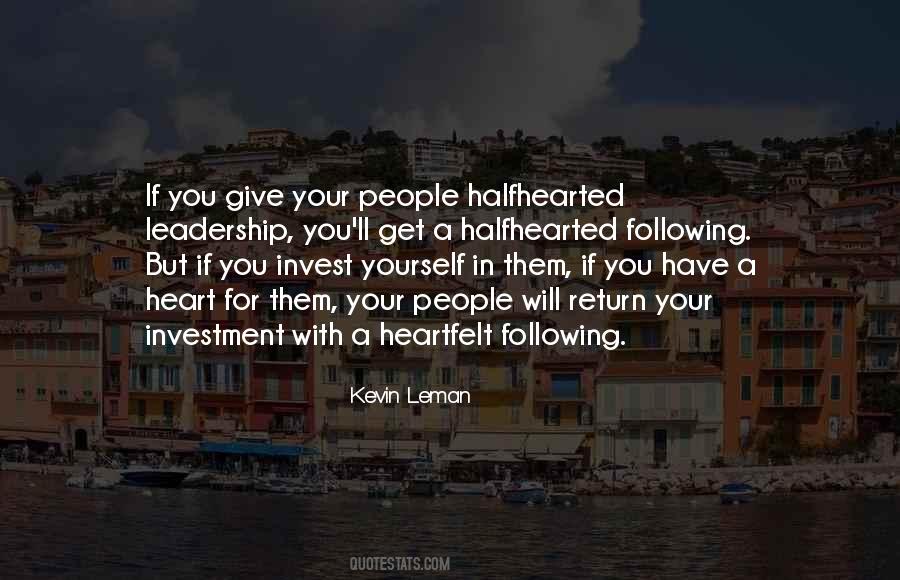 #2. Let it all be animal, my life and death, hard and clean like that, anything but human ... a lot I care, me with my red heart in the dark earth and my tattooed feet following the animal ways. - Author: Vali Myers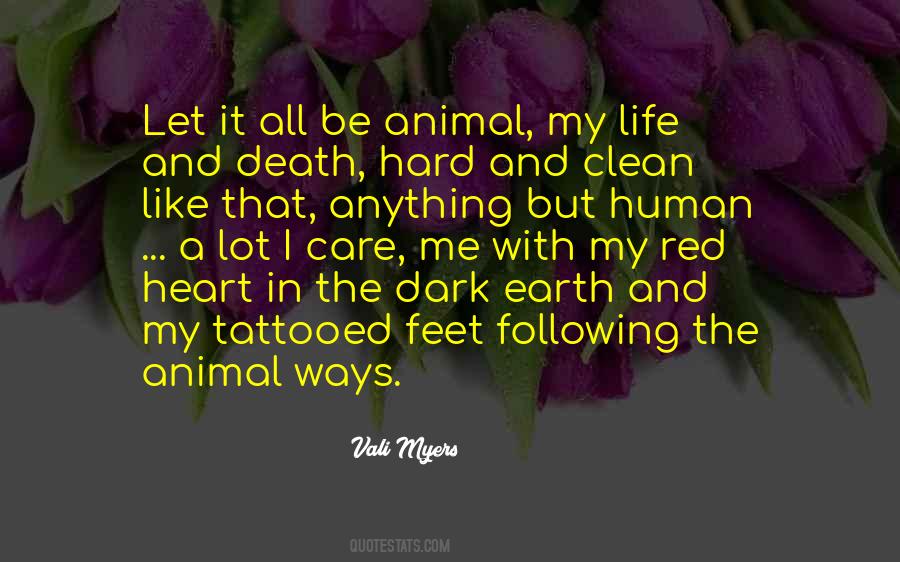 #3. You can't build rich lives simply by reading sermons or following abstract rules. Example is the best teacher. Moral improvement occurs most reliably when the heart is warmed, - Author: David Brooks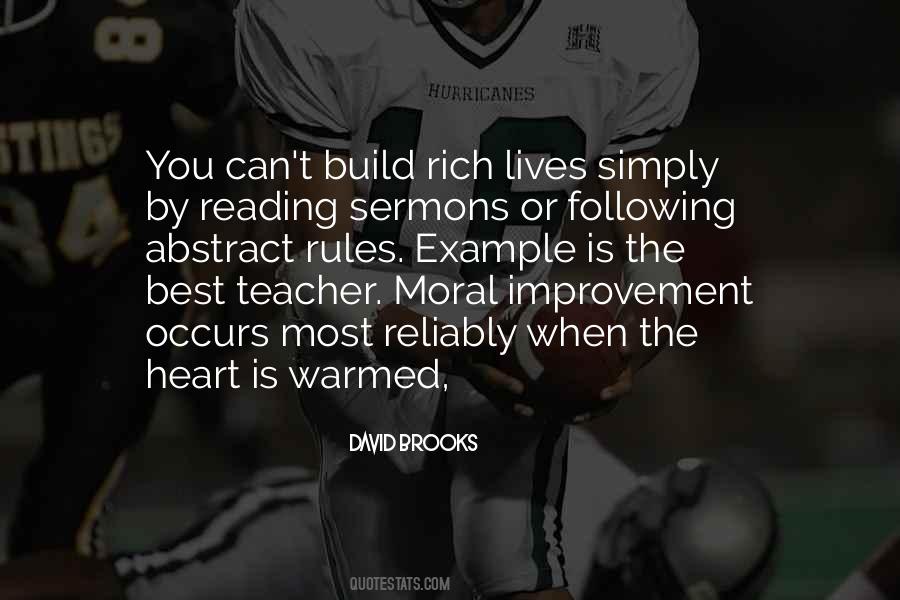 #4. Following the rules only takes you so far, sooner or later you have to forget them and play by your heart. - Author: G.J. Walker-Smith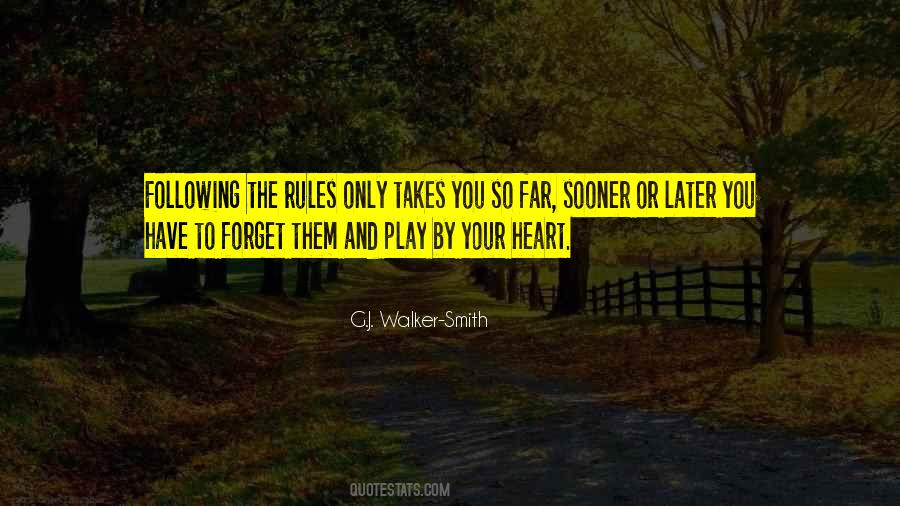 #5. Days ago, when she faced Khione on the Argo II, Piper had started talking without thinking, following her heart no matter what her brain said. Now she did the same thing. She moved in front of the statue and faced the giant, though the rational part of her screamed: RUN, YOU IDIOT! - Author: Rick Riordan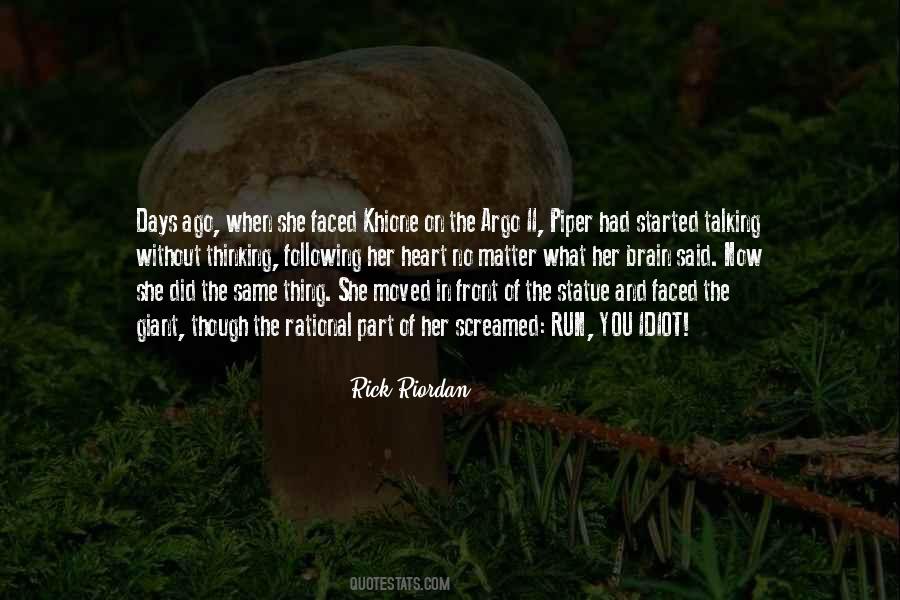 #6. The word 'courage,' one of my favorite words, the root or the etymology of that word is 'cour,' which means heart. I think true courage is actually following your heart and not getting or succumbing to what other people's definition of what your life should be. Live your life. - Author: Hill Harper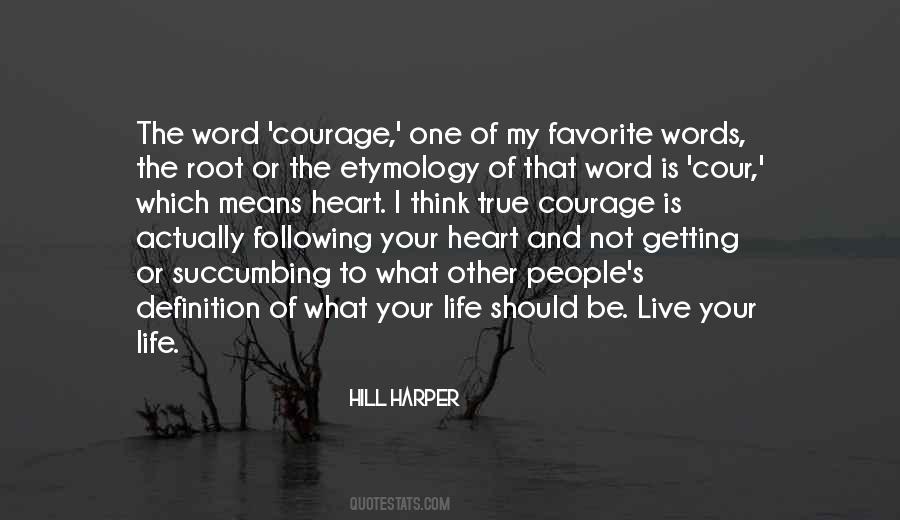 #7. Change your life by following the desires of your heart, aiming to achieve your true bliss; creating your own part of heaven here on earth. - Author: Steven Redhead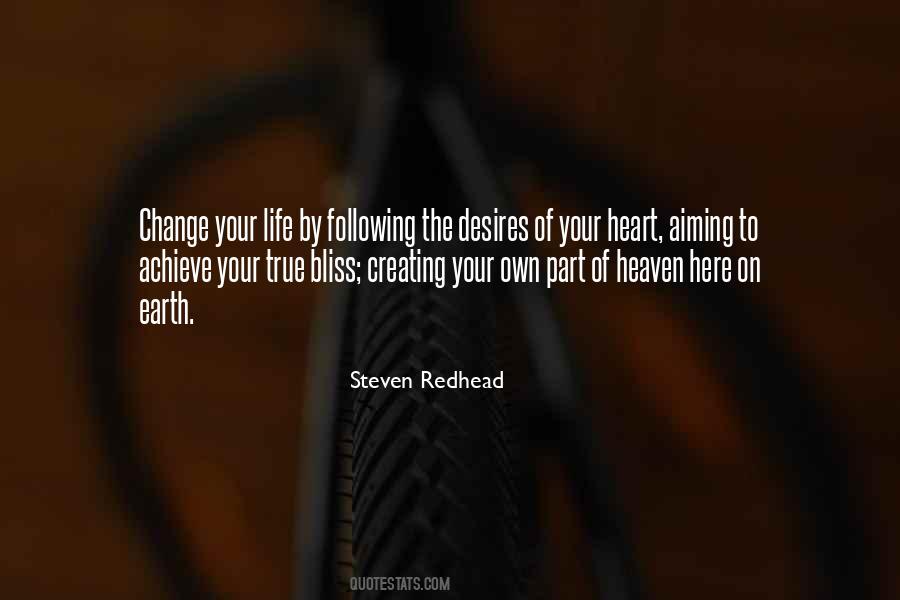 #8. Commonsense will never come from following your heart; wisdom is only stored in the mind. - Author: Shannon L. Alder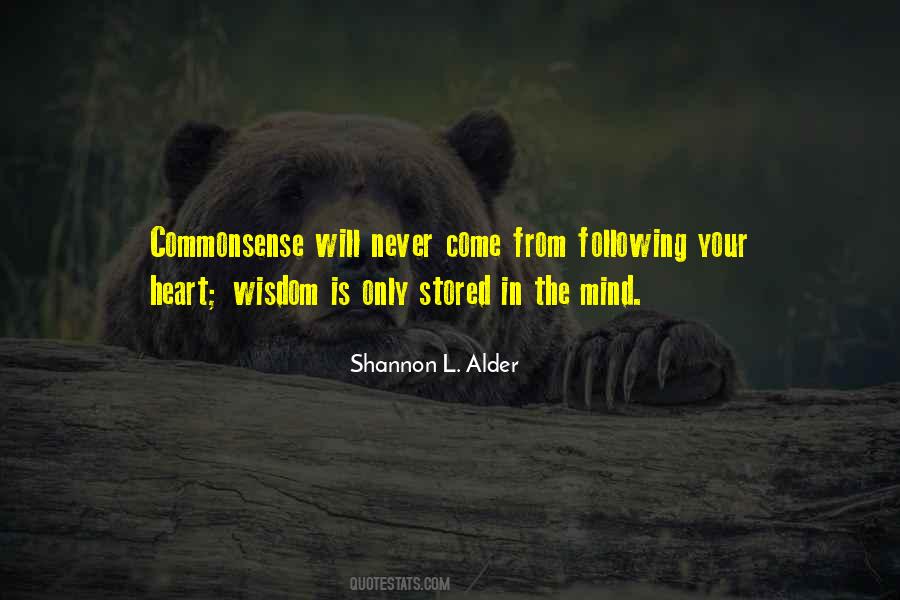 #9. God's Word is the only reliable guideline for living. Following your
heart, without the leading of His Word and His Spirit, will lead you to His judgement. - Author: Chuck Smith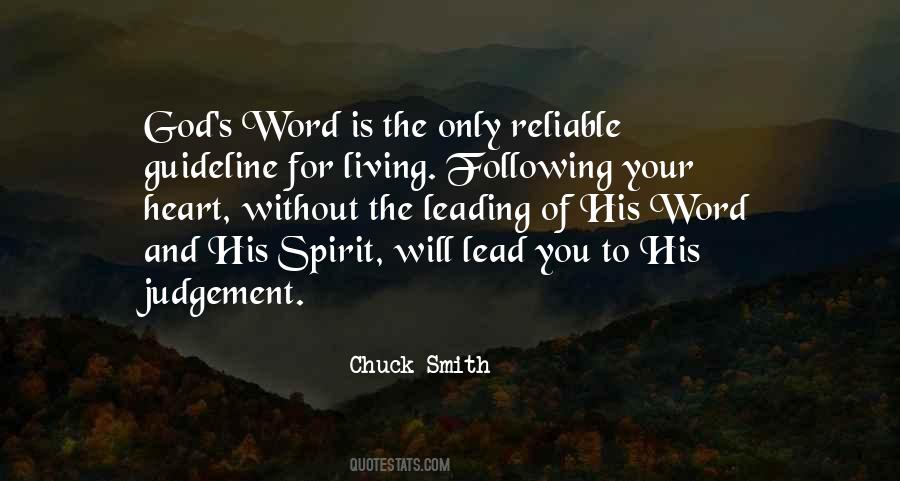 #10. Following your heart's desire will lead you in the direction your spirit wants to go. - Author: Oprah Winfrey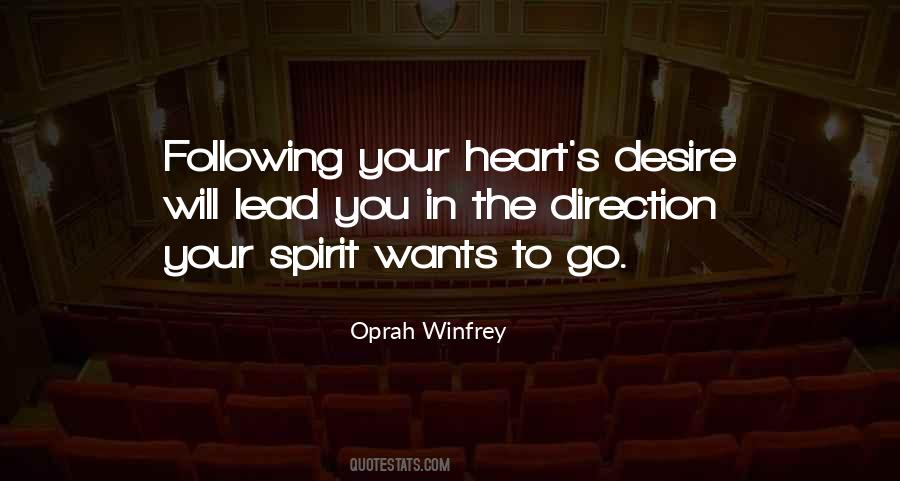 #11. The search for God means having the courage to set out on a risky path, it means following our restless hearts, ... - Author: Pope Francis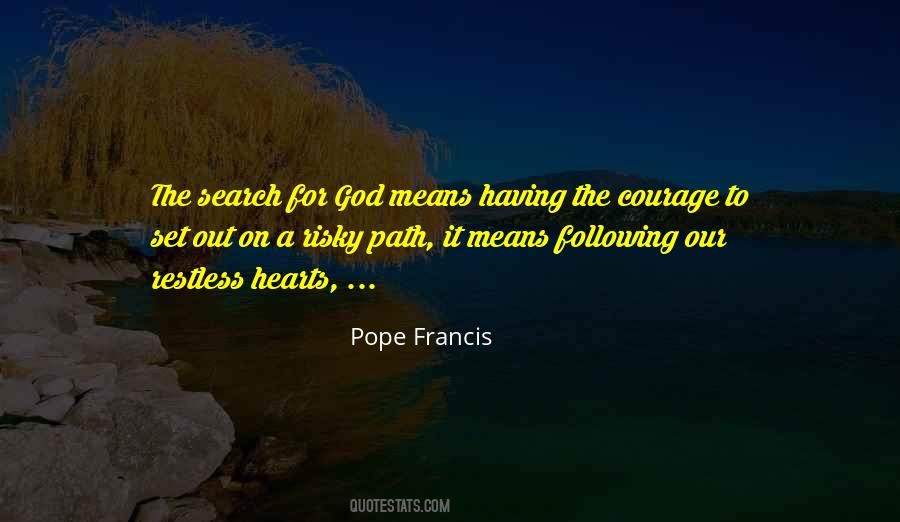 #12. Ove has a heart problem ... he begins in an anodyne voice, following this up with a series of terms that no human being with less than ten years of medical training or an entirely unhealthy addiction to certain television series could ever be expected to understand. - Author: Fredrik Backman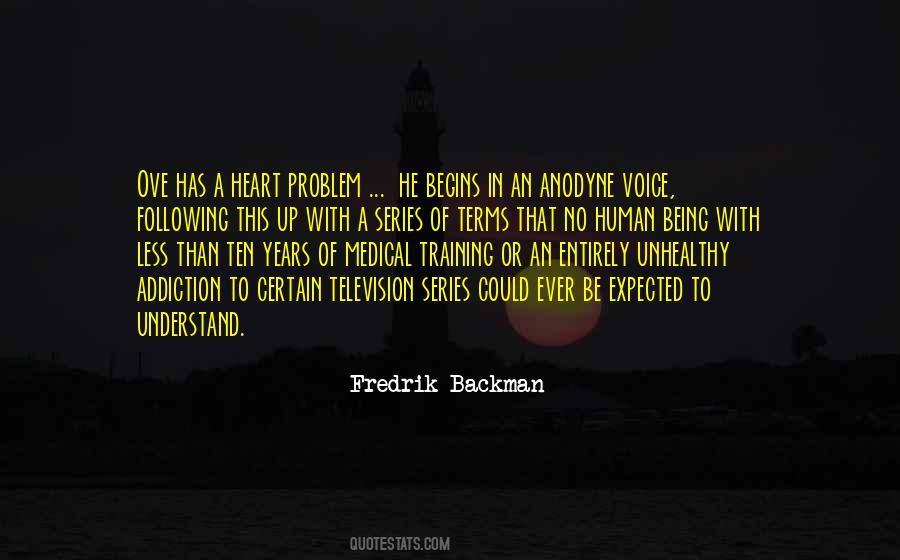 #13. Developing a kind heart, a feeling of closeness for all beings, does not require following a conventional religious practice. It is not only for those who believe in religion. It is for everyone, regardless of race, religion, or political affiliation. - Author: Dalai Lama XIV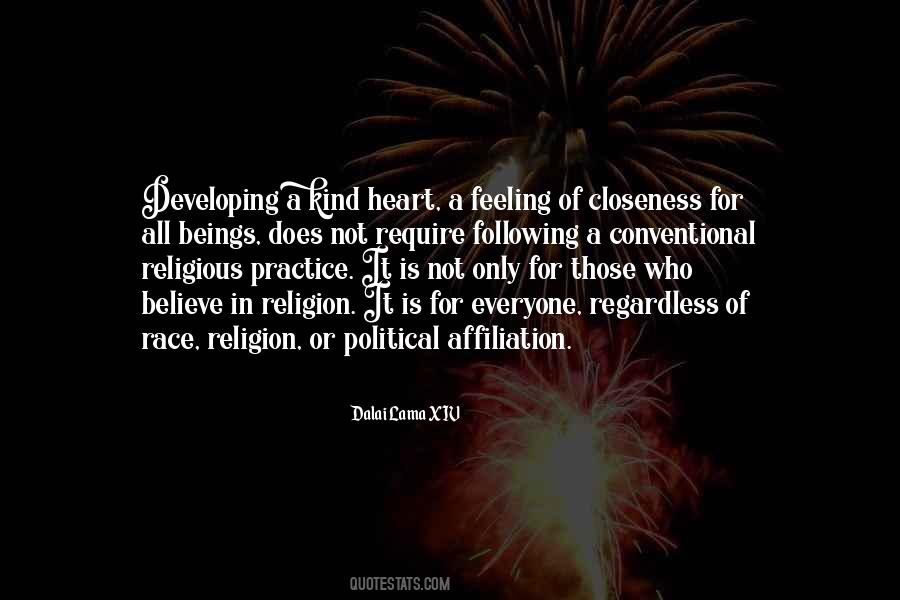 #14. From the moment that you feel enthusiastic about everything, you know that you are following your heart. - Author: Paulo Coelho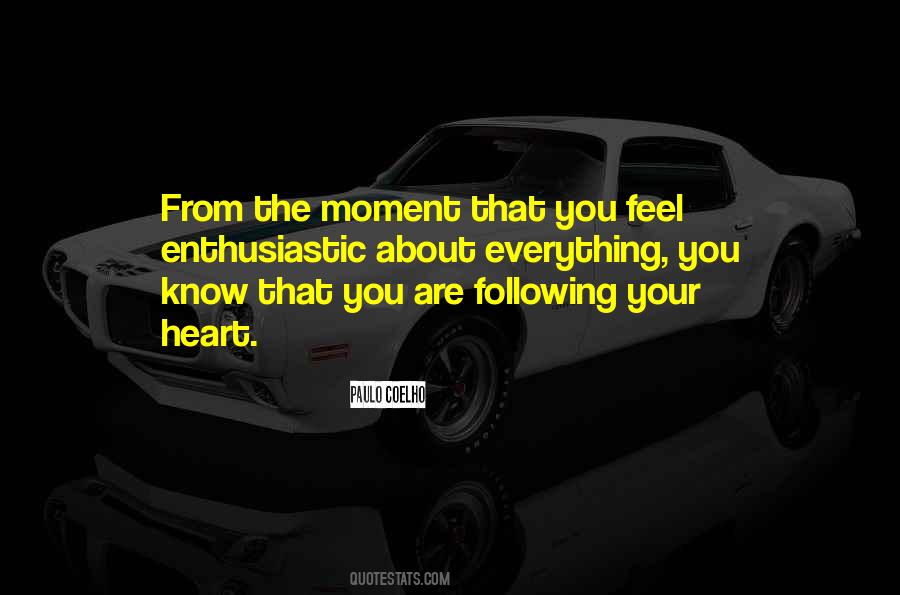 #15. Running through the maze of life, you come across profound ambiguities and complexities. Yet the essence of living a meaningful life remains simple- following your heart and pursuing your life purpose. - Author: Roopleen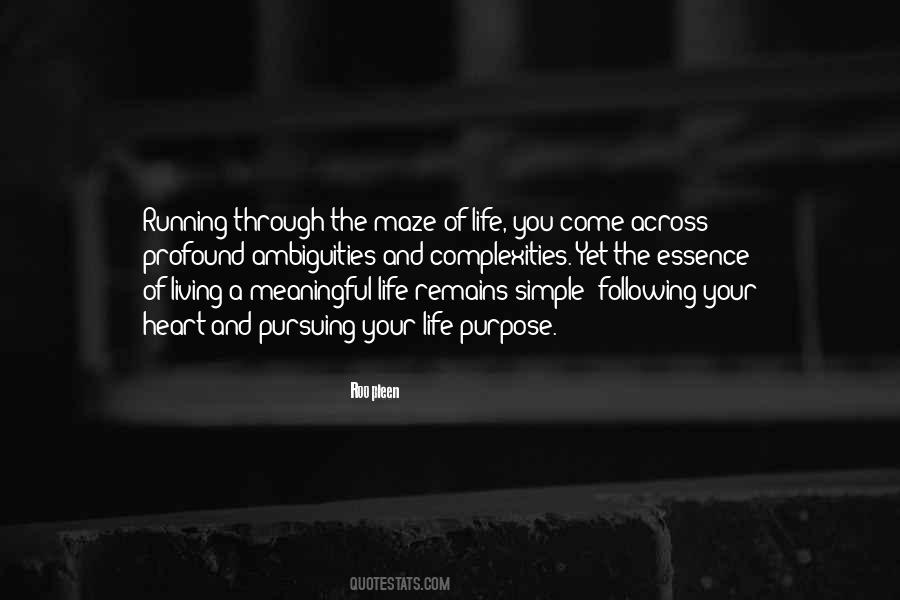 #16. What a number of things a river does, by simply following Gravity in the innocence of its heart! - Author: Robert Louis Stevenson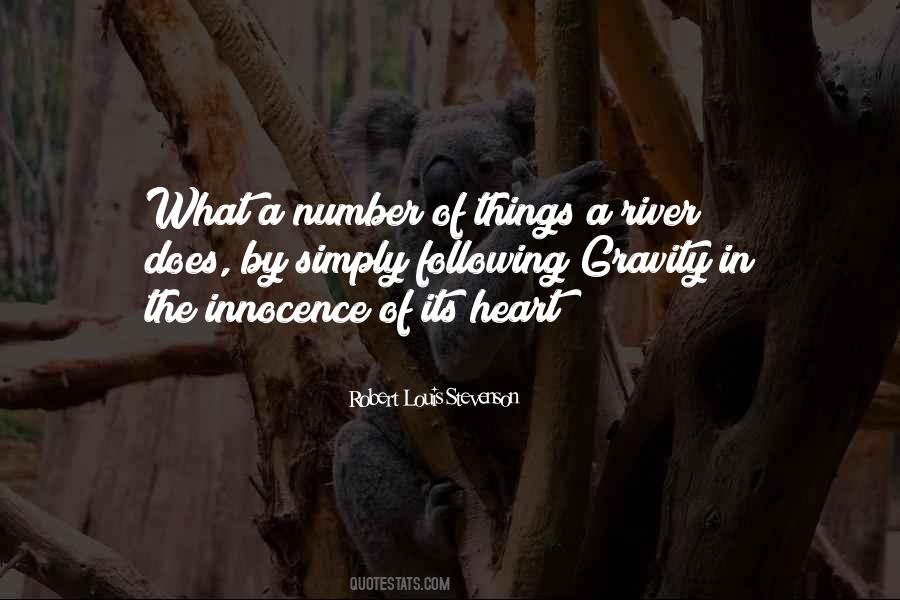 #17. We can start by living by the Spirit while we stop following the heart of discontentment and doubt. - Author: Candace Cameron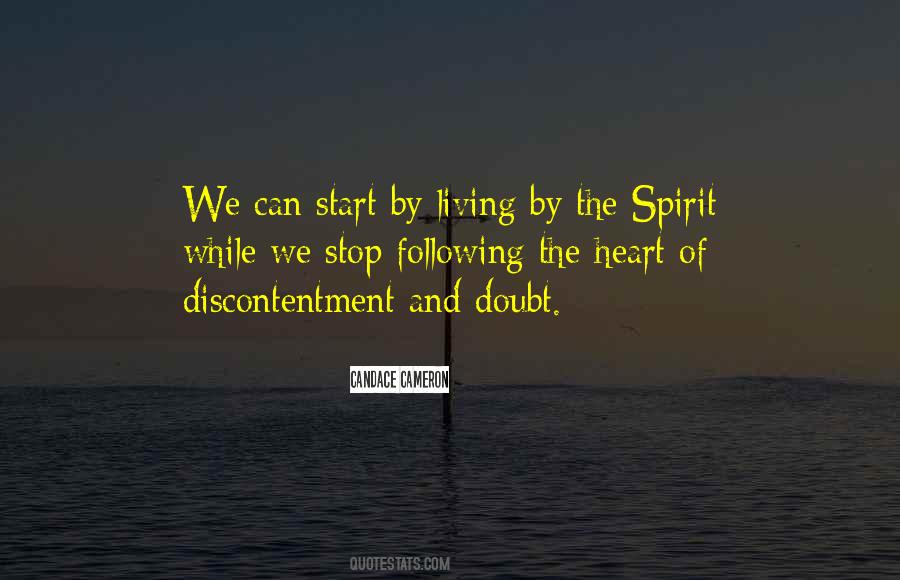 #18. I want to be a worshiper with that heart-desperate to be as close to my Savior as possible, and following his every move and step. - Author: Vicky Beeching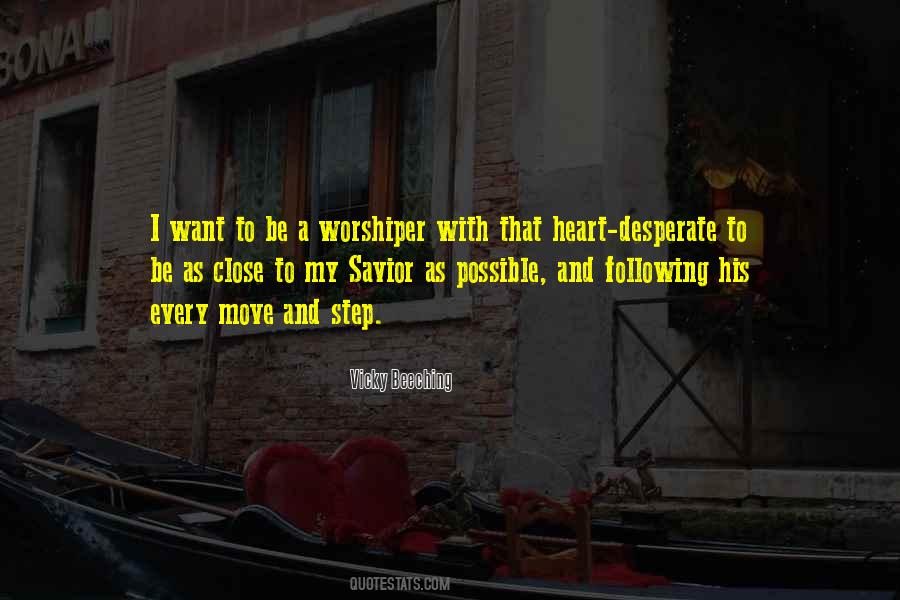 #19. If the world kept a journal, many of the entries would be conversations concerning the advancement of scientific knowledge and its importance to humanity. I offer the following conversation as an added entry: "And what is as important as knowledge?" asked the mind. "Caring," answered the heart. - Author: Flavia Weedn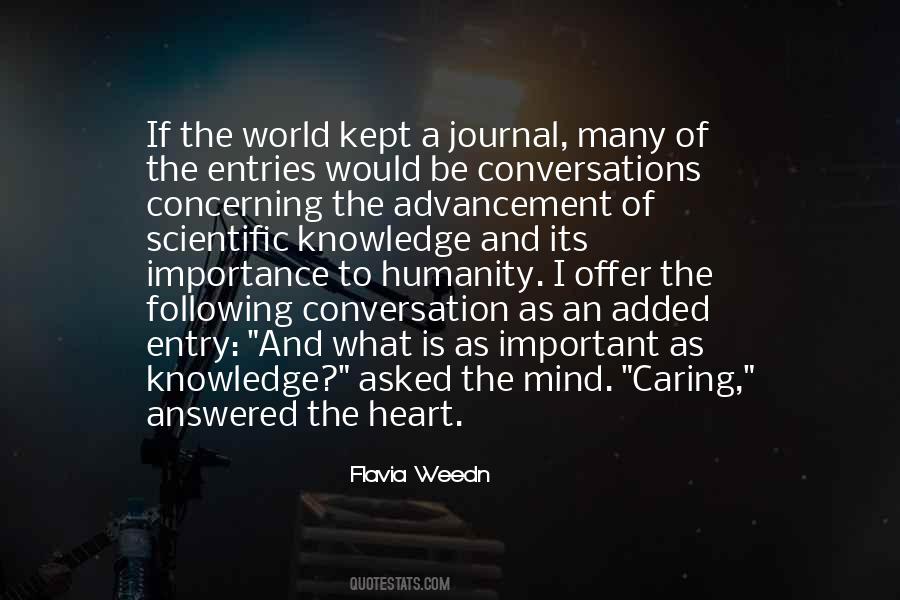 #20. Madame, I believe the greatest sin against God is to be false. If one is not true to one's self, then it is impossible to be true to God. I bear you no ill will for following your heart. - Author: Diane Haeger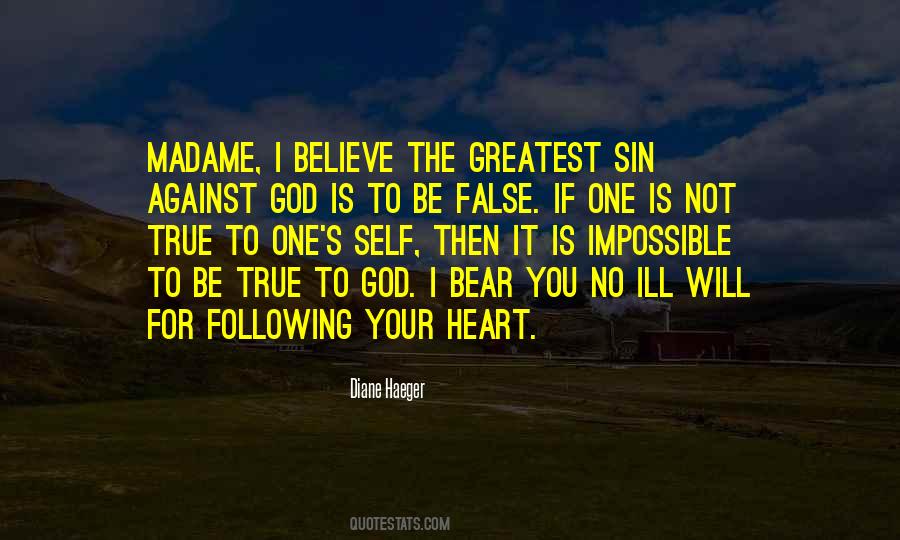 #21. The cost of not following your heart is spending the rest of your life wishing you had. - Author: Anonymous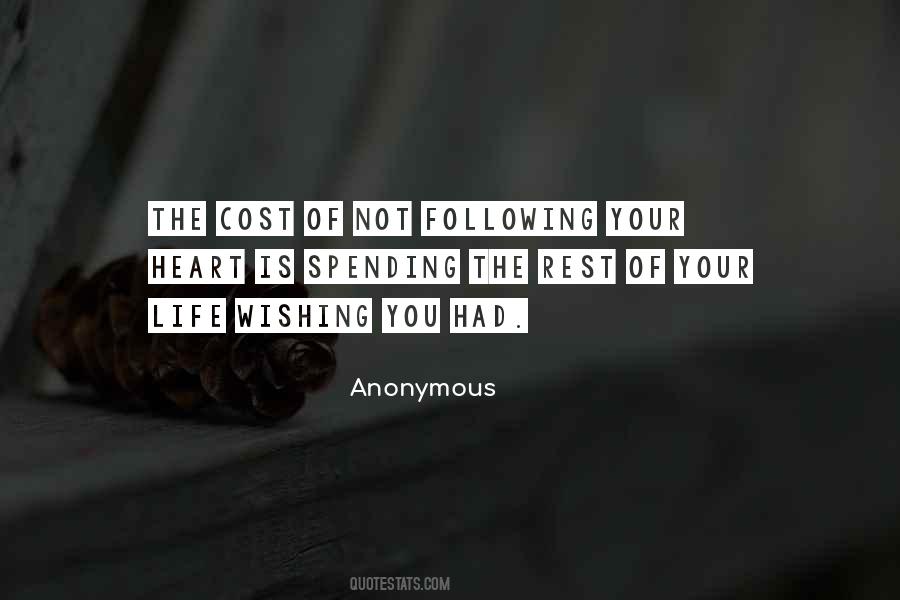 #22. You can have regret from yesterday, fear tomorrow, but peace today by sharing your heart's deepest feelings. A life spent being fearful of showing your soul is a life not worth living. - Author: Shannon L. Alder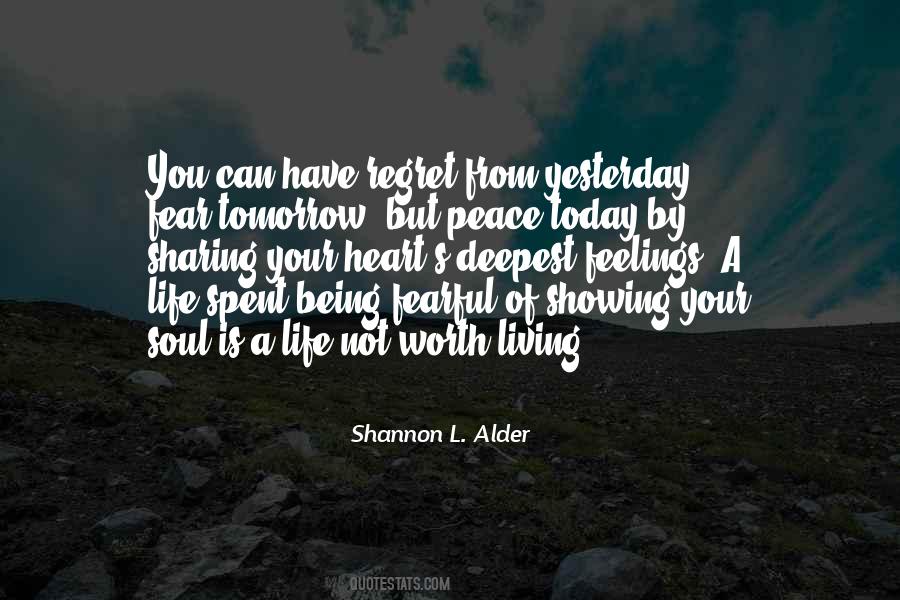 #23. When you rely on following the physical attraction of someone more than following your heart, you are lust". - Author: Abdulazeez Henry Musa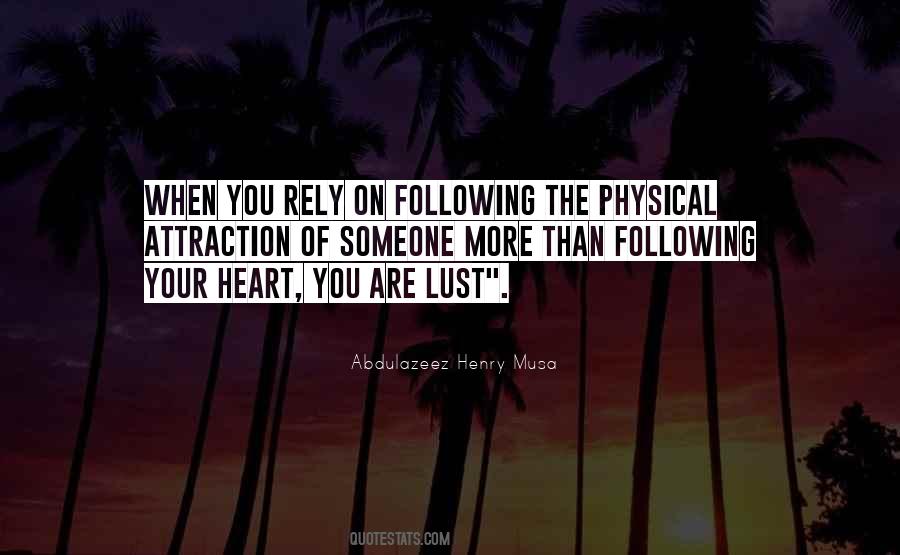 #24. What If Following Her Heart Means Rose Could Lose Her Best Friend Forever? - Author: Richelle Mead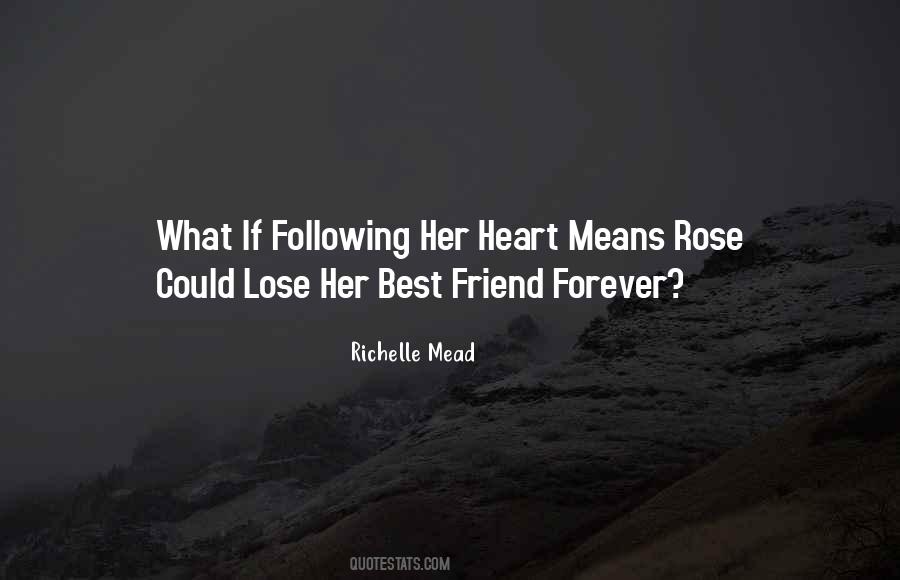 #25. Following your heart means allowing the possibility of finding true love to be stronger than the fear of rejection. - Author: Susane Colasanti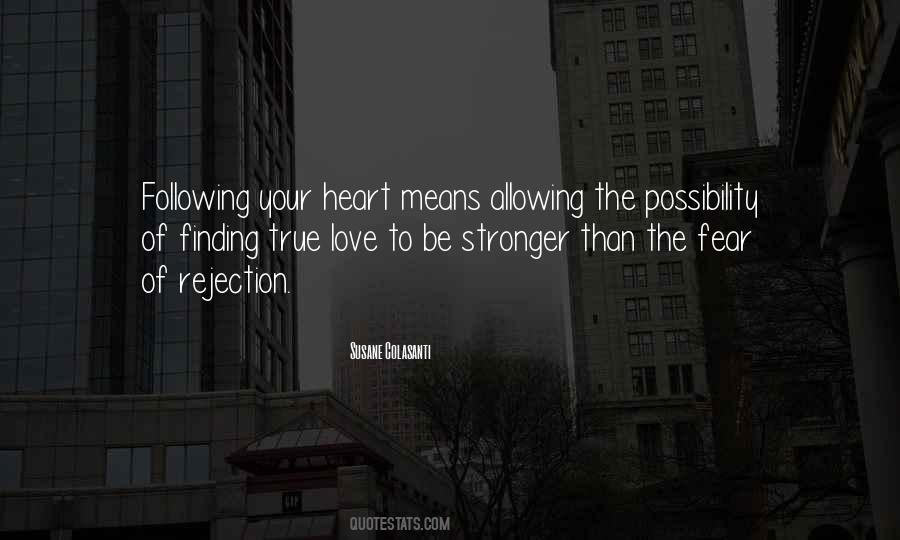 #26. And then there came into my heart a very great love for my father and I thought it was very much braver to spend a life doing what you really do not want rather than selfishly following forever your own dreams and inclinations. - Author: Alistair MacLeod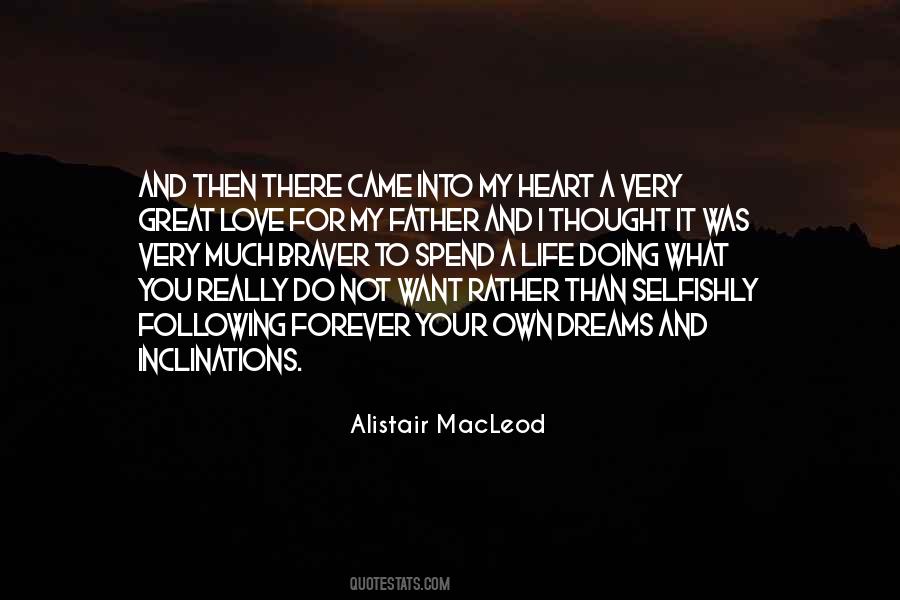 #27. What's right for most people in most situations isn't right for everyone in every situation. Real morality lies in following one's own heart. - Author: Embeth Davidtz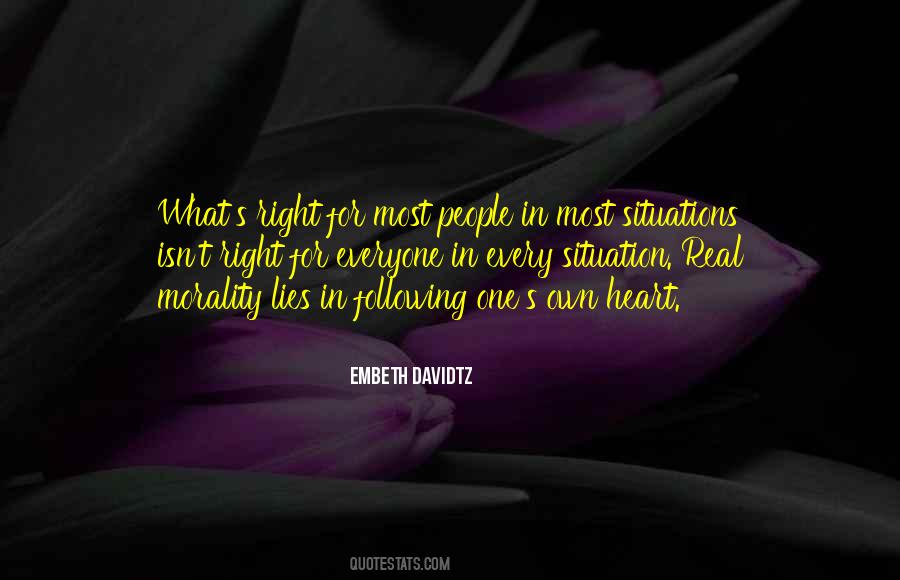 #28. She was always daydreaming. She never wanted to live in the real world; she always seemed to be separated from other children her age. They couldn't understand her or her imagination. She was always thinking outside of the box, breaking rules, and only following what her heart told her was right. - Author: Shannon A. Thompson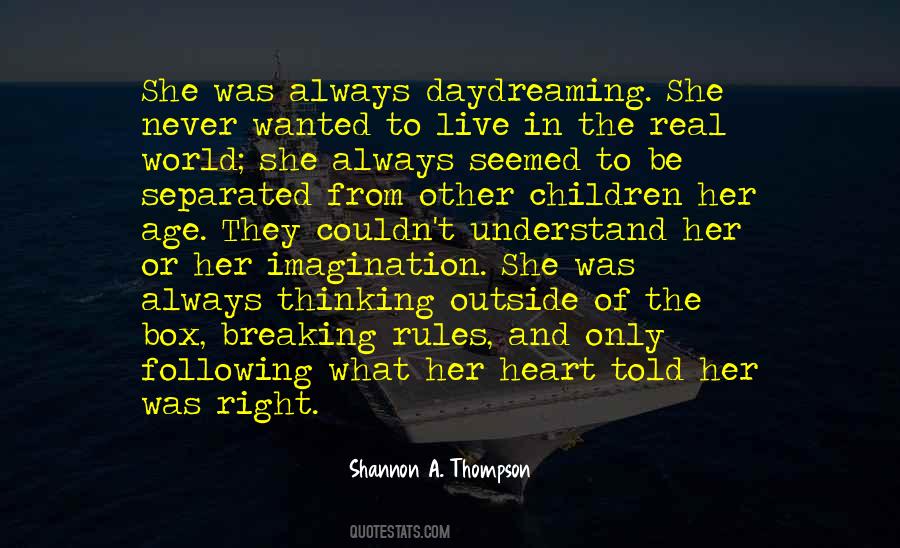 #29. Abba Antony said, "Whatever you find in your heart to do in following God, that do, and remain within yourself in Him. - Author: David Keller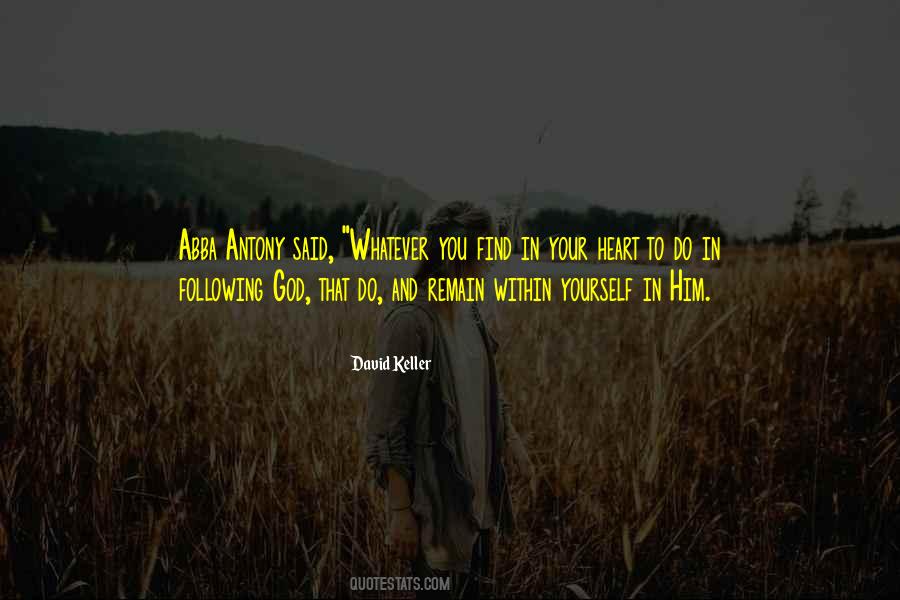 #30. God's heart calls to our hearts, inviting us to come out of ourselves, to forsake our human certainties, to trust in him and, by following his example, to make ourselves a gift of unbounded love. - Author: Pope Benedict XVI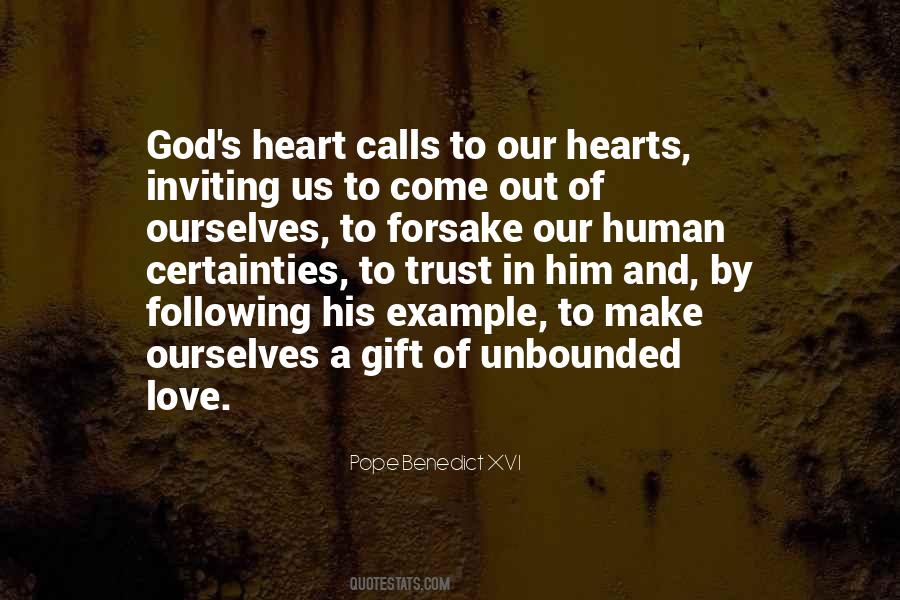 #31. Live life to the fullest. You have to color outside the lines once in a while if you want to make your life a masterpiece. Laugh some every day. Keep growing, keep dreaming, keep following your heart. The important thing is not to stop questioning. - Author: Albert Einstein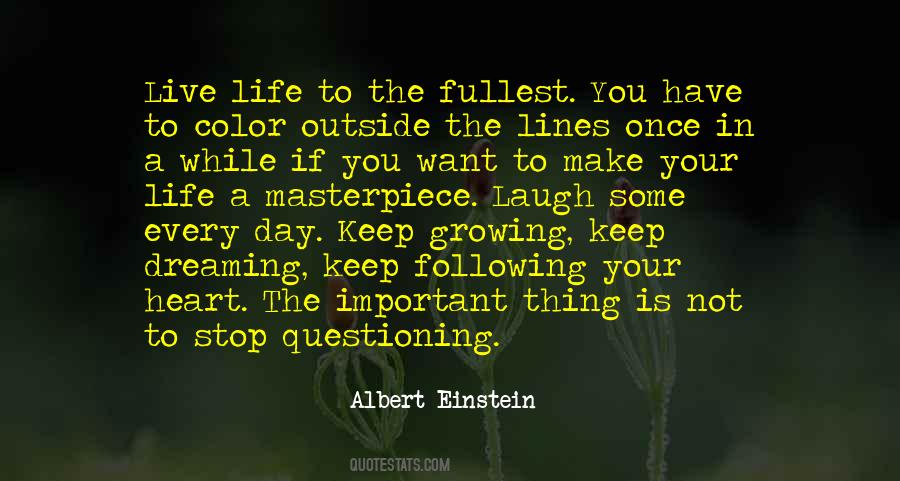 #32. You can give your own intuitive qualities a way to surface by following your heart. - Author: Ma Jaya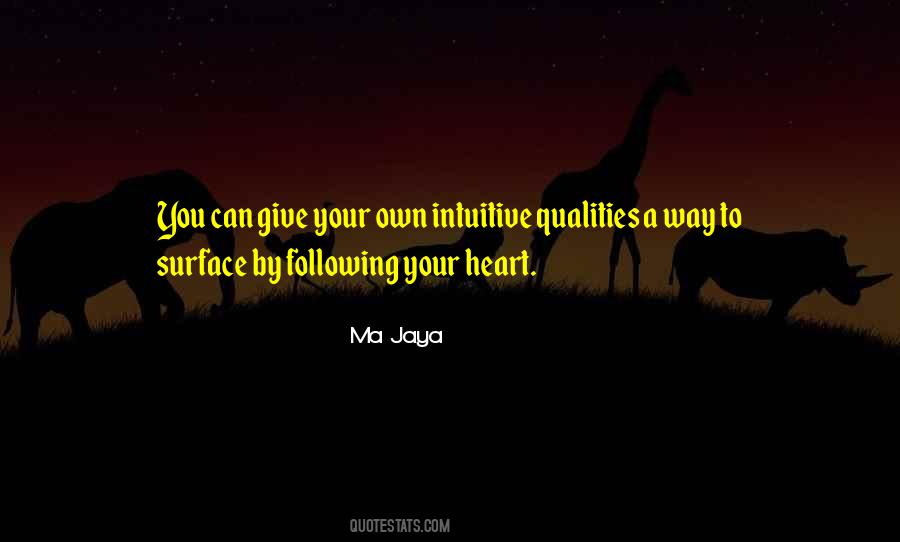 #33. You are worthy and deserving of your desires. Following your heart's Desire is the same as living God's will, when you listen to your inner self and wisdom; you are actually carrying out God's intention. - Author: Malti Bhojwani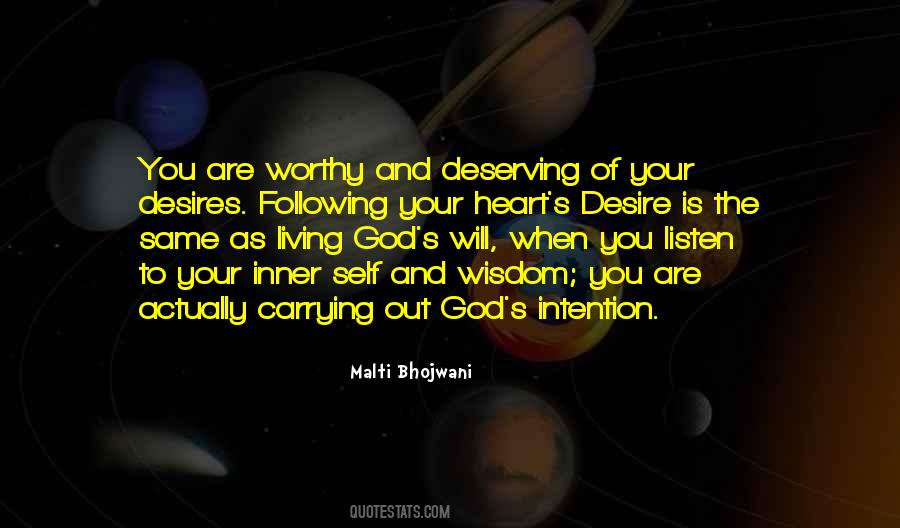 #34. keep following your heart.
it won't always be easy, but it'll be the most important thing you'll do. - Author: AVA.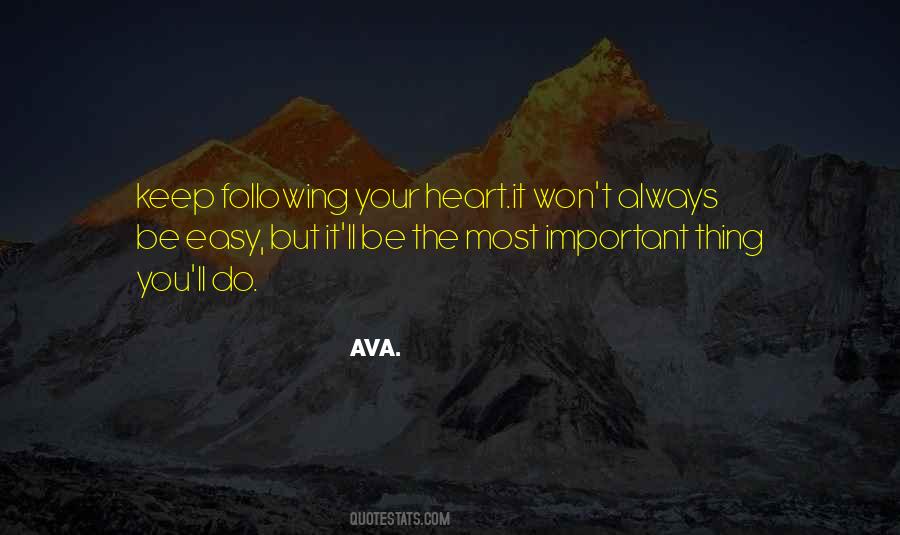 #35. If nothing else in this long and short life, let me be true to my conscience, to the dignity of my own heart. Let me act in a way that says, I have honored my spirit as truly as I have honored others'. Let me stand tall and rooted as a mountain in the face of a quaking world. - Author: Jennifer DeLucy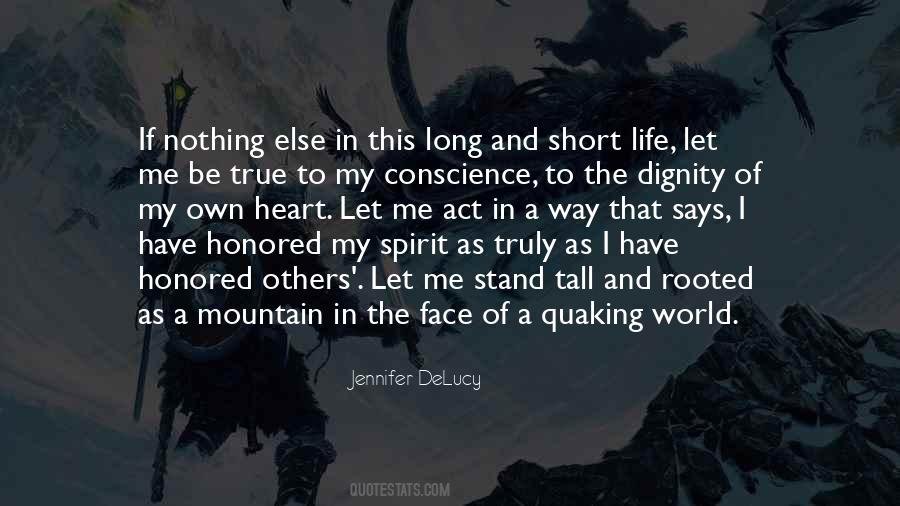 #36. Goals are only ever a guide; a winding, changing path. It's your heart that will really keep you on tack ... and nourished along the way. - Author: Rasheed Ogunlaru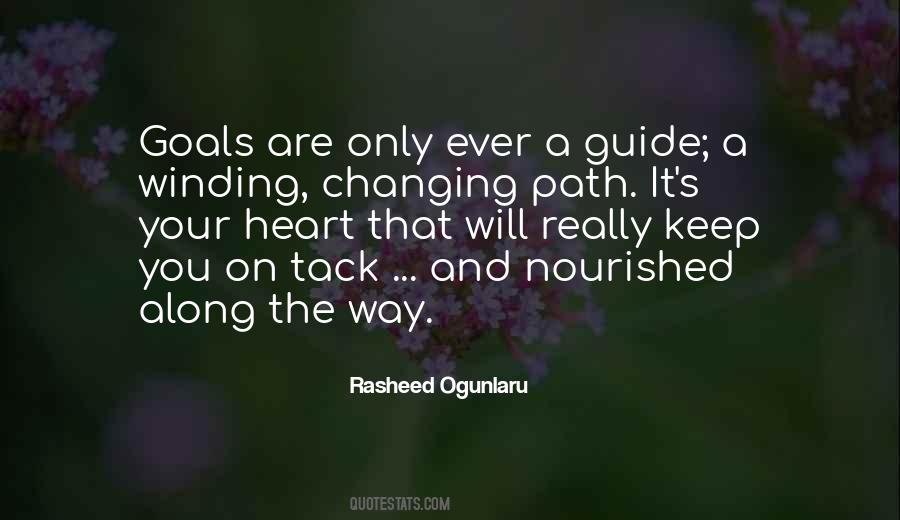 #37. He could not understand the wild quiver of his heart, nor the following sense of recklessness and grace that lingered after she was gone. - Author: Carson McCullers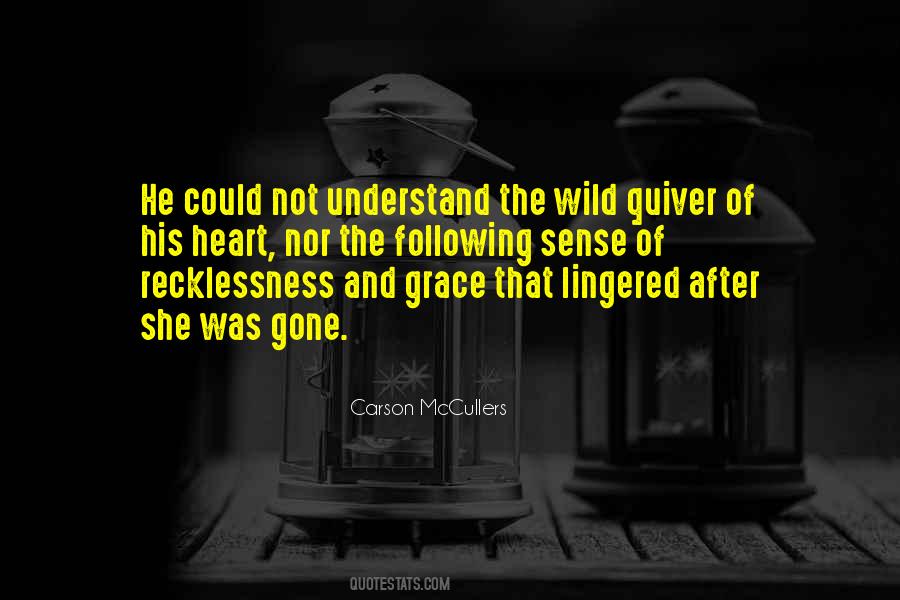 #38. The human heart must be a strong and resilient thing, Daphne decided when she awoke the following morning. She was surprised to find that she was no longer in the throes of wrenching heartbreak and pain. Instead, in a strange way, she felt as if she had been reborn. - Author: Laura Lee Guhrke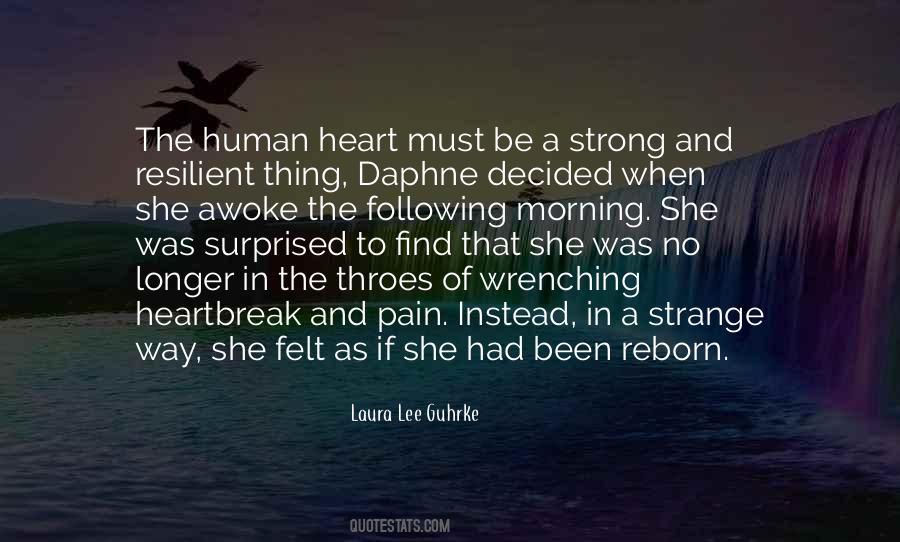 #39. I have never, ever, EVER met anyone who's regretted following their heart. - Author: Marie Forleo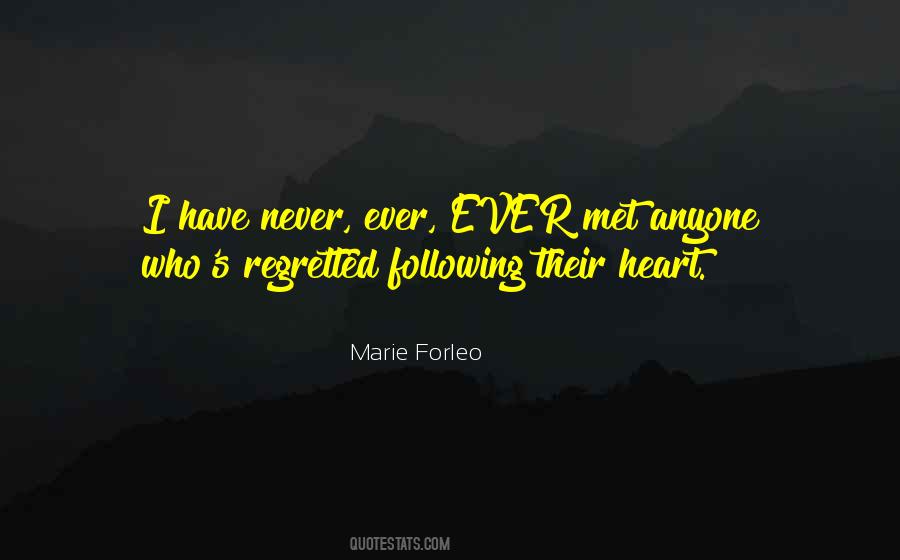 #40. 20 Samuel said to the people, "Fear not! Indeed you have done all this evil, yet do not turn aside from following ADONAI, but worship ADONAI with all your heart. 21 Do not turn aside to go after empty things that cannot profit or deliver, for they are futile. - Author: Messianic Jewish Bible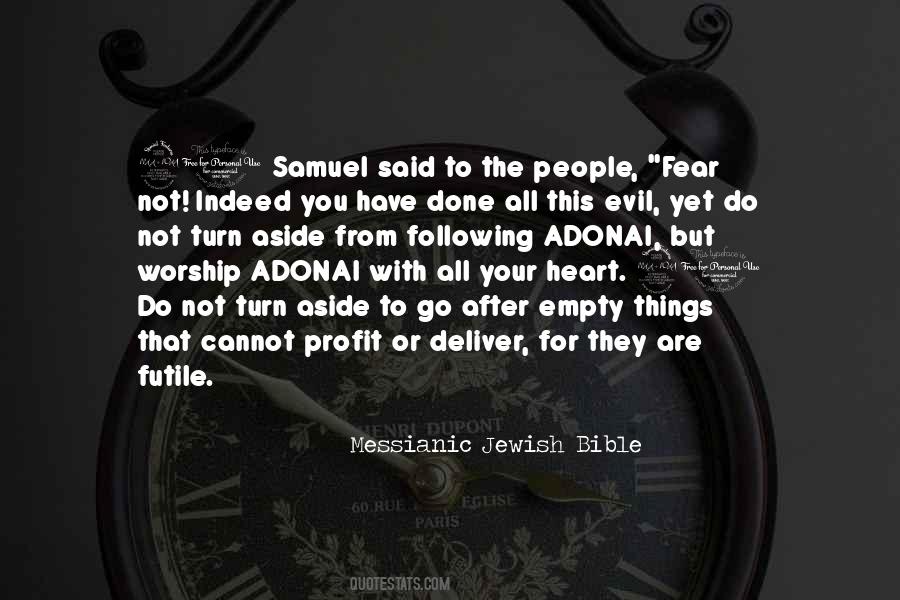 #41. Following your heart also means eliminating the things that no longer evolve you. - Author: Erykah Badu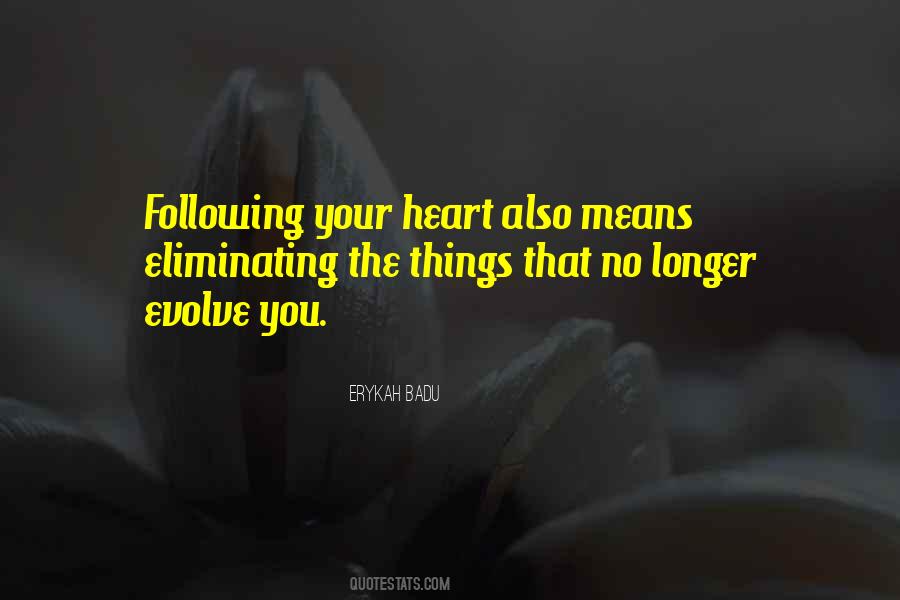 #42. When you heed the calling of your heart, you are following your purpose. Having purpose in your life gives you the courage to do the things you are meant to do. When you are purpose driven, you have learned to listen to your intutition and never let no get in your way. - Author: Rhonda Britten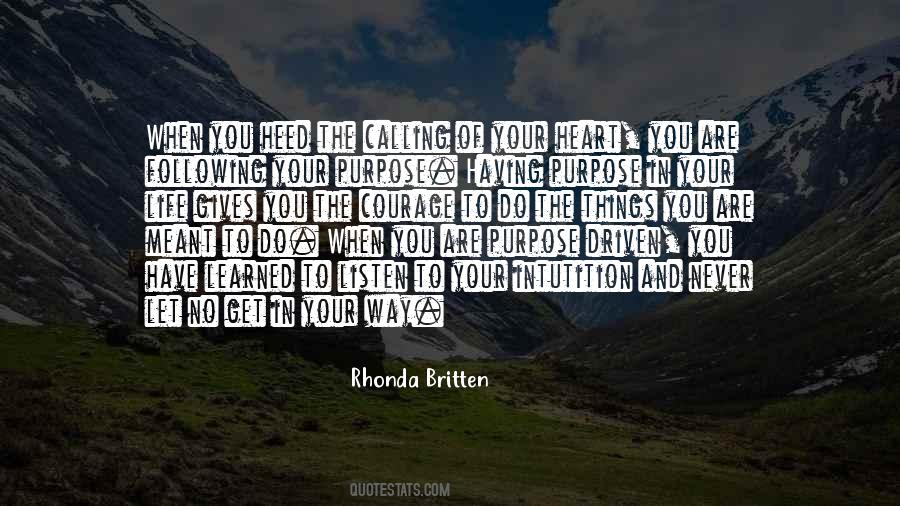 #43. Try jogging when following your heart, it's healthier - Author: Benny Bellamacina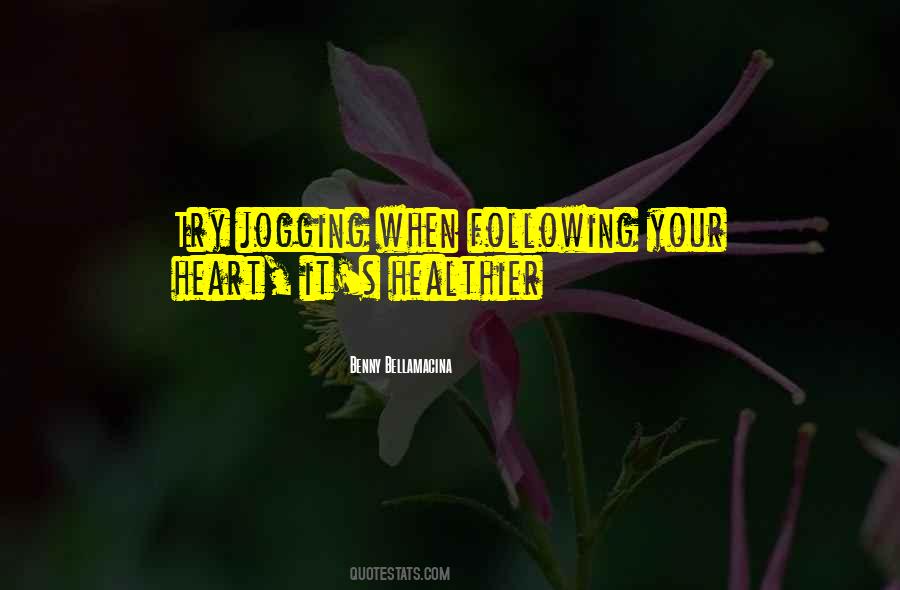 #44. Following all the rules leaves a completed checklist. Following your heart achieves a completed you. - Author: Ray A. Davis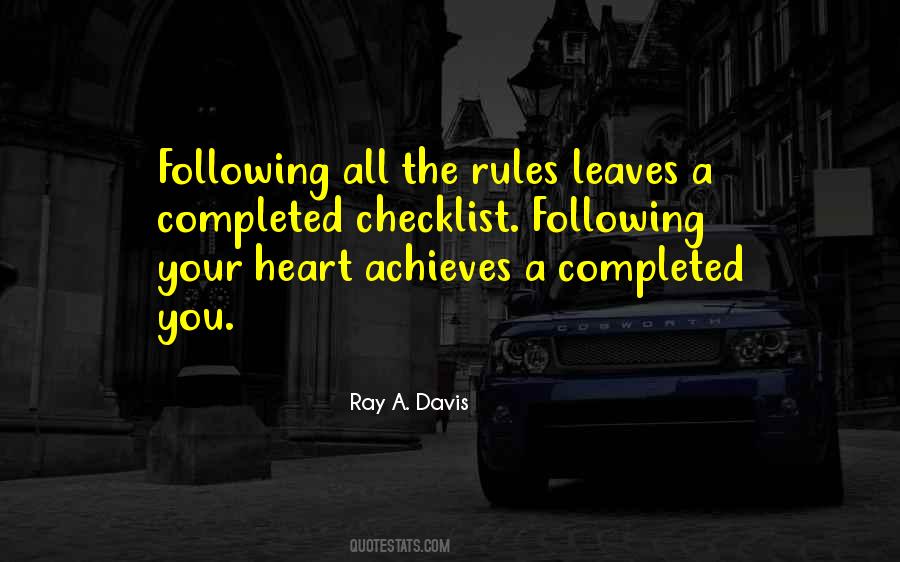 Famous Authors
Popular Topics