New Day New Beginning Famous Quotes & Sayings
List of top 54 famous quotes and sayings about new day new beginning to read and share with friends on your Facebook, Twitter, blogs.
Top 54 Quotes About New Day New Beginning
#1. You cannot go back and start a brand new beginning, but today is a new day and you can start a brand new thing. - Author: Debasish Mridha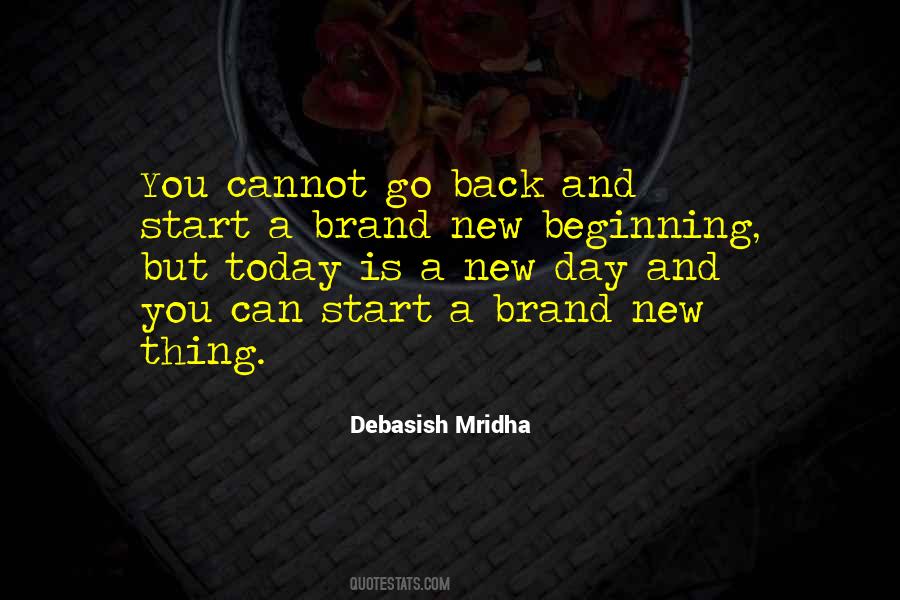 #2. It's a wise man who understands that every day is a new beginning, because boy, how many mistakes do you make in a day? I don't know about you, but I make plenty. You can't turn the clock back, so you have to look ahead. - Author: Mel Gibson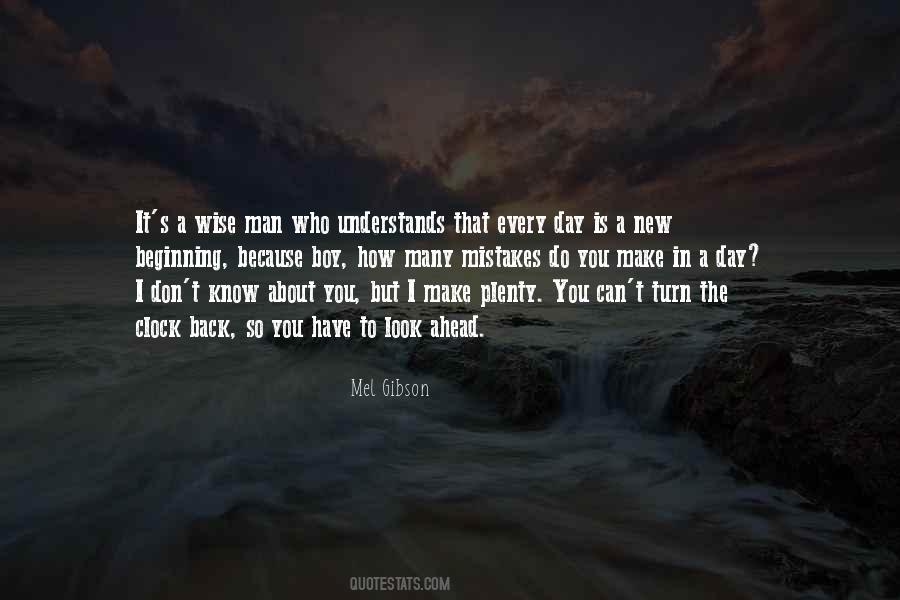 #3. I was never afraid of failure. I realized that I was responsible for my own success and that every day offers a new beginning and I was confident in my ability to improve. - Author: Jeffrey R. Immelt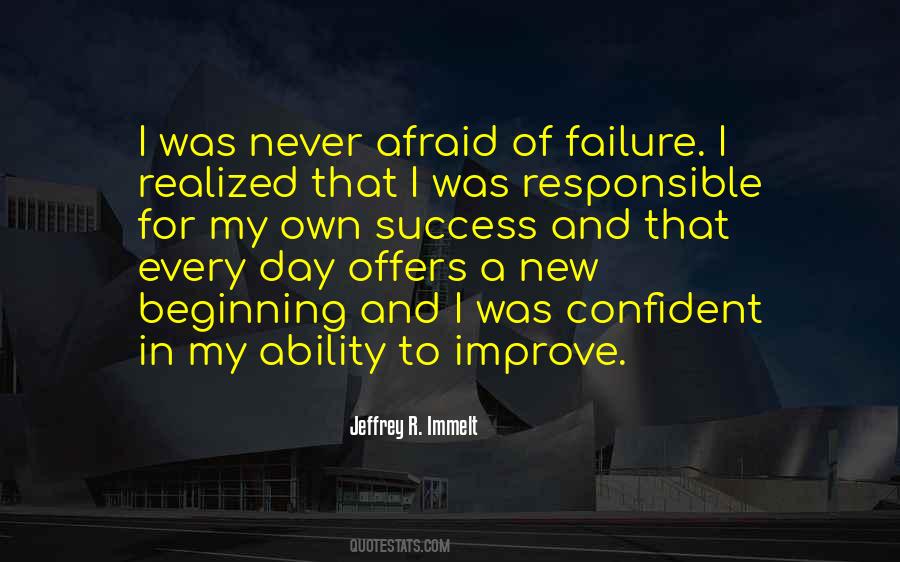 #4. The perpetual mourner
the grief that can never be healed
is innocently enough felt to be wearisome by the rest of the world. And my sense of desolation increases. Each day seems a new beginning
a new acquaintance with grief. - Author: George Eliot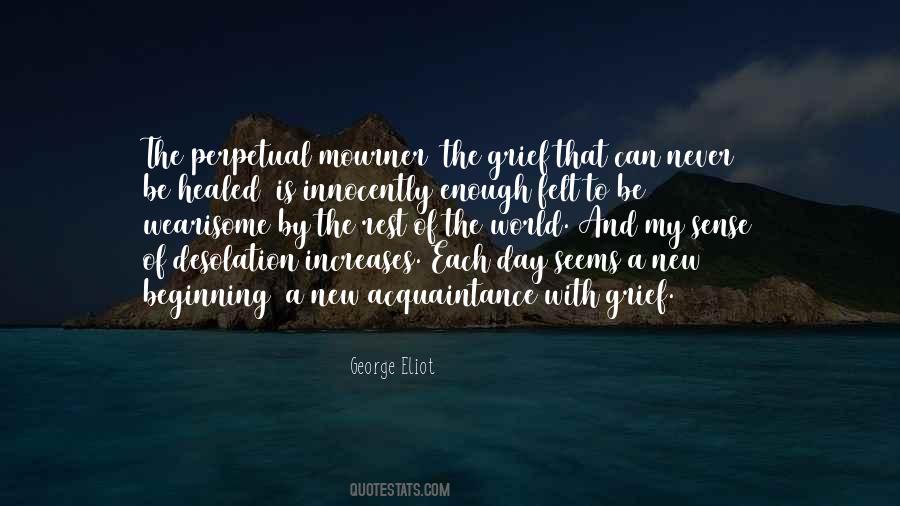 #5. It rained last night heavily, and now the skies are beginning to clear; it is a new fresh day. Let us meet that fresh day as if it were the only day. Let us start on our journey together with all the remembrance of yesterday left behind - and begin to understand ourselves for the first time. - Author: Jiddu Krishnamurti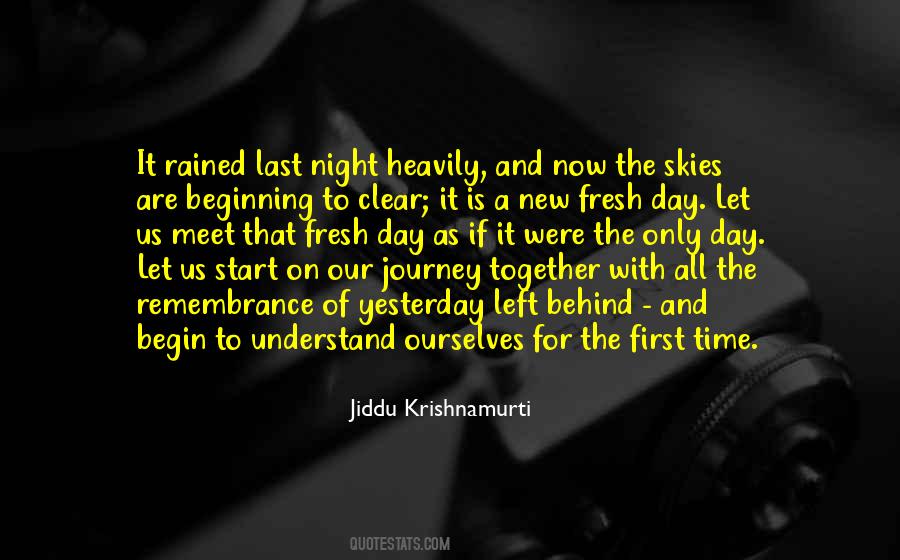 #6. This is the first day of my new beginning. From now on I'm going to do things right. I'm going to be a different person, a good person. I'm going to be the kind of person who would be remembered well, not just remembered. - Author: Lauren Oliver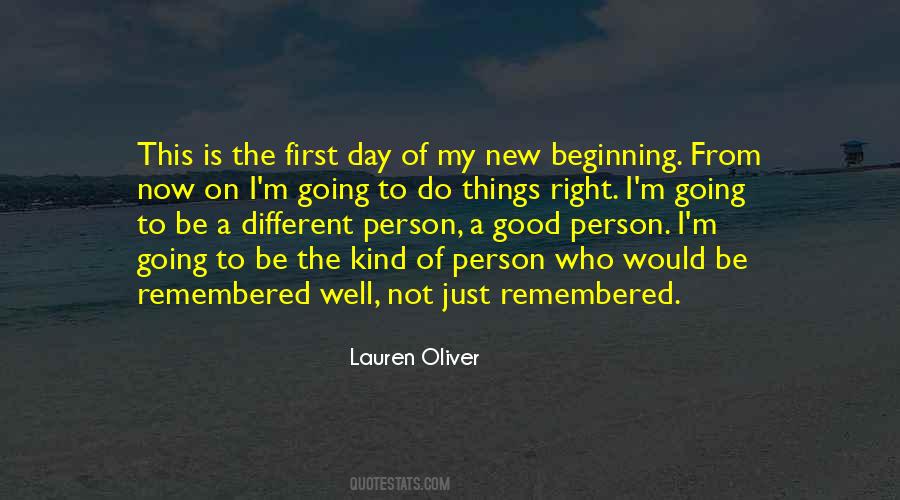 #7. Here, too, a brand-new day is beginning. It could be a day like all the others, or it could be a day remarkable enough in many ways to remain in the memory. In either case, for now, for most people, it is a blank sheet of paper. - Author: Haruki Murakami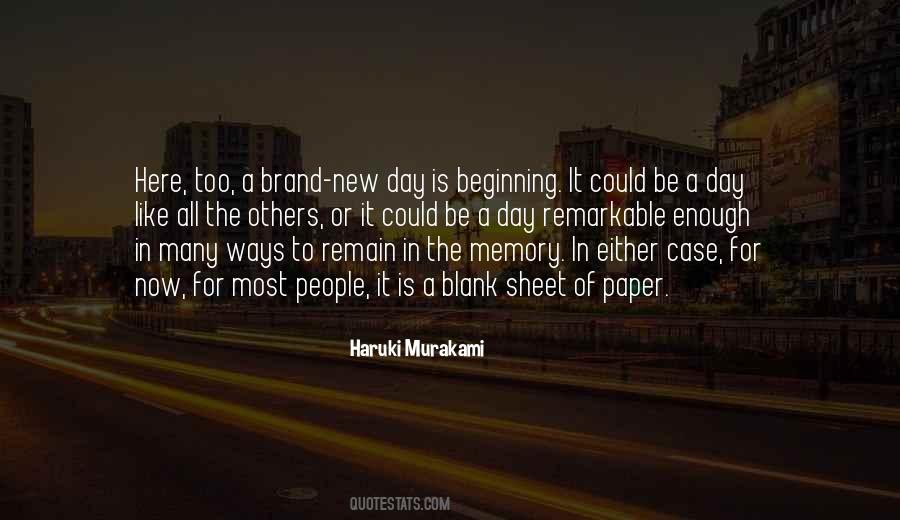 #8. There is no tomorrow and there was no yesterday; if you truly want to accomplish your goals you must engulf yourself in today. - Author: Noel DeJesus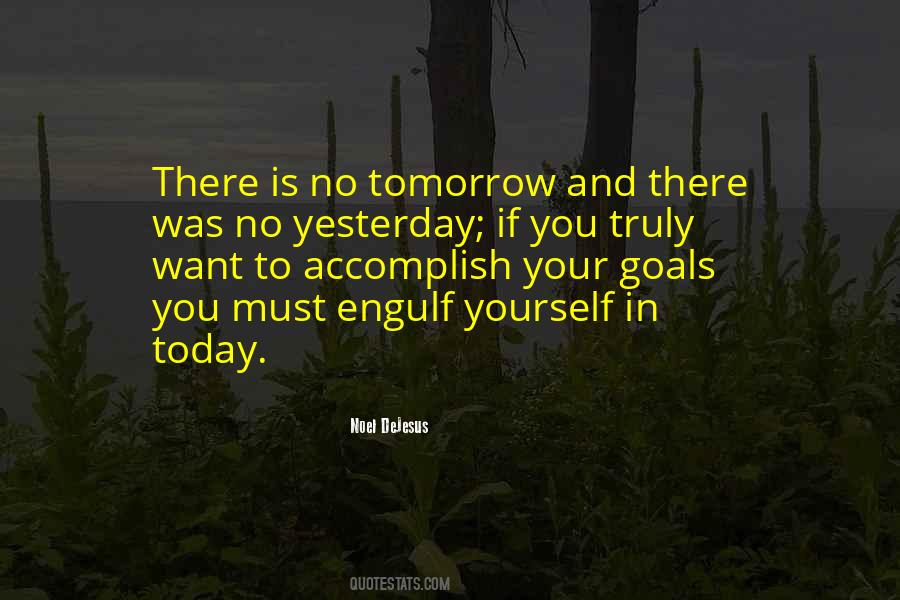 #9. For me, Barack Obama's election was a milestone of the most extraordinary kind. On the day he was elected I felt such hope in my heart. I thought we were seeing the beginning of a new era of equal opportunity across race and gender such as America had never known before. - Author: Jesse Jackson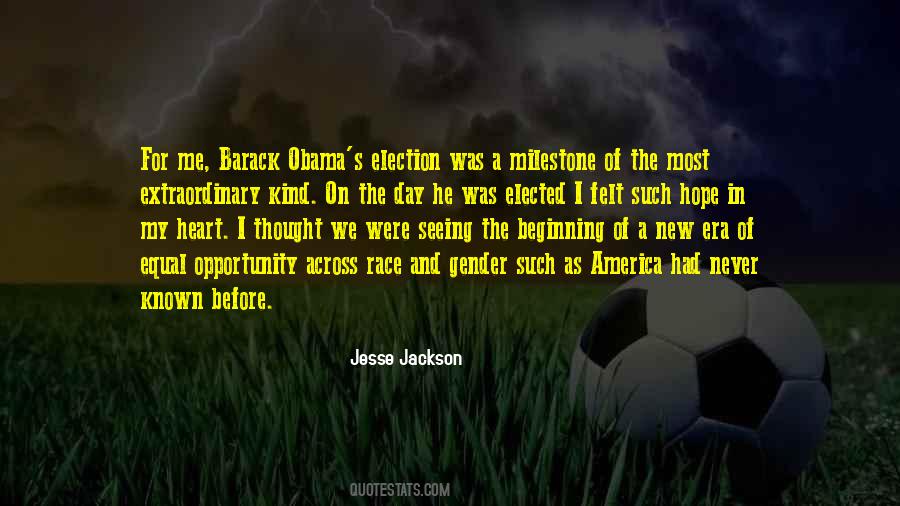 #10. Today is the most important day to start a new beginning. It will open the door of opportunity and reveal the holding. - Author: Debasish Mridha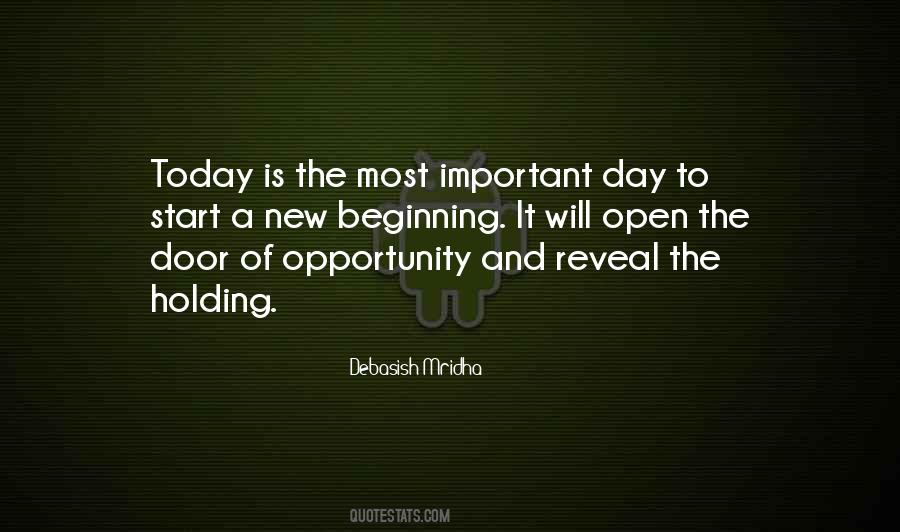 #11. My family moved from California to New Jersey in the beginning of my sophomore year of high school. I will never forget the first day in a new school, walking into the cafeteria during lunch and not knowing a single soul. I didn't feel confident enough to share a seat at just anyone's table. - Author: Camille Guaty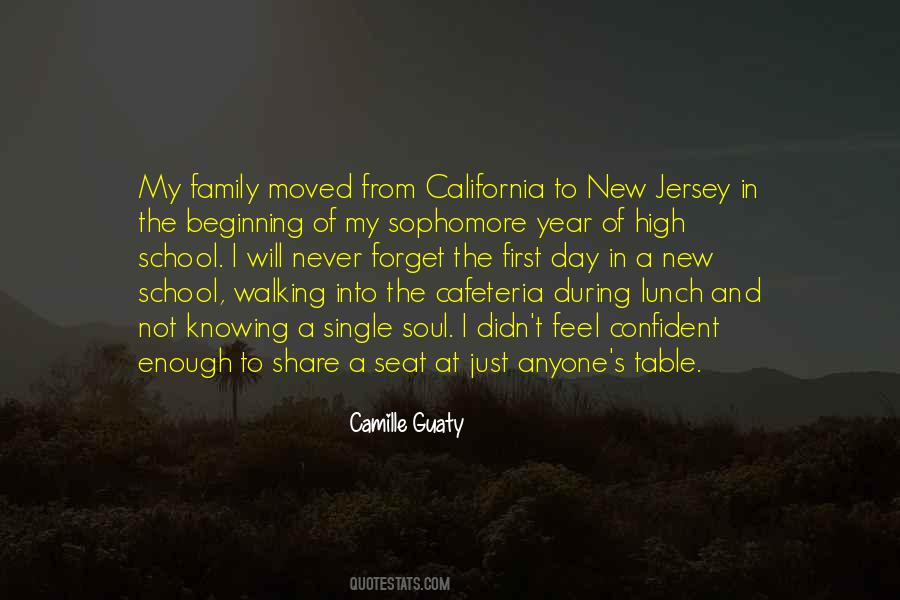 #12. It's a new day, a new beginning for your new life. With discipline you will be amazed at how much progress you'll be able to make. What have you got to lose except the guilt and fear of the past? - Author: Jim Rohn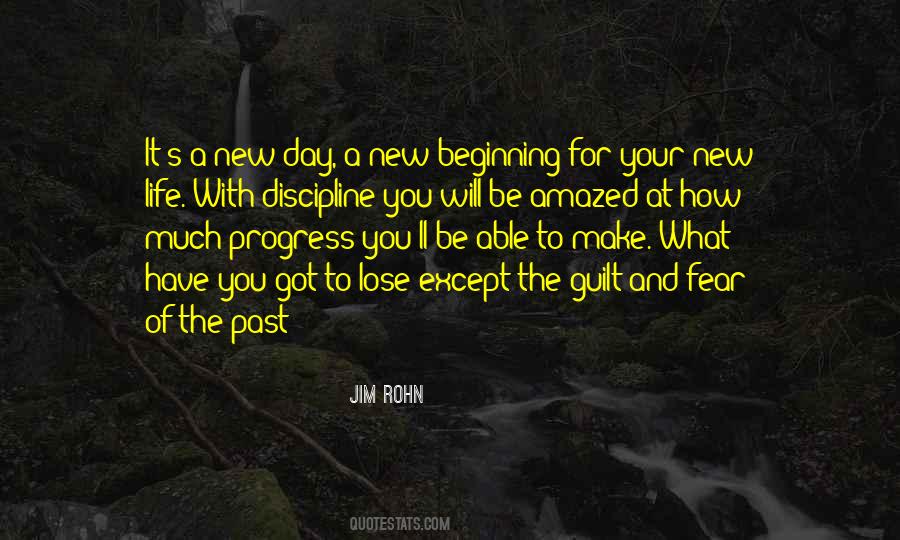 #13. Some may try to tell us that this is the end of an era. But what they overlook is that in America, every day is a new beginning. For this is the land that has never become, but is always in the act of becoming. - Author: Ronald Reagan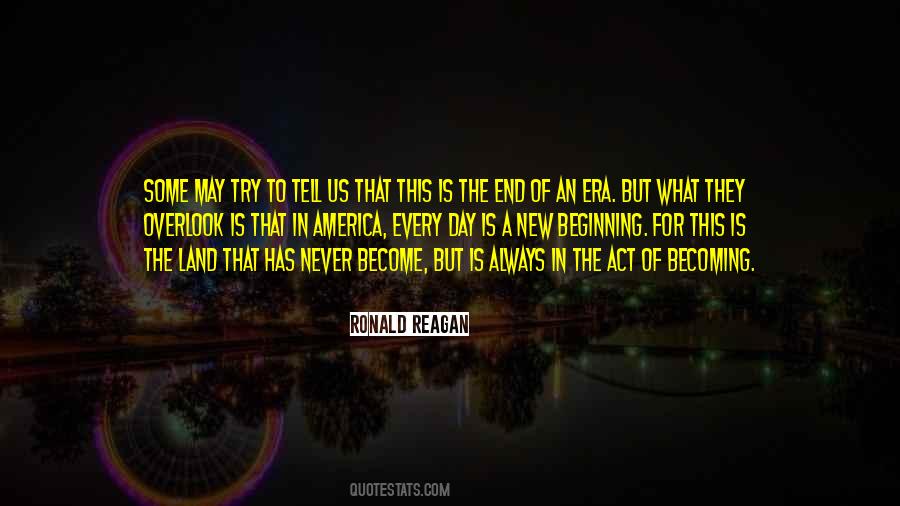 #14. Each morning is a new beginning of our life. Each day is a finished whole. The present day marks the boundary of our cares and concerns. It is long enough to find God or lose Him, to keep faith or fall into disgrace. - Author: Dietrich Bonhoeffer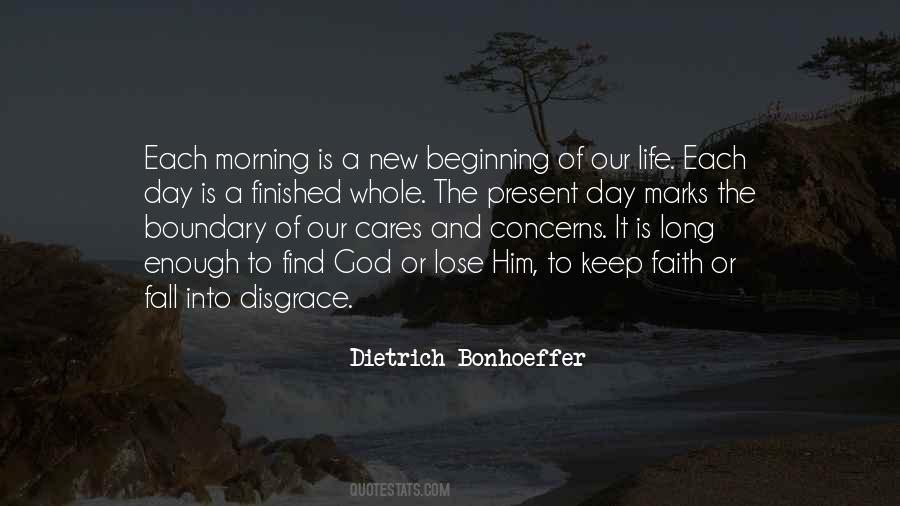 #15. Don't waste another day of your life grieving over something that you cannot do anything about. Let God give you a new beginning. Your mistakes are not enough to stop God if you don't let them. - Author: Joyce Meyer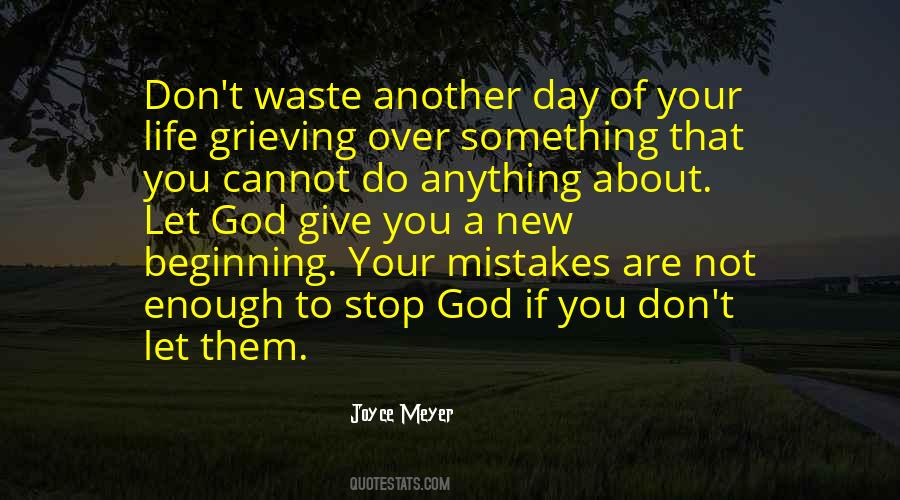 #16. And at the start of every new day, I still believed I could choose my own beginning, one that was scrubbed clean of everything past - Author: Nami Mun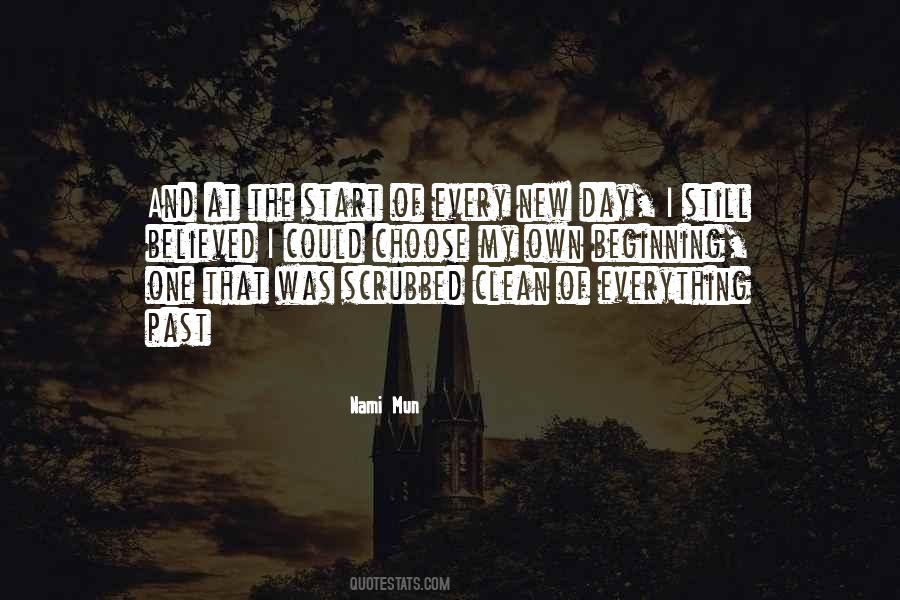 #17. If humanity will one day grasp the importance of natural food, this will be the beginning of a new era in the history of human life; it will simply be the PARADISE. - Author: Arshavir Ter Hovannessian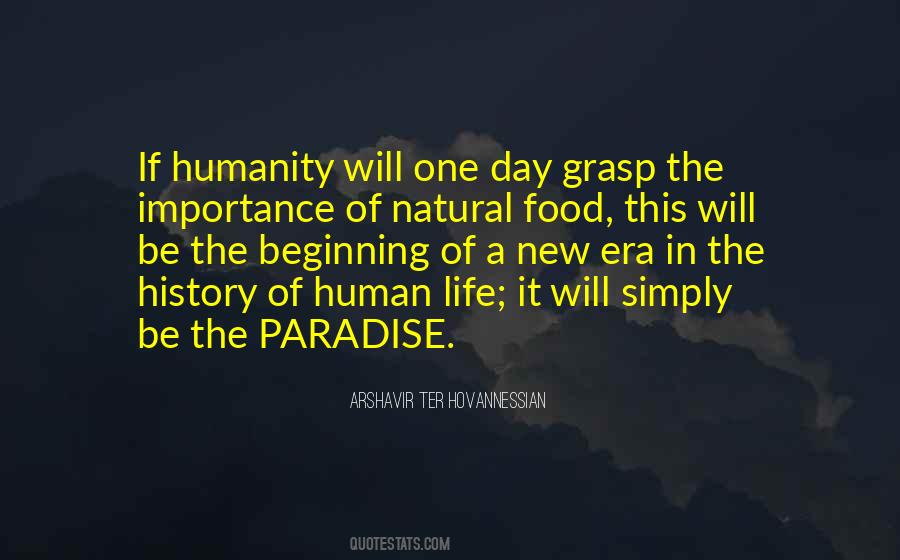 #18. I wake expectant, hoping to see a new thing. - Author: Annie Dillard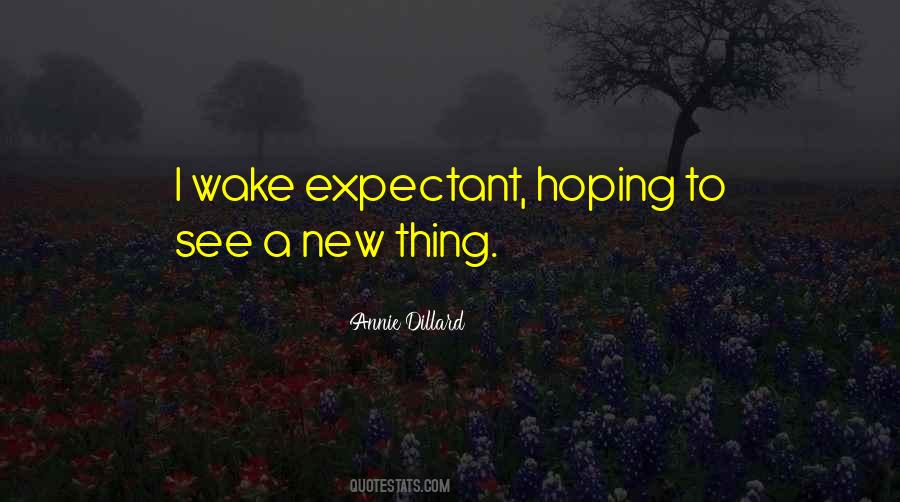 #19. Breakfast is everything. The beginning, the first thing. It is the mouthful that is the commitment to a new day, a continuing life. - Author: A.A. Gill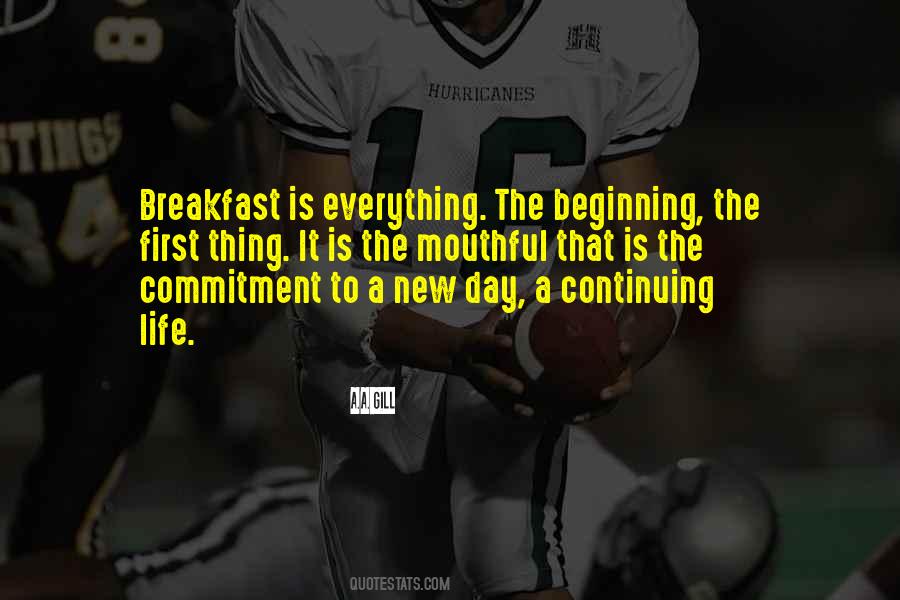 #20. O Lord, give all of us new hearts, open and obedient to you: hearts that love our neighbor and pray to you for our church. Lord, give us a good beginning; open your fatherly heart to us and lead us, one day, home to your kingdom of eternal reconciliation, through Christ the Lord! Amen. - Author: Dietrich Bonhoeffer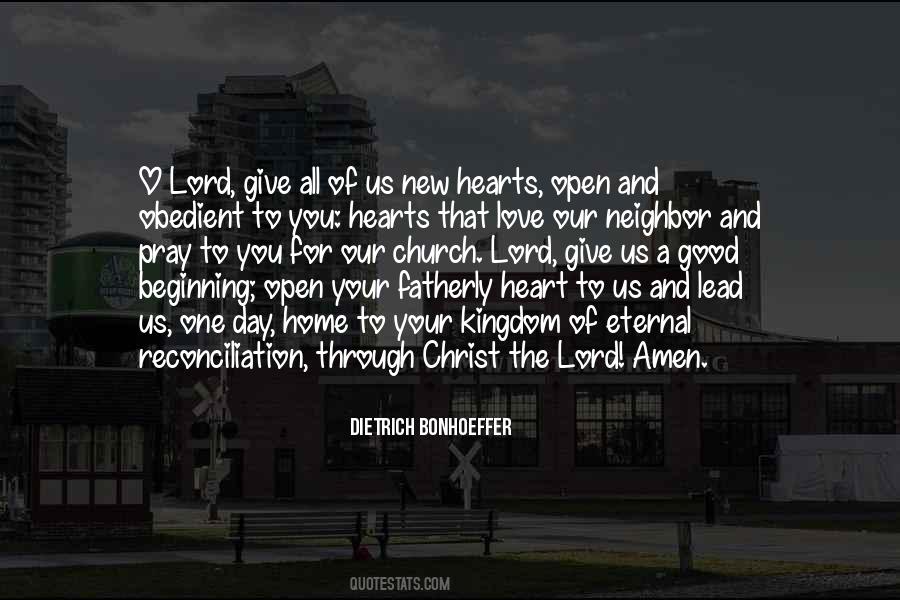 #21. Tomorrow always comes with a new hope for a new beginning. After all, it is a new day! - Author: Debasish Mridha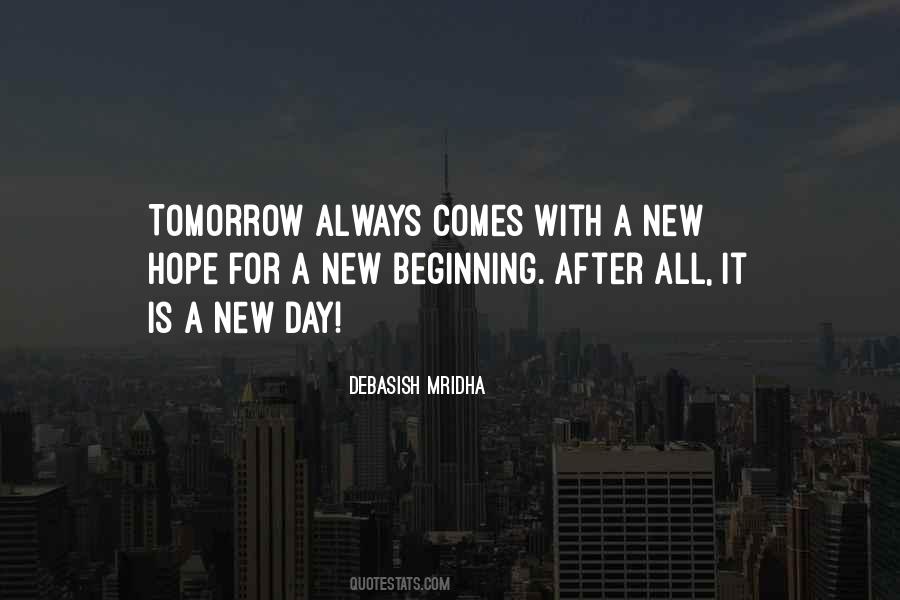 #22. Crisis is the path to happiness. Decay and disintegration do not spell doom, but ascent and beginning. The powerful forces of a new creation operate in the hush beyond the noise of the day. - Author: Joseph Goebbels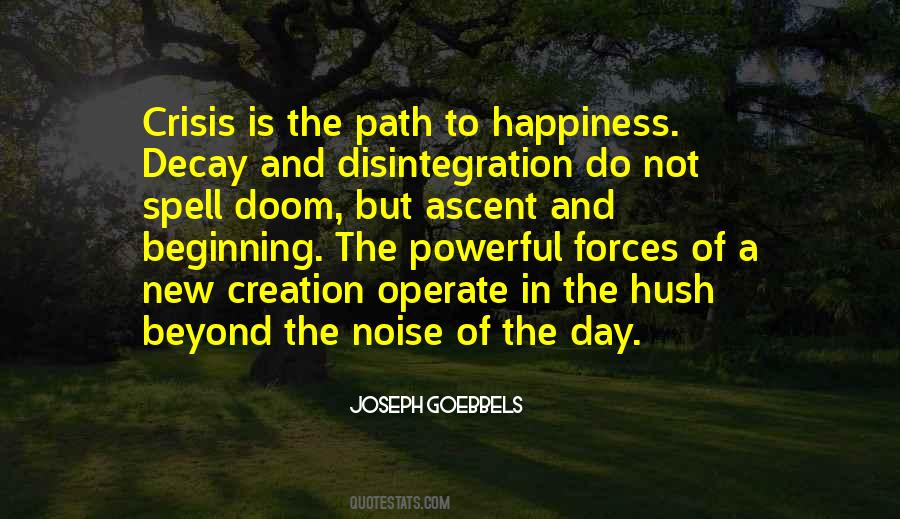 #23. Every day is a new beginning, the building of a habit. Every action is a step in some direction. There is no pause in living. - Author: Anna White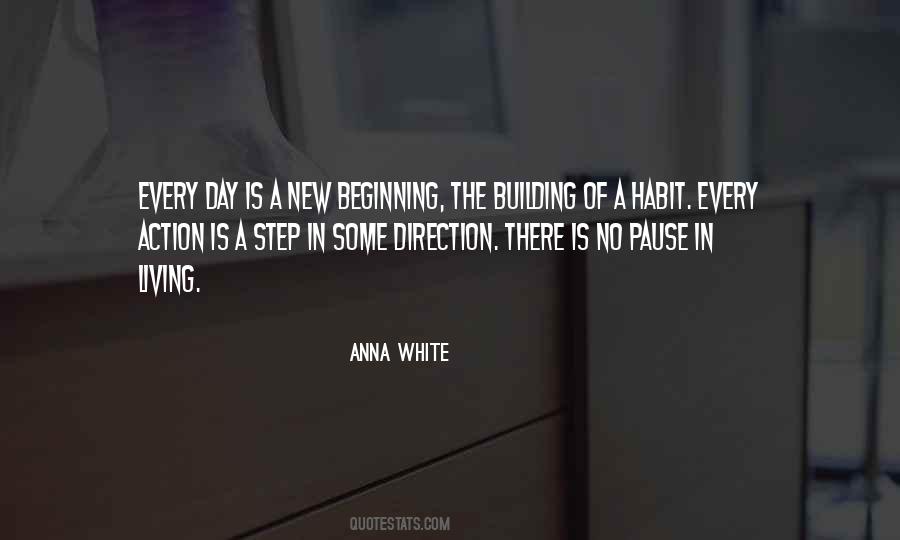 #24. When children are immunized, it's really the beginning of a new day for them. - Author: Yuna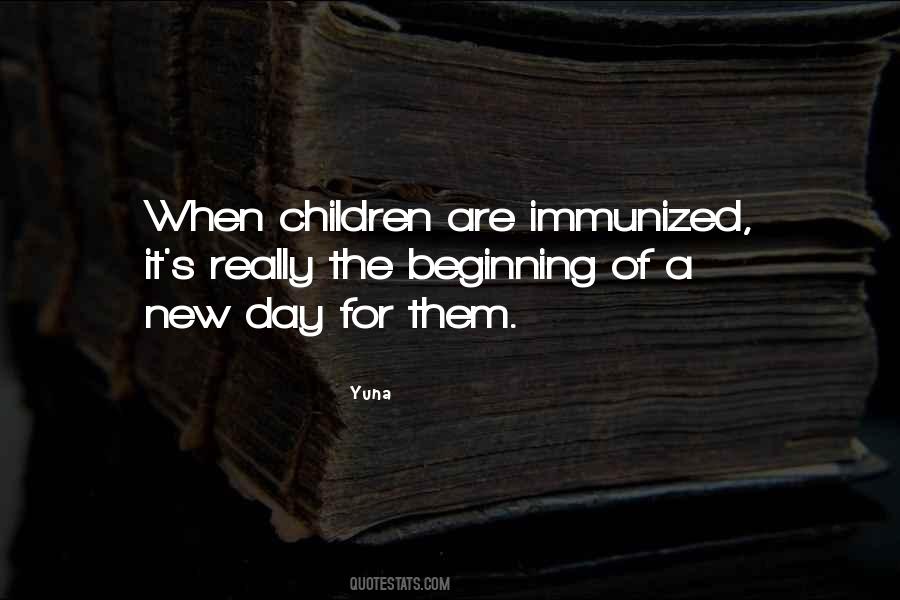 #25. Dad gave me two pieces of advice. One was, "No matter how good you think you are, there are people better than you." But he was an optimist too; his other advice: "Never worry about rejection. Every day is a new beginning." - Author: John Ritter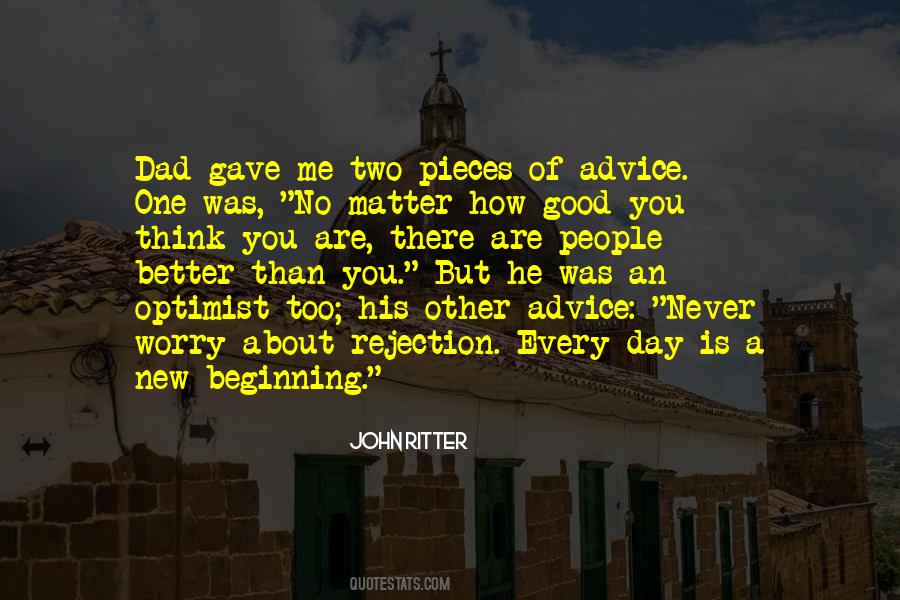 #26. I know not where we go from here. I do not think this is the end, but a new beginning, a new chapter in our tale. Told by minstrels who reveal not their sources. I know not if we have achieved victory this day. But I will forever know that I was honored to call each and everyone of you my brother. - Author: Guy T. Simpson Jr.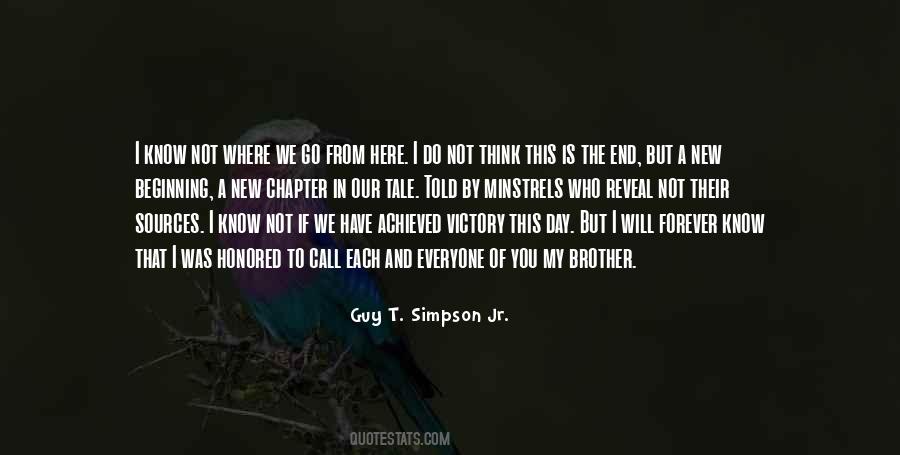 #27. Each sunrise brings a new day with new hopes for a new beginning. - Author: Debasish Mridha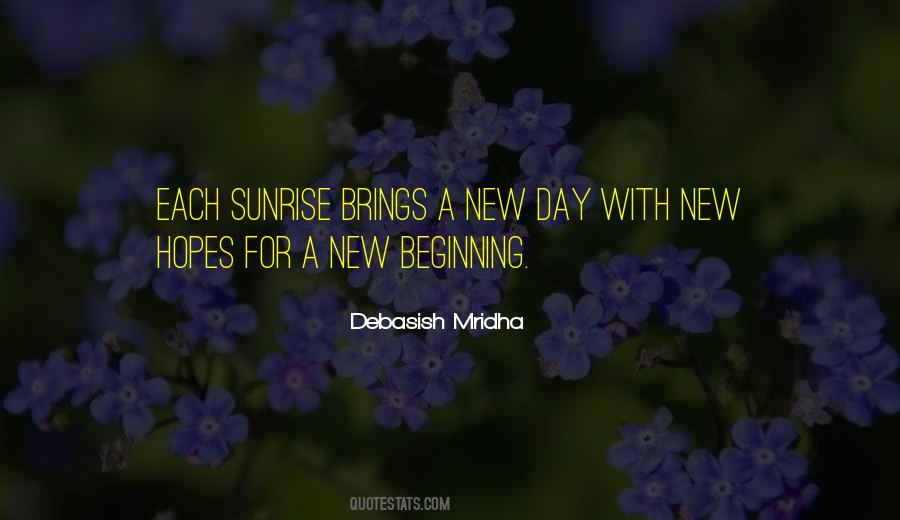 #28. My mind leads me to speak now of forms changed into new bodies: O gods above, inspire this undertaking (which you've changed as well) and guide my poem in its epic sweep from the world's beginning to the present day. The - Author: Ovid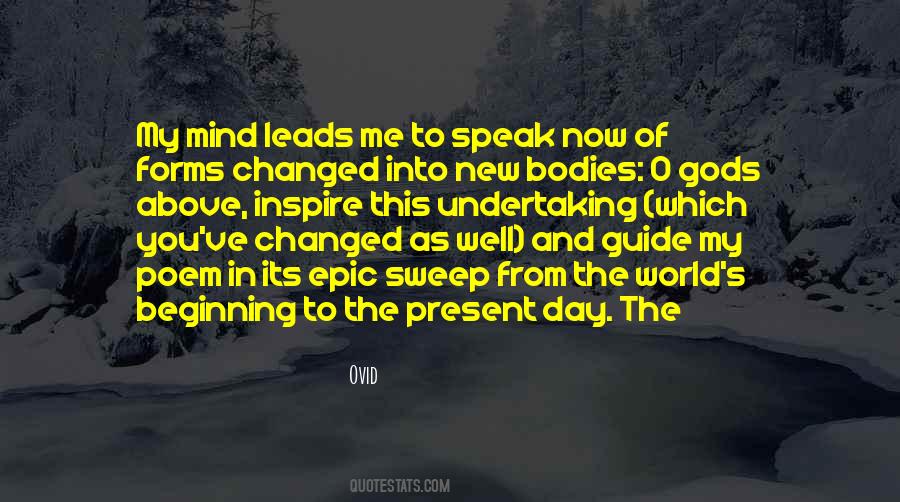 #29. May every day be a new beginning, and every dawn bring us closer to that shining city upon a hill. - Author: Ronald Reagan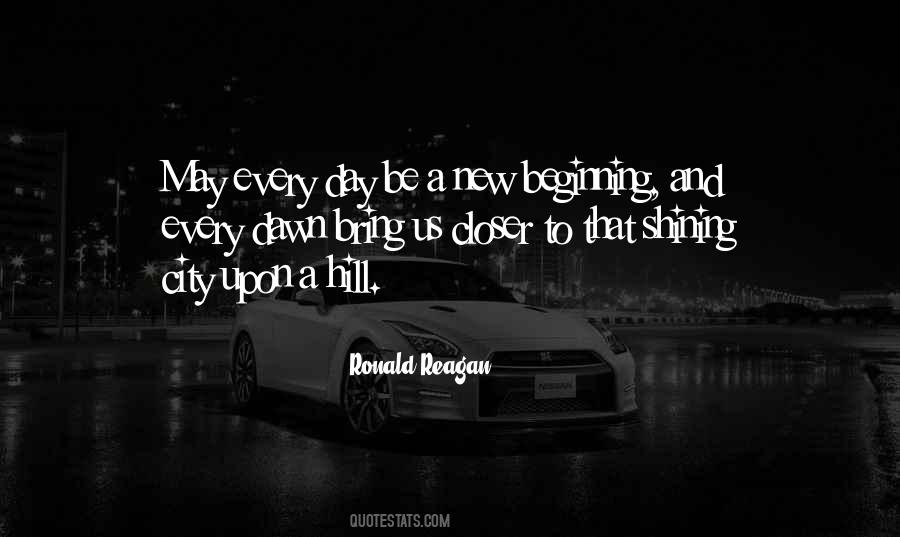 #30. I've been on the Web from the beginning of the Web. The good part about writing about technology is that you never run out of ideas, because it's changing so fast. The bad part is that it's changing so fast that there's a million new products and ideas every day and every week. - Author: Walt Mossberg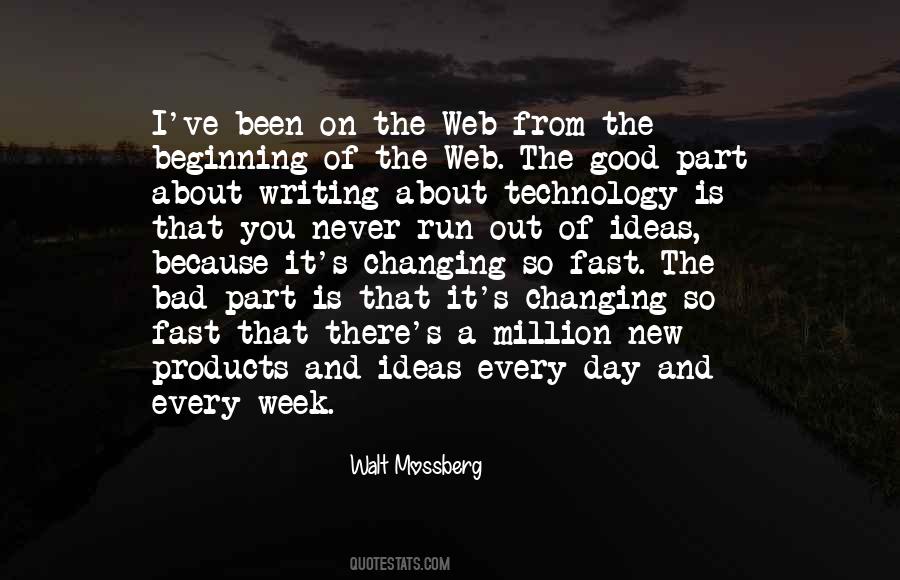 #31. Tomorrow is a new beginning. Embrace the light of a new day, for you have a fresh chance to begin again, to make life beautiful. - Author: Leon Brown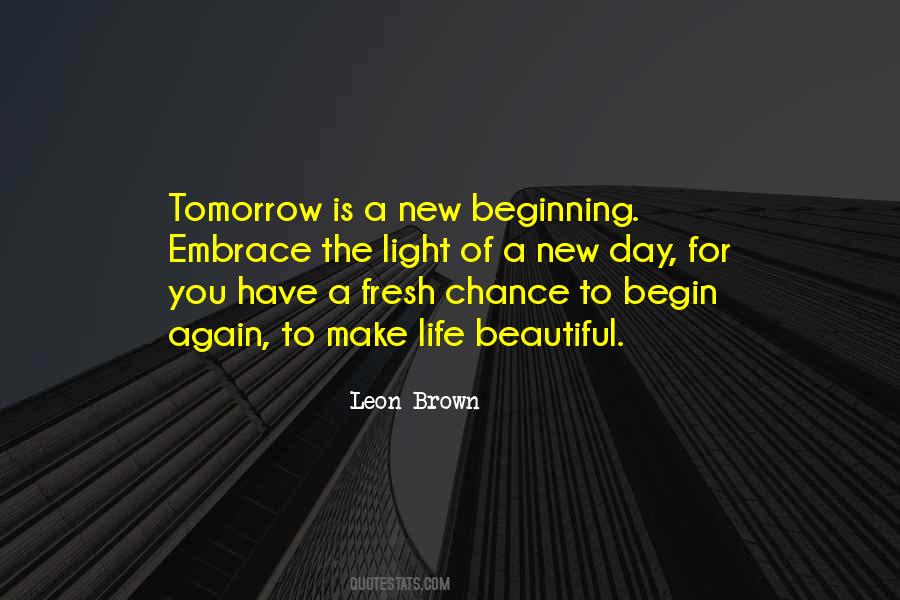 #32. Christ invites us to remain in touch with the many sufferings of every day and to taste the beginning of hope and new life right there, where we live amid our hurts and pains and brokenness. - Author: Henri J.M. Nouwen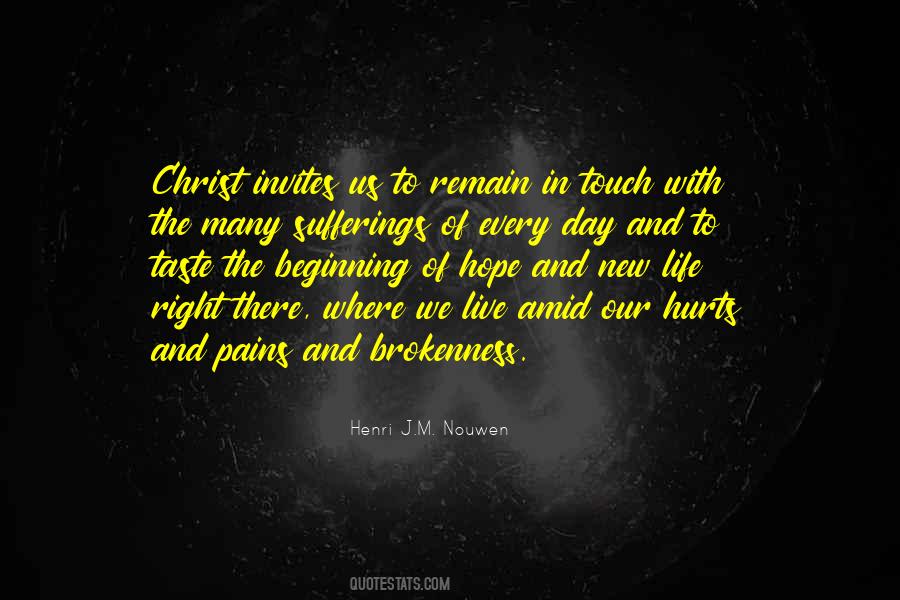 #33. Each day is a new beginning. You can start fresh, anticipating what today will bring. Or you can just settle for yesterday's doubts, fears, or worries. Which road will you take? Do you take the path to the clear present or the the shadows of the past? - Author: Eve Evangelista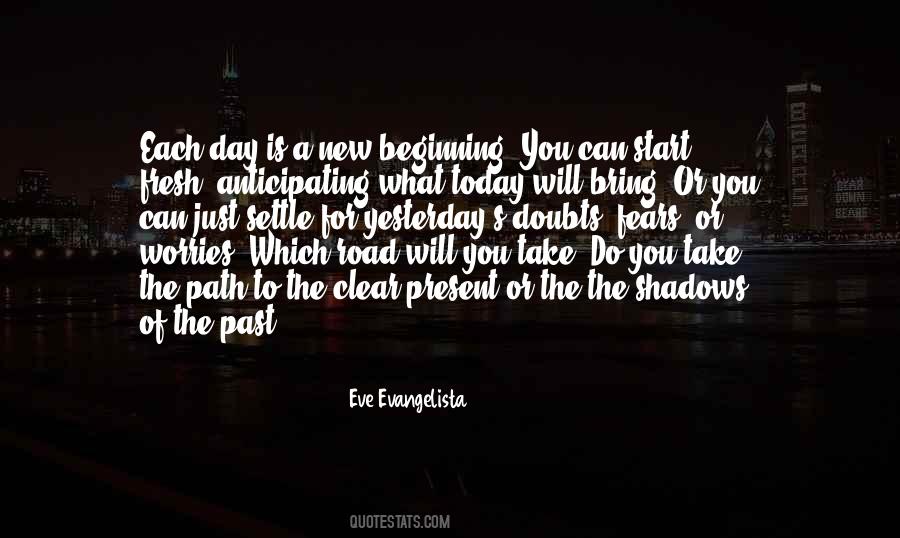 #34. Every day I feel is a blessing from God. And I consider it a new beginning. Yeah, everything is beautiful. - Author: Prince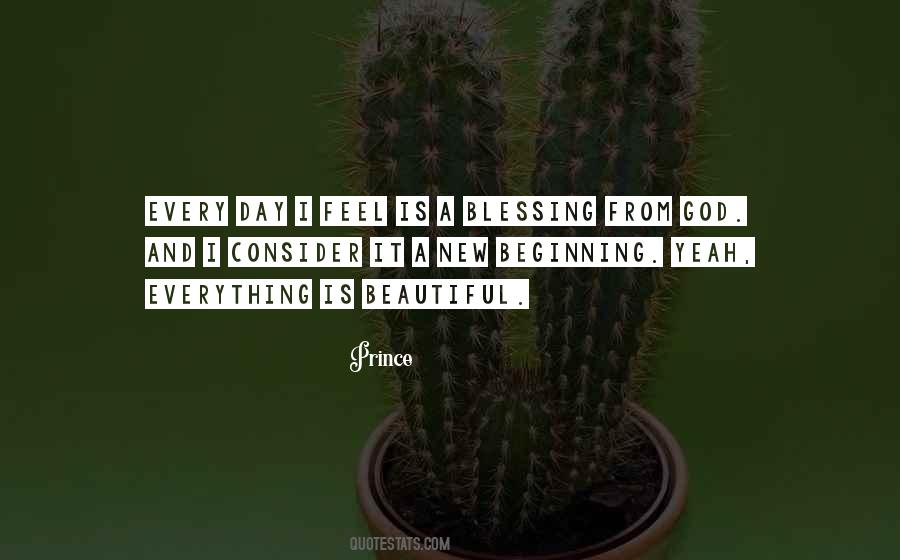 #35. I work seven days a week and I work about 12 hours a day, from the beginning of September to about the end of May; the school year. I take two days off, Christmas and New Year's, Thanksgiving sometimes - two and a half. And the result is that I bonded myself to my desk. - Author: James Lipton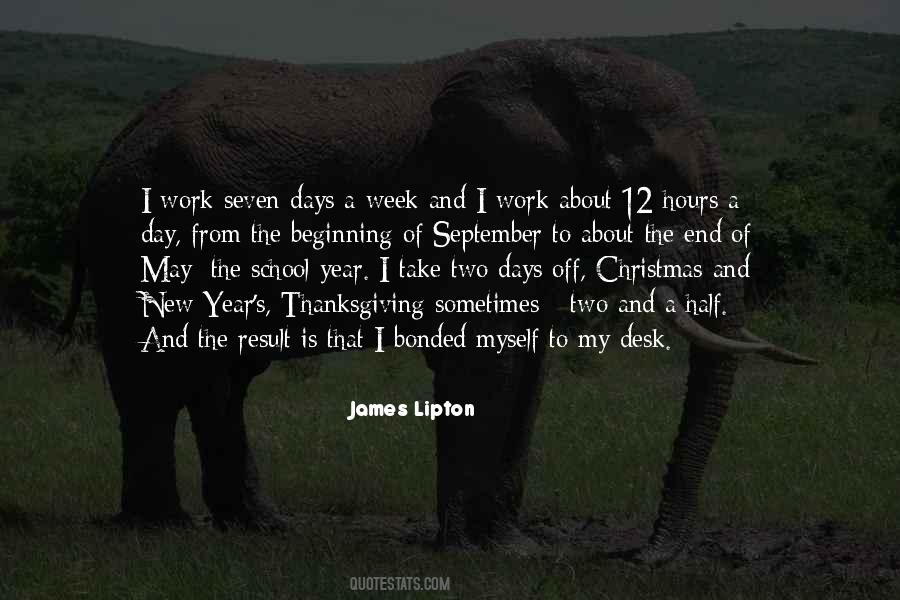 #36. I think every morning we wake up offers a new beginning, a new way of stepping into the day. I think every conversation could be a new chance. - Author: Yvonne Adhiambo Owuor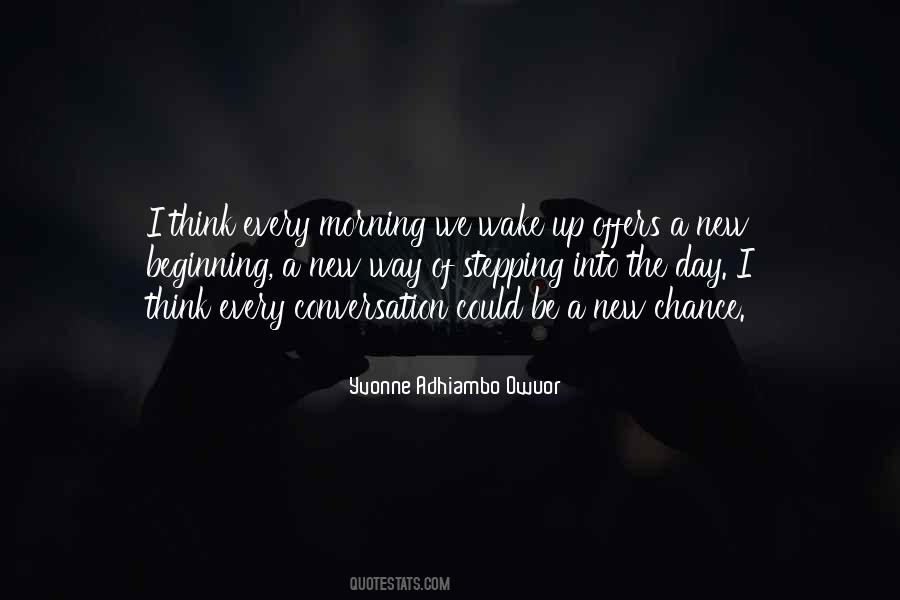 #37. Before making a snap judgment, ask yourself if it really is something that has hurt you or simply just made you angry at yourself for allowing it to happen. It's amazing what 'sleeping on it' can do. A new day sees a new beginning. - Author: Stephen Richards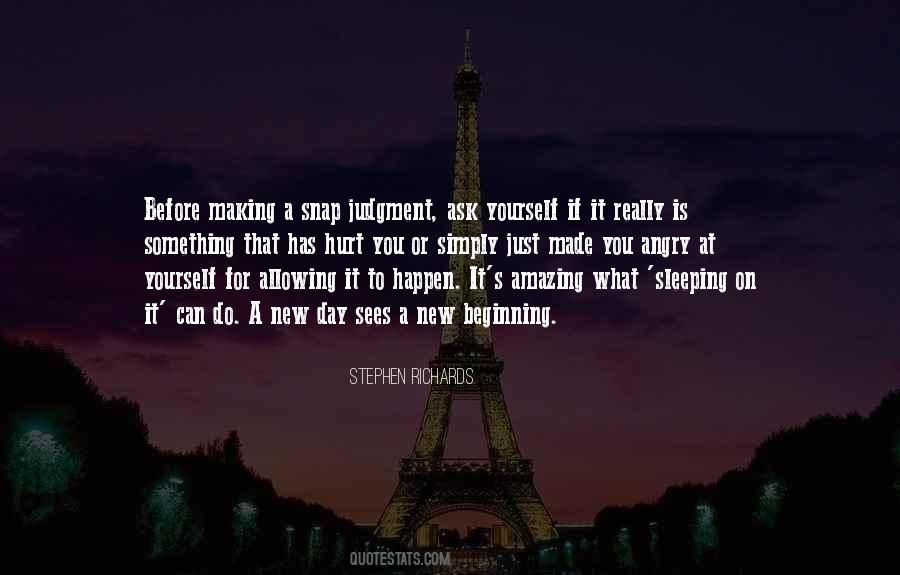 #38. Every sunrise gives you a new beginning and a new ending. Let this morning be a new beginning to a better relationship and a new ending to the bad memories. Its an opportunity to enjoy life, breathe freely, think and love. Be grateful for this beautiful day. - Author: Norton Juster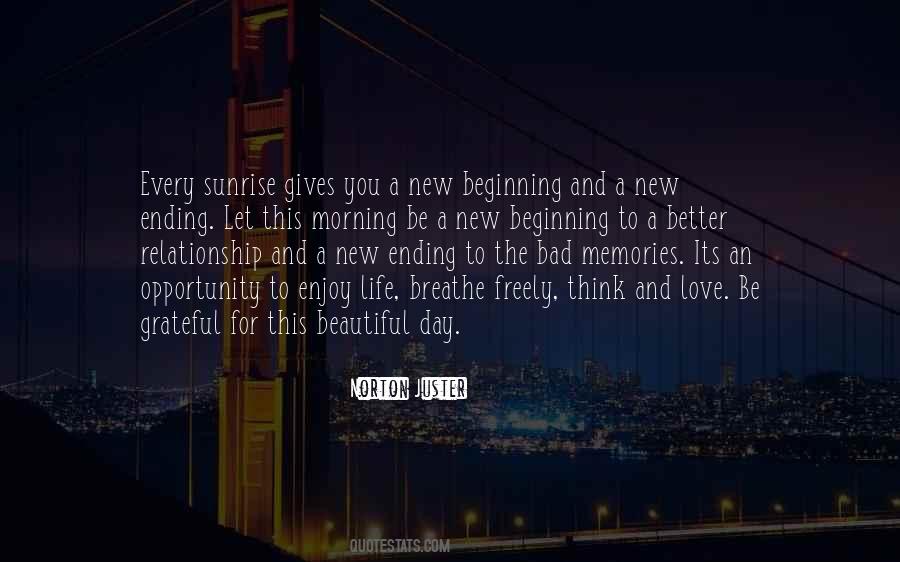 #39. November 20th, 2013. A new beginning. A new day. Reborn. Time to grow. Hello world! I am yours. Feed me, I am full of curiosity. Awakened. - Author: Ace Antonio Hall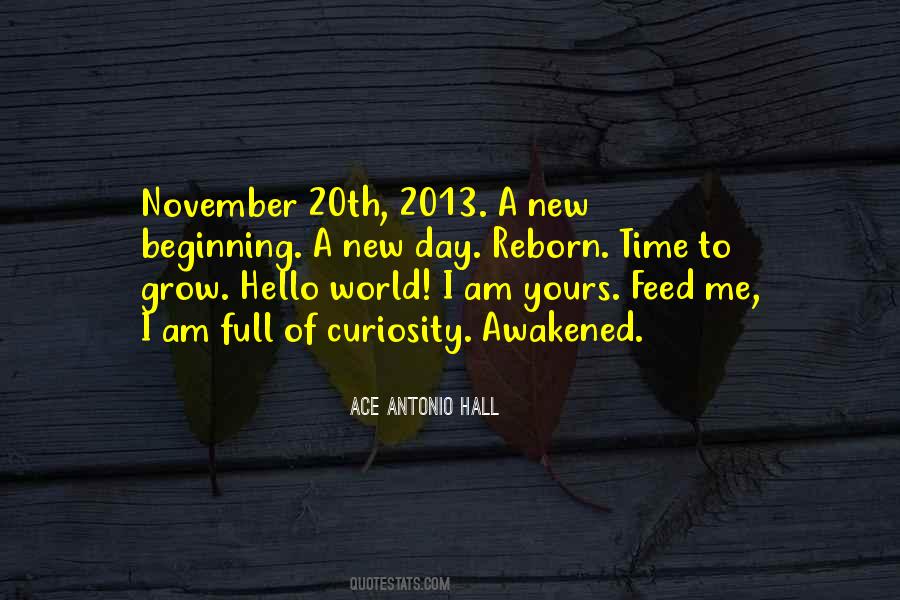 #40. The moment you wake up, right away, you can smile ... You are aware that a new day is beginning, that life is offering you twenty-four brand new hours to live, and that that's the most precious of gifts. - Author: Nhat Hanh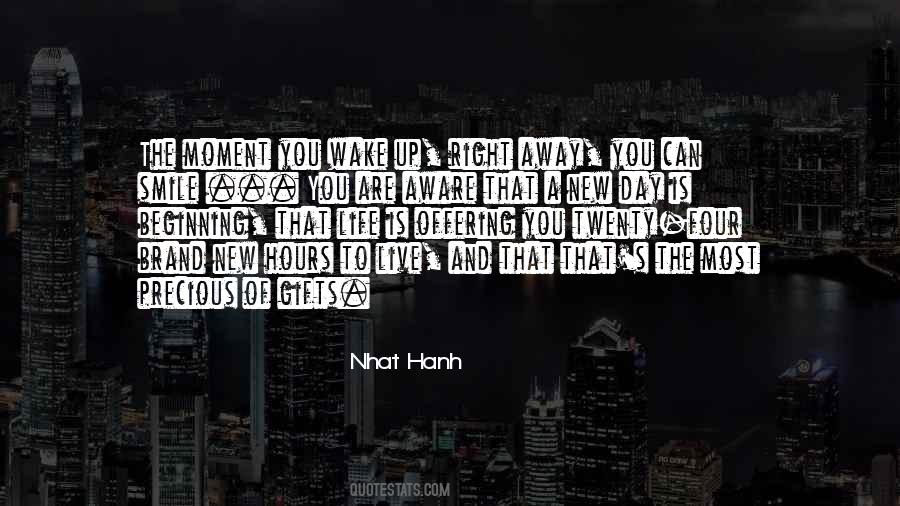 #41. Today is the best day with great possibilities and opportunities, so change yourself to start a new beginning. - Author: Debasish Mridha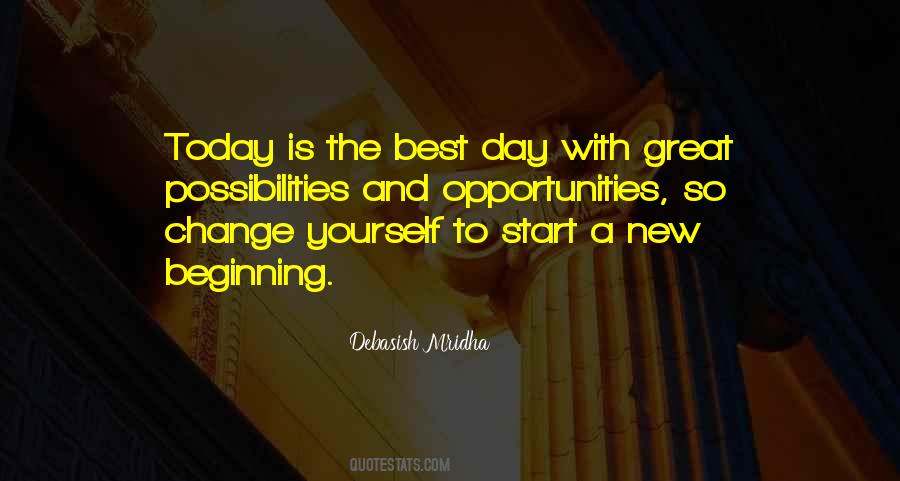 #42. If there were no grace and no kindness,
conversation would be useless, and nothing we do would matter. Listen
to the new stories that begin every day. If light were not beginning
again in the east, I would not now wake and walk out inside this dawn. - Author: Rumi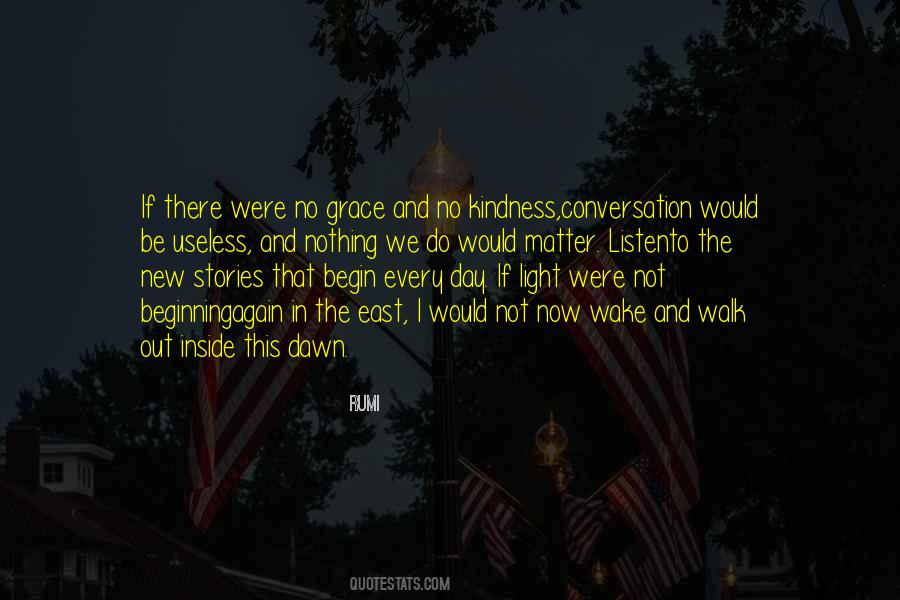 #43. Too often we look back on our lives with regret. What is done, is done. We learned lessons from those mistakes. Every day is a new beginning. - Author: Kitt Weagant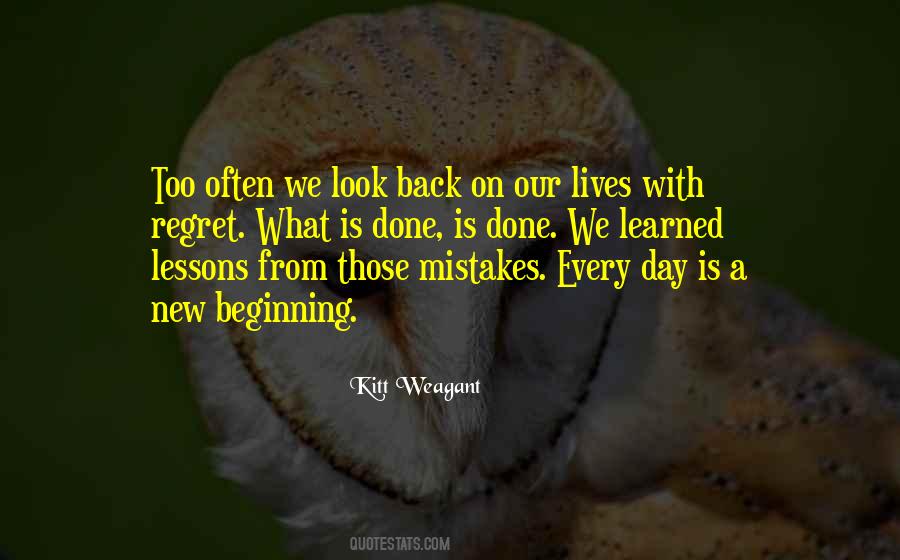 #44. A new day is a new beginning,
a new life to live! - Author: Phil Mitchell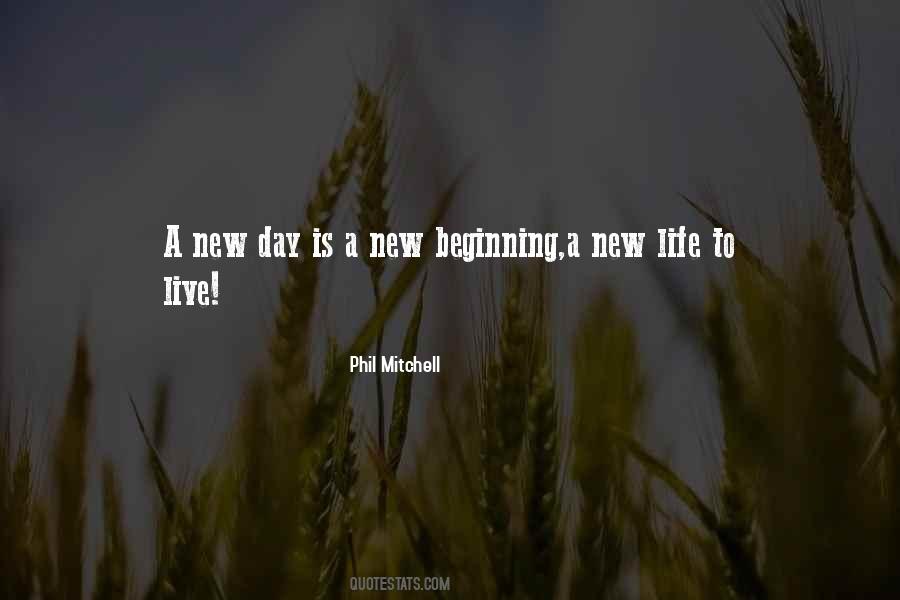 #45. Yesterday ended last night. Every day is a new beginning. Learn the skill of forgetting. And move on. - Author: Norman Vincent Peale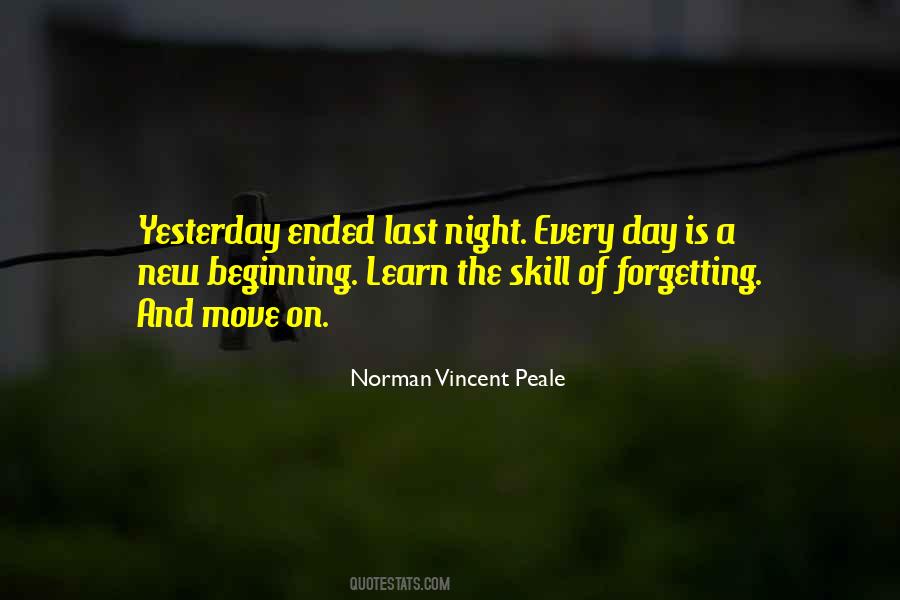 #46. My eyes flick up to the pane of glass punched into the wall. Pinks and reds filter into the room and I know it's the start of a new beginning. The start of the same end. Another day. - Author: Tahereh Mafi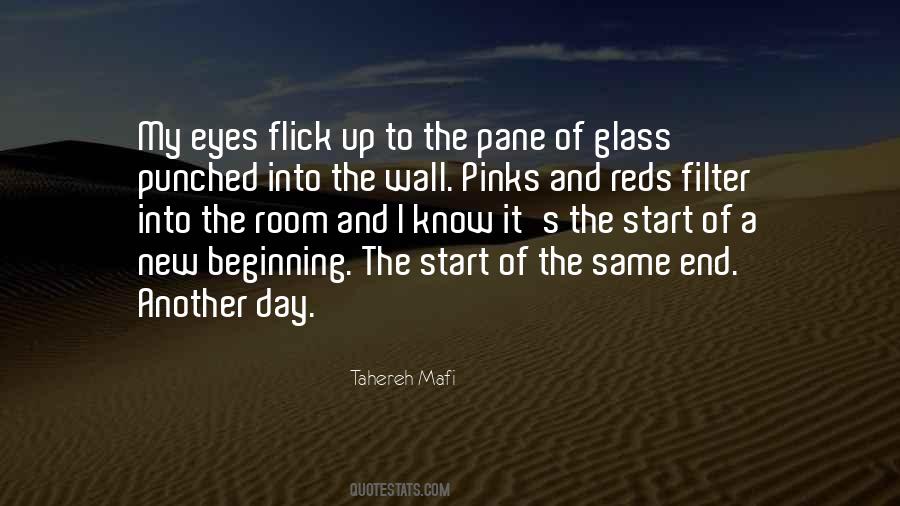 #47. We need to be patient to wait for the beautiful beginning of a new day - Author: Sunday Adelaja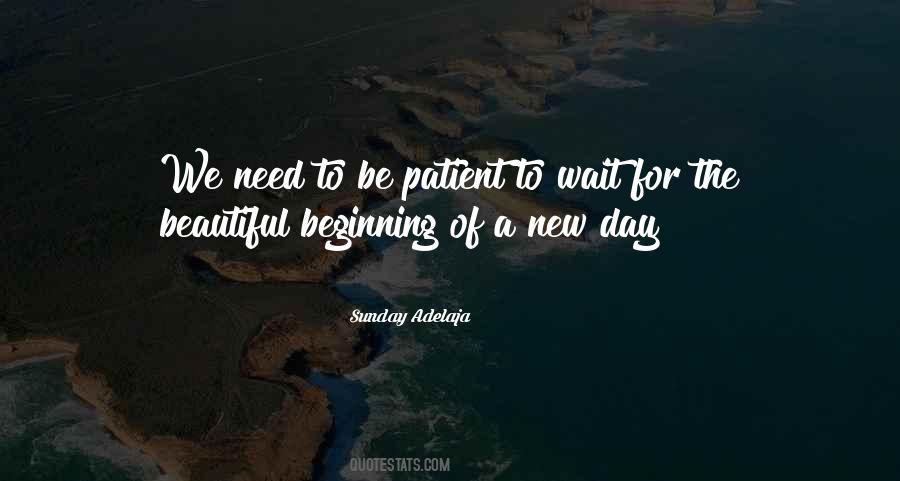 #48. I'd watched every episode of 'True Blood' from the very beginning. The show's characters were in my blood, so when I started, I was really prepared. I made sure I wasn't the new guy asking stupid questions on his first day. - Author: Robert Kazinsky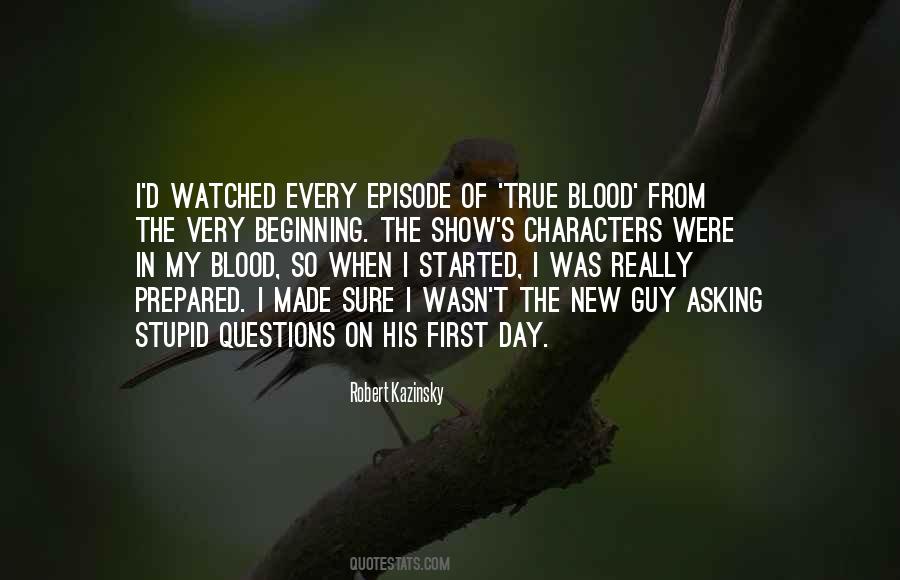 #49. Live in moment, every day is the new beginning of life and every night is the end of life. - Author: Santosh Kalwar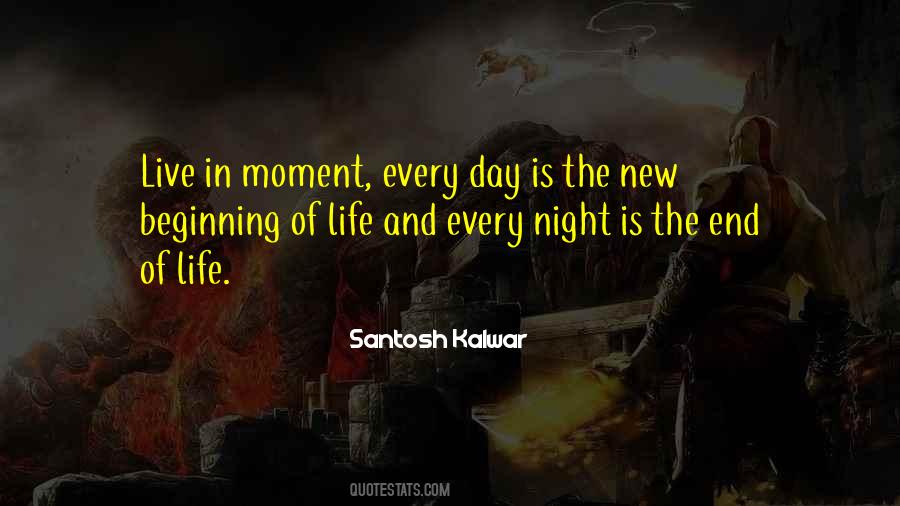 #50. Find strength in your heartbeat, than weakness with a beat heart. Take each breath as another chance, and love for a new day. - Author: Anthony Liccione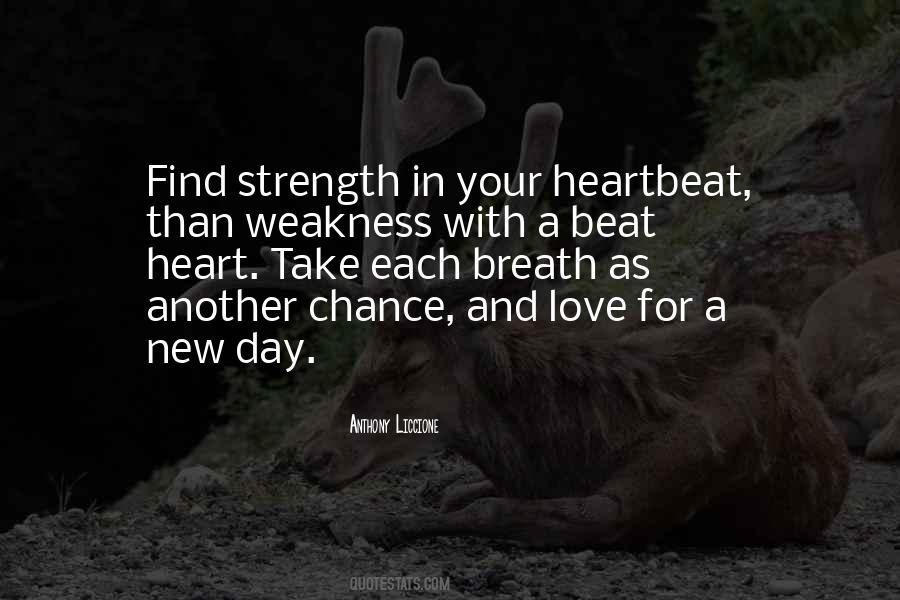 #51. Live every day like it's our last day on Earth together," she said, beginning their new motto as she jumped out the window.
"For forever if we can get away with it," Lucas finished, joyfully following her. - Author: Josephine Angelini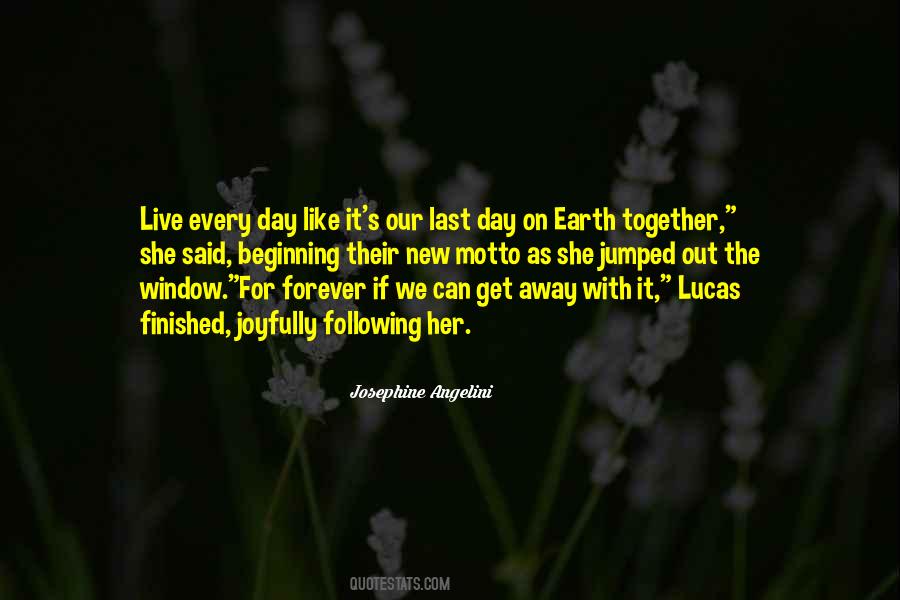 #52. I dance to the steps of life, Each step bringing, A new beginning, To the brightness of my day! - Author: Linda J. Wolff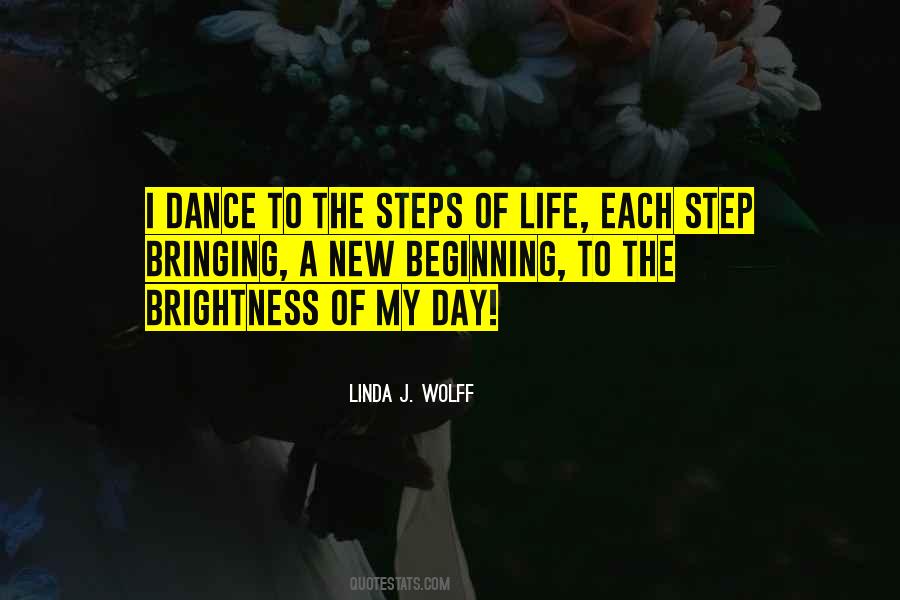 #53. Each sunrise brings a new day filled with new hopes for a new beginning. - Author: Debasish Mridha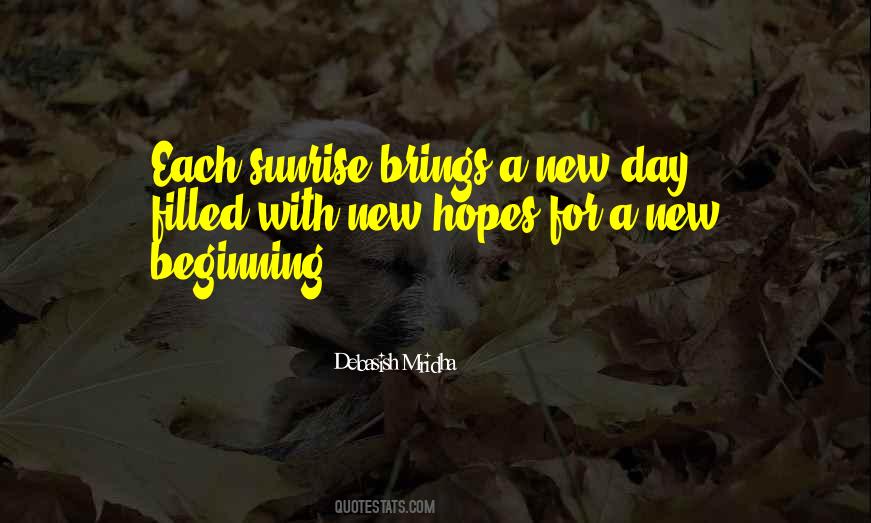 #54. Life begins now
right now
not tomorrow or the next day or the next. Every minute of every hour of every day, life begins anew. That means everything can change in an instant. It also means you can have a new beginning whenever you want. - Author: Neale Donald Walsch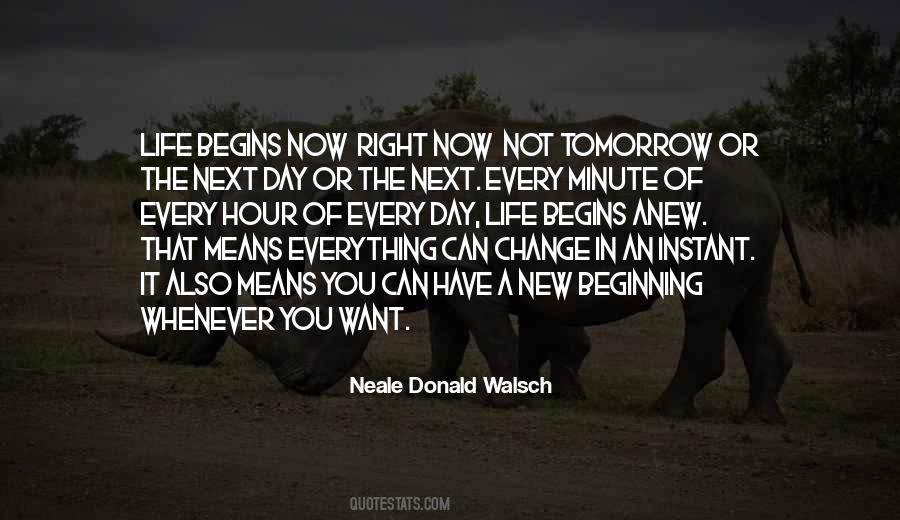 Famous Authors
Popular Topics