Nature And Flowers Famous Quotes & Sayings
List of top 100 famous quotes and sayings about nature and flowers to read and share with friends on your Facebook, Twitter, blogs.
Top 100 Quotes About Nature And Flowers
#1. Spring time is nature at its best. - Author: Lailah Gifty Akita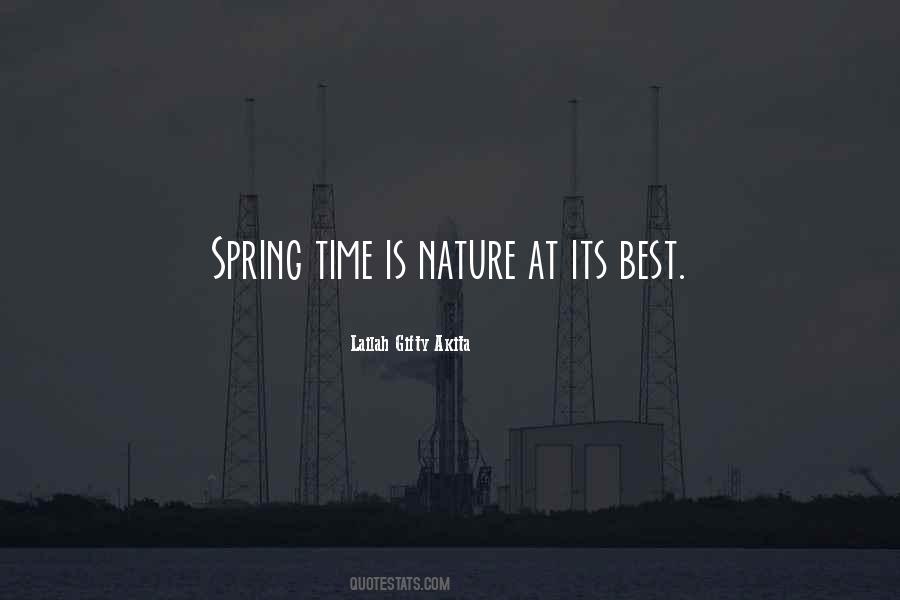 #2. Next time you see a yardful of sprouting dandelions, note that they look remarkably like things we call "flowers." And later, when the flowers turn into fluff balls, look closely at one of those fluff balls and ask yourself whether it's really so unattractive. - Author: Robert Wright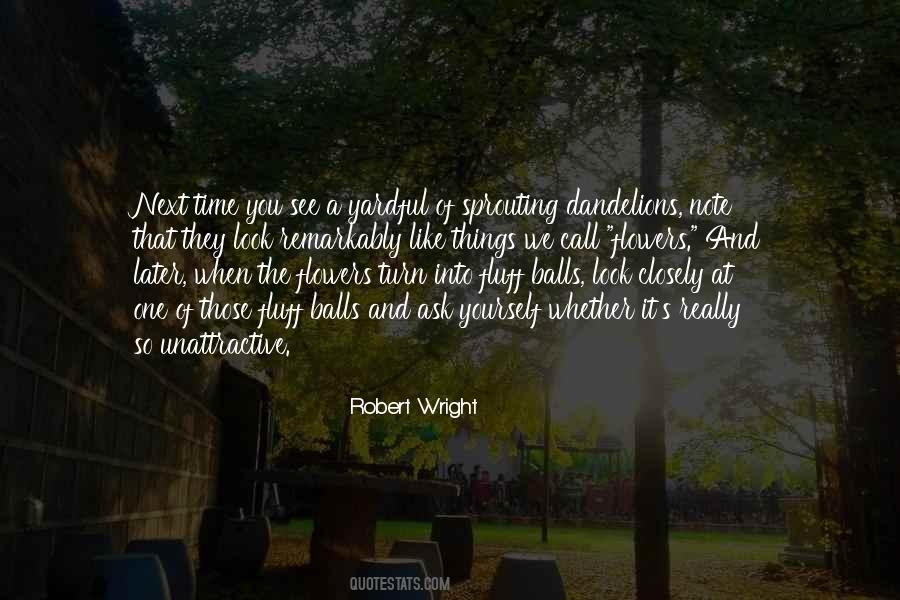 #3. The Darkness of the black night is commencing over the white wobbling flowers at the bay of the stream whose water is sparkling and is running down from those earthly mountains to surrender into your arms full of happiness and love ...
It cherishes your existence and so do i do ... - Author: AashiQi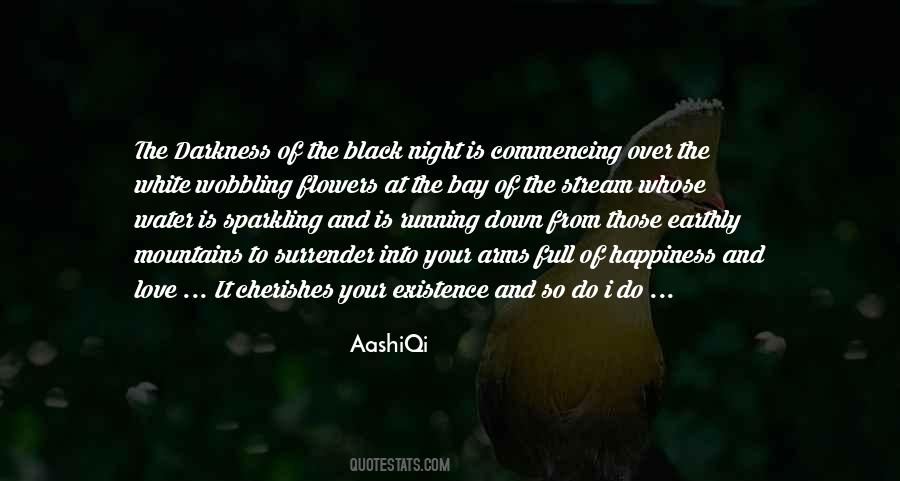 #4. Her deep romantic nature prevented her from demanding, from asking for that quenching. She wanted it to come freely, like flowers that are sent and not requested. - Author: Sean Ferrer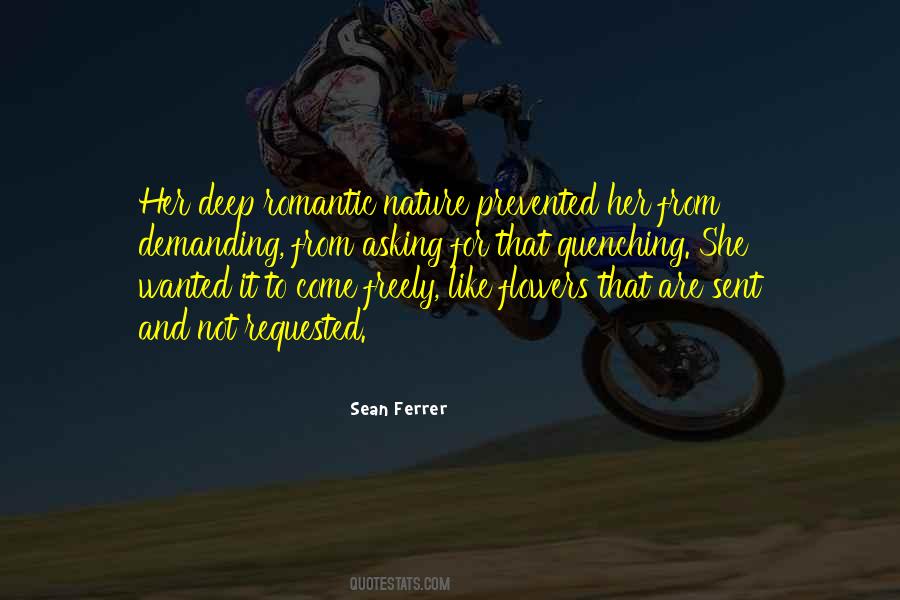 #5. Nature is also God's way of communicating with us. Jesus himself used nature to teach us about God. He used birds and flowers, the weather, precious stones ... Looking at nature, we can come to understand God himself. - Author: Adelina St. Clair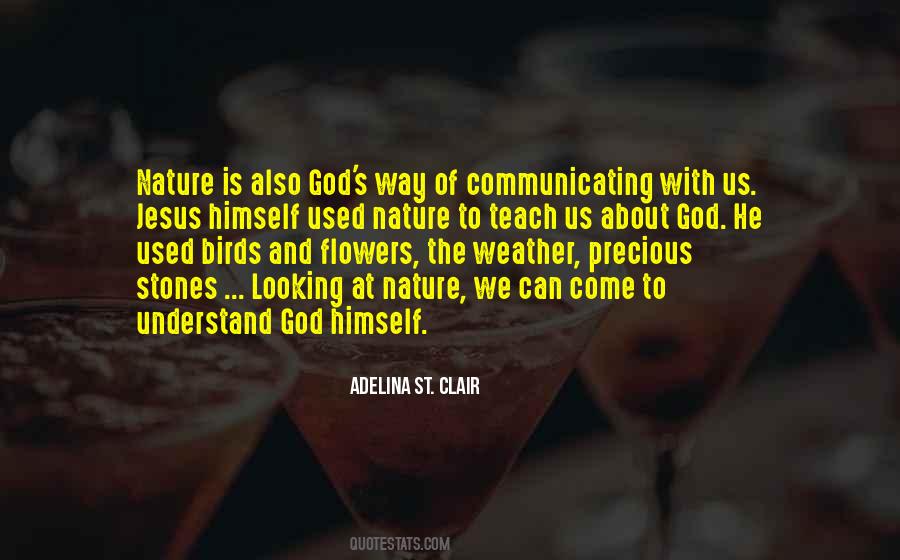 #6. natureIf the day and night be such that you greet them with joy, and life emits a fragrance like flowers and sweet-scented herbs, is more elastic, more immortal - that is your success. All nature is your congratulation, and you have cause momentarily to bless yourself. ~ - Author: Henry David Thoreau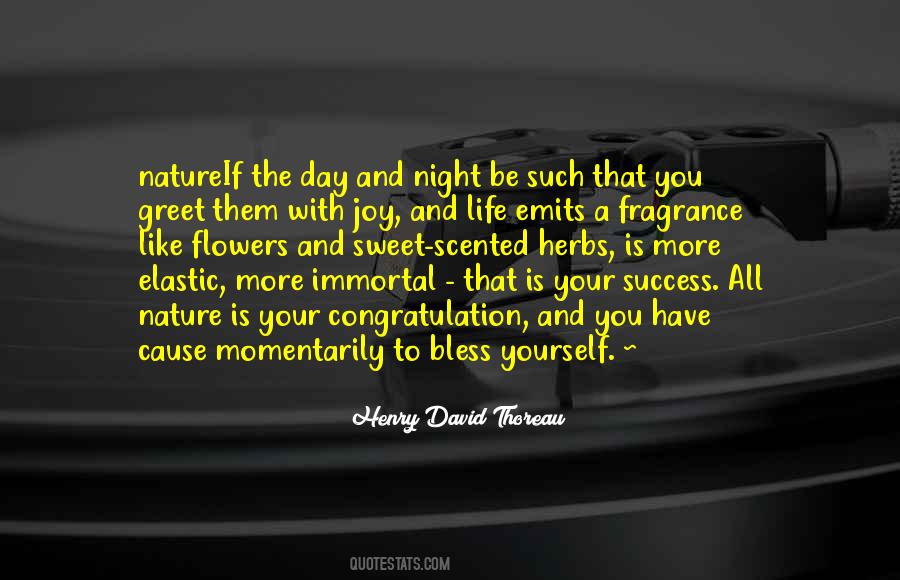 #7. We tiptoed the tops of beaver dams, hopped hummocks, went wading, looked at spring flowers, tried to catcha snake, got lost and found. How fine it was to move at a meandery, child's pace. - Author: David Sobel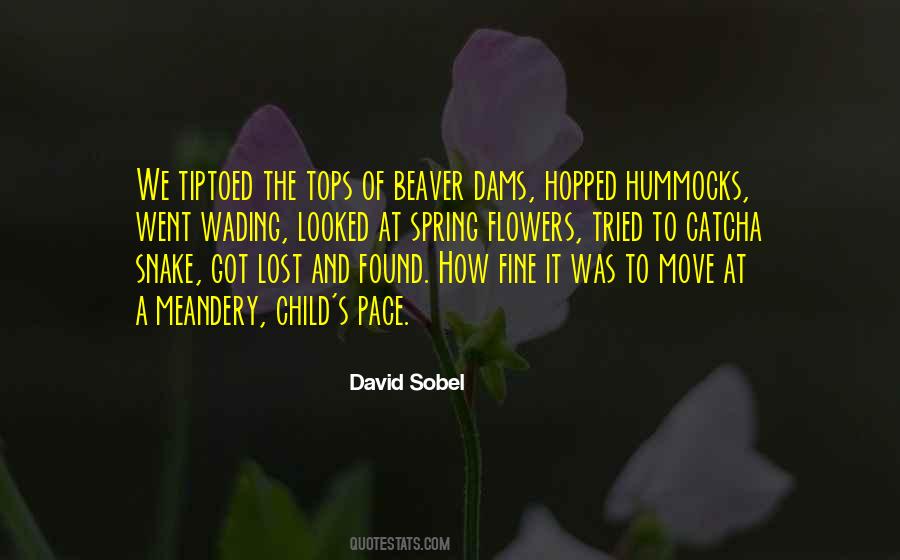 #8. As the Arabs say, The nature of rain is the same, but it makes thorns grow in the marshes and flowers in the gardens. - Author: Anthony De Mello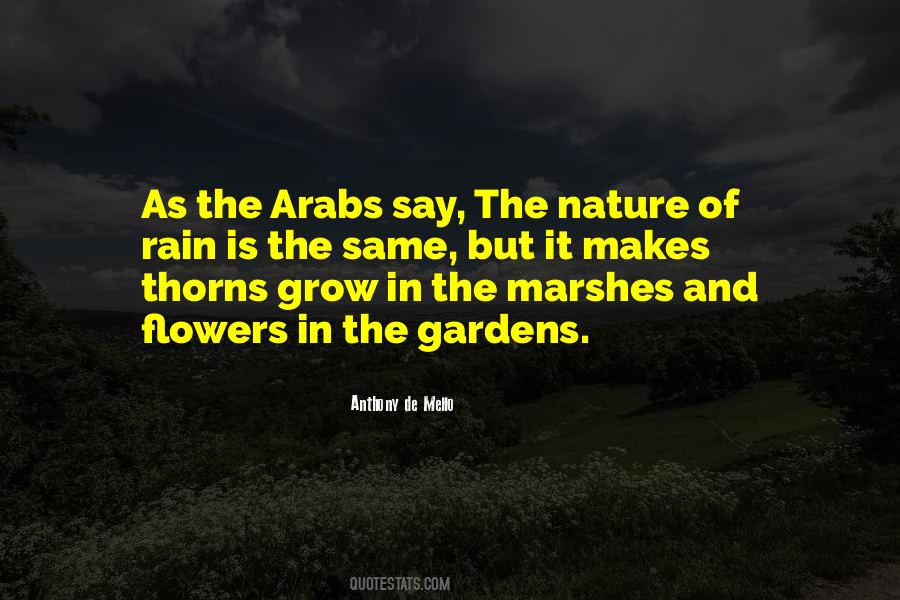 #9. Reason, indeed, may oft complain For Nature's sad reality, And tell the suffering heart how vain Its cherished dreams must always be; And Truth may rudely trample down The flowers of Fancy, newly-blown: - Author: Charlotte Bronte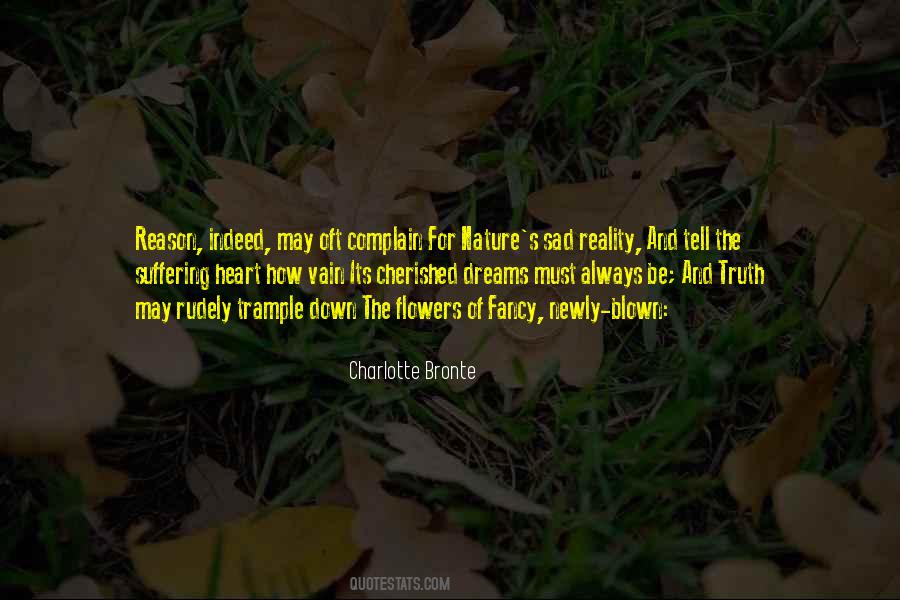 #10. To find the meaning of life, enjoy the journey, the beauty of the nature, the glint of a dew drop, the warmth of the morning sun, the songs of the wind, and smiles of flowers. These are all there to make your journey worthwhile and make your life meaningful. - Author: Debasish Mridha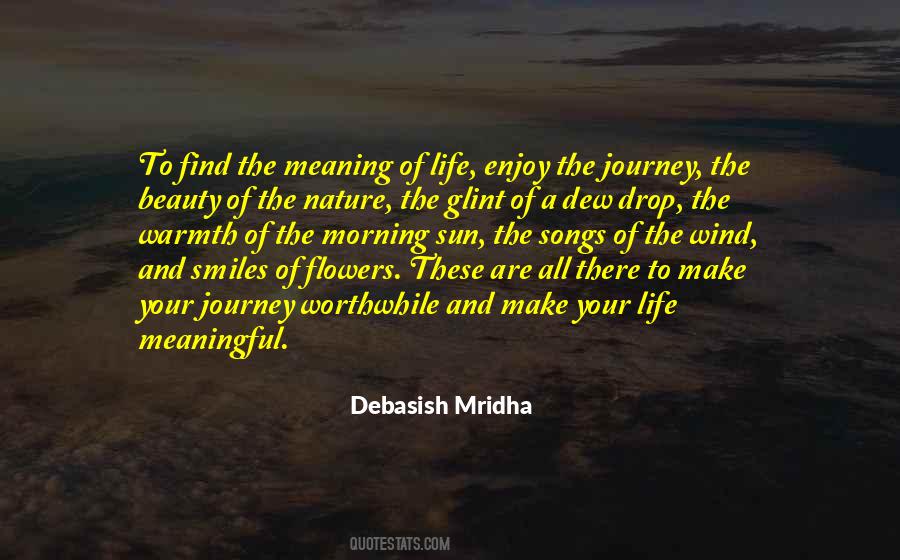 #11. I believe that flowers are like people. Flowers come in different colours, shapes and sizes. Some extremely rare and some very common. They are all beautiful in their own unique way. - Author: Alex Haditaghi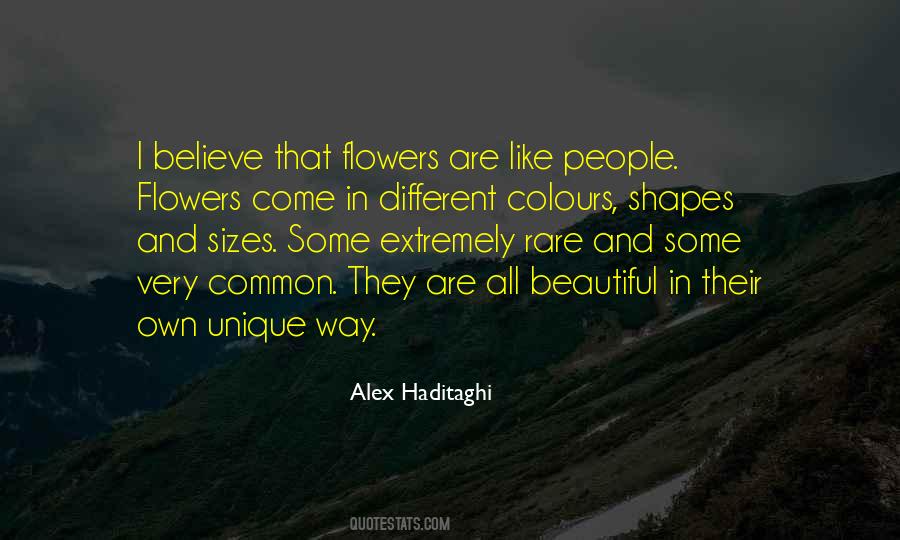 #12. Nature made us individuals, as she did the flowers and the pebbles; but we are afraid to be peculiar, and so our society resembles a bag of marbles, or a string of mold candles. Why should we all dress after the same fashion? The frost never paints my windows twice alike. - Author: Lydia M. Child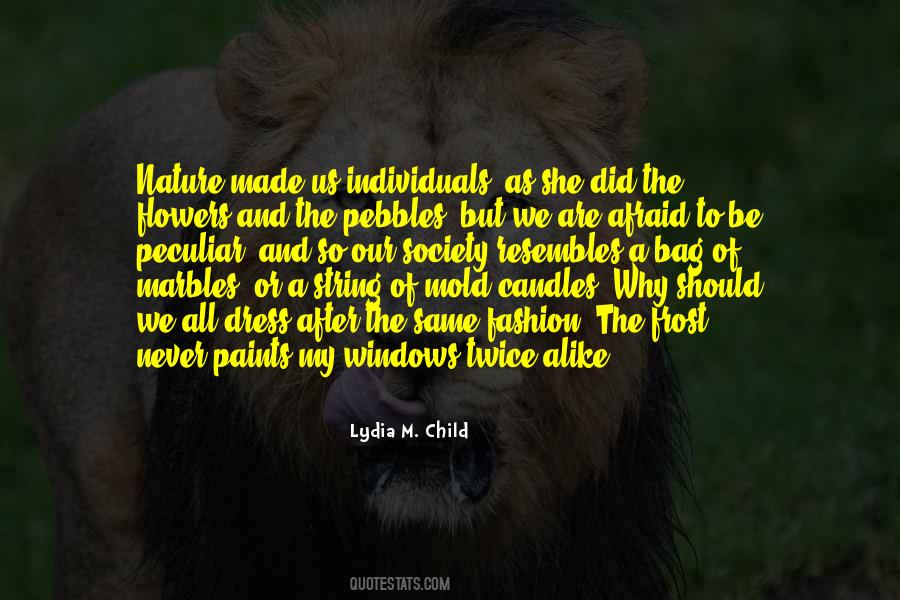 #13. I have always thought of the moths and butterflies as a bonus to the flowers, as though Nature were admiring her own work. - Author: Roger Deakin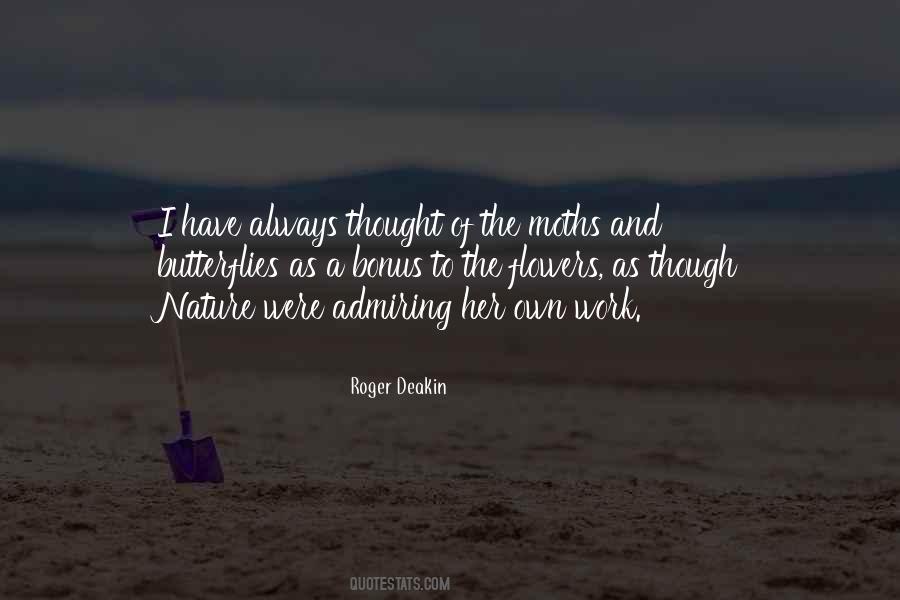 #14. The nature is my god and flowers are my angels. They taught me how to love unconditionally and how to appreciate beauty. - Author: Debasish Mridha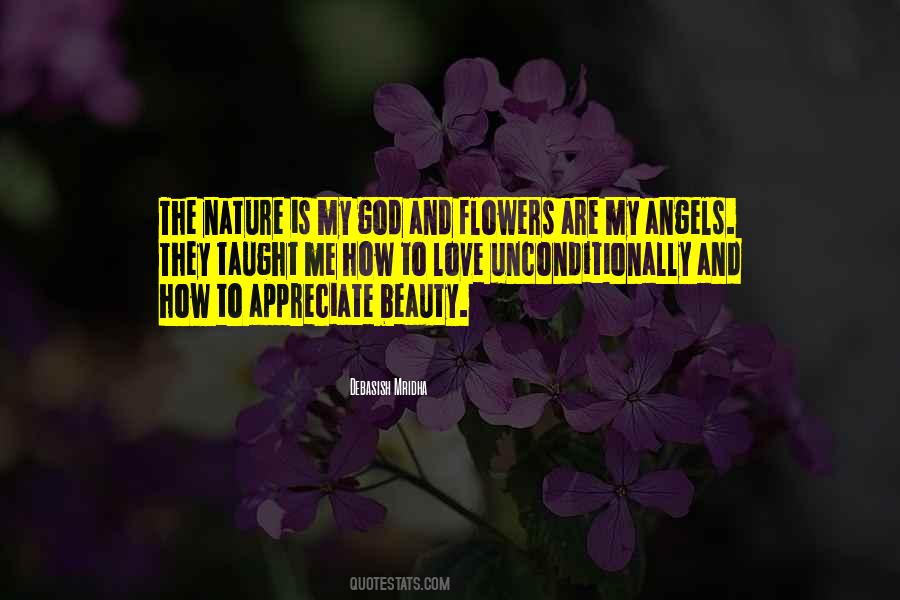 #15. If we could, and we must, establish a deep long abiding relationship with nature, with the actual trees, the bushes, the flowers, the grass and the fast moving clouds, then we would never slaughter another human being for any reason whatsoever. - Author: Jiddu Krishnamurti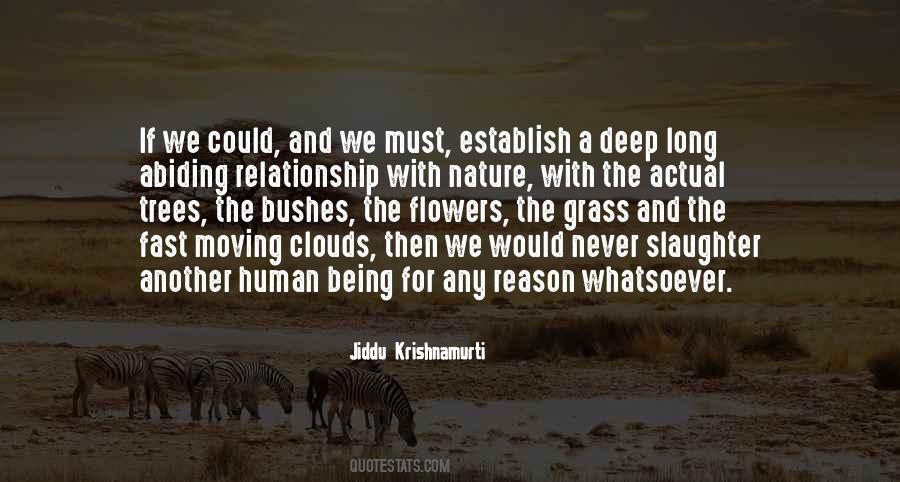 #16. There do remain dispersed in the soil of human nature divers seeds of goodness, of benignity, of ingenuity, which, being cherished, excited, and quickened by good culture, do, by common experience, thrust out flowers very lovely, and yield fruits very pleasant of virtue and goodness. - Author: Isaac Barrow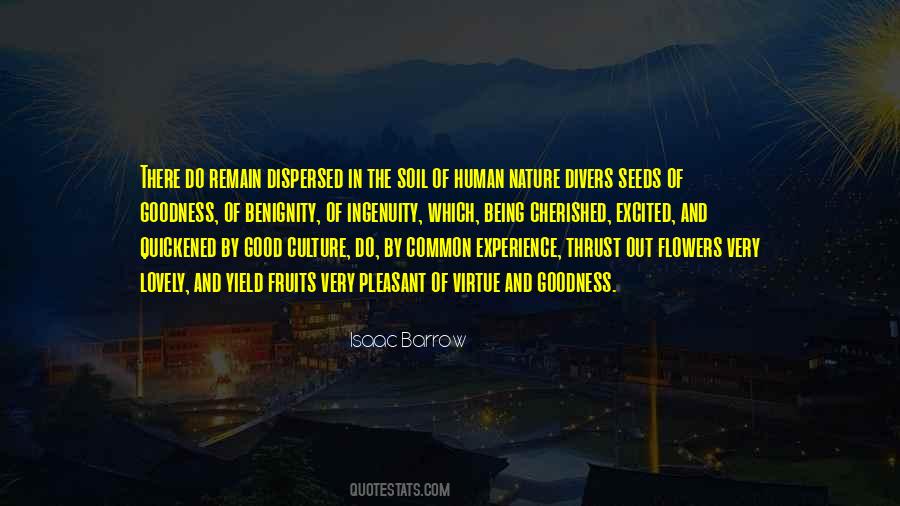 #17. When Nature gives a gorgeous rose, Or yields the simplest fern, She writes this motto on the leaves, "To whom it may concern!" And so it is the poet comes And revels in her bowers, And, though another hold the land, Is owner of the flowers. - Author: John Godfrey Saxe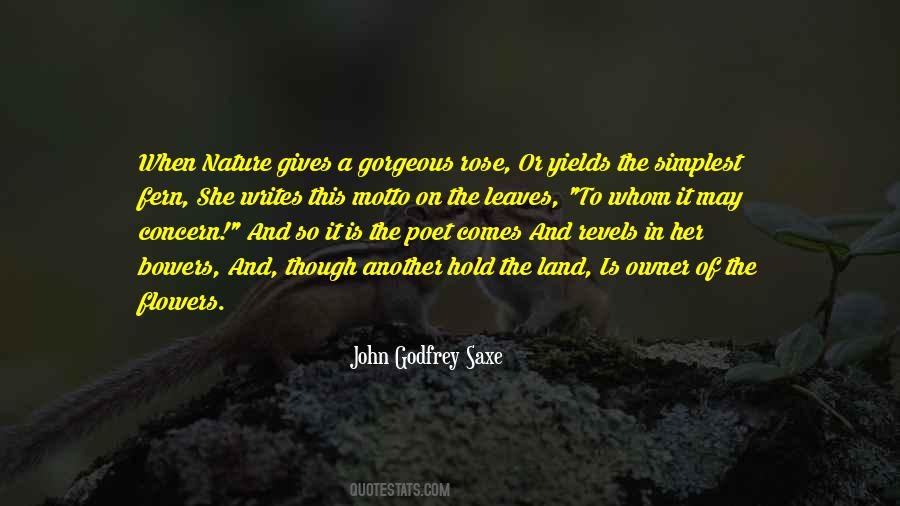 #18. The flowers of Spring may wither, the hope of Summer fade, The Autumn droop in Winter, the birds forsake the shade; The winds be lull'd - the Sun and Moon forget their old decree, But we in Nature's latest hour, O Lord! will cling to Thee. - Author: Reginald Heber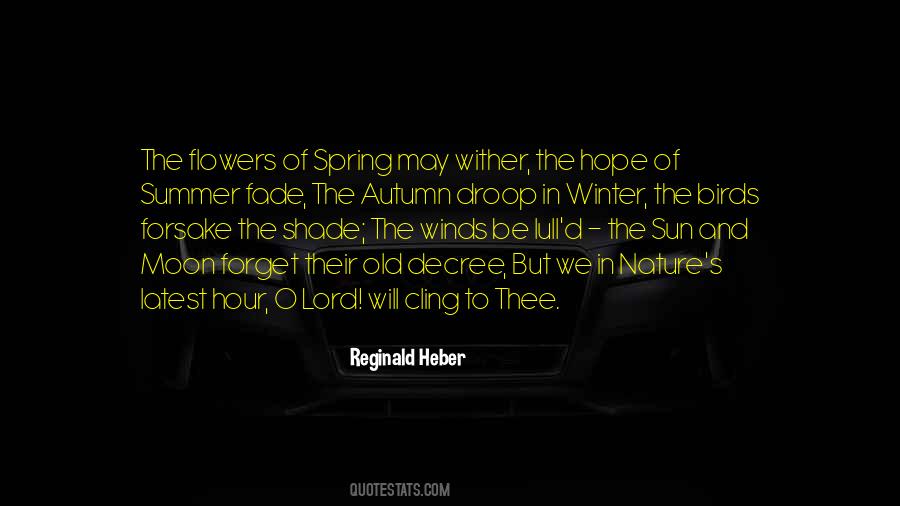 #19. Nature knows no difference between weeds and flowers. - Author: Mason Cooley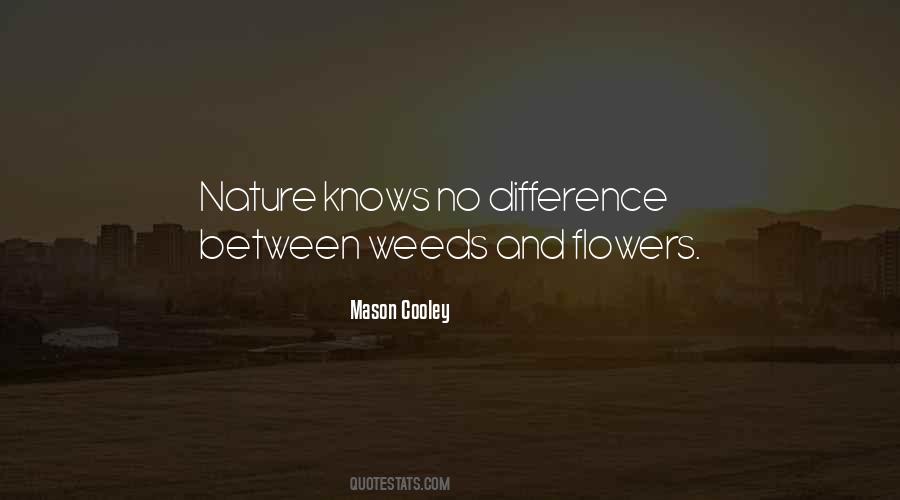 #20. Autumn is the mellower season, and what we lose in flowers we more than gain in fruits. - Author: Samuel Butler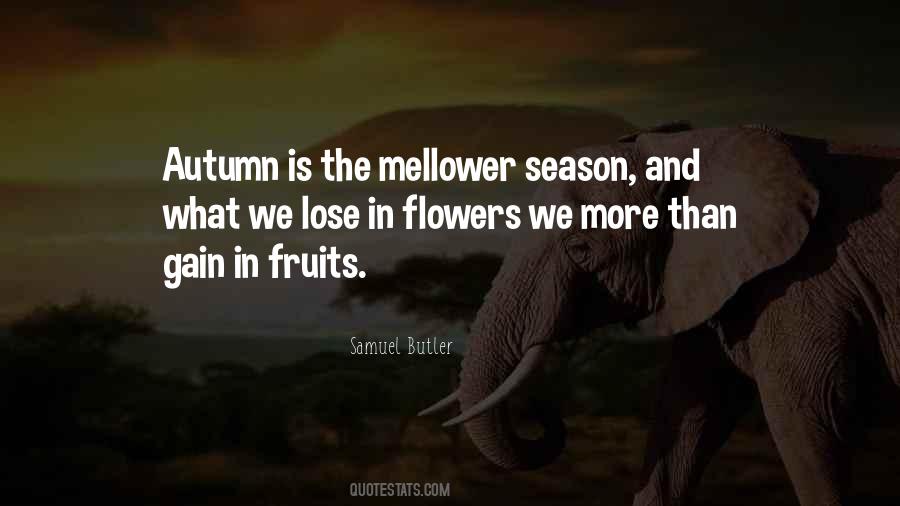 #21. Look in the perfumes of flowers and of nature for peace of mind and joy of life. - Author: Wang Wei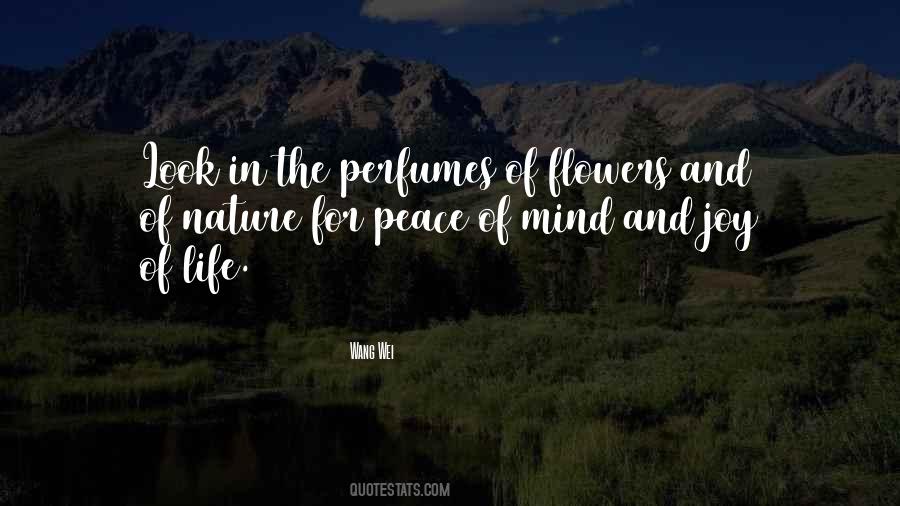 #22. But if God is the flowers and the trees
And the hills and the sun and the moonlight,
Then I believe in him,
Then I believe in him all the time,
And my whole life is an oration and a mass,
And a communion with my eyes and through my ears. - Author: Alberto Caeiro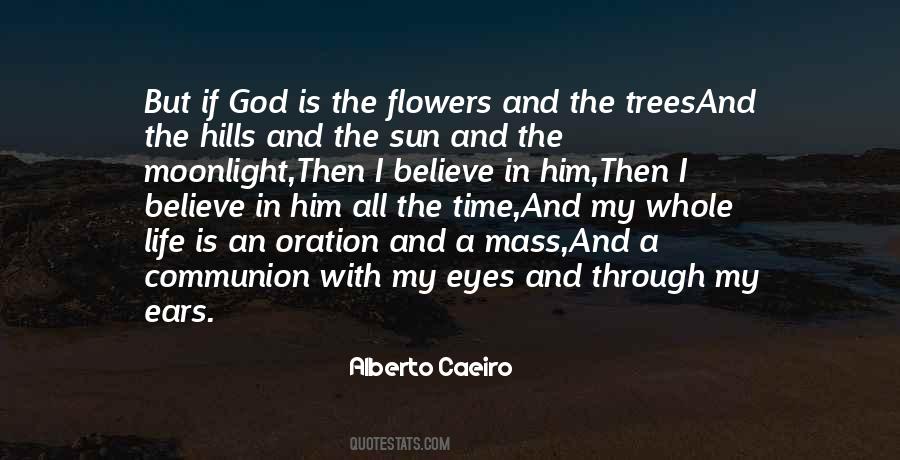 #23. Art is unquestionably one of the purest and highest elements in human happiness. It trains the mind through the eye, and the eye through the mind. As the sun colors flowers, so does art color life. - Author: John Lubbock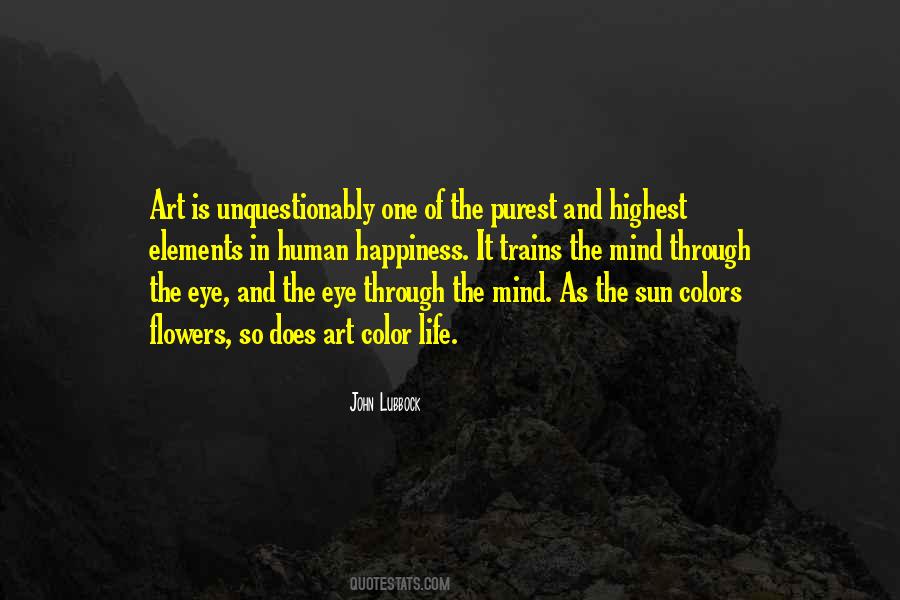 #24. We live mindfully by harvesting evocative scenes to pay attention to including the mountains and oceans, flowers and trees, love and friendship, music and literature, art and poetry. - Author: Kilroy J. Oldster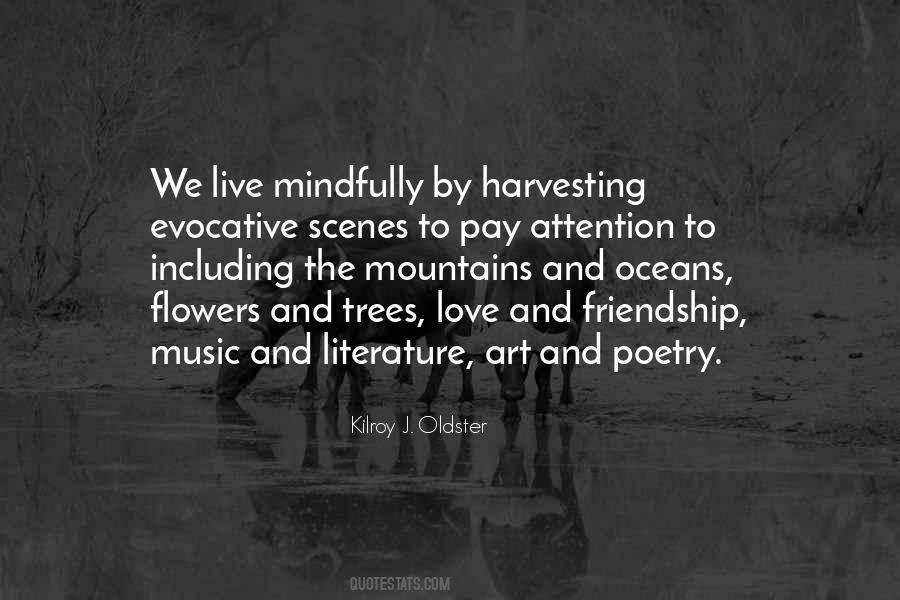 #25. But look around at this world, how perfectly it's made. Flowers can't move, yet the insects come to them and spread their pollen. Trees can't move either, but birds and animals eat their fruit and carry their seeds far and wide. - Author: Nahoko Uehashi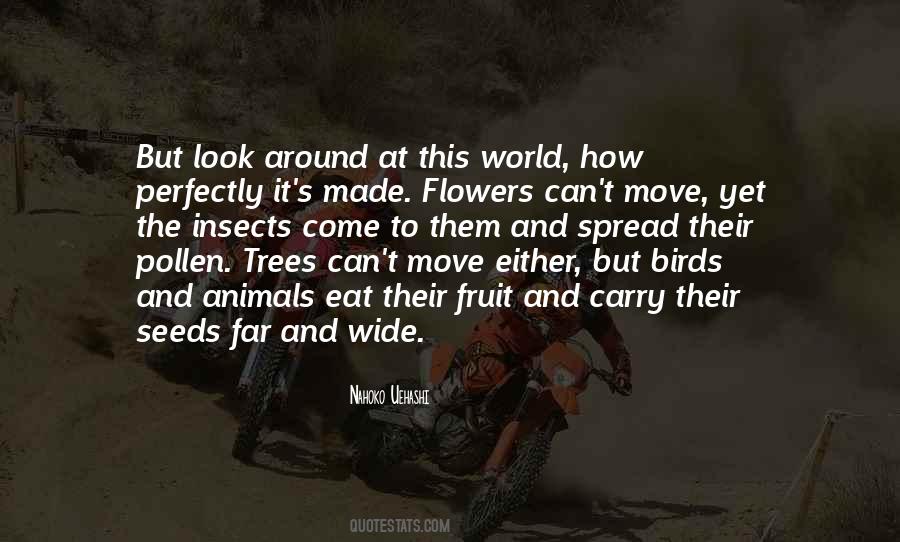 #26. Some flowers bloom beneath the biggest blue,
while others prefer the shade;
As is Human Nature ...
Some turn their faces to the sun
while others seek solitude.
But no matter where you wish to stand;
Stand Straight and Stand tall. - Author: Michelle Geaney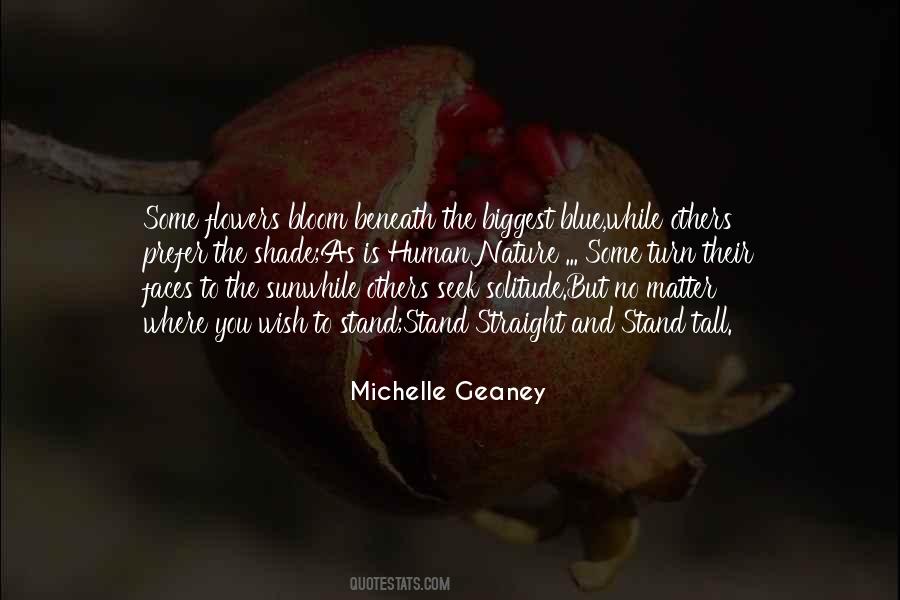 #27. All nature mourns, the skies relent in showers; hushed are the birds, and closed the drooping flowers. - Author: Alexander Pope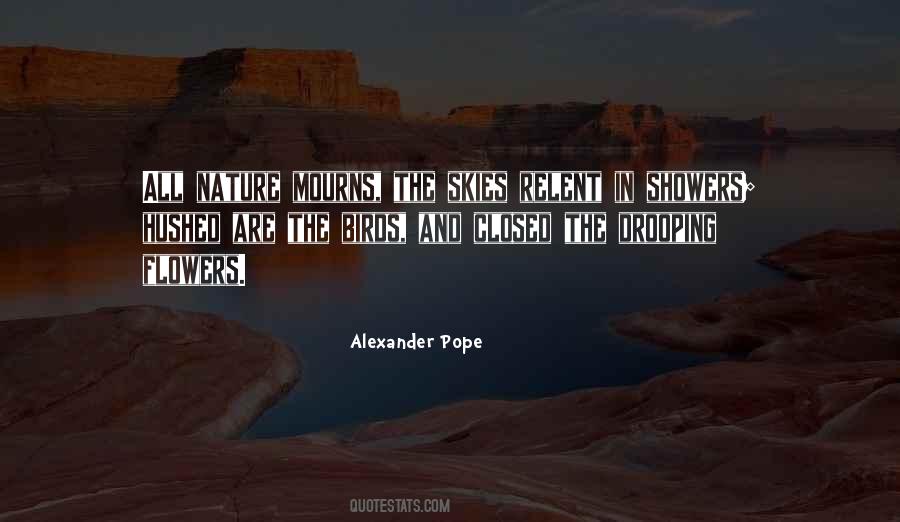 #28. But mighty Nature bounds as from her birth;
The sun is in the heavens, and life on earth:
Flowers in the valley, splendor in the beam,
Health on the gale, and freshness in the stream. - Author: Lord Byron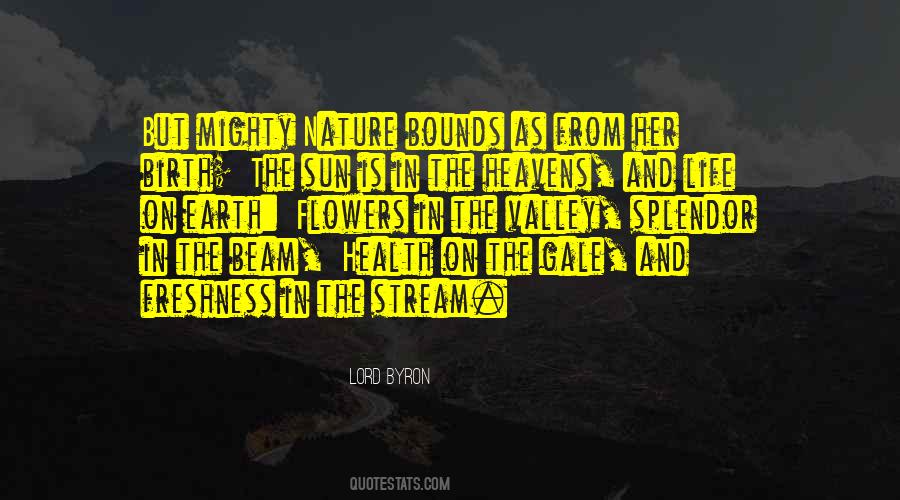 #29. Like a great poet, nature produces the greatest results with the simplest means. There are simply a sun, flowers, water, and love. - Author: Heinrich Heine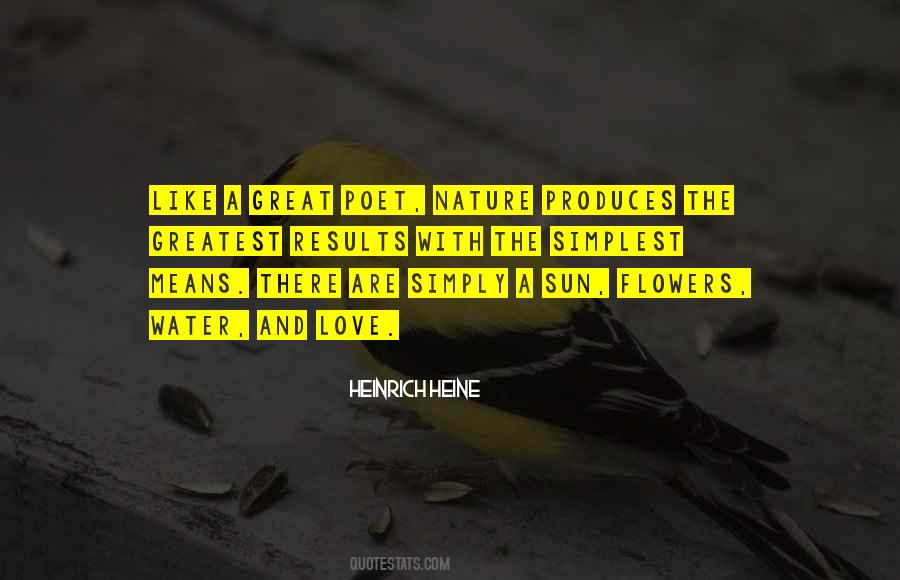 #30. Nature suffers the most but never complains. Flowers never forget to bloom and beautify the world. - Author: Debasish Mridha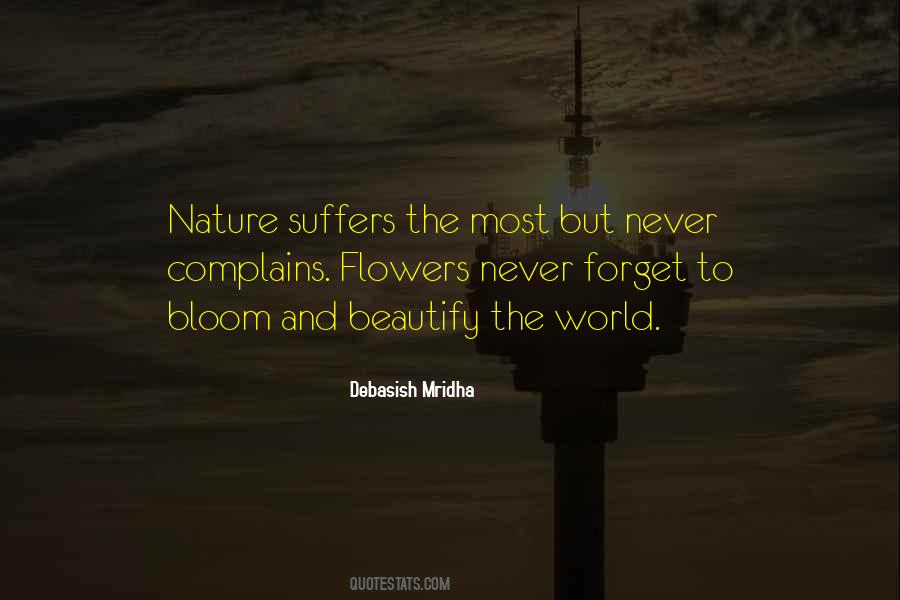 #31. I am not a lover of lawns. Rather would I see daisies in their thousands, ground ivy, hawkweed, and even the hated plantain with tall stems, and dandelions with splendid flowers and fairy down, than the too - well-tended lawn. - Author: William Henry Hudson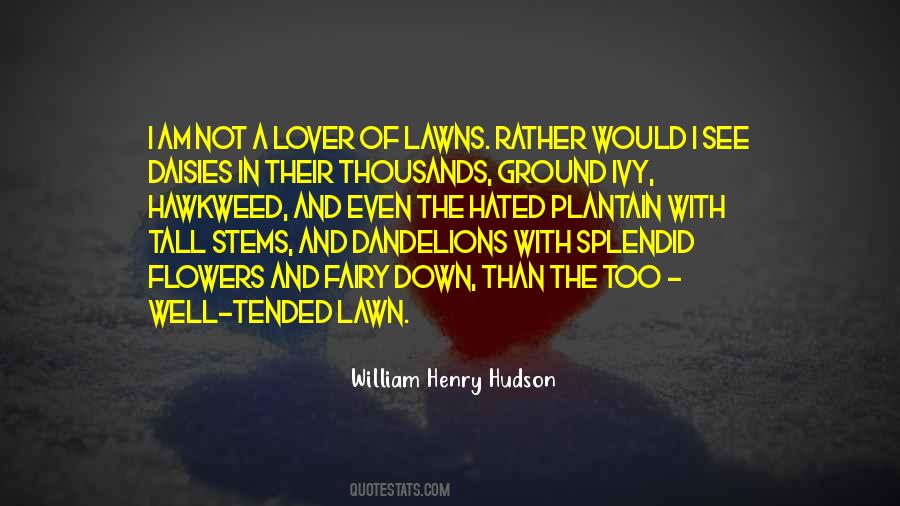 #32. And we will lie down on the ground and have conversations with the grasses and the flowers. - Author: Avijeet Das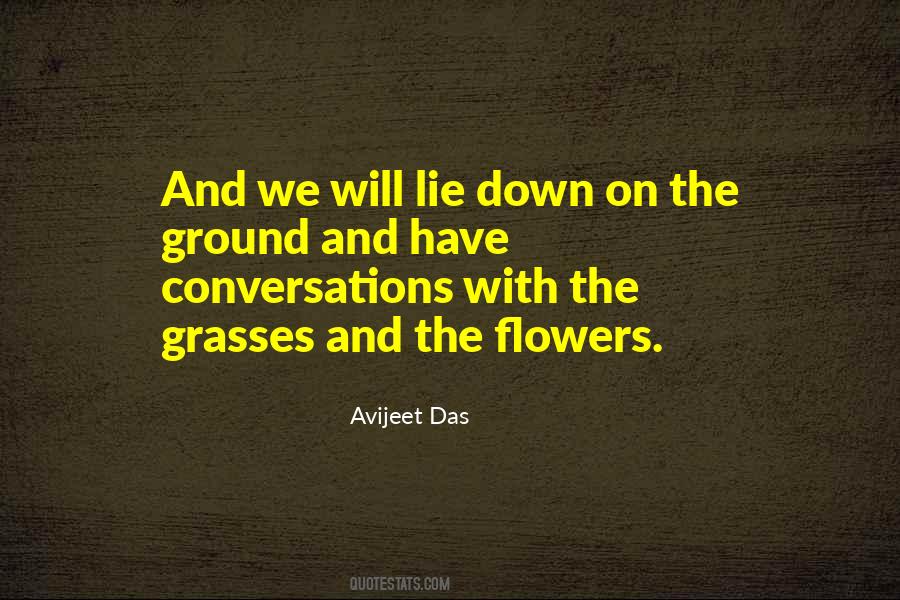 #33. Where have all the flowers of old Singapore gone? Gone, one would imagine, with the old folks and homes - Author: Thien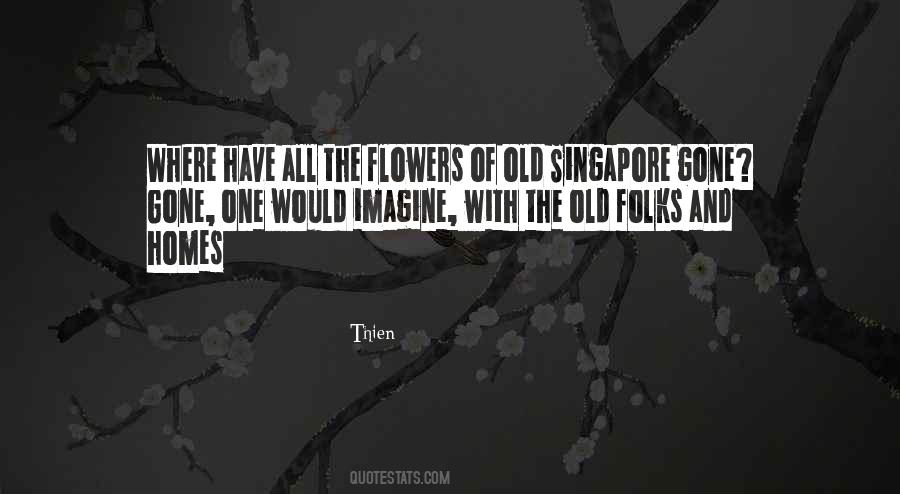 #34. Nature eschews regular lines; she does not shape her lines by a common model. Not one of Eve's numerous progeny in all respects resembles her who first culled the flowers of Eden. To the infinite variety and picturesque inequality of nature we owe the great charm of her uncloying beauty. - Author: John Greenleaf Whittier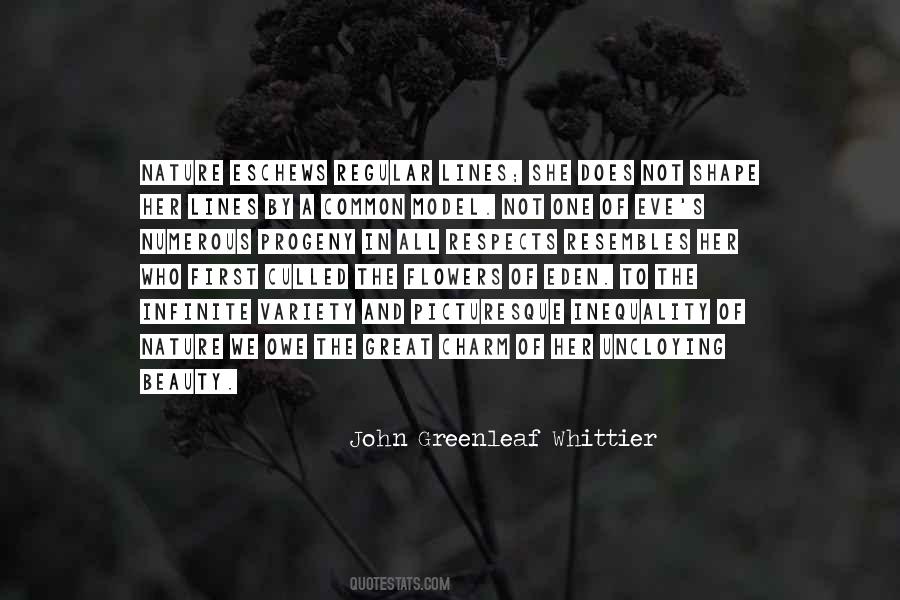 #35. What I love most about nature is how indifferent it is to us humans and human suffering. While we are here with our little or big tragedies - the wind is blowing, the leaves are rustling in the trees, the flowers bloom, and die - there's a great comfort in that indifference, - Author: Valzhyna Mort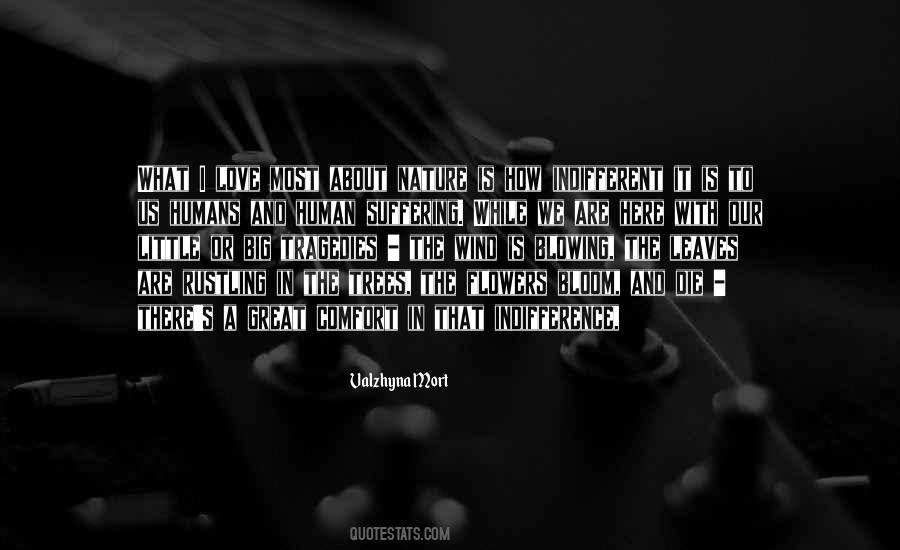 #36. Setting the flowers, roots and all, aside, Millie crossed her arms over her chest. Don't insult my intelligence, Everett. You wouldn't be bringing me flowers or children if something of a disastrous nature hadn't occurred. - Author: Jen Turano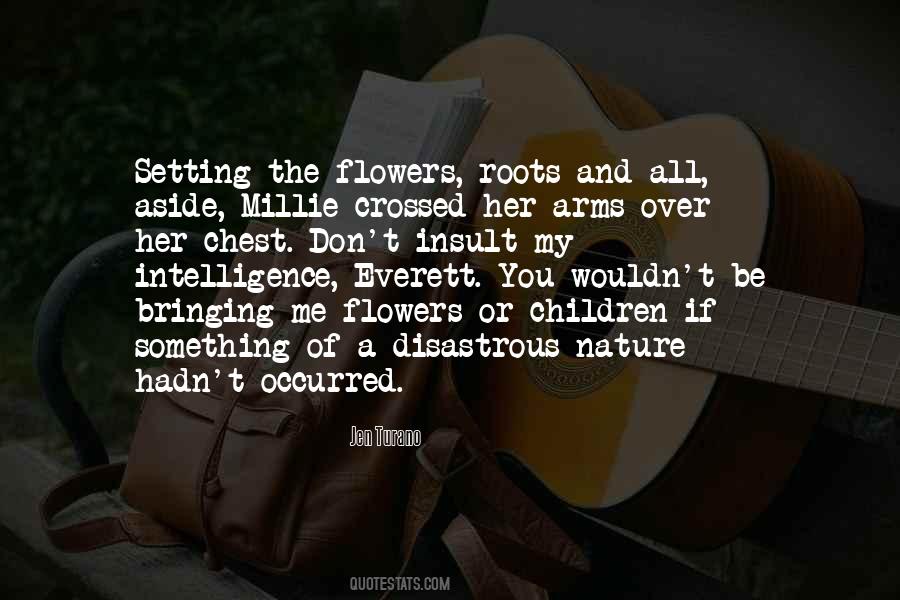 #37. Winter came to an end, and spring arrived, in its fully glory. I remember looking at the blooming trees and flowers and thinking of how incongruous is the beauty of nature against the ugliness of man. - Author: Henry Orenstein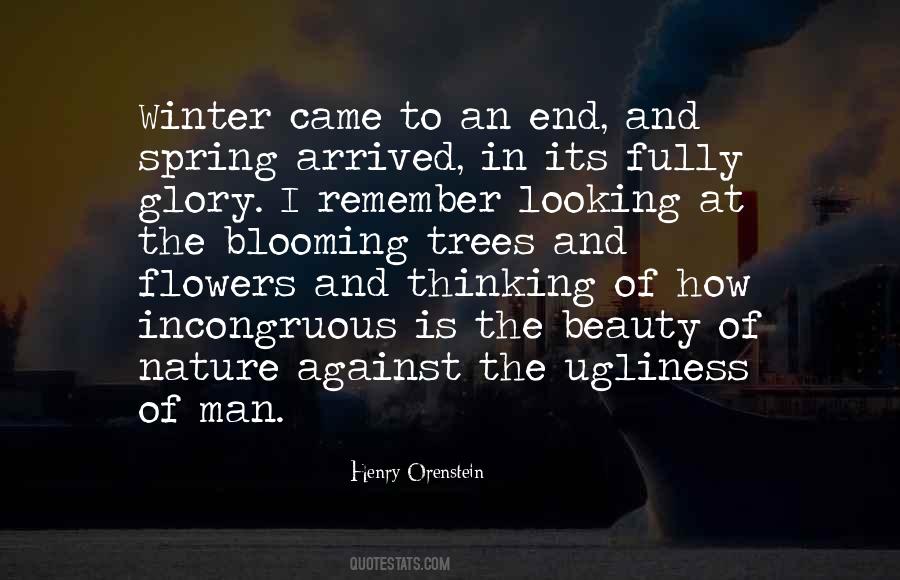 #38. All things are symbols: the external shows Of Nature have their image in the mind , As flowers and fruits and falling of the leaves. - Author: Henry Wadsworth Longfellow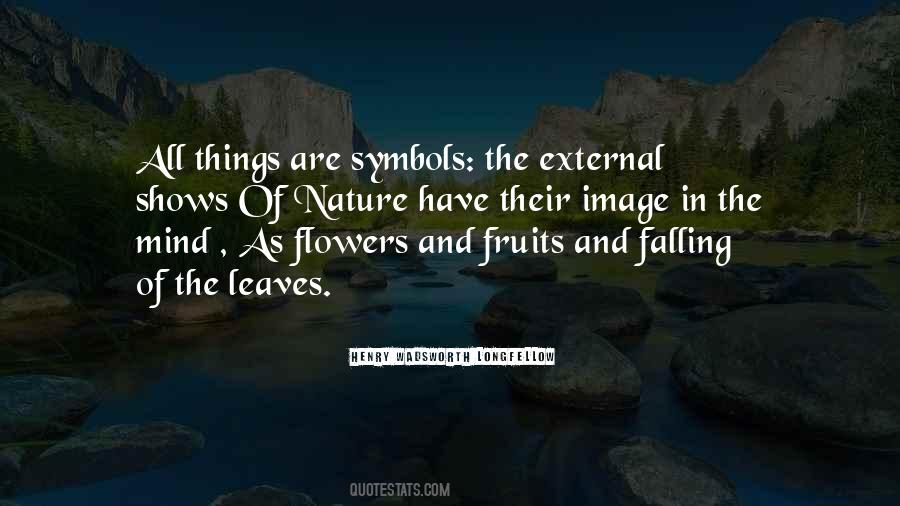 #39. Learn from nature. Stuff lives and stuff dies all the time, you know. Animals and birds and flowers. Trees come and go, and we come and go. That's it. So we should all seize life and make the most of what we have while we can. - Author: Joanna Lumley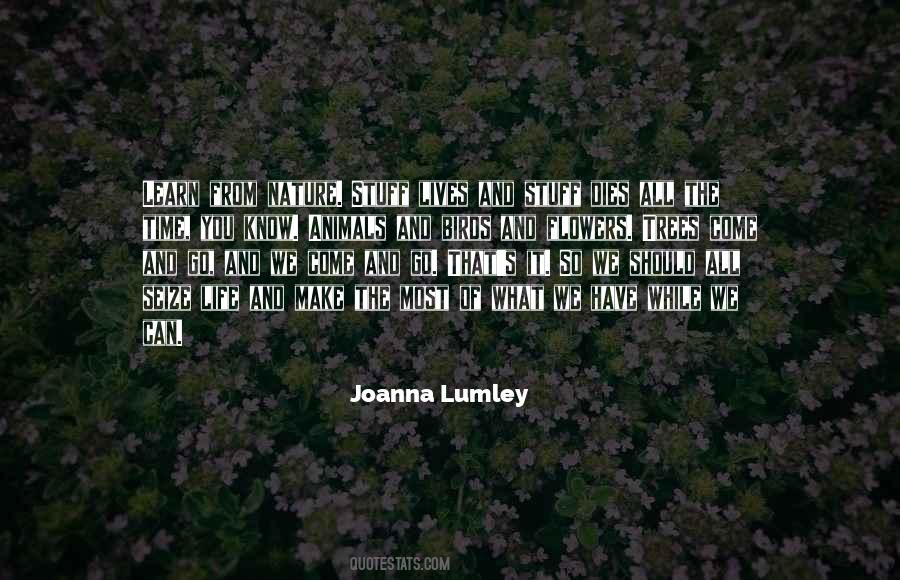 #40. The artist is the confidant of nature, flowers carry on dialogues with him through the graceful bending of their stems and the harmoniously tinted nuances of their blossoms. Every flower has a cordial word which nature directs towards him. - Author: Auguste Rodin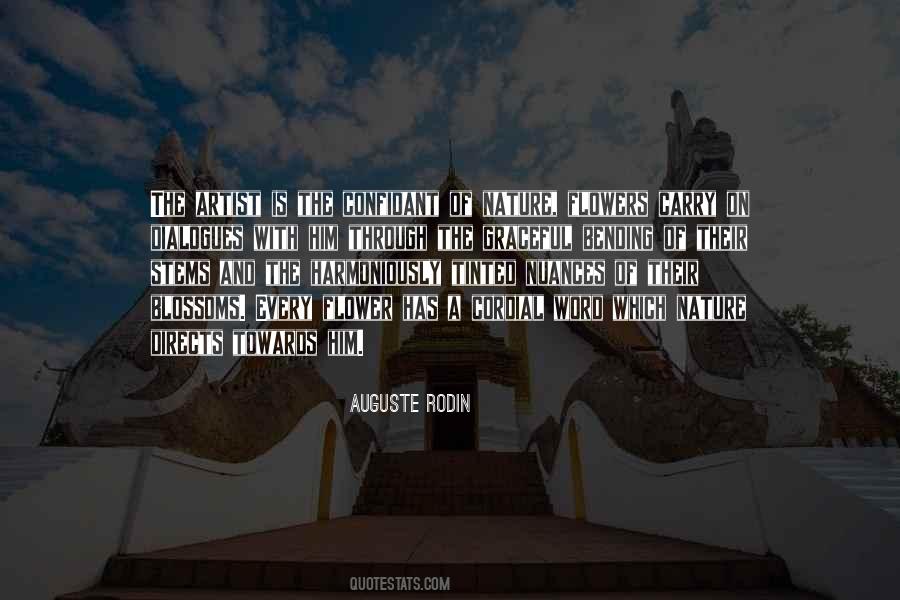 #41. Nature is pitiless; she never withdraws her flowers, her music, her fragrance, and her sunlight from before human cruelty or suffering. - Author: Victor Hugo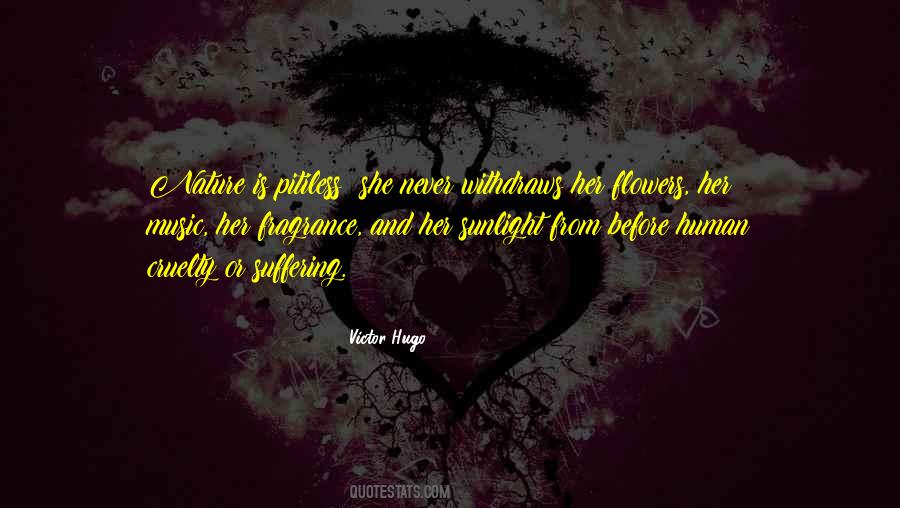 #42. N matter how stressed Claire became, the tropical trees and exotic island flowers decorating the lobby always managed to take her breath away and put her mind at ease. Nature had always been a good de-stressor for her coming in close behind having her hand held by Mr. Sam Stewart - Author: Carolyn Gibbs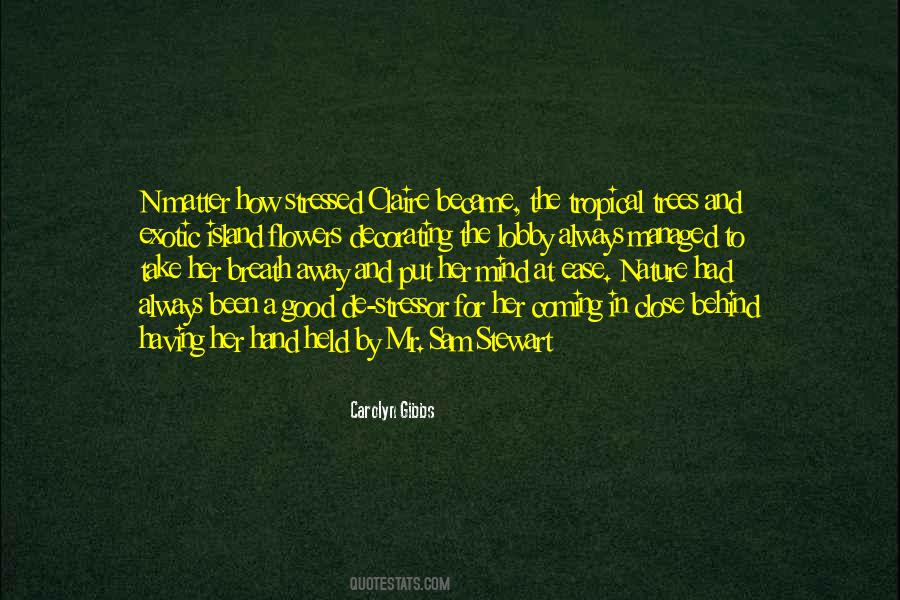 #43. Meanwhile, spring came, and with it the outpourings of Nature. The hills were soon splashed with wild flowers; the grass became an altogether new and richer shade of green; and the air became scented with fresh and surprising smells
of jasmine, honeysuckle, and lavender. - Author: Dalai Lama XIV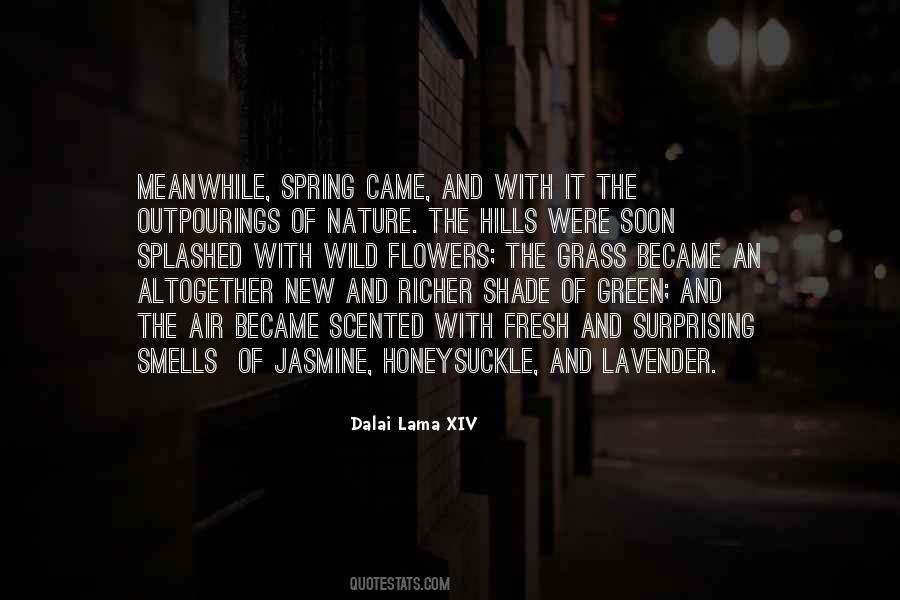 #44. Always it's Spring)and everyone's in love and flowers pick themselves. - Author: E. E. Cummings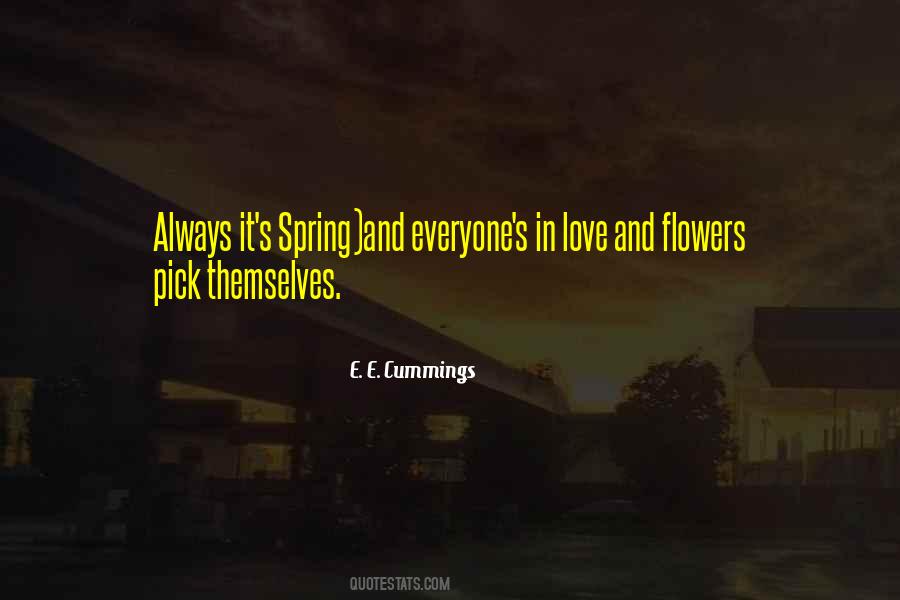 #45. I like to think how easily Nature will absorb London as she absorbed the mastodon, setting her spiders to spin the winding-sheet and her worms to fill in the grave, and her grass to cover it pitifully up, adding flowers - as an unknown hand added them to the grave of Nero. - Author: Edward Thomas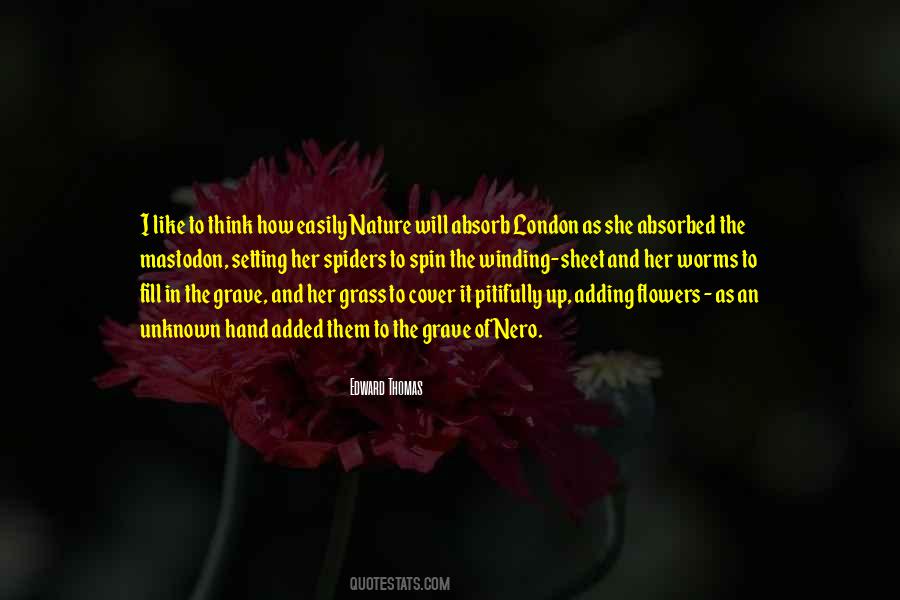 #46. There was no more grass, no flowers, not even any moss: dusty granite blocks covered the ice and an occasional grinding groan reminded us that we were on a slow-moving glacier. - Author: Chris Bonington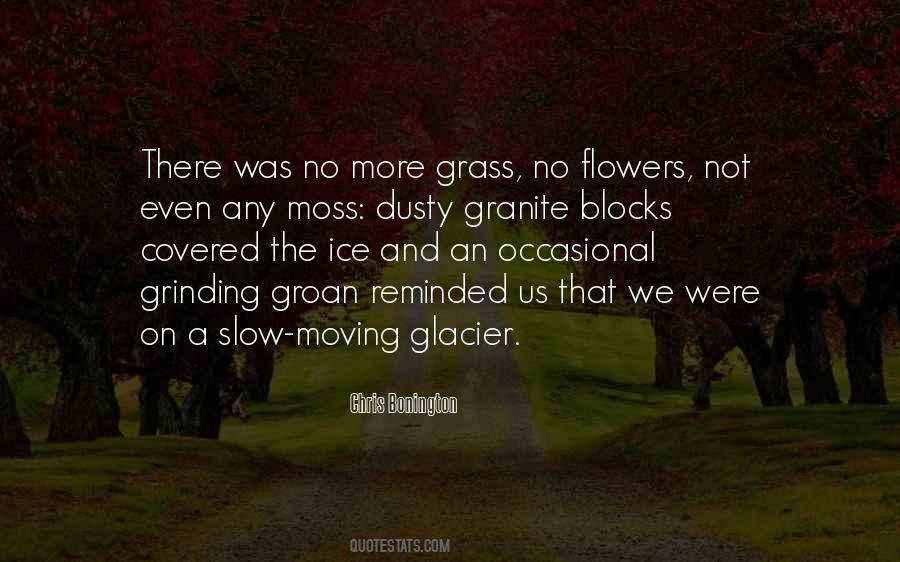 #47. Nature's constantly screaming with all its shapes and scents: love each other! Love each other! Do as the flowers. There's only love. - Author: Octave Mirbeau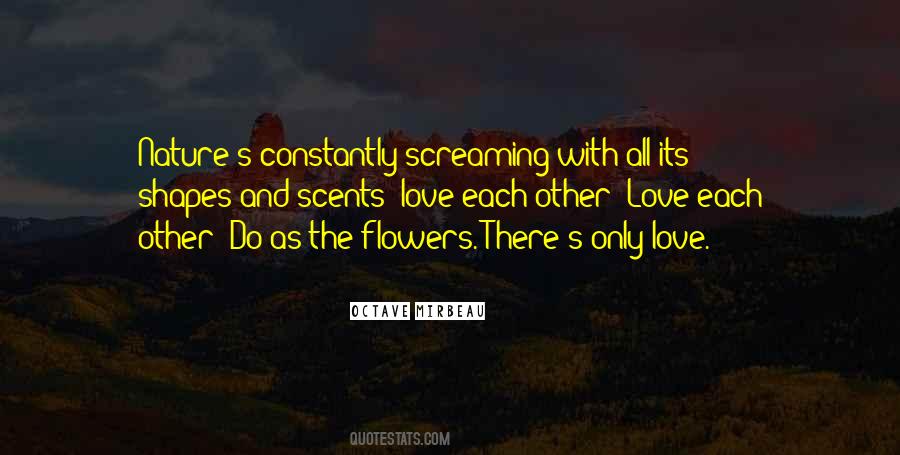 #48. These flowers, which were splendid and sprightly, waking in the dawn of the morning, in the evening will be a pitiful frivolity, sleeping in the cold night's arms. - Author: Pedro Calderon De La Barca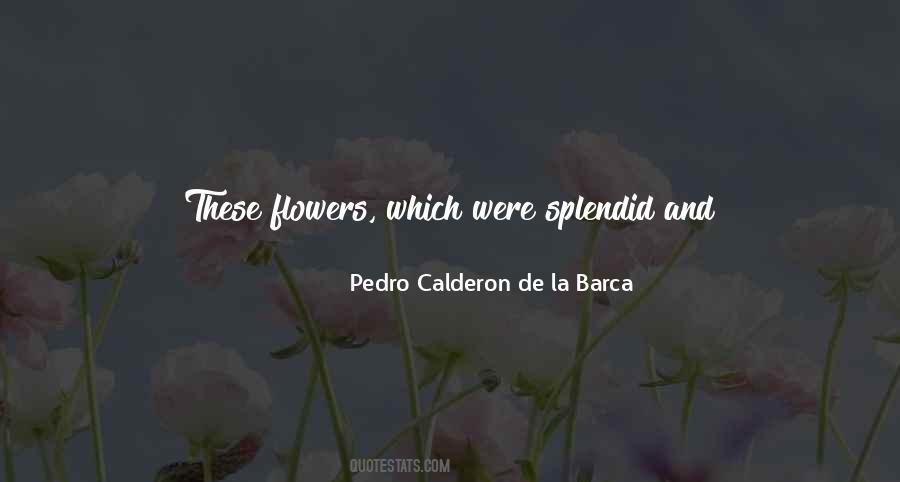 #49. They who wander widest lift No more of beauties' jealous veils, Than they who from their doorways see The miracle of flowers and trees. - Author: John Greenleaf Whittier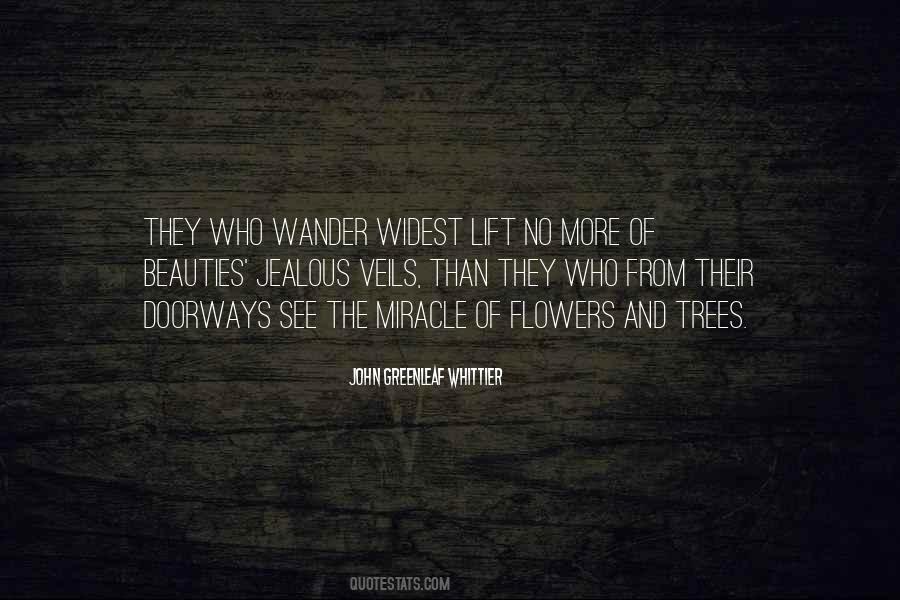 #50. Everyone is entitled to a home where the sun, the stars, open fields, giant trees, and smiling flowers are free to teach an undisturbed lesson of life. - Author: Jens Jensen
#51. Butterflies are but flowers that blew away one sunny day when Nature was feeling at her most inventive and fertile. - Author: George Sand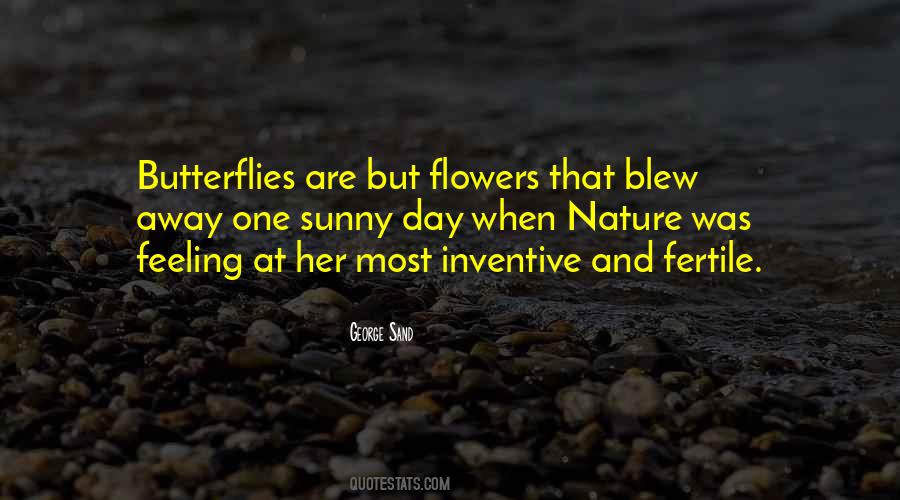 #52. Having plants and flowers in my space makes me feel very calm and Zen. For me, it's important to meditate every morning to be very clear in the head, and nature really helps me do the same thing. - Author: Nicola Formichetti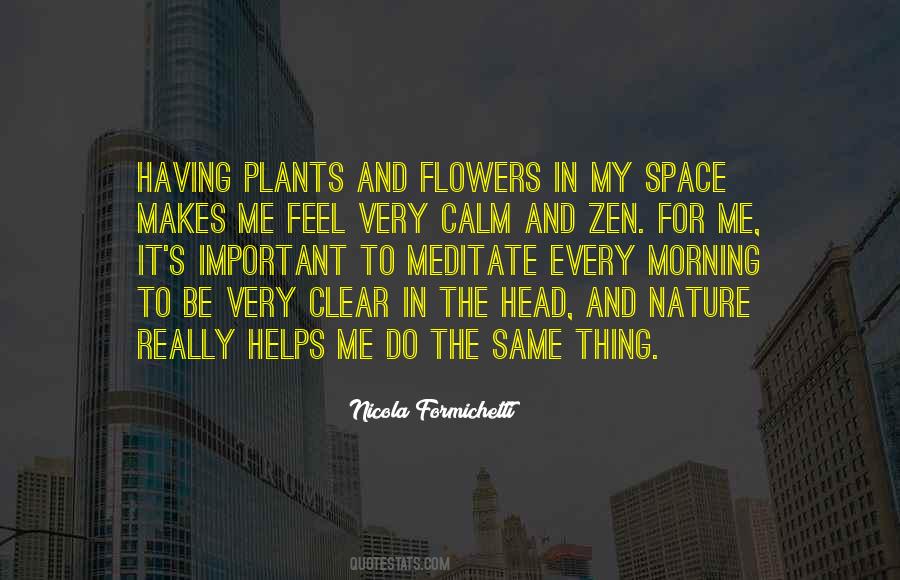 #53. You told me how you hate daffodils because they're morbid. They stick around for a month making everything lemon drop yellow, then die and get replaced by worse flowers.

How the hell does an elementary schooler grasp the concept of beauty not being permanent? - Author: Calista Lynne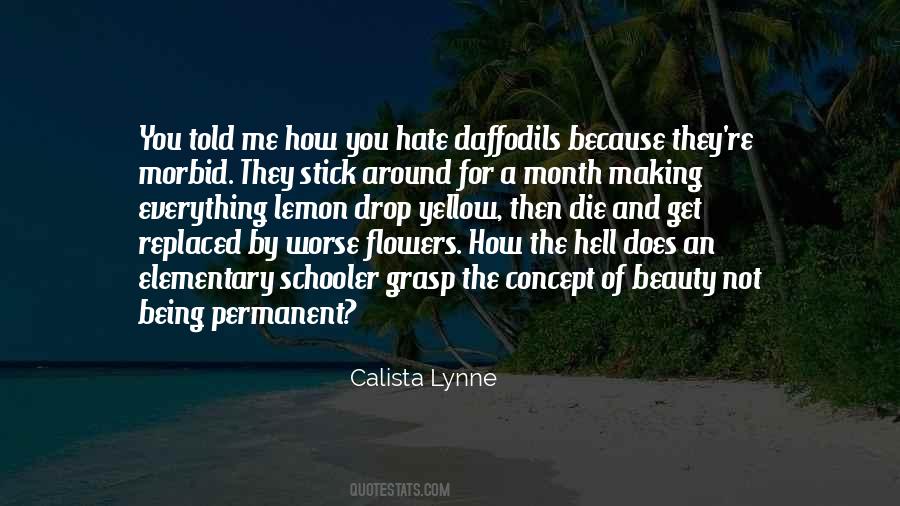 #54. There is a close relationship between flowers and convicts. The fragility and delicacy of the former are of the same nature as the brutal insensitivity of the latter. - Author: Jean Genet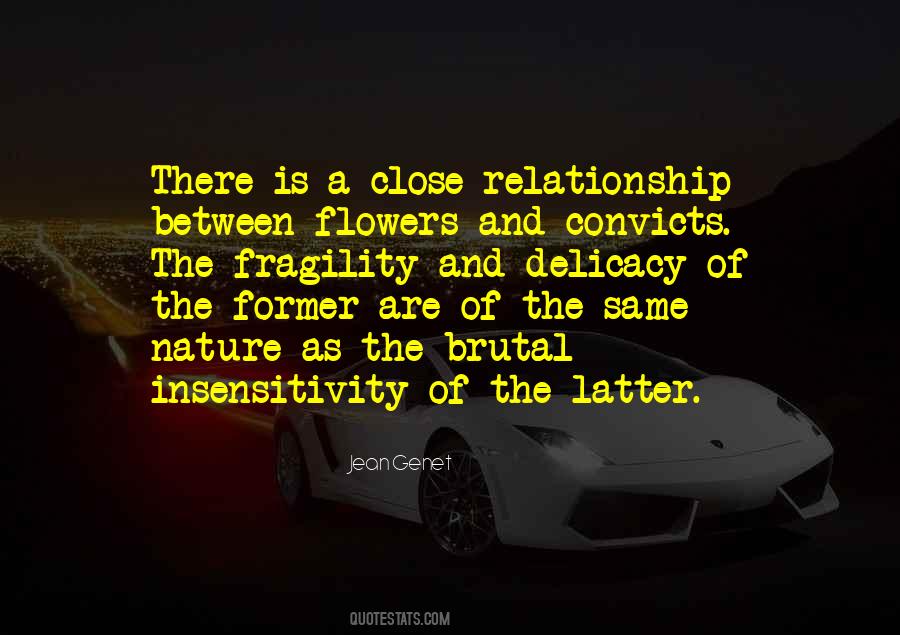 #55. For thee, sweet month; the groves green liveries wear.
If not the first, the fairest of the year;
For thee the Graces lead the dancing hours,
And Nature's ready pencil paints the flowers.
When thy short reign is past, the feverish sun
The sultry tropic fears, and moves more slowly on. - Author: John Dryden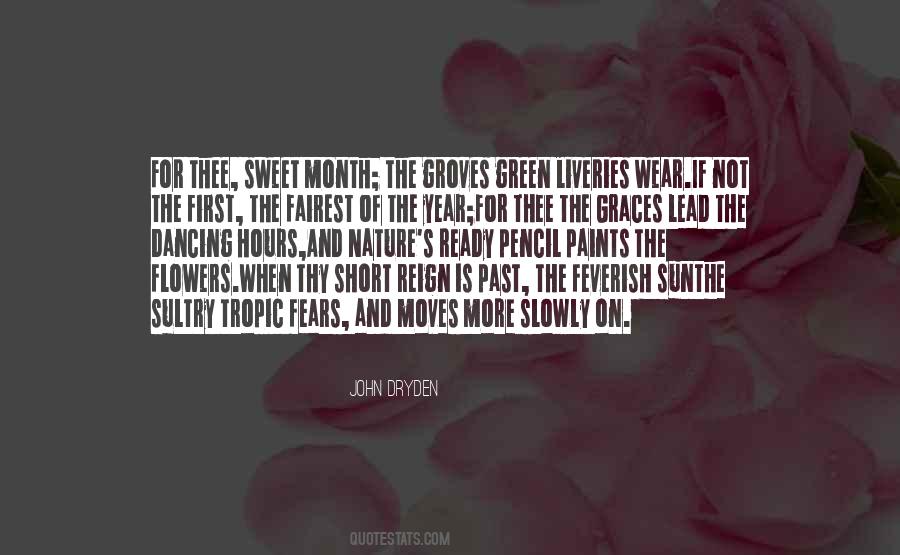 #56. Flowers are the Romeos and the Juliets of the nature! - Author: Mehmet Murat Ildan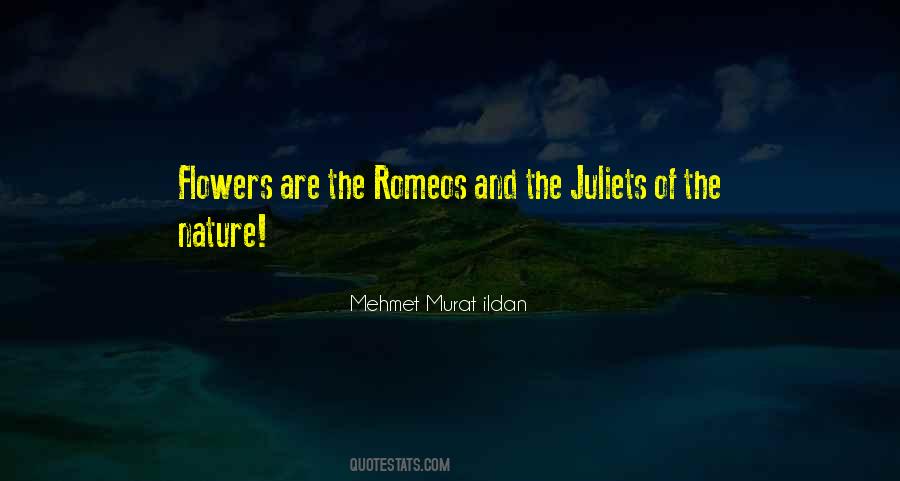 #57. I do not much care for nature, and believe that flowers belong in vases rather than loose and untidy on the ground. - Author: Gore Vidal
#58. Flowers reconnect us to our own beautiful and unique essence as human beings. They wake up our positive qualities so that we feel them and they begin to emanate from us, just as each flower radiates its own unique quality. - Author: Katie Hess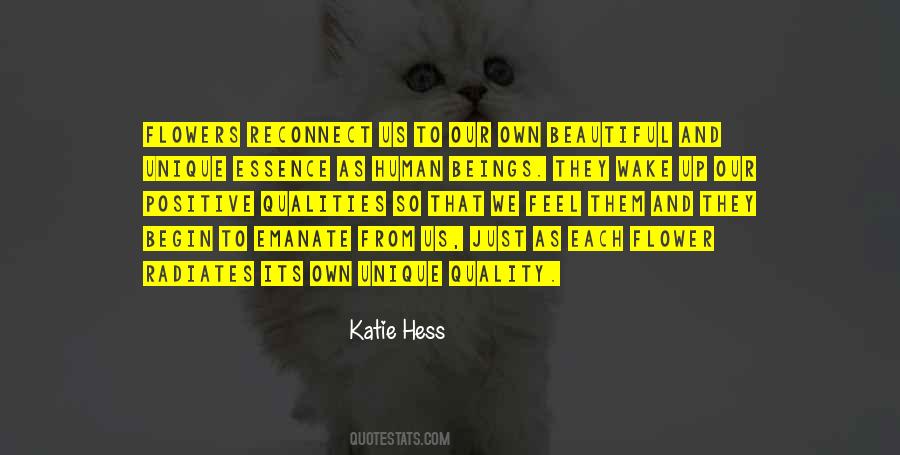 #59. This was sheer idleness to my fellow-townsmen, no doubt; but if the birds and flowers had tried me by their standard, I should not have been found wanting. A man must find his occasions in himself, it is true. The natural day is very calm, and will hardly reprove his indolence. - Author: Henry David Thoreau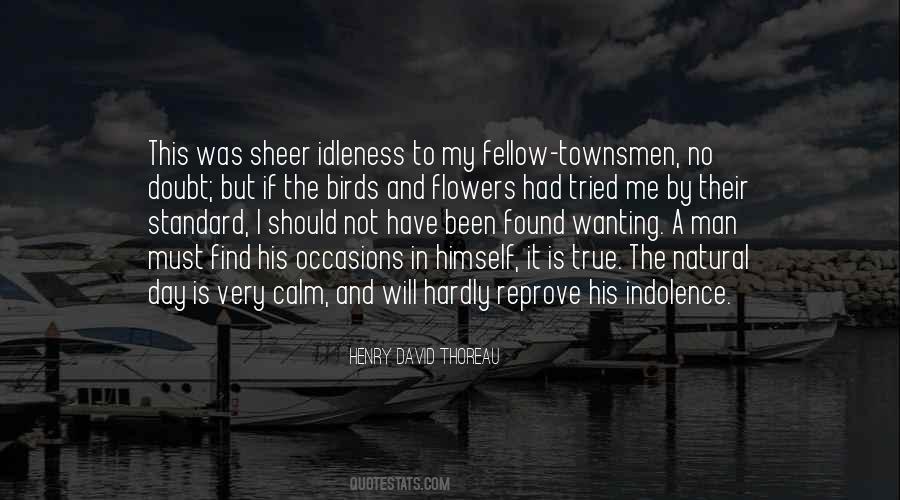 #60. If all flowers wanted to be roses, nature would lose her springtime beauty and the fields would no longer be decked out with little wildflowers. - Author: Therese Of Lisieux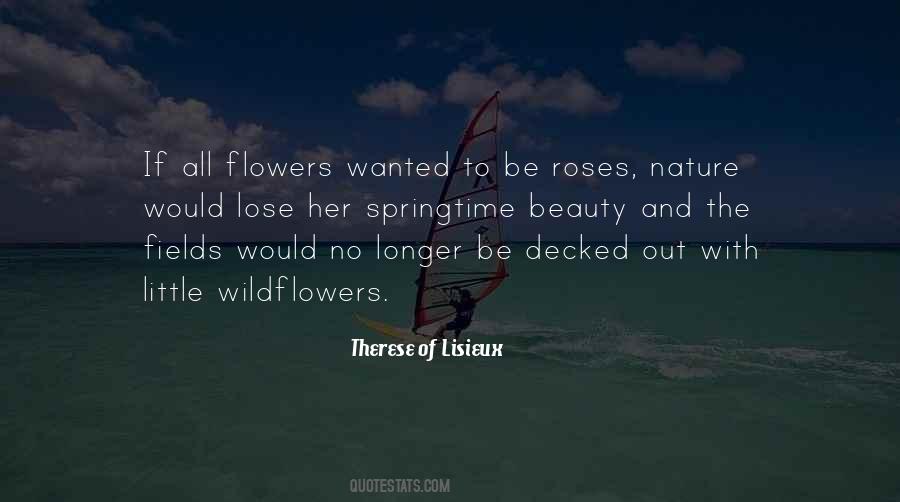 #61. The finest flowers of genius have grown in an atmosphere where those of Nature are prone to droop, and difficult to bring to maturity. - Author: Thomas Guthrie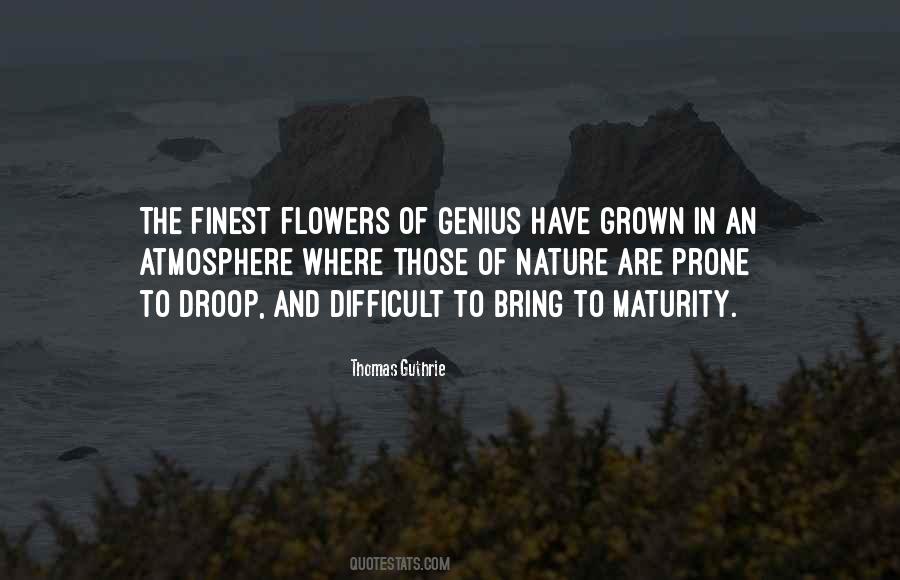 #62. I hear he liked flowers pretty well."
"Yes," said Annie, "he said they were the friends who always came back and never disappointed him."
"Out, Brief Candle - Author: Kurt Vonnegut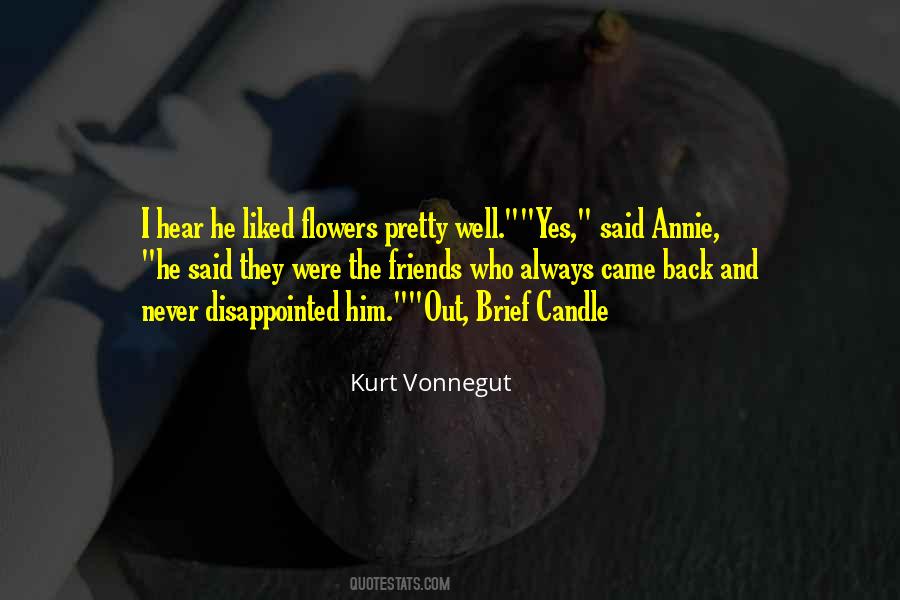 #63. Flowers teach us the philosophy of life - we should live and die beautifully. - Author: Anna Stepanova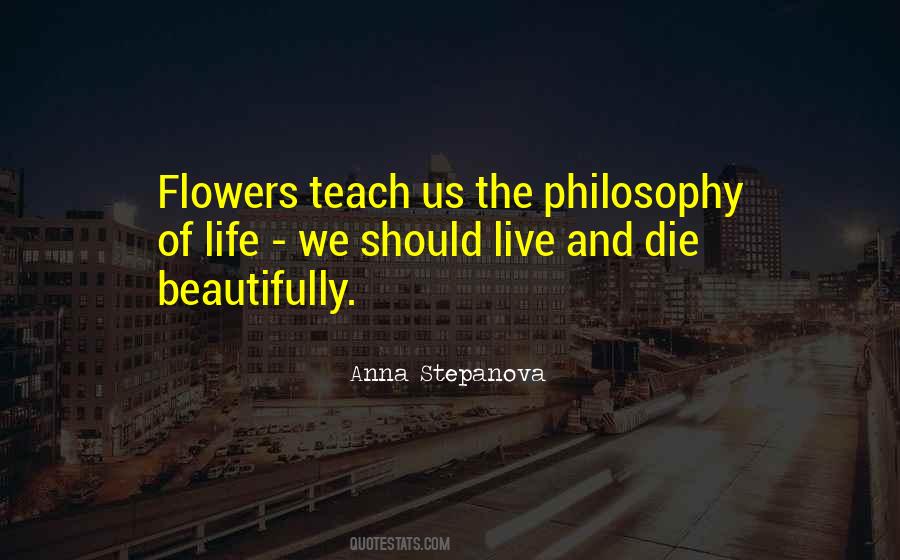 #64. Oh! Old rubbish! Old letters, old clothes, old objects that one does not want to throw away. How well nature has understood that, every year, she must change her leaves, her flowers, her fruit and her vegetables, and make manure out of the mementos of her year! - Author: Jules Renard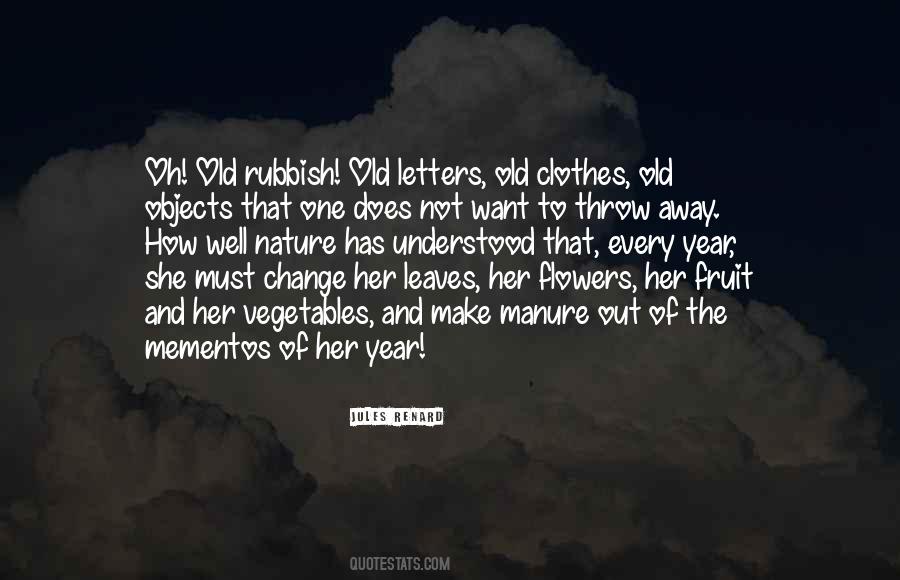 #65. There's an interdependence between flowers and bees. Where there are no flowers there are no bees, and where there are no bees, there are no flowers. They are really one organism. And so in the same way, everything in nature depends on everything else. - Author: Alan Watts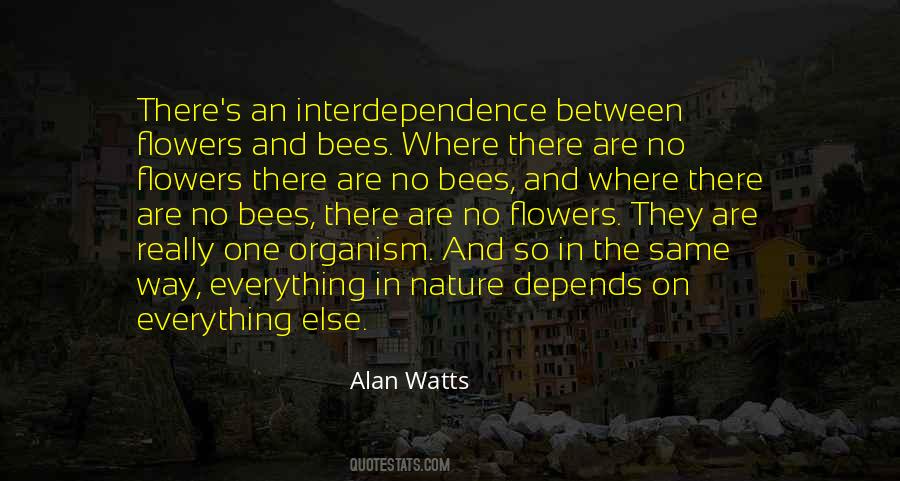 #66. I think the true gardener is a lover of his flowers, not a critic of them. I think the true gardener is the reverent servant of Nature, not her truculent, wife-beating master. I think the true gardener, the older he grows, should more and more develop a humble, grateful and uncertain spirit. - Author: Reginald Farrer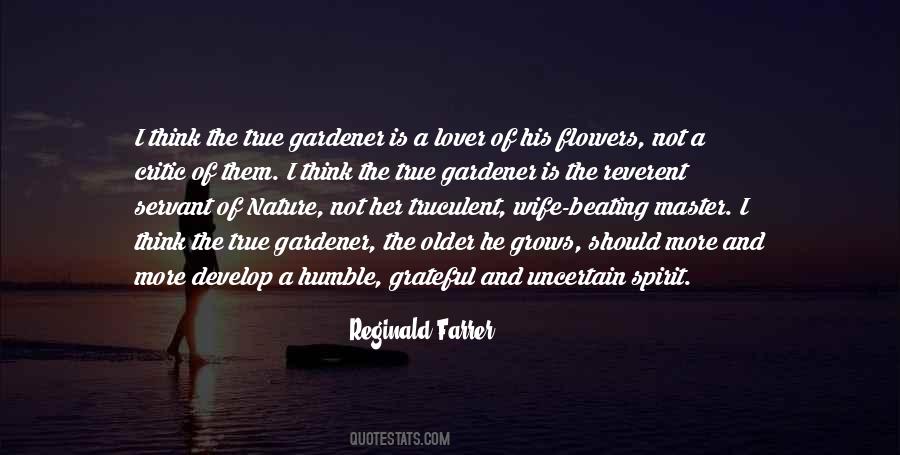 #67. The poetry is the Earth, charming; The river, flowing from lofty mountains; Nature, a young woman and a heavenly plant with blossoming flowers, slinking in the garden of the mind. - Author: Manmohan Acharya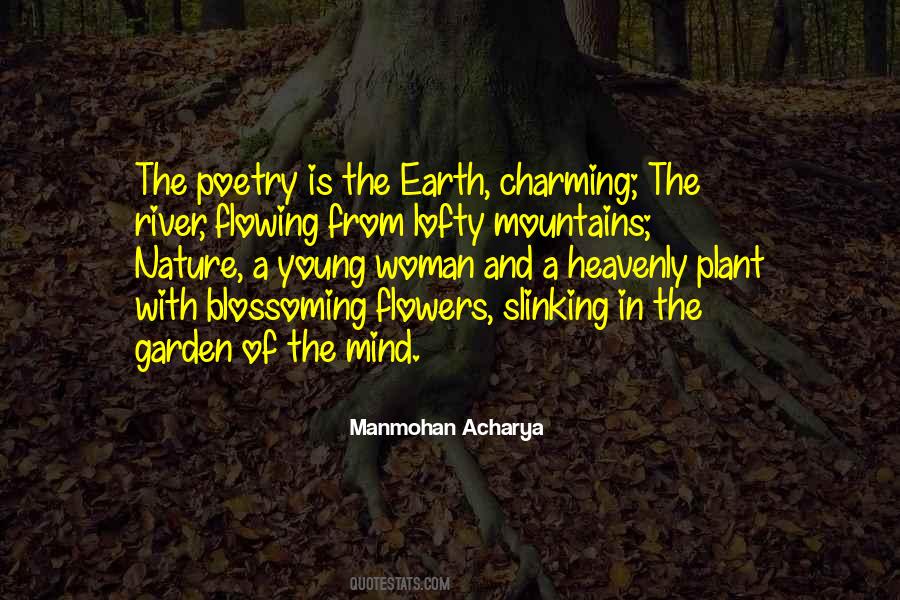 #68. A very common flower adds generosity to beauty. It gives joy to the poor, to the rude, and to the multitudes who could have no flowers were nature to charge a price for her blossoms. - Author: Henry Ward Beecher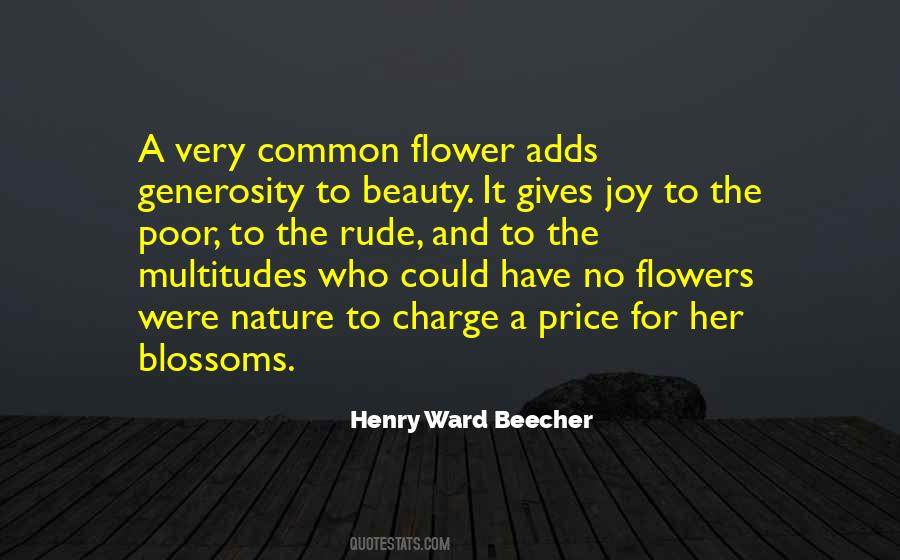 #69. We are all born bonded to nature; that's why we put depictions of flowers and forests, rather than bulldozers or log piles, on our walls. - Author: Bob Brown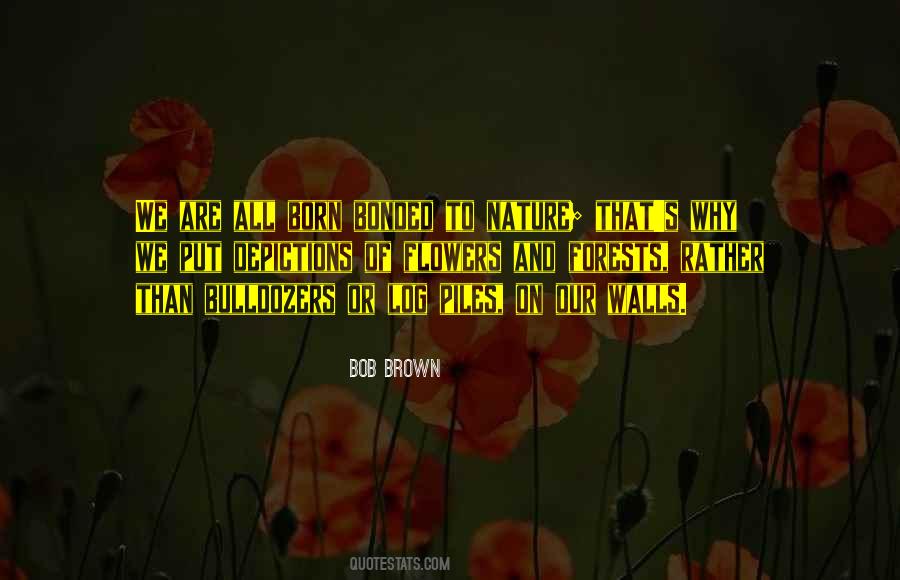 #70. How true it is that, if we are cheerful and contented, all nature smiles, the air seems more balmy, the sky clearer, the earth has a brighter green ... the flowers are more fragrant ... and the sun, moon, and stars all appear more beautiful, and seem to rejoice with us. - Author: Orison Swett Marden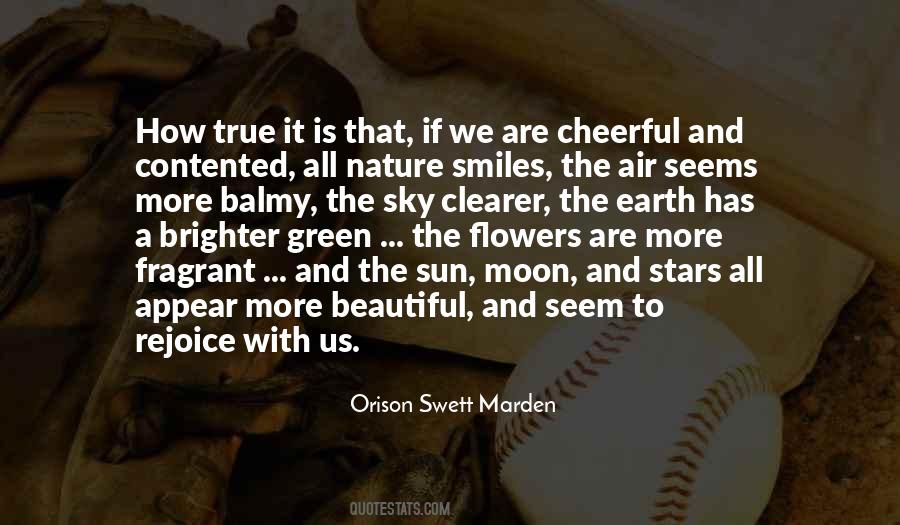 #71. FLOWERS The flowers of the field are the children of sun's affection and nature's love; and the children of men are the flowers of love and compassion. BW-ST-122 - Author: Kahlil Gibran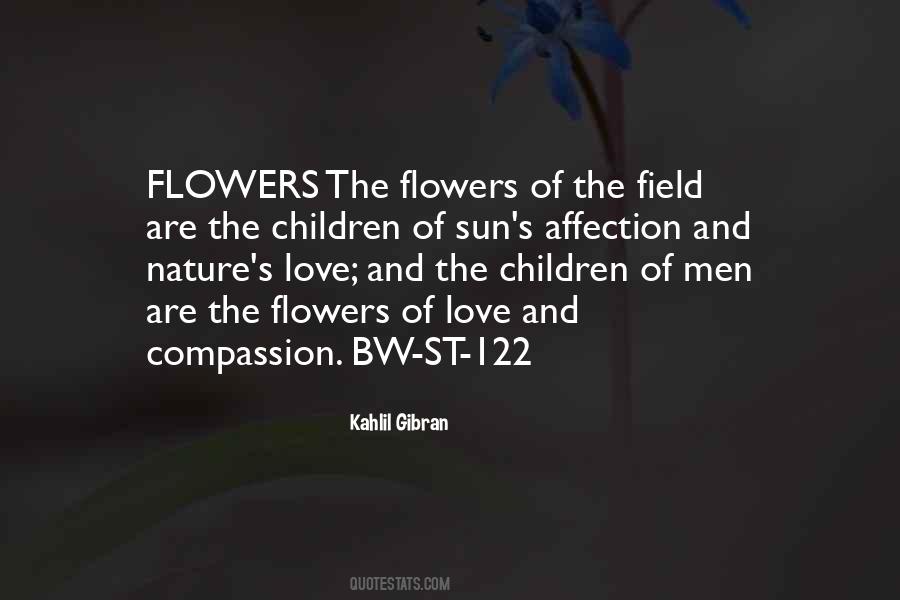 #72. Sir, the year growing ancient,
Not yet on summer's death nor on the birth
Of trembling winter, the fairest flowers o' th' season
Are our carnations and streaked gillyvors,
Which some call nature's bastards. - Author: William Shakespeare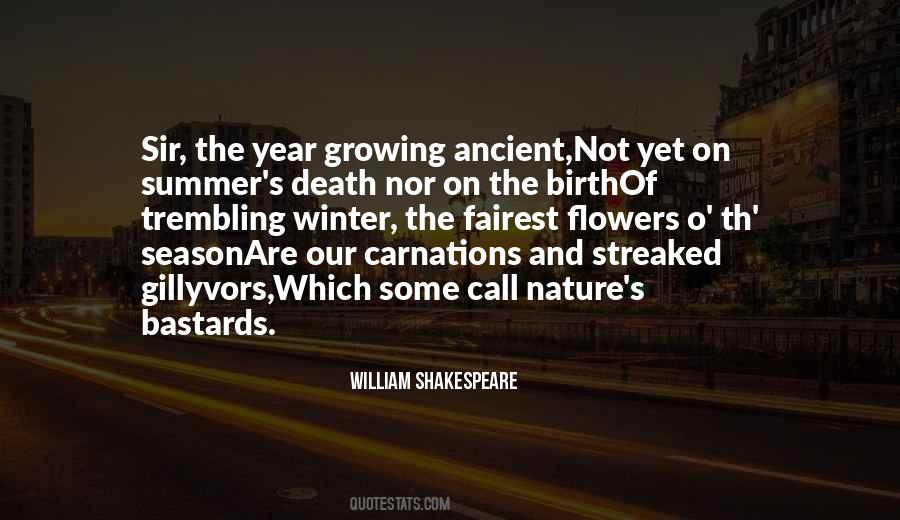 #73. Raindrops blossom brilliantly in the rainbow, and change to flowers in the sod, but snow comes in full flower direct from the dark, frozen sky. - Author: John Muir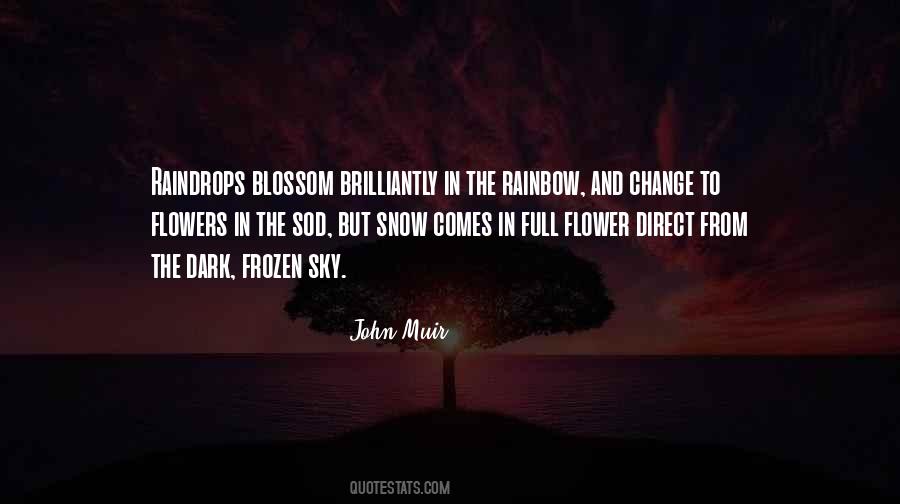 #74. For myself I hold no preferences among flowers, so long as they are wild, free, spontaneous. Bricks to all greenhouses! Black thumb and cutworm to the potted plant! - Author: Edward Abbey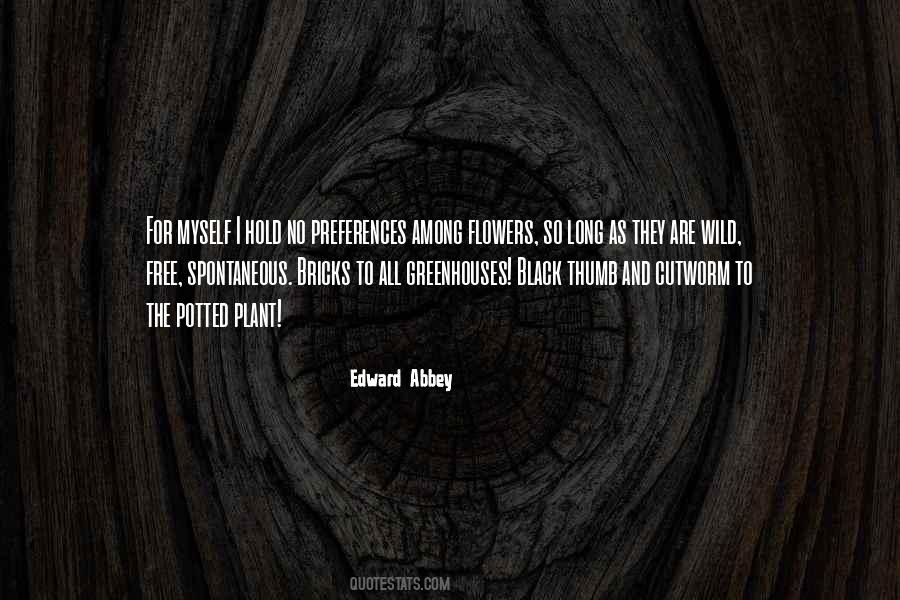 #75. As a human being it is just my nature to enjoy and share philosophy. I do this in the same way that some birds are eagles and some doves, some flowers lilies and some roses. - Author: Alan Watts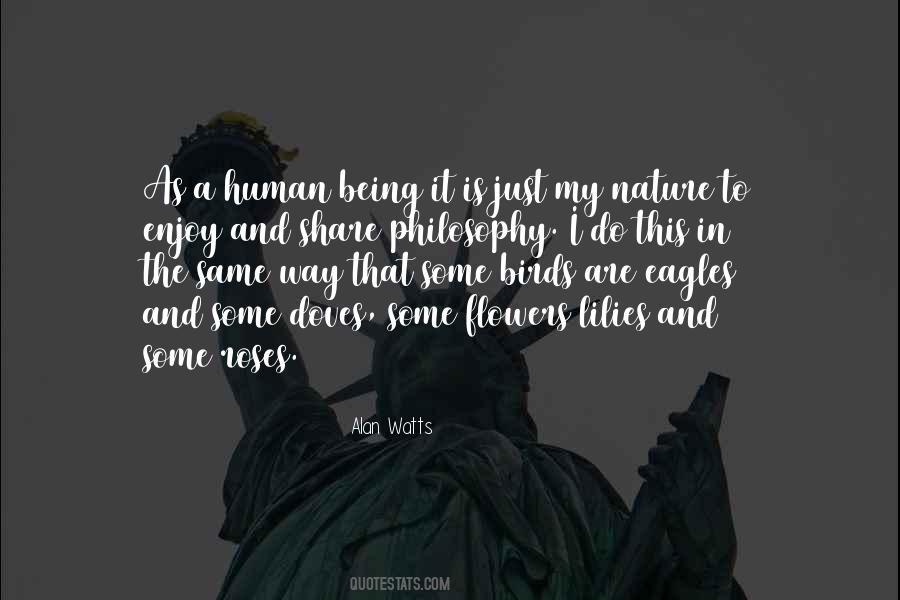 #76. A committee is organic rather than mechanical in its nature: it is not a structure but a plant. It takes root and grows, it flowers, wilts, and dies, scattering the seed from which other committees will bloom in their turn. - Author: C. Northcote Parkinson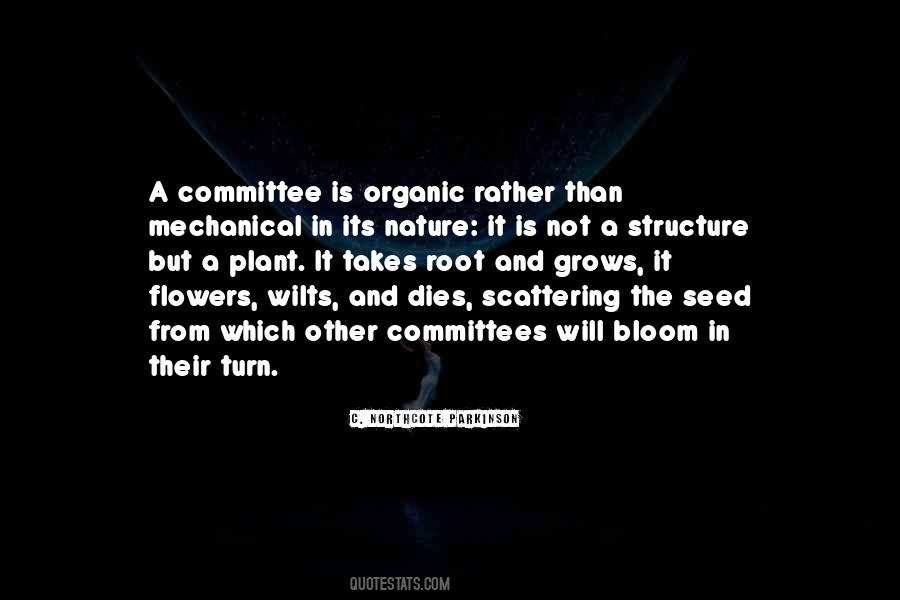 #77. There's nothing quite like the pleasure you get from plants and flower," he said to himself. "They certainly do cheer you up. - Author: Charmian Hussey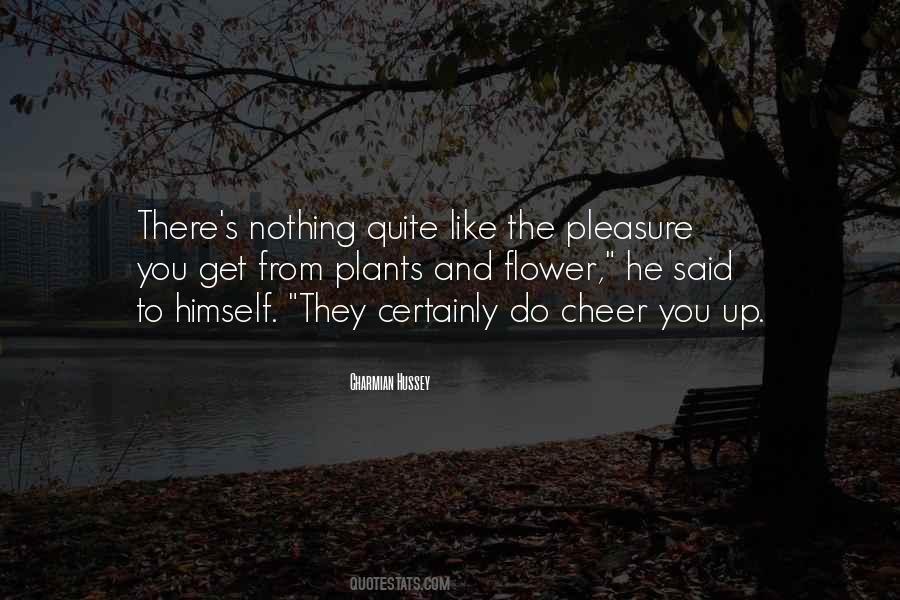 #78. Flowers are without hope. Because hope is tomorrow and flowers have no tomorrow. - Author: Antonio Porchia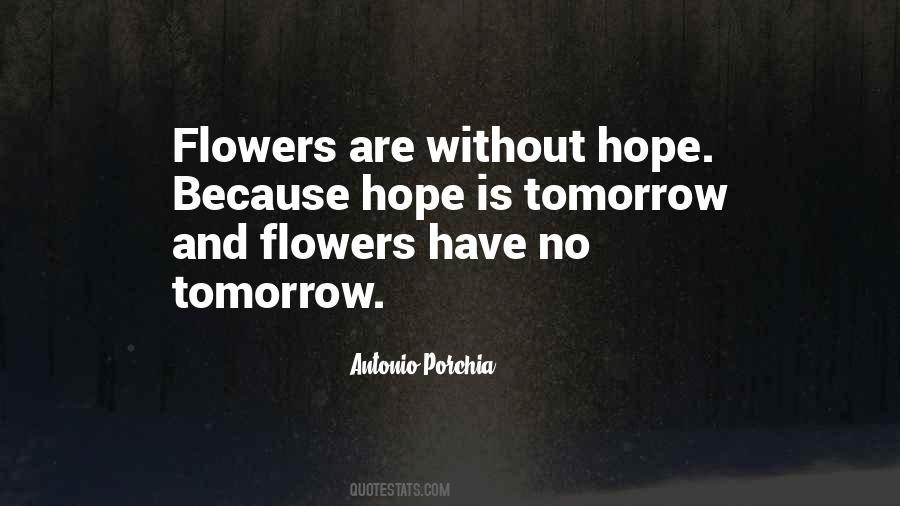 #79. Love ... is like nature, but in reverse; first it fruits, then it flowers, then it seems to wither, then it goes deep, deep down into its burrow, where no one sees it, where it is lost from sight, and ultimately people die with that secret buried inside their souls. - Author: Edna O'Brien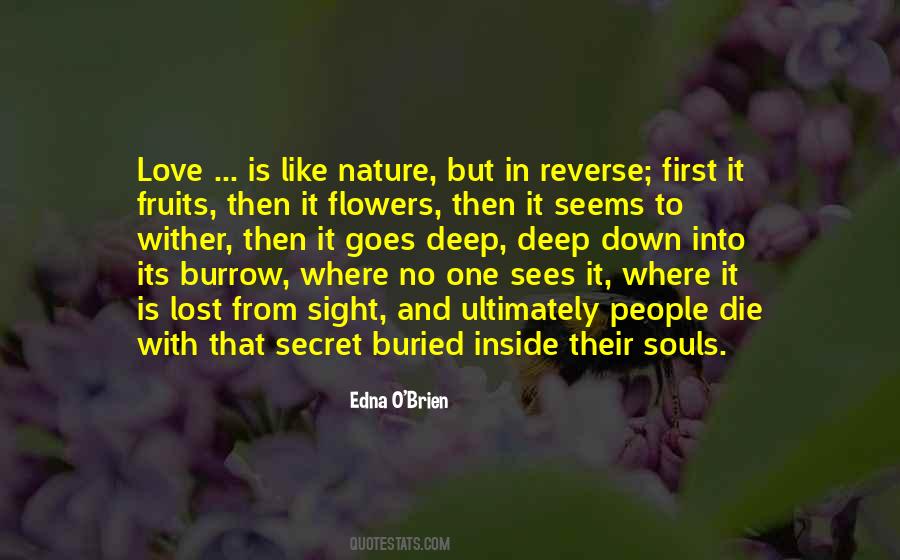 #80. Oleanders have attractive flowers, they decorate nature beautifully, but they are poisonous; and a woman is an oleander; it's all right to watch her once in a while, but then you must walk away without touching her; if you ever try to taste her even once, you'll head for hell! - Author: Mehmet Murat Ildan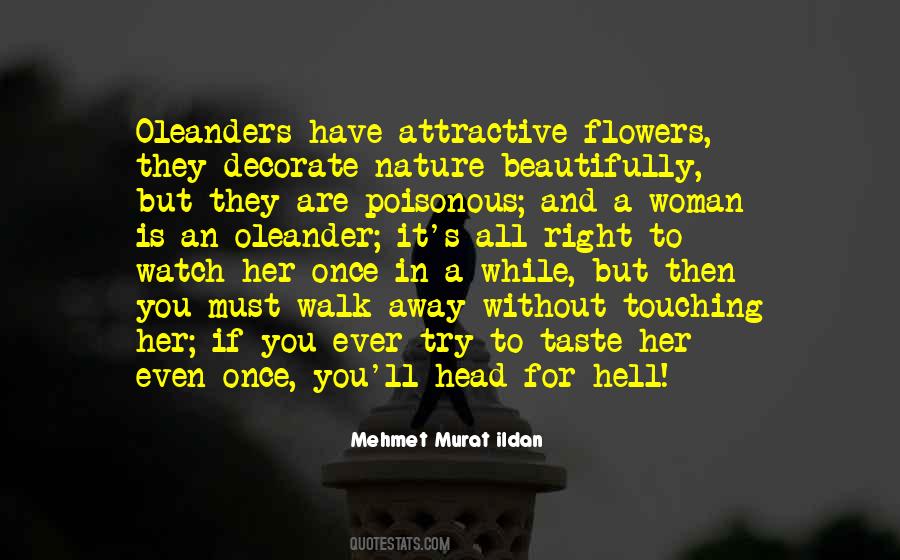 #81. Plant the trees just for beauty,
If flowers bloom or fruits ripen,
Enjoy it as a gift and appreciate nature as a universal giver. - Author: Debasish Mridha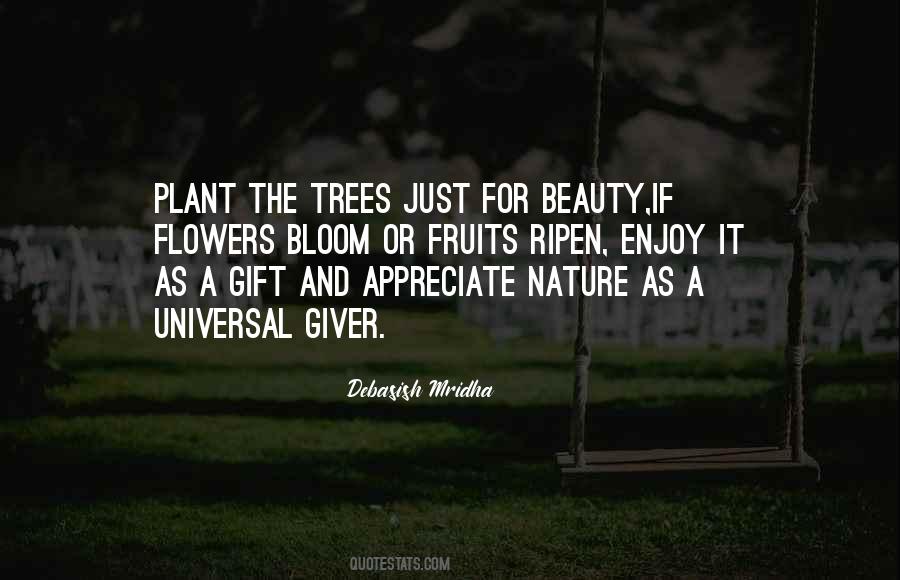 #82. Daffy bent down suddenly, and picked a small startled white flower. "Anemone," he said, handing it over; he made her repeat the word until she had it right. "Find me a silk to match that. - Author: Emma Donoghue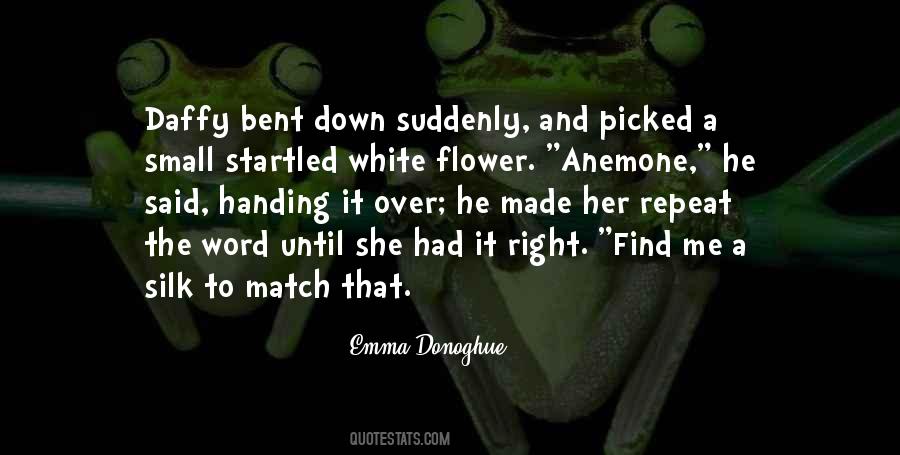 #83. Let the minor genius go his light way and enjoy his life - the great nature cannot so live, he is never really in holiday mood, even though he often plucks flowers by the wayside and ties them into knots and garlands like little children and lays out on a sunny morning. - Author: William Butler Yeats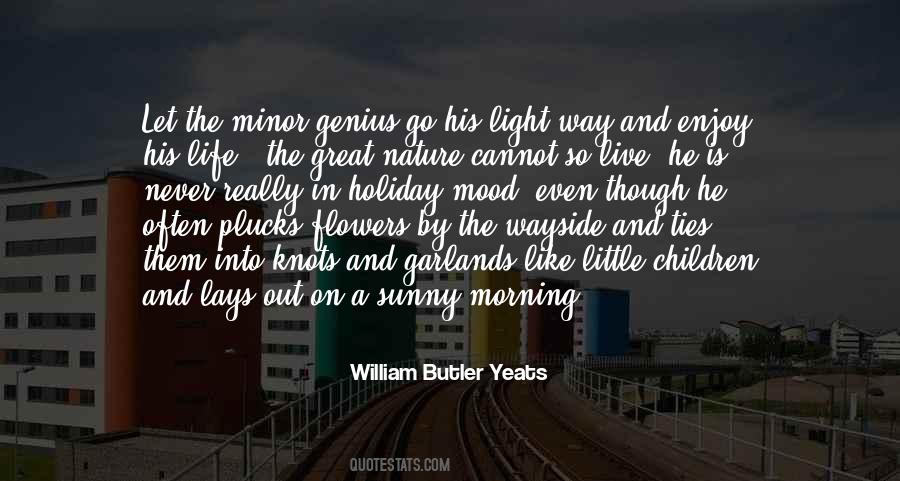 #84. Do not judge God's world from your own. Trim your own hedge as you wish and plant your flowers in the patterns you can understand, but do not judge the garden of nature from your little window box. - Author: Georg C. Lichtenberg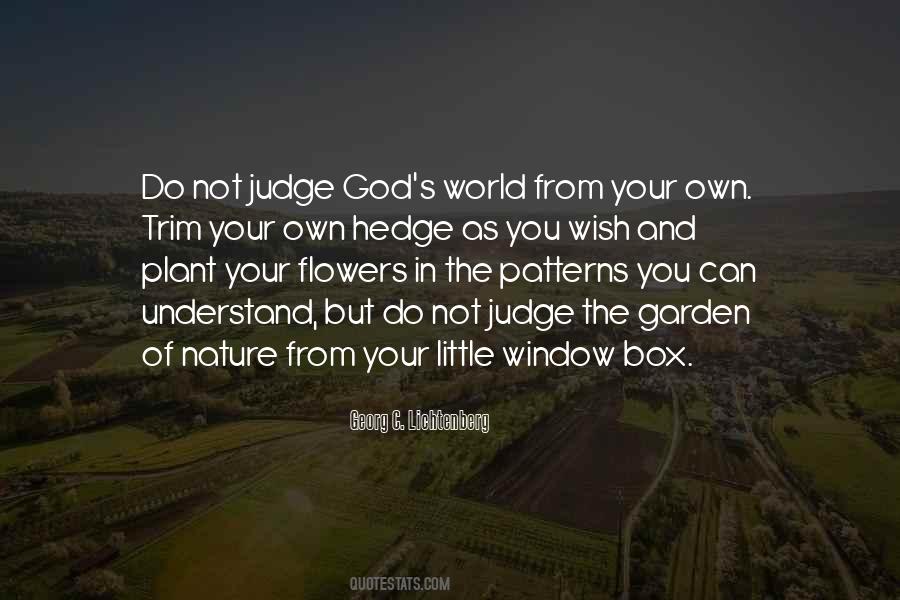 #85. The highest genius never flowers in satire, but culminates in sympathy with that which is best in human nature, and appeals to it. - Author: Edwin Hubbel Chapin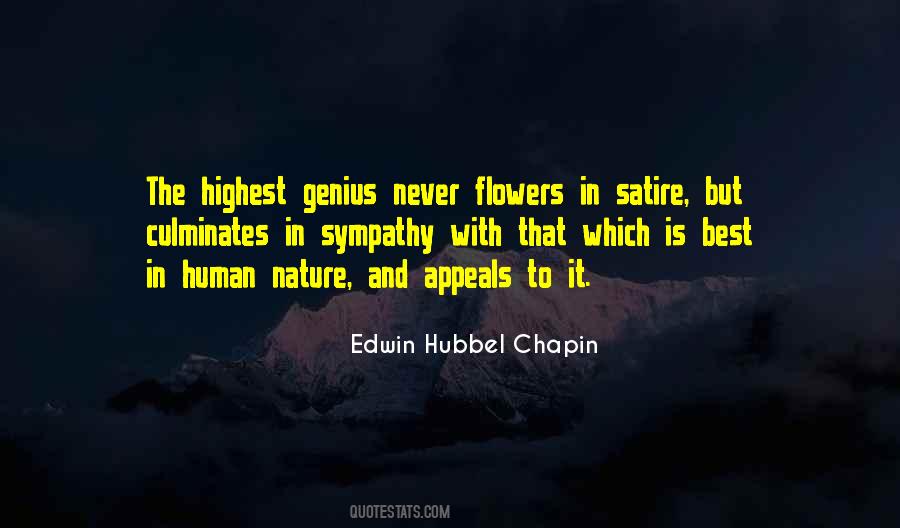 #86. Be like nature - quiet, calm, loving, and persistent. Don't hurry. Flowers will bloom. - Author: Debasish Mridha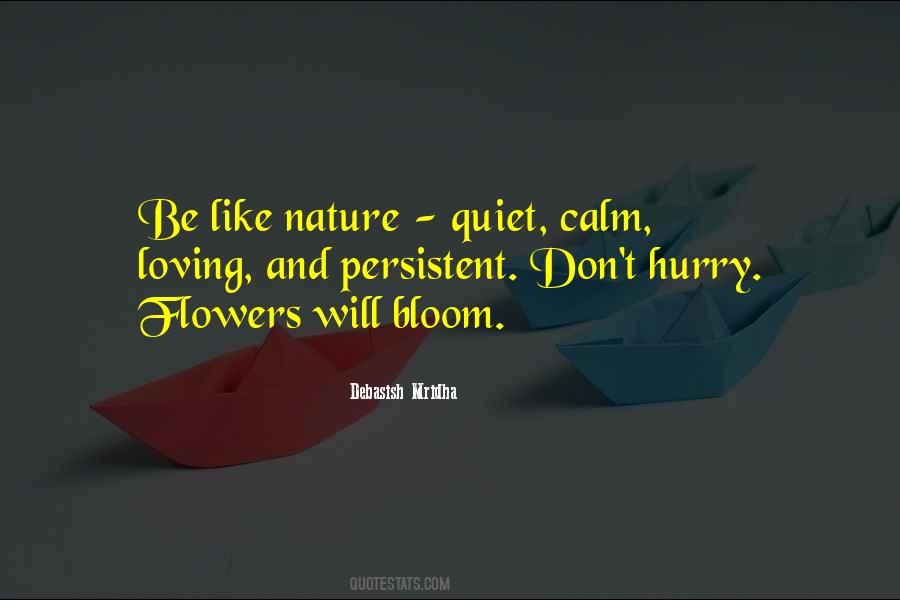 #87. Nature with her wealth of birds and flowers, Has in her heart a place for every weed; For her quick eyes require no microscope To note the varied wonders and delights That the Creator's humblest works possess. - Author: Kobo Abe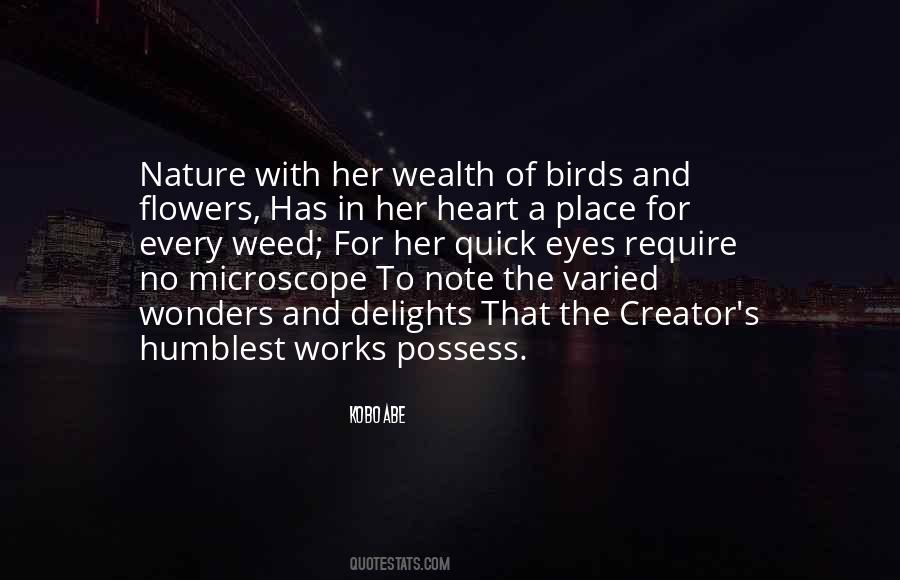 #88. Nature has from the first expanded the minute blossoms of the forest only toward the heavens, above men's heads and unobserved bythem. We see only the flowers that are under our feet in the meadows. - Author: Henry David Thoreau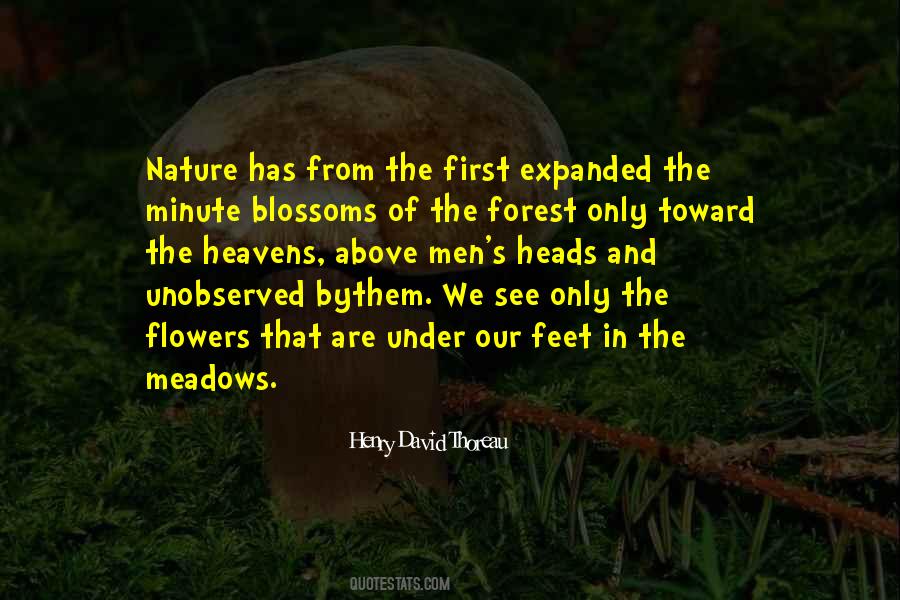 #89. Flowers are the smile of nature and the mirror of our soul. - Author: Debasish Mridha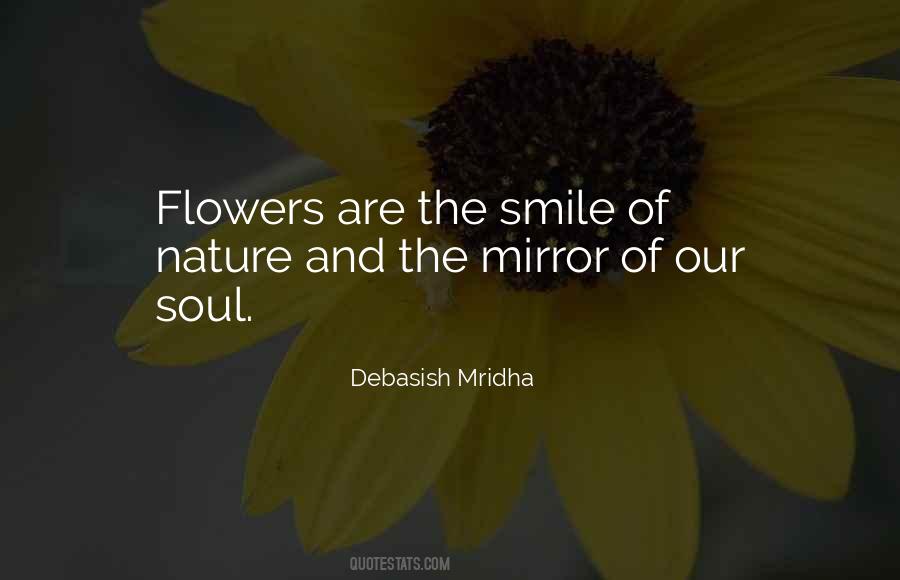 #90. When I am in nature, my heart dances with butterflies and sings along with flowers. - Author: Debasish Mridha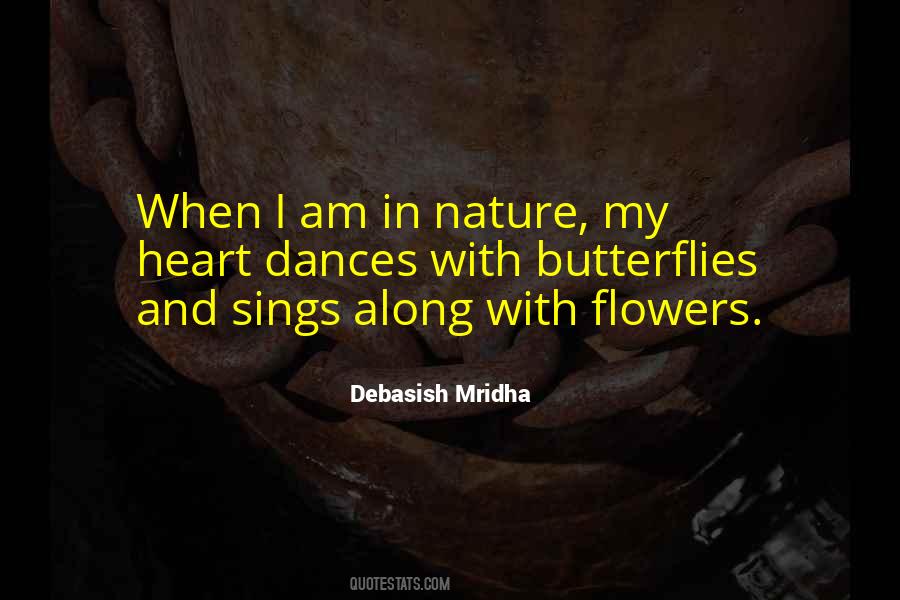 #91. The forest waves, the morning breaks,
The pastures sleep, ripple the lakes,
Leaves twinkle, flowers like persons be
And life pulsates in rock or tree. - Author: Ralph Waldo Emerson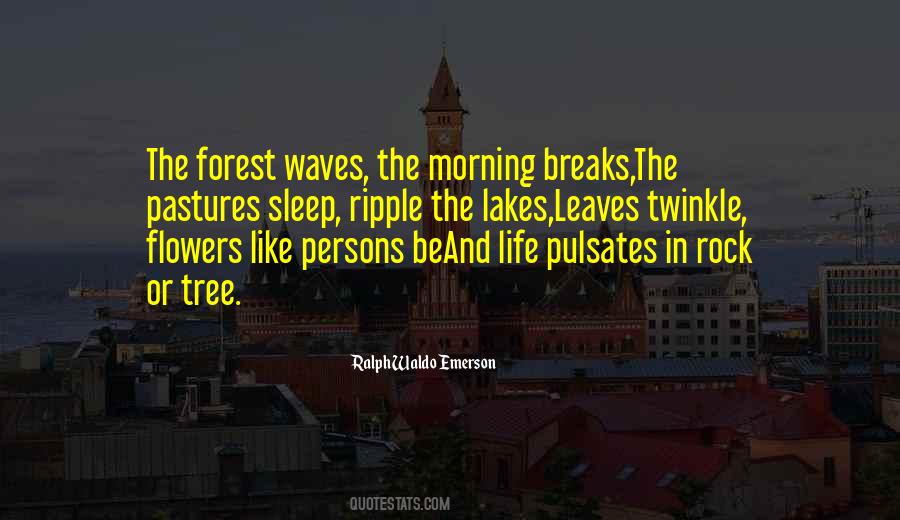 #92. At last came the golden month of the wild folk-- honey-sweet May, when the birds come back, and the flowers come out, and the air is full of the sunrise scents and songs of the dawning year. - Author: Samuel Scoville Jr.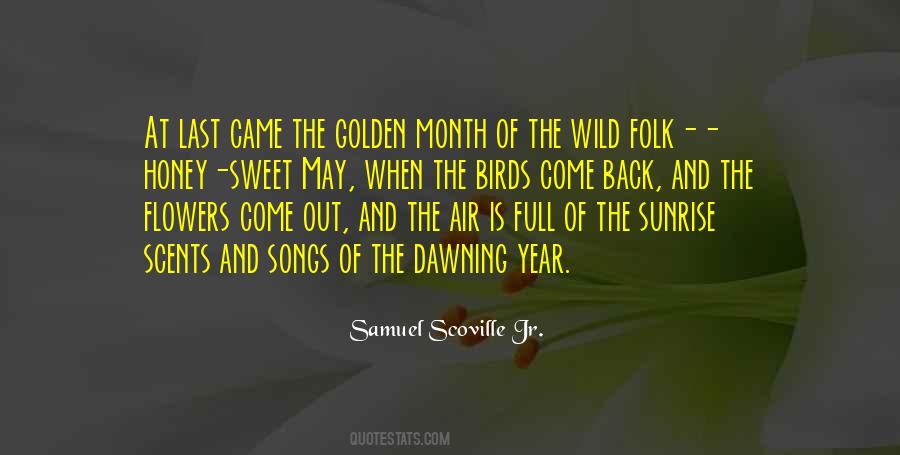 #93. Books and loud noises, flowers and electric shocks - already in the infant mind these couples were compromisingly linked; and after two hundred repetitions of the same or a similar lesson would be wedded indissolubly. What man has joined, nature is powerless to put asunder. - Author: Aldous Huxley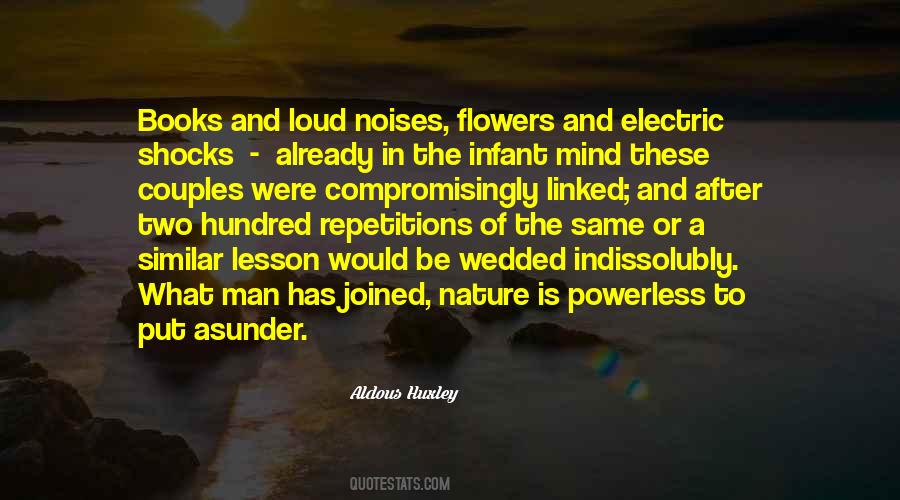 #94. I know a bank where the wild thyme blows,
Where oxlips and the nodding violet grows,
Quite over-canopied with luscious woodbine,
With sweet musk-roses and with eglantine. - Author: William Shakespeare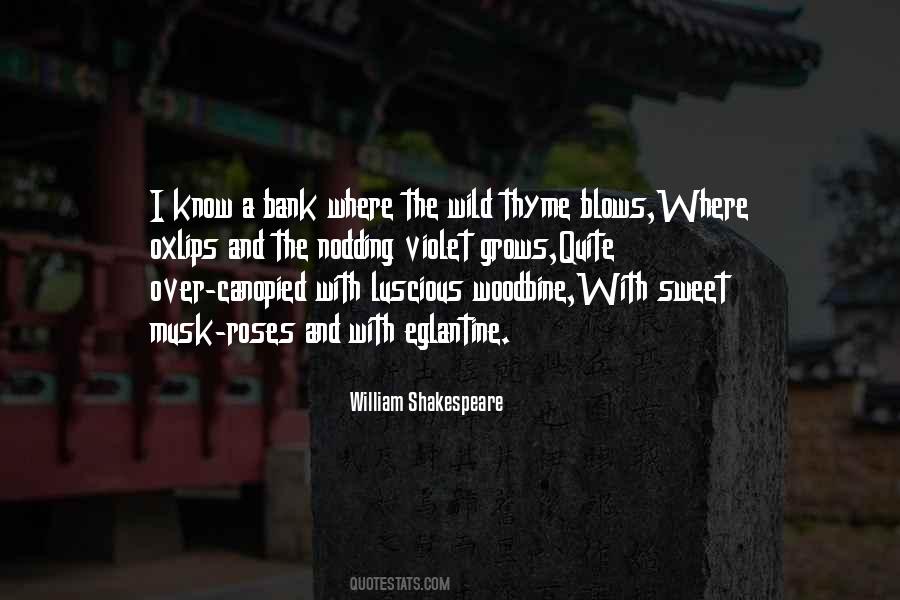 #95. Try to pause each day and take a walk to view nature. - Author: Lailah Gifty Akita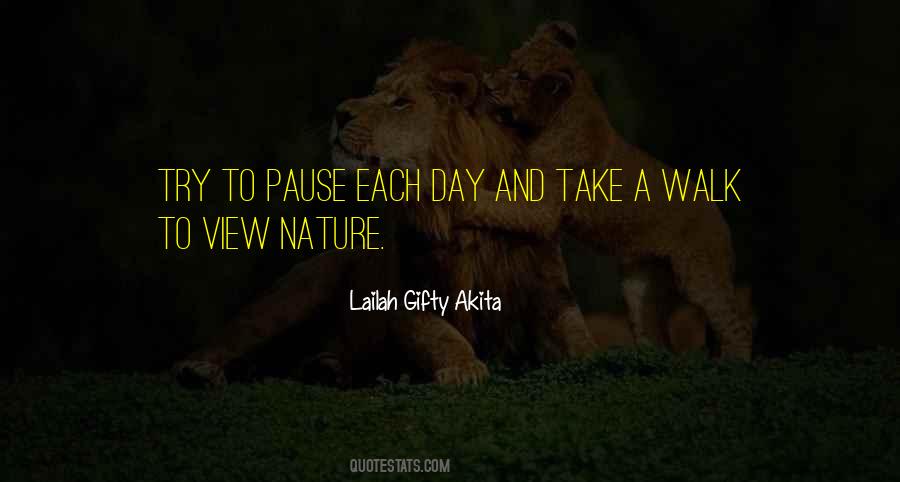 #96. We need to find God, and he cannot be found in noise and restlessness. God is the friend of silence. See how nature - trees, flowers, grass- grows in silence; see the stars, the moon and the sun, how they move in silence ... We need silence to be able to touch souls. - Author: Mother Teresa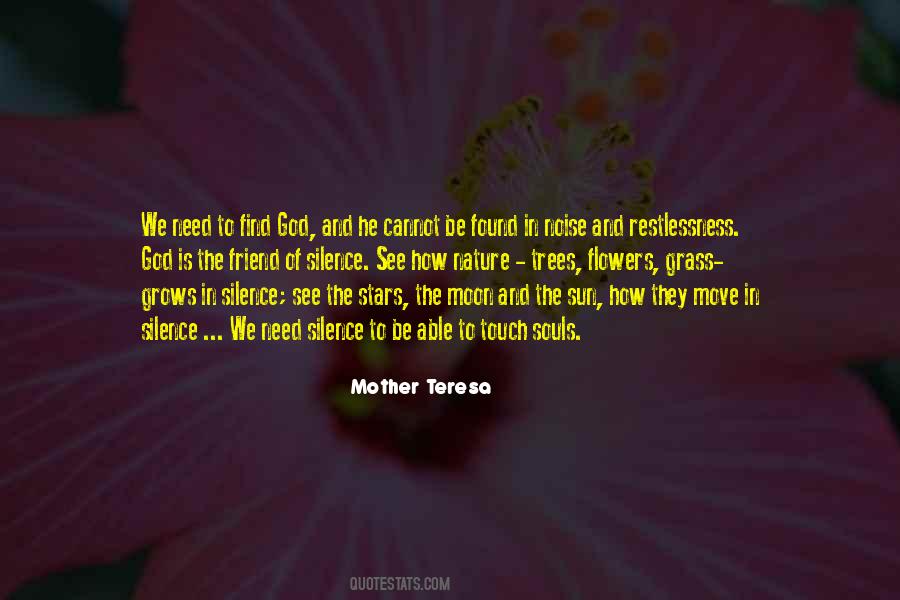 #97. I think I like wildflowers best," I explain. "They just grow wherever they want. No one has to plant them. And then their seeds blow in the wind and they find a new place to grow." (Richelle) - Author: Rebecca Donovan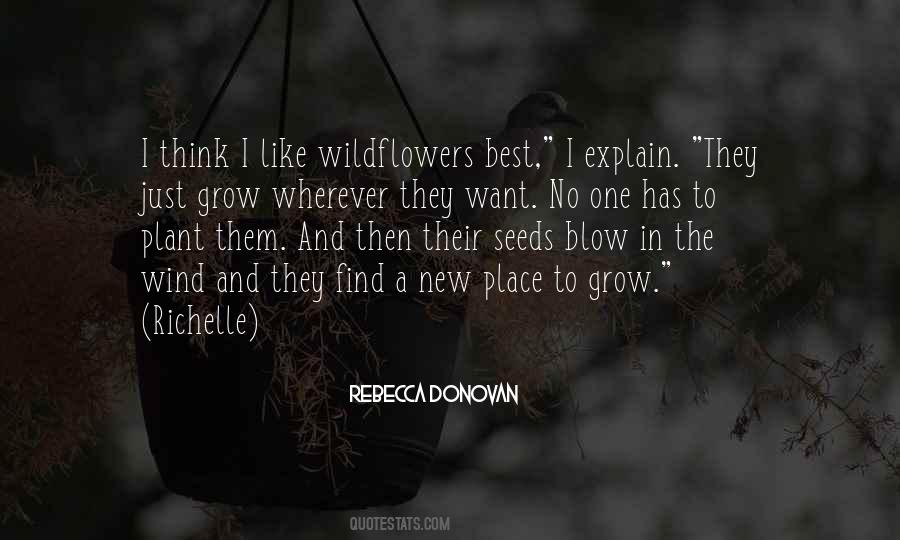 #98. Take a break to listen to the song of the wind, talk to the whispering trees, feel the love of flowers, dance with the dancing leaves, and enjoy the tranquility and serenity of nature. - Author: Debasish Mridha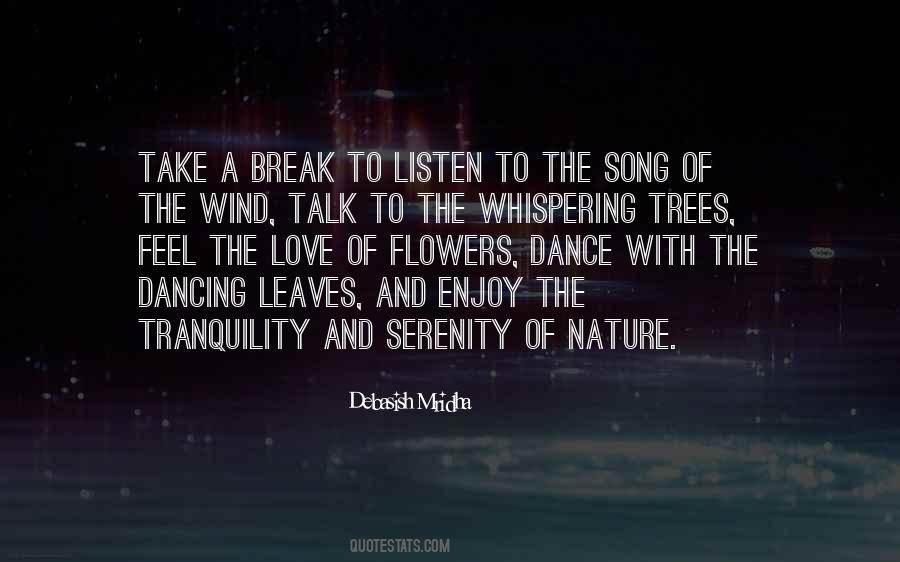 #99. When man violates man's laws, we send him to jail and point the finger of scorn at him. When he violates nature's laws, we send him to a hospital, give him flowers, and feel sorry for him. - Author: B. J. Palmer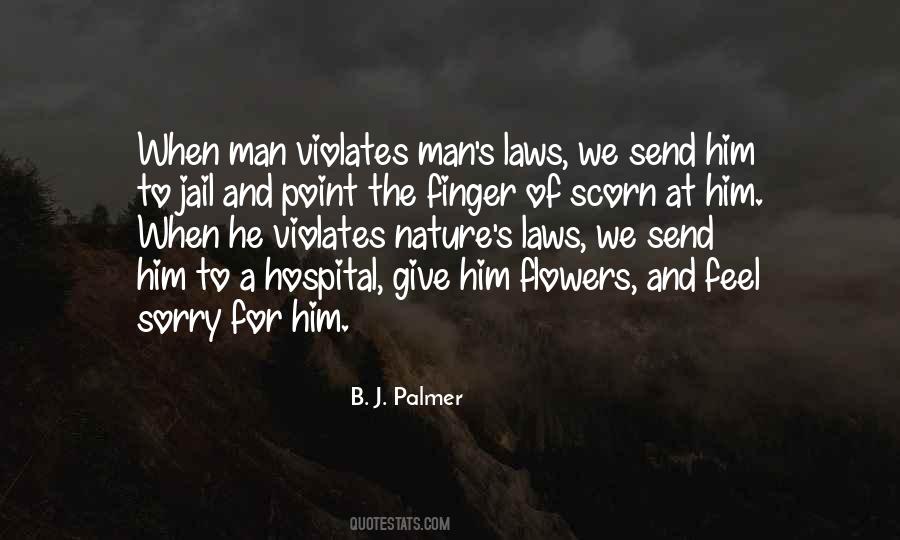 #100. Forests, lakes, and rivers, clouds and winds, stars and flowers, stupendous glaciers and crystal snowflakes - every form of animate or inanimate existence, leaves its impress upon the soul of man. - Author: Orison Swett Marden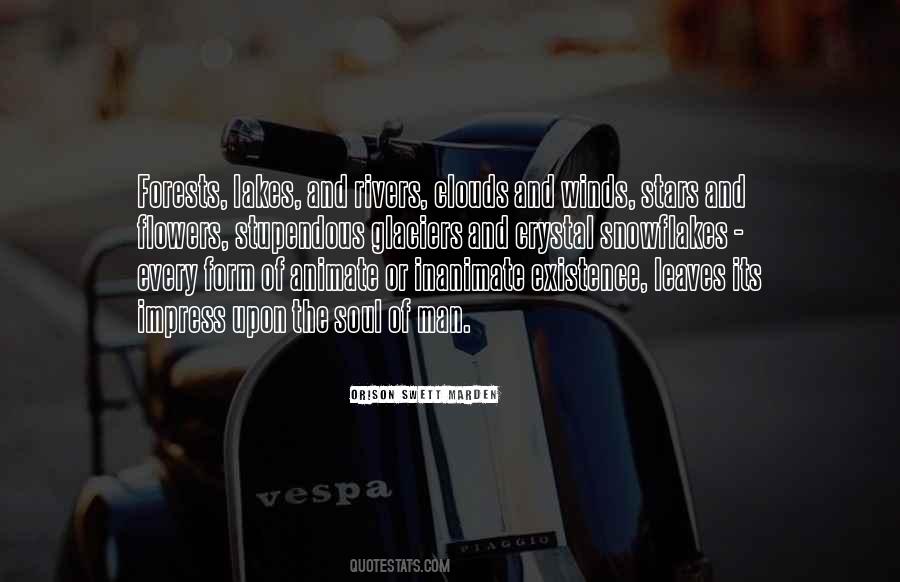 Famous Authors
Popular Topics