Natural Gas Famous Quotes & Sayings
List of top 100 famous quotes and sayings about natural gas to read and share with friends on your Facebook, Twitter, blogs.
Top 100 Quotes About Natural Gas
#1. We should start by allowing drilling in Alaska's National Wildlife Refuge. It can provide billions of barrels of recoverable oil and trillions of cubic feet of recoverable natural gas. - Author: Mac Thornberry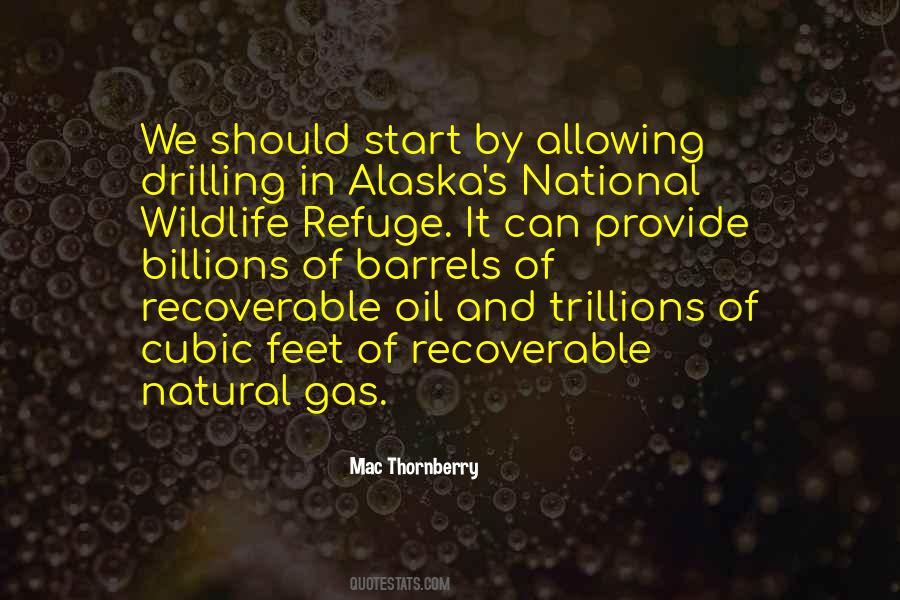 #2. In my almost ten years in the House of Representatives, I have voted consistently to allow companies to drill for oil and natural gas in environmentally friendly ways. - Author: Virgil Goode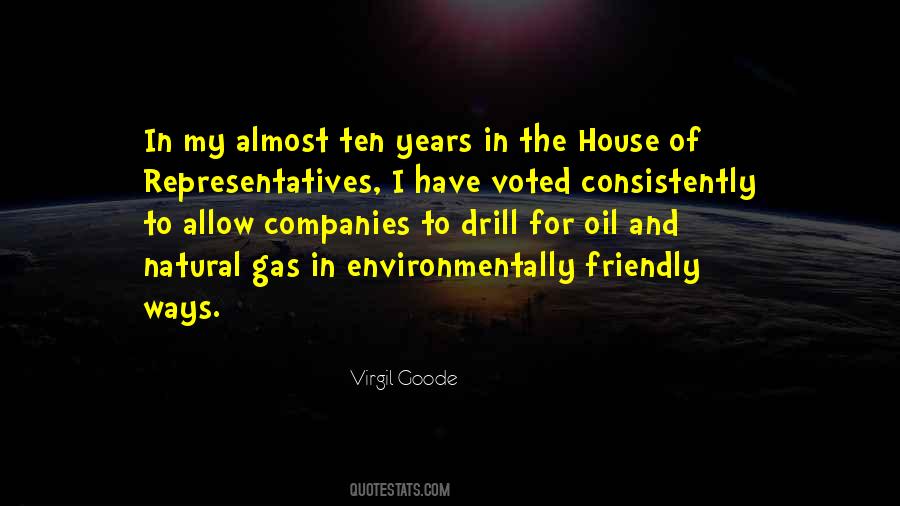 #3. I don't fear fracking. I fear carbon - Author: Russell Gold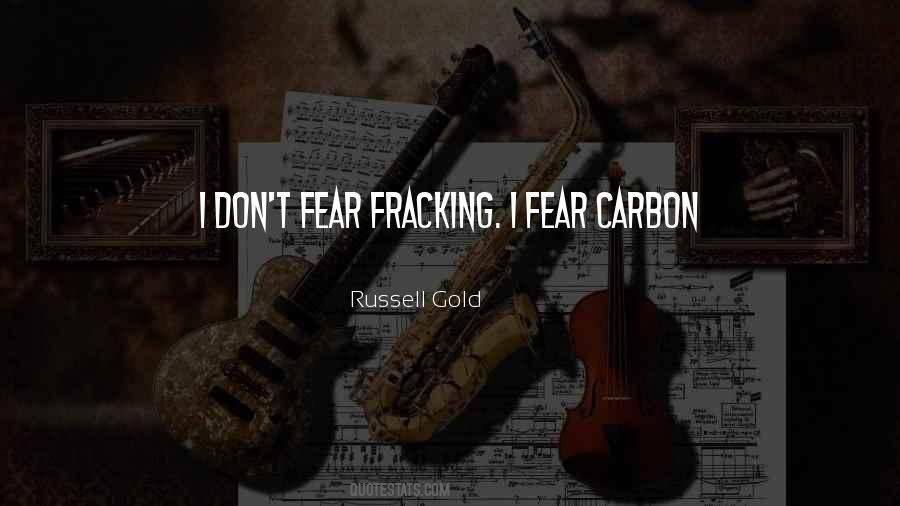 #4. Modern life would not be possible if it were not for chemicals, nor would modern natural gas production. - Author: Aubrey McClendon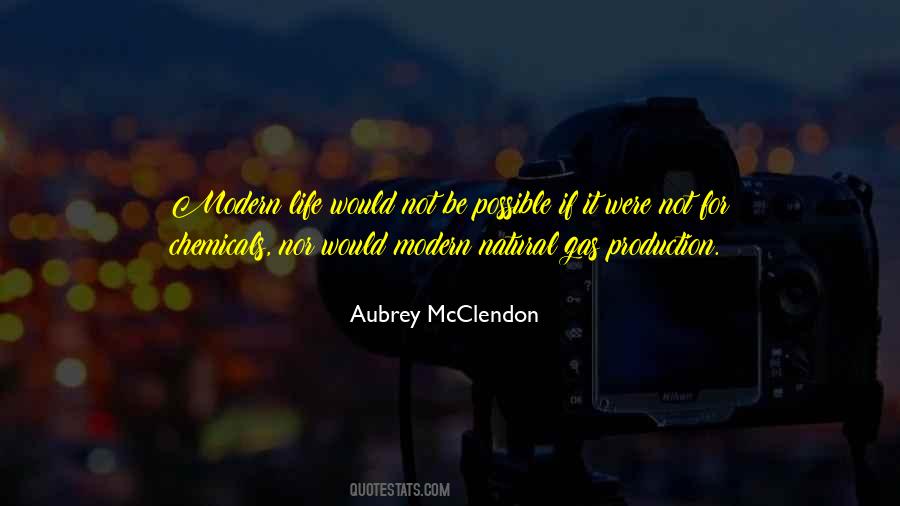 #5. When the natural gas industry was knocking on my door, they were knocking on the door of millions of people. And that became something that Americans really needed to focus on. - Author: Josh Fox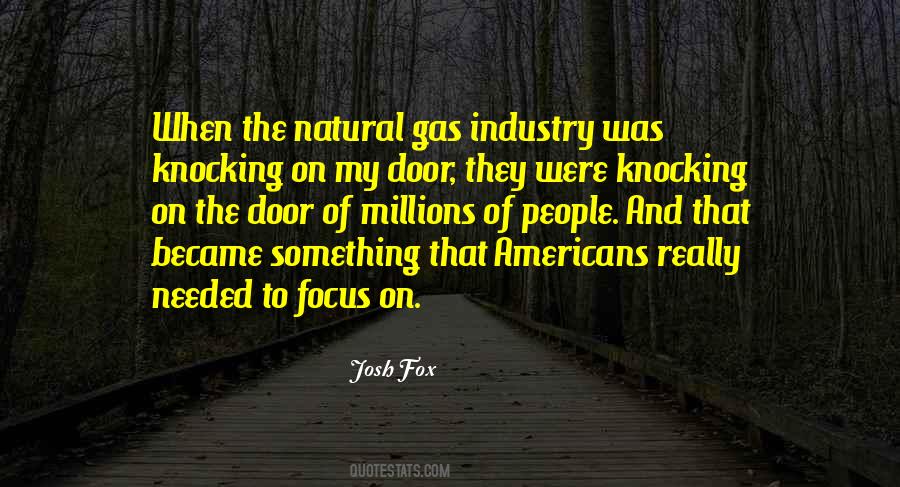 #6. Natural gas is great for America in so many ways. - Author: Ed Rendell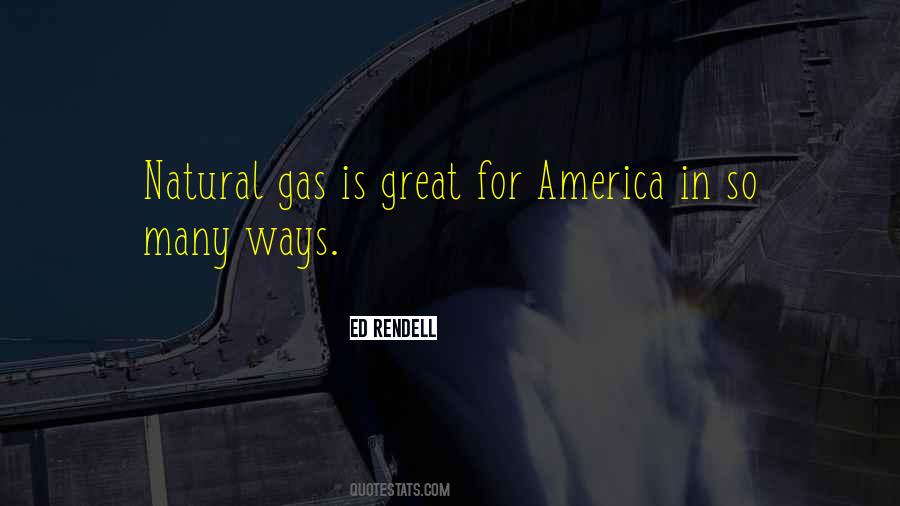 #7. Natural gas has been sold as clean energy. But when the gas comes from fracturing bedrock with about five million gallons of toxic water per well, the word "clean" takes on a disturbingly Orwellian tone. Don't be fooled. Fracking for shale gas is in truth dirty energy. - Author: Sean Lennon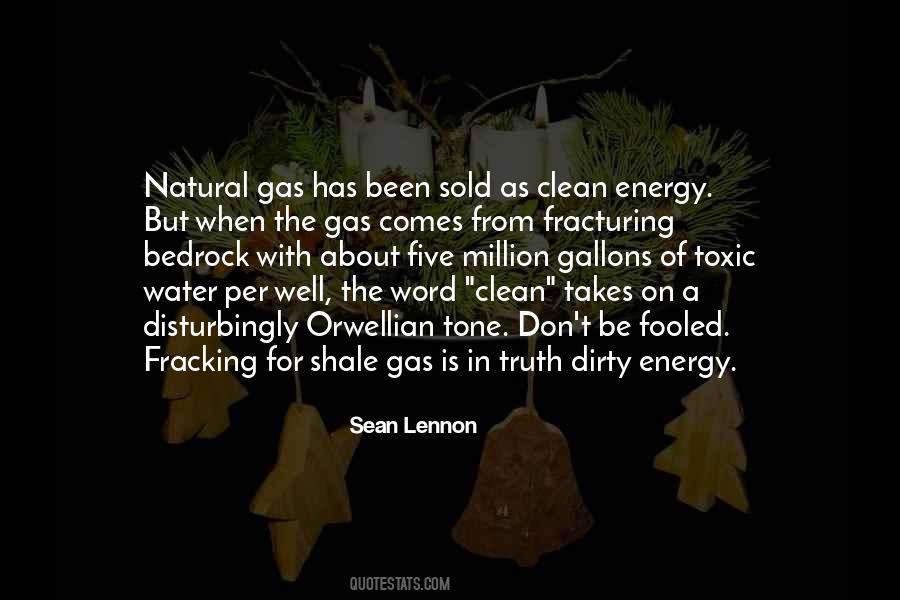 #8. Fracking is doable if there's full disclosure of all chemicals used. Secondly, science dictates the policy rather than politics. Third, there's collaboration between environmental groups and the natural gas industry. - Author: Bill Richardson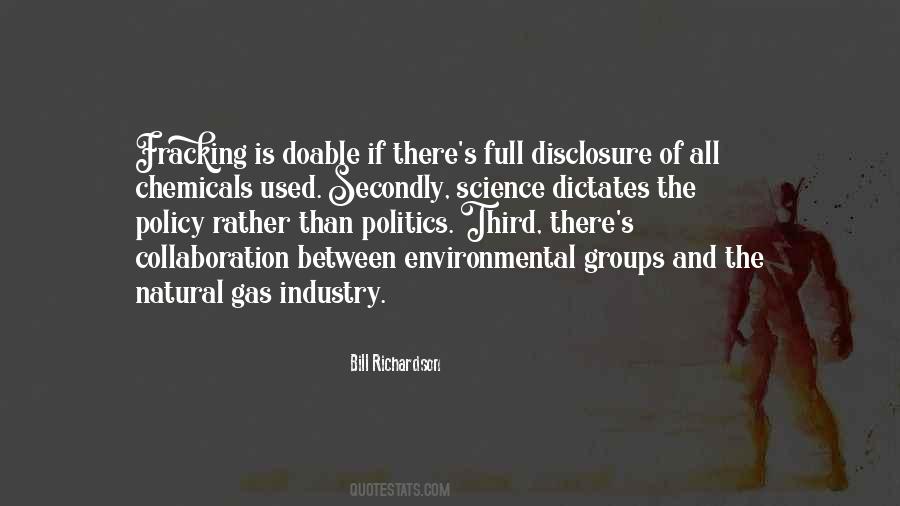 #9. The United States will be a net exporter of natural gas, on a scale potentially rivaling both Qatar and Russia, and the consequences will be enormous. - Author: Anonymous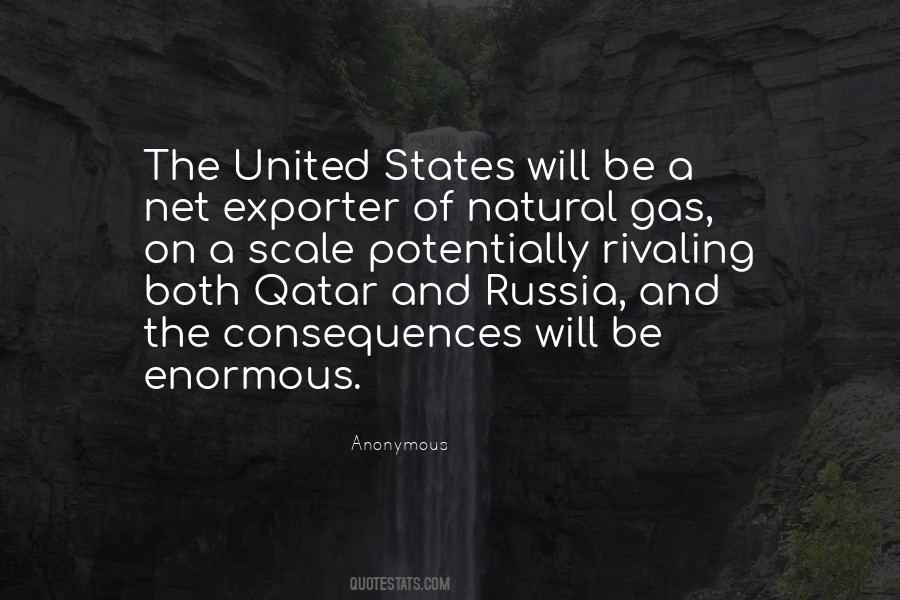 #10. Burning natural gas will not save us from climate change. It's the same as burning any other carbon-based fuel. - Author: Mark Ruffalo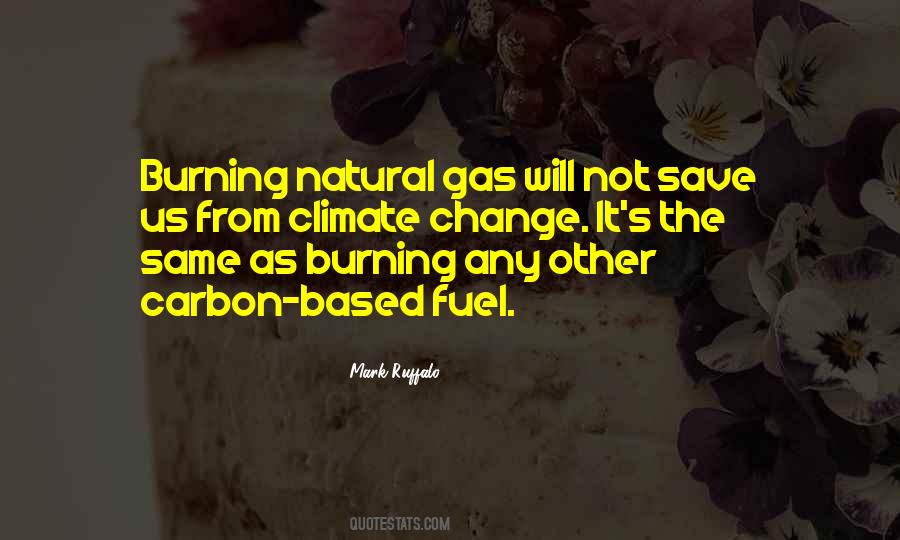 #11. If you ask the average person on the street about U.S. energy and U.S. oil in particular, our situation, most Americans would say, 'Oh, we're energy poor; we don't have enough oil; we don't have enough natural gas.' - Author: Rex Tillerson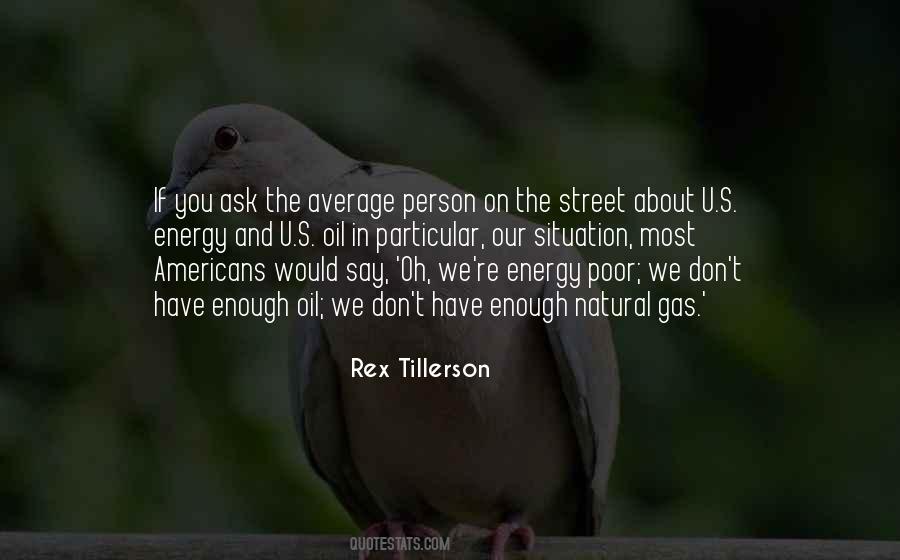 #12. Natural gas emits only half the carbon dioxide of coal when burned, but if methane leaks when oil companies extract it from the ground in a sloppy manner - methane is far more potent a greenhouse gas than carbon dioxide - it can wipe out all the advantages of natural gas over coal. - Author: Thomas Friedman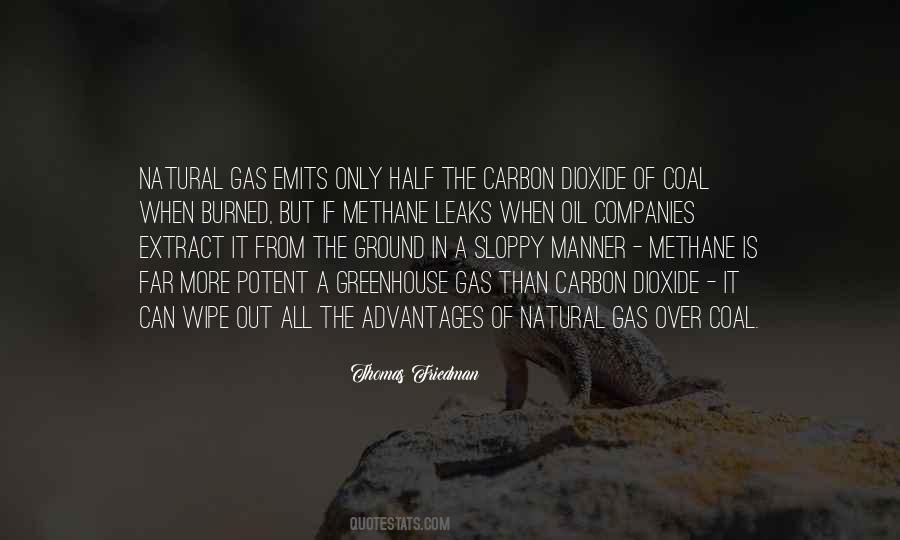 #13. Russia has the largest reserves of natural resources, including iron and natural gas. The market will develop in the long term, and the VW Group will benefit from it. - Author: Martin Winterkorn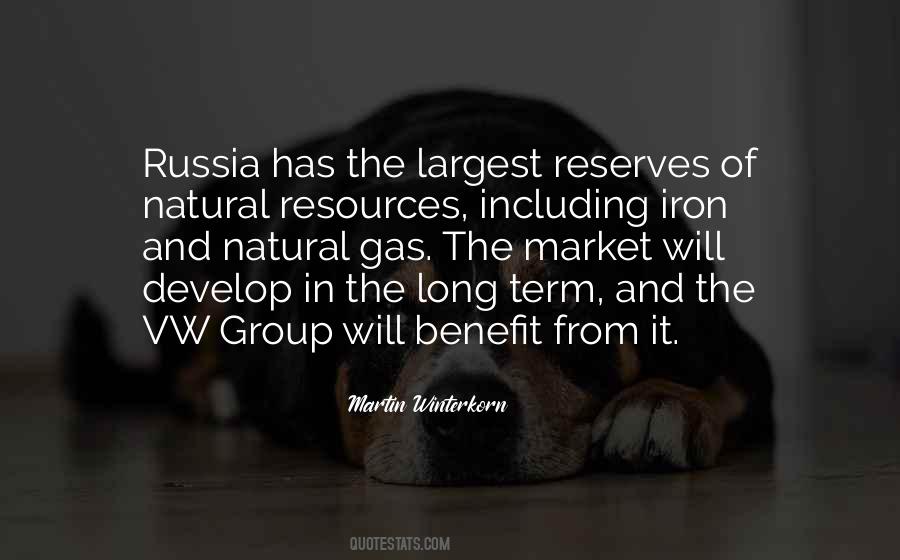 #14. Conoco will build a $75 million plant to see if a process to convert natural gas to liquid fuel is profitable. It has to be. In California, gasoline is so expensive that people are trying to run their cars on cocaine. - Author: Argus Hamilton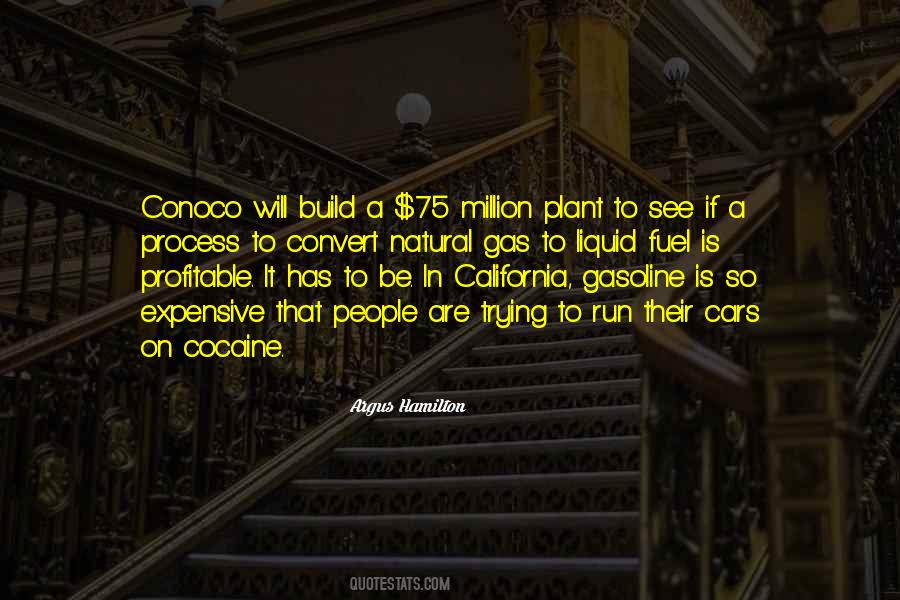 #15. There is no natural phenomenon that is comparable with the sudden and apparently accidentally timed development of science, except perhaps the condensation of a super-saturated gas or the explosion of some unpredictable explosives. - Author: Eugene Wigner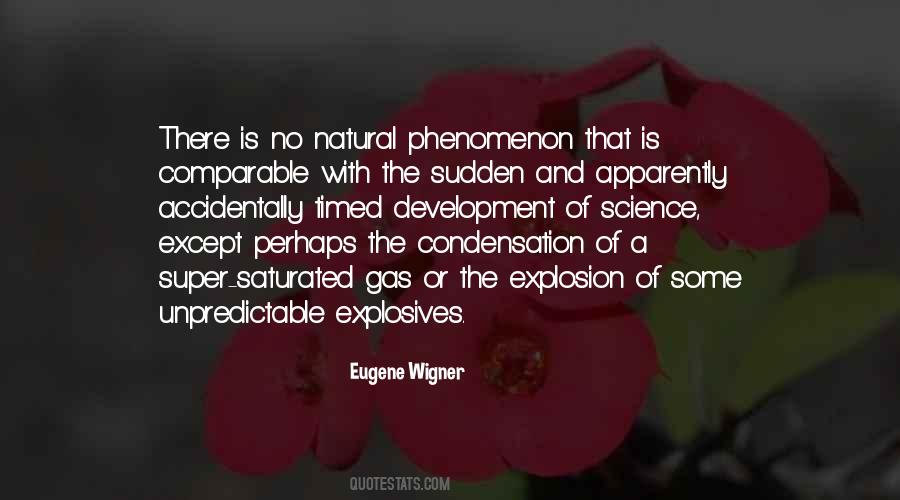 #16. I understand the impact of those kinds of factors on job creation. I will have a very different policy. My policy on energy is to take advantage of coal, oil, natural gas, as well as our renewables, and nuclear - make America the largest energy producer in the world. - Author: Mitt Romney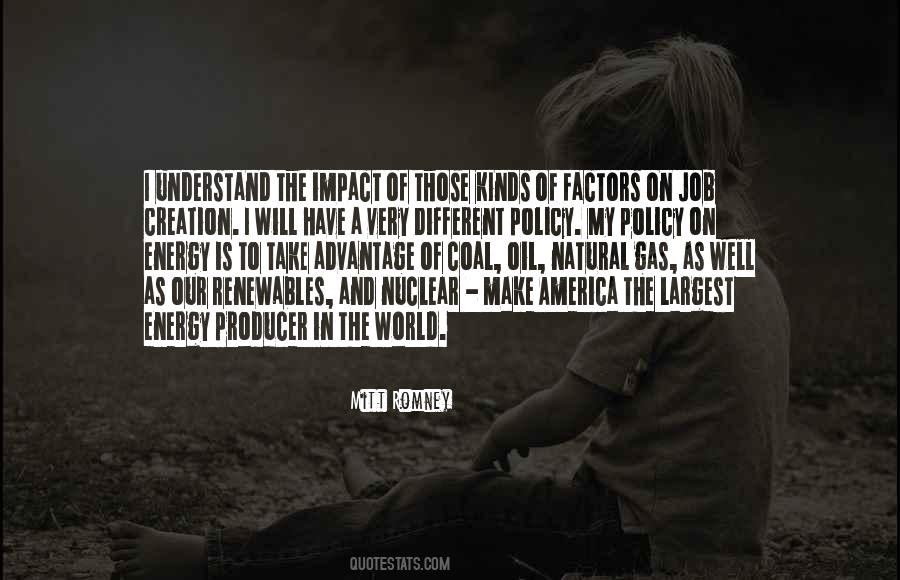 #17. If we don't continue to pursue alternative, emissions-free energy sources like nuclear fuel, we are at risk of increasing our dependence on costly natural gas. - Author: Judy Biggert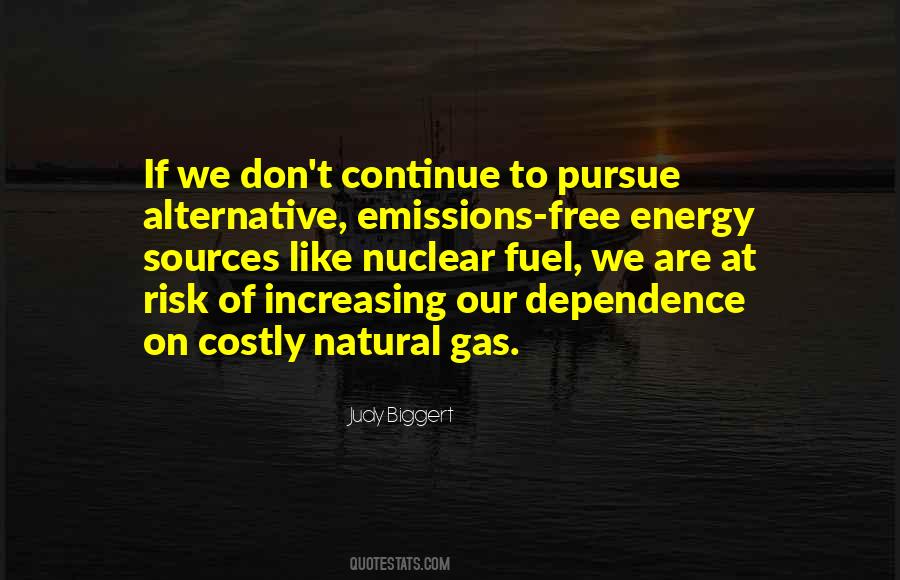 #18. Shale gas has provided the United States the opportunity to have 100 years of supply that is domestically produced. If we are going to develop natural gas from shale, it has to be done in a safe and responsible manner. - Author: Ken Salazar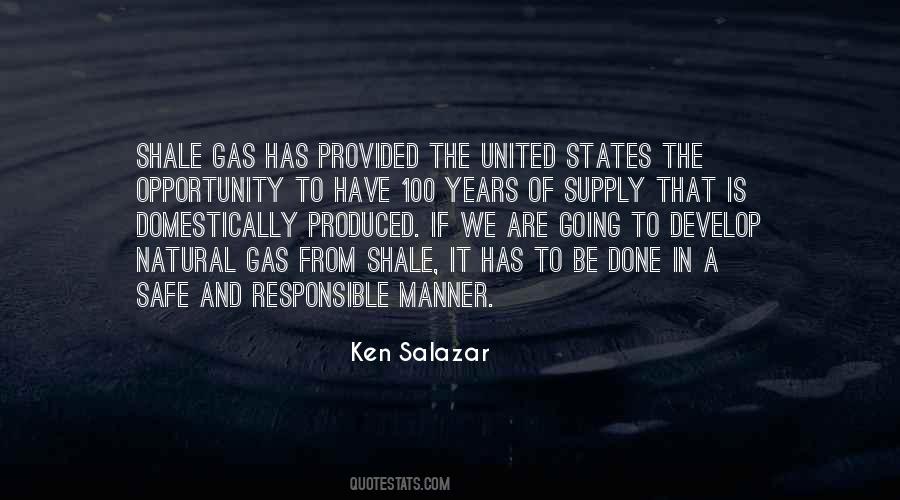 #19. I don't care whether you use natural gas, ethanol, the battery. You can use anything, just so it's American. - Author: T. Boone Pickens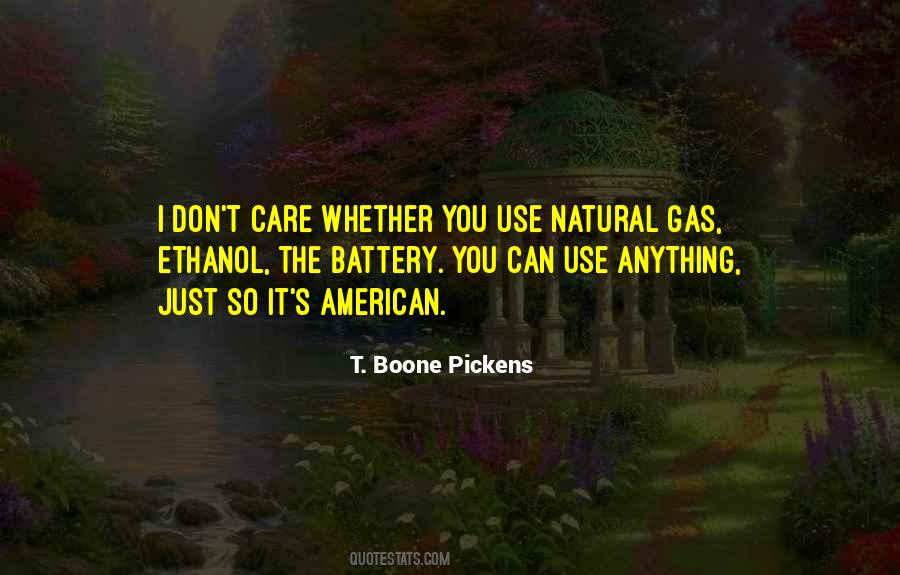 #20. The natural gas industry has worked long and hard to smear Josh Fox, the director of 'Gasland,' and has failed. - Author: Jeff Goodell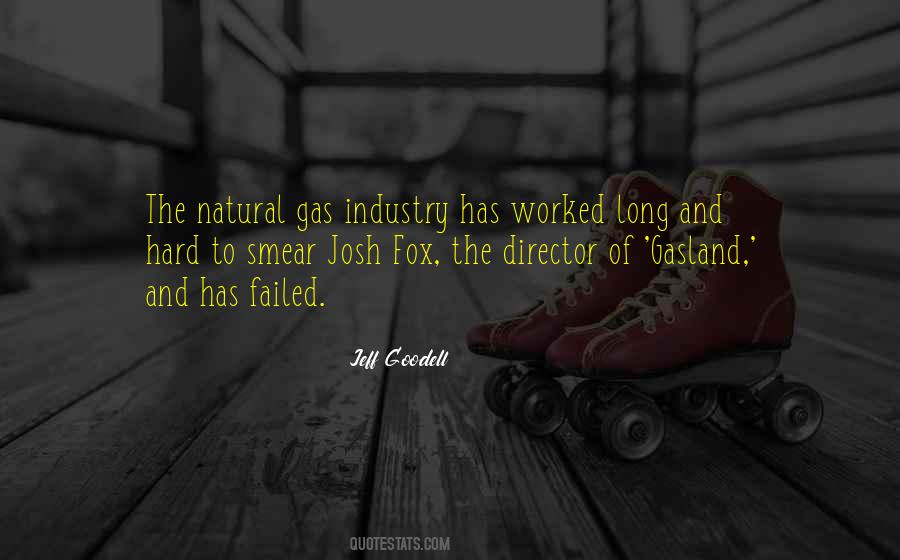 #21. Compared to coal, which generates almost half the electricity in the United States, natural gas is indeed a cleaner, less polluting fuel. But compared to, say, solar, it's filthy. And of course there is nothing renewable about natural gas. - Author: Jeff Goodell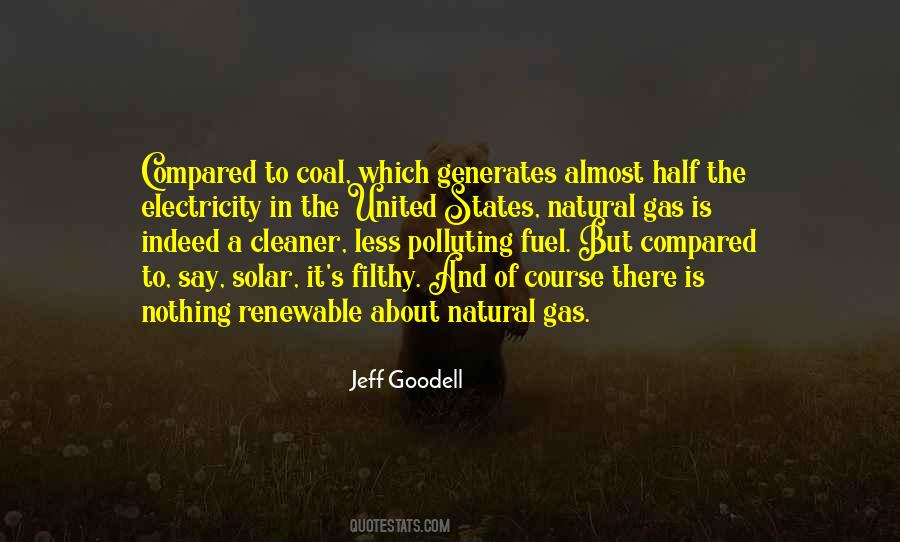 #22. Natural gas is a better transportation fuel than gasoline, so if that's the case, it's cheaper, it's cleaner and it's a domestic resource. - Author: T. Boone Pickens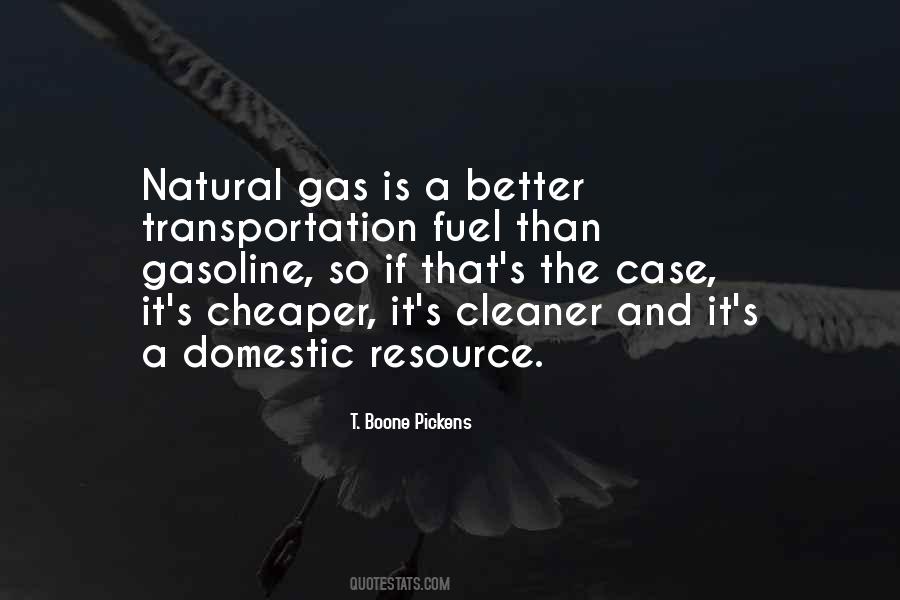 #23. The volatile natural gas market has affected us all, and we are giving our customers an option to lock in their electricity price for the entire year. This will allow them to anticipate their electricity bills and budget accordingly throughout 2006. - Author: Jim Burke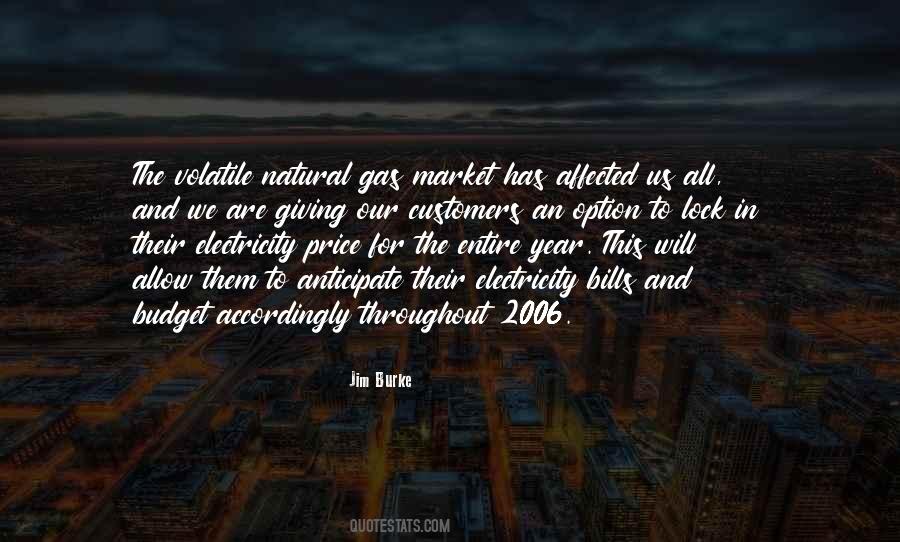 #24. Vladimir Putin is leading a dying country. Vladimir Putin's regime exports three things: petroleum products - coal, natural gas, and hydrocarbon energy in the form of petroleum. Number two, it exports arms, and, number three, it exports people. - Author: Oliver North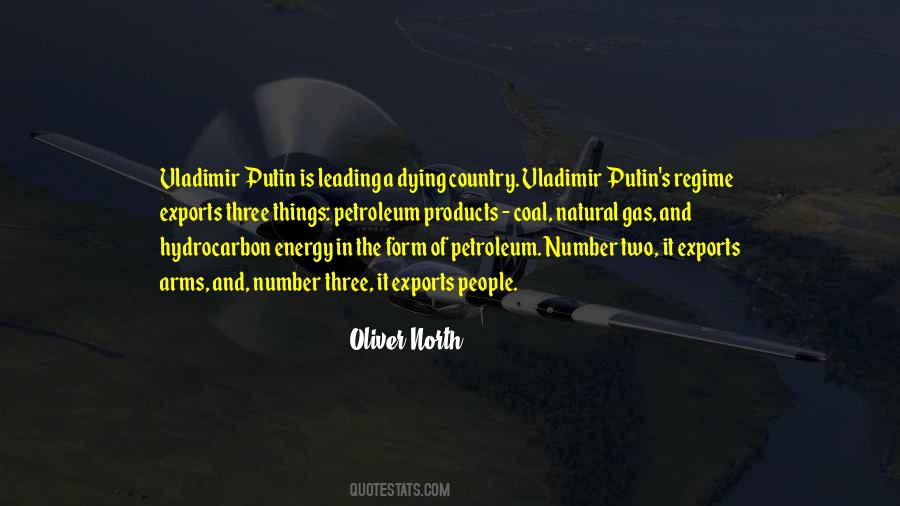 #25. Rural American families who depend on firewood to heat their homes will be hit just as hard as those who use oil and natural gas. - Author: Richard Pombo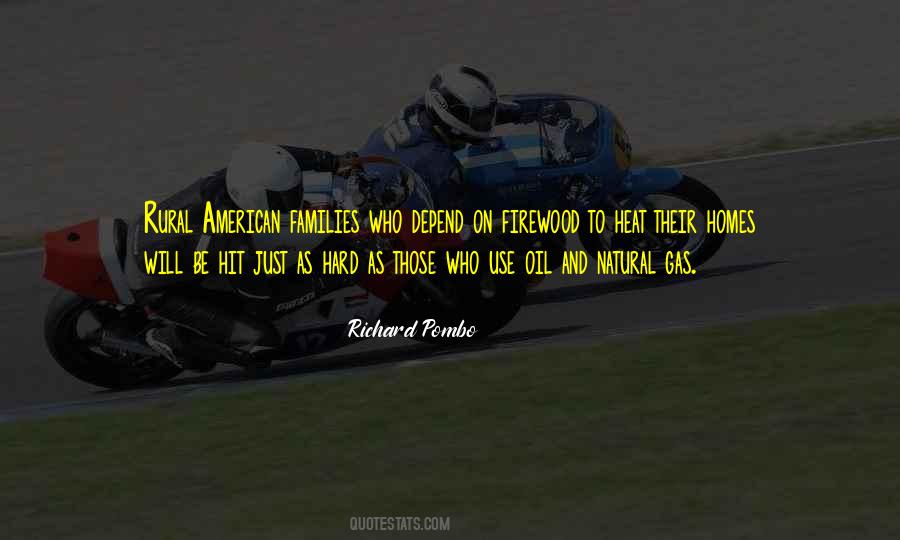 #26. Hydraulic fracking is very much a necessary part of the future of natural gas. - Author: Ken Salazar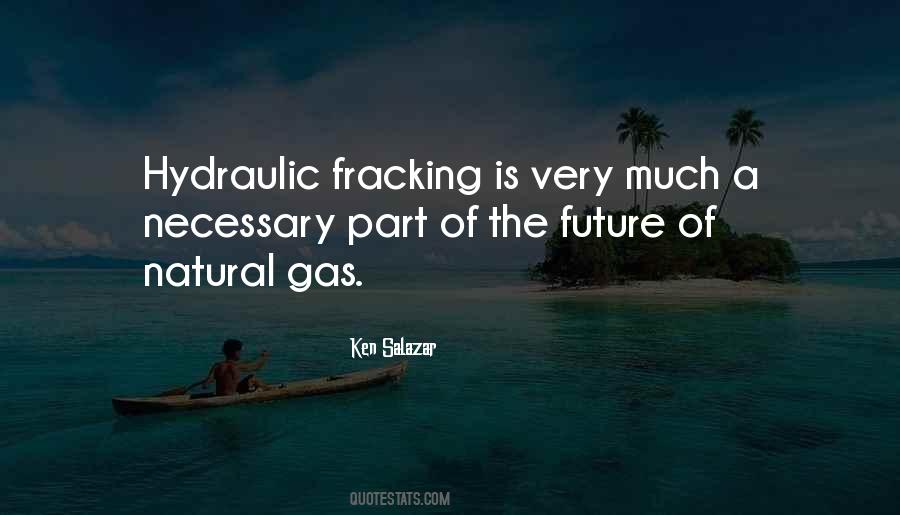 #27. Fracking ensures that the age of oil-and it's princely hydrocarbon cousin, the natural gas molecule-will not end because we have run out of fossil fuels. But it may end because burning these wonderful fuels puts the planet farther down a path we don't want to head down - Author: Russell Gold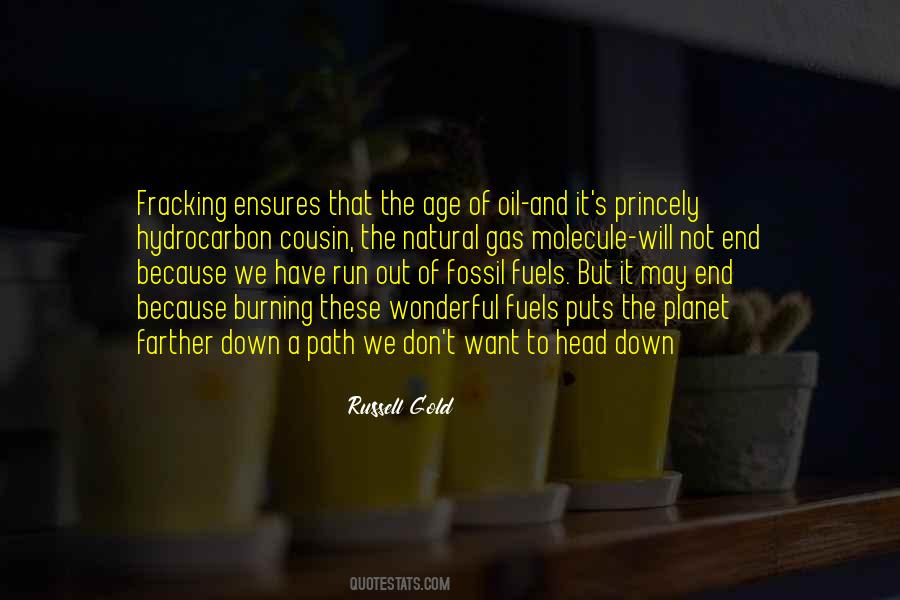 #28. We do have serious energy needs for the country, we are aware that natural gas is especially in demand because of its air quality benefits: 90 percent of new power plants have been natural gas-powered. - Author: Gale Norton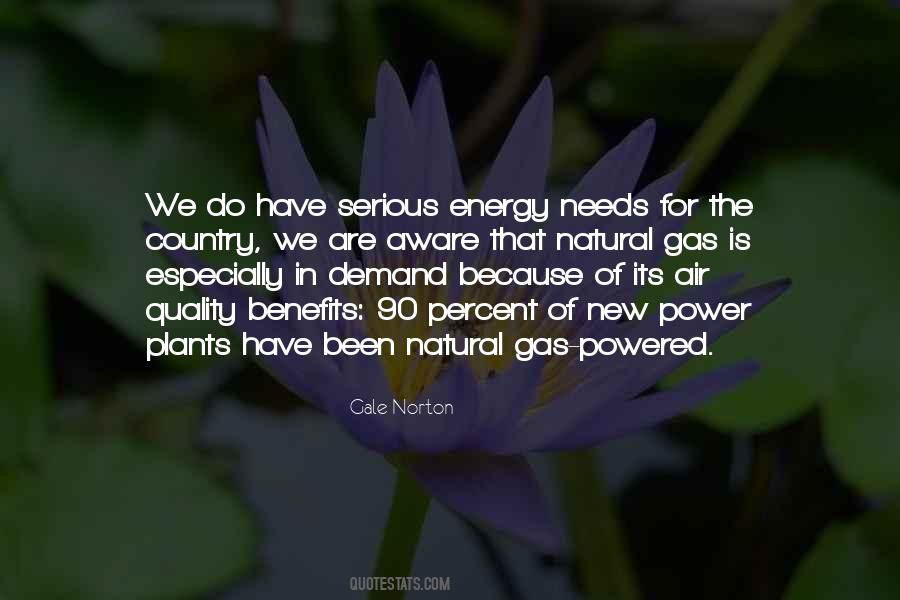 #29. The city is not changing anything, ... increases in the cost of natural gas will be passed through to the customer. - Author: Ruth Graham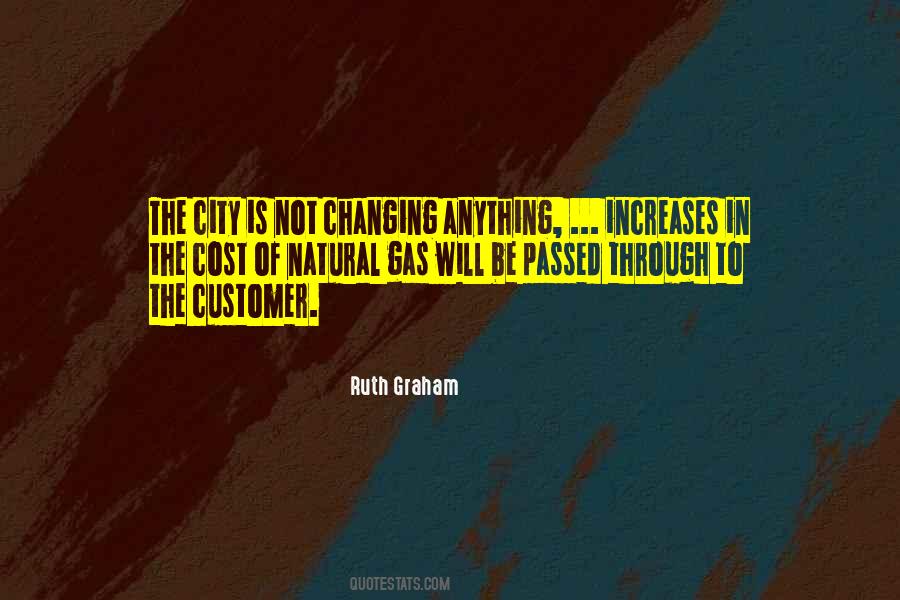 #30. One of the industries we follow very closely is the trucking industry. They would love if today there was an option for them to run their fleets on natural gas, because of the price disparity between oil and refined diesel - which they almost exclusively run on now - and natural gas. - Author: Warren Stephens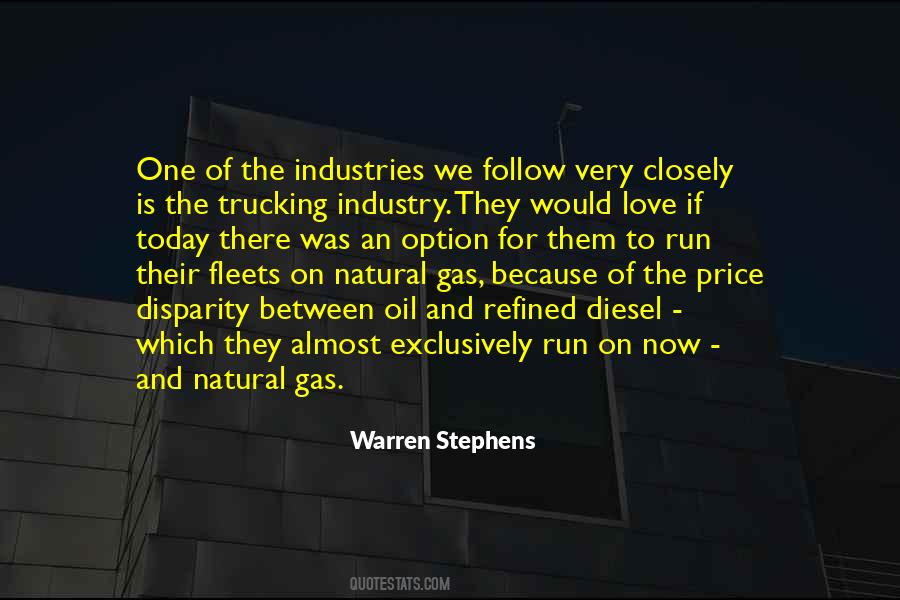 #31. Among the many important provisions in the energy bill are the creation of an estimated half million new jobs, increased oil production, blackout protection, controlling fertilizer costs by stabilizing natural gas prices and enacting new efficiency benchmarks. - Author: Paul Gillmor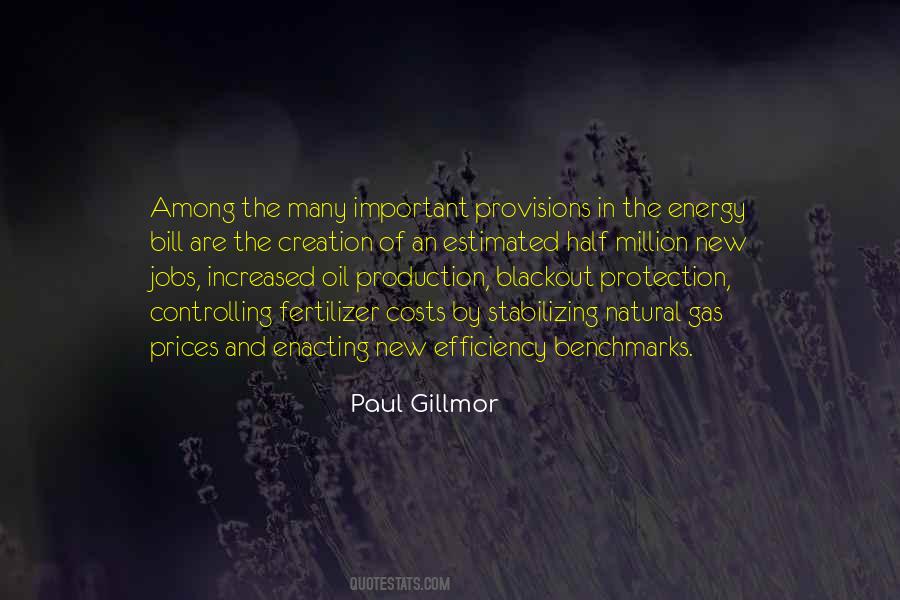 #32. It's hard to store natural gas. And it does require big storage tanks. So it doesn't work very well on passenger cars. - Author: William Clay Ford Jr.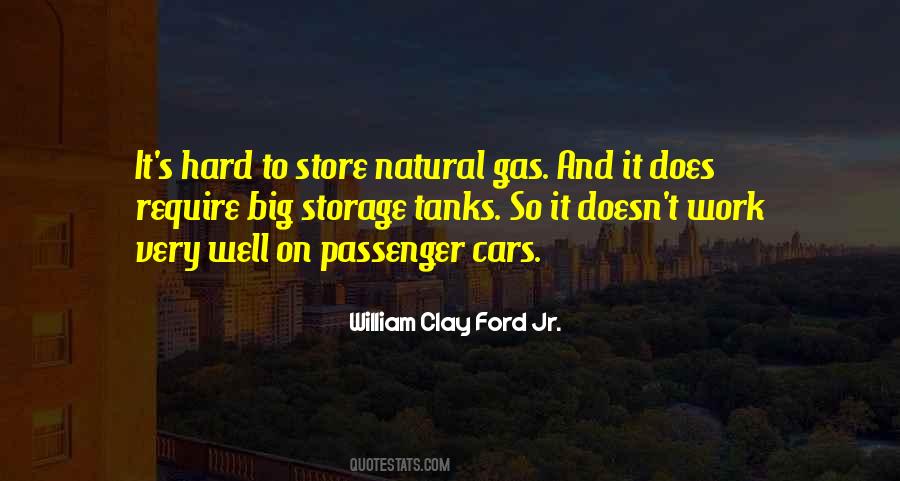 #33. I have come to believe that extracting natural gas from shale using the newish technique called hydrofracking is the environmental issue of our time. And I think you should, too. - Author: Sandra Steingraber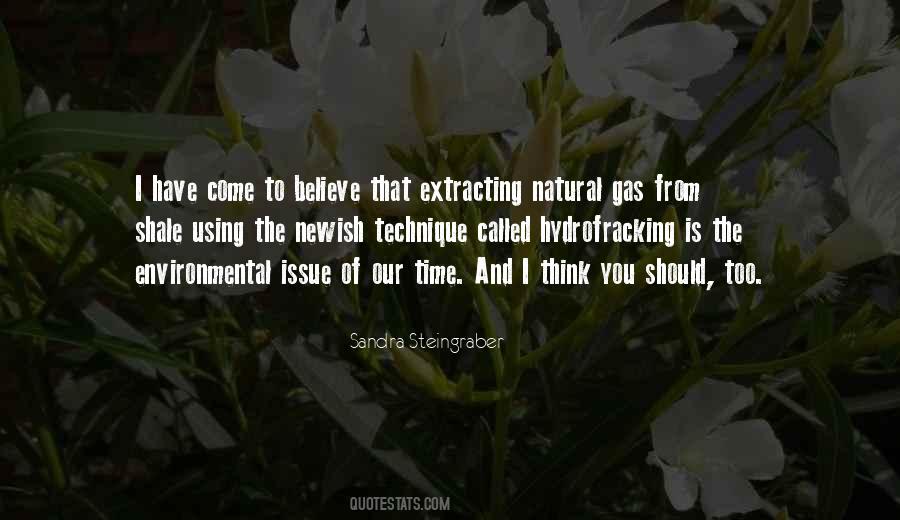 #34. If you squeeze and squeeze, and you don't allow the Iranians to sell any oil, then what do they have to lose by shutting the Strait of Hormuz down? And if they do that, that's 35% of all the world's oil that comes through the strait and 20% of the liquefied natural gas in the world. - Author: Steve Hanke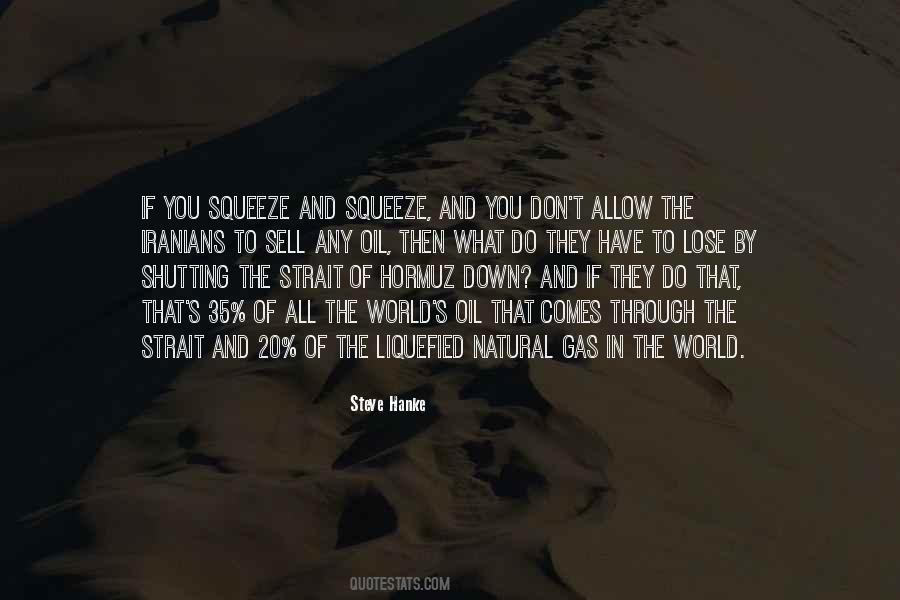 #35. Genetic algorithms (GAs) are defined as search procedures based on the mechanics of natural selection and genetics, and we think we know what innovation is - at least in some sort of qualitative way - but what does one have to do with the other? - Author: David Edward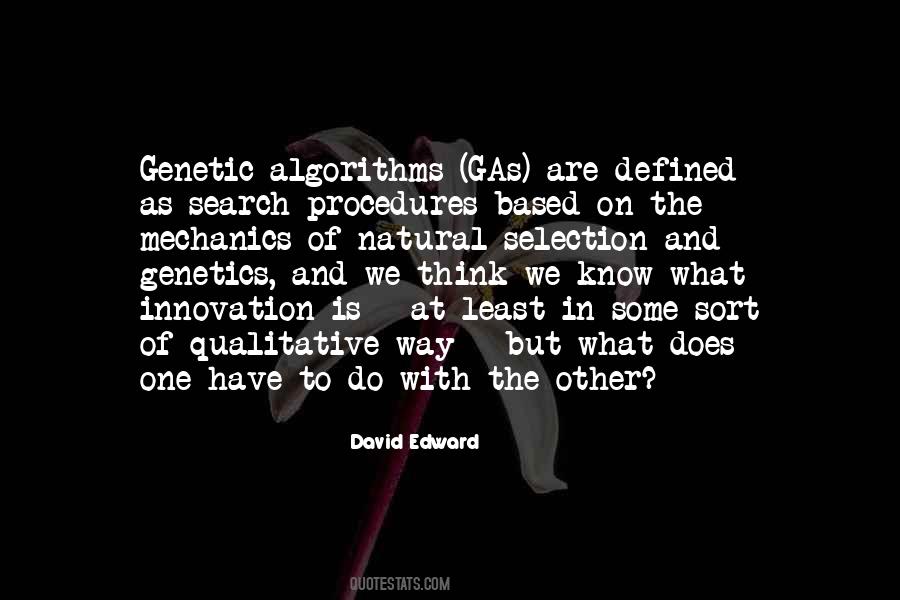 #36. I will fight for oil, coal and natural gas. - Author: Mitt Romney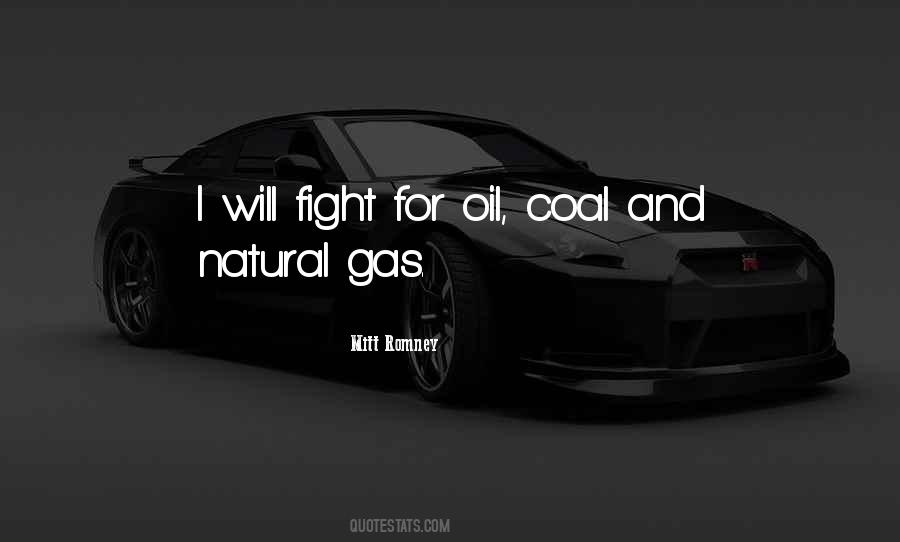 #37. Our nation is well equipped to make the transition. We have an abundance of natural resources like wind, natural gas, solar and geothermal. - Author: Julia Gillard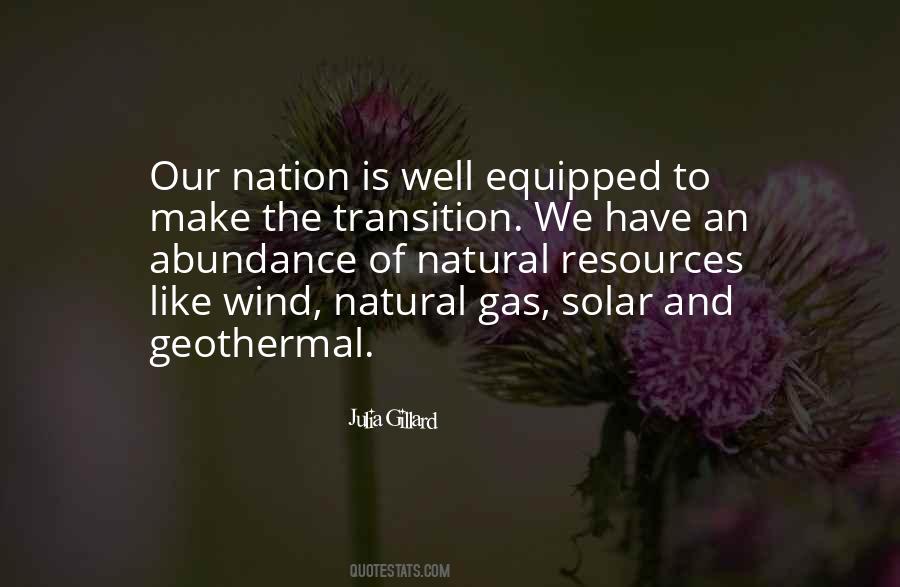 #38. When you frack a well, you're exploding methane up into the atmosphere. So, Barack Obama, by supporting natural gas, and also talking about climate change is literally burning his own inaugural address. And he's doing it with natural gas. - Author: Josh Fox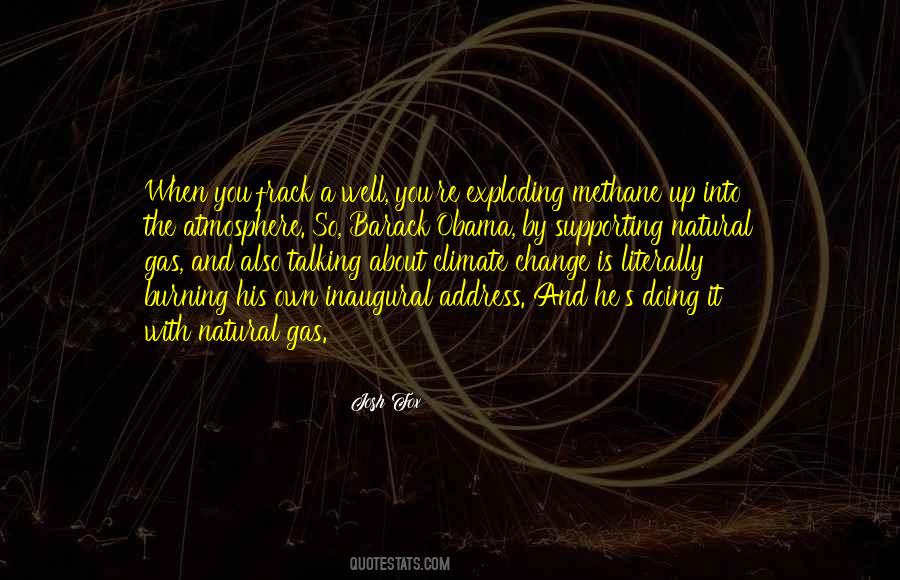 #39. We are already witnessing a transformation in the U.S. economy to increased production of lower carbon energy through fuel switching to natural gas and expansion of wind, solar, geothermal, and other renewable non-carbon intensive energy sources. - Author: Martin O'Malley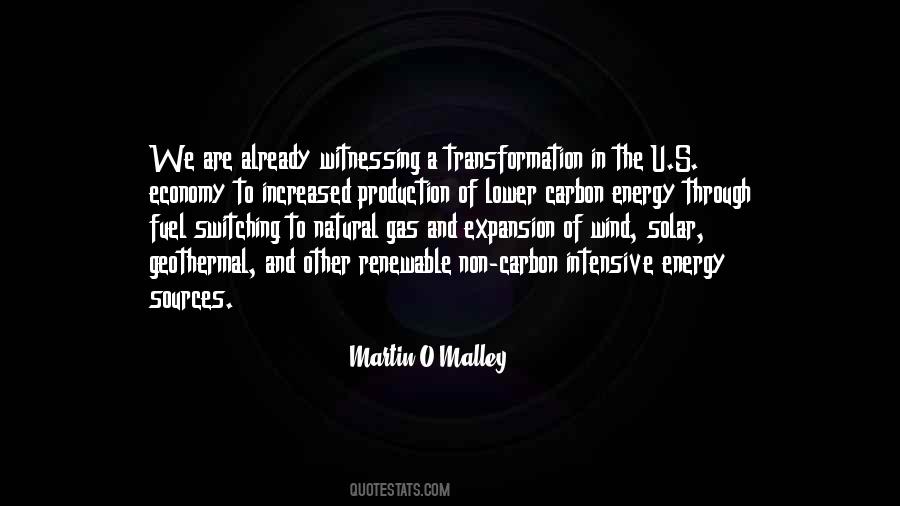 #40. Natural gas is the one fuel that we have that's affordable, it's scaleable, it can replace coal over time, it can replace imported oil, can create American jobs. - Author: Aubrey McClendon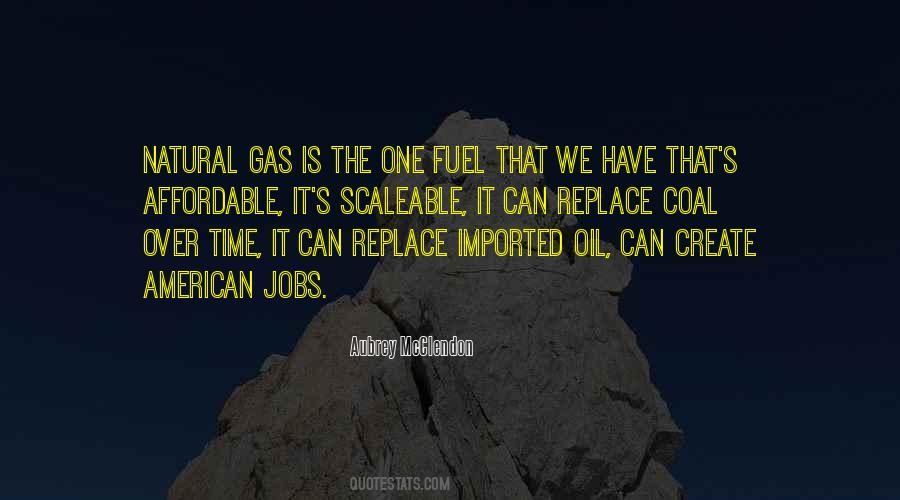 #41. Countries around the world are celebrating new oil and natural gas discoveries that hold the promise of greater prosperity for their citizens. - Author: Bob Beauprez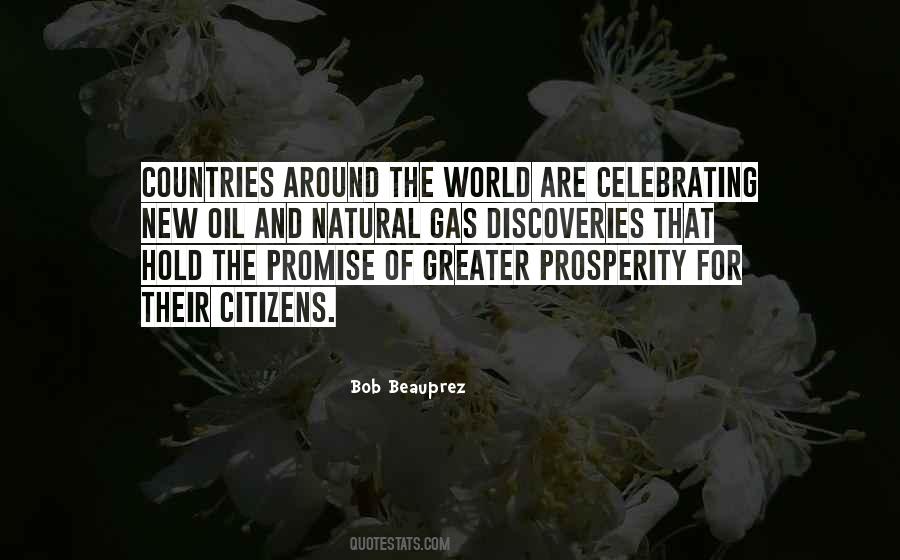 #42. It's not unexpected that shooting massive amounts of water, sand, and chemicals at high pressure into the earth to shatter shale and release natural gas might shake things up. But earthquakes aren't the worst problem with fracking. - Author: David Suzuki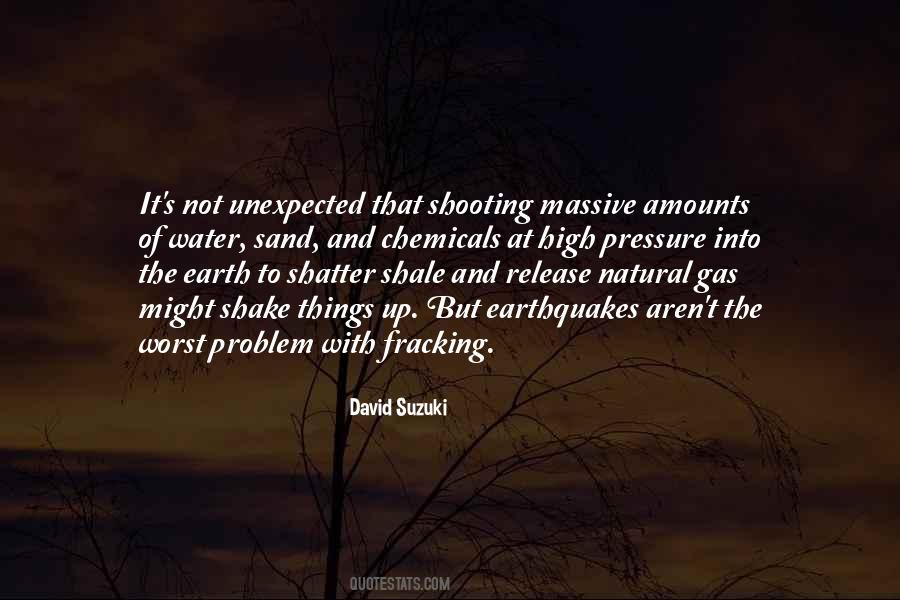 #43. Electricity is derived from many non-renewable energy sources like oil, natural gas and coal. - Author: Lamar S. Smith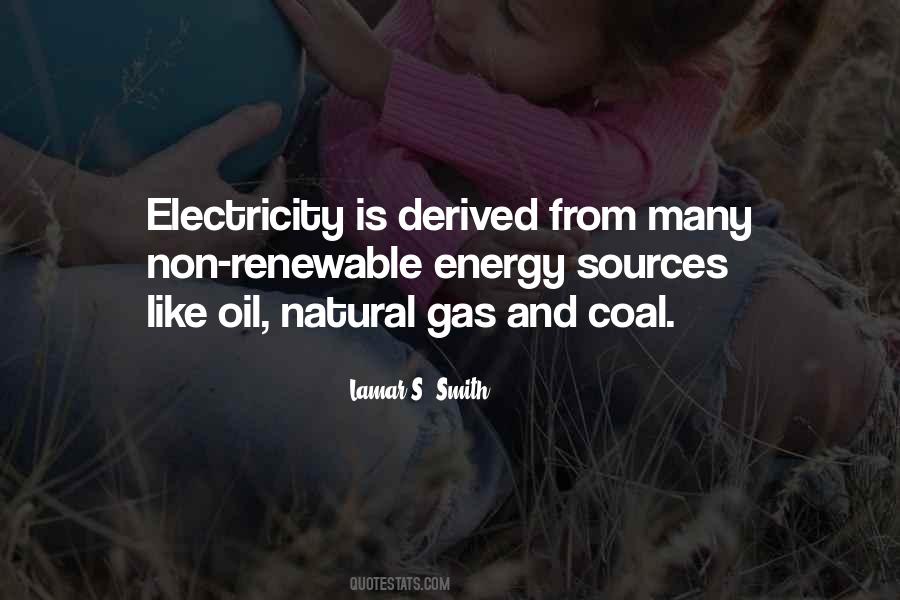 #44. Look, natural gas, just like oil, is going to eventually go away. It's not renewable. - Author: Ed Rendell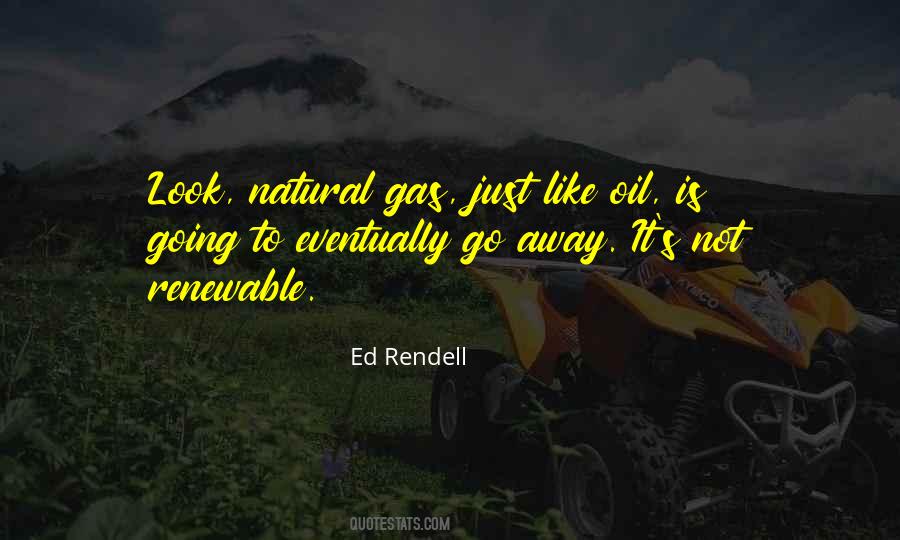 #45. People are not running to build coal facilities because of the price of natural gas, but we do see them being constructed, and there is an interest in fuel diversity, so we took the exercise pretty seriously. - Author: Gina McCarthy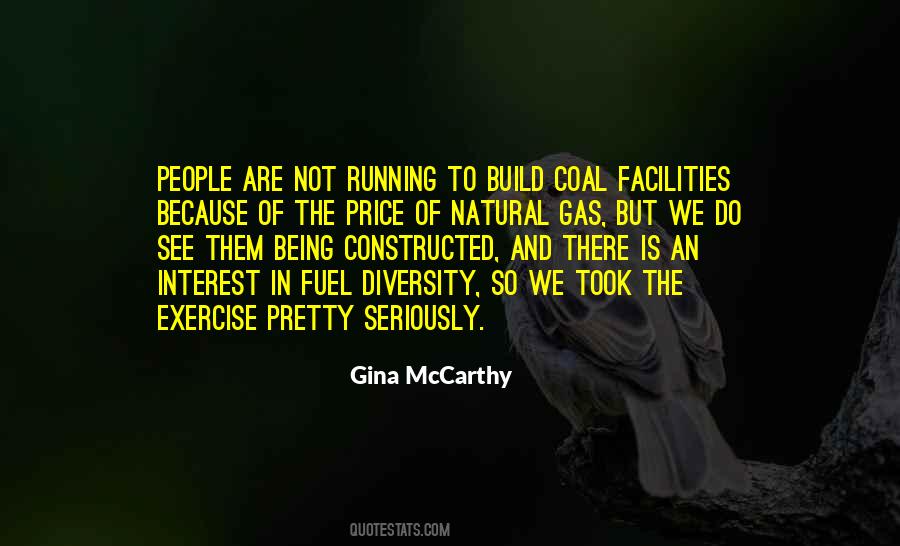 #46. Low-cost, high-grade coal, oil and natural gas - the backbone of the Industrial Revolution - will be a distant memory by 2050. Much higher-cost remnants will still be available, but they will not be able to drive our growth, our population and, most critically, our food supply as before. - Author: Jeremy Grantham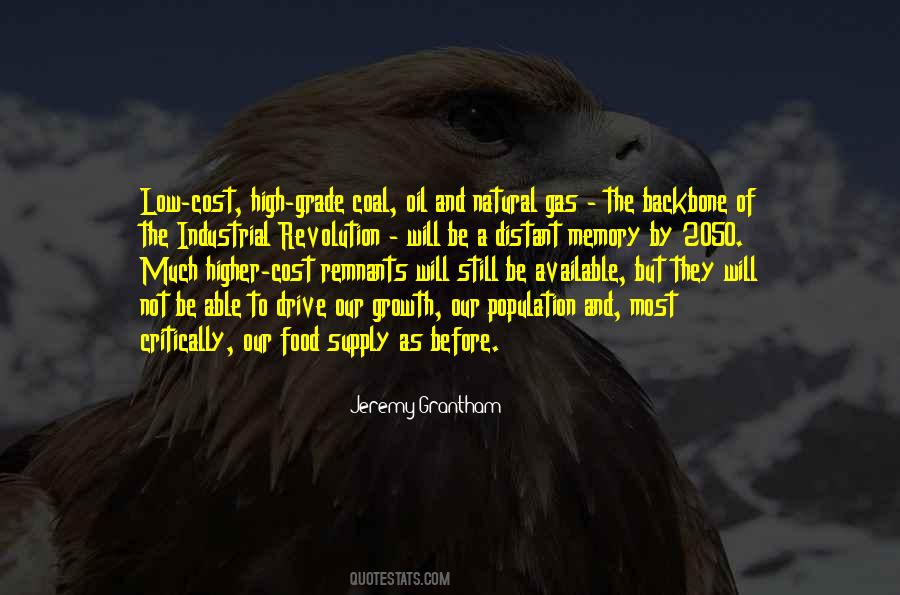 #47. The era of cheap oil and natural gas is coming to a crashing end, with global oil production projected to peak in 2010 and North American natural gas extraction rates already in decline. These events will have enormous implications for America's petroleum-dependent food system - Author: Richard Heinberg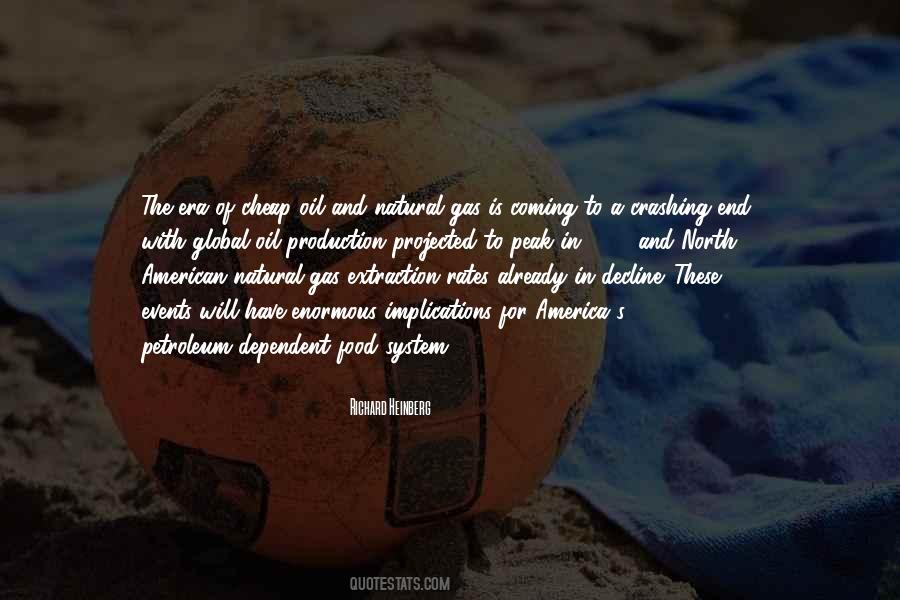 #48. Natural gas is the best transportation fuel. It's better than gasoline or diesel. It's cleaner, it's cheaper, and it's domestic. Natural gas is 97 percent domestic fuel, North America. - Author: T. Boone Pickens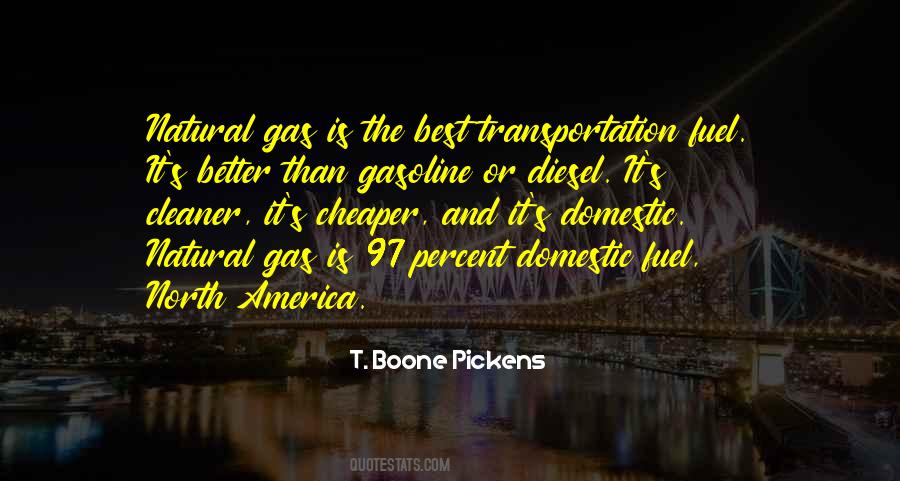 #49. In conventional oil and natural gas production, you always produce a lot of formation water, and it's crummy water. It's real salty. It's got heavy metals in it. It's got bad stuff in it. - Author: Rex Tillerson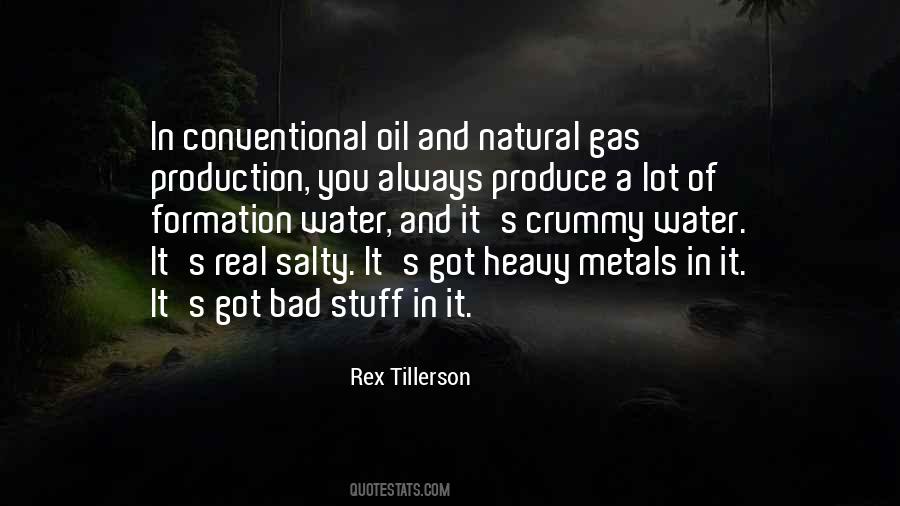 #50. Natural gas is a very flexible source of energy that can help us bridge the gap between our current high-carbon economy and our zero-carbon future. - Author: Katharine Hayhoe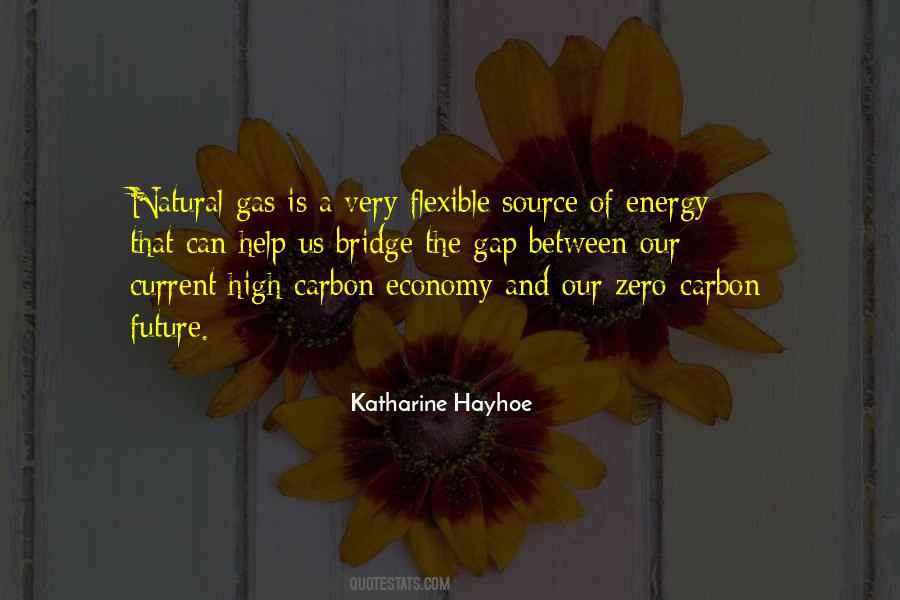 #51. First, we have to find a common vocabulary for energy security. This notion has a radically different meaning for different people. For Americans it is a geopolitical question. For the Europeans right now it is very much focused on the dependence on imported natural gas. - Author: Daniel Yergin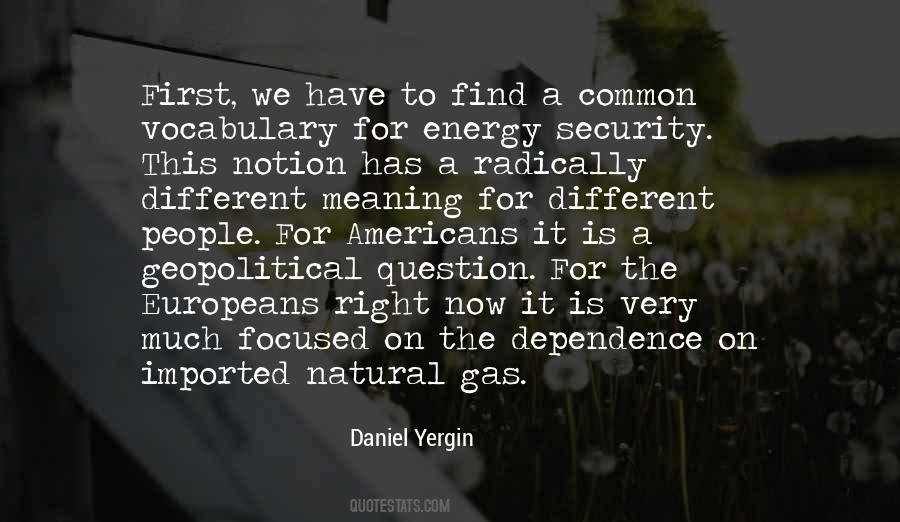 #52. The gulf coast, we all know now, after Katrina, is responsible for 25 percent of U.S. production of natural gas. Following Katrina and Rita, almost 75 percent of the natural gas production in the gulf was shut down and not producing. - Author: Mark Foley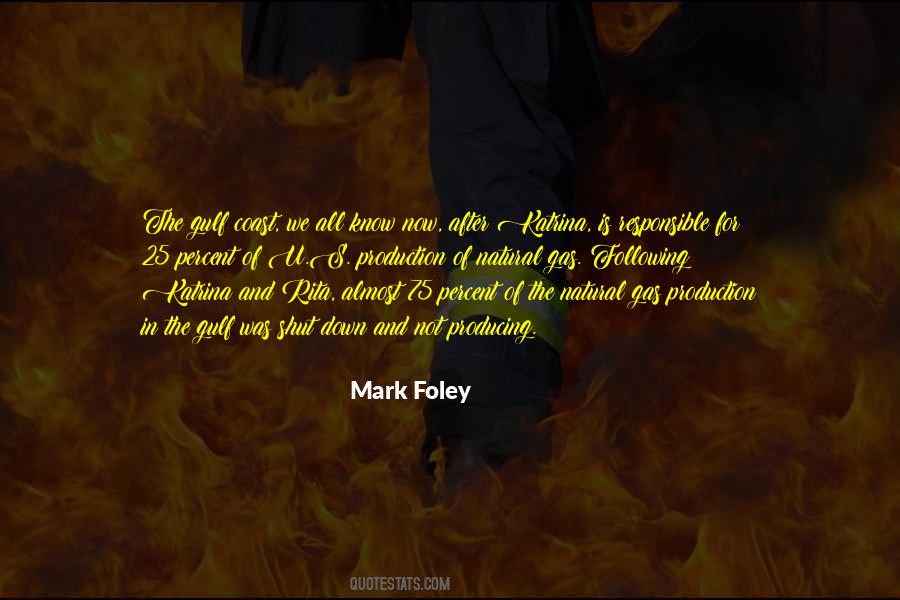 #53. Cheap natural gas is a big stimulus to petrochemical production and a meaningful one for all U.S. manufacturing. - Author: Roger Altman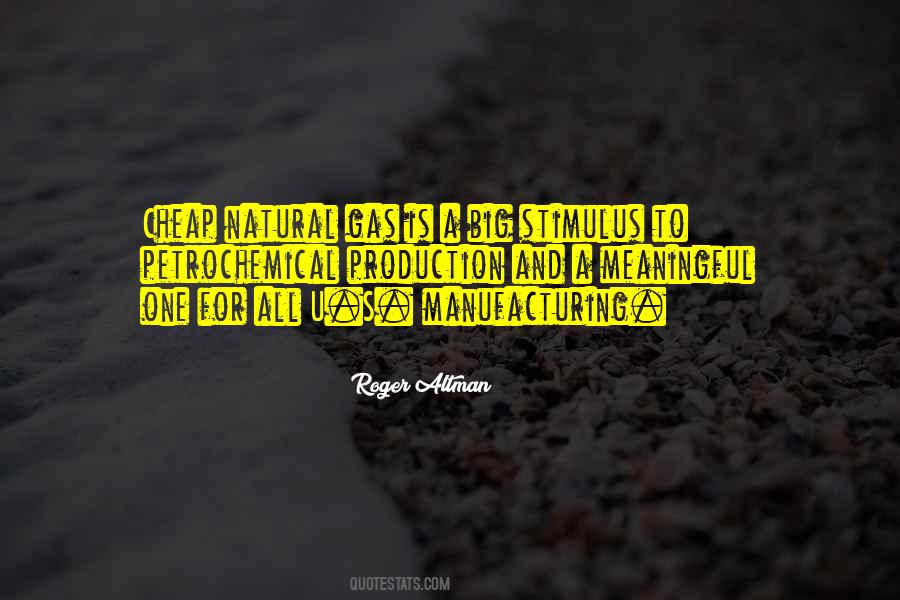 #54. There is an urgent need to stop subsidizing the fossil fuel industry, dramatically reduce wasted energy, and significantly shift our power supplies from oil, coal, and natural gas to wind, solar, geothermal, and other renewable energy sources. - Author: Bill McKibben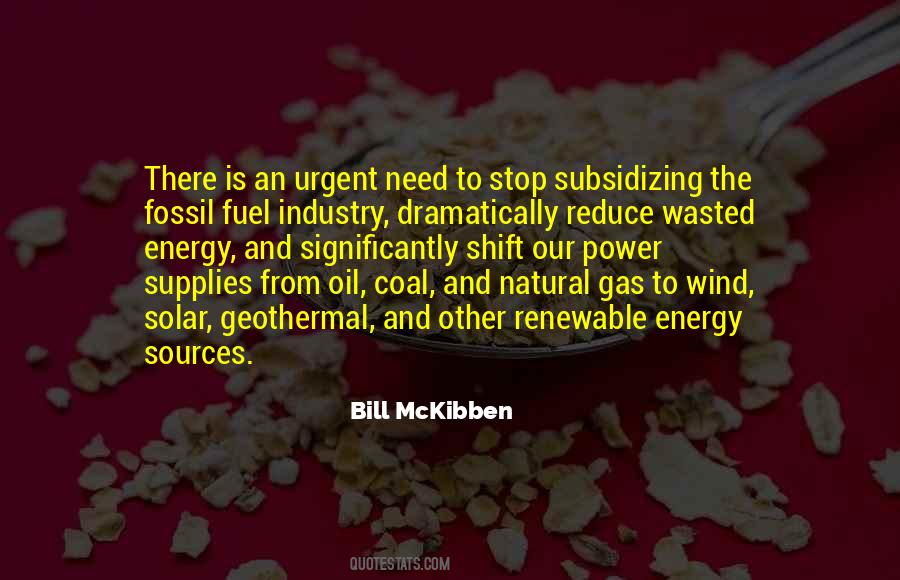 #55. The total amount of energy we use every year - from coal, oil, natural gas, hydro, nuclear, and everything else - is dwarfed by the amount of solar energy hitting the planet each year. - Author: Ramez Naam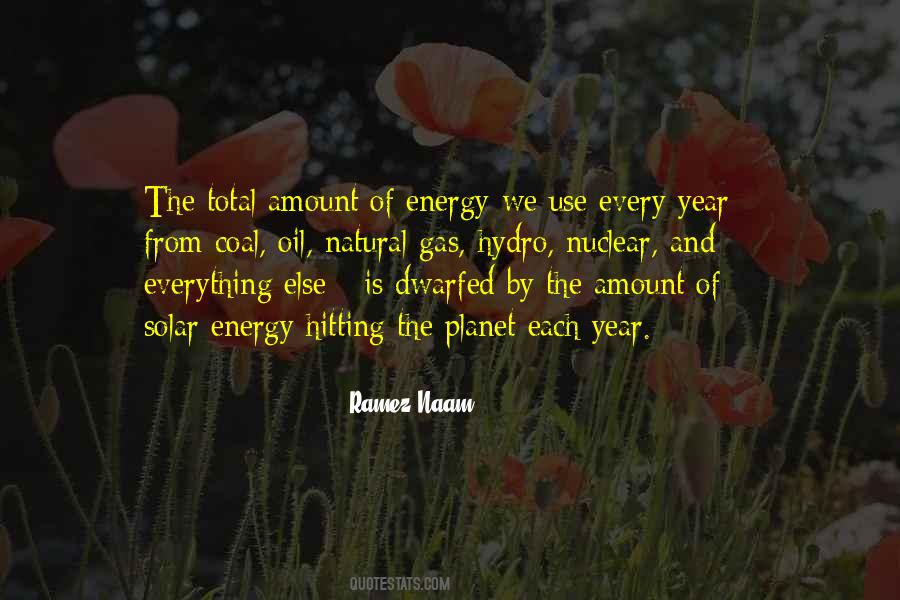 #56. Some studies have shown that natural gas could, in fact, be worse for the climate than coal. - Author: Jeff Goodell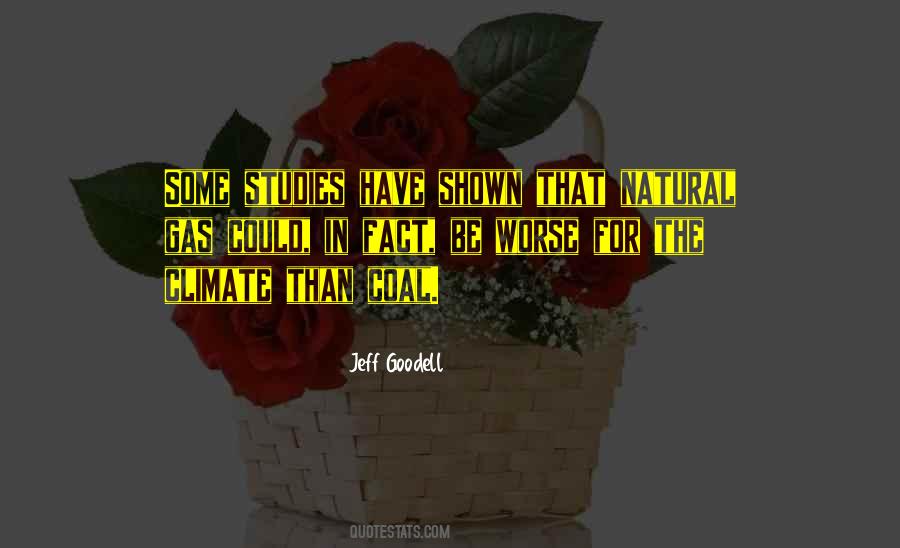 #57. Chinese growth will either be strong or very strong. They have a voracious demand for energy that will only continue to grow. What they're doing ... is looking at all forms of energy. They're going ahead very strongly with coal, nuclear, oil, natural gas. - Author: John S. Watson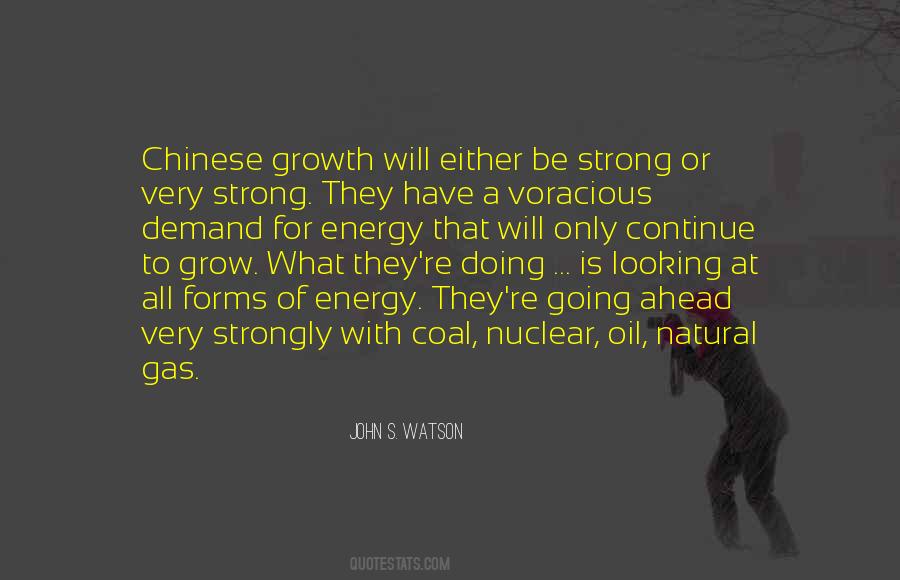 #58. At the end of the day, natural-gas peakers sit back there and get financed so that the Midwest corridor can have a huge [period] of four to five days of no wind. The peakers are running big time to make that up, because that is the swing piece that can always be turned on. - Author: Bill Gates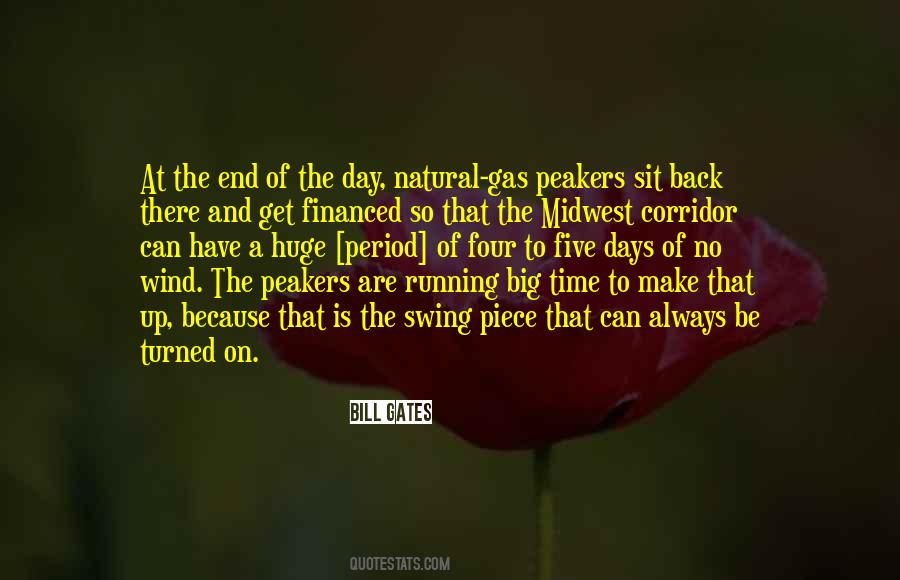 #59. It might have been offset for us if the revenue from our own oil and natural gas that was just developing had been available to the Labor Government, but the oil revenues were just coming in when Labor fell in '79. - Author: Barbara Castle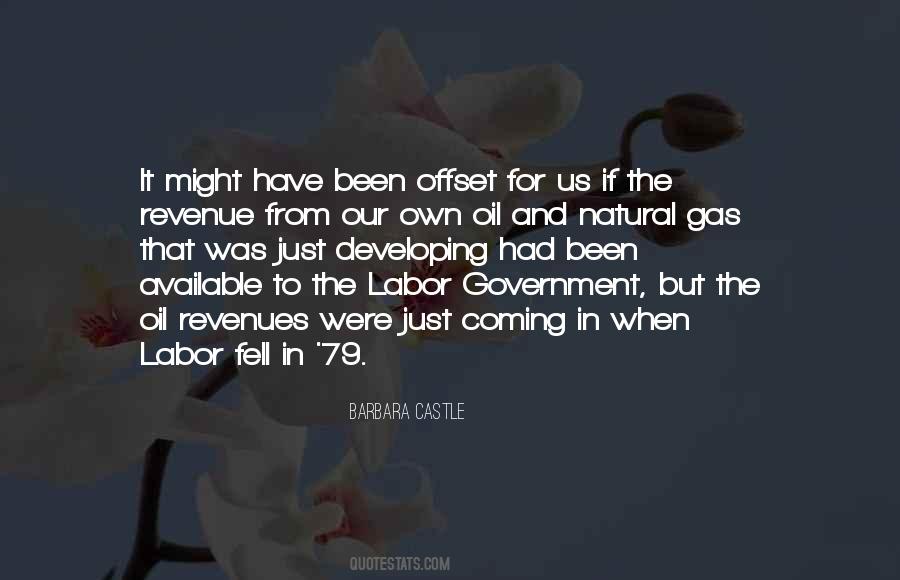 #60. Bombas Tipo OH1 y OH2" (ANSI/API Std. 610. Eleventh Edition- September 2010. ISO 13709:2009 (Identical). Centrifugal pumps for petroleum, petrochemical and natural gas industries). - Author: Ivan Mejia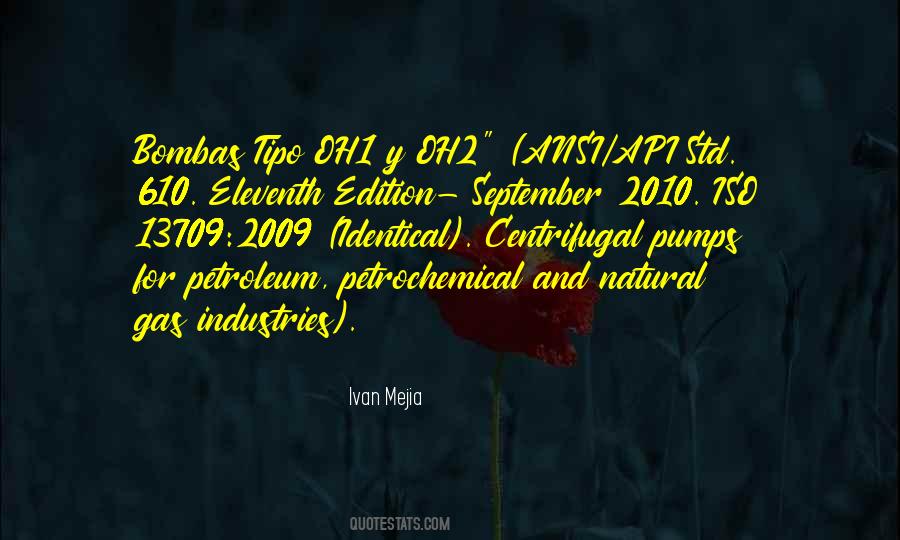 #61. Wealth of time is actually of more value than natural resources (petroleum, gold, diamond, gas etc.) and more valuable than human resources. - Author: Sunday Adelaja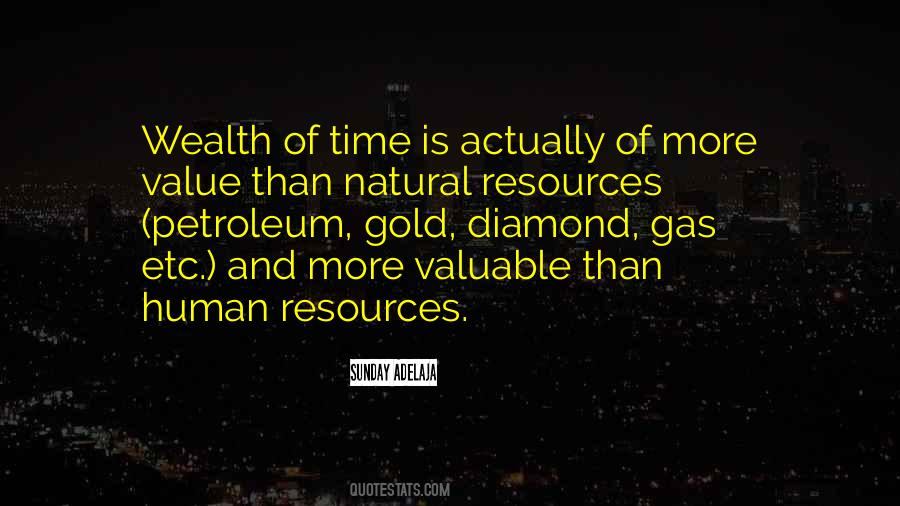 #62. Mark Ruffalo, aka the Incredible Hulk, is the natural gas industry's worst nightmare: a serious, committed activist who is determined to use his star power as a superhero in the hottest movie of the moment to draw attention the environmental and public health risks of fracking. - Author: Jeff Goodell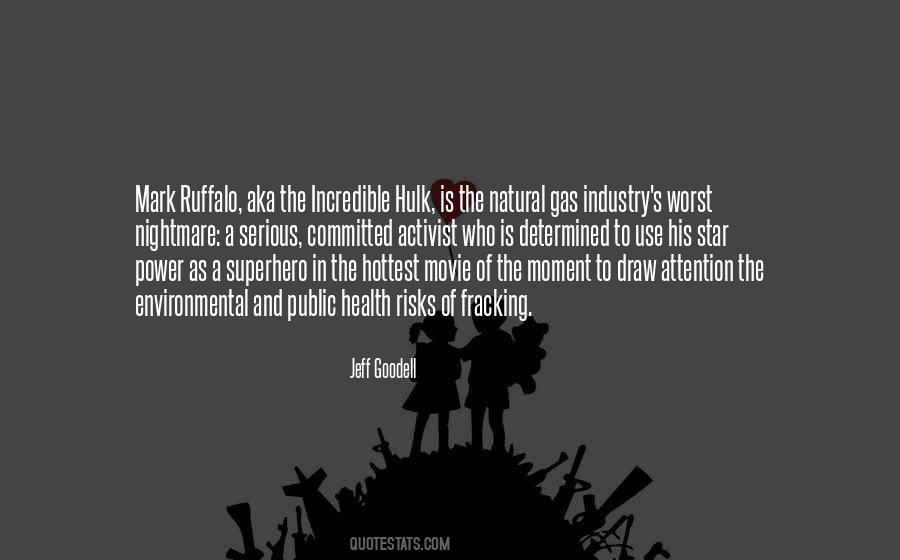 #63. The greatest natural resource our country has is not oil. It's not gas. It's not coal. It's the genius of our children. - Author: Cory Booker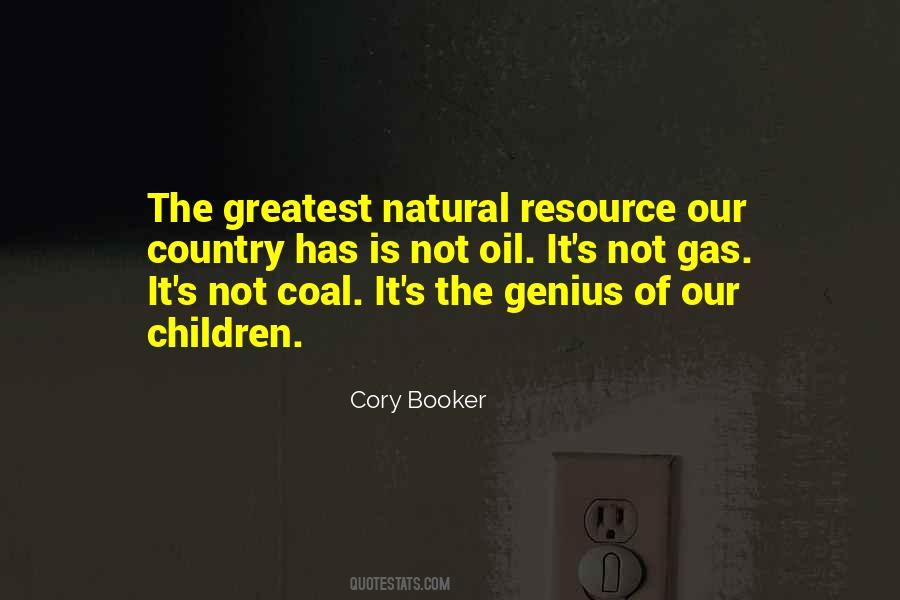 #64. States with tremendous oil and natural gas reserves have the most to gain economically from proper regulation. - Author: Gina McCarthy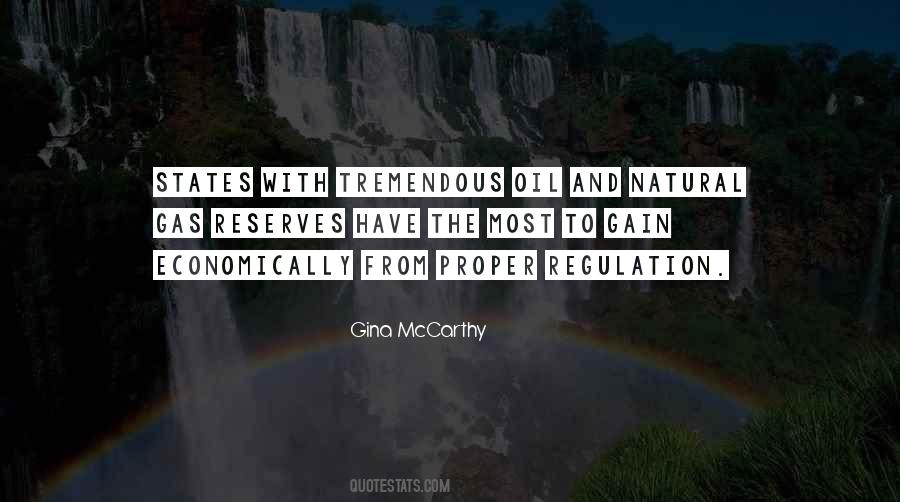 #65. Take the time to get it right. There'll be gas tomorrow night - Author: Russell Gold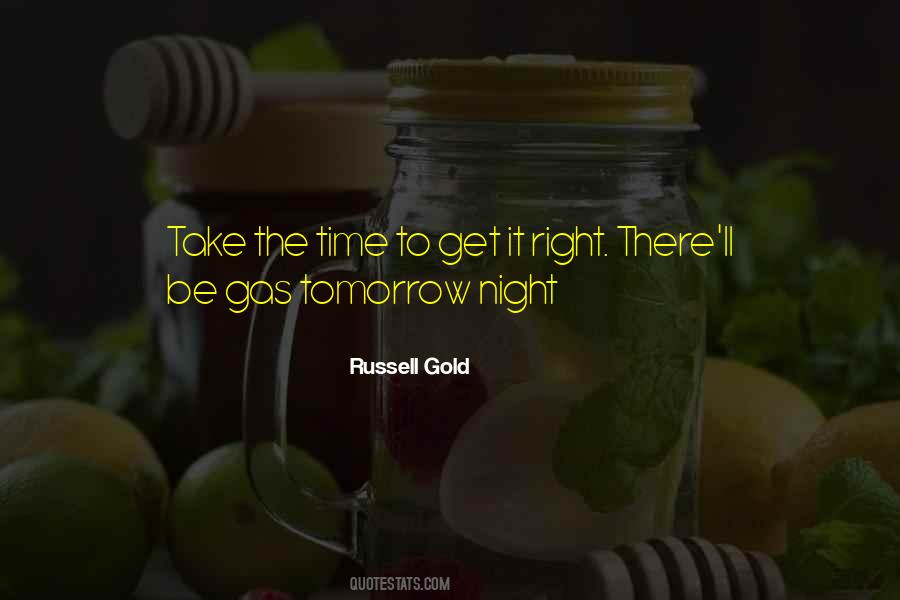 #66. Natural gas is a dirty fossil fuel like the rest of them. - Author: Josh Fox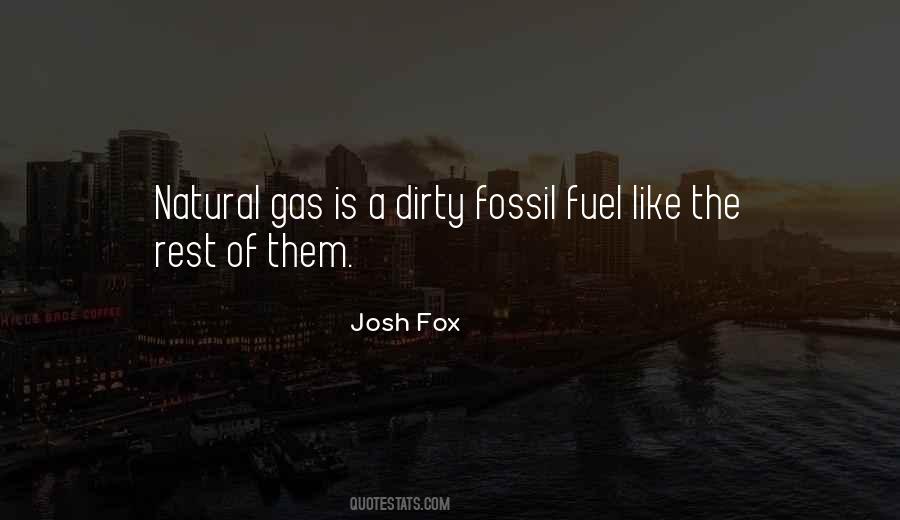 #67. I think God has blessed this country with enormous natural resources, and we should pursue all of the above. We should be developing oil, and gas, and coal, and nuclear, and wind, and solar, and ethanol, and biofuels. But, I don't believe that Washington should be picking winners and losers. - Author: Ted Cruz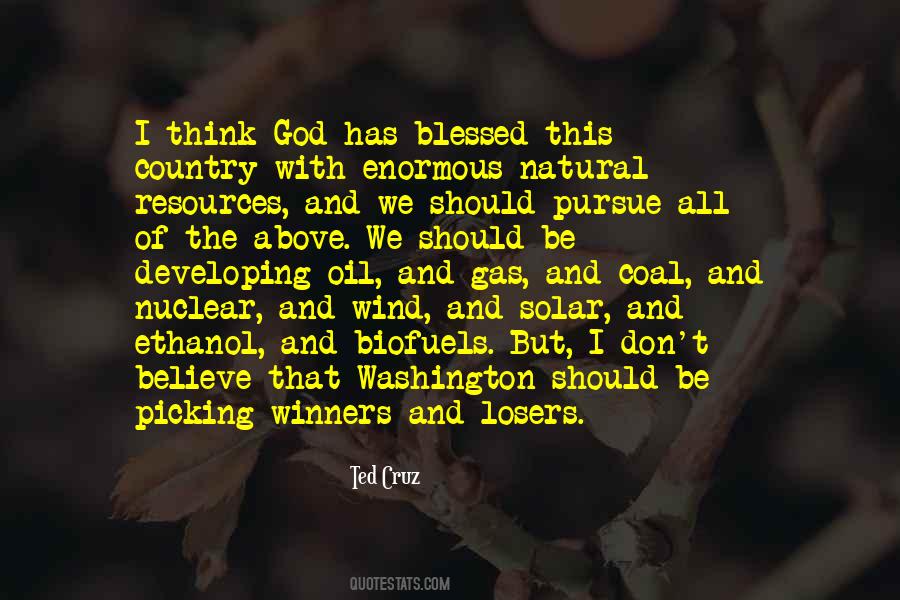 #68. Finally, we should help developing nations like China and India curb their exponentially increasing consumption of oil and natural gas, which is driving world prices higher. - Author: Bobby Jindal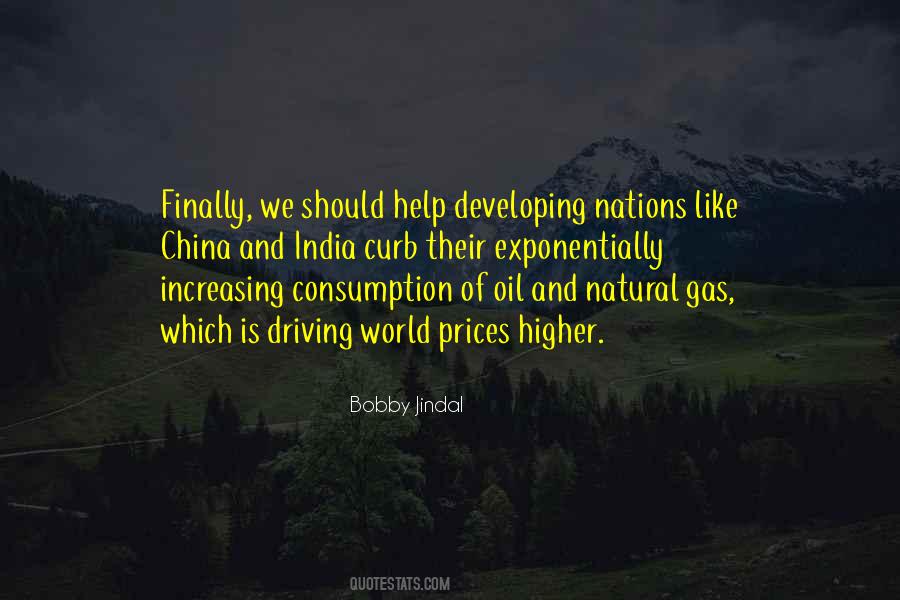 #69. We simply have to transition from an economy based almost exclusively on oil and coal and natural gas to one that's far more diversified, that uses solar energy, and wind energy, and the power of the tides, and bio-mass energy, and eventually, develops hydrogen. - Author: William J. Clinton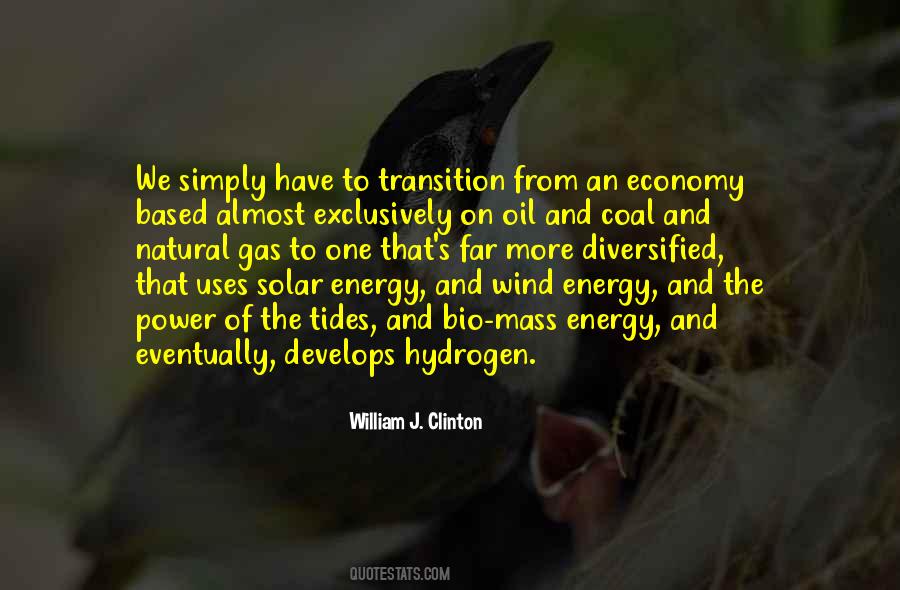 #70. I believe in natural gas as a clean, cheap alternative to fossil fuels. - Author: Nancy Pelosi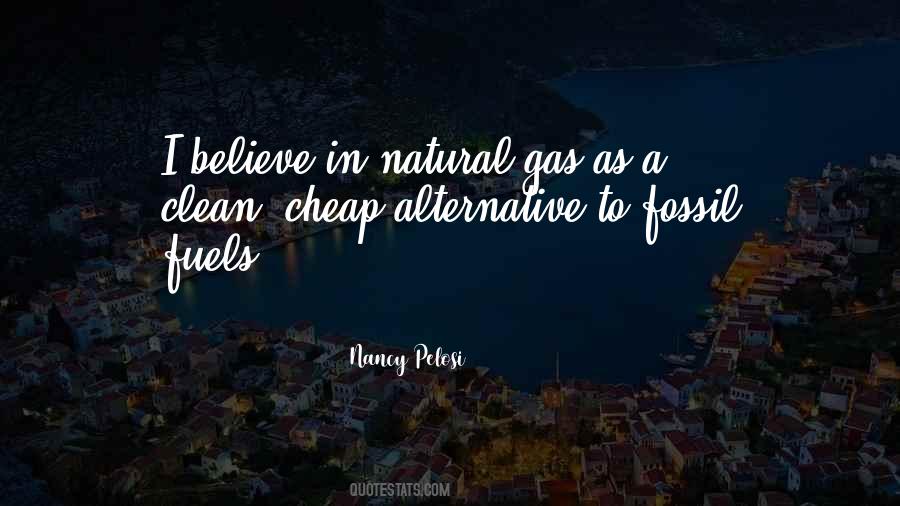 #71. One point I like to stress is that we should think of coal, oil, natural gas, and nuclear, as clean energy. - Author: Alex Epstein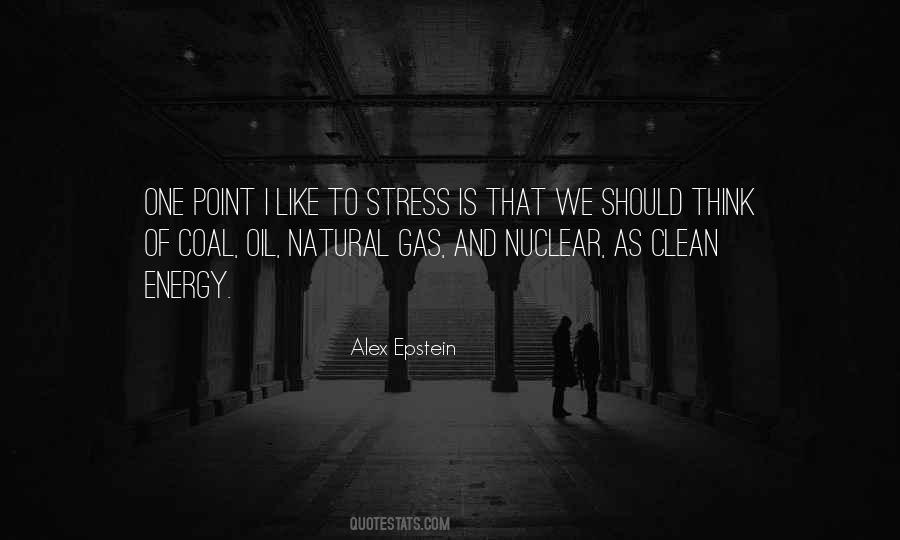 #72. We must proceed with our own energy development. Exploitation of domestic petroleum and natural gas potentialities, along with nuclear, solar, geothermal, and non-fossil fuels is vital. We will never again permit any foreign nation to have Uncle Sam over a barrel of oil. - Author: Gerald R. Ford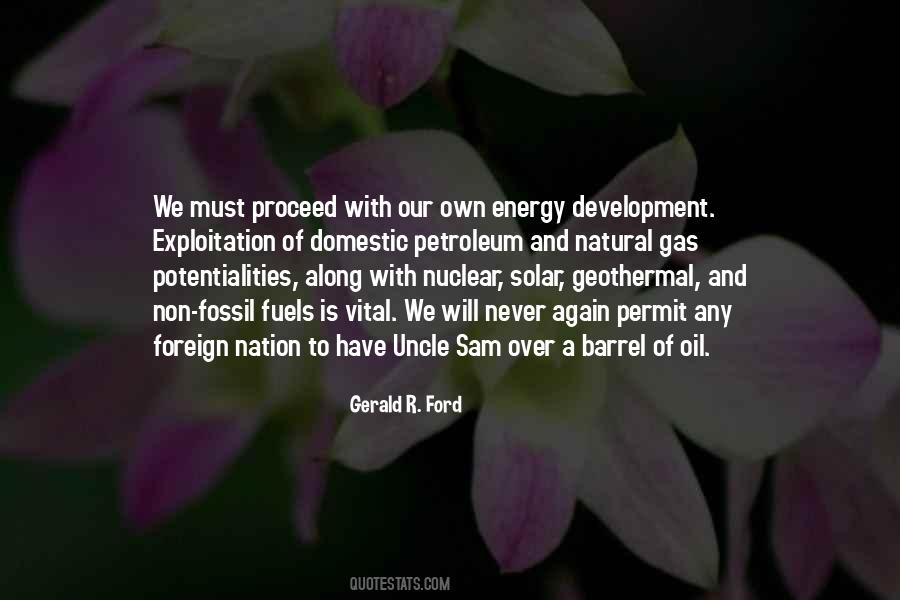 #73. The cheapest natural gas in the world is in the United States. - Author: T. Boone Pickens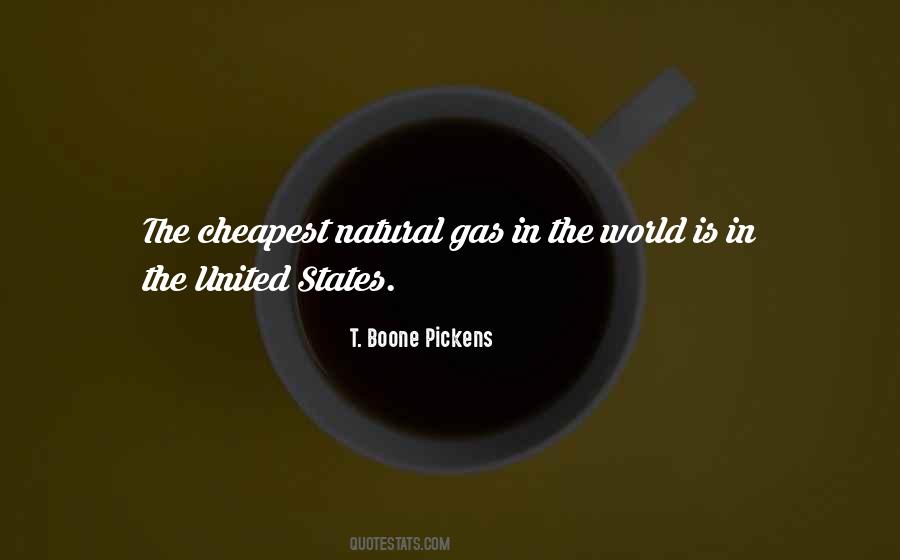 #74. I think what we all have to do is make this big leap towards renewables. And it has to be a solution where you're actually building the answer; and it has to be built faster than the natural gas industry can build their answer. - Author: Josh Fox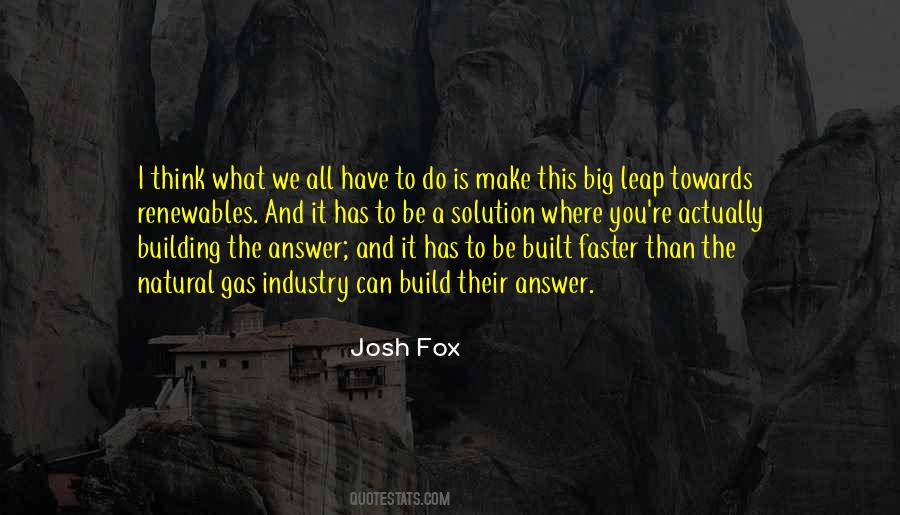 #75. We access virtually every producing basin, whether for natural gas or crude oil, in the U.S. and Canada. - Author: Richard Kinder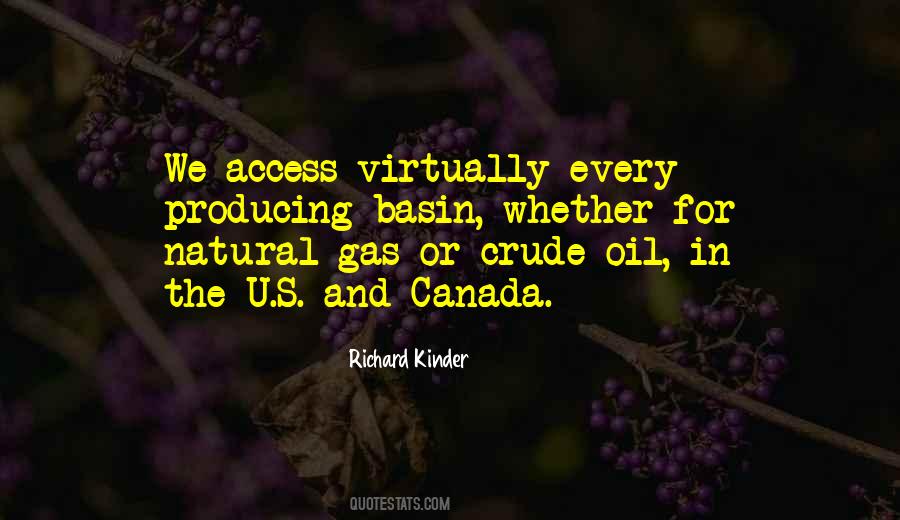 #76. Natural gas is a bridge fuel. But it's not a bridge - it's a gangplank. It's either a bridge in space or a bridge in time. The bridge in time we don't need. We have renewable technology right now. - Author: Josh Fox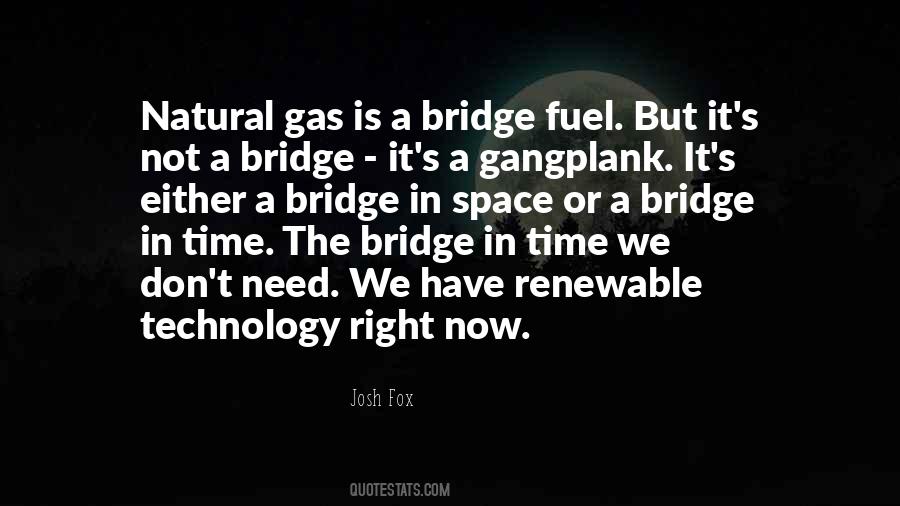 #77. Smell of natural gas, piped from the big metal tank in the backyard, filled once a month by a truck. - Author: Tom Franklin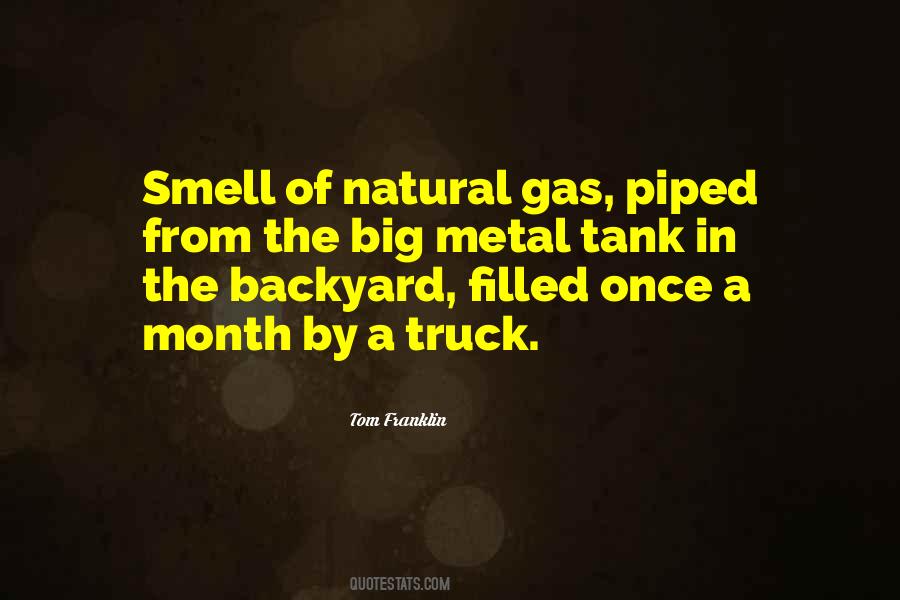 #78. The profits of oil, coal, and natural gas companies will have to yield to the imperative of sustaining life on earth. - Author: Robert Pollin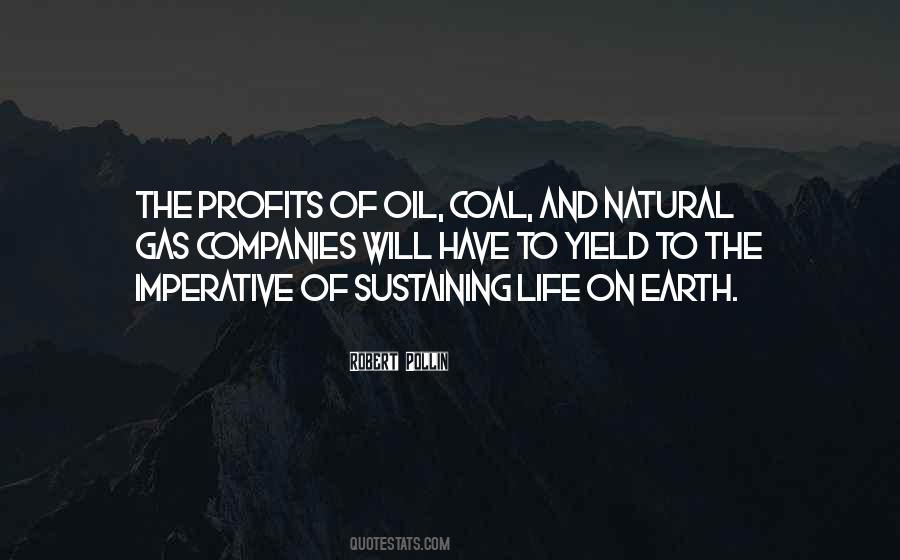 #79. Natural gas is the future. It is here. - Author: Bill Richardson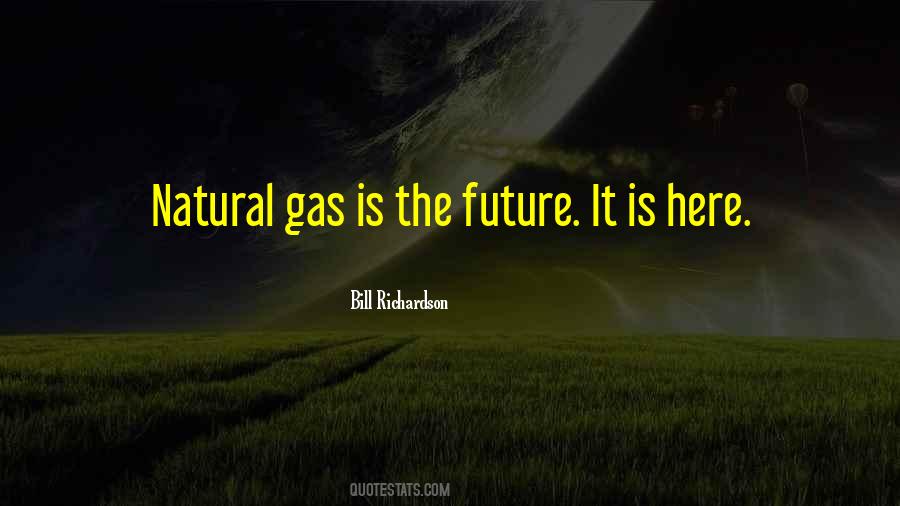 #80. Turkey's energy bill due to imports will fall with the increase in use of renewable energy sources. We have no control over the prices of petroleum and natural gas. - Author: Ali Babacan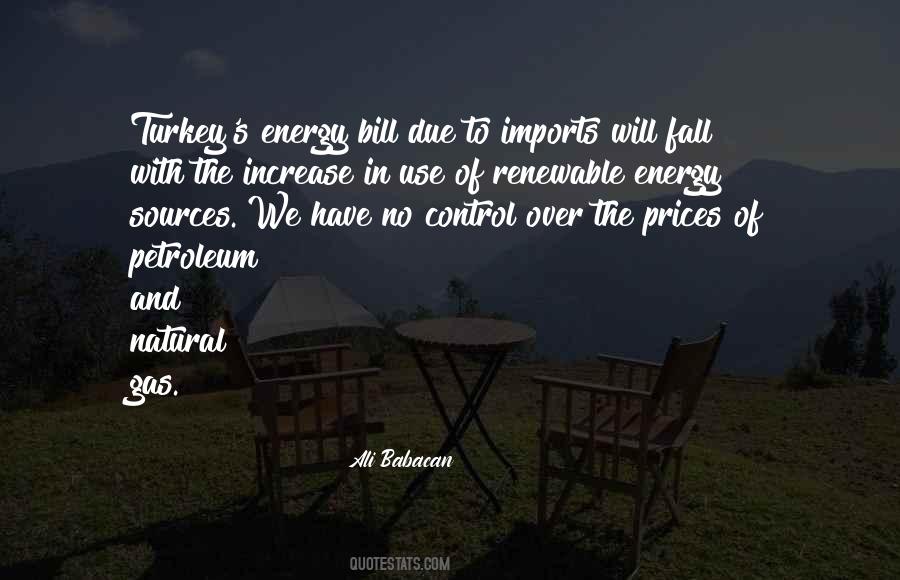 #81. Atoms of Element 118 fill an outer shell with electrons, creating a special type of element called a noble gas. Noble gases are natural turning points on the table, ending one row and pointing to the next. - Author: Sam Kean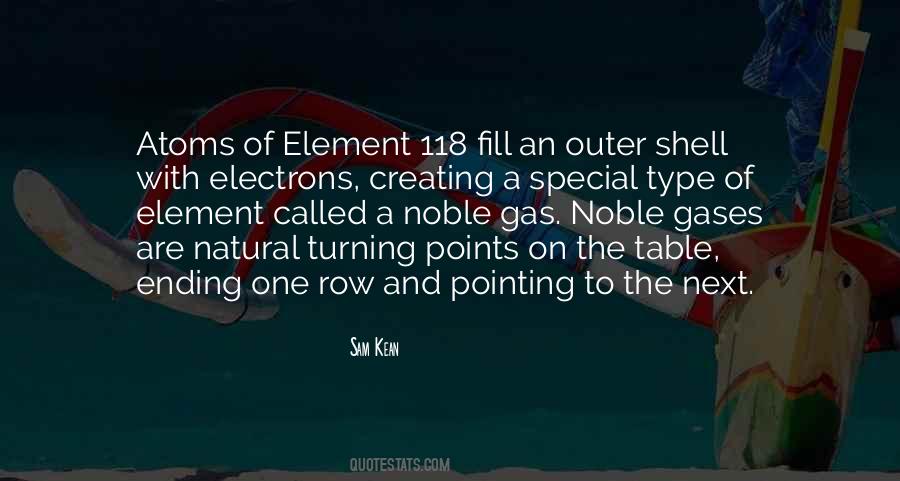 #82. Since 1850, burning of fossil fuels, coal, oil and natural gas has increased 100 times to produce energy as the world has industrialized to serve the world's more than 6 billion and growing population. - Author: John Olver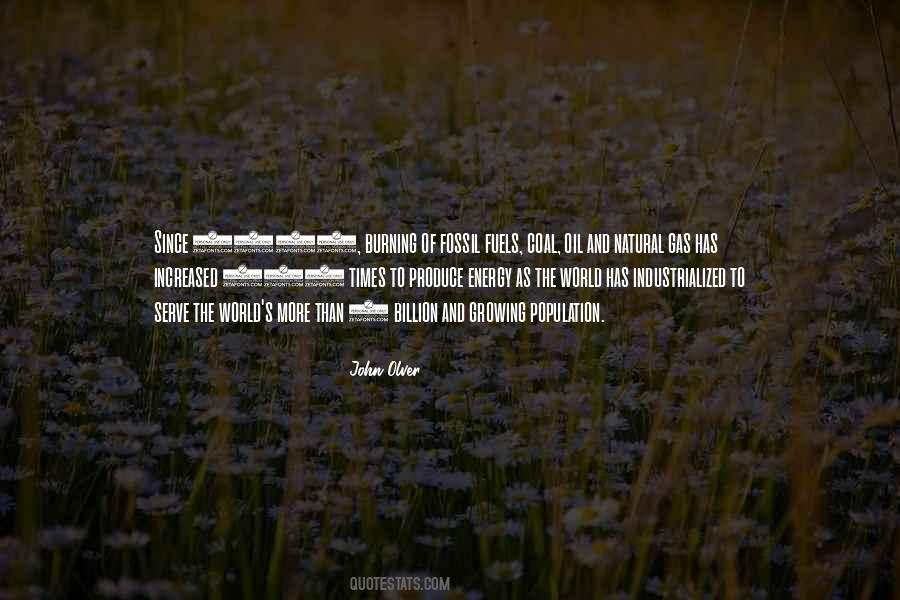 #83. The fundamentals are the U.S. is going to end up being a net exporter of natural gas. That's going to be wonderful to help our balance of payments, reduce our dependence on a lot of countries that aren't so crazy about us, and change many, many parts of what goes on here. - Author: Wilbur Ross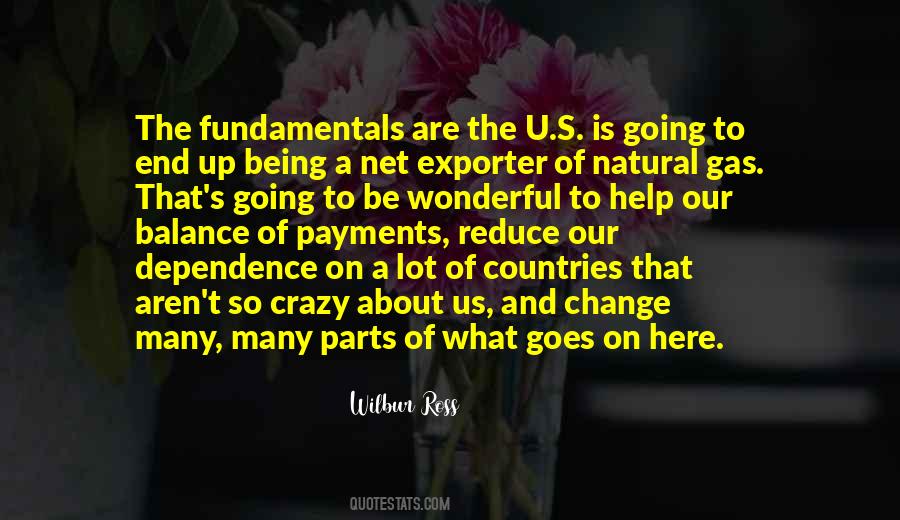 #84. We have to slow down the emissions of carbon dioxide and methane from coal burning, oil and eventually natural gas ... And the best ways to do that are energy efficiency and a switch to renewables. - Author: Ramez Naam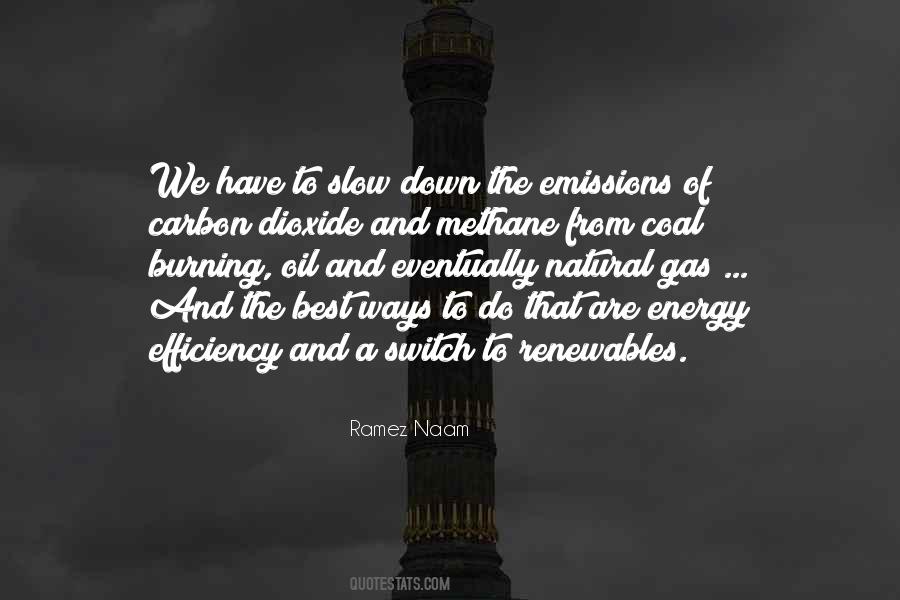 #85. Natural gas is a feedstock in basically every industrial process. - Author: Aubrey McClendon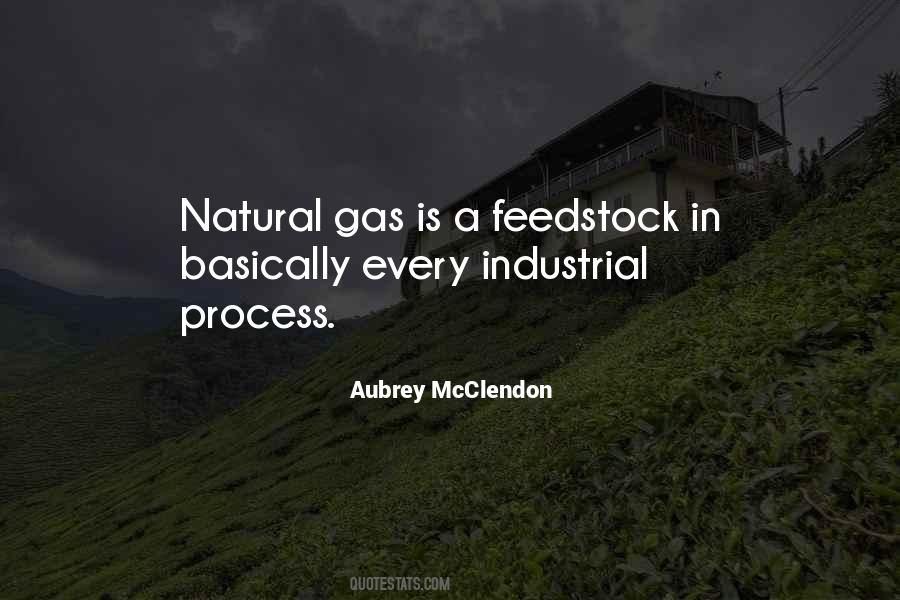 #86. I love nuclear. It does this radiation thing that's tricky (laughter). But they're good solutions. You know, it was interesting; recently, in Connecticut this natural gas plant blew up 11 guys. It just blew them up. - Author: Bill Gates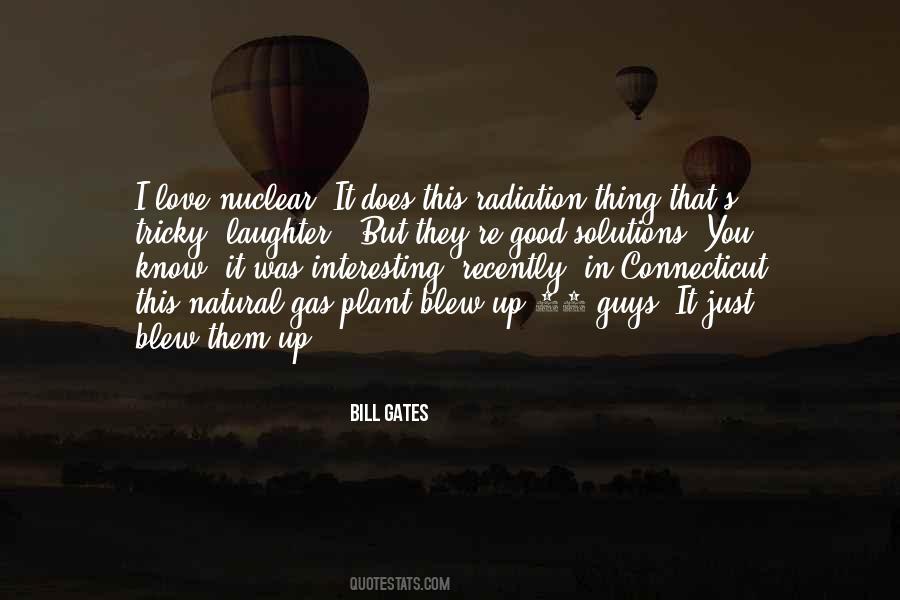 #87. Natural gas is hemispheric. I like to call it hemispheric in nature because it is a product that we can find in our neighborhoods. - Author: George W. Bush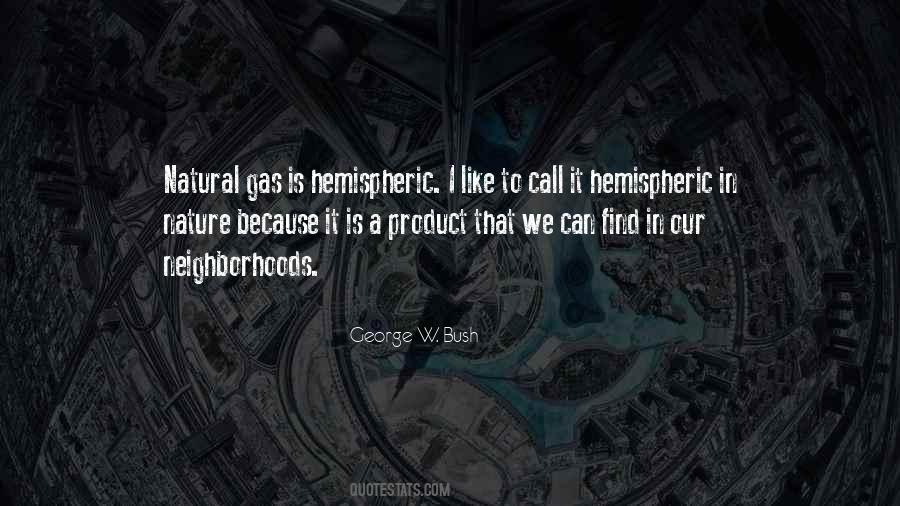 #88. I think the whole human-induced greenhouse gas thing is a red herring ... I see climate change as due to the ocean circulation pattern. I see this as a major cause of climate change ... These are natural processes. We shouldn't blame them on humans and CO2. - Author: William M. Gray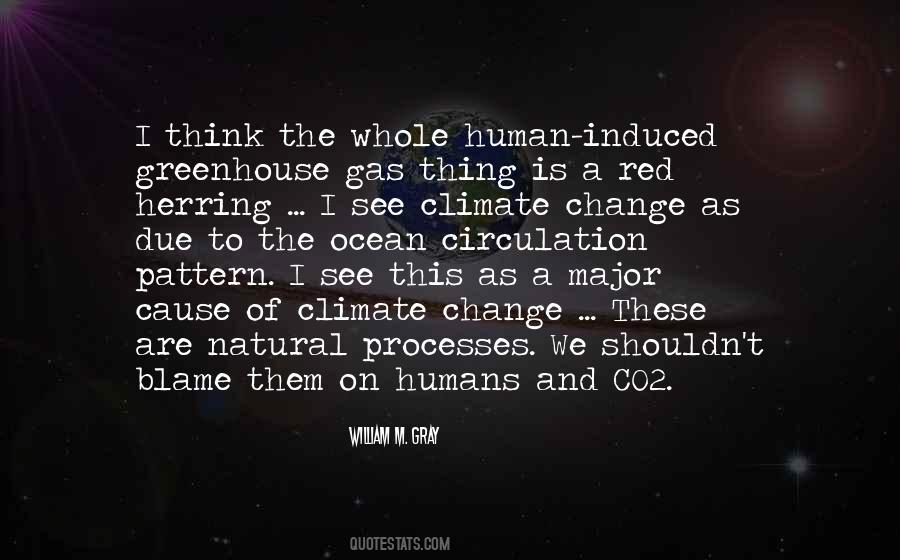 #89. But just [proposing the standard] puts companies on notice that if you're looking to construct a new natural-gas or coal facility, you really need to pay attention to these. This is what they should be designing new facilities toward as soon as this proposal hits the streets. - Author: Gina McCarthy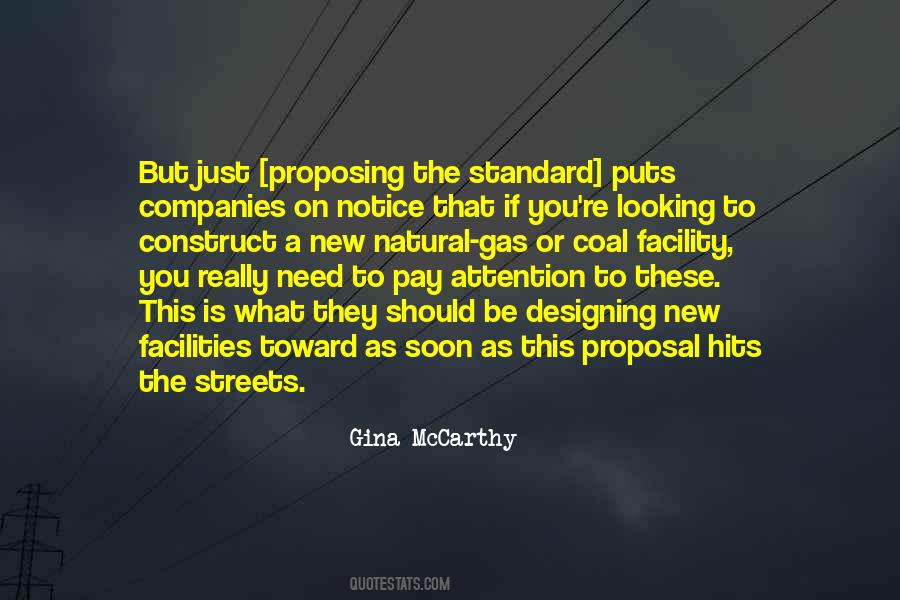 #90. You can't invest in natural gas on a daily basis. It's too volatile. But if you think of natural gas as a long-term holding, then you push your profit horizon out. A long-term time horizon would be at least two years. - Author: T. Boone Pickens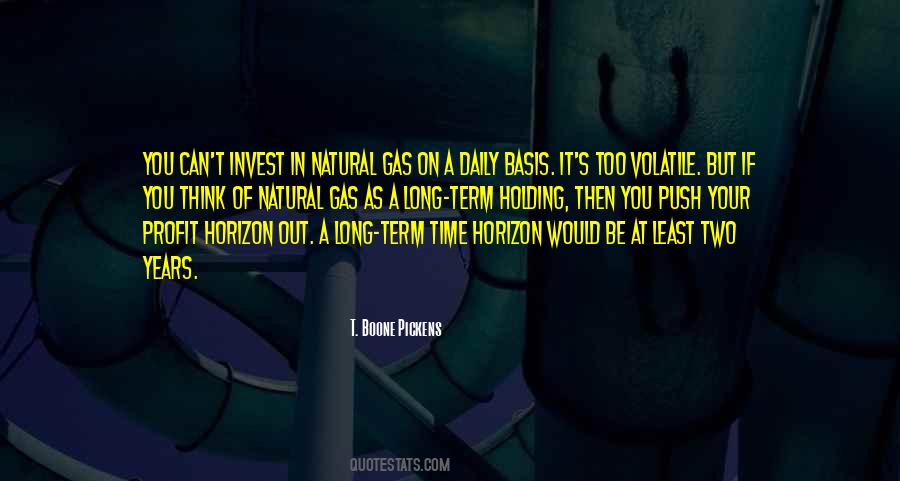 #91. We have for too long put vast oil and natural gas reserves off limits to exploration and production, as The Washington Post editorial stated this week. - Author: Jim Costa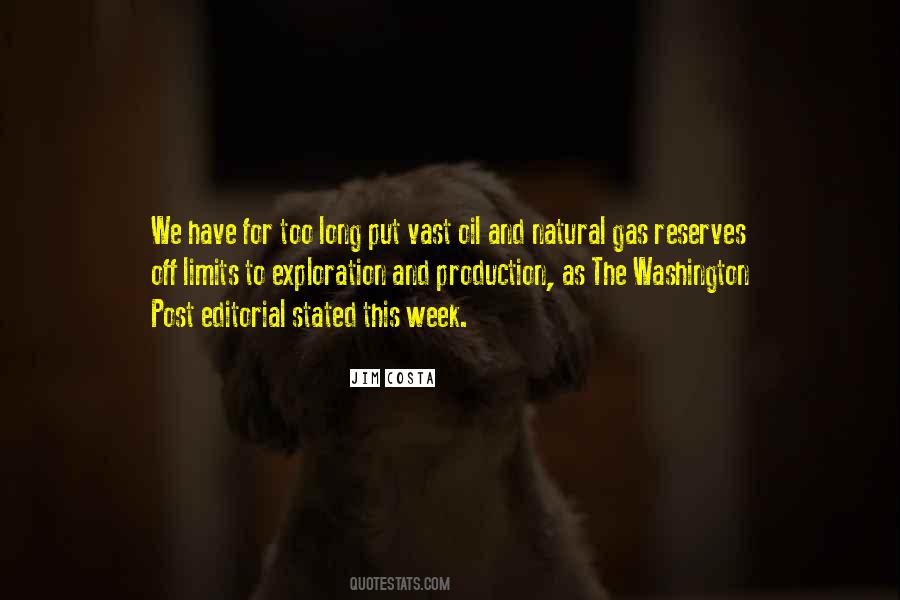 #92. There's no question that natural gas is a lot better than coal or oil, in the sense that natural gas produces less carbon per unit of energy produced. - Author: Katharine Hayhoe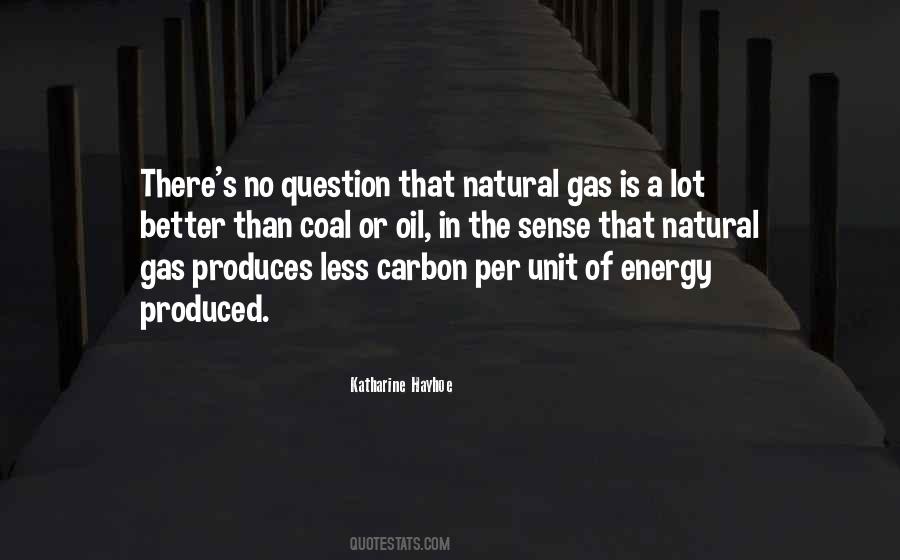 #93. If people think we can draw a circle around North America and that we can be an independent island of energy, that's not realistic. This is a world market for oil, for refined products, and increasingly, for natural gas. - Author: Richard Kinder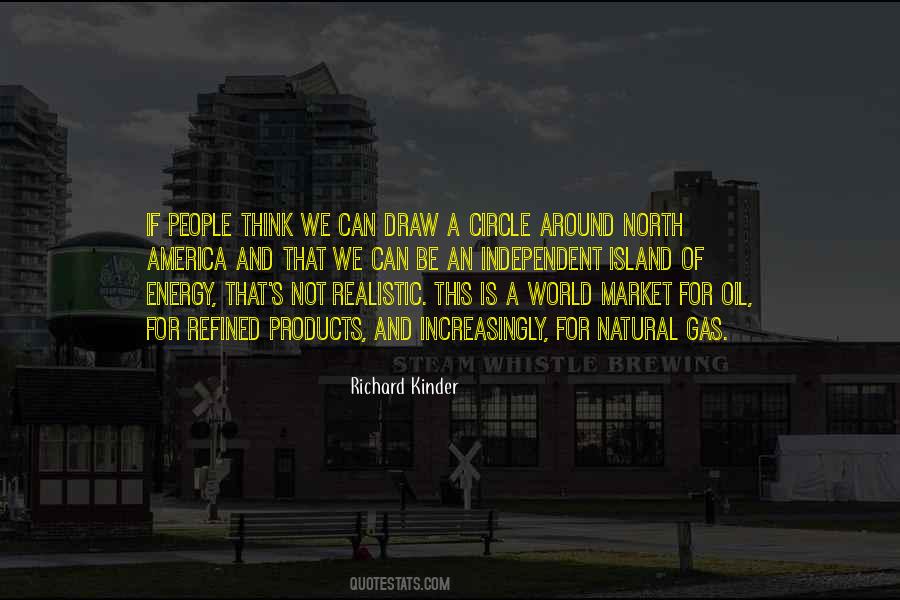 #94. How did we make the transition from using wood to using coal, from using coal to using oil, from using oil to using natural gas? How in God's name did we make that transition without a Federal Energy Agency? - Author: Milton Friedman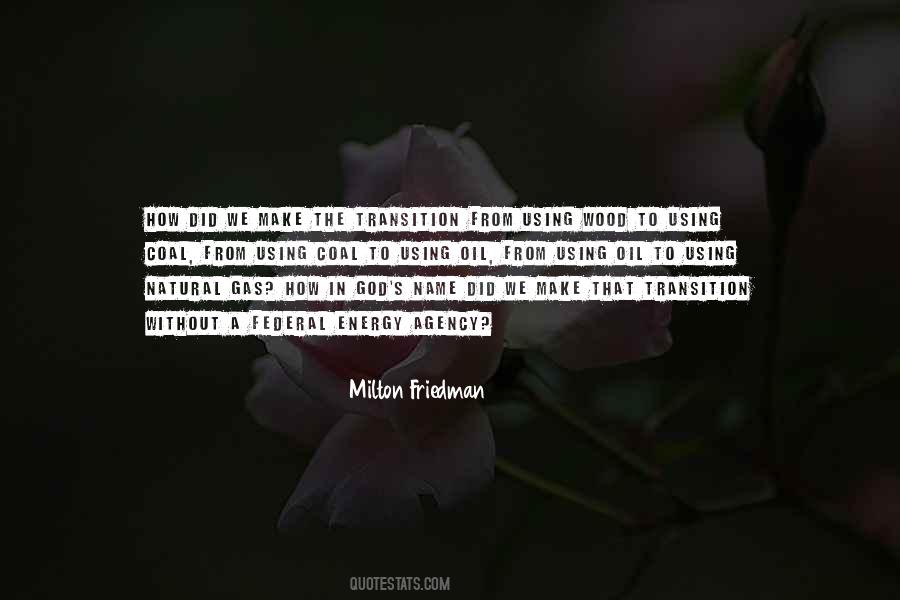 #95. If wells are constructed right and operated right, hydraulic fracturing will not cause a problem. ... Our natural gas supplies would plummet precipitously without hydraulic fracturing. - Author: Scott Anderson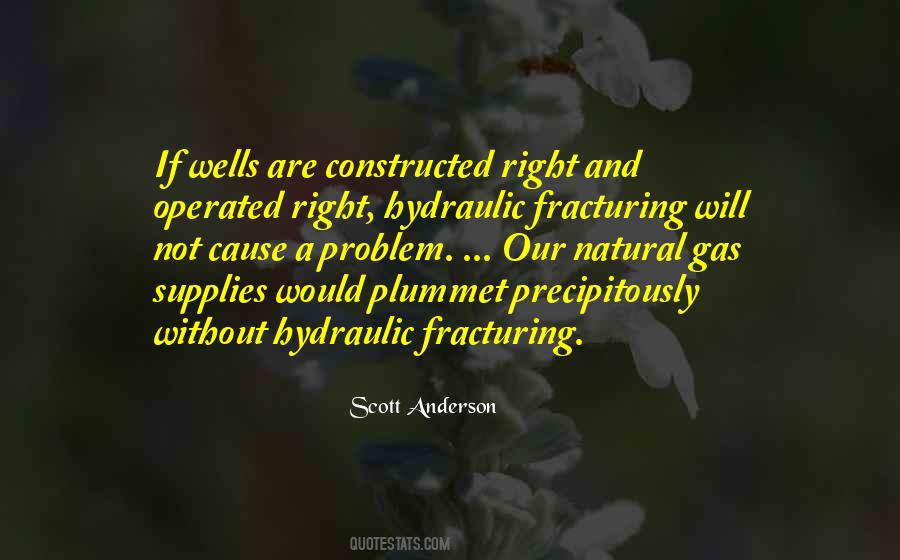 #96. Nobody disputes that cheap natural gas would be a good thing for the economy. The question is, is this a sustainable new development that can be counted on for decades to come, or simply a 'bubble' brought on by a land grab and drilling frenzy? - Author: Jeff Goodell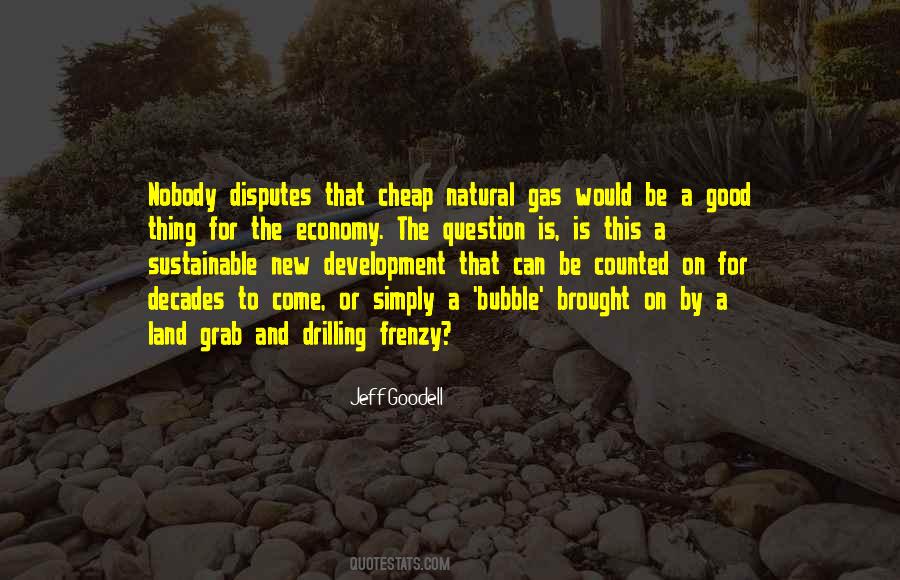 #97. Natural gas is not a bridge - it's a gangplank. - Author: Michael Brune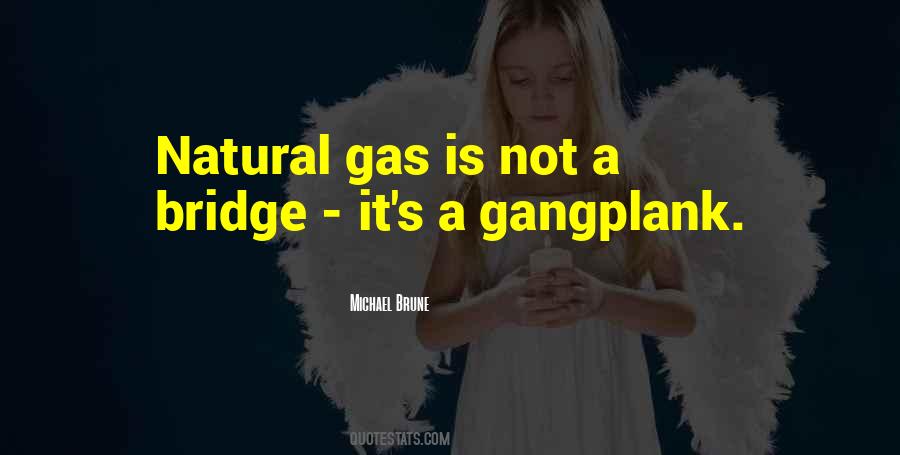 #98. Mr. Speaker, high natural gas prices and the summer spike in gasoline prices serve as a stark reminder that the path to energy independence is a long and arduous one. - Author: Judy Biggert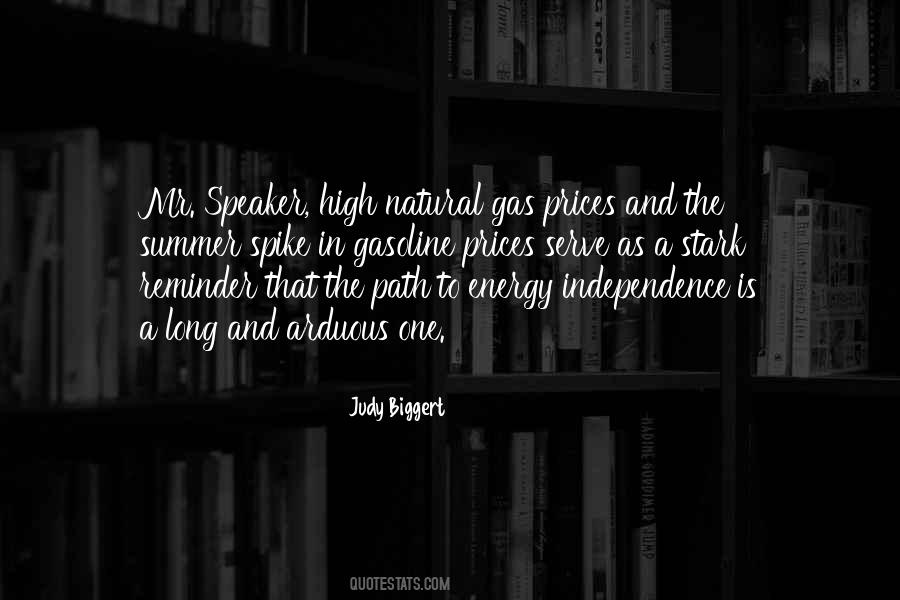 #99. First of all, the idea that natural gas is better than coal is a lie, especially when it comes to fracking for natural gas. It is a lie that was bought into by a lot of Democrats and a lot of environmentalists because I think they wanted to have a win against something; against coal. - Author: Josh Fox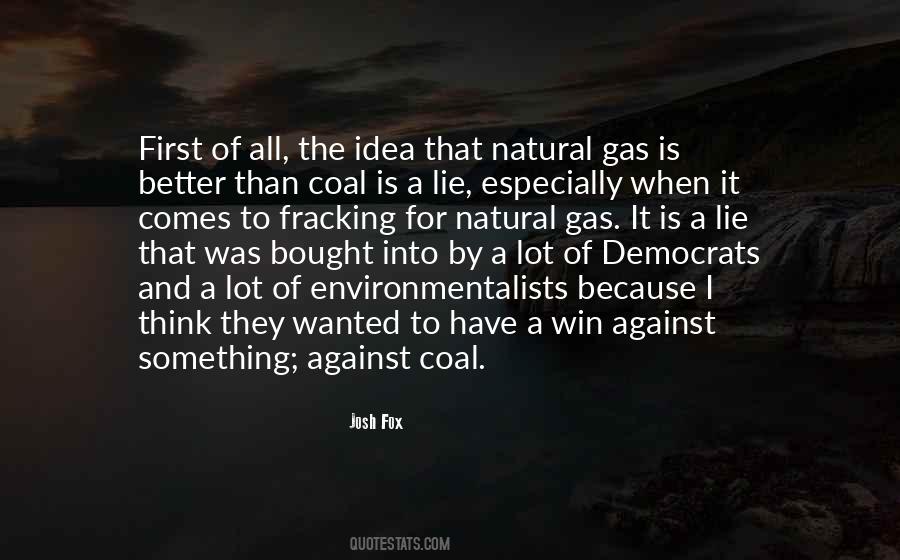 #100. Natural gas is better distributed than any other fuel in the United States. It's down every street and up every alley. There's a pipeline. - Author: T. Boone Pickens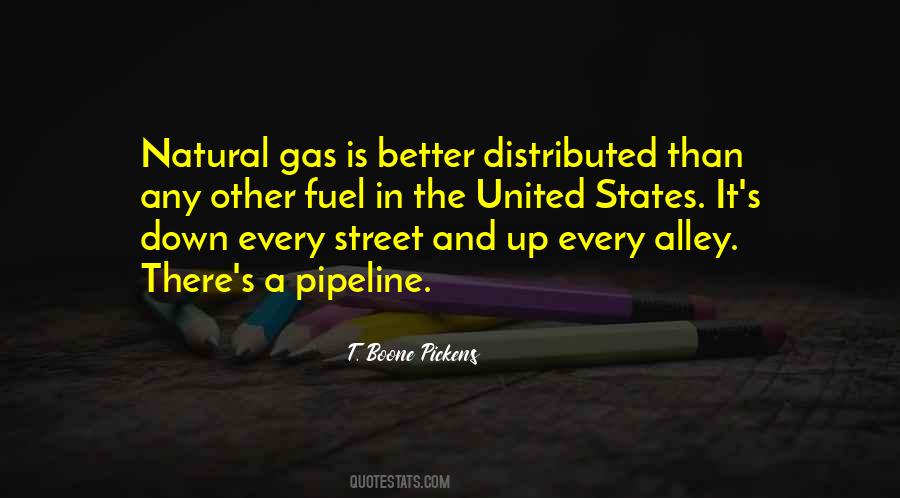 Famous Authors
Popular Topics