Music Festival Famous Quotes & Sayings
List of top 31 famous quotes and sayings about music festival to read and share with friends on your Facebook, Twitter, blogs.
Top 31 Quotes About Music Festival
#1. Michael Clarke Duncan and I met at a music festival that was honoring films, and we happened to be seated next to each other at the dinner, and we just hit it off and kept in touch ever since. He was just the gentle giant in real life like you would have expected him to be. - Author: Nikki Blonsky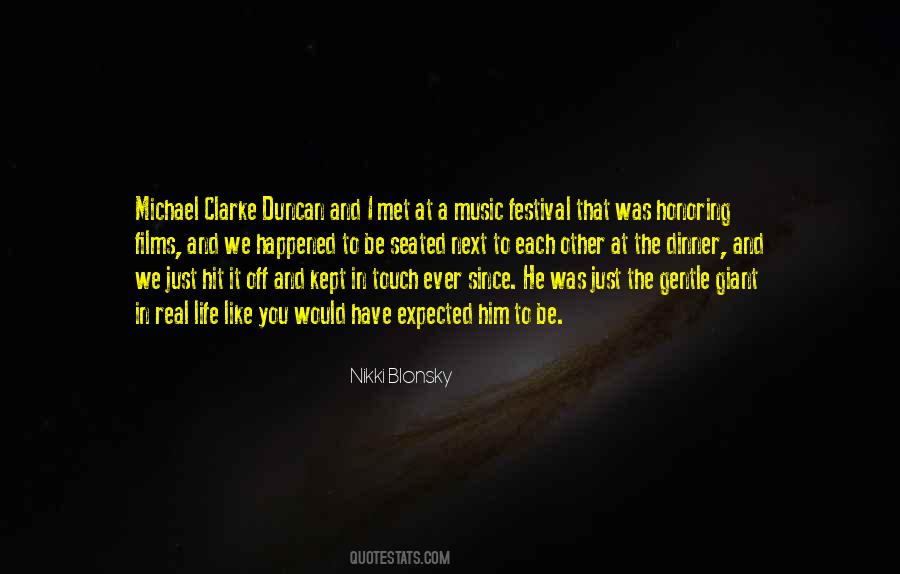 #2. When I do a festival, I want everyone to have a party, I think it is kind of similar to a club where everyone is there to have a good time and celebrate not being at work or just being able to have fun. I love people dancing to my music as well; if I can make them dance I feel happy. - Author: Katy B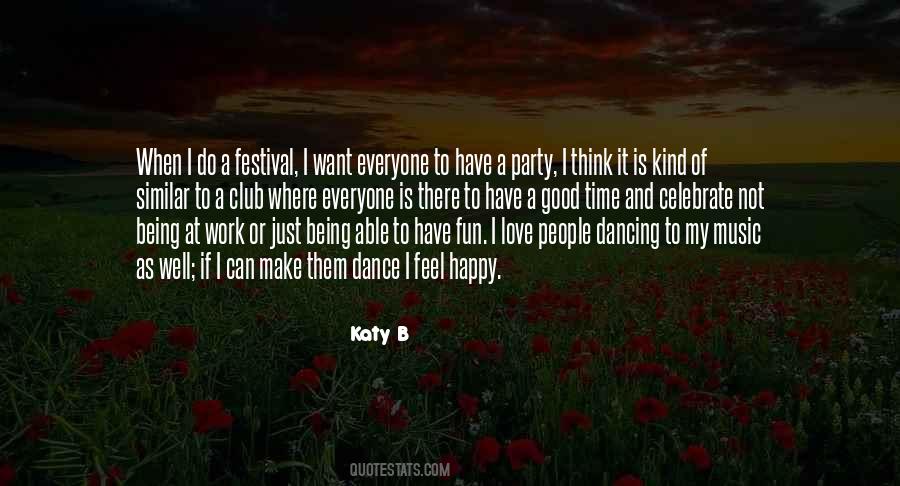 #3. At a festival, a lot of people came to see other artists, so you have to put on a signature set and performance: 'This is what I do, this is why I'm here.' At solo gigs, I'm a DJ - I'll play two-and-a-half hours, and not just my own music, also my favorite songs by other artists. - Author: Afrojack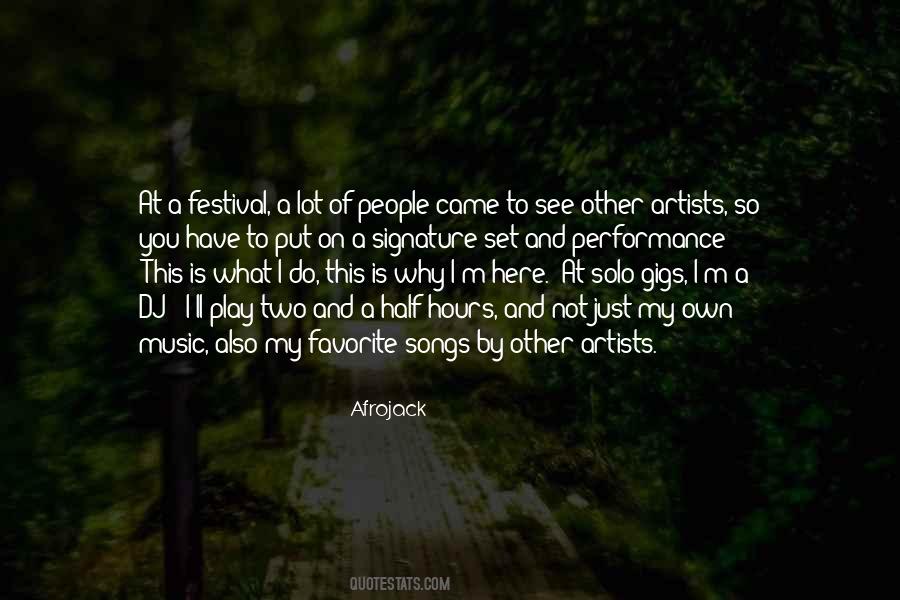 #4. I owe my discovery of the Hot Club of Cowtown to Kinky Friedman, leader of the Texas Jewboys. When I saw that Bob Wills and his Texas Playboys were headlining the 2003 Santa Clarita Cowboy Poetry and Music Festival, I thought it my duty to check out the band that had inspired the Texas Jewboys. - Author: Clive Sinclair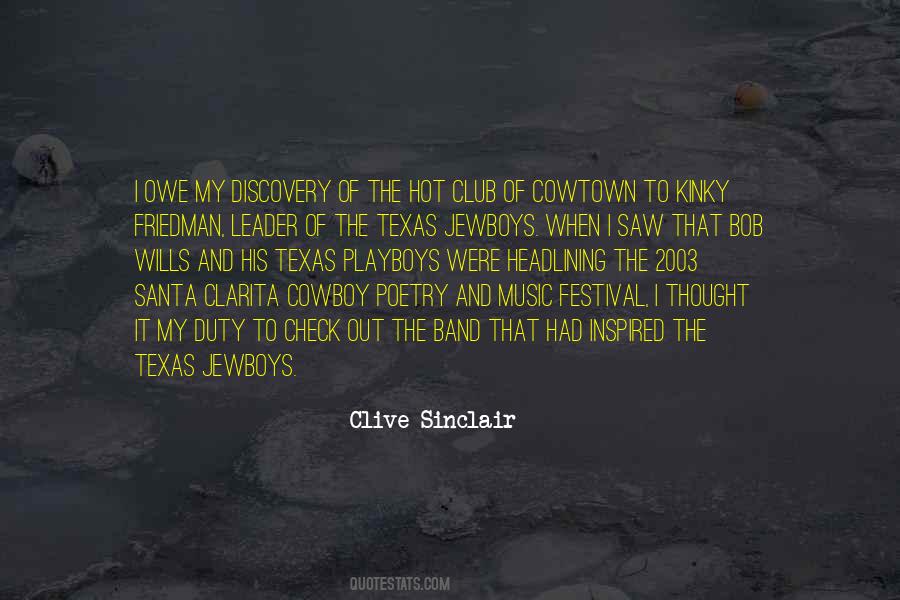 #5. Each year, every city in the world that can should have a multiday festival. More people meeting each other, digging new types of music, new foods, new ideas. You want to stop having so many wars? This could be a step in the right direction. - Author: Henry Rollins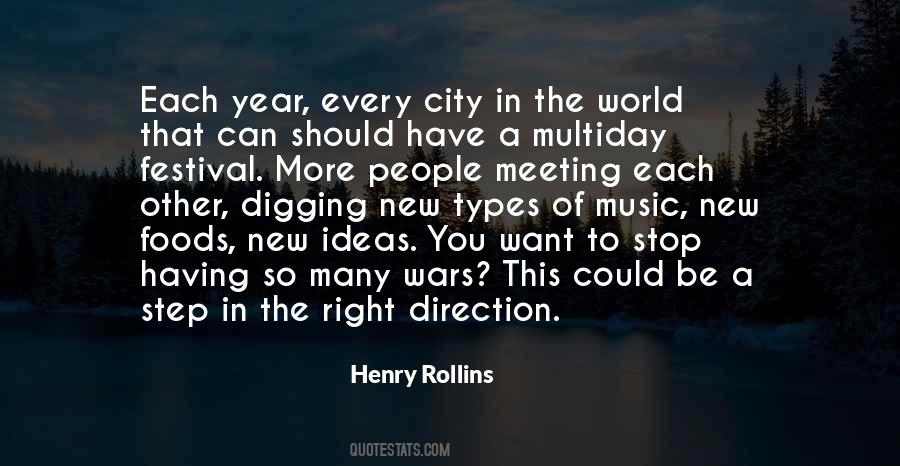 #6. His life was a festival of excess that could not be contained. Deafening music, eye-popping bright colors, sugar added to almost everything he ate. Quinn's life was a bullet in a barrel ready to explode. - Author: Neal Shusterman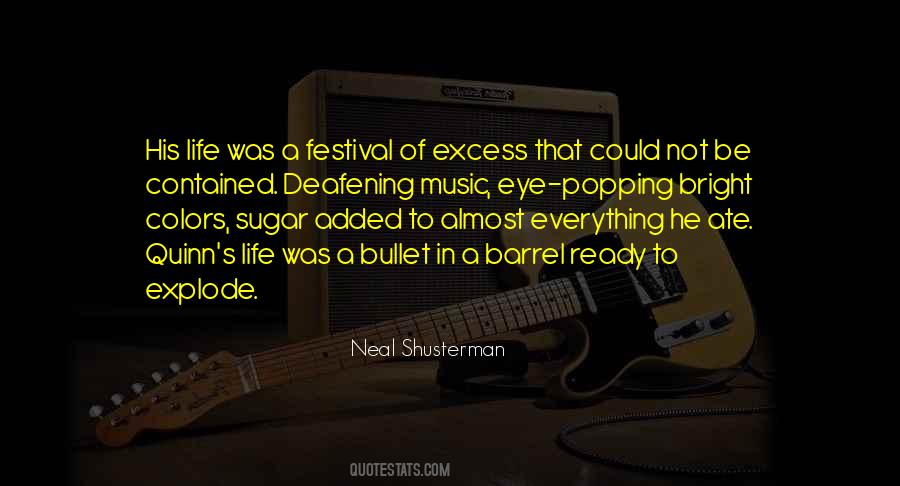 #7. Obviously there is stuff that I wouldn't play in a club that I play at festivals, and vice-versa, but my sets are still dominated largely by my own music. I think that's what makes me stand out a bit. My music is also festival- and club-friendly, so it generally works out well. - Author: Avicii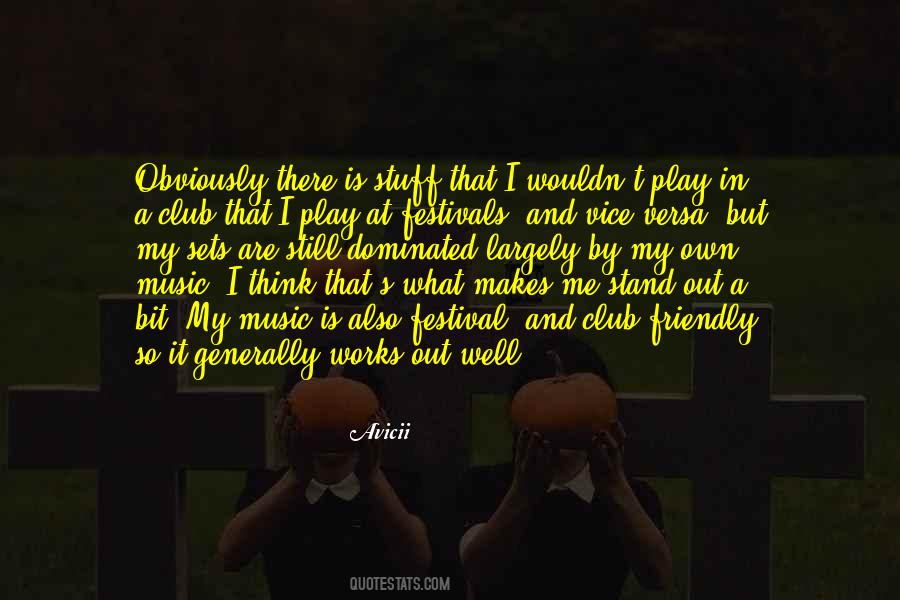 #8. I'm not really into EDM music; I really like when someone plays their instrument and stuff. But I saw Deadmau5 at a festival, and it was pretty tight, I have to admit. He's got the giant mouse head on and tubes coming out of the ceiling and giant mirror glass things. - Author: Brittany Howard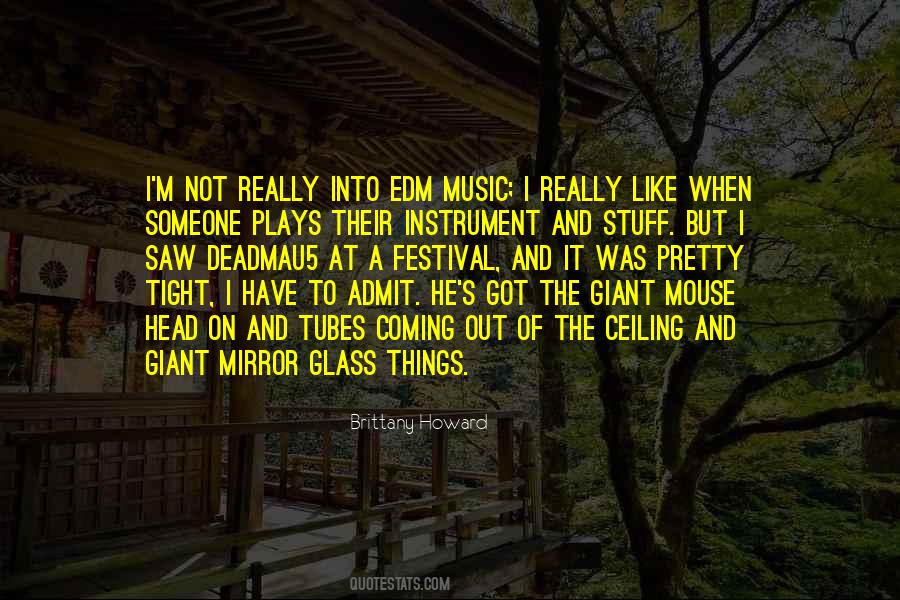 #9. I love playing the CMA Music Festival each year because it's one of the very best audiences you could hope for. It's one of the places you can perform where you know everyone there is a big Country Music fan. - Author: Trace Adkins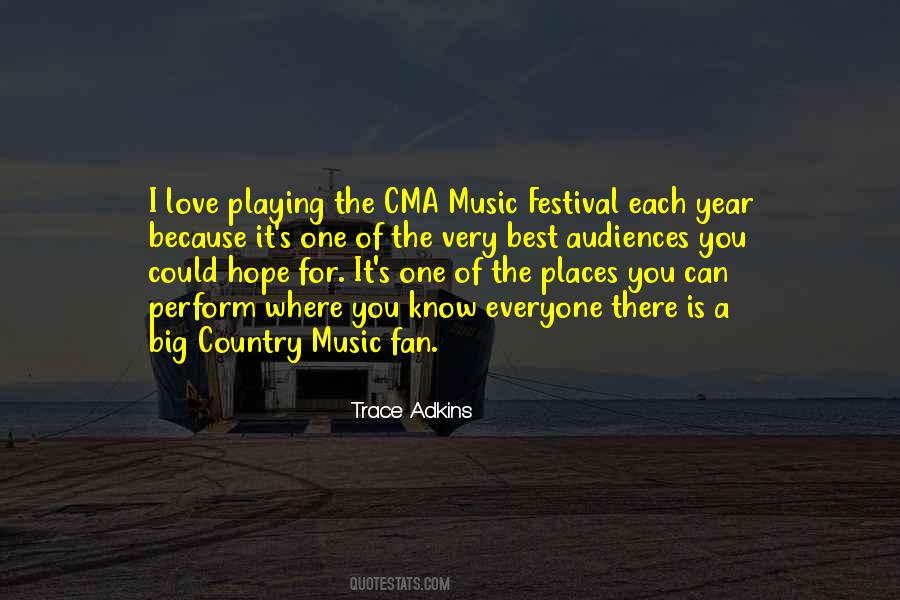 #10. Y'know, when I first started listening to punk rock music, I used to get my fucking ass kicked for it! I was known as a fucking freak! But now I'm amongst many many many freaks here with me tonight!
- Billie Joe Armstrong,Stay The Night, Reading Festival 2013 - Author: Green Day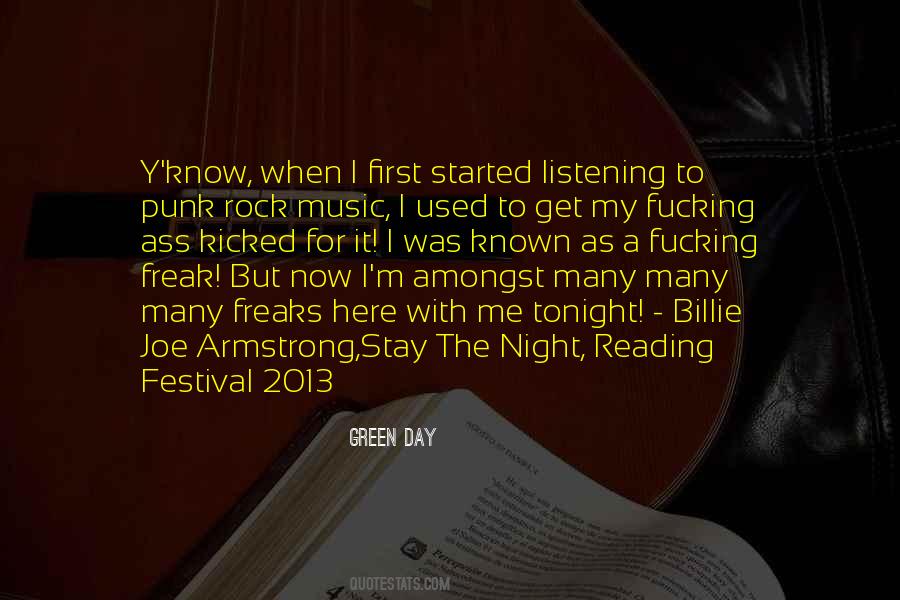 #11. Joan of Arc is my namesake. I played her character while still in my teens, at a music festival held at the University of Colorado in Boulder. - Author: Joan Van Ark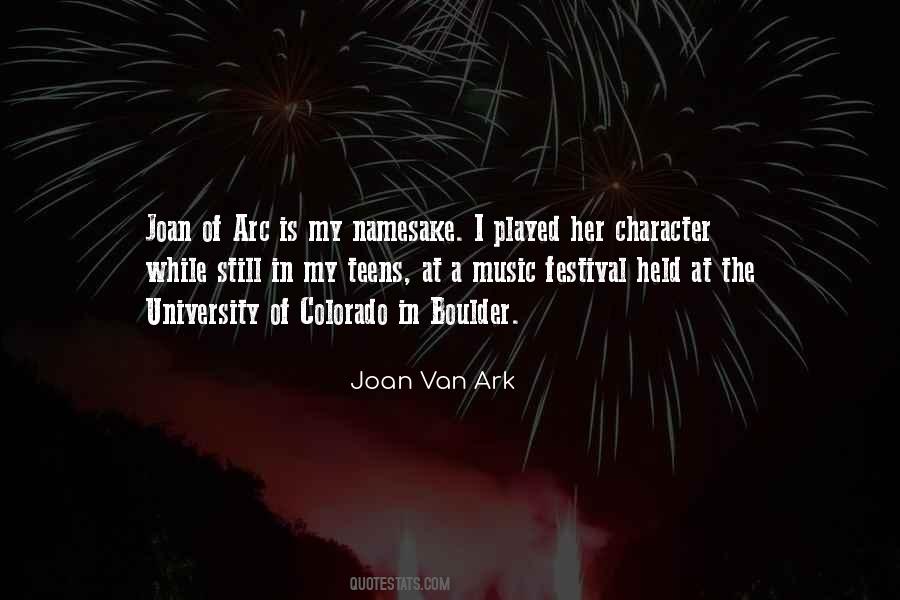 #12. Splashing about in mud in the cold is not my thing. I made an attempt to go to the Isle Of Wight Festival in 1969 when Bob Dylan was playing, but we never made it. We hired a boat from Lymington, but got lost, and by the time we got there the music was over. I wasn't too sad, to be honest. - Author: Tony Blackburn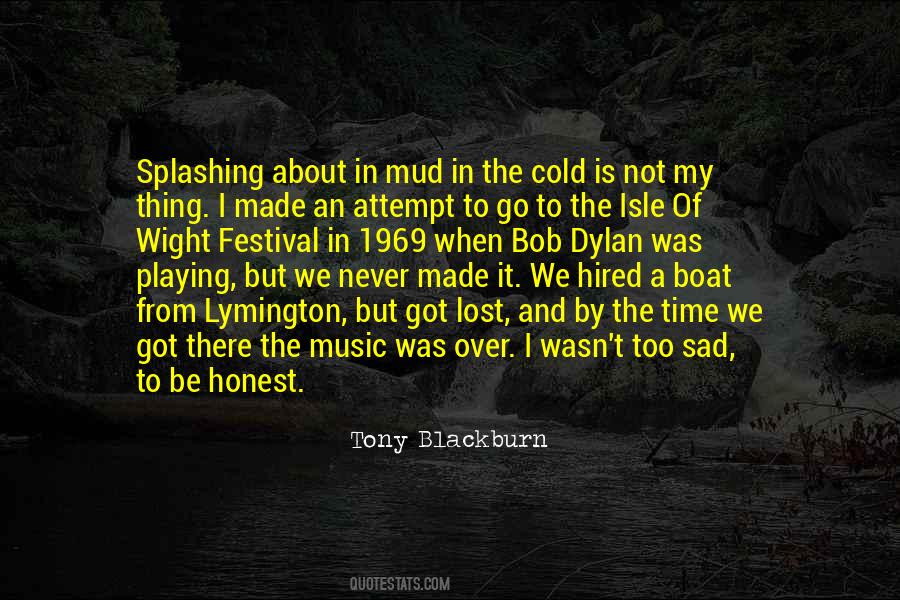 #13. Coachella is a festival fashion show where people dress up like hippies and pretend that Passion Pit is as good as the Rolling Stones. - Author: Caroline Kepnes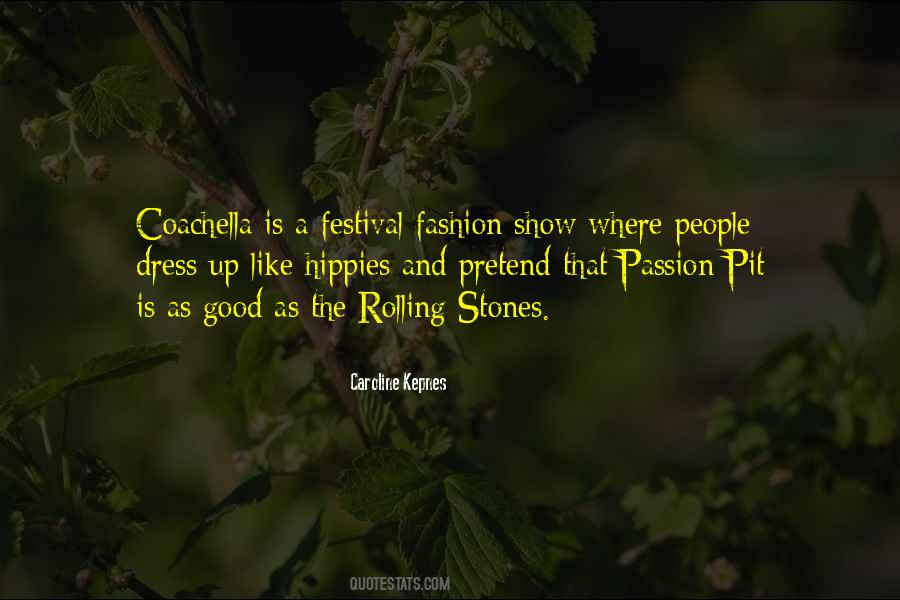 #14. I love the outdoor festival feeling. When I'm on stage, it's very gratifying to watch people on the lawns enjoying the music with a glass of wine. - Author: Joshua Bell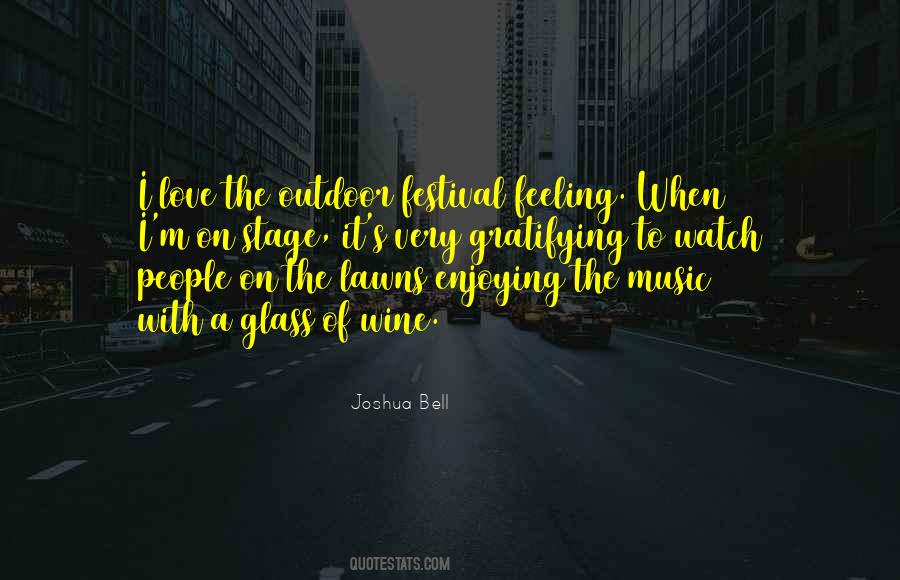 #15. I have about four different endeavors I'm going after right now. They all excite me in different ways. I'm all about keeping as many irons in the fire as possible. I'm writing music, trying to write a book (aren't we all?), putting a festival together, speaking ... It keeps life interesting. - Author: Kevin Griffin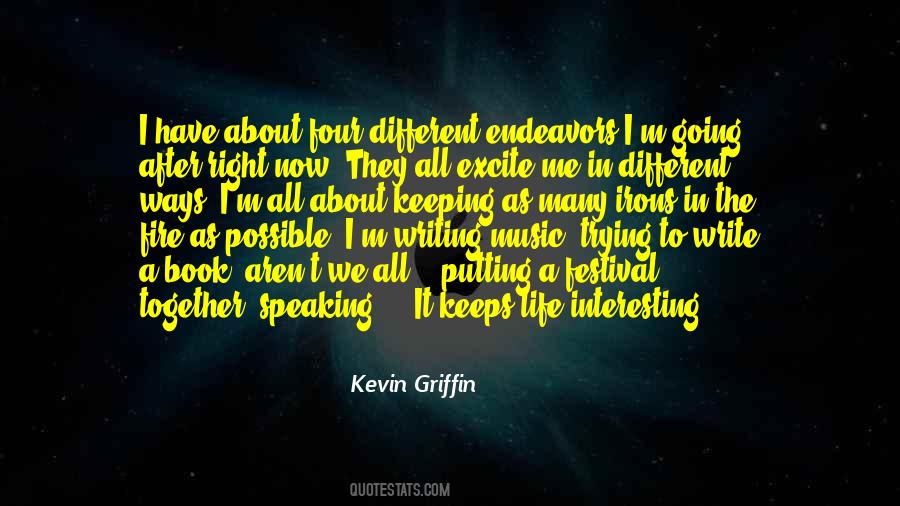 #16. Before I went on stage at Kyle Hutton's Real Life Real Music Festival, I heard one of his songwriting students, Abbey Hirvela, sing; she was in the poet's saddle and riding that horse like she owned it. She was good! I probably ruined her by showing her how to make an E chord without the 3rd though. - Author: Ray Wylie Hubbard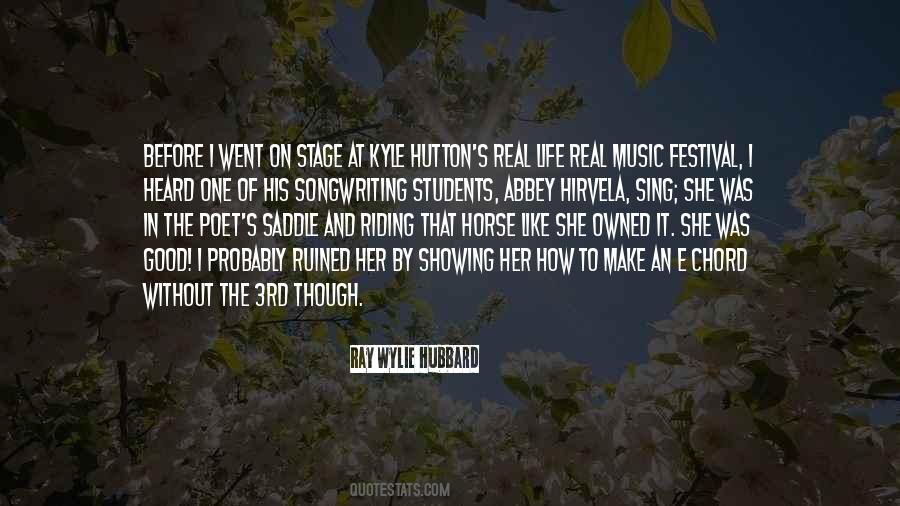 #17. When I started out, I wanted to be the kind of artist who could play the CMA Music Festival and then turn around and play Bonnaroo, and I've managed to do both. - Author: Kacey Musgraves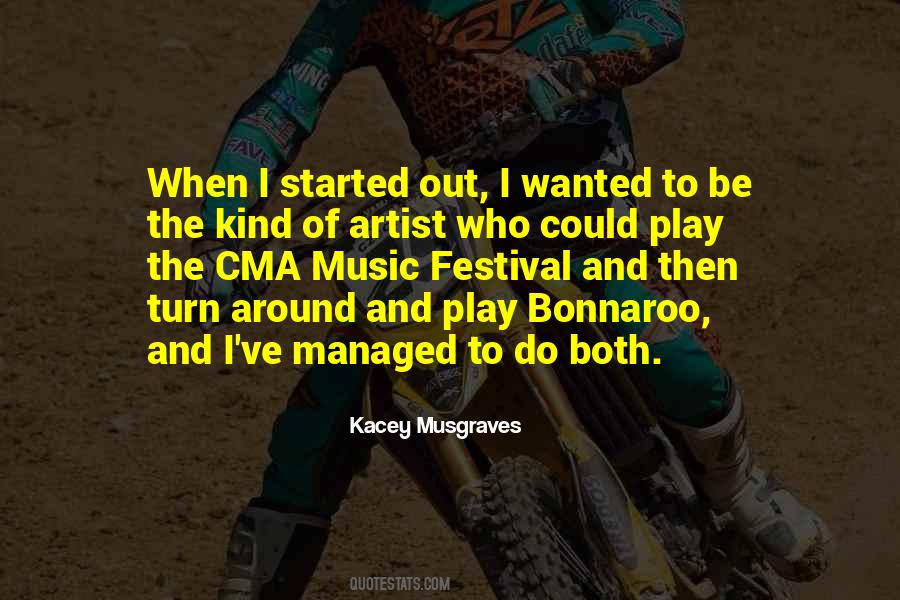 #18. I met Prince William at a musical festival and he let me know he was a fan of my music. But the invitation to sing at his wedding reception came completely out of the blue. The fact that Kate and William knew the words to my songs was very touching. - Author: Ellie Goulding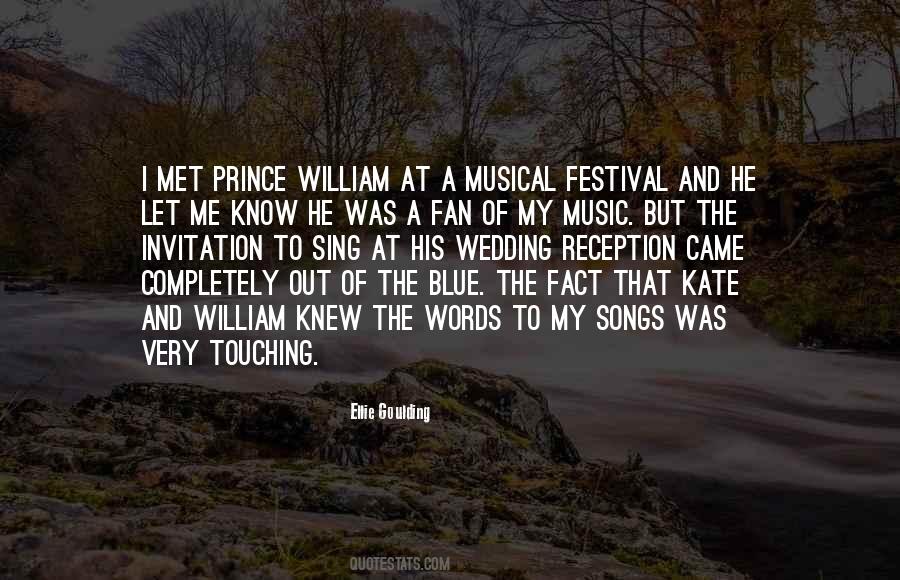 #19. Woodstock was the antithesis of what the music industry turned into. And if anyone tries to tie another Woodstock festival to an obnoxious sponsor, I'll be out protesting again. - Author: Michael Wadleigh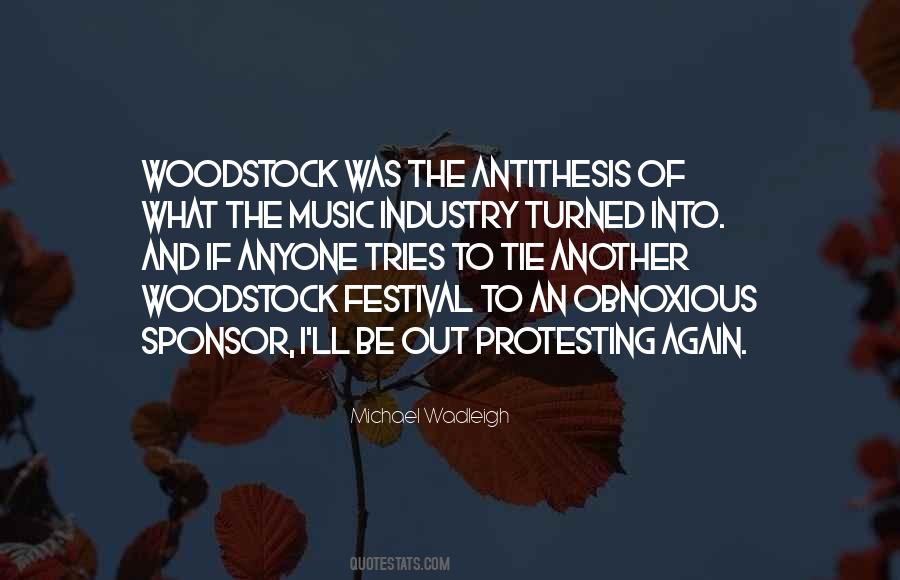 #20. Formally, I did my studies in the sciences, but I was very conscious that I was being deprived of culture. While studying neuroscience, I was running a rock-music festival and was able to use that as a platform to explore what it takes to produce art for 20,000 inebriated 20-somethings. - Author: Natalie Jeremijenko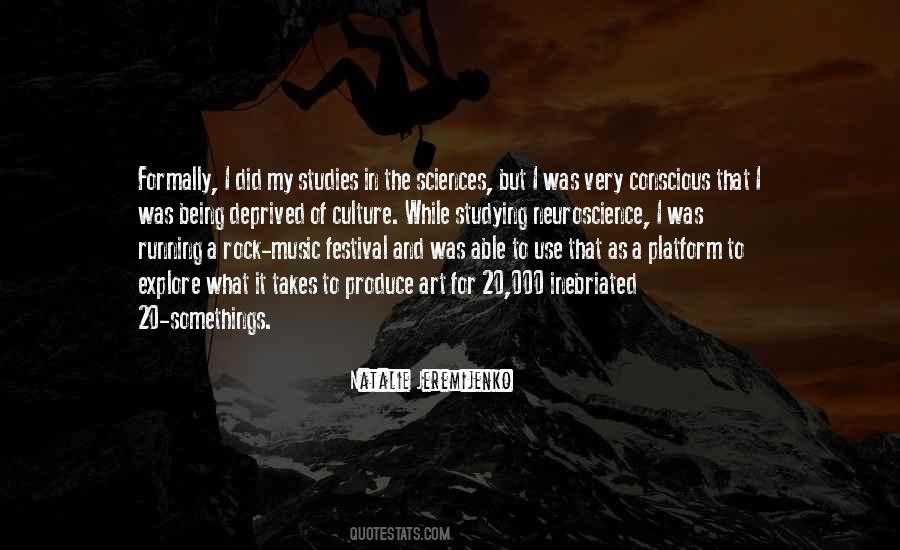 #21. There have been a lot of people involved in the growth of EDM's support in the U.S., from DJ/producers like David Guetta, Deadmau5 and Skrillex, to major festival organisers and pop artists of EDM integrating elements of dance music into their music. - Author: Tiesto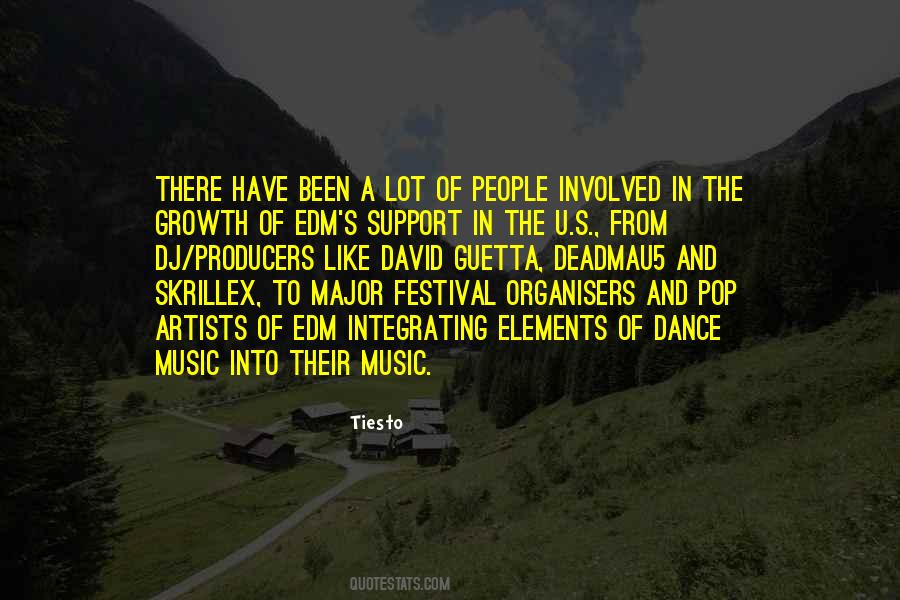 #22. When I first saw The Black Kat Boppers I was sat on a hill at a festival and could hear this music in a tent that literally grabbed me by the lapels and dragged me in - Author: Paul Simonon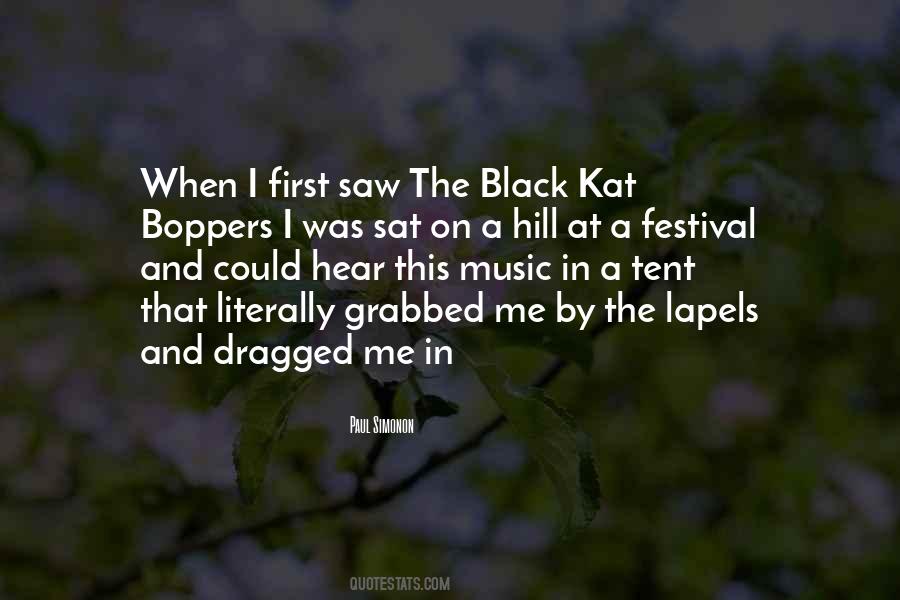 #23. Holland is a really small country, but with a very strong club and festival scene. Dance music has been huge in Holland since the late eighties. So there were a lot of opportunities for producers and DJs to release records and play live. - Author: Afrojack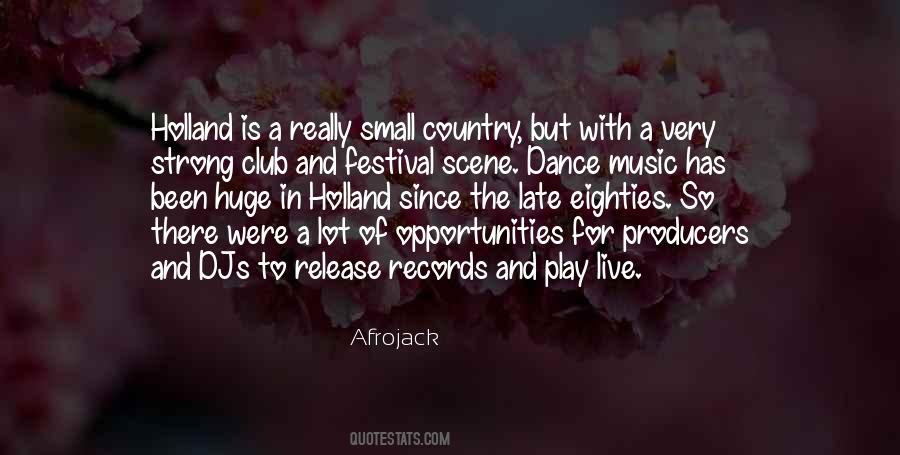 #24. I get starstruck really easily. I love music so much - it sounds so silly to say that - so if I'm playing a festival and somebody I love, like [Primal Scream's] Bobby Gillespie, is there in the backstage area, I'm like, "Wow this is amazing! There they are!" - Author: Dee Dee Ramone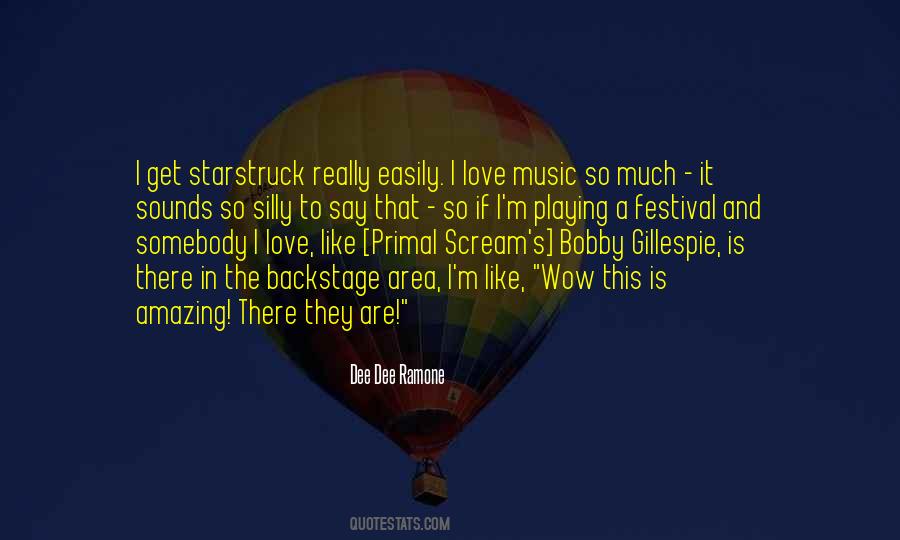 #25. When we were shooting in Shreveport, me and a couple of friends went down to Lafayette, because they had a big Zydeco music festival down there. We spent two days dancing to Zydeco music, eating fried alligator ... It was one of the craziest festivals I've ever been to in my life, but I loved it. - Author: Alexander Skarsgard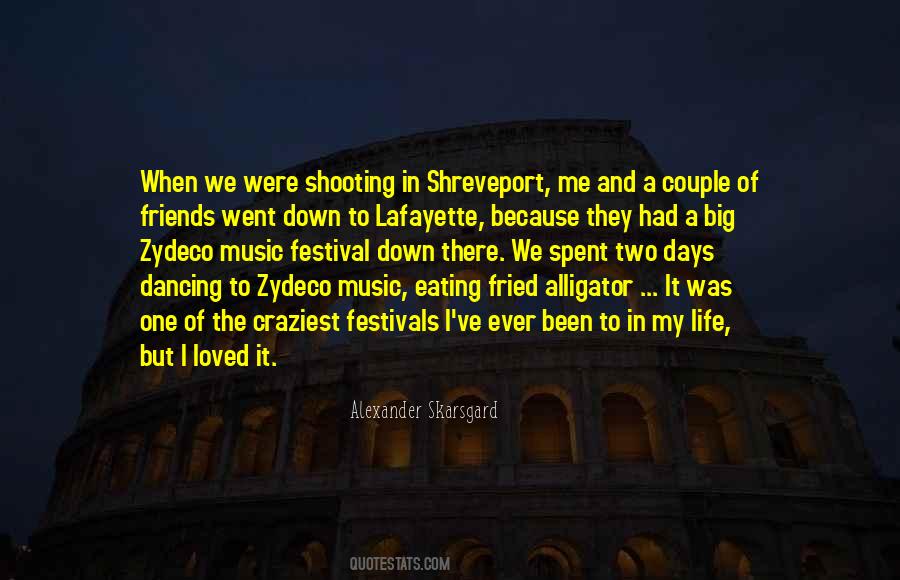 #26. inside the white man rages a music festival for lumberjacks. - Author: Christian Rudder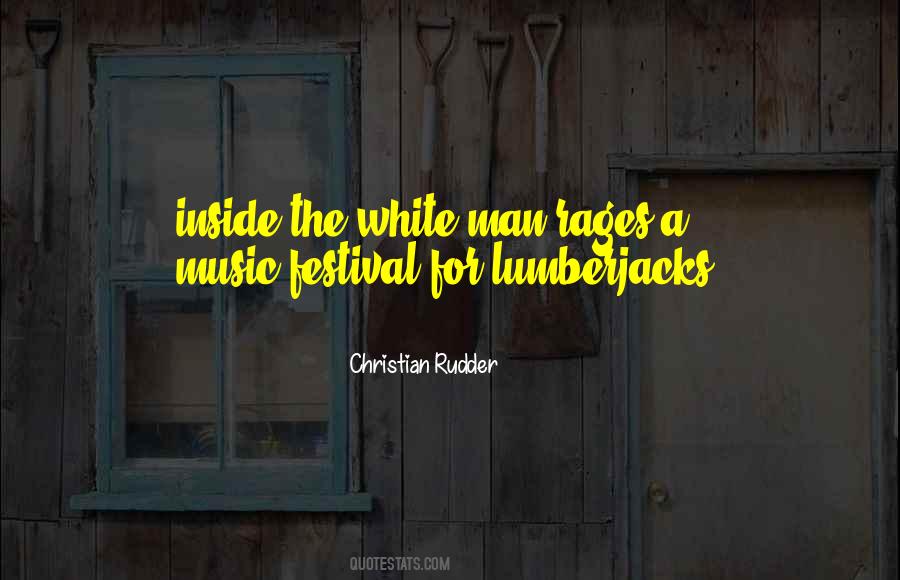 #27. I always say that as church falls into demise, we still have the inclination to congregate whether by a night of music or a festival, or just sitting down to listen to some vinyl ... - Author: Daniel Lanois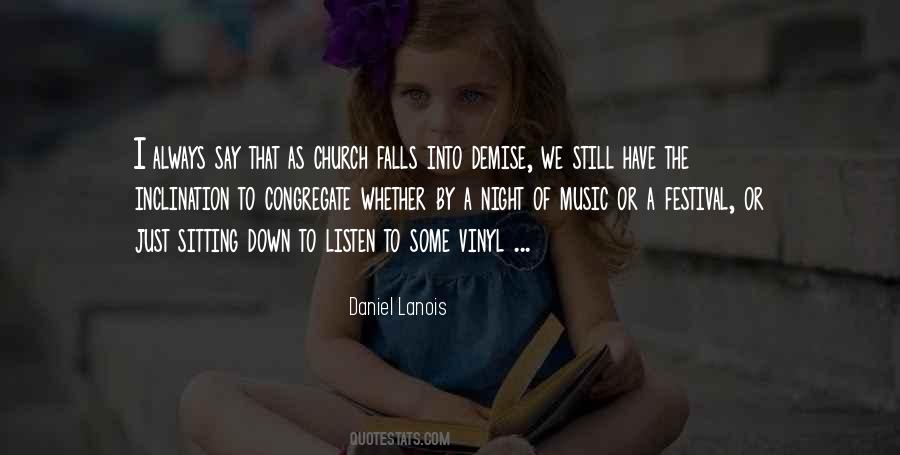 #28. When the fearsome foursome of rock music, Chuck Berry, Bo Diddley, Little Richard, and Jerry Lee Lewis, decided to show up in Toronto for a rock and roll festival, I knew we had to go there to try to get them all on film. - Author: D. A. Pennebaker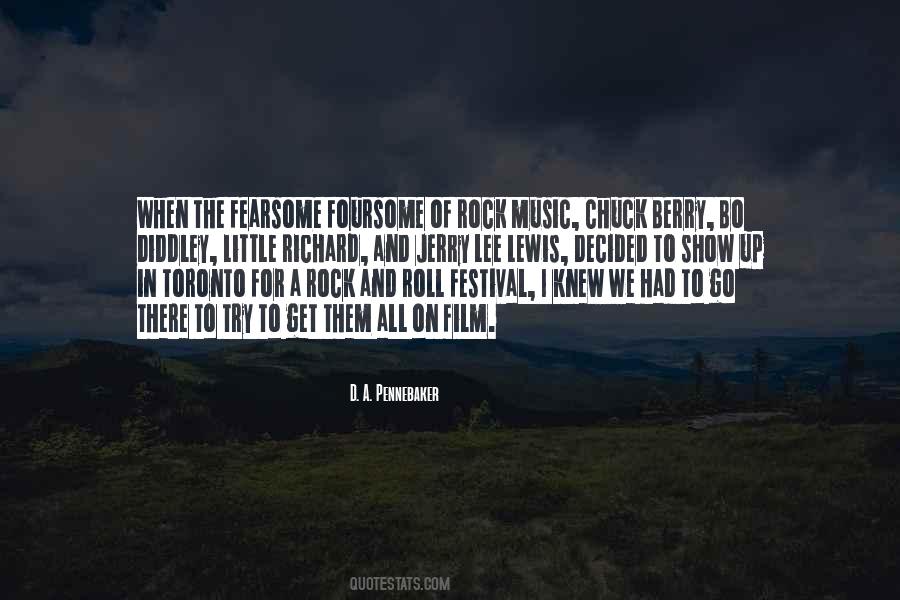 #29. I got more publicity for not doing a festival than for doing the festival. - Author: George Wein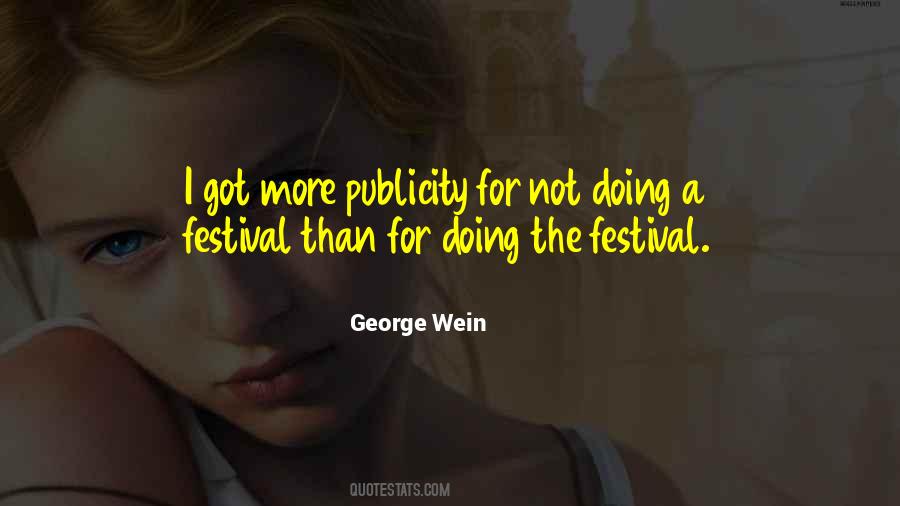 #30. There's nothing like a music festival. People are ready to have a good time. I don't think anyone comes to a festival going, 'I'm gonna be a complete bummer today.' - Author: Gary Clark Jr.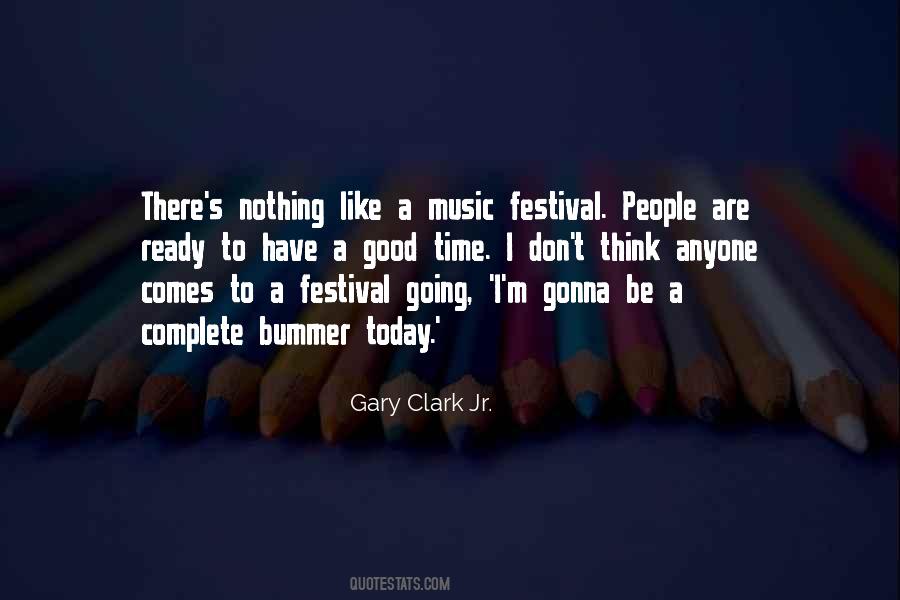 #31. Standing at a Christian music festival in Asbury, Ky., in the spring of 1978, I gave my life to Jesus Christ, and that's changed everything. - Author: Mike Pence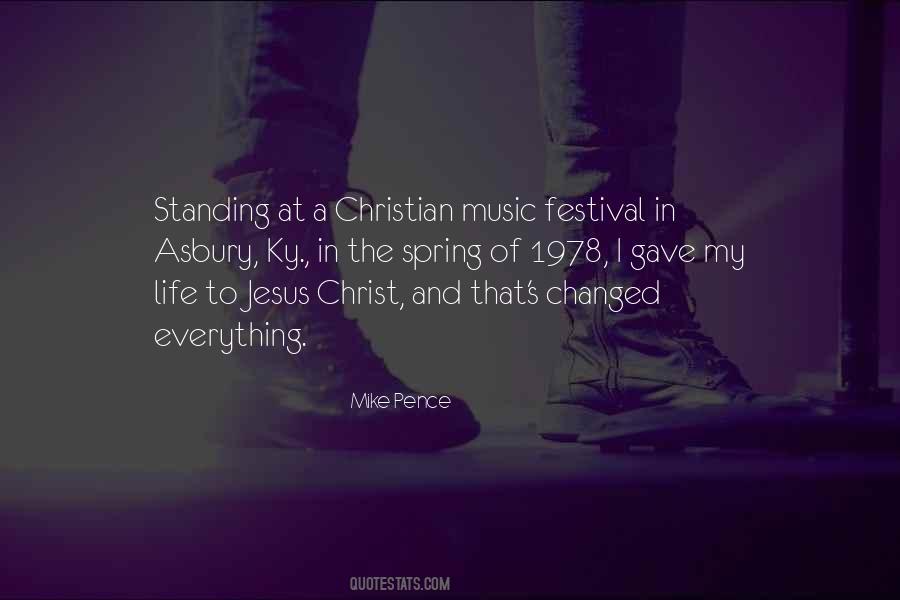 Famous Authors
Popular Topics