Miles Davis Famous Quotes & Sayings
List of top 100 famous quotes and sayings about miles davis to read and share with friends on your Facebook, Twitter, blogs.
Top 100 Quotes About Miles Davis
#1. Some day I'm gonna call me up on the phone, so when I answer, I can tell myself to shut up. - Author: Miles Davis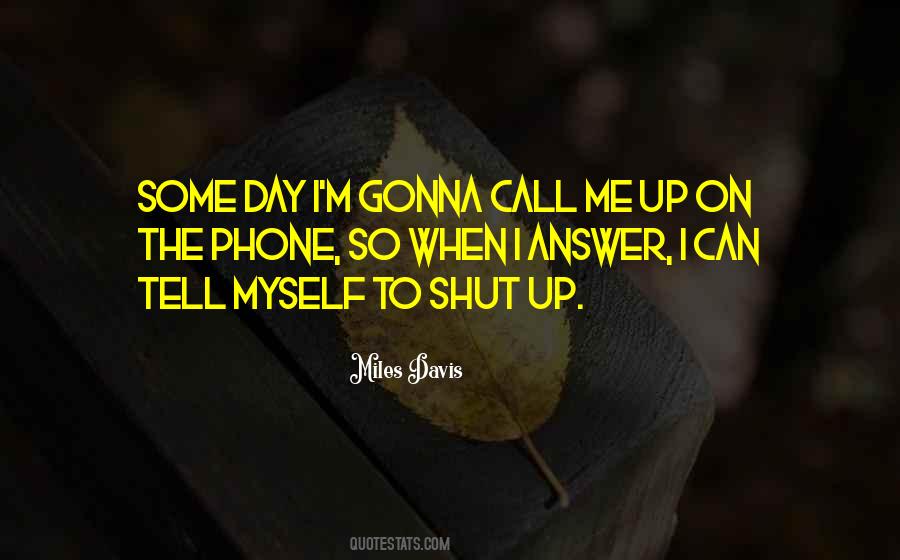 #2. When kids don't learn about their own heritage in school, they just don't care about school ... But you won't see it in the history books unless we get the power to write our own history and tell our story ourselves. - Author: Miles Davis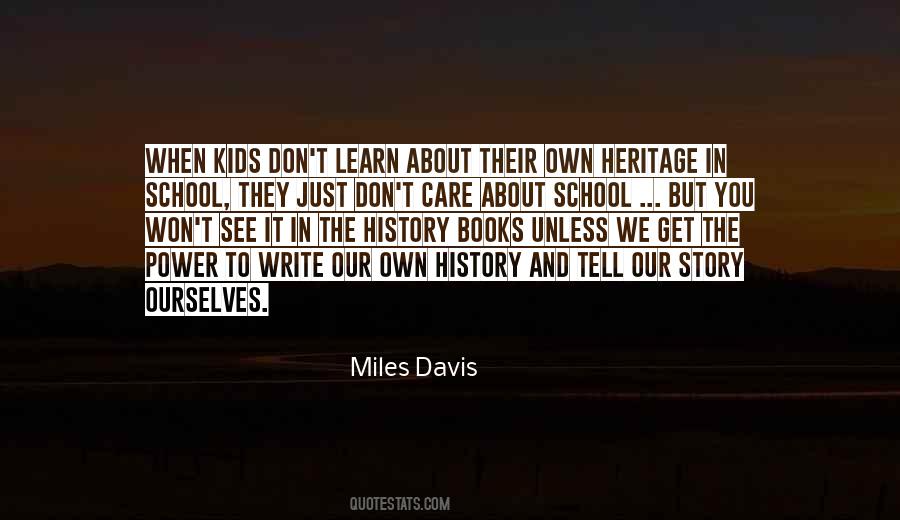 #3. If you understood everything I said, you'd be me - Author: Miles Davis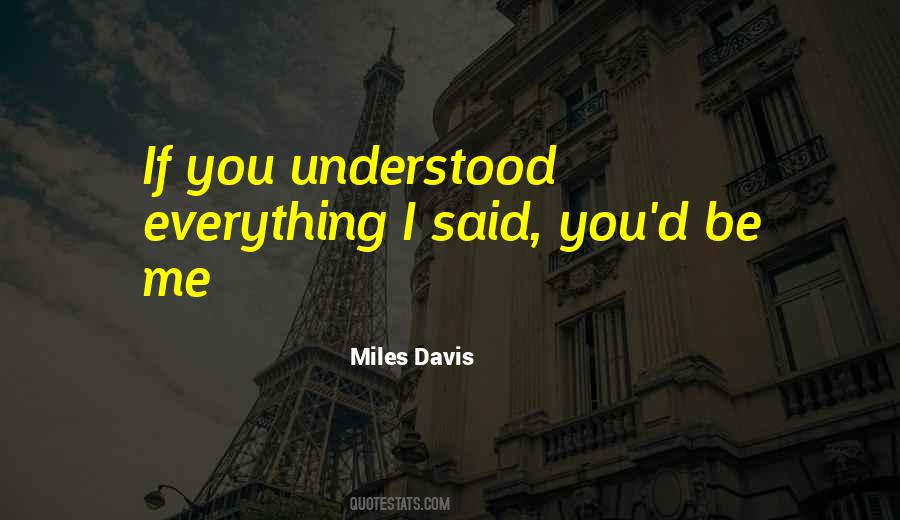 #4. I'm thankful enough or blessed enough to be able to say that Miles Davis was a friend when he was alive, and he was a wonderful mentor and really, really funny, you know. - Author: Prince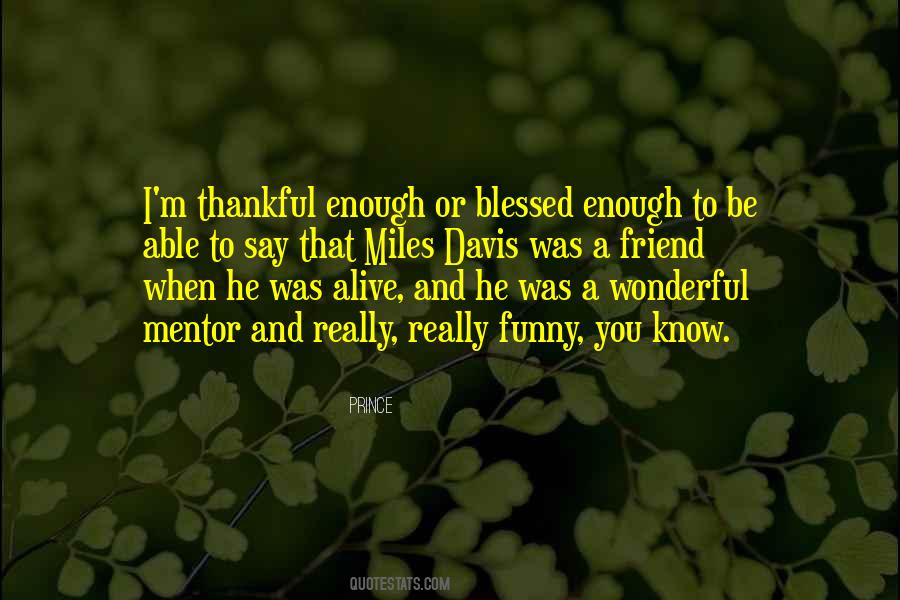 #5. If we are going to list guitar influences, the biggest one by far is Wes Montgomery. Also, Gary Burton was obviously huge for me in a number of ways. But beyond that, Clifford Brown, Miles Davis and Freddie Hubbard. - Author: Pat Metheny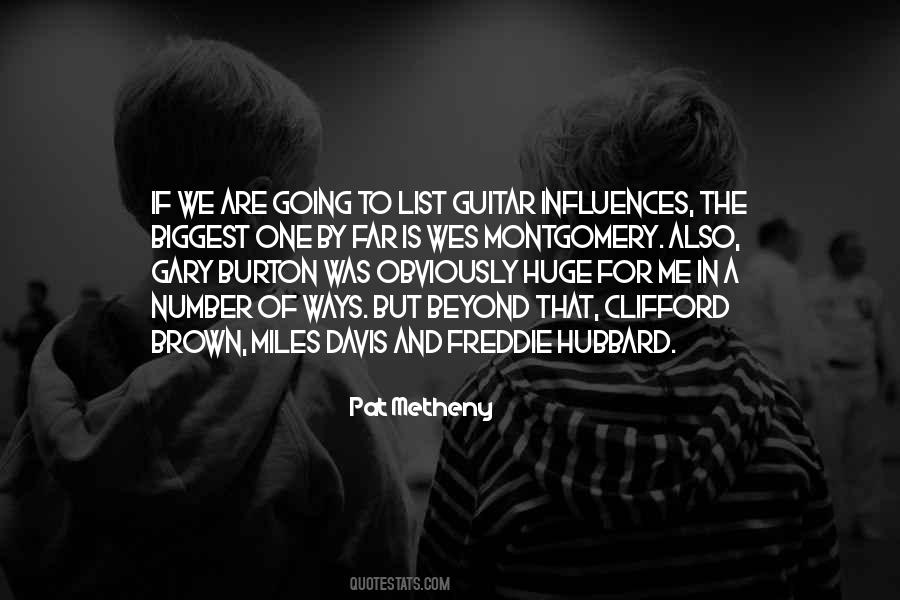 #6. Don't worry about playing a lot of notes. Just find one pretty one. - Author: Miles Davis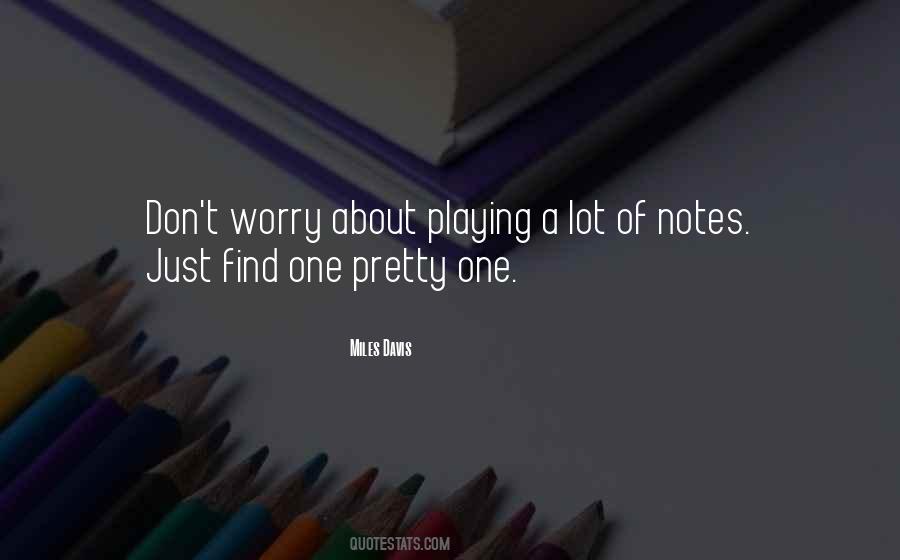 #7. I am a leader. Leaders always get heat. They're always going against the grain. Jimi Hendrix got heat; Bob Marley got heat; Miles Davis got heat. Every great artist got heat. Heat means you're doing something right. - Author: Ziggy Marley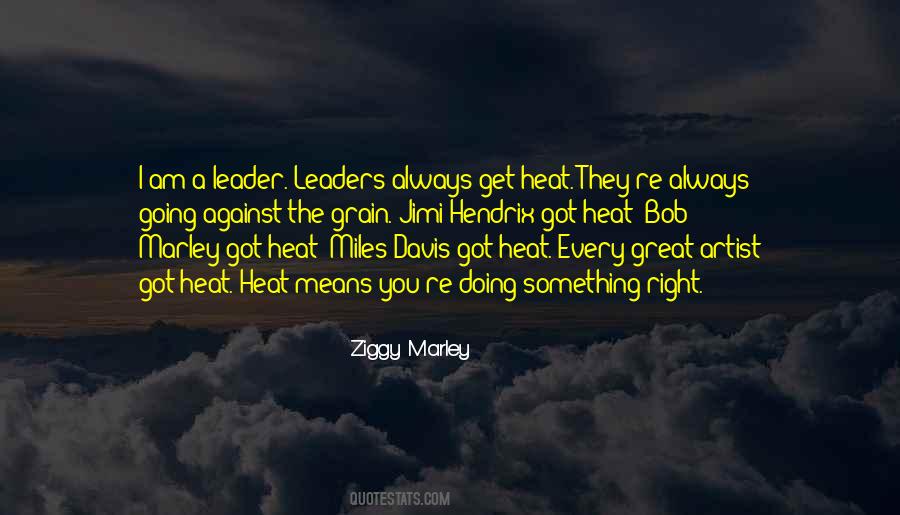 #8. I was minding my own business when something says to me, "you ought to blow trumpet." I have just been trying ever since. - Author: Miles Davis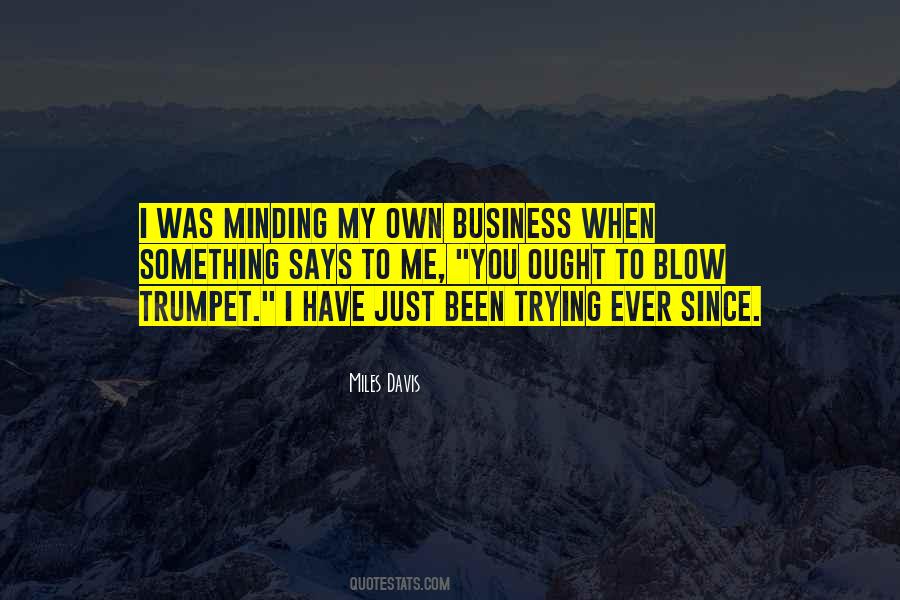 #9. My ego only needs a good rhythm section - Author: Miles Davis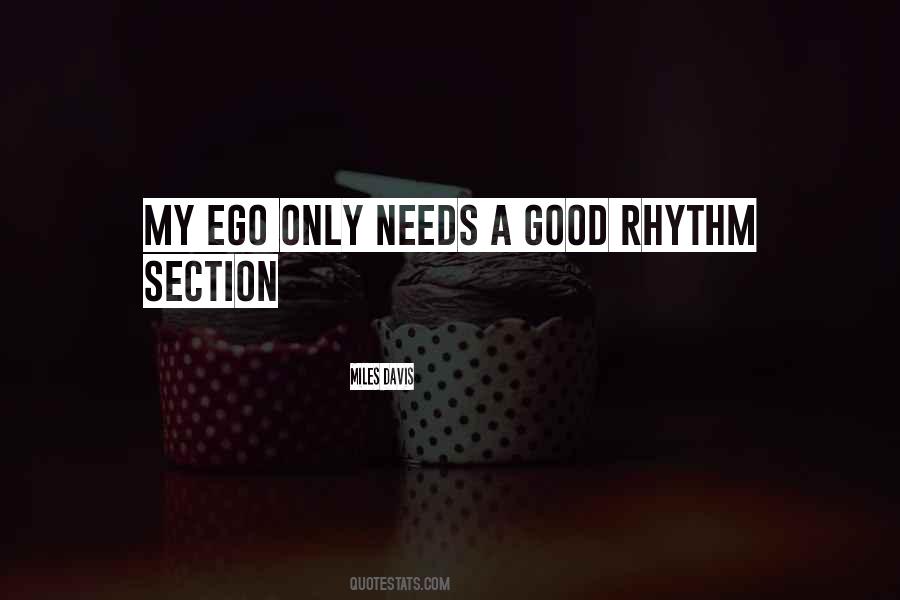 #10. I always listen to what I can leave out. - Author: Miles Davis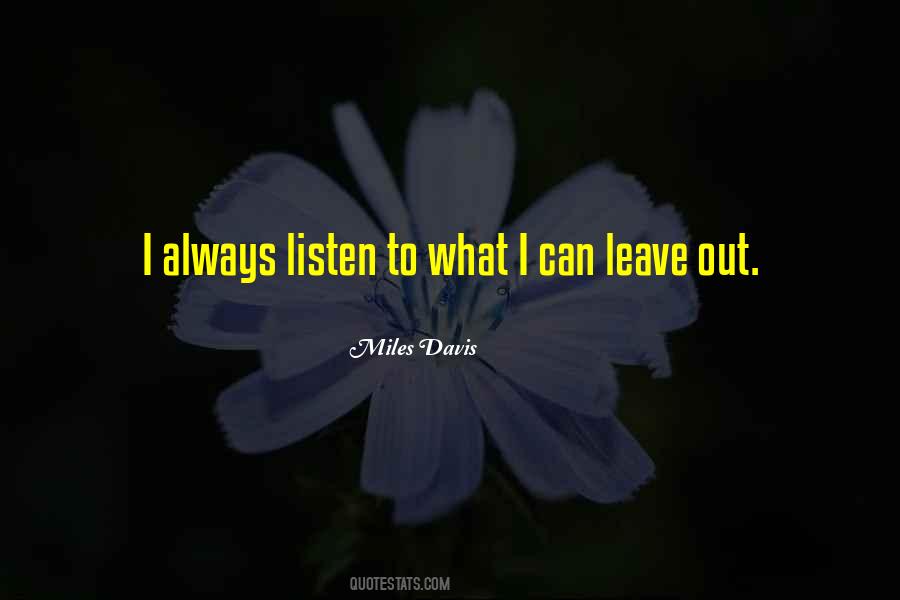 #11. When I heard Coleman Hawkins, I learned to play ballads - Author: Miles Davis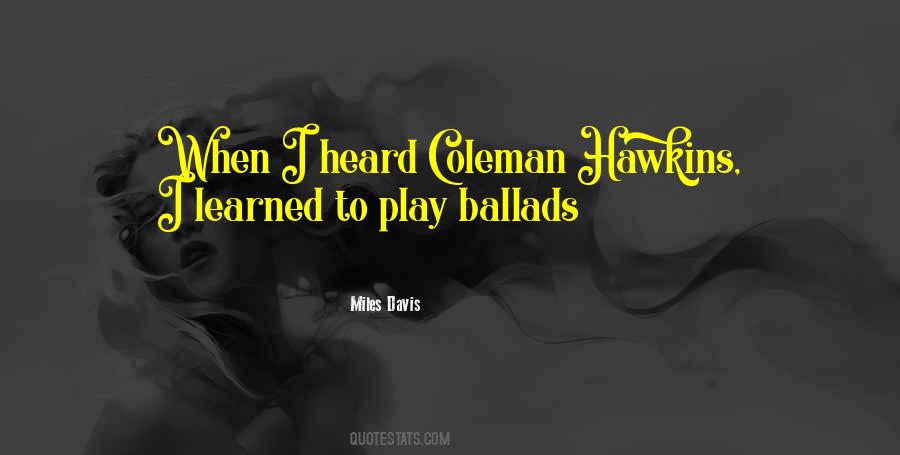 #12. Anybody can play. The note is only 20 percent. The attitude of the motherfucker who plays it is 80 percent. - Author: Miles Davis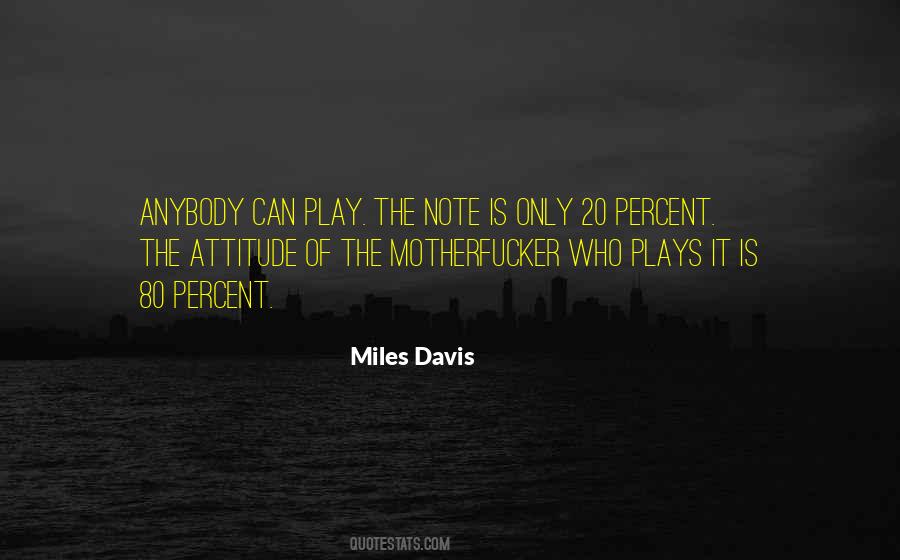 #13. I never thought that the music called "jazz" was ever meant to reach just a small group of people, or become a museum thing locked under glass like all the other dead things that were once considered artistic. - Author: Miles Davis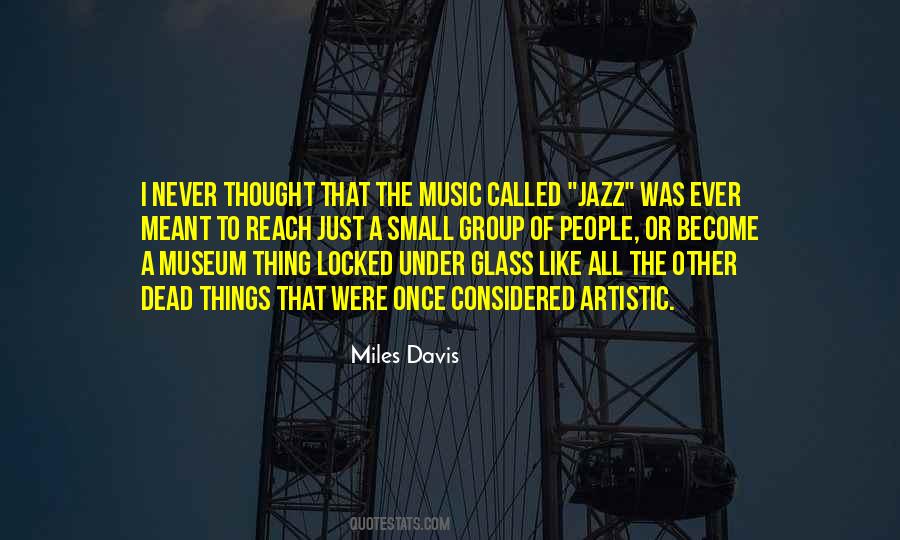 #14. My musical influences are from the '50s: Bill Evans, Miles Davis and Ahmad Jamal. - Author: Michael Moriarty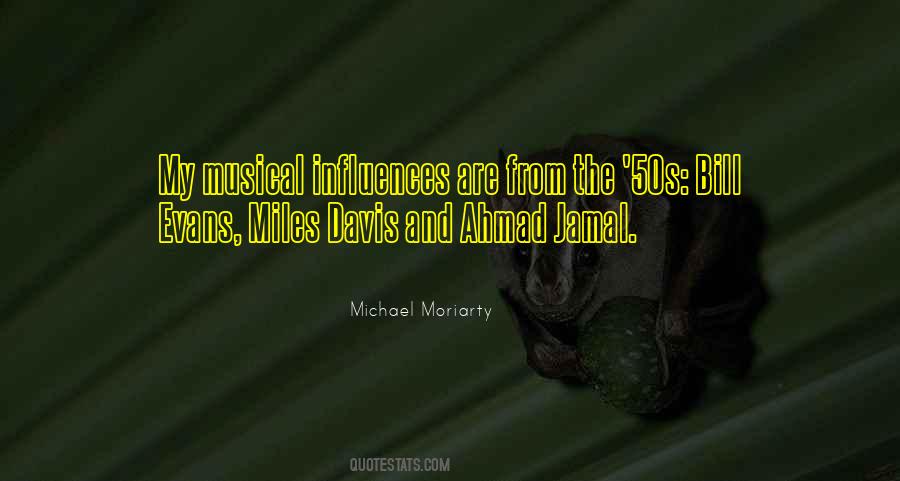 #15. I throw 70 miles an hour. That's throwing like a girl. - Author: Mo'ne Davis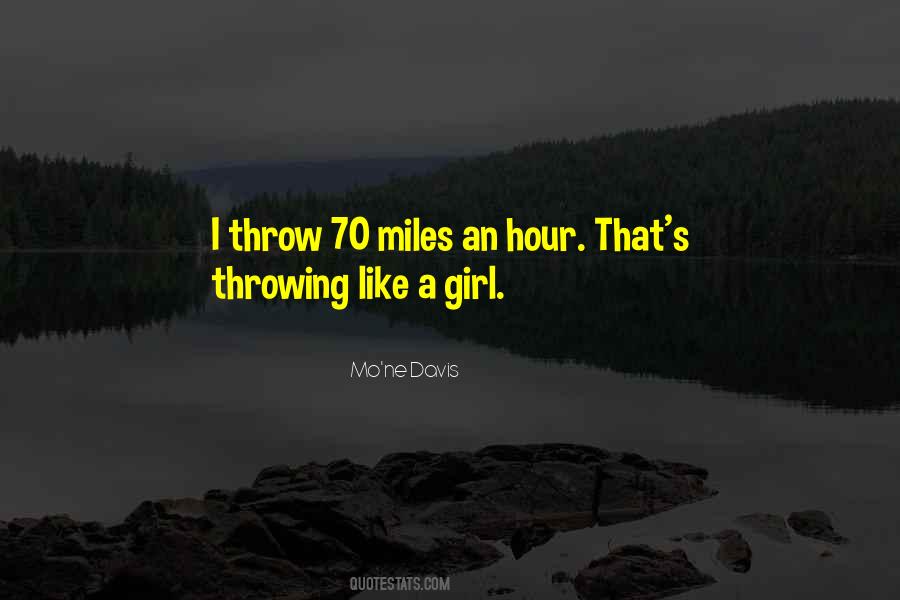 #16. If Miles Davis hadn't died it would have been interesting to do an album with him, but there wasn't much else that would have got me into the studio ... although Herbie Hancock has just been in touch about doing something and that would be an interesting combination. - Author: Phil Collins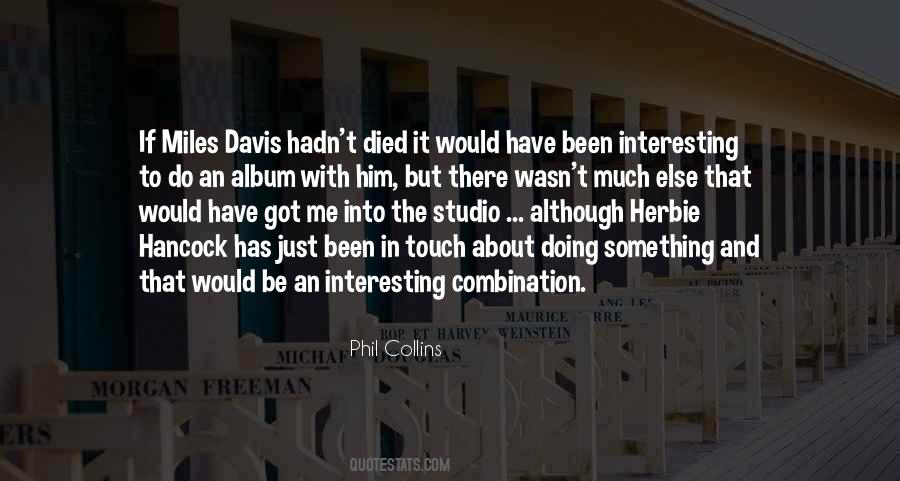 #17. The only person I have regrets about is Miles Davis. He and I had become good friends after we did a photo shoot, and coincidentally, we kept running into each other at parties and stuff. I regret not having written a hit for Miles Davis. - Author: Nile Rodgers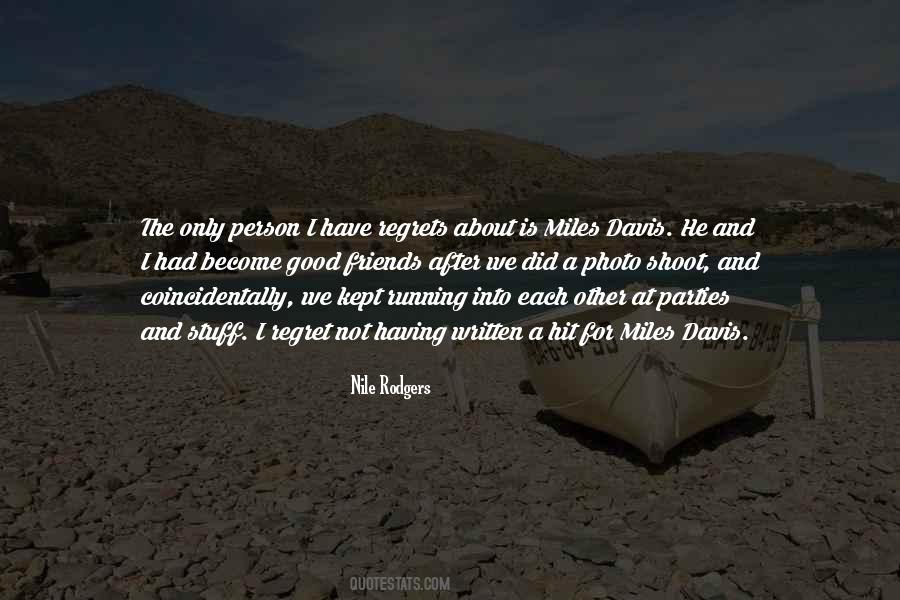 #18. White folks always think that you have to have a label on everything - you know what I mean? - Author: Miles Davis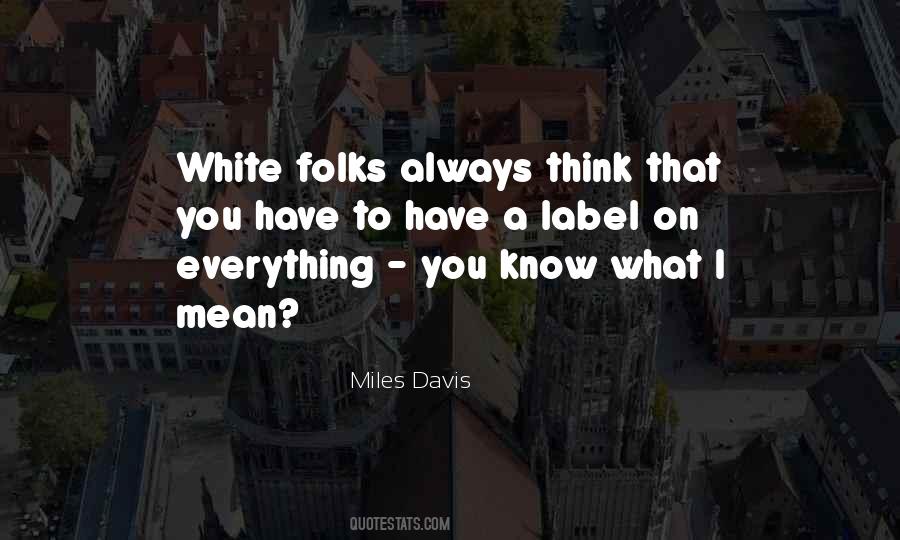 #19. I was a fan of Andy's since I was a small kid. I recall seeing an ad of famous people on an airplane together. It was caricature drawing. There was Muhammad Ali, there was Miles Davis, and there was Andy Warhol. I had a fascination with him since I was little. - Author: Jeffrey Deitch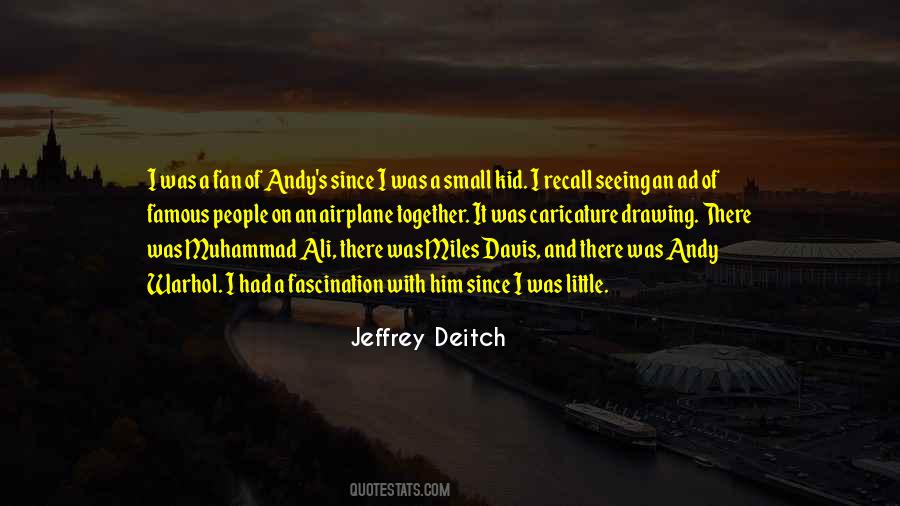 #20. To keep creating you have to be about change. - Author: Miles Davis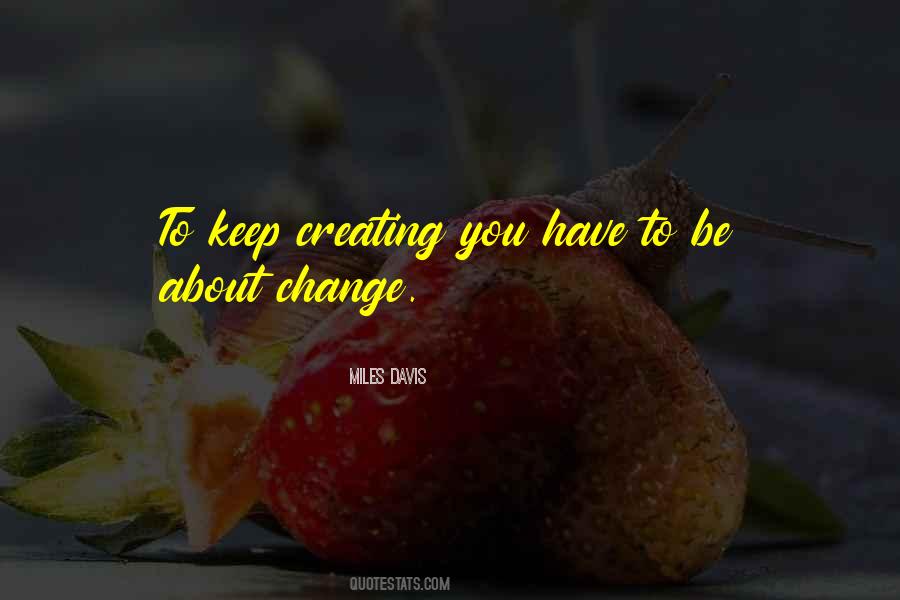 #21. If you love them in the morning with their eyes full of crust; if you love them at night with their hair full of rollers, chances are, you're in love. - Author: Miles Davis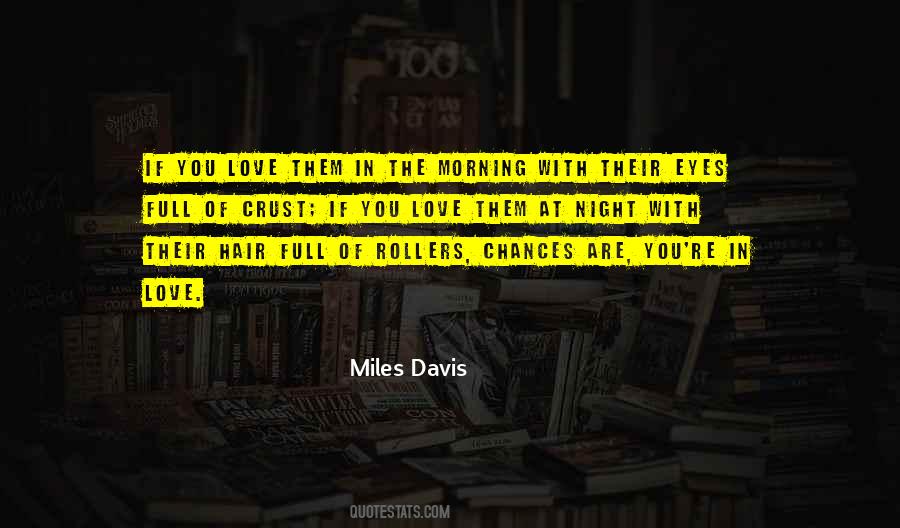 #22. Look, man, all I am is a trumpet player. - Author: Miles Davis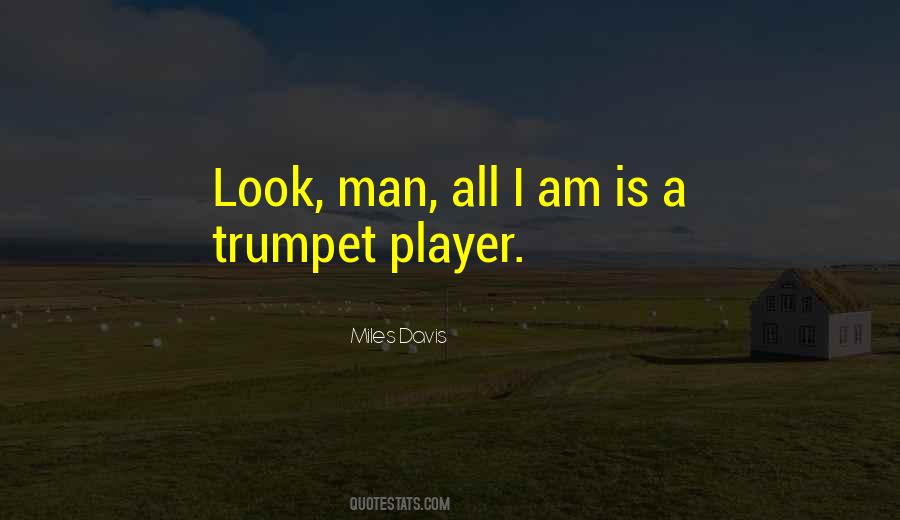 #23. I've come close to matching the feeling of that night in 1944 in music, when I first heard Diz and Bird, but I've never got there ... I'm always looking for it, listening and feeling for it, though, trying to always feel it in and through the music I play everyday. - Author: Miles Davis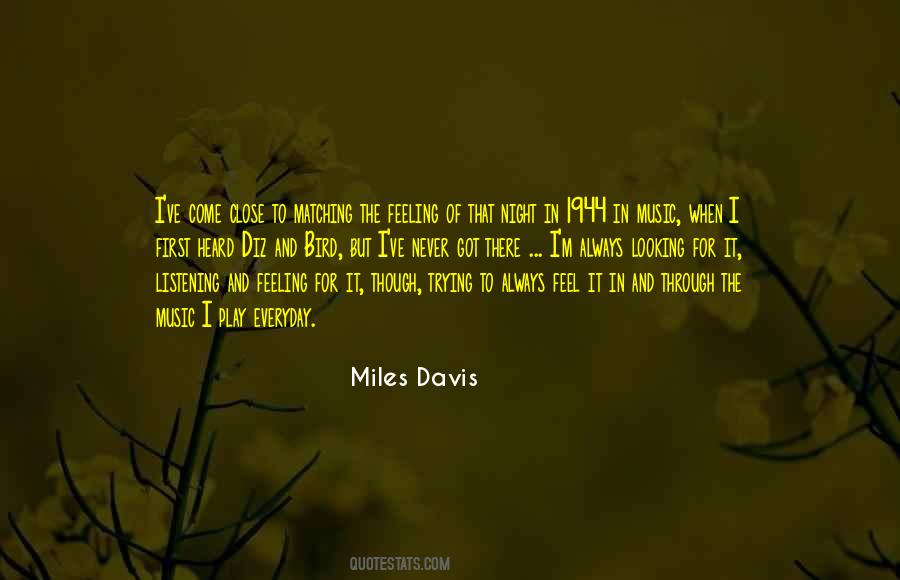 #24. Everybody ought to listen to Benny [Carter]. He's a whole musical education. - Author: Miles Davis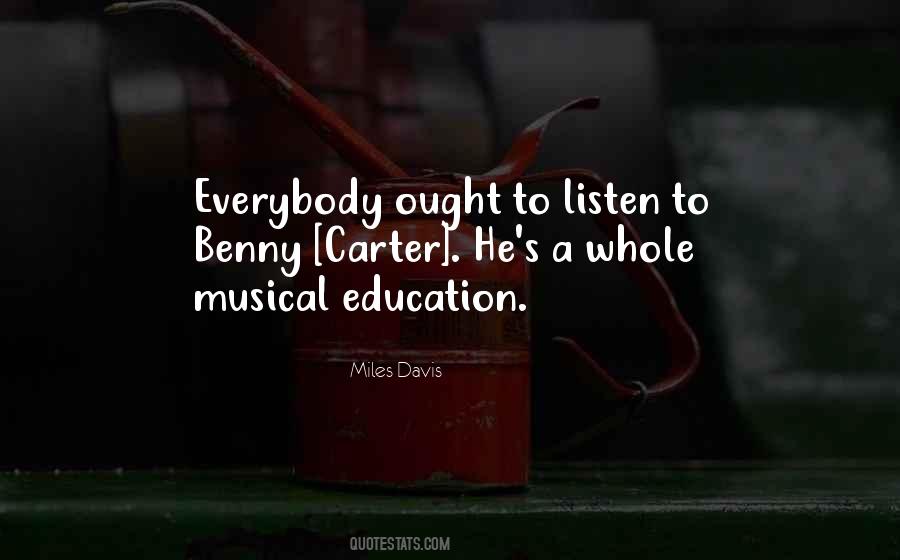 #25. Jazz music is as American as it gets, and so is the U.S. Postal Service. A Miles Davis stamp is a perfect marriage of two great American institutions. - Author: Henry Rollins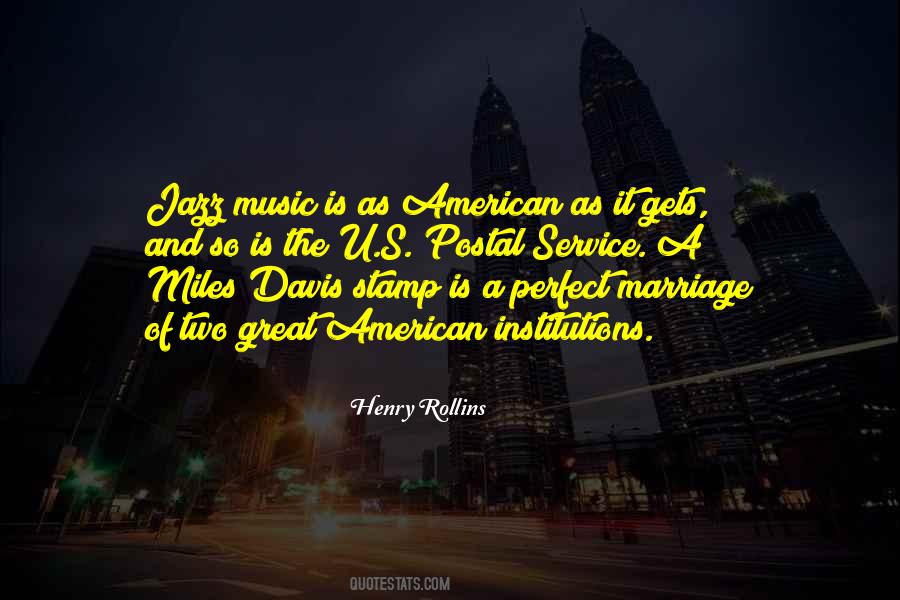 #26. If you're not nervous then you're not paying attention. - Author: Miles Davis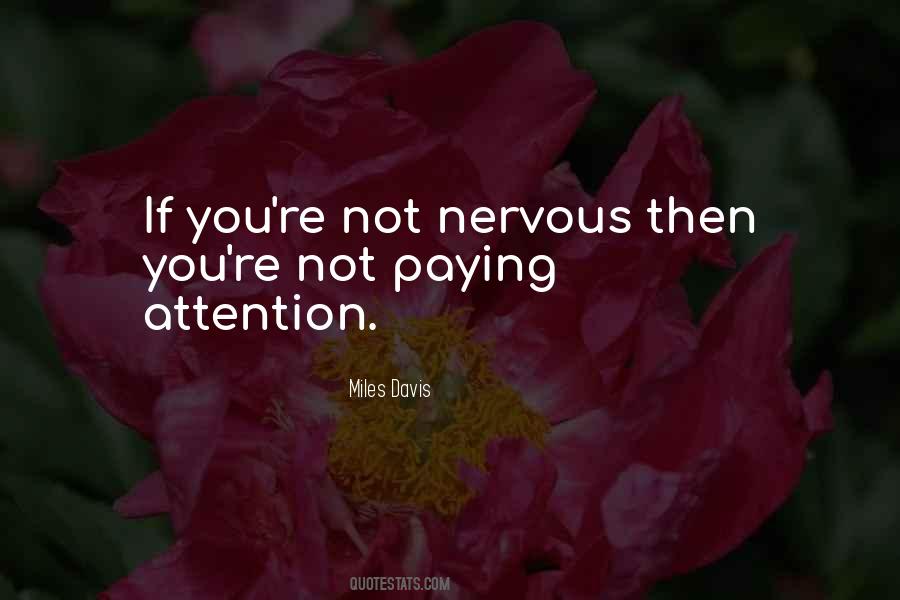 #27. The thing is, all my heroes were junkies. Lenny Bruce, Keith Richards, William Burroughs, Miles Davis, Hubert Selby, Jr ... These guys were cool. They were committed. They would not have been caught dead doing an ALF episode. - Author: Jerry Stahl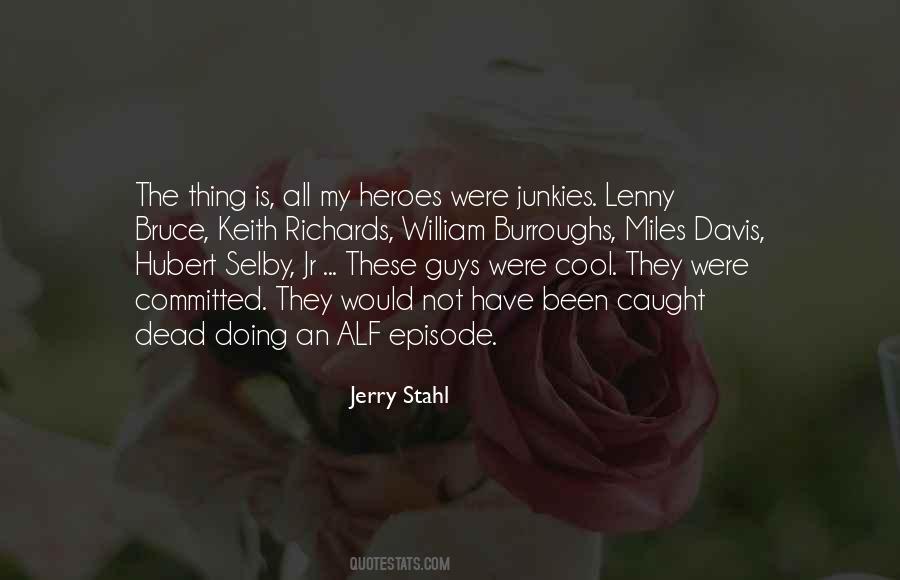 #28. See, music is about style. - Author: Miles Davis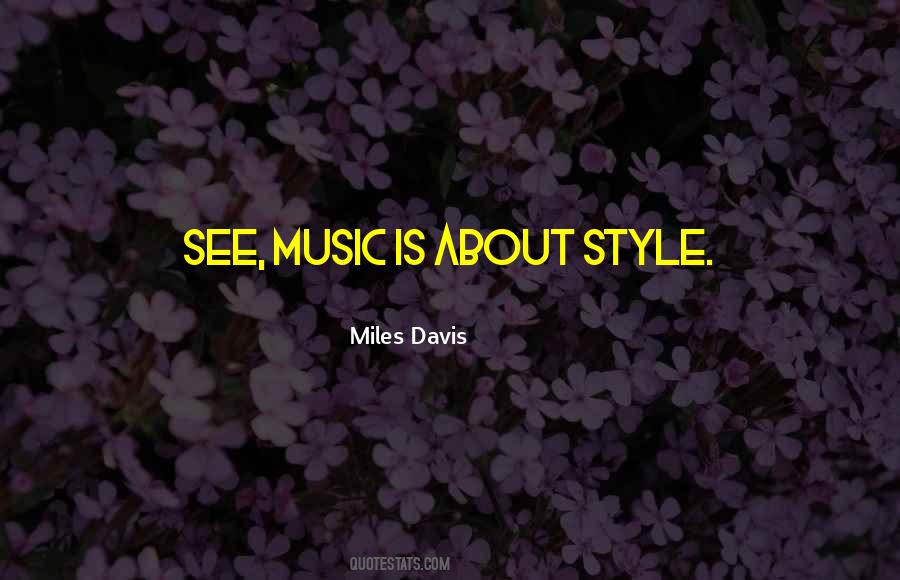 #29. Bad music is what will ruin music, not the instruments musicians choose to play. - Author: Miles Davis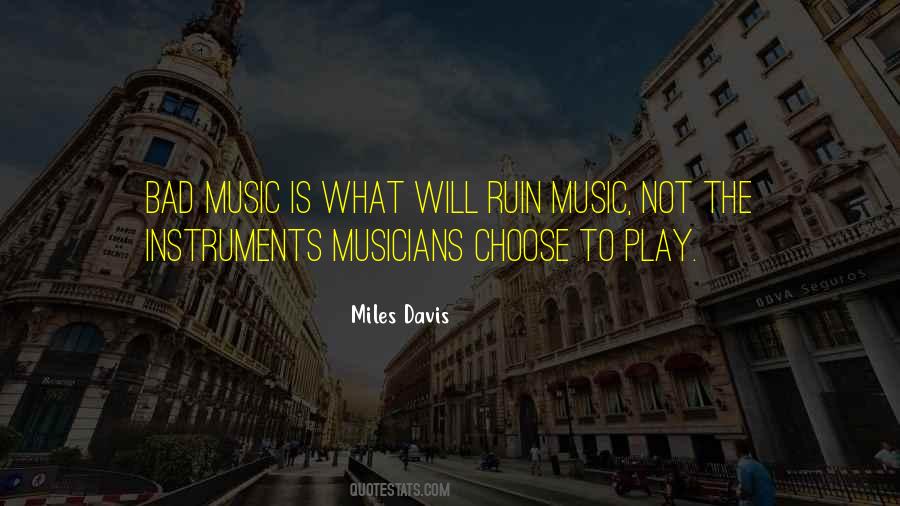 #30. Jazz is an Uncle Tom word. They should stop using that word for selling. I told George Wein the other day that he should stop using it. - Author: Miles Davis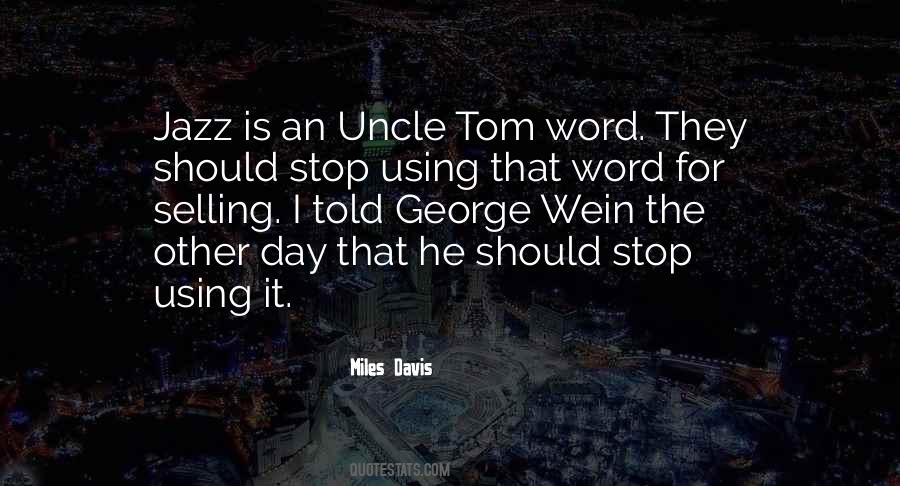 #31. [Prince] could very well be the Duke Ellington of Rock 'n' Roll. - Author: Miles Davis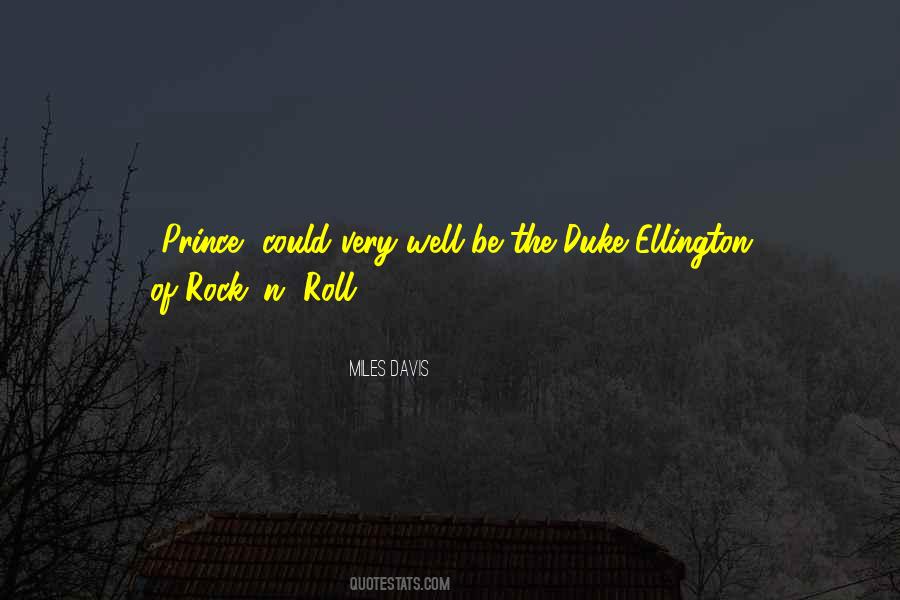 #32. In Europe, they like everything you do. The mistakes and everything. That's a little bit too much. - Author: Miles Davis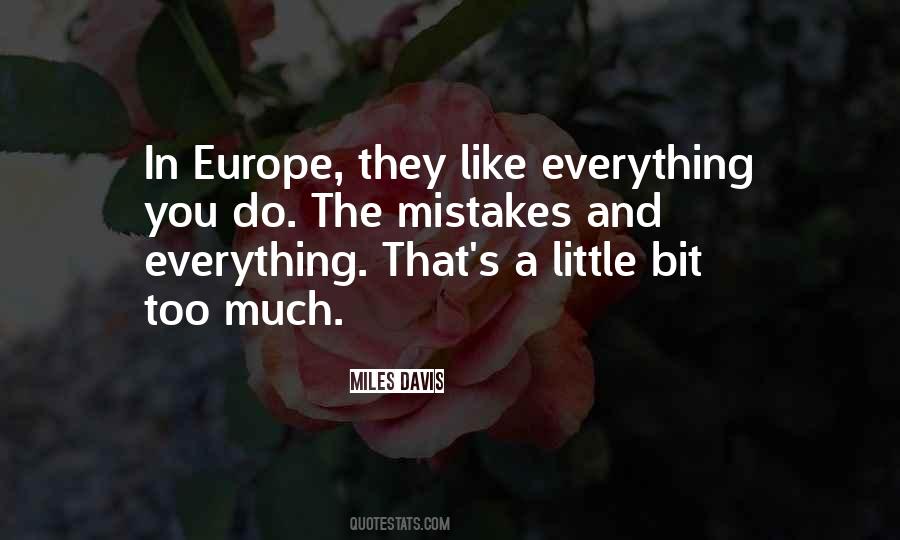 #33. You can't compete with Sweets' sound and time feel. It's impossible. - Author: Miles Davis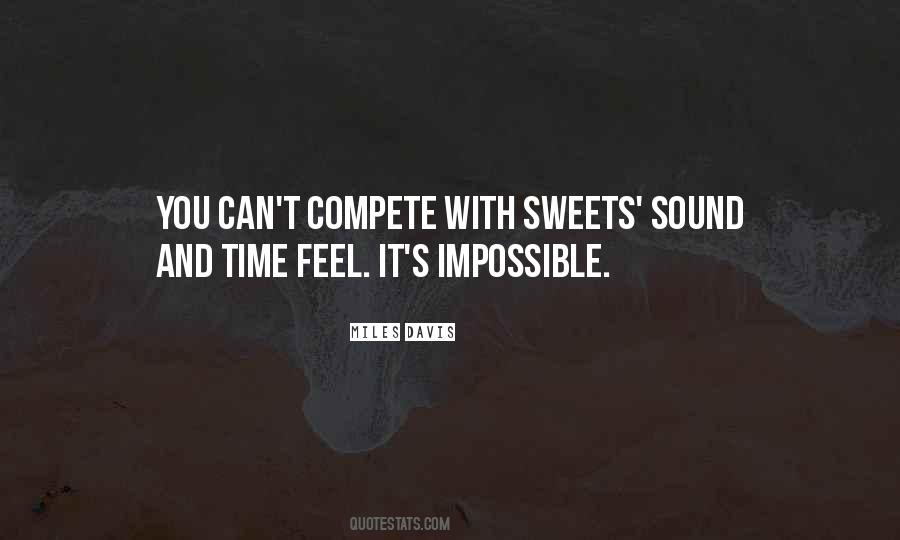 #34. Keith, how does it feel to be a genius? - Author: Miles Davis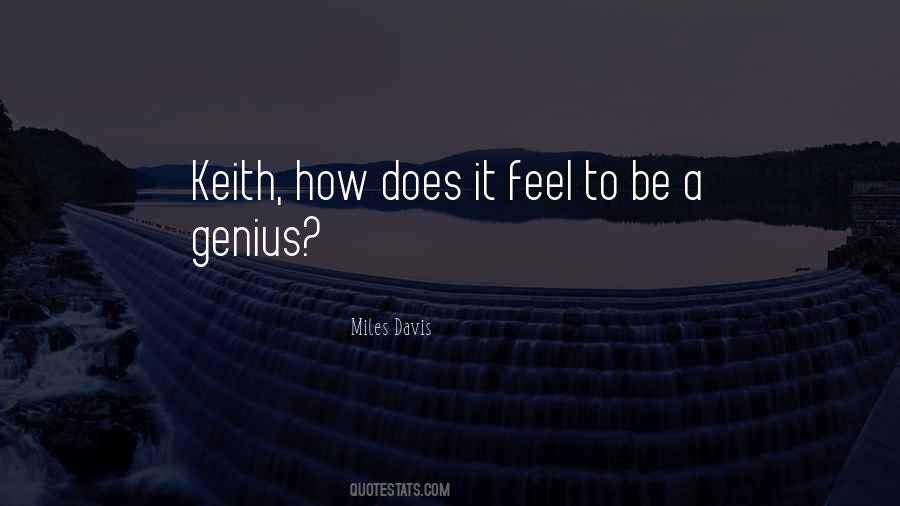 #35. You have to practice for a long time before you can learn to sound like yourself - Author: Miles Davis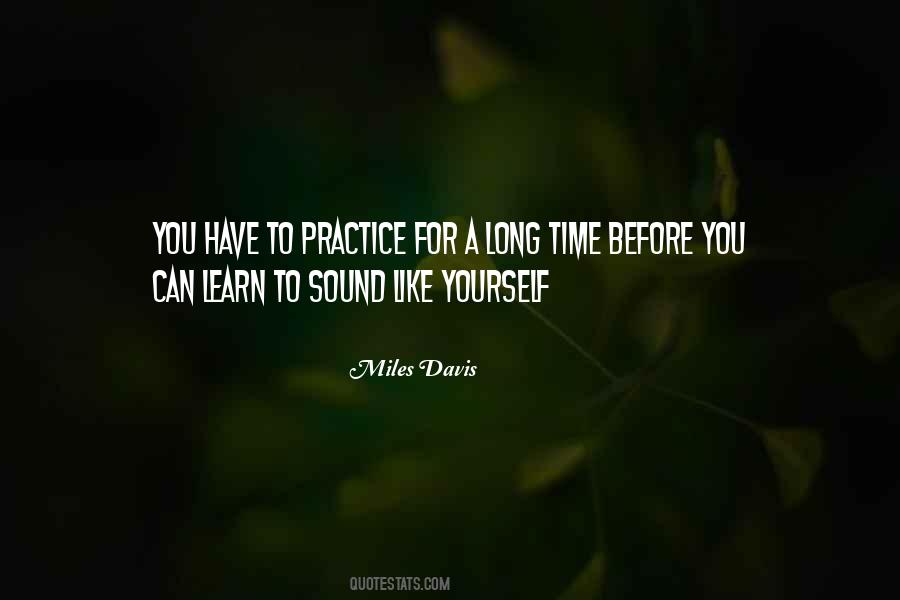 #36. Miles Davis, his parents migrated from Arkansas to Illinois, where he had the luxury of being able to practice for hours upon hours. He never would have been able to do that in the cotton country of Arkansas. - Author: Isabel Wilkerson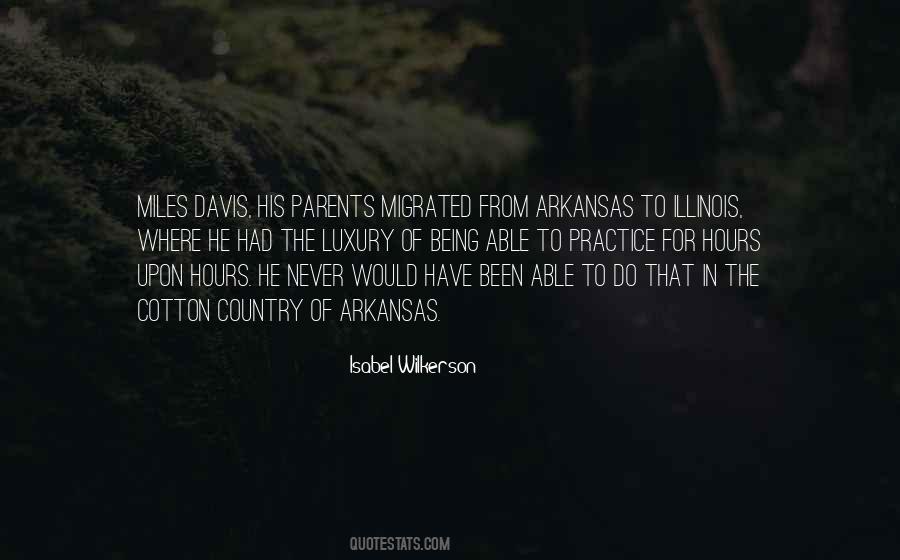 #37. If you got up on the bandstand at Minton's and couldn't play, you were not only going to be embarrassed by the people ignoring you or booing you, you might get your ass kicked. - Author: Miles Davis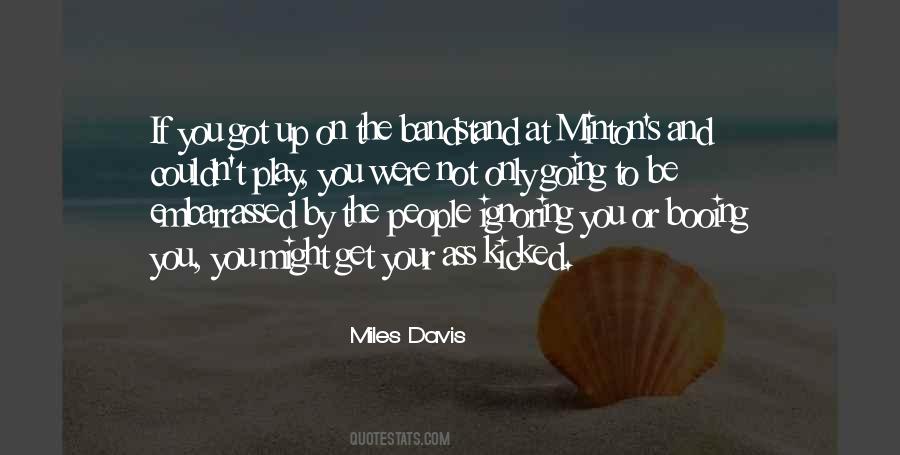 #38. Tom Jones is funny to me, man. I mean, he really tries to ape Ray Charles and Sammy Davis, you know. He's nice-looking; he looks good doing it. I mean, if I was him, I'd do the same thing. If I was only thinking about making money. - Author: Miles Davis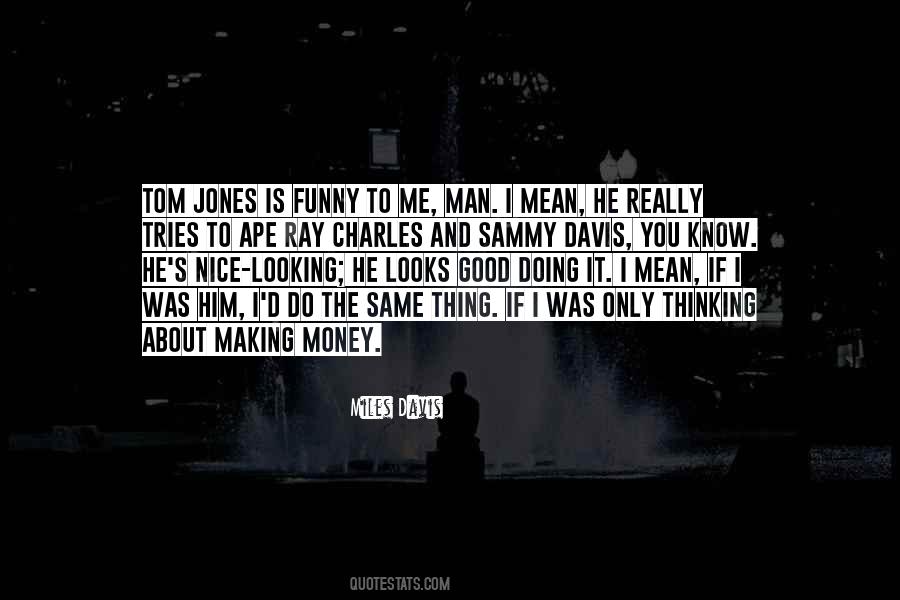 #39. Music is the framework around the silence. - Author: Miles Davis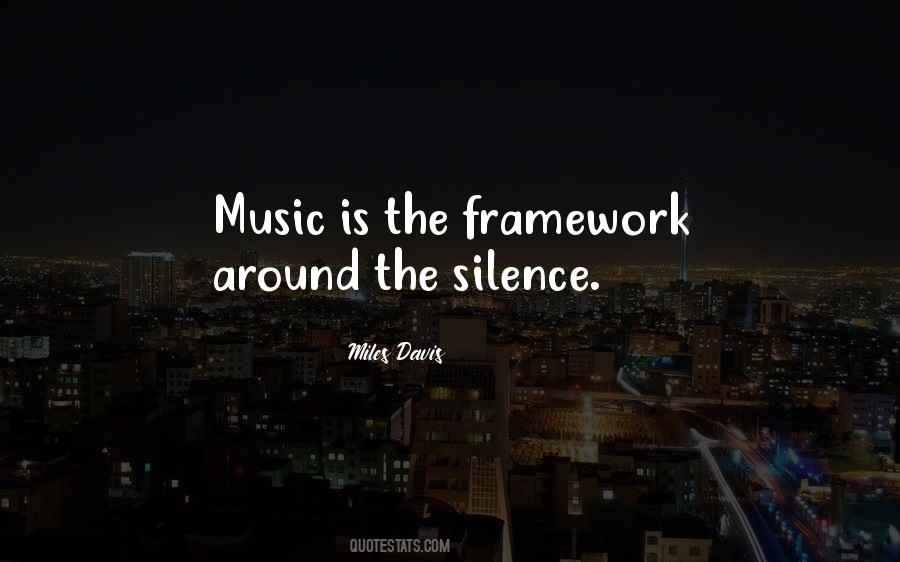 #40. You can dominate a game if you dominate on the line ... We're just going to have to go out there and work hard and blow people off the ball, and let our runners do what they do best. - Author: Miles Davis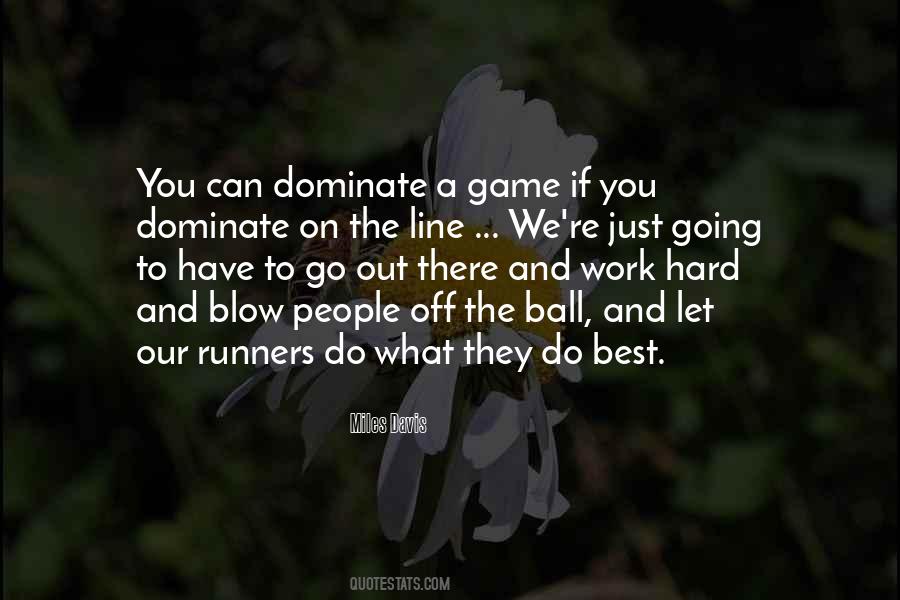 #41. It evoked Picasso and Miles Davis for me - two great artists who totally indulged themselves in their work and who they were, but they certainly didn't give a damn what other people thought. - Author: Rodney Crowell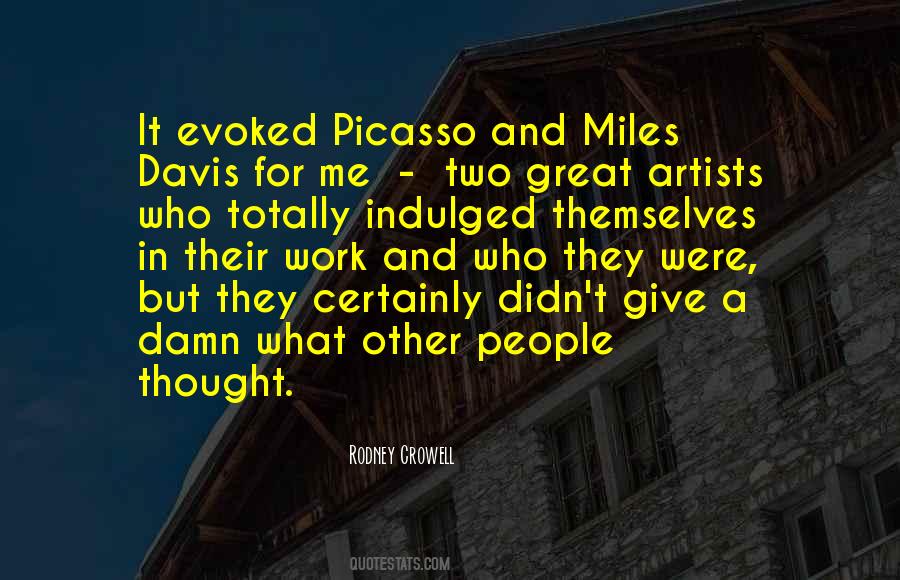 #42. Miles Davis is a major influence of mine in terms of the way that I am as a bandleader. - Author: Stefon Harris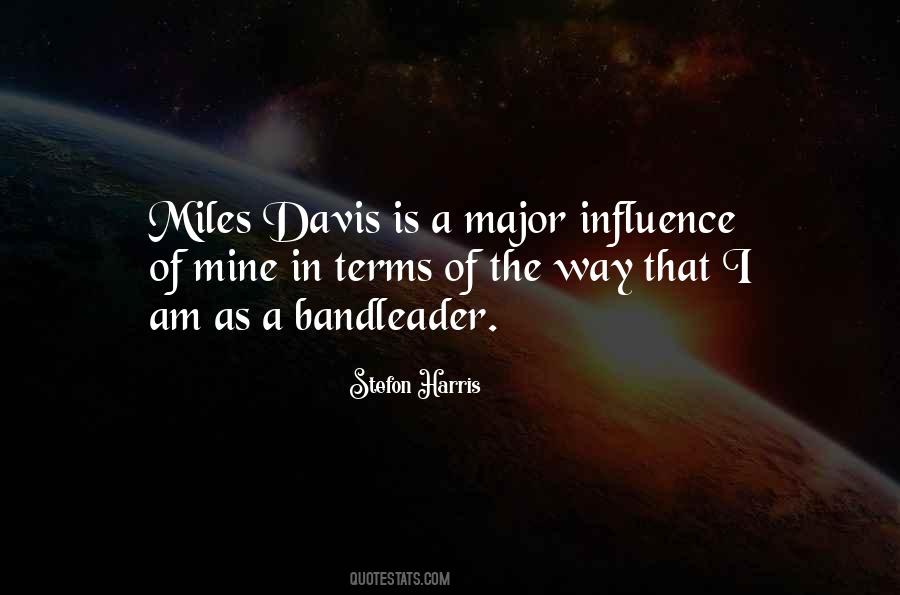 #43. You know why I quit playing ballads? Cause I love playing ballads. - Author: Miles Davis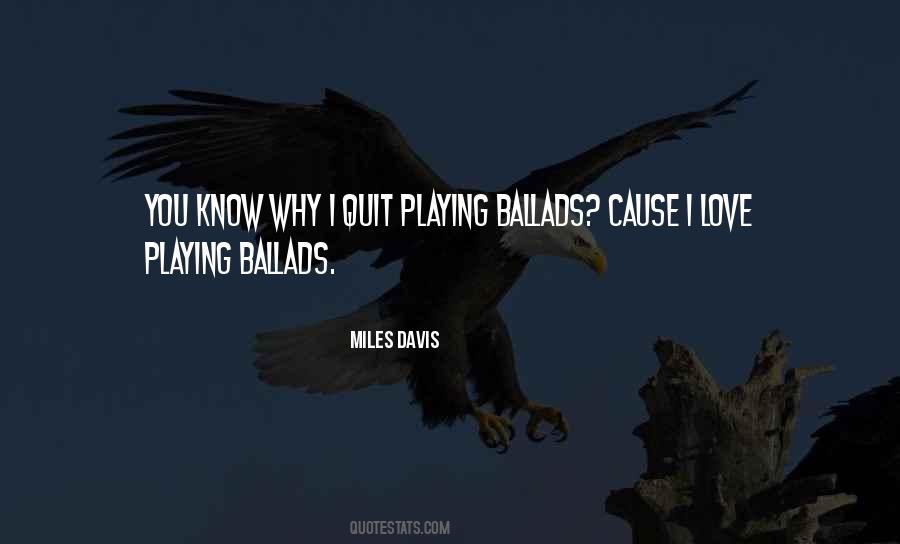 #44. Footballers can be like artists when the mind and body are working as one. It is what Miles Davis does when he plays free jazz - everything pulls together into one intense moment that is beautiful. - Author: Lilian Thuram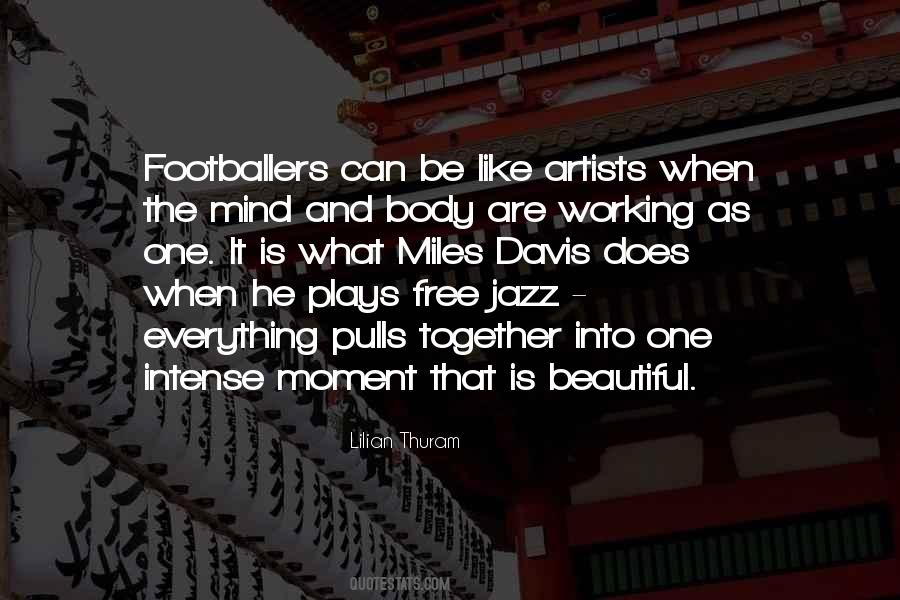 #45. I personally think Miles Davis is a lot funnier than me. And he's working more. - Author: Gilbert Gottfried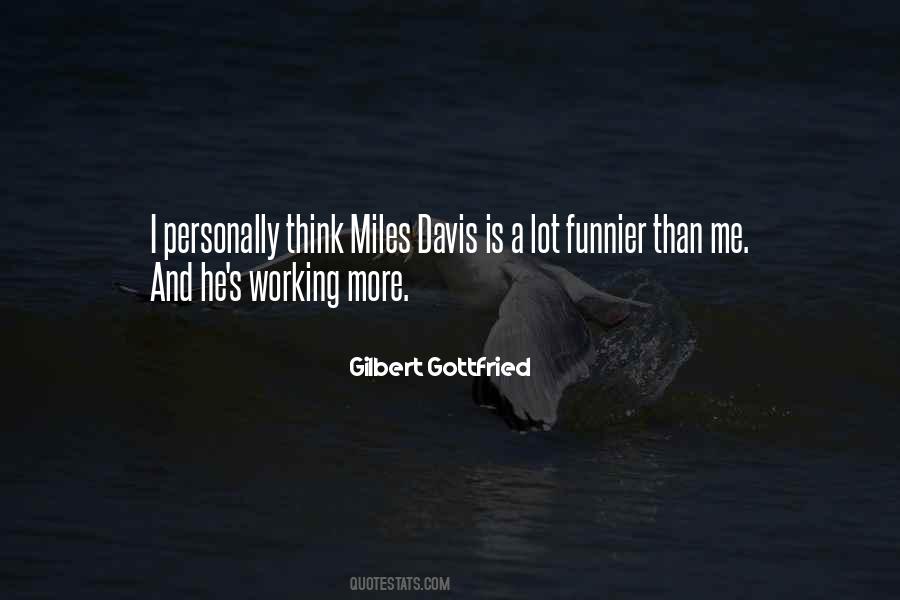 #46. I know what I've done for music, but don't call me "a legend".( ... ) A legend is an old man with a cane known for what he used to do. I'm still doing it. - Author: Miles Davis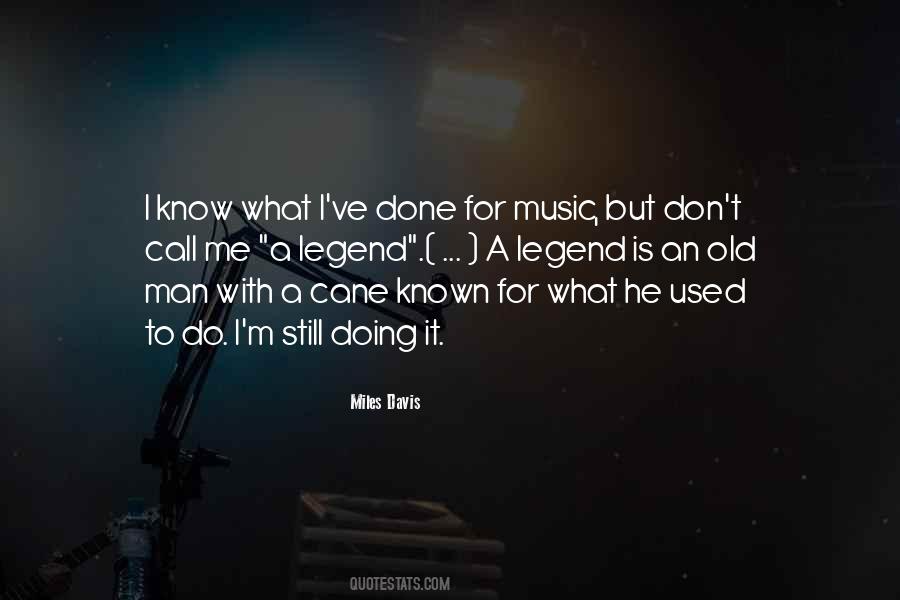 #47. No one told Miles Davis or BB King to pack it in. John Lee Hooker played literally up to the day he died. Why should pop musicians be any different? - Author: Paul Weller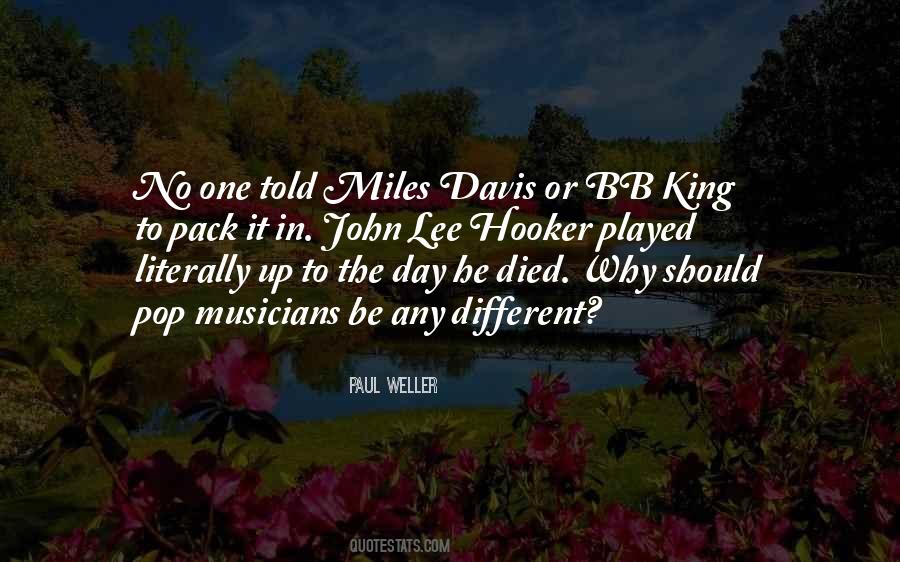 #48. You can't play anything on a horn that Louis Armstrong hasn't played - Author: Miles Davis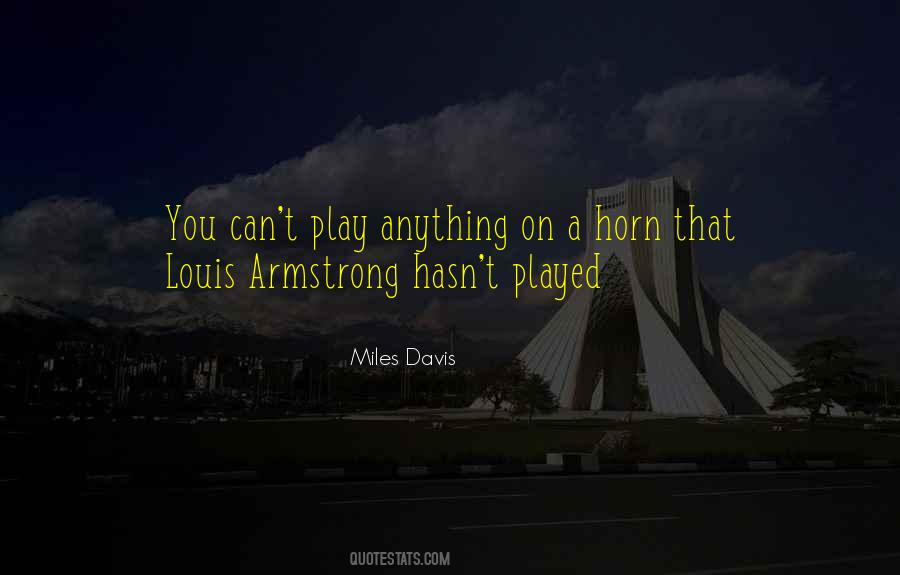 #49. I didn't grow up during the time that Louis Armstrong or Miles Davis and all those people were playing. So it's not really my responsibility to keep it up, what they were doing. - Author: Trombone Shorty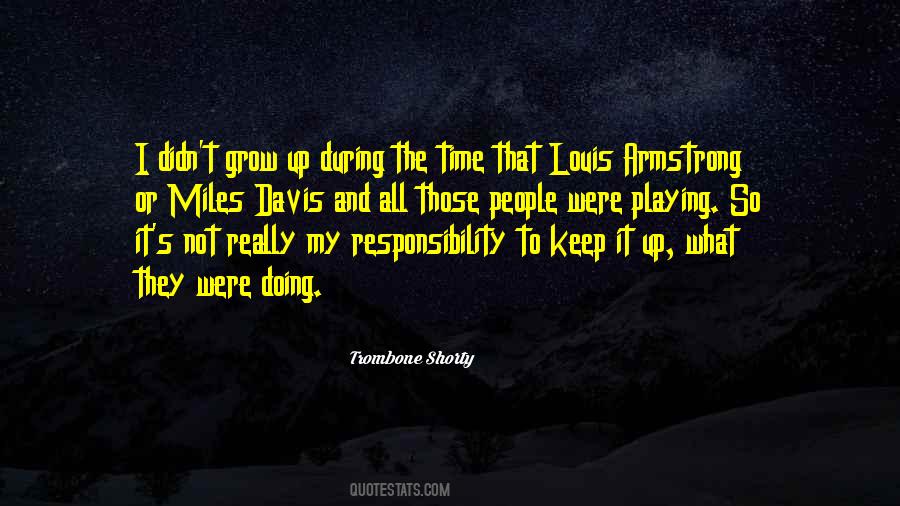 #50. Monk taught me more about music composition than anyone else on 52nd Street. - Author: Miles Davis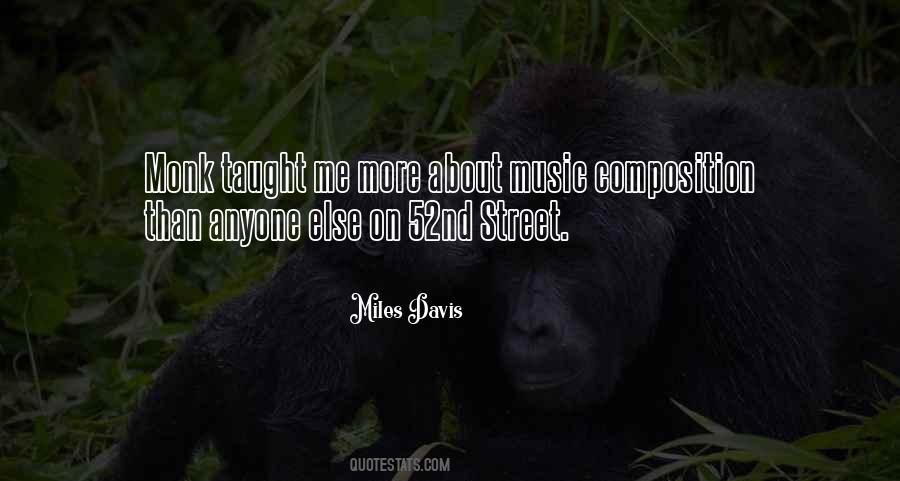 #51. When you work with great musicians, they are always a part of you ... their spirits are walking around in me, so they're still here and passing it on to others. - Author: Miles Davis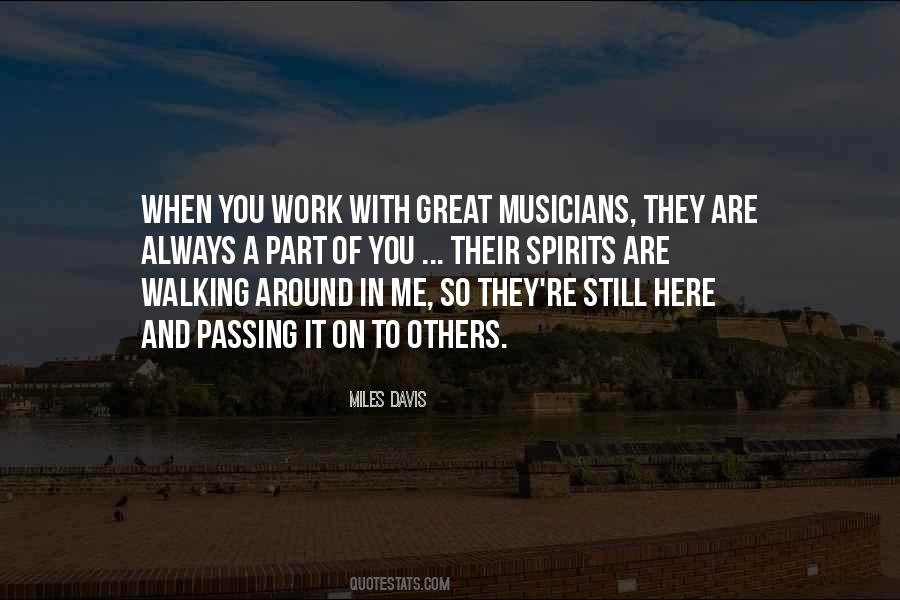 #52. You have to know 400 notes that you can play, then pick the right four. - Author: Miles Davis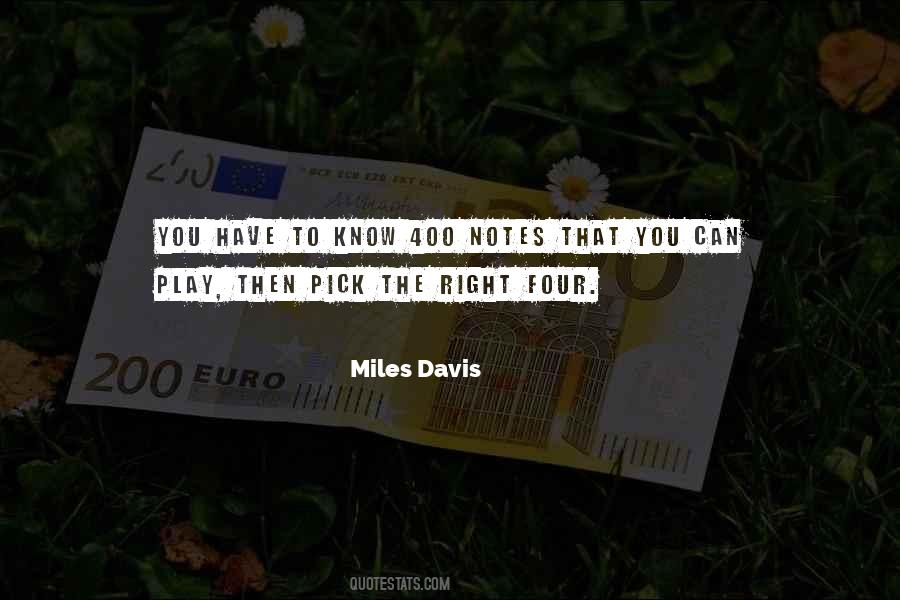 #53. Miles Davis was a master. In every phase of his career, he understood that this music was a tribute to the African muse. - Author: Cassandra Wilson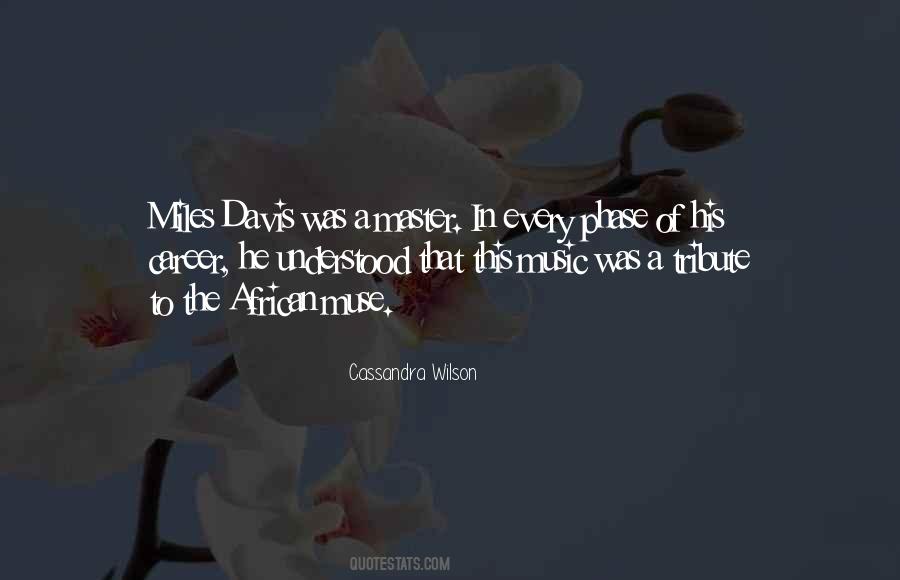 #54. He sounded to me like he's supposed to be the savior of jazz. Sometimes people speak as though someone asked them a question. Well, no one asked him a question. - Author: Miles Davis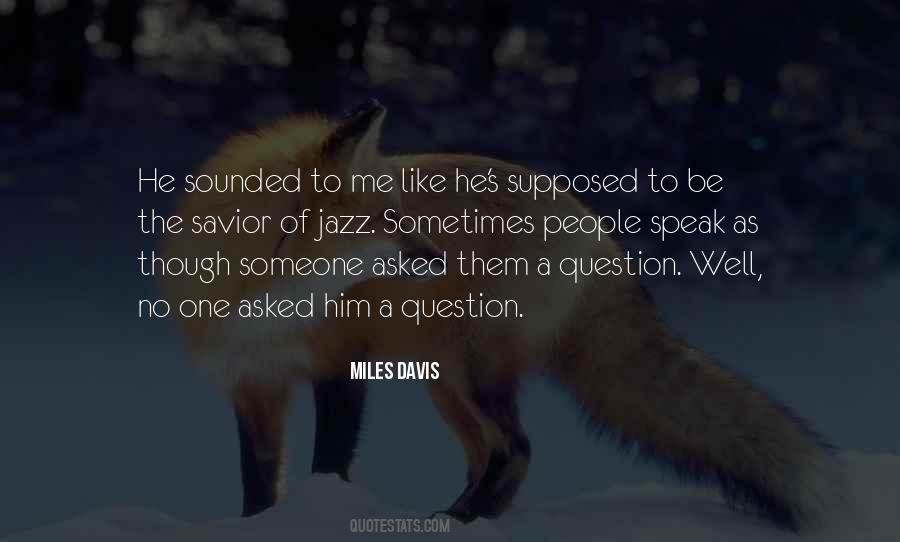 #55. [Miles Davis] learned from everyone. He was incredible. He took the best from everyone and threw away the rest. He was brilliant. One of the things he told me he loved about my voice was how I used space-both in music and between my voice and the mike. - Author: Helen Merrill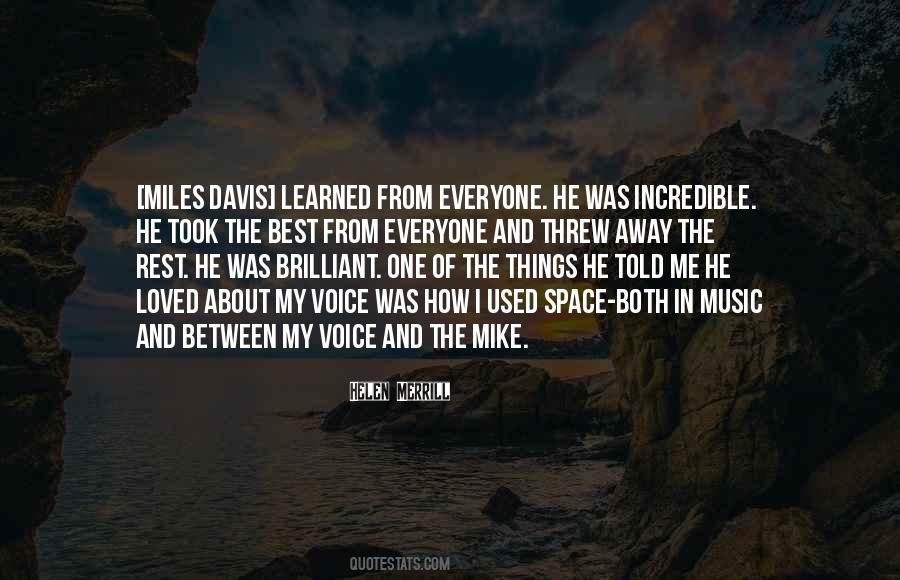 #56. I'm not messing around with nobody's woman. If I want a woman I go get her - you know what I mean? - Author: Miles Davis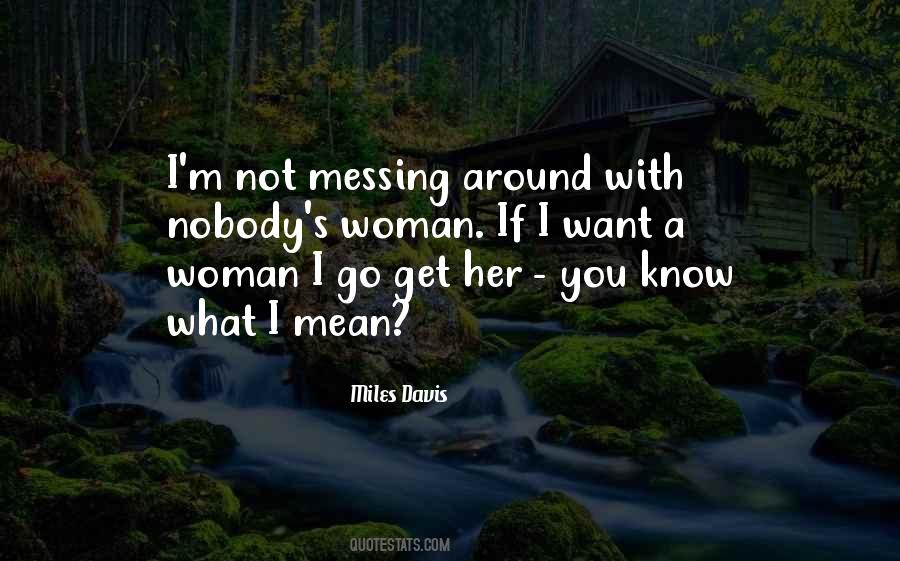 #57. I believe, from reading biographies, that the great musicians have also been great cooks: Miles Davis, Dizzy Gillespie, Thelonious Monk, Max Roach. I think I've worked out why this is - unsociable hours, plus general creativity. - Author: Jamie Cullum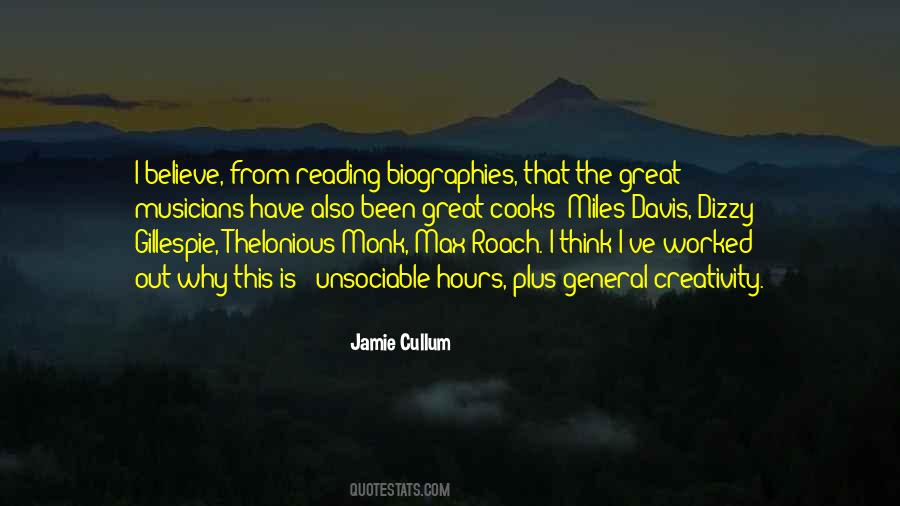 #58. My father's rich, my momma's good looking. Right? And I can play the Blues. I've never suffered and don't intend to suffer. - Author: Miles Davis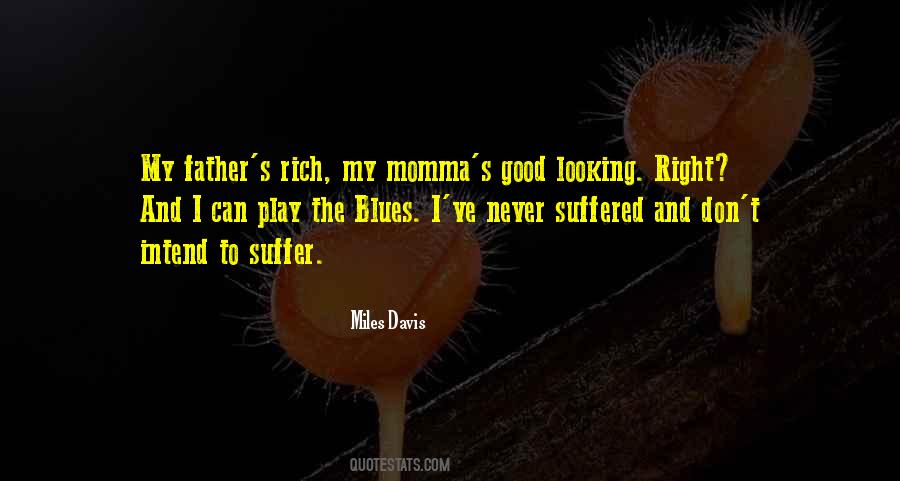 #59. Do not fear mistakes - there are none. - Author: Miles Davis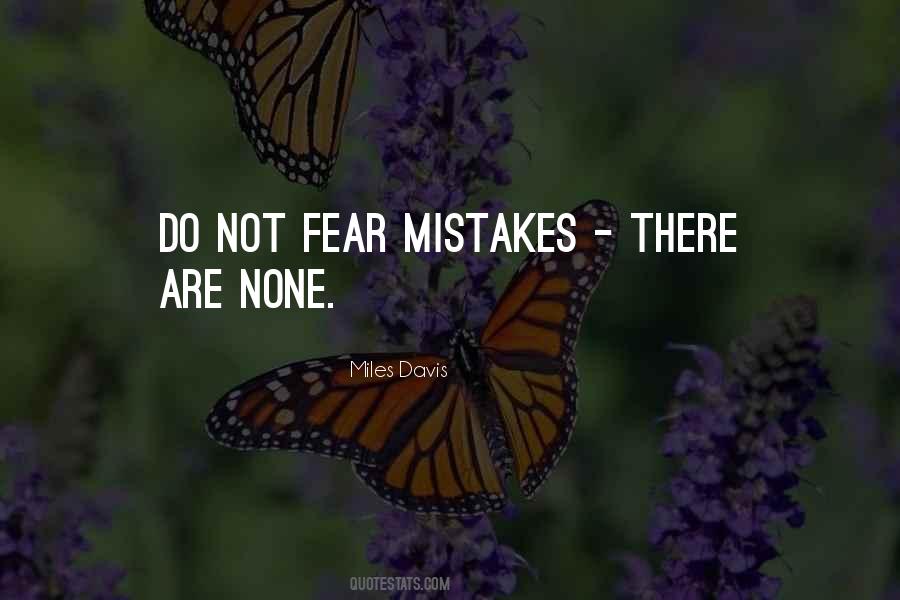 #60. Miles Davis had me play and he hired me the following week and after that, everything broke wide open. - Author: Miroslav Vitous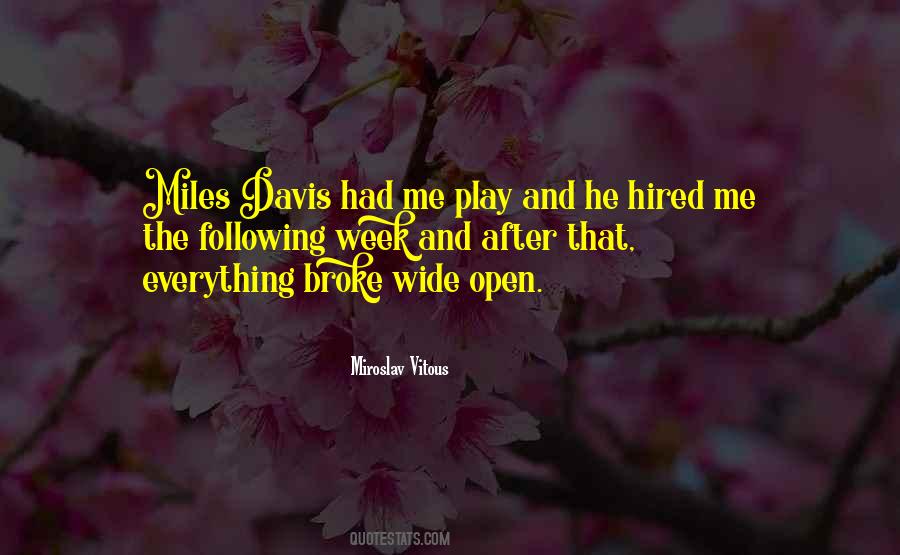 #61. I don't pay no attention to what critics say about me, the good or the bad. The toughest critic I got is myself ... and I'm too vain to play anything I think is bad. - Author: Miles Davis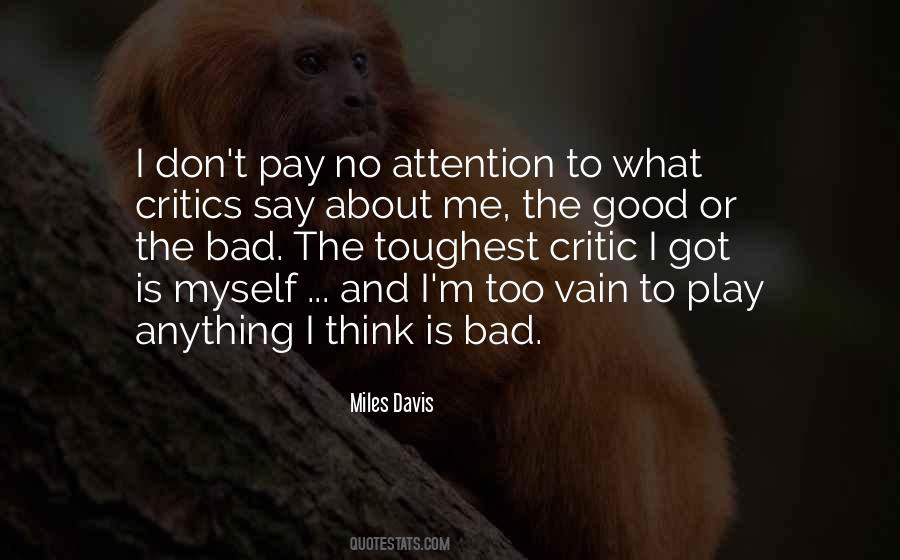 #62. I'm out there doing the best that I can, My lip is cut and I'm still playing. - Author: Miles Davis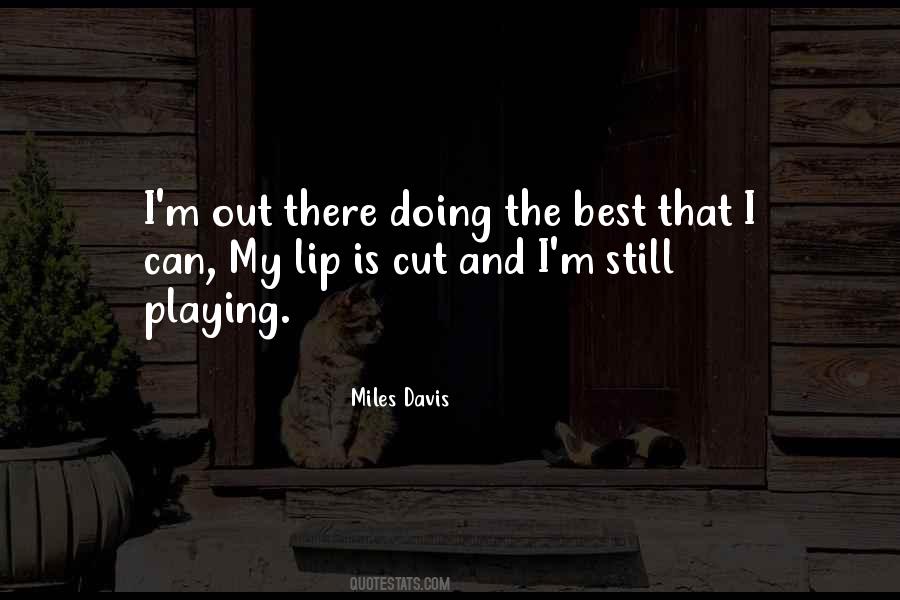 #63. When you're creating your own shit, man, even the sky ain't the limit. - Author: Miles Davis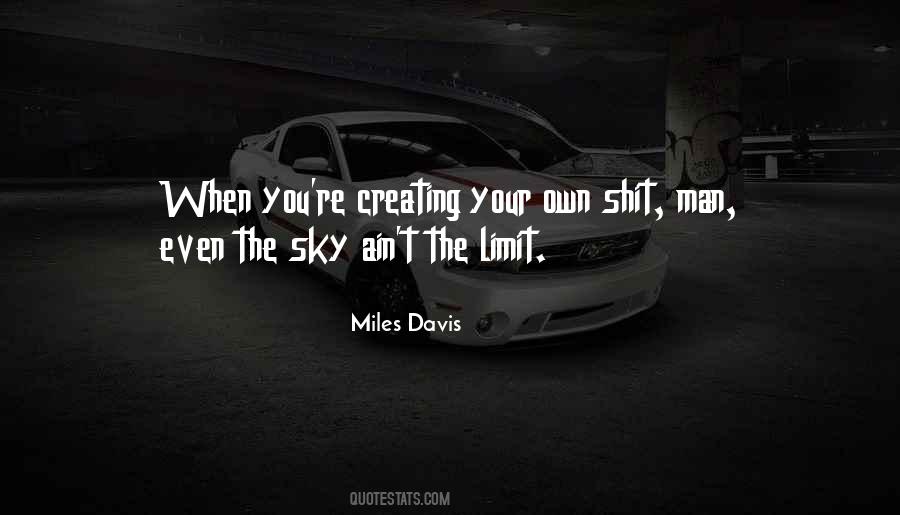 #64. People behind the Iron curtain have such an incredible image of America and jazz. I expected to find a Gerry Mulligan or Miles Davis on every corner ... I almost expected a Shorty Rogers to deliver the milk, a Bud Shank to be the mailman. - Author: Gabor Szabo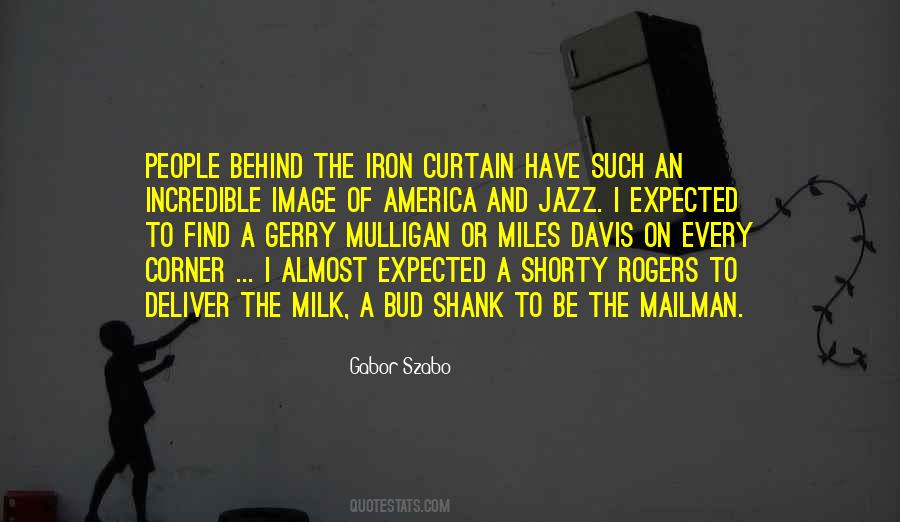 #65. At least one day out of the year all musicans should just put their instruments down, and give thanks to Duke Ellington. - Author: Miles Davis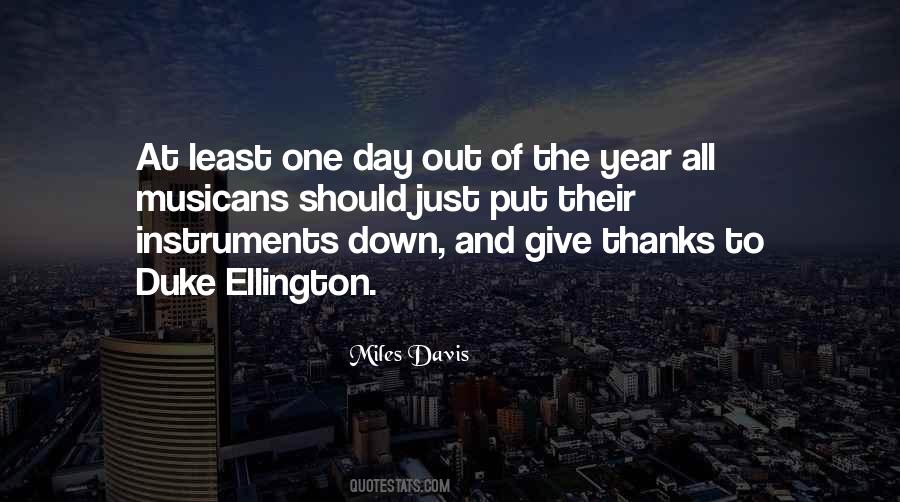 #66. For me, music and life are all about style. - Author: Miles Davis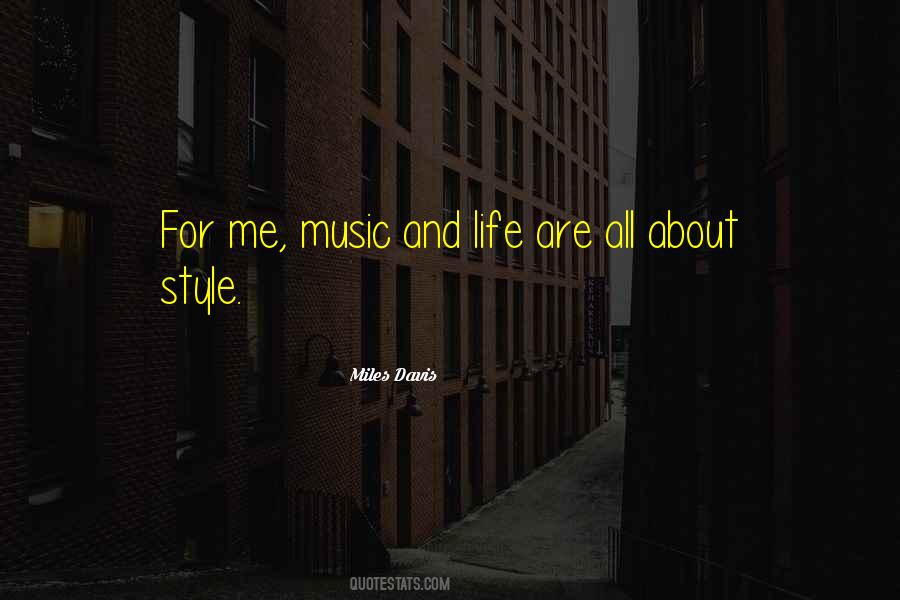 #67. Jazz is like blues with a shot of heroin! - Author: Miles Davis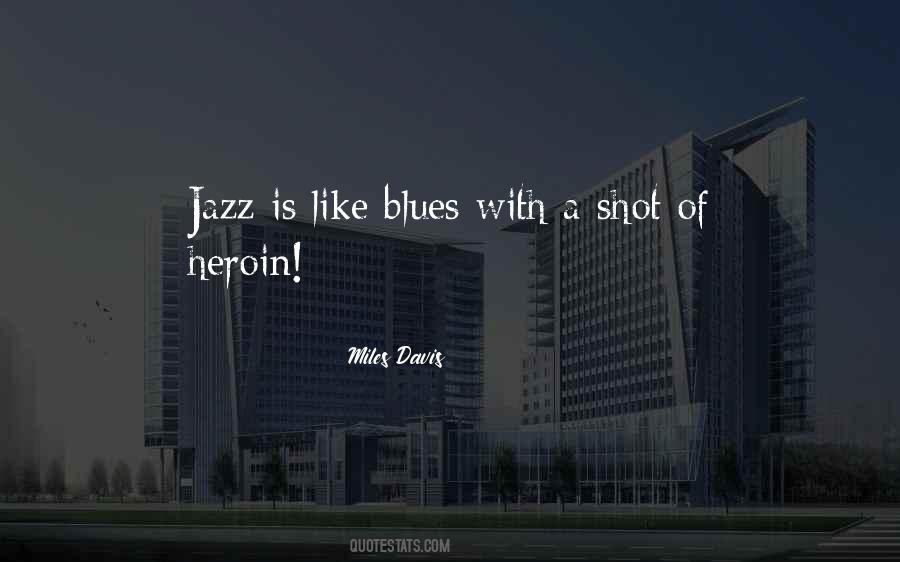 #68. It takes a long time to sound like yourself. - Author: Miles Davis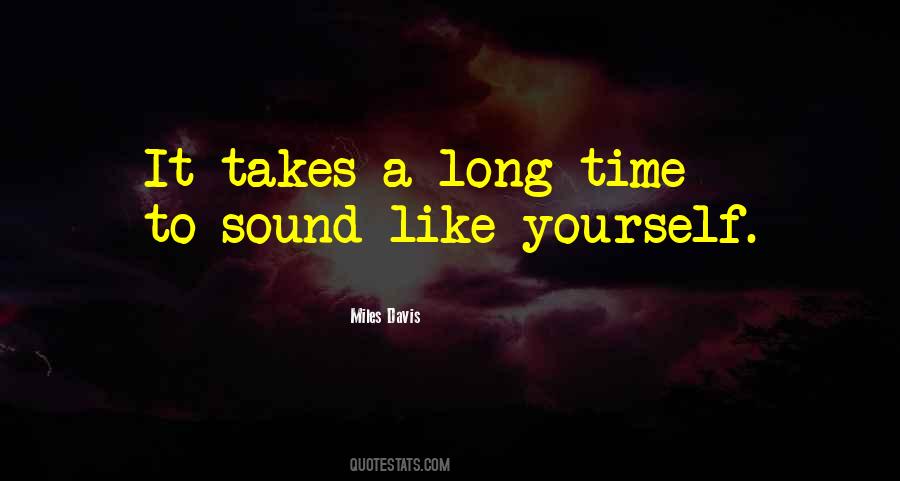 #69. WE WERE ALL UP IN THAT SHIT LIKE A MUTHAFUCKA. IT'S CLEANER THAN A BROKE DICK DOG. - Author: Miles Davis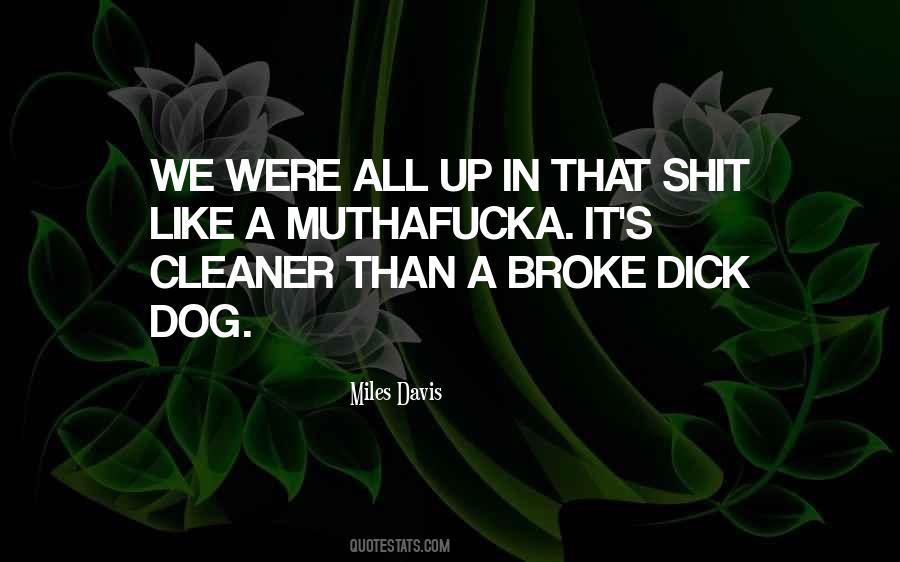 #70. There are no wrong notes. - Author: Miles Davis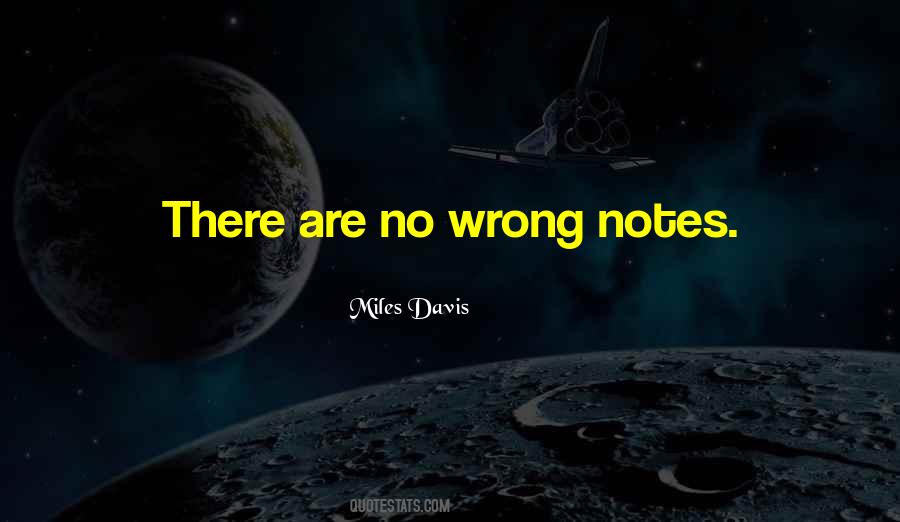 #71. In 1978, the tradition of running from village to village with a message was revived. that first run was from Davis to Los Angeles, a distance of 500 miles. - Author: Dennis Banks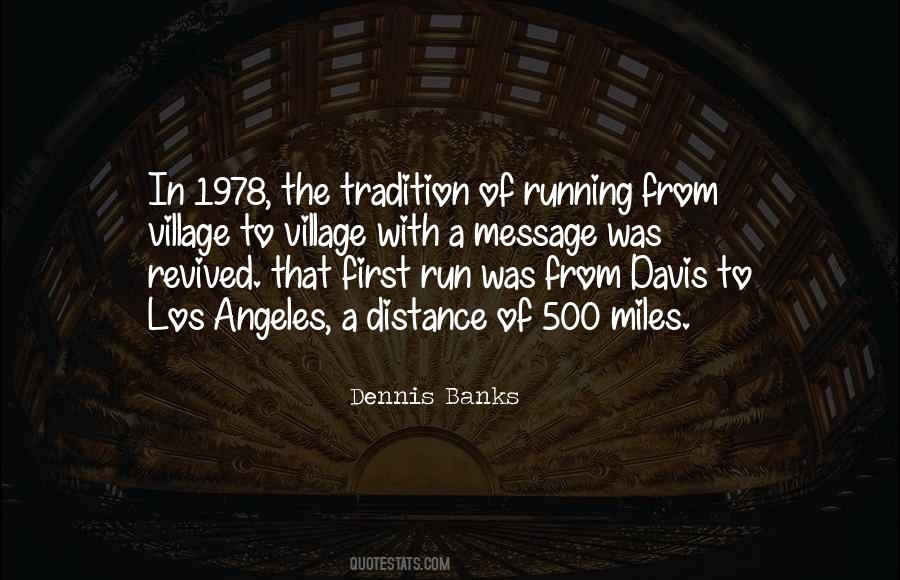 #72. A legend is an old man with a cane ... - Author: Miles Davis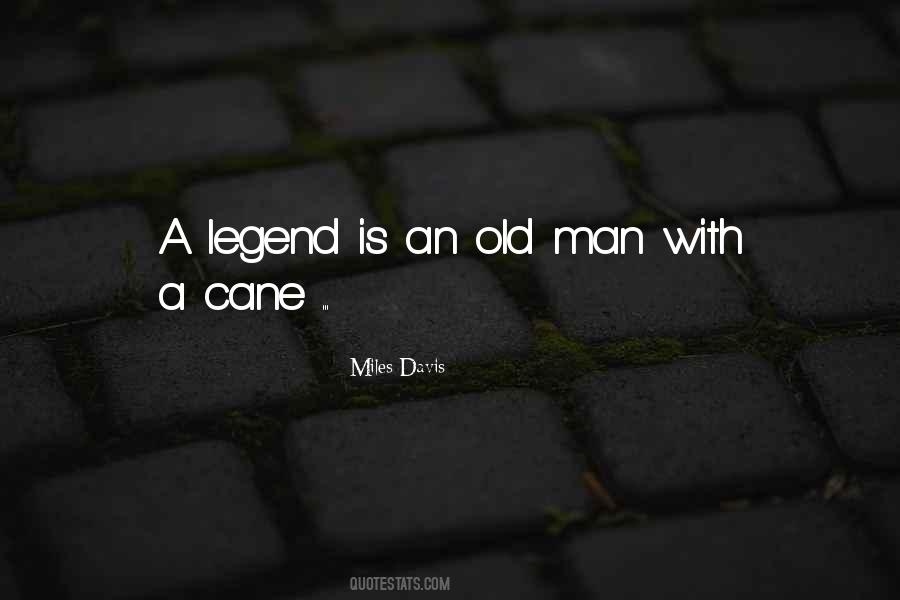 #73. I'm always thinking about creating. My future starts when I wake up in the morning and see the light. - Author: Miles Davis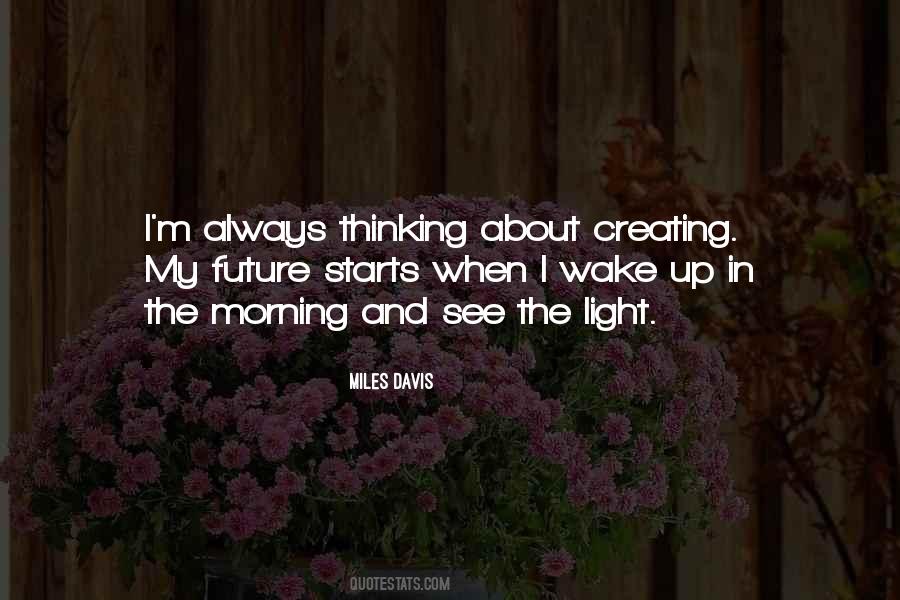 #74. You should never be comfortable, man. Being comfortable fouled up a lot of musicians. - Author: Miles Davis
#75. With a lot of the music I really love, like Miles Davis, you can go back and see the processes and the stages. - Author: Kieran Hebden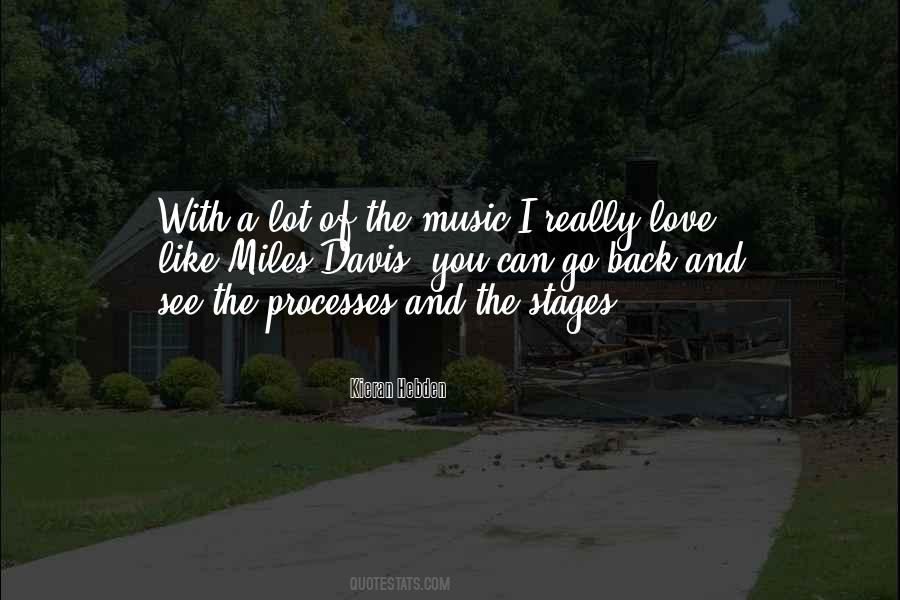 #76. Dave Rocha is a mature and eminently musical improviser. His sumptuous tone and cafefully chosen notes embody real musical thought. His performance of 'Dear Old Stockholm' at Chez Hanny evoked favorable comparisons to Miles Davis' classic recording. - Author: Frank Hanny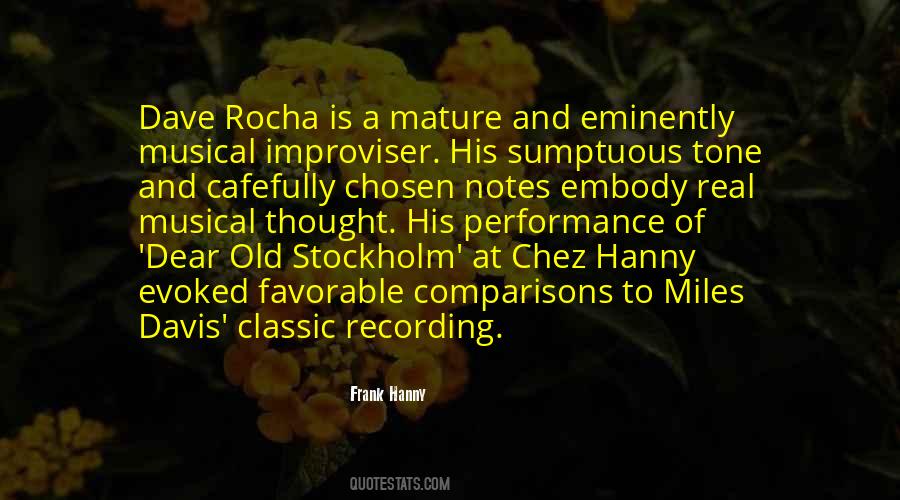 #77. Music is my only guide. I don't care if people pigeonhole me. Miles Davis is my hero. He covered Cindy Lauper and Michael Jackson, and he didn't give a hoot about what the purists said. - Author: Meshell Ndegeocello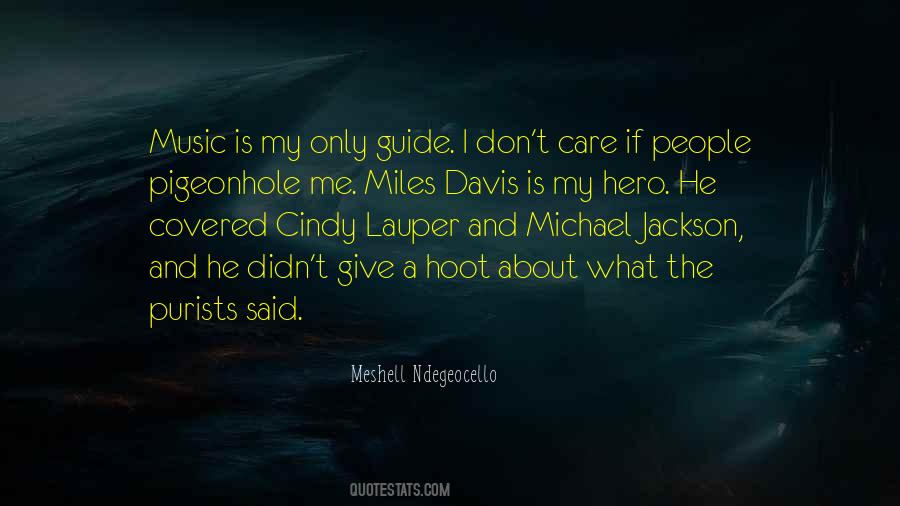 #78. When the band plays fast, you play slow; when the band plays slow, you play fast. - Author: Miles Davis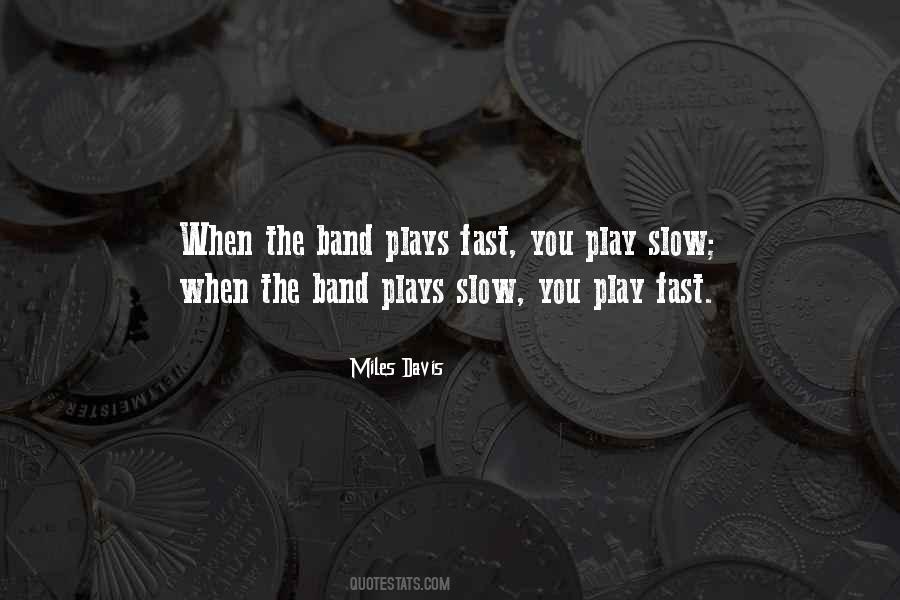 #79. Americans don't like any form of art, man. All they like to do is make money. They don't like me, Sammy Davis, or anybody else. They don't like nothing. They just like Sammy because he can make 'em a lot of money. - Author: Miles Davis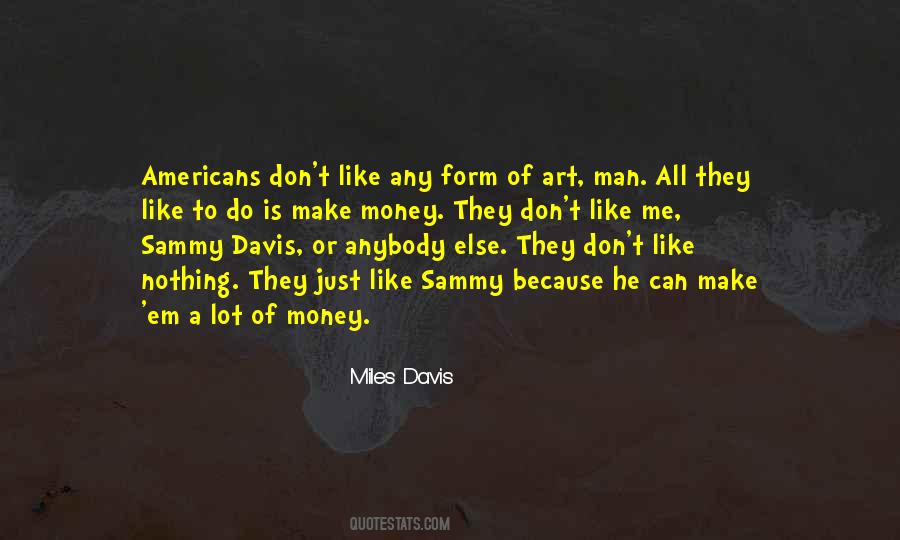 #80. Naw, I wasn't going to sell my principles for them. I wanted to be accepted as a good musician and that didn't call for no grinning, but just being able to play the horn good. And that's what I did then and now. Critics can take that or leave it. - Author: Miles Davis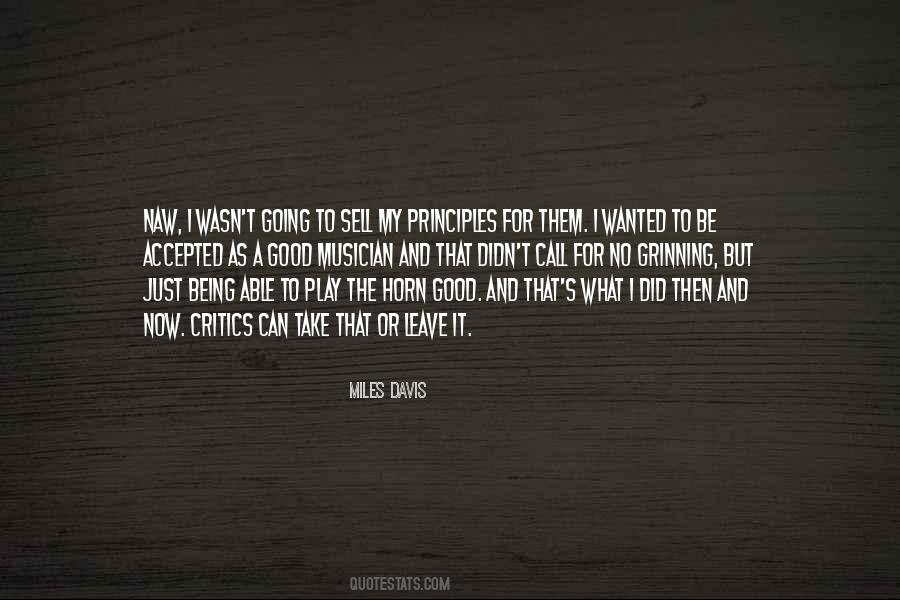 #81. Jazz is the big brother of Revolution. Revolution follows it around. - Author: Miles Davis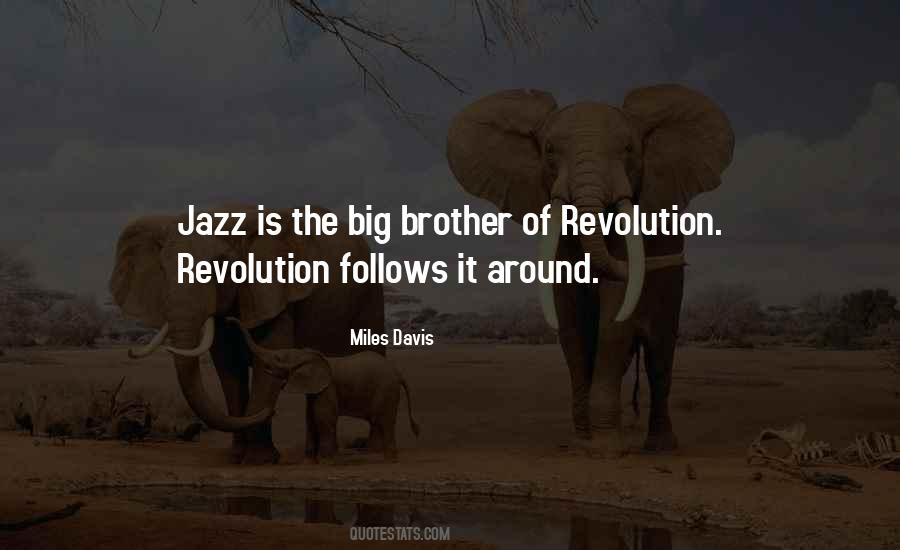 #82. Trane was the perfect saxophonist for Monk's music because of the space that Monk always used. Trane could fill up all that space with all them chords and sounds he was playing then. - Author: Miles Davis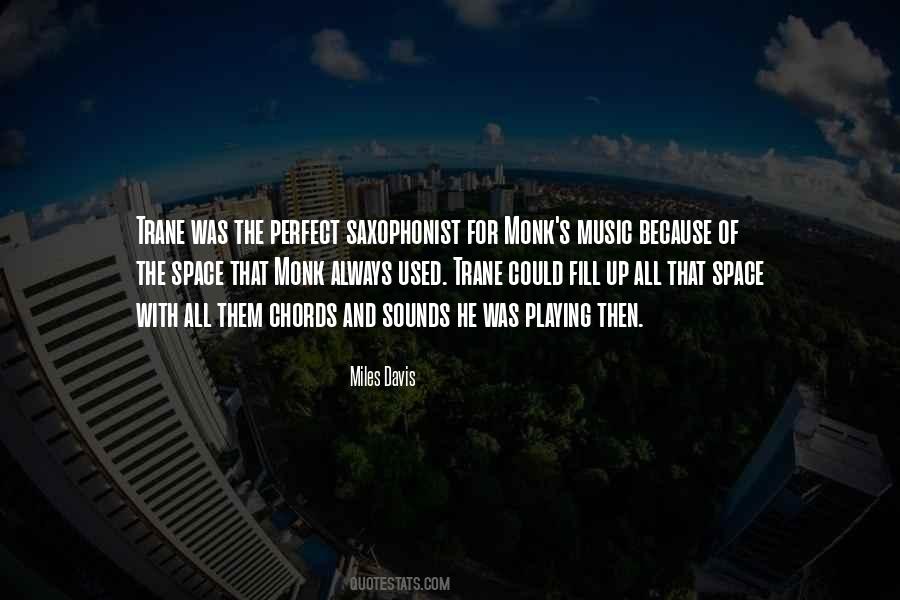 #83. So What or Kind of Blue were done in that era, the right hour, the right day. It's over; it's on the record. - Author: Miles Davis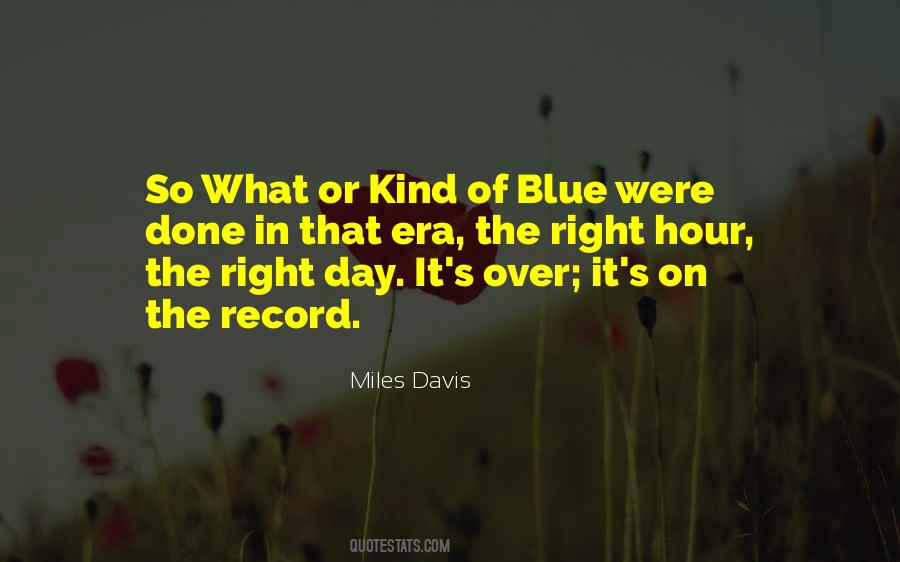 #84. You have to be born with it. You can't even buy it. If you could buy it, they'd have it at the next Newport Festival. - Author: Miles Davis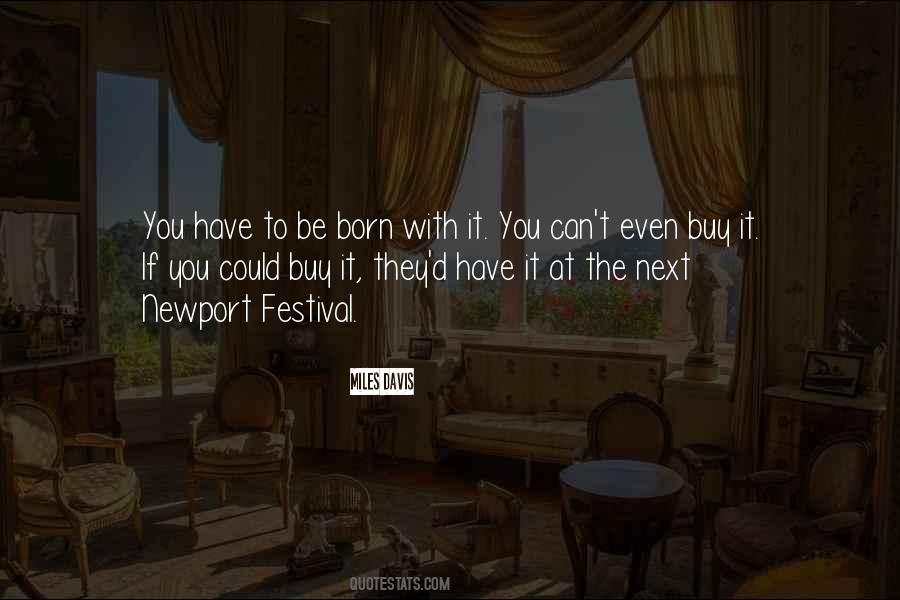 #85. We're trying to do what Miles Davis would have wanted us to do, which is approach it as artists with his life as the canvas. - Author: Don Cheadle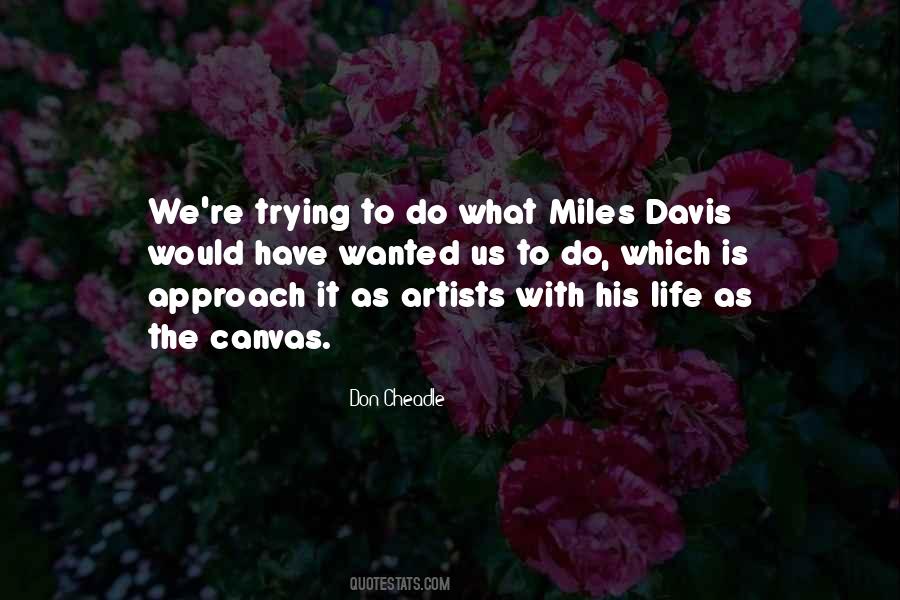 #86. Coltrane, you cant play everything at once! - Author: Miles Davis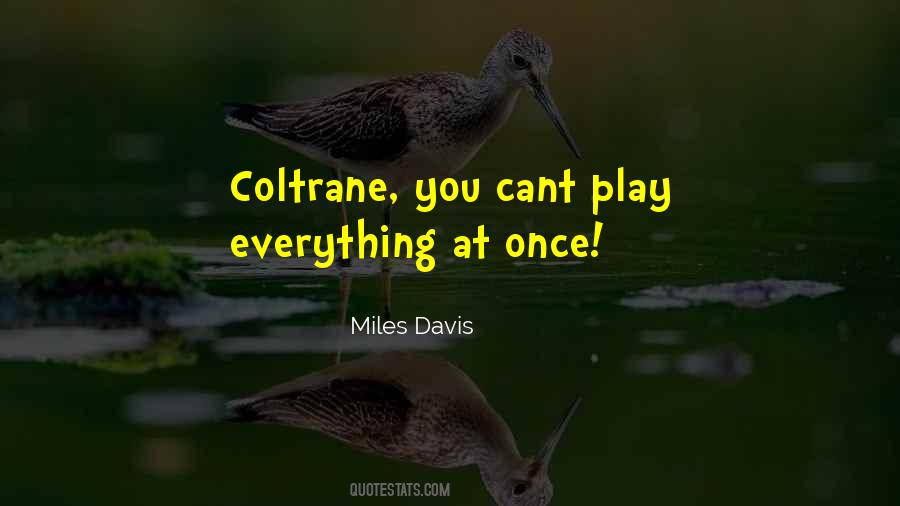 #87. All my inspiration comes from Ahmad Jamal. - Author: Miles Davis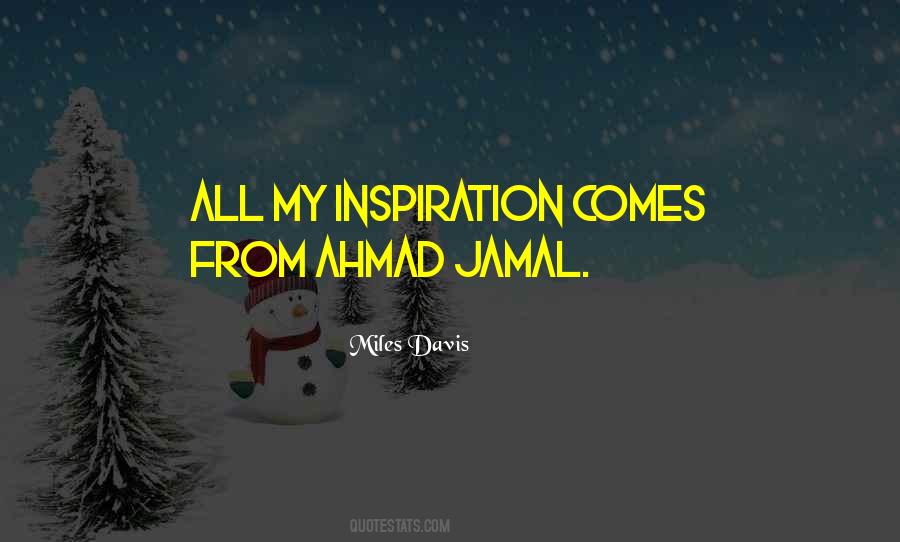 #88. I began to realize that some of the things Ornette Coleman had said about things being played three or fours ways, independently of each other, were true because Bach had also composed that way. - Author: Miles Davis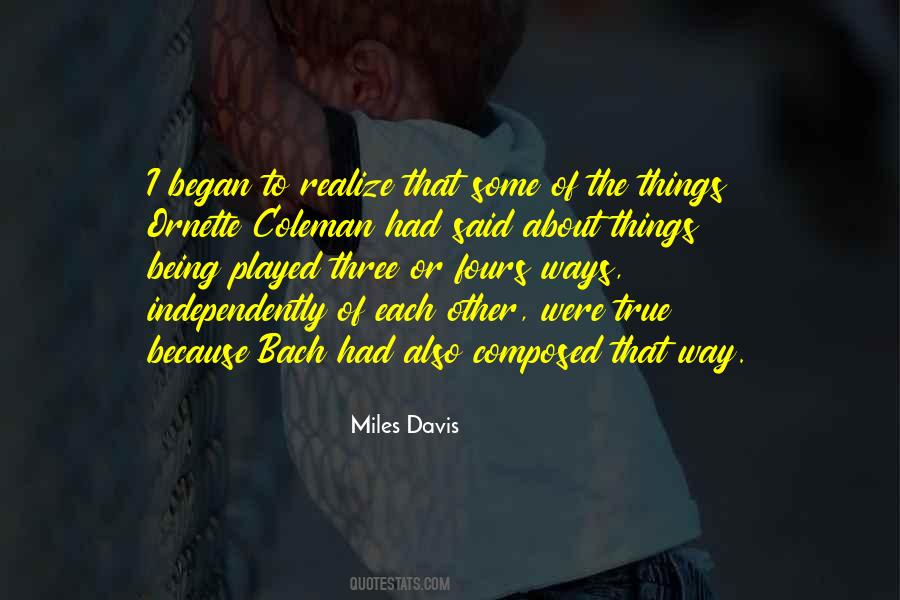 #89. If somebody told me I only had an hour to live, I'd spend it choking a white man. I'd do it nice and slow. - Author: Miles Davis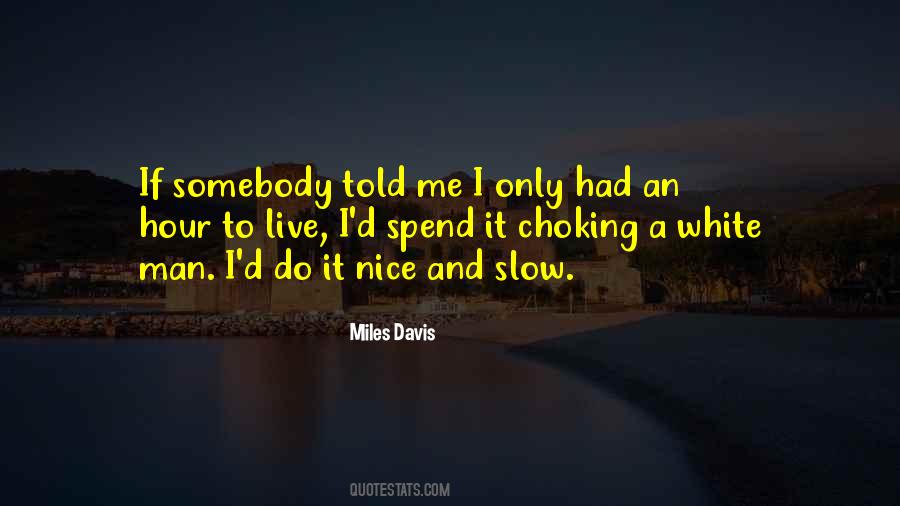 #90. I wanted very much to be Miles Davis when I was a boy, but without the practice. It just looked like an endless road. - Author: Barry Hannah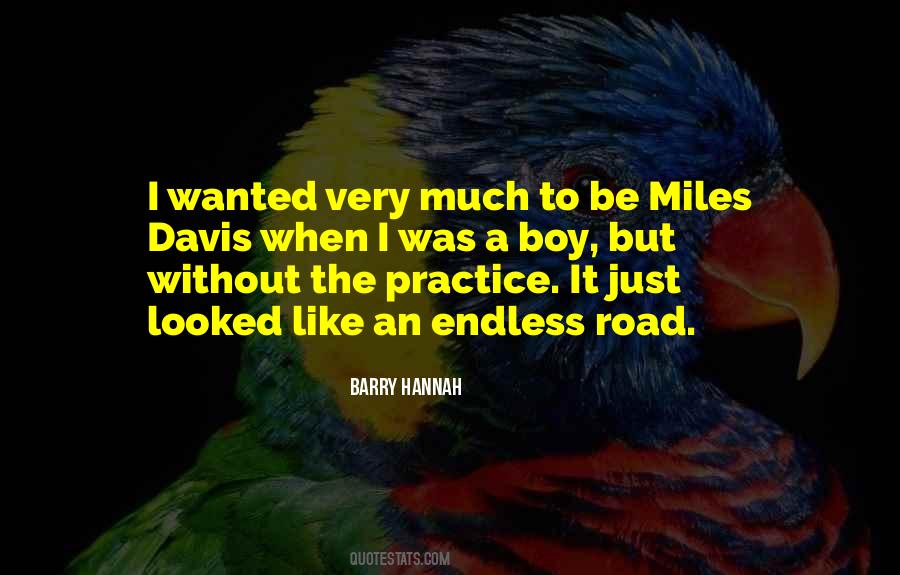 #91. My future starts when I wake up every morning. Every day I find something creative to do with my life. - Author: Miles Davis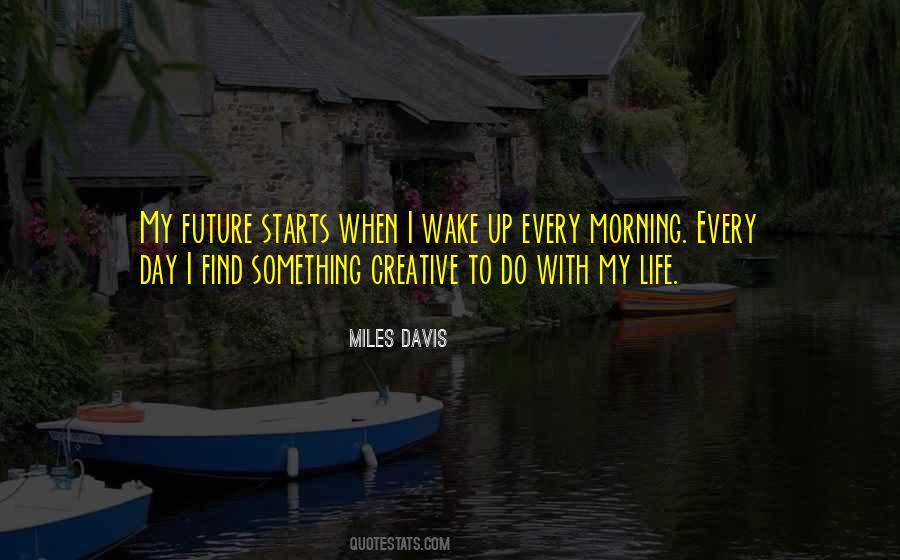 #92. Miles Davis is one who writes songs when he plays. - Author: Gerry Mulligan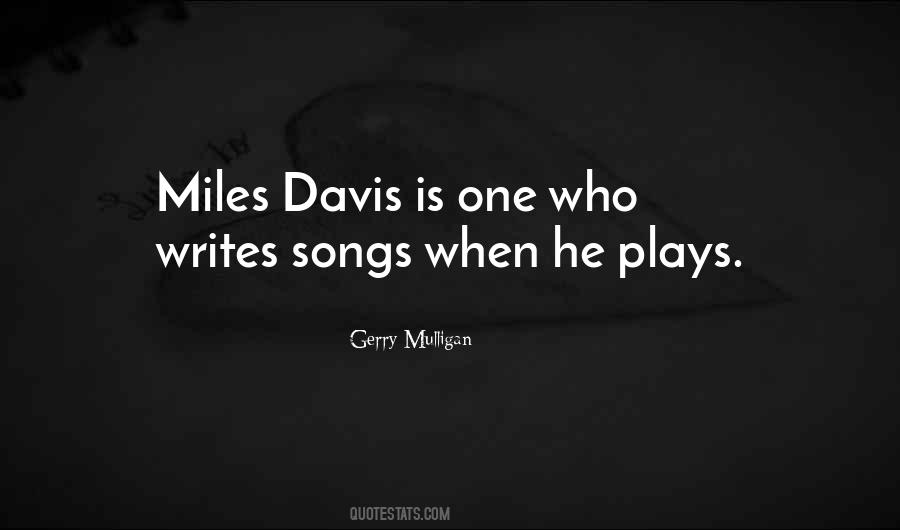 #93. It's called 'Miles Davis, Prince of Darkness,' and it's about Miles Davis, the genius, and why he was the way he was, and how he changed music so many times. He changed music six times. So, I'm excited about that movie. - Author: George Tillman Jr.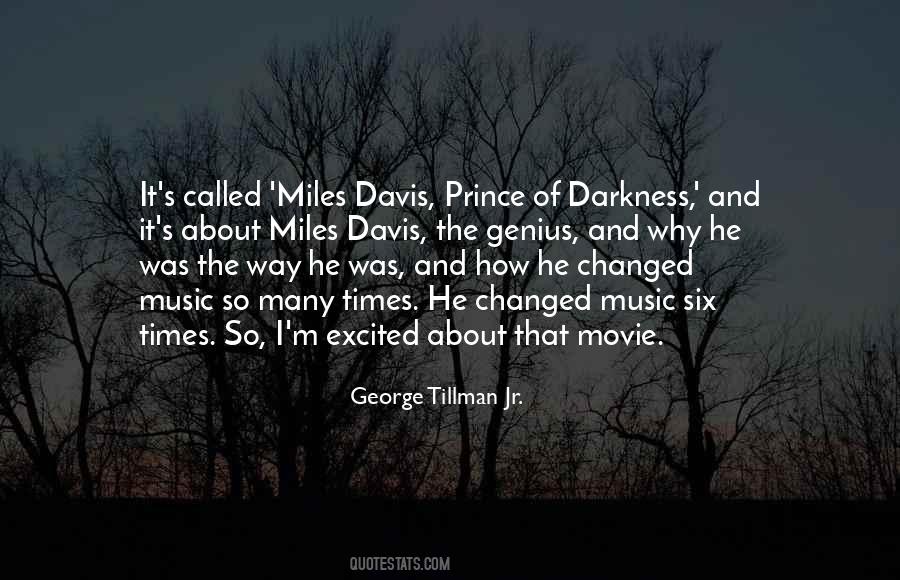 #94. In music, silence is more important than sound. - Author: Miles Davis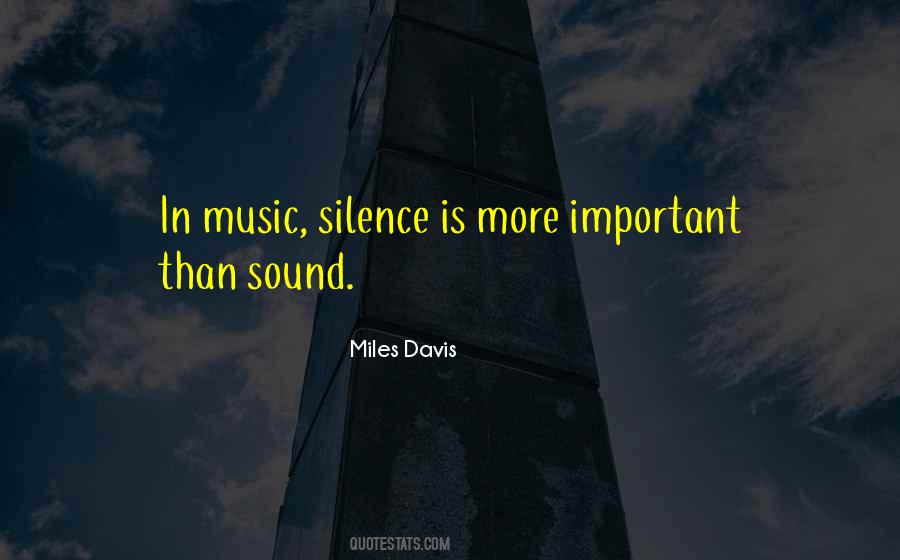 #95. I'll play it first and figure out what it's called later. - Author: Miles Davis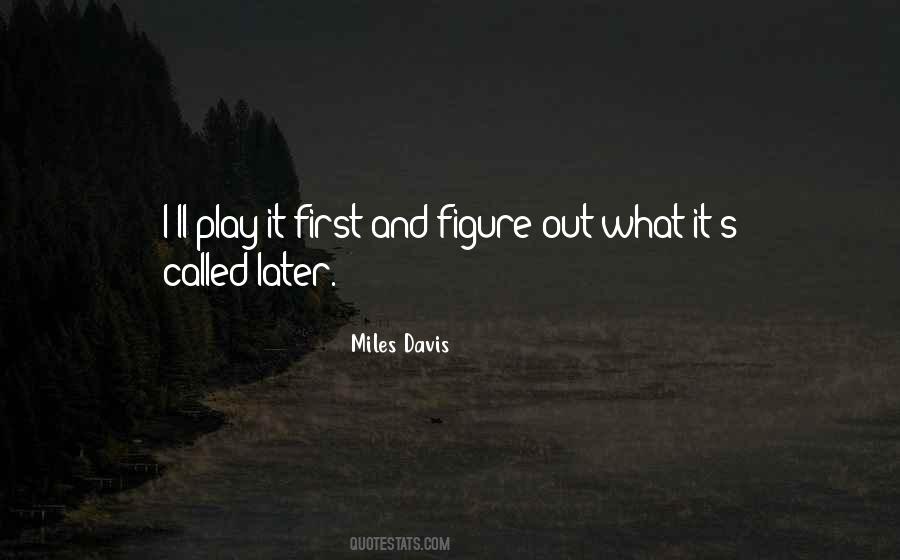 #96. It's not the note you play that's the wrong note - it's the note you play afterwards that makes it right or wrong. - Author: Miles Davis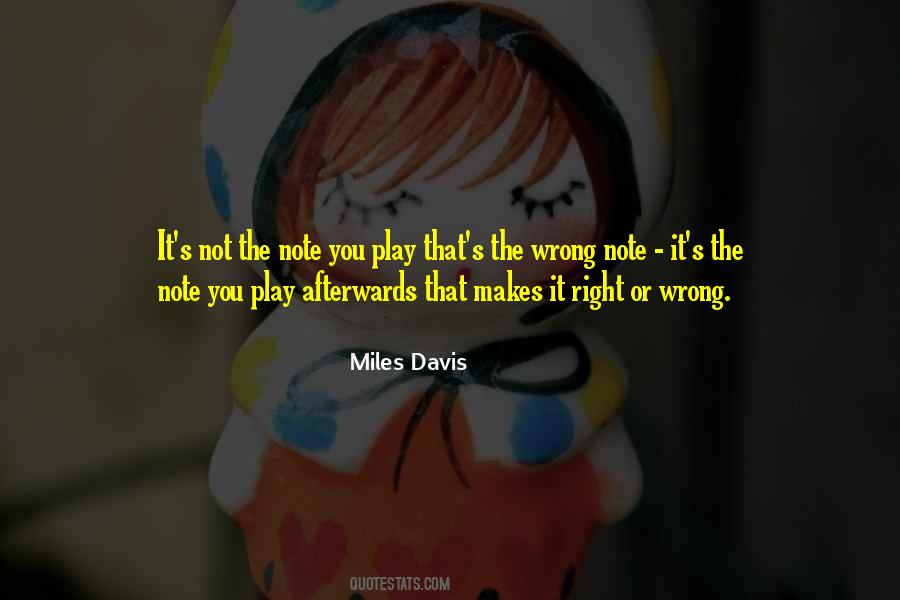 #97. I like to listed to the adventurous guys - the Coltranes, Miles Davis, the guys who just let it loose. - Author: Herb Alpert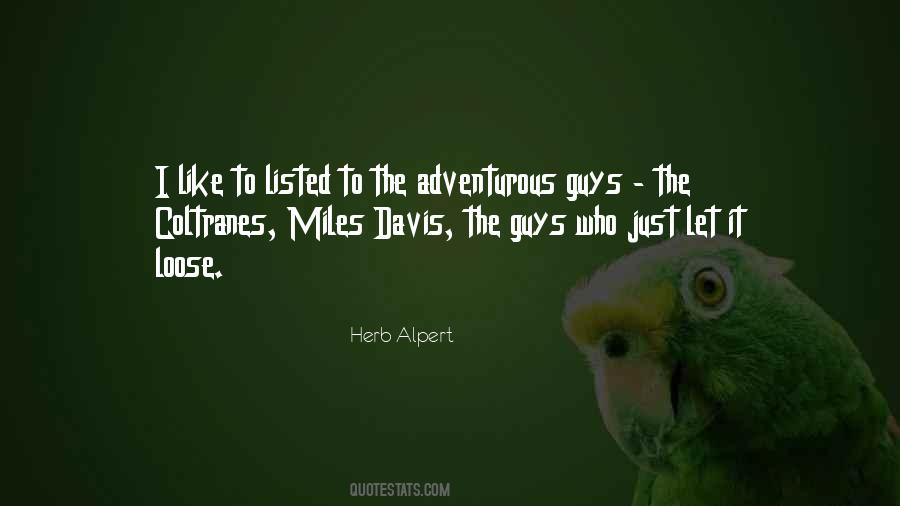 #98. John Lee Hooker is the funkiest man alive - Author: Miles Davis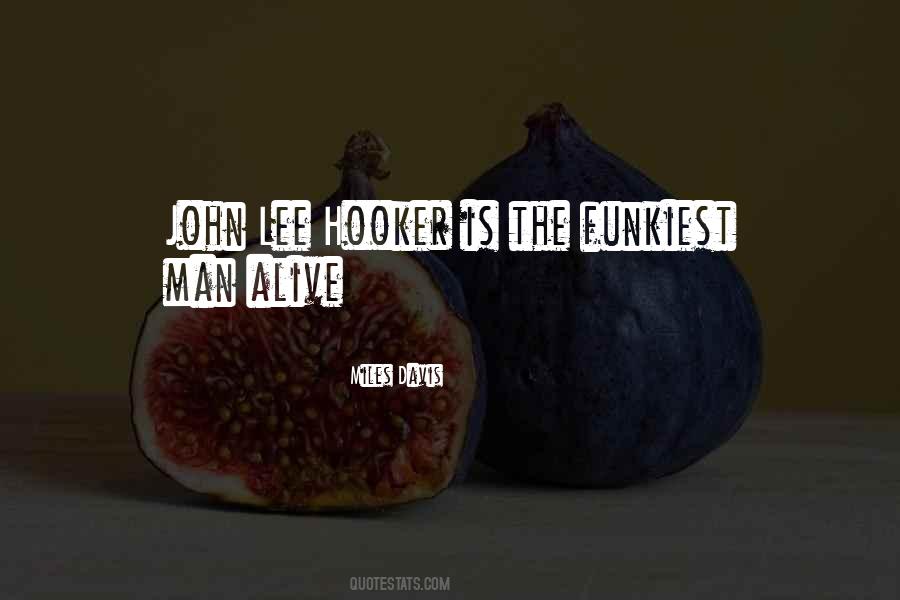 #99. The way you change and help music is by tryin' to invent new ways to play - Author: Miles Davis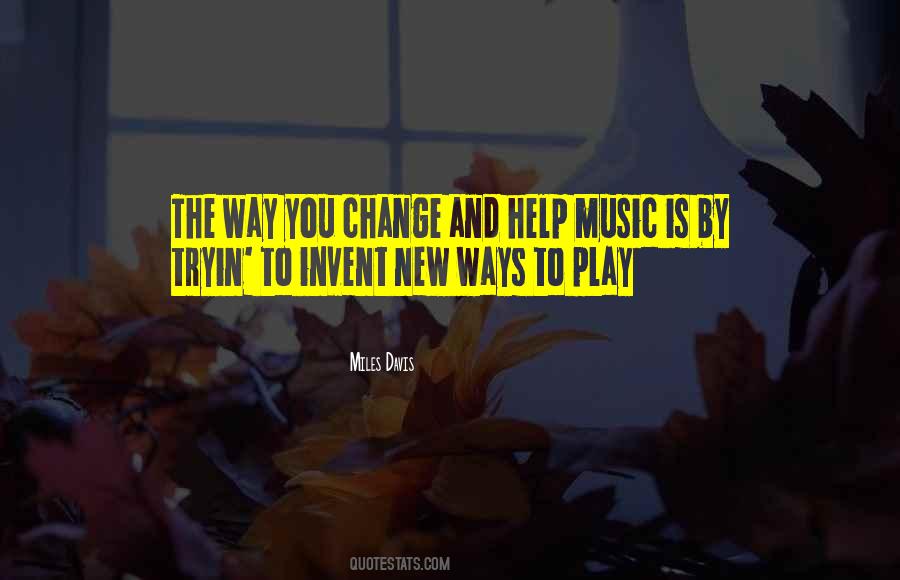 #100. Don't be afraid of mistakes - There are none. - Author: Miles Davis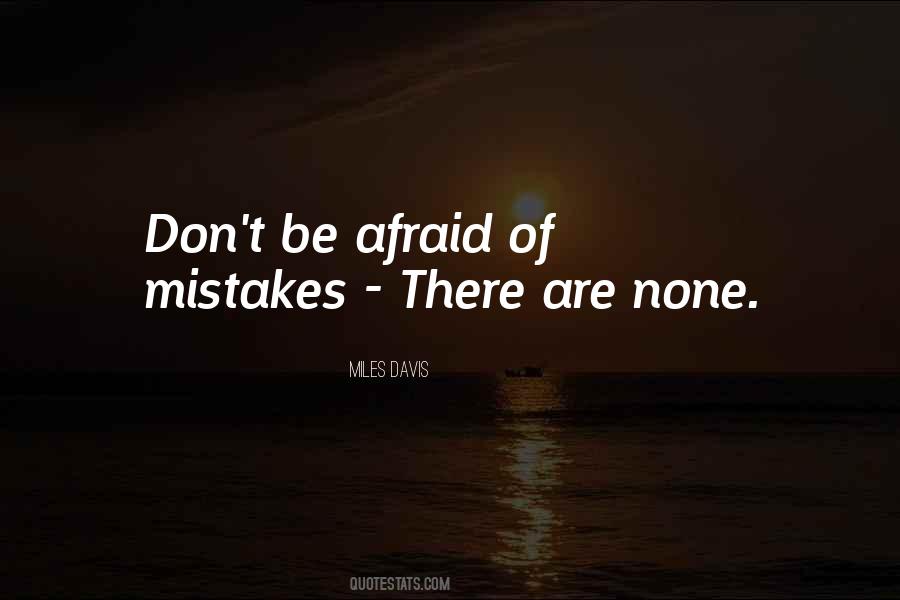 Famous Authors
Popular Topics