Man And Animals Famous Quotes & Sayings
List of top 100 famous quotes and sayings about man and animals to read and share with friends on your Facebook, Twitter, blogs.
Top 100 Quotes About Man And Animals
#1. Compassion for animals is intimately associated with goodness of character, and it may be confidently asserted that he who is cruel to animals cannot be a good man. - Author: Arthur Schopenhauer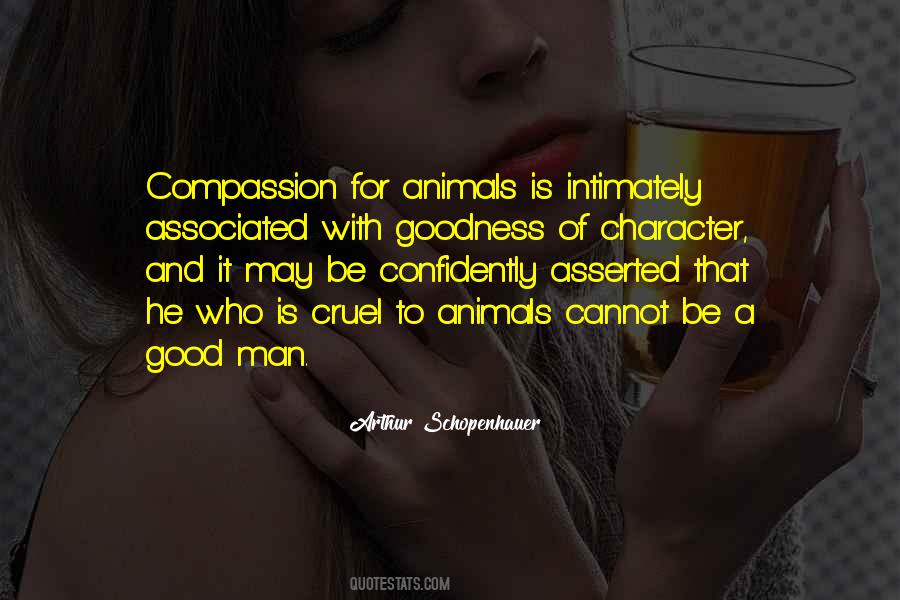 #2. In fact, the underlying principle of the baroque is the idea of transformation, of movement, and animals becoming man, and man becoming animals, and mythology. It was a way to inspire pre-Christian character. - Author: Camille Henrot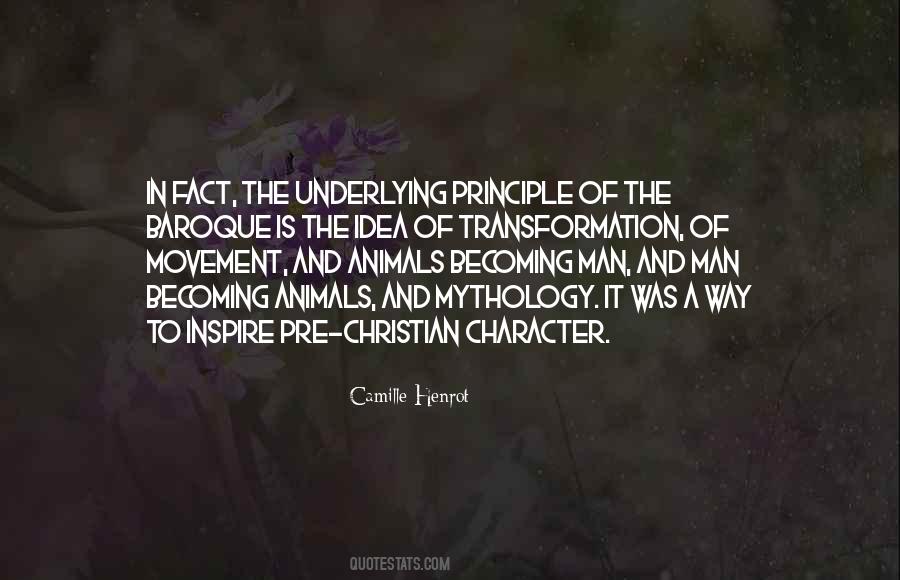 #3. The weather, the plants, the animals, and our human survival are all inextricably linked. The natural elements were at war with one another because we abused our ecosystem. Abused our atmosphere. Abused our animals. Abused our fellow man. - Author: Tahereh Mafi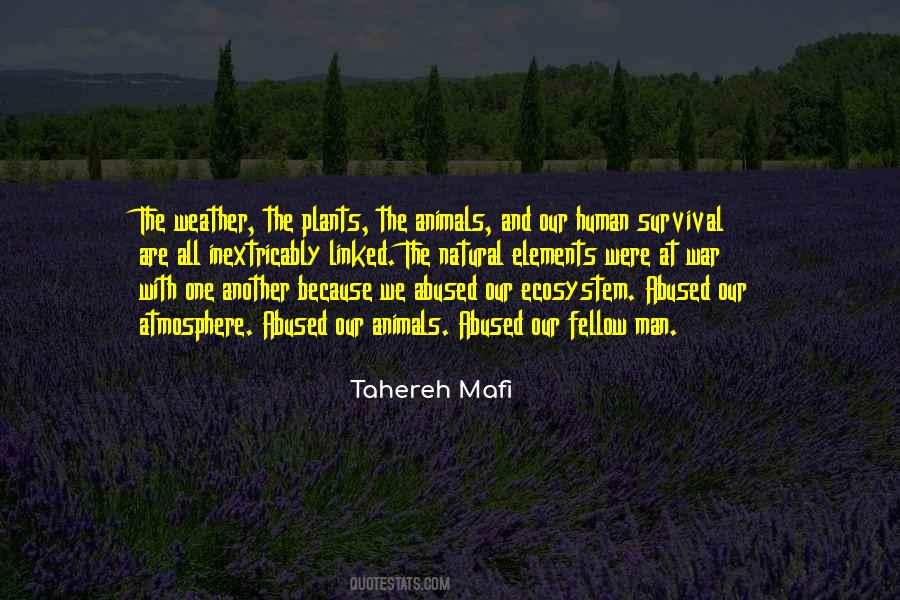 #4. Every man has the basis of good. Not only human beings, you can find it among animals and insects, for instance, when we treat a dog or horse lovingly. - Author: Dalai Lama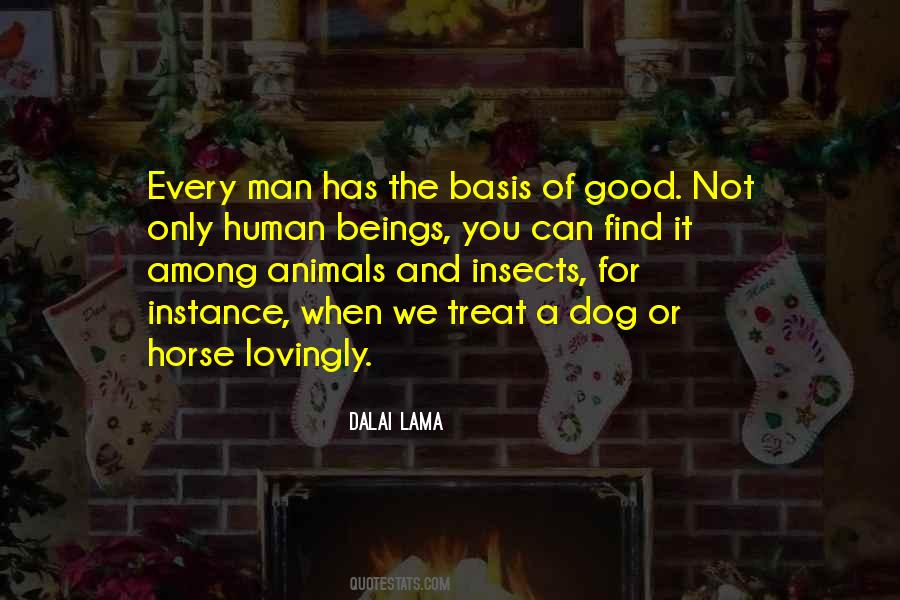 #5. There is one gift above all others that makes man unique among the animals, and it is the gift displayed everywhere here: his immense pleasure in exercising and pushing forward his own skill. - Author: Jacob Bronowski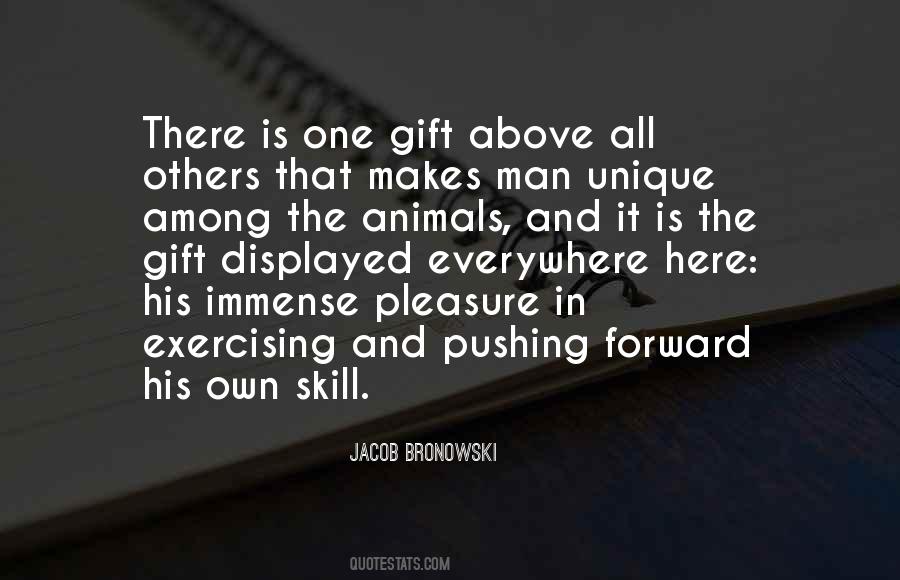 #6. Man and animals are in reality vehicles and conduits of food, tombs of animals, hostels of Death, coverings that consume, deriving life by the death of others. - Author: Leonardo Da Vinci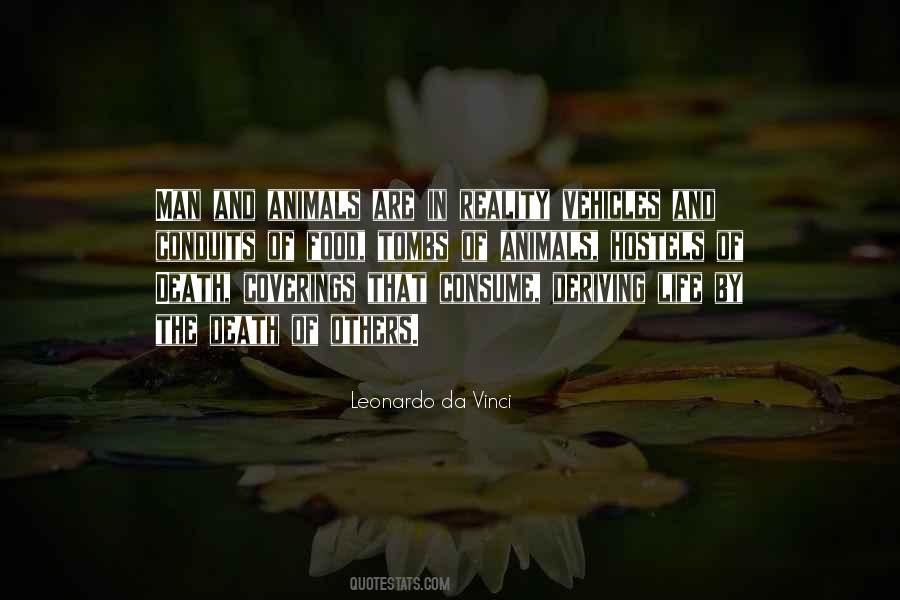 #7. We are like other animals; we live and die as they do. If there is any afterlife, I believe we are in together. - Author: Bangambiki Habyarimana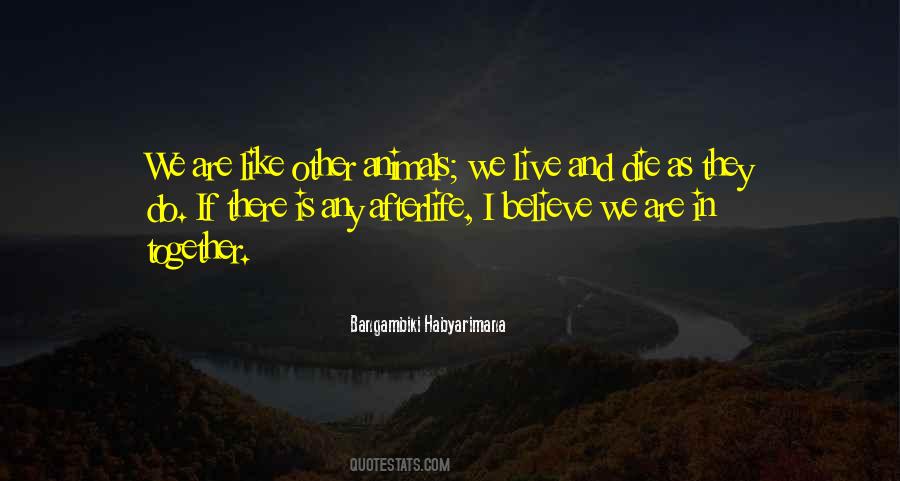 #8. To attribute rights to animals is to ignore the purpose and justification of rights - to protect the interests of man. - Author: Alex Epstein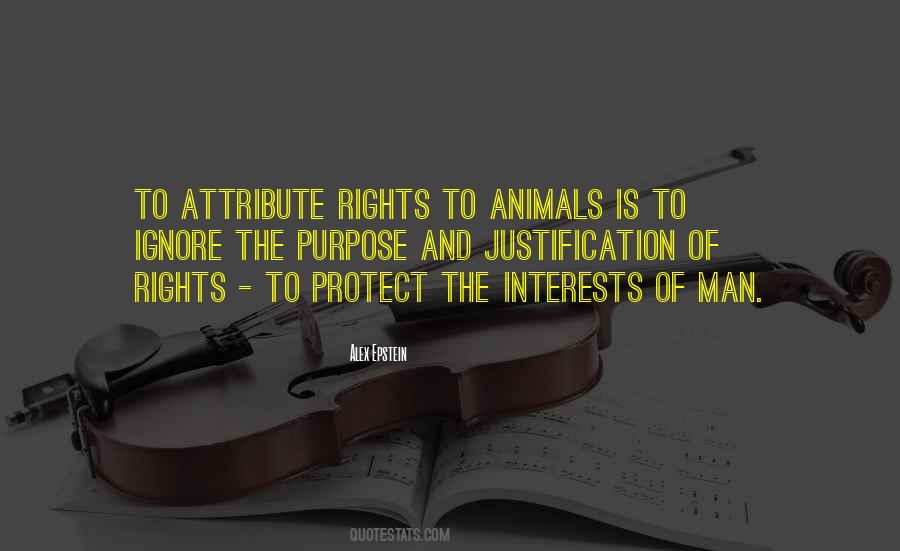 #9. Shade for a man
And shelter for animals,
Planted in your name,
May you be the same for those around you,
Every year the same. - Author: Nancy J Cavanaugh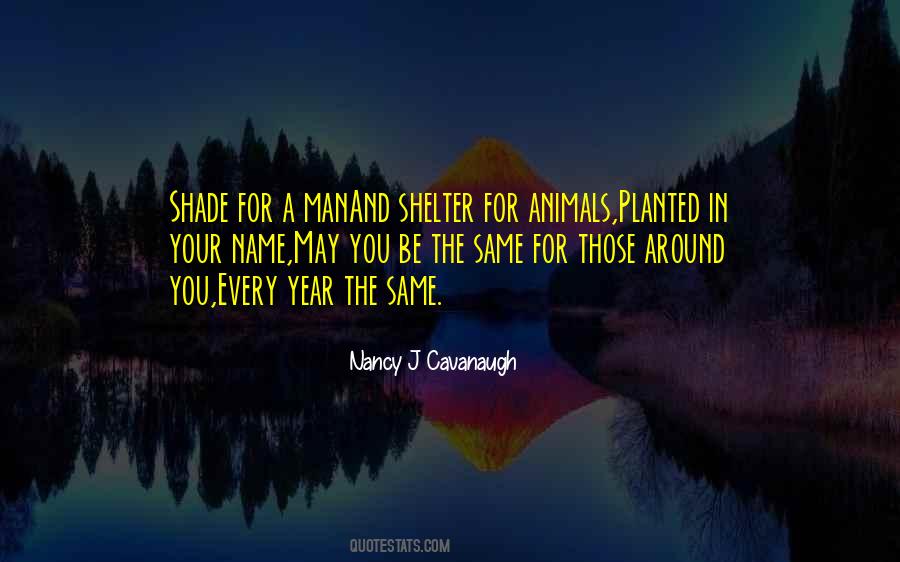 #10. It is primarily through the growth of science and technology that man has acquired those attributes which distinguish him from the animals, which have indeed made it possible for him to become human. - Author: Arthur Compton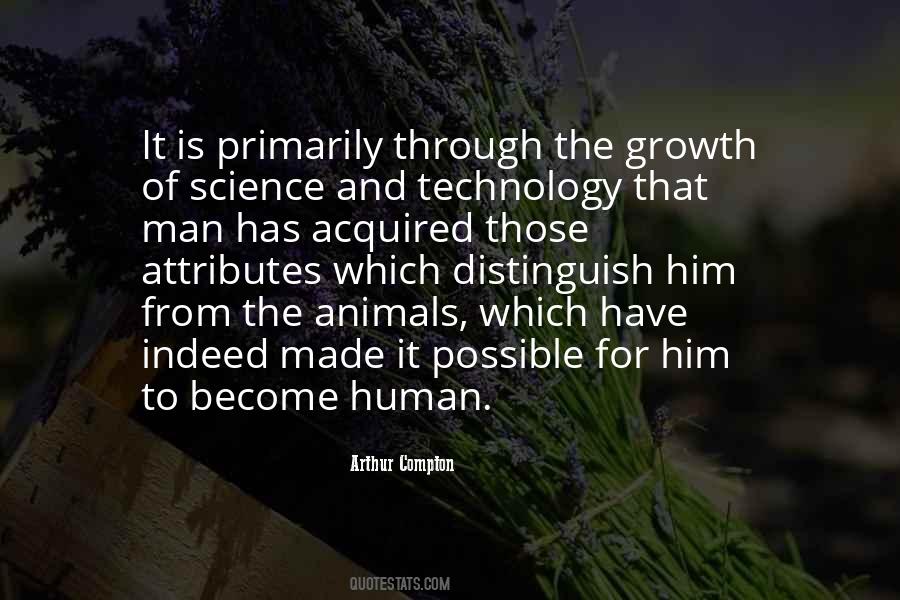 #11. Embracing our environment is a good direction, a very spiritual direction. It's too Aristotelian to separate man from the animals and man; humans from the environment. - Author: Surya Das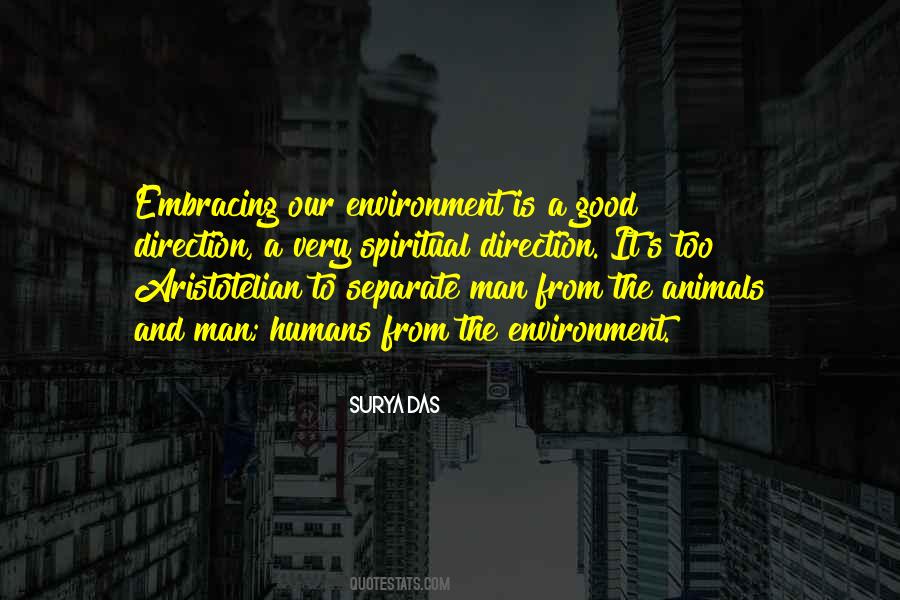 #12. Humans hunt and kill maneaters.
What if animals hunted animal eaters?! - Author: Manoj Vaz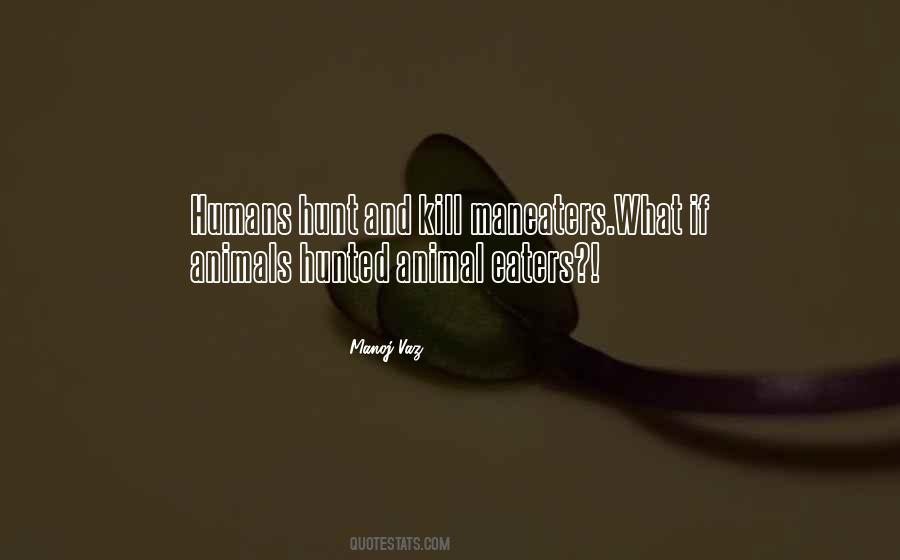 #13. Man and the animals are merely a passage and channel for food, a tomb for other animals, a haven for the dead, giving life by the death of others, a coffer full of corruption. - Author: Leonardo Da Vinci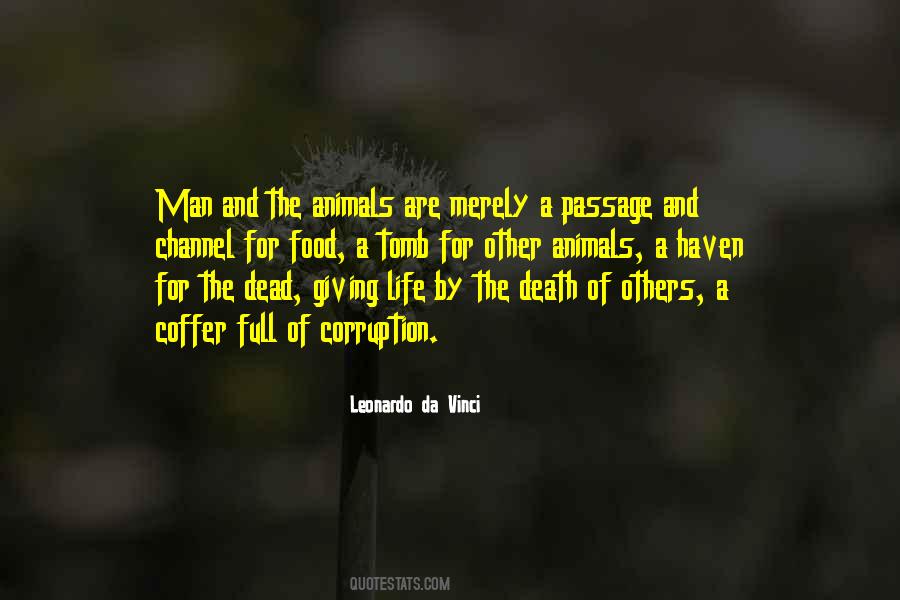 #14. If we can hump dead animals and antelopes, there's no reason that a man and another man can't elope. - Author: Eminem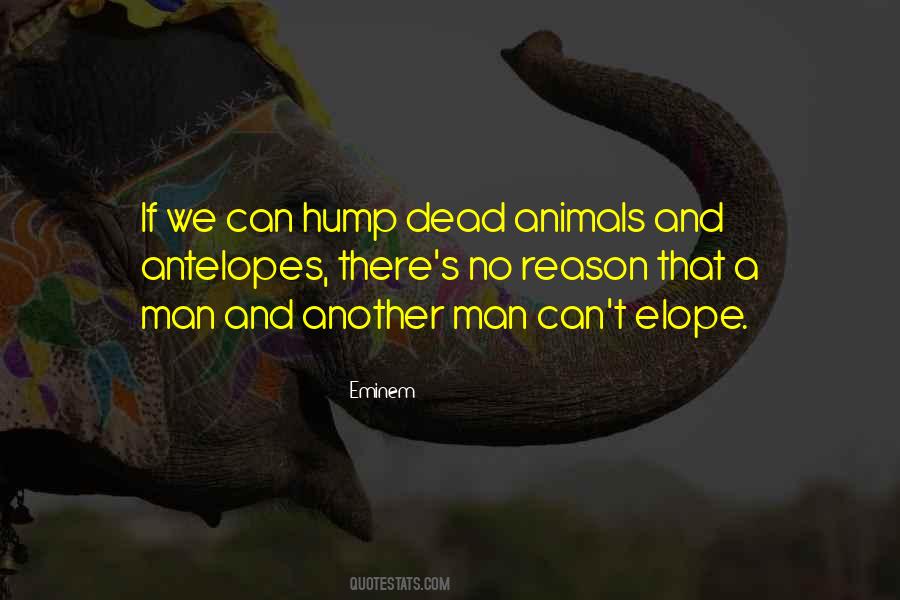 #15. What are my books but one plea against "man's inhumanity to man" --to woman-- and to the lower animals? - Author: Thomas Hardy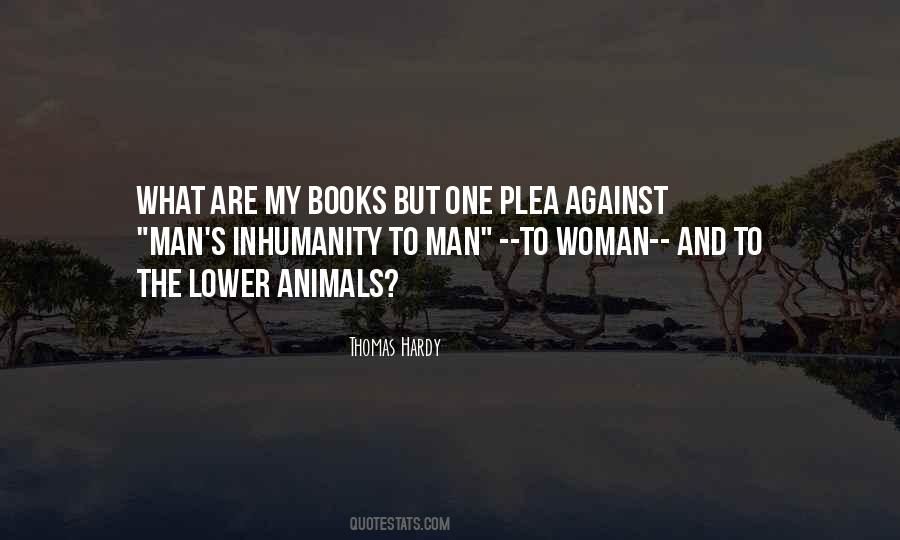 #16. Here the sky is wrapped in silk. The breathings of so many men and animals, and the smoke of your coal, and the fog, oh, it is too much. The Paris sky is perfect. A man must see clearly, to see something new. - Author: John Pipkin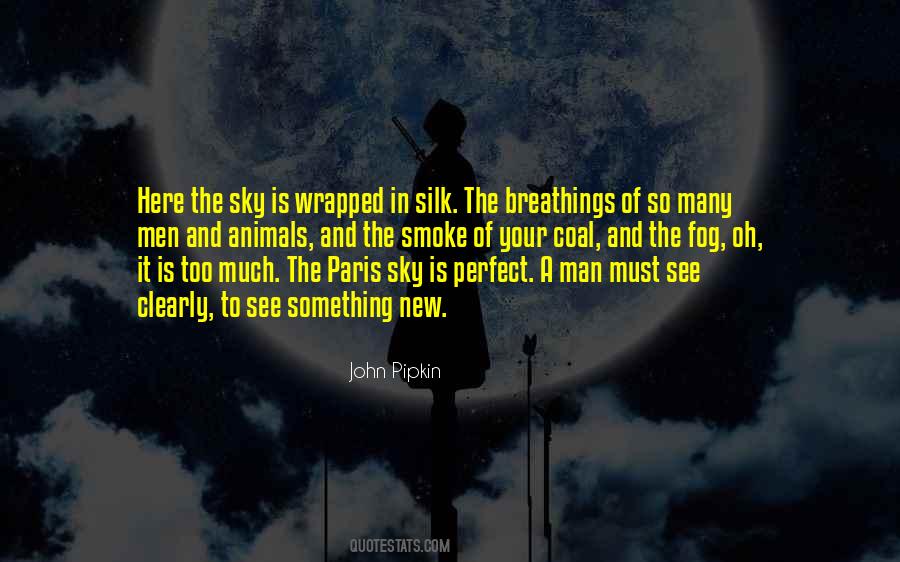 #17. So the lion is the law-breaker. Just as to the primitive man the lion is the lawbreaker, the great nuisance, dangerous to human beings and to animals, that breaks into the Kraal at night and fetches the bull out of the herd: he is the destructive instinct. - Author: Carl Jung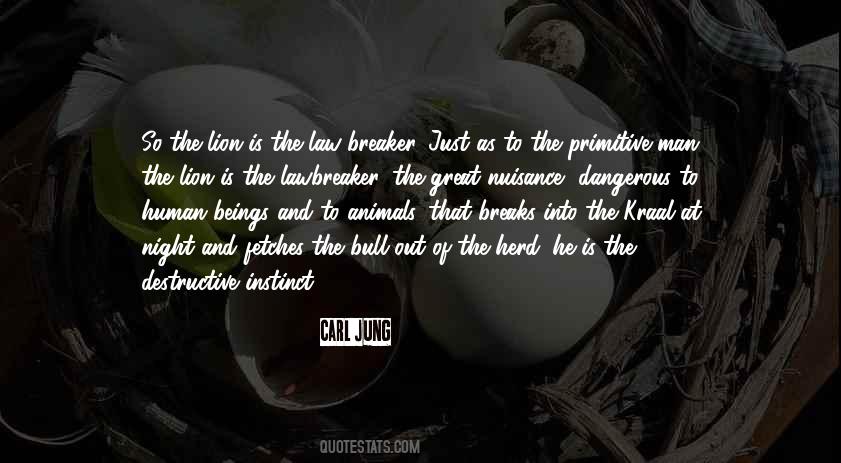 #18. Man is not, like the animals, an obsequious puppet of instincts and sensual impulses. Man has the power to suppress instinctive desires, he has a will of his own, he chooses between incompatible ends. - Author: Ludwig Von Mises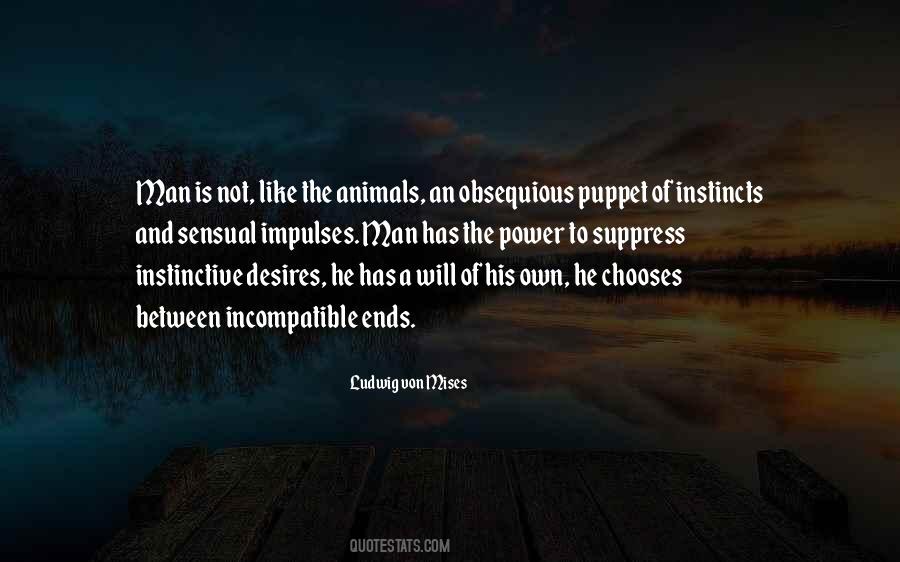 #19. Spilled blood and superstition are the basis of the world. Man is not the only creature who kills for bread, or love, or power, because animals in the jungle do that in various ways, but he is the only creature who kills because of faith. - Author: Hassan Blasim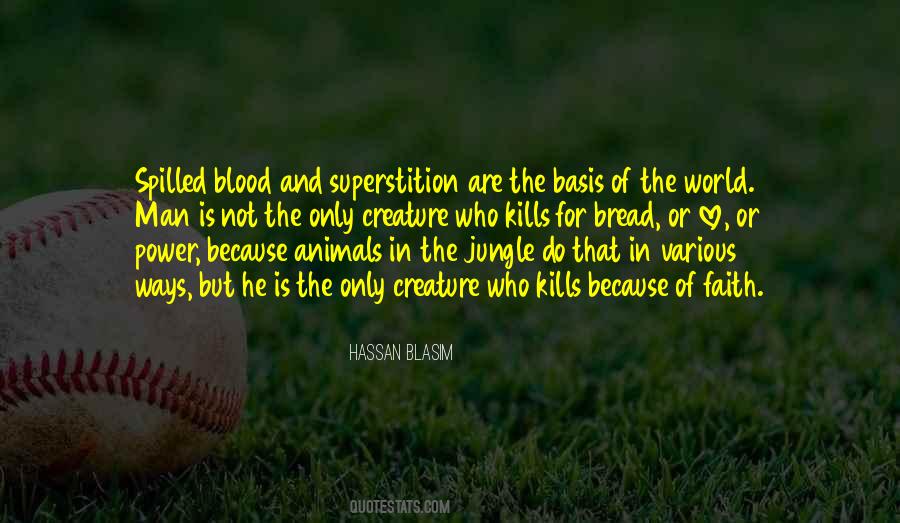 #20. Most animals sleep in a hole in the ground or hanging from a tree. Man alone has made for himself an elaborate resting place. And yet he is the only one to have developed the alarm clock to rouse himself from it, the only species to spend sixteen or more hours of each day away from it. - Author: James Rozoff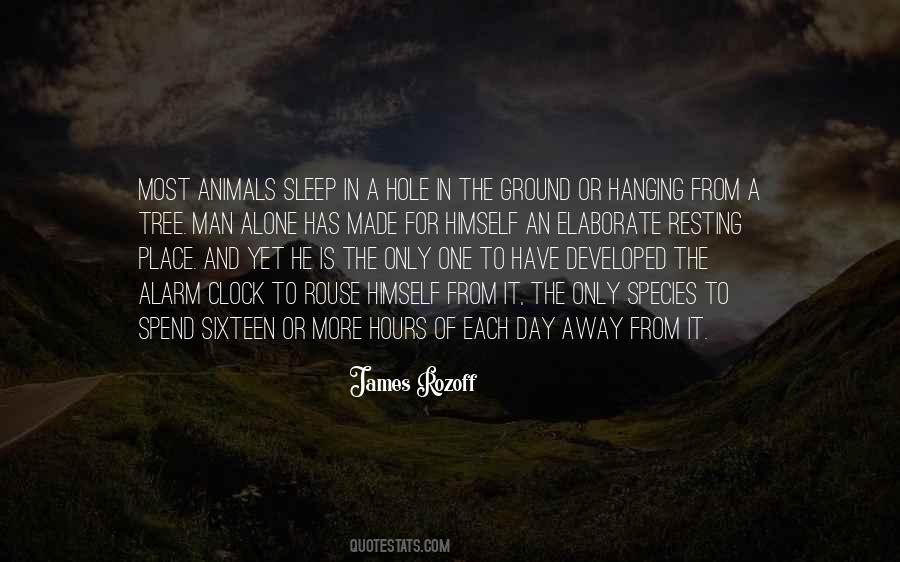 #21. He [man] abuses equally other animals and his own species, the rest of whom live in famine, languish in misery, and work only to satisfy the immoderate appetite and the still more insatiable vanity of this human being who, destroying others by want, destroys himself by excess. - Author: Georges-Louis Leclerc, Comte De Buffon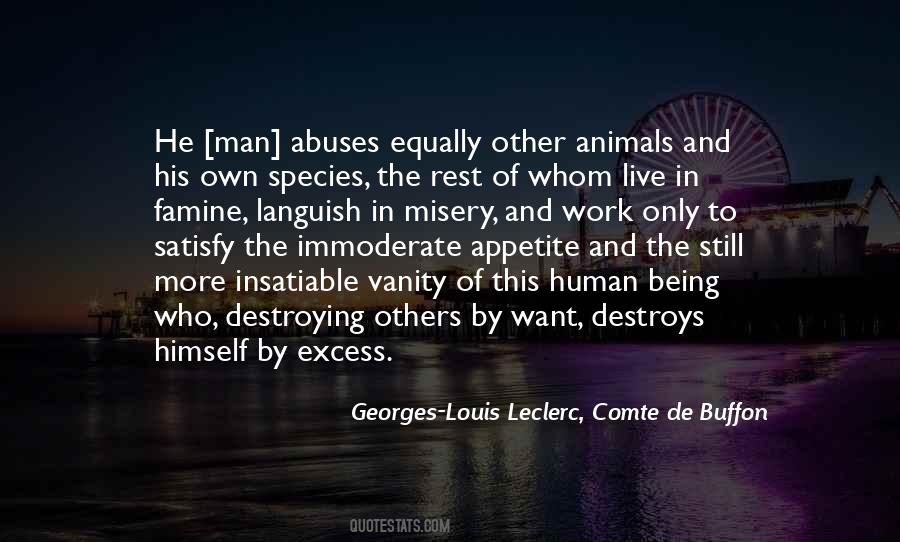 #22. God, that all-powerful Creator of nature and architect of the world, has impressed man with no character so proper to distinguish him from other animals, as by the faculty of speech. - Author: Quintilian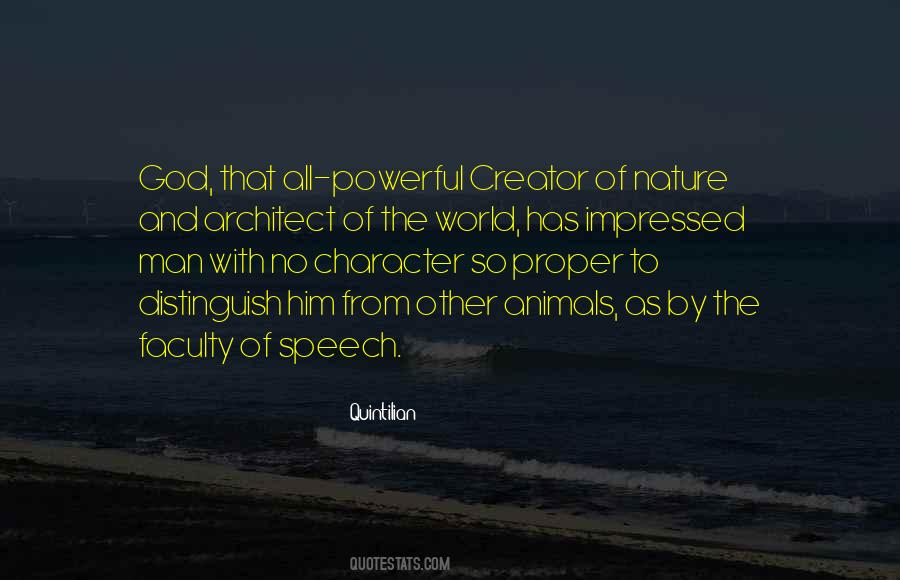 #23. Democracy can't work. Mathematicians, peasants, and animals, that's all there is
so democracy, a theory based on the assumption that mathematicians and peasants are equal, can never work. Wisdom is not additive; its maximum is that of the wisest man in a given group. - Author: Robert A. Heinlein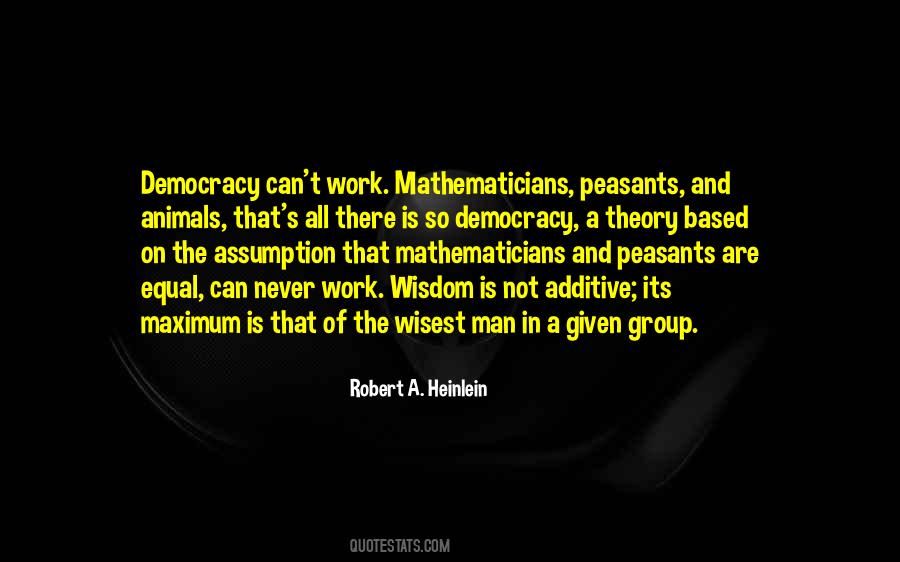 #24. The only lesson I got pounded into me was about man's limitless capacity for vice - that and the fact that social distinctions vanish in a concentration camp. I once believed that man was different from other animals, but Yodok showed me that reality doesn't support this opinion. - Author: Kang Chol-Hwan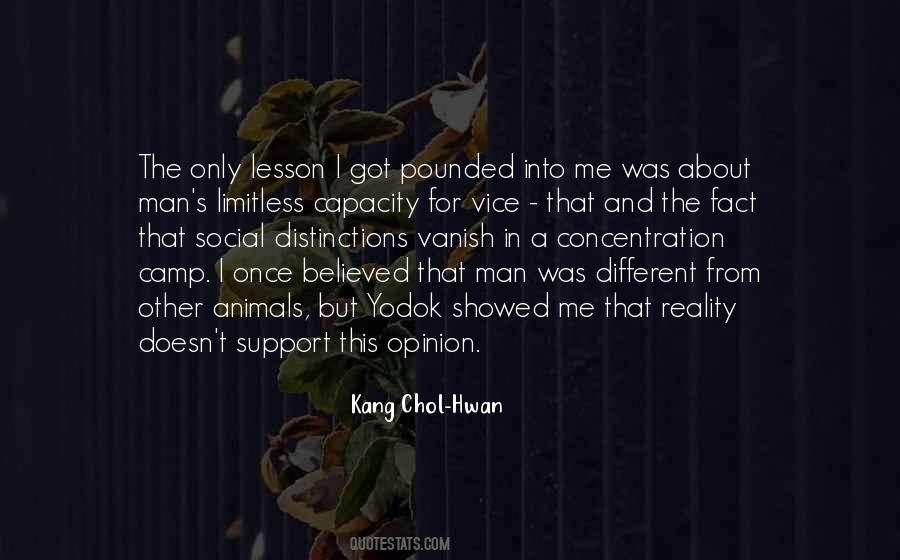 #25. If you pick up a starving dog and make him prosperous he will not bite you. This is the principal difference between a dog and man. - Author: Mark Twain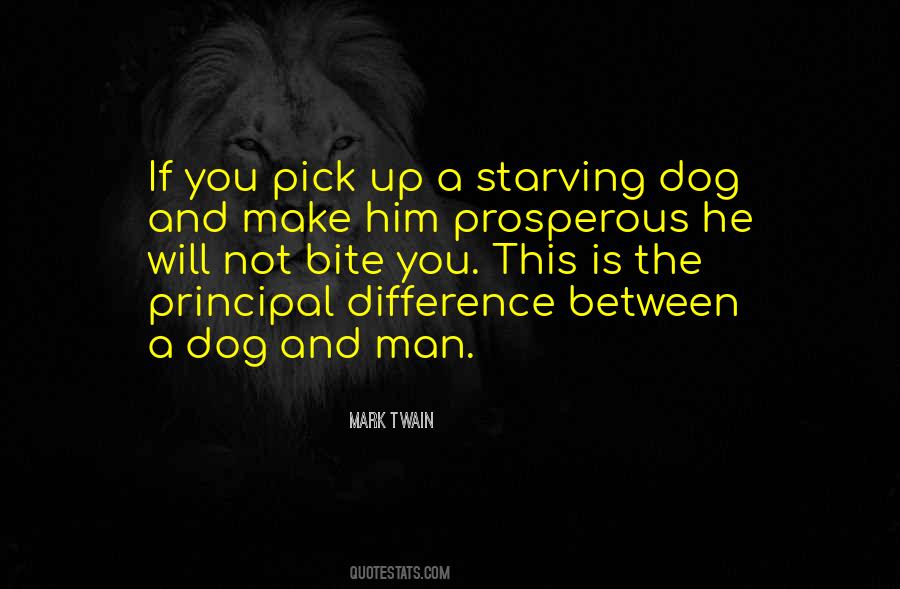 #26. He slept like an animal, well and lightly, faced in the opposite direction from that of a man; for a man going to sleep is about to escape into it while animals are prepared to escape out of it. - Author: Theodore Sturgeon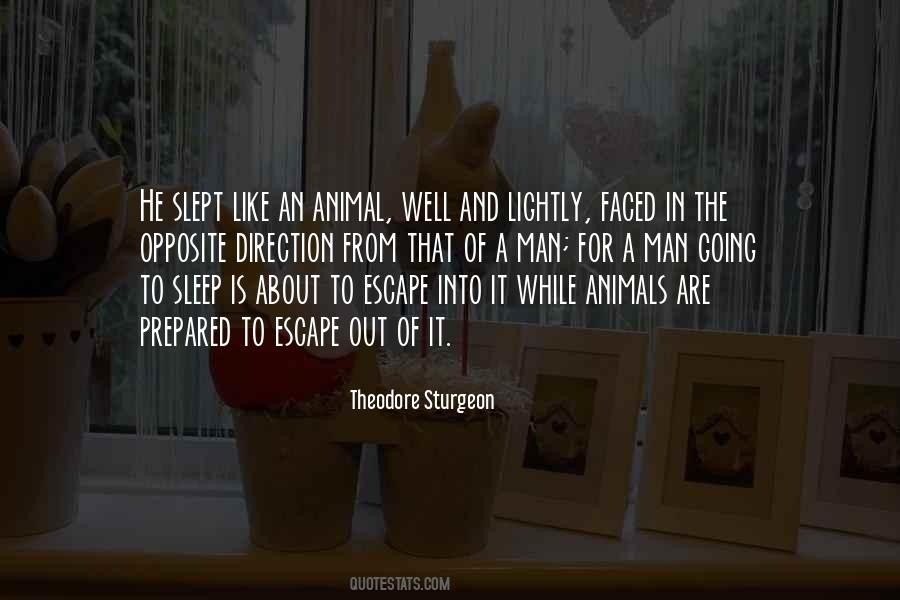 #27. [T]he young and the old of widely different races, both with man and animals, express the same state of mind by the same movements. - Author: Charles Darwin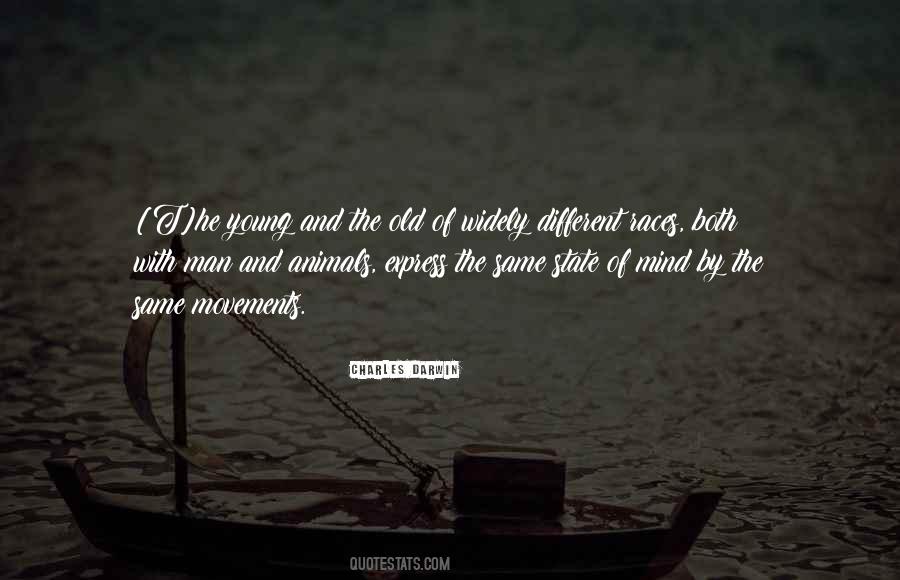 #28. Be contented with the things of the present. The cows and the dogs are, and so are all animals; and that is what makes them animals. So if man rests content with the present and gives up all search into the beyond, mankind will have to go back to the animal plane again. - Author: Swami Vivekananda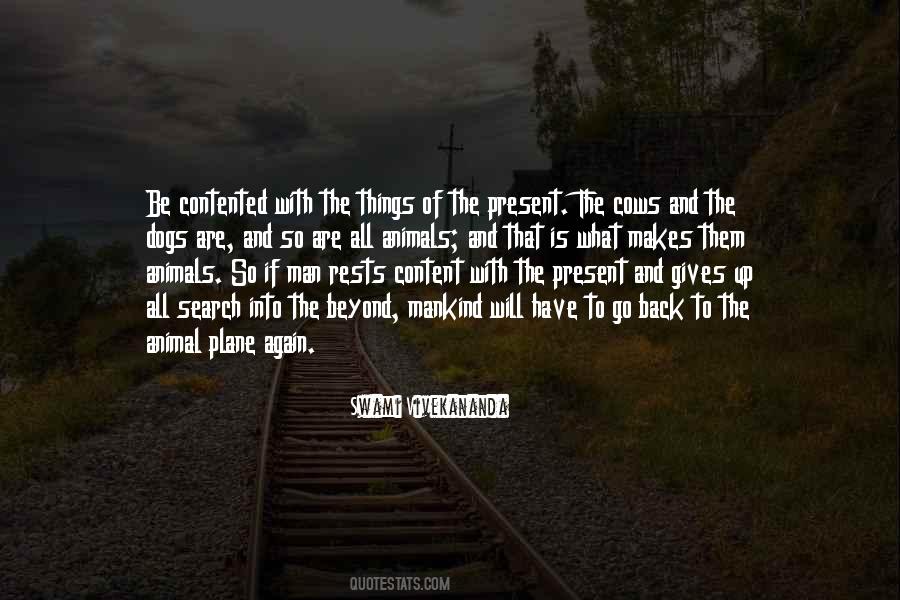 #29. It is very funny about money. The thing that differentiates man from animals is money. All animals have the same emotions and the same ways as men. Anybody who has lots of animals around knows that. But the thing no animal can do is count, and the thing no animal can know is money. - Author: Gertrude Stein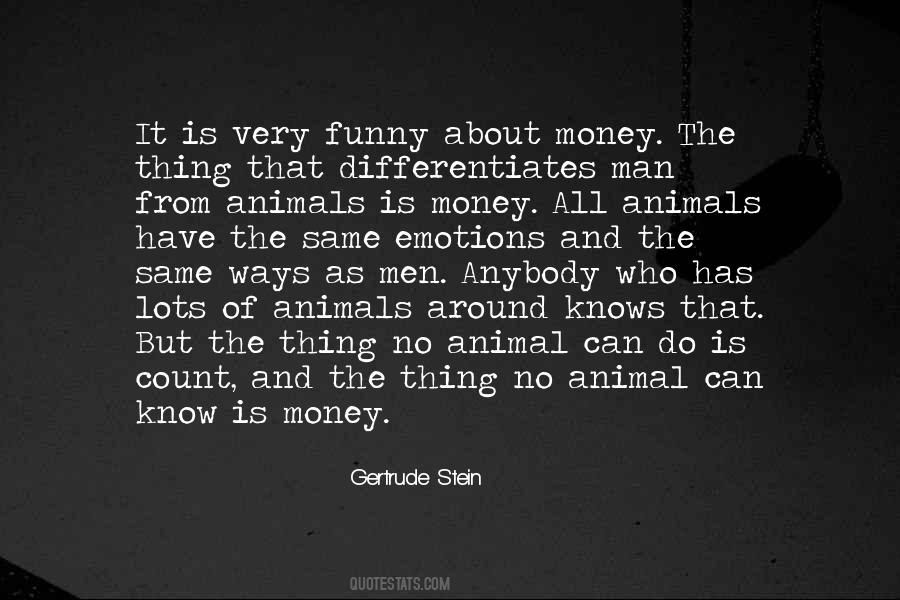 #30. Language is man's way of communicating with his fellow man and it is language alone which separates him from the lower animals. - Author: Maya Angelou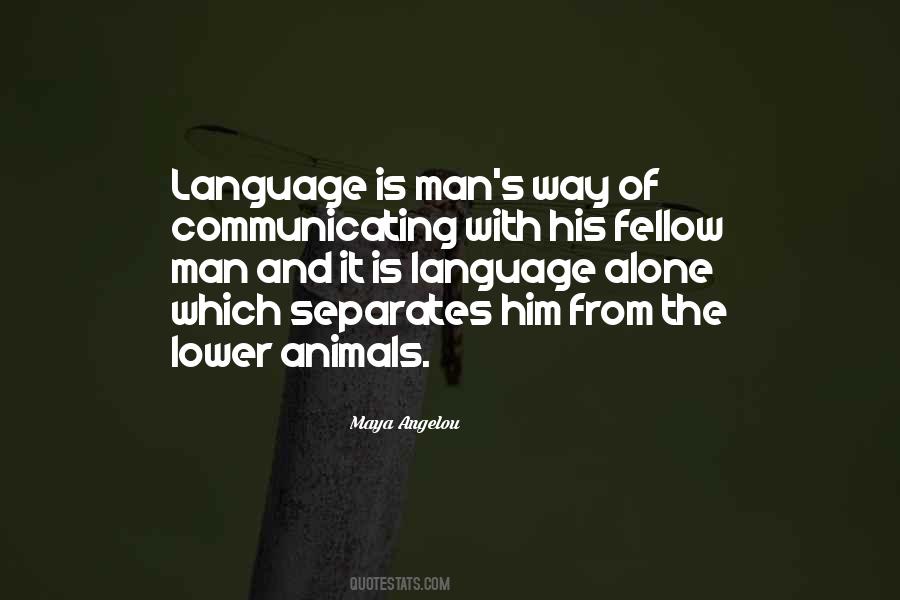 #31. I used to suffer particularly because the poor animals must endure so much pain and want. The sight of an old, limping horse being dragged along by one man while another man struck him with
a stick he was being driven to the Colmar slaughterhouse - haunted me for weeks. - Author: Albert Schweitzer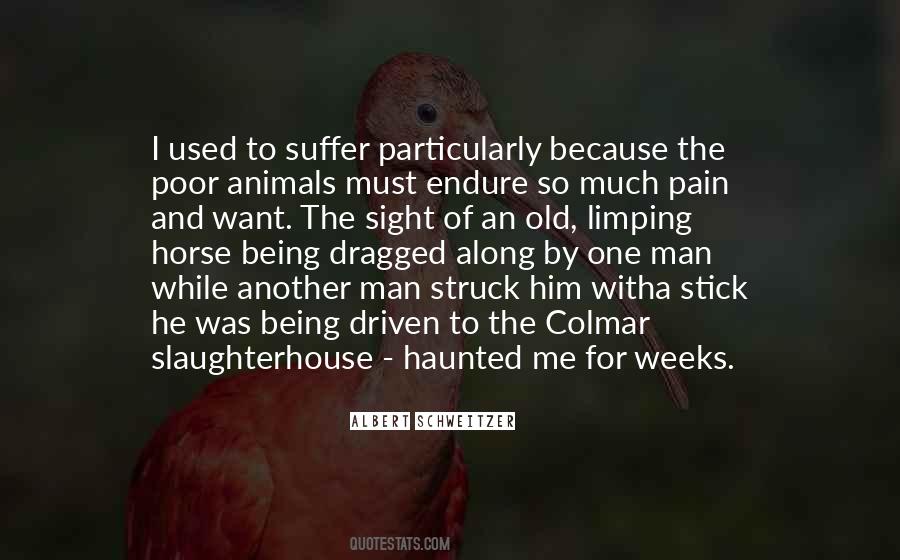 #32. The animals to whom nature has given the faculty we call cunning know always when to use it, and use it wisely; but when man descends to cunning he blunders and betrays. - Author: Thomas Paine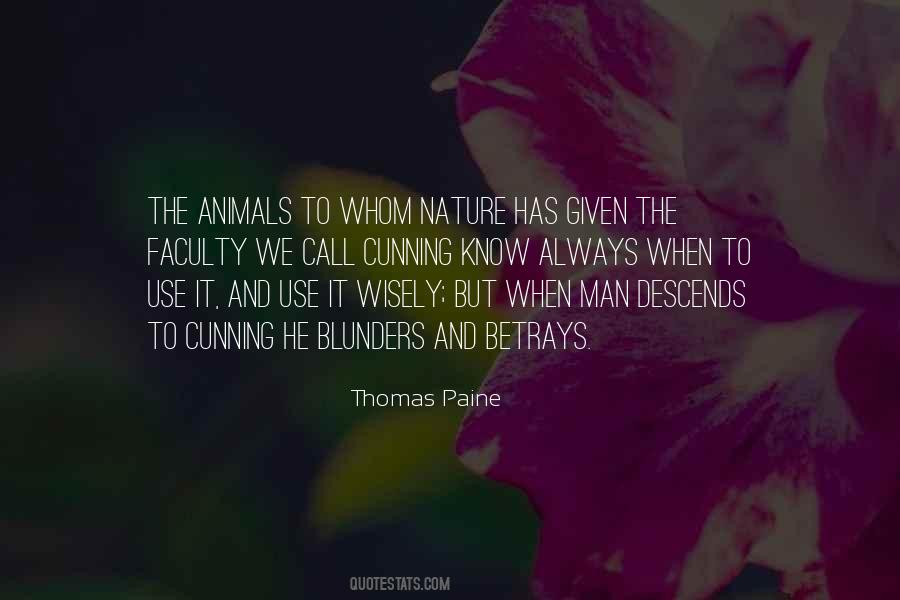 #33. Mr Verloc extended as much recognition to Stevie as a man not particularly fond of animals may give to his wife's beloved cat; and this recognition, benevolent and perfunctory, was essentially of the same quality. - Author: Joseph Conrad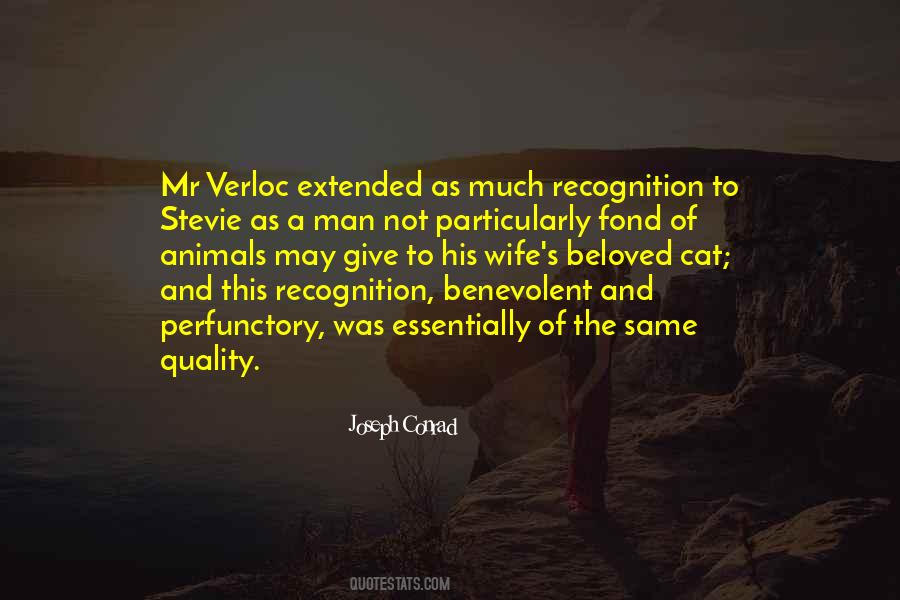 #34. The selfsame procedure which zoology, a branch of the natural sciences, applies to the study of animals, anthropology must apply to the study of man; and by doing so, it enrolls itself as a science in the field of nature. - Author: Maria Montessori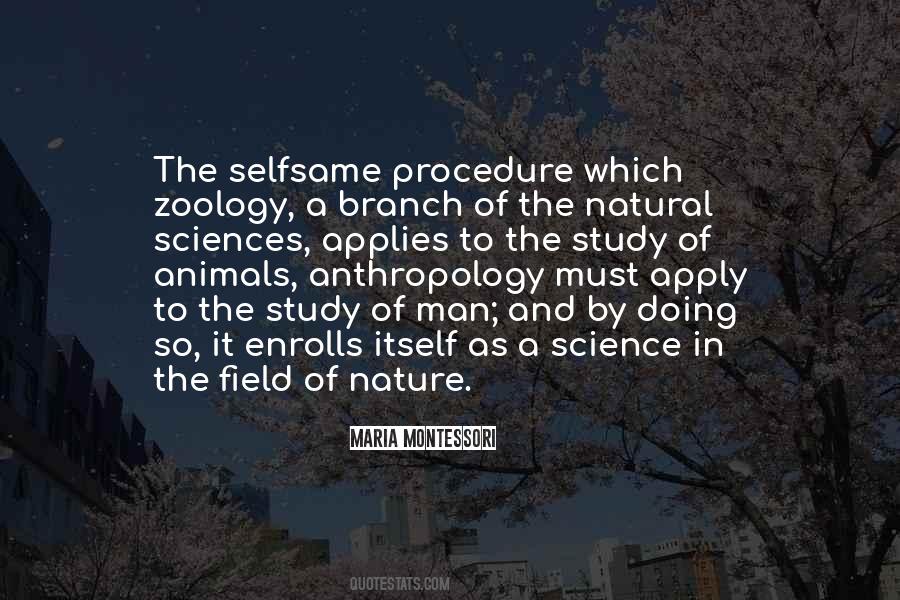 #35. Man in his arrogance thinks himself a great work, worthy of the interposition of a deity. More humble, and I believe truer, to consider him created from animals. - Author: Charles Darwin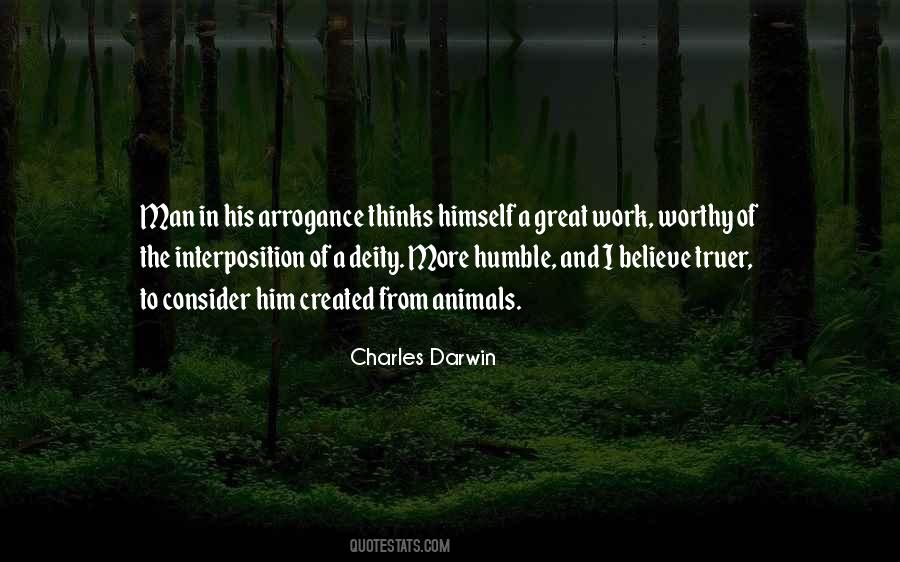 #36. But it did not all happen in a day, this giving over of himself, body and soul, to the man-animals. He could not immediately forego his wild heritage and his memories of the Wild. There were days when he crept to the edge of the forest and stood and listened to something calling him far and away. - Author: Jack London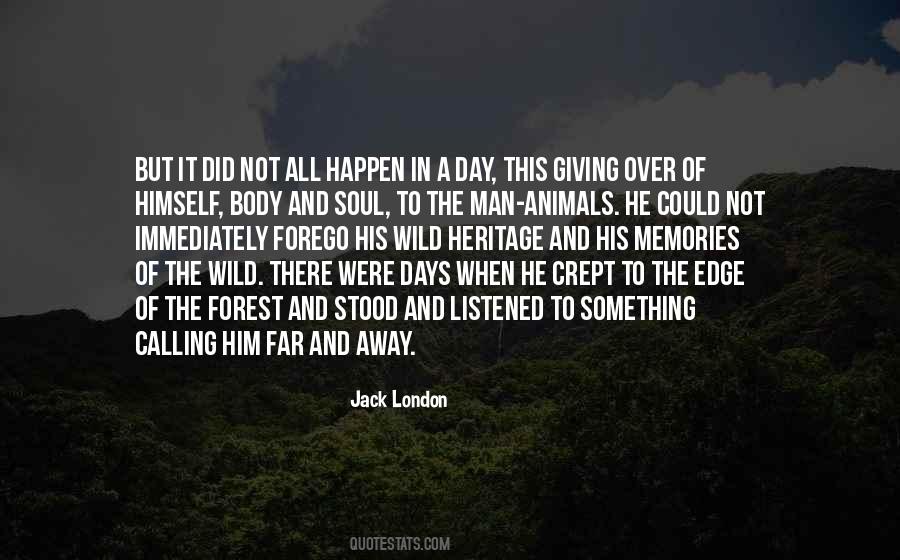 #37. Man, do not pride yourself on your superiority to the animals, for they are without sin, while you, with all your greatness, you defile the earth wherever you appear and leave an ignoble trail behind you
and that is true, alas, for almost every one of us! - Author: Fyodor Dostoyevsky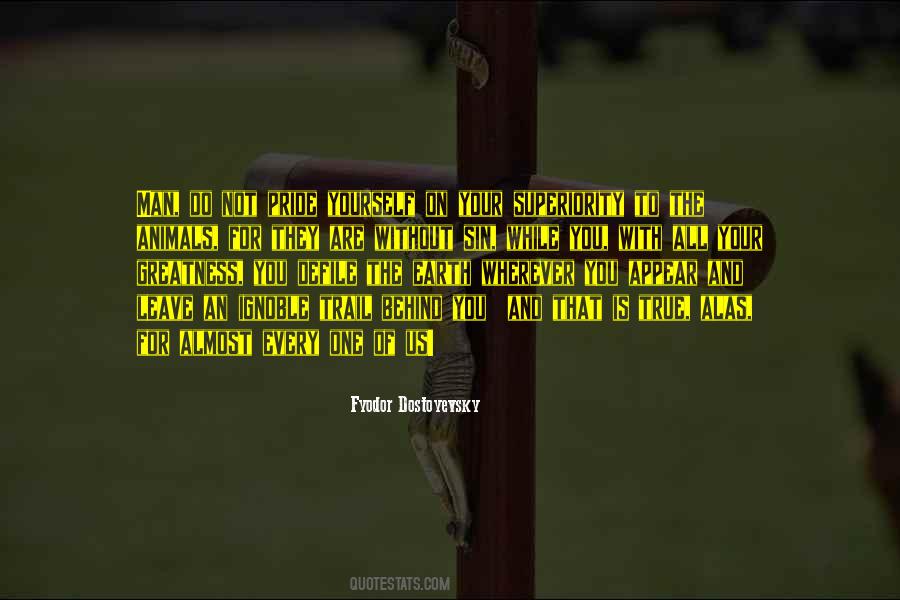 #38. A world where a sparrow's fate and that of a man can be decided in the blink of a cat's eye, such is the true measure of time. - Author: Abraham Verghese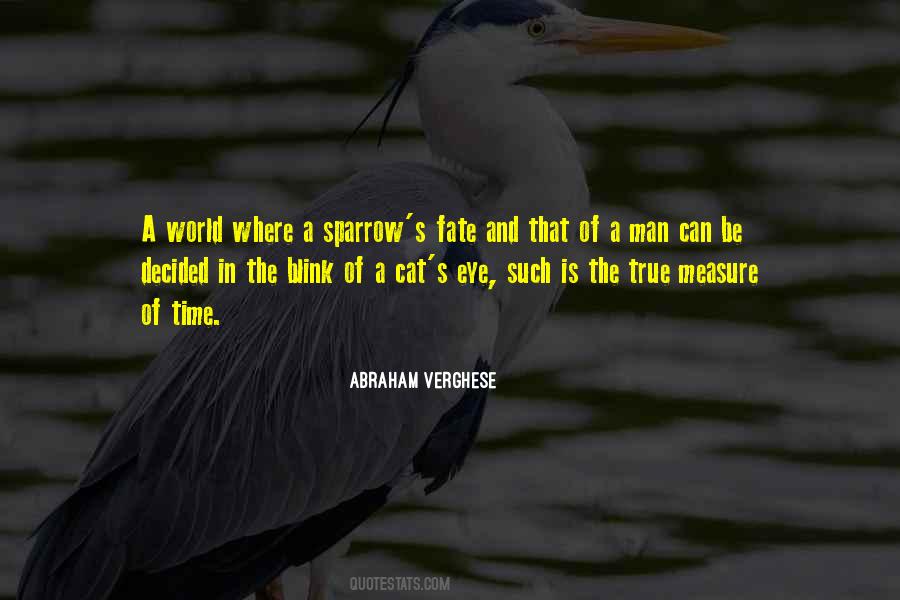 #39. Probe the universe in a myriad of points ... He is a wise man who has taken many views; to whom stones and plants and animals and a myriad of objects have each suggesting something, contributed something. - Author: Henry David Thoreau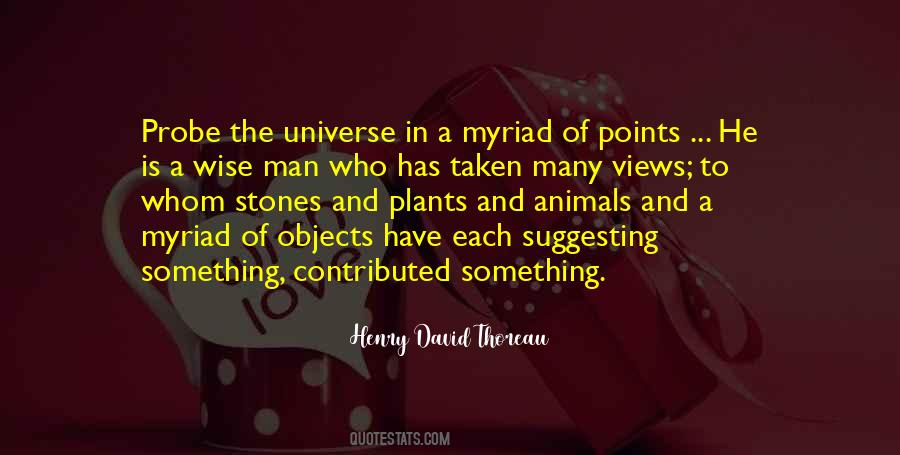 #40. Hair on a man's chest is thought to denote strength. The gorilla is the most powerful of bipeds and has hair on every place on his body except for his chest. - Author: Anton Szandor LaVey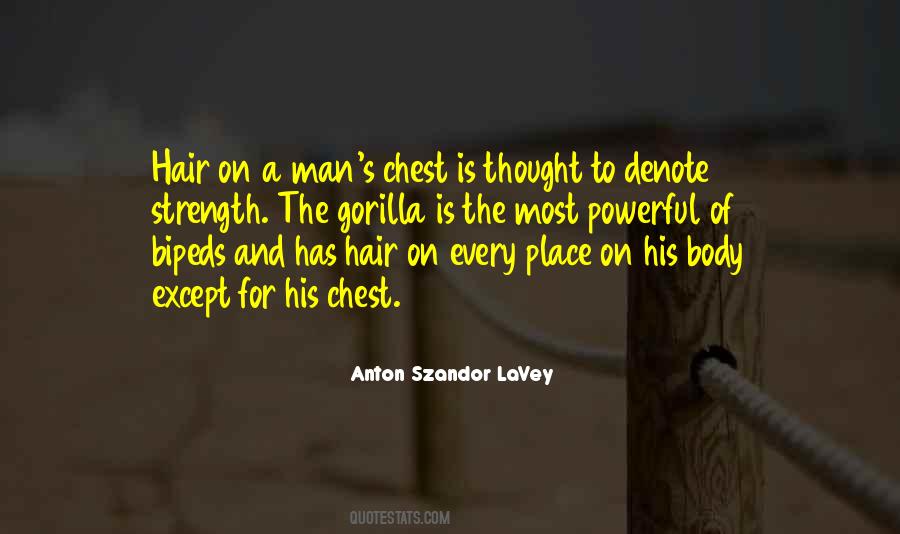 #41. The lower animals, like man, manifestly feel pleasure and pain, happiness and misery. Happiness is never better exhibited than by young animals, such as puppies, kittens, lambs, &c., when playing together, like our own children. - Author: Charles Darwin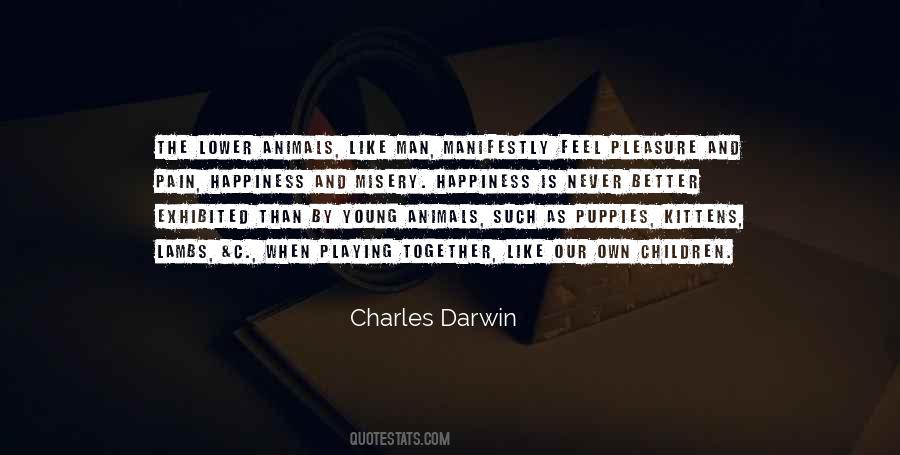 #42. Thus godlike sympathy grows and thrives and spreads far beyond the teachings of churches and schools, where too often the mean, blinding, loveless doctrine is taught that animals have no rights that we are bound to respect, and were only made for man, to be petted, spoiled, slaughtered or enslaved. - Author: John Muir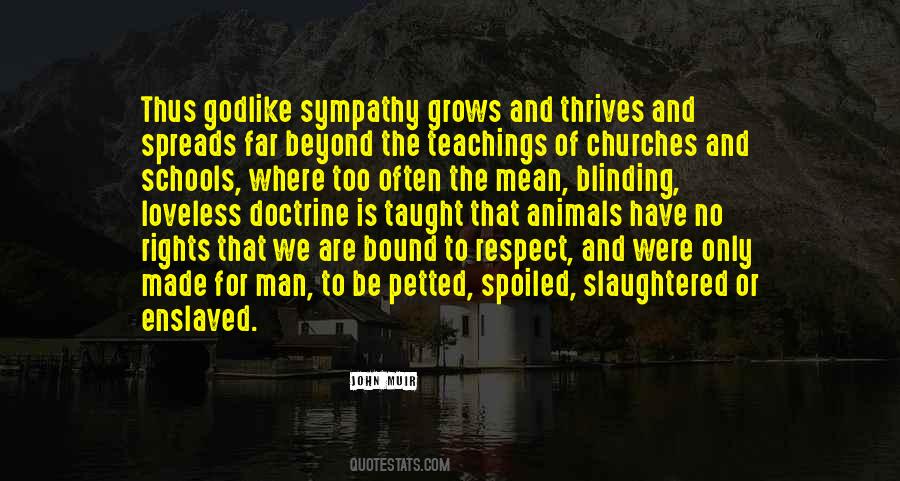 #43. The perfect woman is a higher type of humanity than the perfect man, and also something much rarer. The natural history of animals furnishes grounds in support of this theory. - Author: Friedrich Nietzsche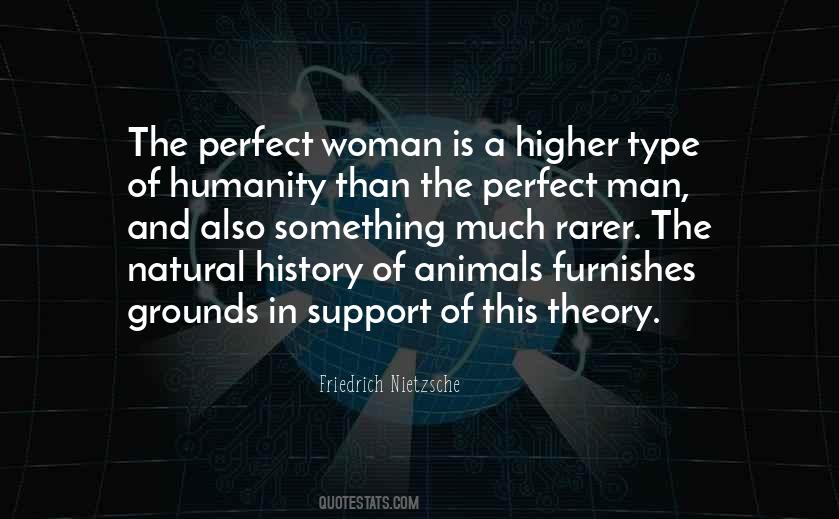 #44. One does not have to be Witted to know the companionship of a beast, and to know that the friendship of an animal is every bit as rich and complicated as that of a man or woman. - Author: Robin Hobb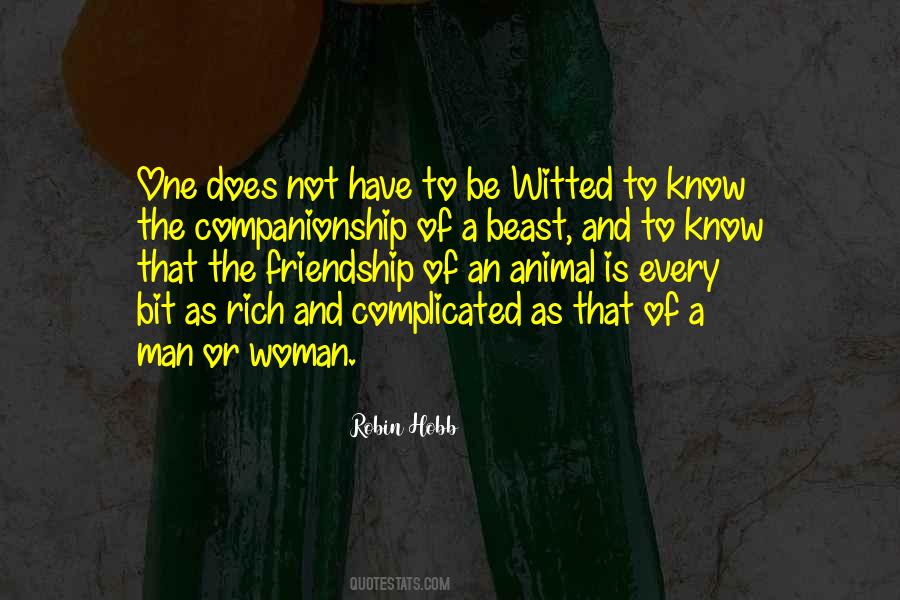 #45. We have seen that the senses and intuitions, the various emotions and faculties, such as love, memory, attention and curiosity, imitation, reason, etc., of which man boasts, may be found in an incipient, or even sometimes in a well-developed condition, in the lower animals. - Author: Charles Darwin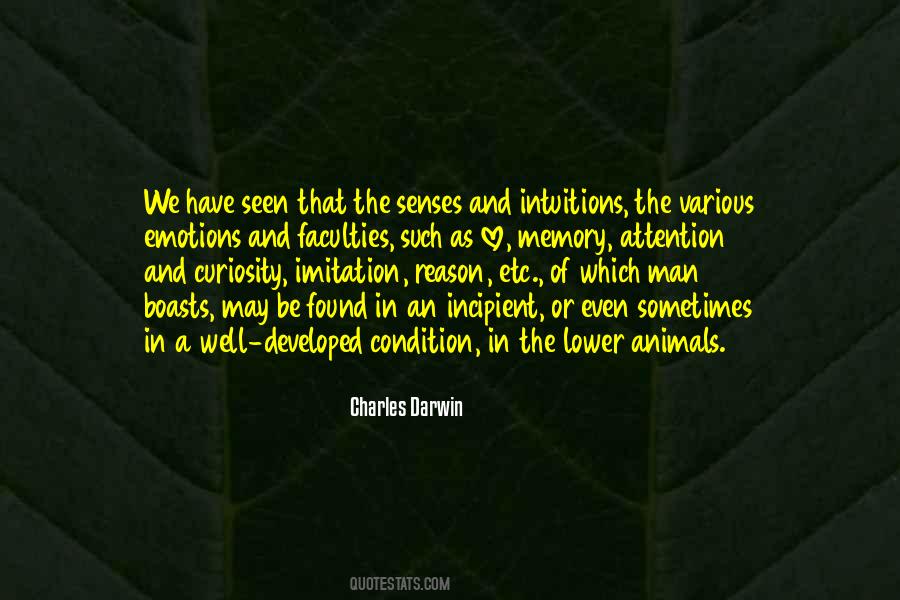 #46. Hi! handsome hunting man
Fire your little gun.
Bang! Now the animal
is dead and dumb and done.
Nevermore to peep again, creep again, leap again,
Eat or sleep or drink again. Oh, what fun! - Author: Walter De La Mare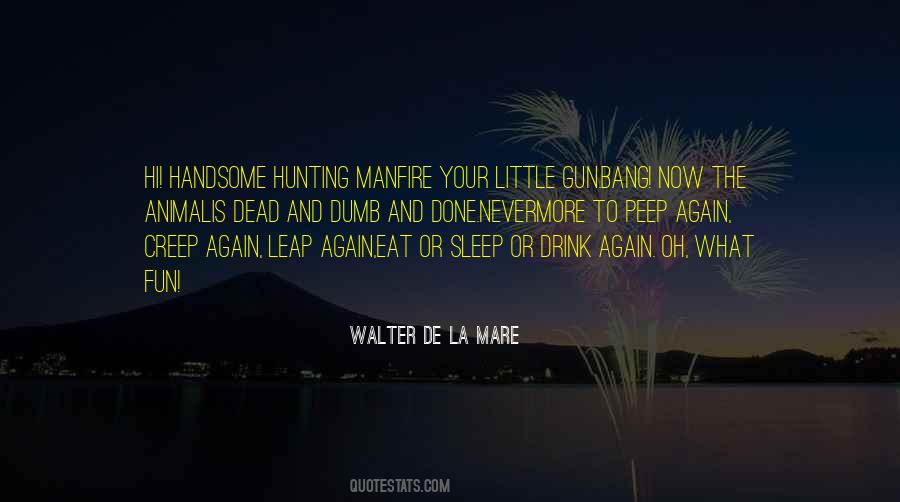 #47. When all the trees have been cut down and all the animals have been hunted to extinction, when all the waters are polluted and the air is unsafe to breathe, only then will you discover you cannot eat money. - Author: Sherrilyn Kenyon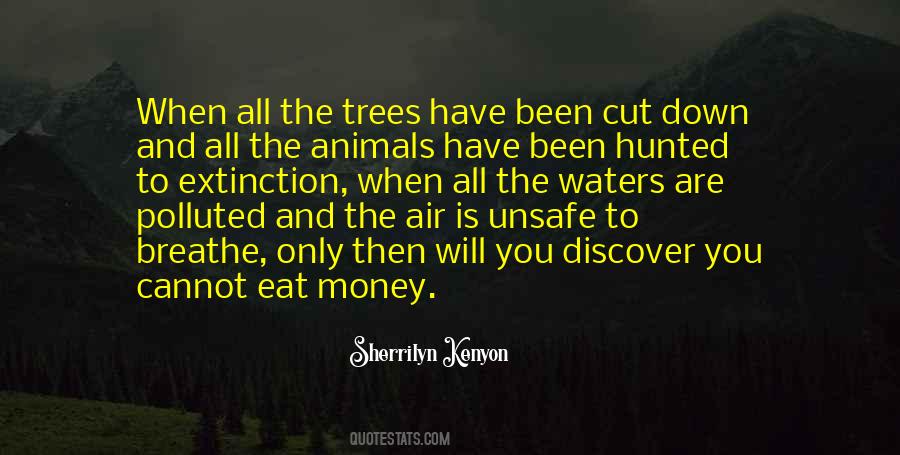 #48. The moles nested in my cellar, nibbling every third potato, and making a snug bed even there of some hair left after plastering and of brown paper; for even the wildest animals love comfort and warmth as well as man, and they survive the winter only because they are so careful to secure them. - Author: Henry David Thoreau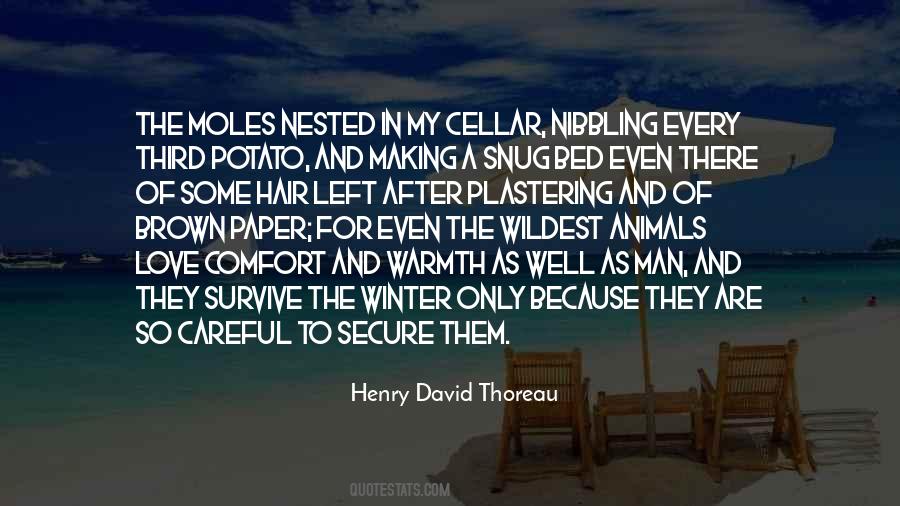 #49. What is the use of this fuss about morality when the issue only involves a horse? The first and most difficult teaching of civilisation concerns man's behaviour to his inferiors. Make humanity gentle or reasonable toward animals, and strife or injustice between human beings would speedily terminate. - Author: Edward Mayhew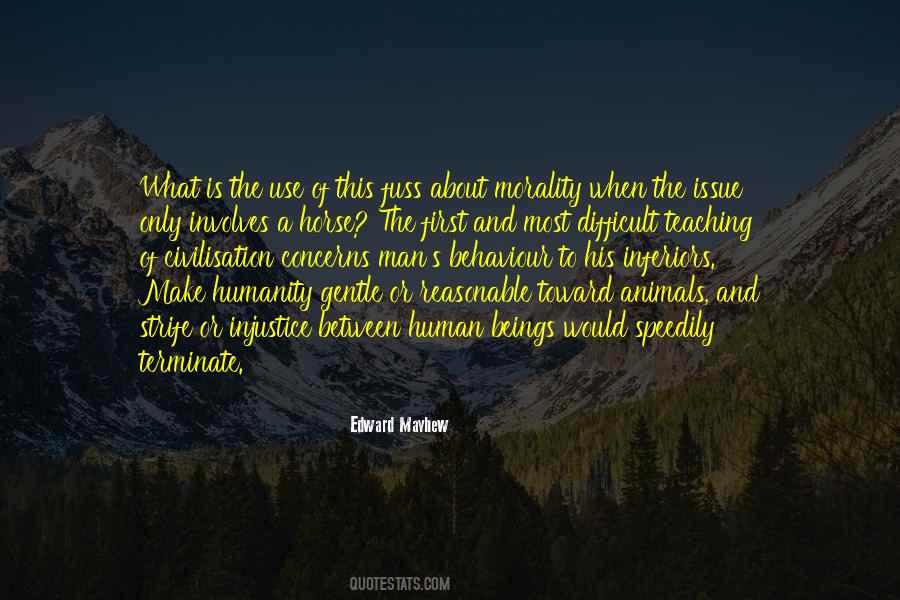 #50. It was the first smile of my life. Of course, that is a ridiculous thing to say; I had been smiled at often, the big man had smiled at me not a minute since. And yet I say: it was the first smile, because it was the first that ever went straight into me like a needle too thin to be seen. - Author: Carol Birch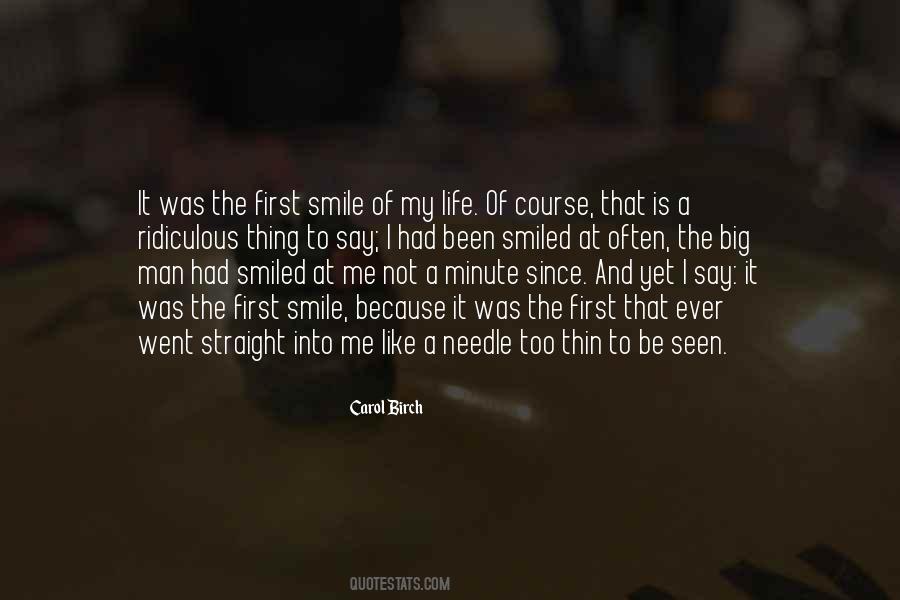 #51. The fish in the water is silent, the animals on the earth is noisy, the bird in the air is singing. But man has in him the silence of the sea, the noise of the earth and the music of the air. - Author: Rabindranath Tagore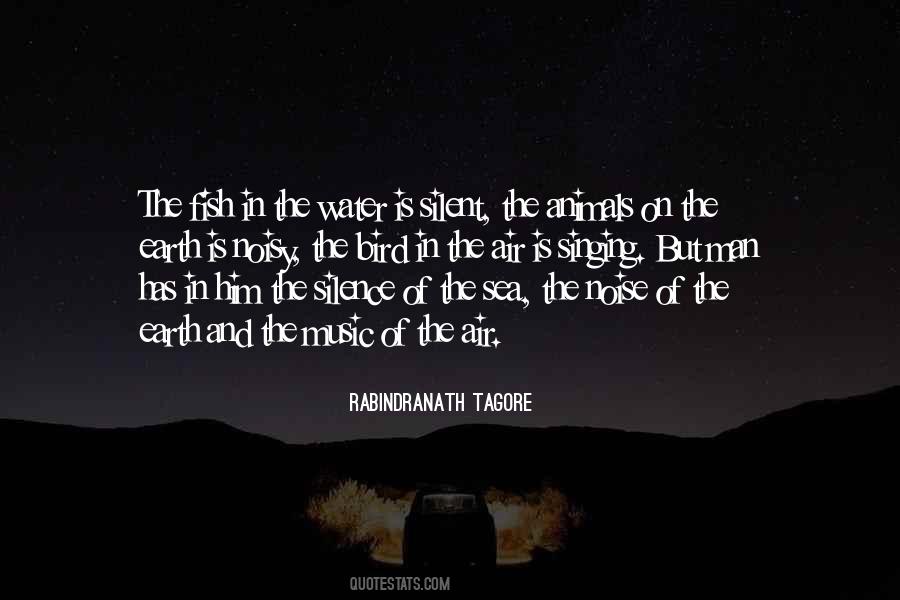 #52. I have trust that we humans can resolve the problems that we have created. There is a Sanskrit saying that I subscribe to and I like very much, that "God sleeps in the minerals, awakens in plants, walks in the animals, and thinks in Man." - Author: Edgar Mitchell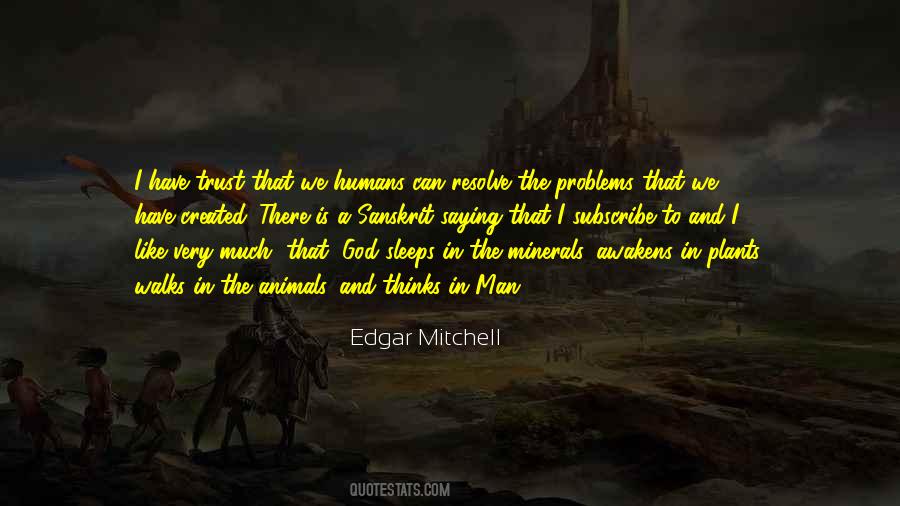 #53. Never listen when they tell you that Man and the animals have a common interest, that the prosperity of the one is the prosperity of the others. It is all lies. Man serves the interest of no creature except himself. - Author: George Orwell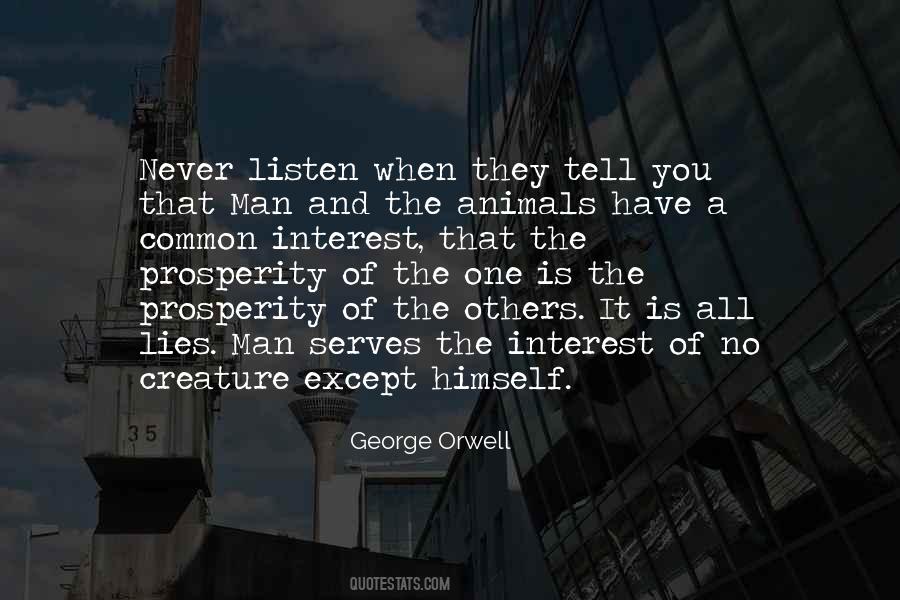 #54. That story placed man above the animals, until man's fall at Eve's hand, and linked humans to God himself, fashioned in his image. But now the black wolf was telling the girl a grave secret. That man was an animal too. - Author: David Clement-Davies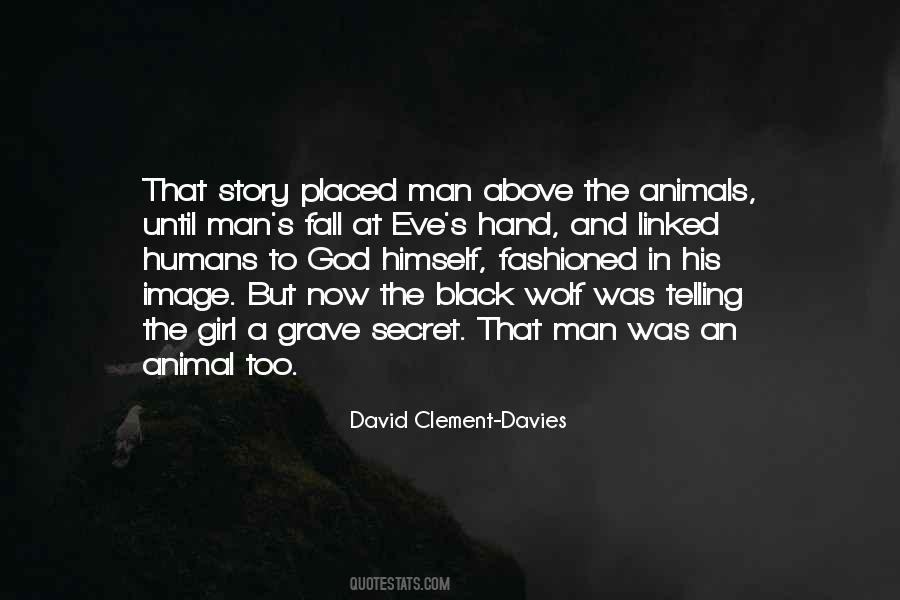 #55. The soul of man is divided into three parts, intelligence, reason, and passion. Intelligence and passion are possessed by other animals, but reason by man alone. - Author: Pythagoras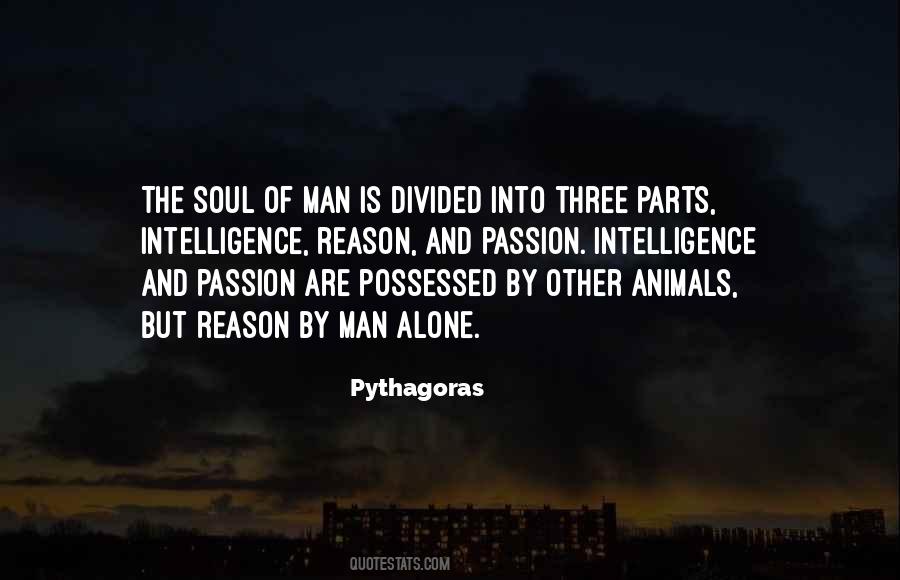 #56. The brain of man, like that of all animals is double, being parted down its centre by a thin membrane. For this reason pain is not always felt in the same part of the head, but sometimes on one side, sometimes on the other, and occasionally all over. - Author: Hippocrates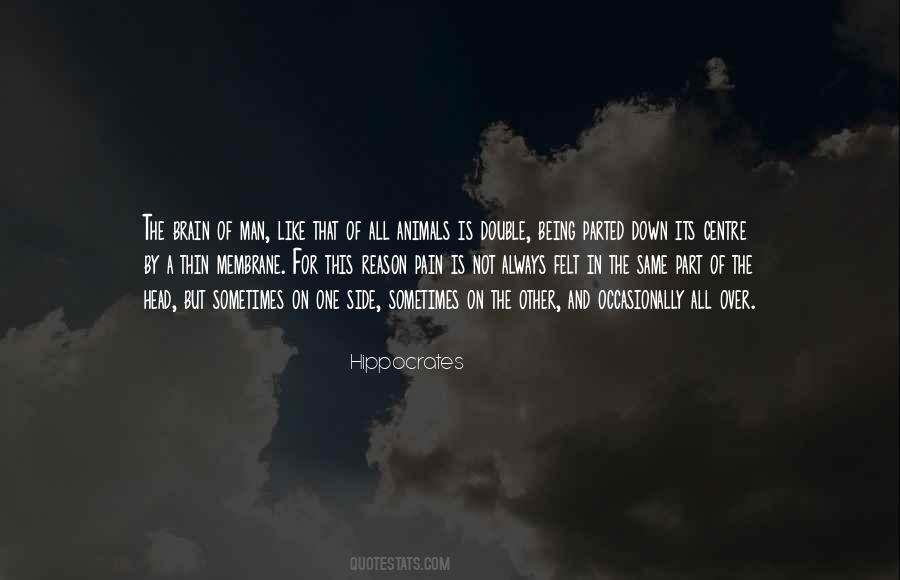 #57. Results for A man is like a cat; chase him and he'll run; sit still and ignore him and he'll come purring at your feet - Author: Helen Rowland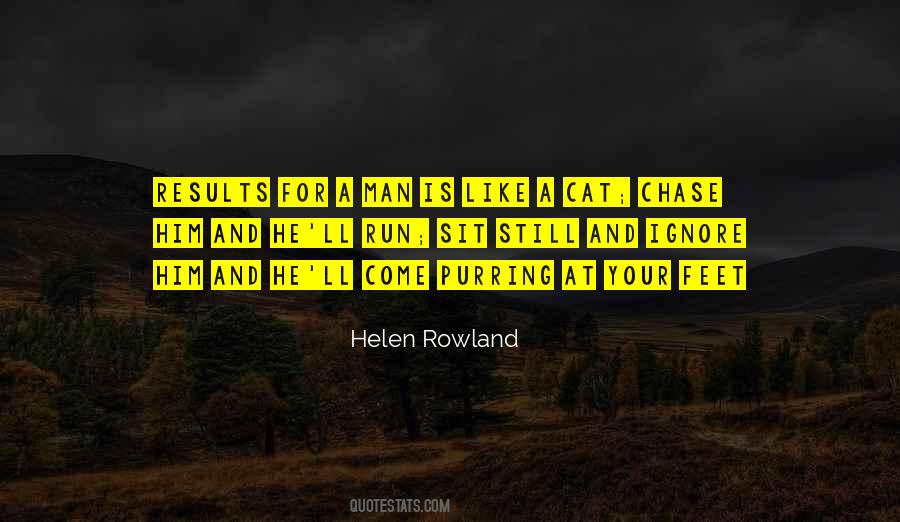 #58. Millions of our race are now supported by lands situated where deep seas once prevailed in earlier ages. In many districts not yet occupied by man, land animals and forests now abound where the anchor once sank into the oozy bottom. - Author: Charles Lyell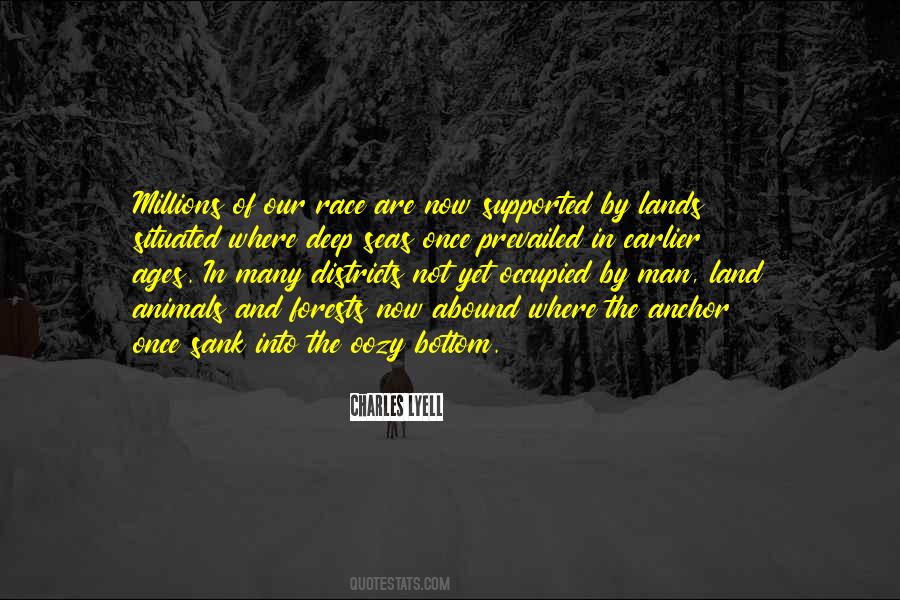 #59. History is a people's memory, and without a memory, a man is demoted to the lower animals. - Author: Malcolm X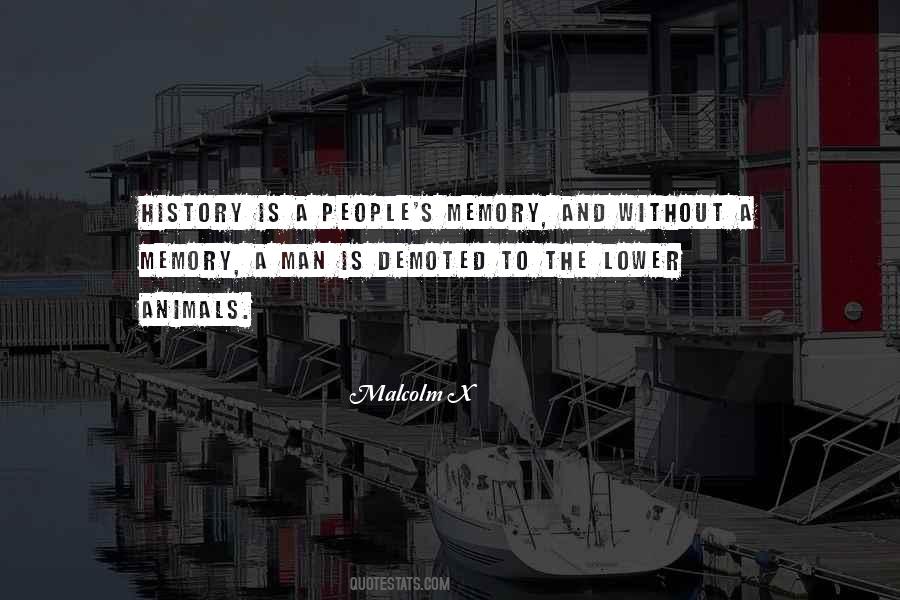 #60. Wild animals never kill for sport. Man is the only one to whom the torture and death of his fellow creatures is amusing in itself. - Author: James Anthony Froude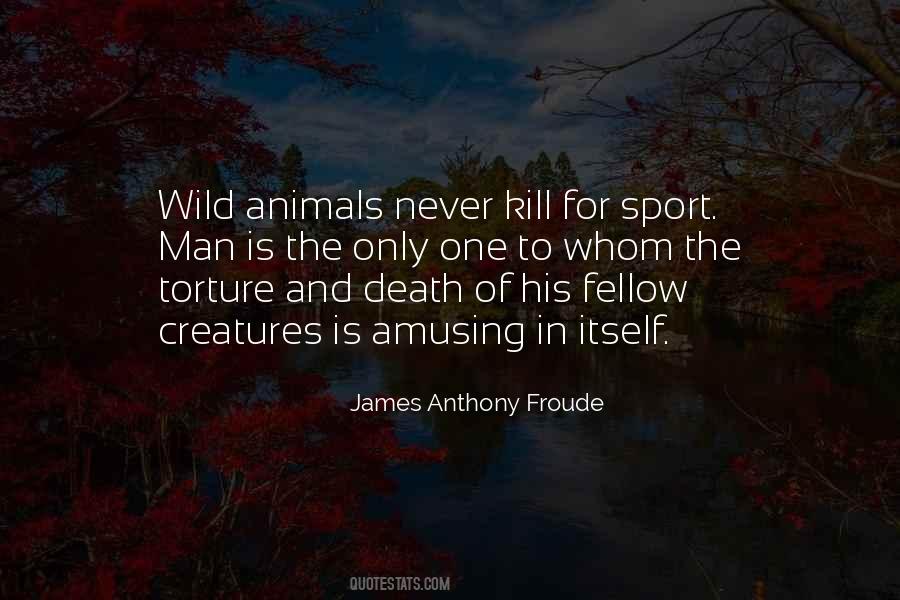 #61. Historically the buffalo had more influence on man than all other Plains animals combined. It was life, food, raiment, and shelter to the Indians. The buffalo and the Plains Indians lived together, and together passed away. The year 1876 marks practically the end of both. - Author: Walter Prescott Webb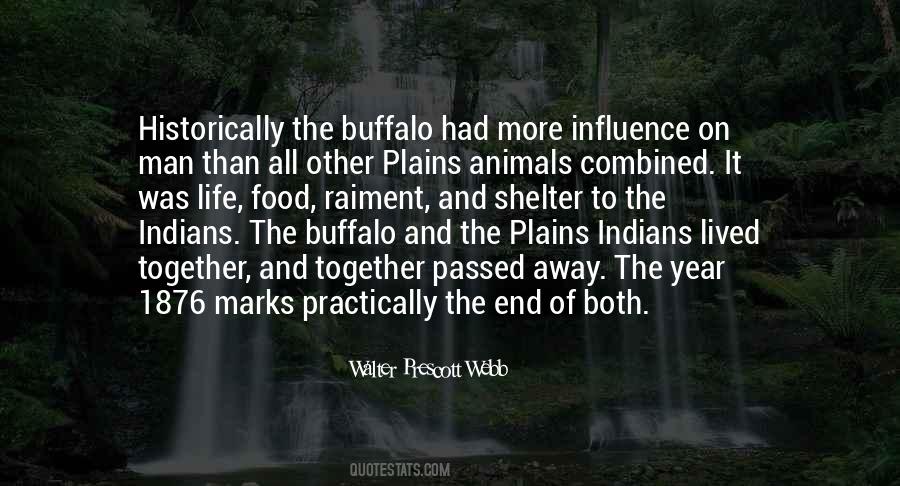 #62. I think I was always interested in animals. If a man likes a woman, you know, he might discuss business, but there's a part of his brain that is looking at the girl coming in and checking the girls. I do the same with animals. - Author: Isabella Rossellini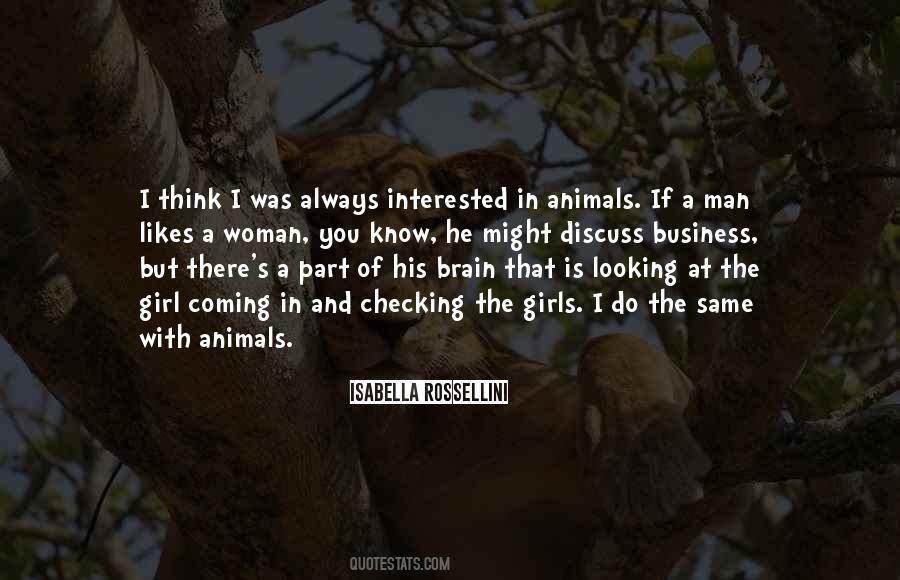 #63. Let us remember with humility the loneliness of being man in a universe we do not understand and the vulnerability of the human condition. The animals could do very well without us, but we cannot do without them. - Author: Gerald Carson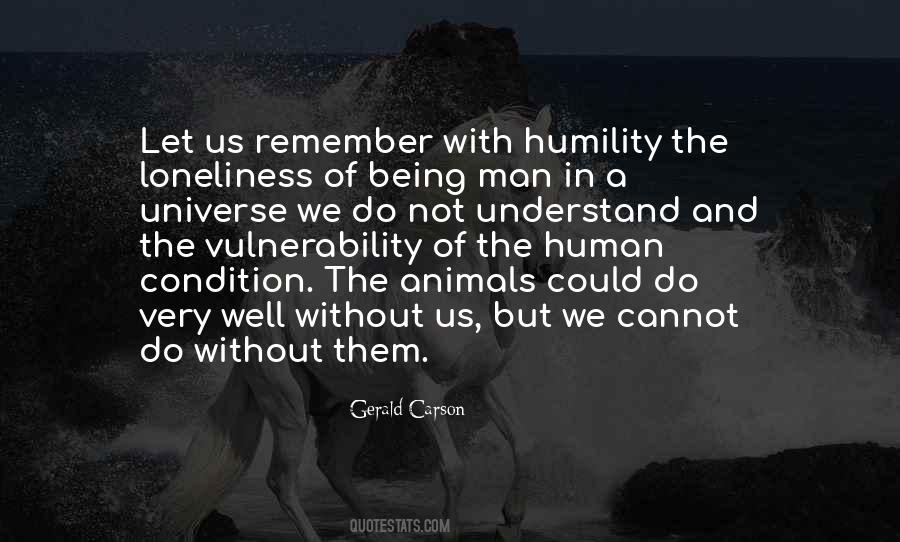 #64. First it was necessary to civilize man in relation to man. Now it is necessary to civilize man in relation to nature and the animals. - Author: Victor Hugo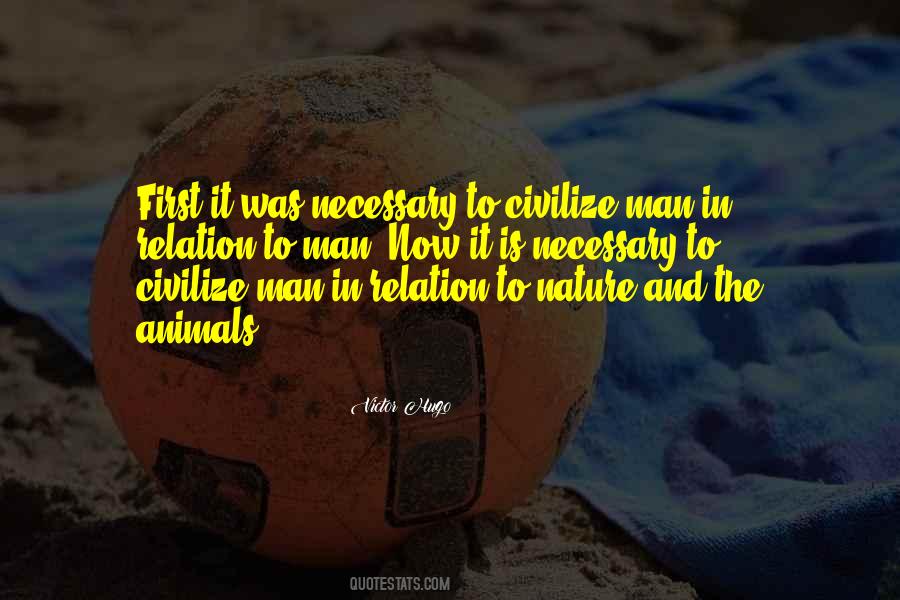 #65. At his best, man is the noblest of all animals; separated from law and justice he is the worst. - Aristotle - Author: Greg Iles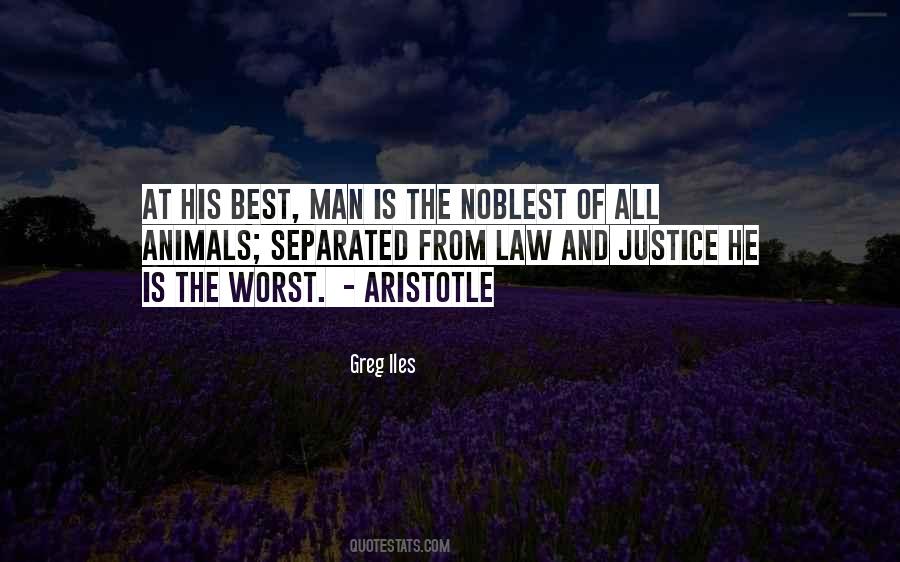 #66. Man ... is a tame or civilized animal; never the less, he requires proper instruction and a fortunate nature, and then of all animals he becomes the most divine and most civilized; but if he be insufficiently or ill- educated he is the most savage of earthly creatures. - Author: Plato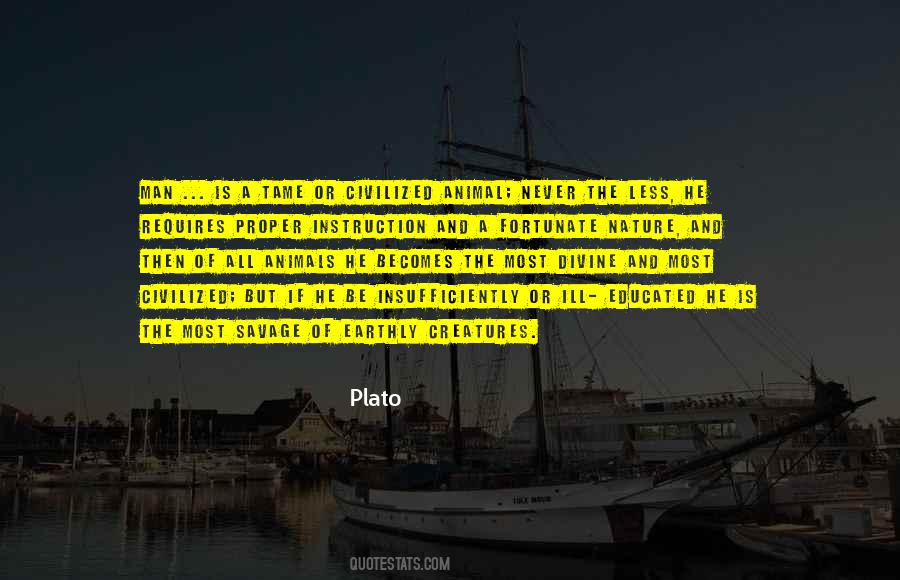 #67. There is much we can learn from a friend who happens to be a horse. - Author: Aleksandra Layland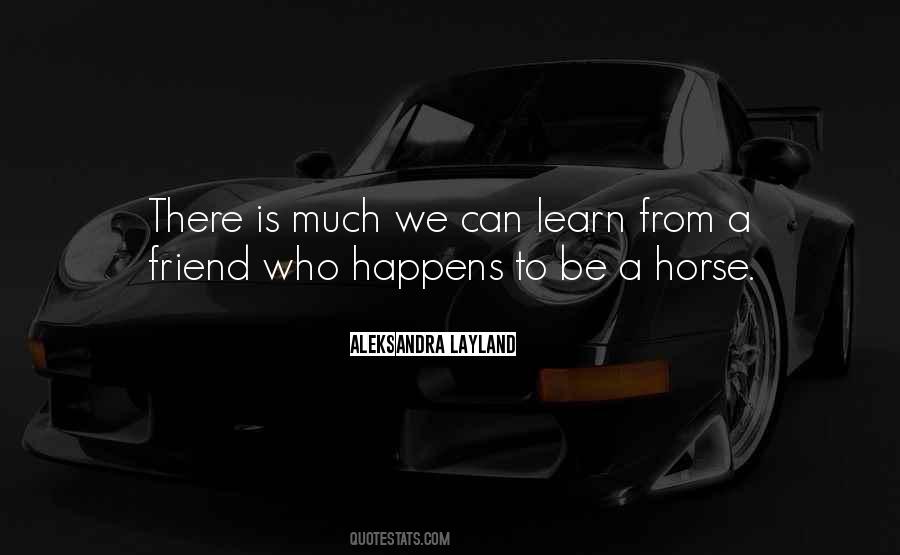 #68. The "civilized" man of today ridicules the idolatry of bygone ages, but he does not realize that he is a far worse idolater than the idolaters of the past. In former times, men set up images of various animals and adored them; today they slaughter those animals and worship their putrefied carcasses. - Author: Arshavir Ter Hovannessian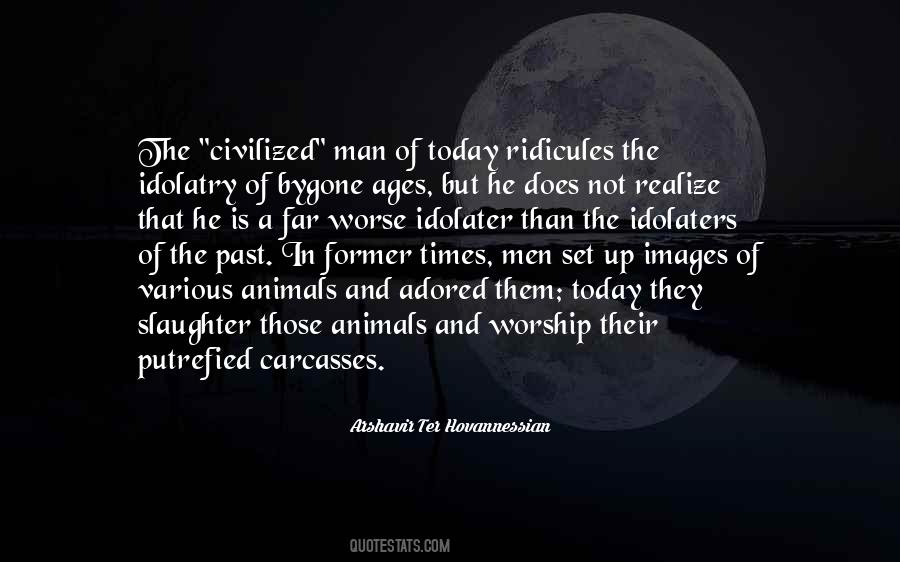 #69. When all the other animals, downcast looked upon the earth, he [Prometheus] gave a face raised on high to man, and commanded him to see the sky and raise his high eyes to the stars. - Author: Ovid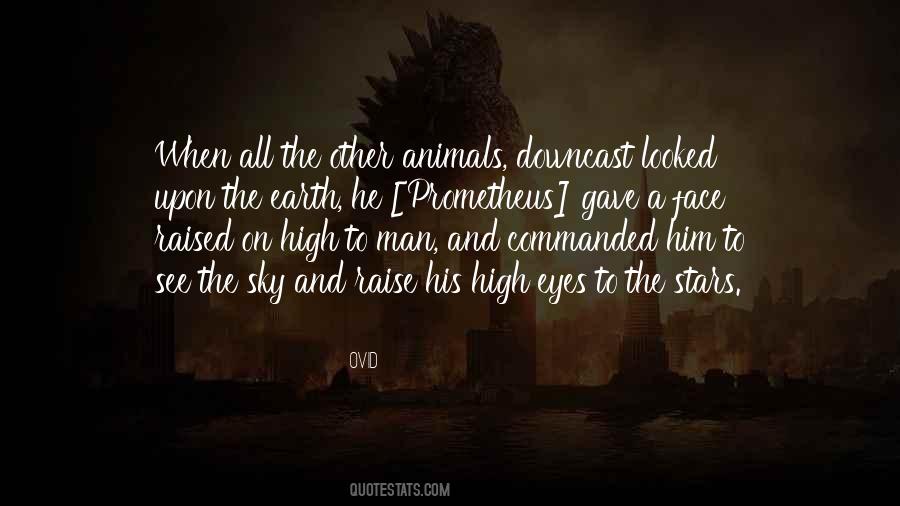 #70. Unlike the animals, who knew only the present, Man had acquired a past; and he was beginning to grope toward a future. - Author: Arthur C. Clarke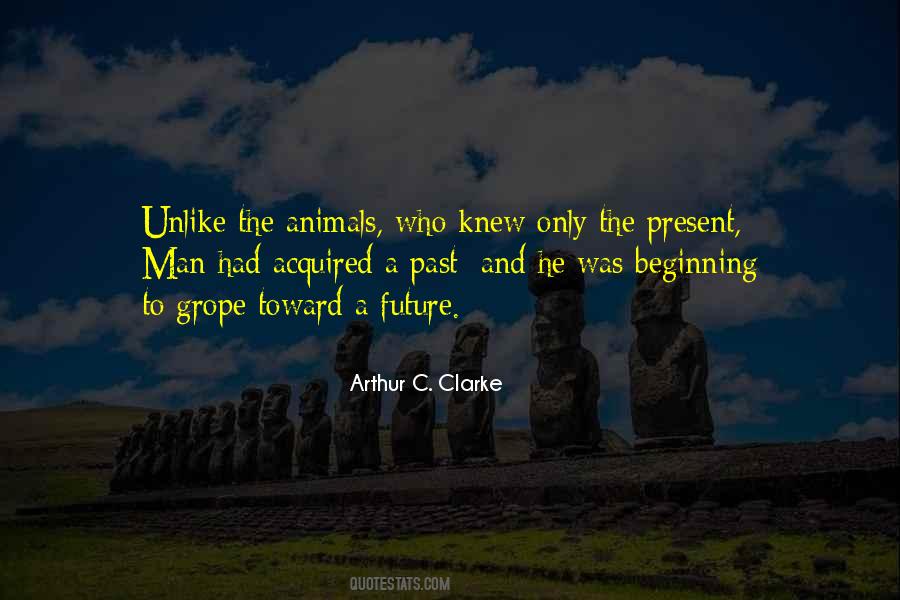 #71. The glory of man is that he is a thinking being. It is the nature of man to think and therein he differs from animals - Author: Swami Vivekananda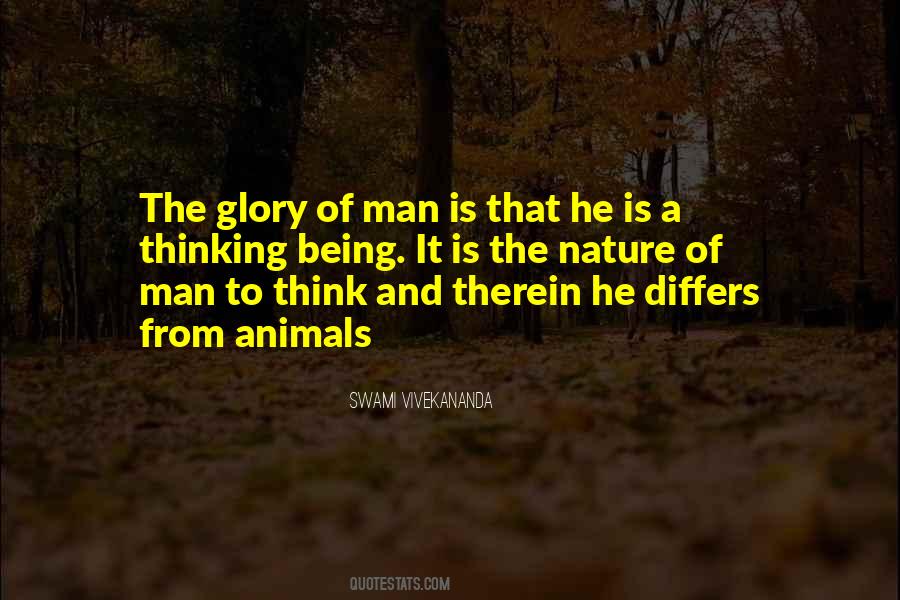 #72. Man lives, not directly or nakedly in nature like the animals, but within a mythological universe, a body of assumptions and beliefs developed from his existential concerns. - Author: Northrop Frye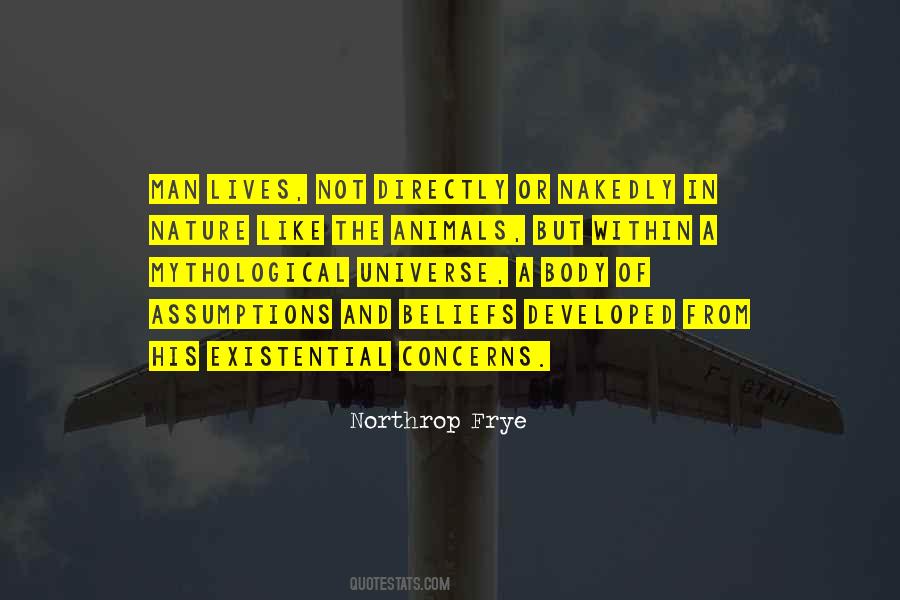 #73. Man has done a lot to make himself dangerous and animals get the worst of all of it. But then, man too is an animal. - Author: Captain Beefheart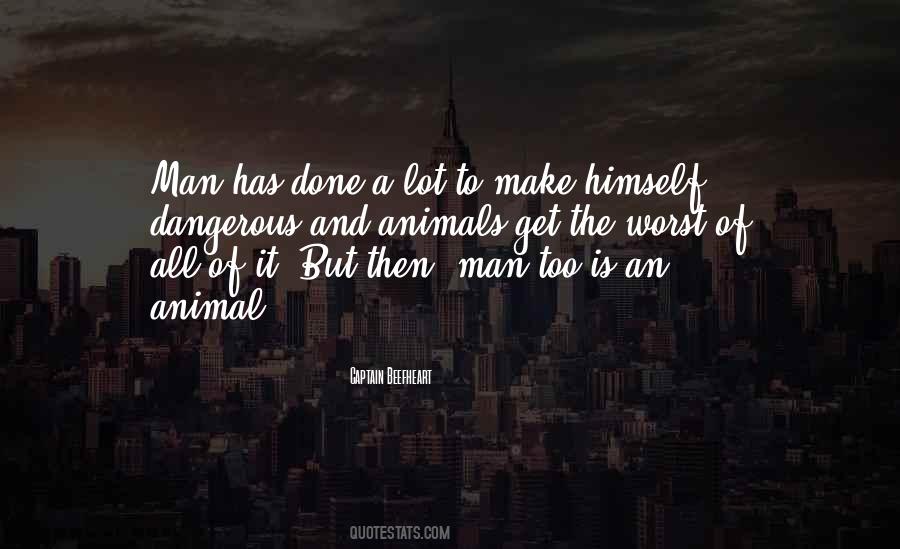 #74. A swarm of tiny noxious animals had bored a way into my inner man and hollowed me out. - Author: Knut Hamsun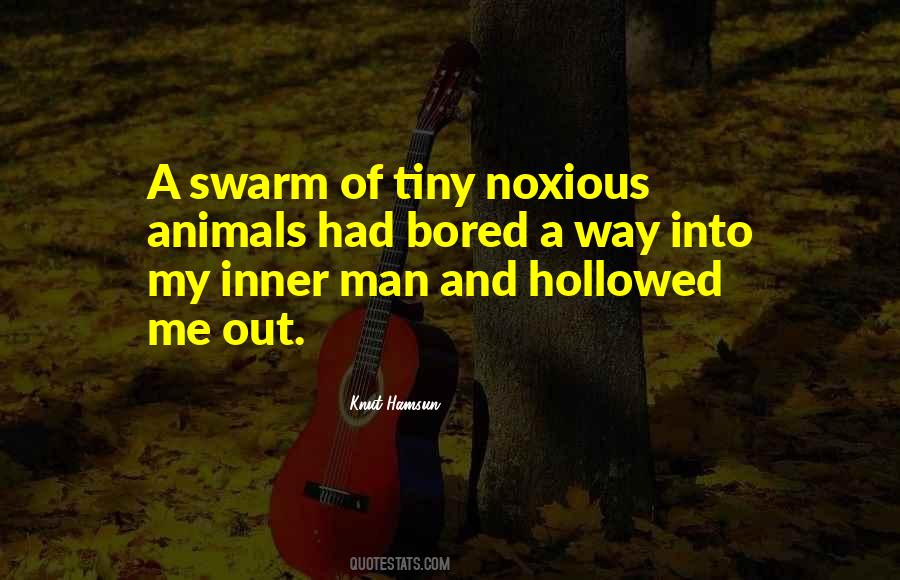 #75. Man is an individual. The animals, plants and minerals are divided into species. They are not individualized in the same sense that man is. - Author: Max Heindel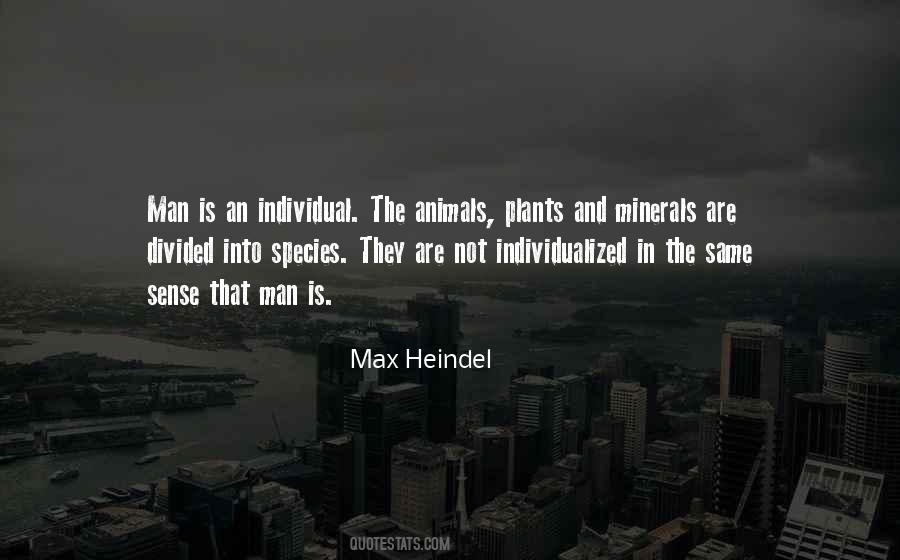 #76. Man, even now, can do wonders to animals: my cat and dog live together in my house and seem to like it. It may have been one of man's functions to restore peace to the animal world, and if he had not joined the enemy he might have succeeded in doing so to an extent now hardly imaginable. - Author: C.S. Lewis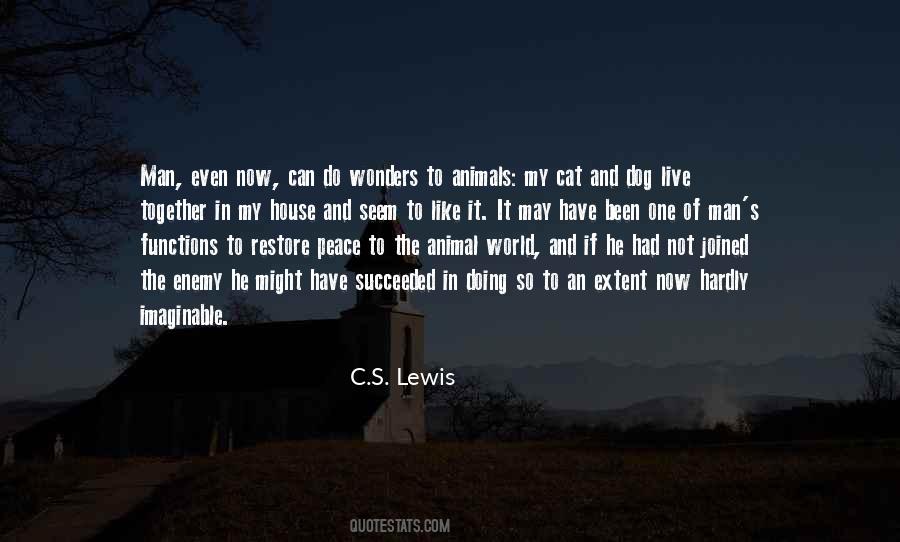 #77. If man was the relative of animals, then animals were the relatives of man, and in degrees bearers of that inwardness of which man, the most advanced of their kin, is conscious in himself. - Author: Hans Jonas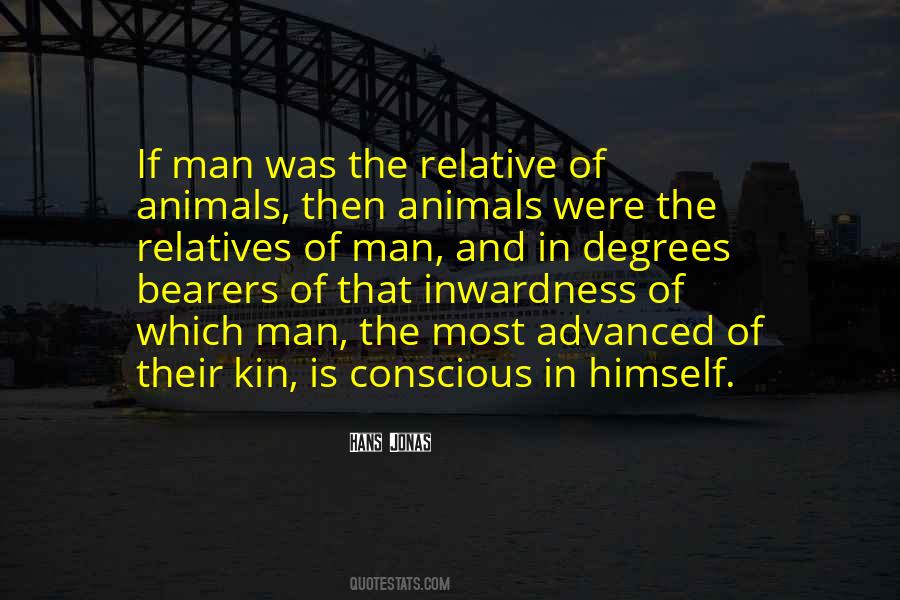 #78. Man has much power of discourse which for the most part is vain and false; animals have but little, but it is useful and true, and a small truth is better than a great lie. - Author: Leonardo Da Vinci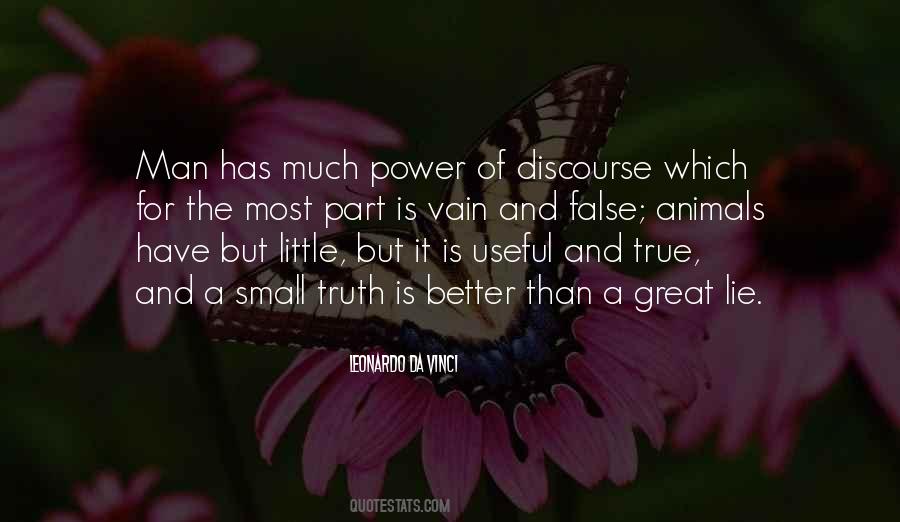 #79. The animals that depend on instinct have an inherent knowledge of the laws of economics and of how to apply them; Man, with his powers of reason, has reduced economics to the level of a farce which is at once funnier and more tragic than Tobacco Road. - Author: James Thurber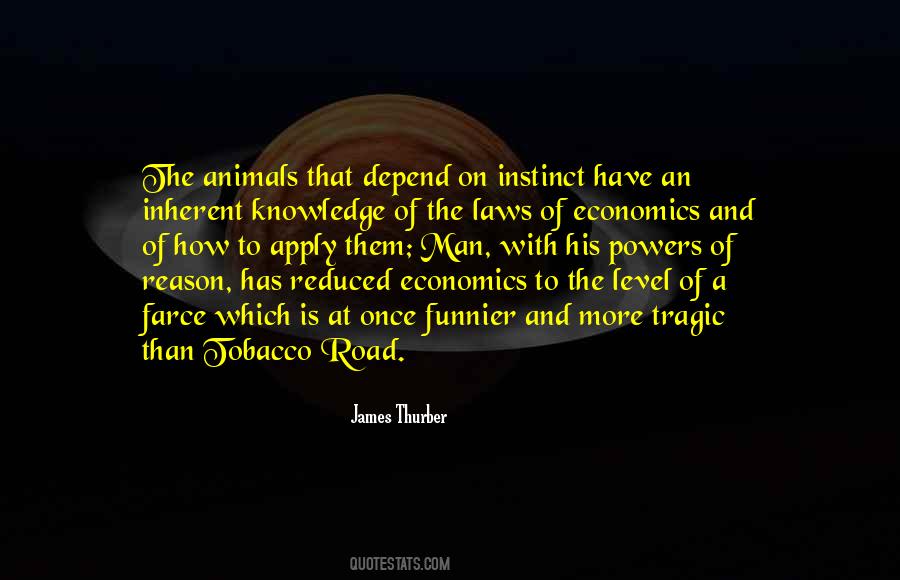 #80. Psychology is the science of the intellects, characters and behavior of animals including man. - Author: Edward Thorndike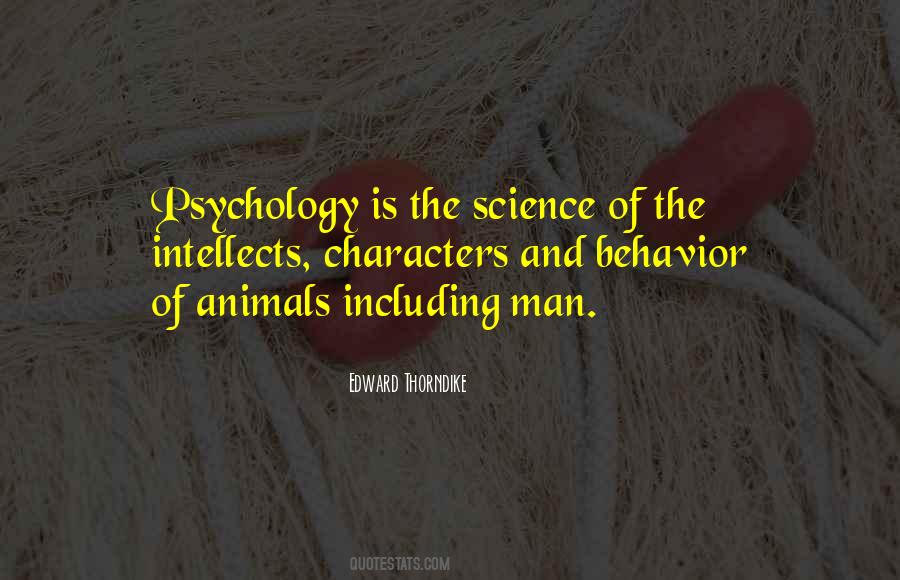 #81. Come morning, his memory would be of a night spent watching over them all. And each of them - dog and boy, mother and old man - would feel the same. - Author: David Wroblewski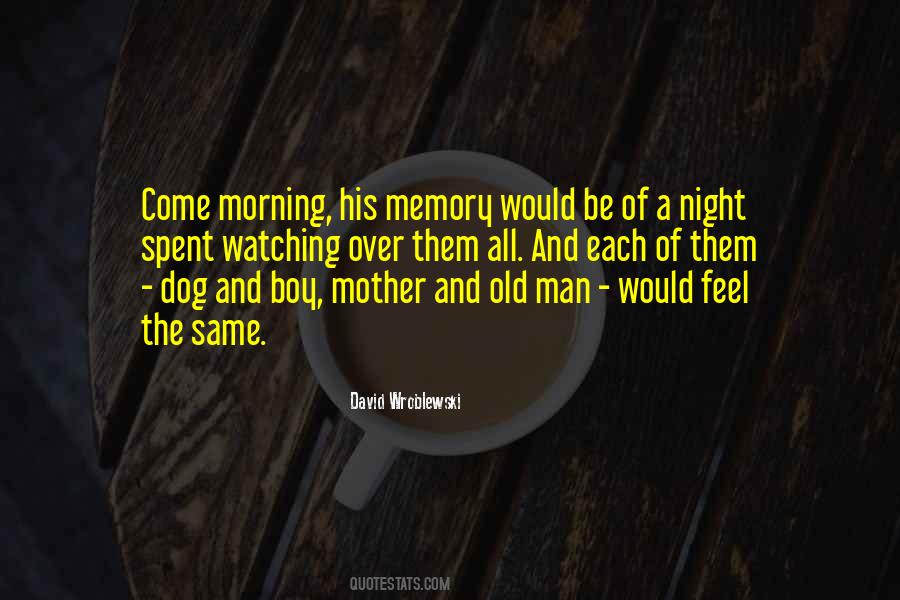 #82. As long as Man continues to be the ruthless destroyer of lower living beings, he will never know health or peace. For as long as men massacre animals, they will kill each other. Indeed, he who sows the seed of murder and pain cannot reap joy and love. - Author: Pythagoras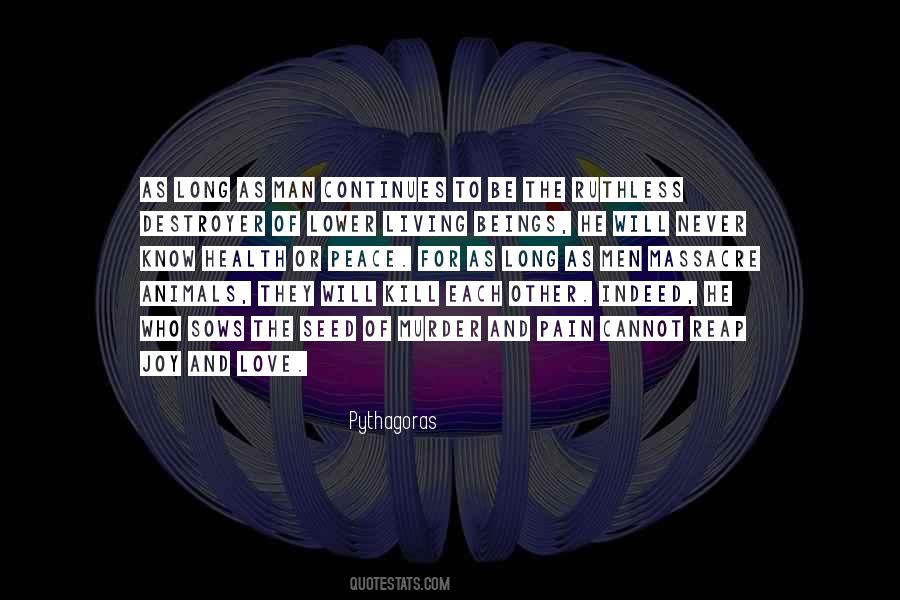 #83. No man stops caring as long as he breathes. As long as he has a mind and memory, he will care. This is what separates us from the animals. We have feelings. - Author: F. Sionil Jose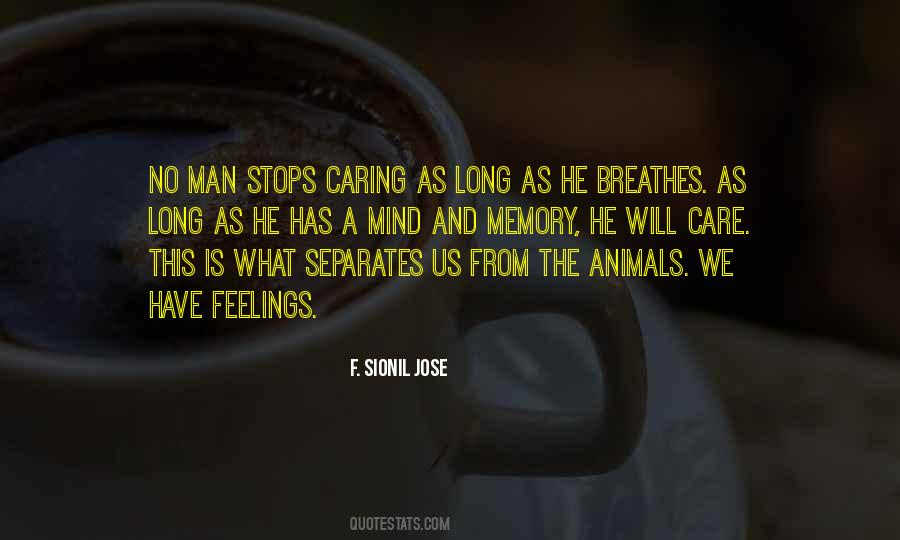 #84. With man it is different. When he comes many of the larger animals instinctively leave the district entirely, seldom if ever to return; and thus it has always been with the great anthropoids. They flee man as man flees a pestilence. - Author: Edgar Rice Burroughs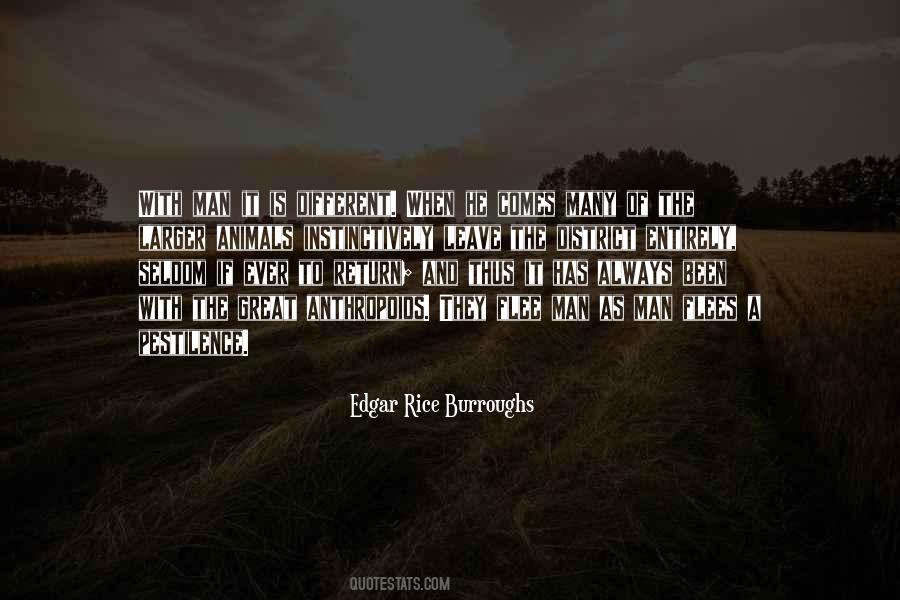 #85. The things that are really important to me are my man, my animals and my books. I don't need anything else. - Author: Mary Crosby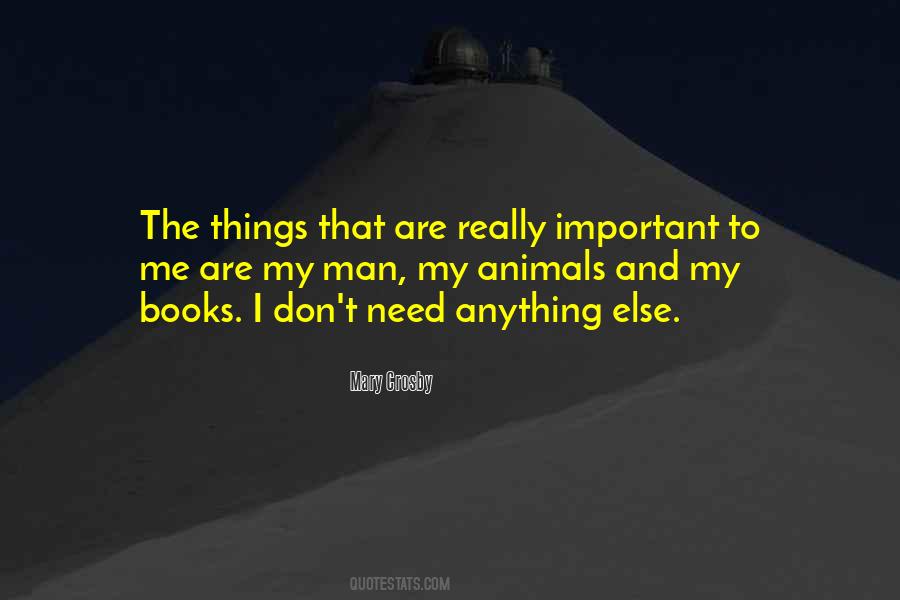 #86. Man and other civilized animals are the only creatures that ever become dirty. - Author: John Muir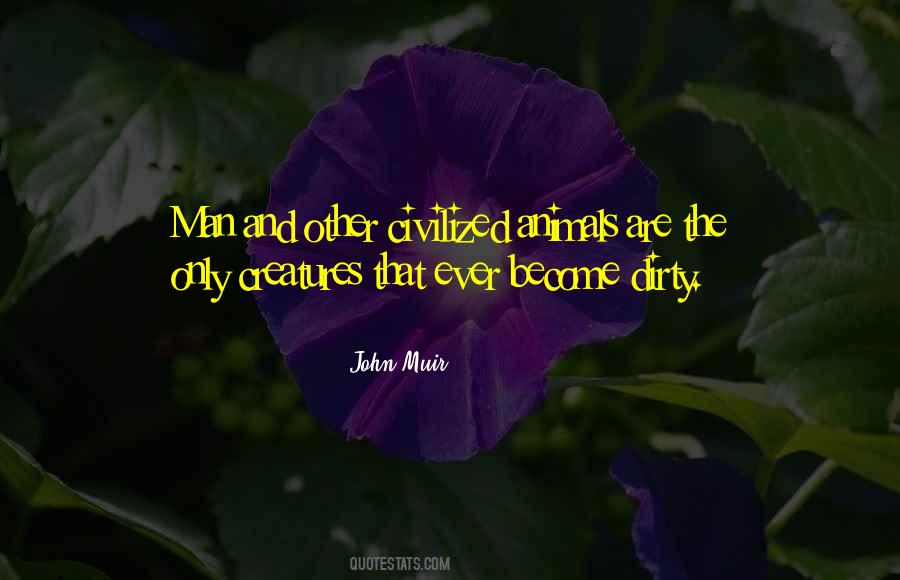 #87. It seems characteristic of the mind of man that the repression of what is natural to humans must be abhorred, but that what is natural to an infinitely more natural animal must be confined within the bounds of a reason peculiar only to men
more peculiar sometimes than seems reasonable at all. - Author: Beryl Markham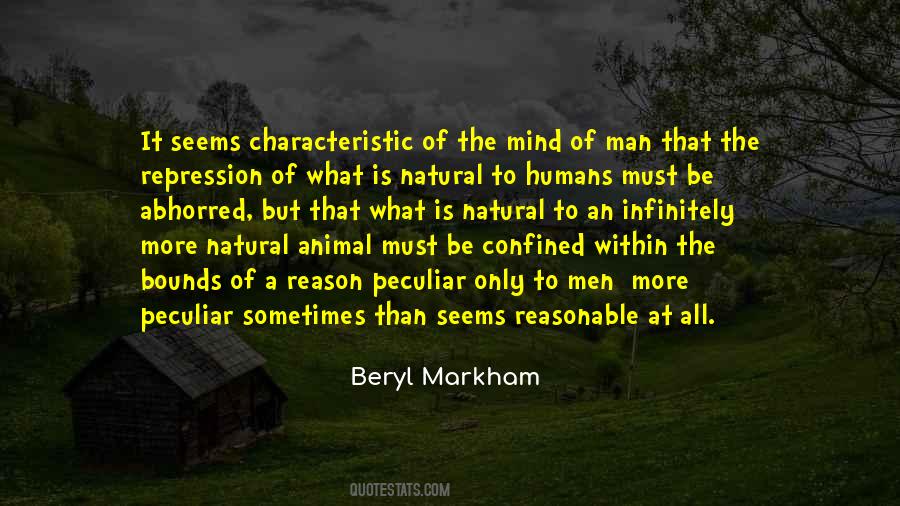 #88. Humanity has determined it is supreme in the kingdom of animals, yet [the] beasts live a less tragic existence ... and many of their tragedies are a consequence of so-called human brilliance. - Author: T.F. Hodge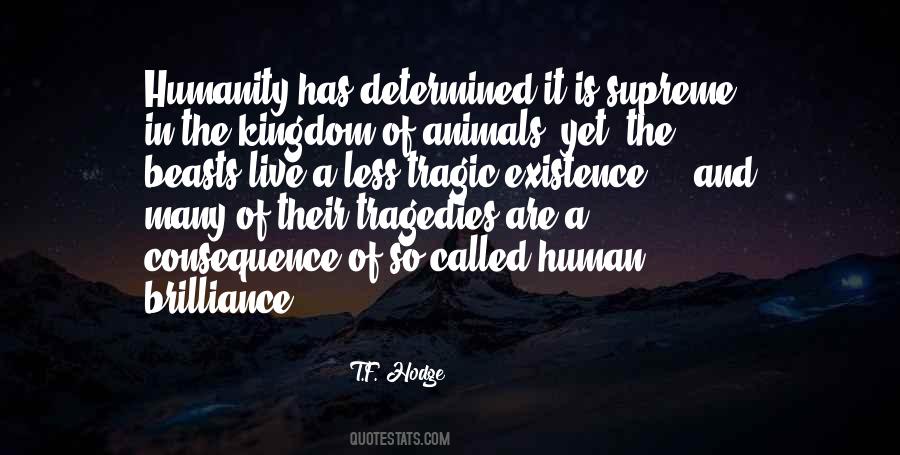 #89. The hand is, in the highest degree, a human characteristic. It is man's organ of grasp and of the sense of touch, while in animals these two functions are relegated to the mouth. - Author: Maria Montessori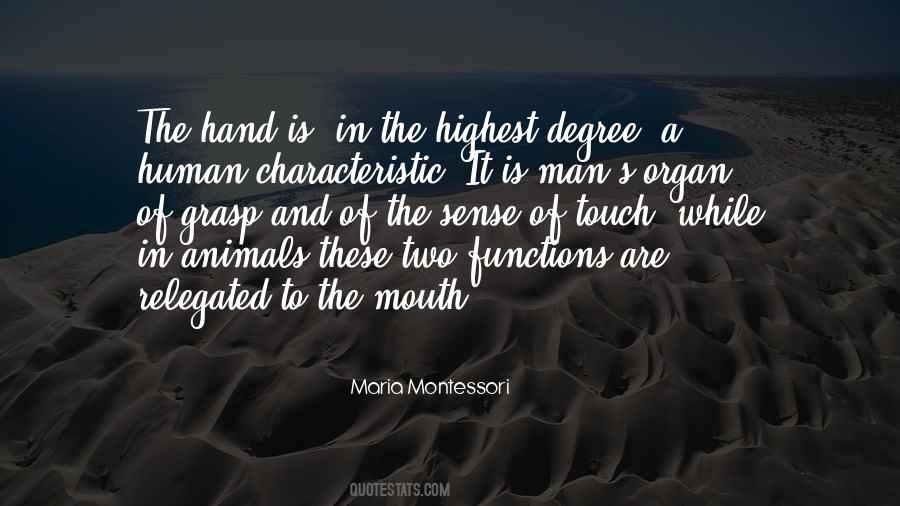 #90. There is no religion without love,
and people may talk as much as
they like about their religion, but
if it does not teach them to be good
and kind to man and beast,
it is all a sham. - Author: Anna Sewell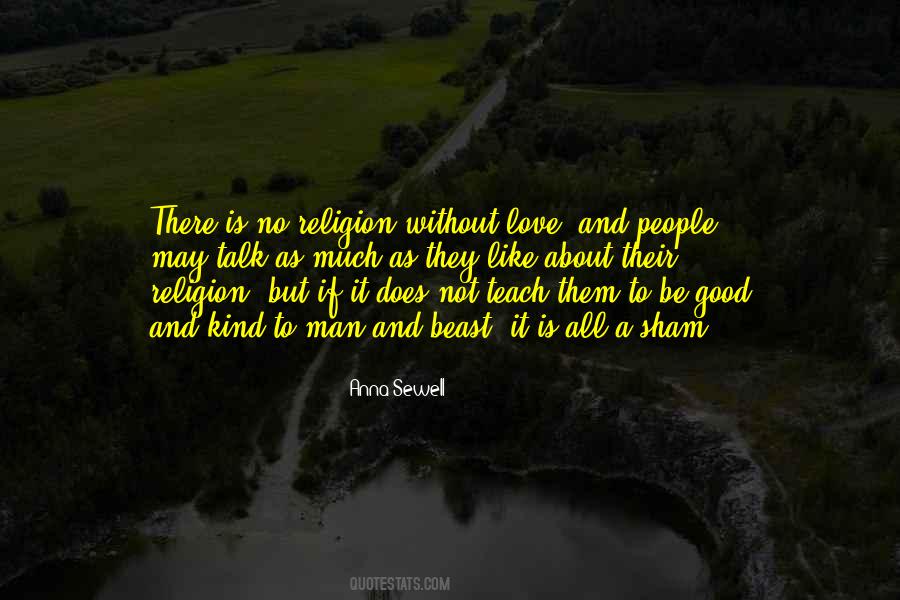 #91. I spend a hell of a lot of time killing animals and fish so I wouldn't kill myself. When a man is in rebellion against death, as I am in rebellion against death, he gets pleasure out of taking to himself one of the godlike attributes; that of giving it. - Author: Ernest Hemingway,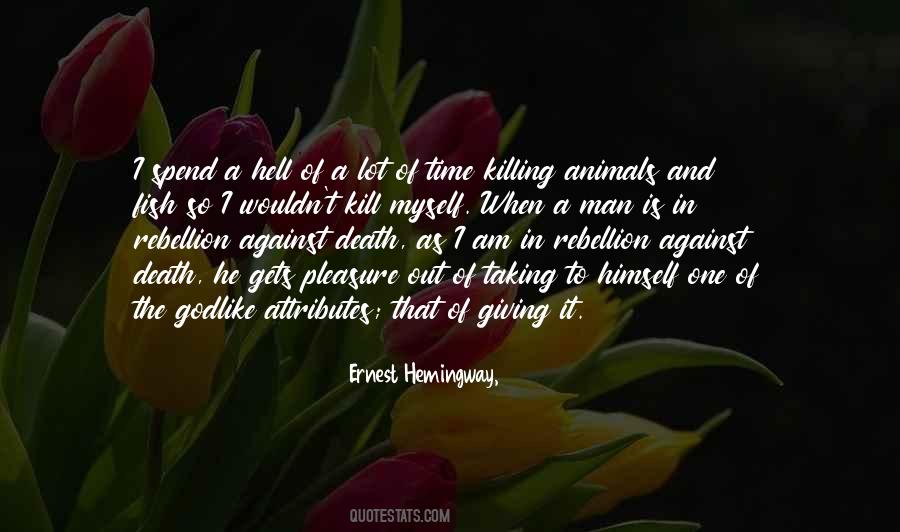 #92. All there is, is fragments, because a man, even the loneliest of the species, is divided among several persons, animals, worlds. To know a man more than slightly it would be necessary to gather him together from all those quarters, each last scrap of him, and this done after he is safely dead. - Author: Coleman Dowell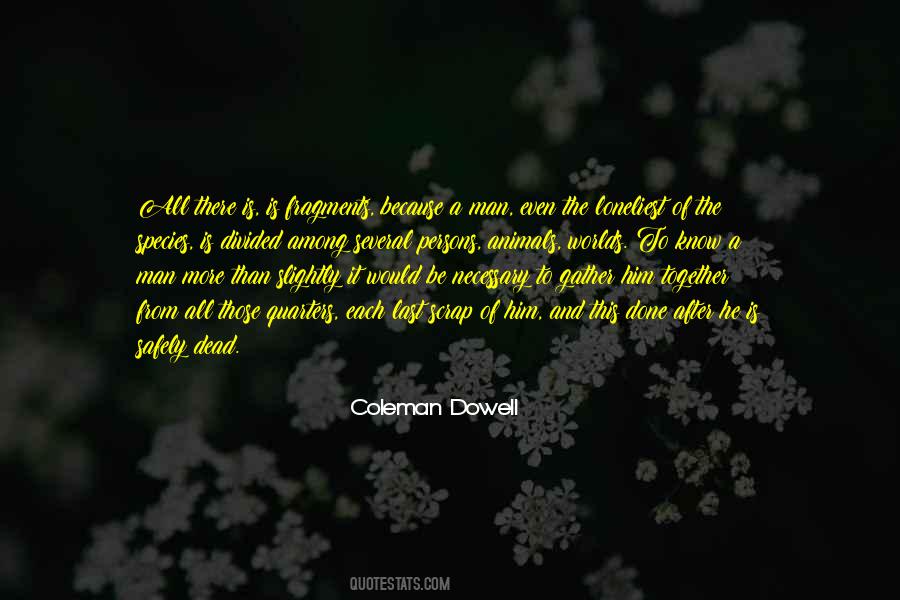 #93. I once believed man was different from other animals, but Yodok showed me that reality doesn't support this opinion. In the camp, there was no difference between man and beast, except maybe that a very hungry human was capable of stealing food from its little ones while an animal, perhaps, was not. - Author: Kang Chol-Hwan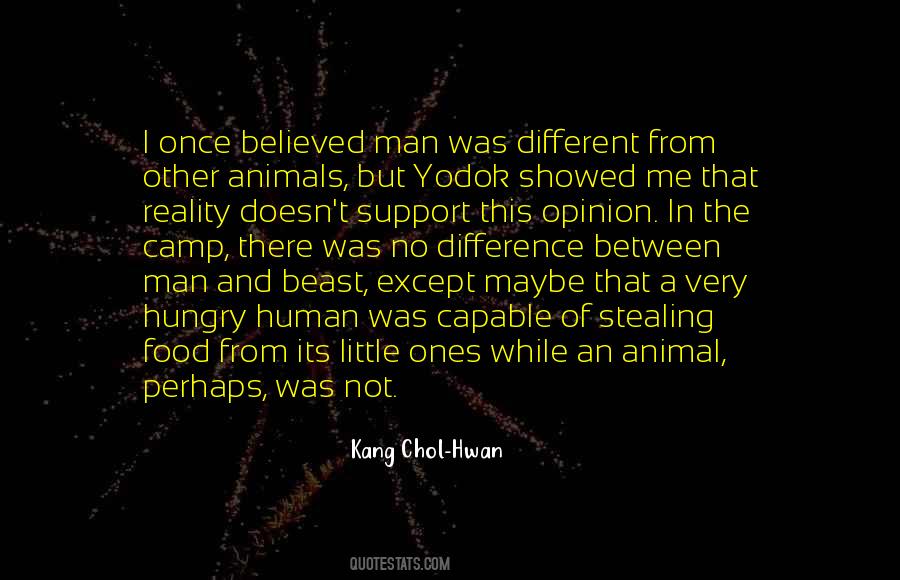 #94. Why does man regret, even though he may endeavour to banish any such regret, that he has followed the one natural impulse, rather than the other; and why does he further feel that he ought to regret his conduct? Man in this respect differs profoundly from the lower animals. - Author: Charles Darwin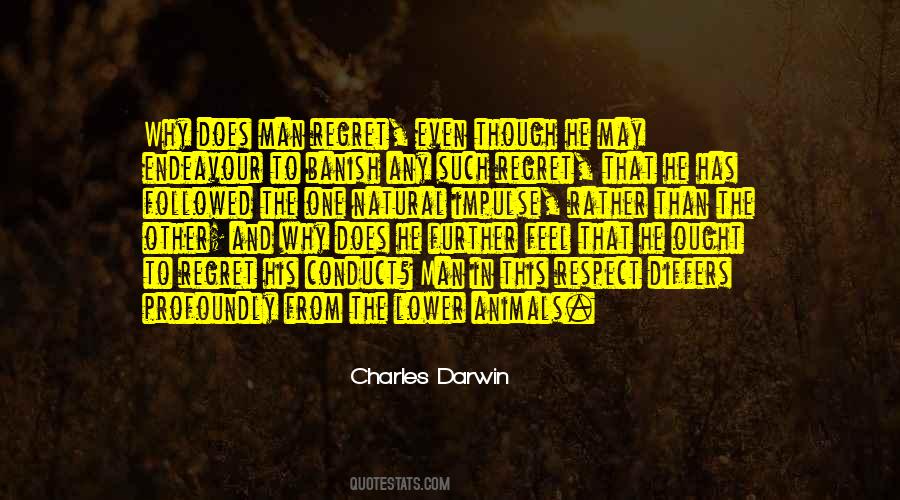 #95. Humans can't live in the present, like animals do. Humans are always thinking about the future or the
past. So it's a veil of tears, man. I don't know anything that's going to benefit me now, except love. I
just need an overwhelming amount of love. And a nap. Mostly a nap. - Author: Townes Van Zandt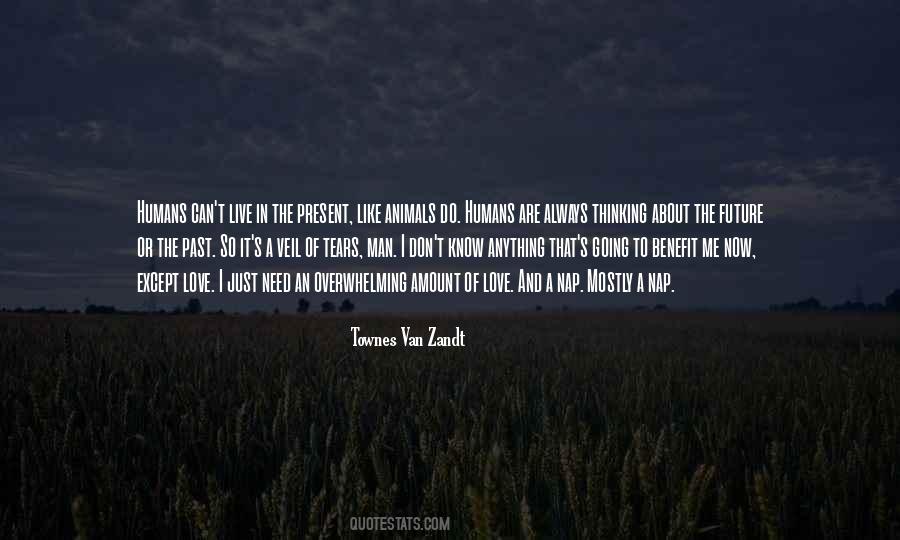 #96. Man is not distinguished from [the animals] by a special kind of soul, or by any peculiar and exclusive psychic function, but only by a higher degree of psychic activity, a superior stage of development. - Author: Ernst Haeckel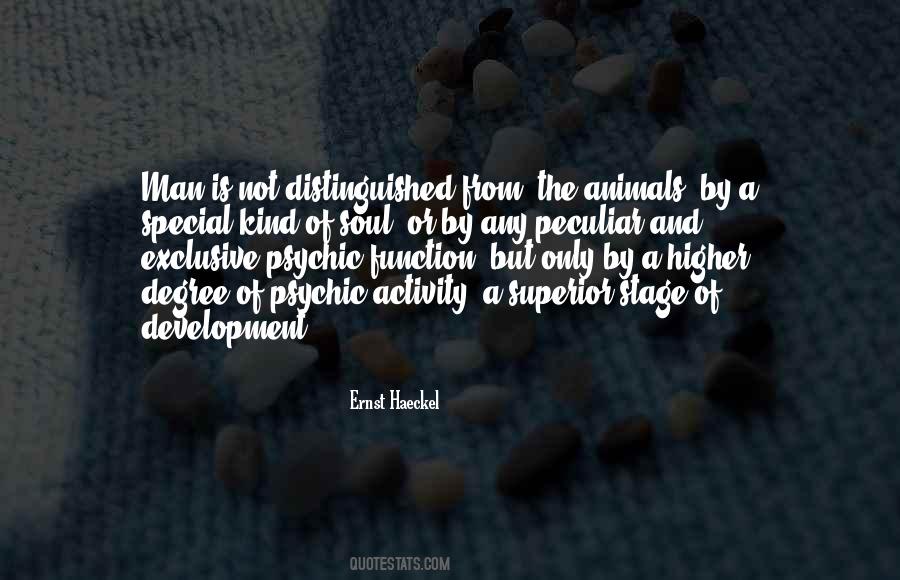 #97. Nonsense. The earth is as old as we are, no older. How could it be older? Nothing exists except through human consciousness.' 'But the rocks are full of the bones of extinct animals - mammoths and mastodons and enormous reptiles which lived here long before man was ever heard of. - Author: George Orwell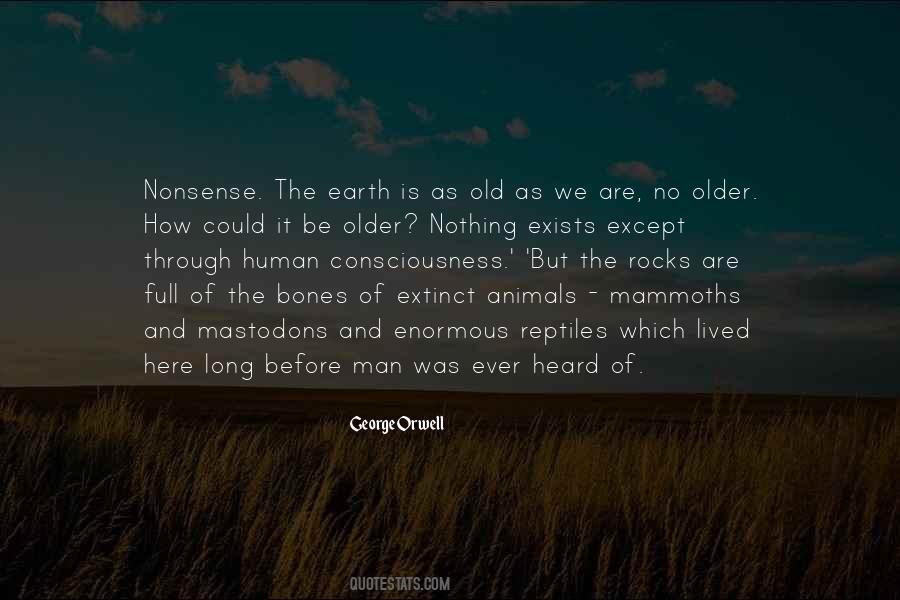 #98. Inflammation as understood in man and the higher animals is a phenomenon that almost always results from the intervention of some pathogenic microbe. - Author: Elie Metchnikoff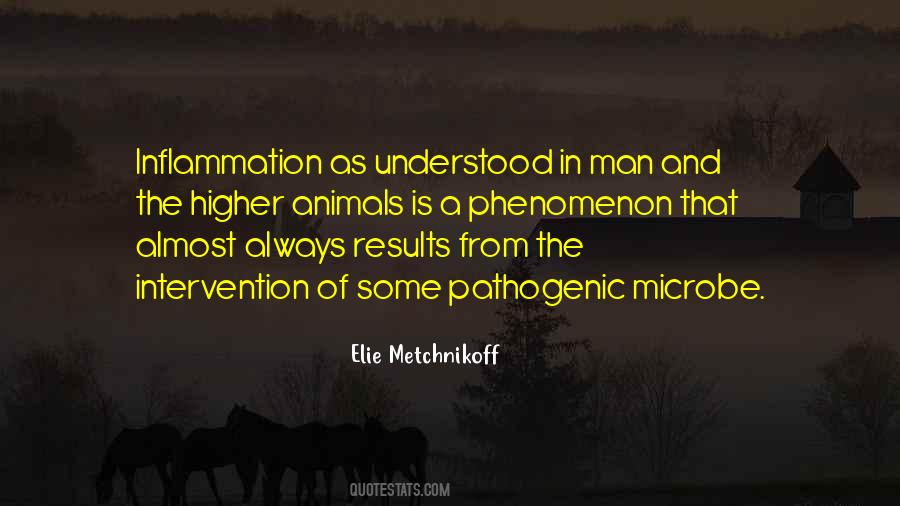 #99. "Slightly lower than the angels" is a whole lot better than slightly higher than the apes. Let's get the order straight. God, angelic beings, man, animals, and vegetables. - Author: Stuart Briscoe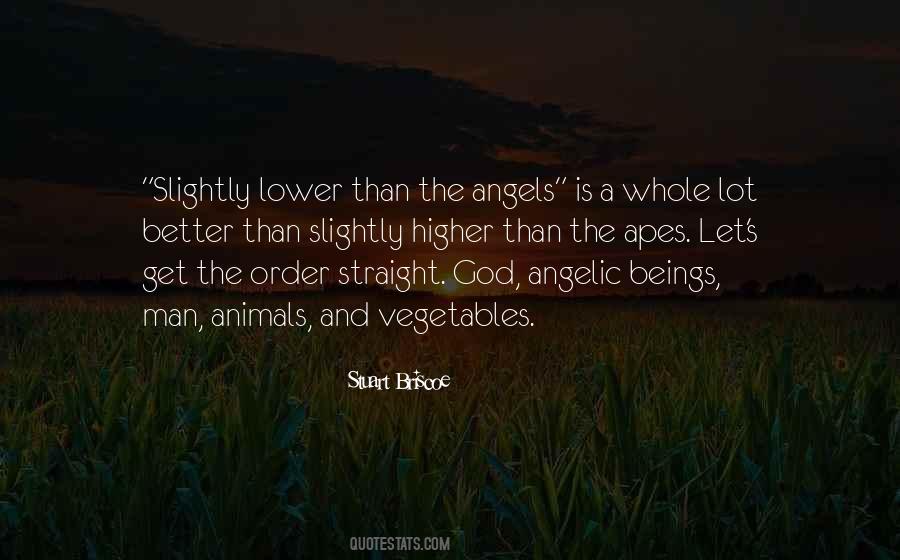 #100. For imitation is natural to man from his infancy. Man differs from other animals particularly in this, that he is imitative, and acquires his rudiments of knowledge in this way; besides, the delight in it is universal. - Author: Aristotle.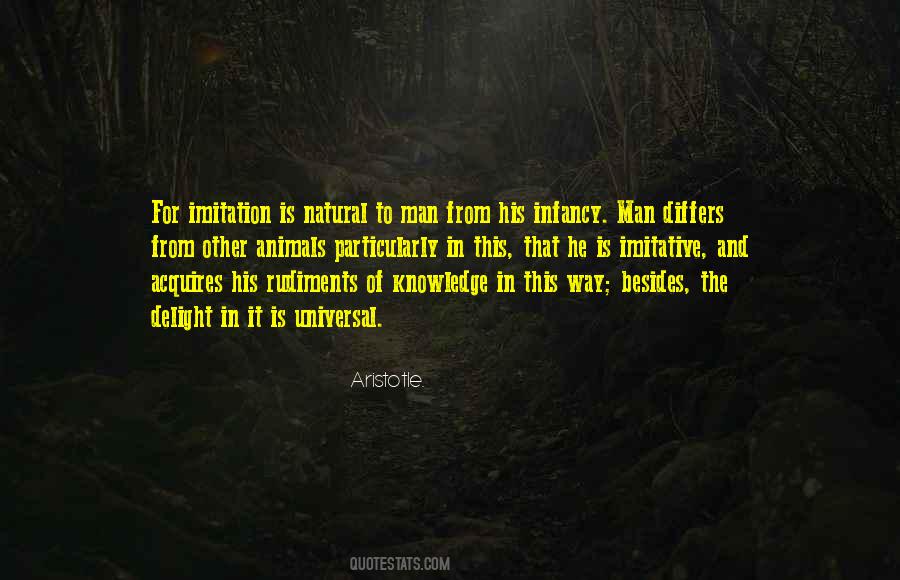 Famous Authors
Popular Topics