Love Spending Time With You Famous Quotes & Sayings
List of top 72 famous quotes and sayings about love spending time with you to read and share with friends on your Facebook, Twitter, blogs.
Top 72 Quotes About Love Spending Time With You
#1. You can still love your job and feel guilty. You can still love your child and feel guilty. There's a lot of grey in that. It's about being conscious when you are spending time with your kids, being with them in the moment. - Author: Christine Ebersole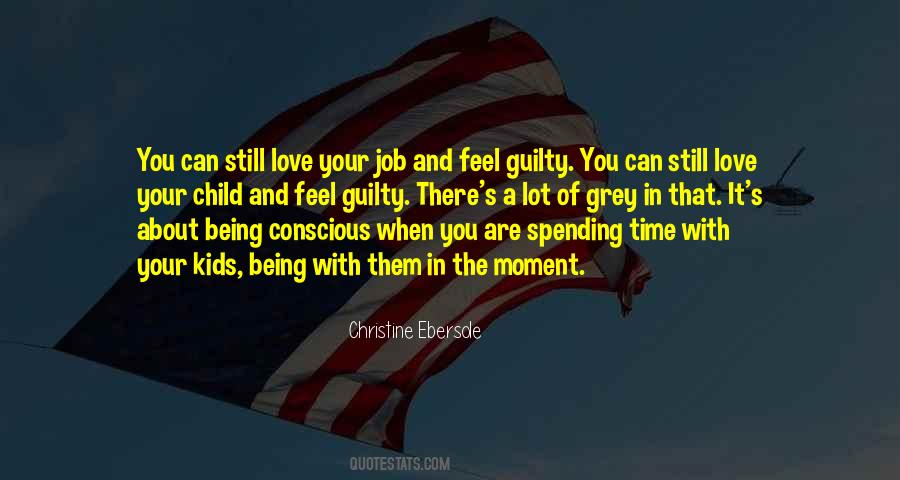 #2. It is only a slight exaggeration to say that happiness is the experience of spending time with people you love and who love you. - Author: Daniel Kahneman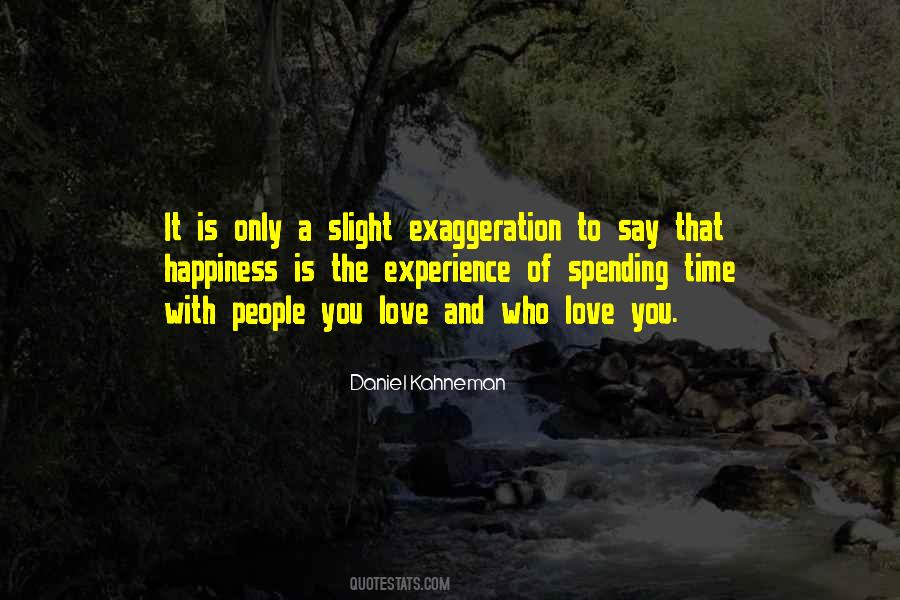 #3. After all, it's all kinds of things that make up a life, right? The big, like falling in love and spending time with your family, and the little ... like blow drying your hair, applying concealer, and cursing those magazine inserts. It all counts. It has to. - Author: Sarah Dessen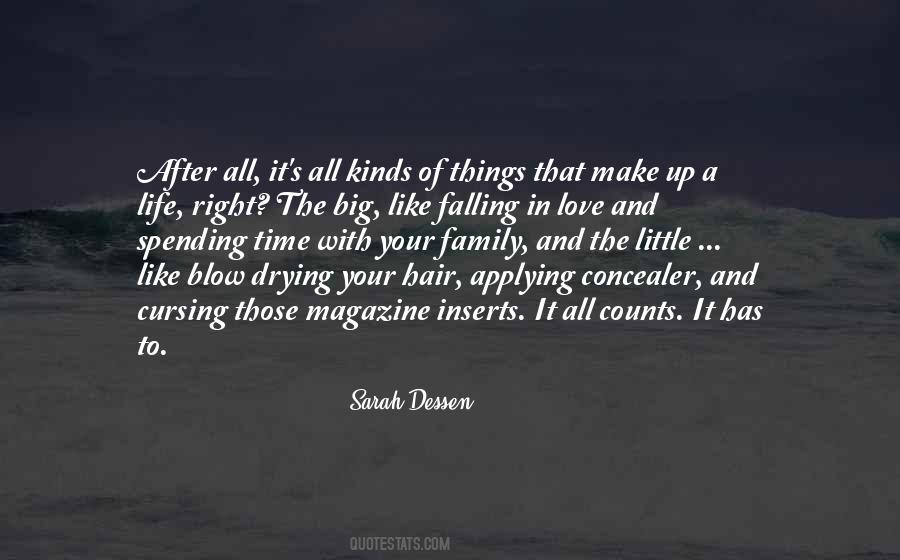 #4. Do the things you love to do so you'll enjoy spending time with yourself. - Author: Toni Sorenson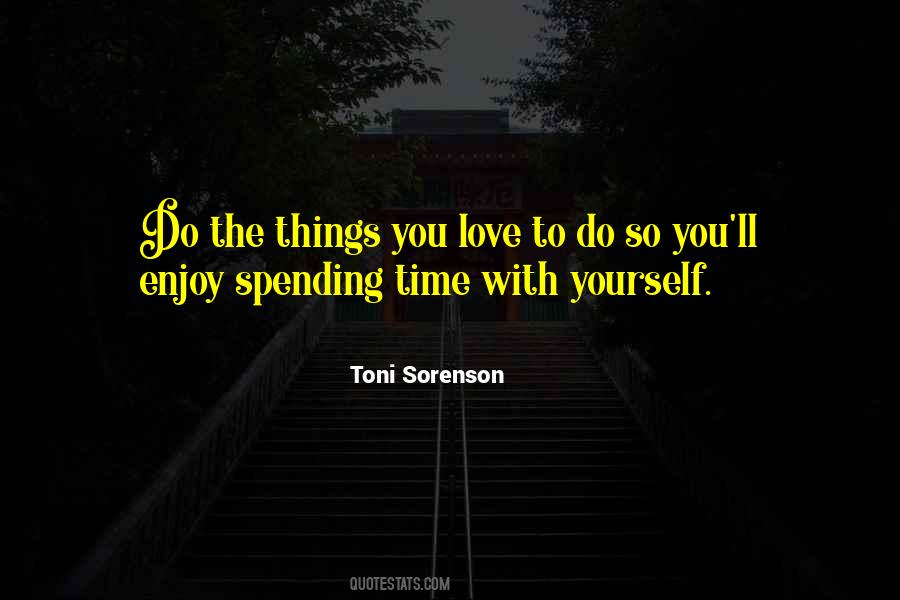 #5. I have so much joy in my life. I love my husband and kids so much. So much love. I'm also more focused now on spending more time at home and in town instead of going on tour. Because of that nesting, I find that I'm even more into writing and creating. - Author: Lisa Loeb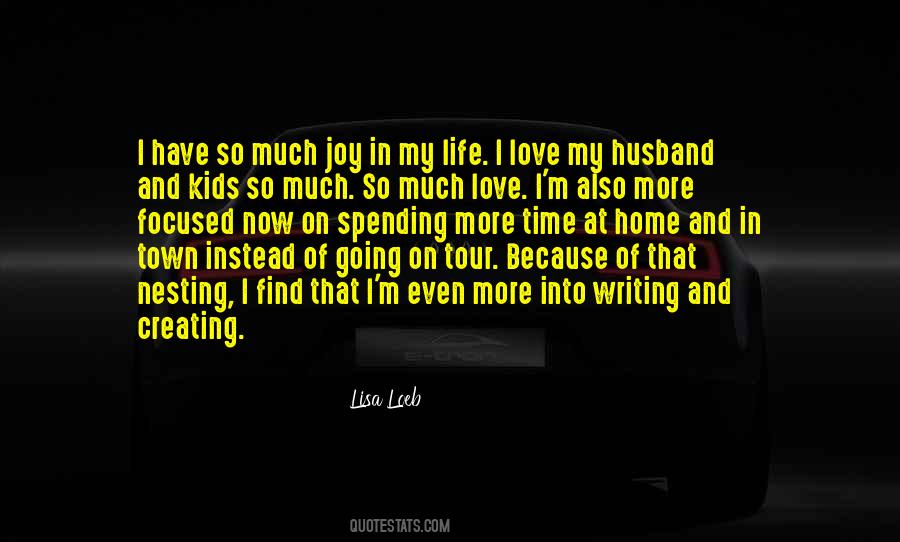 #6. I feel blessed that I found not just a profession, but a 24/7 way of life that I purely love. That curiosity to be current, to listen to the Hozier album, to be early in recognition of a Lorde and spending time with her and Miguel, the pleasure of seeing new talent erupt ... I love it. - Author: Clive Davis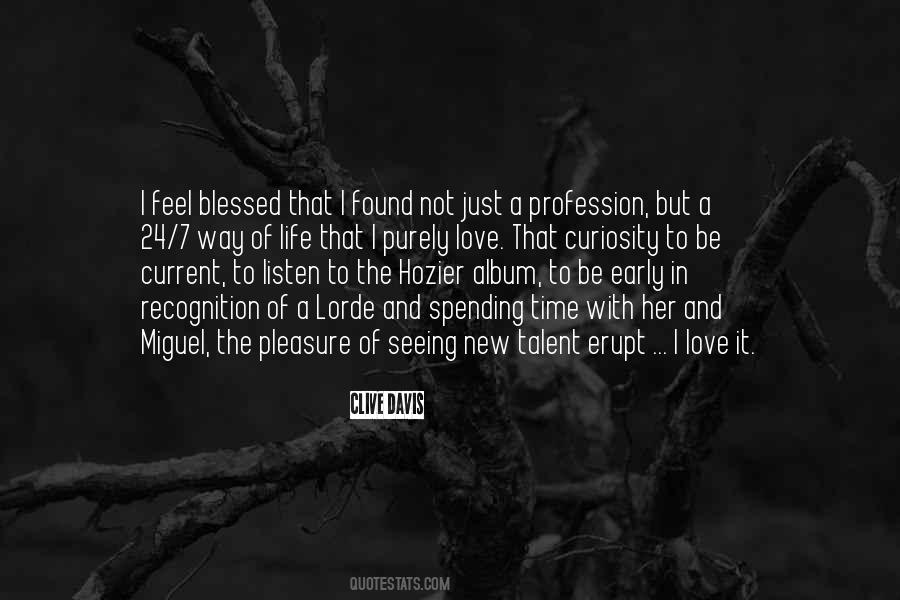 #7. One of the great pleasures of having children is spending one-on-one time with them. Sadly, I could do that for only a few minutes at a time. I'd never say that ADD/ADHD is a gift or a blessing. And if someone says it is a gift, I'd love to return it. - Author: Howie Mandel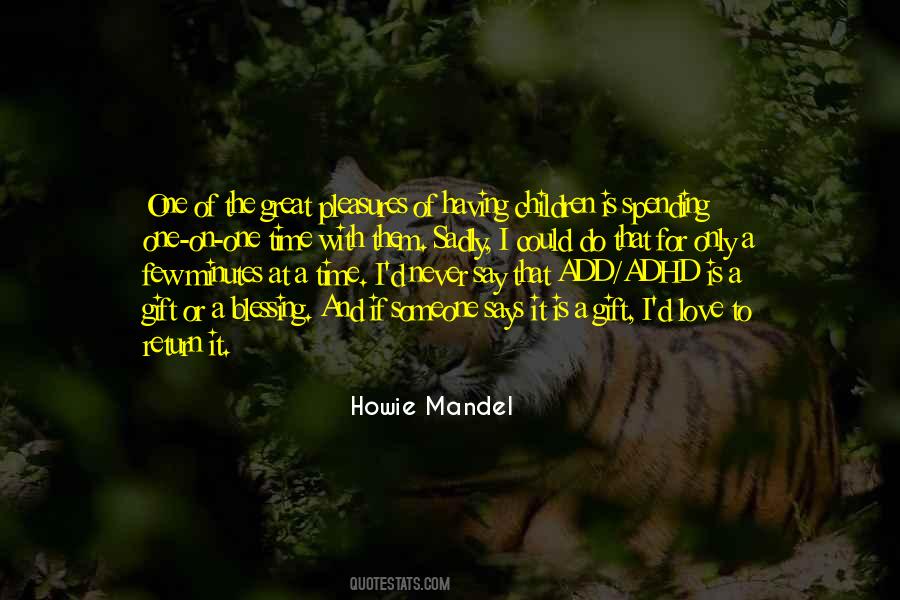 #8. I love spending time with my friends and family. The simplest things in life give me the most pleasure: cooking a good meal, enjoying my friends. - Author: Cindy Morgan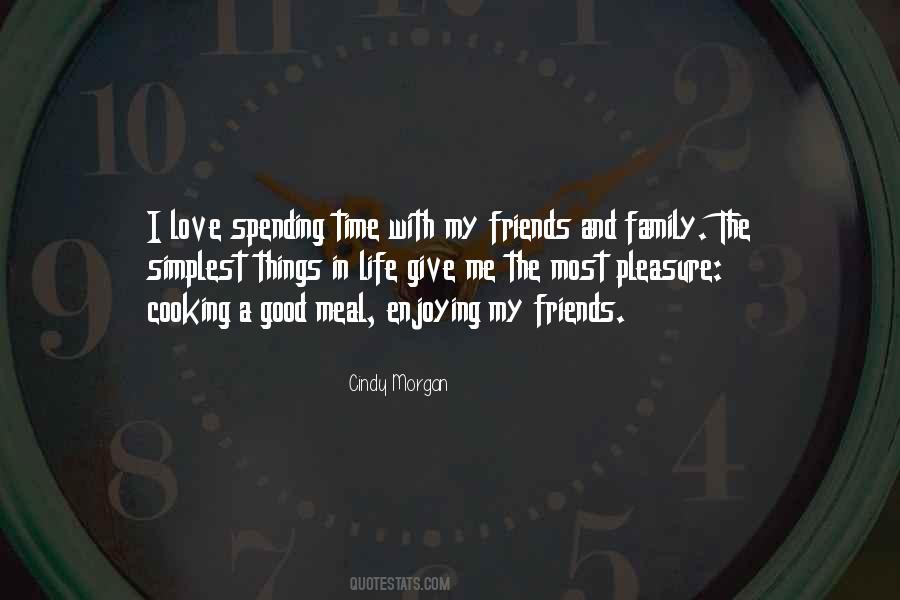 #9. Now, as we stand three feet apart and stare at each other, I feel the full distance that comes with spending so much time apart, a moment filled with the electricity of a first meeting and the uncertainty of strangers. - Author: Marie Lu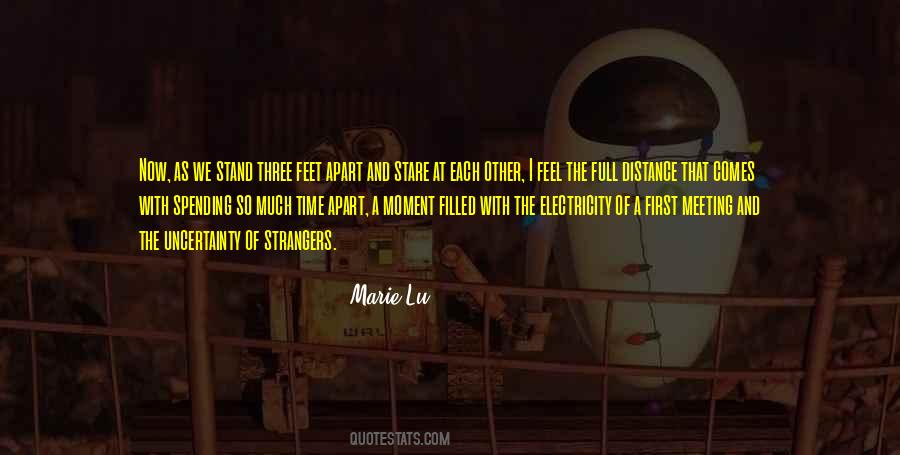 #10. I have to really love something for me to want it, crave it, spend my time on it, and give it a second chance. - Author: April Mae Monterrosa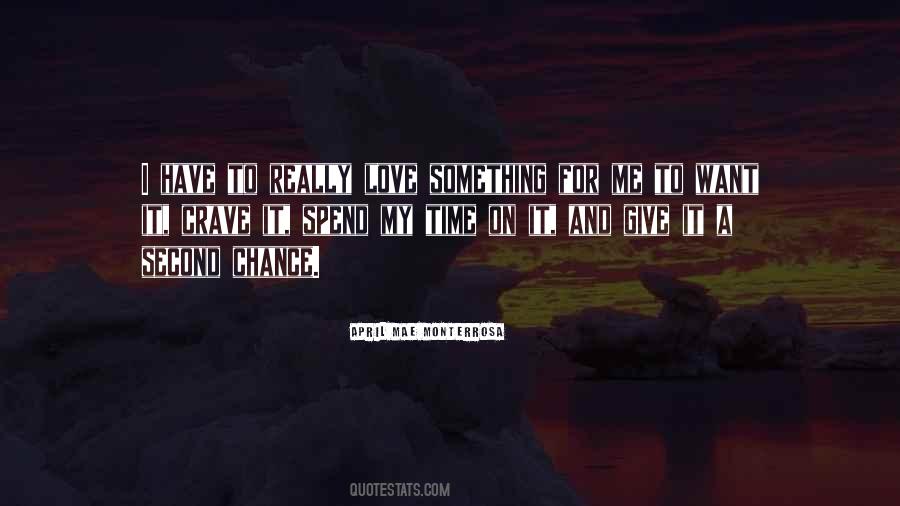 #11. I play video games a lot ... I love to read ... I enjoy spending time with my husband and daughter, who are my most favorite people in the world. - Author: Lea Salonga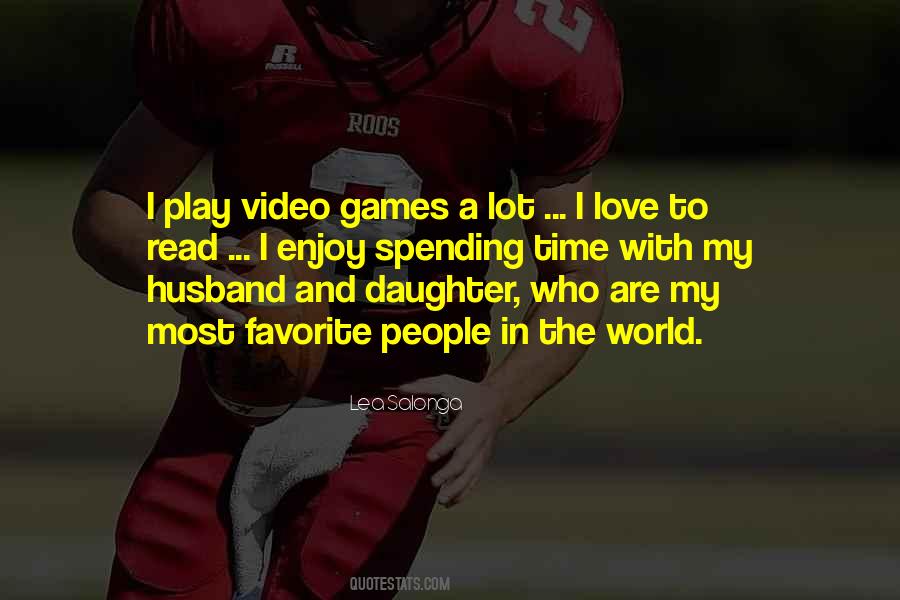 #12. I don't agree on spending time with someone who is more attached to his cell phone than he is to me. - Author: Mohamed Ghazi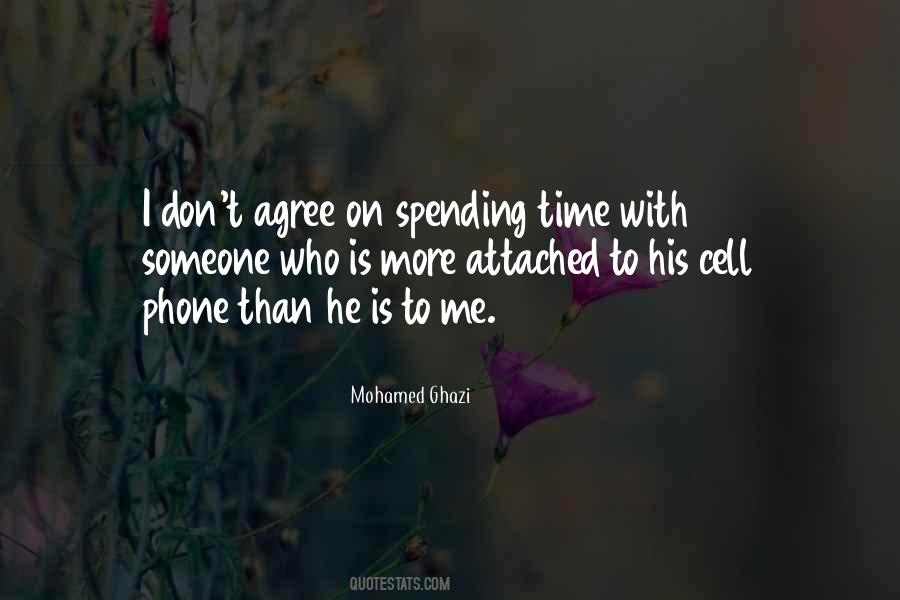 #13. Going home, spending time with the family, I feel they're my friends as well, all of them. I look forward to meeting any one of them for a coffee, and when we all get together, I just love it. - Author: Domhnall Gleeson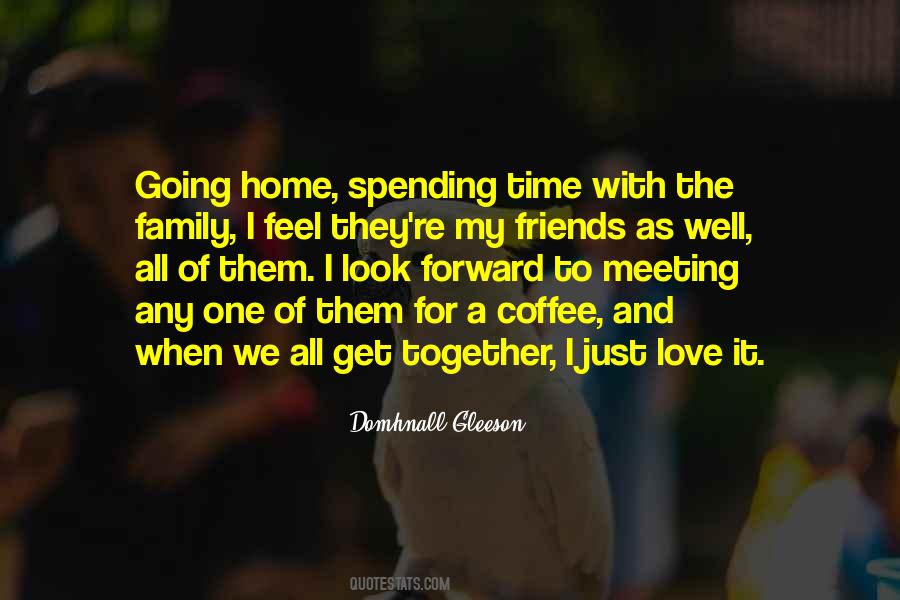 #14. You were honest and hardworking and kind. You were polite and patient and more mature than any guy I'd dated before. And when we were together, you listened in a way that made me feel like I was the only woman in the world. You made me feel complete and spending time with you just seemed right. - Author: Nicholas Sparks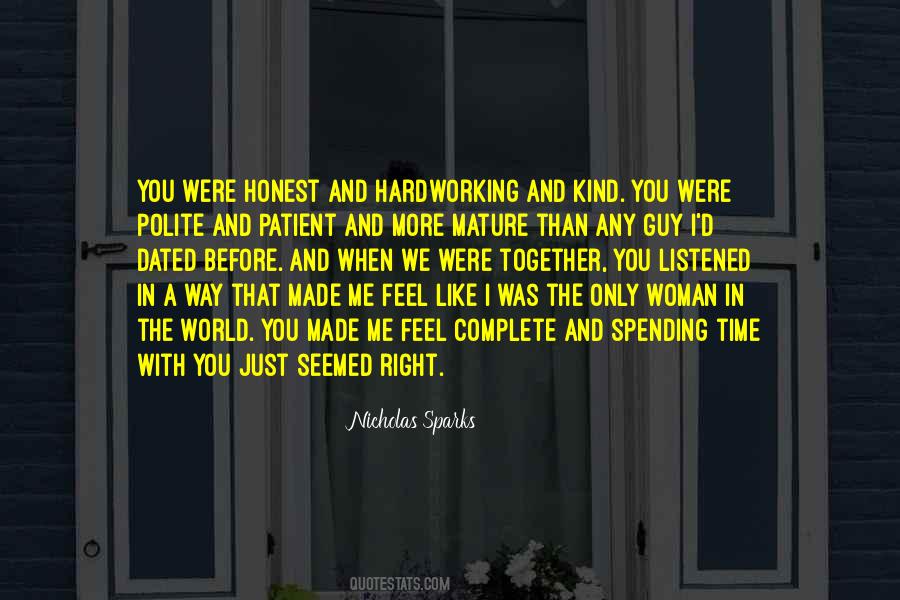 #15. Being Latina, I'm super close with my family. I love them, and I love spending time with them. I love being at my grandma's house and eating her food. - Author: Emeraude Toubia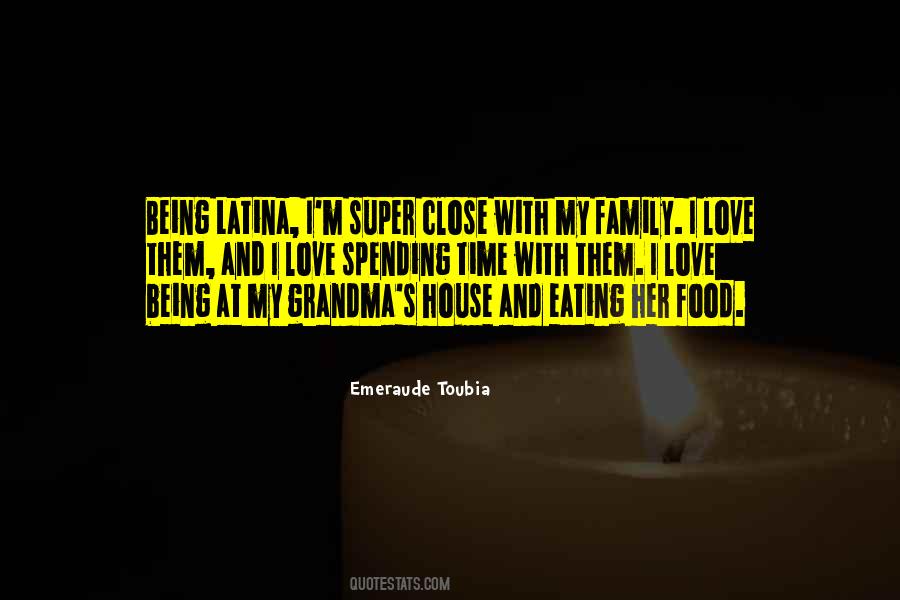 #16. Sometimes spending a lot of time together can end a romance faster than anything else. - Author: Judy Blume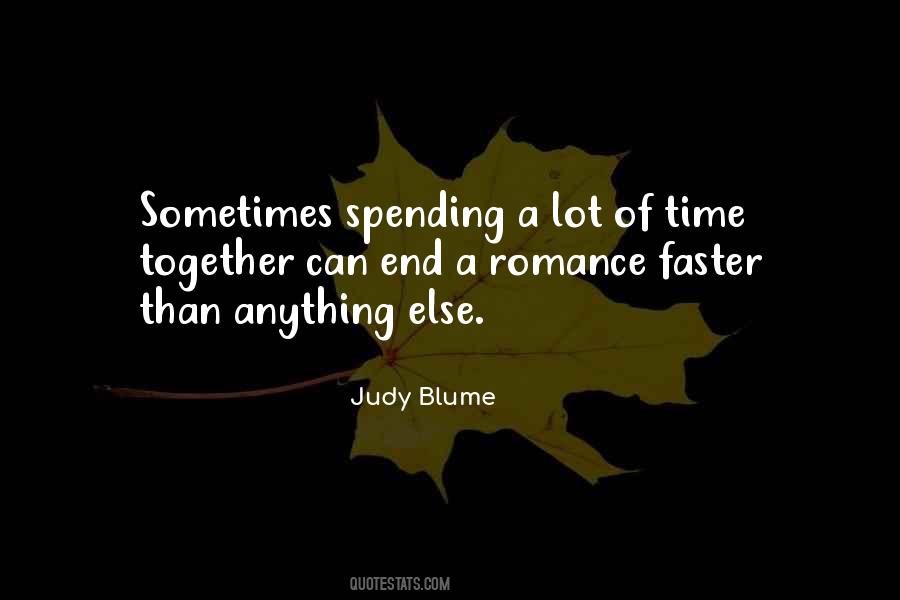 #17. In Britain I love spending time at the St. James's, the Jumeirah Carlton Tower on Cadogan Place, and the Mayfair Hotel. We've got some spectacular hotels tucked away in London, but because I live there, I don't get to spend as much time in them as I probably would like to. - Author: Colin Salmon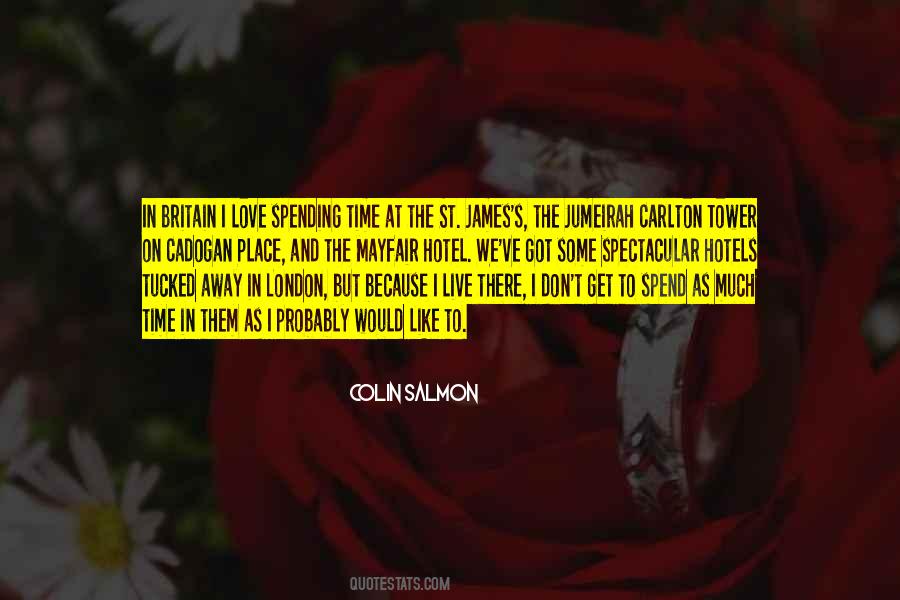 #18. How can I ever repay you for what you've given me? A daily opportunity to change the world for the better simply by spending time with the person I love the most. - Author: Dallas Clayton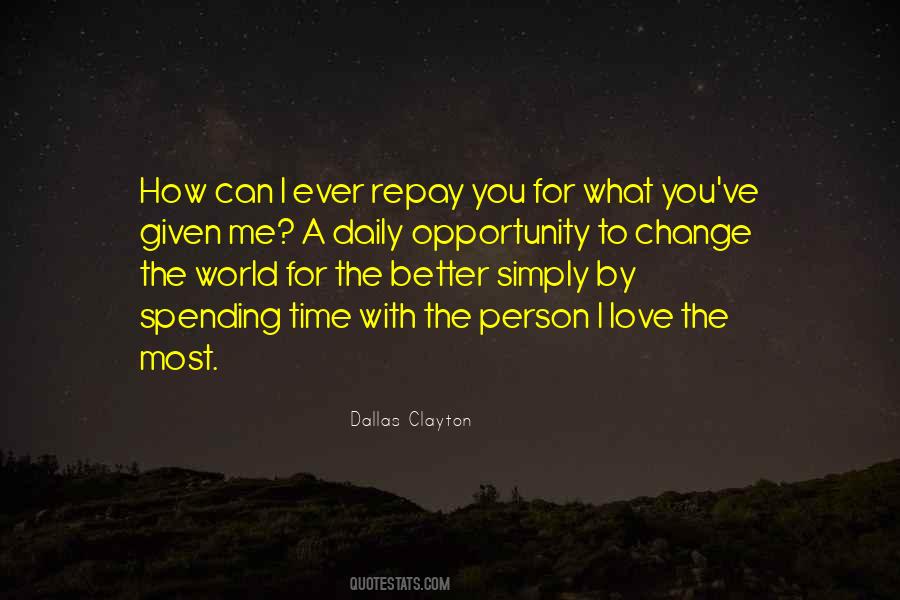 #19. Cooking classes are a great way to hone your skills, learn new recipes, and meet like-minded friends. Spending time in the kitchen with people who love to cook as much as you do is fun and educational. - Author: Homaro Cantu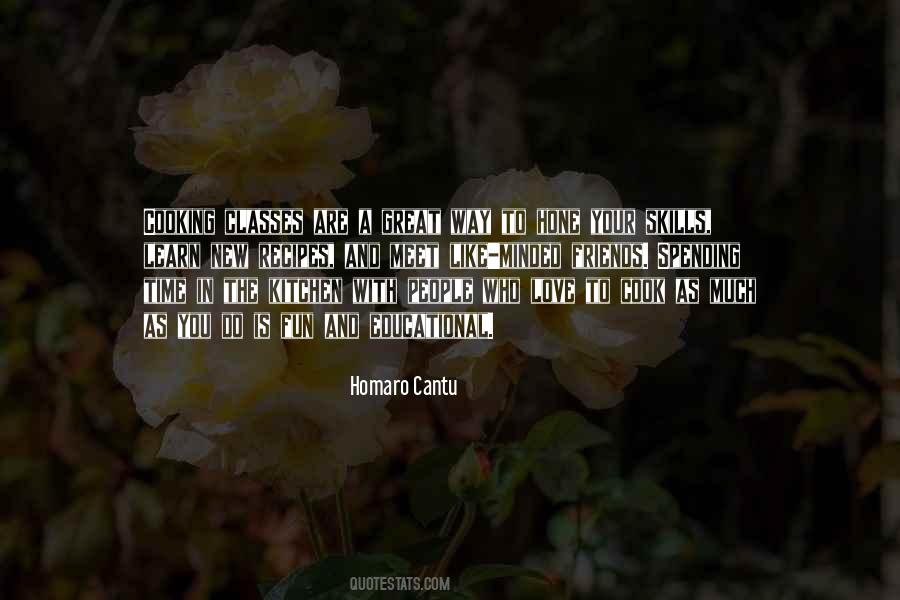 #20. I apologized to her once for spending less time with her, but she blew it off. You're in love. That makes you actually kind of boring to people who aren't in love. You know, the sane ones. - Author: Claudia Gray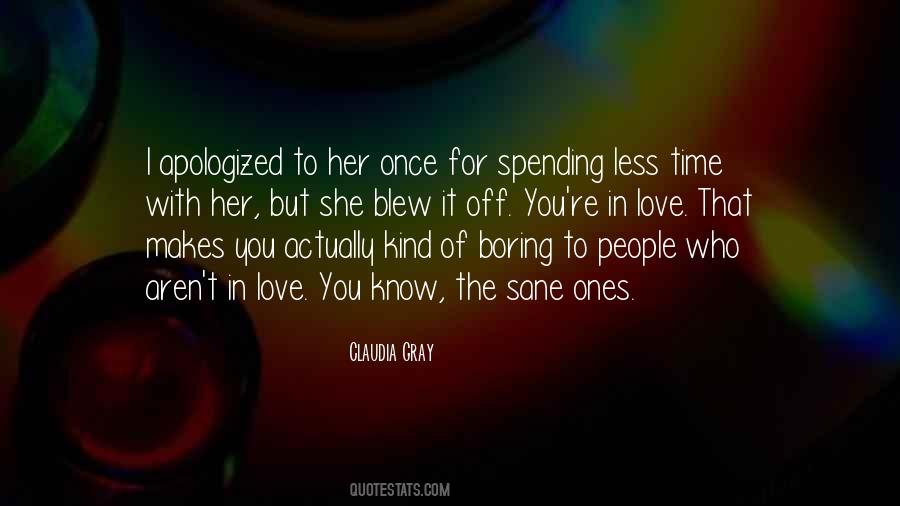 #21. We told each other what movies we were currently watching and what books we were reading. - Author: Ernest Cline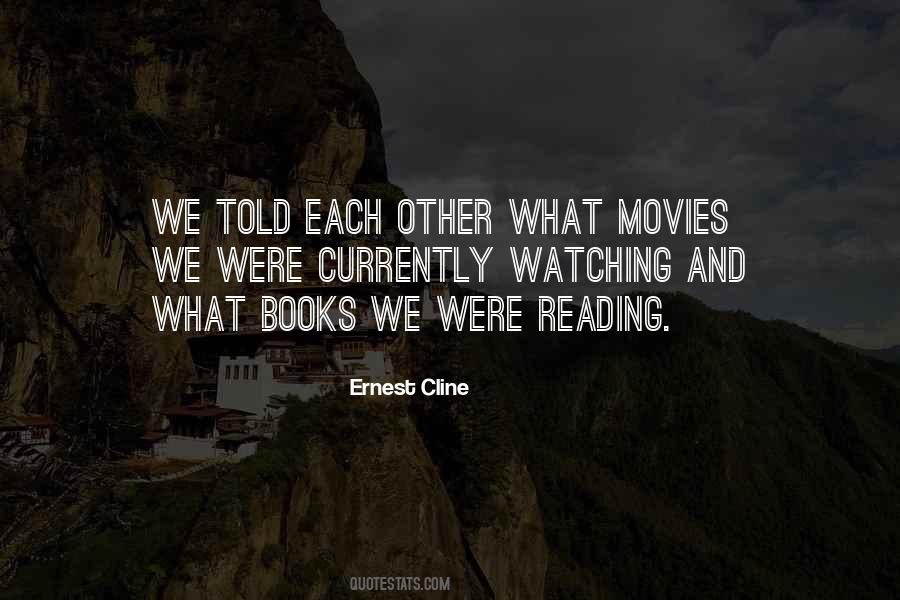 #22. I actually love spinning for relaxation and to keep my body healthy, but besides that, I love exploring new restaurants. I love being outdoors. I love just spending time in the sun and hanging out with my friends. - Author: Nina Agdal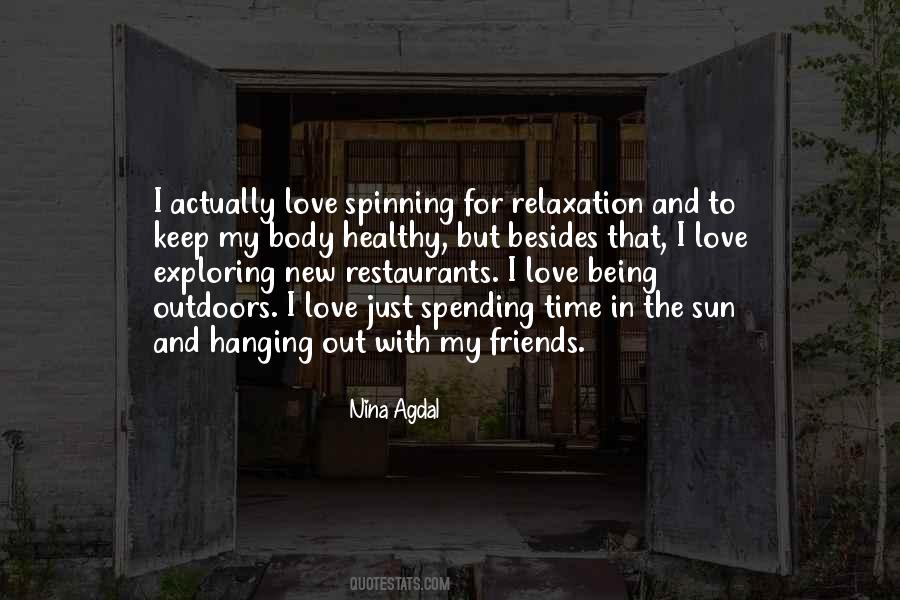 #23. I started spending time at stables with my daughter while she was riding. I was reminded of my love for the form and different aspects of the horse. Then I thought about the bit, halter, and bridle in terms of how we harness and ride this animal. There were a lot of interesting elements to explore. - Author: Jill Greenberg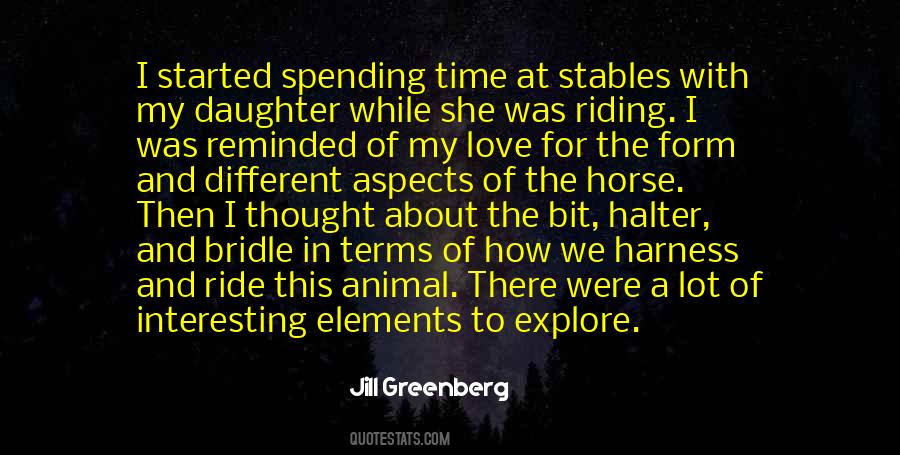 #24. Sweetheart, this is not a race to the finish line. It's you and me, spending time together and getting to know each other better. Just that simple. - Author: Brey King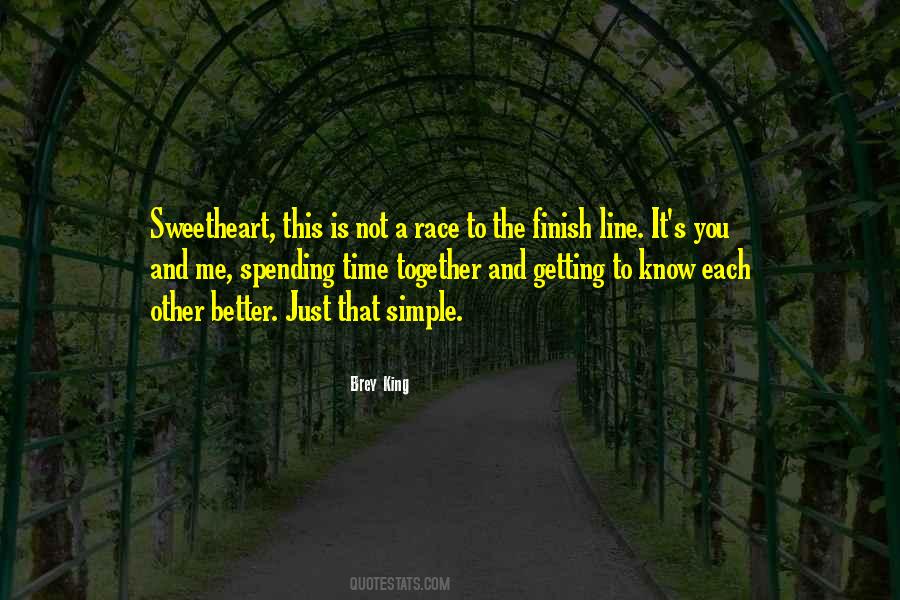 #25. When you receive God's love, it means you're getting close to Him, spending time in His presence, opening your heart to Him, seeking to know Him, and desiring to be more like Him. Remember that choosing to receive God's love changes your life. - Author: Stormie O'martian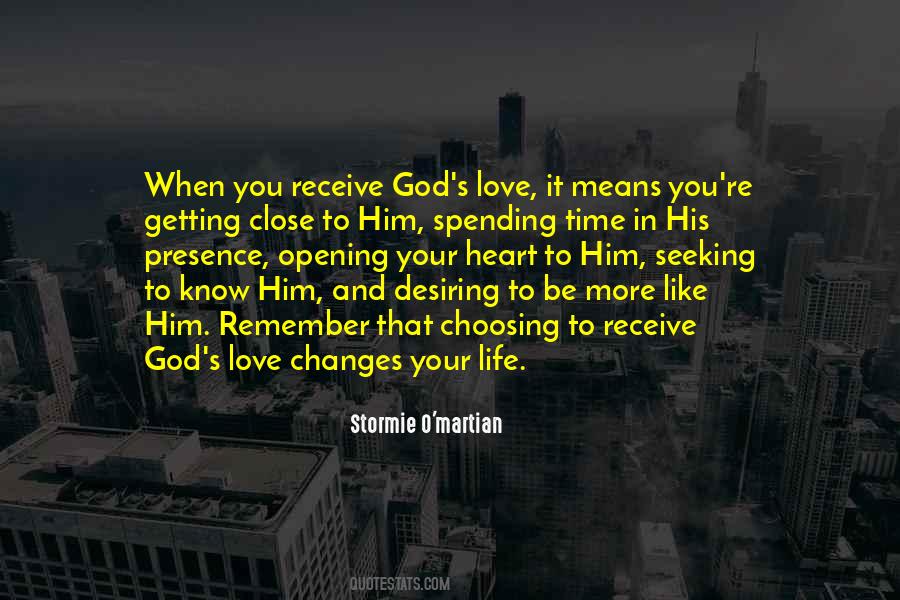 #26. However, those who are committed to INFPs know that their mates love to eradicate their frequent bouts of loneliness by spending lots of time connecting emotionally and physically, whether it's snuggling on the couch and watching a movie or just reading side-by-side in bed. - Author: Diana Jackson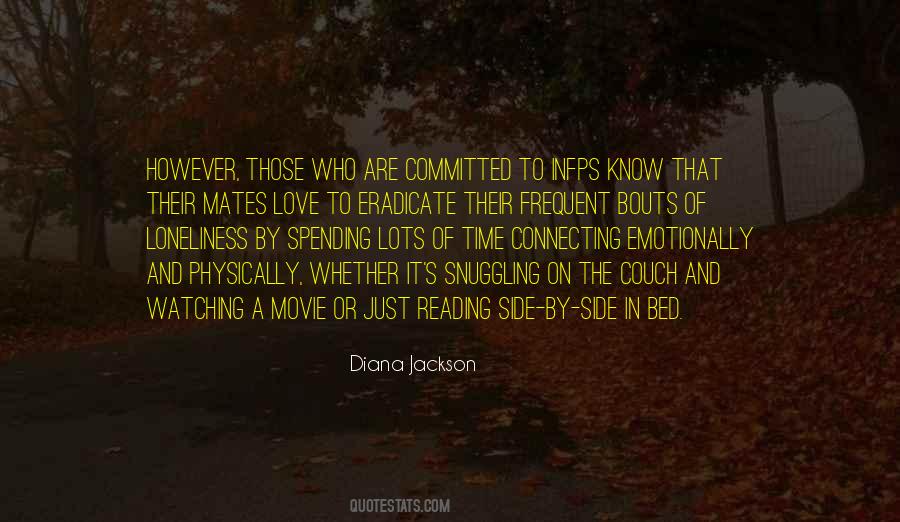 #27. I love everything about the holidays: the decorations, the parties, and spending time with friends and family. What I love most is that feeling of giving back. Every bit counts. - Author: Brad Goreski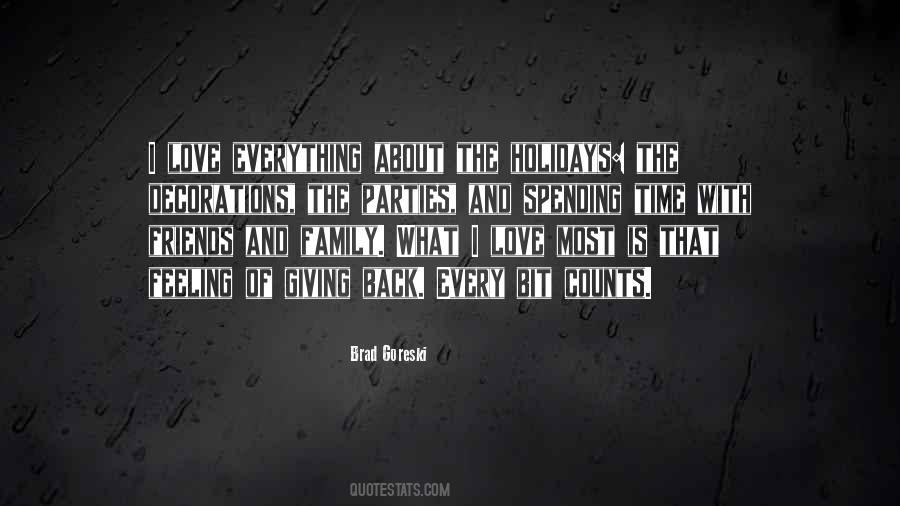 #28. I love spending time with my dog, my niece and my family. I'm very family-oriented. - Author: Lil' Kim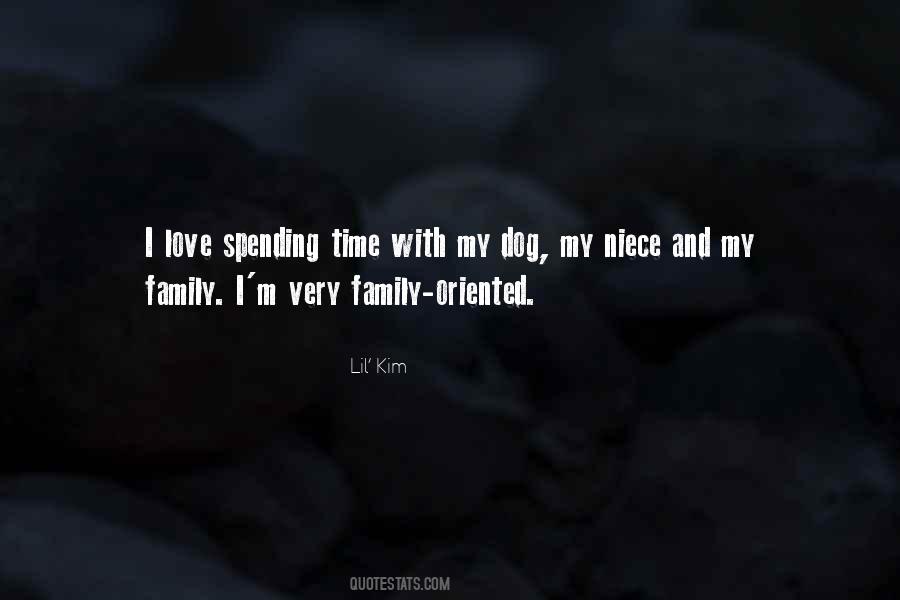 #29. I love spending time with my family and friends during the holidays, and my favorite holiday tradition would be the pozole that my mom makes almost every Christmas. It's the best! - Author: Becky G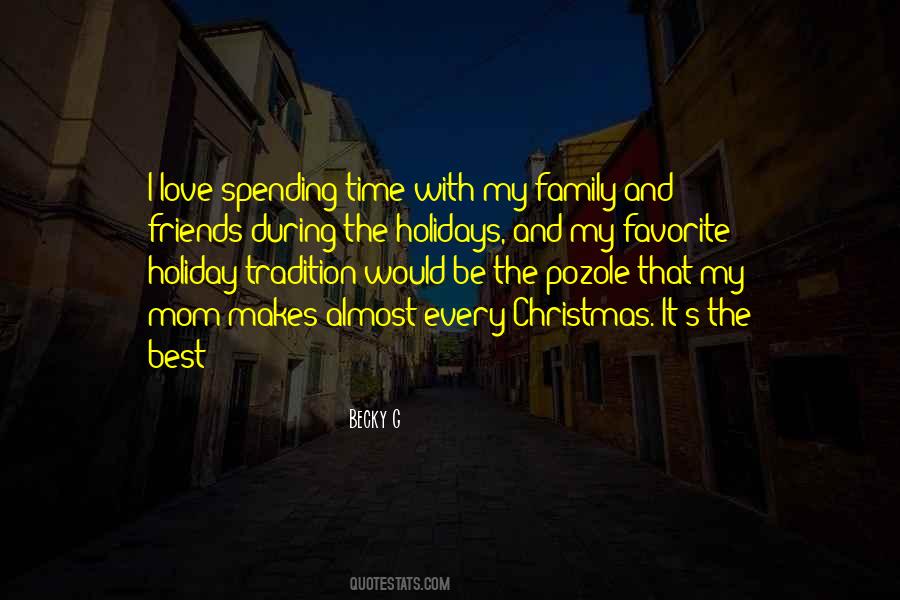 #30. Life is difficult. Not just for me or other ALS patients. Life is difficult for everyone. Finding ways to make life meaningful and purposeful and rewarding, doing the activities that you love and spending time with the people that you love - I think that's the meaning of this human experience. - Author: Steve Gleason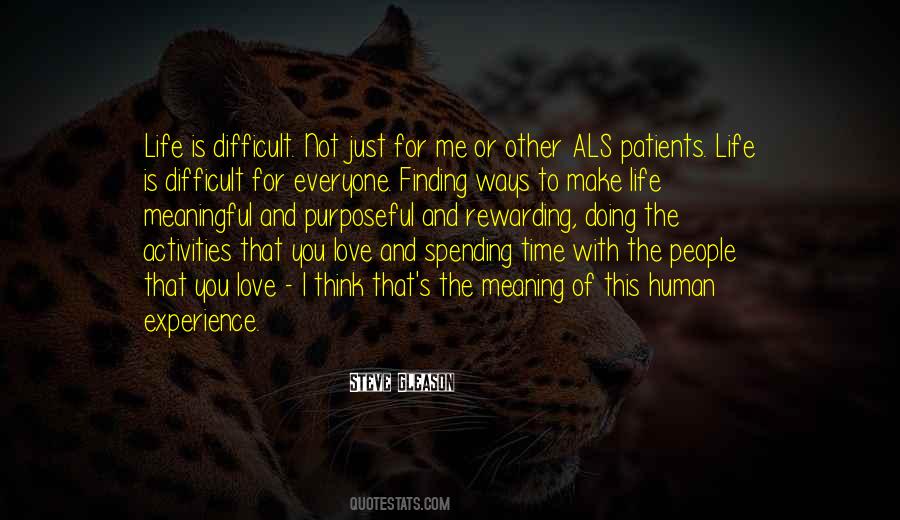 #31. I love you, Elizabeth ... and more than that, I like you. I enjoy spending time with you. - Author: Nicholas Sparks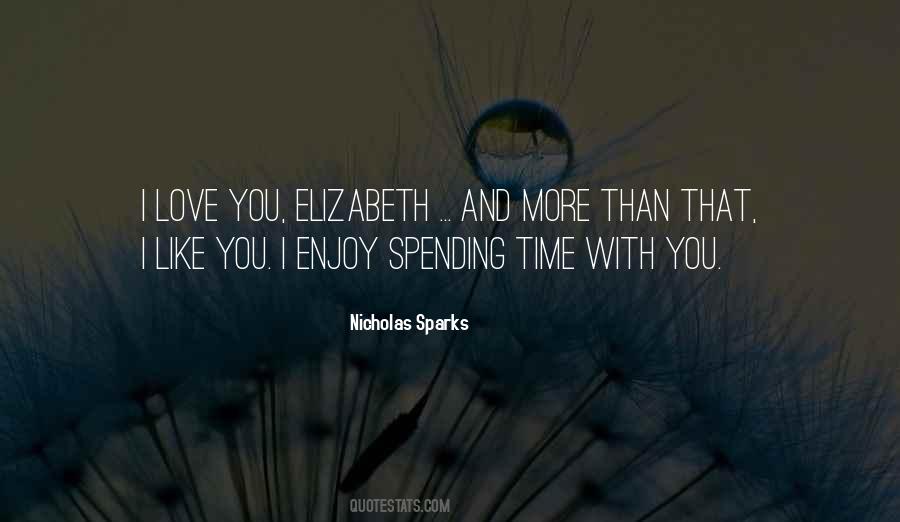 #32. Live every day,
not by spending time,
but by investing all the way. - Author: Debasish Mridha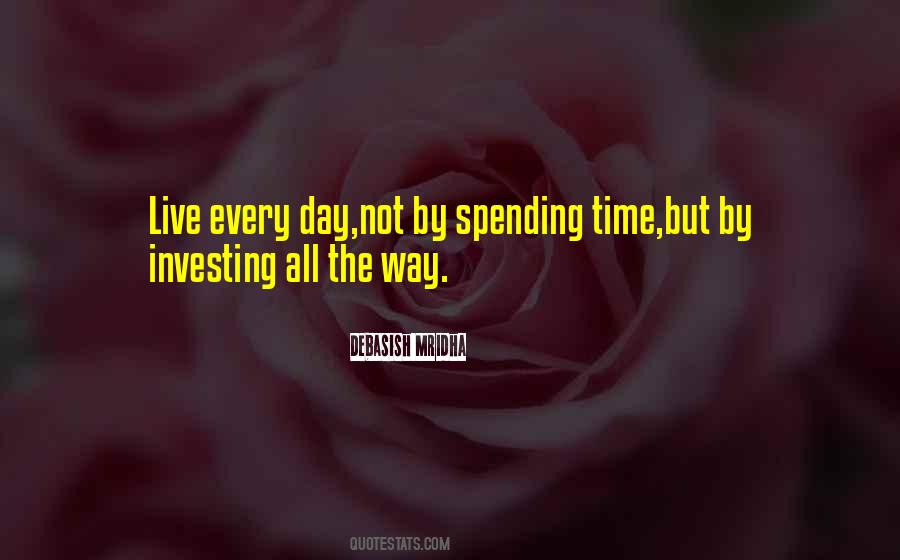 #33. I absolutely love spending time with my family. - Author: Kevin Alejandro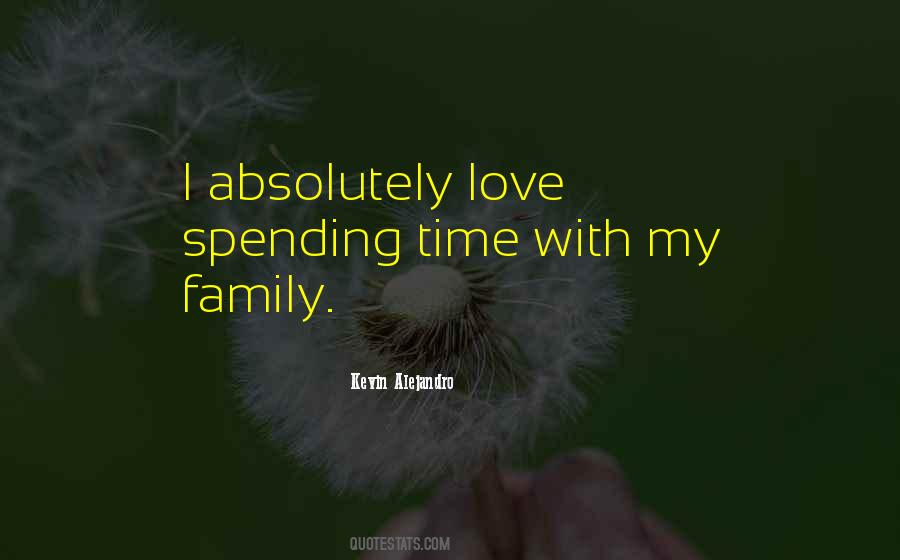 #34. At some point, you're just happy to be a working actor, but to be able to do it with people you really love and enjoy spending time with, it's just such a rare thing. You hear so many horror stories. - Author: Matt McGorry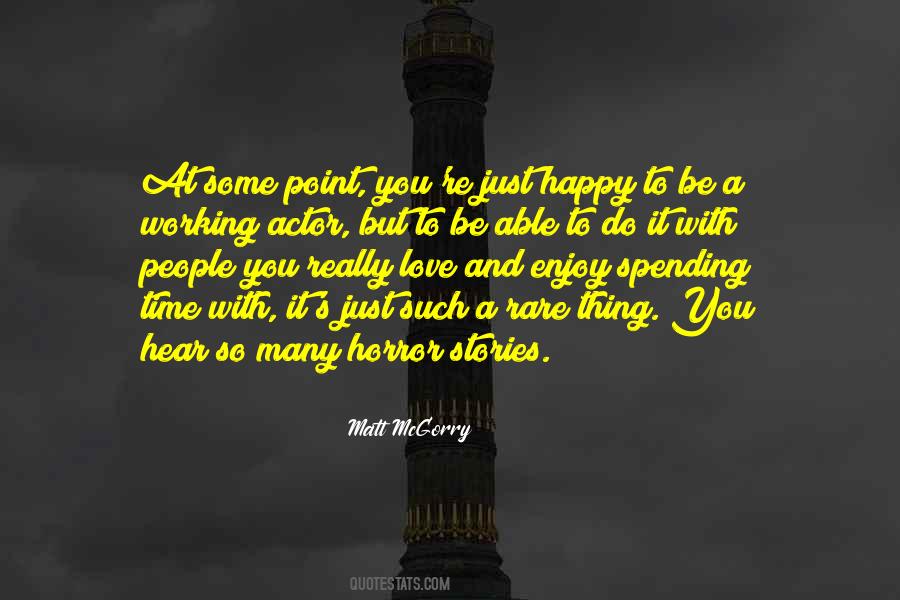 #35. If you think about the times in life when you've been the most deeply fulfilled, they're the times that you've felt love. Whether it's watching a sunset, spending time with a pet or being with a partner with whom you feel an intensely deep connection. - Author: Marci Shimoff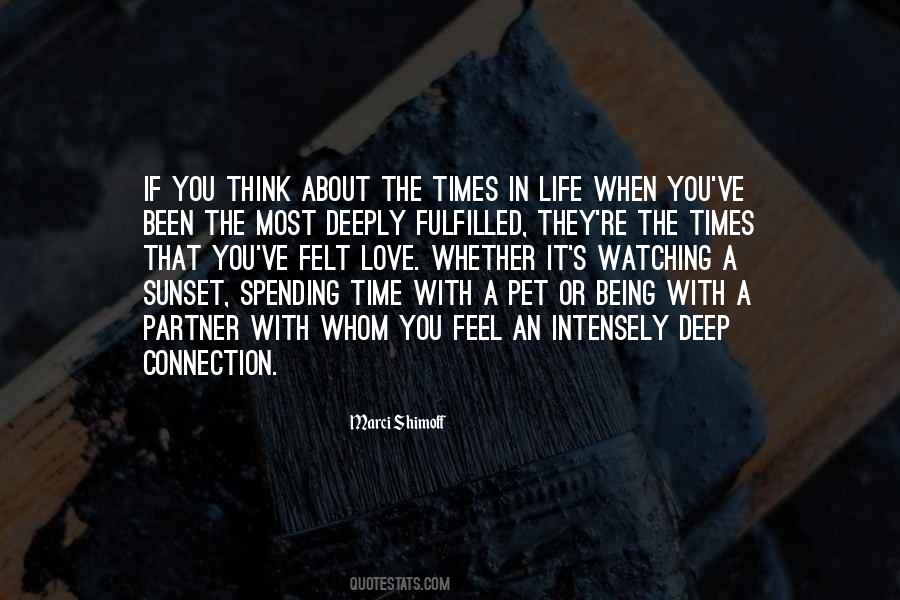 #36. Of course my family and friends are incredibly valuable to me. They keep me sane, they teach me things and I love spending time with them. I think that ranking what you value is a sort of western and linear way of looking at things. - Author: Julia Stiles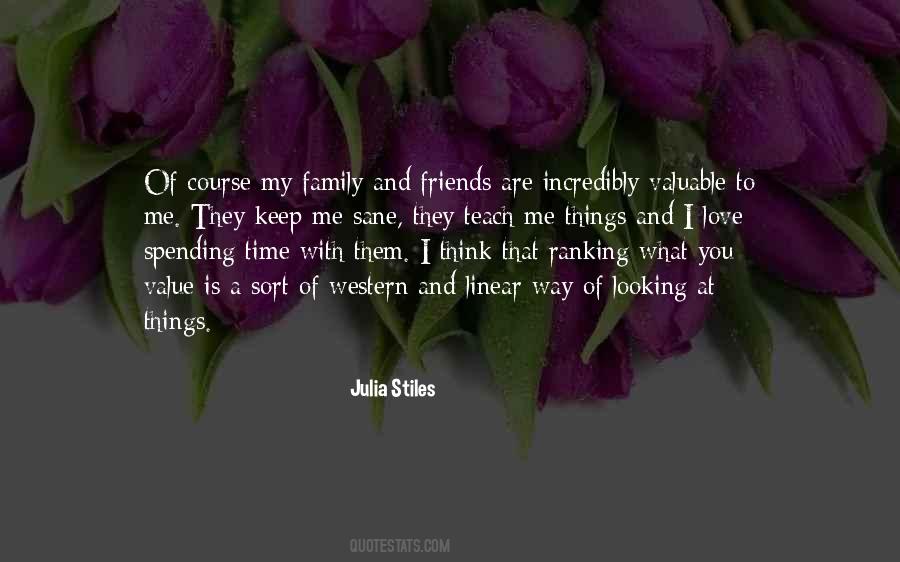 #37. I love to get home and hang out with my family. My brothers and I love spending time at the beach. I enjoy doing all kinds of surf sports and keeping healthy. - Author: Samantha Stosur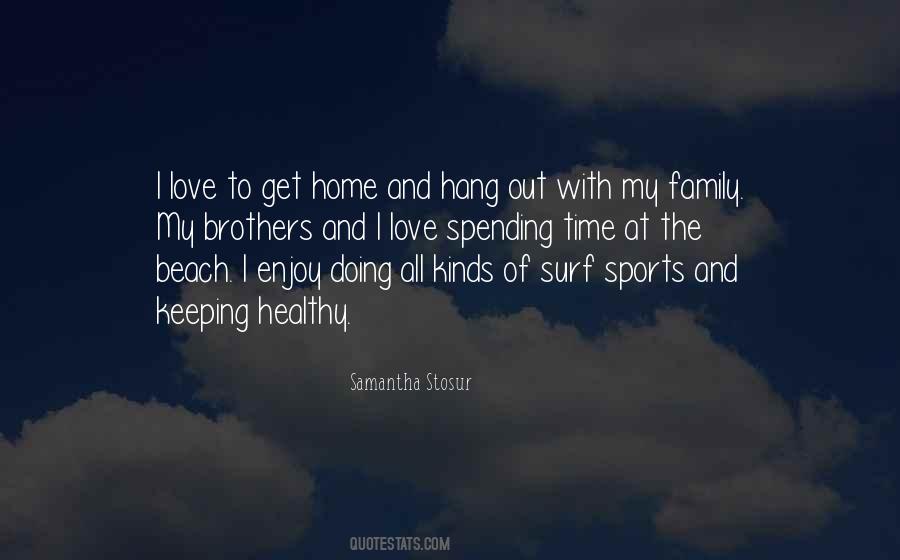 #38. It's really important to me that my niece and nephews can come and see my show, as can my grandad and nan. I love spending time with my family, and music has always bonded us. - Author: Jessie J.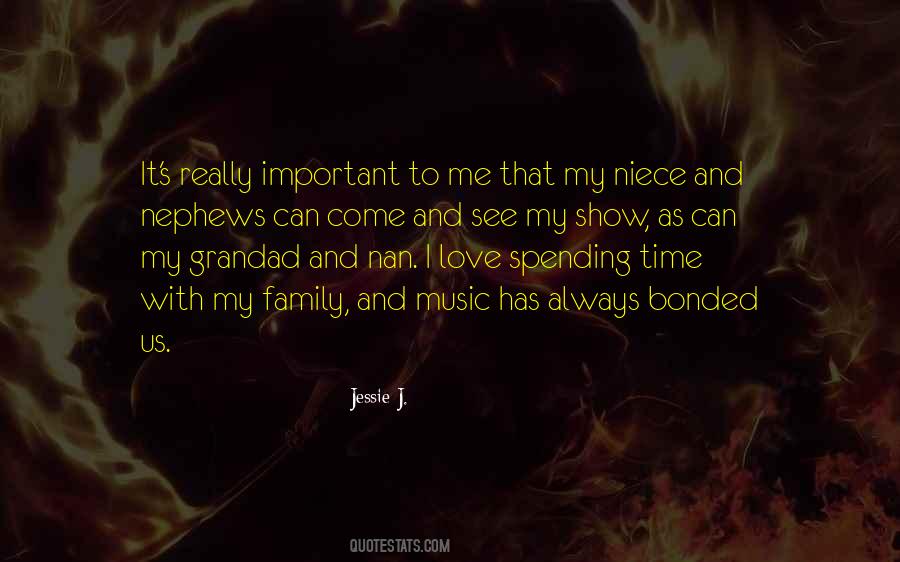 #39. This is how many people become artists, musicians, writers, computer programmers, record-holding athletes, scientists ... by spending time alone practicing what they love. - Author: Meg Cabot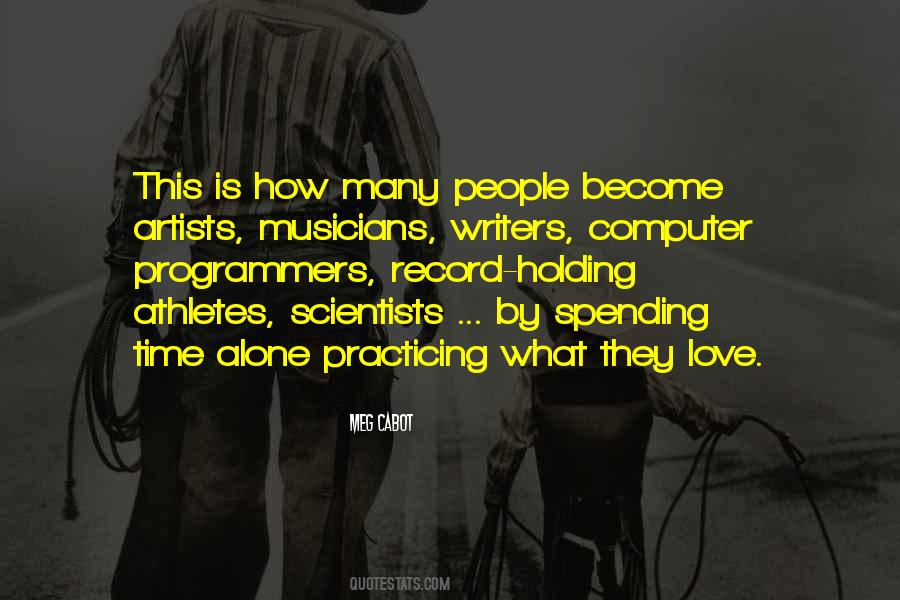 #40. I avoid social networks and I try to live a very normal, simple life. I love spending time and hang out with my friends any time I can. I like a very simple life. - Author: Dakota Johnson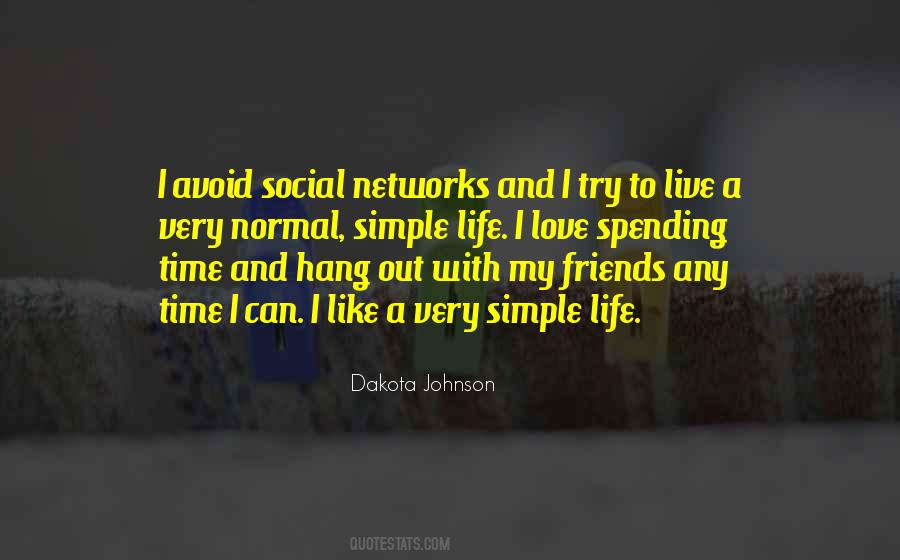 #41. I notice the silvery hair at his temples with a tinge of sadness. Why do parents grow old? Life is a castle of lies slowly dismantled by the passage of time. I regret not spending more time looking at the people I love. - Author: Shan Sa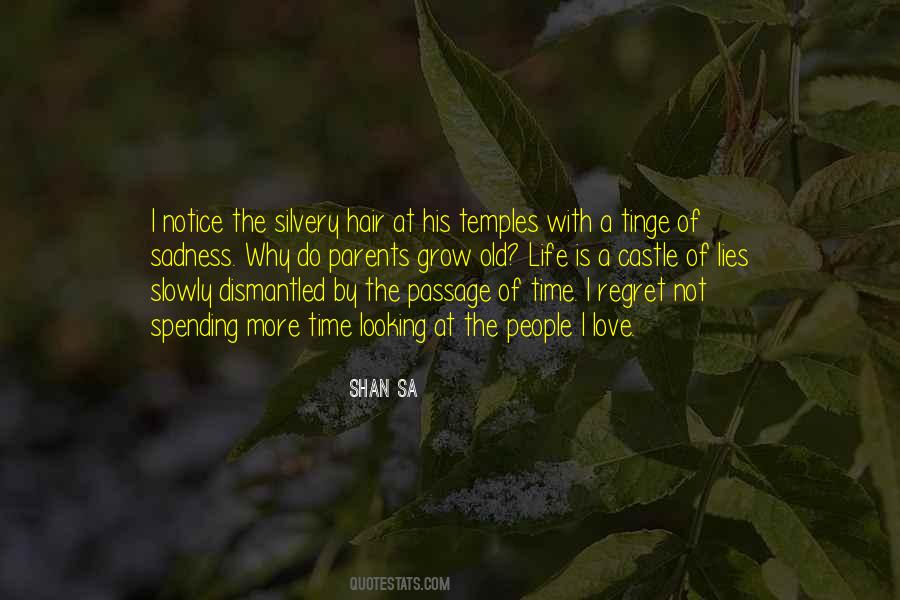 #42. It's scary to realize that the only thing holding our friends to us isn't our performance, or our lovability, or their guilt, or their obligation. The only thing that will keep them calling, spending time with us, and putting up with us is love. And that's the one thing we can't control. - Author: Henry Cloud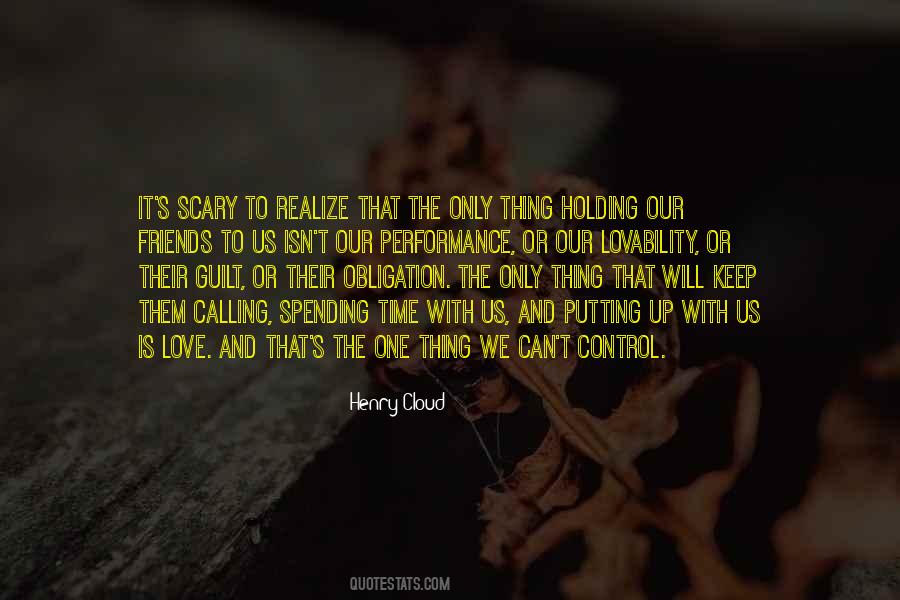 #43. I'm not a showbiz person. I just enjoy talking nonsense on the radio. I'm not bothered about going to clubs or the paparazzi, I genuinely prefer my neighbours. Spending time with my family and watching Coronation Street are what I love best. People are just people, aren't they? - Author: Tony Blackburn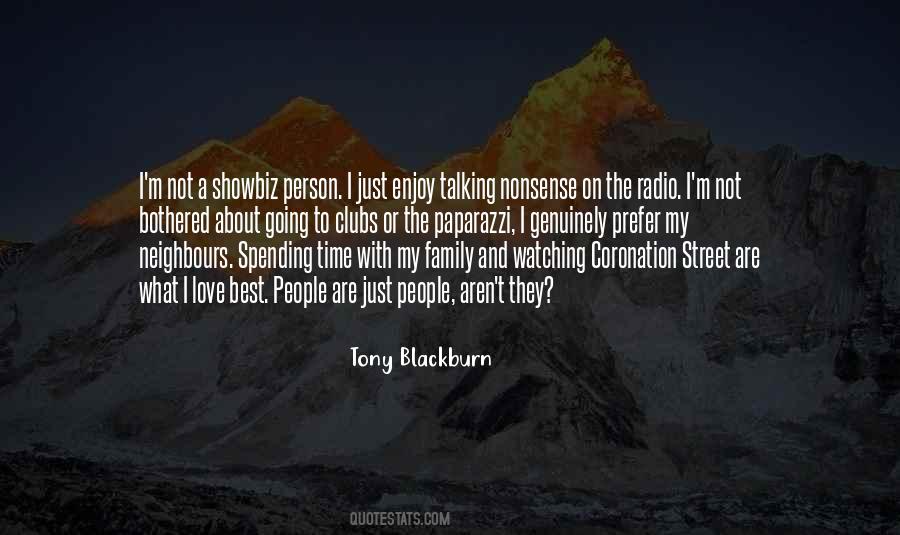 #44. I love being outdoors and think a tan is very sexy. I'll lie out on white towels strewn with pillows. I don't like to hide under hats. If anyone knows about spending lots of the time on the beach, with kids and dogs in tow, it's me. - Author: Pamela Anderson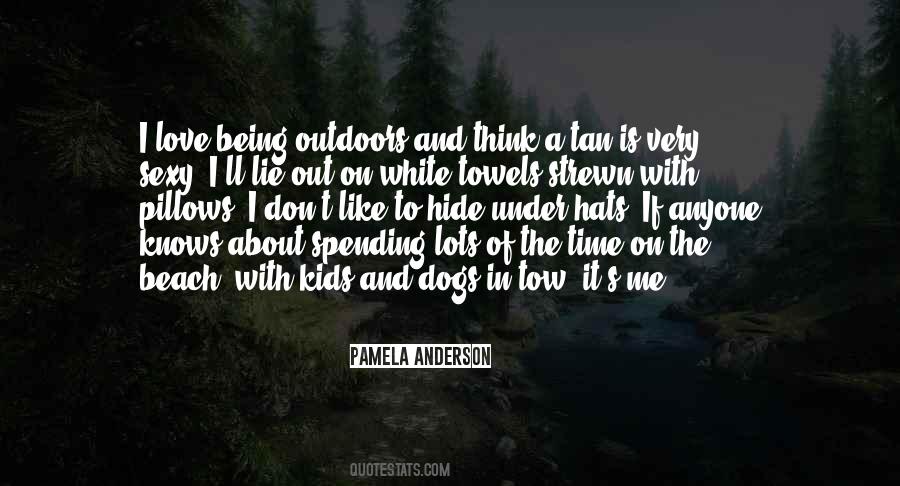 #45. 'He's the most charming man. He's the Oscar Wilde of our time. I only had one moment with him in that film and it's a great source of regret. I love spending time with him. He's always very open and effusive. His interest in you is genuine.' - Author: Russell Crowe
#46. You can love someone and not like spending time with them. - Author: Will Fetters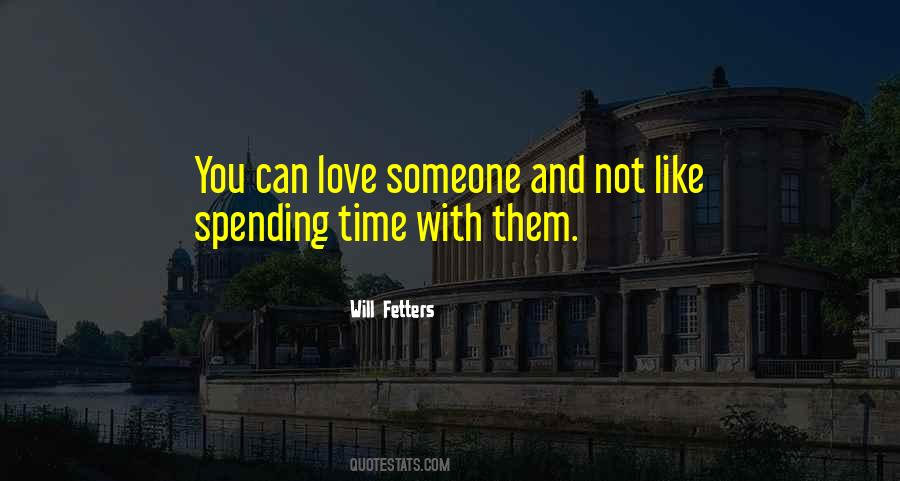 #47. God, I love spending time with you." His smile eases me. "Don't get mad at me, but I'm going to say something and I have no apologies for saying it." I raise my eyebrows in curiosity. "You look fucking hot in that bikini. - Author: Jeannine Colette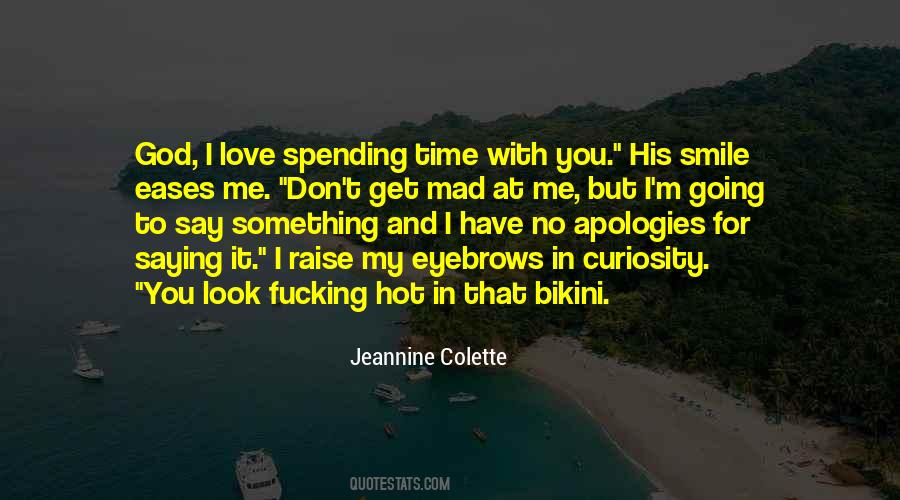 #48. Spending time with you showed me what I've been missing in my life. - Author: Nicholas Sparks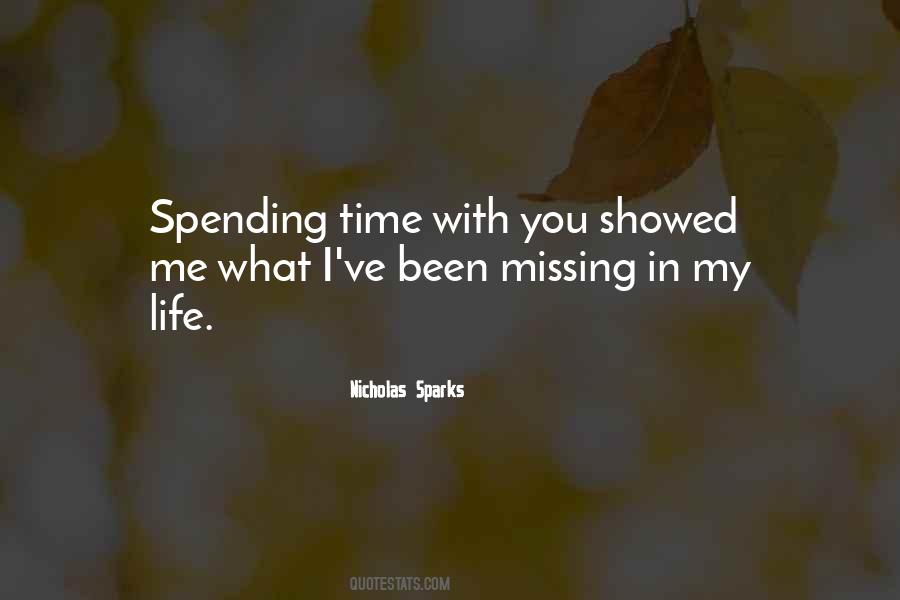 #49. I still love things that you don't even need to pay for. Going to the beach and being around five of your friends and having a good time means so much more than going out and spending hundreds of dollars. - Author: Maria Sharapova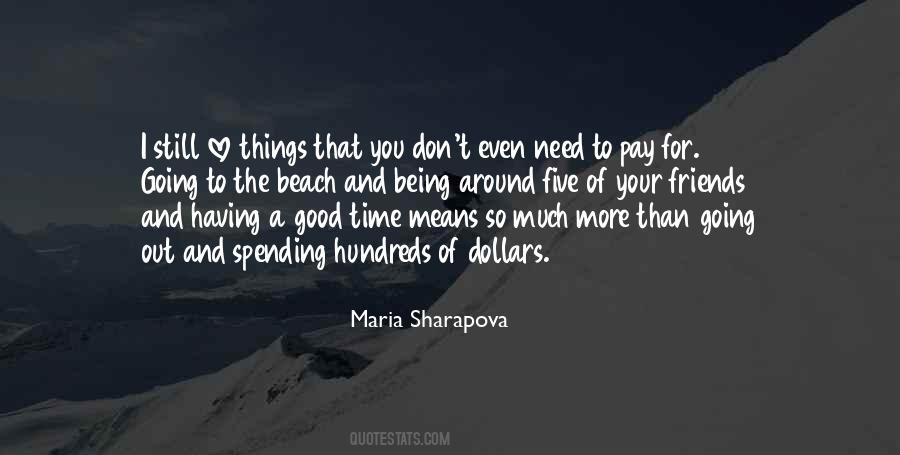 #50. I hope you don't mind spending so much time with me," Jett said. "I promise to be good, and I won't be too hard on you." His tone oozed amusement as he added, "Unless you want me to. - Author: J.C. Reed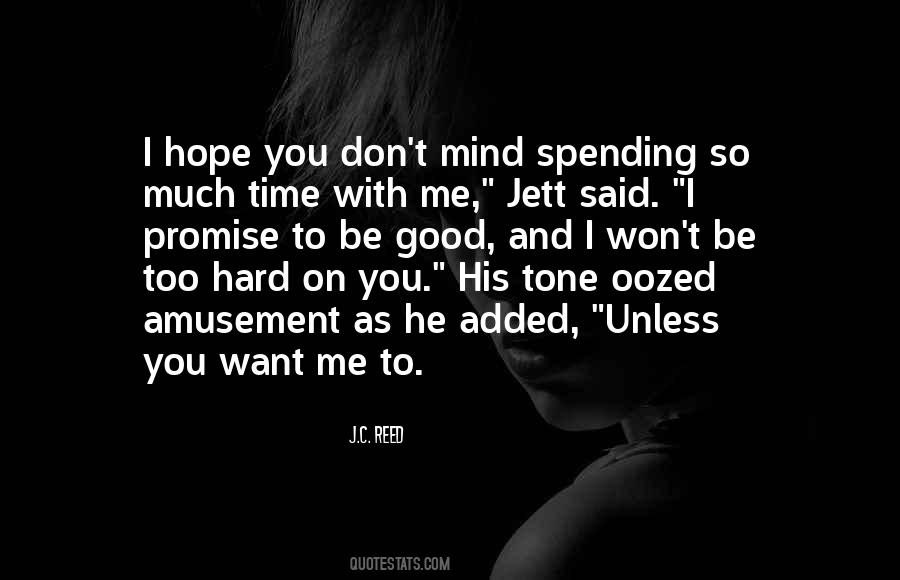 #51. I love feeling in touch with Mother Nature. Spending time outside - whether it's hiking, biking, walking on the beach, or lying in the sun - brings me clarity and energy. - Author: Chelsea Krost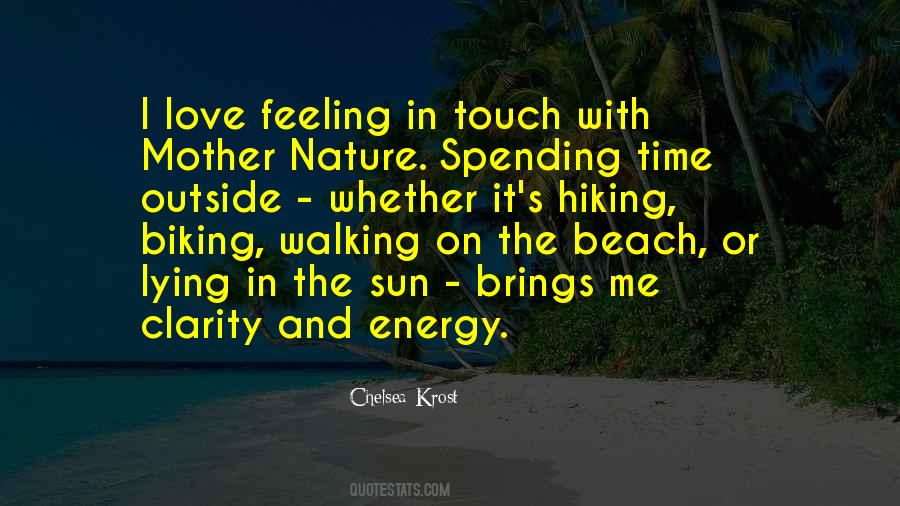 #52. I'd rather live a life I truly love by spending my time doing things I love and have that be my only life rather than devote myself to someone who can't be proven exists at all that wants our time and our love more than our virtues simply just so I can live again - Author: Anonymous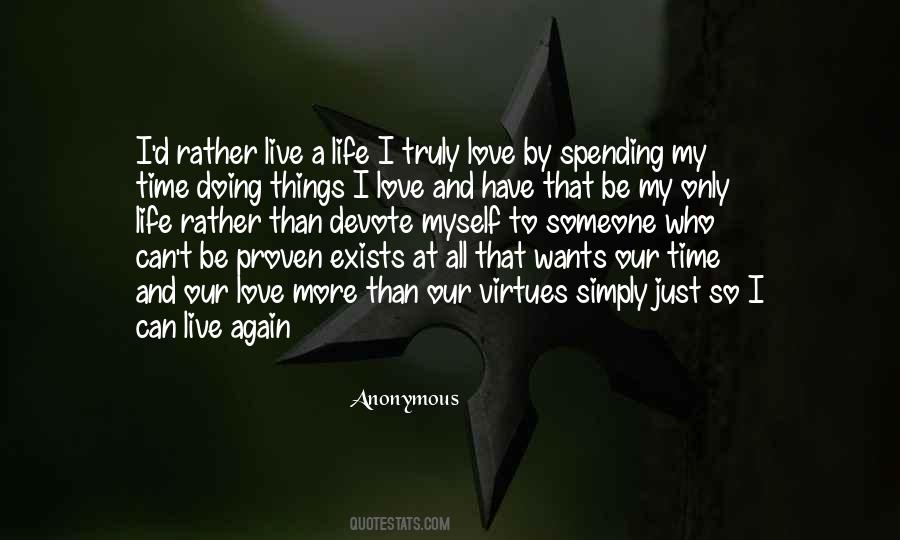 #53. Ironically, being a coach on 'The Voice' and spending time with those kids, Xenia and Dia especially, I learned a lot about myself. It reminded me how lucky I am that this happened for me, and it kind of lit the spark inside me again for my love of music. - Author: Blake Shelton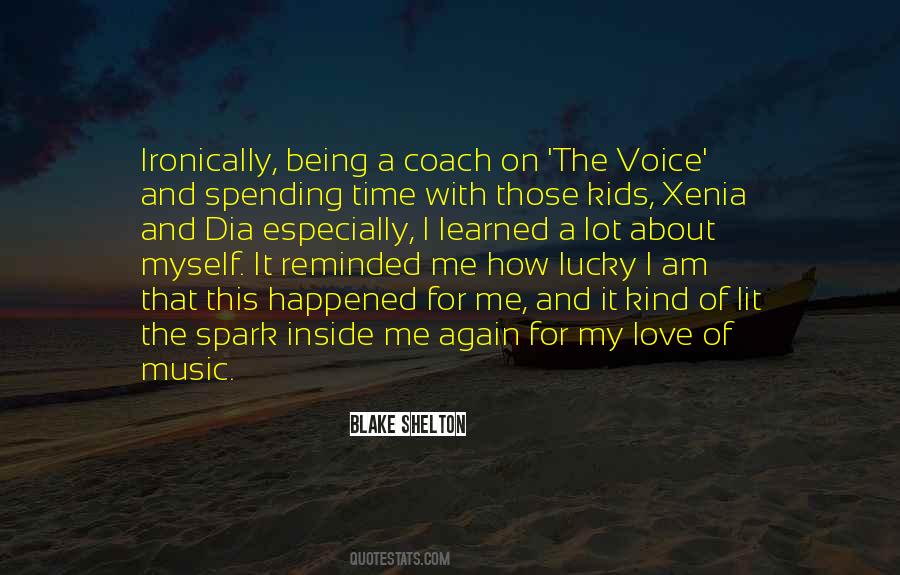 #54. Spending more time with friends and family costs nothing. Nor does walking, cooking, meditating, making love, reading or eating dinner at the table instead of in front of the television. Simply resisting the urge to hurry is free. - Author: Carl Honore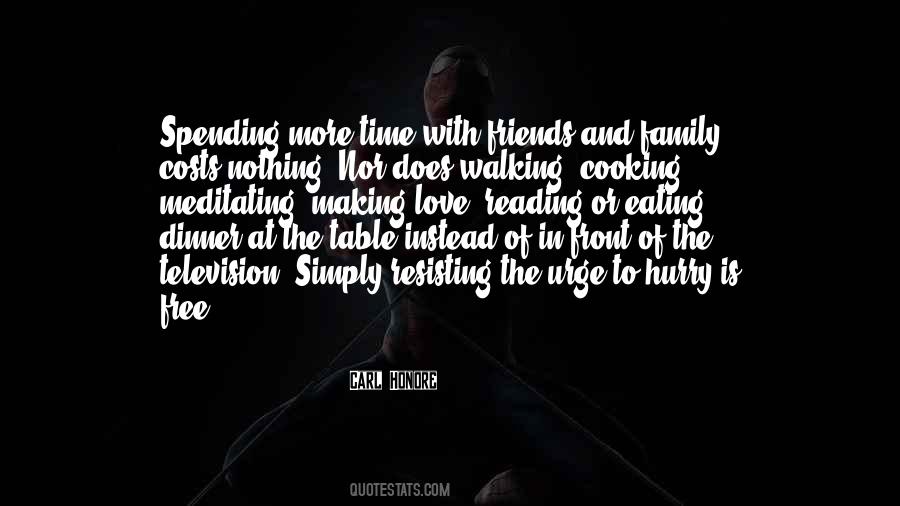 #55. It is not just saying prayers that gets results, but it is spending time with the Father, learning His wisdom, drawing on His strength, being filled with His quietness, and basking in His love that bring results to our prayers. Praise the Lord! - Author: Germaine Copeland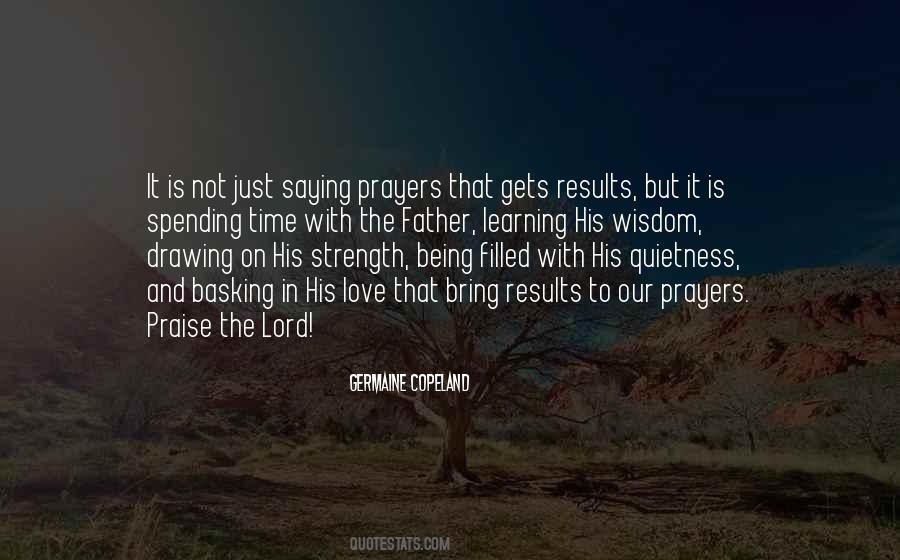 #56. Love was something different. Love was pure delight, a fountain of emotions, sensual delights, and enjoying spending time together. - Author: Sergei Lukyanenko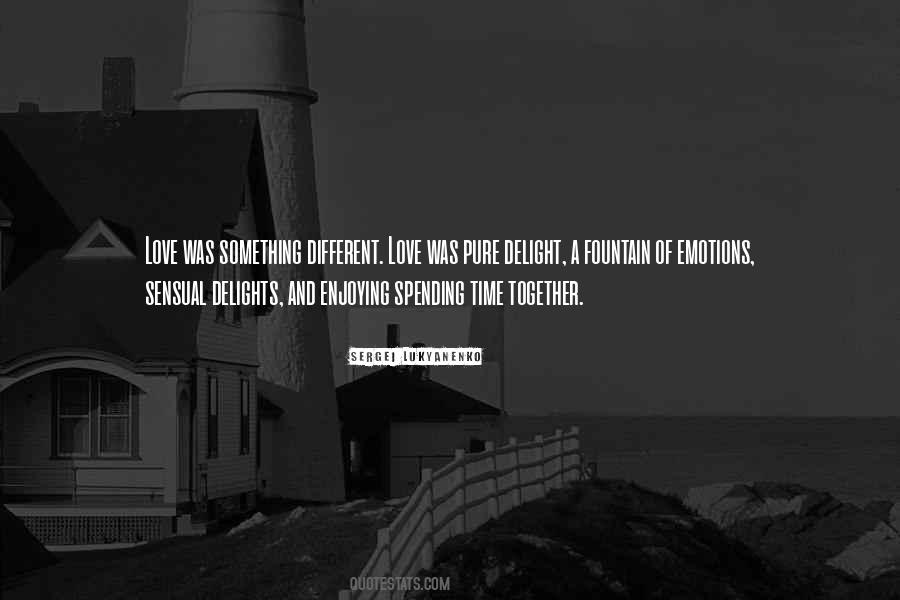 #57. I just think Valentine's Day is a day to really appreciate the person you love, no matter who it is, and to spend time with them. I don't think it's all about fancy presents or whatever. I think it's about spending that quality time with that special person. - Author: Prince Royce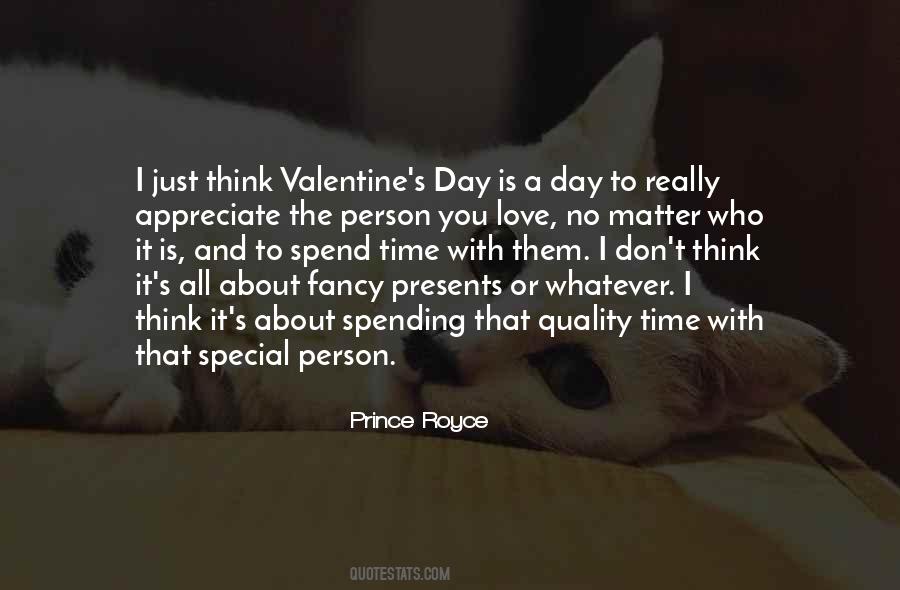 #58. She was spending too much time with this boy. She was in love with this boy. And - Author: Marissa Meyer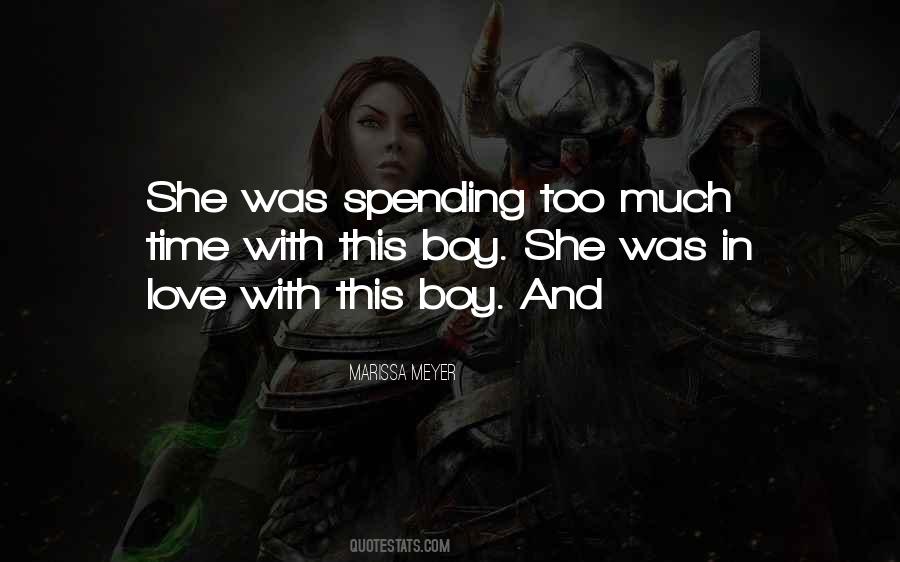 #59. I love spending time with young people. I love to hear about what they think. It keeps me young. And they need role models. - Author: Lynn Schusterman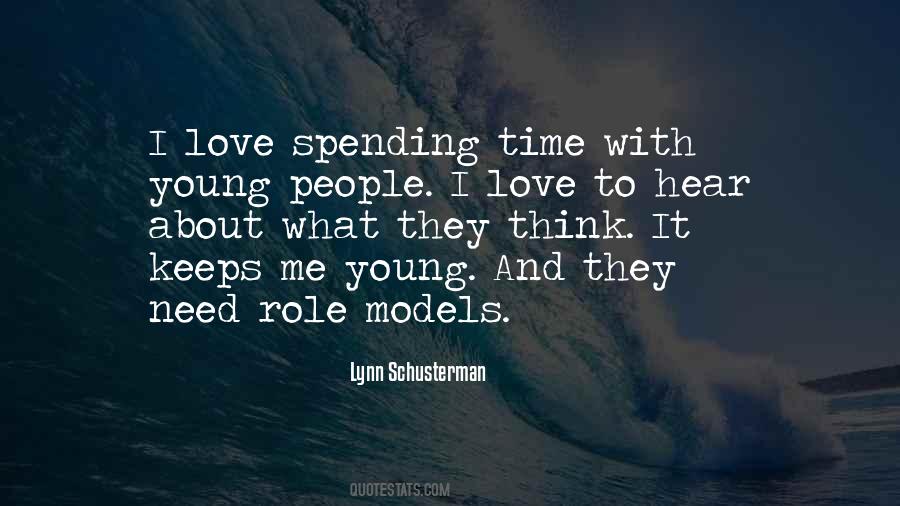 #60. One act of pure love in saving life is greater than spending the whole of one's time in religious offerings to the gods ... - Author: Gautama Buddha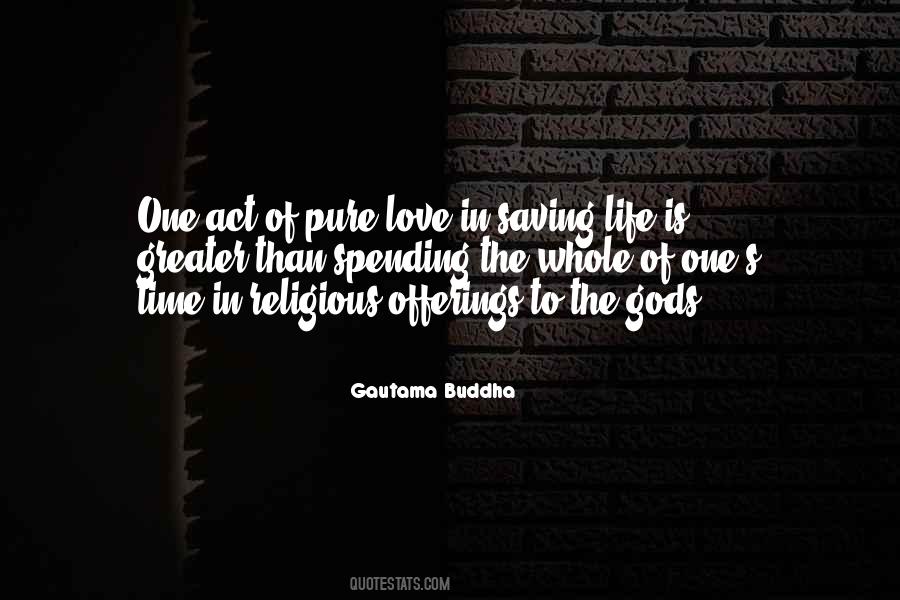 #61. You have to take time and make time for each other. My current single 'Time Is Love' gives a lot of advice in that area, just spending quantity time with the one you love and the one you care about because that's when you really develop a relationship. - Author: Josh Turner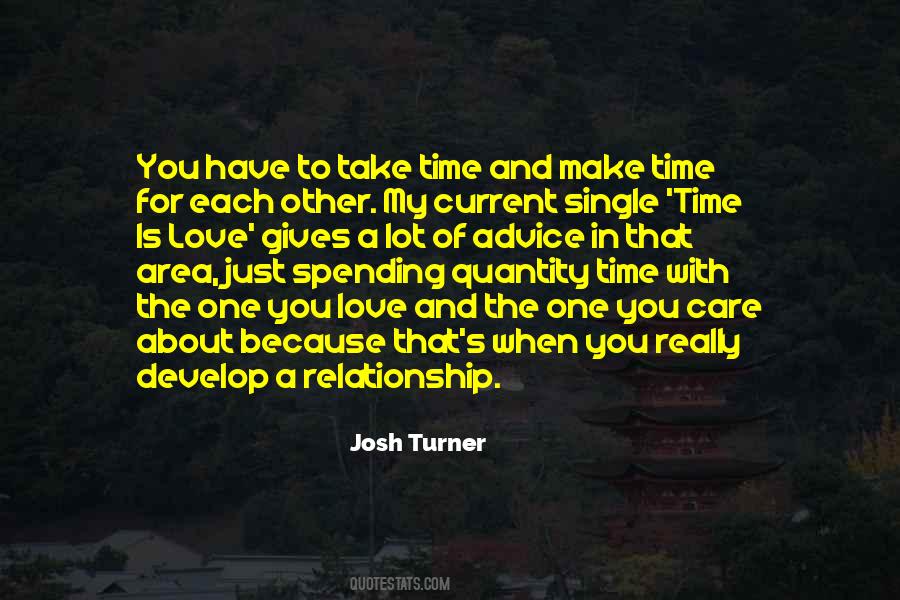 #62. I'm a real geek. I love spending time researching a character and reading about them. - Author: Felicity Jones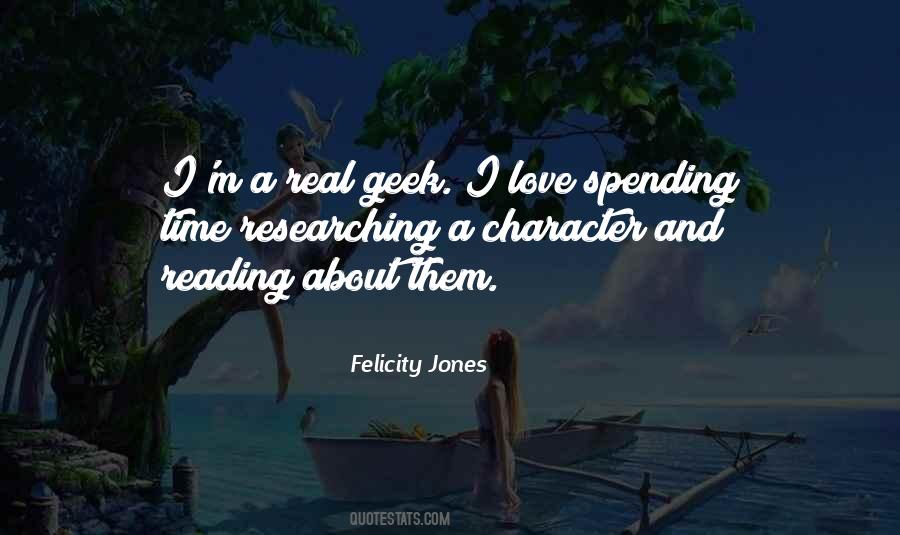 #63. I love to play games. Anything that is competitive. I love to play darts, shoot pool, any video game or board game, anything like that I am all about. For me is more about spending time with somebody, hanging out and enjoying yourself. - Author: Casey James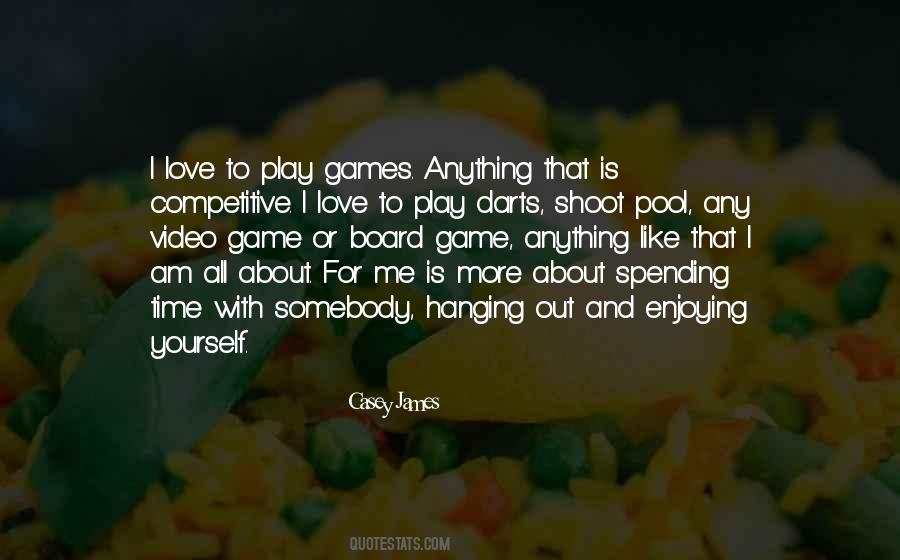 #64. I love children, love spending time with them; I love getting things for them. - Author: Elizabeth Edwards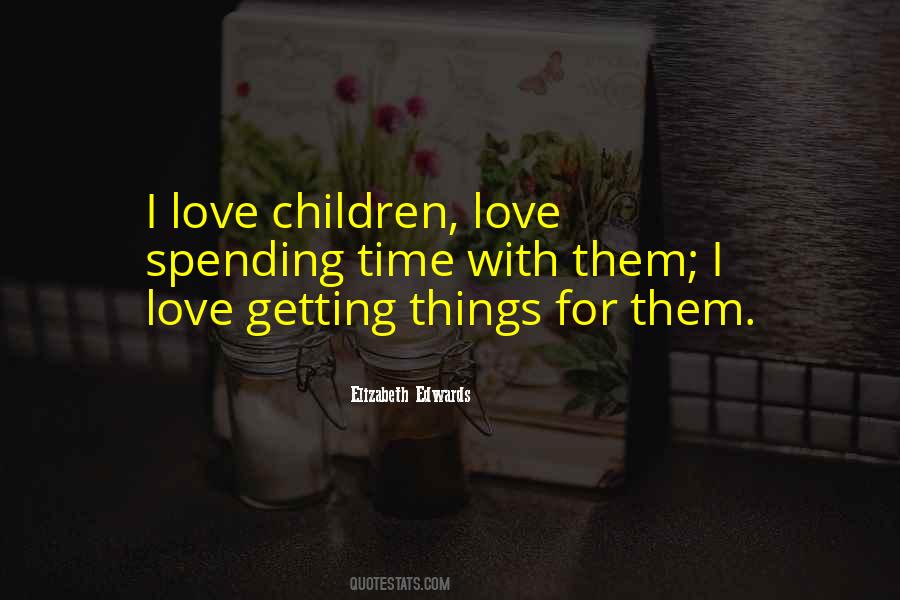 #65. Being a grandmother is probably the most important thing to me. I have two really rambunctious little ones, and I love spending time with them. - Author: Blythe Danner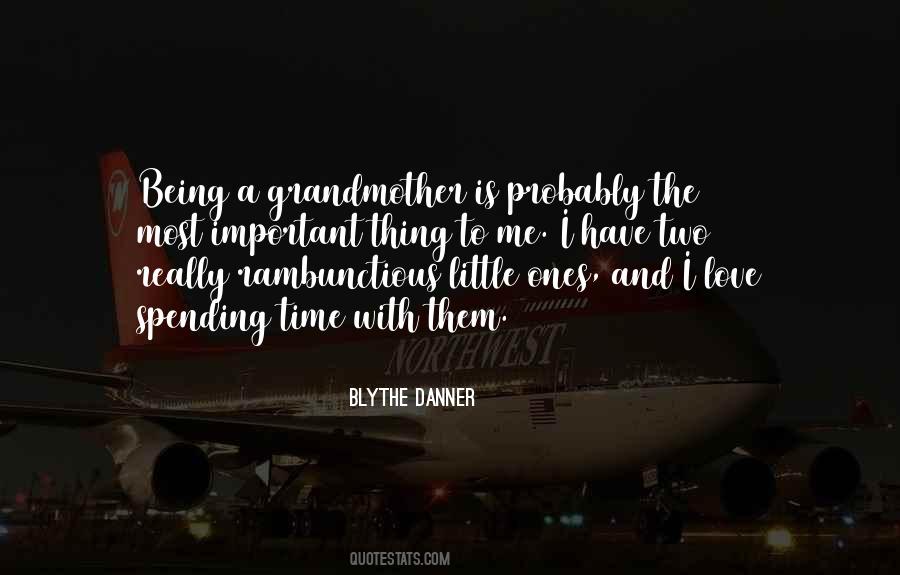 #66. I love being around my friends and my family and spending time with my husband. I like being normal and recharging my batteries, and I feel like I have the coolest job in the world where I get to get on stage and perform and get to do a lot of really amazing things. - Author: Carrie Underwood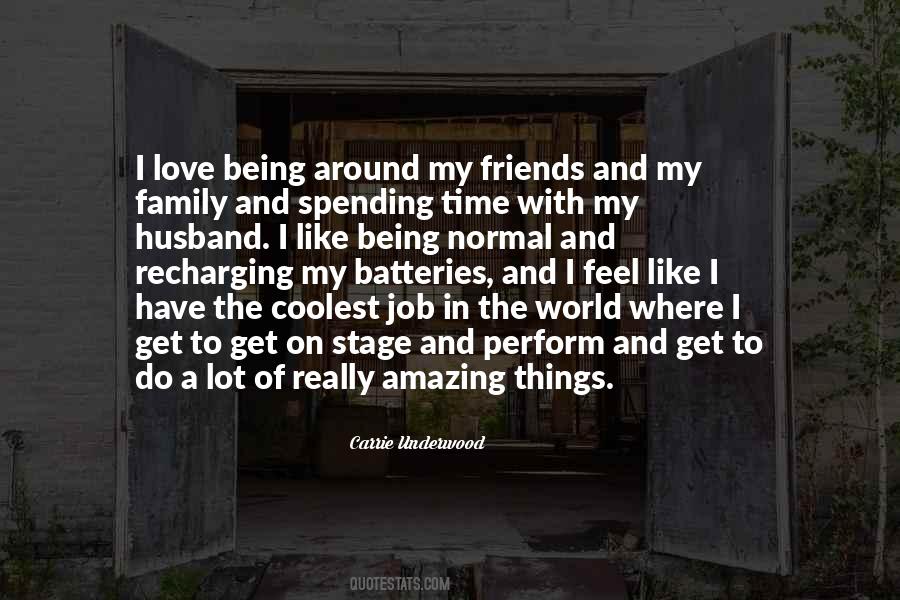 #67. Your kids need your love and attention, and being able to devote myself to them is very fulfilling. As I get older, spending time with my daughters makes things much easier. You learn to put your ego aside. - Author: Bruce Willis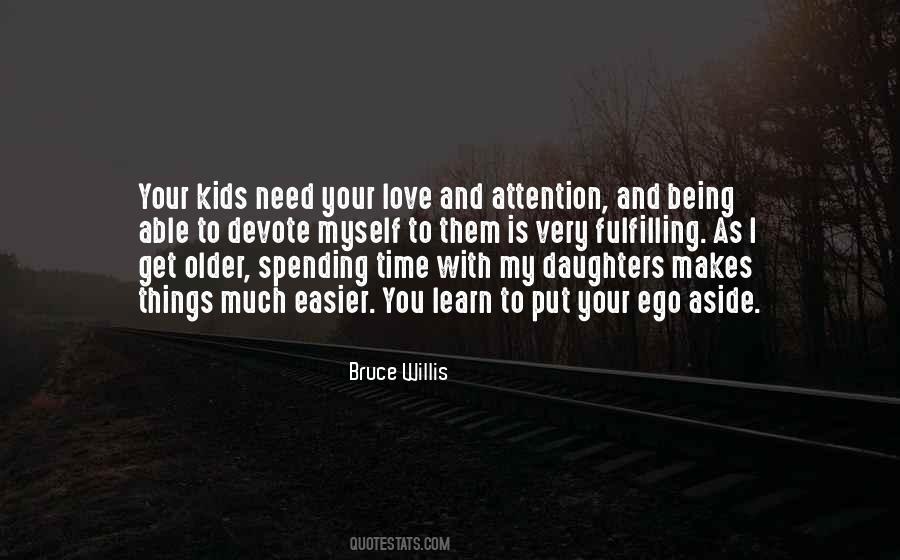 #68. It's important to have a life and spend time outside of those things [music and politics], in order to appreciate what you've achieved as far as just spending time with people you love, and doing things like painting. - Author: Eddie Vedder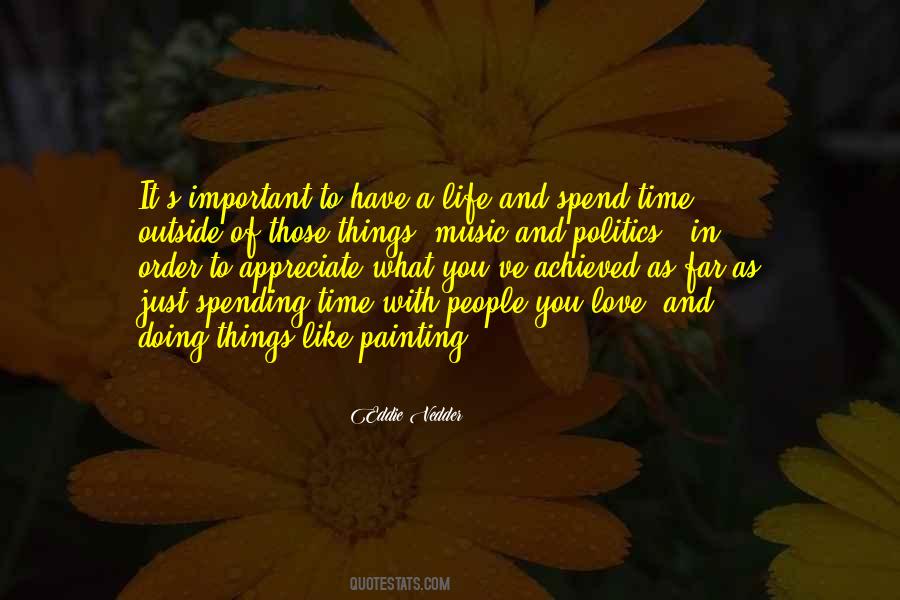 #69. Happiness is spending time with the one you love without a worry or a care. - Author: Heather Wolf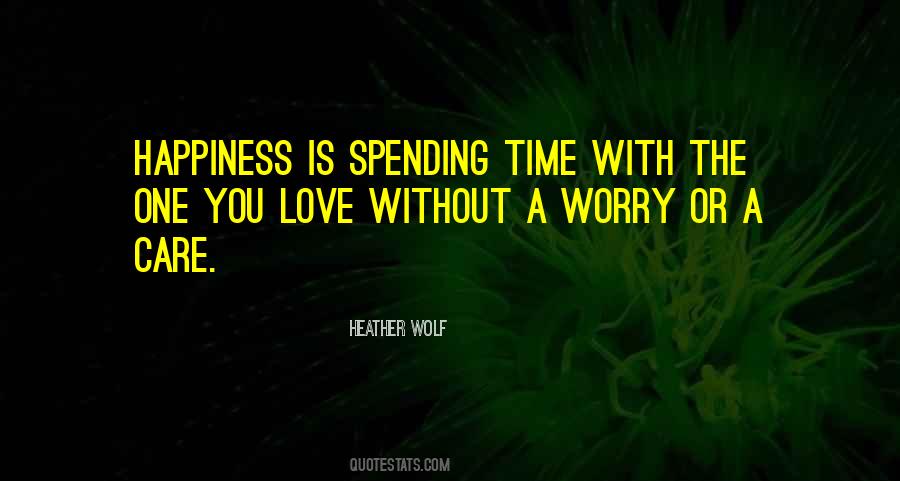 #70. May spending time with You be my first priority, may listening and obeying mark my life, may extravagant childlike joy and amazement mark my demeanor, may an openness to share your grace quickly and easily flow from me, may I seek your forgiveness and excitedly accept it. - Author: Katie Kiesler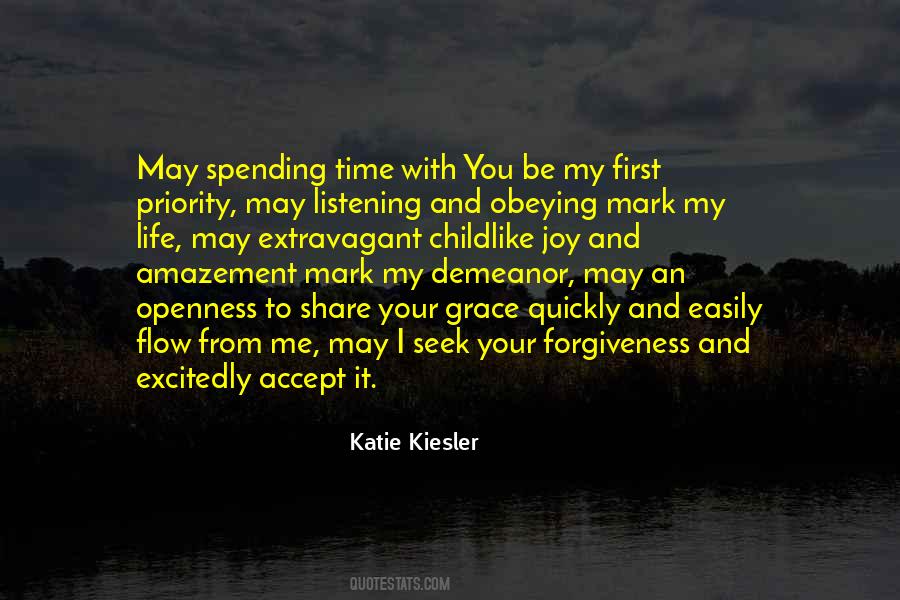 #71. Instead of spending your dear energy on hating enemies,
Utilize this energy to love your friends a little harder truly.
[229] - 4 (Thoughts) - Author: Munindra Misra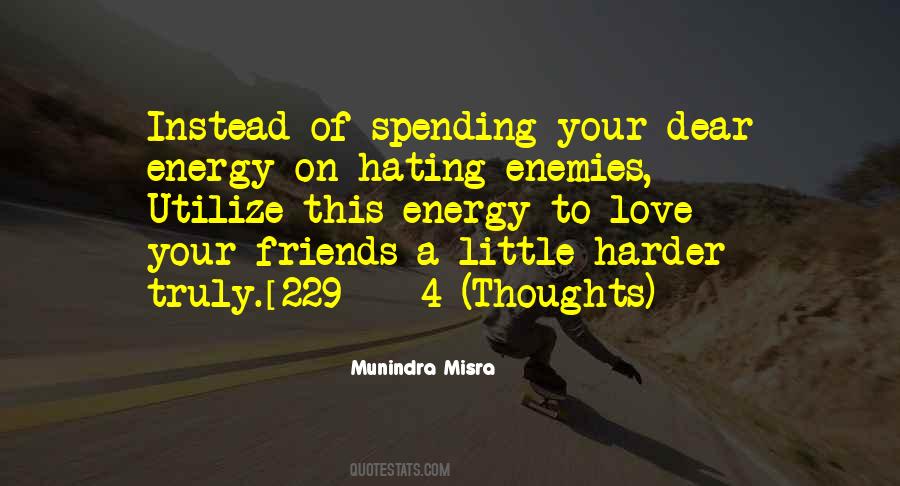 #72. I love going to conventions, and I love spending time with the fans and going to parts of the world where I wouldn't normally go. - Author: Aaron Douglas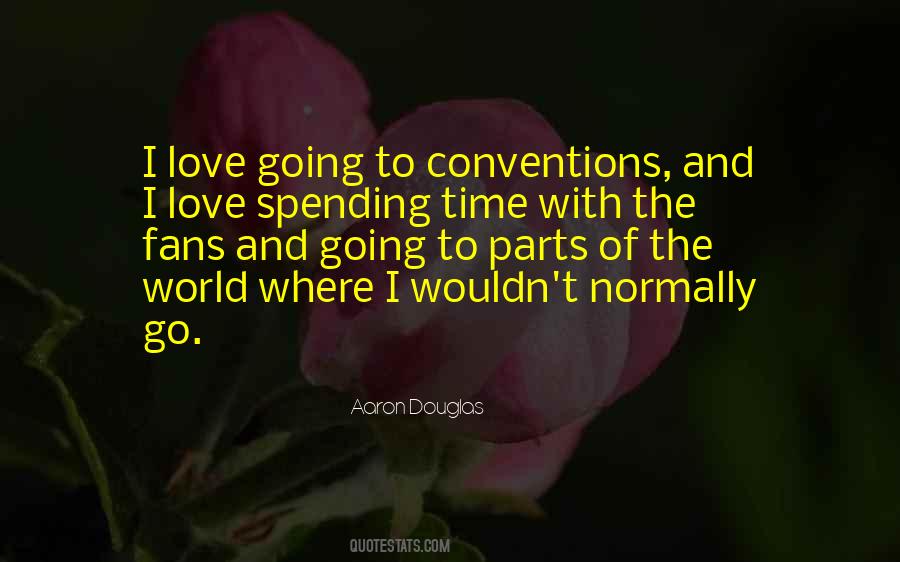 Famous Authors
Popular Topics