Love Left Behind Famous Quotes & Sayings
List of top 54 famous quotes and sayings about love left behind to read and share with friends on your Facebook, Twitter, blogs.
Top 54 Quotes About Love Left Behind
#1. To us who remain behind is left this day of memories. Every year
in the full tide of spring, at the height of the symphony of flowers and love and life
there comes a pause, and through the silence we hear the lonely pipe of death. - Author: Oliver Wendell Holmes Jr.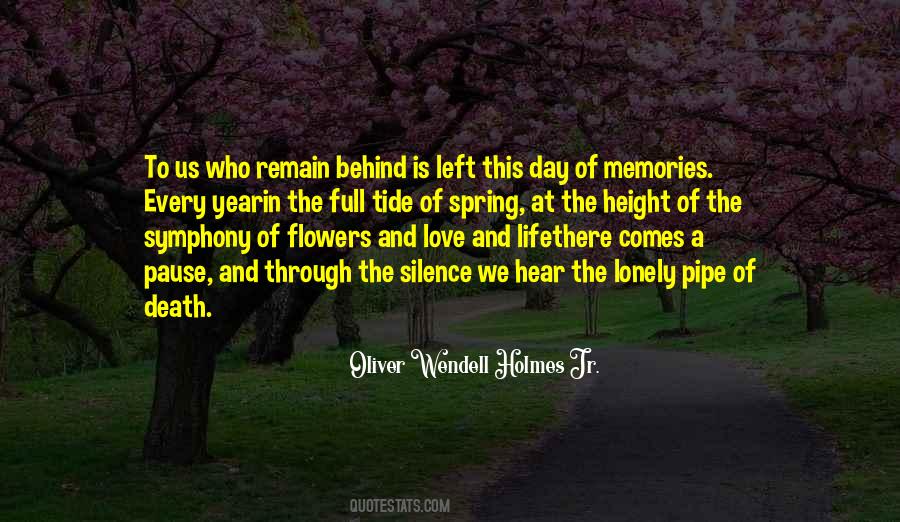 #2. Ohana means family. Family means nobody gets left behind or forgotten - Author: Lilo And Stitch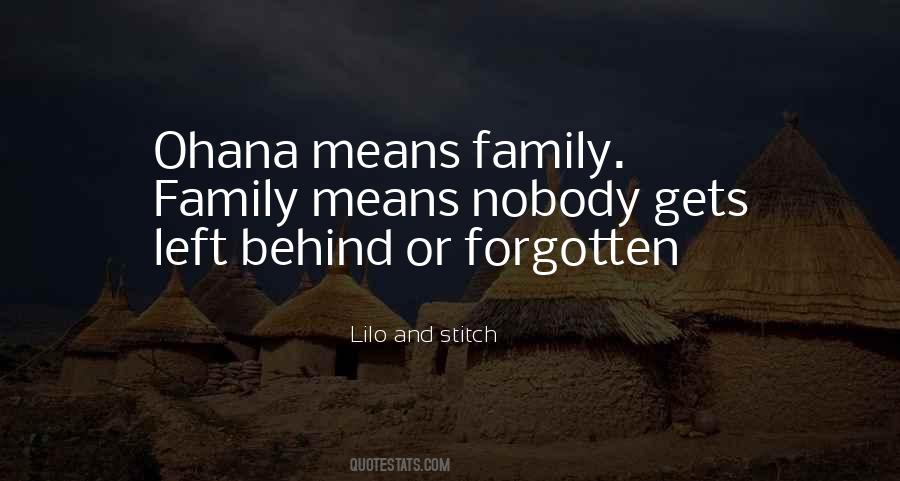 #3. After the loss of my sister - my darkest time - I tried to think of the beauty she'd brought to this world and the lives she had touched and the love she had left behind. - Author: Susanna Kearsley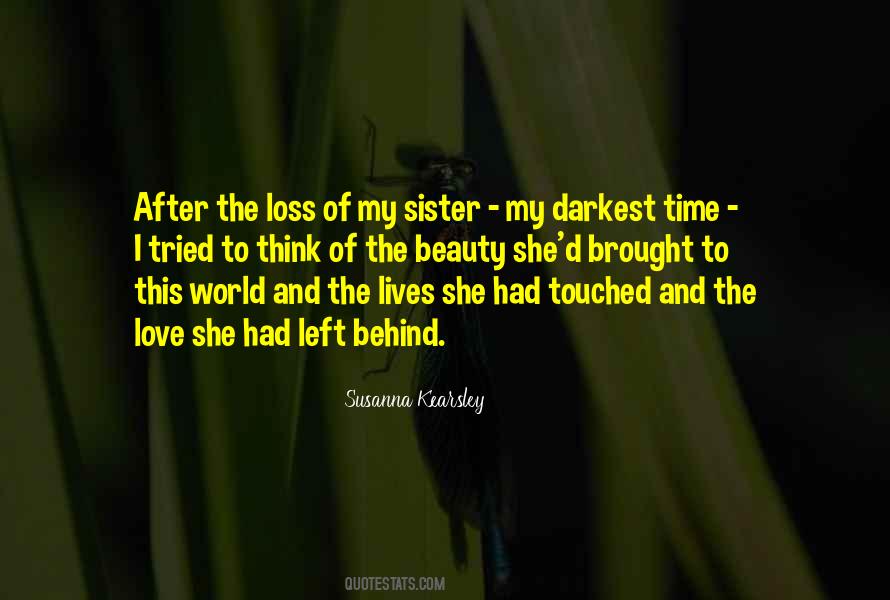 #4. If someone thinks that peace and love are just a cliche that must have been left behind in the 60s, that's a problem. Peace and love are eternal. - Author: John Lennon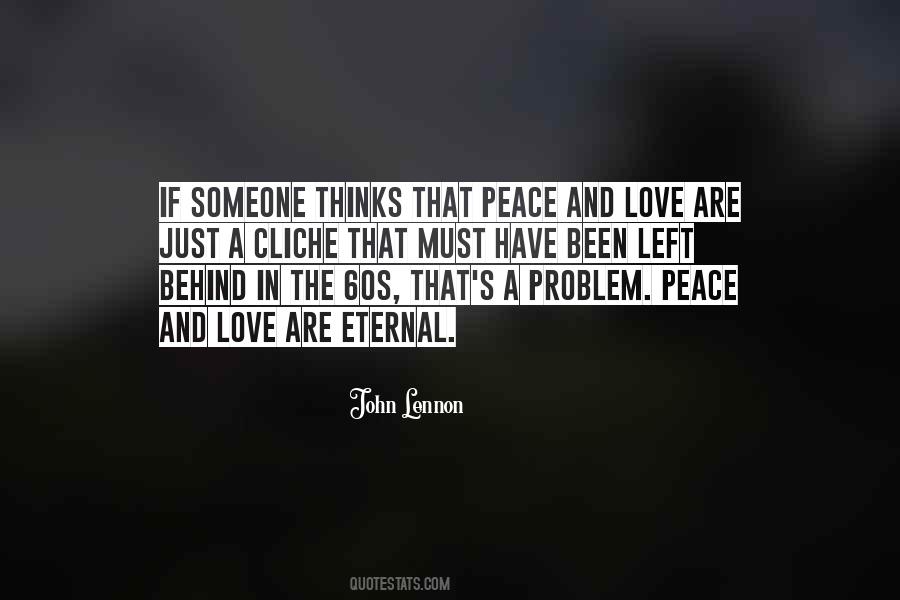 #5. I am so consumed by wonder at their bravery. These people have left their families and lives behind for a few weeks to go into silent retreat amidst a crowd of perfect strangers in India. Not everybody does this in their lifetime. - Author: Elizabeth Gilbert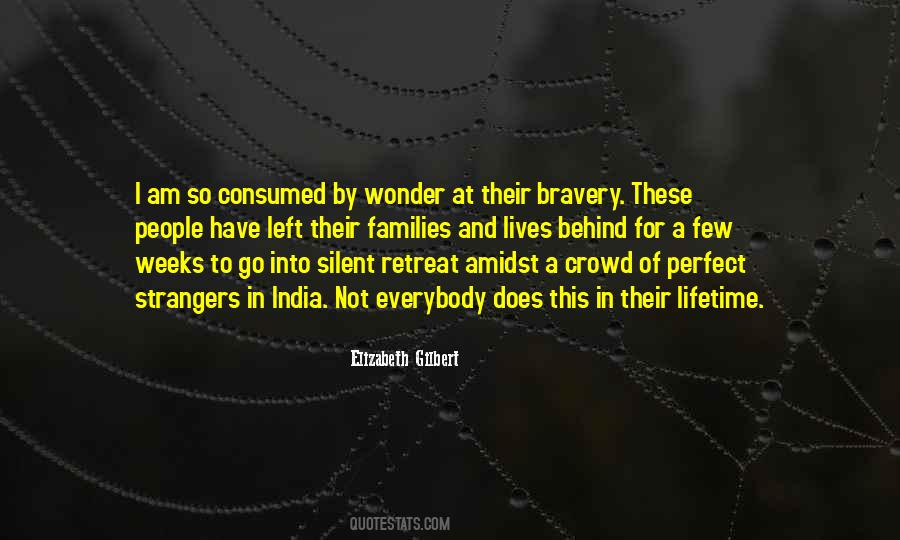 #6. The miserable love to watch someone else's misery. I had just about cornered the market on miserable. I was worse than miserable, lower than a flattened sloppy joe left behind on a lunchroom tray. I was alone. - Author: Kami Garcia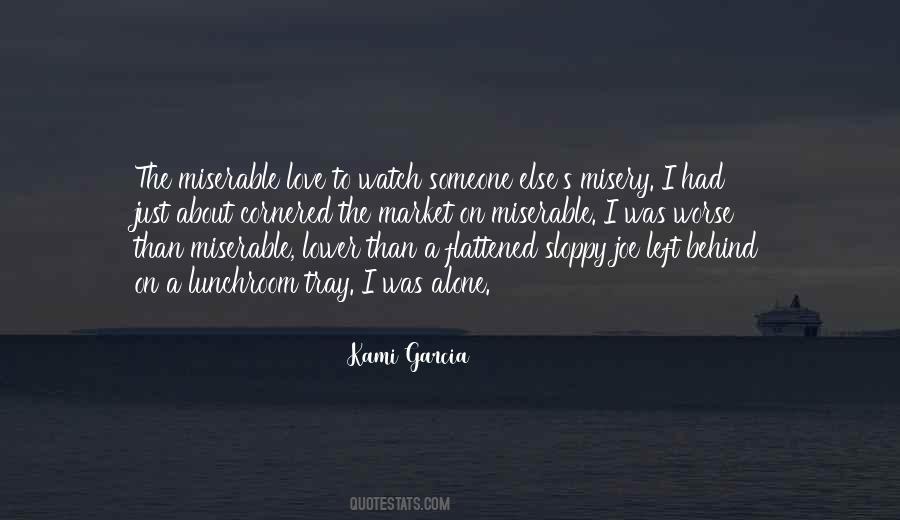 #7. The love she left behind will be the reason dreams are reached. She was the rock in a world that was crumbling. Her strength will remain. It's in our hearts. - Author: Abbi Glines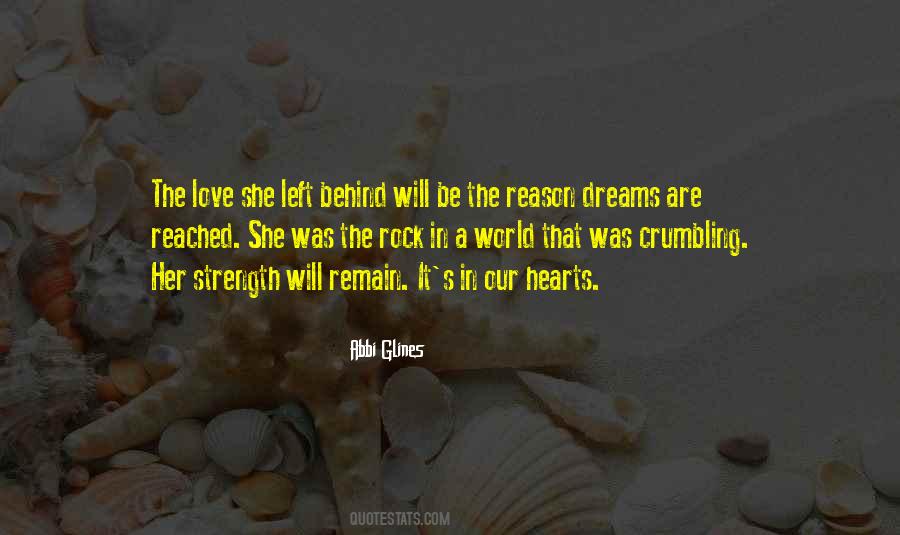 #8. I am just like my mother. She raised me to love and take care of animals, especially the ones that need it the most and so I started Eddie's Rescue Ranch. We take in animals that need extra care and attention and the animals that get left behind. - Author: Kelly Clarkson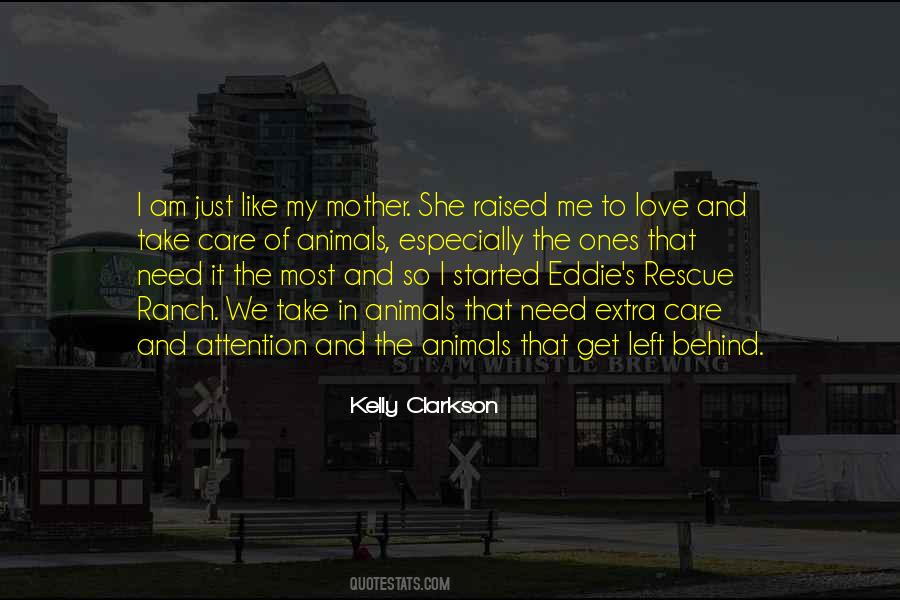 #9. I have been waiting for the devil living inside of me to stop making love to all the ghosts you left behind. - Author: Tyler Kent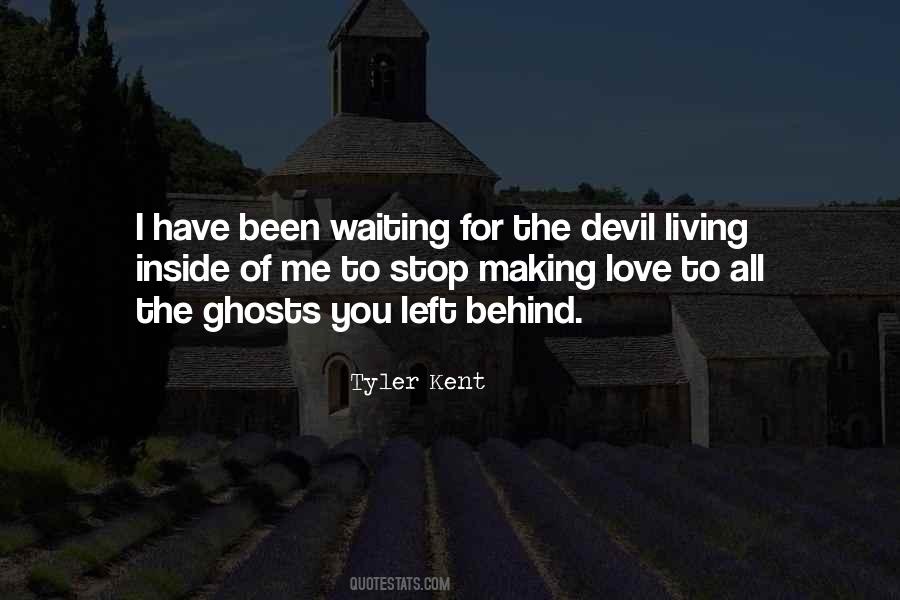 #10. Thou has left behind Powers that will work for thee,-air, earth, and skies! There 's not a breathing of the common wind That will forget thee; thou hast great allies; Thy friends are exultations, agonies, And love, and man's unconquerable mind. - Author: William Wordsworth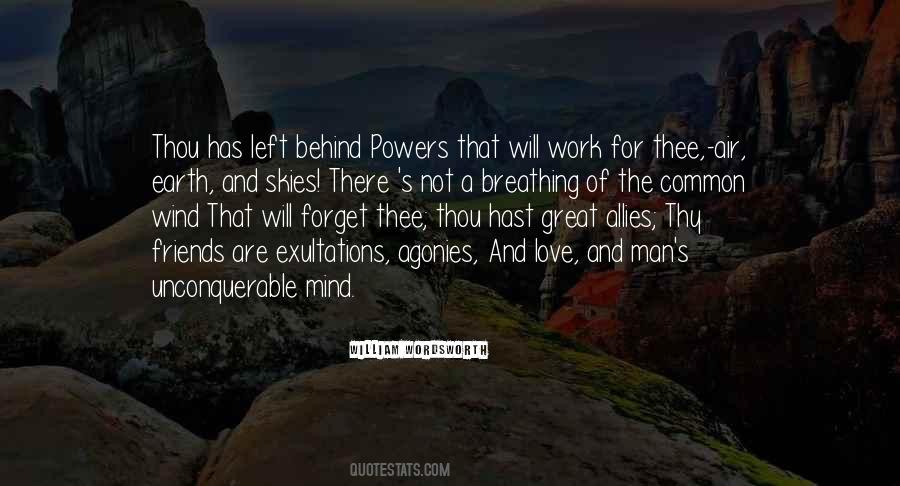 #11. It's always harder to be the one who's left behind than the one who leaves. - Author: Tamara Ireland Stone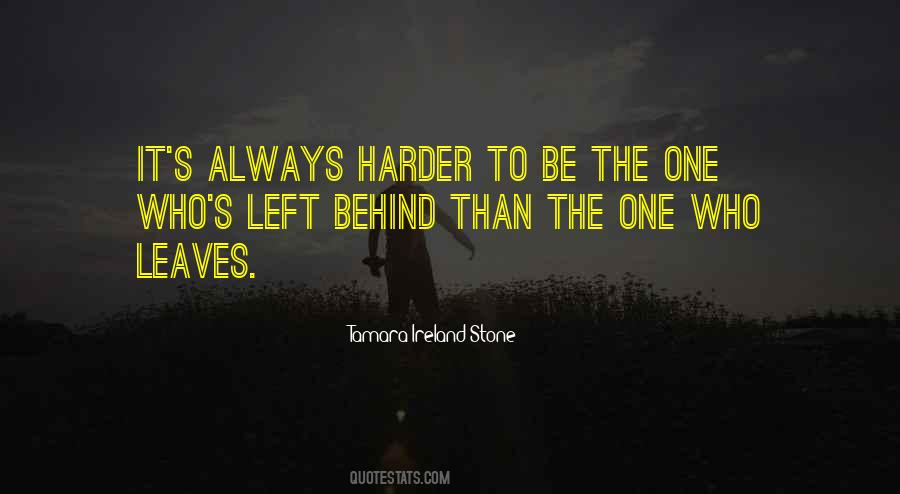 #12. To lose someone you love because they die is a sweet ache. To lose everything good you believed of them is a pain that stains all they left behind. It poisons the very air of memory. Ballinger - Author: Anne Perry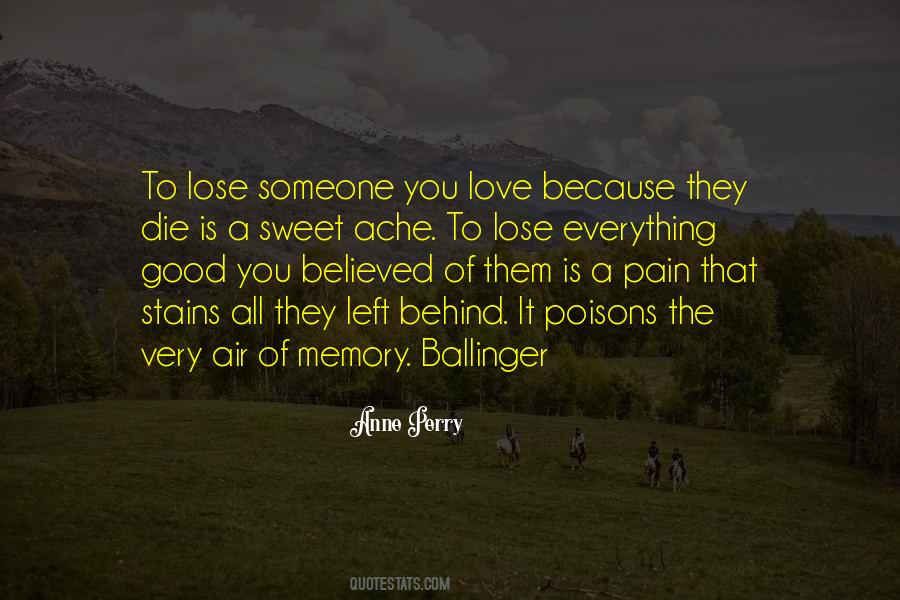 #13. Men's bodies litter my family history. The pain of the women they left behind pulls them from the beyond, makes them appear as ghosts. In death, they transcend he circumstances of this place that I love and hate all at once and become supernatural. - Author: Jesmyn Ward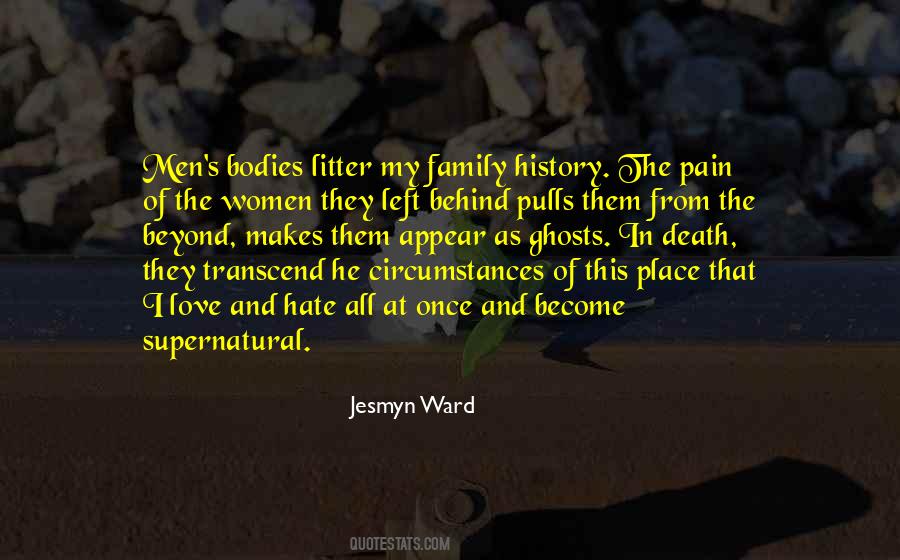 #14. She told me one time that it wasn't the material things in life that mattered. She wouldn't be able to take them with her anyway. She said the only thing that counted was how much love you left behind." She smiled. "Your mama left behind an awful lot of love. - Author: Virginia Gaffney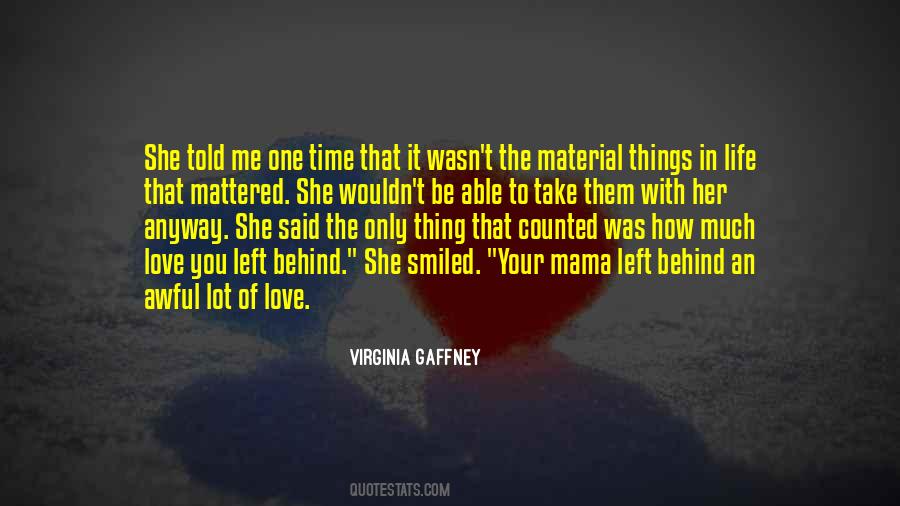 #15. We all die, Damian. Before I do, I want to love with all my heart. Give all I have, experience all I can, and leave behind some piece of me that will never be forgotten. I want to enjoy the time I have left. I'm choosing life. Moments. Memories. For you. - Author: D. Nichole King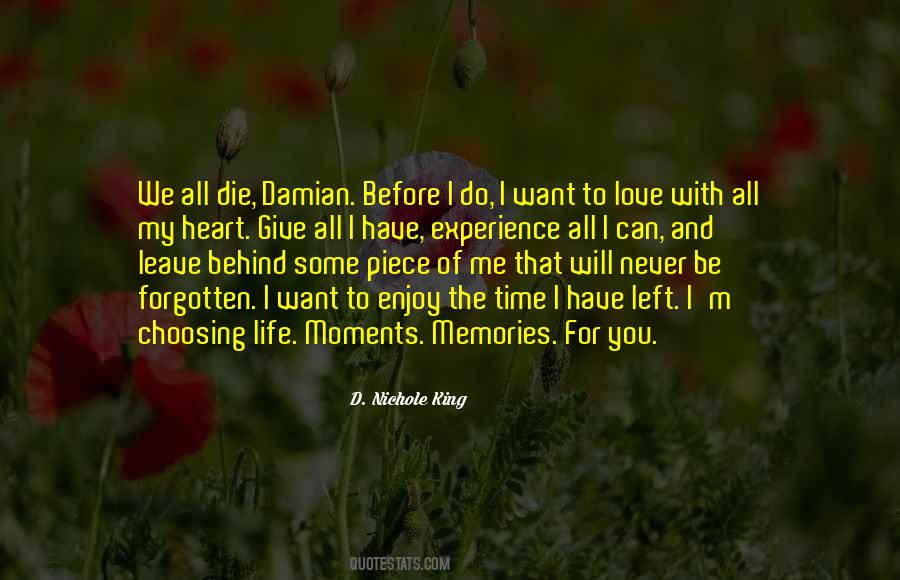 #16. I had a nervous breakdown at 17 when my first love left me, and he was a typical bad boy, albeit a charismatic one, with a string of broken hearts trailing behind him. - Author: Caroline Leavitt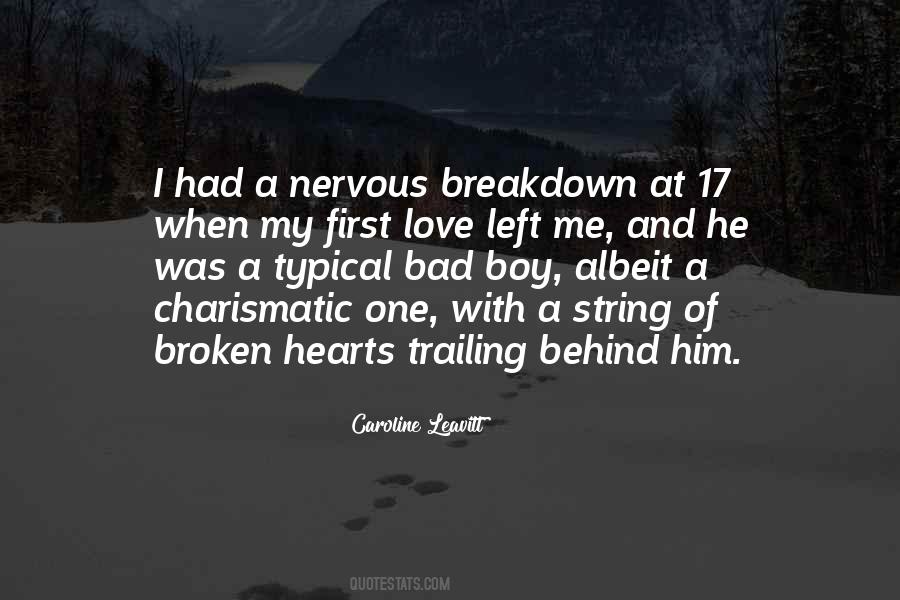 #17. Plato says that as one learns to love, the image of any specific beloved can be left behind for knowledge of the Good. - Author: William T. Vollmann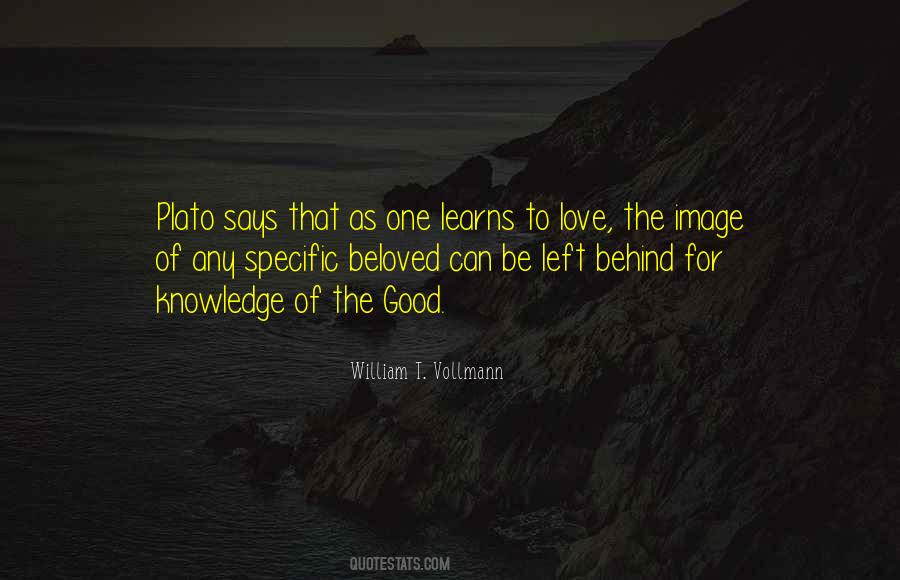 #18. It has been said that with every great love we have, a little piece of our souls is left behind after the cleaving. - Author: Emma Shane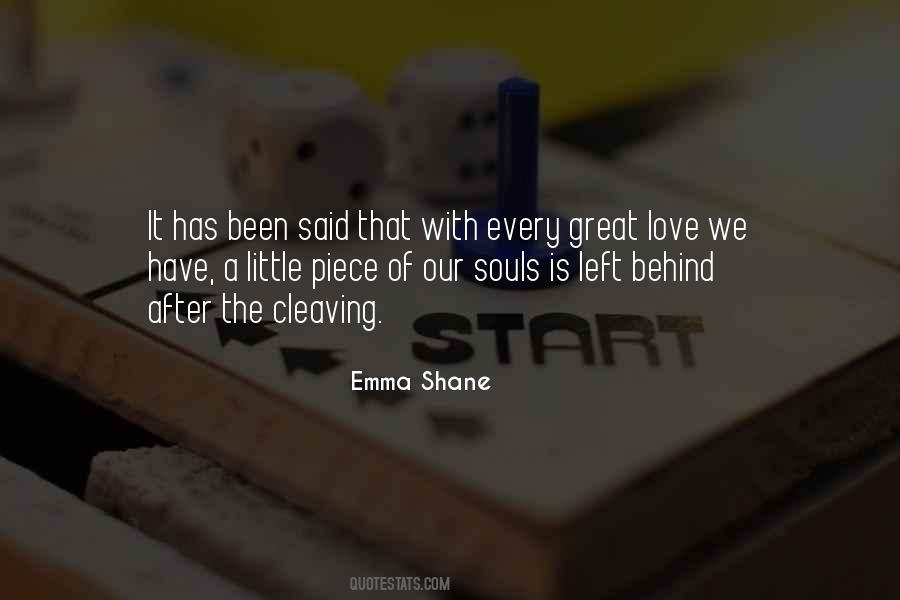 #19. You see, love isn't just something you feel. Love is something you become. It's like - going to a new country, and realizing that you never particularly liked the place you left behind. It's like a sort of tingling and - oh, I don't know - when she smiles I just want to start clapping or something. - Author: Anthony Capella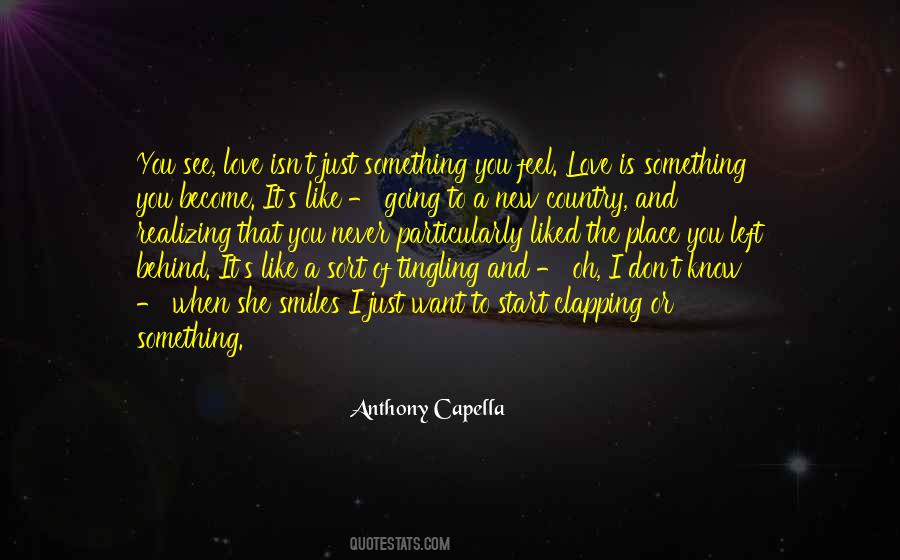 #20. And the boy's eyes are searching hers with something like loneliness, like the very last thing he wants is to be left behind right now. - Author: Jennifer E. Smith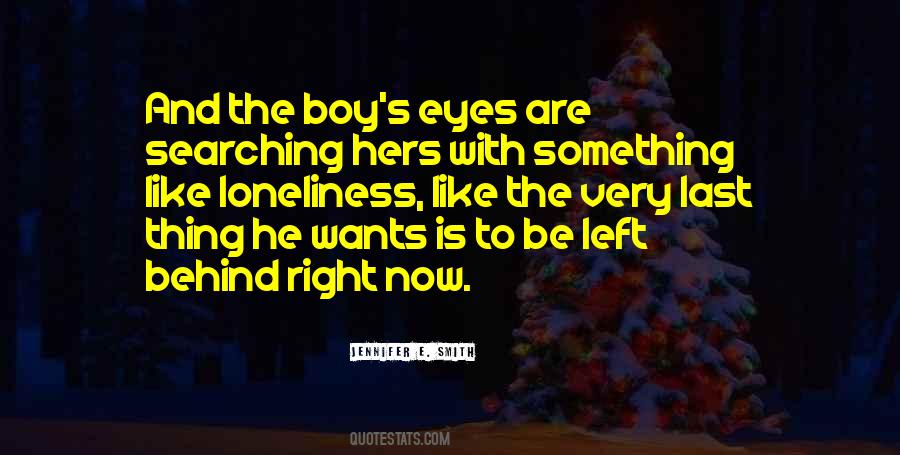 #21. When someone you love that much leaves you behind there isn't as much of you left to die when your own time comes. - Author: Jacquelyn Mitchard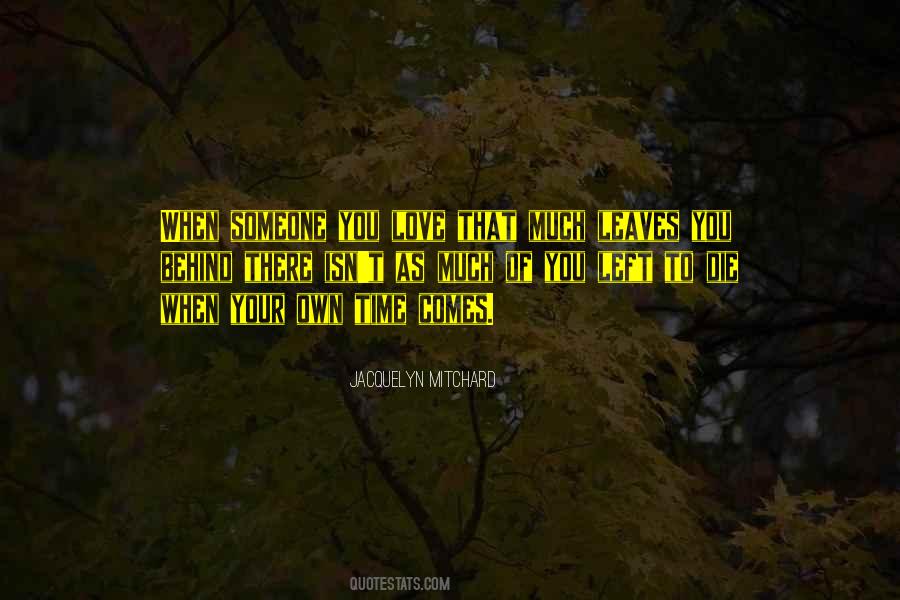 #22. Love was a dance floor where everyone you loved left a mark behind. - Author: Lauren Kate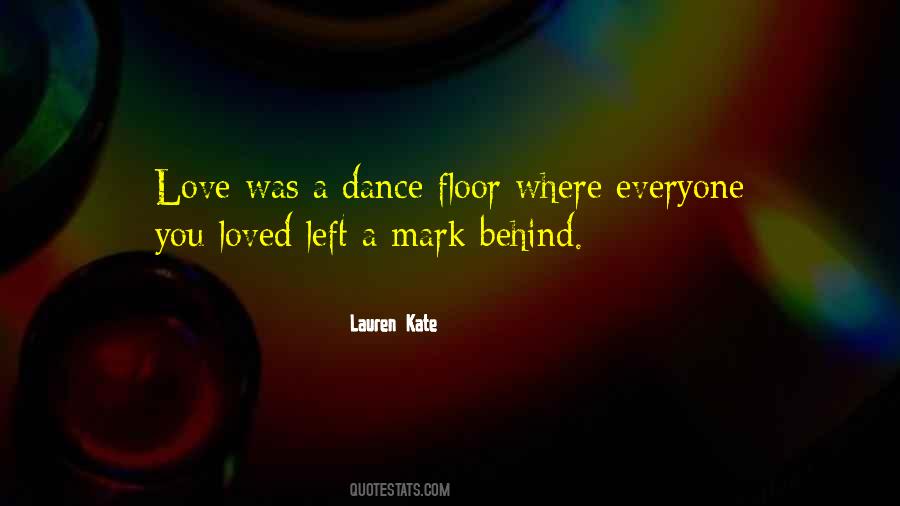 #23. And one day, if I see your smile on her face, maybe that'll keep me from feeling I've left a piece of my heart behind. - Author: Rysa Walker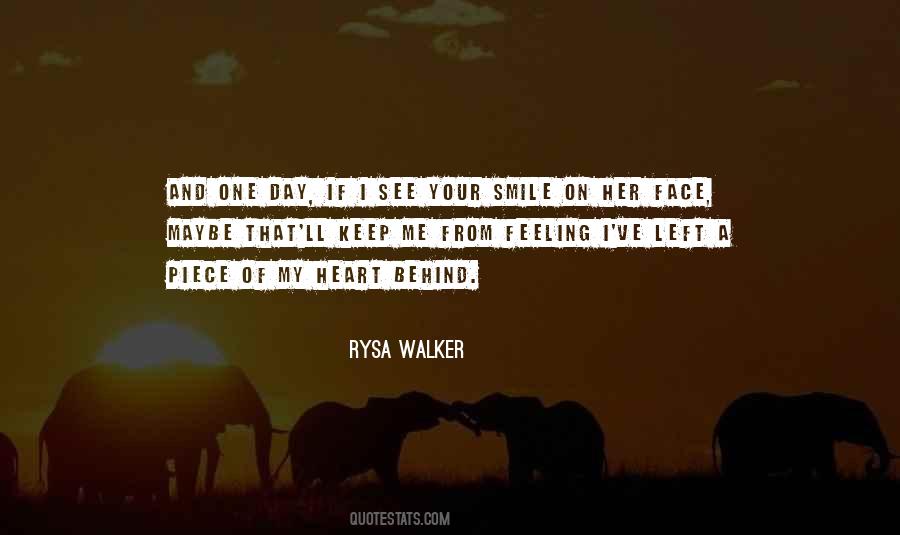 #24. My art is that of the 35mm kind; my poetry is of the lead and ink kind; my happiness is of the product of both; and my legacy is of the story of my soul, that my life left behind - Author: Jeremy Aldana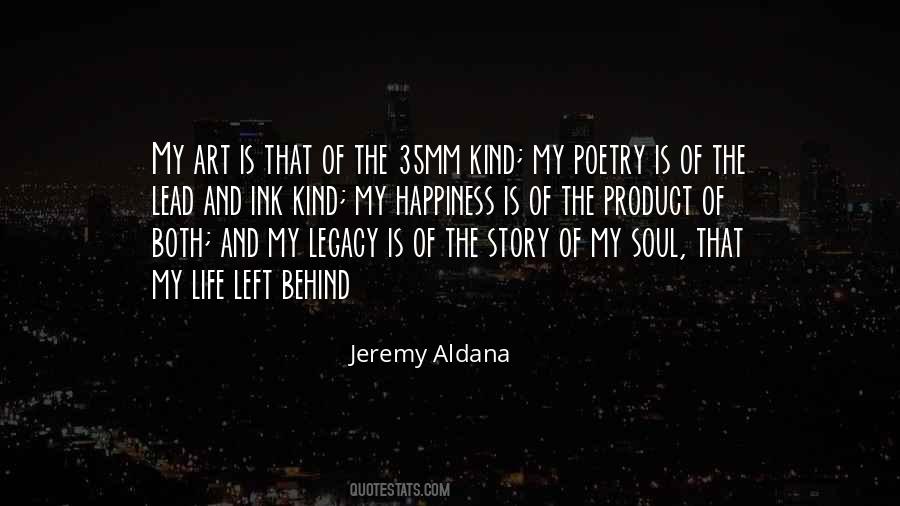 #25. To love God means to surrender, to trust, to be ready to die into Him, because dying in God is the beginning of a new life; it is resurrection. Love has to become such an intense flame that it bums you out, that you are not left behind, that you are consumed in it. If you are not, the Guest comes. - Author: Rajneesh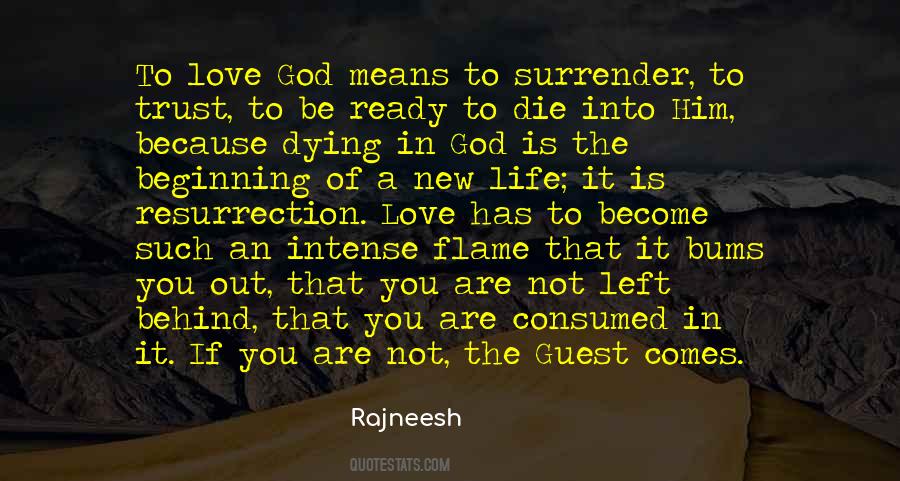 #26. Those we love never truly leave us, Harry. There are things that death cannot touch. - Author: J.K. Rowling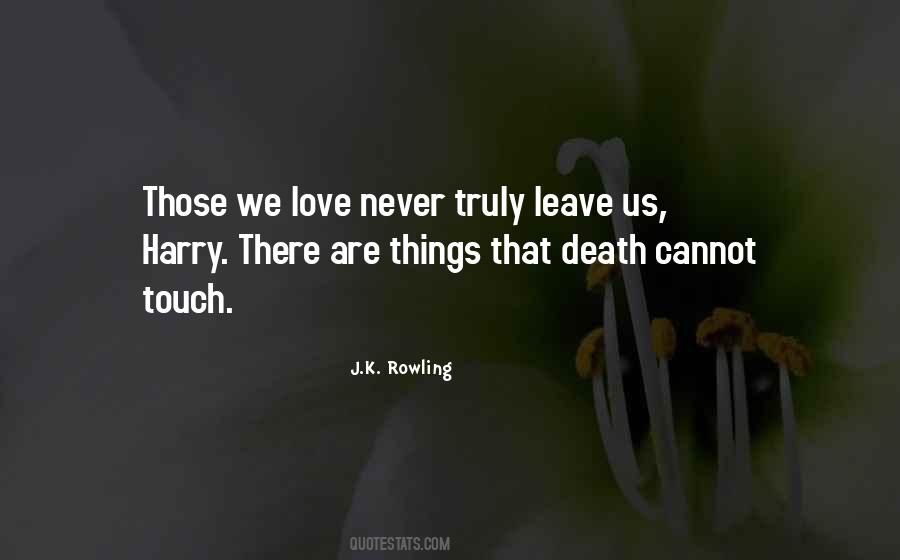 #27. I have seen many die, surrounded by loved ones, and their last words were 'I love you.' There were some who could no longer speak yet with their eyes and soft smile left behind that same healing message. I have been in rooms where those who were dying made it feel like sacred ground. (26) - Author: Stephen Levine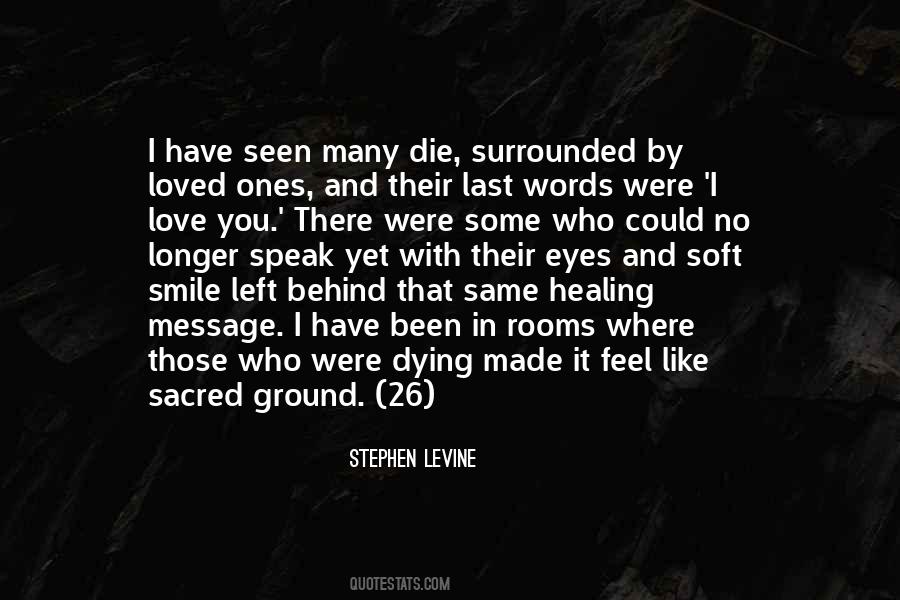 #28. And the triviality faded from their faces, though it left something behind -- the knowledge that they could never be parted because their love was rooted in common things. - Author: E. M. Forster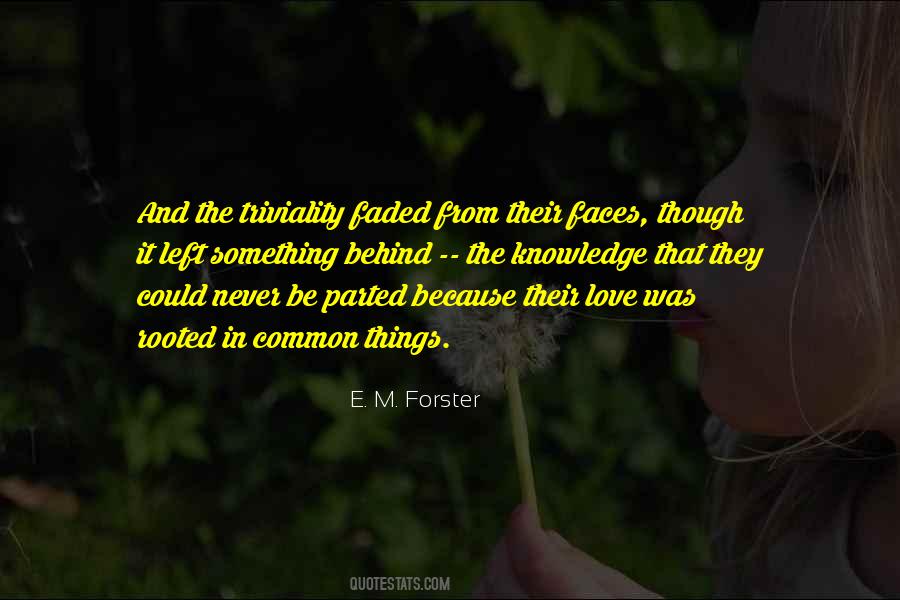 #29. In my experience, the biggest reason people struggle to get where they want to be is guilt. Guilt that they have let someone down, and also guilt that they are about to leave someone they love ...behind. - Author: Bethany Brookbank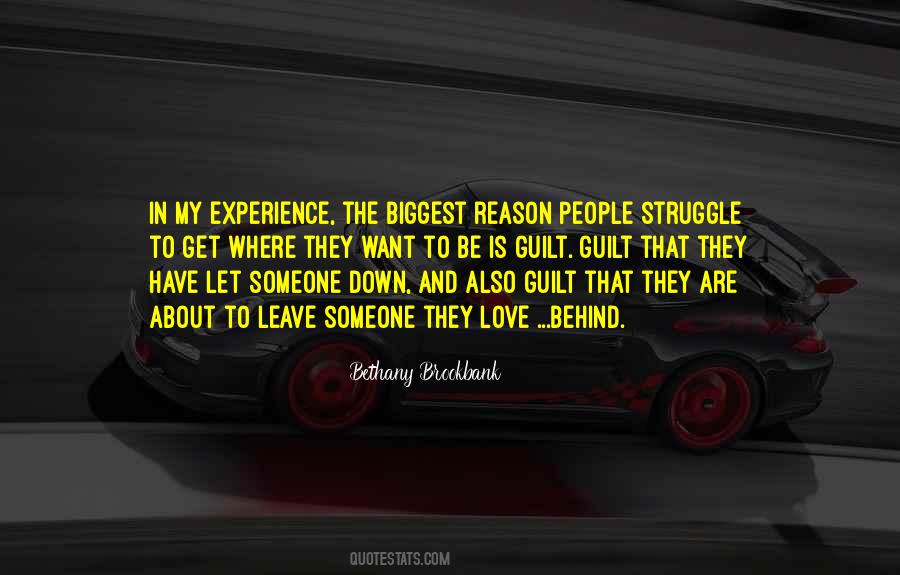 #30. Have you ever lost someone close to you? Someone who is at the core of your universe, the hero of all your stories...when that happens, it isn't just the loss of one life, it's the loss of two lives - one who found another world, perhaps...and one who is left behind. - Author: Faraaz Kazi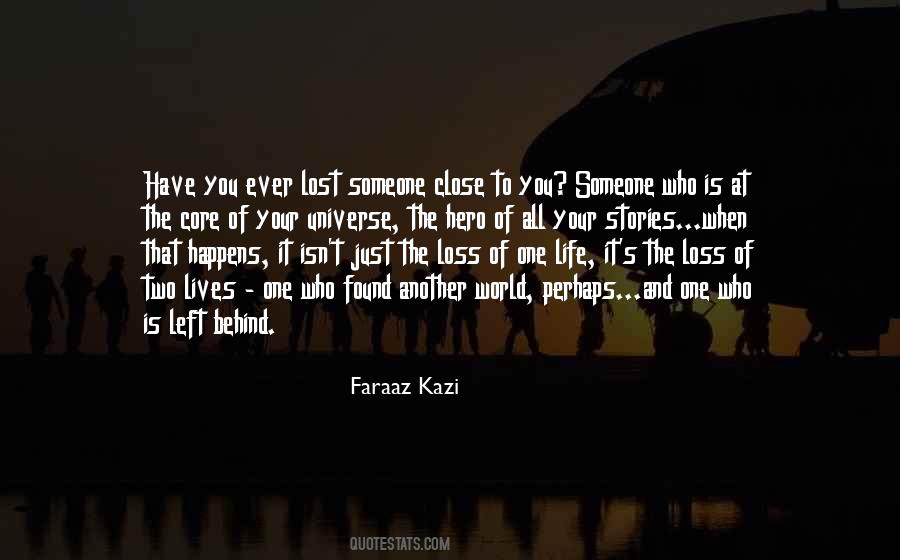 #31. I would have thought this would make me feel better.. getting to be the one to leave and not the one left behind. But it didn't. Not at all. - Author: Sarah Dessen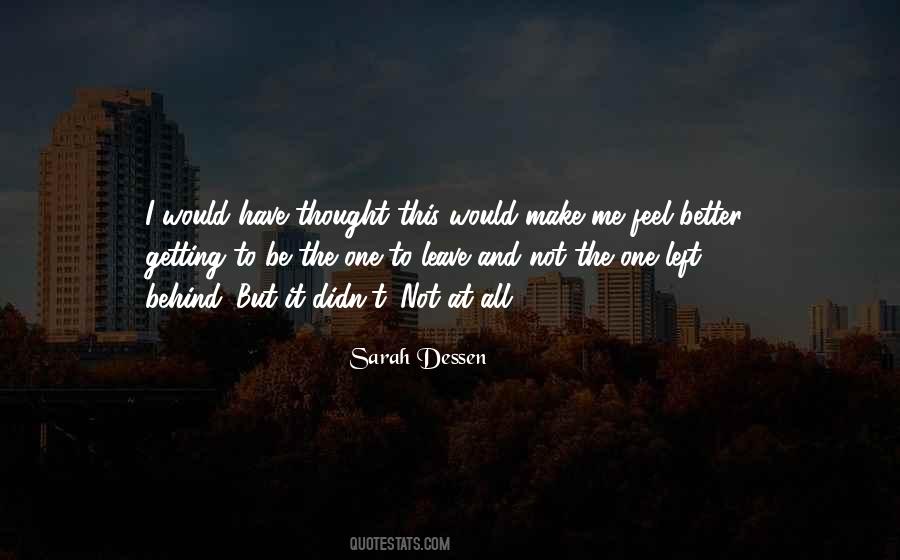 #32. Dimension, Existence, Culture and Identity all splinter and are left behind.
Pink Sound, brothers and sisters. Pinkness. It's dark. It's... flat. It is unexplainable... it is peaceful... it is love...
...it is... - Author: Gus Van Sant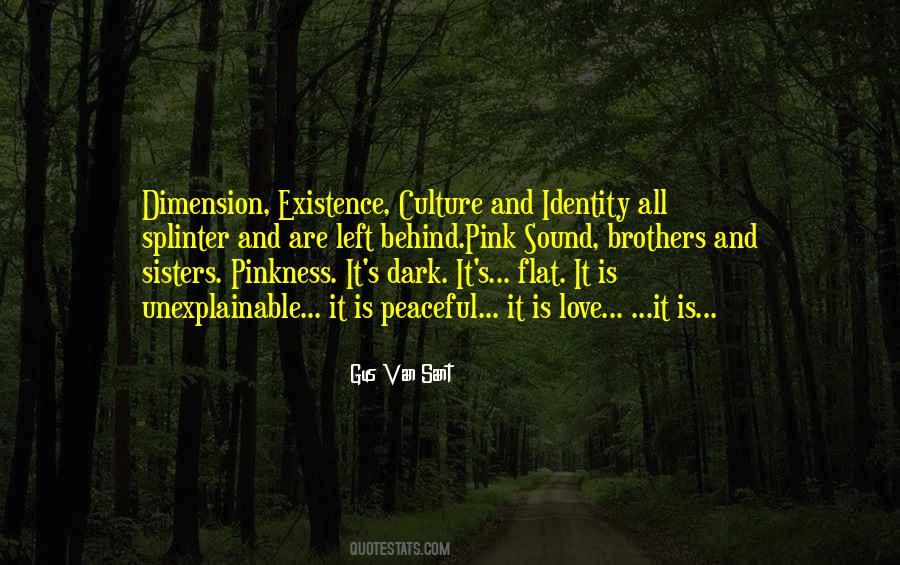 #33. Our fingers unlace so slowly that I am certain some part of me has been left behind on her fingertips. - Author: Mary E. Pearson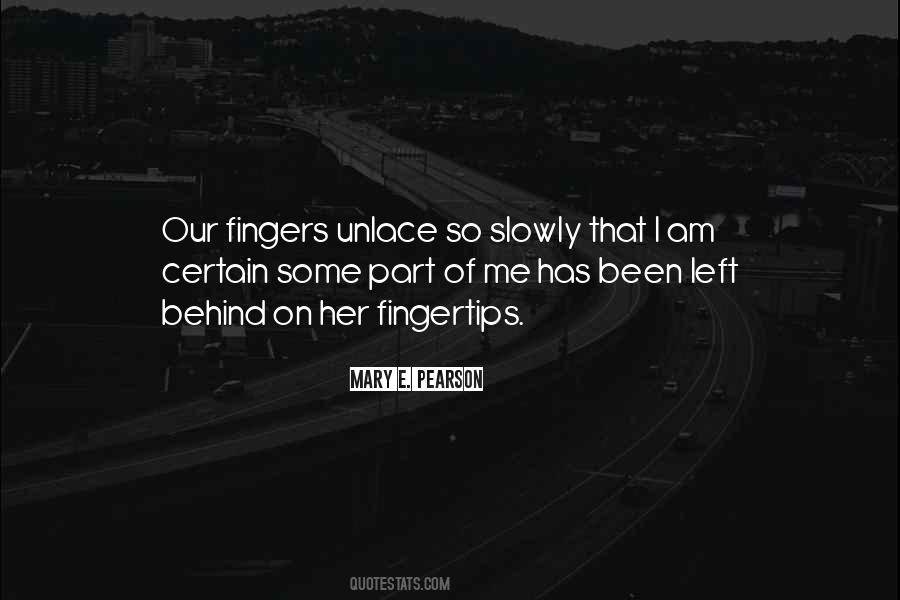 #34. When sex disappears the tremendous energy of love is left behind. Each ugly thing in your mind, disappearing, leaves a great treasure behind. - Author: Rajneesh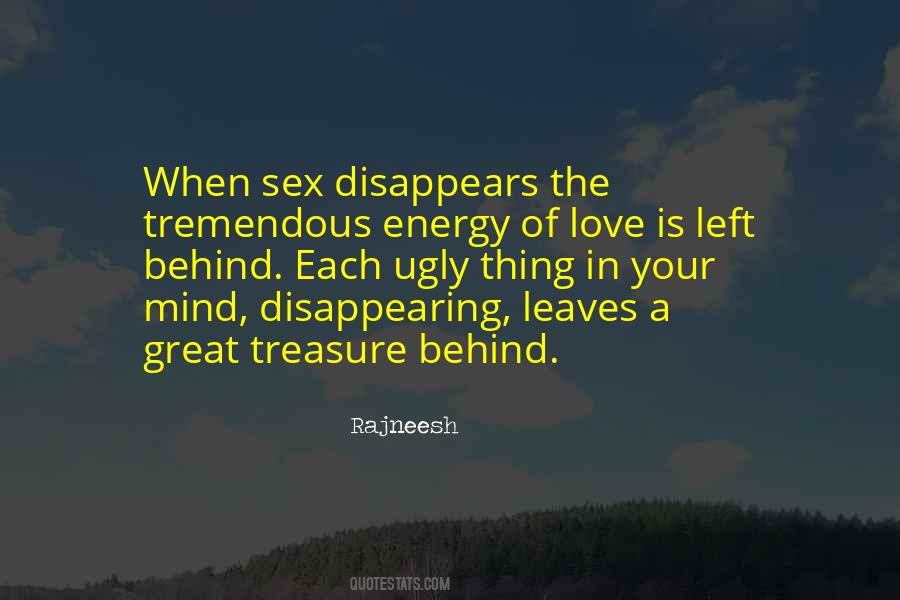 #35. Listen close and you can hear, Please, bless us and forgive us, and make us good here and strong here. Let us get along here. Let those we love and left behind be blessed. Let us find the proper path and keep to it. Help us act harmoniously, and find work pleasing in the sight of god and man. - Author: Janet Morris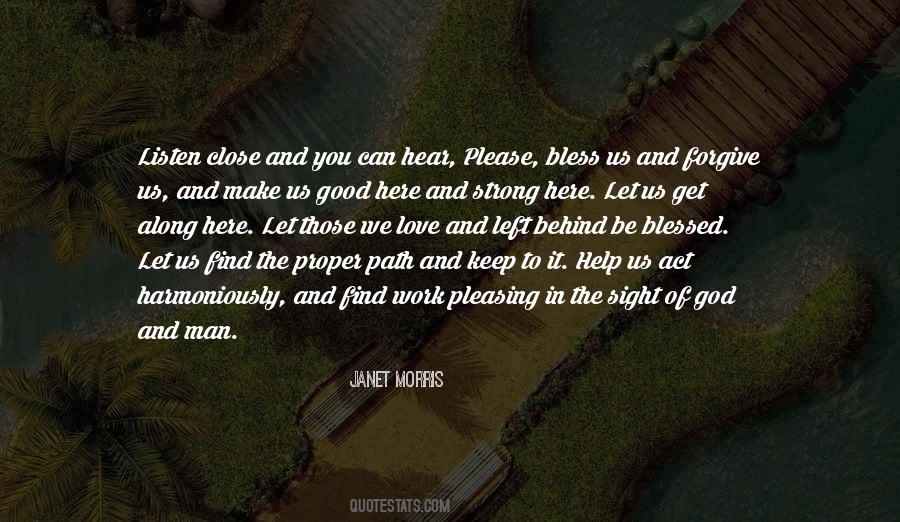 #36. Most people just want to be left in peace to eat their bacon, not realising that there is no peace behind bacon. - Author: Mango Wodzak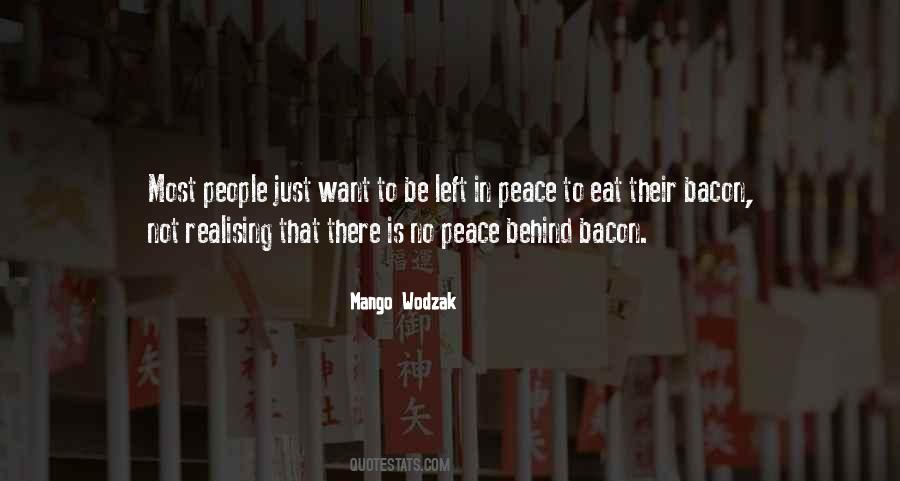 #37. It's hard being left behind. ( ... ) It's hard to be the one who stays. - Author: Audrey Niffenegger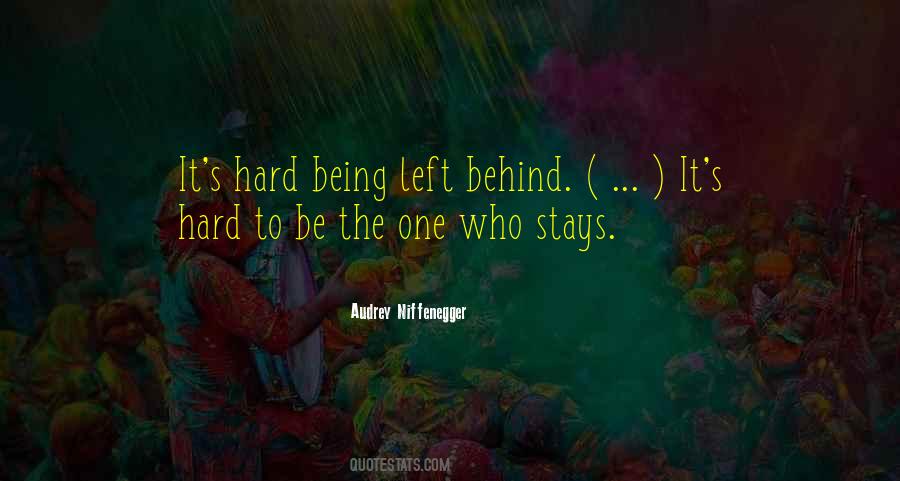 #38. She'd thought she'd left this behind. This crushing awful feeling of something unfulfilled, something she kept reaching for only to be dragged away and mired in others' needs and expectations and the cloying sick grasping of their love. - Author: Cole McCade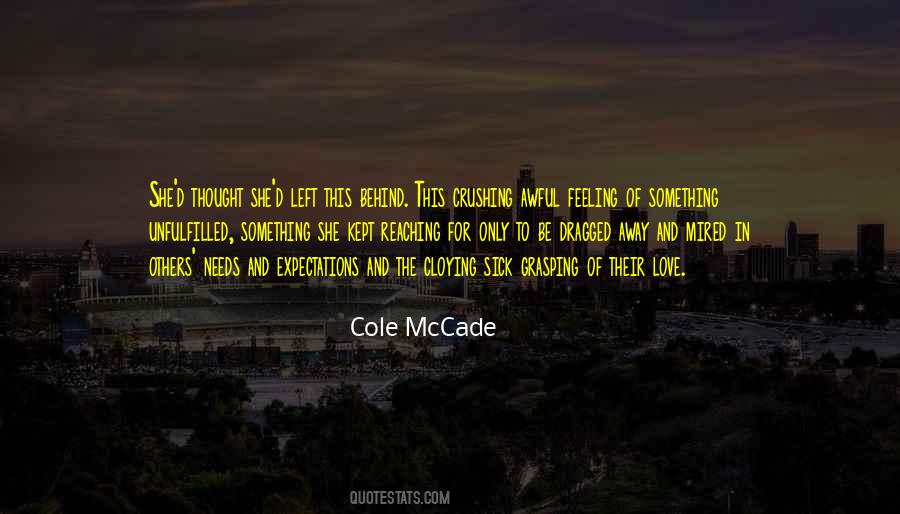 #39. The only thing of importance, when we depart, will be the traces of love we have left behind. - Author: Albert Schweitzer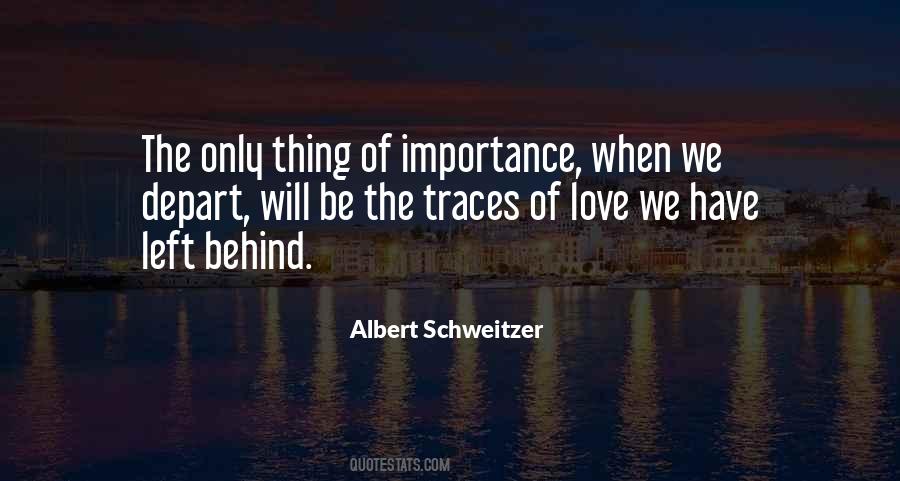 #40. You bothered yourself and changed the season. I was left behind with your awful sounds. - Author: Cat Alonso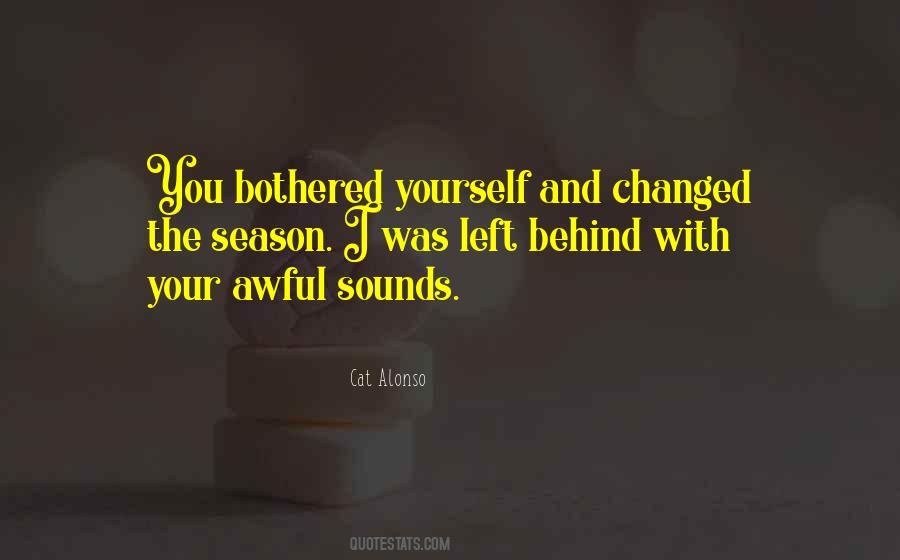 #41. Have you noticed her name?"
Kit leaned sideways to see the letters painted jauntily on the transom. "The WITCH! How did you dare? Does Hannah know?"
"Oh, she's not named after Hannah. I hadn't gone ten miles down the river that day before I knew I'd left the real witch behind. - Author: Elizabeth George Speare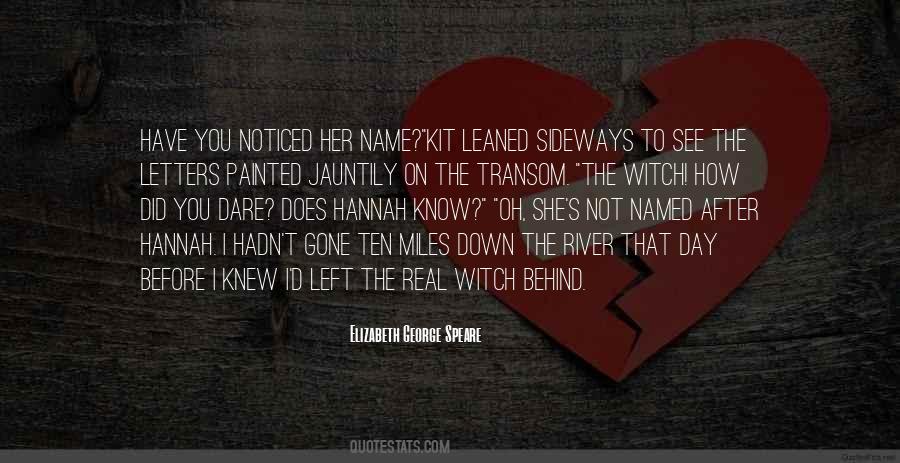 #42. Life is measured by - the ones left behind? Or his Faith? By Love? or by the people aside you? Or it has no meaning at all? - Author: Aman Jassal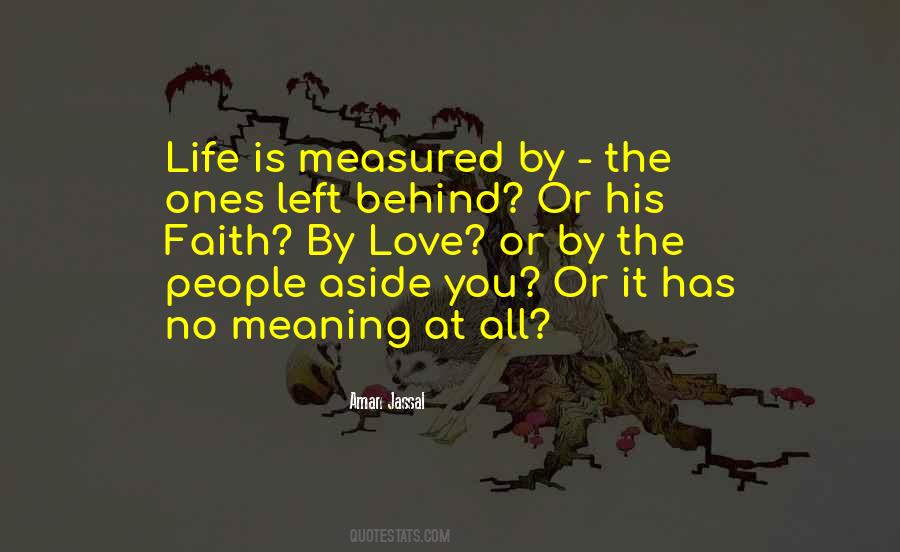 #43. I've never heard a eulogy about a person where they talk about the value of wealth and how much money the've left behind. They only talk about the character ,love, integrity, humour strength etc.
So why is it so important to some that they lose sight of everything else in life ? - Author: Lou Silluzio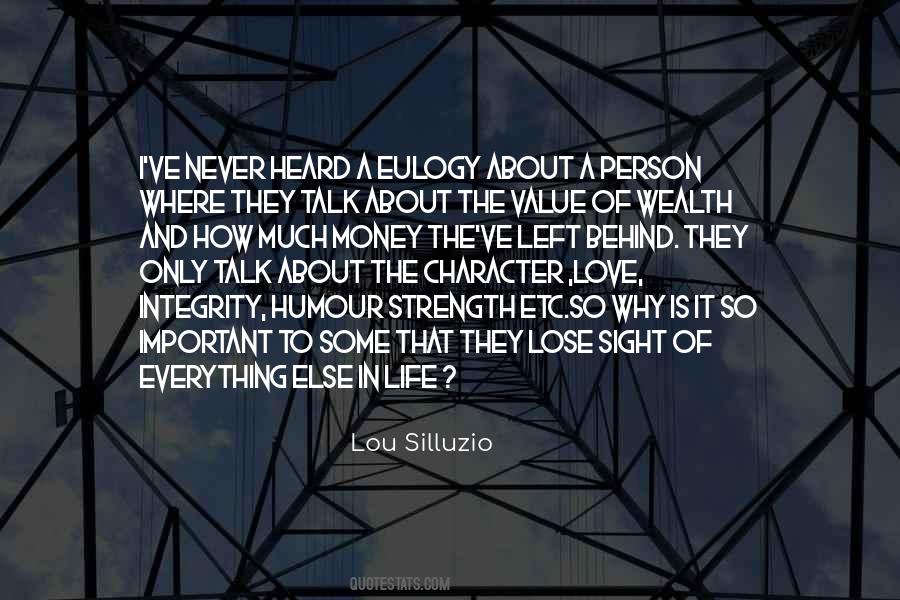 #44. Left love behind many years ago. Now it rests under a cross in the cemetery in Tombstone. - Author: Franco Nero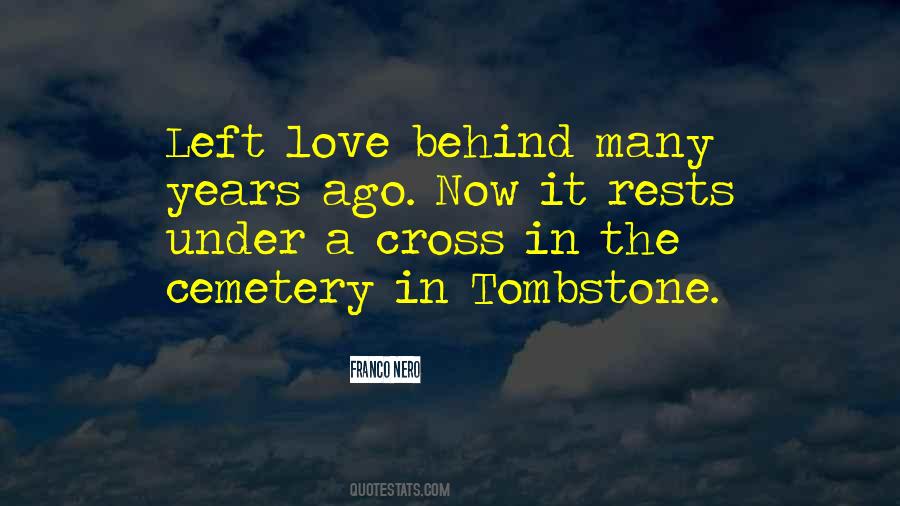 #45. I love you, she said, and I knew she meant it because she spoke the words from the heart at the center of her chest. This, at least, had not been left behind at the hospital. - Author: Augusten Burroughs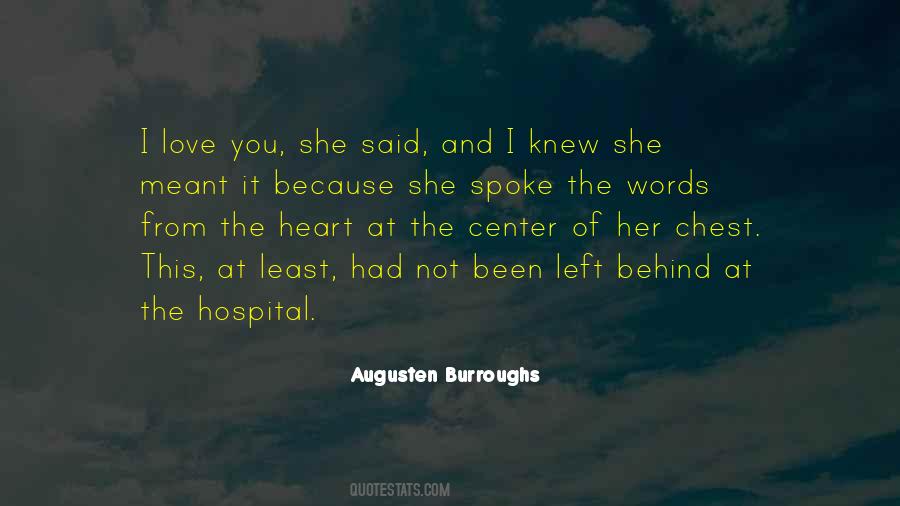 #46. Did you know that ninety percent of your average household dust is composed of human epidermal matter? That's skin, to you.
Perhaps this explains your sense of Amanda's omnipresence. She has left her skin behind. - Author: Jay McInerney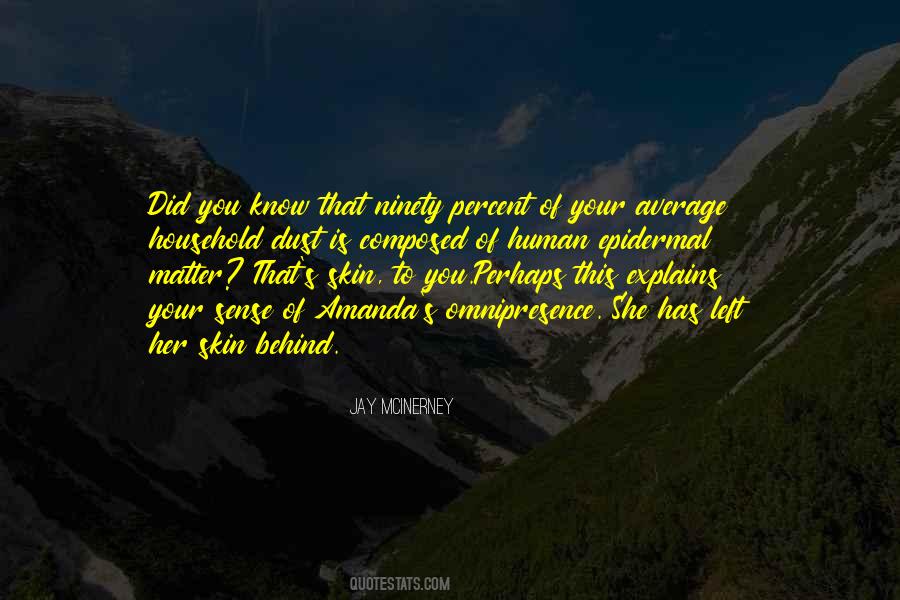 #47. The love you left behind is so much greater than the regrets your departure created. You were more than worth the trouble. I pray I was too. - Author: Seth King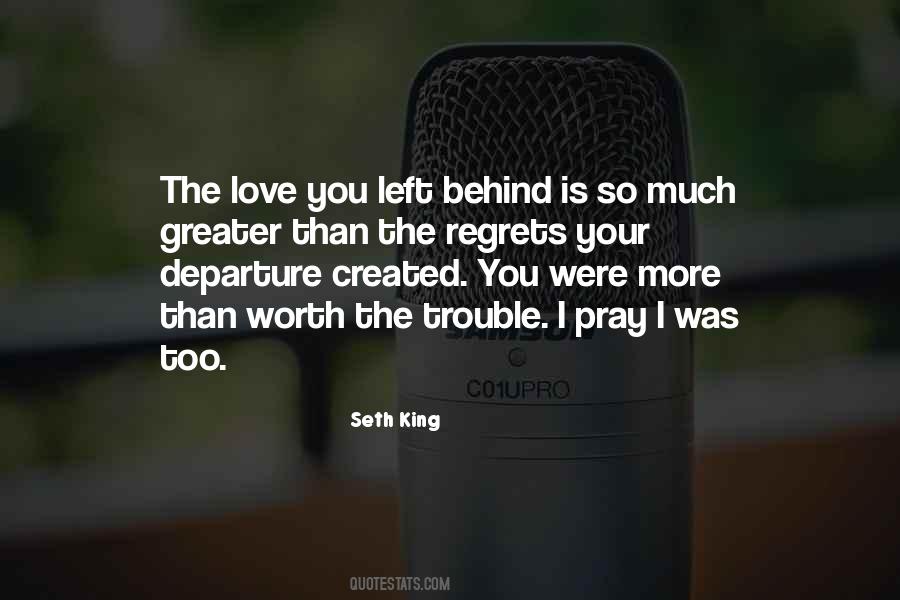 #48. Here's what I know: death abducts the dying, but grief steals from those left behind. - Author: Katherine Owen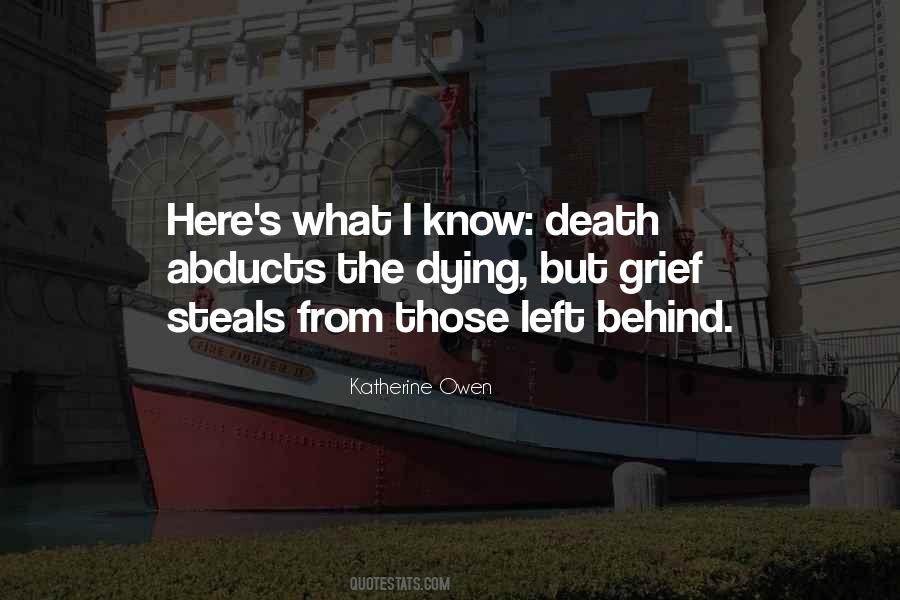 #49. We've been through a lot, and though many of the wounds have healed, the scars they've left behind still throb every now and then. - Author: Neha Yazmin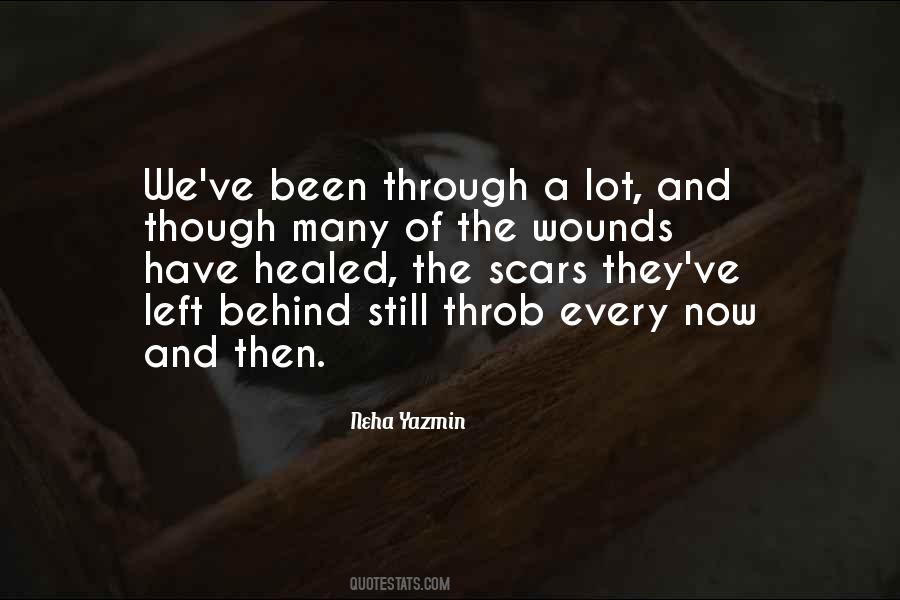 #50. A Noah's Ark of mathematicians, their lives, loves, hard times, and madnesses, Loving and Hating Mathematics shows our community with all its warts as well as its triumphs. I especially liked the chapter on much-hated school mathematics, 'Almost All Children Left Behind.' - Author: David Mumford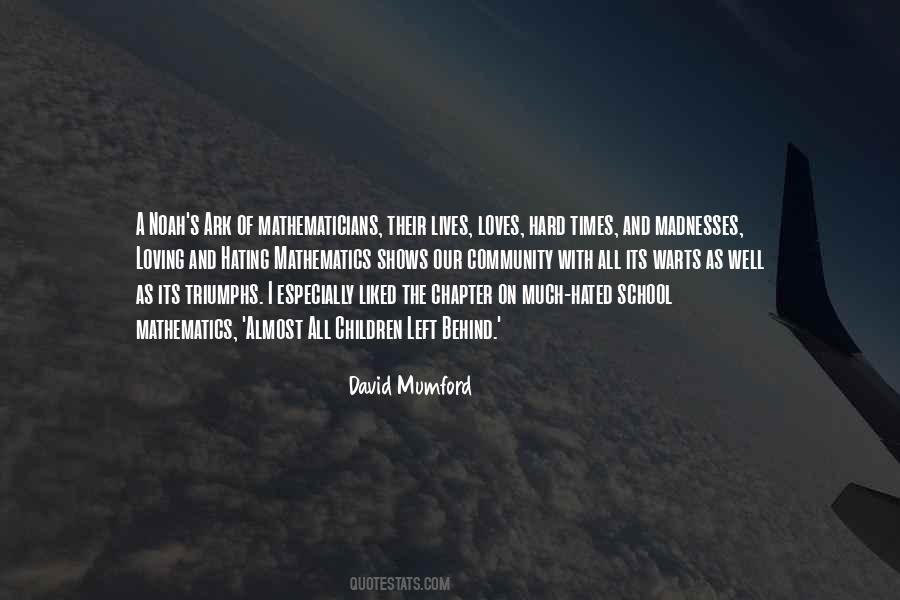 #51. Here mankind discarded civilization as if it were an article of clothing and left behind every decent feeling: love; loyalty; simply everything. Here it stood naked, and exhibited it's wretched soul. Here, faced with the realm of death, all the baseness and cruelty of mankind was on display. - Author: Schoschana Rabinovici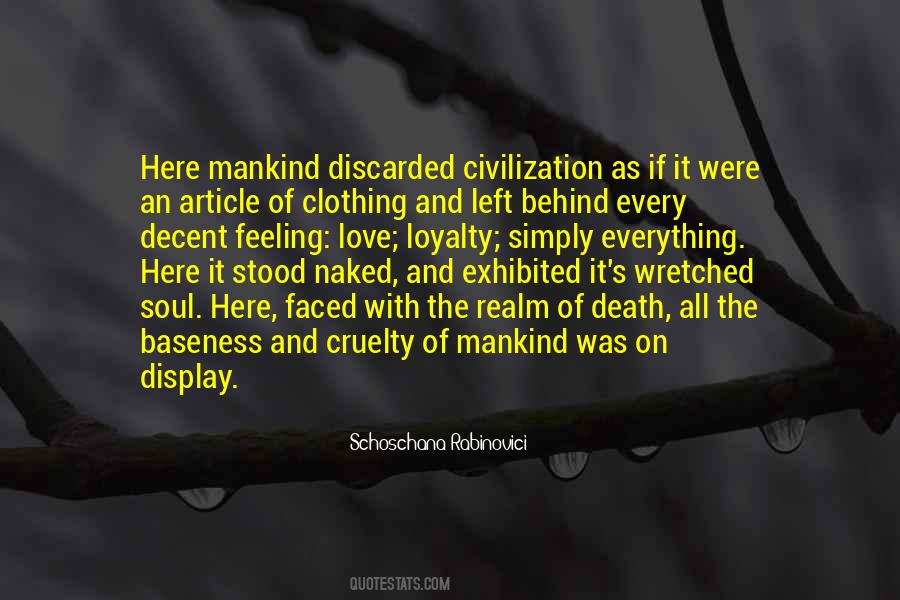 #52. Reason to move to New York: I don't to get left behind - Author: Holly Smale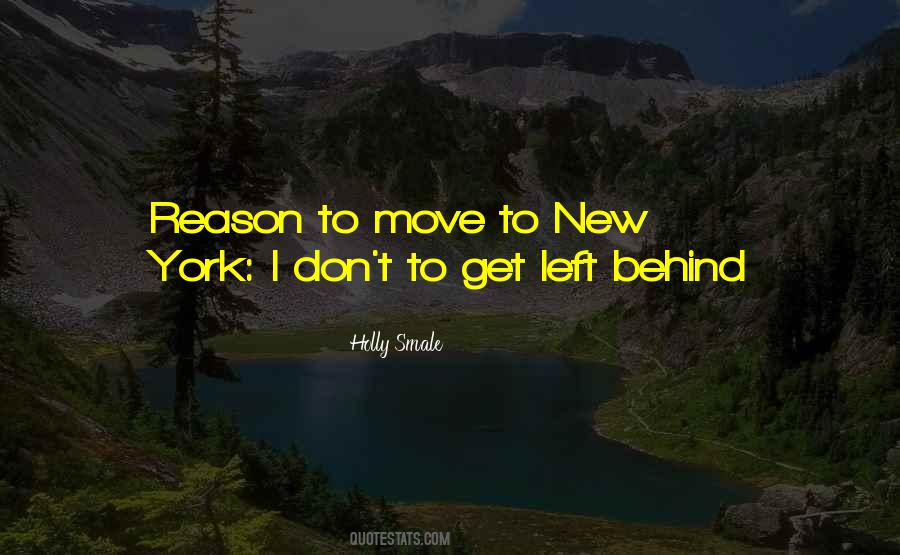 #53. If someone thinks that love and peace is a cliche that must have been left behind in the Sixties, that's his problem. Love and peace are eternal. - Author: John Lennon
#54. If you miss the bus, miss the train, you'd be left behind. So everyone says, let's get on the train, let's get on the bus and go faster and get rich ... I just didn't like that kind of lifestyle. I love to read books, to listen to music. - Author: Haruki Murakami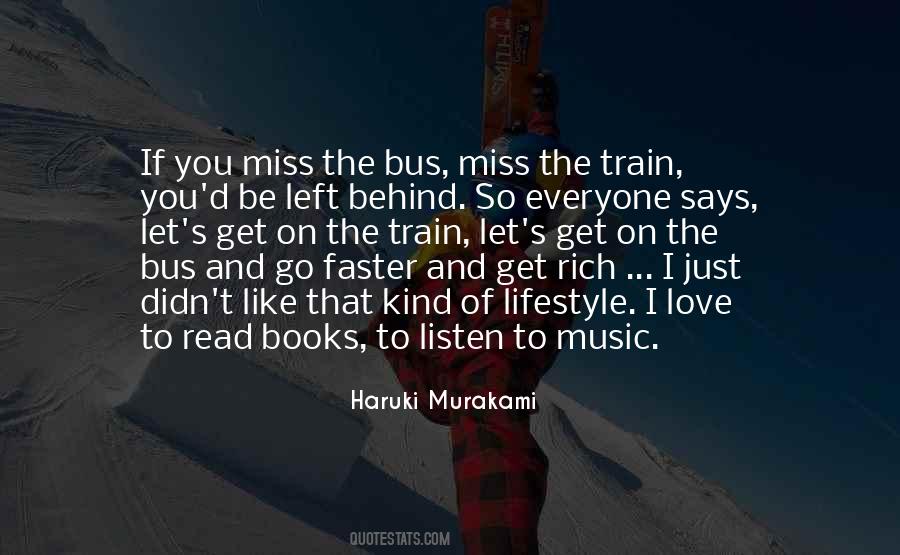 Famous Authors
Popular Topics