Living Each Day Famous Quotes & Sayings
List of top 100 famous quotes and sayings about living each day to read and share with friends on your Facebook, Twitter, blogs.
Top 100 Quotes About Living Each Day
#1. Death is a thief, the grandest perpetrator of larceny of all. It robs the potential of all the things left undone and reimburses the living with bits of memories that, with each day, pass through the fingers like a handful of sand. - Author: Ron Perlman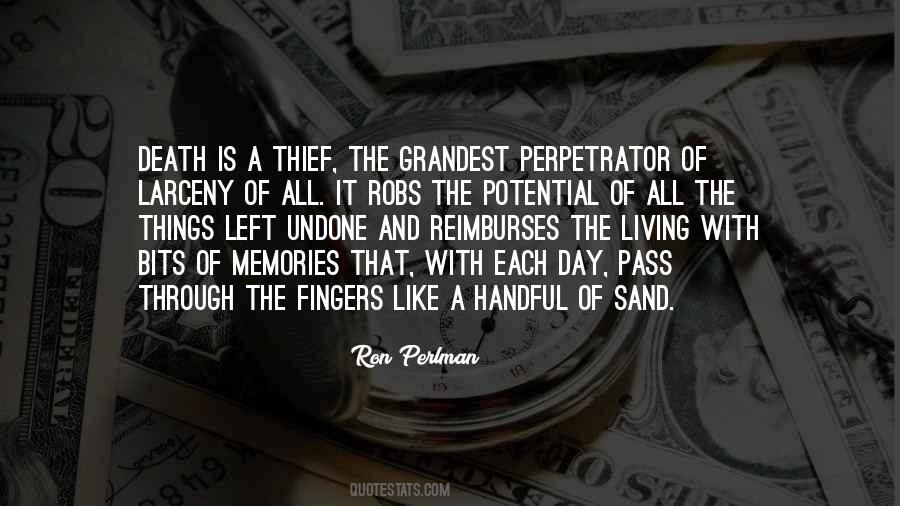 #2. The point of simple living, for me has got to be:
A soft place to land
A wide margin of error
Room to breathe
Lots of places to find baseline happiness in each and every day - Author: Leo Babauta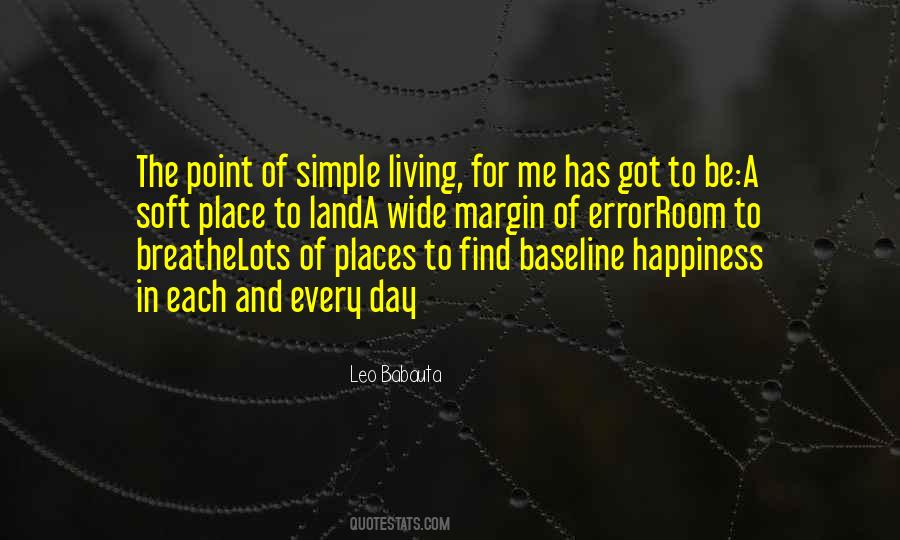 #3. I am graciously and joyfully living through each day. - Author: Lailah Gifty Akita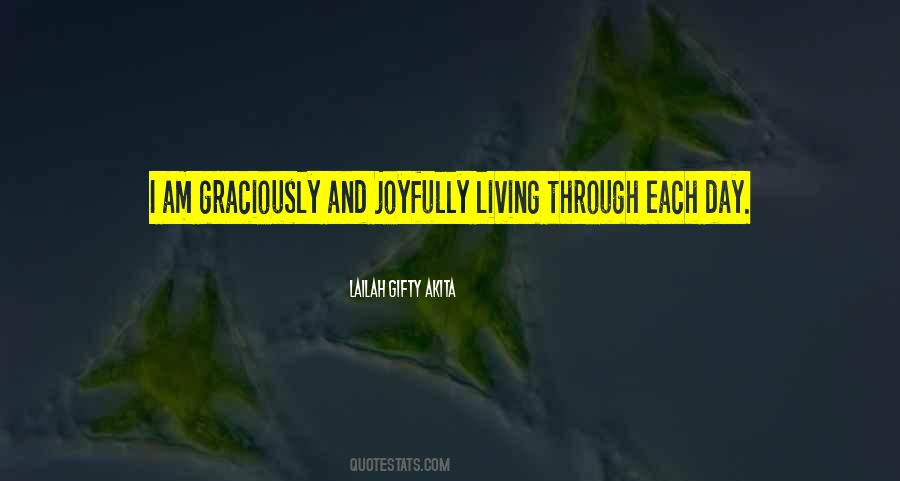 #4. If we simply imagined that everyone who crossed our path was living out his or her very last day on Earth, we might treat people as kindly as we ought to each day they lived. - Author: Richelle E. Goodrich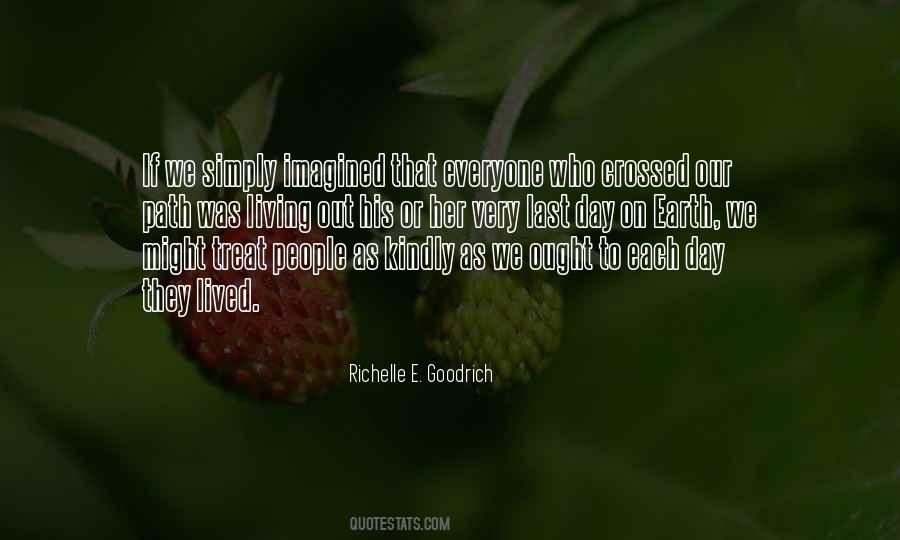 #5. I'm just living each day, and I'm better equipped to do so. I mean, I used to be totally afraid, I used to have, like, permanent stage fright. But now I'm trying to have fun. I'm trying to bring as much happiness to as many people as possible. - Author: Rivers Cuomo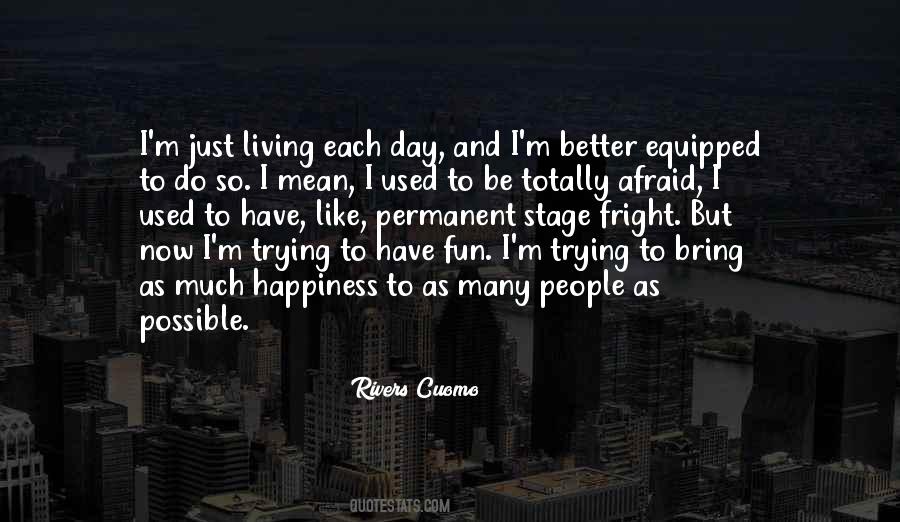 #6. I like how my body feels when I'm in shape; I love how it feels after I work out each day. Fitting in the clothes I like to wear comfortably and living a healthy lifestyle is important to me. - Author: Colbie Caillat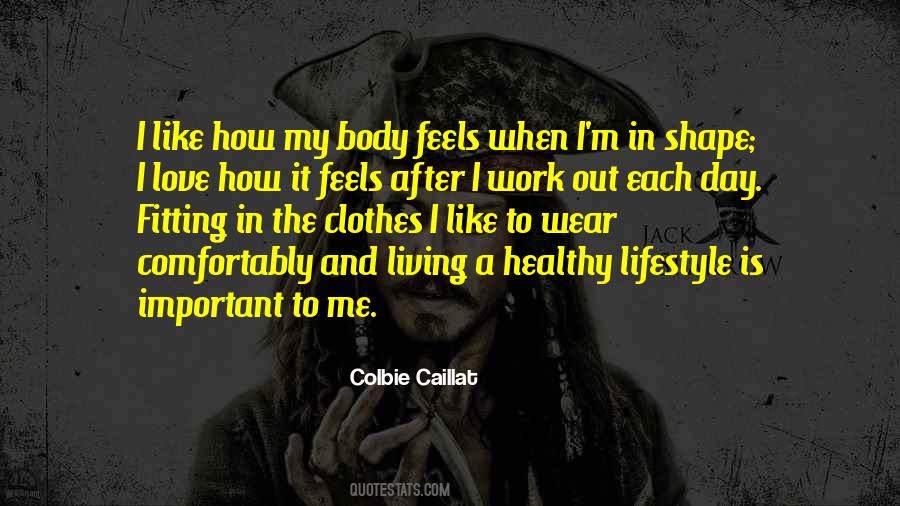 #7. Dad and Gram didn't take a single day on the ranch for granted. Regardless of the weather, the greeted each morning as if they'd embrace it, filling their eyes with a vaulting sky and sagebrush-coverd ridges. Then they gave silent prayer of thanks for living the life they loved. - Author: Terri Farley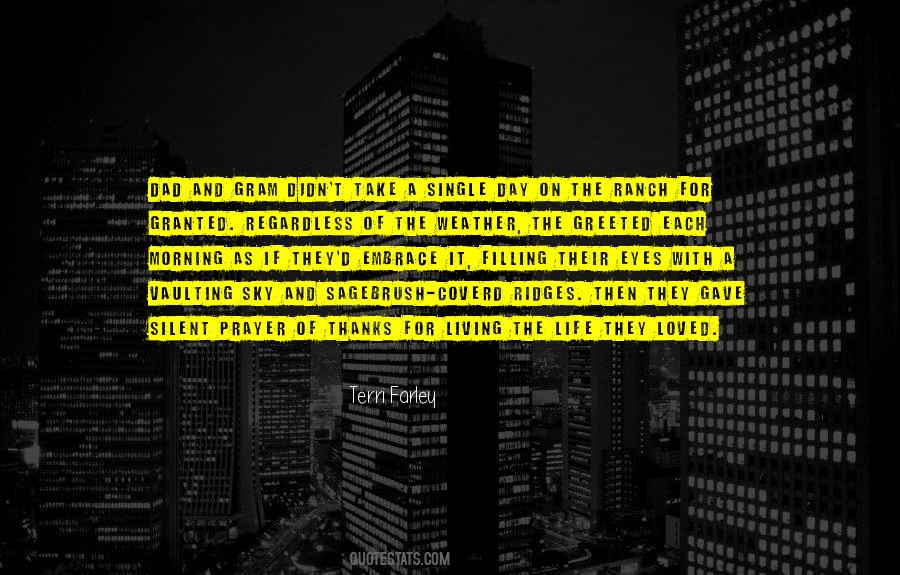 #8. He lives happy and master of himself who can say as each day passes on, I have lived. - Author: Michel De Montaigne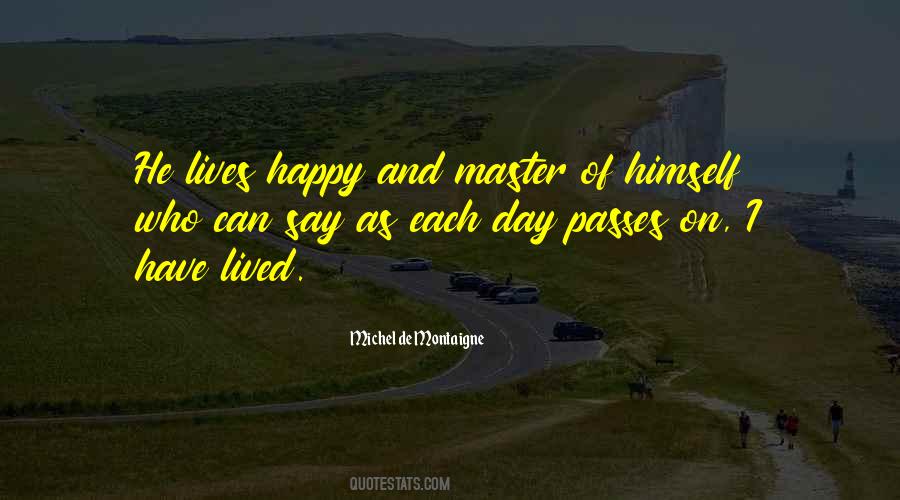 #9. We are all capable of living each day with a fiery passion and sense of purpose that radiates in our smile and voice. - Author: Robert Cheeke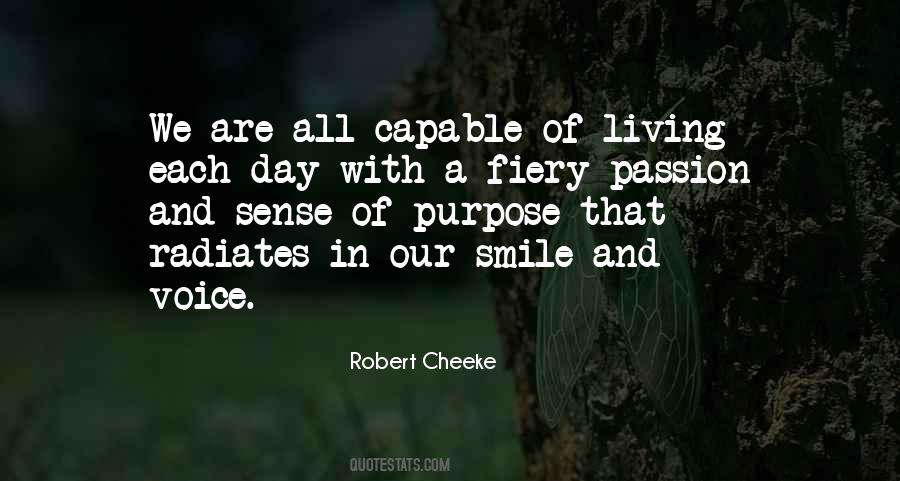 #10. Living on purpose and serving a higher purpose breathes life into you every day and gives you the desire to reach your goals. You need to live each day congruently by living within your beliefs and values. Unleashing your inspired life starts with living your life's purpose. - Author: Thomas Narofsky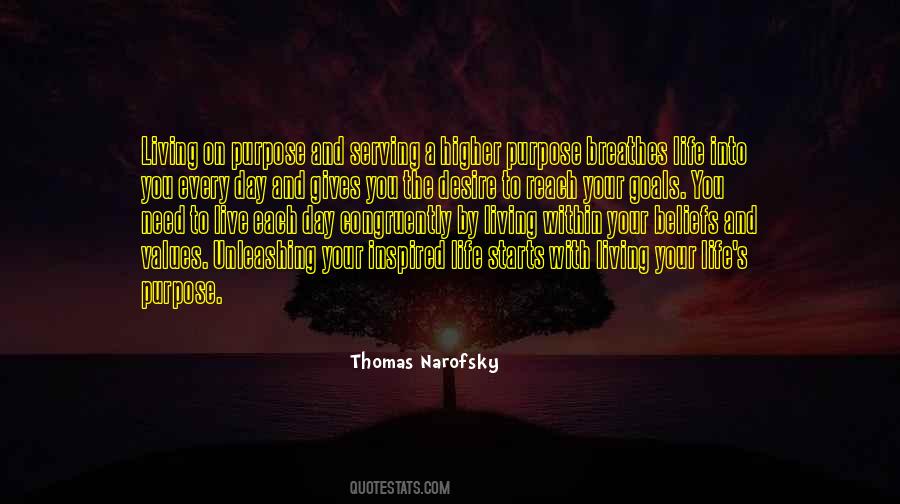 #11. Labour-saving devices just make us try to cram more pointless activities into each day, rather than doing the important thing, which is to enjoy our life. - Author: Tom Hodgkinson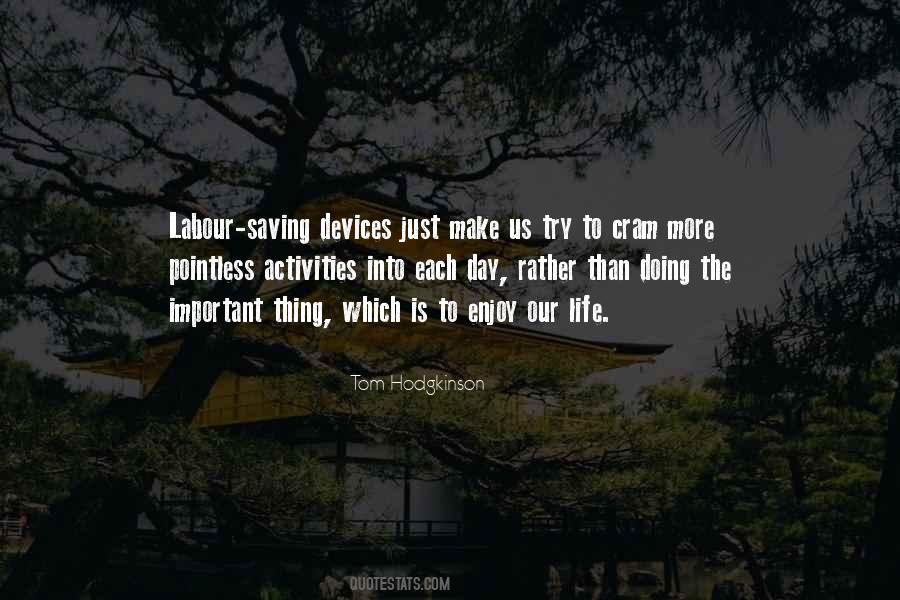 #12. We (sometimes) get so far ahead of (ourselves) instead of living out each day that we forget to really appreciate the moment that we're in - even if it's (temporarily) bad. - Author: Shari Wiedmann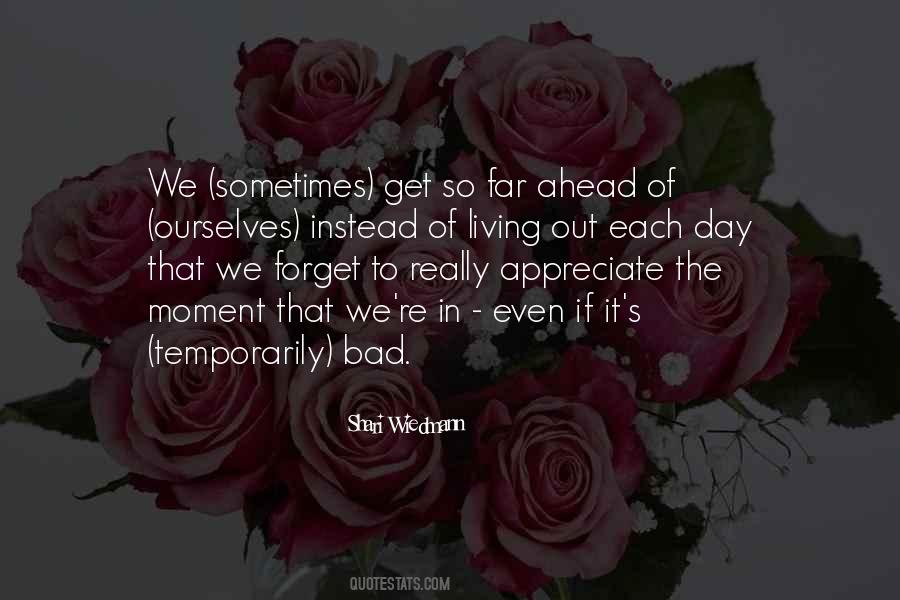 #13. When you lose someone, you get used to living day to day without them. But you'll never get used to the "10 second heartbreak." That's the time it takes to wake to full consciousness each day and remember ... - Author: Nina Guilbeau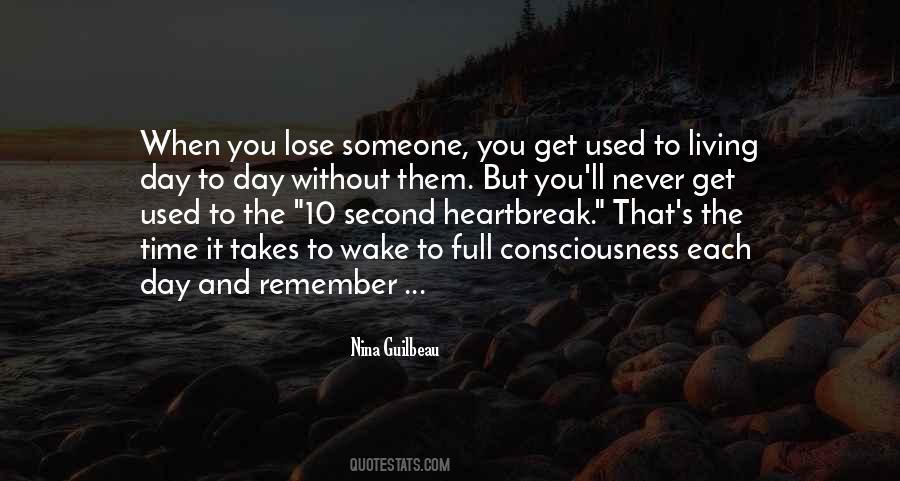 #14. When I was in the desert, I woke each day and carried on with my life, but it wasn't living; it was merely existing. I want to live. You are where I live. - Author: Renee Ahdieh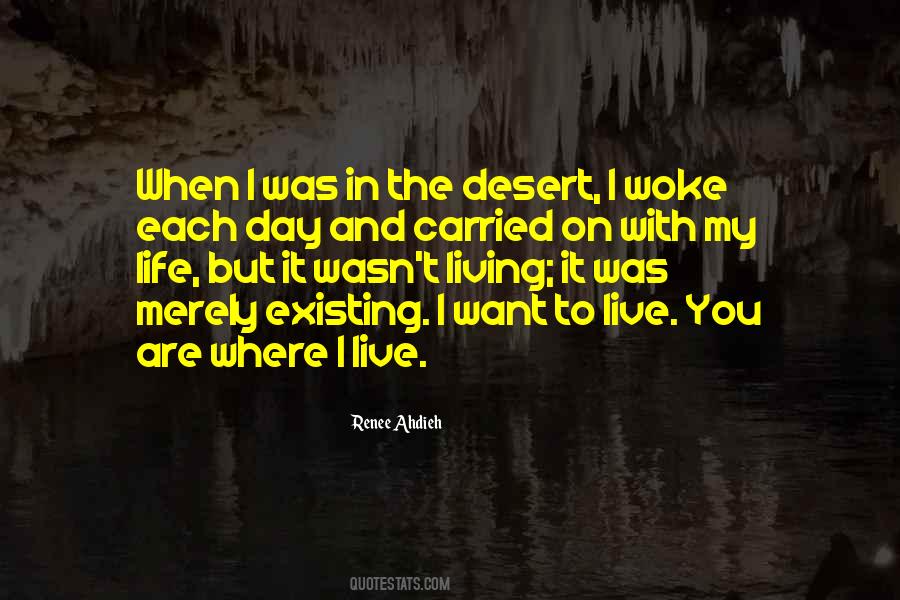 #15. Your life is a sculpture, every day chip away. - Author: J.R. Rim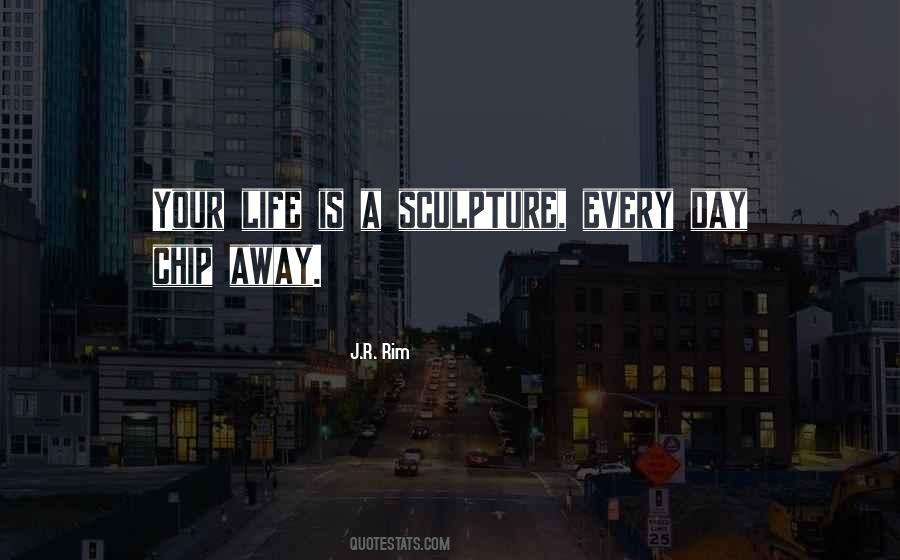 #16. Dedicate each day to living relaxed and worry-free. Consciously open your heart to the flow of Creation and Creation's energy. By doing so you have the power to create each day, one day at a time. - Author: Janet Gallagher Nestor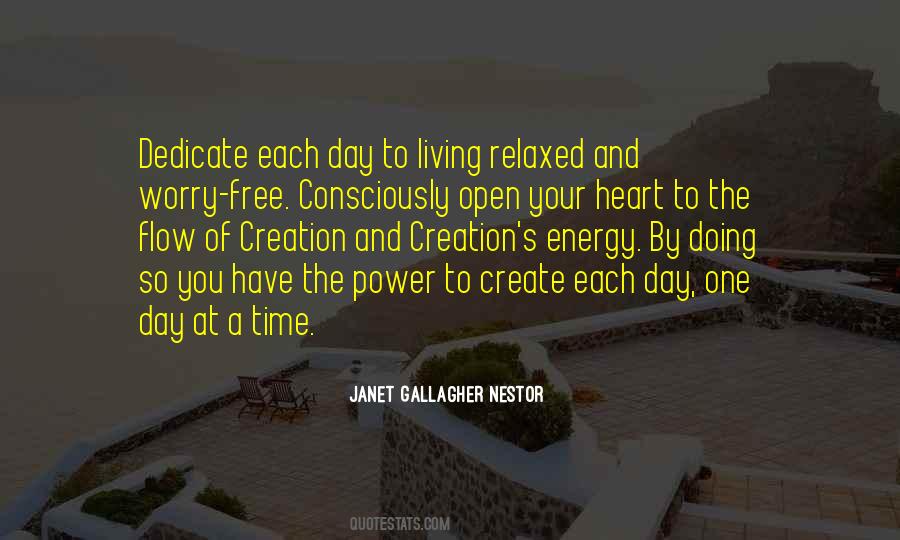 #17. I am living my death, little by little, each day. - Author: Alex Flinn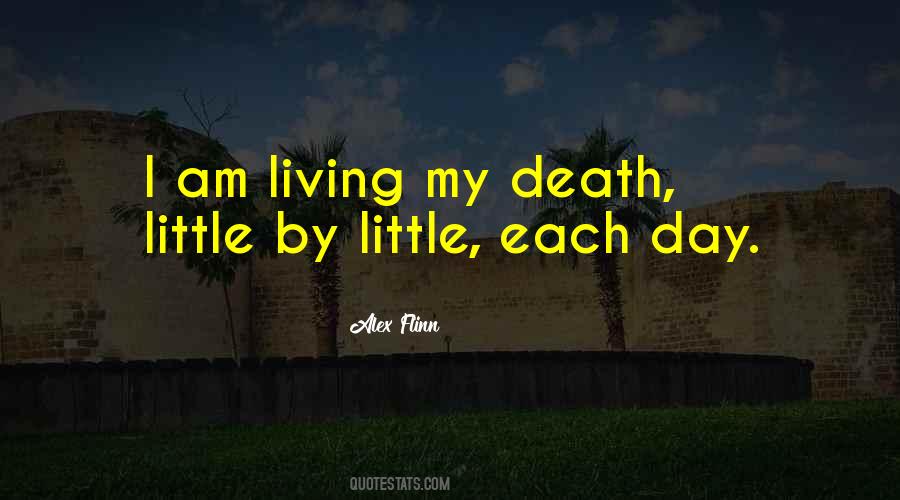 #18. People have no idea of the things that don't happen to them - the lives they're not living, the deaths stalking them - and thank Christ for that. Hard enough to get through each day without glimpsing all the hovering possibilities, like insects thickening the air. - Author: Emma Donoghue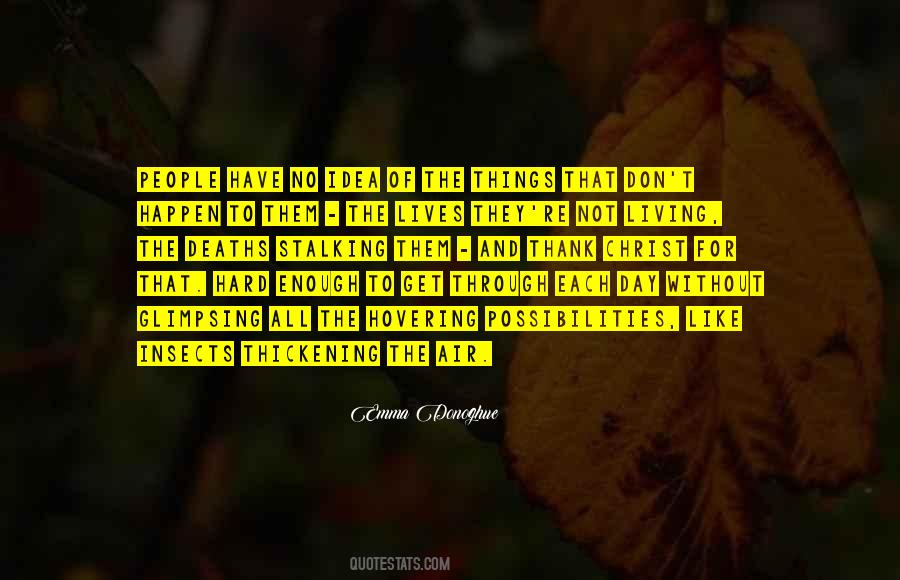 #19. If we could wake each morning with no memory of living before we went to sleep, we might arrive at a faultless day. - Author: Christopher Fry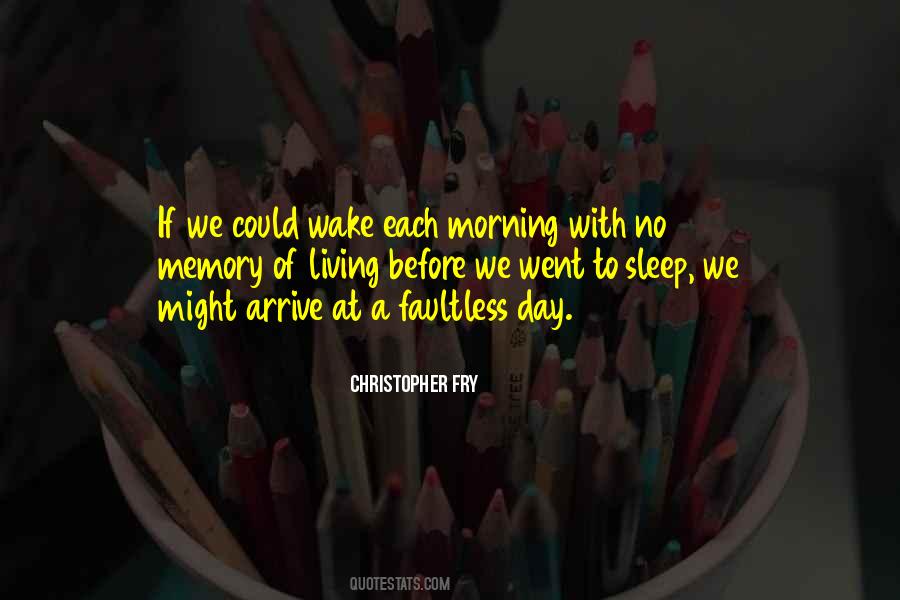 #20. Hope is immeasurable anchor. - Author: Lailah Gifty Akita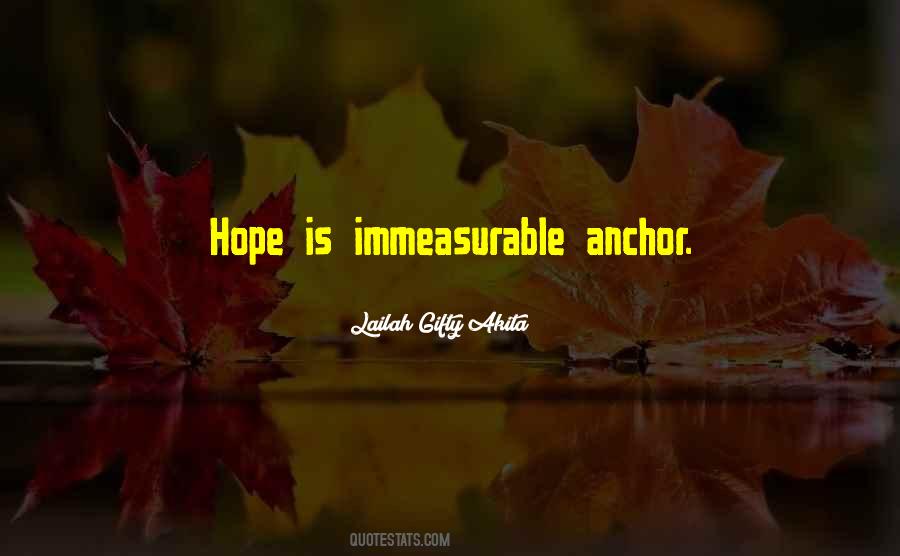 #21. I believe in living in the present and making each day count. I don't pay much attention to the past or the future. - Author: Matthew McConaughey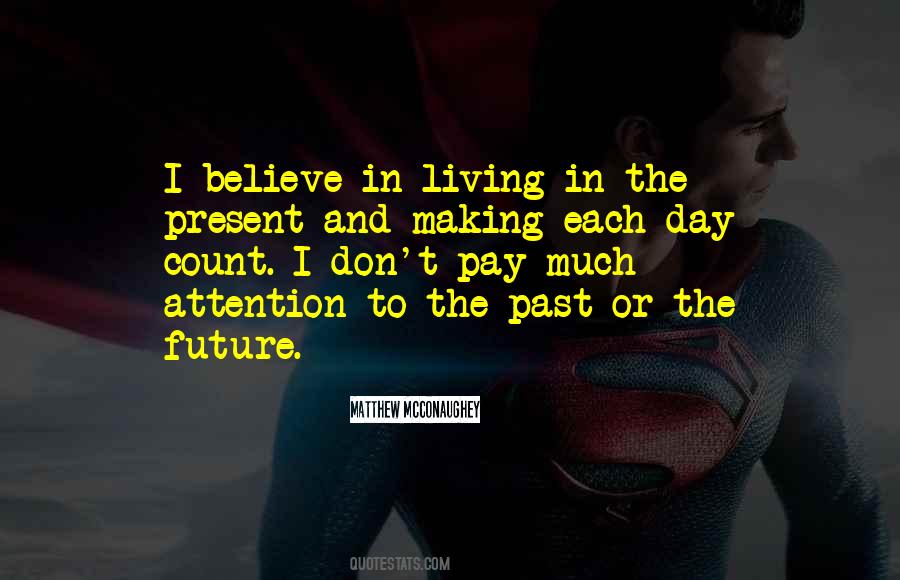 #22. A total stranger one black day
knocked living the hell out of me-
who found forgiveness hard because
my(as it happened)self he was
-but now that fiend and i are such
immortal friends the other's each - Author: E. E. Cummings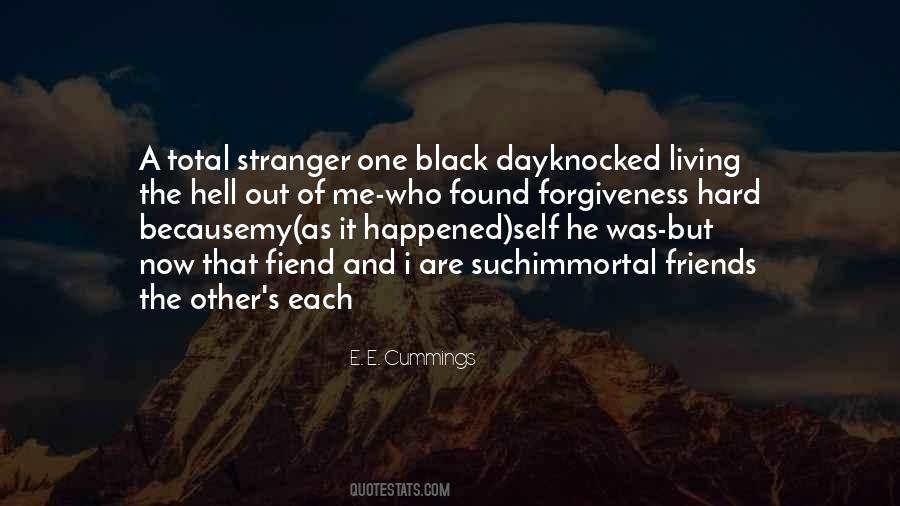 #23. Live each day to the fullness, live the life that you imagine. - Author: Lailah Gifty Akita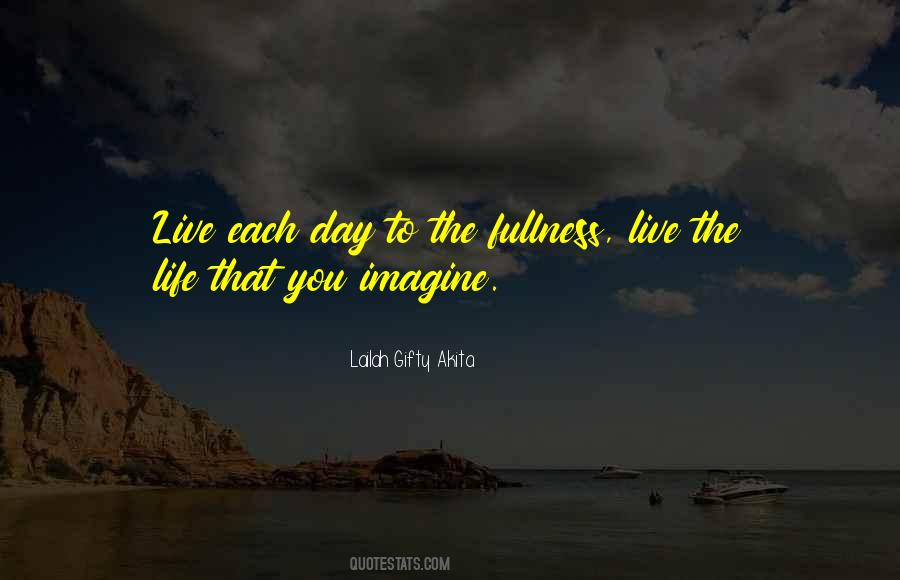 #24. Long life, short life-did it matter when each day was the same, when humans were incapable of living for the moment because of their fundamental need for order, for the comfort of everyday routine. - Author: Gemma Malley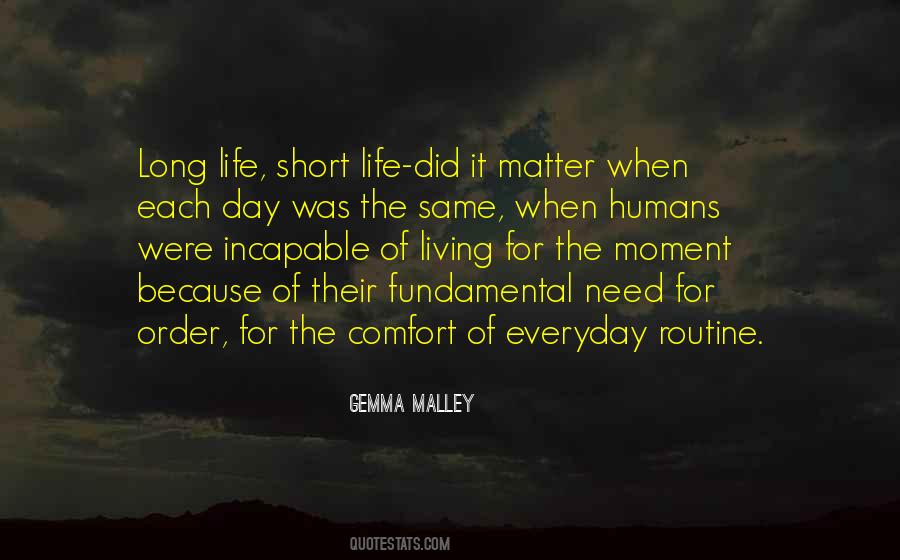 #25. I do feel as if I'm living a blessed life at the moment. I've been thinking about the phrase 'living a dream,' because that's exactly what is happening. I'm just trying to go with the flow and take each day as it comes, otherwise I might freak out at all the things that have happened recently. - Author: Katherine Jenkins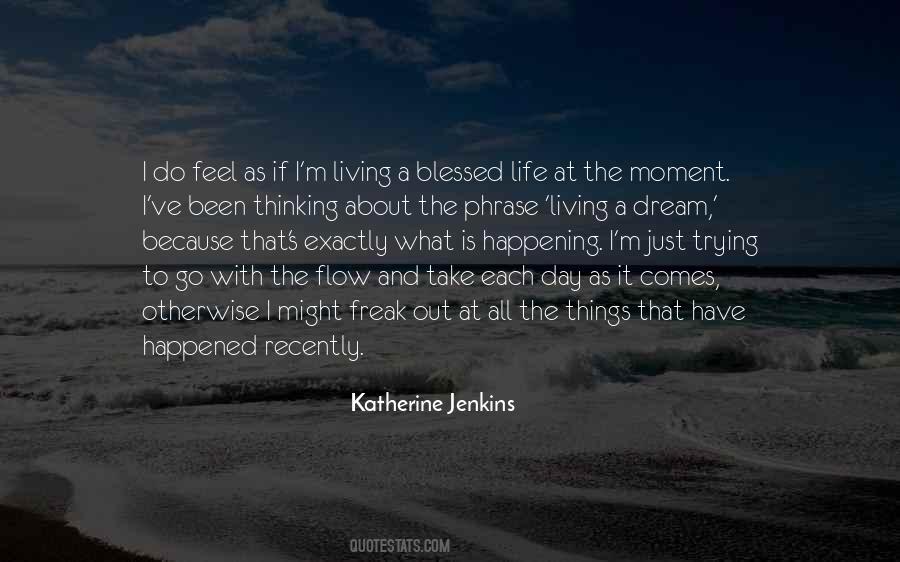 #26. Taking time out each day to relax and renew is essential to living well. - Author: Judith Hanson Lasater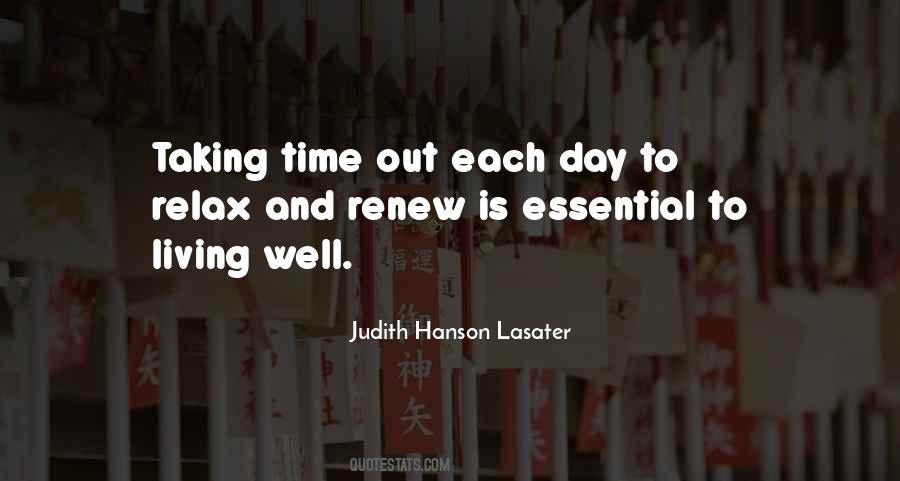 #27. Life is full of challenges, seen and unseen, so to look and feel great, you must hold your head up each day and project your inner confidence. - Author: Cindy Ann Peterson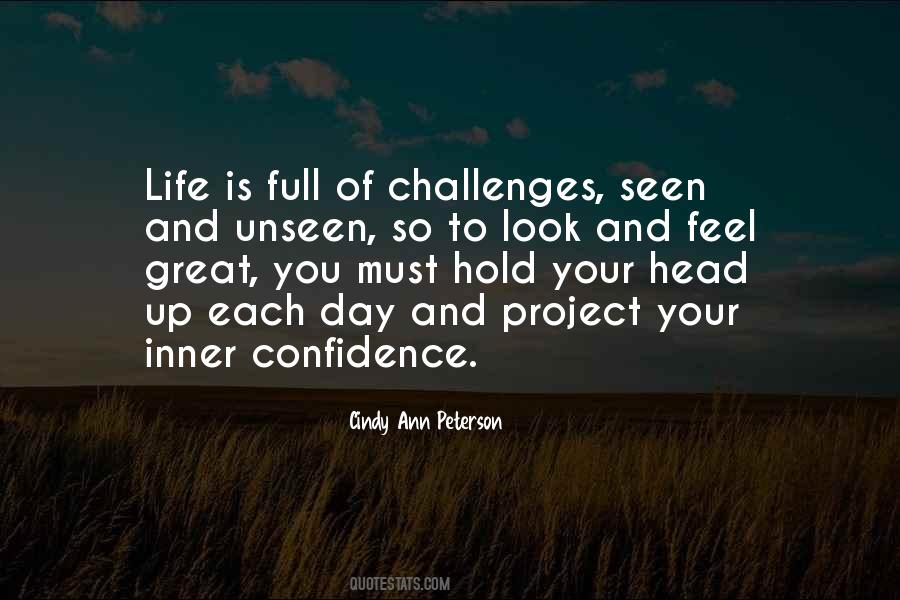 #28. No matter what your age is, you only have now. So it's always about living in the moment and being in the moment ... I refuse to let those numbers define me, and I just try to face each day positively. - Author: Christie Brinkley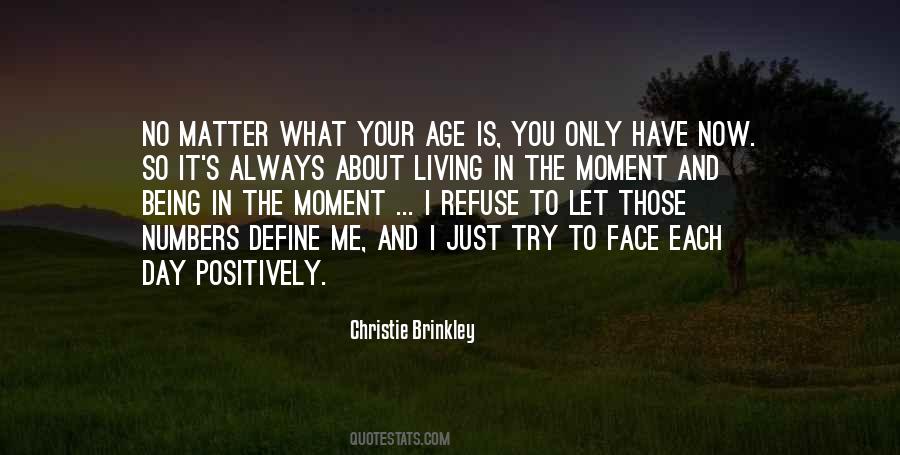 #29. If you are not living each day with excitement, energy, and passion, then you are not living true to your life purpose. - Author: Celestine Chua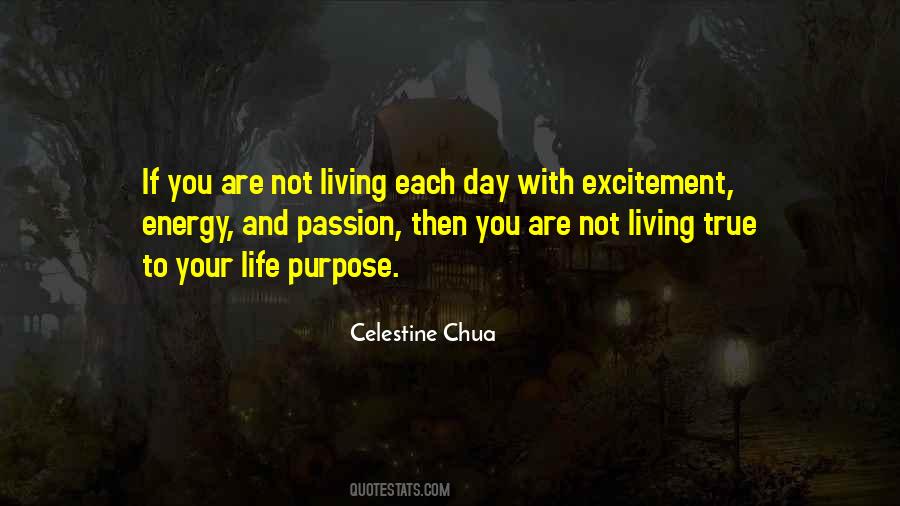 #30. Each day is a gift
To embrace and welcome - Author: Karen Hackel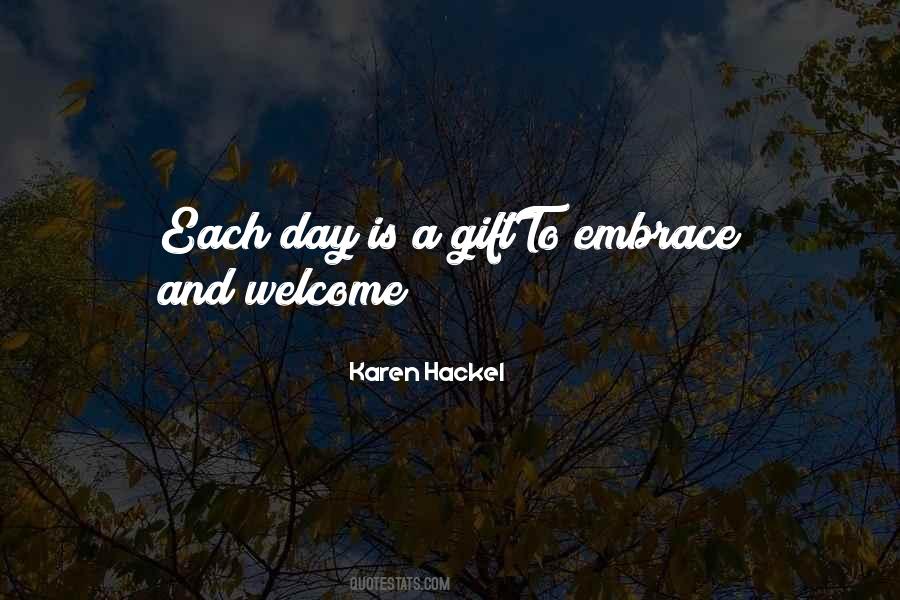 #31. The advantage of living your life consistently with determination, purpose and righteousness, every day is a success. There is victory in each good intention that you act upon! - HAPPY BIRTHDAY - Author: Carlos Wallace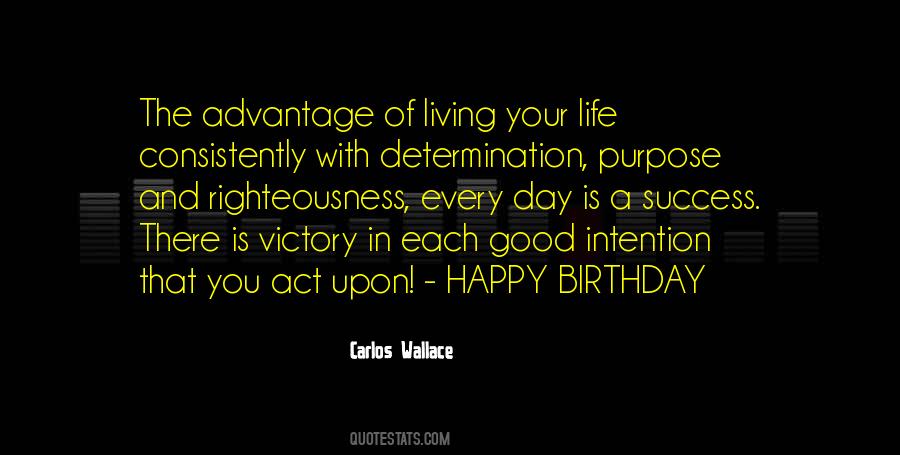 #32. Life never stops. The torment of men will be eternal, unless the function of creating and acting and changing, living intensely through each day, be considered an eternal joy. - Author: Le Corbusier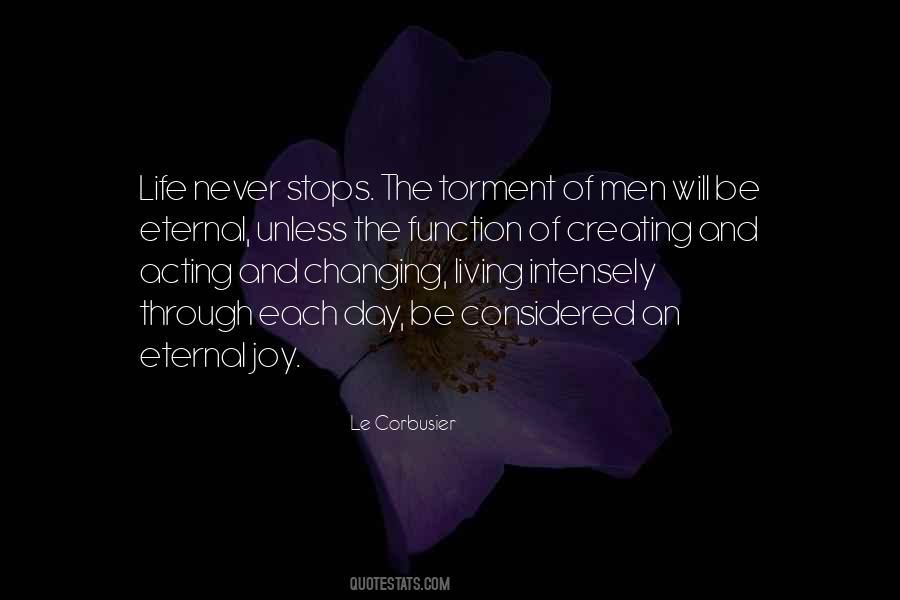 #33. Each day, and the living of it, has to be a conscious creation in which discipline and order are relieved with some play and pure foolishness. - Author: May Sarton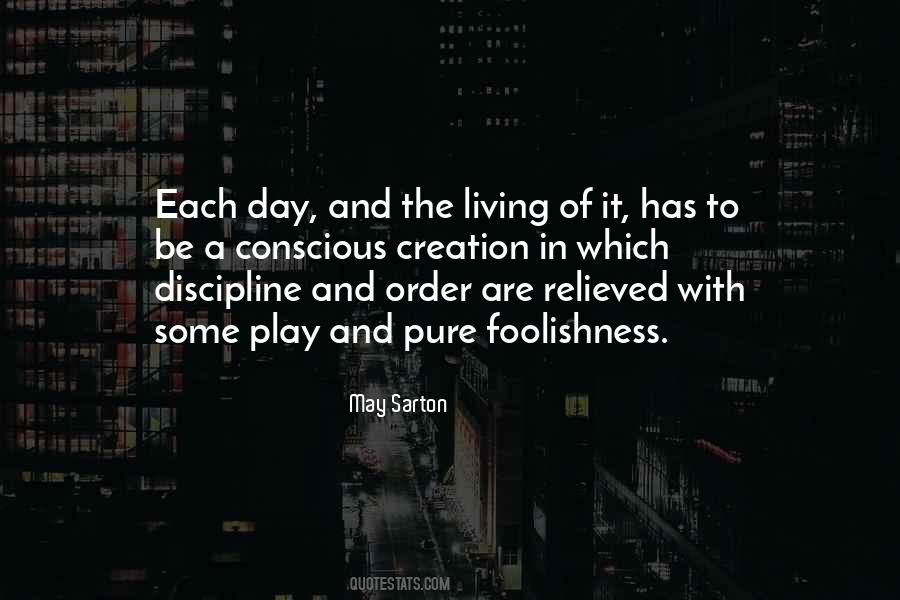 #34. Have you ever noticed how we often live on the surface of our lives? Each day is like the previous day. Time passes, and we continue to feel like we're living a life less than we deserve. So, dive deeper into your life, and discover what lies below the surface ... . - Author: James A. Murphy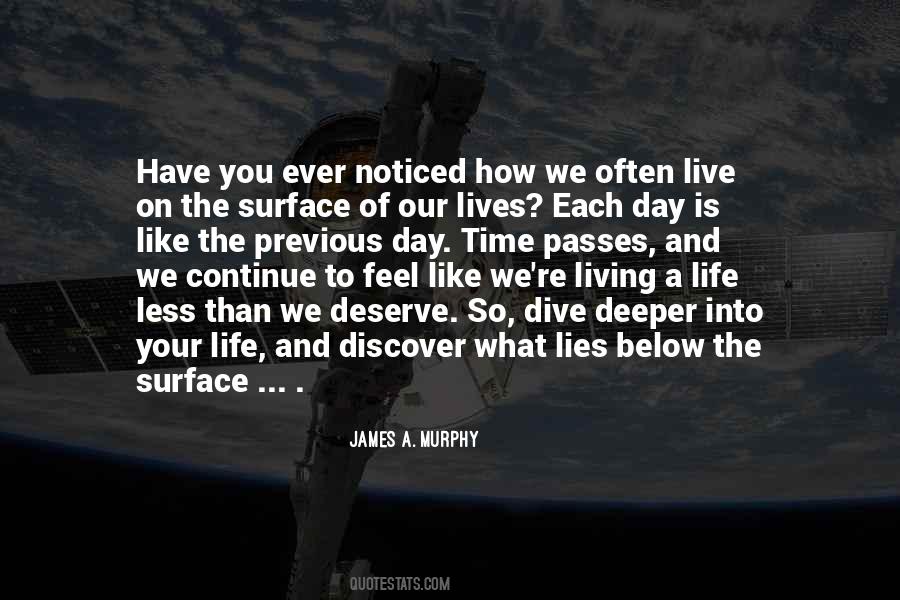 #35. Oh, I've had my moments, and if I had to do it over again, I'd have more of them. In fact, I'd try to have nothing else. Just moments, one after another, instead of living so many years ahead of each day. - NADINE STAIR, EIGHTY-FIVE YEARS OLD, LOUISVILLE, KENTUCKY - Author: Jon Kabat-Zinn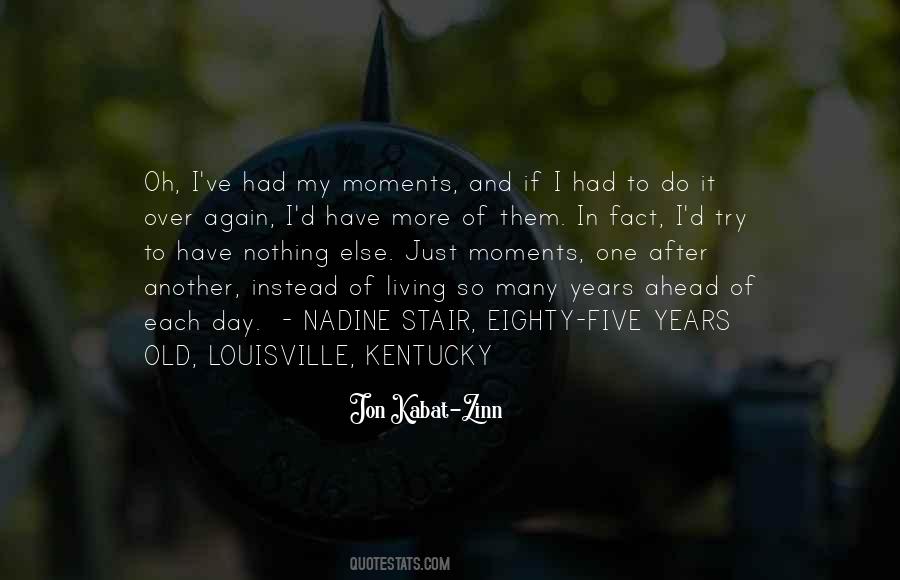 #36. One can imagine a sane, healthy, cheerful human society based on no more than the principles of common sense, as validated each day by work, play, and living experience. But this remains the most utopian and fantastic of ideals. - Author: Edward Abbey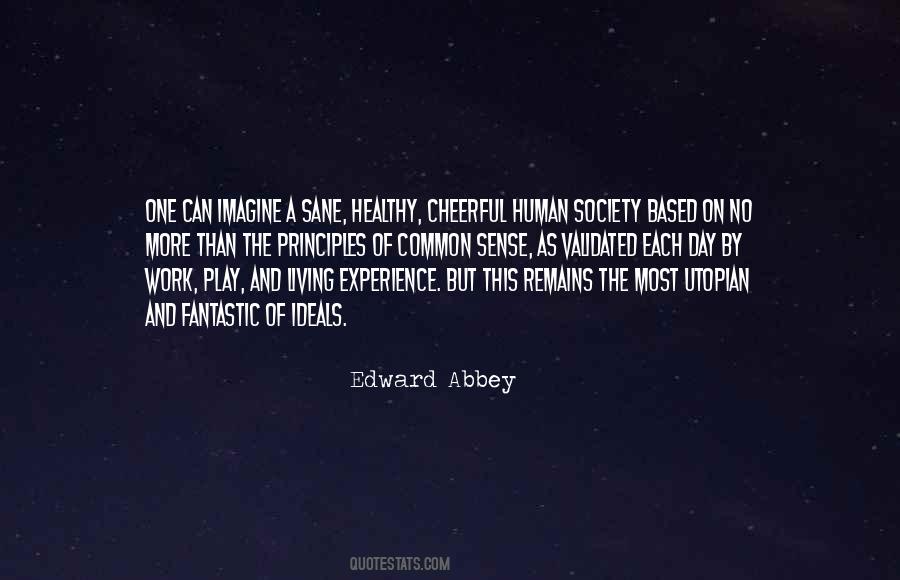 #37. Today is hard but who cares, by each hard day we are making stair for us. - Author: Avinash Prasad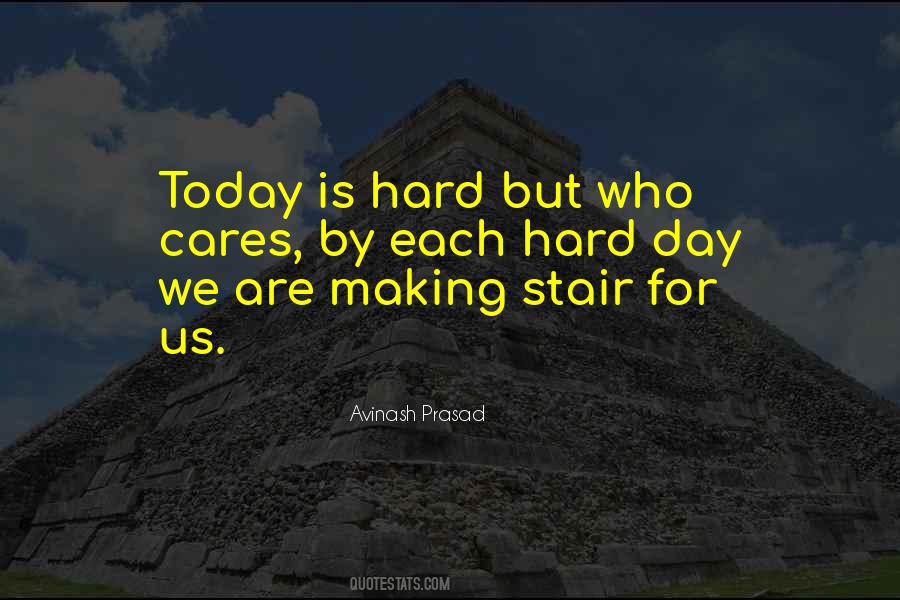 #38. I believe in having a vision for the future but living each day at a time. - Author: Miranda Kerr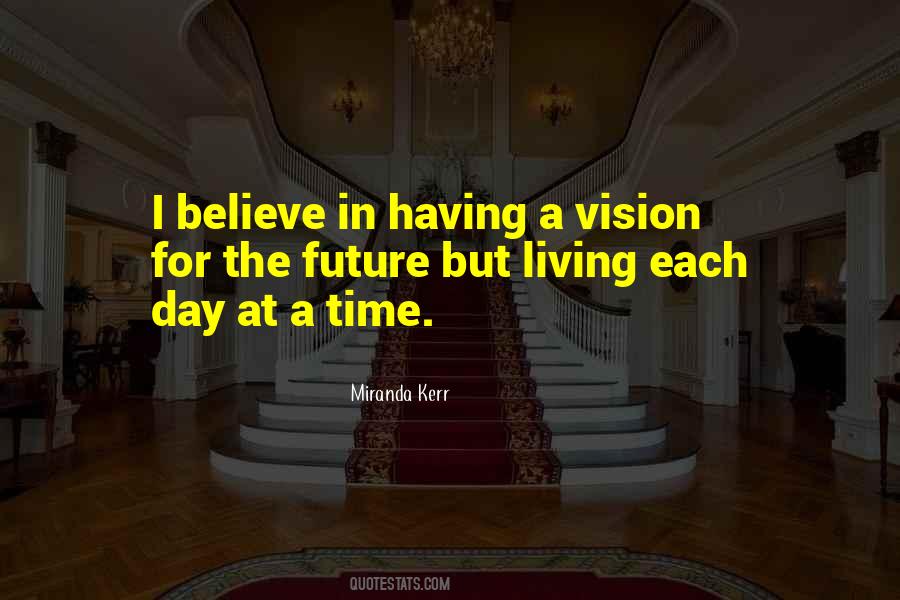 #39. Life is short. Live each day to the fullest. You may see God face-to-face tomorrow... - Author: Marilyn Slagel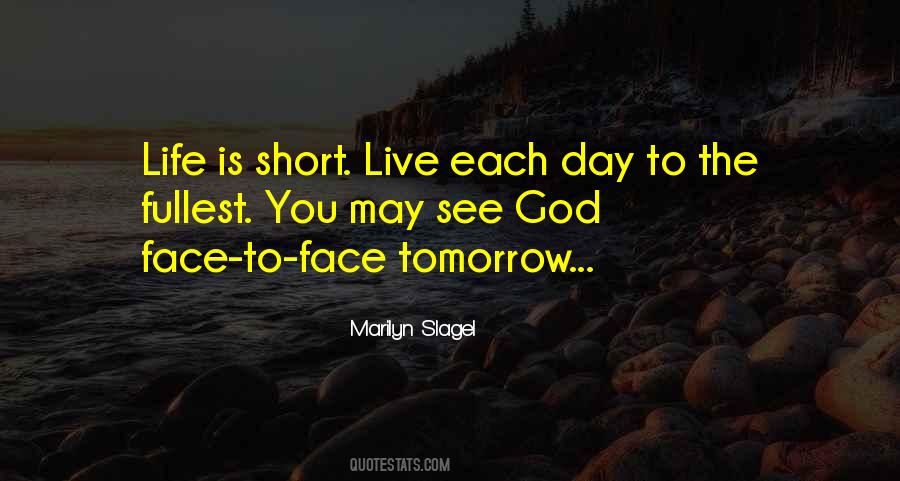 #40. What I urge is that you learn to master your life by living each day in a day-tight compartment and this will certainly ensure your safety throughout your entire journey of life. - Author: Max Lucado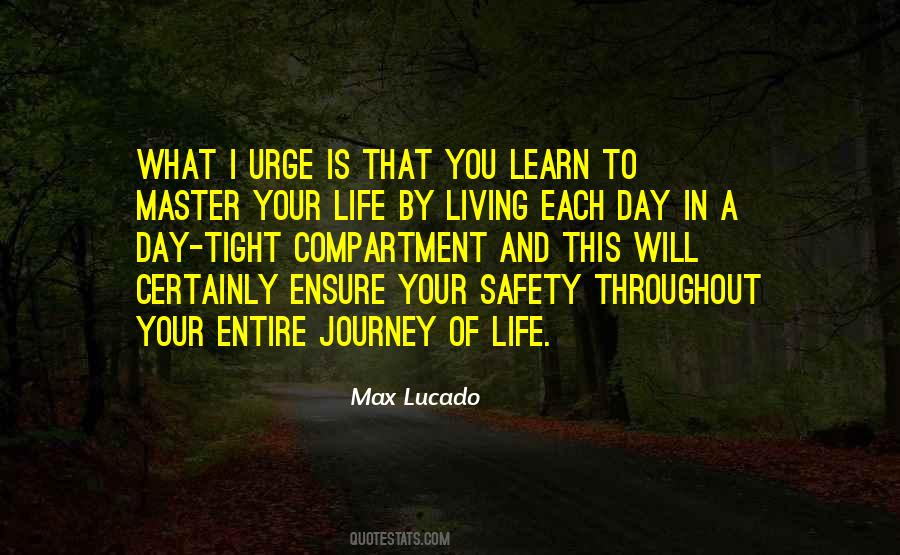 #41. Wake up each day and make the best of it. - Author: Lailah Gifty Akita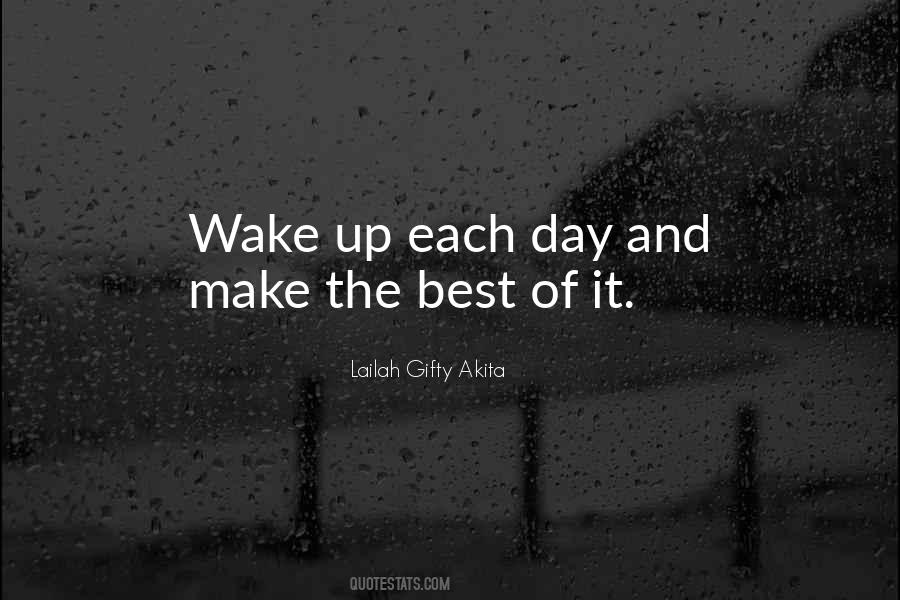 #42. And my first item on each day's list is this: Wake up. If I can check that off, I've already done something and can get on with the business of living and trying to honor the memory of those I love who are no longer here. - Author: Will Schwalbe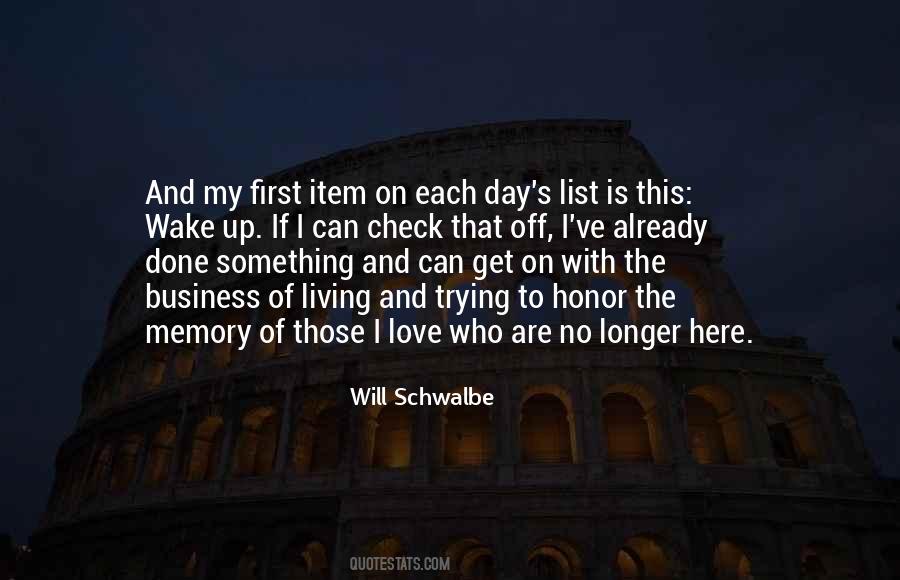 #43. I should live each day as if it were significant, as if everyday the fate of the world depended on my action. - Author: Robin Hobb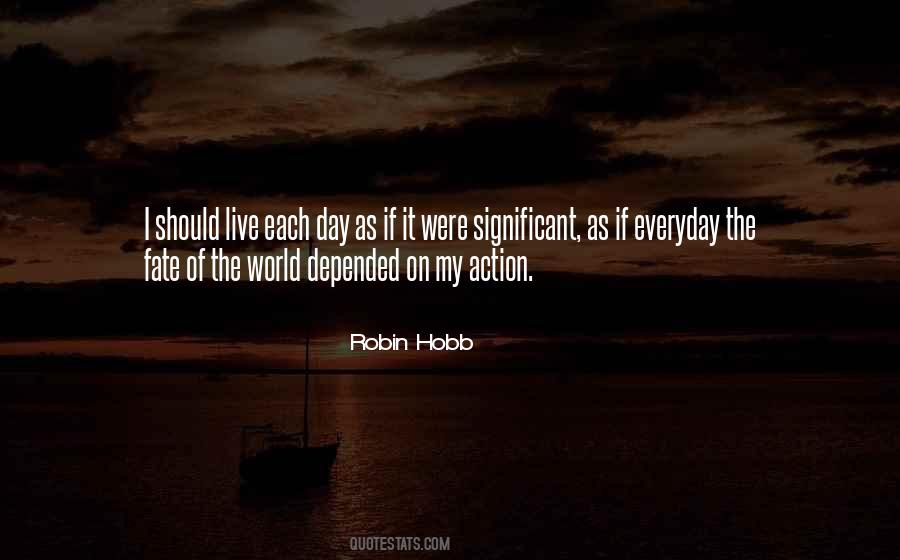 #44. God, He didn't write the scripts for the puny little players down
here.
We wrote them ourselves-with each day we lived, each word we spoke,
each thought we etched on our brains. And Momma had written her
script, too.
And a sorry one it was. - Author: V.C. Andrews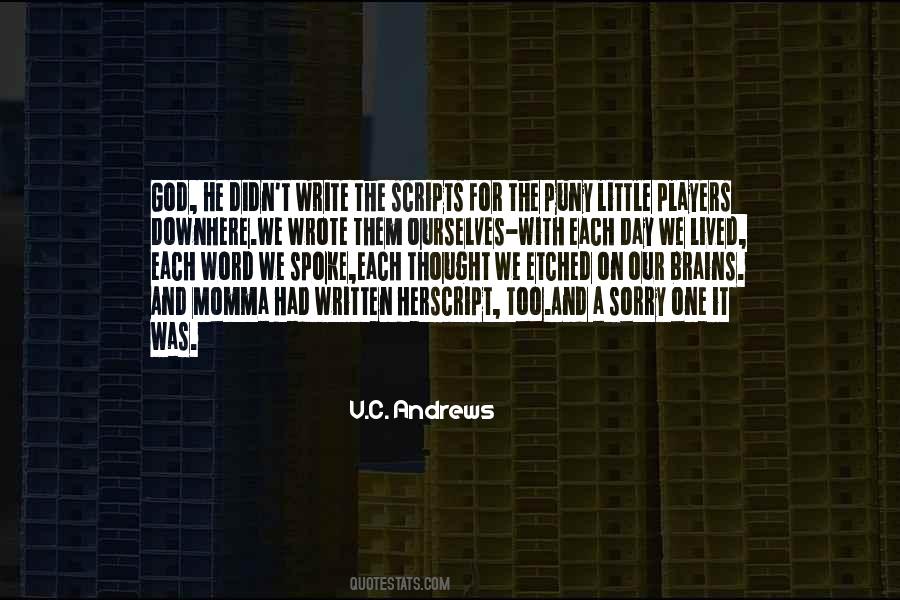 #45. Living each day as if it were your last doesn't mean your last day of retirement on a remote island. It means to live fully, authentically and spontaneously with nothing being held back. - Author: Jack Canfield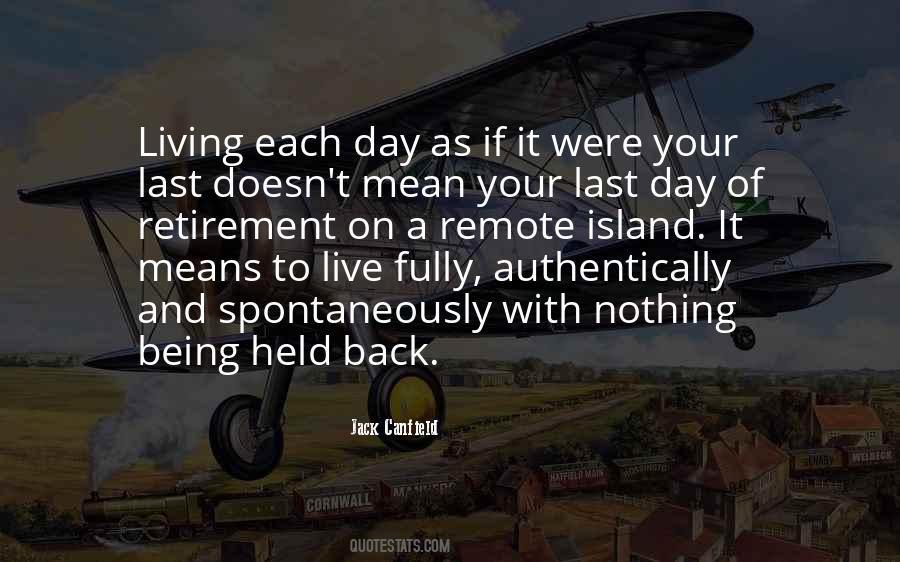 #46. Enlightenment is the inner light of wisdom that is permanently free from all mistaken appearance, and whose function is to bestow mental peace upon each and every living being every day. - Author: Geshe Kelsang Gyatso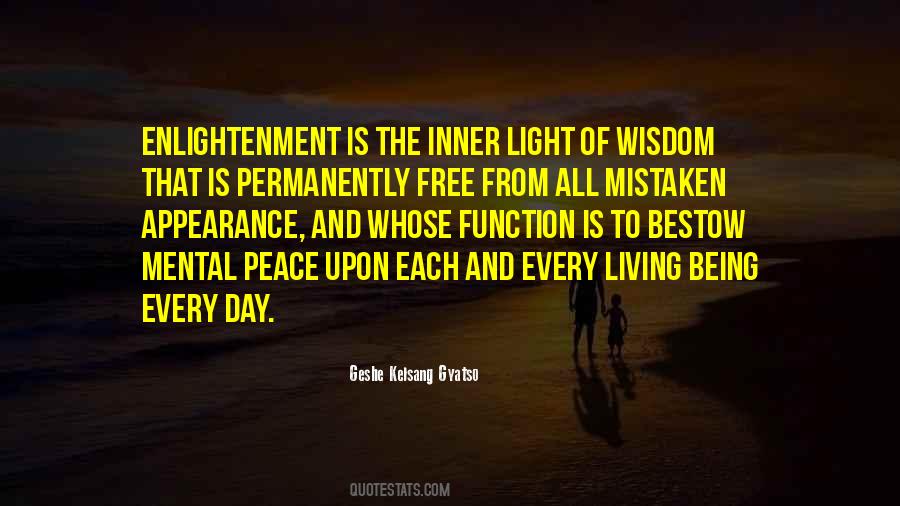 #47. When I first started making comics, I was living with a bunch of guys, old college friends. We had this deal. At the end of each day, they would ask me how far I'd gotten on my comic. And if I hadn't made my goals, they were supposed to make me feel really bad about myself. They happily obliged. - Author: Gene Luen Yang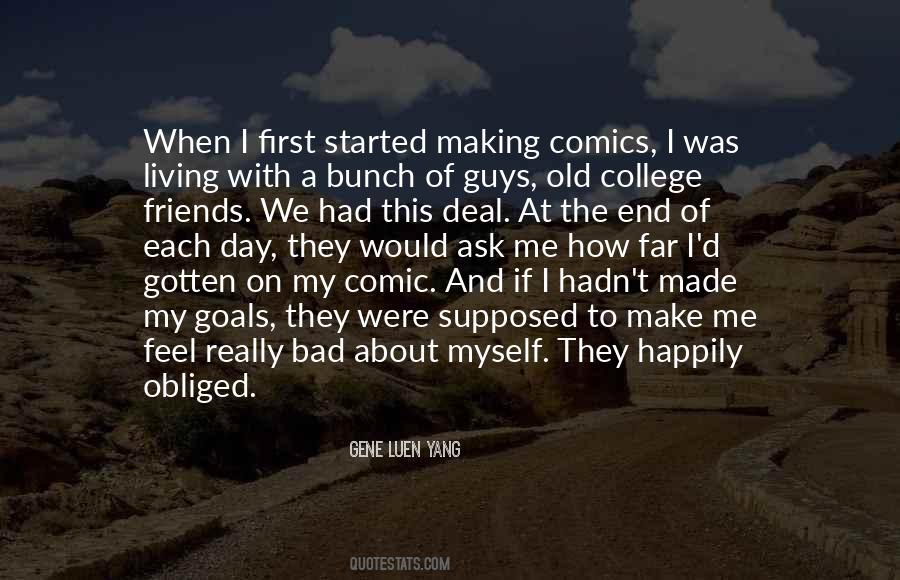 #48. I think the key to happiness is maximizing each day. So if you're unhappy, here's a simple prescription: Live harder. - Author: Laird Hamilton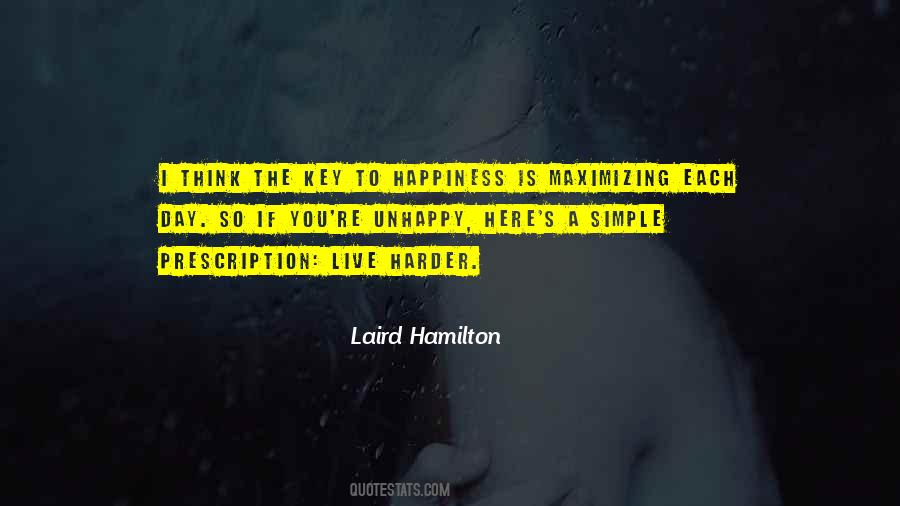 #49. Tomorrow is promised to no one so live your life fully everyday. - Author: Therese Crutcher-Marin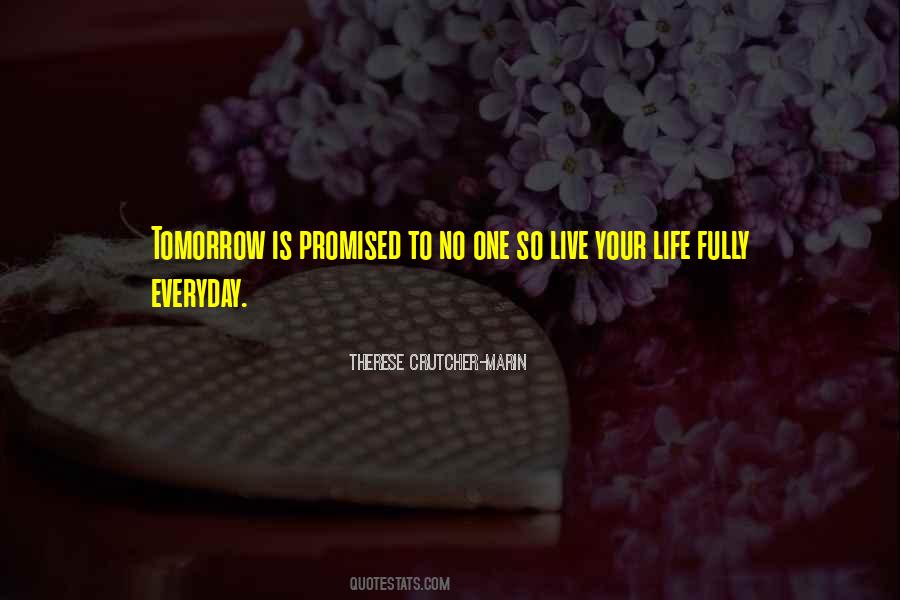 #50. I think that dying is the easy part of life; for in waking each day and living in every moment, therein lies the challenge - Author: Jeremy Aldana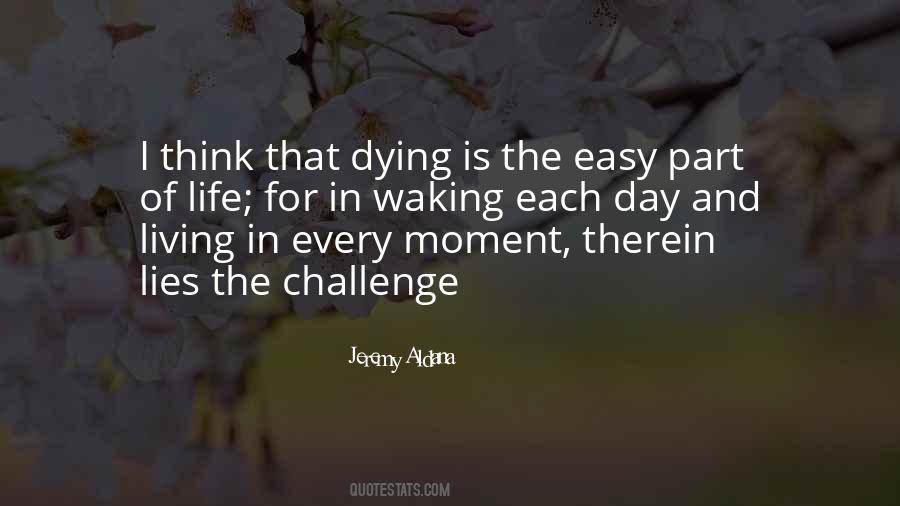 #51. Walking through each day without a clear guide, an accurate map, and a consistent light source is hazardous to your well-being. Fortunately, God's Word provides us with the tools and help that we need. - Author: Stormie O'martian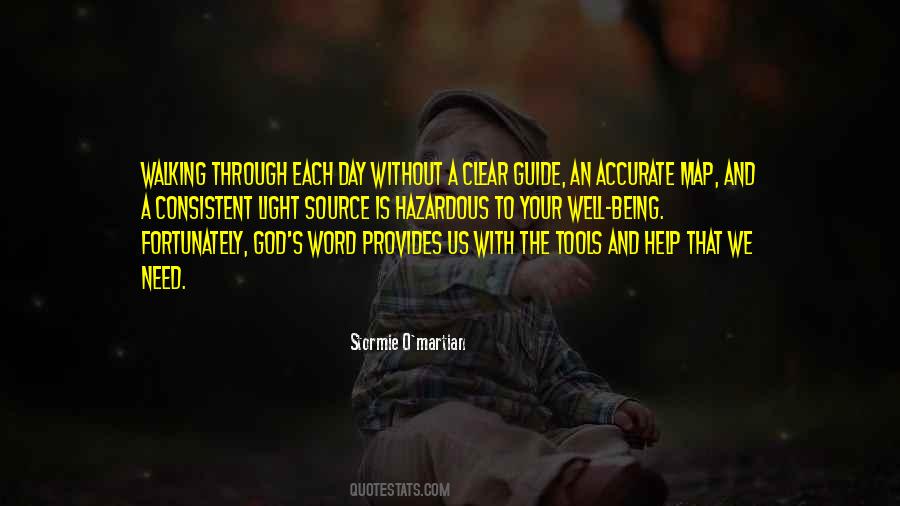 #52. It's true, isn't it, that each of us has two hearts? The secret heart, curled behind like a fist, living gnarled and shrunken beneath the plain, open one we use every day. - Author: Carolyn Parkhurst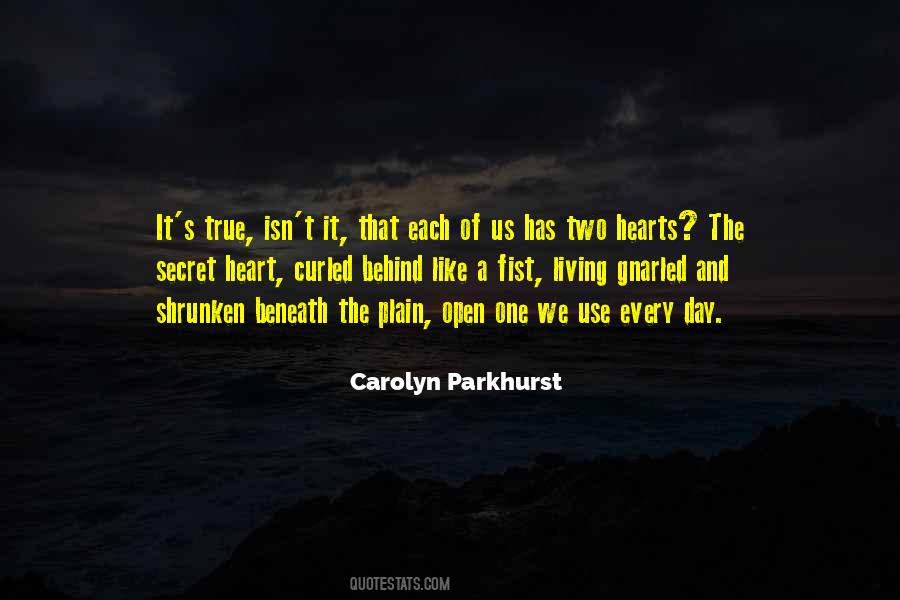 #53. Seeing all life
in perfect symmetry.
Perceiving each day
with righteous clarity.
Living each moment
in purposed reality.
Believing each day
is the start of eternity. - Author: S. Tarr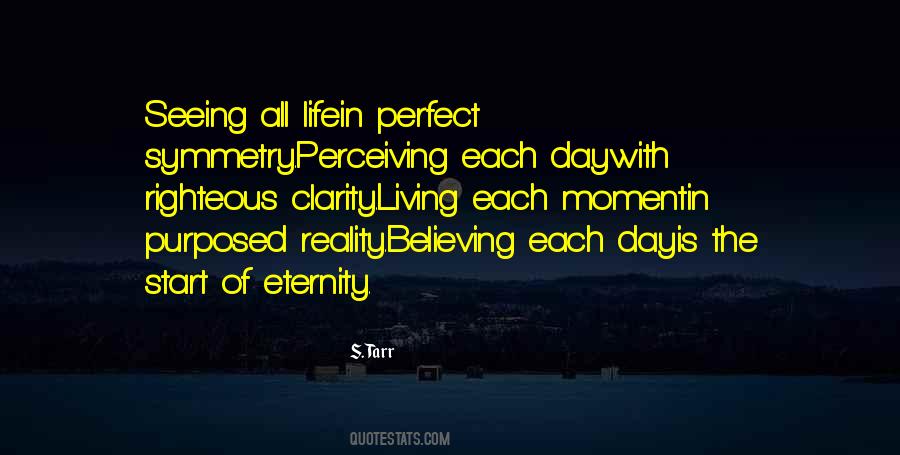 #54. But rarely do you ever tell people about the true depths of your loneliness, about how you feel more and more alienated from your friends each passing day and you're not sure how to fix it. It seems like everyone is just better at living than you are. - Author: Ryan O'Connell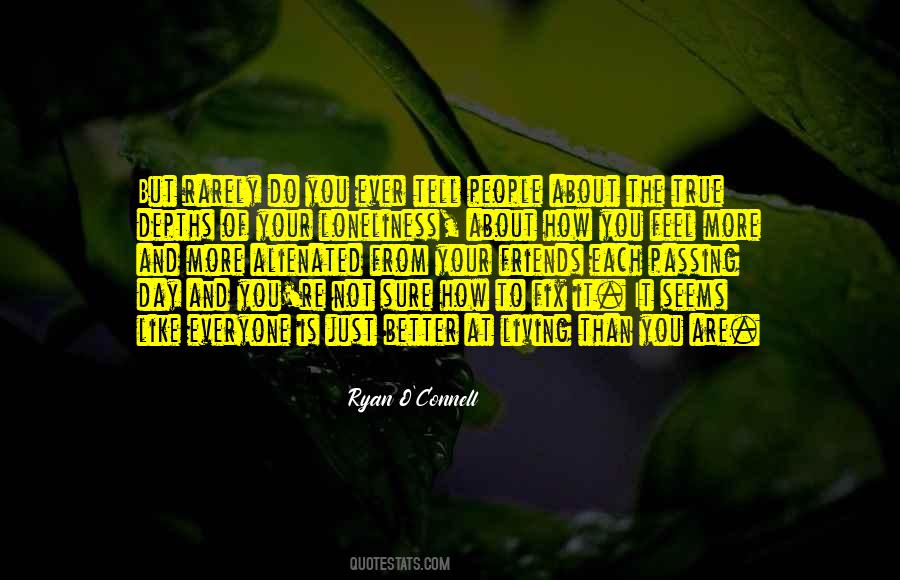 #55. I believe that any man's life will be filled with constant and unexpected encouragement, if he makes up his mind to do his level best each day, and as nearly as possible reaching the high-water mark of pure and useful living. - Author: Booker T. Washington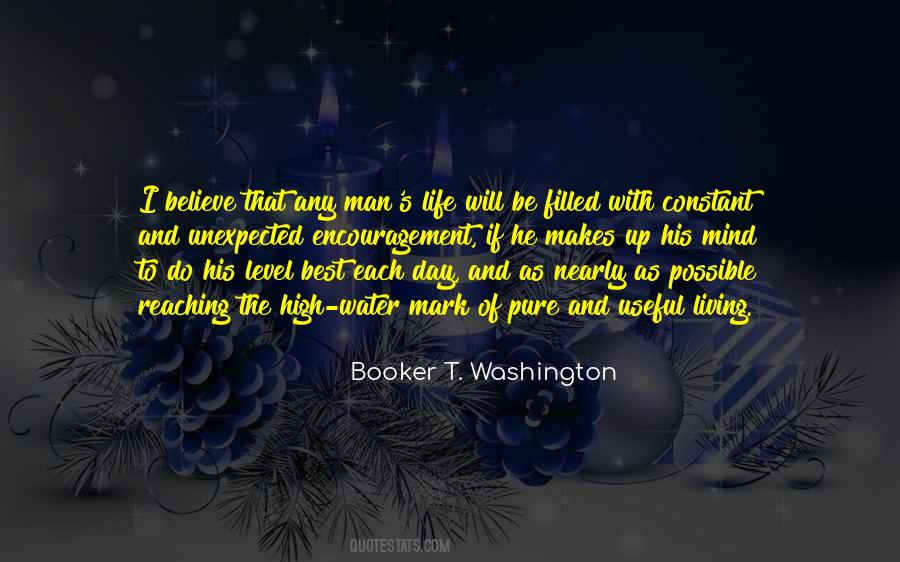 #56. It's not a one time heroic moment but is living each day with bravery. - Author: Renzo Gracie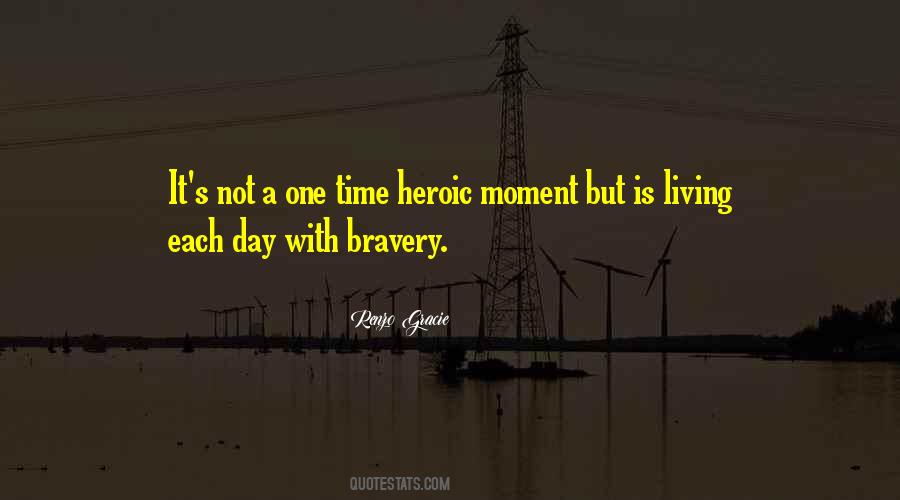 #57. Live each day as if life can end any time. - Author: Lailah Gifty Akita
#58. I live each day with joyful hopes. - Author: Lailah Gifty Akita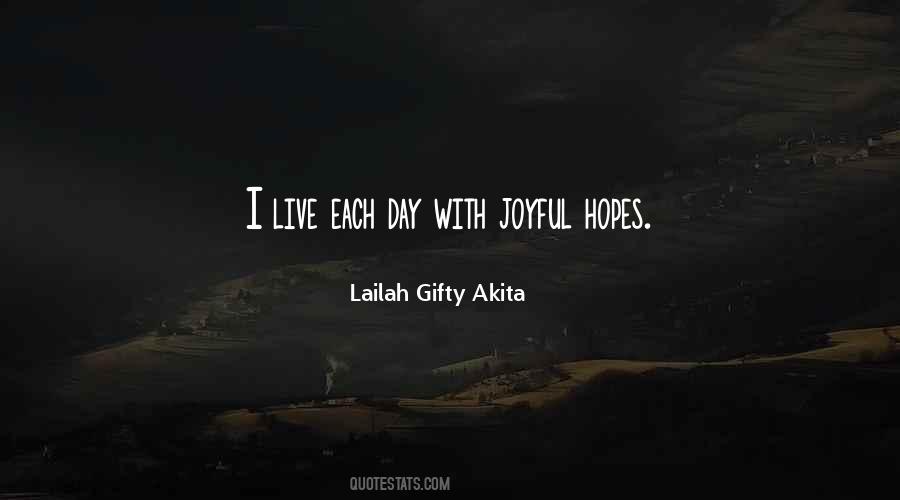 #59. In most circumstances and mostly, what hinders people from leaving distinctive footprints of life is less of physical barriers and much of mental barriers. What dominates your thought each day? Mind your mind. - Author: Ernest Agyemang Yeboah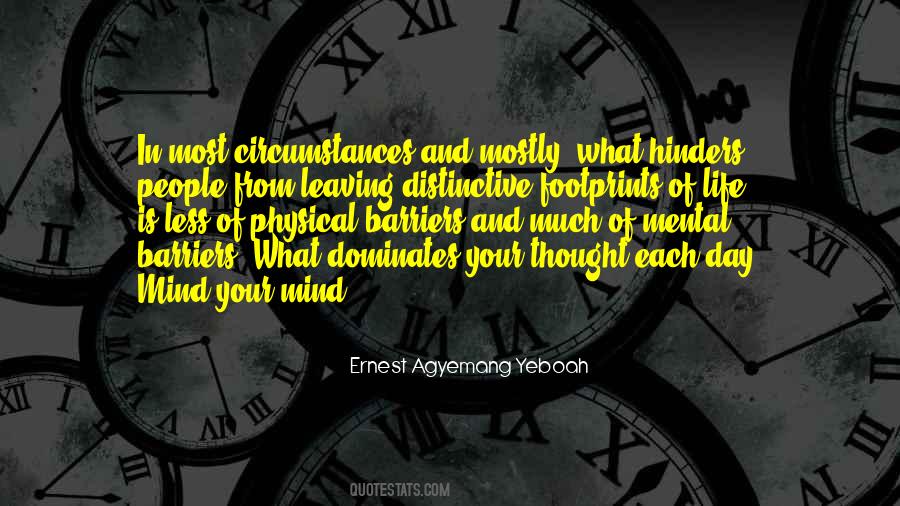 #60. There was always a quest for more minutes, more hours, faster progress to accomplish more in each day. The simple joy of living between summers was gone. - Author: Mitch Albom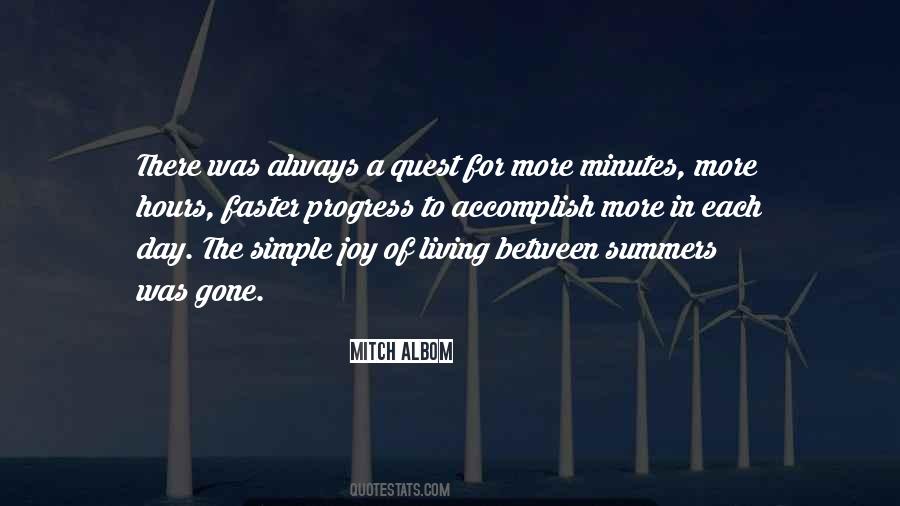 #61. Each new day, our minds grow older; the better or bitter daily lesson that makes our minds grow older is the matter! - Author: Ernest Agyemang Yeboah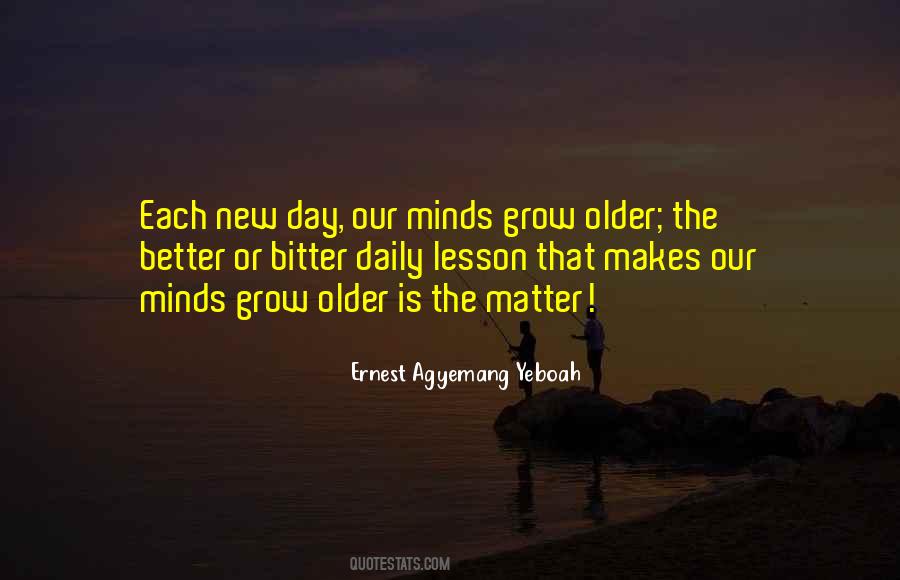 #62. The great thing is to be found at one's post as a child of God, living each day as though it were our last, but planning as though the world might last a hundred years. - Author: C.S. Lewis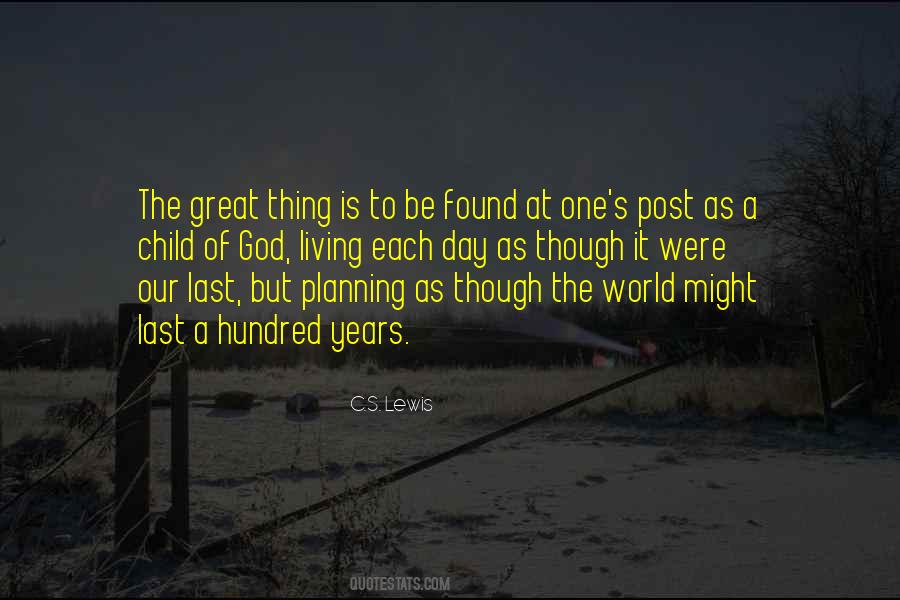 #63. But that any other eyes should see the residue of her thirty-three years, the deposit of each day's living mixed with something more secret than she had ever spoken or shown in the course of all those days was an agony. At the same time it was immensely exciting. - Author: Virginia Woolf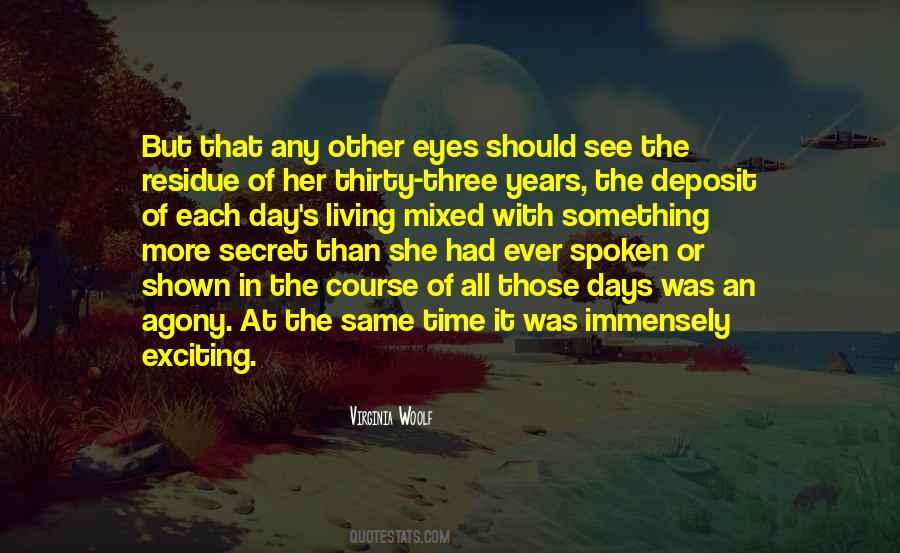 #64. If we could carry an awareness of being with us into each day, allowing it to influence the way we do things, and how we relate to others, we might find ourselves living a very different kind of life; maybe then we would fully embrace the deeper truth of what it means to be a human being. - Author: Stephen Denham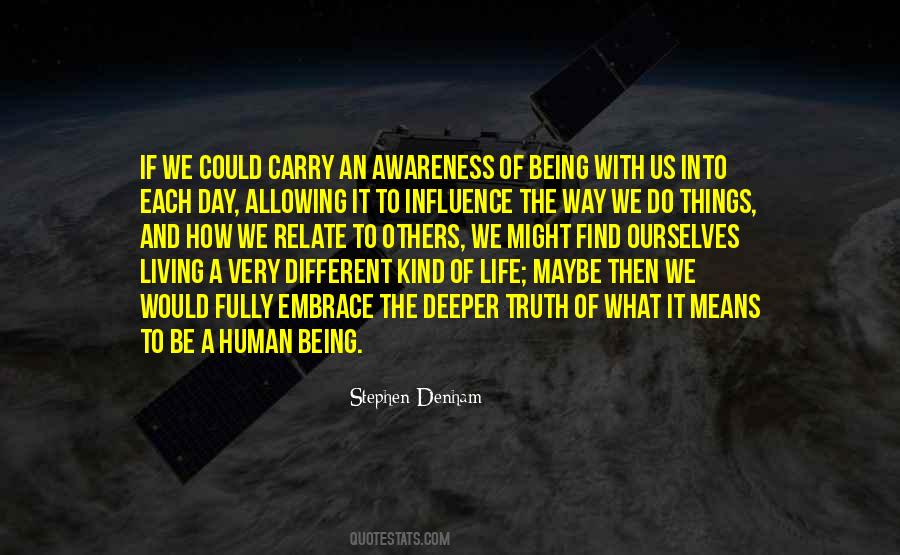 #65. We can all choose to become our potential, not just talk about it or dream about it. But daily, make a shift whereby we begin living and being our potential. With each day, that potential can expand because we are open to learning something every day. - Author: Tori Amos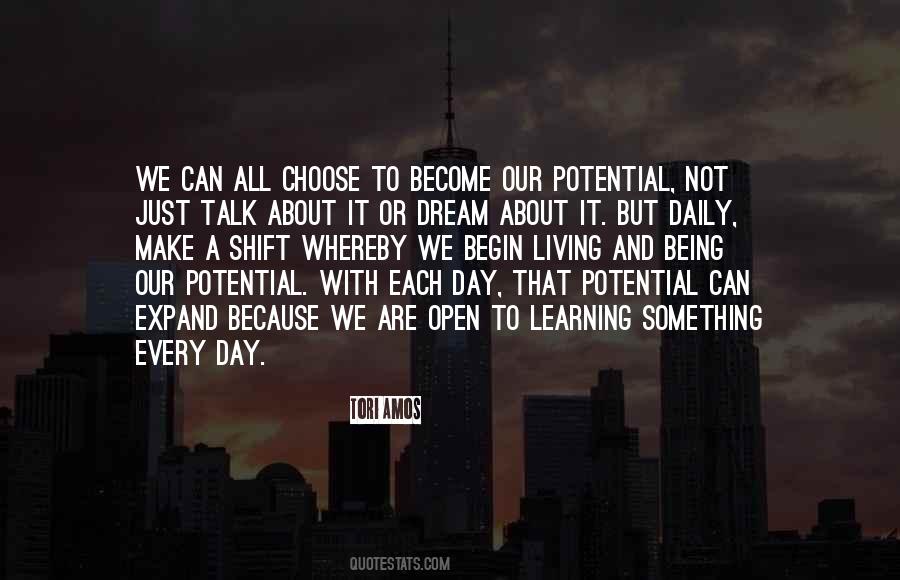 #66. The single overriding objective in wellness is creating constant personal renewal where we recognize and act on the truth that each day is a miraculous gift, and our job is to untie the ribbons. That's the Law of Esprit: living life with joy. - Author: Greg Anderson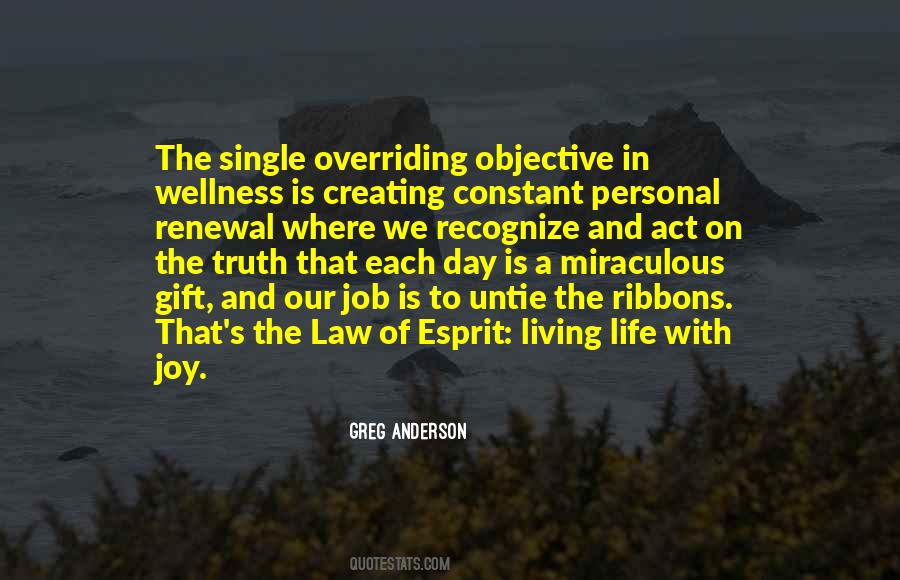 #67. That is how we become wise, by living each day attending to the lessons God puts in our path. - Author: Emma Campion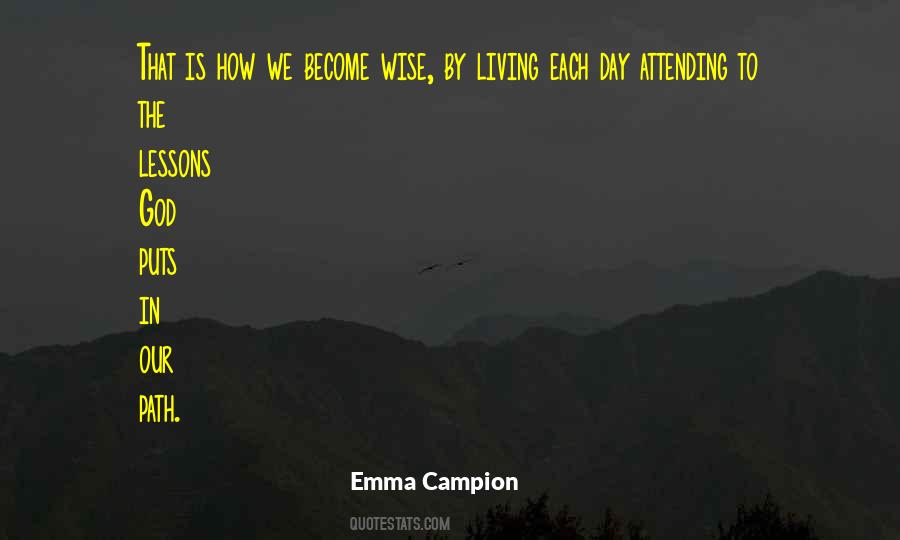 #68. The supreme art of living is to strive to live each day well. - Author: Wilferd Peterson
#69. Each day death corrodes what we call living, and life ceaselessly swallows our desire for the void. - Author: Jindrich Styrsky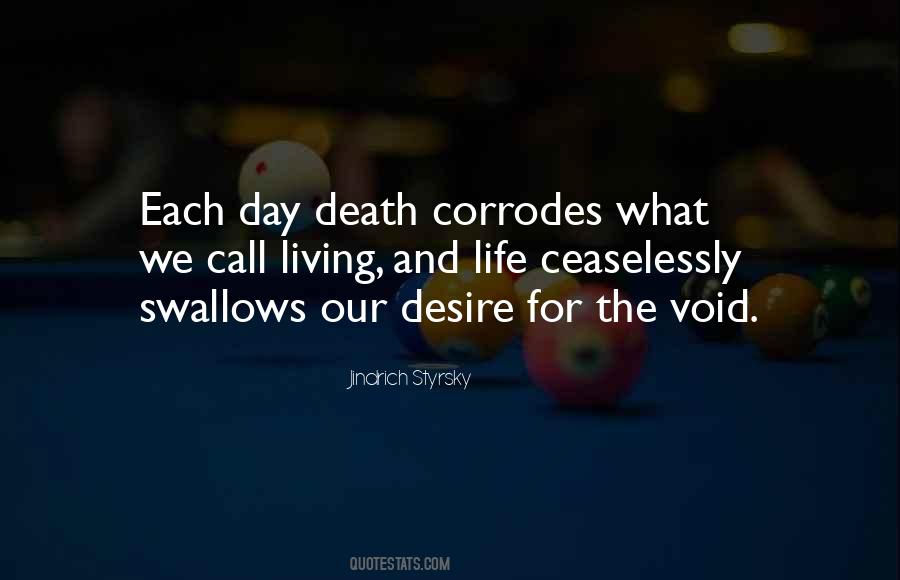 #70. He explained how once we began to chime the hour, we lost the ability to be satisfied. There was always a quest for more minutes, more hours, faster progress to accomplish more in each day. The simple joy of living between sunrises was gone. - Author: Mitch Albom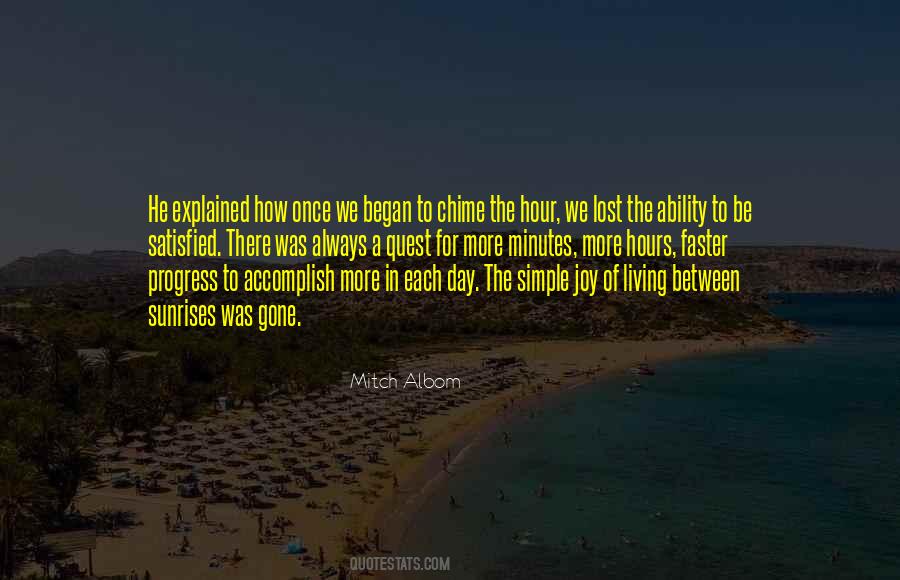 #71. In life one has a choice to take one of two paths: to wait for some special day - or to celebrate each special day. - Author: Rasheed Ogunlaru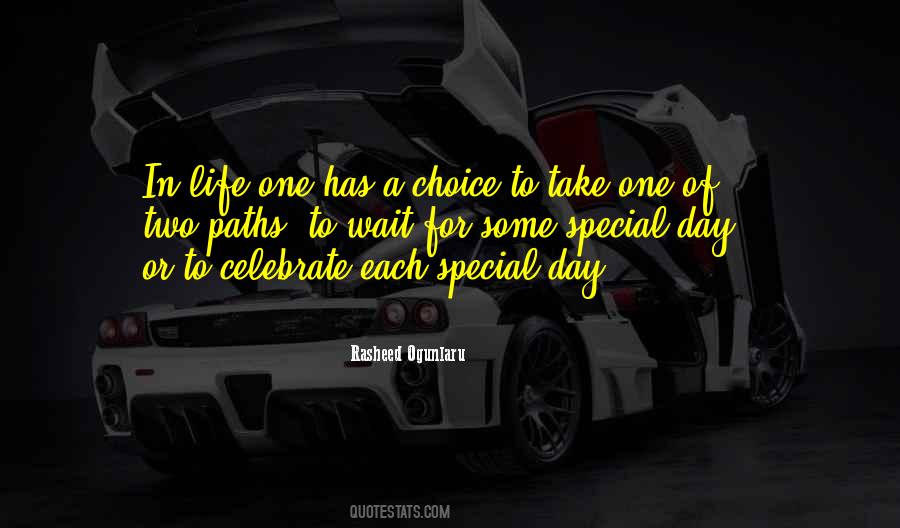 #72. In that place things begin to wear away even as they are built; the living die a little more each day. The sun is too far away; light slides endlessly into night; fire and love consume themselves; the heart tries to warm itself with ashes. - Author: Patricia A. McKillip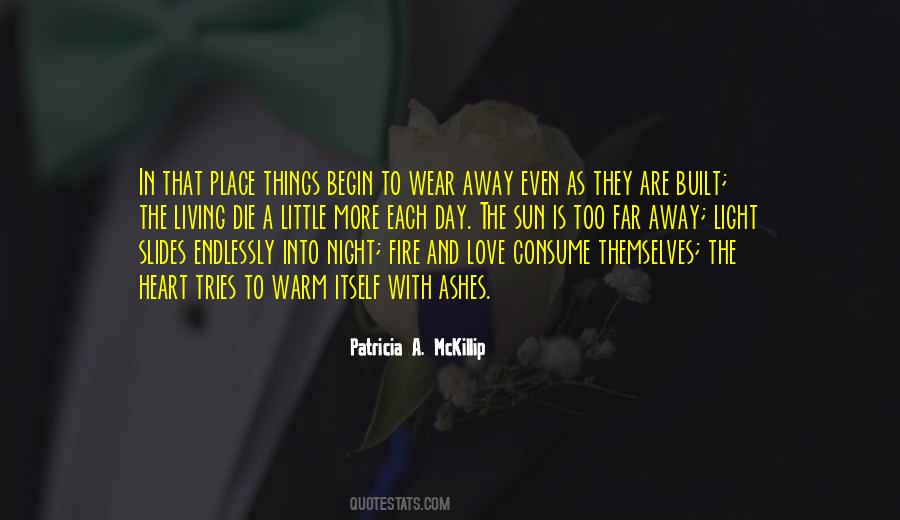 #73. When you stop existing and you start truly living, each moment of the day comes alive with the wonder and synchronicity. - Author: Steve Maraboli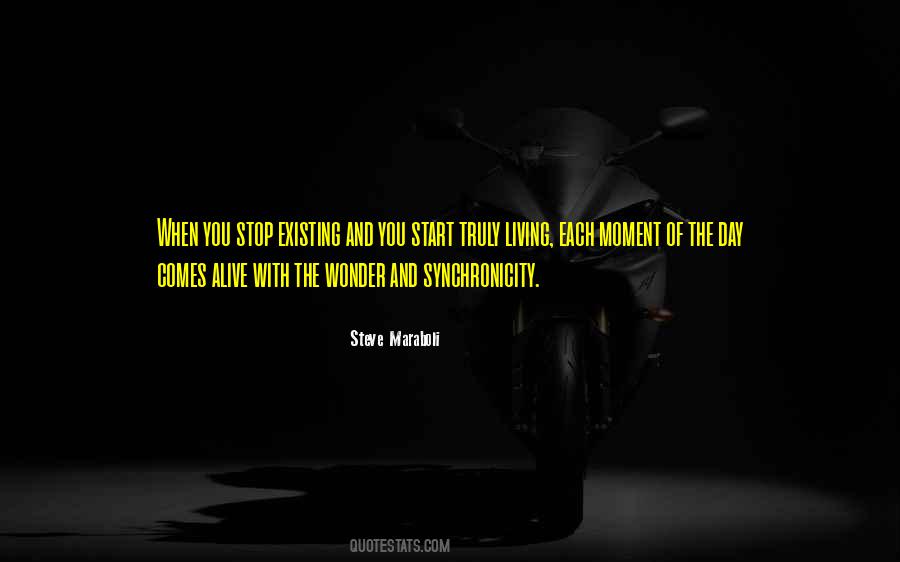 #74. We have more control than most of us realize. Each day is filled with thousands of opportunities to change the story of our lives. - Author: Michael Hyatt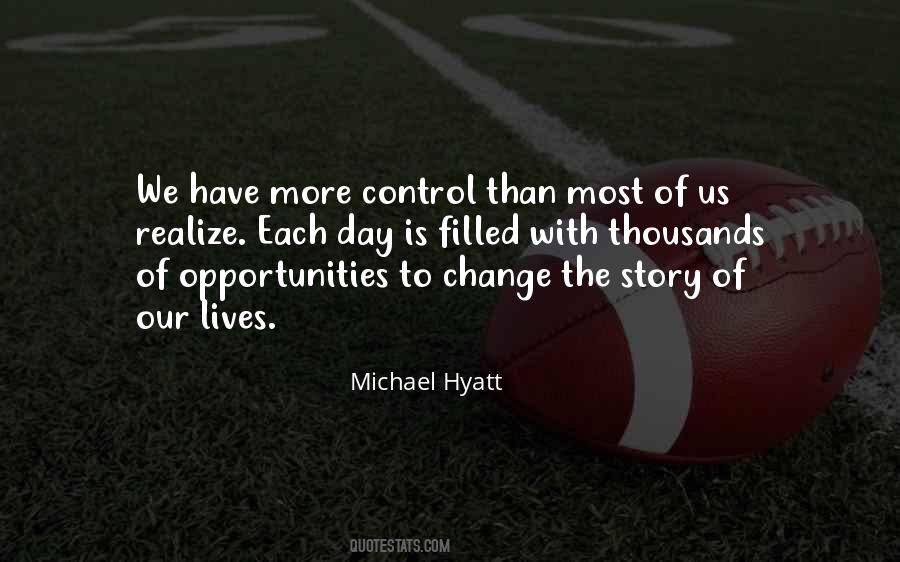 #75. There is always a hope for the living.
Life is worth living, no matter what situation you may have encounter.
No situations is permanent. - Author: Lailah Gifty Akita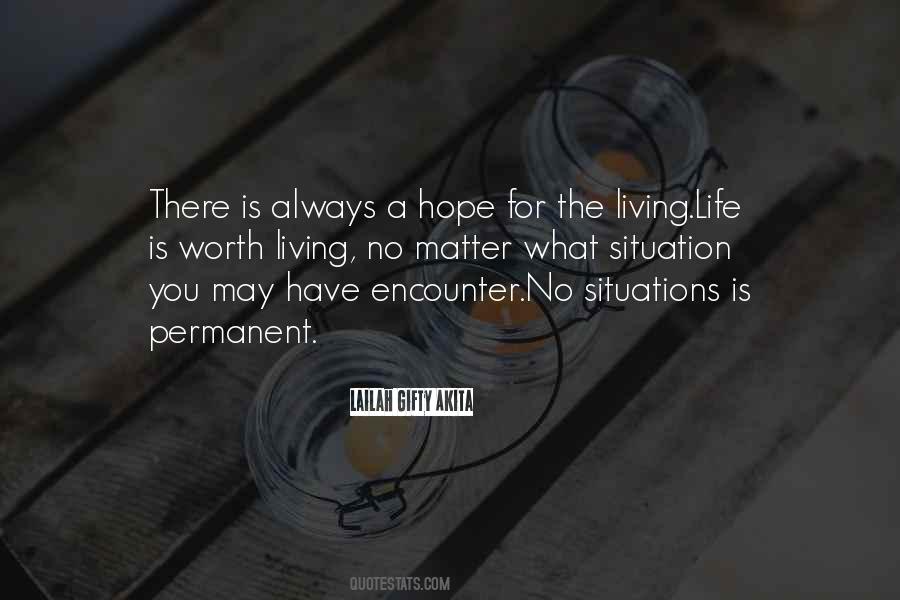 #76. there's nothing ordinary in the living of each day. - Author: L. Thompson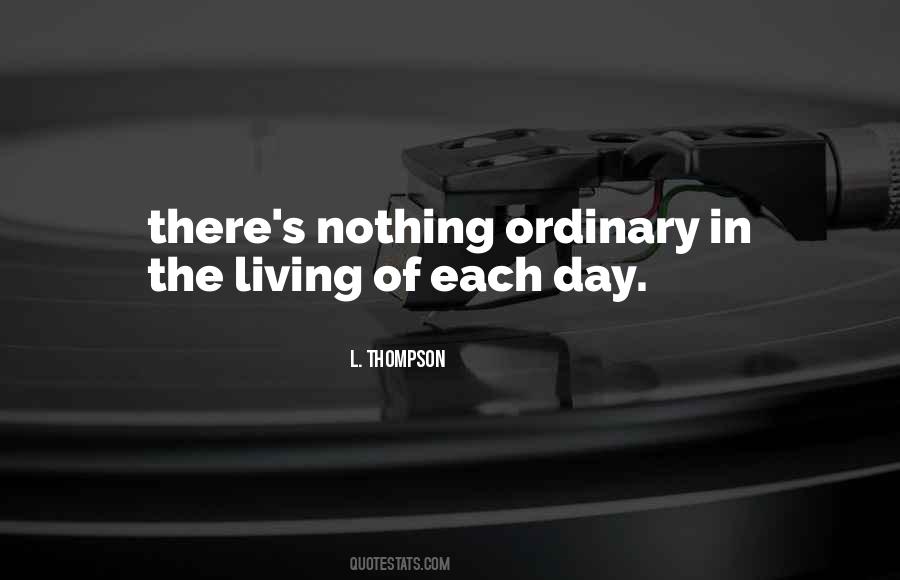 #77. I live each day with fullness of thanks. - Author: Lailah Gifty Akita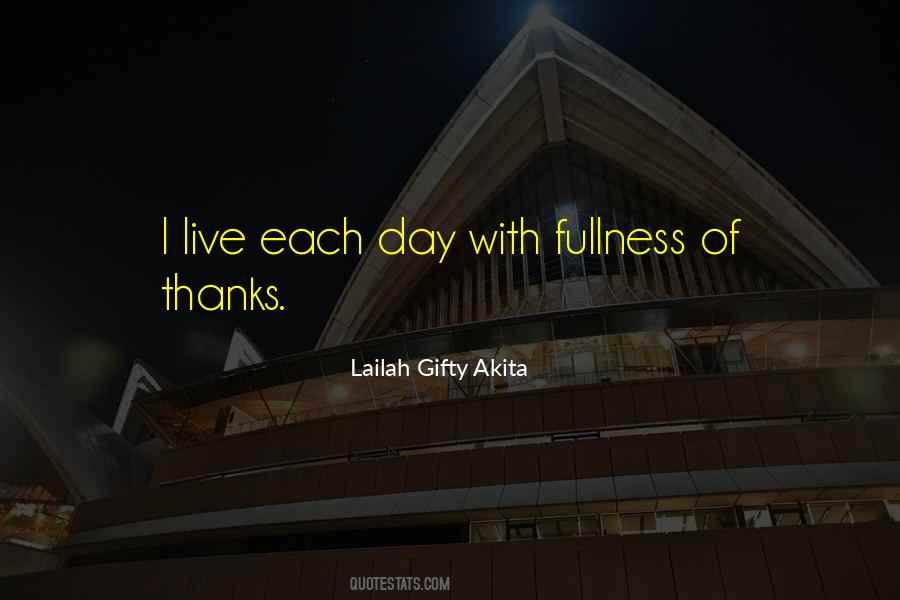 #78. The world might stop in ten minutes; meanwhile, we are to go on doing our duty. The great thing is to be found at one's post as a child of God, living each day as though it were our last, but planning as though our world might last a hundred years. - Author: C.S. Lewis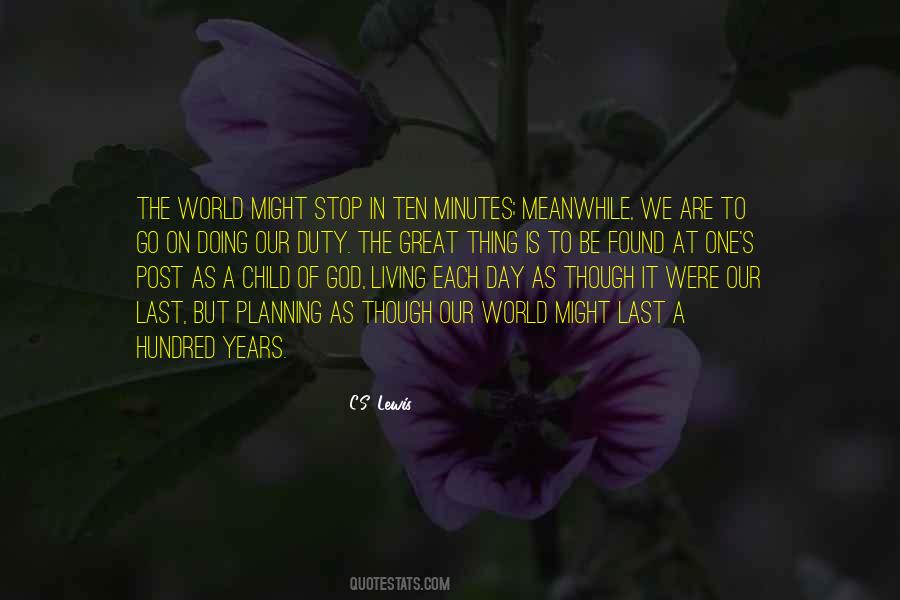 #79. learn the lessons before they are over. Life is a composition of series and sequence of lessons. Each lesson comes with its own lessons to learn. our failure to learn the lessons of one shall be the reasons to learn another lesson with similar lessons. - Author: Ernest Agyemang Yeboah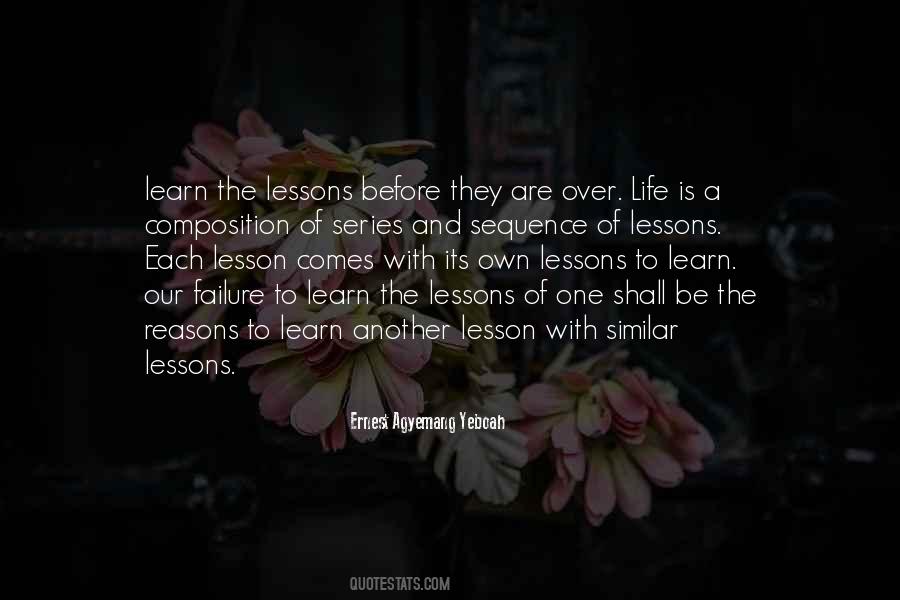 #80. It is a blessed gift to witness the beauty of each day. - Author: Lailah Gifty Akita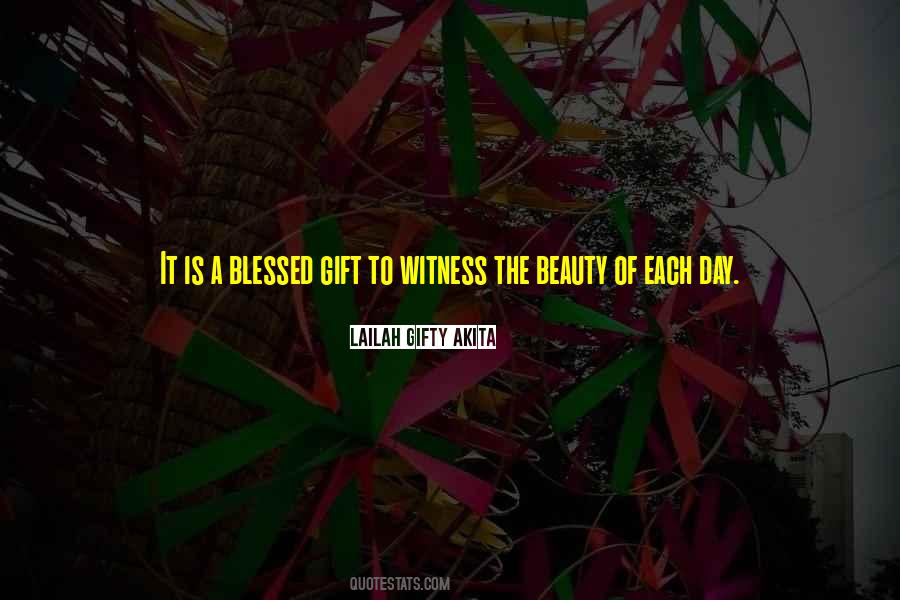 #81. The living are made of nothing but flaws. The dead, with each passing day in the afterlife, become more and more impeccable to those who remain earthbound. - Author: Anna Godbersen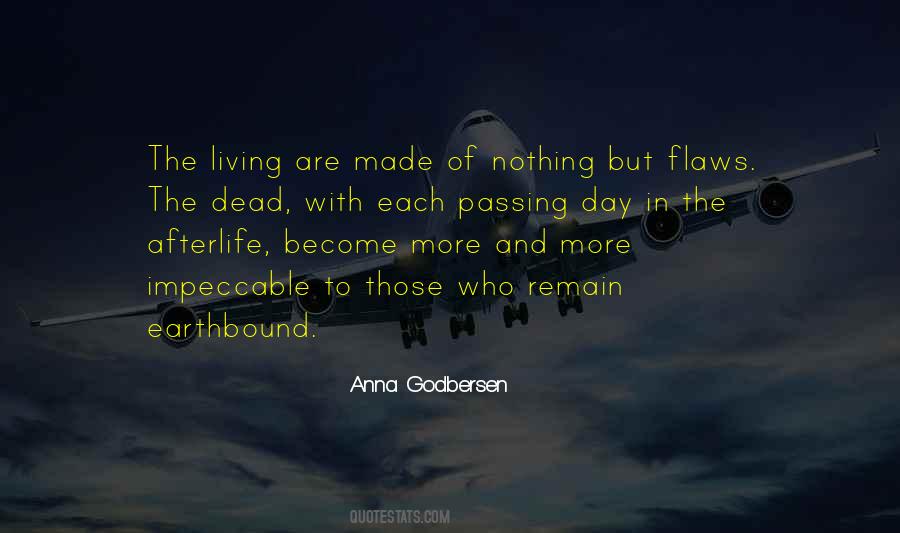 #82. I didn't know how living outdoors and sleeping on the ground in a tent each night and walking alone through the wilderness all day almost every day had come to feel like my normal life, but it had. It was the idea of not doing it that scared me. - Author: Cheryl Strayed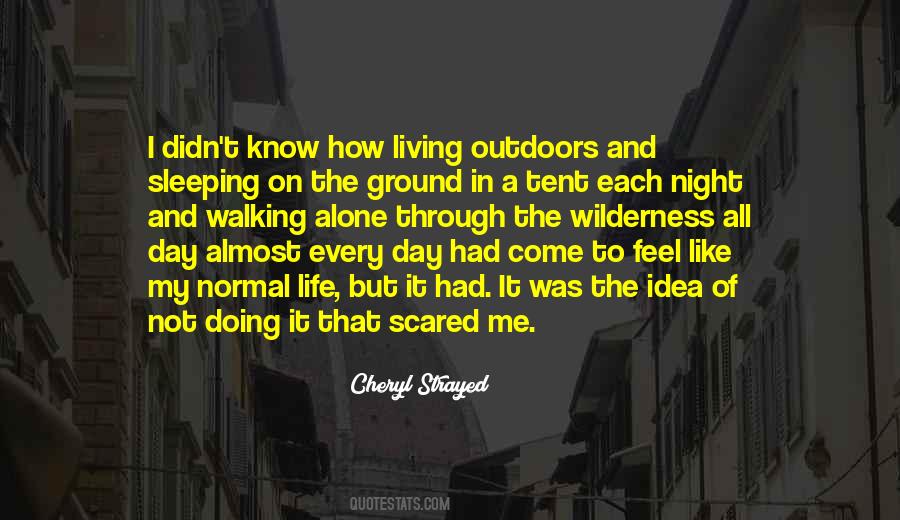 #83. With each day, each hour and every moment of life, no matter how small, I realize that I have found a way of bringing me straight to the one person that I would give everything for ... to you. I am living in a dream, in a dream I don't want to awake from. - Author: Sawm Rad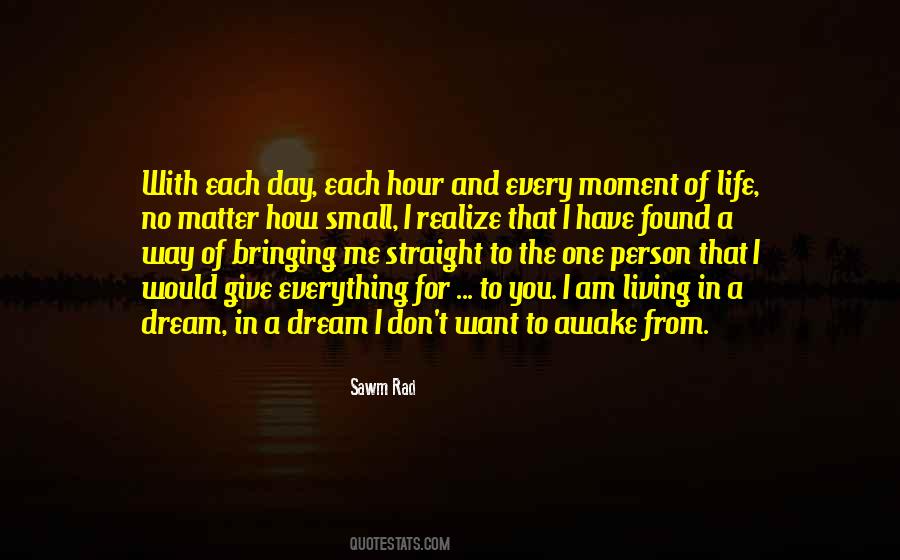 #84. Sometimes we underestimate the impact we have on other people's lives. Everybody living, no matter how miserable his or her life may be or how glorious each day is, makes an impact on others. - Author: Obert Skye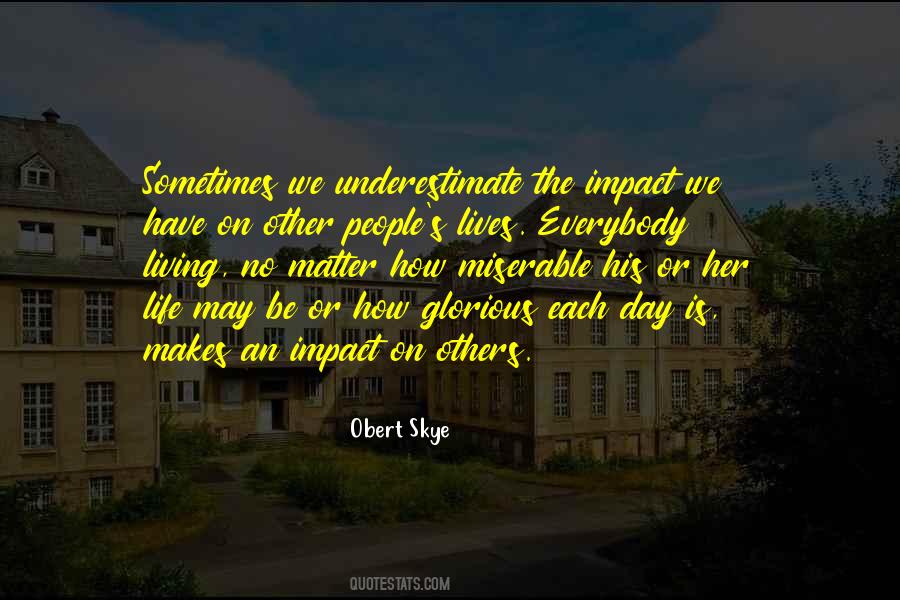 #85. Better crawl each day than to sleep each day! They that crawl each day move each day, but they that sleep each day stay where they are each day! - Author: Ernest Agyemang Yeboah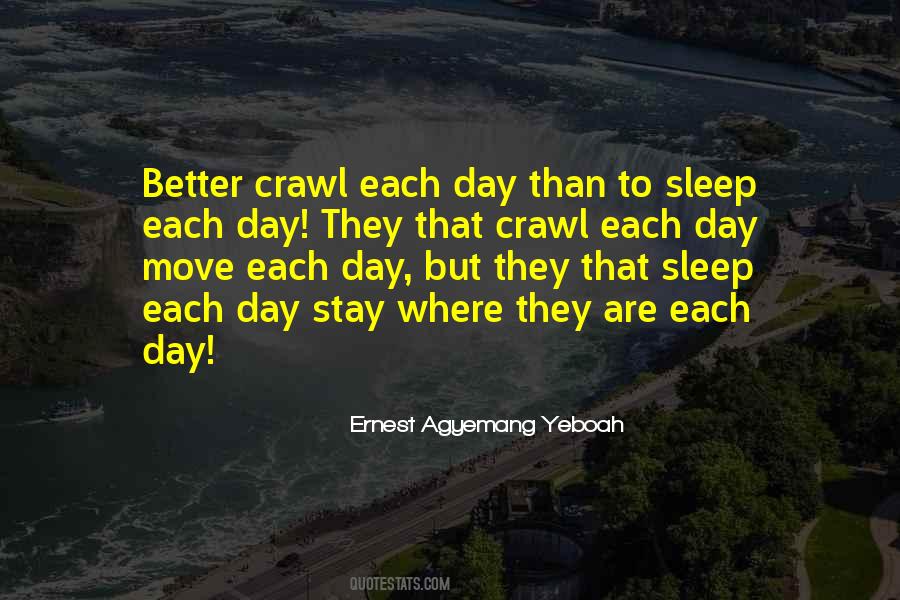 #86. Living intensely each present day means letting Christ dwell within you. His words are so clear: Today I would like to enter your home. - Author: Mother Teresa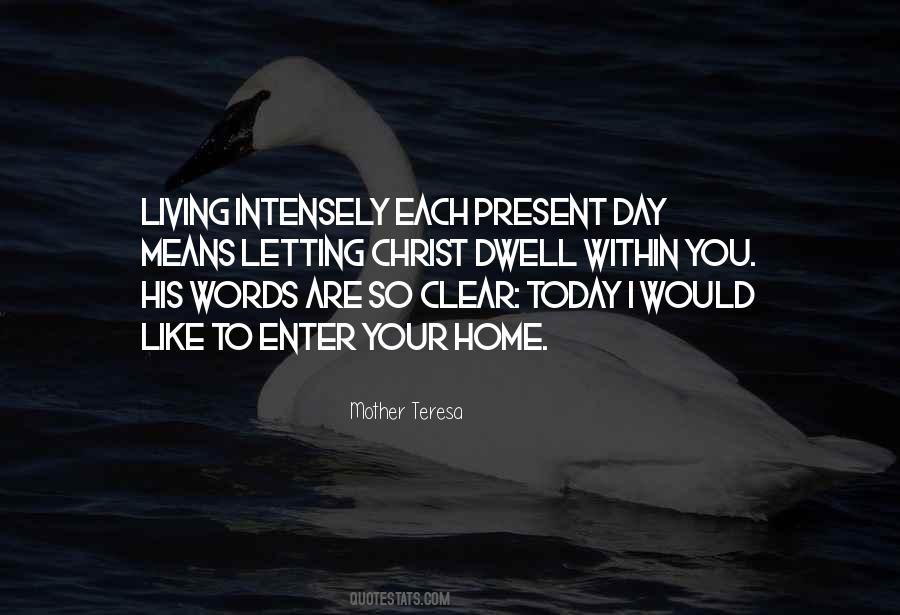 #87. Each day, as I take various pills, I realize that without those pills I might not be alive
and, if I were, life would not be worth living. Yet those who produce these medications are under constant attack from people who produce nothing. - Author: Thomas Sowell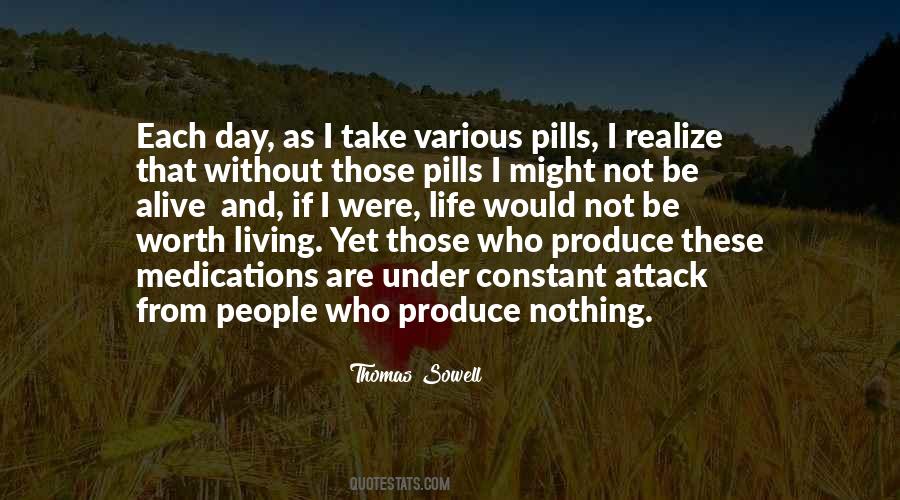 #88. I have rightfully no other business each day but to do God's work as a servant, constantly regarding His pleasure. May I have grace to live above every human motive, simply with God and to God. - Author: Henry Martyn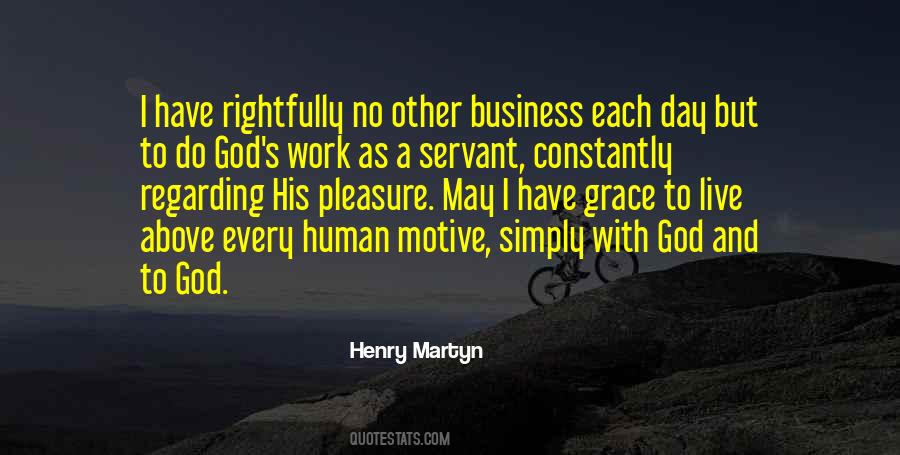 #89. Live each day with great love, hope and faith. - Author: Lailah Gifty Akita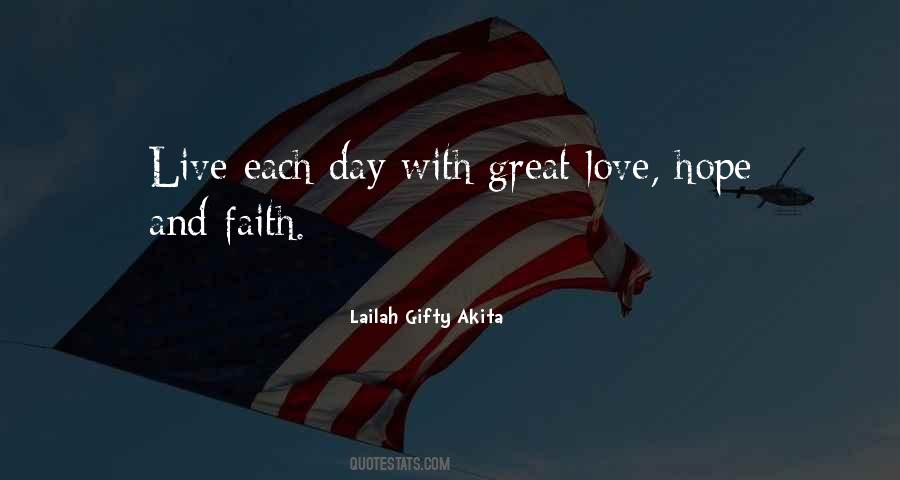 #90. You might get run over; you might get hit by lightning. I mean, who knows? Each day, there is a chance you might die. And there's nothing wrong with that. Every living being on Earth is facing that same existential rift. - Author: Alex Honnold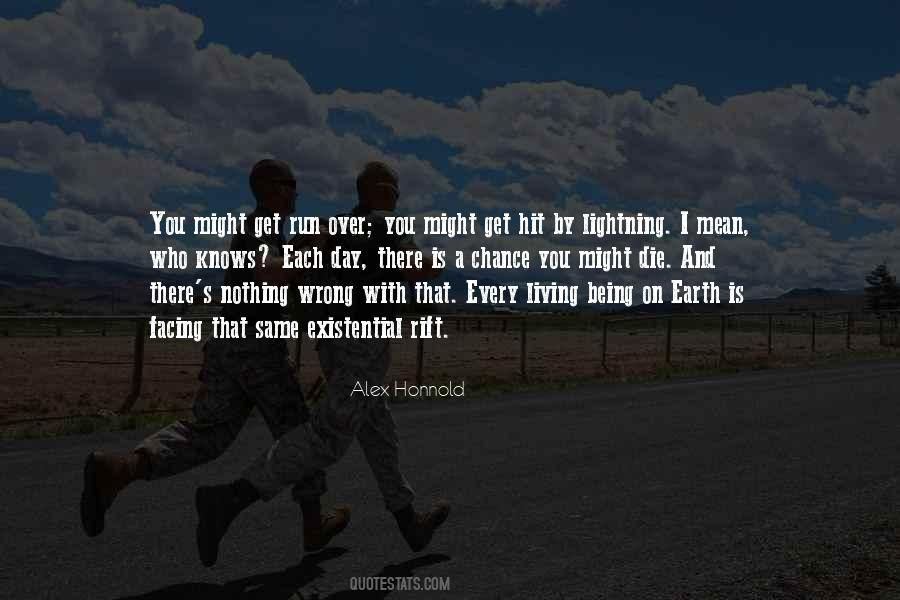 #91. Even as we live with the knowledge that each day might be our last, we don't want to believe it. - Author: Sharon Salzberg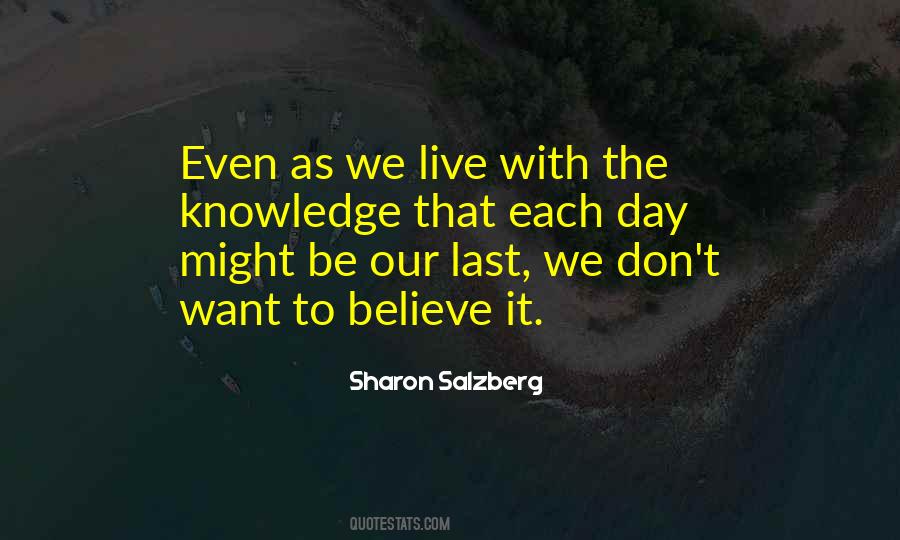 #92. It's definitely particular to each situation, but whether it is a long history or someone that you're intimidated by or someone that you didn't think you ever had a shot at, at the end of the day, I think we're all living through high school, every day. - Author: John Krasinski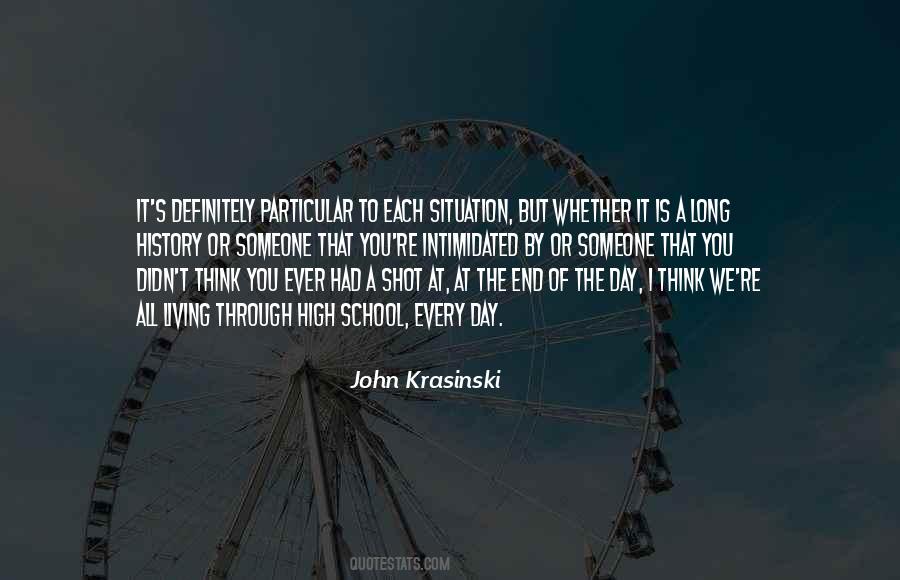 #93. Each day carries in the blessings of God and you have unlimited access to all it offers. - Author: Steve Maraboli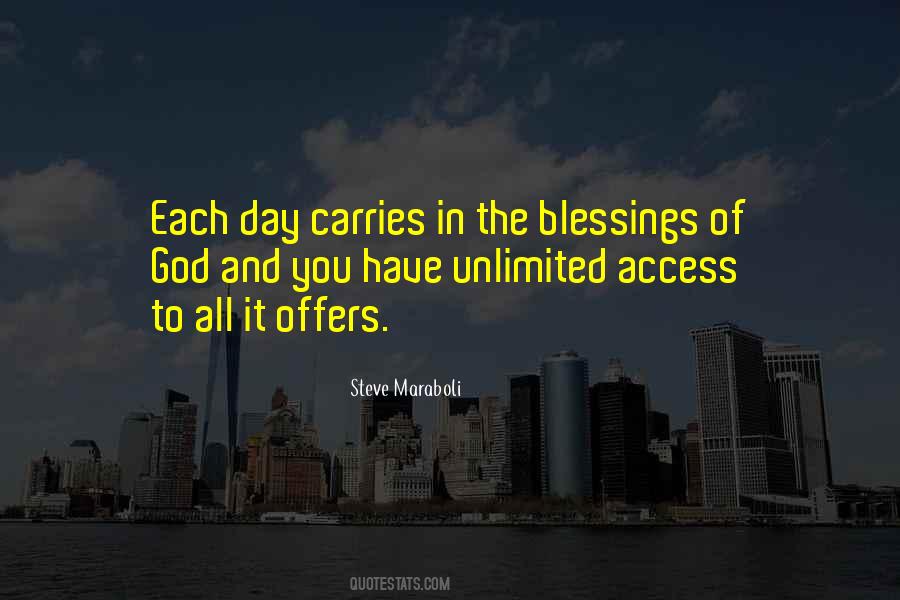 #94. Happiness consists of living each day as if it were the first day of your honeymoon and the last day of your vacation. - Author: Leo Tolstoy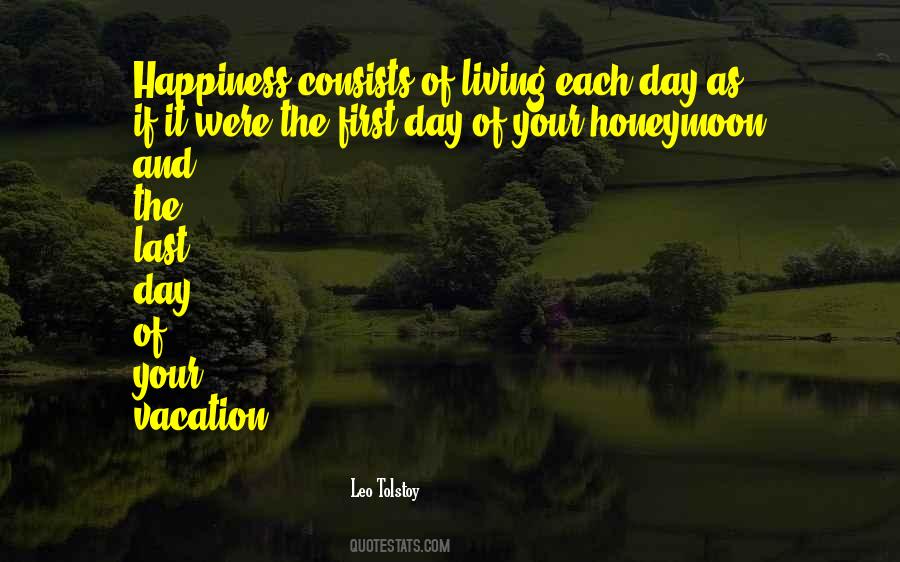 #95. I believe in living each day as it comes, to the best of my ability. When it's done, I put it away, remembering that there will be a tomorrow to take it's place. If I have any philosophy, that's it. To me it's not a fatalistic attitude. - Author: Ginger Rogers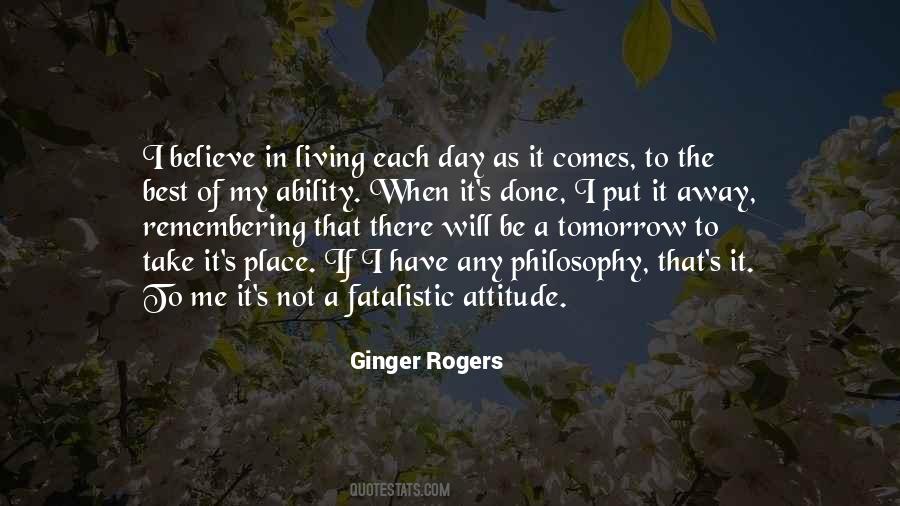 #96. Each of us will one day be judged by our standard of life, not by our standard of living; by our measure of giving, not by our measure of wealth; by our simple goodness, not by our seeming greatness. - Author: William Arthur Ward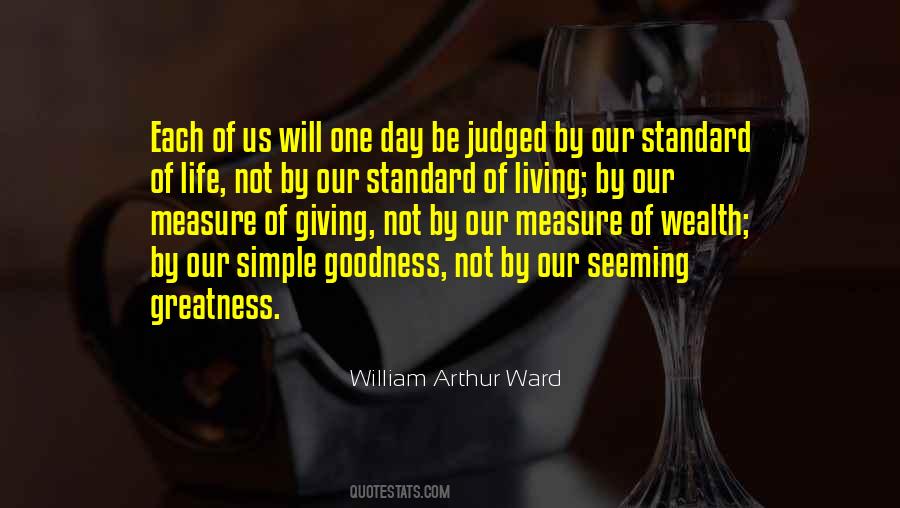 #97. Celebrate Life. Unless you celebrate each day of Life, you are not truly Living. Let each day be a Festival of Joy. - RVM - Author: R.v.m.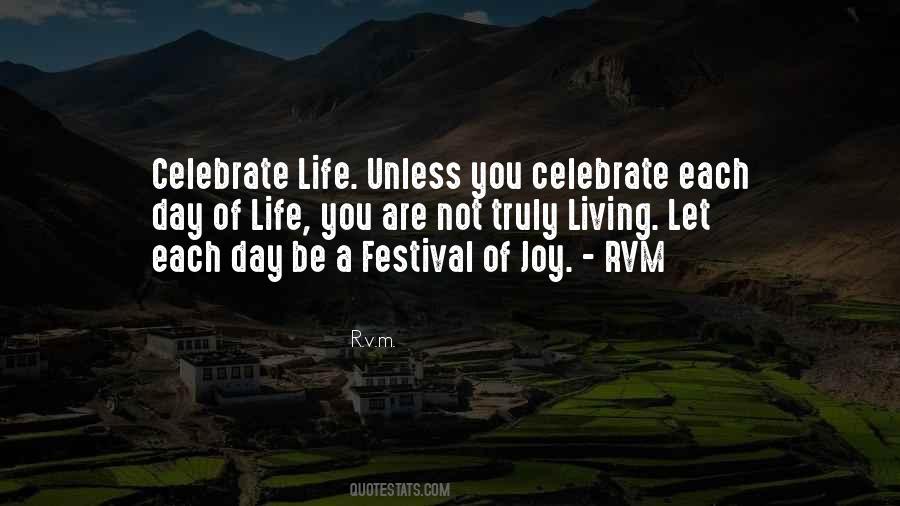 #98. If you cannot score just a point each day, you shall score zero points at the end of your days - Author: Ernest Agyemang Yeboah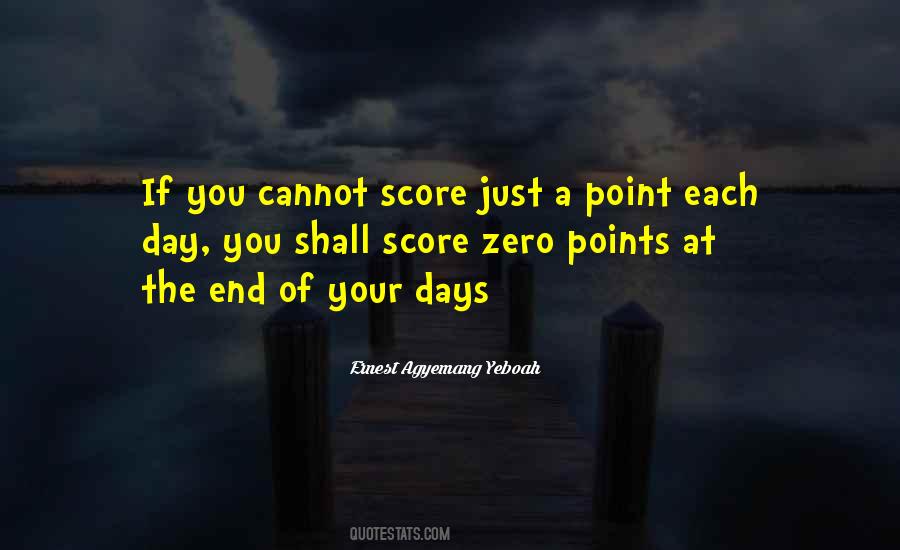 #99. Treasure the miracles within each day. - Author: Lailah Gifty Akita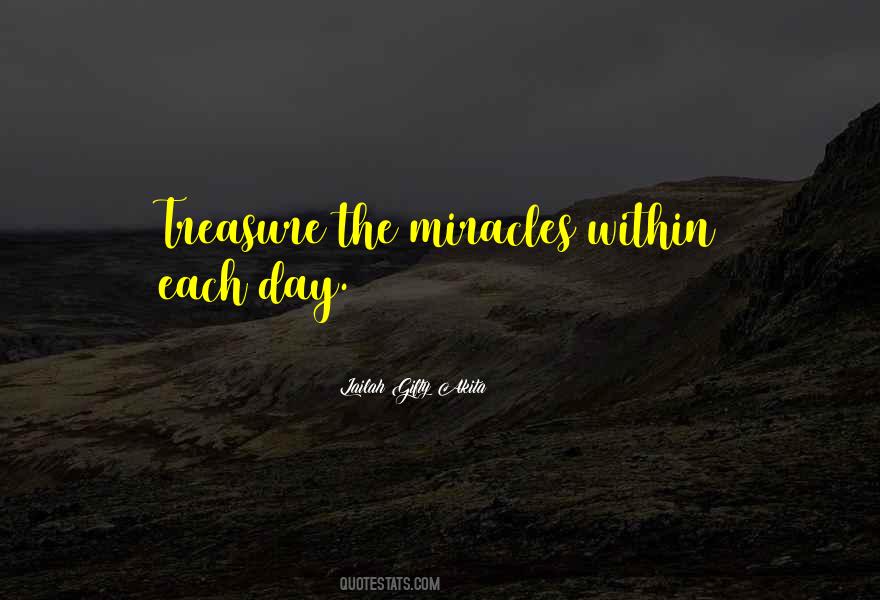 #100. Rejoice in the abundance of being able to awaken each morning and experience a new day. Be glad to be alive, to be healthy, to have friends, to be creative, to be a living example of the joy of living. Live to your highest awareness. Enjoy your transformationa l process. - Author: Louise Hay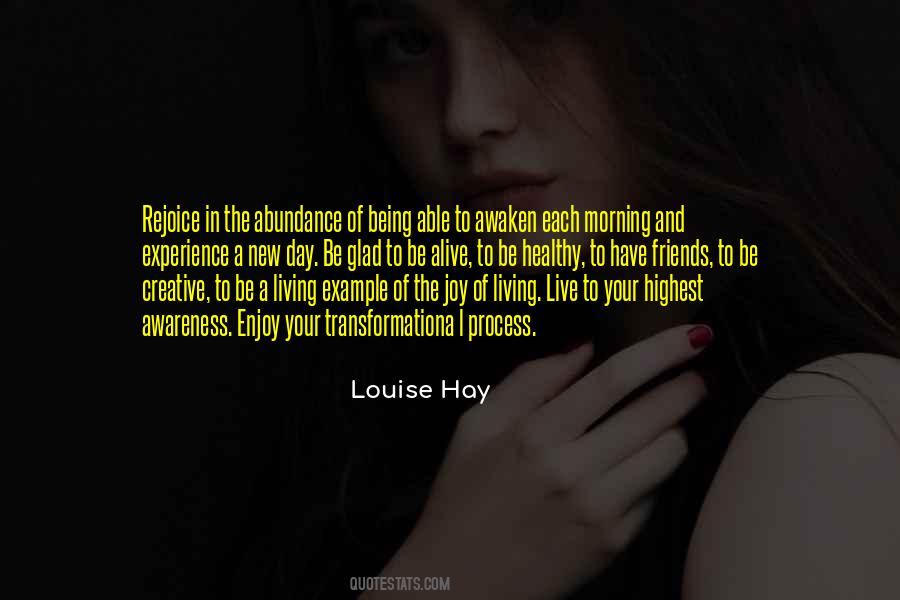 Famous Authors
Popular Topics