Life Meant To Be Famous Quotes & Sayings
List of top 100 famous quotes and sayings about life meant to be to read and share with friends on your Facebook, Twitter, blogs.
Top 100 Quotes About Life Meant To Be
#1. You won't lose me. I'll gladly live this life with you. I feel that it's what I was meant to do. To be your queen and rule by your side. - Author: Karina Halle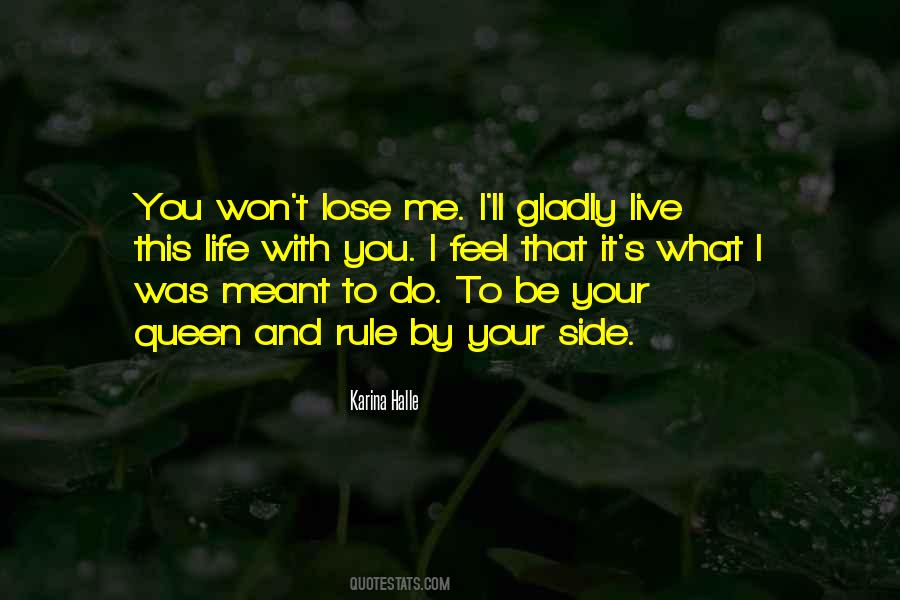 #2. ...life wasn't meant to be easy. The difficult things we go through are the things that make us stronger. - Author: Komal Kant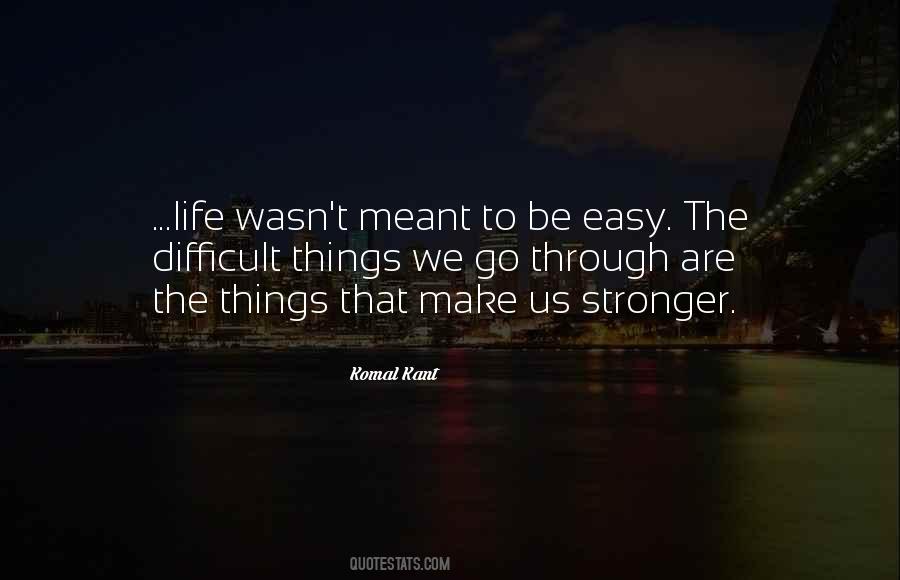 #3. She was approaching the hardest moment to be faced when separated from the one you love, the moment when you finally get used to your pain, and then, you are only half alive, because that pain meant you were still fully alive. It was a bleeding, gasping kind of life. - Author: Irene Nemirovsky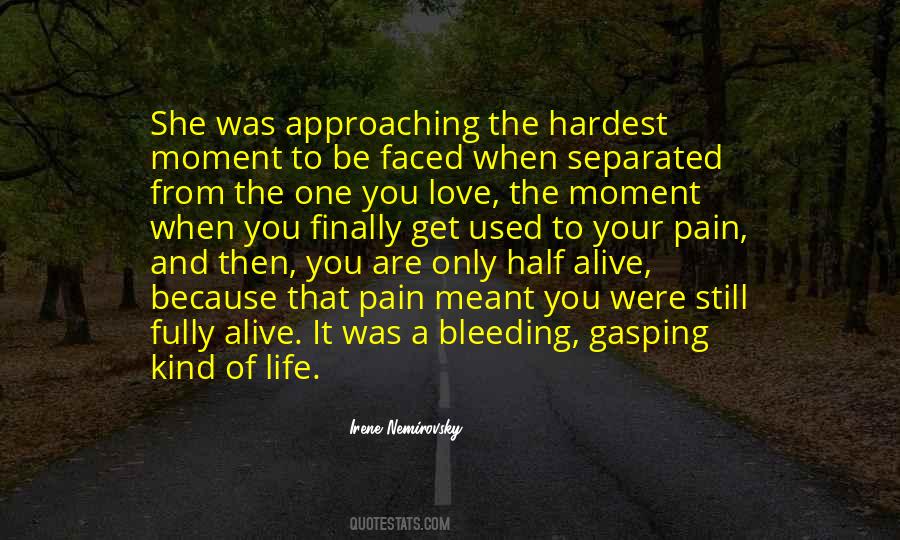 #4. Life was meant to be lived full measure, flat out, pedal to the metal. Don't live the rest of your life like a Porsche that never leaves the garage because somebody's afraid to scratch it. - Author: J. Michael Straczynski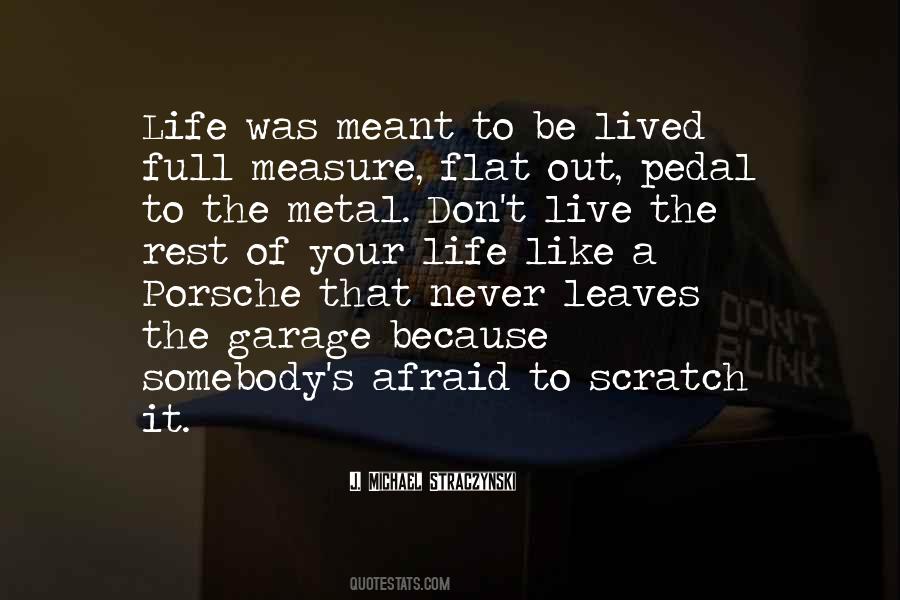 #5. But she wondered if, in moving outside of the natural flow of time, they had forgotten the most crucial point of life - that it wasn't meant to be lived for the past, or even the future, but for each present moment. - Author: Alexandra Bracken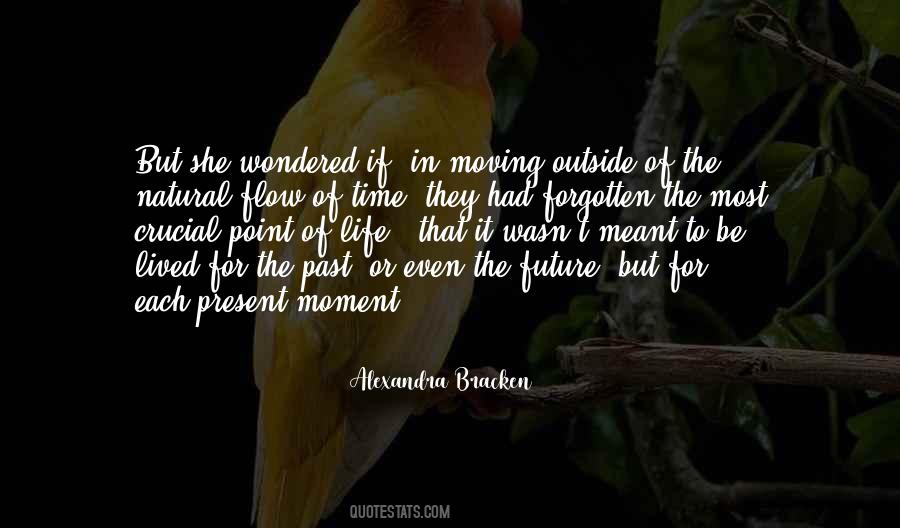 #6. You have to be willing to endure the discomfort, the doubts and unknowing, you somehow find the courage to walk through your doubts and the difficult times because you are living the life you are meant to live. - Author: Mary Pope Osborne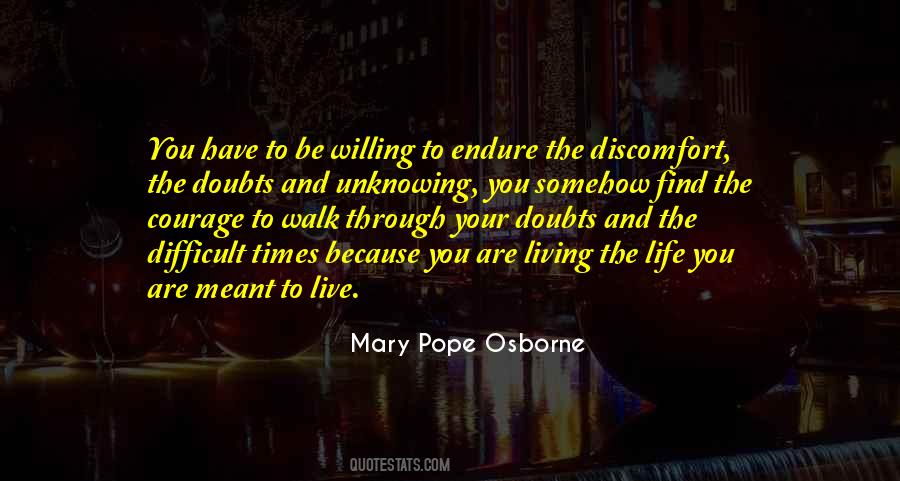 #7. The sand in the hour glass isn't meant to stick together. It will flow exactly same today, how it did ten years back. That's how much reliable that stuff is. The stuff that can be consistent. - Author: Jasleen Kaur Gumber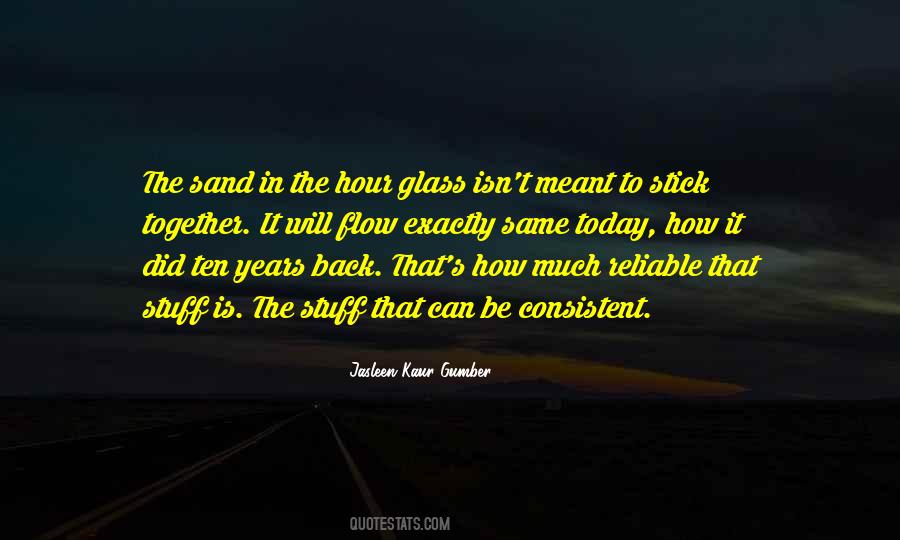 #8. For as long as I could remember, I had been apologizing for existing, for trying to be who I was, to live the life I was meant to lead. - Author: Meredith Russo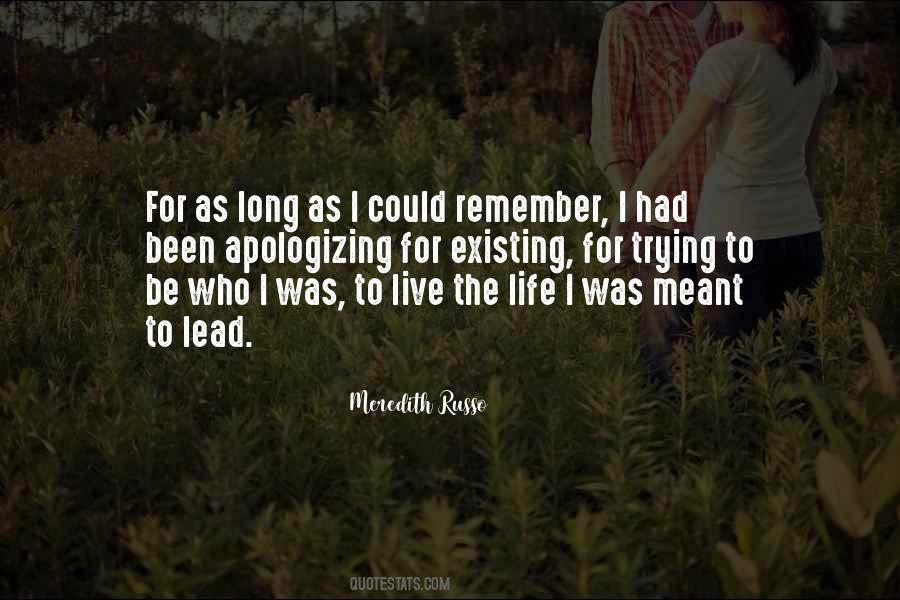 #9. Someday is a dangerous word. Sometimes, it meant to be Never. - Author: Harsh Gupta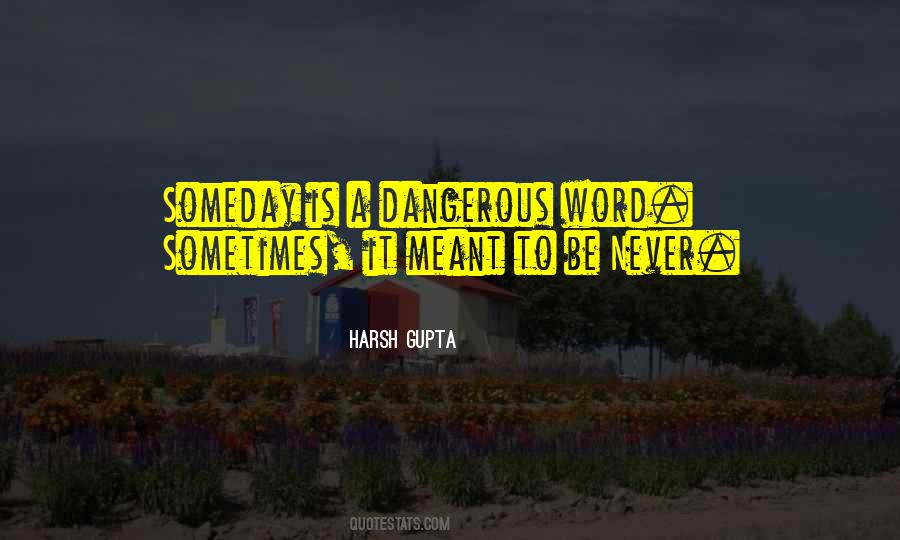 #10. I know in the Christian church the old ladies use to say "what the devil meant for bad God meant for good." So some of the things that I think they went out and tried to be detrimental to my life saved me in a lot of ways. - Author: Kwame Kilpatrick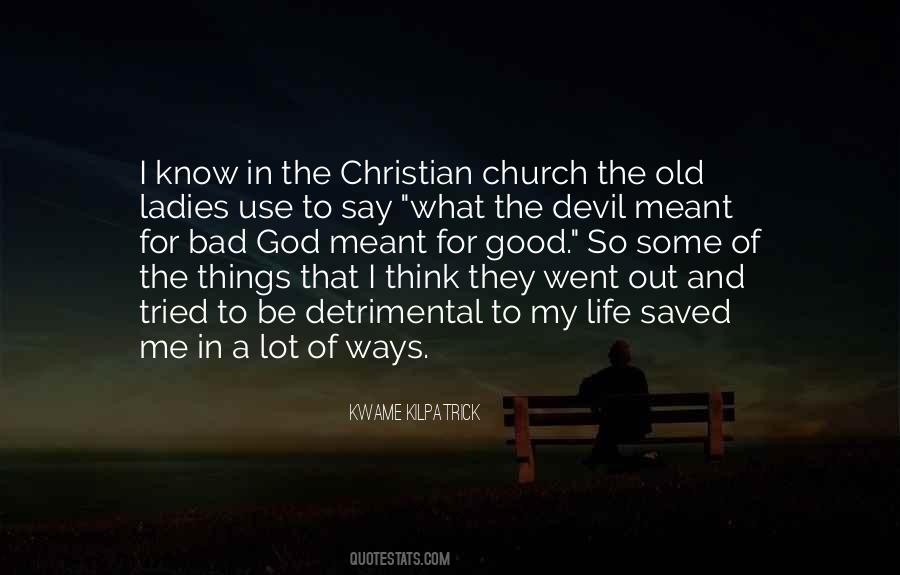 #11. in Britain, for example, it meant that a centralized "nickname" system could be introduced. Under this scheme, companies and individuals could reserve a special word as their "telegraphic address" to make life easier for anyone who wanted to send them a telegram. - Author: Tom Standage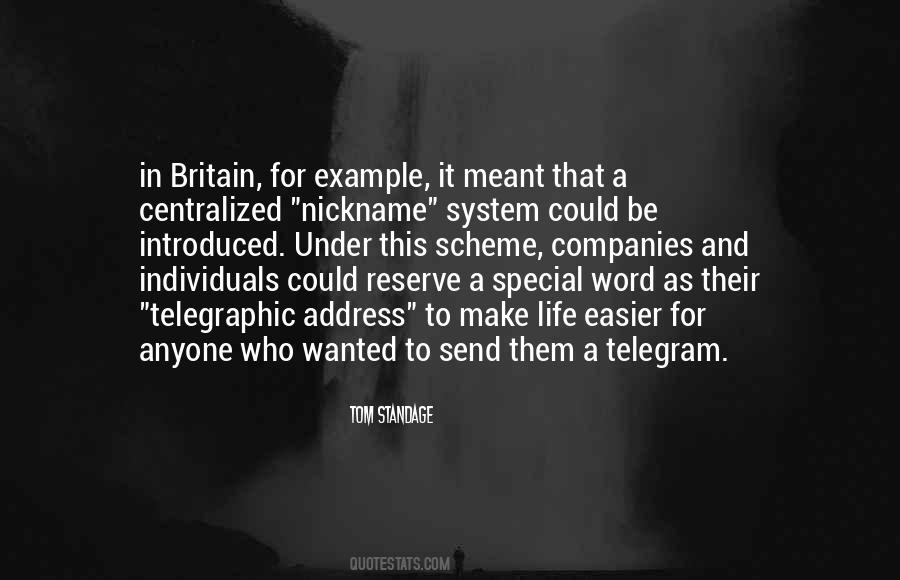 #12. The thing that makes us who we are, that goes with us from life to life, it never changes. We always know the people that have surrounded us deep down, whether they are meant to be in our lives at that moment of time or not. - Author: Donna Augustine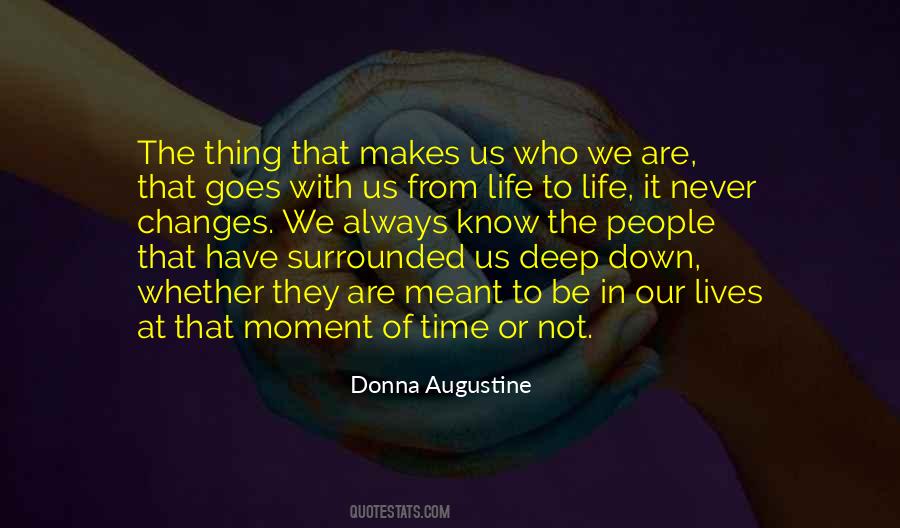 #13. Generally speaking, when Australian winemakers try to make delicate, European-styled wines of finesse and lightness, the wines often come across as pale imitations of the originals. One exception is Australian Riesling, delicious, dry wines meant to be consumed in their first two years of life. - Author: Robert M. Parker Jr.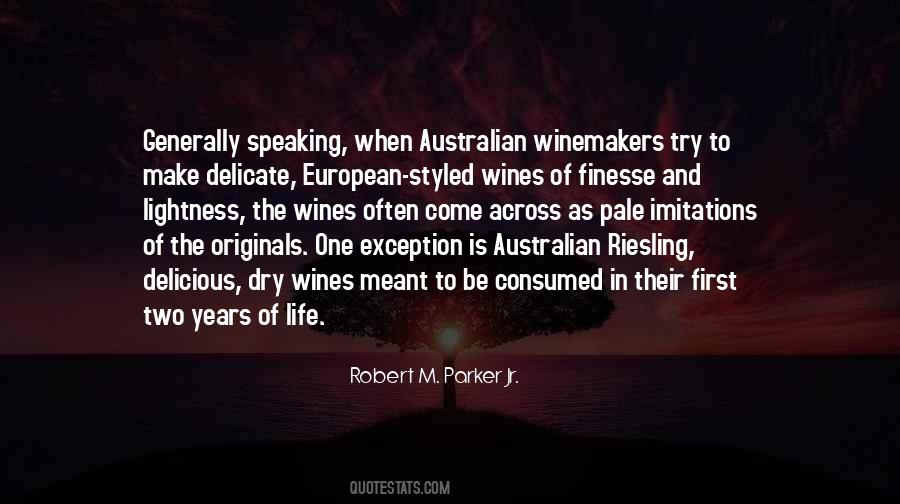 #14. Life on Earth is fleeting. It's a gift, but when God wants you, He will take you. It's not meant to be a punishment
Cricket Hunt - Author: Fisher Amelie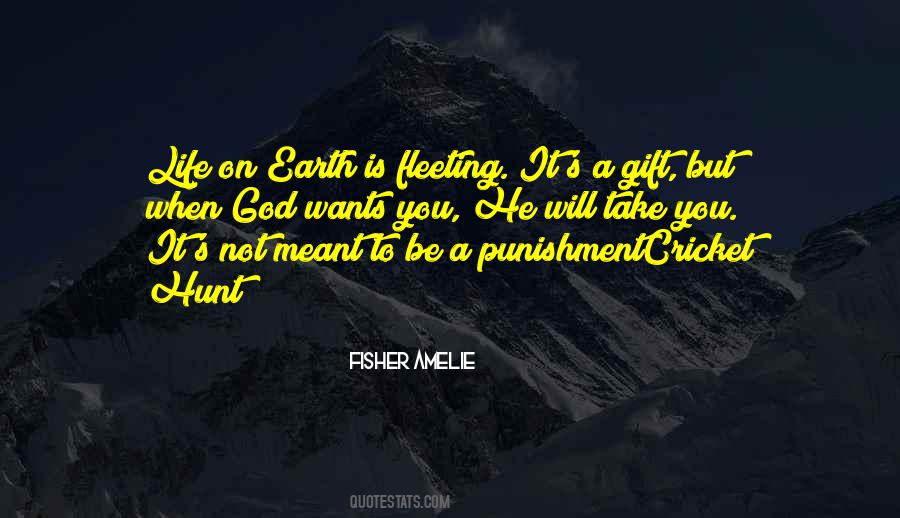 #15. Sometimes, you have to go through a bunch of life lessons before God unites you with the person you were meant to be with. - Author: Shannon L. Alder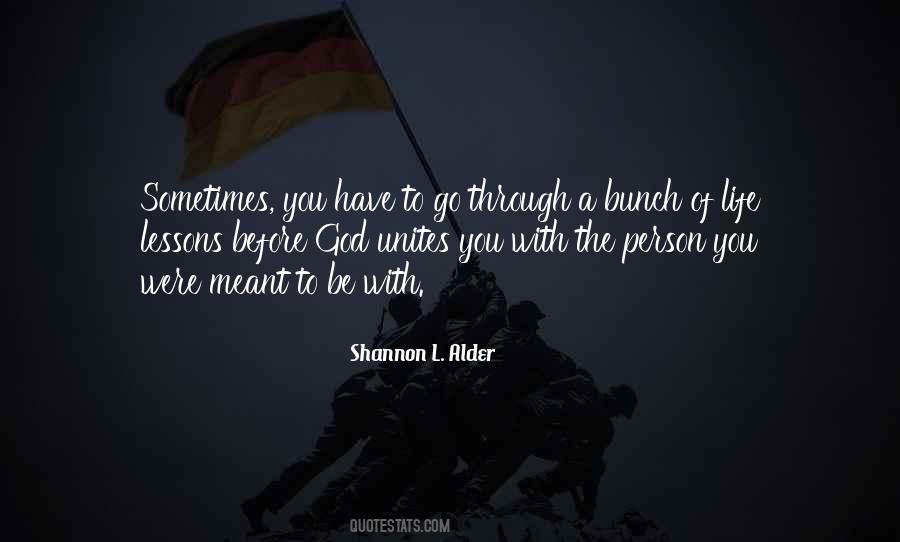 #16. I just want to tell you if that's what You have planned for me, if I am meant to be an obscure flower in the corner of the expansive garden, I will live there and I will love You and I will bloom just for You -- only, always, ever. - Author: Sarah Thebarge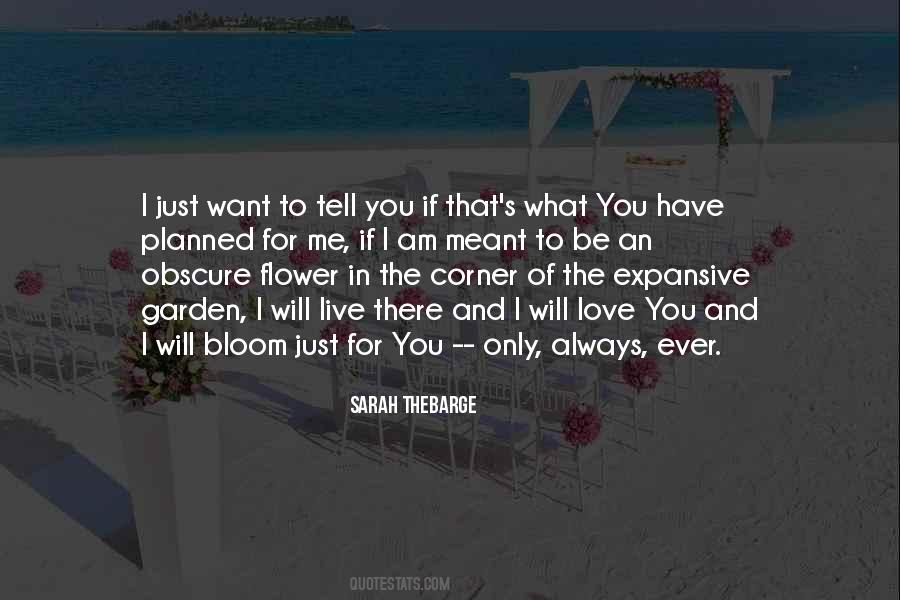 #17. We feel safe on familiar ground, the tried and tested, the accepted, the so-called 'normal', but life is meant to be experienced and explored, to be a journey of self-discovery and adventure. - Author: Carole Carlton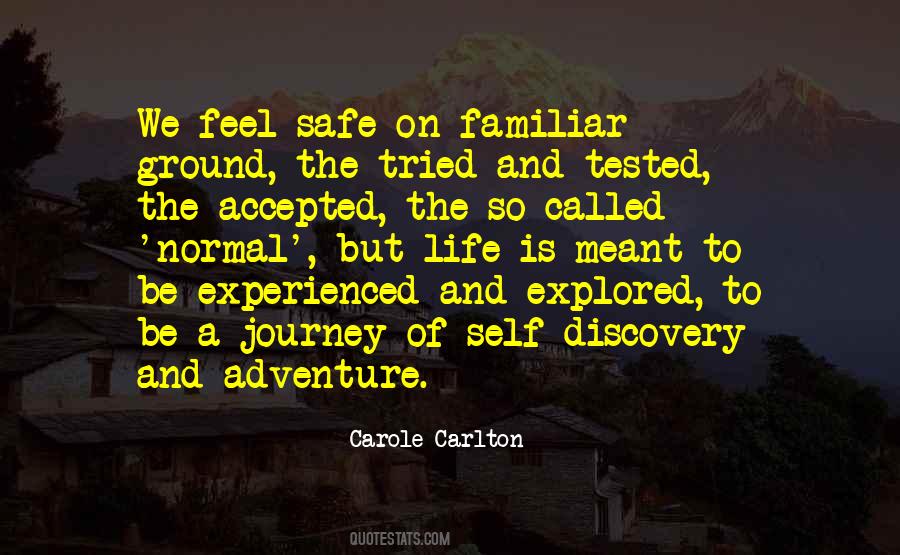 #18. You and I were never meant to be together, but we are. Our pairing is not unlike two electrons ignoring natural laws in order to orbit one another. Life now defies reason - quirky but beautiful. - Author: Richelle E. Goodrich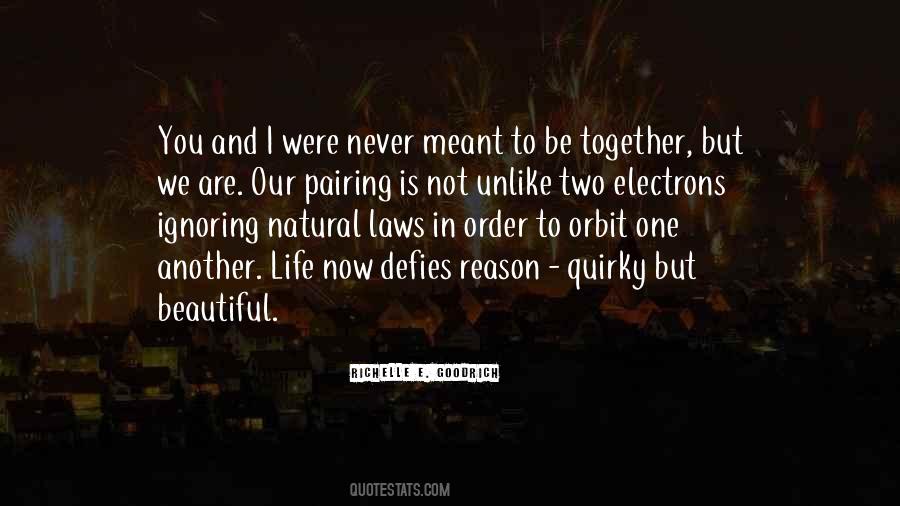 #19. Those that are meant to be in your life won't degrade you, judge you, or talk about you, because they're too busy loving you and uplifting you. If you put your faith in fickle opinions you'll never be good enough. Focus on God's truth and purpose for your life and you'll find your perfect self - Author: Trent Shelton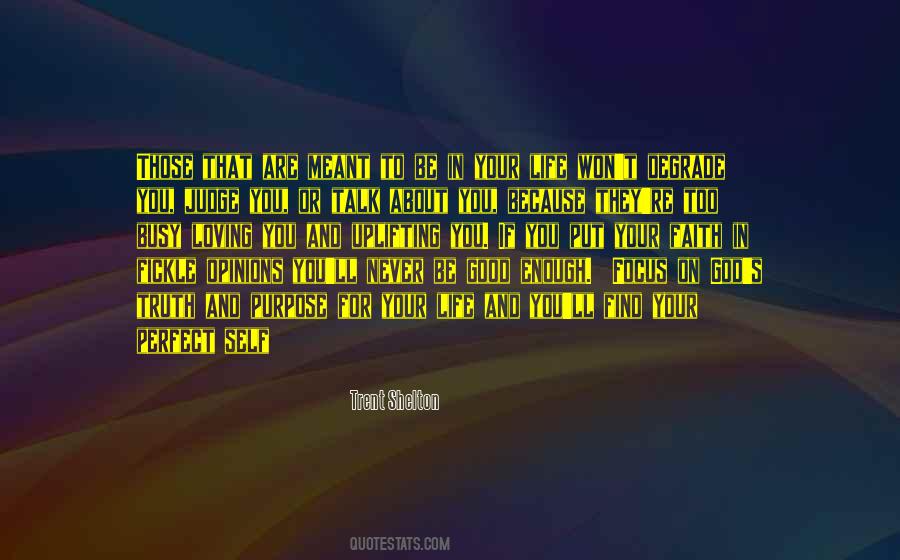 #20. Many times people will ask themselves, "where do I fit in?" This is my answer: You have the ability to fit where ever you are meant to be. - Author: Steven Cuoco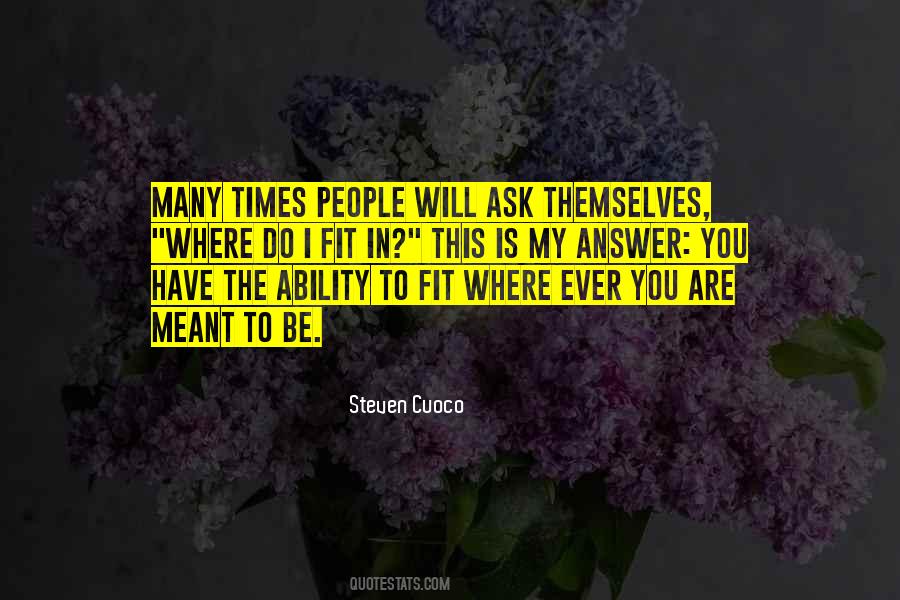 #21. You have to let people go. Everyone who's in your life are meant to be in your journey, but not all of them are meant to stay till the end. - Author: Unknown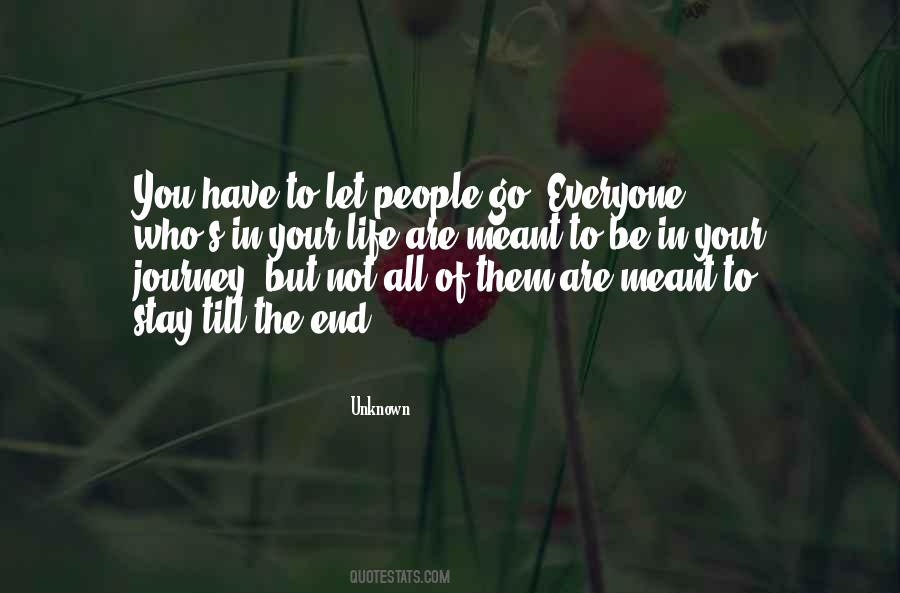 #22. Not everyone is meant to be in your life for the long run. Some are just passing through to lead us to those that should be. - Author: April Mae Monterrosa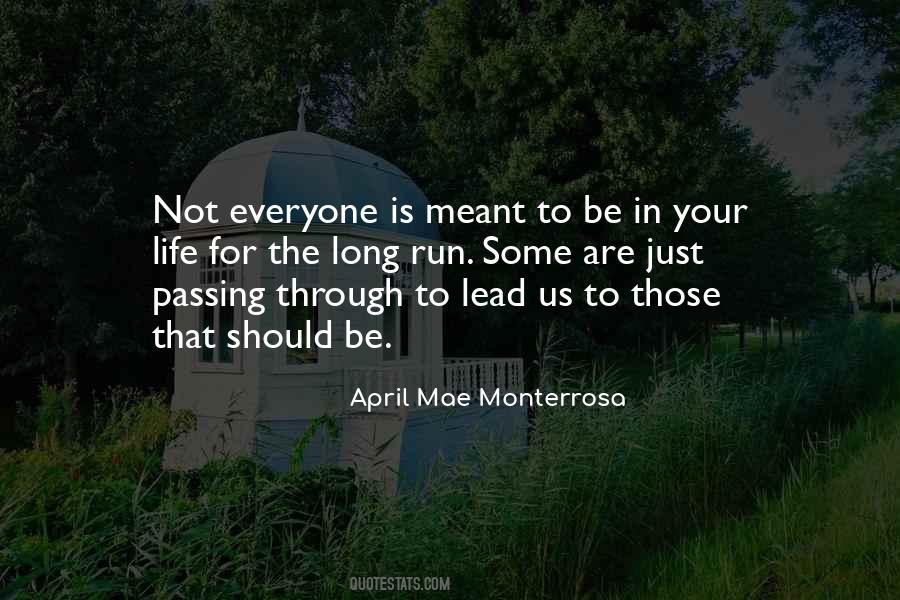 #23. Life is not meant to be easy, child. That is why we pray for God's strength to help us bear it. - Author: Patricia Davids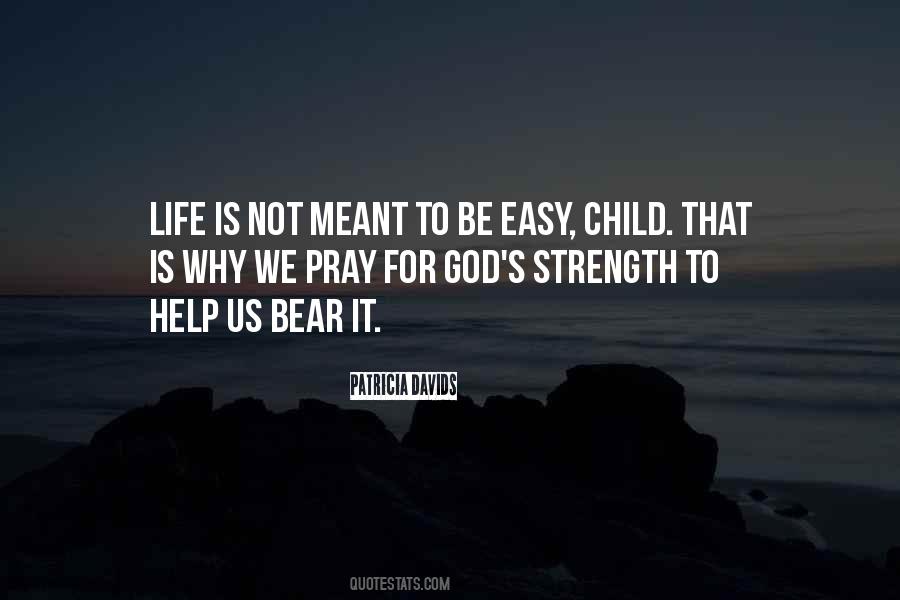 #24. It occurred to her that all the bad parts of life, the sad parts, the frightening ones, were meant to be offset by moments and memories like this. She had to be present in it, right here, right now. - Author: Martina Boone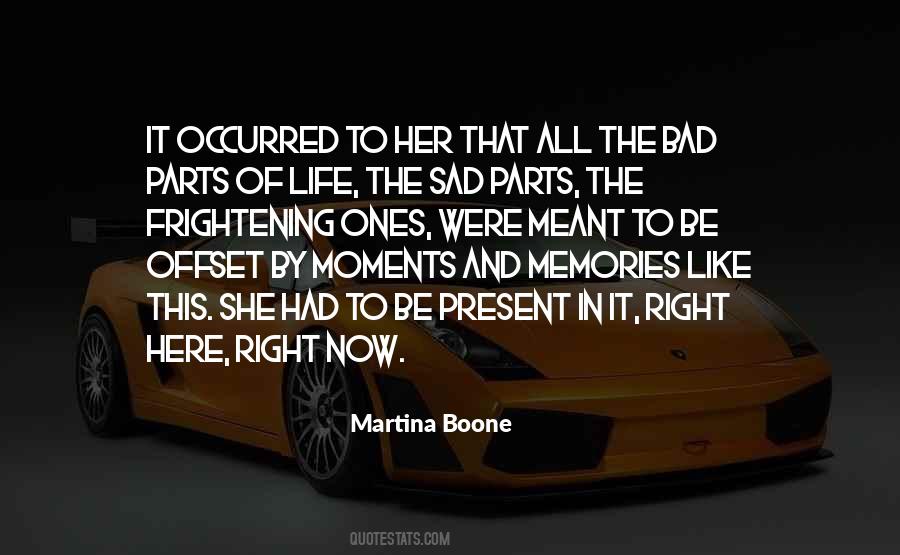 #25. Be honest with who you are, what you want and how you want to be treated. Boundaries only scare off the people that were not meant to be in your life. - Author: Shannon L. Alder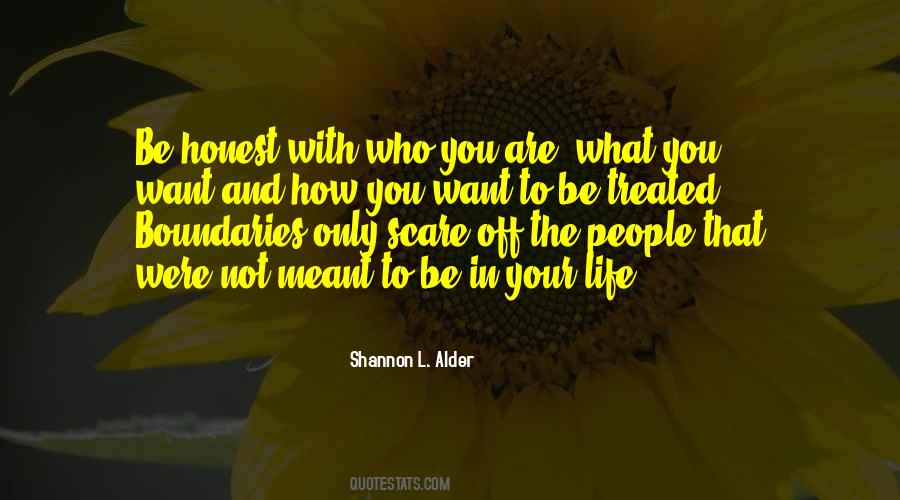 #26. Life is meant to be lived, and if you're offered the chance to experience things with an extraordinary person, then there isn't one reason in the world to say no. - Author: Amber L. Johnson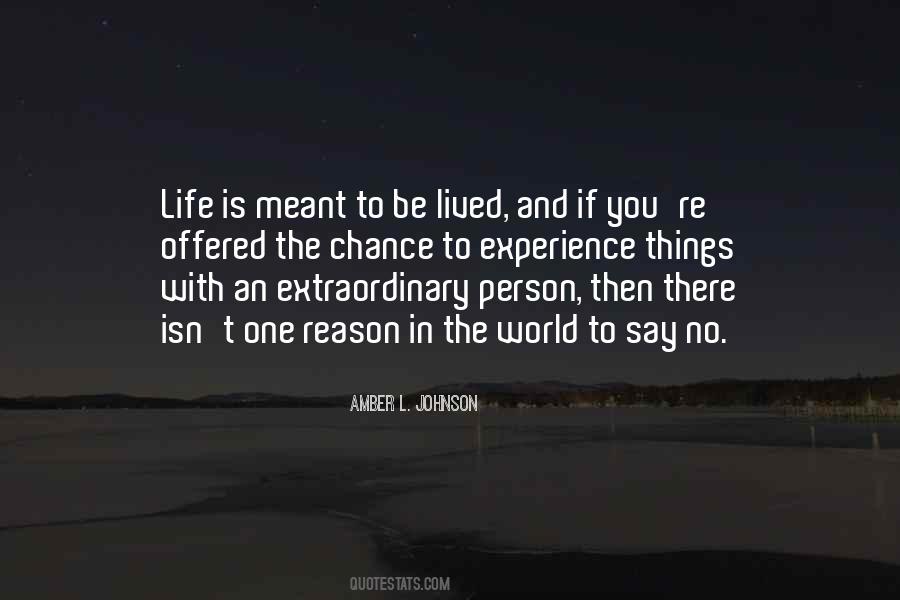 #27. Nothing she did
or said
was quite
what she meant
but still her life
could be called a monument
shaped in a slant
of available light
and set to the movement
of possible music - Author: Carol Shields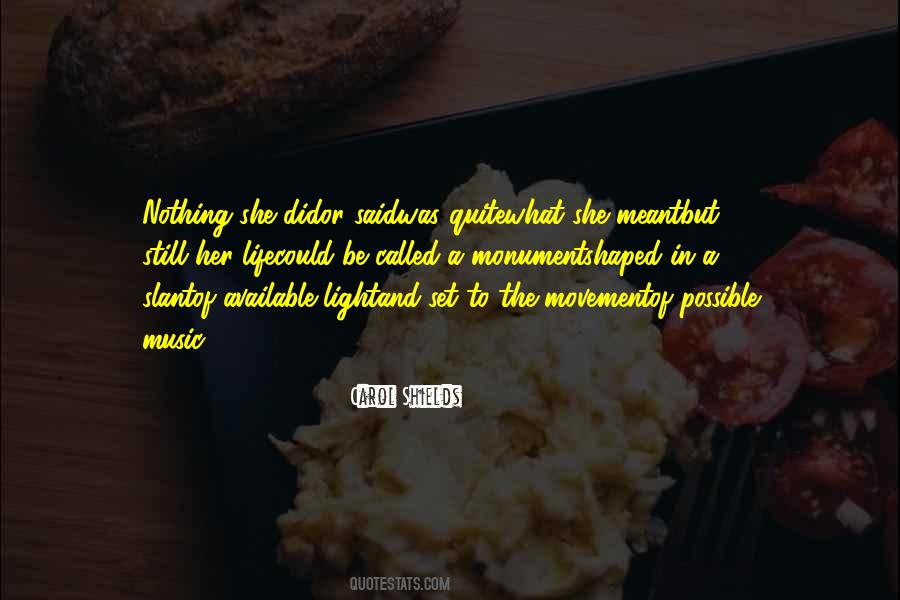 #28. Live life as it was meant to be lived. Half asleep, preferably.

[...]

She preferred [...] to go to sleep at once, sleep now being one of the very few aspects of existence for which she felt any degree of enthusiasm [...] - Author: Jonathan Coe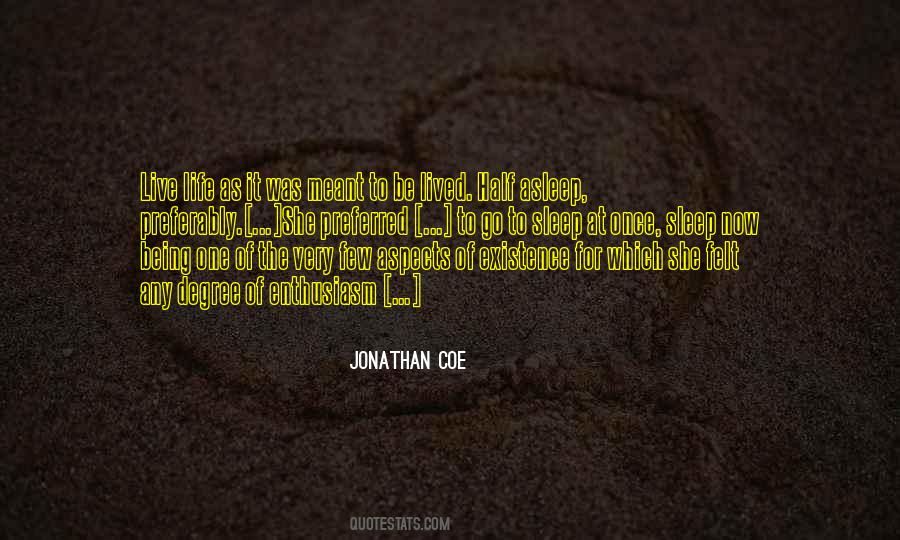 #29. You didn't win the game of life by losing the least. That would be one of those-what were they called again?-Pyrrhic victories. Real winning was having the most to lose, even if it meant you might lose it all. Even though it meant you would lose it all, sooner or later. - Author: Tommy Wallach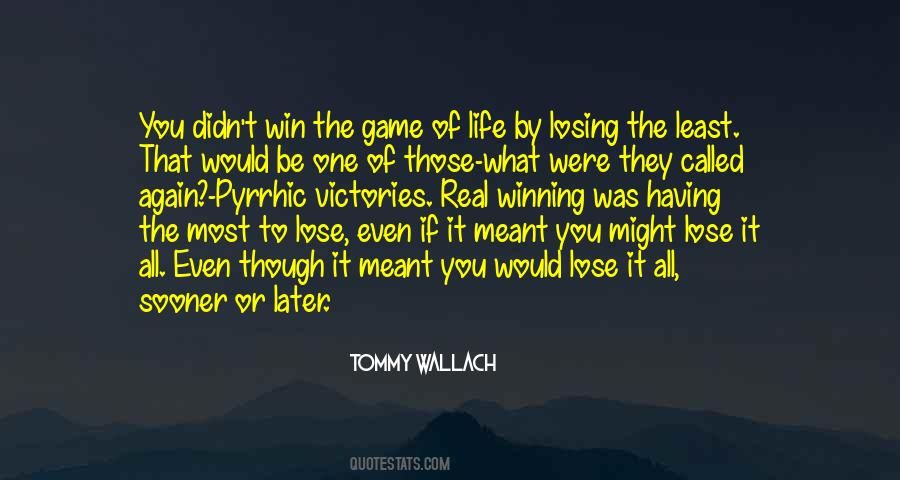 #30. Stop telling me not to burn bridges. Some bridges are meant to be burnt, some roads are never meant to be traveled again. - Author: Steve Maraboli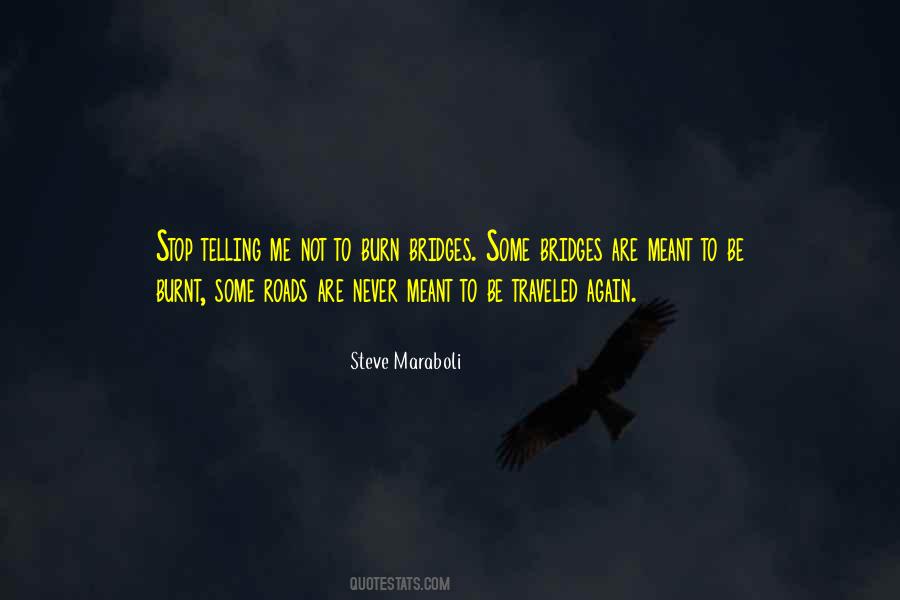 #31. Life is not meant to be an interstate highway. It's a winding mountain road with hills and dips, stop signs and school zones. Let friends and family be the data for your GPS satellite feed, and never forget that sometimes an unexpected detour leads to a hidden miracle. - Author: Emily March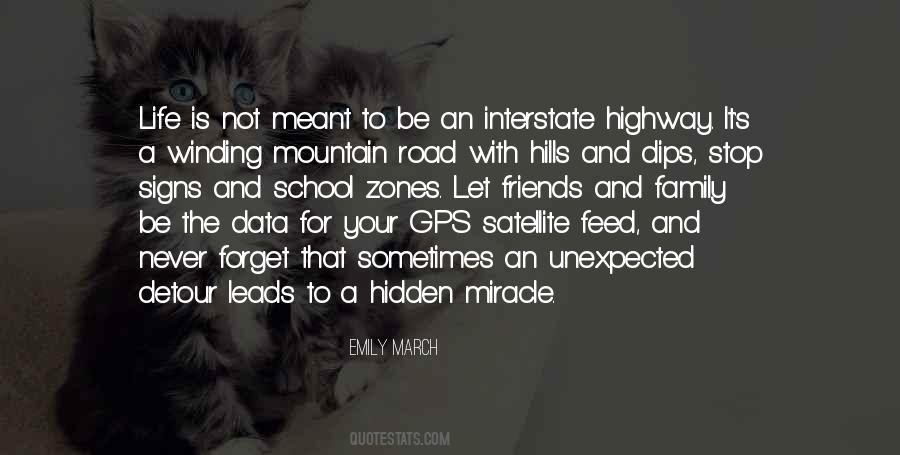 #32. Be the greatest of who you were meant to be. Life goes on ferociously-with or without you. It is your choice. Truly and magnificently your choice. - Author: Carew Papritz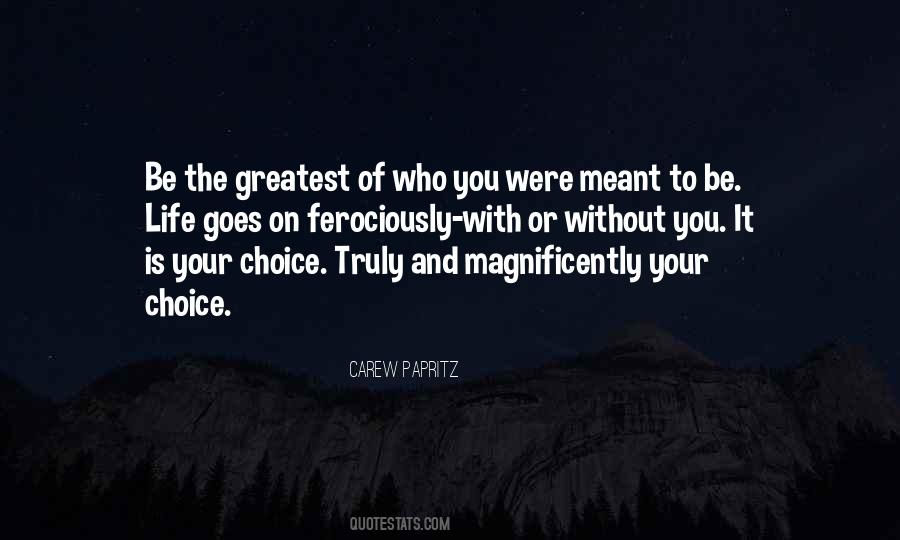 #33. That beauty which is meant by art is no mere accident of human life which people can take or leave, but a positive necessity of life if we are to live as nature meant us to, that is to say unless we are content to be less than men. - Author: Oscar Wilde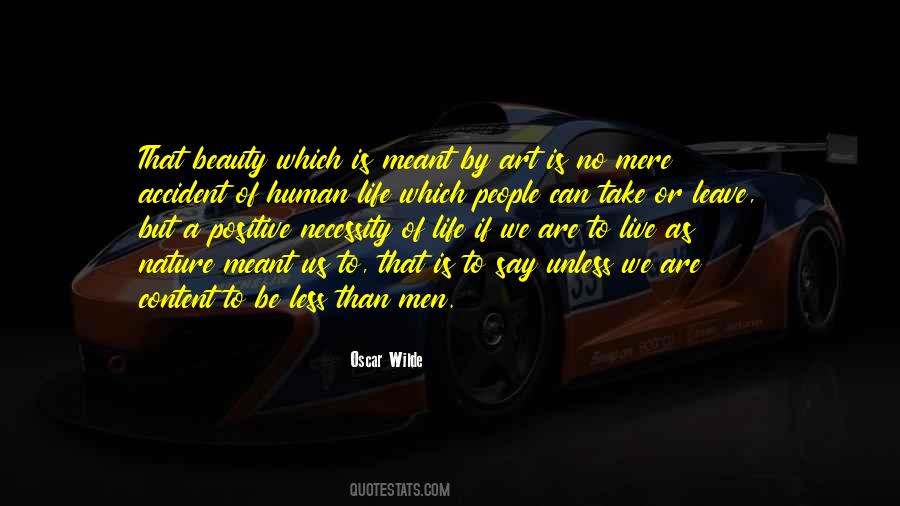 #34. Somewhere between
what is...
and what can be...
begs the question...
what are you meant to be? - Author: Manoj Vaz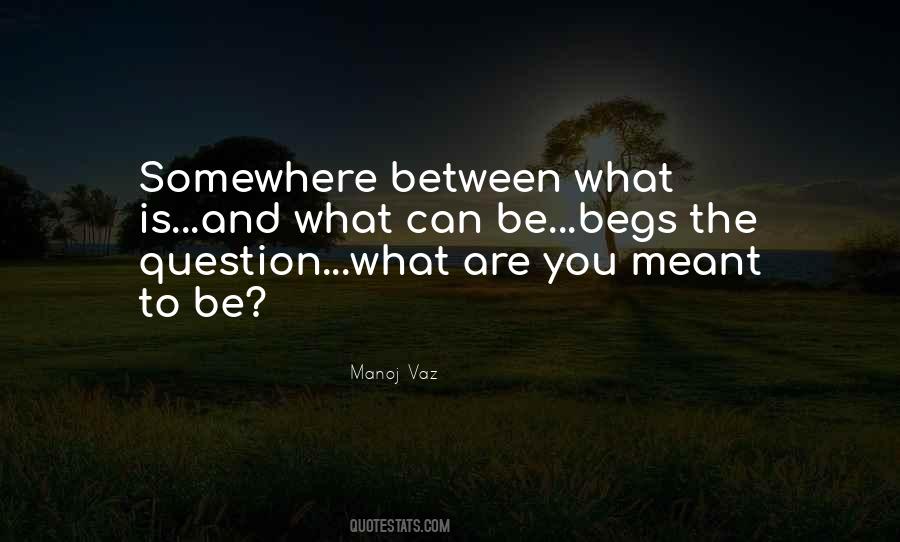 #35. That you can look back fondly or even wistfully on pieces of your life and hound yourself with endless what-ifs, but nothing will change. The present will still be the present. The future will still unfold as it's meant to. - Author: Allison Winn Scotch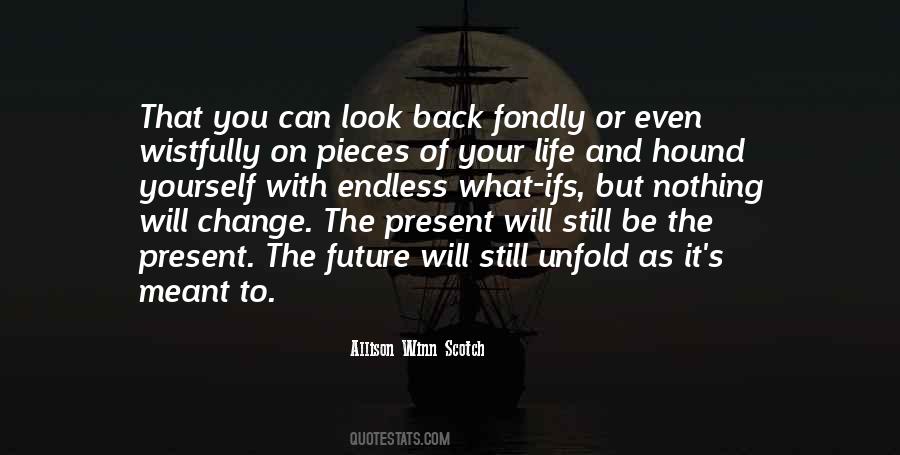 #36. Too often in the west we fail to realize that even in eastern disciplines the spiritual life is not meant as an escape from the worldly life. There is karma to be fulfilled on earth, within the dharma of necessity. - Author: James Hillman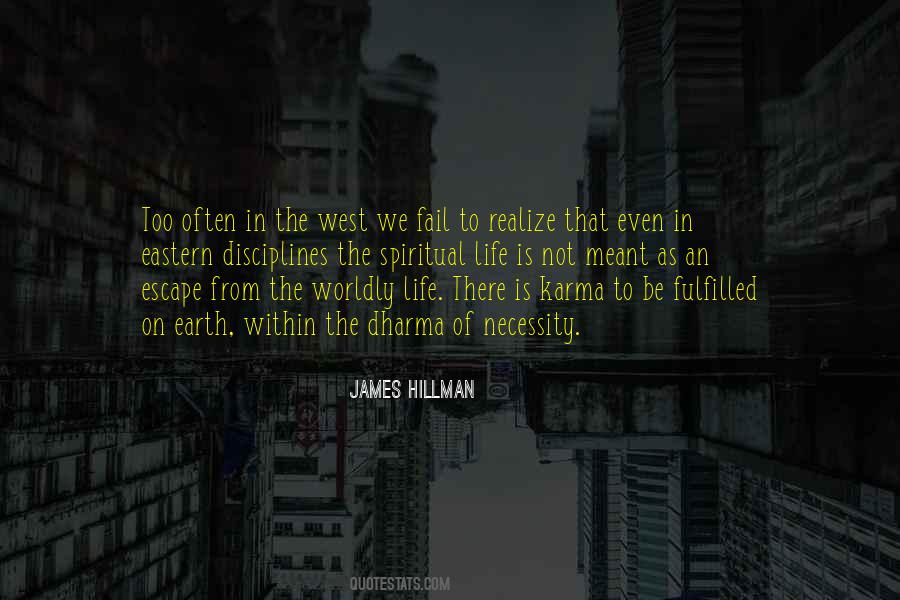 #37. Living your best life is to find out what your calling is. Your real job on Earth is to find out what you were meant to be doing & to find a way to do that thing. - Author: Oprah Winfrey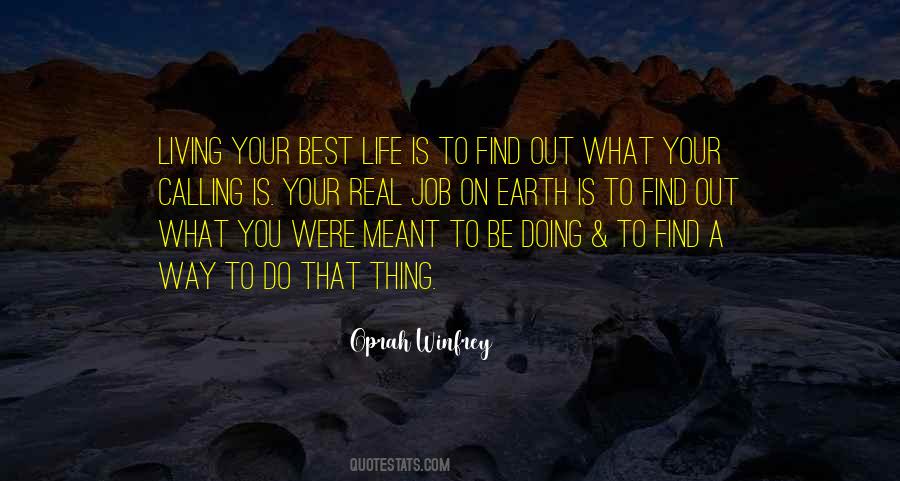 #38. Because this is our life. We met on the road; we grew to know and to love each other on the road. It's where we were meant to be for however long, and it's what we're going to do until it becomes clear that we're meant to do something else. - Author: J.A. Redmerski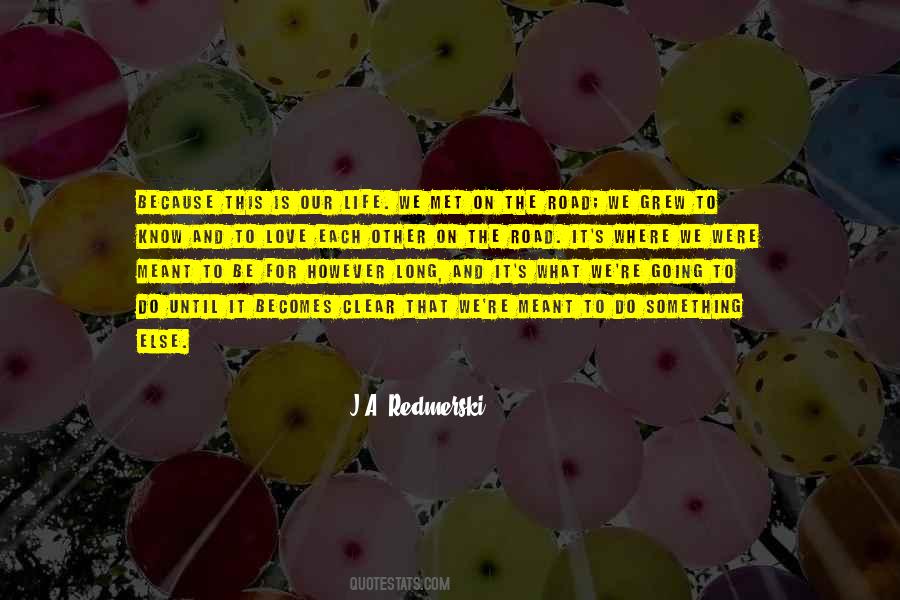 #39. Life is meant to be shared. We need each other. - Author: Lailah Gifty Akita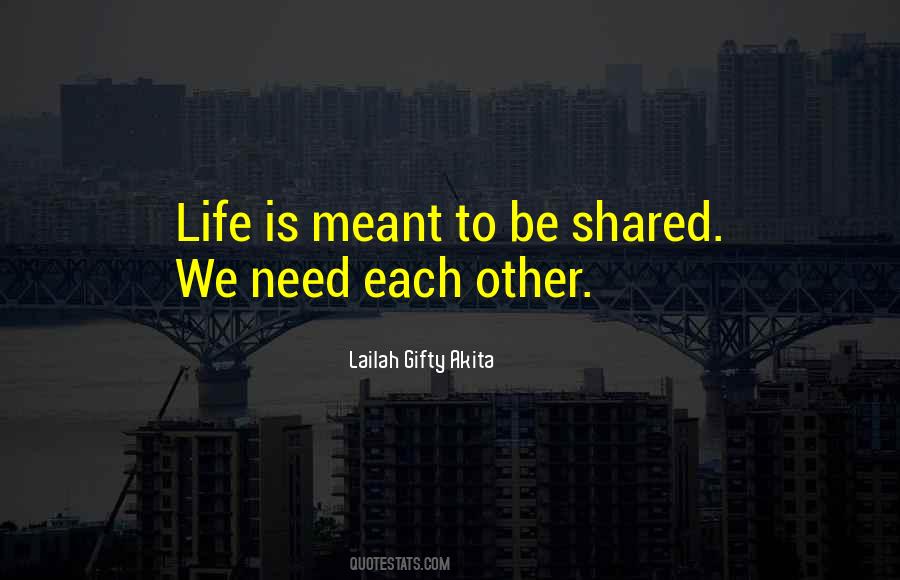 #40. My feeling about fiction, regardless of the genre, is that it is meant to be a representation of life. I want my books to give a whole spectrum of experiences to my readers. Not just fear or terror or revulsion, but excitement, laughter, pain, sorrow, desire, etc. - Author: Richard Laymon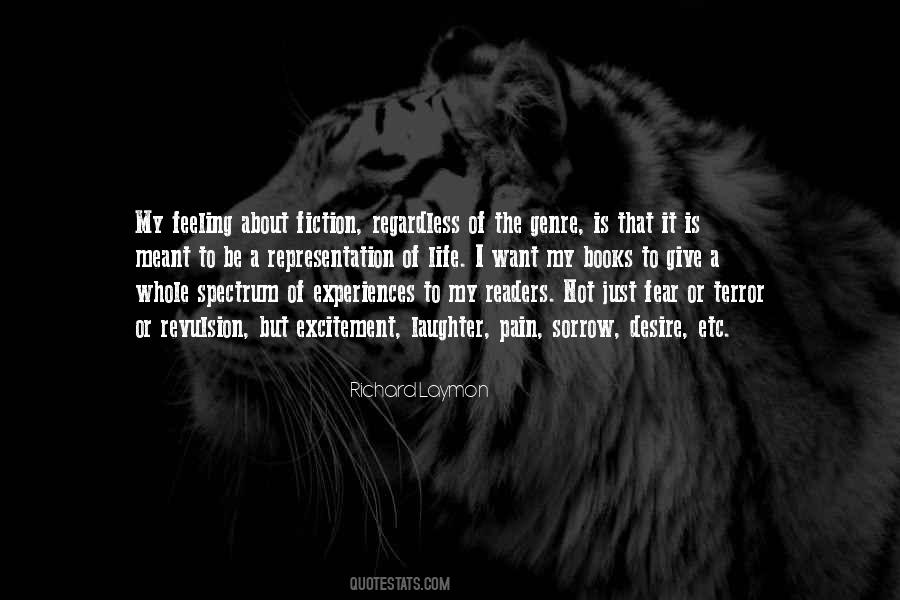 #41. Maybe faith was never meant to be some perfectly plotted, passion-driven paperback. Maybe faith is the long story of a happy marriage -- an average life made fuller, not smaller, by the pockets of silence and darkness that break into it. - Author: Addie Zierman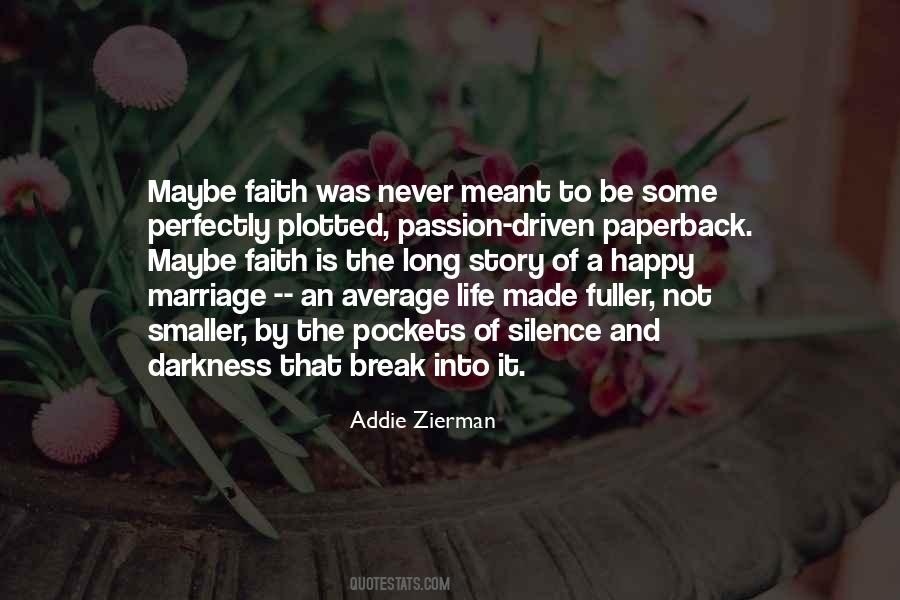 #42. Learning lessons is a little like reaching maturity. You're not suddenly more happy, wealthy, or powerful, but you understand the world around you better, and you're at peace with yourself. Learning life's lessons is not about making your life perfect, but about seeing life as it was meant to be. - Author: Elisabeth Kubler-Ross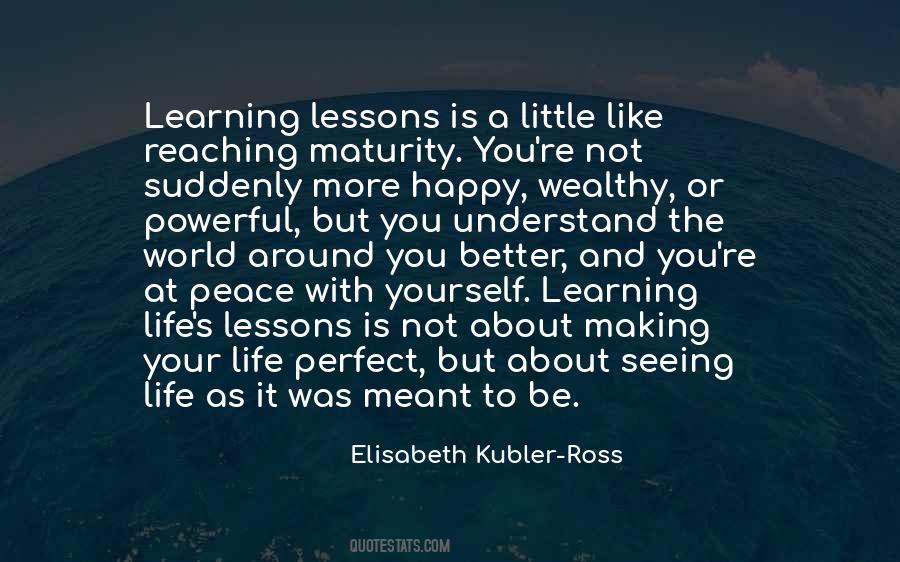 #43. People keep coming up to me and asking, 'How does it feel to be banned for life?' Banned for life. I wasn't banned for life. There was never a word of suspension, probation or ban in that agreement. It was never meant to be part of it. - Author: George Steinbrenner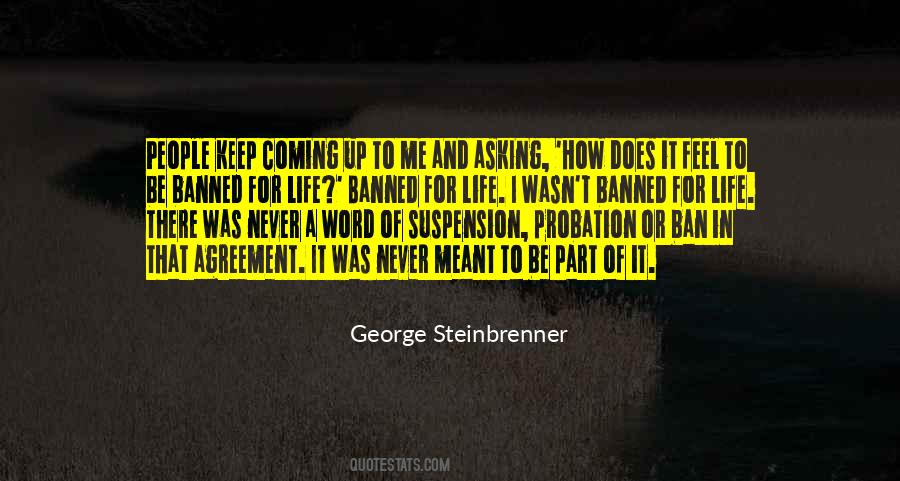 #44. Have you noticed how children never bypass a puddle of water, but jump, splash, and slosh right through it? That's because they know an important truth: Life was meant to be lived; puddles were meant to be experienced. - Author: Richelle E. Goodrich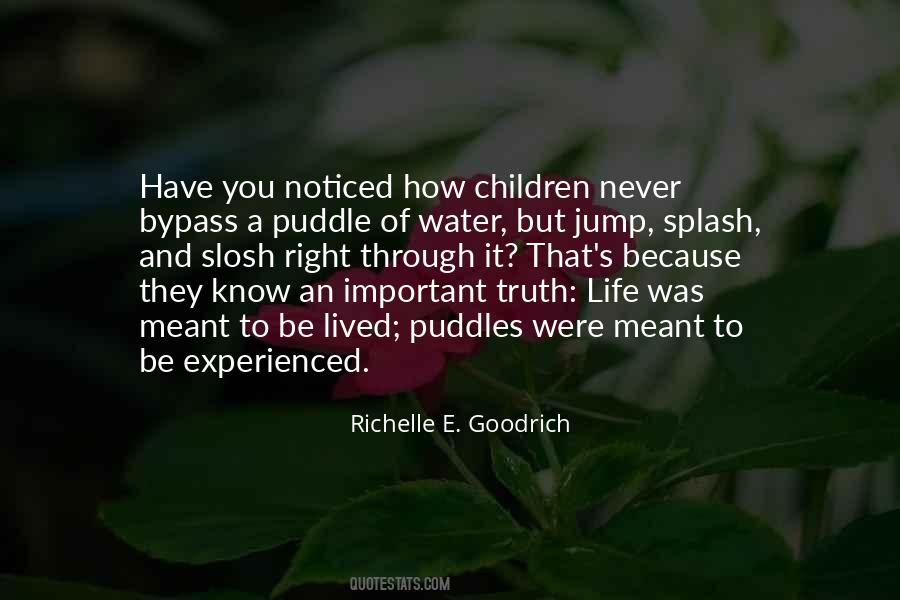 #45. That no matter what i did, I would always be missing something else. And the only way to live, the only way to be happy, was to make sure the things I didn't miss meant more to me than the things I missed. - Author: David Levithan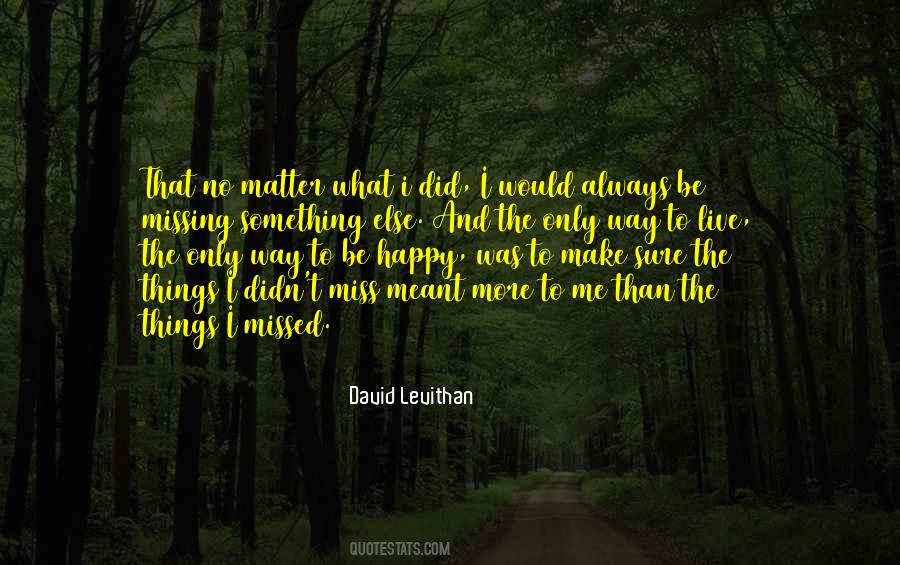 #46. Sometimes you have to know what you're willing to sacrifice to be the person you are meant to be. - Author: Erik Tomblin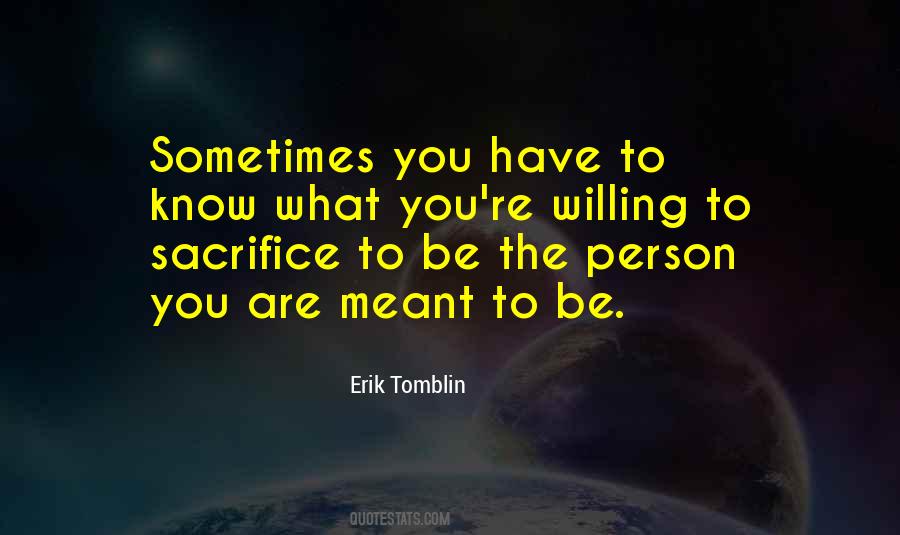 #47. I believe this all has to do with how I decide to perceive the experience. Pain is part of life and makes you who you are meant to be. I just let it flow through me, at whatever rate it decides to do so. Then I go to the hockey rink and hit a few slap shots. - Author: Tohoru Masamune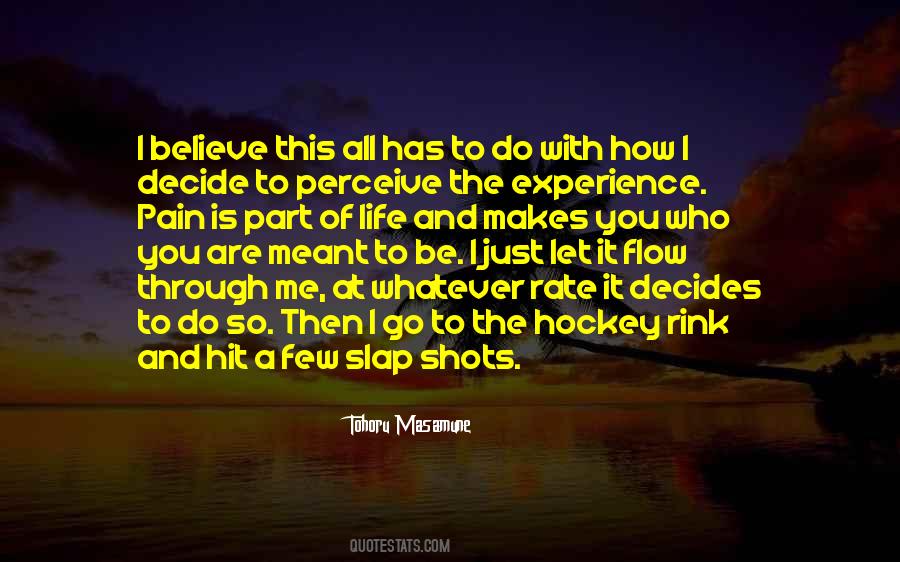 #48. Life is meant to be shared. With family, with friends, with someone you love. - Author: Kay Correll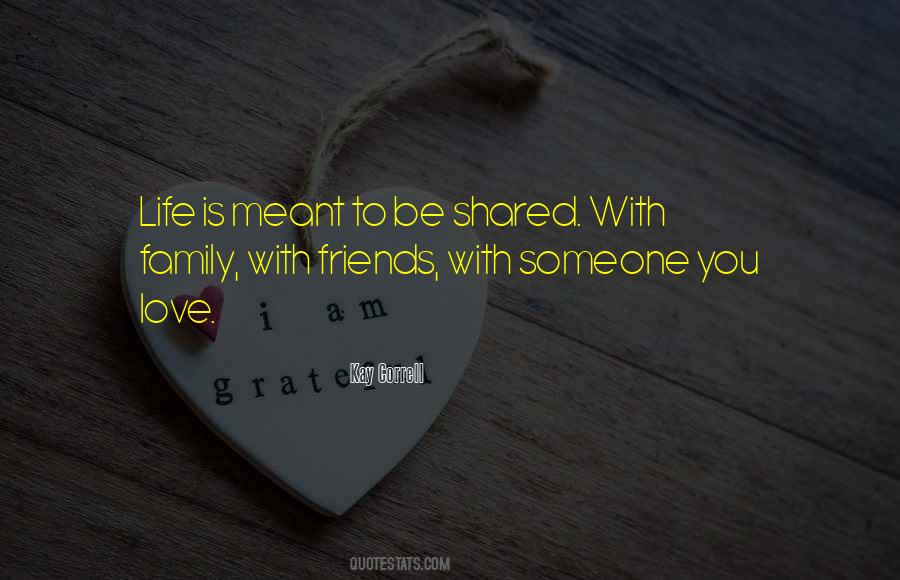 #49. I've kind of realised life is meant to be tough and everybody is in psychic and spiritual discomfort of some sort and has a burden to carry. I've realised I'm not special. - Author: Marian Keyes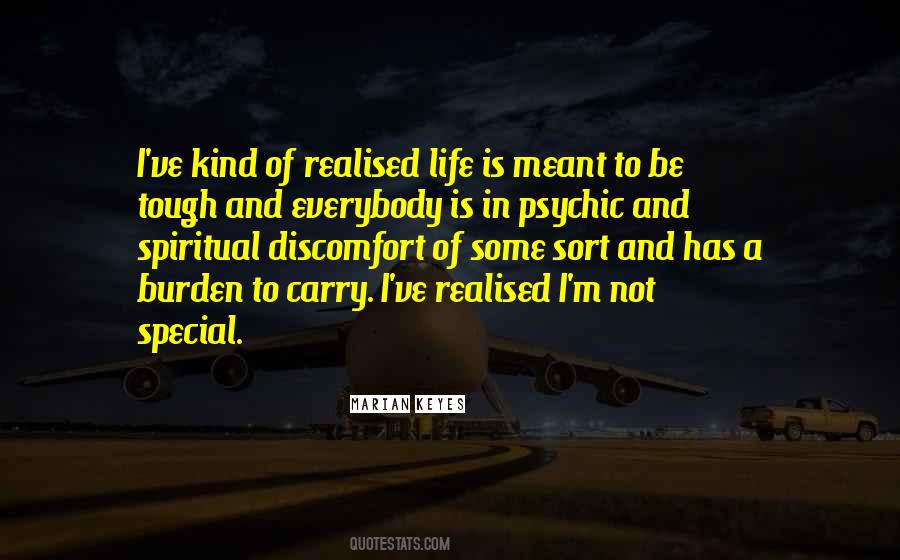 #50. Accolades and lists may tell us about accomplishments, but life is meant to be experienced, not just accomplished. It's like the difference between reading books for the sake of reading and reading books just to get a good grade. - Author: LZ Granderson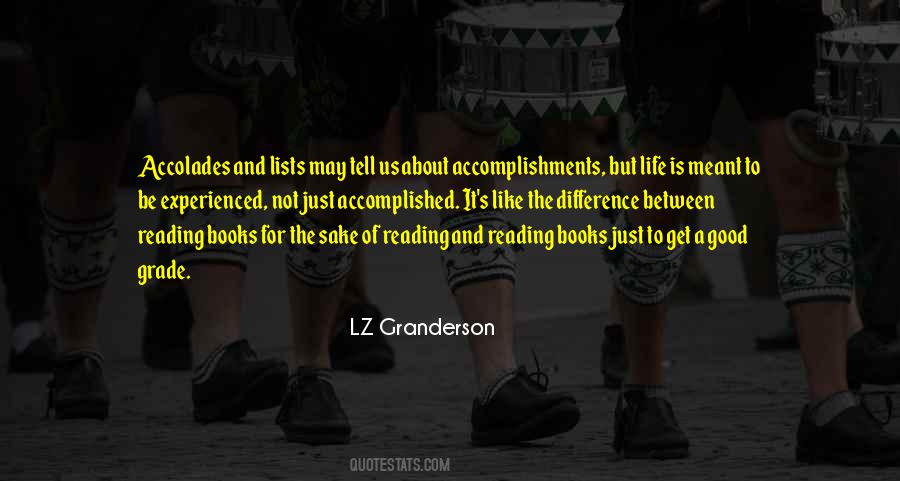 #51. This was how life was meant to be. It was scary at times, but you had to trust in the ones you loved to see you through the madness of it. - Author: Sherrilyn Kenyon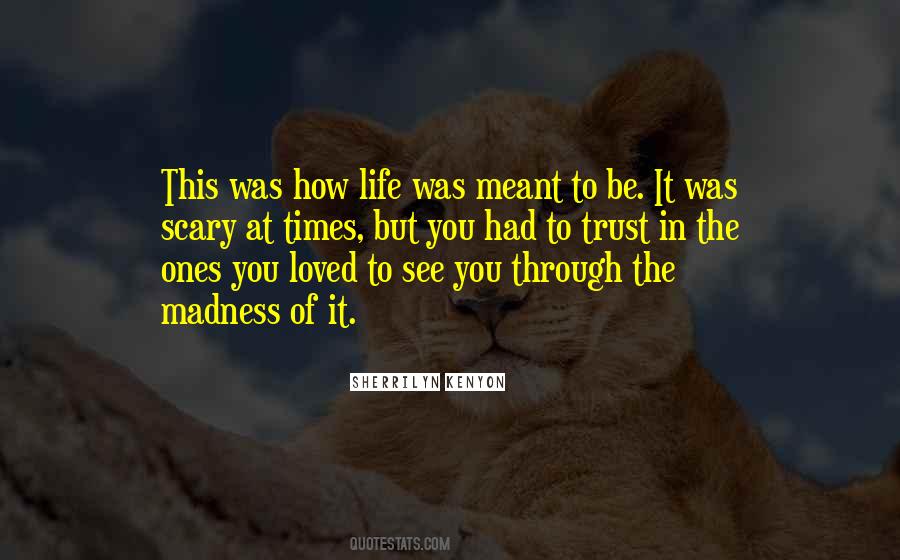 #52. Echo lived her life according to two rules, the first of which was simple: don't get caught.
........ Some rules it would seam were meant to be broken..........
Rule number two, Echo thought snagging a pork bun from a food stall as she sailed past it. If you do get caught, run. - Author: Melissa Grey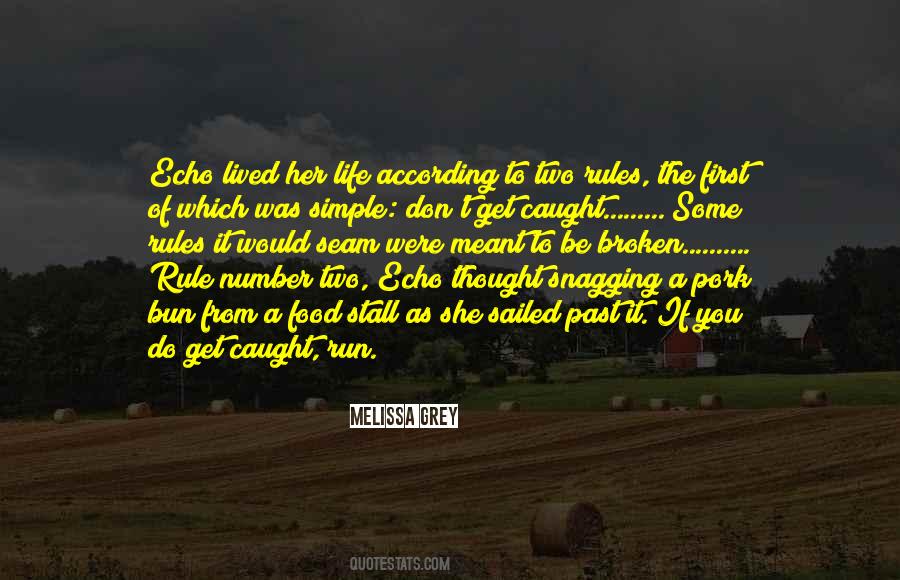 #53. Look closely at this new being. Learn from him how delightful and simple life is meant to be. It's just an instant of time, - Author: Megan McGrory Massaro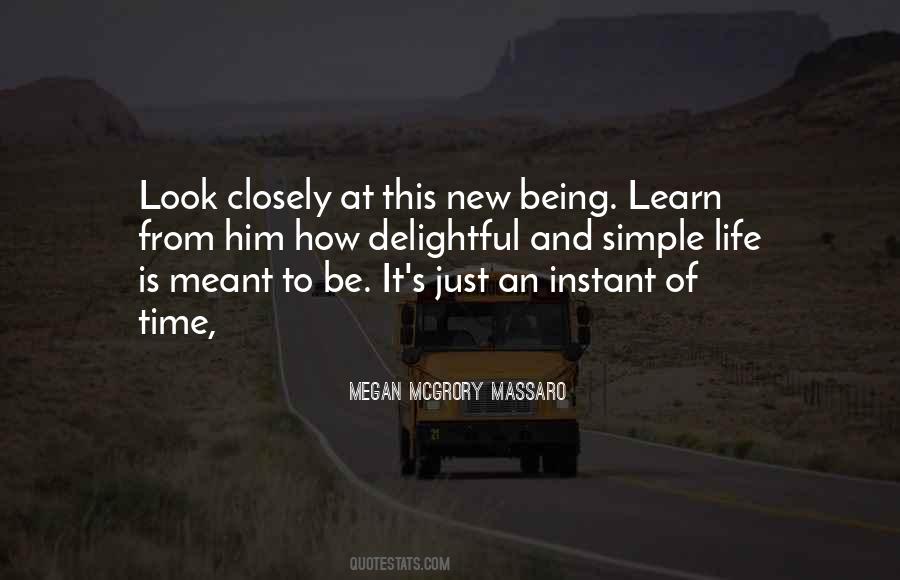 #54. I've always made it a rule to have a suit for every day of the week. Perhaps you'll tell me I'm vain, but you'd be surprised if you knew what it had meant to me, at critical moments of my life, to be dressed exactly in accordance with my mood. It gives one such confidence, I think. - Author: Christopher Isherwood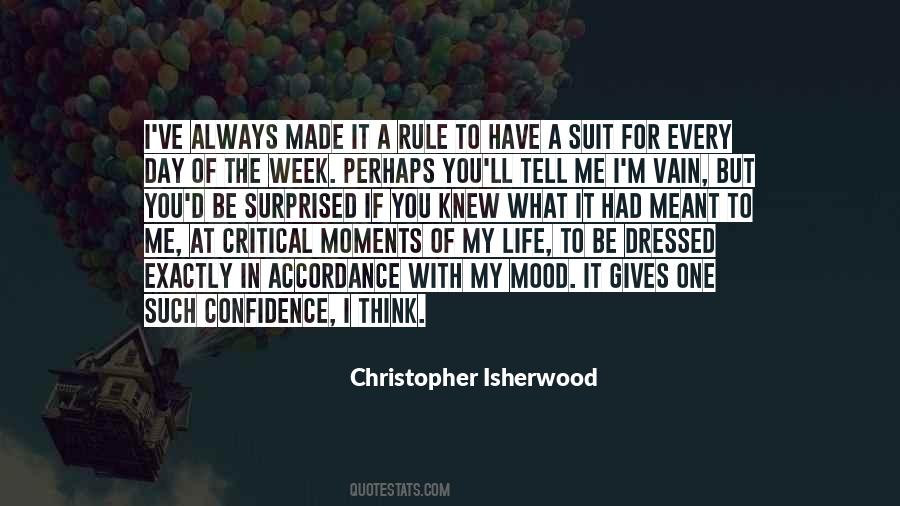 #55. The only man meant to be in your life is a man that knows your worth. - Author: Shannon L. Alder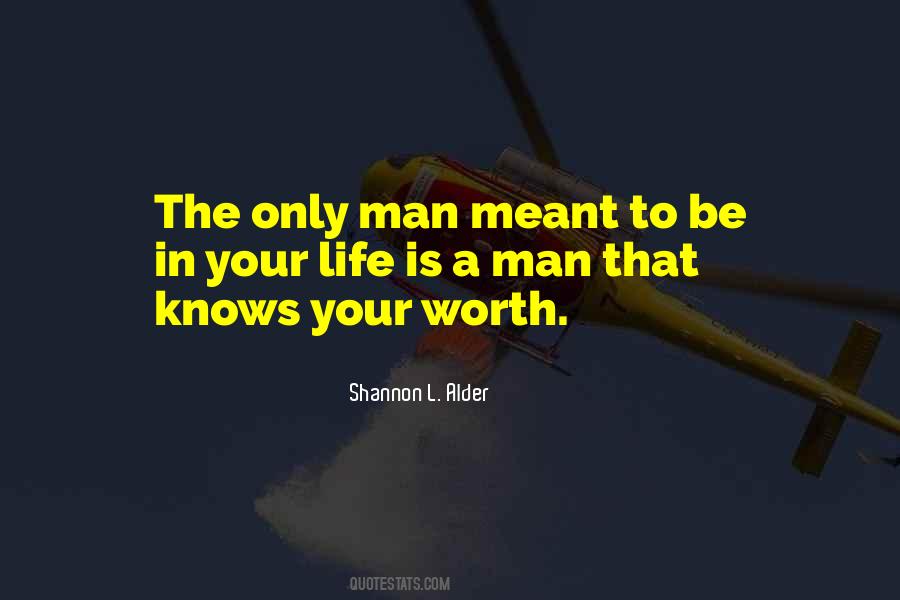 #56. It is well known that lust brings madness and desperation and ruin. But upon my oath, I never meant any harm. All I wanted was to be happy, to love and to be loved in return, and for my life to count for something.
That is not madness, is it? - Author: Fiona Mountain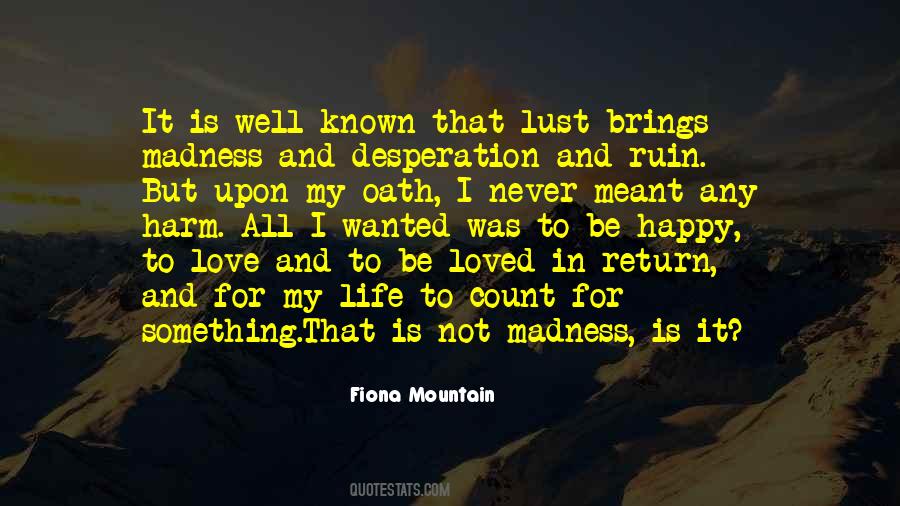 #57. There are questions that are not meant to be answered with words. Some questions take a lifetime to answer. Take action. - Author: J.R. Rim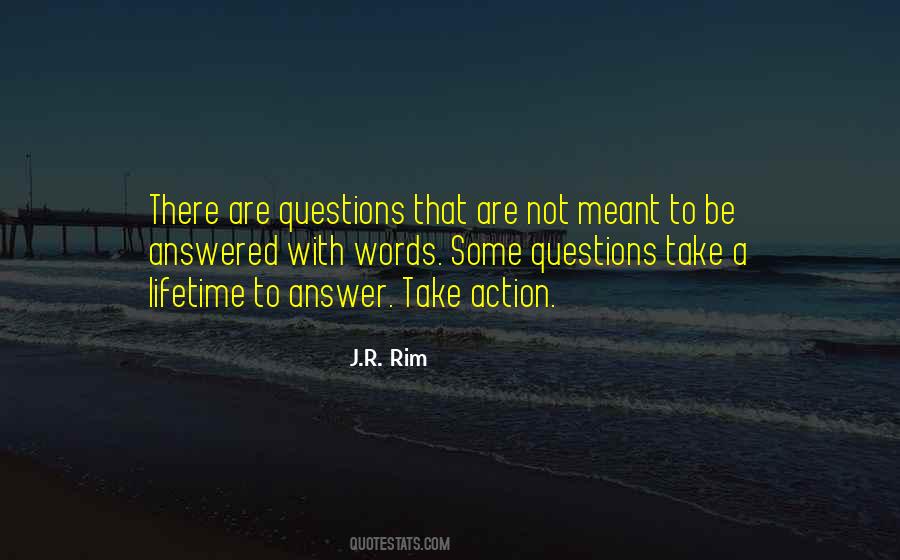 #58. Why, on my mother's birthday, am I thinking about 'Father Knows Best?' At our house, mother knew best at least as often as father did, but then the title of the old sitcom, a homogenized portrait of American family life, was meant to be slightly sardonic. - Author: Tom Shales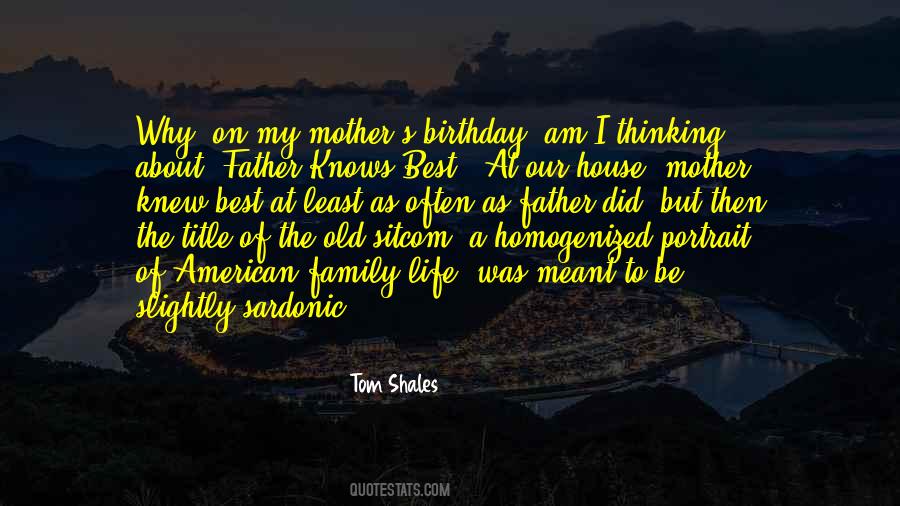 #59. You wanted to believe that getting older, growing up, would change everything, transform you into the amazing person you were meant to be. But what if it didn't? What if you had to stay you forever? - Author: Jean Thompson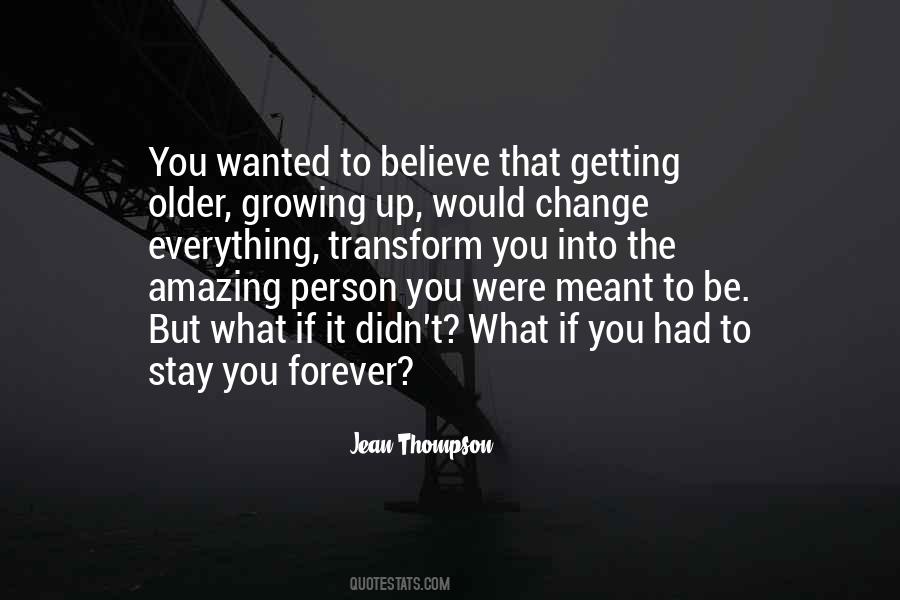 #60. Christianity has aimed to deliver us from a life determined by nature, from the appetites as actuating us, and so has meant that man should not let himself be determined by appetites. - Author: Max Stirner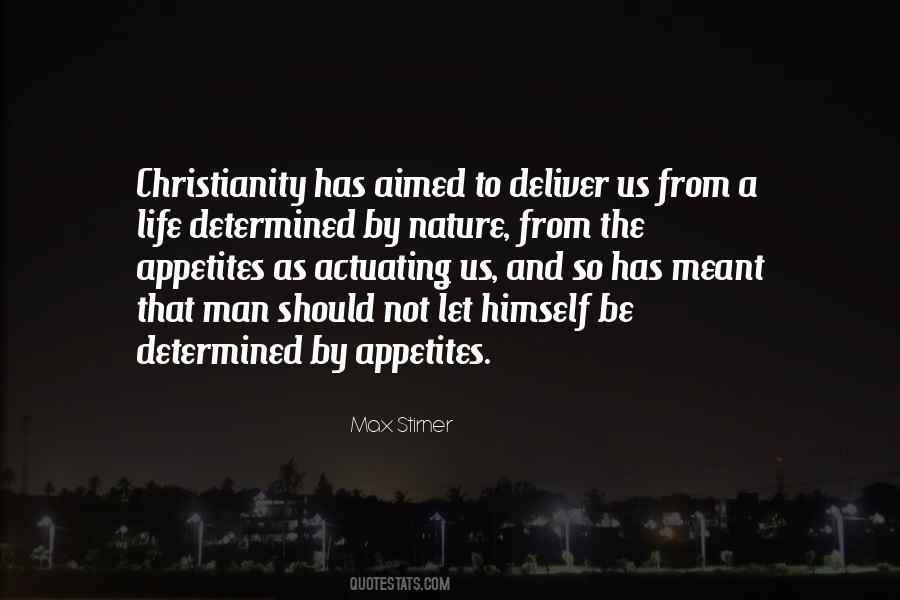 #61. I don't know that human beings were meant to mate for life or be monogamous. But, for me, the aspect of marriage that is troubling is that it's a contract that is governed by the state, and I don't want the state to have control over my personal affairs. - Author: Laura Wasser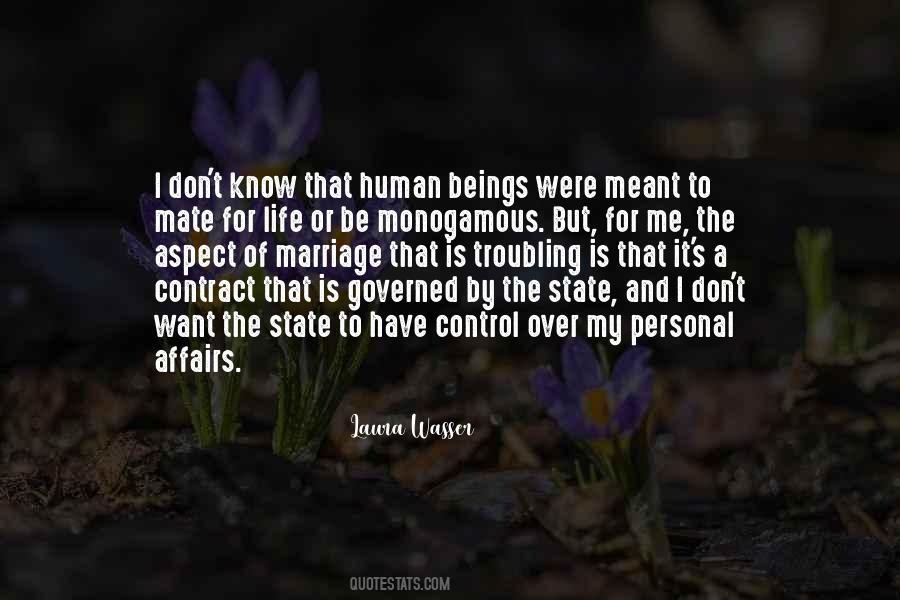 #62. I can't even think about what life "could
have been" like in Boston, without crying. It's like deja-vu, I don't think me
and Boston were ever meant to be. - Author: Cecelia Ahern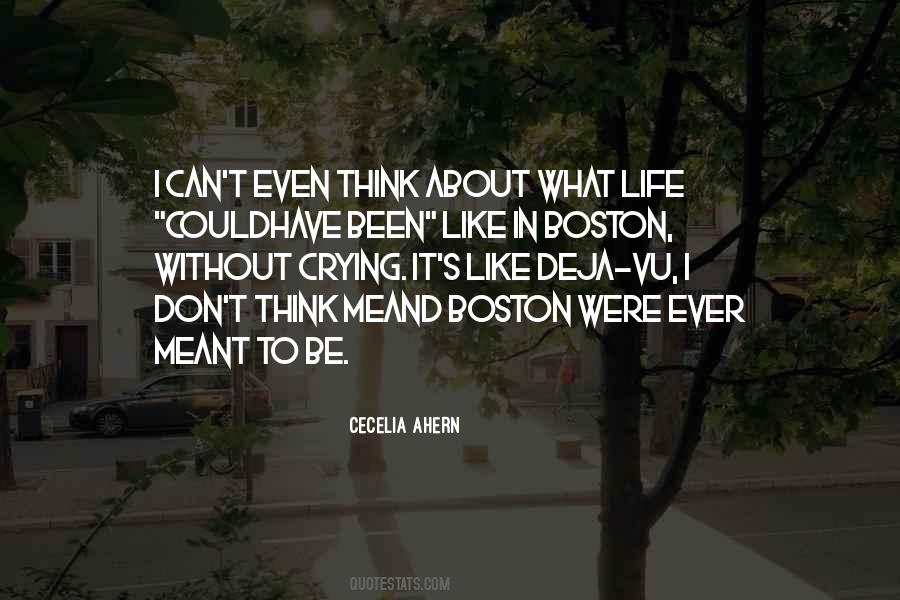 #63. It's really not so good to have time. Rush, scramble, desperation, this missed, that left behind, those others too big to fit into such a small space
that's the way life was meant to be. You're supposed to be too late for some things. Don't worry about it. - Author: Peter S. Beagle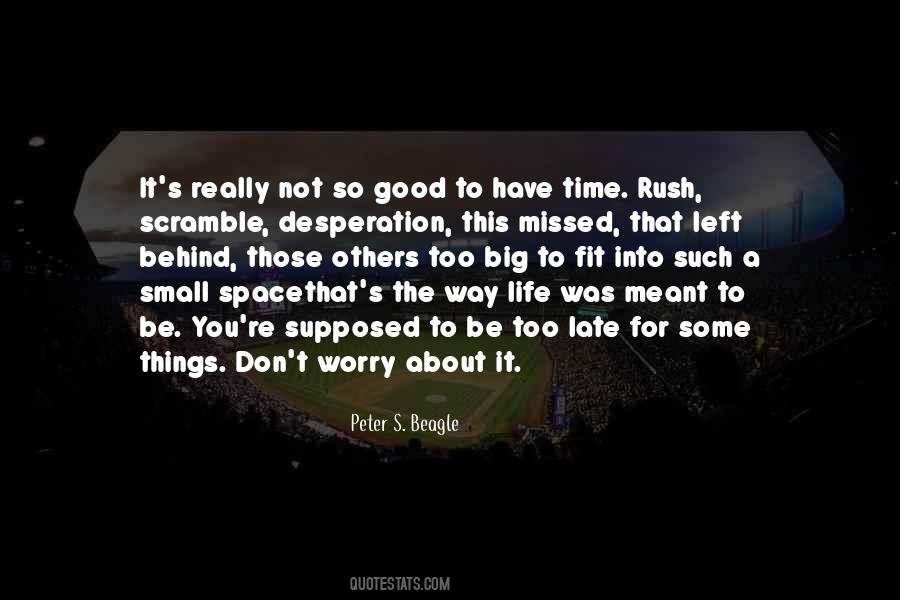 #64. I don't care about losing people who don't wanna be in my life anymore. I've lost people who meant the world to me and I'm still doing just fine. - Author: Karl May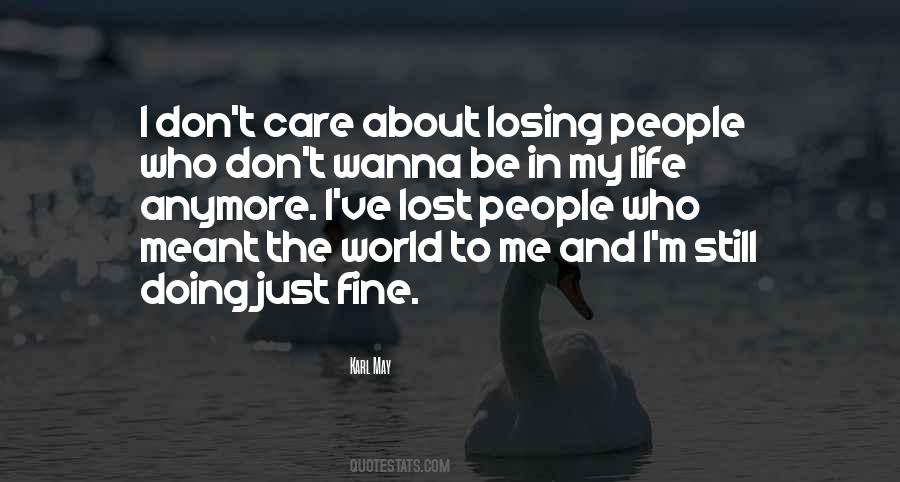 #65. I'm just really a free spirit. You gotta be like that. 'Cause life ain't that complicated. It's only that complicated when you make it that way. I just wanna wake up and move with the way it goes. If it's meant to happen, it will happen. - Author: Nayvadius Cash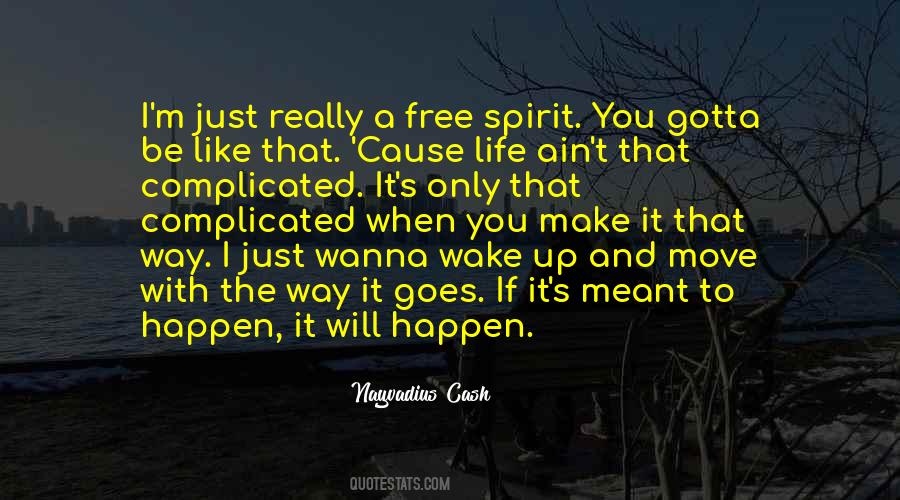 #66. I was convinced that she was about to tell me my card was declined, and assumed Derek wanting to talk later meant he'd soon be telling me our life was declined. Everything, everyone had reached their limits with me. - Author: Joshua Mohr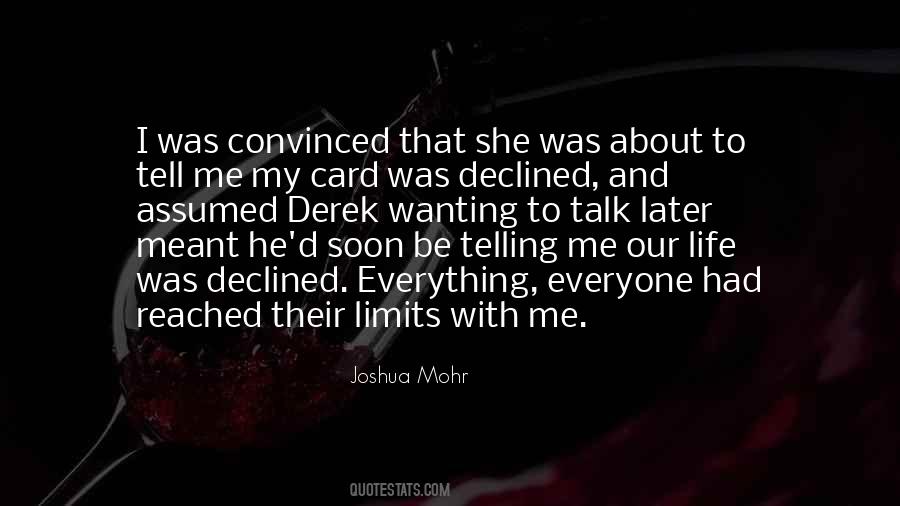 #67. There's nowhere you can be that isn't where you're meant to be ... - Author: John Lennon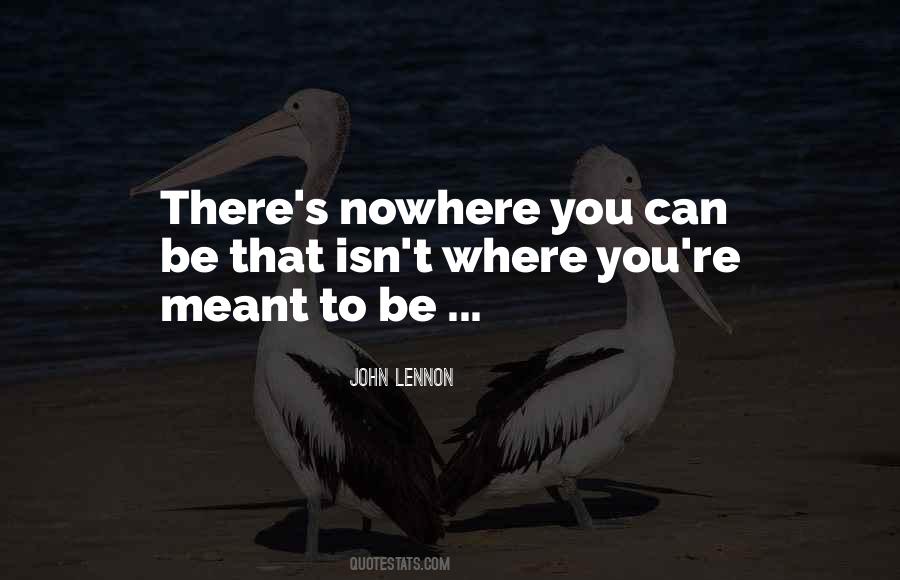 #68. Life has never been easy. Nor is it meant to be. It is a matter of being joyous in the face of sorrow. - Author: Dirk Benedict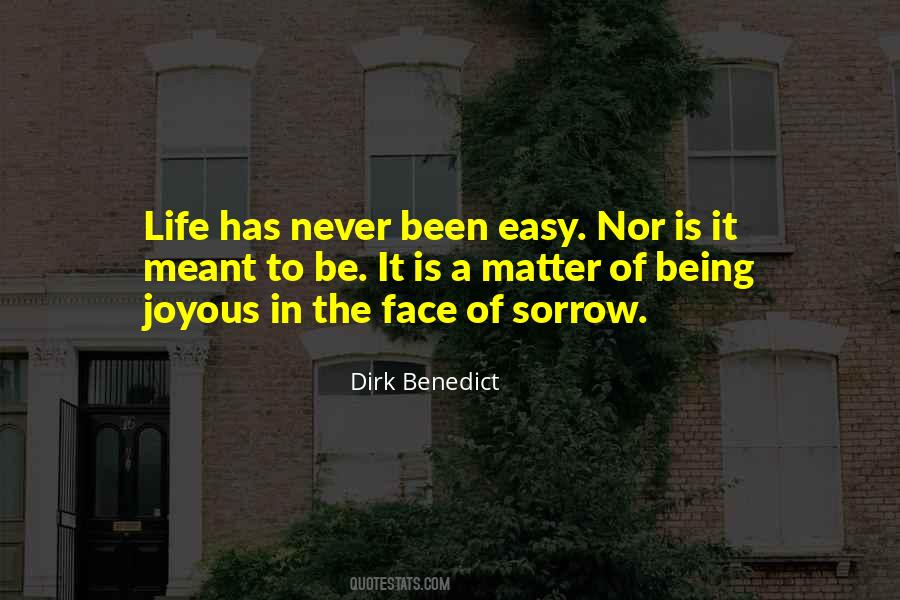 #69. Life is true to form; records are meant to be broken. - Author: Mark Spitz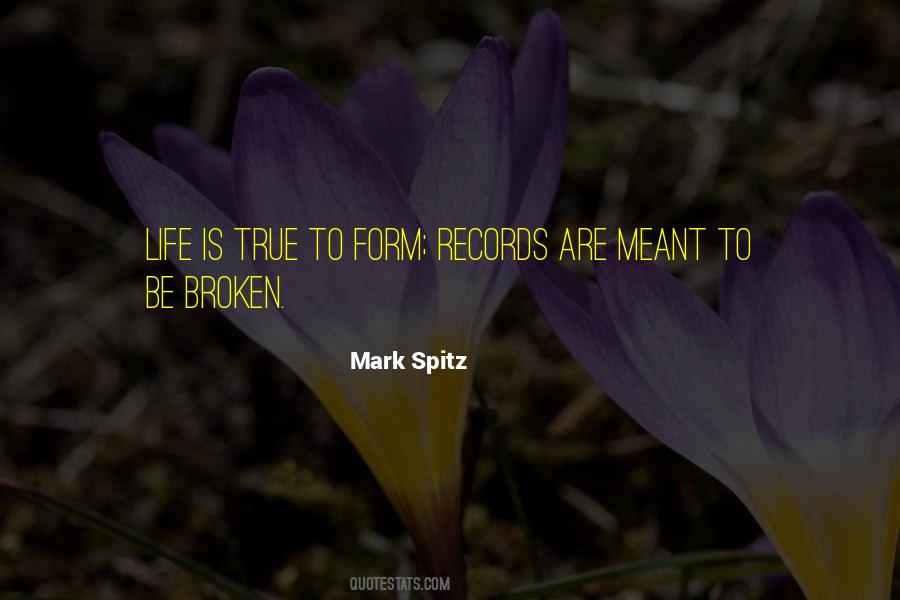 #70. There are some things in life that just are. They are meant to be, and to fight against them is to ensure your own loss. - Author: Theresa Smith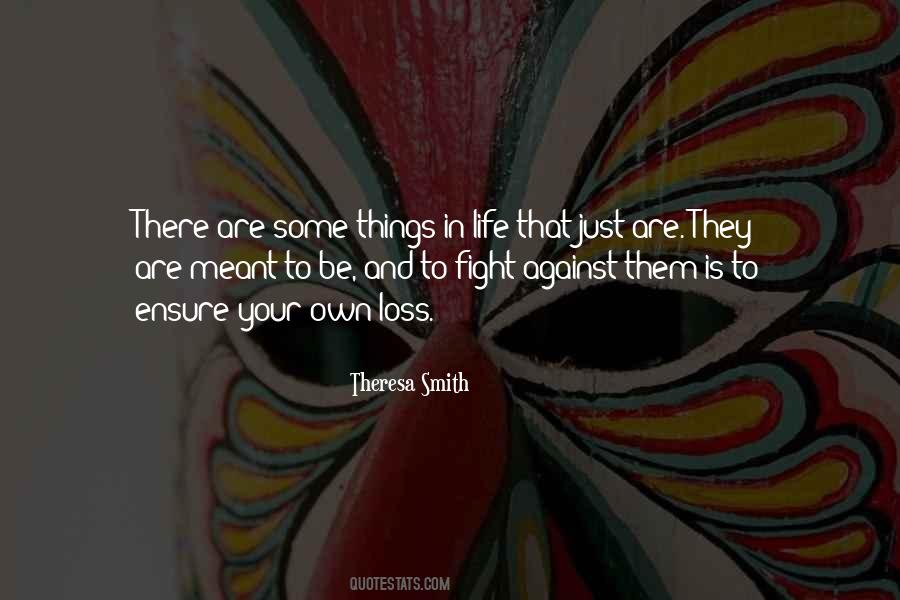 #71. He's meant to be that classic Homer, Ulysses, Hercules - a character who goes out or has some gift of some kind. He goes on a journey of discovery and part of that is falling into darkness - the temptations of life. - Author: Robert Redford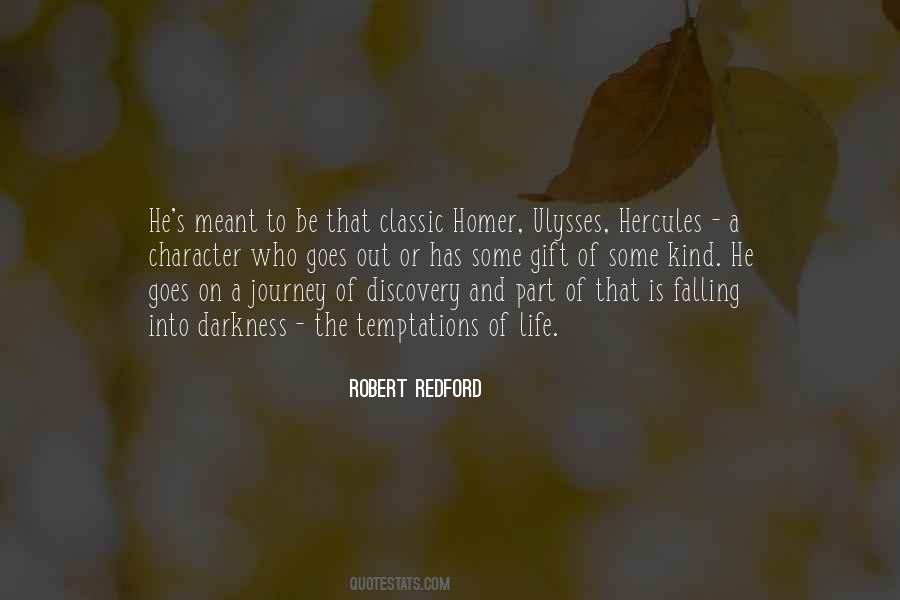 #72. The Christian life was never meant to be lived alone. Together we're a body. A family. The people of God. - Author: Matthew West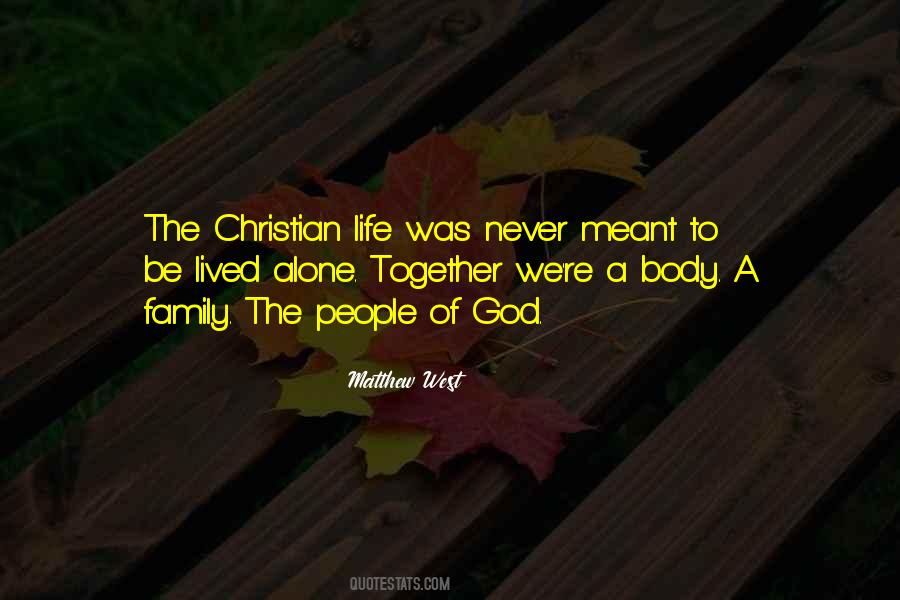 #73. So this was love. Two life-forms in mutual reliance. I was meant to be thinking I was watching weakness, something to scorn, but I wasn't thinking that at all. - Author: Matt Haig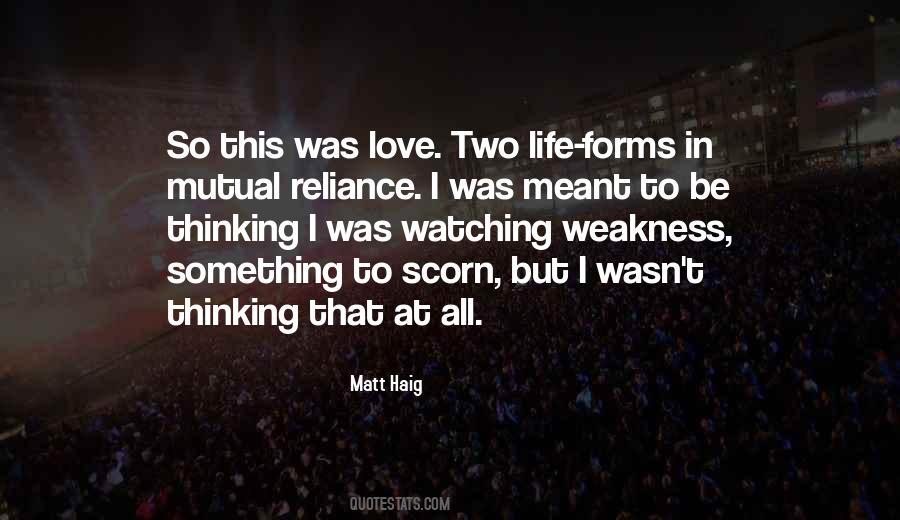 #74. It's just that ... I just think that some things are meant to be broken. Imperfect. Chaotic. It's the universe's way of providing contrast, you know? There have to be a few holes in the road. It's how life is. - Author: Sarah Dessen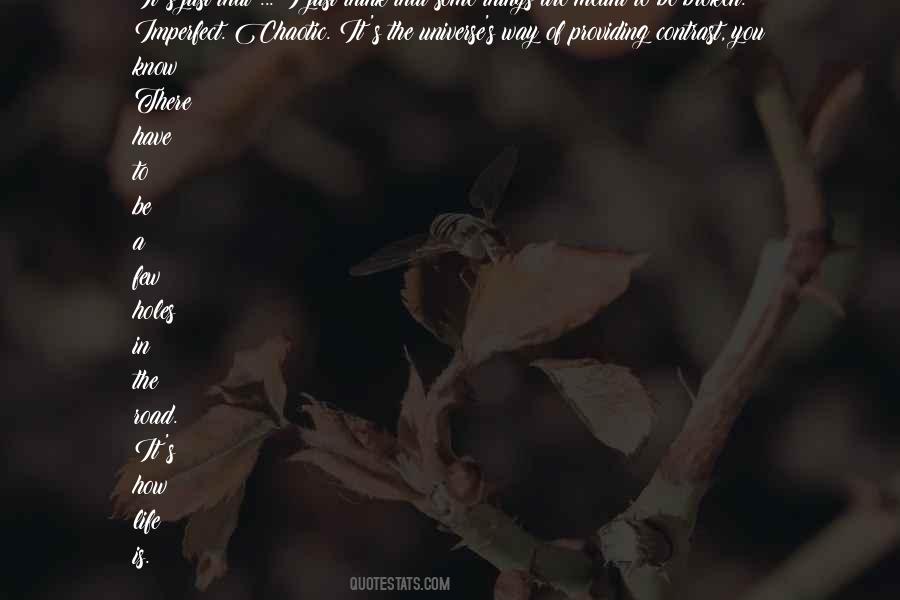 #75. Wine, like life, is meant to be enjoyed. - Author: Richard Branson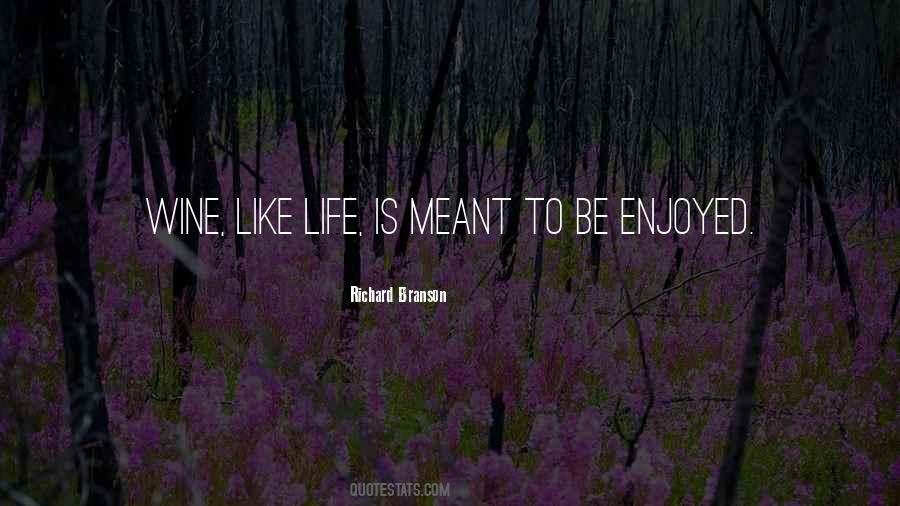 #76. Life was meant to be lived. - Author: Eleanor Roosevelt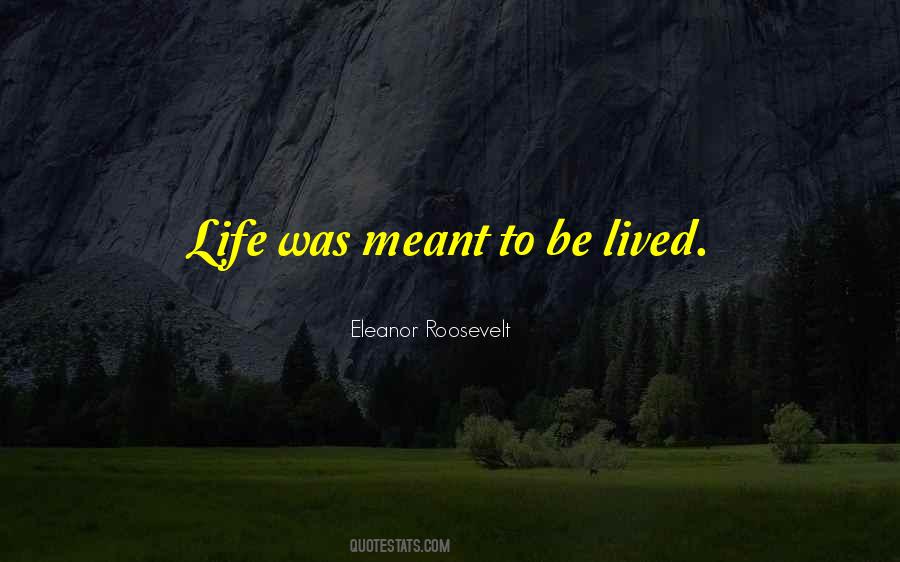 #77. There is nothing dreary or doubtful about (the life). It is meant to be continually joyful ... We are called to a settled happiness in the Lord whose joy is our strength. - Author: Amy Carmichael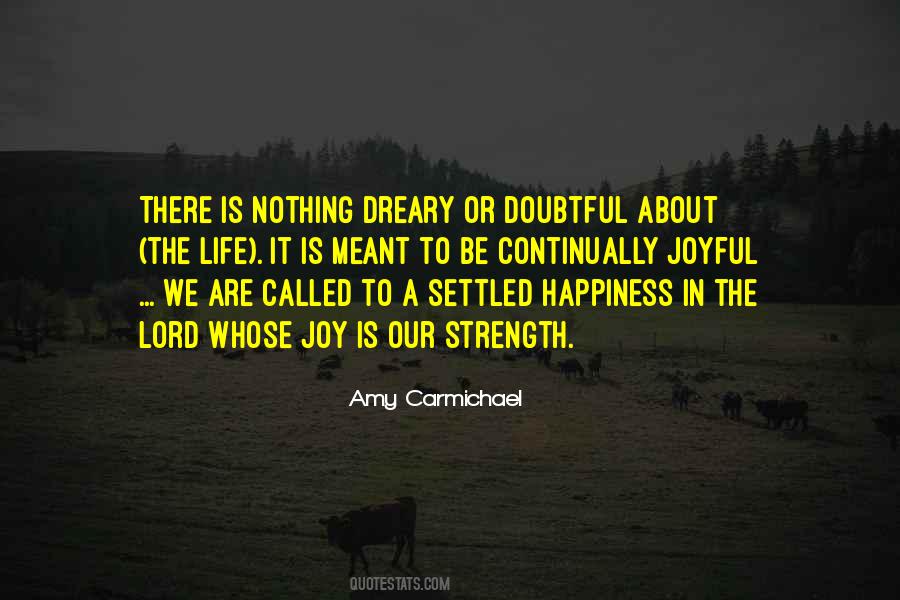 #78. People are meant to go through life two by two. 'Tain't natural to be lonesome. - Author: Thornton Wilder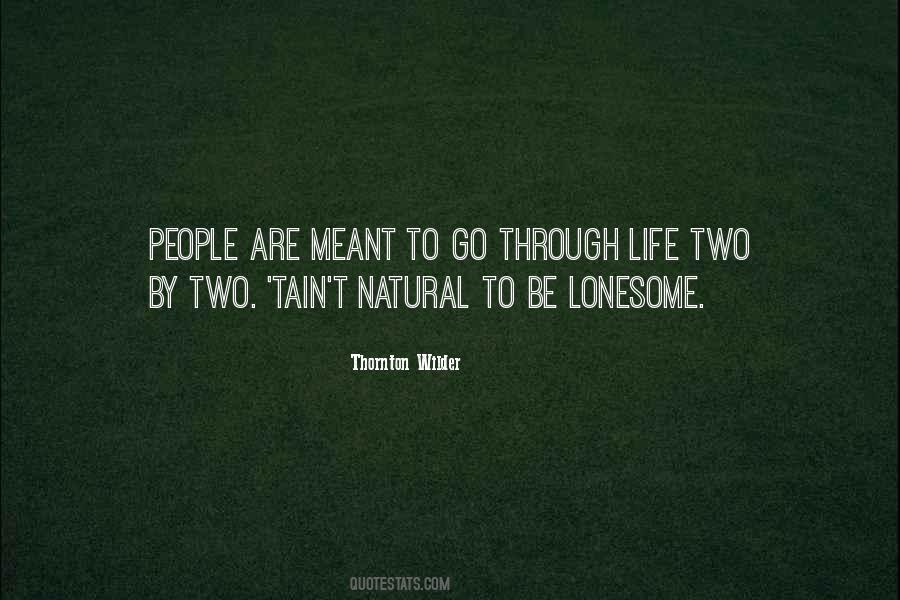 #79. My first motion capture game was with Sony - 'NBA: The Life.' It was very ahead of its time. Brandon Akiaten, he was the writer and director. He had a real vision of what this game was meant to be; it was a basketball game where I was the Jerry Maguire sports agent type guy. And it was great! - Author: Nolan North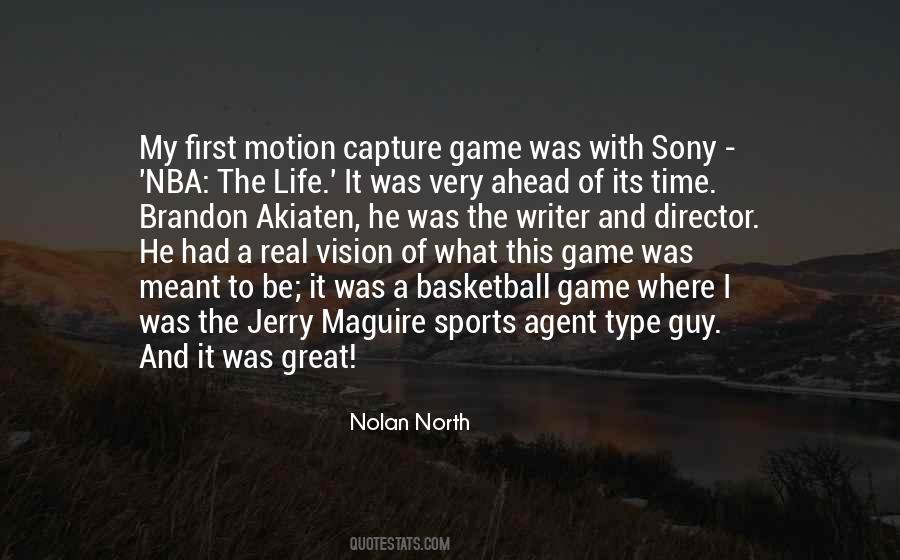 #80. If life was a dream, then dying must be the moment when you woke up. It was so simple it must be true. You died, the dream was over, you woke up. That's what people meant when they talked about going to heaven. It was like waking up. - Author: Ian McEwan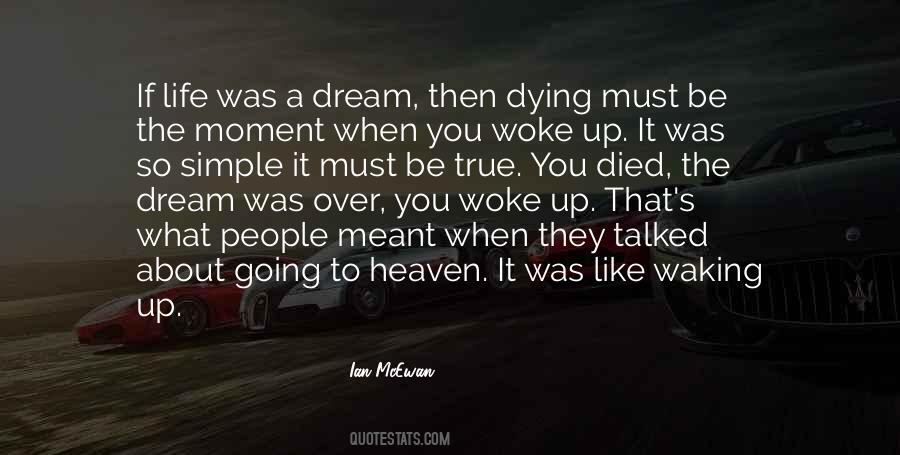 #81. I read a Bruce Lee quote that shifted how I'm trying to live my life right now. He said, "Some targets are only meant to be aimed at." Right? And I took that to mean a shift for myself from goal orientation to path orientation. - Author: Will Smith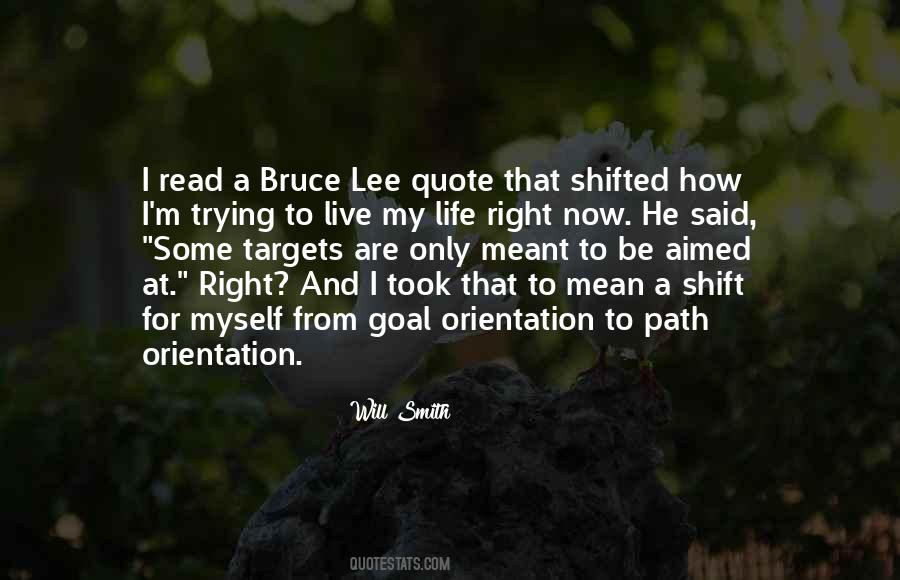 #82. I am not asking whether you know things about Him but do you know God, are you enjoying God, is God the centre of your life, the soul of your being, the source of your greatest joy? He is meant to be. - Author: David Lloyd-Jones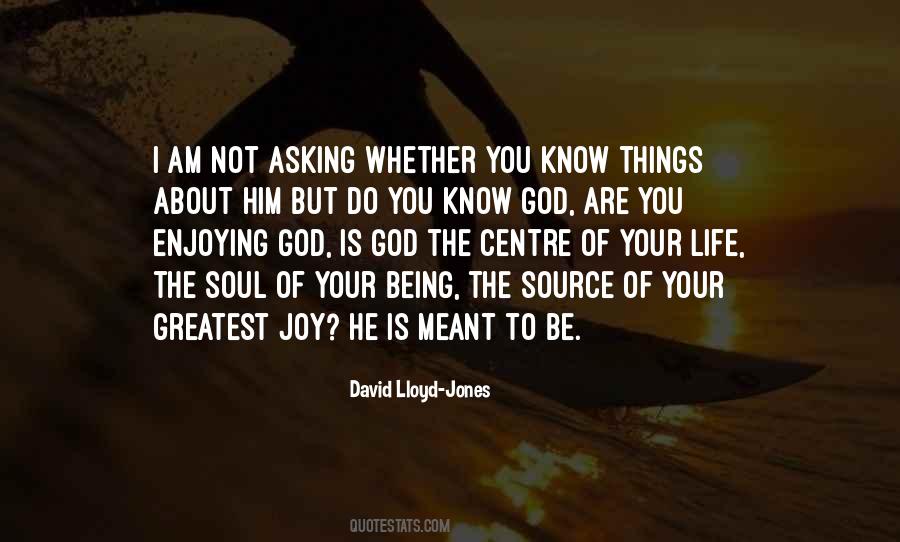 #83. Life left us all where we were meant to be or where it was convenient to leave us and then forgot us, which is as it should be. - Author: Roberto Bolano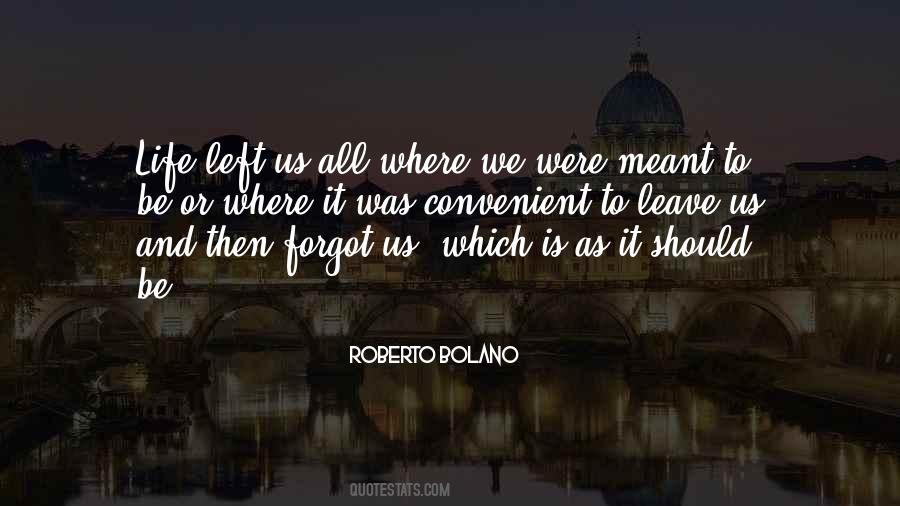 #84. You have neat, tight expectation of what life out to give you, but you won't get it. That isn't what life does. Life does not accommodate you, it shatters you. It is meant to, and it couldn't do it better. EVERY SEED DESTROYS ITS CONTAINER OR ELSE THERE WOULD BE NO FRUITION. - Author: Florida Scott-Maxwell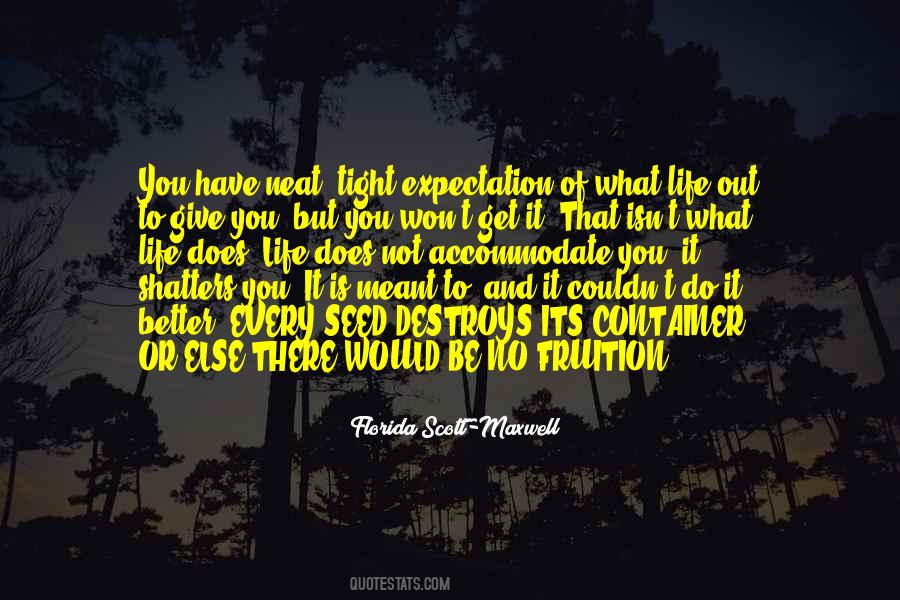 #85. It was a delicious feeling, falling in love. I'd had so many luxuries in my life, and I thought I'd had a taste of this before, but I realized now it was merely a cheap imitation of something not meant to be imitated in the first place. - Author: Kiera Cass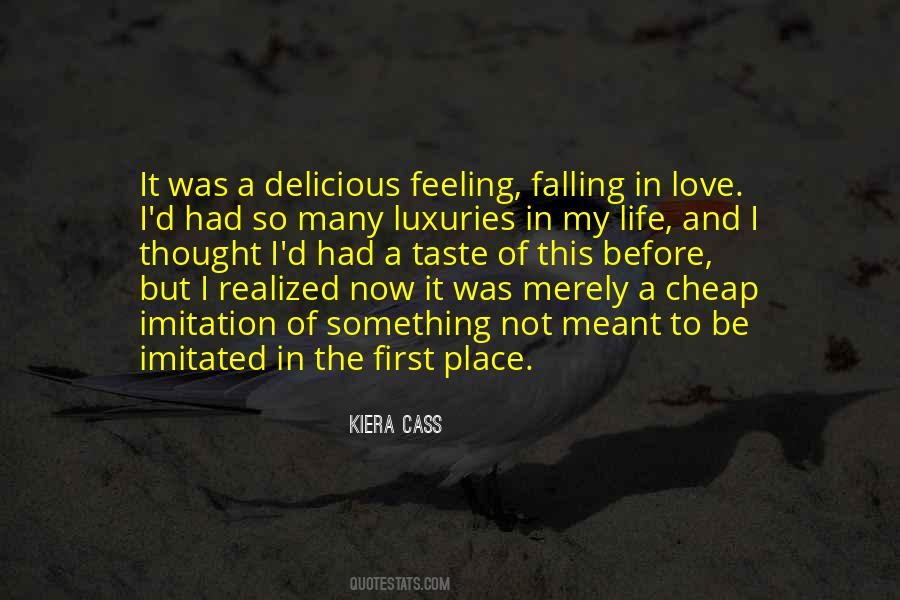 #86. Life is meant to be enjoyed, not just endured. - Author: Gordon B. Hinckley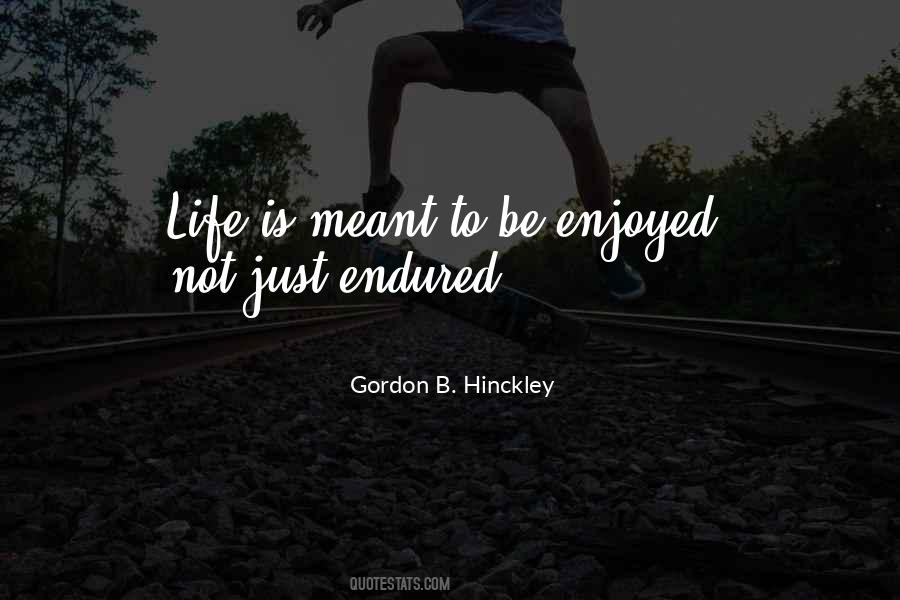 #87. Mistakes focus our minds on specific details. They weed out truths and afford us goals, bringing straight to our attention lessons to be learned. Mistakes are not meant to make us failures; they are meant to make us wise. - Author: Richelle E. Goodrich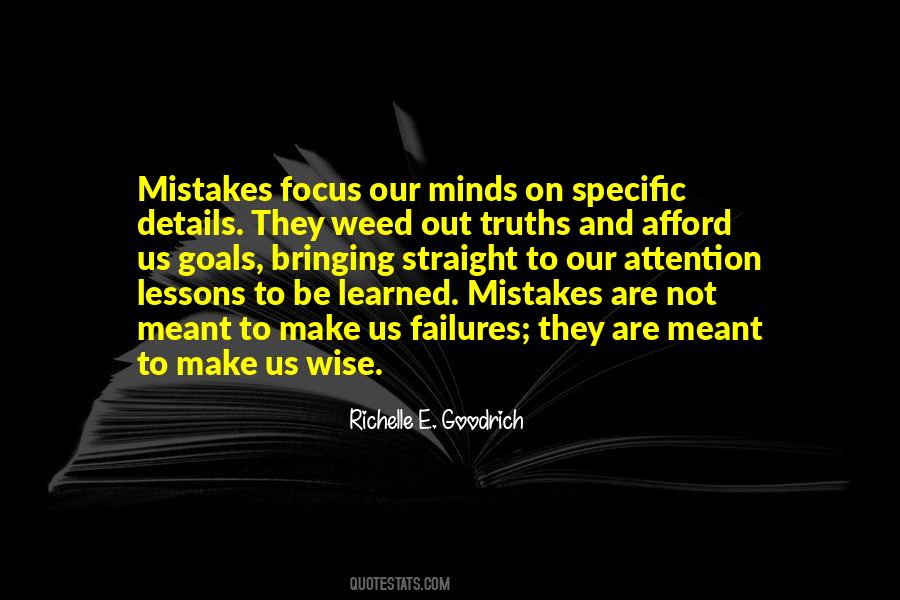 #88. Inside I knew he was meant to be the guy that taught me about life. Even if he broke my heart eventually. - Author: Abbi Glines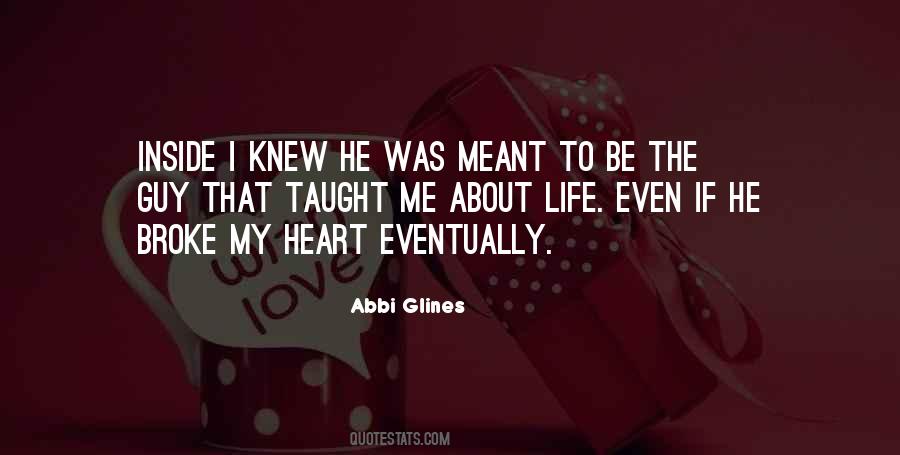 #89. Our Christian hope is that we are going to live with Christ in a new earth, where there is not only no more death, but where life is what it was always meant to be. - Author: Timothy Keller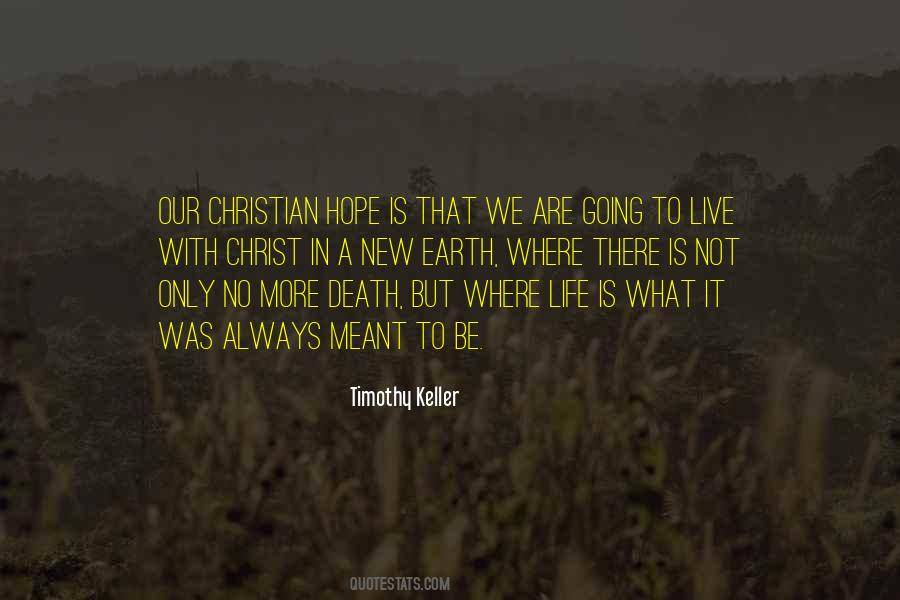 #90. Easter is meant to be a symbol of hope, renewal, and new life. - Author: Janine Di Giovanni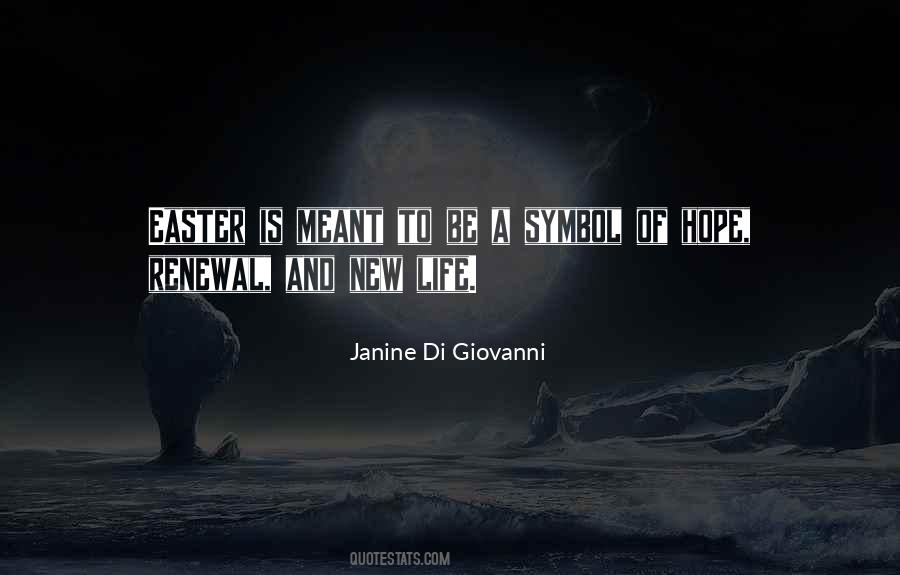 #91. There are no mistakes in life, only stepping stones to the path you were meant to be on! - Author: Heather Schwartz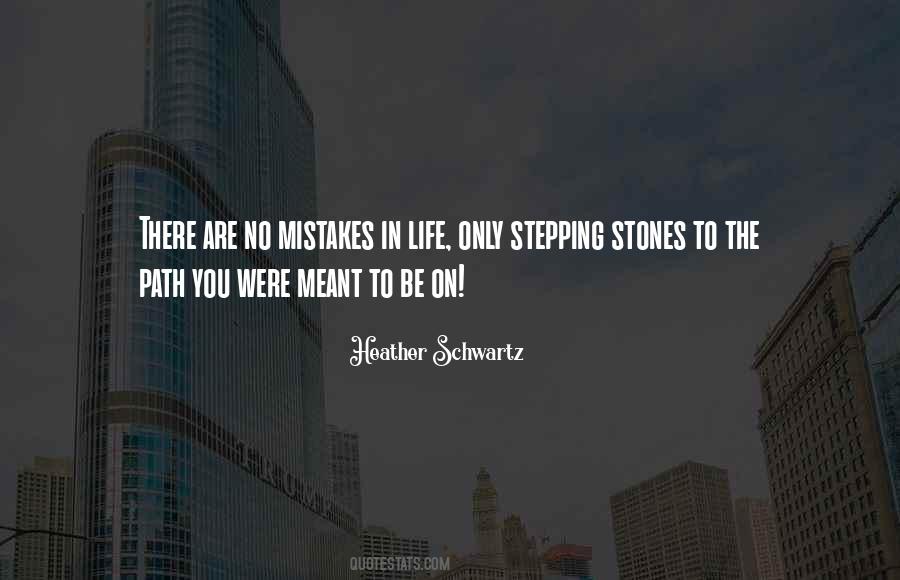 #92. There is a point. I don't know what is it, but everything I've had, and everything I've lost, and everything I felt
it meant something. Maybe there isn't a meaning to life. Maybe there's only a meaning to living.
That's what I've learned. That's what I'm going to be doing. LIVING. - Author: Kami Garcia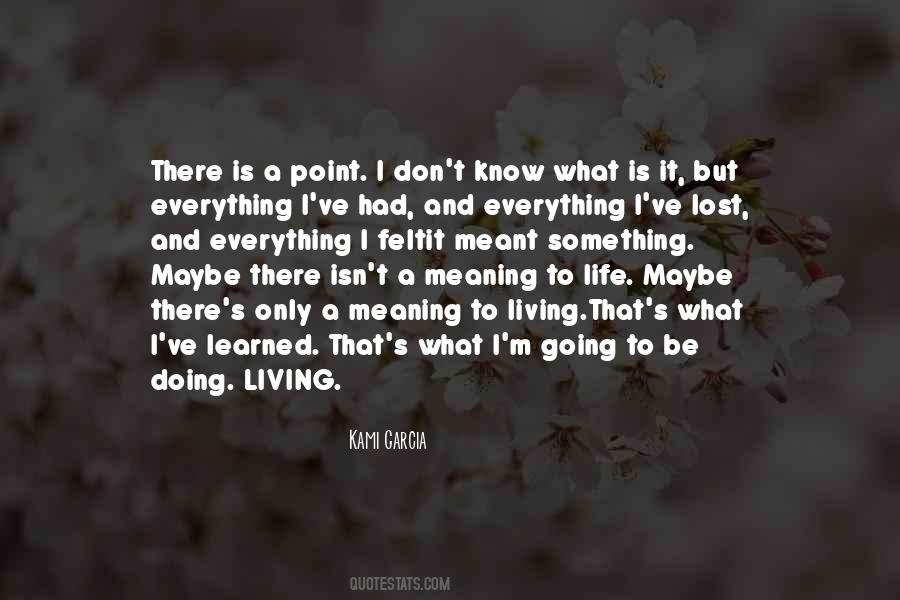 #93. Life is not a straight line. It's a spiderweb that twists and tangles. We crawl along our strands until we touch the people who are meant to be in our lives. The strands can knot, as mine did with Lily's, but they don't break, and the unexpected paths are often the best ones. - Author: Stephanie Knipper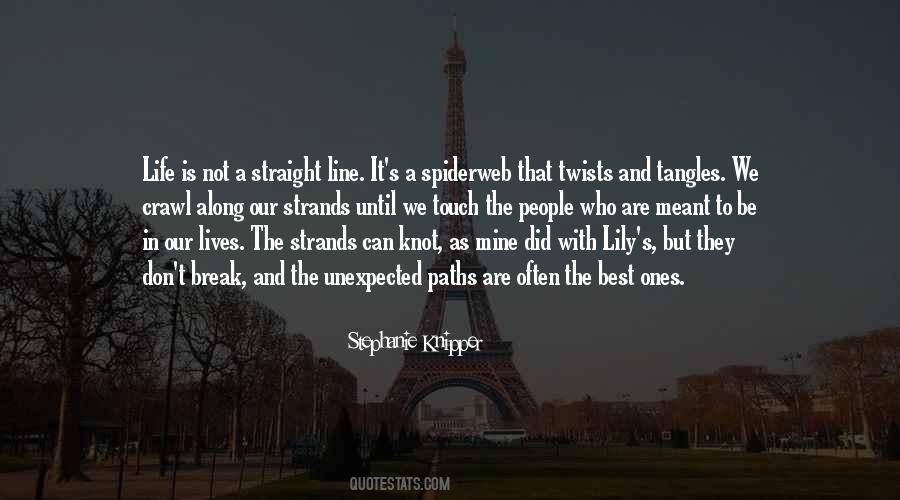 #94. If you do not know you have intrinsic value because of who you are and who you are meant to be, you will feel uncomfortable when you are not looking your best(in other's eyes) or if you are not wearing the latest fashion trend - Author: Sunday Adelaja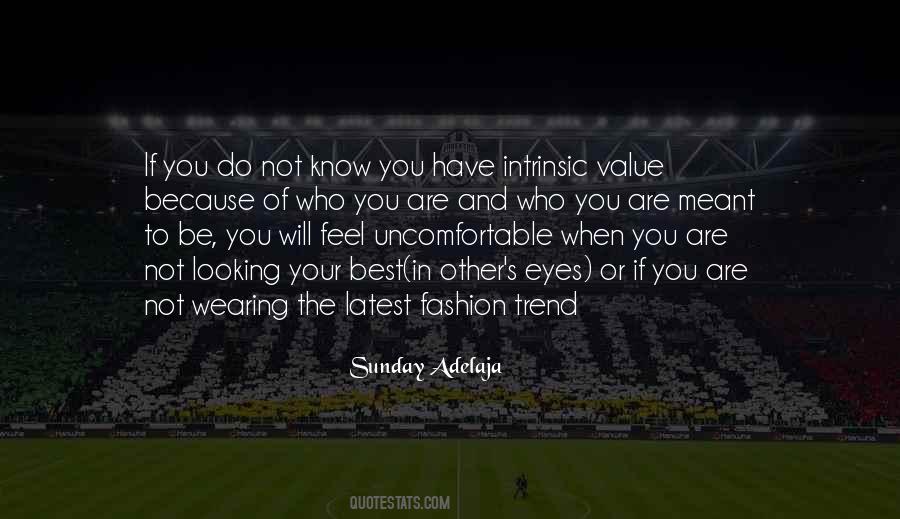 #95. Life wasn't meant to be easy. - Author: Malcolm Fraser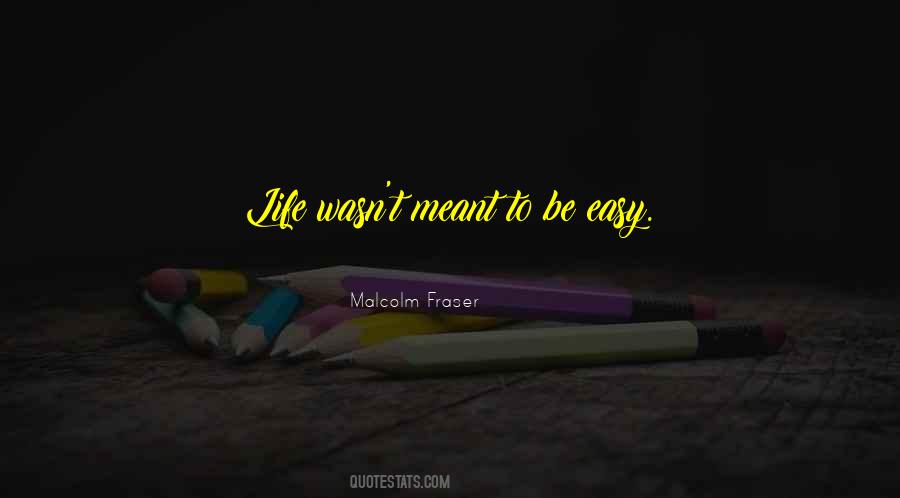 #96. I am convinced that life in a physical body is meant to be an ecstatic experience - Author: Shakti Gawain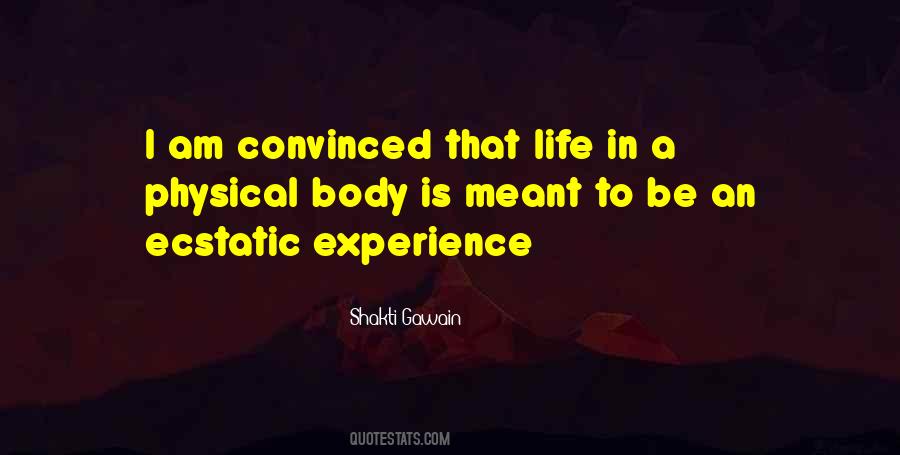 #97. Love was never meant to be contained solely in our hearts, just as life in a seed was always meant to break through into the world and become beauty to be shared. - Author: Forrest Curran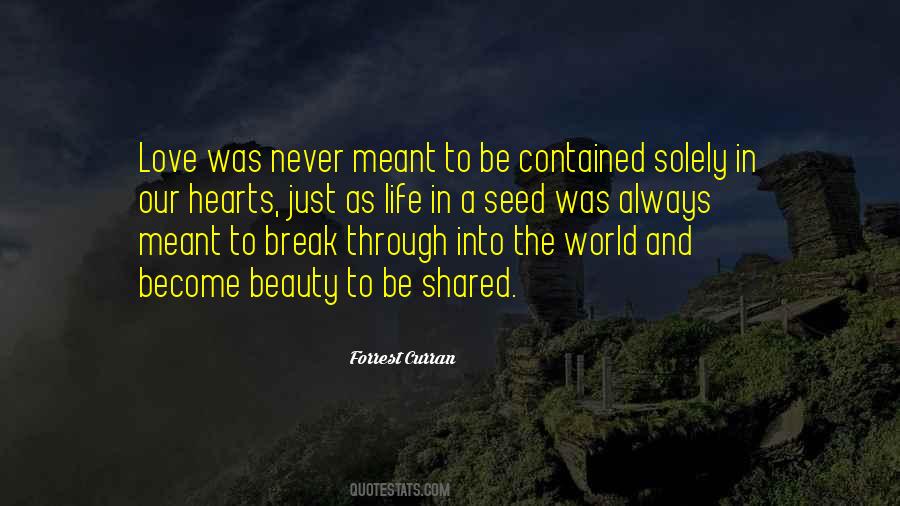 #98. Everything I thought I knew about what it meant to be a man was stripped away. What remained was what it meant to be a man who loved a woman as much as I did. To be a human being experiencing this life in all its ugliness, its beauty, its pain and hate; good and evil; love and death. - Author: Emma Scott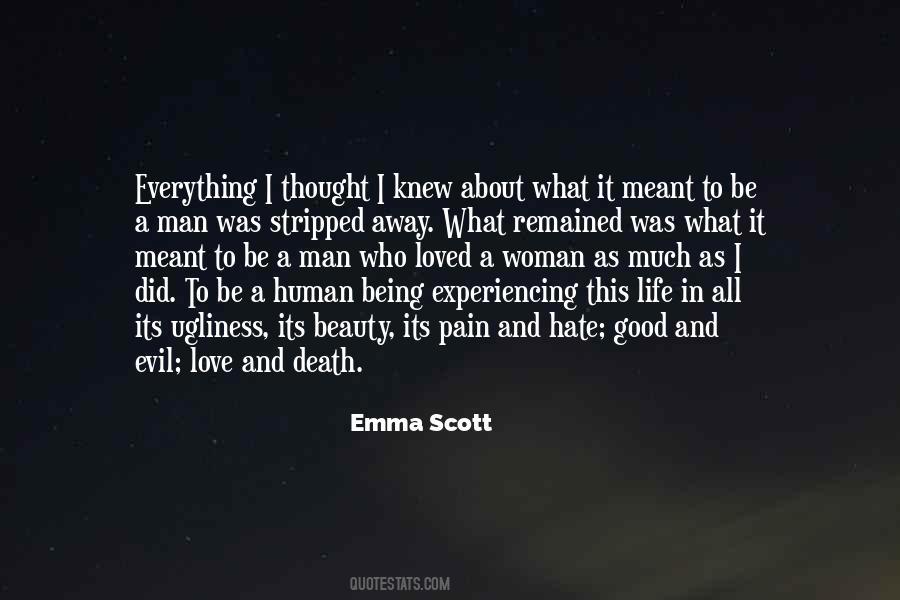 #99. Just because a child doesn't have both parents raising him or her, doesn't mean that child becomes half the person they were meant to be. One wonderful parent can love enough for two, and love will always be the biggest influence in a child's life. - Author: Ron Baratono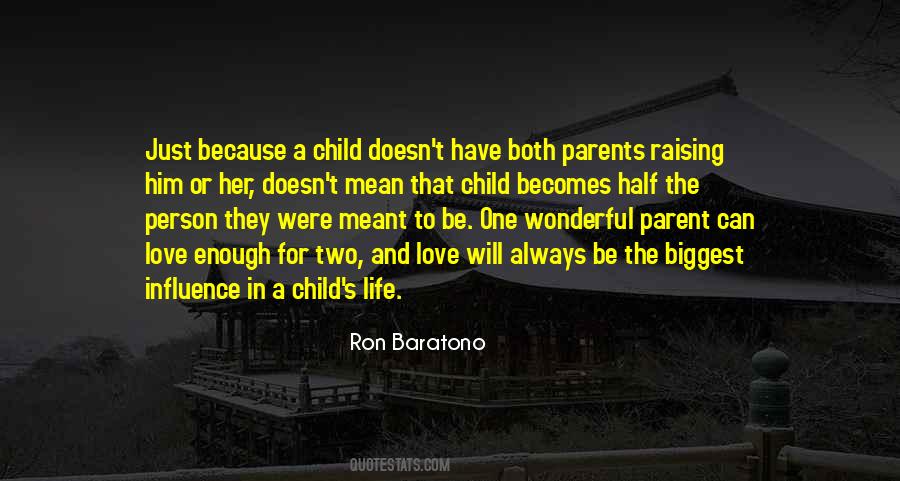 #100. It was a privilege to be with someone when life had knocked them down, because it meant you got to help build them up again. He - Author: Laura Kaye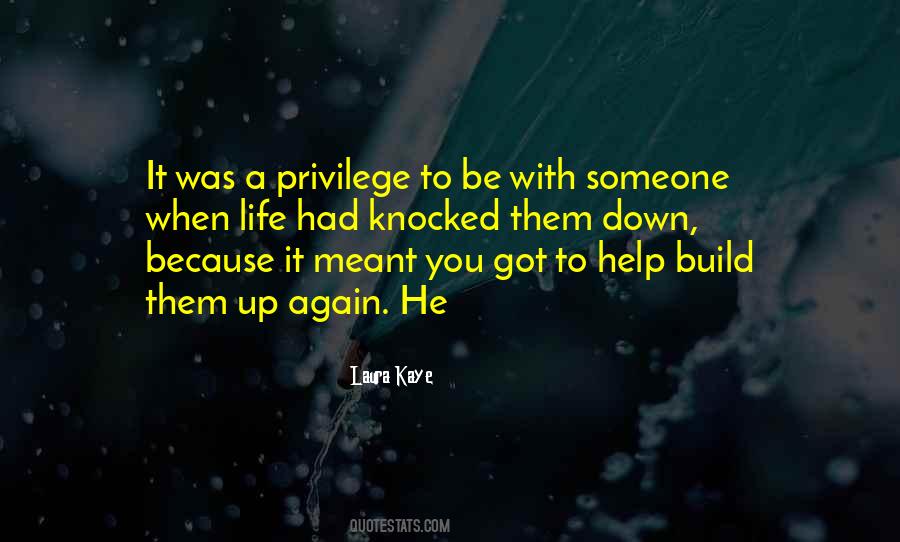 Famous Authors
Popular Topics