Life And Struggles Famous Quotes & Sayings
List of top 100 famous quotes and sayings about life and struggles to read and share with friends on your Facebook, Twitter, blogs.
Top 100 Quotes About Life And Struggles
#1. In everybody's life there's a point of no return. And in a very few cases, a point where you can't go forward anymore. And when we reach that point, all we can do is quietly accept the fact. That's how we survive. - Author: Haruki Murakami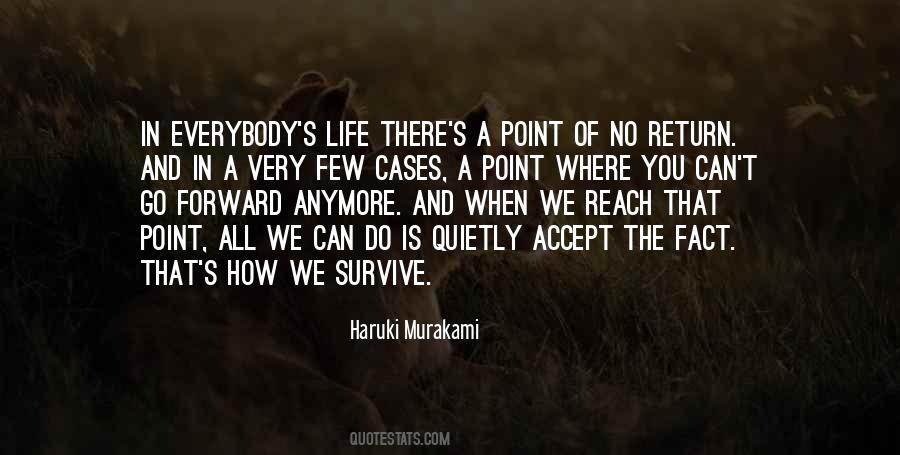 #2. Life turns, and returns death. Where death digs its claws into the grave only to pull out life, as a baby from a womb; and the recycle of air, the recycle of struggles that never achieve satisfaction, in a constant turning world, of an untuned universe. - Author: Anthony Liccione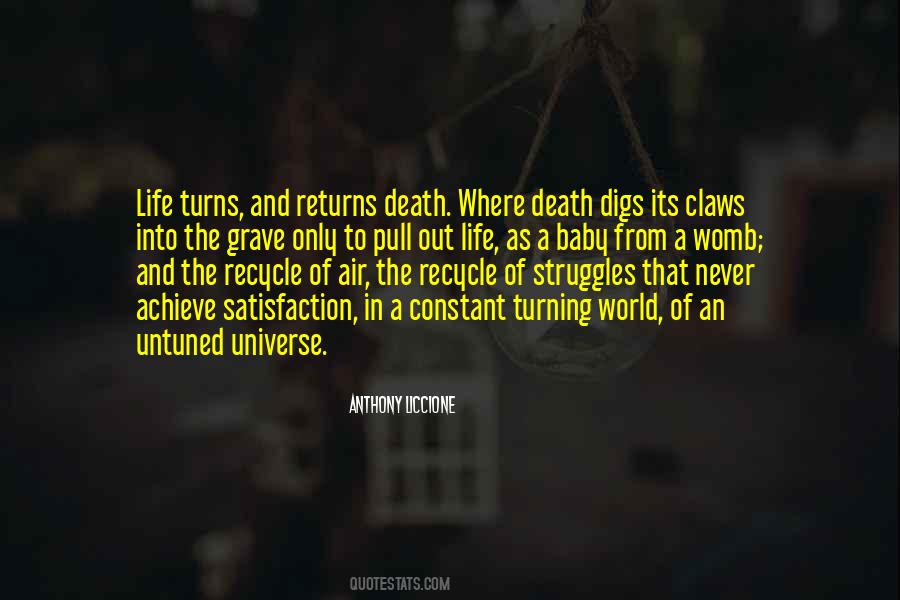 #3. Struggles make you stronger and the changes make you wiser and happiness has its own way of taking its sweet time. Life isn't always lovely, but it's a beautiful ride. - Author: Gary Allan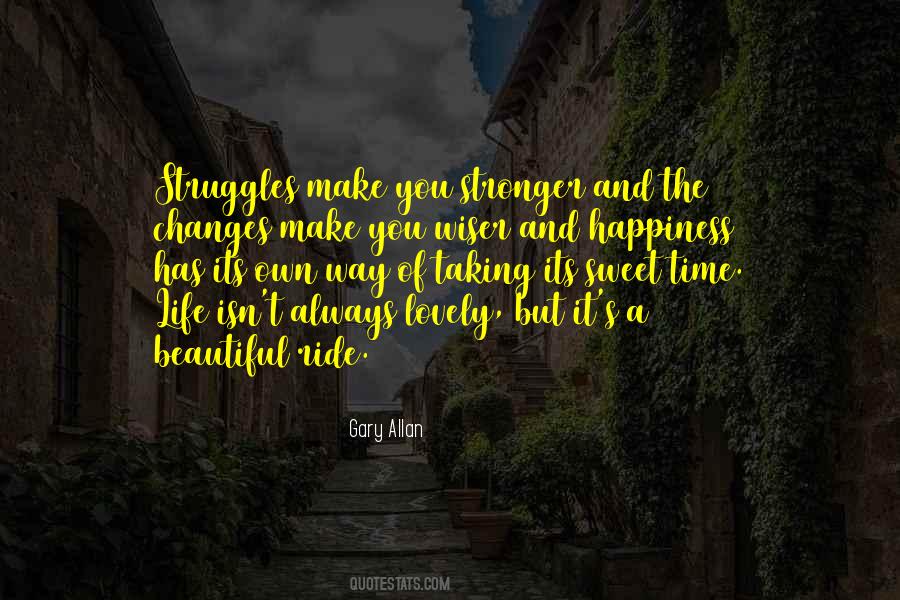 #4. We all make mistakes, have struggles, and even regret things in our past. But you are not your mistakes, you are not your struggles, and you are here NOW with the power to shape your day and your future. - Author: Steve Maraboli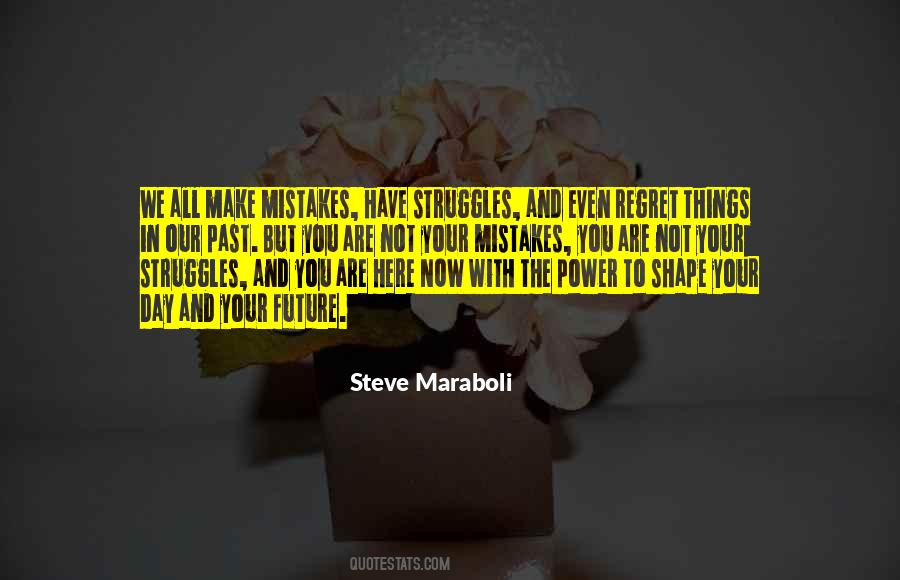 #5. Although you and I have crossed each other, we two are destined by the heavens to be together.
There will come a day when the two of us will join together to do great things. But until then, you must wait and endure any hardship and danger that may come your way. - Author: Auliq Ice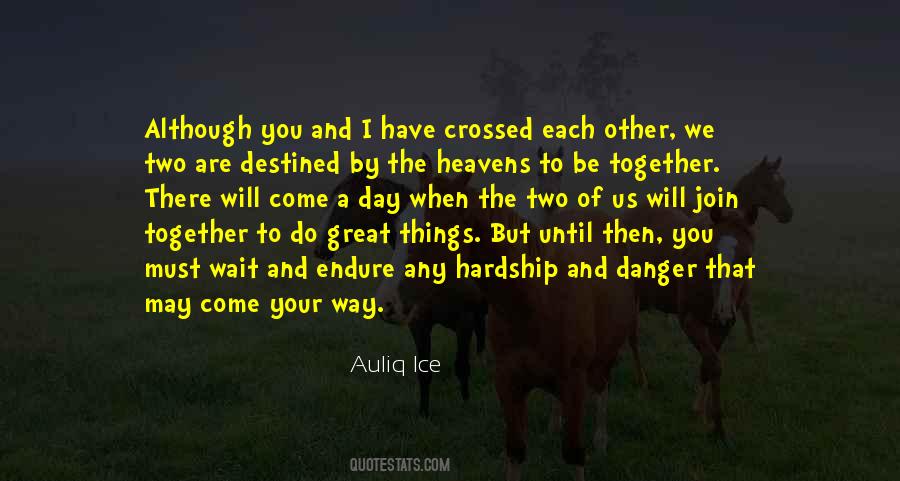 #6. If you really truly want to know, I've thought if I was ever free someday, I might discover I've held my tears so long that I can't cry anymore, that I'm a dry stone and nothing can ever be wrung from me. - Author: Dean Koontz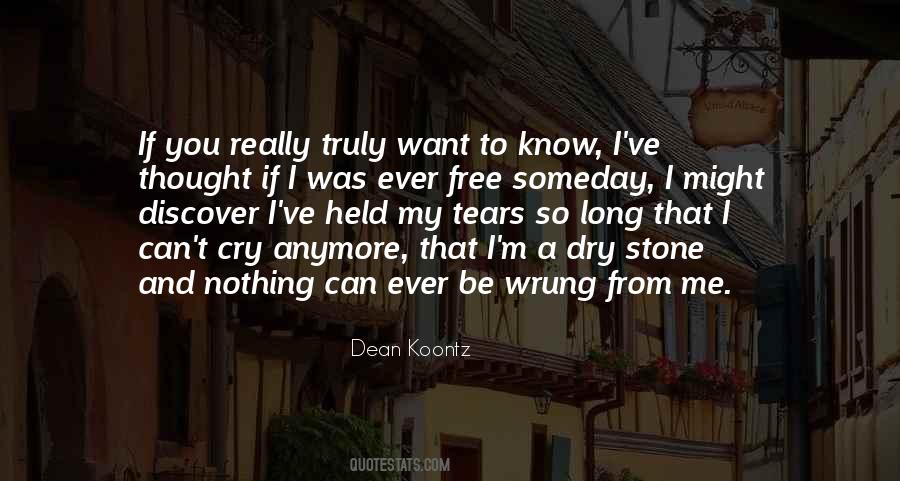 #7. Sometimes it feels as if God set you on Earth with a bottle full of nasty-tasting pills called days and these instructions: Swallow one at a time. When entire prescription is finished, you may return home. - Author: Richelle E. Goodrich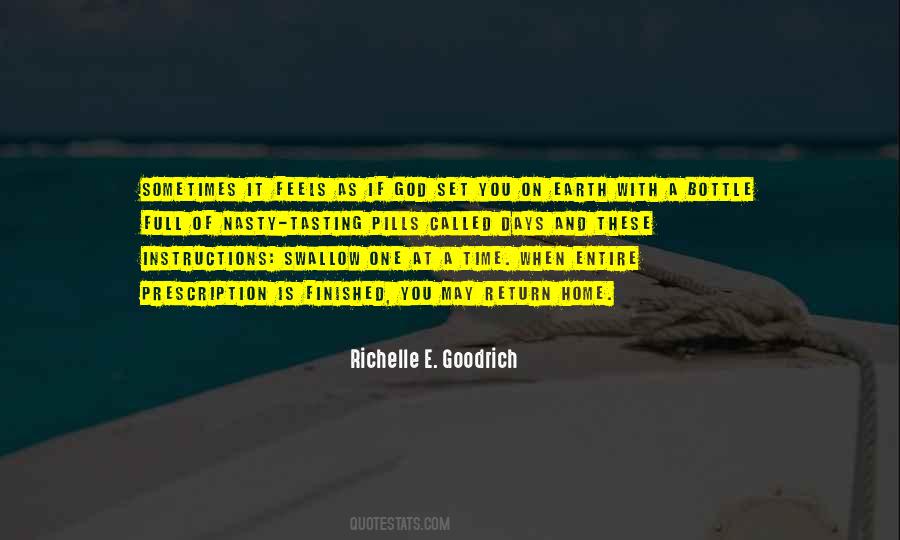 #8. I think I'm very interested in people, in the way our minds work and how we navigate through the experience that is life. Very interested in people's struggles and their choices and their regrets and joys. I'm very interested in the human animal. - Author: Victor Salva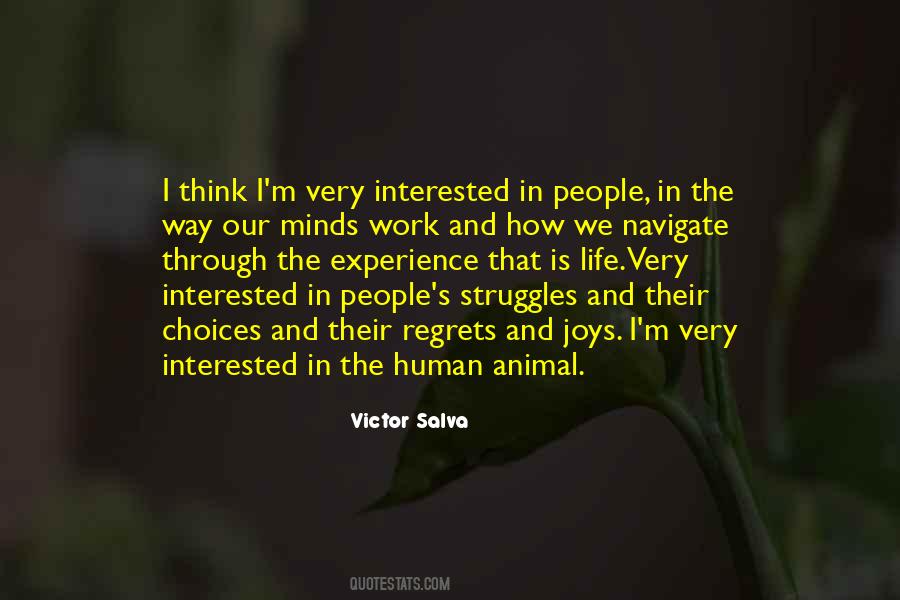 #9. A forced smile covers many struggles and has the power to improve perspective. Despite any difficulties, a smile can change everything! - Author: Karen Gibbs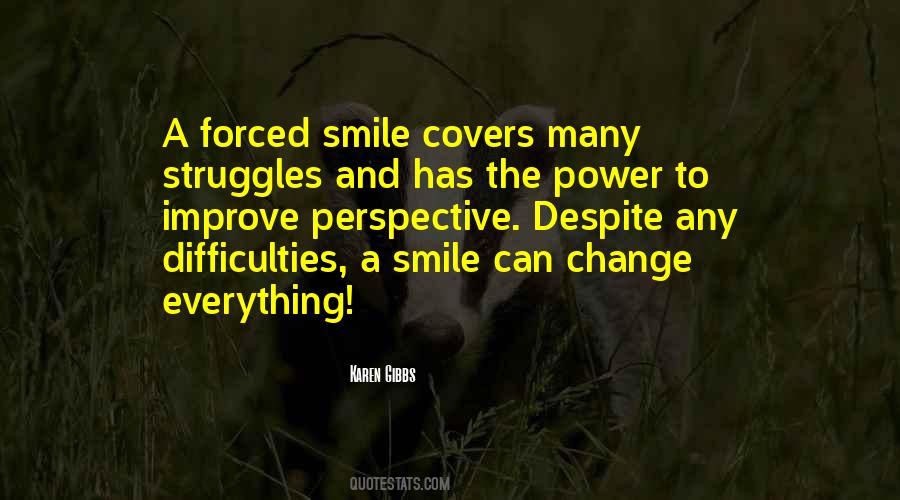 #10. If there is a witness to my little life,To my tiny throes and struggles,He sees a fool;And it is not fine for gods to menace fools. - Author: Stephen Crane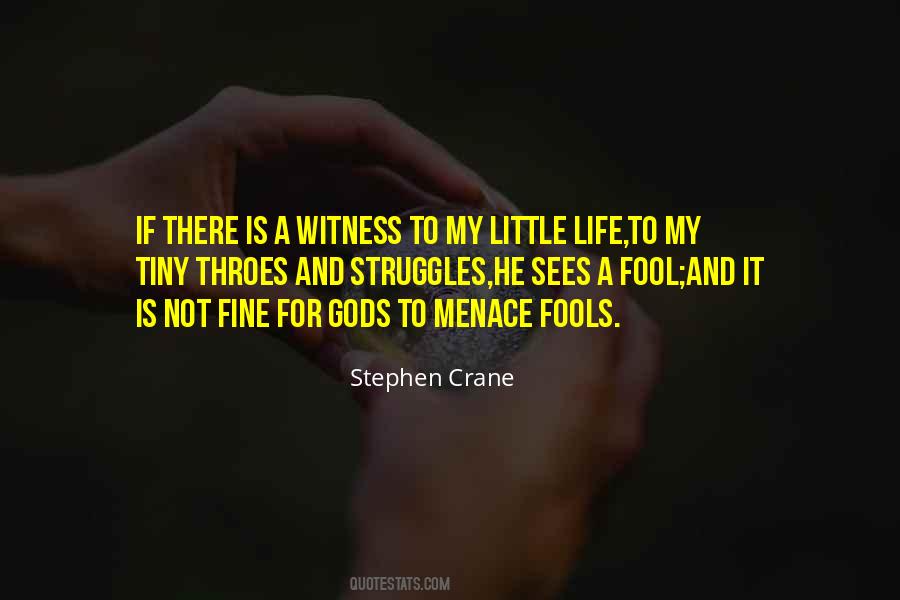 #11. The struggles and the chaos are part of life. But you have to accept them with grace and serenity because they have their own gifts too. - Author: Demi Lovato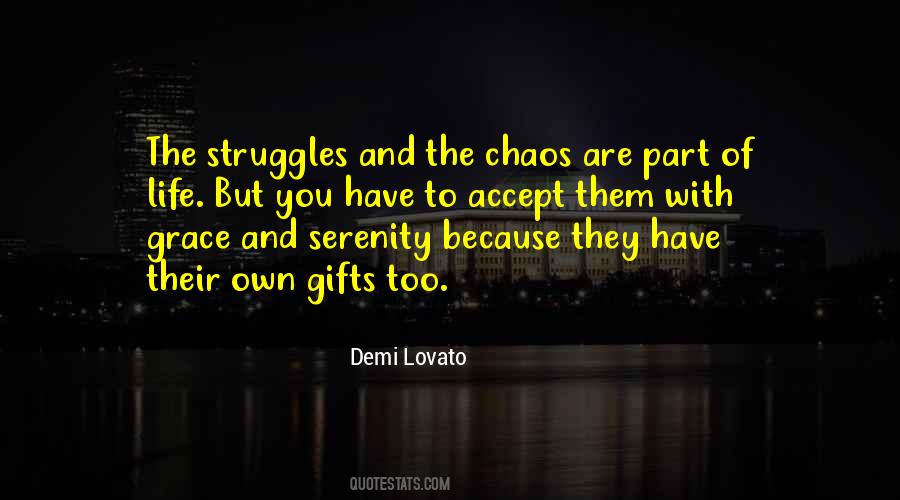 #12. Yes, I see why we endured infertility and a lengthy adoption process now, but I don't know all the reasons for all the struggles and waiting in my life. That is part of having faith this side of Heaven. - Author: Ashley Wells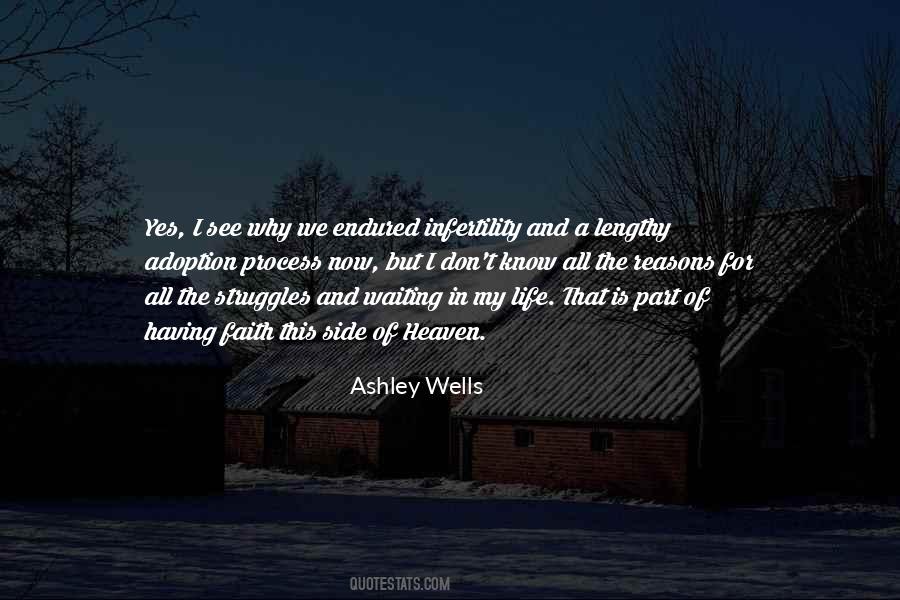 #13. My life has been full of struggles - coming from a troubled home, moving out when I was fifteen, ending up homeless by eighteen. The one thing I always knew was being jaded and bitter was equal to letting life win. - Author: Jewel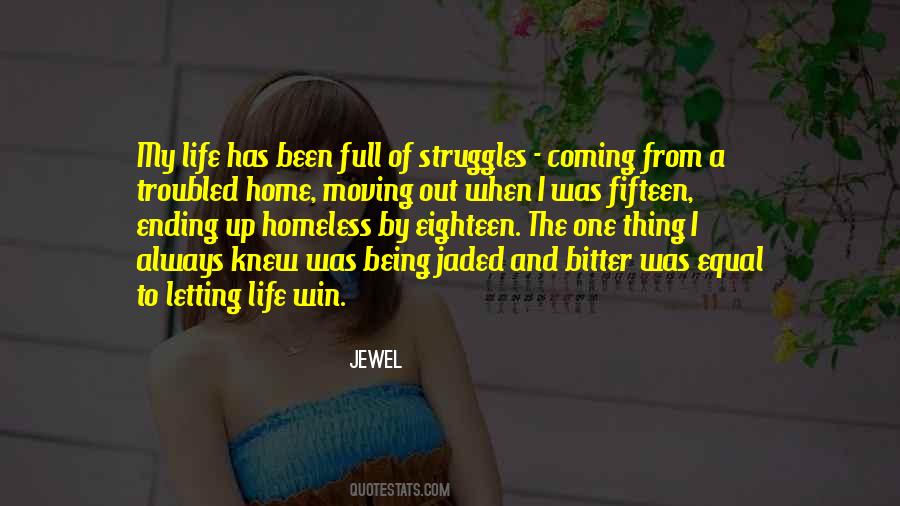 #14. Unmet desires are the source of most of the conflict and many of the struggles in our lives. When we don't get what we want, or when and how we want it, life can get pretty ugly. - Author: Kurt W. Bubna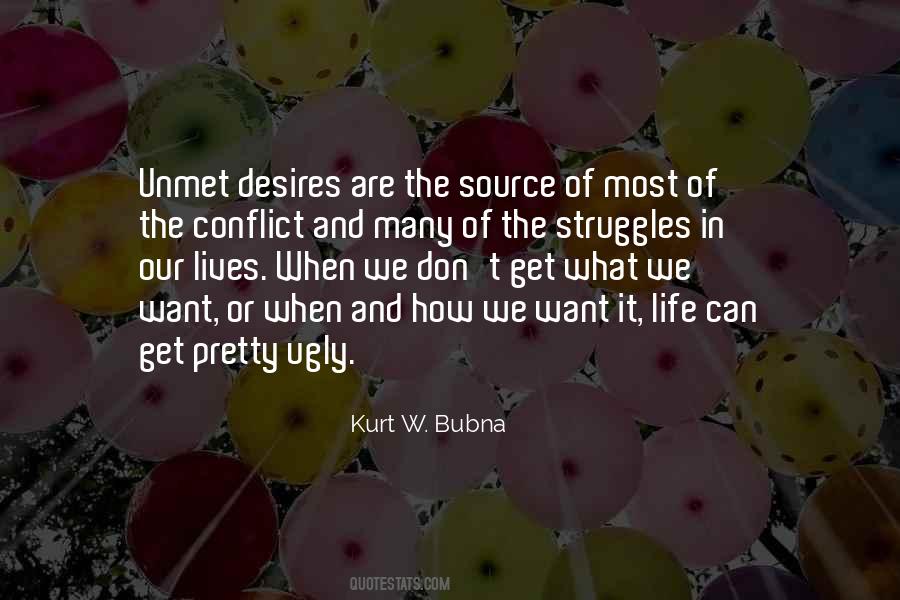 #15. For me, the most interesting people seem to have the bumpiest pasts. I prefer to connect with someone who has experienced the struggles, battles, and casualties of life's journey. There is beauty, wisdom, and truth to be found in the scars. - Author: Steve Maraboli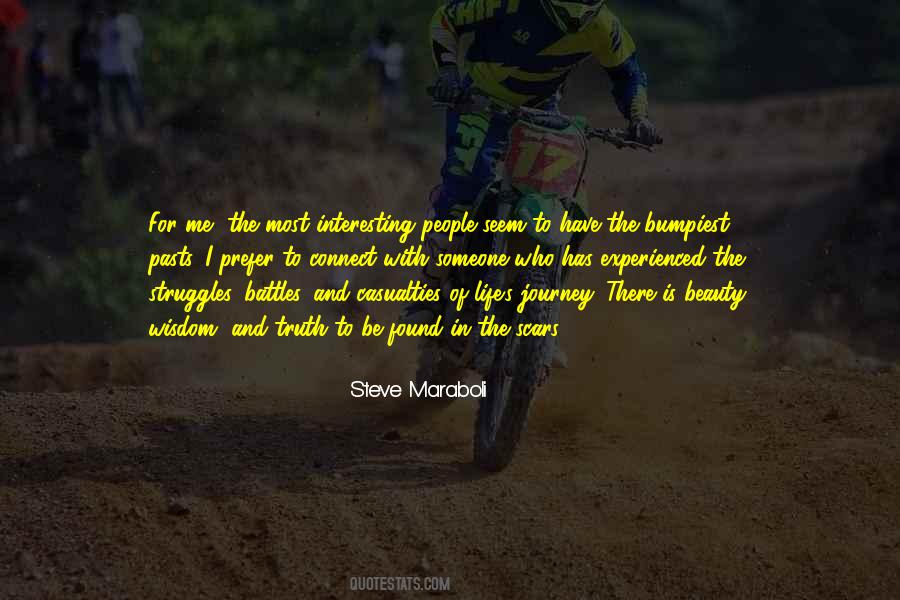 #16. Change is inevitable, continuous, and constant. Expectations of anything or anyone remaining the same can only lead to struggles and hardships.
Willing Change - Author: Jane Collins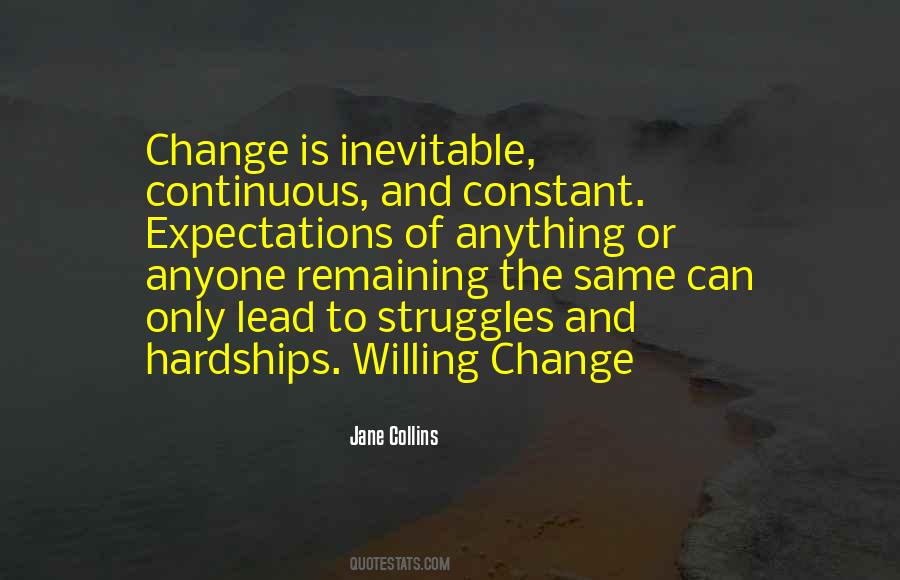 #17. Struggles put you in a position to make better decisions. You'll survive and should take the lessons learned especially in order to move forward in life. It may have been raining in your life for a moment, but the sun will shine again - Author: Amaka Imani Nkosazana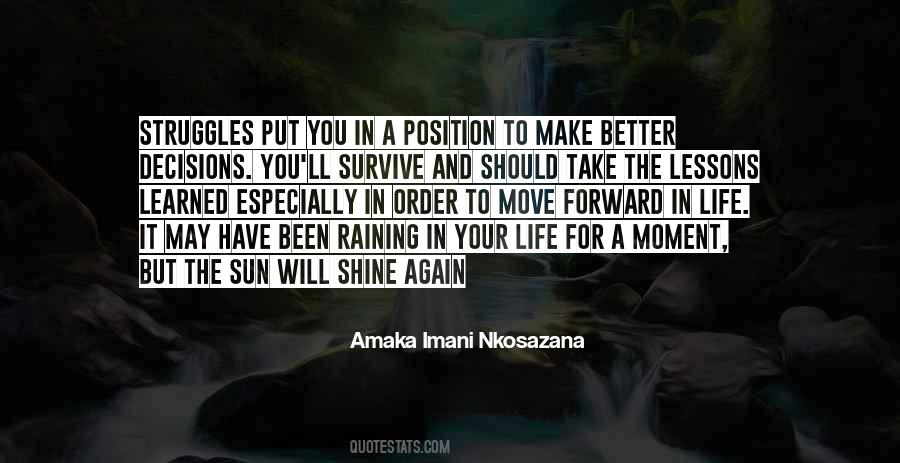 #18. Locking away appetite, anger, the fullness of life, anorexia helps cover up whatever struggles inside. With its controlling bouts of bingeing and starvation, of trance and half-life, it becomes a shield to fend off despair and longing and what most of use would see as ordinary responsible behavior. - Author: Carol Lee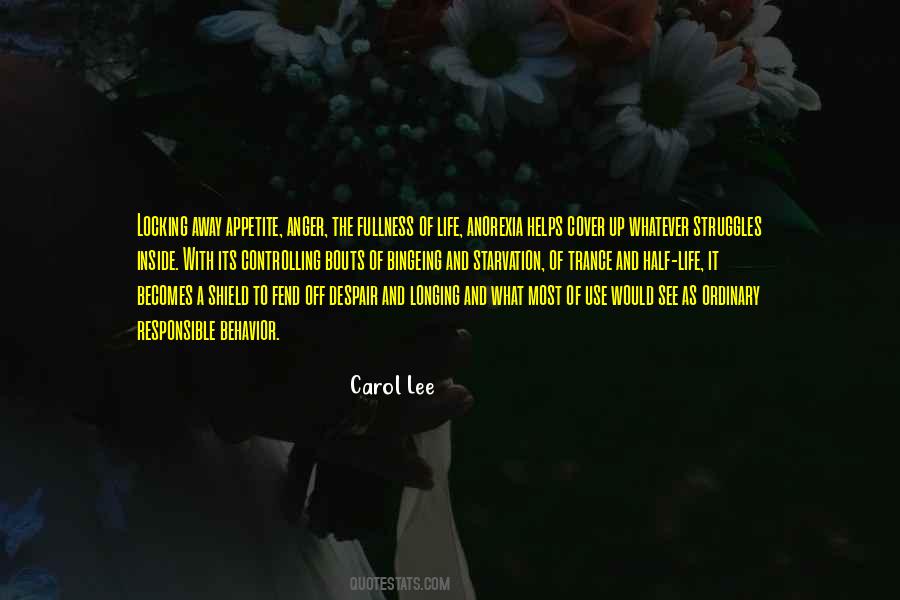 #19. Life wants you to connect deeply with the hearts of other people - struggle together and rejoice together. - Author: Bryant McGill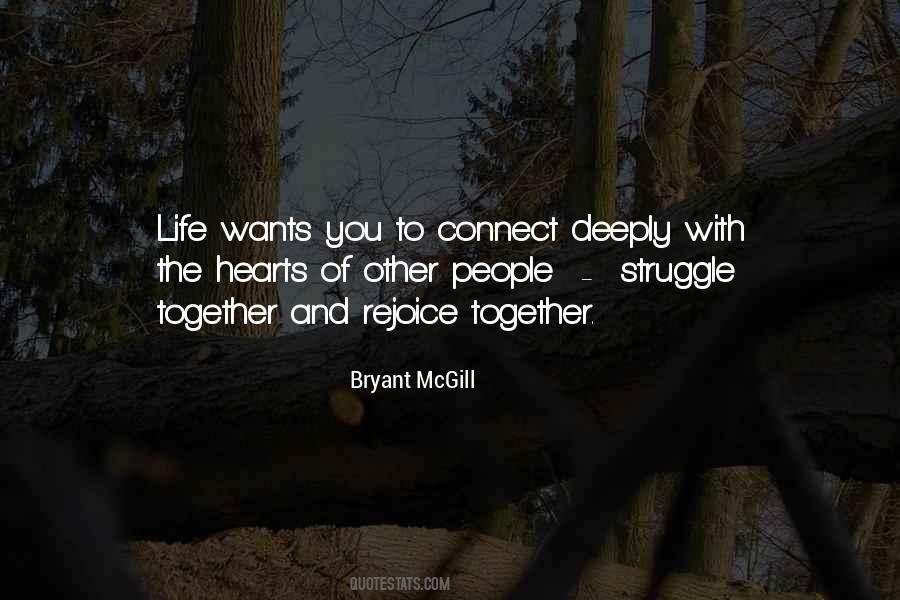 #20. In times of turbulence, we must keep calm and be patient. - Author: Lailah Gifty Akita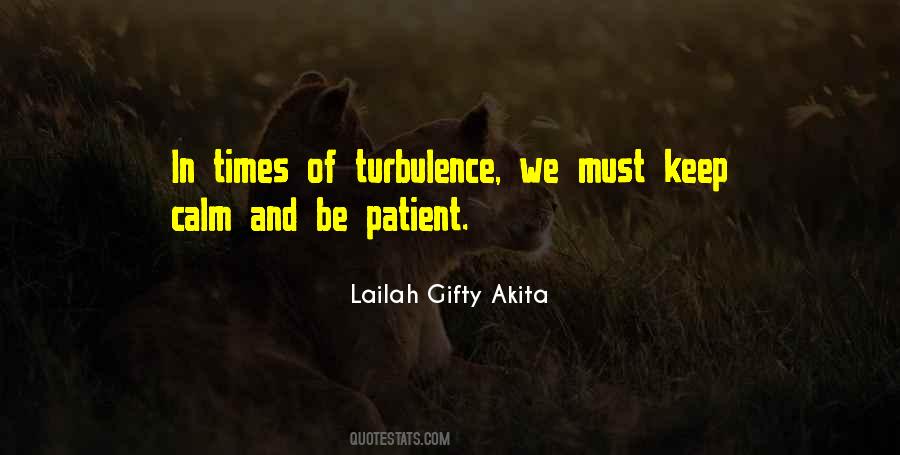 #21. Don't be afraid to have goals and dreams. Even in the face of haters and those who do not believe in you, don't stop dreaming. - Author: Auliq Ice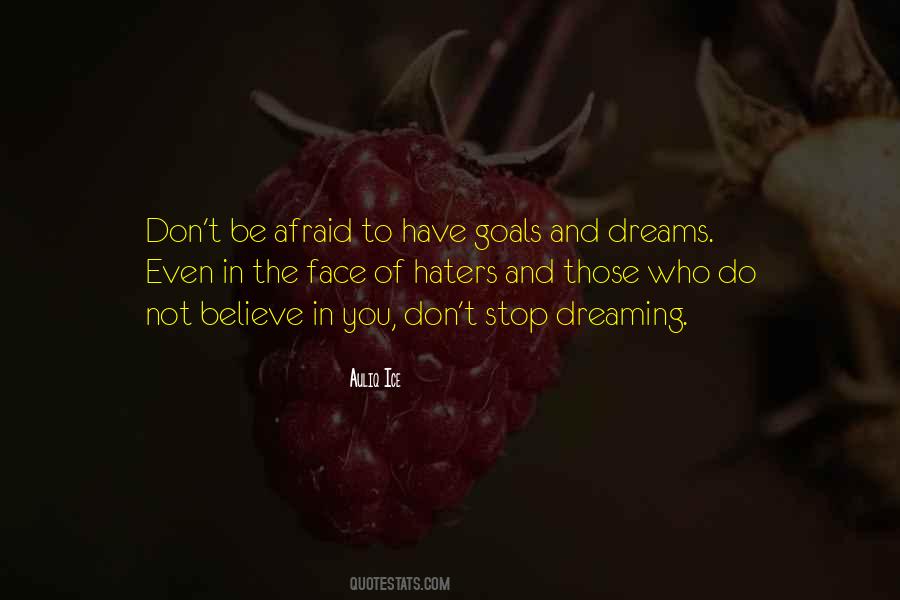 #22. It would be nice if life worked this way, stripping the dirt from our lives and sending us back out into the world clean. But some dirt is destined to lingered. - Author: Veronica Roth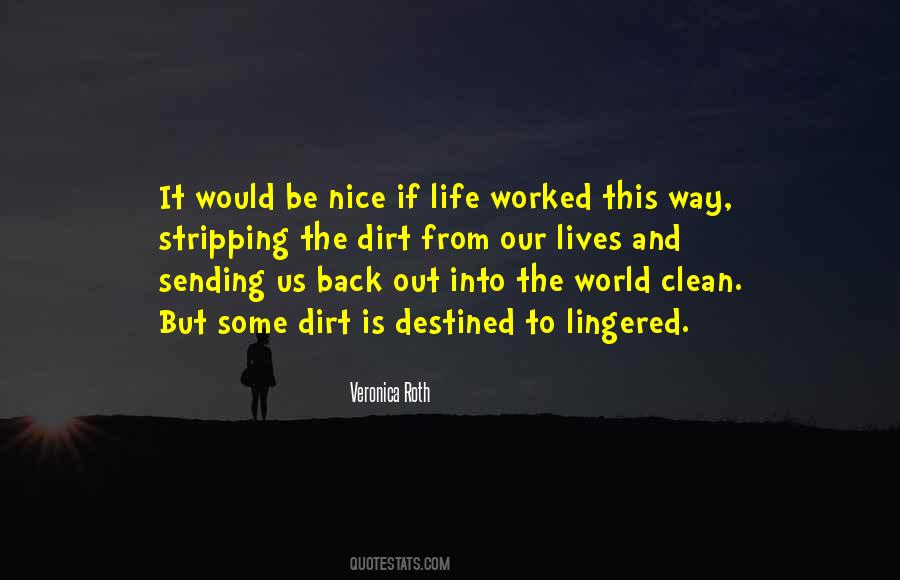 #23. If I help one person out with getting through the struggles that I've had, then I've done my job on this planet and this life. - Author: Demi Lovato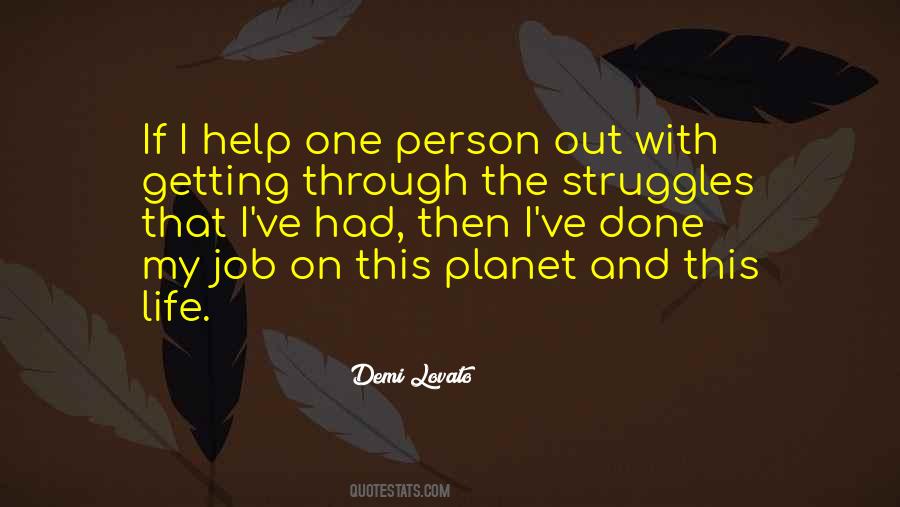 #24. We can't predict all the struggles and storms in life, not even the ones just around the next corner, but as persons of faith and hope, we know beyond a shadow of any doubt that the gospel of Jesus Christ is true and the best is yet to come. - Author: L. Tom Perry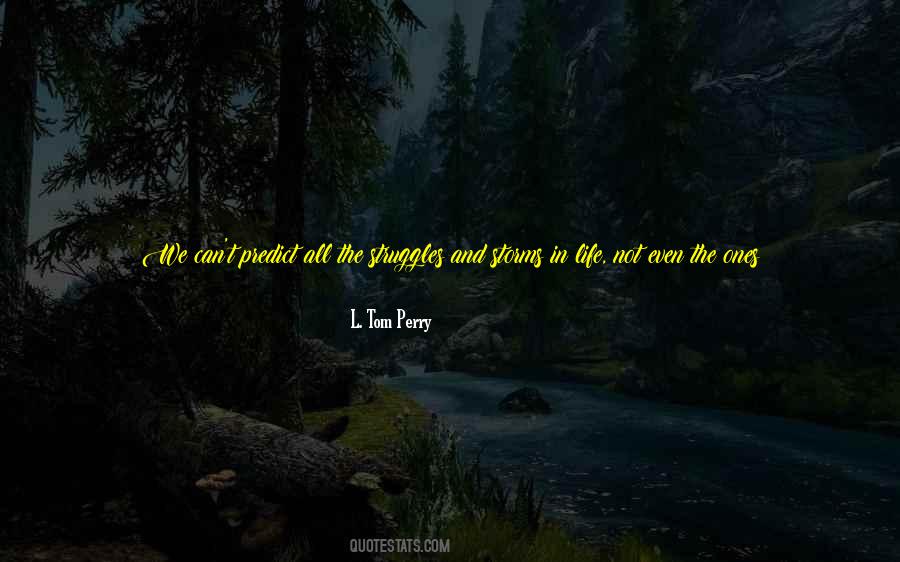 #25. Hatred is corrosive of a person's wisdom and conscience; the mentality of enmity can poison a nation's spirit, instigate brutal life and death struggles, destroy a society's tolerance and humanity, and block a nation's progress to freedom and democracy. - Author: Liu Xiaobo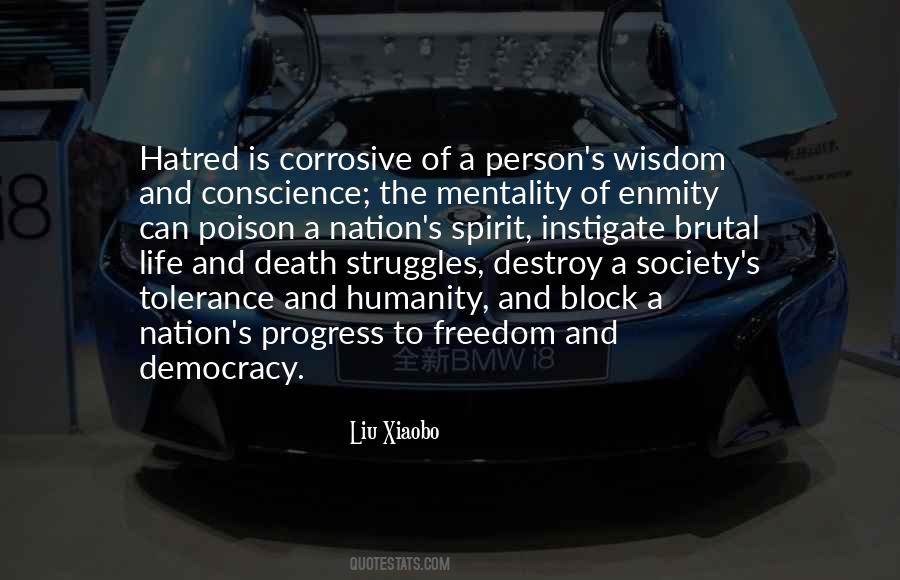 #26. The life around me was not meaningful. I always longed to be away from it, and always had done. So the life I led was not my own. I tried to make it mine, this was my struggle, because of course I wanted it, but I failed, the longing for something else undermined all my efforts. - Author: Karl Ove Knausgard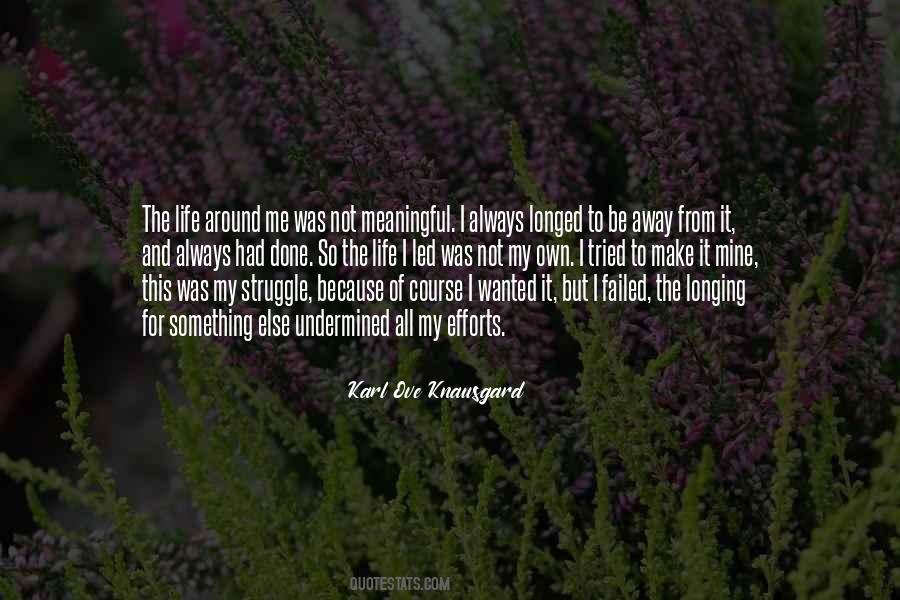 #27. By referring to previous struggles and using them as reasons for not getting on with your life today, you're assigning responsibility to the past for why you can't be successful or happy in the present. - Author: Wayne Dyer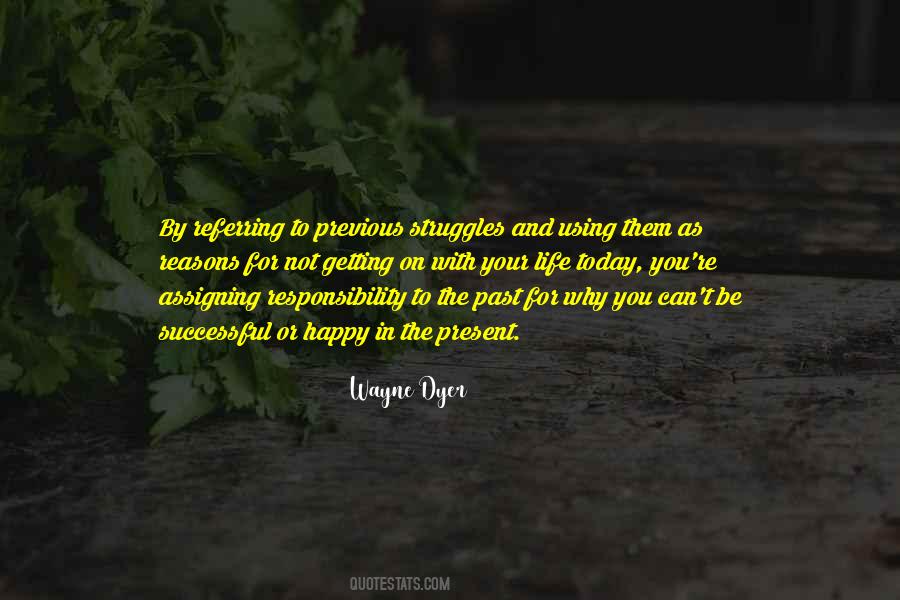 #28. A secret for releasing struggles in life is to learn to yield. Yielding does not mean giving in or giving up. It just means moving with the flow of the current, which makes everything easier and more fluid. - Author: Peggy Sealfon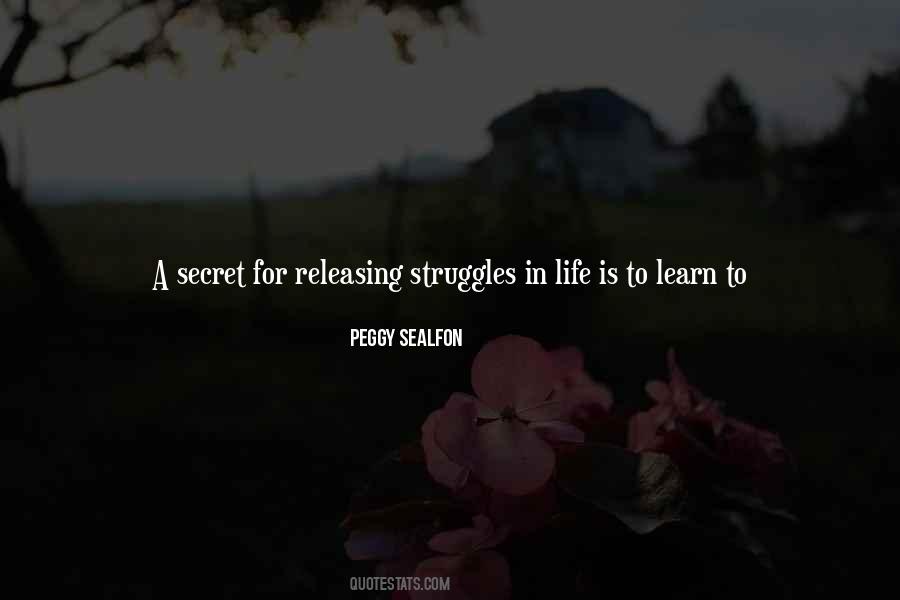 #29. Going through life has its struggles, but not sharing the trials in a way that engages great communication, is a loss of the physical realities through our everyday senses. - Author: Daniel B. Royer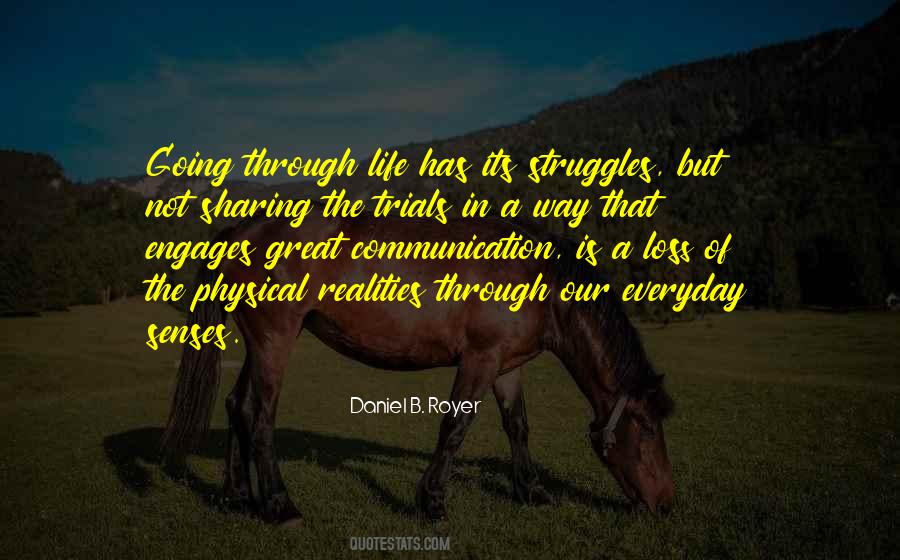 #30. When someone has had an exceptionally challenging or difficult earthly life, those challenges are often by design. Our Master will test those who are ready to expand. The struggles are designed to increase one's strength and to be a springboard into higher realms. - Author: Kate McGahan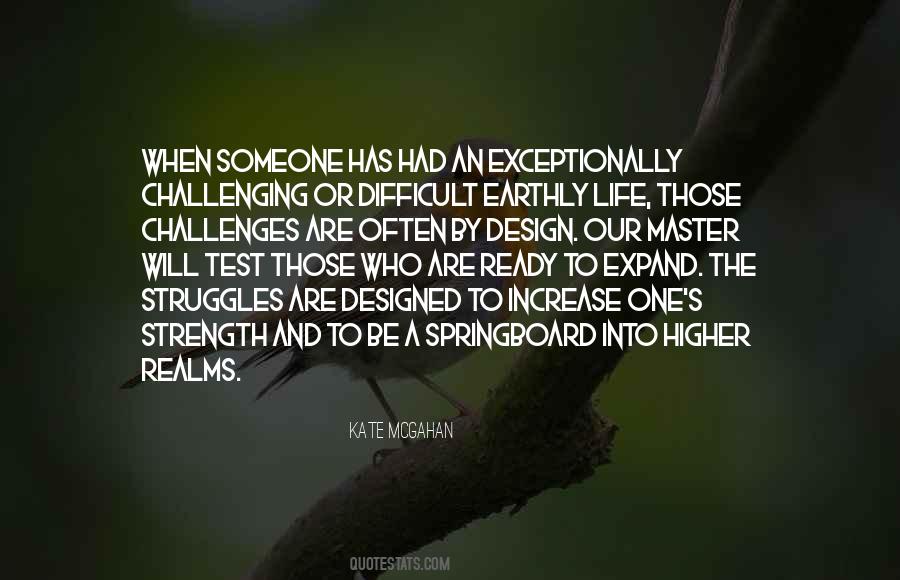 #31. Think about people in your own life who you have envied for one reason or another. It may surprise you to know that they do not see themselves the way that you do. Maybe they are all smiles on the outside but have personal struggles and trials that you would never guess from first glance. - Author: Lindsey Rietzsch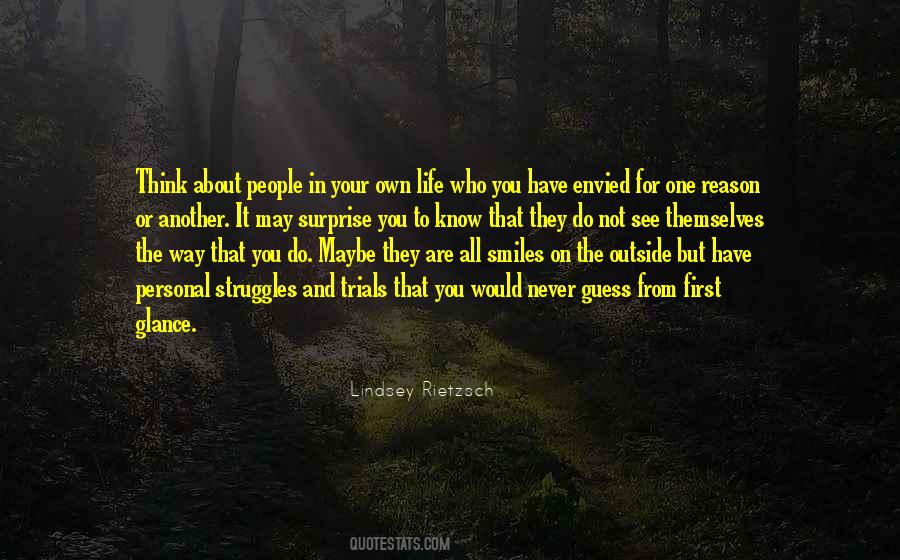 #32. I'm not really struggling about my career. The struggles are in my personal life. I can't really pinpoint how long it took me to get where I'm at, and I didn't care how long it was going to take, because it's not about the destination, it's about the journey. - Author: Tracy Morgan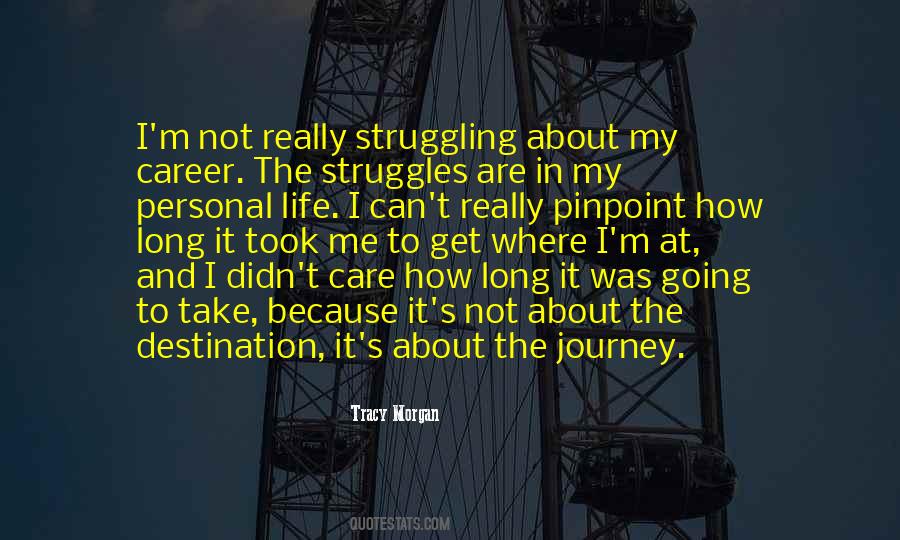 #33. All I can say is I look for perpetual conflicts and struggles in this life, and I hope for no other peace, only a cross, while on this side of eternity. - Author: George Whitefield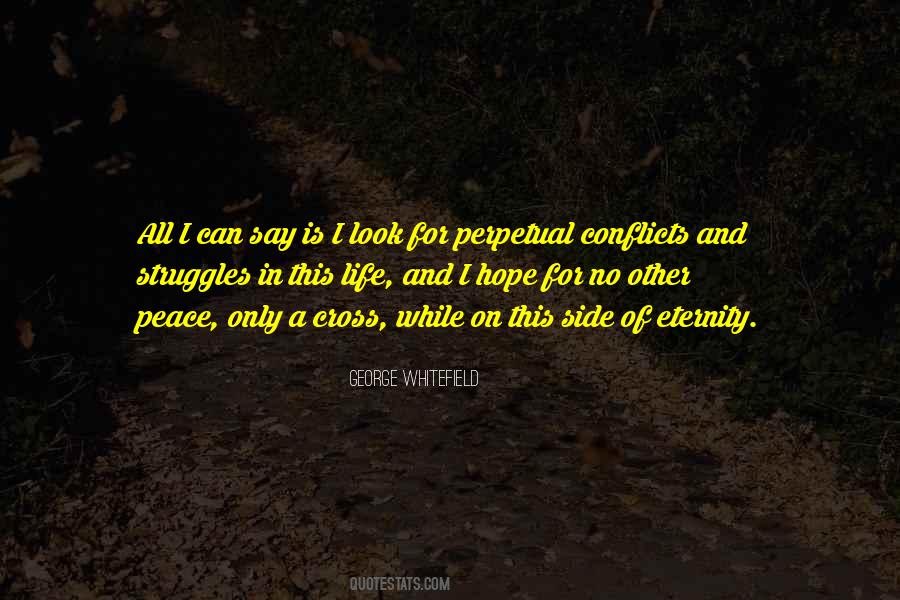 #34. Into every empty corner, into all forgotten things and nooks, Nature struggles to pour life. - Author: Henry Beston
#35. The struggle to avert catastrophic climate change is bigger than all the other struggles, whether it is slavery, democracy struggles, the woman's right to vote, and so on I would argue that if what is at stake is securing life as we know it, then there can be no bigger struggle that we face. - Author: Kumi Naidoo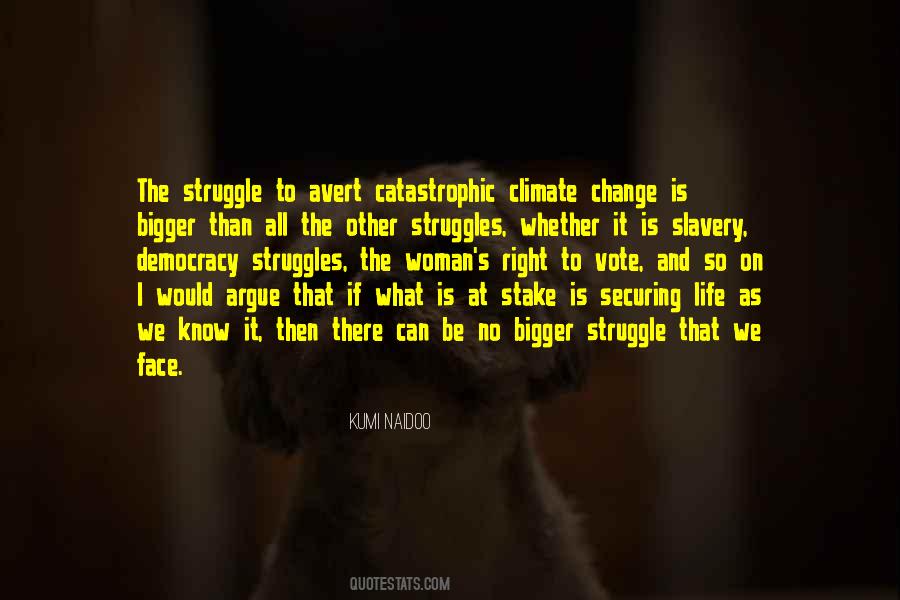 #36. Knowing the path to follow doesn't make it a breeze to step along. If every desire were only a skip, hop, and a jump away, we'd all have arrived. - Author: Richelle E. Goodrich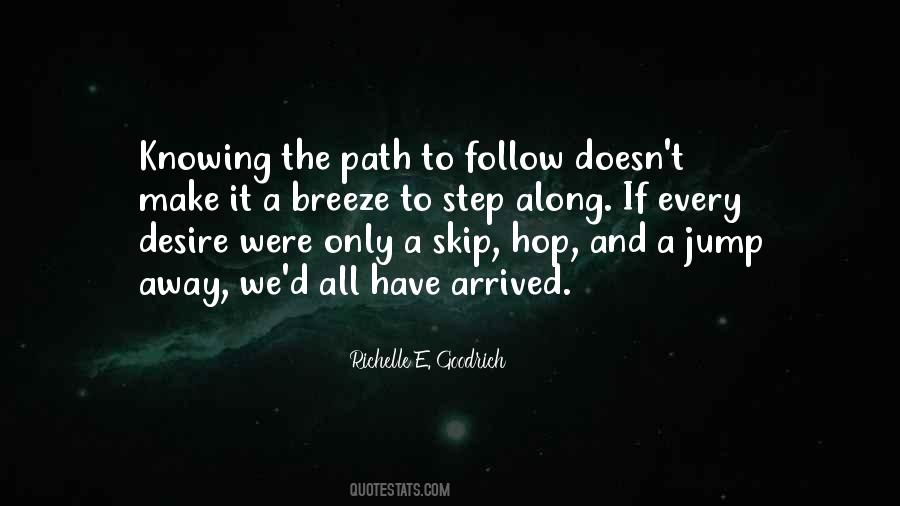 #37. Remember,too,that all who succeed in life get off to a bad start,and pass through many heartbreaking struggles before they "arrive". The turning point in the lives of those who succeed usually comes at some moment of crisis,through which they are introduced to their "other selves". - Author: Napoleon Hill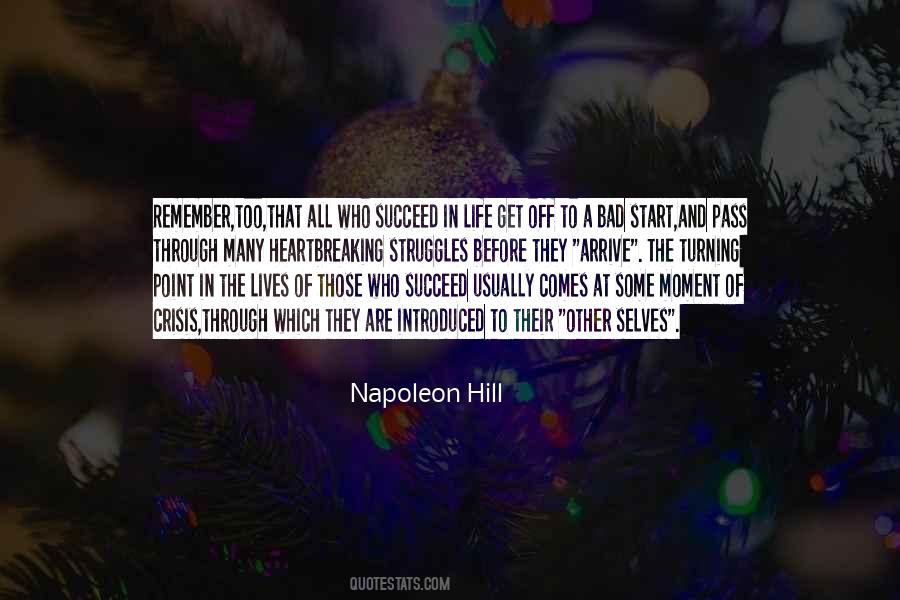 #38. ...half the pleasures of life [are] derived from the little struggles and small privations that one had to endure at the beginning of one's married life. Such struggles [are] generally occasioned by want of means, and often helped to make loving couples stand together all the firmer. - Author: George Grossmith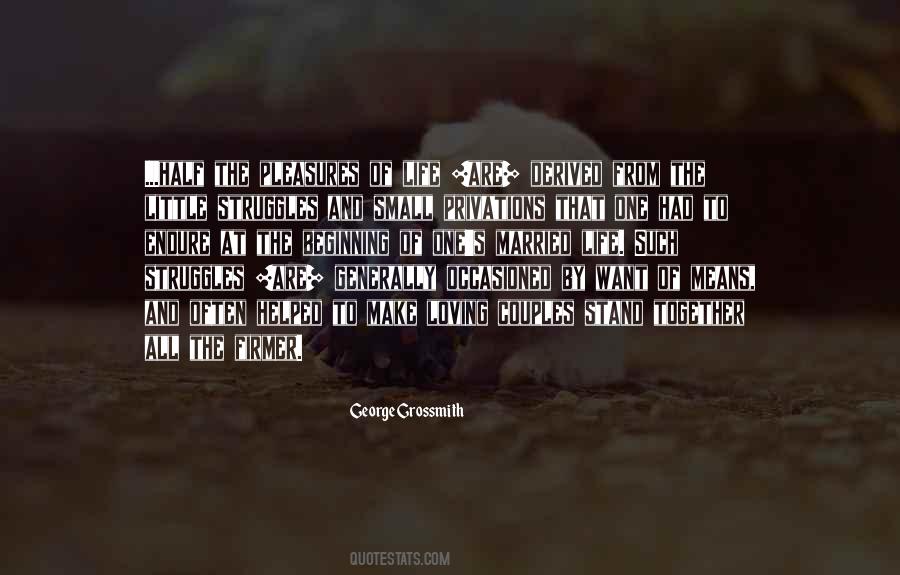 #39. I grew up sort of lower working class. And I just didn't want to have the money struggles that my parents had. You know, I could just - as loving an environment I grew up in - and I grew up in a great home, a very loving home - but, you know, we had that stress. We had that stress in our life. - Author: Elizabeth Banks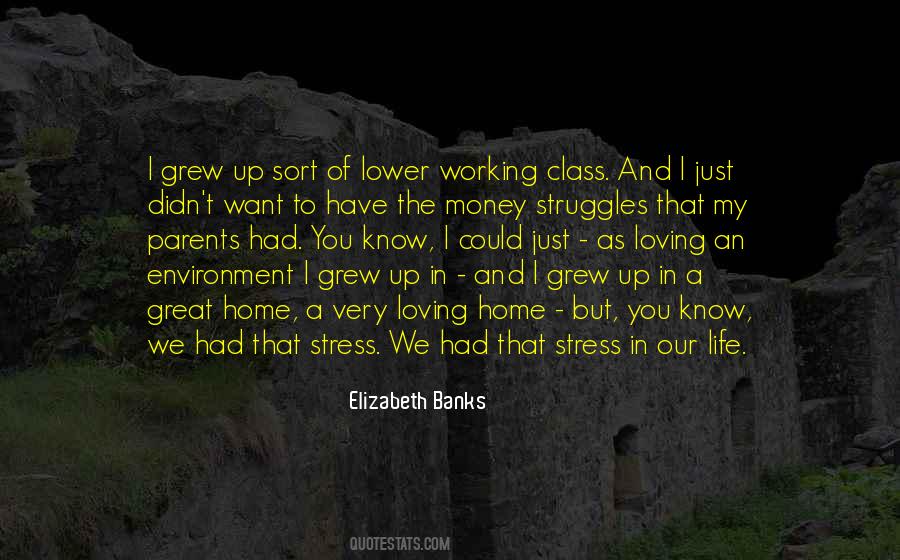 #40. I don't mean my life sucks. It just feels like I'm always waiting, and I don't want to do that anymore. - Author: Noelle Adams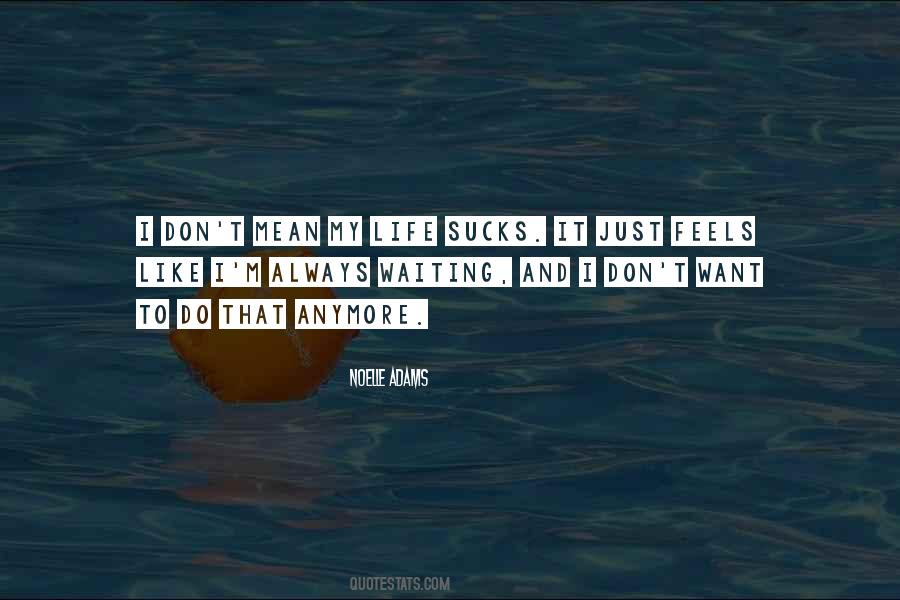 #41. The personal eloquence of other people expressing aspects of nature and human condition inspire us, as do persons whom exhibit courage to gain strength when dealing with the hardships and struggles of a mortal life. - Author: Kilroy J. Oldster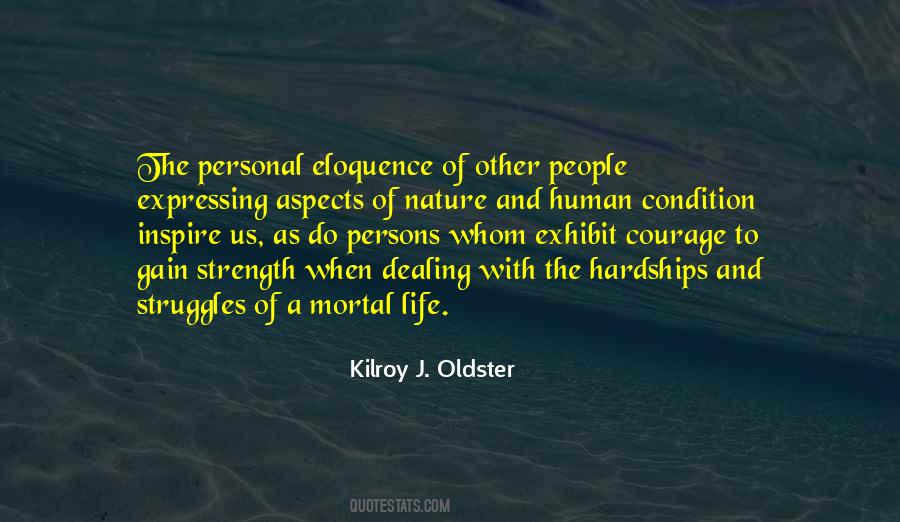 #42. The only sensible way to regard the art life is that it is a privilege you are willing to pay for ... You may cite honors and attentions and even money paid, but I would have you note that these were paid a long time after the creator had gone through his struggles. - Author: Robert Henri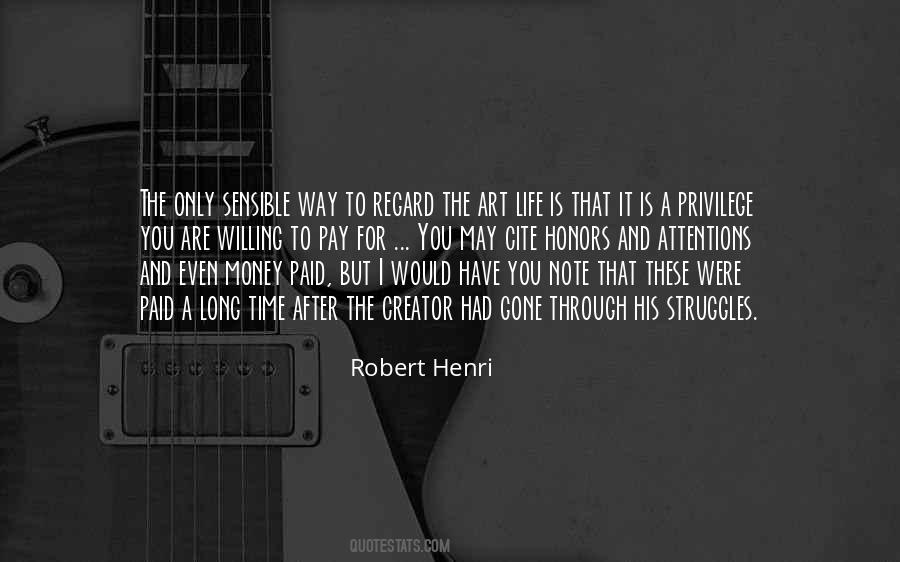 #43. CENTER-OF-THE-UNIVERSE, that was me entering the workplace. And I woke up one day soon after that, struggling at the bottom of a vast ocean. But I needed that. Humbling experiences are part of growing - they help shape us and mold our character. Welcome to life. - Author: Yay Padua-Olmedo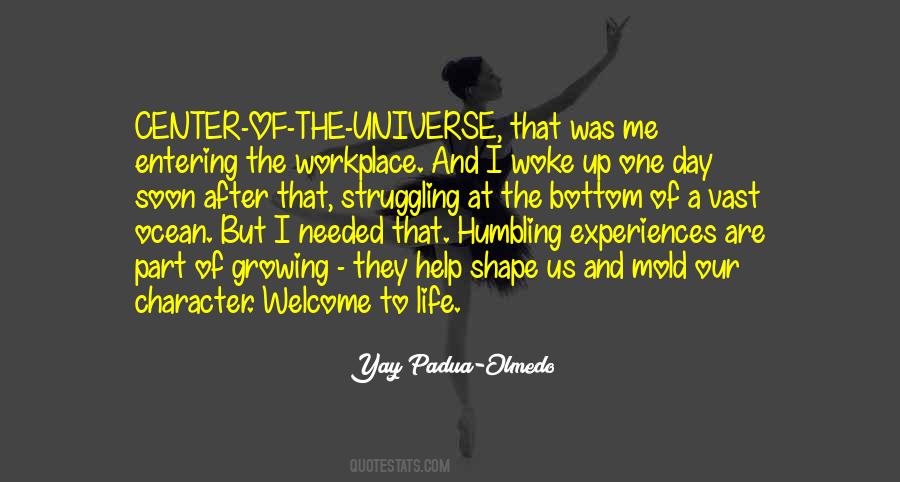 #44. To recognize the hand of the Lord in your life and to accept His will without complaint is a beginning. That decision does not immediately eliminate the struggles that will come for your growth. But I witness that it is the best way there is for you to find strength and understanding. - Author: Richard G. Scott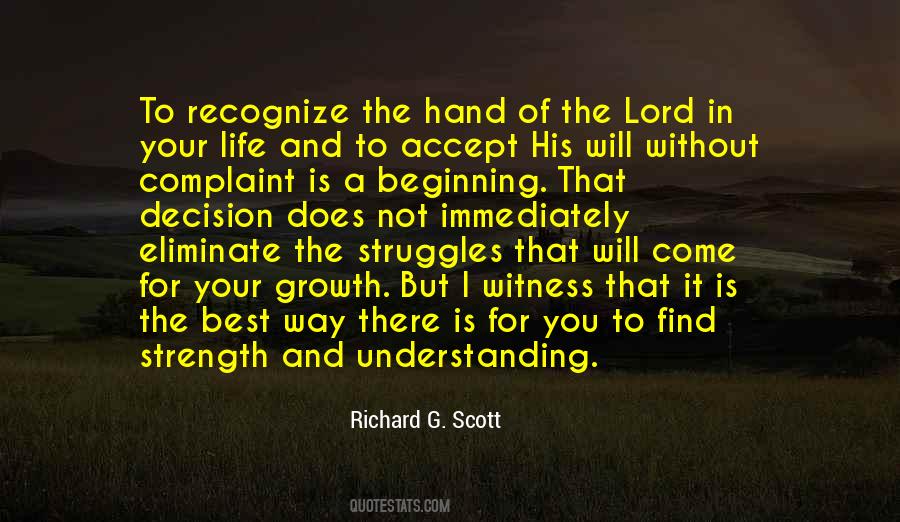 #45. Two pure souls fused into one by an impassioned love-friends, counselors-a mutual support and inspiration to each other amid life's struggles, must know the highest human happiness;-this is marriage; and this is the only cornerstone of an enduring home. - Author: Elizabeth Cady Stanton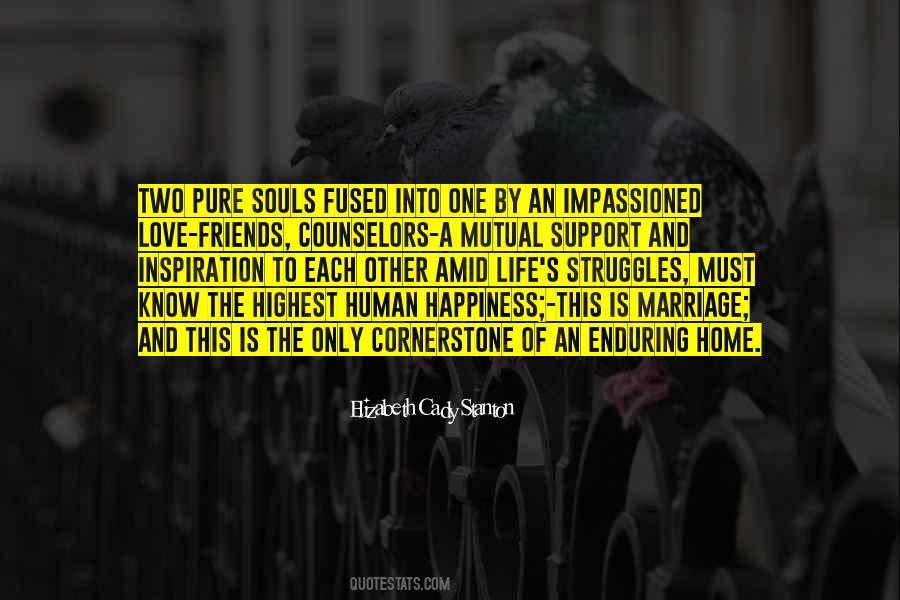 #46. Memories is all that you have, which help you survive the storms and struggles of your daily life after you lose someone! - Author: Nikita Dudani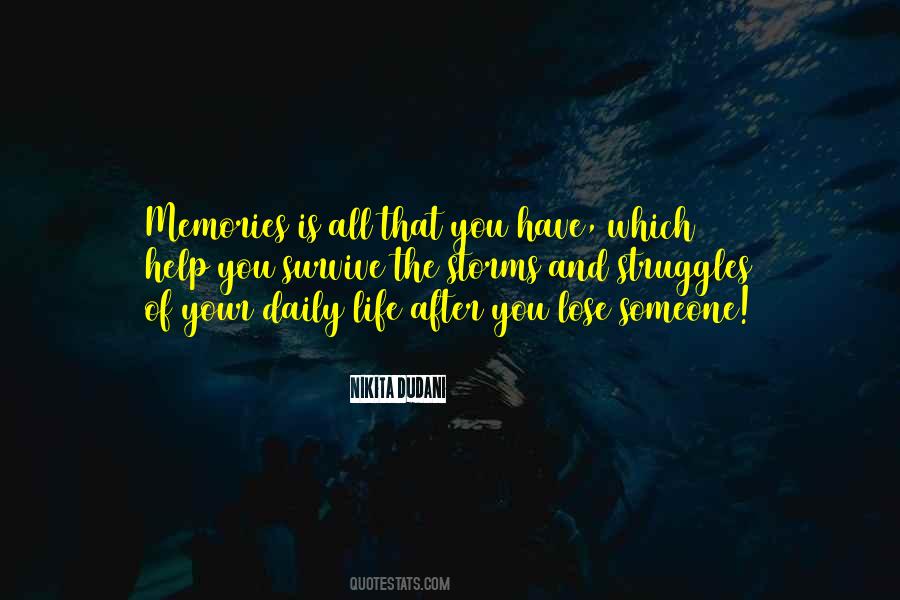 #47. Quietly endure, silently suffer and patiently wait. - Author: Martin Luther King Jr.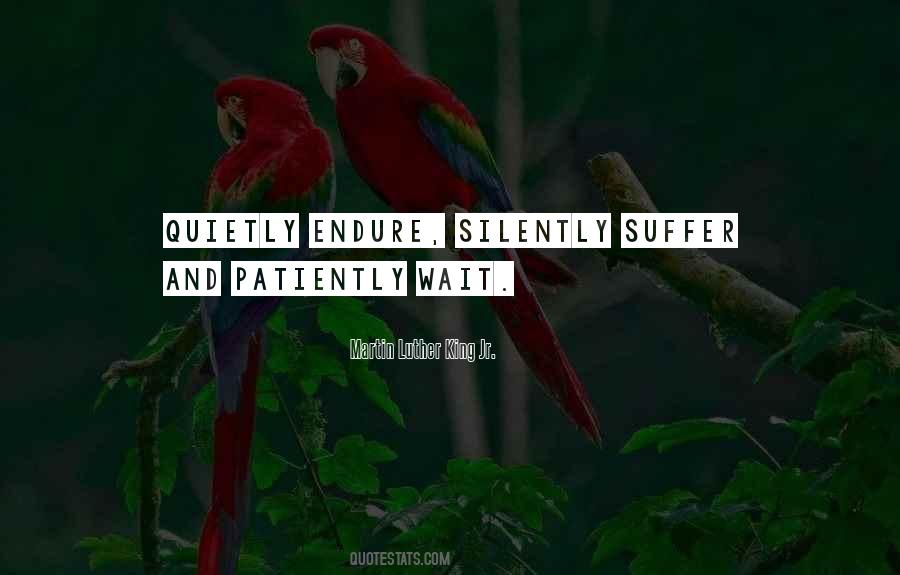 #48. Watch over your child, as it struggles for breath on the outermost verge of life, or see your wife follow the child to that outermost verge, beside herself for anxiety and sleeplessness, - then love will teach you that life comes first. - Author: Bjornstjerne Bjornson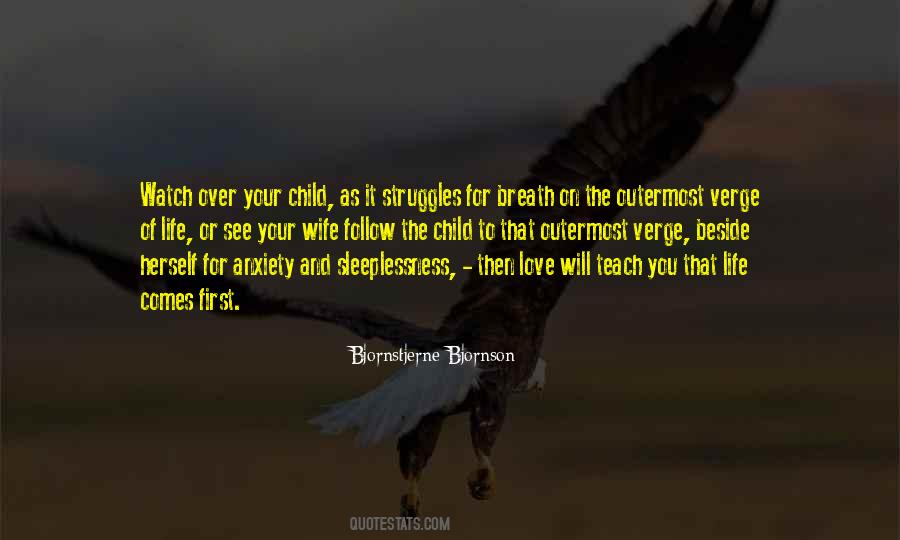 #49. As a couple, you will have to go through life's various struggles. But in the end everything will pass. And if it doesn't, it's not the end. - Author: Sudeep Nagarkar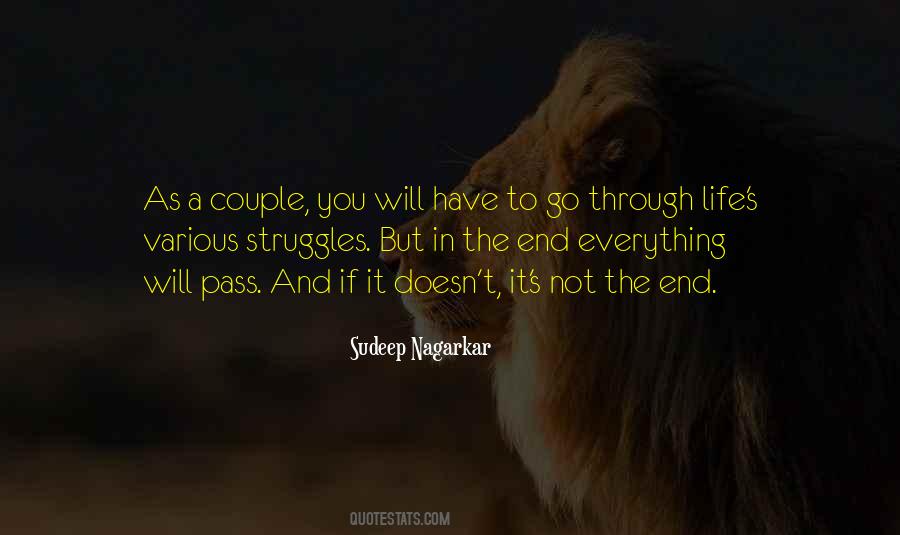 #50. D'you call life a bad job? Never! We've had our ups and downs, we've had our struggles, we've always been poor, but it's been worth it, ay, worth it a hundred times I say when I look round at my children. - Author: W. Somerset Maugham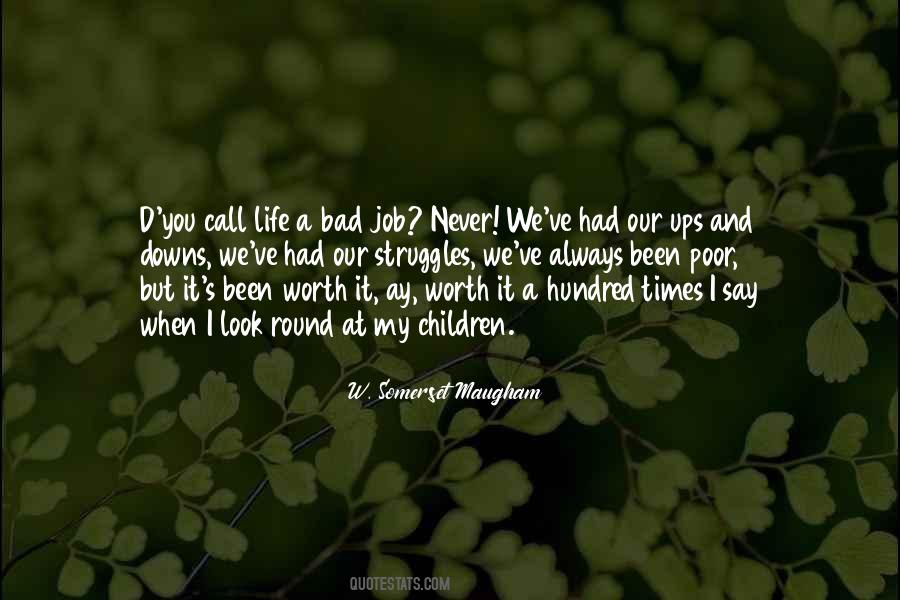 #51. Face it; life's gonna chew you up and spit you out. If you're lucky you'll get stuck to the bottom of someone's shoe and be carried far, far away from it all. - Author: Richelle E. Goodrich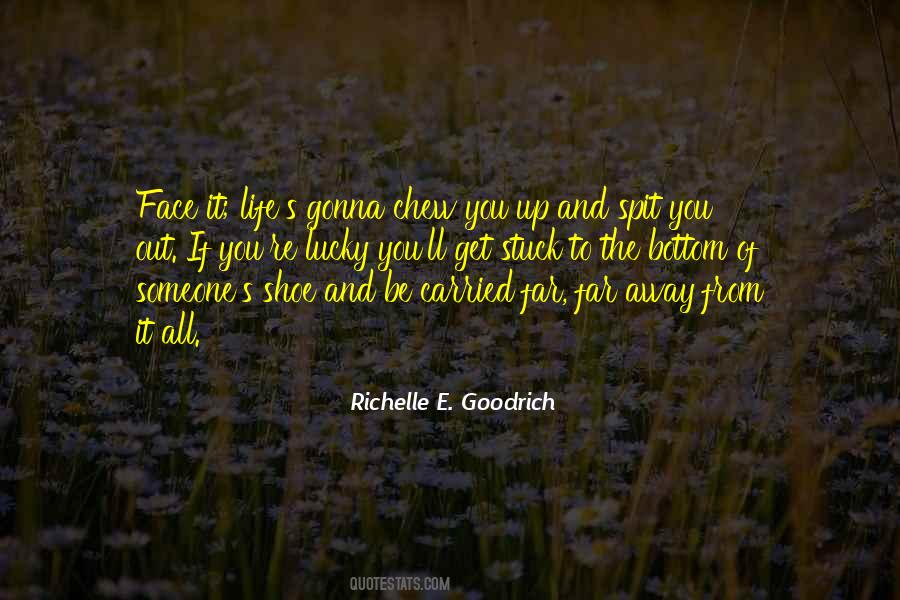 #52. Fear is the culprit that robs us of our greatest lives. And although it's mostly made up or a learned behavior from our past, almost everybody I've ever met in my life struggles with fear. - Author: Debbie Ford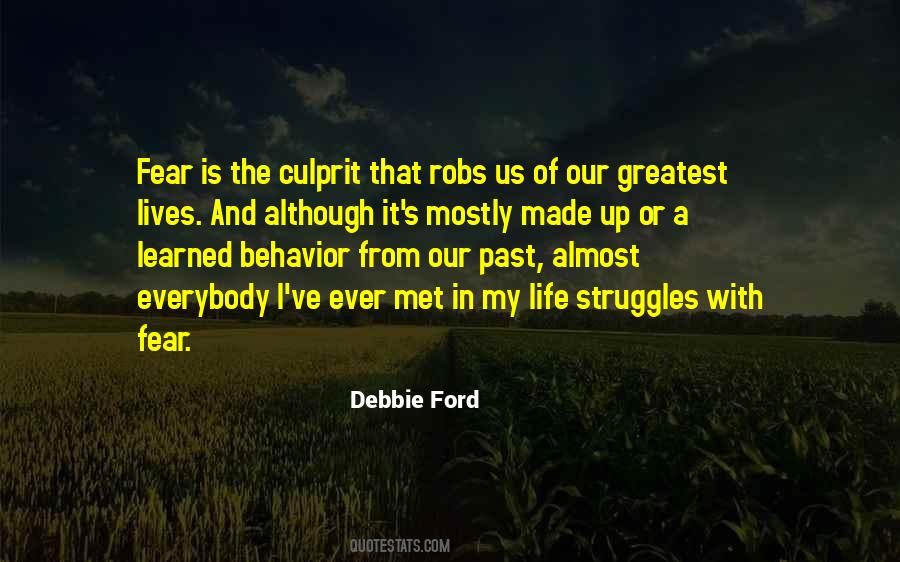 #53. For most Olympic athletes, their training is their hardest challenge and where they push themselves to the limit. For Paralympians, training and competition is an escape from the hardships and struggles of their everyday life. That is the difference. - Author: Giles Duley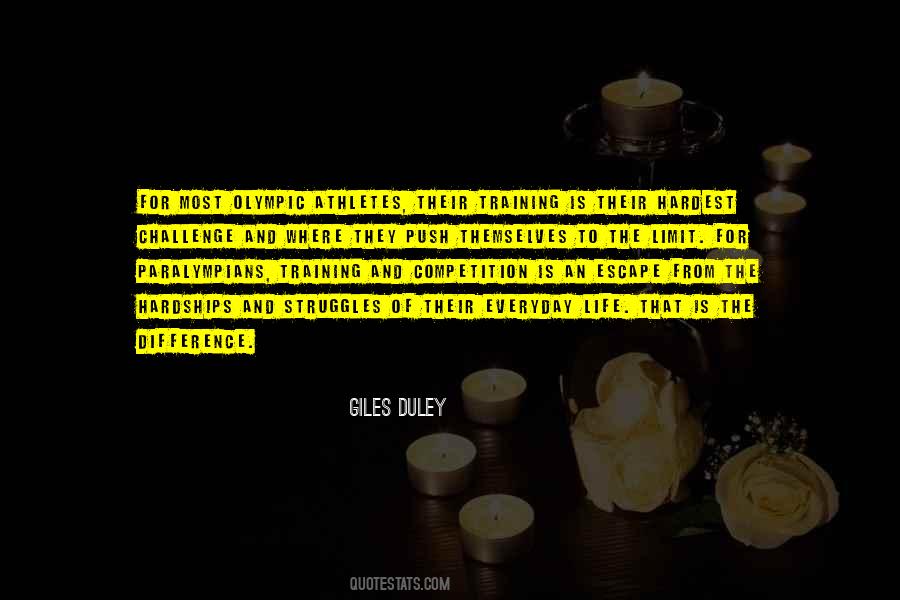 #54. A man who in the struggles of life has no home to retire to, in fact or in memory, is without life's best rewards and life's best defences. - Author: J.G. Holland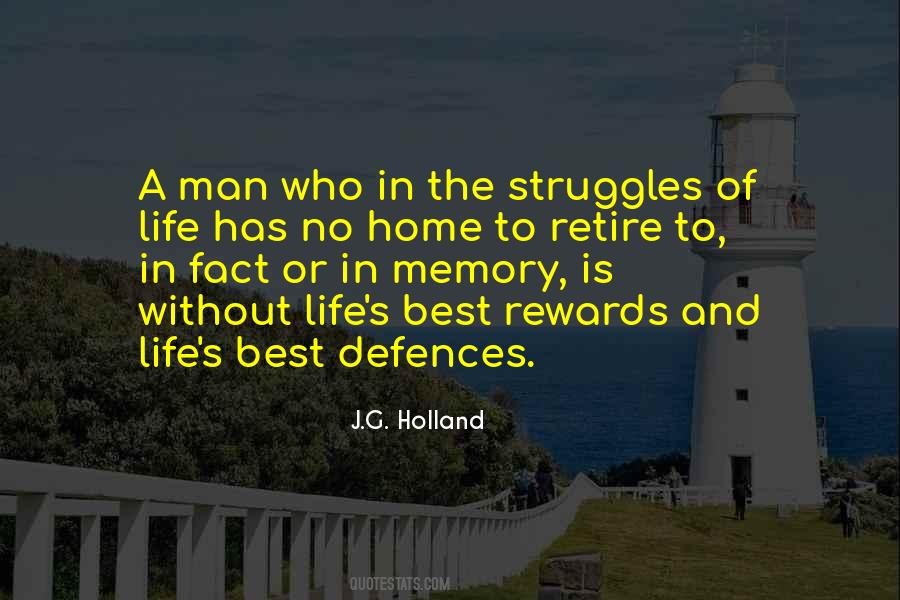 #55. I share my life experiences as a poet with my students. My poetic difficulties, joys, struggles and discoveries. If I read a new poem or essay or book I'm excited about, I bring it in. - Author: Dorianne Laux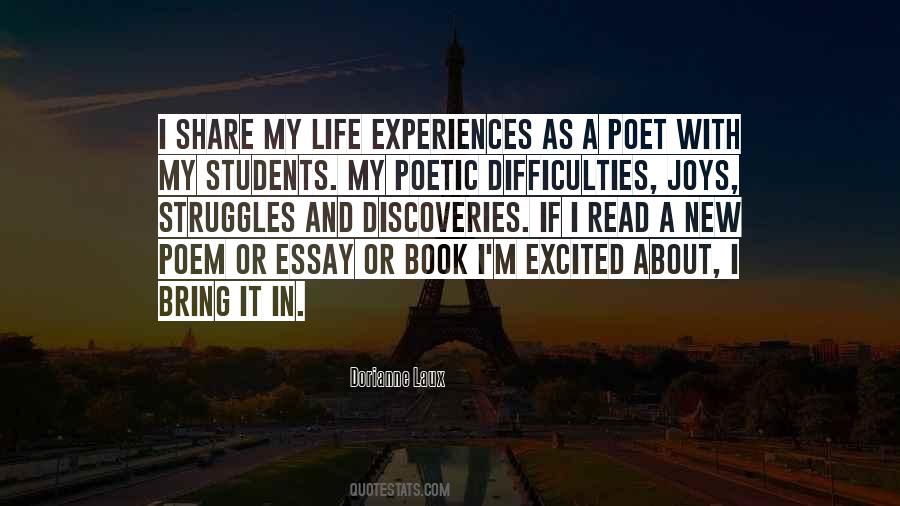 #56. You should never look at somebody and say, 'I wish I had their life,' because you never really know what struggles they're going through. - Author: Keke Palmer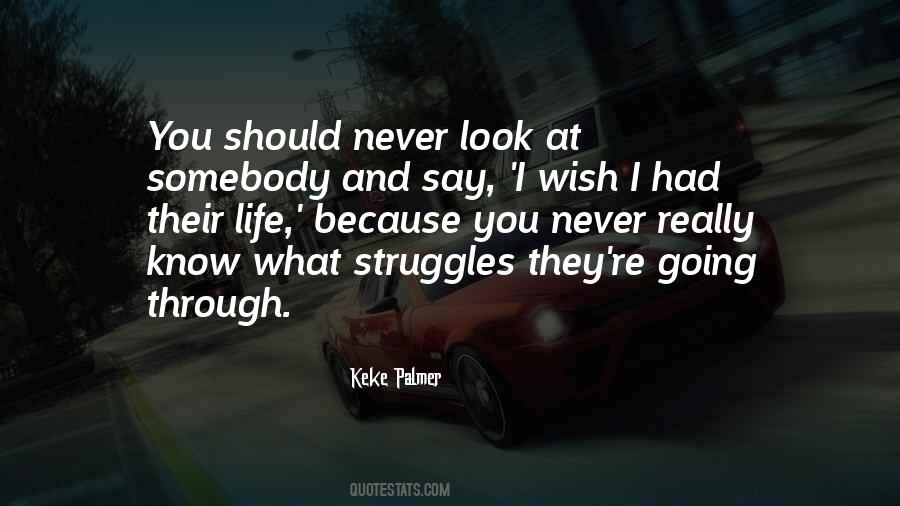 #57. To know and believe in God is the best thing that can happen in your life because He can turn what appears to be the worst event into the best. He can transform your struggles into your learning. He can turn your suffering into strength. He can use your failures to bring success. - Author: Nick Vujicic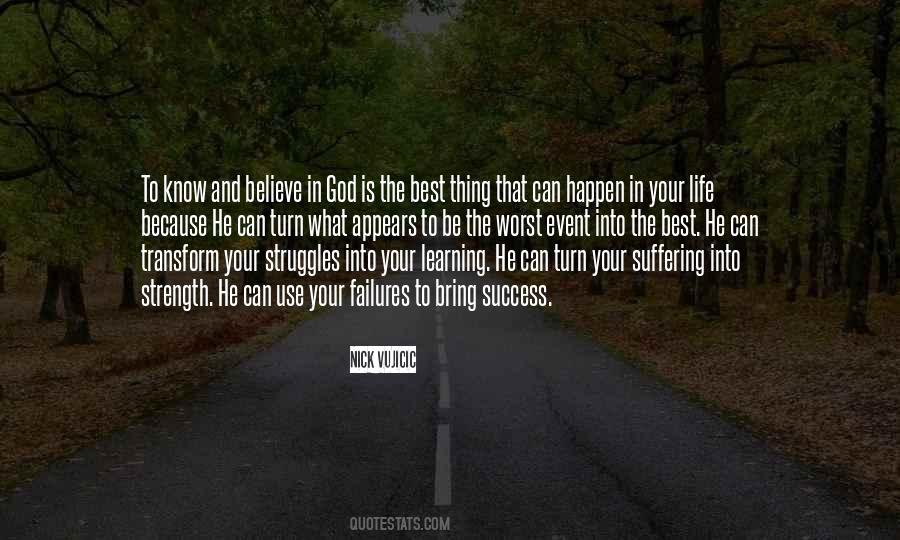 #58. The theater let me dramatize inner struggles, the push-pull between the inner life and the world, the various selves I presented according to what each world required. And it let me use my body. - Author: Margo Jefferson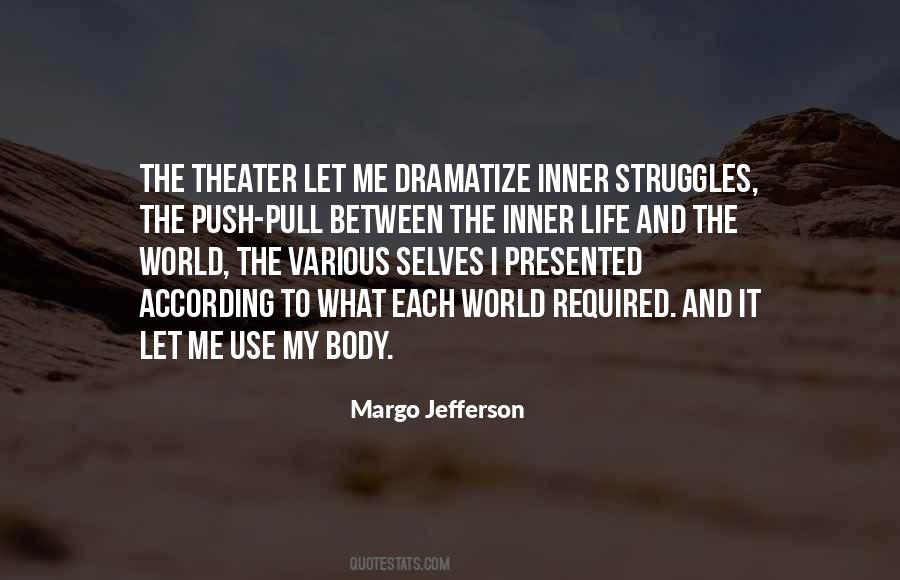 #59. I guess that is what dying must be like; to be finished and to be able to look back at the struggles of life, and know that God was your constant companion. - Author: Mother Angelica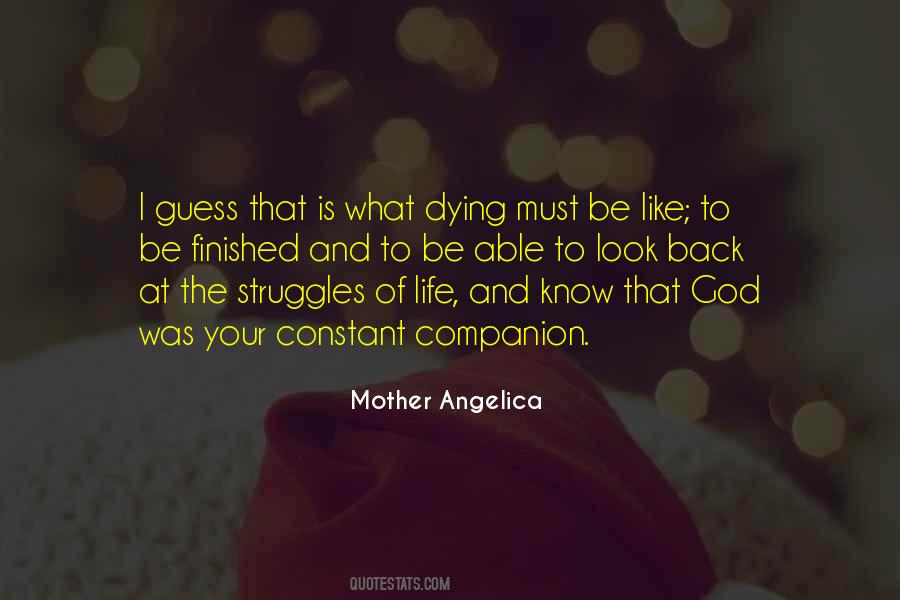 #60. When the storms do come; you can only allow them to slow you down, but don't let them stop you, there will be delays, detours, and disappointments but you have to keep pushing through it. - Author: Bernard Kelvin Clive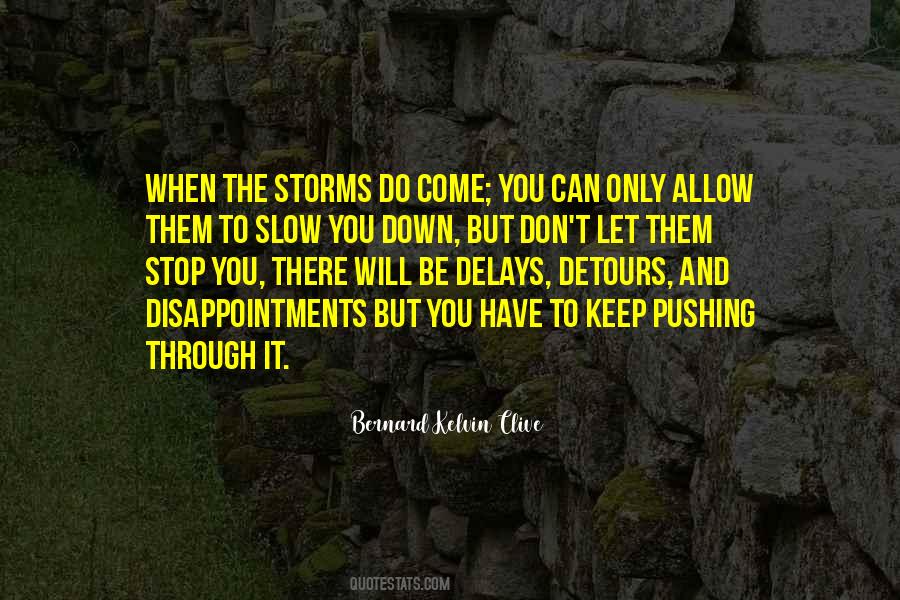 #61. In film, life-and-death struggles make you sit up, lean forward a little bit. They amplify things happening, in smaller ways, in all of us. These things show up in relationships. They show up in struggles and bring them to a critical point. - Author: David Lynch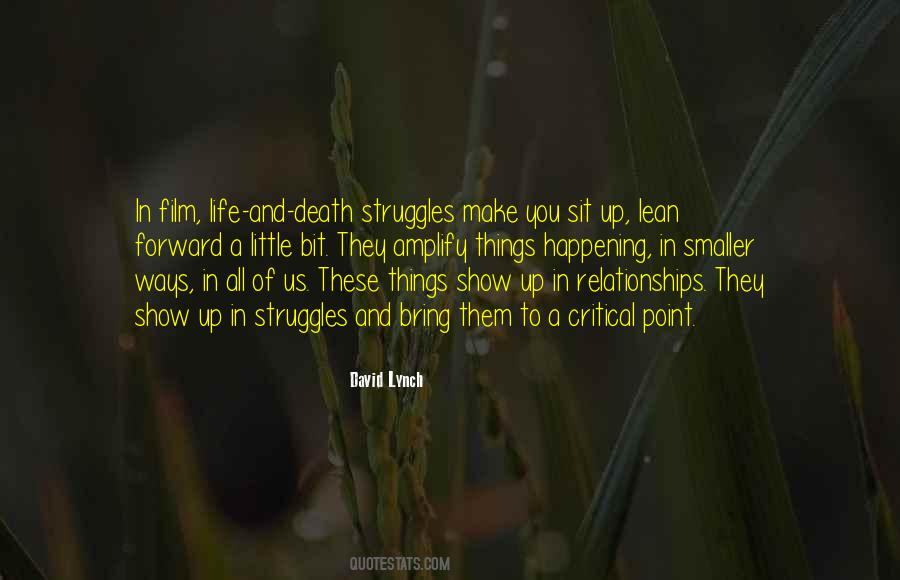 #62. Since pursuing my dreams, I've starved, I've lived and I've starved. - Author: Heather Wolf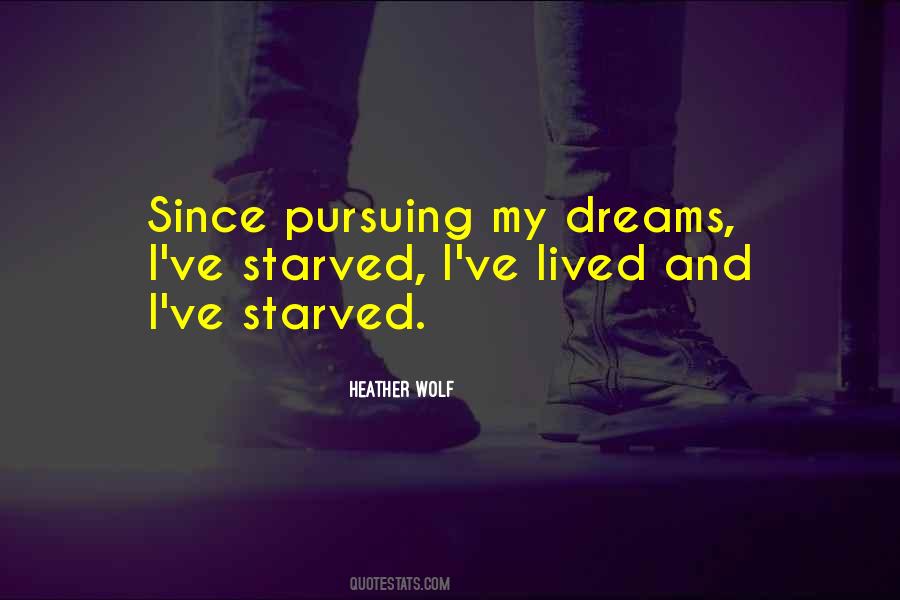 #63. I know the struggles that are ahead in my life and I know the struggles that are ahead in your life. It's not going to be pretty. - Author: Glenn Beck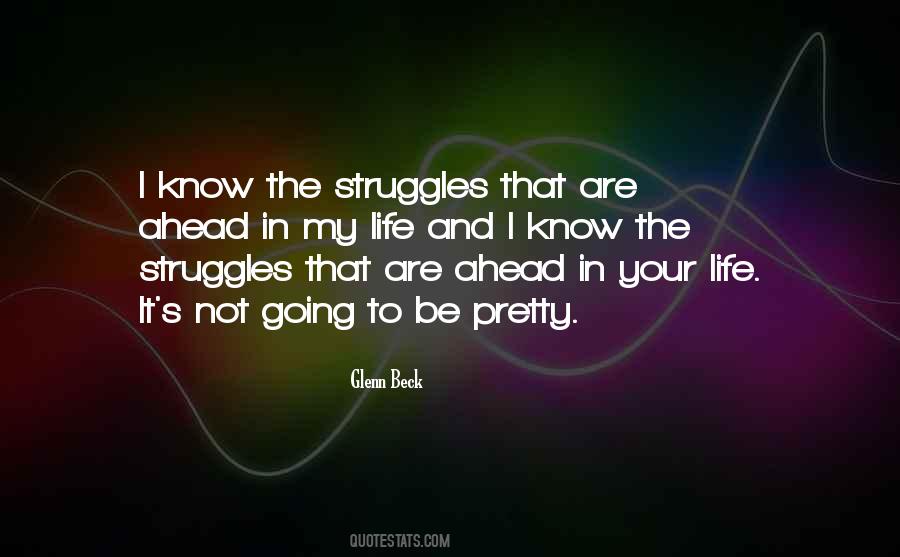 #64. We live in a microwave life where people want success without passing through the process of hard work. This is because our daily discussions focus on successes and not our struggles, which end up sending wrong message to other people, believing that success can be achieved without hard work. - Author: Uzoma Nnadi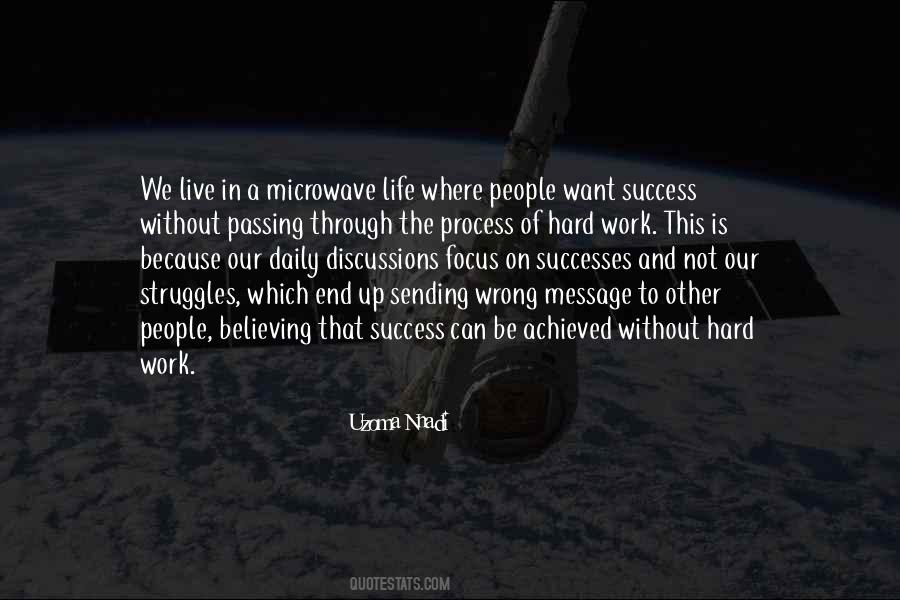 #65. How do we nurture the soul? By revering our own life. By learning to love it all, not only the joys and the victories, but also the pain and the struggles. - Author: Nathaniel Branden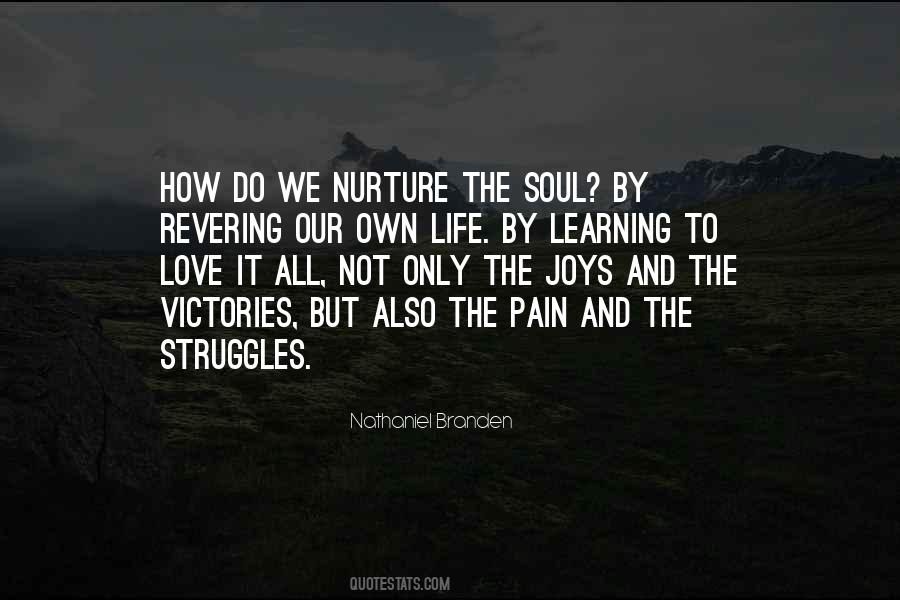 #66. I will tell you one thing that will make you rich for life. There are two struggles: an Inner-world struggle and an Outer-world struggle ... you must make an intentional contact between these two worlds; then you can crystallize data for the Third World, the World of the Soul. - Author: G.I. Gurdjieff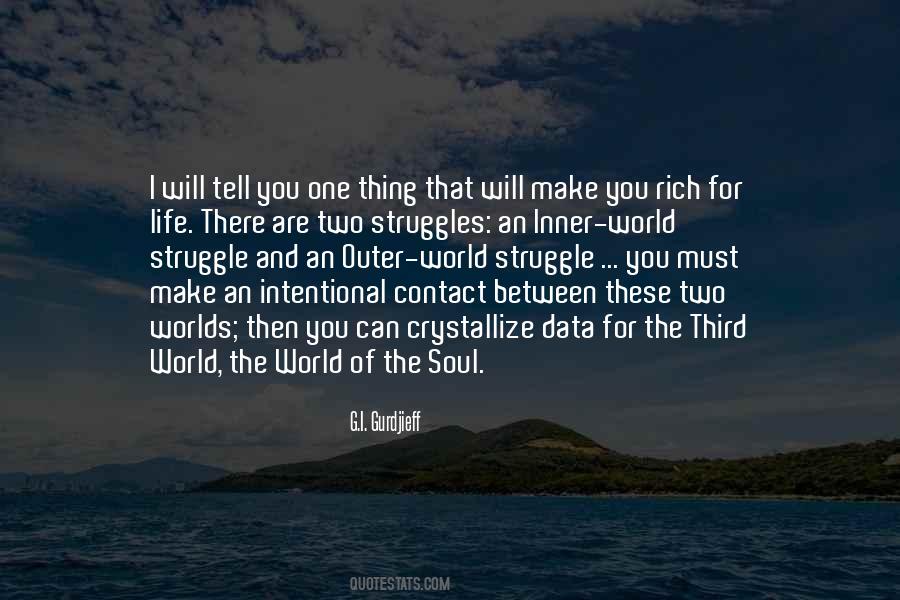 #67. A tree has both straight and crooked branches; the symmetry of the tree, however, is perfect. Life is balanced like a tree. When you consider the struggles, difficulties, and sorrows as a part of it, then you see it as beautiful and perfect. - Author: George Lamsa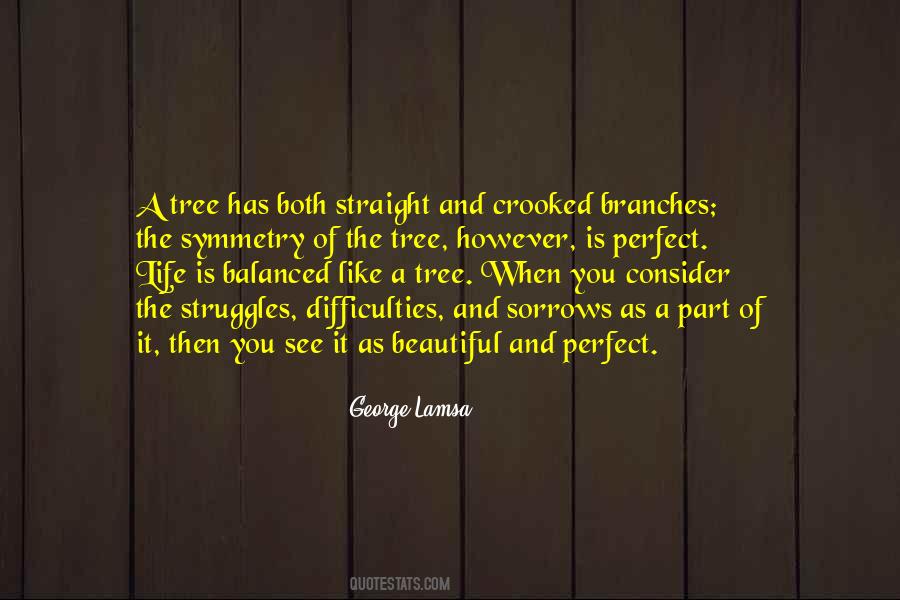 #68. Today I call upon my Higher Power to help me get through one more day. Help me have gratitude in the face of scarcity, strength in my private struggles and the wisdom to live a good life for myself and others. - Bryant McGill - Author: Bryant McGill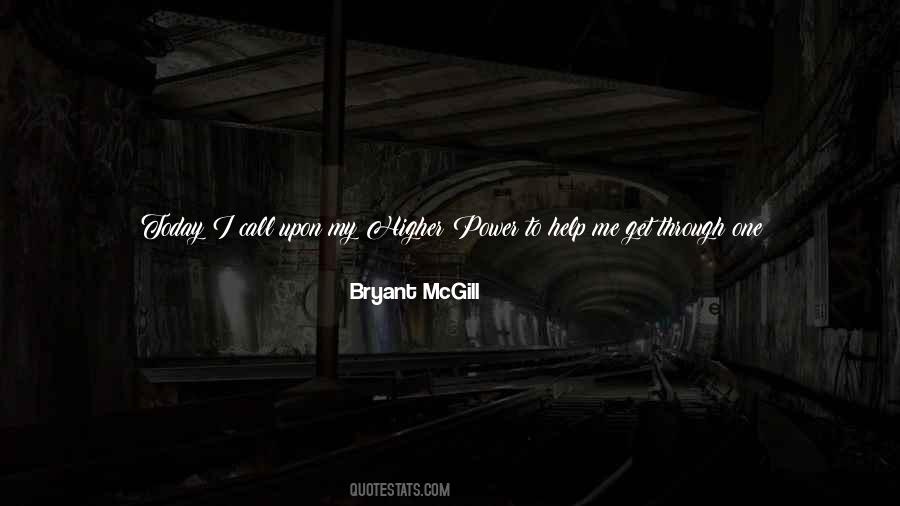 #69. When work is going well, your home life struggles and vice versa. If my kids are OK - that is the most important thing. I strive for balance in my life, though. - Author: Bobby Davro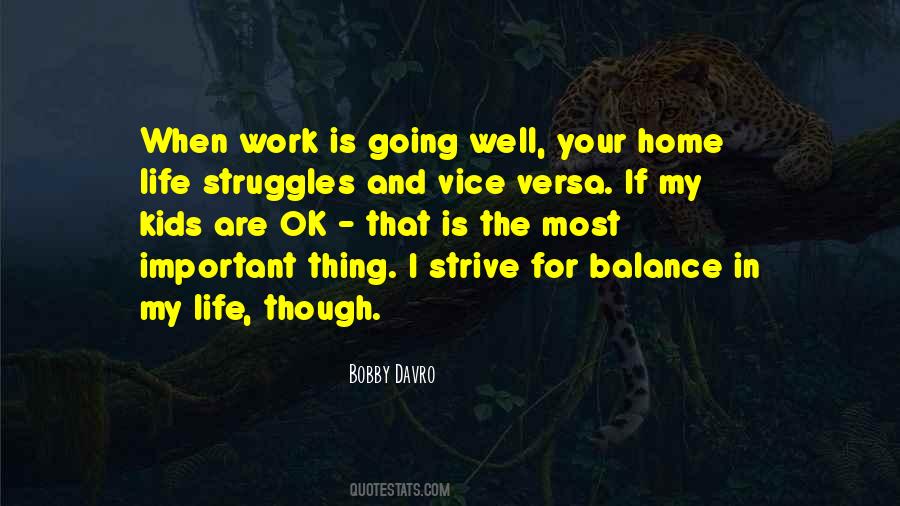 #70. We all need something to struggle against and to struggle for. The aim in life is not to avoid struggles, but to have the right ones; not to avoid worry, but to care about the right things; not to live without fear, but to confront worthy fears with force and - Author: Eric Greitens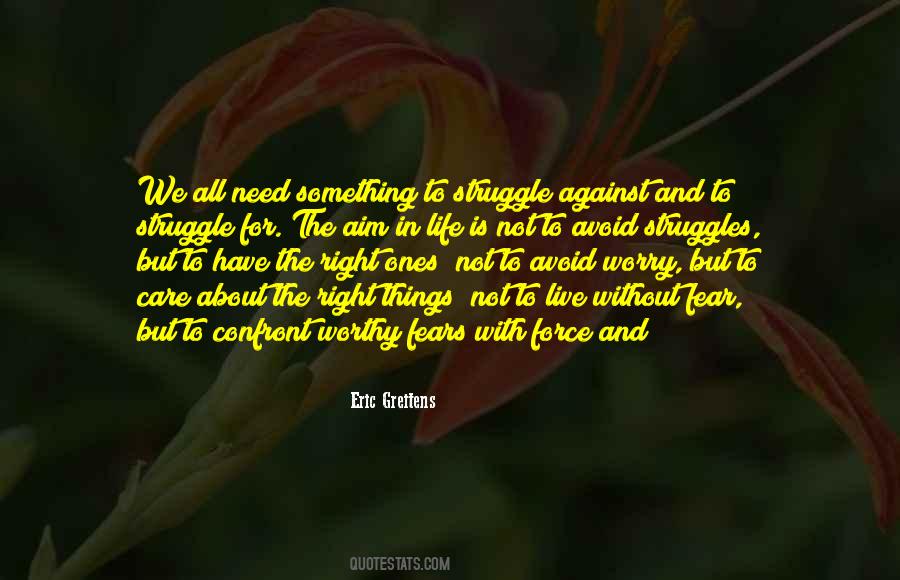 #71. The individual soul touches upon the world soul like a well reaches for the water table. That which sustains the universe beyond thought and language, and that which is at the core of us and struggles for expression, is the same thing. The finite within the infinite, the infinite within the finite. - Author: Yann Martel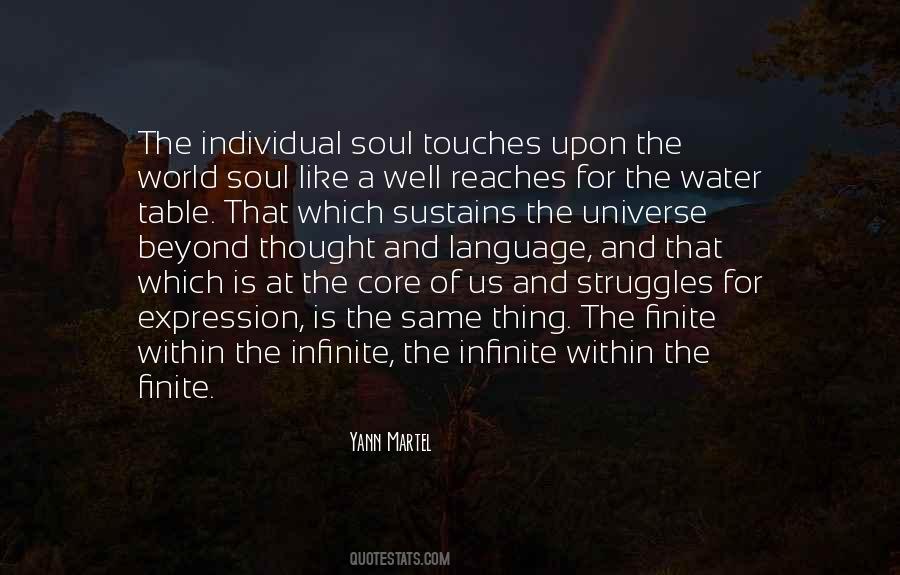 #72. Give me life, with its struggles and victories, with its failures and hatreds, with its deep moral meaning and its unknown goal! - Author: E. M. Forster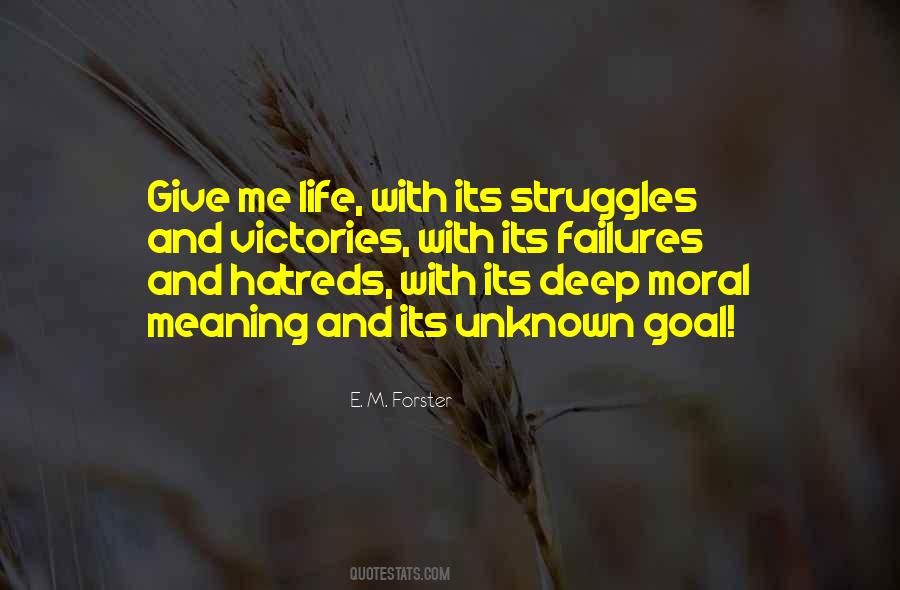 #73. I can tell you and promise you that I've had struggles in my life. And I would love to have people understand that Mitt and I have compassion for people that are struggling. - Author: Ann Romney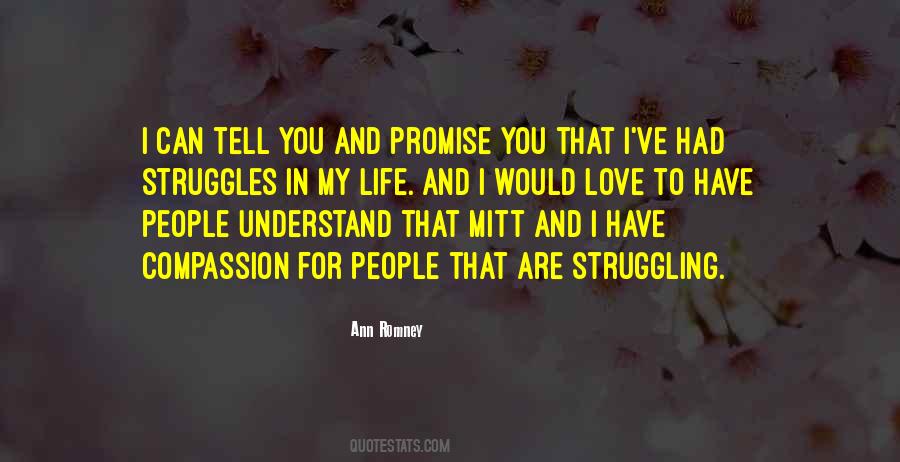 #74. Keep on reinventing yourself! Always strive to be a better version of yourself! - Author: Avijeet Das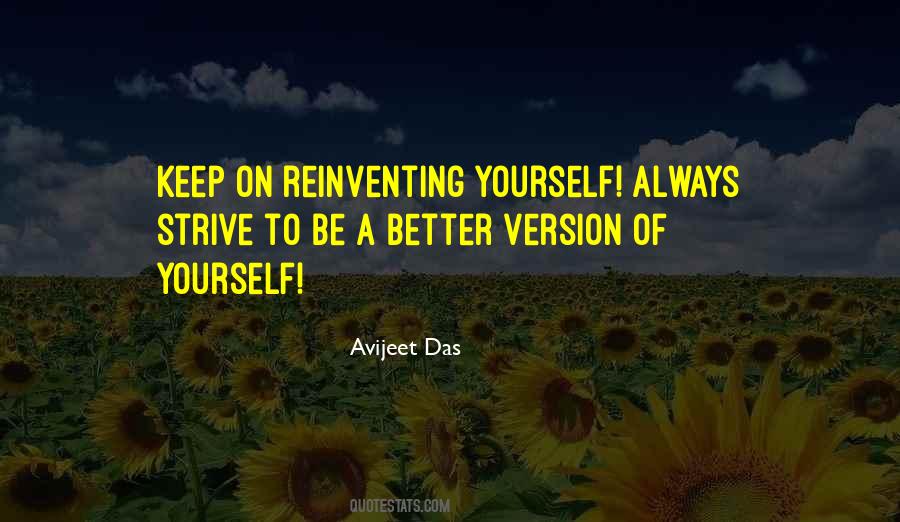 #75. If [we] have a good, miserable day once in a while, or several in a row, stand steady and face them. Things will straighten out. There is great purpose in our struggle in life. - Author: Boyd K. Packer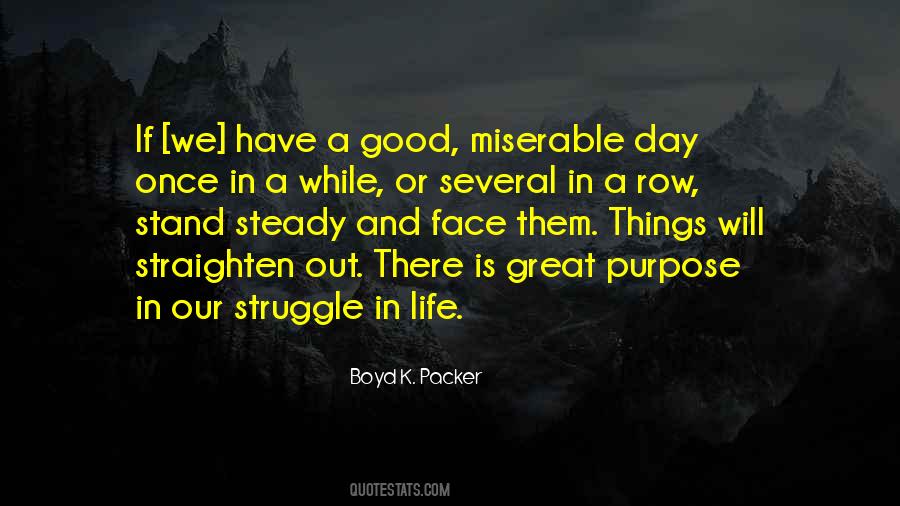 #76. If Greece had gone through a very normal political life, I may have not been in politics. But just the fact that I lived through huge upheavals and very difficult struggles and polarization and the barbarism of dictatorships - that made me feel that we had to change this country. - Author: George Papandreou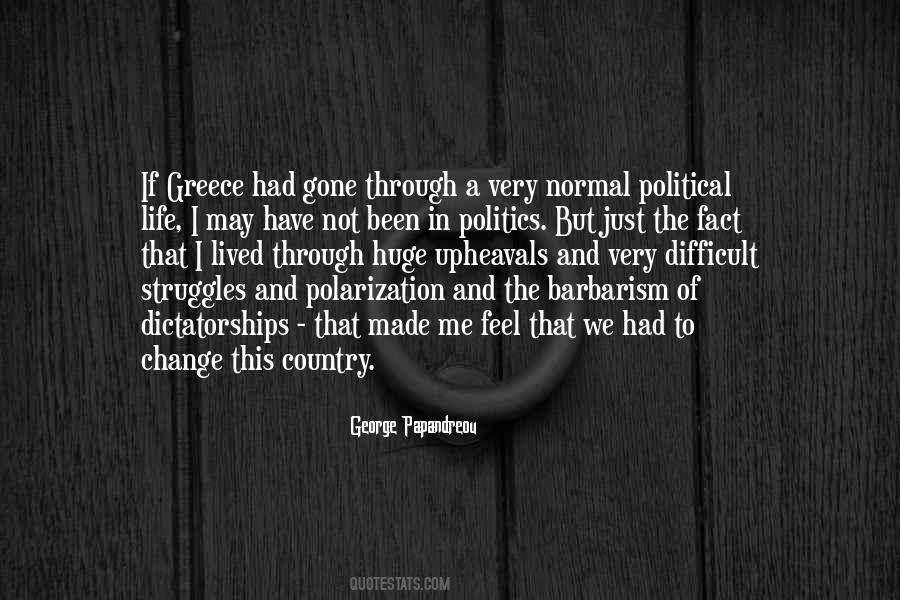 #77. I had passed on from life, from the world of struggles and hardship and big fat women with annoying laughs, and entered a glorious new existence of utter peace, and joy, and love.
And then some git brought me back to life - Author: Yahtzee Croshaw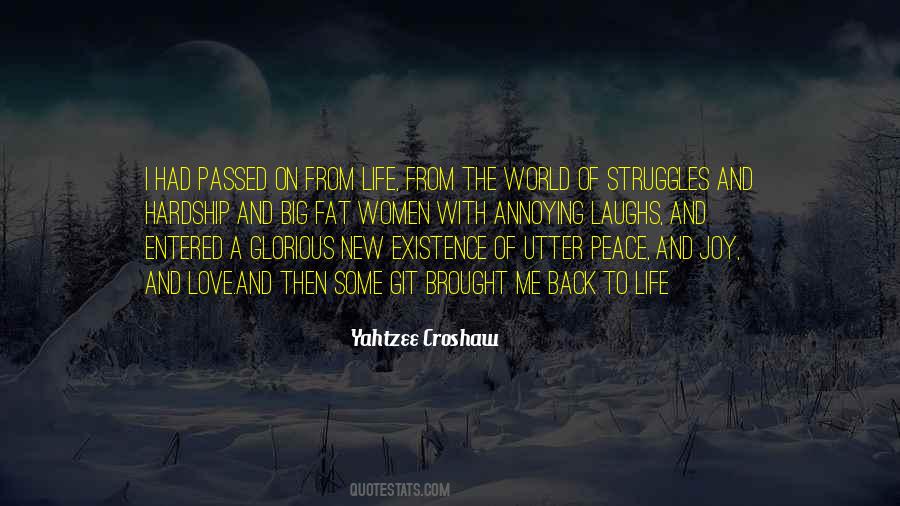 #78. The most practical teaching of the Gita, and one for which it is of abiding interest and value to the men of the world with whom life is a series of struggles, is not to give way to any morbid sentimentality when duty demands sternness and the boldness to face terrible things. - Author: Bal Gangadhar Tilak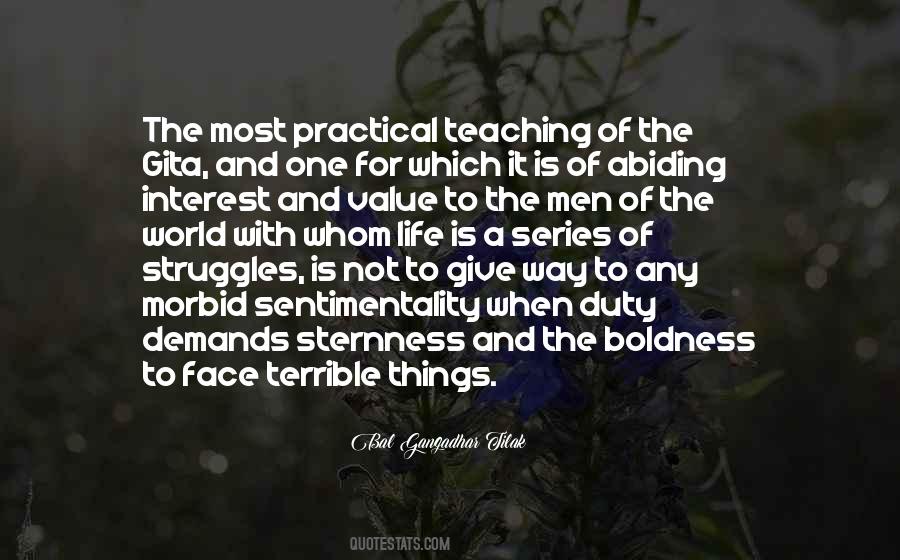 #79. Supreme level of maturity is needed to realize; that, conveyance of family life, depends on equally maintained pair of wheels and both crediting each other, for their functioning and struggles as well. - Author: Aniruddha Sastikar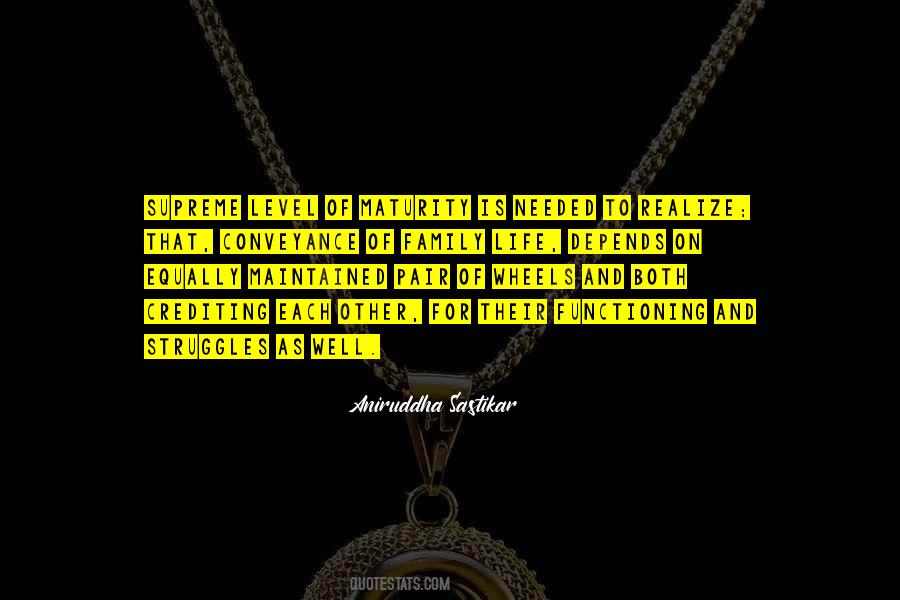 #80. I'm just a normal mother with the same struggles as any other mother who's trying to do everything at once and trying to be a wife and maintain a relationship. There's absolutely nothing perfect about my life, but I just try hard. - Author: Gwyneth Paltrow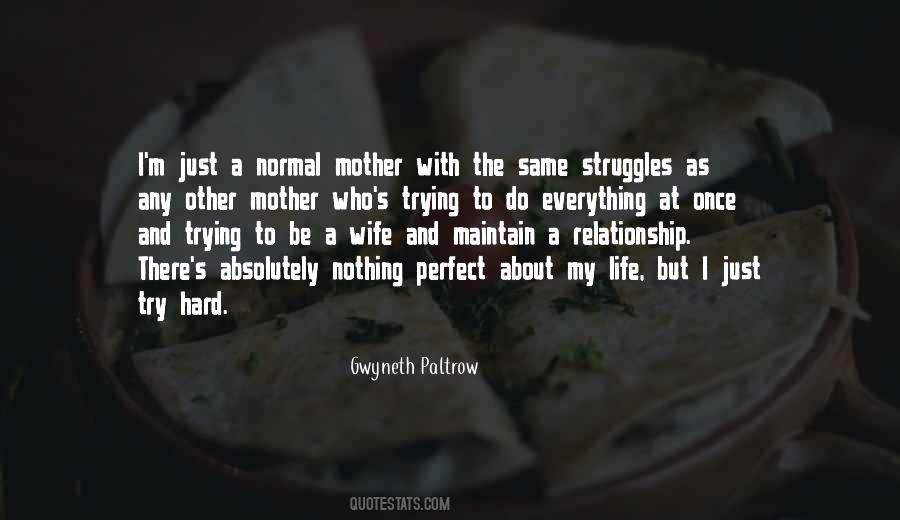 #81. When we are self-aware, we are able to reach beyond ourselves and objectively assess others ... allowing us to meet them where they are at, seeing into their needs and struggles, so we can understand the way they experience life, even if it is vastly different from the way we experience, our own. - Author: Jaeda DeWalt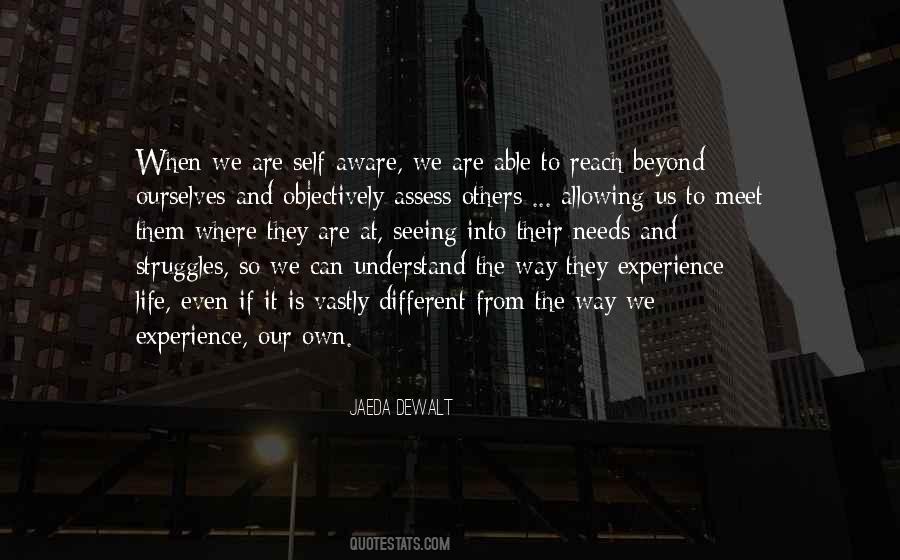 #82. Struggles and challenges are ordinary, it's how you deal with them that can make you extraordinary. - Author: Shan Fazelbhoy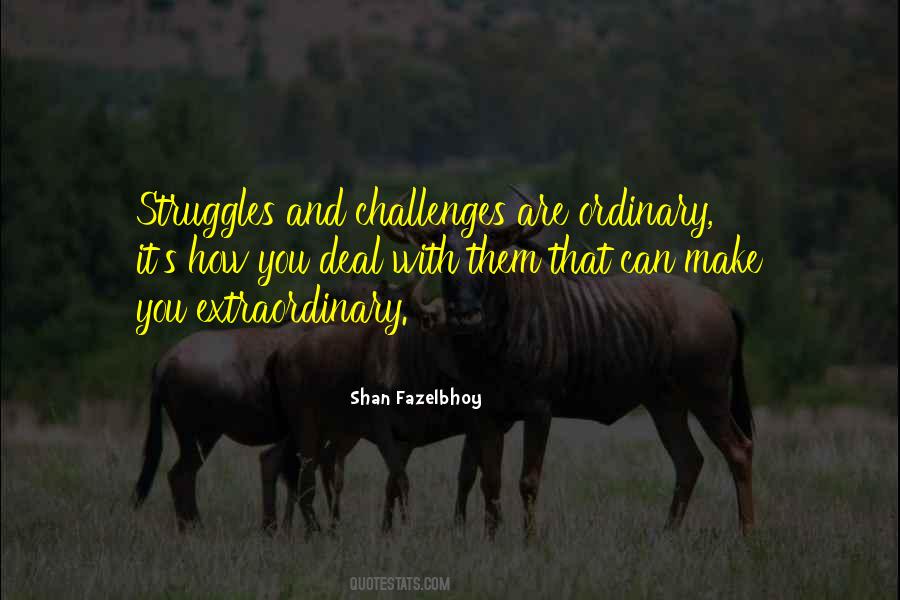 #83. In other words, art is a realm entirely separated from the interests of real life-a refuge for detached and gifted souls from sordid political and economic struggles. - Author: DeWitt Henry Parker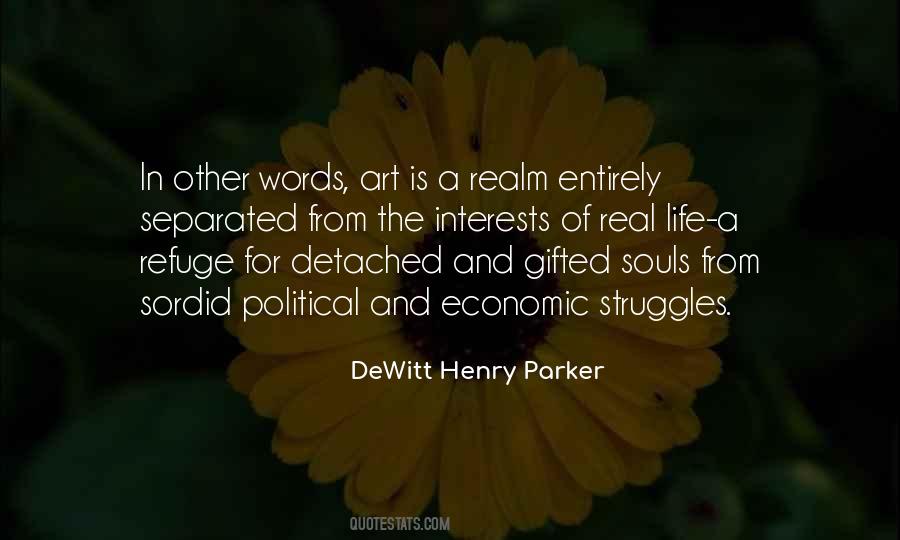 #84. In this shifting landscape, we may tend to forget "what the old folks say." Most of us probably now realize that our ancestors did indeed have it right! Their common-sense ways allowed them to get through the worst of conditions throughout history and still we thrive from their bold undertakings. - Author: Deborah L. Parker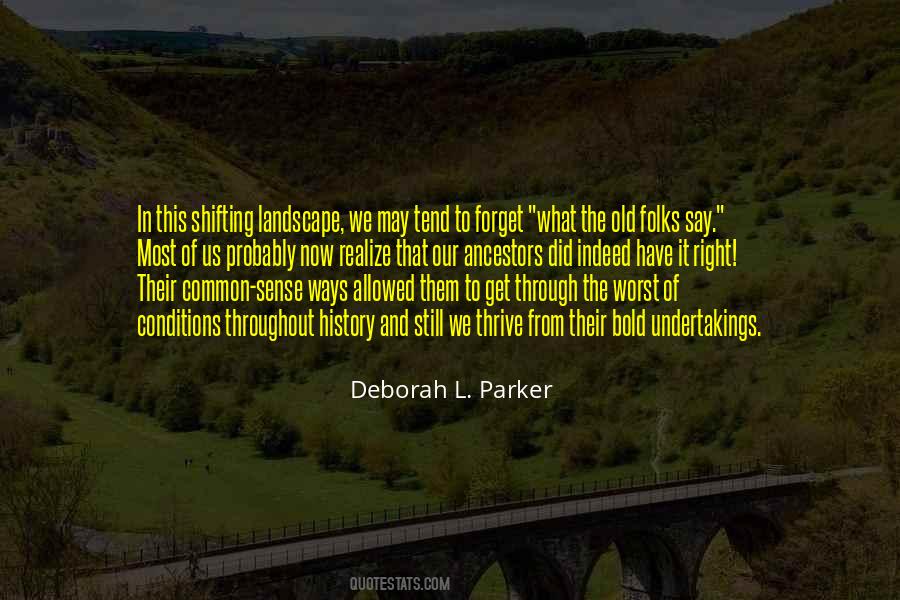 #85. This is the most simple and basic component of life: our struggles determine our successes. - Author: Mark Manson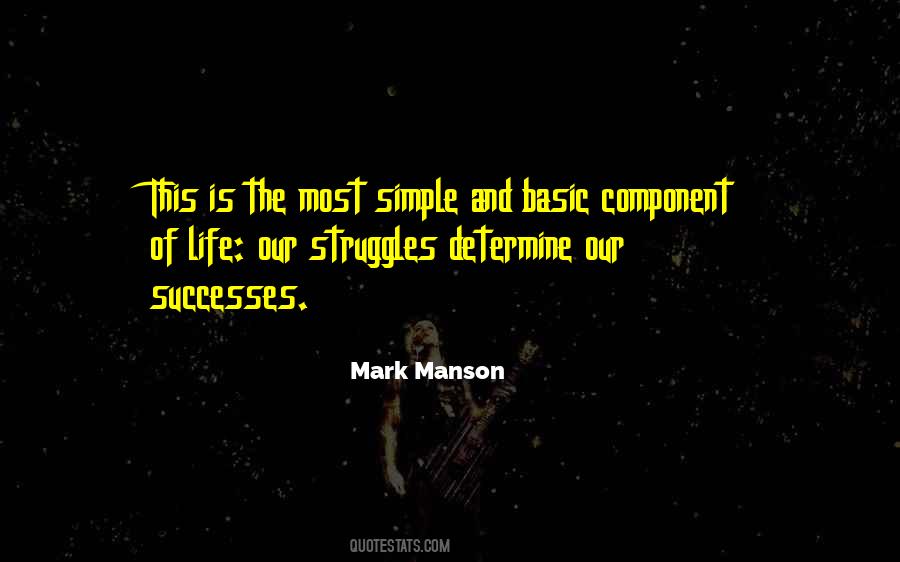 #86. I would say that playing this character has caused me to think about a lot of things. He's always questioning himself and trying to get back to something he lost touch with and trying to find forgiveness. Everybody struggles with these things to some extent in their life. - Author: Lee Tergesen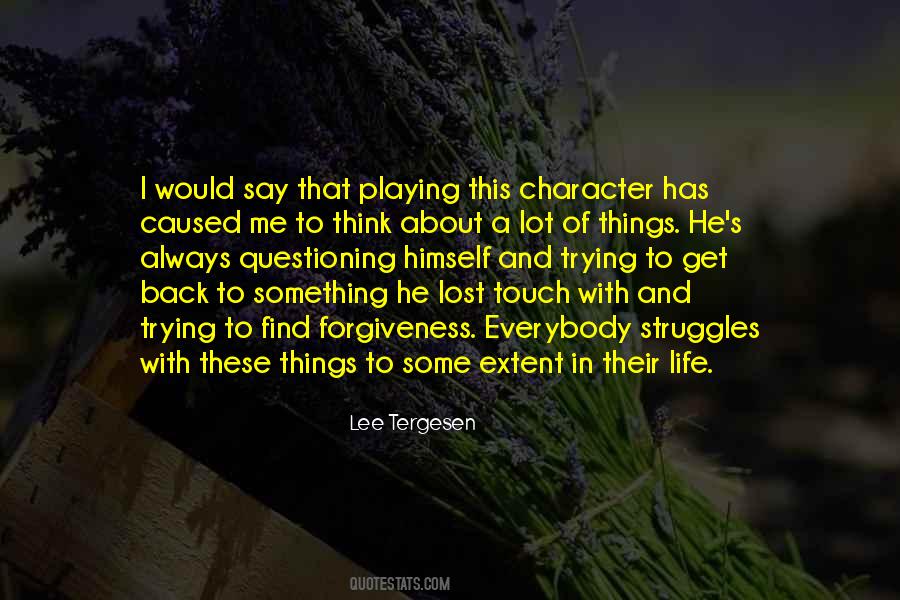 #87. You stay in your comfortable houses built by your fathers. I stay on my own. You lead secure lives. I lead my life with no security. You say you are leading a meaningful life. And I laugh at you. - Author: Avijeet Das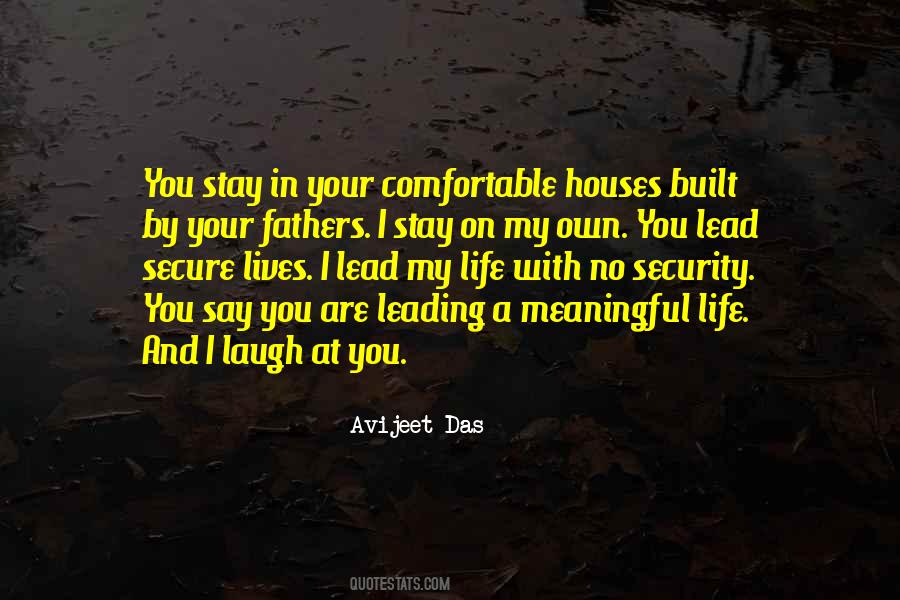 #88. I want to talk to people that have been through big disappointments, big emotional crises, deep life struggles, and I will learn something from that. - Author: Shania Twain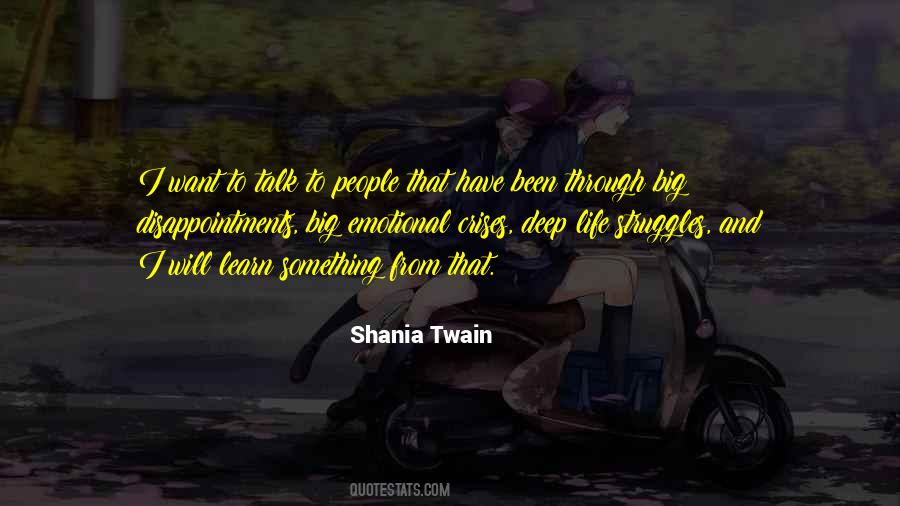 #89. Like everyone else in this world, I have had struggles. There's disappointment and obstacles in everybody's life. I feel like I was writing 'Second Chance' not just for myself, but also for the people who have struggled. - Author: El DeBarge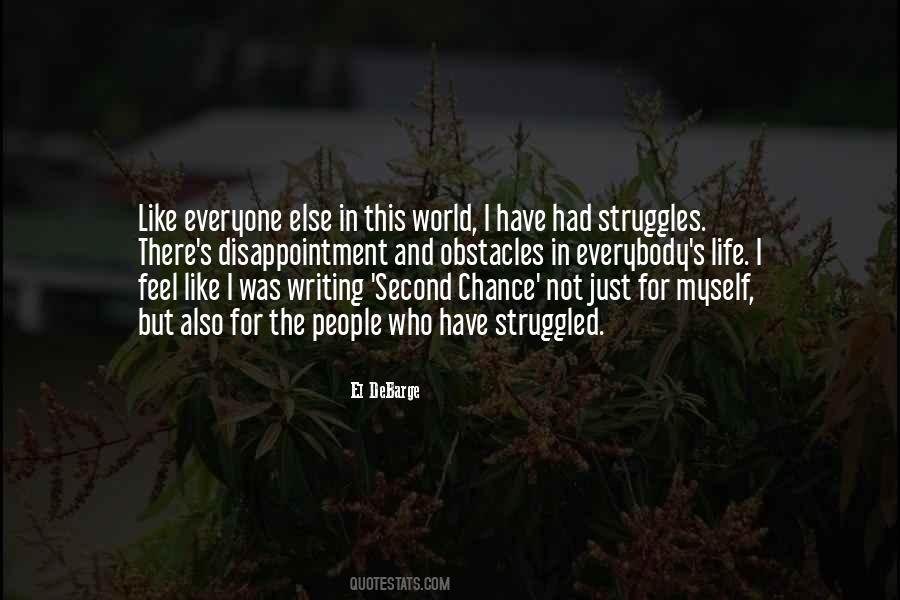 #90. Life is not always easy to live, but the opportunity to do so is a blessing beyond comprehension. In the process of living, we will face struggles, many of which will cause us to suffer and to experience pain. - Author: L. Lionel Kendrick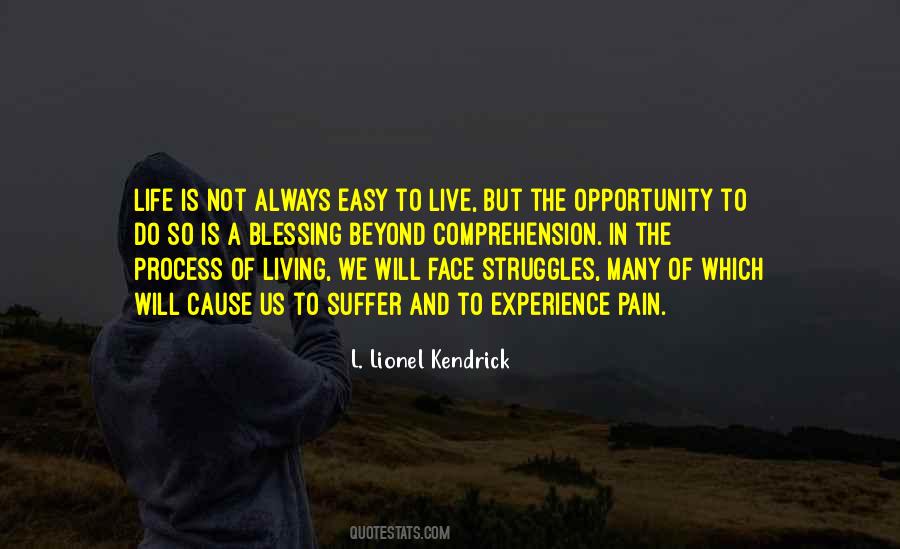 #91. Just like gold, which has to weather very high temperatures to achieve the sheen and shine it finally gets, so also every person has to go through struggles in his life to achieve success. - Author: Kailash Kher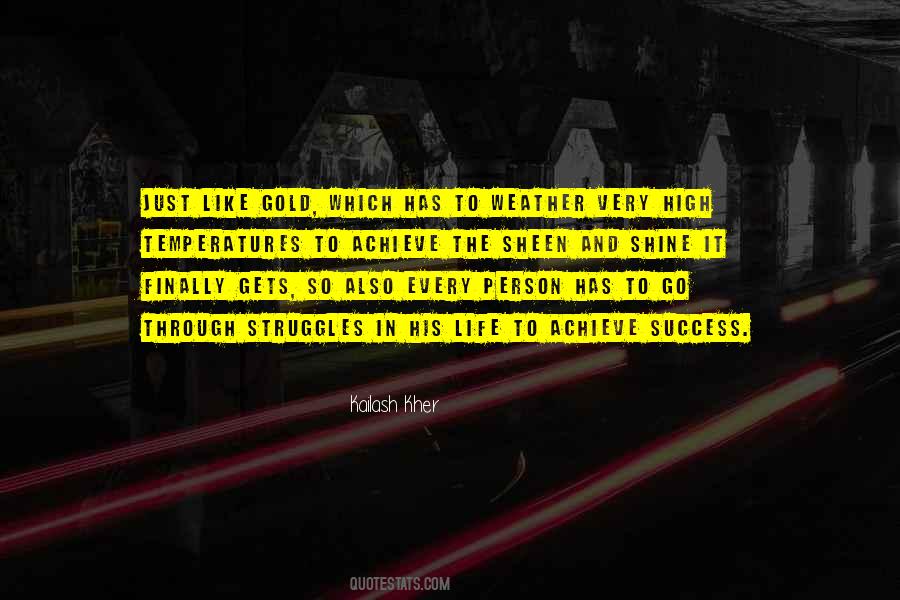 #92. I take up my own pen again - the pen of all my old unforgettable efforts and sacred struggles. To myself - today - I need say no more. Large and full and high the future still opens. It is now indeed that I may do the work of my life. And I will. - Author: Henry James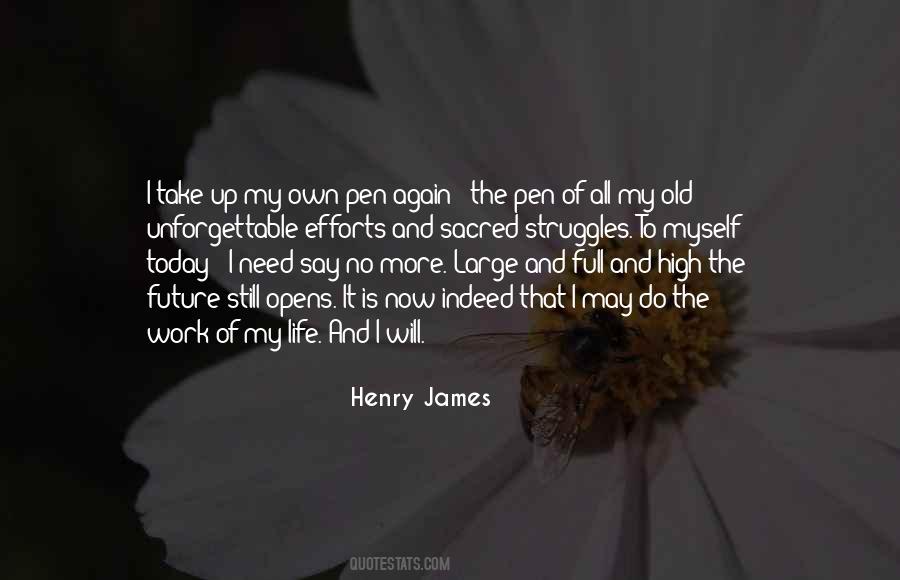 #93. The next generation should embrace their struggles. A butterfly develops only after a struggle to break free from its cocoon. A diamond can only emerge after taking in all the pressure that it can. Struggle hard and never ever give up! You are born to be a Hero. - Author: Avijeet Das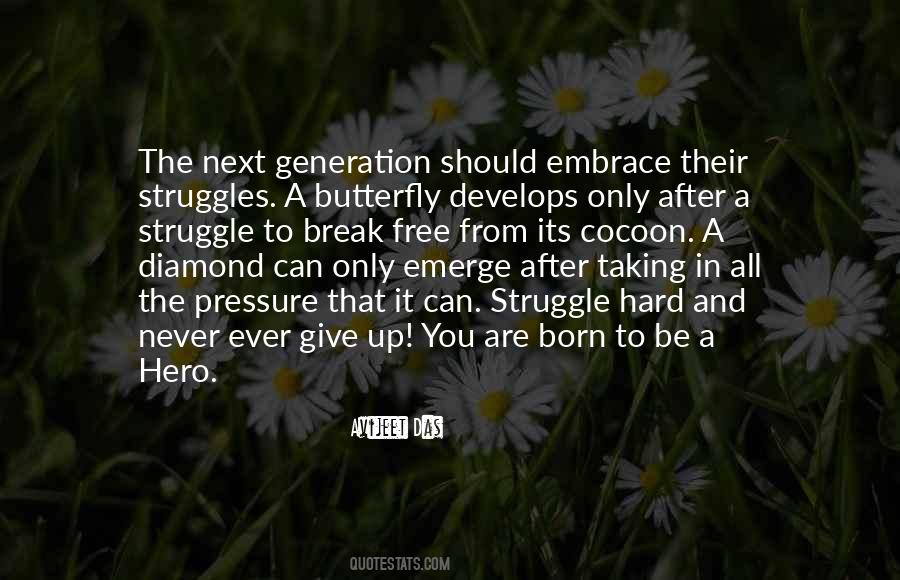 #94. You don't get to choose what you get famous for and you don't get to control which of your life's many struggles gets to stand for you. - Author: Erica Jong
#95. Without struggles, success would be meaningless. - Author: Peprah Boasiako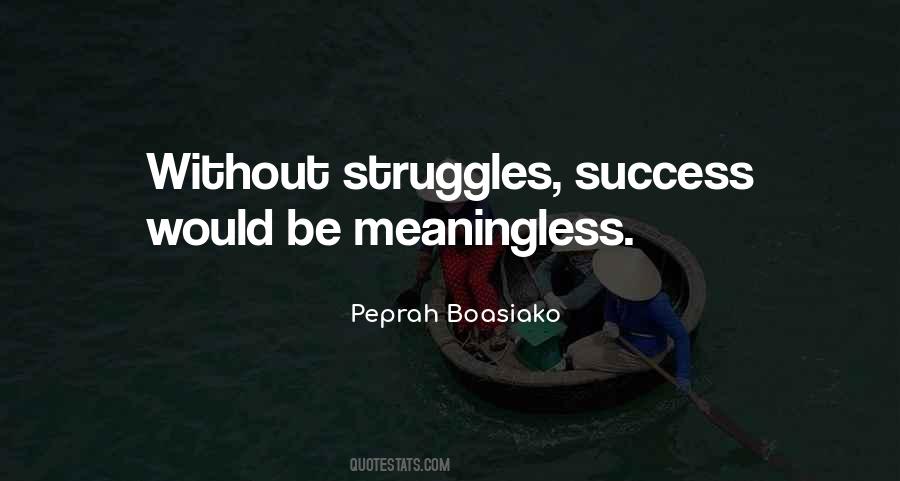 #96. Never ever stop dreaming. You will make it big one day. What is life without our struggles? Our struggles give us insight and depth into life. - Author: Avijeet Das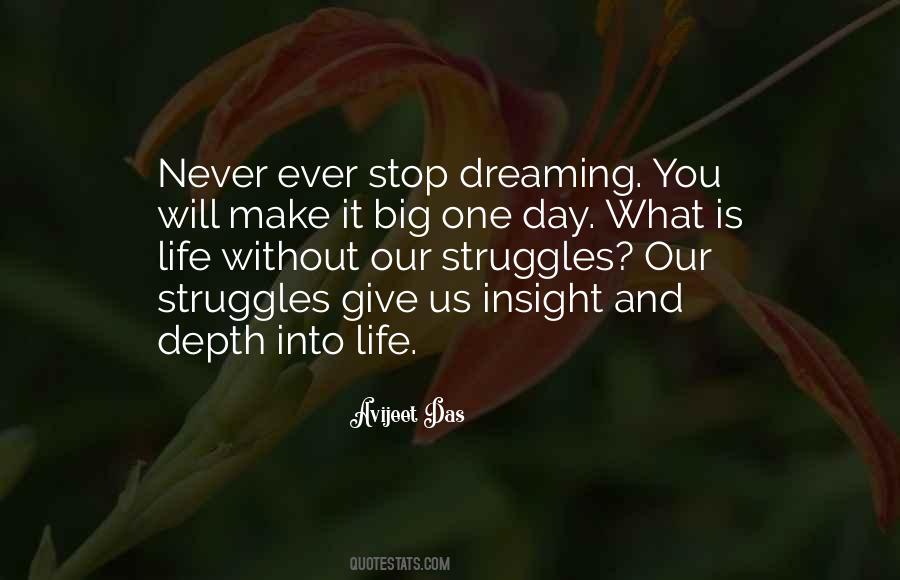 #97. It has always been a favorite idea of mine, that there is so much of the human in every man, that the life of any one individual, however obscure, if really and vividly perceived in all its aspirations, struggles, failures, and successes, would command the interest of all others. - Author: Harriet Beecher Stowe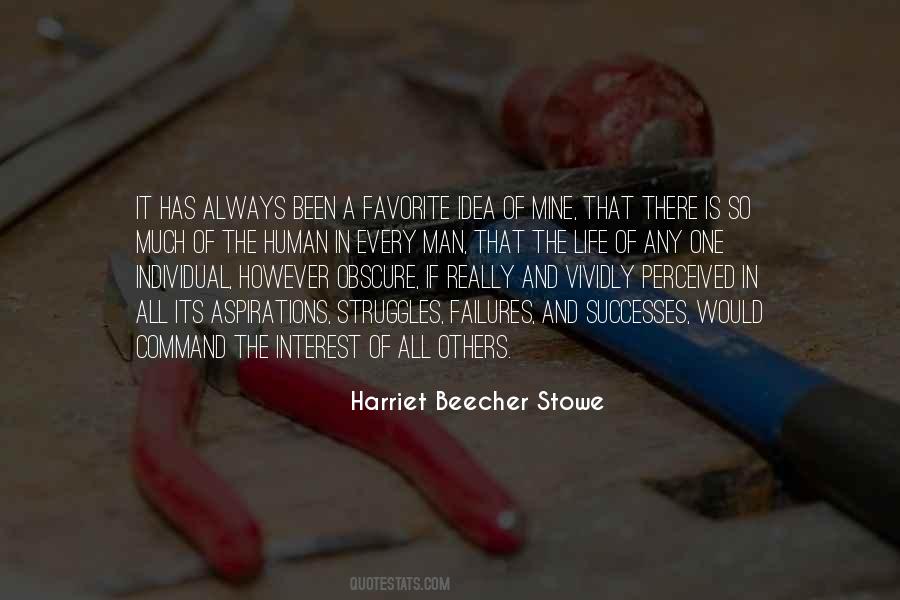 #98. An atmosphere of beliefs and conceptions has been formed by the labours and struggles of our forefathers, which enables us to breathe amid the various and complex circumstances of our life. - Author: William Kingdon Clifford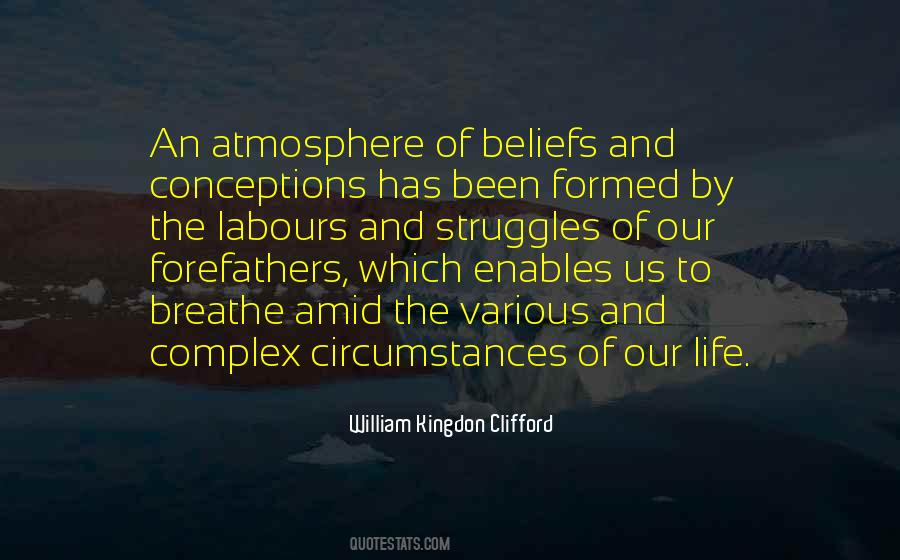 #99. It is only through such real-life daily struggles and challenges that a genuine sensitivity to human rights can be inculcated. This is a truth that is not limited to school education: it applies to all of us. - Author: Daisaku Ikeda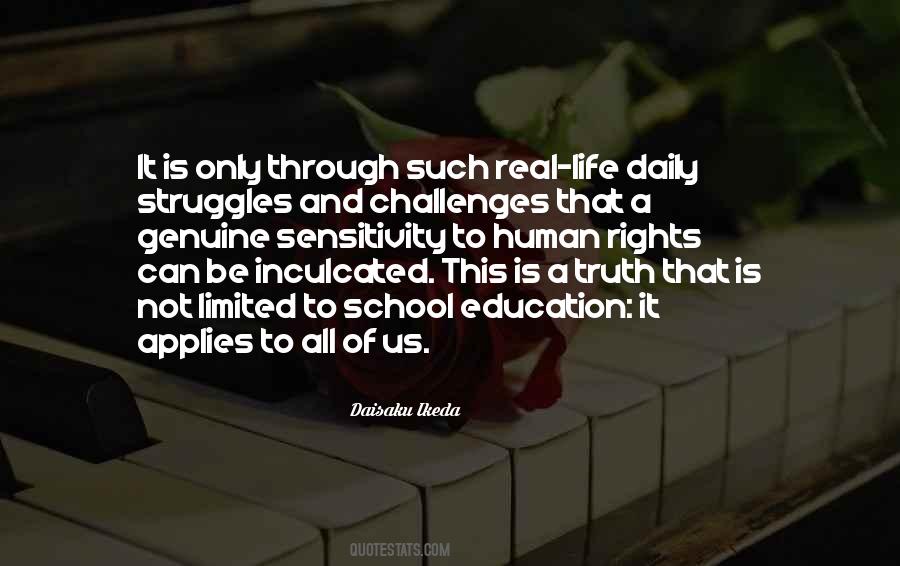 #100. The road to overcoming your fears could lead you to unbearable places but sometimes such gives you an edge than nothing else could give. - Author: Auliq Ice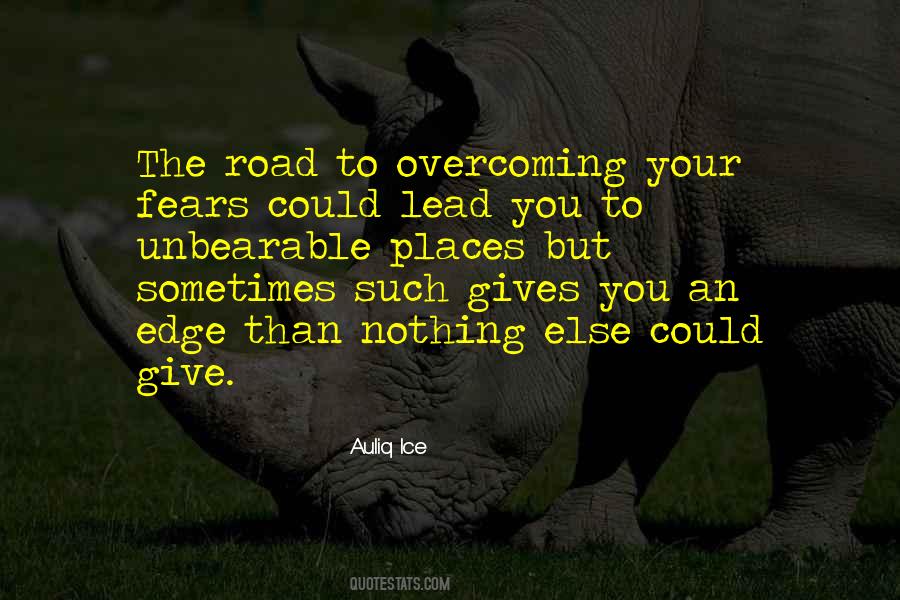 Famous Authors
Popular Topics