Just Living In The Moment Famous Quotes & Sayings
List of top 82 famous quotes and sayings about just living in the moment to read and share with friends on your Facebook, Twitter, blogs.
Top 82 Quotes About Just Living In The Moment
#1. It's as if the universe has a sense of humor, since at a deep level it's impossible not to lead a spiritual life ...
the universe is living through you at this moment. with or without belief in god, the chain of events leading from silent awareness to physical reality remains intact. - Author: Deepak Chopra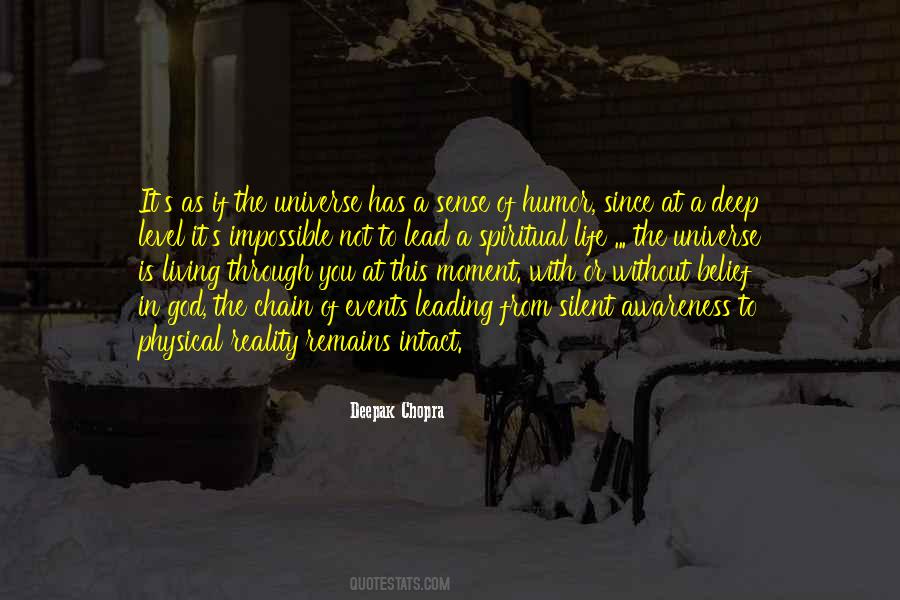 #2. Not truly living in the present moment and later regretting is like closing your eyes when a peacock is dancing, only to want to see it dance once it is gone.-RVM - Author: R.v.m.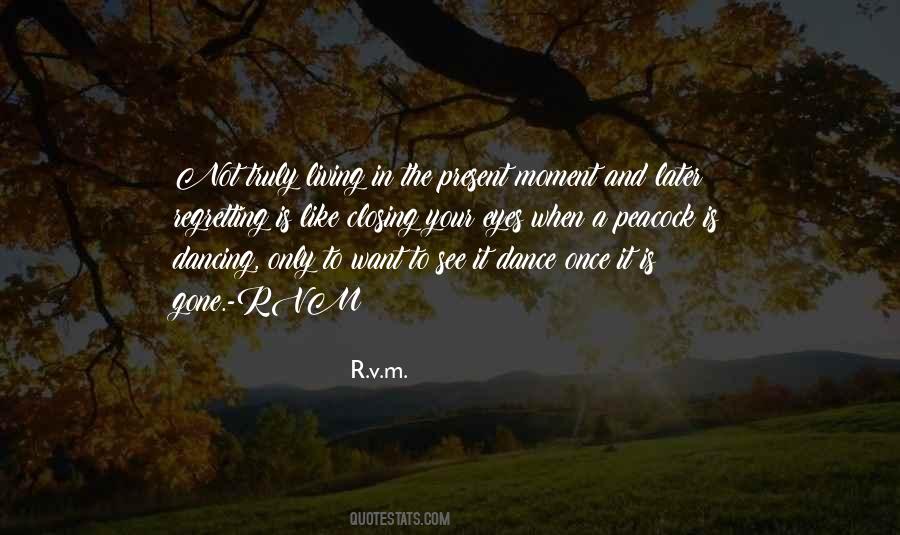 #3. If time stood still for a moment, what would you be grateful for? And will it be enough to allow time to have meaning when it begins? - Author: Steven Cuoco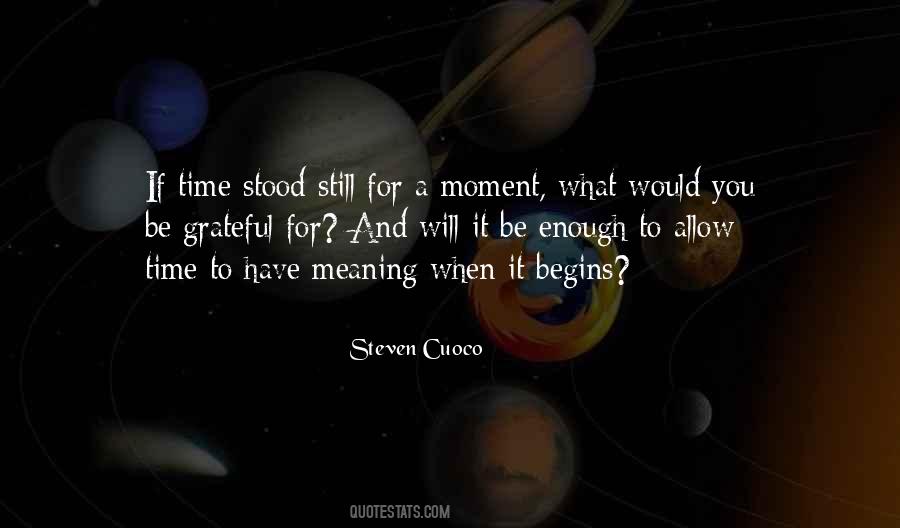 #4. Things were a little untidy, but what did that matter? It was possible to become the slave of things; possible to miss life in preparation for living. - Author: Elizabeth Von Arnim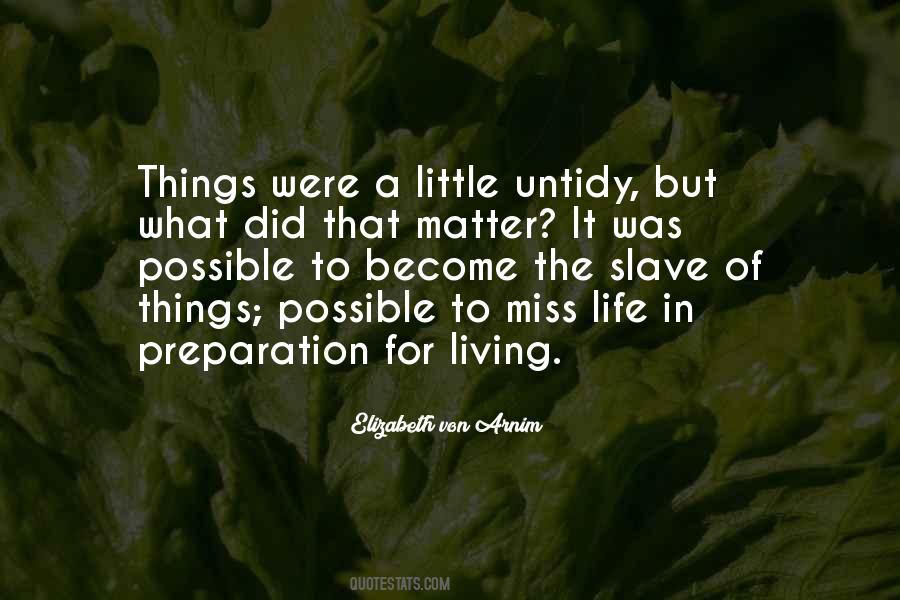 #5. What is the biggest thing that stops people from living their lives in the present moment? Fear - and we must learn how to overcome fear. - Author: Brian Weiss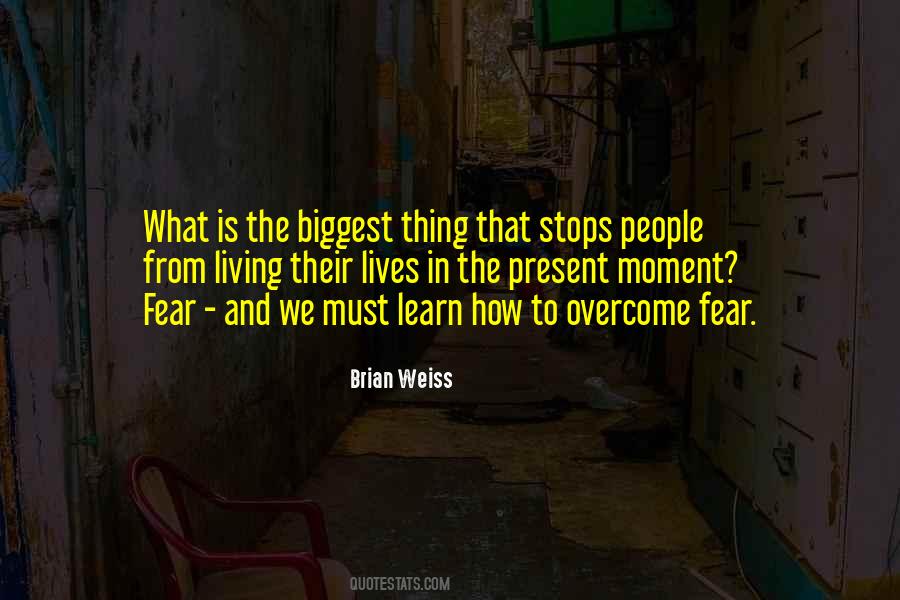 #6. And the uniqueness of every moment
seeks the path from pain to a pearl. - Author: Lina Kostenko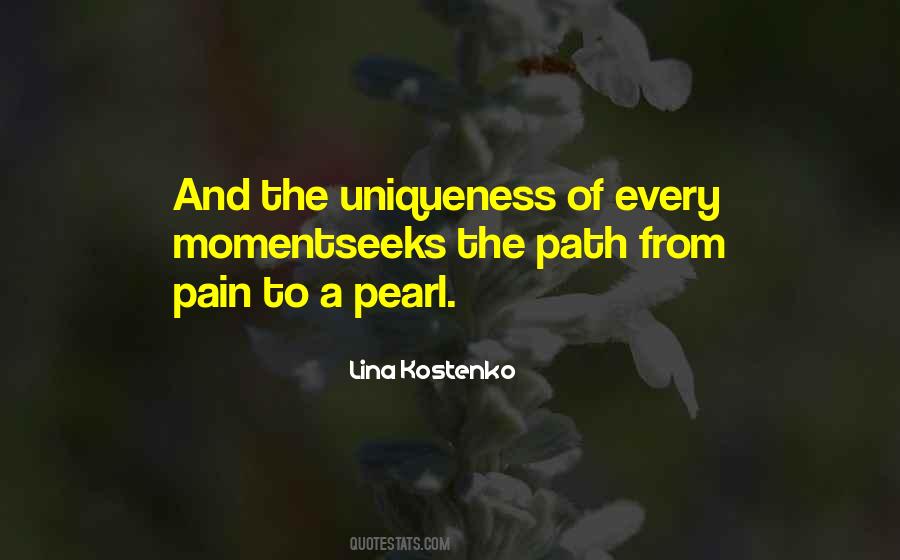 #7. This was the life I was going to be living, everybody separated from everybody else, hanging on for a moment, only to be washed away. I could grow up and drift away too. - Author: Janet Fitch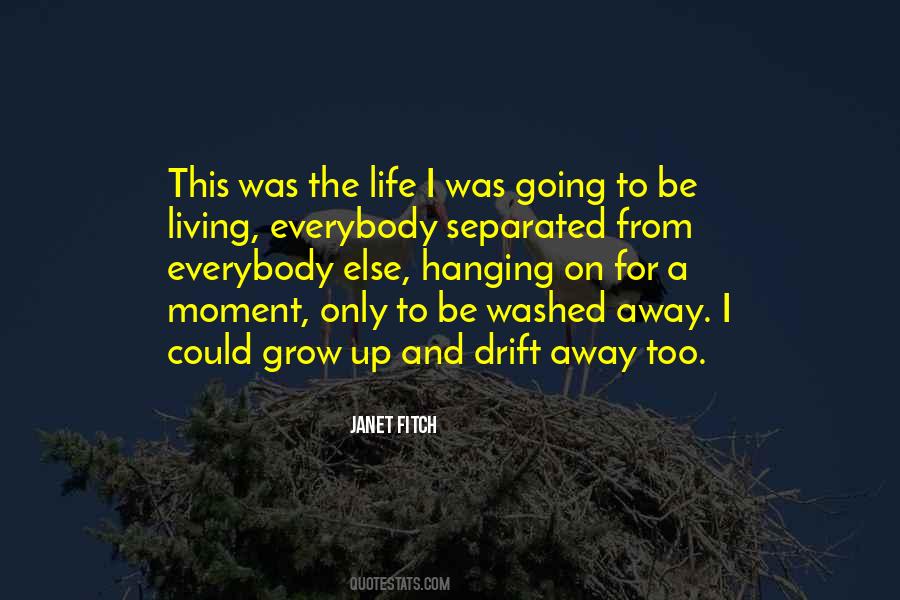 #8. Most dancers I know, especially the talented and successful ones, seem to possess [my dog's] knack for living moment to moment. You see, their idea of time is related to those infinitely short moments when they are onstage being their superselves. - Author: Paul Taylor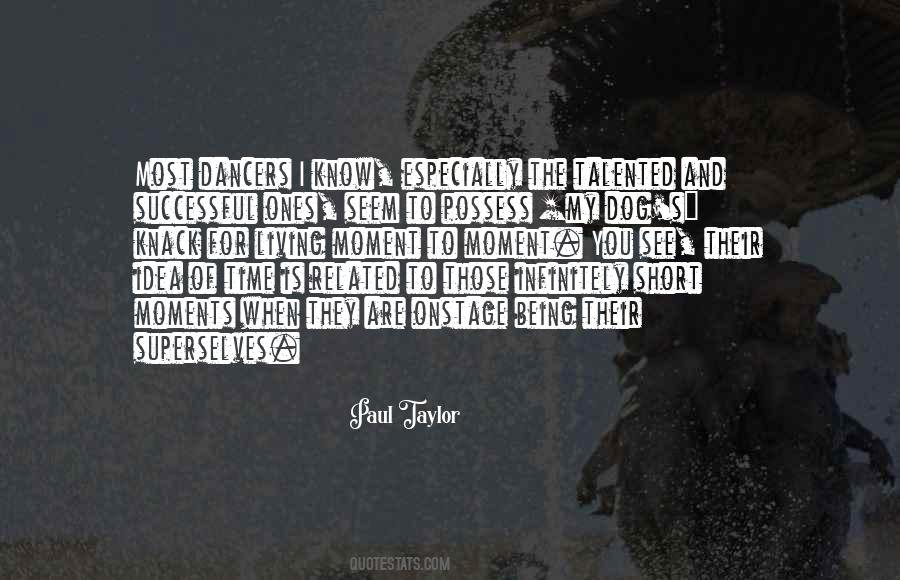 #9. Do you know what the Spirit-filled life is? It is living every moment as though you are standing in the presence of Jesus Christ! - Author: John F. MacArthur Jr.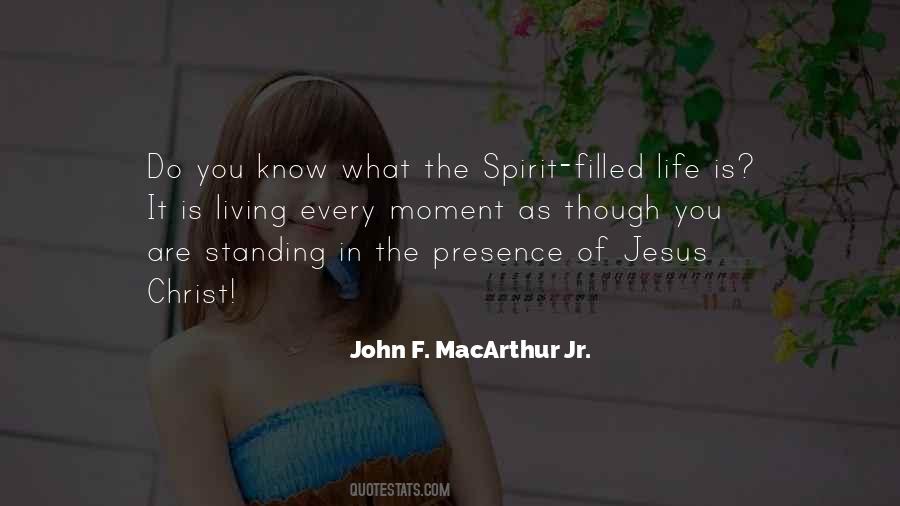 #10. You are pure-hearted and lovely, and you have never done a moment's wrong. But you are a living creature, born to make a real life, however it cracks your heart. - Author: Margo Lanagan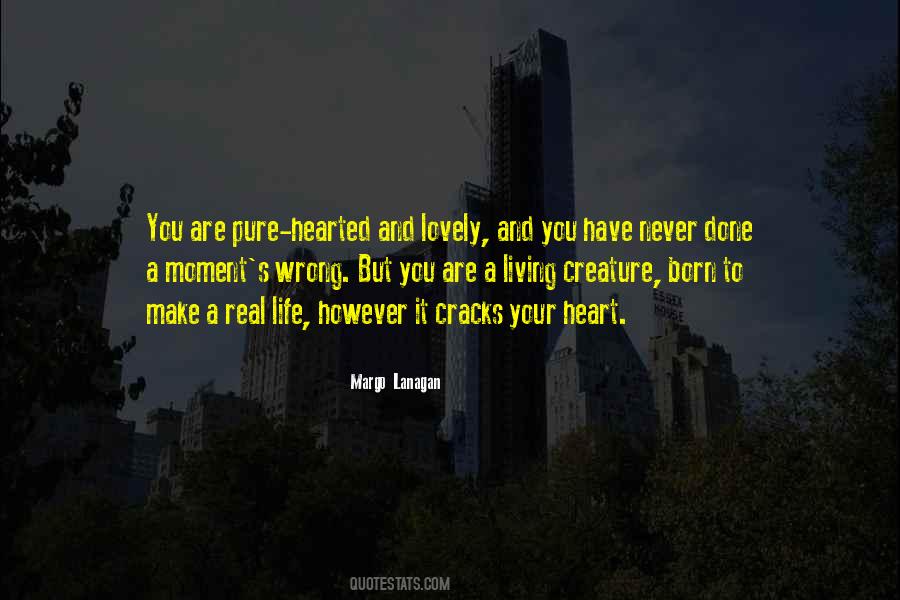 #11. A long and wicked life followed by five minutes of perfect grace gets you into Heaven. An equally long life of decent living and good works followed by one outburst of taking the name of the lord in vain- then have a heart attack at that moment and be damned for eternity. Is that the system? - Author: Robert A. Heinlein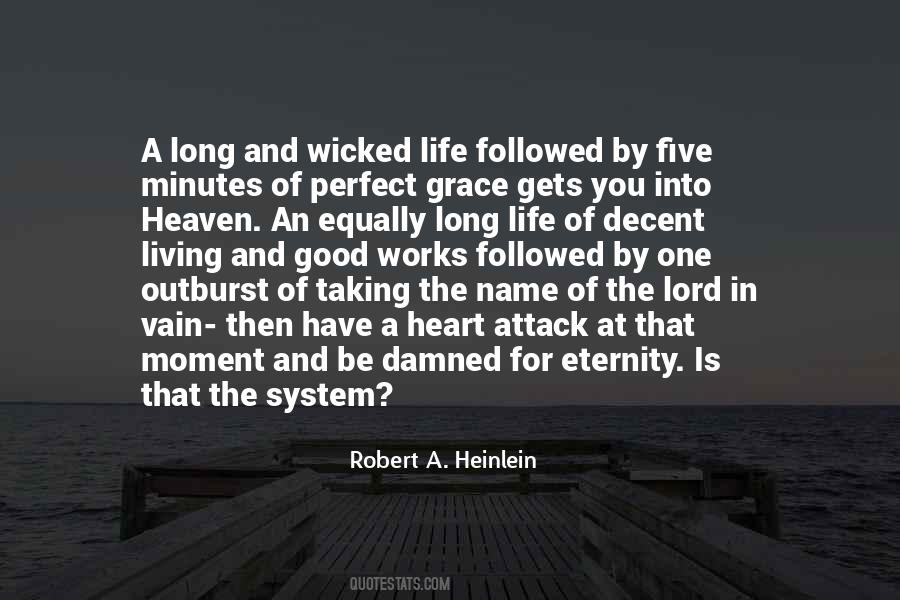 #12. The ultimate experience of being mindful occurs when we forget about everything, even the mindful self and doing. In that mode we are full of energy, utterly self-generated. - Author: Sang H. Kim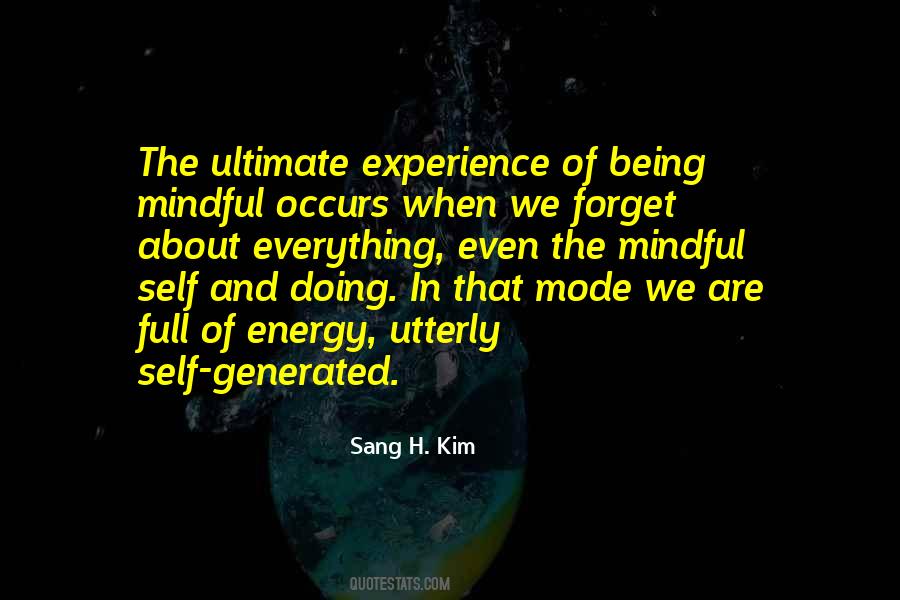 #13. We are successful
the moment we start toward
a laudable goal - Author: J. Benson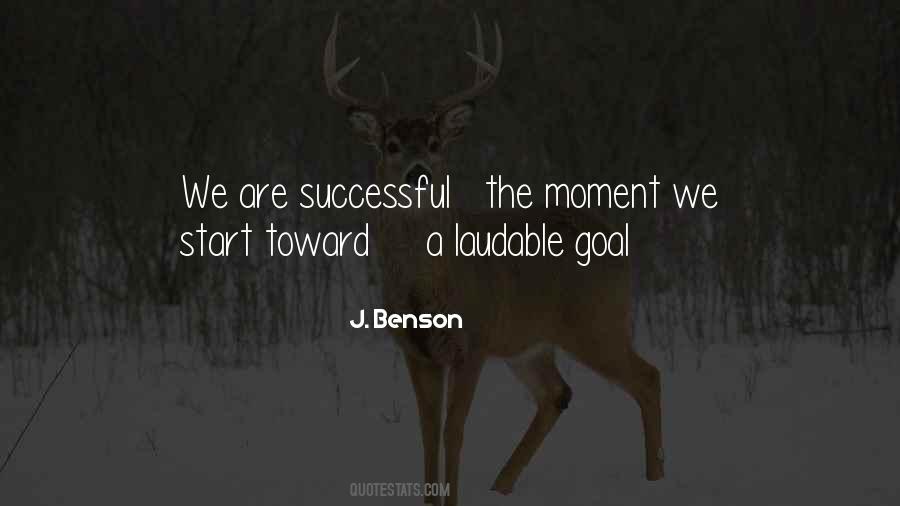 #14. Mindfulness is continuous undisturbed awareness of the present moment. Fully aware of here, and now, we pay attention to what is happening right in front of us, we set aside our mental and emotional baggage. To be mindful we have to re-train our mind. - Author: Natasa Nuit Pantovic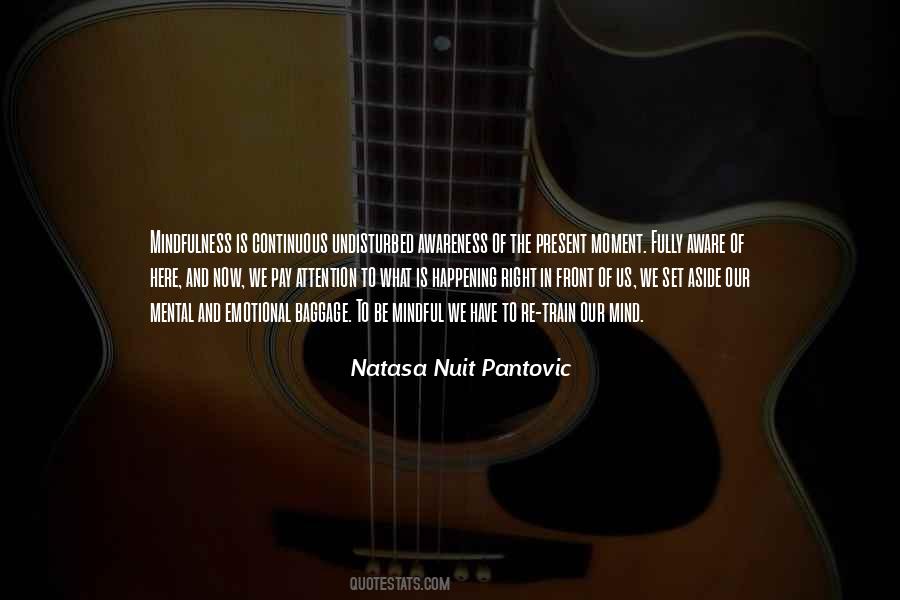 #15. Embodying recapitulation as a practical application to one's path means not living the way you used to live, and being so completely in the moment that you are lost to yourself. - Author: Lujan Matus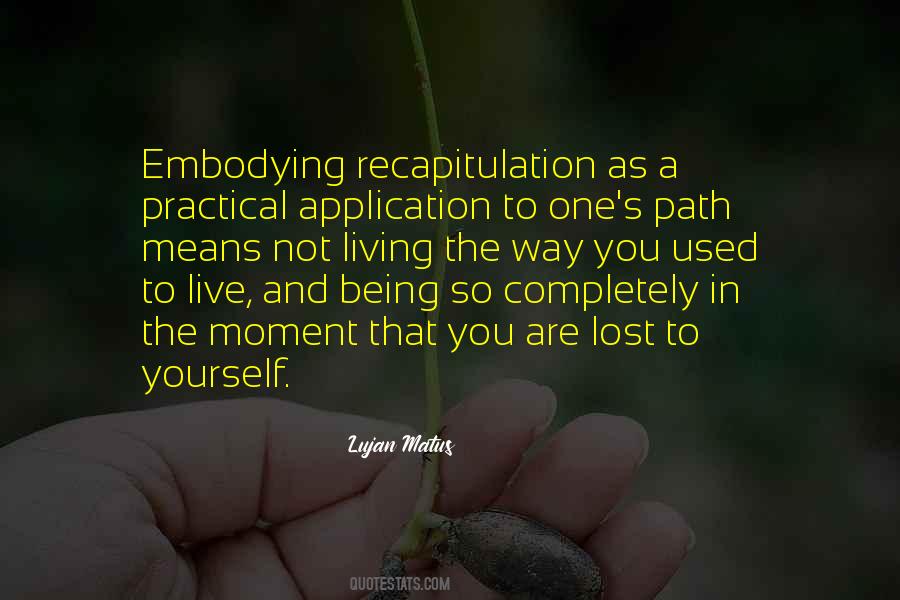 #16. Live in the present moment, you can't go back to yesterday, you can't leap into tomorrow, Today is your second, minute, hour! Embrace It! - Author: Amaka Imani Nkosazana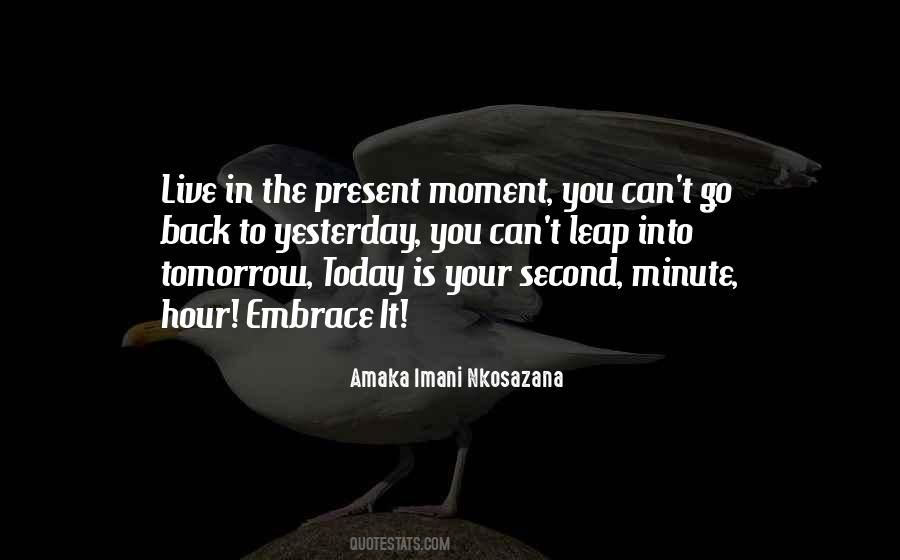 #17. Don't search for the moment, let it be revealed. - Author: Matthew Donnelly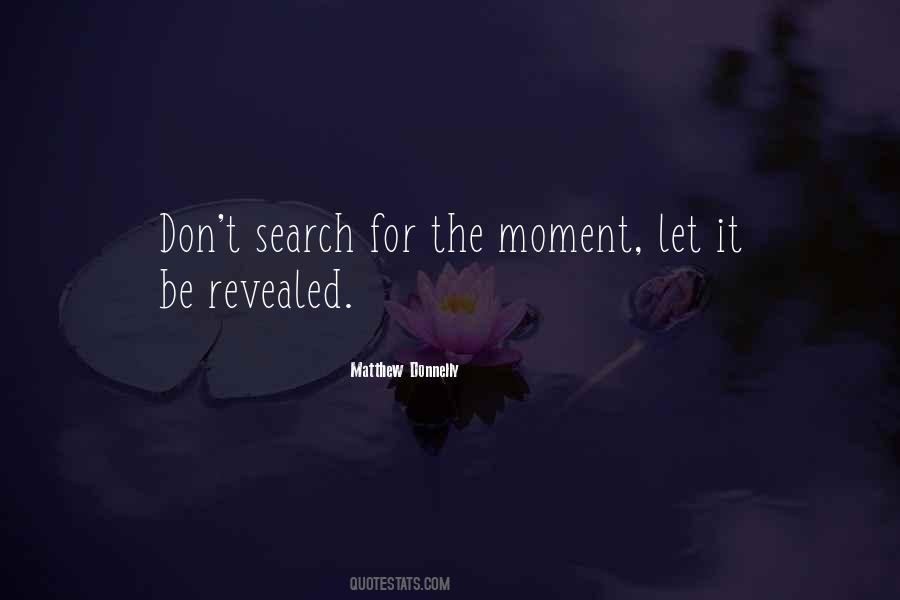 #18. Savor the moments in life that make your heart glow. Chase after and find the moments that will take your breath away. In the end, it is only those milestones on life's journey that matter. - Author: Michael Delaware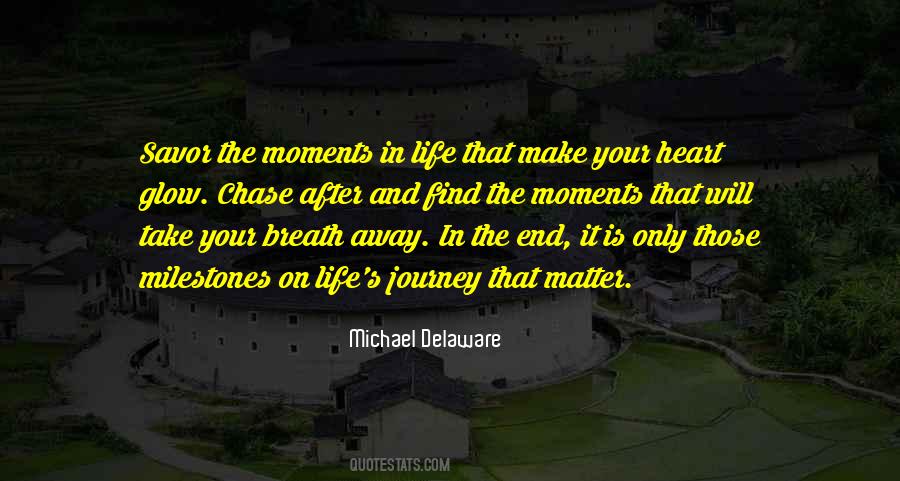 #19. " ... One can learn to focus on 'opportunity' as the gift within every given moment. This attitude towards life always improves the situation. Even in times of sickness, someone who habitually practices grateful living will look for the opportunity that a given moment offers and use it creatively." - Author: David Steindl-Rast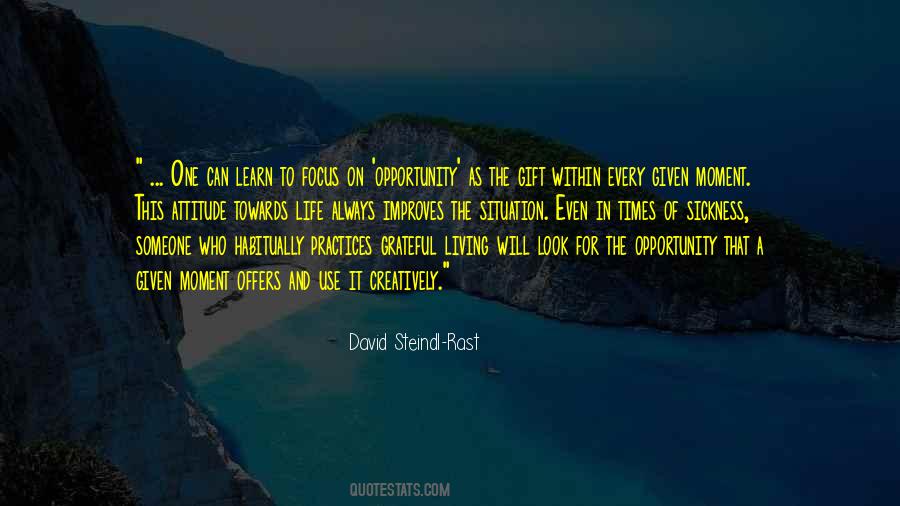 #20. As if when someone close to us dies, we momentarily trade places with them, in the moment right before. And as we get over it, we're really living their life in reverse, from death to life, from sickness to health. - Author: David Levithan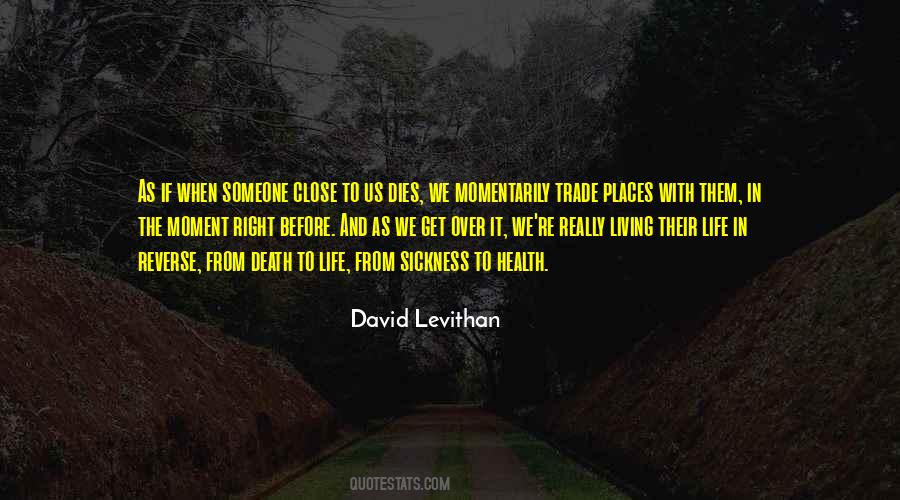 #21. You cannot separate the composition from the life of the moment. It is all one thing, to be decided in a split second while you're living through it. - Author: Edwin Land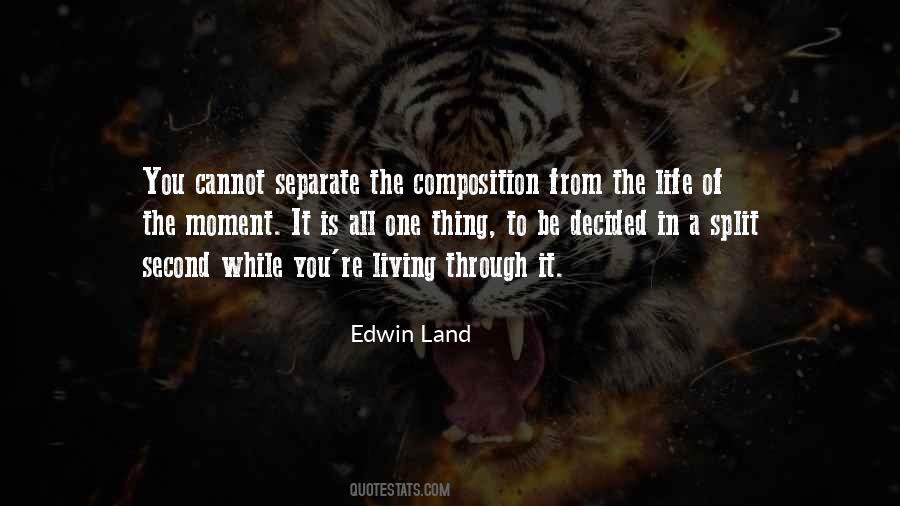 #22. Through knowing death we can hold a beacon of love for every moment that has just passed, for every friend who has lost a friend, for every child who has lost a parent, for every parent who has lost a child; for any suffering anywhere. - Author: Sebastian Pole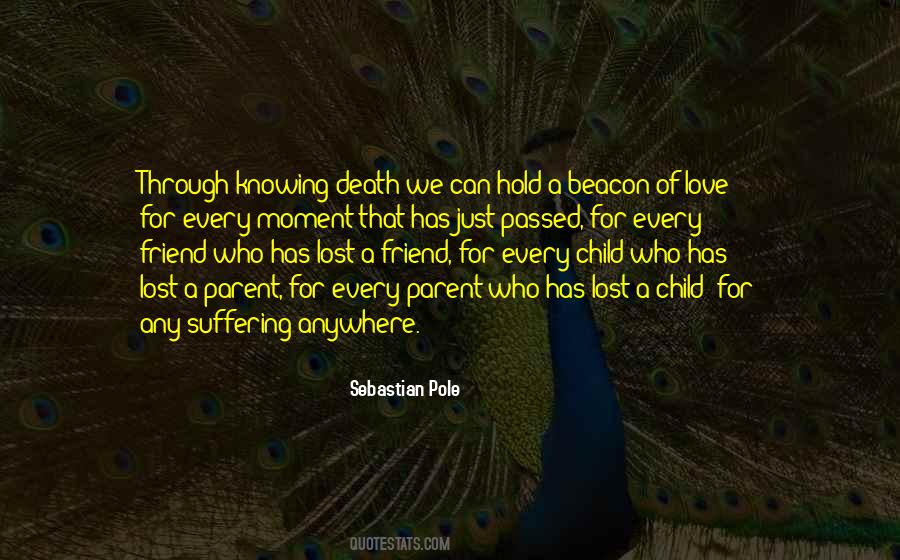 #23. Boredom is a sign that you're detached from your own bodily experience and aren't living in the present moment. - Author: Georg Feuerstein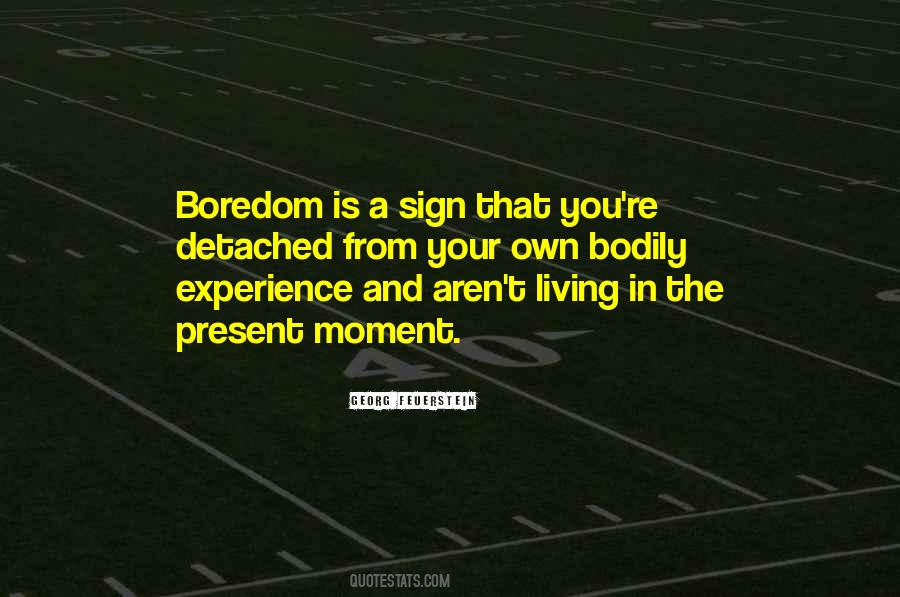 #24. I'm living in the moment. I just try to move each of the stories, scripts and projects that I work on forward. And when they're ready and the people are ready to make them, we'll do that. - Author: David Heyman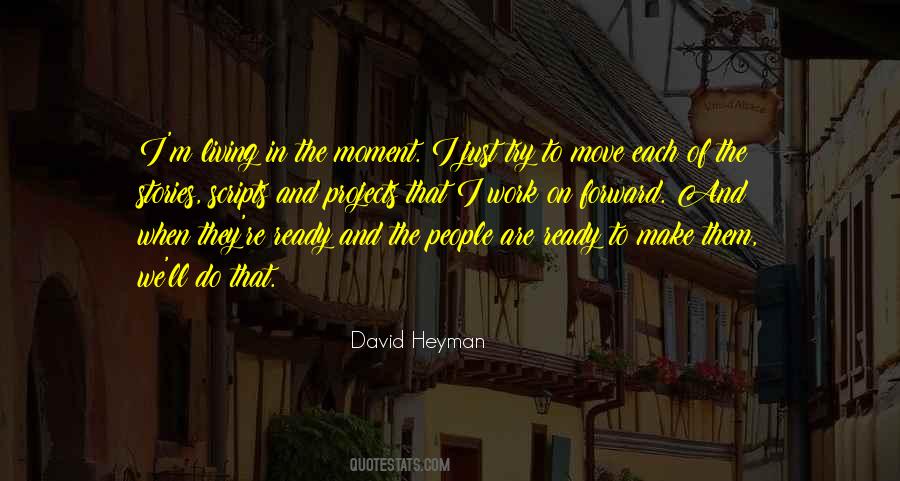 #25. There is nothing more powerful than this moment your living, now, more powerful than your convictions and truths, spend time with what your heart desires and souls screams for. Life ends a day before we know it, it's so important to chase everything that matters to you. - Author: Nikki Rowe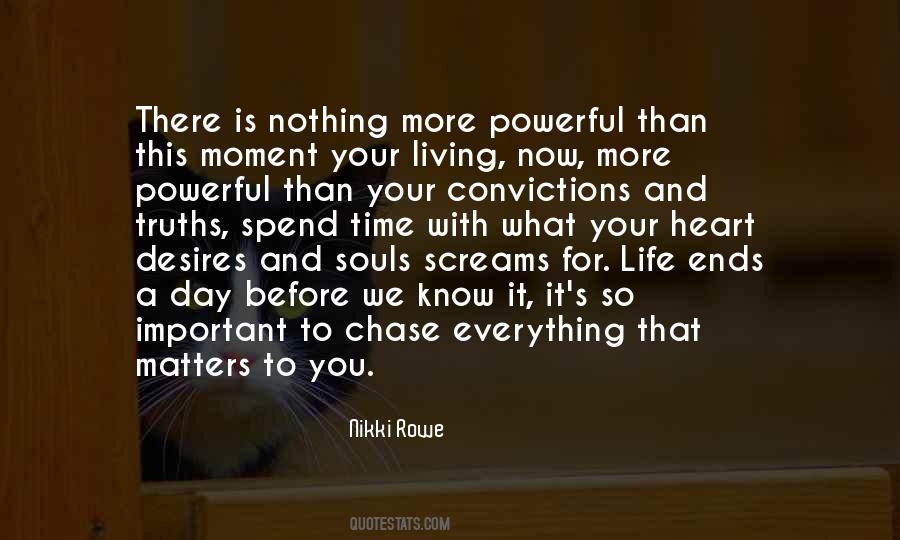 #26. As I look back on the time I've spent with him, loving him, learning him, I'm grateful for the moments. Because in the end, it's the moments that make life worth living ... - Author: Marie Hall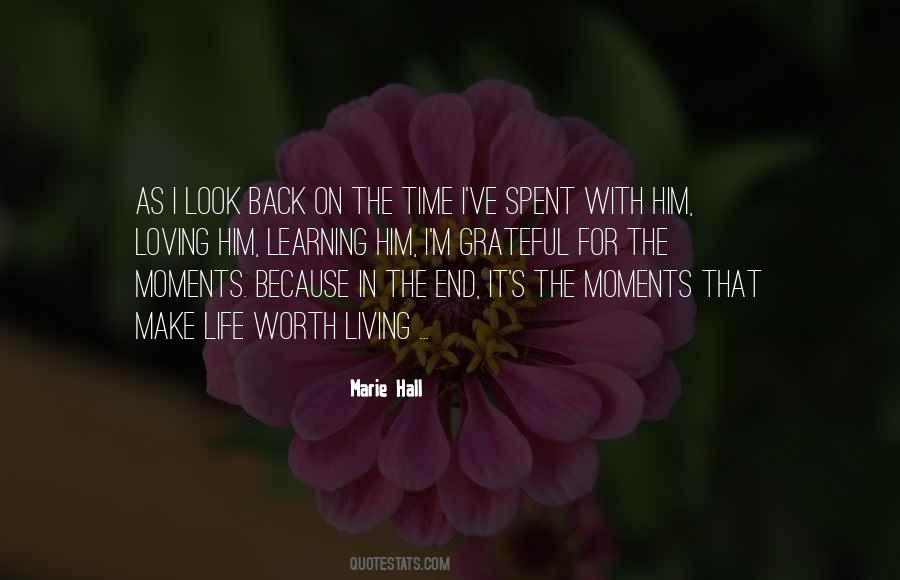 #27. She wanted to buckle, lie on her side and gasp like an eviscerated fish. She held her breath against it, but her mouth parted. She cared naught for living in the moment, but apparently her body was sensible. It wanted to breathe. - Author: Julie Anne Long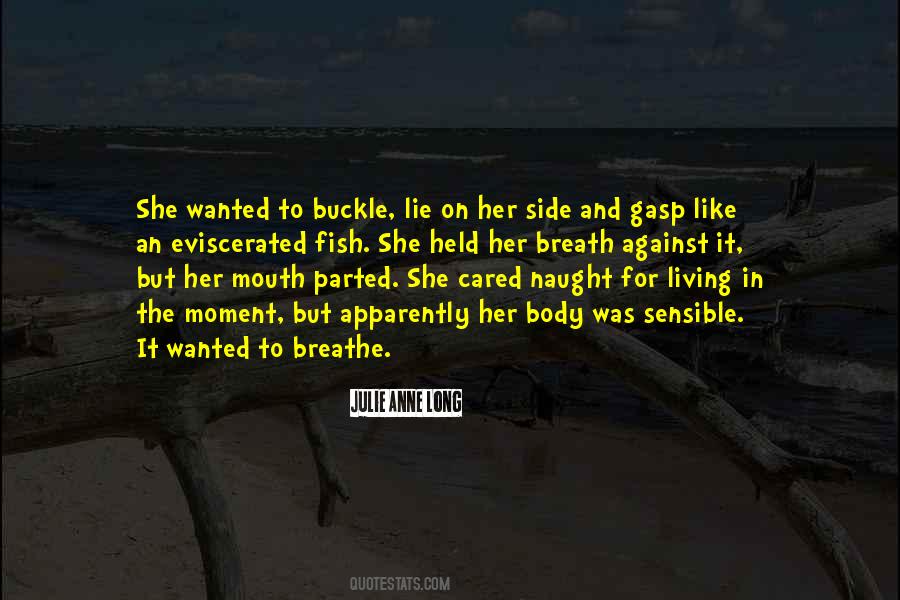 #28. The process of living, for each of us, is pretty similar. For every gain there is a setback. For every success, a failure. For every moment of joy, a time of sadness. For every hope realized, one is dashed. - Author: Sue Atchley Ebaugh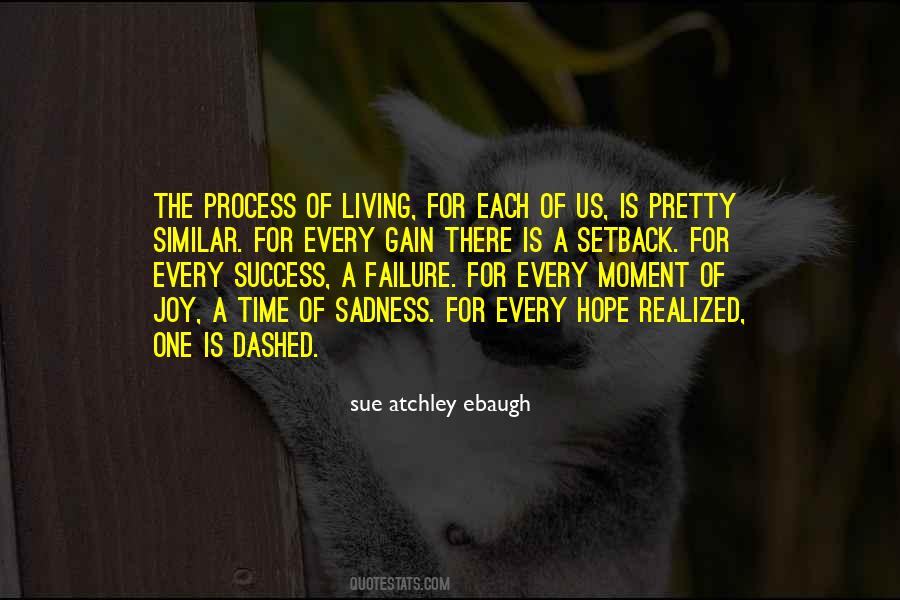 #29. We start our sometimes tedious, sometimes exciting, often times sad and stressful march to the grave the moment we're born, so it might as well be a march worth remembering. - Author: Donna Lynn Hope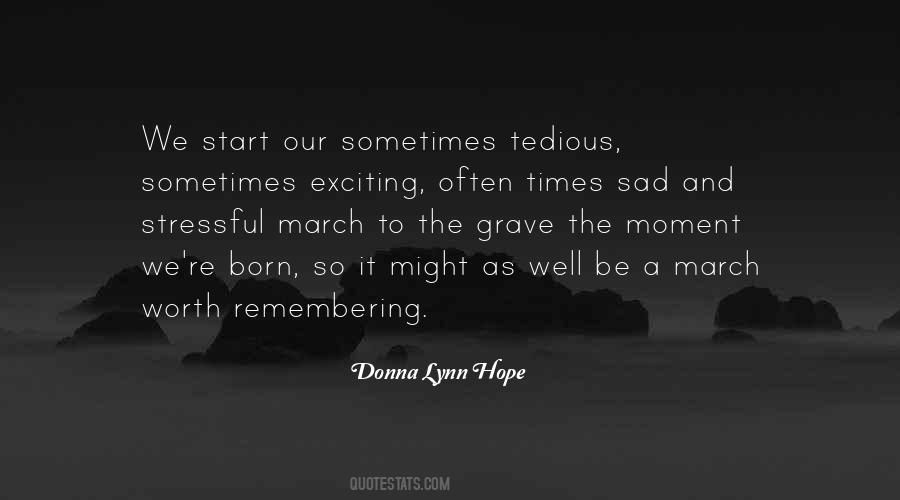 #30. My existence shrank from an arrow of light pointing into the future forever to a speck of light that was the present moment. I got better at living in that point of light, making the world into that point. I paid close attention to it. I loved it very much. - Author: Sarah Manguso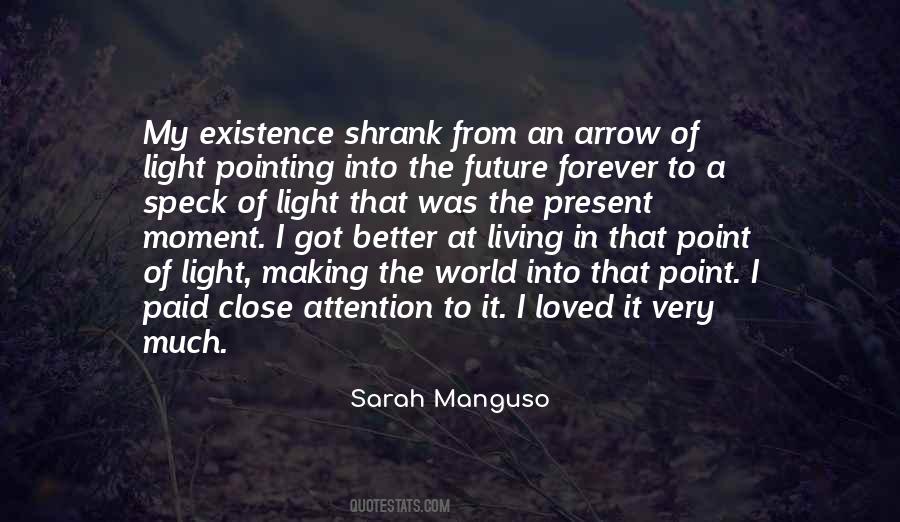 #31. When I put my faith in Jesus Christ as my savior, and I asked him to forgive and to come into my life, and He does - from that moment forward I have established a personal relationship with God that I have to develop, you know, through Bible reading and prayer, and living my life for him. - Author: Anne Graham Lotz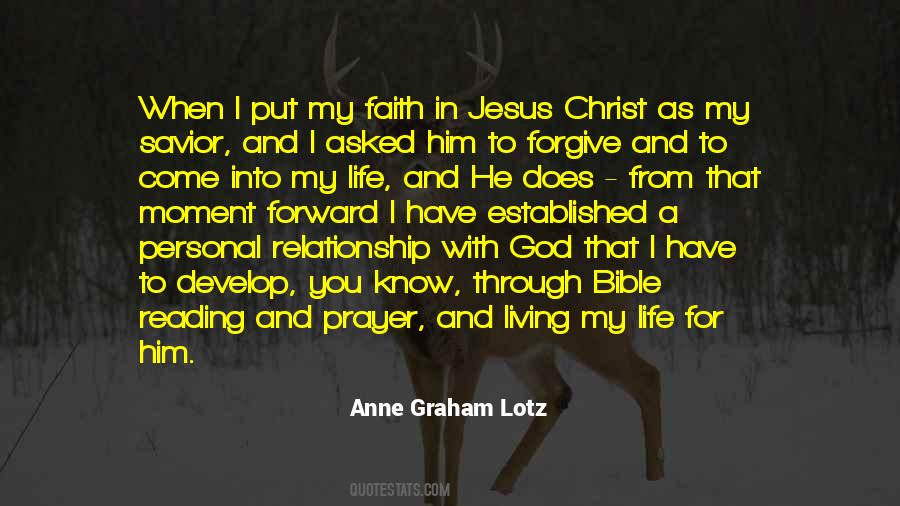 #32. Think of, at the moment of dying, is there will be any enemy for you? None! Everyone will be the best friend. So win all your enemies with your divine love when you are living. - Author: Debasish Mridha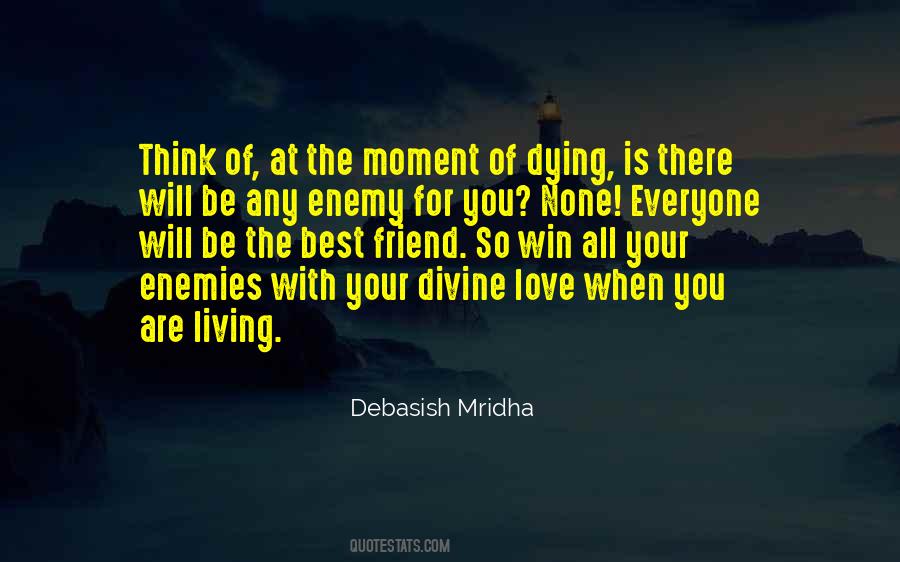 #33. Every living object has to change every moment just to live. - Author: Debasish Mridha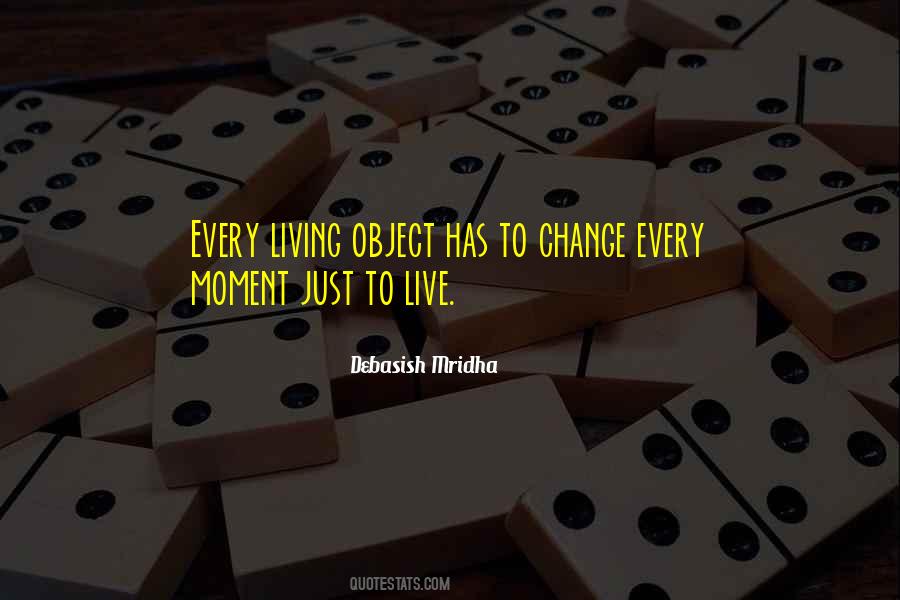 #34. Do you ever feel like you've been waiting your entire life for a specific moment when it'll all make sense? - Author: Heather Hildenbrand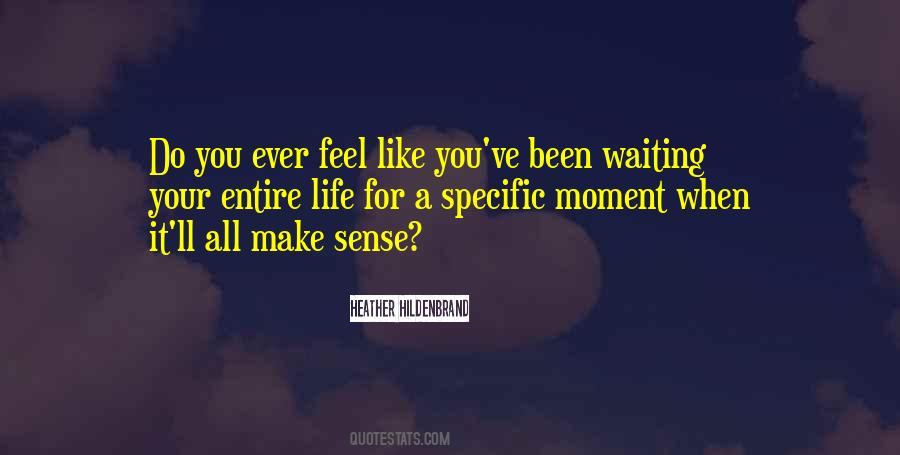 #35. Authentic and free. The Gucci guilty woman is about living in the moment. She's a modern woman, someone who really owns herself and her sensuality. It's supposed to be a very empowering and sensual fragrance. - Author: Evan Rachel Wood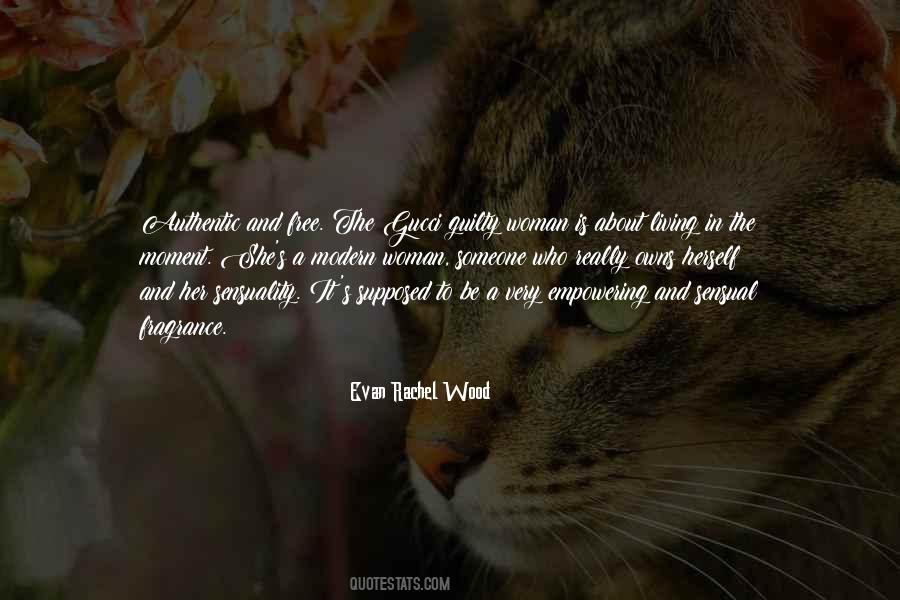 #36. The moment you enlist in the army of God, you personally become a target. You need to remember that if you're living for and walking with Jesus Christ, the powers of darkness are aligned against you. - Author: Walter Martin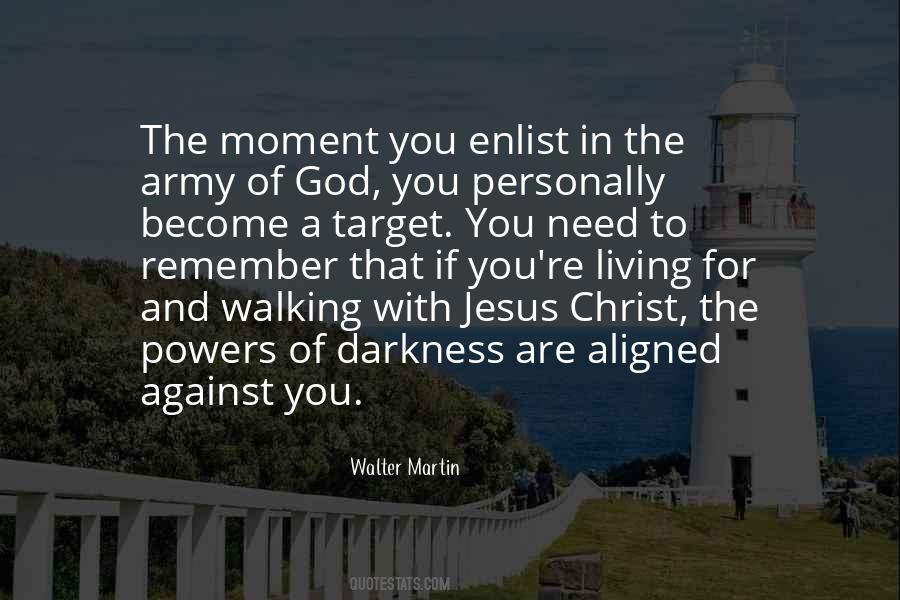 #37. For every moment that is past, the angel of death keeps taking the part that is dead and we keeping living in the present. The parasite wants us to carry the past with us and that makes it so heavy to be alive. - Author: Miguel Ruiz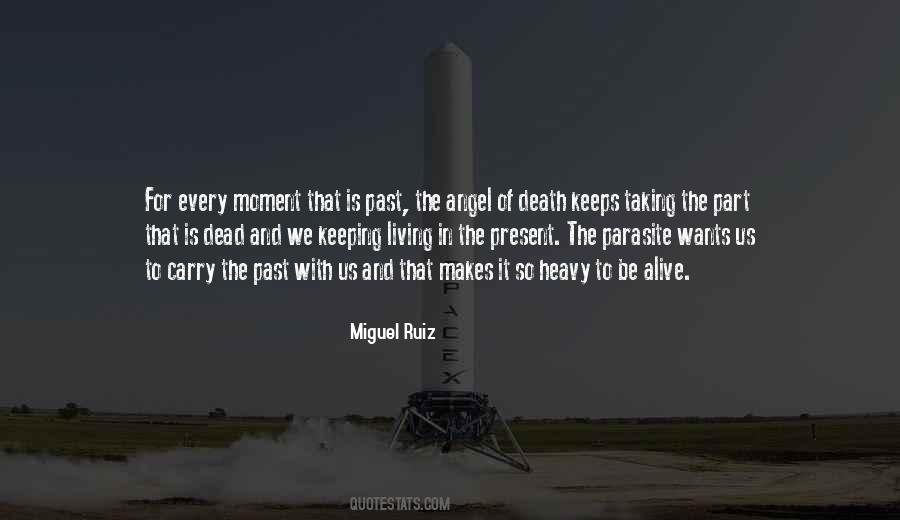 #38. Learn new things and grow every day. Growing is living; live every moment; live all the way. - Author: Debasish Mridha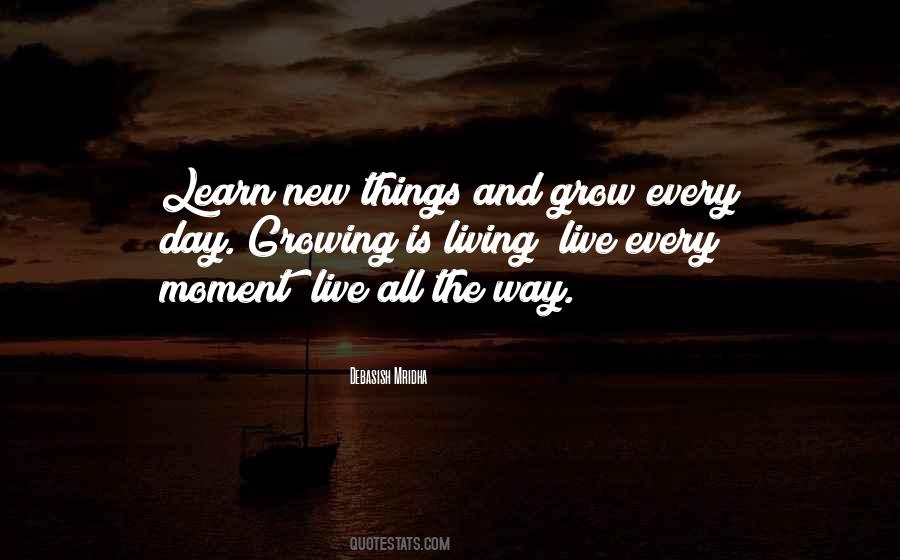 #39. Just for tonight, let's pretend I'm not a priest and you're not crazy. We're just two normal human beings having a good time. Just a man and a woman at a rip-off carnival, living in the moment. - Author: Nancee Cain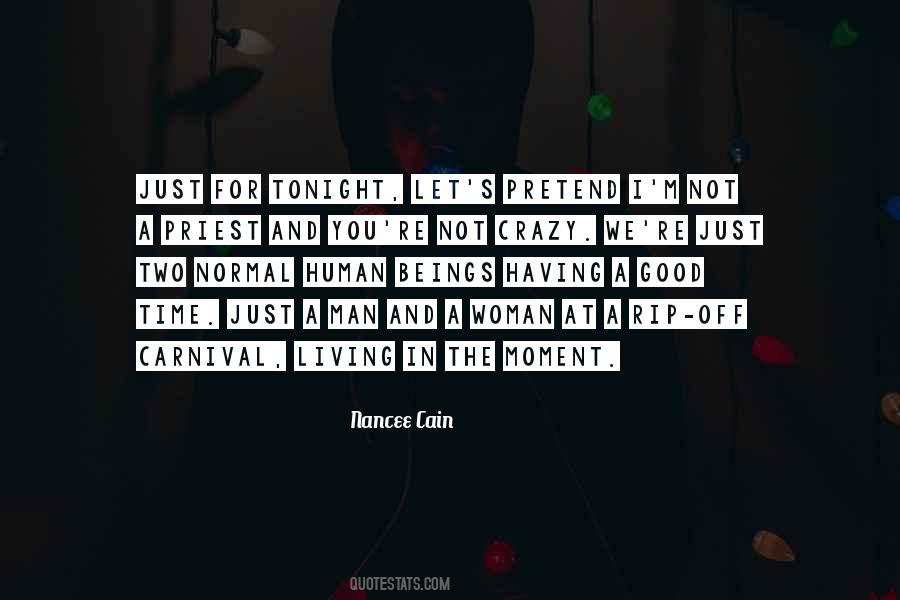 #40. There is an end to every journey.
Even life will come to an end one moment in time. - Author: Lailah Gifty Akita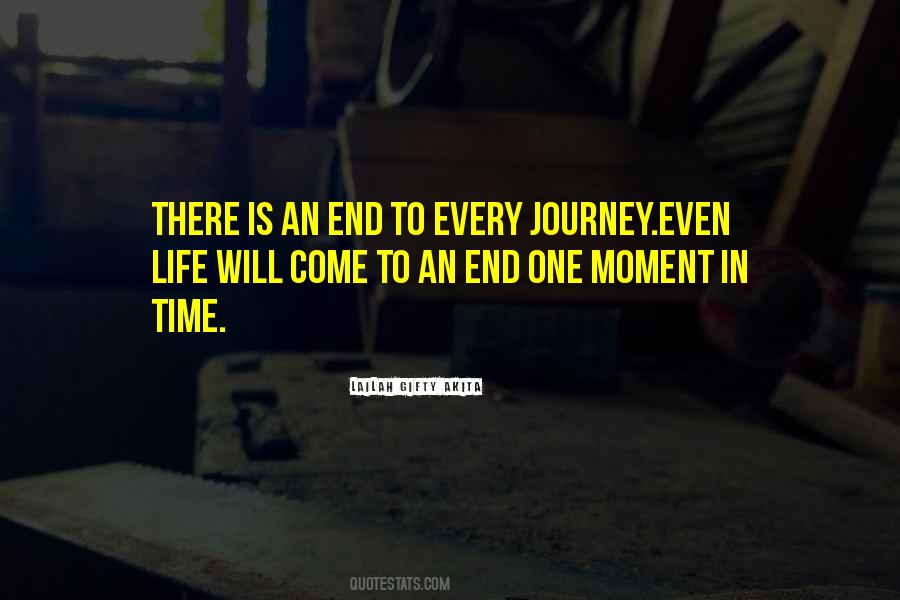 #41. One lives in the very present moment; lives intently. There is no urge to be doing: being is the highest good. - Author: Patrick O'Brian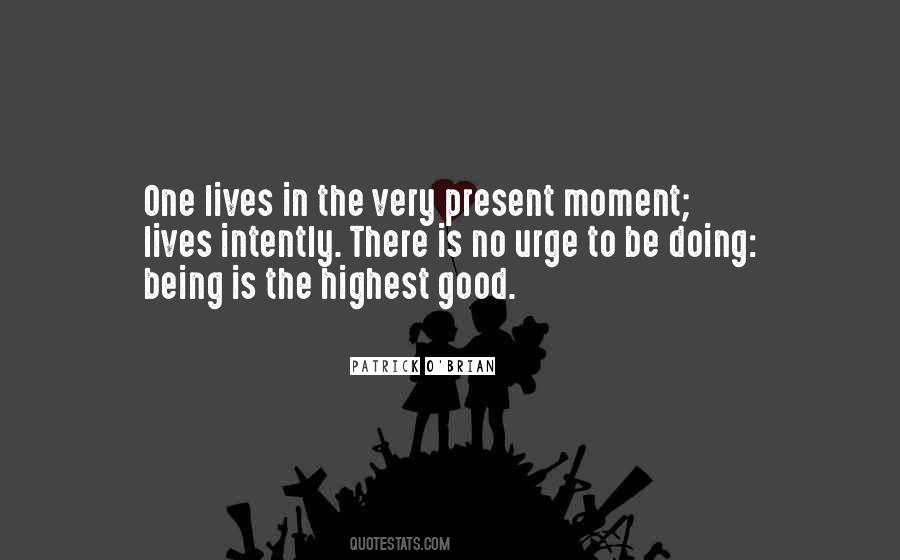 #42. The mind is much stronger than most people realize. Concentrate on being happy, living in the moment, cherishing special events in the past and moving forward towards a beautiful future. That's my motto! - Author: Jes Fuhrmann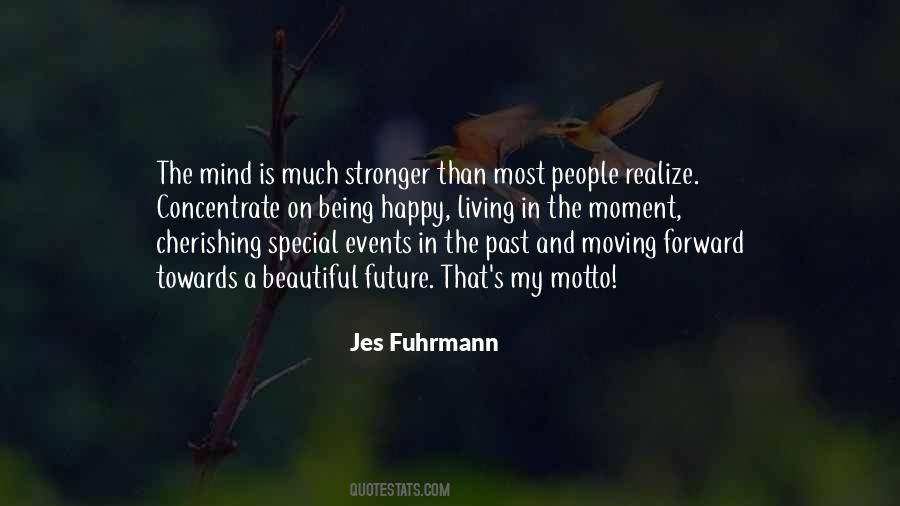 #43. It is when you are really living in the present-working, thinking, lost, absorbed in something you care about very much, that you are living spiritually. - Author: Brenda Ueland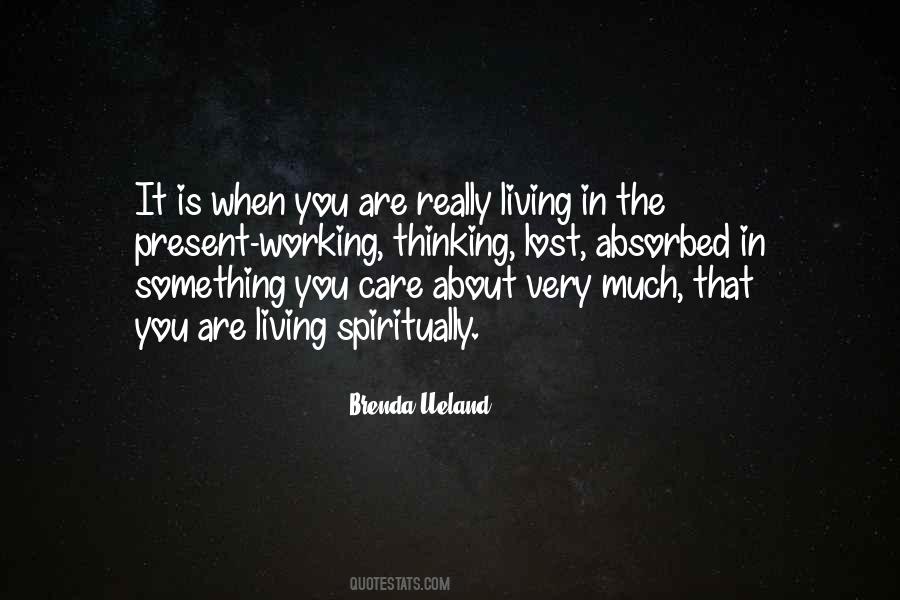 #44. I don't believe in making five-year plans. I don't want to say, "Yes, I want to have children in the next five years," because I don't know. I've always known that I'd like to be a mom, but I don't want to live by a schedule. If I [did], I wouldn't be living in the moment. - Author: Charlize Theron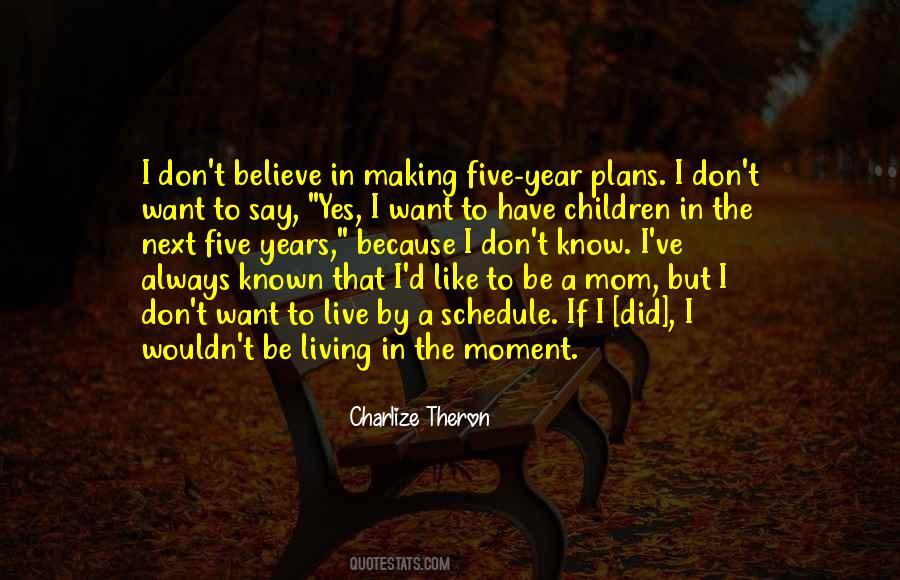 #45. The important thing isn't proving you can achieve a goal, but living every moment along the way, even the side trips - Author: Lisa Wingate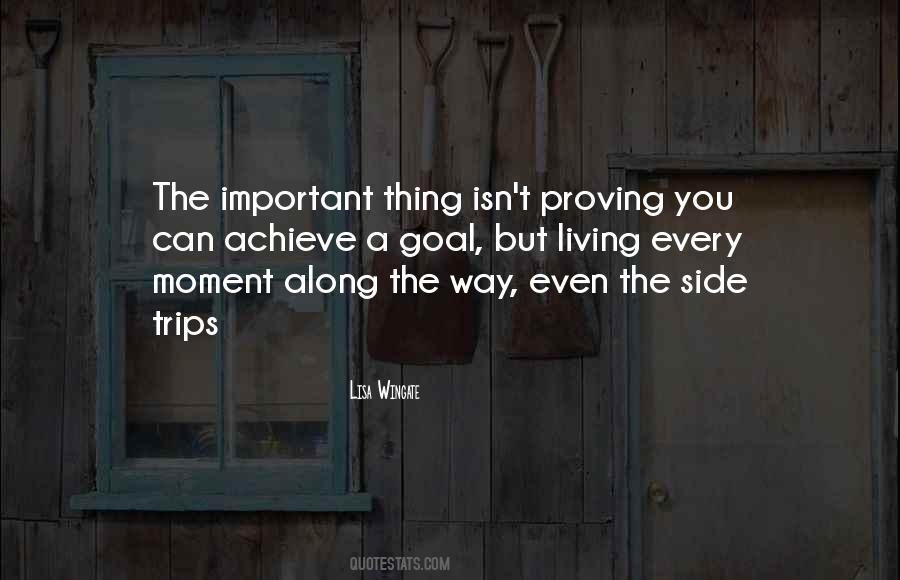 #46. At times it felt like I was killing myself. And yet the only thing I could recall at that moment was how much fun it had been, and how wonderful it was to do this for a living. - Author: Michael J. Collins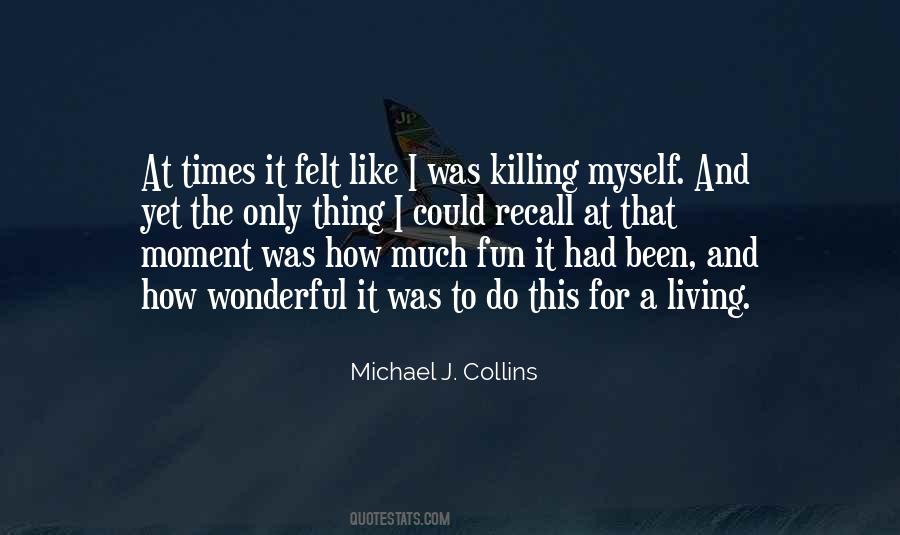 #47. You can miss an experience by obsessing over how to contain it. - Author: Gina Greenlee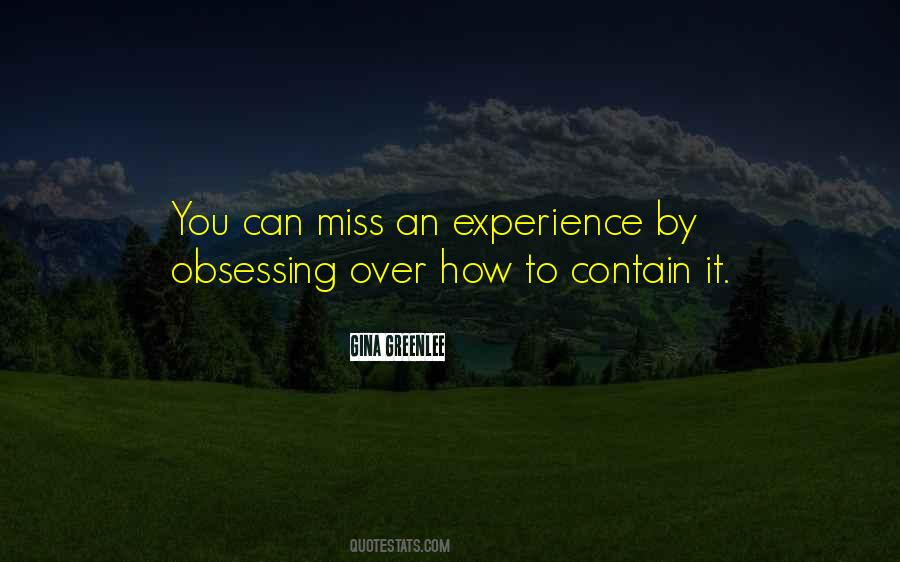 #48. Time that is spent dwelling on the past will surely continue in your present moment - and the future. - Author: Michelle Cruz-Rosado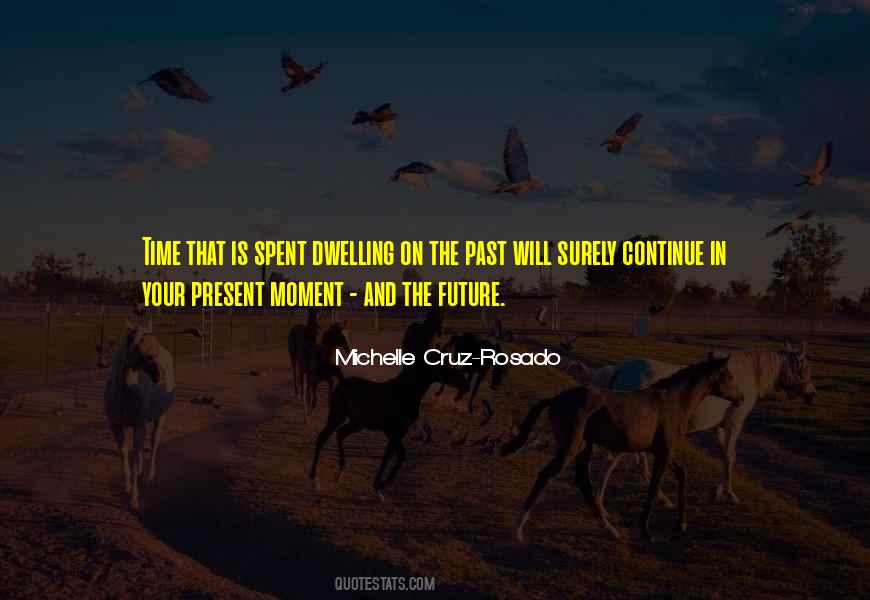 #49. Be present, from moment to moment, right in the middle of the real stream of time. That gives you spiritual security. That is why in Buddhism we don't try to escape from impermanence; we face time itself in our daily living. - Author: Dainin Katagiri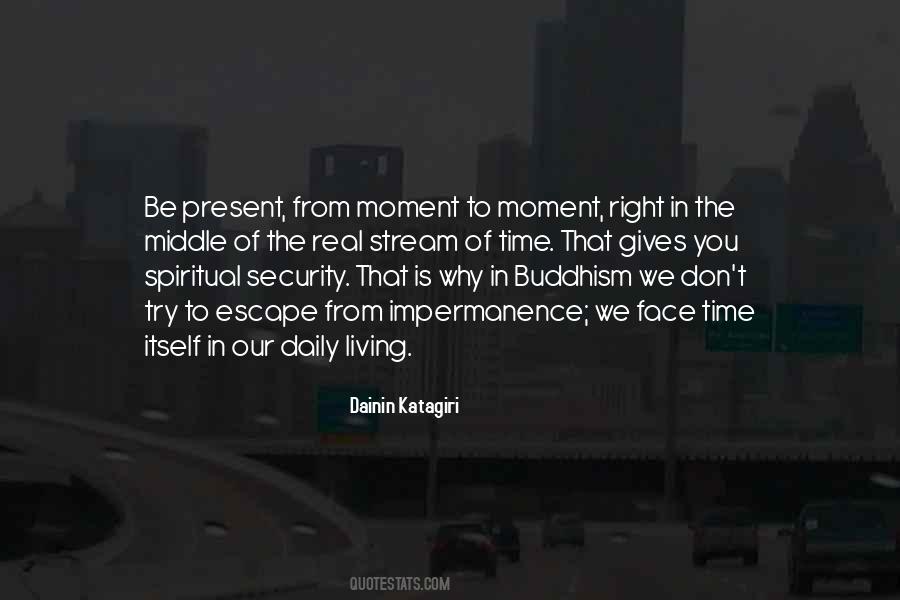 #50. There's a point you get to on the stage where you're not remembering lines but living them, and you reach this pure moment which, really, is more intense than what you can achieve in life. - Author: Bill Pullman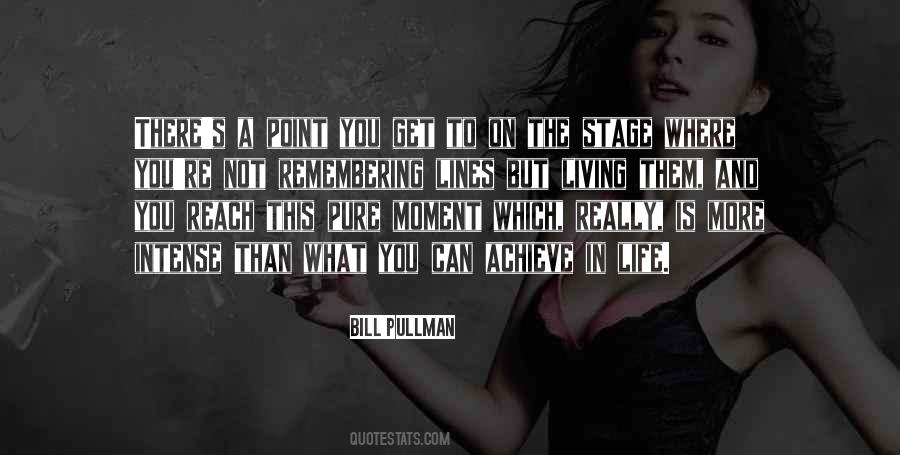 #51. Each of us knows when it's time to wake, eat and rest. We don't need to read a clock for these activities; we need to listen. - Author: Gina Greenlee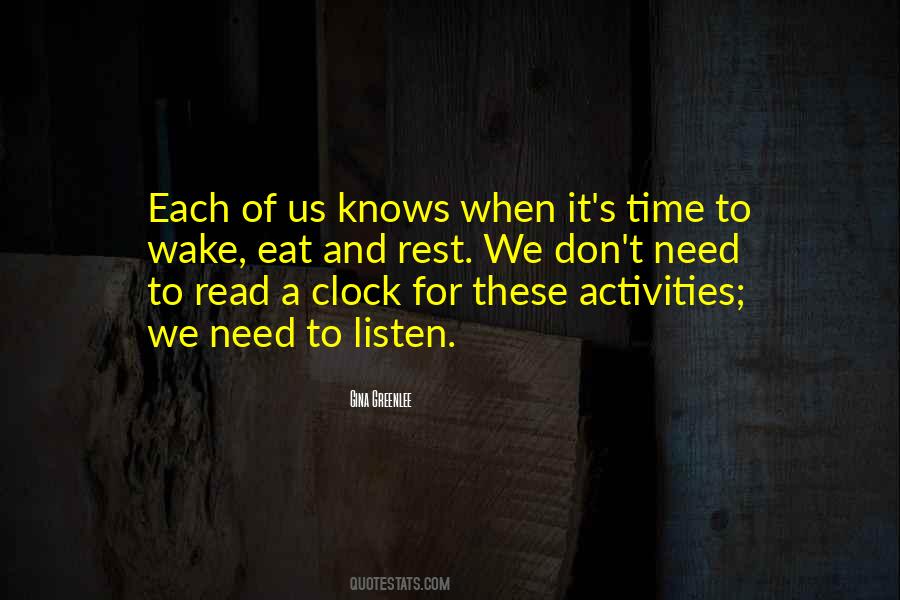 #52. And the moment I started living for myself, I could never go back to living for somebody else - Author: Akansha Gupta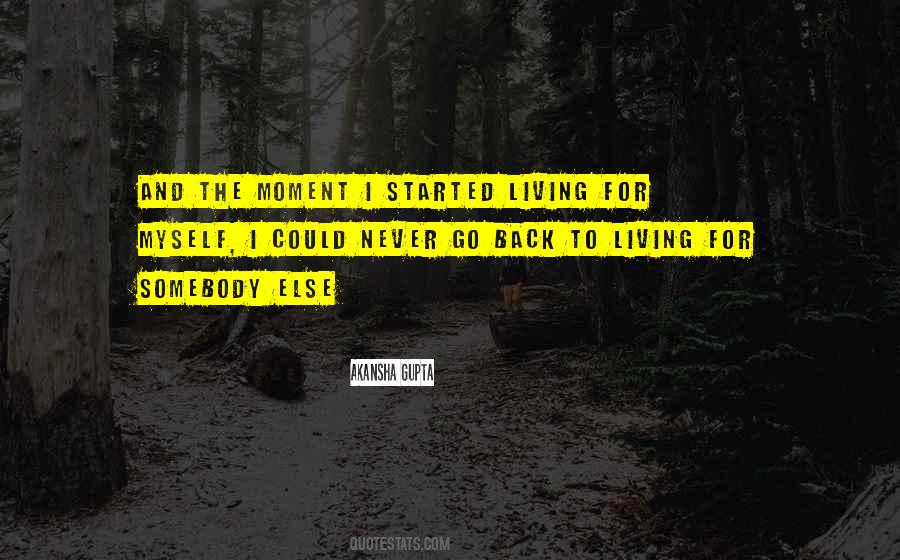 #53. If I've learned something from all this crap ... it's that living anywhere other than in the moment is a mistake ... The future is subjective. - Author: Myra McEntire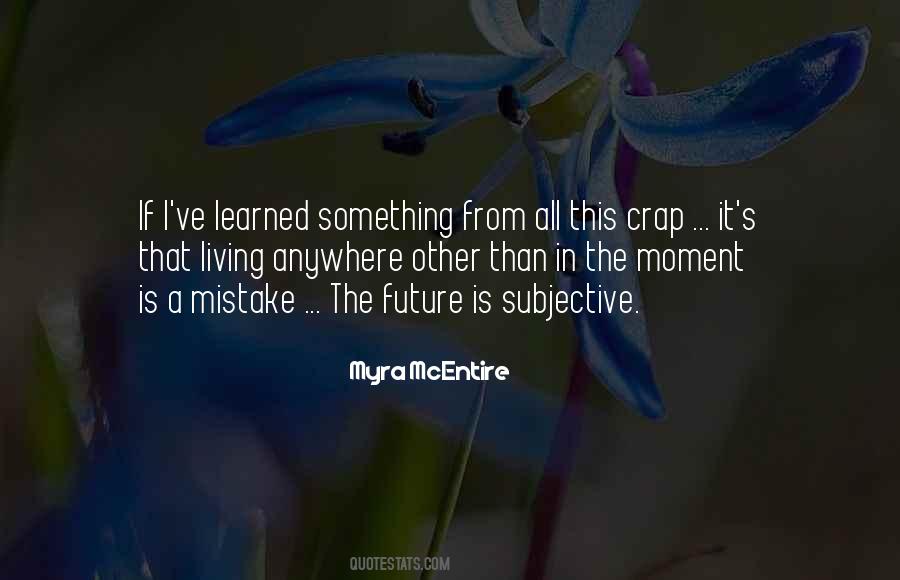 #54. Happiness is the experience of living every moment with love, grace and gratitude. - Author: Denis Waitley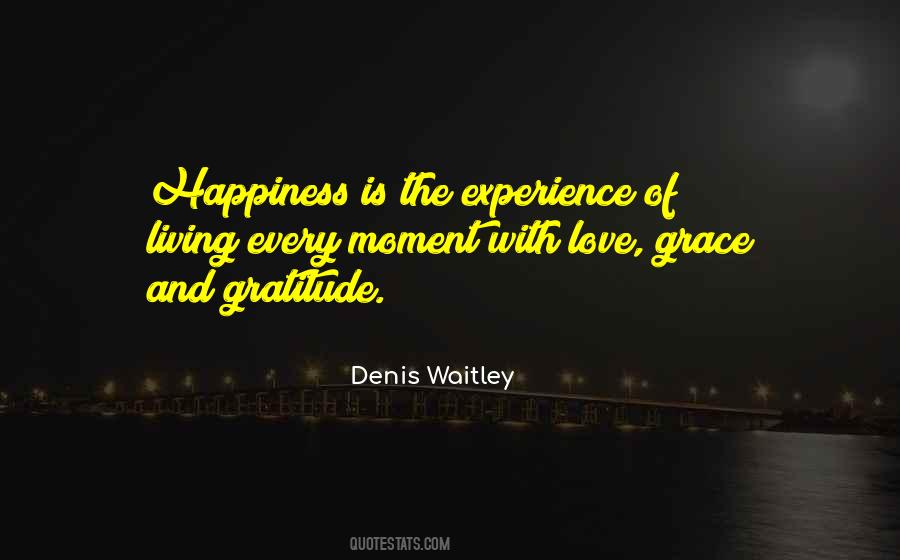 #55. Living in the past or living in the future - those aren't real. The moment is now, and that's where safety and comfort and all that good stuff is. - Author: Marc Jacobs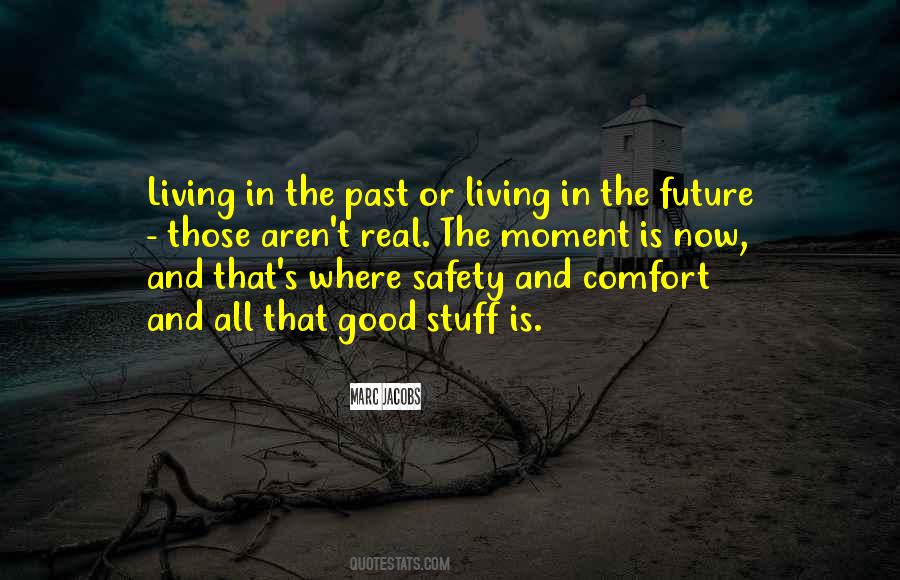 #56. She'd not known grief would come in waves, brought on by the smallest of things. Nor had she realized that ordinary acts of living would continue even after the loss of a love and that it would remain possible to get caught up in the moment of a simple pleasure before remembering. - Author: Tess Thompson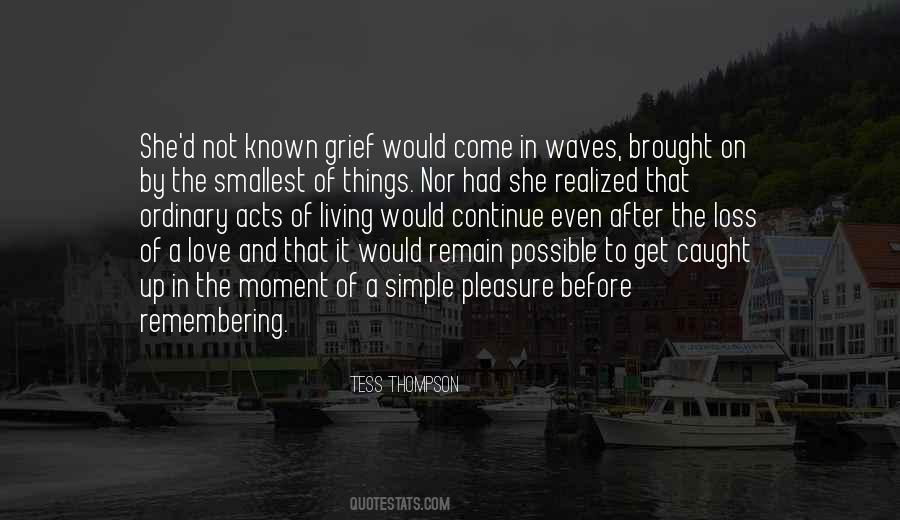 #57. Living is the act of continuous creation moment by moment, day by day. - Author: Gary M. Douglas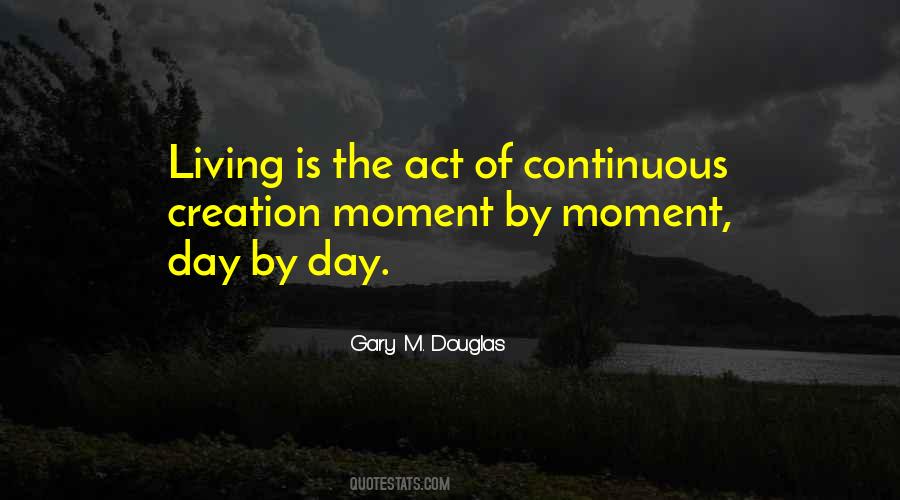 #58. As much as they were right for each other, time wasn't right for them. - Author: Parul Wadhwa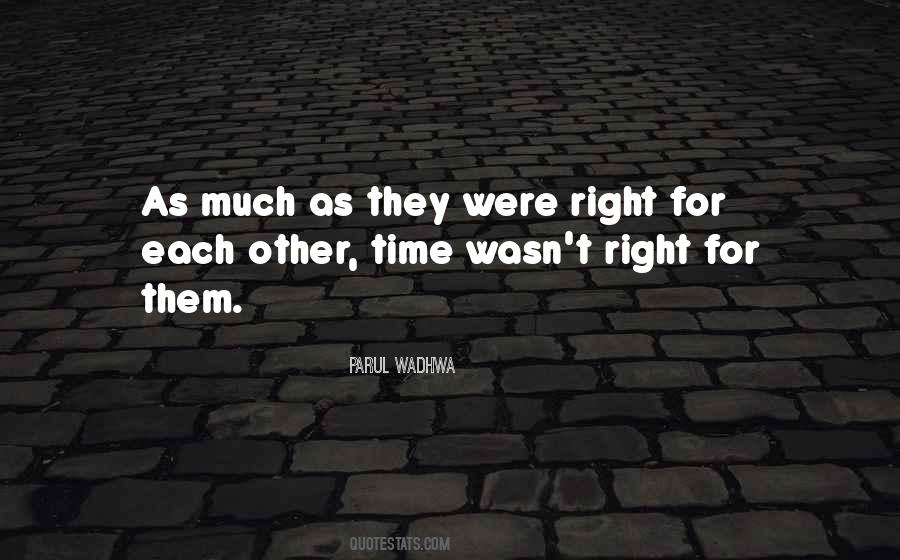 #59. It didn't get better, not in my book. I mean if you weren't looking too hard at what just happened or who might be down the road or at some other stuff. Maybe living well is the art of not looking at that, at the other stuff, when you don't have to. Or being okay with it. - Author: Peter Heller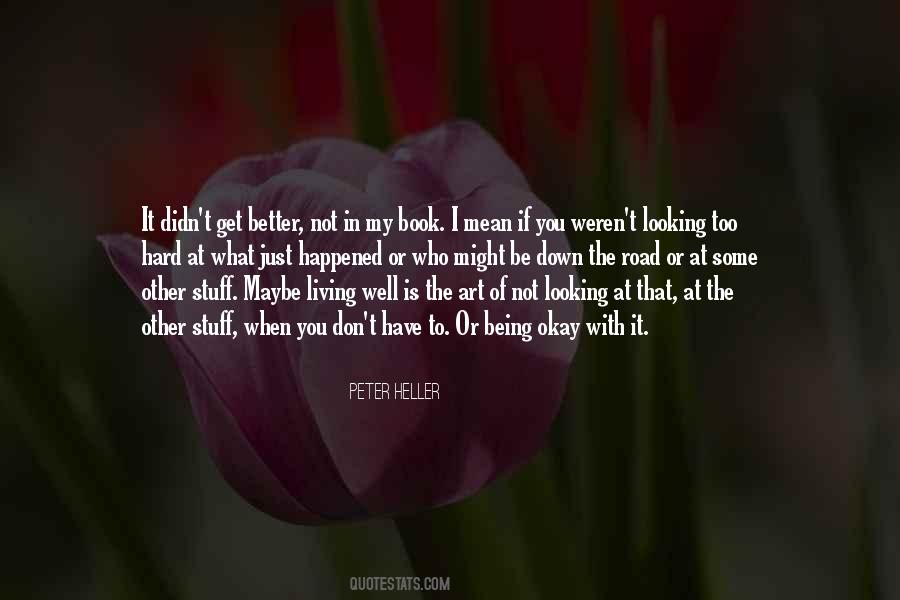 #60. Motherhood has taught me the meaning of living in the moment and being at peace. Children don't think about yesterday, and they don't think about tomorrow. They just exist in the moment. - Author: Jessalyn Gilsig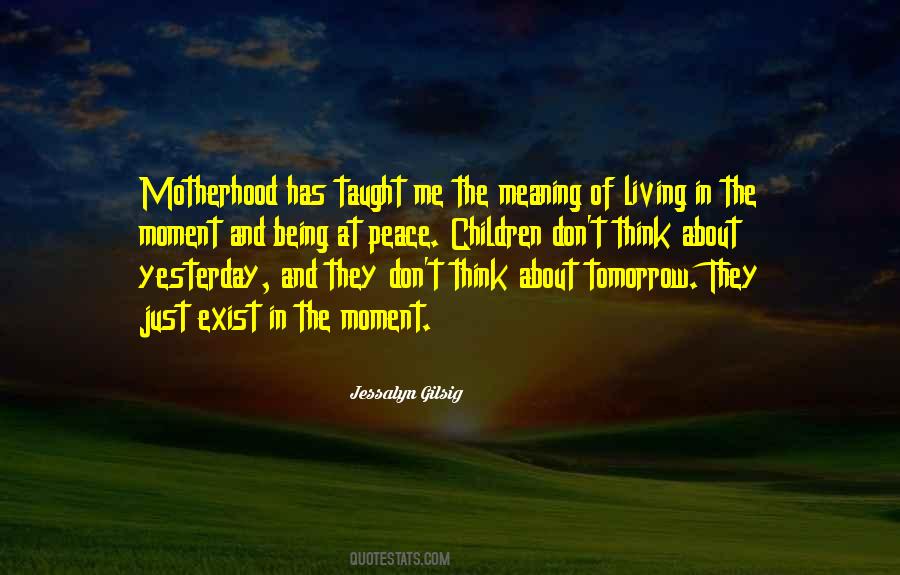 #61. You can control time. You can stop it or stretch it or loop it around. You can travel back & forth by living in the moment & paying attention. Time can be your bitch if you just let go of the 'next' & the 'before - Author: Amy Poehler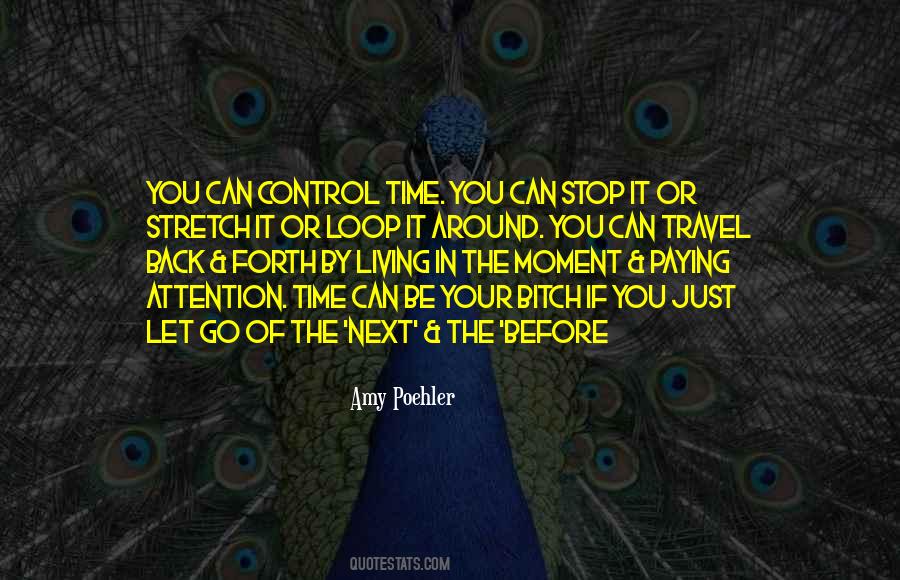 #62. Present-moment living, getting in touch with your now, is at the heart of effective living. When you think about it, there really is no other moment you can live. Now is all there is, and the future is just another present moment to live when it arrives. - Author: Wayne W. Dyer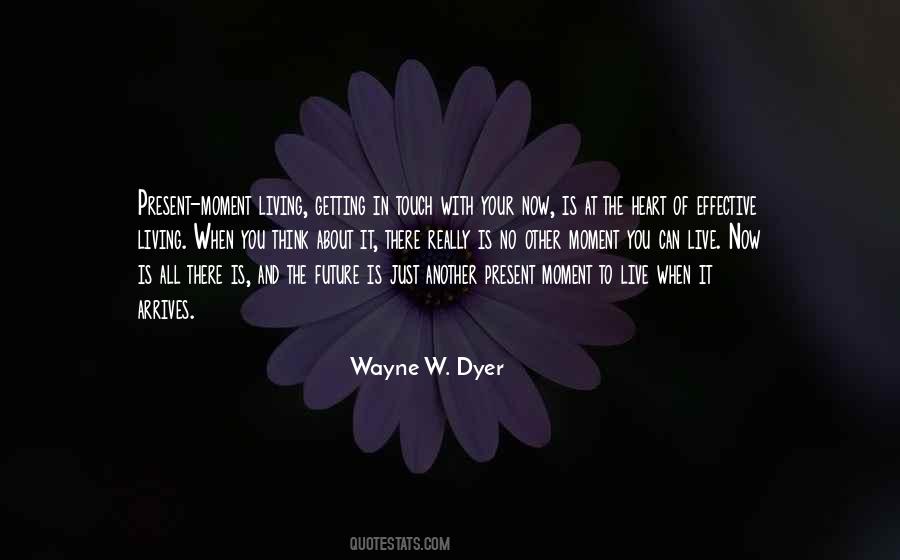 #63. We can reach untainted experiential freedom, by living in the moment as it is - without contemplation. Here we find the possibility of freedom - of just being - living as our authentic self. We are our true nature. We are one and whole. - Author: Jacqueline Simon Gunn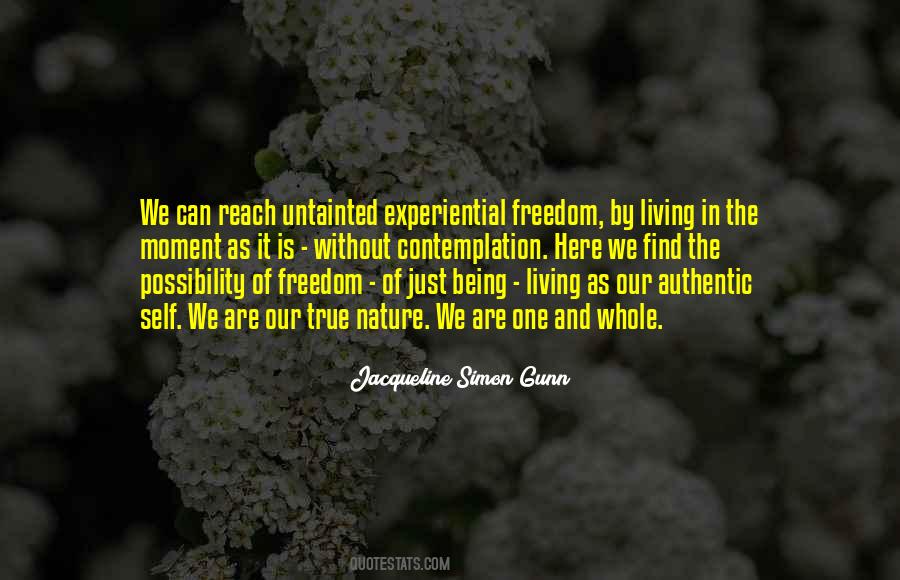 #64. Suddenly I'm happy there in the fuzziness of sleep, and maybe this is what happiness is - not a dream or a promise - just living for the moment. - Author: Delphine De Vigan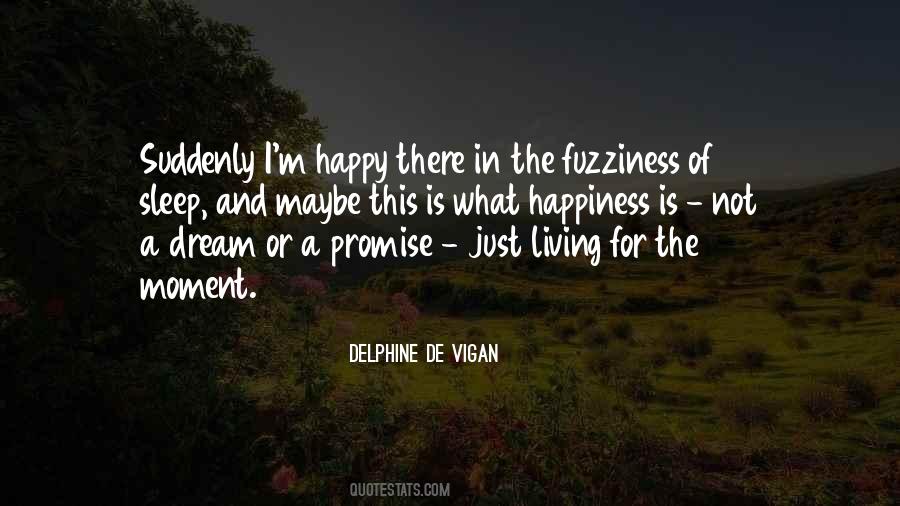 #65. No matter what your age is, you only have now. So it's always about living in the moment and being in the moment ... I refuse to let those numbers define me, and I just try to face each day positively. - Author: Christie Brinkley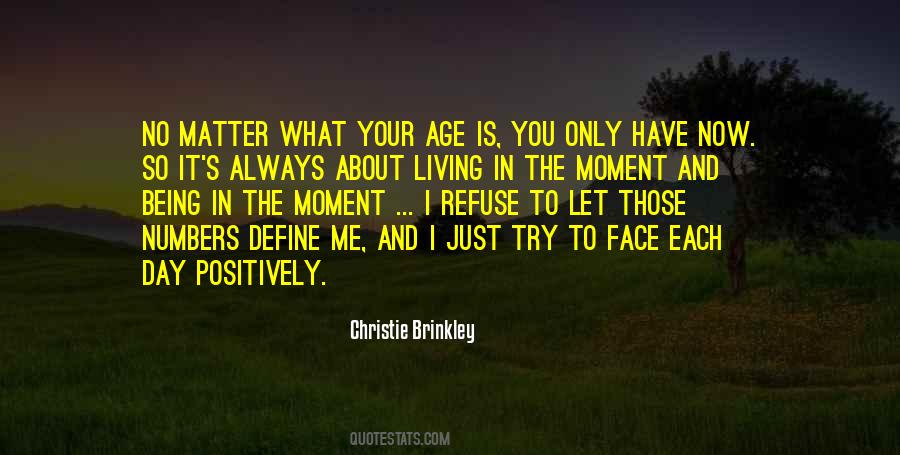 #66. No, I don't like you, I just thought you were cute enough to kiss you. - Author: Frank Ocean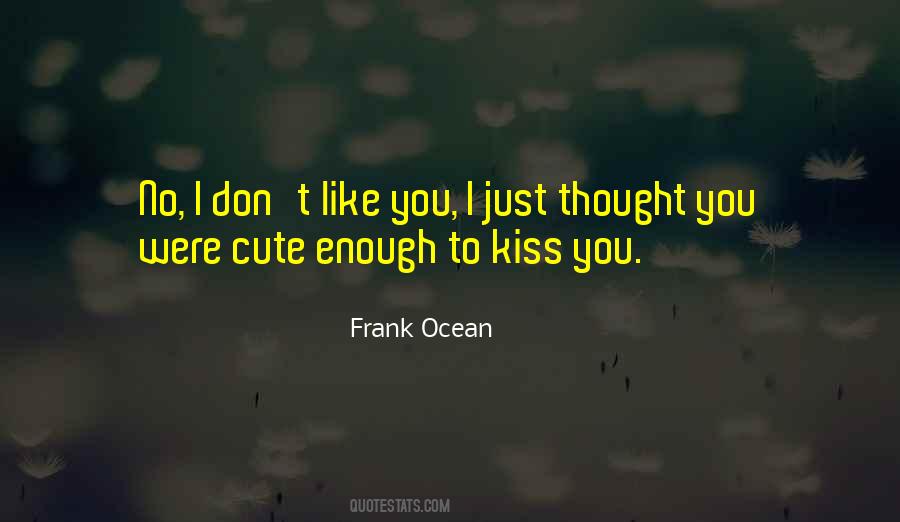 #67. I am grateful to God for all the good and bad that has given me, Without reproach the past, without waiting in the future I continue, just living in the moment makes me completely happy! - Author: Ebelsain Villegas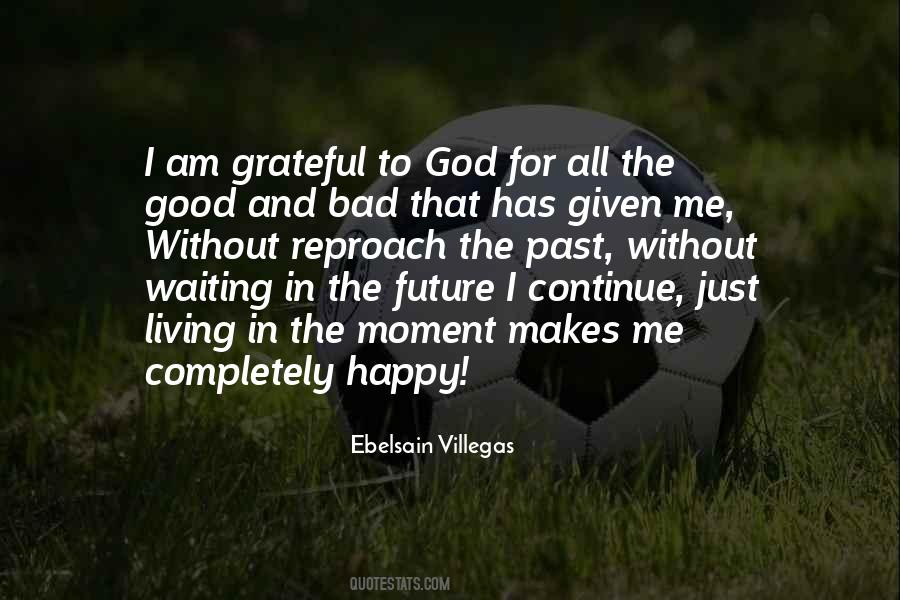 #68. Time moves too slow or too fast. But I know a secret. You can control time. You can stop it or stretch it or loop it around. You can travel back and forth by living in the moment and paying attention. Time can be your bitch if you just let go of the "next" and the "before. - Author: Amy Poehler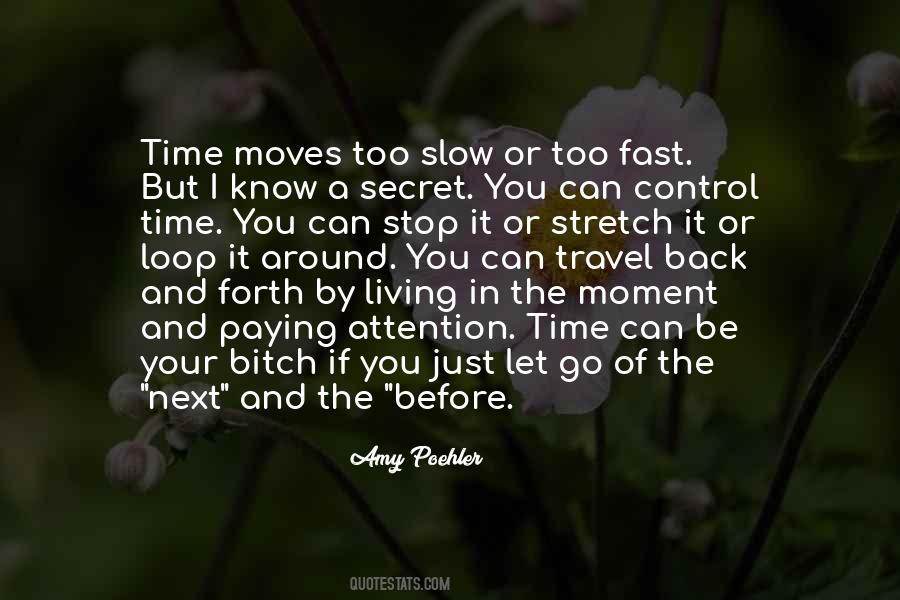 #69. The greatest gift you can give (yourself or anyone else) is just being present - Author: Rasheed Ogunlaru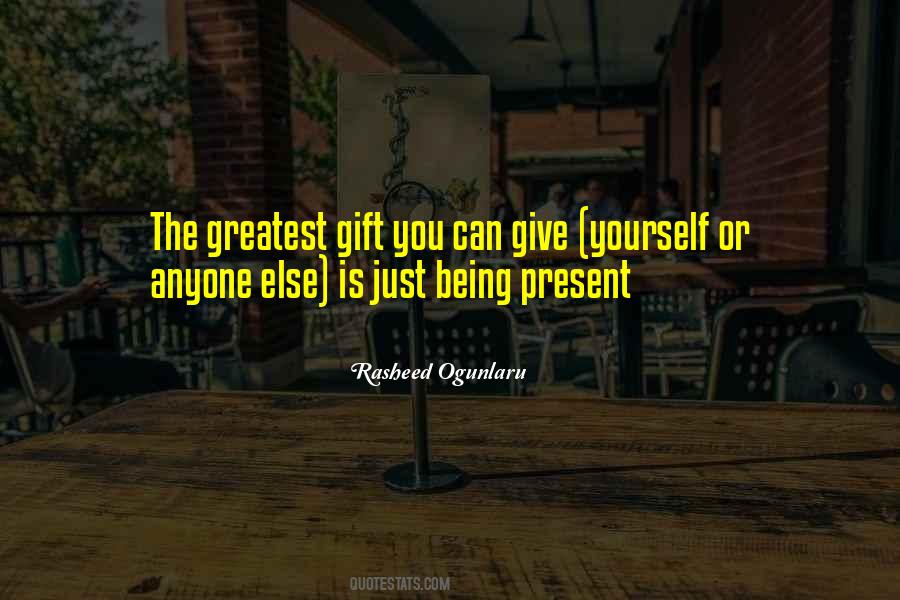 #70. I used to be a big planner and had to have things figured out ahead of time, but I'm learning to love living in the moment. Last night, I called my friend up randomly and said, 'Where are you? I want to come see you!' It's not a new version of me. I'm just embracing it more. - Author: Lily Collins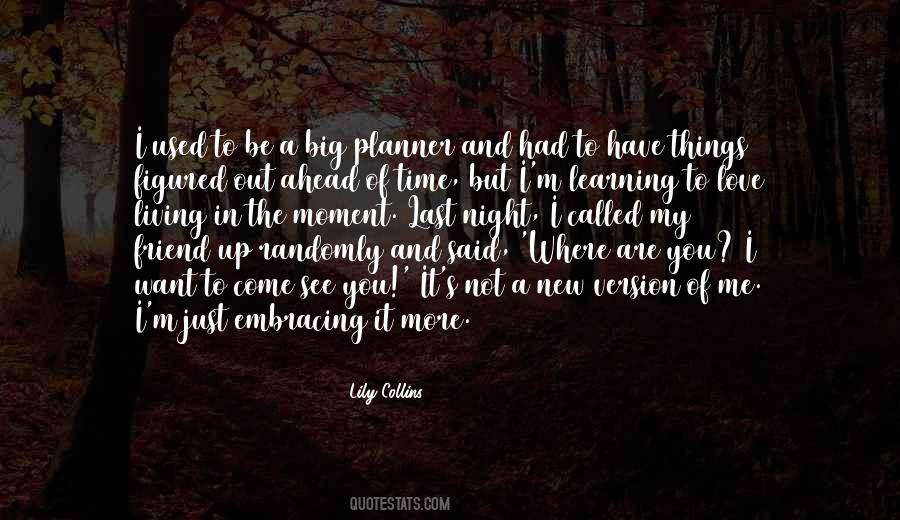 #71. I don't care what you do. We all deal with it if we're living life, trying to find those moments where you can turn off your brain and connect to whatever and just be grounded, live in the moment, which I find really difficult but try to practice on a daily basis. - Author: Lisa Rinna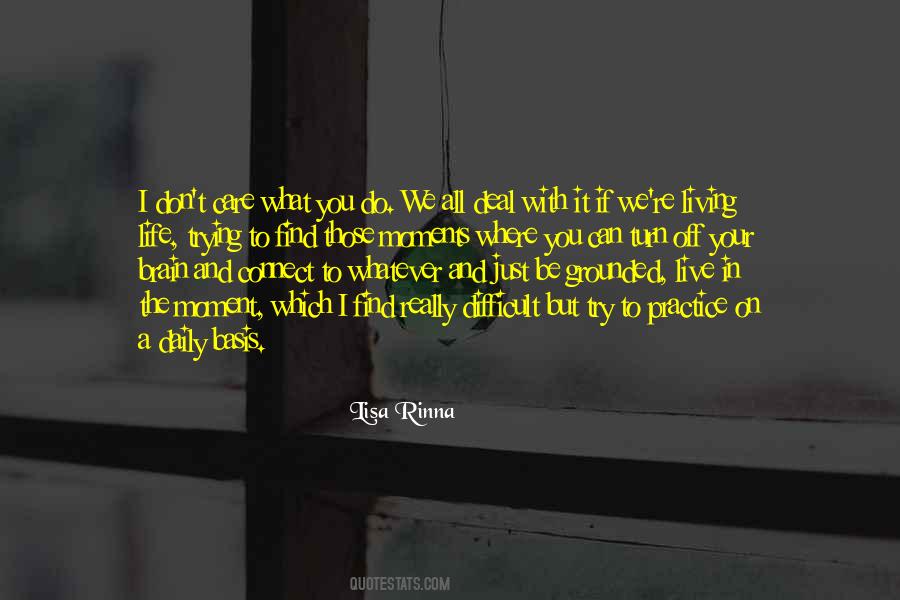 #72. Sometimes I wish I could just press a button and be through school and starting my real life,' I told him.
'This is your real life, Al,' he said, 'Don't start living in the future. That's like gulping down a piece of fudge cake and then asking yourself, 'Where'd it go?' You're missing the moment. - Author: Phyllis Reynolds Naylor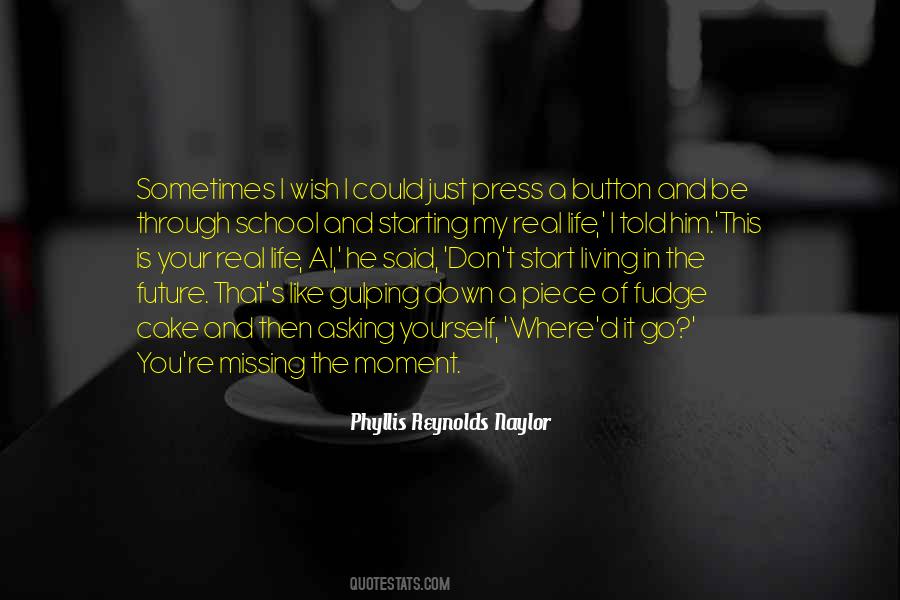 #73. I don't do nostalgia. It just doesn't occur to me. I'm living in the moment, and I don't have that gene. - Author: Harrison Ford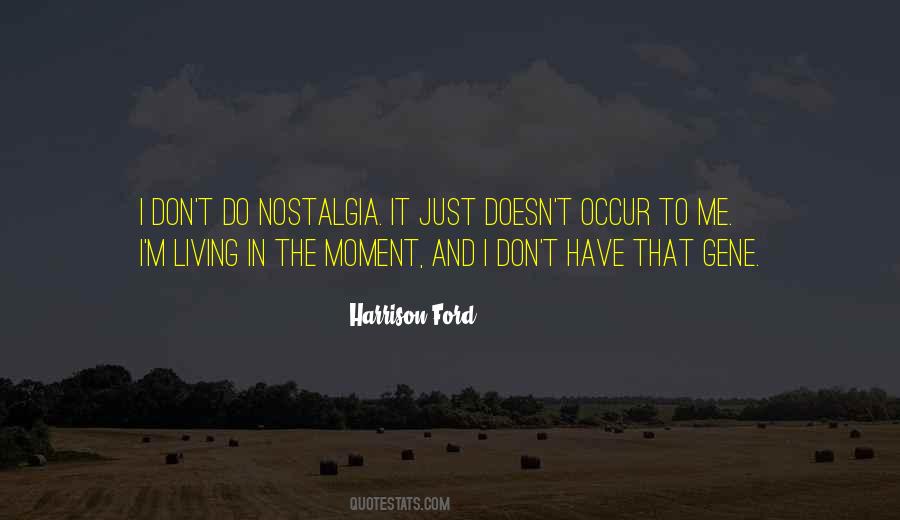 #74. No ideals. No illusions. Just reality - but more perfect than you've ever imagined. That's what being mindful and living in the present means. - Author: Lidiya K.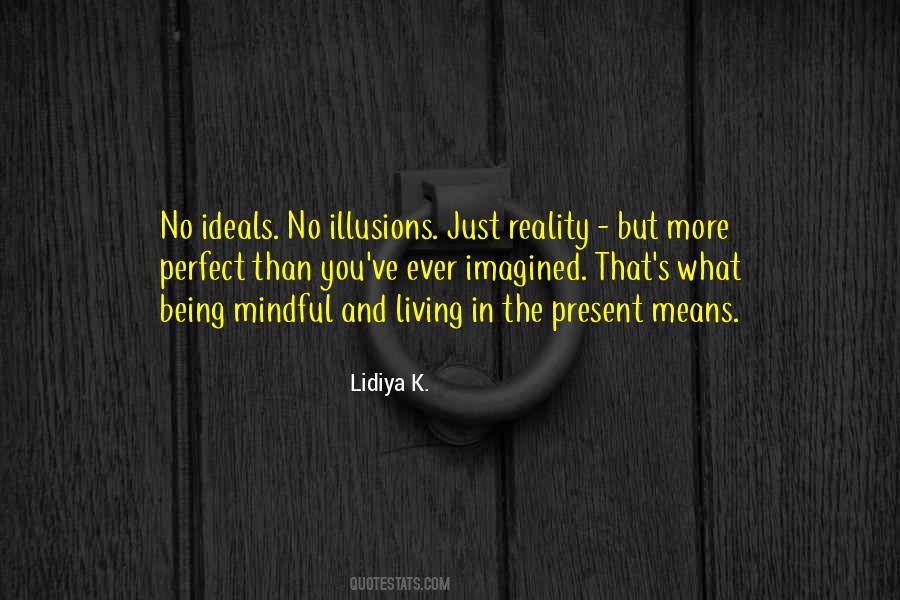 #75. There comes a moment in every woman's life when something she was tightly holding on to - just slips from her hands. Sometimes it's a dream. Sometimes it's a place . . . a person . . . a purpose. Sometimes it's the life you always thought you'd be living. - Author: Kristen Welch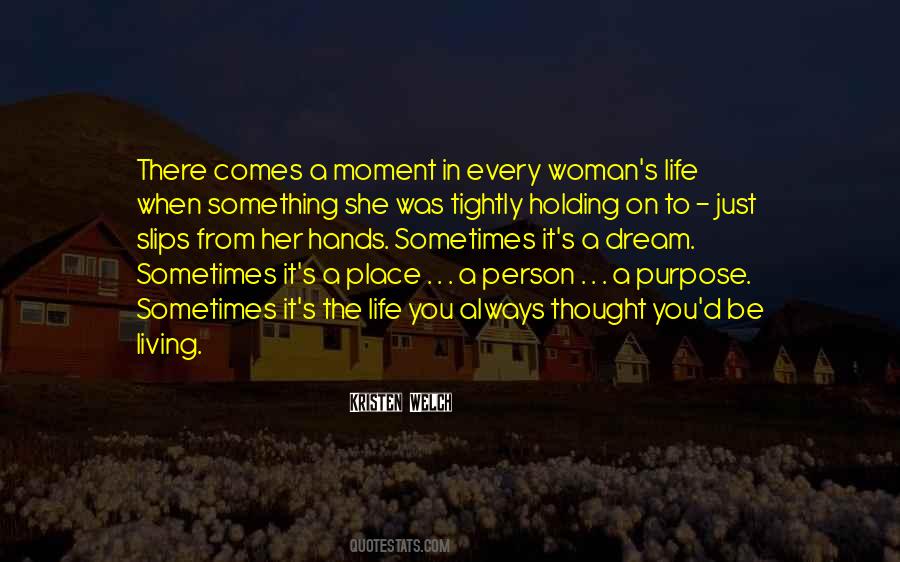 #76. I'm not spacing out. I'm just living in the moment. - Author: Gregg Sapp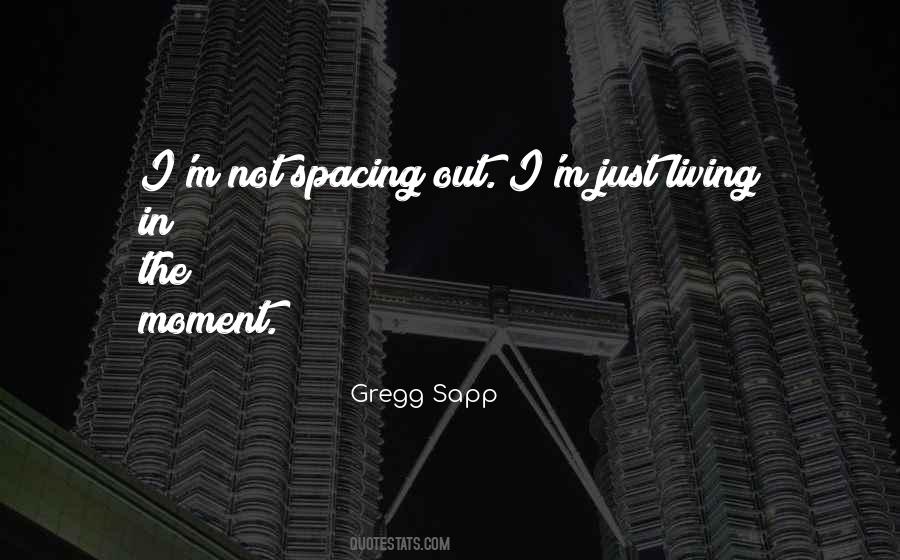 #77. For a moment, frustration clouded his features. He inhaled deeply, and the clouds went away. I miss people, you know? I miss actually living. I want to have a purpose in my life, but I don't. I'm just existing, and I don't know how long I can continue it. - Author: Rose Wynters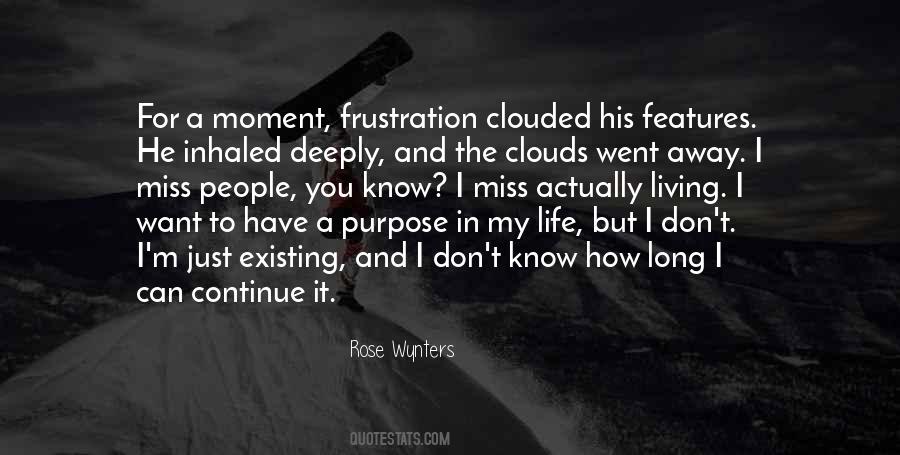 #78. Let the Gods create the days, and just live through them. - Author: Andrew Ashling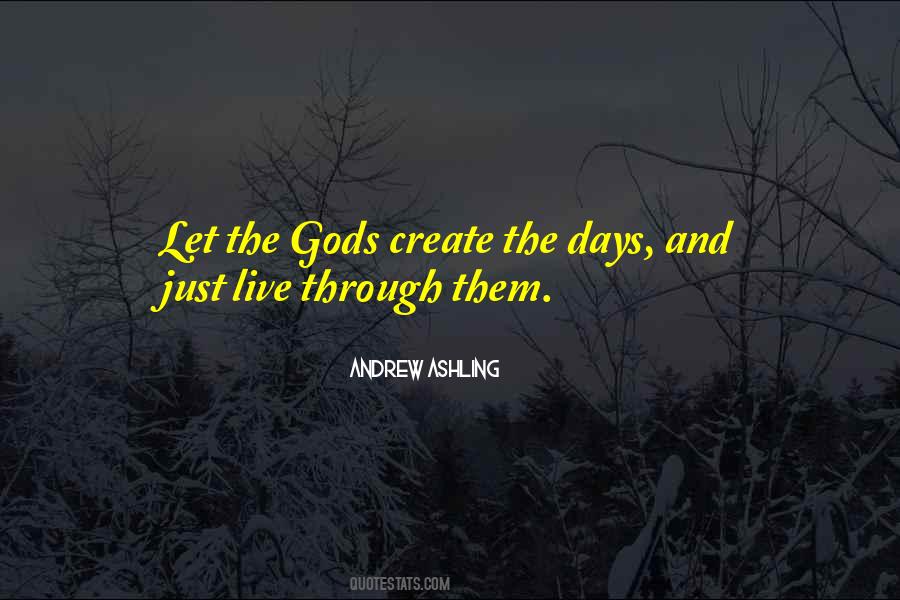 #79. Everyone I knew was a Red Sox fan. Living up there in 1967 - the Impossible Dream season - that moment was incredibly compelling. I just naturally gravitated to the team. Nineteen seventy-five was arguably the greatest World Series of all time. - Author: Bill De Blasio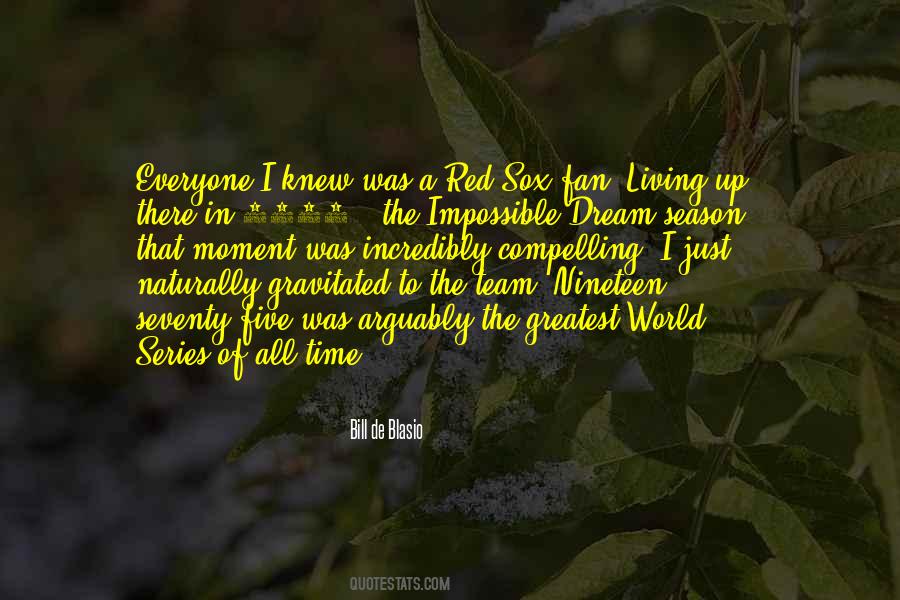 #80. Everything was for this moment- of silence, of bliss! I am speechless at this shrine of You and I understand that life was just a journey to find You, the deepest consciousness living in even the dead! - Author: Preeth Nambiar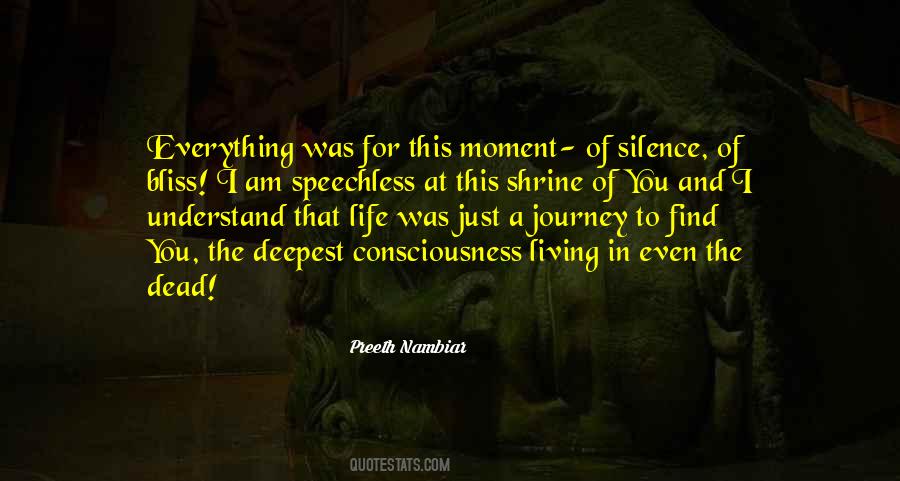 #81. When the most important times are occurring, we don't even recognize them or notice. We are just busy living our lives. Only looking back do we know what was a great moment in our lives. - Author: Federico Fellini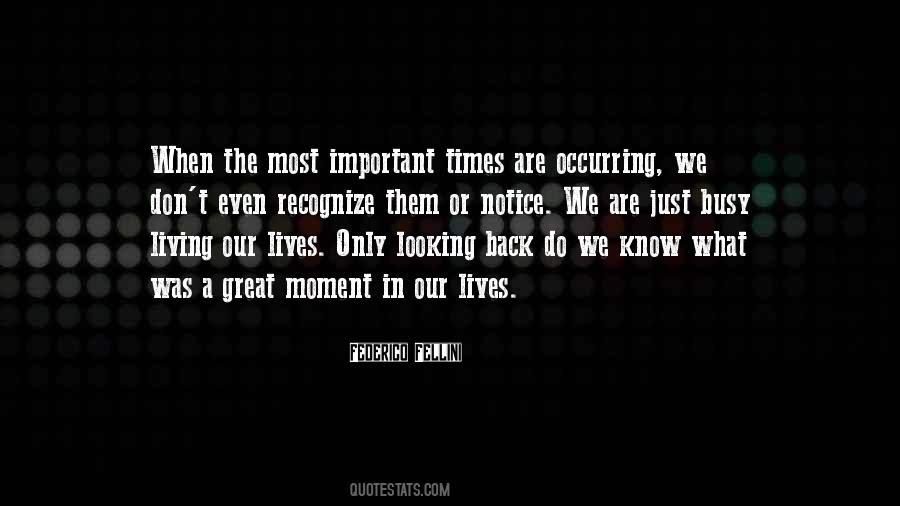 #82. Mastery means responsibility, ability to respond in real time to the need of the moment. Intuitive or inspired living means not just passively hearing the voice, but acting on it. - Author: Stephen Nachmanovitch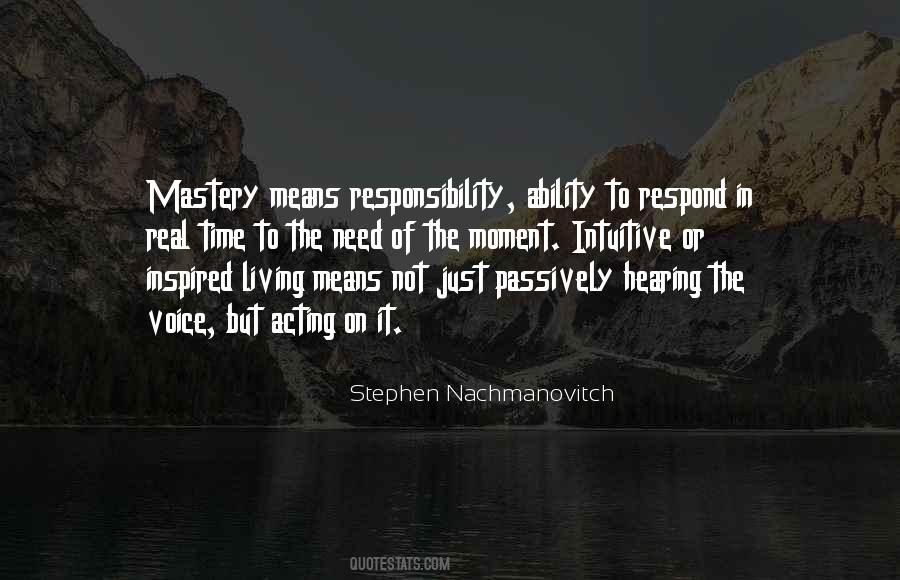 Famous Authors
Popular Topics