Jitsu Famous Quotes & Sayings
List of top 100 famous quotes and sayings about jitsu to read and share with friends on your Facebook, Twitter, blogs.
Top 100 Quotes About Jitsu
#1. As an instructor, my goal has always been to use Jiu Jitsu as a vehicle to help our students achieve their goals, whatever the case may be. I have yet to find a better vehicle for growth, and the moment I do I will certainly pursue it with the rivaled fervor that I approached Jiu Jitsu. - Author: Chris Matakas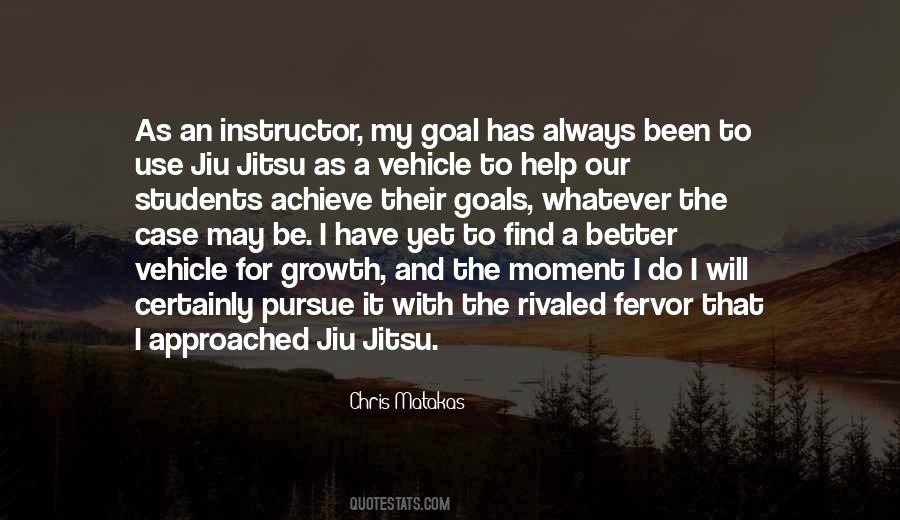 #2. For the sincere student, it mustn't be enough to simply understand Jiu Jitsu. We must seek to understand ourselves. - Author: Chris Matakas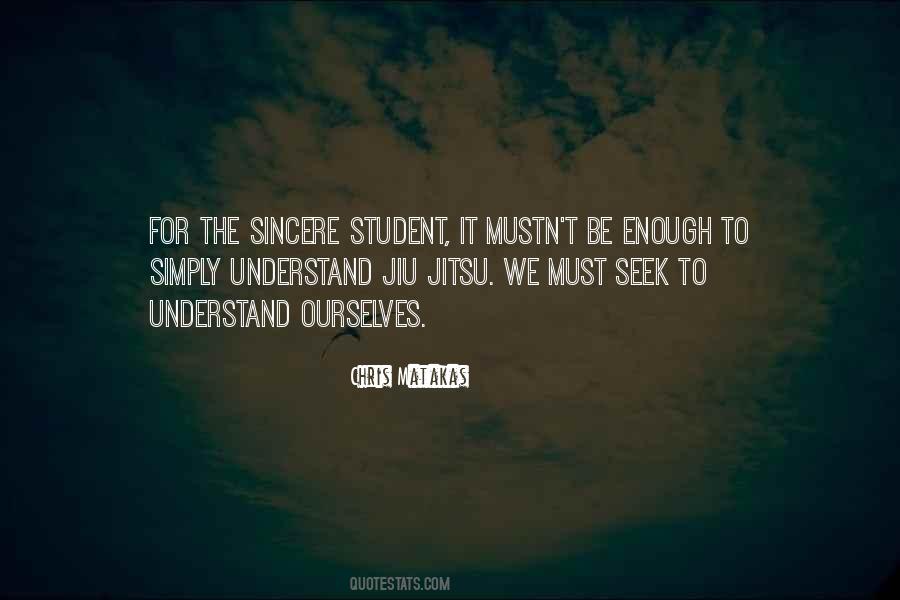 #3. All successful people live how great guard passers pass. - Author: Chris Matakas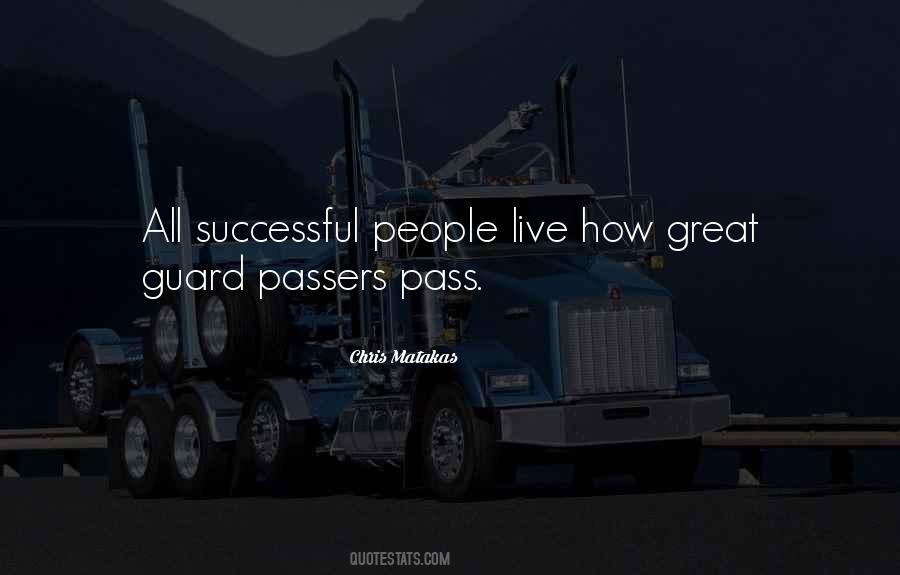 #4. For me, I learnt from jiu-jitsu and martial arts to be humble and to go forward in life in a positive way. - Author: Ricardo Liborio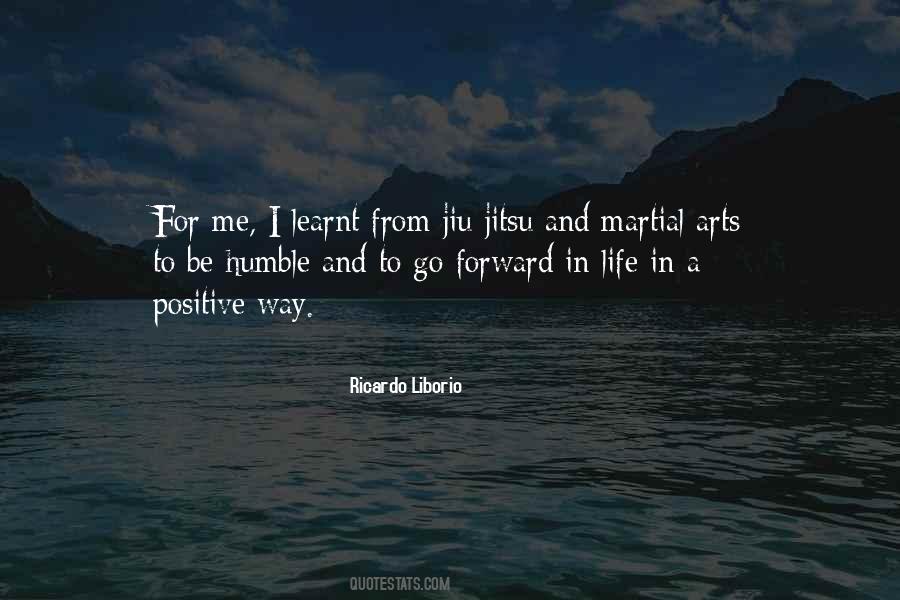 #5. Boxing, jiu-jitsu, scaling the Matterhorn ... I did cardio before cardio was cool. - Author: Theodore Roosevelt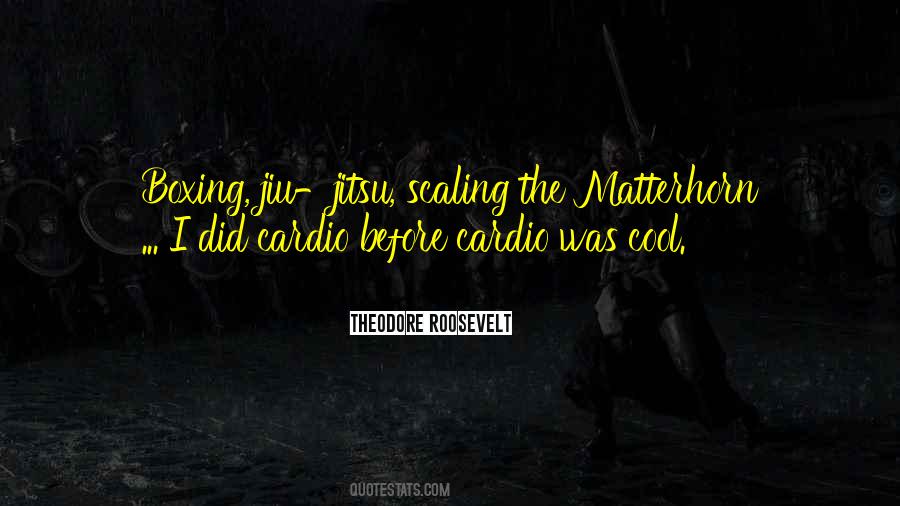 #6. The time we spend talking about Jiu Jitsu is time not spent practicing Jiu Jitsu. This is a necessary aspect of study, but it is one we mustn't lose ourselves in; we learn best by doing. - Author: Chris Matakas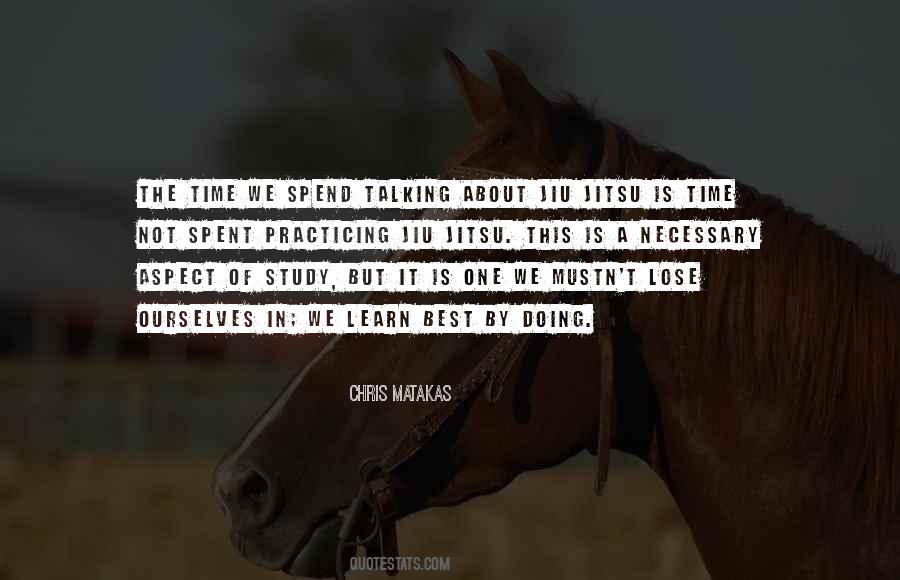 #7. Jiu Jitsu has shown me that we are not confined to the lot which we inherit. We are not bound to these fetters eternally. They are temporal. We can transcend them should we sincerely choose to. Sincere effort is in fact the rarest virtue among man. - Author: Chris Matakas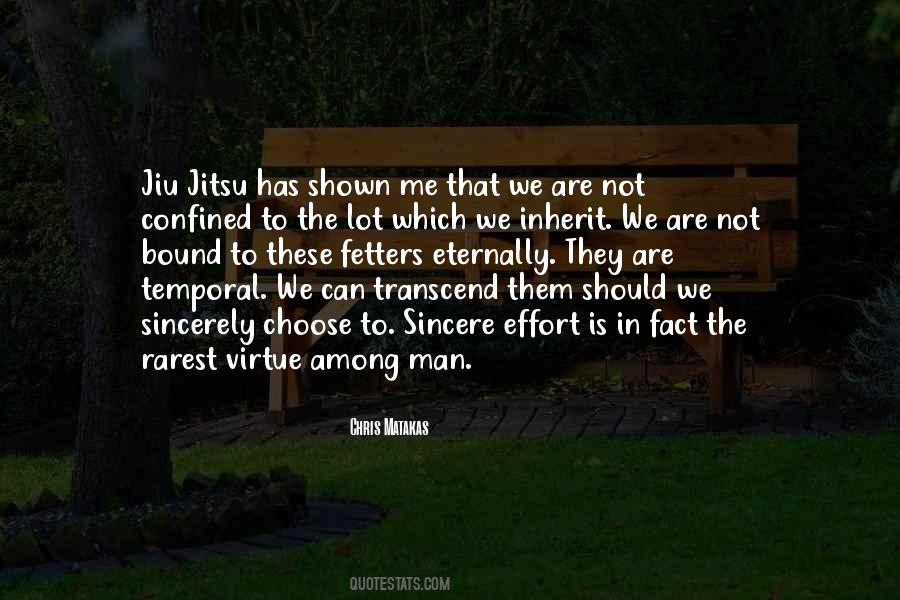 #8. I' ve always been a fan of the basics. After you have a good solid foundation of Jiu-Jitsu, the rest comes by instinct. You create, invent. The rest is easy. The difficult part is the beginning. - Author: Carlos Gracie Jr.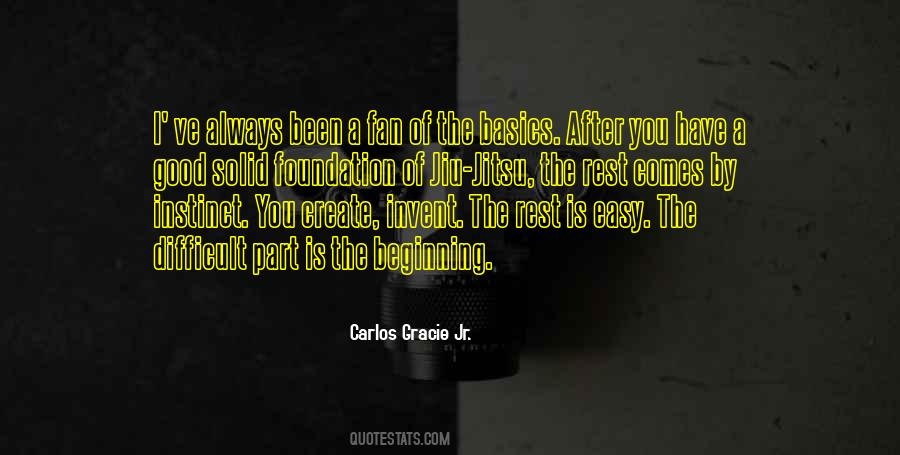 #9. When you first start to do jiu-jitsu everyone has the goal of being a black belt. You want to be great at everything you do. - Author: Junior Dos Santos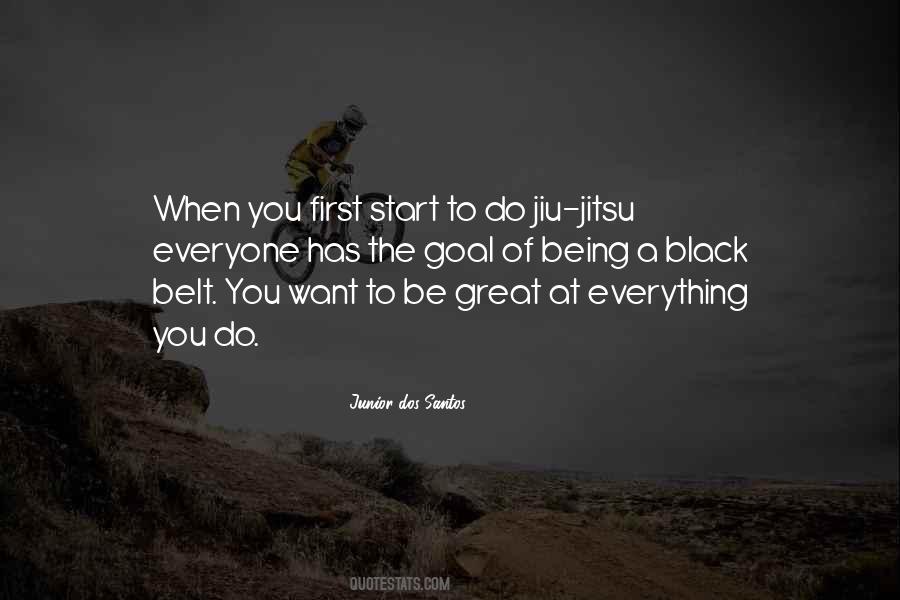 #10. Consistently failing is nothing more than an indication that you are progressing. The more we fail the farther we will see. Failure is not an option; it is the only option. A master is a master because he has had the courage to fail and the wisdom to learn from it. - Author: Chris Matakas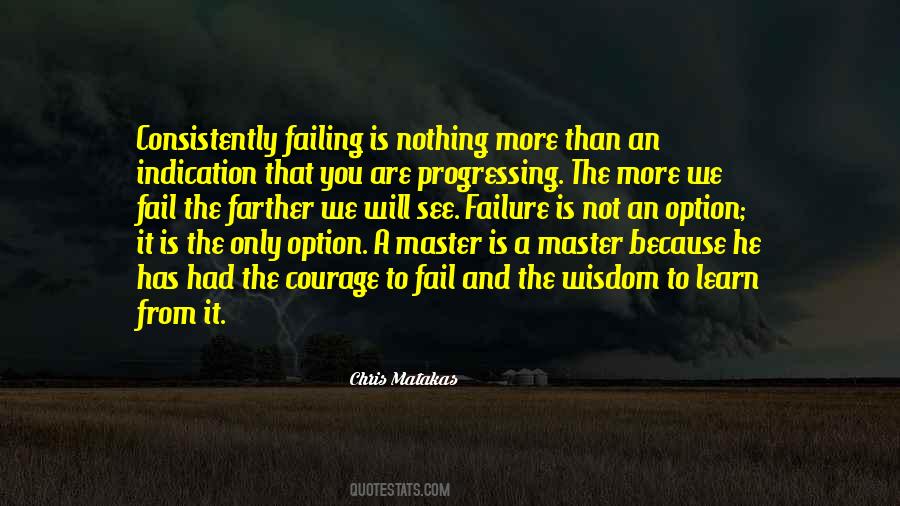 #11. Wearing a black belt does not make you a super hero, and wearing a white belt does not mean you have little to offer as a person. It is what we do in the belts we wear, and not the belts themselves that matter. - Author: Chris Matakas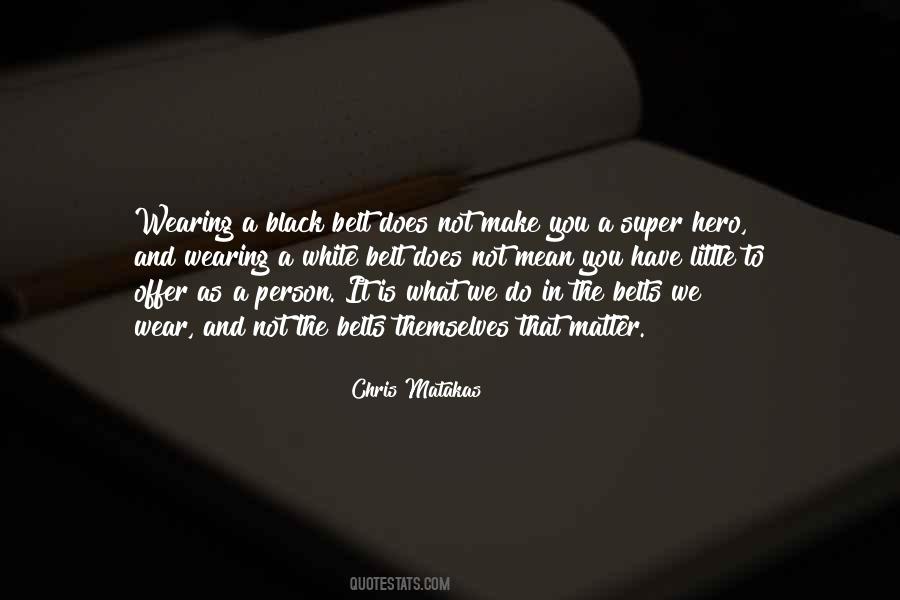 #12. Yes, you have been molding your ability to perform Jiu Jitsu for all these years, but you have been more importantly molding who you are as a person. Jiu Jitsu is the sculptor, and you are the clay. It is with this art that we strive and reach for our highest ideals not as athletes, but as people. - Author: Chris Matakas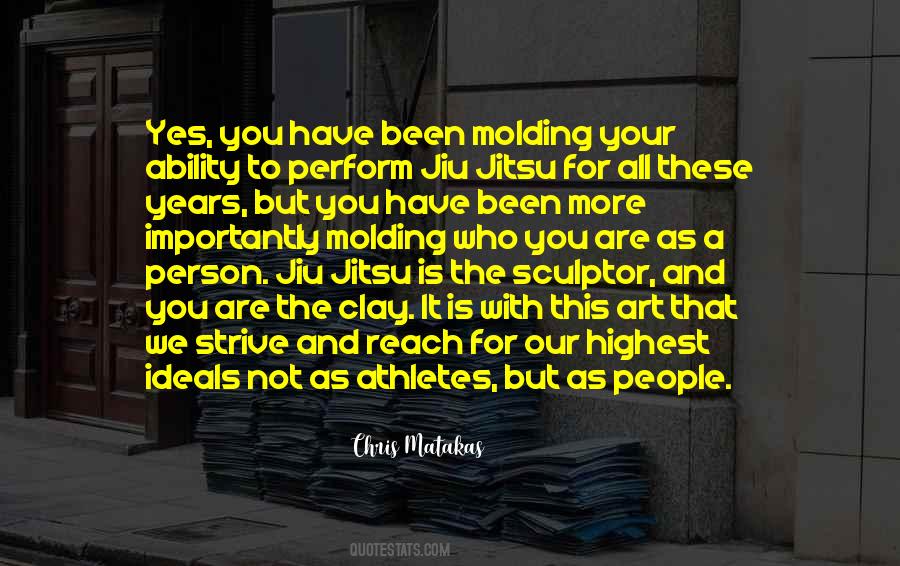 #13. The essence of jiu-jitsu is philosophy. - Author: David Mamet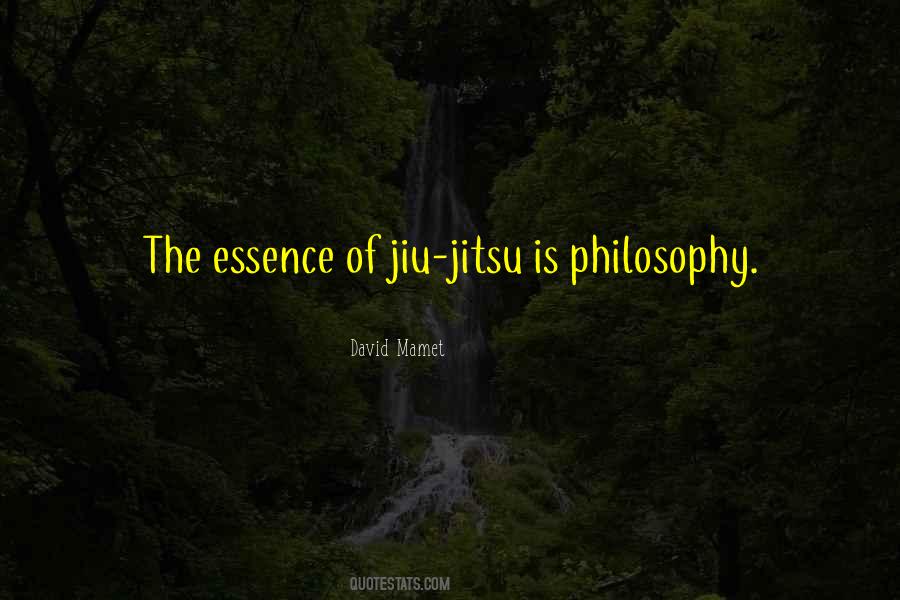 #14. Relationships formed through Jiu Jitsu are deeply rooted in respect for one another, and this is often not the case in matters of modern society. - Author: Chris Matakas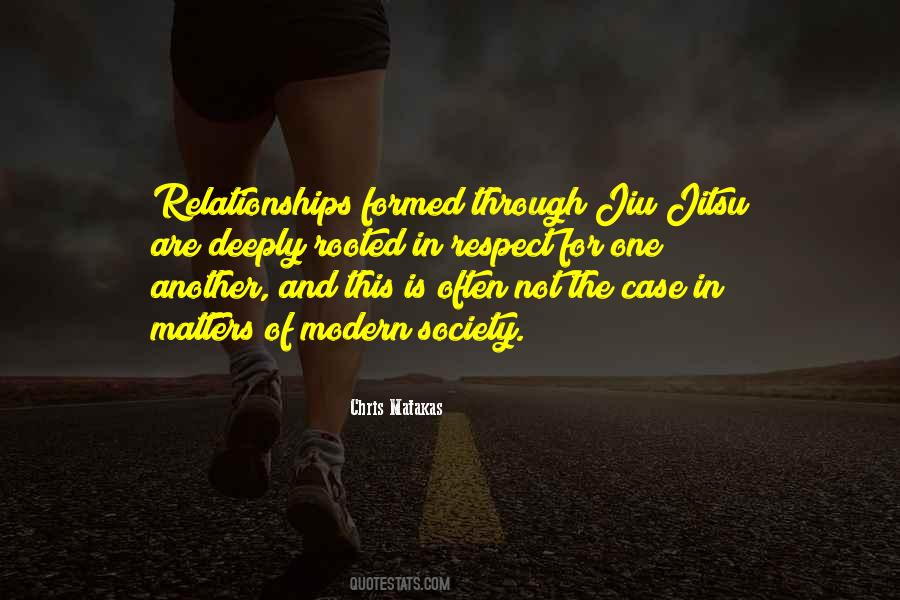 #15. Anyone can be tough for a season. It takes a special kind of human to rise to life's challenges for a lifetime. - Author: Chris Matakas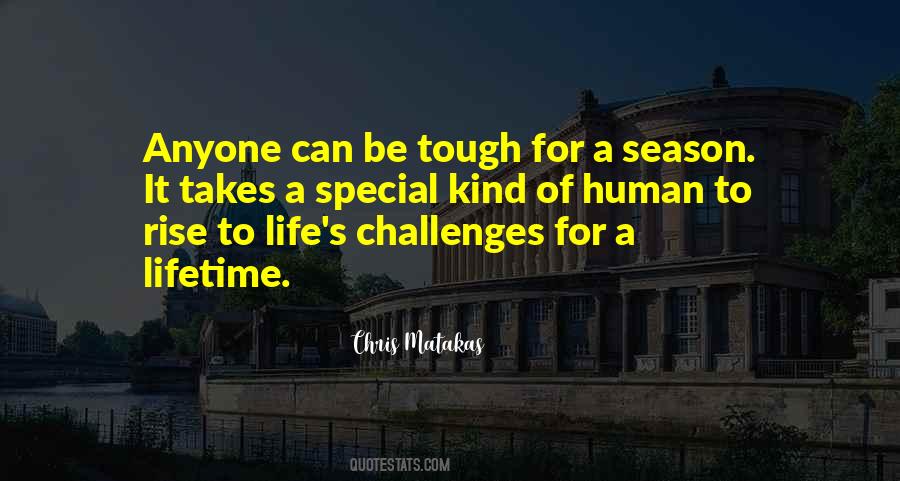 #16. Plateaus are a manifestation of the law of diminishing returns, and when we reach one it simply means that it is time to adjust our methods. - Author: Chris Matakas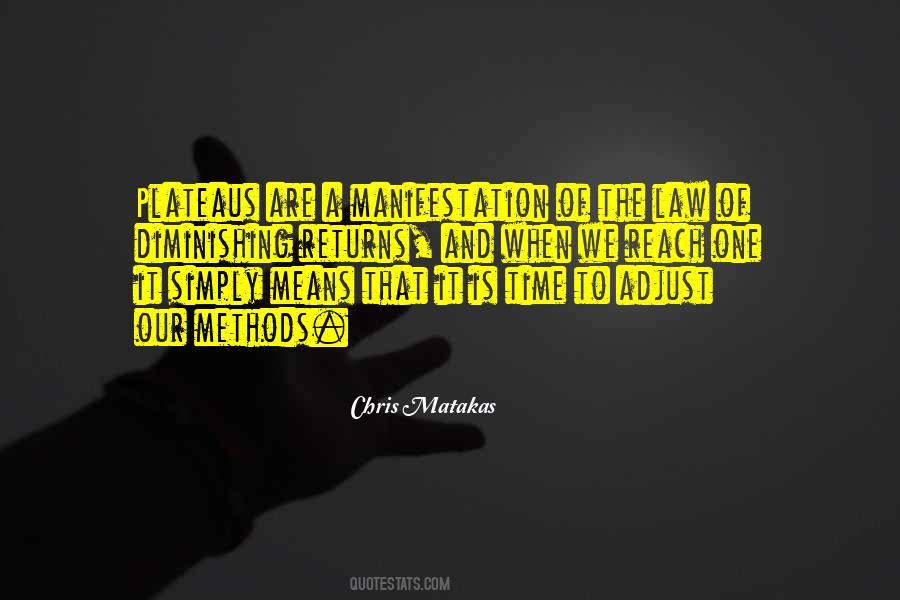 #17. His system is a combination of ferocious blows, holds and throws, adapted from Japanese bayonet tactics, ju-jitsu, Chinese boxing, Sikh wrestling, French wrestling and Cornish collar-and-elbow wrestling, plus expert knowledge of hip-shooting, knife fighting and use of the Tommy gun and hand grenade. - Author: Giles Milton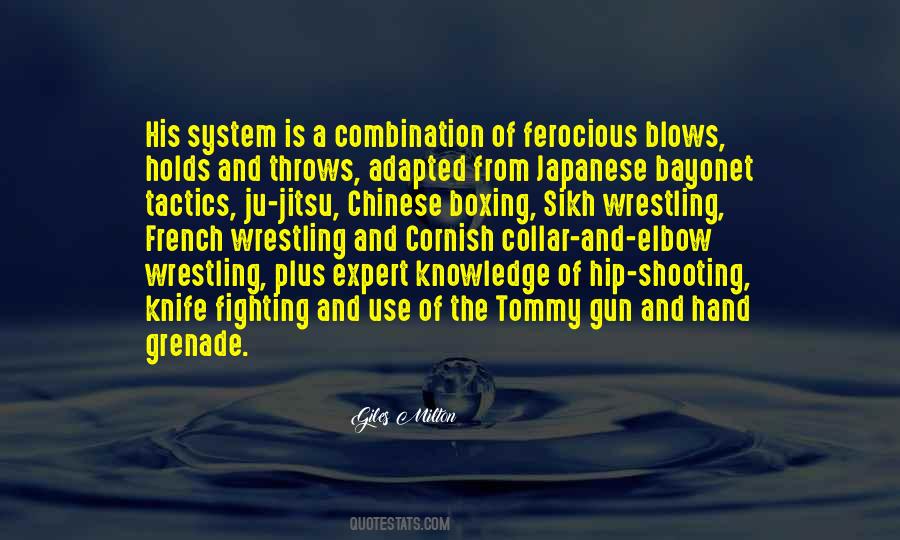 #18. Jiu Jitsu is about waiting for the right time to do the right move. - Author: Ryron Gracie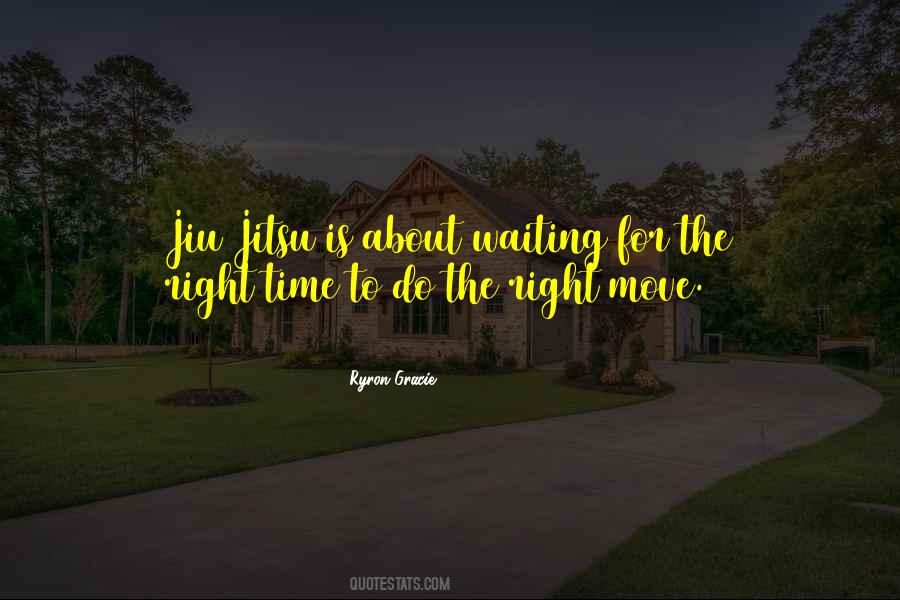 #19. I grew up in Westlake Villiage, a suburb of L.A. There was a guy there who was a fighter and was like, 'I'll teach you to box.' I started a little bit of boxing, then it crossed over into jiu-jitsu. I was into it for a little while, but then I started doing basketball, baseball, team sports. - Author: Jonathan Lipnicki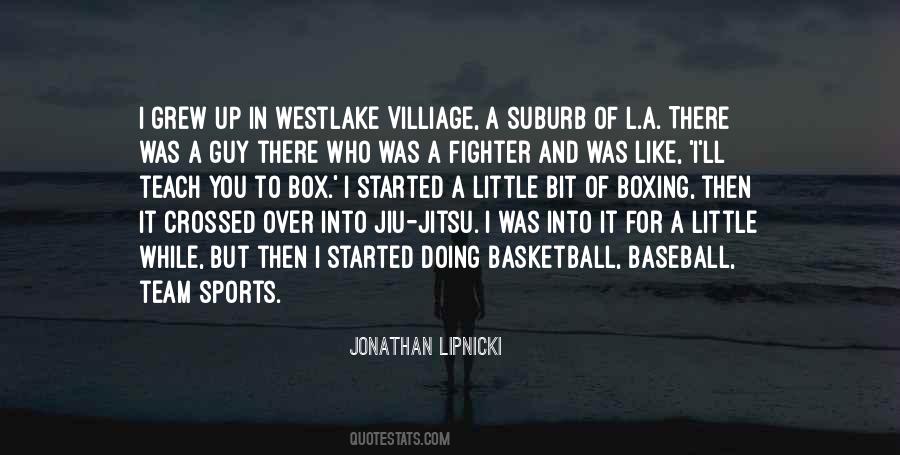 #20. This is the opportunity the fellowship of Jiu Jitsu affords us. To reach our highest potential of self, and then to offer that self to another. - Author: Chris Matakas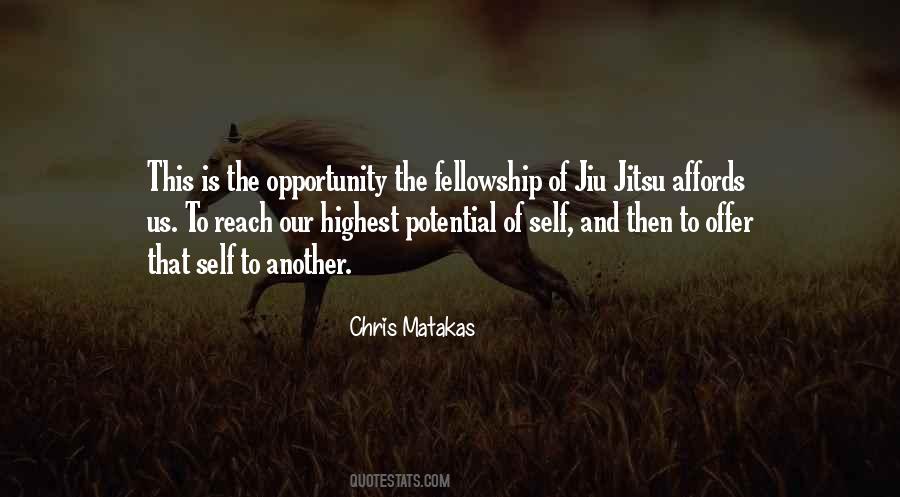 #21. Jiu Jitsu provides a place of fellowship that, unfortunately, our society has largely failed to create. - Author: Chris Matakas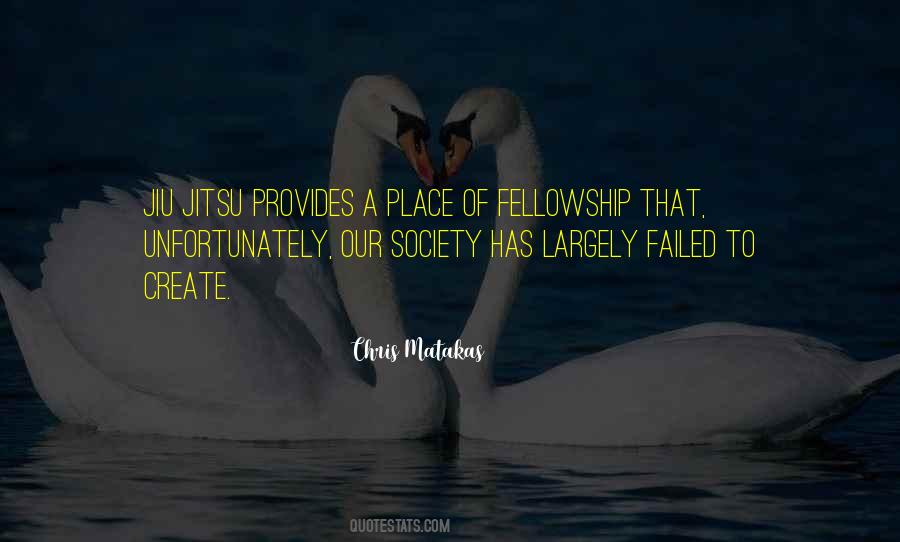 #22. Jiu Jitsu is a mousetrap. The trap does not chase the mouse. But when the mouse grabs the cheese, the trap plays its role. - Author: Helio Gracie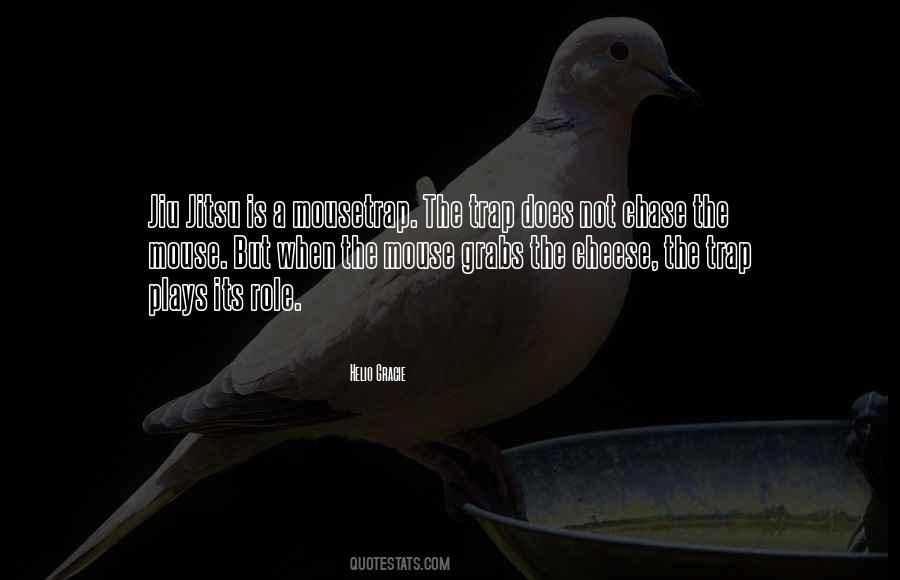 #23. Jiu Jitsu uses us to express itself, and the best thing we can do to is to become a vehicle capable of expressing Jiu Jitsu with all of its perfection minus our imperfections. - Author: Chris Matakas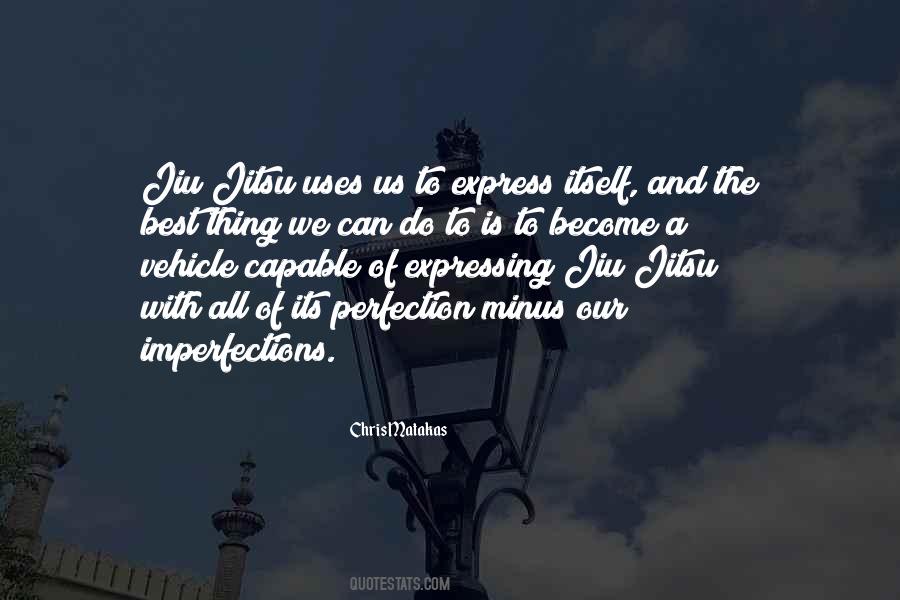 #24. I believe that which you study is only matched in importance by the sincerity with which you approach it. - Author: Chris Matakas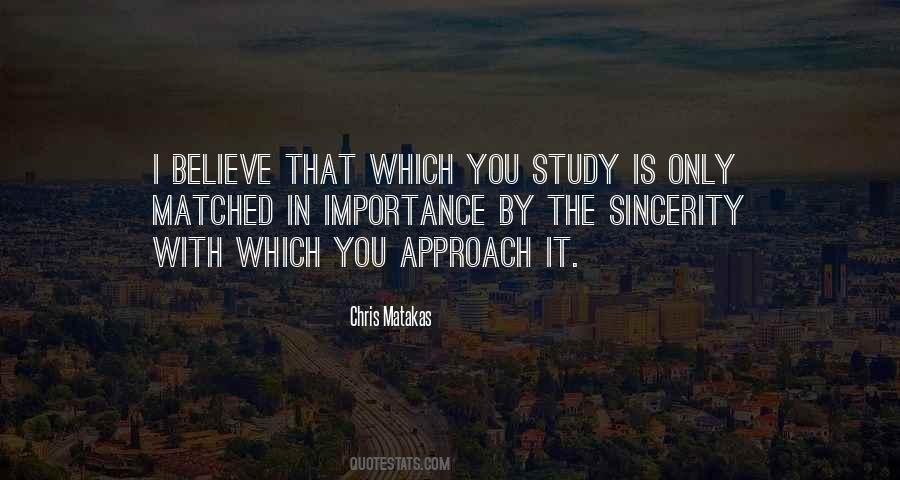 #25. If you can wrestle but not play Jiu Jitsu, or you can play Jiu Jitsu but not wrestle, you are not a complete grappler and lack the sufficient skills to safely subdue an opponent. - Author: Chris Matakas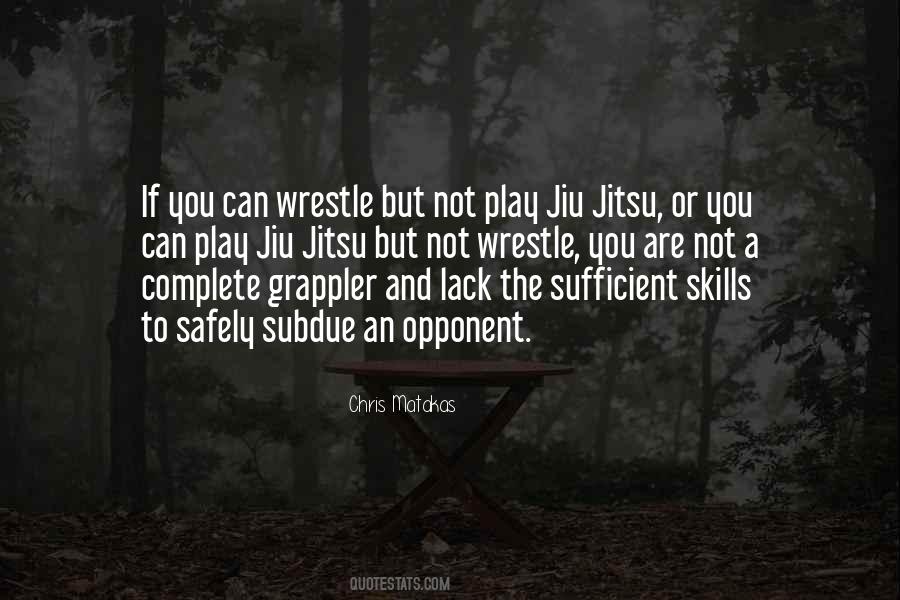 #26. The major events in our lives receive the entire spotlight, but ultimately your life will be defined by the same handful of choices you make each day. - Author: Chris Matakas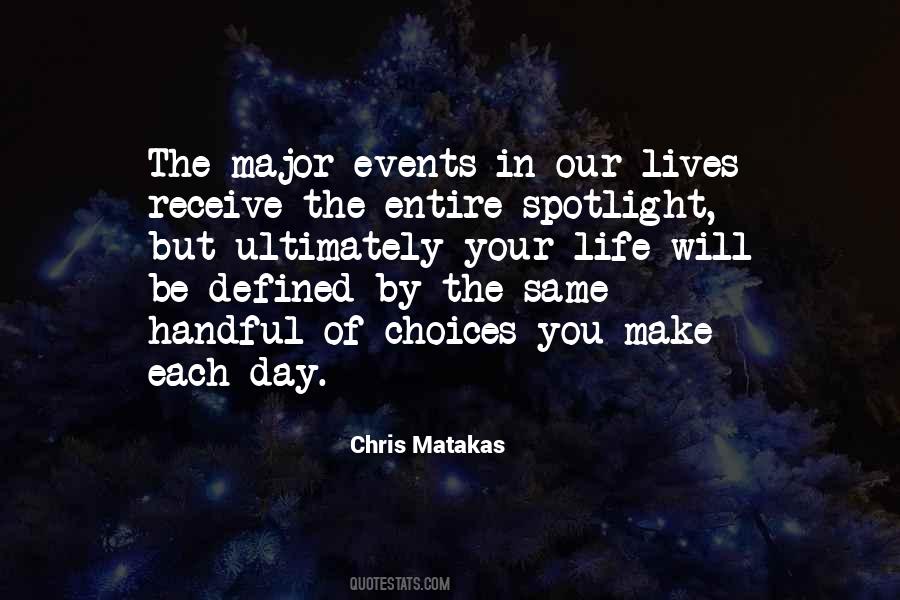 #27. There is no higher calling than service to your fellow man, and to do so through your own personal mastery of a craft is a gift enjoyed by few. Cultivate this gift, and give it away. - Author: Chris Matakas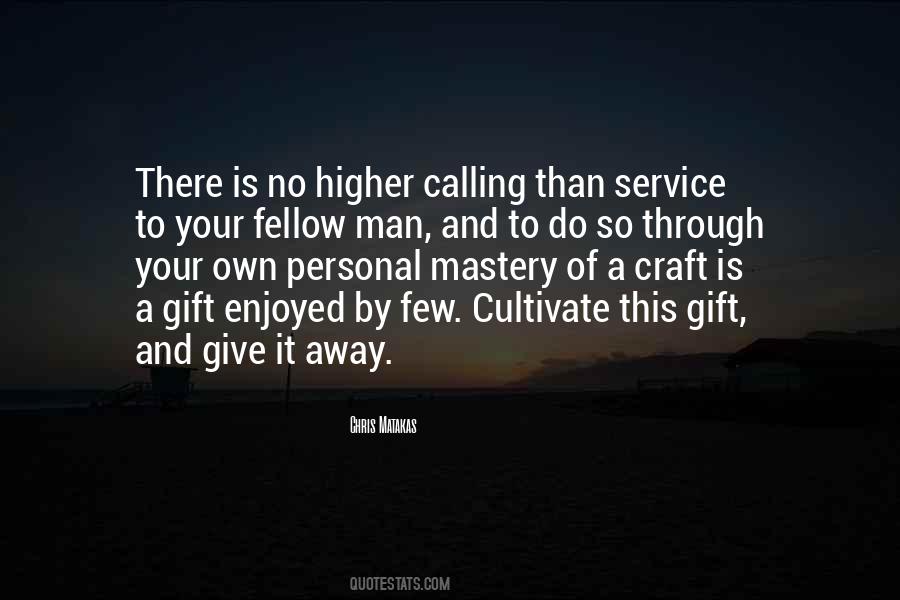 #28. They forget that the CIA is all about collecting information. Information for other people to act on. If you join the CIA expecting a life of laser guns, ju-jitsu and exotic STDs, bear in mind that your only contact with them may come through the pages of The Lancet and Popular Mechanics. - Author: Jay Spencer Green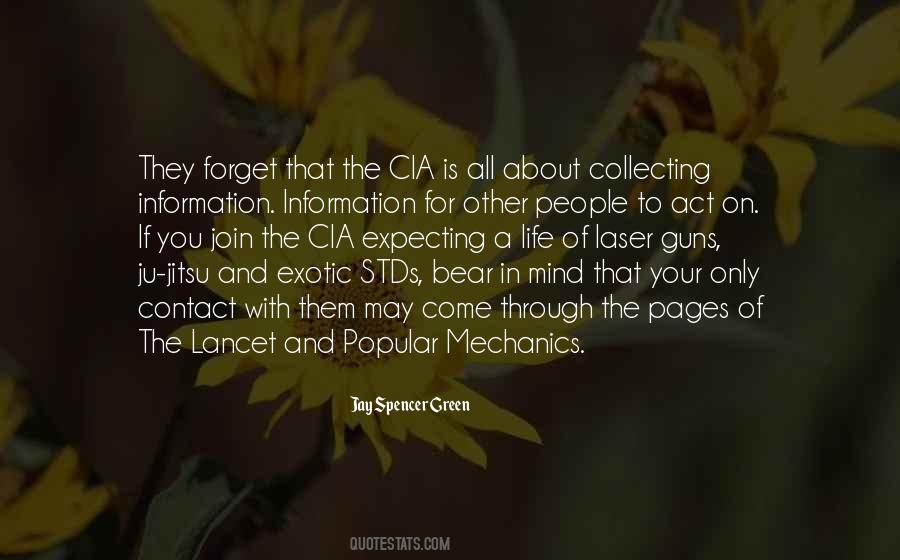 #29. Make no mistake, you earn a white belt. The belt is a physical representation of a commitment to the beginner's mind. It is a vulnerability and a willingness to learn that shines through. - Author: Chris Matakas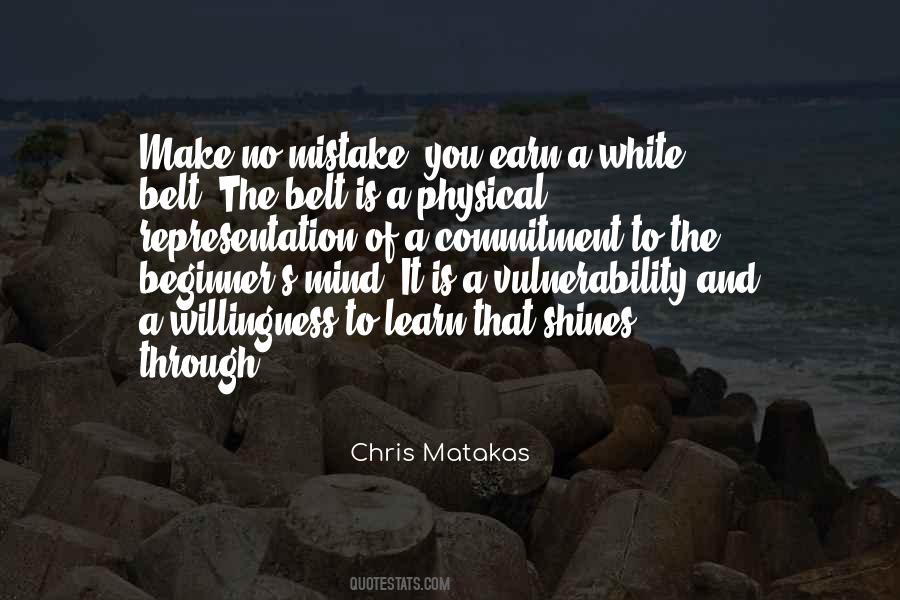 #30. Mrs Edith Garrud famously opened a school of jiu-jitsu and trained 'The Bodyguard', a group of suffragette sympathisers who protected the leaders of the Suffragette Movement from attack during their public appearances. - Author: E.W. Barton-Wright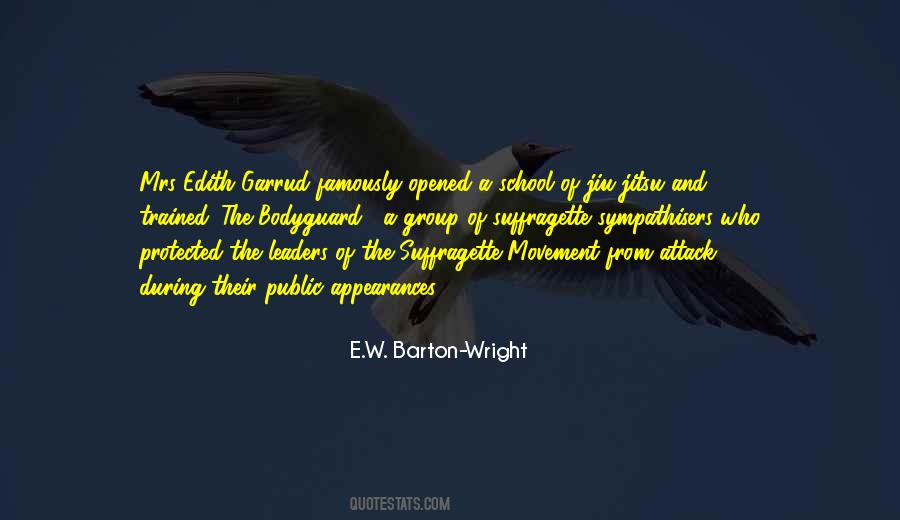 #31. It is fellowship, this most fundamental need on our way toward achieving our highest expression of the human experience, which Jiu Jitsu provides. - Author: Chris Matakas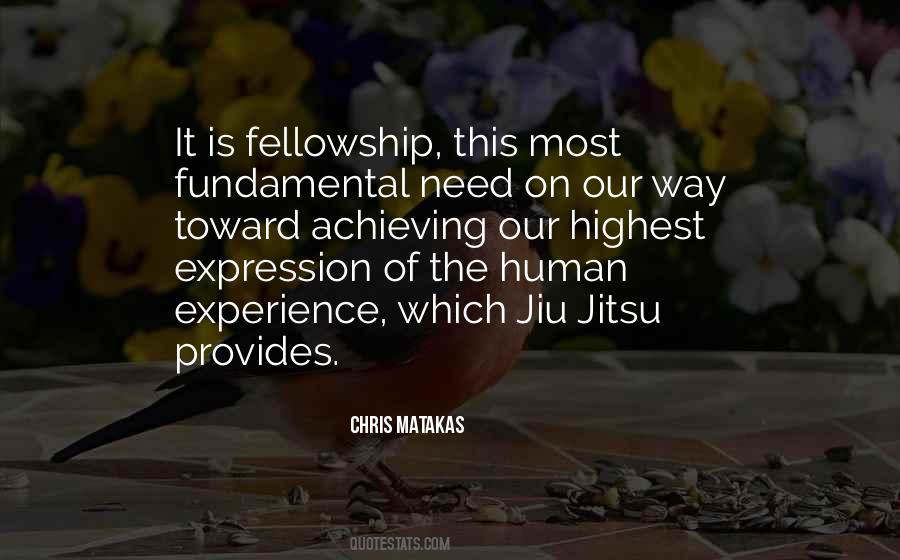 #32. There is no concrete way to play Jiu Jitsu, and this is why so many different types of people find joy in it. - Author: Chris Matakas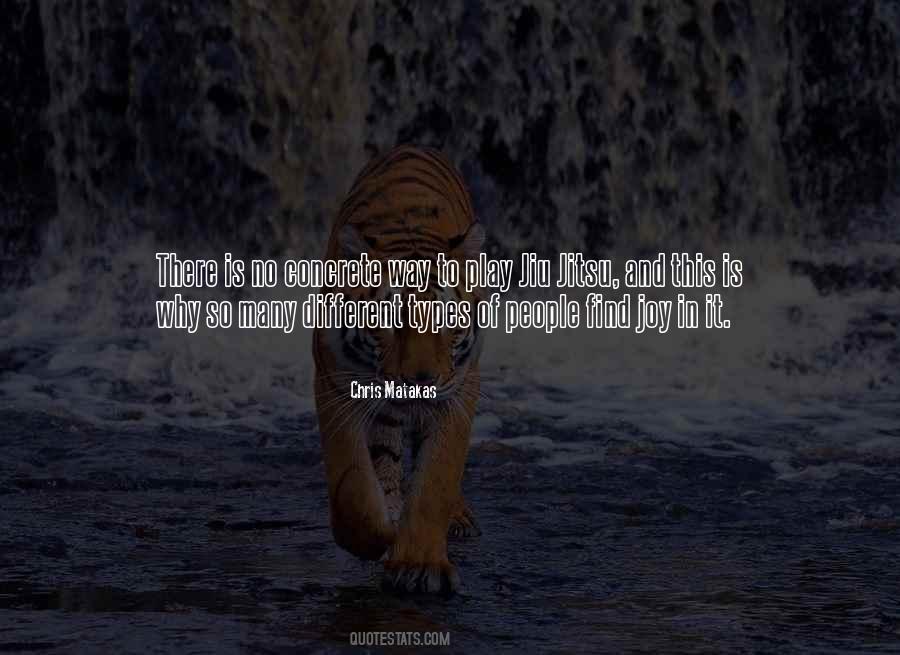 #33. Jiu Jitsu gives each of us something that no other sport can. We have the opportunity to become truly great regardless of what circumstance fate has handed us. We have complete freedom and responsibility to achieve whatever level of mastery we wish. - Author: Chris Matakas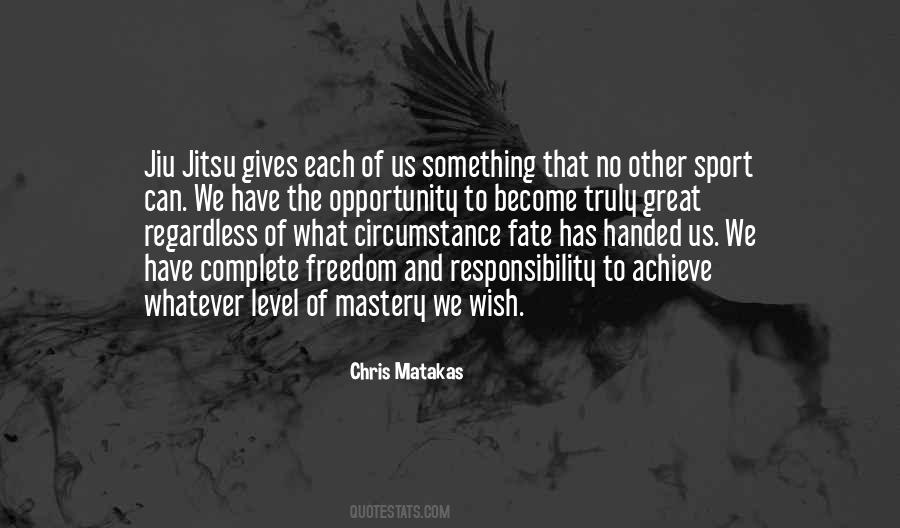 #34. We can either approach Jiu Jitsu through the lens of the "real world" or we can approach the real world through the lens of Jiu Jitsu. I have found the latter to be far more rewarding. - Author: Chris Matakas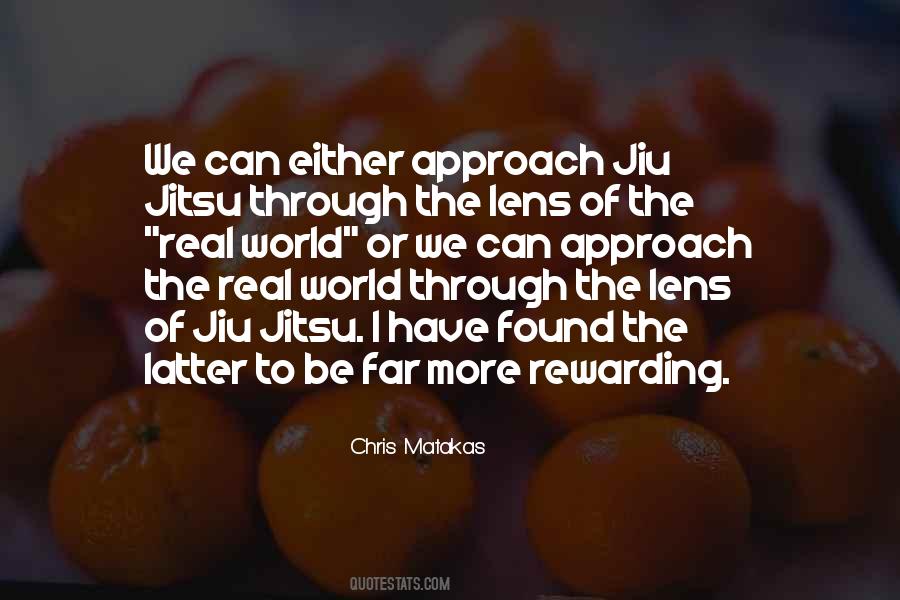 #35. When you do Jiu Jitsu, you won't look at a bigger guy and say 'oh no', you'll look and say 'how interesting!' - Author: Rener Gracie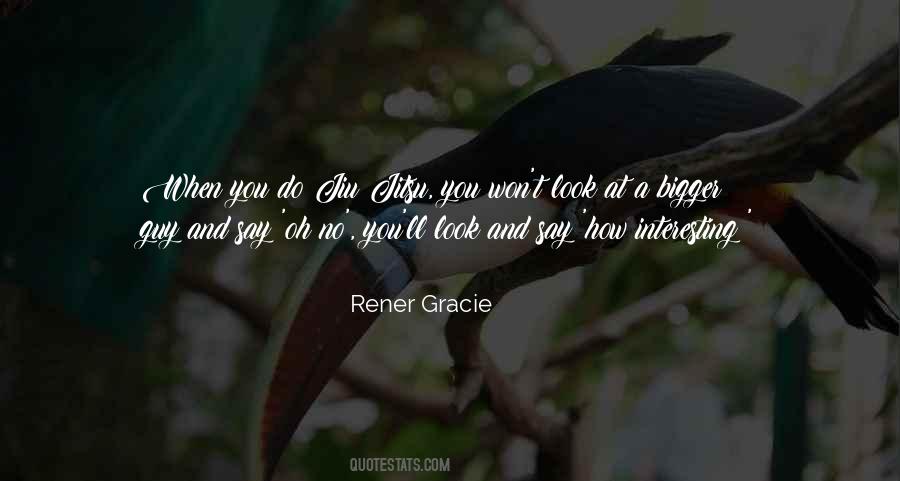 #36. I can think of no more worthwhile aim than pursuing mastery in this craft while transcending one's own limitations. - Author: Chris Matakas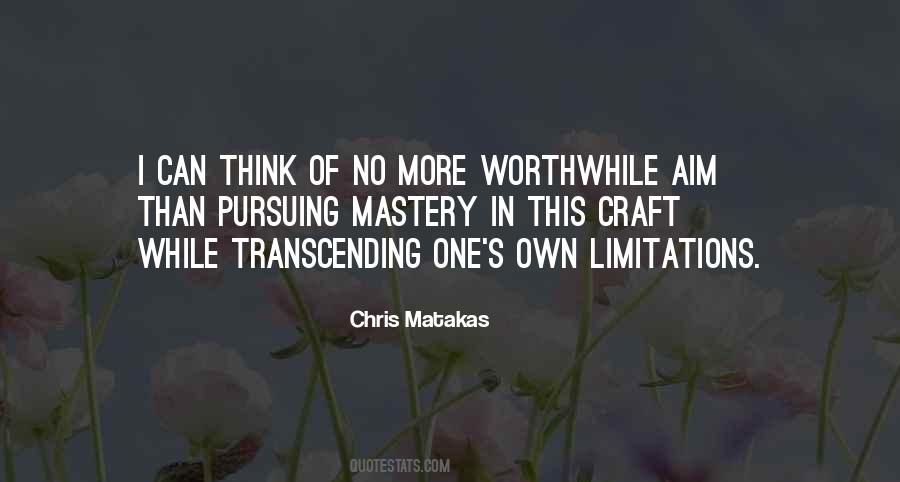 #37. My growth as a human being has been directly proportional to my growth as a marital artist. - Author: Chris Matakas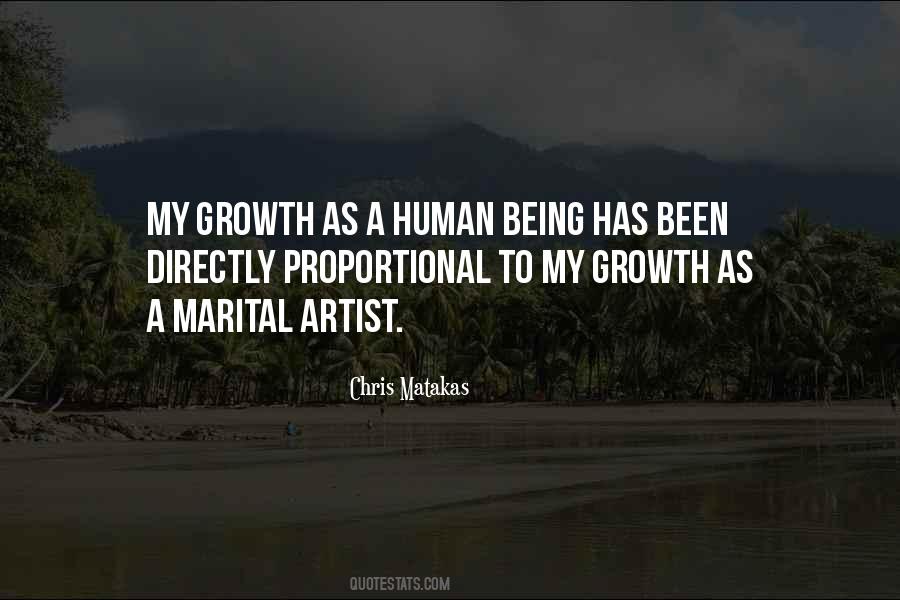 #38. I train because it makes every area of my life better, and it makes me better at every area of my life. - Author: Chris Matakas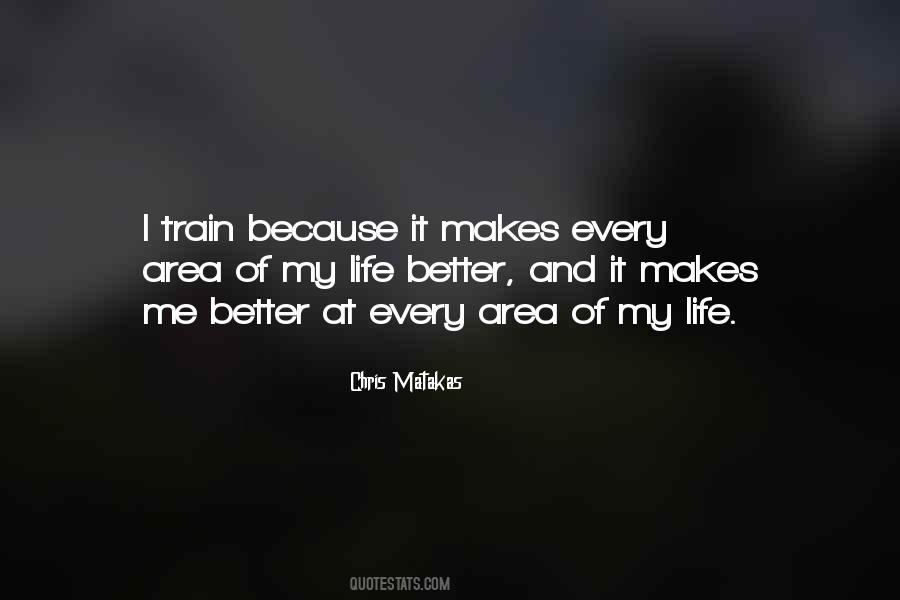 #39. All of Jiu Jitsu is finding a way to get your partner to willingly go where you want him to go in the first place. - Author: Chris Matakas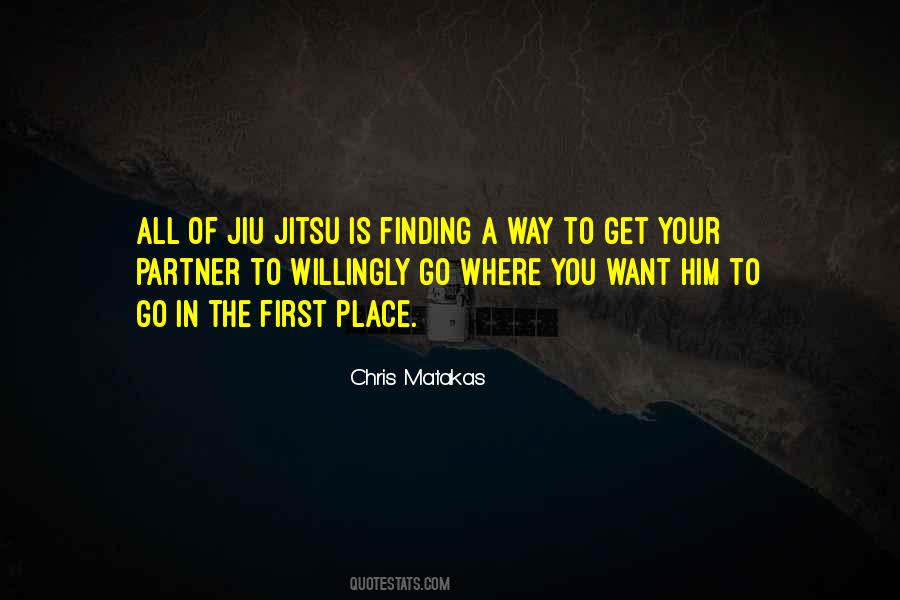 #40. Jiu-Jitsu is my therapy, my passion, my life. - Author: Matt Serra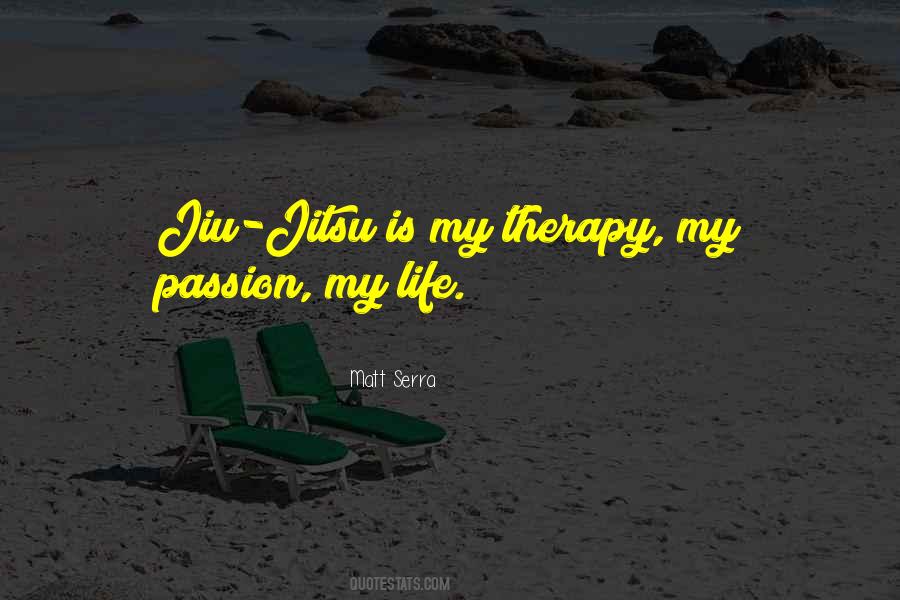 #41. I do Jiu Jitsu so I can protect you when I fight you. - Author: Ryron Gracie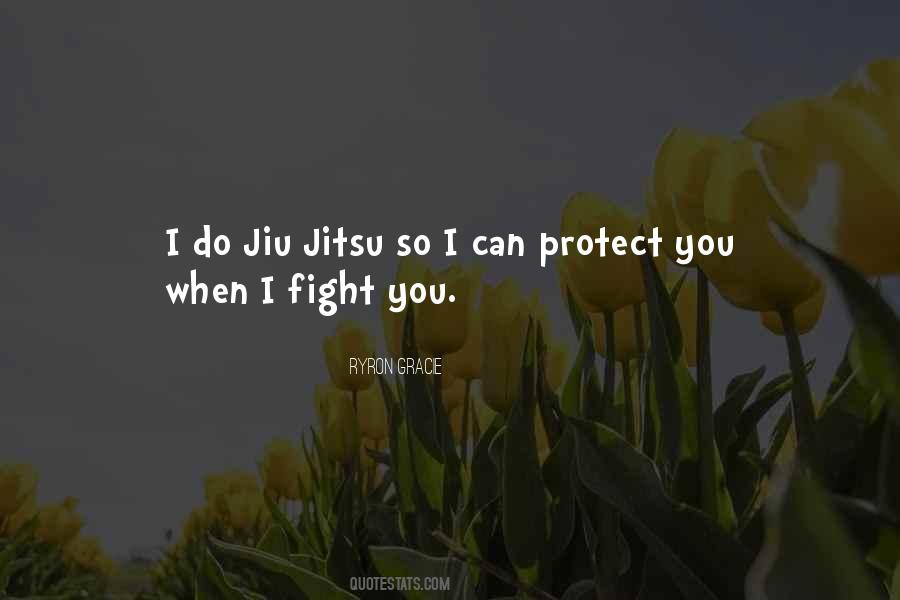 #42. We call it training. Not because we are training for Jiu Jitsu. We are training for life. - Author: Chris Matakas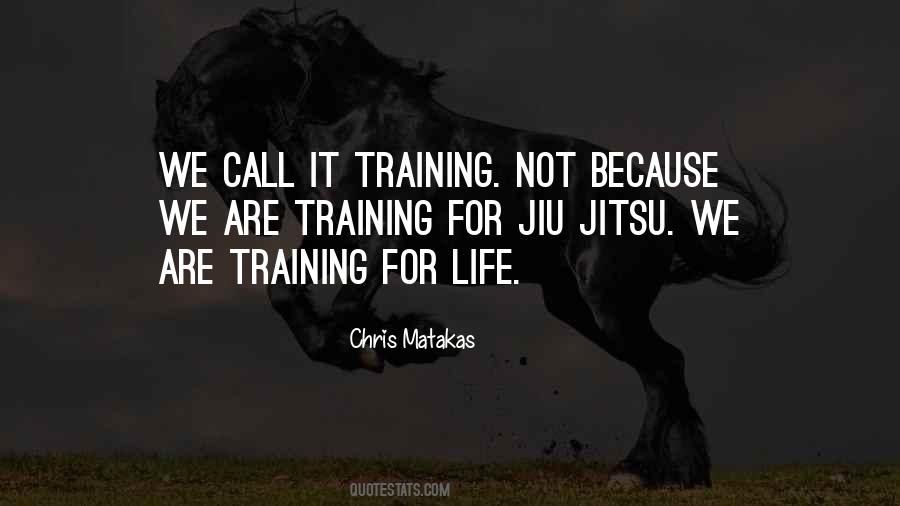 #43. There is no losing in Jiu-Jitsu. You either win or you learn. - Author: Carlos Gracie Jr.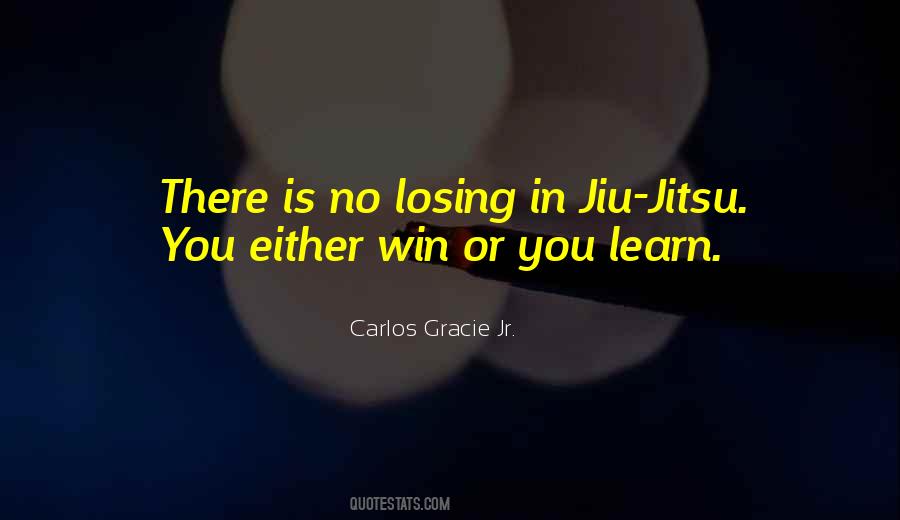 #44. Ju jitsu is very Buddhist. All that we fear we hold close to ourselves to survive. So if you're drowning and you see a corpse floating by, hang on to it because it will rescue you. - Author: Tom Hardy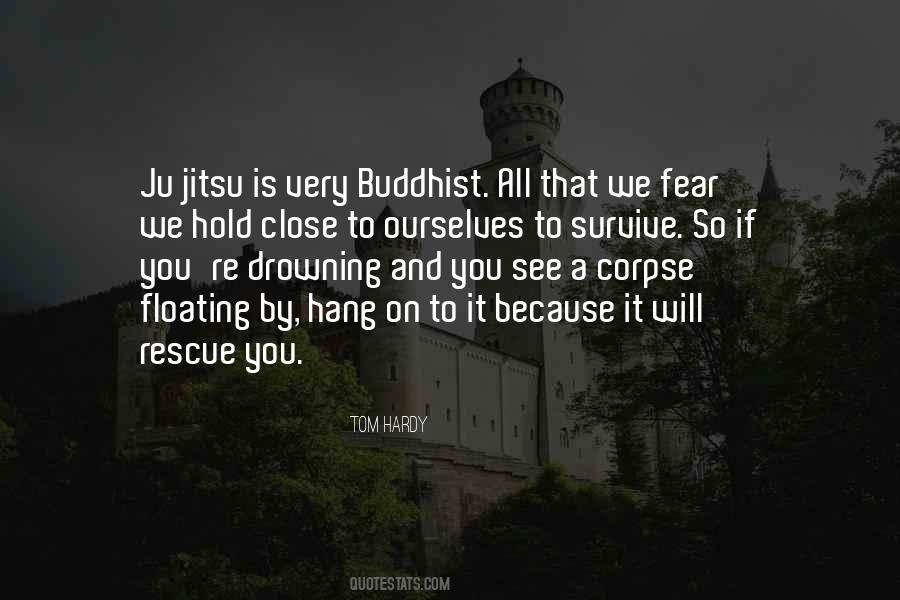 #45. In Jiu Jitsu an inch is a mile, and a second is an eternity. Use each wisely. - Author: Chris Matakas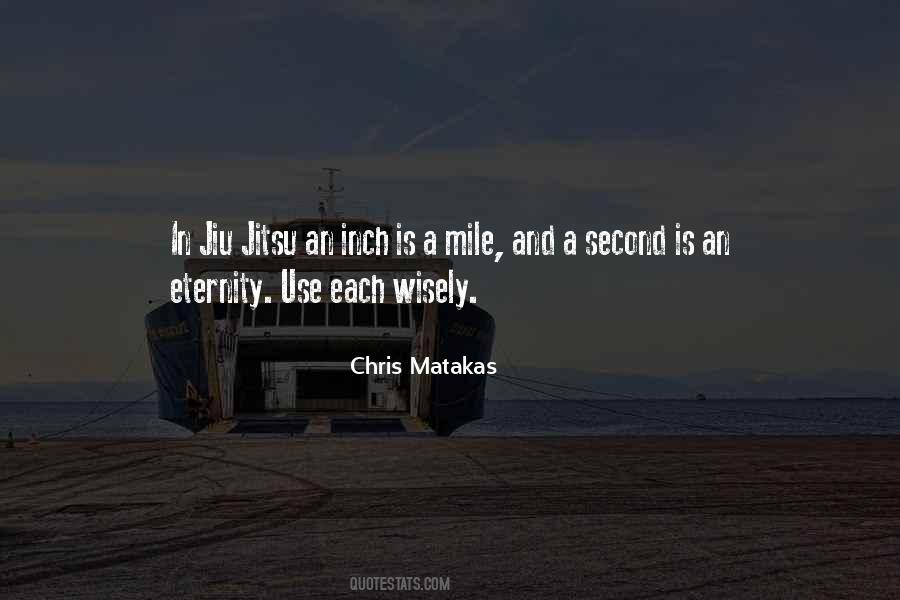 #46. Jiu Jitsu can be a source of total transparency such as a mirror, but it takes a conscious choice to see what it has to say. - Author: Chris Matakas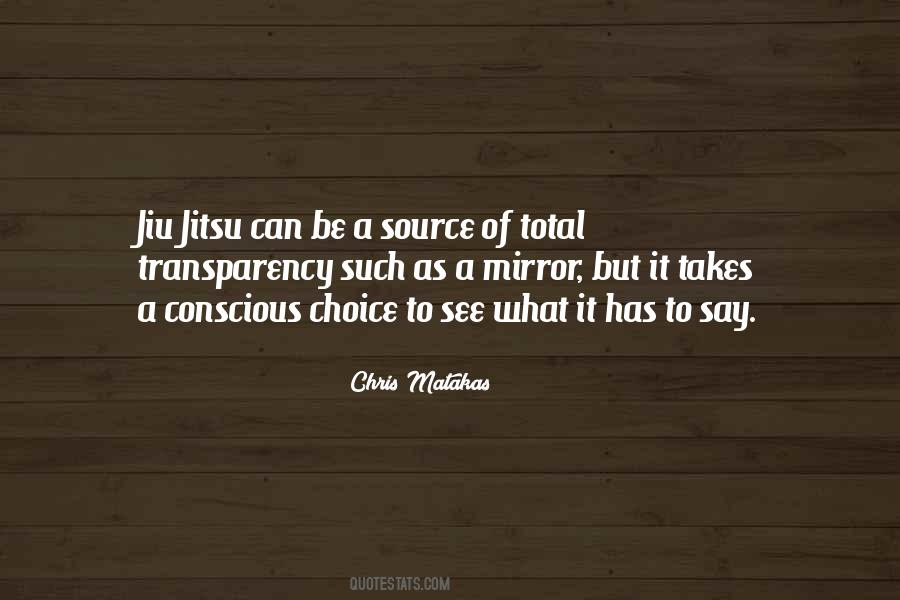 #47. That, to me, is a kind of brilliant environmental ju-jitsu - using the energy of the market and the profit-motive to get businesses to invest in preserving and improving natural systems. - Author: Ramez Naam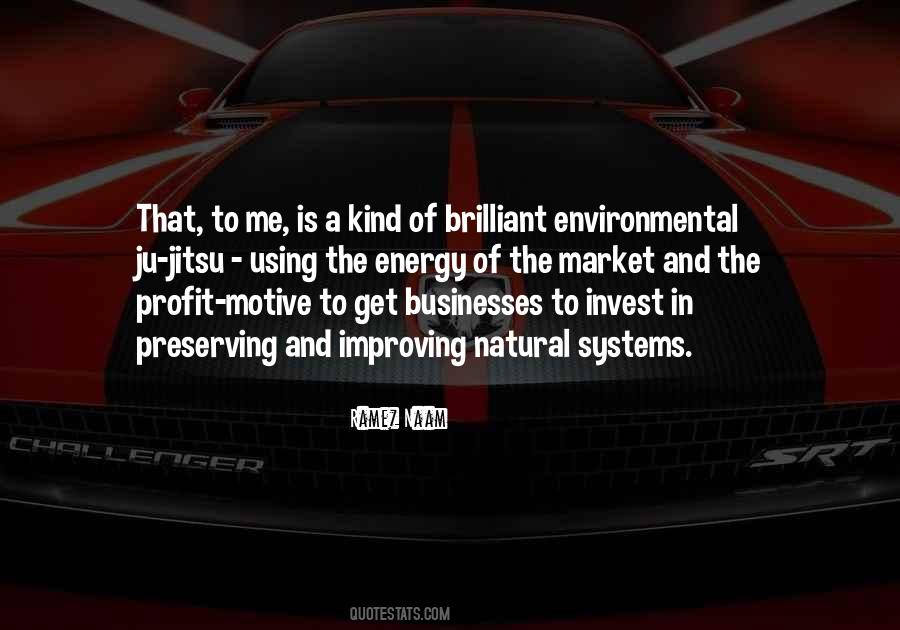 #48. I work free-weights and do circuit training with my trainer 4-5 times a week. I also train in Brazilian Ju Jitsu several times a week. - Author: Jonathan Lipnicki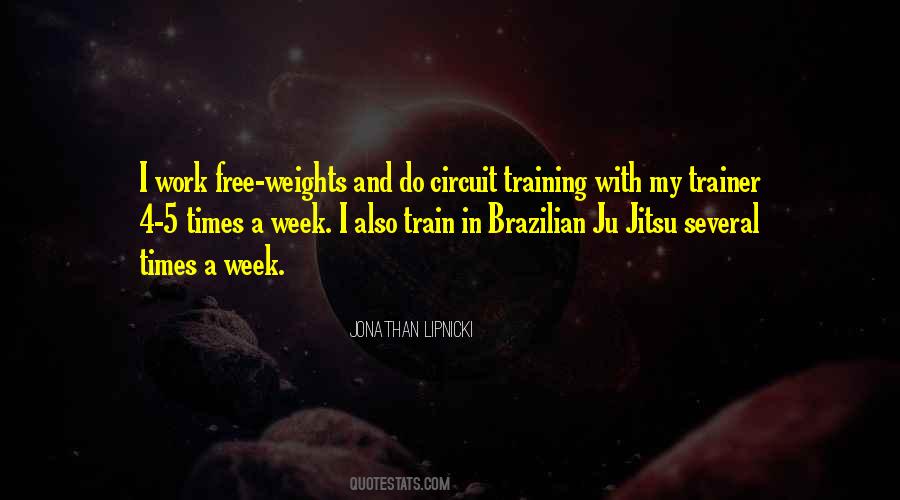 #49. I don't know Jiu-Jitsu, I don't know wrestling, all I know is how to fight. Period. - Author: James Toney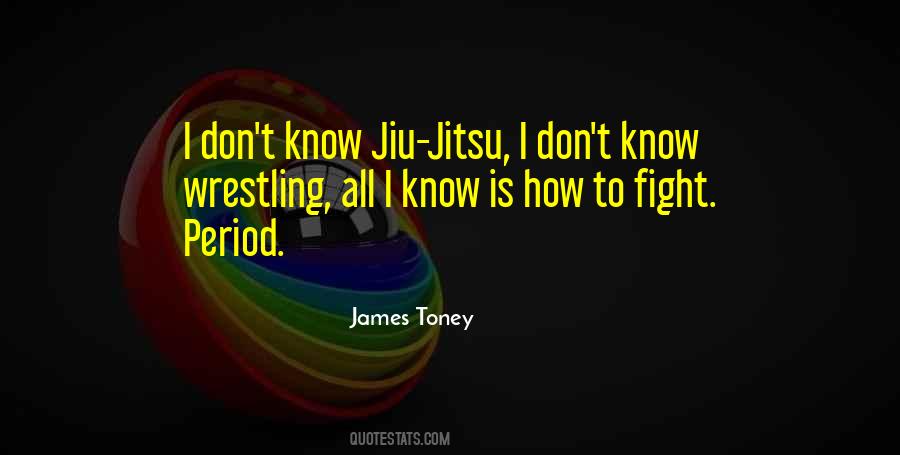 #50. Jiu Jitsu removes the societal walls that we have been forced to unknowingly hold up with our adopted beliefs. It removes the limits of common thought, and allows for expression of our highest ideals. - Author: Chris Matakas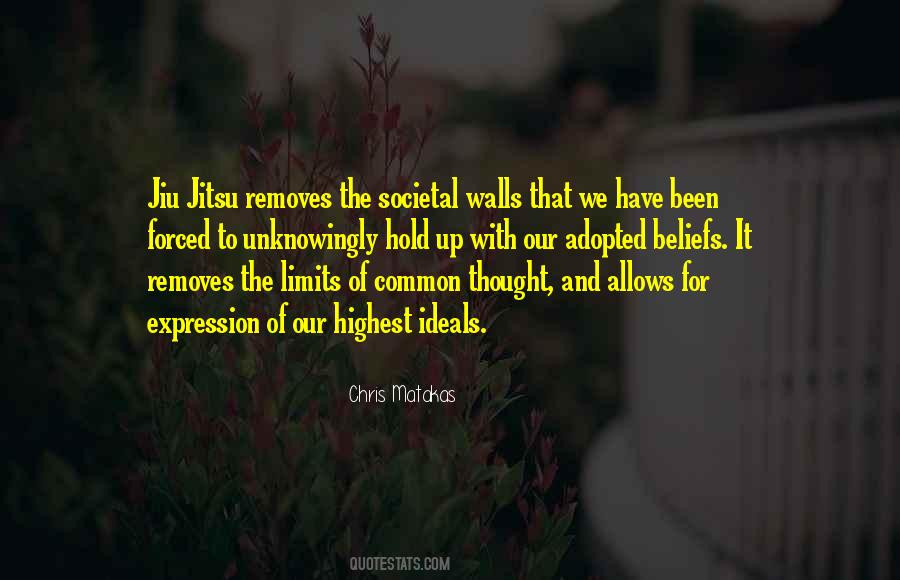 #51. Sometimes, you don't have to win, you cannot win. but that has nothing to do with losing. - Author: Rickson Gracie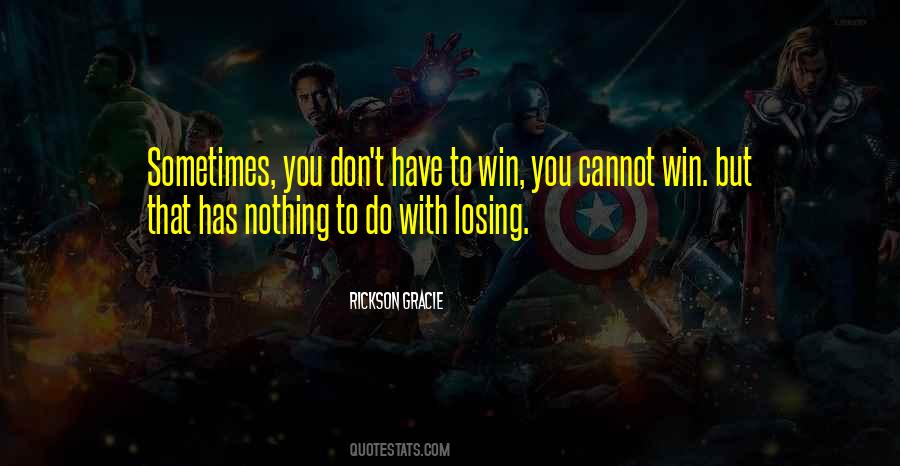 #52. Your progress as a Jiu Jitsu practitioner is a direct reflection of the standards you have for yourself. - Author: Chris Matakas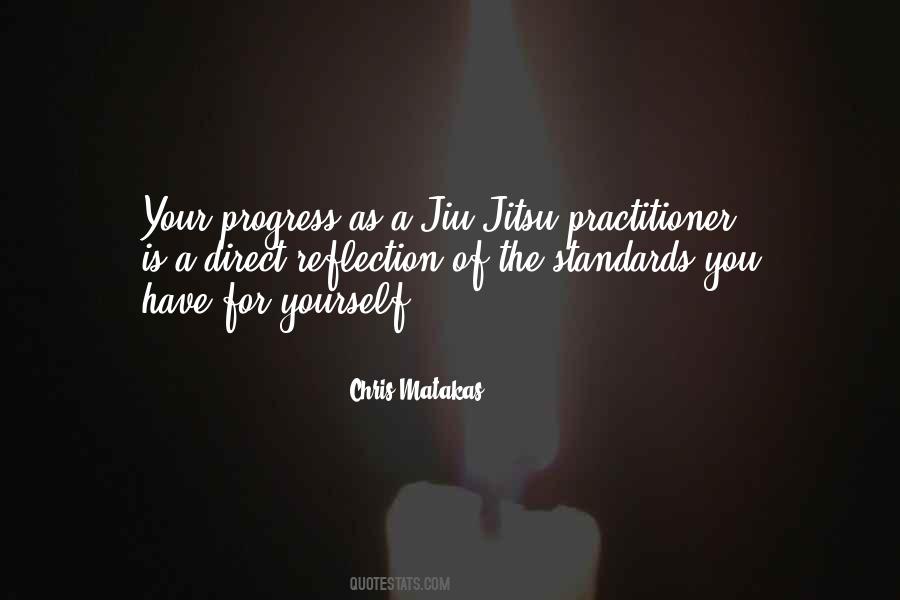 #53. Turning the other cheek is a kind of moral jiu-jitsu. - Author: Gerald Stanley Lee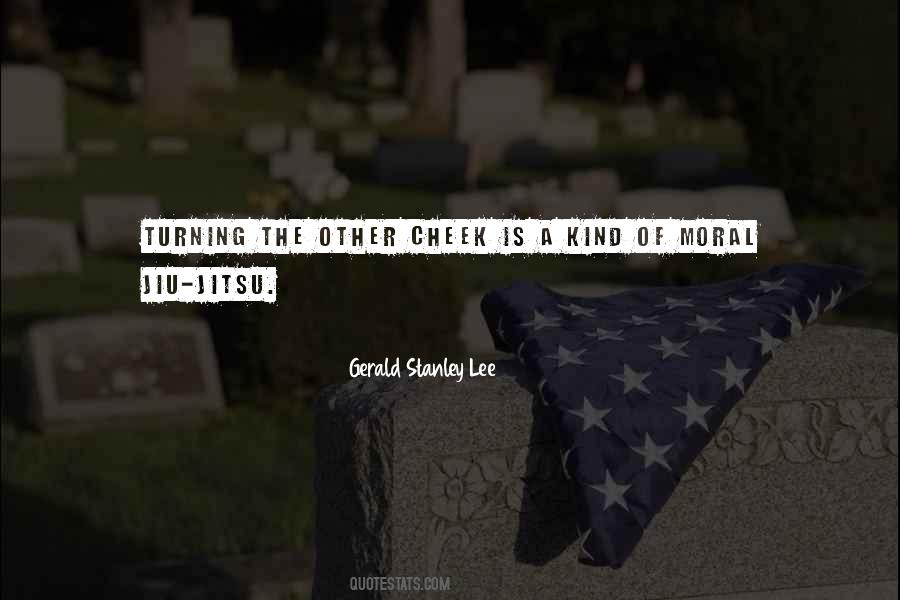 #54. I wasn't a good student, and even now I never say that I am better than anybody, but I know I love Jiu Jitsu more than anybody. I love the energy and that it gets deeper the more you study. - Author: Marcelo Garcia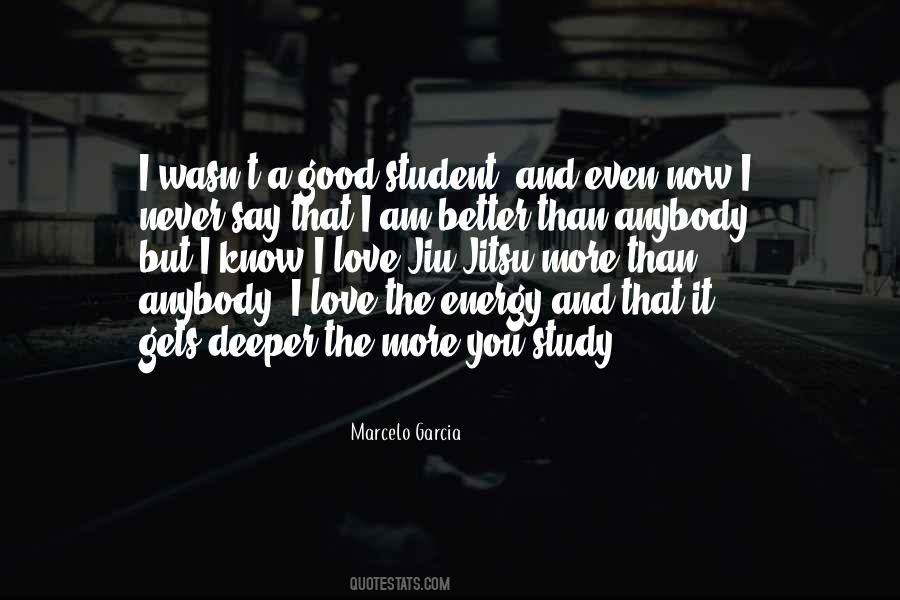 #55. Jiu-Jitsu for sure will save your ass, one way or another. Not necessarily a physical fight but also being able to deal with yourself, know about yourself, and really improve yourself as a whole. - Author: Kron Gracie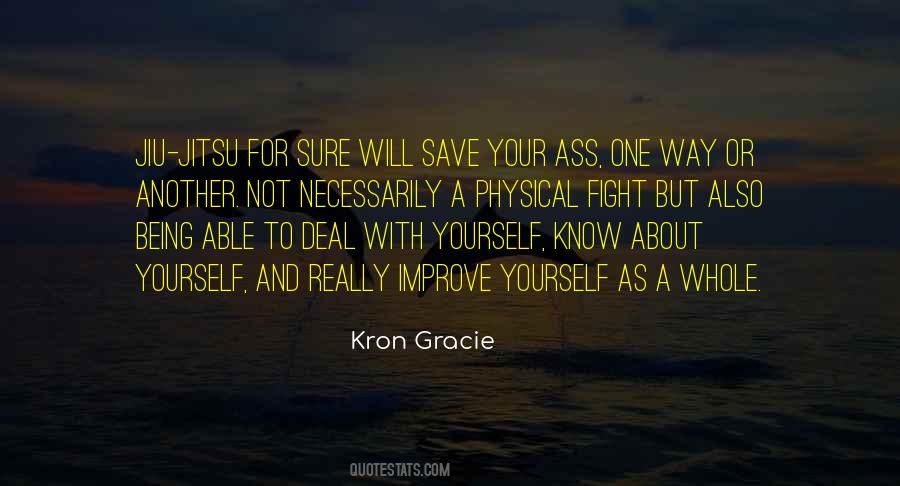 #56. Spend more time in a Jiu Jitsu gi than in street clothes. - Author: Ryron Gracie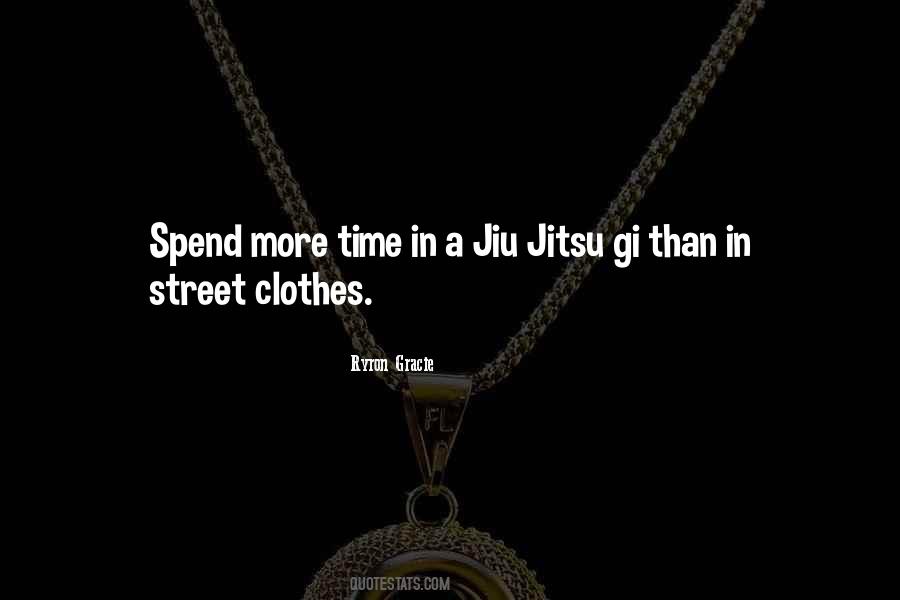 #57. Jiu Jitsu is the vehicle. Not the road. - Author: Chris Matakas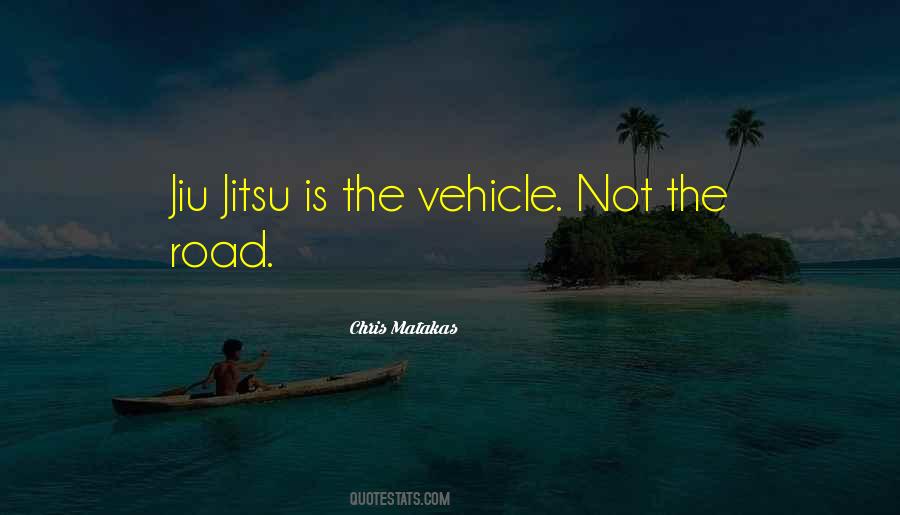 #58. After I received my blue belt, I soon recognized that the belts were simply an external representation of an inner experience, and that they mattered little compared to the person I was becoming. - Author: Chris Matakas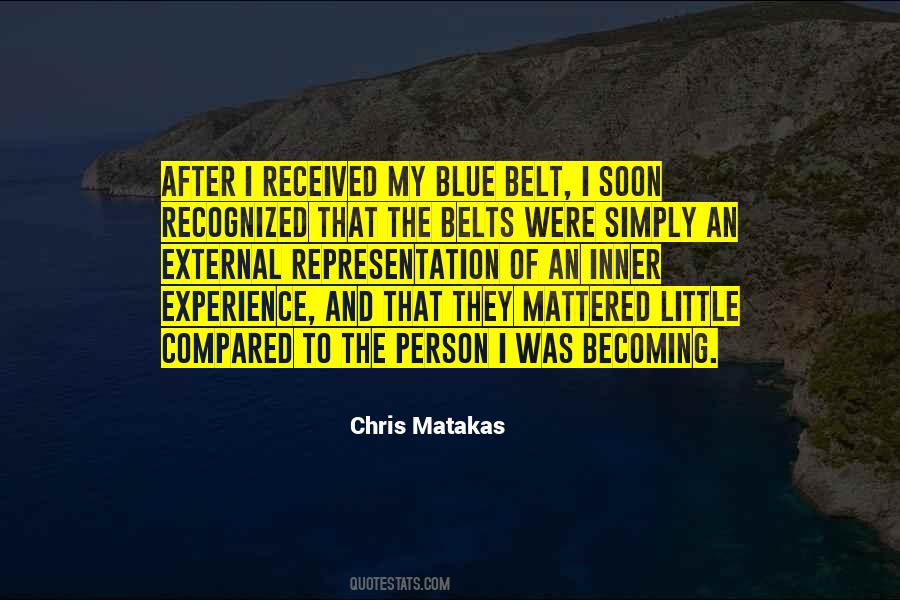 #59. Jiu-jitsu is the gentle art. It's the art where a small man (or woman is going to
prove to you, no matter how strong you are, no matter how mad you get,
that you're going to have to accept defeat. Thats what Brazilian
Jiu-jitsu is. - Author: Saulo Ribeiro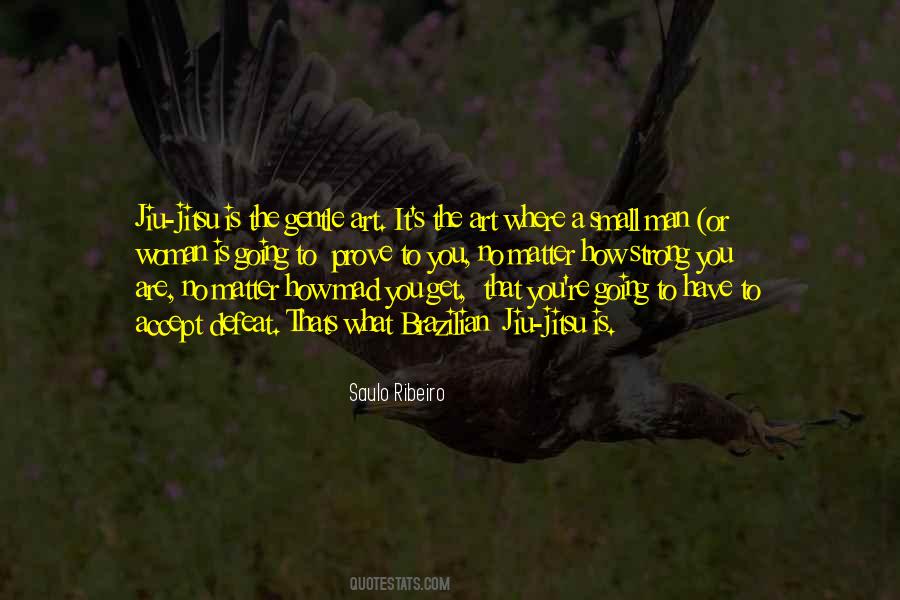 #60. Jiu Jitsu gave me the opportunity to be a real human being. It opened my heart and my mind. I am kinder, more gentle and more loving due to my efforts in this art. - Author: Chris Matakas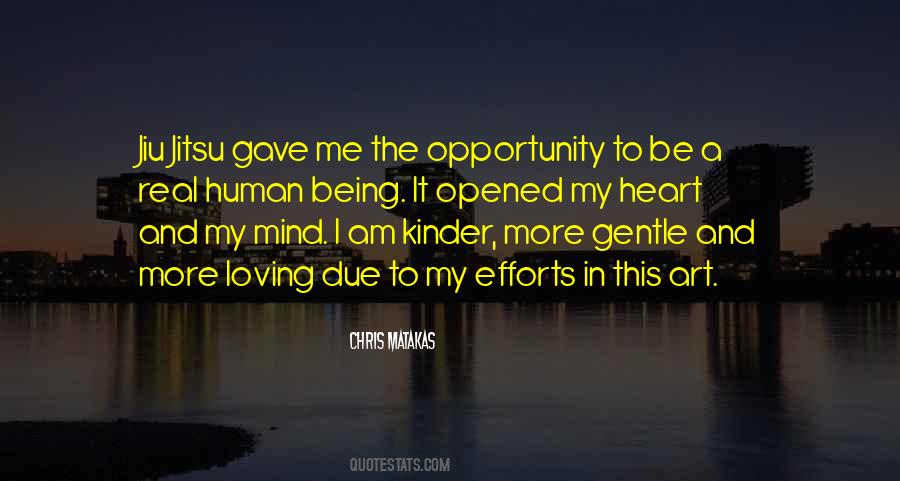 #61. Jiu Jitsu is basic training for life. We are training not to learn how to fight, but how to live. - Author: Chris Matakas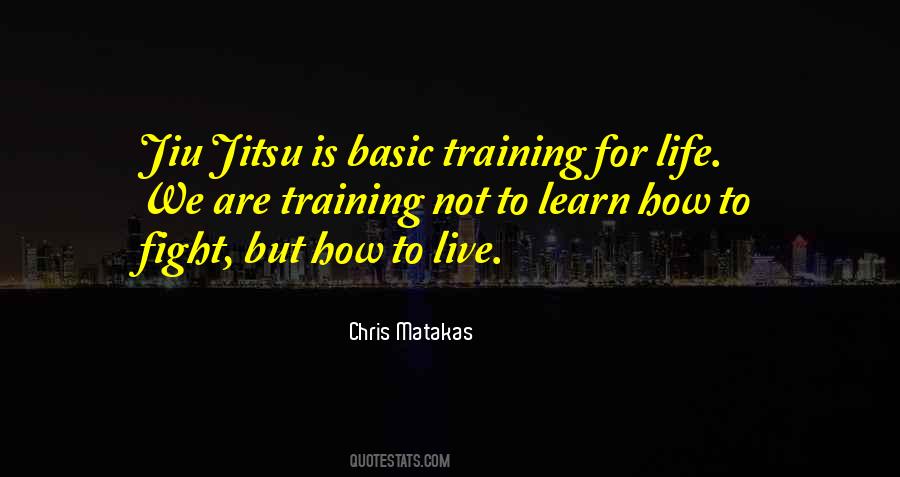 #62. If you are not comortable to deal with an opponent 50 lbs heavier than you, there is something wrong with your Jiu Jitsu ... - Author: Rickson Gracie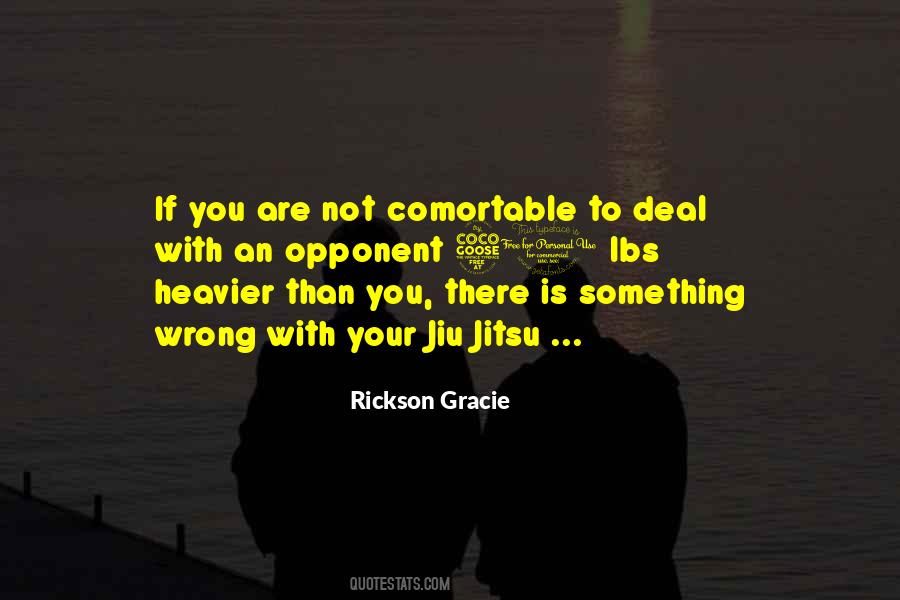 #63. I'm a very focused person. If I'm focusing on something I don't like distractions and I like to just do that one thing. And Jiu-Jitsu and MMA basically became that one thing for me. - Author: Gunnar Nelson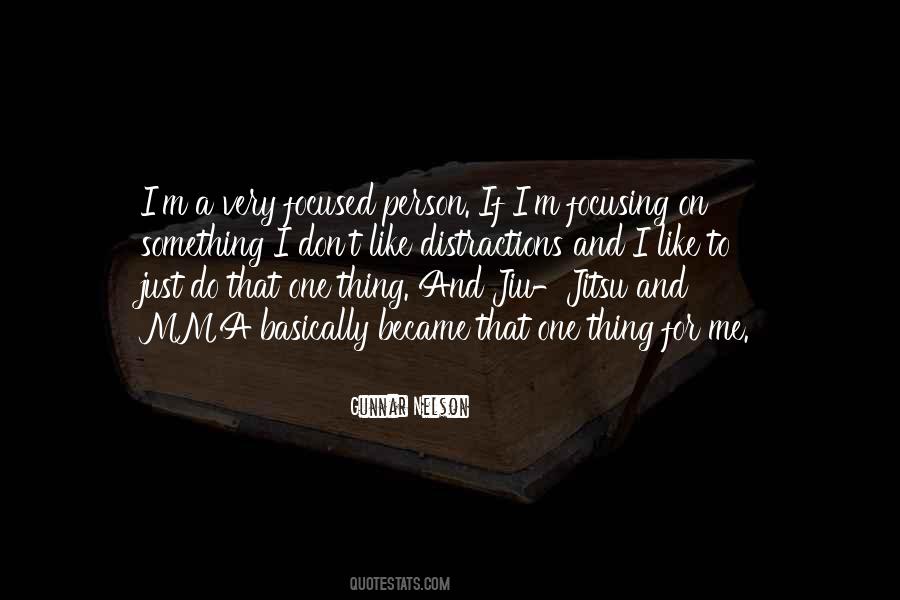 #64. Jiu Jitsu gives me an ideal to strive toward. Technical mastery lies on an infinite continuum and completion of this skill is impossible. Every time I train I have something that I can improve upon, and this will hold true for each and every training session that lies between me and my grave. - Author: Chris Matakas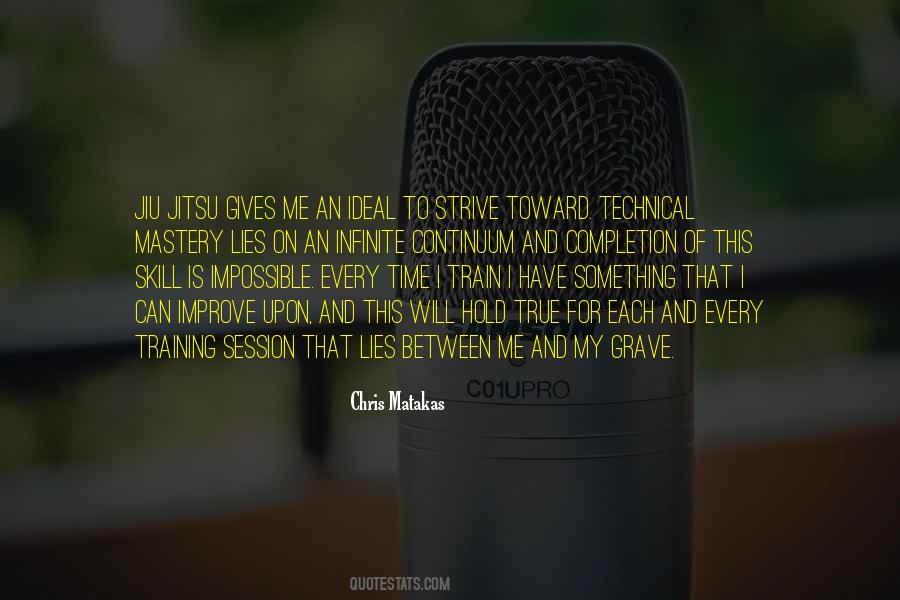 #65. I had no desire of being professionally successful. No desire for material wealth. All I wanted out of life was Jiu Jitsu. - Author: Chris Matakas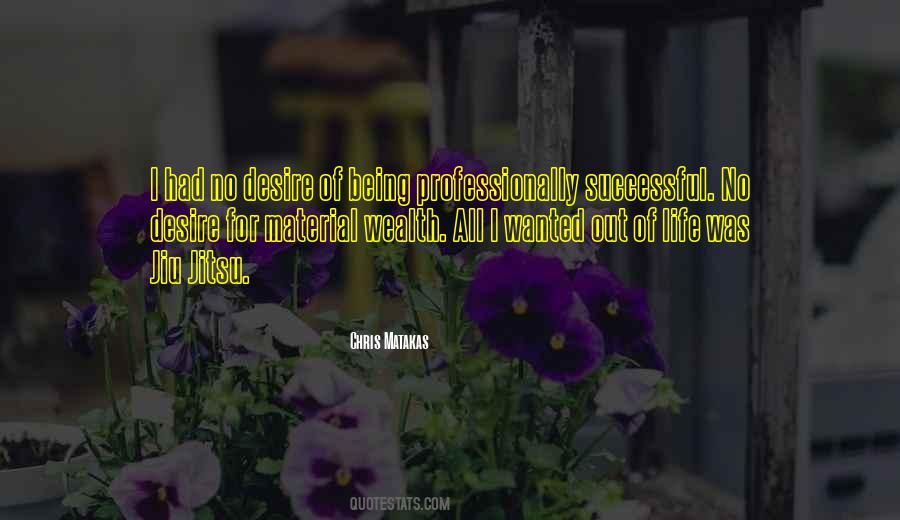 #66. We must remember that science is a way of using empirical evidence to better understand our world. We are all scientists, just many of us are not very good ones. However, we are all capable of exercising our intellects in a purposeful, linear pursuit of knowledge. - Author: Chris Matakas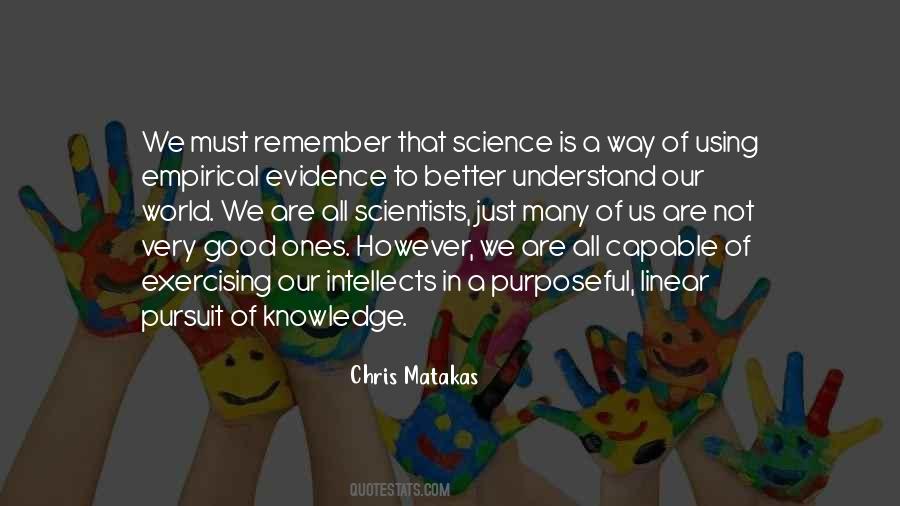 #67. Anyone who is serious about jiu-jitsu should know that the ability to defeat an opponent is nothing more than a metaphor for the ultimate combat, for the most significant victories are the ones we accomplish within ourselves - Author: Rorion Gracie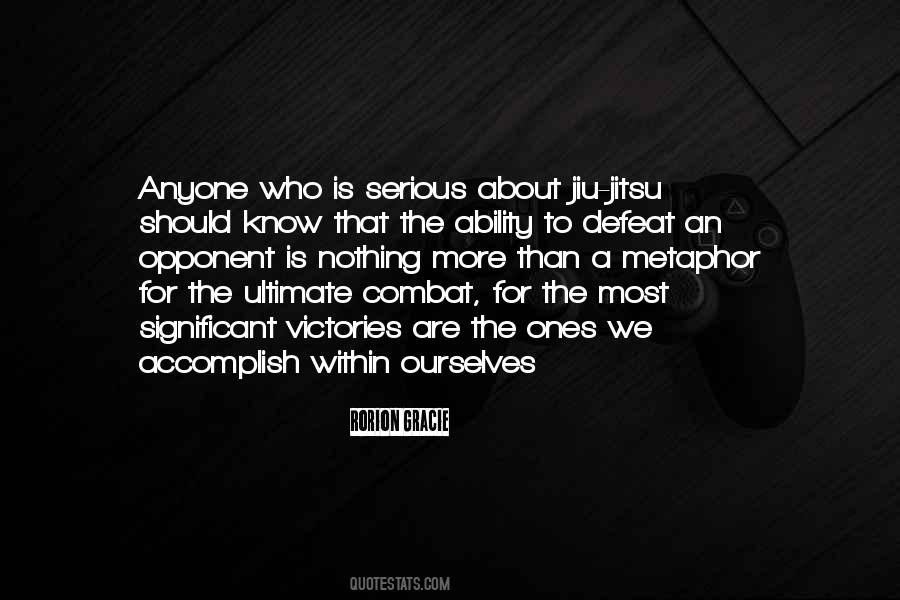 #68. The Jiu Jitsu I created was designed to give the weak ones a chance to face the heavy and strong. - Author: Helio Gracie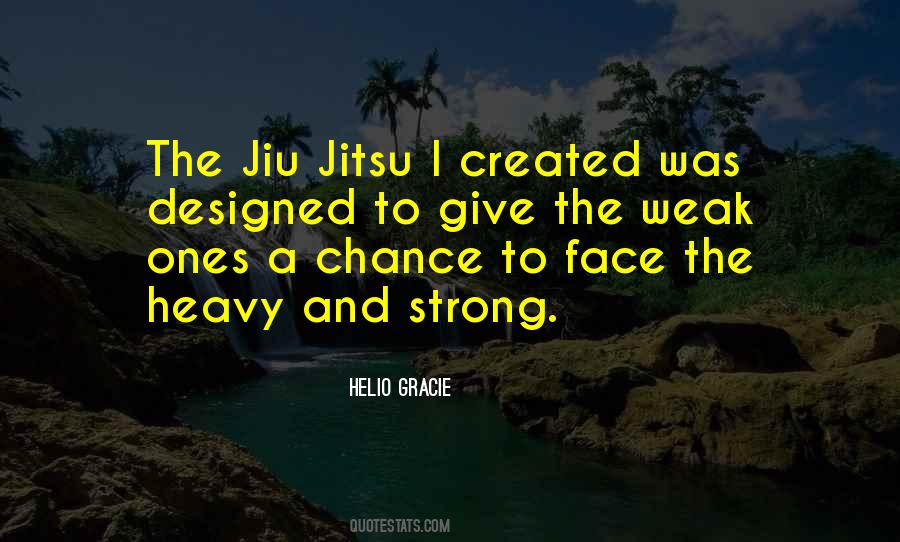 #69. An arm bar in a vacuum is worthless. It is the realization of the truths which constitute that arm bar that is the real treasure we seek. - Author: Chris Matakas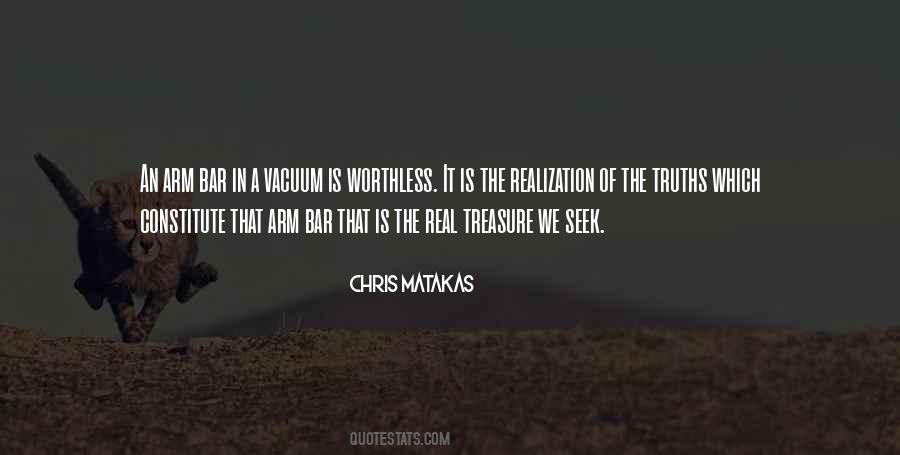 #70. I would more appropriately define mastery as the technical ability possible within the constraints of your particular existence. It must be noted that this is a subjective definition, and that this degree of mastery would be individual to each of us. - Author: Chris Matakas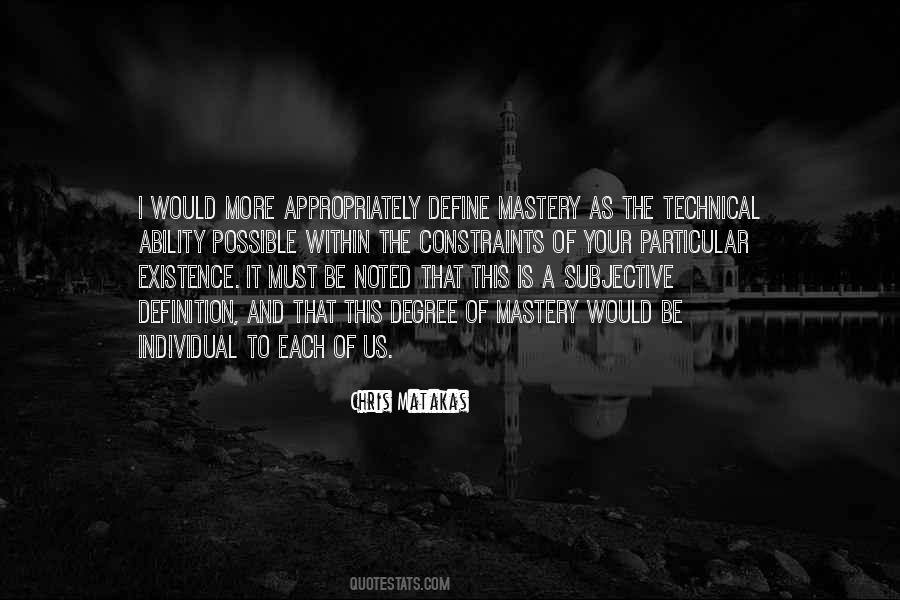 #71. I studied Jeet Kune Do and Brazilian Jiu-Jitsu. On element of Jeet Kune Do is that I had several of years of practice with the kali stick - a stick with a size and length similar to a baseball bat. - Author: Jose Pablo Cantillo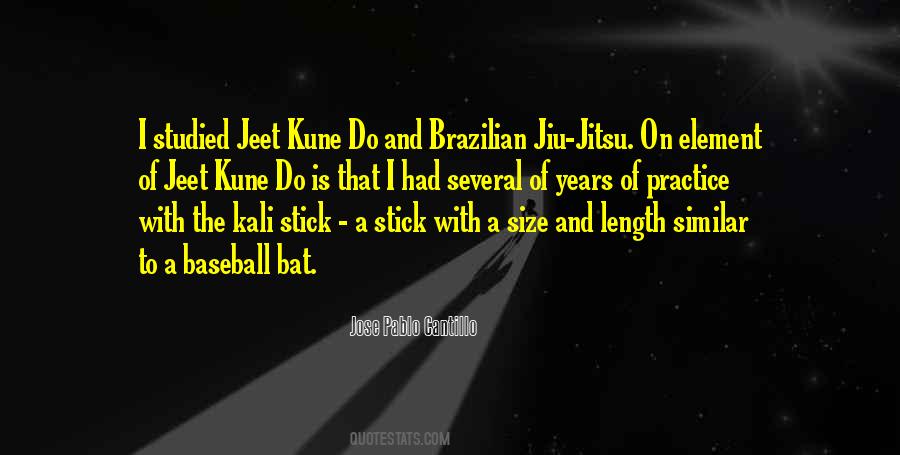 #72. We are never truly ourselves as we are mid-roll. - Author: Chris Matakas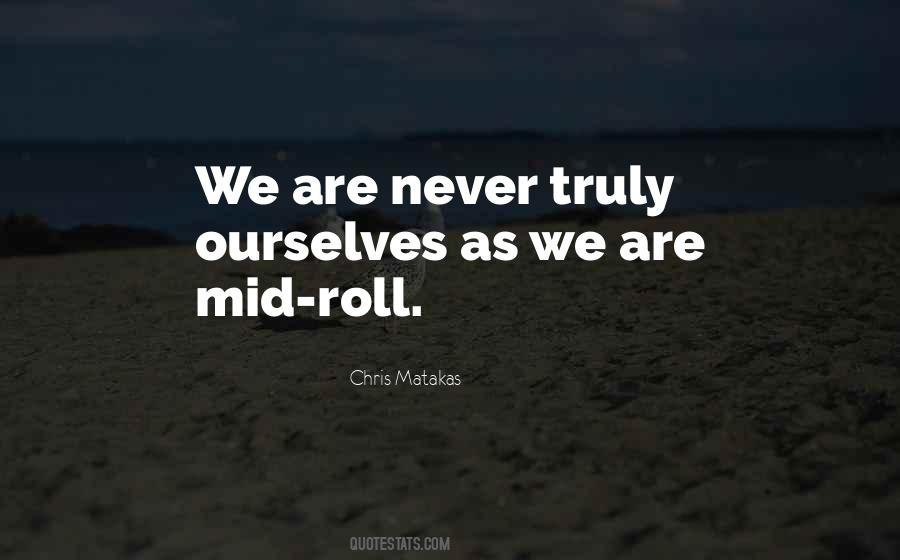 #73. Jiu Jitsu is a vehicle for self-discovery and growth. It reminds me of my ego, of my insecurities, and of my shortcomings. - Author: Chris Matakas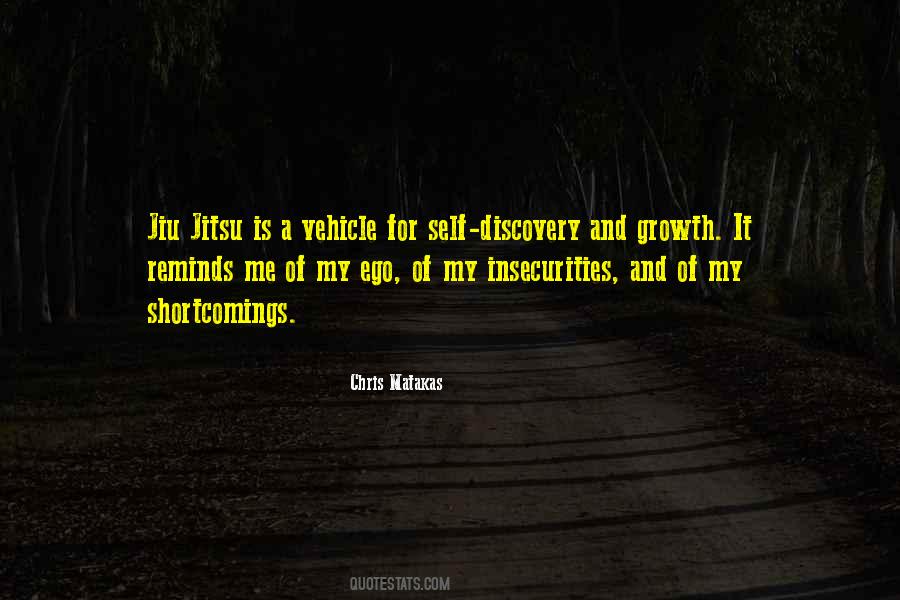 #74. Any advanced student will tell you the best way to recover guard is simply not to get your guard passed in the first place. - Author: Chris Matakas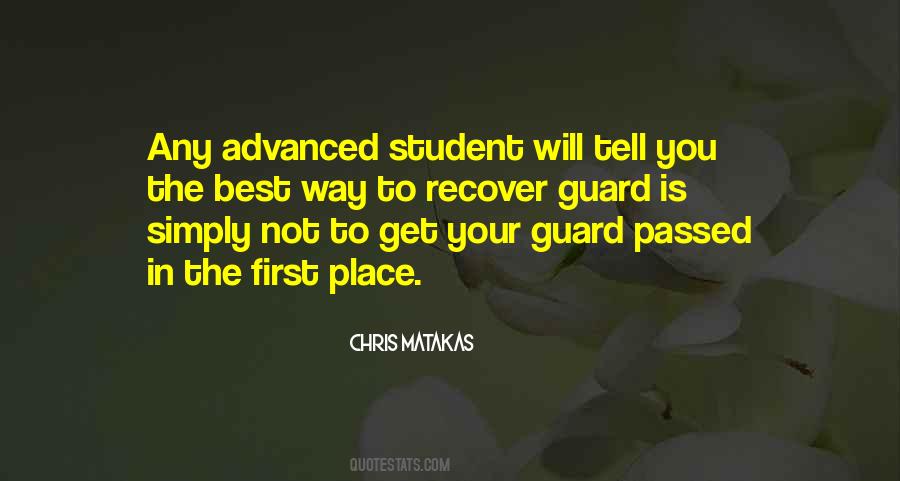 #75. I train jiu jitsu because I love jiu jitsu. But I also train knowing that my practice in this art will allow me better practice in any art. If you have learned one thing, you have learned all things, because you have learned how to learn. I can think of no more worthwhile pursuit of education. - Author: Chris Matakas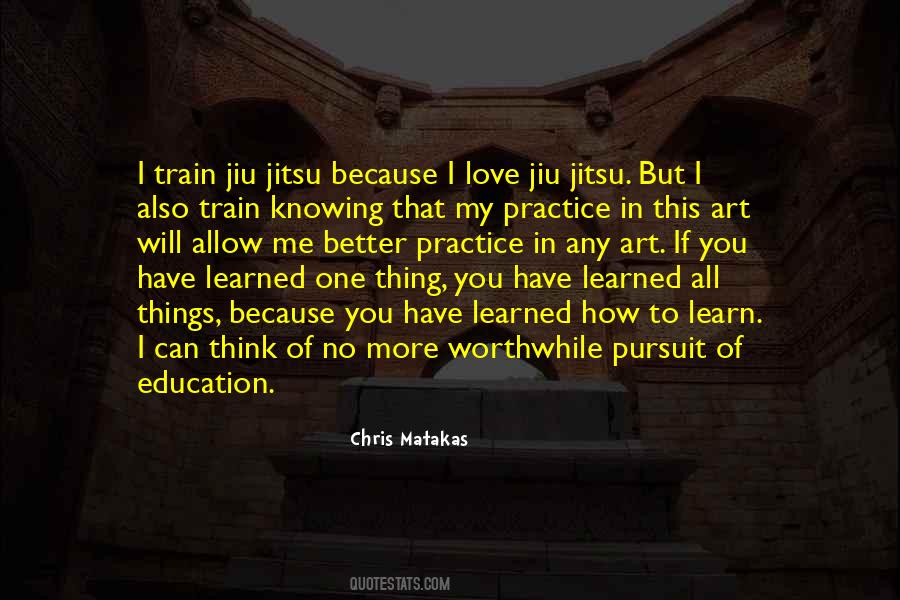 #76. Jiu Jitsu is cognitively-complex, so much so that there is a great barrier to entry in terms of intellect. I have never met a great Jiu Jitsu player who was not highly intelligent, and I don't think I ever will. - Author: Chris Matakas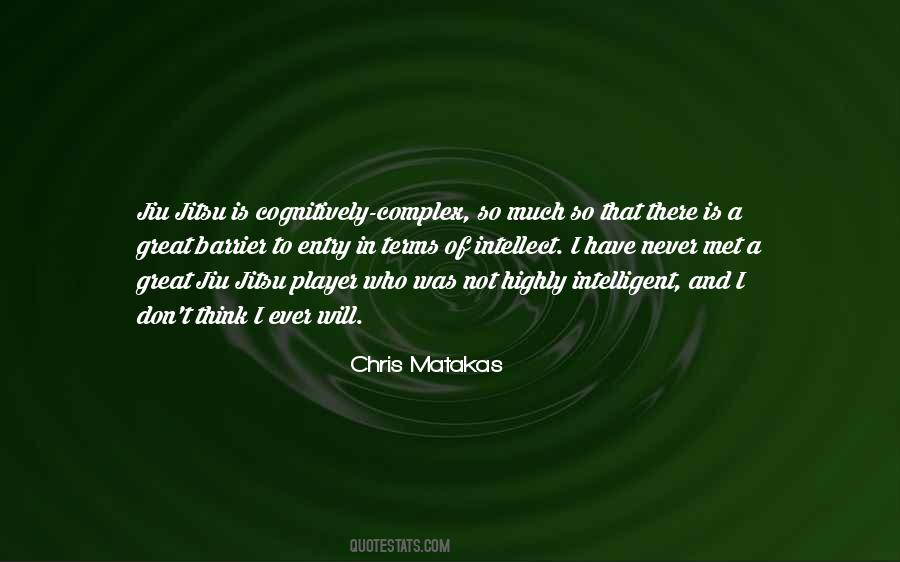 #77. Jiu Jitsu at the end of the day, is the art of expressing yourself honestly. Everytime you put on a Gi, you can't lie. - Author: Saulo Ribeiro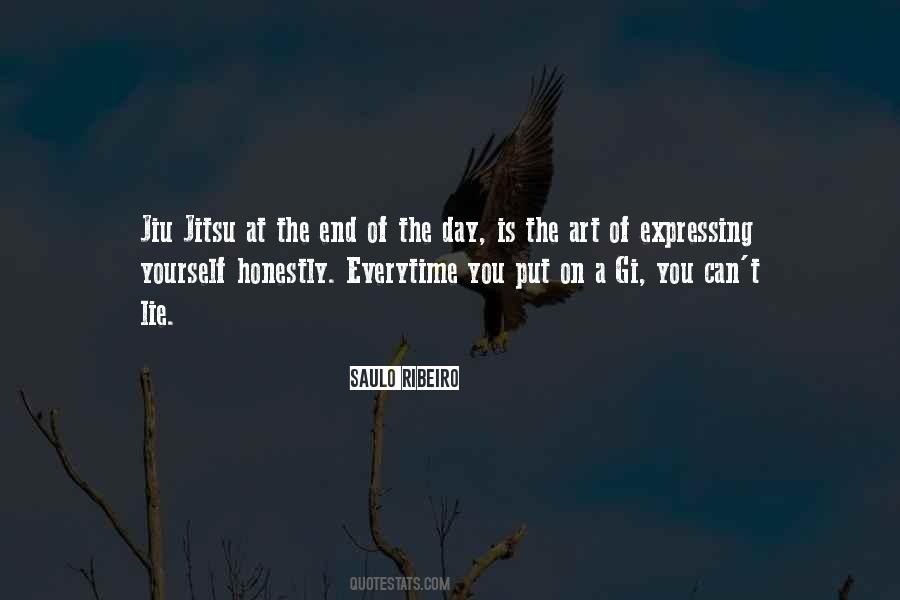 #78. The big, strong, tough guy goes to class, and he keeps getting tapped by the skinny, technical guy. It begins to change him. It makes him humble. That's what Jiu Jitsu does to you. It makes you humble. - Author: Relson Gracie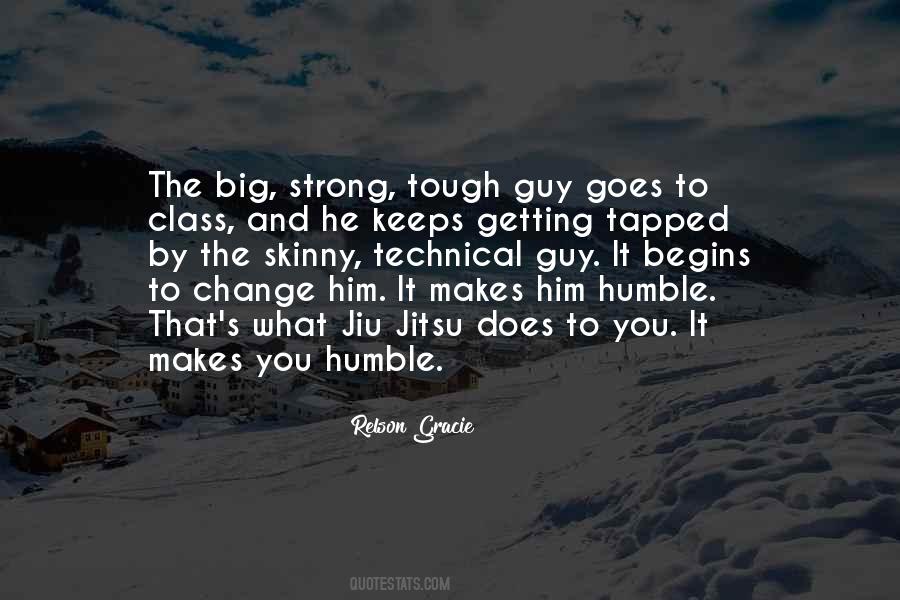 #79. Do not seek victory, for victory in itself will not serve you. Seek to understand what made the victory possible. - Author: Chris Matakas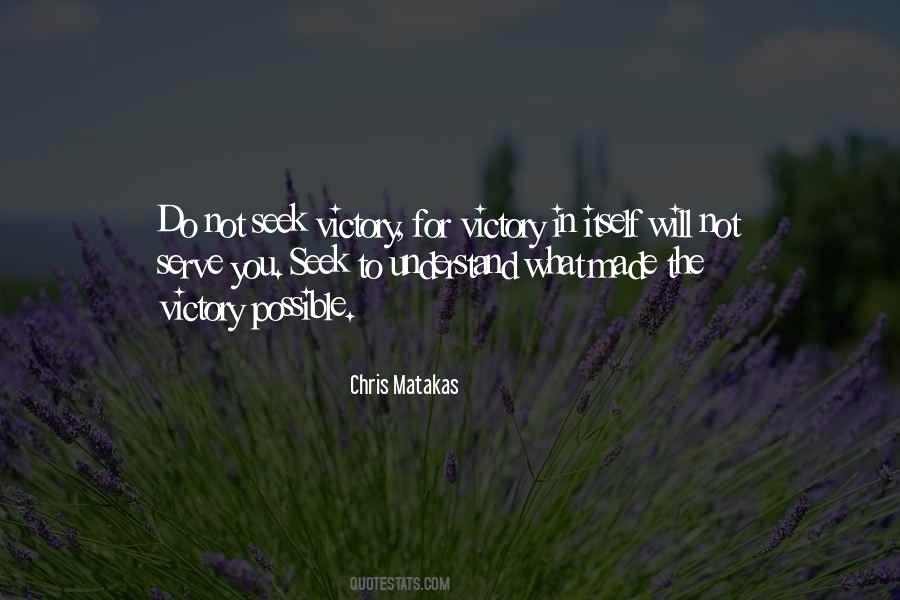 #80. Autopilot is great, and removal of thought is one of the highest ideals of training. But removal of thought in the moment must be preceded by purposeful thought beforehand. - Author: Chris Matakas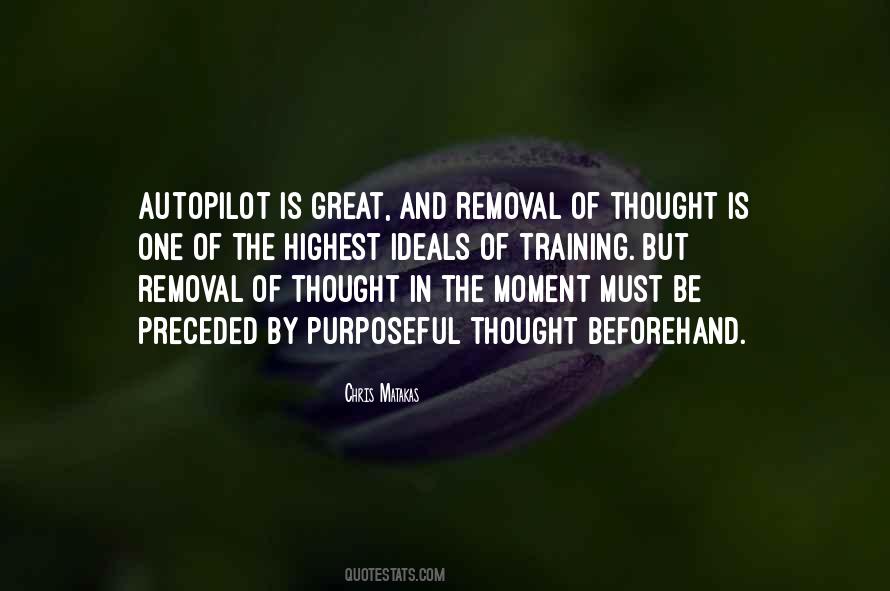 #81. The pine fought the storm and broke. The willow yielded to the wind and snow and did not break. Practice Jiu-Jitsu in just this way. - Author: Kano Jigoro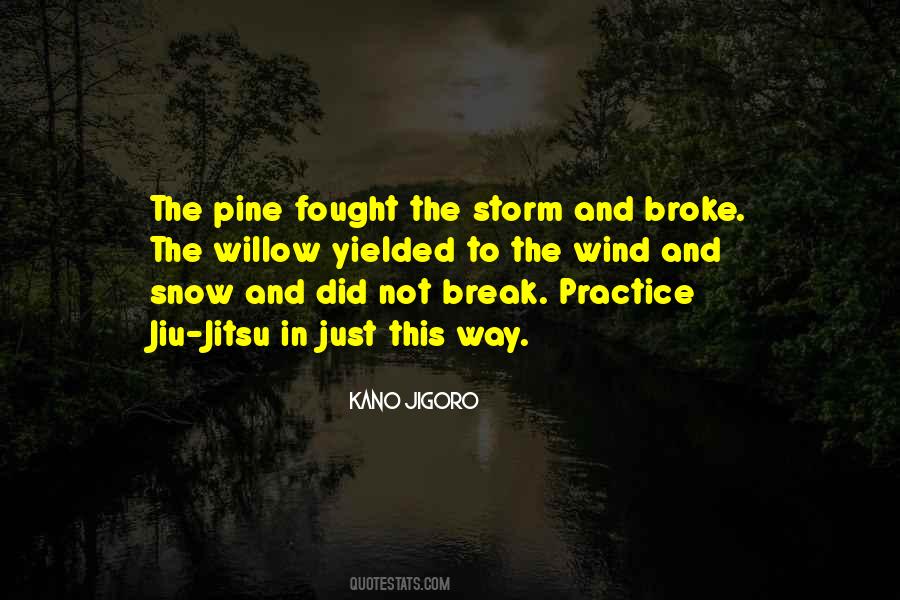 #82. By becoming a black belt, you will become whatever it is you wanted to be in the first place, and Jiu Jitsu will have served its aim. - Author: Chris Matakas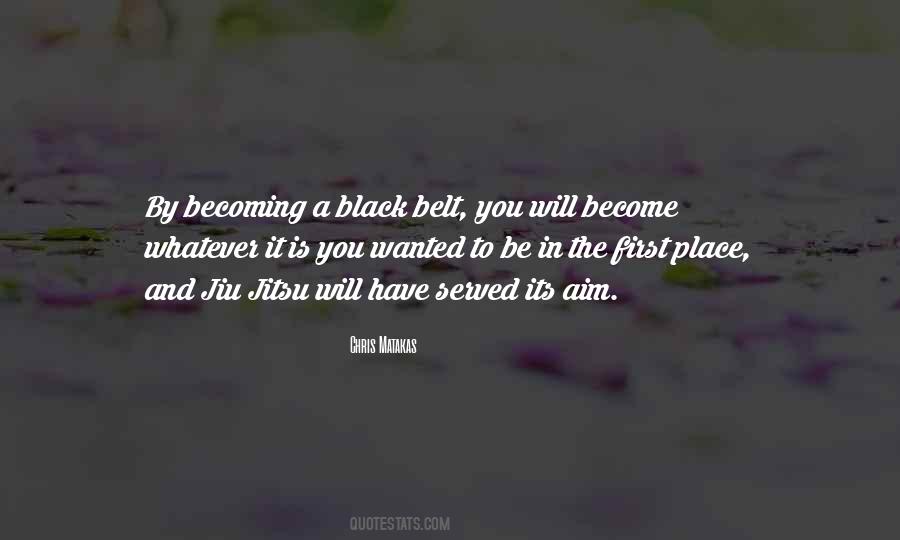 #83. This is a trust that you just cannot find in modern society for there are no conditions to forge it. - Author: Chris Matakas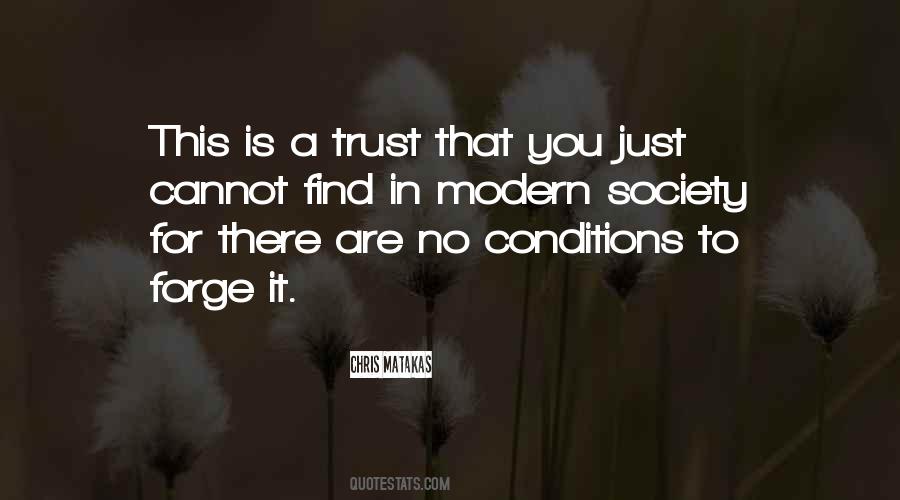 #84. Jiu Jitsu is a baptism by combat, and serves a purpose in the inner life of the individual that has always existed, but our modern culture fails to acknowledge. - Author: Chris Matakas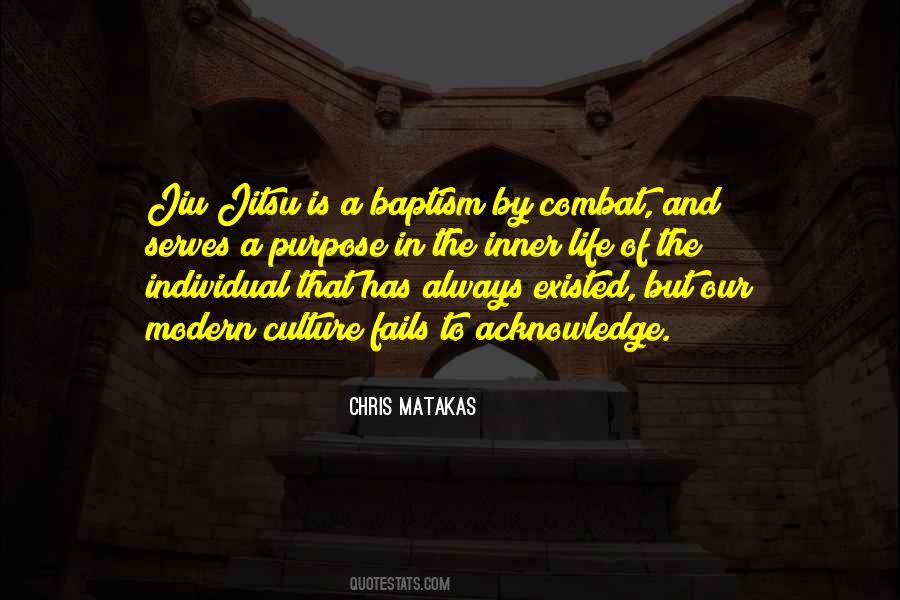 #85. We can lose the roll, we can lose position, but we can constantly strive to win the moment. - Author: Chris Matakas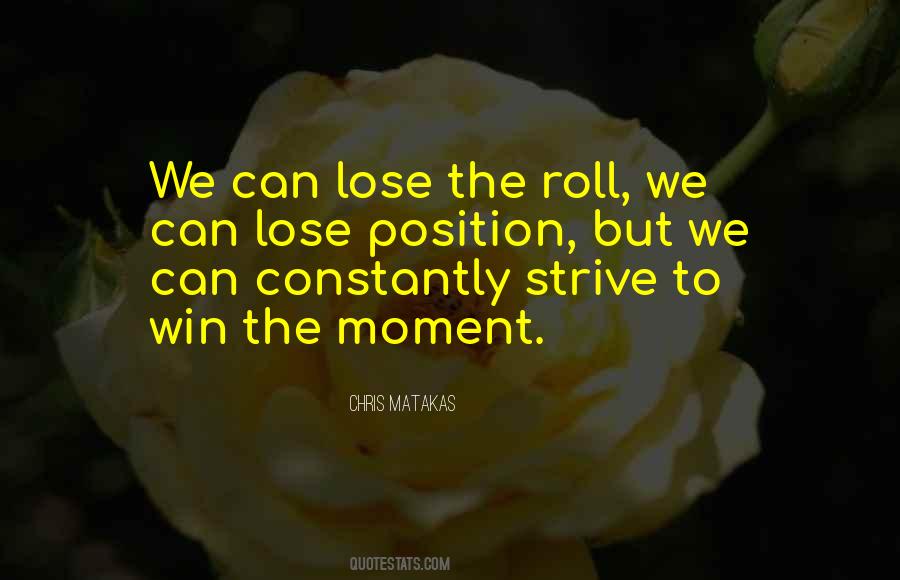 #86. To achieve anything we must grind, but to enjoy anything we must flow. - Author: Chris Matakas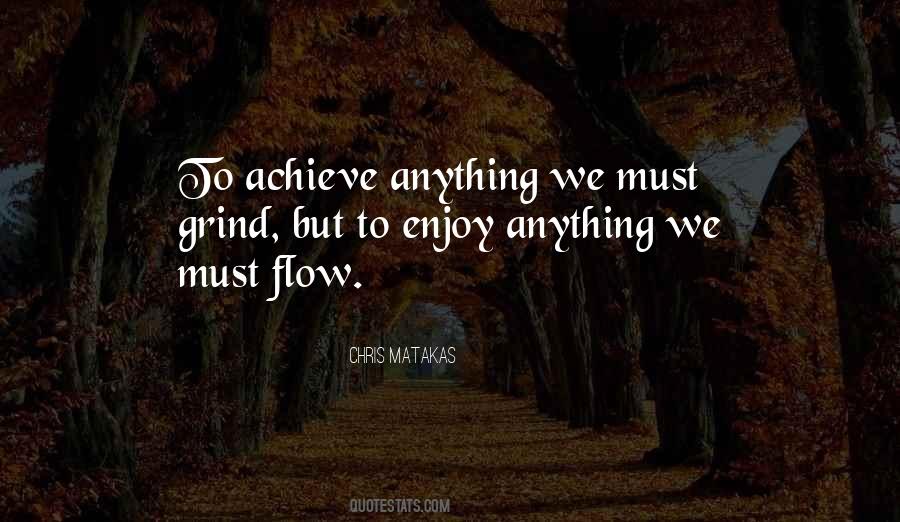 #87. I don't even know how to swim! - Author: Lea Thompson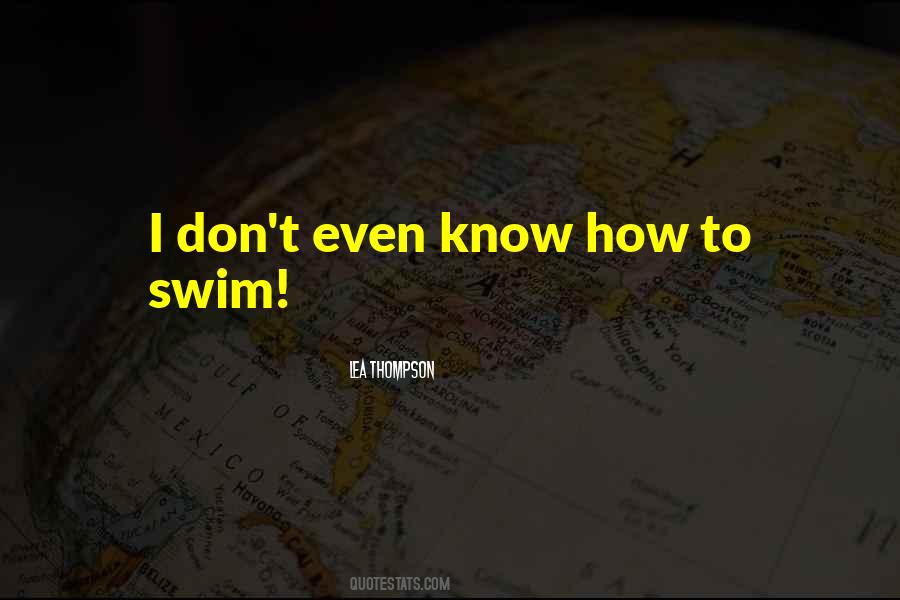 #88. The highest aim was never to master Jiu Jitsu; it was to master myself. - Author: Chris Matakas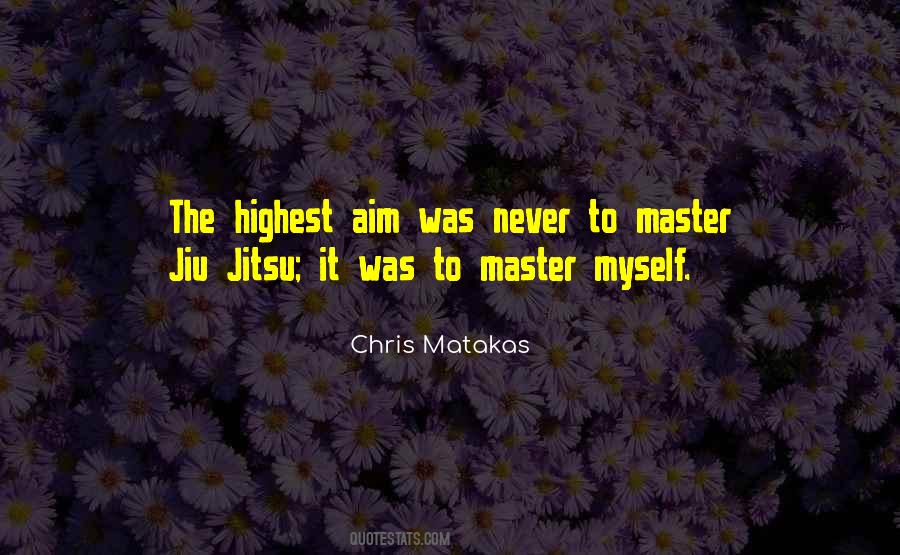 #89. We have an obligation to ourselves to foster the environment that allows for our self-actualization. Rather than my gifts serving me, I must serve them. I want to be a steward of the best aspects of my character and assist them in their fulfillment through proper discipline and habits. - Author: Chris Matakas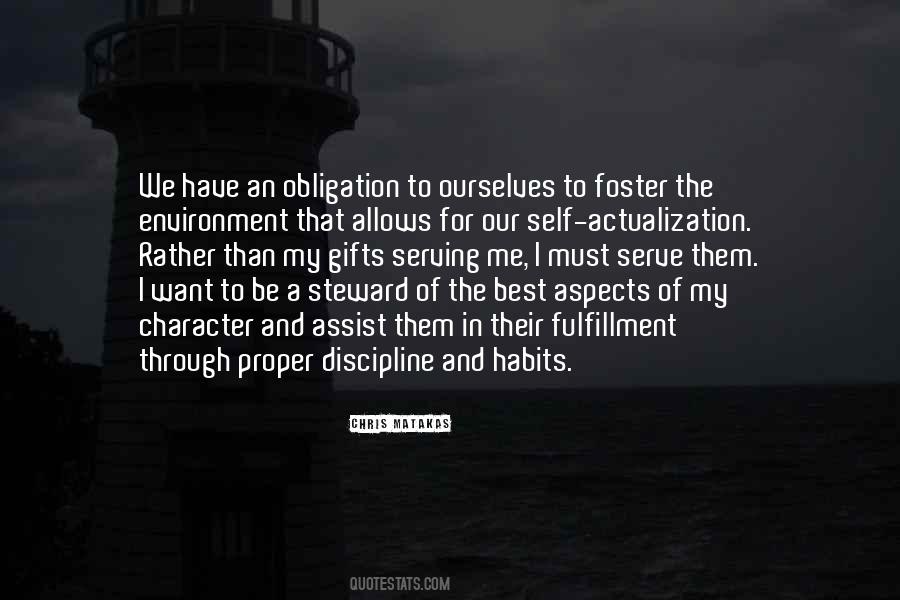 #90. I have never been as alive or awake as I have been through Jiu Jitsu. - Author: Chris Matakas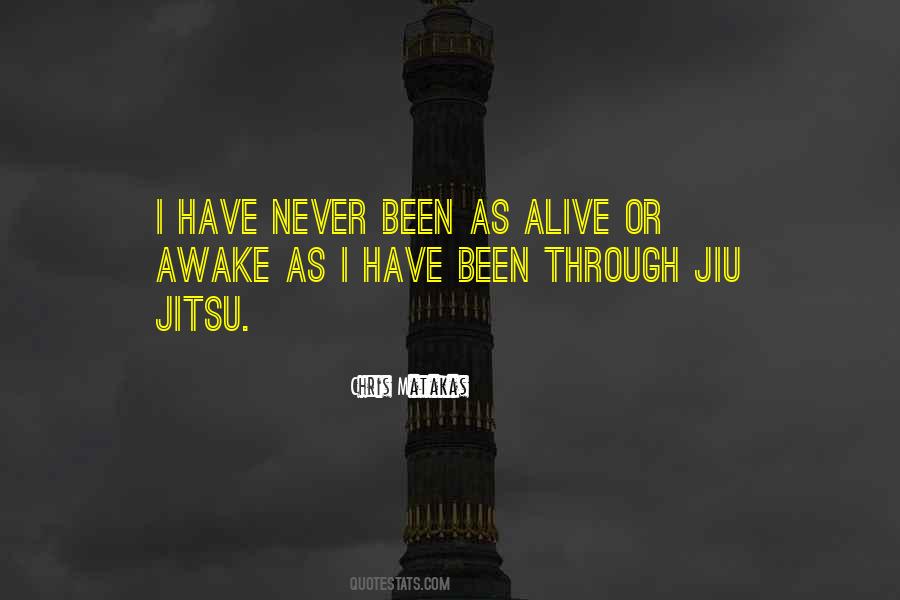 #91. We must not learn to try harder. The key is to learn how not to try in the first place. - Author: Chris Matakas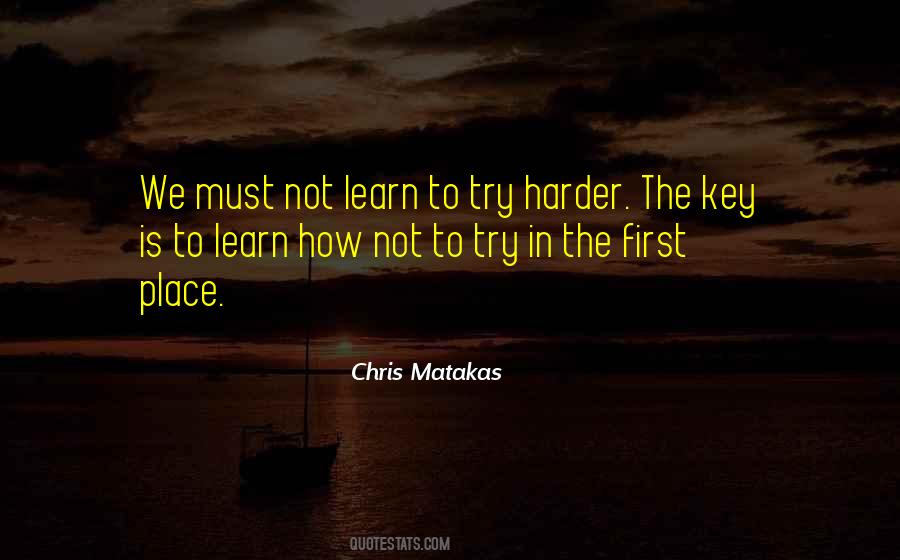 #92. When you realize you are no longer made of glass, you lose the desire to demonstrate that fragility in others. - Author: Chris Matakas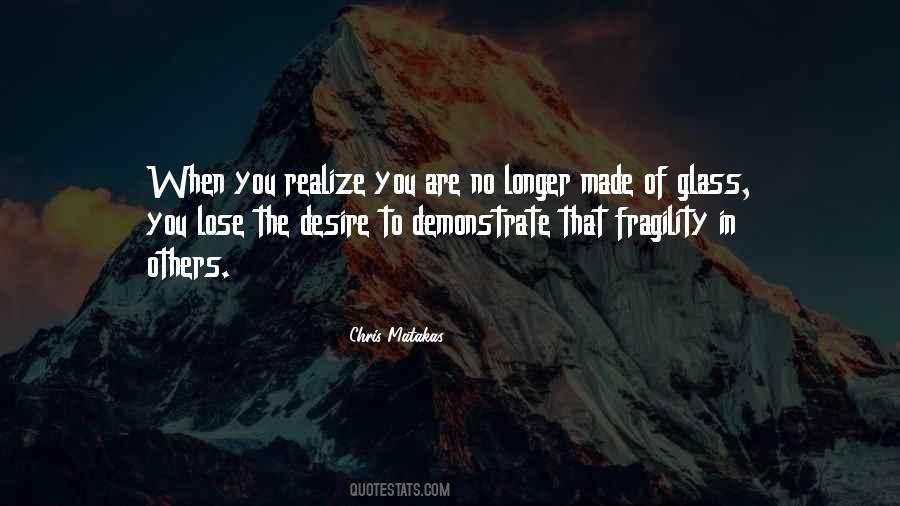 #93. Jiu-jitsu is personal efficiency to protect the weaker, which anyone can do. It is the force of leverage against brute force. - Author: Helio Gracie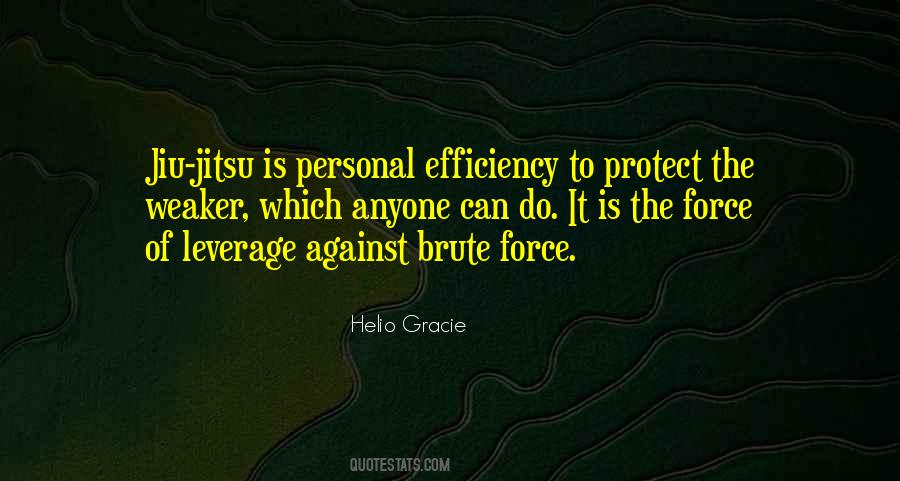 #94. We seek to understand Jiu Jitsu as a vehicle to understand ourselves. We have different explicit goals, from getting in shape, learning self-defense or competition, but tacitly we all seek mastery of ourselves. - Author: Chris Matakas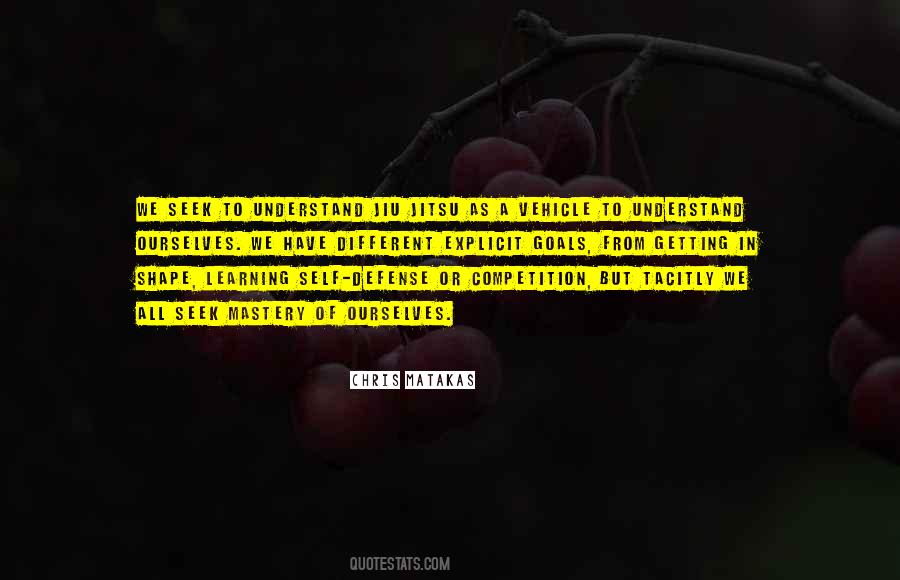 #95. A real jiu-jitsu fighter does not go around beating people down. Our defense is made to neutralize aggression. - Author: Helio Gracie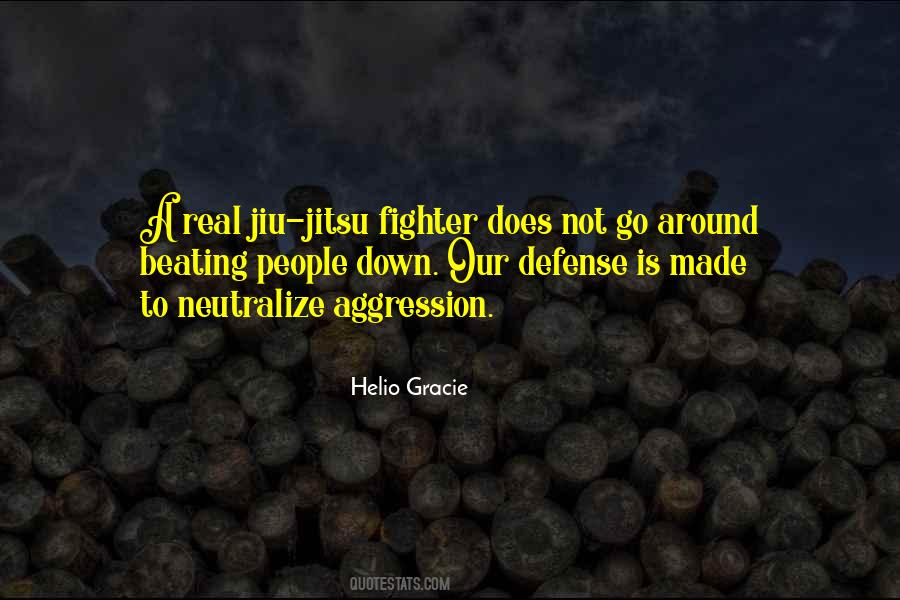 #96. The idea of jiu-jitsu is to give the little guy a chance to beat the big guy. - Author: Royce Gracie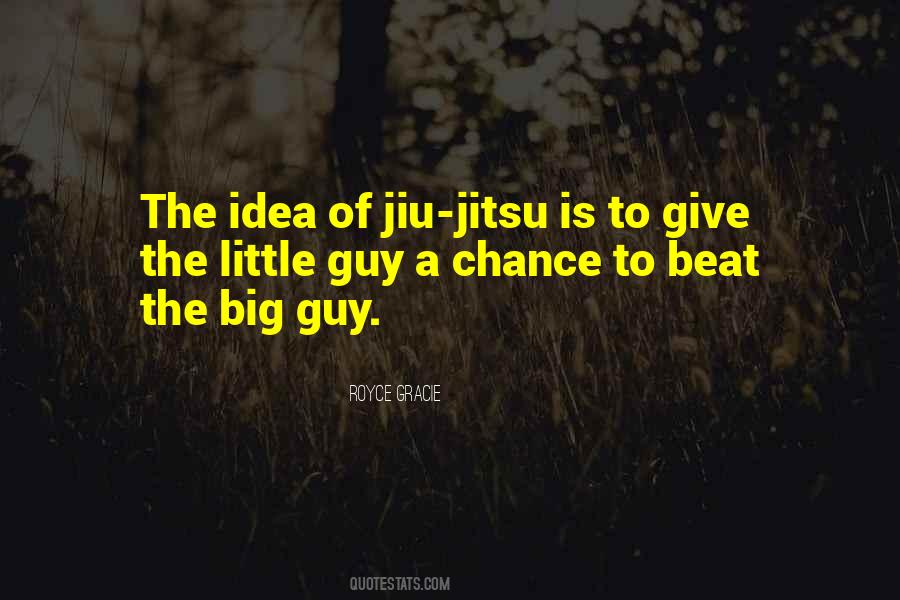 #97. Jiu Jitsu has given me an education in education, which I now see is the most valuable education there is. - Author: Chris Matakas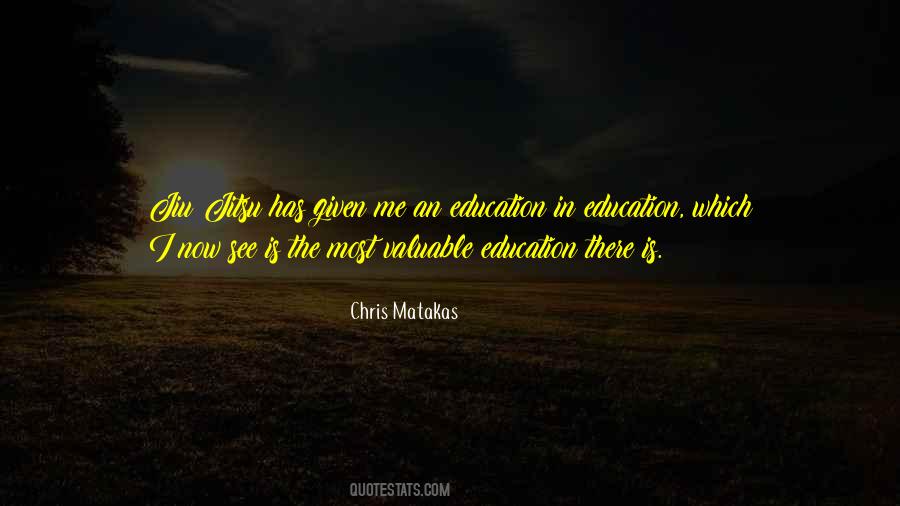 #98. The only way to consistently perform at your potential is to ask: Am I better than I was yesterday? - Author: Chris Matakas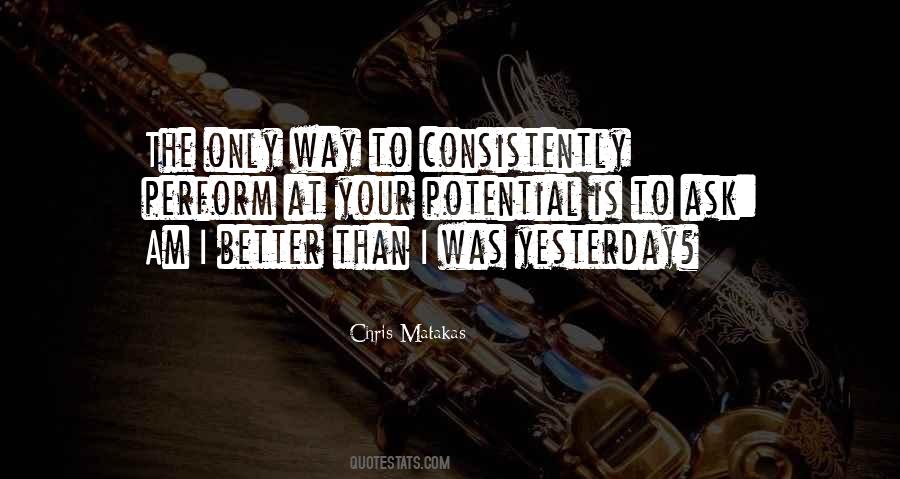 #99. Jiu-Jitsu has been one of the most valuable tools I've ever had in my life. - Author: Joe Rogan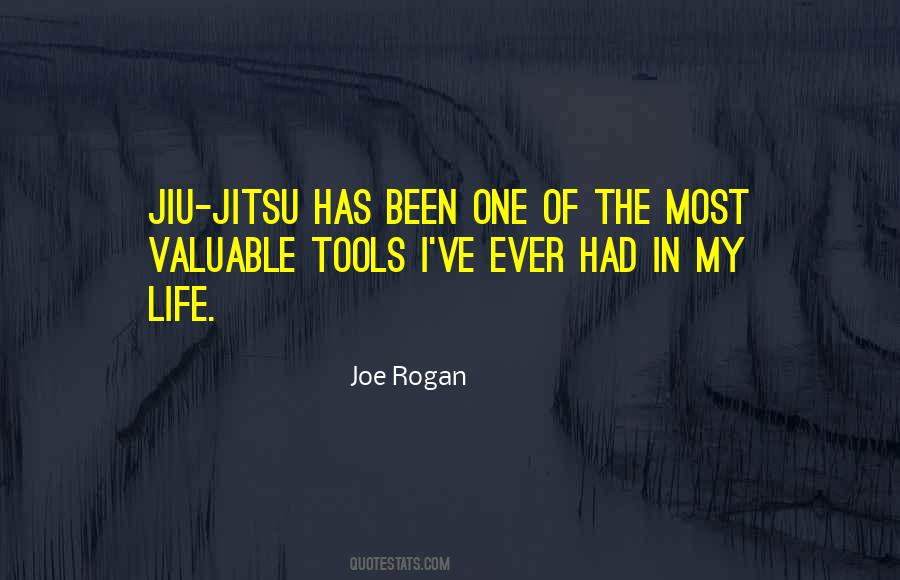 #100. Learn Gracie Jiu-Jitsu so that when a giant walks by, you don't think to yourself 'oh no,' you think to yourself 'how interesting! - Author: Rener Gracie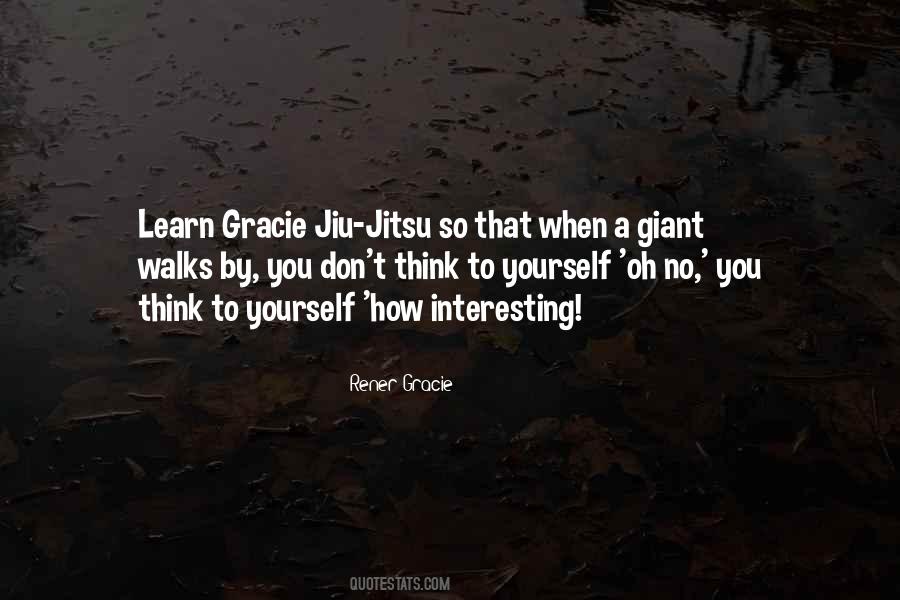 Famous Authors
Popular Topics