Jesus Sacrifice Famous Quotes & Sayings
List of top 93 famous quotes and sayings about jesus sacrifice to read and share with friends on your Facebook, Twitter, blogs.
Top 93 Quotes About Jesus Sacrifice
#1. By faith we proclaim that we are "justified". By His sinless sacrifice Jesus declares and makes us "righteous" by giving us His very own righteousness! - Author: John Paul Warren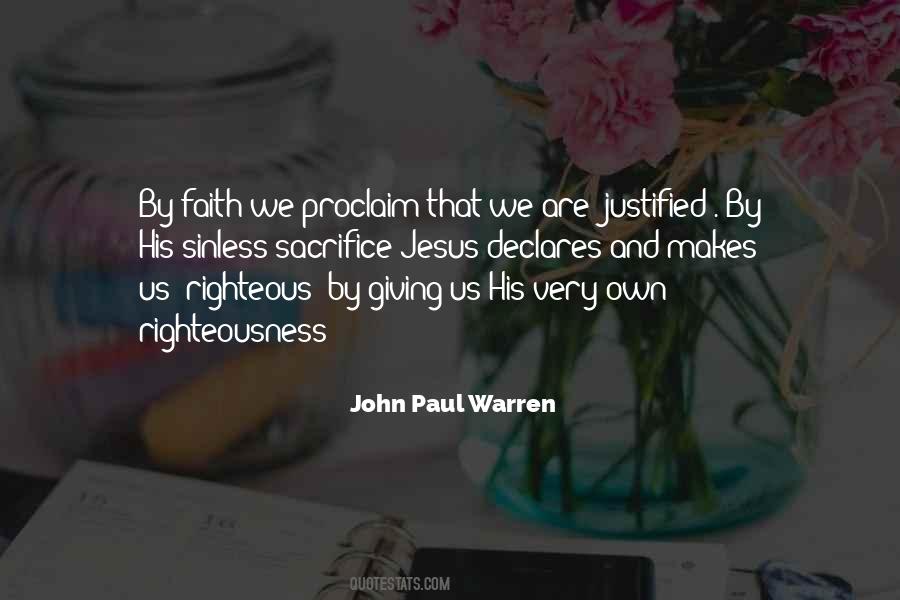 #2. God proved His love to us by expressing it in the sacrifice of Jesus Christ. - Author: Sunday Adelaja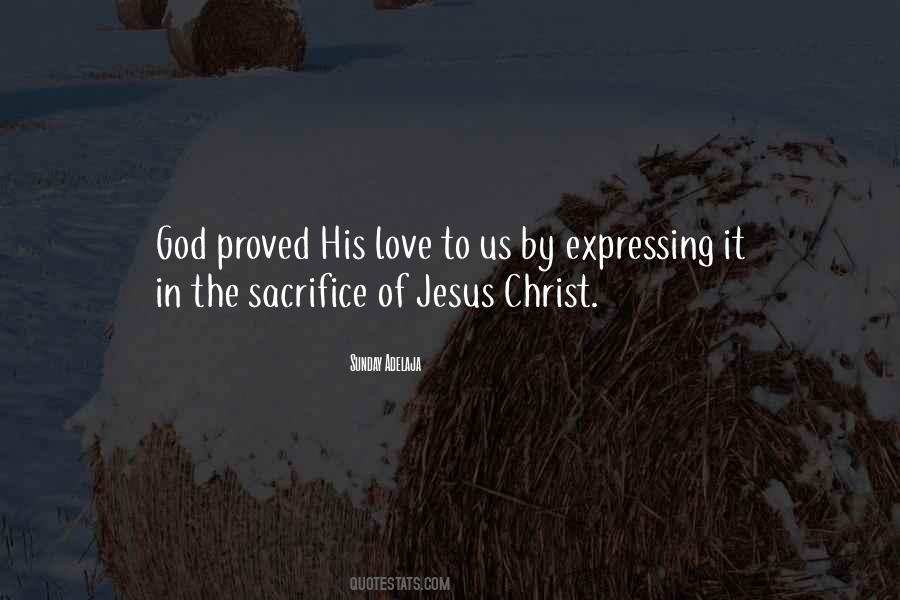 #3. Every unfulfilled aspiration of humanity in the past; all partial representation of perfect character; all sacrifices, nay, even those of idolatry, point to the fulfillment of what want, the answer to every longing
the type of perfect humanity, the Lord Jesus Christ. - Author: Frederick William Robertson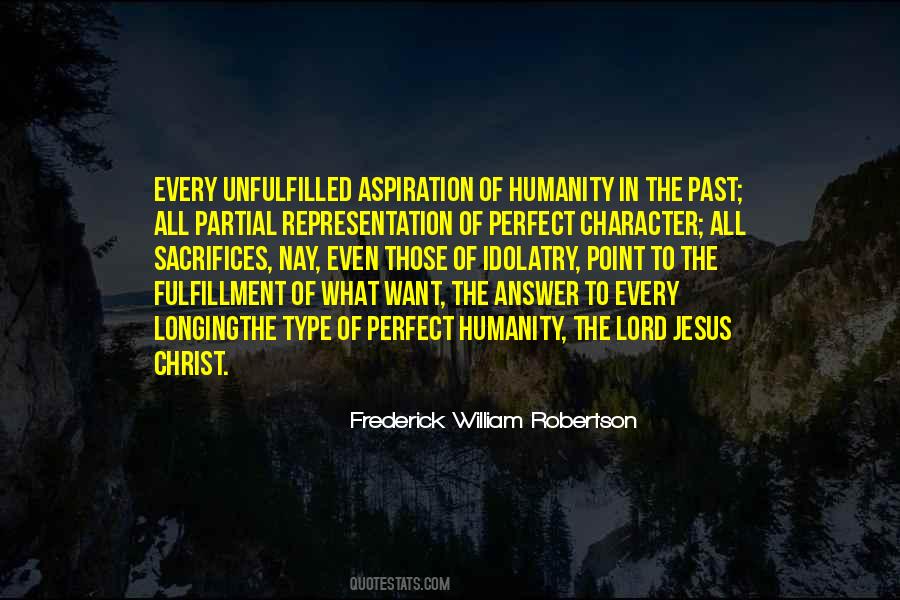 #4. Jesus Christ did not ask much from us, He did not demand that people climb Mount Everest or make great sacrifices. He just asked that we love one another. - Author: Chico Xavier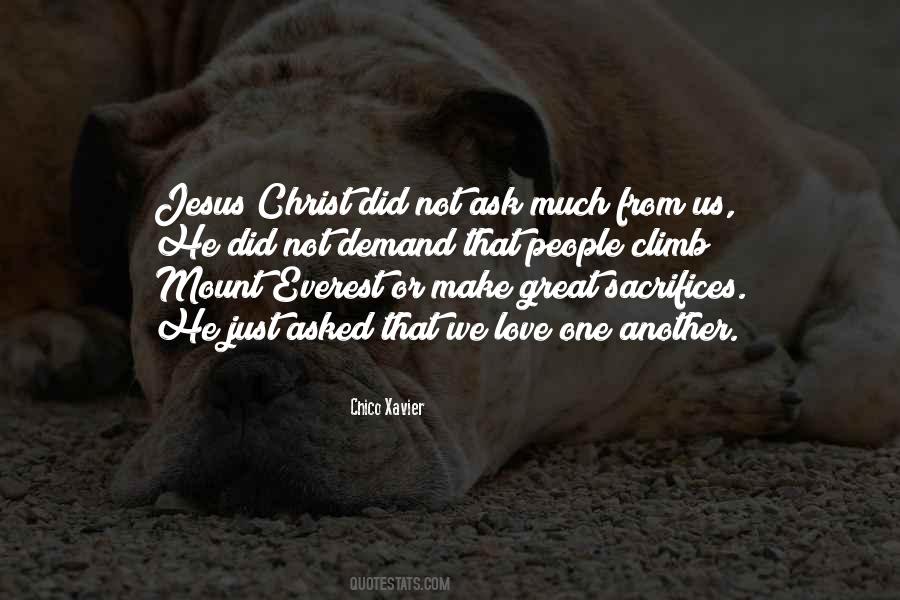 #5. Anything so precious as the gospel of Jesus Christ is worthy of all the effort and sacrifice of time and means employed to teach it. - Author: Gordon B. Hinckley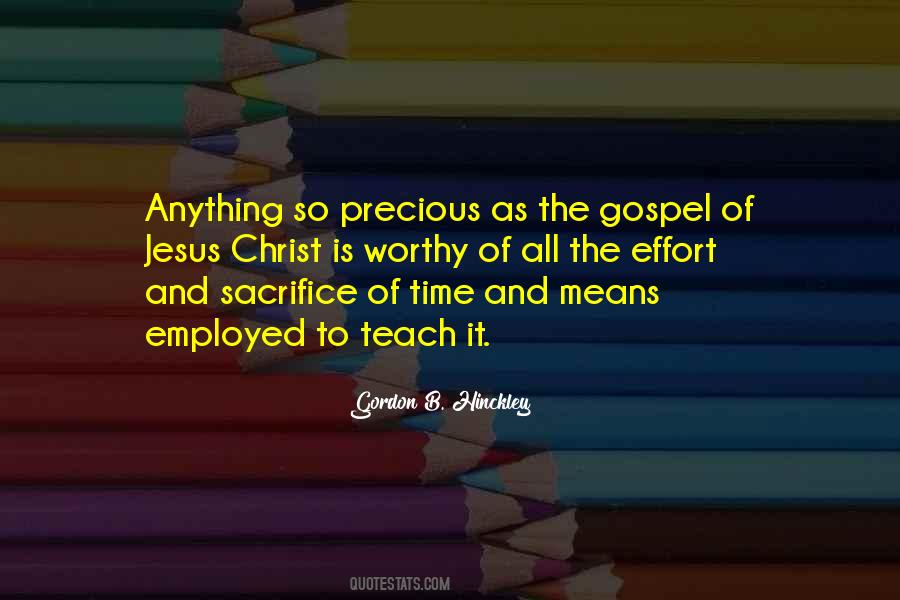 #6. Therefore, let us offer through Jesus a continual sacrifice of praise to God, proclaiming our allegiance to his name. 16 And don't forget to do good and to share with those in need. These are the sacrifices that please God. - Author: Anonymous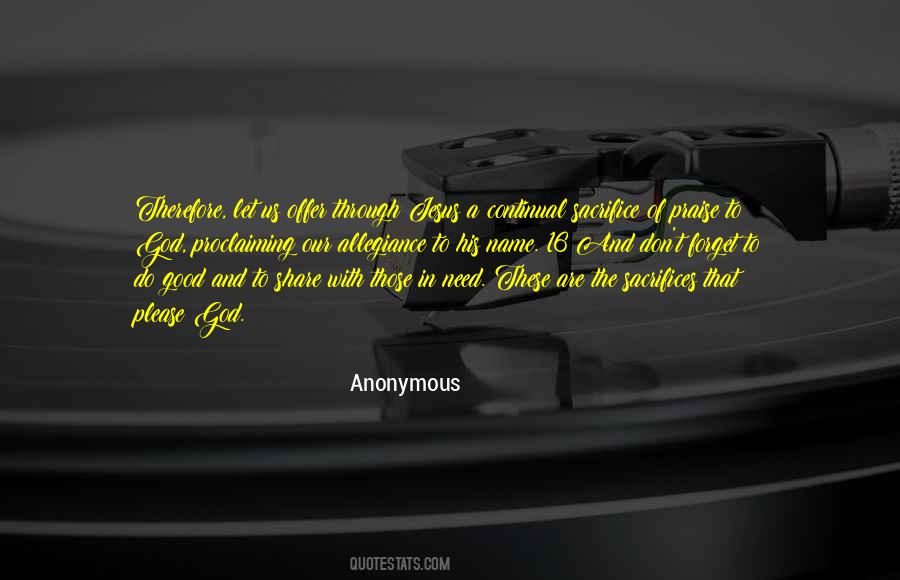 #7. Easter is God throwing everything at death so that I can give everything to life. - Author: Craig D. Lounsbrough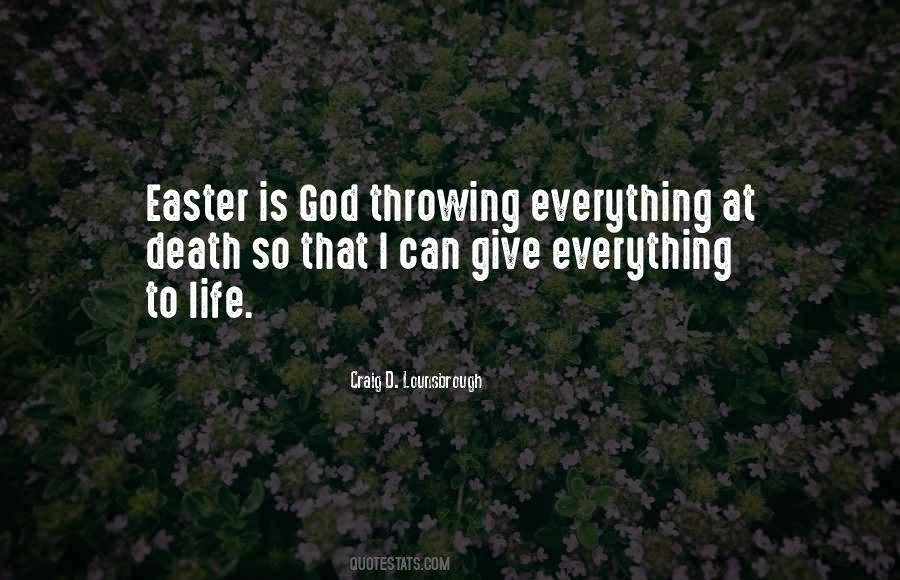 #8. God's response to the belittlement of his name, from the beginning of time, has been the sacrifice of Jesus Christ on a Roman cross. - Author: Matt Chandler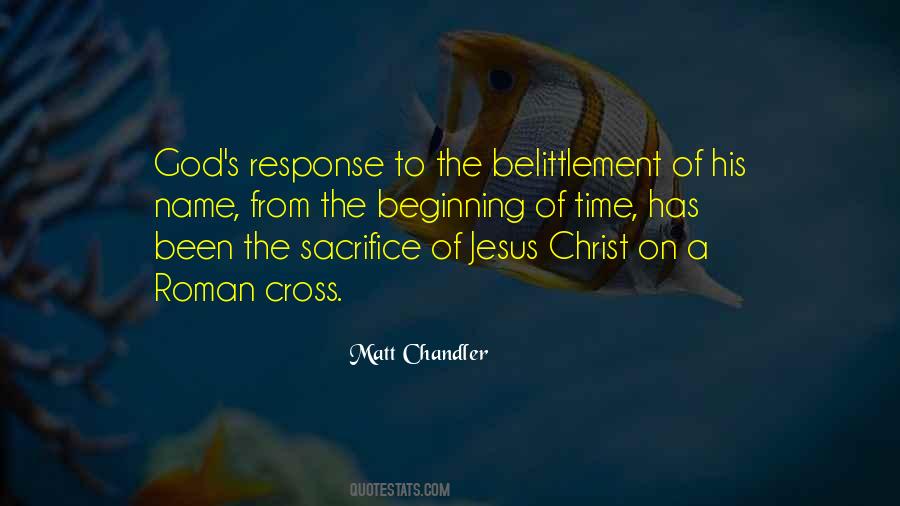 #9. Our late Leader, Dr. Sun Yat-sen, with his universal sympathy for all oppressed and his profound understanding of Jesus' revolutionary spirit of love and sacrifice, carried on his revolutionary work for forty years and brought about at last the liberation of the Chinese people. - Author: Chiang Kai-shek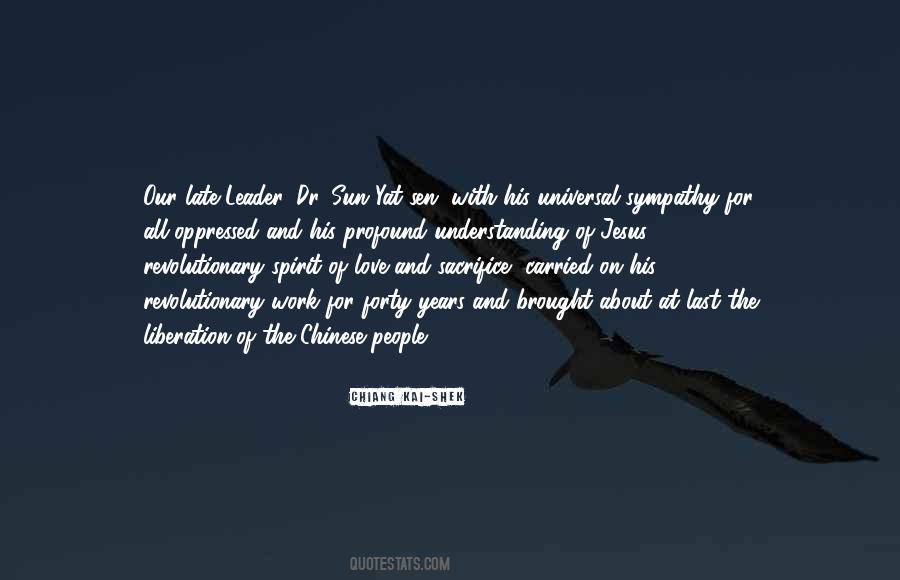 #10. I would like to say that I'm sacrificial. But am I sacrificial enough to acknowledge the fact that I'm not? - Author: Craig D. Lounsbrough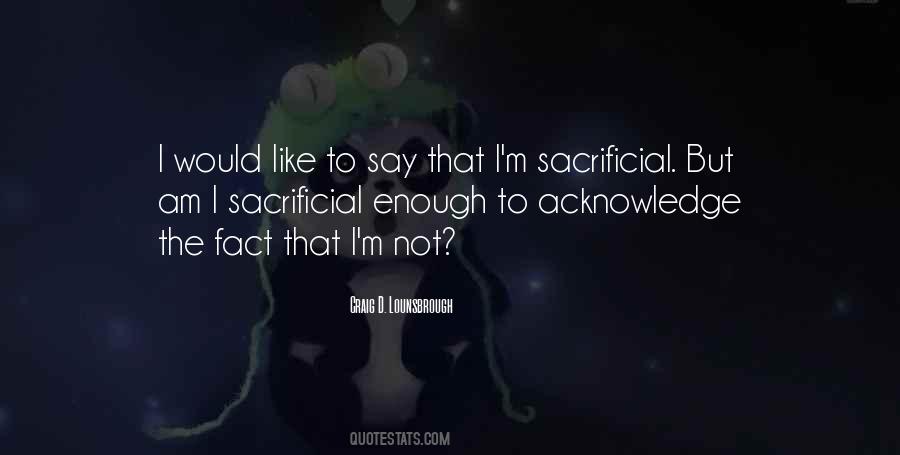 #11. This is how God sees you when you turn to Him. When you accept the sacrifice of His Son, Jesus, you are cleansed, purified. You become His beautiful princess. Man looks on the outward appearance, but God looks at the heart. - Author: MaryLu Tyndall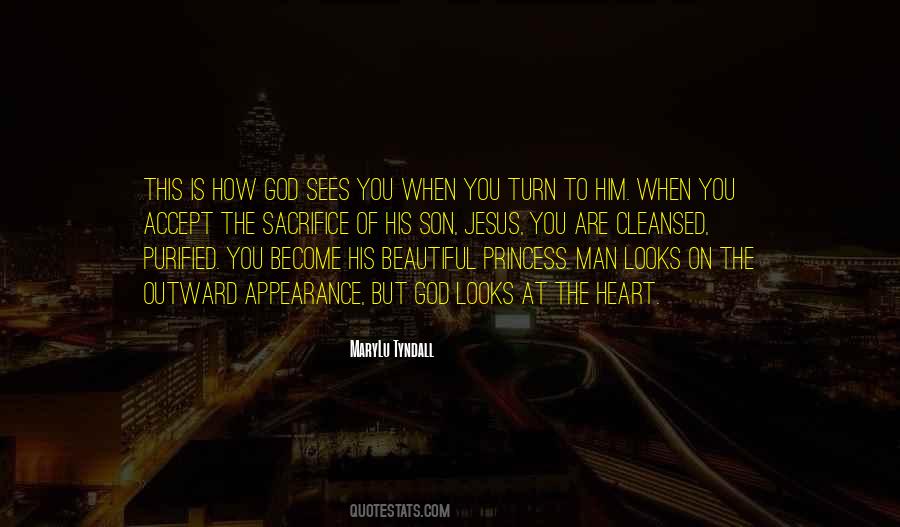 #12. You give your way out of poverty but you sacrifice your way to wealth. - Author: McWilton Chikwenengere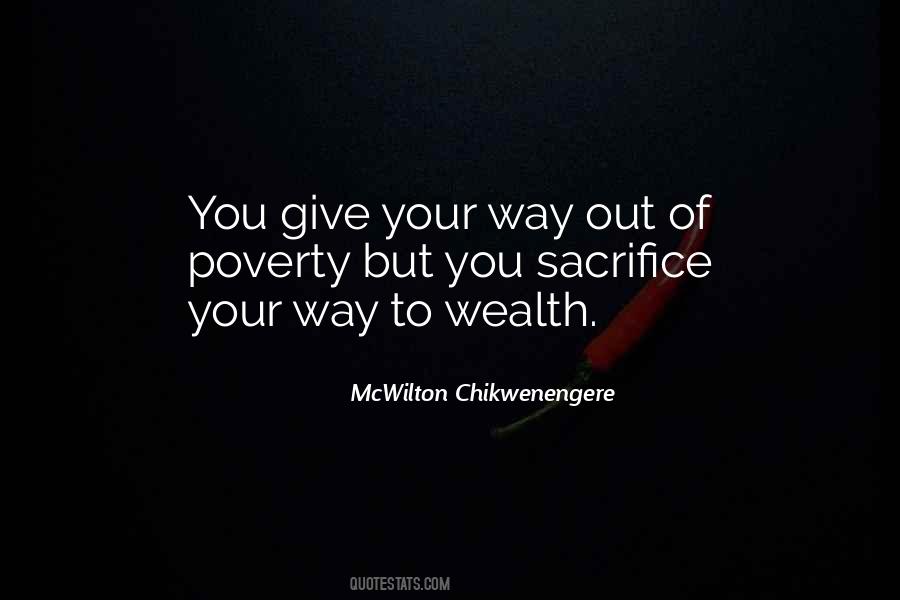 #13. Don't ever think that there are many ways to the Divine. Jesus is the one qualified mediator, the only qualified sacrifice, and the only qualified savior. - Author: Erwin W. Lutzer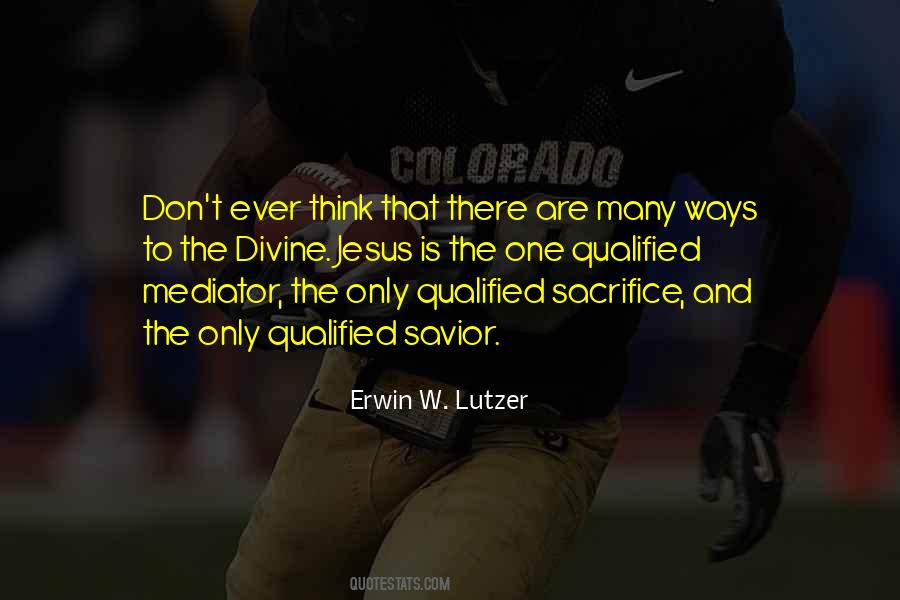 #14. Jesus Christ is both the only price and sacrifice by which eternal redemption is obtained for believers. - Author: Jonathan Edwards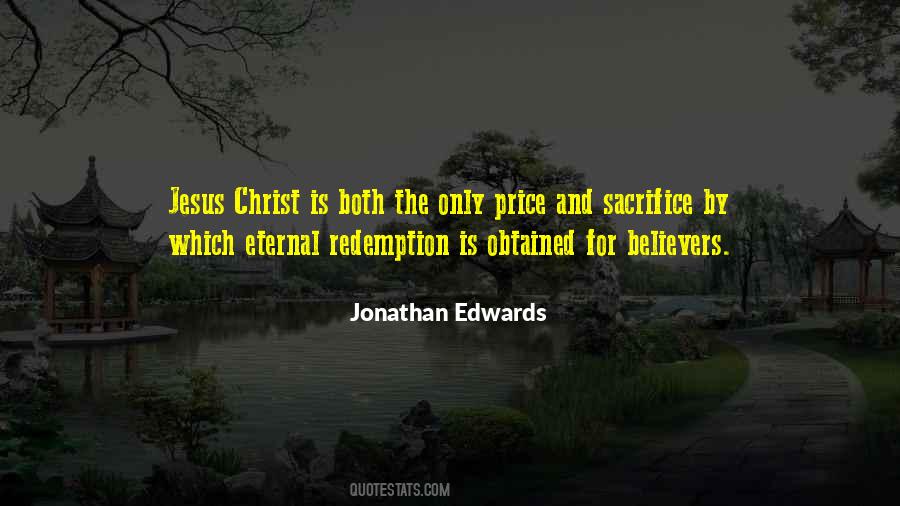 #15. The morrow of this day will be eternity; then Jesus will return you a hundred fold the lovely, rightful joys that you are sacrificing for him. - Author: Therese Of Lisieux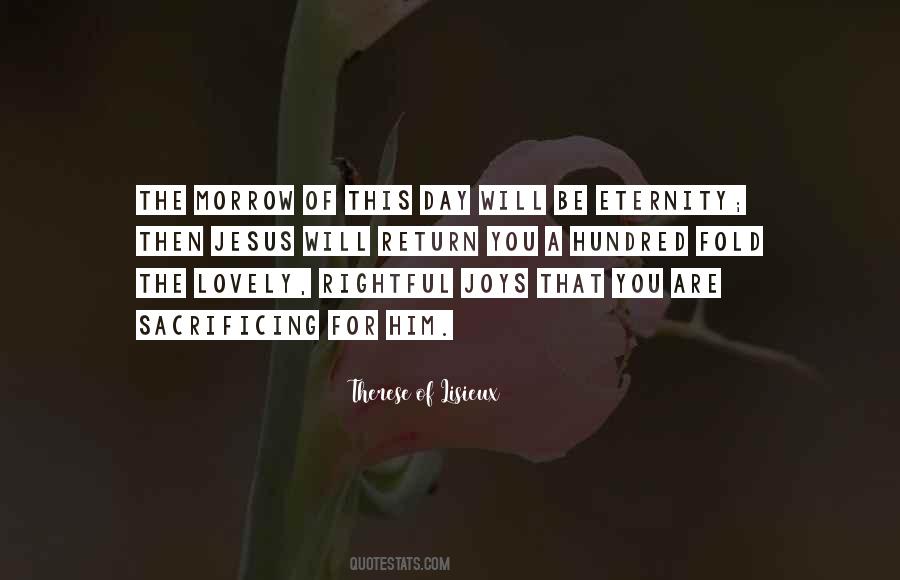 #16. I offer you salvation this day; the door of mercy is not yet shut, there does yet remain a sacrifice for sin, for all that will accept of the Lord Jesus Christ. He will embrace you in the arms of His love. - Author: George Whitefield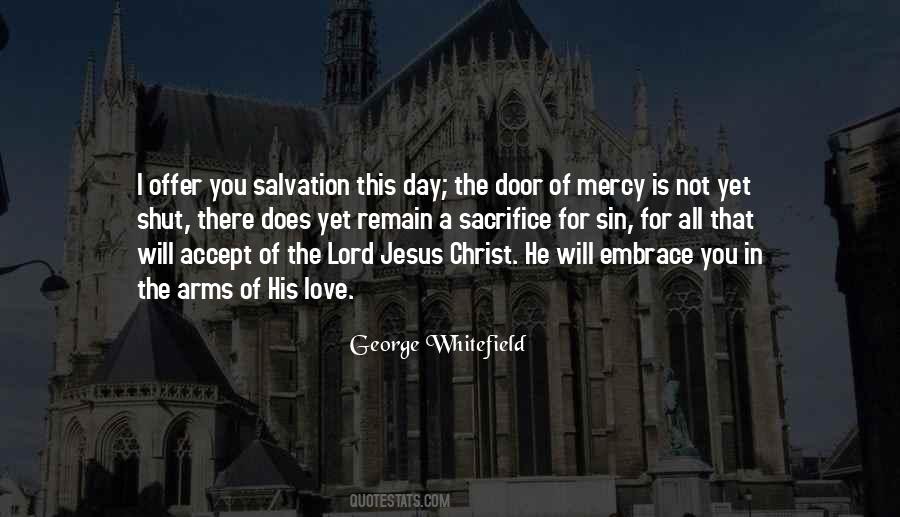 #17. The more we have of Jesus, the greater the love we have; the greater the love, the greater the sacrifice; the greater the sacrifice, the more we become like Jesus; the more we become like Jesus, the more successful our local churches become. - Author: Eric Samuel Timm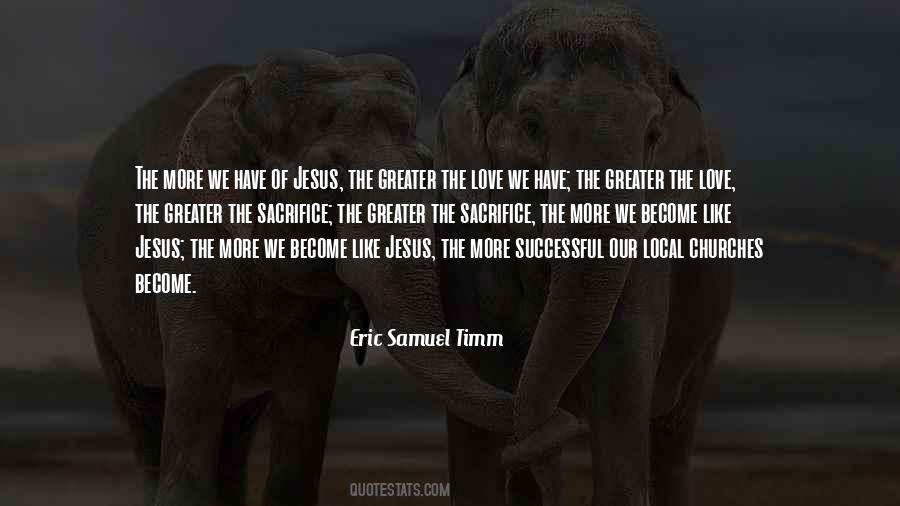 #18. Do you know something? The minute that blood sacrifice was accepted, Jesus was the first human being that was ever born again. Now that was real - it happened when he was in Hell. - Author: Joyce Meyer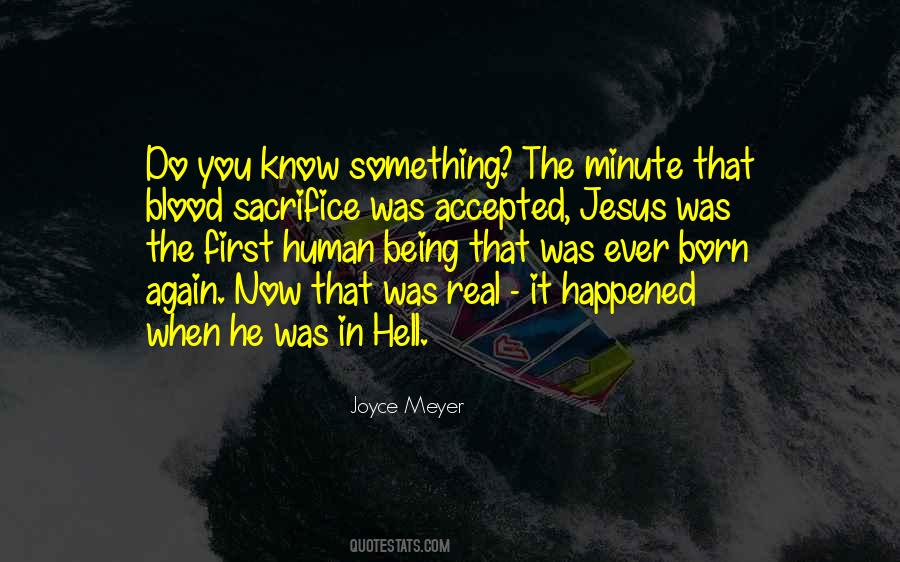 #19. Nothing is gained except by sacrifice ... Do not degrade it to the level of the brutes ... Make yourselves decent men! ... Be chaste and pure! ... There is no other way. Did Christ find any other way? - Author: Swami Vivekananda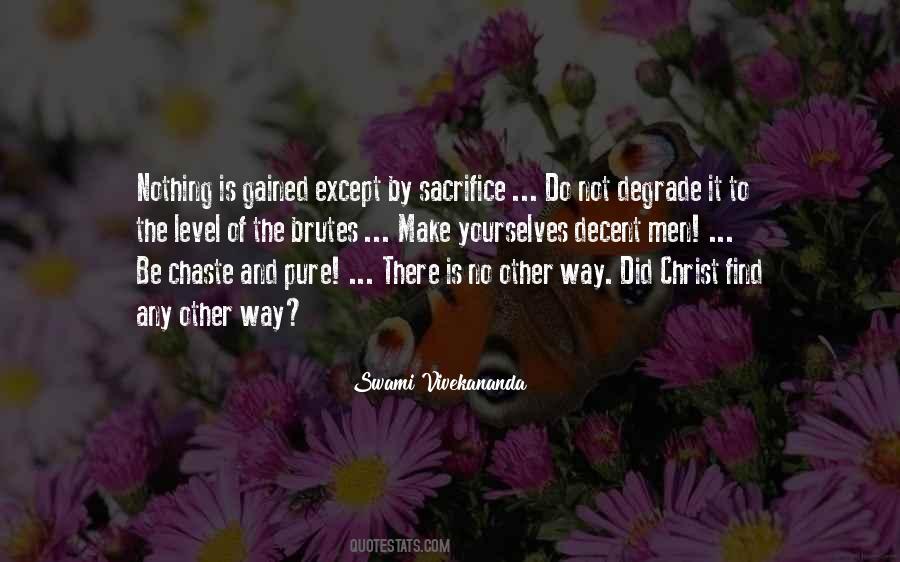 #20. Easter says that every ending ever experienced by man is exquisitely crafted to find its own ending at the feet of a fresh beginning. - Author: Craig D. Lounsbrough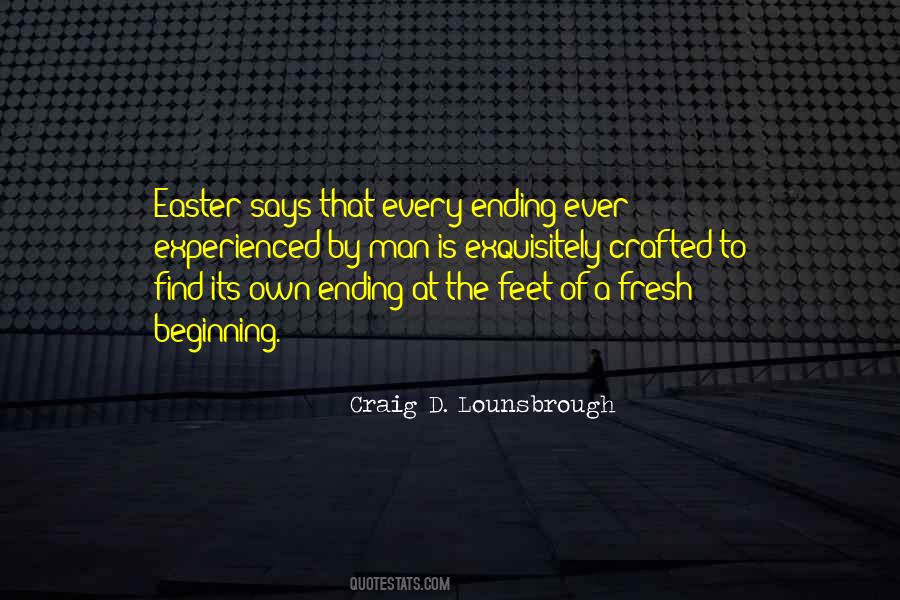 #21. God emptied out that first tomb so that He could turn around and empty out me. - Author: Craig D. Lounsbrough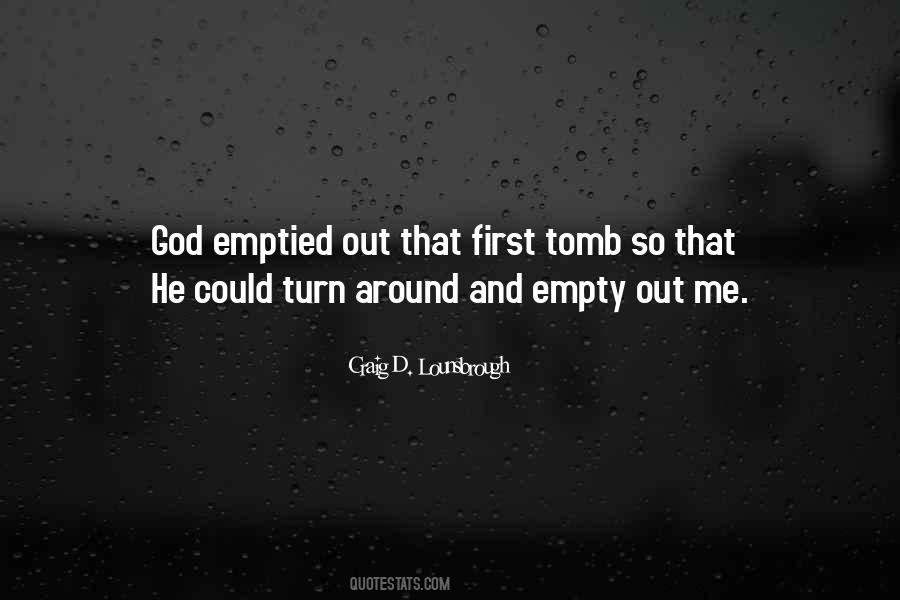 #22. Your approval before God is woven into the life and sacrifice of Jesus Christ on the cross, not what other men and women think about you. - Author: Matt Chandler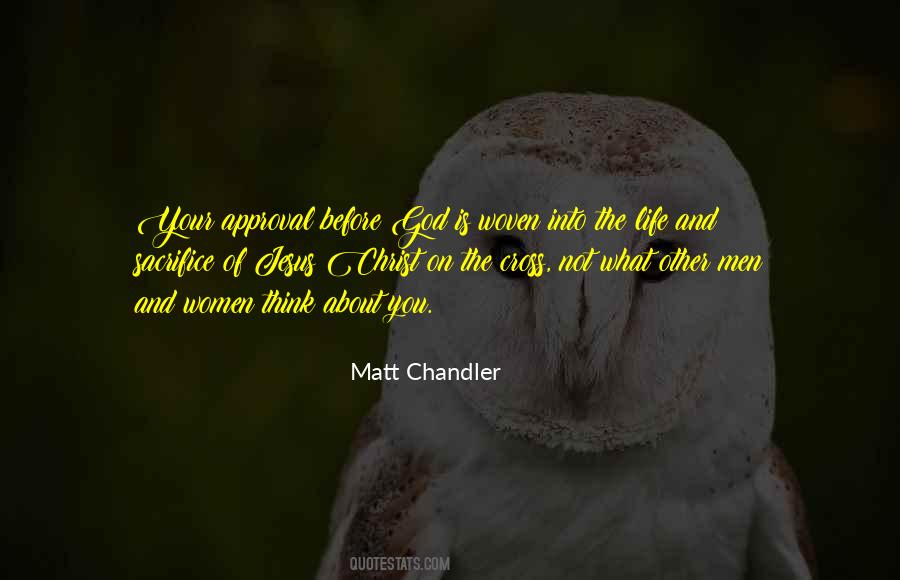 #23. Maybe I don't have enough beginnings in my life because I fought against the endings that were about to birth those beginnings. - Author: Craig D. Lounsbrough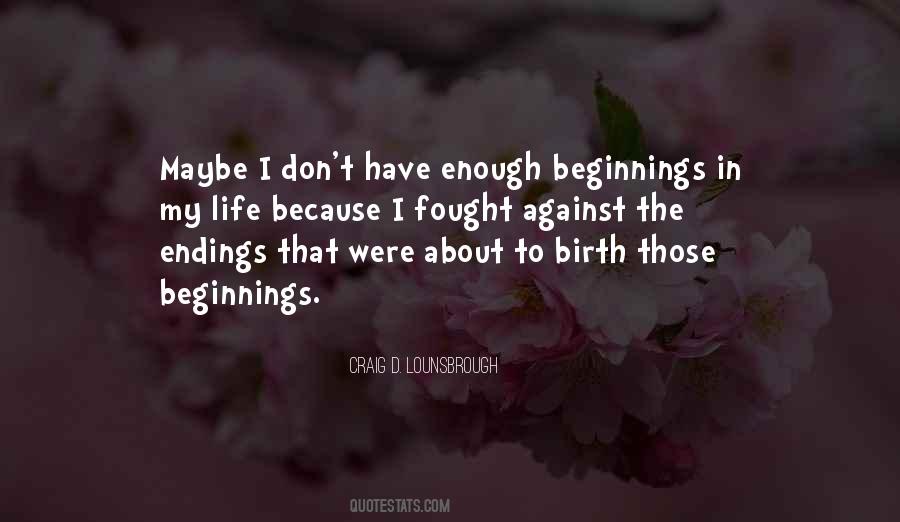 #24. So completely was Jesus bent upon saving sinners by the sacrifice of Himself, He created the tree upon which He was to die, and nurtured from infancy the men who were to nail Him to the accursed wood. - Author: Octavius Winslow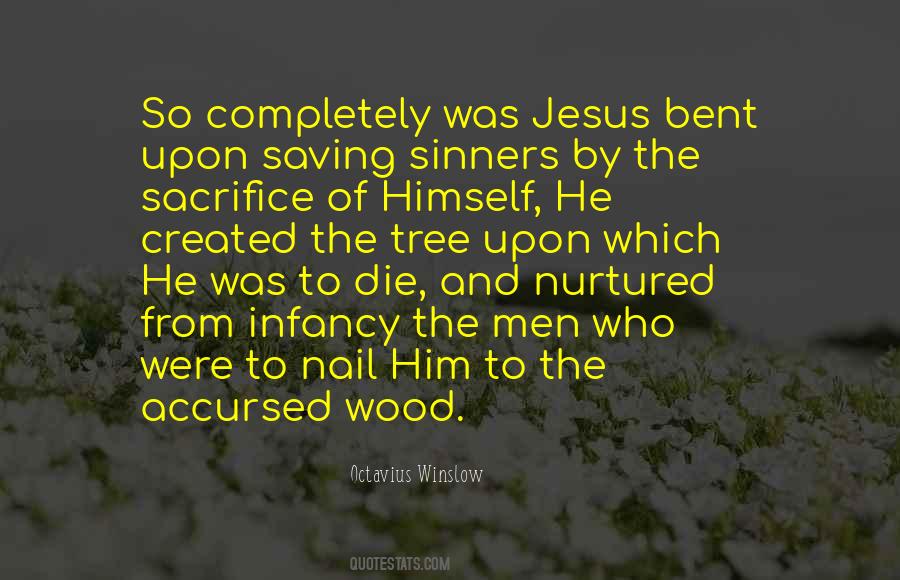 #25. If Jesus Christ be God and died for me, then no sacrifice can be too great for me to make for Him. - Author: Charles Studd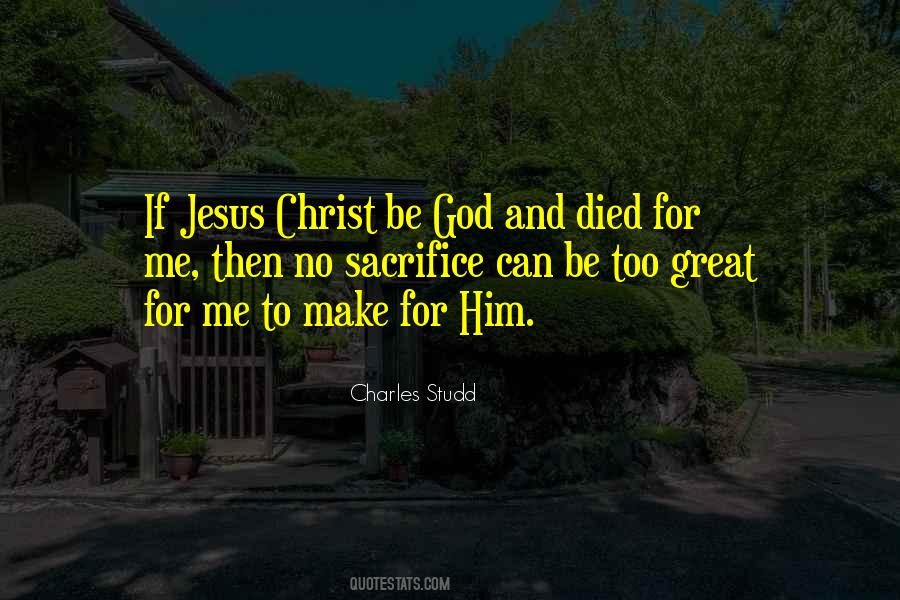 #26. I am the Jesus Christ of politics. I am a patient victim, I put up with everyone, I sacrifice myself for everyone. - Author: Silvio Berlusconi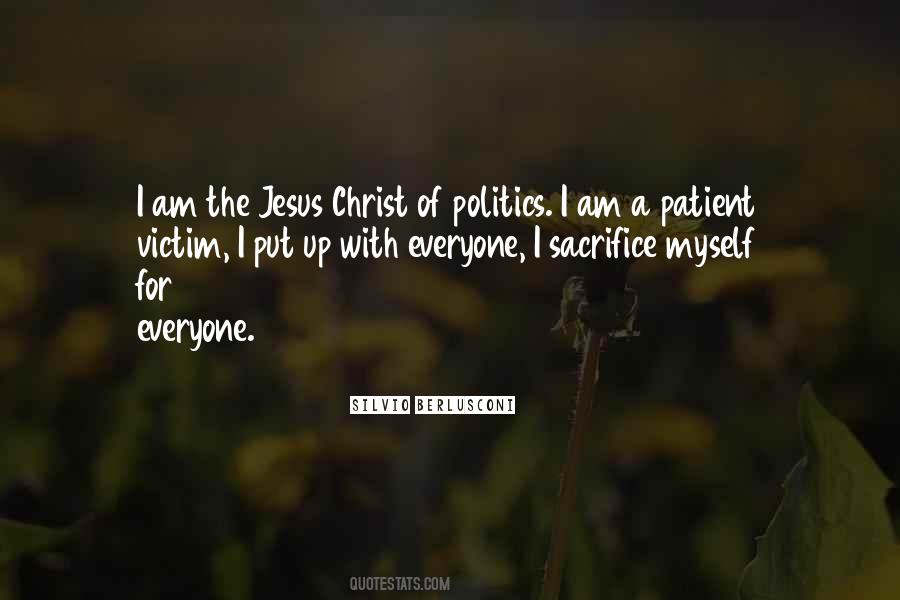 #27. I am able to separate the mythological aspects of my religion from the practical ones. Jesus, his sacrifice, the Gospels? Those are true to me. Angels, demons, burning bushes, Revelations? Primitive people trying to express the ineffable. I don't need to be a biblical literalist to love my God. - Author: Thomm Quackenbush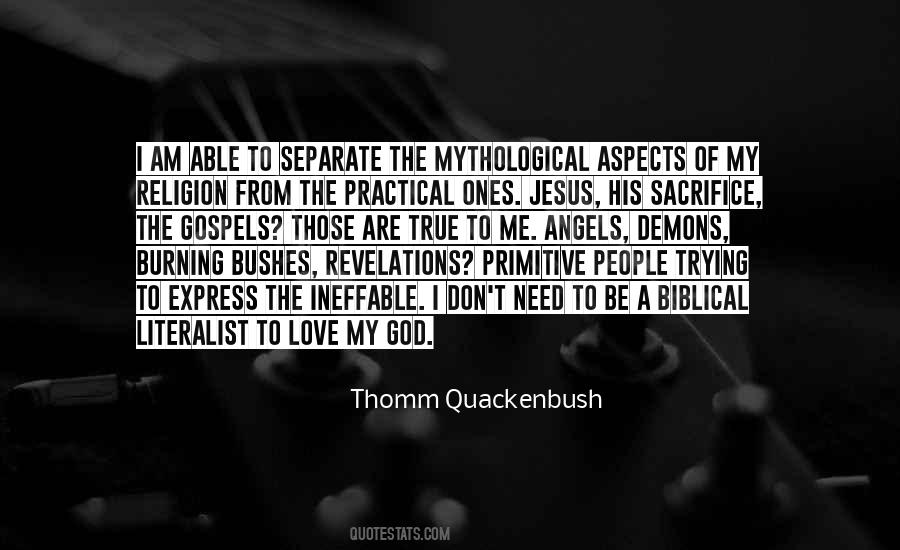 #28. Essential to receiving divine forgiveness are personal, individual recognition and acceptance of our Father's mercy, made available to us by the atoning sacrifice of Jesus Christ and a renewed covenant to obey the principles of the gospel. - Author: Ronald E. Poelman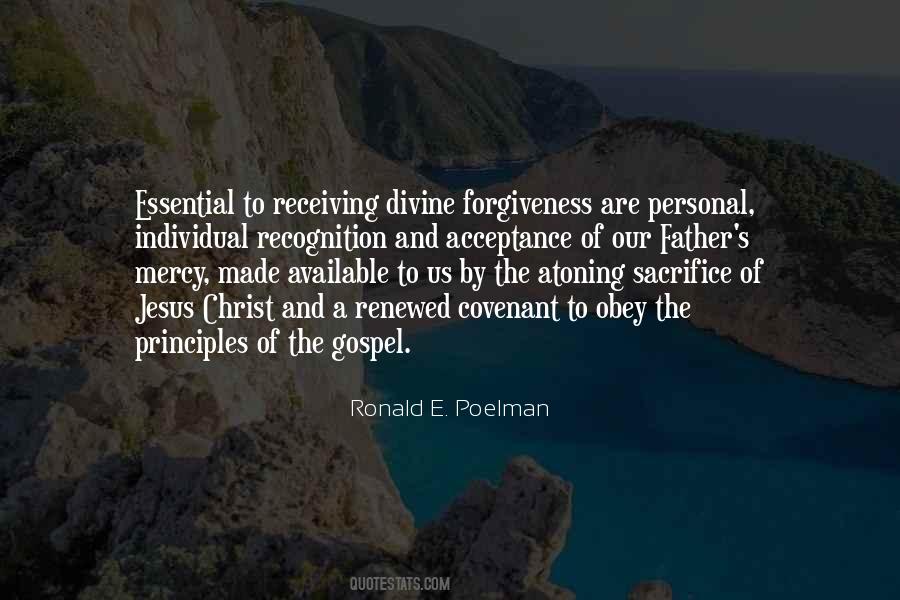 #29. If there were more than one path to salvation then it would totally negate Jesus' sacrifice on the cross, his life, his teachings. - Author: Josh McDowell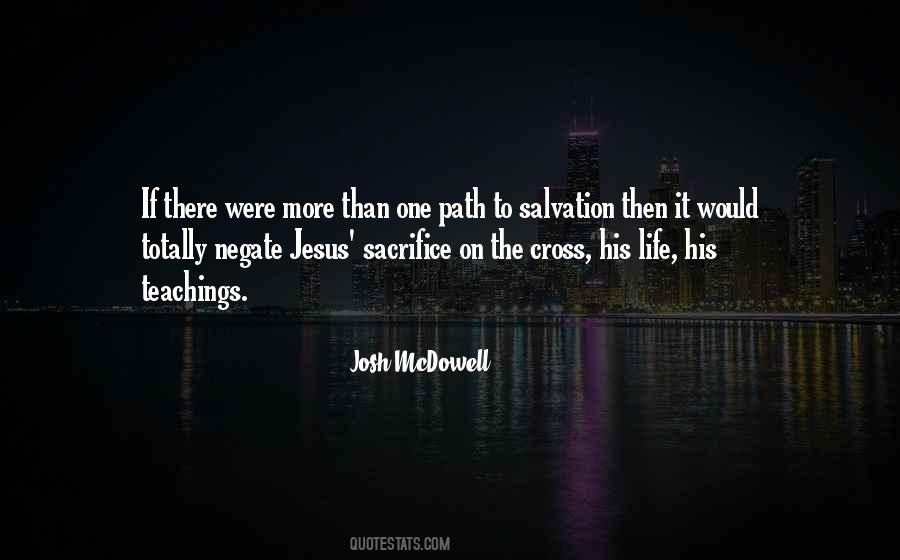 #30. Lonely? Give it to Jesus. The loneliness itself is material for sacrifice. - Author: Elisabeth Elliot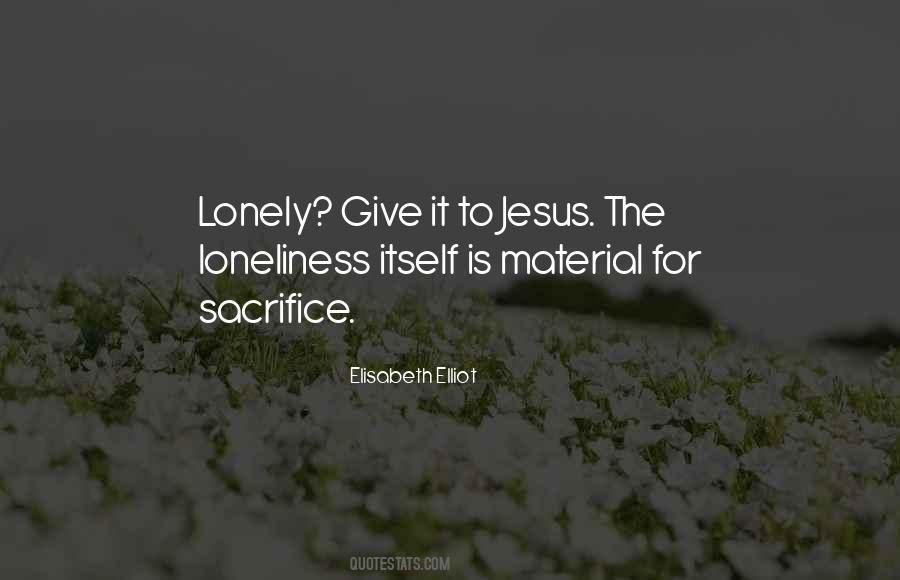 #31. In the sacrifice which Jesus Christ makes of Himself on the Cross for His bride, the Church ... there is entirely revealed that plan which God has imprinted on the humanity of man and woman since their creation. - Author: Pope John Paul II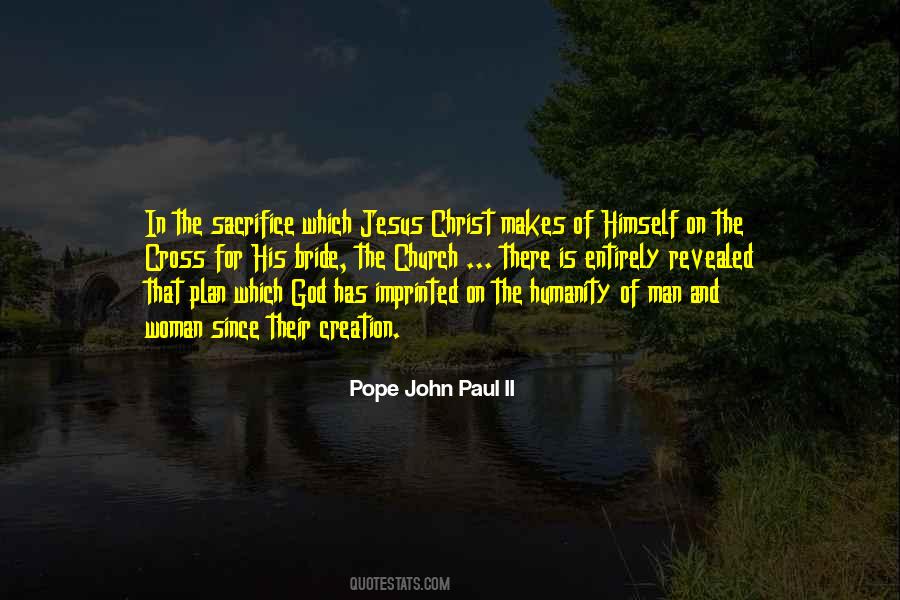 #32. I am accountable.
I am correctable.
I am transformable.
Presenting myself a living sacrifice to God.
By the love of God.
By the word of God.
Completely supplied in Christ Jesus.
Unto all good works. - Author: Carlton T. Brown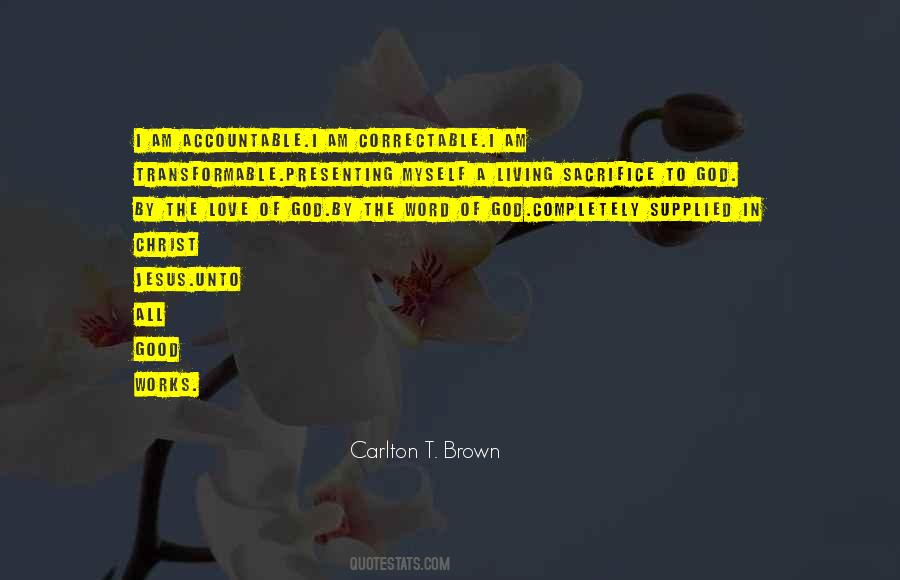 #33. But you will exceed all of them. For you will sacrifice the man who bears me. Already your horn has been raised, and your wrath has been kindled, and your star has passed by, and your heart has become strong. [
Jesus to Judas] - Author: Rodolphe Kasser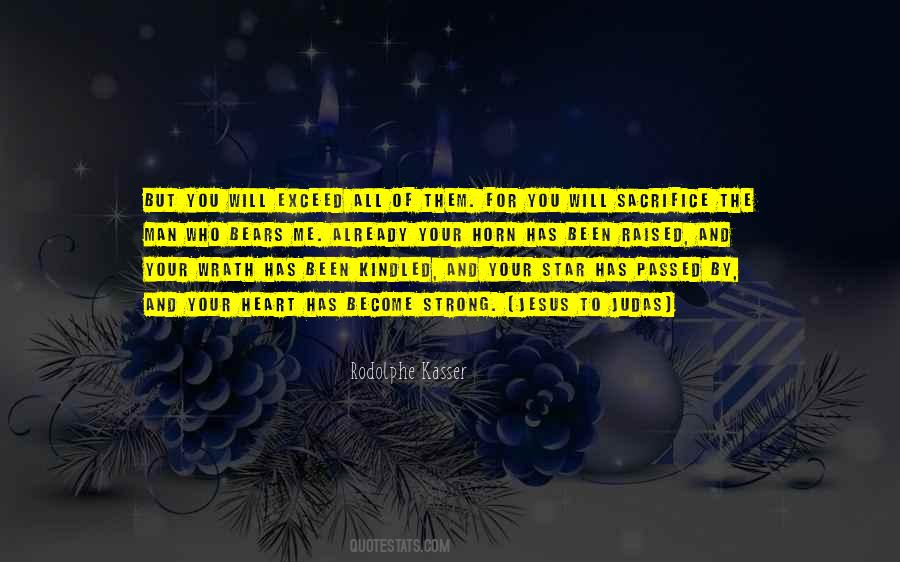 #34. Jesus made the final sacrifice for all, and we need not make it again. - Author: Stanley Hauerwas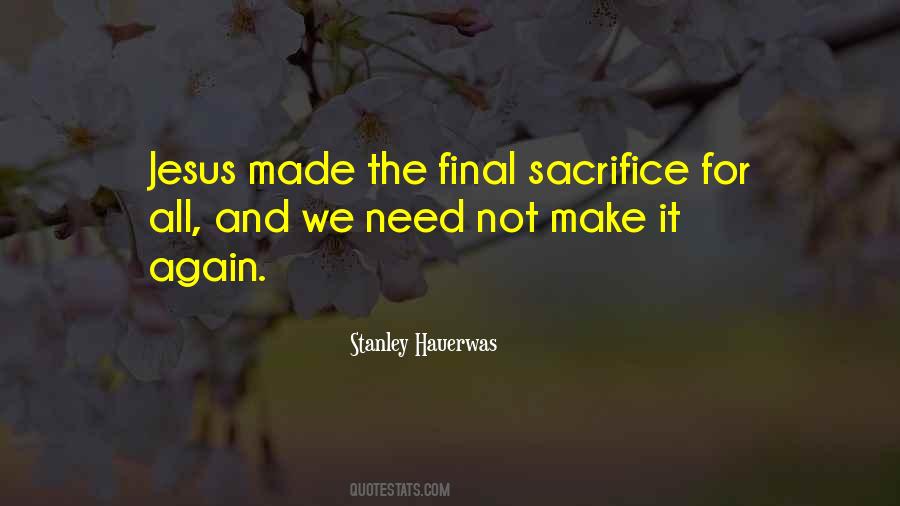 #35. Easter is the invulnerable tale of utter selflessness where at an inestimable cost God did for us what He did not need done for Himself. And that kind of 'doing' happens every day. - Author: Craig D. Lounsbrough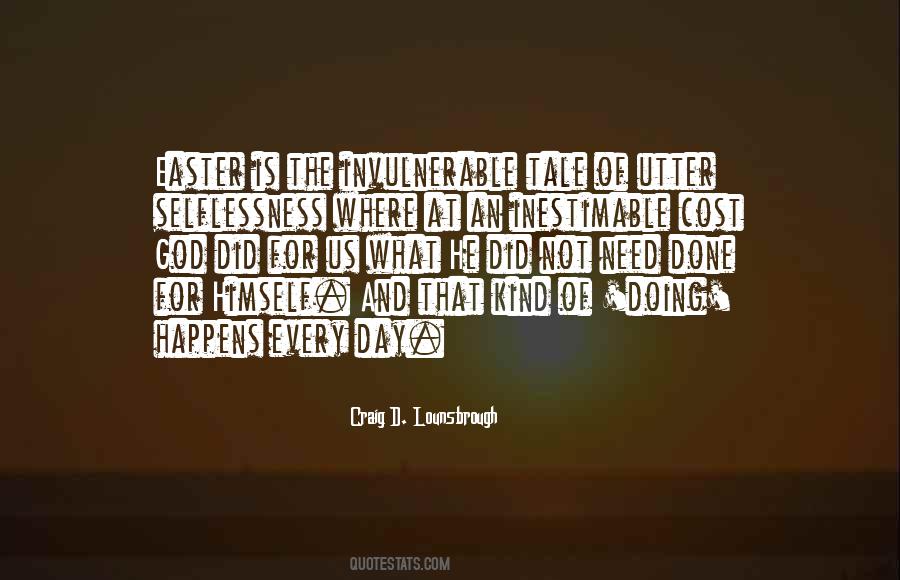 #36. My generation is the most fatherless and insecure generation that's ever lived, and we are willing to sacrifice everything if we just can be told we are loved.
If only we knew just how loved we really are. - Author: Jefferson Bethke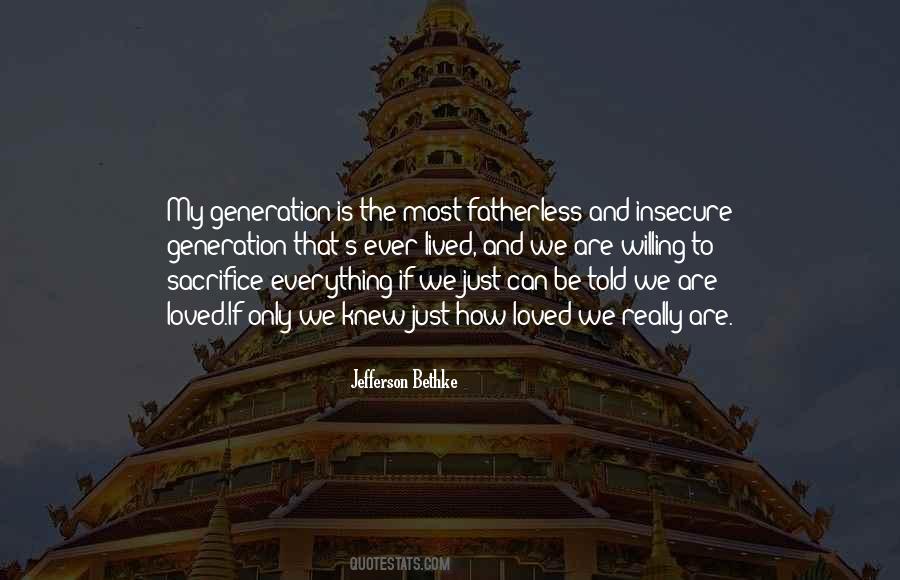 #37. Jesus died as He had lived-praying, forgiving, loving, sacrificing, trusting, quoting Scripture. If I die as I have lived, how will I die? - Author: Nancy Leigh DeMoss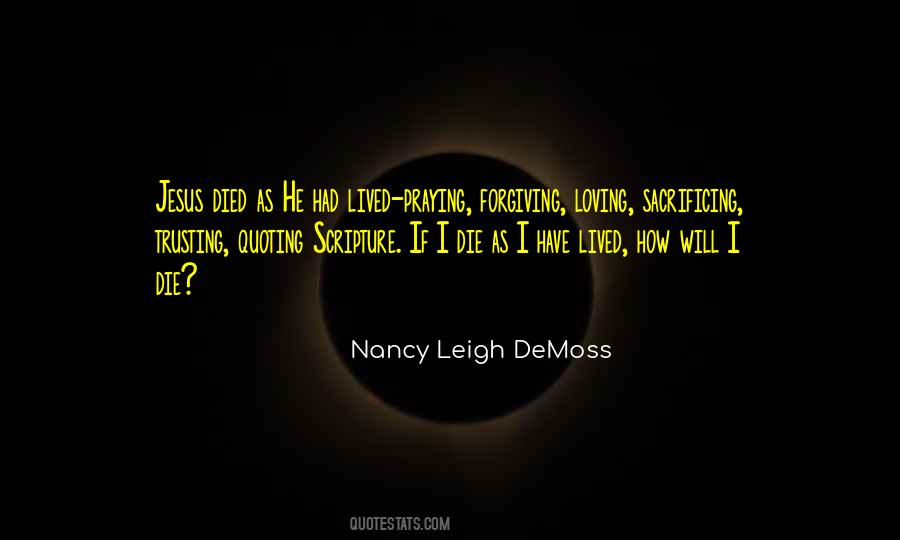 #38. CHRIST IS ADVOCATE. [1 Jn. 2:1, 2] My dear children, I write this to you so that you will not sin. But if anybody does sin, we have an advocate with the Father - Jesus Christ, the Righteous One. He is the atoning sacrifice for our sins, and not only for ours but also for the sins of the whole world. - Author: Anonymous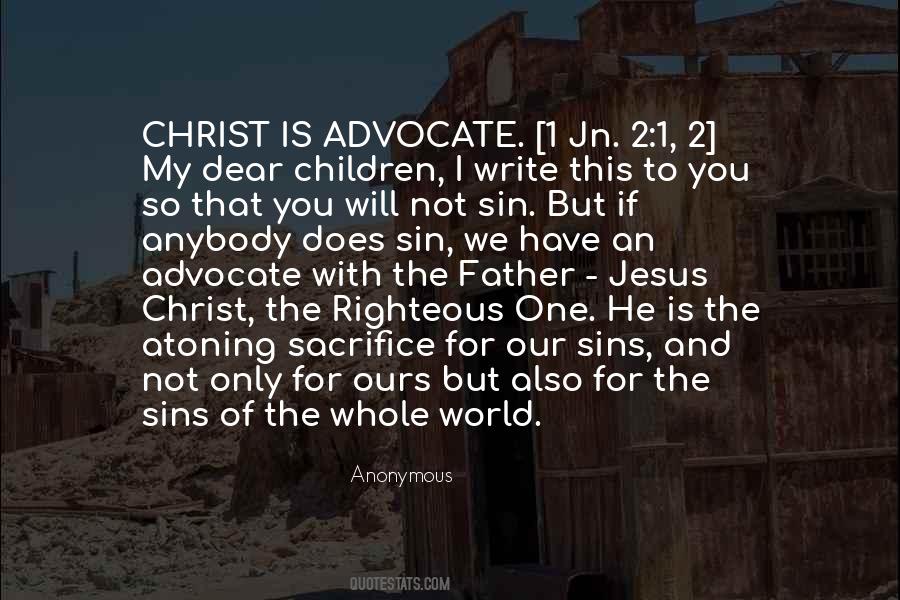 #39. It was love that took Jesus Christ to the cross. - Author: Sunday Adelaja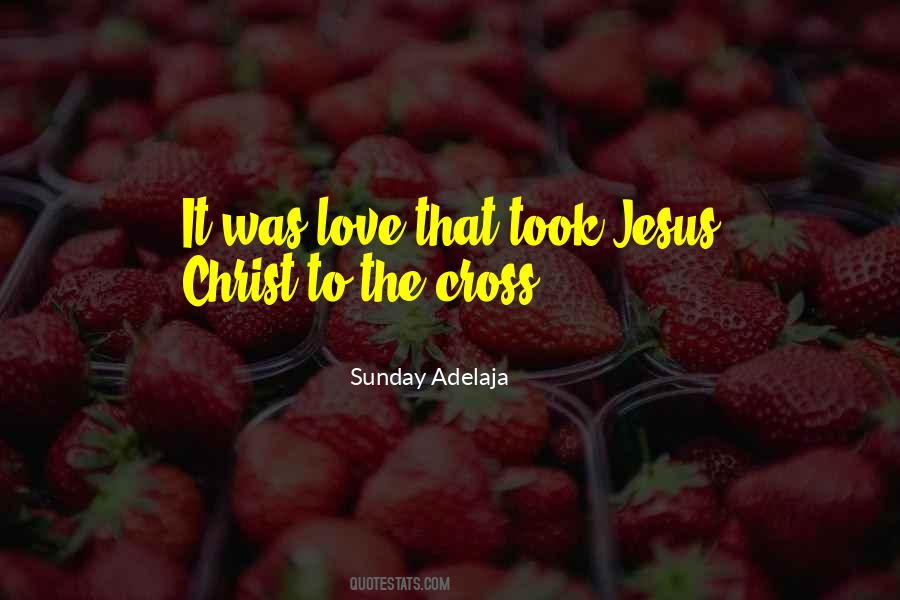 #40. Reasonably speaking, we can see the cross as entirely possible. But in considering Easter, we see an empty tomb as entirely impossible. And is it possible that God had to do the impossible to finally get our attention? - Author: Craig D. Lounsbrough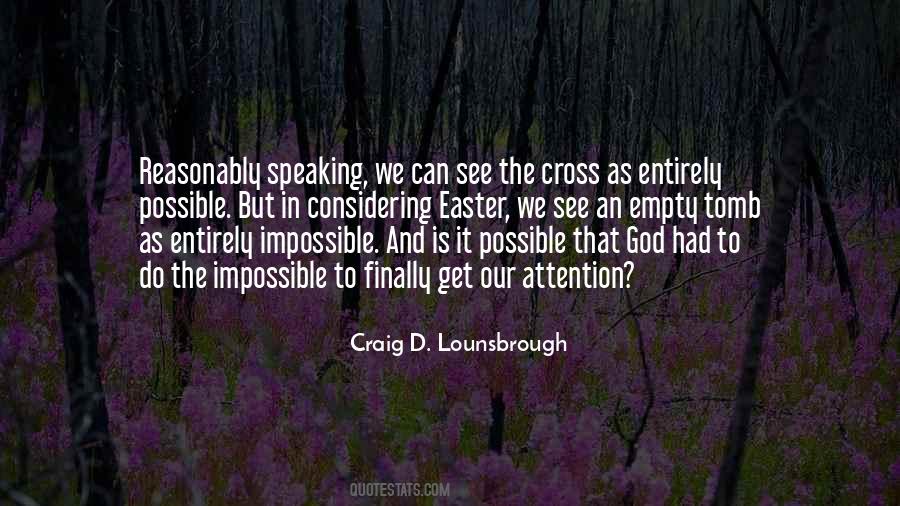 #41. Easter is a time when God turned the inevitability of death into the invincibility of life. - Author: Craig D. Lounsbrough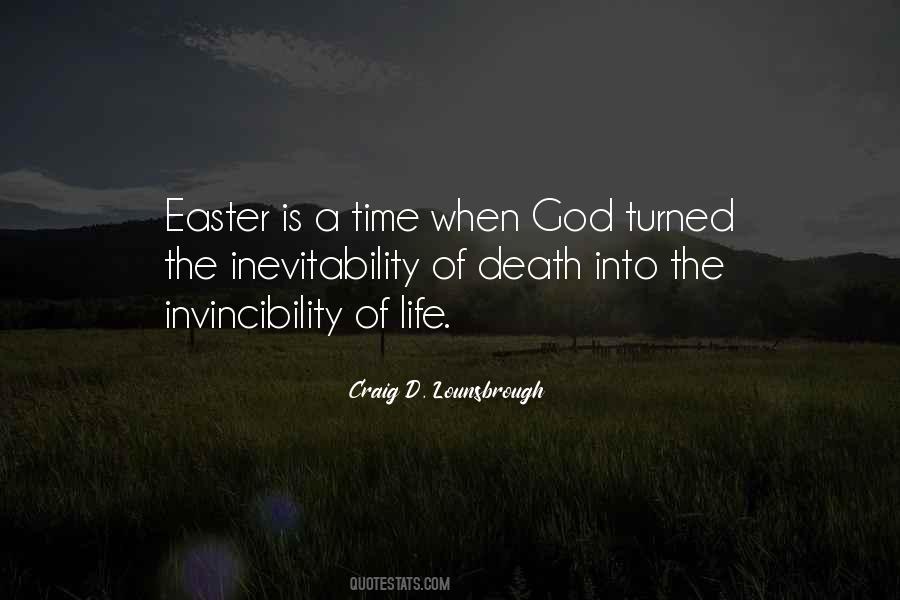 #42. God has paid the greatest debt you will ever incur, and once you understand the incredible sacrifice He has made just for you, you will feel compelled to turn to God and to accept Jesus Christ into your heart. - Author: Billy Graham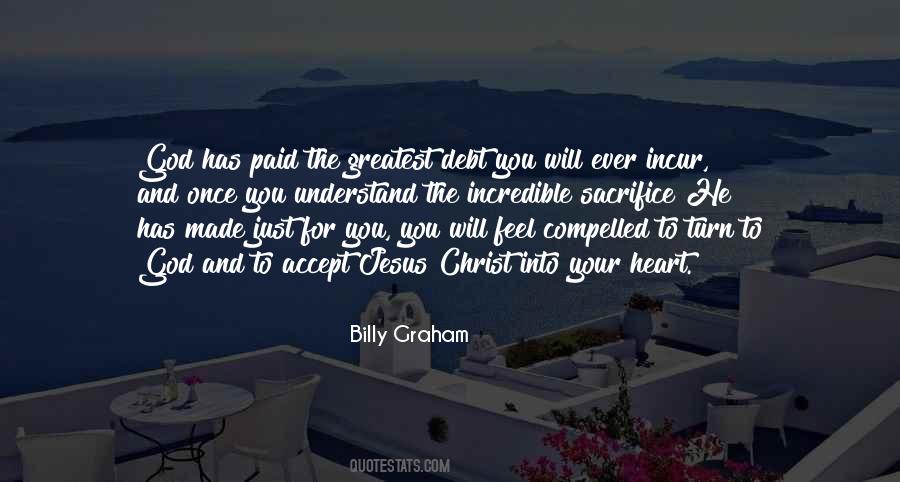 #43. Good works are those works that have their origin in Jesus Christ
whose activity is released through your body, presented to Him as a living sacrifice by a faith that expresses total dependence, as opposed to the Adamic independence (Rom. 12:1, 2). - Author: W. Ian Thomas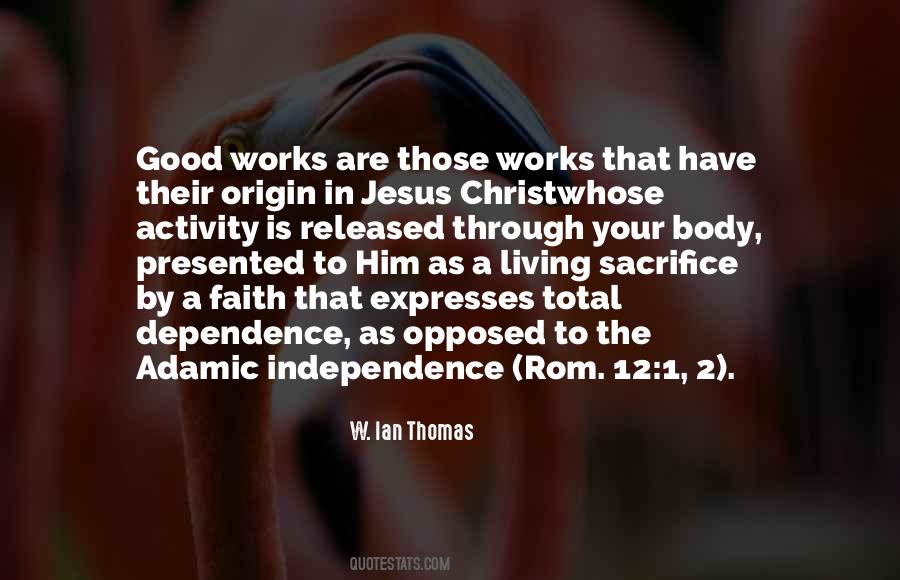 #44. Don't cheapen Jesus's sacrifice by trying to pay him back - Author: Judah Smith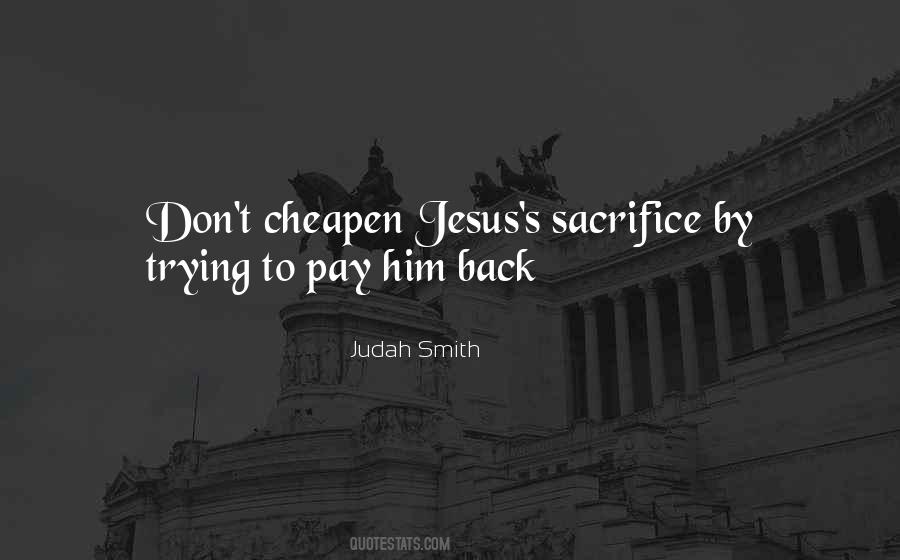 #45. The service [Jesus] gave to humanity was given even when we least merited that sacrifice. There is a joy in service that transcends emotional temporariness. - Author: Ravi Zacharias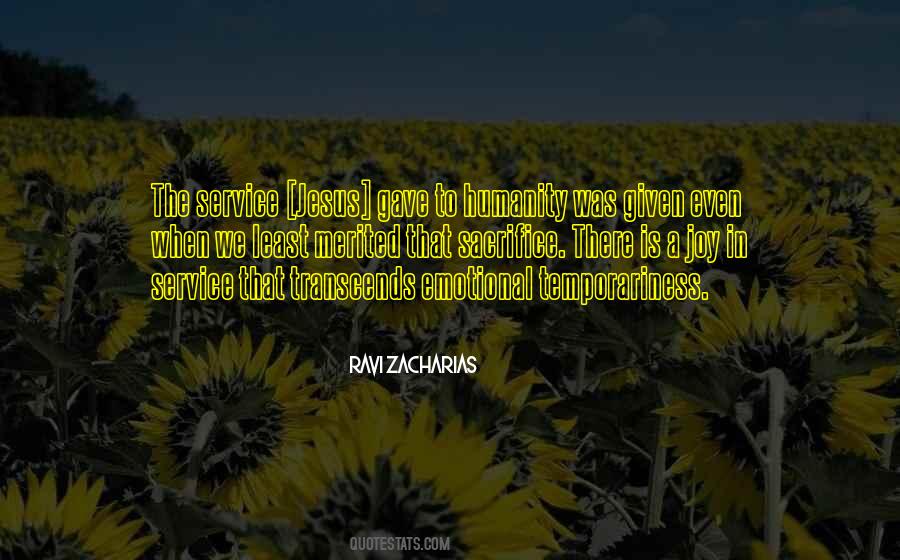 #46. I made it clear that I will consider - this is the important phrase I am trying to say - myself most fortunate if Jesus Christ will accept the sacrifice of my blood to raise the voice for the justice and rights of the persecuted and victimized Christians and other minorities in Pakistan. - Author: Shahbaz Bhatti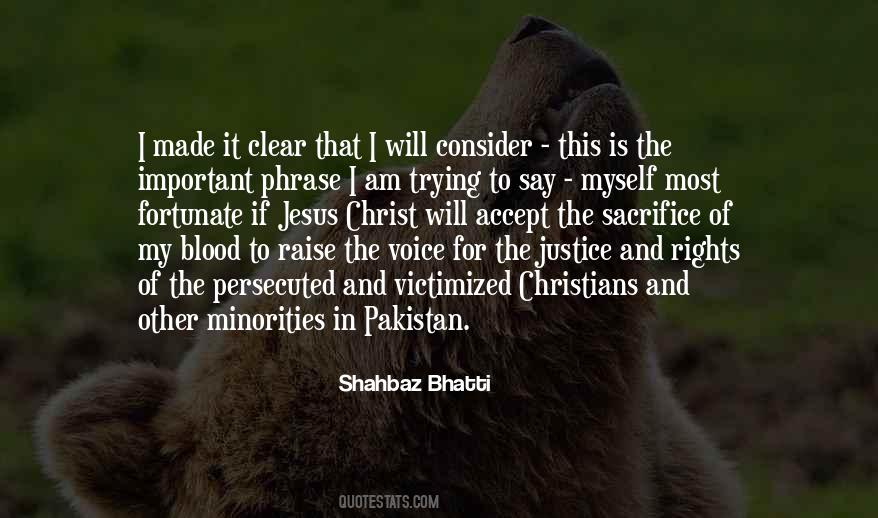 #47. The most important doctrine I can declare, and the most powerful testimony I can bear, is of the atoning sacrifice of the Lord Jesus Christ. His atonement is the most transcendent event that ever has or ever will occur from Creation's dawn through all the ages of a never-ending eternity. - Author: Bruce R. McConkie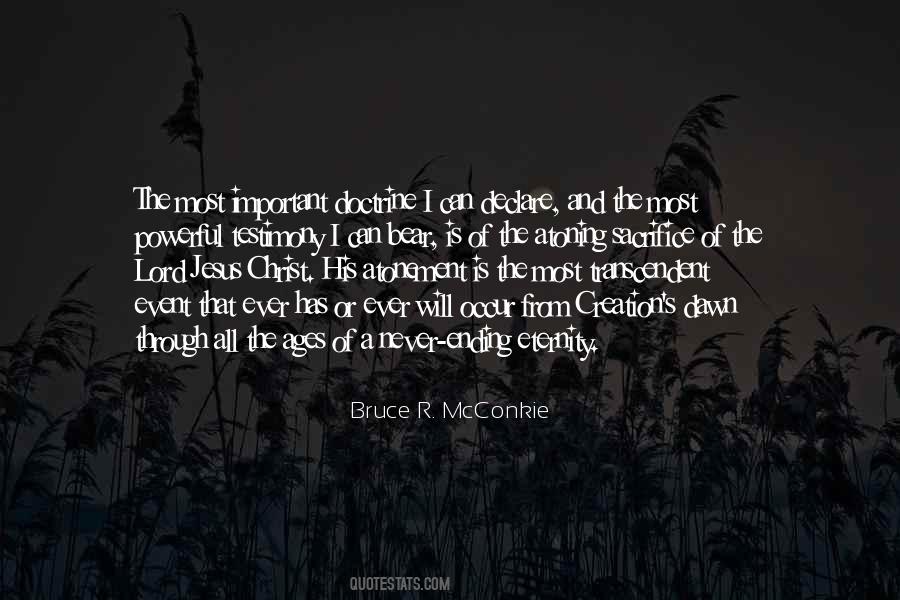 #48. Jesus did not ask us to believe that his death was a blood sacrifice, that he was going to die for our sins. - Author: Robert W. Funk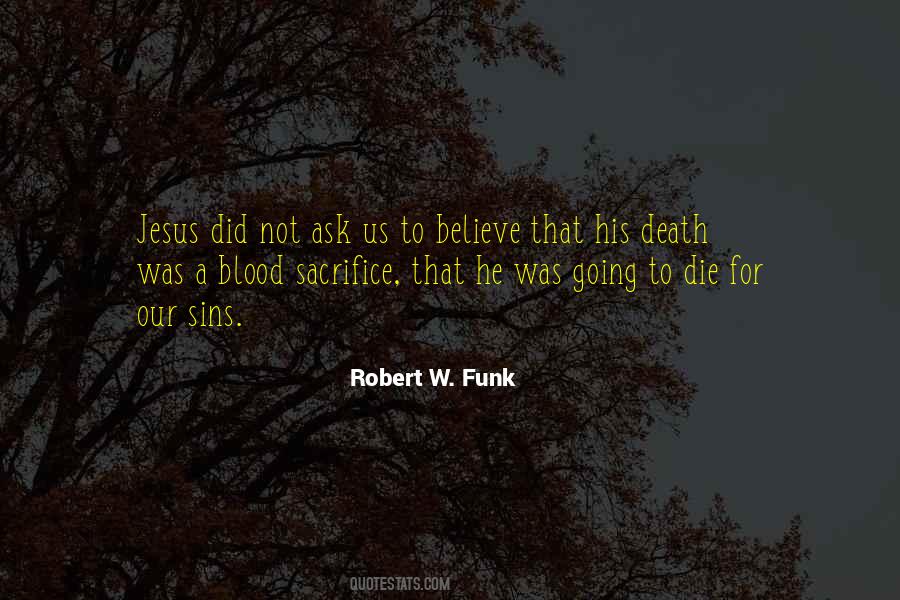 #49. The world values power, comfort, success, and recognition. Jesus frees us to value grief, sacrifice, weakness, and exclusion. - Author: Timothy Keller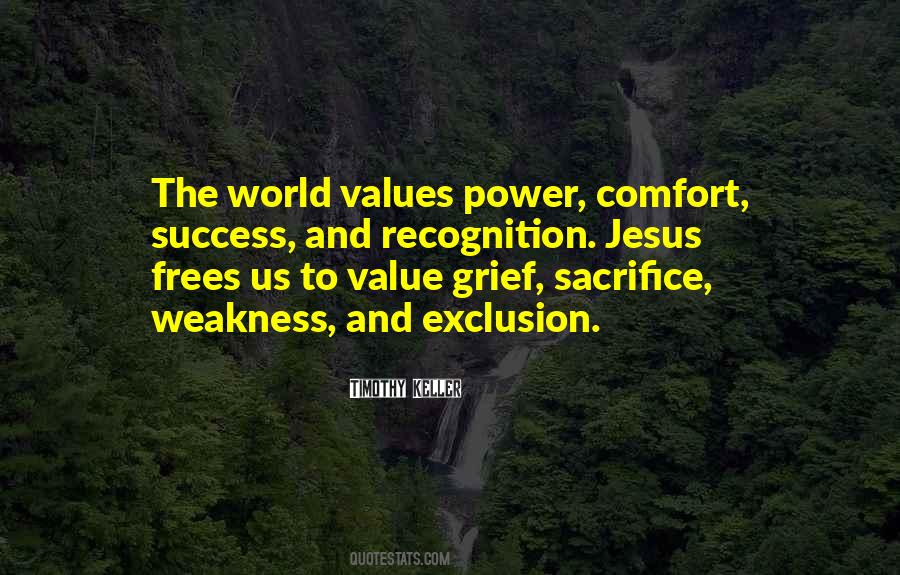 #50. A god of the 'possible' is no God. - Author: Craig D. Lounsbrough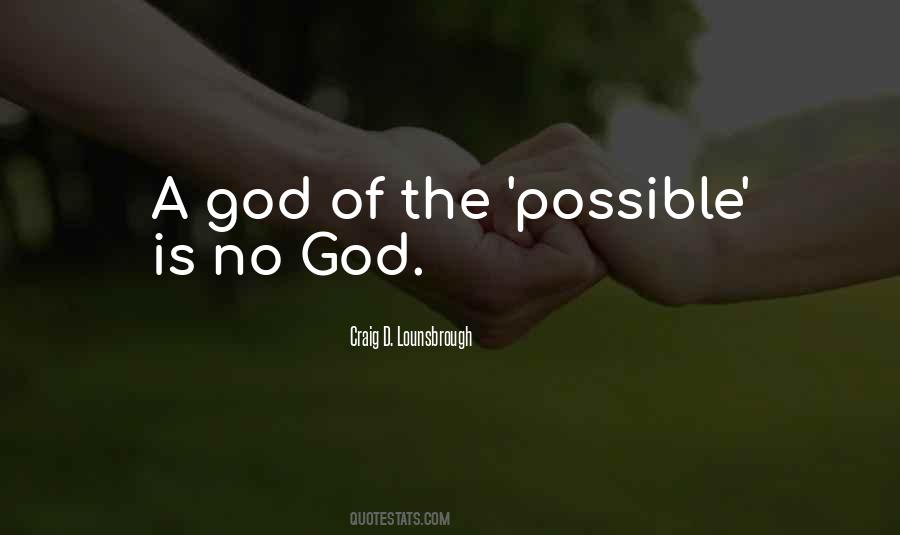 #51. God's decision to reach out in such dramatic fashion as to lay all rightful privilege aside and be born into abject destitution tells us that His passion for us exceeds our desire for Him. And maybe we should commit to evening that up a bit. - Author: Craig D. Lounsbrough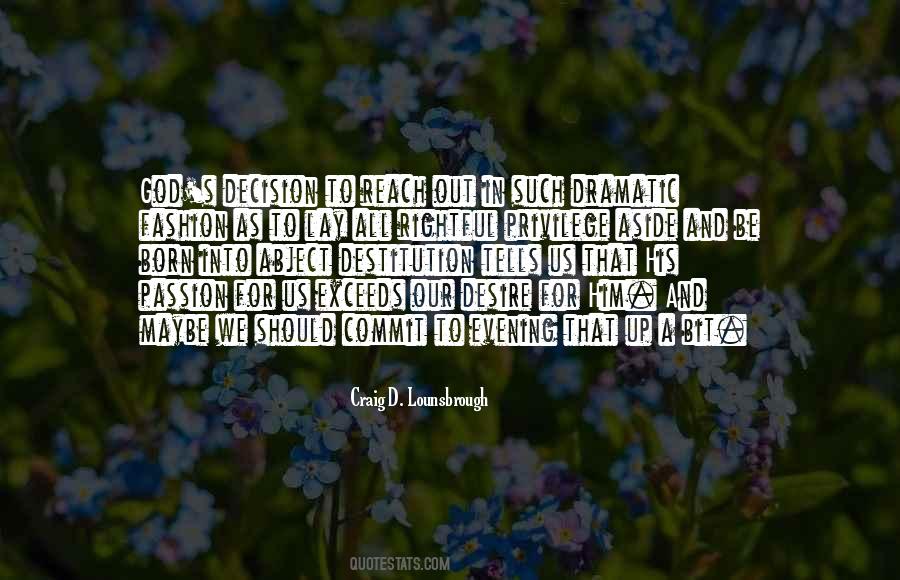 #52. Jesus does not drive His followers on before, as a herd of unwilling disciples, but goes before Himself, leading them into paths that He has trod, and dangers He has met, and sacrifices He has borne Himself, calling them after Him and to be only followers. - Author: Horace Bushnell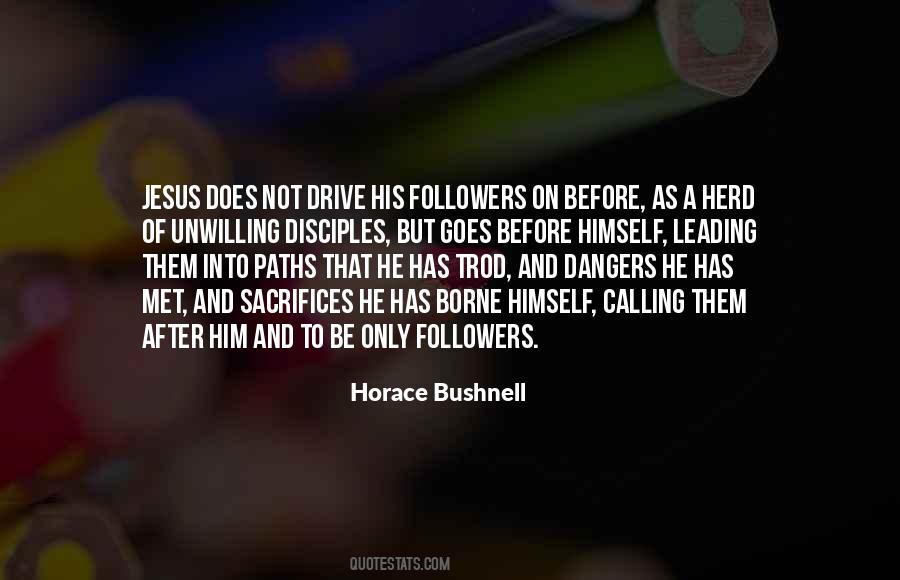 #53. The sweetest fragrance, the most beautiful aroma that God has ever detected emanating from this planet, was the aroma of the perfect sacrifice of Jesus that was offered once and for all on the cross. - Author: R.C. Sproul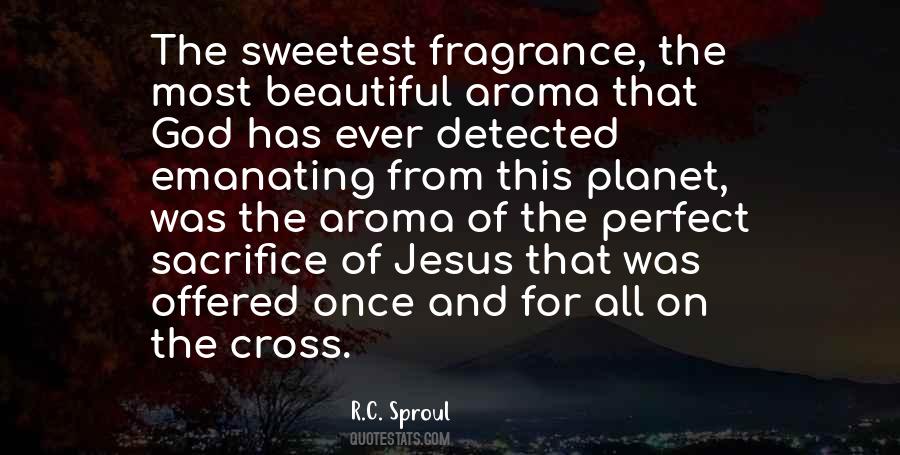 #54. In Revelation 12, we see a pure, holy woman giving birth to a son - a corporate son who brings victory by the blood of Jesus, their testimony and sacrifice. My vision is to see that kind of church moving in the authority, the sacrifice and love of Jesus. - Author: John Noble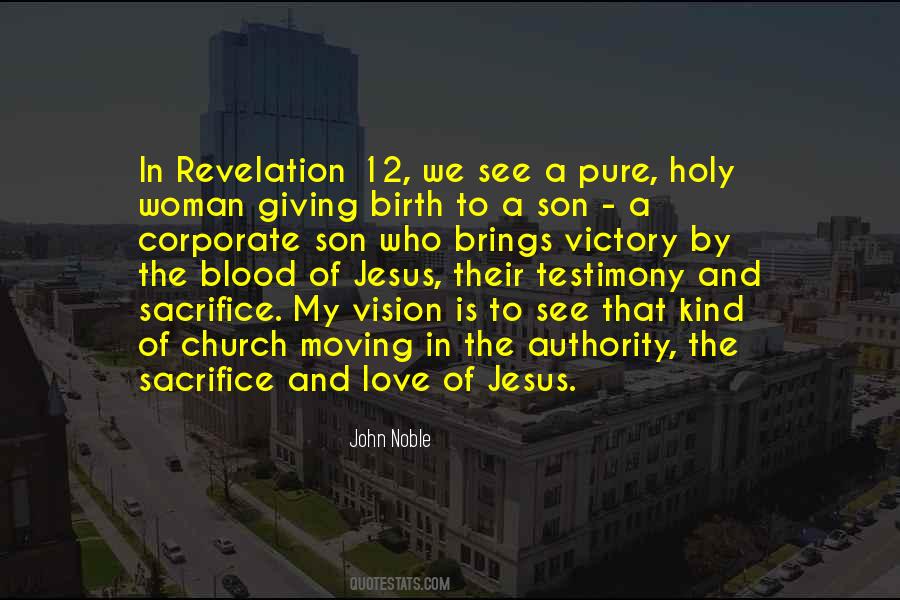 #55. Another way Christ affects us is by inspiring our gratitude. He left the glories of heaven in order to become our Savior, and when we recognize that sacrifice, we are filled with thankfulness and praise. - Author: Charles Stanley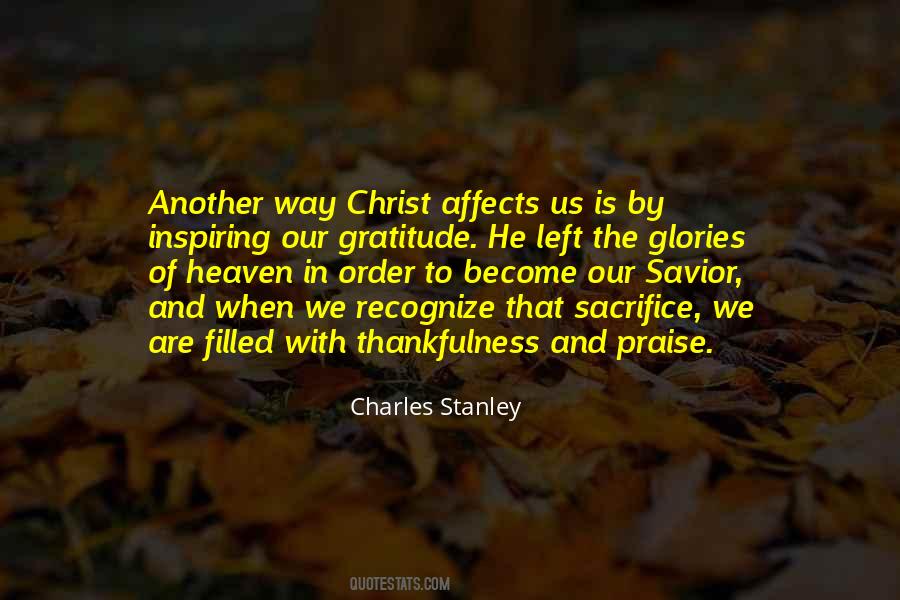 #56. Raise and Praise; it keeps the devil away!
Feeling down? Start praising even if it is a sacrifice of praise. You will soon start feeling better because the devil will not stick around & praise God with you! - Author: Sandra Lott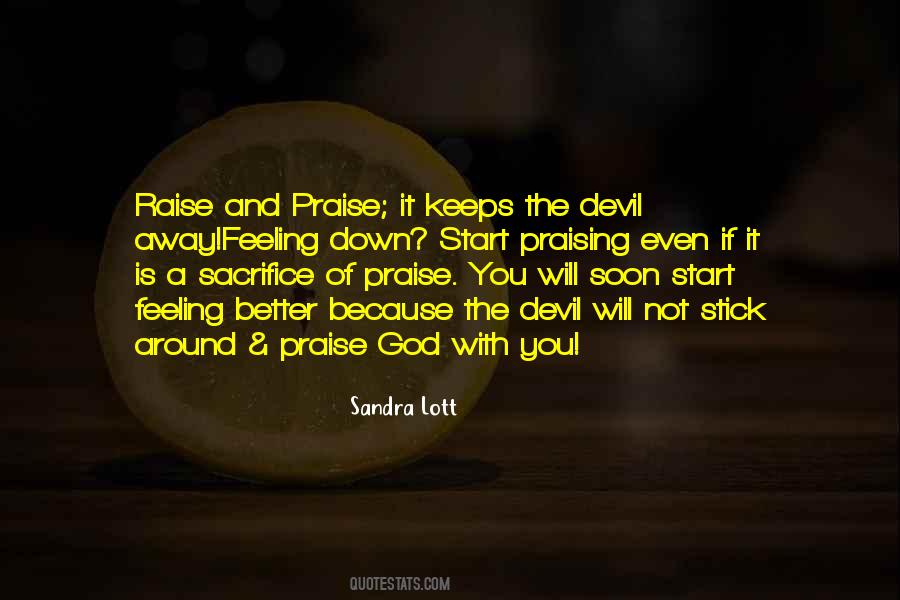 #57. I am not going to apologize for speaking the name of Jesus ... If I have to sacrifice everything ... I will. - Author: Rachel Scott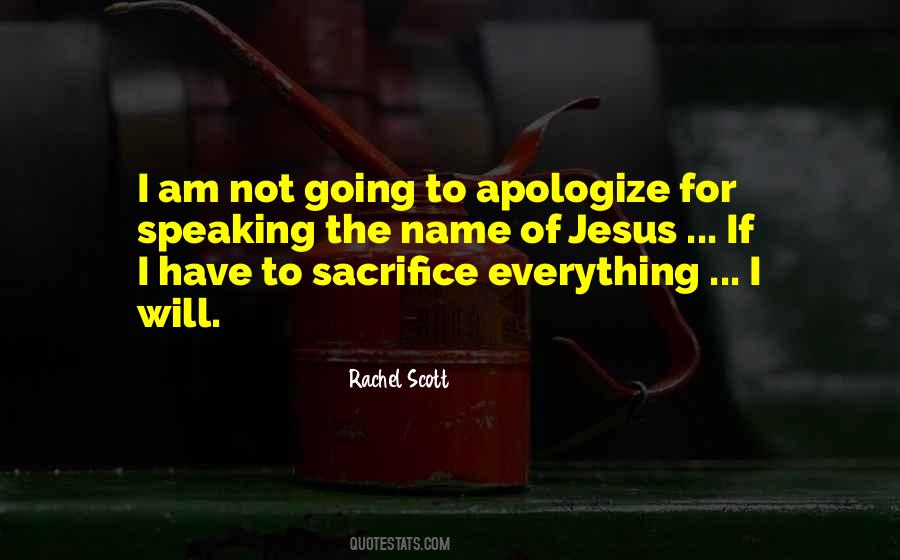 #58. Once in the end of the world hath he [Jesus] appeared to put away sin by the sacrifice of himself. - Author: Hebrews 9 26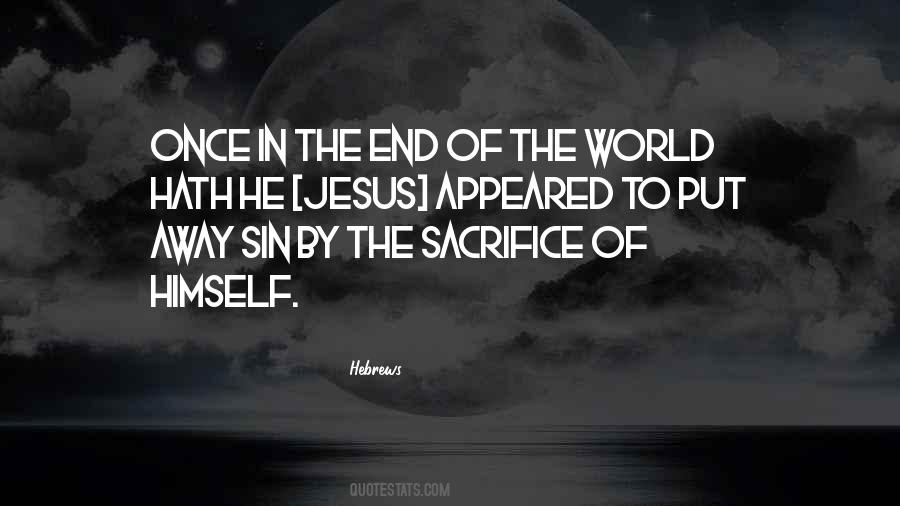 #59. It is our duty and our privilege to exhaust our lives for Jesus. We are not to be living specimens of men in fine preservation, but living sacrifices, whose lot is to be consumed - Author: Charles Spurgeon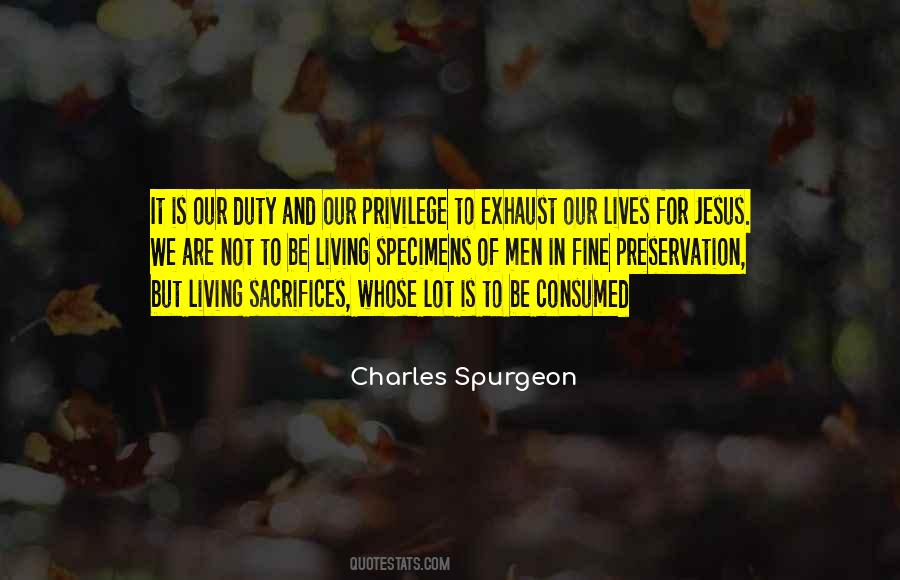 #60. Can you say the following? Jesus is my Prophet. I've taken His yoke of Truth upon me. Jesus is my Priest. I rely on His sacrifice for sin to give me forgiveness of sins... Jesus is my King. I trust Him to deliver me from evil I submit to His authority over me. - Author: Kenneth Mick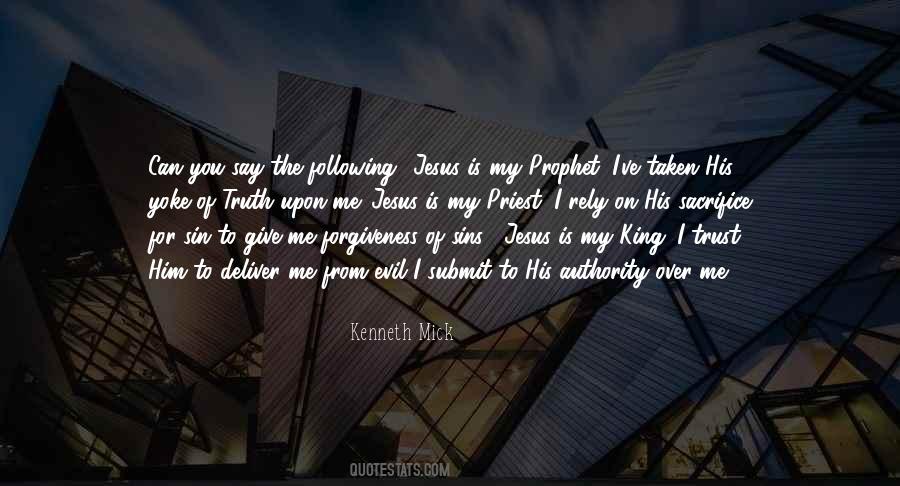 #61. Jesus' death on the cross is not an accident or an injustice that befell him; it is, rather, an act of sacrifice freely offered for the sake of God's people. - Author: Richard B. Hays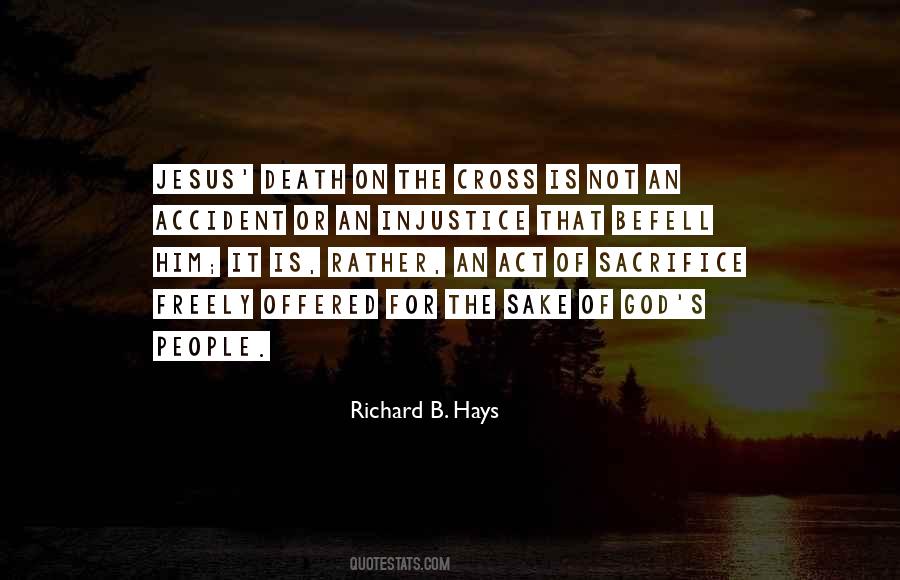 #62. Jesus was the temple to end all temples, the priest to end all priests, & the sacrifice to end all sacrifices. - Author: Timothy Keller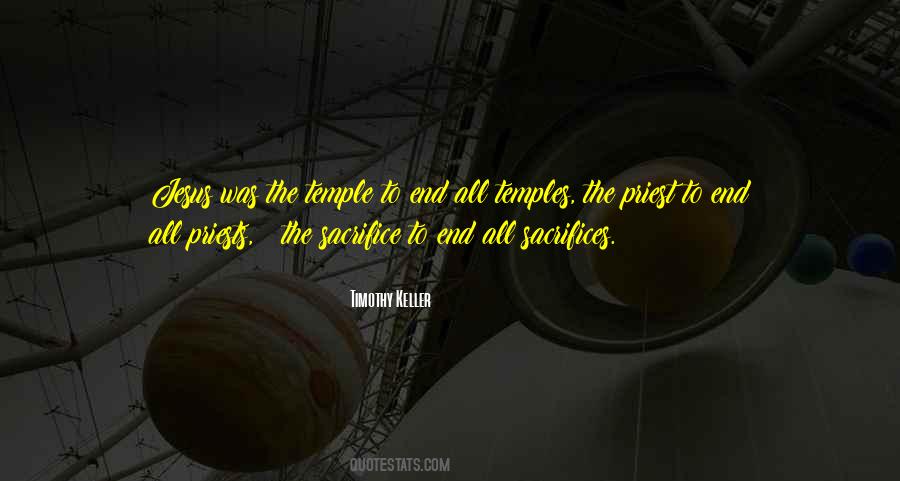 #63. Jesus' blood was shed for us all; what remains is for us to accept His sacrifice in faith and obedience. - Author: Kenneth Boa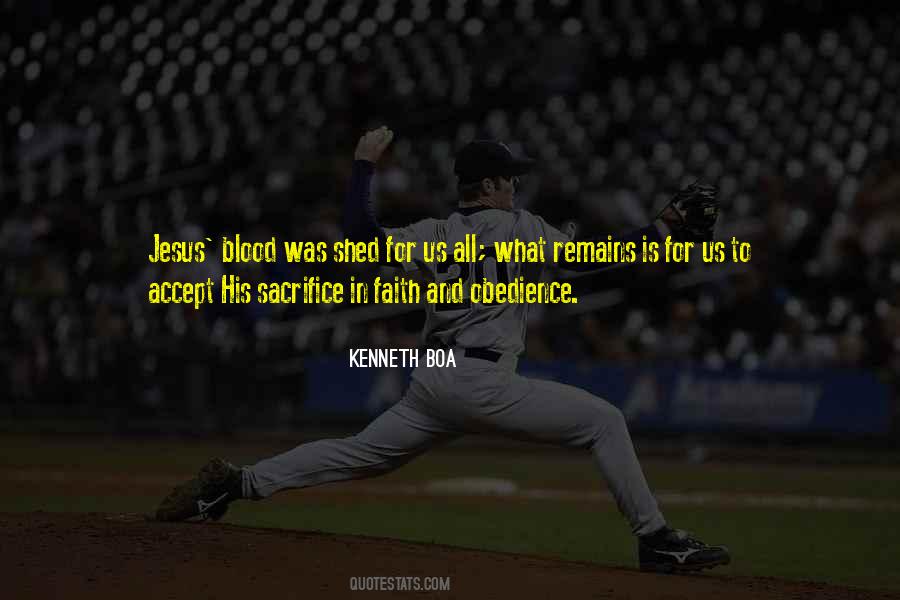 #64. If you don't believe God has forgiven you, you are actually saying that God needs to do more for your forgiveness, and that Jesus' sacrifice was not enough. - Author: Jud Wilhite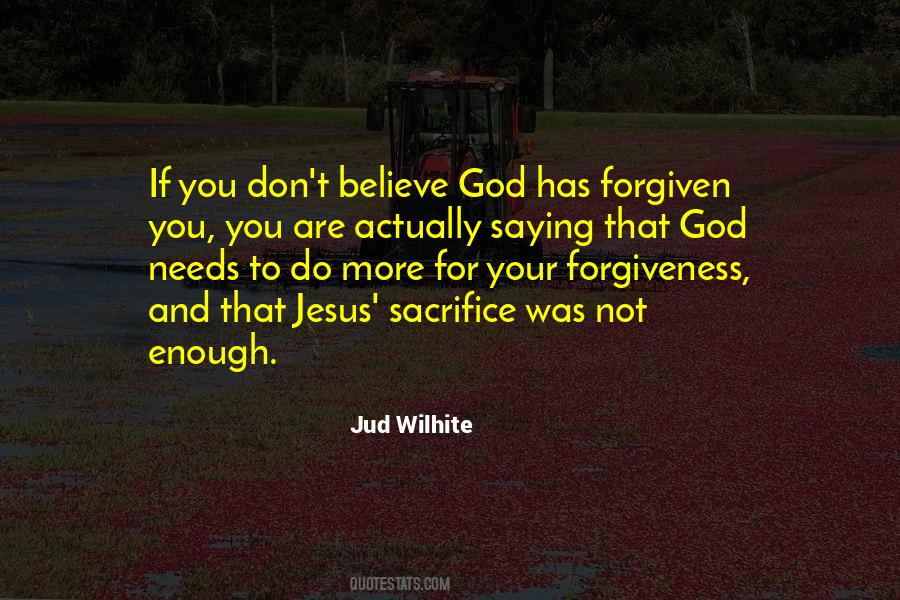 #65. We became God's carriers because of the sacrifice of Jesus. - Author: Sunday Adelaja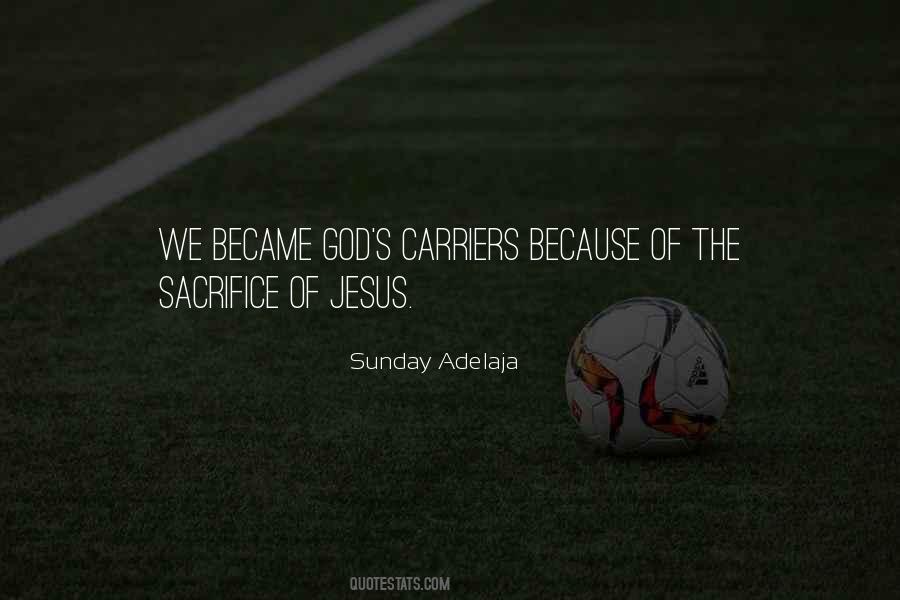 #66. A Catholic understanding of priesthood is so strongly rooted in the historic actions of Jesus and in all their antecedents in the place of sacrifice in life. And those things ... they are rooted to the role of the man. - Author: Vincent Nichols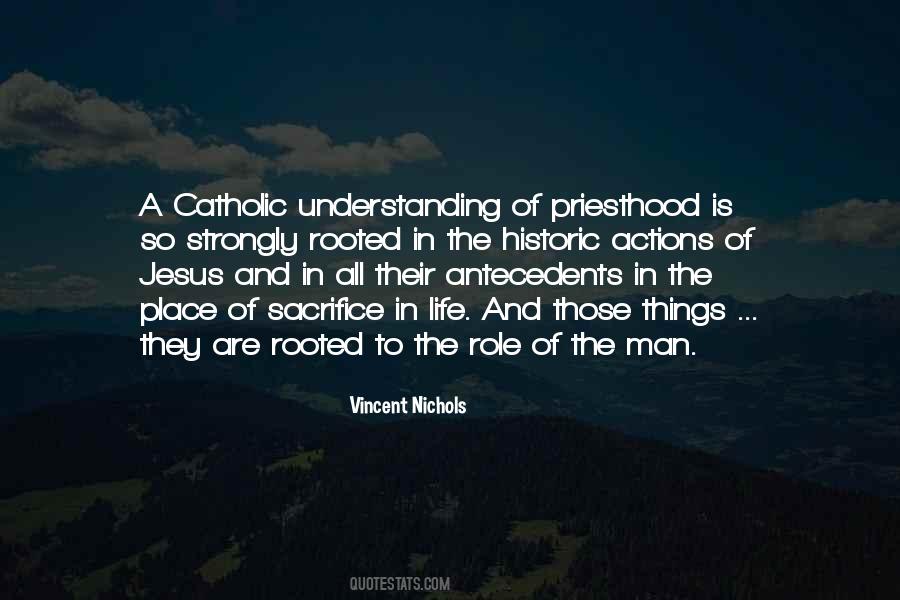 #67. Easter is the final solution to the finality of death. - Author: Craig D. Lounsbrough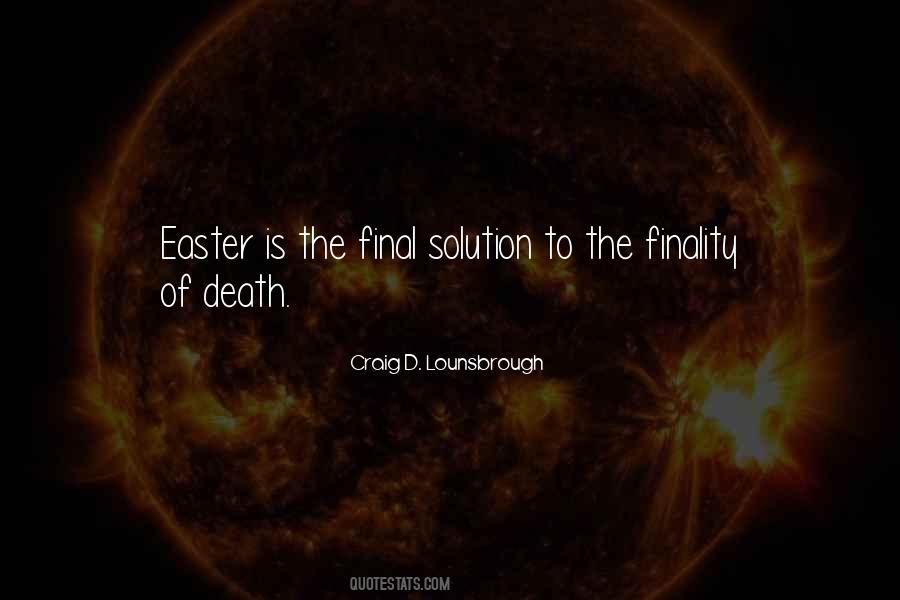 #68. The problem with a living sacrifice is that it can crawl off the altar, so you may have to resurrender your life fifty times a day. You must make it a daily habit. Jesus said, "If people want to follow me, they must give up the things they want. They must be willing to give - Author: Zondervan Publishing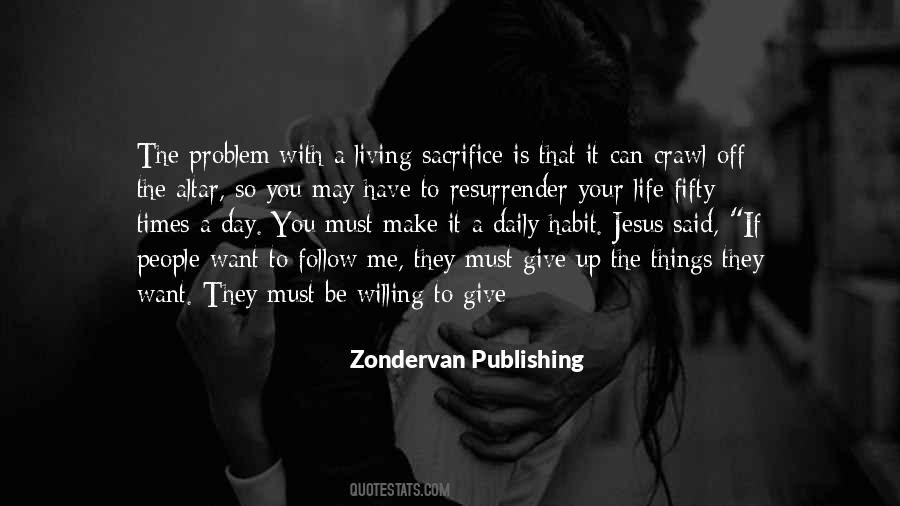 #69. Although I rail against it, death is the dark demarcation beyond which I am at the mercy of my own end. To the contrary, an empty tomb says that my end is at the mercy of God's beginning. - Author: Craig D. Lounsbrough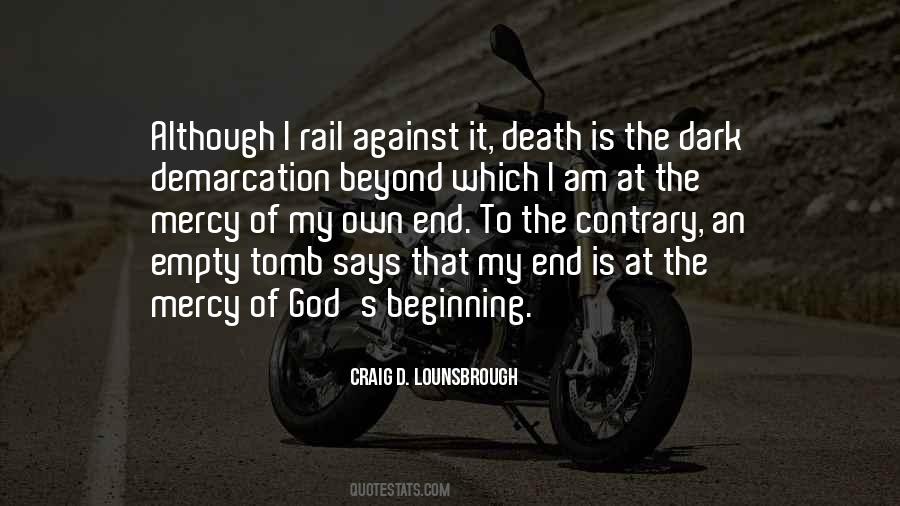 #70. We need to know that our limits do not define our limitations. And an empty tomb does exactly that. - Author: Craig D. Lounsbrough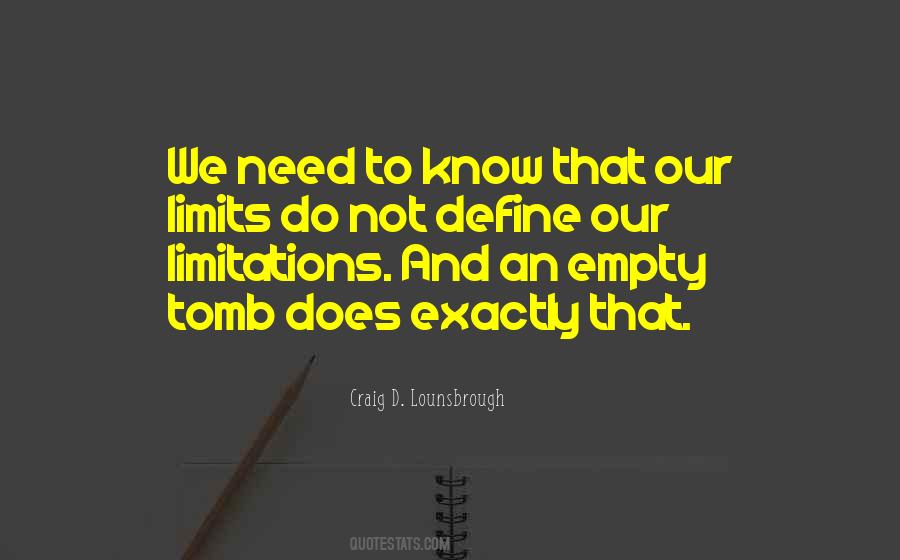 #71. Rather than demanding our rights and creating for ourselves a world where we feel safe and accepted, we need to see the deep spiritual needs of the world and concern ourselves with offering people hope through Jesus Christ. That's what being a living sacrifice is all about. Third, - Author: John F. MacArthur Jr.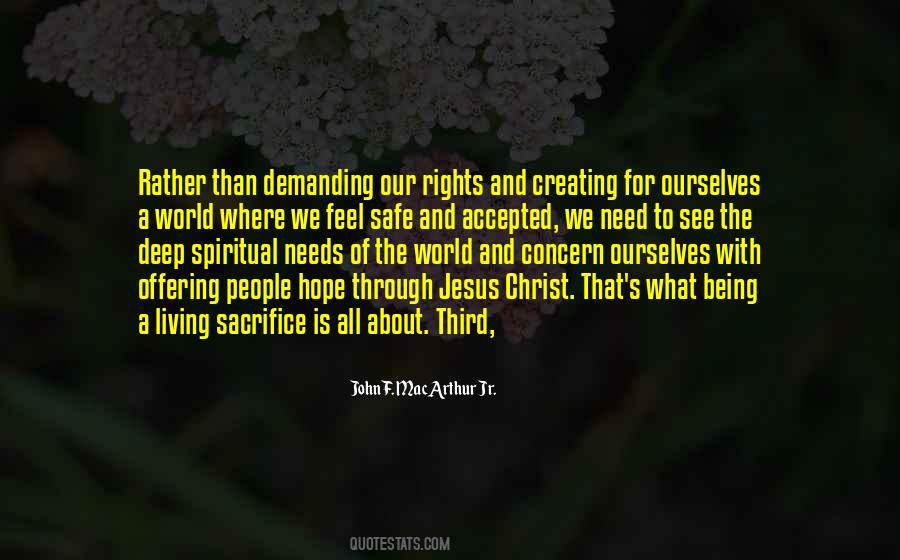 #72. I expect God to use me, not because of who I am but because of who Jesus is. Not because of what I've done, but because of what Jesus has done. - Author: Rick Warren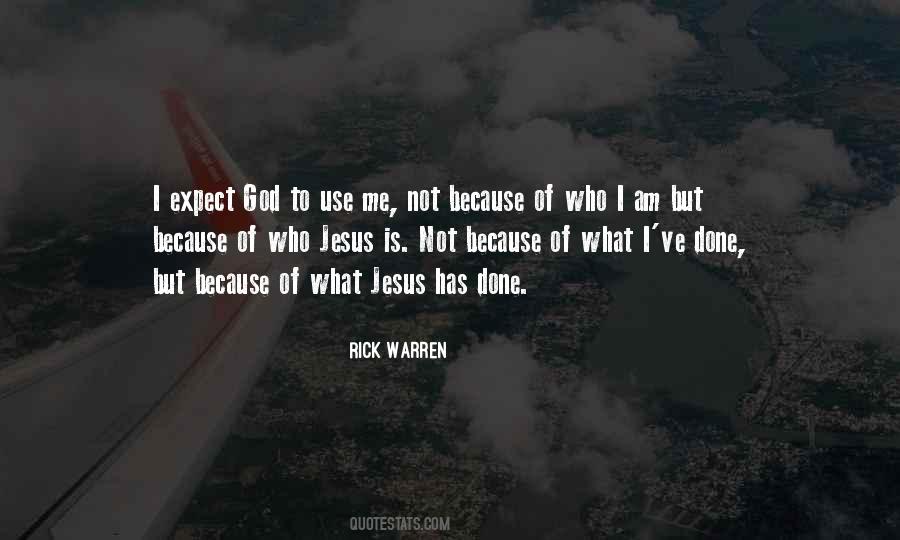 #73. Why do we come to the world, only to suffer and depart? This is a unsolved misery. - Author: Lailah Gifty Akita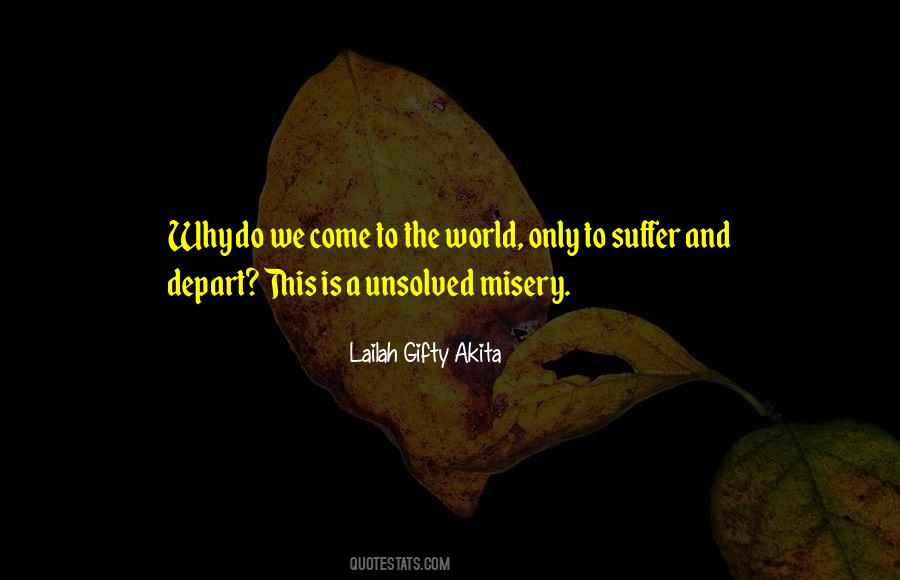 #74. We are all making a crown for Jesus out of these daily lives of ours, either a crown of golden, divine love, studded with gems of sacrifice and adoration, or a thorny crown, filled with the cruel briars of unbelief, or selfishness, and sin ... - Author: Aimee Semple McPherson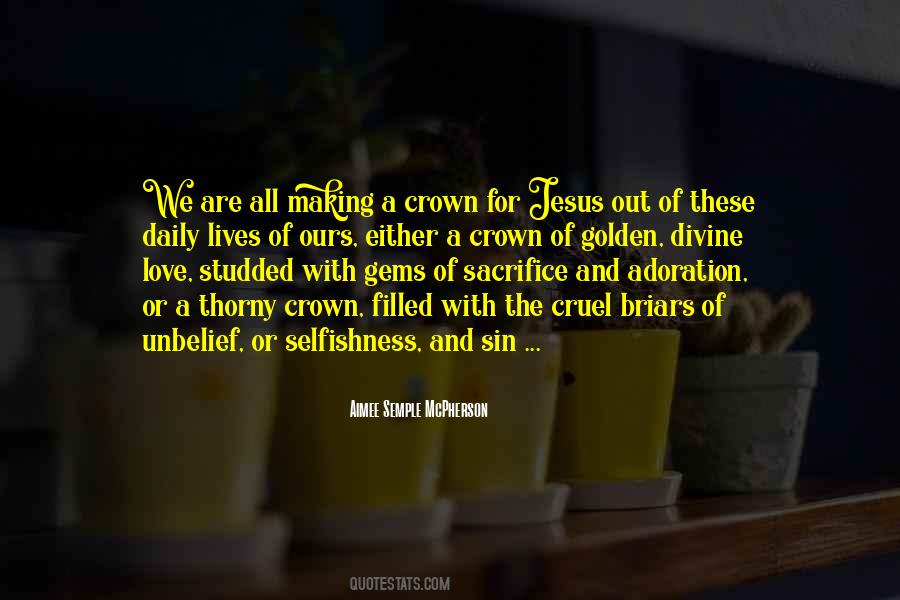 #75. We've yet to comprehend the impervious reality that to gain 'life' we have to do the most scandalous thing imaginable, and that is to work 'against' the whole of our humanity and give everything away. And yet to give everything away is to work 'with' the whole of God's character. - Author: Craig D. Lounsbrough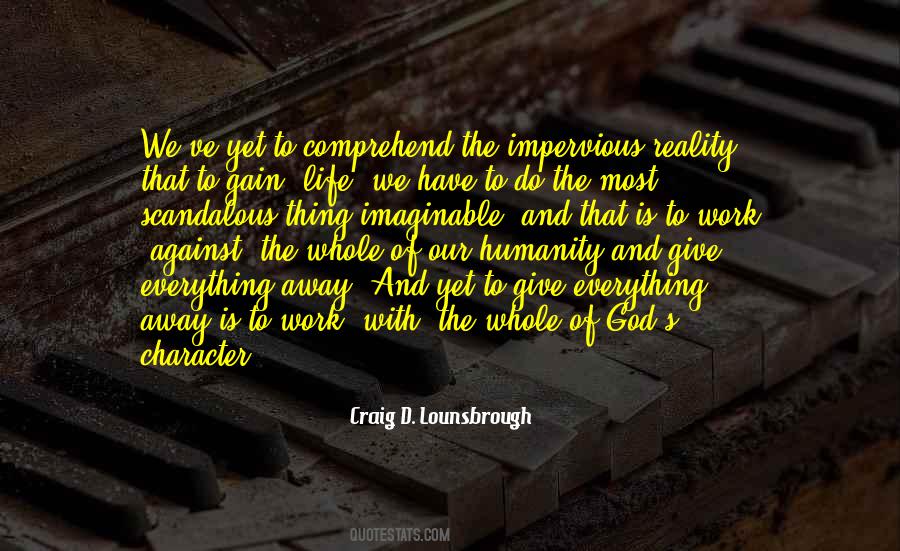 #76. I'll walk through the fire
With my head lifted high
And my spirit revived
In Your story - Author: Hillsong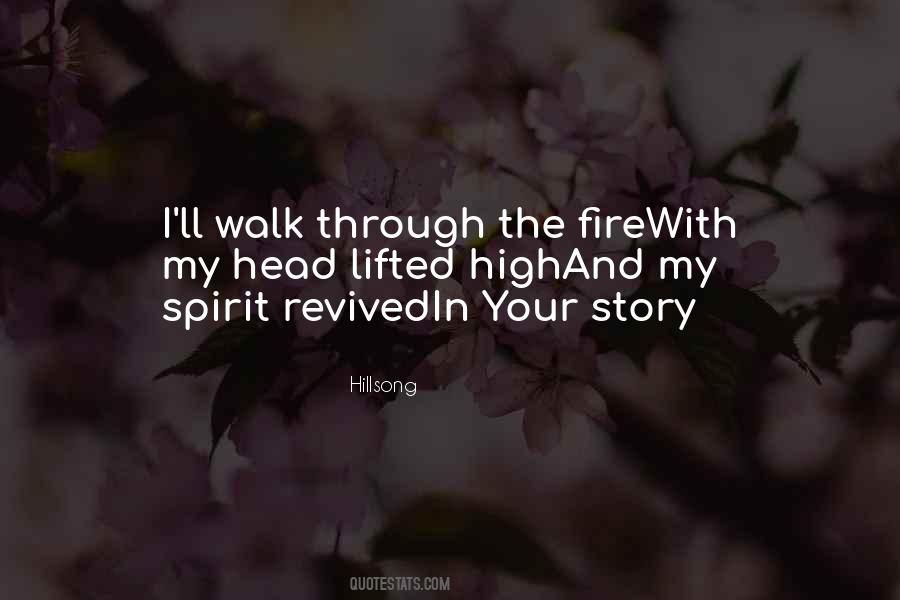 #77. Jesus came to give us life. We don't have to hang on a cross like he did. For him, it was a sacrifice. For us, it is a gift. - Author: Dillon Burroughs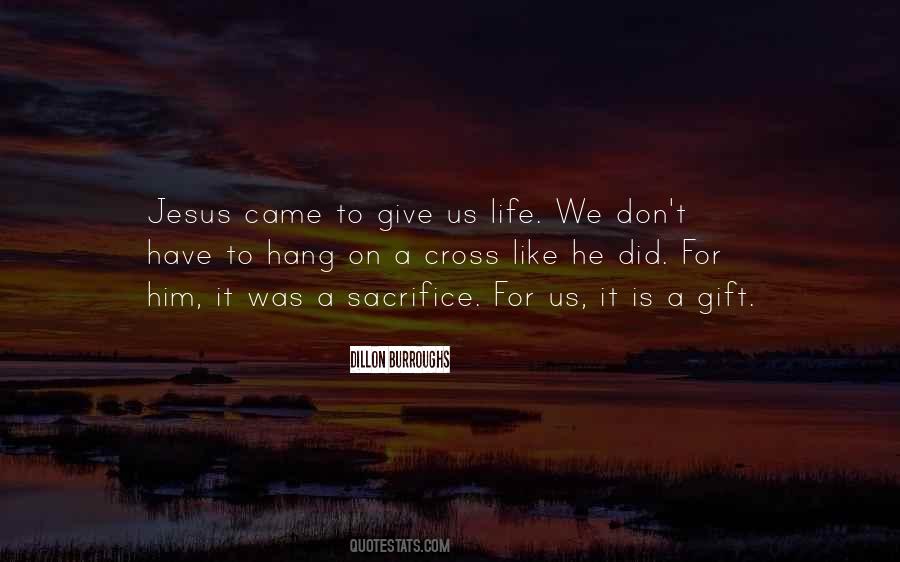 #78. Following Jesus isn't something you can do at night where no one notices. It's a twenty-four-hour-a-day commitment that will interfere with your life. That's not the small print - that's a guarantee. - Author: Kyle Idleman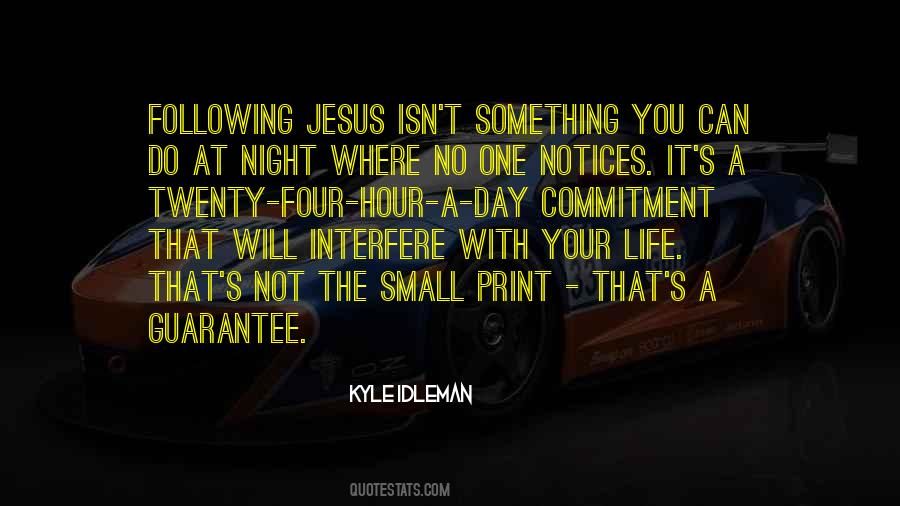 #79. If you hold on to what you want so tightly, it almost becomes an idol. - Author: Joel Osteen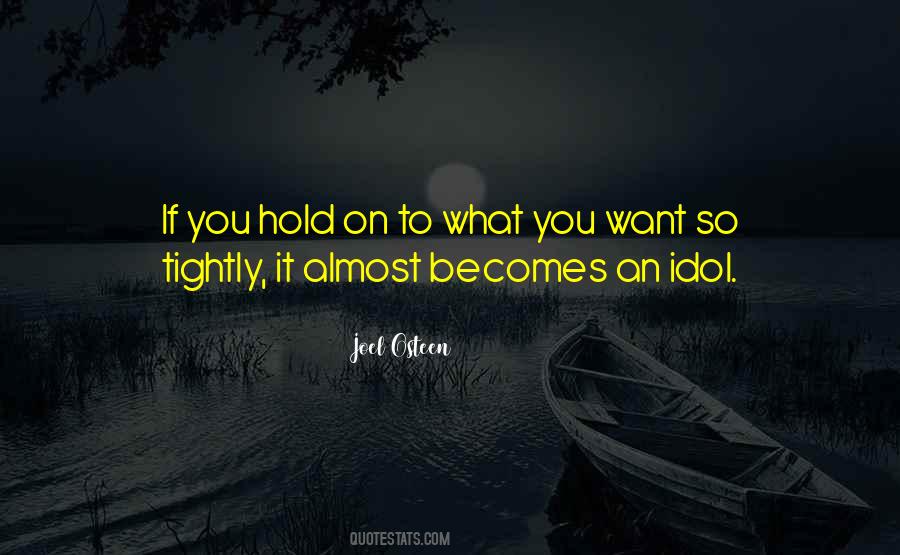 #80. I would say that if you don't believe that Jesus of Nazareth was the Christ and Messiah, and that he rose again from the dead and by his sacrifice our sins are forgiven, you're really not in any meaningful sense a Christian. - Author: Christopher Hitchens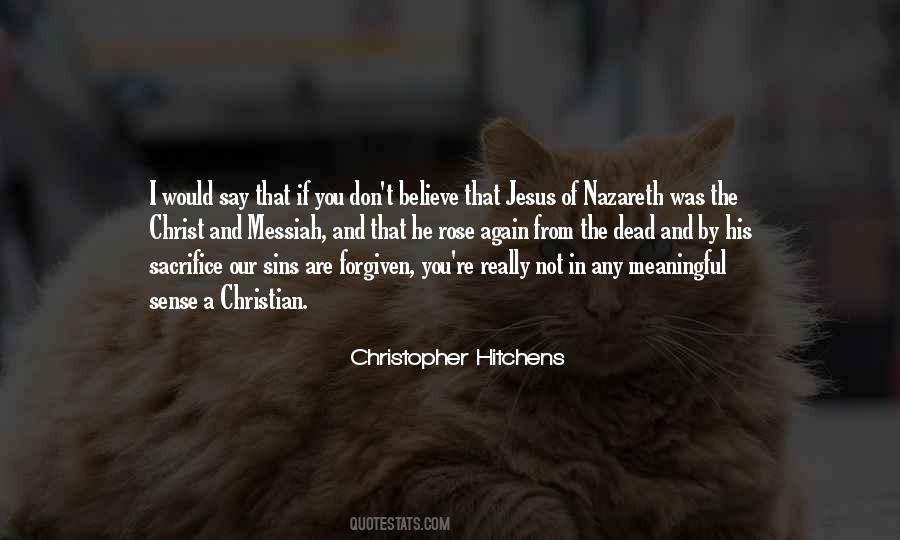 #81. The law was good, Paul wrote, and its purpose vital. But its purpose was also temporary. Once Christ fulfilled the law, his followers would have trivialized his sacrifice by living as though they were still subject to the law's constraints. - Author: Matthew Vines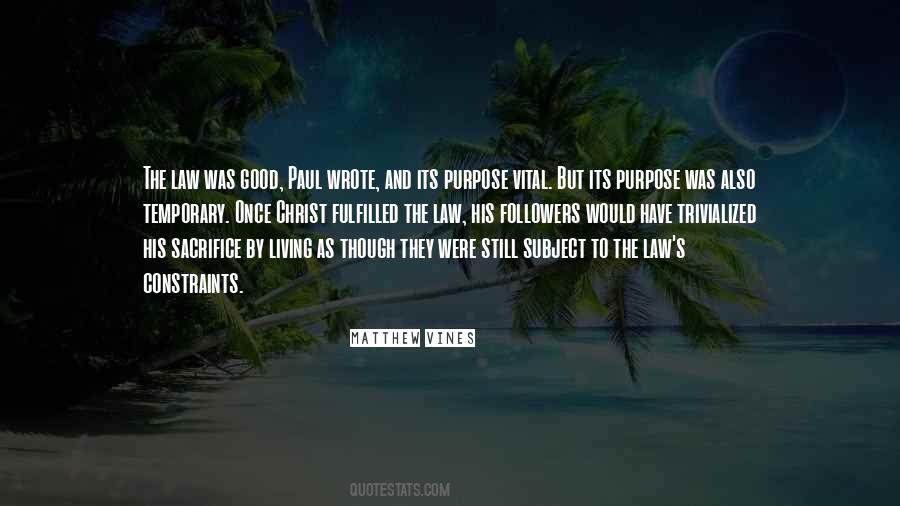 #82. The sacrifice of Jesus Christ is the proof of His love for us. - Author: Sunday Adelaja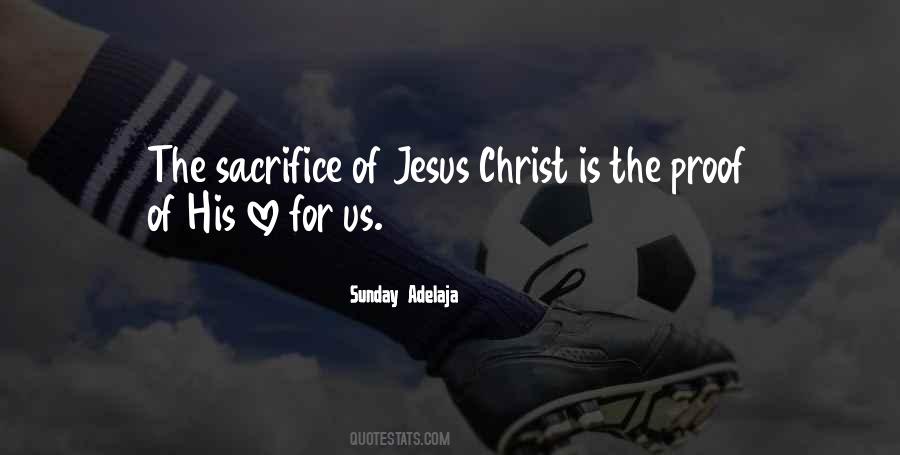 #83. The celebration of Holy Mass is as valuable as the death of Jesus on the cross. - Author: Thomas Aquinas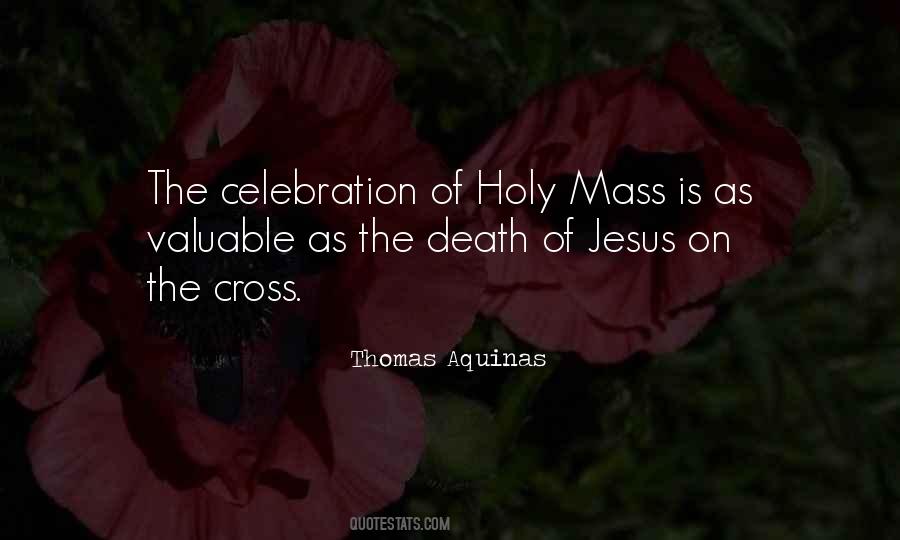 #84. None of the hymns that filled the air were about Jesus' sacrifice or death. I heard no sad songs and instinctively knew that there are no sad songs in heaven. - Author: Don Piper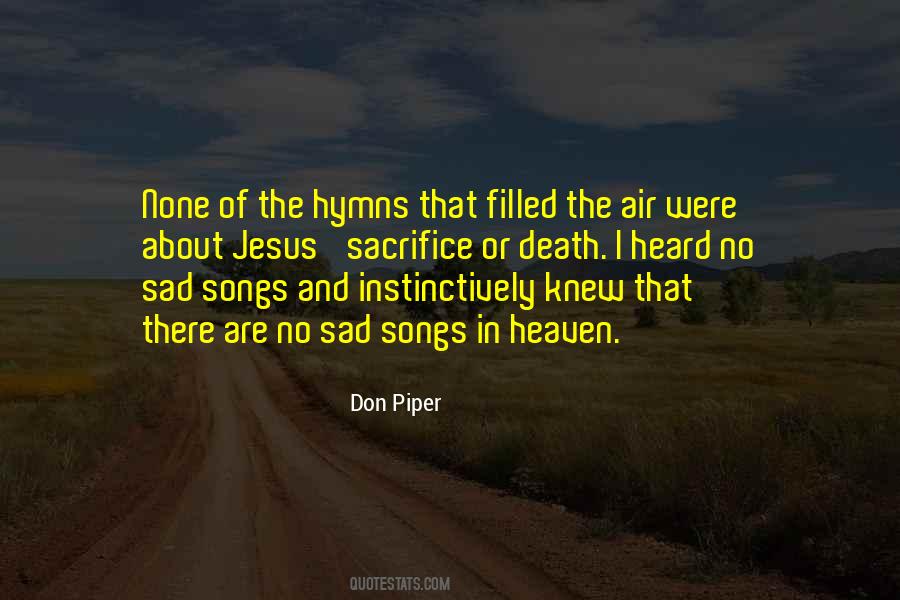 #85. Saul fell upon his sword to avoid suffering. Jesus stretched himself upon the cross to take away ours.
Saul's suicide cheated his enemies. Jesus' sacrifice cheated death. - Author: Lisa Bevere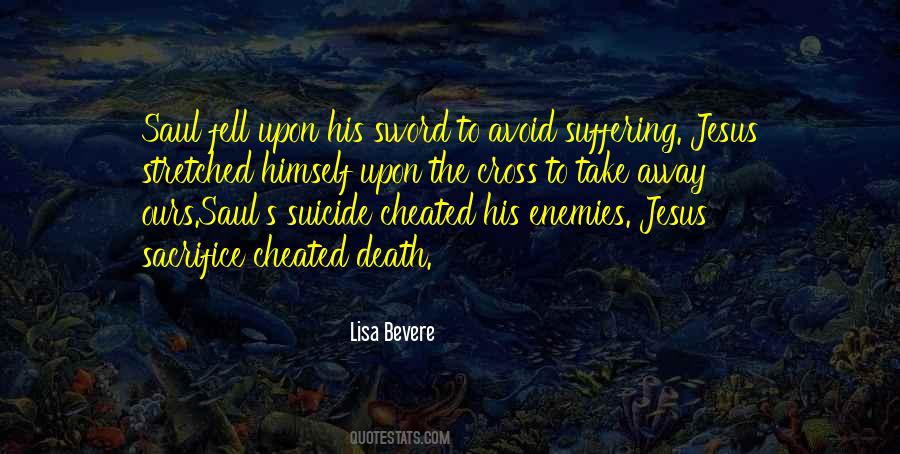 #86. I invite all to trust in the merits and in the power of the Atonement of Jesus Christ. Through His atoning sacrifice, we can gain the courage to win all the wars of our time, even in the midst of our difficulties, challenges, and temptations. Let us trust in His # love and power to save. - Author: Ulisses Soares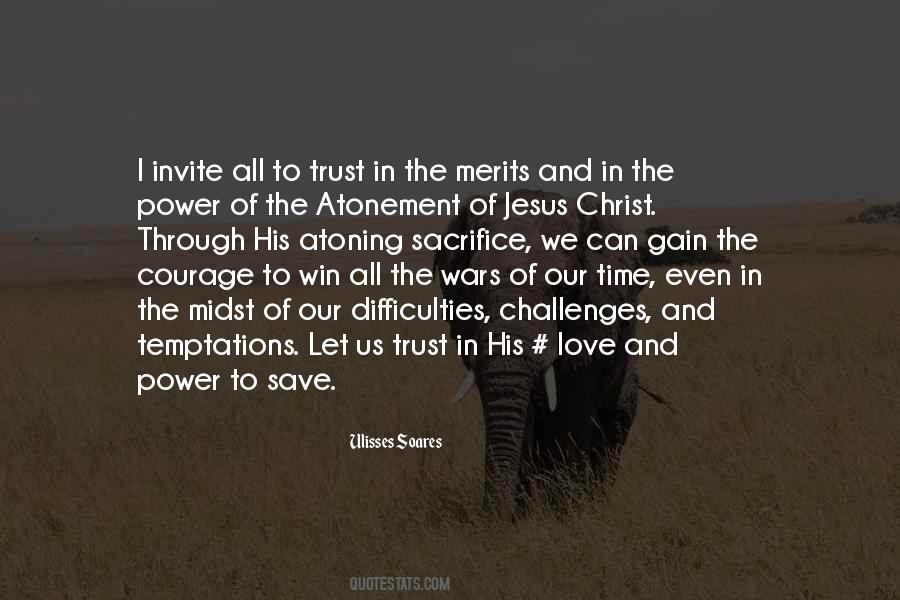 #87. Jesus called for nonviolent resistance to Rome and just distribution of land and food. He was crucified because he threatened Roman stability - not as a sacrifice to God for humanity's sins - Author: John Dominic Crossan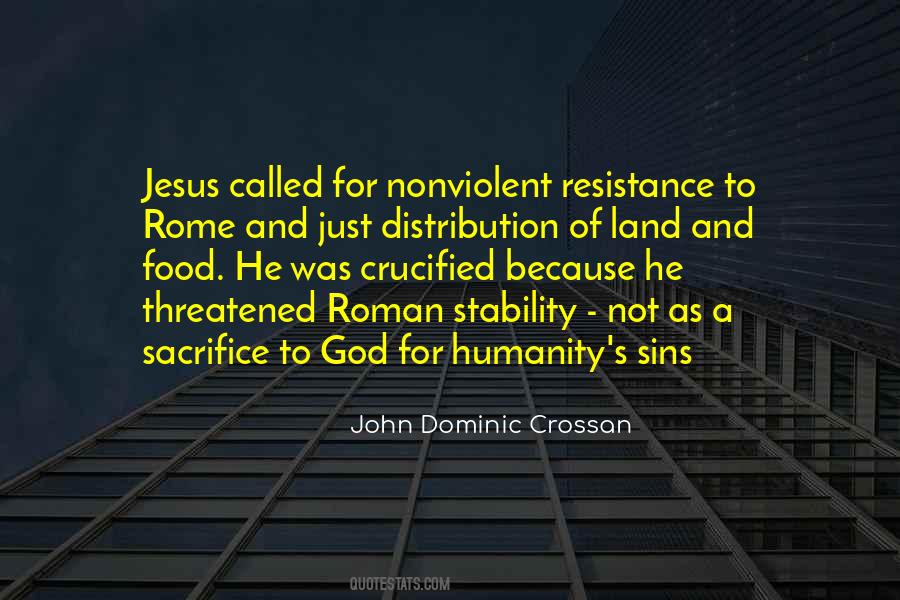 #88. If God has the answer to every question, maybe my appreciation for God should be shaped more by the number of questions and less by the wisdom of the answers. - Author: Craig D. Lounsbrough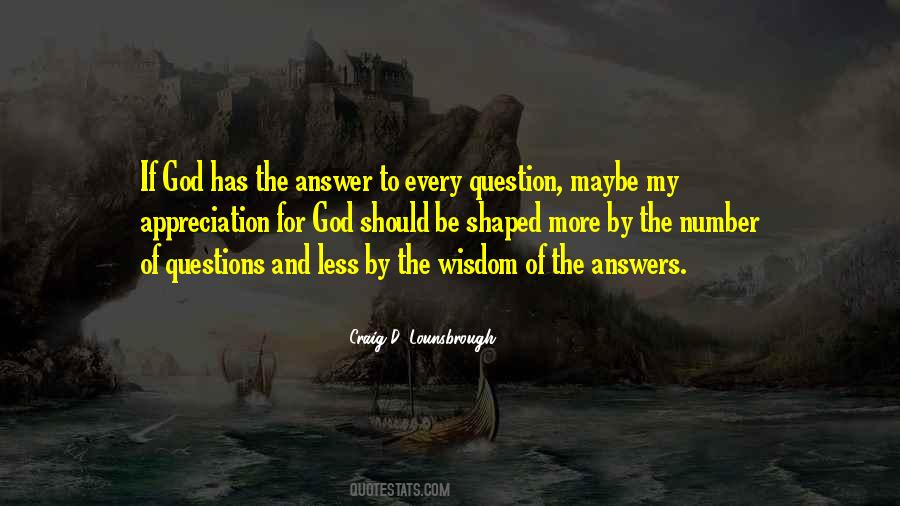 #89. There are an incalculable number of things within me that I frantically wish to be emptied of, and despite my most earnest efforts to remove them, they remain. And it is Easter that reminds me that God empties out tombs. - Author: Craig D. Lounsbrough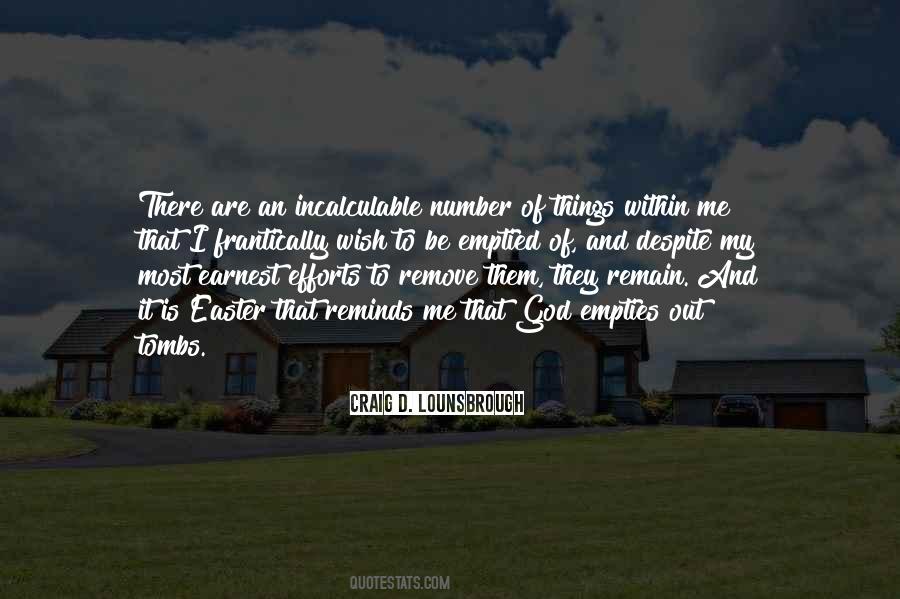 #90. Skypilot could not help but hope that the song of the moon
the song of God's miraculous firmament
might reach her tonight and enable her to feel the reality of Christ's love and sacrifice. - Author: Serena B. Miller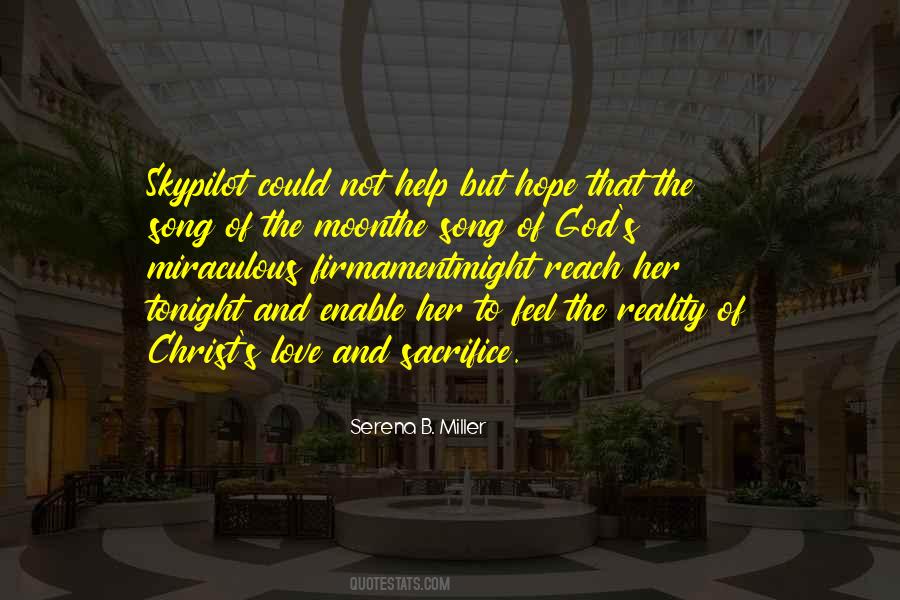 #91. The Gospel of Judas turns Judas' act of betrayal into an act of obedience. The sacrifice of Jesus' body of flesh in fact becomes saving. And so for that reason, Judas emerges as the champion and he ends up being envied and even cursed and resented by the other disciples. - Author: Craig A. Evans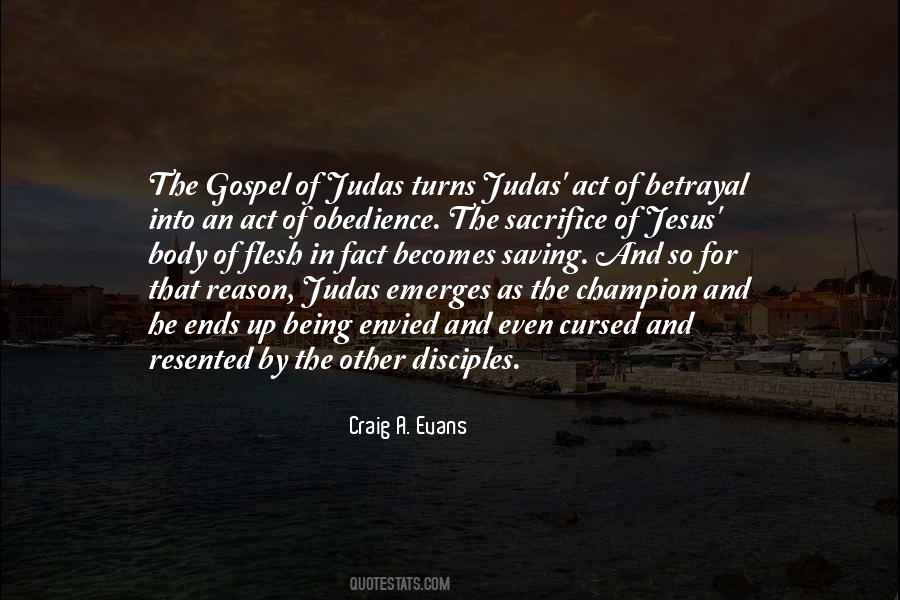 #92. This is the secret of life: the self lives only by dying, finds its identity (and its happiness) only by self-forgetfulness, self-giving, self-sacrifice, and agape love. - Author: Peter Kreeft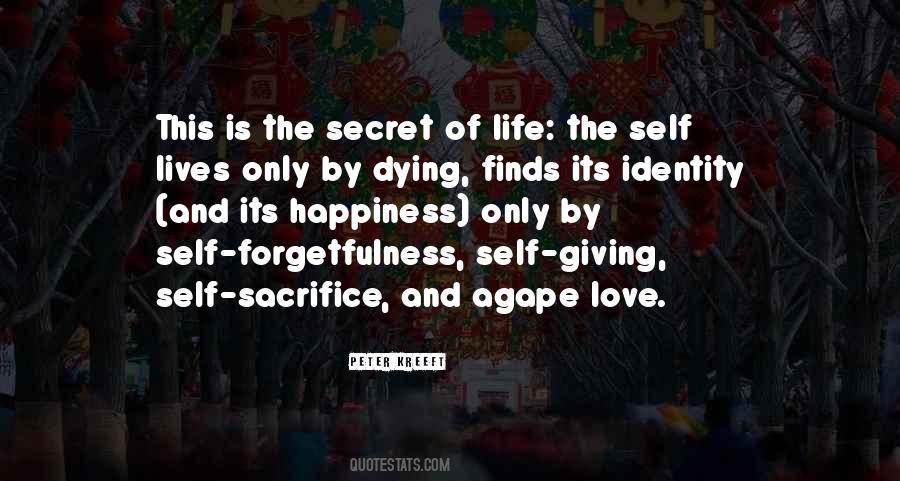 #93. Jesus teaches us to give richly, serve sacrificially, and love unconditionally. - Author: Elizabeth George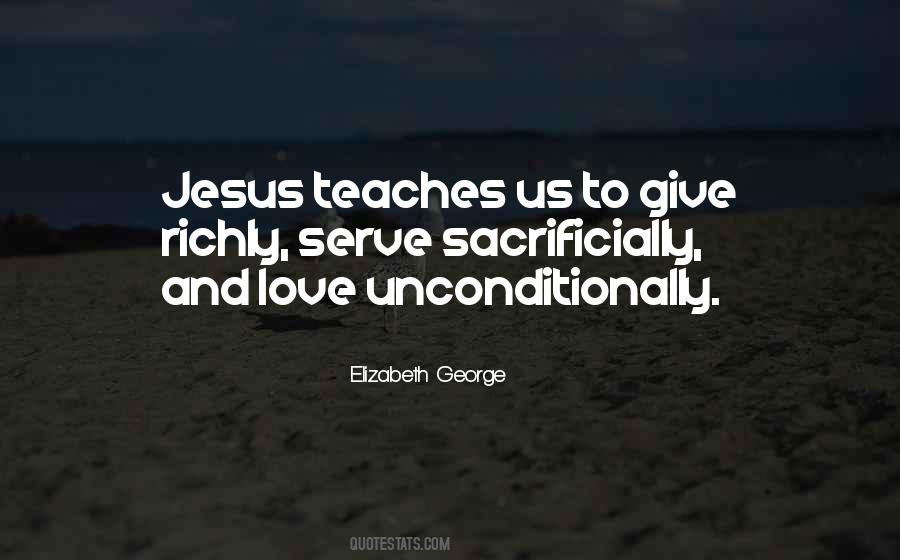 Famous Authors
Popular Topics