Jesus In My Life Famous Quotes & Sayings
List of top 90 famous quotes and sayings about jesus in my life to read and share with friends on your Facebook, Twitter, blogs.
Top 90 Quotes About Jesus In My Life
#1. My refusal to follow my husband's God-given leadership hurts the gospel, hurts the name of Christ, and repels unbelievers from finding the real love and real life that is only available in Jesus. - Author: April Cassidy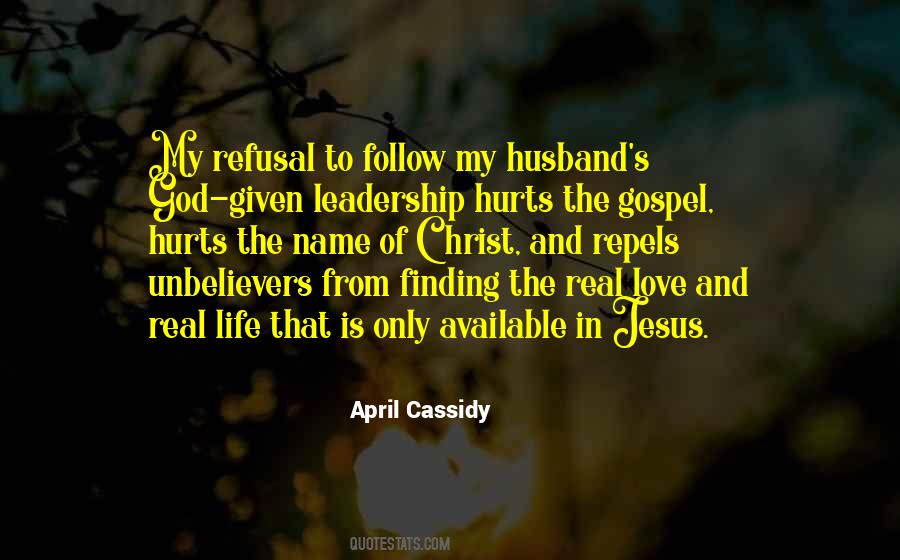 #2. Dear Lord, help me to be courageous enough to speak honestly to You and to myself about areas where I'm giving in to compromise. Show me how to rely on Your strength for more self-discipline in my life - not for my glory, but for Yours. In Jesus' name. Amen. - Author: Lysa TerKeurst
#3. I stand on victory ground for today. I claim all the work of the cross of Jesus, His resurrection power, His ascended authority, and Pentecost for all my victory. You are Lord of all my life this day. In Jesus' name, Amen. - Author: Sylvia Gunter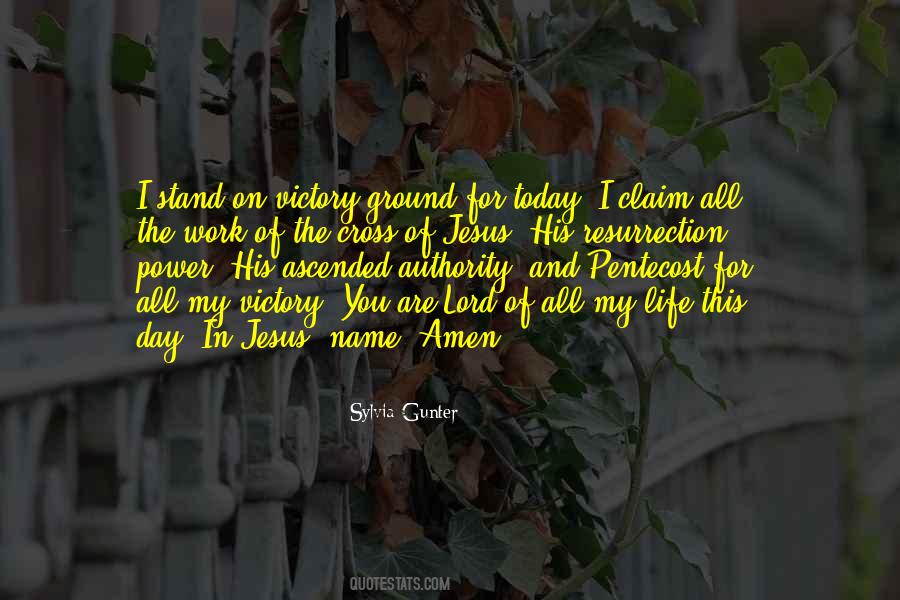 #4. Mark my word, the day is coming when it's going to cost to live for Jesus Christ. We are, more and more, a minority, and that's exactly what it was like in the first century. - Author: Billy Graham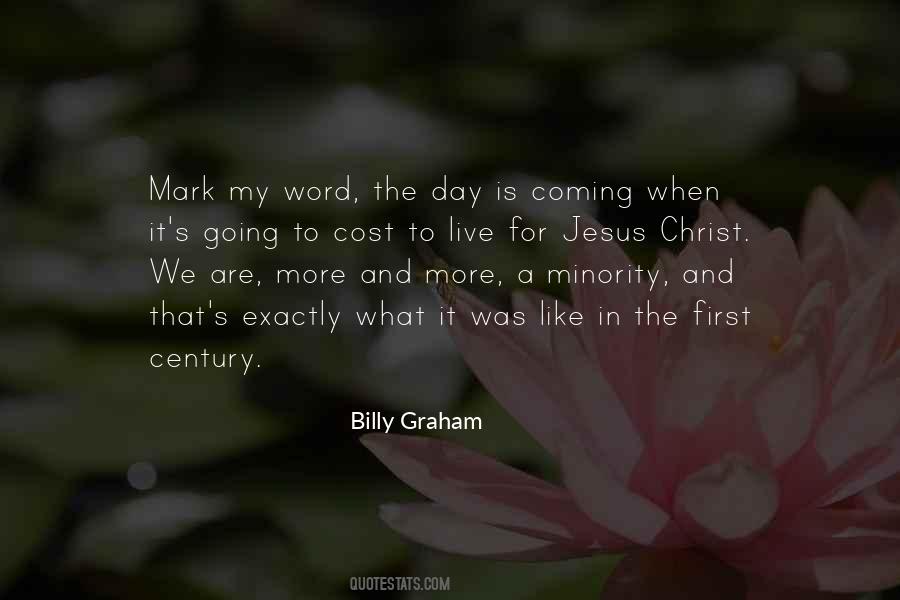 #5. Path. Jesus Christ is the uncontested Champion of my life. He is the only good that dwells in me. I know He performs miracles because I am one. - Author: Beth Moore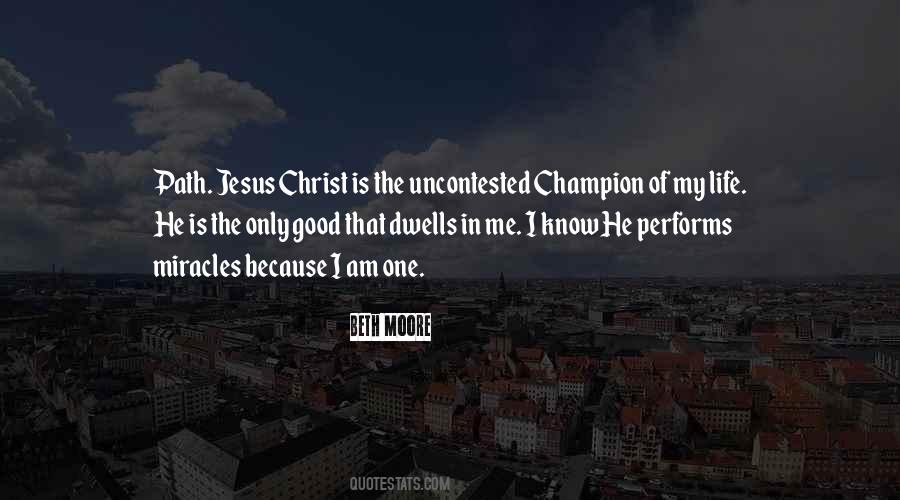 #6. My history shouts the power of the blood of Jesus. My presence demonstrates the absolute love, affection and purpose of God for my life. My future is drawing me into a hope-filled life that has a purpose of saying, 'on earth as it is in Heaven.' - Author: Bill Johnson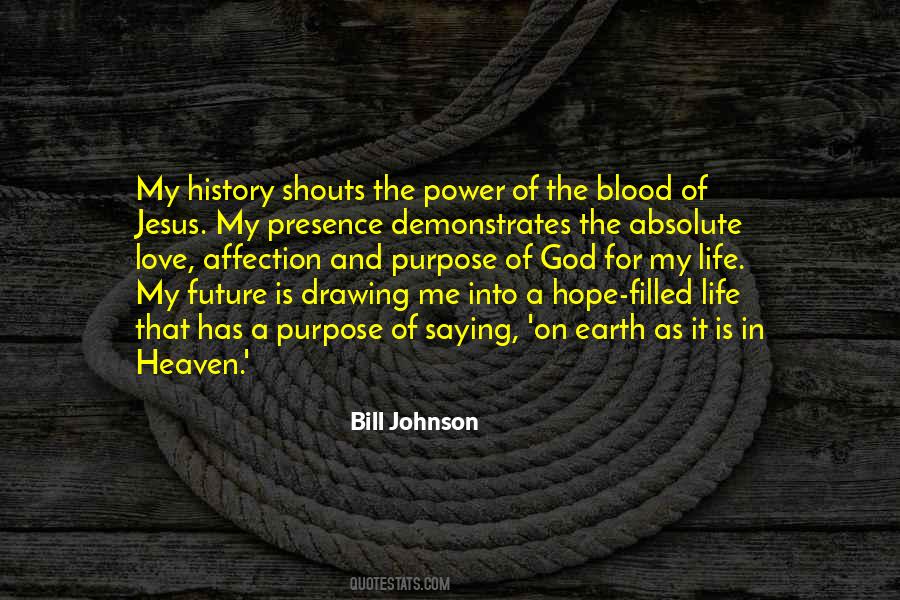 #7. He said to the cardinal, I'm a peasant, not instructed in the ways of heaven. But I have never broken my word. And you, a Cardinal of the Catholic Church, with all your holy garments and crosses of Jesus, lied to me like a heathen Moor. Your sacred office alone will not save your life. - Author: Mario Puzo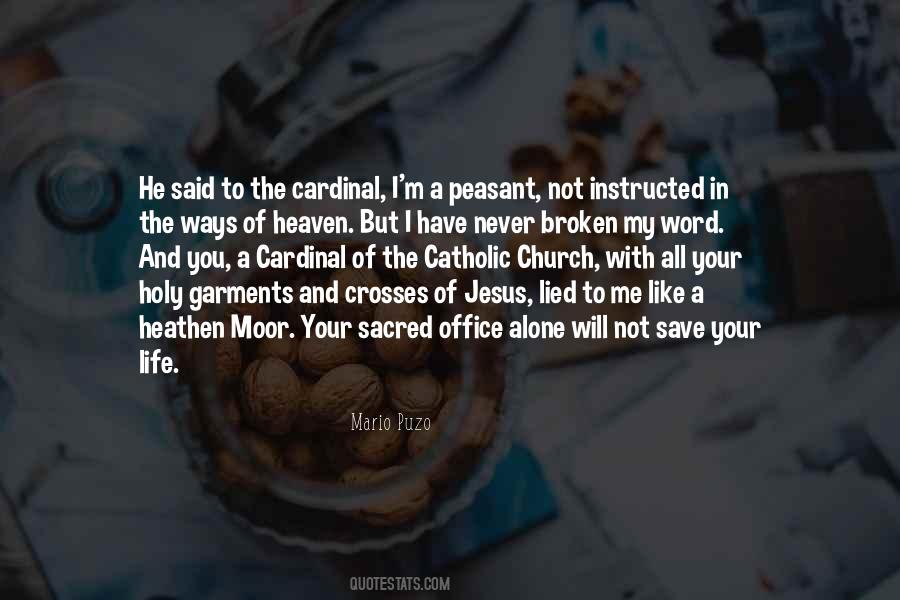 #8. You shrunk and bottled in a glass jar, you're a portable saint. Knowing you is like knowing Jesus. There are billions of us and only one of you so I don't expect much from you personally. There are no answers to my life. But I'm touched by you and fulfilled just by believing. - Author: Chris Kraus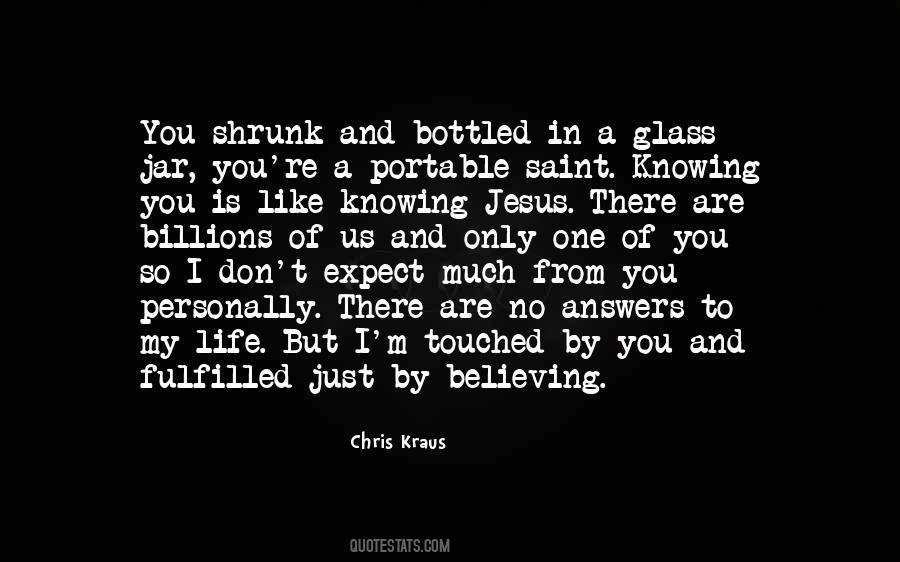 #9. To keep me from sin and straying from Him, God has used devotion to the Sacred Heart of Jesus in the Blessed Sacrament. My life vows destined to be spent in the light irradiating from the tabernacle, and it is to the Heart of Jesus that I dare go for the solution of all my problems - Author: Pope John XXIII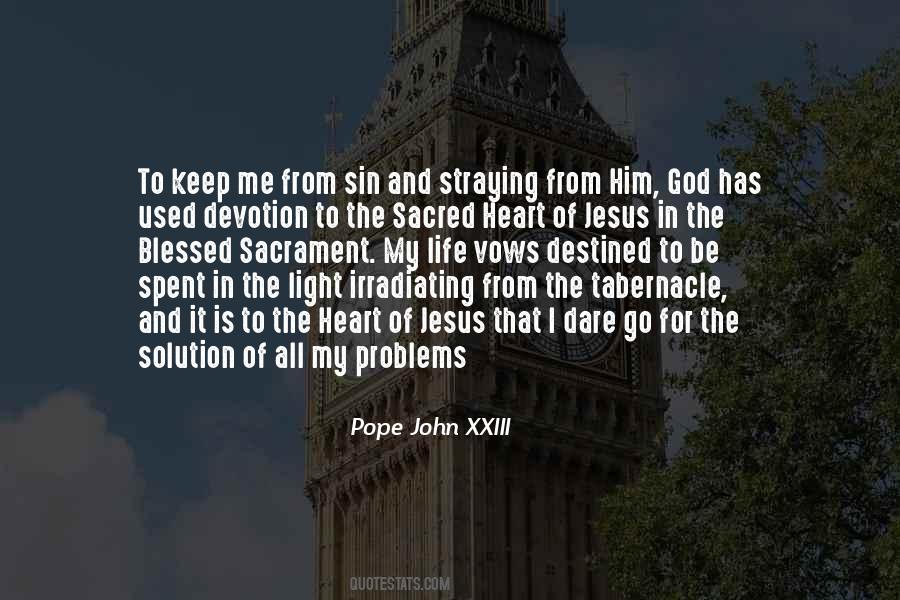 #10. I'm a Mormon, but I share your faith in the atonement of the savior, Jesus Christ. In my faith, we have a guy who gave his life for what he believed in. You don't have to believe it; I'm not asking you to. I'm asking you, "What is it that you believe? Are you willing to give your life?" - Author: Glenn Beck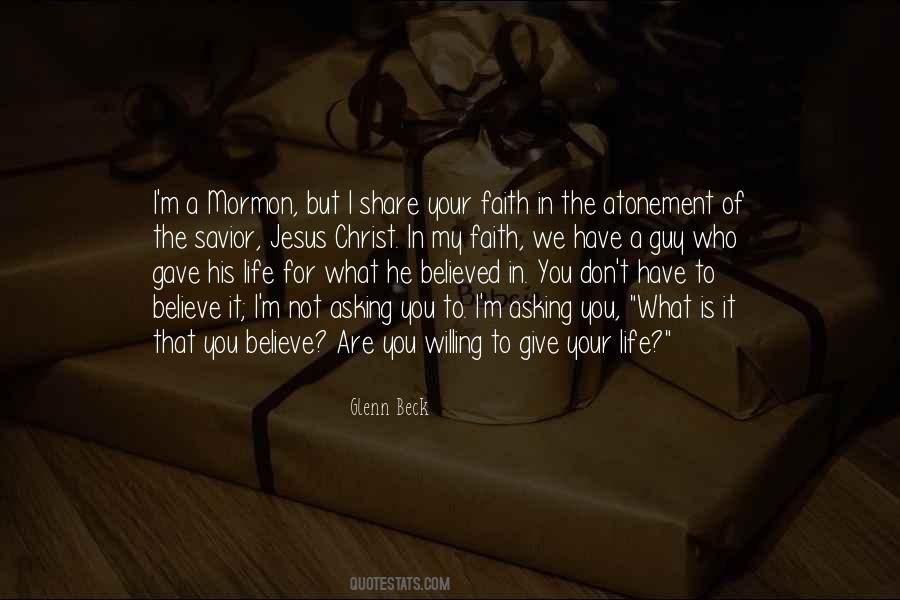 #11. My chains are broken. I am free in Christ. - Author: Lailah Gifty Akita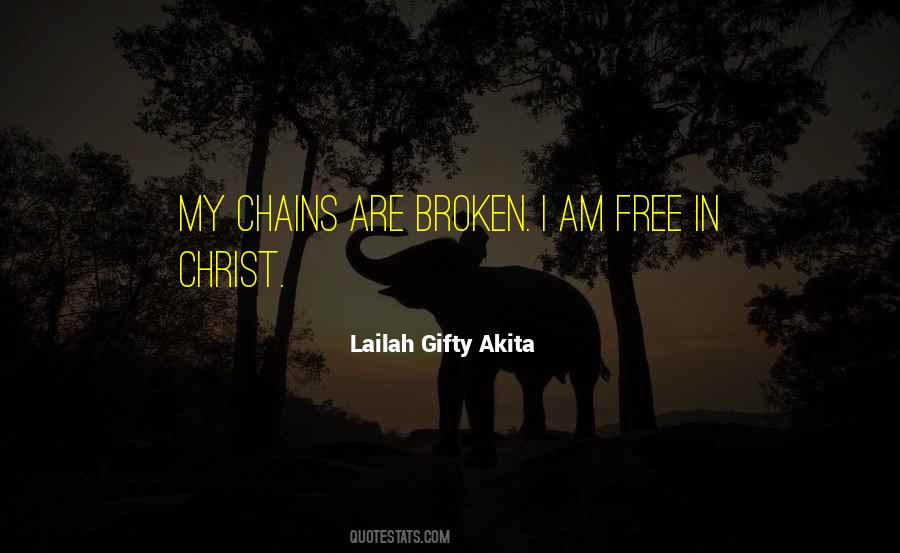 #12. I am grateful that early in my life I was blessed with a simple faith that Joseph Smith was a prophet of God, that he saw God the Father and His Son, Jesus Christ, in a vision. He translated the Book of Mormon by the gift and power of God. That testimony has been confirmed to me over and over again. - Author: Dieter F. Uchtdorf
#13. Think of it this way instead: I got better and I have a story and I want to tell the world what Jesus has done in my life because I want Jesus to be glorified. God may use counselors, medications, doctors, and all that, but it's Jesus who heals you. - Author: Louie Giglio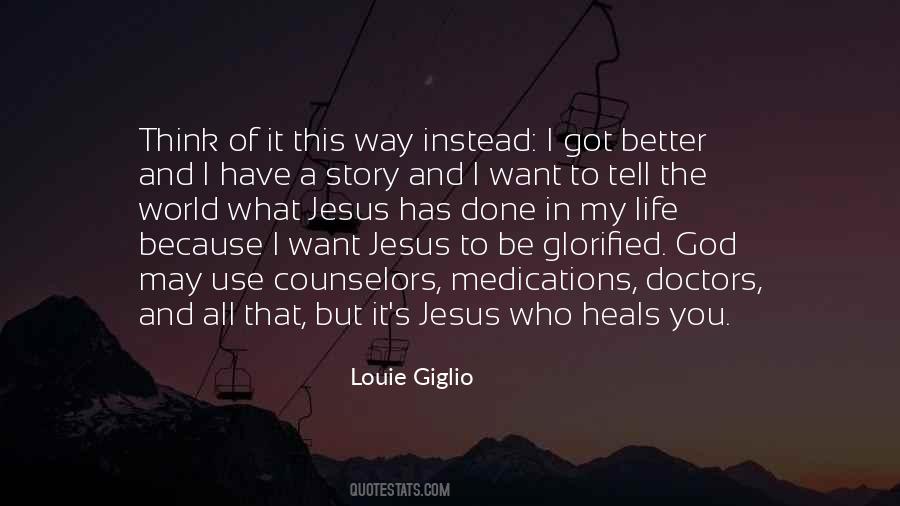 #14. He is the light in my life and the rock beneath my feet. (Referring to the Lord Jesus) - Author: Kimberly McRae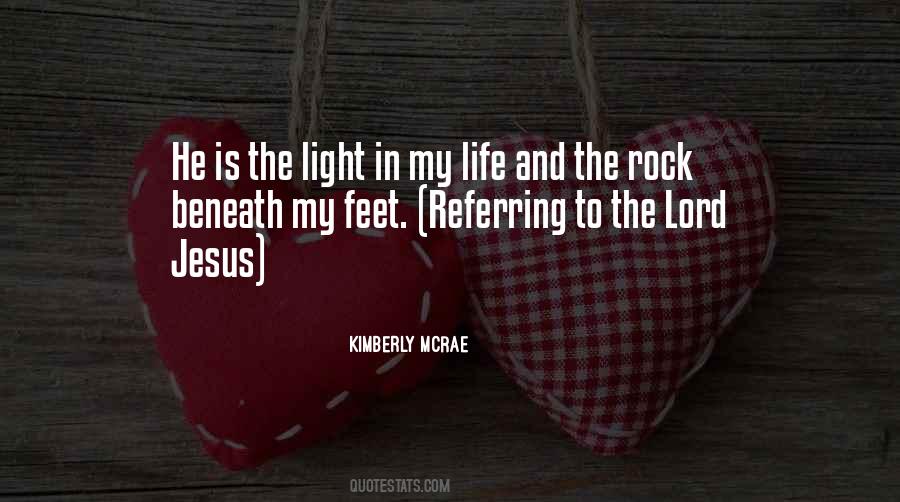 #15. We are like clay containers filled with a beautiful treasure. So often it has been the love of Jesus expressed through the life of someone I know that has made a difference in my life. - Author: Roy Lessin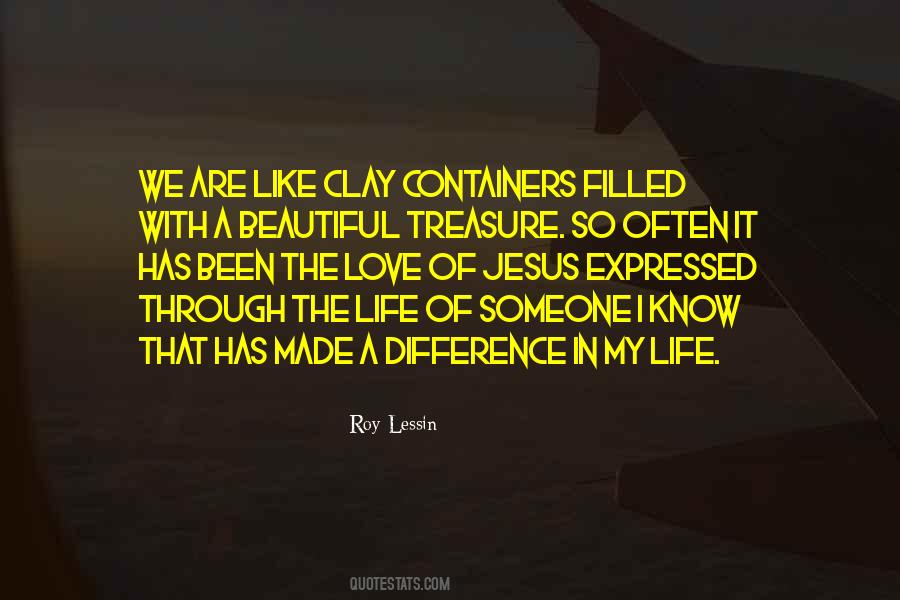 #16. From the sense of being an ambassador for Jesus Christ, hopefully, through my story and through all the improbables and the miracles that happened in my life, people are inspired or at least a little bit warmer to the idea of exploring who Jesus is. - Author: Jeremy Lin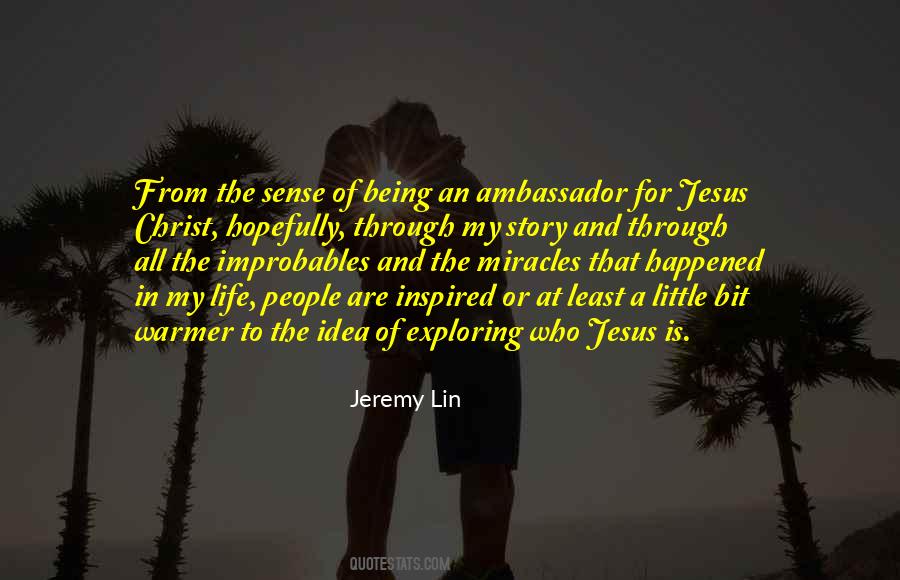 #17. My life is like a faded leaf,
My harvest dwindled to a husk:
Truly my life is void and brief
And tedious in the barren dusk;
My life is like a frozen thing,
No bud nor greenness can I see:
Yet rise it shall - the sap of Spring;
O Jesus, rise in me. - Author: Christina Rossetti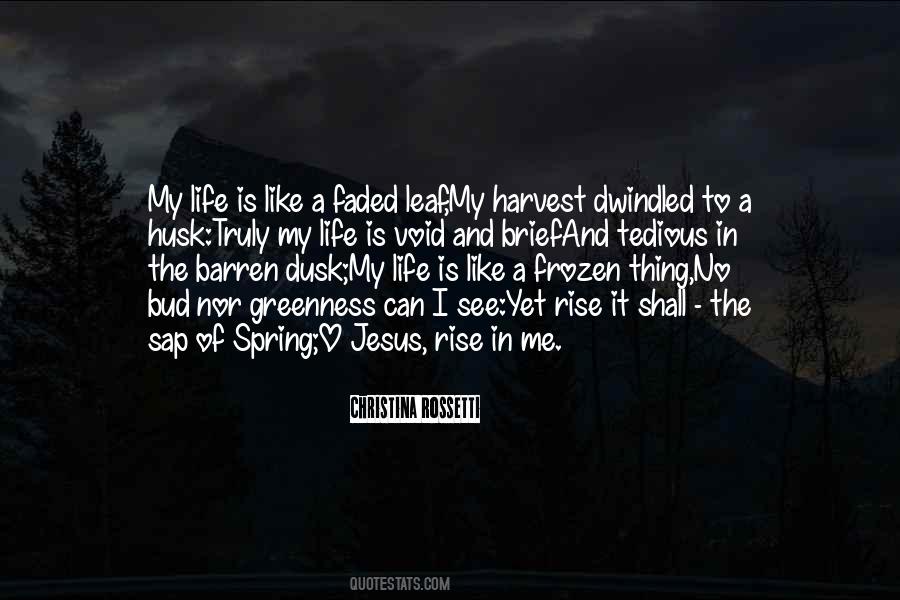 #18. As an overflow of my life - the wake I leave behind with my little dash on earth - I want others to fall in love with Jesus and know of His great hope and purpose for their lives. - Author: Louie Giglio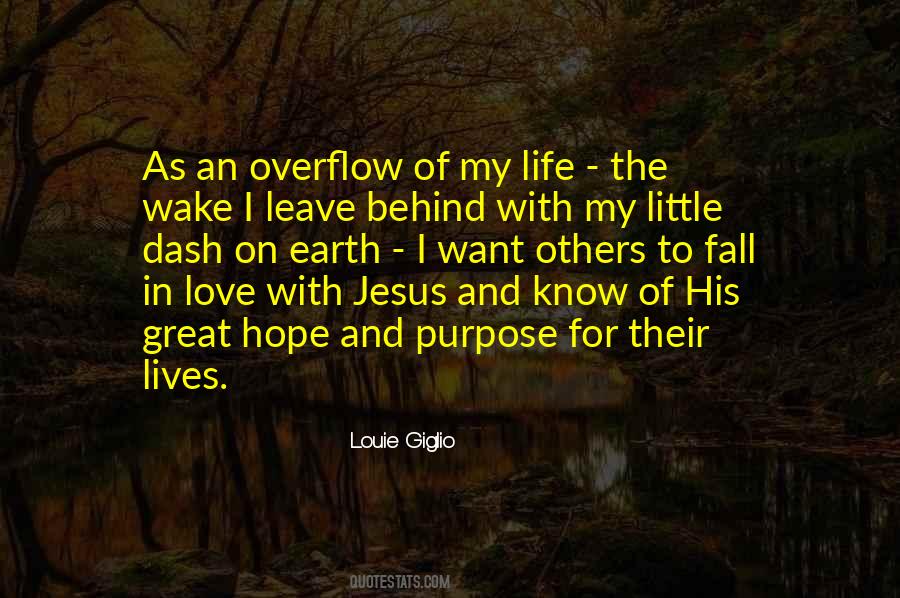 #19. It's pretty easy for me to say that the most important thing in my life is my relationship with Jesus Christ, followed by my relationship with family. And football's later on down the line. - Author: Tim Tebow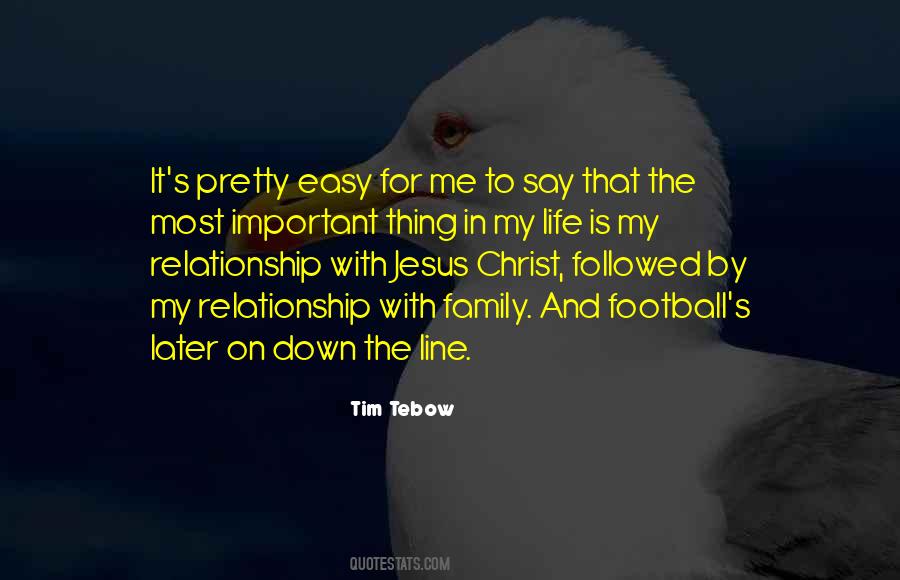 #20. George Macdonald said, 'If you knew what God knows about death you would clap your listless hands', but instead I find old people in North America just buying this whole youth obsession. I think growing older is a wonderful privilege. I want to learn to glorify God in every stage of my life. - Author: Elisabeth Elliot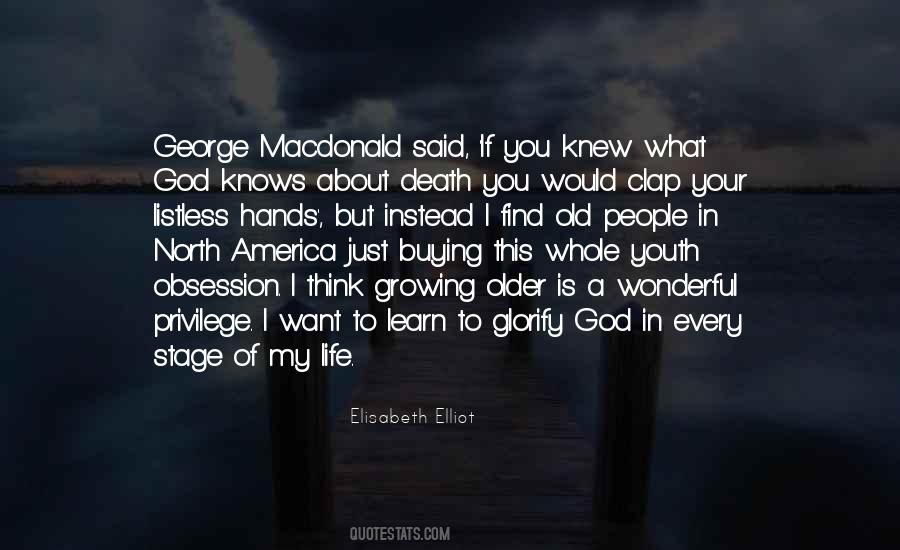 #21. I can't do anything about my past, but I can do a lot to cooperate with my destiny. I am re-created in Christ Jesus, born anew, that I might do the good works that he laid out for me and live the good life. - Author: Joyce Meyer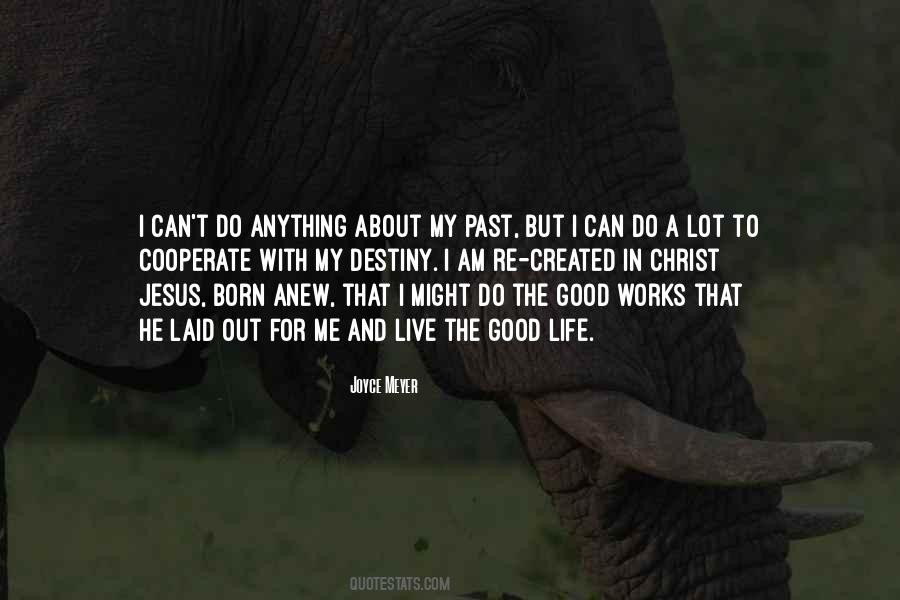 #22. Jesus used the carefree attitude of the birds to underscore the fact that worrying is unnatural. I am learning in my own life, day by day, to keep my mind centered on Christ. - Author: Billy Graham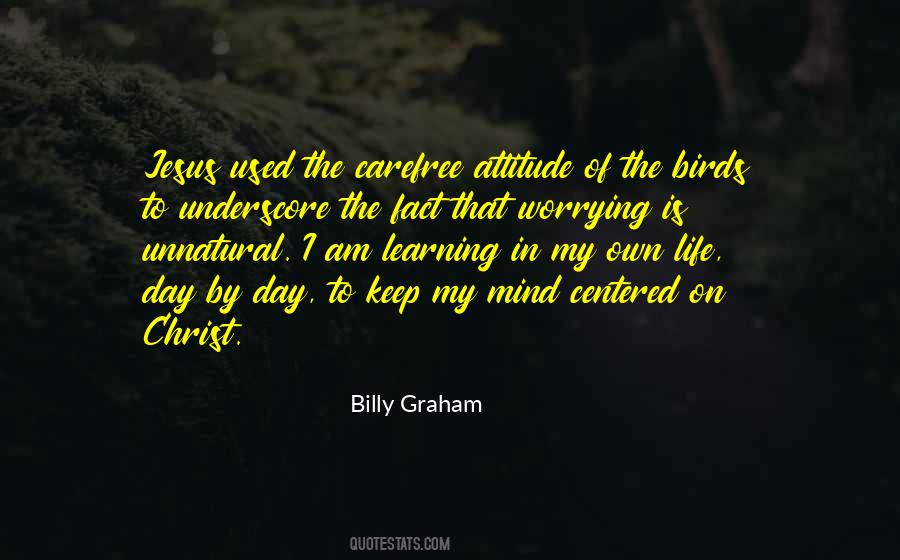 #23. The goal of prayer is to live all of my life and speak all of my words in the joyful awareness of the presence of God.
Prayer becomes real when we grasp the reality and goodness of God's constant presence with 'the real me.' Jesus lived his everyday life in conscious awareness of his Father. - Author: John Ortberg Jr.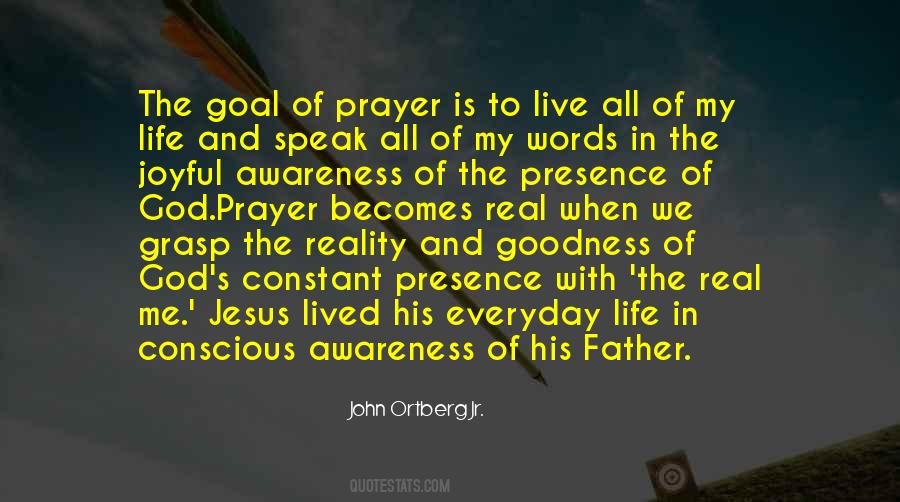 #24. In life I will fall, I will backslide, but mark my word I will never give up. - Author: Jonathan Anthony Burkett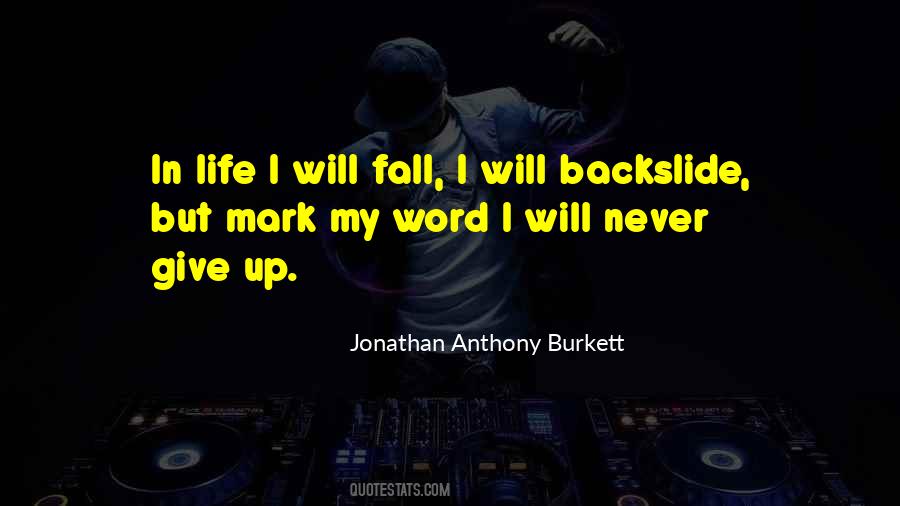 #25. Love one another. My final lesson of history is the same as that of Jesus.
You may think that's a lot of lollipop but just try it. Love is the most practical thing in the world. If you take an attitude of love toward everybody you meet, you'll eventually get along. - Author: Will Durant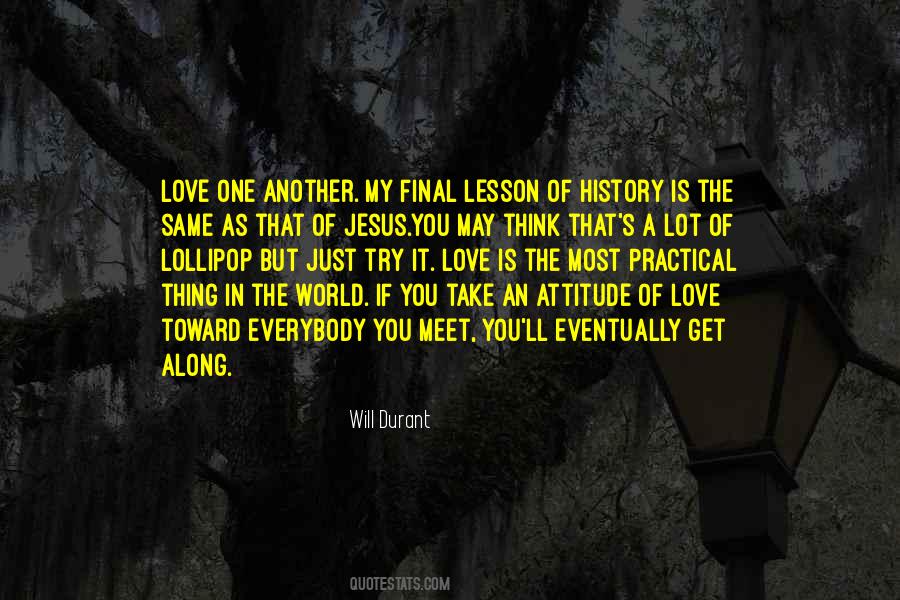 #26. From a very young man, I learned the importance of believing in Jesus Christ, and I have all my life. - Author: Rick Scott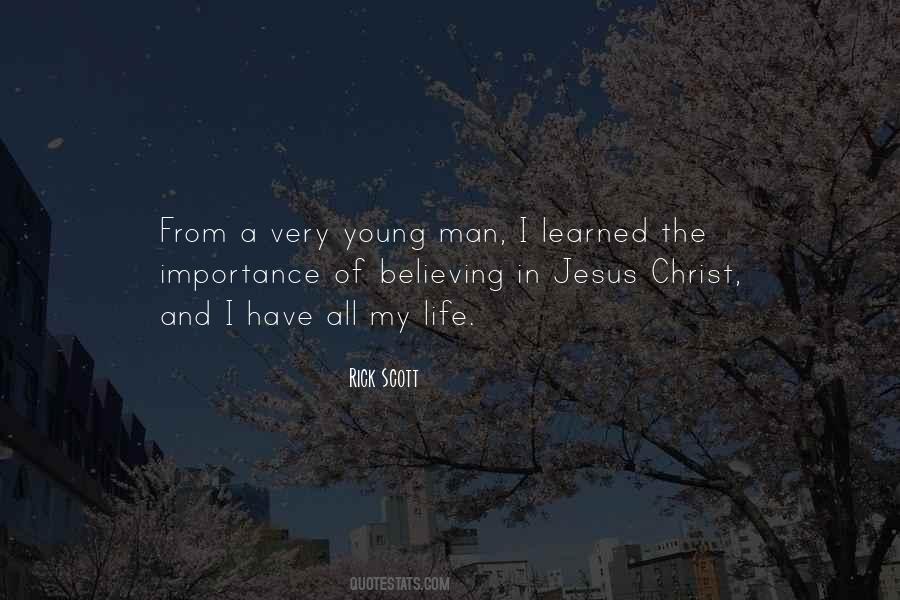 #27. I have no wit, no words, no tears;
My heart within me like a stone
Is numb'd too much for hopes or fears;
Look right, look left, I dwell alone;
I lift mine eyes, but dimm'd with grief
No everlasting hills I see;
My life is in the falling leaf:
O Jesus, quicken me. - Author: Christina Rossetti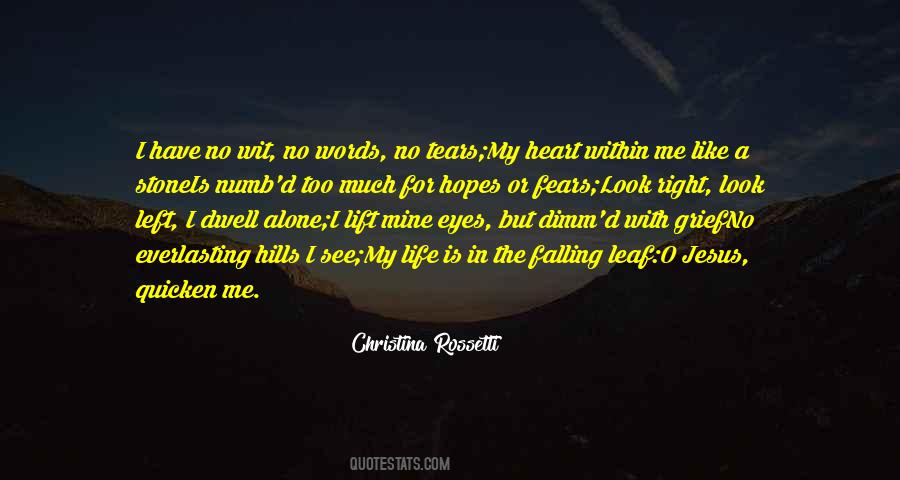 #28. Standing at a Christian music festival in Asbury, Ky., in the spring of 1978, I gave my life to Jesus Christ, and that's changed everything. - Author: Mike Pence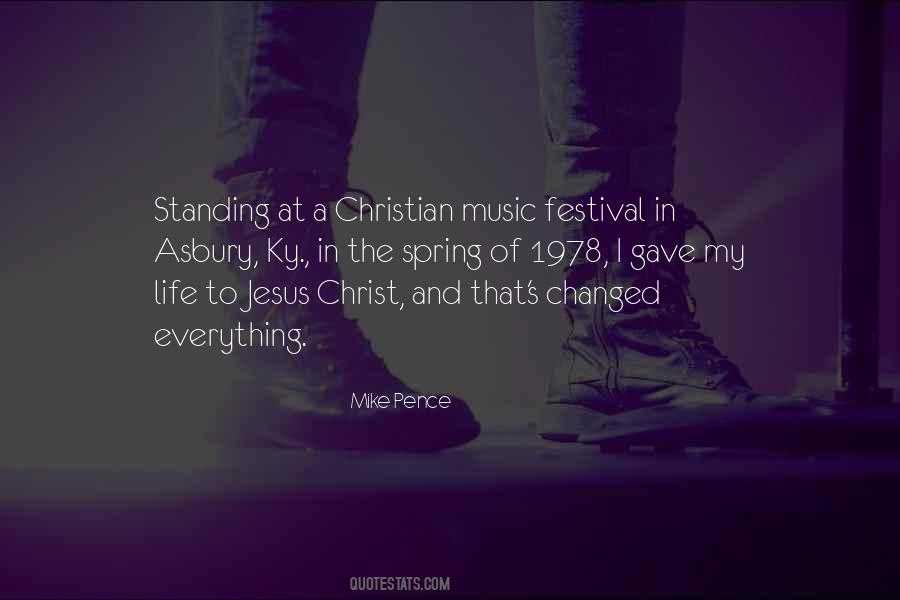 #29. I have always envied those Christians who were martyred for Christ Jesus our Lord. What a privilege to live for our Lord and to die for Him as well. I am filled to overflowing with joy; I am not only satisfied to be in prison ... but am ready to give my life for the sake of Jesus Christ. - Author: Mehdi Dibaj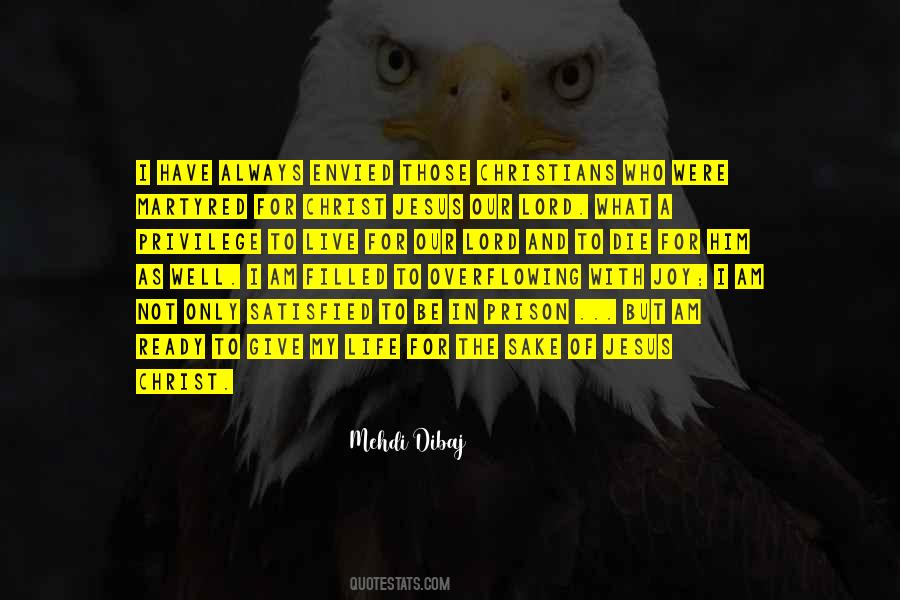 #30. May I never neither turn left nor turn right in my journey of life, but may I go straight to Christ that I may do what is right, and I may be bright and right in His sight. - Author: Ernest Agyemang Yeboah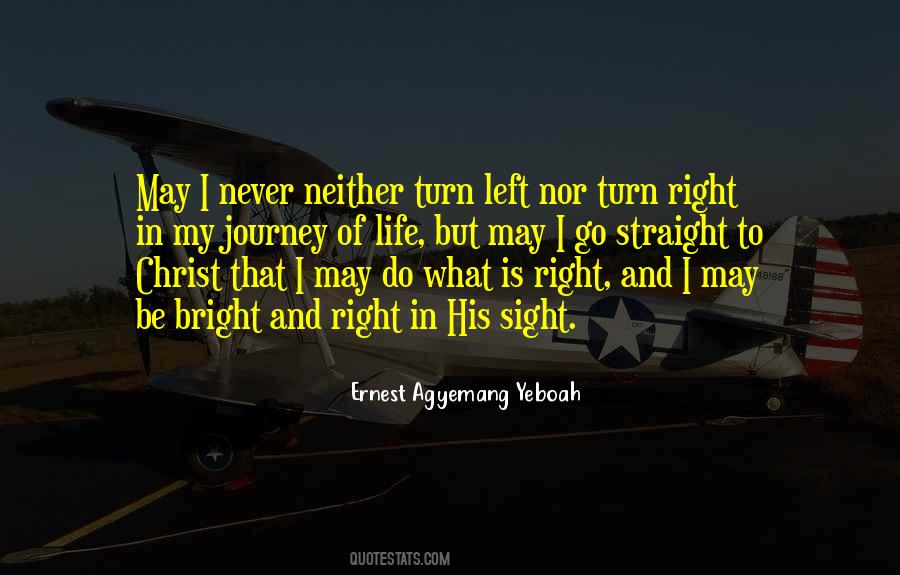 #31. Dear Lord Jesus, I never tire of acknowledging Thy greatness in my life. Today may I lift Thee up so that all may see the greatness of Thee. Amen. - Author: A.W. Tozer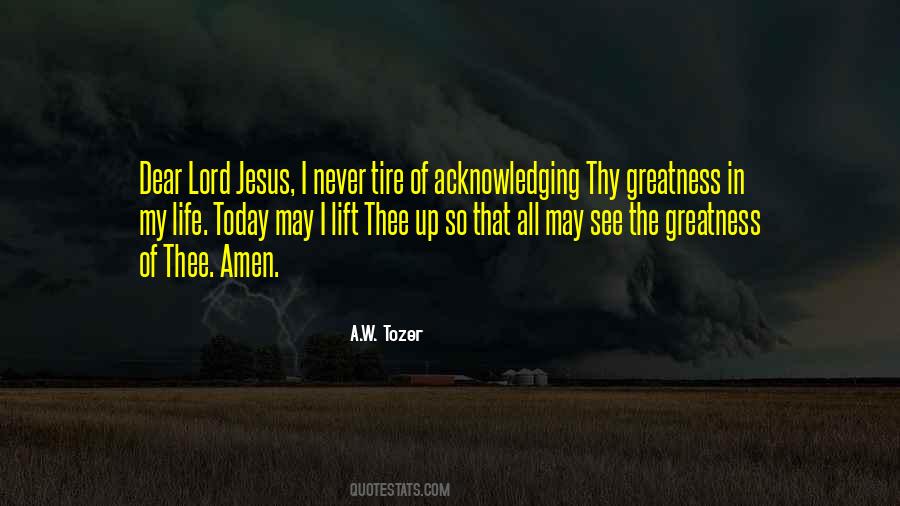 #32. In my opinion, Donald Trump lives a life of loving and helping others as Jesus taught in the great commandment. He cannot be bought; he's not a puppet on a string like many other candidates ... who have wealthy donors as their puppet masters. - Author: Jerry Falwell Jr.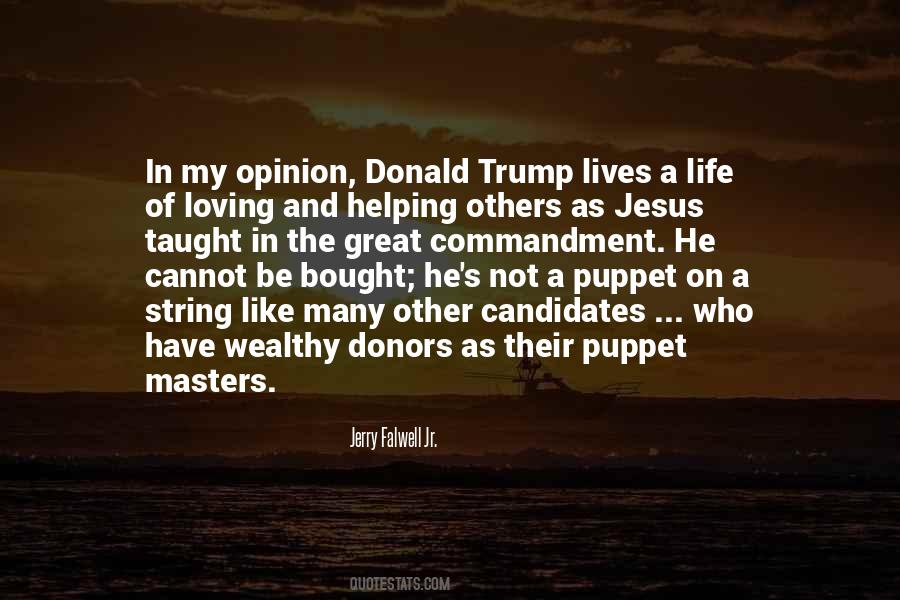 #33. I am a Mormon because I love the Lord Jesus Christ. And as I exercise faith in Him, I am blessed with the Holy Spirit in my life. - Author: Jane Clayson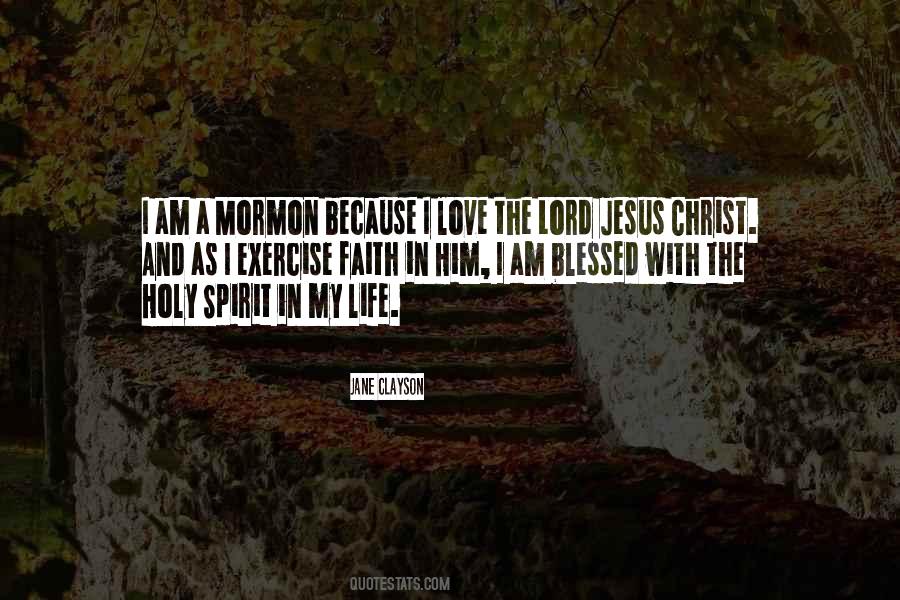 #34. I can't even imagine going through life without my relationship with Jesus. So much of it is me relying on Him and me needing Him, not just in those crazy circumstances but in the day-to-day activities. - Author: Tobin Heath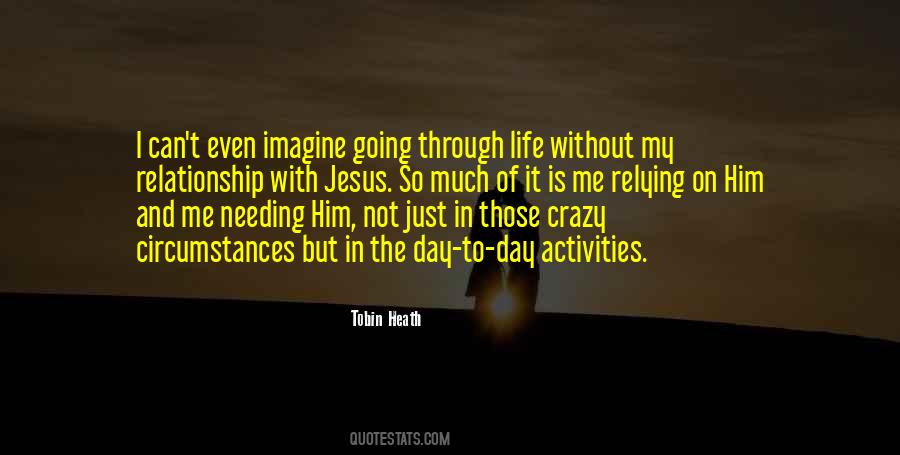 #35. There are so many religions and each one has its different ways of following God. I follow Christ:
Jesus is my God,
Jesus is my Spouse,
Jesus is my Life,
Jesus is my only Love,
Jesus is my All in All;
Jesus is my Everything. - Author: Mother Teresa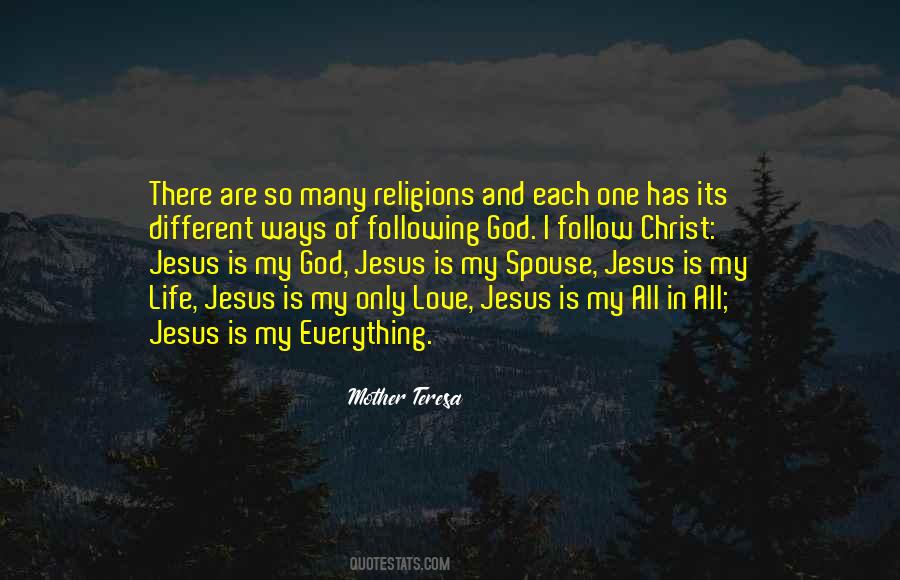 #36. The goal of the disciple of Jesus, then, is not to answer the question, "What is God's will for my life?" The goal, instead, is to walk in God's will on a moment-by-moment, day-by-day basis. - Author: David Platt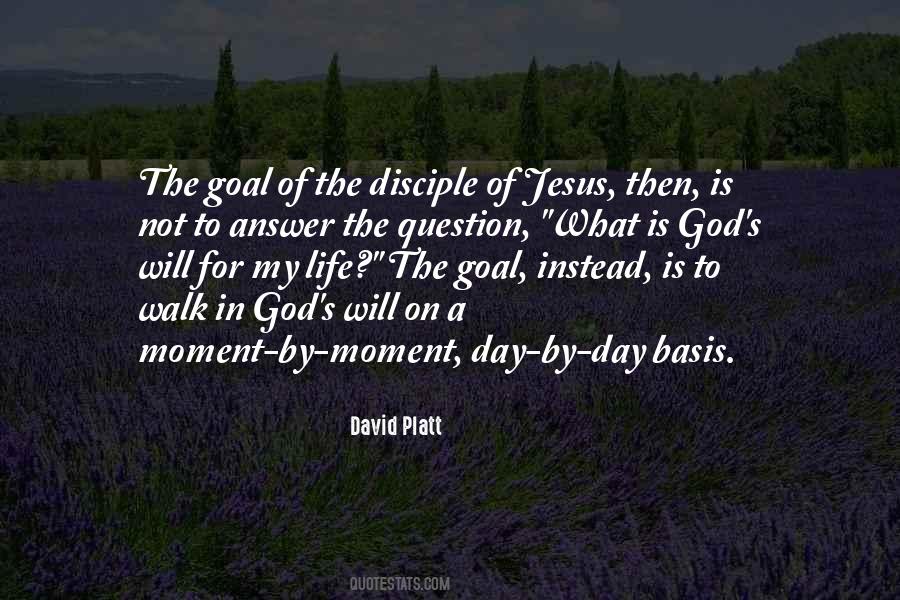 #37. It's perfectly understandable, in my opinion, to find good things in the teachings of Jesus Christ or any other figure, mythical or otherwise. But to base your life on the teachings of Jesus as they are portrayed in the Bible and claim that you are not religious is disingenuous. - Author: David G. McAfee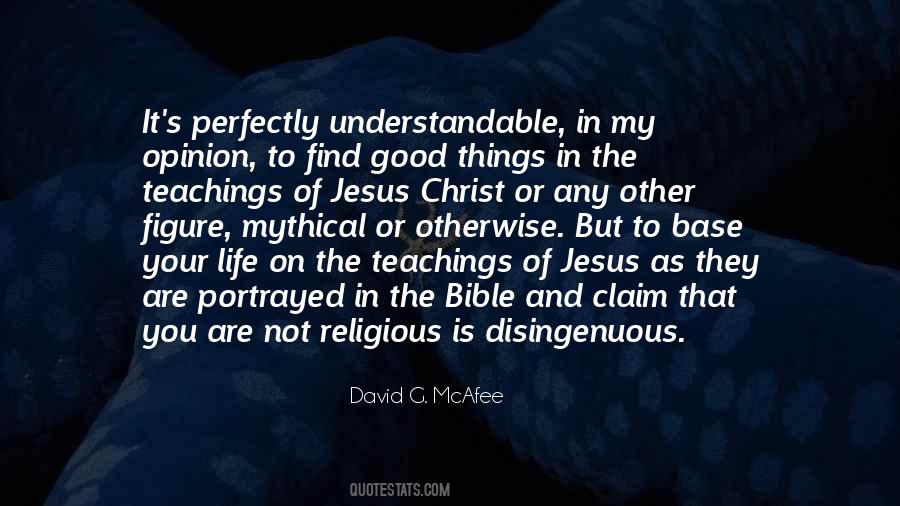 #38. I have a strong spiritual life. I can't say that I have faith that Jesus is my Savior, but I look at Jesus in the same way that I look at, you know, Mohammed. He was giving everyone the goods. So was Gandhi. - Author: Woody Harrelson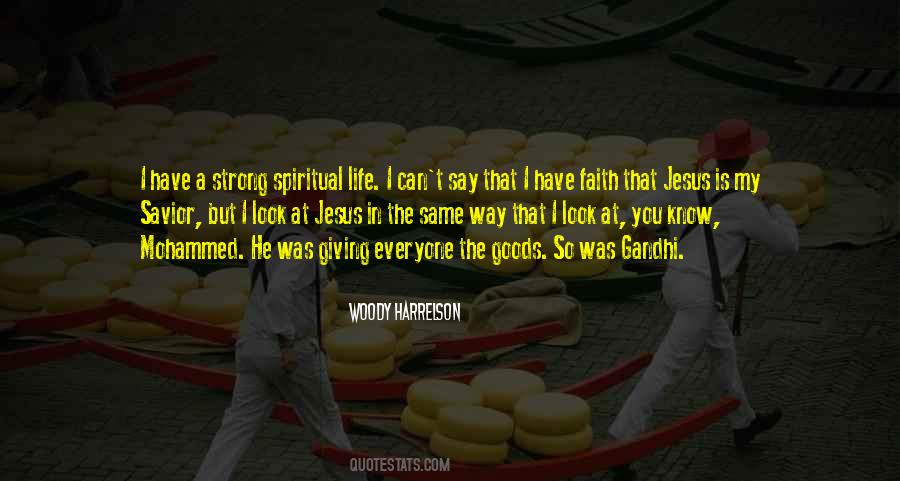 #39. I'd be interested in finding out if there is a light you walk into, and if you do meet people from your life and walk hand in hand with Jesus. I would hate for my death to be tragic: I'd like to be old when it happens. But hopefully a young death is unlikely. - Author: Brian Molko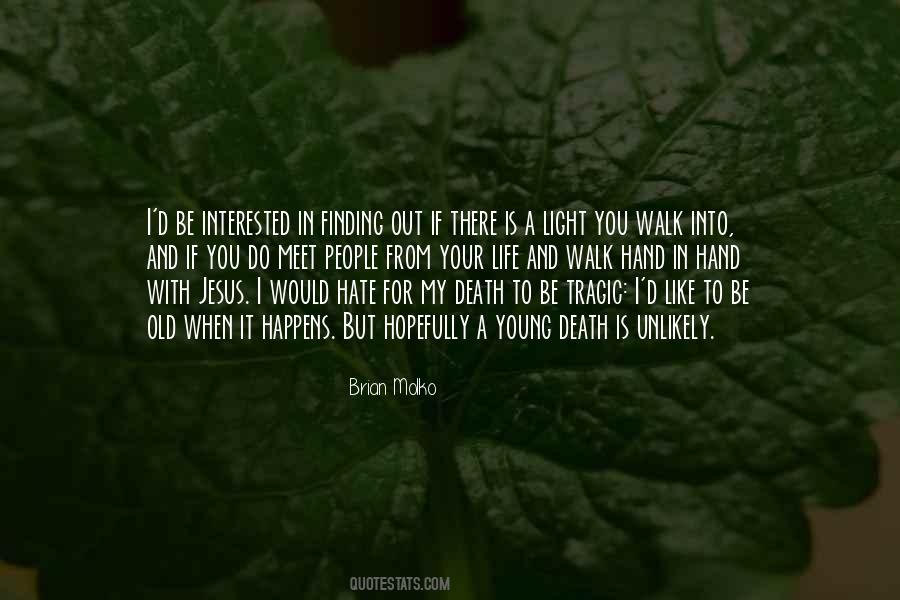 #40. For once in my life maybe I ought to actually think about taking God at His word, and in doing so to suddenly find myself riotously welcoming the rather shocking reality that Christmas is truly everything that He says it is. - Author: Craig D. Lounsbrough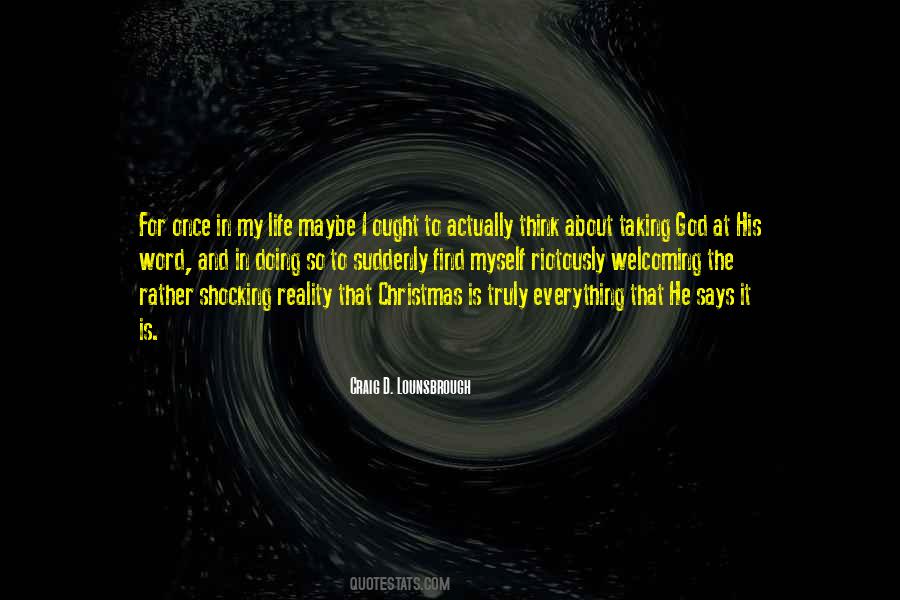 #41. Our salvation is 'external to ourselves'. I find no salvation in my life history, but only in the history of Jesus Christ. Only he who allows himself to be found in Jesus Christ, in his incarnation, his Cross, and his resurrection, is with God and God with him. - Author: Dietrich Bonhoeffer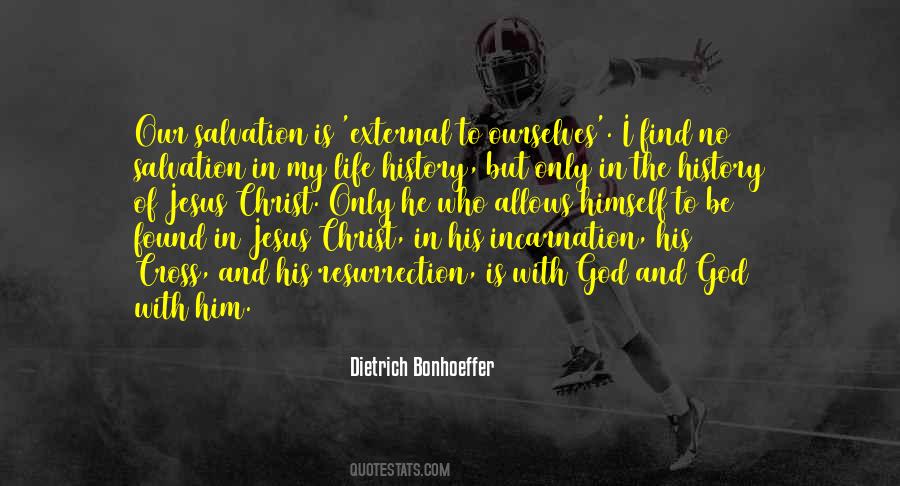 #42. My frustration has always been that I'm a Christian, but I don't buy into, never have bought into, the belief that Jesus and God are these men who just dictate that this is how you have to live your life or you are going to burn in hell. - Author: Art Alexakis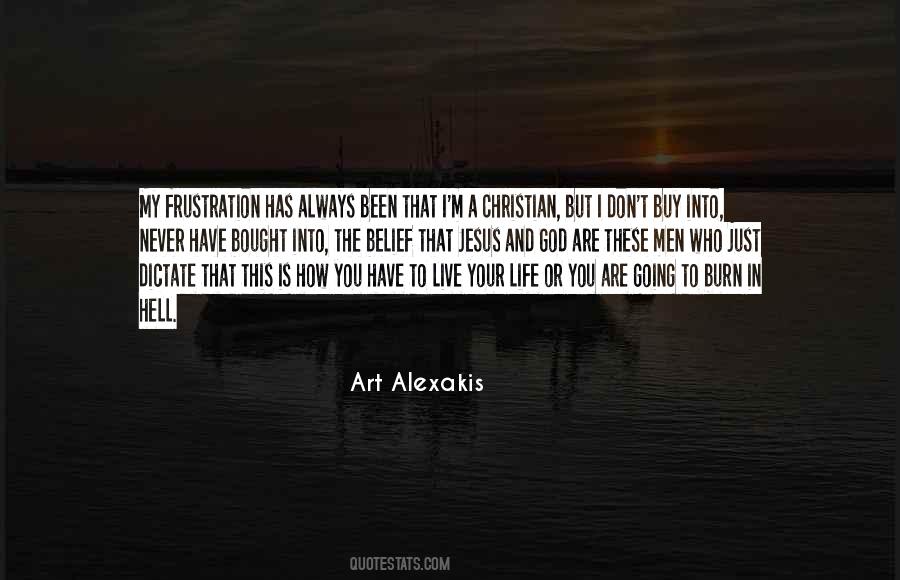 #43. Jesus has given me eternal life in Him. Let them take my life here, but God holds me in the palm of His hand and no one can take Him from me. - Author: Francine Rivers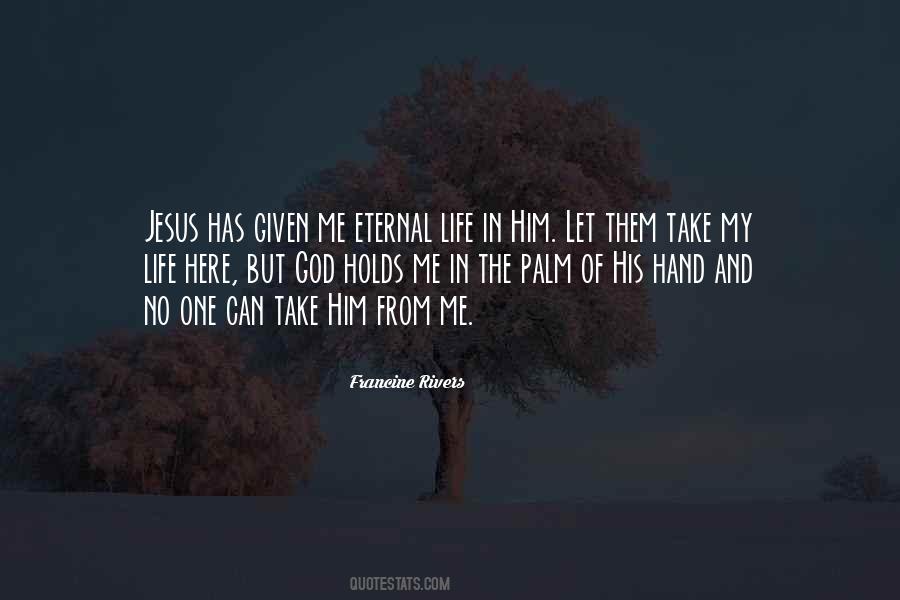 #44. Holy Spirit, please overrule in my life that I will never quench the fire that You have caused to burn. Let me never pour water on wood You may want to ignite. I pray on bended knee that You will come unquenched into my heart and stay there without any hindrance from me. In Jesus's name, amen. - Author: R.T. Kendall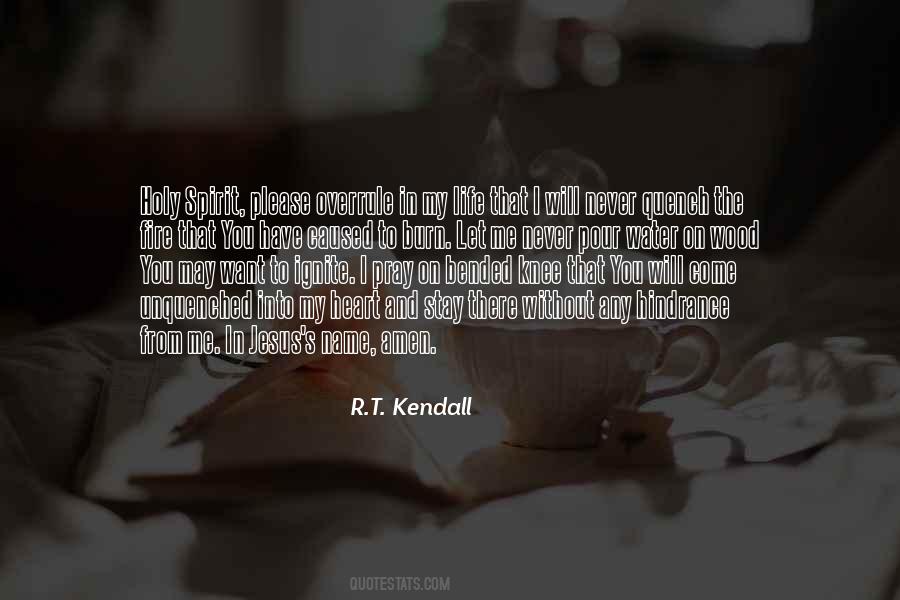 #45. The Ideal I live for in Life
"I value the ideal of living in eternal salvation where I am eternal prevailing in all things through Christ Jesus while walking on earth now."

Daily prayer to commit my spirit to Jesus
"Lord Jesus Christ, into your hands I commit my spirit now. - Author: Cessza Gumede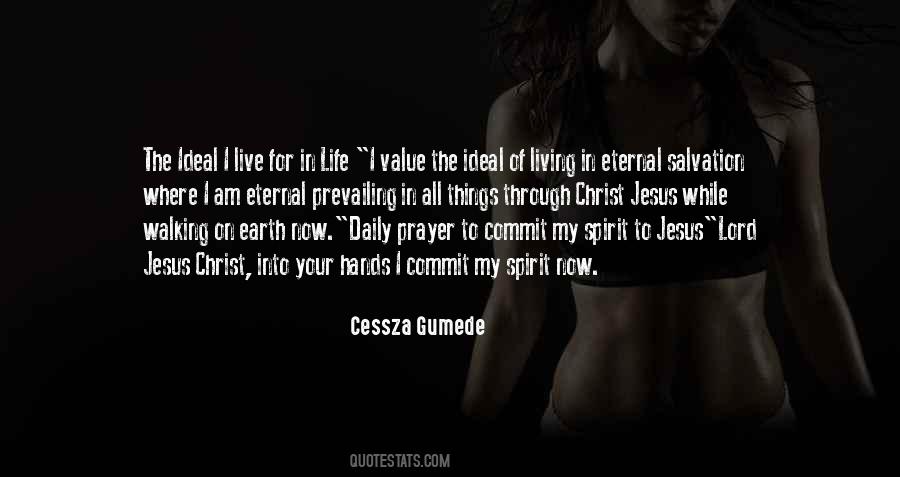 #46. Catholicism is a really mean religion, and it's incredibly hypocritical. But it plays a role in my life 'cause you can't really get a lot of things out of your head, such as what Jesus Christ looks like and that divorce is a horrible thing. - Author: Madonna Ciccone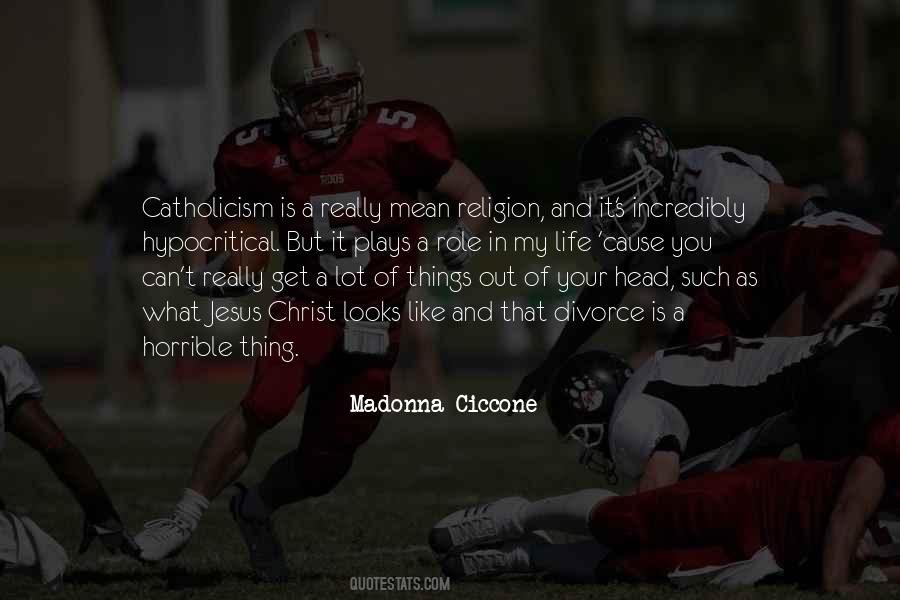 #47. I have seen miracles in my time, my brothers and sisters. The greatest miracle of all, I believe, is the transformation that comes into the life of a man or a woman who accepts the restored gospel of Jesus Christ and tries to live it in his or her life. - Author: Gordon B. Hinckley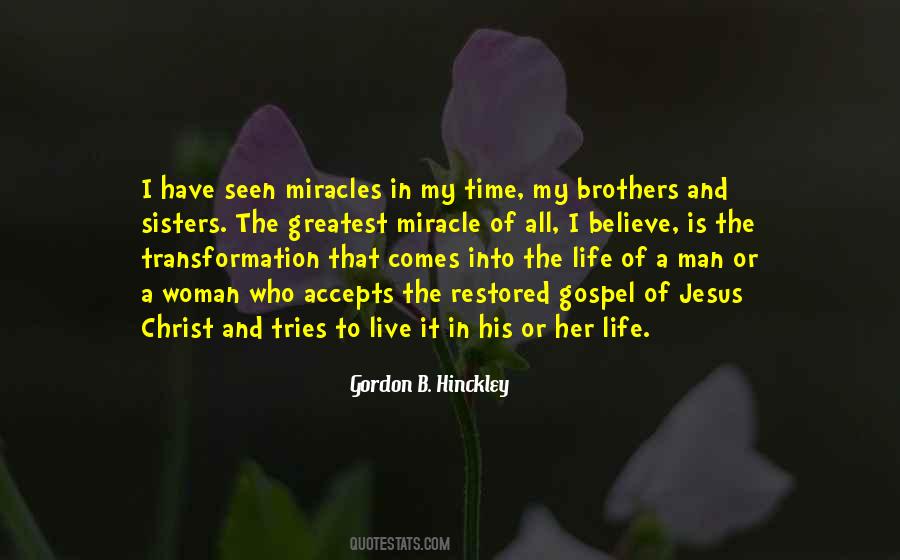 #48. O, my Jesus, I understand well that, just as illness is measured with a thermometer and a high fever tells us of the seriousness of the illness; so also, in the spiritual life, suffering is the thermometer which measures the love of God in a soul. - Author: Mary Faustina Kowalska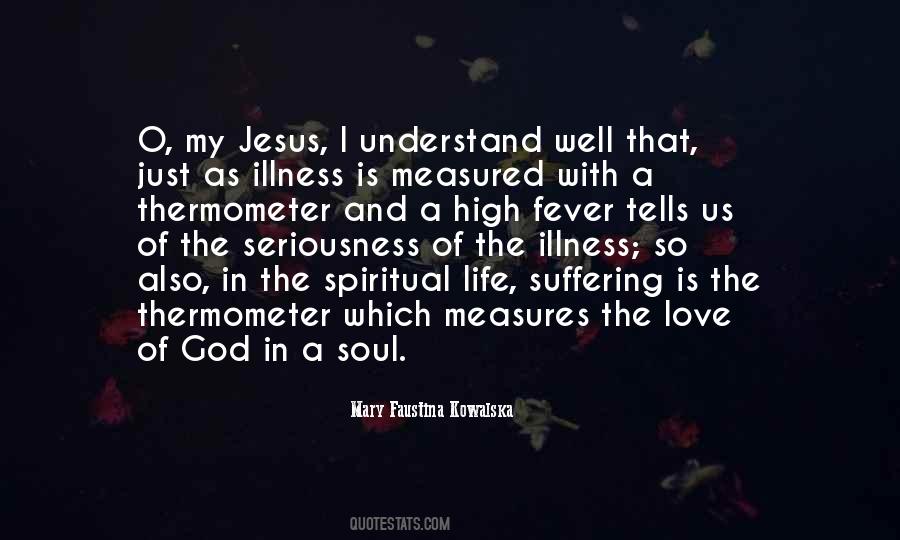 #49. When the world caves in
Still my hope will cling
To Your promise
Where my courage ends
Let my heart find strength
In Your presence - Author: Hillsong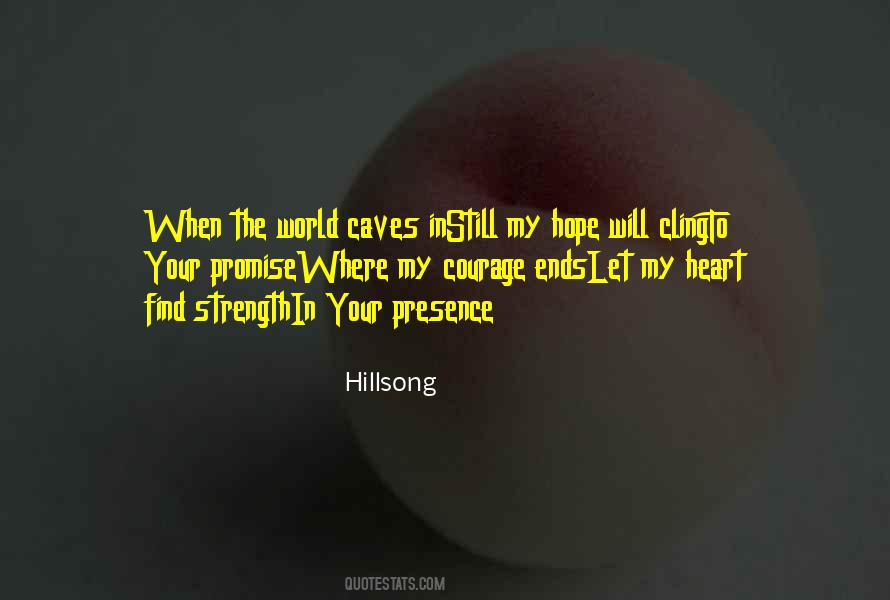 #50. To withdraw from creatures and repose with Jesus in the Tabernacle is my delight; there I can hide myself and seek rest. There I find a life which I cannot describe, a joy which I cannot make others comprehend, a peace such as is found only under the hospitable roof of our best Friend. - Author: Ignatius Of Loyola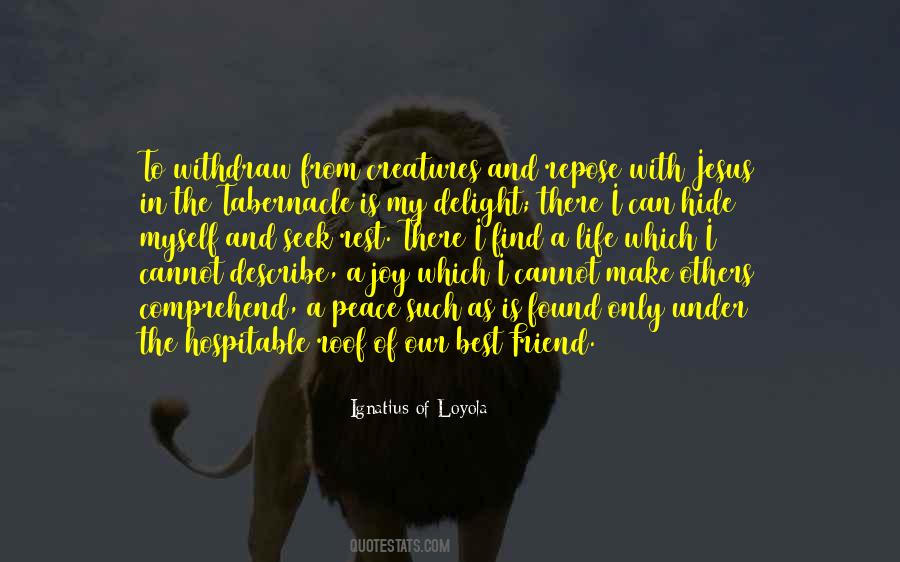 #51. I had life threats, because people accused me of approaching Brando as God and his son was Jesus. I literally had people saying my blood would run in the streets for doing that. - Author: Richard Donner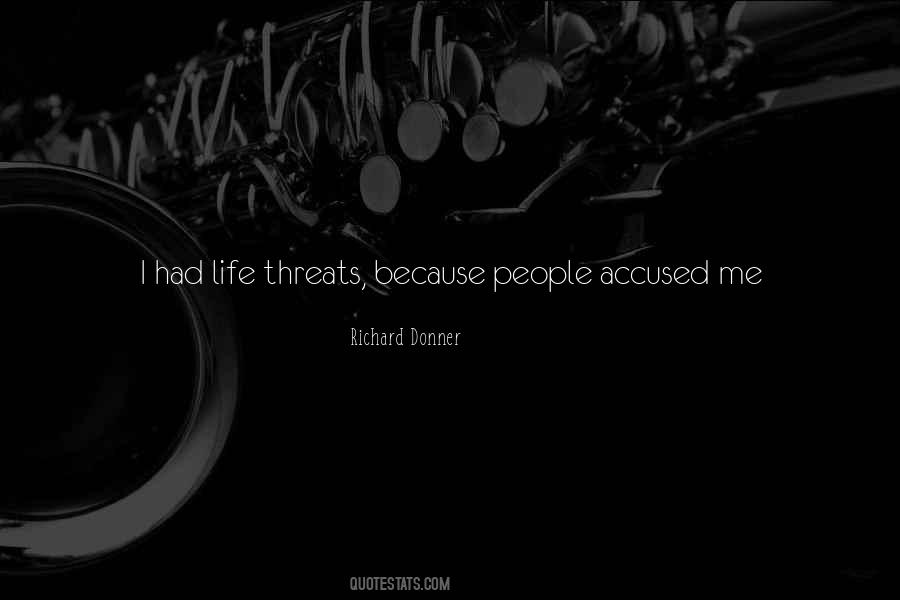 #52. I grew up a faithful person. I never lost faith. I prayed every day all throughout my life. But at some point in life, my faith became fairly abstract. And I lost this belief that we have a personal relationship with Jesus Christ. - Author: Carly Fiorina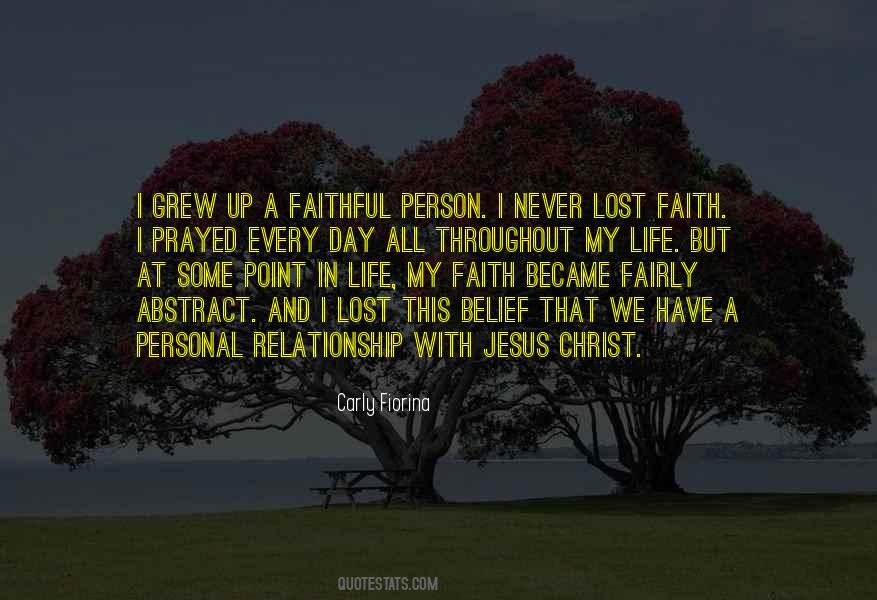 #53. This present world is a perfectly safe place for us to be." That certainly is what Jesus, and the Bible as a whole, has to say to us. "Surely goodness and mercy shall follow me all the days of my life, and I shall dwell in the house of the Lord forever" (Ps 23). - Author: Dallas Willard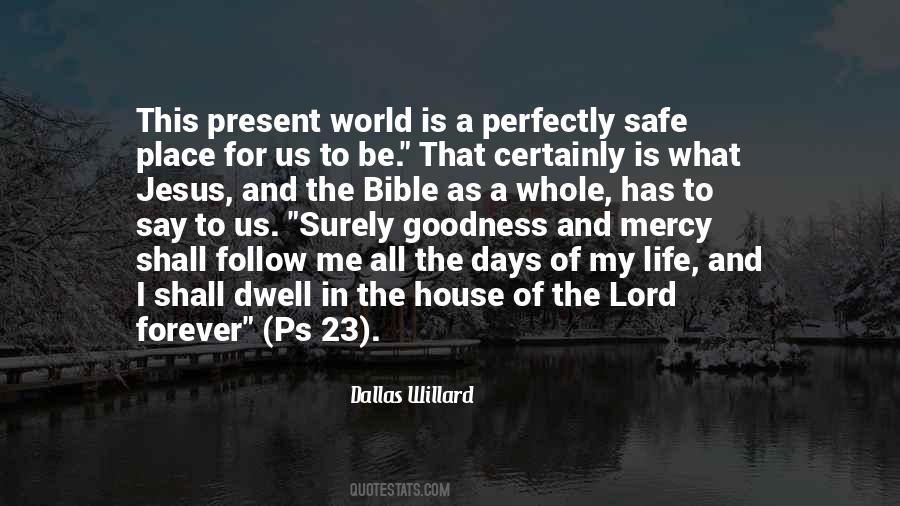 #54. He [Jesus] was the greatest human being who has ever lived. He was a moral genius. His ethical sense was unique. He was the intrinsically wisest person that I've ever encountered in my life or in my reading. His commitment was total and led to his own death, much to the detriment of the world ... - Author: Charles Templeton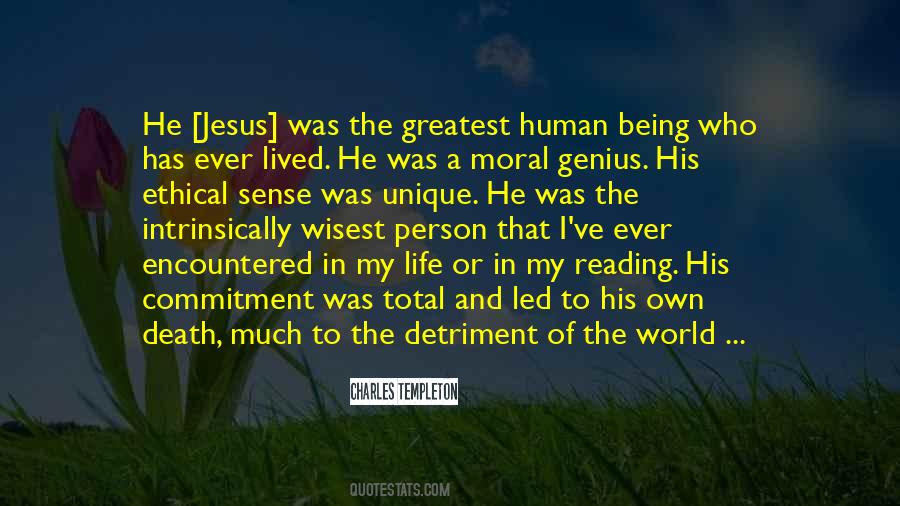 #55. The mass is the spiritual food that sustains me, without which I could not get through one single day or hour in my life; in the mass we have Jesus in the appearance of bread. While in the slums we see Christ and touch him in the broken bodies, in the abandoned children. - Author: Mother Teresa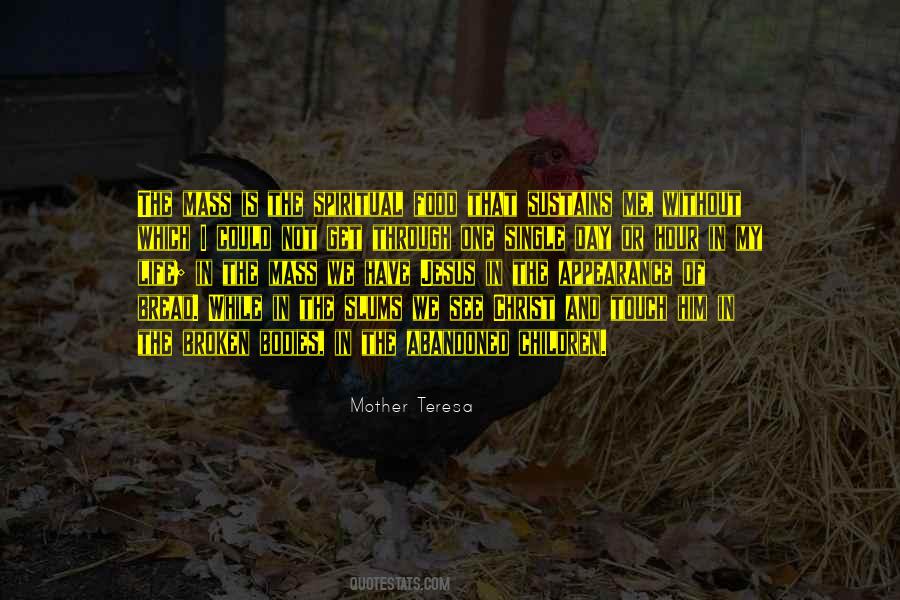 #56. I believe in the bible. I believe in the one true God. I believe he is the one true God because he's the only one that loved me enough to actually take action in my life. - Author: Jacci Mendelsohn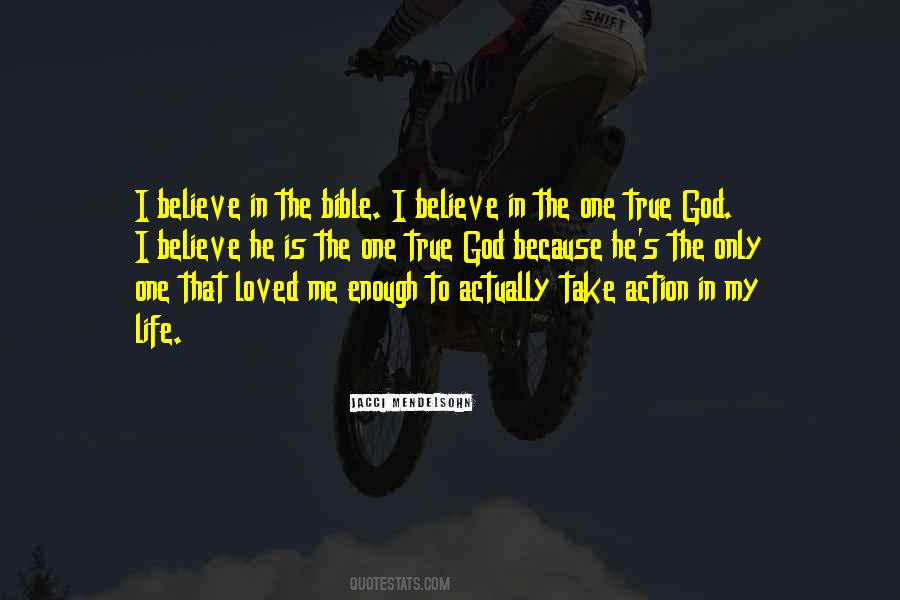 #57. Mary, my little girl, was confirmed in a Buddhist temple. She saw the Life write up on Buddhism, with pictures of the ceremony, and she said she wanted to be confirmed there because she only liked Jesus as a kid. She was a little disappointed in him when he grew up. - Author: Kenneth Rexroth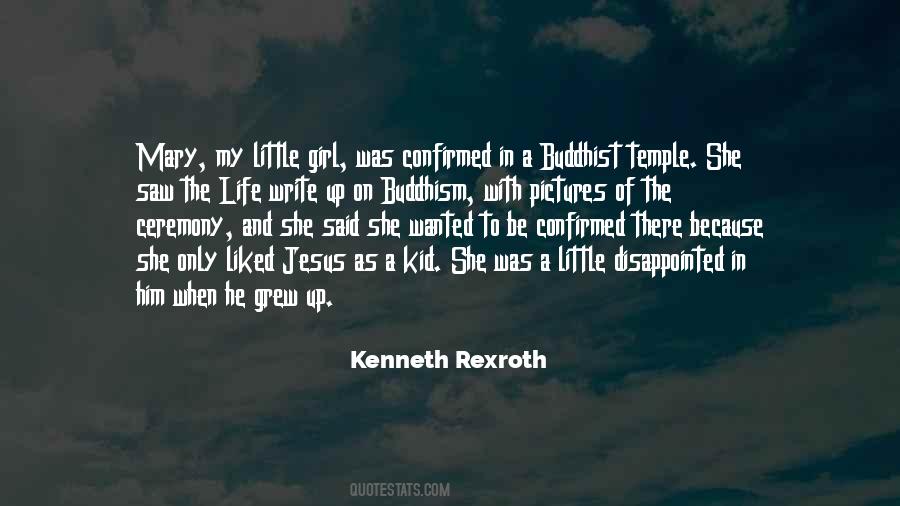 #58. In Jesus' Name, I pledge to rule my eternal kingdom(life)with eternal grace and eternal righteousness in Christ. - Author: Cessza Gumede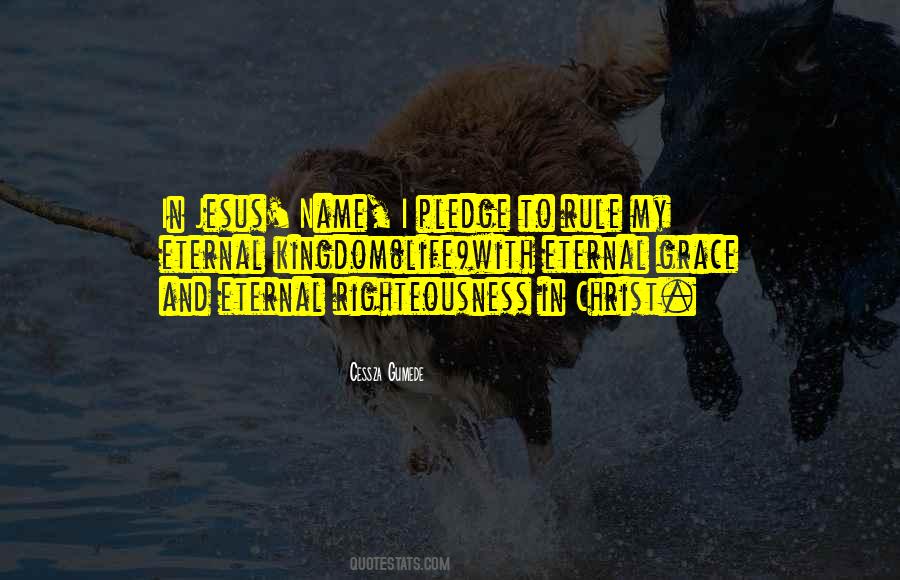 #59. God beckons me to exhilarating adventures that are without number, beyond all conceivable boundaries, and effortlessly eclipse the furthest reaches of my imagination, all while I sit languishing in stifling adventures of my own limited creation. - Author: Craig D. Lounsbrough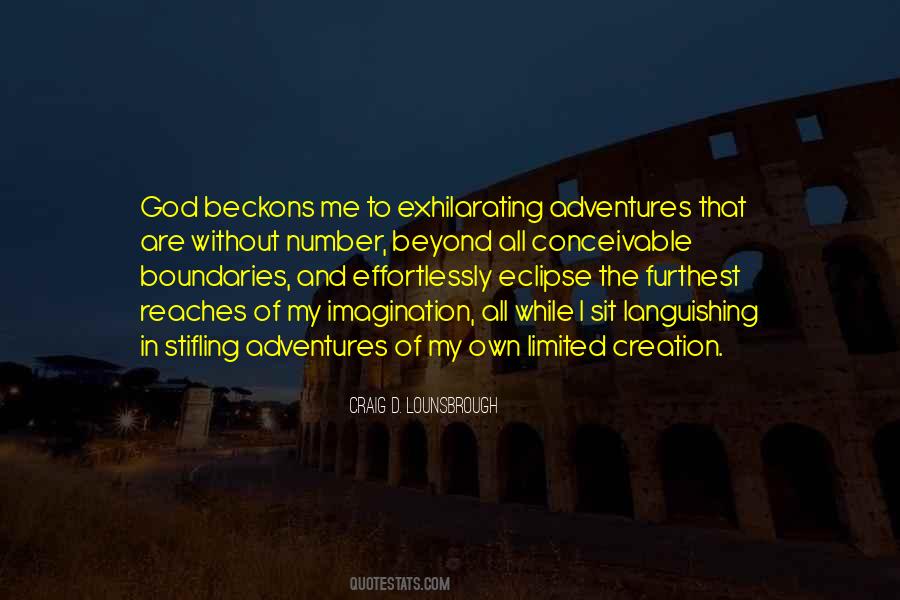 #60. Why should I ever resist any delay or disapointment, any affliction or oppression or humiliation - when I know God will use it in my life to make me like Jesus and to prepare me for heaven? - Author: Kay Arthur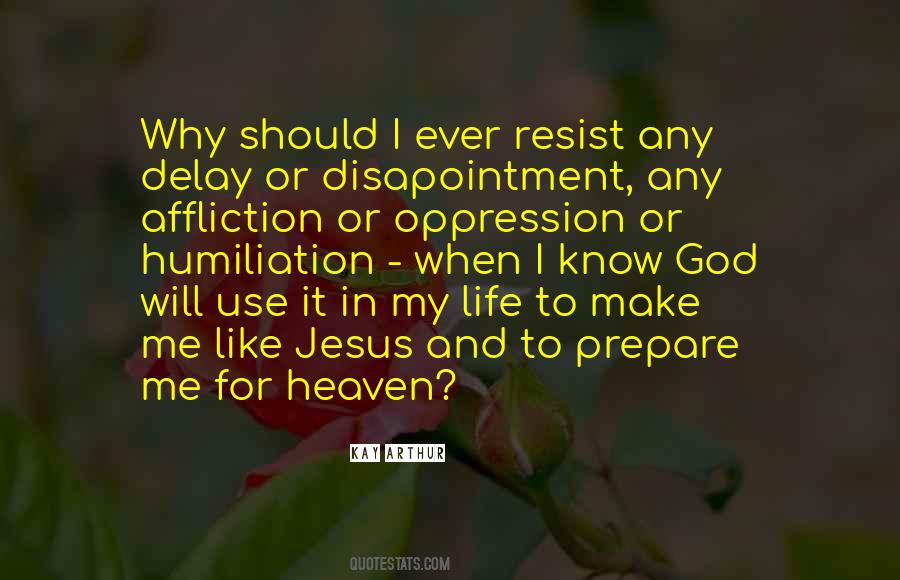 #61. Dear God, I don't ask that my life be perfect but that you allow the myriad of emotions in my life to end each day with calmness. May I sleep peacefully to do your work again by morning light. I ask for these things in Jesus's name, amen. - Author: Ron Baratono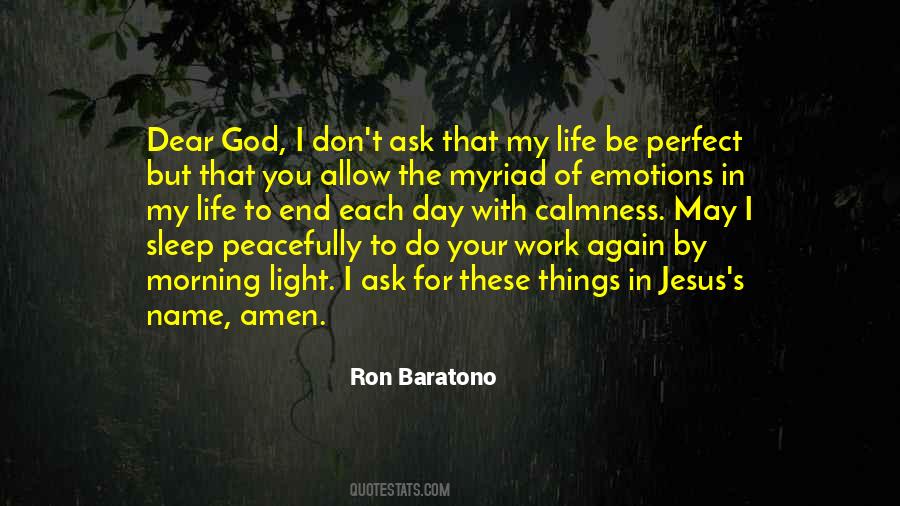 #62. Heavenly Father, may your will be done in my life, in Jesus Name. Amen - Author: Lailah Gifty Akita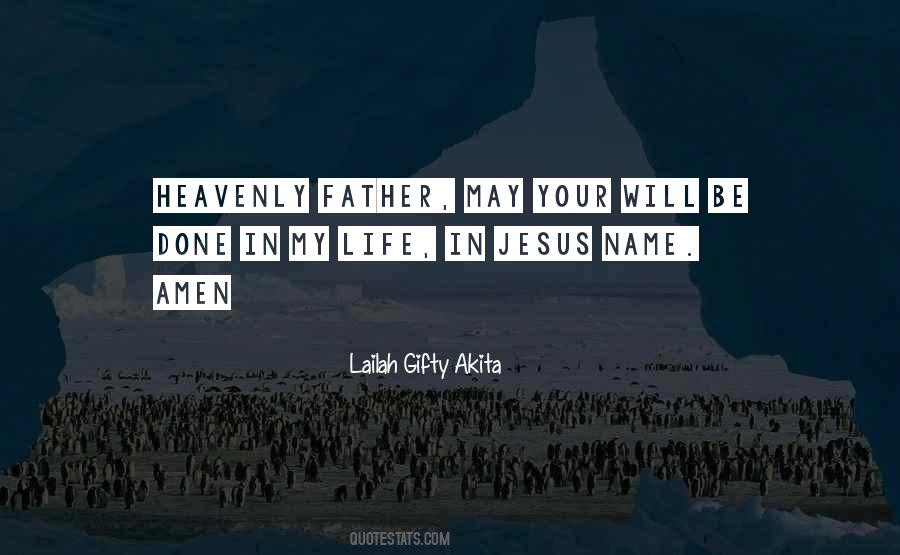 #63. So when you look at Jesus and it appears that he's flying he really is...flying. But what you are actually seeing is me my life in him. That's how he lives and acts as a true human how every human is designed to live-out of my life. - Author: William Paul Young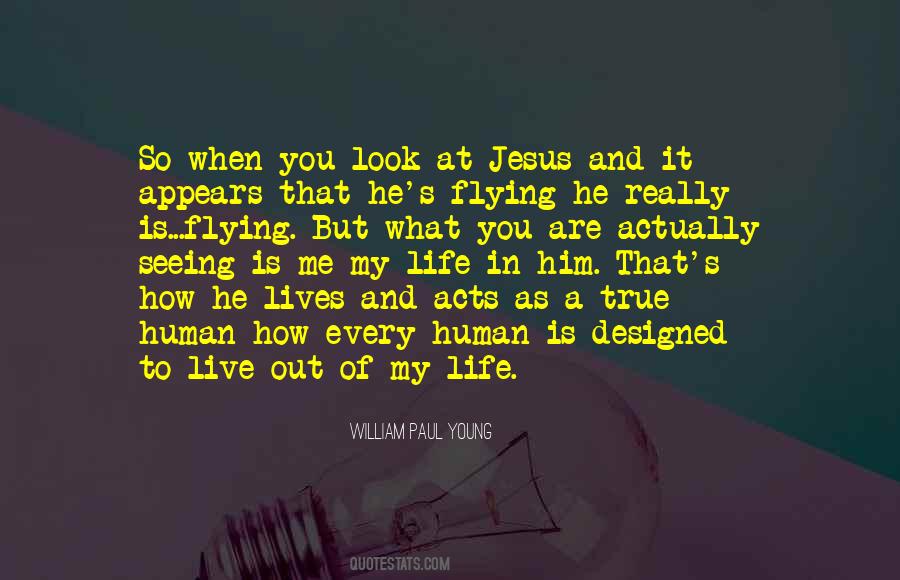 #64. When I put my faith in Jesus Christ as my savior, and I asked him to forgive and to come into my life, and He does - from that moment forward I have established a personal relationship with God that I have to develop, you know, through Bible reading and prayer, and living my life for him. - Author: Anne Graham Lotz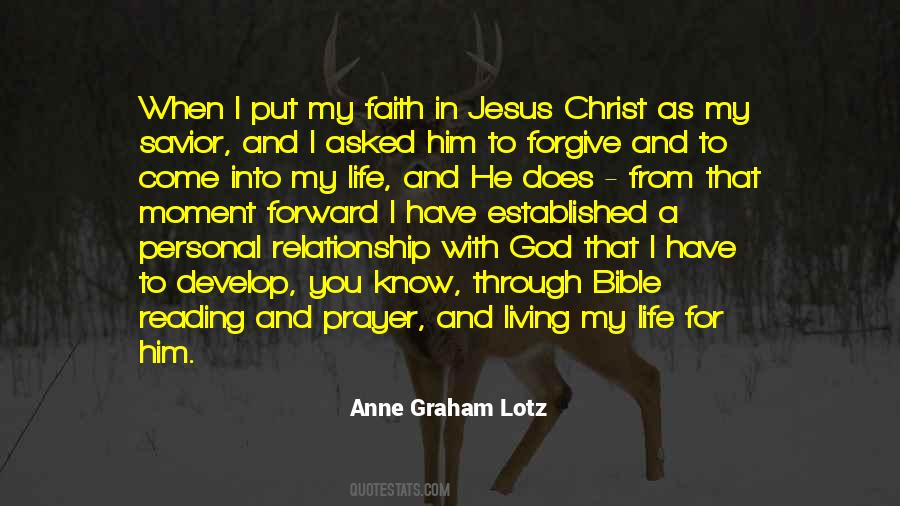 #65. I [Jesus] tell you the truth, those who listen to my message and believe in God who sent me have eternal life. They will never be condemned for their sins, but they have already passed from death into life. - Author: Anonymous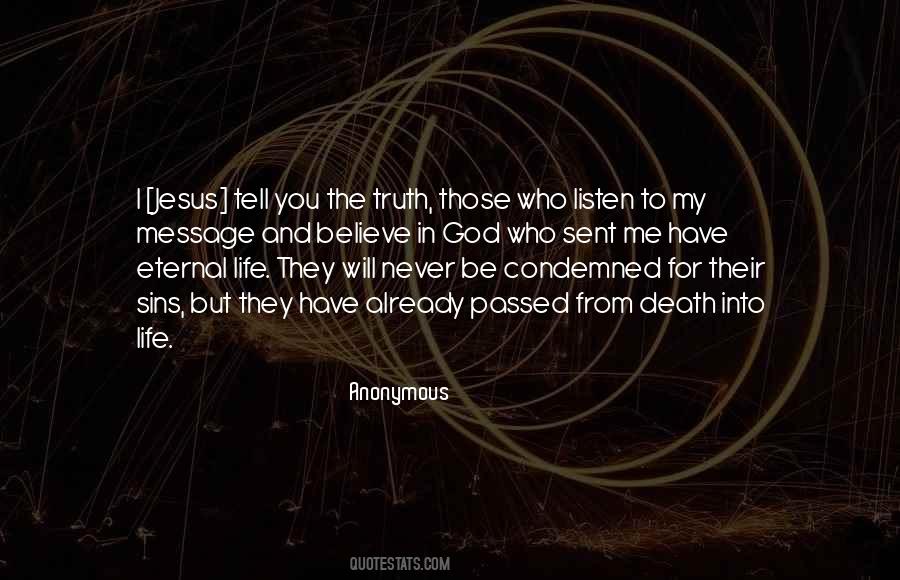 #66. And I always feel so stupid sitting in therapy talking about my problems because, Jesus Christ, so what? I can't equate the amount of pain and misery and despair I have suffered and endured as a depressive with the events of my life, which just seem so common. - Author: Elizabeth Wurtzel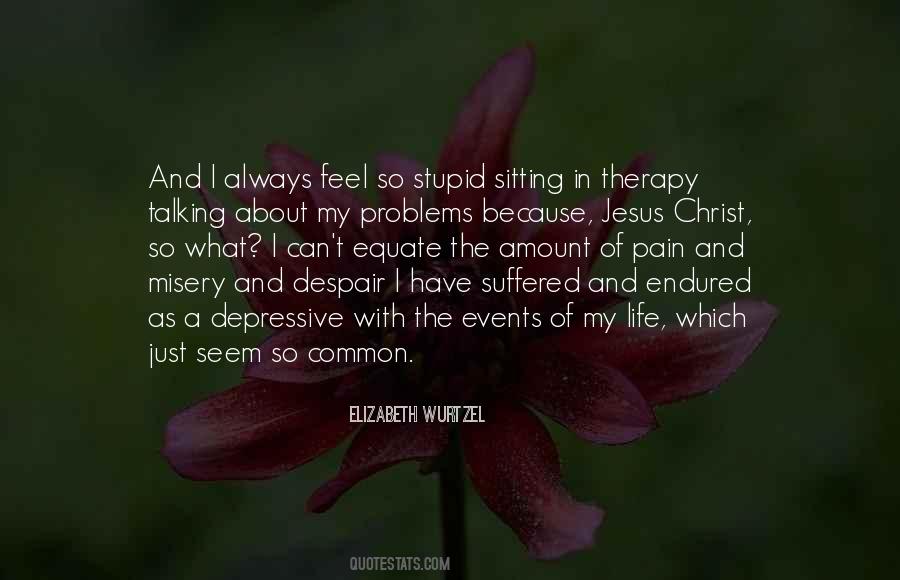 #67. In my whole existence, I have been lost in many different ways. However, there has always been someone who shines brightly for me, and helps me find my way home. I have come to realize that Jesus is my brightest Star who always rescues me and consistently helps me through. - Author: Kcat Yarza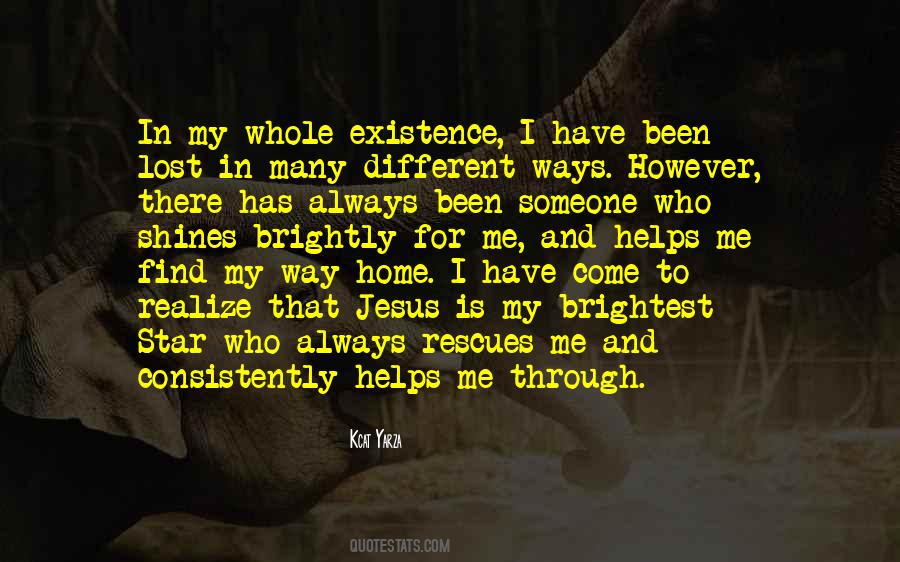 #68. He is Jesus, only. God has revealed Himself to us through Jesus. Jesus is what God wanted us to know and to love. He is not Napoleon the Great. He is not Alexander the Great. He is Jesus only. He is enough. My purpose in life is to worship Jesus and, in so doing, become more Christ-like - Author: David Paul Kirkpatrick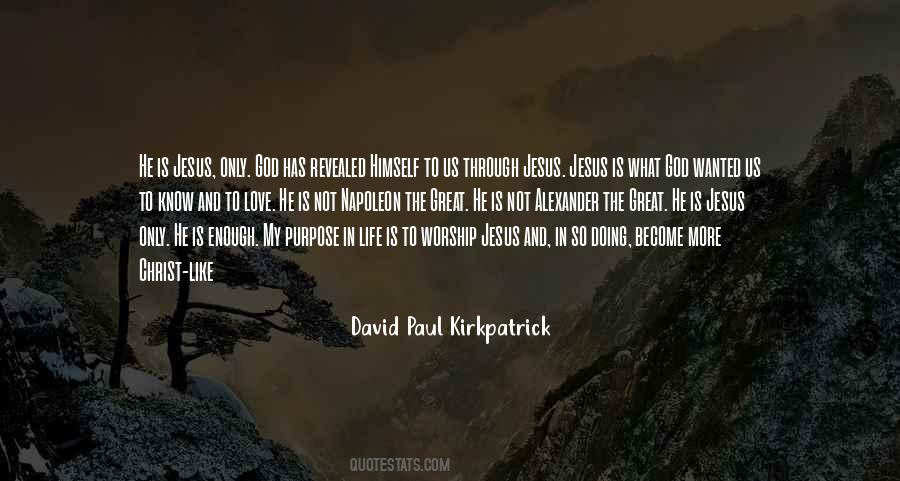 #69. I'll walk through the fire
With my head lifted high
And my spirit revived
In Your story - Author: Hillsong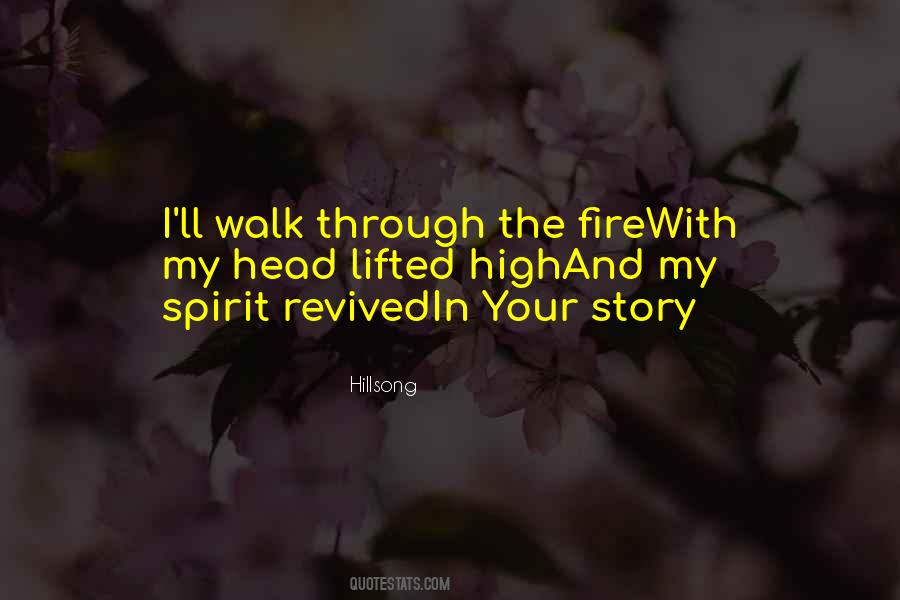 #70. No time ago
or else a life
walking in the dark
i met christ
jesus)my heart
flopped over
and lay still
while he passed(as
close as i'm to you
yes closer
made of nothing
except loneliness. - Author: E. E. Cummings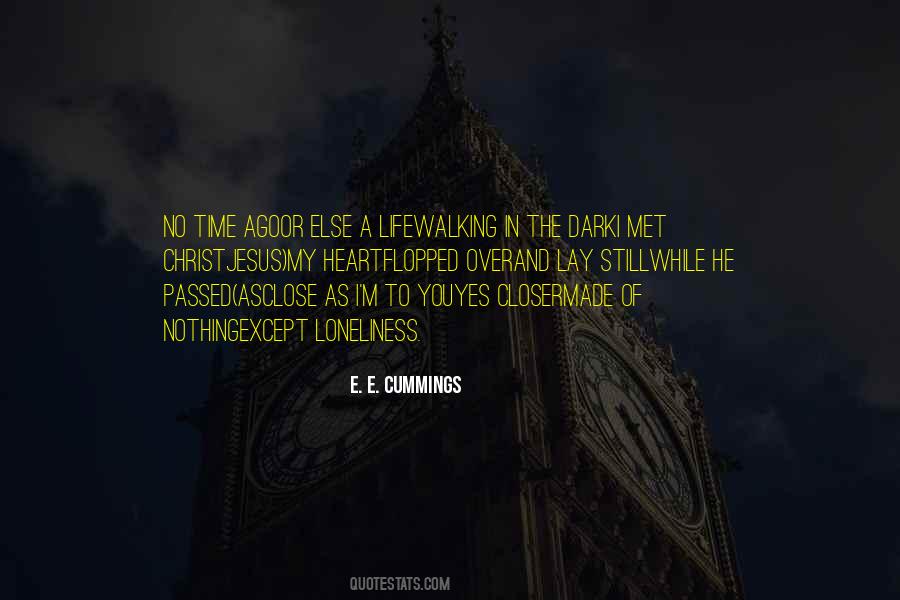 #71. The spirit of spider in the name of Jesus, depart from my life! - Author: Ademola Adejumo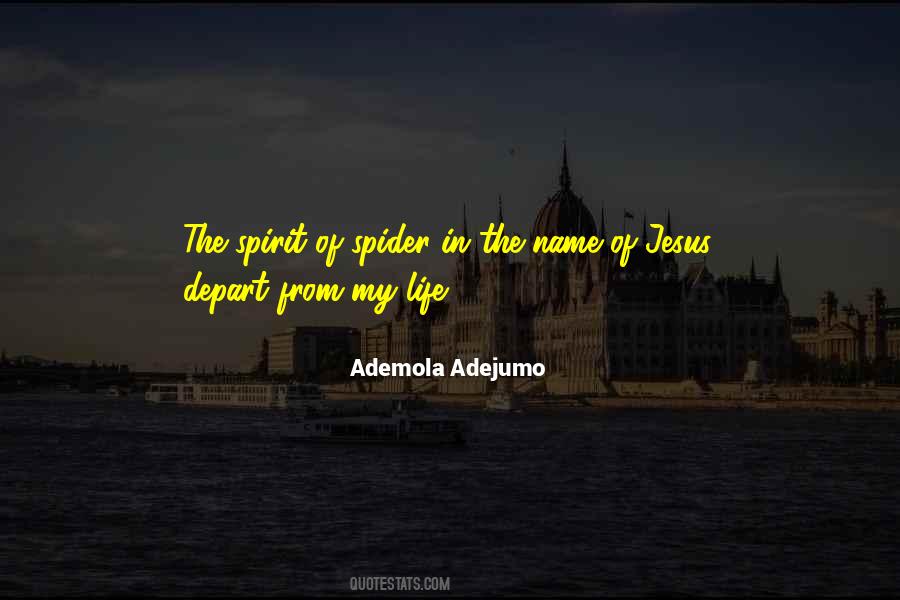 #72. Maybe I don't have enough beginnings in my life because I fought against the endings that were about to birth those beginnings. - Author: Craig D. Lounsbrough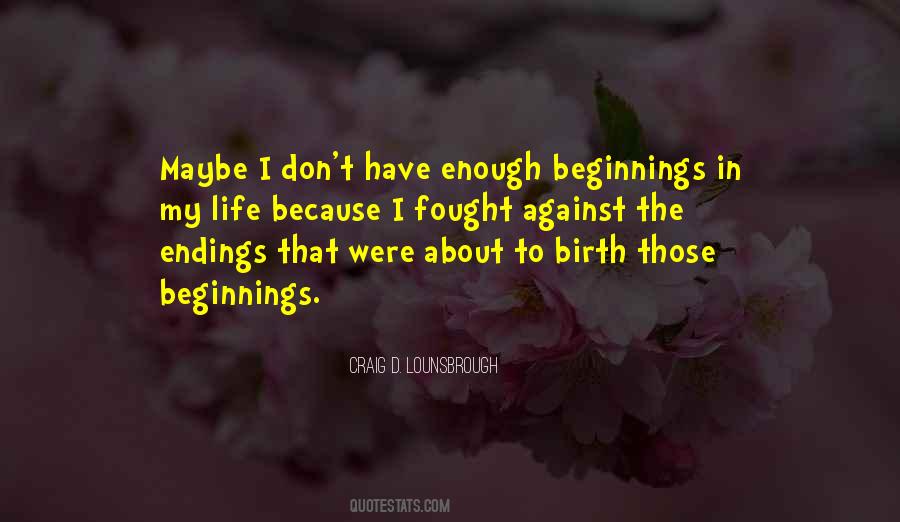 #73. We want to make our own plans and then pray, 'My will be done, if you please Massa Jesus, in earth, as it is in my plans.' You got to put your life in Jesus' hands. Trust that in the end, whatever happens, He still in control. - Author: Lynn Austin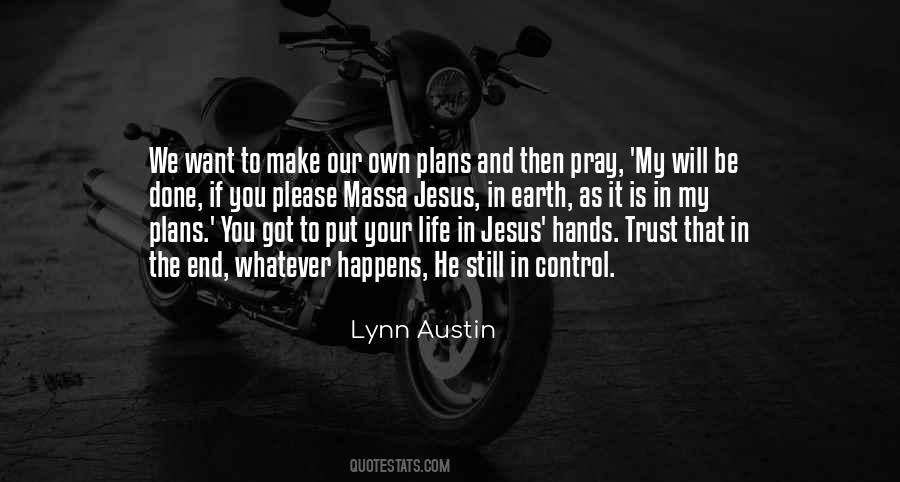 #74. The greatest news that I could ever say is that Jesus is Lord and Savior of my life. He is my friend. He is with me wherever I go. I'm so delighted to continue to grow in my relationship to Jesus. - Author: Nick Vujicic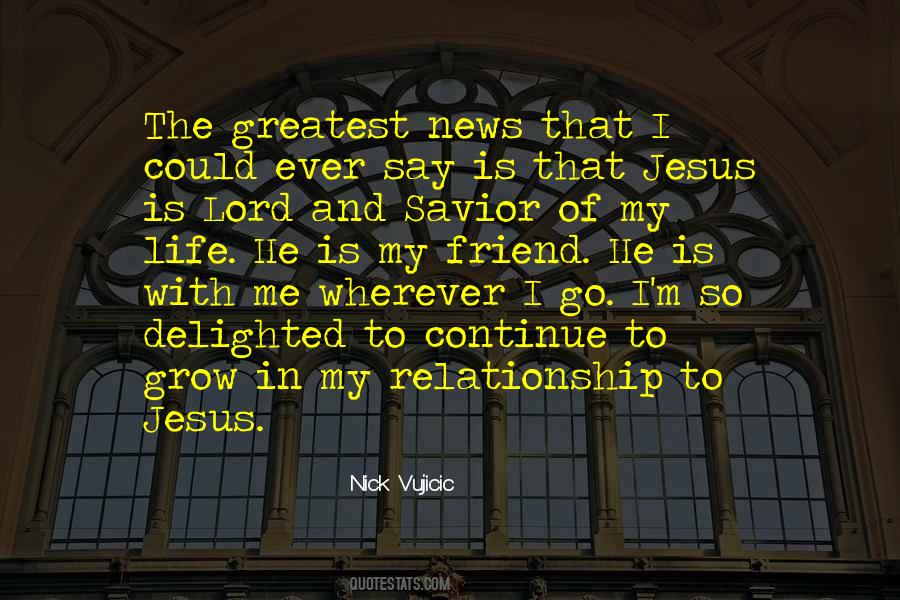 #75. I thought life's answers were out there somewhere. Now I realize the answers are in me, in my faith in Jesus and His love for me. - Author: Rachel Hauck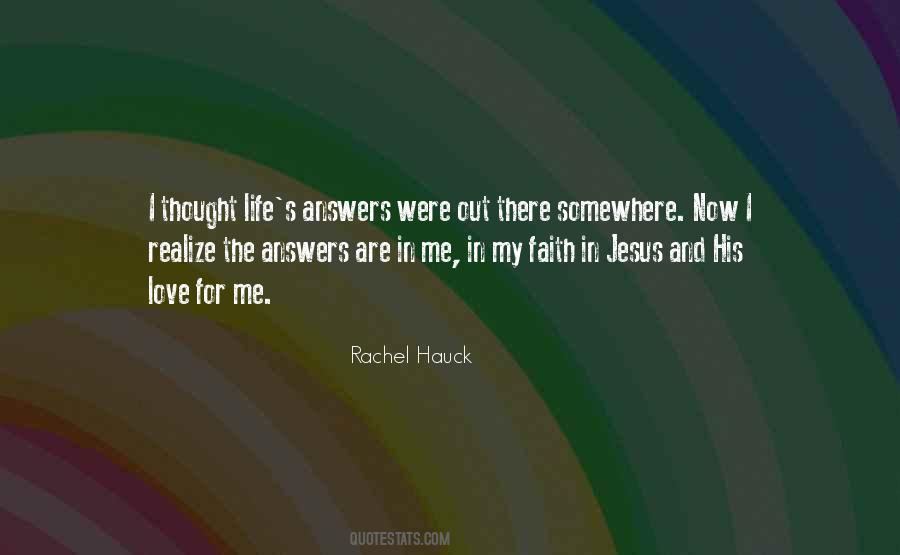 #76. As long as I can remember, the compelling force behind my calling is a desire to know Jesus more and to make Him known. I believe I was created for a relationship with Jesus, so growing in my relationship with Him and worshiping Him with all my heart and life is preeminent. - Author: Louie Giglio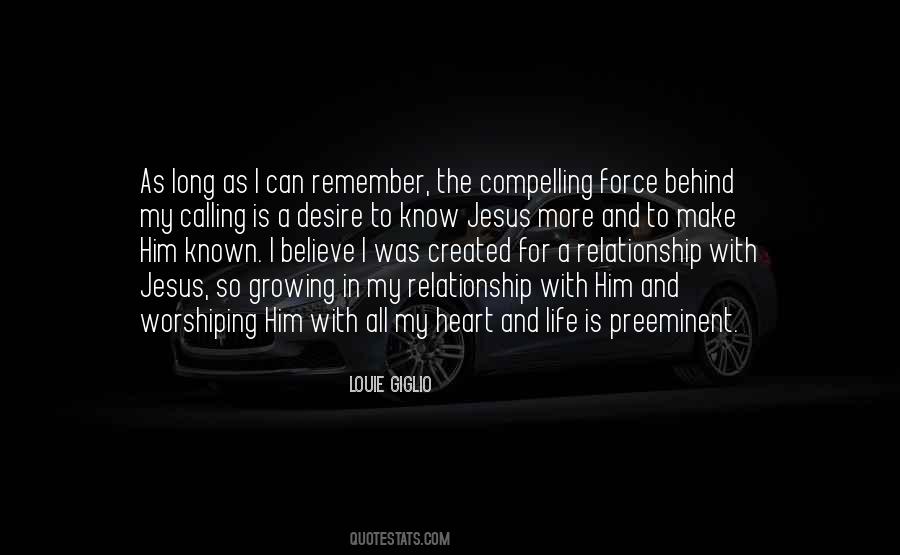 #77. My heart wants to read the Bible, wants to obey God. When you have Jesus in your life, when you have God in your life, like the thing in this world is not important to your heart. The more important is God in your heart. That's how God changed my life. - Author: Manny Pacquiao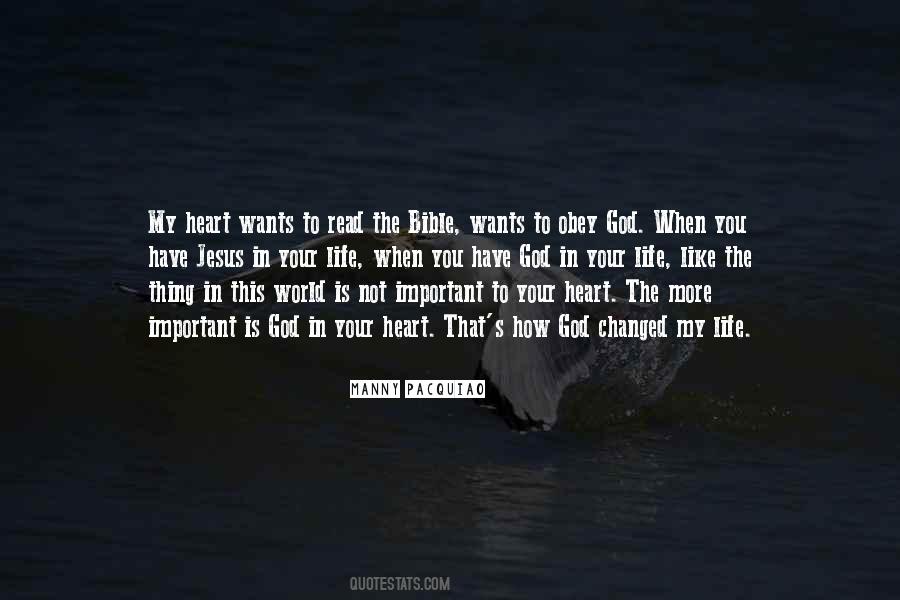 #78. I was in my late thirties when my eyes were opened to truth in God's Word that showed me I wasn't living the abundant life Jesus died for me to have. I had a very negative mindset and was miserable most of the time because of the abuse I had experienced throughout my childhood. - Author: Joyce Meyer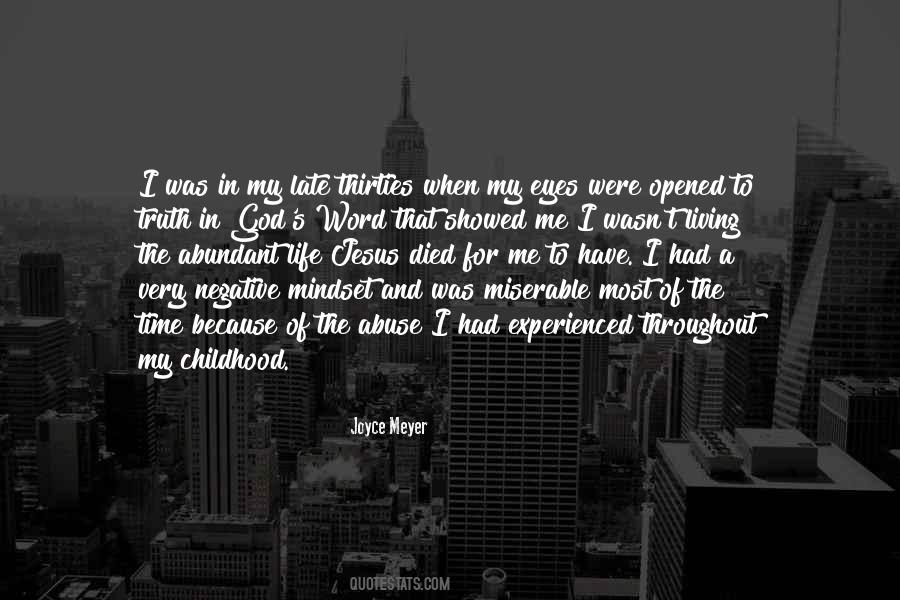 #79. Oh Lord Jesus, let eternal grace reign in my life now. - Author: Cessza Gumede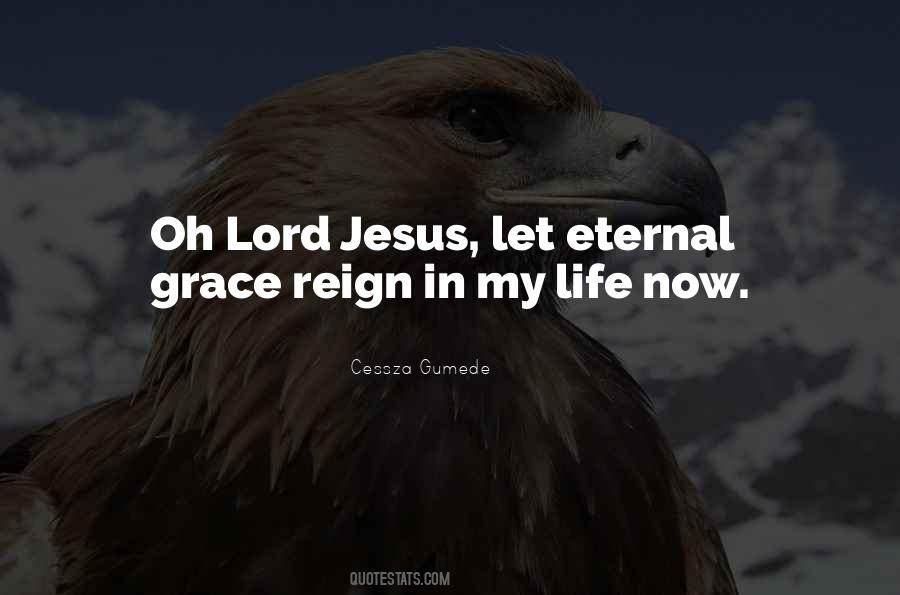 #80. I think the most challenging thing for me in my life and in the Bible is that we worship Jesus as the Prince of Peace. - Author: Jimmy Carter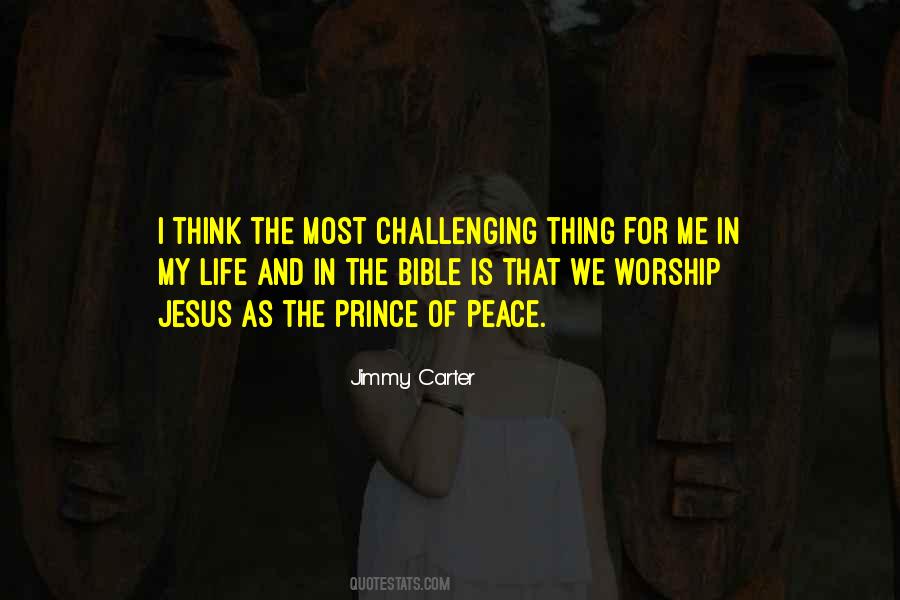 #81. One thing I gained in my life is just the need for more Jesus in my life. You never come to a place in your walk with Jesus where you feel like you've had enough. That's a dangerous feeling to have. - Author: Nick Vujicic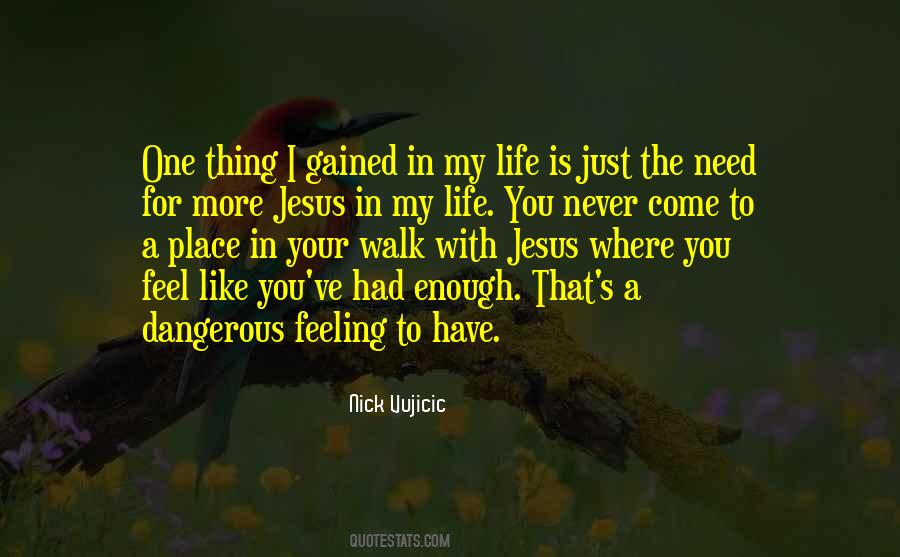 #82. I believe in the Bible, and I believe in Jesus. It's a big part of my life. - Author: Matt Lanter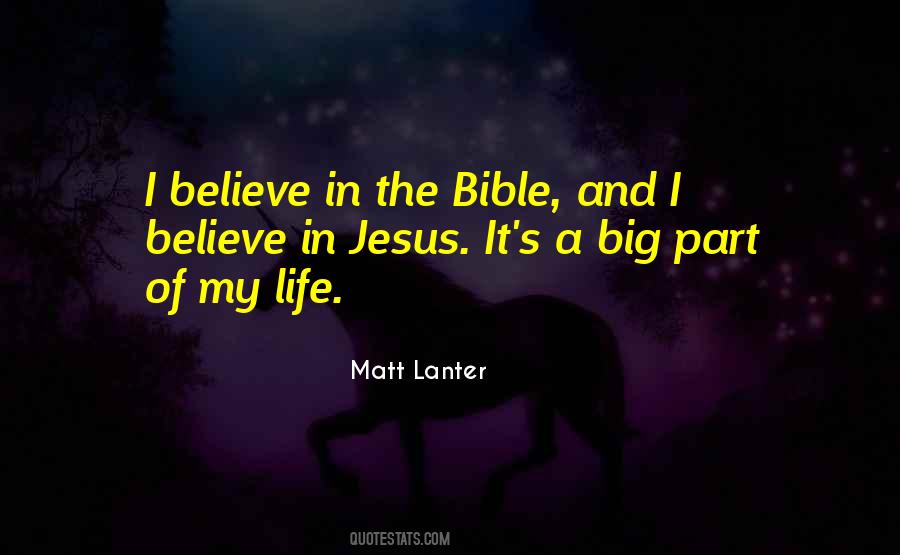 #83. Do you know why I believe in the Lord Jesus and what He says? Because He has proved to me that He has my best interests at heart. What could He do that He did not do? He already gave His life for us (Romans 5:8-10; 8:32) - Author: David Jeremiah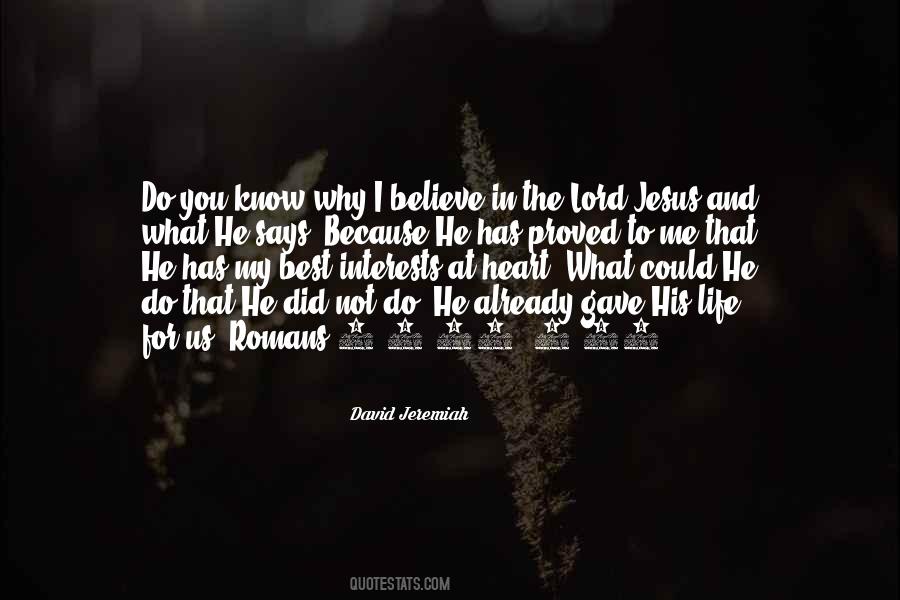 #84. I don't want to speak about Jesus; I want to know Jesus. I want to be Jesus to people. I don't want just to write about the Holy Spirit; I want to experience His presence in my life in a profound way. - Author: Francis Chan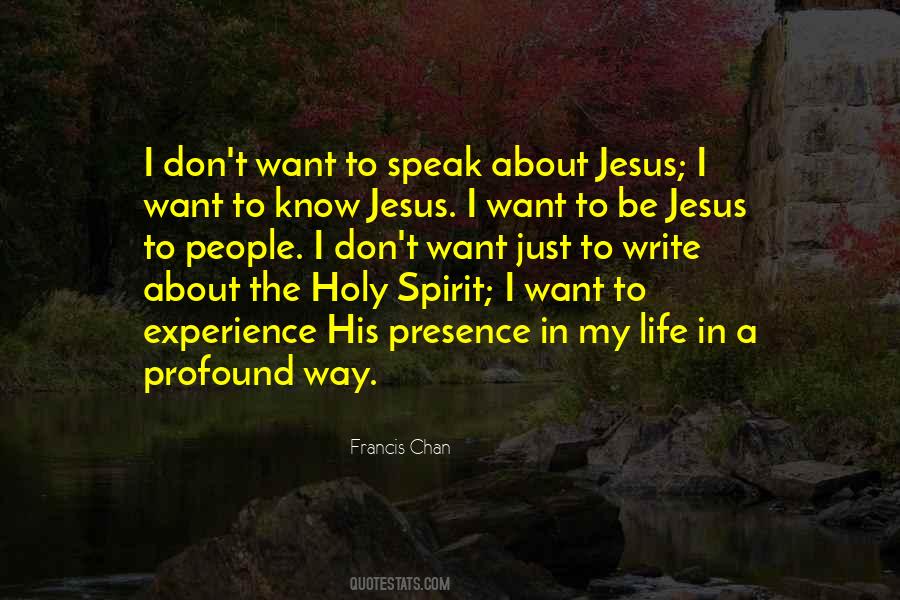 #85. I can't afford to live in reaction to darkness. If I do, darkness has had a role in setting the agenda for my life. The devil is not worthy of such influence, even in the negative. Jesus lived in response to the Father. I must learn to do the same. - Author: Bill Johnson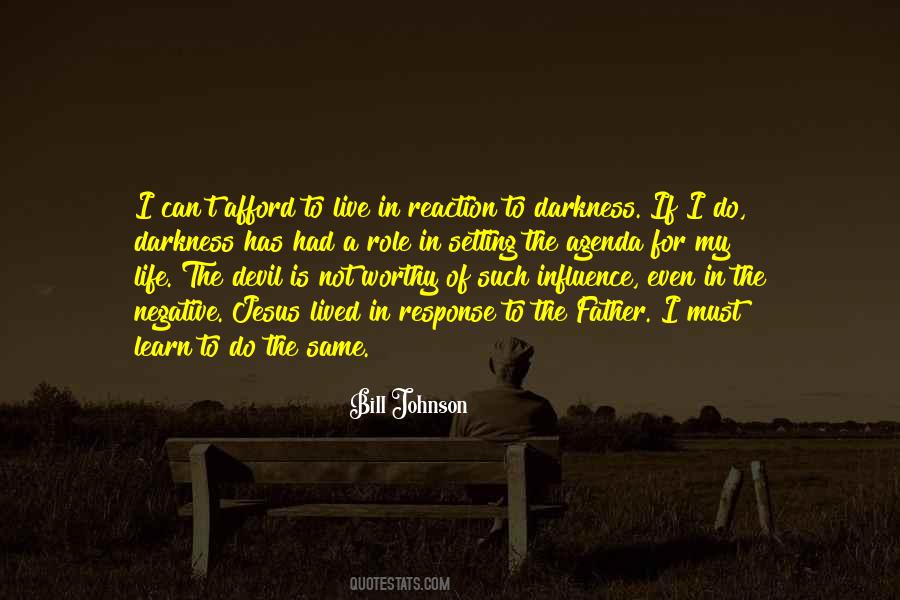 #86. Two great prayers;
Yahweh, grant me grace for my daily activities.
Yahweh, protect me from all evil, so that my life will be free of pain in Jesus name. Amen! - Author: Lailah Gifty Akita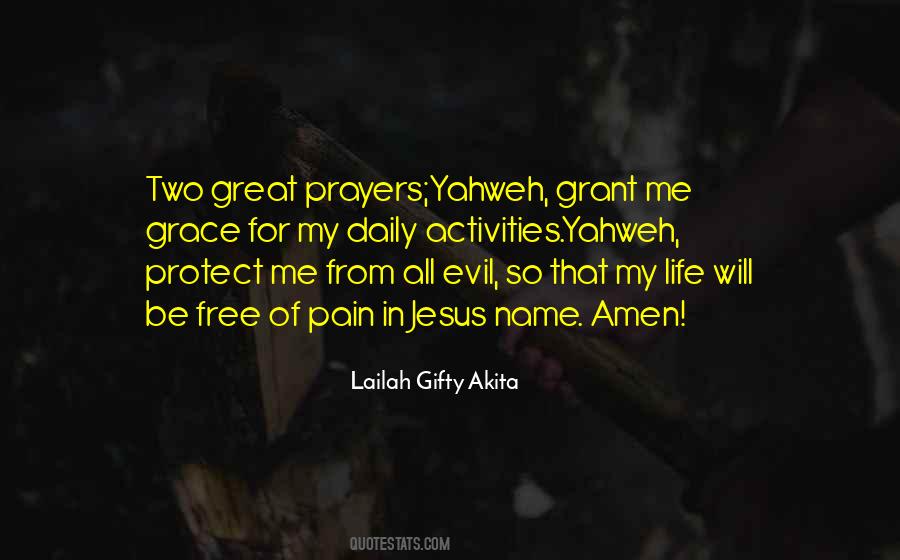 #87. My joy grows with every soul that seeks the glory of God in the face of Jesus Christ. Remember, you have one life. That's all. You were made for
God. Don't waste it. - Author: John Piper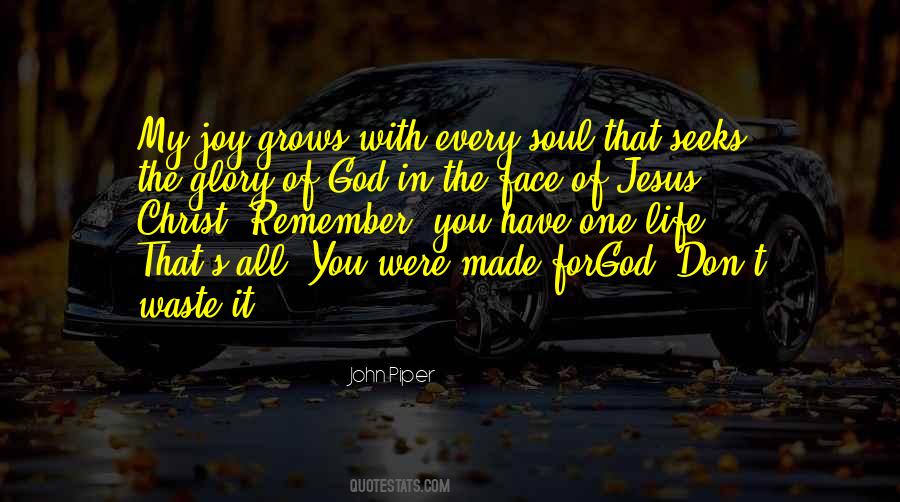 #88. Heaven for me is hidden in a little Host Where Jesus, my Spouse, is veiled for love. I go to that Divine Furnace to draw out life, And there my Sweet Saviour listens to me night and day. - Author: Therese Of Lisieux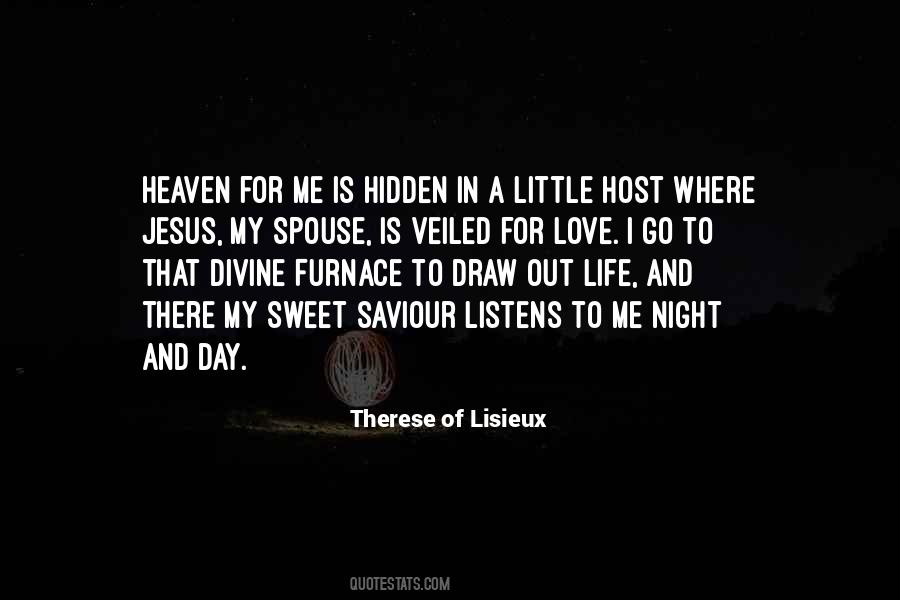 #89. As a believer, the Lord is growing me every single day. I'm married and I'm really grateful for my wife. The Lord has been using her to make me more like Jesus. I have a son and I'm really grateful for that. I'm grateful for what the Lord is doing in my life. - Author: Trip Lee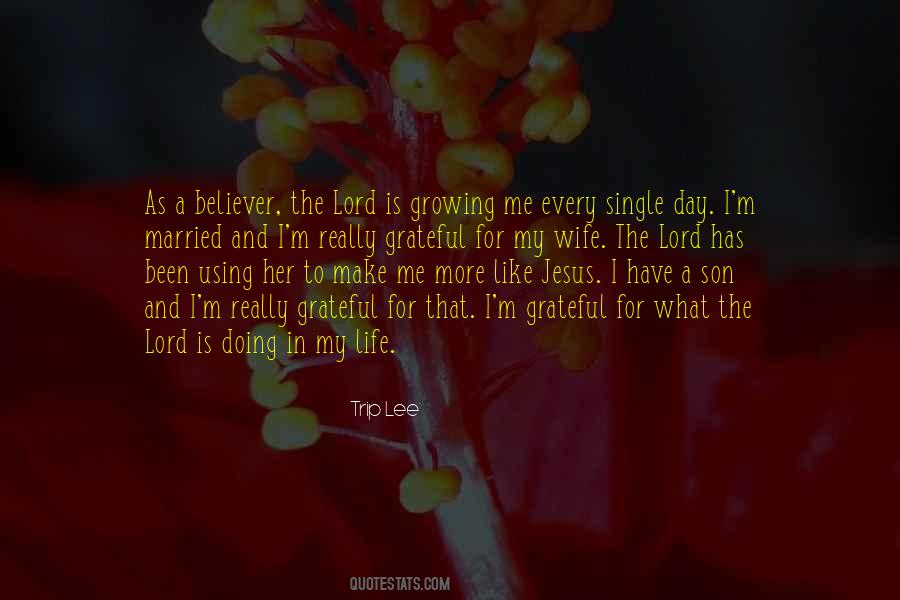 #90. One of the most startling discoveries of my life was the realization that the Jesus that I love, the Jesus who died for me on Calvary, that Jesus, is waiting, mystically and wonderfully, in every person I meet. I find Jesus everywhere. - Author: Tony Campolo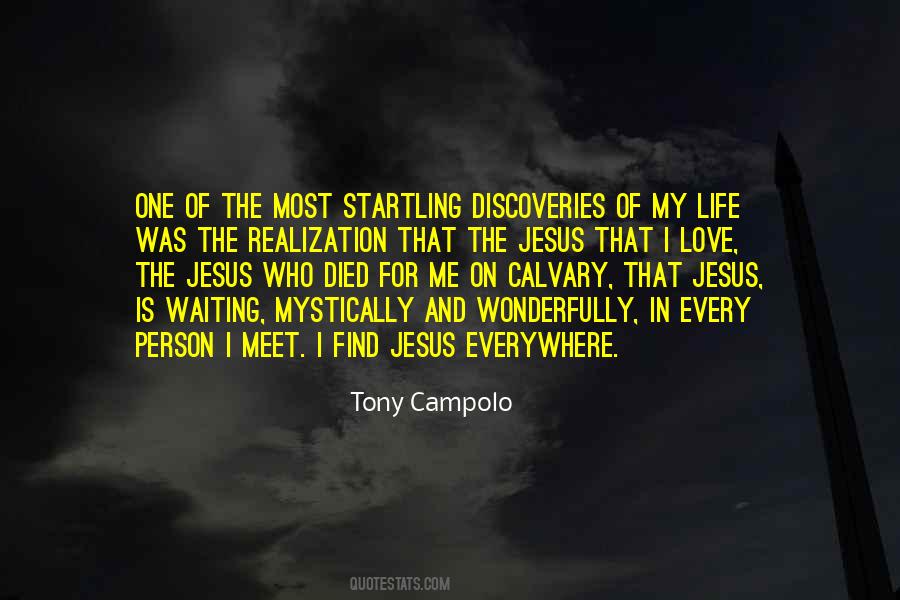 Famous Authors
Popular Topics