Jesus And Love Famous Quotes & Sayings
List of top 100 famous quotes and sayings about jesus and love to read and share with friends on your Facebook, Twitter, blogs.
Top 100 Quotes About Jesus And Love
#1. With love that knew no fear, the Singer caught his torment, wrapped it all in song and gave it back to him as peace. - Author: Calvin Miller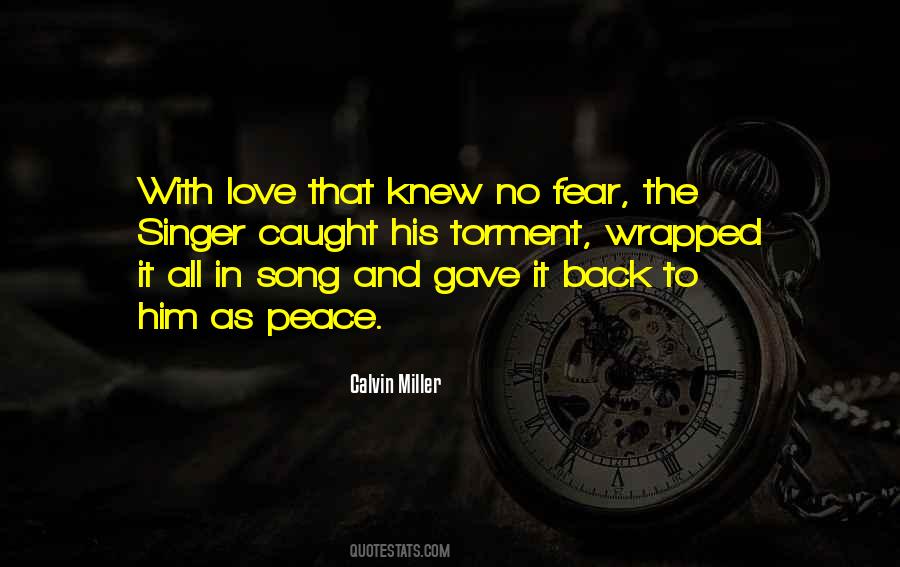 #2. OUT OF AN INFINITE LOVE, you, O Lord, have made me an heir of your kingdom and joint heir with Christ. O Good Jesus, to whom else shall I go? You have the words of eternal life. I hope, and I believe in you. Lord keep me from despair. Amen. O - Author: Derek A. Olsen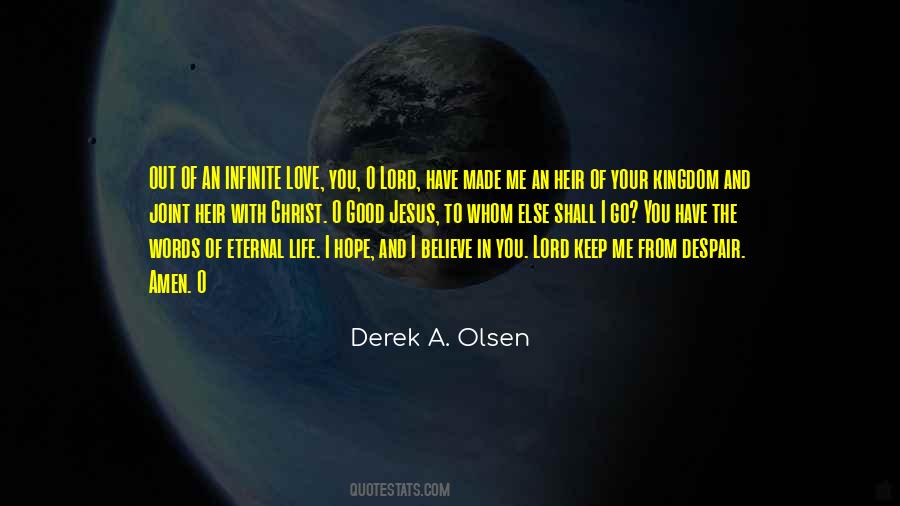 #3. Turn around and believe that the good news that we are loved is better than we ever dared hope, and that to believe in that good news, to live out of it and toward it, to be in love with that good news, is of all glad things in this world the gladdest thing of all. Amen, and come Lord Jesus. - Author: Frederick Buechner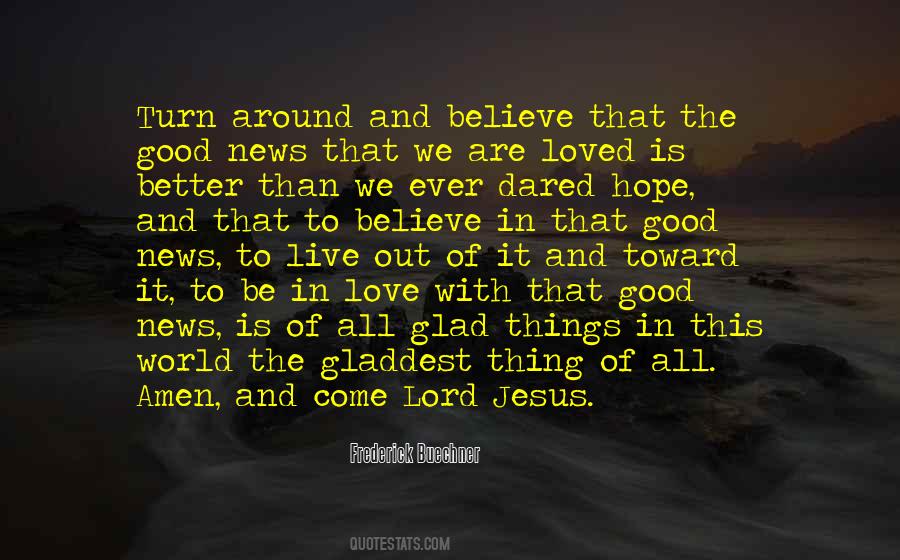 #4. Whether Jesus calms the storm or calms us in the storm, His love is the same, and His grace is enough. - Author: Sheila Walsh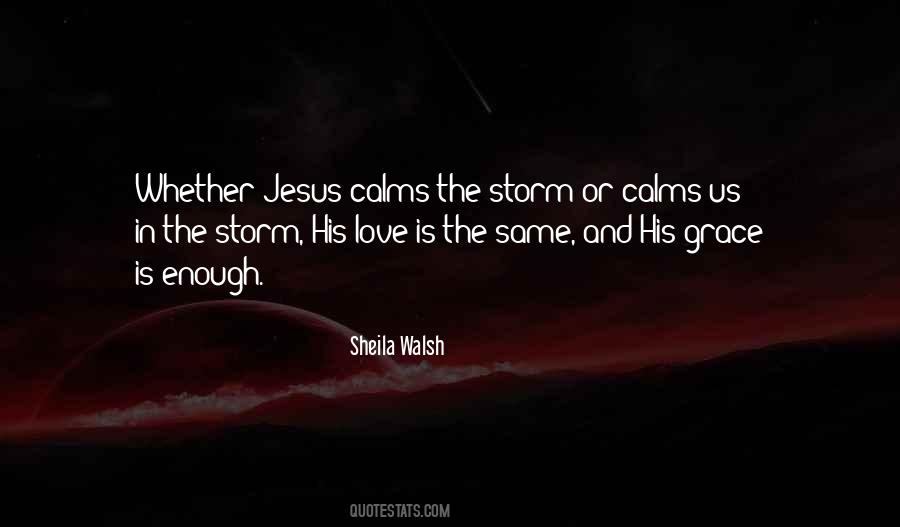 #5. Spirit-led Jesus followers recognize that they are imperfect Christians working with other imperfect Christians to serve a perfect Christ. When we love and give to one another, then we grow as individuals and as the family of God.136 - Author: Mark Driscoll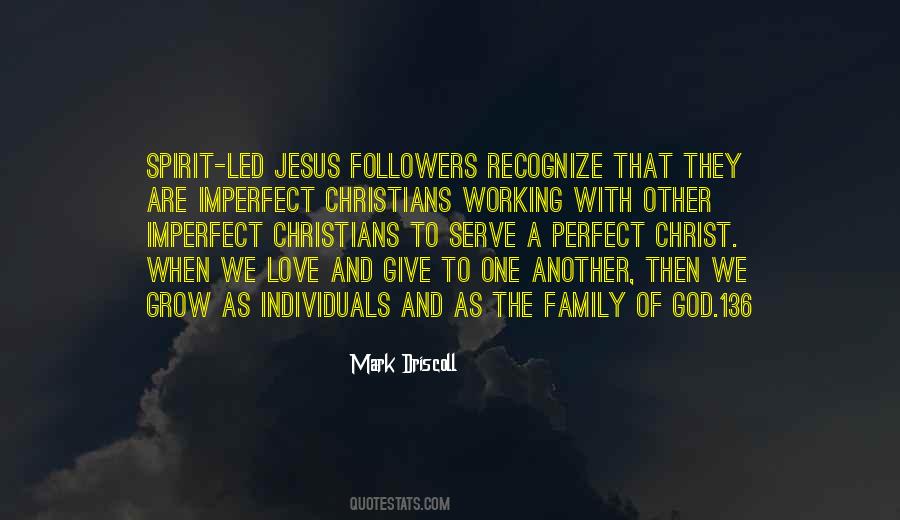 #6. Give your false prophet a message for me. Tell him Jesus befriended the whores and the thieves and the sinners. Tell him his Old Testament God is dead. God doesn't punish the wicked and save the righteous. God is love. - Author: Jennifer Bosworth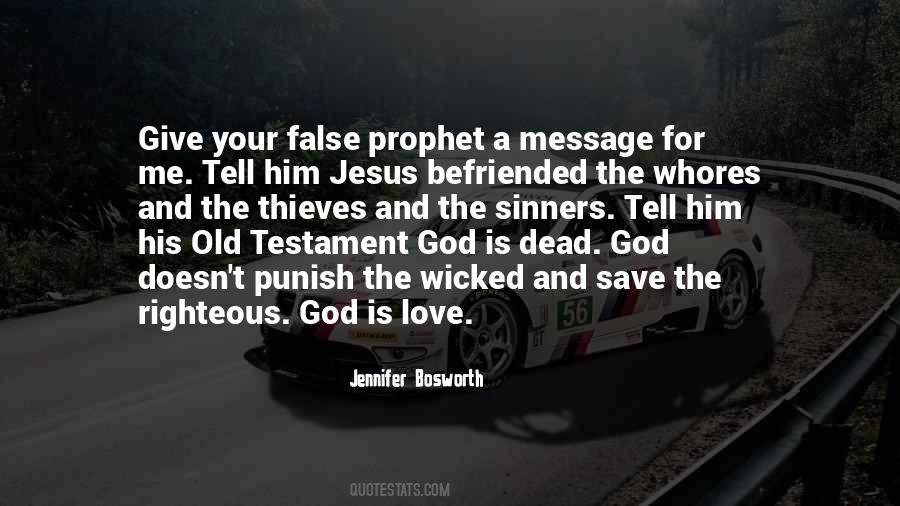 #7. He is Jesus, only. God has revealed Himself to us through Jesus. Jesus is what God wanted us to know and to love. He is not Napoleon the Great. He is not Alexander the Great. He is Jesus only. He is enough. My purpose in life is to worship Jesus and, in so doing, become more Christ-like - Author: David Paul Kirkpatrick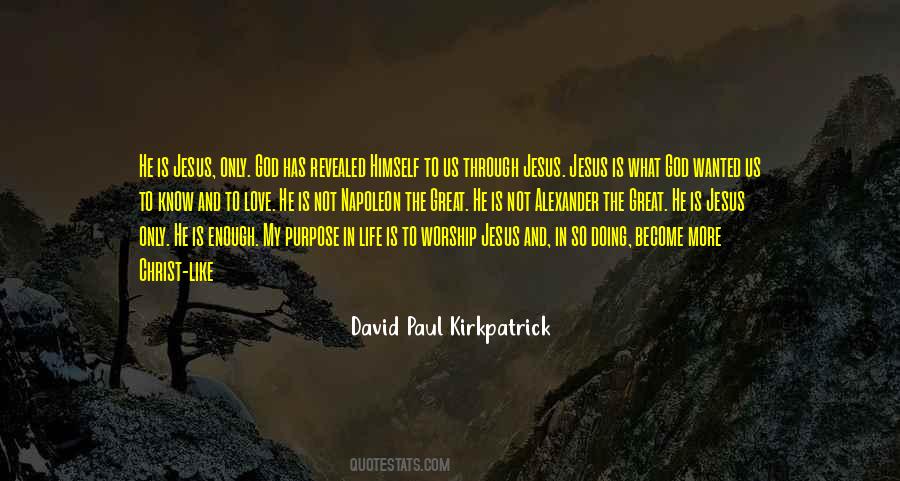 #8. I believe in unconditional love and equality. Jesus Christ exemplified these qualities. - Author: Jack Canfield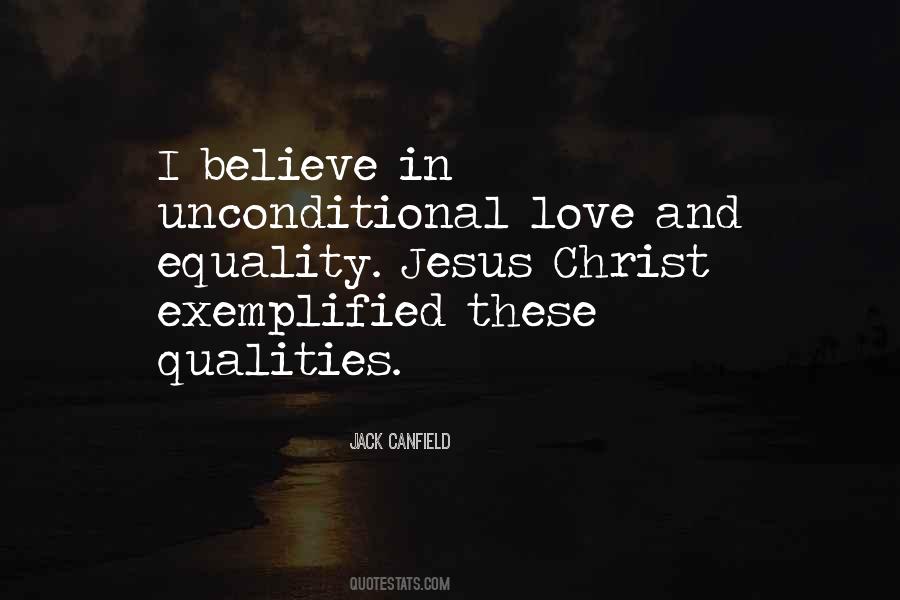 #9. Singles, too, must see the penultimate status of marriage. If single Christians don't develop a deeply fulfilling love relationship with Jesus, they will put too much pressure on their DREAM of marriage, and that will create pathology in their lives as well. - Author: Timothy Keller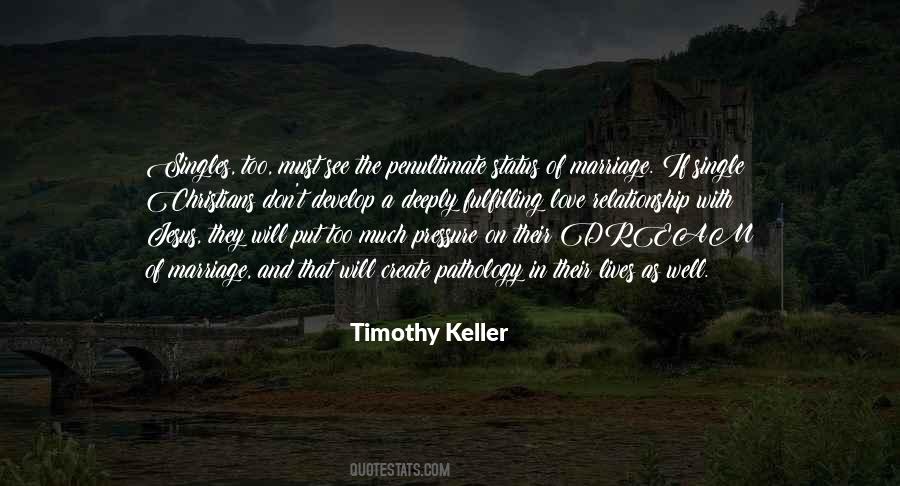 #10. I knew that Jesus loved me, not because the Bible told me so but because my heart was informed by love. And later, for that same reason, I knew I was attracted to boys. - Author: James Lecesne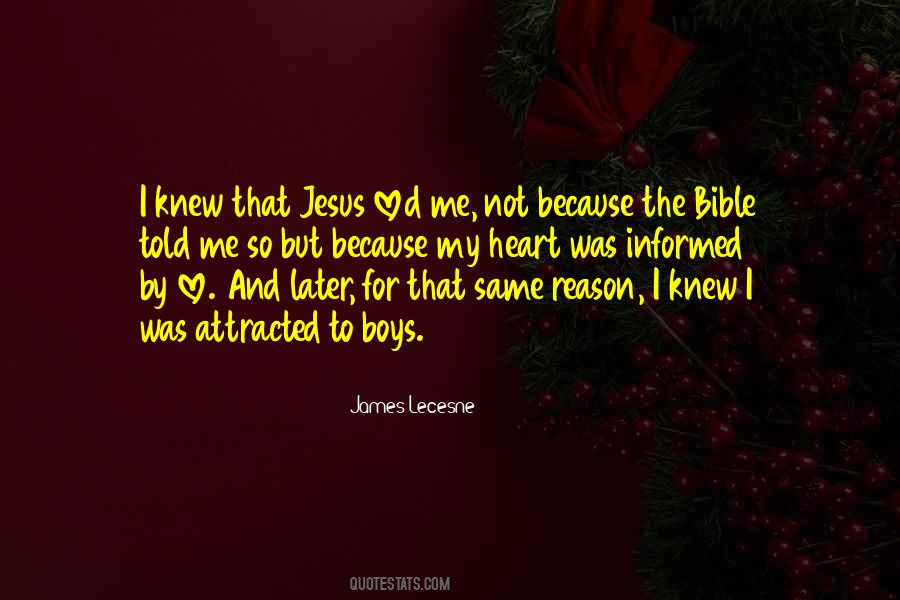 #11. All good things come from love; God used the cross a symbol of His love, to paralyze and defeat all forces of evil. God is love. John 3:16 - Author: Felix Wantang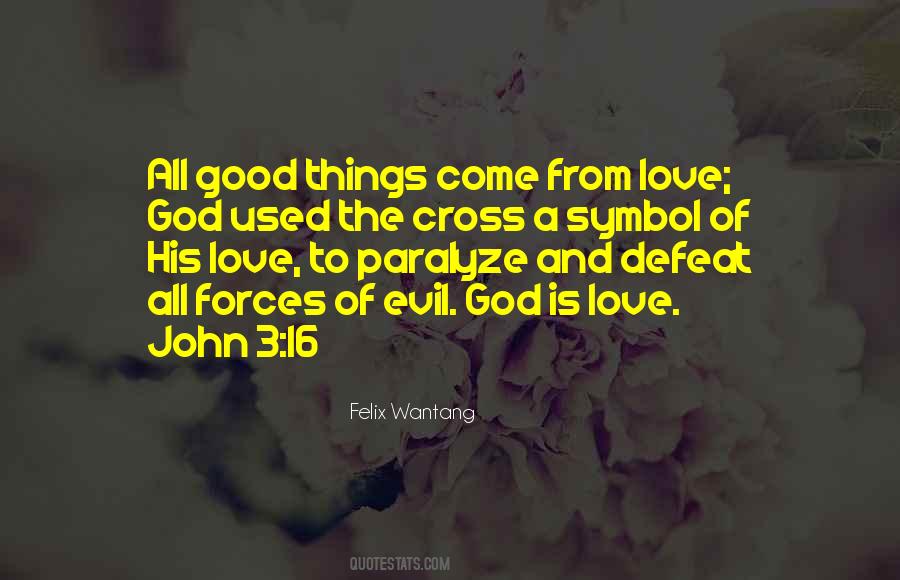 #12. I have tried to understand what crucifixion must feel like. I just know that the pain must be beyond what I have ever experienced. I respect, love, and trust the One who endured all this when He didn't have to. I understand Jesus with my heart, and the rest of the world can think of Him as it will. - Author: Marina Nemat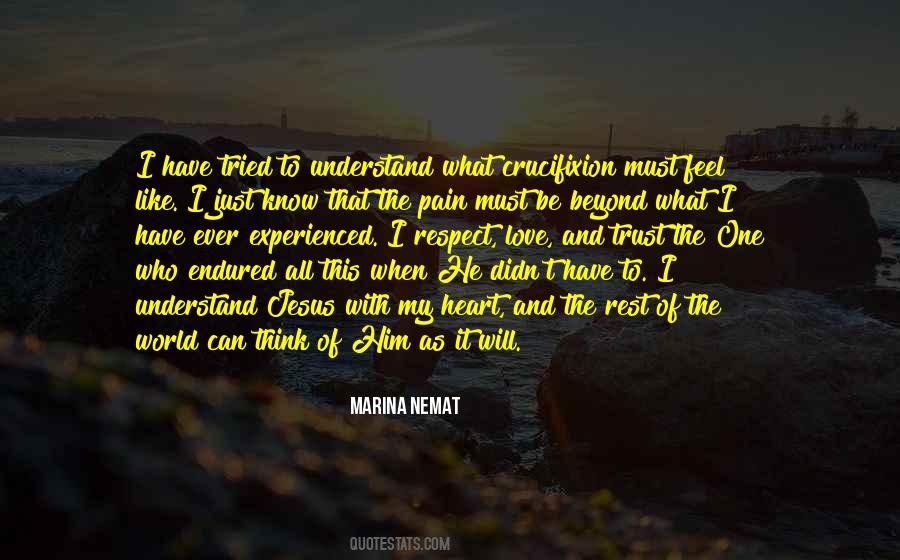 #13. Please God, please suh, don't let him love nobody else but me. Maybe Ah'm is uh fool, Lawd, lak dey say, but Lawd, Ah been so lonesome, and Ah been waitin', Jesus. Ah done waited uh long time. - Author: Zora Neale Hurston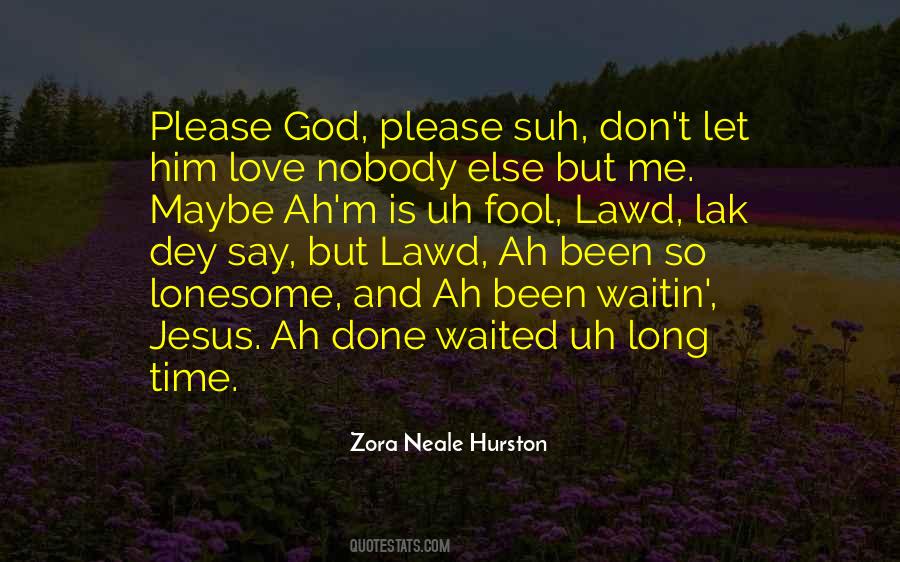 #14. Imitate Jesus and Socrates - Author: Benjamin Franklin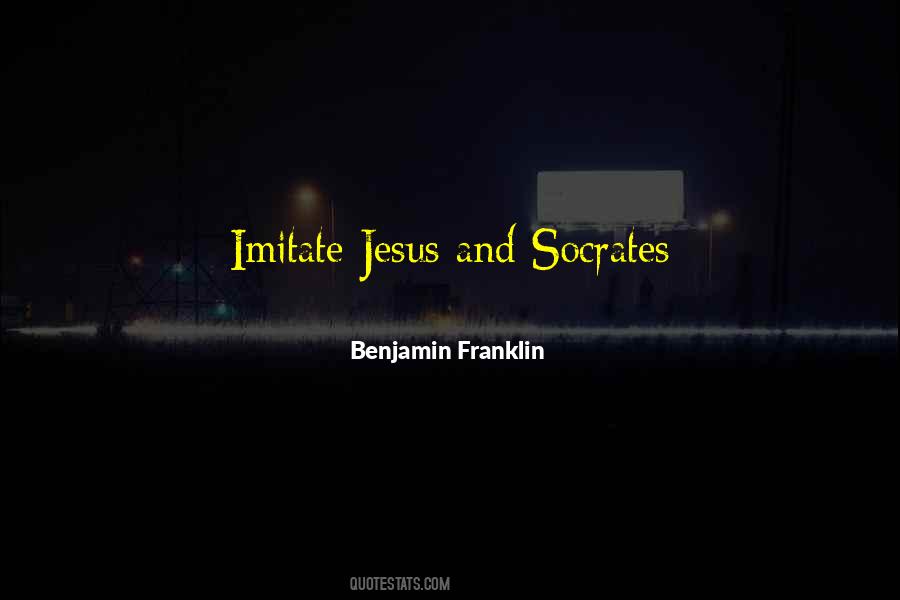 #15. Eternity is not just looking to the future and our place with God in Heaven, but it is looking at our Eternity as if it were only moments away. - Author: Beth Nimmo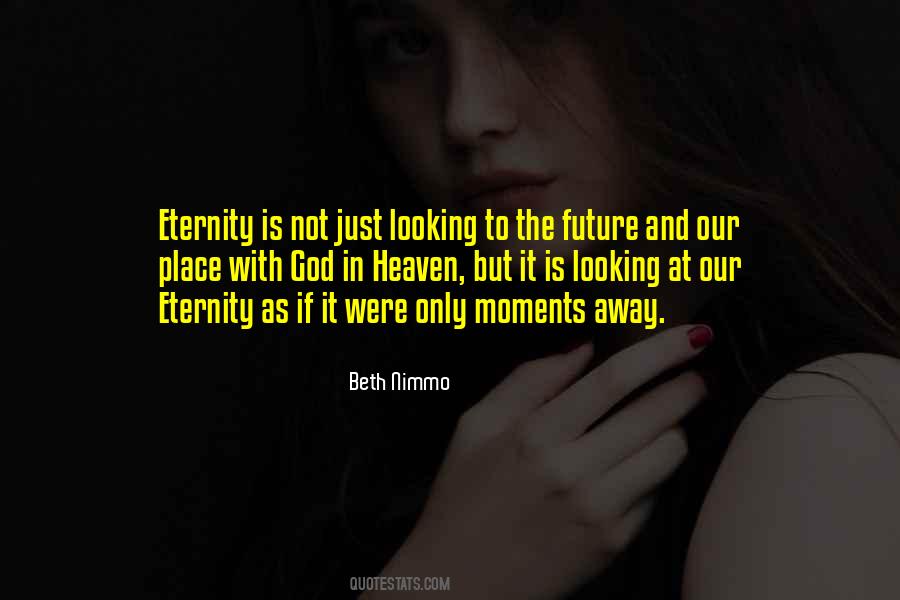 #16. Love pays attention. Love listens to the fears and the doubts of others and treats them with respect. Love accepts others the way Jesus accepts you. - Author: Rick Warren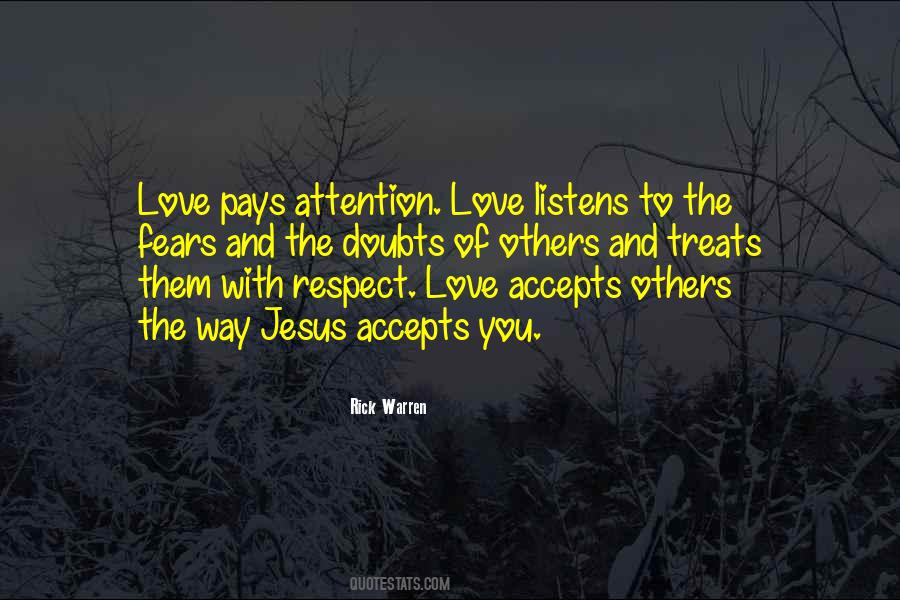 #17. When we learn to read the story of Jesus and see it as the story of the love of God, doing for us what we could not do for ourselves
that insight produces, again and again, a sense of astonished gratitude which is very near the heart of authentic Christian experience. - Author: N. T. Wright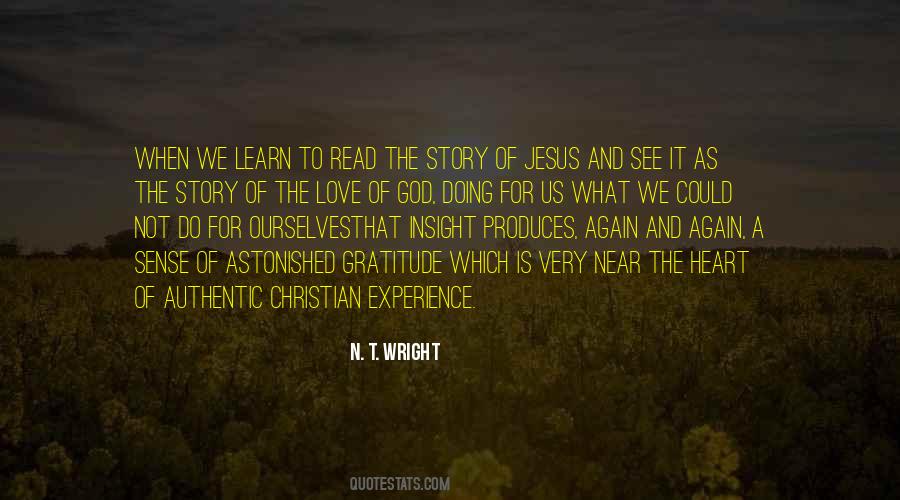 #18. I love God and I follow Jesus but I just don't have much affinity for the organized folderol of the churches in the Western World. - Author: Larry Norman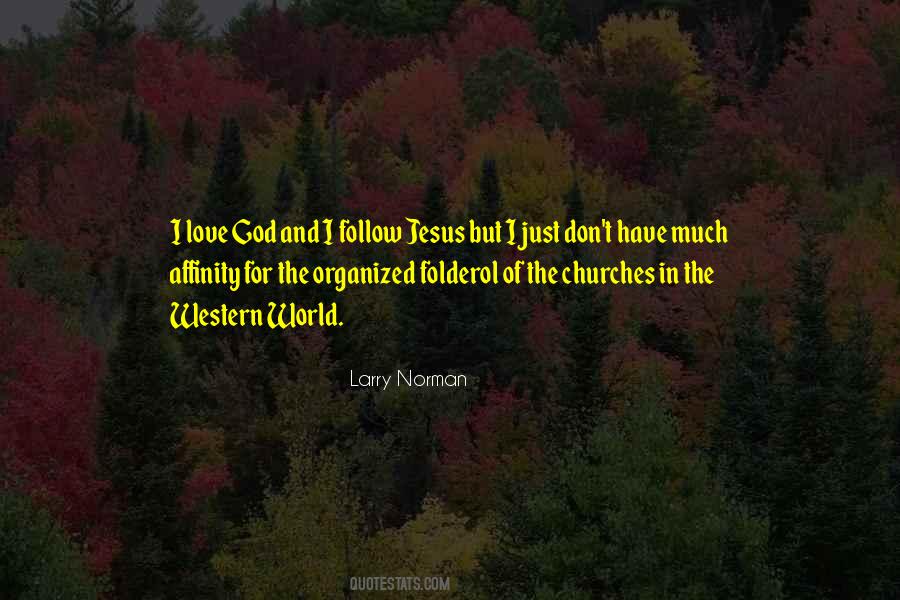 #19. For love doesn't stand alone, nor can it, but trails like a blazing comet, bringing with it other shining goods - forgiveness, kindness, tolerance, fairness, companionability and friendship, all bound to the love which is at the heart of Jesus's message. - Author: Ian McEwan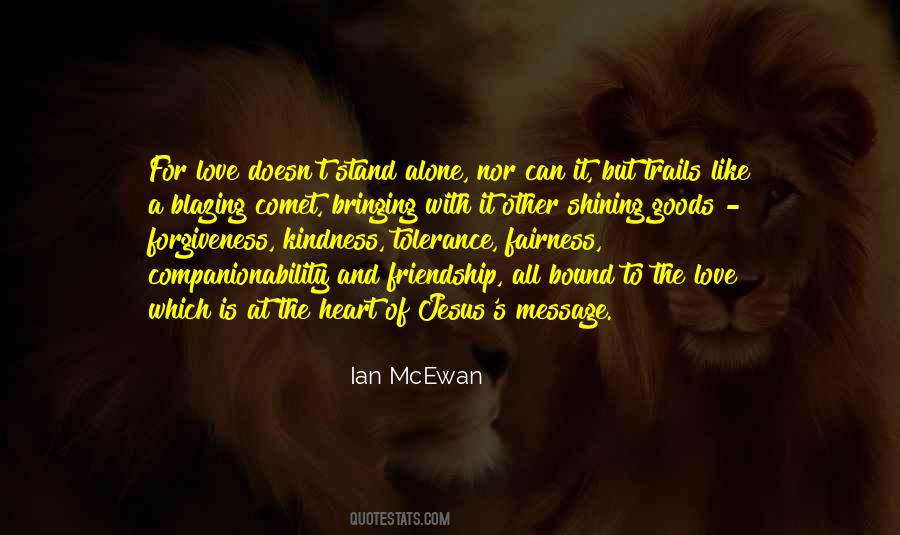 #20. It's like a person who gets a taste of Christ, falls in love with Him, and then casts Him aside. That love never lets go, that yearning to be with Jesus, and there's no rest until the relationship is restored." Nadia - Author: Brigette Manie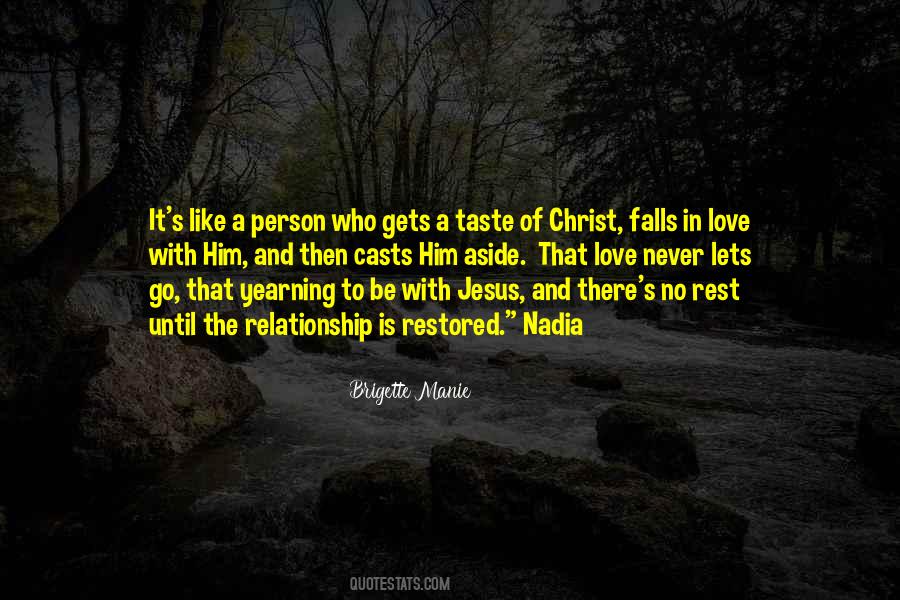 #21. Love one another, Jesus said. Sometimes it took a lifetime to learn how. Sometimes it took someone to hit rock bottom to make someone reach up and grasp hold and be lifted from the mire to stand on a firm foundation. - Author: Francine Rivers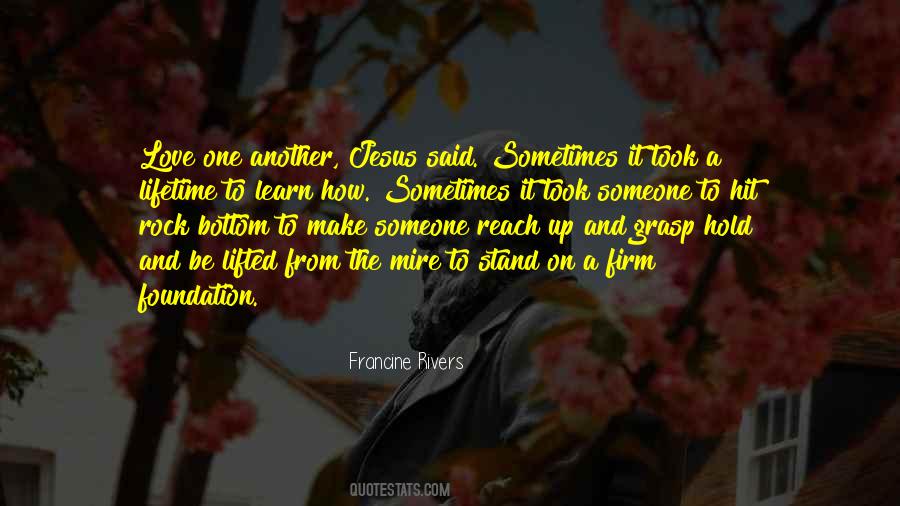 #22. I'm trying to imitate Jesus in the fact that he said to be like children, to love children, to be as pure as children and to make yourself as innocent and to see the world through eyes of wonderment and the whole magical quality of it all. - Author: Michael Jackson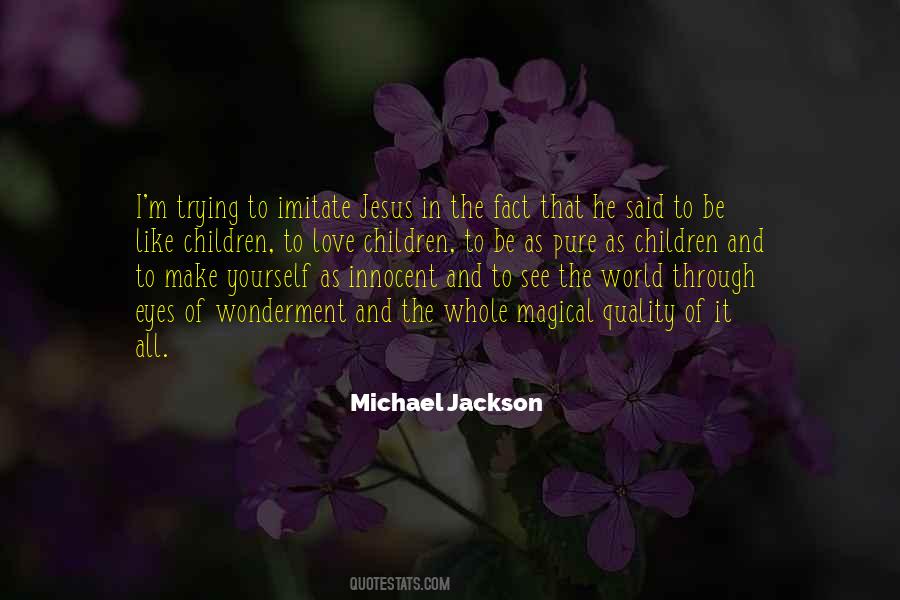 #23. So when Jesus says "Love your enemies," he is setting forth a profound and ultimately inescapable admonition. - Author: Martin Luther King Jr.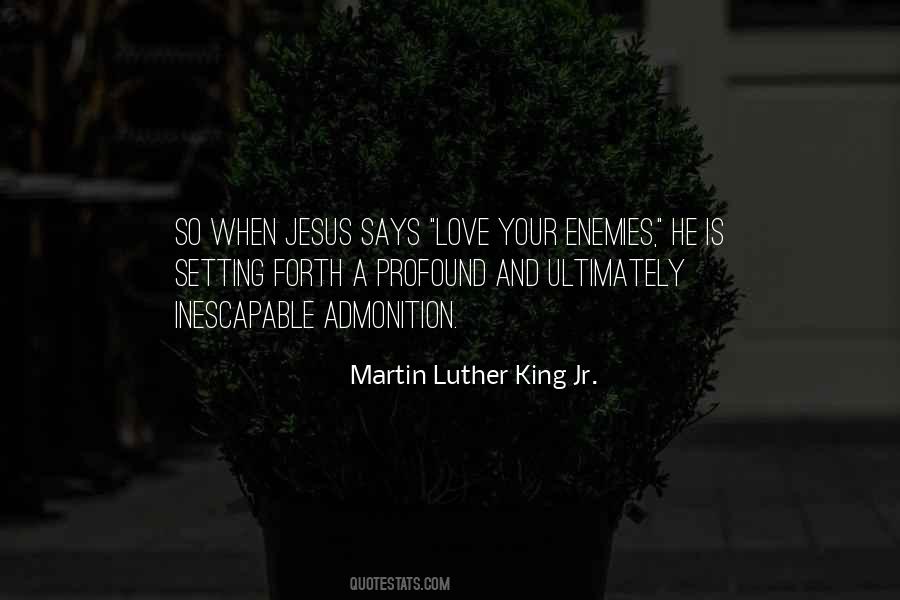 #24. I enjoy receiving love from my wife. I'm ecstatic when Kim loves me and expresses affection toward me. Something in me comes alive when she does that. But I've learned this freeing truth: I don't need that love, because in Jesus, I receive all the love I need. - Author: Tullian Tchividjian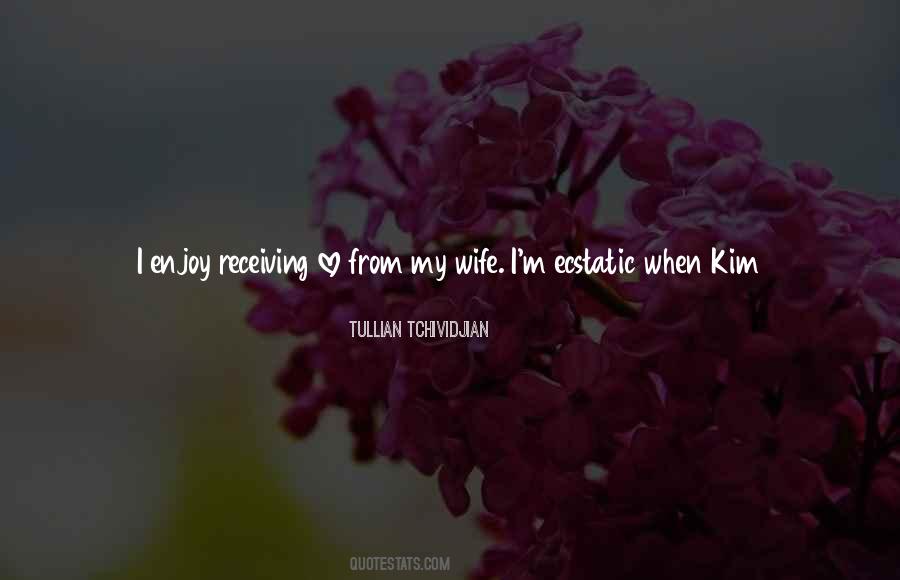 #25. Hope is in the name of God, the name of our Lord Jesus Christ. Hope is when you compare your suffering to the infinite, immeasurable love and grace of God. - Author: Nick Vujicic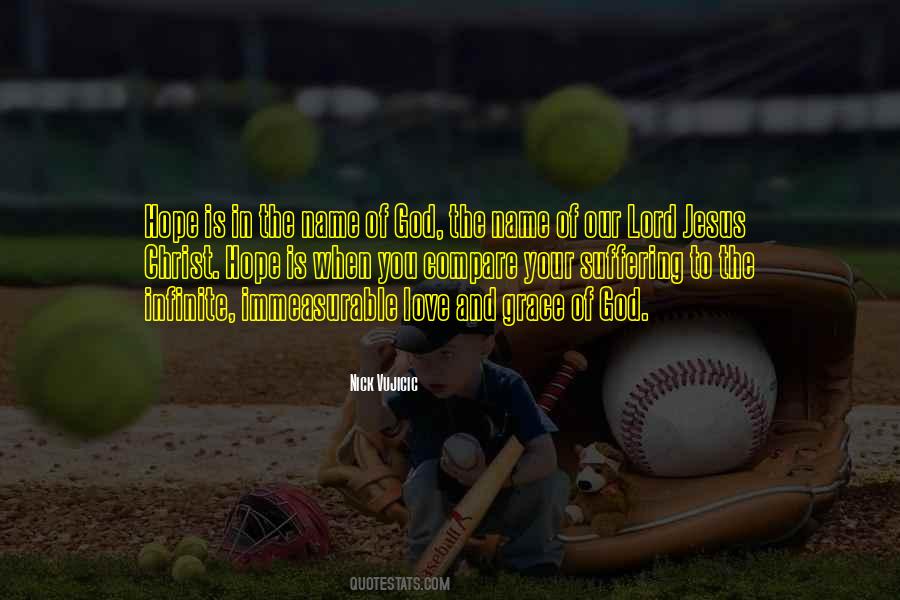 #26. The church is not a brick-and-mortar structure. The church is made of flesh & blood. Followers of #Christ are the church. - Author: Eric Samuel Timm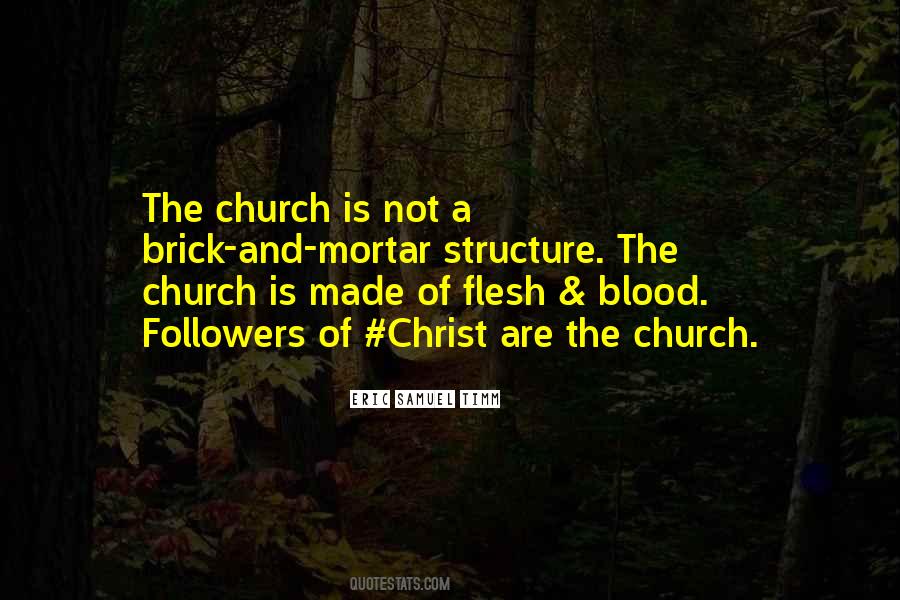 #27. Humility is a virtue that one can find, in which God in heaven rejoices ,and in His love he enfolds you, close to his heart He does bind. - Author: Henrietta Newton Martin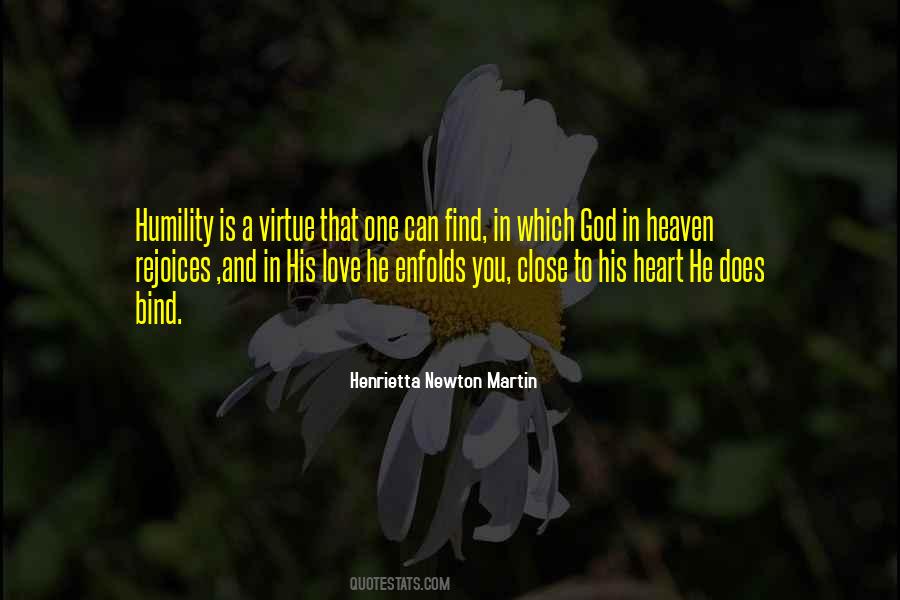 #28. Jude, a bondslave of Jesus Christ and brother of James, to those who by God the Father have been loved and are in a state of being the permanent objects of His love, and who for Jesus Christ have been guarded and are in a permanent state of being carefully watched, to those who are called ones. - Author: Kenneth Wuest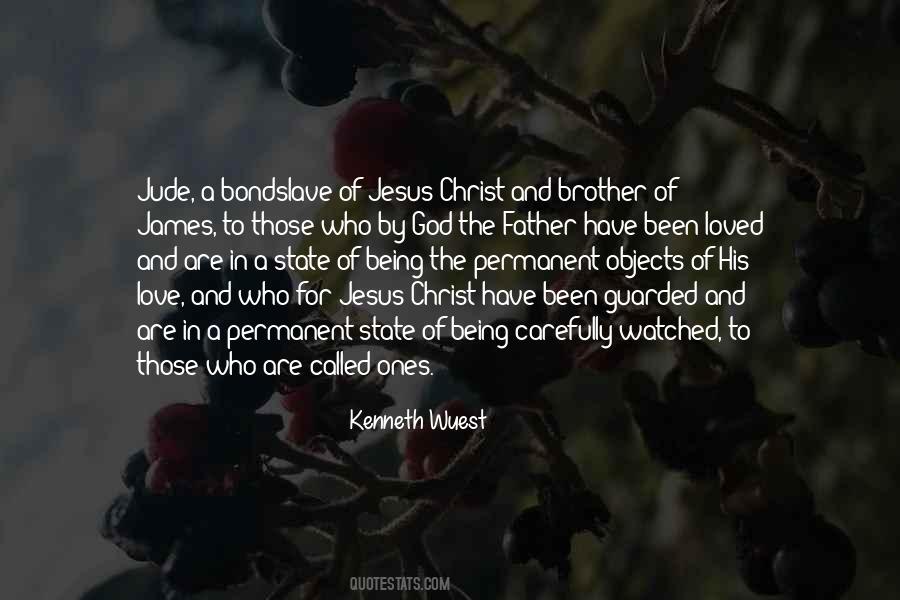 #29. Jesus regularly visualized the success of his efforts ... 'I always do what pleases God.' ... Was this conceit? Or was it enlightened creativity and self-knowledge? ... Jesus was full of self-knowledge and self-love. His 'I am' statements were what he became. - Author: Laurie Beth Jones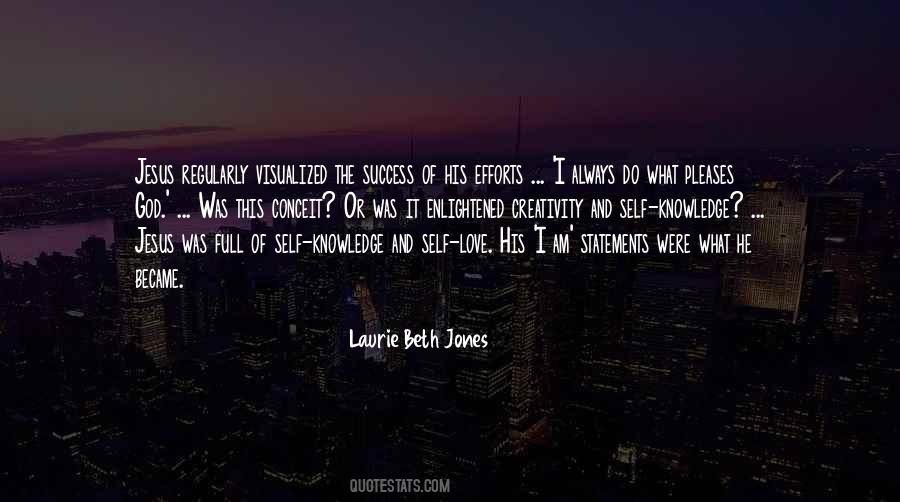 #30. For two people to commit themselves not simply to marriage, but to a lifetime of mutual love and submission in imitation of Christ is so astounding, so mysterious, it comes close to looking like Jesus' stubborn love for the church. - Author: Rachel Held Evans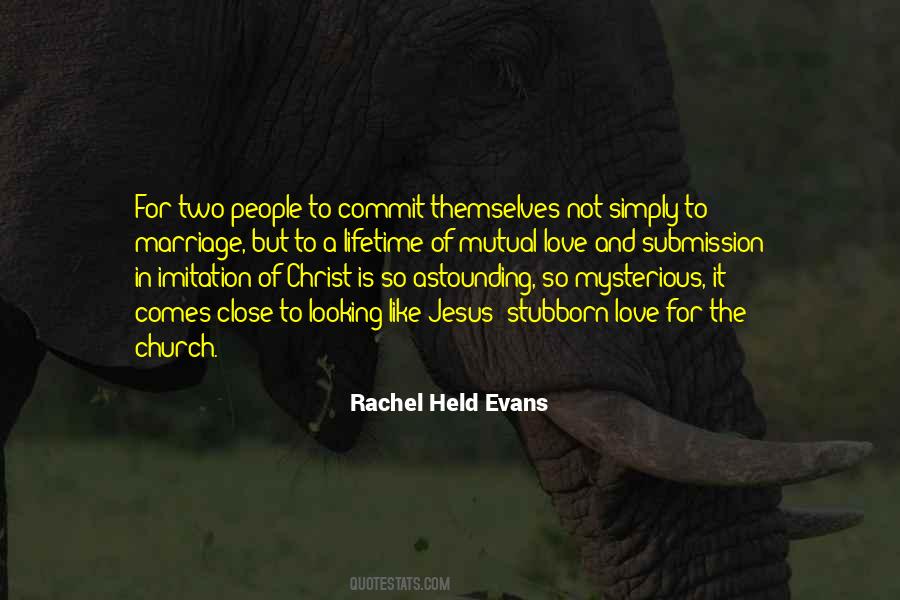 #31. There is perhaps nothing so remarkable about Jesus than the fact that he advanced himself as the object of faith, love, and obedience, and yet he comes across as the most humble man to walk the face of the earth. - Author: Douglas Sean O'Donnell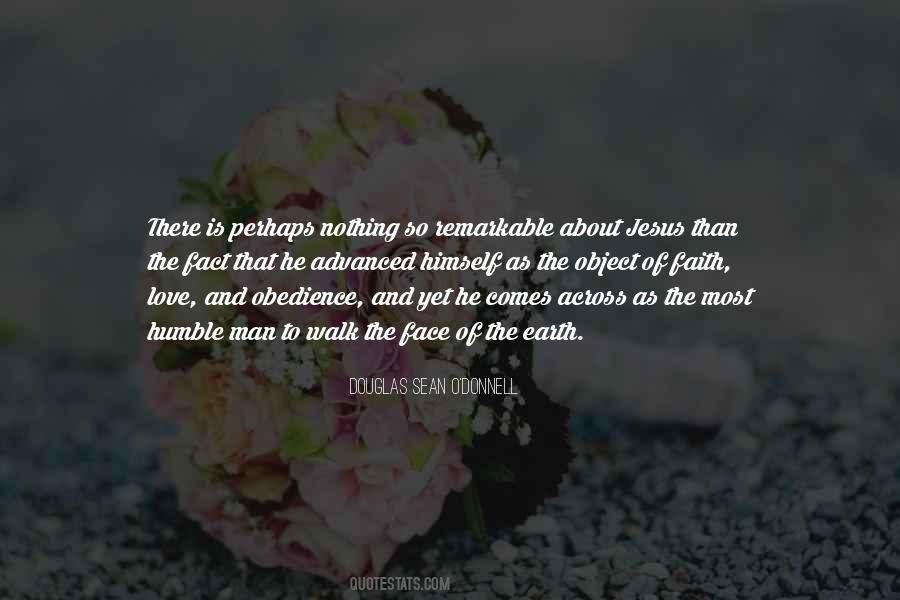 #32. There is in the Sacred Heart the symbol and express image of the infinite love of Jesus Christ which moves us to love in return. - Author: Pope Leo XIII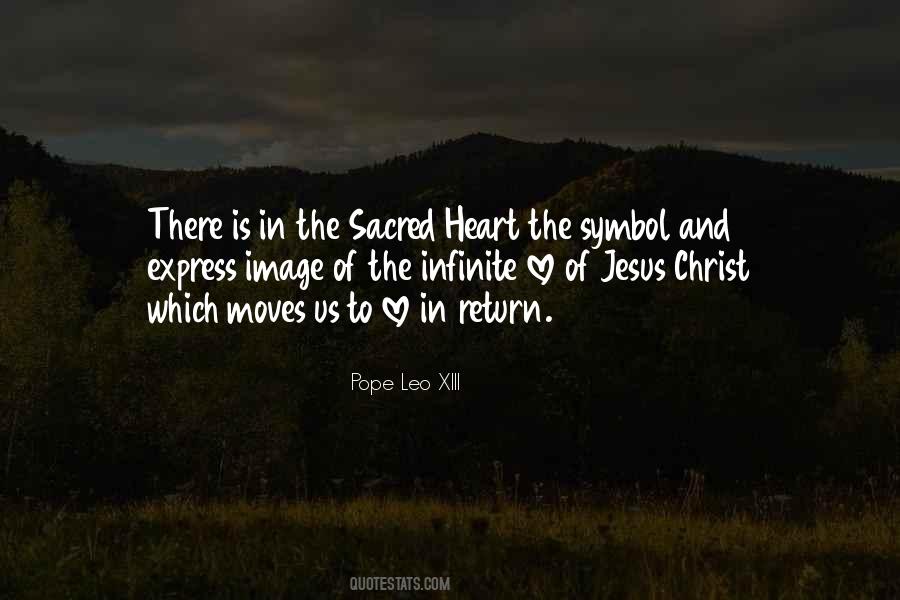 #33. The gospel is this: We are more sinful and flawed in ourselves than we ever dared believe, yet at the very same time we are more loved and accepted in Jesus Christ than we ever dared hope. - Author: Timothy Keller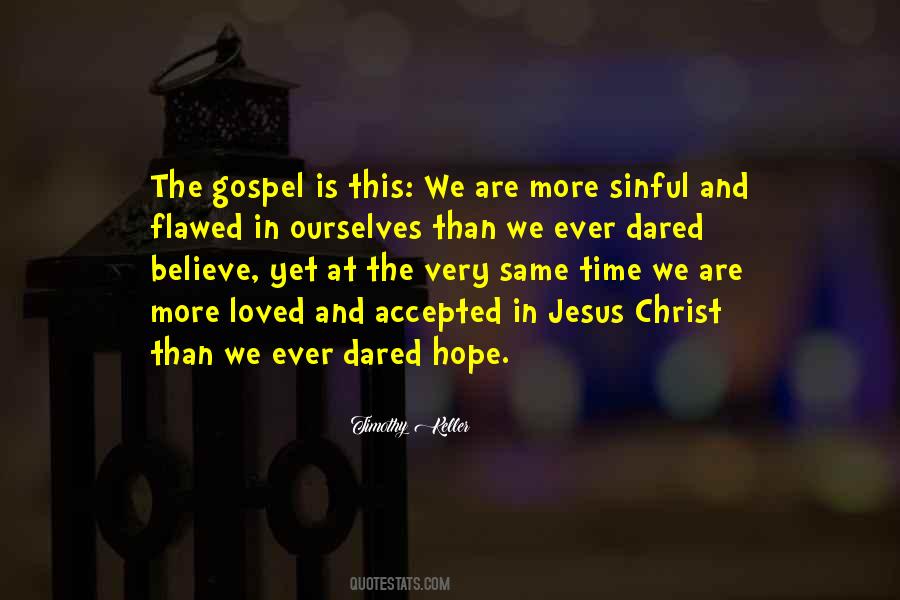 #34. You cannot love the Father and dislike His beloved son - Author: Ernest Agyemang Yeboah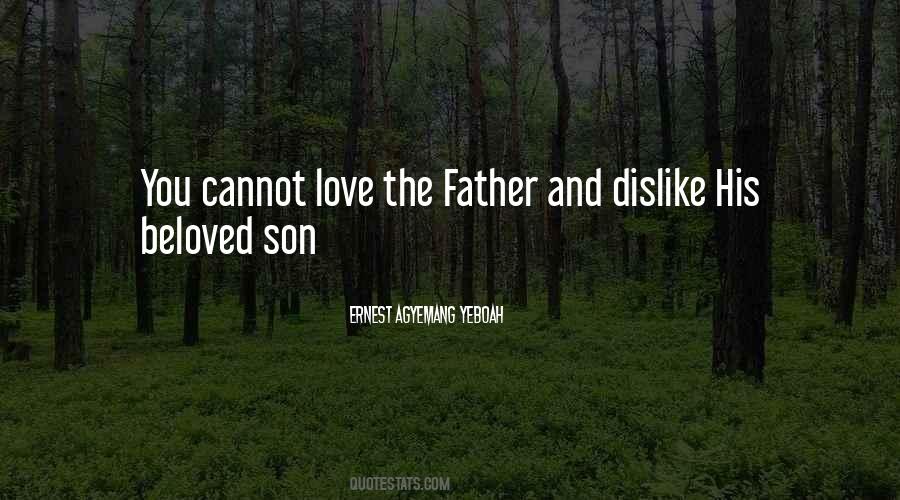 #35. There is only one secure foundation: a genuine, deep relationship with Jesus Christ, which will carry you through any and all turmoil. No matter what storms are raging all around, you'll stand firm if you stand on His love. - Author: Charles Stanley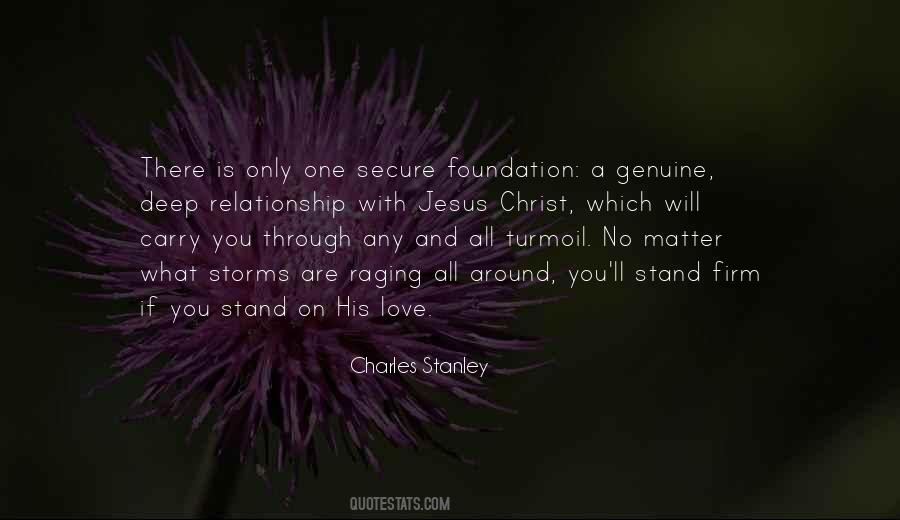 #36. Jesus showed patience and love to all who came to Him seeking relief for their physical, emotional, or spiritual illnesses and who felt discouraged and downtrodden. - Author: Ulisses Soares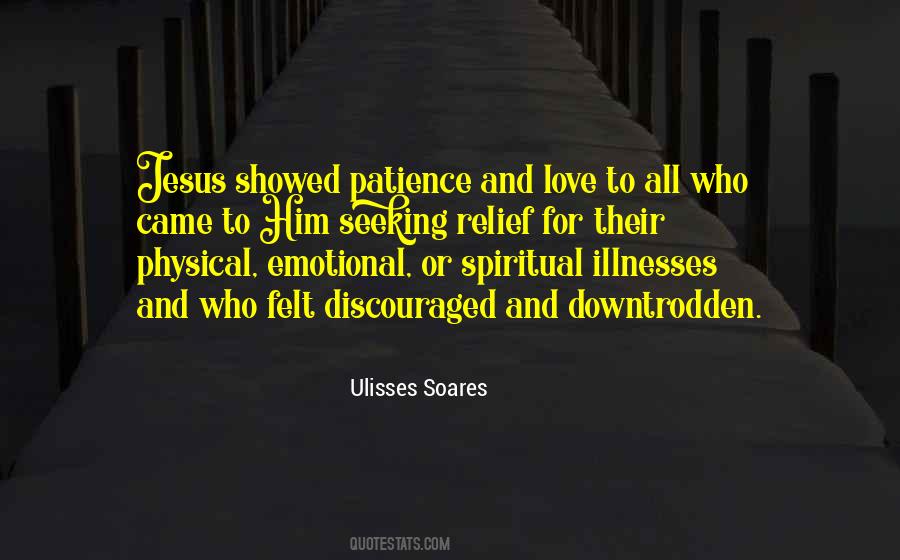 #37. Marriage is not mainly about being or staying in love. It's mainly about telling the truth with our lives. It's about portraying something true about Jesus Christ and the way He relates to his people. It is about showing in real life the glory of the gospel. - Author: John Piper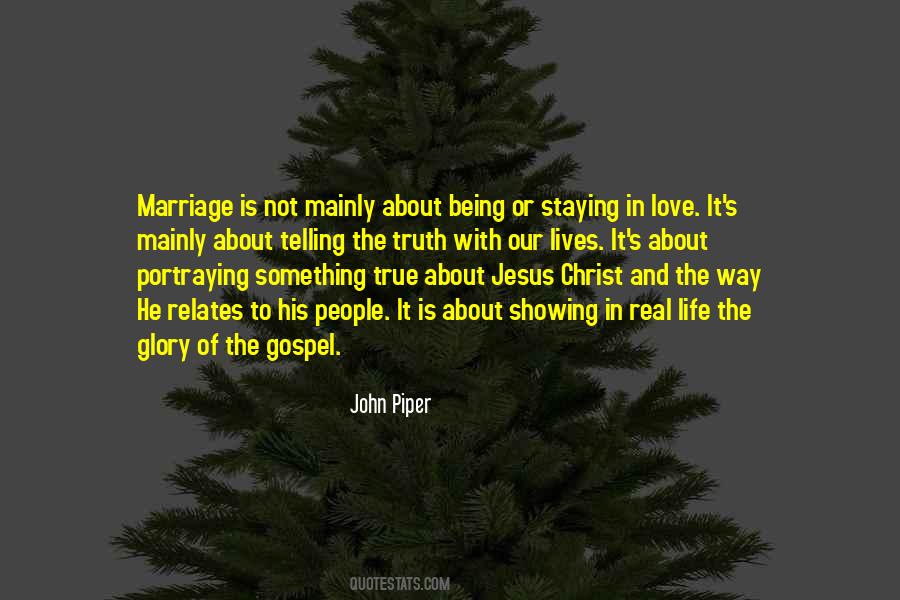 #38. No man ever loved like Jesus. He taught the blind to see and the dumb to speak. He died on the cross to save us. He bore our sins. And now God says, Because He did, I can forgive you. - Author: Billy Graham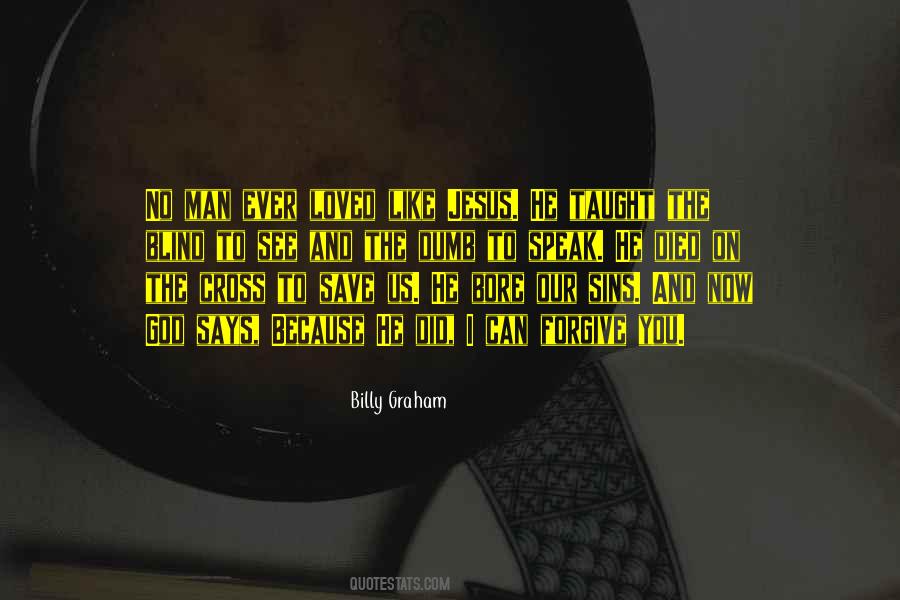 #39. To be possessed by Jesus and to possess Him - that is the perfect reign of Love. - Author: Peter Julian Eymard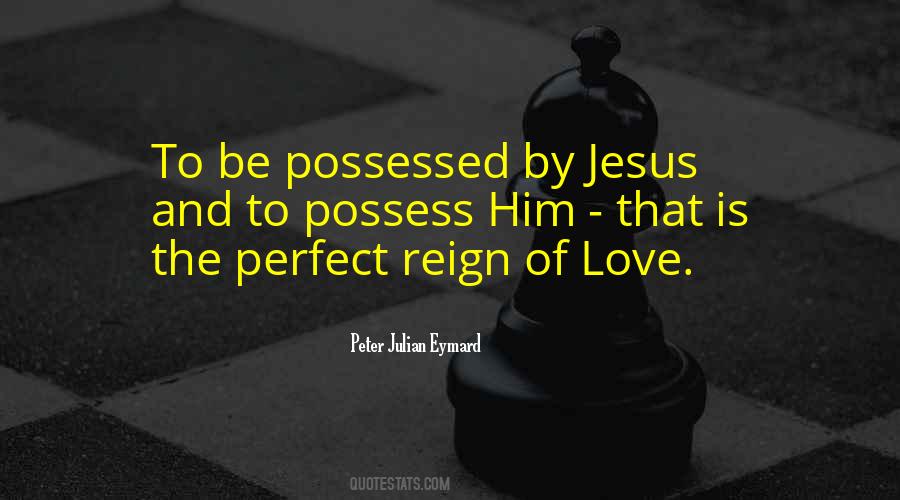 #40. If I'm not completely humble and gentle, I haven't fully grasped Jesus' love for me. If I'm not patient and loving, I haven't fully grasped Jesus' love for me. Take the time to read 4:1-6:9 - Author: Jodi Bowersox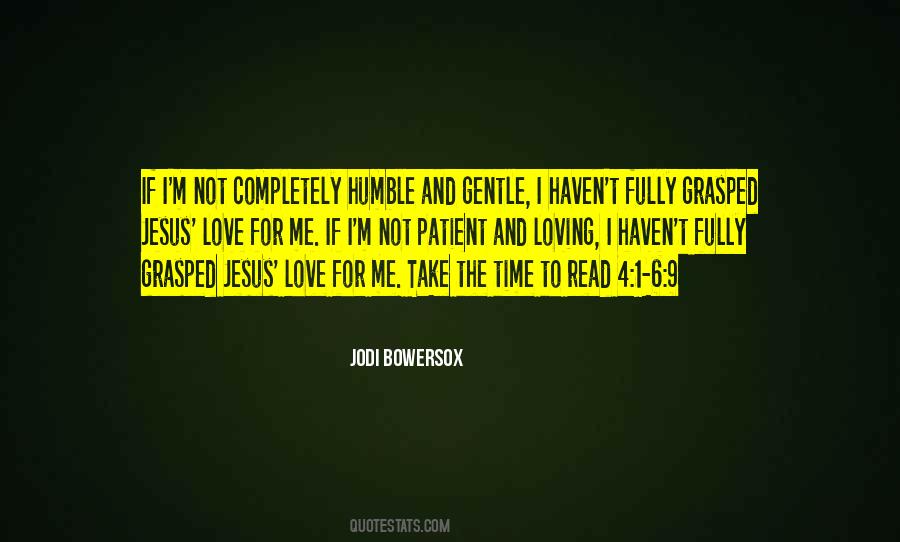 #41. Raising your children to love and serve Jesus is fulfilling one of God's highest callings upon your life. - Author: Elizabeth George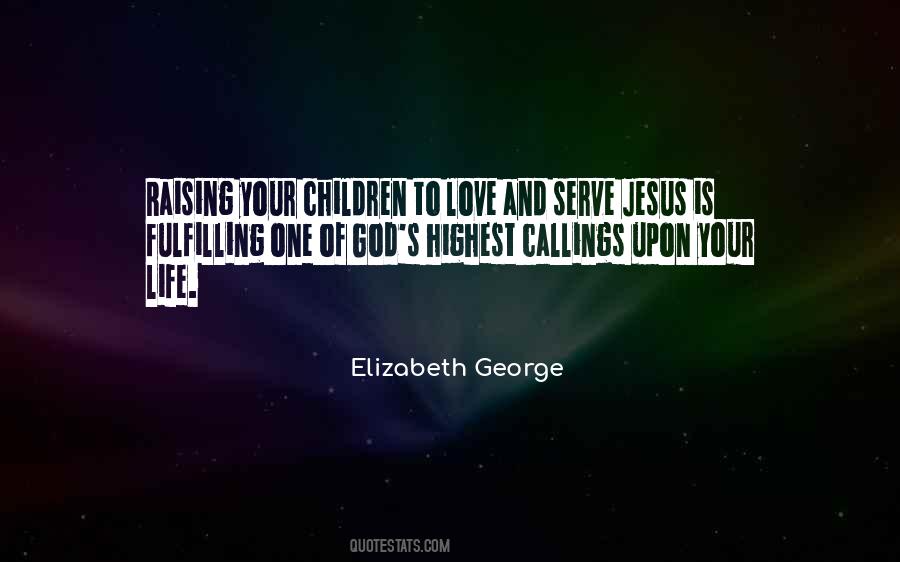 #42. Art is built on the deepest themes of human meaning: good and evil, beauty and ugliness, life and death, love and hate. No other story has incarnated those themes more than the story of Jesus. - Author: John Ortberg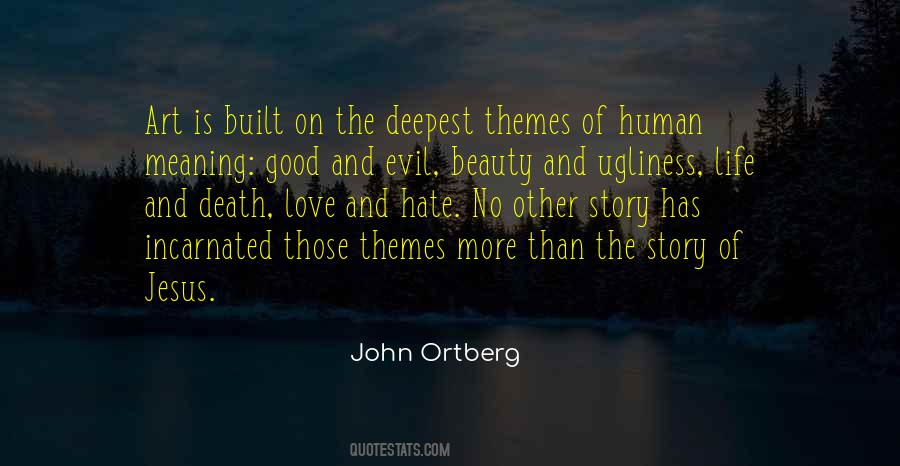 #43. Holiness is not to love Jesus and do whatever you want. Holiness is to love God and do what He wants. - Author: C. Wagner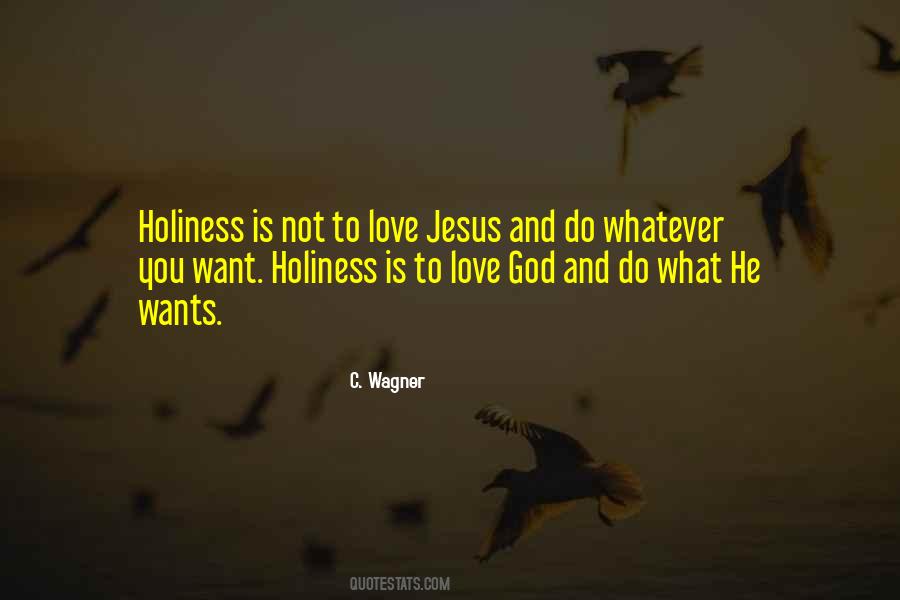 #44. I want everybody to worship the God of love instead of worshipping the God of hate and torture. But in the meantime, we don't want to force Jesus Christ on anybody and look that we are trying to force our beliefs onto others. - Author: Mosab Hassan Yousef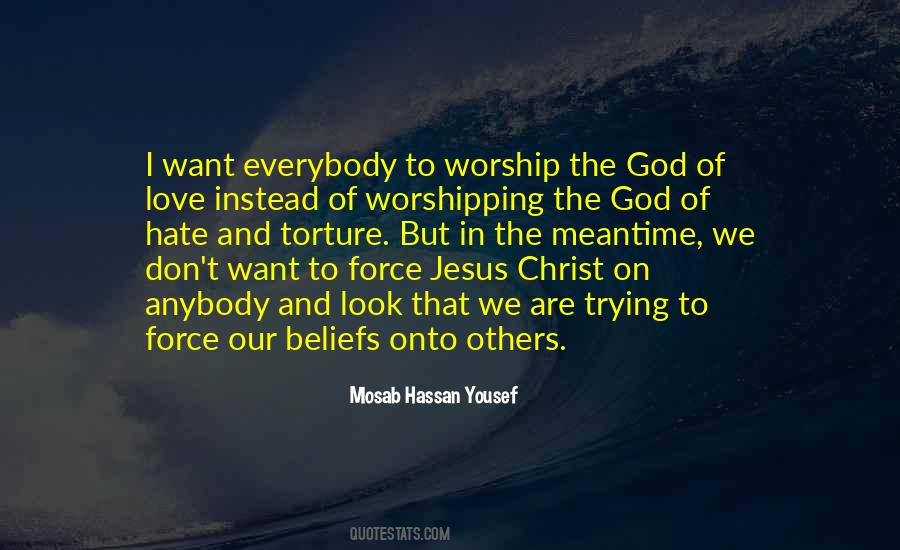 #45. Today, and forever, remember that your peace is not dependent on anything but the one-way, never-ending love of Jesus. - Author: Tullian Tchividjian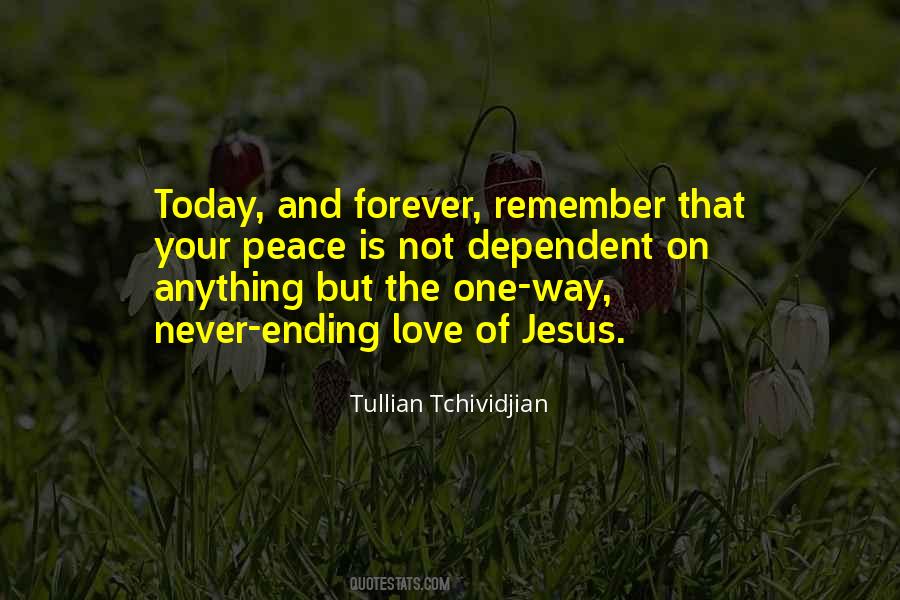 #46. True Christianity is not defined on the basis of external moralism, religious traditionalism, or partisan politics, but on the basis of a personal love for Jesus Christ and a desire to follow Him no matter what the cost (John 14:15). - Author: John F. MacArthur Jr.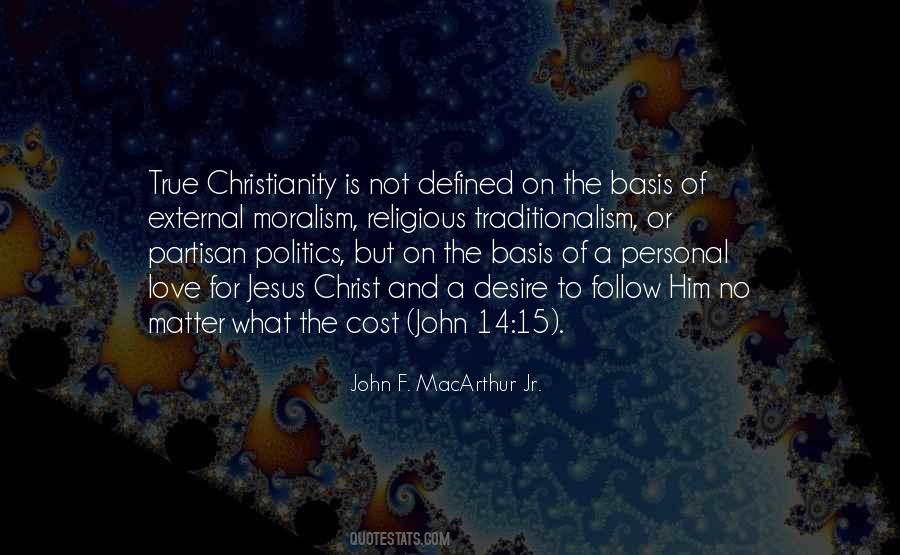 #47. Here's the bottom line: God is in the people business. More than anything He wants us to become like His Son, Jesus. To do this He will love us, bless us, discipline us, and develop us by the power of His Holy Spirit so that we become all He wants us to be. - Author: Kregg Hood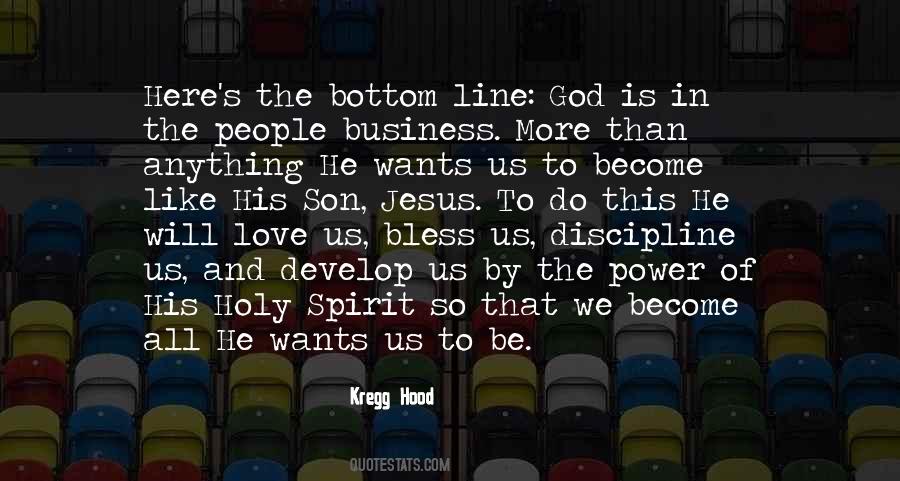 #48. I pledge to love Jesus more than anything or anyone. And you are next in line, God's remarkable gift to me. I promise to protect, honor, and cherish you for the rest of our lives. - Author: Robert Wolgemuth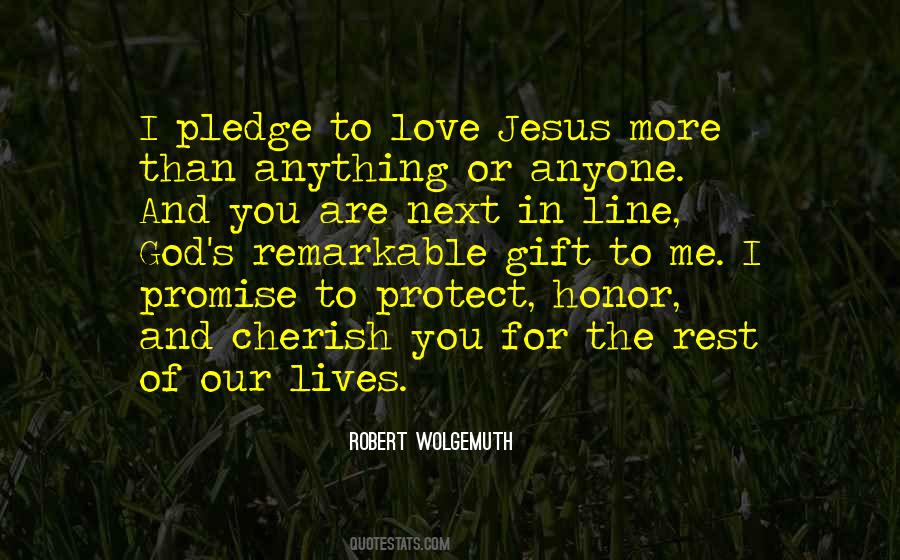 #49. In order for us to learn to love, first ourselves and the others, we must accept Jesus' love for us in the deepest parts of our hearts. - Author: Sara Dormon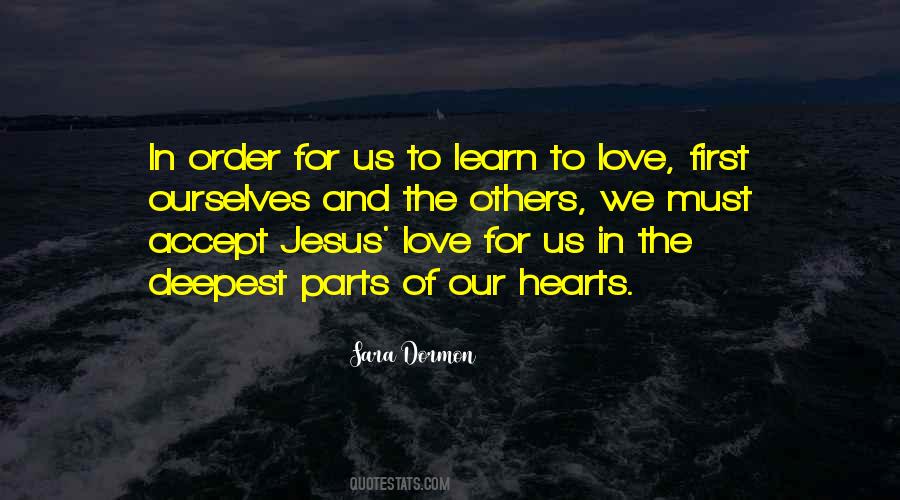 #50. If true love were only about feelings, Jesus would have been hugged to death for our redemption. Thank God for His cross this and every day. - Author: Mark Hart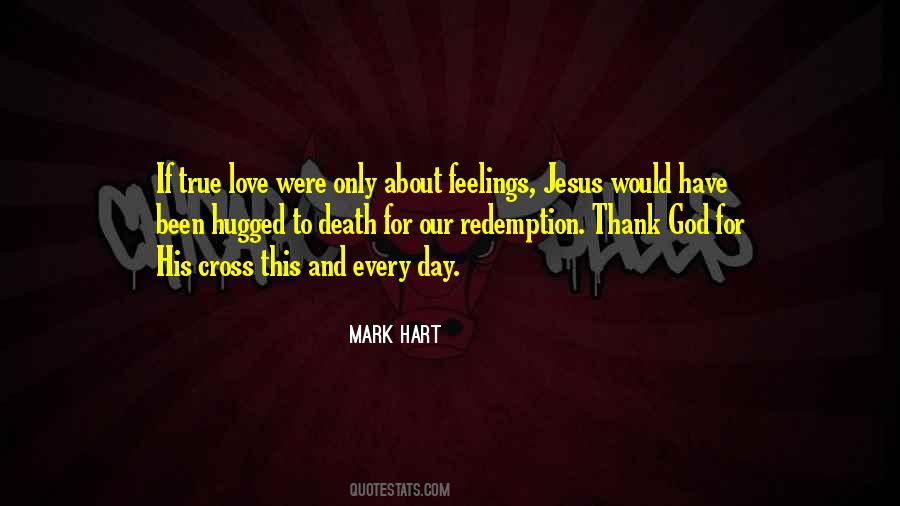 #51. Creation is the result, but not the beginning of love. Redemption is the manifestation of God as love, and therefore points to a love of absolute necessity and eternity. God is love, not God became love ... It is this love that we are planted by the incarnation, death, and resurrection of Jesus. - Author: Adolph Saphir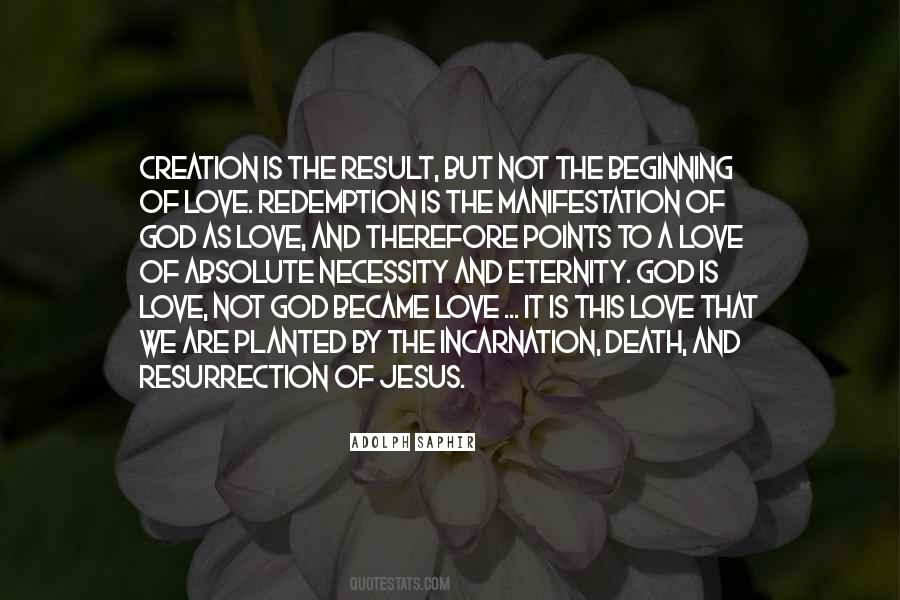 #52. The gospel declares, because of Christ's finished work for you, you already have all the approval, all the security, all the love, all the worth, and all the rescue you long for and that you desperately look for in a thousand places, all of which are infinitely smaller than Jesus. - Author: Tullian Tchividjian
#53. If we have a relationship with Jesus Christ and believe the Bible to be the Word of God, then we have no room for wallowing in the swamp of self-pity. - Author: Lois Mowday Rabey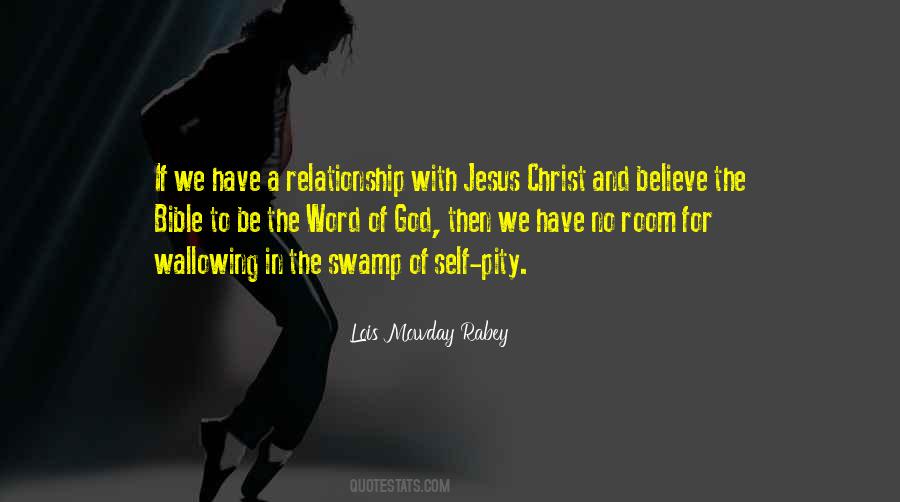 #54. Be willing to stand with God and be ready when the world judges you because of that choice. It's better than to stand with the world for God to judge you! - Author: Israelmore Ayivor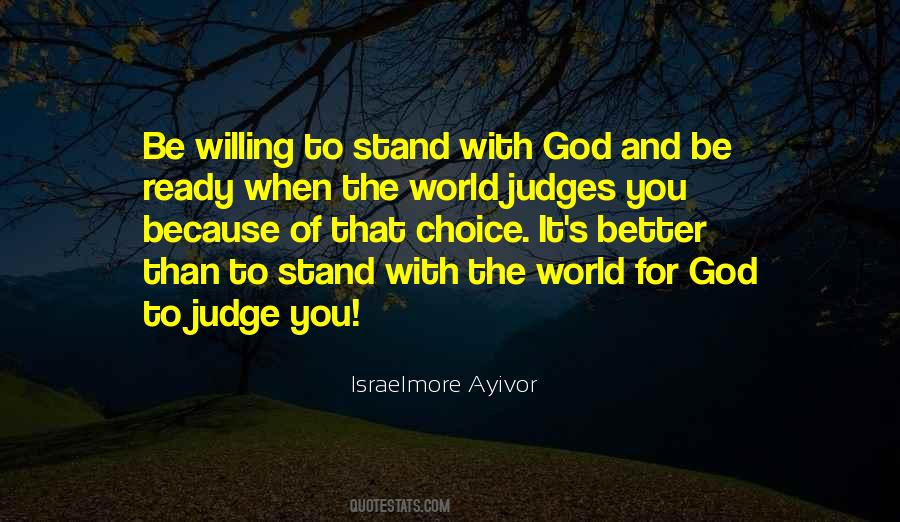 #55. To every soul that knows how to pray, to every soul that by faith comes to Jesus, the true mercy seat, divine sovereignty wears no dark and terrible aspect but is full of love. - Author: Charles Spurgeon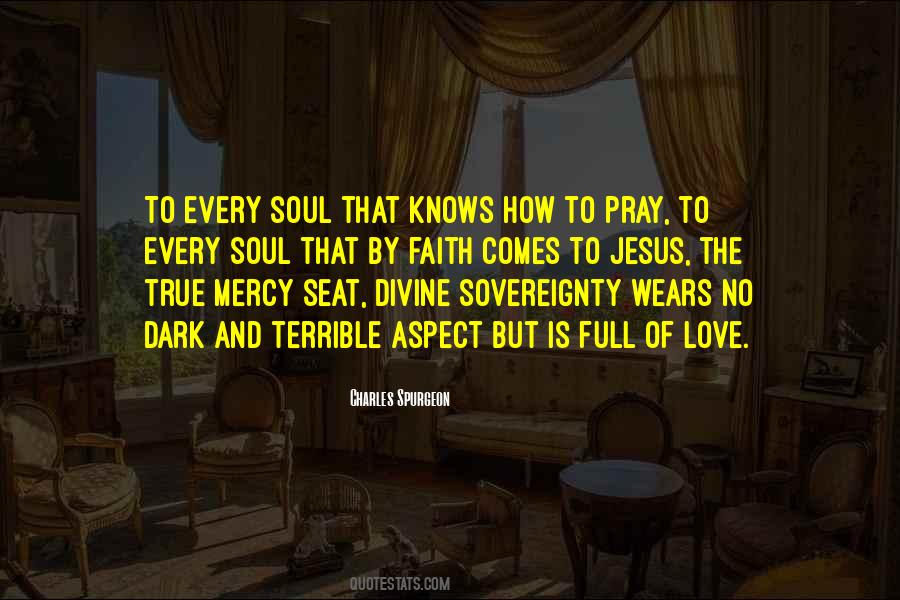 #56. There are things you can change, the ones you can accomodate the ones you must avoid and the ones you definitely cannot do anything about. If you surrender all of them to JESUS the LORD, HE would give you Peace and Love in return. - Author: James C. Uwandu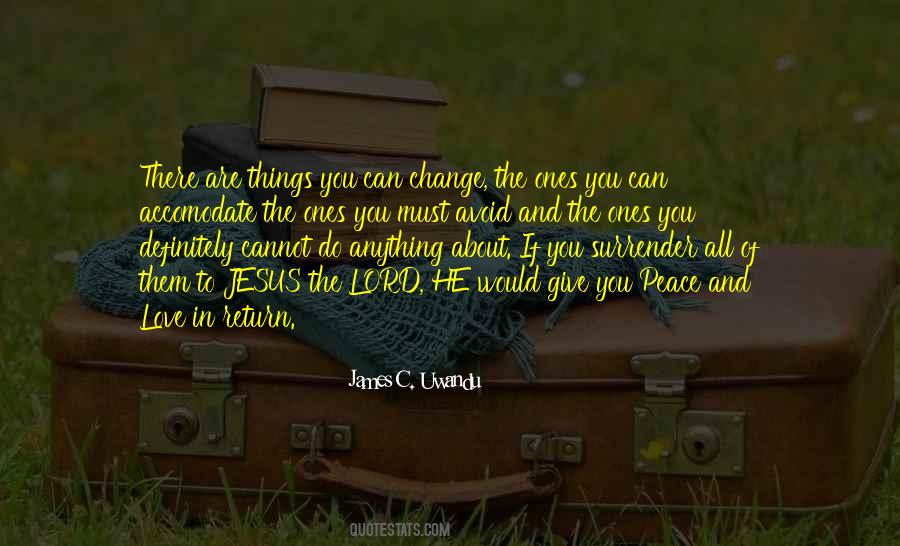 #57. Obediance, when it flows out of genuine love for Jesus Christ, is never wasted and never regretted. - Author: Leslie Ludy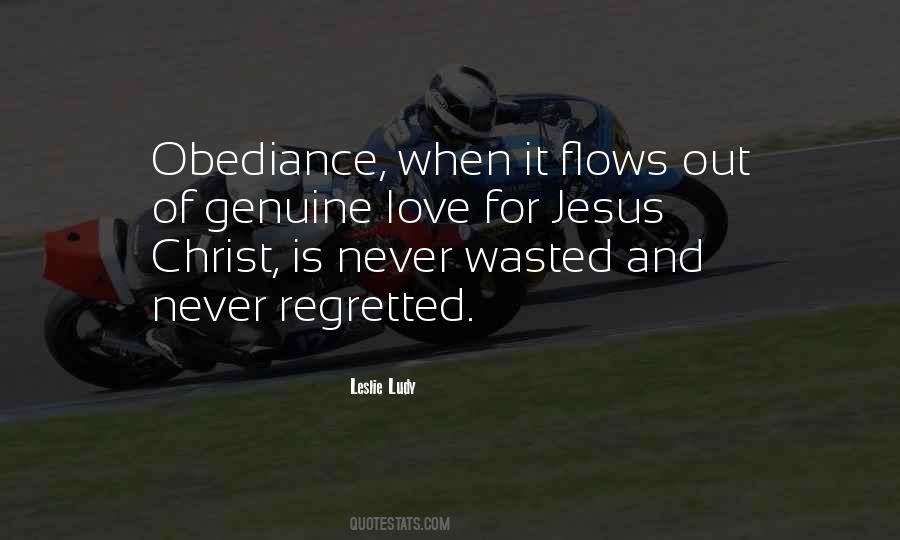 #58. It will be full of precious stones and jewels, and best of all, full of precious souls!-Immortal souls, saved souls that love Jesus and that you won to the Lord. - Author: David Berg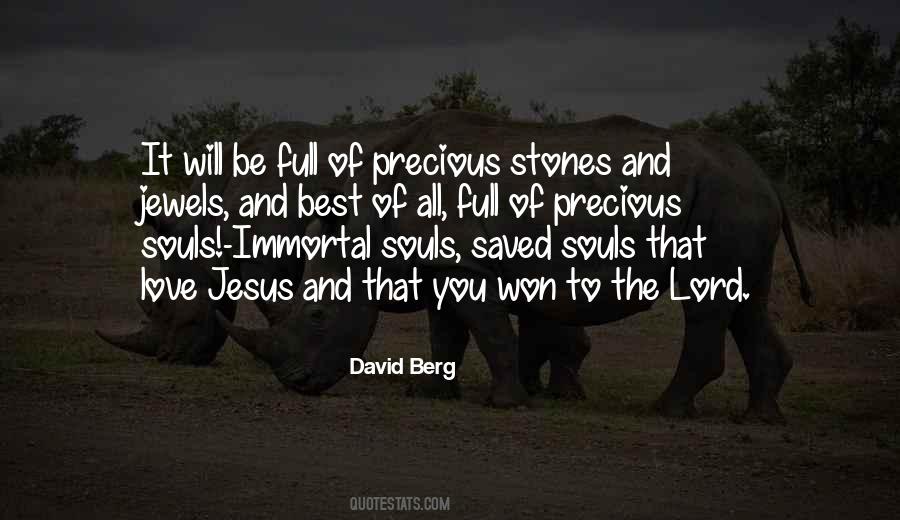 #59. Christians need a new filling of the Holy Spirit to love those who disagree with them. And the greatest expression of love is to share with them the most precious thing a Christian has, which is the good news of the salvation of Jesus Christ. - Author: Brother Andrew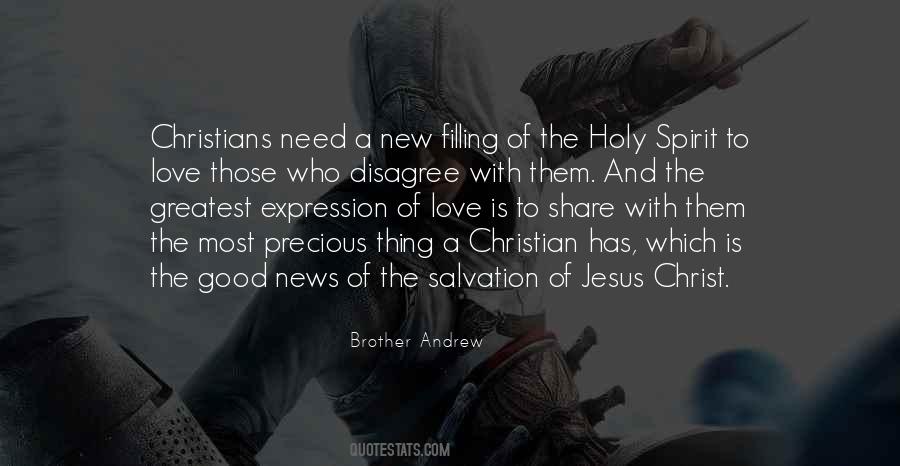 #60. But whoever has this world's goods, and sees his brother in need, and shuts up his heart from him, how does the love of God abide in him? - Author: John The Apostle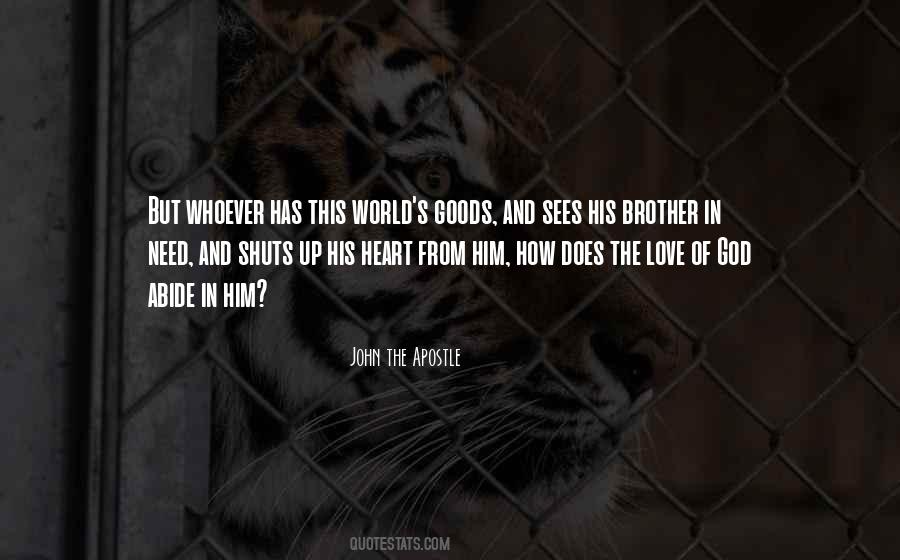 #61. To shame our sins He blushed in blood;
He closed His eyes to show us God;
Let all the world fall down and know
That none but God such love can show - Author: Bernard Of Clairvaux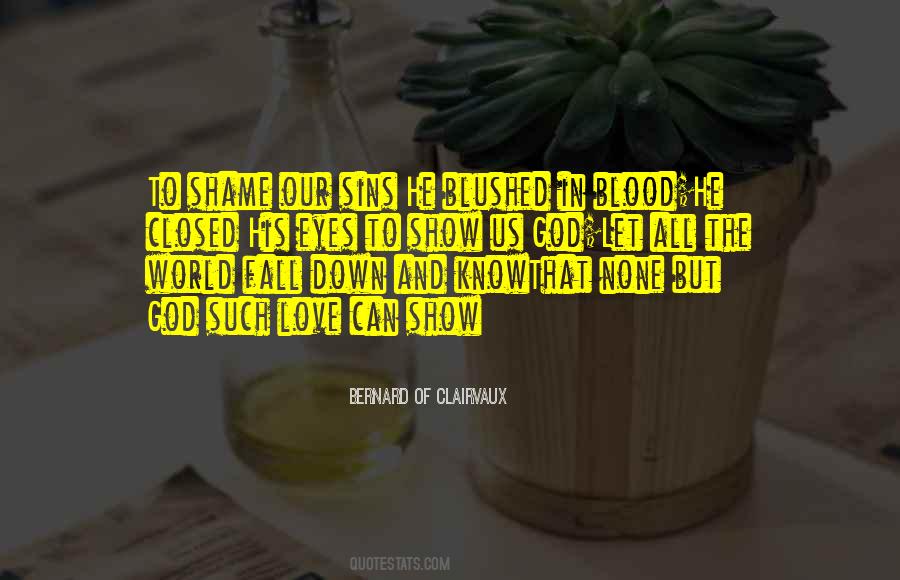 #62. Because of what Jesus has done, I love and accept myself. - Author: Joyce Meyer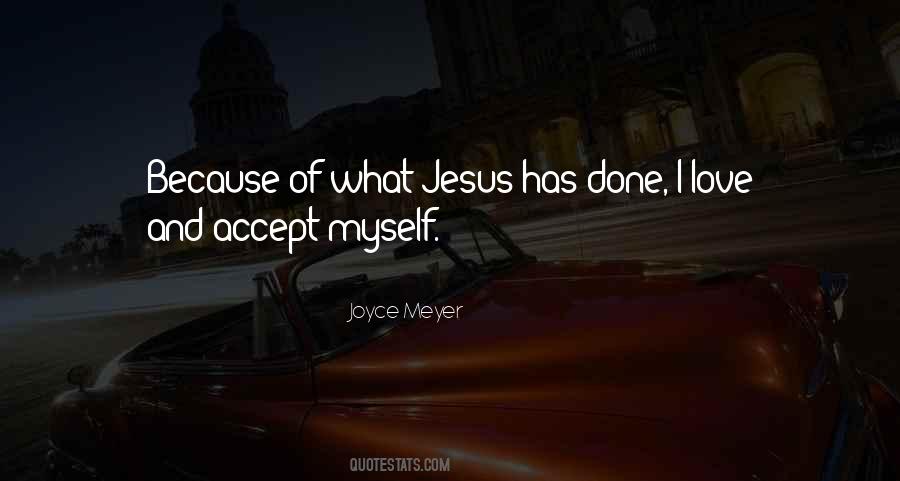 #63. We sinned for no reason but an incomprehensible lack of love, and He saved us for no reason but an incomprehensible excess of love. - Author: Peter Kreeft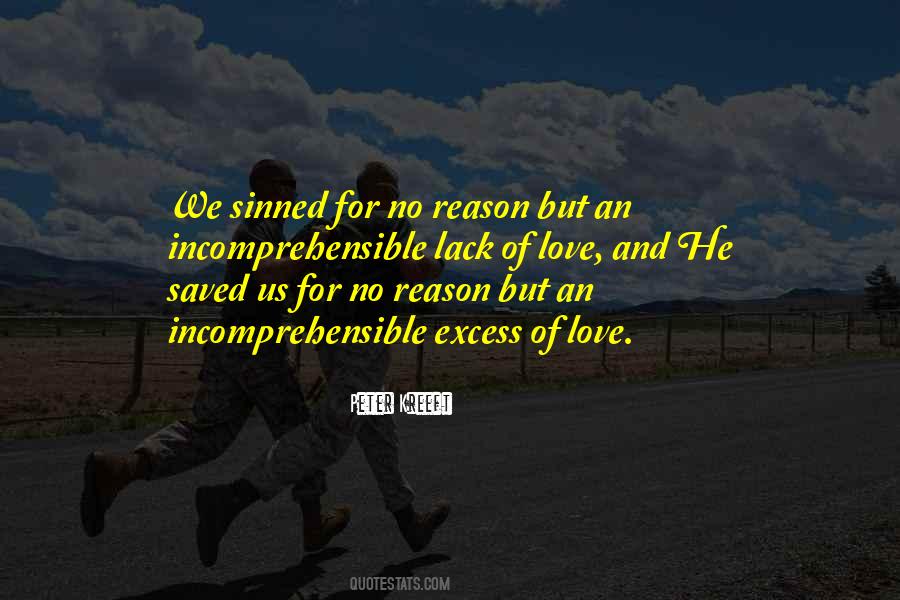 #64. Jesus didn't die to make us safe. He died to make us dangerous! Faithfulness isn't holding the fort. It's storming the gates of hell with the light and love of Jesus Christ. - Author: Mark Batterson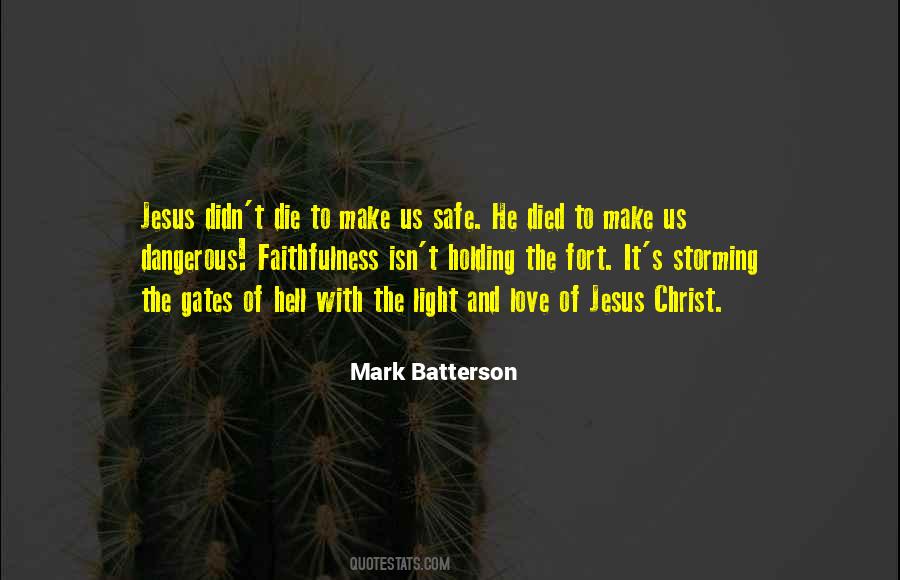 #65. Evangelical Christians and I can sit down and talk one on one about how much we love Jesus, and yet I'm not carried in Christian bookstores. - Author: Anne Lamott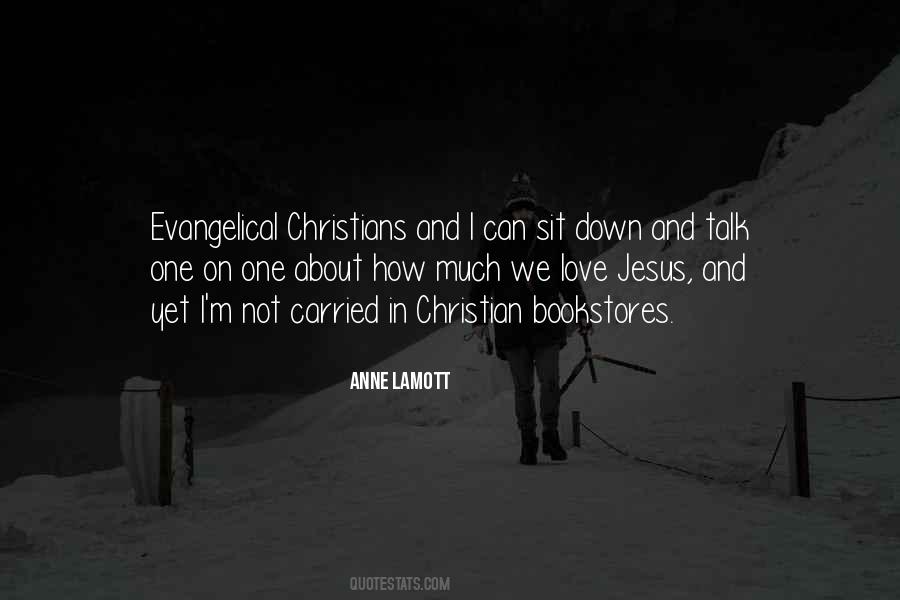 #66. one. Children of God! it is thus Jesus would have us to pray to the Father in heaven. O let His Name, and Kingdom, and Will, have the first place in our love; - Author: Andrew Murray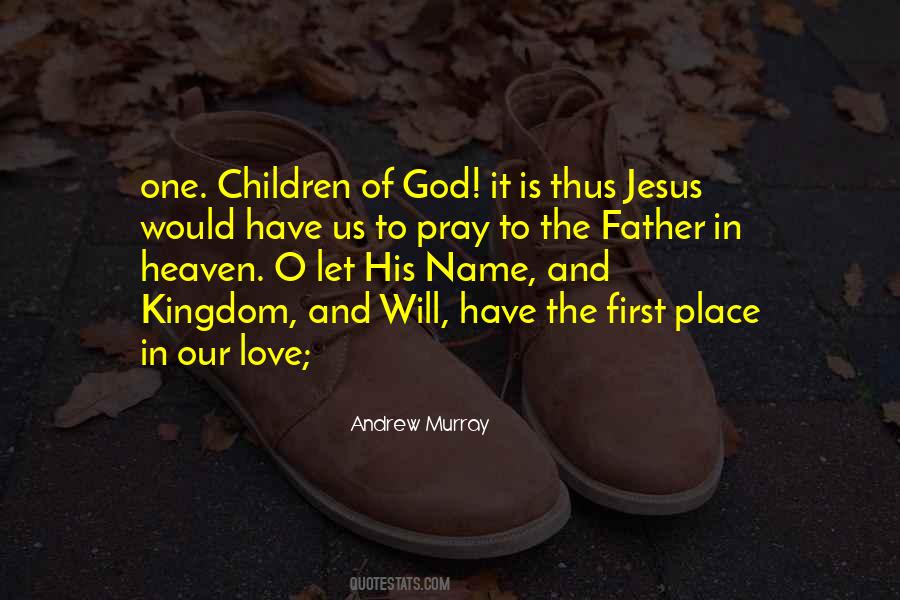 #67. She was a woman, a traitor, and a killer. Males and females wanted her. But I was the only one who ever could have loved her. - Author: Denis Johnson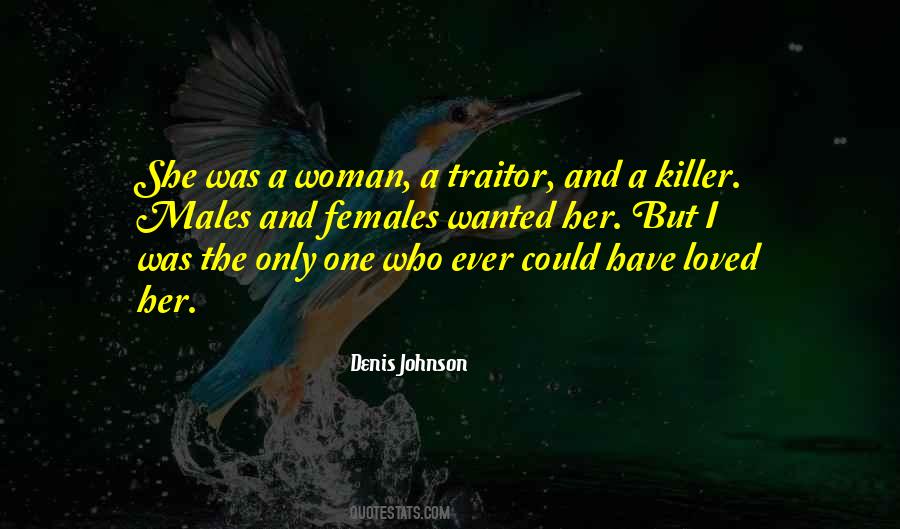 #68. In the Mass and in Eucharistic Adoration we meet the merciful love of God that passes through the Heart of Jesus Christ. - Author: Pope John Paul II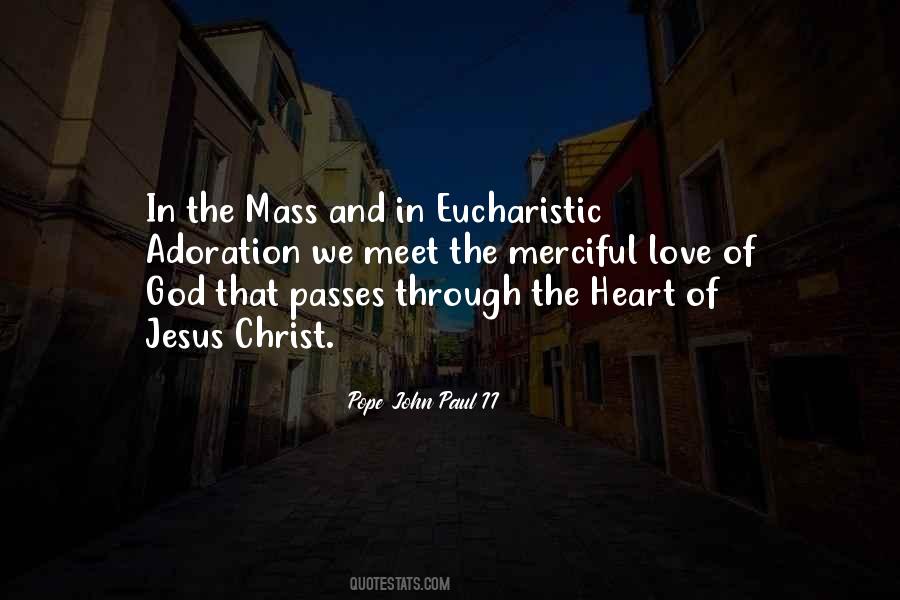 #69. Yes, helping the poor helps keep them stuck in poverty. As Jesus said, 'Tough love thy neighbor as thyself, get your own loaves and fishes.'
Stephen Colbert - Author: Stephen Colbert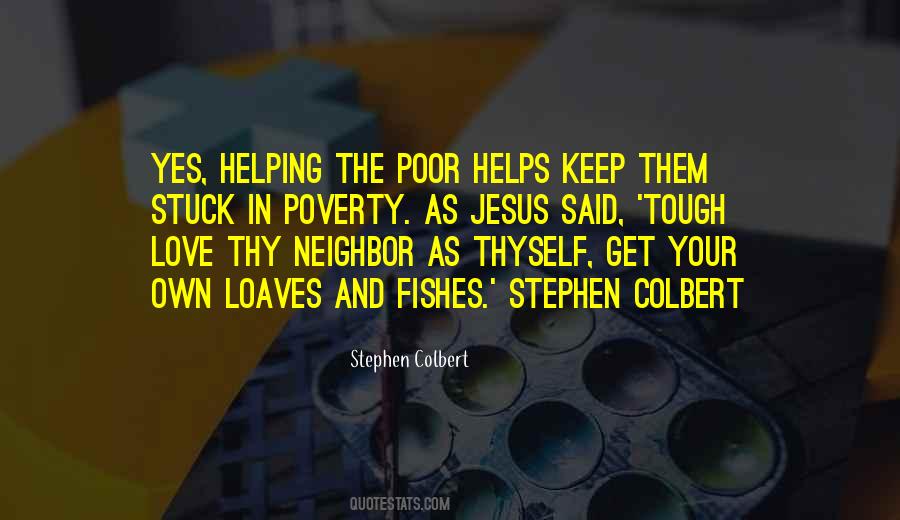 #70. I wish I could say that everything I do is for God's glory but I can't. And neither can you. What I can say is Jesus' blood covers all my efforts to glorify myself. - Author: Tullian Tchividjian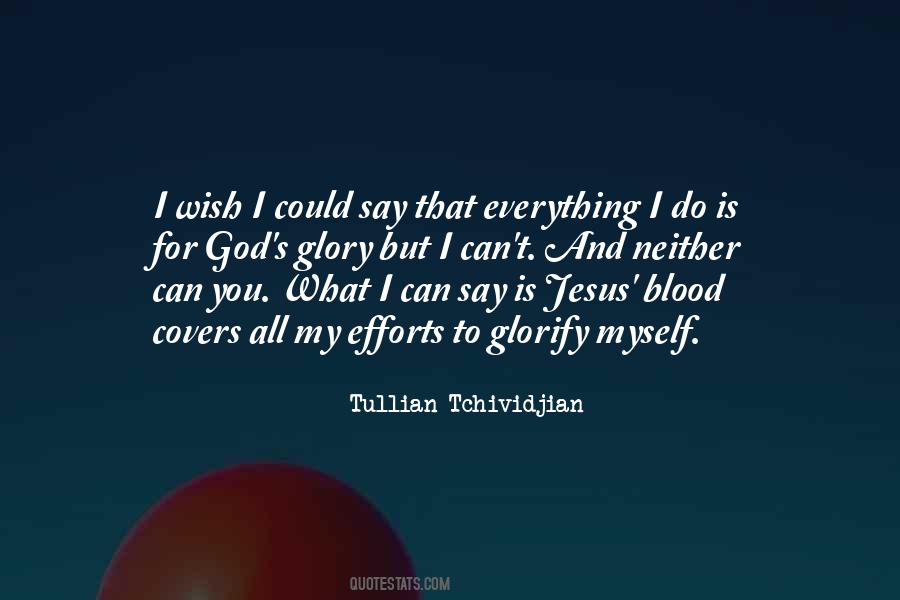 #71. Jesus represents the possibilities of a new dimension of existence that transcends all the boundaries that restrict us from opening ourselves to God and allowing this source of love to flow through us. - Author: John Shelby Spong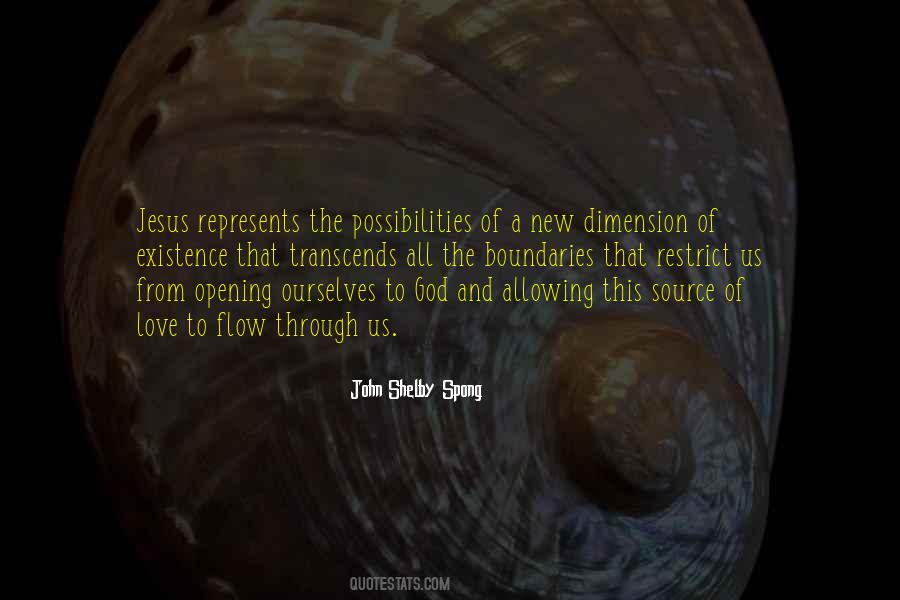 #72. The Christian must treat his enemy as a brother, and requite his hostility with love. His behavior must be determined not by the way others treat him, but by the treatment he himself receives from Jesus; it has only one source, and that is the will of Jesus. - Author: Dietrich Bonhoeffer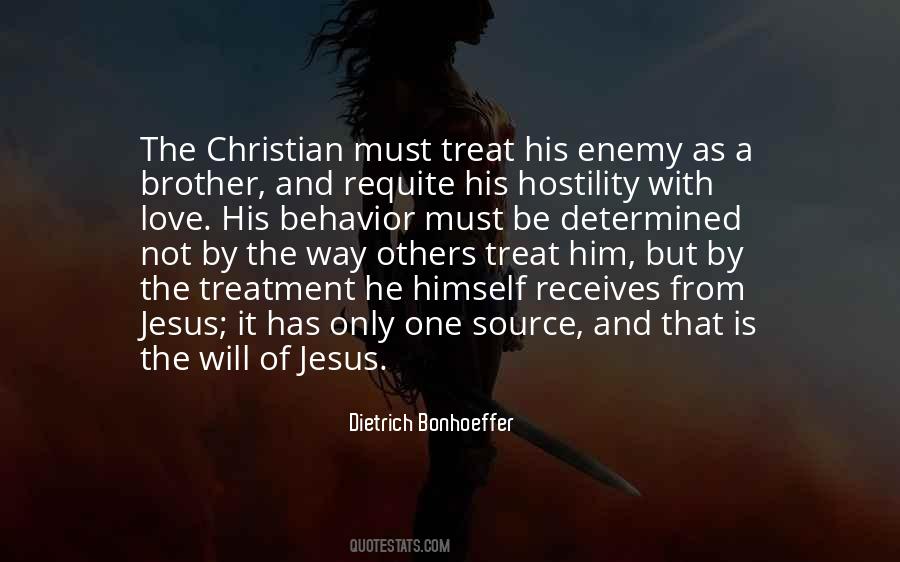 #73. Jesus lived a life of peace, love, kindness and forgiveness, during the hustle and bustle of the Christmas season, may we all do our best to follow his example. - Author: Barack Obama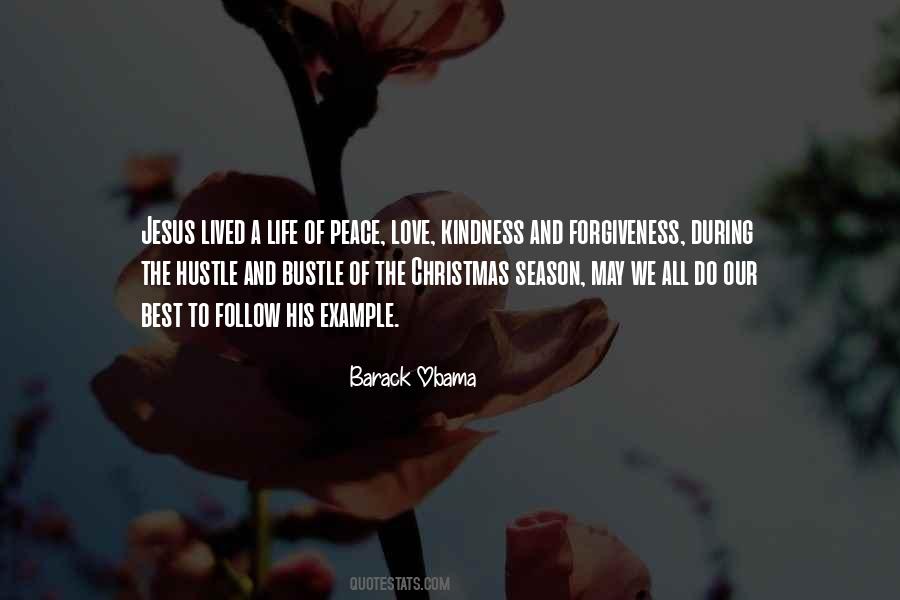 #74. we love the way Jesus loves, good things will happen all in good time; if we try to force God's hand, we will only wind up with a lot of frustration and disappointment. - Author: Bill Searcey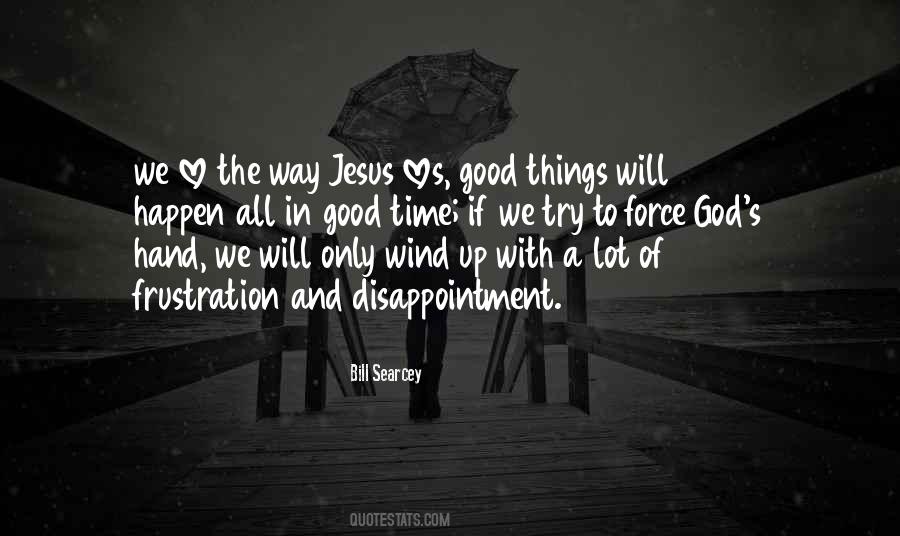 #75. Jesus said, 'Blessed are the peacemakers.' And I think a lot of people don't understand that there's a difference between a peace lover and a peacemaker. Everybody loves peace, but wearing jewelry around your neck and saying 'I love peace' doesn't bring it. - Author: Mike Huckabee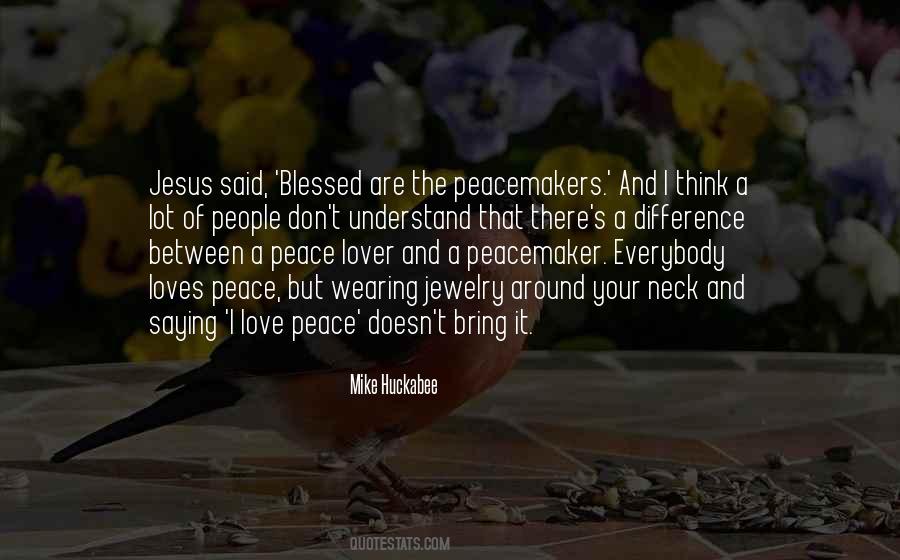 #76. Do you realize
that Jesus is there
in the tabernacle
expressly for you-
for you alone? He
burns with the
desire to come into
your heart ... don't
listen to the demon,
laugh at him, and
go without fear to
receive the Jesus of
peace and love ... - Author: Therese De Lisieux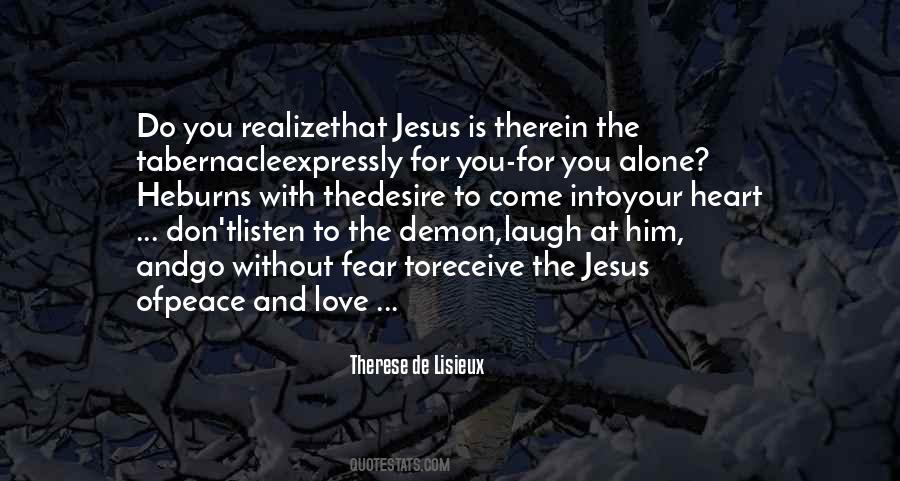 #77. You know, we can quote the written Word all day to our friends, but nothing will touch them like our own hunger and love for the Word himself. It is not dutiful love that attracts but love freely lavished from a heart familiar with the gardens of heaven. - Author: Amy Layne Litzelman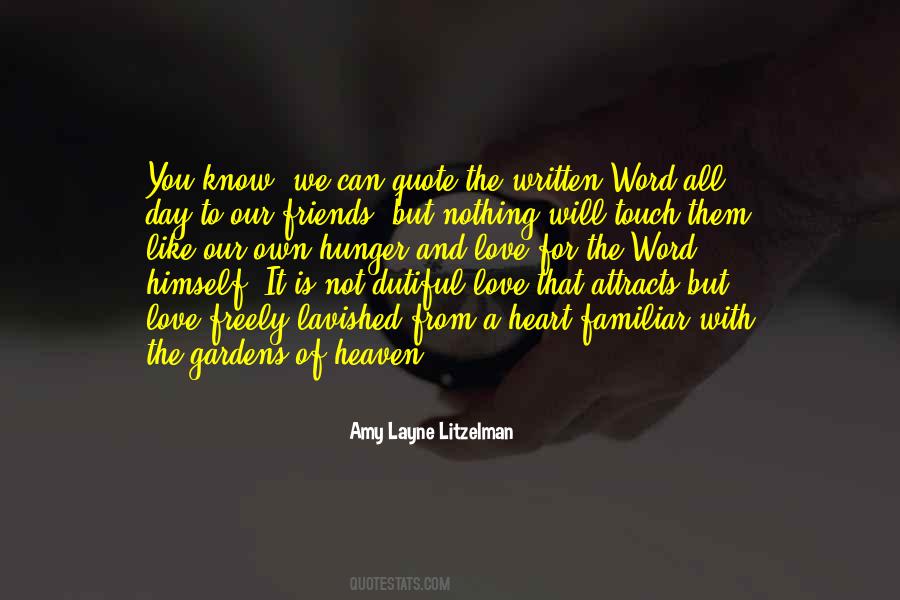 #78. I did nothing to deserve God's love; in fact, I was living as an orphan, without hope. Yet God chose to pursue a relationship with me, and through the death of his son Jesus, I was adopted into God's family. - Author: Steven Curtis Chapman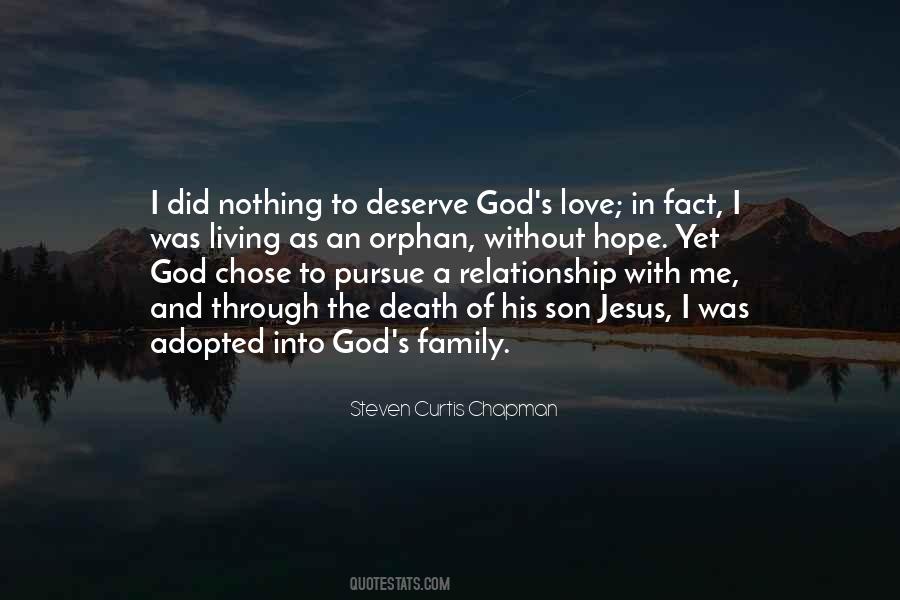 #79. I would rather die and come to Jesus Christ than be king over the entire earth. Him I seek who died for us; Him I love who rose again because of us. - Author: Ignatius Of Antioch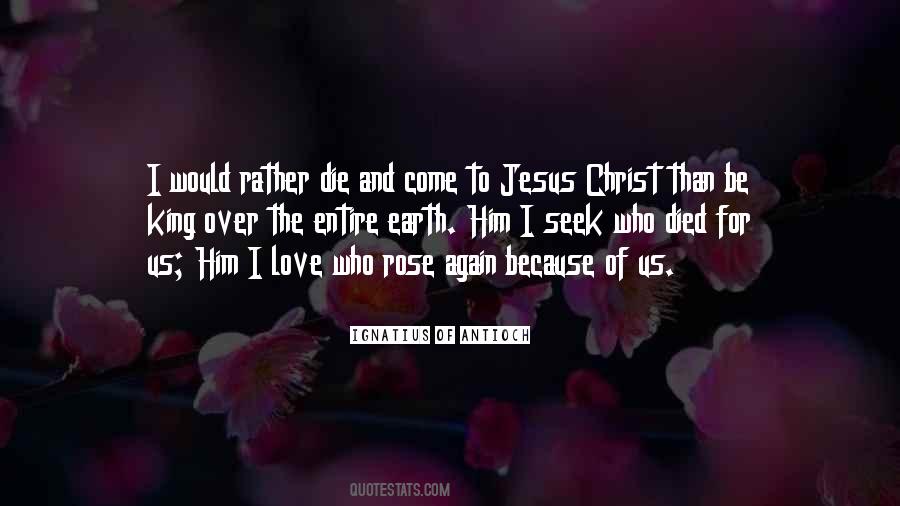 #80. I desired to become a Christian, and prayed earnestly for the forgiveness of my sins. I felt a peace of mind resulting, and loved every one, feeling desirous that all should have their sins forgiven, and love Jesus as I did. - Author: Ellen G. White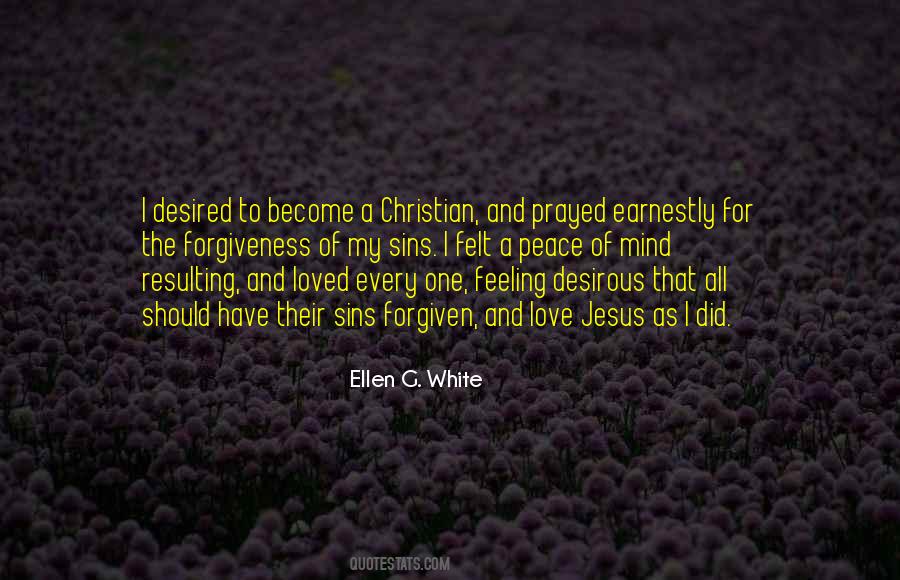 #81. m because I have heard of your faith in the Lord Jesus and your love [6] toward all the saints, 16I n do not cease to give thanks for you, o remembering you in my prayers, - Author: Anonymous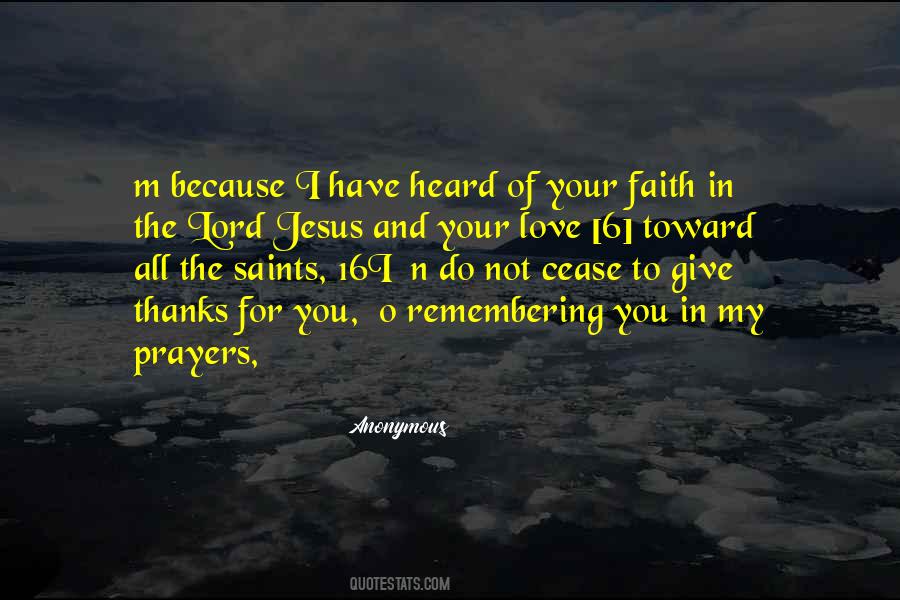 #82. I would love for [Jesus] to come back because I would love for him to face what is happening and to really have some sort of perspective. In that same respect, I'm sure that Prophet Muhammad would be disgusted by what some people use his name to justify. - Author: Immortal Technique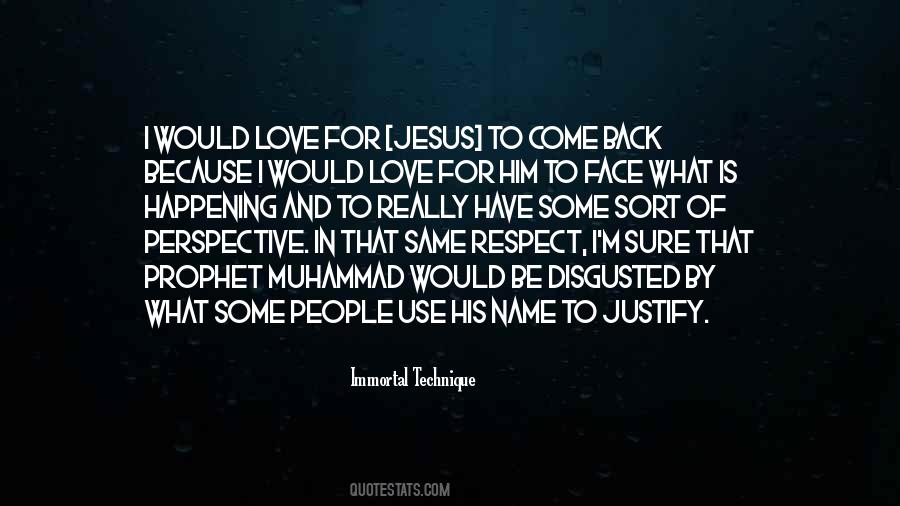 #83. The greatest gift we have ever received, and ever will or could receive, is the Spirit of God Himself. He enters the essence of our human form and changes us from within. He fills us with joy, love and peace. He subdues our passions and transforms our very being into the likeness of Christ. - Author: David Paul Kirkpatrick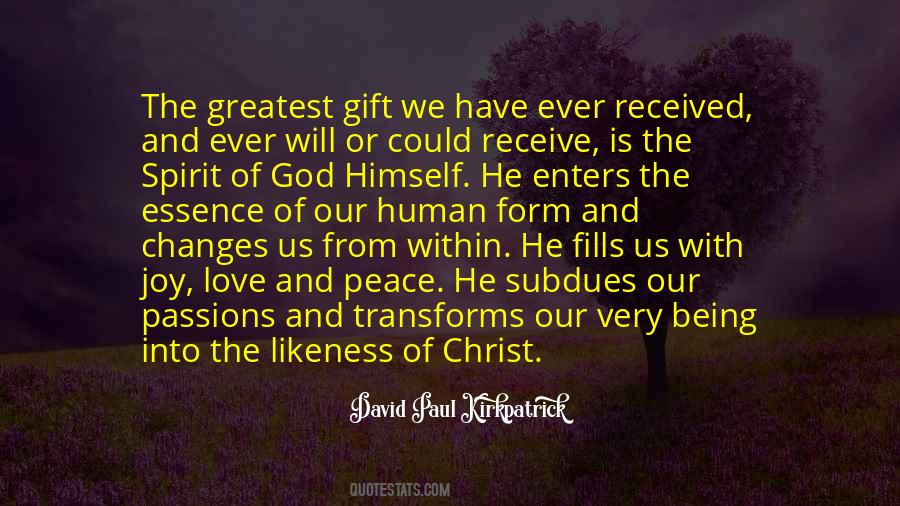 #84. Only God can give us a selfless love for others, as the Holy Spirit changes us from within. This is one reason we must receive Christ, for apart from His Spirit we can never be freed from the chains of selfishness, jealousy, and indifference. Will others see Christ's love in your life today? - Author: Billy Graham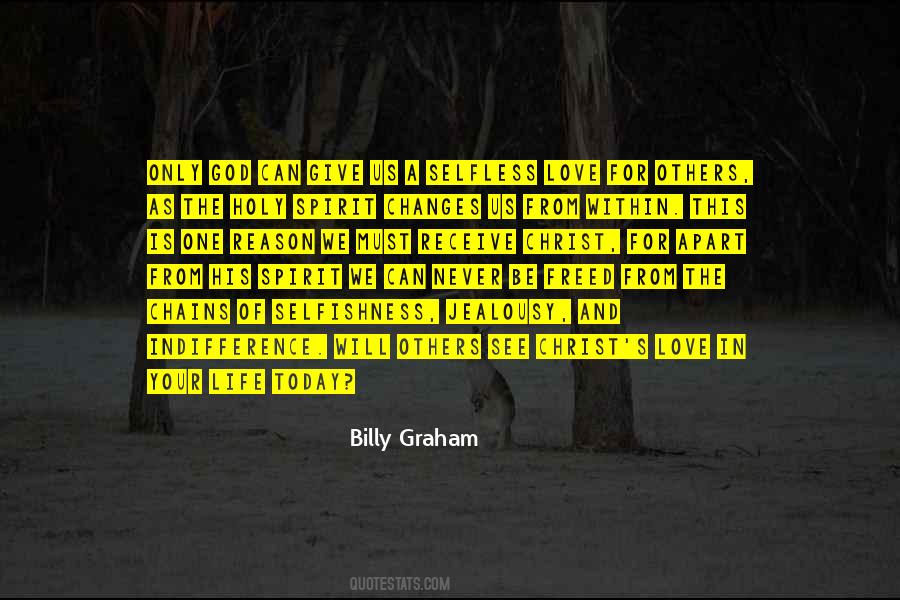 #85. Love, understanding, courage, and acceptance are expressions of the life of Jesus, - Author: Thich Nhat Hanh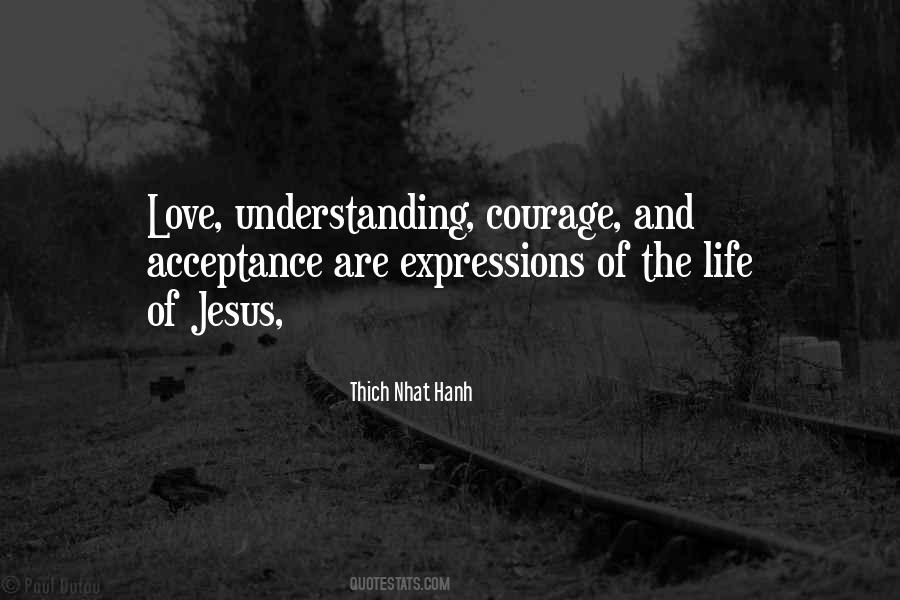 #86. I cannot persuade myself that without love to others, and without, as far as rests with me, peaceableness toward all, I can be called a worthy servant of Jesus Christ. - Author: Saint Basil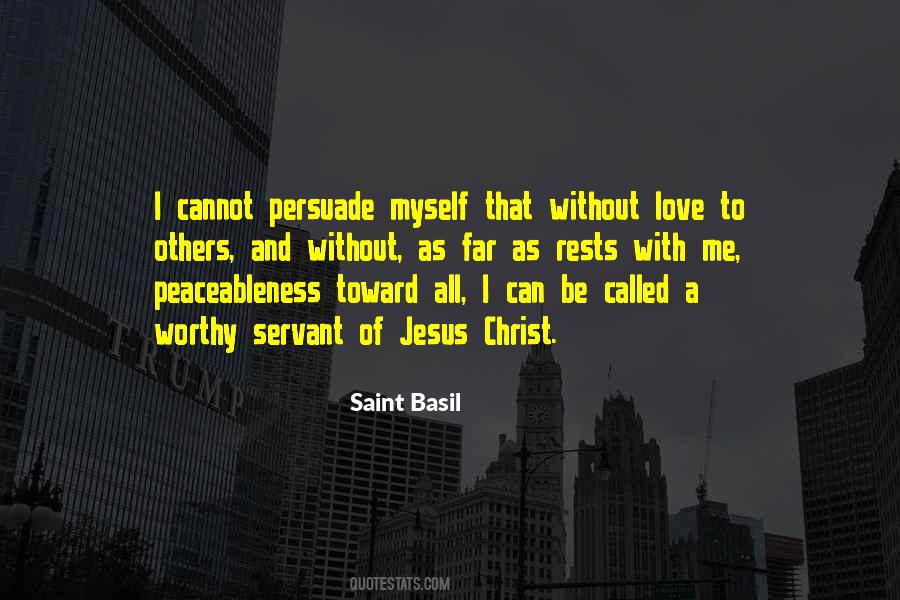 #87. Well then, I will tell you. Alexander, Caesar, Charlemagne and I myself have founded great empires; but upon what did these creations of our genius depend? Upon force. Jesus alone founded His empire upon love, and to this very day millions will die for Him ... - Author: Napoleon Bonaparte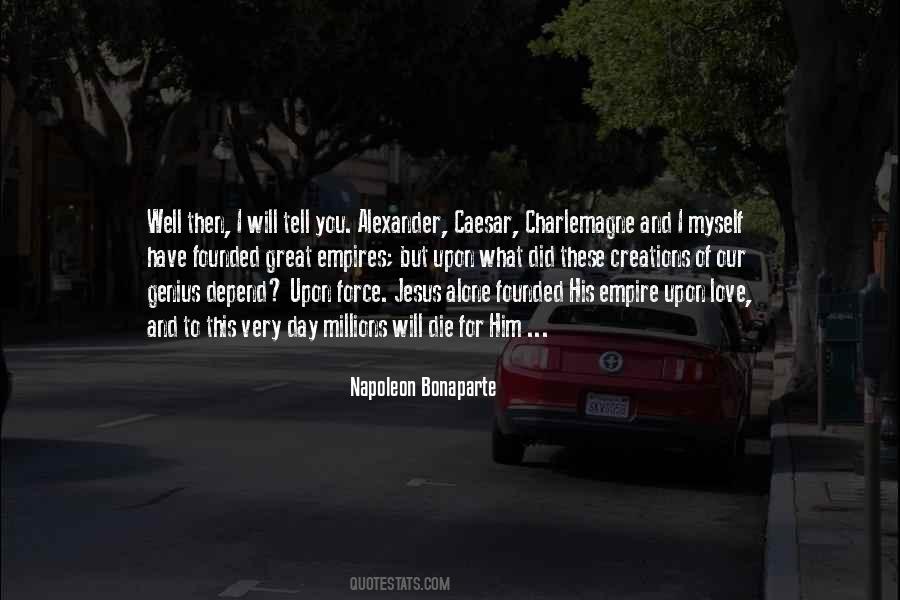 #88. If this is going to be a Christian nation that doesn't help the poor, either we have to pretend that Jesus was just as selfish as we are, or we've got to acknowledge that He commanded us to love the poor and serve the needy without condition and then admit that we just don't want to do it. - Author: Stephen Colbert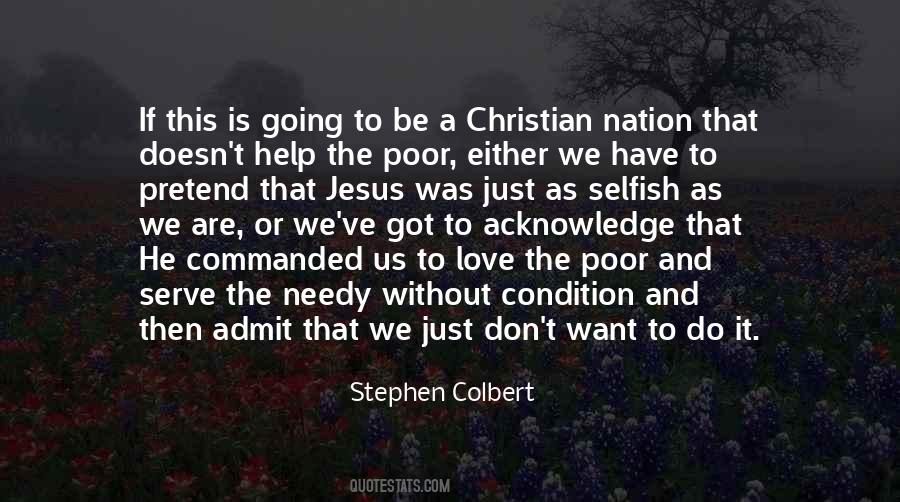 #89. Jesus' fathomless love changes how you and I will live in our moments, how we'll love in our neighborhoods, and what we'll be known for in eternity. - Author: Jennifer Dukes Lee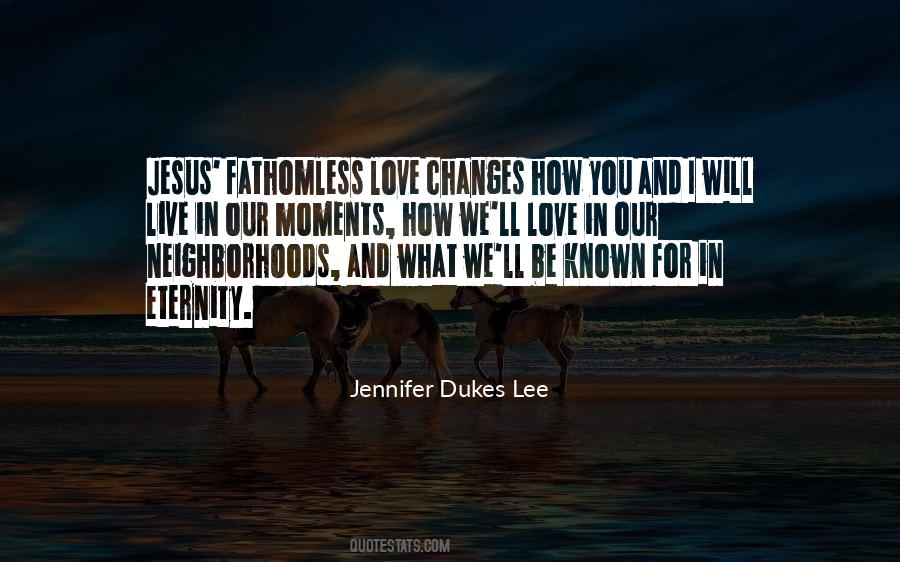 #90. I don't know if Jesus said it in the Bible, but someone said that 'the love of money is the root of all evil,' and I do think there's a correlation between the ambition that a lot of people have, in terms of financial remuneration, and the loss of core values. - Author: Norbert Leo Butz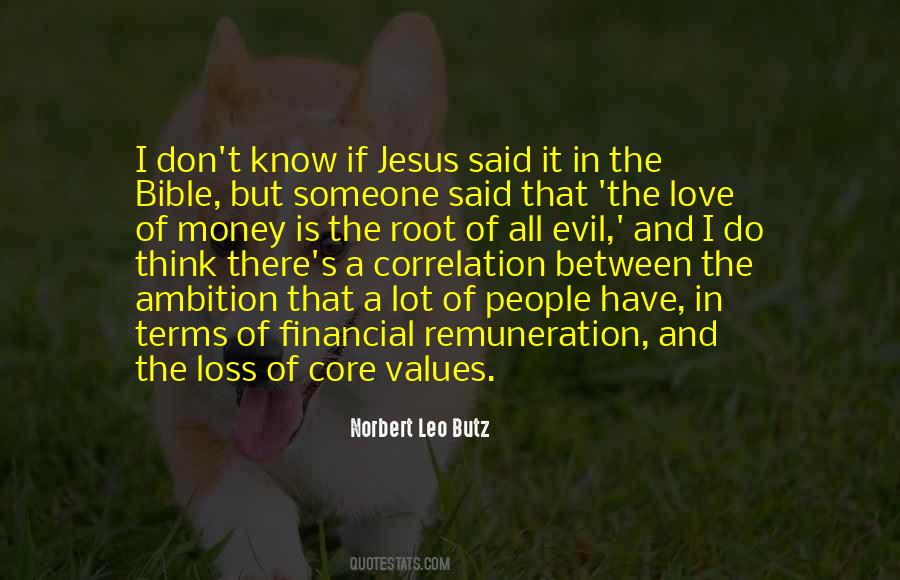 #91. My beliefs are that the truth is a truth until you organize it, and then it becomes a lie. I don't think that Jesus was teaching Christianity, Jesus was teaching kindness, love, concern, and peace. What I tell people is don't be Christian, be Christ-like. Don't be Buddhist, be Buddha-like. - Author: Wayne Dyer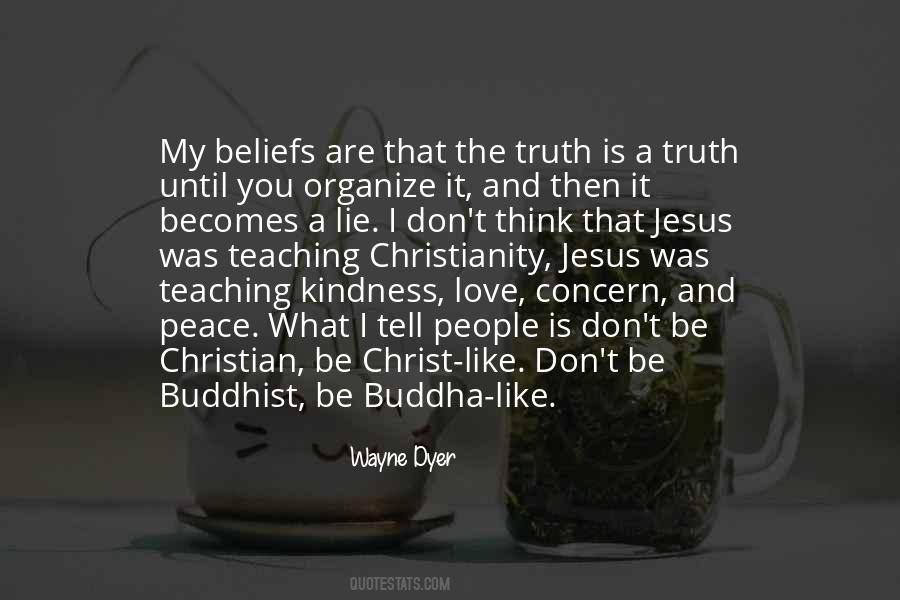 #92. If we want any hope of reversing troubling church trends, especially among young people, we must focus not on tribal heritage, denominational branding, theological hair-splitting, or pharisaical purity. We must focus on Jesus - and his sacrificial love for us and all people. - Author: Thom Schultz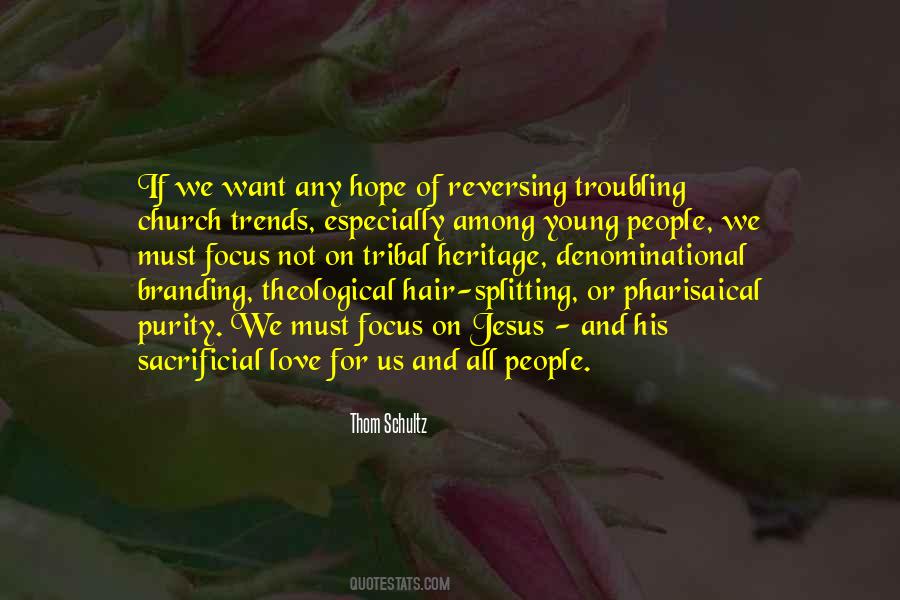 #93. Cole looked at him sheepishly. "Do you mind? Can I pray?"
"Of course. You know I love when you and Jesus dance. - Author: Debra Anastasia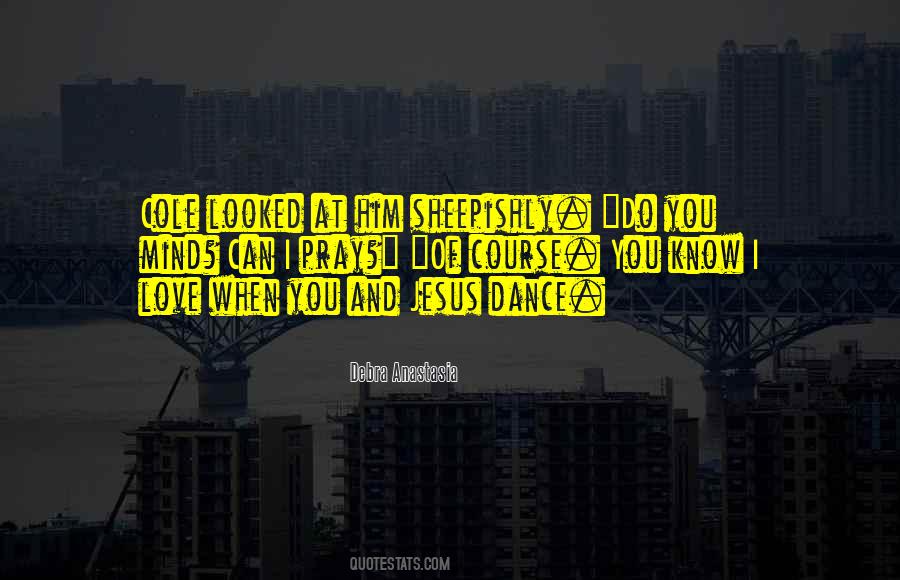 #94. even as he i chose us in him j before the foundation of the world, that we should be k holy and blameless before him. In love 5 l he predestined us [2] for m adoption as sons through Jesus Christ, n according to the purpose of his will, - Author: Anonymous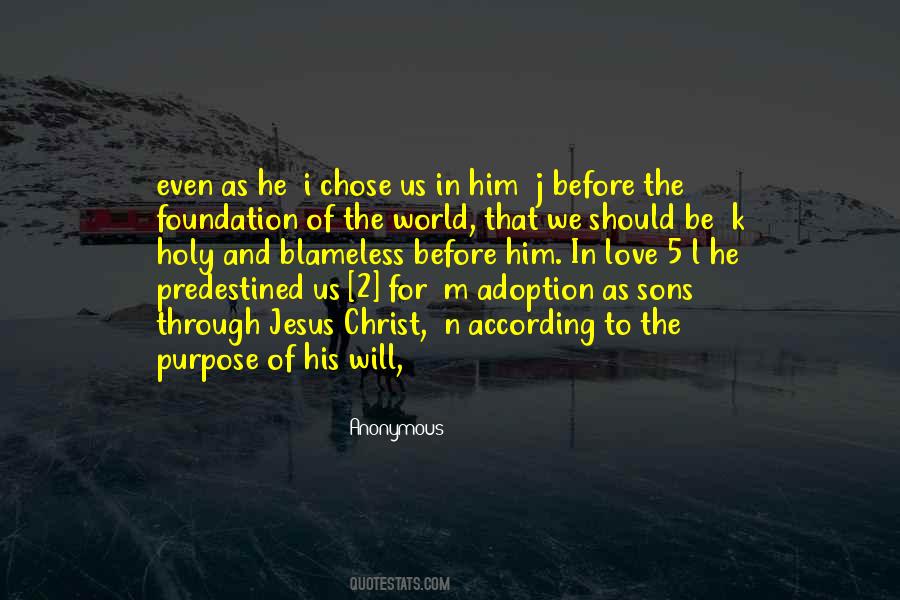 #95. Your accord and harmonious love is a hymn to Jesus Christ ... in perfect harmony, and taking your pitch from God, you may sing in unison and in one voice to the Father through Jesus Christ. - Author: Ignatius Of Antioch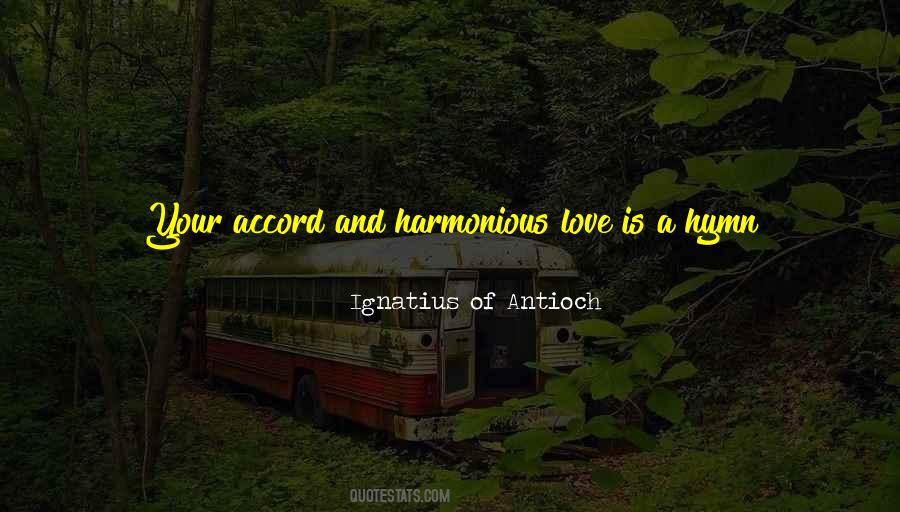 #96. Only you and I who love Jesus and have Him now before this life's death will be able to be among the special super-citizens of the Heavenly City, a special super-class of people! - Author: David Berg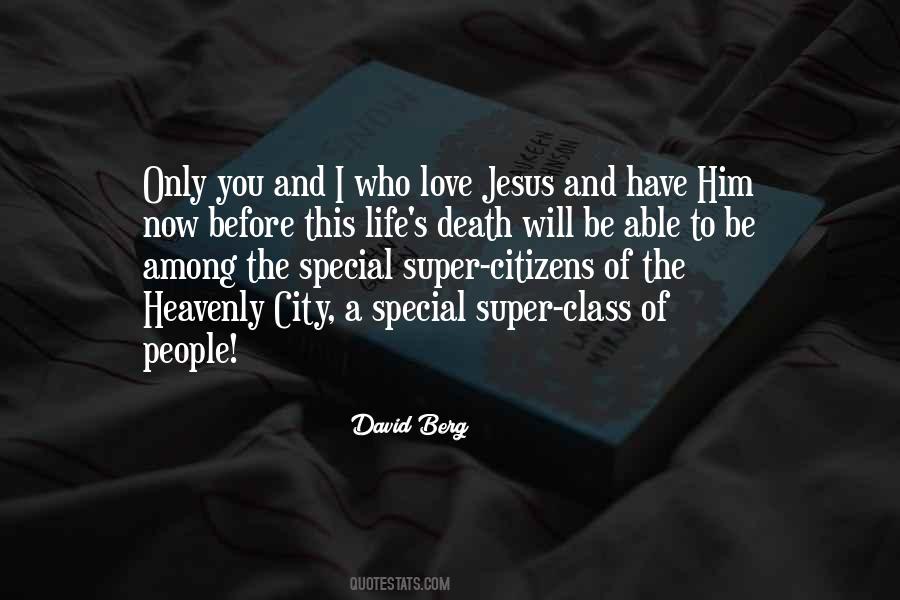 #97. It was not nails that held Jesus to that wretched cross; it was his unqualified resolution, out of love for his Father, to do his Father's will-and it was his love for sinners like me. - Author: D. A. Carson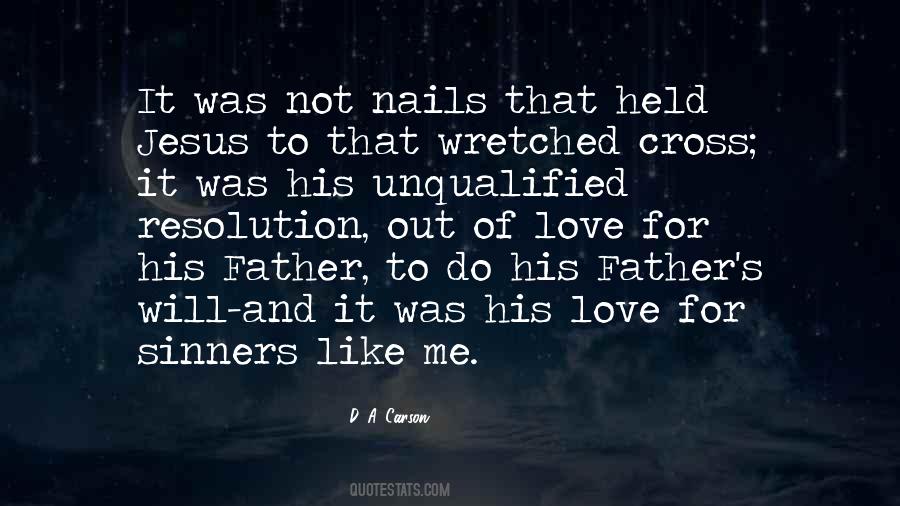 #98. The wildest part is that Jesus doesn't have to love us. His being is utterly complete and perfect, apart from humanity. He doesn't need me or you. Yet He wants us, chooses us, even considers us His inheritance (Eph. 1:18). The greatest knowledge we can ever have is knowing God treasures us. - Author: Francis Chan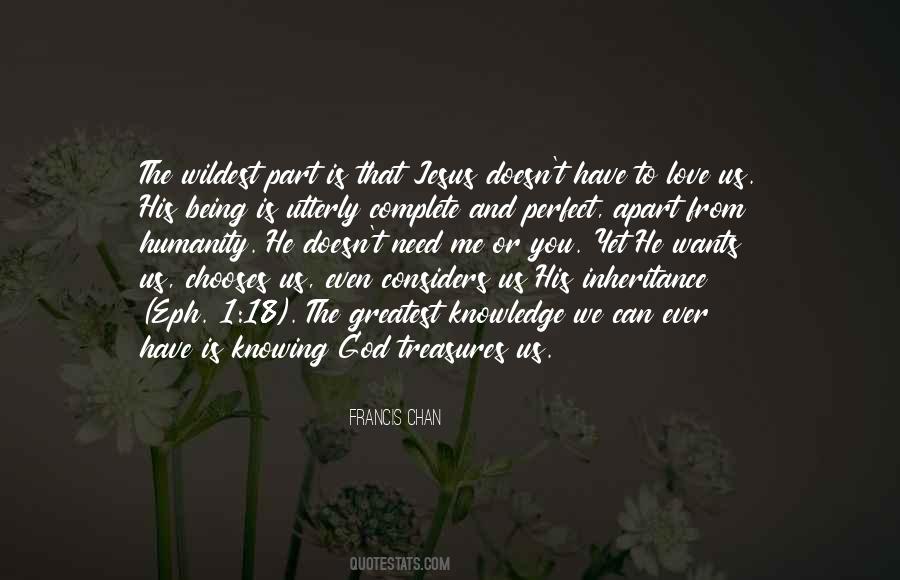 #99. We expect God to be an angry father who demands justice, but through Jesus, He gives us love and grace when we don't deserve it. - Author: Kyle Idleman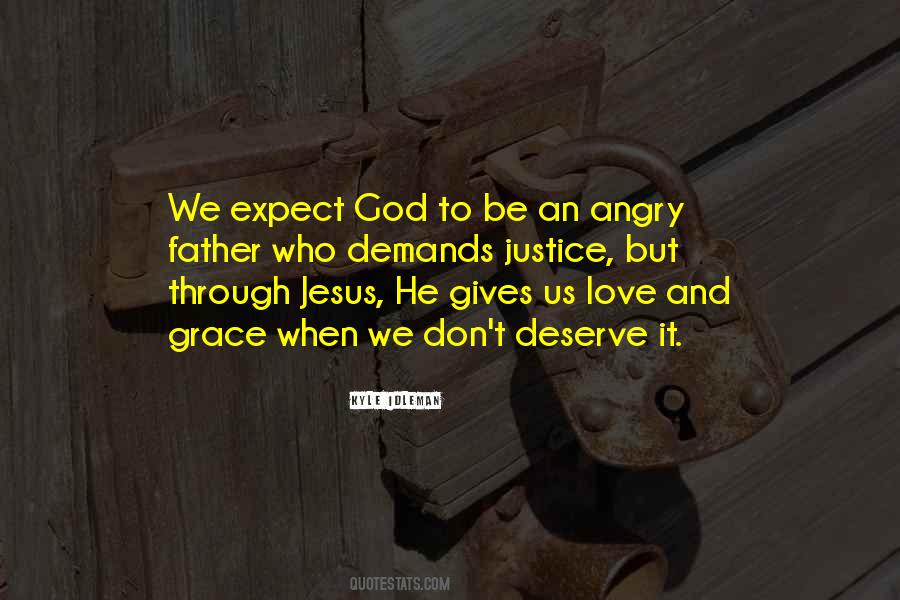 #100. Thy love is singular when all thy delight is in Jesus Christ and in no other thing finds joy and comfort. - Author: Richard Rolle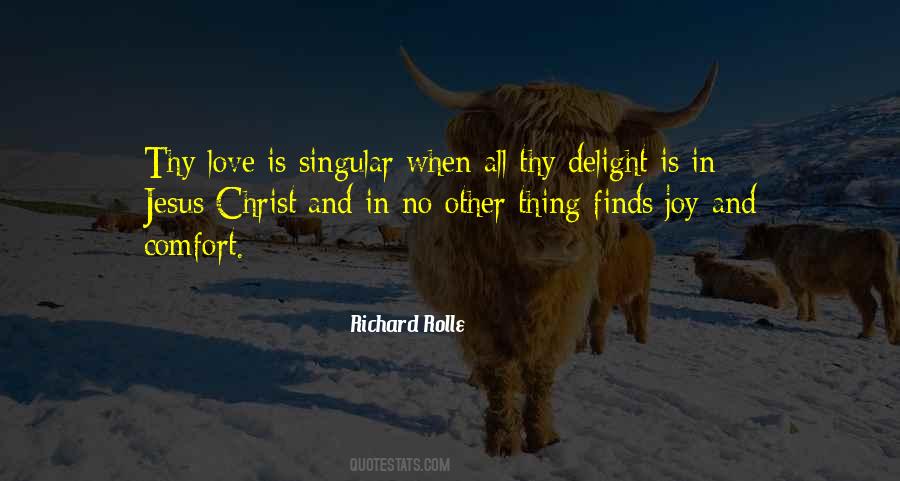 Famous Authors
Popular Topics