I Hate My Life Famous Quotes & Sayings
List of top 100 famous quotes and sayings about i hate my life to read and share with friends on your Facebook, Twitter, blogs.
Top 100 Quotes About I Hate My Life
#1. For a long time I used to think this a silly, straw-splitting distinction: how could you hate what a man did and not hate the man? But years later it occurred to me that there was one man to whom I had been doing this all my life - namely myself. - Author: C.S. Lewis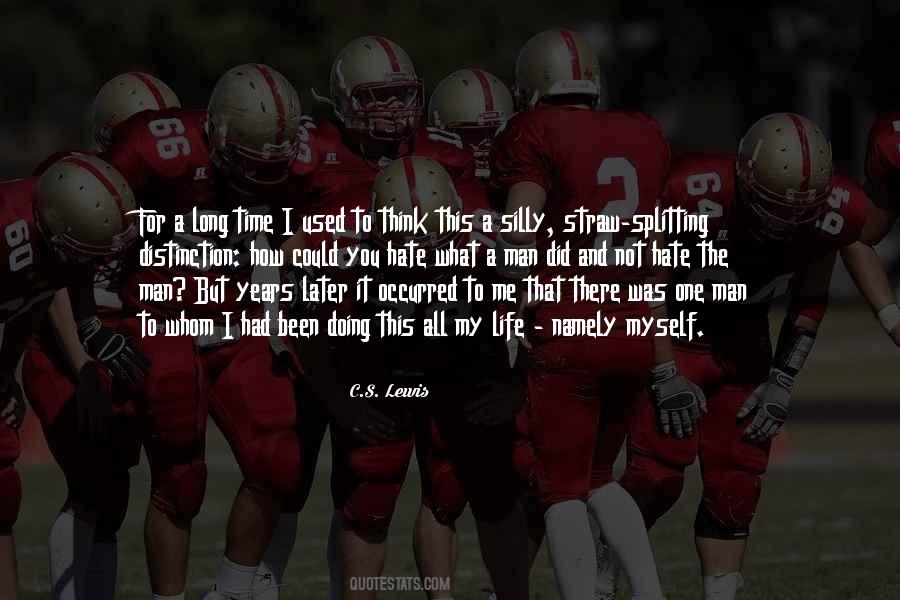 #2. All my life I have hated and despised alto! ... From a boy it has affected me very strangely. That's why I hate Sunday. People will sing alto on Sunday that would never dream of singing it any other time. - Author: Josephine Dodge Daskam Bacon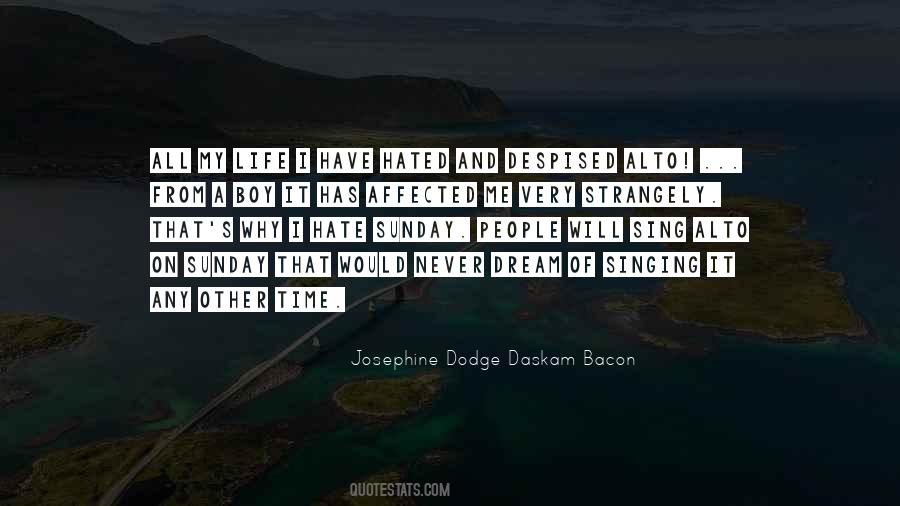 #3. All my life I have had a choice of hate and love. I chose love and I am here - Author: A.R. Rahman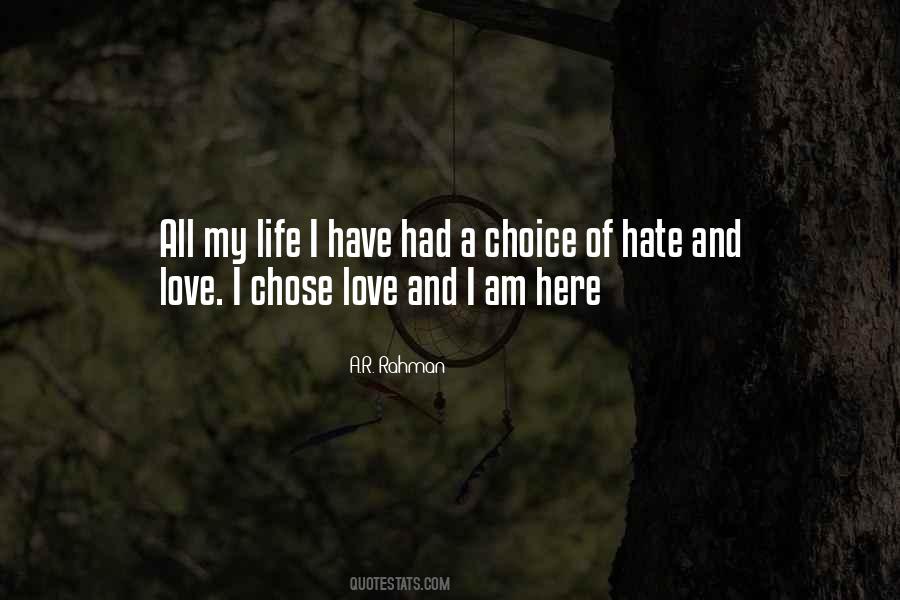 #4. When I was younger, I loved graveyards. They weren't spooky so much as mysterious. Each tombstone another story to uncover. Another life to learn about.
Now that I'm older - I won't say how old - I hate graveyards. The only life - or rather death - I see in the tombstones is my own. - Author: Pseudonymous Bosch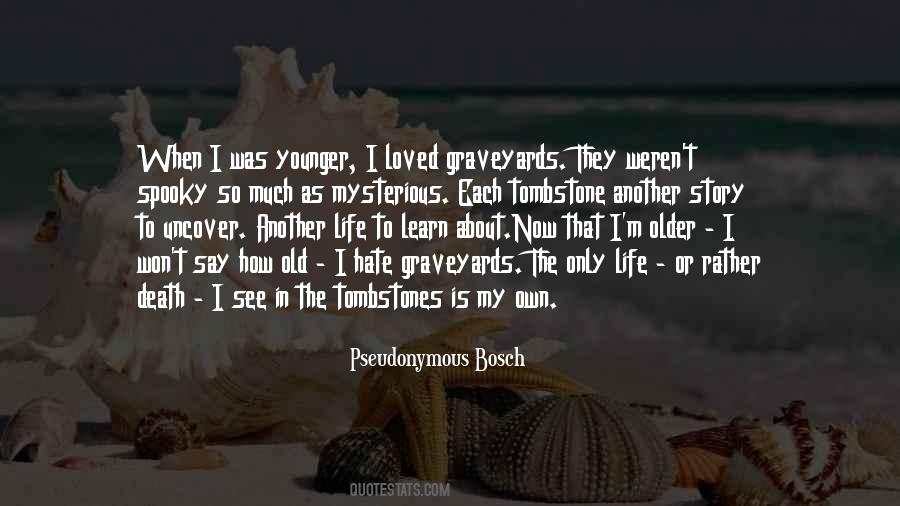 #5. I hate ridiculous names; my weird name has haunted me all my life. - Author: Peaches Geldof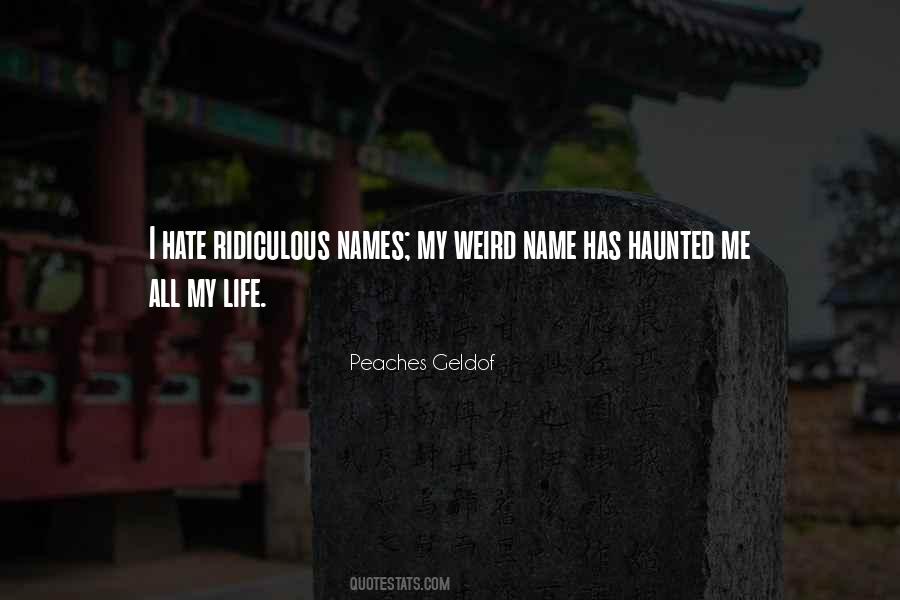 #6. Never in my life had I felt so tangibly and with such astonishment that hate, by passing successively through comprehension, mercy, and sympathy, can be transformed into love. - Author: Nikos Kazantzakis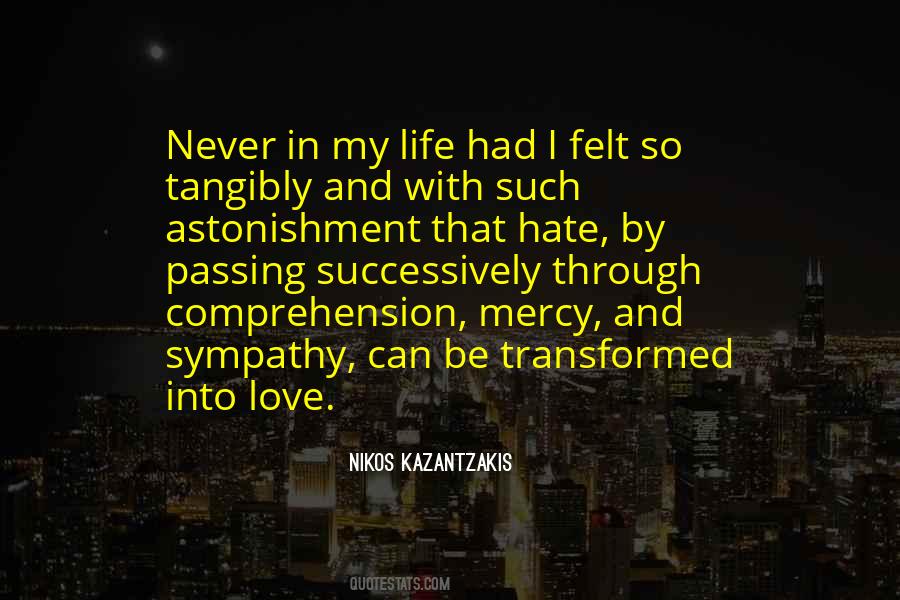 #7. I really hate it when people ask me who my icons are. When your parents are Bianca and Mick, you don't really need any more icons in your life. - Author: Jade Jagger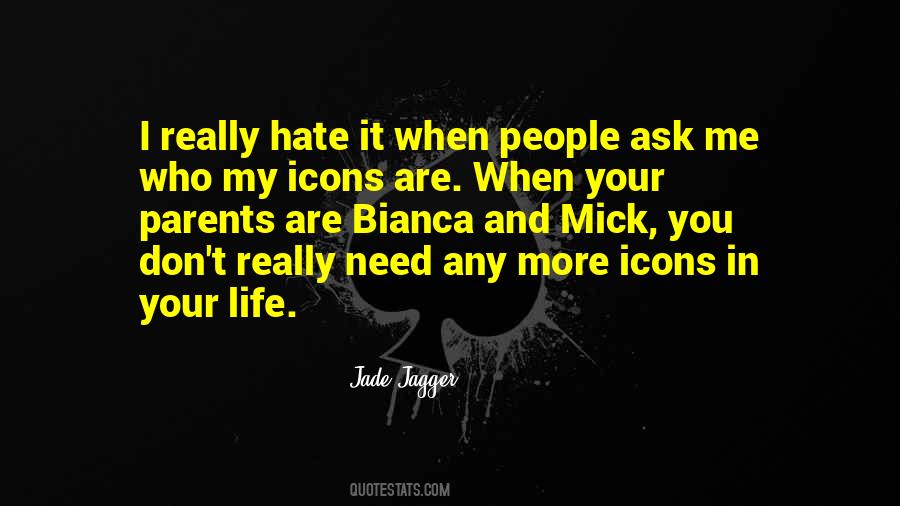 #8. All I want is to mess around, and I don't really care about, if you love me, if you hate me, you can't save me, baby baby, all my life I've been good - Author: Avril Lavigne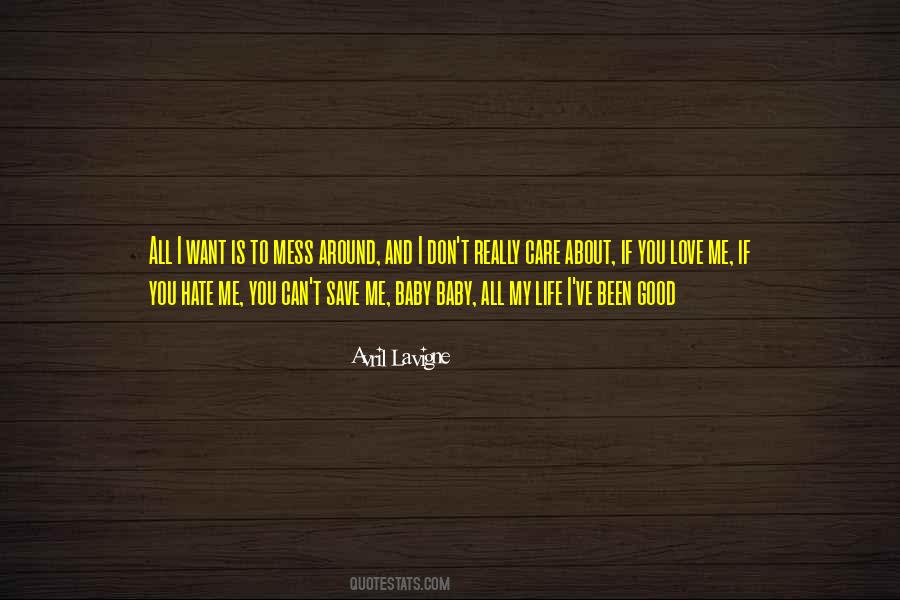 #9. That night was my first exposure to the life I was supposed to be living at my age. I dont know, I didn't get it. "You'll get a job, hate your life, and you'll want to drink too!"-they always say. - Author: CrimethInc.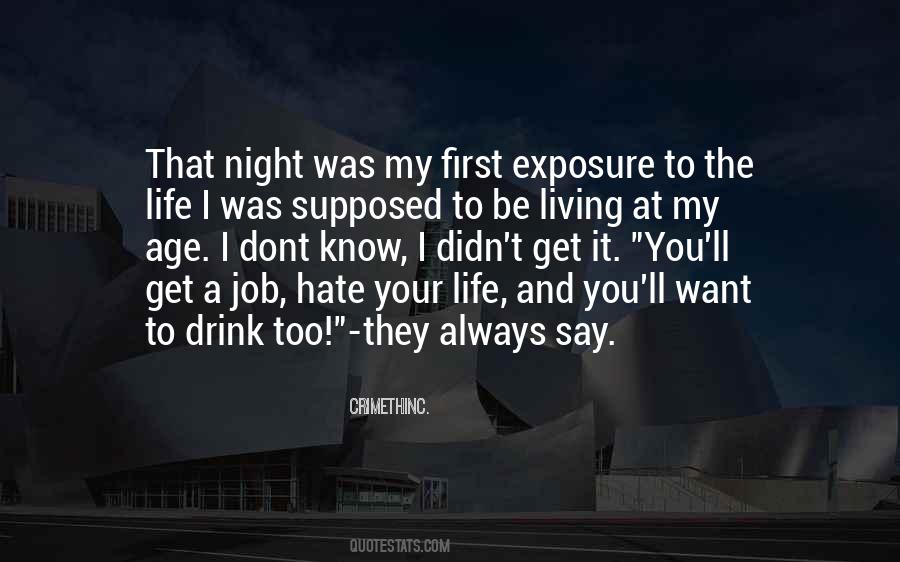 #10. I've never been in that position in my life, where I hate a celebrity so much that I want to call them names. - Author: Jhene Aiko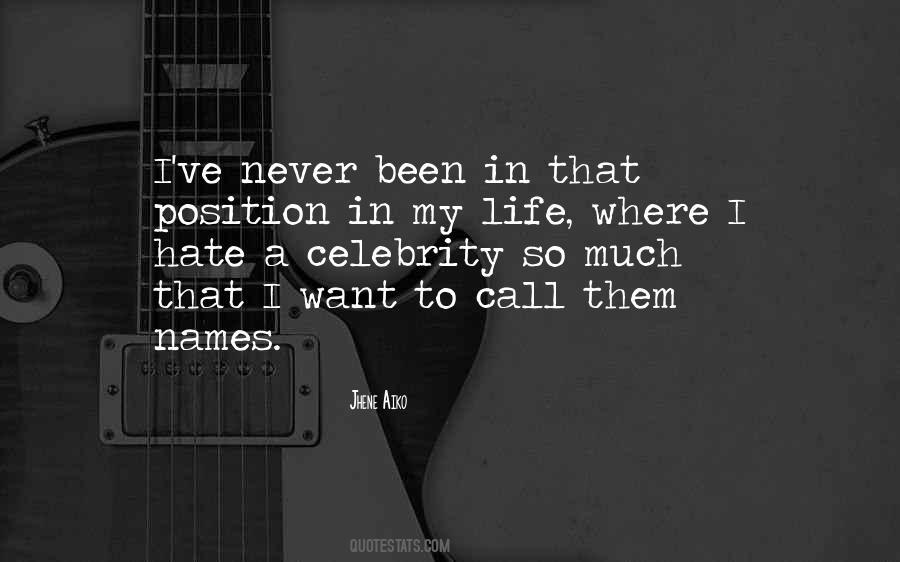 #11. I am the outcast come home to roost and the eggs of tomorrow are incubating in my fame. You hate me, you love me, you made me, and now I am in you. I am like that disease brewing in your loins and I think you like it ... - Author: Nikki Sixx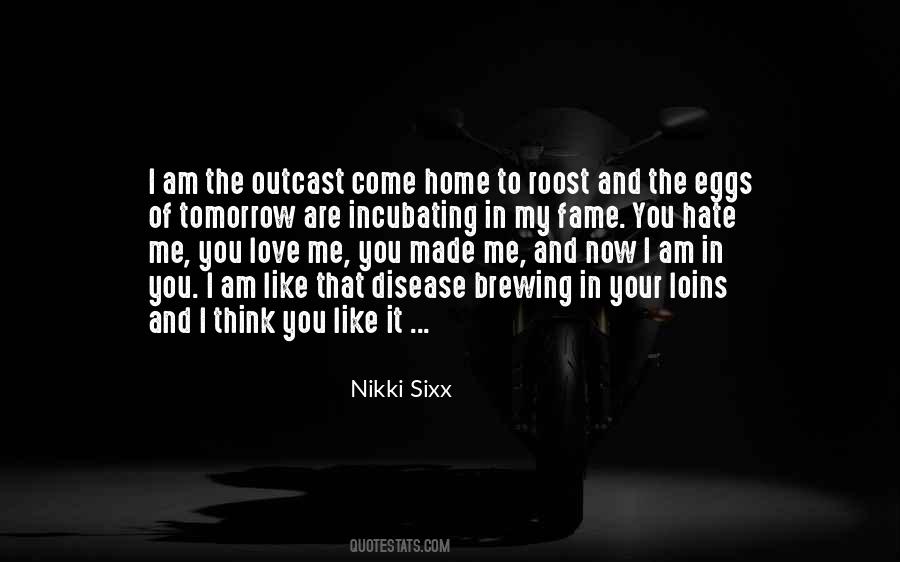 #12. It would be easier to forget you," he says to me, "and these past few weeks we've had together. It would be easier if I could hate you. But the sad truth is, I will more than likely love you for the rest of my life. - Author: Amy Ewing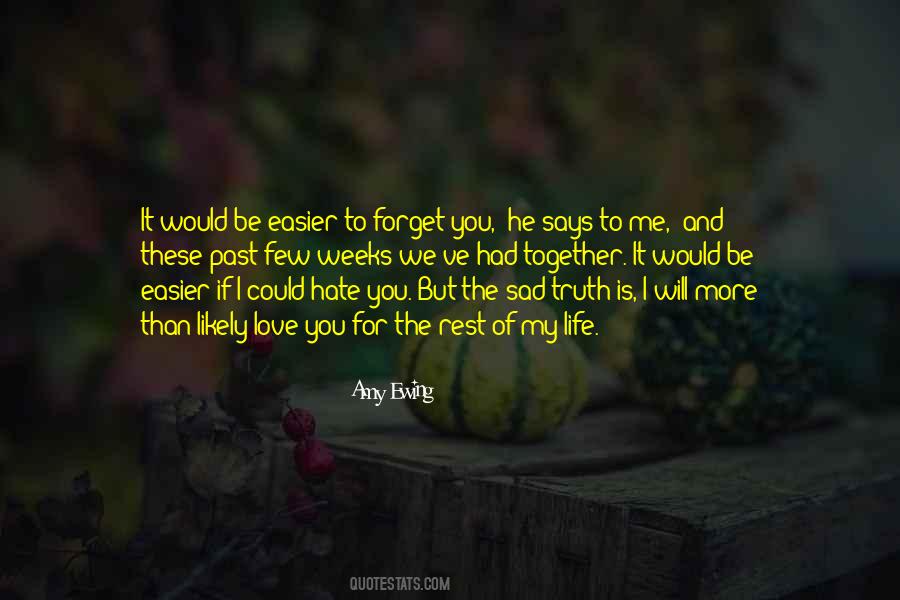 #13. You weaseled your way into my life, Simon Lewis, and I don't know how or why or even when but it happened, and I kind of hate it but I can't change it, and here it is - Author: Cassandra Clare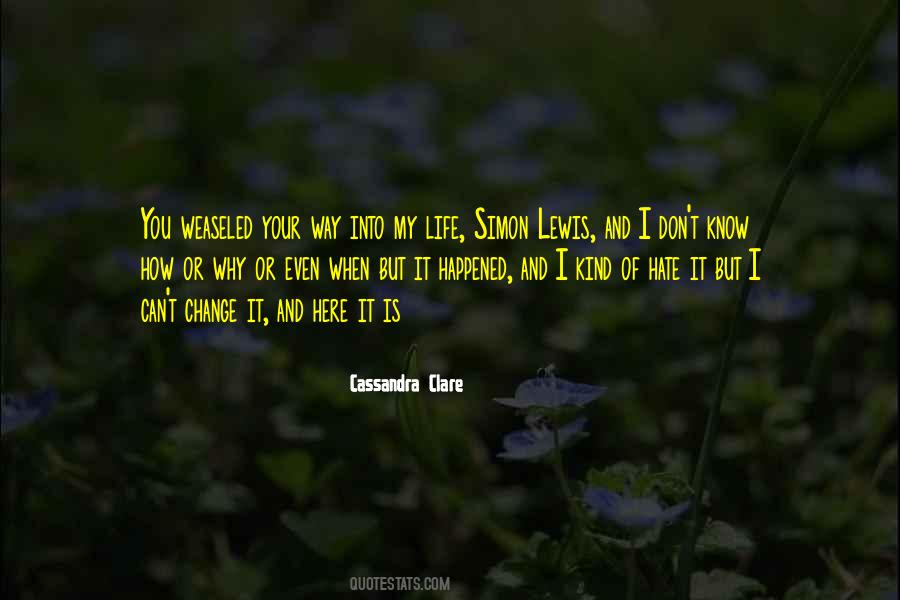 #14. I hate procrastinating, so much so that I often do my homework on Friday so it won't be hanging over my head all weekend long. The good
thing is, my (nonexistent) social life doesn't usually interfere with this quirk of mine. - Author: Kim Harrington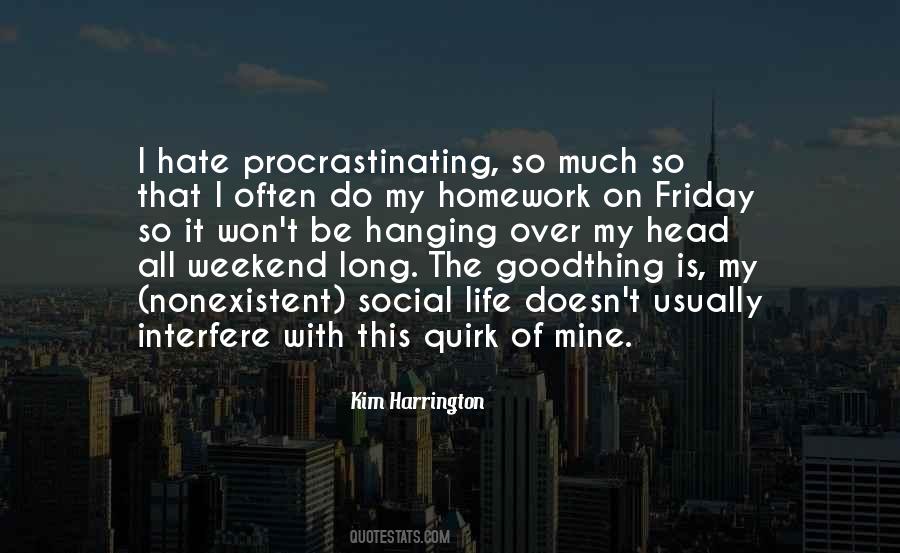 #15. I have always been astonished by hate. Revenge and hate. That is such strange human elements. I have seen a lot of that in my life. I am just as surprised each time. By revenge and hate. - Author: Odd Nerdrum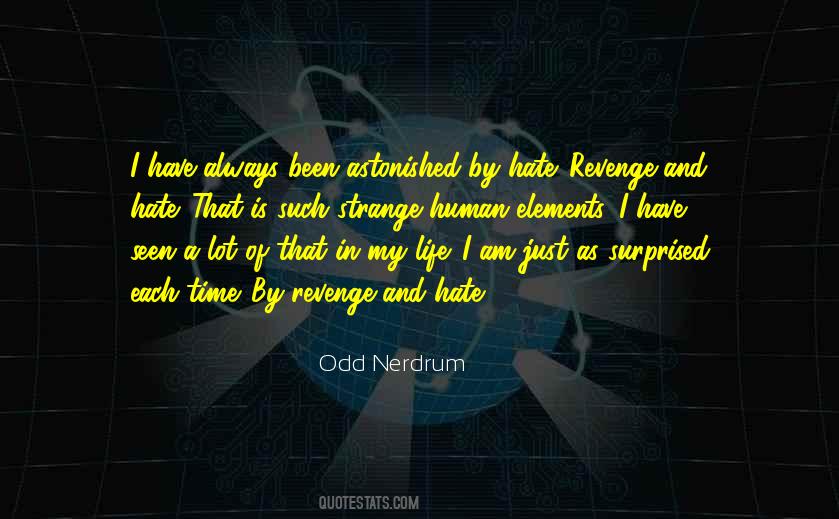 #16. There was a time when I thought I loved my first wife more than life itself. But now I hate her guts. I do. How do you explain that? What happened to that love? What happened to it, is what I'd like to know. I wish someone could tell me. - Author: Raymond Carver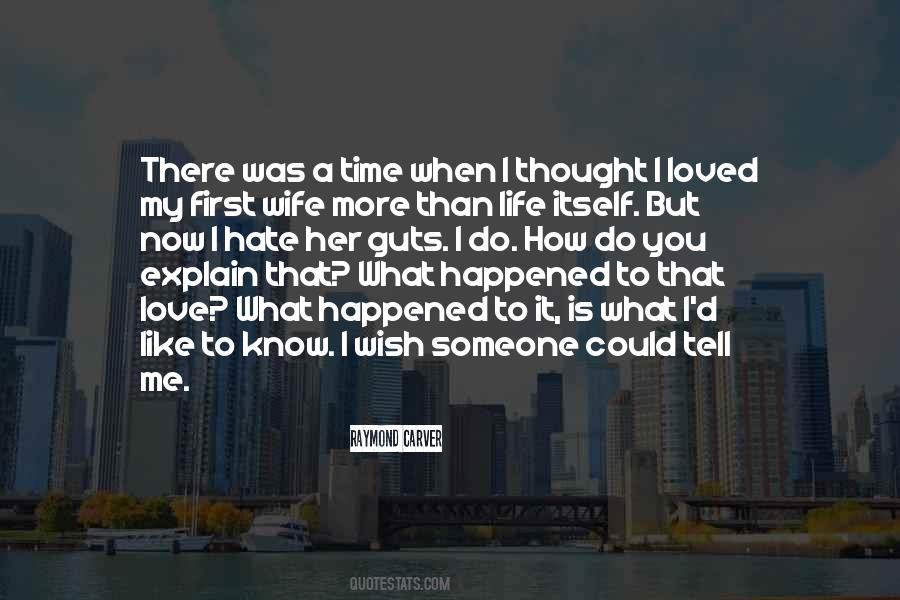 #17. For example
I wonder
could you tell my jumbled story in exactly one hundred chapters, not one more, not one less? I'll tell you, that's one thing I hate about my nickname, the way that number runs on forever. It's important in life to conclude things properly. Only then can you let go. - Author: Yann Martel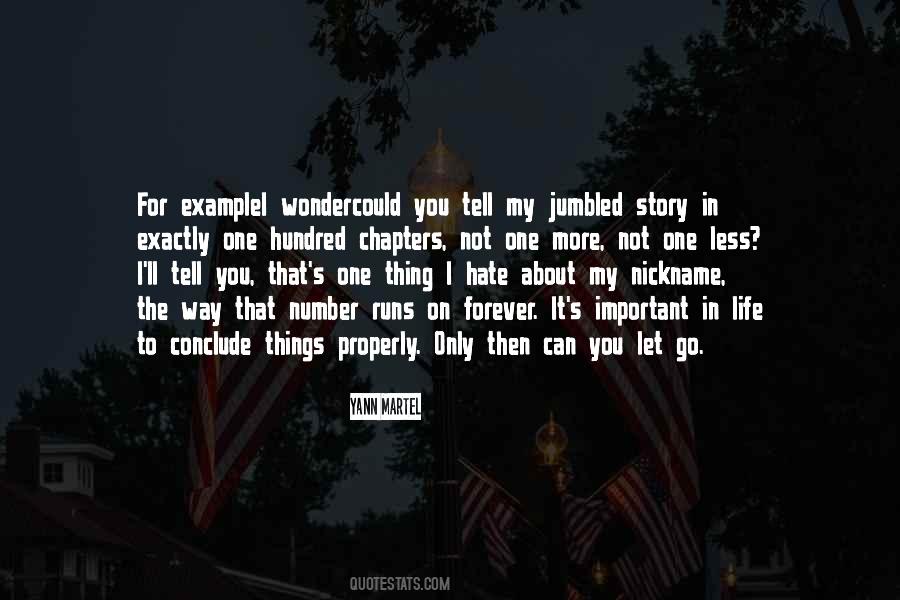 #18. The best thing ever is when some guy in his 50s taps me on the shoulder and says, 'I just want to let you know I hate my job, I hate my wife, and I come home and I watch reruns of your show and it's the only half hour of the day when I laugh and I forget how miserable life is.' - Author: Danny Masterson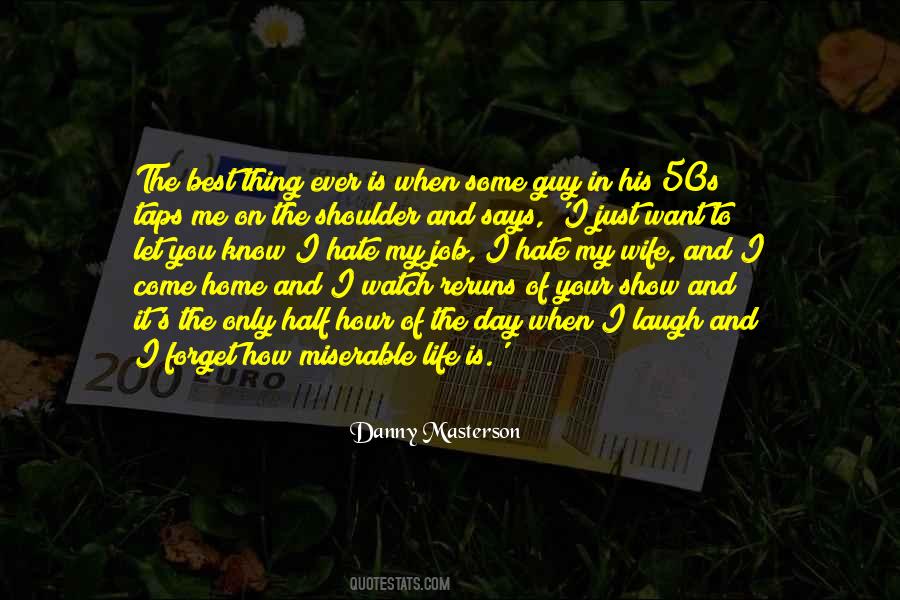 #19. My demon is hating to have to do a regular day job. Being up on stage really helps me forget I have a life like that - when I did have a life like that. I find complete contentment and happiness when I'm playing in front of an audience. - Author: Steve "Lips" Kudlow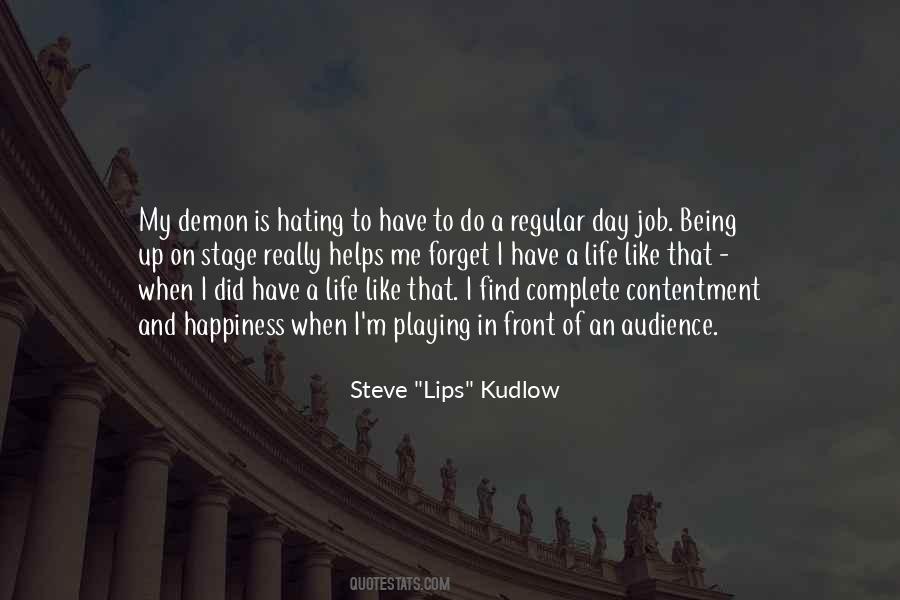 #20. Over the years of much self-hate, I came to realize that whether sexuality was in my life or not, it didn't seem to matter. I just surrendered the whole thing to God. - Author: Frederick Lenz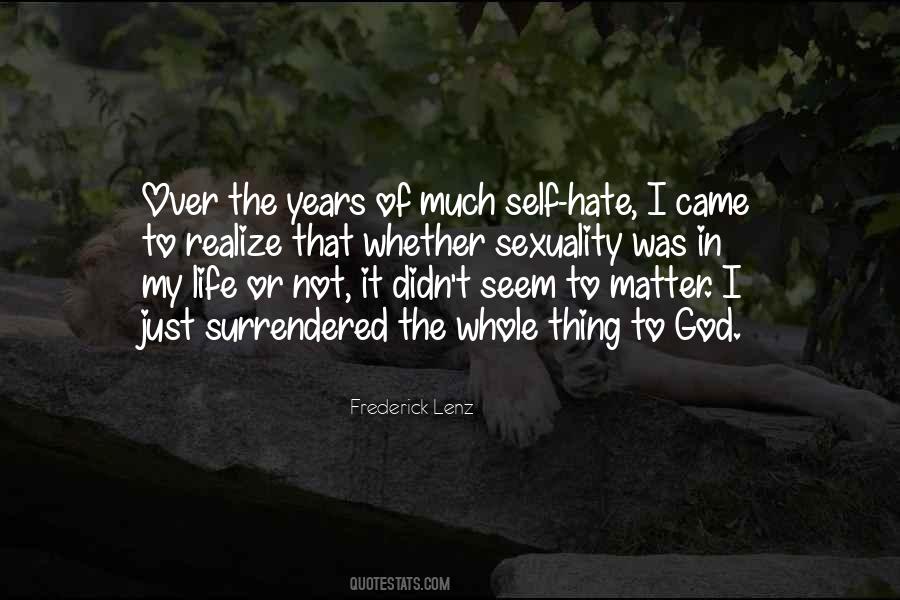 #21. So many people from my past taught me that it's not everyone that's in my life wants to see me achieve my goals and be great, but I thank God they're no longer in my life because I moved on a long time ago, welcome to my present. - Author: Werley Nortreus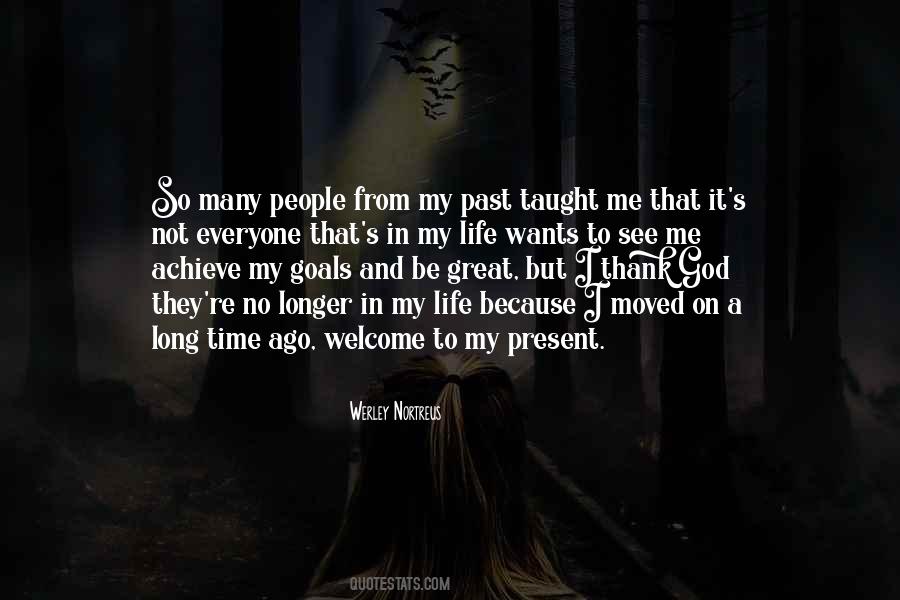 #22. I watched the first episode of 'Survivor' in the spring of 2000, thinking I would hate it. My natural inclination steers me toward the indoors not only in my actual life but also in the settings of the entertainment I read and watch. - Author: Andrea Seigel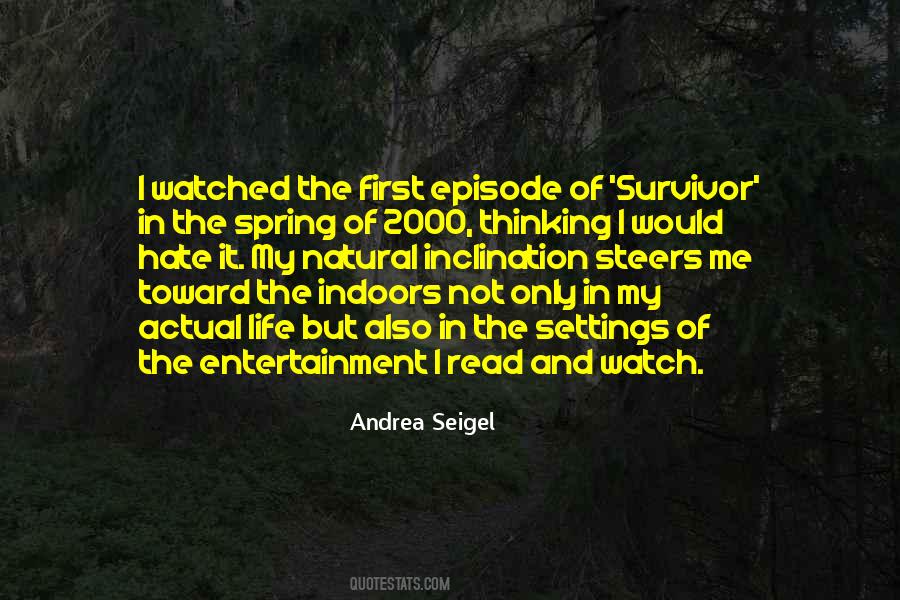 #23. I would hate to look back on my life and go, 'You know, I wanted to do a rock n' roll album. I should have, and I never did.' - Author: Natalie Cole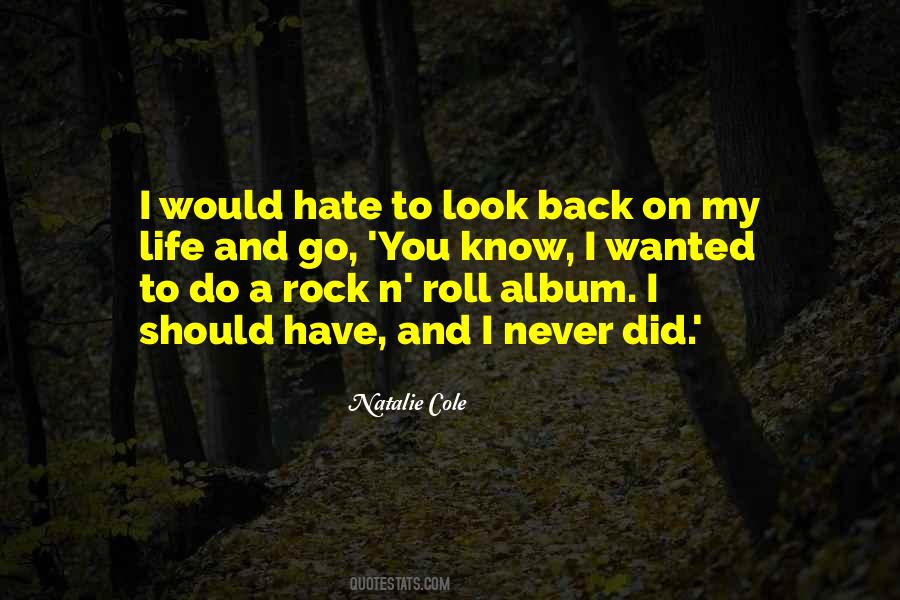 #24. If I could be more vague I'd write more about people in my life, but I hate hurting feelings or making people feel uncomfortable. I've done that before. Unless they're sad songs. Those get finished fast, but the mean ones often end up at the back of the bottom drawer and it's probably for the best. - Author: Caitlin Rose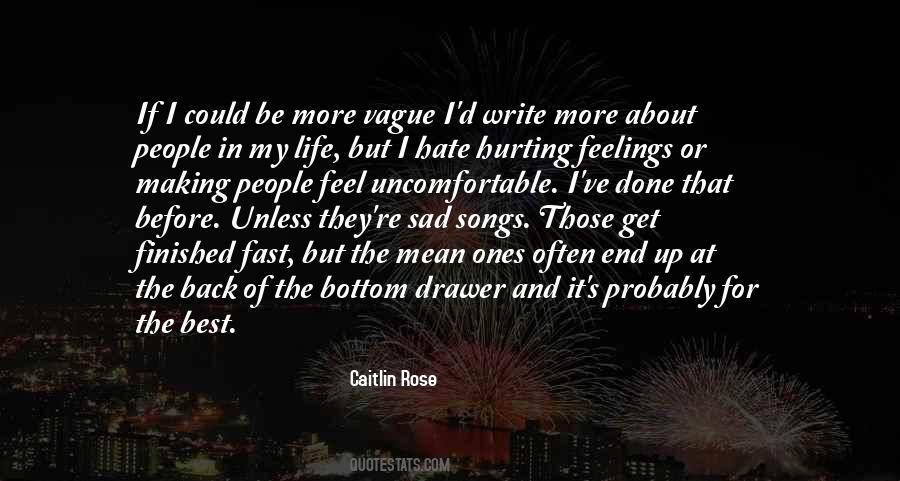 #25. All is going well, very well, I couldn't ask for anything better
So why do I hate my life? - Author: Orson Scott Card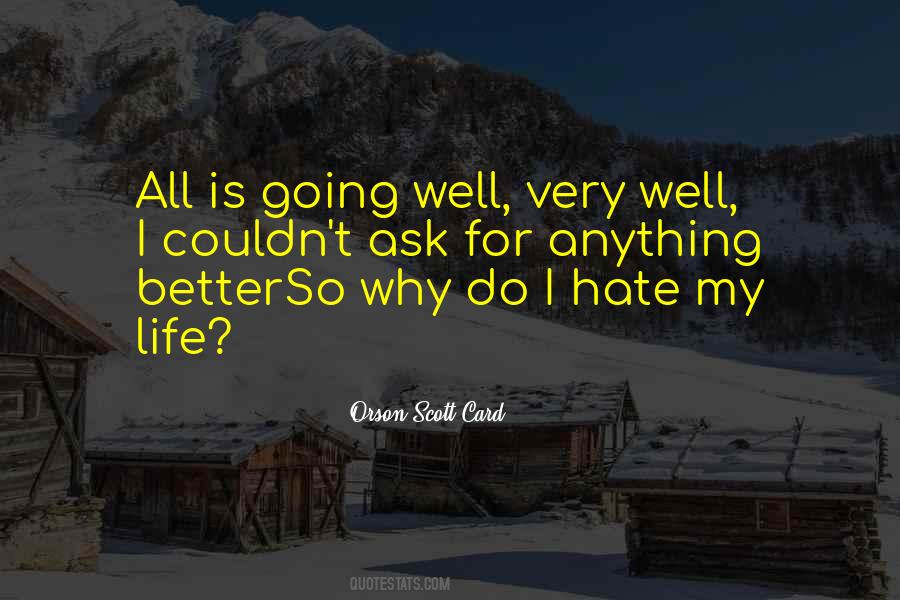 #26. I hate this life of the fashionable world, always ordered, measured, ruled, like our music-paper. What I have always wished for, desired, and coveted, is the life of an artist, free and independent, relying only on my own resources, and accountable only to myself. - Author: Alexandre Dumas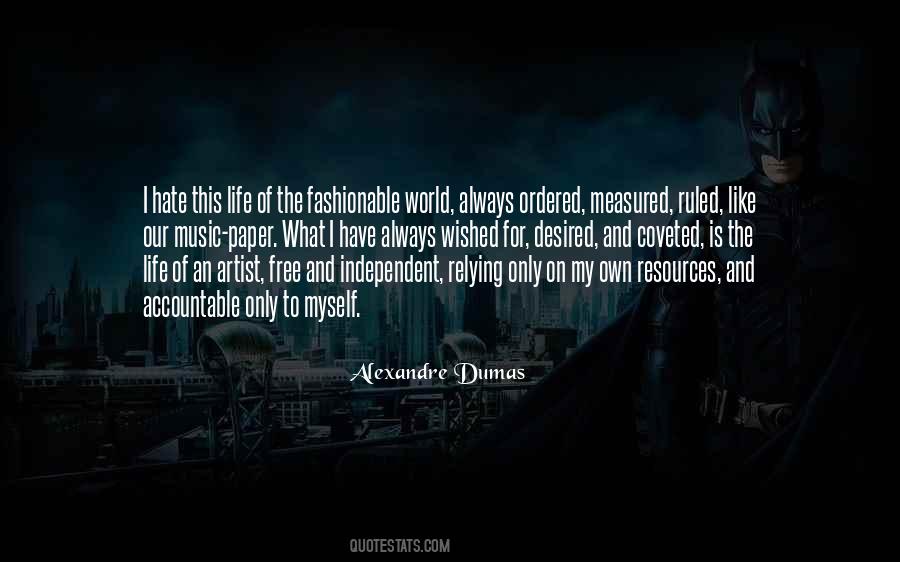 #27. I thought, that day I started, I sure would hate to do this all my life, And dammit, that's just what I've gone and done. - Author: Gary Snyder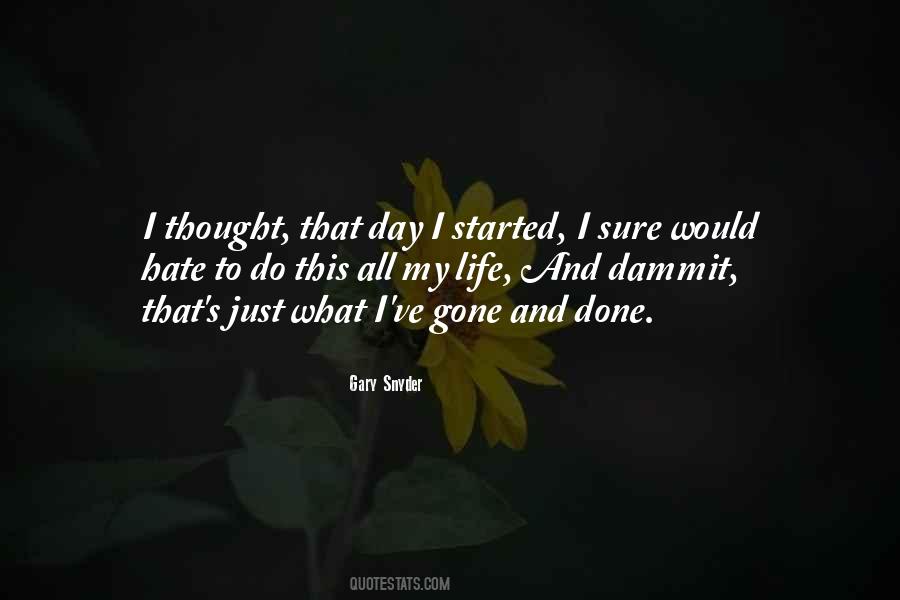 #28. Bella you are my life now
hate me for who I am I don't care at least im not pretending to be someone im not- Kristen Stewart - Author: Stephenie Meyer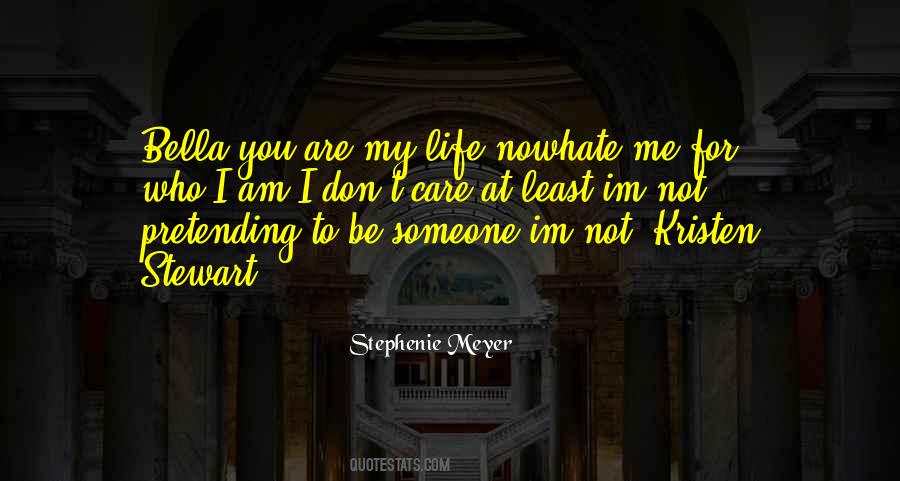 #29. All my life I'd been told what to believe about politics, coloreds, being a girl. But with Constantine's thumb pressed in my hand, I realized I actually had a choice in what I could believe. - Author: Kathryn Stockett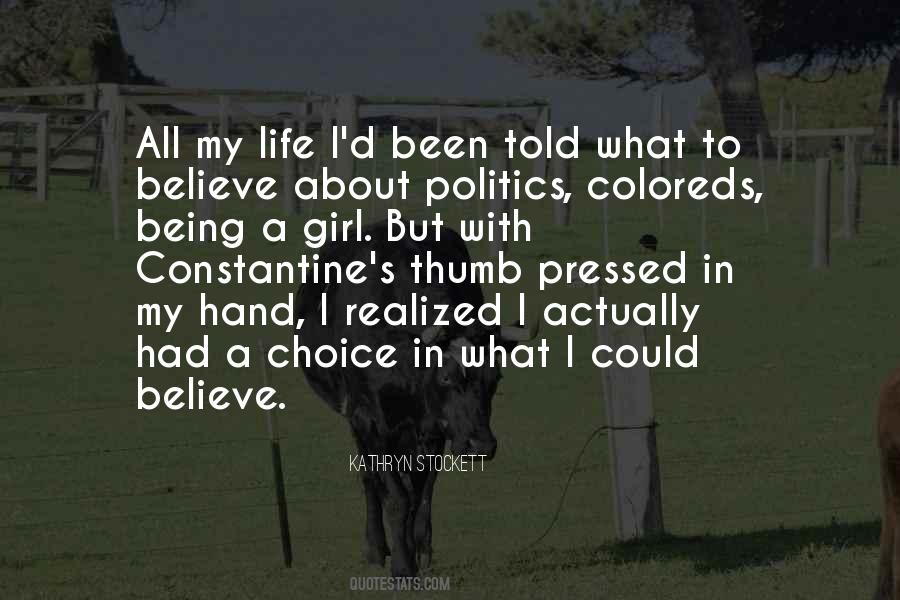 #30. I hate McDonald's. I don't want to order my dinner by yelling into a clown's mouth. If I want my face in a clown's mouth, I'll tongue kiss Glenn Beck. - Author: Joan Rivers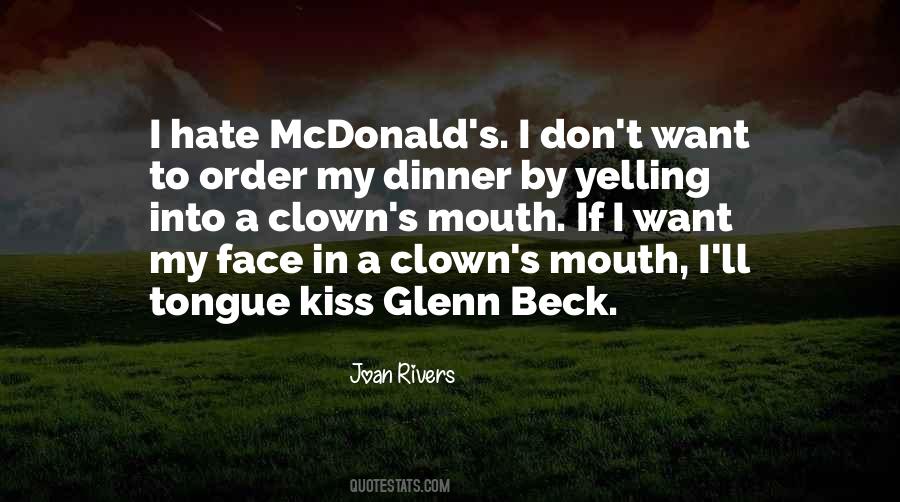 #31. I huffed out a deep breath. "It's something huge, isn't it?" Beezle nodded. "Yup."
There was a sound of several limbs splashing in the water. "Is it all squishy and tentacly?"
"Yup."
"I hate my life," I said, and as I turned I conjured a ball of nightfire and threw it. - Author: Christina Henry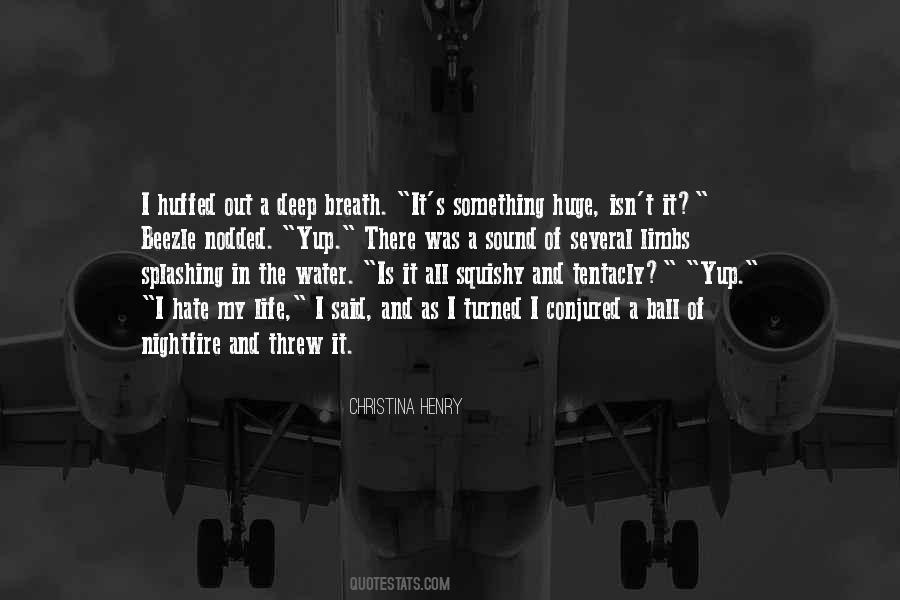 #32. I'm not a materialist, I don't care for things. I don't like cars, I hate things that can be exploited. I live a simple life. The only luxuries I have in my life are travel and food. - Author: Ferran Adria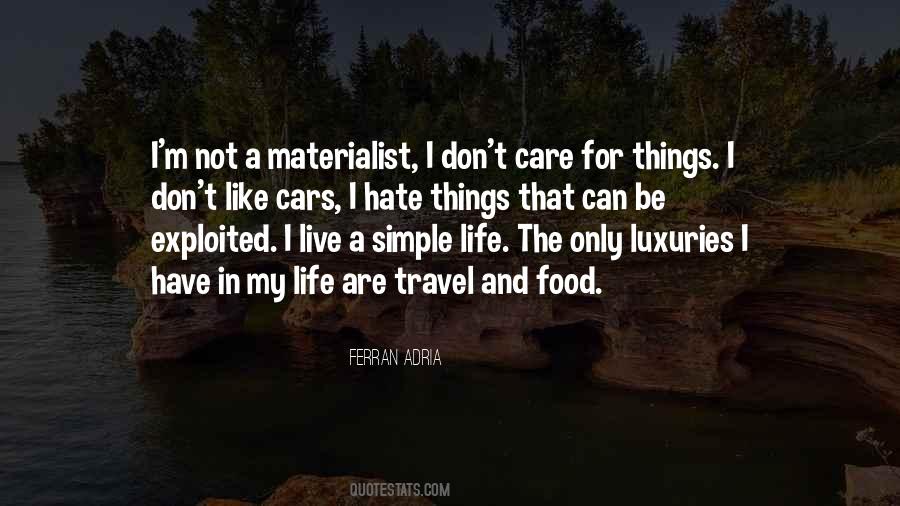 #33. Reasons for not keeping a notebook: 1) the ambiguity of the reader
it is never quite oneself. 2) I usually hate the sight of my handwriting
it lives too much and I dislike its life
I mean by "lives," of course, betrays too much! - Author: Lionel Trilling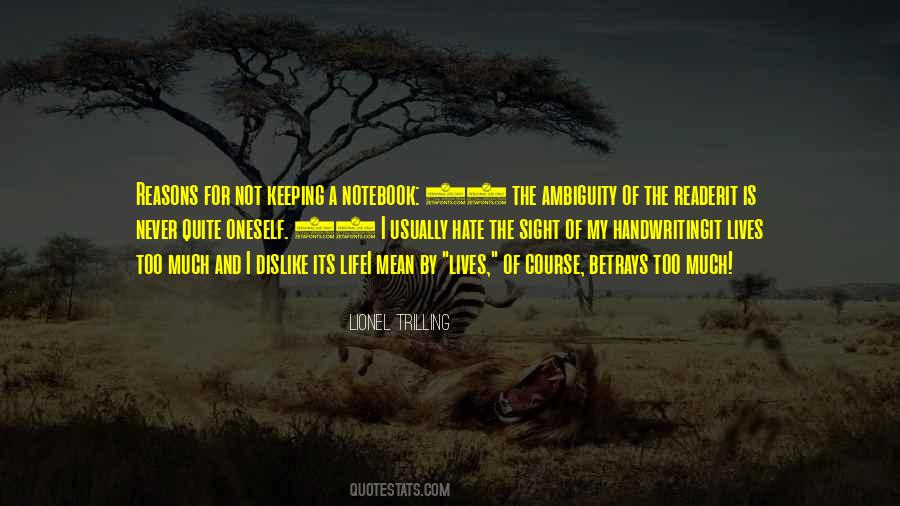 #34. Perhaps the most liberating moment in my life was when I realized that my self-loathing was not a product of my inadequacy but, rather, a product of my thoughts. - Author: Vironika Tugaleva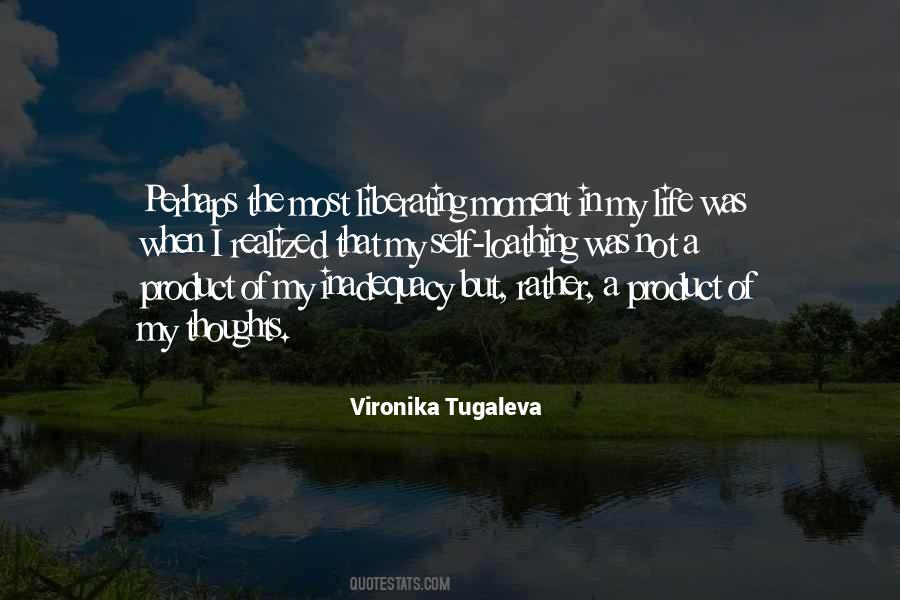 #35. I don't hate you, you're just the most annoying person in my life. - Author: Rebecca Sparrow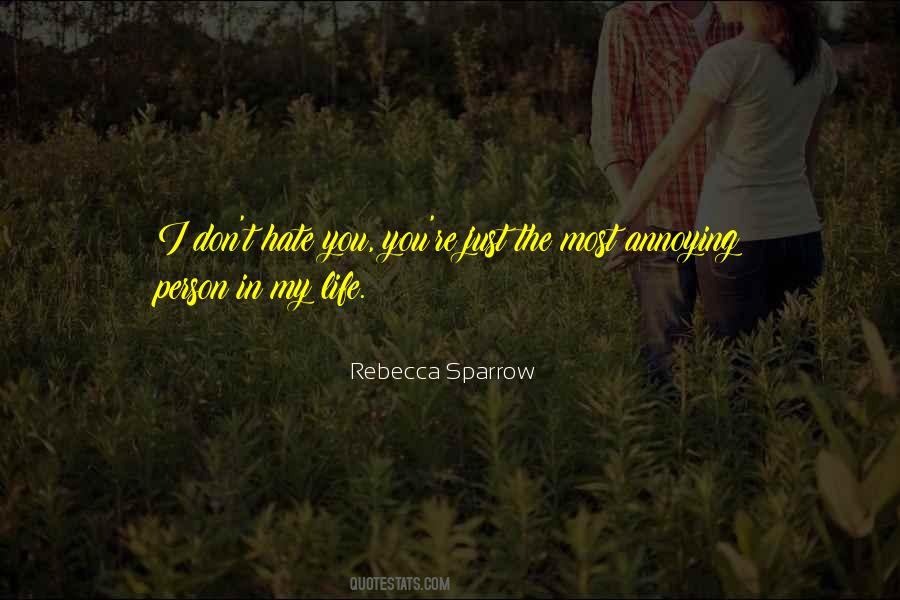 #36. I absolutely hate mowing the lawn. When I hear the mowers starting, I want to kill myself: it's the sound of death approaching. Hoovering's OK, but I never in my life wanted to have a lawn and certainly never wanted to mow one. - Author: Peter Capaldi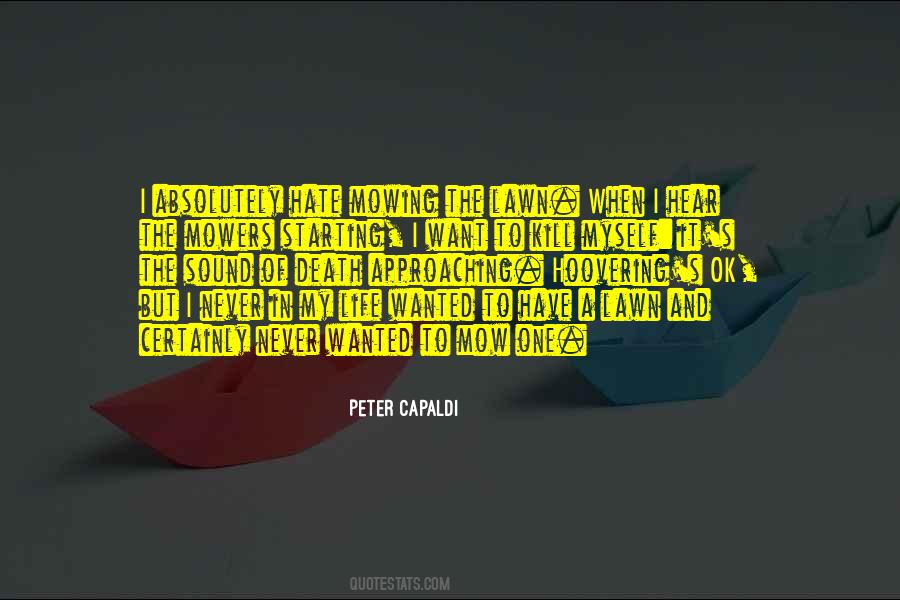 #37. If I can't even accurately judge the people closest to me, then I can't trust anyone. Ever. I hate them for taking that away from me. Now, no matter who comes into my life after this, I'll always be skeptical. - Author: Colleen Hoover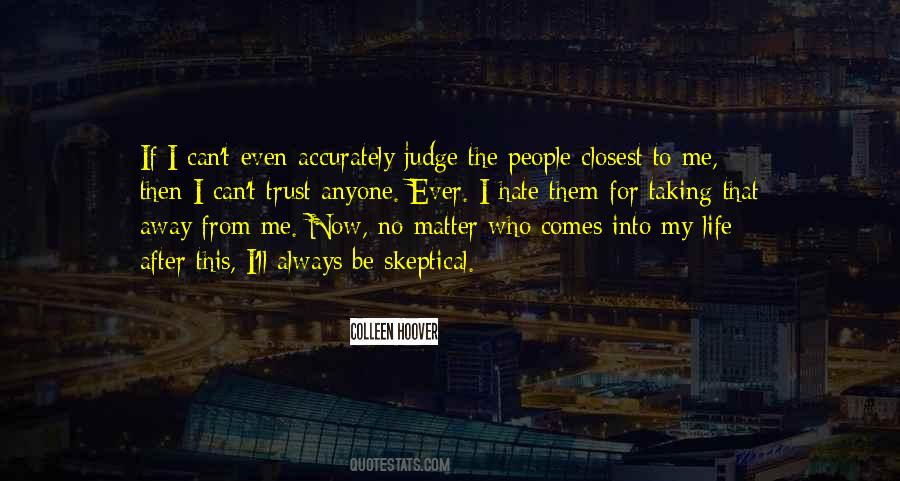 #38. I have three older sisters who, when we were children, used to hold me down on a bad day and put make-up all over me, so I've had an aversion to it all my life and hate sitting down in the make-up chair. - Author: James Nesbitt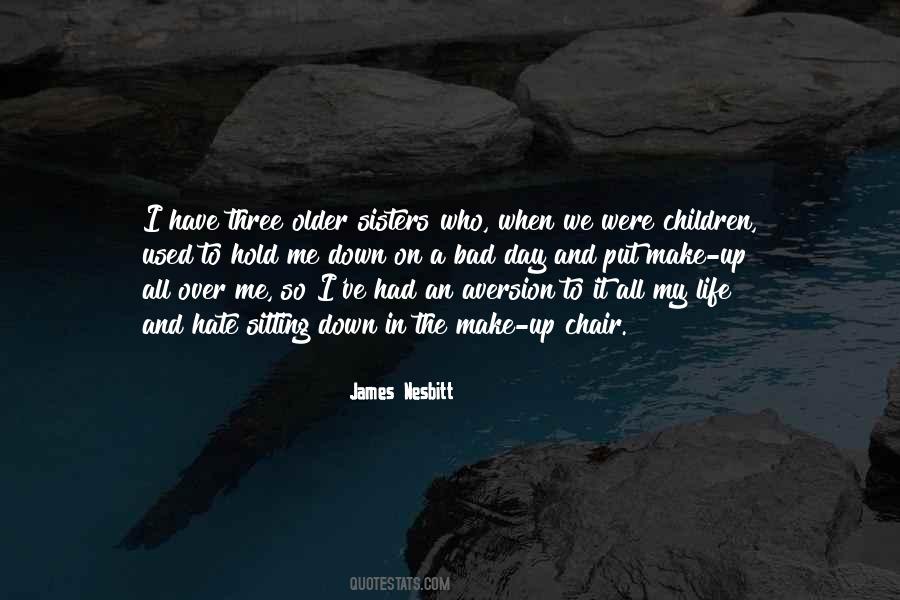 #39. Some people hate funerals. I find them comforting. They hit the pause button on life and remind us that it has an end. Every eulogy reminds me to deepen my dash, that place on the tombstone between our birth and our death. - Author: Regina Brett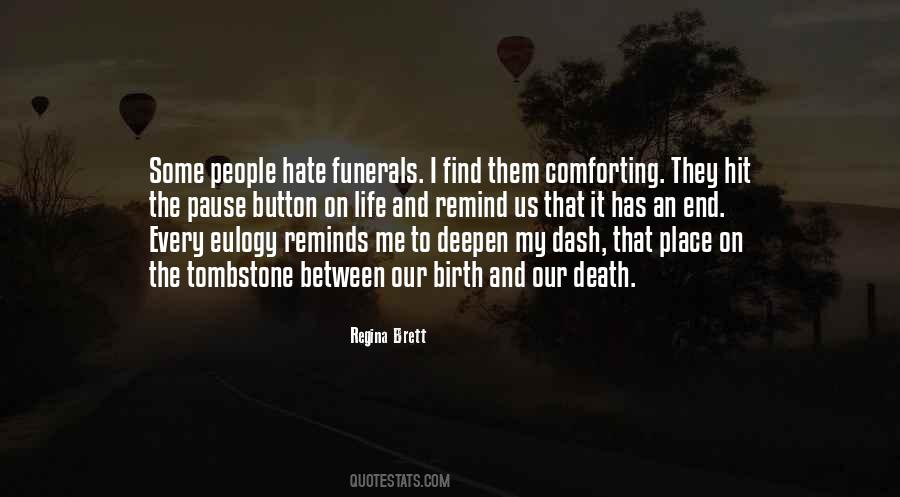 #40. It's as if they've planned out my life for me and I'm expected to live it for them. I hate it. So I don't tell anyone much. It's easier that way." ~Dani O'Meara from the forthcoming amateur sleuth mystery, Dangerous Days for Dani - Author: Claire A. Murray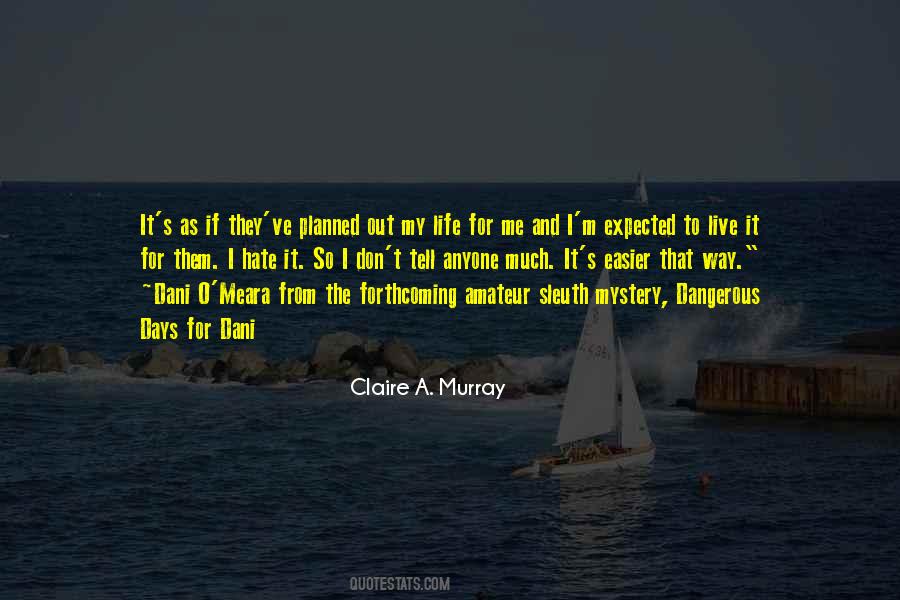 #41. Nothing could add to the horror of hell, except the presence of its creator, God. While I have life, as long as I draw breath, I shall deny with all my strength, and hate with every drop of my blood, this infinite lie. - Author: Robert G. Ingersoll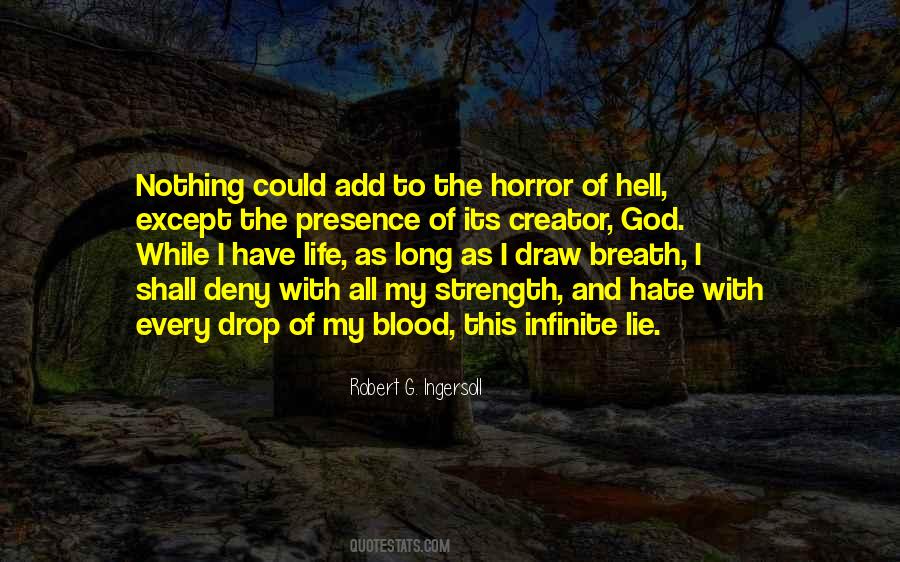 #42. Well, that's what I still think, but I am in a rut at work--I hate my job,' I said, allowing my emotions to find words. - Author: Luke Lively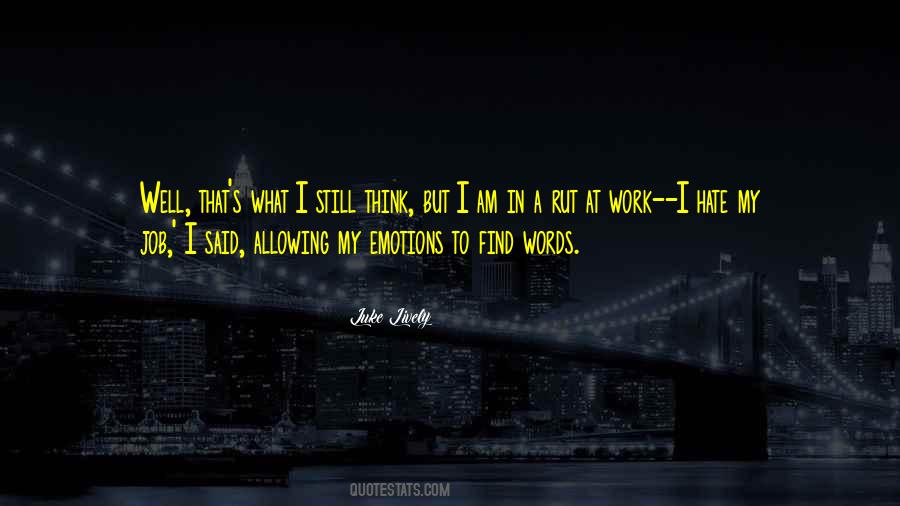 #43. I mean, I hate to gloat, but I'm extremely satisfied with my position in life and the way things have worked out for me. - Author: Al Yankovic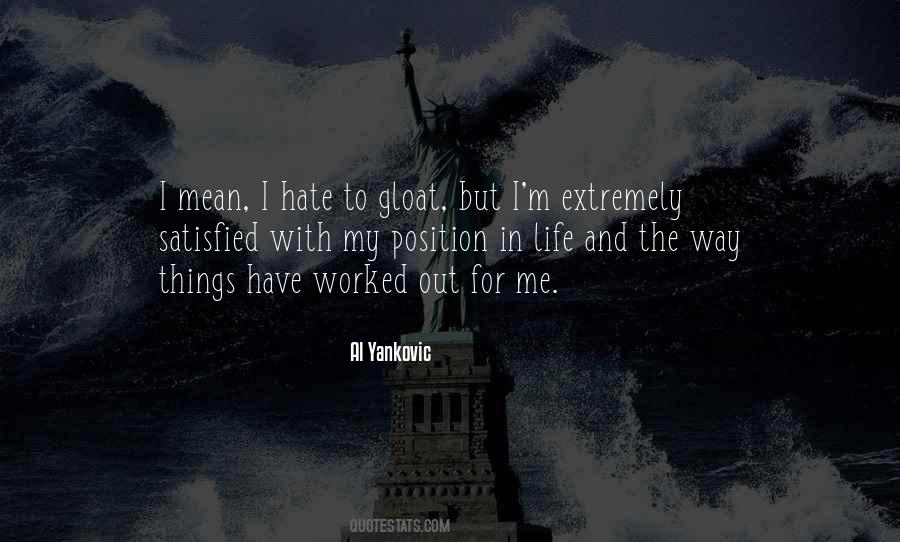 #44. I hate failure and that divorce was a Number One failure in my eyes. It was the worst period of my life. Neither Desi nor I have been the same since, physically or mentally. - Author: Lucille Ball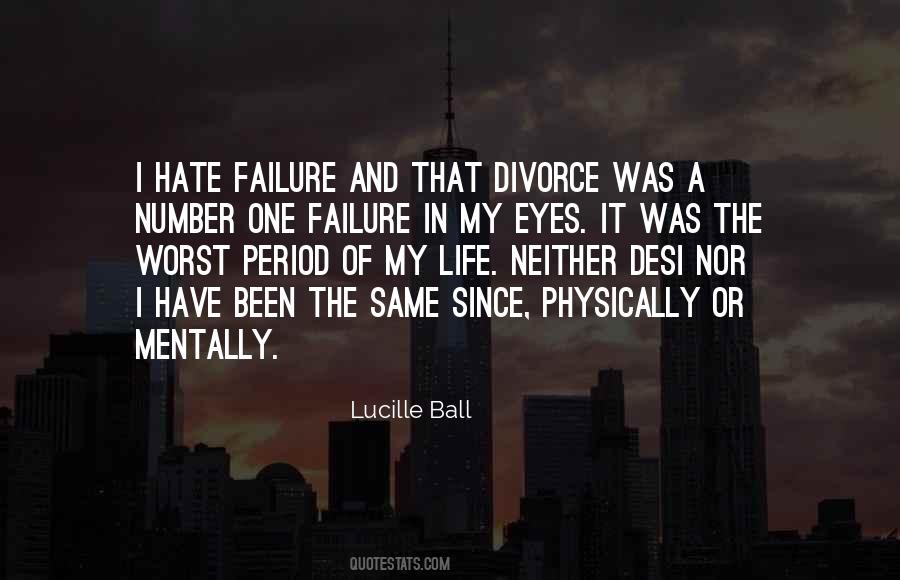 #45. I was under the assumption that the first job you get out of college is the job you have for the rest of your life. That's how my parents were; my parents have been teachers for as long as I've known 'em. I was worried that I'd gotten into something that I was going to hate. - Author: Jack McBrayer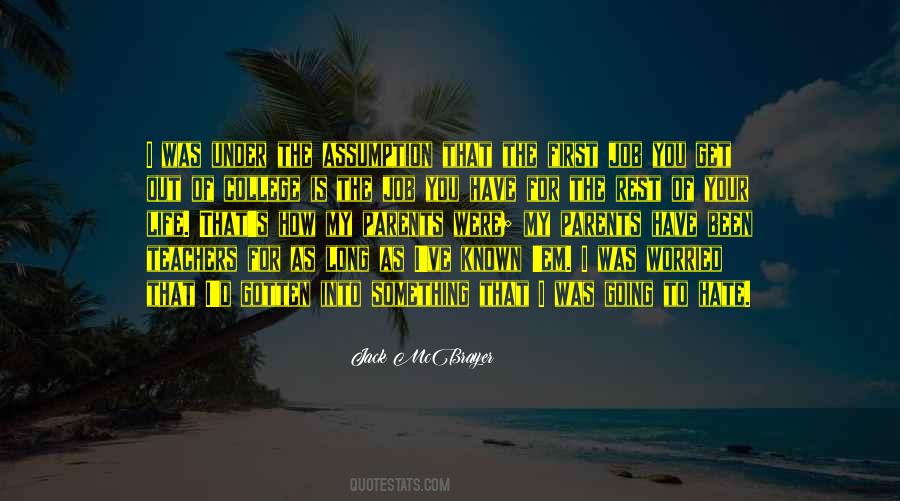 #46. I want so much not to do the teenage angst thing, but I have to tell you that I hate the life that, according to my mother, I'm not actually having. - Author: Melina Marchetta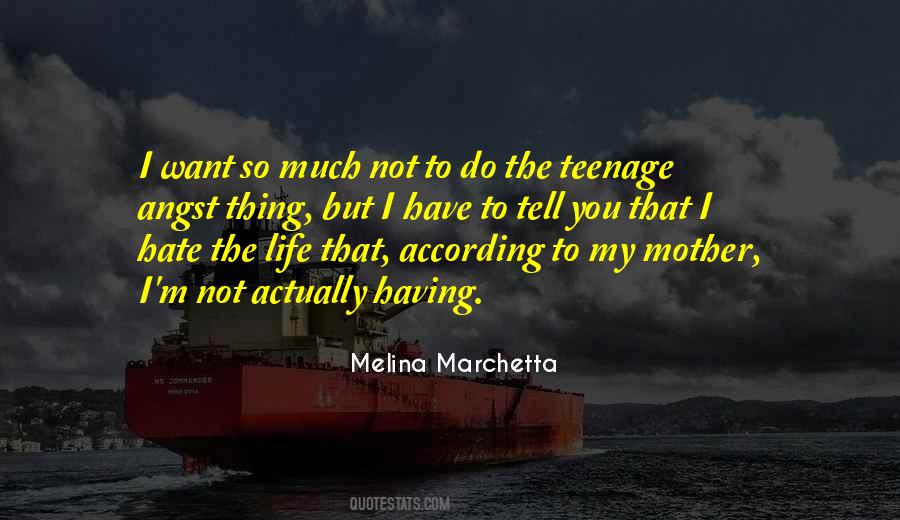 #47. I hate that my life is teaching me that I can only be loved if I put my love out of reach and just drift above people until they love my remoteness. - Author: Helen Oyeyemi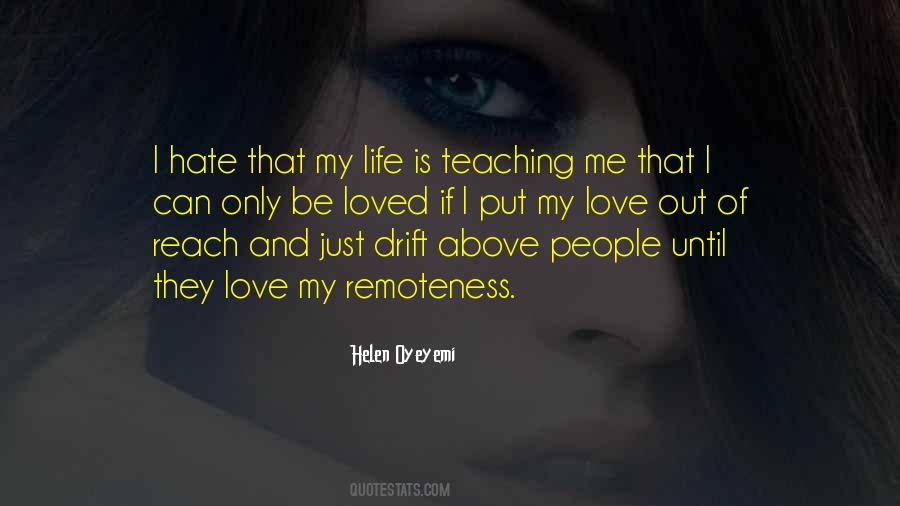 #48. I hate motorcycles. Because if I hit one, even if it's not my fault, if I've done nothing wrong, I'm not charged with manslaughter, he's gonna die, because he's on a motorcycle. So I have to live my life knowing that I killed this guy. - Author: Chuck Klosterman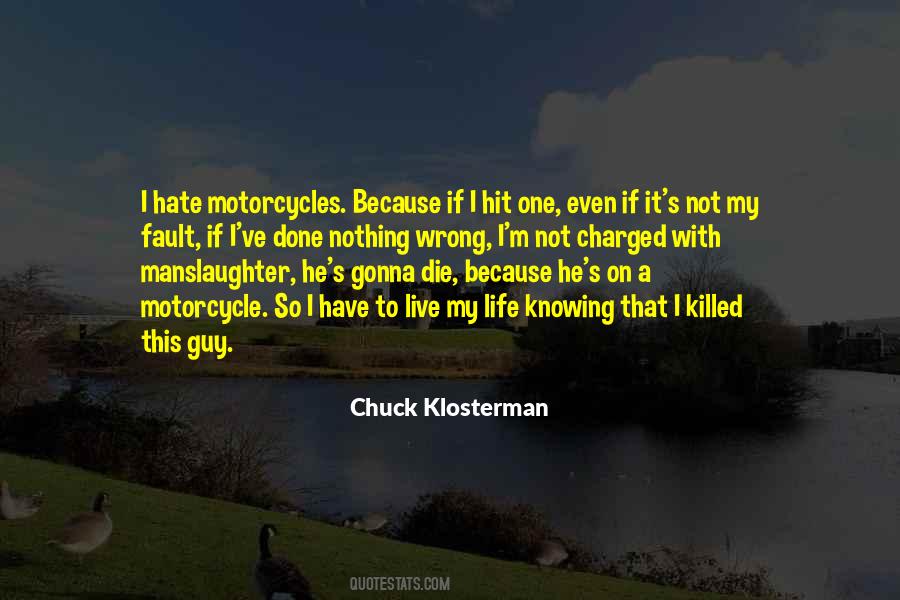 #49. I hate to say it to the kids out there but I just kind of blew off everything and made snowboarding the number one priority in my life - Author: Jeremy Jones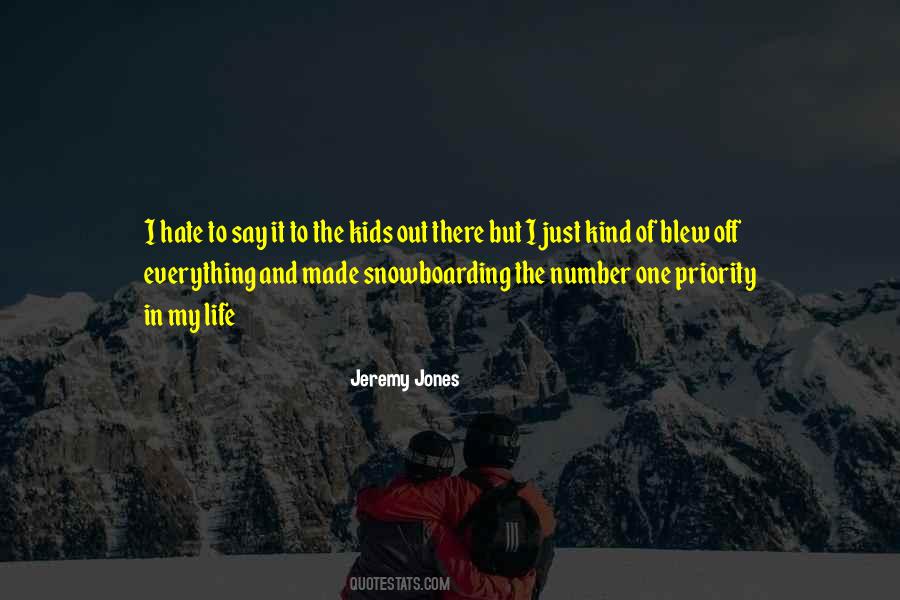 #50. I have a love/hate relationship with just about all technology in my life. My first typewriter in particular. I had a helluva time putting new ribbon on it. - Author: Eric Stoltz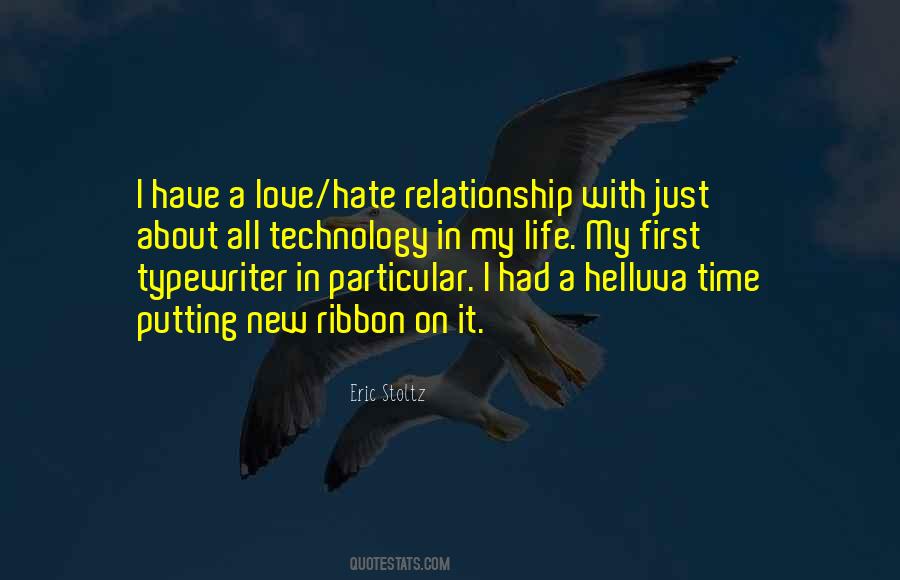 #51. I am the daughter of a Chicana and anglo. I think most days I am an embarrassment to both groups. I sometimes hate the white in me so viciously that I long to forget the commitment my skin has imposed upon my life. - Author: Cherrie Moraga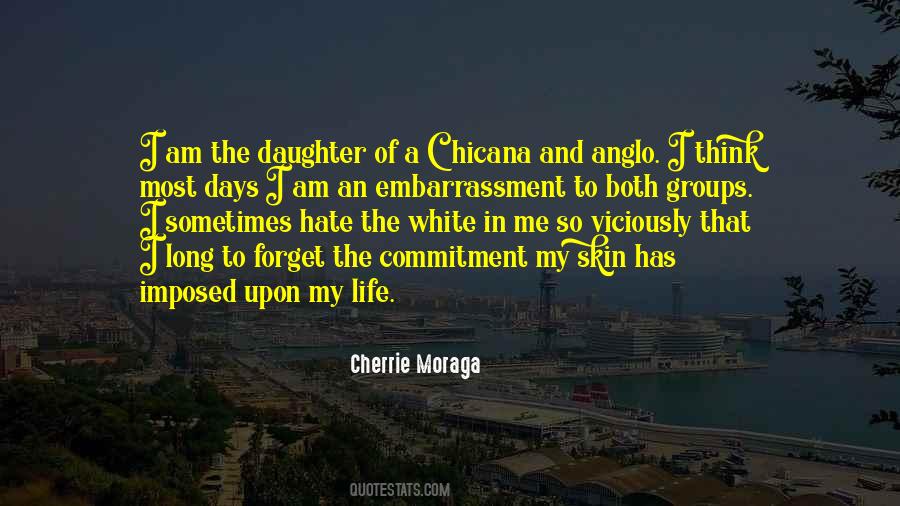 #52. There are things in my life that are hard to reconcile, like divorce. Sometimes it is very difficult to make sense of how it could possibly happen. Laying blame is so easy. I don't have time for hate or negativity in my life. There's no room for it. - Author: Reese Witherspoon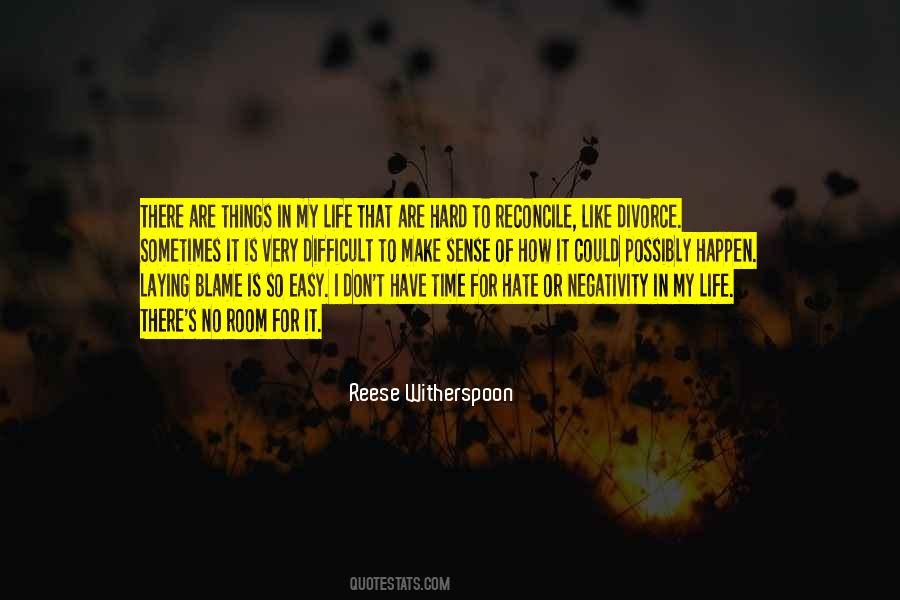 #53. I hate that she's hurt. I hate that she's been hurt, by me and by others, throughout the entire arc of her life. I barely remember pain, but when I see it in her I feel it in myself, in disproportionate measure. it creeps into my eyes, stinging, burning. - Author: Isaac Marion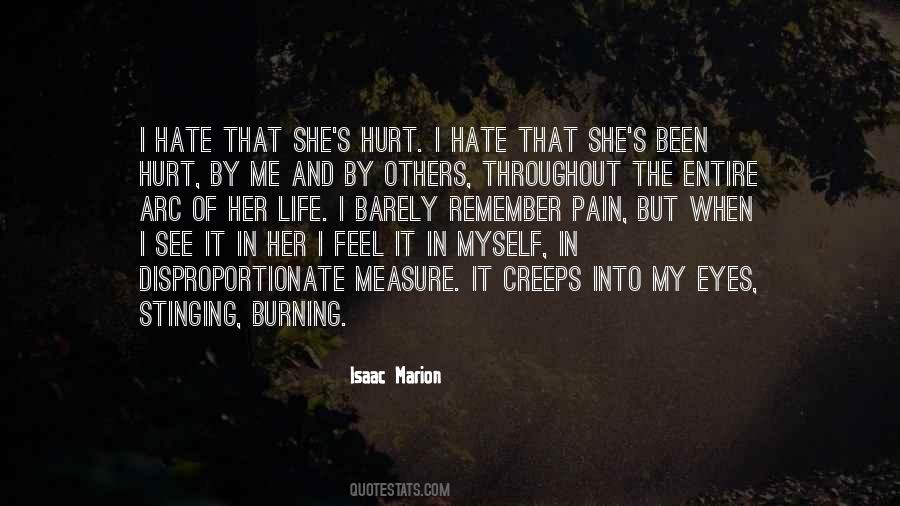 #54. If you keep working you'll last longer. I'd hate to spend the rest of my life trying to outwit an 18-inch fish. - Author: Harold Geneen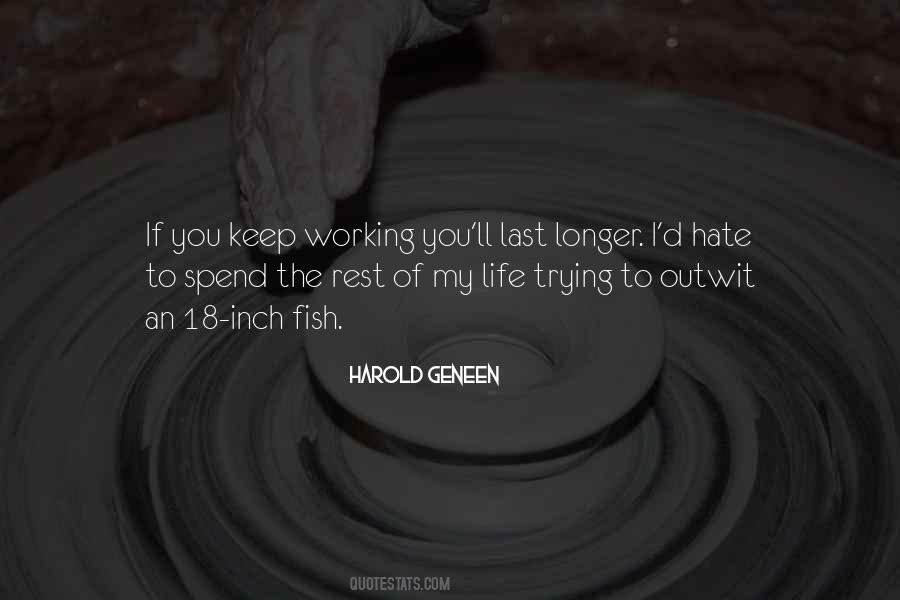 #55. I could endure the hunger. I had learned to live with hate. But to feel that there was feeling denied me, that the very breath of life itself was beyond my reach, that more than anything else hurt, wounded me. I had a new hunger. - Author: Richard Wright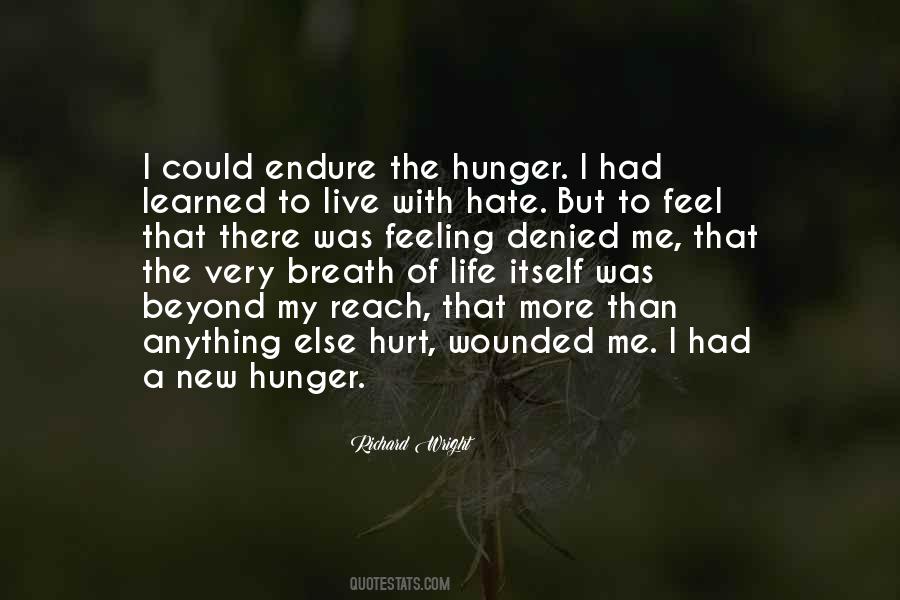 #56. I love you like a brother, Stryder, but I swear there are times when I could strangle the very life out of you. (Zenobia)
'Tis a good thing you care for me then. Given my treatment, I shudder at what you would do to me should you decide to hate me. (Stryder) - Author: Kinley MacGregor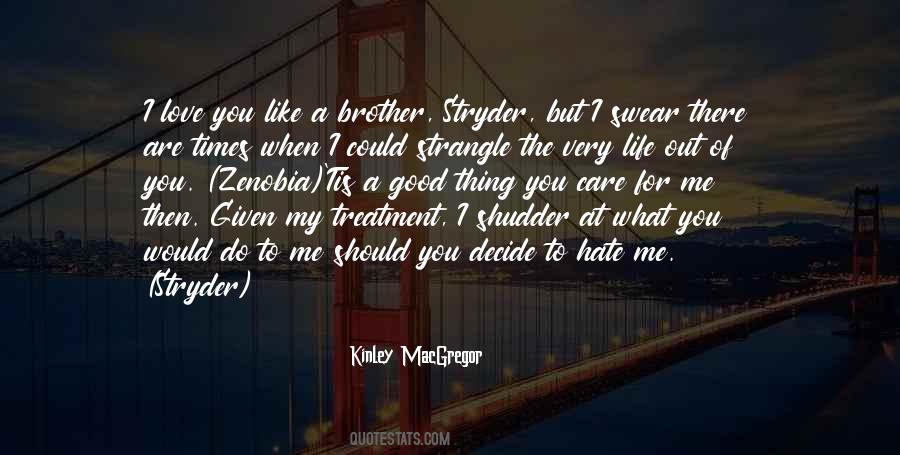 #57. ROMEO: I have night's cloak to hide me from their sight;
And but thou love me, let them find me here:
My life were better ended by their hate,
Than death prorogued, wanting of thy love. - Author: William Shakespeare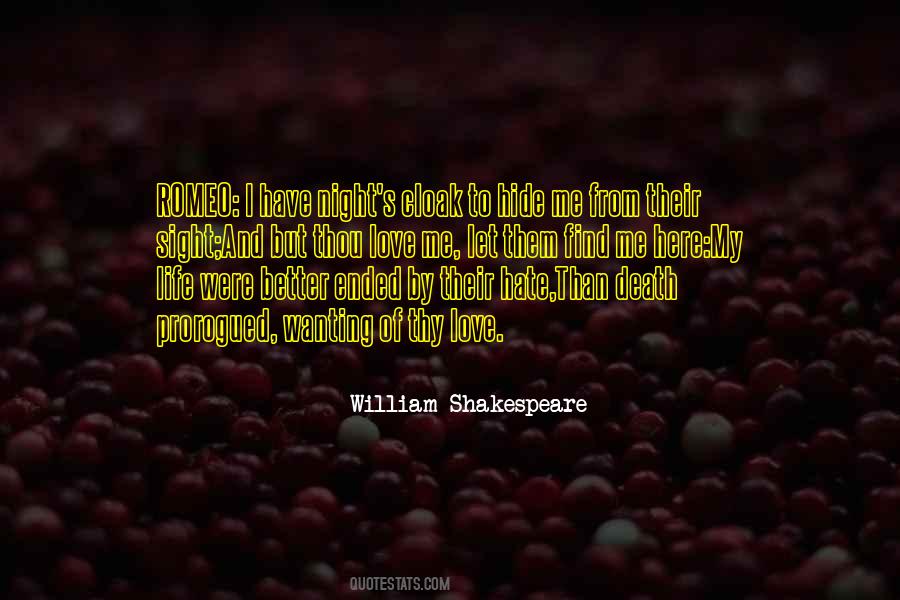 #58. The Reason"

My life is vile
I hate it so
I'll wait awhile
And then I'll go.

Why wait at all?
Hope springs alive,
Good may befall
I yet may thrive.

It is because I can't make up my mind
If God is good, impotent or unkind. - Author: Stevie Smith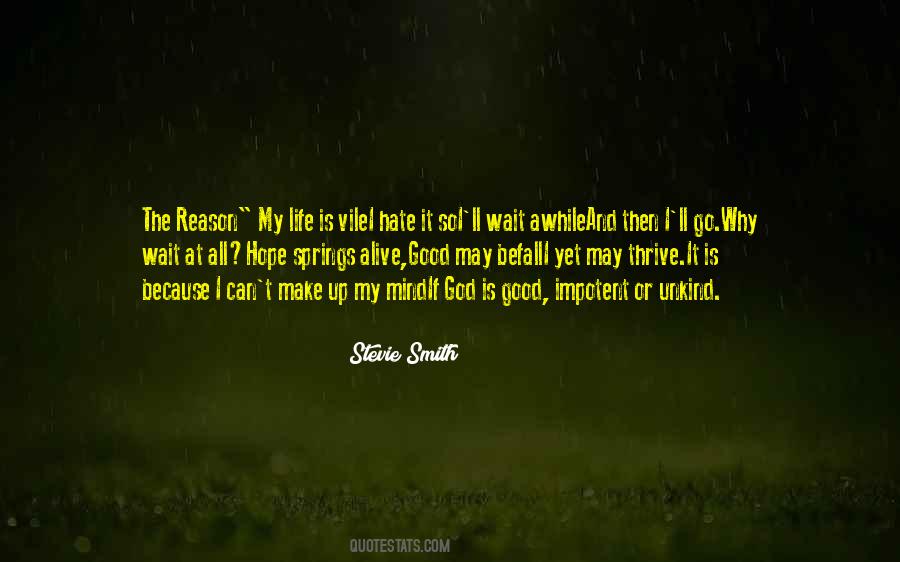 #59. I hate you." "Only because of the way I make you feel." My fingernails eat into my palms. "Only because you bring out the worst in me." "Oh no, luv. I bring out the life in you. - Author: A.G. Howard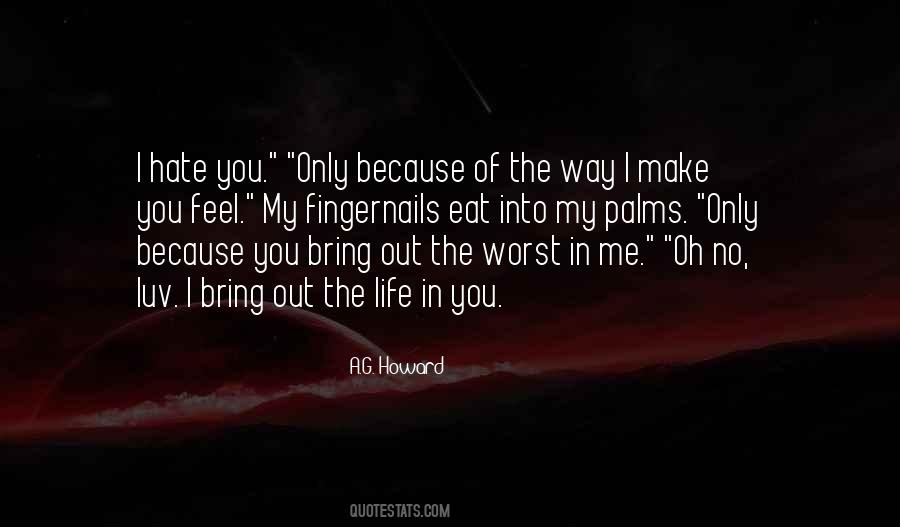 #60. The world is simple, I think, in its essence. Life, death, love, hate. Desire, fulfillment. Magic. - Author: Juliet Marillier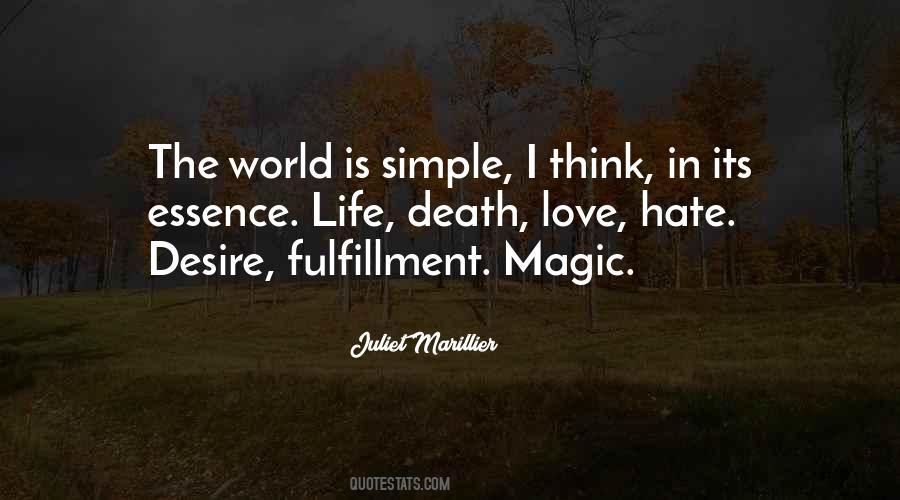 #61. I have three phobias which, could I mute them,would make my life as slick as a sonnet,but dull as ditch water:I hate to go to bed,I hate to get up and I hate to be alone ... - Author: Tallulah Bankhead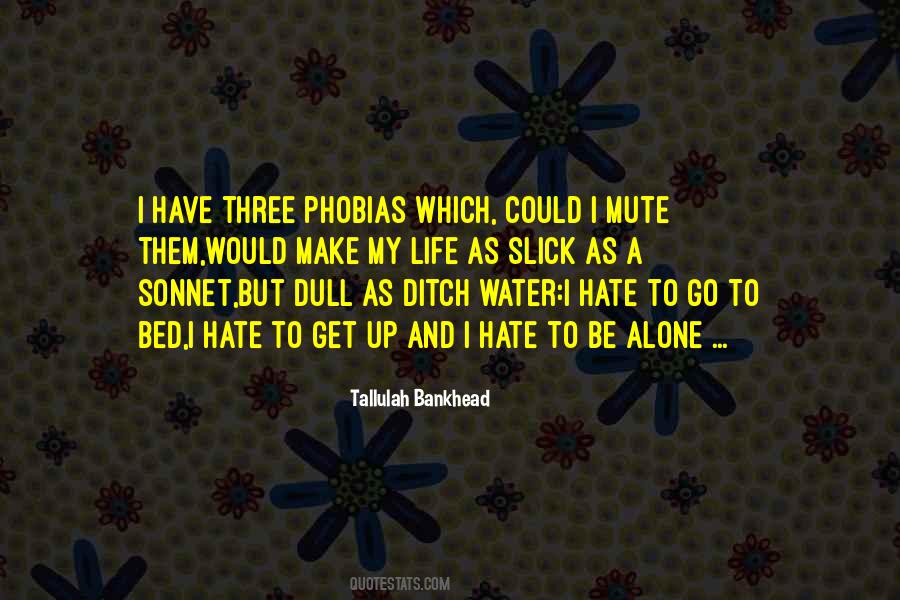 #62. I hate my life. I'm at the point where I want to hear about other people's lives. it's like switching from fiction to biography. - Author: Don DeLillo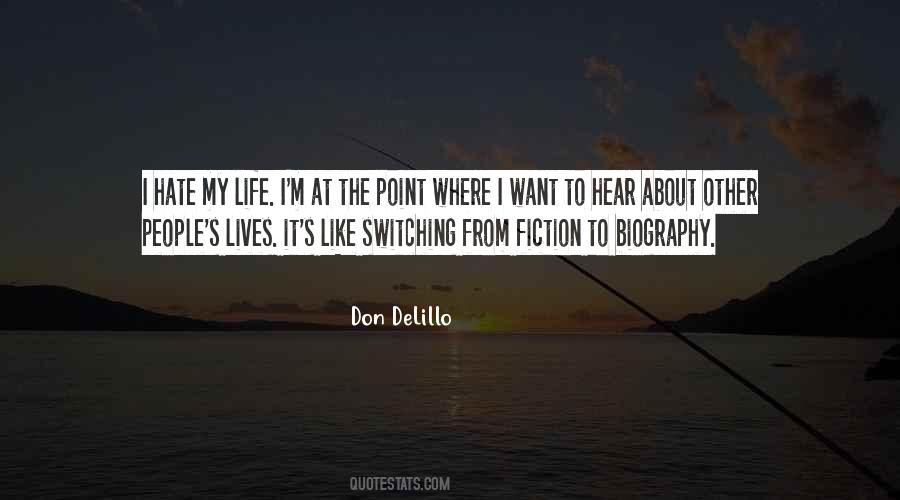 #63. I love you, but I hate you. I miss you, but I'm better off without you. I want you out of my life, but I never want to let you go. - Author: Minhal Mehdi
#64. I hate the world sometimes," Anthea said. "The unfairness of it. I won't force you to see me if you don't want to - but nobody can stop me loving you, and I'll wait for you all my life if I have to. - Author: Kate Saunders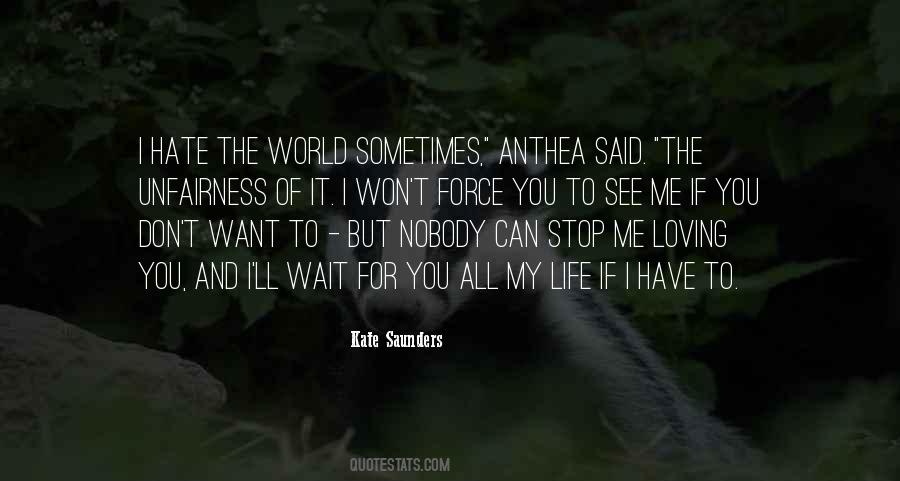 #65. I hate myself that I wasn't there for him. I hate that I could not feel it in him. How could I not know what had happened? How could I not hear it in his voice, his comments, or in his demeanor? He needed my help, and I couldn't feel it. - Author: Melissa Seligman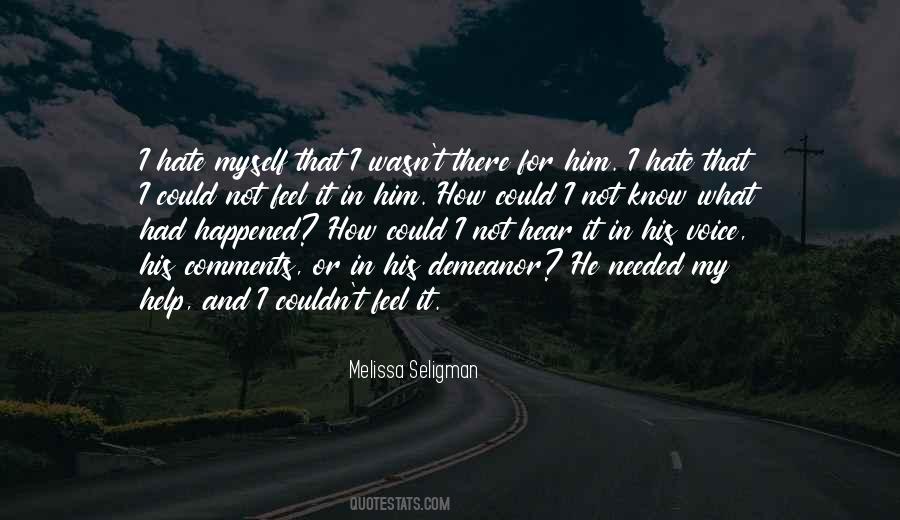 #66. I am sure that the reason why I wept and stormed as if I had gone off my head was that the combination of physical exhaustion and my unhappiness had made me hate and resent everything. - Author: Osamu Dazai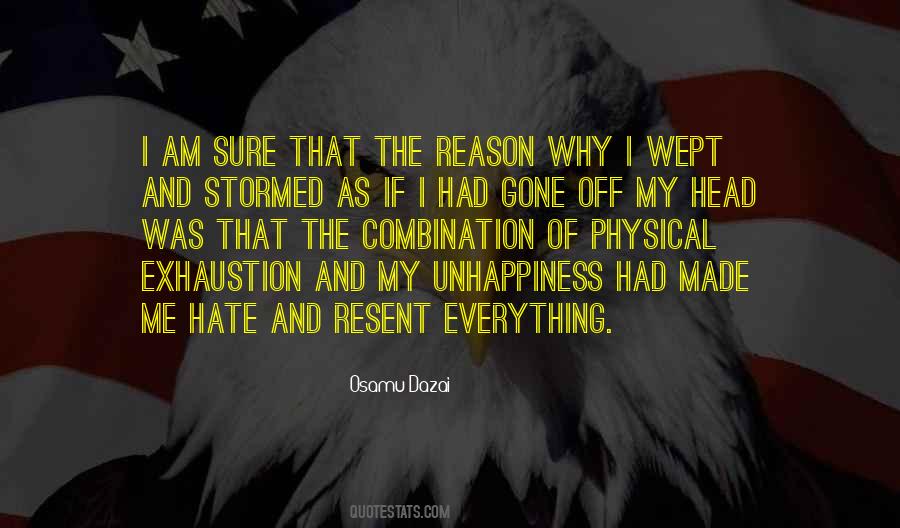 #67. I hate to think how many minutes of my life I've spent on goddamn hold. I want those minutes back. When death comes for me, I want back every minute I was on hold in traffic jams, and behind people with eleven items in the ten items or less line. - Author: Laura Lippman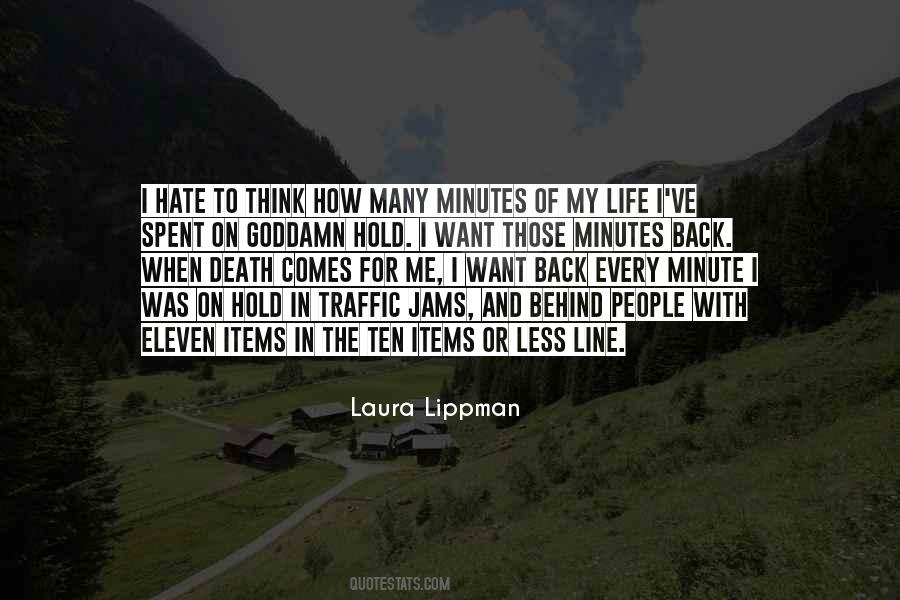 #68. For the first time in my life, I became actively interested in a book. Me the sports fanatic, me the game freak, me the only ten-year-old in Illinois with a hate on for the alphabet wanted to know what happened next. - Author: William Goldman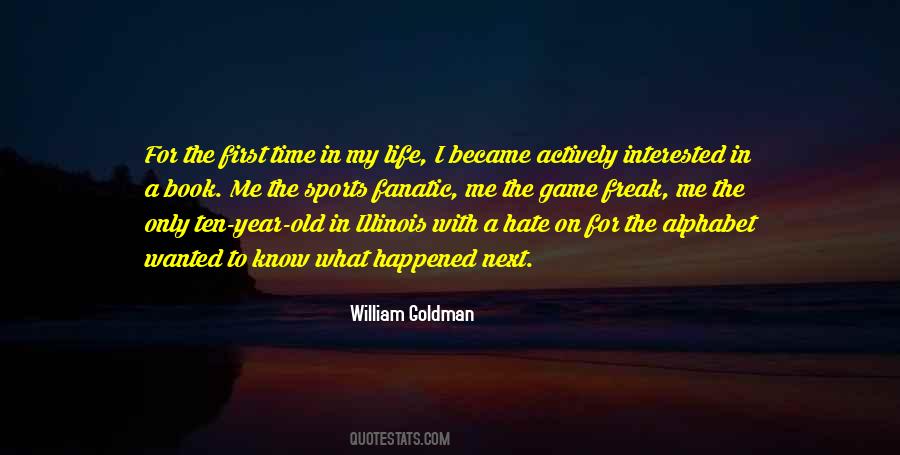 #69. I felt for my crime a just terror; I looked on my life with hate, and my passion with horror. - Author: Jean Racine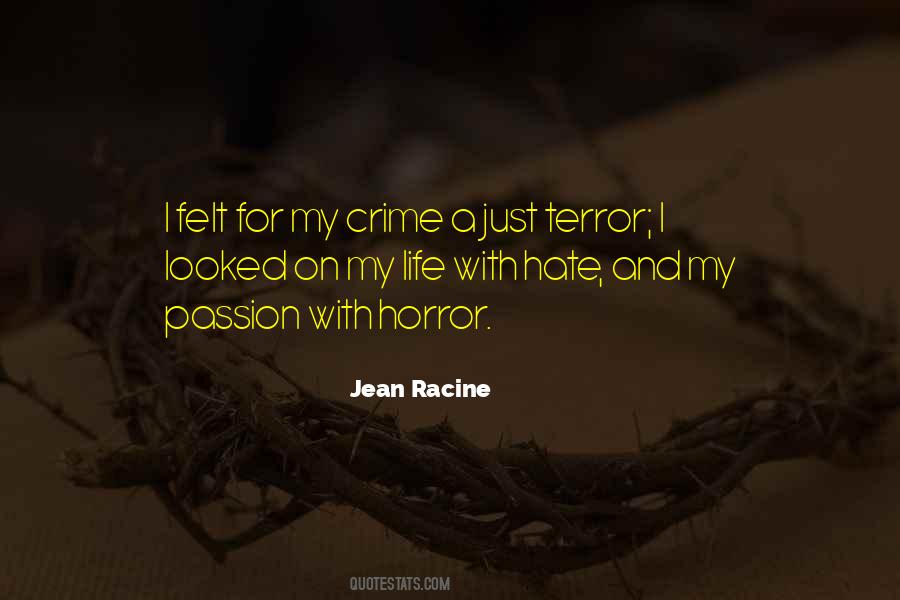 #70. Love is too much like hate. They are emotions that come and go. Life, that's a different ball game. You get one life. I live you, Cara. You're my life. Her - Author: Michelle Horst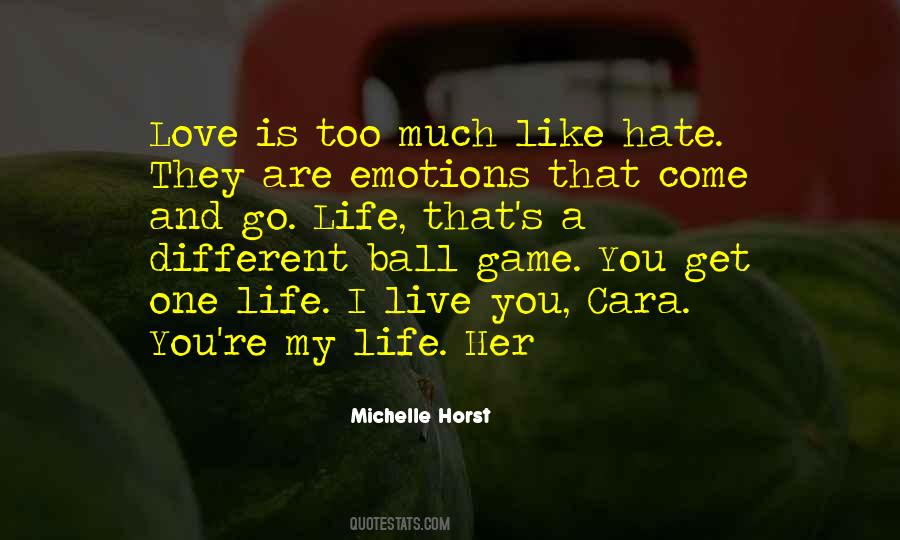 #71. In health we're doing the digestive system. We each got assigned a topic for an oral report. I got the small intestine. I swear to god I hate my life. - Author: Lynda Barry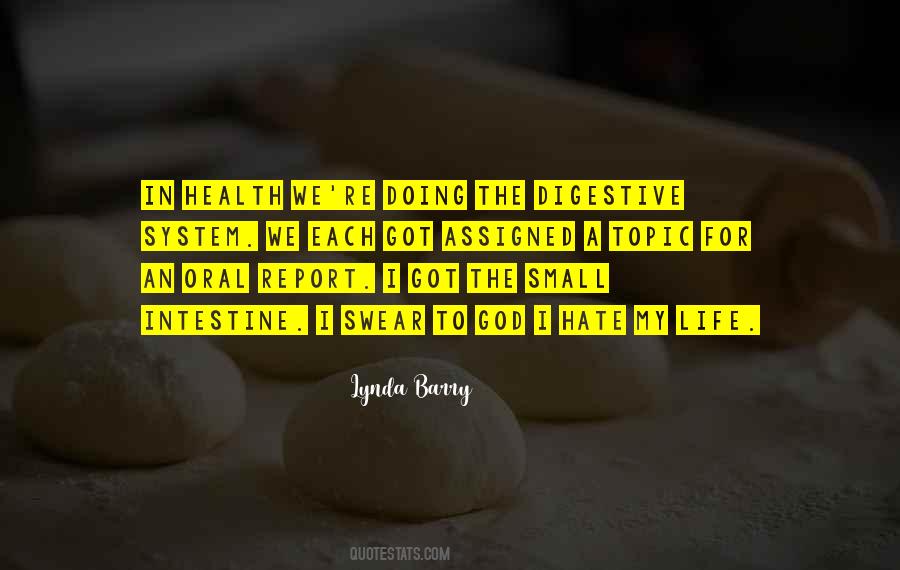 #72. I never realized how much I hate my life. Not until he showed me beautiful. - Author: Belle Aurora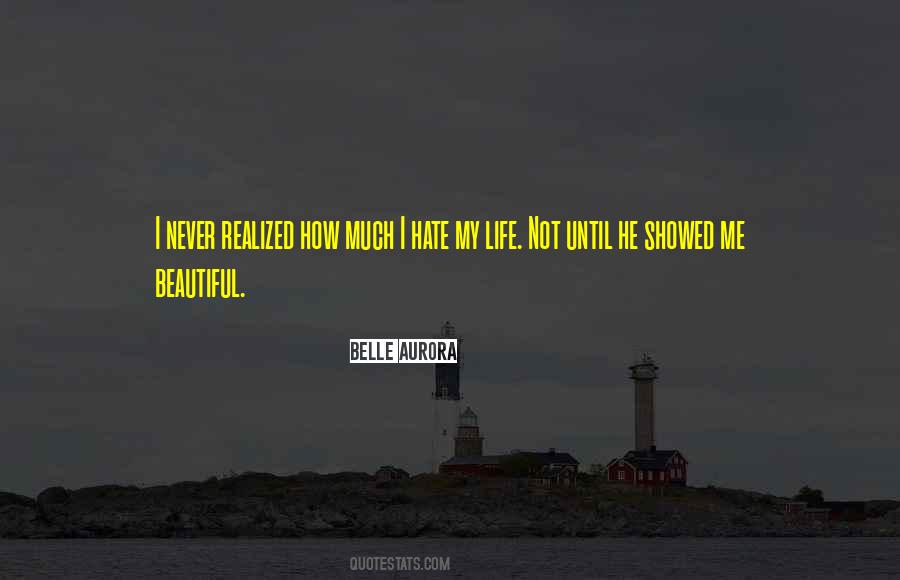 #73. I would say that I have a love-hate relationship with almost everything in my life, including stand-up. - Author: Chelsea Peretti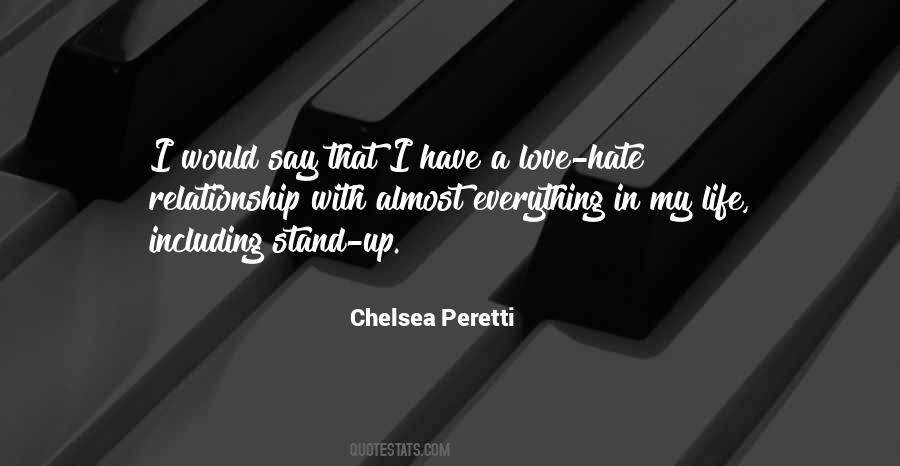 #74. There's an imp inside me, and if I don't let him out to make some mischief now and then, the world just gets too damned dull. I hate feeling grumpy and bored. I'm an enthusiast, and the more dangerous my life becomes, the happier I am. - Author: Paul Auster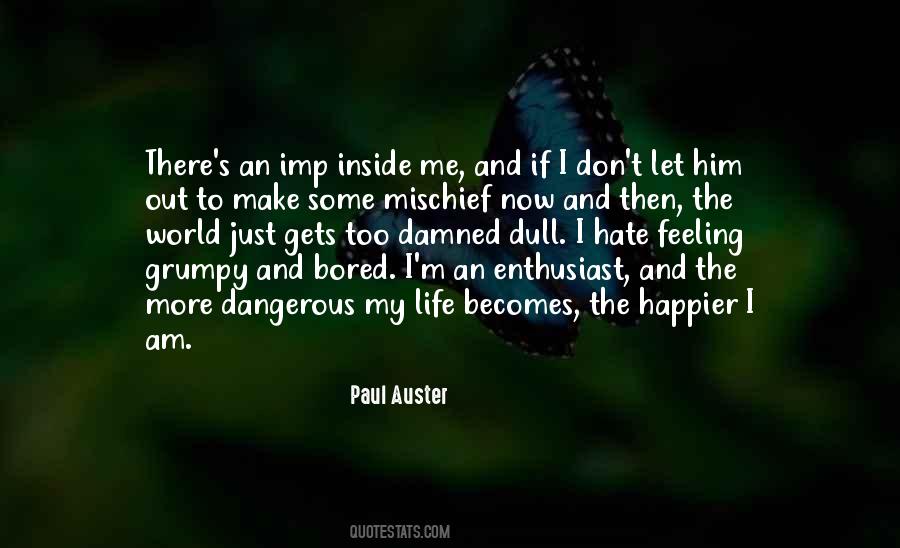 #75. I'll say I'm sorry for the rest of my life if you'll forgive me," he whispered in her ear.
"I want to hate you."
He pressed his forehead to hers. "You want to, but you don't?"
"I love you, you ass. - Author: Bernadette Marie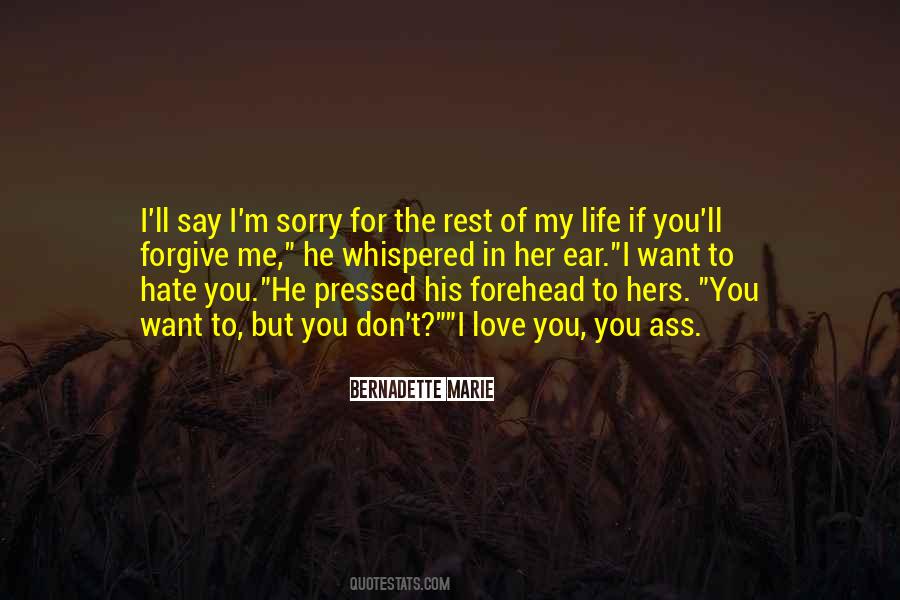 #76. I travel a lot; I hate having my life disrupted by routine. - Author: Caskie Stinnett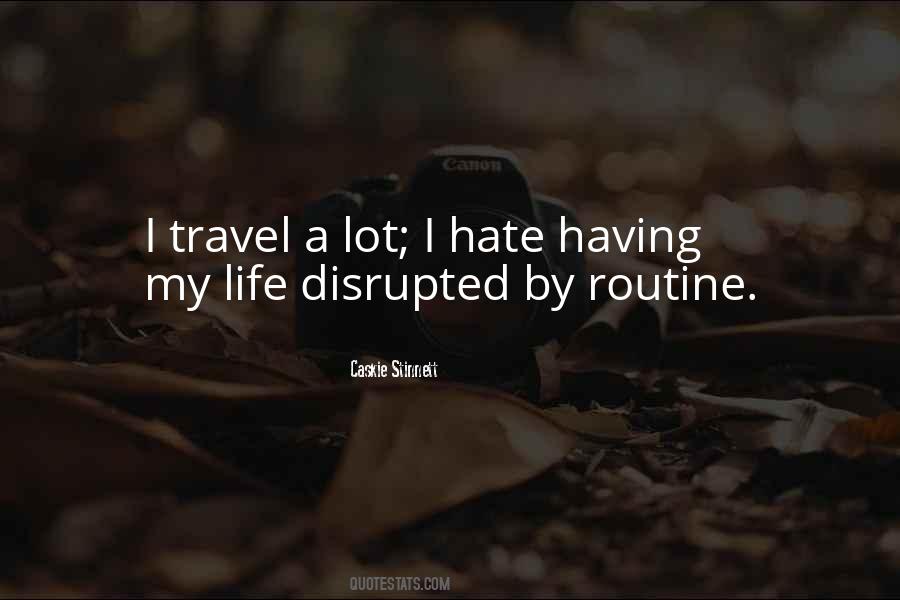 #77. I read in 'Life' magazine that Asians had developed an operation to enlarge eyes, and I yearned to have this done. I wanted to dye my hair brown and to anglicize my name. Self-hate was the most terrible cost of the war years for me. - Author: David Suzuki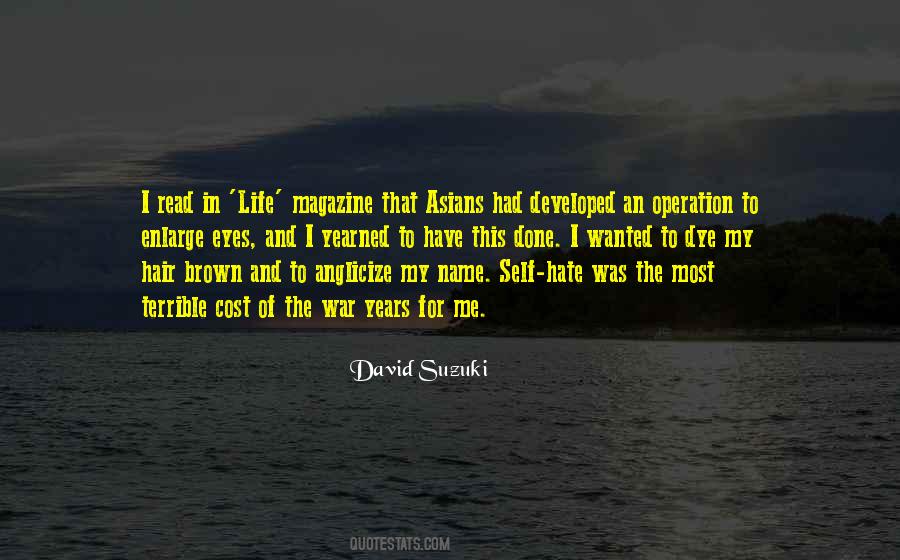 #78. Early on in my life I comprehended that death is the most tragic event in our life. Events of early Monday July 14, 1958 [Coup in Iraq] had convinced me that hate is the most destructive force in our life. - Author: Ala Bashir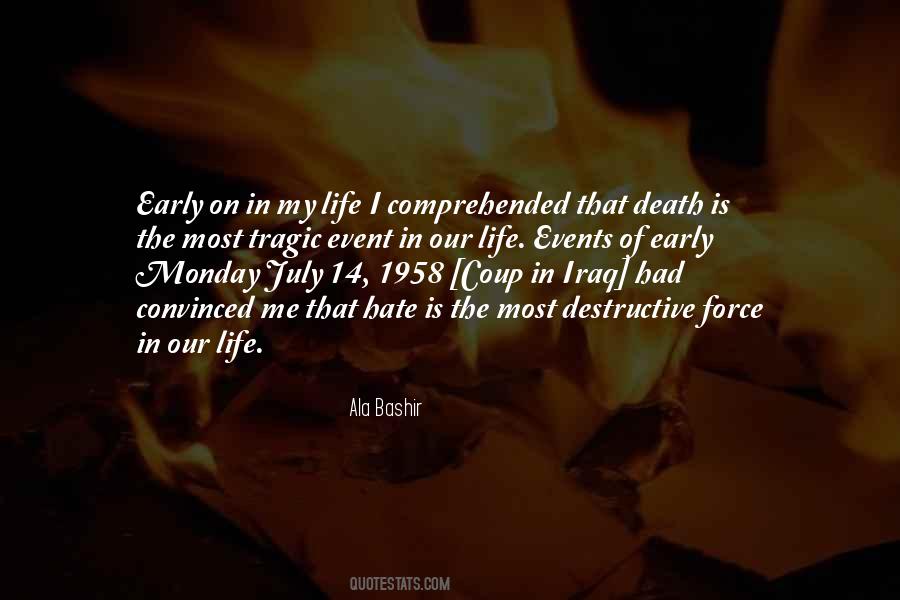 #79. I feel like there are so many people I admire for so many reasons that I can't look at one person's life and say, "I want that life." I want to make my own history. - Author: Blake Lively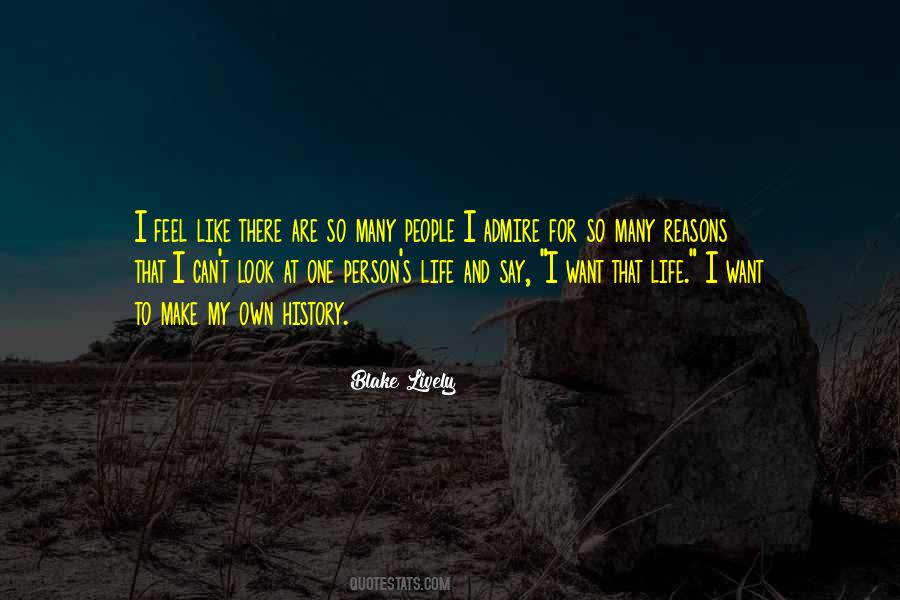 #80. I hate when I'm not done with my cup but my mom decides to put it in the dishwasher anyway and the cup isn't dishwasher safe. I keep telling my mom that my origami coffee mugs are hand wash ONLY. Handshakes are also hand wash only.
-Karen Quan and Jarod Kintz - Author: Karen Quan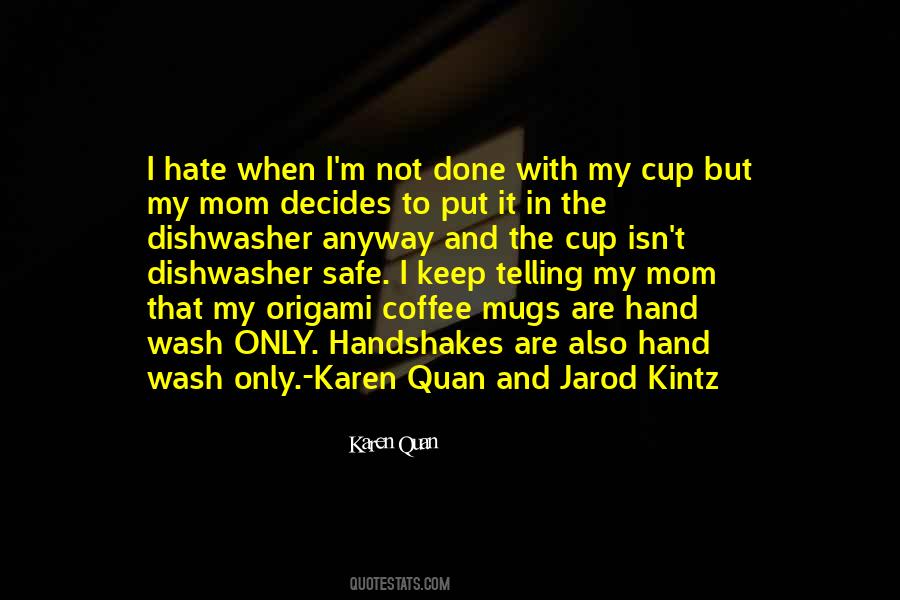 #81. My life's like a big tour. It's cool, I'm still semi-young. I'm not too old yet where it's like, "I hate the road!" As long as I'm not anywhere for too long. I like to keep moving. - Author: Pauly Shore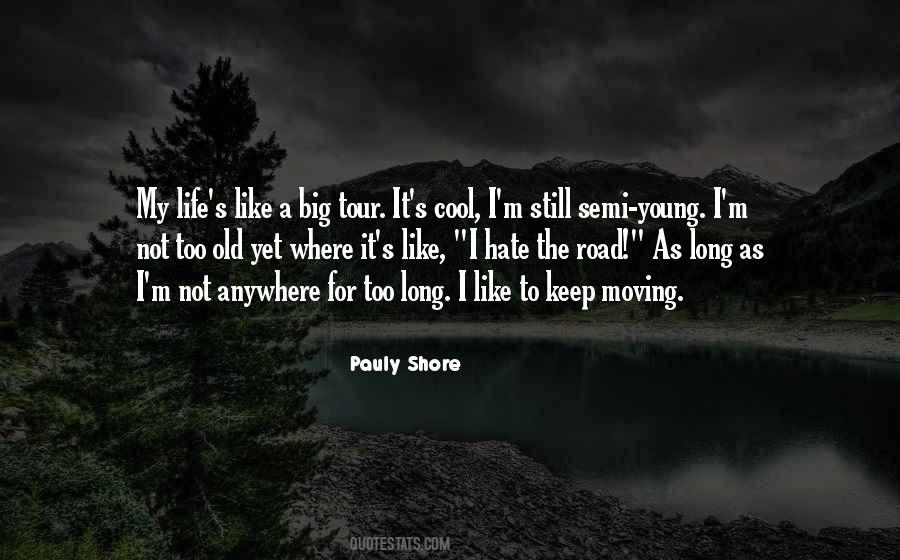 #82. Throughout my entire life, I constantly tried to fight normality. I hate it. I hate the idea of it. I hate routine. I hate anything that feels remotely regular or right. - Author: Tom Odell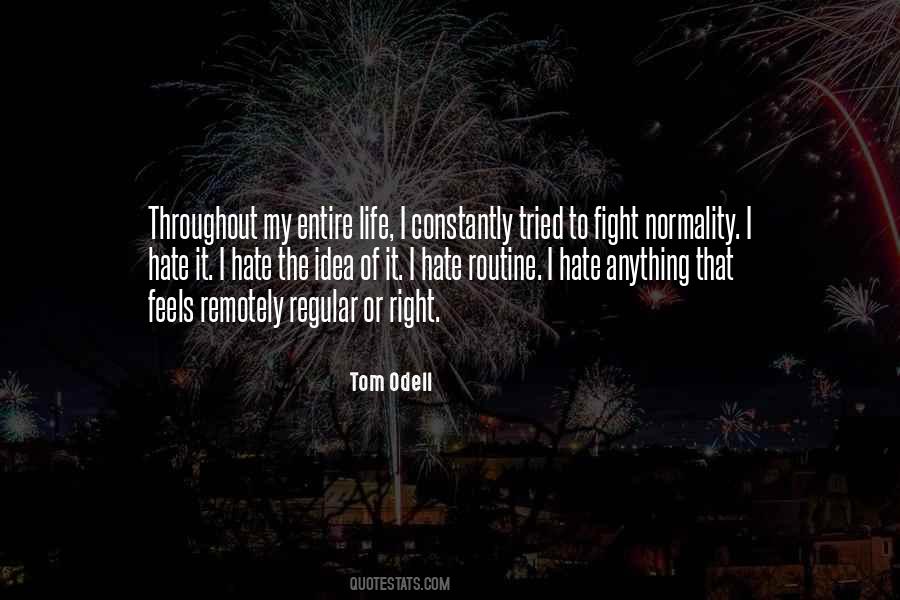 #83. You saw the darkest parts of my life - the worst parts of me - and you didn't hate me. I didn't have to put on an act with you. - Author: Michelle Madow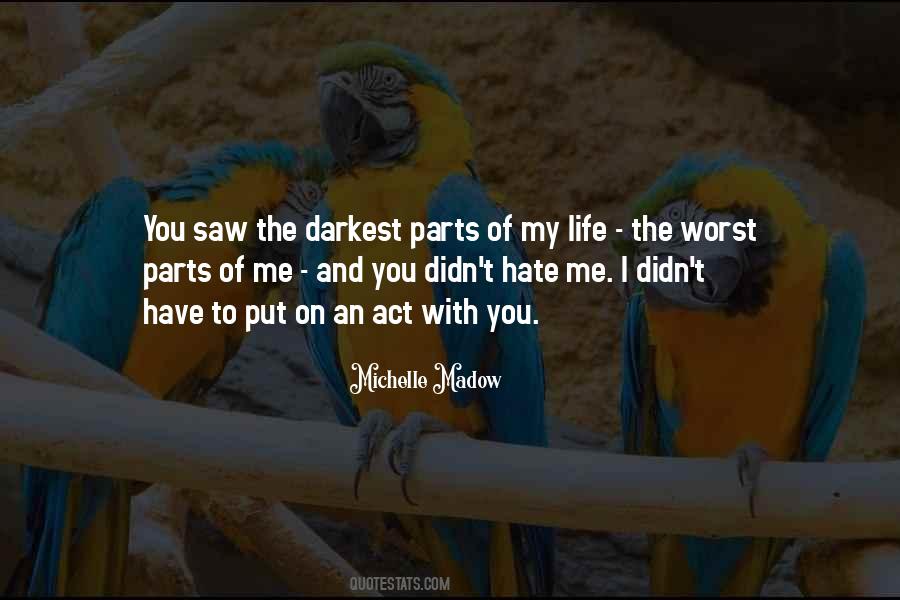 #84. For me, I will live so long as I can, however beaten, however maimed. I will do good to those who love me, and harm to those I hate, so long as my lungs draw breath. - Author: Alter S. Reiss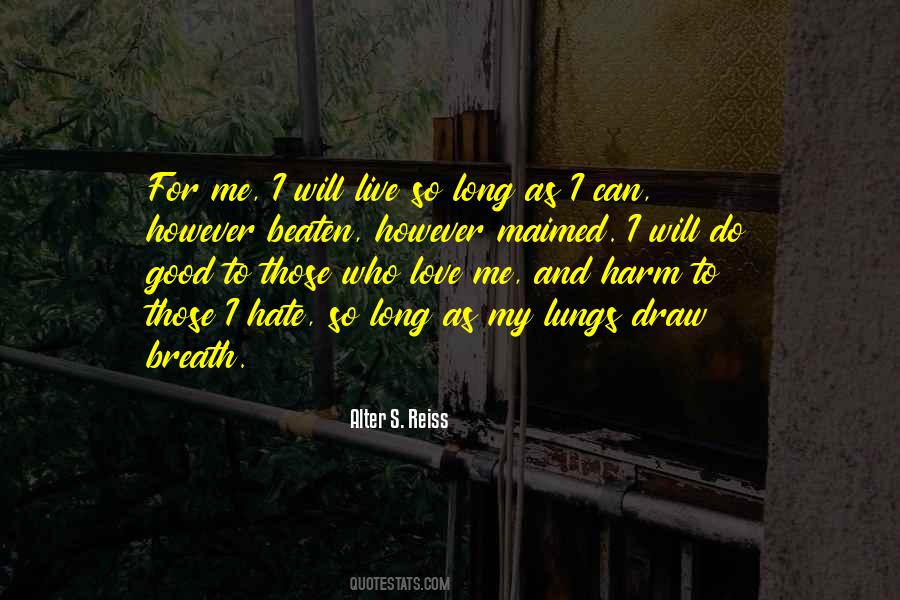 #85. It's easy for me to be vulnerable and craft songs when I'm being a hermit in my woods loft, secluded. When I get attention for it, whether it's on stage or in life - I have sort of a love-hate relationship with all of it. That makes me feel really stark naked. - Author: Rachael Yamagata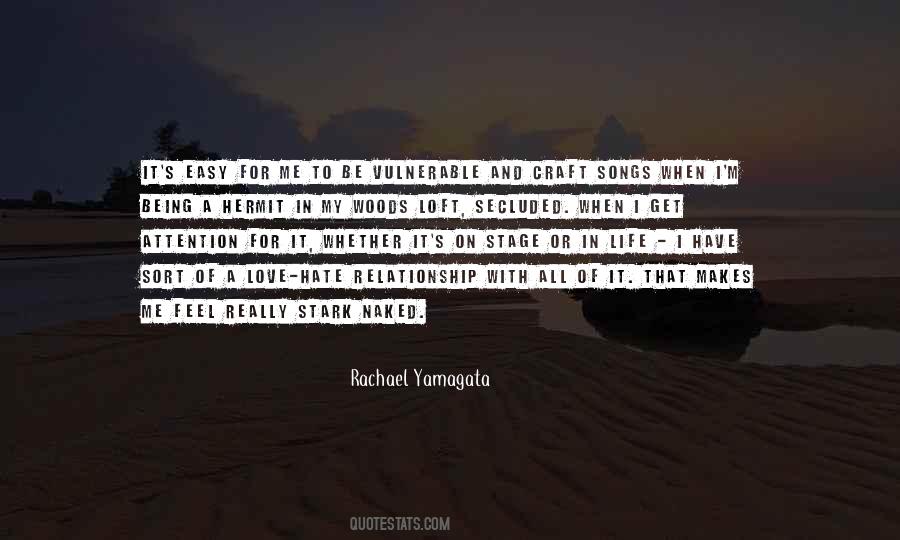 #86. The moment Tess walked into my life she owned me. I would never be free again. I never wanted to be free again. If Tess thought she'd leave me by killing herself, she'd hate me for eternity when I kept her alive. - Author: Pepper Winters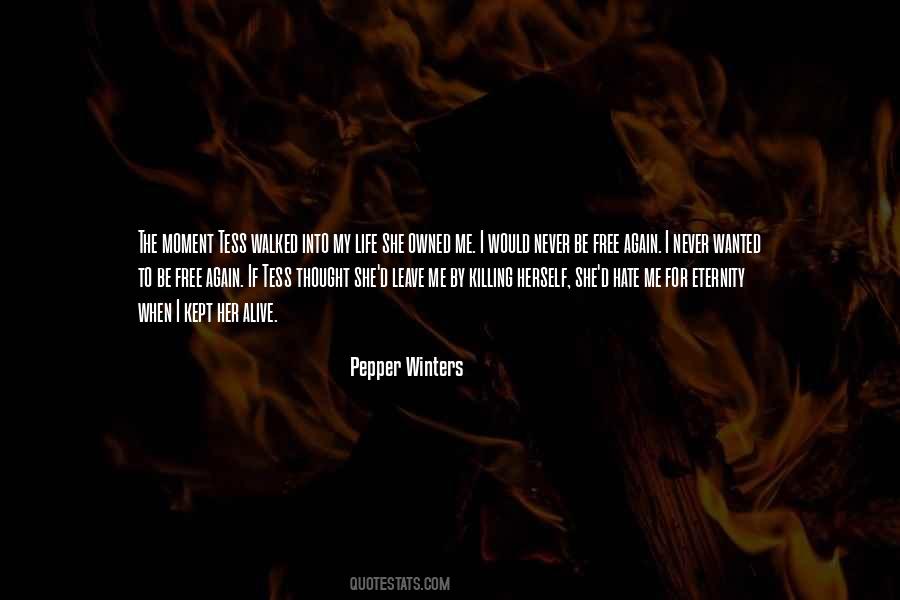 #87. I hate the way my life has been inexplicably overwhelmed by questionnaires. Life is so much stranger and so much more beautiful than the lists that reduce it to an anorexic assembly of tics and obsessions. - Author: Richard Flanagan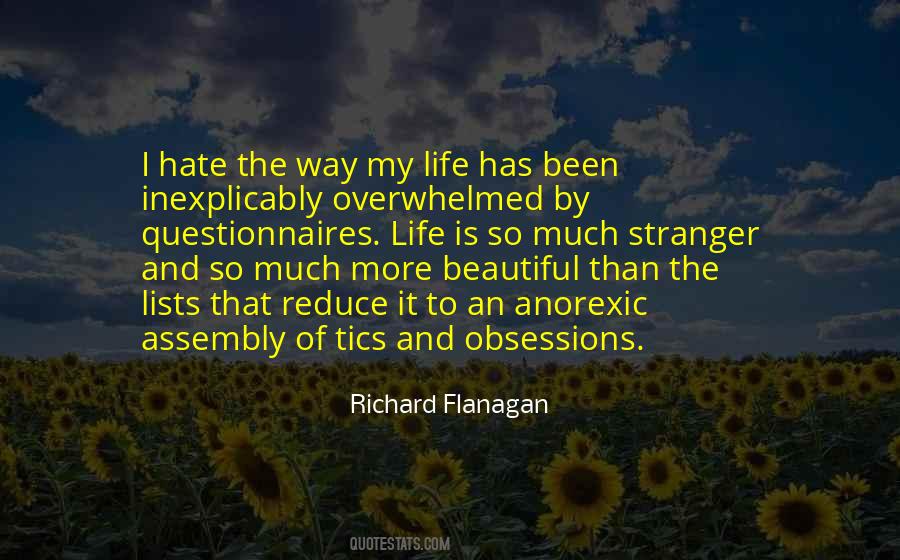 #88. I've been blackmailed a billion times. I've been sued for ridiculous things. At one point in my life, I was an ATM machine. But I'm used to that. You don't get used to it, but I'm used to the fact that people will do this, even your own family members, and I don't hate none of them. - Author: R. Kelly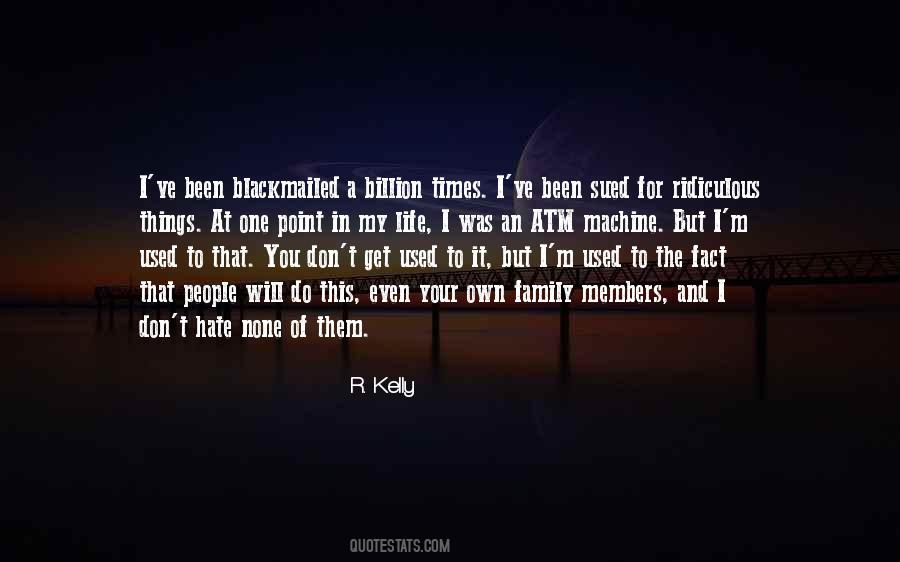 #89. I just hate plugs. It just doesn't seem entertaining to me. I've never plugged anything in my life on a talk show ever. I understand people use that vehicle. It's just not very entertaining. - Author: Norm MacDonald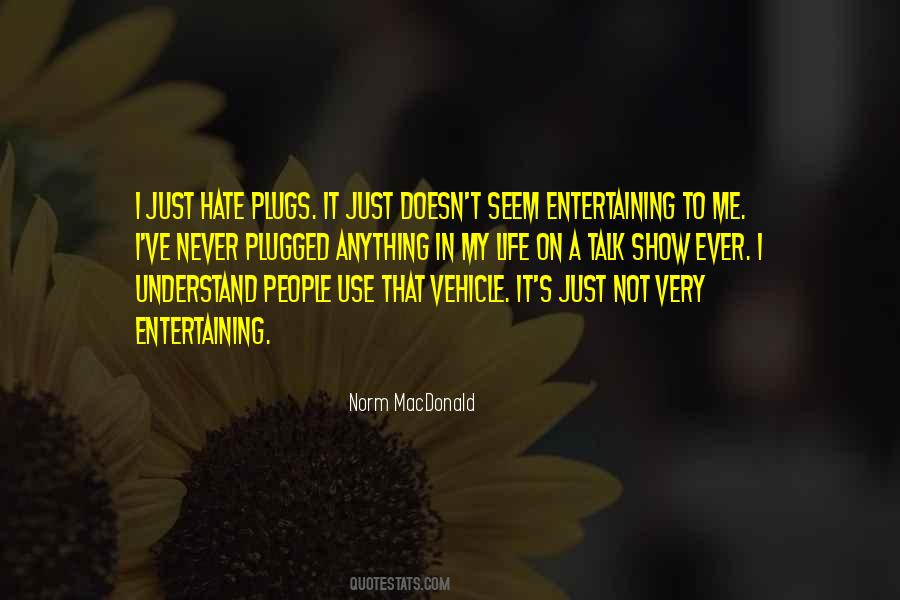 #90. If you like me 'Fine' if you hate me 'Fine' I'll write you out of my life. It's as simple as Over,Done Forgotten Gone - Author: Stanley Victor Paskavich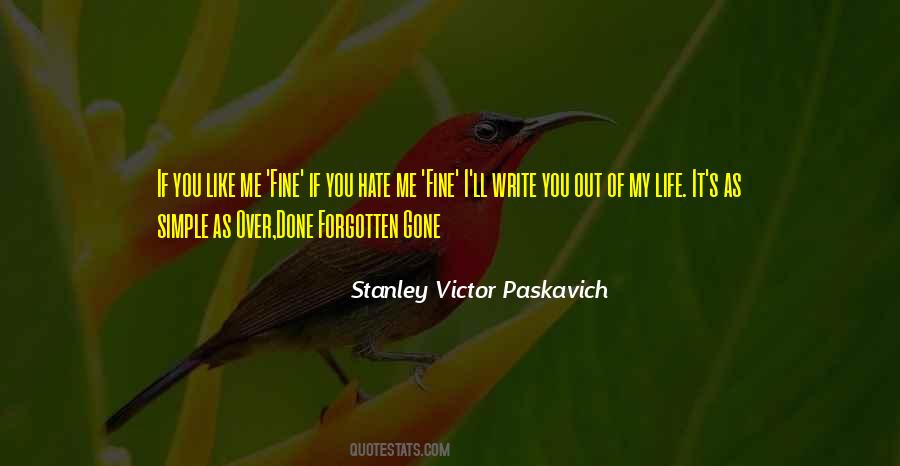 #91. Lester (Apollo) Still human; thanks for asking Gods, I hate my life WHEN - Author: Rick Riordan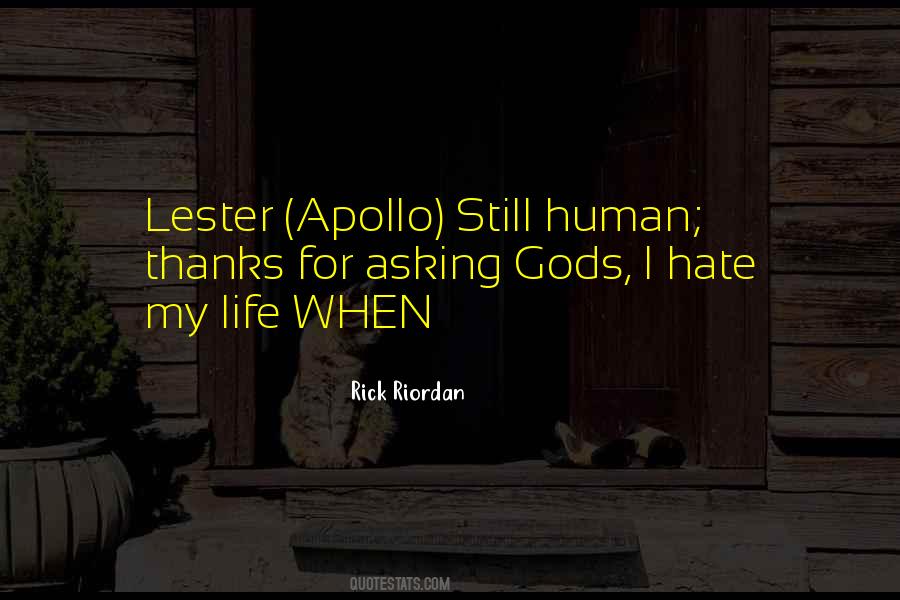 #92. I like to curl up in a quiet corner and write a good book.

I hate when life gets in the way of my hobbies. - Author: Carrie Olguin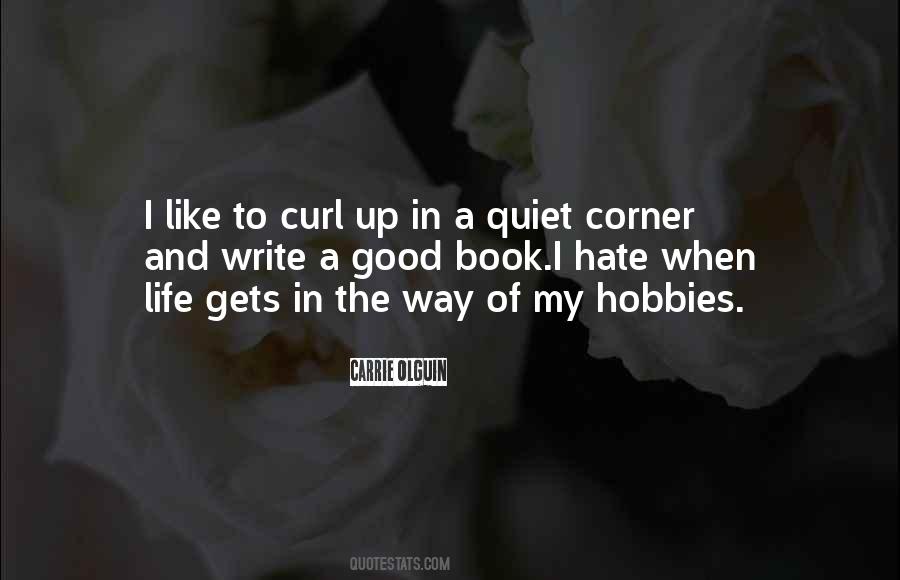 #93. All my life I have been intensely repelled by the idea of 'making an effort'. I hate this idea today as much as I did as a child. I don't know why I hate it so much; I just do. - Author: Raymond Smullyan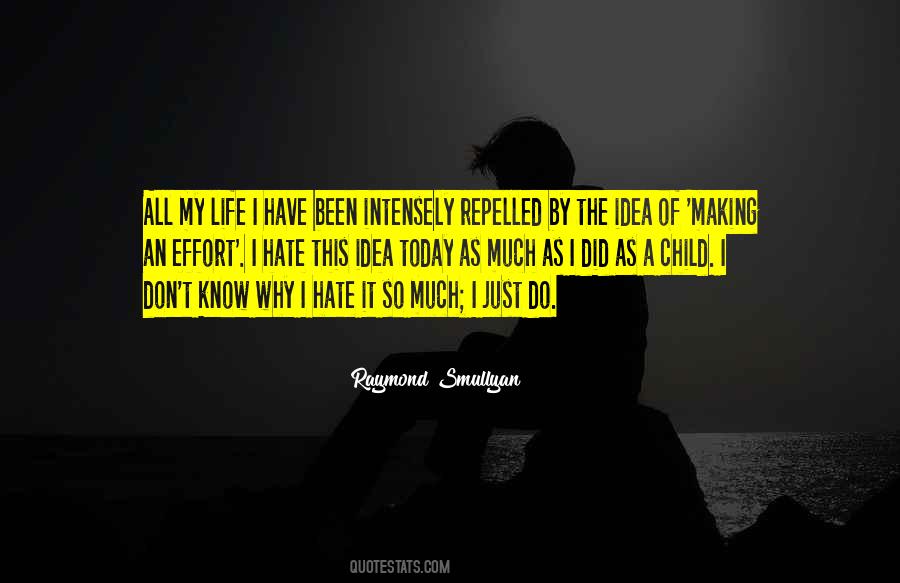 #94. I hate to spoil my own prospects, but I really don't respect the kiss-and-tell approach to public life at all, not at all. - Author: Alexander Downer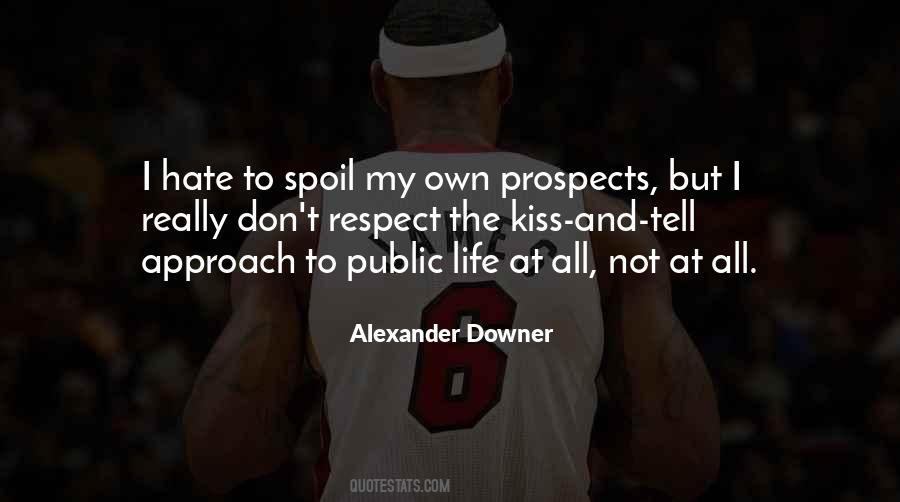 #95. Not becoming the hate has been the biggest test of my life, one I've won, but one I still have to battle everyday. - Author: Sarah Michelle Lynch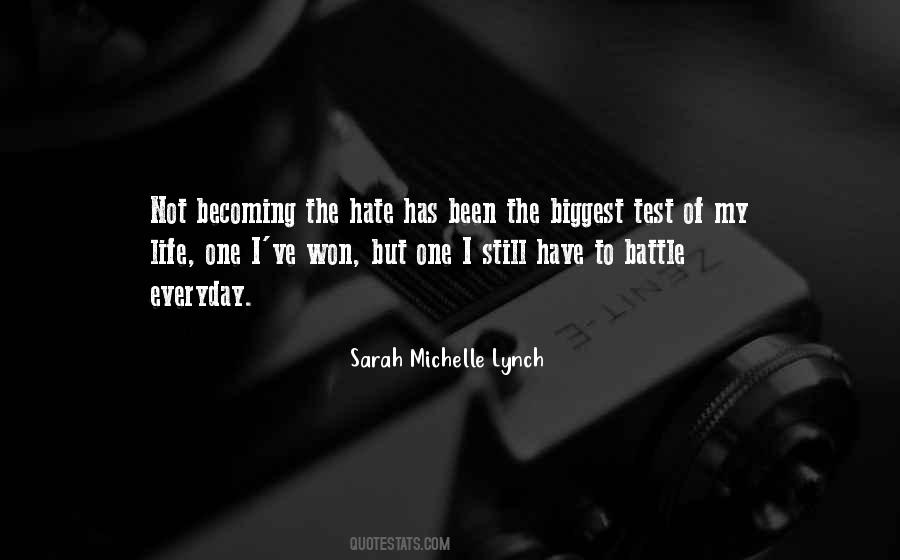 #96. I find it rather depressing that the people you love most in this world can also be the same exact people you hate with fervor. But it can happen, trust me.
It was the f***ing story of my life. - Author: Christina Channelle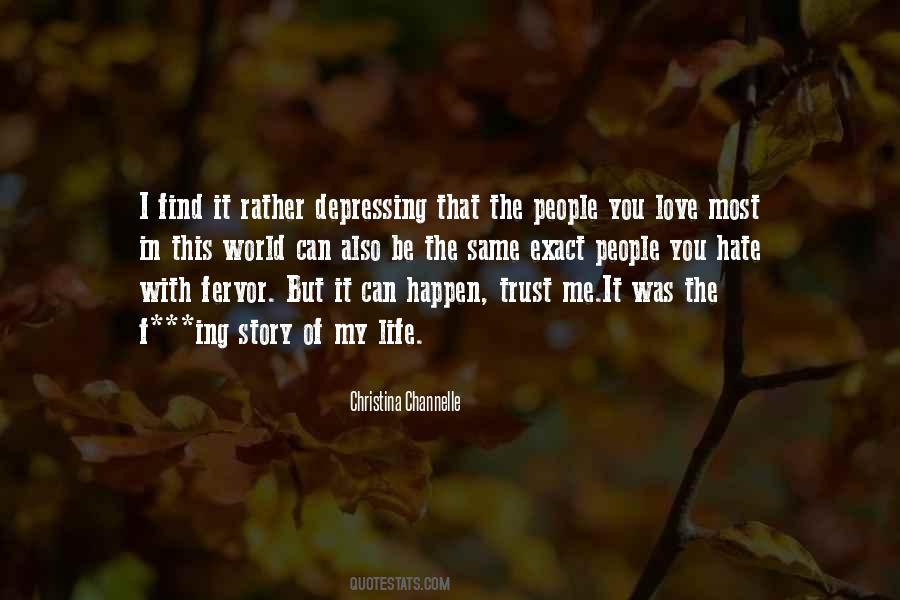 #97. That's great. Tell me about it. I hate my life. I'm at the point where I want to hear about other people's lives. it's like switching from fiction to biography. The beginning of the end. - Author: Don DeLillo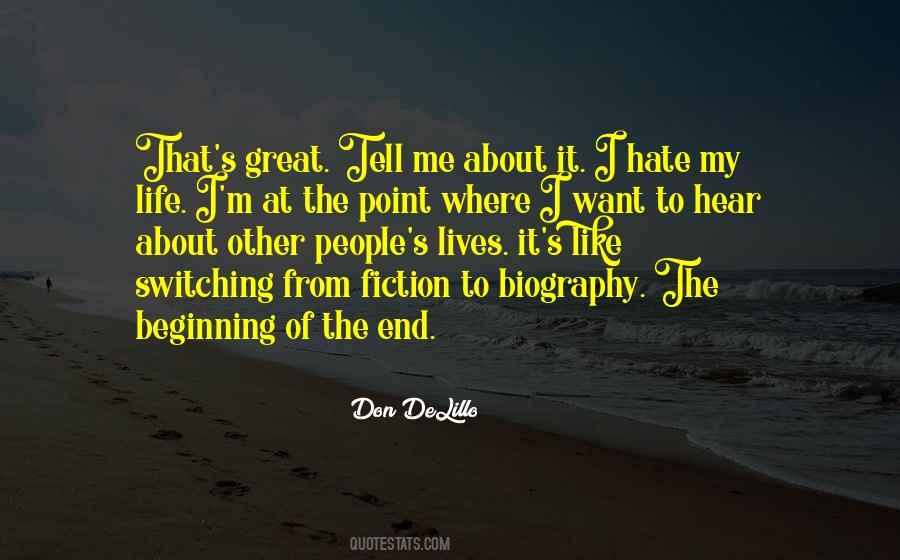 #98. I love being new places and hate getting there, and have been known to say on multiple occasions that I would give anything from a piece of my soul to a limb to a portion of my life savings to teleport. Especially when bad weather keeps me off planes. - Author: V.E Schwab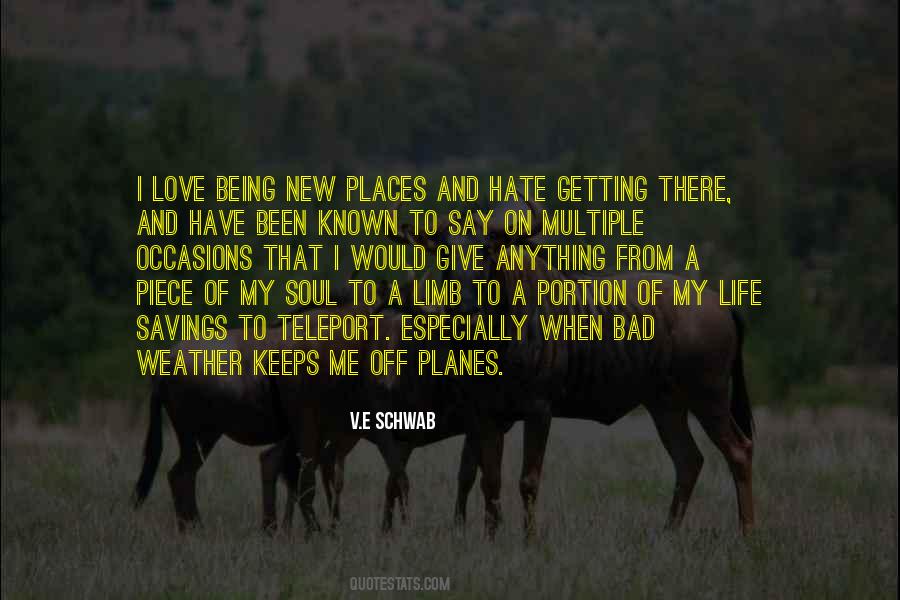 #99. I knew neither jealousy nor hate but was possessed by a rage to recreate a new world, the world which my eyes perceived, a world all to myself. I was poor but I knew that life is beautiful. - Author: Maurice De Vlaminck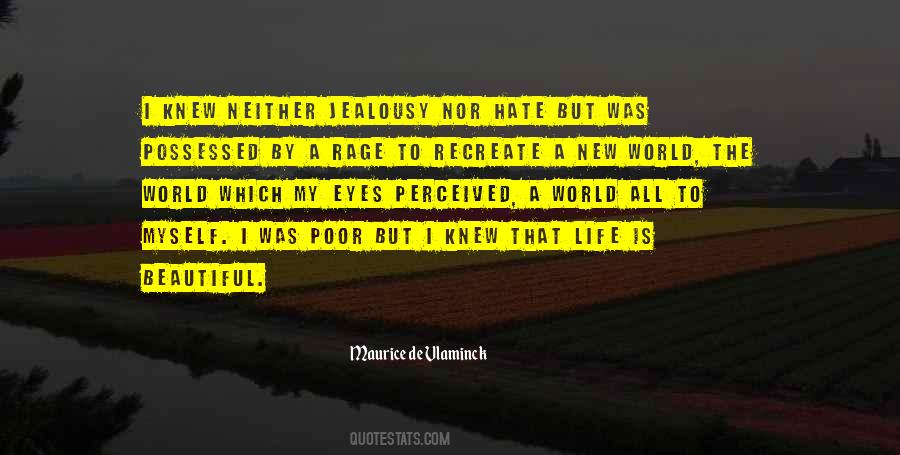 #100. Brothers who hate each other. Brother who want to kill each other. And I'm caught in the middle.
Good God, what has happened to my life. - Author: Tahereh Mafi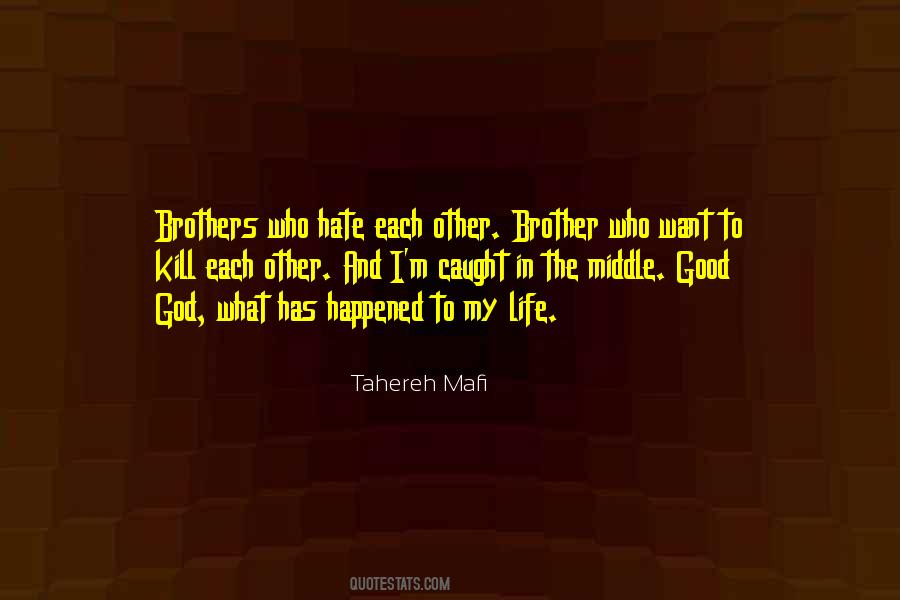 Famous Authors
Popular Topics