How To Spend Money Famous Quotes & Sayings
List of top 71 famous quotes and sayings about how to spend money to read and share with friends on your Facebook, Twitter, blogs.
Top 71 Quotes About How To Spend Money
#1. In California, it's hard to buy all the media, no matter how much money you raise or spend, because it's such a huge state. - Author: John McCain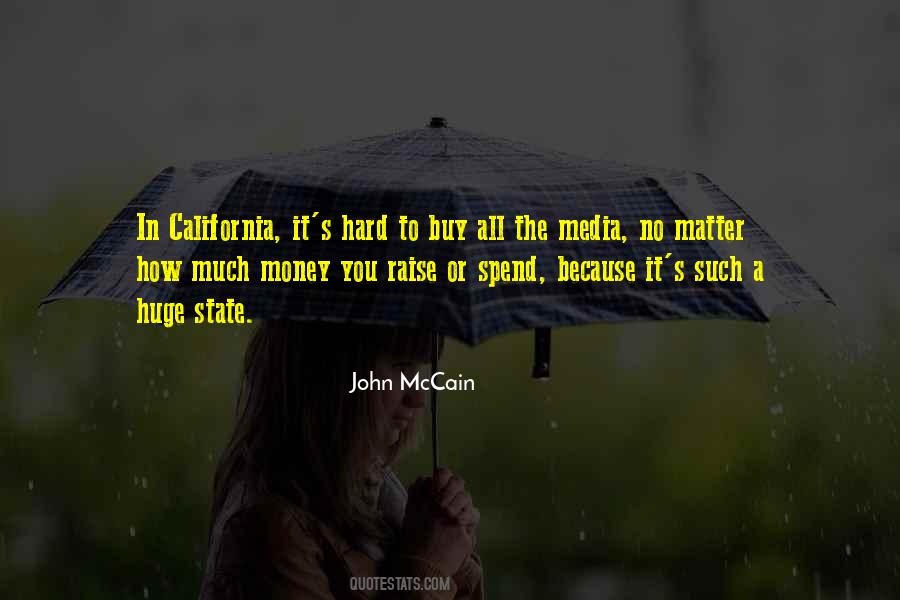 #2. No matter how much money you spend to make yourself beautiful - with all the products, the diets, the plastic surgery - in the end, women need to fall in love with themselves and realize they're wonderfully made. - Author: Jessica Simpson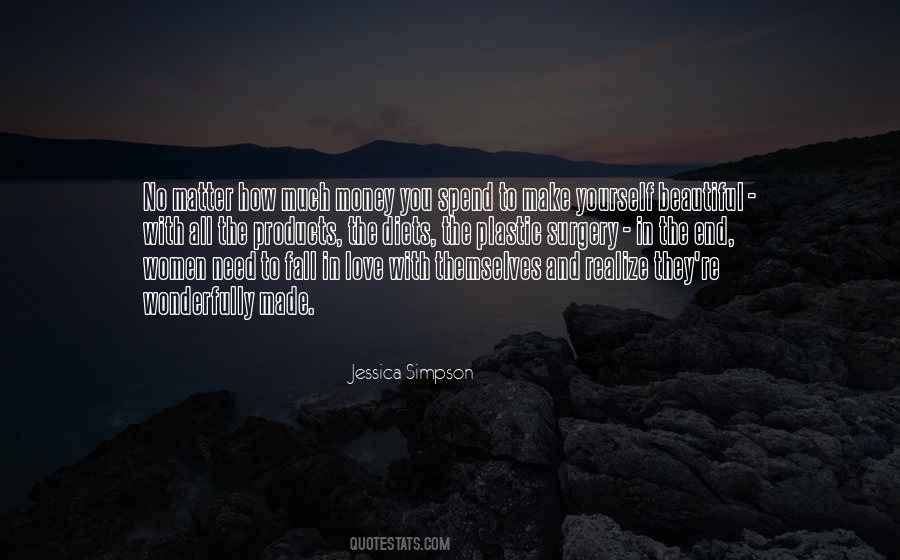 #3. But when others suggested that the poor should not simply be the objects of these programs but also the subjects - that they should be actively involved in shaping the programs, making decisions about how to spend the money etc. - some of the previous supporters reconsidered. - Author: Barney Frank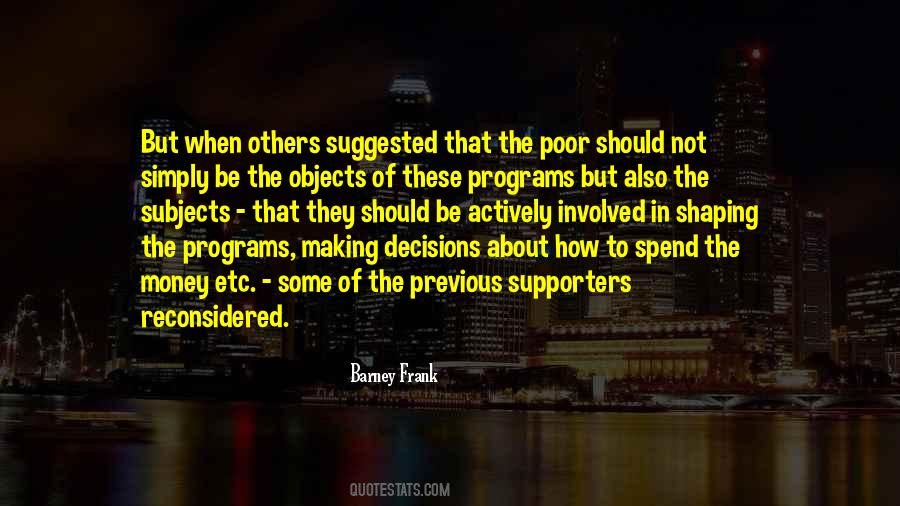 #4. To spend more money, you have to have more money, but time is fixed and we all have the same amount to spare. How we choose to spend it can make a significant difference on the impact we have in our careers or in the world. - Author: Simon Sinek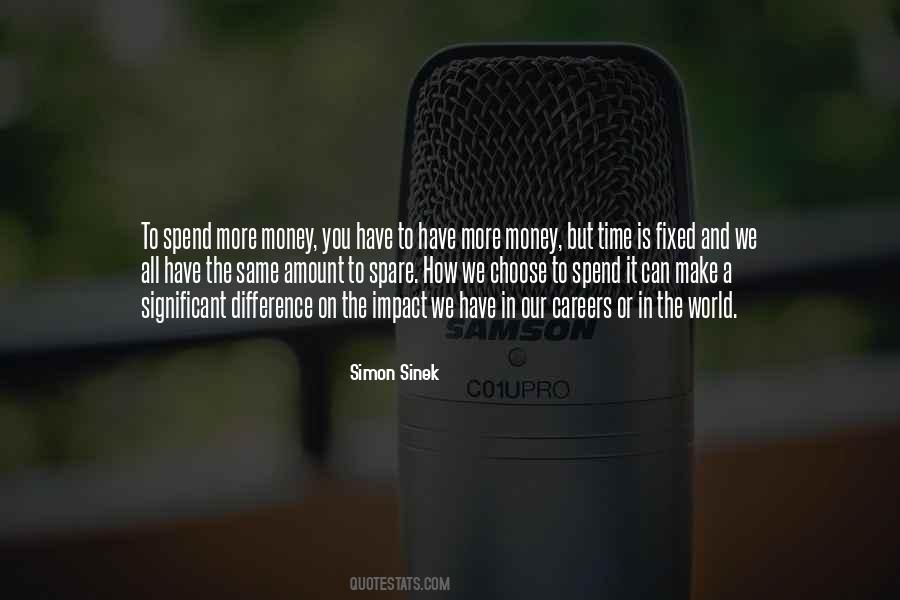 #5. Somebody said, 'Roger doesn't know how to spend money.' And I thought, 'I don't spend money because I don't have it!' If I had it, I could spend money! That's about the only time I was told that! - Author: Roger Corman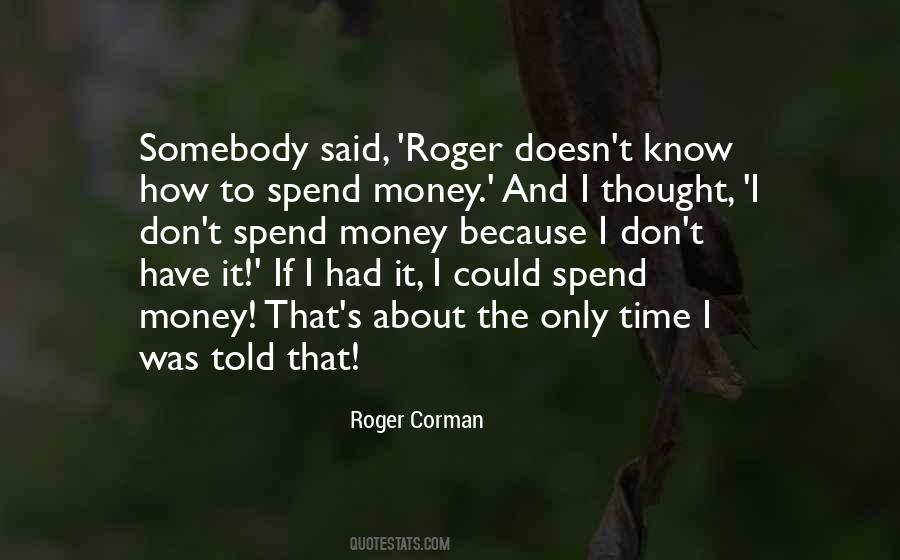 #6. I am quite amazed how, when people earn lots of money, they think they have to spend it on things that give them access to the club constituted by the people who are in their tax bracket. - Author: Mark Haddon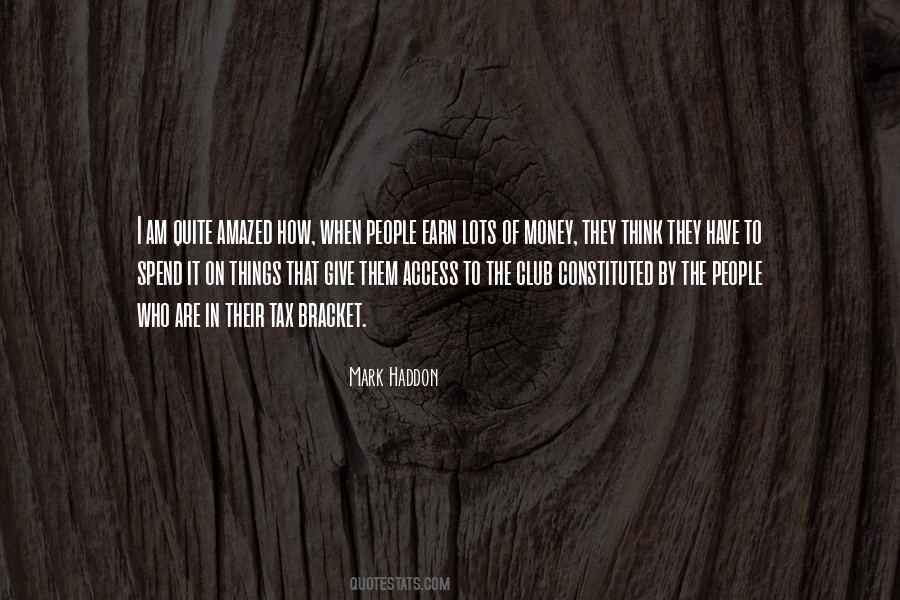 #7. The unions claim the deck is stacked against them when it comes to labor laws, but the truth is many private and public sector workers are forced to pay union dues as a condition of their employment, yet they have little say in how the unions spend their money. - Author: Linda Chavez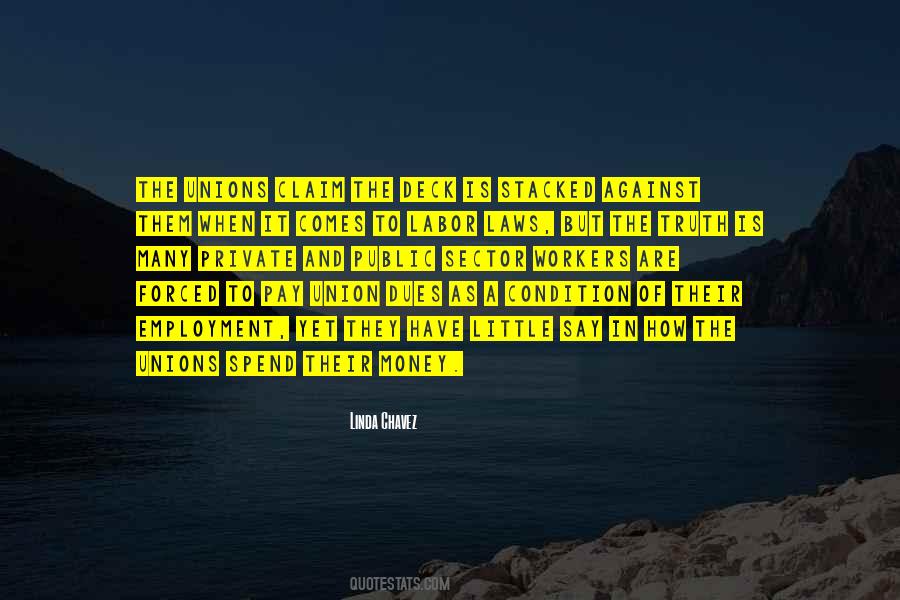 #8. When it comes to finances, it matters less how much money you make and more how you spend it. - Author: Emme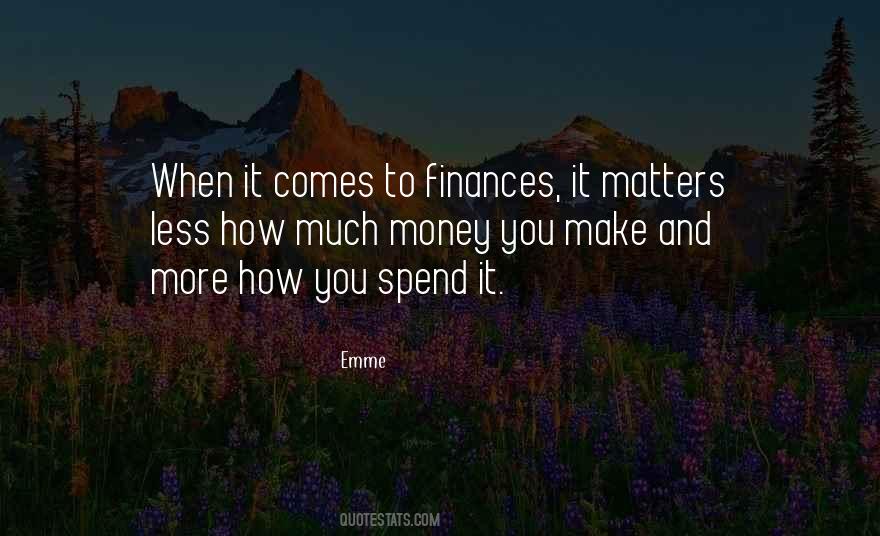 #9. If I don't need the money, I don't work. I'm going to spend time with my family and friends, and I'm going to travel and read and listen to music and try to learn a little bit more about how to be a human being, as opposed to learning how to be somebody else. - Author: James Spader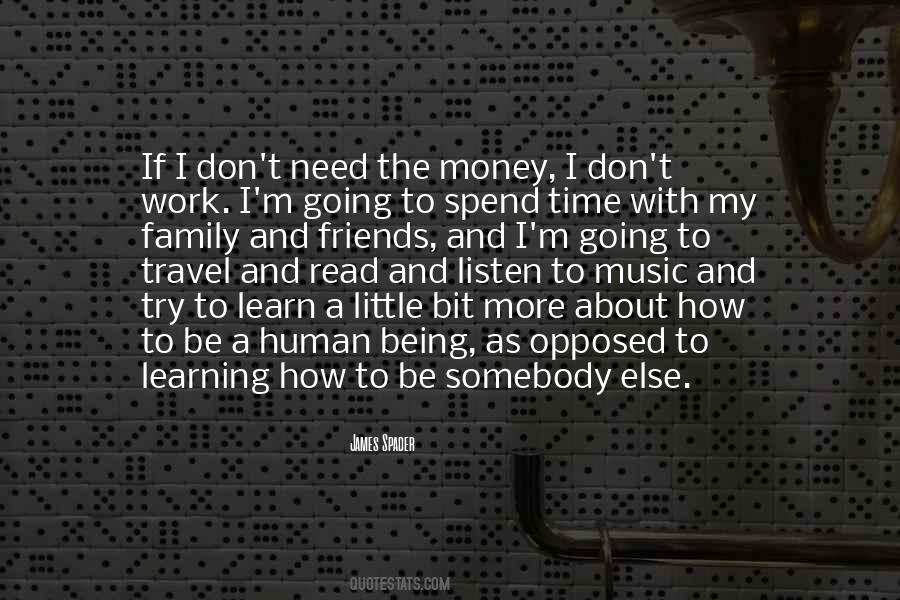 #10. The only way to reduce our national debt is to grow the economy and cut spending. We have no idea how our money is being spent. As president, I will move all agencies to zero-based budgeting so that every agency has to justify every dollar that they spend. - Author: Carly Fiorina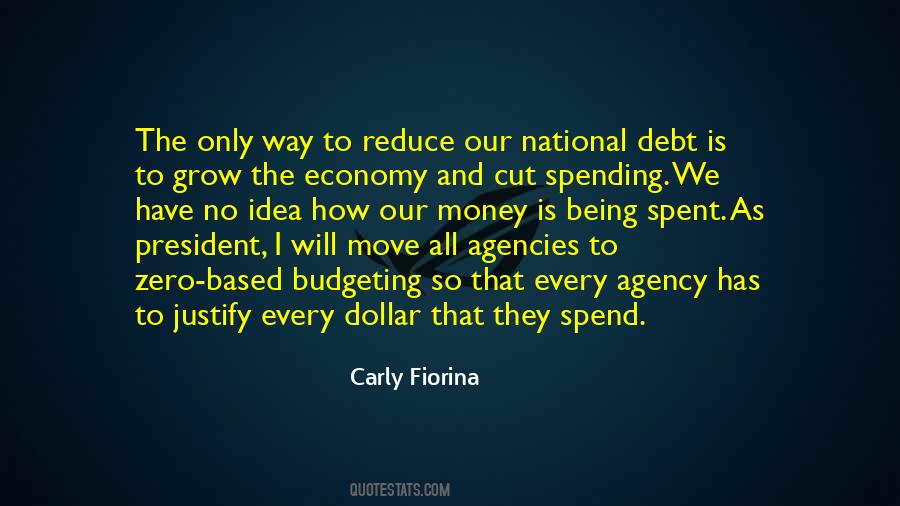 #11. The point of taxation isn't that the government knows better than you how to spend your money - it's that the government, by virtue of being the government, can spend money in ways that no private citizen or group no matter how powerful, can. - Author: Jesse Taylor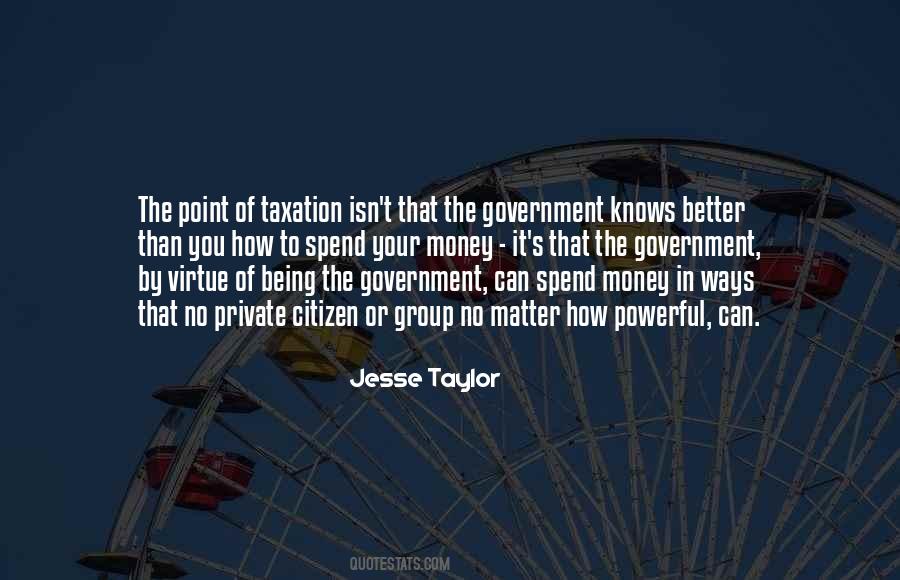 #12. In our commitment to raise healthy, conscious children and create a healthy world, it is hard to understand how people can choose to spend money for something that not only does not work, but poisons humans and the environment. - Author: Gabriel Cousens M.D.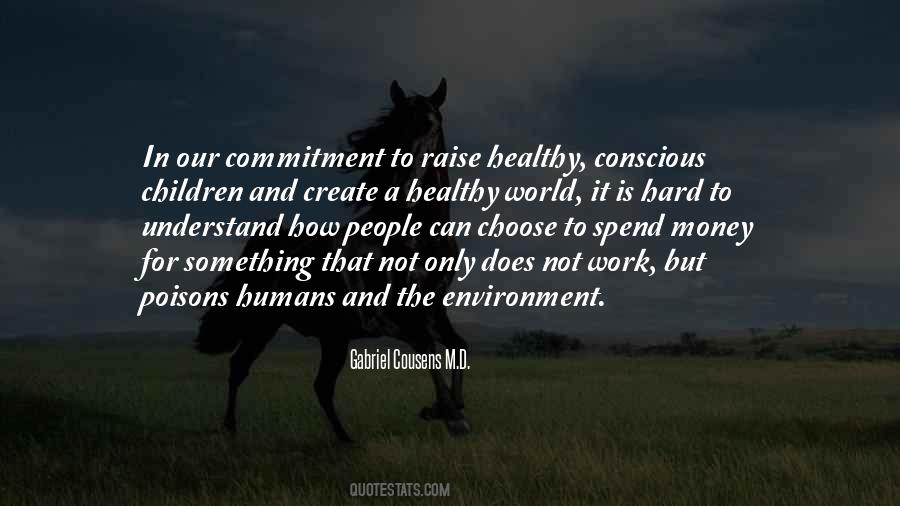 #13. In 2001, Congress passed much needed tax relief to allow Americans to keep more of their hard earned money and spend it as they see fit - rather than how the federal government sees fit. - Author: Doc Hastings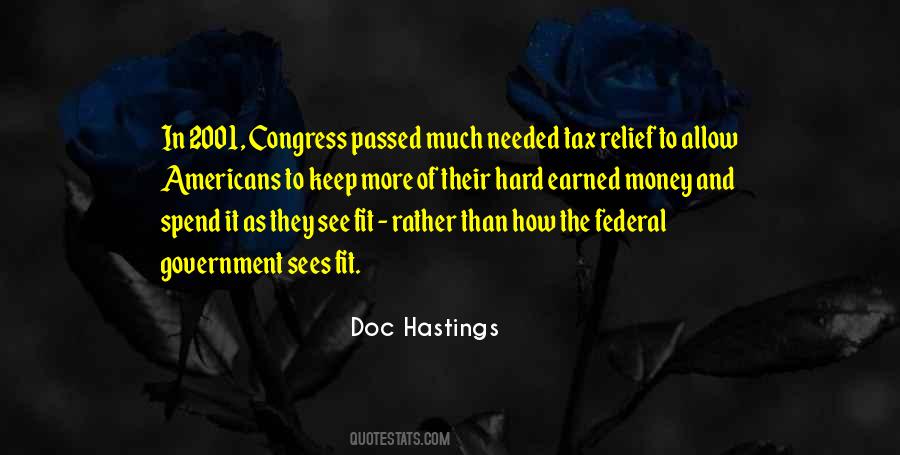 #14. If we lose our money while traveling, think how frantically we search for it! In the same way, if we are unable to do japa even for a brief moment, we should grieve: 'Alas, Lord, I have lost so much time!' If there is such anguish, even the time we spend sleeping will not be wasted. - Author: Mata Amritanandamayi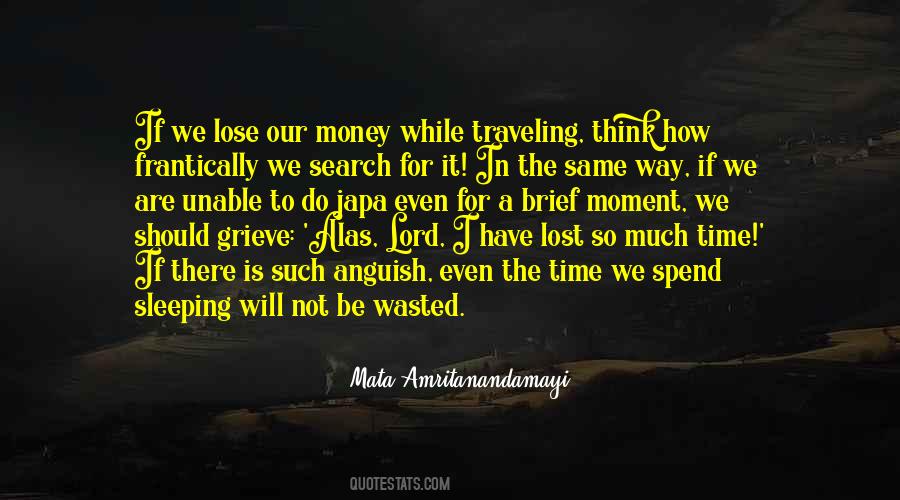 #15. You can only do three things with your money. You can spend it. You can invest it. Or you can give it away. And if you invest it, you're really just getting more money to give away or buy something. How many things can you buy? So I don't really think there's a lot of choices. - Author: David Rubenstein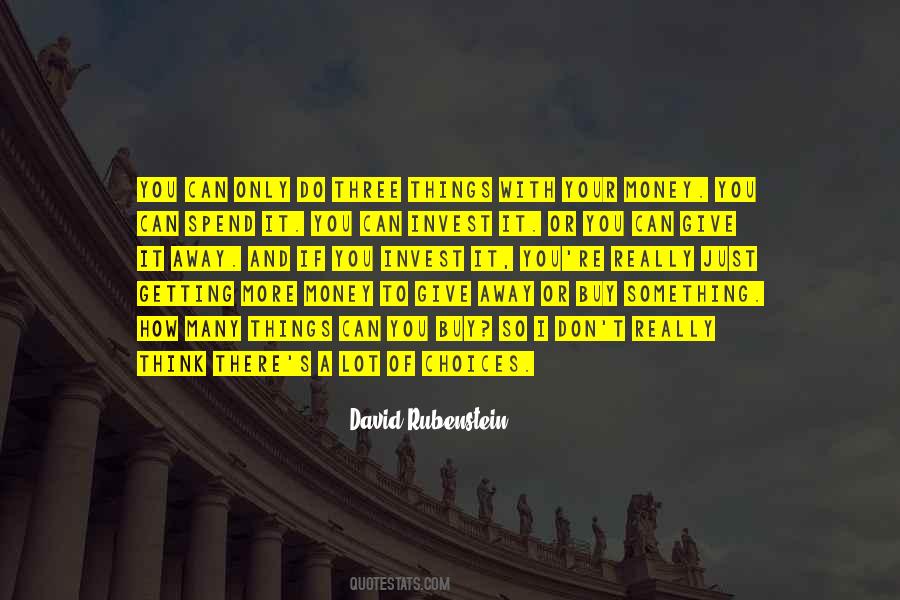 #16. To discover what you really believe, pay attention to the way you act
and to what you do when things don't go the way you think they should. Pay attention to what you value. Pay attention to how and on what you spend your time. Your money. And pay attention to the way you eat. - Author: Geneen Roth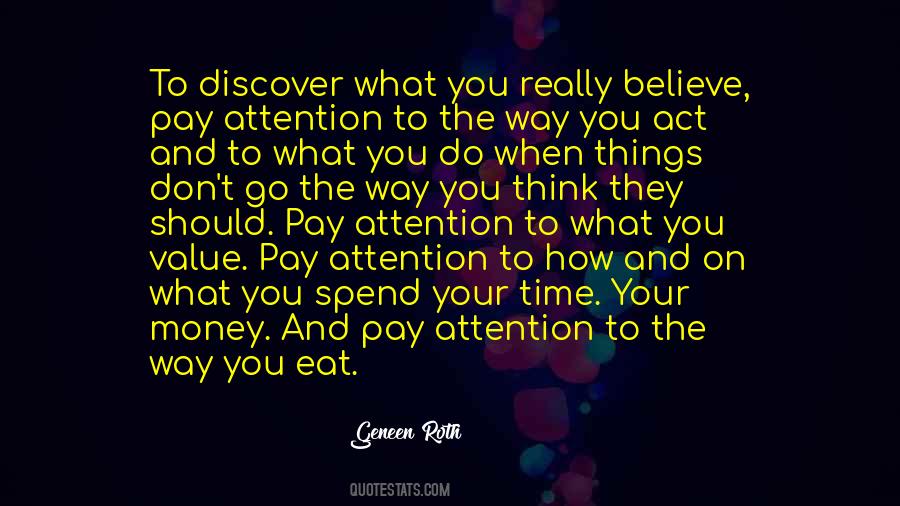 #17. I think about how I'm spending my money, and I like to spend on my family. - Author: Hilary Swank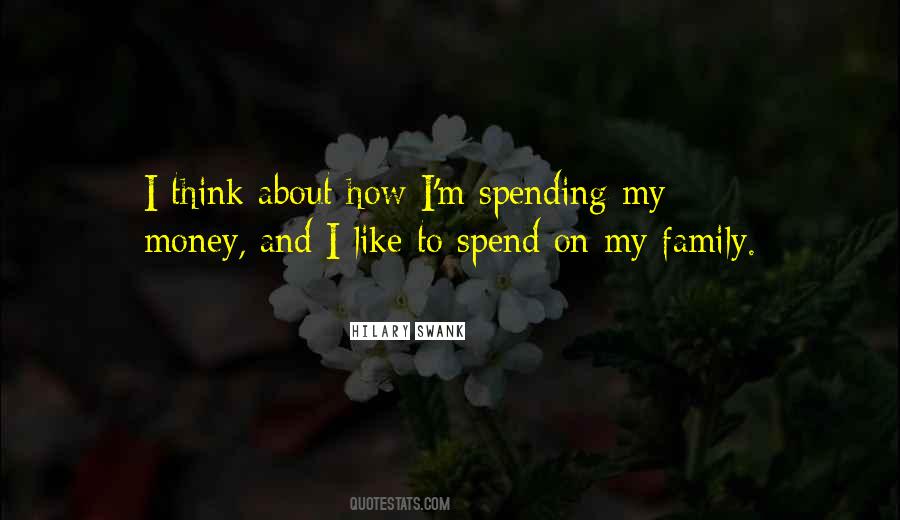 #18. The money thing is, the sort of Elvis Presley thing of buying you mother car is great, that's very good. My mother has learned how to spend money. - Author: Bill Murray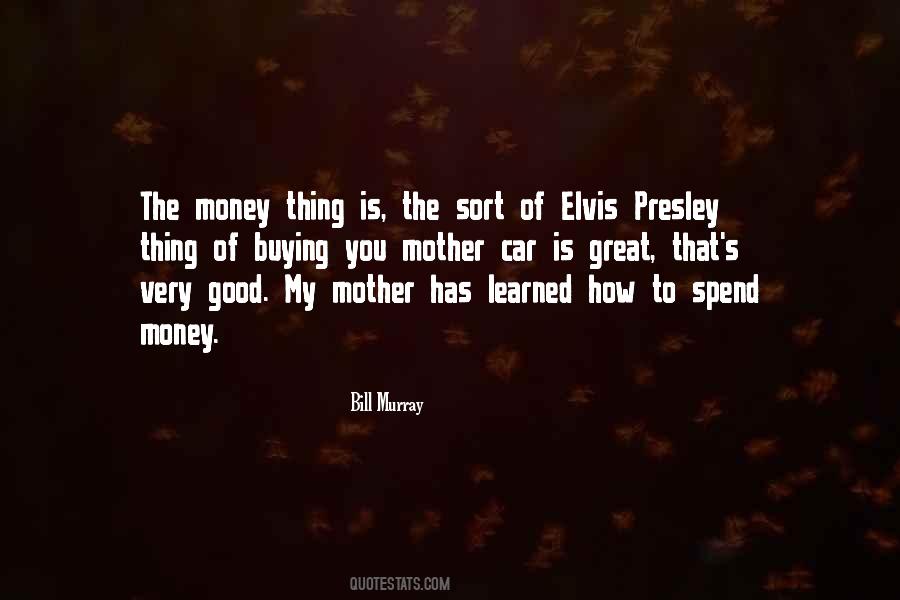 #19. I have a personal prosperity plan. I know where my money goes, and how I can spend it more fruitfully. A prosperity plan is something fluid that may alter month to month. - Author: Julia Cameron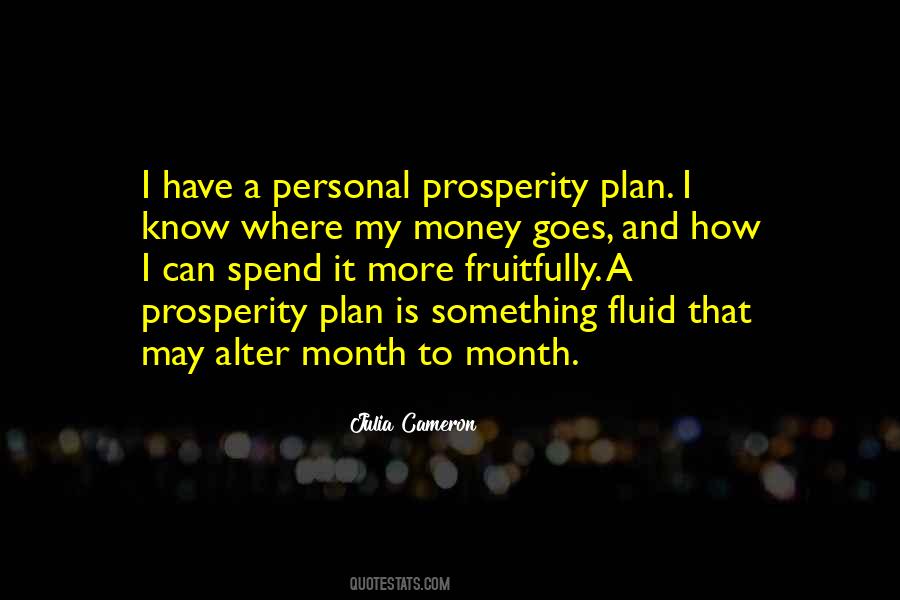 #20. Australia must prioritise education spending. It is not a question of whether or not we have the money, it is a question of how we choose to spend it. - Author: Bob Brown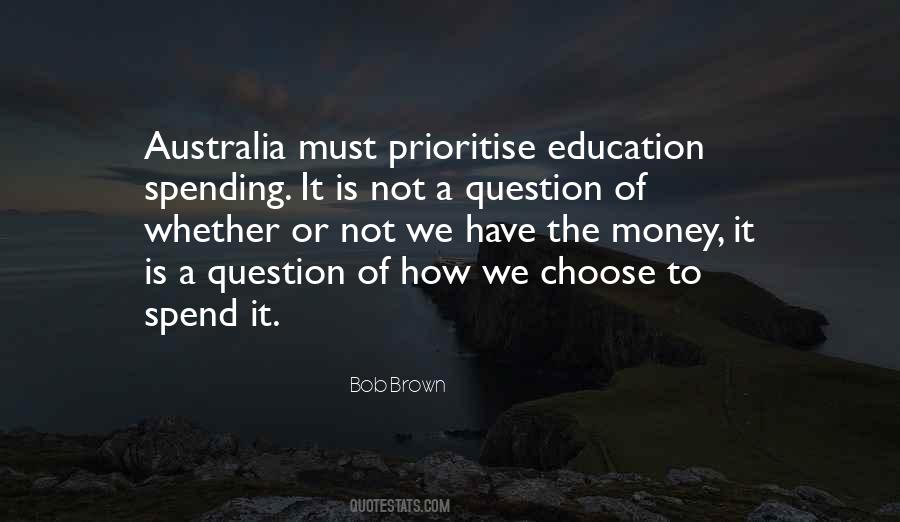 #21. Money loves a plan. If you have a plan for how you're going to spend and invest your new profits, it's going be coming at ya like bees to honey. - Author: Jeanna Gabellini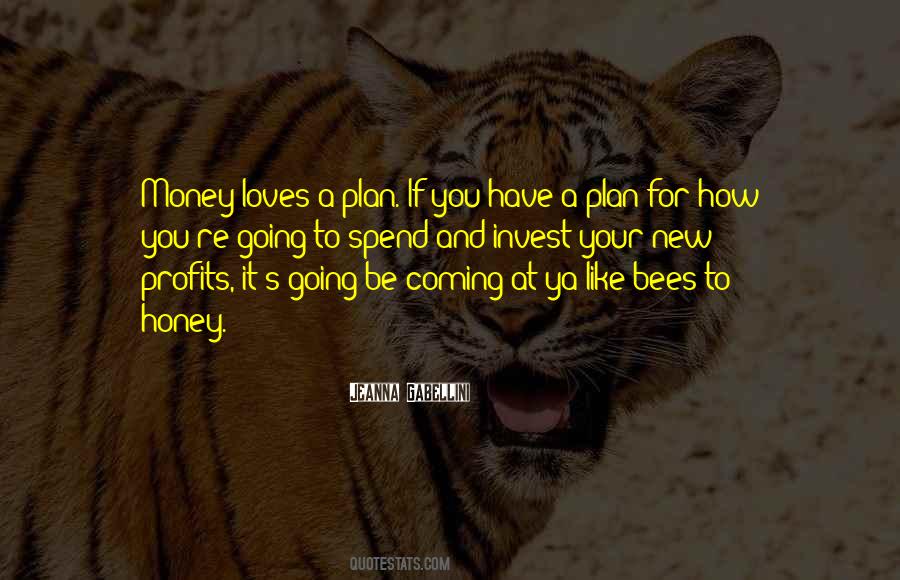 #22. My father used to say, 'You can spend a lot of time making money. The tough time comes when you have to give it away properly.' How to give something back, that's the tough part in life. - Author: Lee Iacocca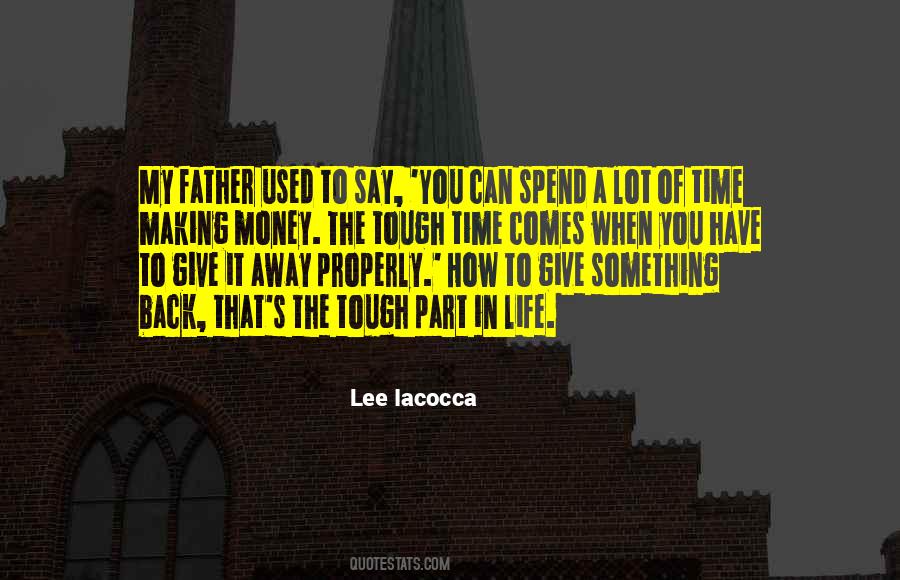 #23. If you don't have any good idea, you are likely to waste money if it's given to you! If you don't have an idea, you can't even know how much money you need ... This is because; it's your ideas that give you the cost to pay! - Author: Israelmore Ayivor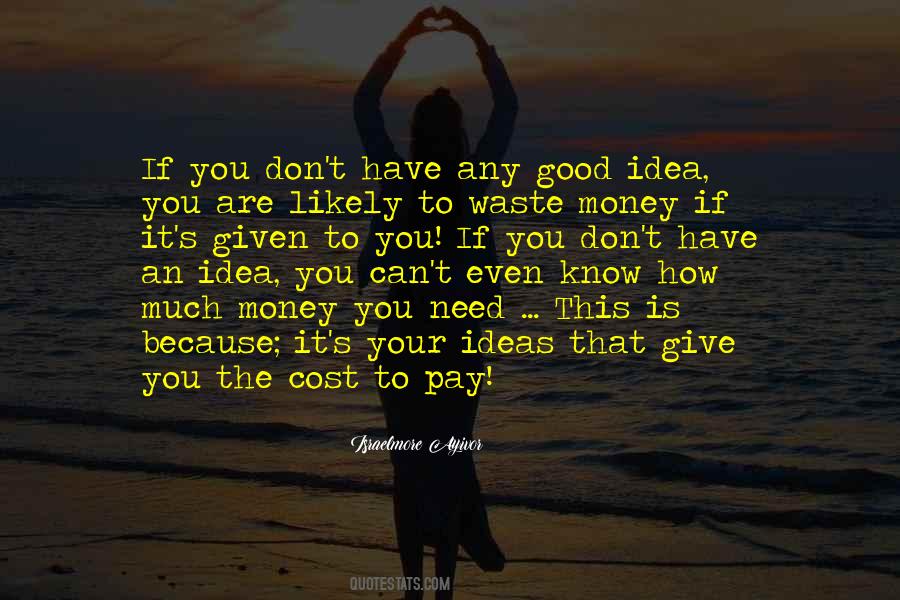 #24. Isn't it better just to make your own money, and then spend it how and when you want, and with dignity? - Author: Zack Love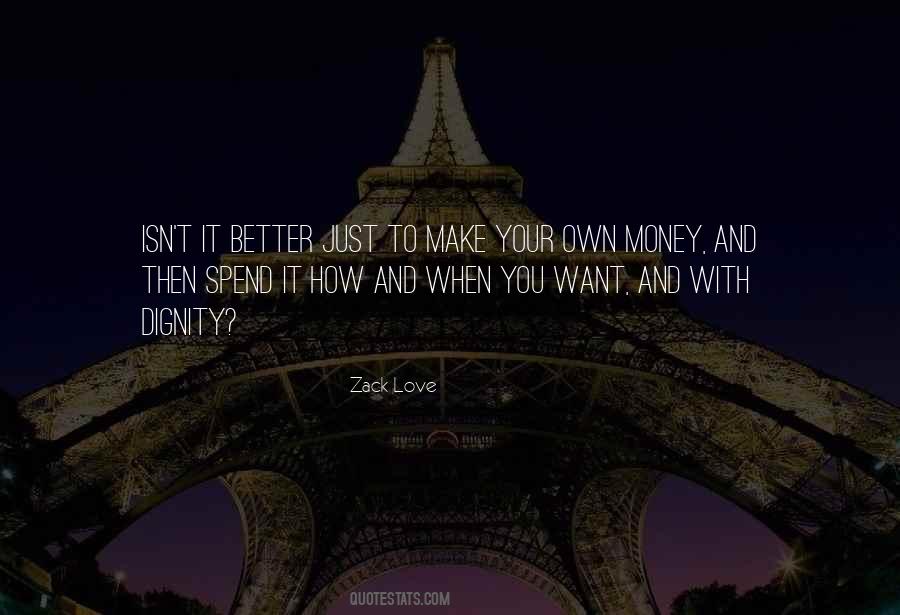 #25. My biggest problem in the big leagues is that I can't figure out how to spend forty-three dollars in meal money. - Author: Andy Van Slyke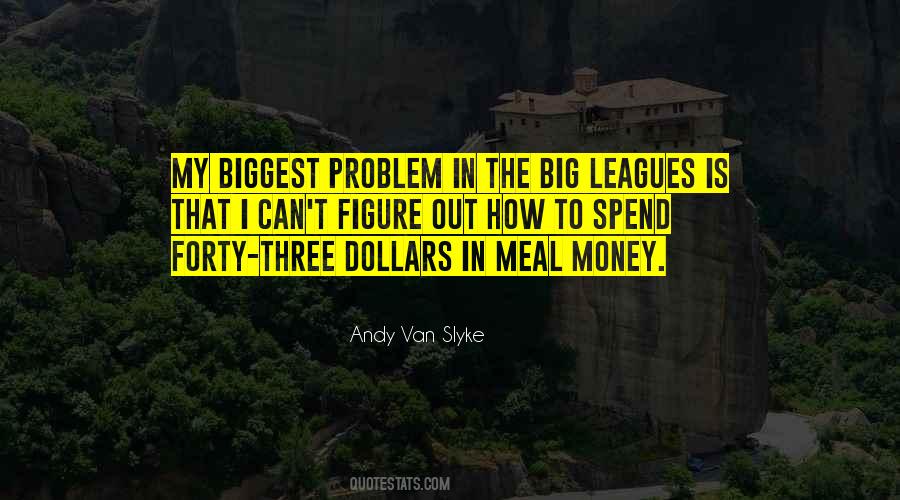 #26. As a rule the Holloywood pattern for English actors is simple. They are delighted to go, they are told there is a lot of work for them if they stick it out, they tell everyone how fabulous it is, they spend all their money - and then they come home. It seems to take from two to six years. - Author: Julian Fellowes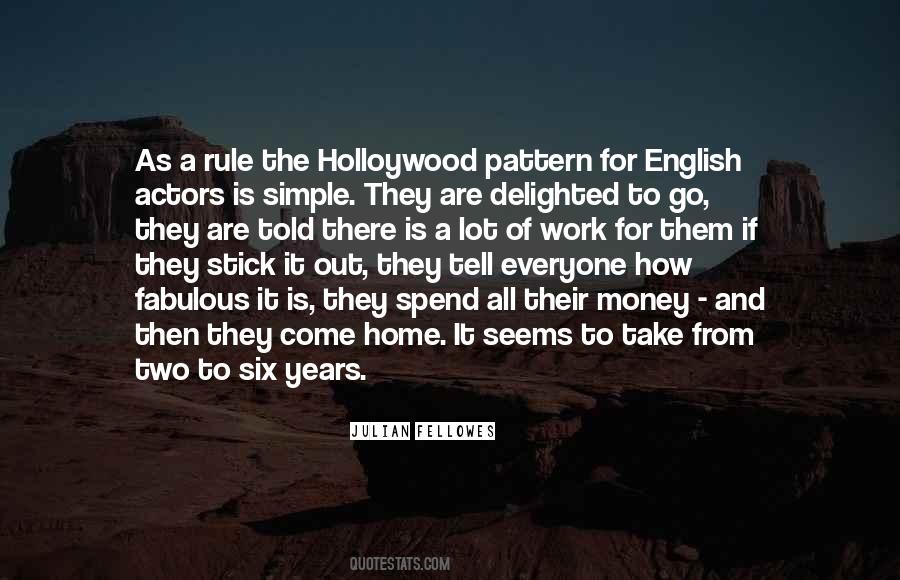 #27. The competition has improved tremendously. In 2003, I could teach a guy how to play poker in an hour and he could win some money. Today, it would take days. The game has gotten so much tougher. So I will spend my time with my family and play when I can. - Author: Chris Moneymaker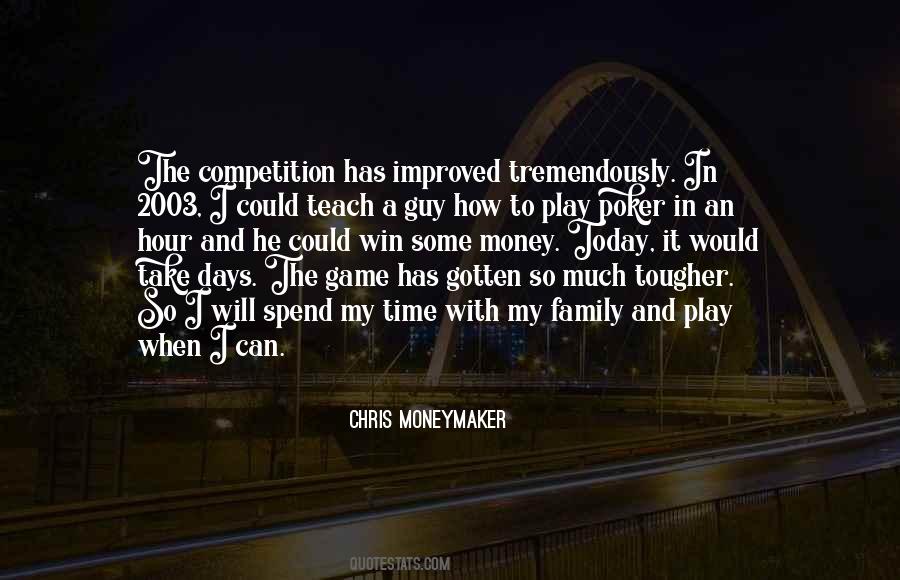 #28. Downturns are the best time to start businesses, because you develop discipline that's very lean and mean in terms of how to spend money. And those habits serve you very well in good times. - Author: Kevin O'Leary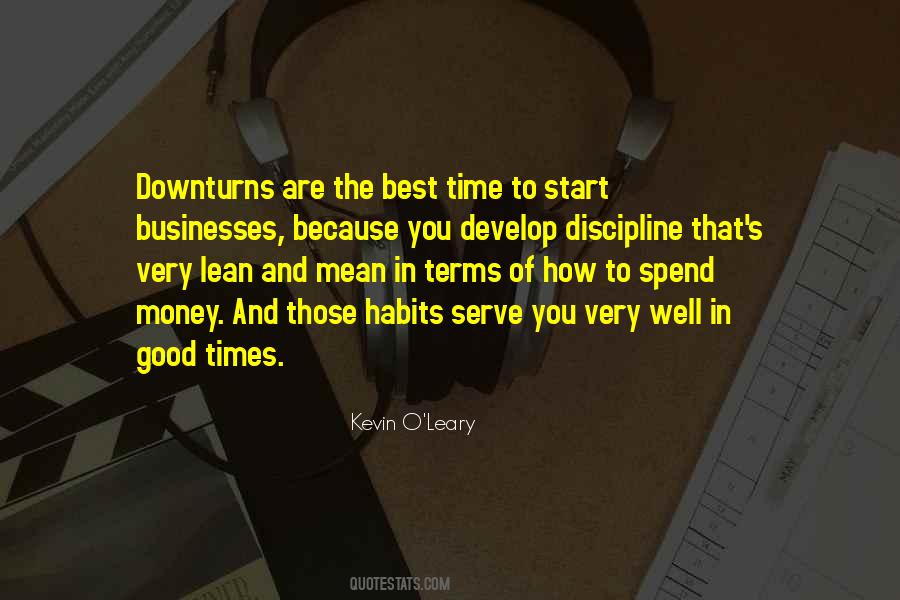 #29. I would be embarrassed to tell you how many folks ran saying that they weren't going to spend a bunch of money, they weren't going to raise the debt ceiling, and then they went to Washington, D.C., and did exactly that. - Author: Mick Mulvaney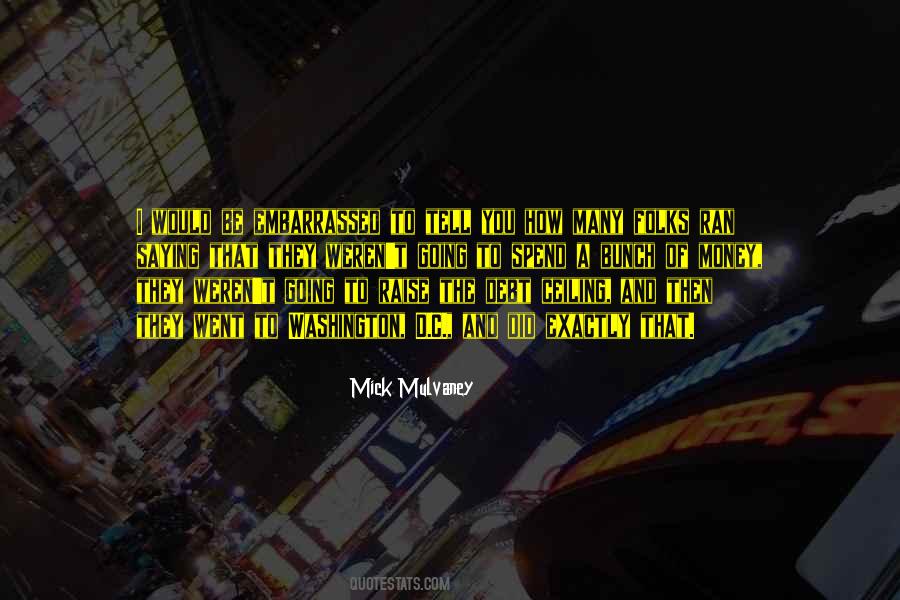 #30. It is more important to know how to mix and match the clothes than to spend money. - Author: Valeria Mazza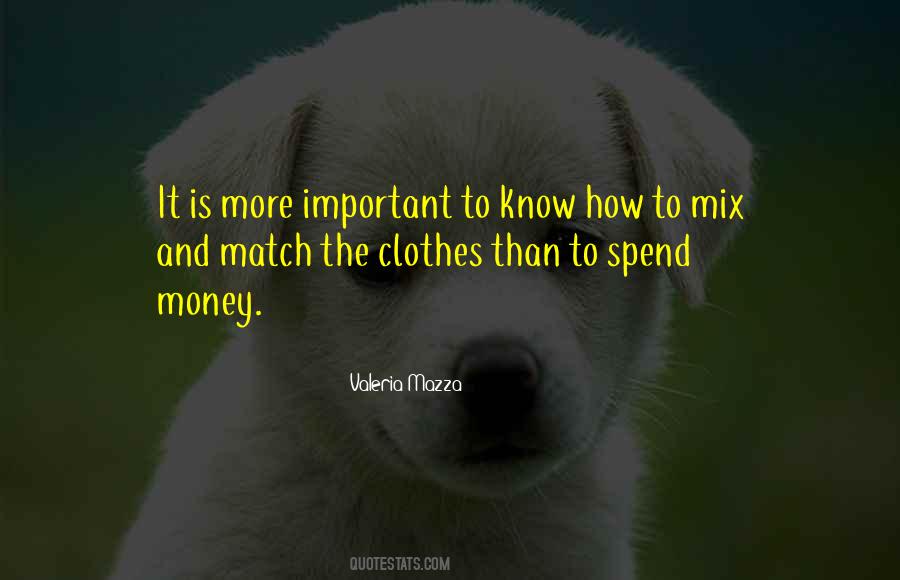 #31. Foolish people spend time and money poring over horoscopes and consulting so-called psychics trying to see the dark unknown. How much better to walk through life holding the hand of One who knows the way and cares for us! - Author: Adrian Rogers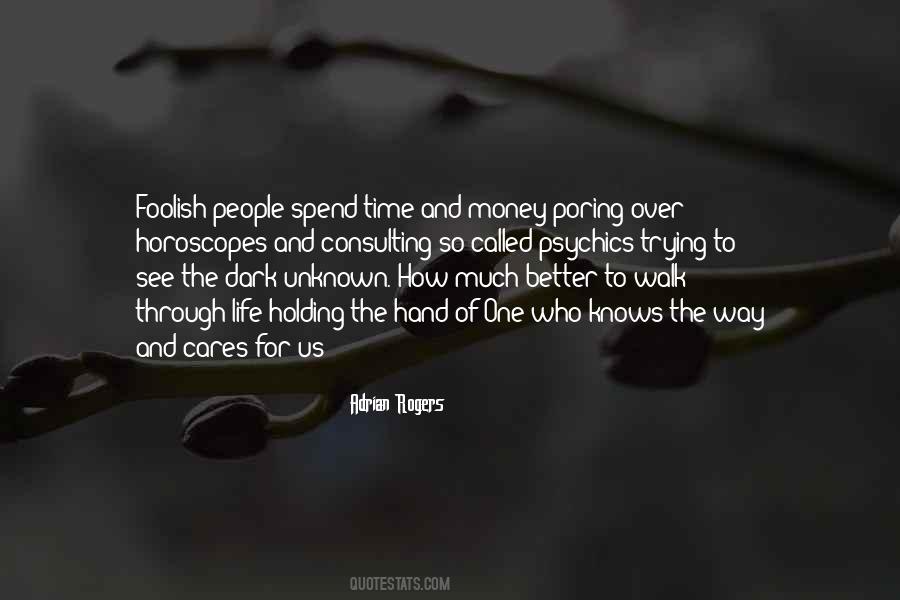 #32. Almost any man knows how to earn money, but not one in a million knows how to spend it. - Author: Henry David Thoreau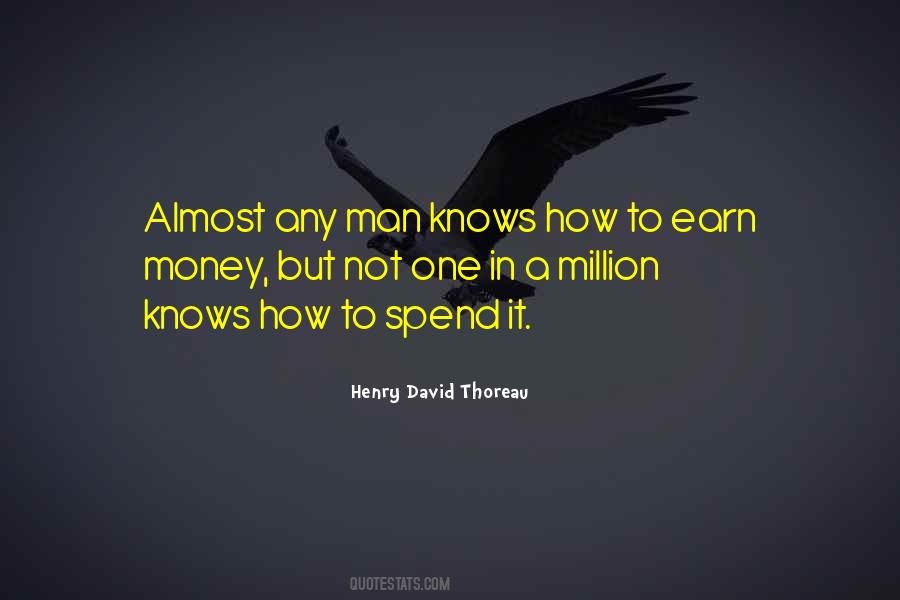 #33. Misers makes money their lord, but the spenders makes it their slaves and servants - Author: Michael Bassey Johnson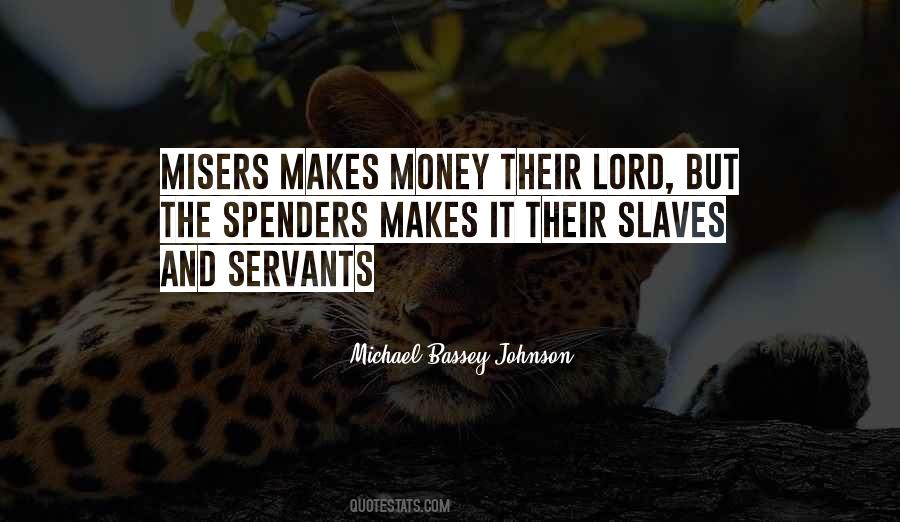 #34. There is always an incredible amount of things vying for our attention at home. I'm not saying you should never do the laundry, or pay attention to the kids, but for most of us, we're not present to how much time we spend on those. Anything that wastes your time is a waste of money. - Author: Rory Vaden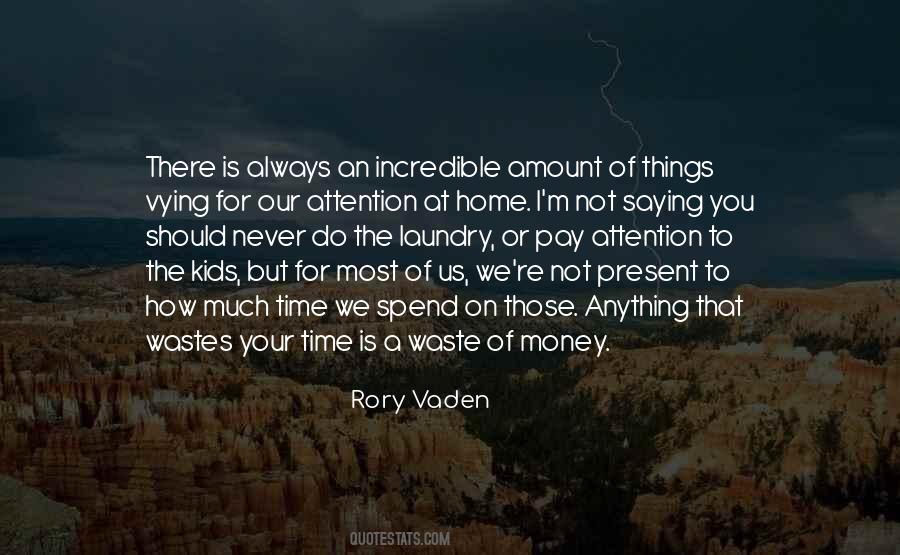 #35. When we're in a peak, we make a ton of money, and as soon as we make a ton of money, we're desperately looking for a way to spend it. And we diversify into areas that, frankly, we don't know how to run very well. - Author: William Clay Ford Jr.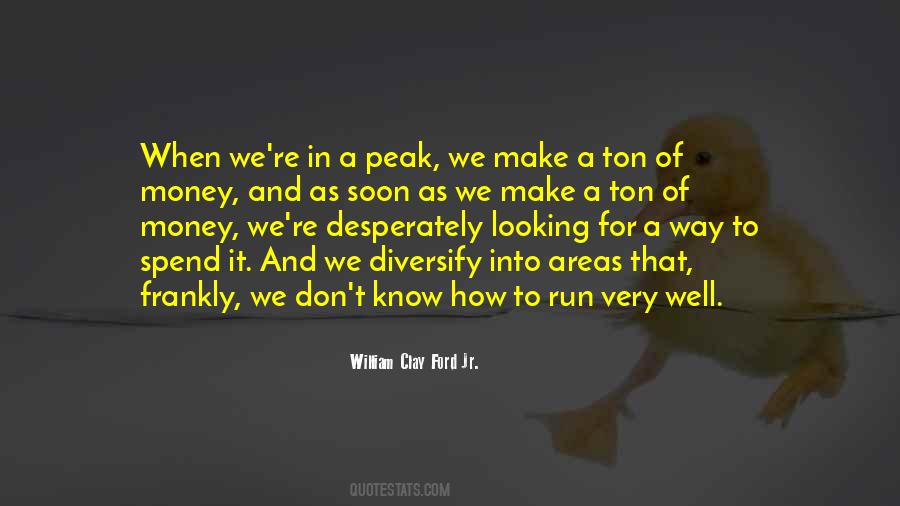 #36. I spend a lot of nights thinking
How did I make it this far?
I spend money every chance I get
Cause god damn I work hard.
Put here to take care of he family
But how was I supposed to know
If I don't take care of myself
Then how am I supposed to grow? - Author: Wiz Khalifa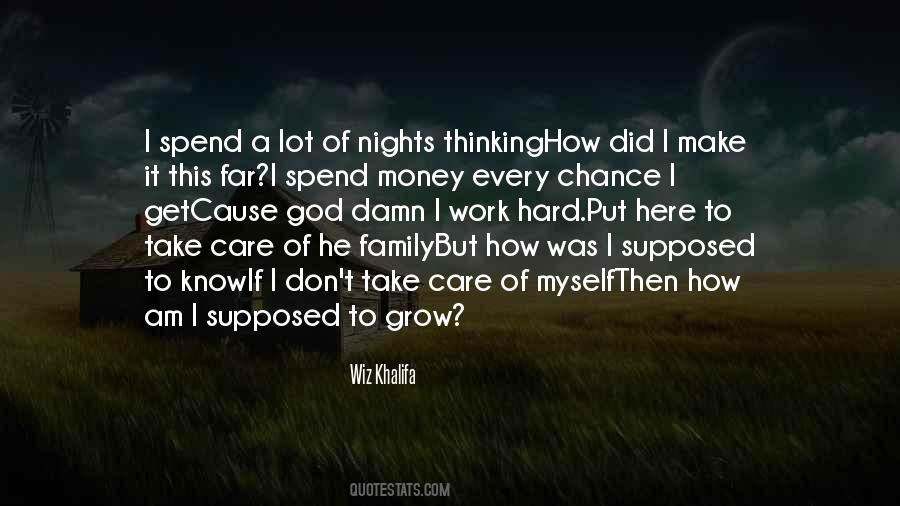 #37. People are afraid to spend money now because they dont know how long theyre going to be working. - Author: Herbie Hancock
#38. What better way to get to know a culture than to go there and learn their sports? And I say to people who tell me they can't travel, 'How much did you spend at the mall this year? How many times did you eat out? Take that money and go.' - Author: Dhani Jones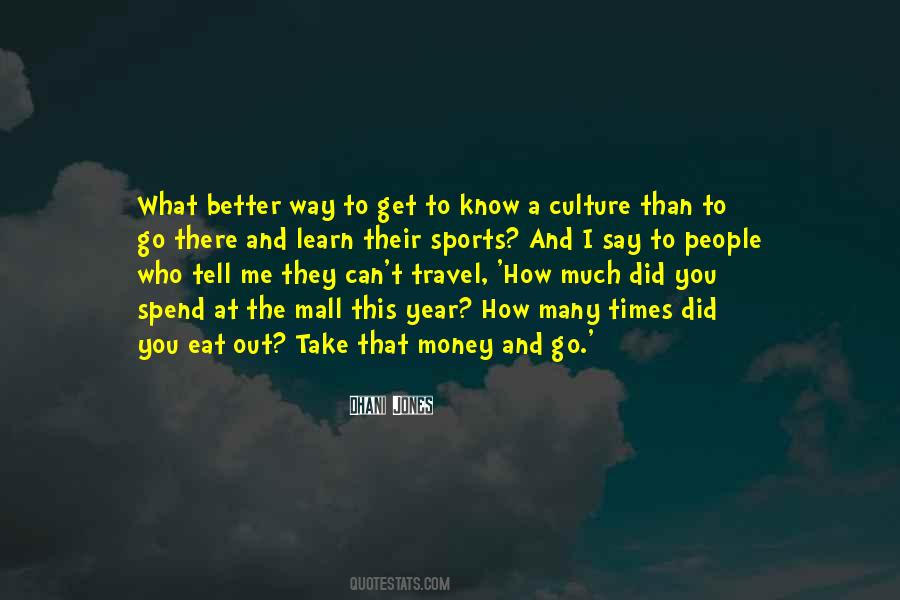 #39. I can spend somebody else's money on somebody else. And if I spend somebody else's money on somebody else, I'm not concerned about how much it is, and I'm not concerned about what I get. And that's government. And that's close to 40 percent of our national income. - Author: Milton Friedman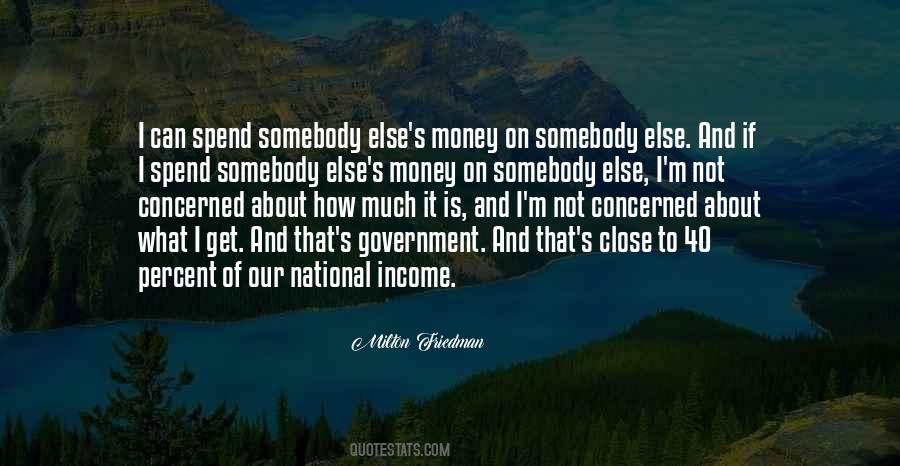 #40. It's not how much you spend, it's how you spend it. We have been putting a lot of money into education in the state of Nevada, and it's gotten us to 50th in the country in graduation rates. We needed more accountability in our system. - Author: Brian Sandoval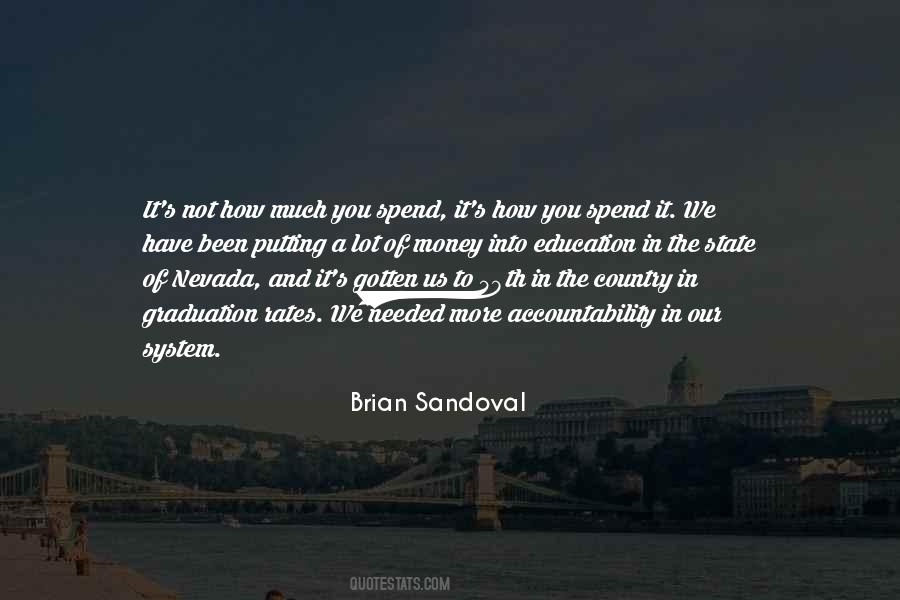 #41. When a man makes a specialty of knowing how some other fellow ought to spend his money, he usually thinks in millions and works for hundreds. - Author: George Horace Lorimer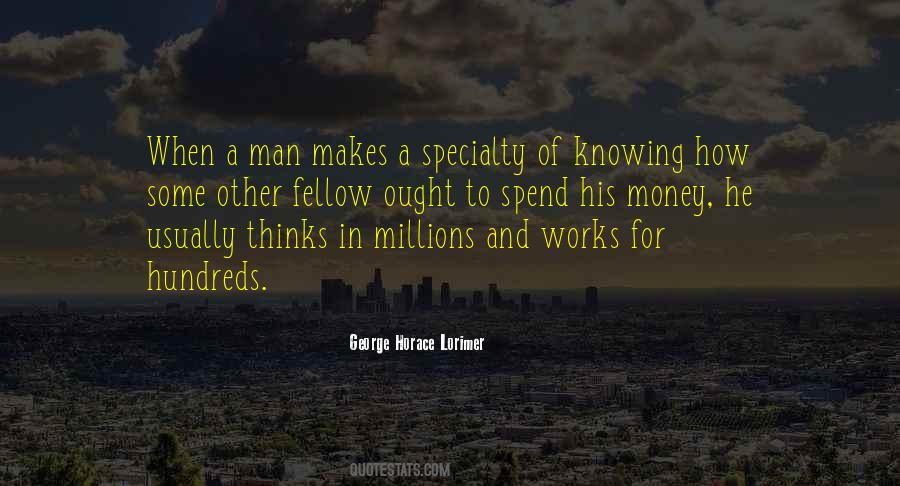 #42. One study says that 90 percent of our everyday behavior is based on our habits ... That means how we treat people, how we spend our money, what we watch, what we listen to - 90 percent of the time, we're on autopilot. We do what we've always done. - Author: Joel Osteen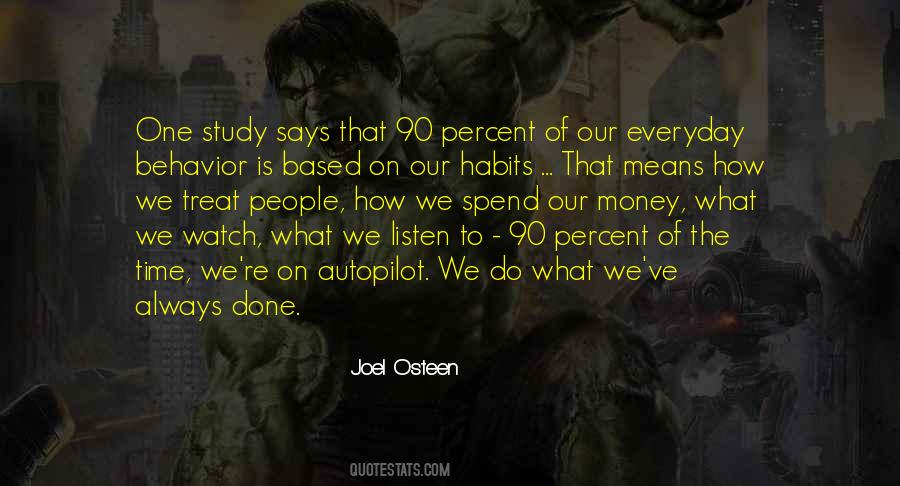 #43. Socialism is when government's taking care of you, you send all your money to the government, the government decides how to spend it instead of letting the people spend it and make all those decisions. - Author: Bob Latta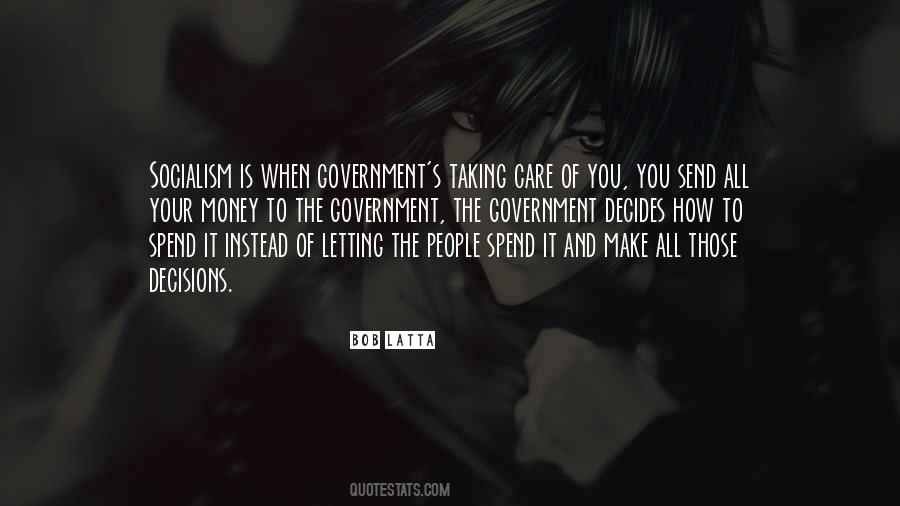 #44. The Internal Revenue Service wants a record of how you spend your money, but that is nothing compared to the books God is keeping. - Author: Billy Graham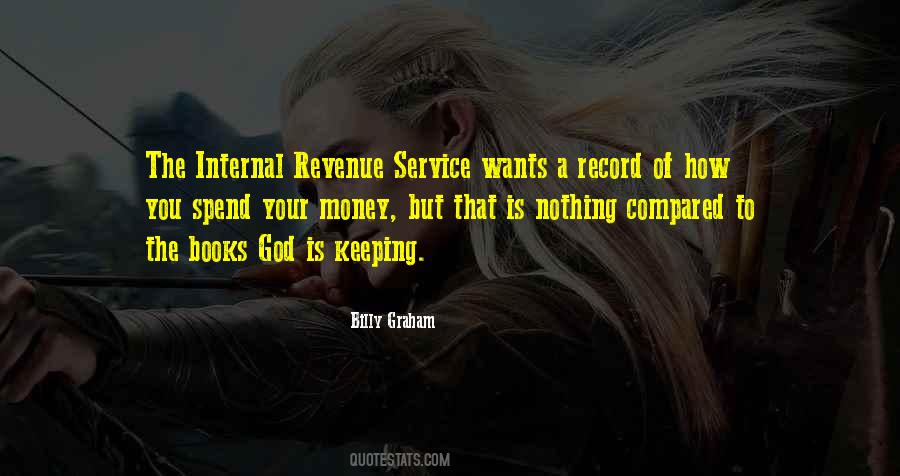 #45. Money follows art. Money wants what it can't buy. Class and talent. And remember while there's a talent for making money, it takes real talent to know how to spend it. - Author: Candace Bushnell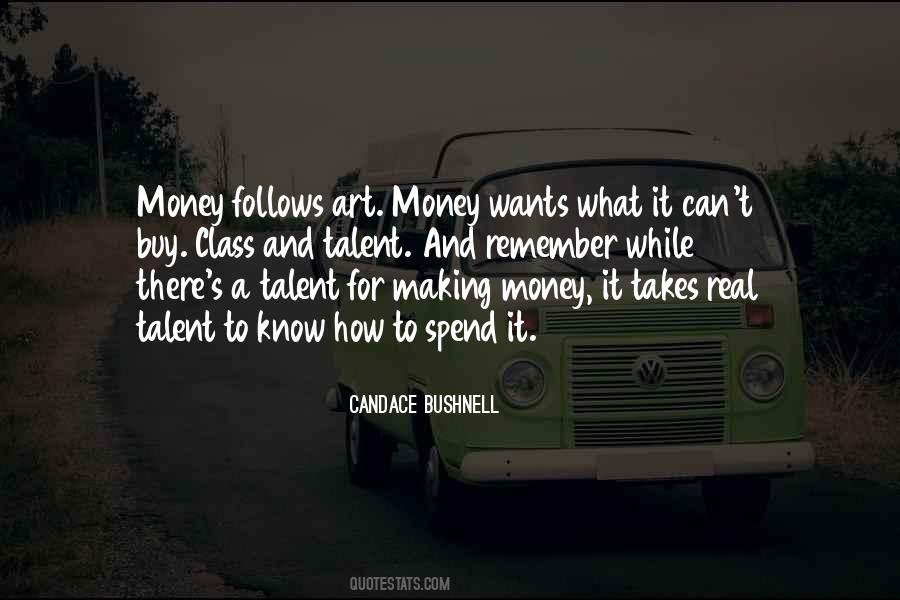 #46. Knowing how little she cares about the money I could spend, makes me want to buy her the world. -Jack Henry, beauty from pain - Author: Georgia Cates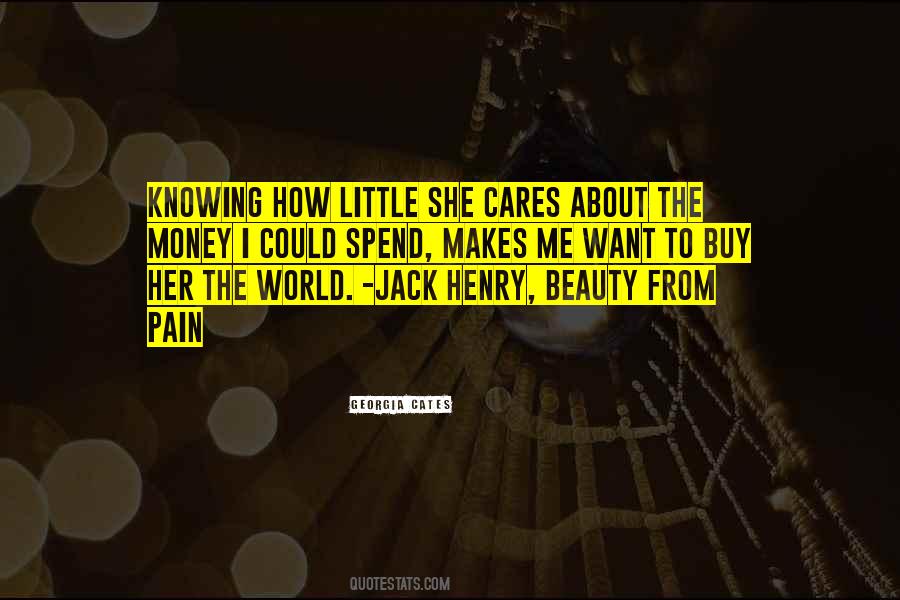 #47. When I work with countries struggling to pay for budgets or finance trade deficits, I reflect on how Americans do not spend a moment considering the unique advantages of being able to issue bonds and print money freely. - Author: Robert Zoellick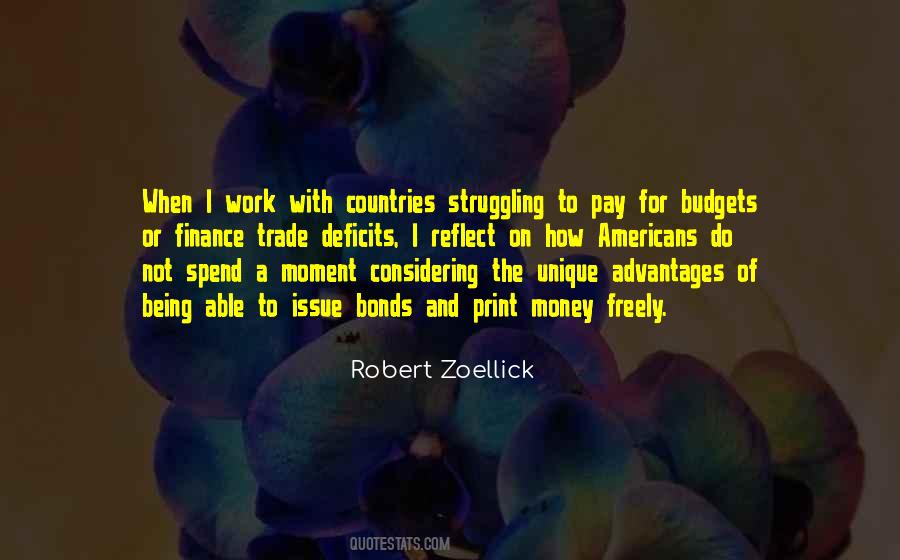 #48. You could have all the money in the world, but you have to be smart enough knowing how to spend it. I really try to be on that smart money side. Once you make a serious mistake you can suffer five or six years, and I do my best to avoid serious mistakes. - Author: Mikhail Prokhorov
#49. Two good indicators of revealed preferences are things the people tend to value a lot: time and money. If you look at how they spend their time and how they spend their money, you can infer quite a lot about their real preferences. - Author: Douglas W. Hubbard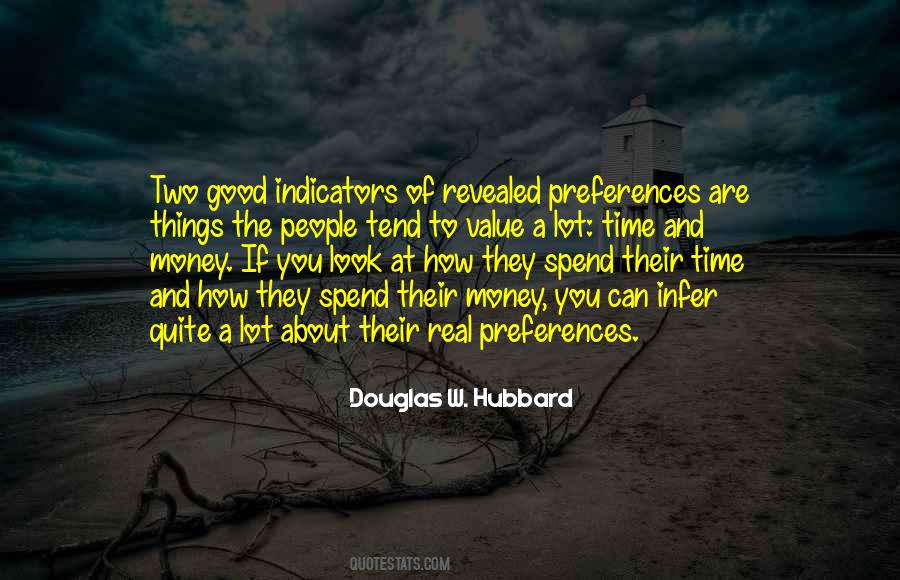 #50. My restaurants are never opened on Thanksgiving; I want my staff to spend time with their family if they can. My feeling is, if I can't figure out how to make money the rest of the year so that my workers can enjoy the holidays, then I don't deserve to be an owner. - Author: Michael Symon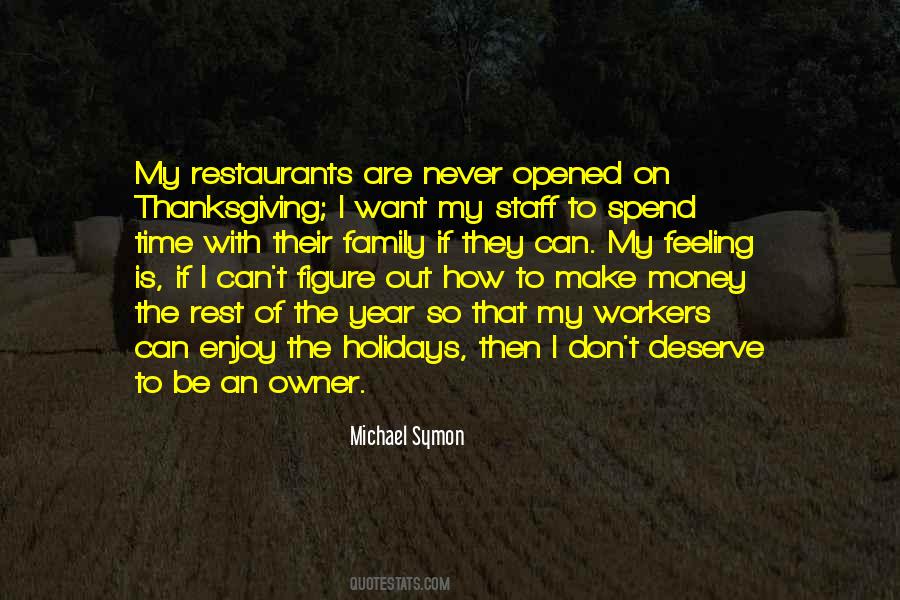 #51. The fact is, women don't like to talk about money, let alone deal with it. Though we're killing it at work, earning more than ever, running our households, and making big-ticket decisions, too many women still worry they'll be judged by what they earn and how they spend it. - Author: Alexa Von Tobel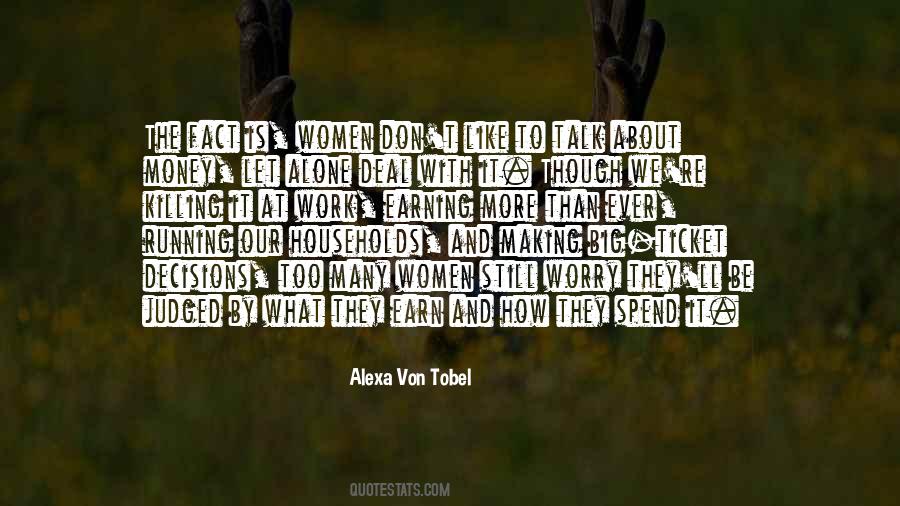 #52. Those who earn money know best how to spend it. - Author: Anthea Turner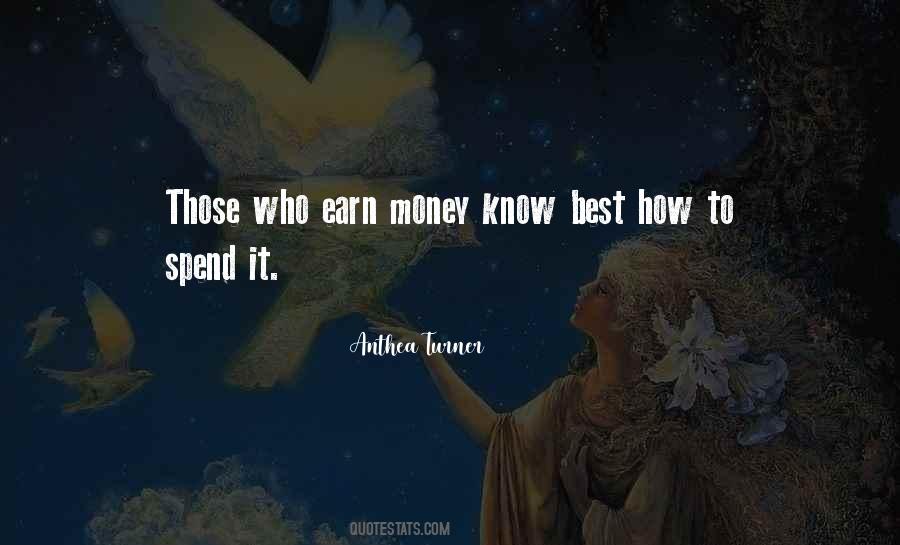 #53. The President sends us a billion-page paper that shows how he would spend the money if he were spending the money. He doesn't have the authority to spend the money. He doesn't spend $1 of the money. - Author: Michael Enzi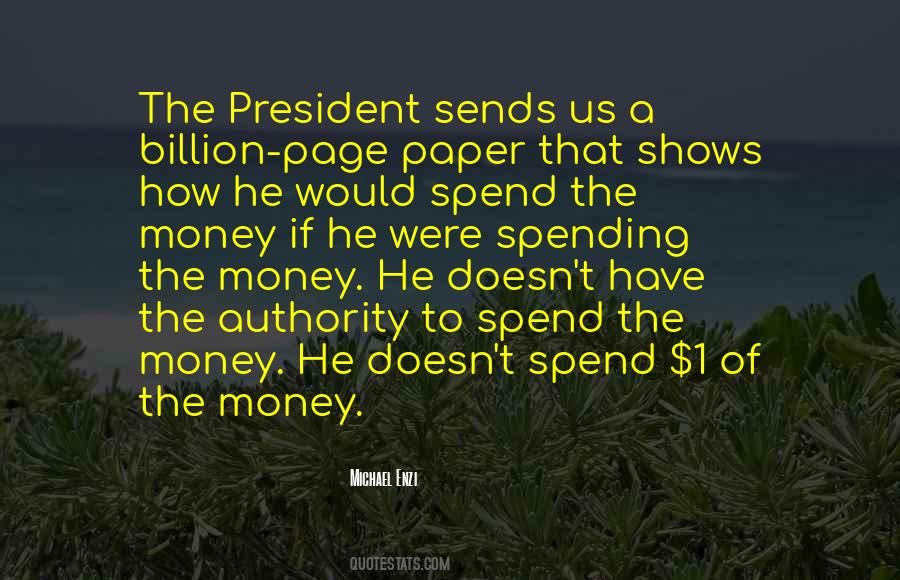 #54. Bureaucracies tend to grow and to brag about their growth based on how many individuals they have and how much money they spend. - Author: Darrell Issa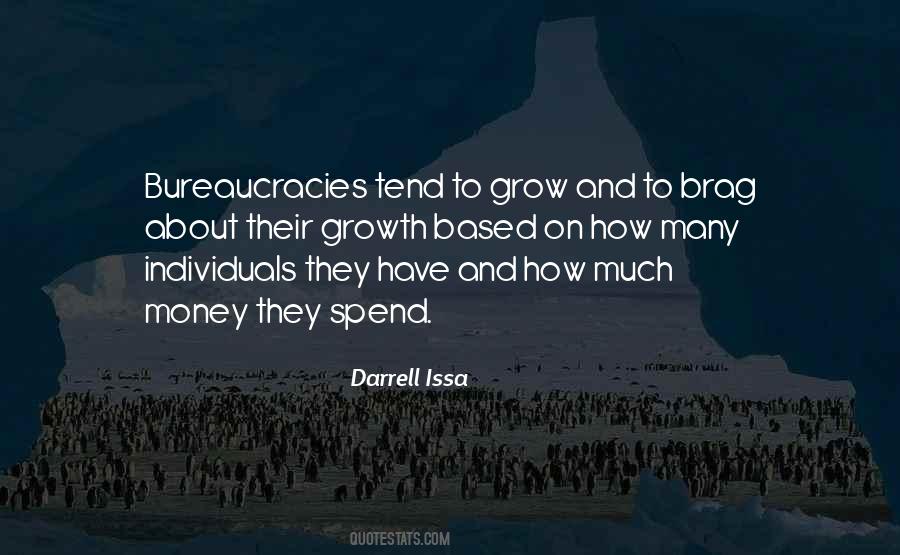 #55. I think when somebody goes to the movies and they spend their money and they take the girl out, the family, they want to have a good time. You don't always want to be hit over the head with history or how bad society is. - Author: Ice Cube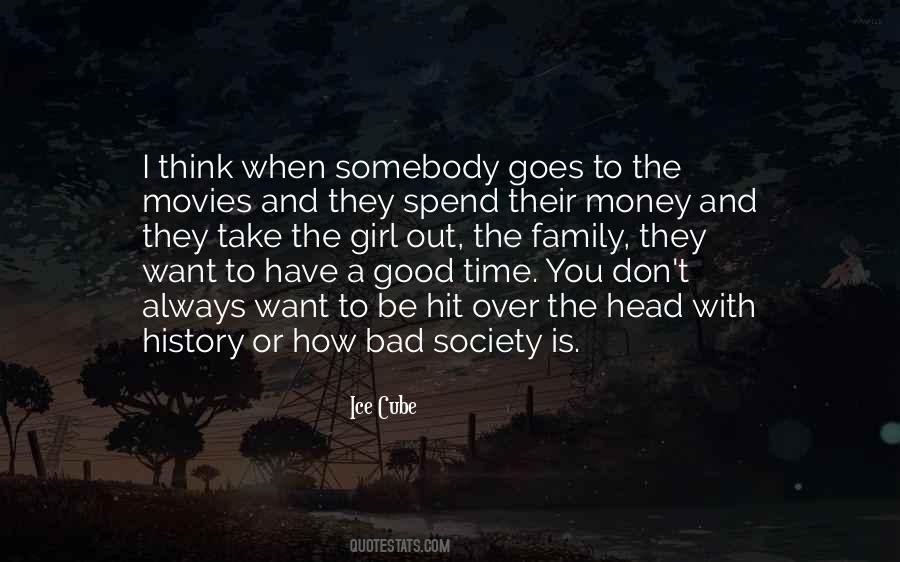 #56. Divinity of art, it's such a mystery. How to convince people that no matter how much money you can spend on education and art education especially, that it implants, it directs a young person for the rest of their lives, and always in the most humane and positive and dignified manner. - Author: Mikhail Baryshnikov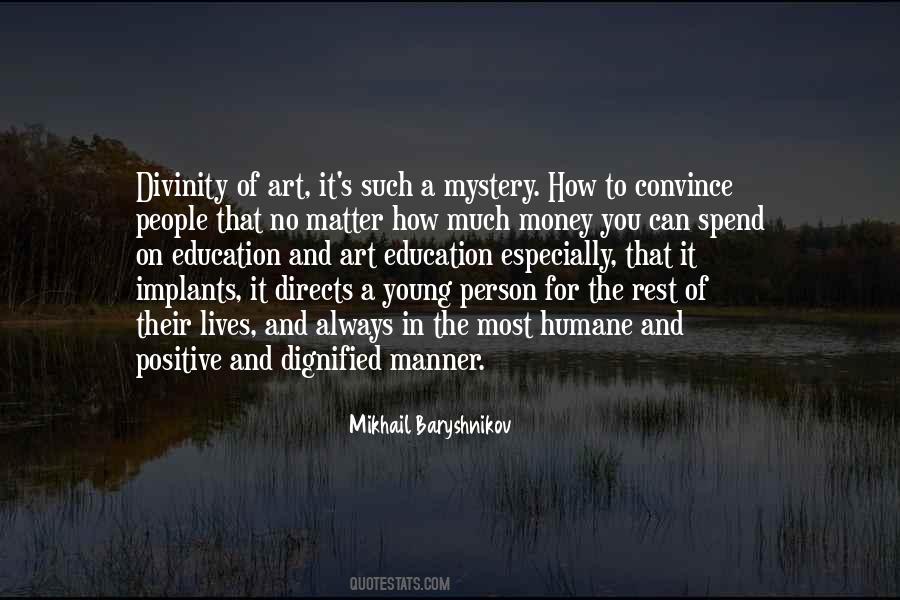 #57. What is important for kids to learn is that no matter how much money they have, earn, win, or inherit, they need to know how to spend it, how to save it, and how to give it to others in need. This is what handling money is about, and this is why we give kids an allowance. - Author: Barbara Coloroso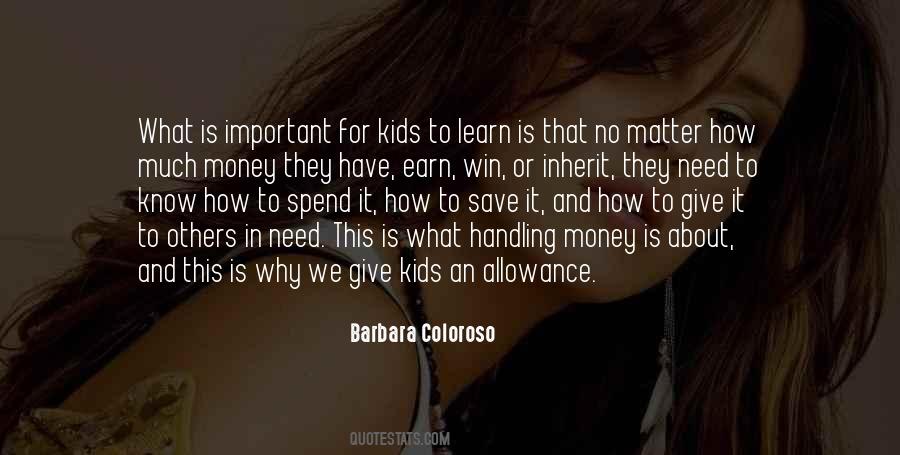 #58. I started LearnVest with a tiny savings account where I paid designers, technologists, and even bartered ... Because I started with paying for things myself with my own savings, it sharpened my focus of how to spend money. - Author: Alexa Von Tobel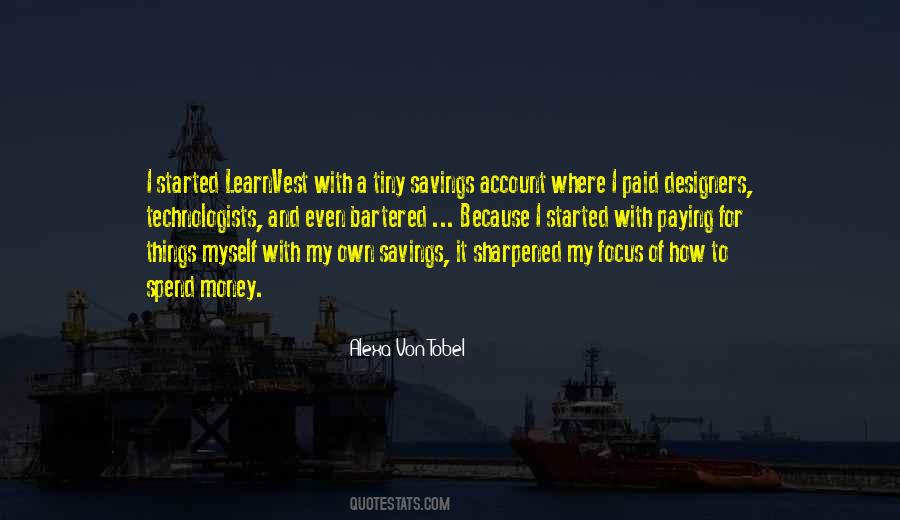 #59. Is not Alliance training," he says. "I spend six months in military prison once. Other man in cell, he was boxer. Before military, he fight in underworld ring, for money. He teach me how to punch the color out of a man's hair. I go easy on you because I am guest here. - Author: Marko Kloos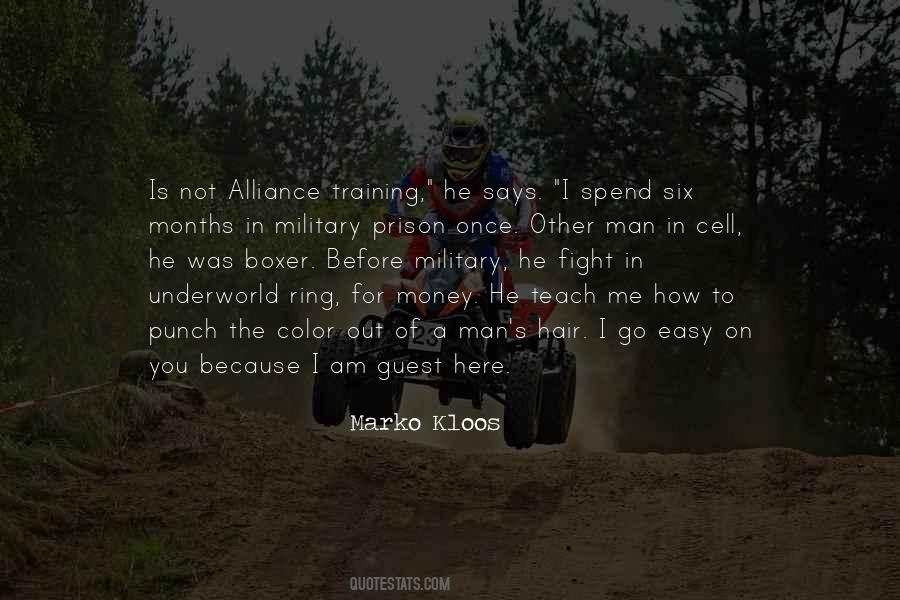 #60. He's got lots of money and clearly has grandiose schemes, seeing himself as an important global player. There is a reality to it. Oil is at record prices, and he's willing to spend both in Venezuela and in the region. But the question is, how much influence is he gaining - Author: Michael Shifter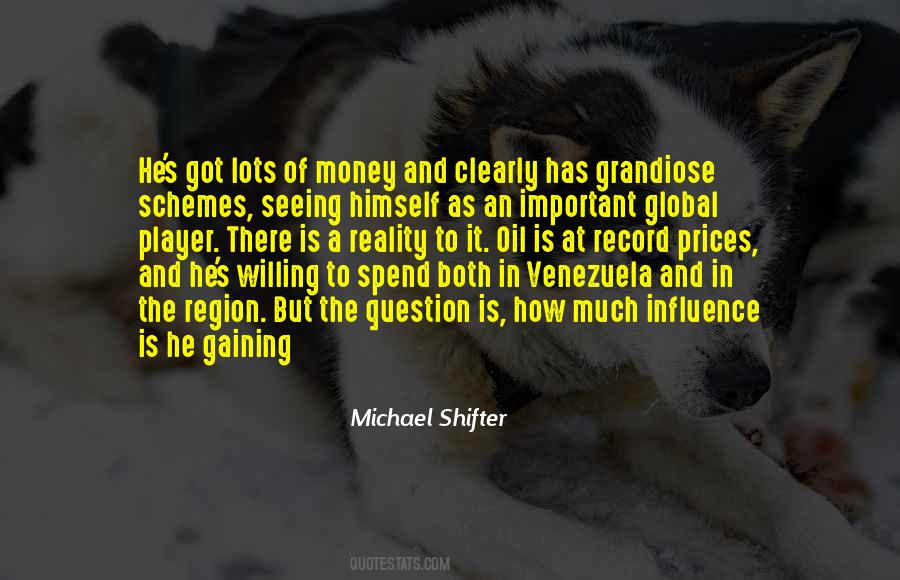 #61. The rules are changed now, there's not any way to build a team today. It's just how much money you want to spend. You could be the world champions and somebody else makes a key acquisition or two and you're through. - Author: Whitey Herzog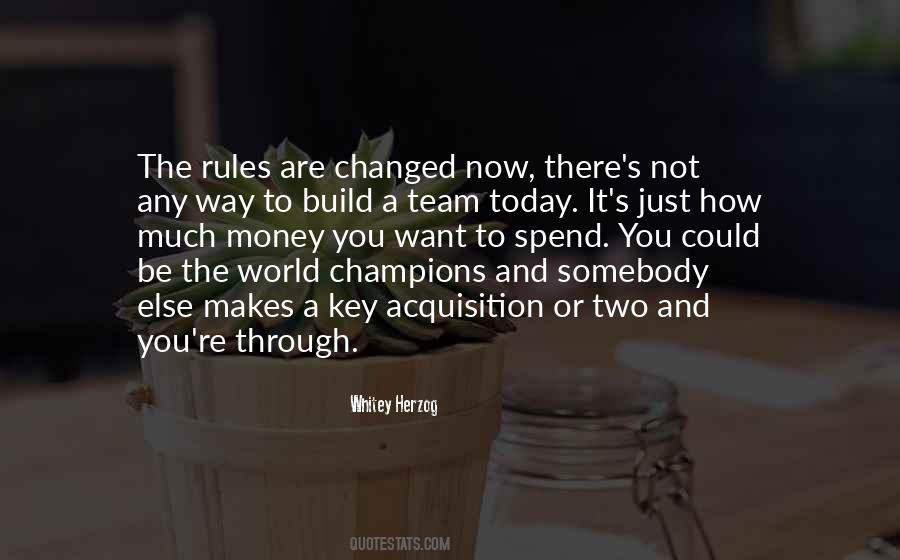 #62. I enjoy money. You got to know how to enjoy it, though. A lot of people enjoy it the wrong way: They spend it all. - Author: Moses Malone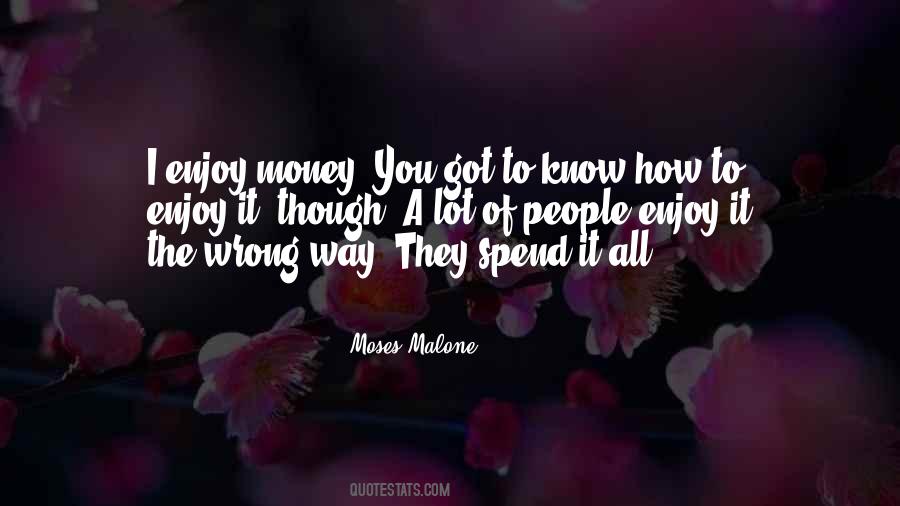 #63. It is wonderful to think how men of very large estates not only spend their yearly income, but are often actually in want of money. It is clear, they have not value for what they spend. - Author: Samuel Johnson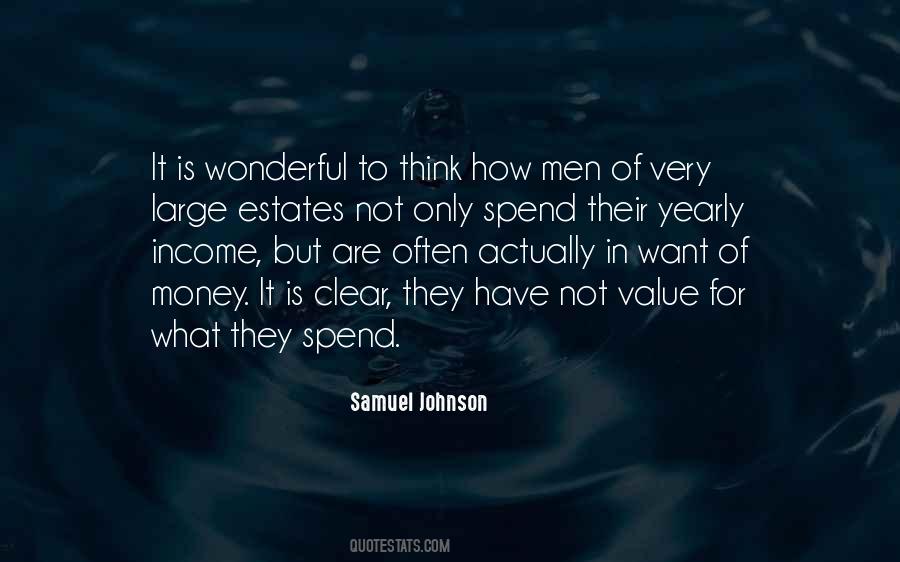 #64. If you give money to poor guy he knows how to spend them, so if you have money which are redundant give them too a poor person. He will probably buy something for eat or he will get out of his misery. - Author: Deyth Banger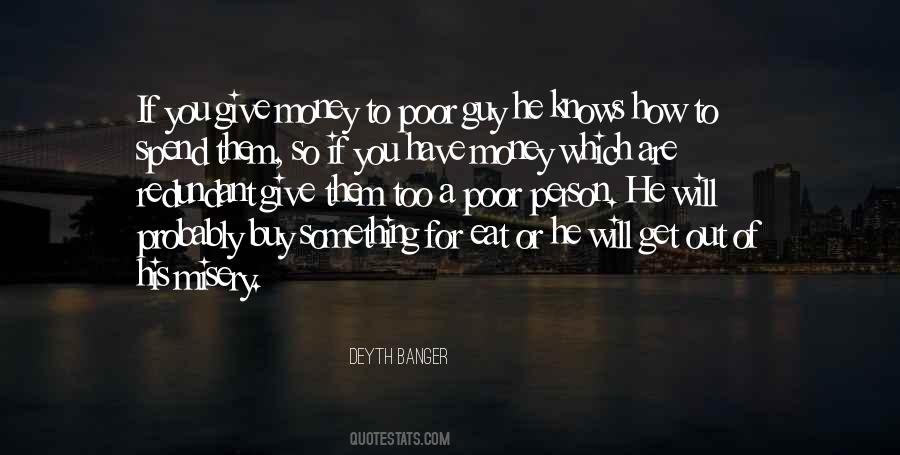 #65. When young people say I want to be a novelist, I'd say, think very carefully about it. There will be very few rewards, you probably won't make any money, you probably won't become famous, and you will spend your whole life locked up in a room by yourself worrying about how to survive. - Author: Paul Auster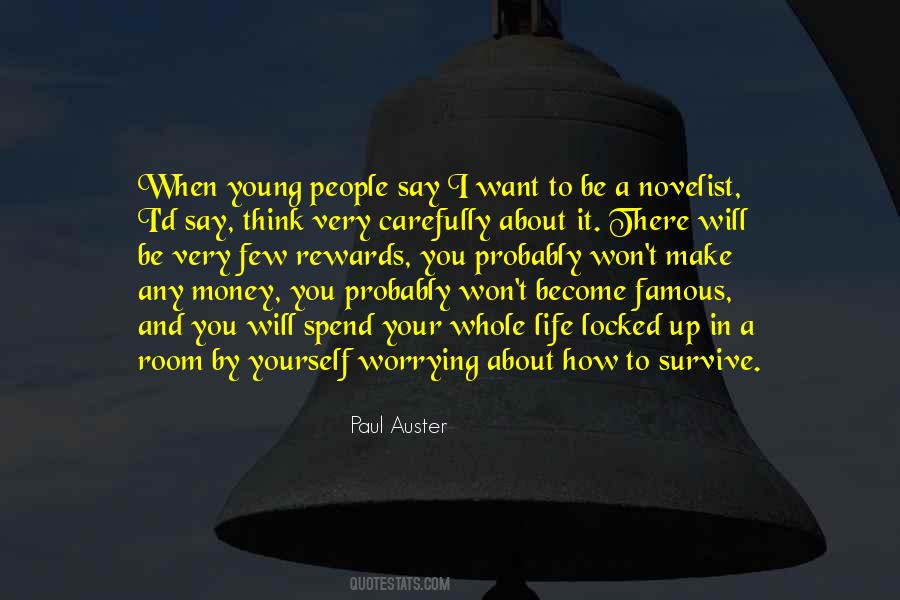 #66. This independent report clearly indicates that while we may differ among ourselves in government about what to spend money on, we have one of the most reliable and non-political processes for agreeing on how much money there is. We don't play games with the numbers. - Author: Ruth Ann Minner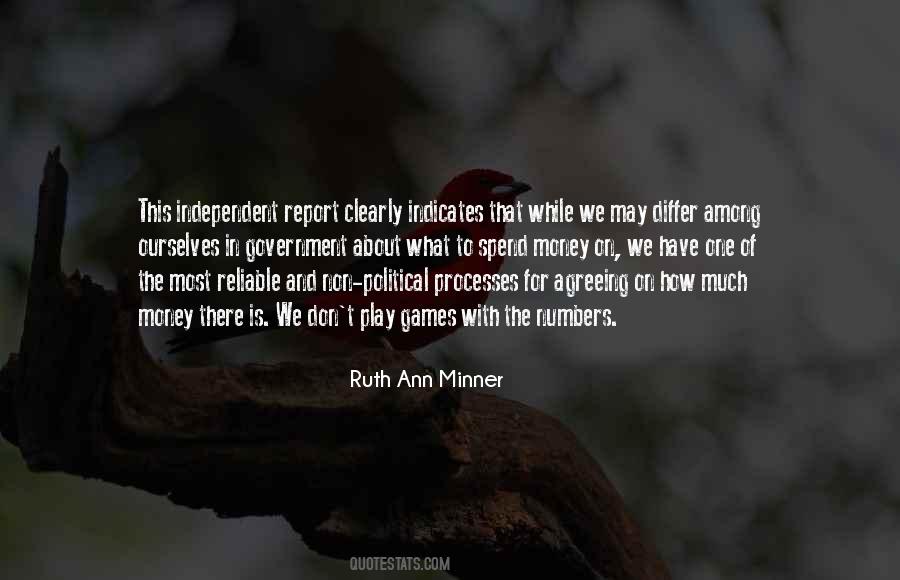 #67. When you're a 20-something grassroots activist, and you're deciding how to spend your time and money to make a difference, it makes a lot of sense to cause a million in damage with just $100 of investment. That's a better return than any other form of activism I've been involved in. - Author: Rod Coronado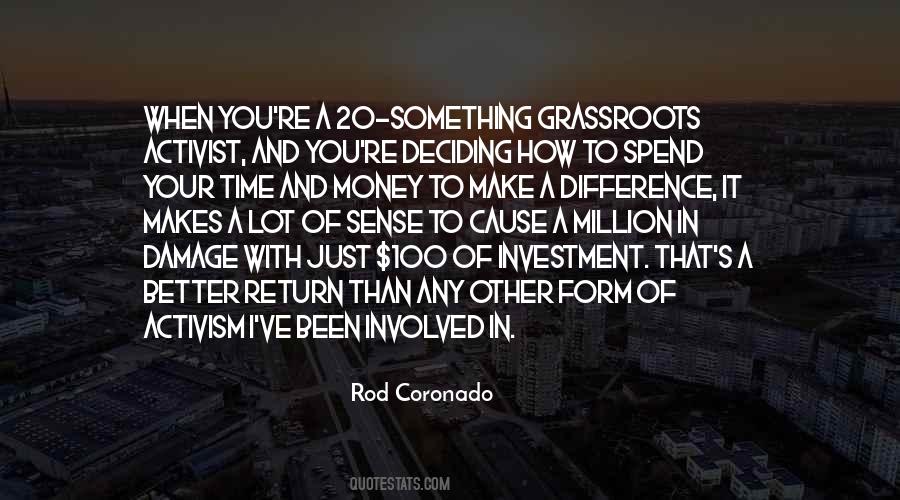 #68. Our loyalty lies with little taxpayers, not big spenders. What our critics really believe is that those in Washington know better how to spend your money than you, the people, do. But we're not going to let them do it, period. - Author: Ronald Reagan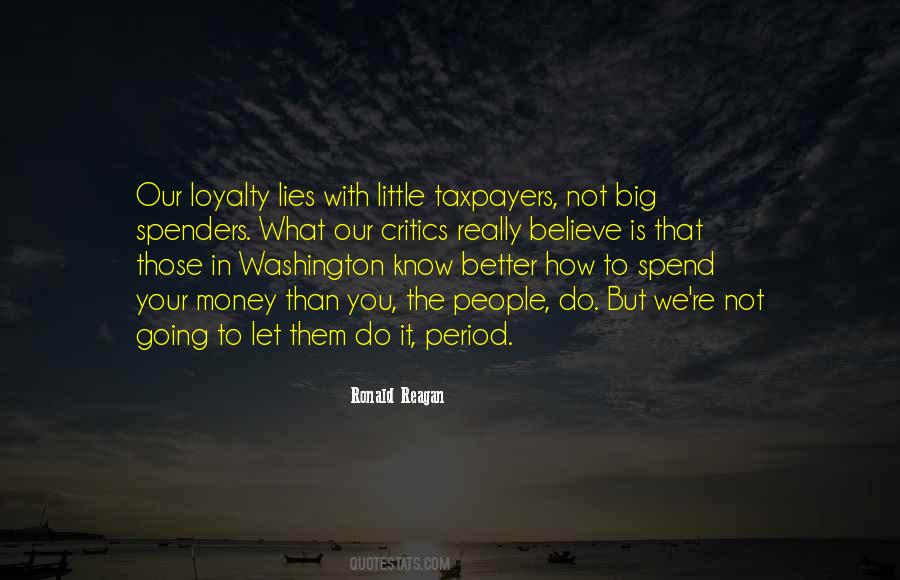 #69. Because no matter how much money we spend there [in Iraq], as long as the people there see this money as ... as assistance that is unwelcome, as long as they continue to be humiliated in their own country by us ... I mean, the future looked bleak, and the future after that was in fact very bleak. - Author: Yaroslav Trofimov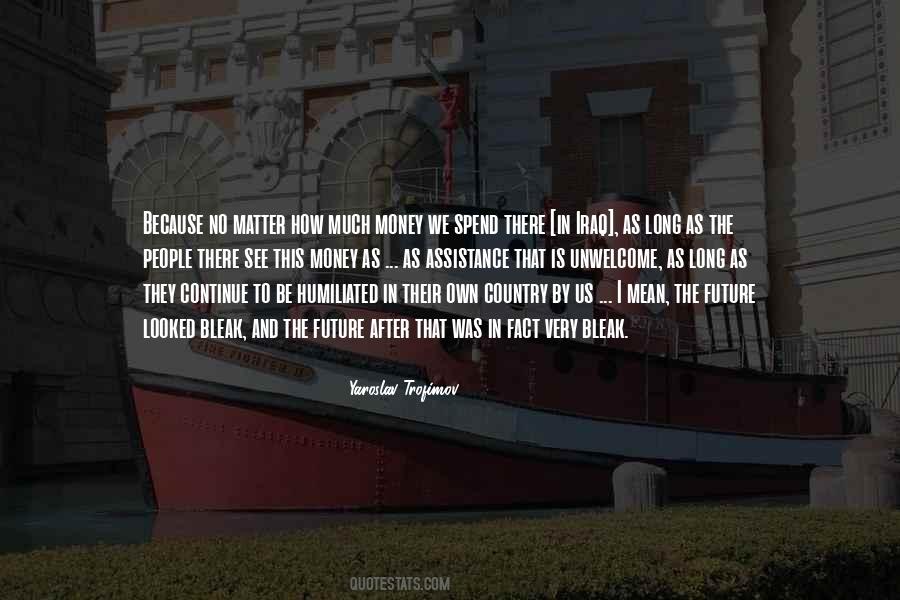 #70. We're not going to spend taxpayers' money on abortion. This is an issue that divides America. But certainly reasonable people can agree on how to reduce abortions in America. - Author: George W. Bush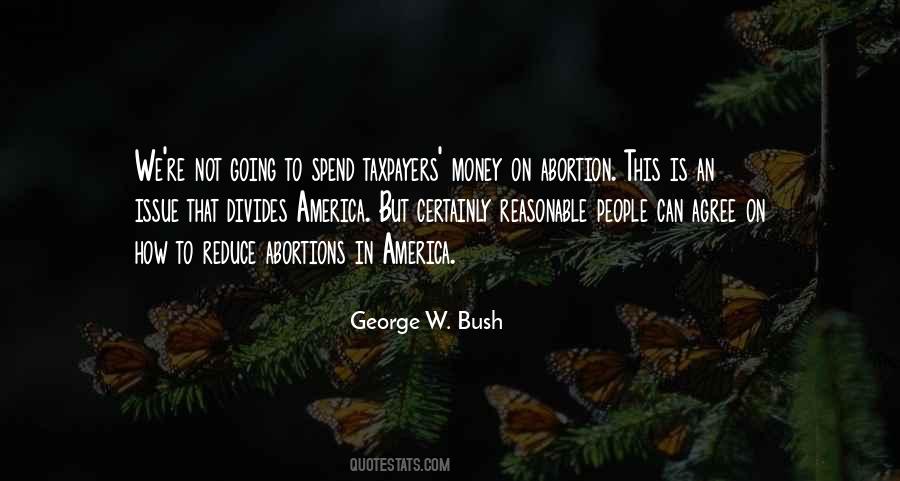 #71. If the (British) Arts Council give you money, they also tell you how to spend it. - Author: Neville Marriner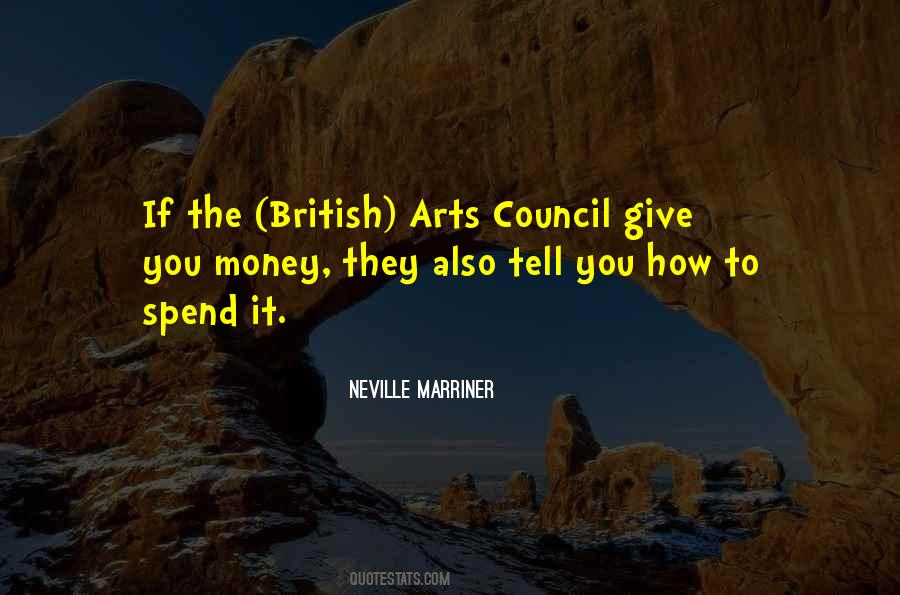 Famous Authors
Popular Topics