Horse Racing Famous Quotes & Sayings
List of top 61 famous quotes and sayings about horse racing to read and share with friends on your Facebook, Twitter, blogs.
Top 61 Quotes About Horse Racing
#1. Footballers are kept in such a bubble that horse racing is a release. - Author: Gordon Taylor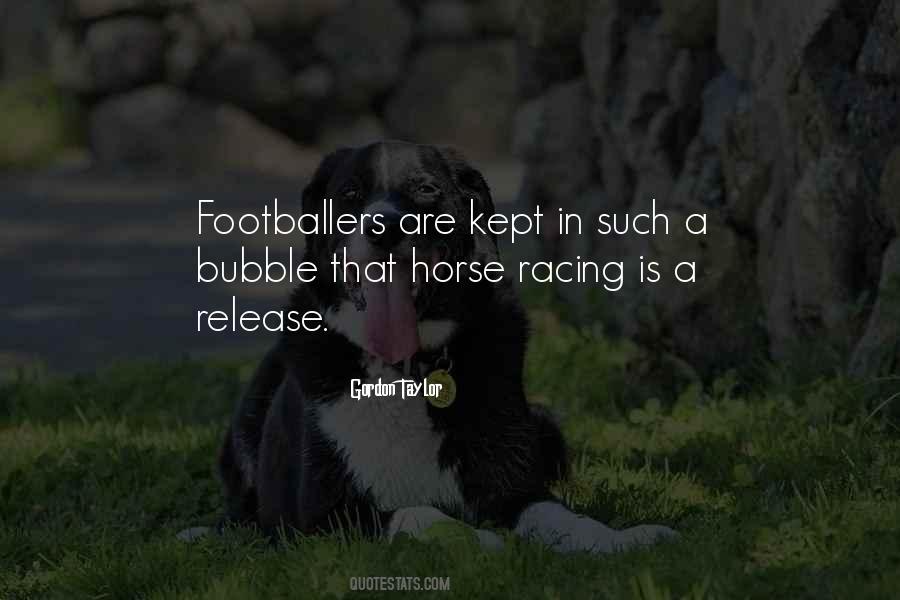 #2. I had a hard time treating my field as if it's horse racing, putting actors in competition against each other. I see how the industry and the studios feel it's important, but I don't really have a feeling for being in competition. I want to feel sympathetic and close to others, not opposed to them. - Author: Alan Arkin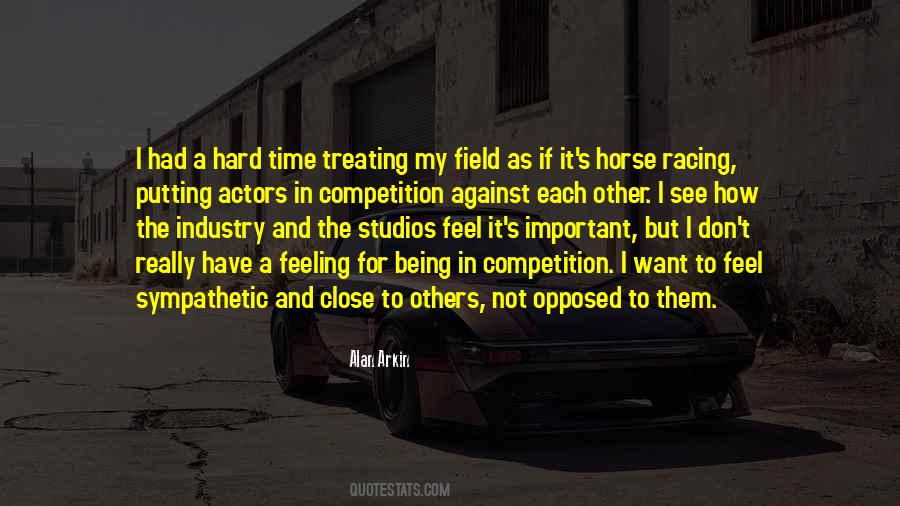 #3. Horse racing is waning in popularity. - Author: Elayne Boosler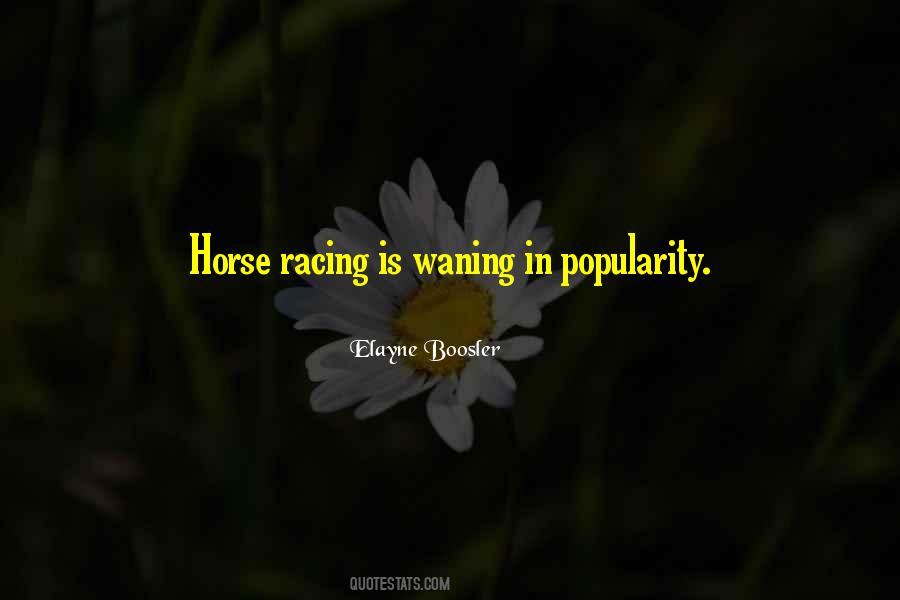 #4. A horseman of the old school, a gentleman who never forgot to dip down and stake you when he win. He was more ashamed to be stingy than to be broke, so as long as he had two dollars you had one ... - Author: Jaimy Gordon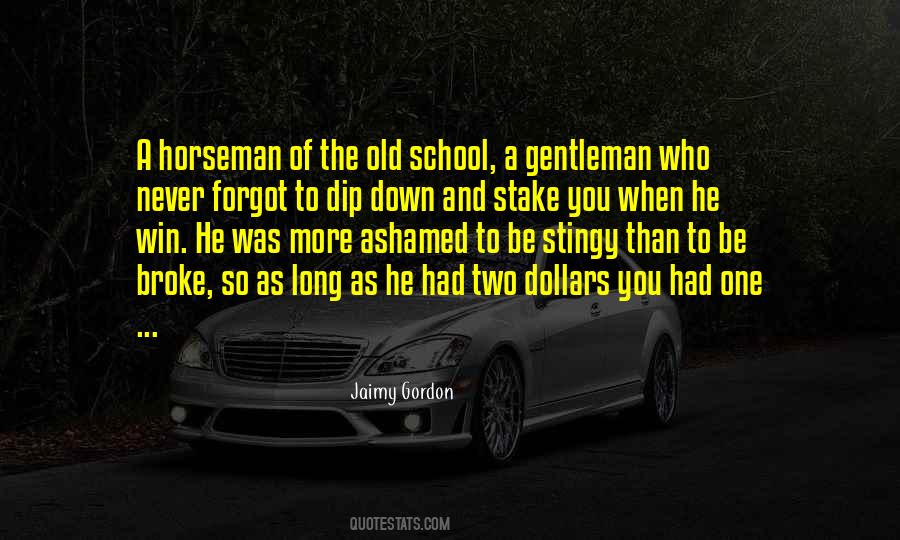 #5. Any horse can win on any given day. - Author: Angel Cordero Jr.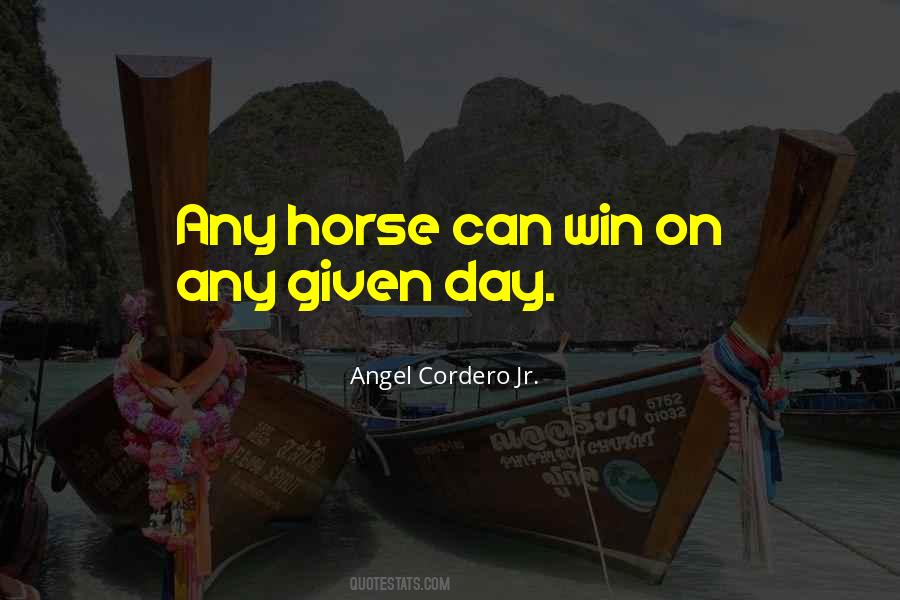 #6. A cat can outrace the best thoroughbred horse if only it can grasp the idea of racing. - Author: Mark Helprin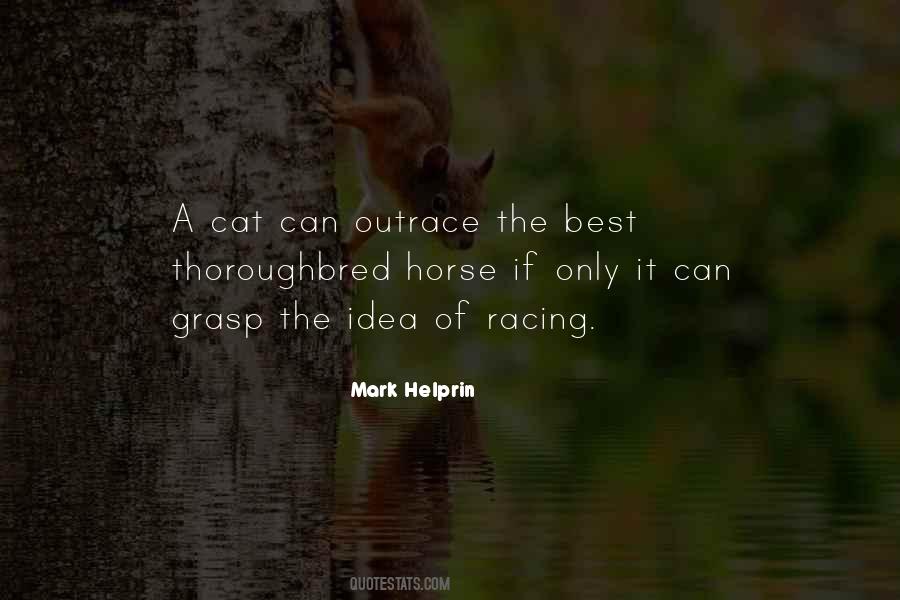 #7. It's kind of ironic that the two sports with the greatest characters, boxing and horse racing, have both been on the decline. In both cases it's for the lack of a suitable hero. - Author: Dick Schaap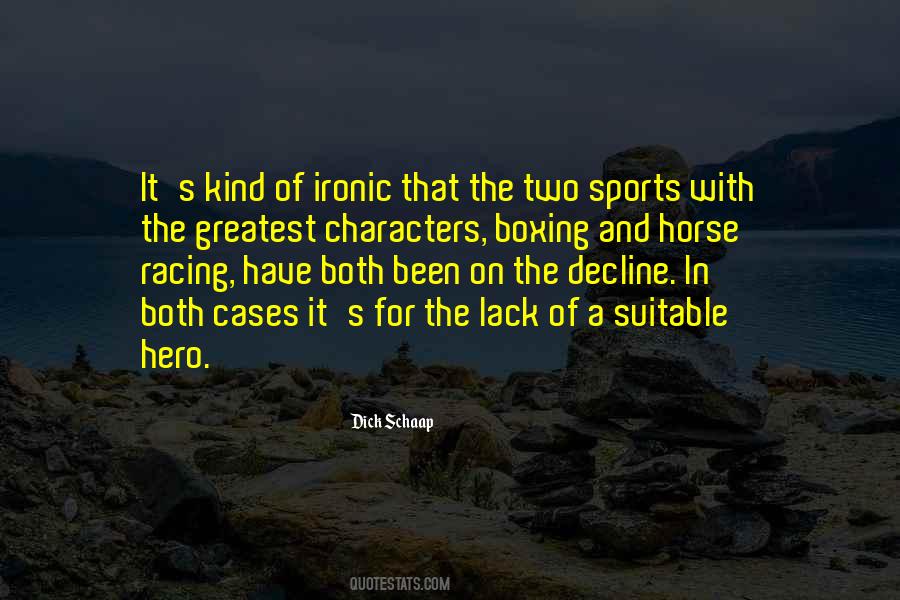 #8. This ain't the 4-H rodeo at the Pocahontas County Fair ... this is horse racing - Author: Jaimy Gordon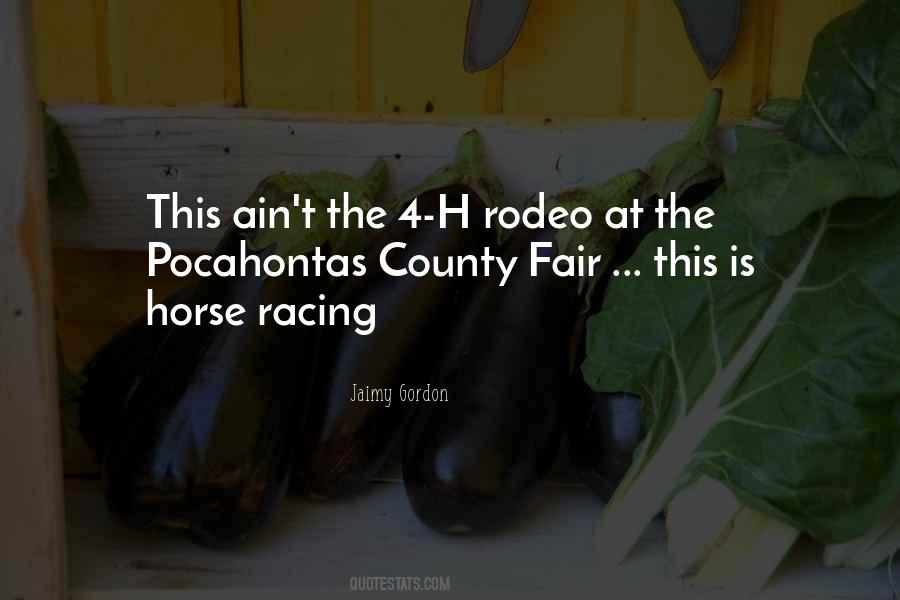 #9. I love horses. I spent seven years as a racing commissioner on a horse-racing board. - Author: Bo Derek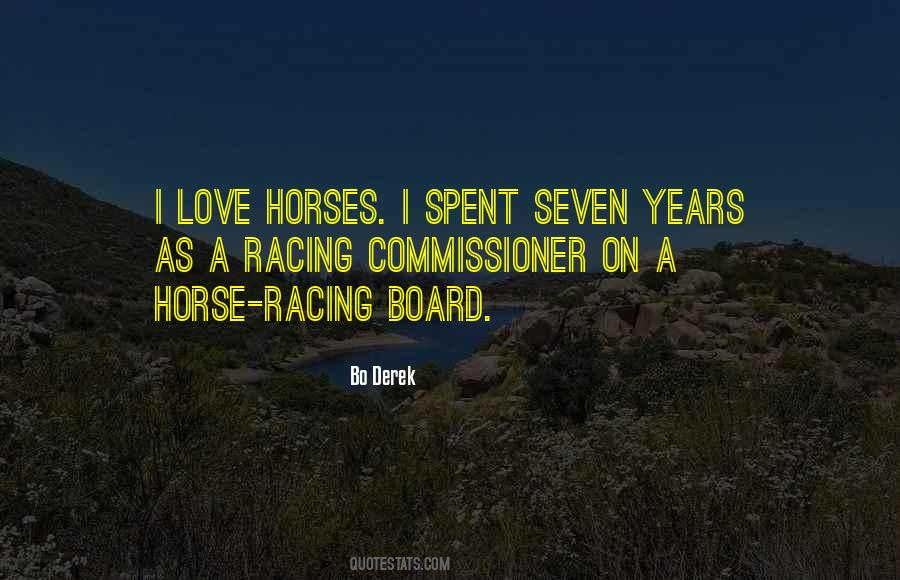 #10. When the striped pole slips by I slide low in the saddle and give Kali room to go. One moment she's bottled up, and the next she's a stream of copper, her chestnut mane smacking me hard in the face while her strides lengthen and everything becomes a droning rumble of hooves and wind. - Author: Mara Dabrishus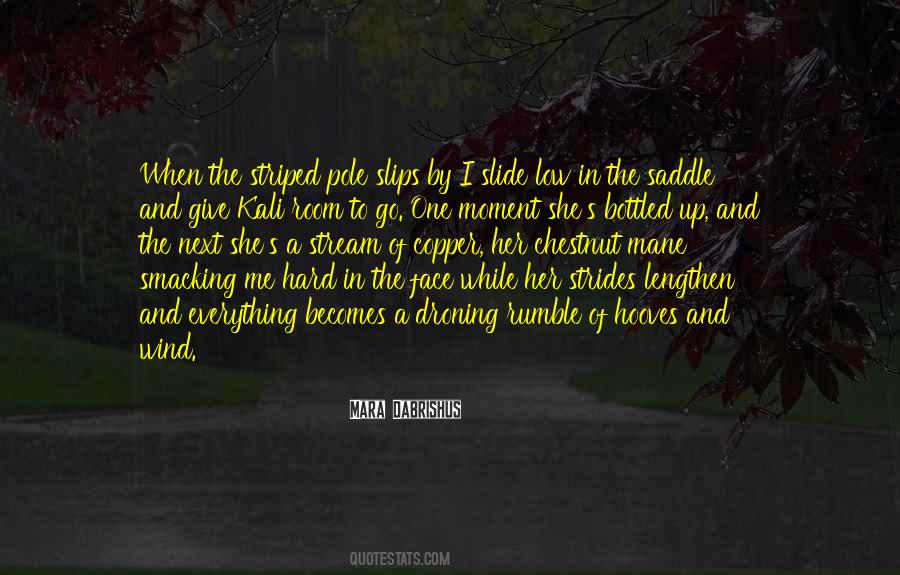 #11. There are great people in life who give you inspiration to keep going and get through the hard times. I have been blessed to have such role models in my life. It would be a privilege if achieving my dream could inspire the next generation. - Author: Michelle Payne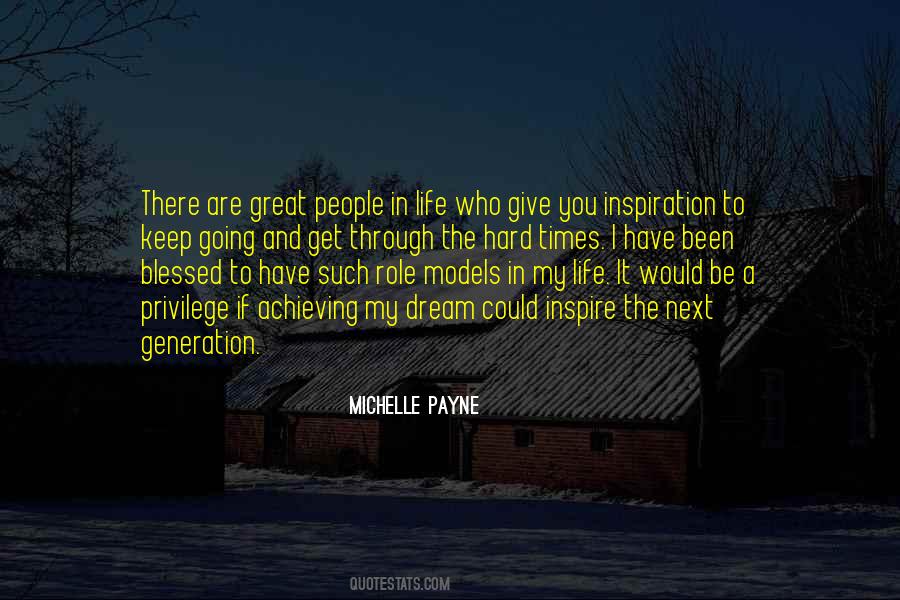 #12. My father is a huge horse racing fan, so I was introduced to the sport long before 'Seabiscuit.' But the role made me an even bigger fan. Horse racing is one of my favorite sports. - Author: Elizabeth Banks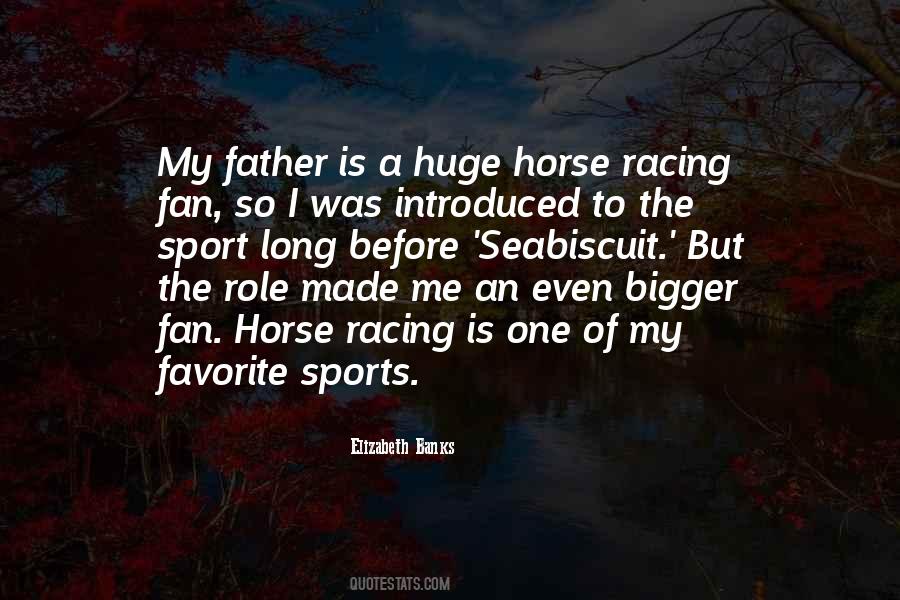 #13. A human can be a real prick but maintain the capacity for good and a good hearted soul is capable of great evil. Never judge a person as absolutely one way or another because you sell the human race short when you do. - Author: Jim McGarrah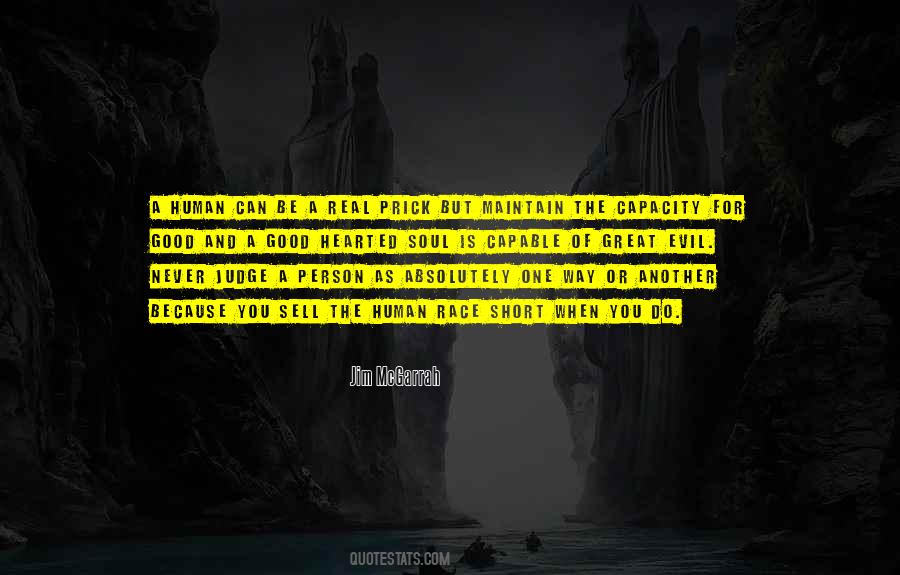 #14. Polo, racing and horse shows all are doing great work to help the farmer and rancher to raise better horses. - Author: Will Rogers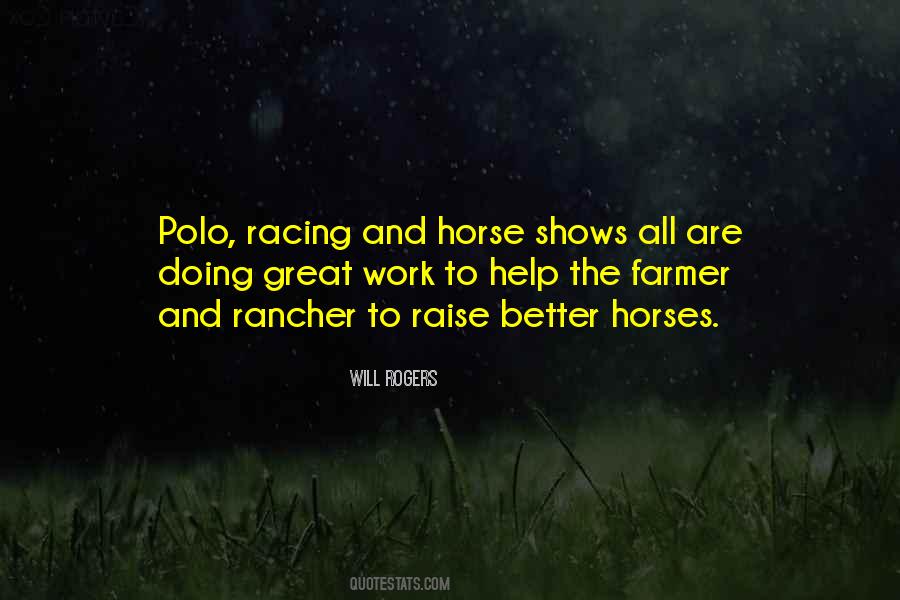 #15. On a warm spring day, a galloping horse was only too clearly a sweating animal of flesh and blood. But a horse racing through a snowstorm became one with the very elements; wrapped in the whirling blast of the north wind, the beast embodied the icy breath of winter. - Author: Yukio Mishima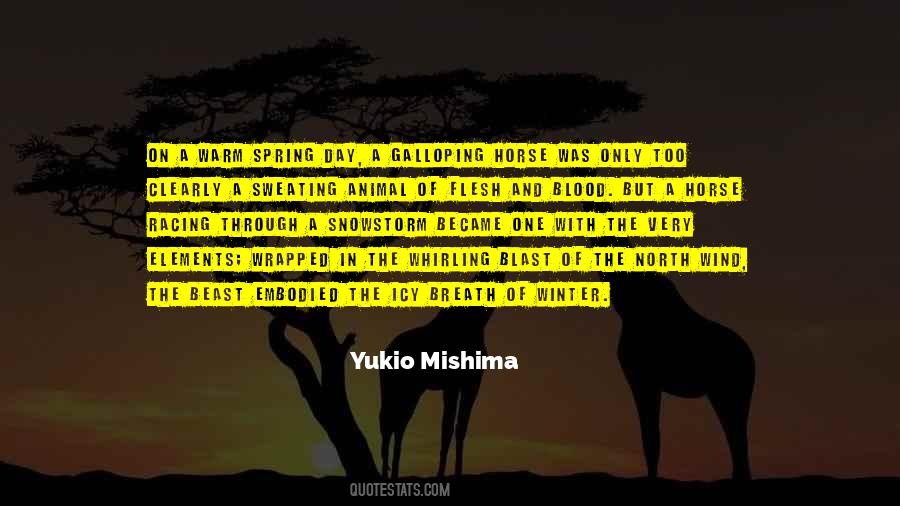 #16. The only sport I'm not interested in is horse racing. That's because I don't know the horses personally. - Author: Nat King Cole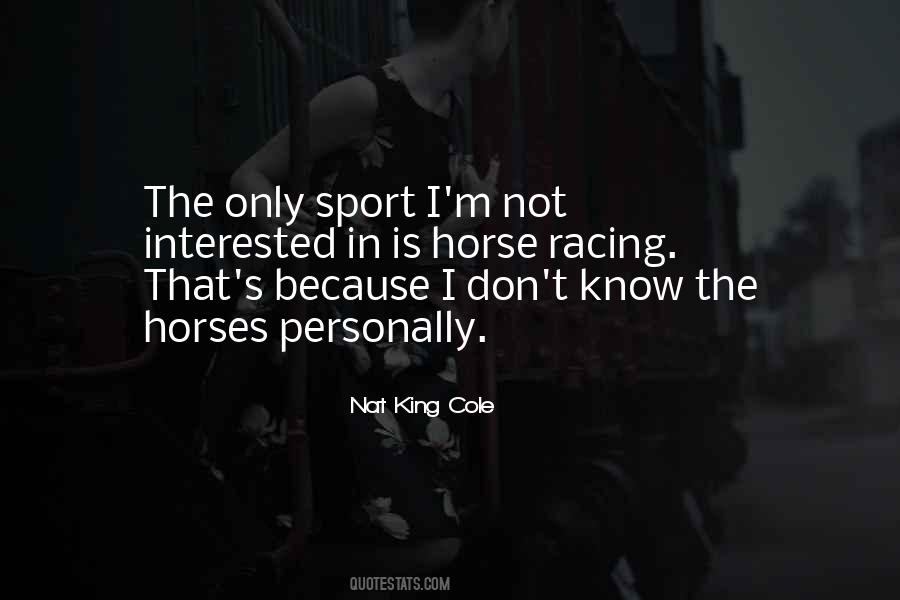 #17. The profession of book writing makes horse racing seem like a solid, stable business. - Author: John Steinbeck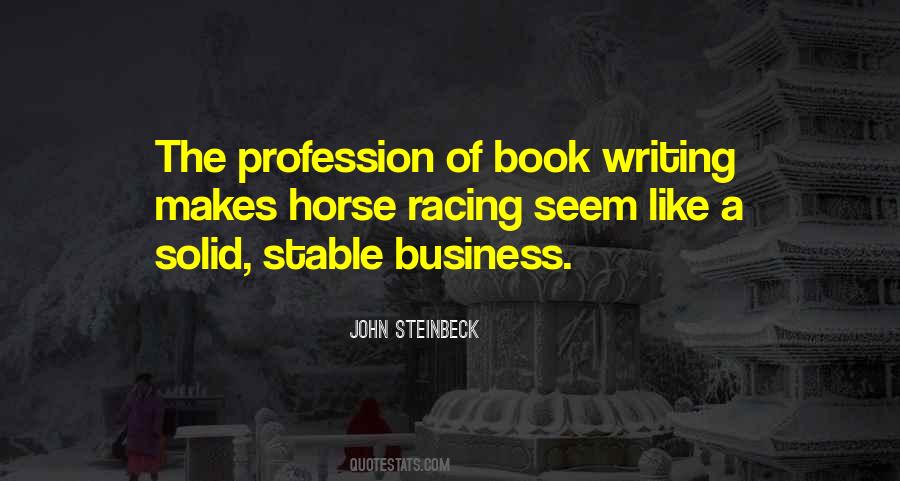 #18. A racing horse is not like a machine. It has to be tuned up like a racing car. - Author: Christopher Poole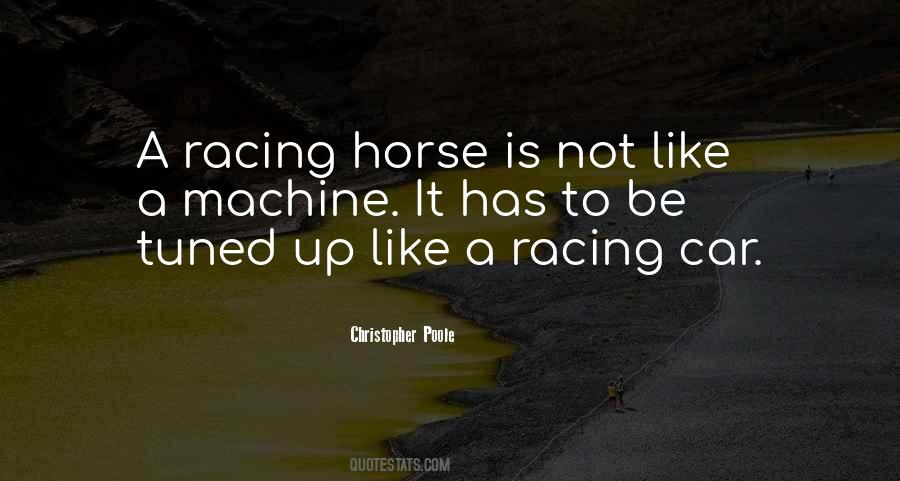 #19. If horse racing is the sport of kings, then drag racing must be the sport of queens. - Author: Bert Sugar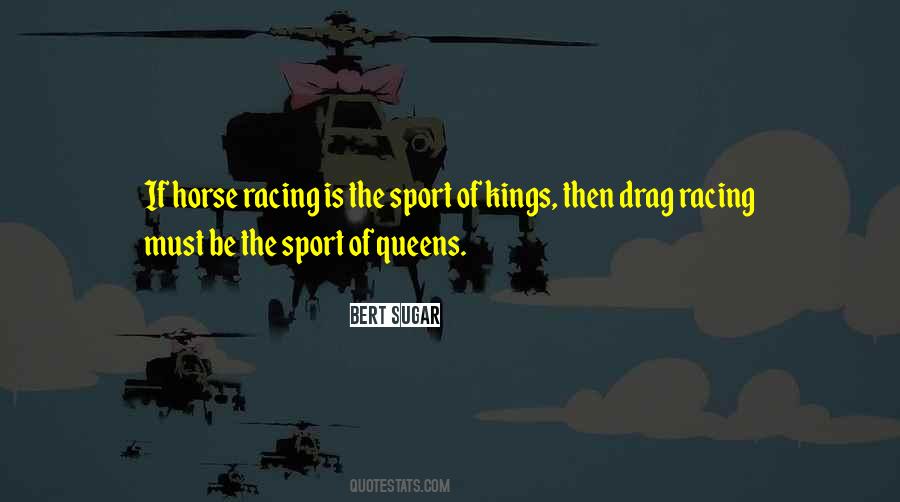 #20. My hobbies away from horse racing would be reading and painting; I love art. - Author: Chantal Sutherland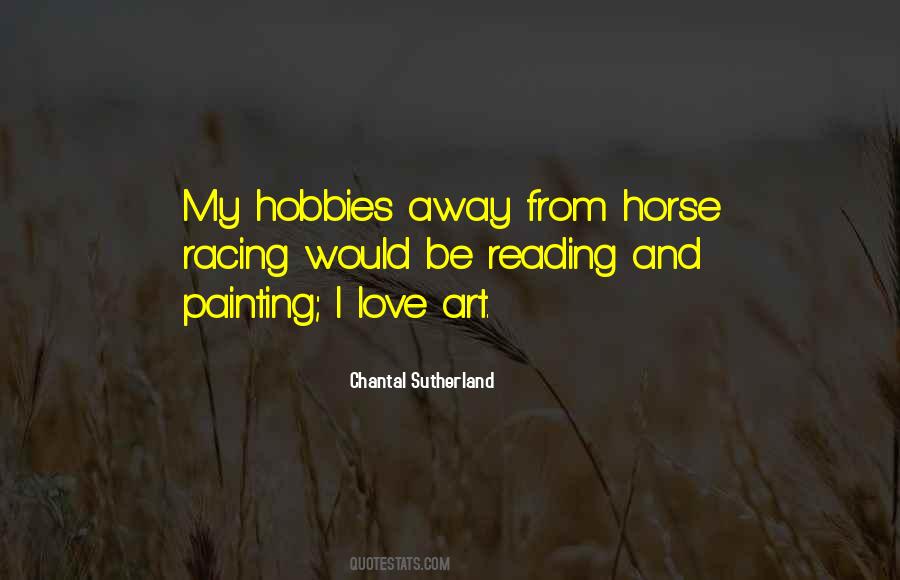 #21. The sport of horse racing which, at its best, showcases the majestic beauty of this animal and the athleticism of jockeys, has reached an alarming level of corruption and exploitation. - Author: Tom Udall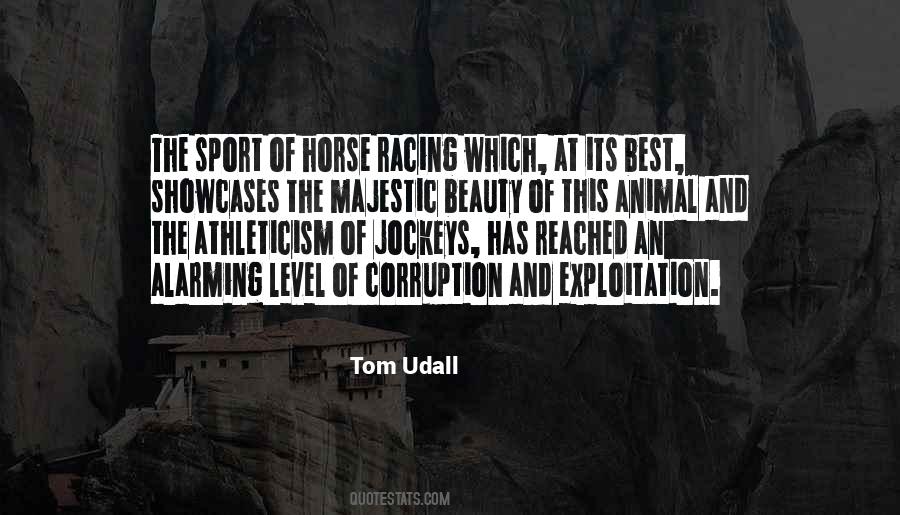 #22. The lower classes are such fools. They waste their money on the pools. I bet, of course, but that's misleading. One must encourage bloodstock breeding. - Author: Bernard Fergusson, Baron Ballantrae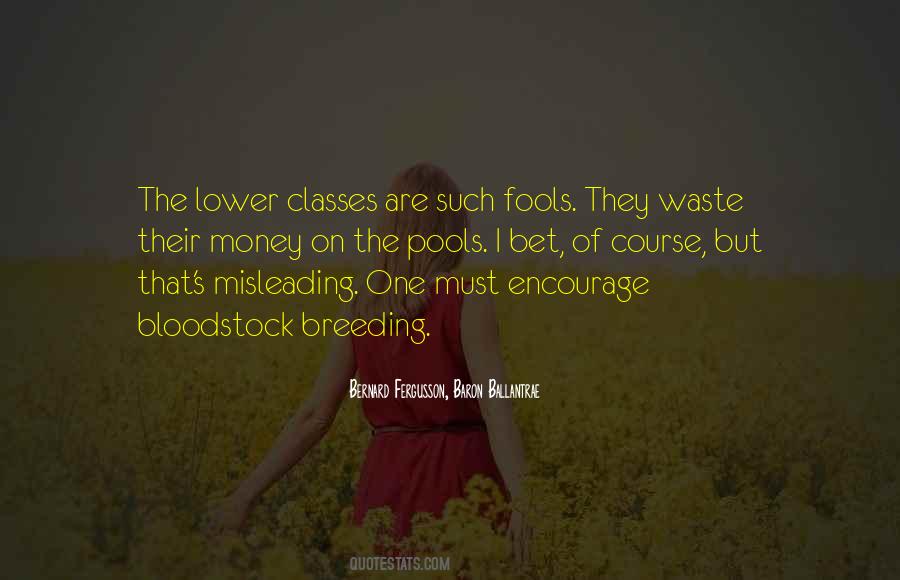 #23. I don't play golf, and I'm not into horse racing. - Author: Lloyd Dorfman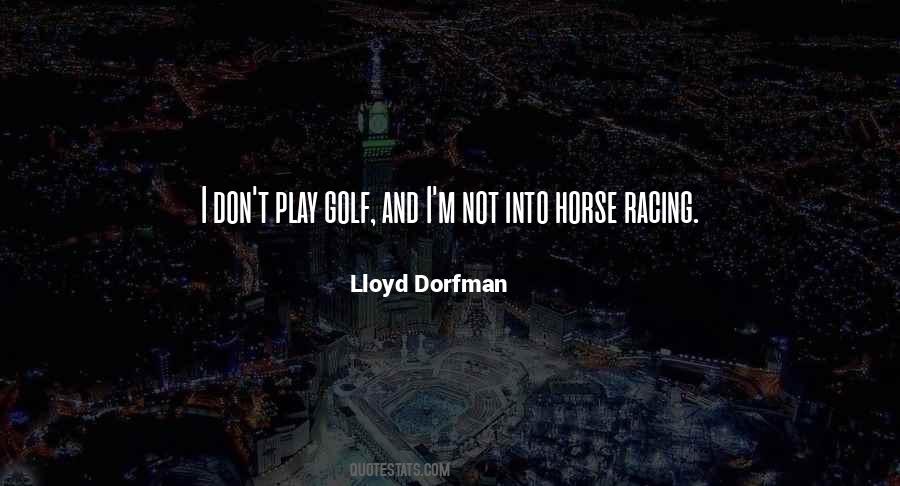 #24. There where the course is,
Delight makes all of the one mind,
The riders upon the galloping horses,
The crowd that closes in behind ... - Author: William Butler Yeats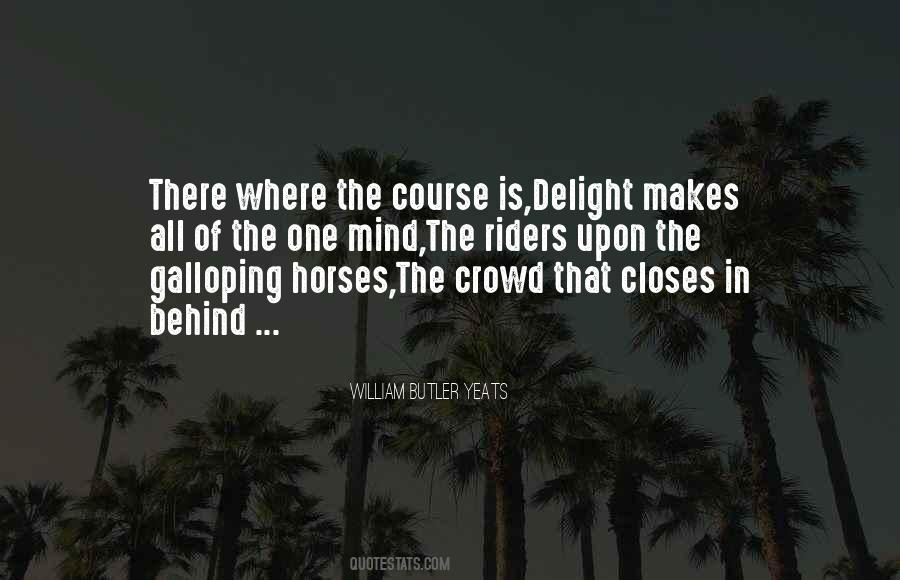 #25. The best bet for the horses would be to stop betting on the Derby and other horse races, and to stop breeding, racing and killing thoroughbreds altogether - Author: Ingrid Newkirk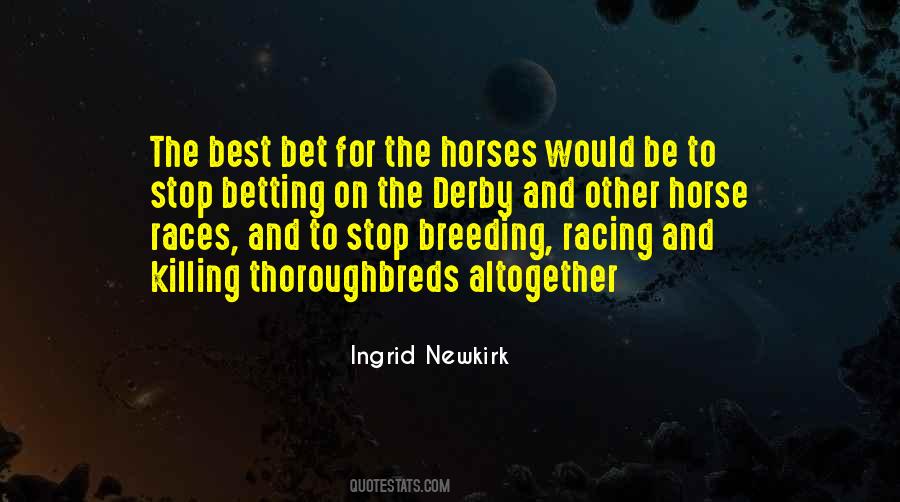 #26. Nothing is permanent, I tell myself over and over. Especially not a horse. - Author: Mara Dabrishus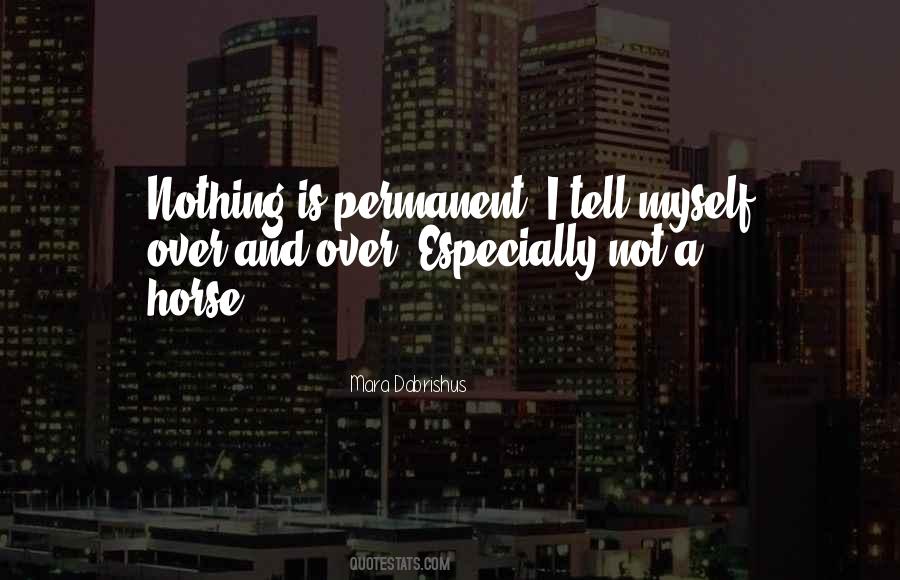 #27. Peace is found with honesty among wicked men. - Author: Benjamin DeHaven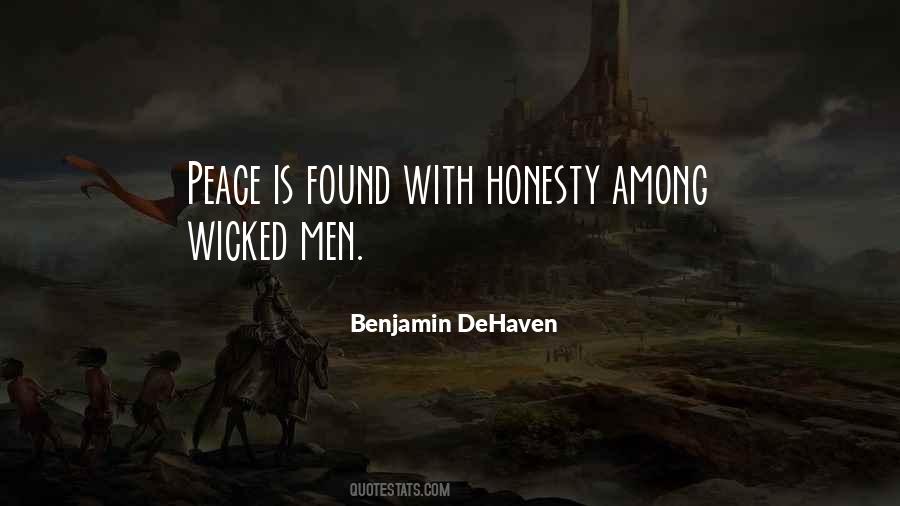 #28. In that hothouse atmosphere, criminal records bloomed like orchids all around us. - Author: Jean-Dominique Bauby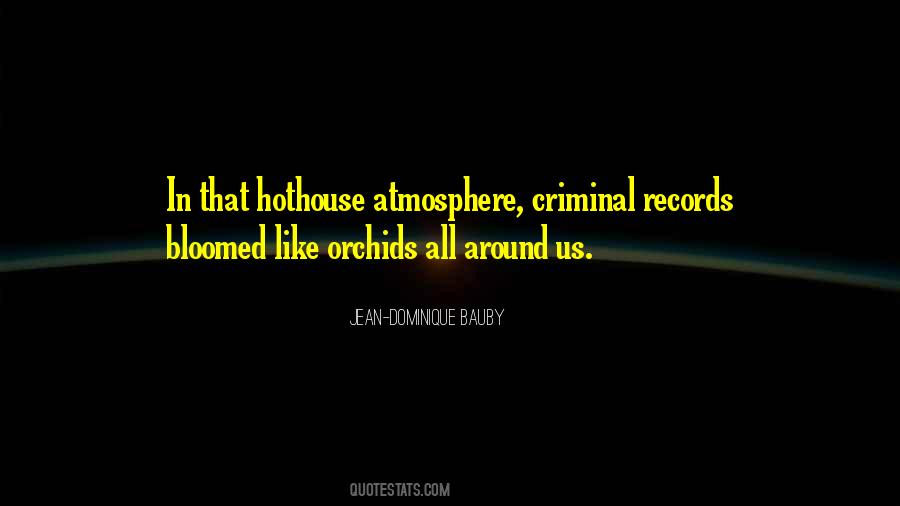 #29. I own a horse and ride, but I don't know racing or betting. - Author: Michael Mann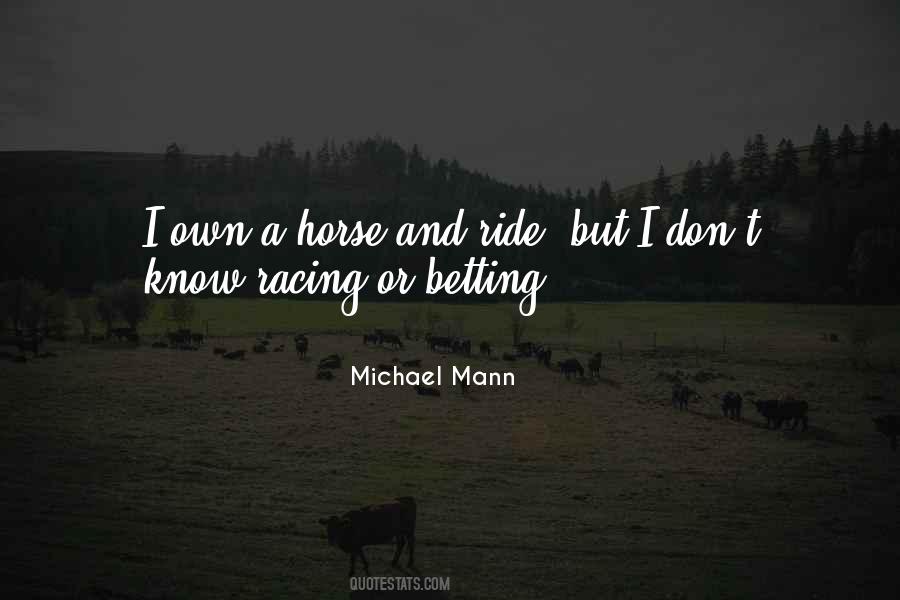 #30. Offering multiple games to reach such a broad audience is a great way to create awareness about horse racing. Obviously, my favorite is the jockey game. It's very realistic. - Author: Chantal Sutherland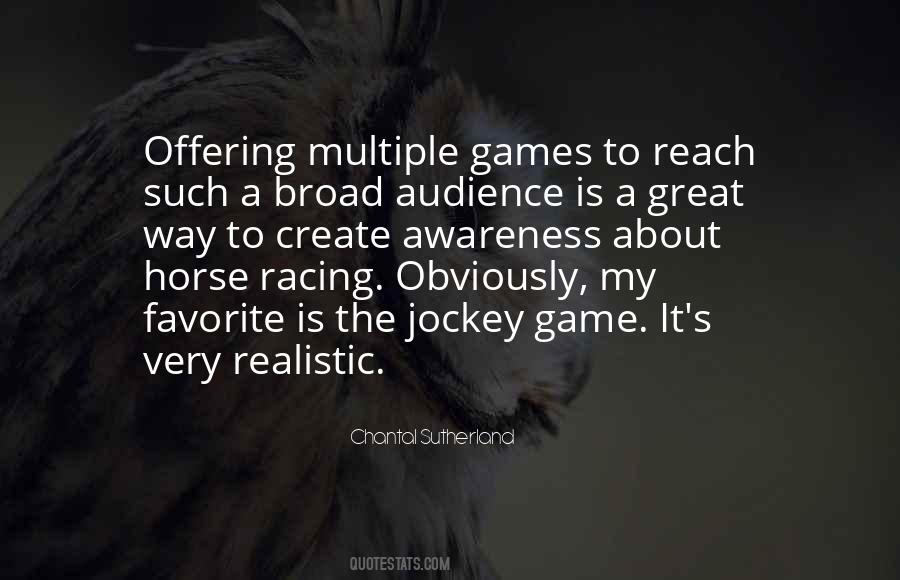 #31. The race for first season sire honours is in full swing in the Northern Hemisphere with young stallion Showcasing setting the pace. - Author: Australia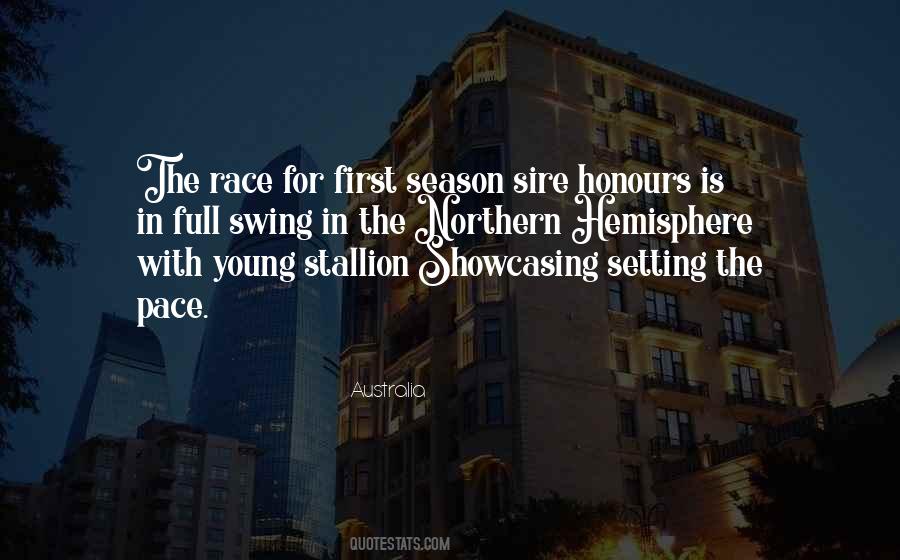 #32. Kali has a habit of doing these beautiful works that never translate during the races in the afternoon. They call animals like her morning glories, or horrendous bets. Take your pick. - Author: Mara Dabrishus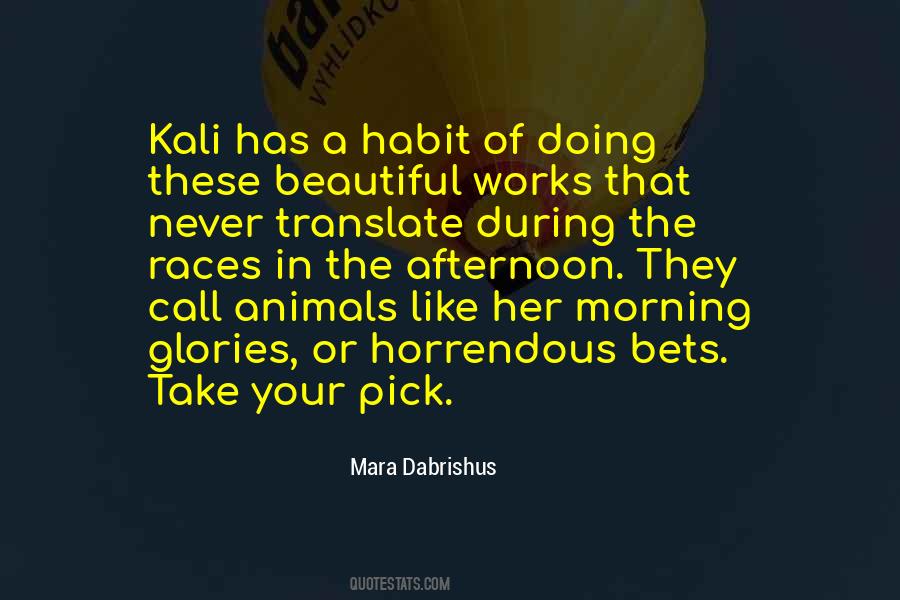 #33. It is true that the Puritans banned all recreation on Sundays and all games of chance, gambling, bear baiting, horse racing, and bowling in or around taverns at all times. They did so, not because they were opposed to fun, but because they judged these activities to be inherently harmful or immoral. - Author: Leland Ryken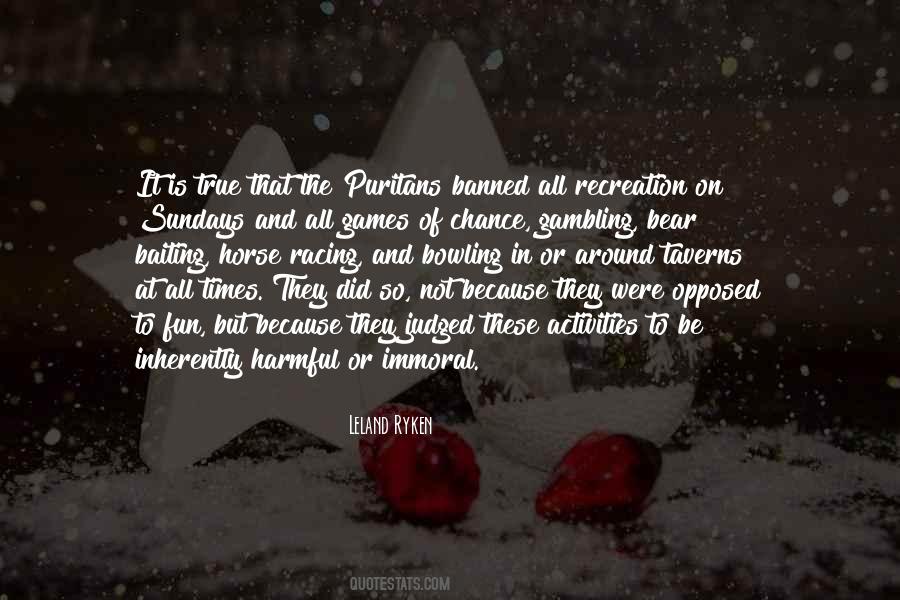 #34. A horse doesn't know whether the rider on his back wears a dress or pants away from the track. - Author: Diane Crump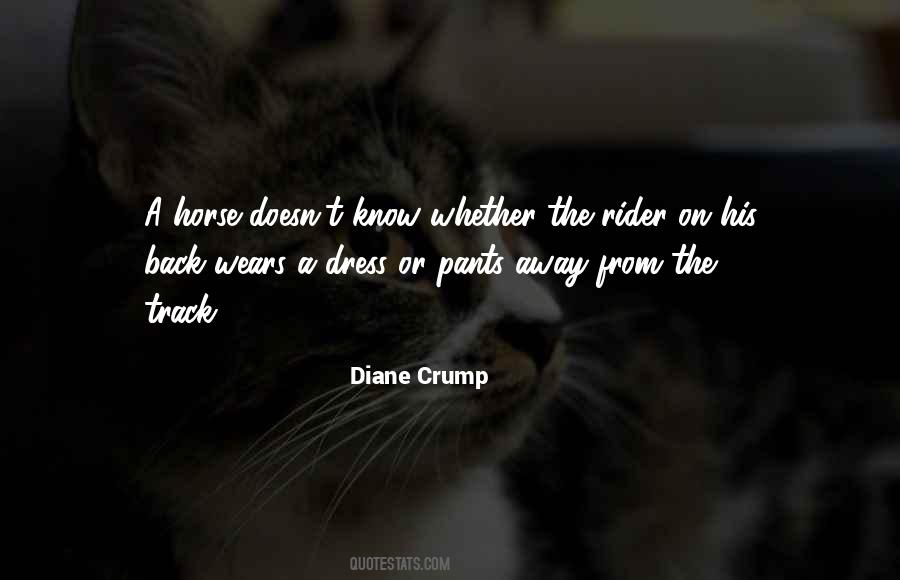 #35. In England the more horses a nobleman has, the more popular he is. So long as the English are devoted to racing, Socialism has no chance with you. - Author: Otto Von Bismarck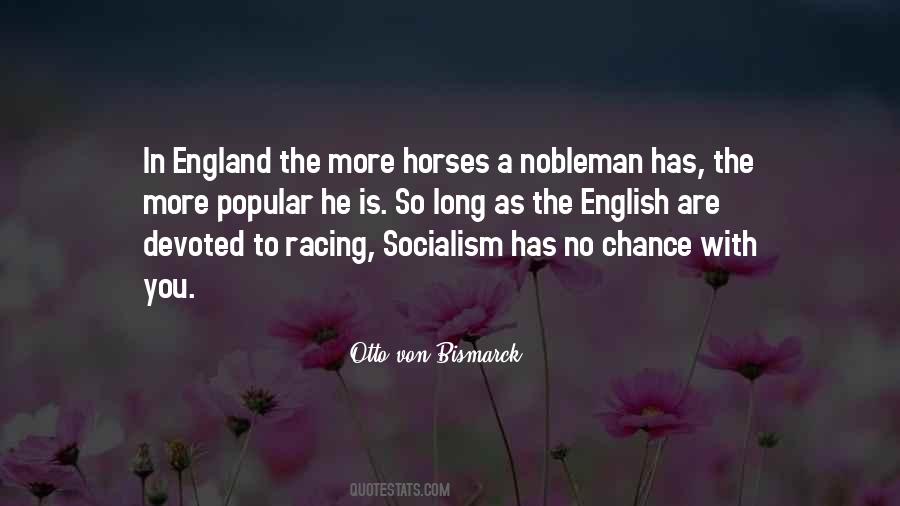 #36. Vacations in my family are rare events squeezed between races. I can count them on one hand, and even those amount to only a few hours each. Shopping in Los Angeles. Sinking my toes into snow white sand in Florida. They are tiny slips of memory strung around horses. - Author: Mara Dabrishus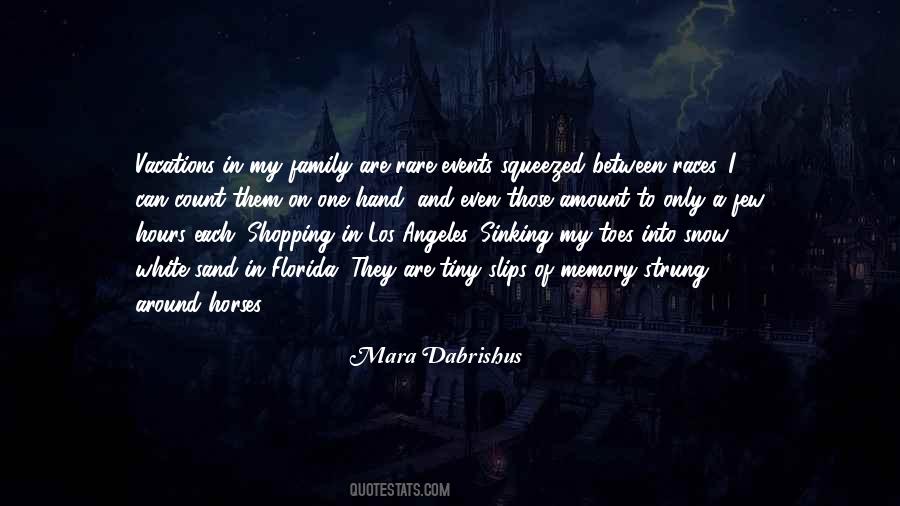 #37. I love horse racing, I play golf, and I love travelling. - Author: Ian Rush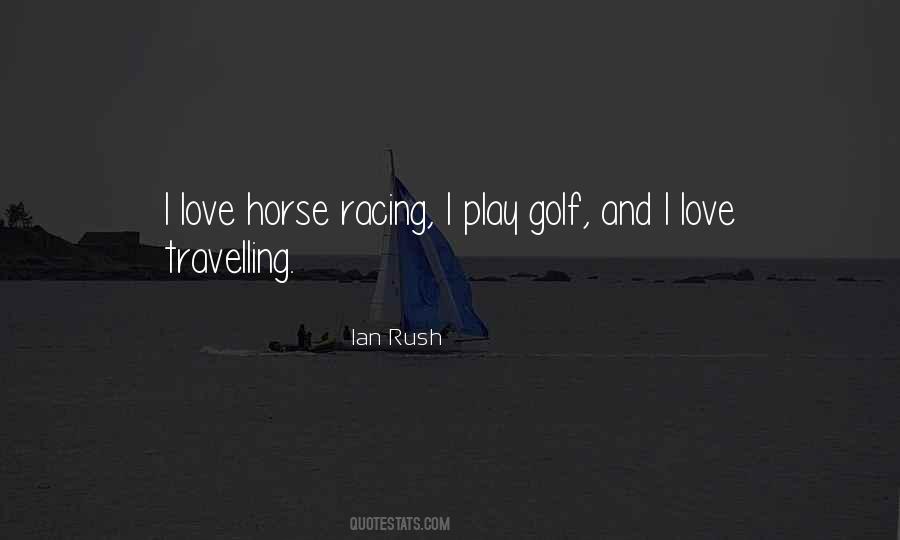 #38. Sailing heart-ships through broken harbors out on the waves of the night, still the searcher must ride the dark horse racing alone in his fright. - Author: Neil Young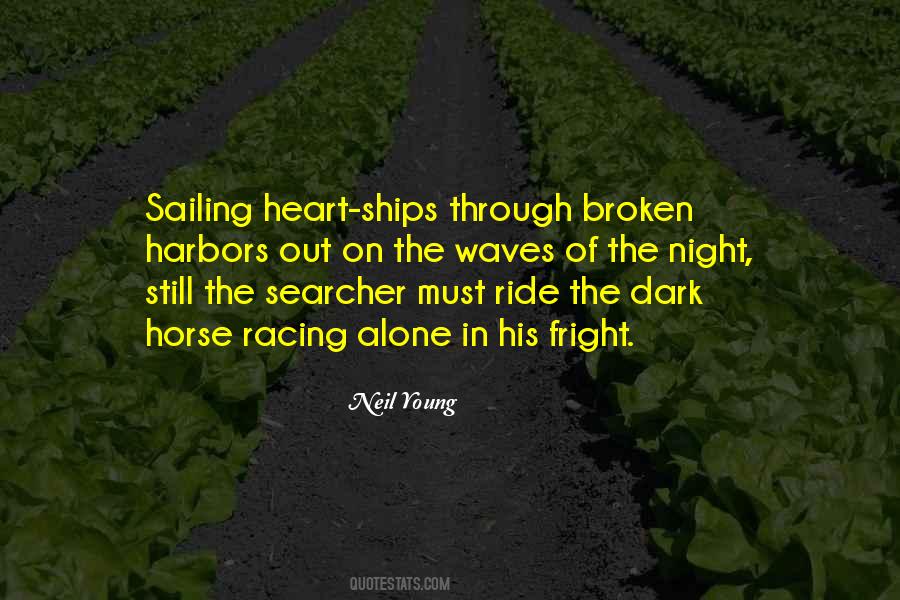 #39. Horse racing is really much more intimidating than anything having to do with literature. When I had horses at the racetrack, I would wake up in terror in a way that I would never wake up while working on a novel. - Author: Jane Smiley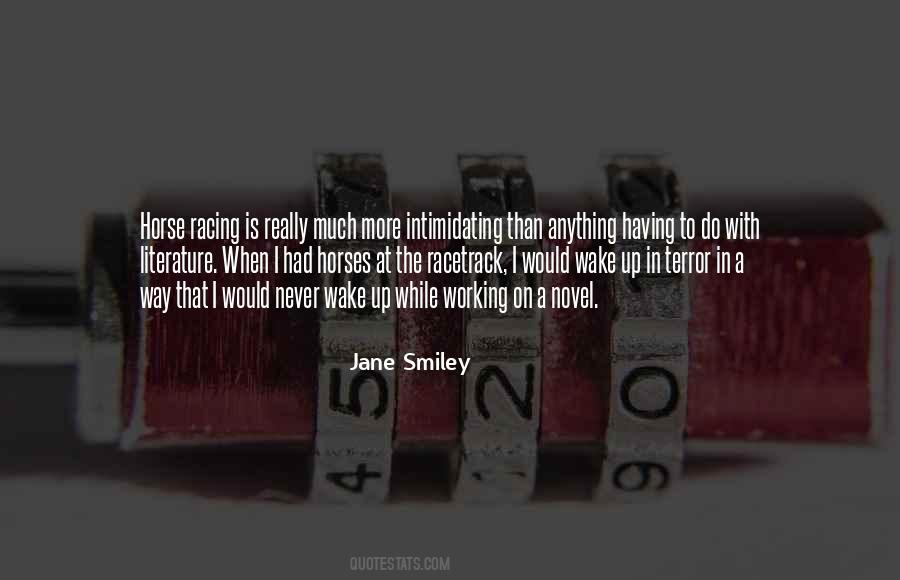 #40. A difference of opinion is what makes horse racing and missionaries. - Author: Will Rogers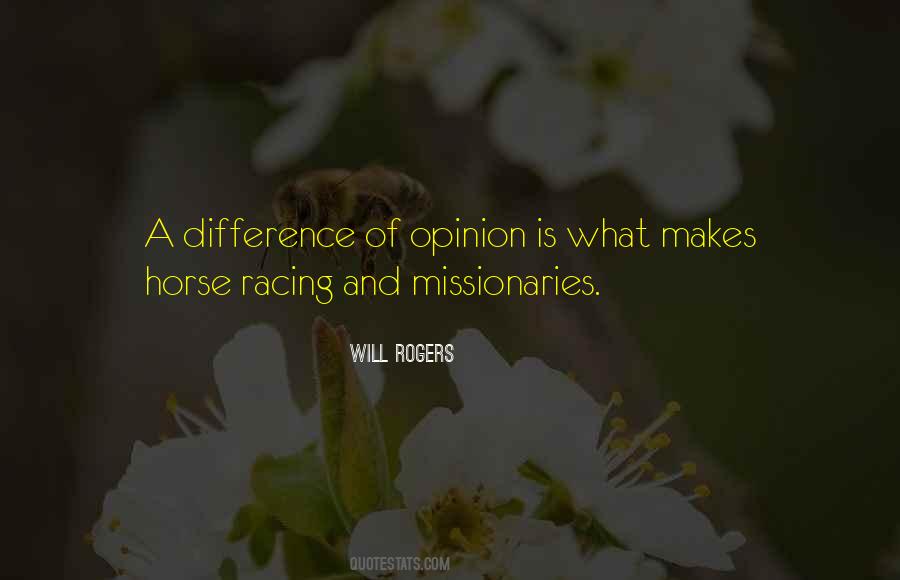 #41. There is a sociology of horses, as well as a psychology. It is most evident in the world of horse racing, where many horses are gathered together, where year after year, decade after decade, they do the same, rather simple thing - run in races and try to win. - Author: Jane Smiley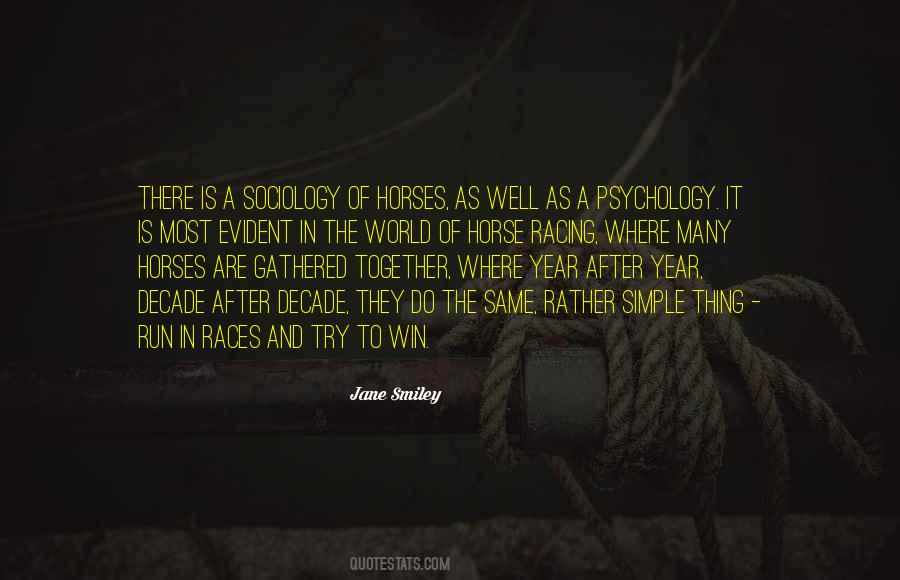 #42. As a teenager, I developed a great interest in not only horse breeding but also horse racing and used to bet based on red-hot tips. I realized that becoming a bookmaker would be very lucrative, but Dad put his foot down, saying it was an inappropriate career. - Author: Cyrus S. Poonawalla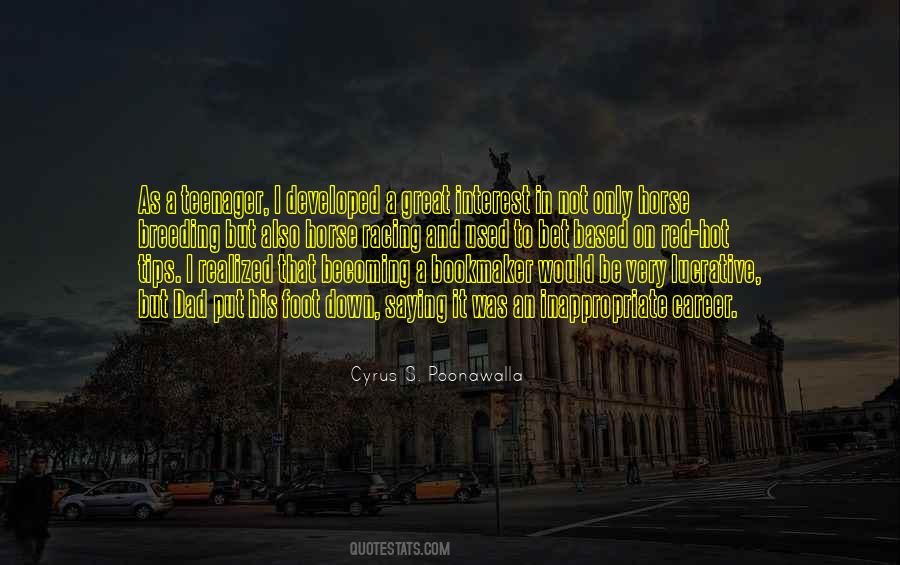 #43. There is a severe horse overpopulation crisis caused by overbreeding in the racing industry. It's time for that industry to accept responsibility for its castoffs and take dramatic action to protect a species that has so loyally served humankind. - Author: Jane Velez-Mitchell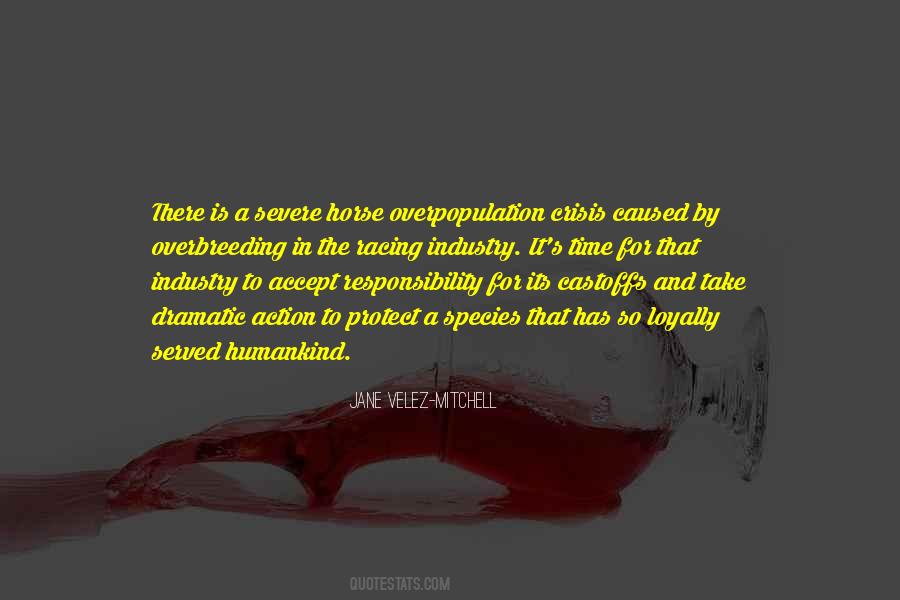 #44. On a horse that consistently hung left-The best thing you can do is put a bit of lead in his right ear, to act as a counterbalance ... with a shotgun. - Author: Lester Piggott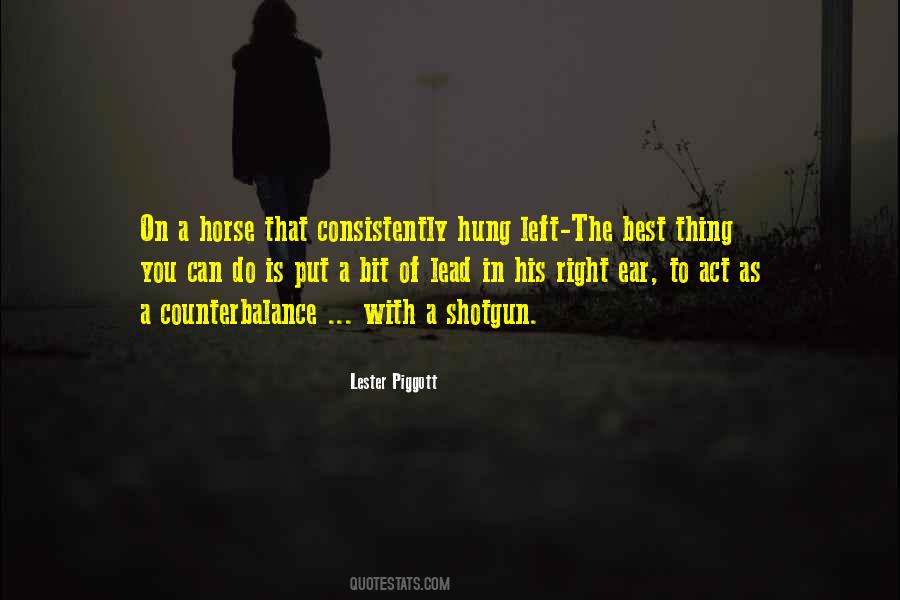 #45. Books on horse racing subjects have never done well, and I am told that publishers had come to think of them as the literary version of box office poison. - Author: Laura Hillenbrand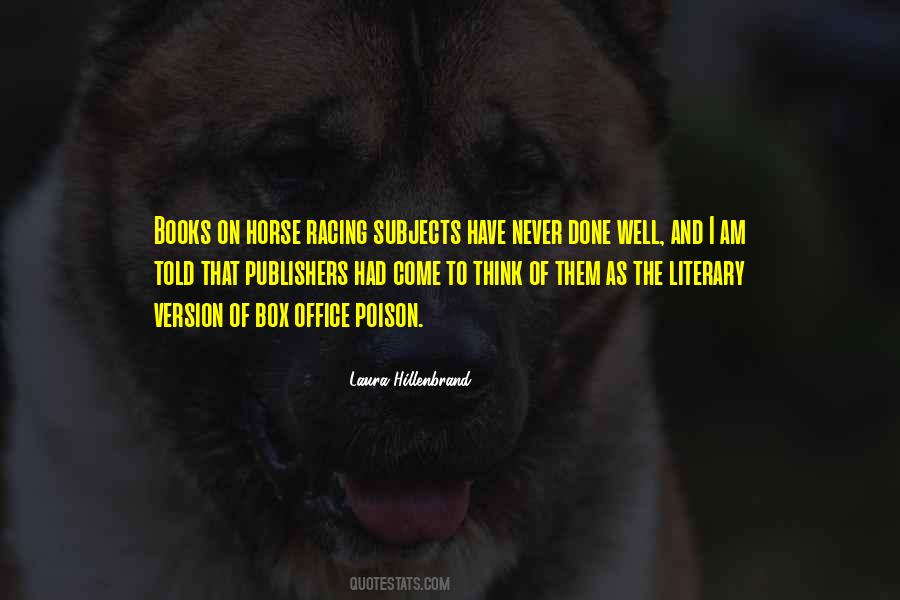 #46. Horse racing is animated roulette. - Author: Roger Kahn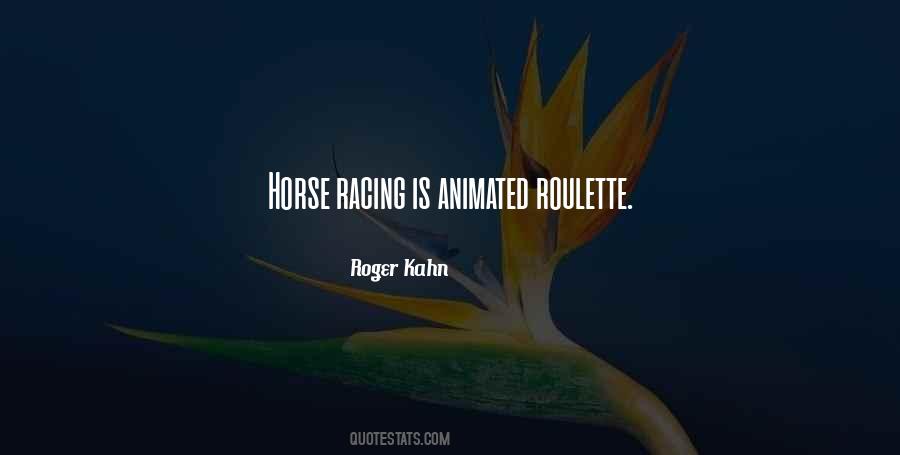 #47. I want to be the best race horse around when I grow up, Mama.
You can be, Charlie, as long as you are willing to try your best and not give up when you have a bad day. - Author: Deanie Humphrys-Dunne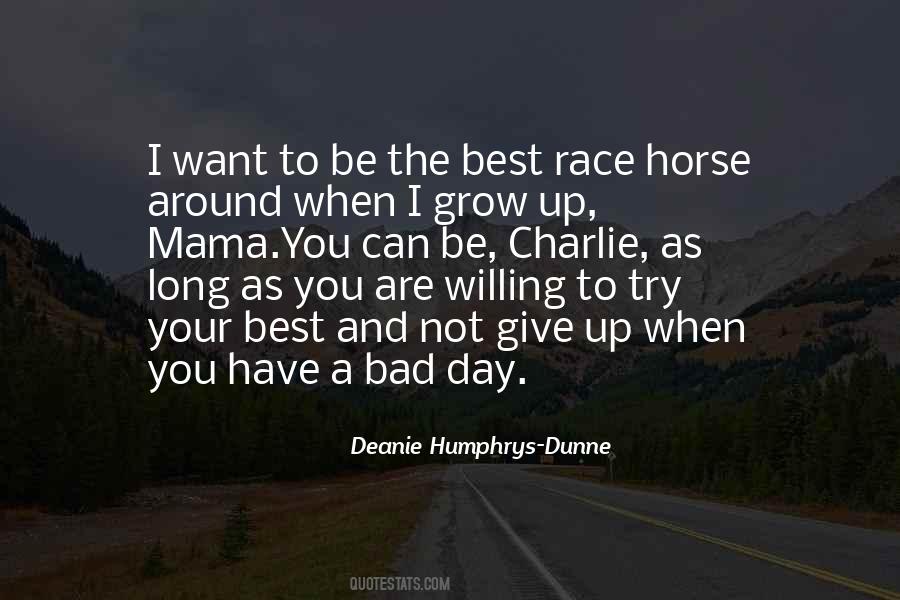 #48. No matter what, my chest always tightens up before a race. A rush of adrenaline spikes all the way down my spine, and it's like I'm right there. Right on top of Kali, squeezed in that metal stall, looking out at the dirt with my heart in my throat. The starter opens the gates, and the bell rings. - Author: Mara Dabrishus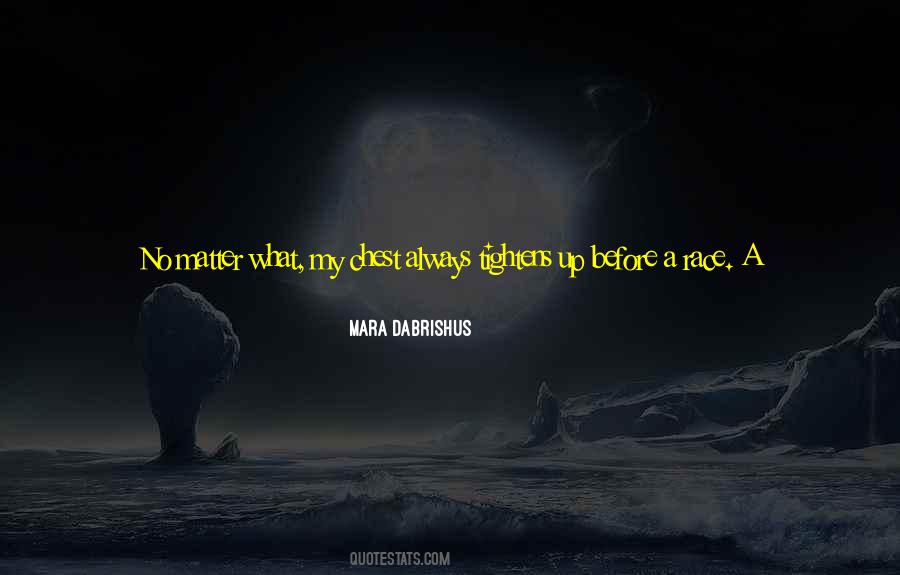 #49. Touring is really about being on edge the whole time - you're like a racing horse: you've just got to be on. You've got to pull it together. - Author: Lykke Li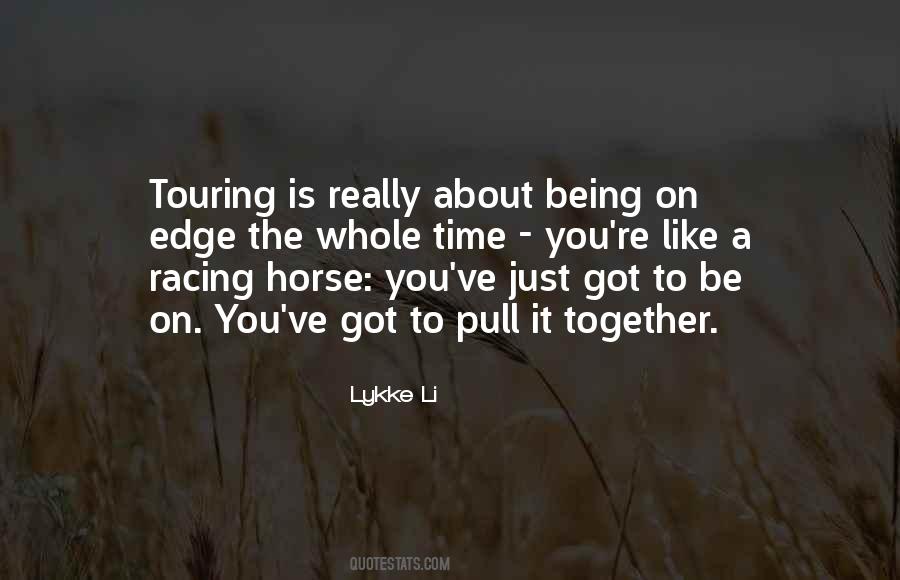 #50. My grandfather was very into horse racing, and I found some of his old journals and got into it from there. It has a lot of parallels to skiing. It's a fun lifestyle, being around the racetrack. - Author: Bode Miller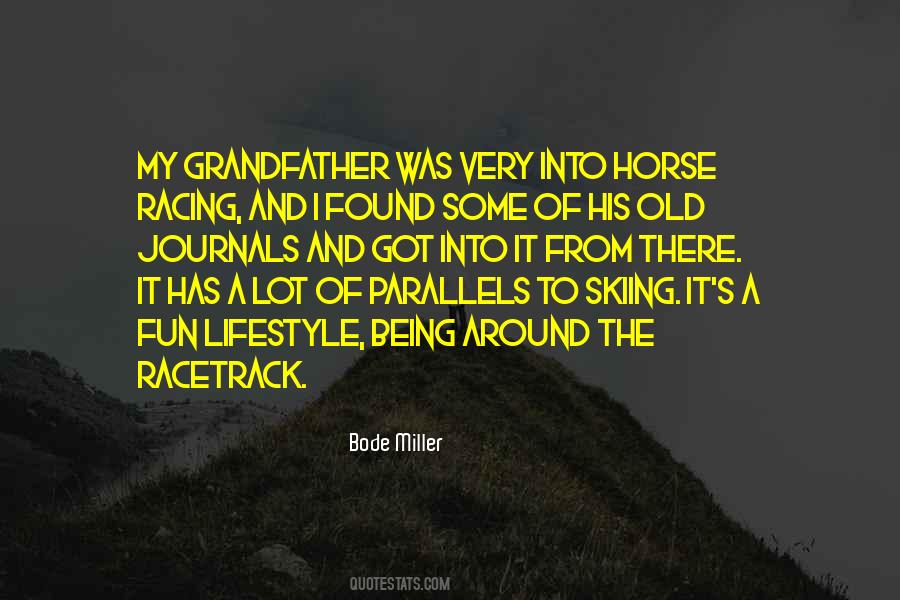 #51. I try to keep myself in the best of company and my horses in the worst of company. - Author: Len Goodman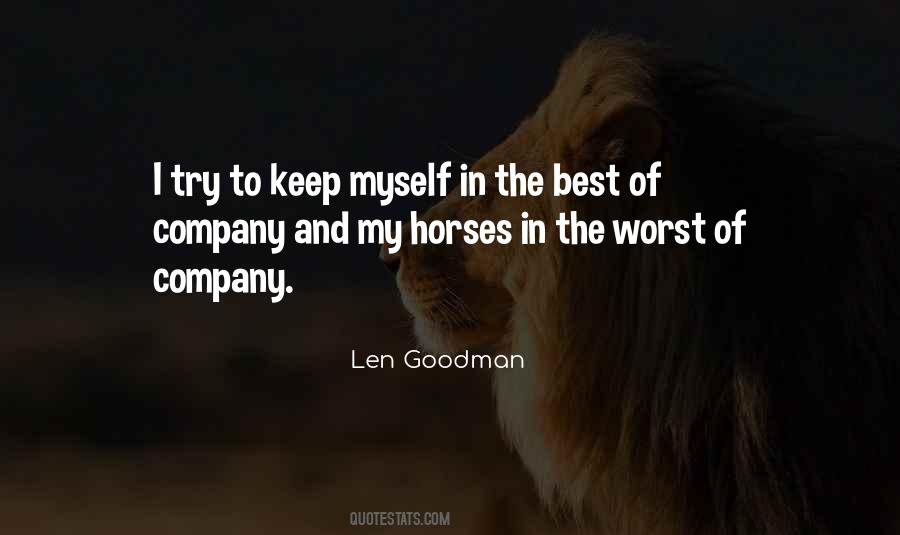 #52. Fascination with horses predated every other single thing I knew. Before I was a mother, before I was a writer, before I knew the facts of life, before I was a schoolgirl, before I learned to read, I wanted a horse. - Author: Jane Smiley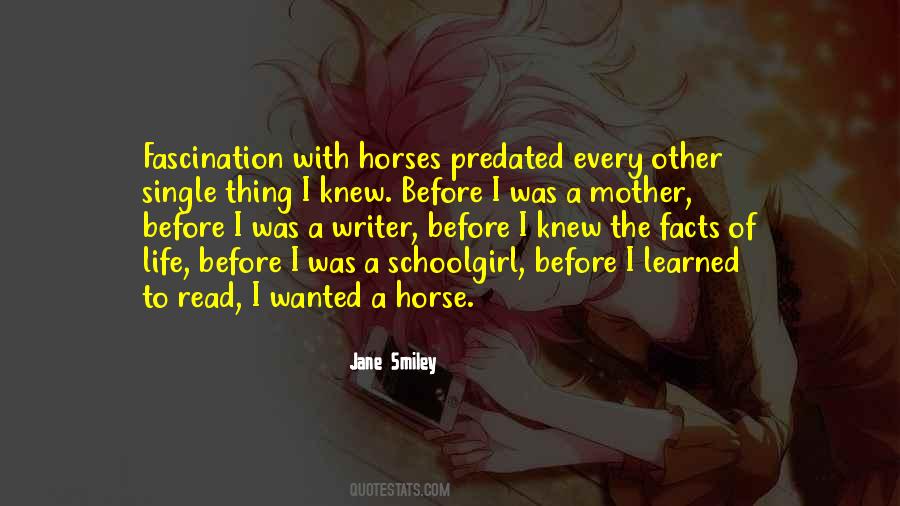 #53. Sacrifice your fear on the altar of your dreams. - Author: Barbara Van Tuyl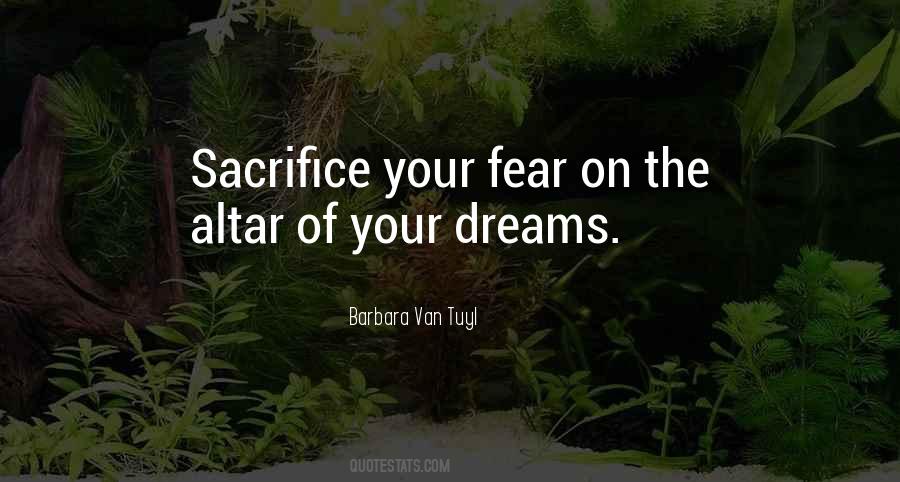 #54. But what truly horsey girls discover in the end is that boyfriends, husbands, children, and careers are the substitute-for horses - Author: Jane Smiley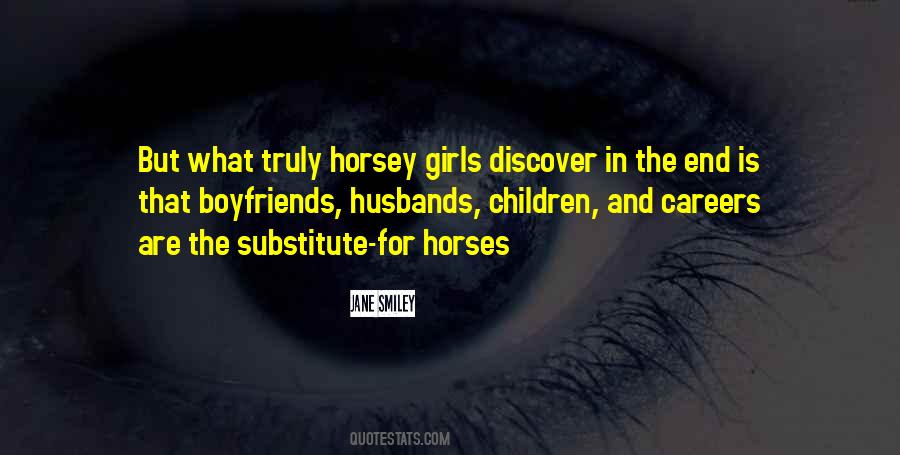 #55. I bought my first horse when I was 15. I always loved racing and I started studying about breeding and I've been doing it now for 30 years, so I have some credibility. - Author: David Cassidy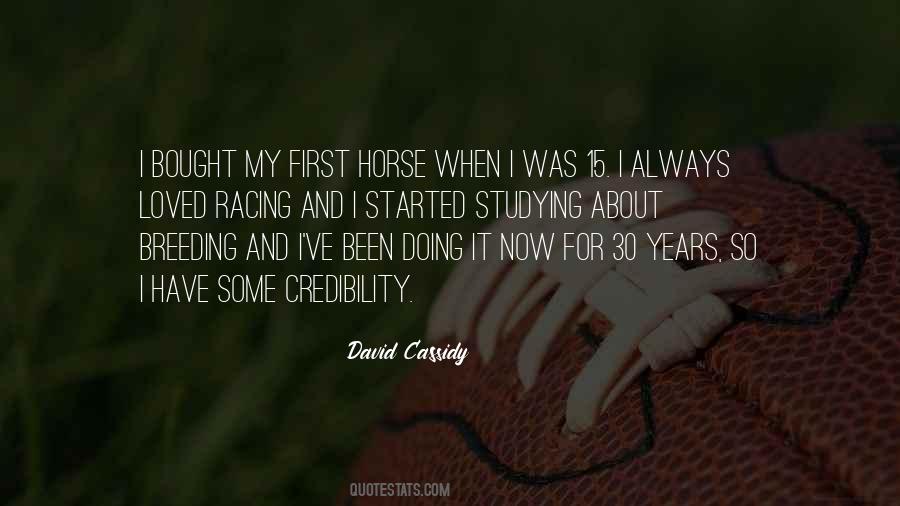 #56. Along with my passion for horse breeding, I was a horse racing enthusiast ... In 1974 I was elected as a committee member and subsequently as a steward of the Turf Club. I had a burning desire to clean up the sport, which had always carried the stigma of gambling and manipulation. - Author: Cyrus S. Poonawalla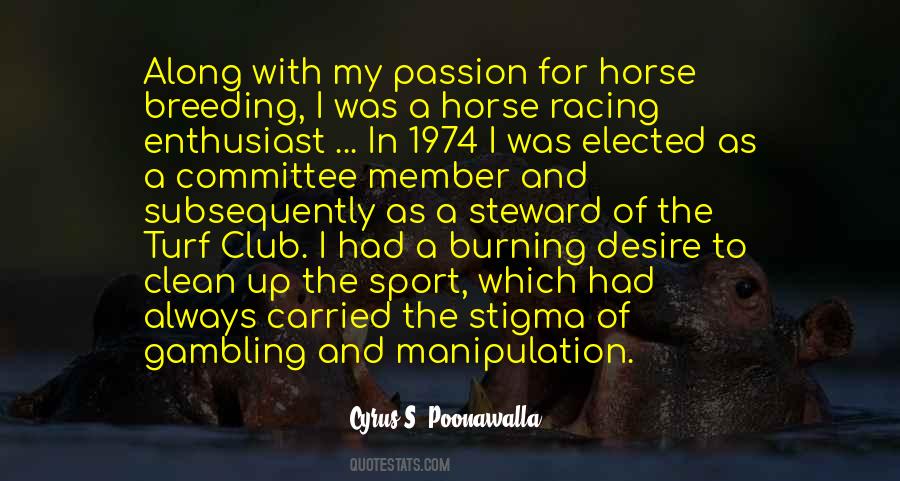 #57. Legalize racing in every State. Sure people will bet, but they get to see the horses run and you certain can't see General Motors and General Electric and General Utility run when you bet on them. - Author: Will Rogers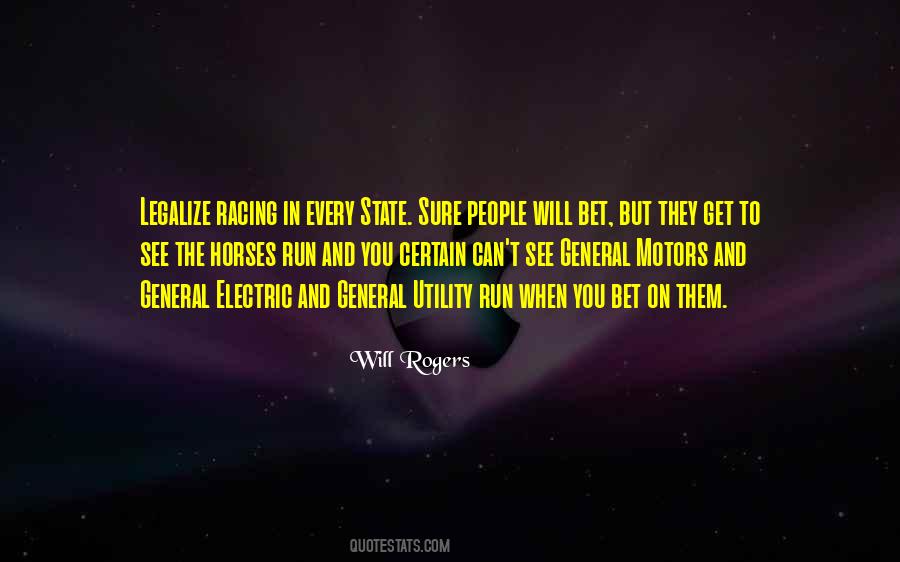 #58. Horse racing is not so much a business as it is a calling. The work requires too much time and energy to pursue it with anything less than utter passion; and even then, the odds against success can seem practically insurmountable. - Author: Joe Layden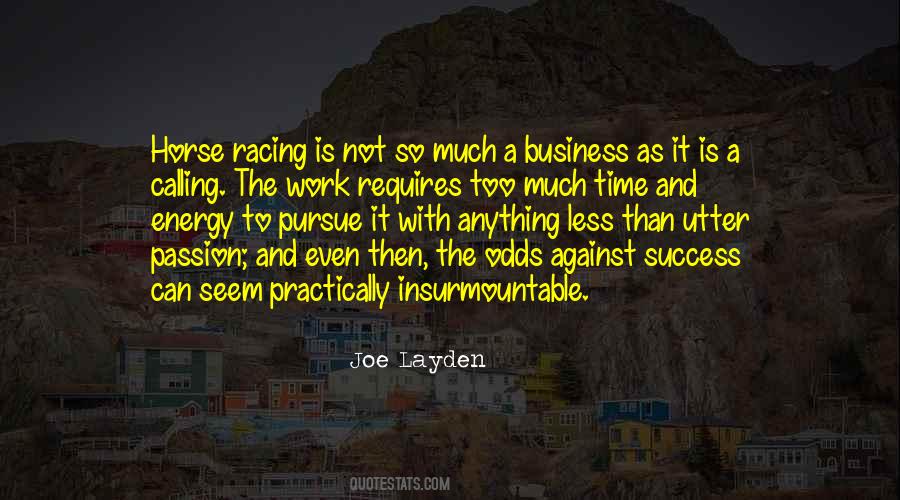 #59. There are other things that I could do, but there's really nothing that I love as much as horse racing. - Author: Chantal Sutherland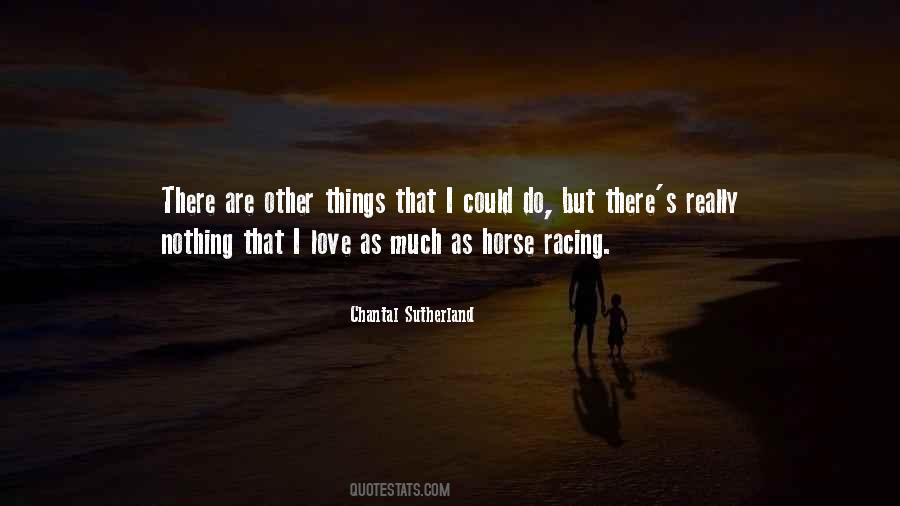 #60. You don't have to be Einstein to see that horse racing is dangerous. Those two ambulances driving behind you aren't there for the scenery. I will never get over the fatalities of colleagues. It is the saddest and toughest part of this sport. - Author: Tony McCoy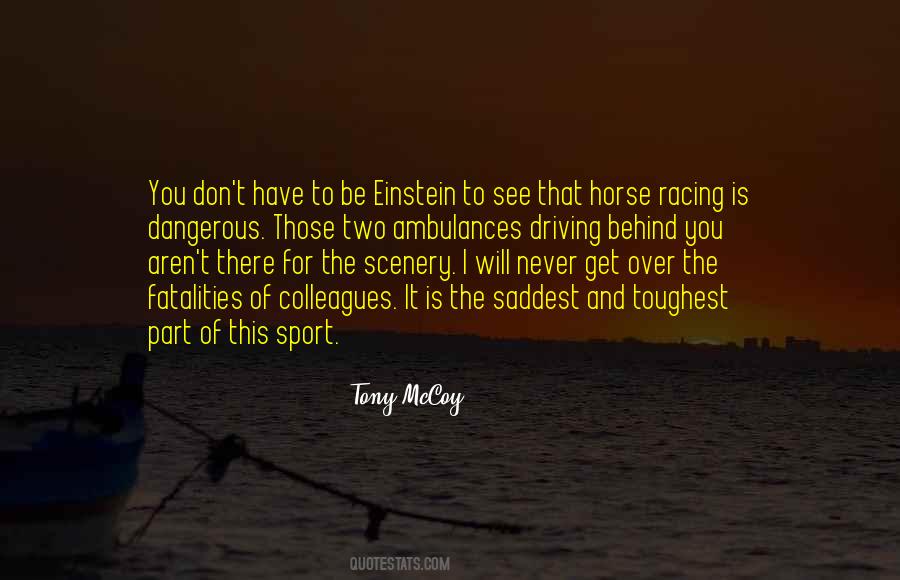 #61. Money, horse racing and women: three things the boys just can't figure out. - Author: Will Rogers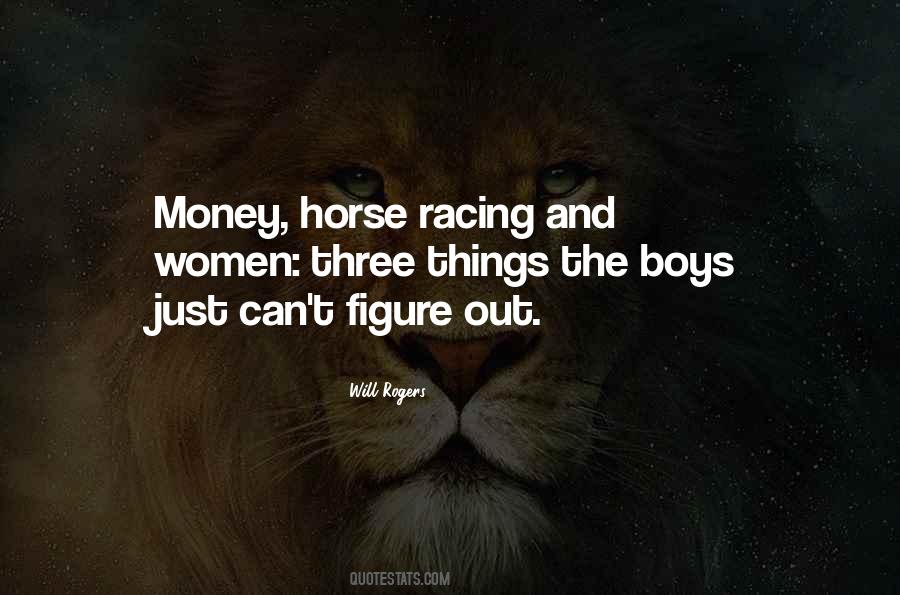 Famous Authors
Popular Topics