Hollywood Films Famous Quotes & Sayings
List of top 100 famous quotes and sayings about hollywood films to read and share with friends on your Facebook, Twitter, blogs.
Top 100 Quotes About Hollywood Films
#1. Even though I've done Hollywood films, I still don't think of myself as a Hollywood actress. - Author: Ziyi Zhang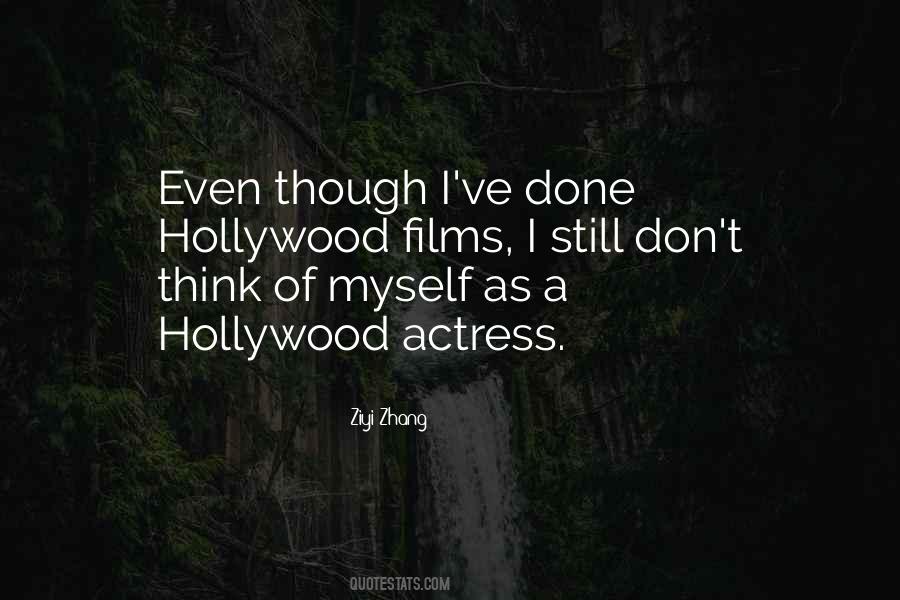 #2. I think a lot of African-American kids don't have fathers to teach them how to dress, so you end up being taught by pictures in magazine and movies. You see cowboys, Indians, old Hollywood films, Cary Grant. It has an effect on you. - Author: Andre Benjamin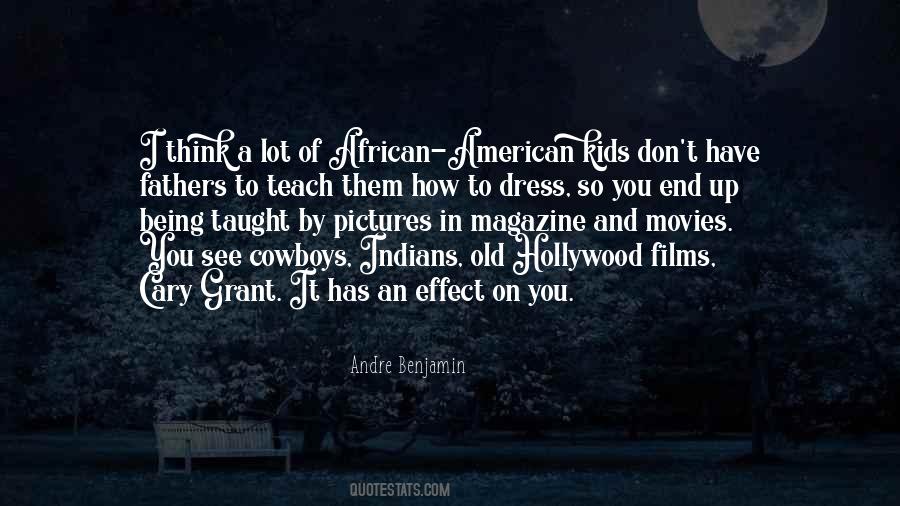 #3. Like it or not, I am part of the pop culture of films in Hollywood. - Author: Bruce Willis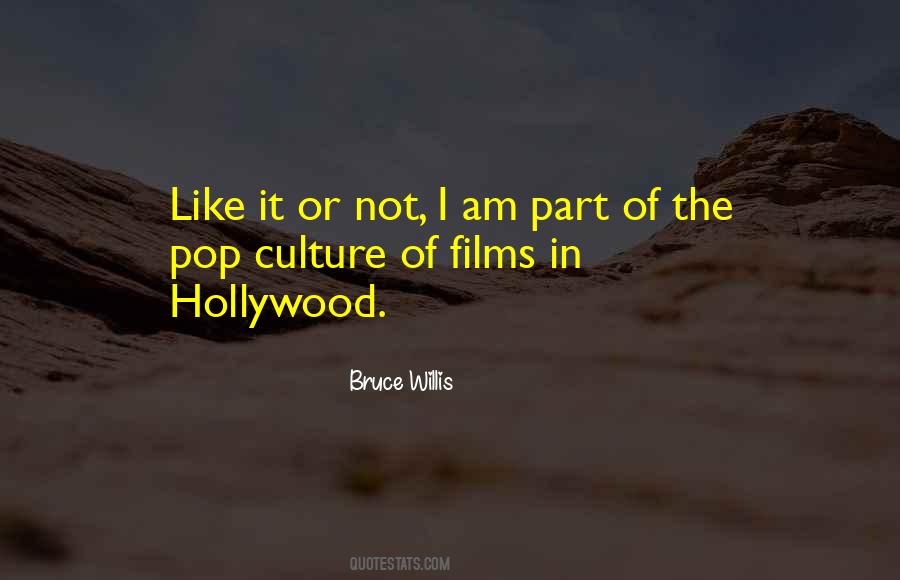 #4. Hollywood ... that's not going to be my niche at all. If anyone is going wants to work with me, I would think it's going to be independent films. I'm not 22! - Author: Lesley Manville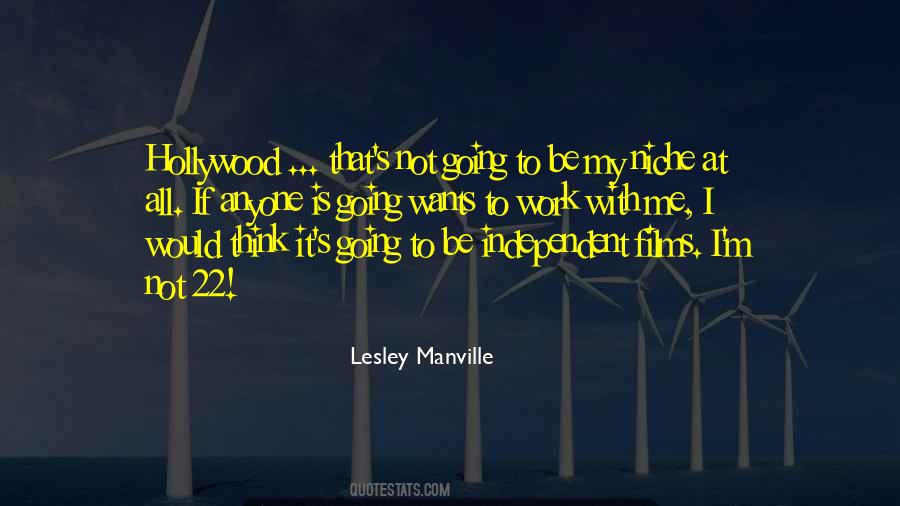 #5. Mostly I do films that mainstream Hollywood wouldn't touch. - Author: Jason Patric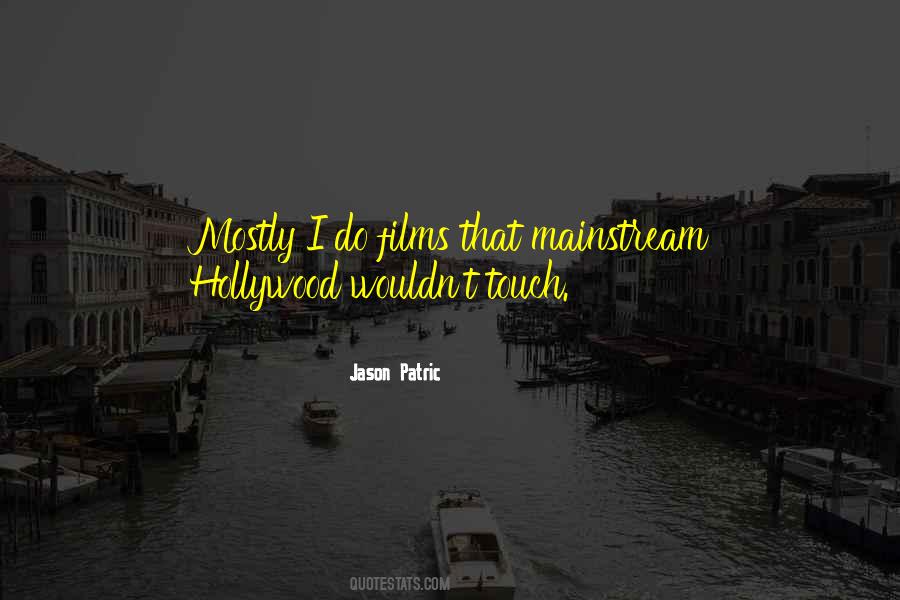 #6. As far as action is concerned, our films have been coming up with some great sequences. In fact, I think Hollywood is copying Bollywood by getting their heroes to bash up 15 guys at a time. - Author: Vijender Singh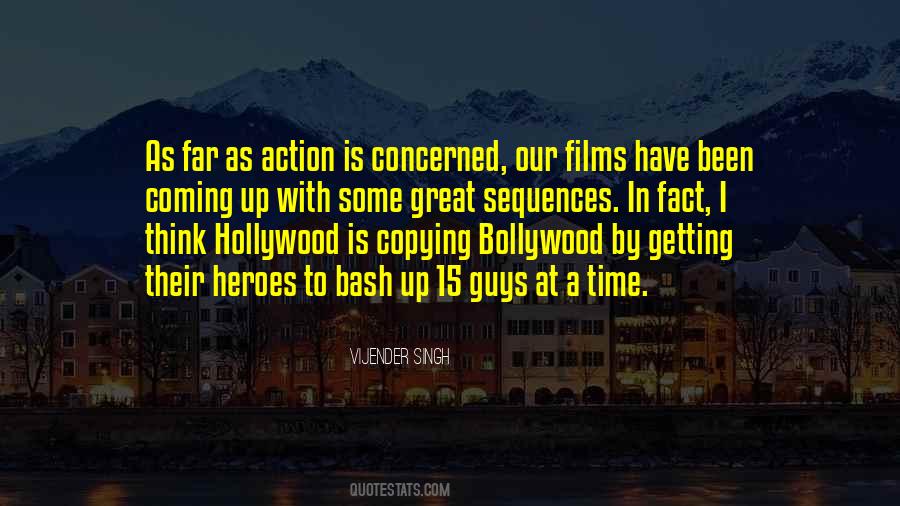 #7. It was no accident that I made 'Hoop Dreams' because it concerned a sport that I loved and hoped would be my dream, however far-fetched that turned out to be. Because of the success of that film, Hollywood pigeonholed me as a sports biopic guy, which led to 'Prefontaine' and two cable sports films. - Author: Steve James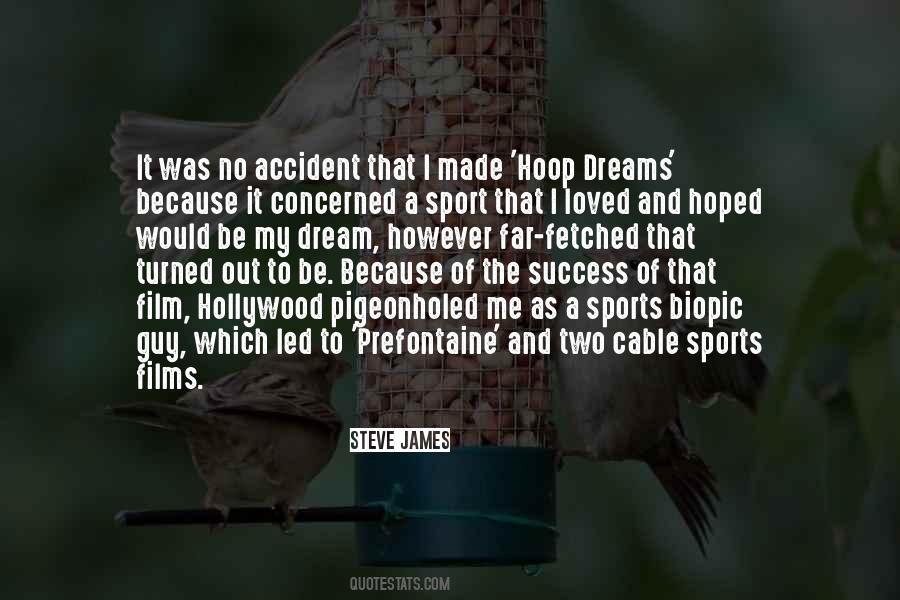 #8. And the problem was that there was a positive epidemic of narcissism, encouraged by commercial manipulation and by the shallow values of Hollywood films. And interestingly enough, the real growth area was male narcissism. - Author: Alexander McCall Smith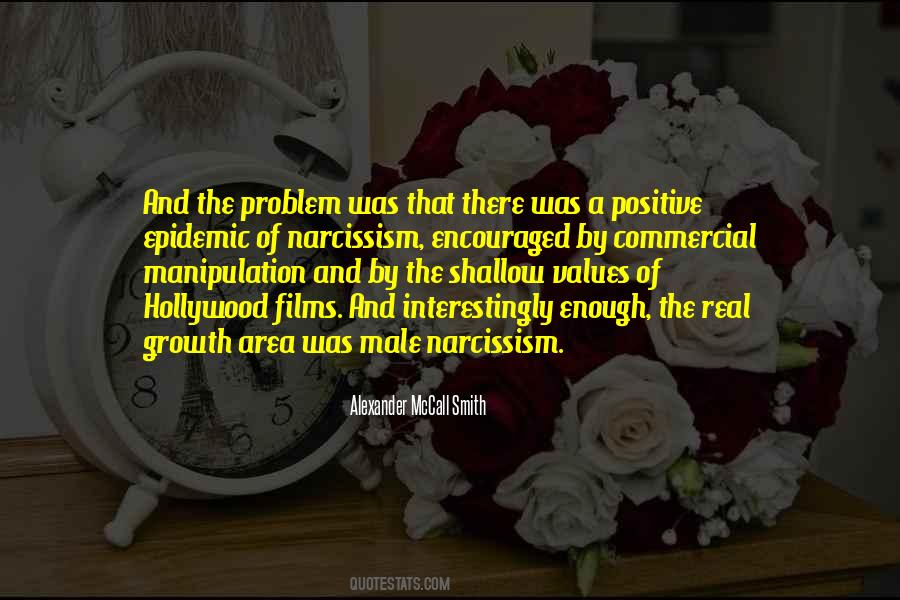 #9. Every day I spend in Hollywood, I start to realize how many films are made with no heart and no love. They just do it for the paycheck, and I cannot imagine making a film that way. - Author: Fede Alvarez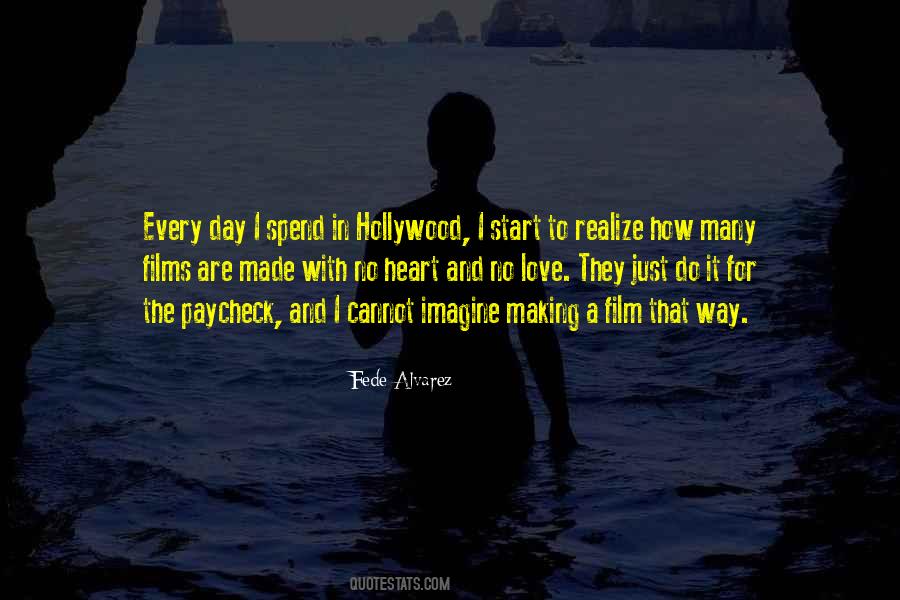 #10. Well, everything is constantly evolving and changing. That's what life is all about. But basically Hollywood has lost its focus as a film center. Films are now made all over the world. - Author: Kenneth Anger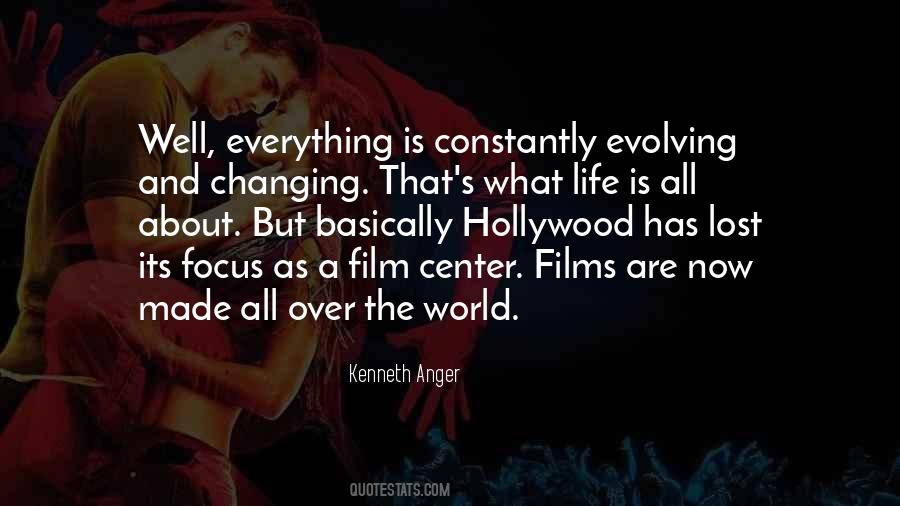 #11. Independent films are where you really get to cut your teeth and have some fun and do the things that mainstream Hollywood doesn't want to do. - Author: Anthony Anderson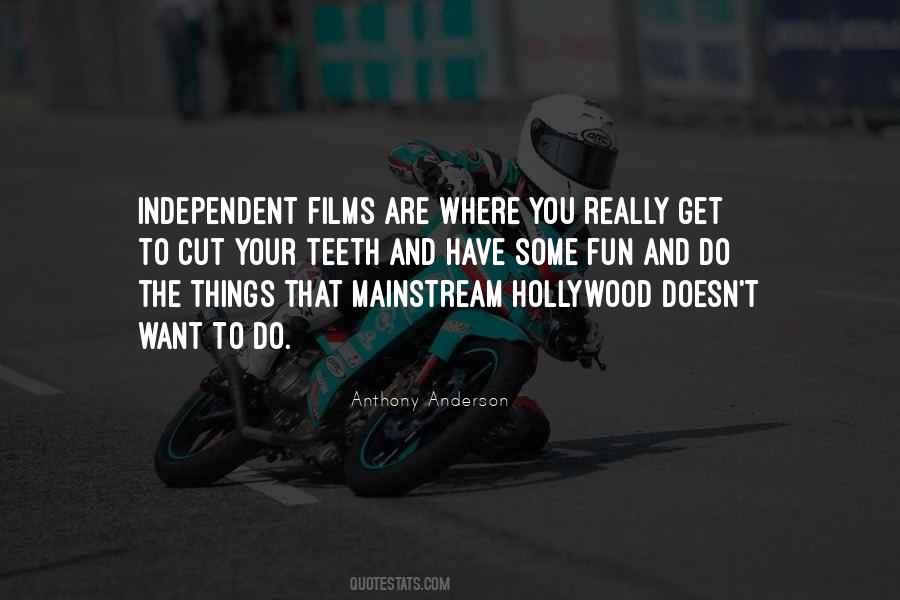 #12. A lot of young black people in America, and even in Africa and Brazil, would say that they are telling their story, but most of the films are like application forms with the formulaic ideas of Hollywood. - Author: Haile Gerima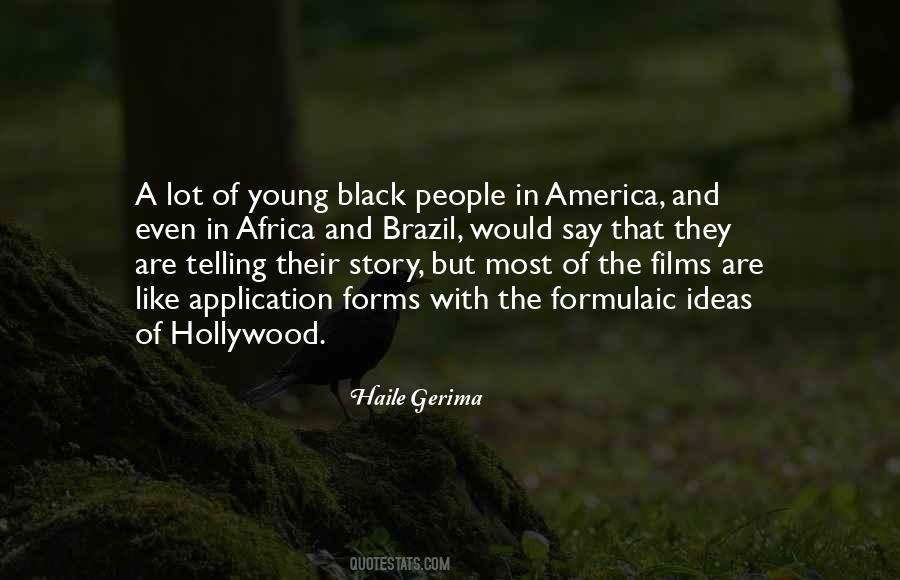 #13. So, no, I'm not trying to crack into Hollywood, although I'll make films there if they're good scripts. - Author: Ewan McGregor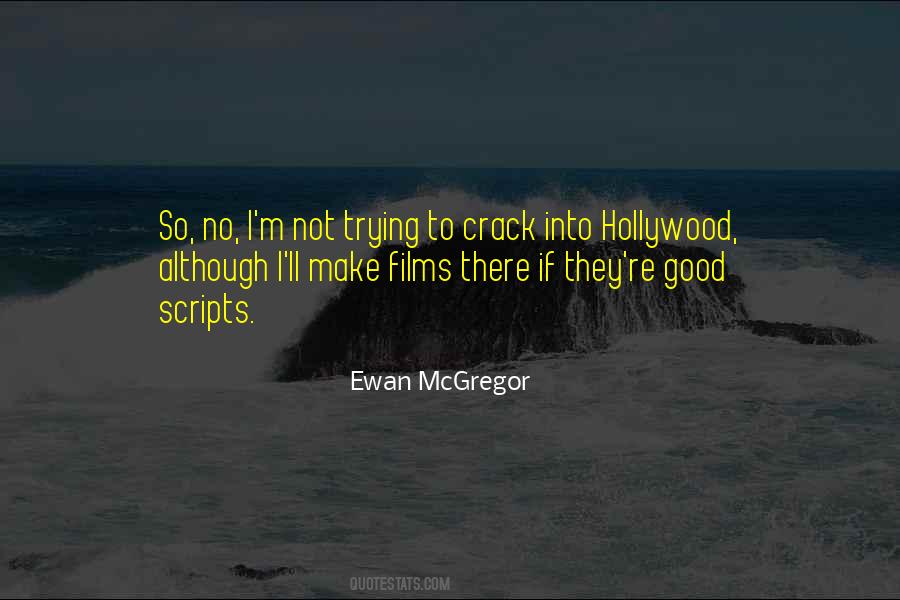 #14. I never really worked in Hollywood. Some American producers came to Europe to shoot films with me, so it's a different situation ... It was not my aim. - Author: Juliette Binoche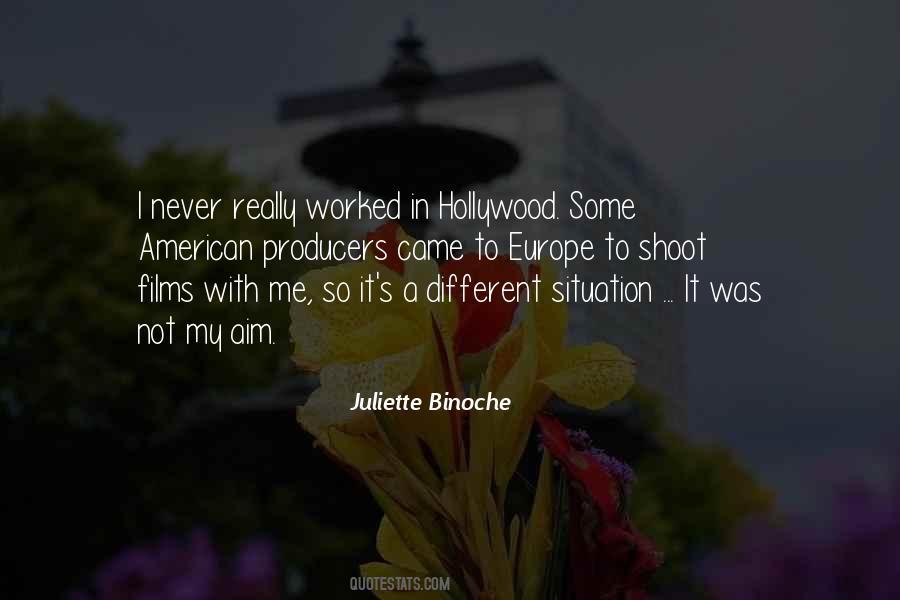 #15. The impact of the black audience is expressing itself. They look to films to be more expressive of their needs, their lives. Hollywood has gotten that message - finally. - Author: Sidney Poitier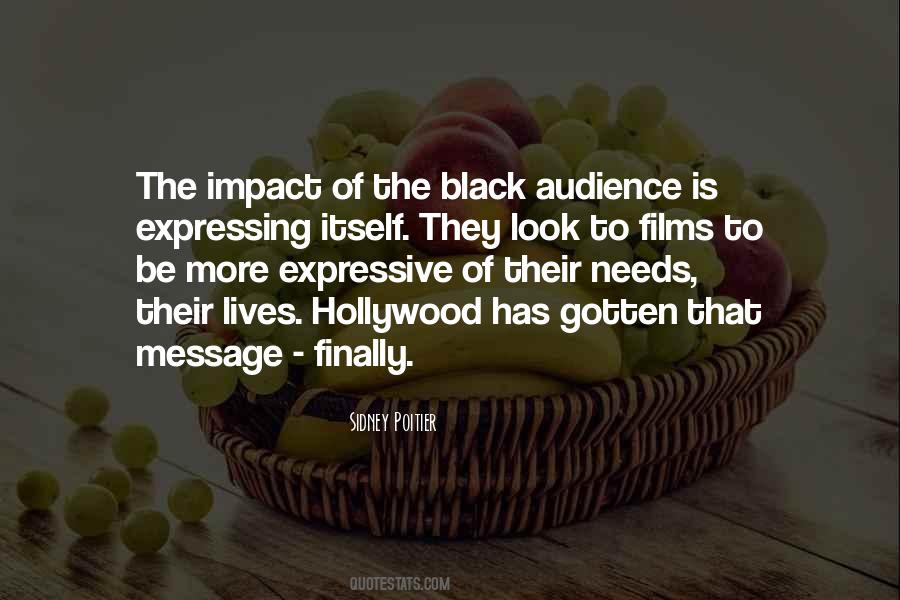 #16. As much as we'd like to believe that our work is great and that we're infallible, we're not. Hollywood movies are made for the audience. These are not small European art films we're making. - Author: Harold Ramis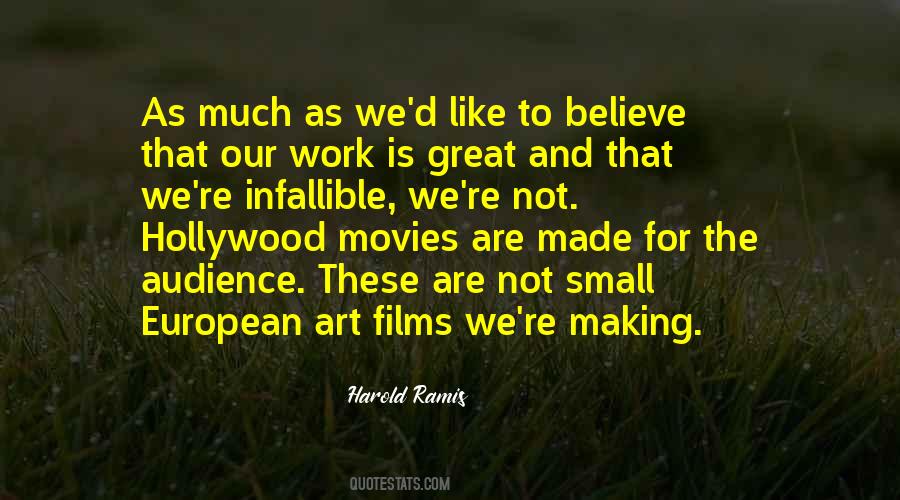 #17. There were Hollywood movies and then there were those aggressively anti-narrative films that they showed at the Collective for Living Cinema. - Author: Christine Vachon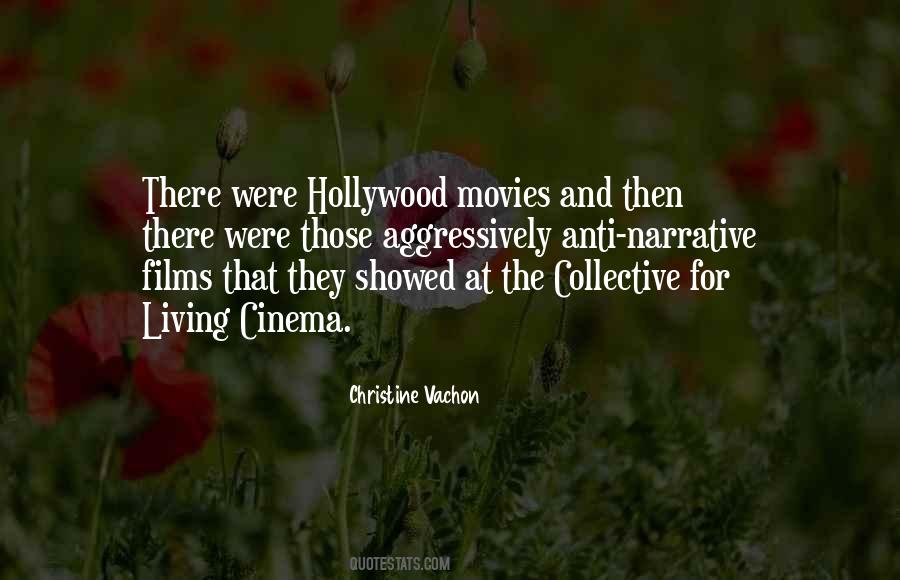 #18. I personally think that Hollywood agencies ought to play a much better role in the development of Chinese films. Otherwise they're missing out on a lot of opportunities. - Author: Bruno Zheng Wu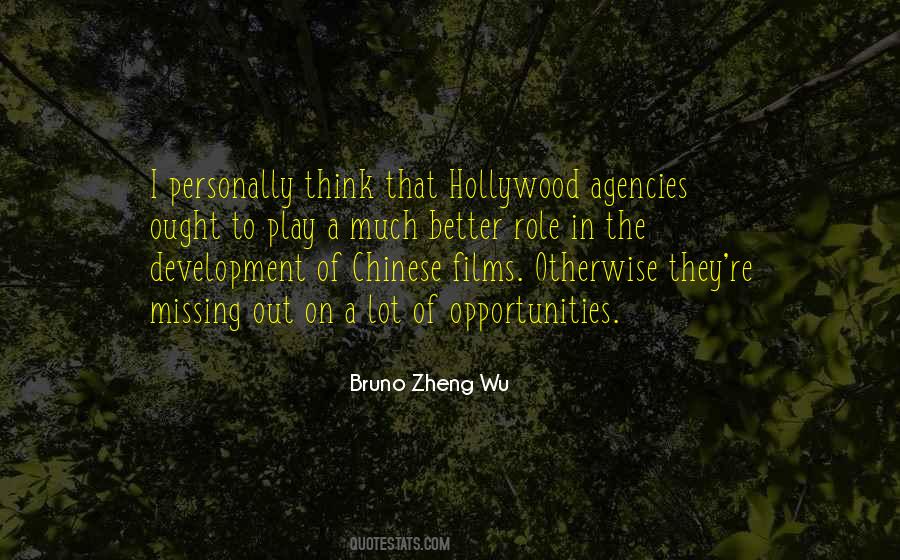 #19. There was a golden era in film-making in Hollywood back in the 1970s, and although there is some great independent film-making in America, it's actually very hard to get independent films made in the United States. It's much more feasible from Europe. - Author: Lenny Abrahamson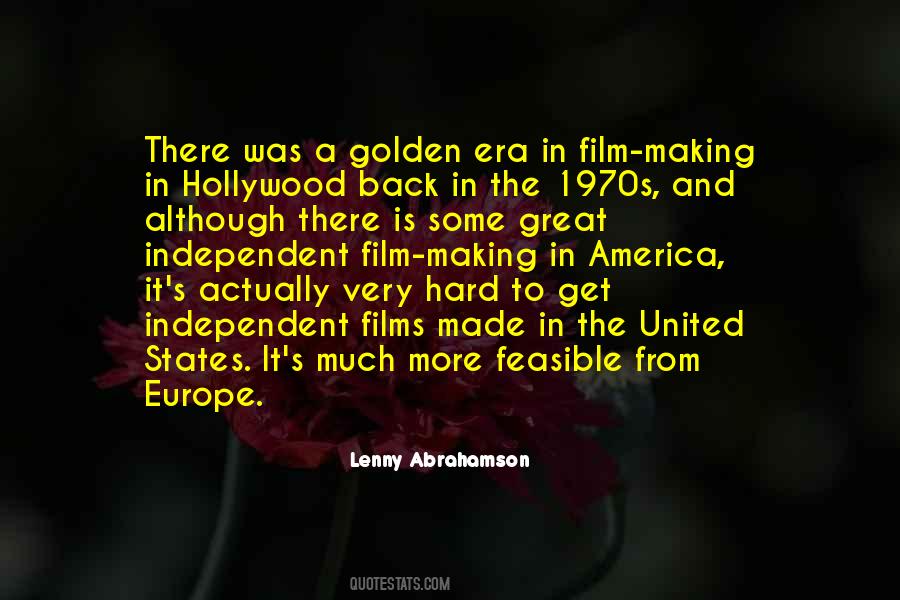 #20. History tends to take the simplest possible view. As soon as you start to scratch the surface of any historical event, it starts to become more and more complicated, which is not the stuff of Hollywood films. Complications tend to break down the budget. - Author: Christopher McQuarrie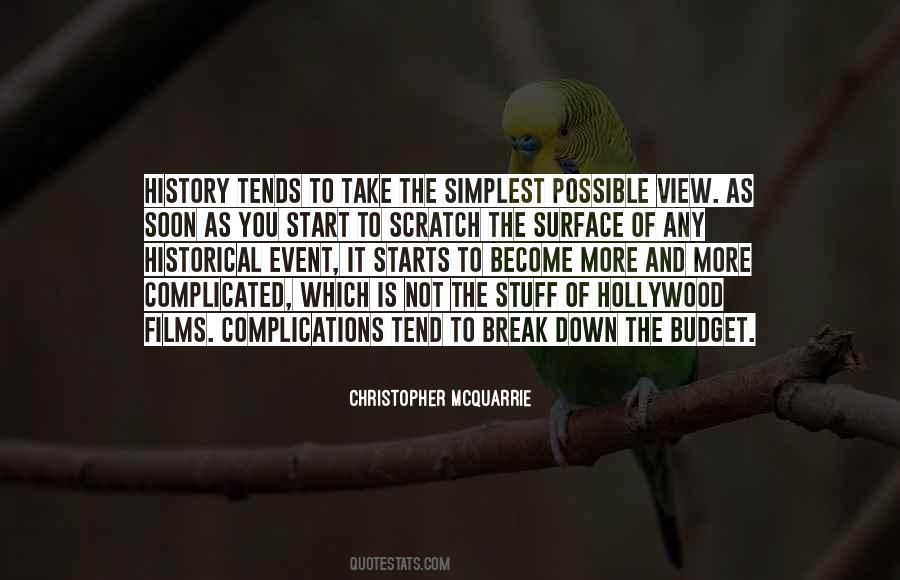 #21. The problem for independent filmmakers is that huge companies control all the promotion, all the advertising. Hollywood films' advertising budgets are as large as their shooting budgets. - Author: Robert Kane Pappas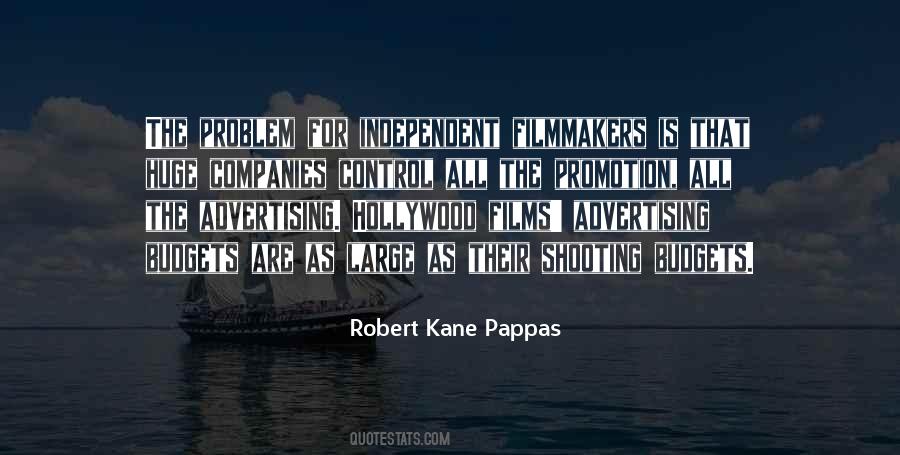 #22. Because I was a kid from north of England, the only films I had access to was not alternative cinema, which in those days would be foreign cinema; I would be looking at all the Hollywood movies that arrived at my High Street. - Author: Ridley Scott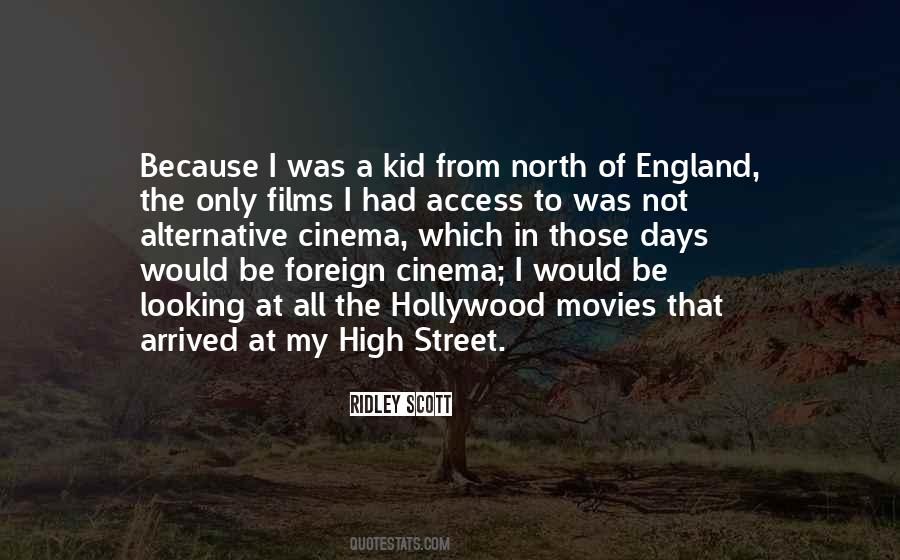 #23. I never made films like kind of career moves, like making this film in order to make that film in order to end up in Hollywood. - Author: Pawel Pawlikowski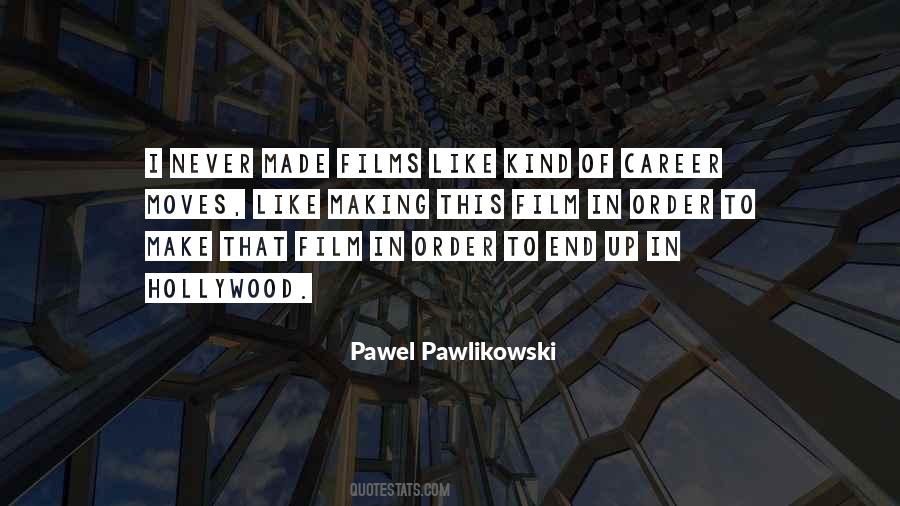 #24. We created Pure Flix to make uplifting and inspiring content on a consistent, ongoing basis, so audiences would truly have an alternative to what Hollywood puts out. Pure Flix produces faith and family films, so the audience is the entire family. - Author: David A.R. White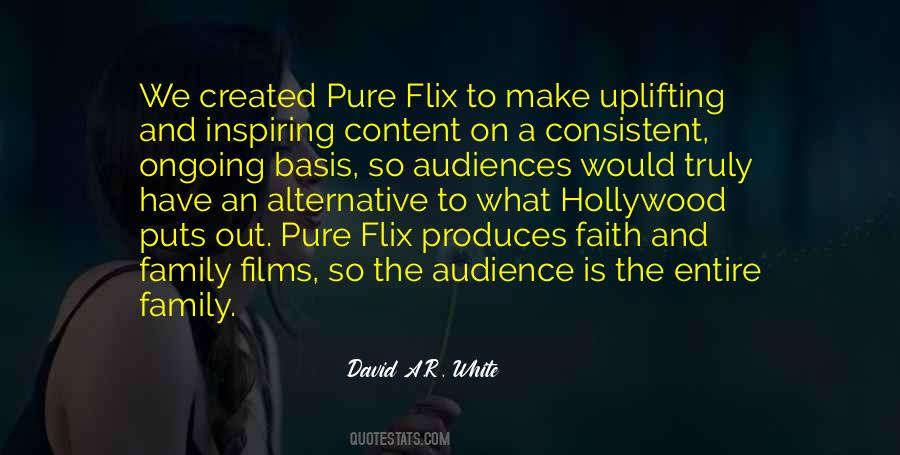 #25. I don't have an anti-Hollywood feeling. It's just I'm a New Zealander. I was born in New Zealand, and it's where my house is, and my family goes to school there. My interest is to remain in my homeland and make films. I don't really want to relocate myself to other countries in the world to work. - Author: Peter Jackson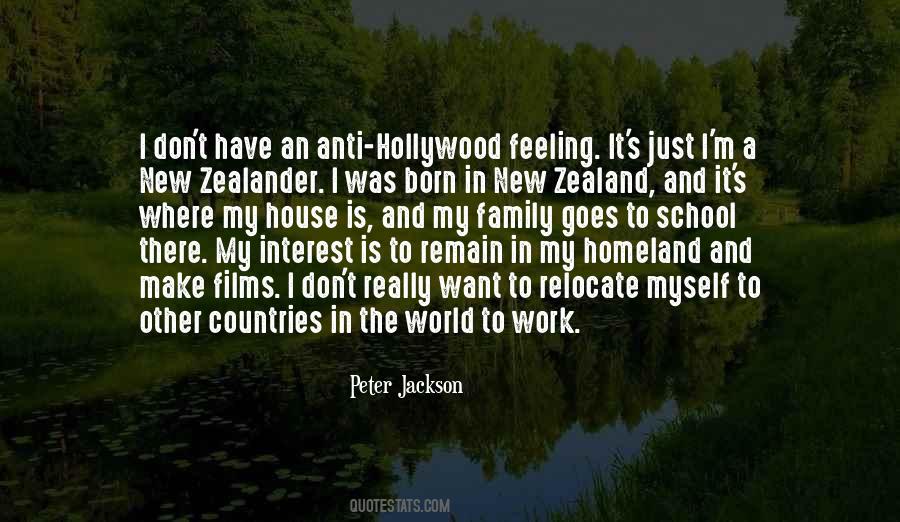 #26. I'd love to continue my career in Hollywood - I'd love to do another action film, or a romantic comedy, or horror. I love horror films. - Author: Rain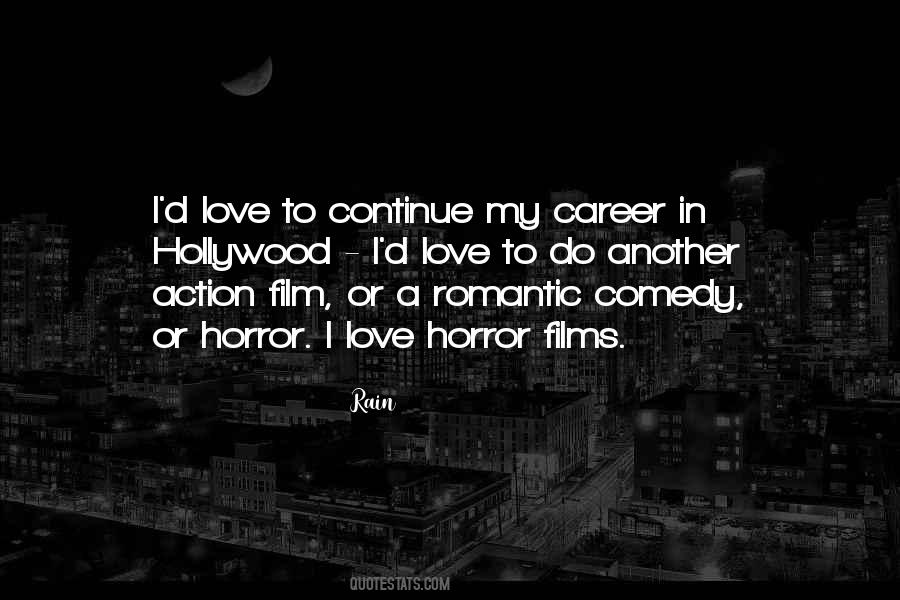 #27. Today, the only thing Hollywood swears by is space adventures because that's what goes over well. For my part, I trust my instinct and I make the films I believe in. If the public follows me, that's wonderful. If it doesn't follow, c'est la vie. - Author: Clint Eastwood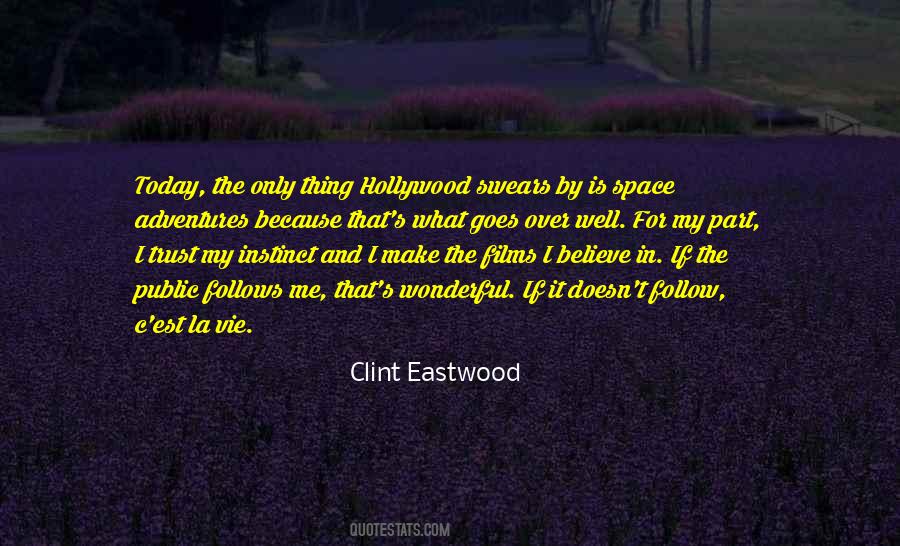 #28. When they were making black films in the '60s and the '70s, everyone knew their place, if you get my drift. You understand? Everyone knew the rules, and everyone knew their place. Everyone knew what to say. They had the written rules in Hollywood film, and the unwritten rules. - Author: Paul Mooney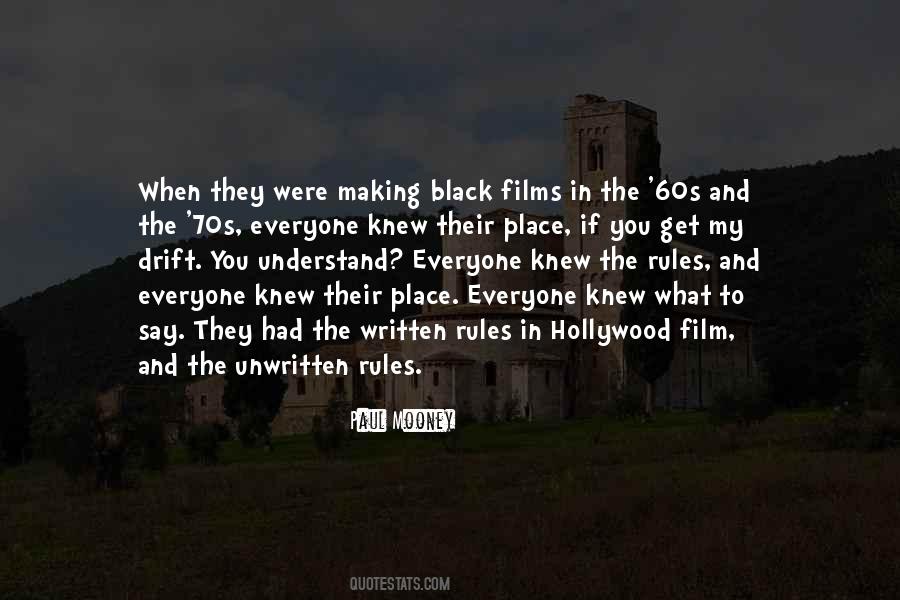 #29. Most people learn all about the Second World War in school, or else, they see so many films put out by Hollywood, that it's easy to think we know exactly what happened. - Author: Jeff Shaara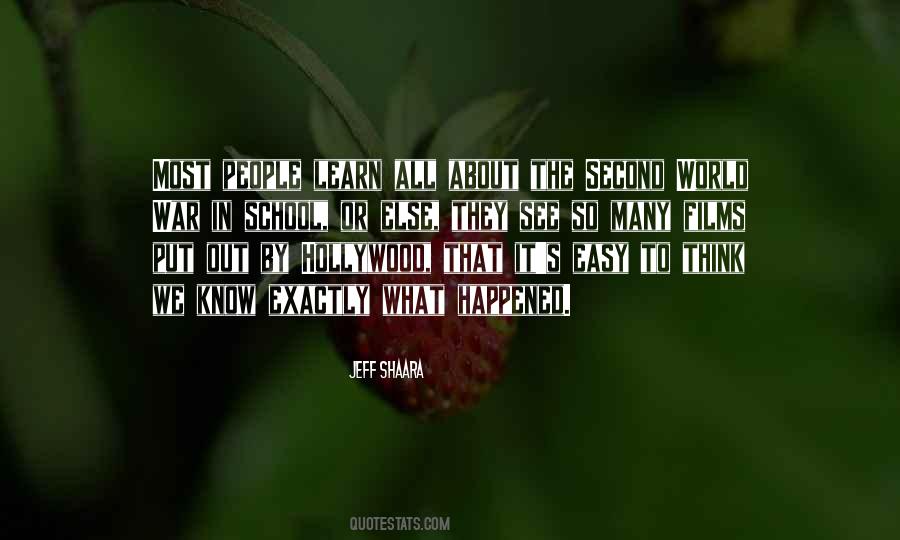 #30. If two percent of all the films made in Hollywood are really artistically worthy - and I think it's a lot more than two percent - that's a pretty big percentage of things that will outlive their own generation. - Author: Murray Horwitz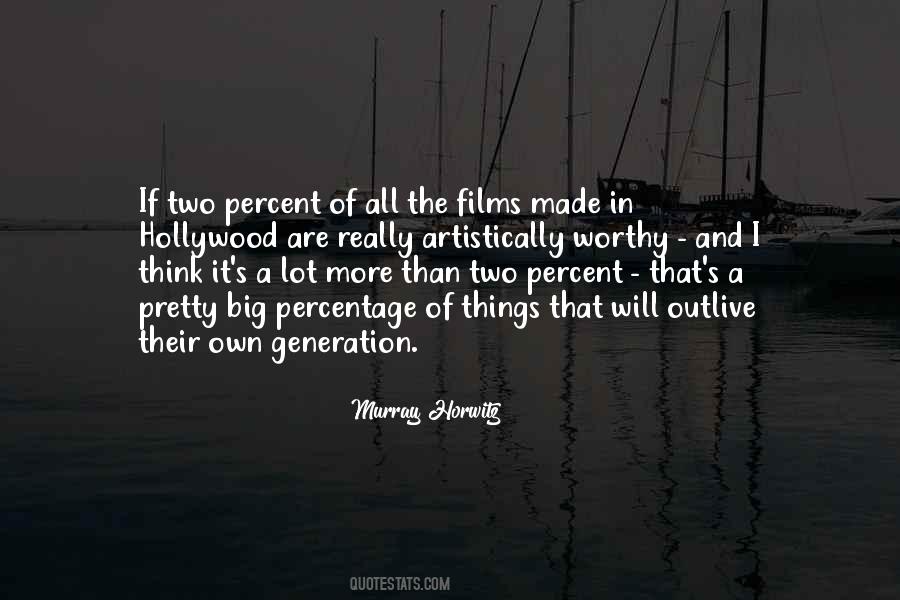 #31. I usually play character parts in Hollywood films. - Author: Parker Posey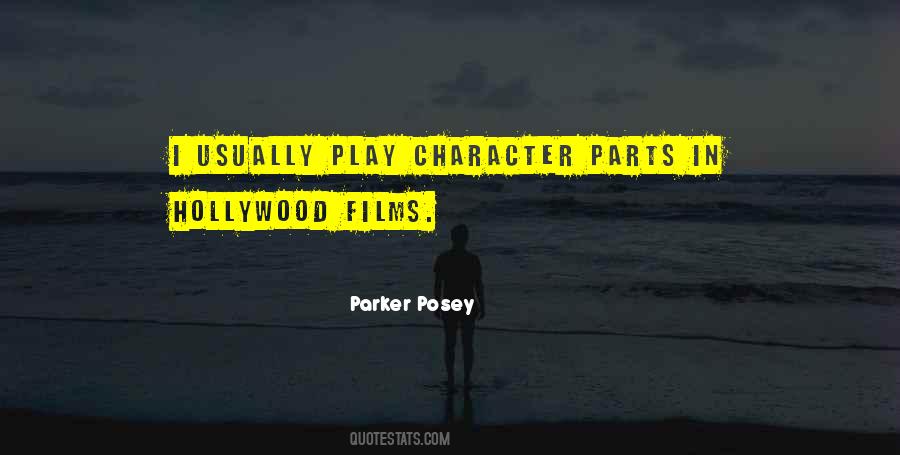 #32. Hollywood is, I always argue, has a great track record of making good films. - Author: Murray Horwitz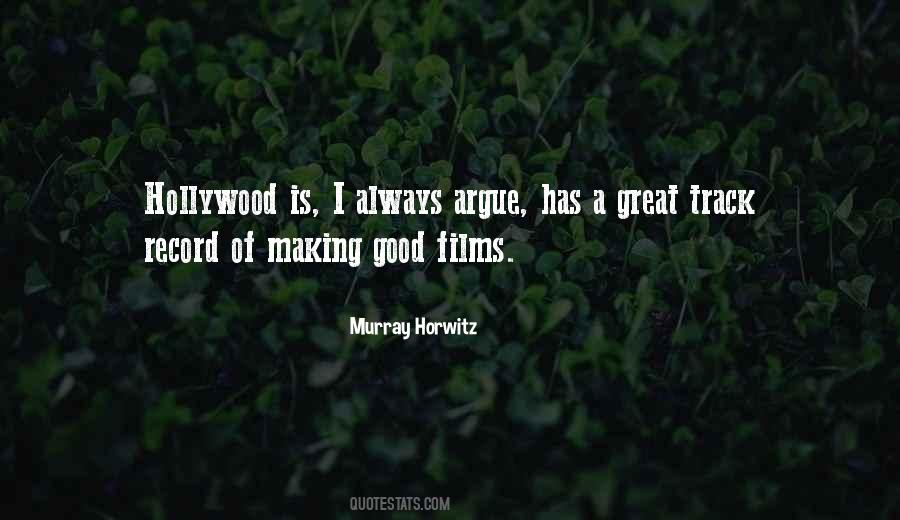 #33. The trouble with Hollywood films is that they always have a pleasant ending. - Author: Martin Parr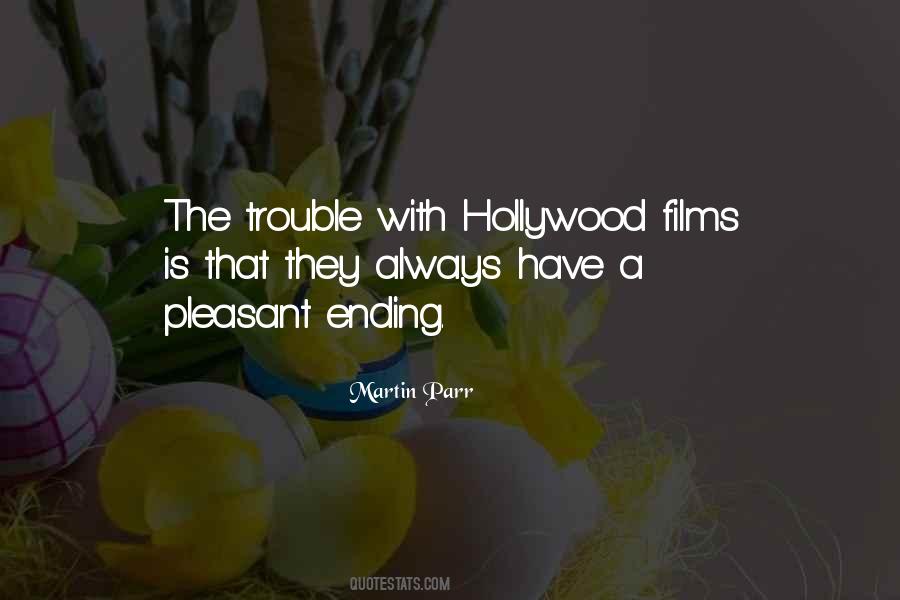 #34. Hollywood films are alienating to the spectator because they use too much dialogue, too much explication and leave no space for the viewer. They depress me. - Author: Bruno Dumont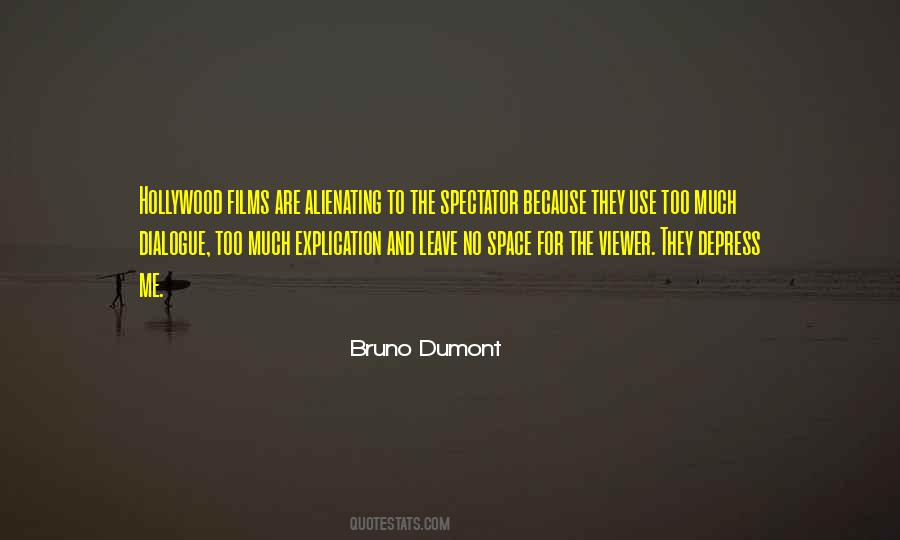 #35. The world looks at China as a big place with a lot of people, a good place to make money. And because so many Chinese families send their kids abroad to study, they are familiar with foreign cultures, so Hollywood films are very successful in China. - Author: Gong Li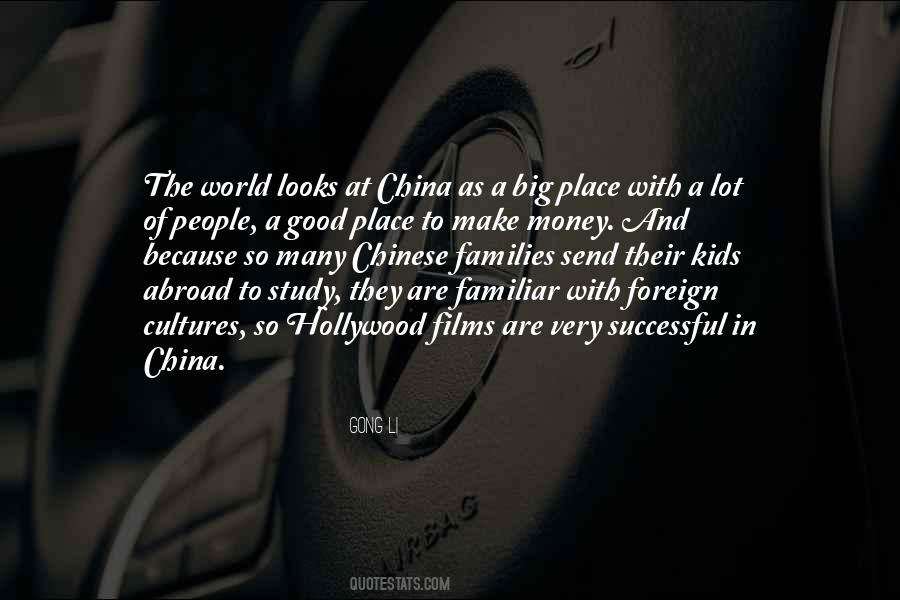 #36. I really don't consider myself to be a conventional Hollywood star. I've never really been marketed by the big studios to do mass market box office films. - Author: Laura Dern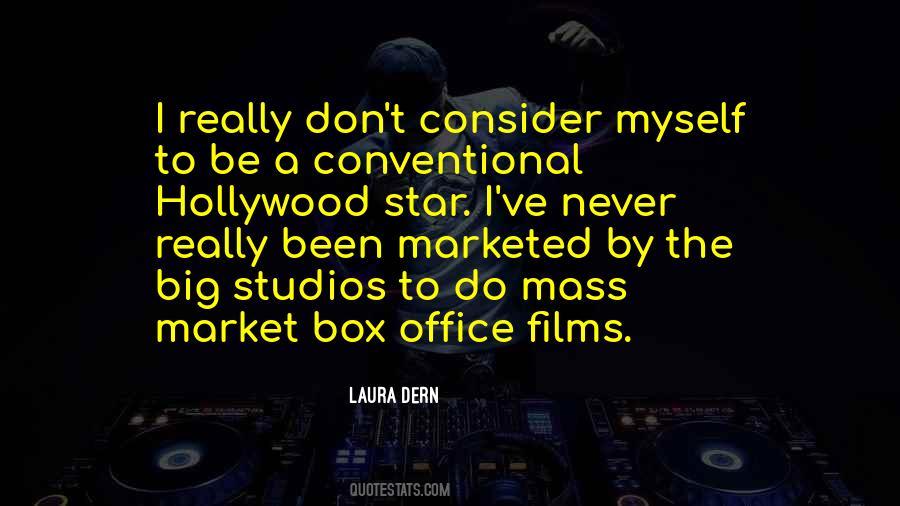 #37. If you look at classic Hollywood films, they tend to shoot close-ups on quite long lenses and the background it out of focus. You know, it's just a mush. - Author: Tom Hooper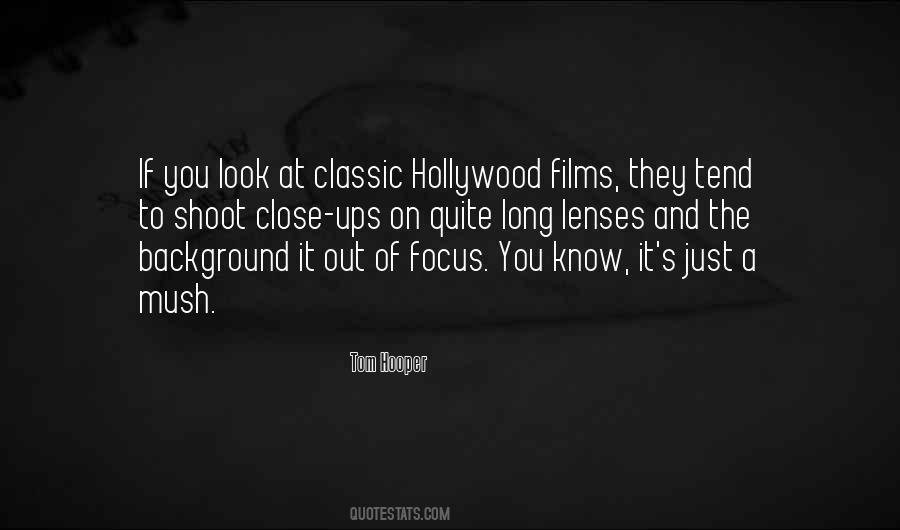 #38. A lot of the reasons that I'm resistant to making films in the U.S. have nothing to do with not doing a film in Hollywood, but rather to do with what I'm committed to working on in the U.K. I feel very committed to the British film industry and infrastructure. - Author: Mike Leigh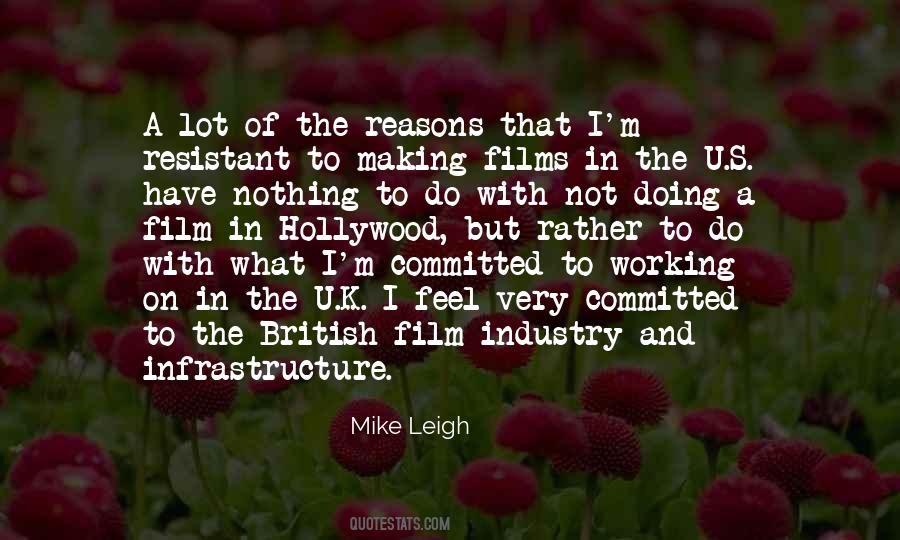 #39. I came out to Hollywood when I was just 18, and my dad, he was really into Hollywood and theater and art, and I guess growing up, he exposed me to a lot of culture, and I just started making Super-8 films in high school and decided I wanted to be a filmmaker. - Author: Bill Paxton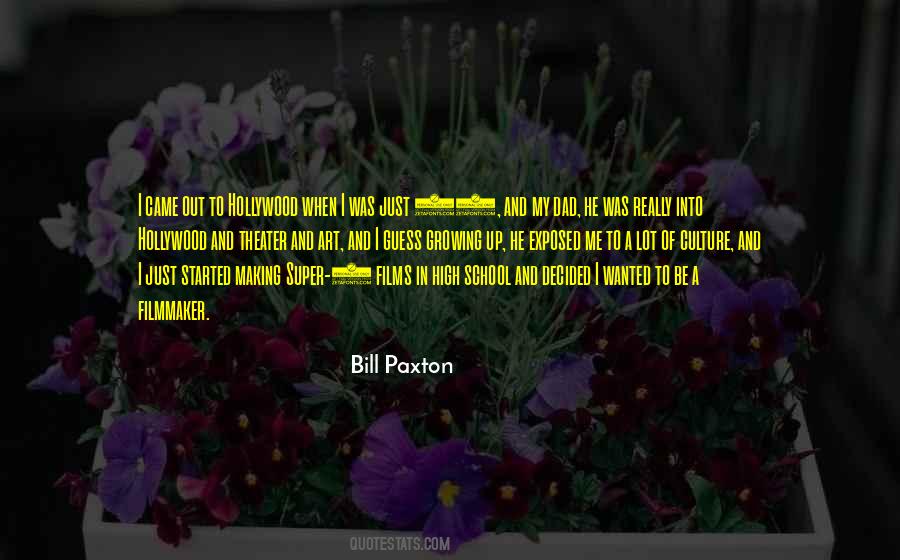 #40. I think bad movies are made around the world, not just in Hollywood. There are as many bad art films in the whole world as there are bad commercial films. - Author: Alejandro Gonzalez Inarritu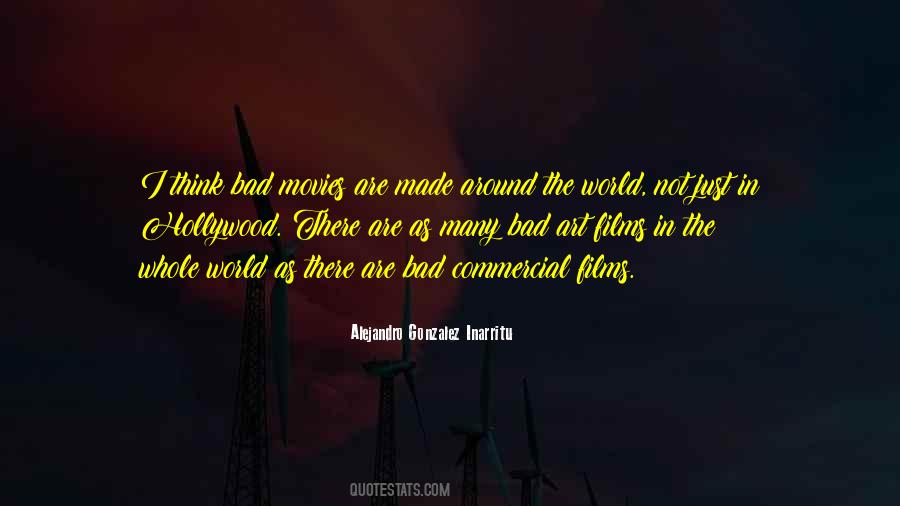 #41. I don't think the idea of working in Hollywood really exists anymore. I think you work in films, and where the film is shot is where it's shot. The studio system doesn't really exist. - Author: Rupert Friend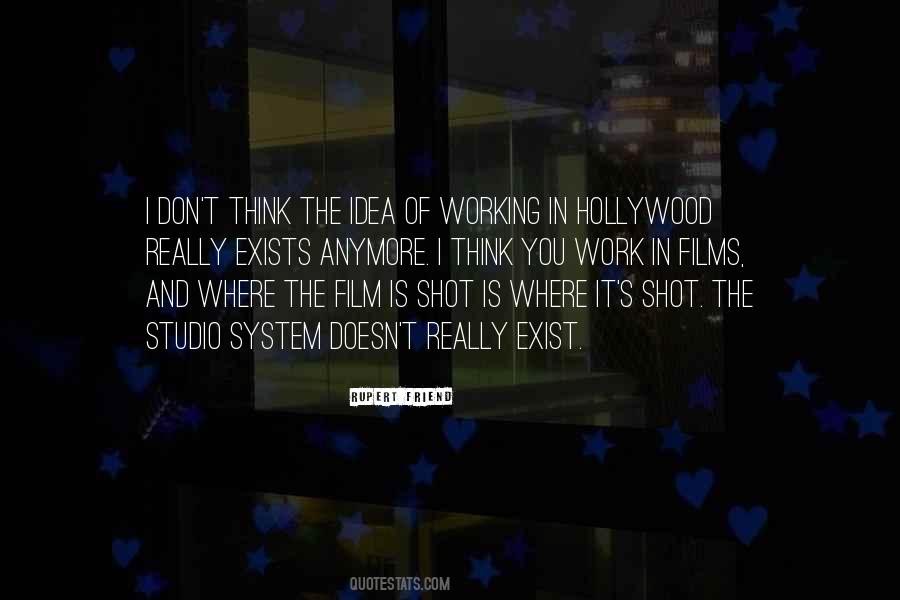 #42. You can have ambiguity in television that you are not allowed in film ... at least in Hollywood studio films. - Author: Richard LaGravenese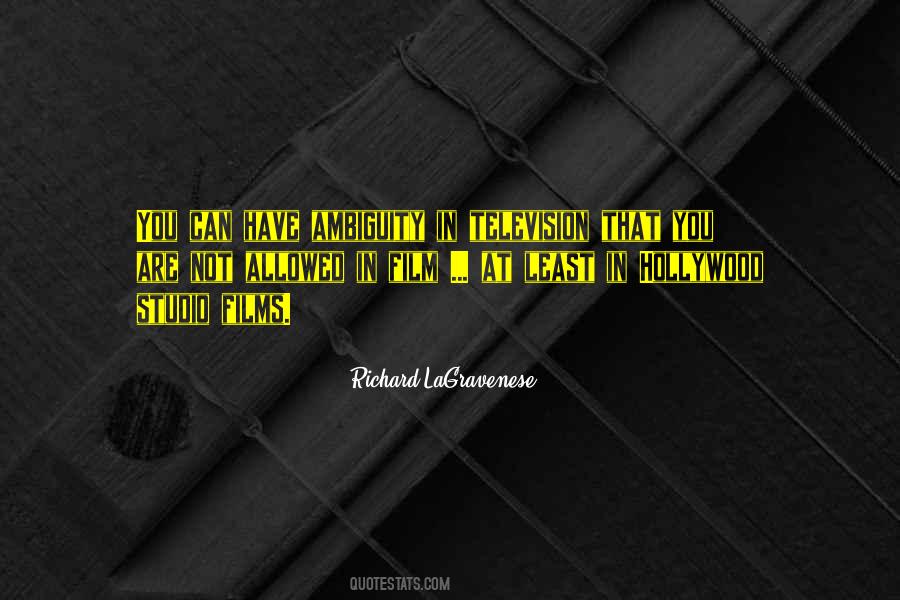 #43. Too often, you see film makers from other countries who have made interesting, original films, and then they come here and get homogenized into being hack Hollywood directors. I don't want to fall into that. - Author: Peter Jackson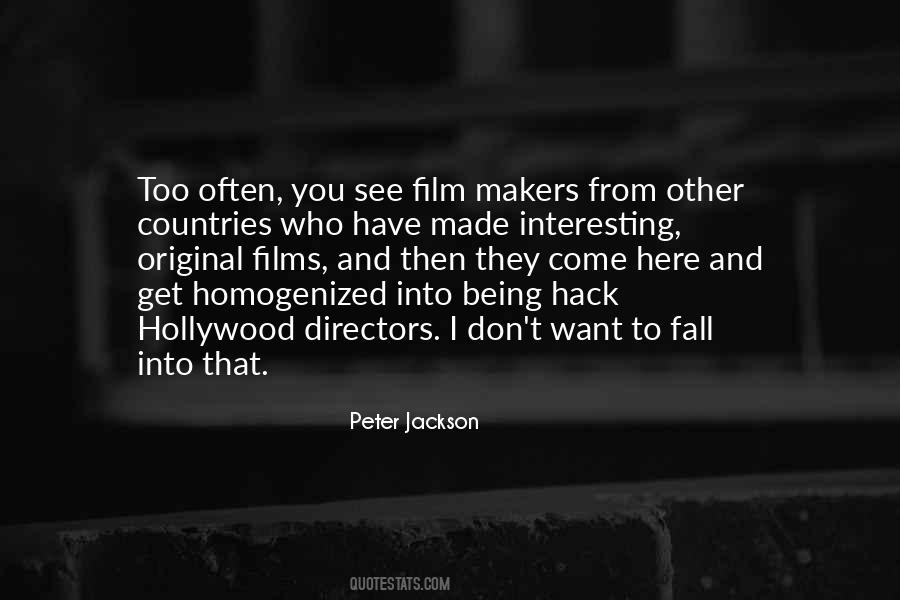 #44. Prior to 'Tokyo Drift,' the iconic perception of Asians in Hollywood films has been either the Kung Fu guy, the Yakuza guy or some technical genius. It used to be such a joke, to be laughed at rather than with. - Author: Sung Kang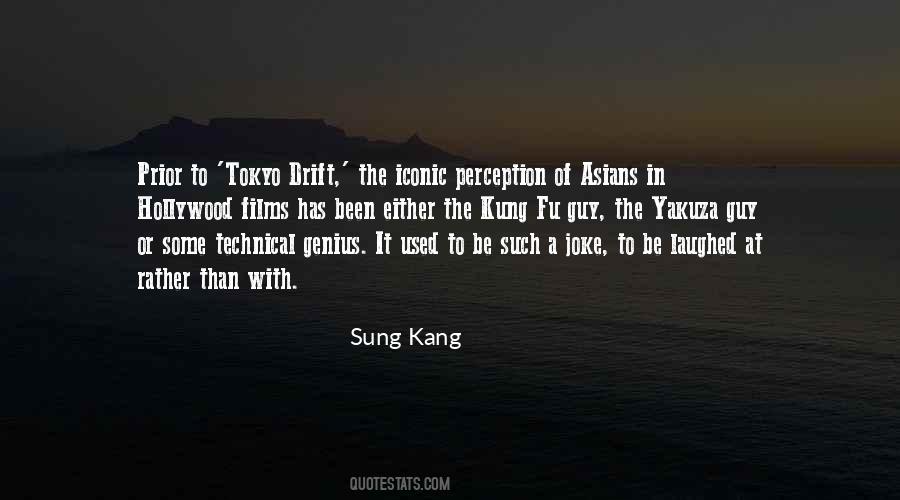 #45. I've met big-name actors doing Hollywood films, and they've said that all they want is an in at HBO and their own show. - Author: Chris Lilley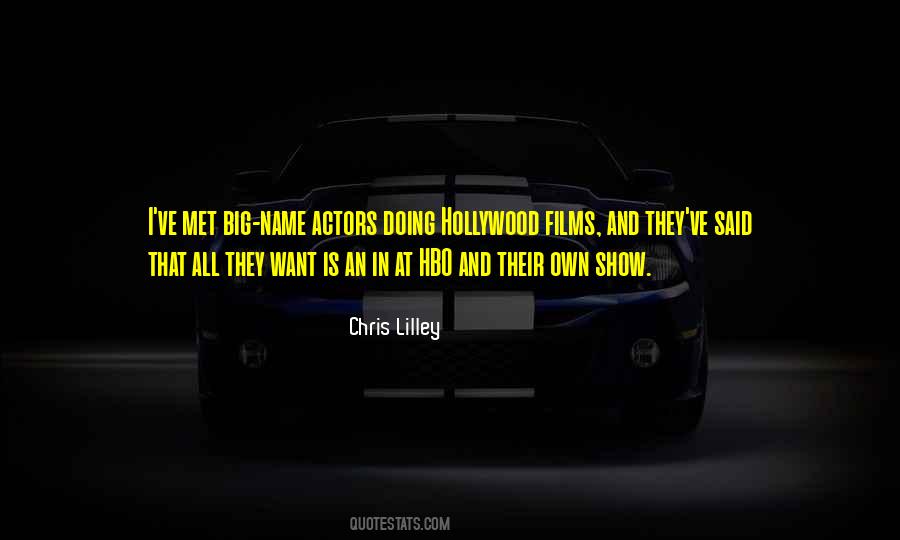 #46. Film is universal. All the countries of the world are making films. Hollywood is the only major unsubsidized center for films. To my knowledge all others are at least partially subsidized. I'm glad Hollywood isn't. - Author: Frank Capra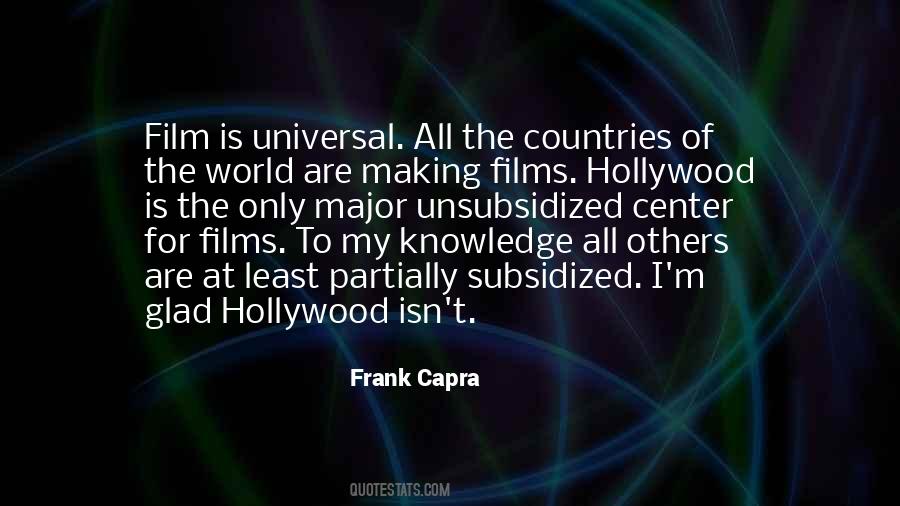 #47. I was scouted at the age of 10 by a Hollywood agent. I was a really shy, geeky-looking thing, and started in the industry by doing 'extra' work on films. - Author: Austin Butler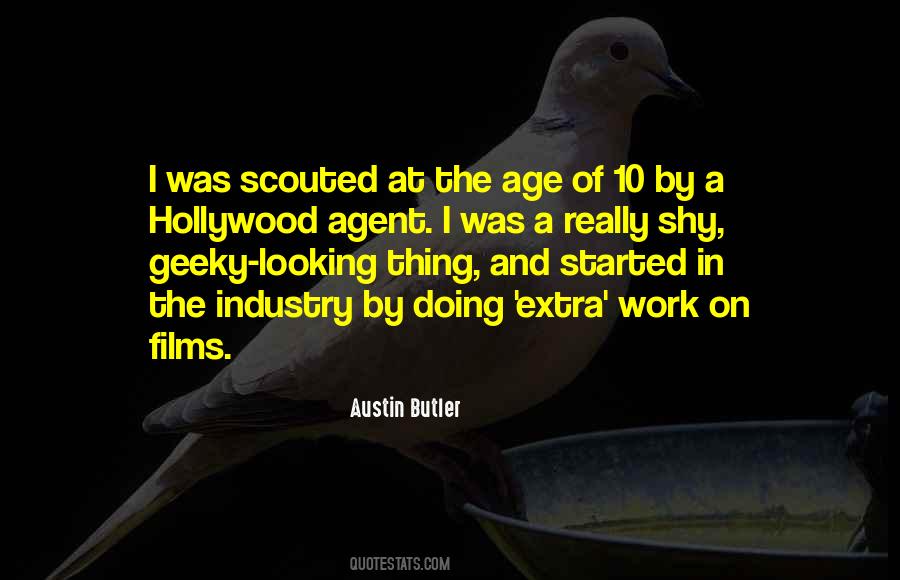 #48. I have a film called 'A Lonely Place For Dying,' which is the most watched film on the Internet, over 3 million hits, more than any of Hollywood's films. - Author: James Cromwell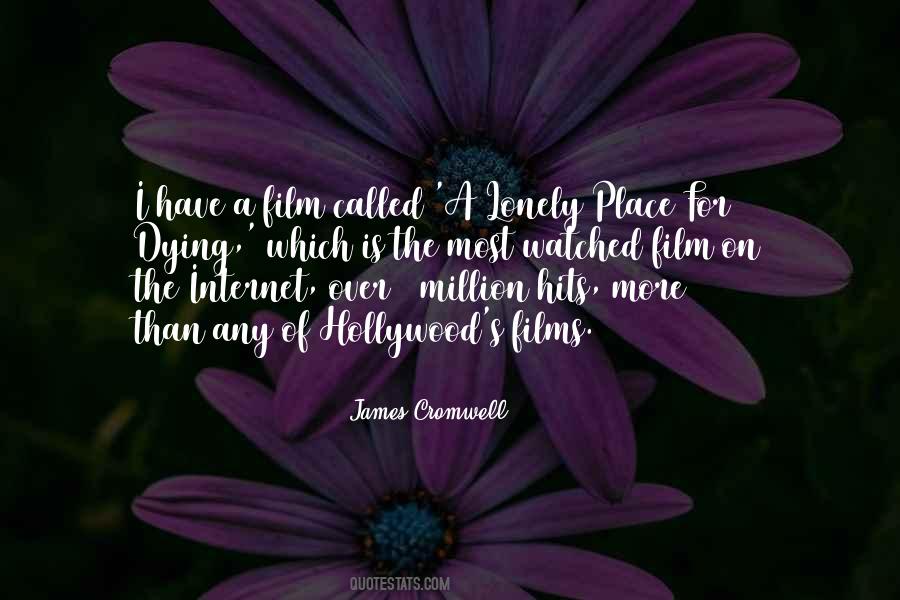 #49. I don't care how much hardware you throw at an audience. If they are not emotionally invested in the thing, it's zero. I can name a slew of films, but I have no ax to grind. I understand the commerce of Hollywood probably better than anyone. - Author: Bill Paxton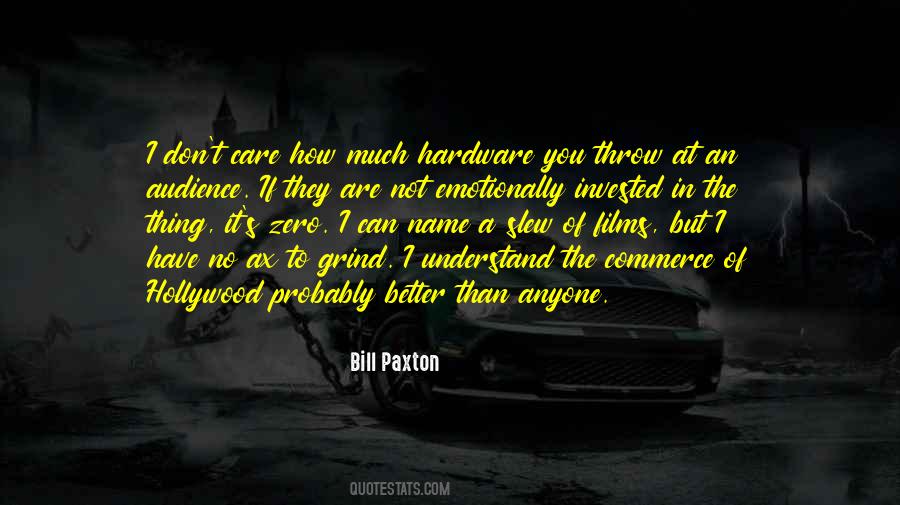 #50. As far as film goes, I enjoy all Hollywood films and all Horror films like The Bride of Frankenstein, which also might be my favorite. I like 60's and 70's Italian and Spanish Horror films. - Author: Johnny Ramone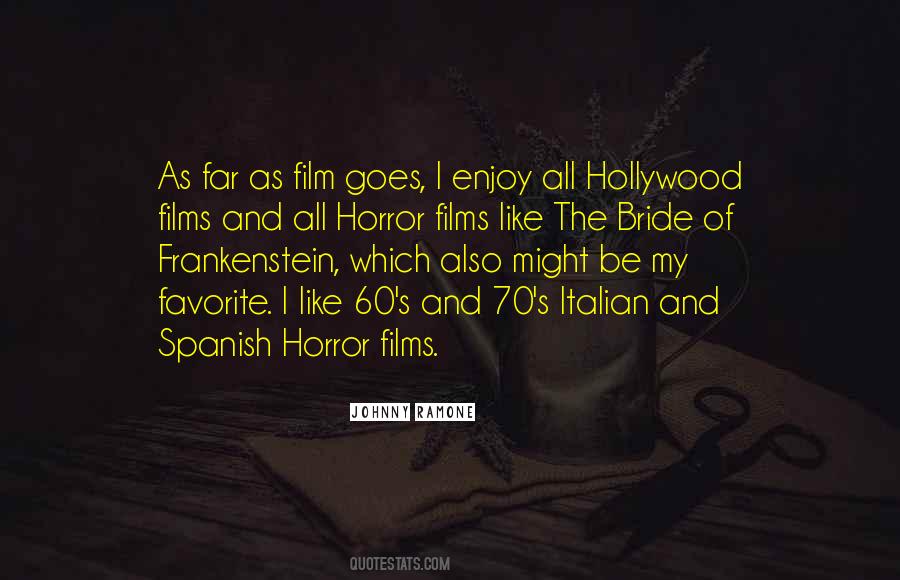 #51. When I first got out to Hollywood, they were pushing me for sitcoms, and I didn't really have an interest in them. I wanted to do films and slowly worked that way. And then it became, I guess, this curse of the leading man. - Author: Brad Pitt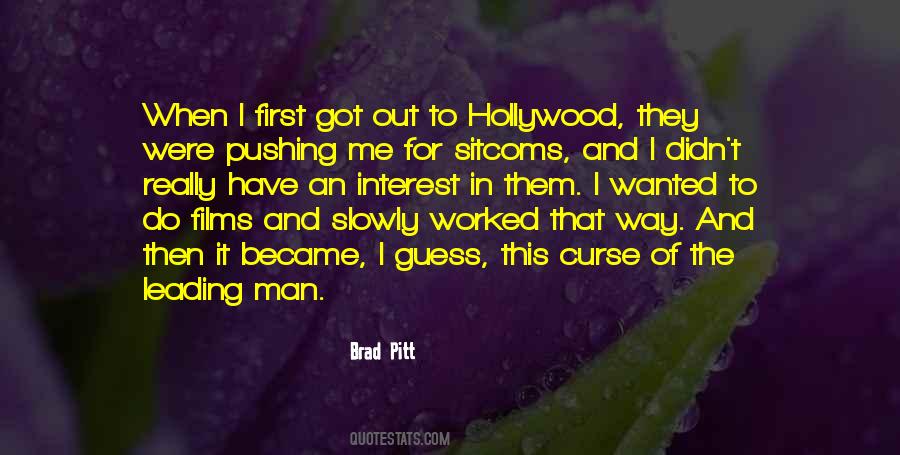 #52. Well into the '40s, it wasn't uncommon for big-budget Hollywood movies to contain little or no underscoring, and many of today's directors, following the lead of Martin Scorsese in 'GoodFellas,' accompany their films with pop records, not original music. - Author: Terry Teachout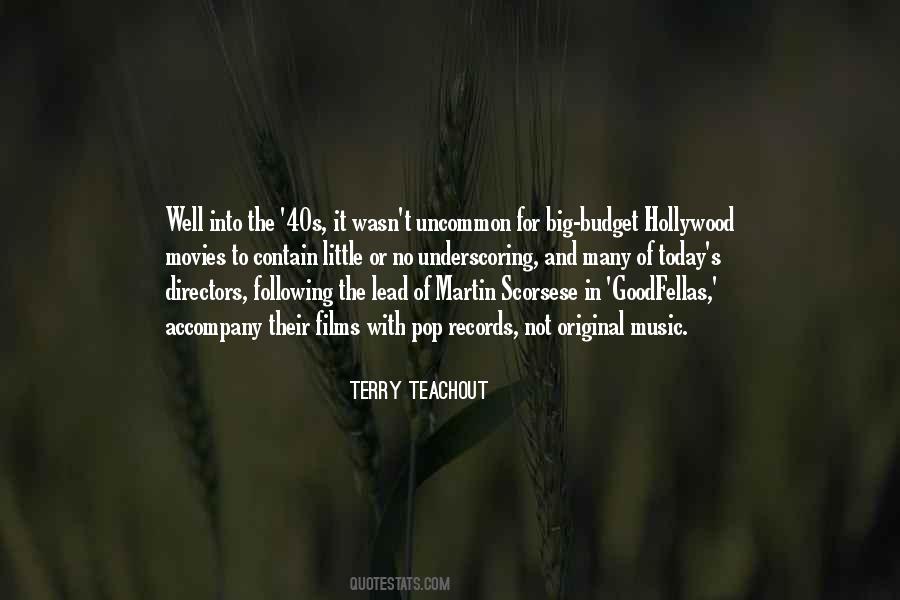 #53. I haven't been to a movie for three months of Sundays. I gather from what Carolyn reports that Hollywood now produces false entertainment: unmitigated violence on the screen; snickering, laughter in the audience. - Author: John Cage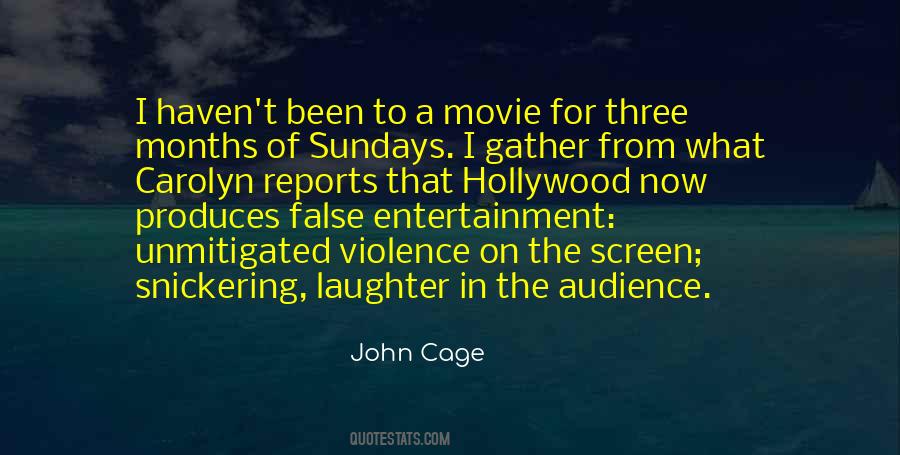 #54. I have done a lot of work in Hollywood myself. I worked in television for roughly 10 years, from the mid-'80s to mid-'90s. And I was on staff at a couple of shows. I did some feature films, including originals and adaptations. - Author: George R R Martin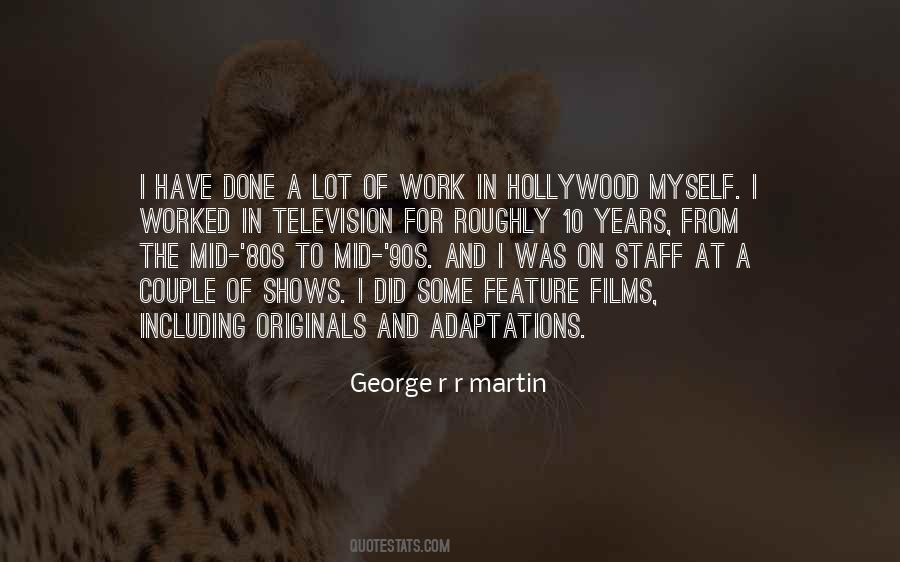 #55. I very much enjoy my freedom creatively but I also would love to make one of those big Hollywood films that costs a lot of money and has a lot of people running around with cell phones and all that insanity. - Author: Nicolas Winding Refn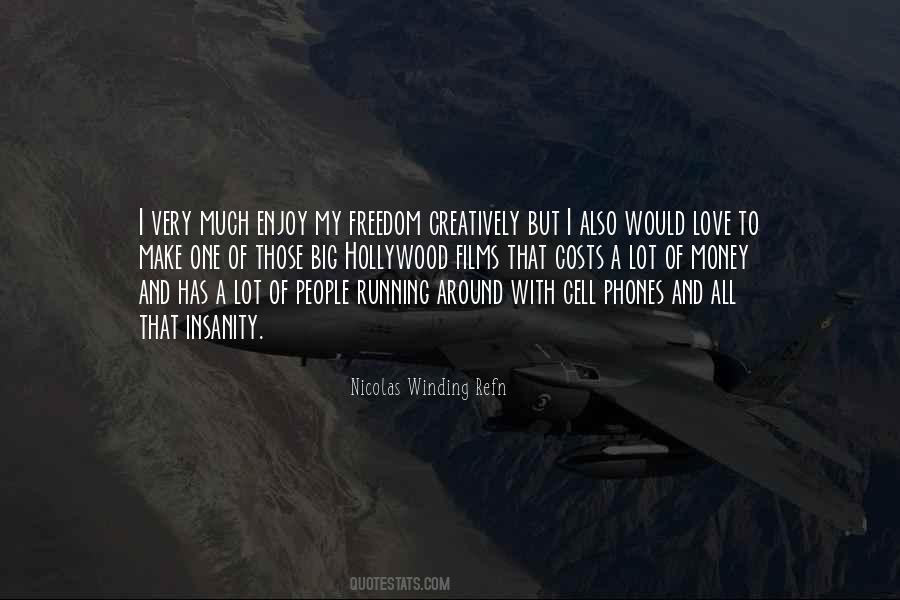 #56. But I think the thing I'm proud of about the film is that there aren't many films - either independent films or mainstream Hollywood films - that are like this; it's of its own times, and it's the film Mike Nichols wanted to make. - Author: Patrick Marber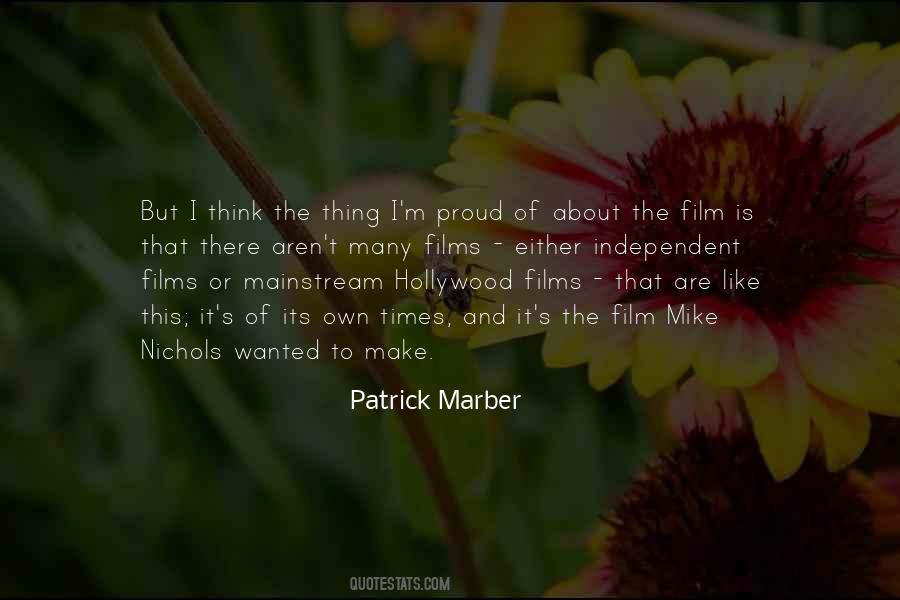 #57. I think the films we see, the Hollywood films, which are basically entertainment, will still be there, but they'll be in a totally different category. People won't take them seriously. They'll kind of end up the way comic books have. A side view of things. - Author: D. A. Pennebaker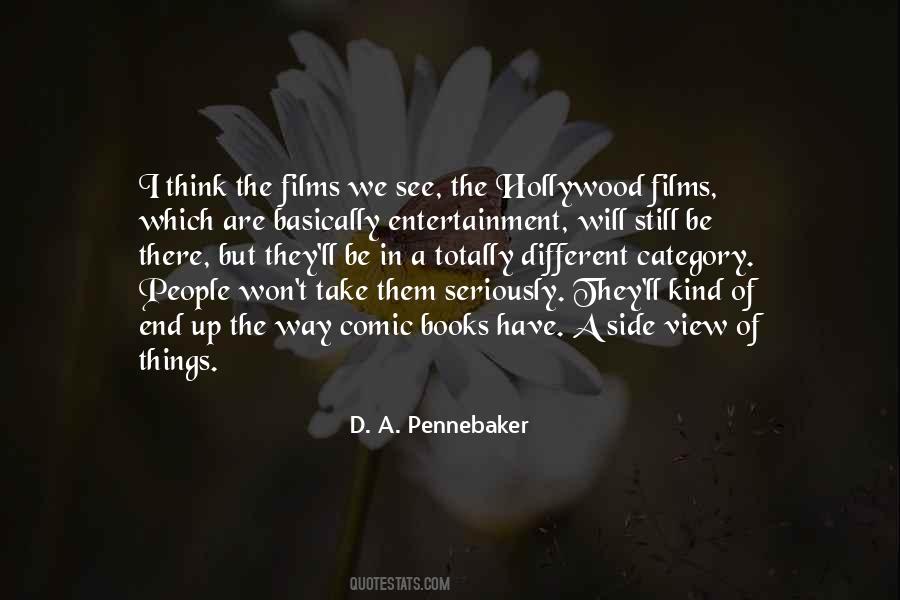 #58. English is my second language, but in Hong Kong, they don't know that I'm from China. They think I'm from Hollywood because all the films they see are from here. China and Hong Kong are very different places, but they're starting to merge. Still the culture is very different. - Author: Bai Ling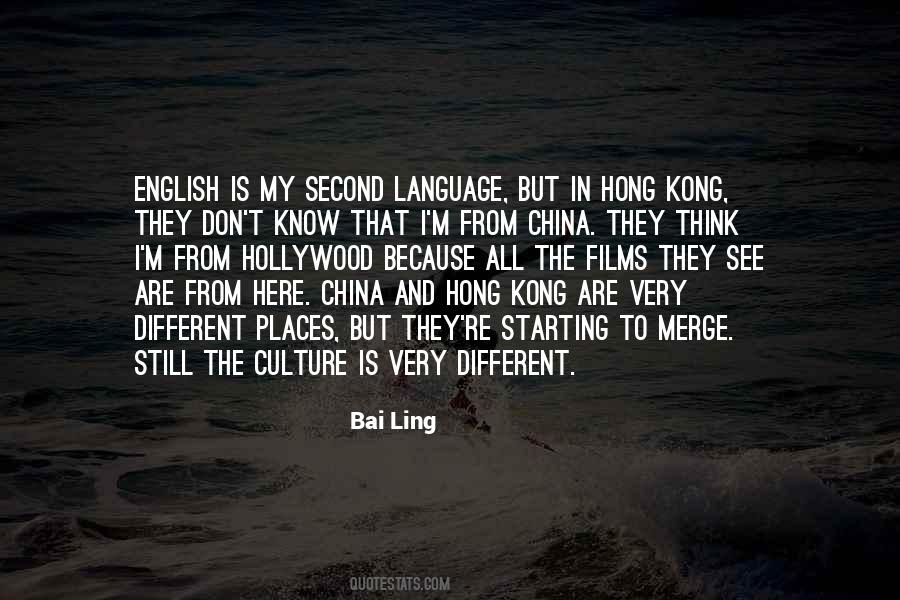 #59. So that, to me, is important that audiences are treated with an amount of respect toward their intelligence. Most Hollywood films don't respect their intelligence. - Author: Eriq La Salle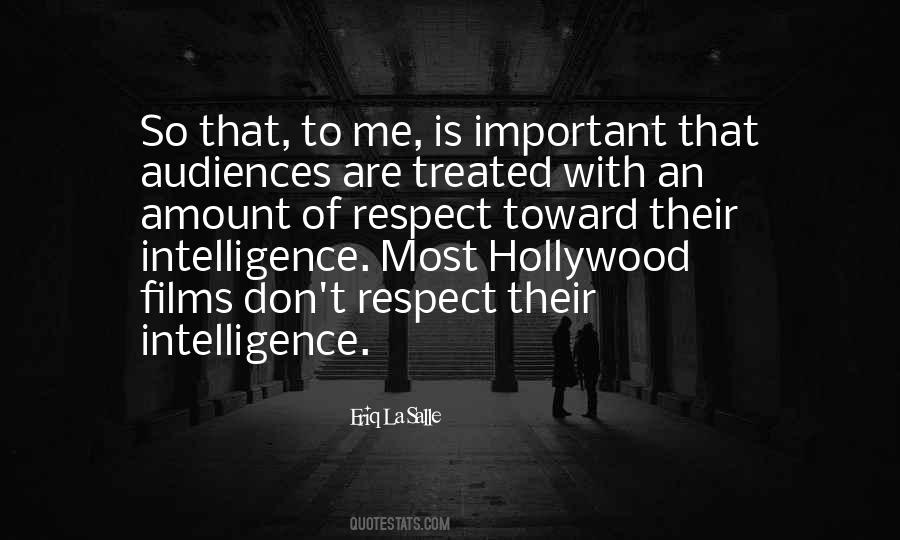 #60. I do like musical films more than big Hollywood films, especially those by Jacques Demi and Vincent Minelli. - Author: Park Chan-wook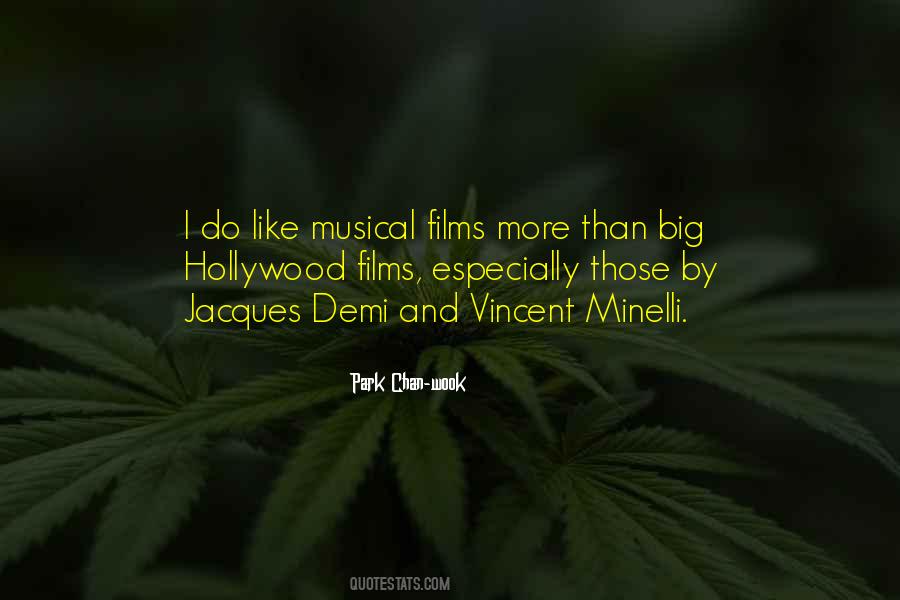 #61. One aspect of my mum's personality that has influenced me is her love of Hollywood and the golden era of black-and-white films. - Author: Rebecca Hall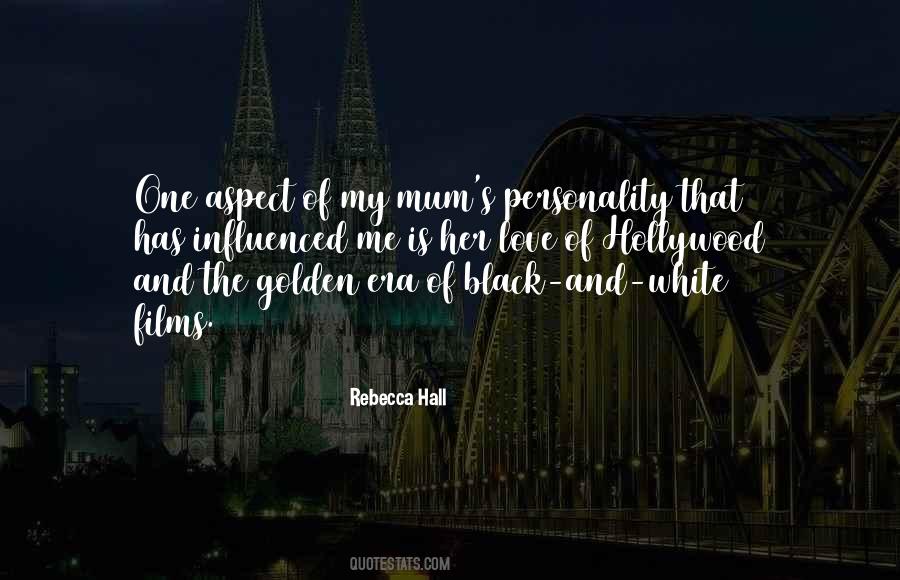 #62. I never desired to really go to Hollywood and make films, and purely because I want my entire control, which I'm used to having. - Author: Nicolas Winding Refn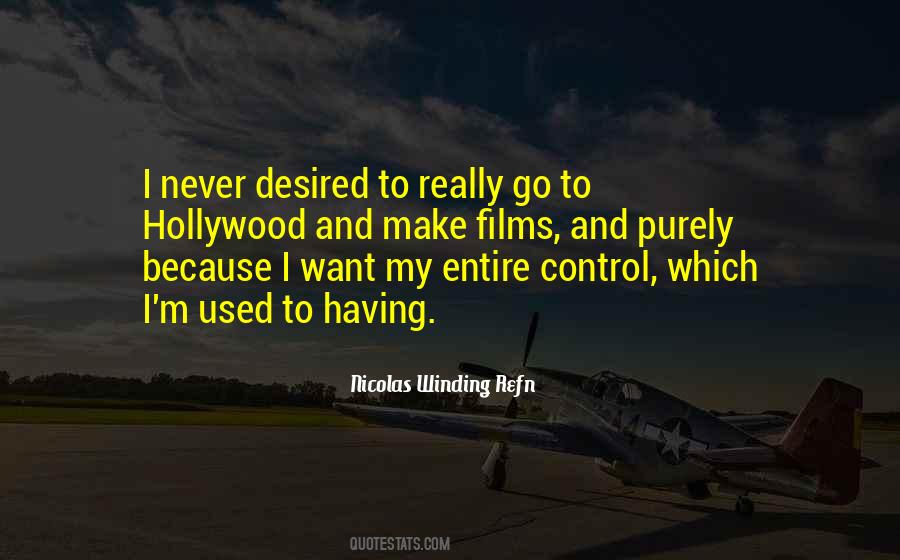 #63. The categories of A-minus through C-plus [films] are completely dominated by Hollywood. - Author: Murray Horwitz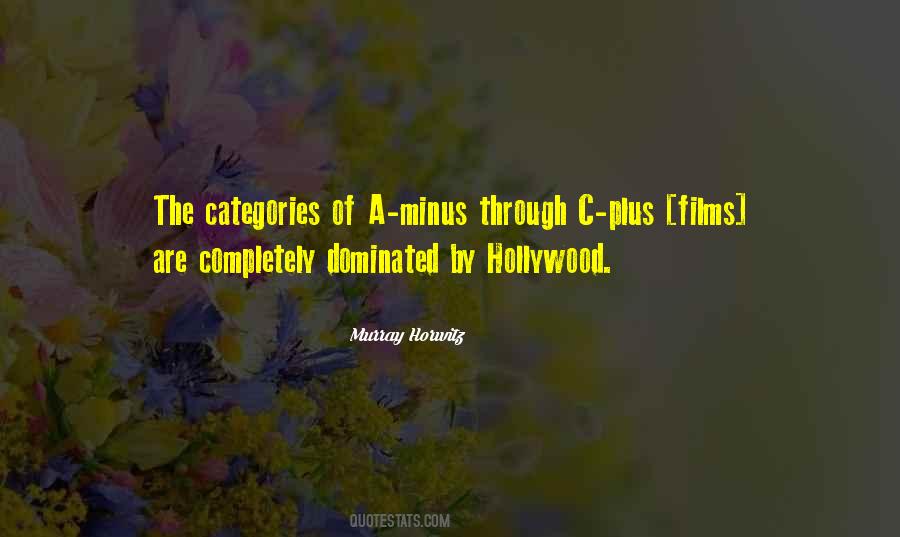 #64. Of course, Hollywood is still making some excellent pictures which reflect the great artistry that made Hollywood famous throughout the world, but these films are exceptions, judging from box office returns and press reviews. - Author: Pola Negri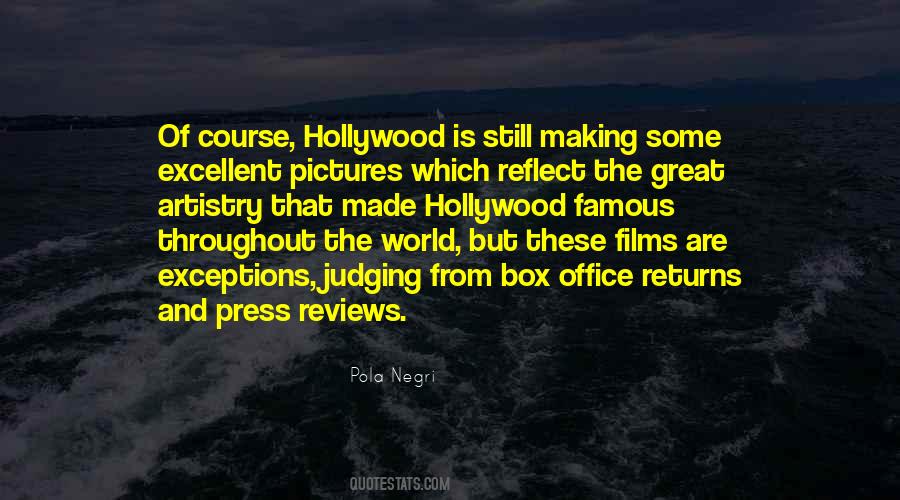 #65. A financial shift happened with 'Facing the Giants' and 'Fireproof,' where movies that were faith-based films were profitable. And people in Hollywood - like people in downtown U.S.A. - are out to make money. - Author: John Schneider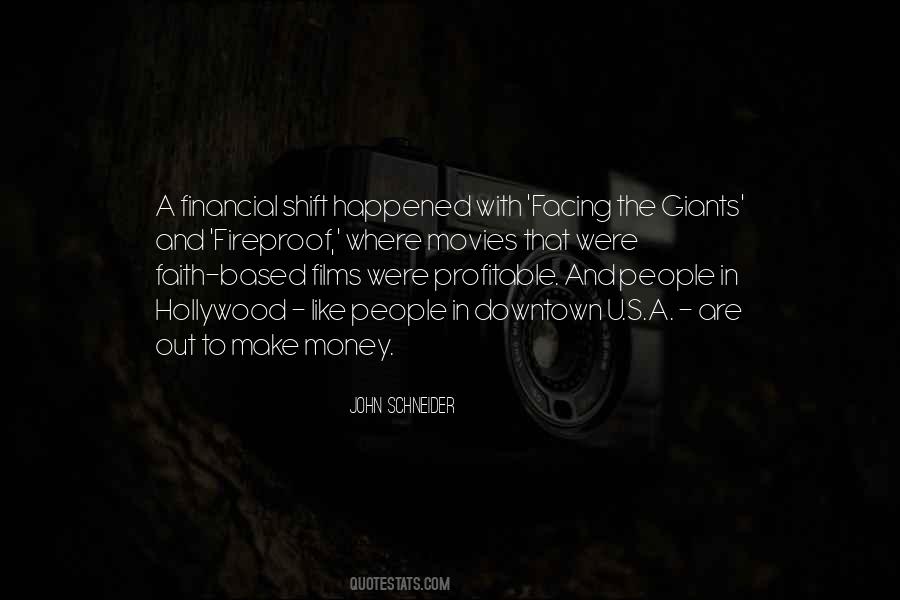 #66. Well, I don't think Hollywood's a dirty word at all, I love a lot of Hollywood films. - Author: David Nicholls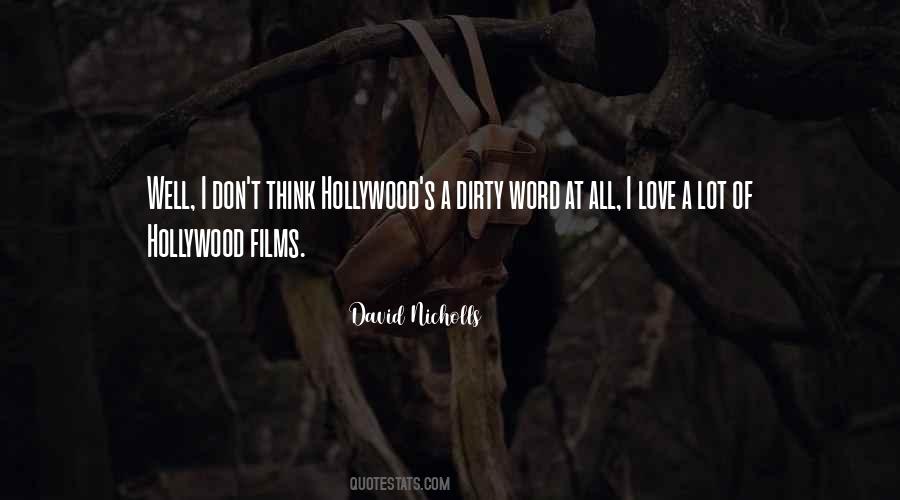 #67. I like to take risks and do weird things and stuff that's not normal compared to other Hollywood movies. Not stuff that's totally avant garde and daring, but doing stuff that's in other languages and not using stars and using real people - things that they generally don't do in mainstream films. - Author: Eli Roth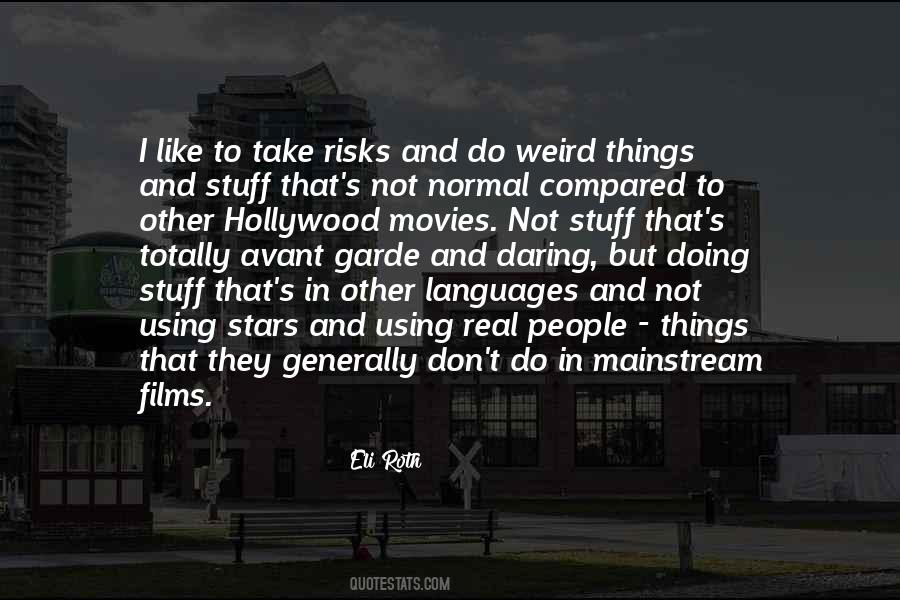 #68. I'm a Hollywood kid, and I know that there are only so many stories. Only so many tales around the campfire that we have to tell. Then we have to regurgitate them. Our grandparents' movies were all remakes of silent films - we forget that, but it's true. - Author: Robert Englund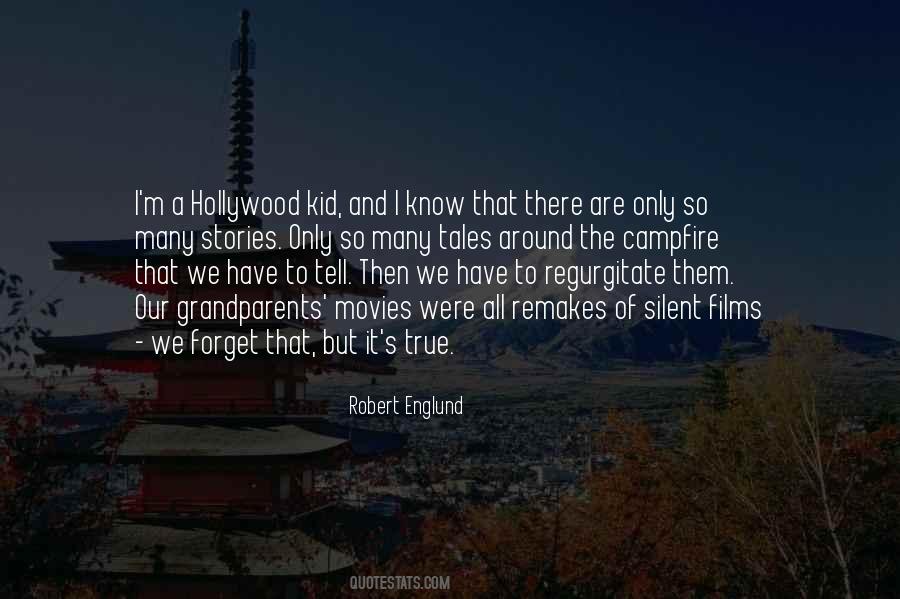 #69. One of the reasons the whole Hollywood way of making films wouldn't work for me is because the way I operate would be anathema to anyone who wants to hold a job down in Beverly Hills. - Author: Mike Leigh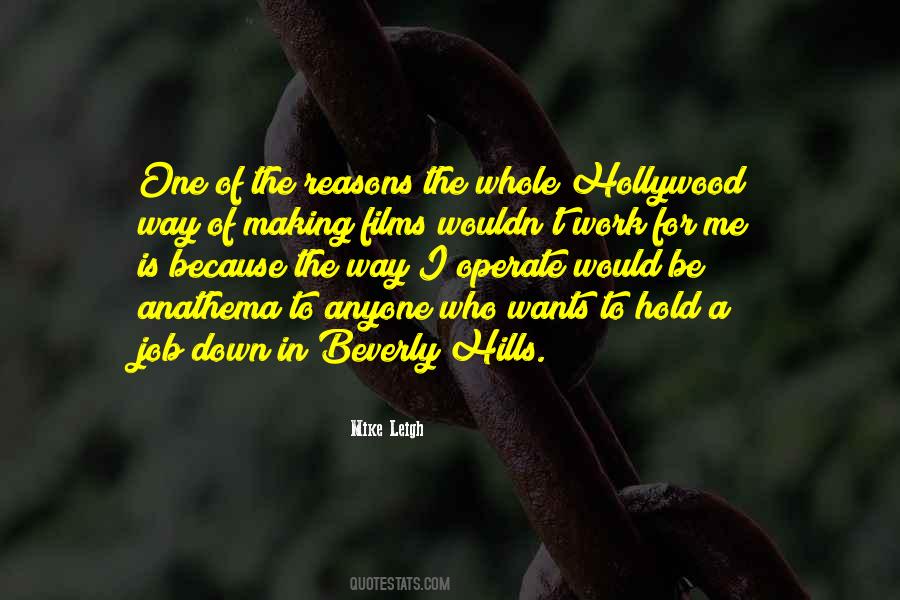 #70. I teach at USC. I have a big class of 360 kids, only about a fifth of whom are film majors. I don't just show the Hollywood blockbusters. I show independent films, foreign films, documentaries. - Author: Leonard Maltin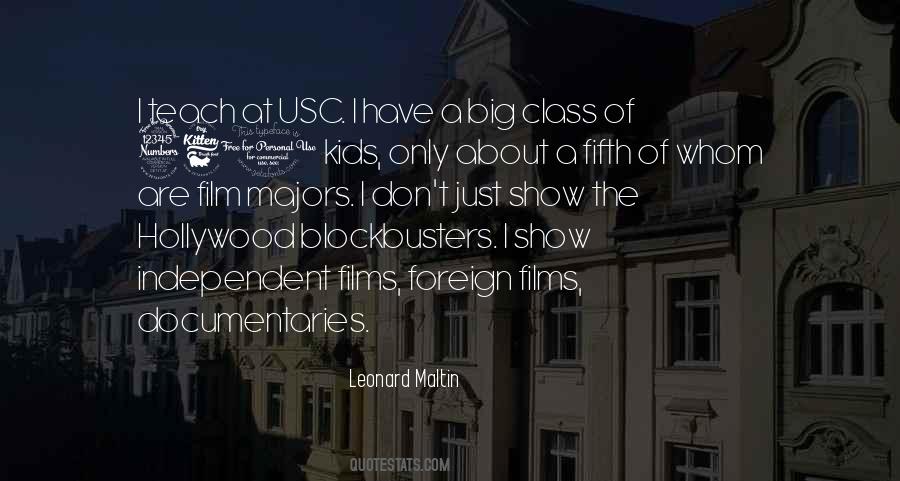 #71. Whenever Hollywood makes films about us, it's 12 Years a Slave or The Butler or The Help. That is not the sum total of who we are as a people. - Author: Mo Abudu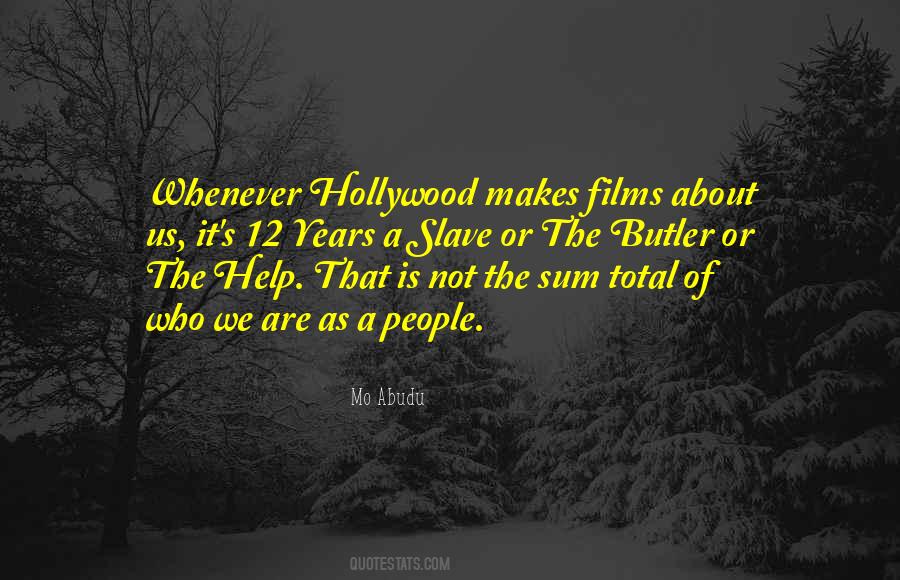 #72. People think that what I see diving must drive what I put into films, but that isn't really the case. When I am making a Hollywood production, I am telling a different kind of story. Of course, if I see something interesting that works, we will look at it, but they are different things. - Author: James Cameron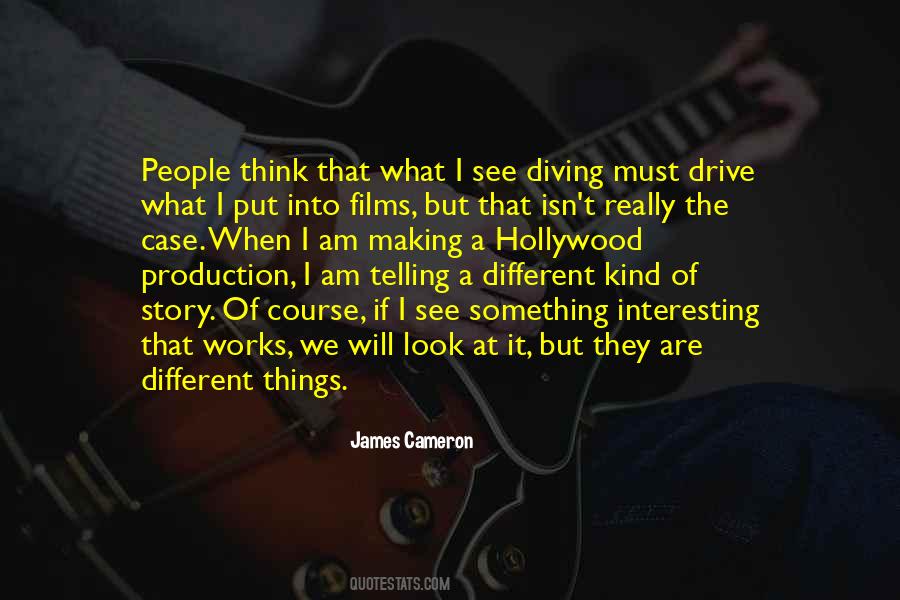 #73. Most of Hollywood is about making money - and I love money, but I don't make the films thinking about money. - Author: David Lynch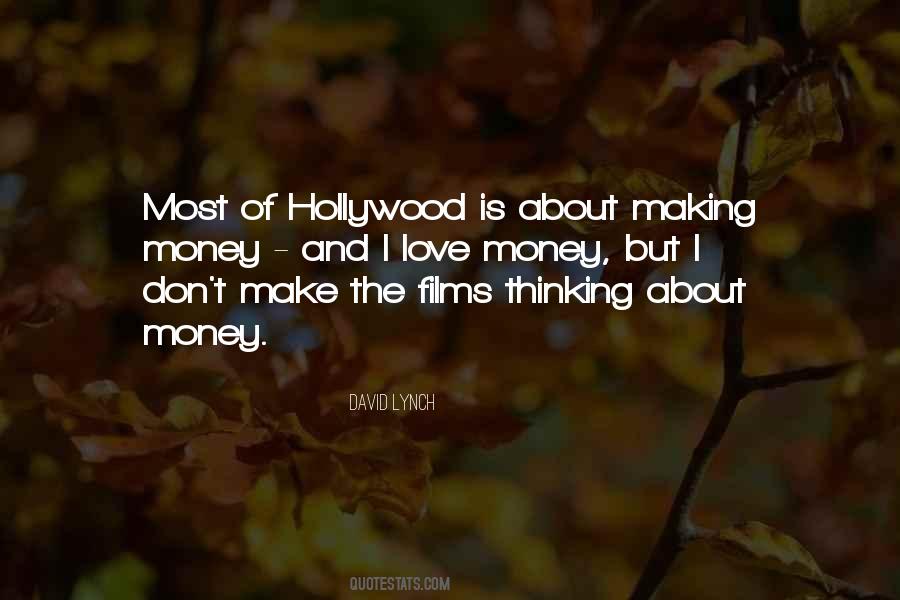 #74. I'm not always happy when Hollywood does remakes of films, but that's usually, when they have a very, very, very good film and they take away anything controversial from it and make flatter. - Author: Stellan Skarsgard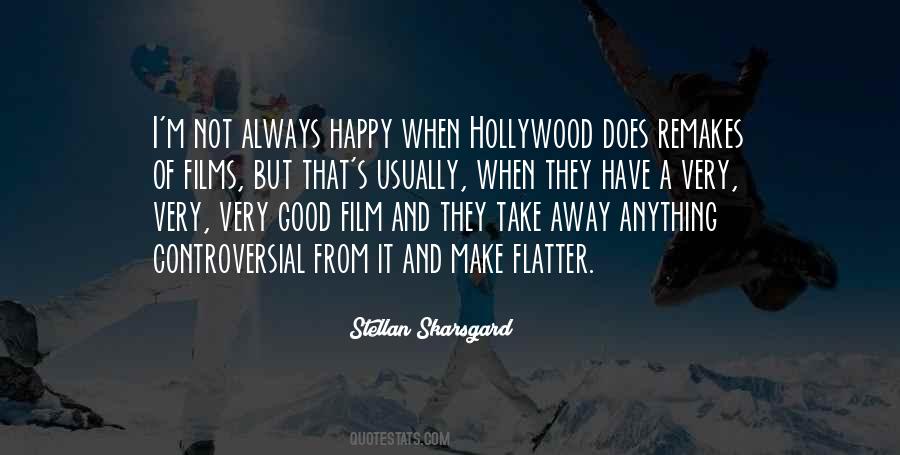 #75. The advent of DVD/Blu-ray reissues of classic Hollywood and foreign films has been a boon to film buffs, who can now study their favorites in all their glistening detail and restored palettes. - Author: James Wolcott
#76. You don't see Indians in Hollywood films around which a story can revolve. As soon as we have a social presence in your society, I am sure there will be many actors from our part of the world that will be acting in Hollywood films. - Author: Amitabh Bachchan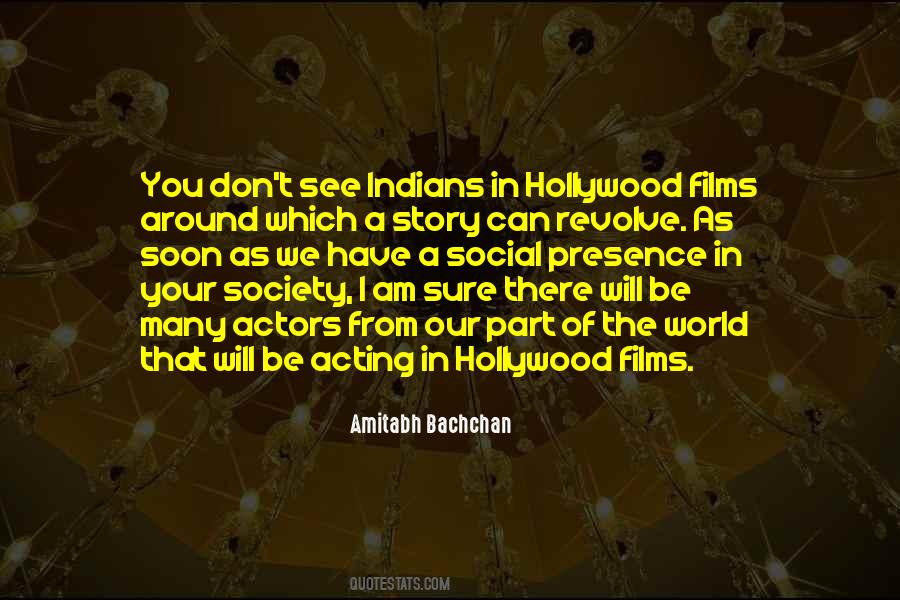 #77. Though I soon became typecast in Hollywood as a gangster and hoodlum, I was originally a dancer, an Irish hoofer, trained in vaudeville tap dance. I always leapt at the opportunity to dance in films later on. - Author: James Cagney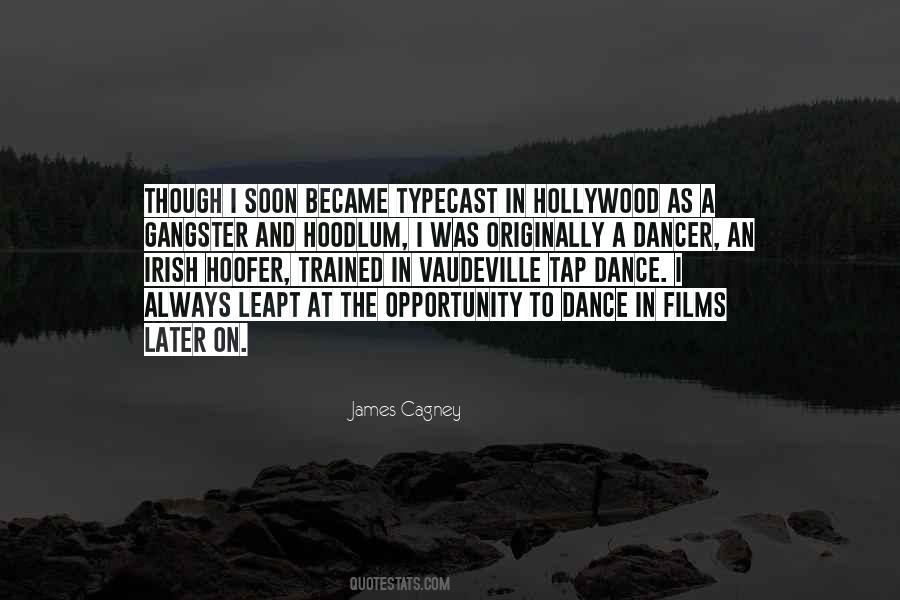 #78. I have seen so few films in which the sex felt really respected by the filmmaker. Hollywood too often shies away from it or makes adolescent jokes about it ... Sex is only connected to the negative because people are scared of it. - Author: John Cameron Mitchell
#79. greatest films ever made originate largely in the 1930s, 1940s, 1950s, and early 1960s - a period when Hollywood worked - Author: Ben Shapiro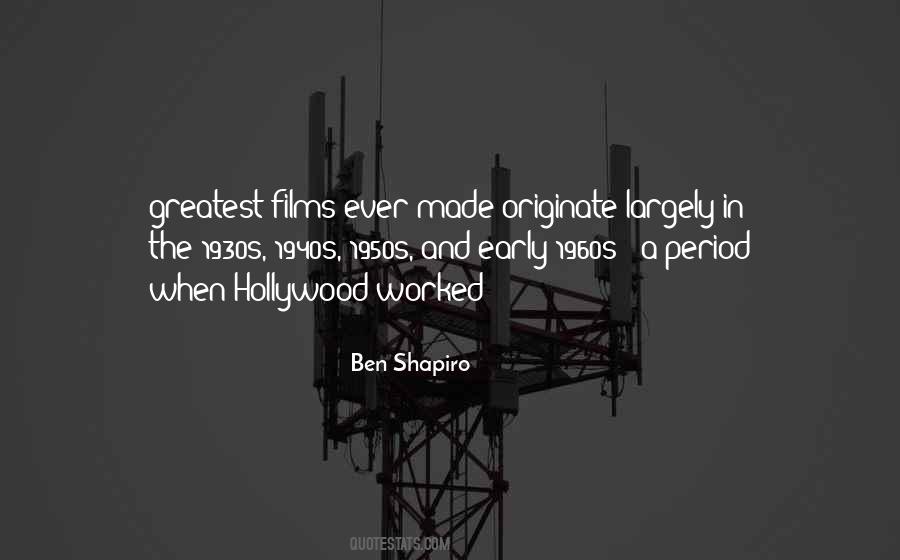 #80. I don't think Hollywood makes many good films anymore. How many directors can you really trust to have an artistic vision, not a corporate vision or a watered-down communal one? - Author: Nick Cave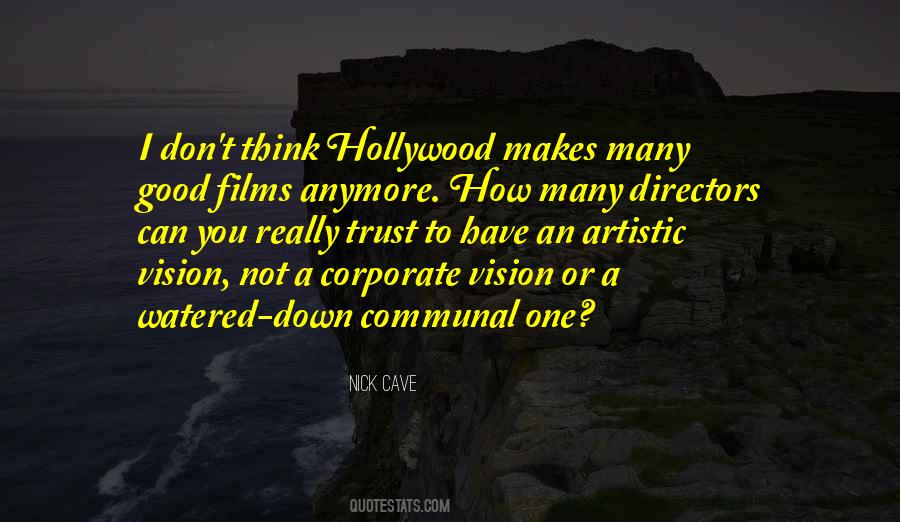 #81. Where I come from, it's a little bit like England. We start from the theater, and we do films a bit on our free time. The history of making films in Scandinavia is so old, it's like the oldest. The Nordic film industry started before Hollywood in Stockholm in Copenhagen. - Author: Michael Nyqvist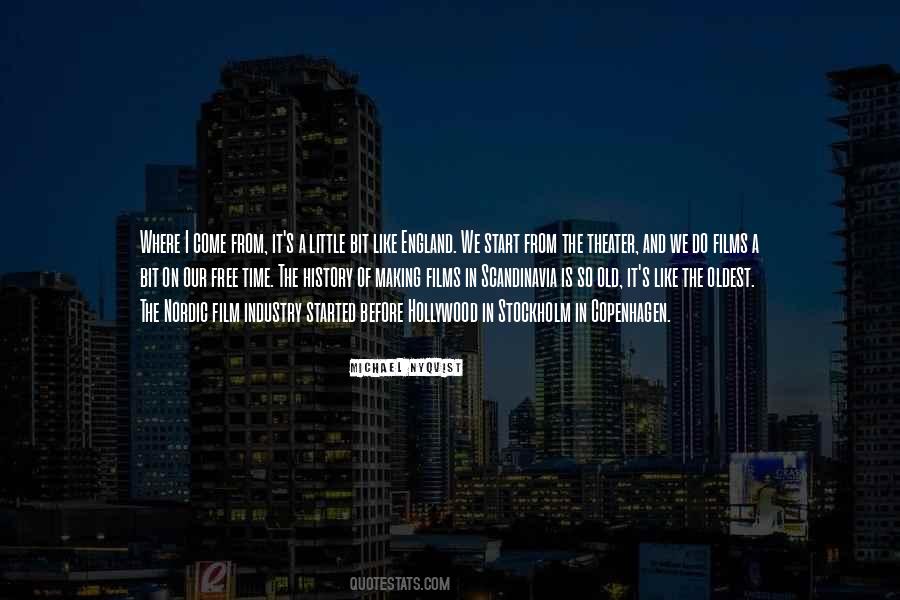 #82. But Hollywood cinema remains profoundly conservative, profoundly stupid, and often painful. About one out of every ten films is okay, meaning a little bit better than the average. - Author: T. Jefferson Kline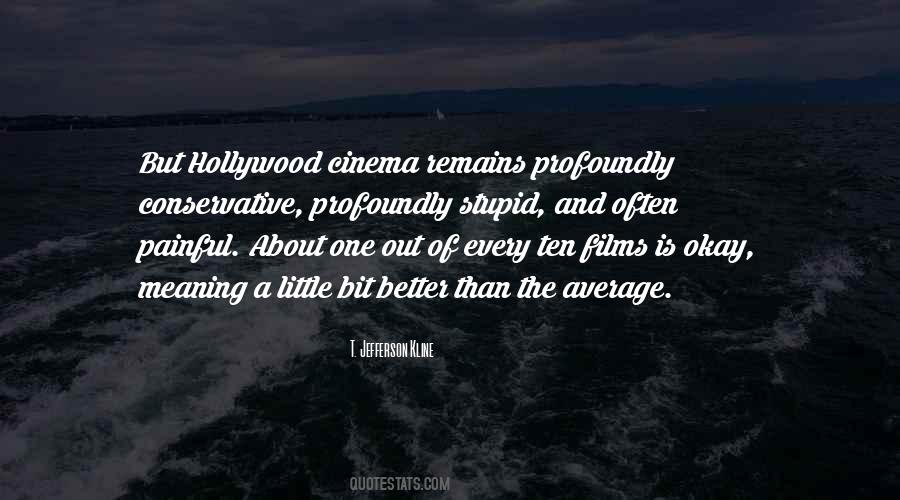 #83. The best thing I can think of would be to create a union between something as beautiful and powerful and wonderful as Hollywood films and a criticism of the status quo. That's my dream, to make such a German film. - Author: Rainer Werner Fassbinder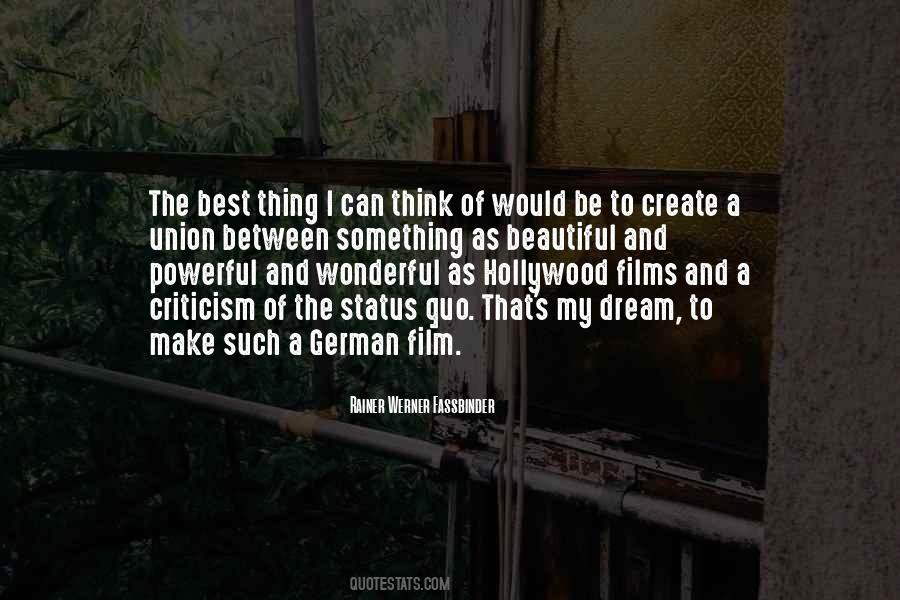 #84. When I was making my first films, I was very interested in Hollywood B movies. - Author: Park Chan-wook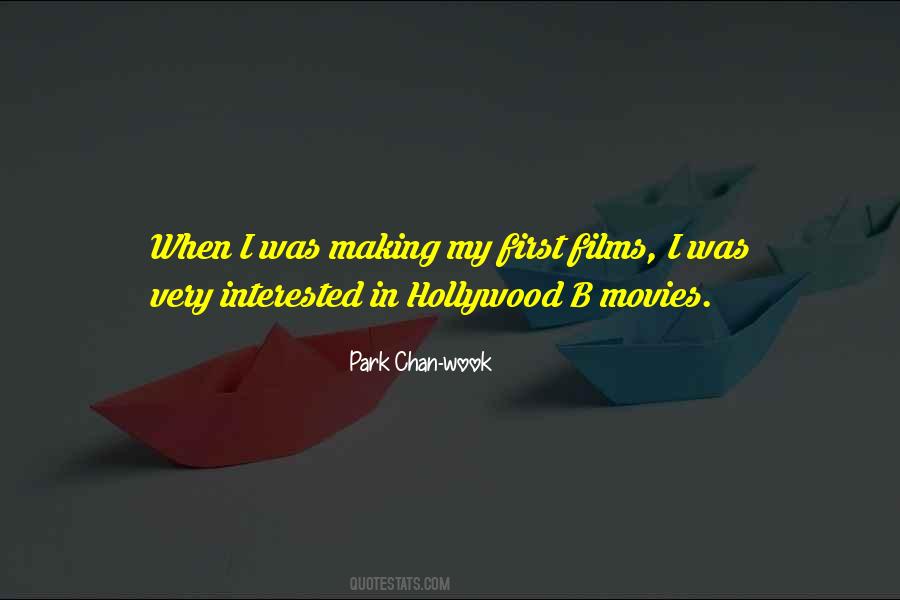 #85. In Hollywood, more often than not, they're making more kind of traditional films, stories that are understood by people. And the entire story is understood. And they become worried if even for one small moment something happens that is not understood by everyone. - Author: David Lynch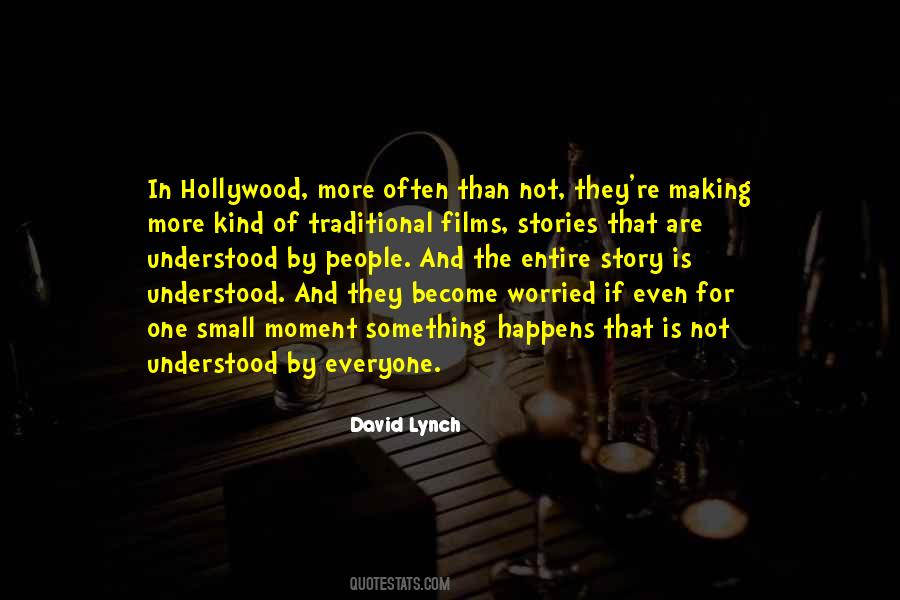 #86. Because Chicago was to radio what Hollywood was to films and Broadway was to the theatre: it was the hub of radio. - Author: Mel Torme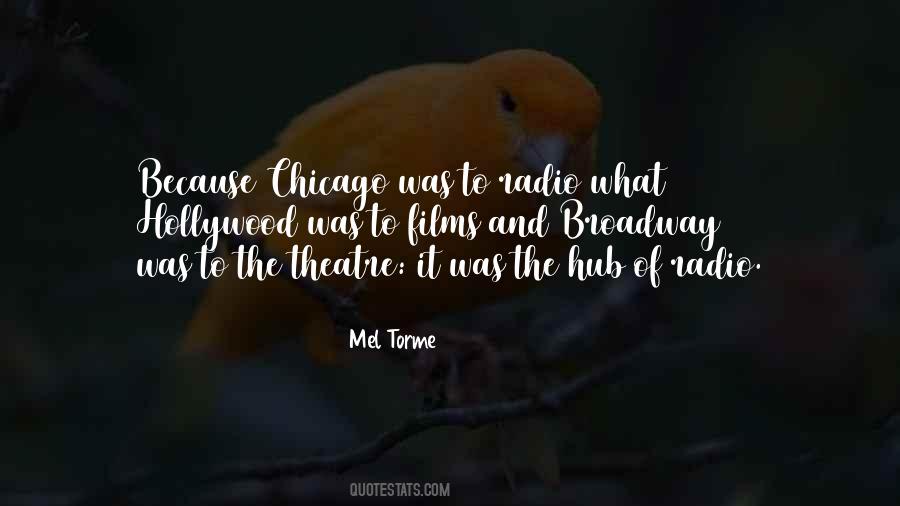 #87. Mrs. Robinson, you're trying to seduce me ... aren't you? - Author: Dustin Hoffman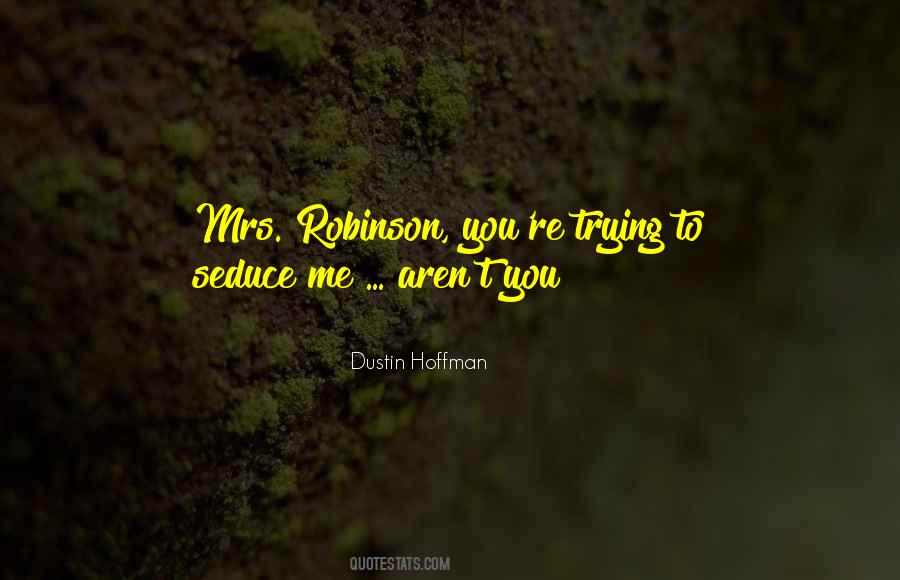 #88. When I first came to Hollywood, I used to dream of doing films and escaping television. - Author: Billy Campbell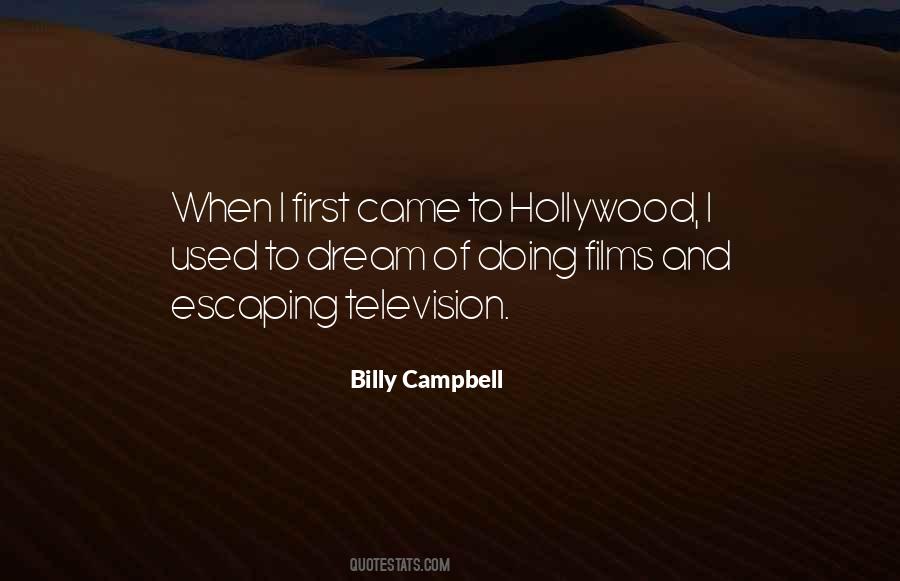 #89. I think I have always tried to do the smaller films. I like to jump around and there is something really nice for acting in a smaller film. But I think now, Hollywood's movies certainly involve a younger generation for the most part and so ... I love going back and forth. - Author: Sigourney Weaver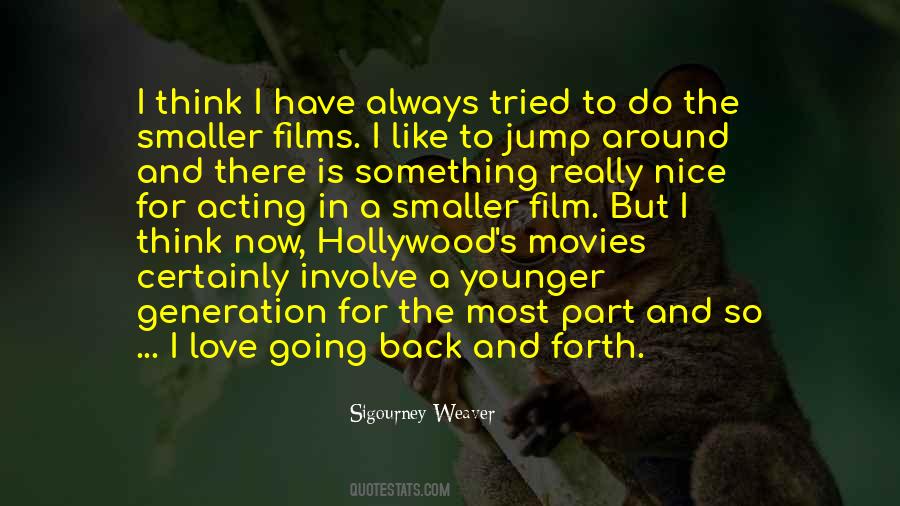 #90. A lot of Hollywood films tend to be bloated, bombastic, loud. At the same time, I do like the infrastructure of making a blockbuster; it's like having a big train set. - Author: David Yates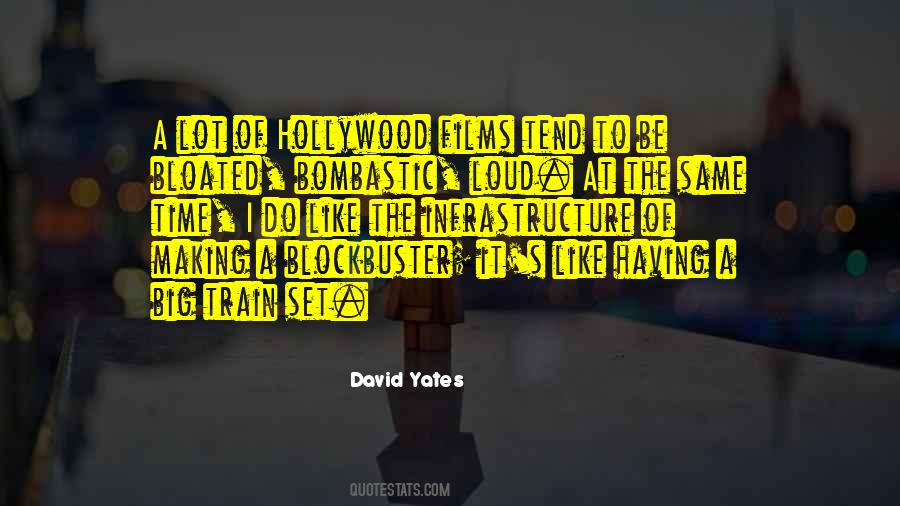 #91. Bad films gave me the courage to try making a movie - Author: Stanley Kubrick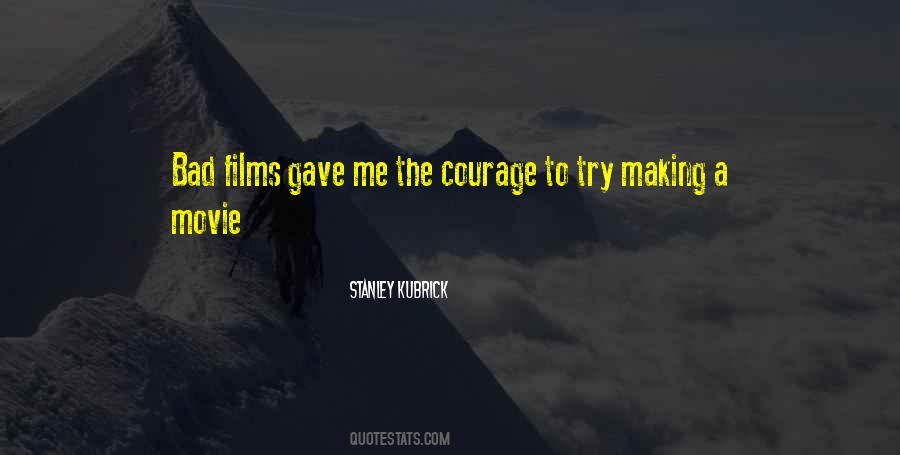 #92. Mr. Reagan spent World War II, the global conflict fought and won by his generation, making training films in Hollywood. - Author: R. W. Apple Jr.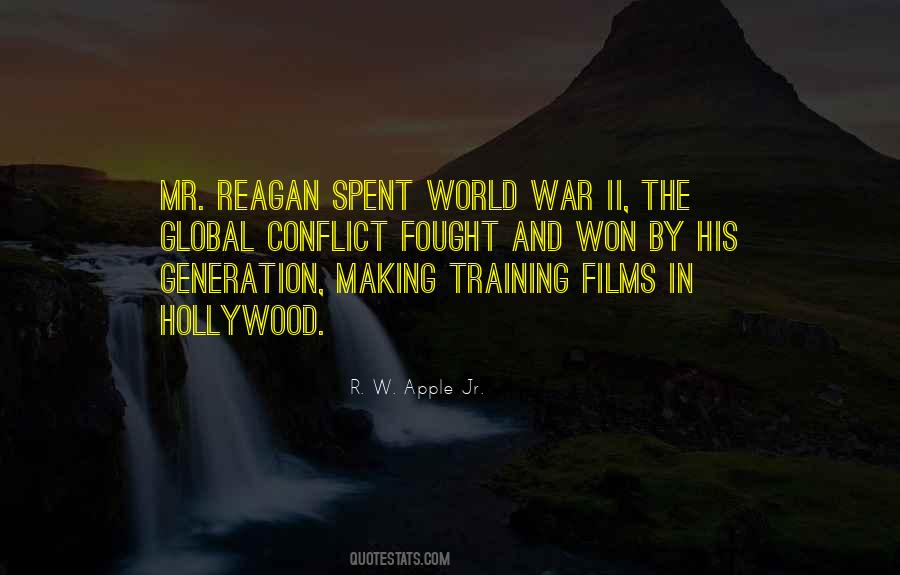 #93. [about Roscoe 'Fatty' Arbuckle during the filming of Windy Riley Goes Hollywood (1931)]: Oh, I thought he was magnificent in films. He was a wonderful dancer... a wonderful ballroom dancer, in his heyday. It was like floating in the arms of a huge donut... really delightful. - Author: Louise Brooks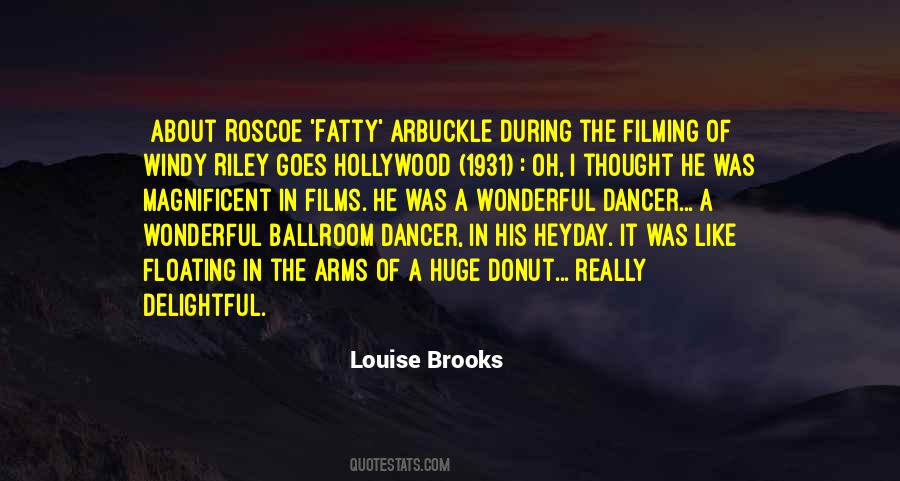 #94. Hollywood is a wonderful machine for making big movies. In France, we make smaller and more personal films, but if things keep changing, this will disappear. The industry in Italy is practically gone. Cinecitta now is used mostly by filmmakers from others places, like Martin Scorsese. - Author: Ludivine Sagnier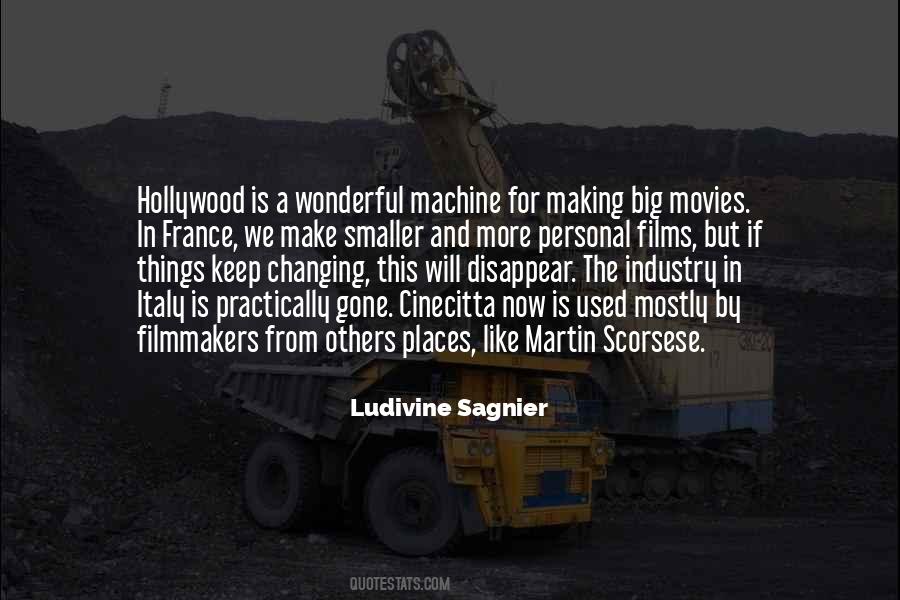 #95. In Hollywood films everything is tidied up at the end with clean lines and clean character definitions. It's sort of unsatisfying. - Author: Jim Broadbent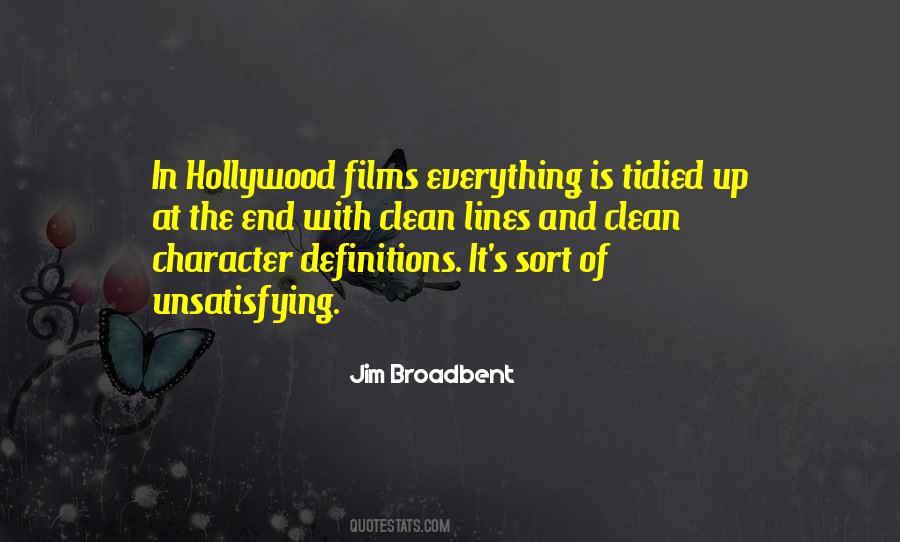 #96. The Hollywood movies are more like novels, and the kinds of films I make are more like poems. - Author: Stan Brakhage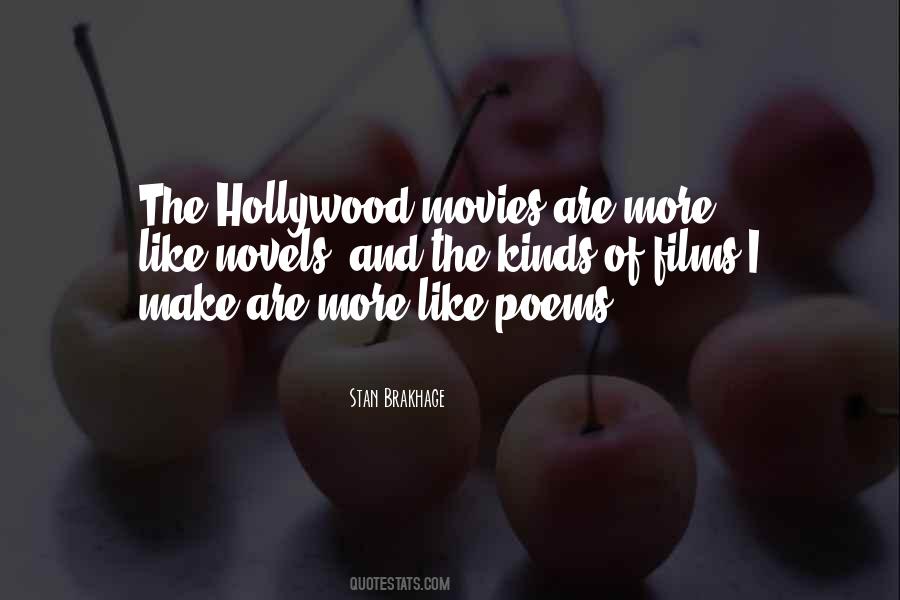 #97. The films that I go to see at the cinema are not Hollywood blockbusters particularly. I've not got anything against them ... I'm in them! But I don't go and spend my money on them. - Author: Gemma Arterton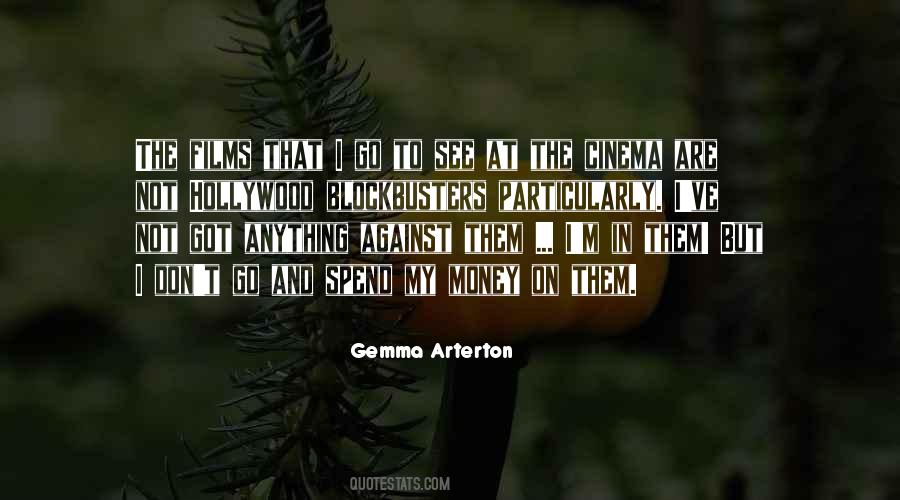 #98. Hollywood usually doesn't have strong woman in films like that, and it's stupid, so for the most part they're usually being directed and written by men. - Author: Ryan Gosling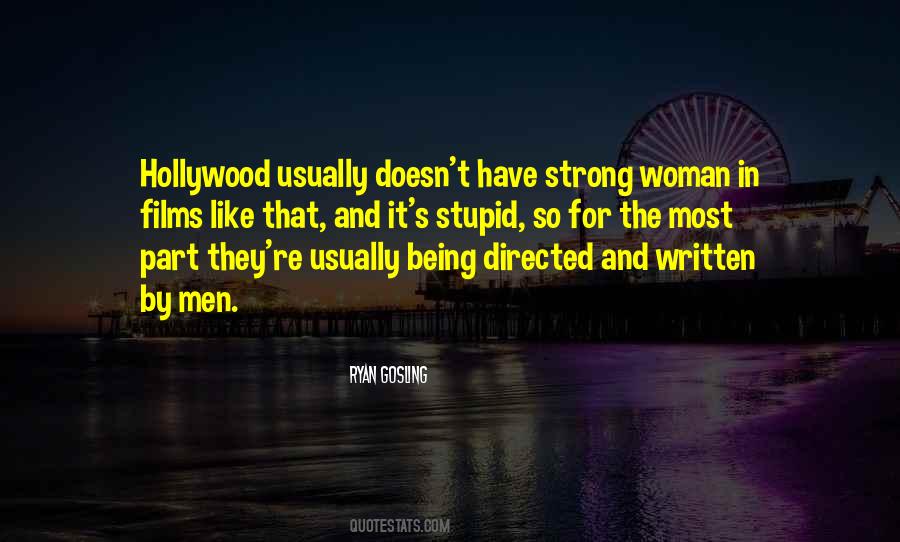 #99. The buried code of many American films has become: If I kill you, I have won and you have lost. The instinctive ethical code of traditional Hollywood, the code by which characters like James Stewart, John Wayne and Henry Fonda lived, has been lost. - Author: Roger Ebert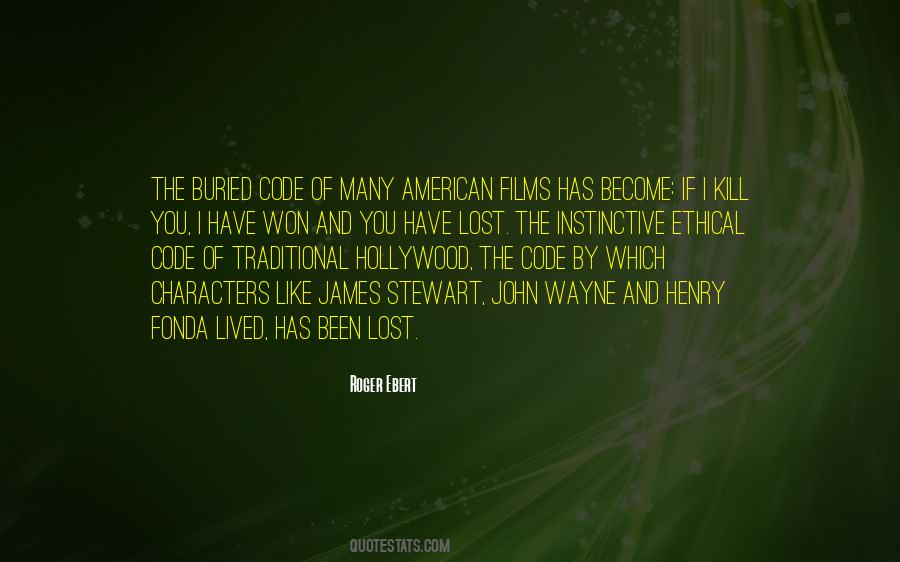 #100. I'm an independent filmmaker with complete creative control of my films. I hire who I want. I have final cut. But at the same time, I go directly to Hollywood for financing and distribution. I find it's best for me to work within the Hollywood system. - Author: Spike Lee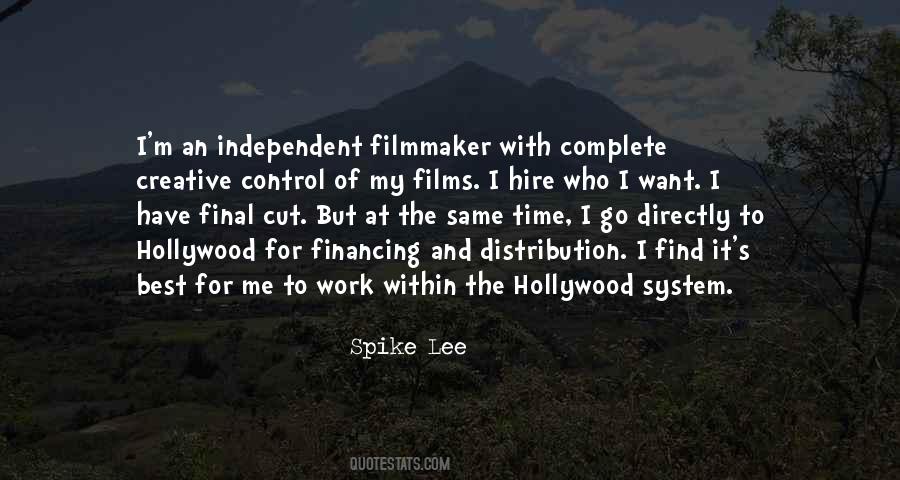 Famous Authors
Popular Topics