Happiness In Love Famous Quotes & Sayings
List of top 100 famous quotes and sayings about happiness in love to read and share with friends on your Facebook, Twitter, blogs.
Top 100 Quotes About Happiness In Love
#1. When we are such as He can love without impediment, we shall in fact be happy. - Author: C.S. Lewis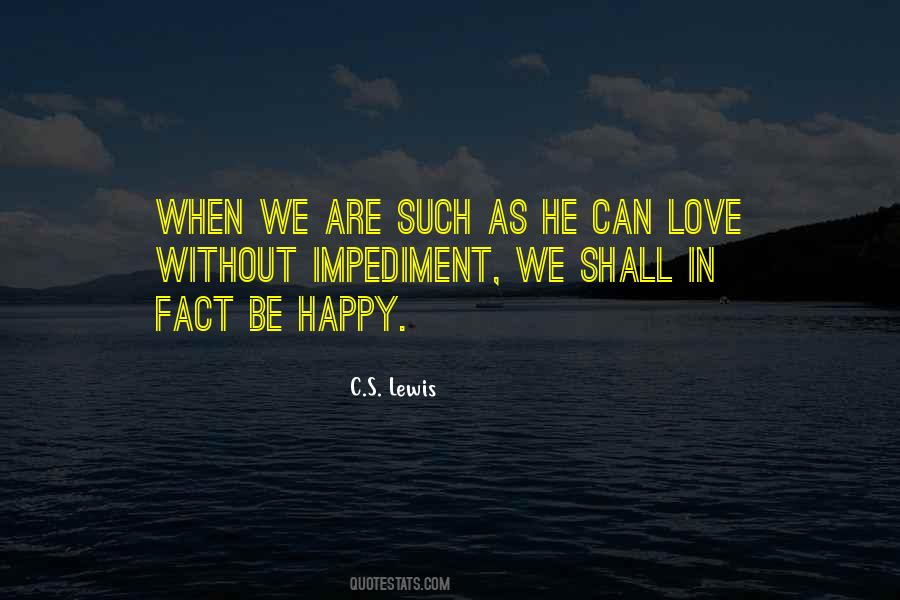 #2. You are encased in my heart. - Author: Truth Devour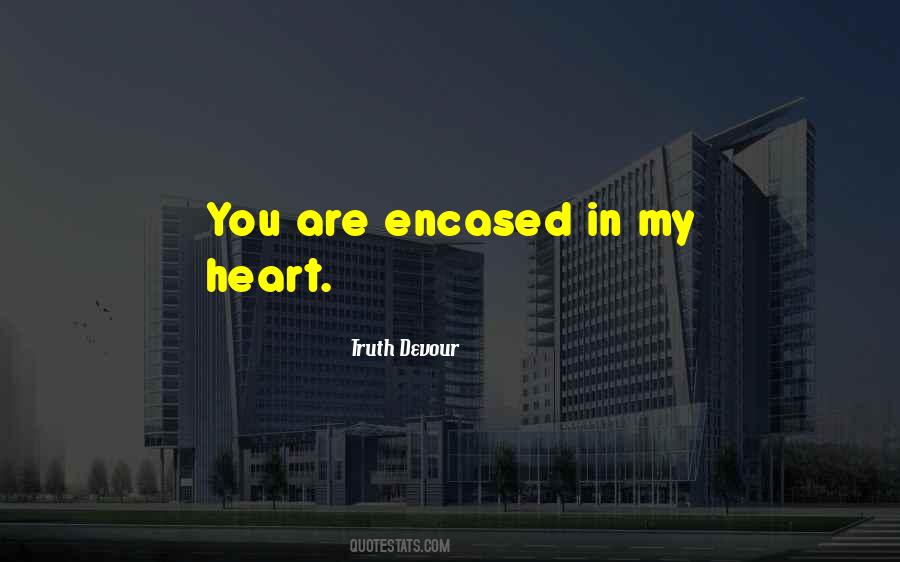 #3. Perfect love casts out fear. Where there is love there are no demands, no expectations, no dependency. I do not demand that you make me happy; my happiness does not lie in you. If you were to leave me, I will not feel sorry for myself; I enjoy your company immensely, but I do not cling. - Author: Anthony De Mello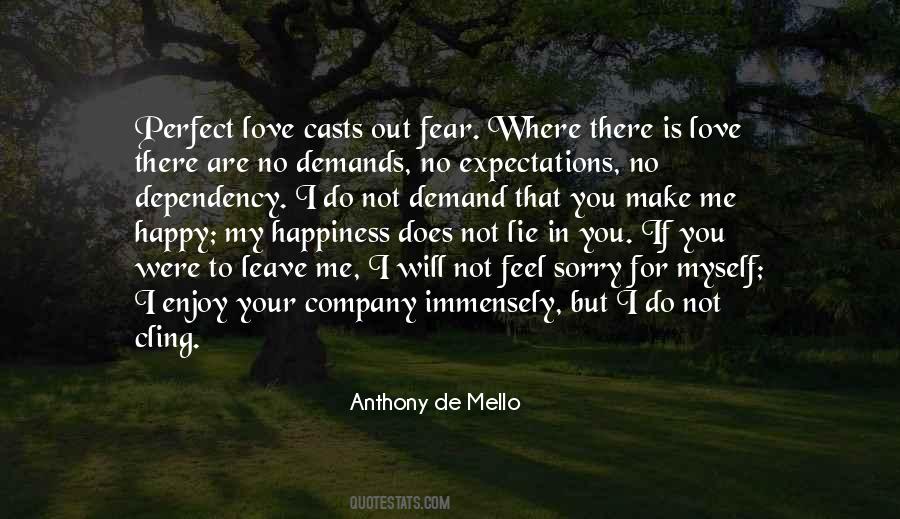 #4. We can bring peace in the world, not by eliminating violence in the world, but by finding the causes of violence and by preventing those from infecting the society. - Author: Debasish Mridha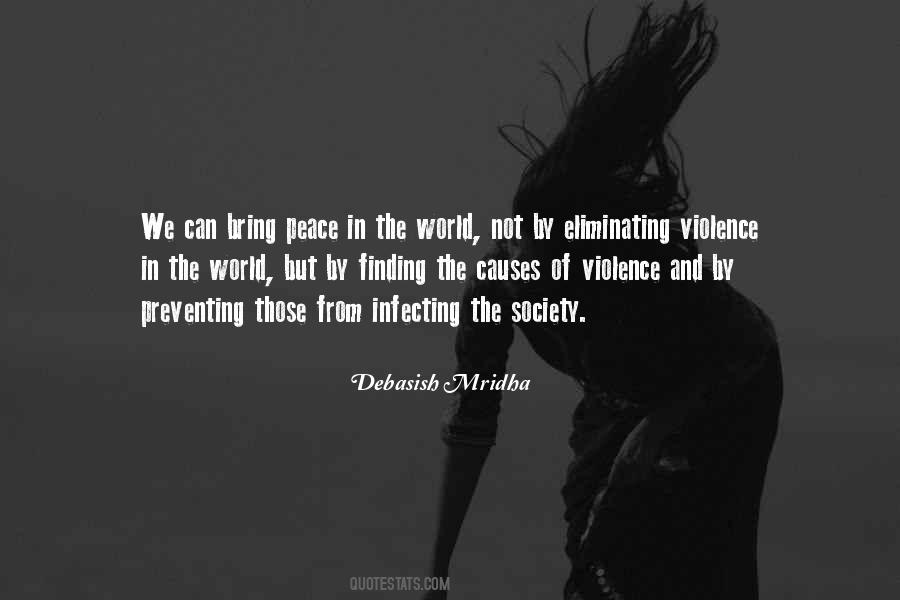 #5. You are just as worthy, deserving, and capable of creating and sustaining extraordinary health, wealth, happiness, love, and success in your life, as any other person on earth. - Author: Hal Elrod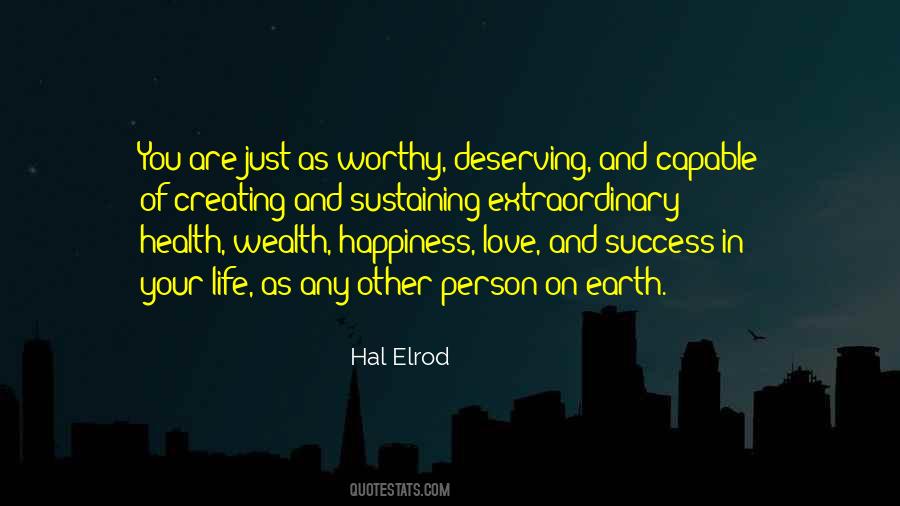 #6. Are you the dove or the statue?
Soaring with the eagles leaving the turkeys behind.
May our highest Supreme Being be with you and give you lots of Real Love and Happiness in your life. - Author: Harry Monarch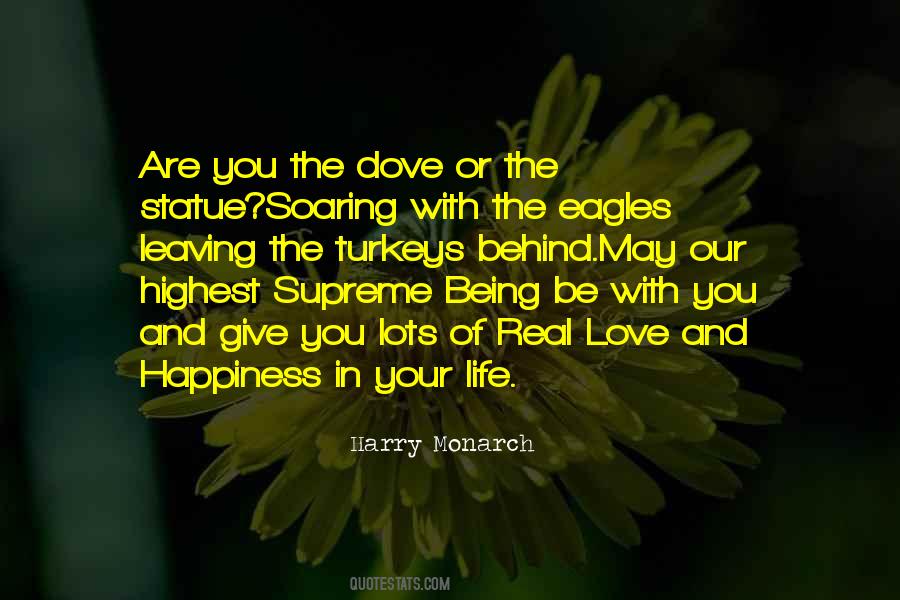 #7. Everything around you will vanish and go away.
Only your expressed love will live forever in the Milky Way. - Author: Debasish Mridha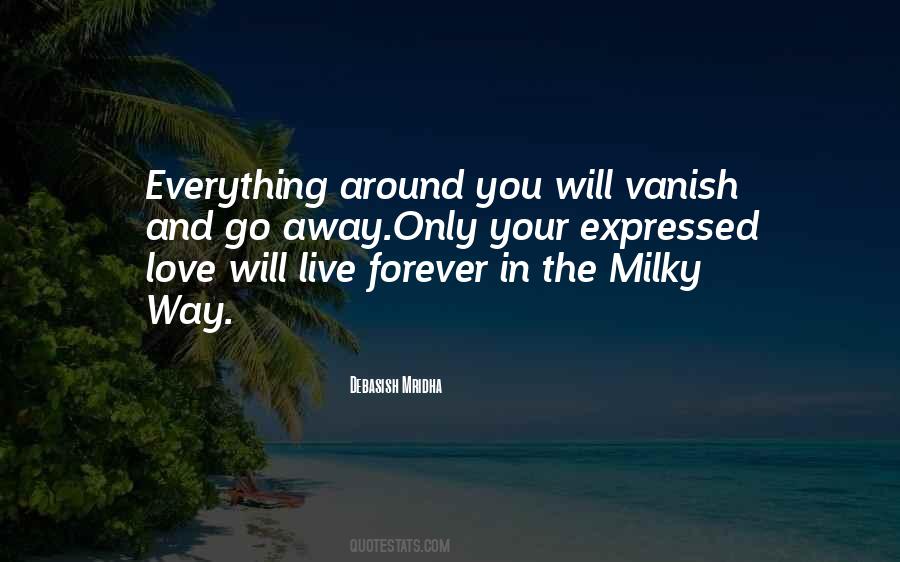 #8. What love it to me ... is his happiness. I'm not like you where I fall in love so I can be happy. All I need is for him to be smiling. - Author: Kim Su-mi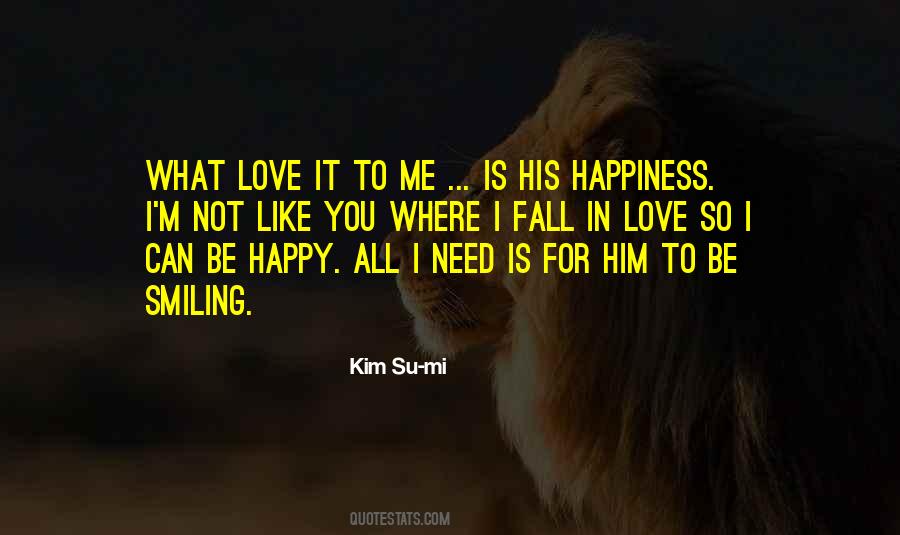 #9. Happiness then is the best, noblest, and most pleasant thing in the world, and these attributes are not severed as in the inscription at Delos-
Most noble is that which is justest, and best is health;
But pleasantest is it to win what we love. - Author: Aristotle.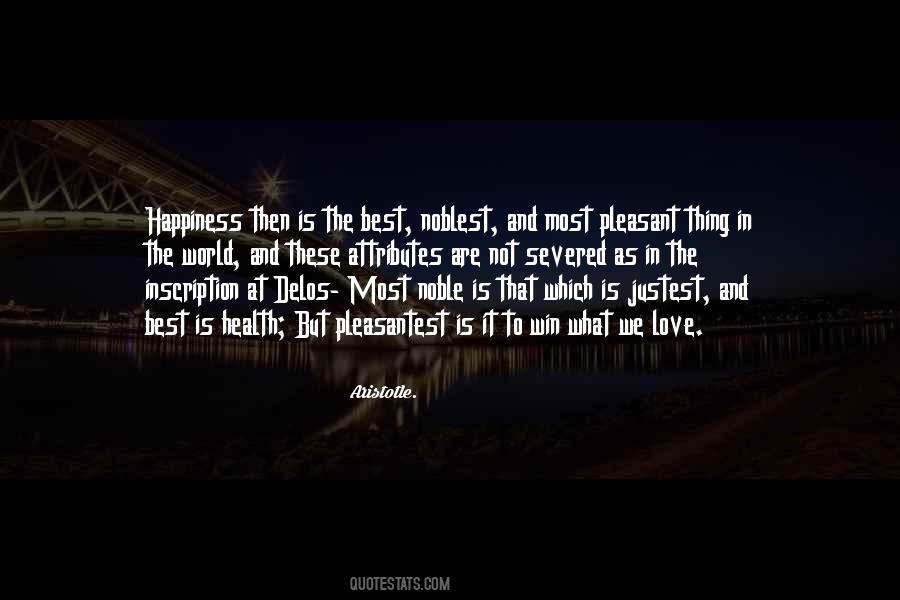 #10. Find joy and gratitude in today,
make every day in life a holiday. - Author: Debasish Mridha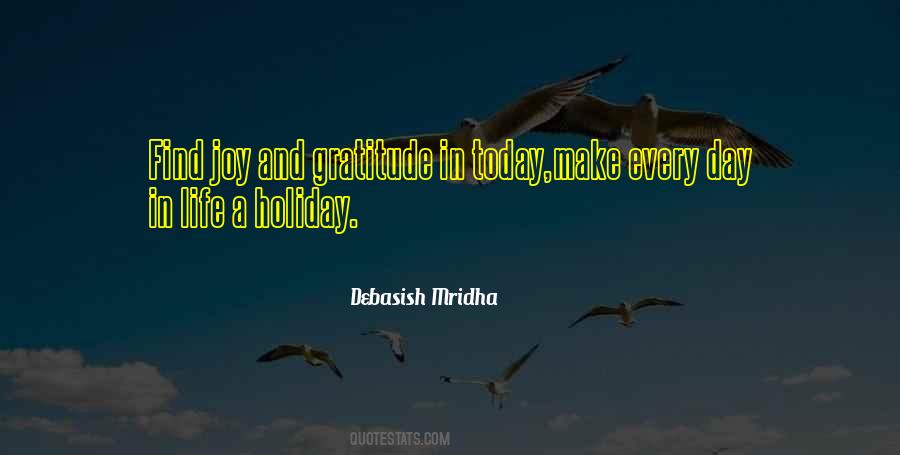 #11. Life is meaningless until we learn to use the power of divine love and see the divine in every event and in every beauty. - Author: Debasish Mridha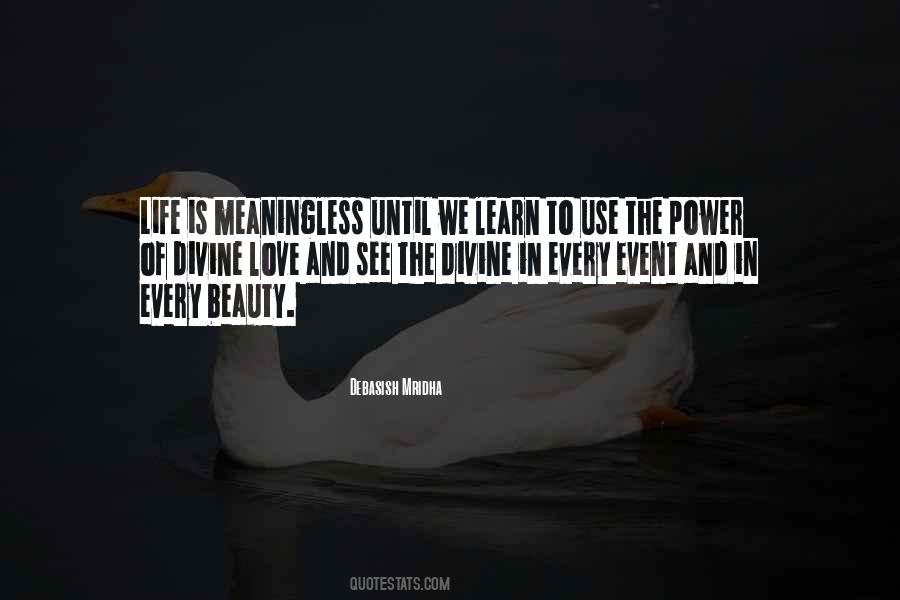 #12. Not many are the moments in life, where the easiest choice also happens to be the best one.
Cherish and remember those moments, but do not let them become a habit, for the fruits that hard work reaps are irreplaceable. - Author: Rosen Topuzov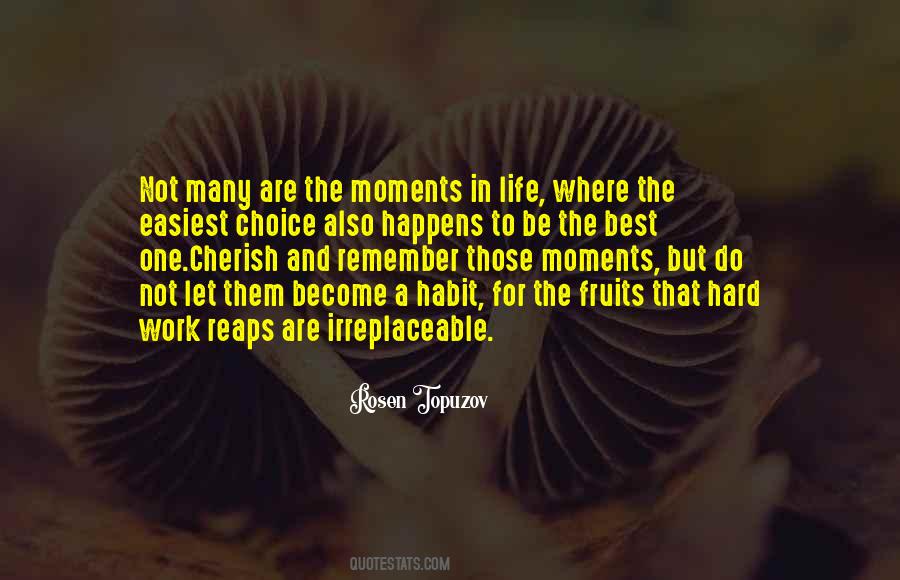 #13. I know some people find the idea of soul mates romantic, or comforting, but to me believing in soul mates means absolving yourself of any responsibility for your own happiness. If a relationship doesn't work out
whoops! It wasn't meant to be. Fuck meant to be. - Author: Anna Jarzab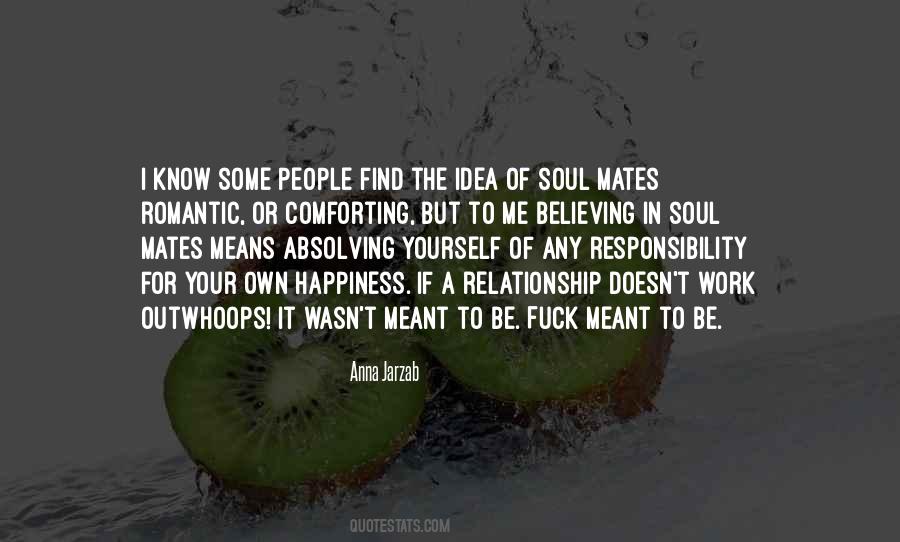 #14. Happiness is attained, not through self-interest, but through unconditional fidelity in endless love of eternal light. - Author: Aaron Cohen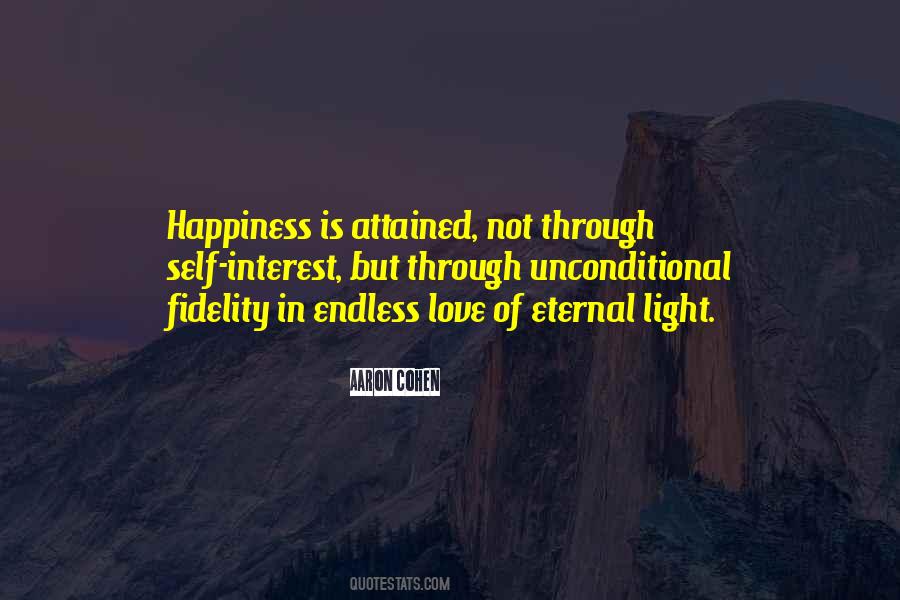 #15. Will had never wanted to fall in love. When it had happened to friends, it had always struck him as a peculiarly unpleasant-seeming experience, what with all the loss of sleep and weight, and the unhappiness when it was reciprocated, and the suspect, dippy happiness when it was working out. - Author: Nick Hornby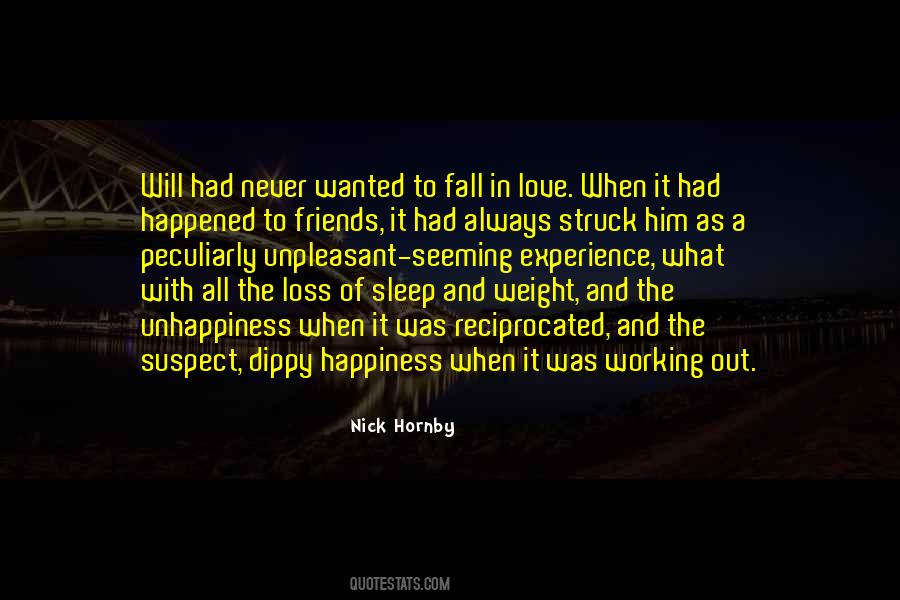 #16. Happiness is being emerged in thoughts of you. - Author: Truth Devour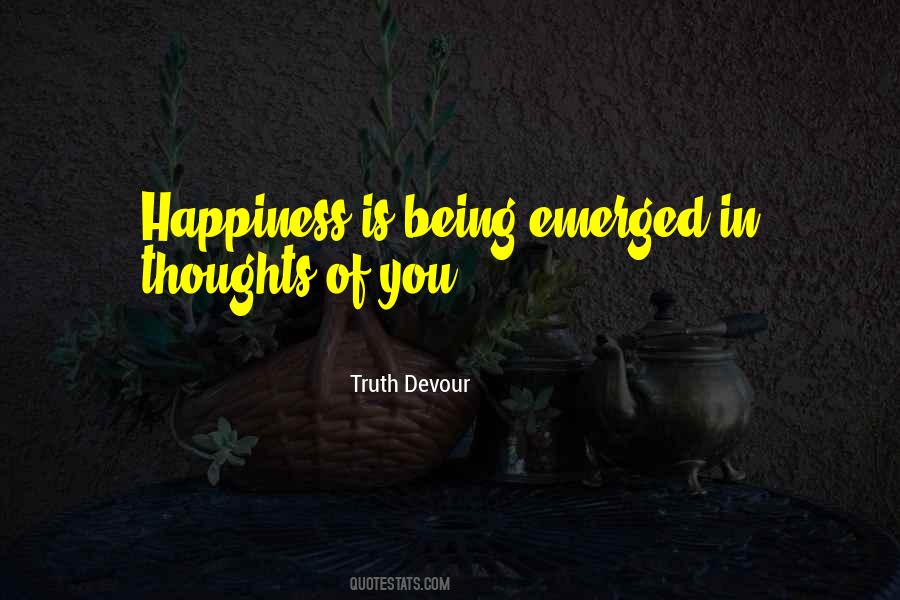 #17. In the darkness, be the light. - Author: Debasish Mridha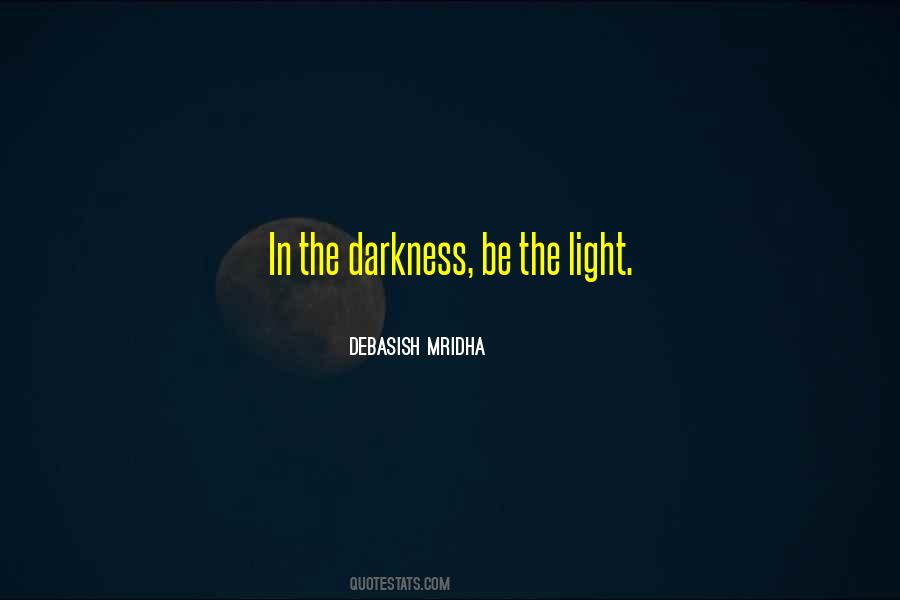 #18. I was born in a dream.
I woke up in a wakeful dream.
I am living in a dream.
Life is a miracle in a dream. - Author: Debasish Mridha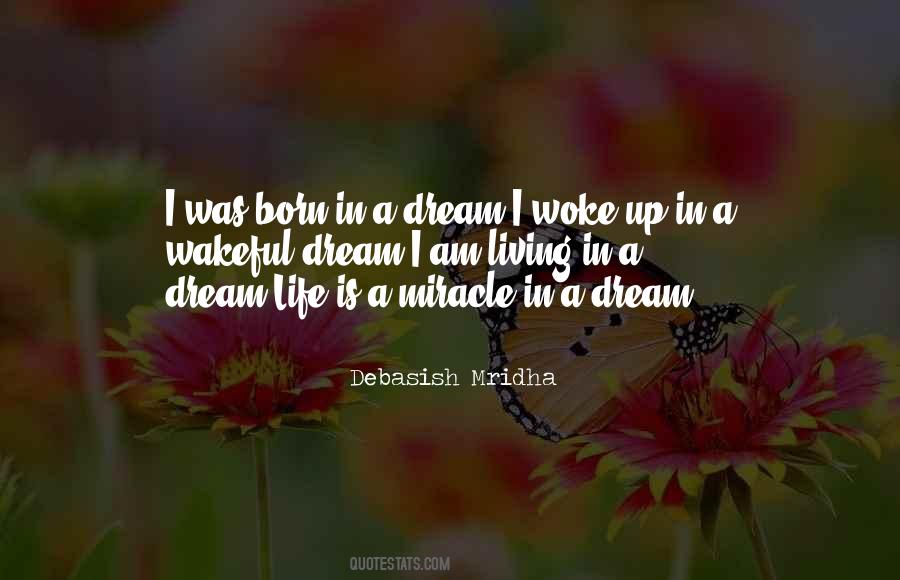 #19. To look into that persons eyes and find yourself so completely lost in another world, a world full of absolute comfort and happiness. - Author: Lily Collins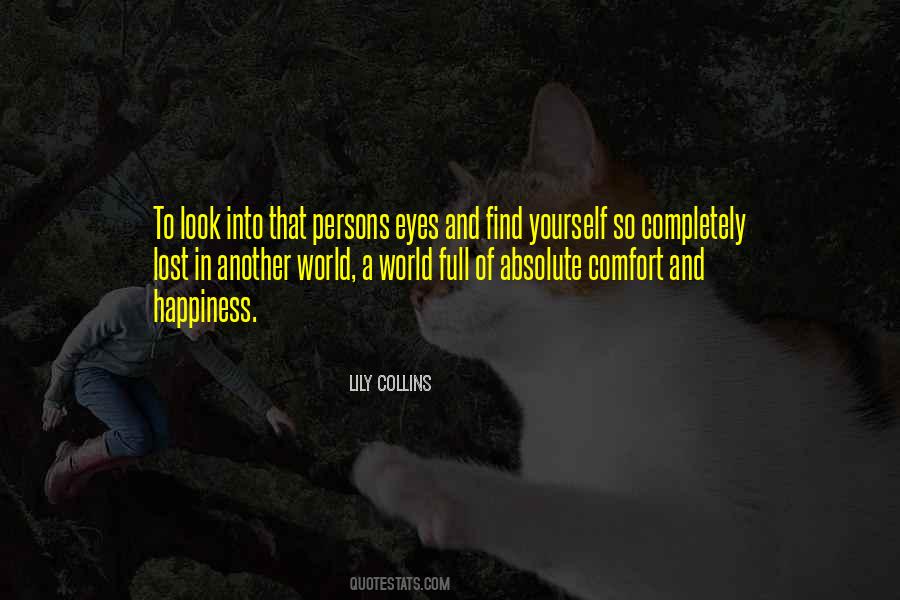 #20. Oh beloved,
I want to live in your love,
to feel the joy of life,
to see the beauty of desires,
to enjoy the song of heart,
to dance with you, my love. - Author: Debasish Mridha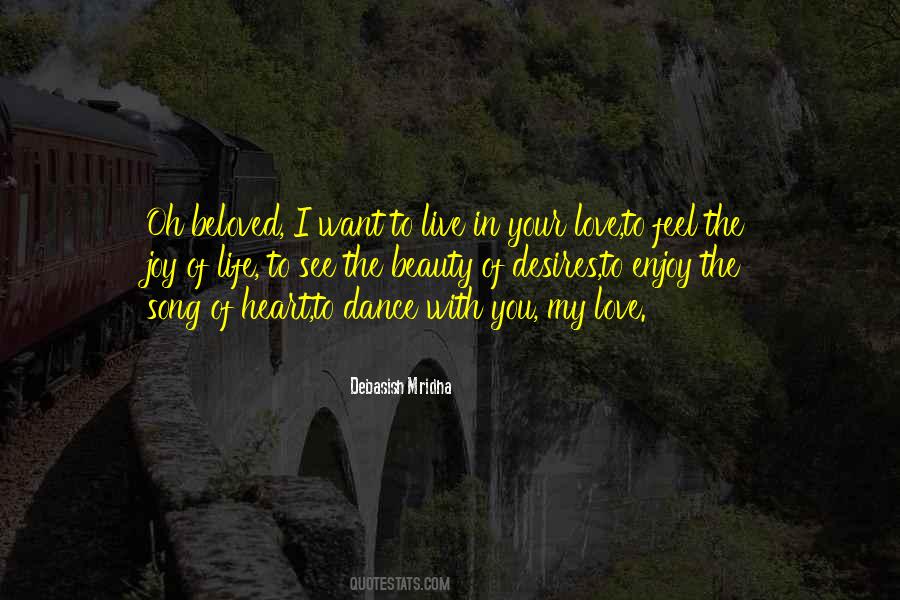 #21. Totally present in this moment for you. - Author: Truth Devour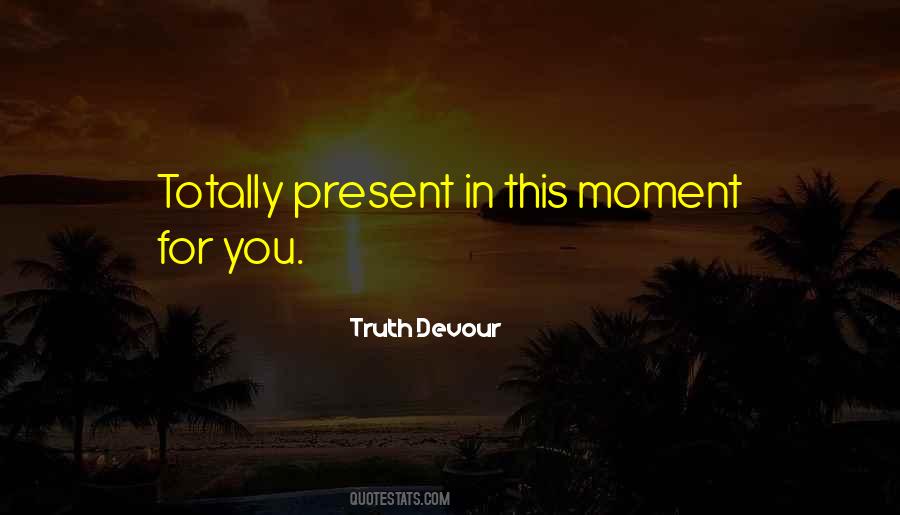 #22. Sometimes people in abusive situations think they're responsible for the other person's happiness or that they're going to fix them and make them feel better. The practice of equanimity teaches that it's not all up to you to make someone else happy. - Author: Sharon Salzberg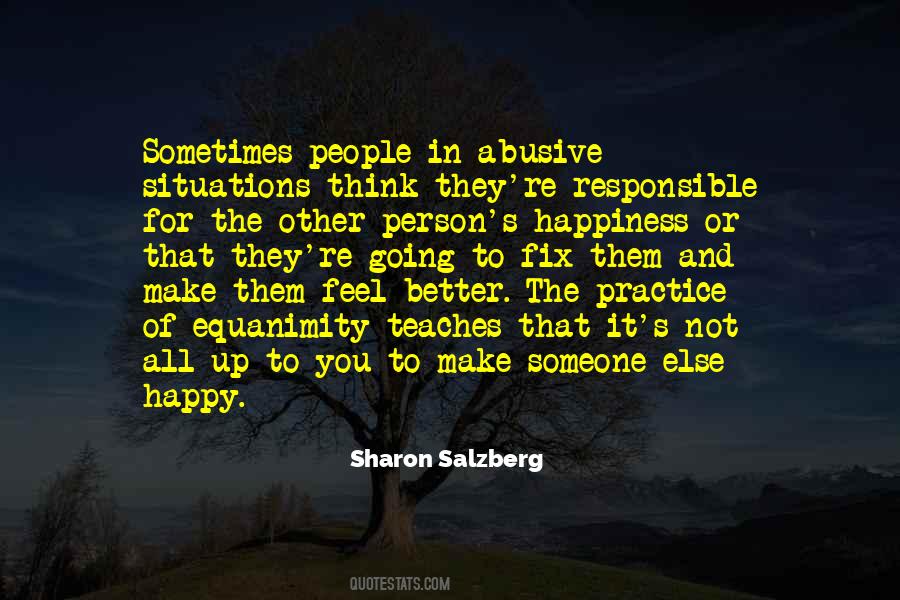 #23. In my long life I have found peace, joy, and happiness beyond my fondest hopes and dreams. One of the supreme benedictions of my life has been my marriage to an elect daughter of God. I love her with all my heart and soul. - Author: James E. Faust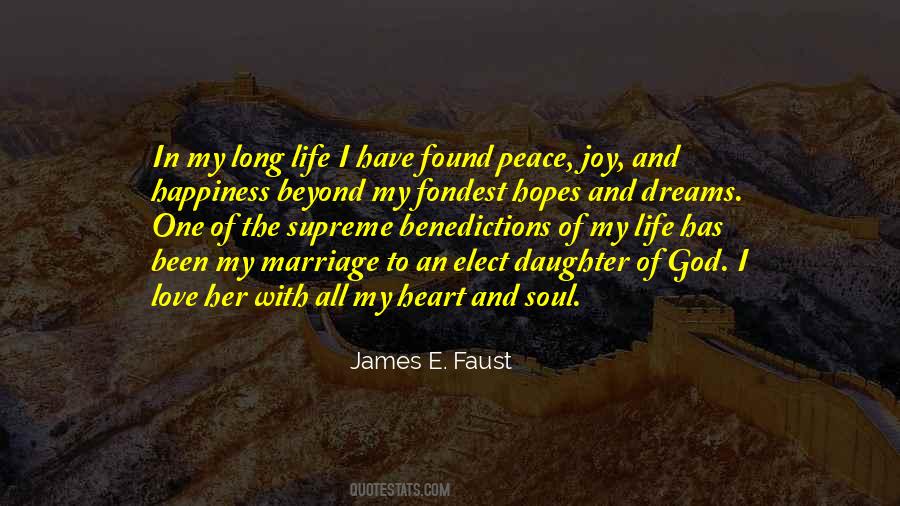 #24. Never deviate from the path unless you are going to make love in the bushes ... - Author: Truth Devour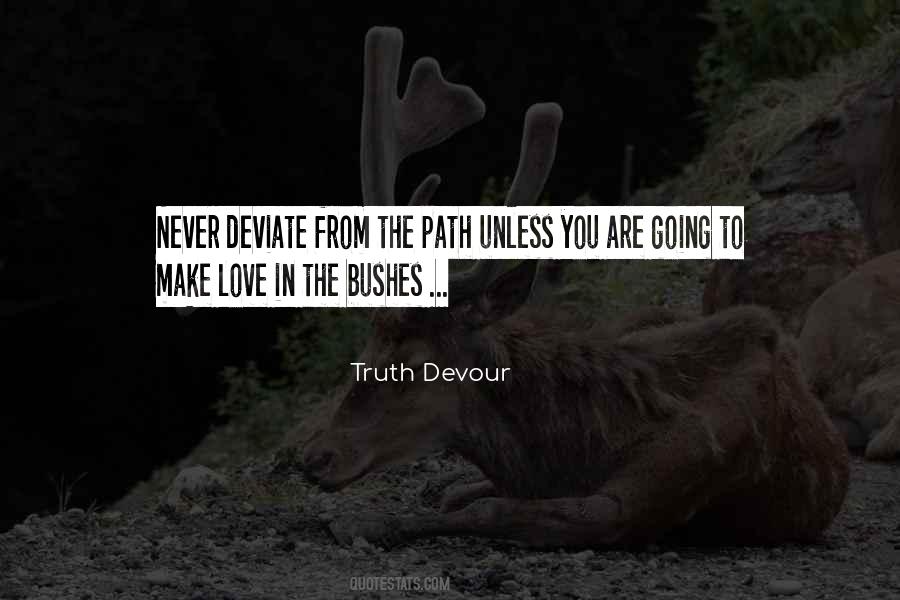 #25. See, I am very dependent ... on beauty and peace of the world ... on loyalty of friends ... on love in families ... on happiness and health of children. And I do not want to be free as long as I have it all ... - Author: Galina Nelson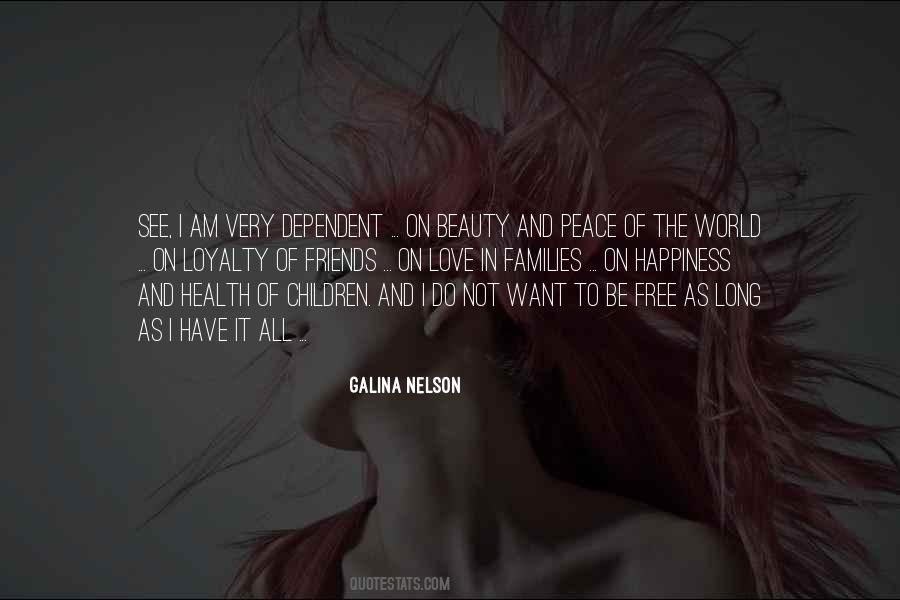 #26. Gratitude is the combination of appreciate, love, kindness, and compassion in a beautiful heart. - Author: Debasish Mridha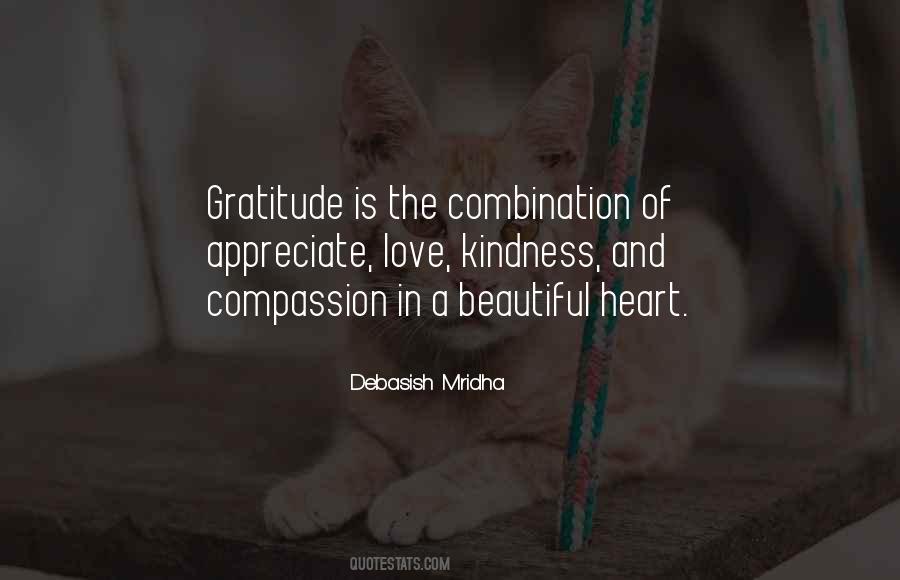 #27. I have not stopped loving that which is sacred in this world. - Author: Albert Camus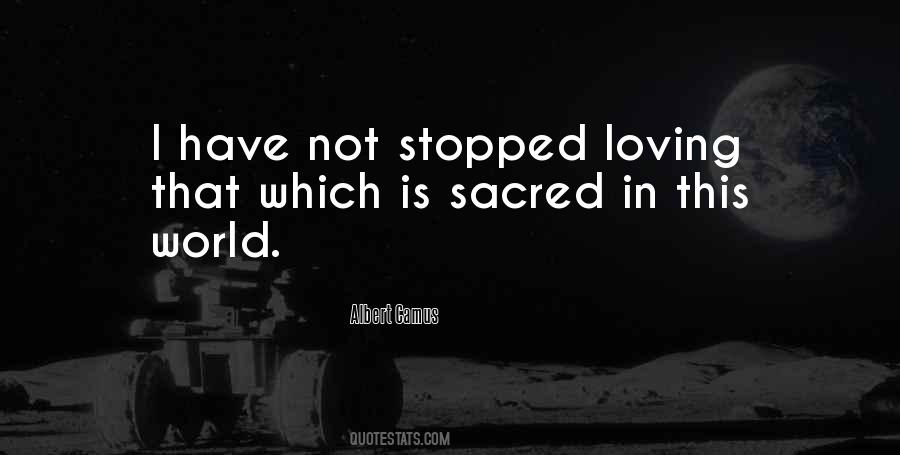 #28. At that time I told myself that I didn't want to fall in love ever again. But that night while praying for your happiness Nana, I thought that despite all the wounds and all the pains it could cause I wanted to dream again, and love someone with all my heart. - Author: Ai Yazawa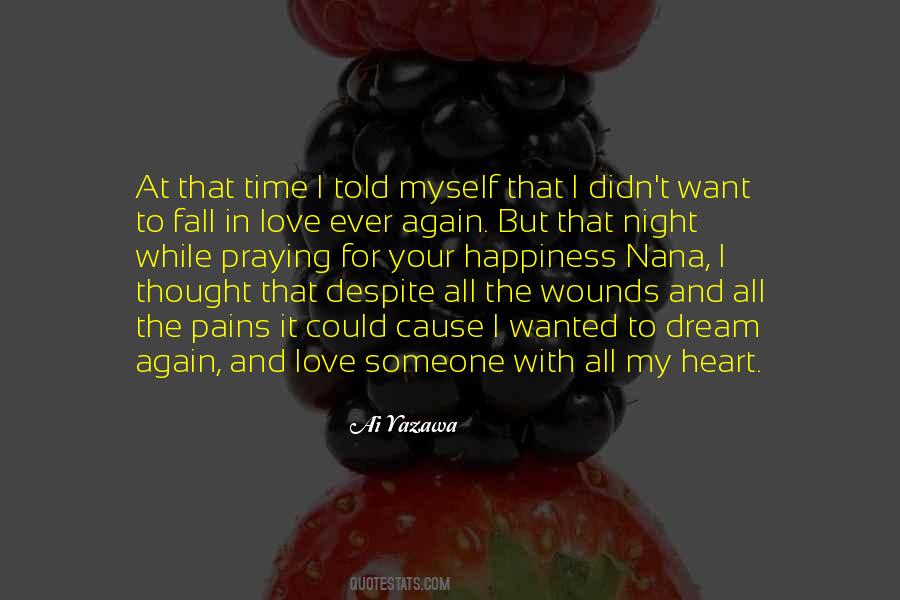 #29. Life is beautiful. It's even more beautiful when you learn to see the beauty in the midst of ugliness and in and around you. - Author: Debasish Mridha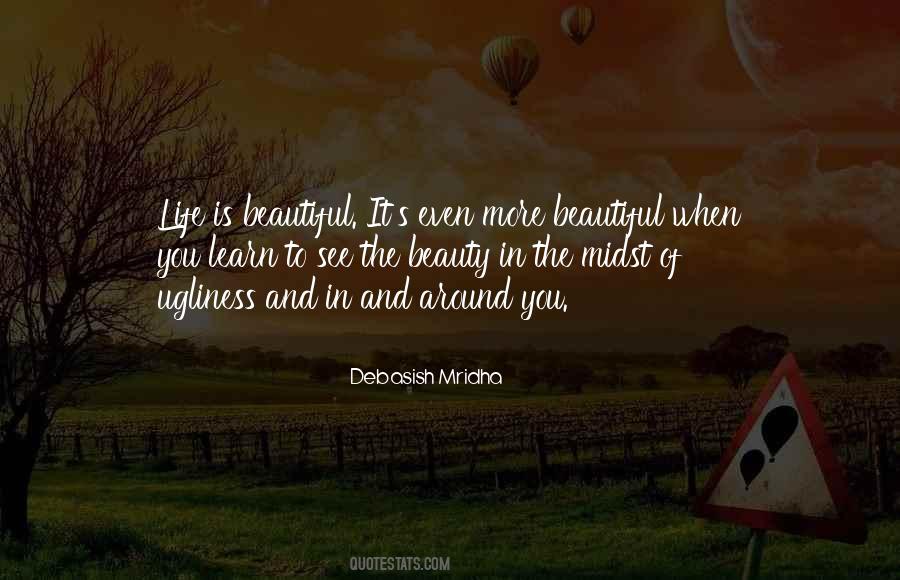 #30. When I am looking for you, then in silence, your every atom is longing for me. - Author: Debasish Mridha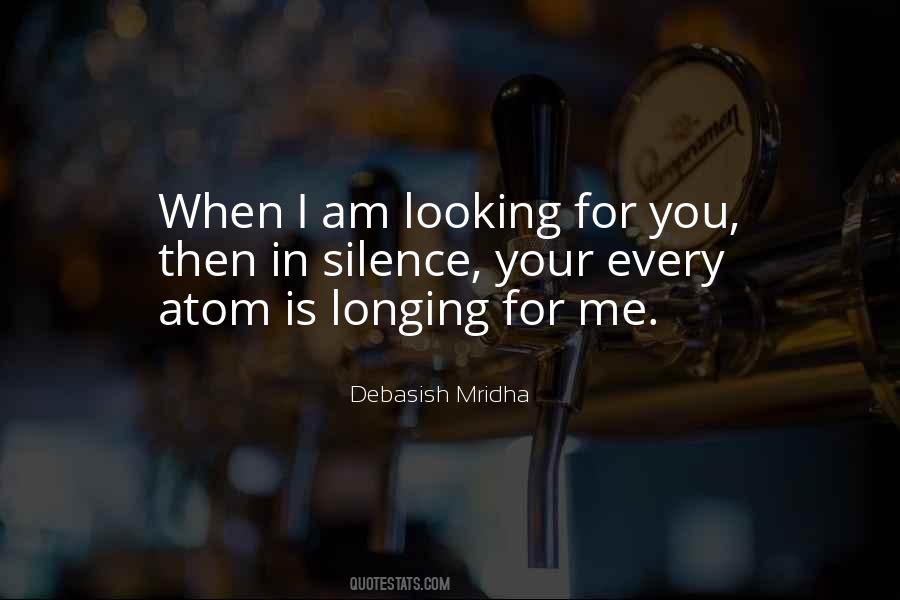 #31. Understand your driving force, whether you're operating out of fear or love. When we operate in fear, we tend to hold back and not get the most from life. When we operate in love, we open new avenues and experience life more abundantly. - Author: Amaka Imani Nkosazana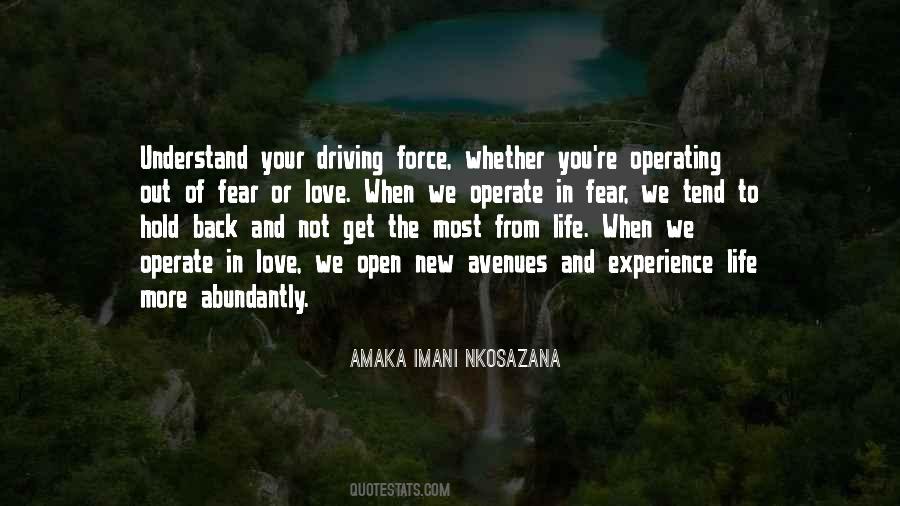 #32. All the suffering in the world comes from seeking pleasure for oneself. All the happiness in the world comes from seeking pleasure for others. - Author: Shantideva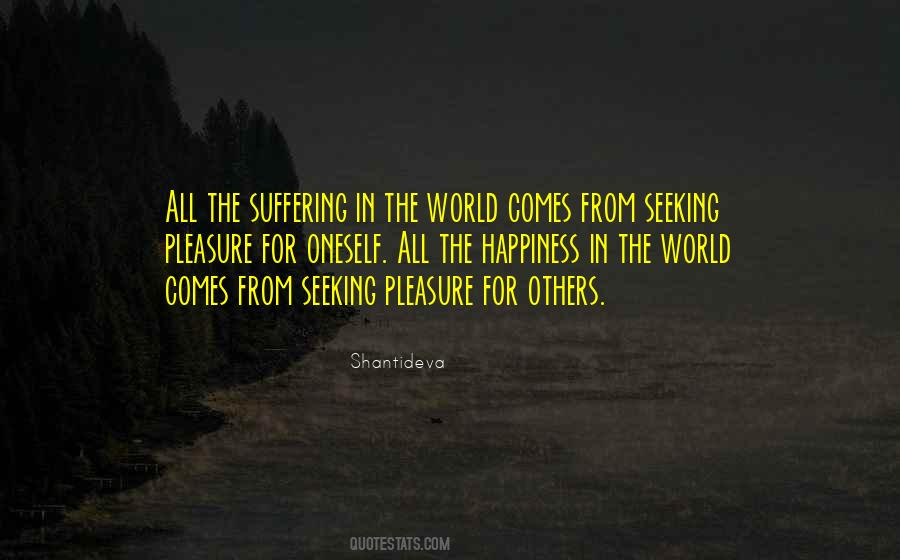 #33. My life is never perfect, but life is always a beautiful thing. I choose to see the beauty out of it. I choose to make it wonderful. I choose to love life and it loves me back in return. I may only have one life to live, but if I do it right, once is enough. - Author: Diana Rose Morcilla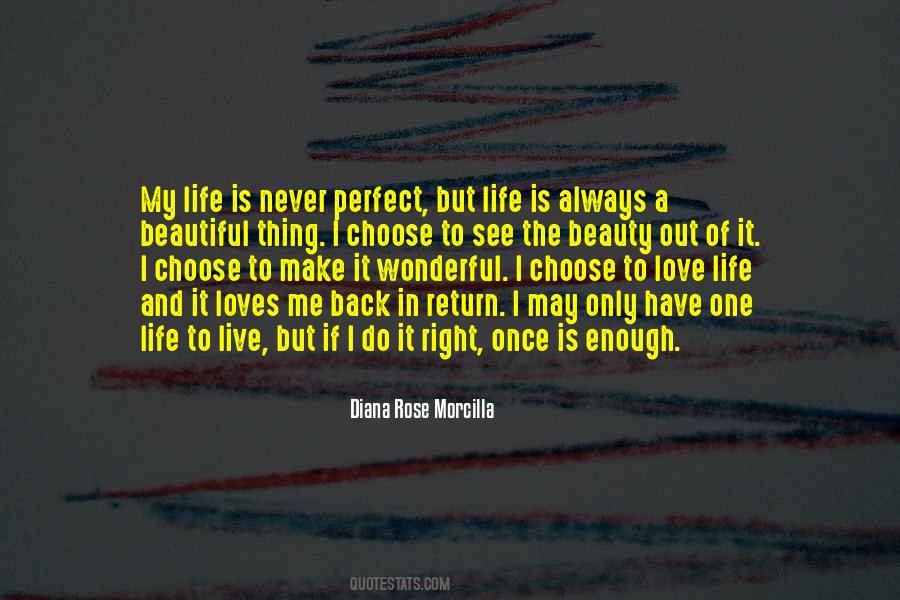 #34. How can love survive in such a graceless age? The trust and self assurance that lead to happiness, they're the very things we kill. - Author: Don Henley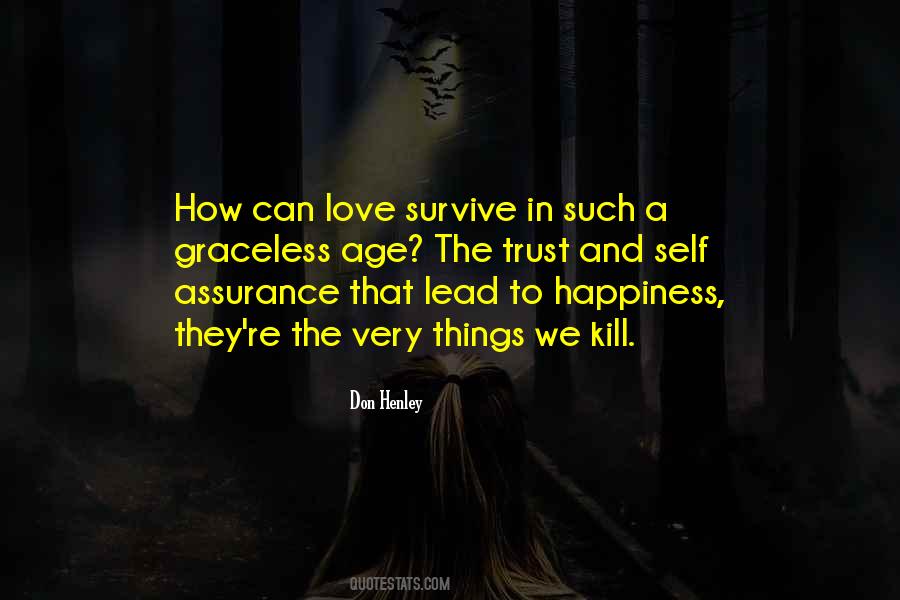 #35. Hope is a flower bud in the garden of the mind, waiting to bloom in the morning sun. - Author: Debasish Mridha
#36. To forgive is the highest, most beautiful form of love. In return, you will receive untold peace and happiness - Author: Robert Muller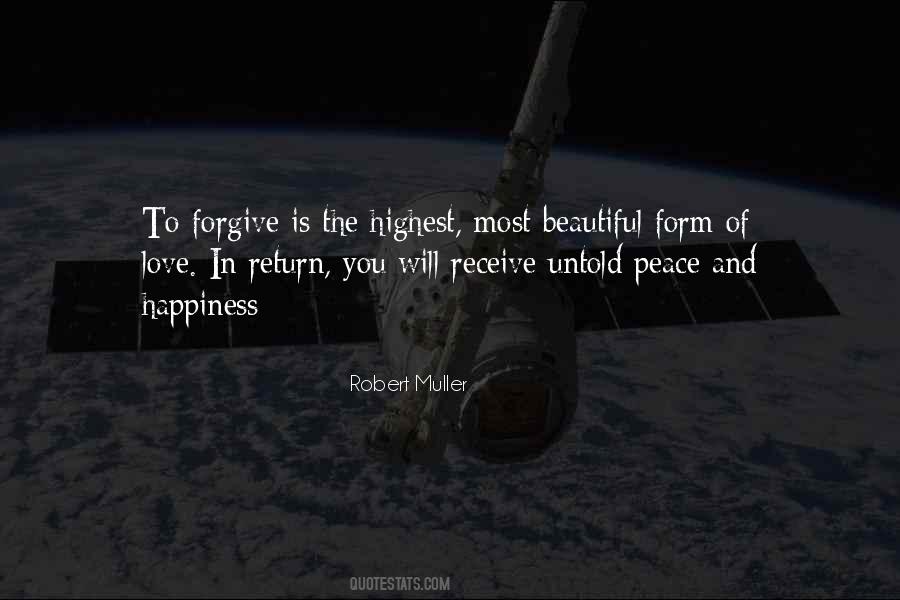 #37. When you are in peace with you, you will find the peace everywhere you go. - Author: Debasish Mridha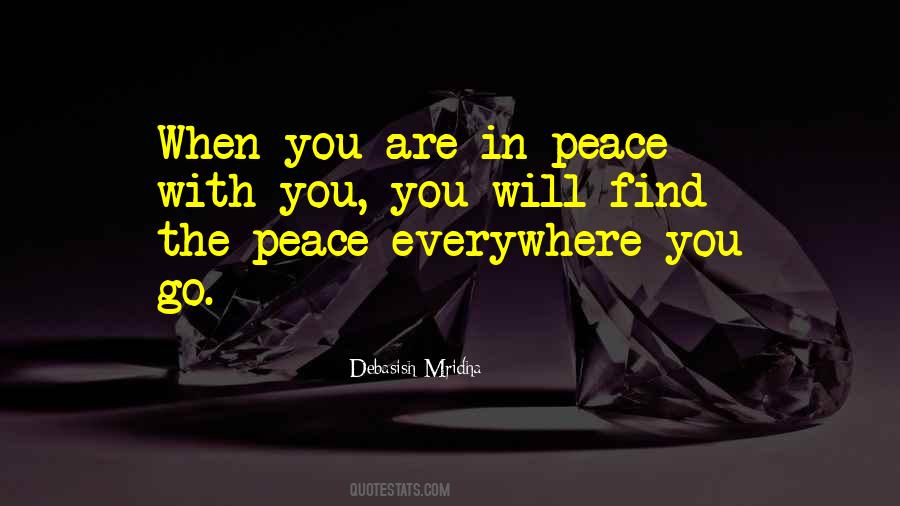 #38. I am not upset that you don't love me, I am very happy to know that you are still living in my heart, in my love. - Author: Debasish Mridha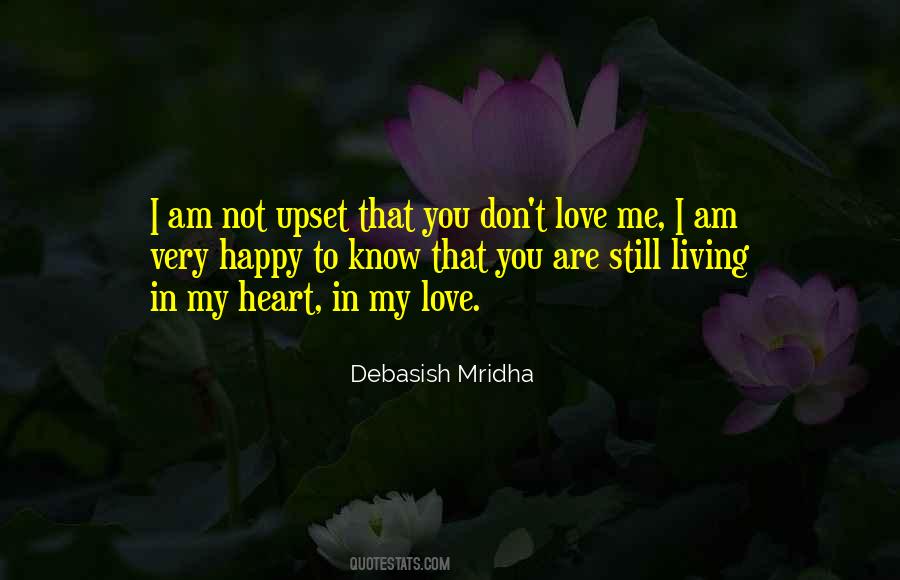 #39. Extra special birthday wishes are sent to you today, to wish you love and happiness in every single way. - Author: Susan Smith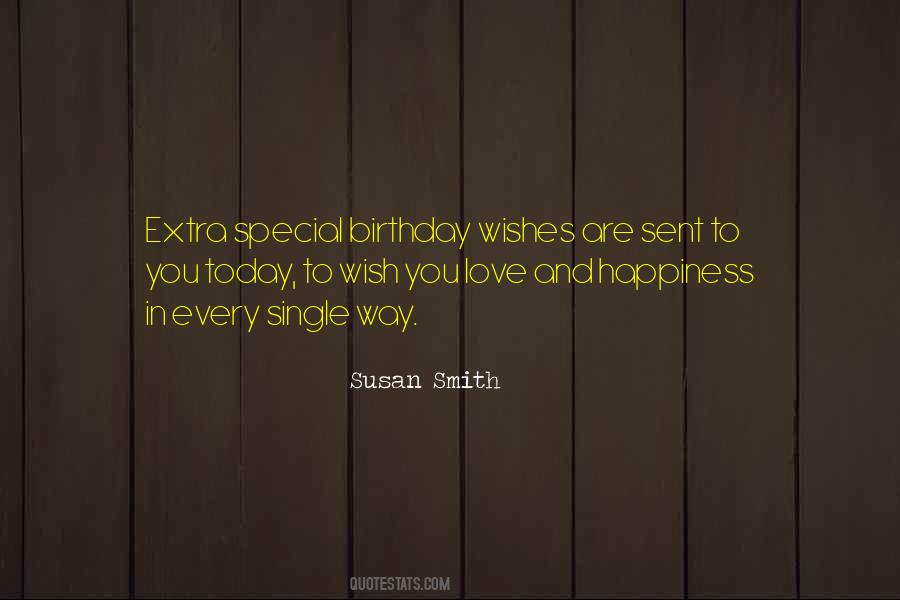 #40. To fall in love is easy,
but forgetting is required to be crazy. - Author: Debasish Mridha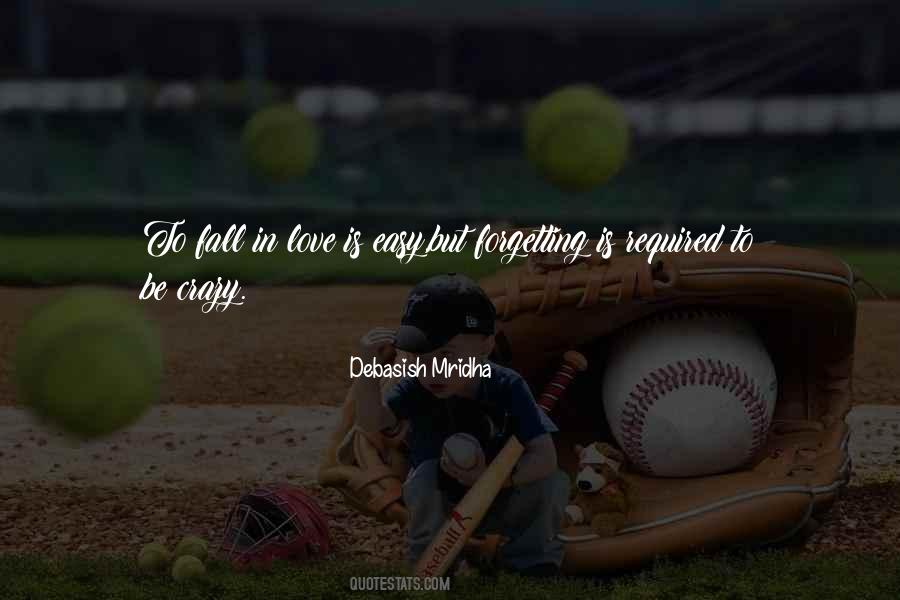 #41. A good poem has rhyming but no ending, it continues to rhyme in our heart. - Author: Debasish Mridha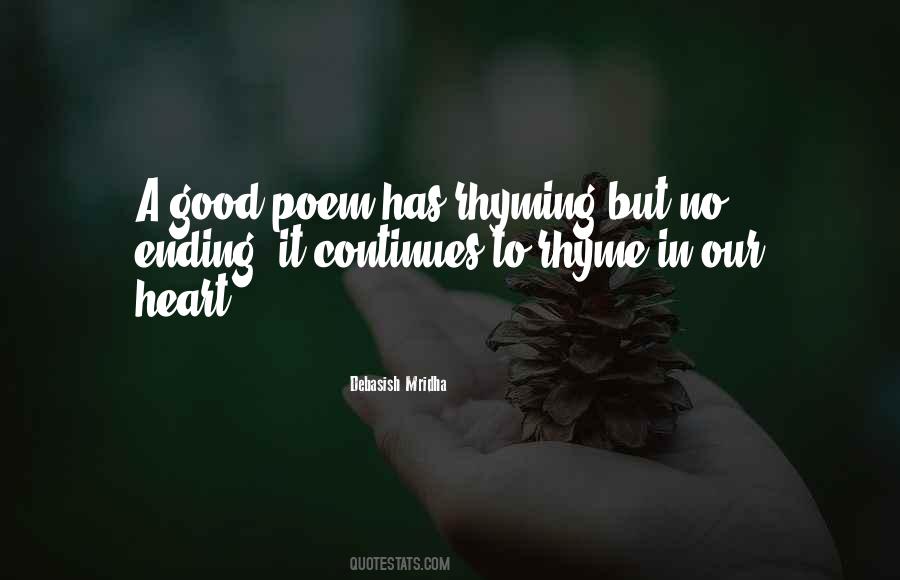 #42. A good lover is a person who knows how to love deeply but never expects any in return. - Author: Debasish Mridha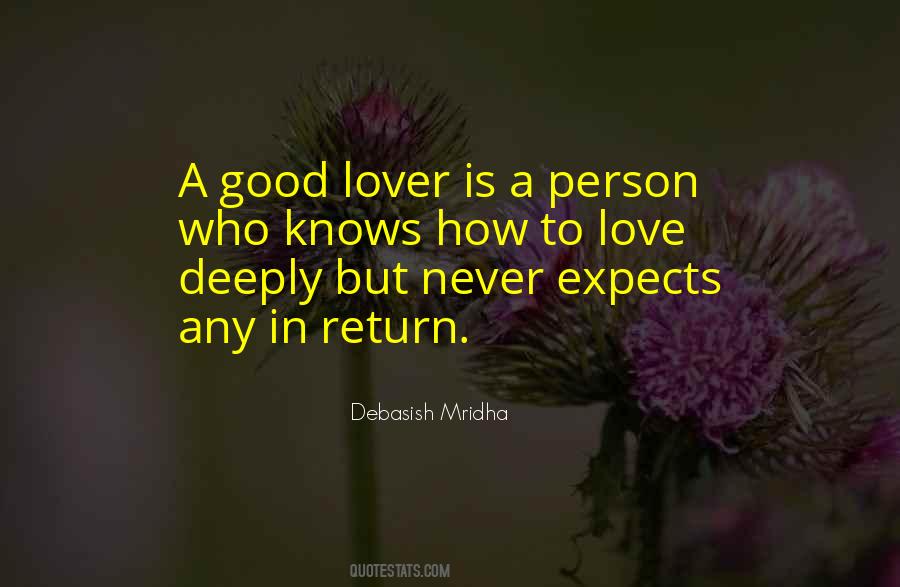 #43. He had realised that it was Clara he loved, and that he loved her in many different ways. (Because there are even more ways of loving than there are ways of being happy, but it would take another book to explain them all.) - Author: Francois Lelord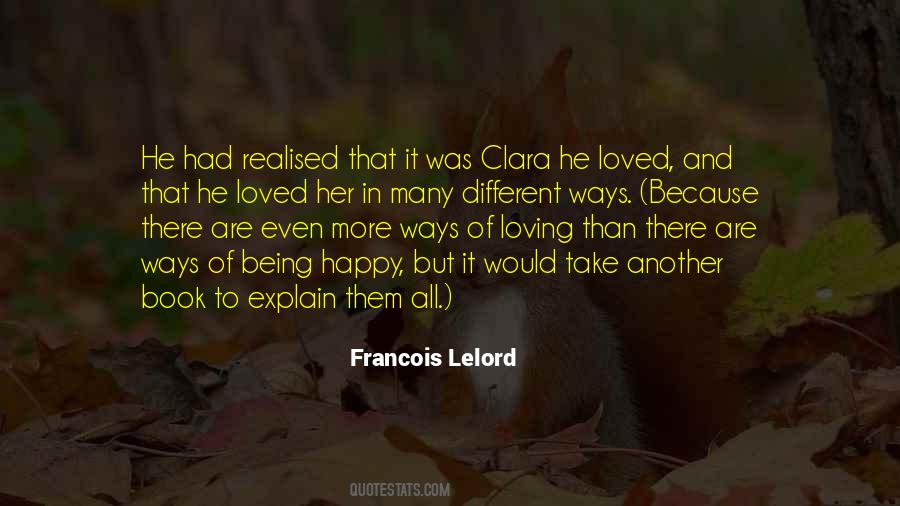 #44. To love, to be loved, and to be useful: these are the most important elements in a happy, meaningful life, and they can be achieved anywhere. - Author: Syrie James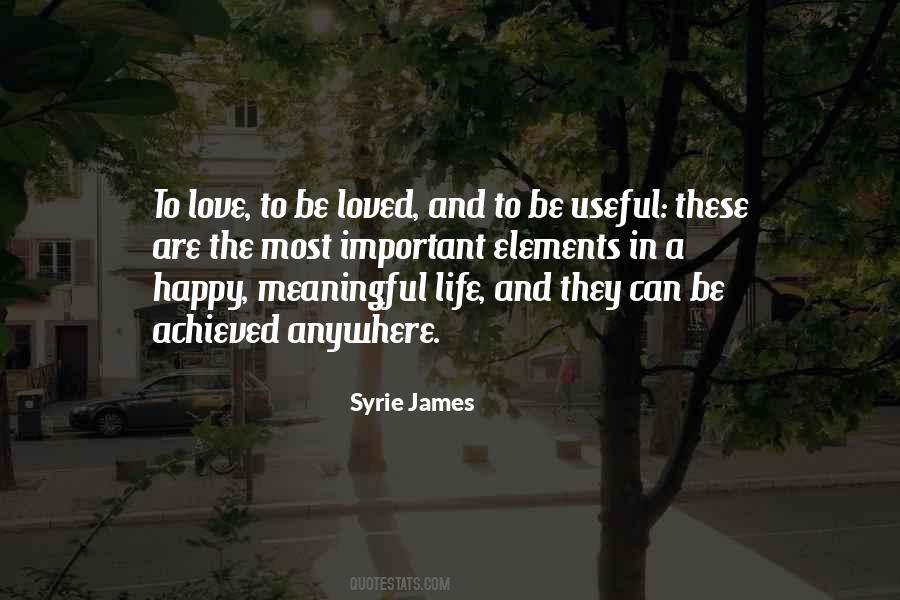 #45. If you seek happiness, look in the mirror. If you seek love, look elsewhere. - Author: Thomas F. Shubnell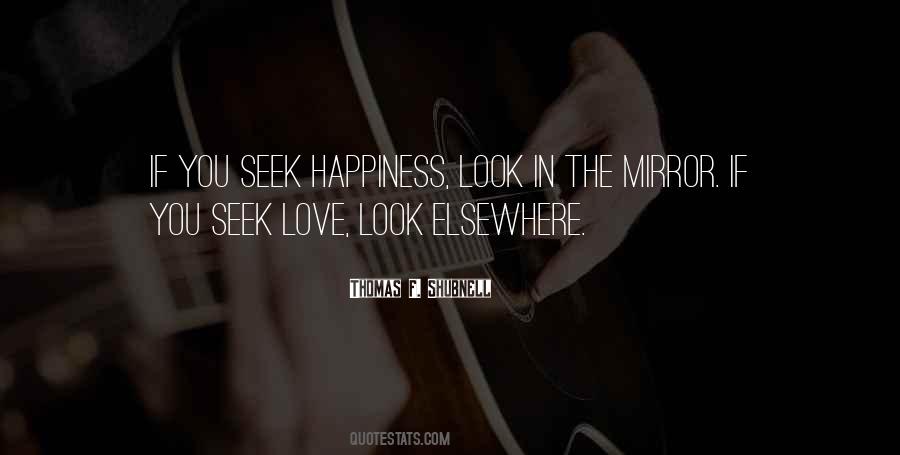 #46. A child's smile reminds us that the greatest privilege in life is to know, help & enjoy the company of others - Author: Phil Harding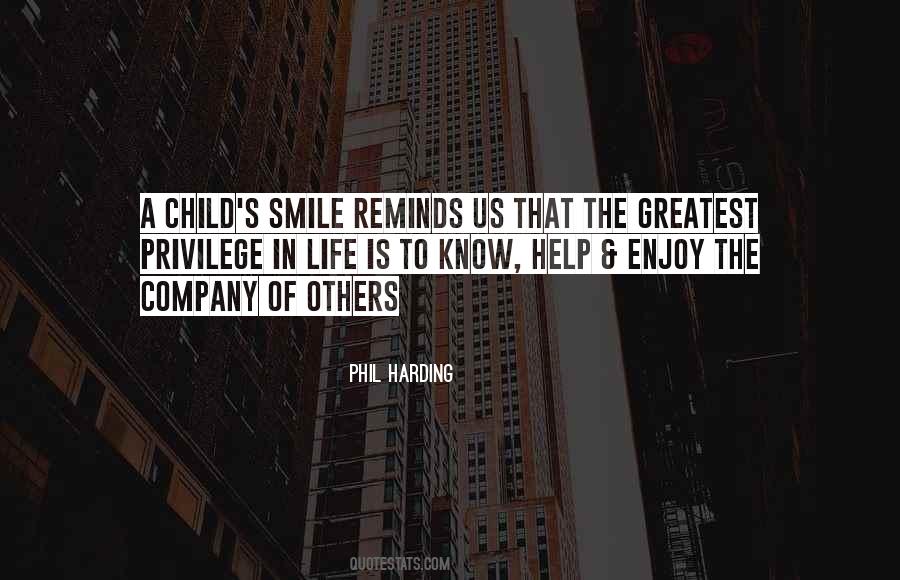 #47. The cosmos is structured to bring about growth, and growth is always in the direction of greater love and happiness. - Author: Deepak Chopra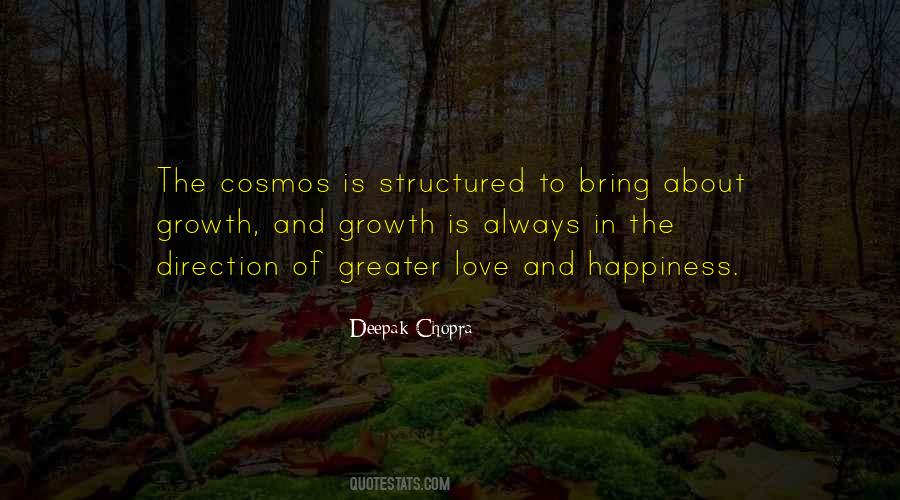 #48. The next time you feel like complaining, remember that your garbage disposal probably eats better than 30 percent of the people in the world - Author: Robert Orben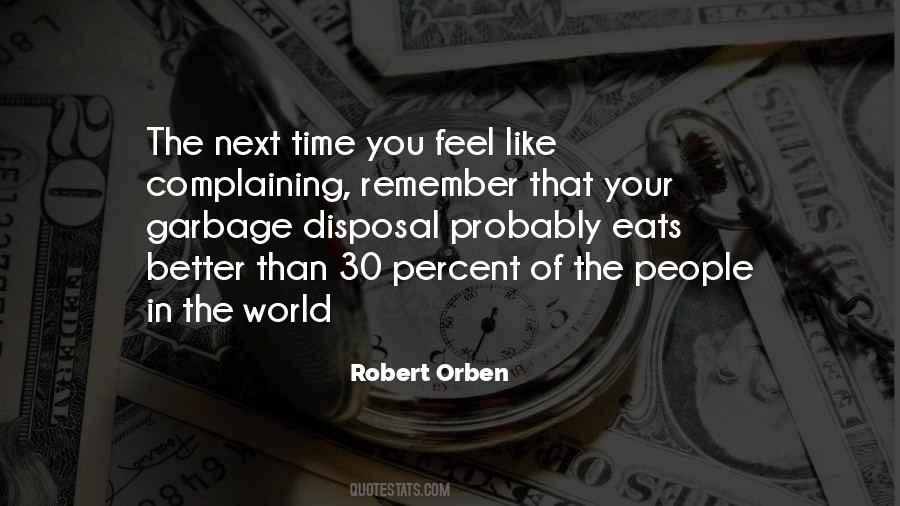 #49. The rest of my life I will spend in unconditional loving and caring. - Author: Debasish Mridha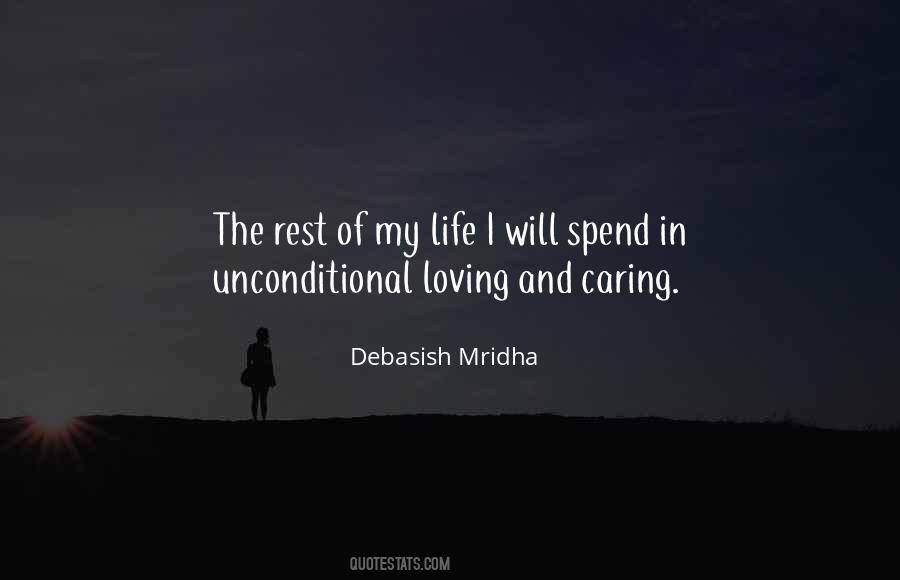 #50. God is like a lover. Sometimes he gives you so much pain that staying alive seems like a punishment but in the next moment he shows you so much love, affection and care that you forget all your pains. Yes, the wounds can't be healed completely but god compensates it with other happiness. - Author: Mayank Kashyap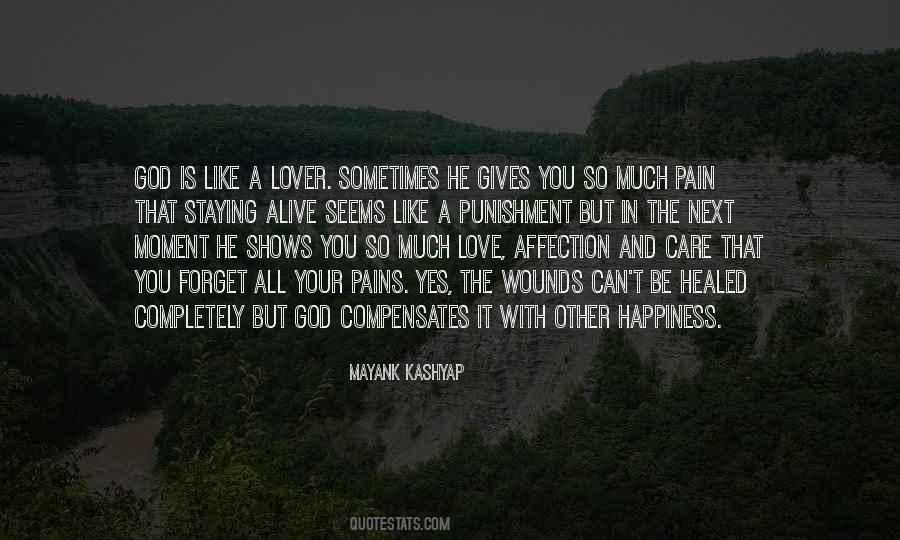 #51. Your eyes gave it away. You don't want the old stuff. You want to have the new and improved Well-being, go with the right people and they'll be right for you. - Author: Auliq Ice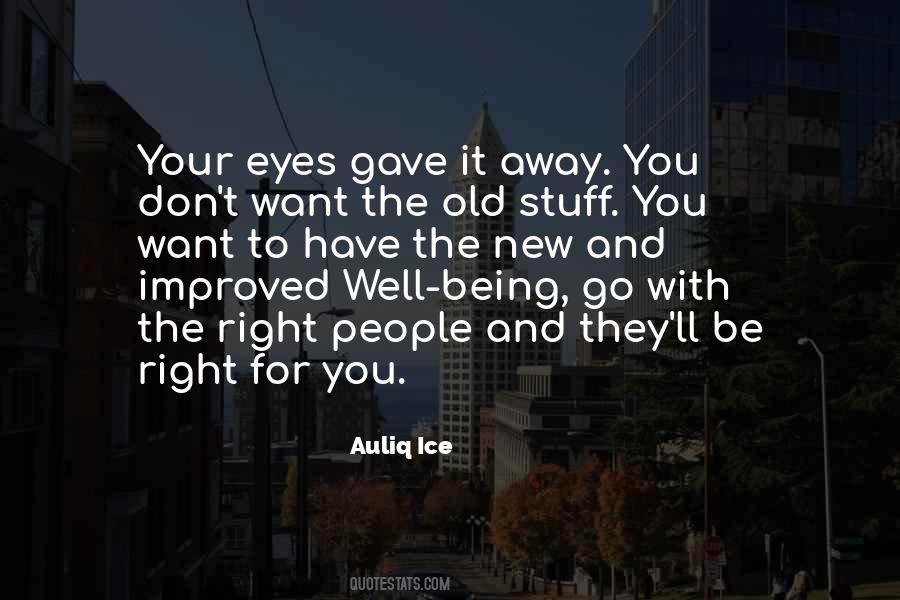 #52. We keep waiting for that amazing thing to happen in the future that will be the key to our happiness. But this is it. Right now. Life continues to be a series of right nows. So learn to love right now, and you'll have an amazing life. - Author: Barrie Davenport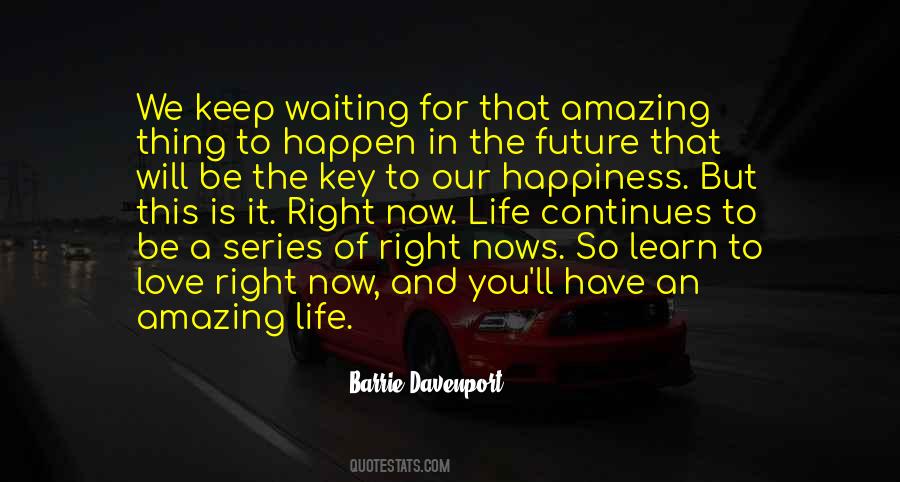 #53. Greatest risk in life is not to take any risk. - Author: Debasish Mridha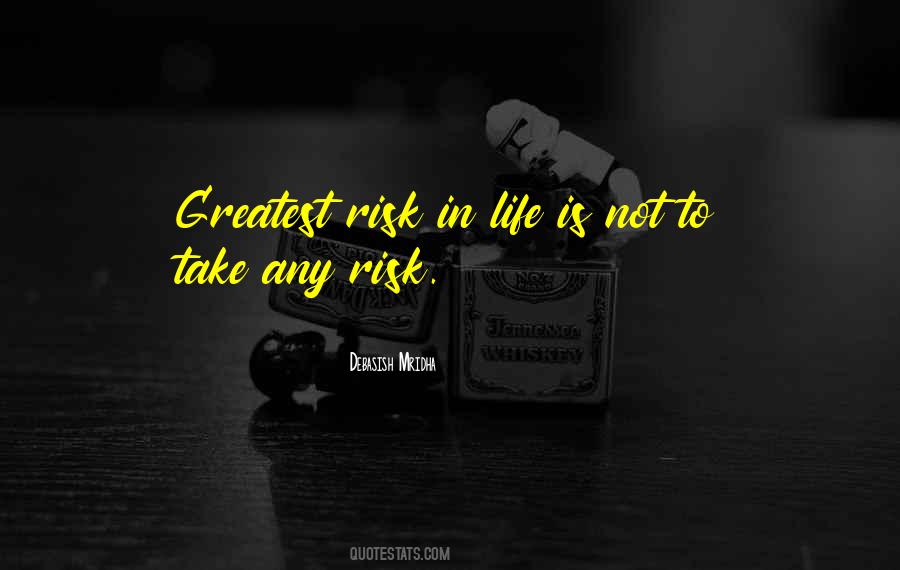 #54. You can't control anything in this world except your perception and emotion. - Author: Debasish Mridha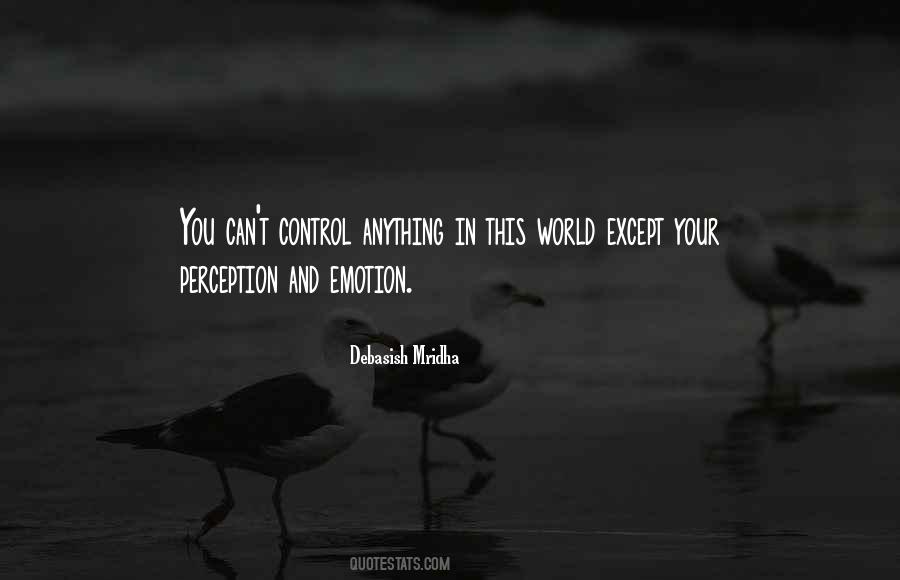 #55. Inner success is the ongoing experience of love, happiness, fulfillment and well-being - the experience of joy in your everyday life. - Author: Michael Neill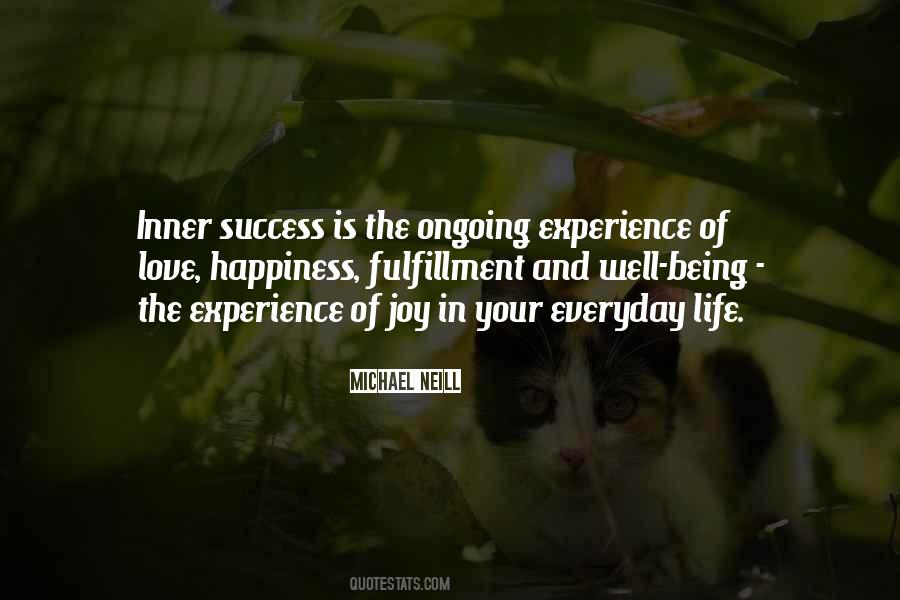 #56. The happiness of love is in action; its test is what one is willing to do for others. - Author: Lew Wallace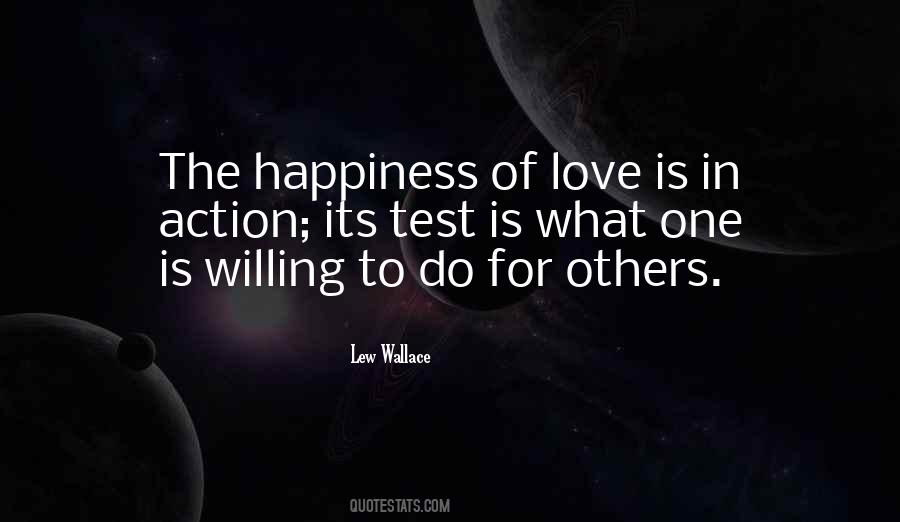 #57. It is in the balancing of your spirituality with your humanity that you will find immeasurable happiness, success, good health, and love. - Author: Steve Maraboli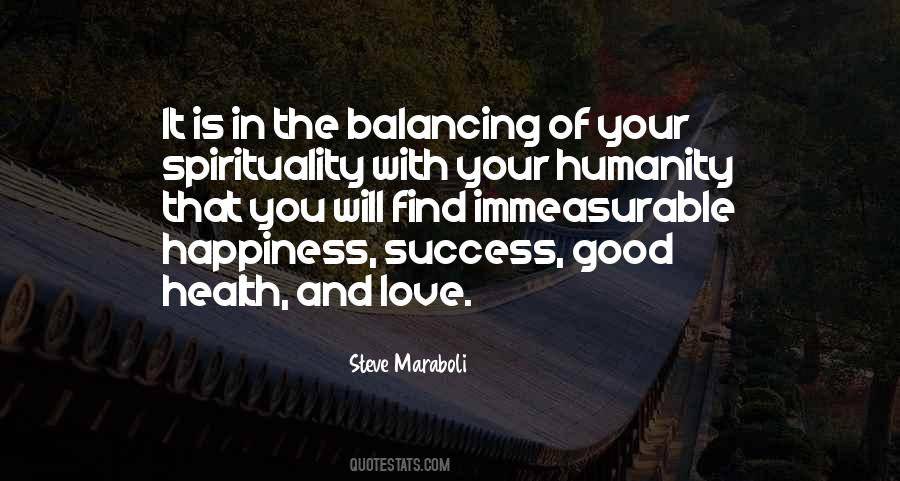 #58. There will still be things that machines cannot do. They will not produce great art or great literature or great philosophy; they will not be able to discover the secret springs of happiness in the human heart; they will know nothing of love and friendship. - Author: Bertrand Russell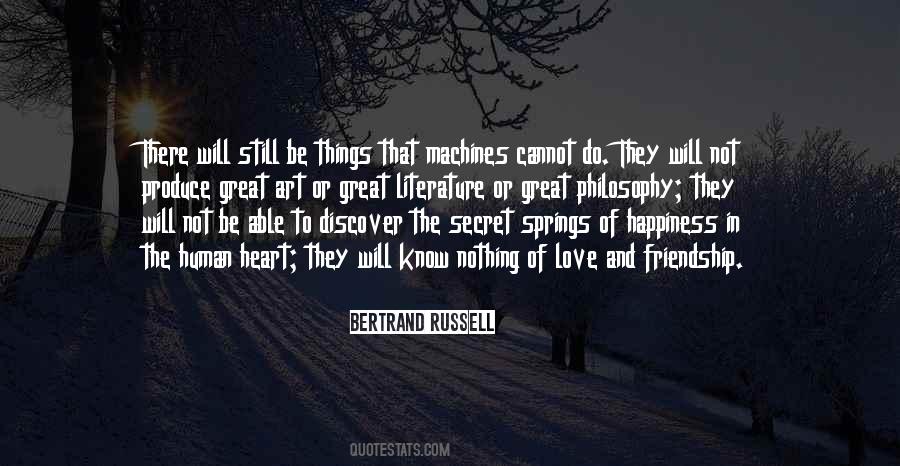 #59. Because there is surely nothing in the world that can compare with happiness of forgiveness and of lifting up a guilty sinner in the arms of love. - Author: Henrik Ibsen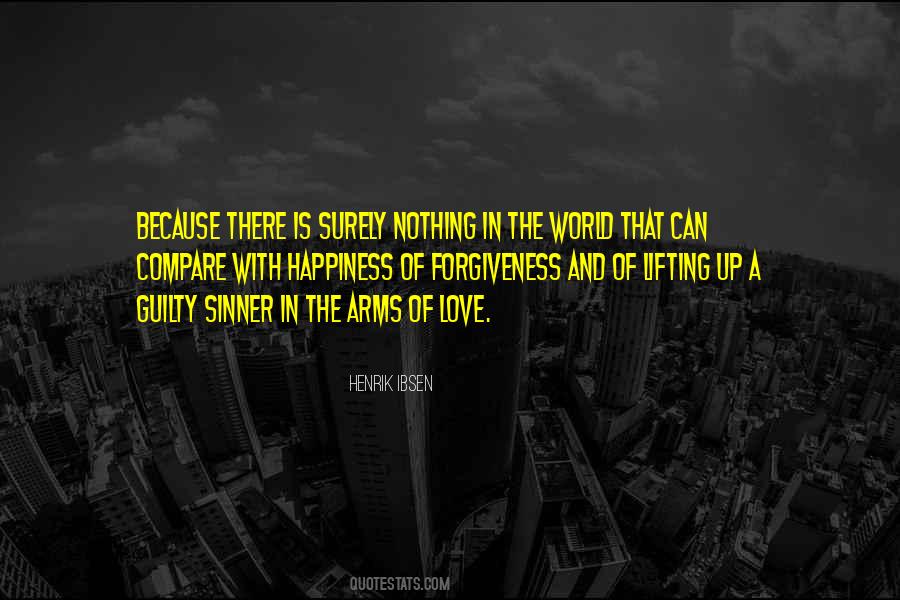 #60. If you surround yourself with flowers of love, peace, and kindness, you will always find yourself in a garden of joy and happiness. - Author: Debasish Mridha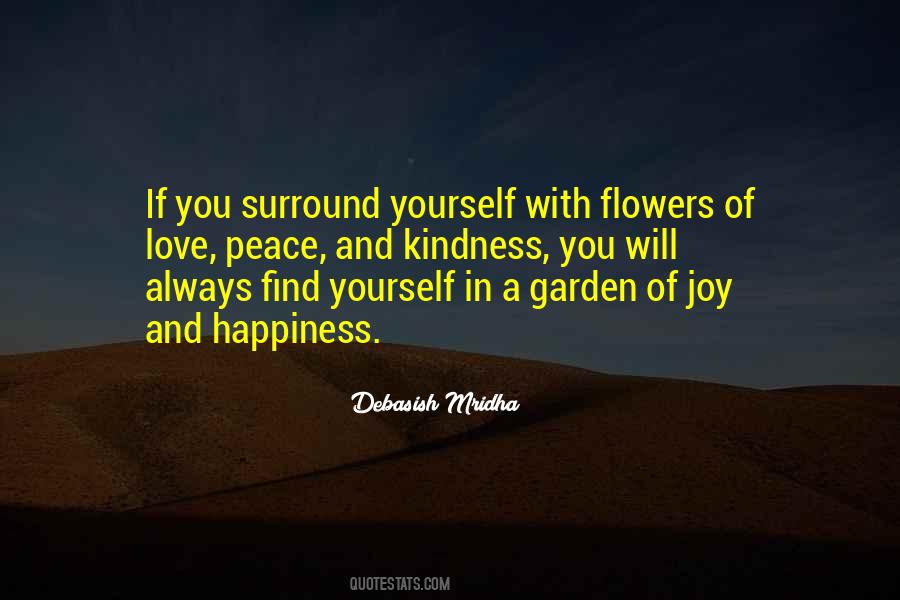 #61. There are only two emotions from our perspective ... The one that feels good, that feeling of hope or happiness or love. That good feeling, that positive emotion, is guidance saying, that which you are thinking right now is in alignment with what you are wanting - Author: Esther Hicks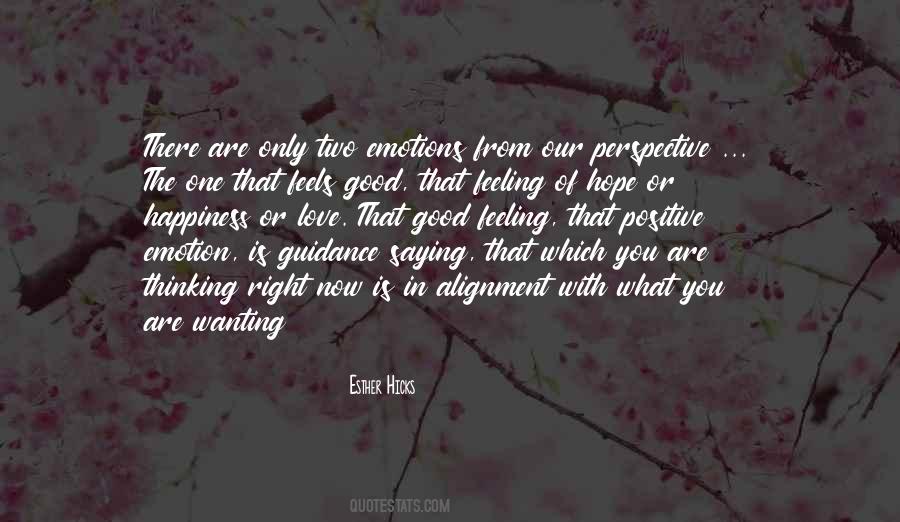 #62. But she had recently come to think that in such unhappy times
when the odds were so high against personal happiness
to find love was miraculous, and to fulfill it as best two people could was what really mattered. - Author: Bernard Malamud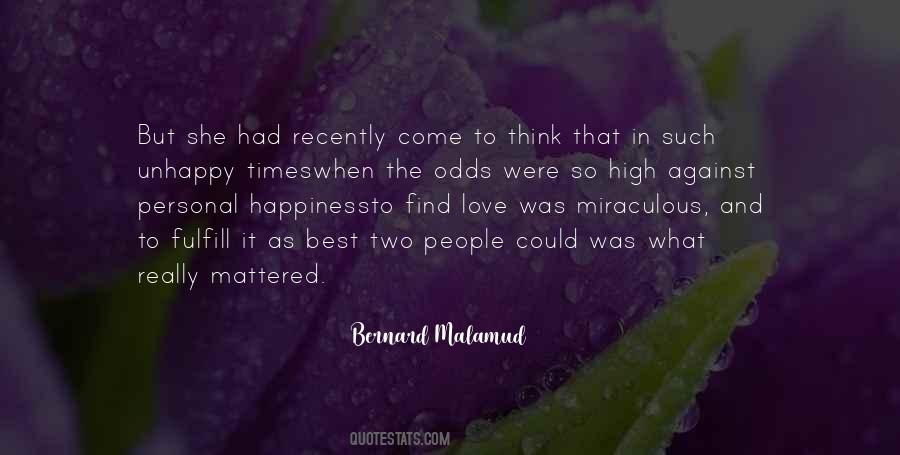 #63. Oh! Happiness
I am looking for you
In the wilderness,
In and around the palaces,
In my possessions, in my wealth and splendor, I can see you far away,
Like an illusion,
I try to touch feel and smell but,
Like a morichica you dance far away. - Author: Debasish Mridha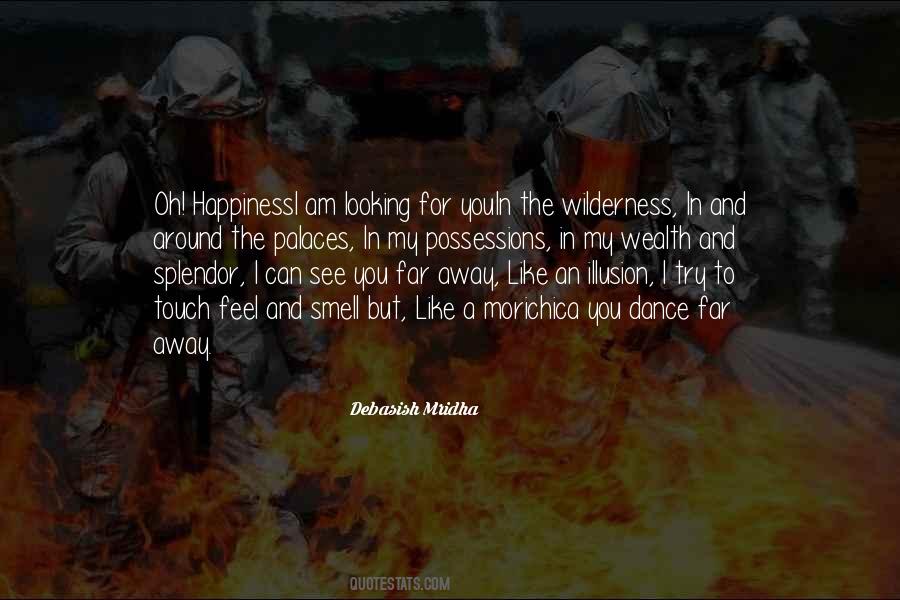 #64. It is better to live in a hut with abundance of unconditional love than live in wealth and splendor but without any love. - Author: Debasish Mridha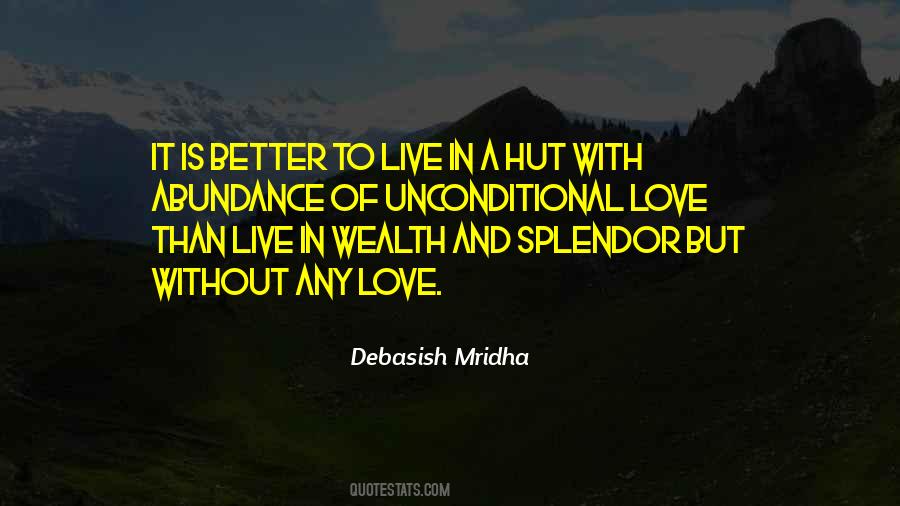 #65. I love acting. It's my playground, it let's me explore. But my happiness in this world - my level of peace - is never going to be dictated by acting. - Author: Chris Evans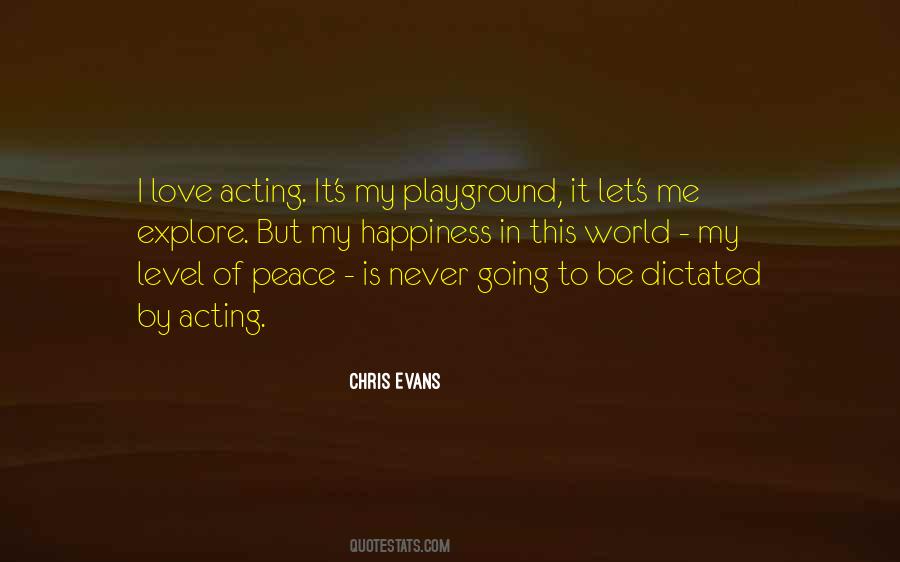 #66. Think of one person who you are tempted for any reason to withhold love from, and pray for their happiness. In that moment your pain will stop. - Author: Marianne Williamson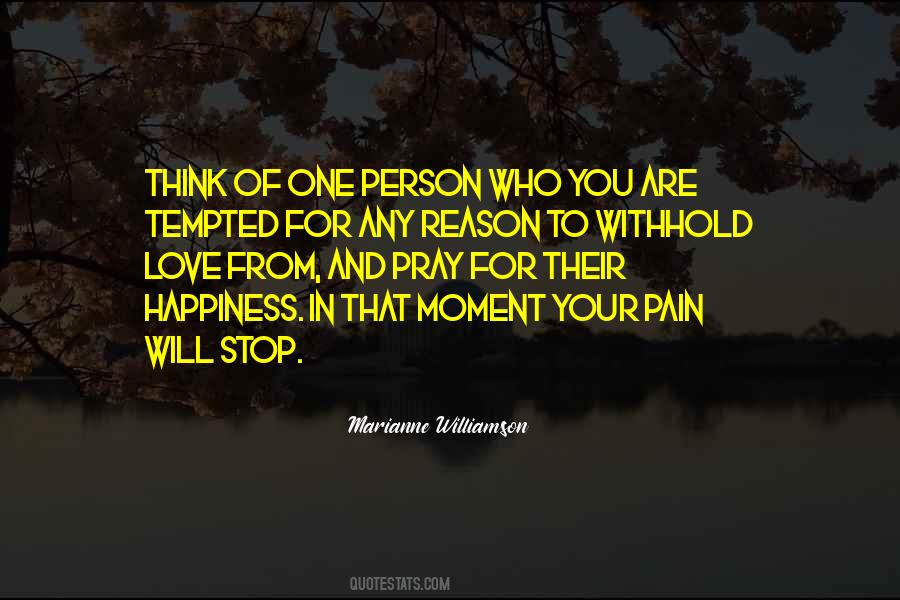 #67. You are to me like white islands, in a world of vast darkness. - Author: Charlotte Eriksson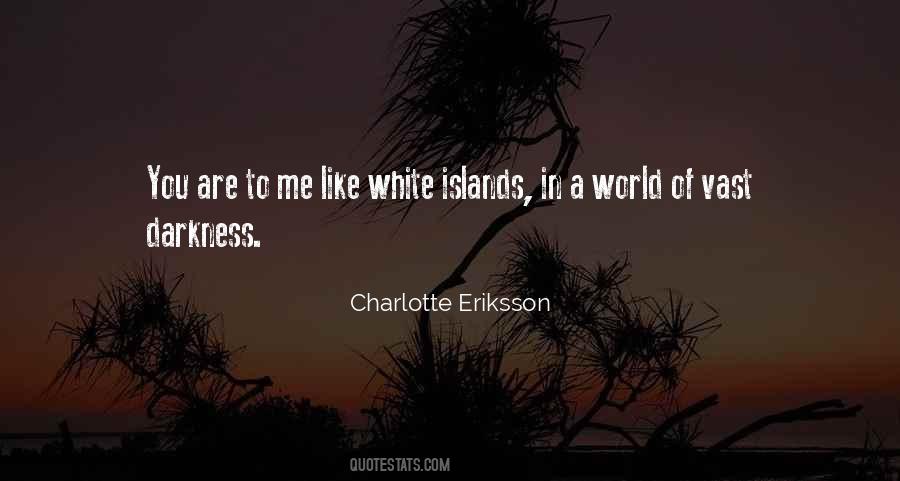 #68. Nothing can bring joy in your life except yourself. - Author: Debasish Mridha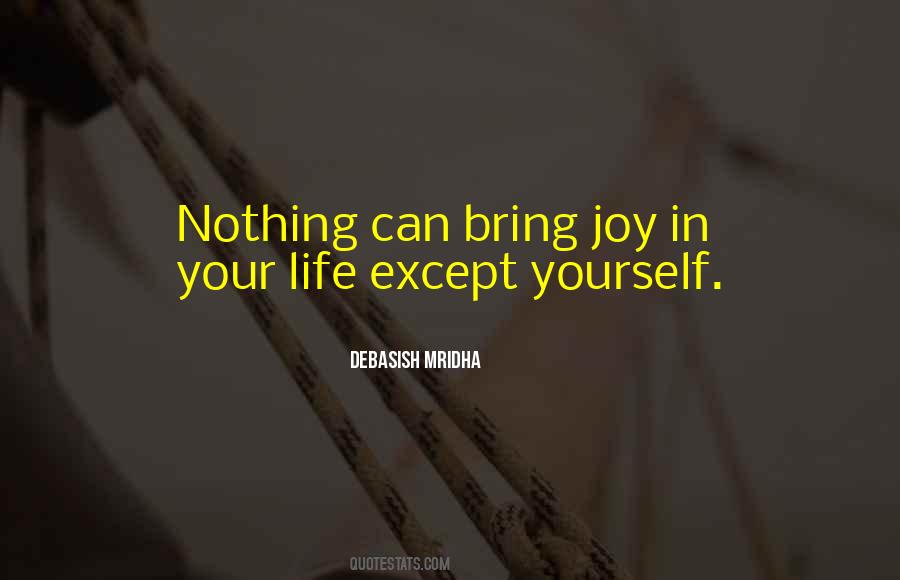 #69. You make me believe in happiness ... if I had my way, if anything were up to me, I'd never be without you. You are my purpose. - Author: Courtney Kirchoff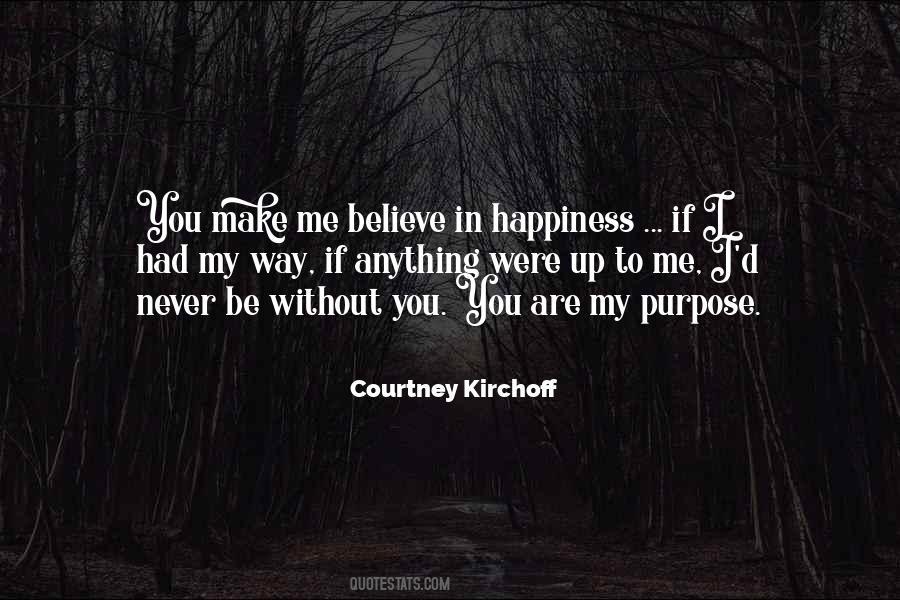 #70. saying goodbye isnt hard, but saying it to something you care about is whats hard, because you dont want to forget the emmotional pain and happiness they caused in you're life. - Author: Annoymous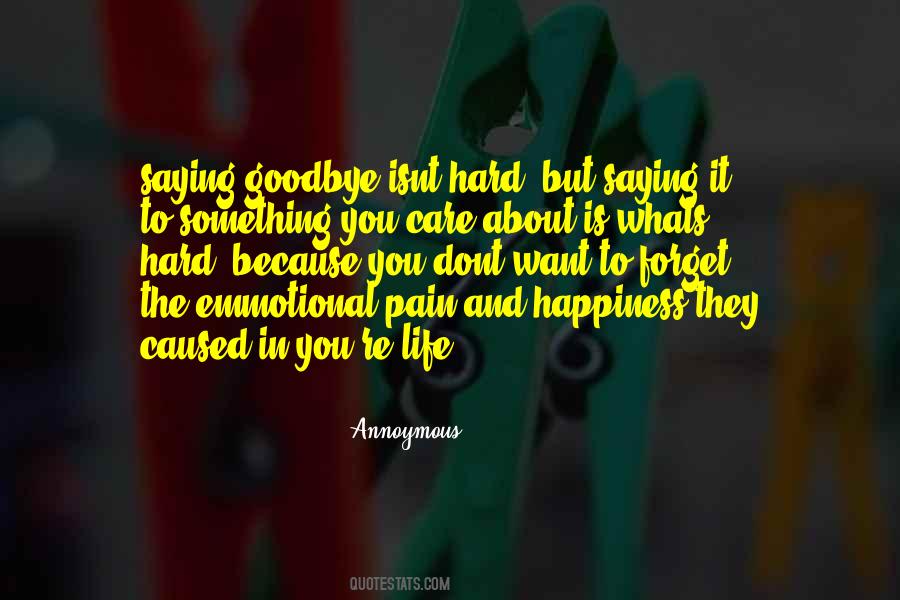 #71. To be a winner in life, be simple and be kind.
You will win the heart and you will win the mind. - Author: Debasish Mridha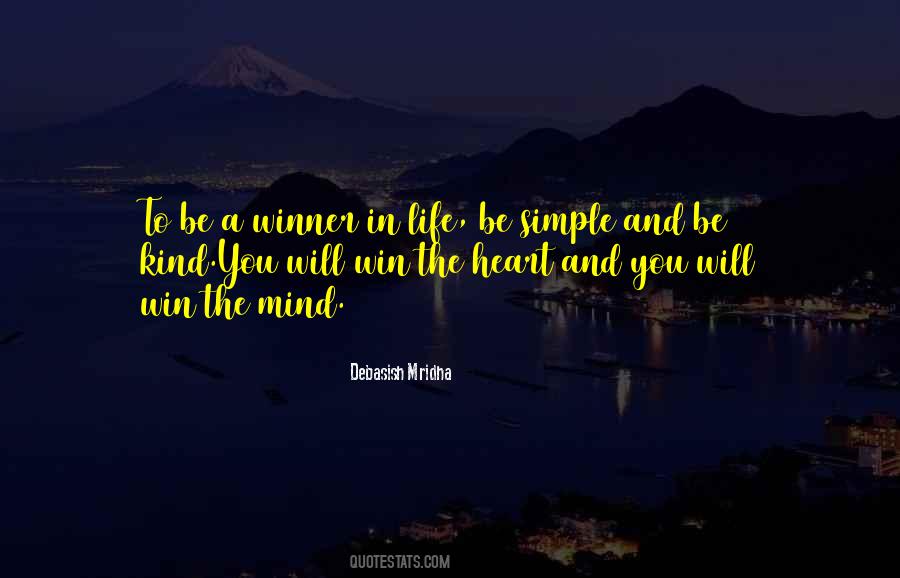 #72. Love wants to rise, not to be held down by anything base ... He who loves flies, runs, and rejoices; he is free and nothing holds him back. Derive happiness from yourself, from a good day's work, from the clearing that it makes in the fog that surrounds us. - Author: Henri Matisse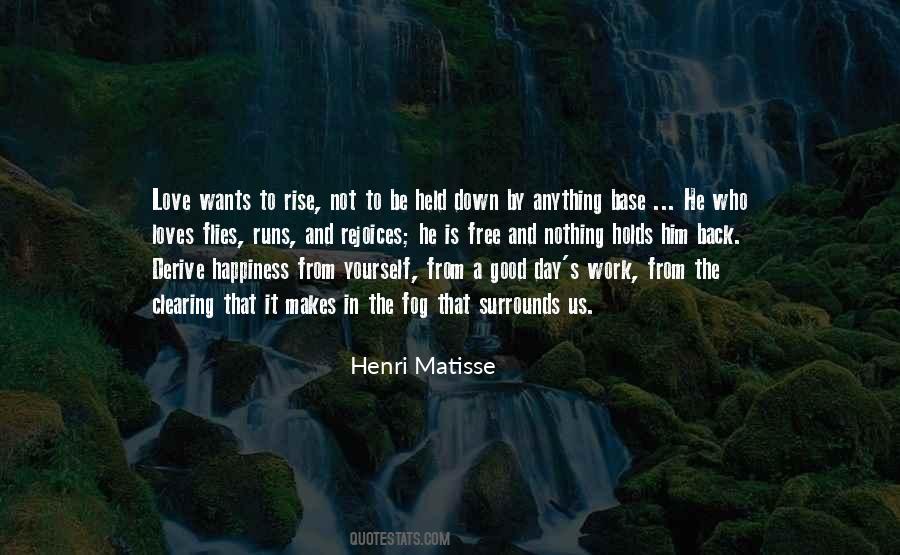 #73. Our capacity to draw happiness from aesthetic objects or material goods in fact seems critically dependent on our first satisfying a more important range of emotional or psychological needs, among them the need for understanding, for love, expression and respect. - Author: Alain De Botton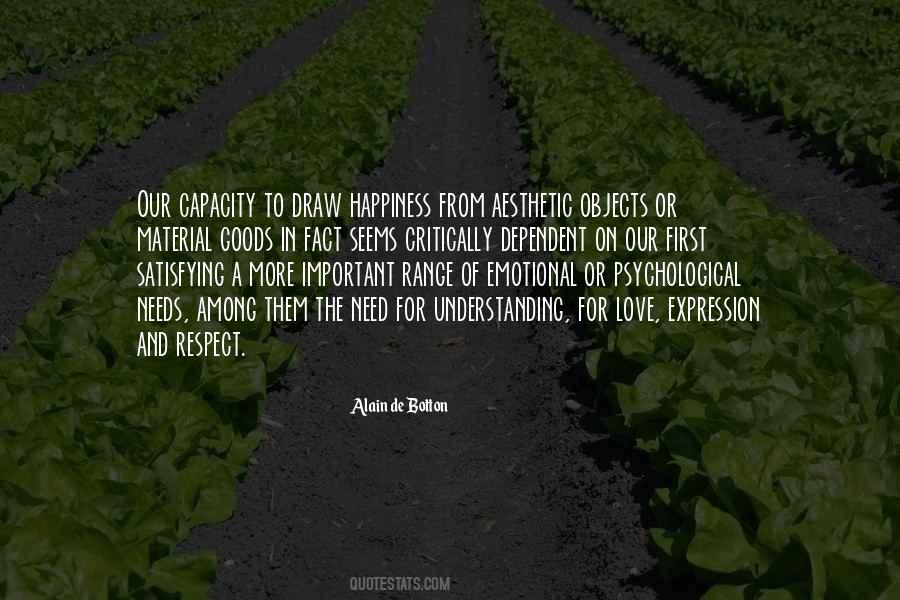 #74. Beauty is in the holiness of the heart and in the simplicity of mind. - Author: Debasish Mridha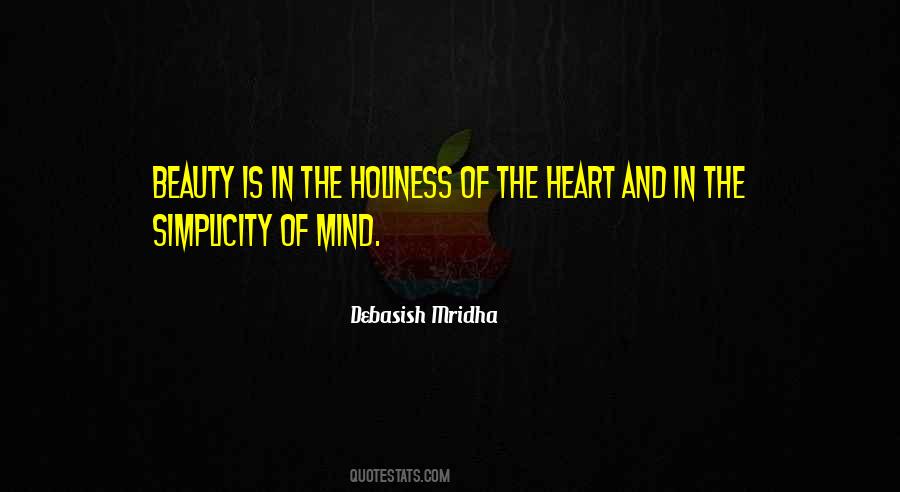 #75. There are two word in my world first love the strongest and second chance quotes. - Author: Rohit Dhariwal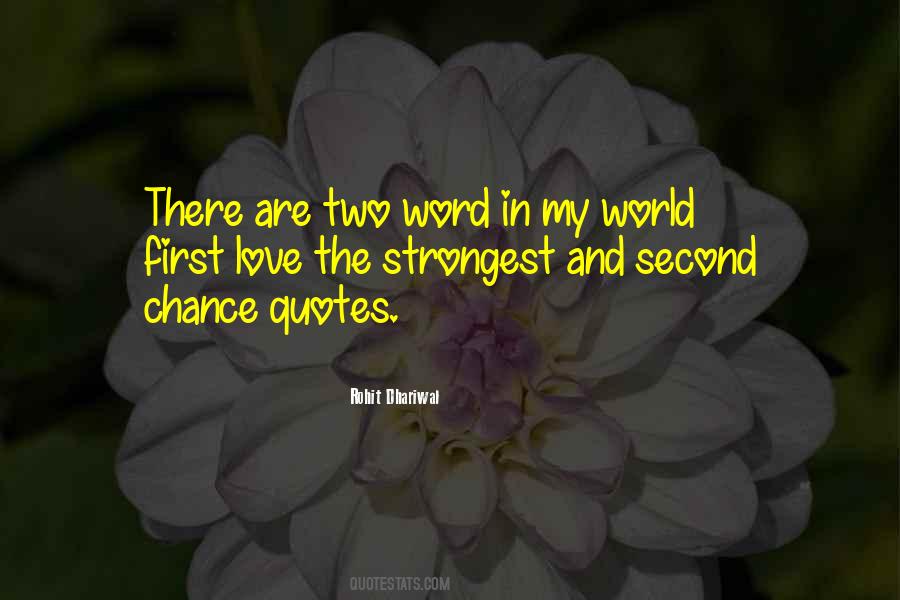 #76. Switch on and keep on in yourself the cheerful buttons ... Those marked Joy, Laughter, Happiness, Love, Passion for life, Gratitude for life. - Author: Robert Muller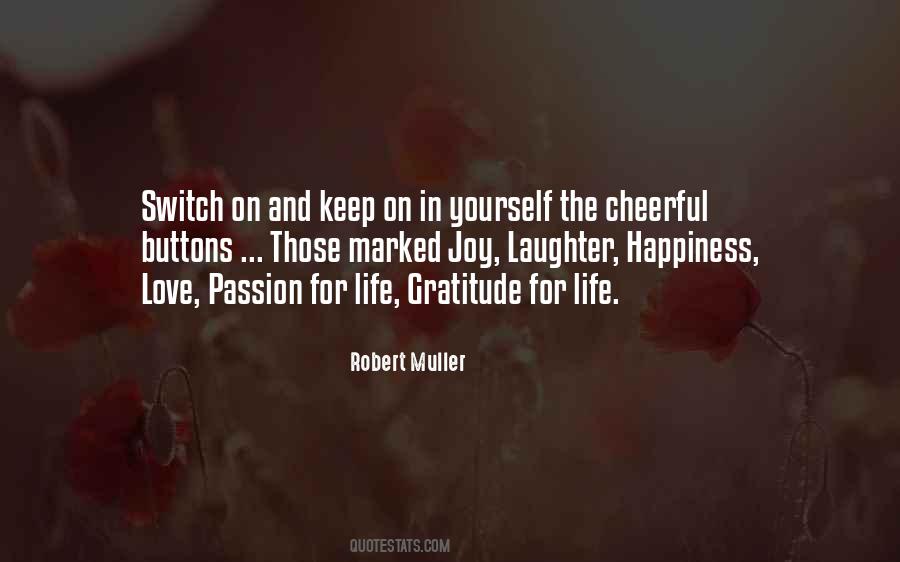 #77. Look in every city or any town. Travel by foot, or train or plane. Do not settle until there is love. For there, there will be the address of your happiness. - Author: David Paul Kirkpatrick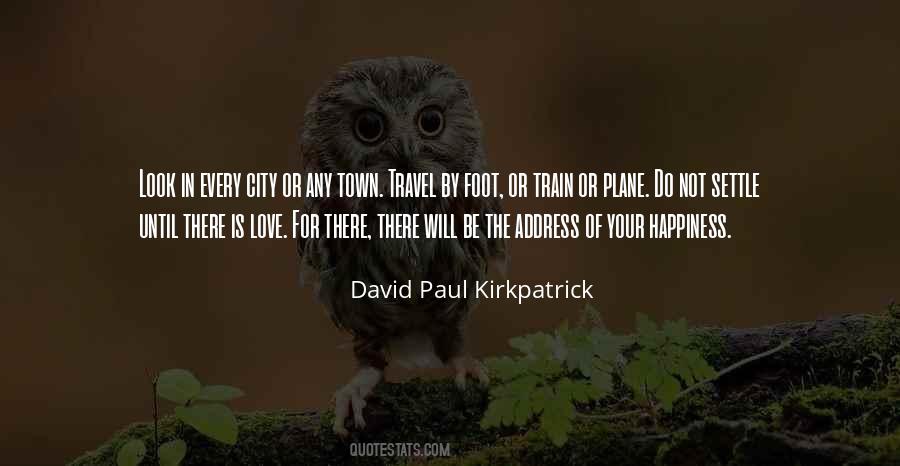 #78. You don't seem to have guts. There is no need to surrender to each other. Surrender to love means: enjoy in the happiness of the other, rejoice in the being of the other; be in tune with each other, dance in harmony. - Author: Rajneesh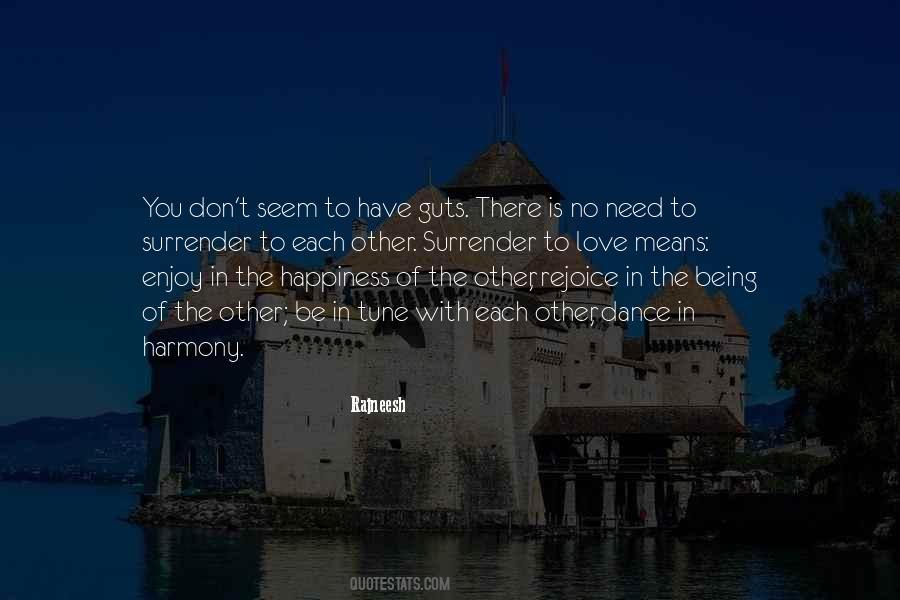 #79. I believe that in a way, sadness is happiness for there can be no wrong without right, no light without dark, no success without failure, no relief without pain, no love without hatred and no Snow White without the evil queen. - Author: Girl234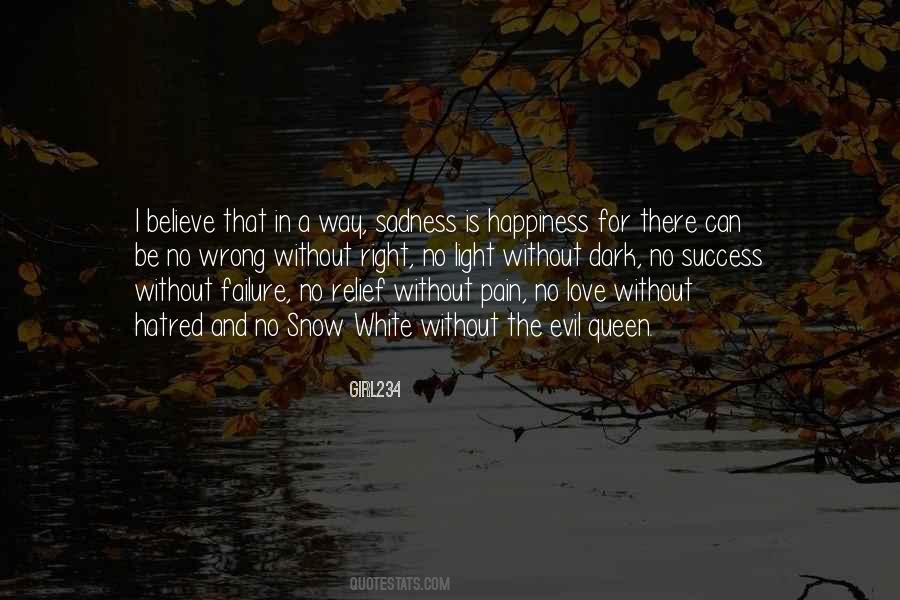 #80. Peace is present in every breath we take.
Peace is present in every loving gesture we make. - Author: Debasish Mridha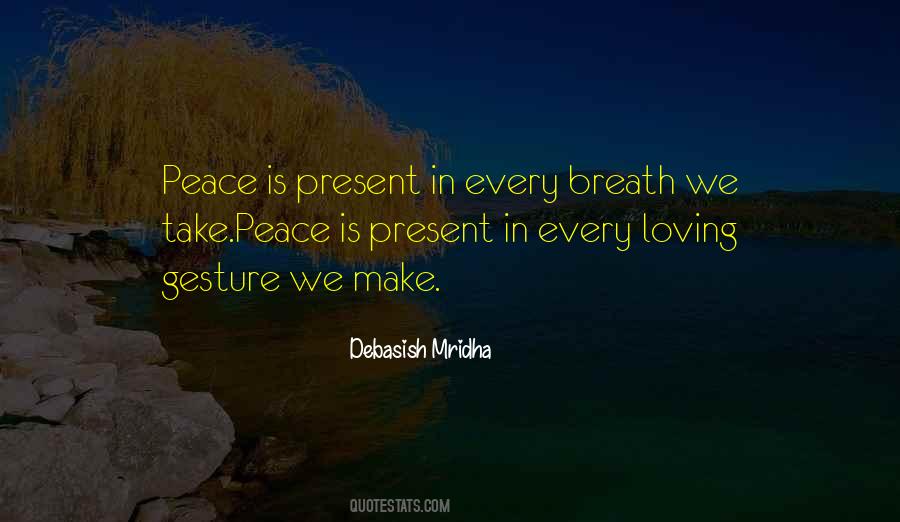 #81. Think of giving not as a privilege of having abundance in life, but as a purpose and gratitude of life. - Author: Debasish Mridha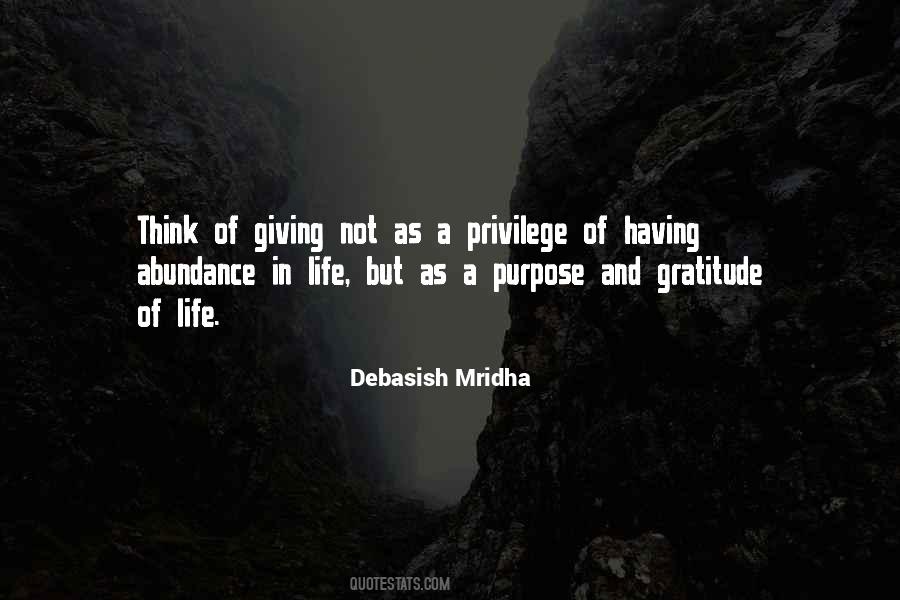 #82. The soul is made of love and must ever strive to return to love. Therefore, it can never find rest nor happiness in other things. It must lose itself in love. By its very nature it must seek God, who is love ... - Author: Mechthild Of Magdeburg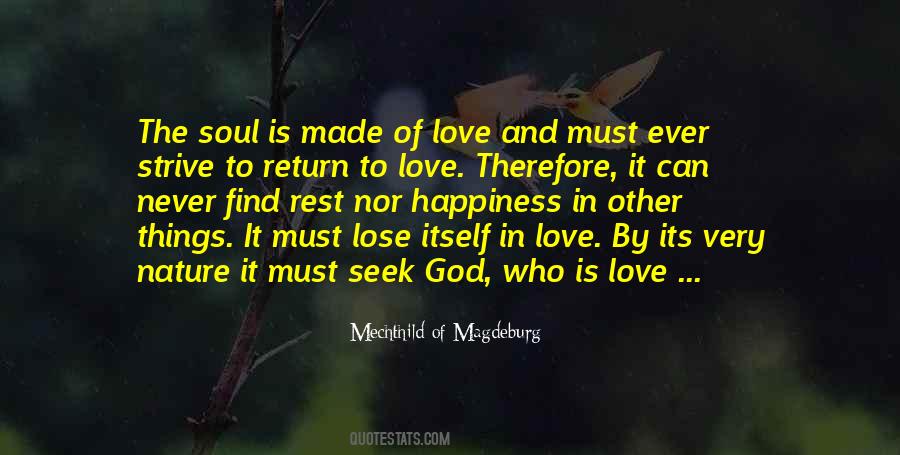 #83. I do believe that the single most important thing I could ever share with you with regard to maximizing the health, harmony, and happiness in your life can be summed up in just two words:
Love yourself. - Author: Mike Dooley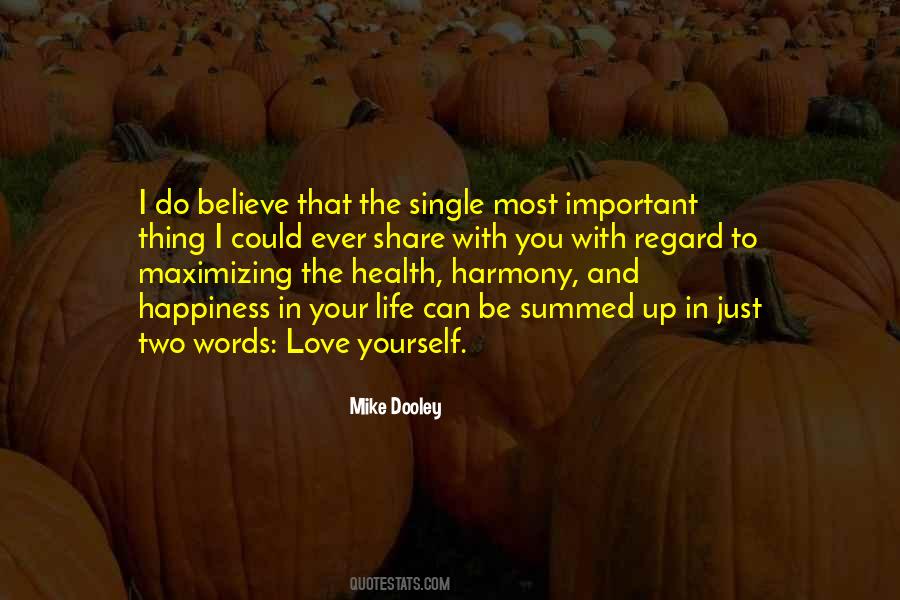 #84. When one feels oneself smitten by love for a woman, one ought to say to oneself, "What are her surroundings? What has been her life? All one's future happiness lies in the answer. - Author: Marcel Proust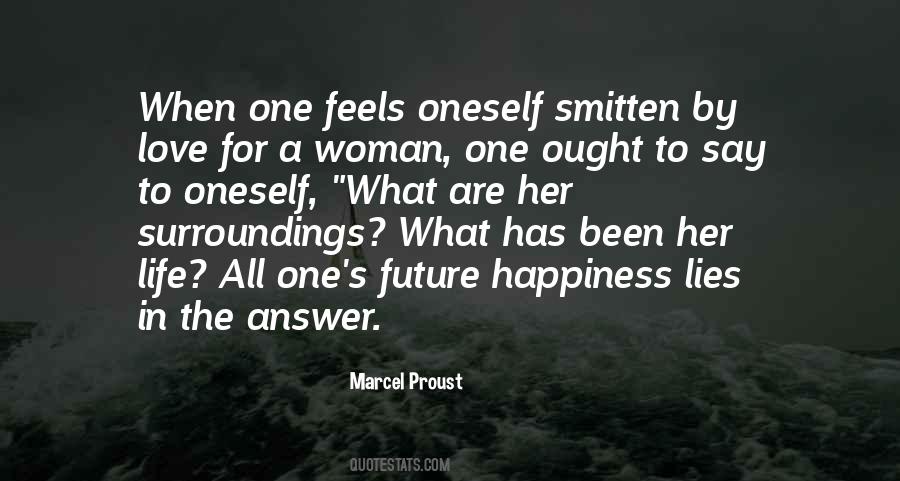 #85. His hand lay across my stomach as he slept soundly. I entwined my fingers with his and breathed through the warmth that seeped through my chest. Such a simple, sweet thing to do, yet holding hands in bed was incredibly intimate. - Author: N.R. Walker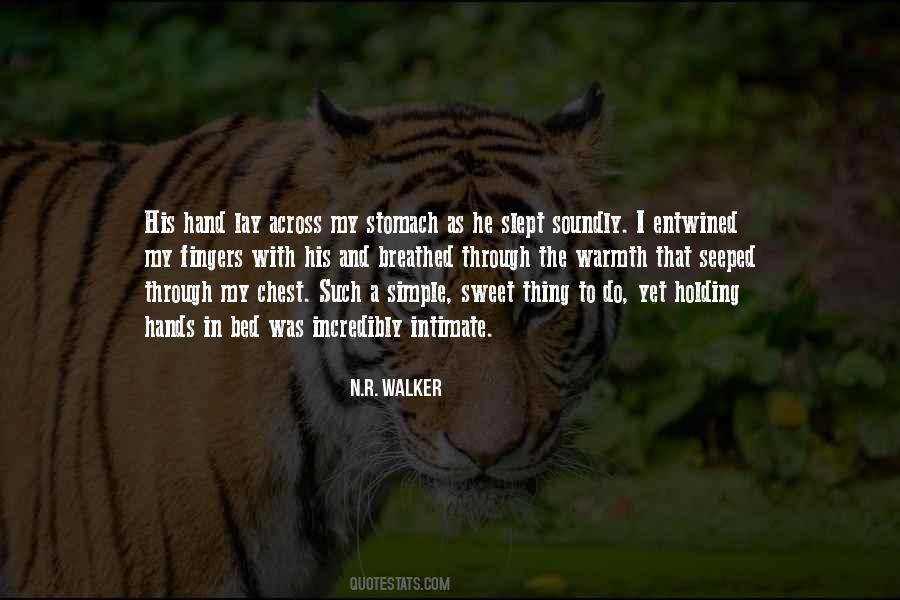 #86. Positive, affirming relationships bring great pleasure while poor relationship brings great pain. Greatest happiness found in good relationships, greatest pain found in bad relationships - Author: Gary Chapman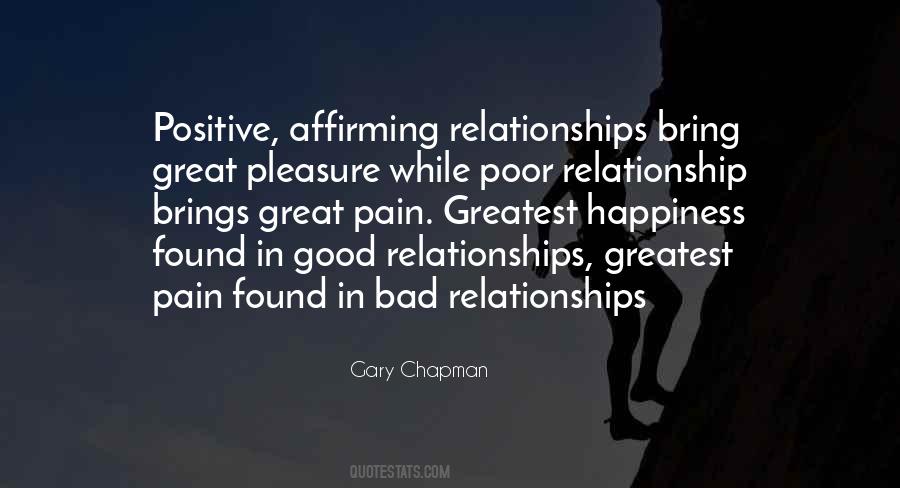 #87. I am in love,
I became an angel;
flowers bloom with my touch,
birds comes to me and sing love song,
air touches my cheeks to feel my love,
leaves are dancing around me with the melody of love.
Oh love, I am in love, I am the love. - Author: Debasish Mridha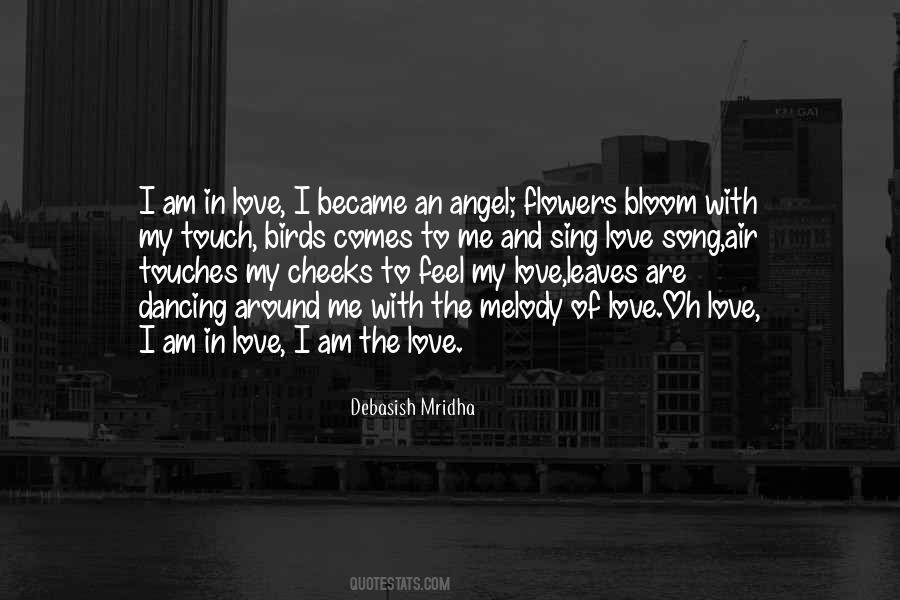 #88. For a moment I had a strange intuition that just this, and in a real, profound sense, is life; and perhaps happiness even - love with a mixture of sadness, reverence, and silent knowledge. - Author: Erich Maria Remarque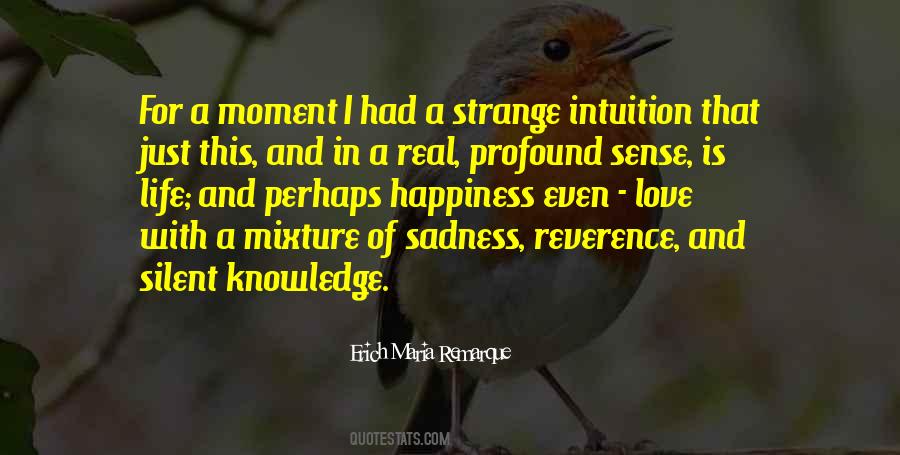 #89. Happiness is to capture the images of our dreams in the morning dew and the smile of the sun. - Author: Subhan Zein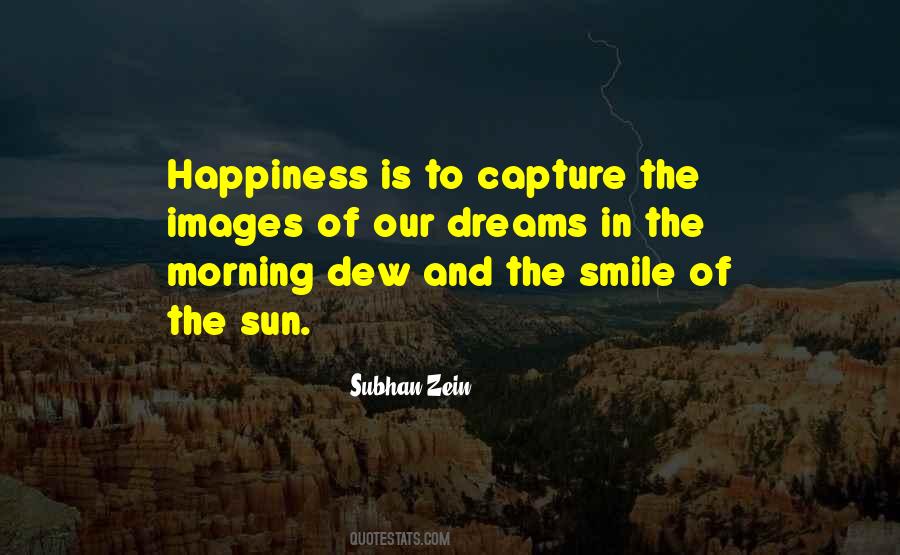 #90. The happiness of people who are in love and who are loved shows in their faces. They have an expression that's at once very far away and very much part of the present. - Author: Francoise Sagan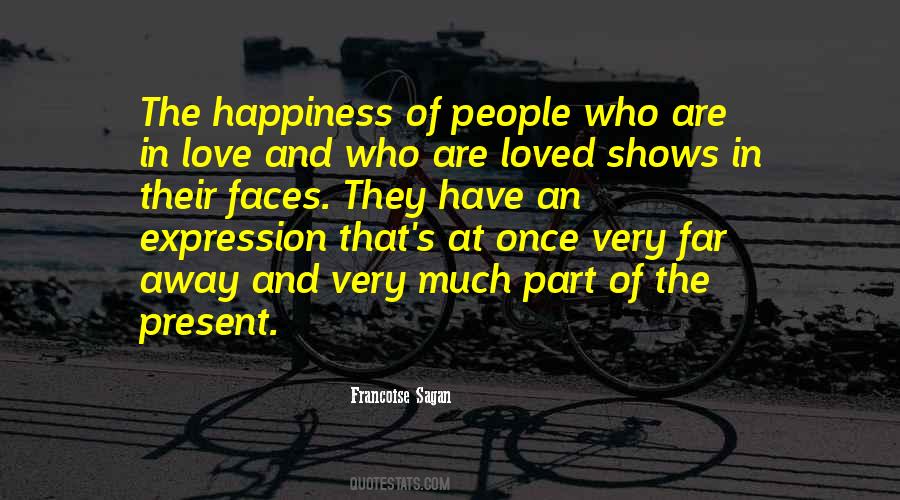 #91. There's no greater happiness than doing something every day that you love, that you feel you do in a satisfactory fashion, and which both supports and gives you time to support your family. I felt so lucky to have all that. - Author: Anna Quindlen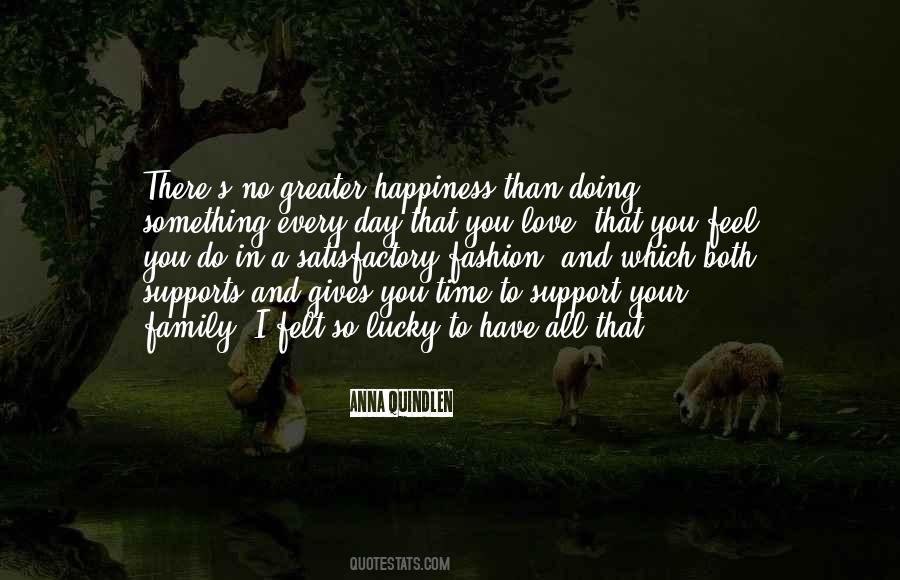 #92. If there were no women then men would still be living in the jungle. - Author: Debasish Mridha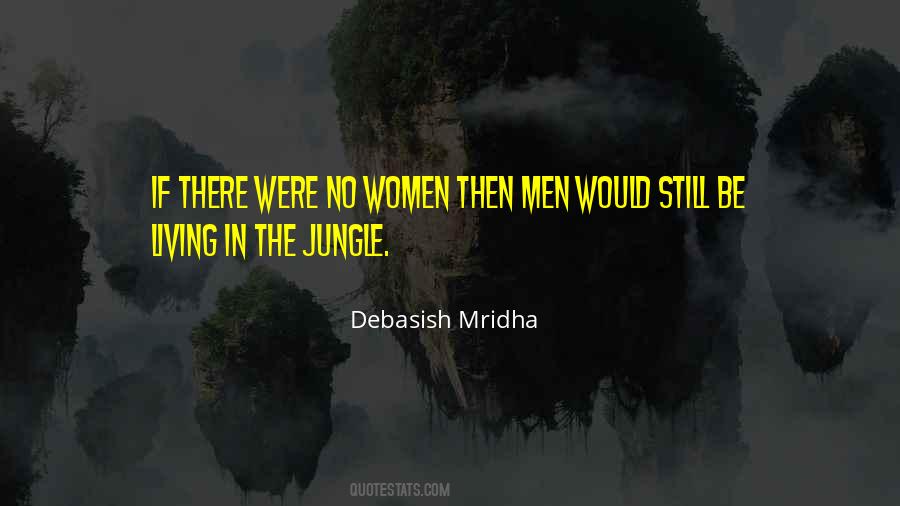 #93. She was now drowning in that pool of desires without having any idea about the depth of it. - Author: Viraj J. Mahajan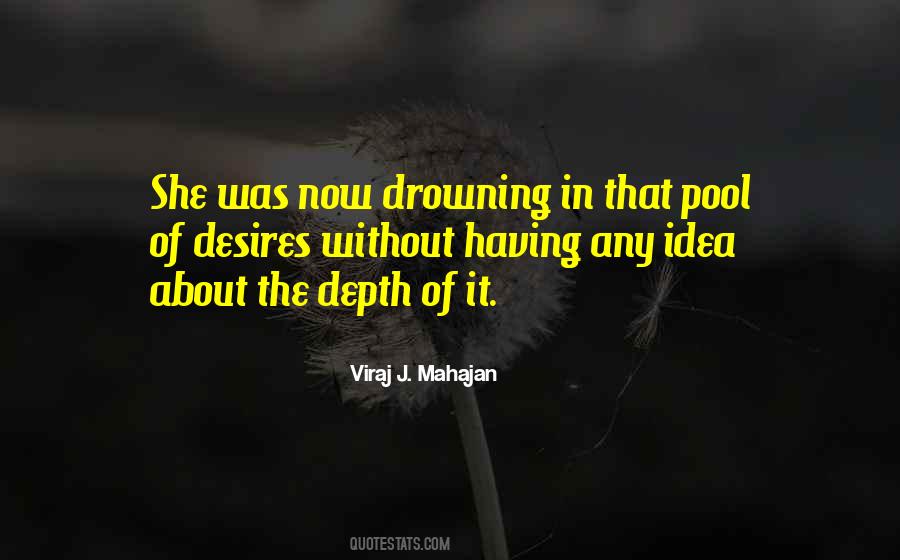 #94. Life is precious. It's more precious when you are in love. - Author: Debasish Mridha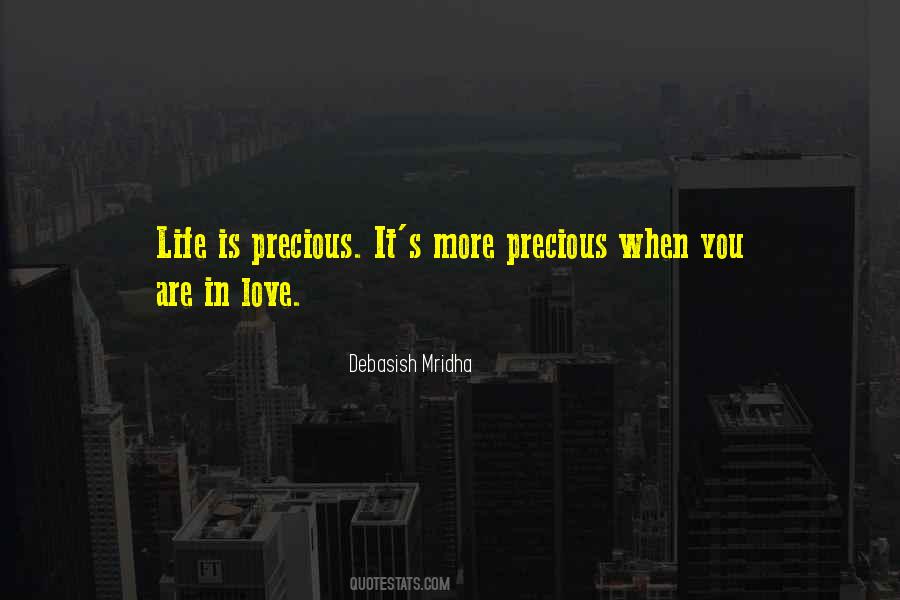 #95. By justifying our harmful negative habits, we live in delusion. We are lying to ourselves. And worse yet, we waste the precious opportunity of living our truth. - Author: Dashama Konah Gordon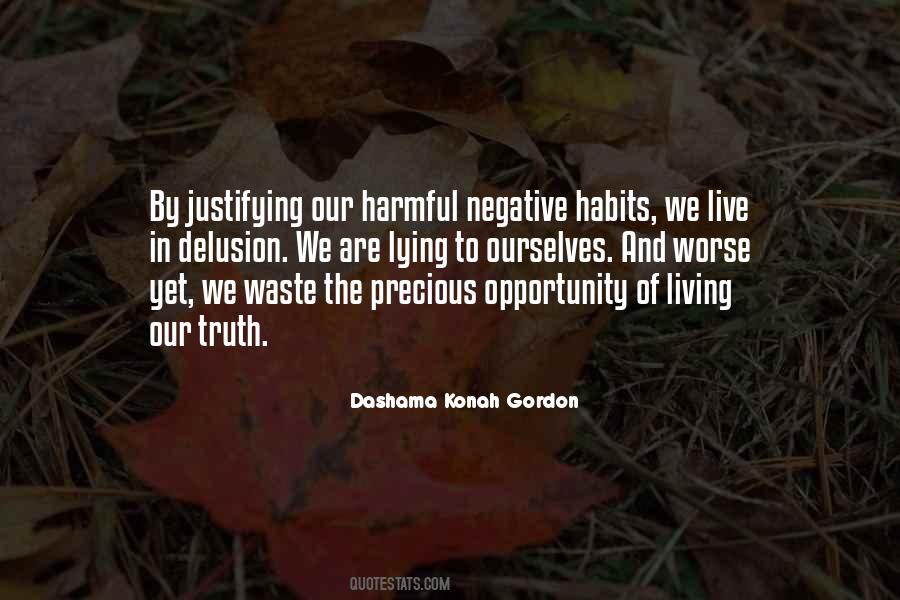 #96. Hope is the light, trusted guide in darkness. - Author: Debasish Mridha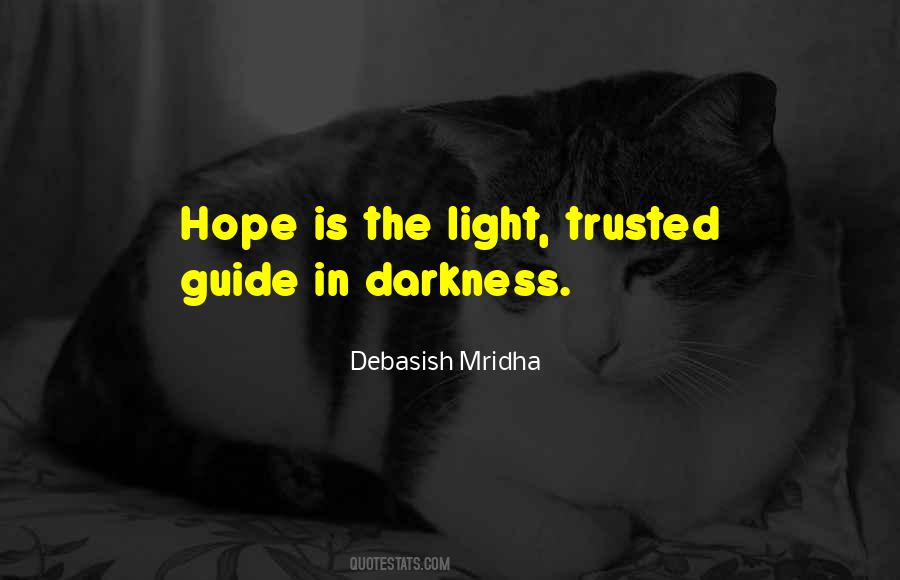 #97. You have a light in your heart and that is your love, it can shine like a sun to enlighten the whole world. - Author: Debasish Mridha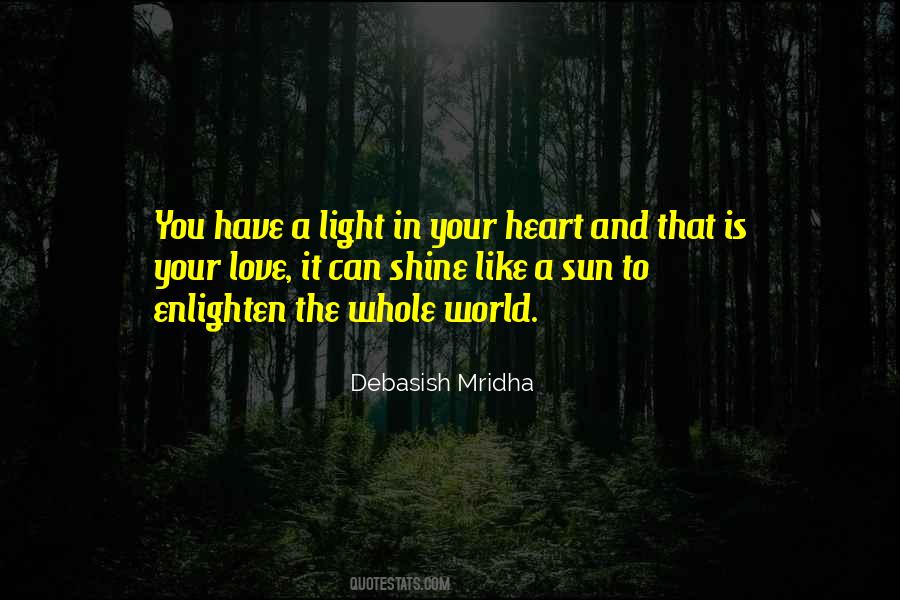 #98. Happiness will bloom
With fragrance and beauty
If you plant the seeds of love
With a deep driving desire
in the garden of hope
And nurture with tenderness,
Compassion, and care;
If you are always eager to share. - Author: Debasish Mridha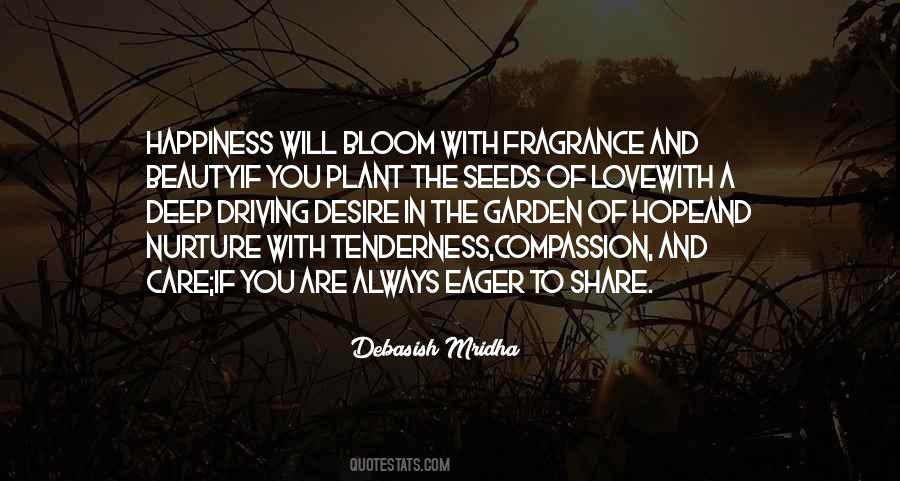 #99. The greatest happiness of life is the conviction that we are loved
loved for ourselves, or rather, loved in spite of ourselves. - Author: Victor Hugo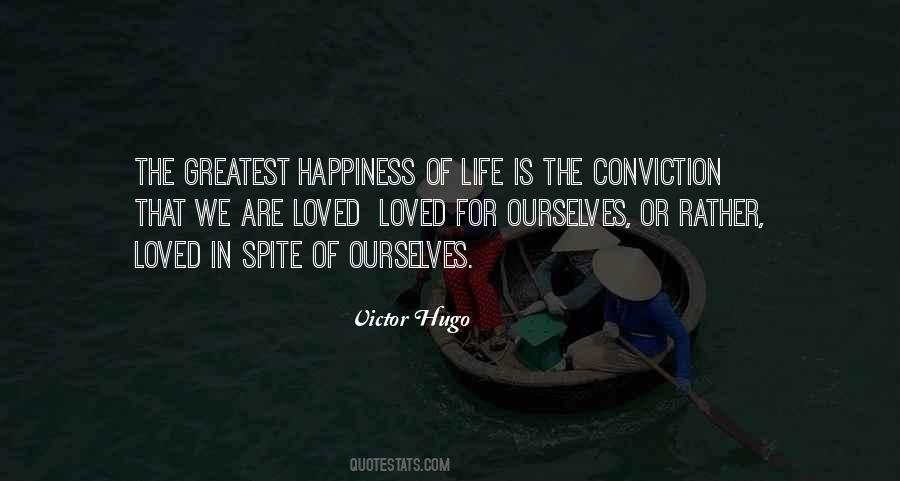 #100. He'd fill every moment with the seasons he'd found in his heart: hopes like birds on a spring branch; happiness like a warm summer sun; magic like the rising mists of autumn. And best of all, love; love enough for a thousand Christmases. - Author: Clive Barker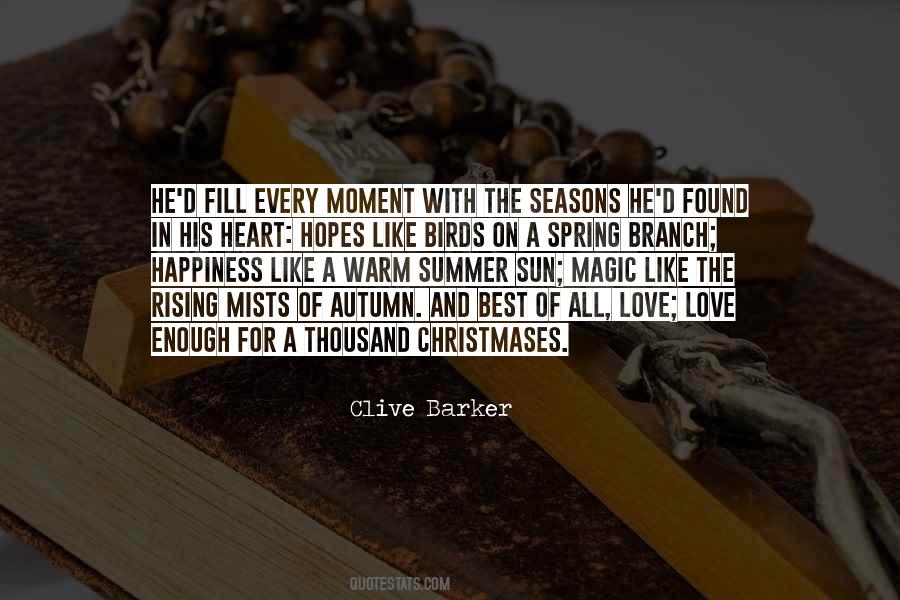 Famous Authors
Popular Topics