Green Money Famous Quotes & Sayings
List of top 63 famous quotes and sayings about green money to read and share with friends on your Facebook, Twitter, blogs.
Top 63 Quotes About Green Money
#1. I have the solution to all my problems. I have money, position, the running of one of the country's legendary cattle stations. I can even get the girl I want. I can't buy her, of course. She's got money of her own. But I'm pretty sure if I talk to her dad, he'll give me the green light. - Author: Margaret Way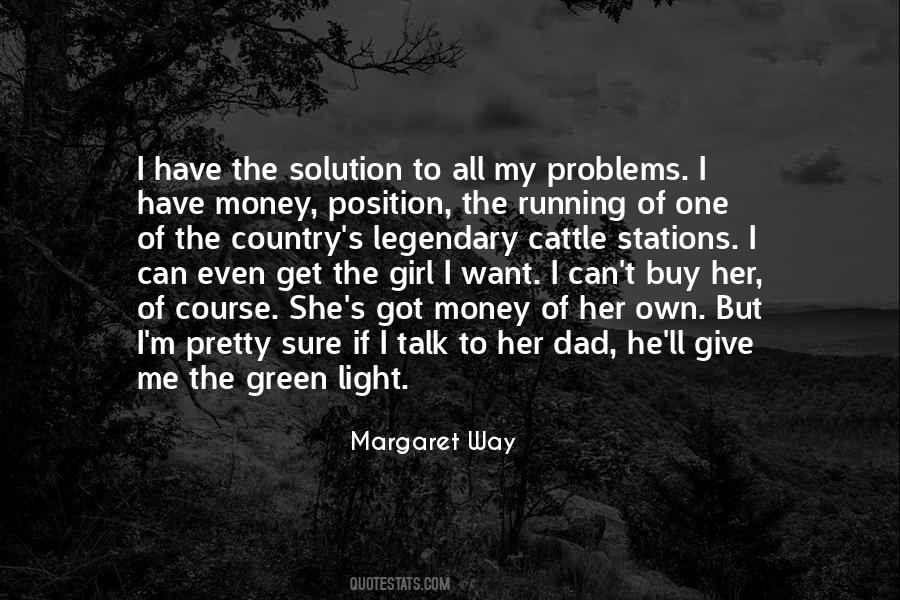 #2. Being green saves you money. Being green saves you green. - Author: Sophia Bush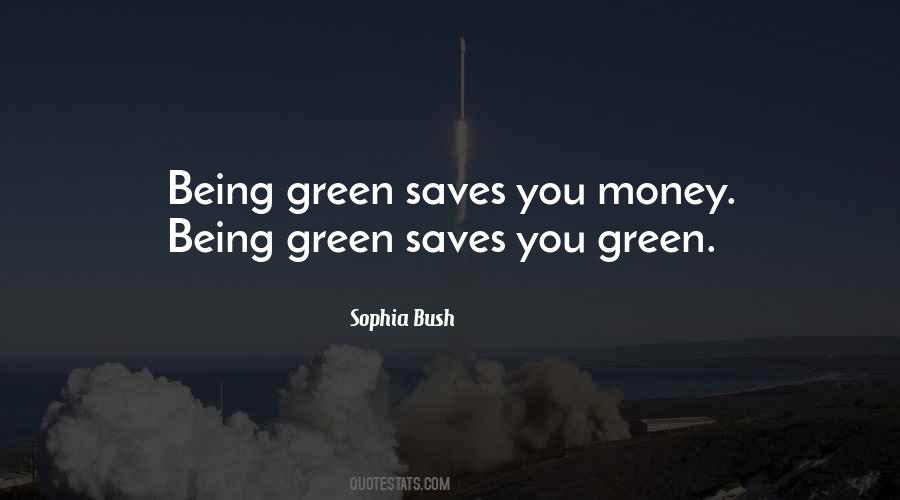 #3. I feel sick if I have to do something for the money. I can't breathe. I'm not proud of myself. - Author: Eva Green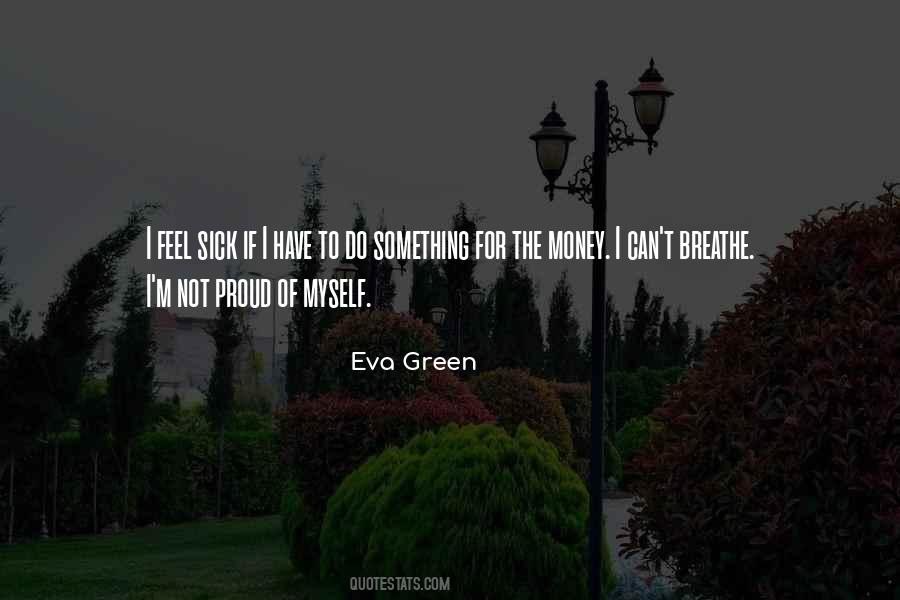 #4. Dark green is my favorite color. It's the color of nature and the color of money and the color of moss! - Author: Leonardo DiCaprio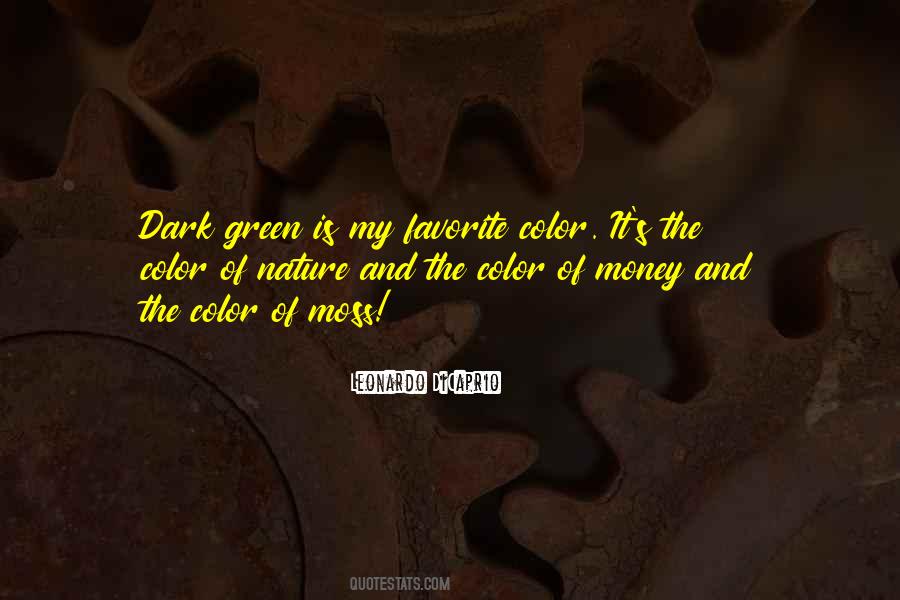 #5. Lesson learned: One person's success can be perceived as another's loss. Productivity is more important to some people than others. Those same people for whom productivity is not so important are often green-eyed with envy when someone else makes money. The - Author: Douglas Wallace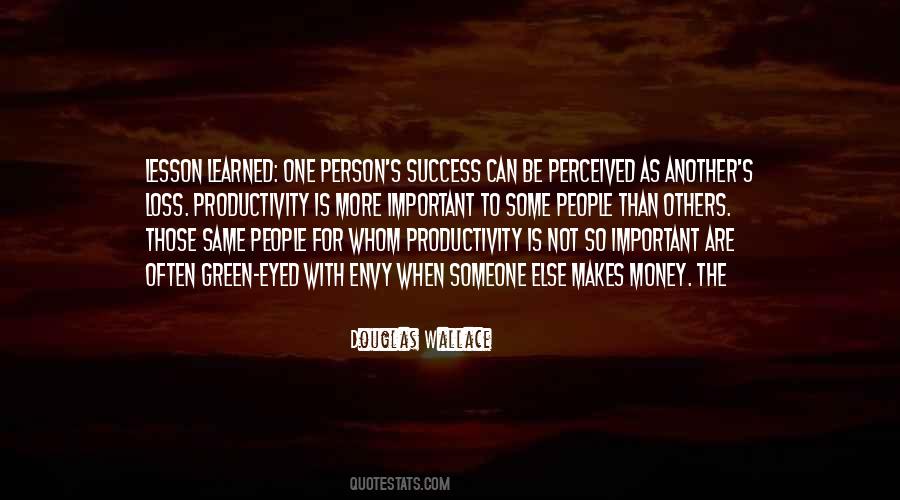 #6. Nothing can ever fix nature' not even all monies in the world and money rules, are never worthy following. - Author: Auliq Ice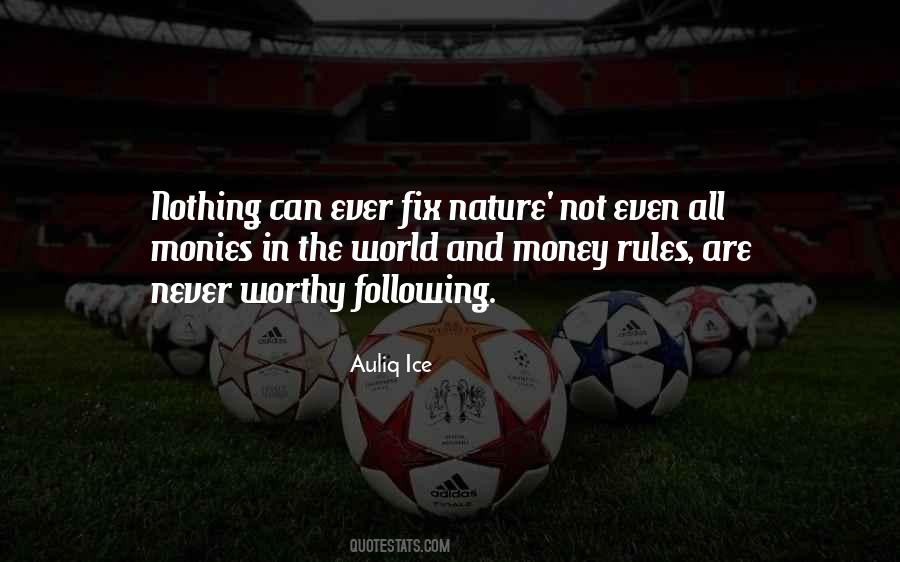 #7. As we settle into 2013, I predict this: We'll see companies that promote this shift from private ownership thrive. More people will be able to access things they simply don't need to own, and they'll save money and live better, cleaner, green lives doing it. - Author: Lynn Jurich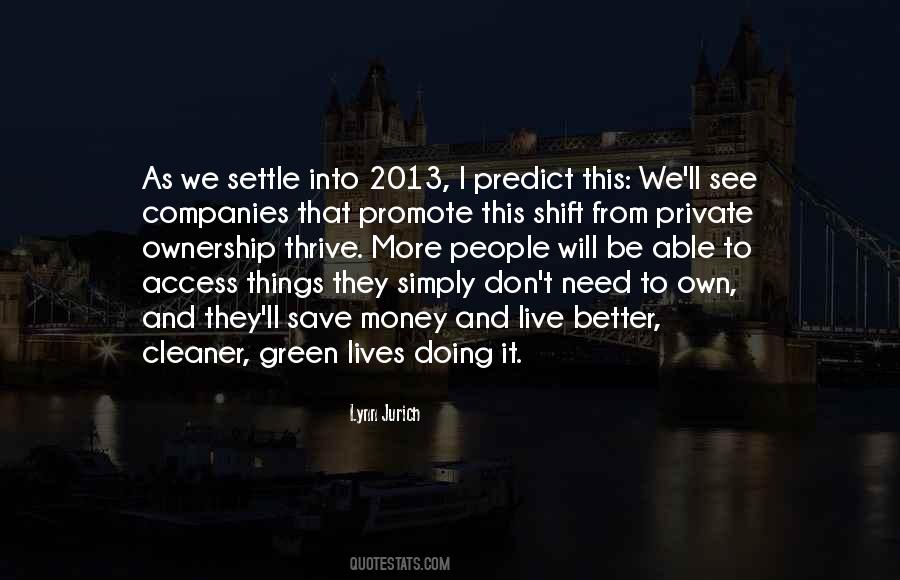 #8. Green light, STOP - if you want to see where you are taking the most risk, look where you are making the most money. - Author: Paul Gibbons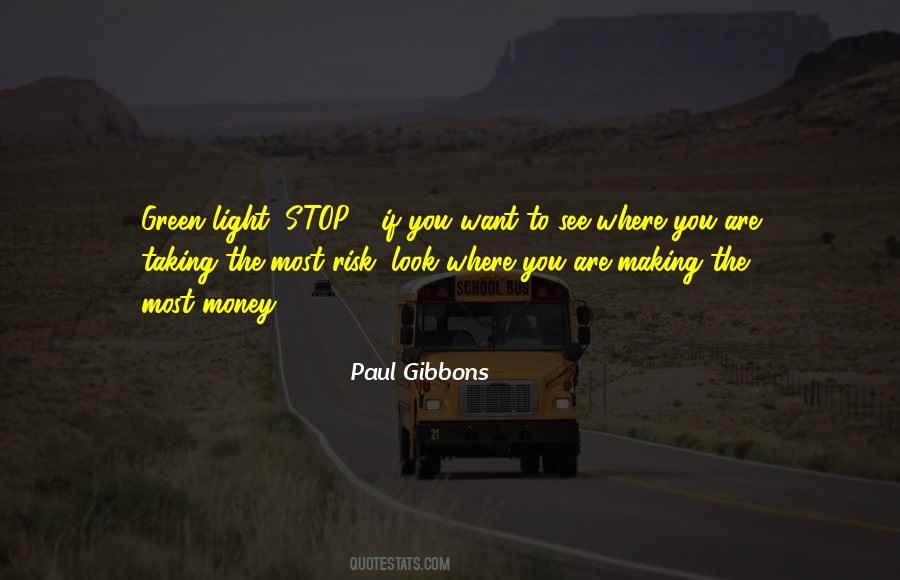 #9. A primary purpose of the police is to enforce the delusions of those with lots of green paper. - Author: Derrick Jensen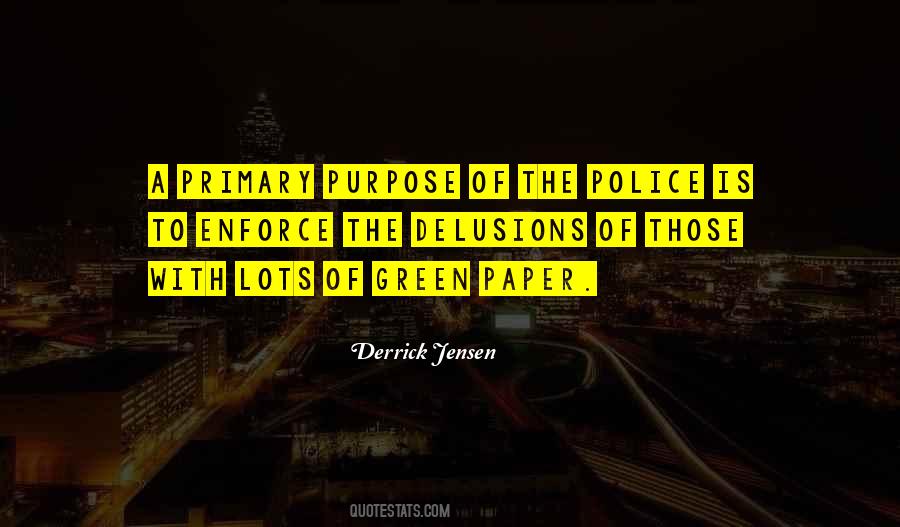 #10. Amazing how spending some money, especially when you haven't got it, can perk you up. - Author: Jane Green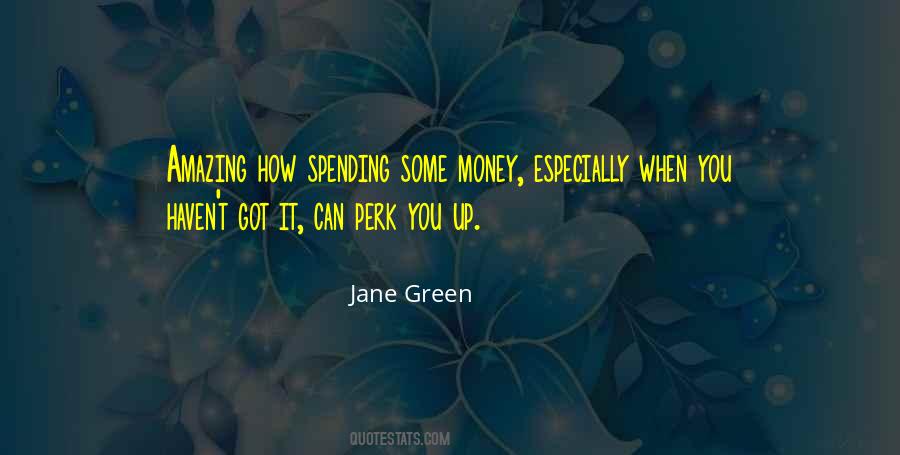 #11. If the money is raised by taxation, then the burden will fall where it ought to fall, ... and the rich and stingy will no longer be able to evade the duties of citizenship and of humanity. - Author: Robert Green Ingersoll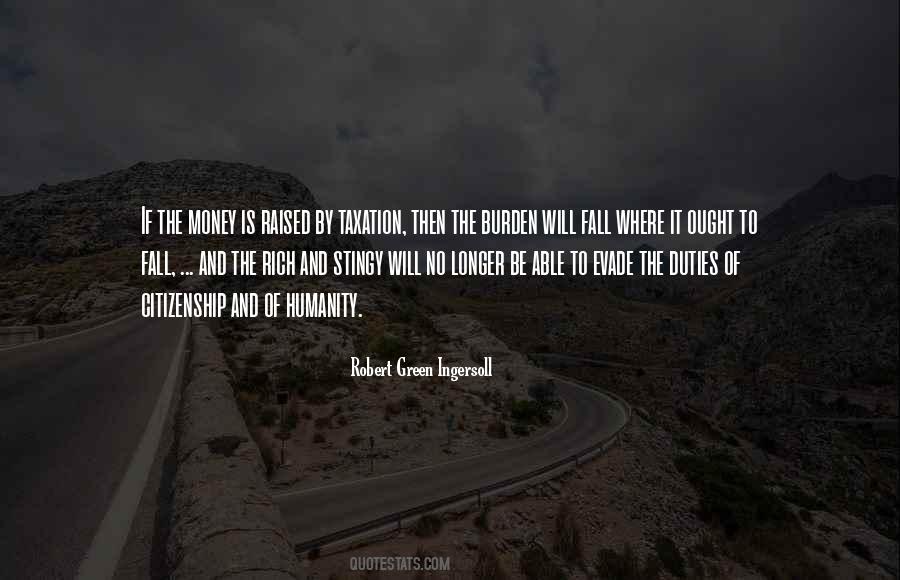 #12. I'd like to see Manhattan underwater. I'd like to see when the human population plummets and there are no more high rises, because nobody's buying them. I'm excited about that. Money and desire - all that is going to collapse, and wild green grasses are going to take over. - Author: Hayao Miyazaki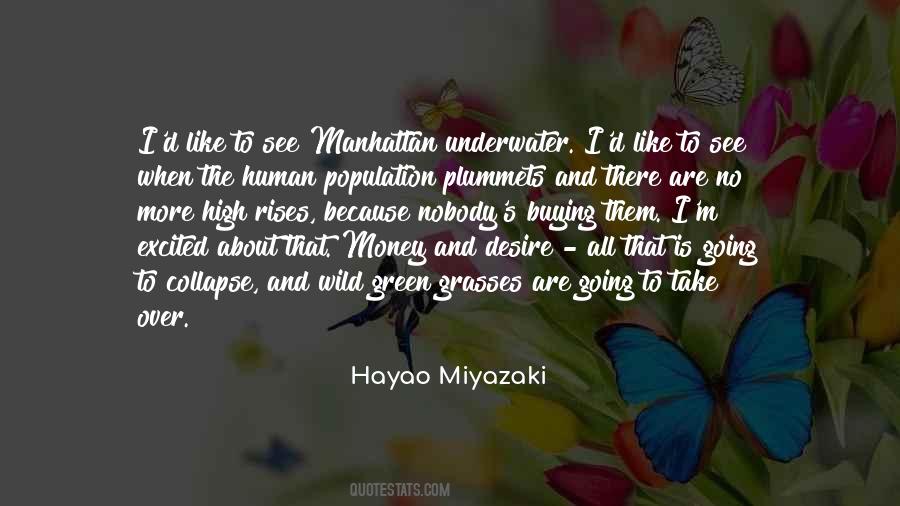 #13. It's hard to get movie studios to pay a lot of money for movies that don't have robots or explosions. - Author: John Green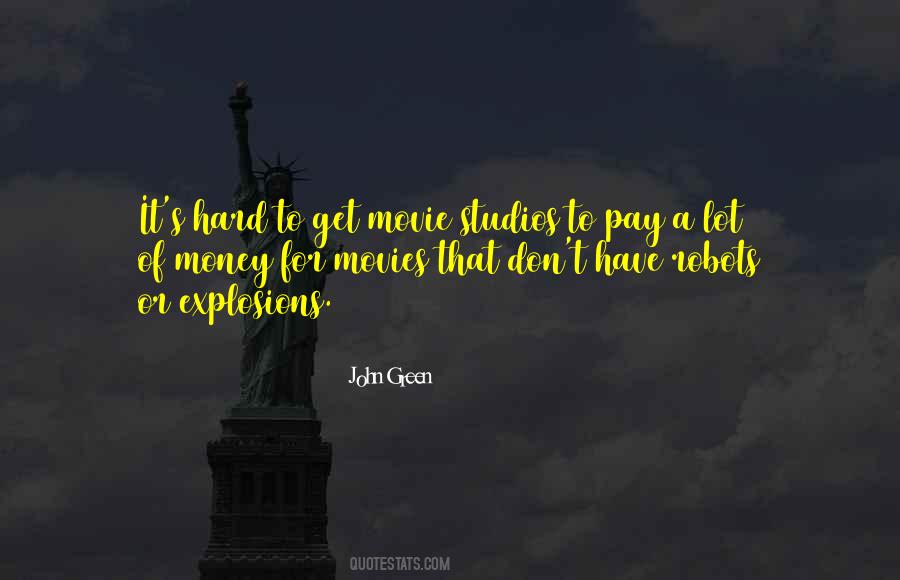 #14. I have a business manager and a book-keeper who deals with our household bills. My husband and I sit down with her for a weekly report on how much money is going out, but I'm not terribly interested, and I don't have the patience for it. - Author: Jane Green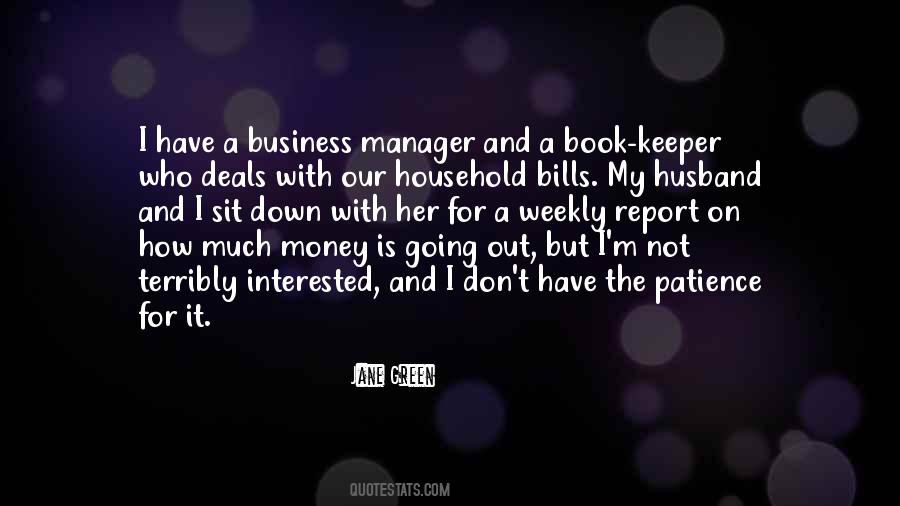 #15. I was 18 and making 150 quid a week, which was a lot of money to me. Then there was a bad winter and I got paid off. Then my firm, JW Henderson of Bowling Green Street, Leith, went bust. If they hadn't folded, I'd probably still be scaffolding and loving it. - Author: Jamie Sives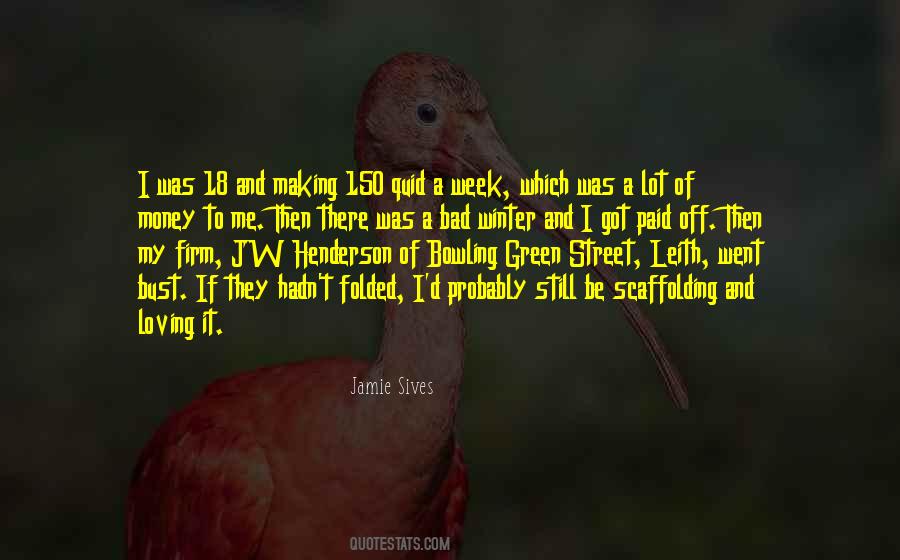 #16. I ain't mad ma, see you on ya bummy swag I'm in that money green Jag, lot of money bags - Author: Nicki Minaj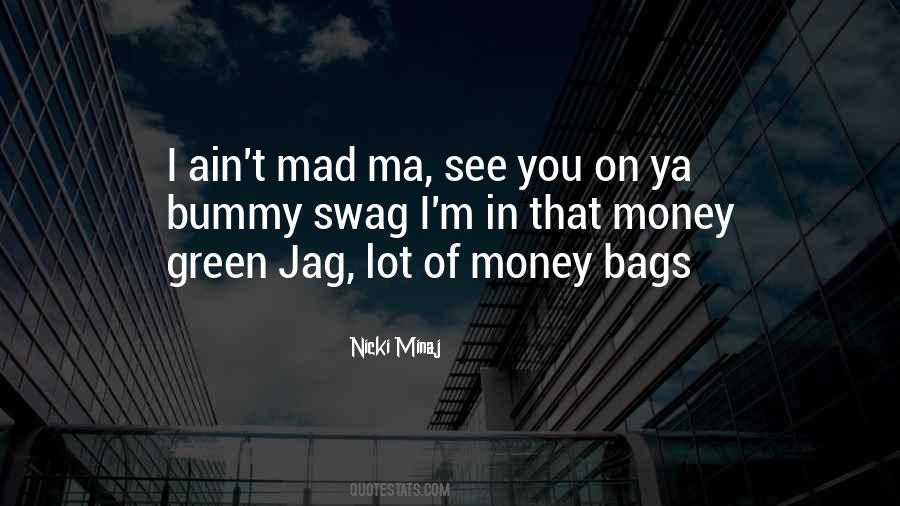 #17. Almost every ride we're profitable on. We make money on every ride. - Author: Logan Green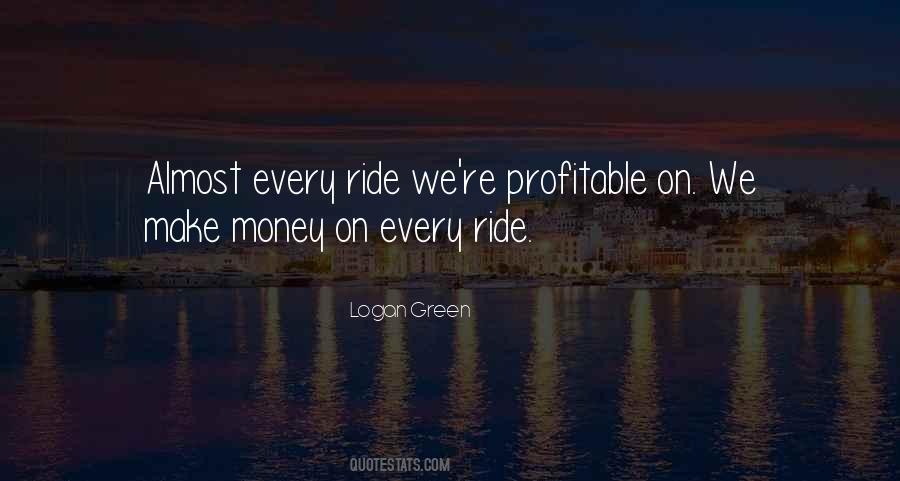 #18. We have to wear clothes, a requirement of custom, but more time, temper, character, and peace of mind, not to mention money, have been sacrificed to them than to any other altar on this green earth, and for what? - Author: Kate Langley Bosher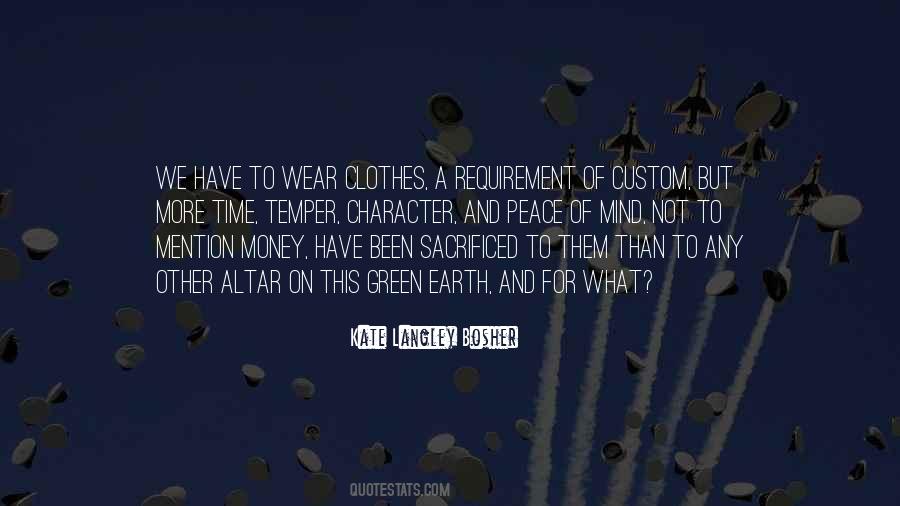 #19. For Pocketbook Environmentalists, financial savings are the primary motivator. However Pocketbook Environmentalists are changing the face of the market and the planet for the better by demanding that going green saves you money. - Author: Lynn Jurich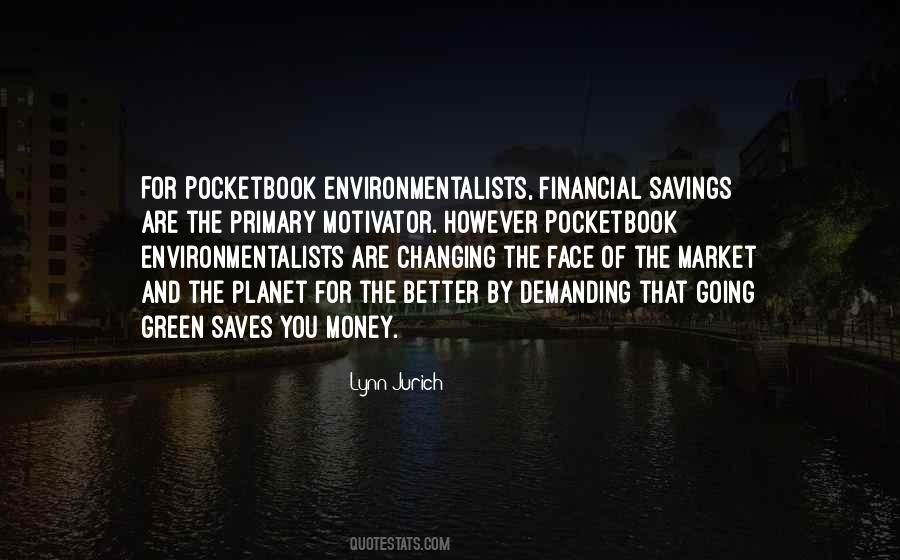 #20. I'm a little lavish I must admit. But I'm not really concerned with money. Being rich is not my goal, being wealthy is. - Author: CeeLo Green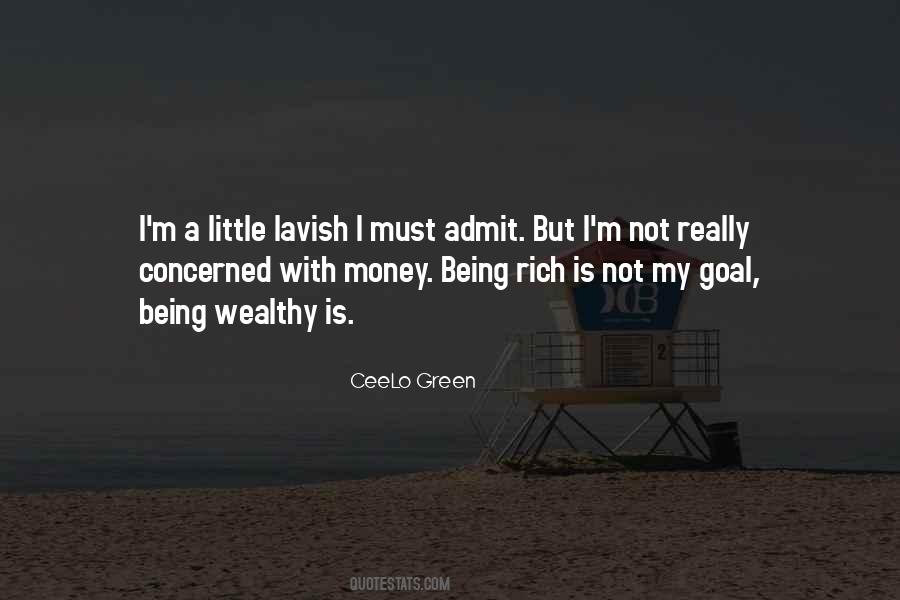 #21. College: getting in or not getting in.
Trouble: getting in or not getting in.
School: getting A's or getting D's. Career: having or not having. House: big or small, owning or renting. Money: having or not having. It's all boring. - Author: John Green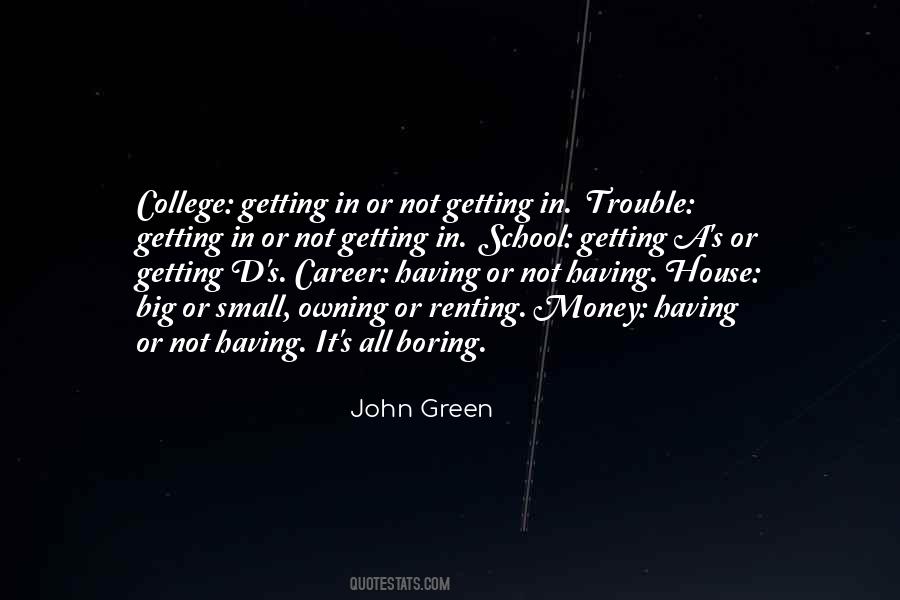 #22. I can imagine no sweeter way to end one's life than in the quiet of the country, out of the mad race for money, place and power - far from the demands of business - out of the dusty highway where fools struggle and strive for the hollow praise of other fools. - Author: Robert Green Ingersoll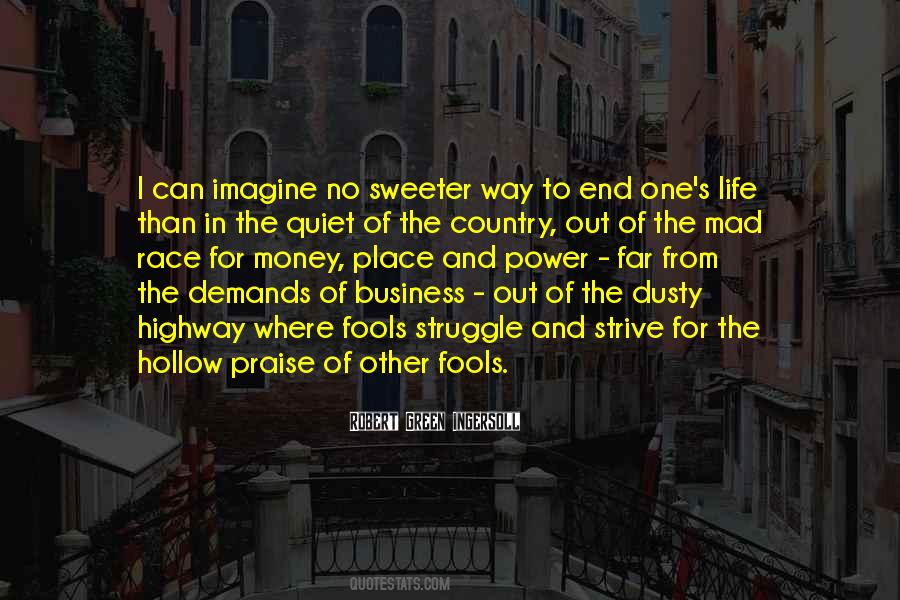 #23. Hollywood would make a holocaust an animated comedy if people would pay to see it; they don't care ... they just want your money. - Author: Adam Green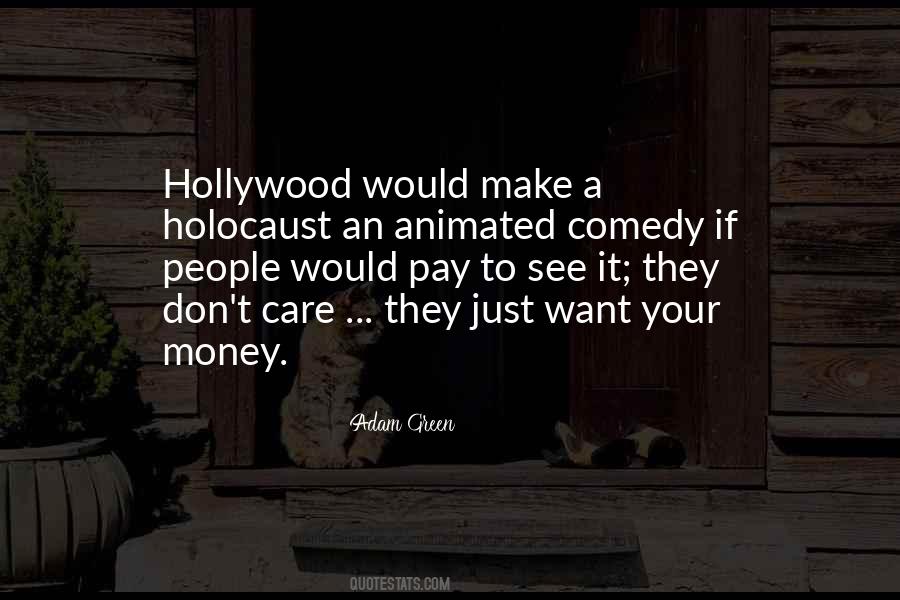 #24. I thought I had too much money to be happy and normal. Thousand of pounds is just too much for a working person to handle all of a sudden, and I felt I didnt deserve it. - Author: Peter Green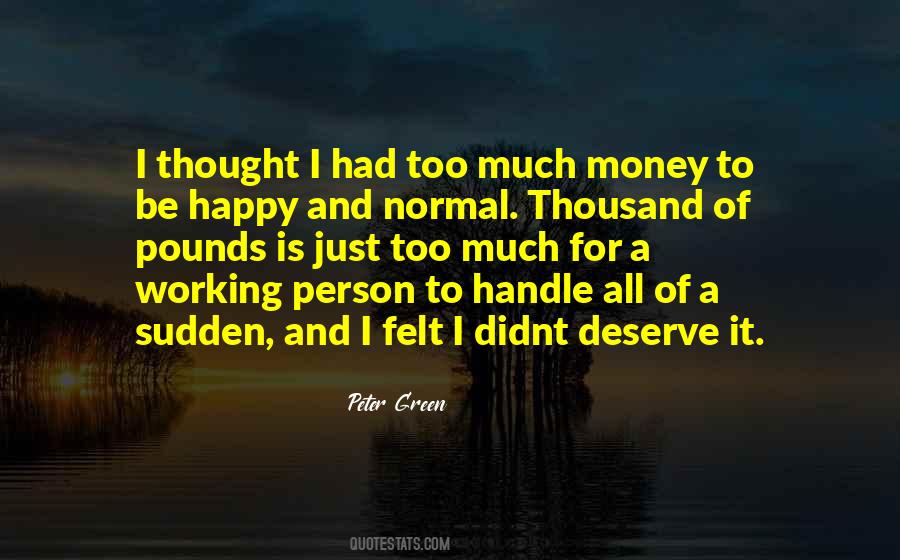 #25. Don't eat
those nice green dollars your wife
gives you for breakfast. - Author: Denise Levertov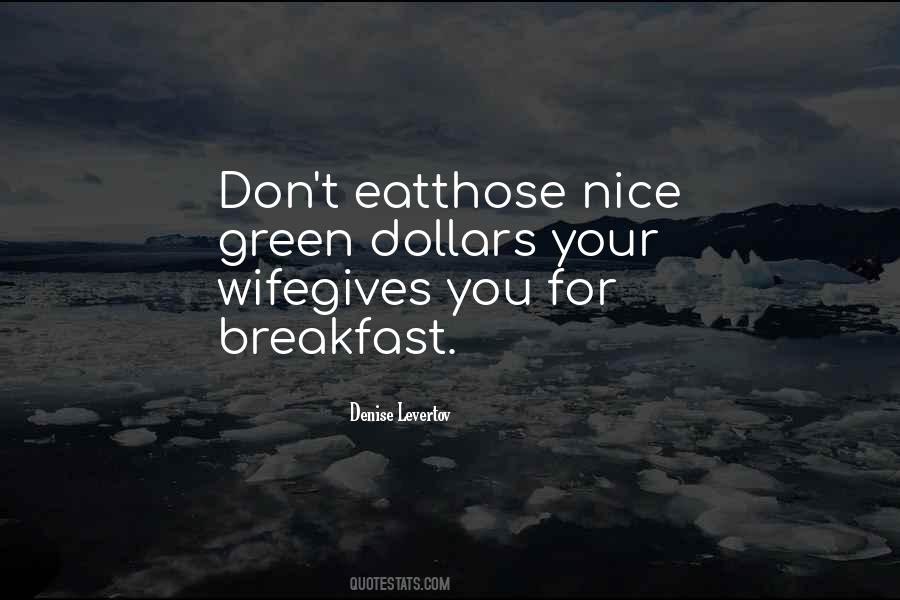 #26. When the green hills are covered with talking wires and the wolves no longer sing, what good will the money you paid for our land be then - Author: Chief Seattle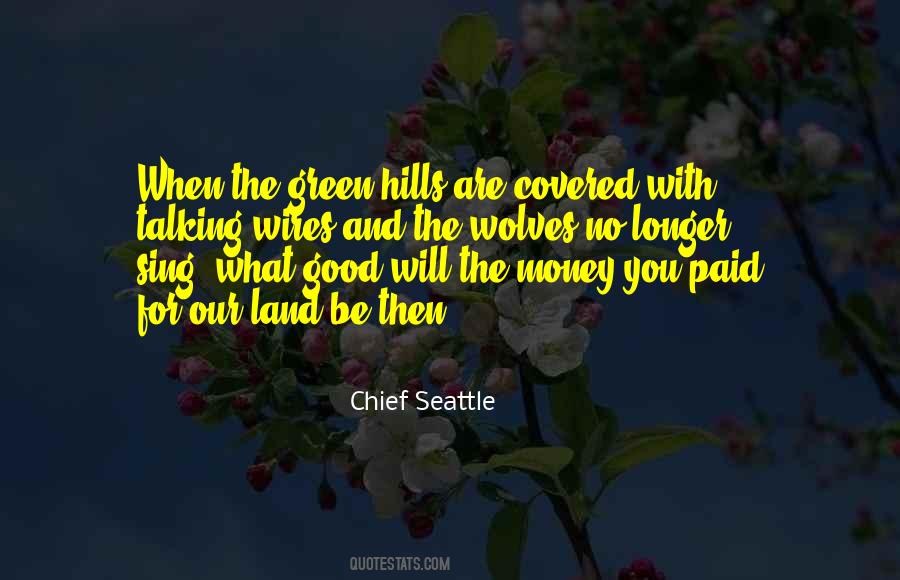 #27. Lack of time and money create really bad green practices. - Author: Ian Somerhalder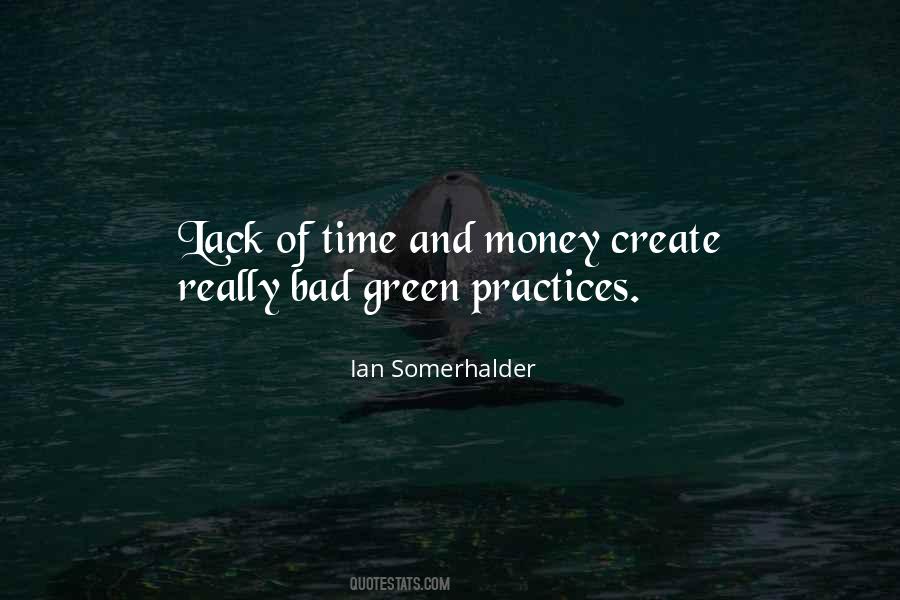 #28. Send me money, send me green, and Heaven you will meet. Make your contribution and you'll get a better seat. - Author: James Hetfield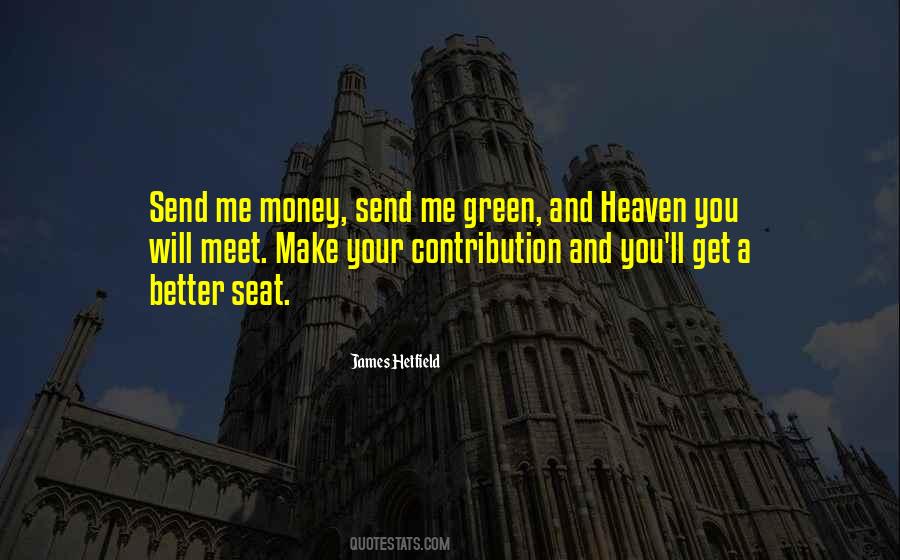 #29. The execs don't care what color you are. They care about how much money you make. Hollywood is not really black or white. It's green. - Author: Will Smith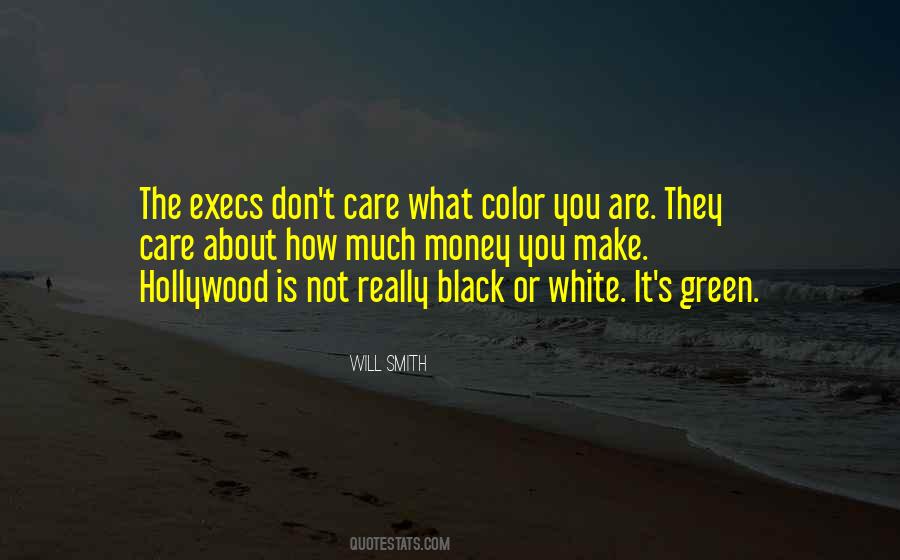 #30. Barack Obama has raised tons of money. That is what he means by being green. - Author: Evan Sayet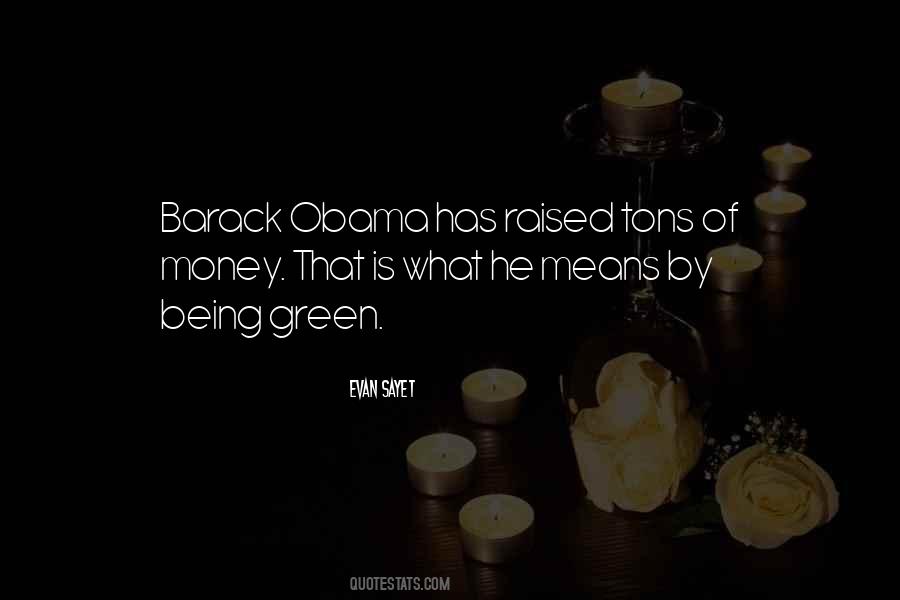 #31. Do not worry too much about your lawn. You will soon find if you haven't already that almost every adult American devotes tremendous time and money to the maintenance of an invasive plant species called turf grass that we can't eat. I encourage you to choose better obsessions. - Author: John Green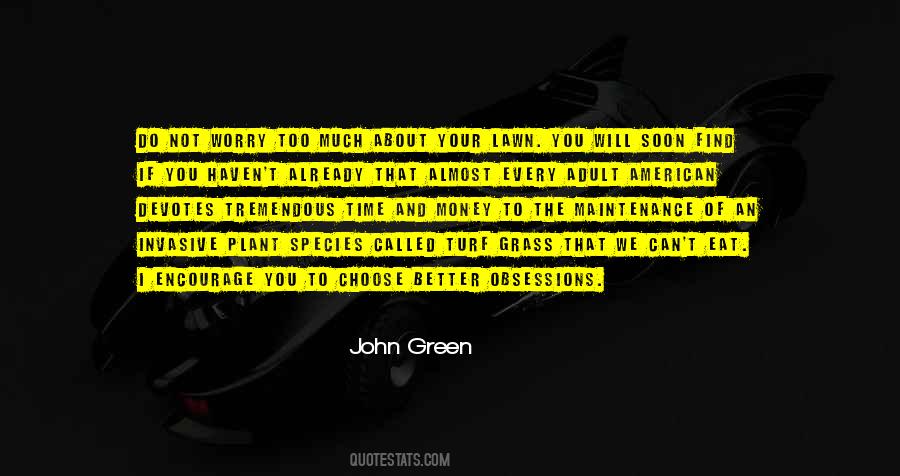 #32. You make a pact with life and death: so many years as a king, and then...Say what you will, dirty money spends as green as clean. - Author: Arturo Perez-Reverte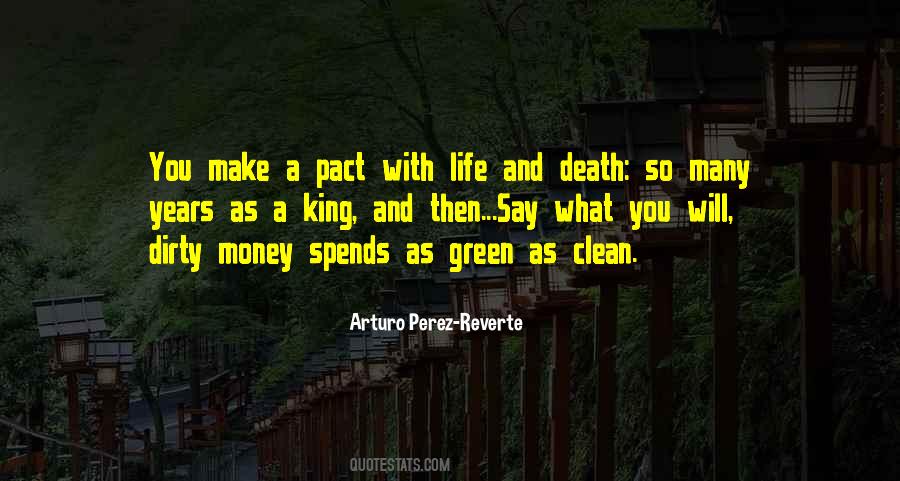 #33. The first duty of man is to support himself - to see to it that he does not become a burden. His next duty is to help others if he has a surplus, and if he really believes they deserve to be helped. - Author: Robert Green Ingersoll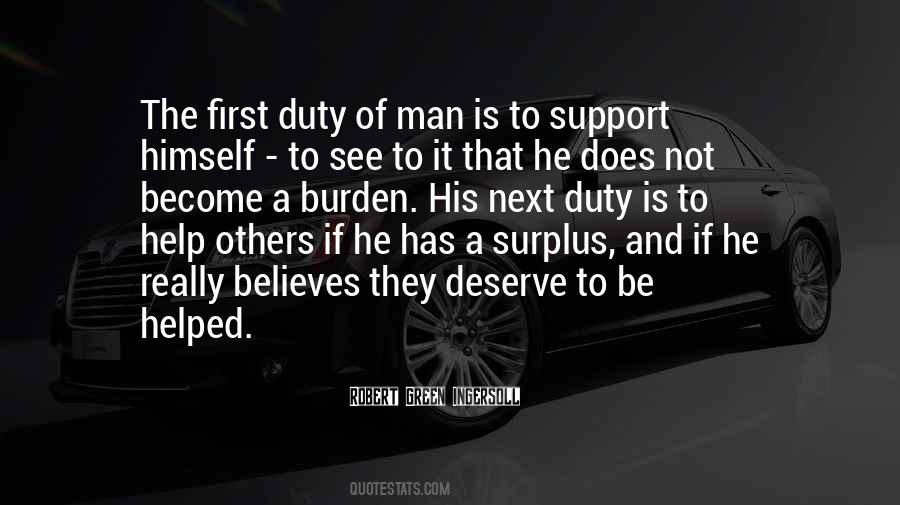 #34. Man is smart - If money would have grown on trees, we would have used green leaves as money. - Author: Amit Kalantri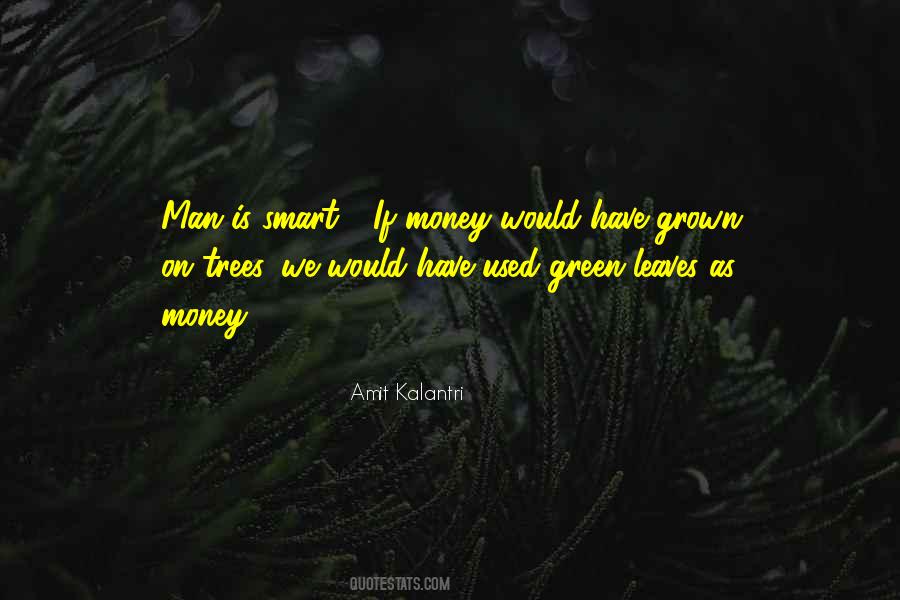 #35. The government, in my judgment, cannot create money; the government can give its note, like an individual, and the prospect of its being paid determines its value. - Author: Robert Green Ingersoll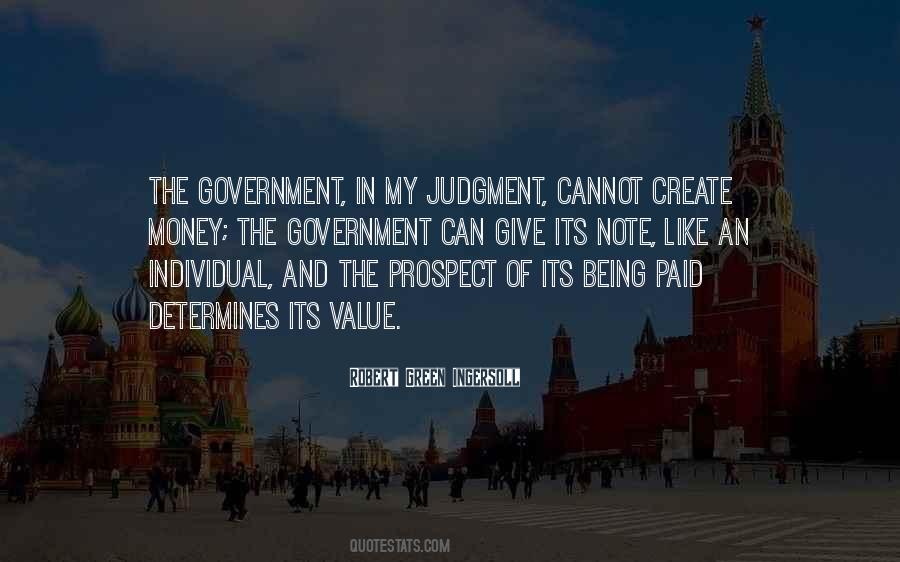 #36. I would rather be a beggar and spend my money like a king, than be a king and spend money like a beggar. - Author: Robert Green Ingersoll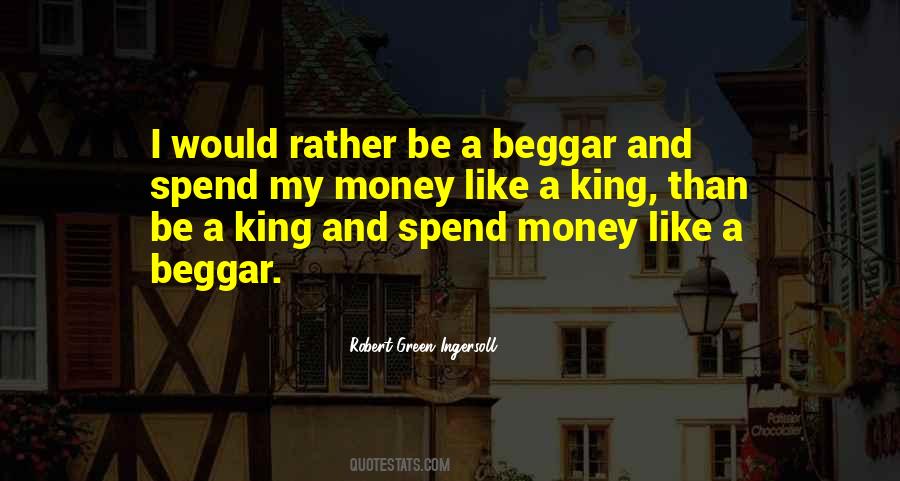 #37. I just suddenly thought, people really get off on being scared. They pay money to see green foam come out of people's mouths. - Author: Ozzy Osbourne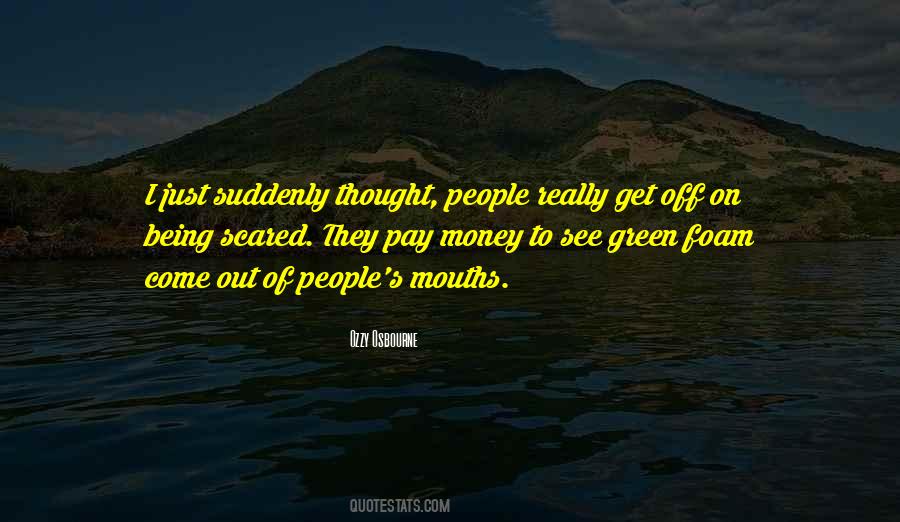 #38. I think it's crazy, crazy that book tours lose so much money. They shouldn't. Book tours should be part of what keeps independent bookstores vibrant and profitable. - Author: John Green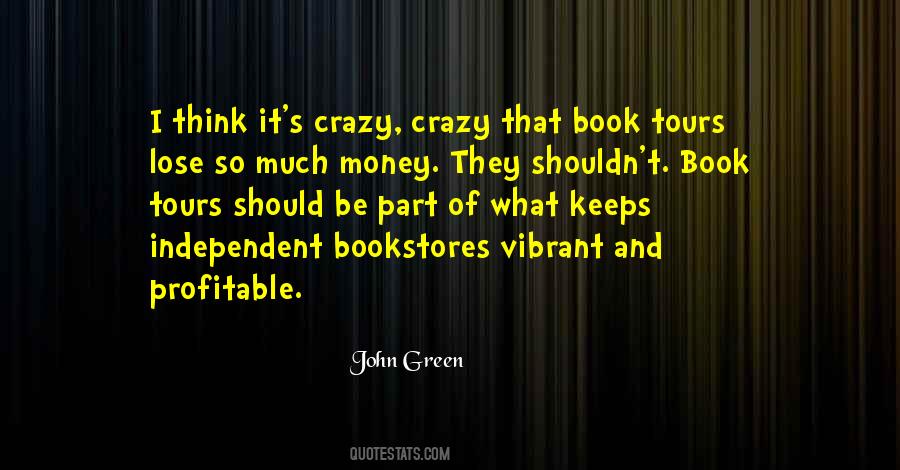 #39. Taking a risk is always frightening, but I gave myself a set period of time and had enough money to see me through. I operated from the belief that things would be okay, that if I wasn't successful I would find myself a job, but either way, I would be fine. - Author: Jane Green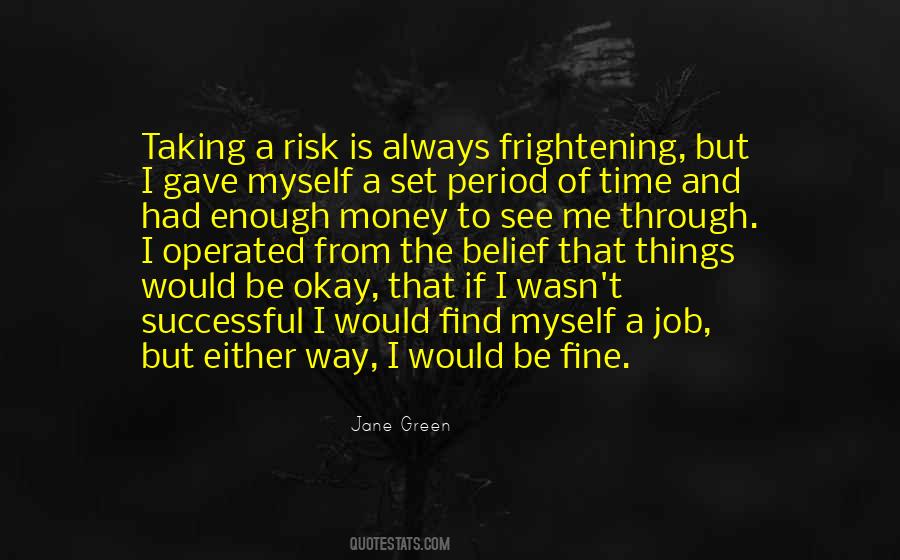 #40. I advise women to invest in real estate. It is the collateral to be preferred above all others, and the safest means of investing money. - Author: Hetty Green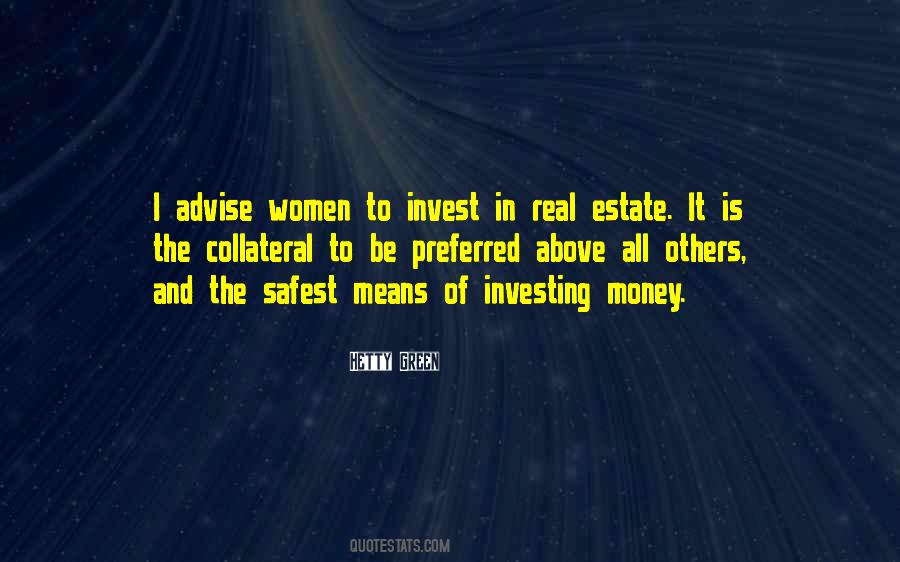 #41. There is nothing earthly that lasts so well, as money. A man's learning dies with him, as does his virtues fade out of remembrance, but the dividends on the stocks he bequeaths to his children live and keep his memory green. - Author: Oliver Wendell Holmes Jr.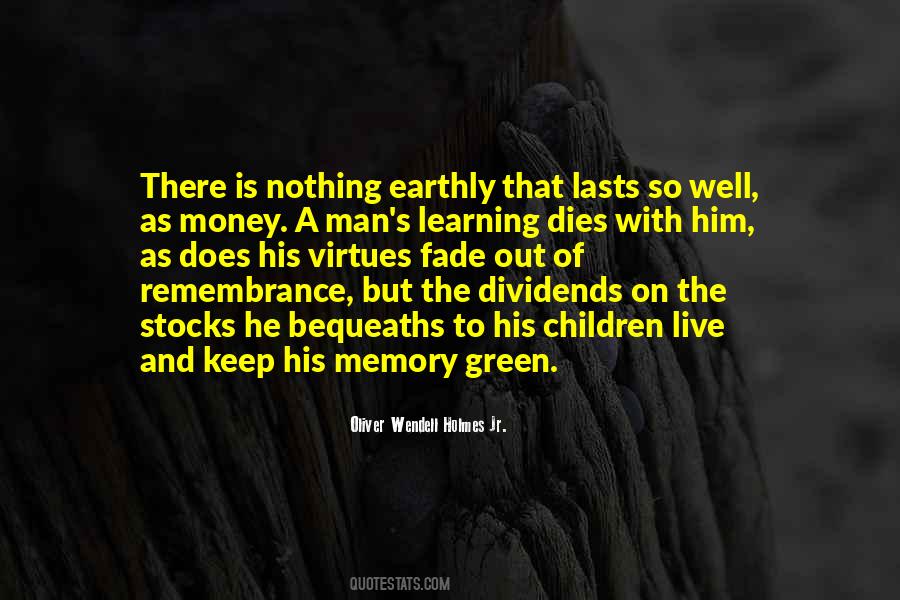 #42. Focus on people more than money. Without employees and customers, you're going nowhere. Make sure you never stop thinking about the customer's perspective. And make sure you have the right people at the helm of each area. - Author: David Green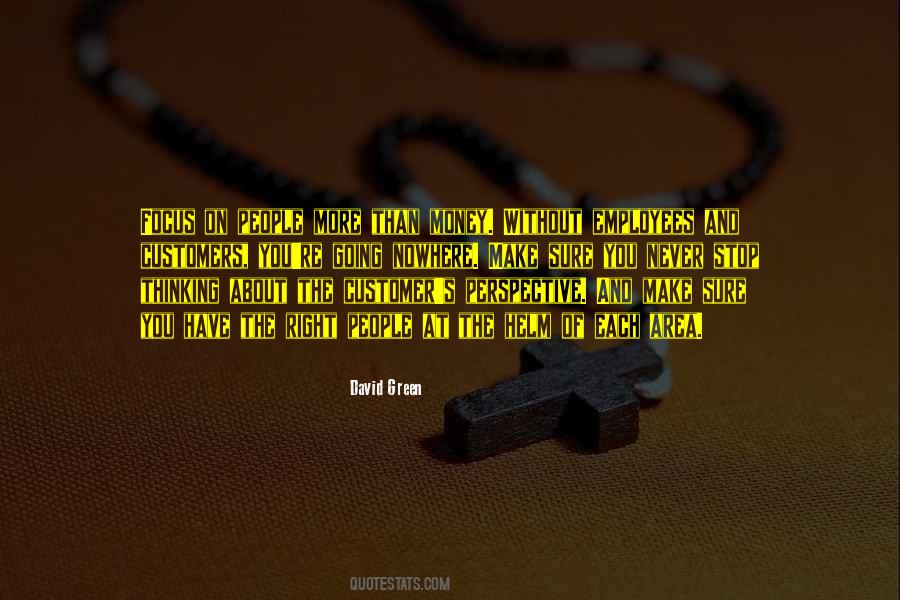 #43. Green is my favorite. And it's my favorite because it's the color of my wife's eyes, grass, trees, life, and money, and mother earth! - Author: Casper Van Dien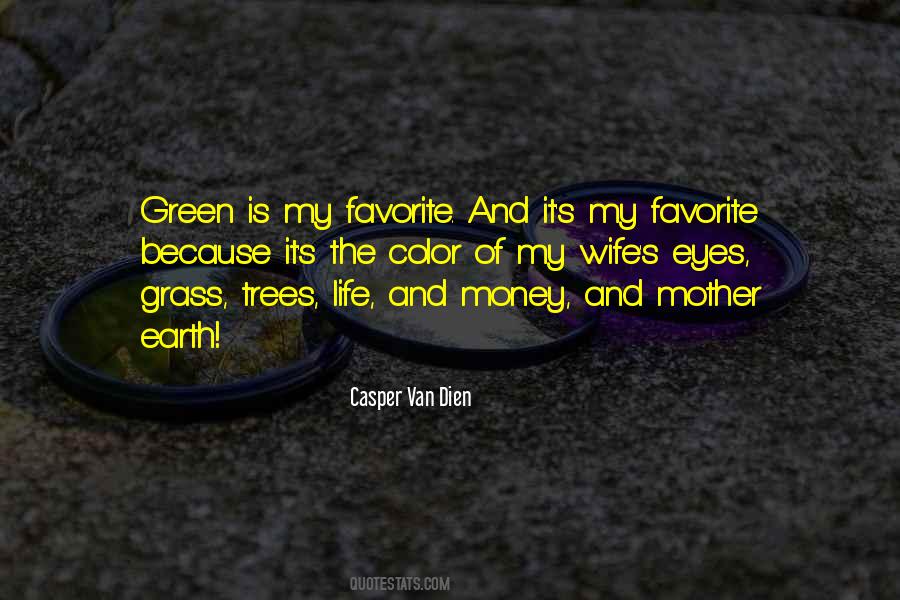 #44. My father was a Presbyterian minister, working among the poor in West Virginia. He had taken what amounted to a vow of poverty when he accepted that call and so we never had much money. - Author: James Green Somerville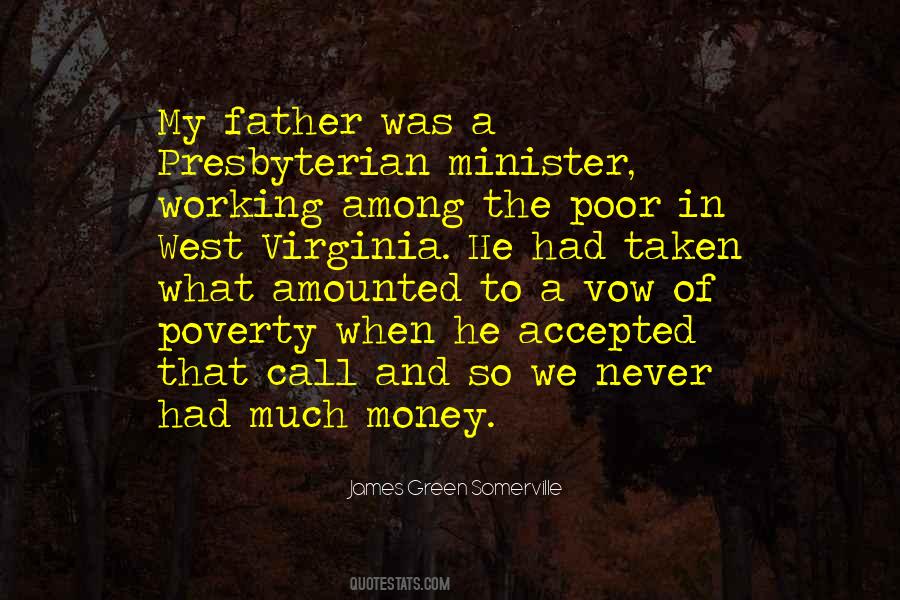 #45. I really admire Airbnb as a pioneer of the sharing economy and for building community. They've found an elegant way to help hosts make more money and for guests to have authentic experiences. It brings those people together in a unique way. - Author: Logan Green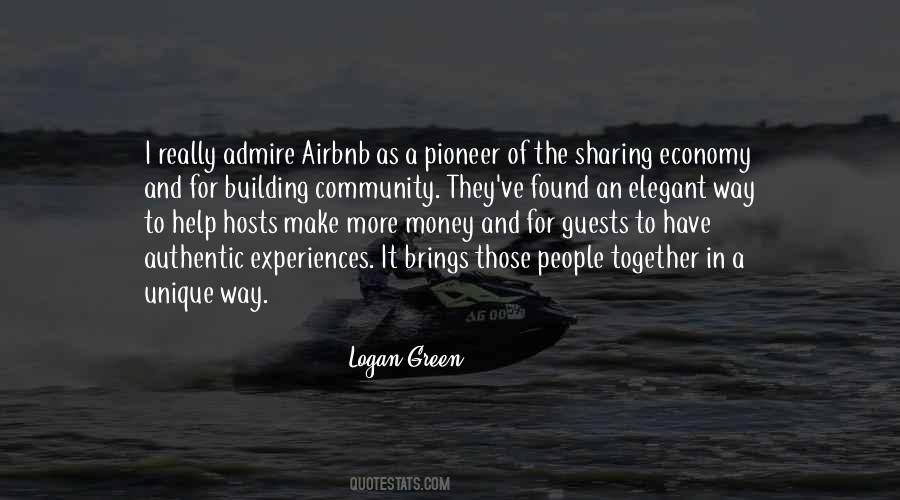 #46. If you couldn't catch up with me before the fame and fortune when you had owed me money and/or took up time with me, why on God's green earth should I take up any more time with you to borrow more money and not see you again until its time to borrow some more. - Author: Cleon T. Day III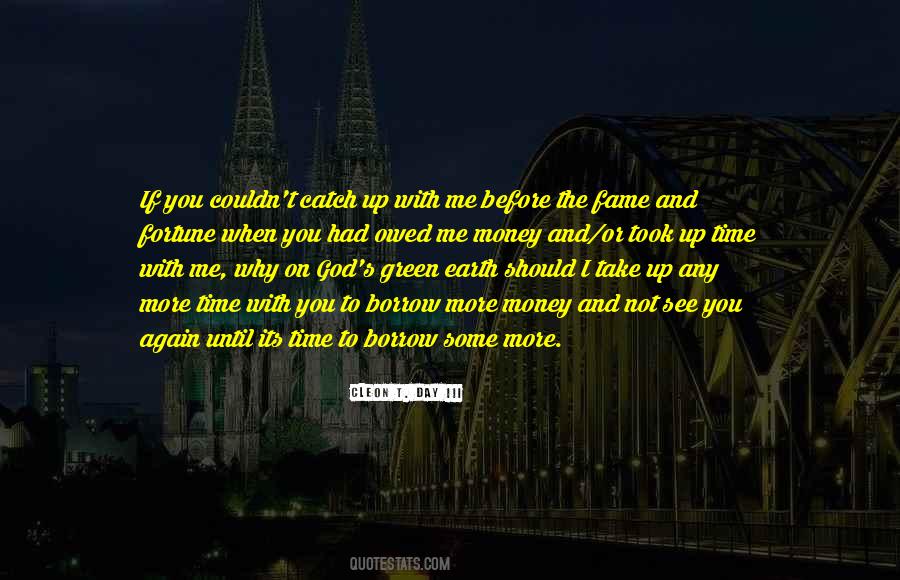 #47. People in America worship money, and a white man's face on a green piece of paper does not make me wealthy. My health makes me wealthy. I used to work at a hospital, so I know the real deal. - Author: Paul Mooney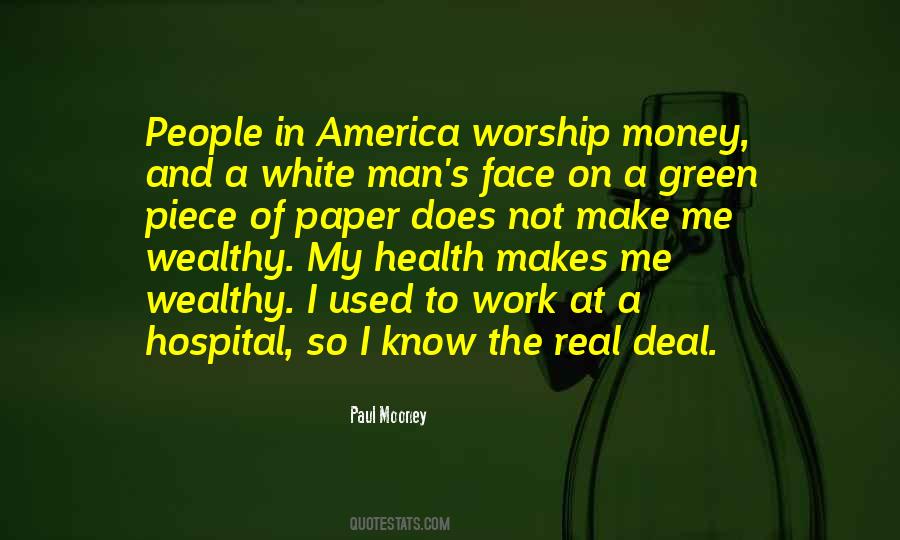 #48. Prosperity Gospel". At his United Church Science of Living Institute in New York he would tell his congregation "close your eyes and see green. Money up to your armpits, a roomful of money and there you are, just tossing around in it like a swimming pool. - Author: Reverend Ike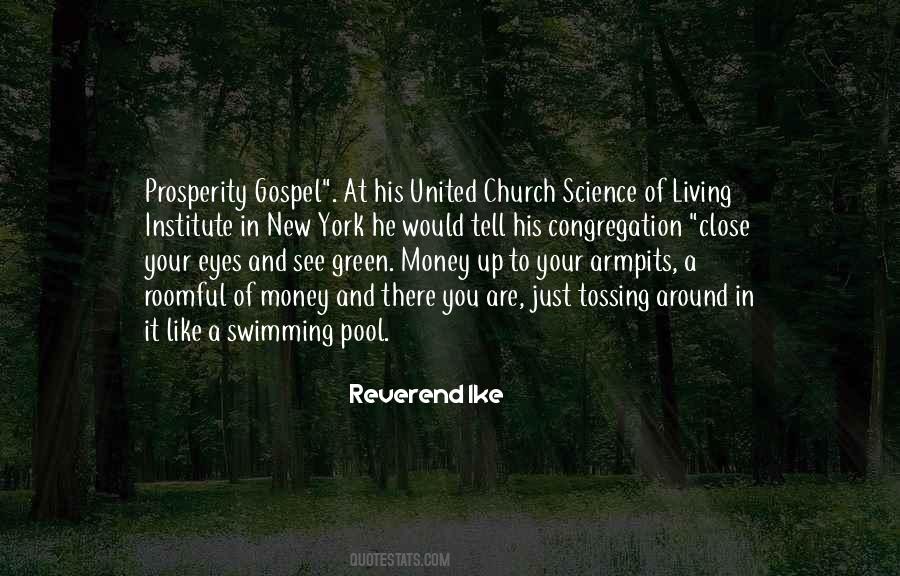 #49. I could have closed down bits of British Home Stores to make more money but it's not my style. I want to make my money as a retailer, not by putting people out of work. - Author: Philip Green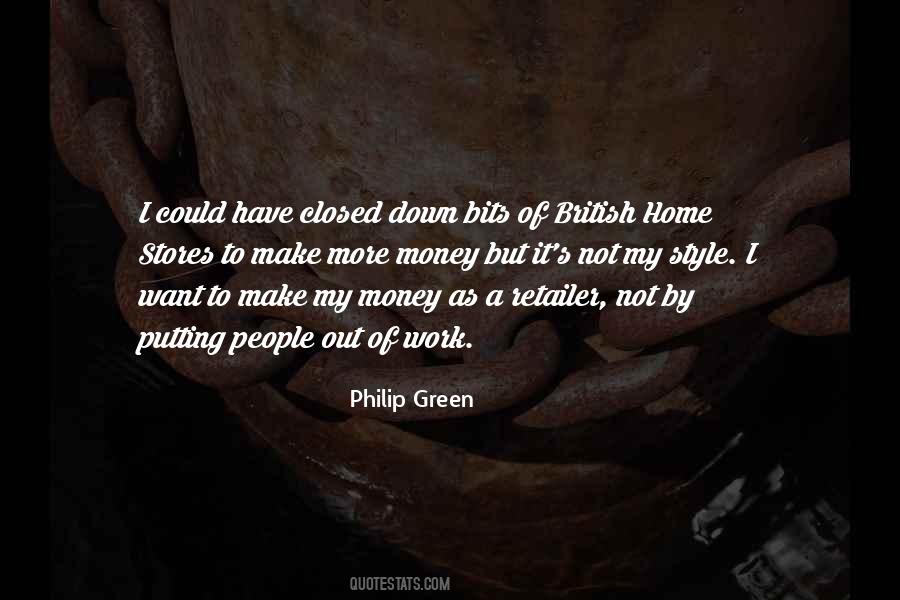 #50. If the government can make money, what on earth does it collect taxes for you and me for? Why don't it make what money it wants, take the taxes out, and give the balance to us? - Author: Robert Green Ingersoll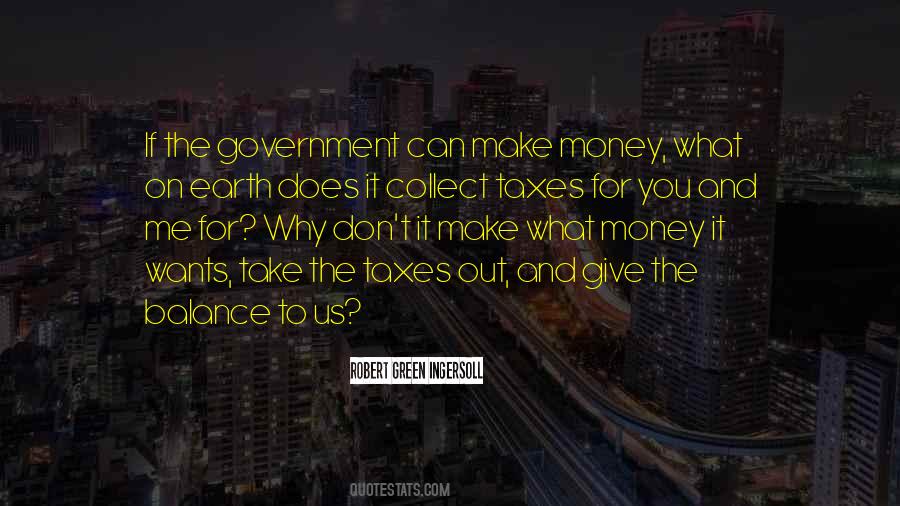 #51. Why is it that so many people start to value money so much that they trade in most of the hours and years of their life in order to get it? - Author: Andy Couturier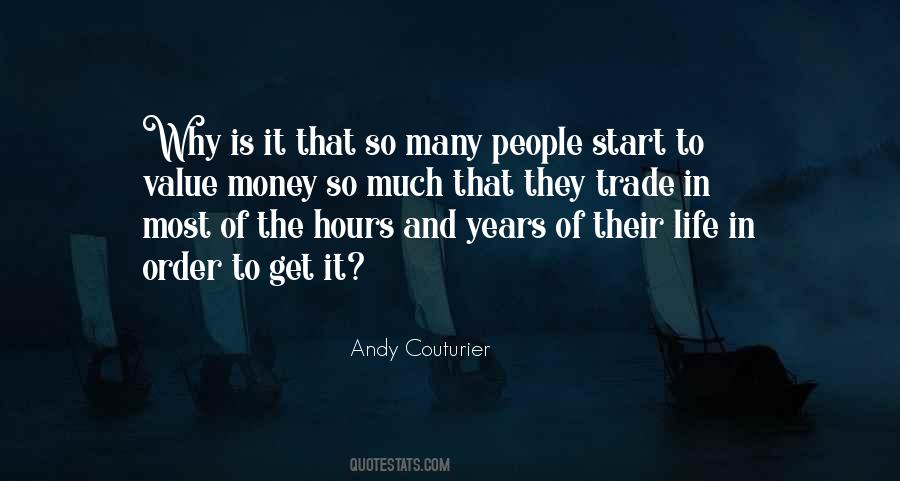 #52. Commerce is the new green. Spend your money where your beliefs are. - Author: S. Kelley Harrell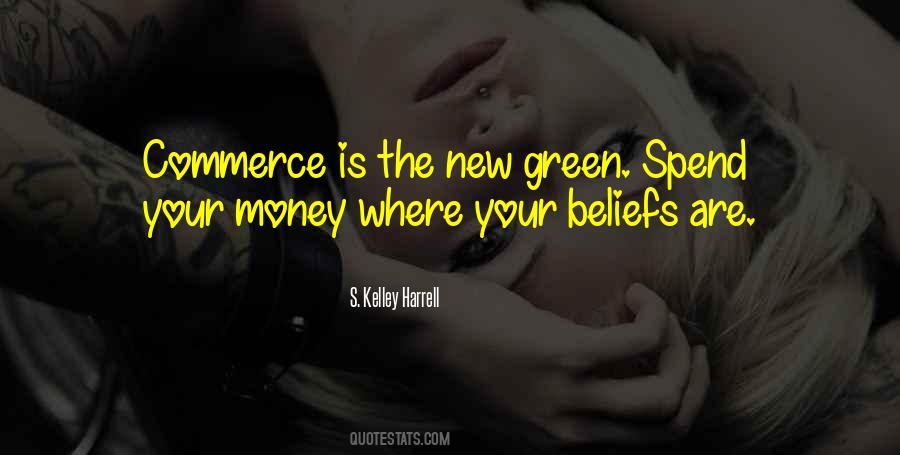 #53. Abligurition: an actual, if very obscure, English word, which means the spending of too much money on food. - Author: John Green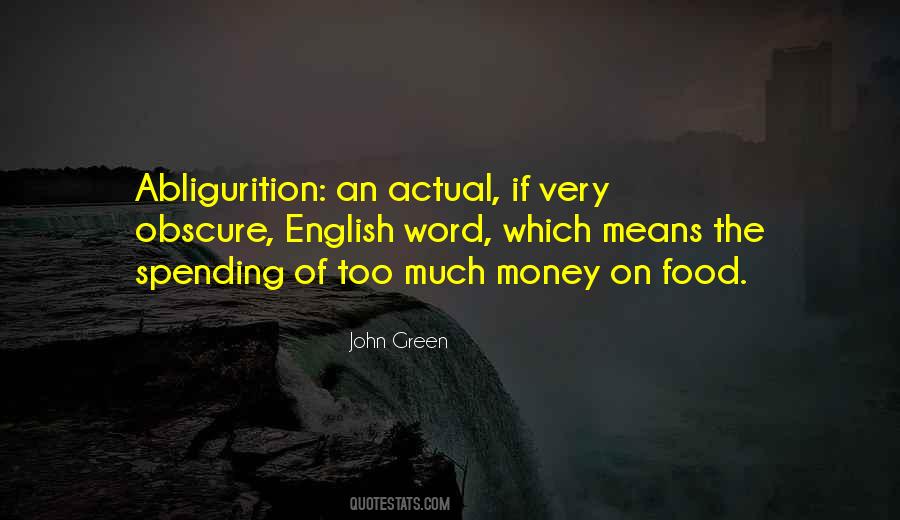 #54. Mike, we are a green energy company, but the green stands for money. - Author: Jeffrey Skilling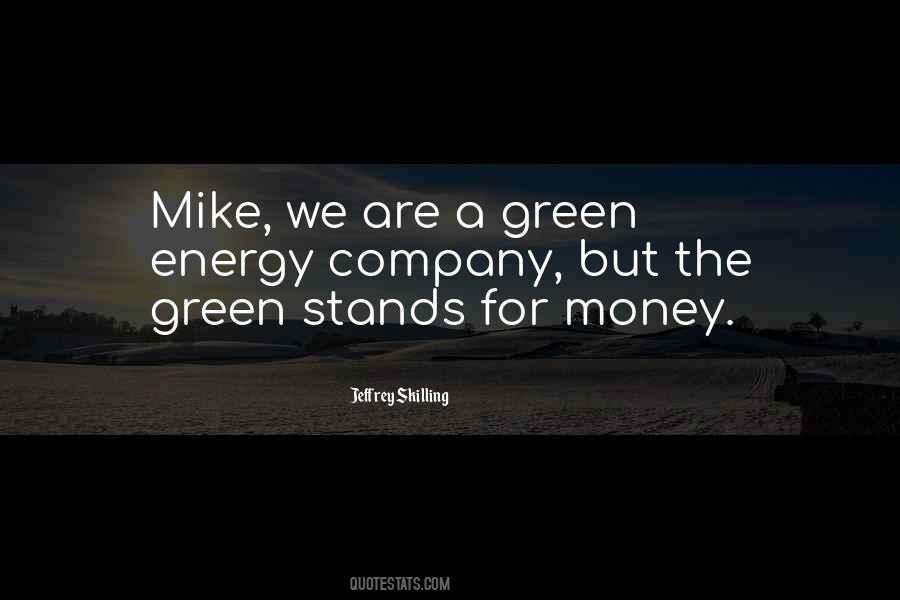 #55. I was never specifically associated with a part, I didn't have tons of money, I wasn't conventionally tall or handsome, so you know the things that were available to me were hard work and perseverance. - Author: Seth Green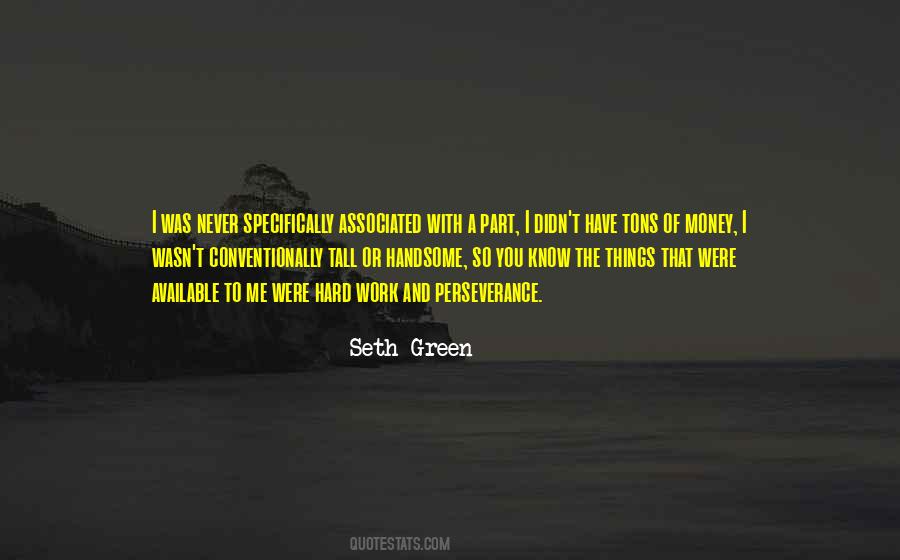 #56. Don't get the idea that I've turned green. My business is making money, and I think this is going to make a lot of money. - Author: T. Boone Pickens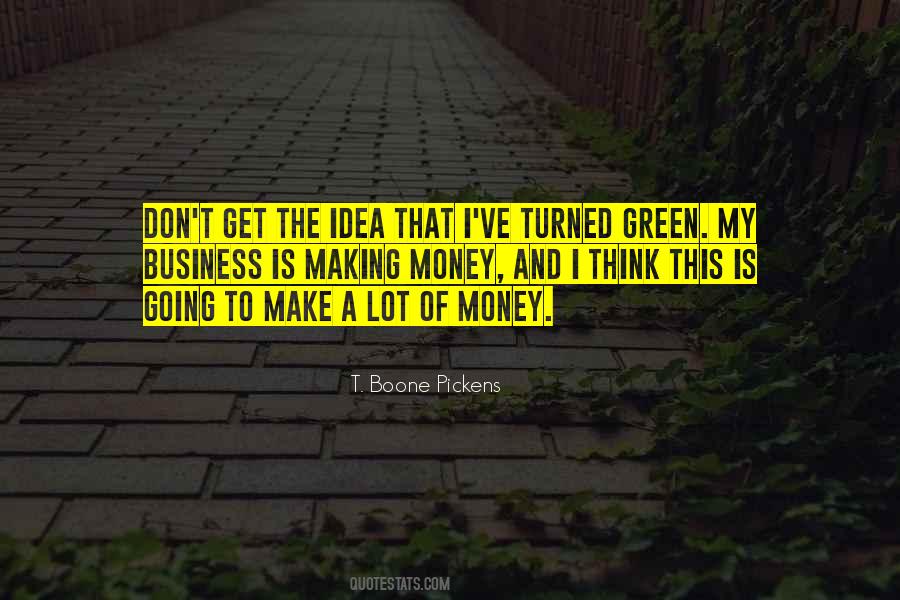 #57. If I can raise more money for charities, or get more Canadian kids to play golf, the green jacket will mean even more. - Author: Mike Weir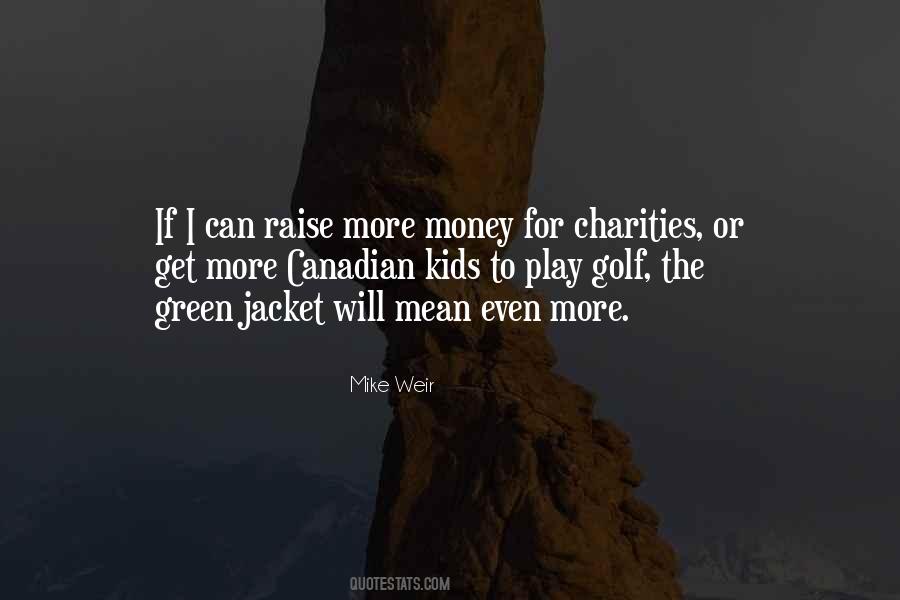 #58. It's how we spend ourselves - not our money - that makes us rich. - Author: Alex Green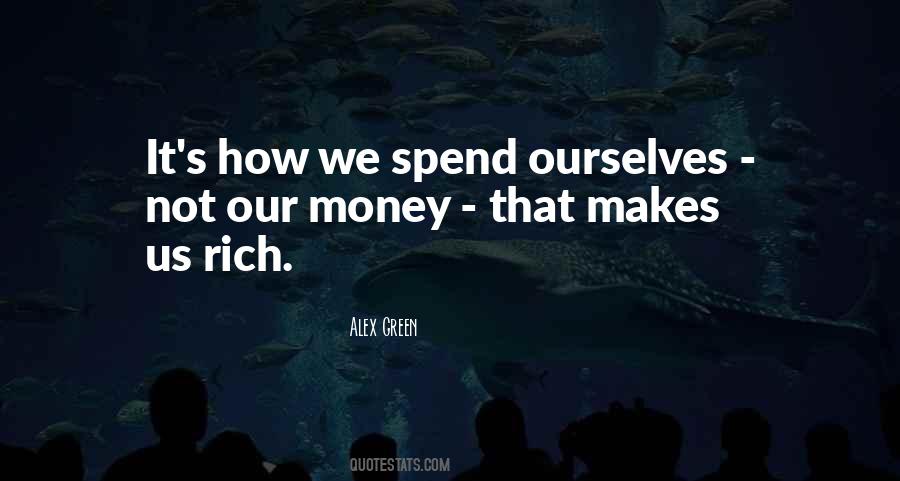 #59. I have a bunch of movies that are, like, two minutes from being green-lit, or that they've maybe even told me are green-lit. But I never believe it until I see the money. - Author: Catherine Hardwicke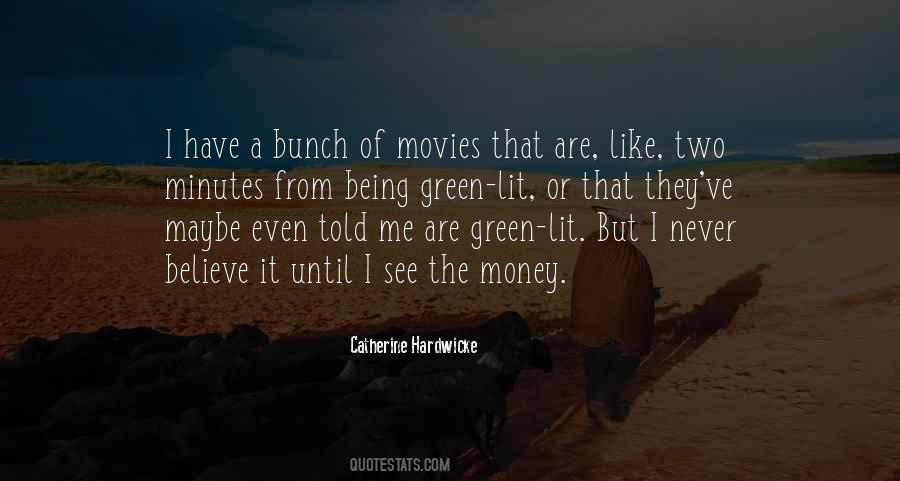 #60. I owe everything to golf. Where else could a guy with an IQ like mine make this much money? - Author: Hubert Green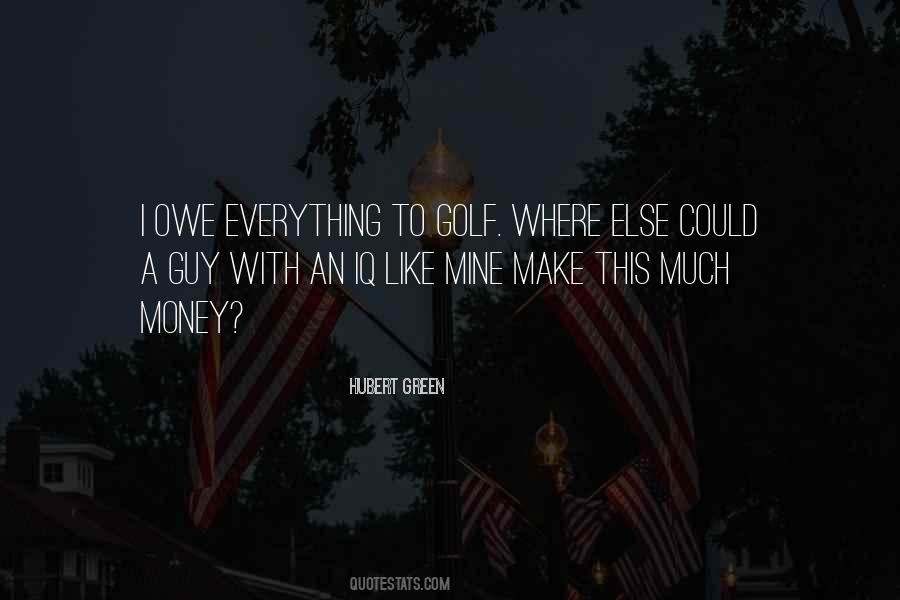 #61. Wait a minute," he says, holding up one of his large handa. "A green bomb?"
"I'm not making this up."
"Why green, though?"
"Because green is the color of money, grass, oak leaves, and alien bombs. How the hell would I know why it was green? - Author: Rick Yancey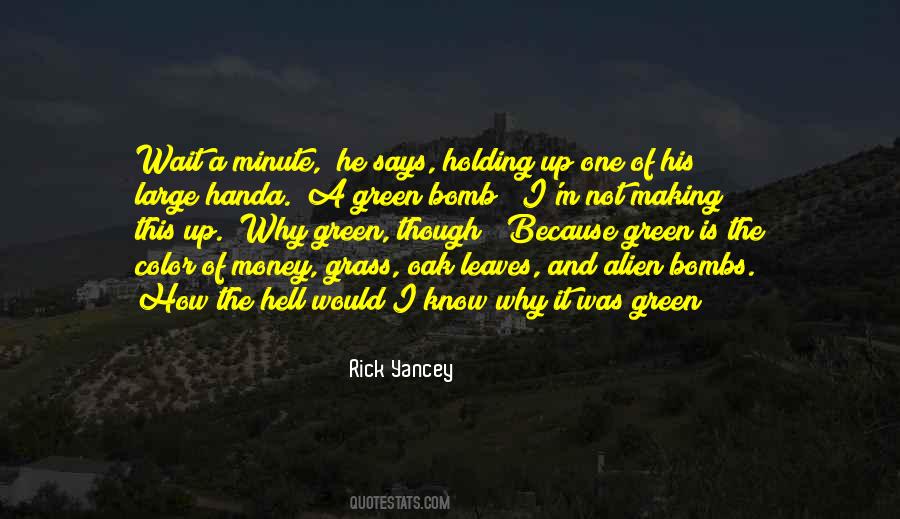 #62. The charms of money are distinctly under-represented in literature. There are no songs or poems extolling its virtues. This seems on the face of it strange. The claims of money to be celebrated in verse might well seem to be no less than those of faithful dogs, beautiful women, or jugs of wine. - Author: Celia Green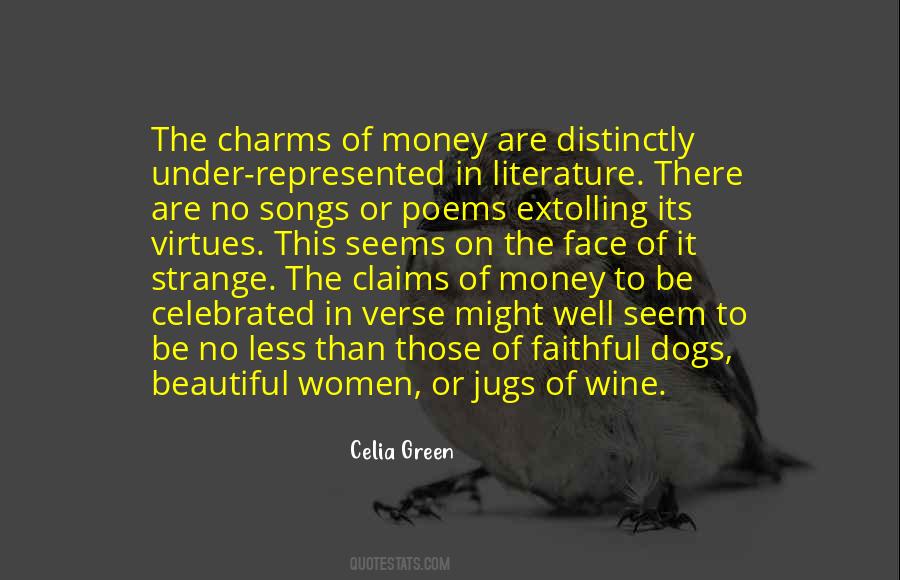 #63. Don't get the green disease of envy. Don't be fooled by success and money. Don't let anything come between you and your work. - Author: Louise Bourgeois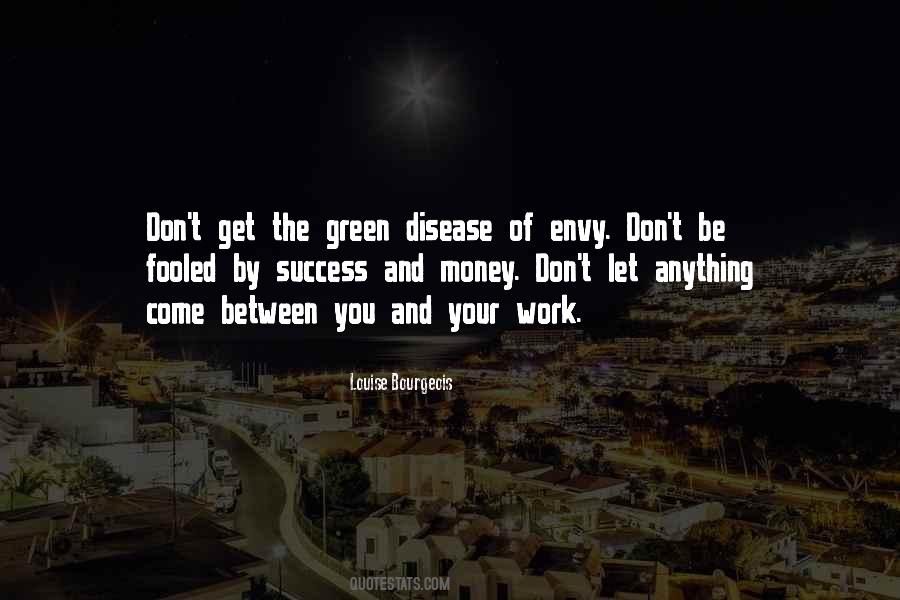 Famous Authors
Popular Topics