God's Care For Us Famous Quotes & Sayings
List of top 46 famous quotes and sayings about god's care for us to read and share with friends on your Facebook, Twitter, blogs.
Top 46 Quotes About God's Care For Us
#1. Prayers born out of murmuring are always dangerous. When, therefore, we are in a discontented mood, let'us take care what we cry for, lest God give it to us, and thereby punish us. - Author: William Mackergo Taylor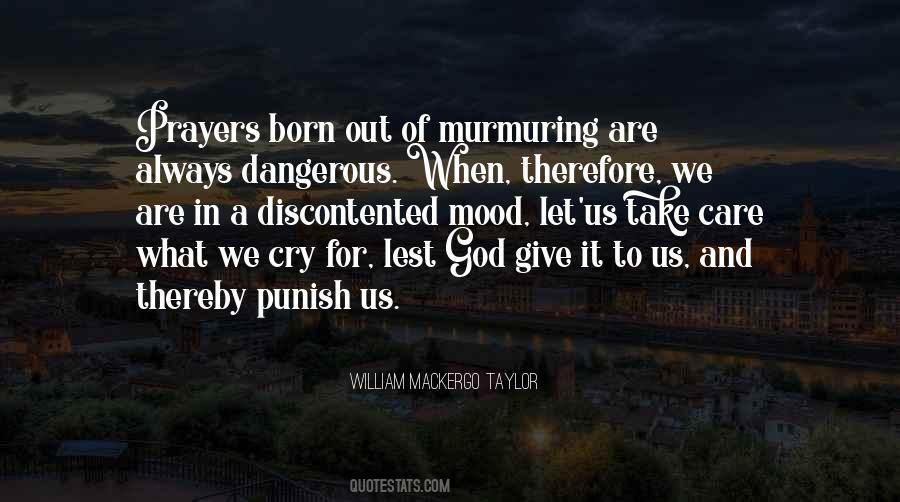 #2. When God wants to punish us, he gives us just ourselves to care for. - Author: Jonathan Odell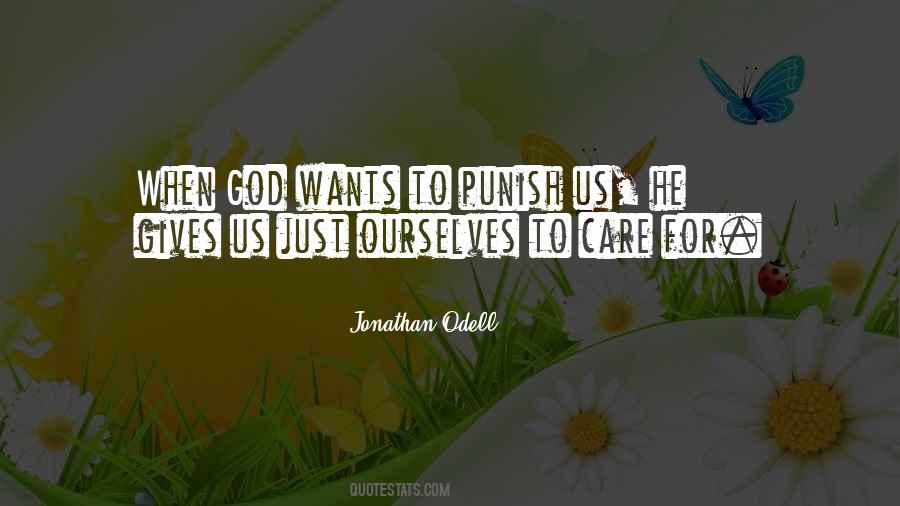 #3. He has spent his life best who has enjoyed it most. God will take care that we do not enjoy it any more than is good for us. - Author: Samuel Butler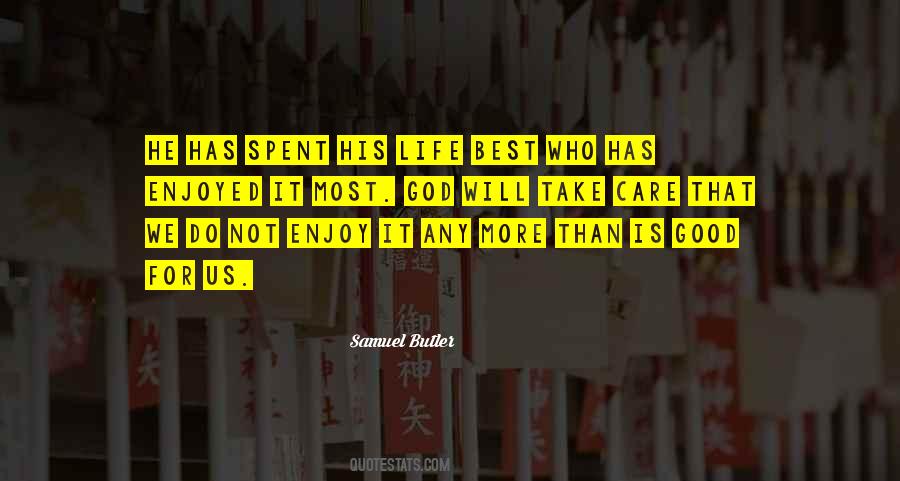 #4. This is a deeply spiritual issue ... Do we want to spend more time trying to care for our fellow man or do we want to just pursue more virtual reality? That's the issue before us.. and it's being played out in the world of the environment. - Author: Ed Begley Jr.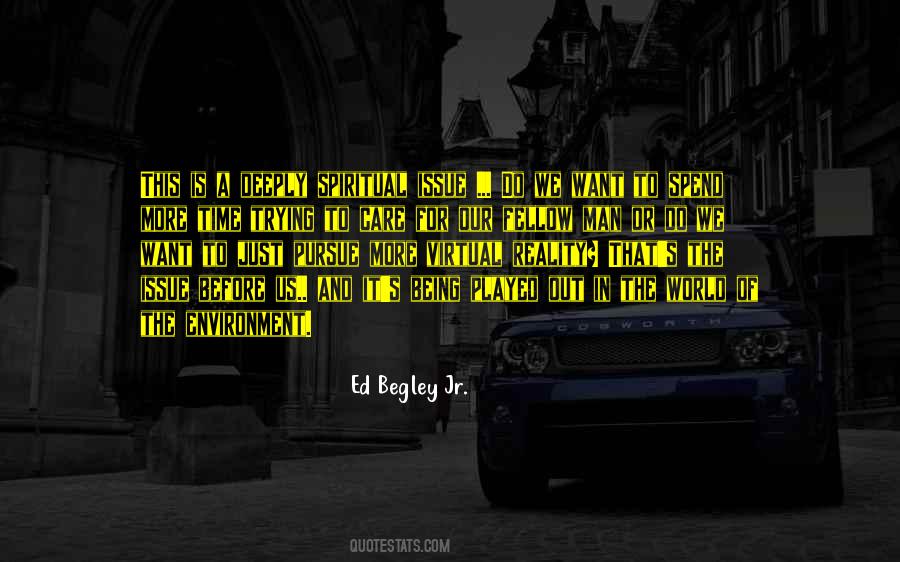 #5. Existence was given us for action, rather than indolent and aimless contemplation; our worth is determined by the good deeds we do, rather than by the fine emotions we feel. They greatly mistake who suppose that God cares for no other pursuit than devotion. - Author: Elias Lyman Magoon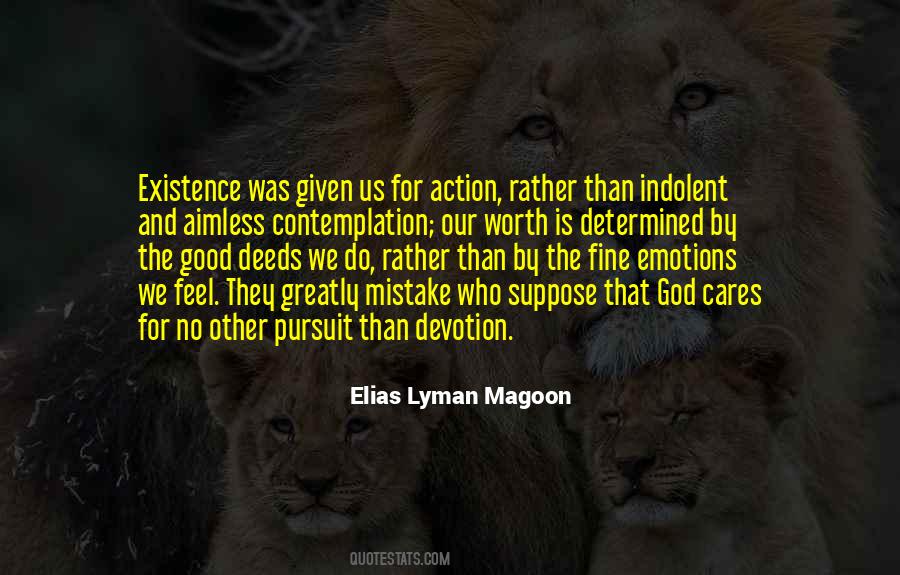 #6. I just have to believe that with love for our natural heritage and a firm resolve to preserve it with wisdom and care, we can and will give the American land to our children, not impaired, but enhanced. And in doing this, we'll honor the great and loving God who gave us this land in the first place. - Author: Ronald Reagan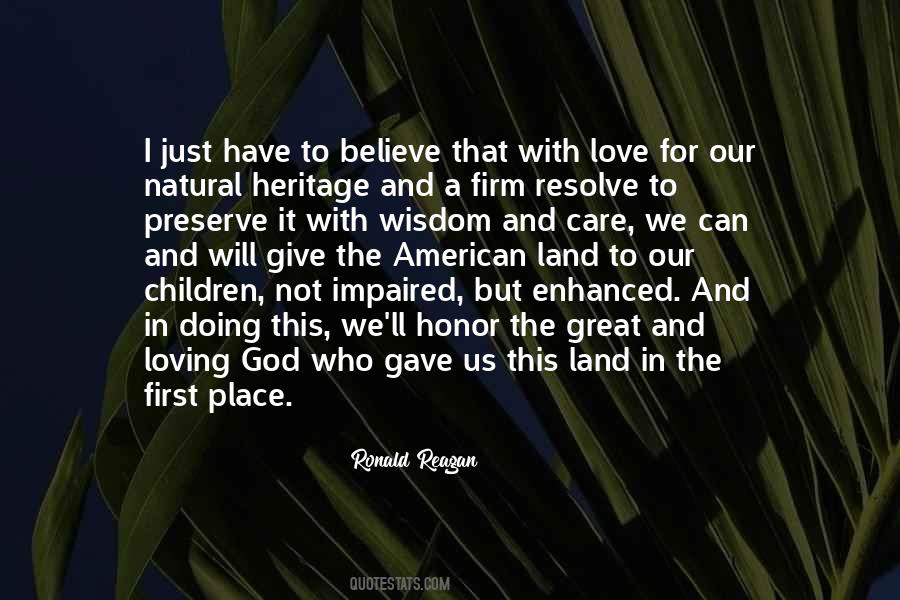 #7. A prison wall was round us both, Two outcast men we were: The world had thrust us from its heart, And God from out His care: And the iron gin that waits for Sin Had caught us in its snare. - Author: Oscar Wilde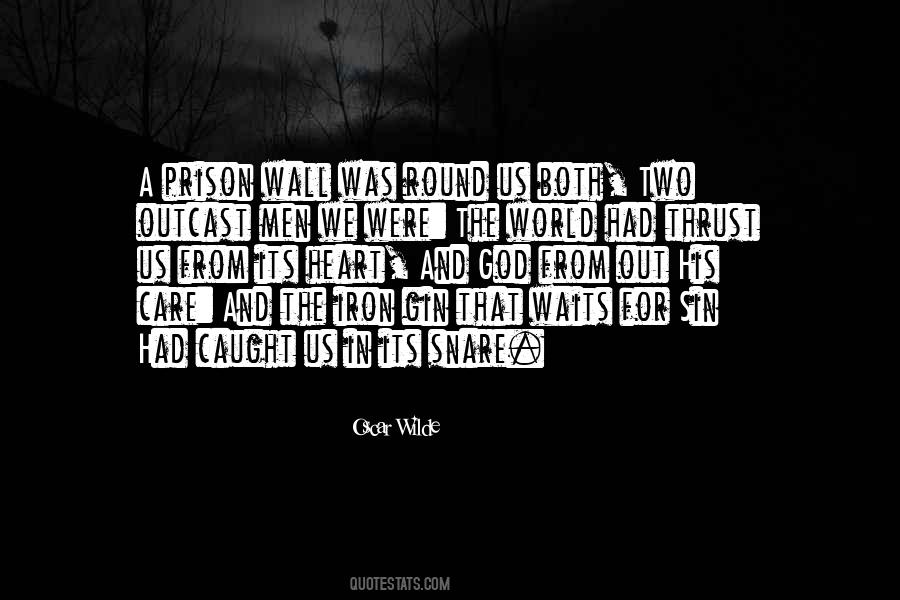 #8. Have times really changed? Don't we today, as always, love our children and want them to live righteously? Don't we today, as always, need God's divine protecting care? Don't we today, as always, continue to be at his mercy and in his debt for the very life he has given us? - Author: Thomas S. Monson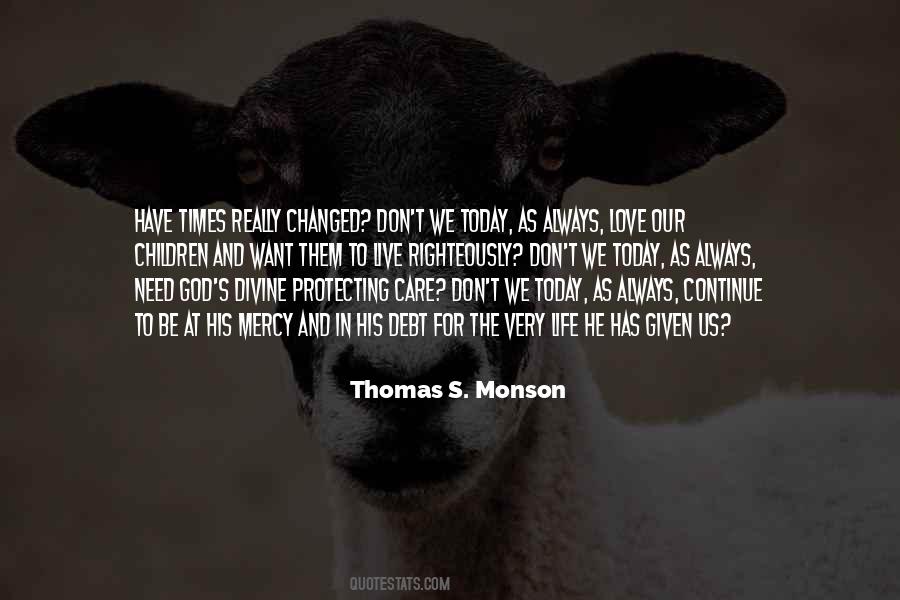 #9. God's care for us is more watchful and more tender than the care of any human father could possibly be. - Author: Hannah Whitall Smith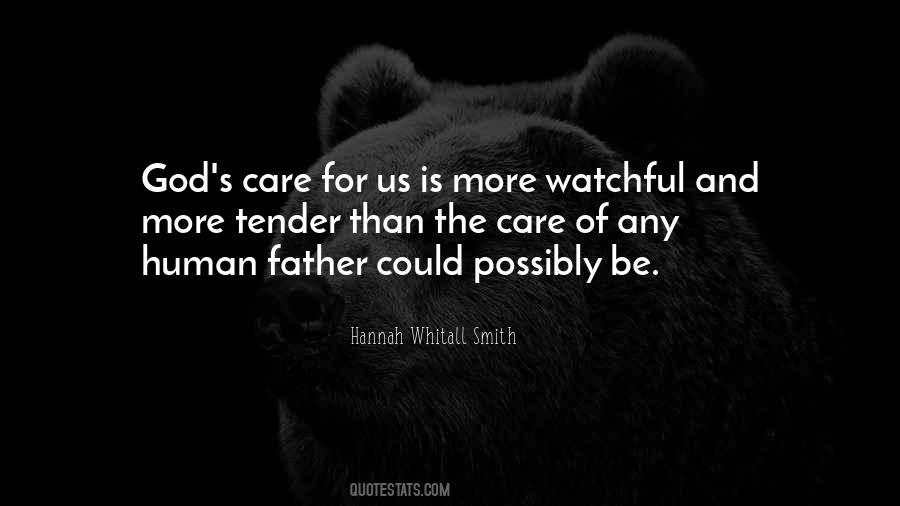 #10. You could have that sort of life if you ask God for it. If you give your life to God, He will provide for you in marvelous ways. He promises us that. If He takes care of the sparrows, how much more will He take care of us? - Author: Matthew Quick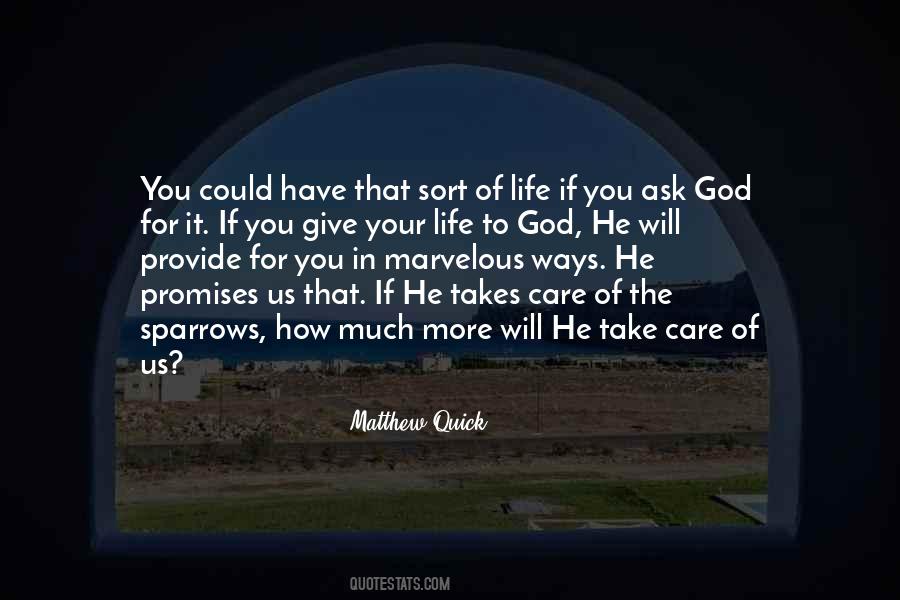 #11. We must admit that God owes us nothing. Before we charge God with not caring, we must thank Him for those times when His care is very evident. We are ever surrounded by undeserved blessings. Even in His silence, He blesses us.[8] - Author: David Jeremiah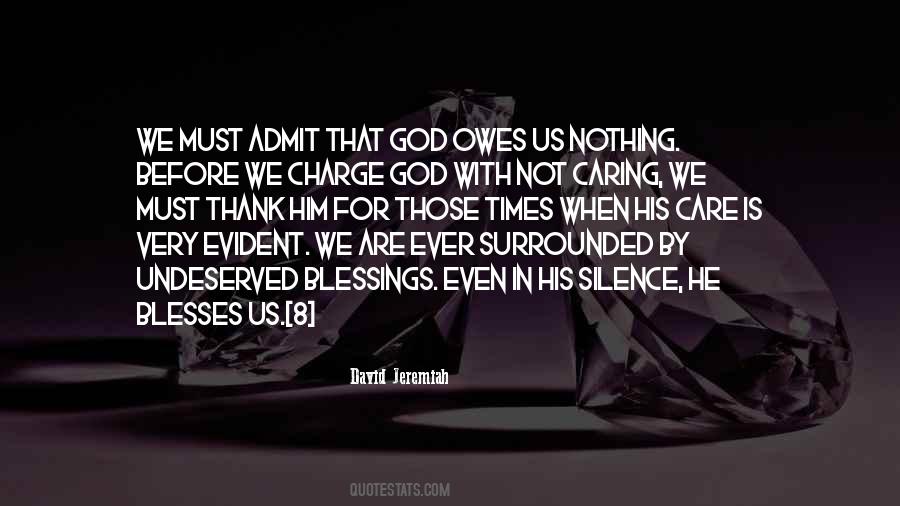 #12. How many of us, myself included, have lost our bearings; we are no longer attentive to the world in which we live; we don't care; we don't protect what God created for everyone, and we end up unable even to care for one another. - Author: Pope Francis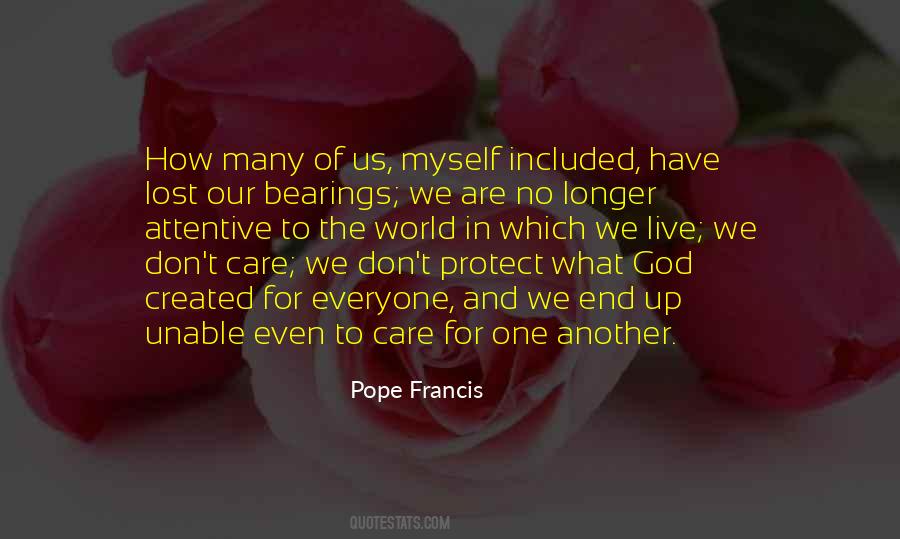 #13. We care so little of other people than even Christianity urges us to do good for the love of God . - Author: Cesare Pavese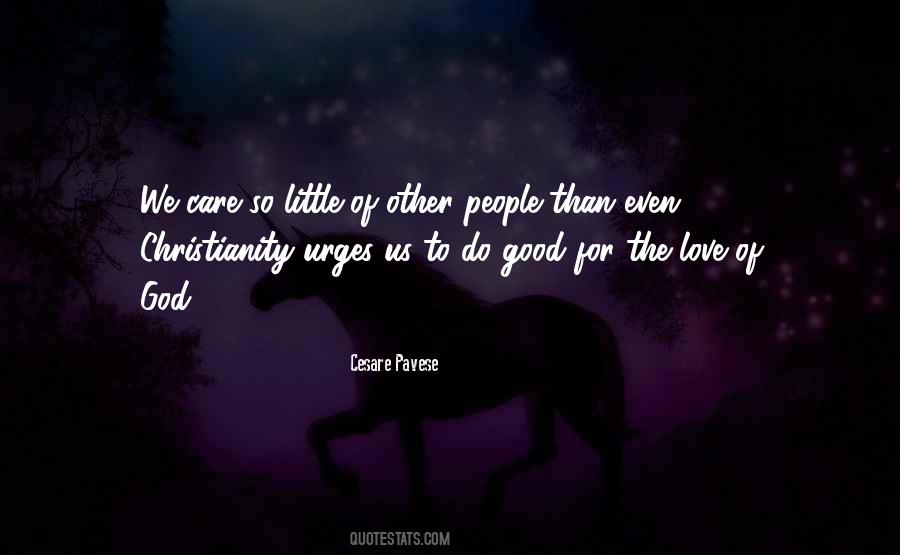 #14. That's just pain she said. It goes eventually. And when it's gone, there's no lasting memory. Not the worst of it anyway. It fades. Our minds aren't made to hold on to the particulars of pain the way we do bliss. It's a gift God gives us, a sign of His care for us. - Author: Charles Frazier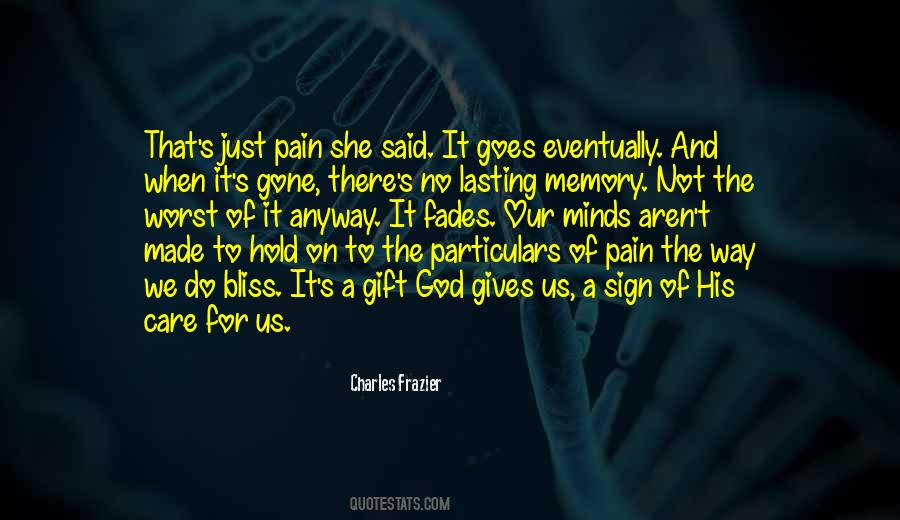 #15. A humble and contrite heart knows that it can merit nothing before God, and that all that is necessary is to be reconciled to one's helplessness and let our holy and almighty God care for us, just as an infant surrenders himself to his mother's care. - Author: Ole Hallesby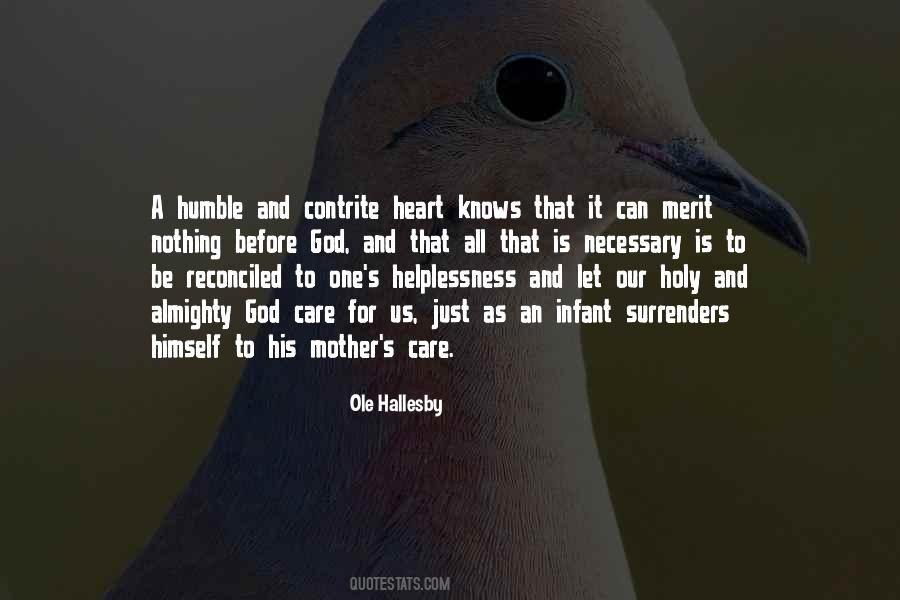 #16. Once you have her in your care, that means the two of us are officially done with our bit for God and country. For this assignment, anyway. It will be all up to you to keep the pretty lady safe," Shorty replied with a grin. "If she isn't the death of you first," the tall one snickered. - Author: A.M. Cosgrove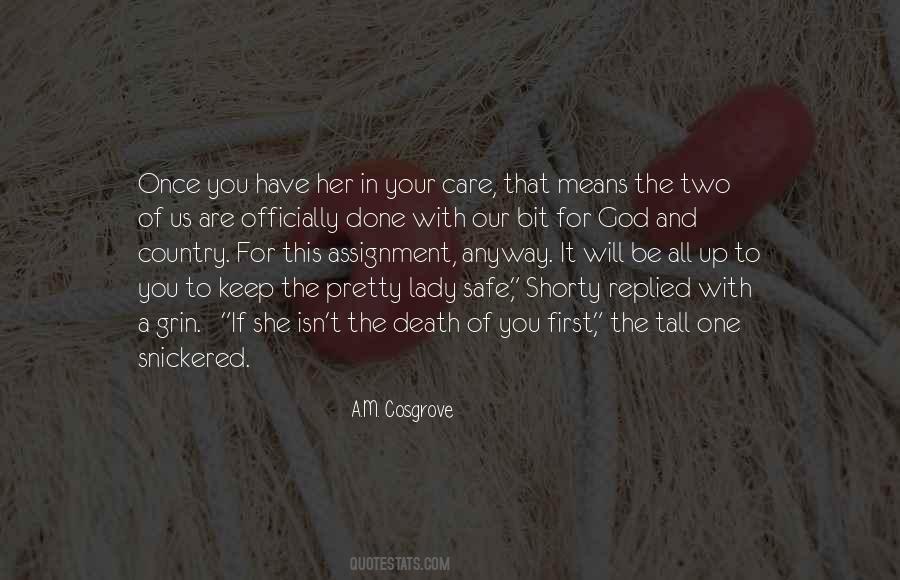 #17. I think one of the sweetest proofs we have of the Father's loving care for us is that we often find in this life the things which gave us great happiness below. - Author: Rebecca Ruter Springer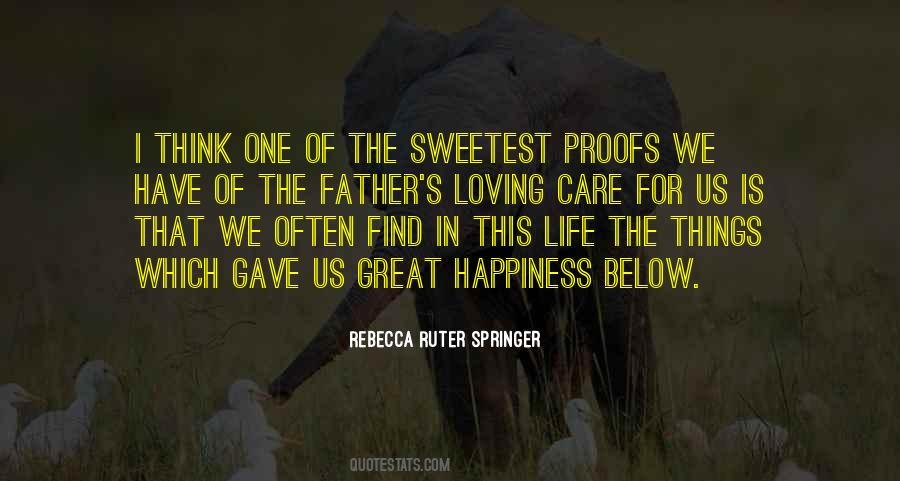 #18. No task is too big or too small for God. He cares for us. He wants the best for us. More importantly He just wants us to include Him in our lives by trusting in Him. - Author: Dan Ellis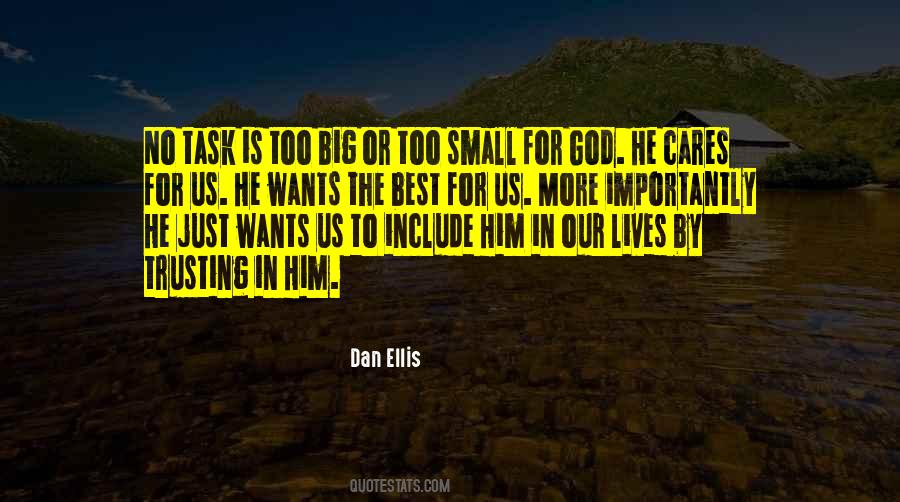 #19. God's care for humanity was so great that he sent his unique Son among us, so that those who count on him might not lead a futile and failing existence, but have the undying life of God Himself. JOHN 3:16 - Author: Dallas Willard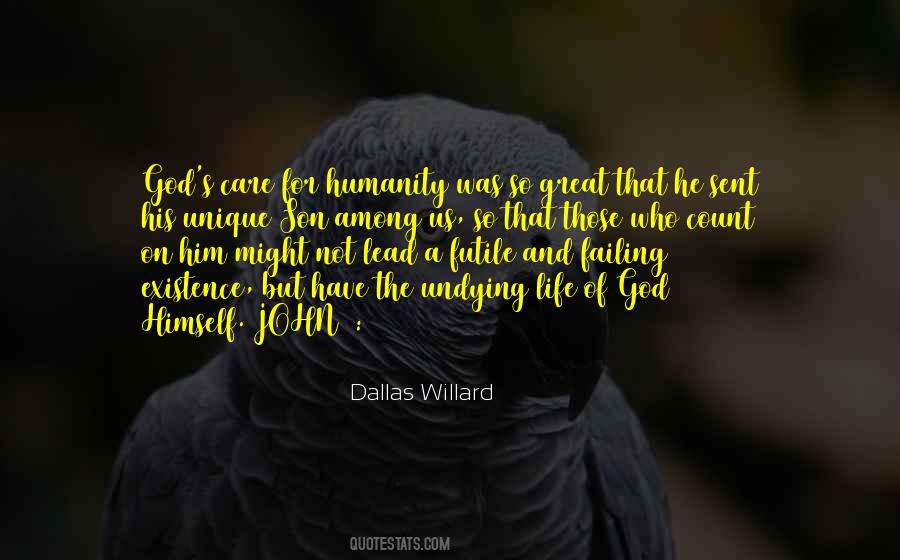 #20. It's hard to remember this when you lose someone that you care for so much, but God is still God. He's holding Henry now, but he still holds us too. We're just on opposite ends of eternity and one day we'll all meet again. - Author: Harper Whitmore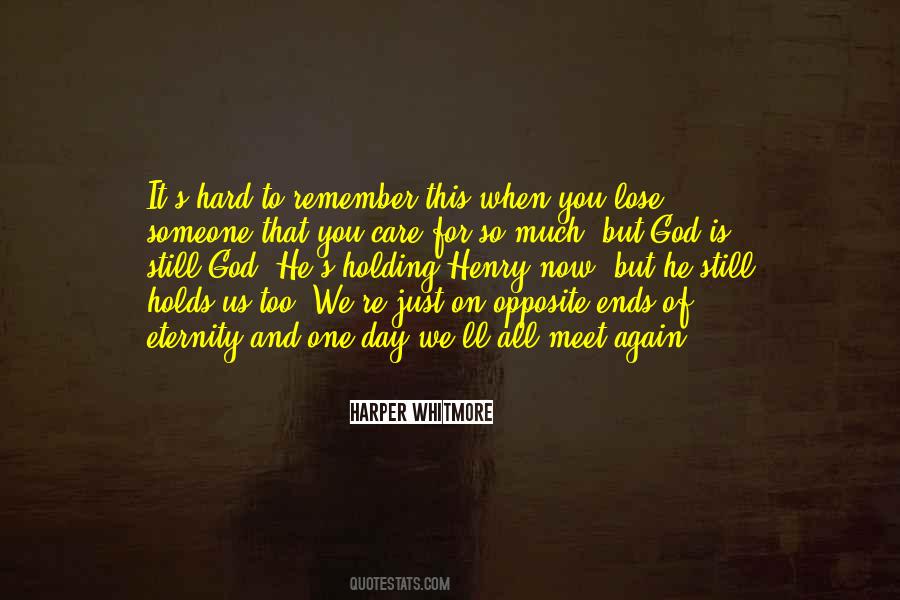 #21. If a person forges ahead in the light and yet has lost his care for the others, the purpose of the light is wasted. God does not give us light for its own sake, but for the purpose of doing something in the light. - Author: Johan Oscar Smith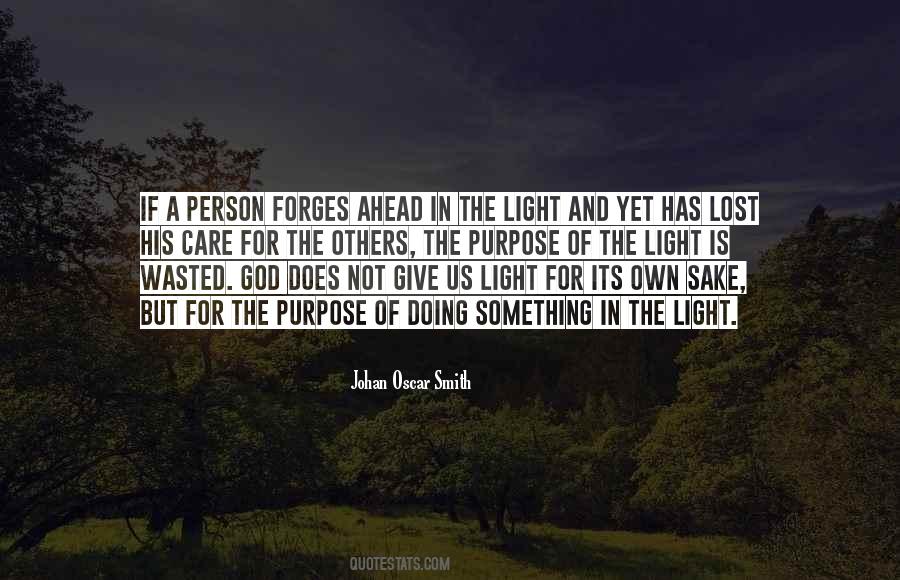 #22. Just because God is God, just because Christ is Christ, they cannot do other than care for us and bless us and help us if we will but come unto them, approaching their throne of grace in meekness and lowliness of heart. They can't help but bless us. They have to. It is their nature. - Author: Jeffrey R. Holland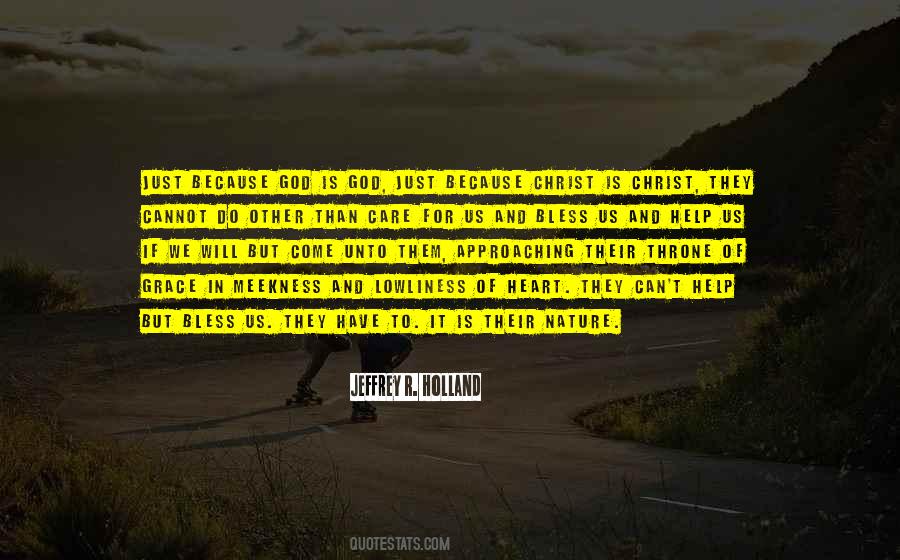 #23. If God refuses to mass-produce but insists on an intimate process that in the end forms each of us into the image of Christ, why would we choose a lesser path for our own lives? The work of the artist begins with the care of his or her own soul. - Author: Erwin Raphael McManus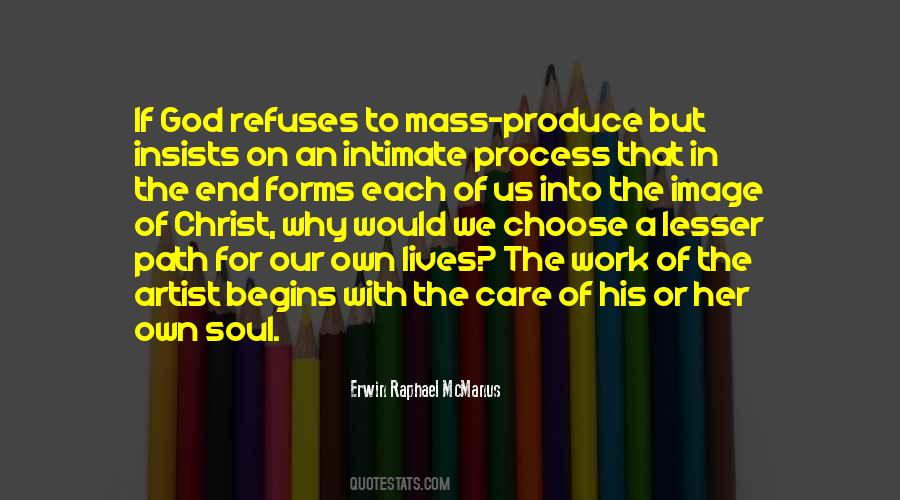 #24. Our God who created all of us is the God who calls all of us to care for one another. I think that's going to be one of the big, big challenges of the future, helping refocus on the needs of others. - Author: Donald Wuerl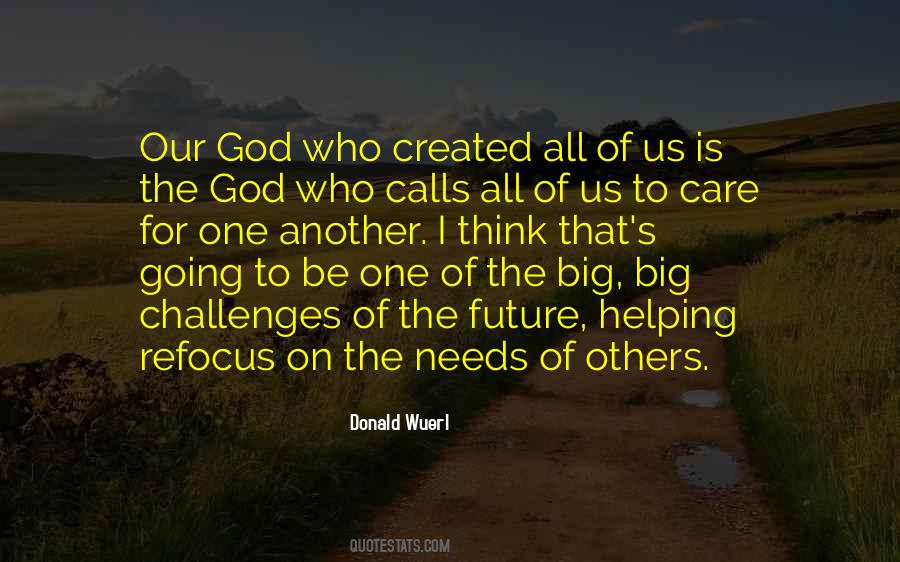 #25. We can't predict what type of sustaining graces God will provide for us. And we can't expect that the kind of sustaining grace someone else receives will be the same kind of care we will receive. We can only trust that the provision will come. - Author: Louie Giglio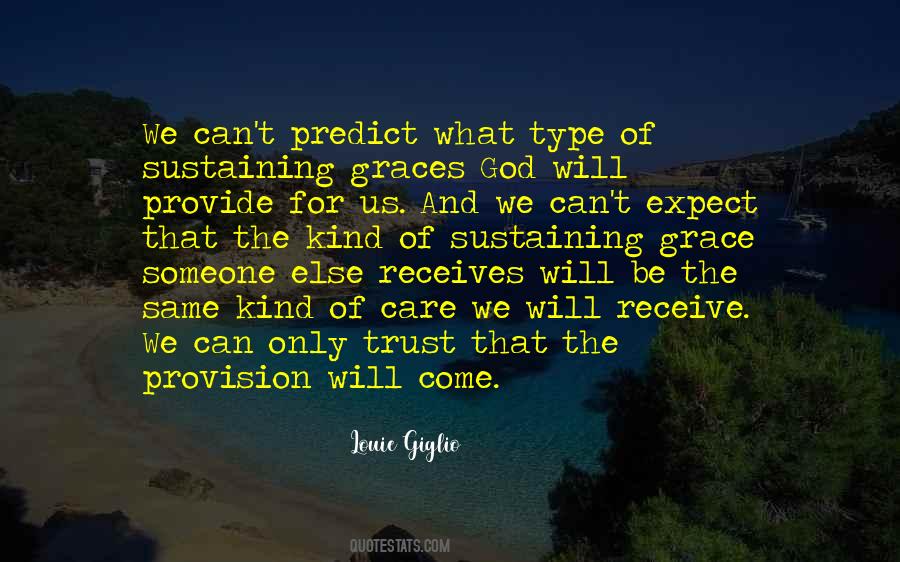 #26. When human aid fails us, all is not wanting; for God takes over and takes care of us by His special Providence. - Author: Francis De Sales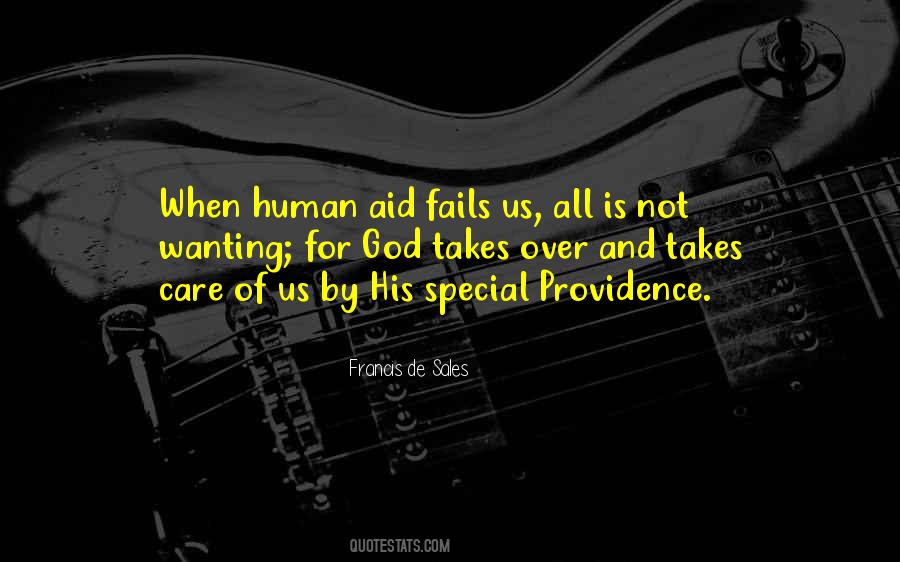 #27. Even God had a Welsh name : He spoke to him in the old language; He was to have a peculiar care For the Welsh people. History showed us He was too big to be nailed to the wall Of a stone chapel, yet still we crammed him Between the boards of a black book . - Author: R.S. Thomas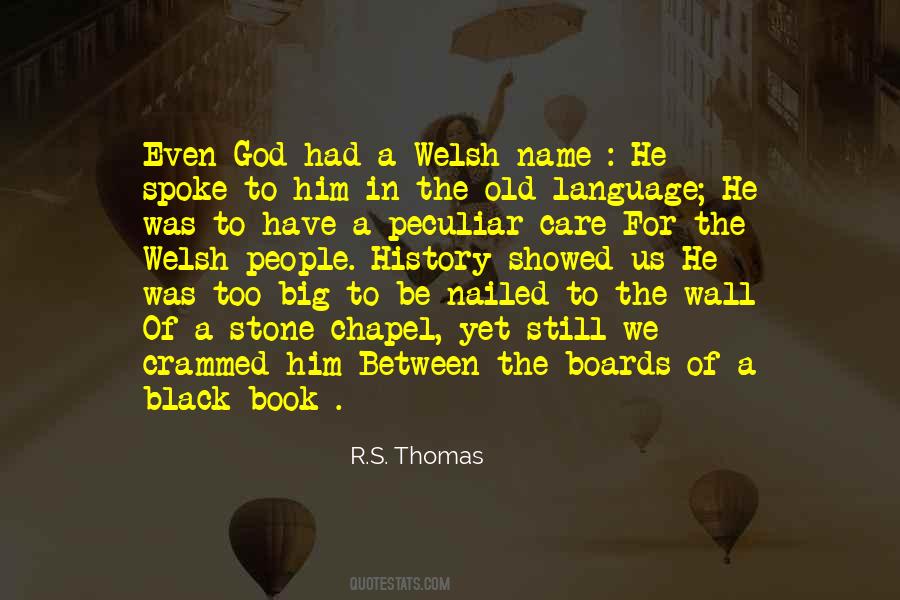 #28. Jesus didn't say, 'Blessed are those who care for the poor.' He said, 'Blessed are we where we are poor, where we are broken.' It is there that God loves us deeply and pulls us into deeper communion with himself. - Author: Henri Nouwen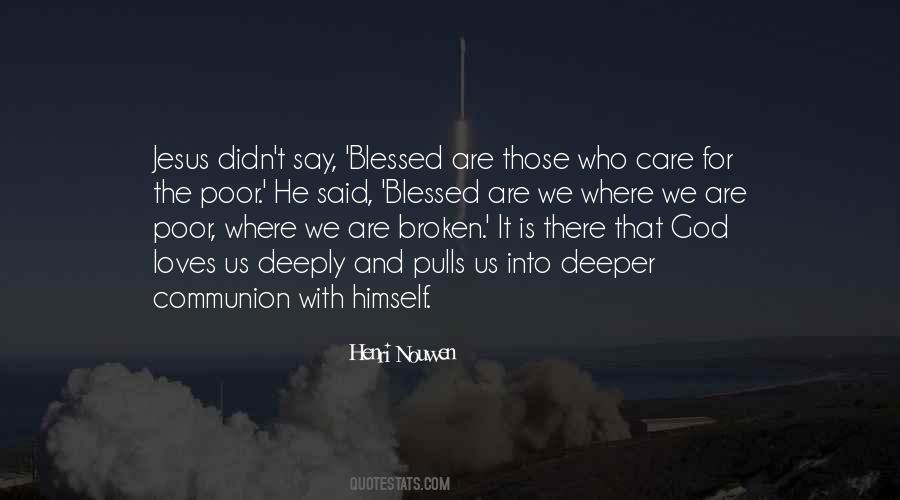 #29. A Christian who does not protect creation, who does not let it grow, is a Christian who does not care about the work of God; that work that was born from the love of God for us ... And this is the first response to the first creation: protect creation, make it grow. - Author: Pope Francis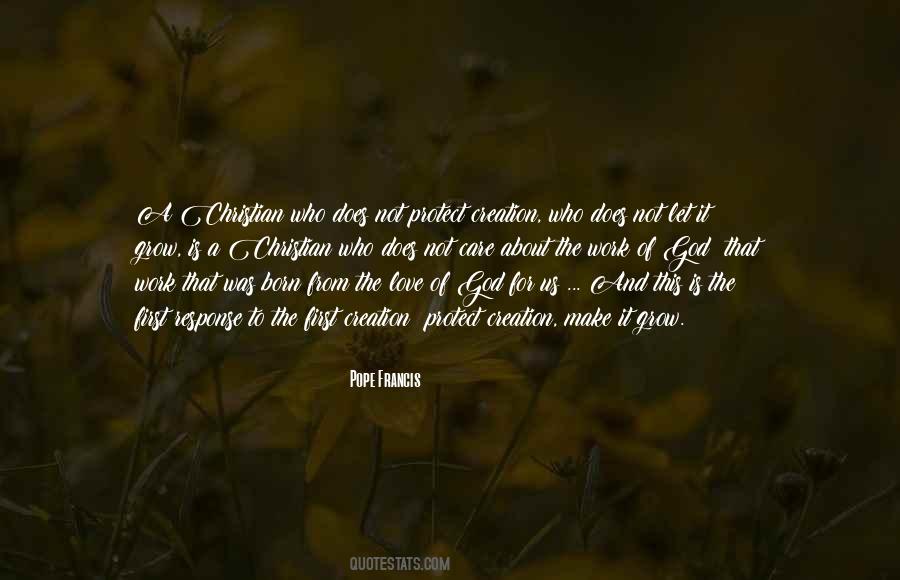 #30. Jesus' own witness of sacrificial love and forgiveness, and his work to heal the sick and care for those in need, represent God's ways and vision for us. - Author: Adam Hamilton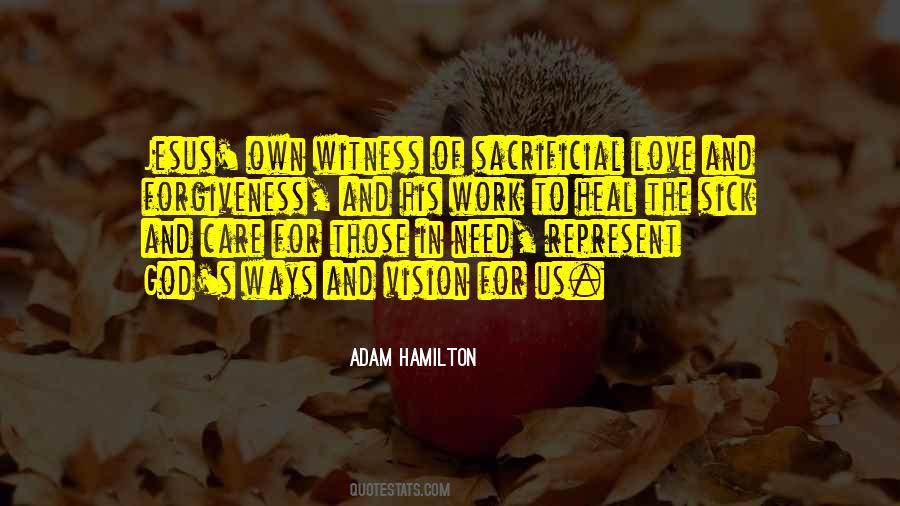 #31. When we abandon all to Him, He takes a tender care of us, and His Providence for us is great or small according to the measure of our abandonment. - Author: Francis De Sales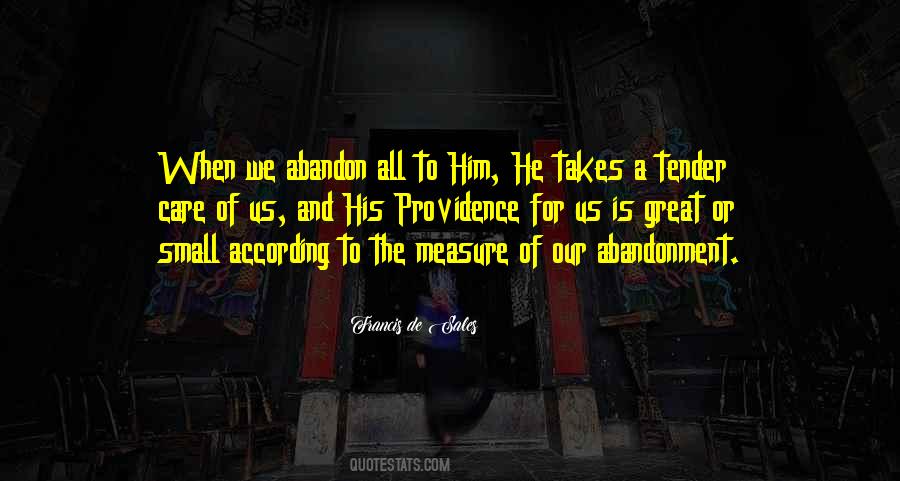 #32. A meshummed gives up one God for another. I don't want either. We live in a world where the clock ticks fast while he's on his timeless mountain staring in space. He doesn't see us and he doesn't care. Today I want my piece of bread, not in Paradise. - Author: Bernard Malamud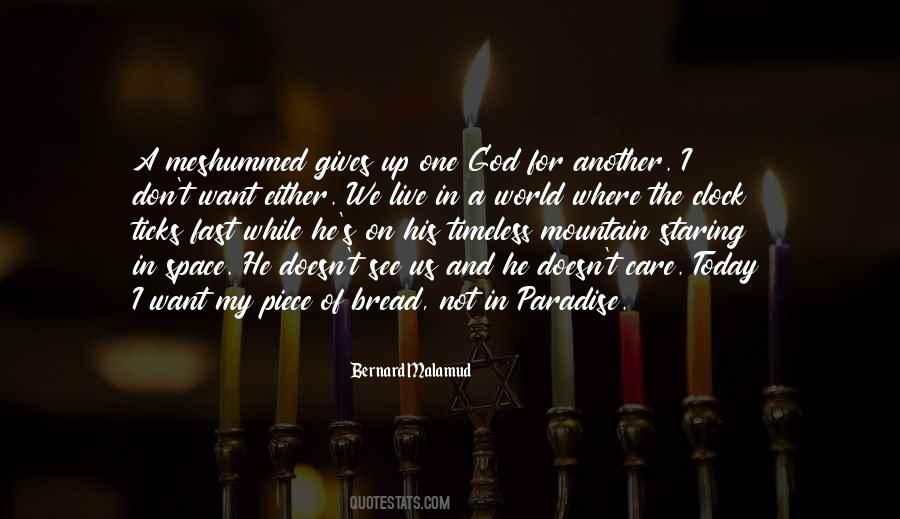 #33. The children we birth do not belong to us. They belong to God. We are simply the vessel for which they arrive on this earth. We are appointed to care and guide them, however we must recognize when the time comes for them to govern their own lives. - Author: Nancy B. Brewer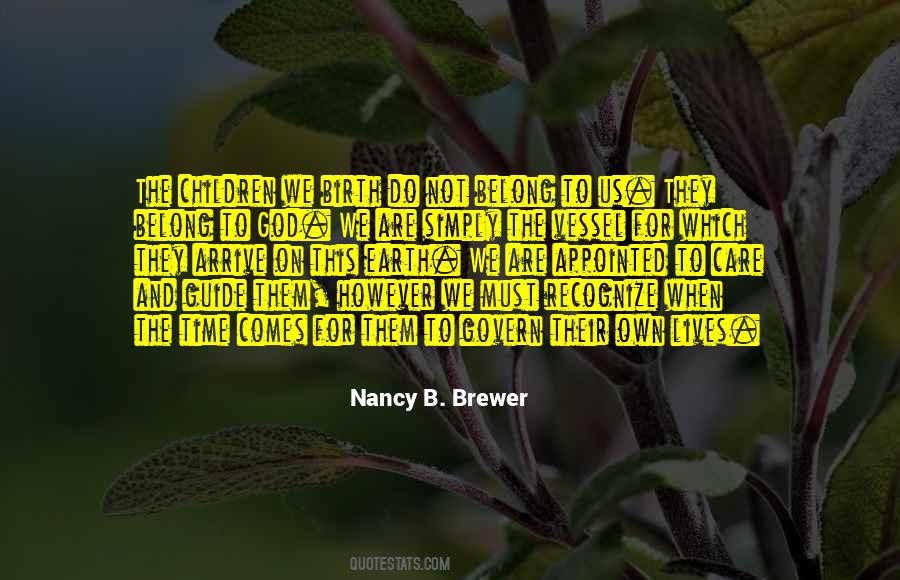 #34. But why should we not place implicit confidence in God and rely upon His word of promise? Is anything too hard for the Lord? Has His word of promise ever failed? Then let us not entertain any unbelieving suspicions of His future care of us. Heaven and earth shall pass away, but not so His promises. - Author: Arthur W. Pink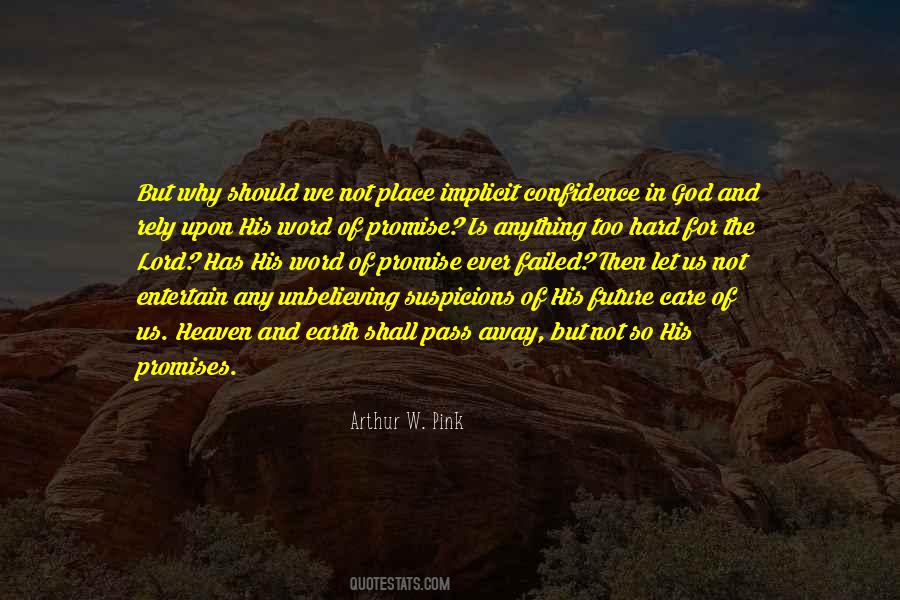 #35. God calls us to care for our fellow man, especially the neediest. I feel that call to lift up the less fortunate; the call to improve our communities and our state. It drives me to serve Louisiana as governor. - Author: Kathleen Blanco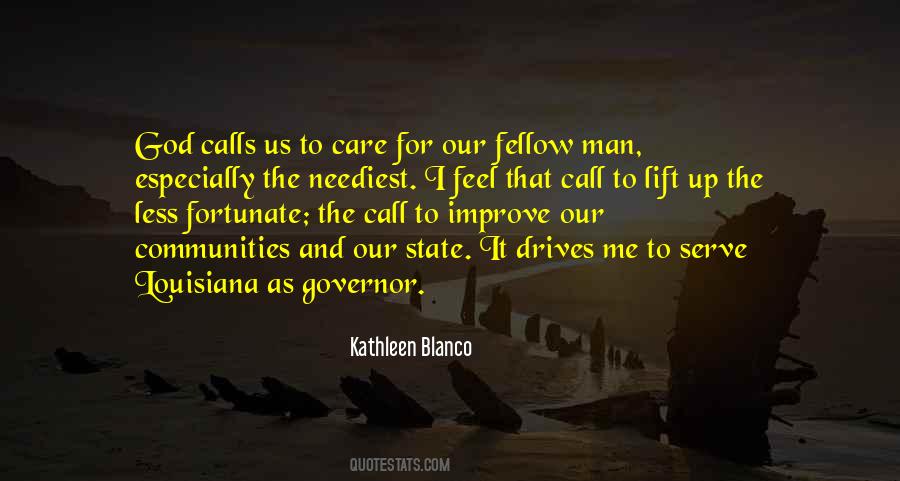 #36. Creation is not a property, which we can rule over at will; or, even less, is the property of only a few: Creation is a gift, it is a wonderful gift that God has given us, so that we care for it and we use it for the benefit of all, always with great respect and gratitude. - Author: Pope Francis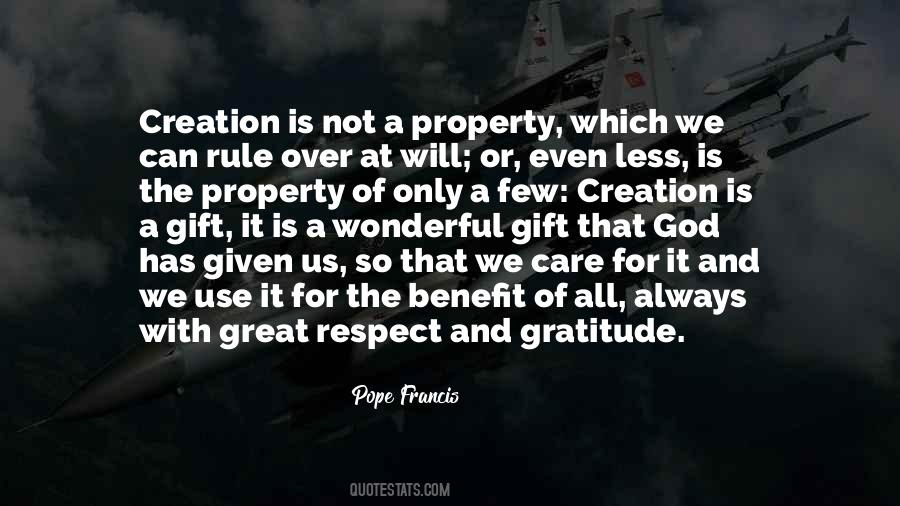 #37. Colossians 1:16 tells us that everything was created FOR God ... don't we live instead as though God is created for US, to do OUR bidding, to bless US, and to take care of OUR loved ones? - Author: Francis Chan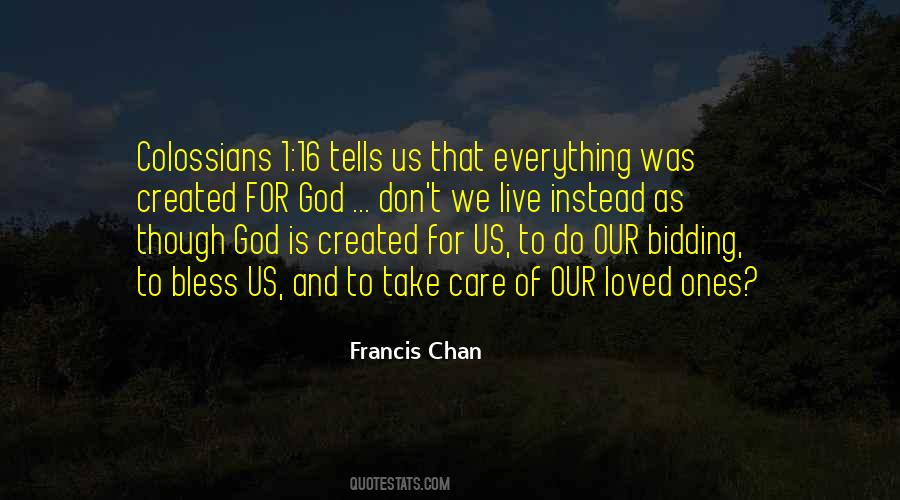 #38. God doesn't tell us to care for the less fortunate, He demands it. - Author: Katie Davis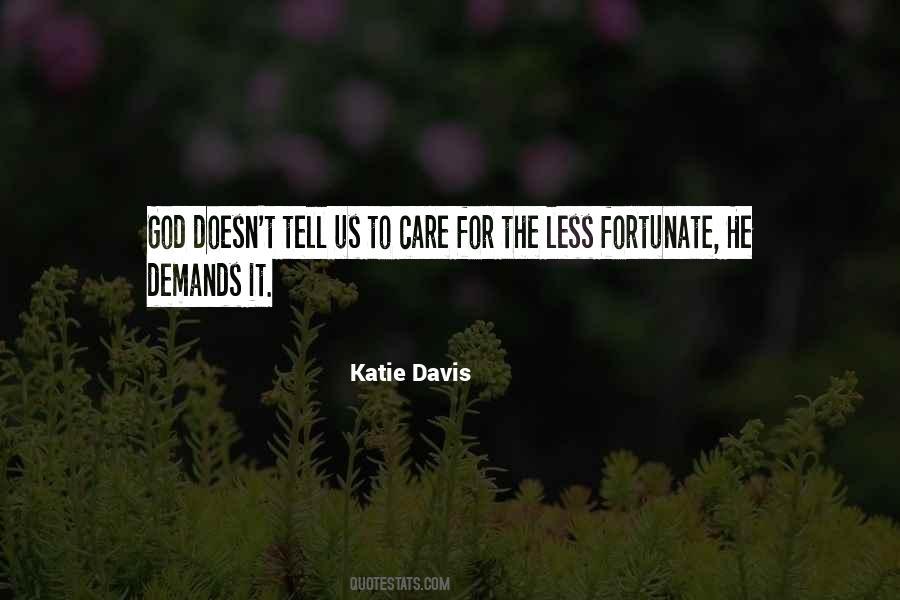 #39. Rumi and Shams bring to our lives the simple truth that we are not alone, that God really does care. And God's joyous love for each of us is rivaled only by Her divine sense of humor. - Author: Jamila Hammad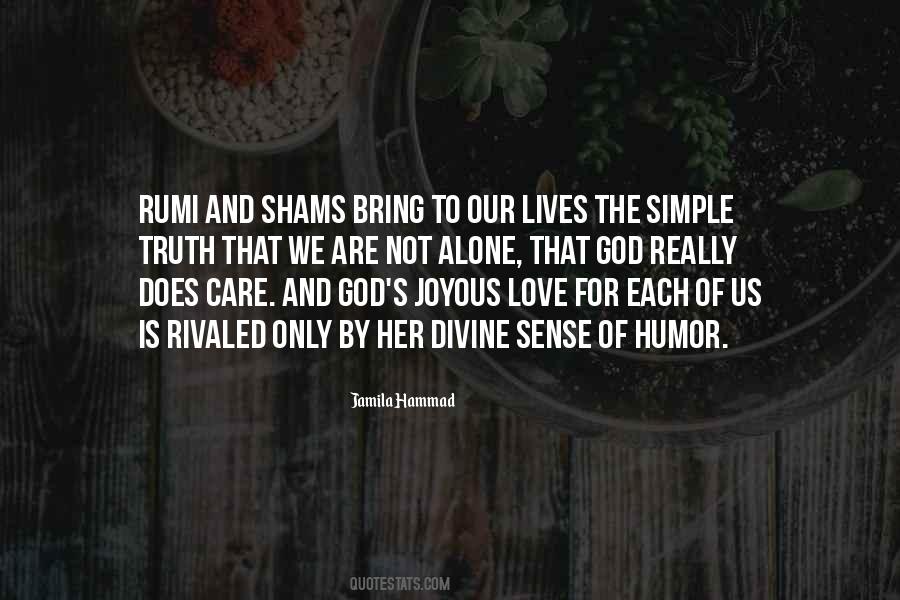 #40. Empathy is a quality today that we need more than ever. Throughout his life Jesus showed empathy and care for others on a level never seen before. From him we learn that Gods ways of service to others before obsession with self is the path he wants us to walk on and deep down we know it. - Author: Tim Crawshaw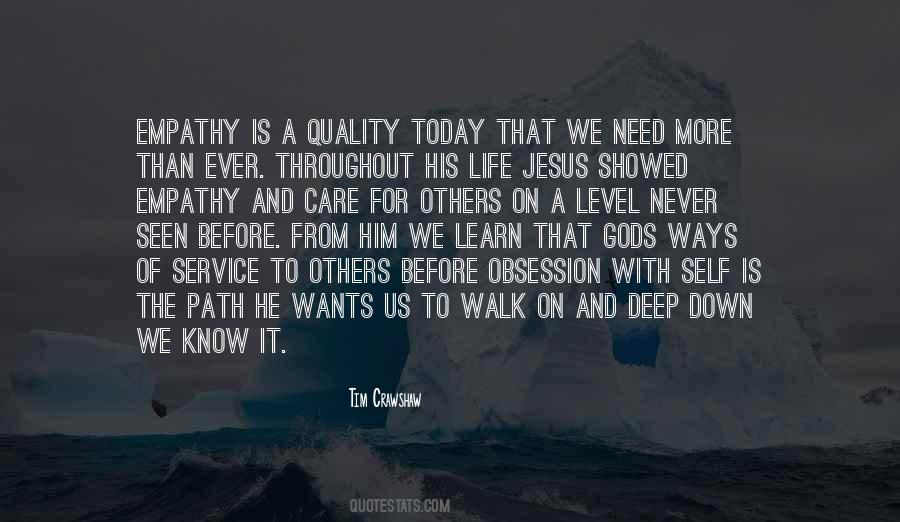 #41. Is it not time I lost a few things when I care for them so unreasonably? This losing of things is of the mercy of God: It comes to teach us to let them go. - Author: George MacDonald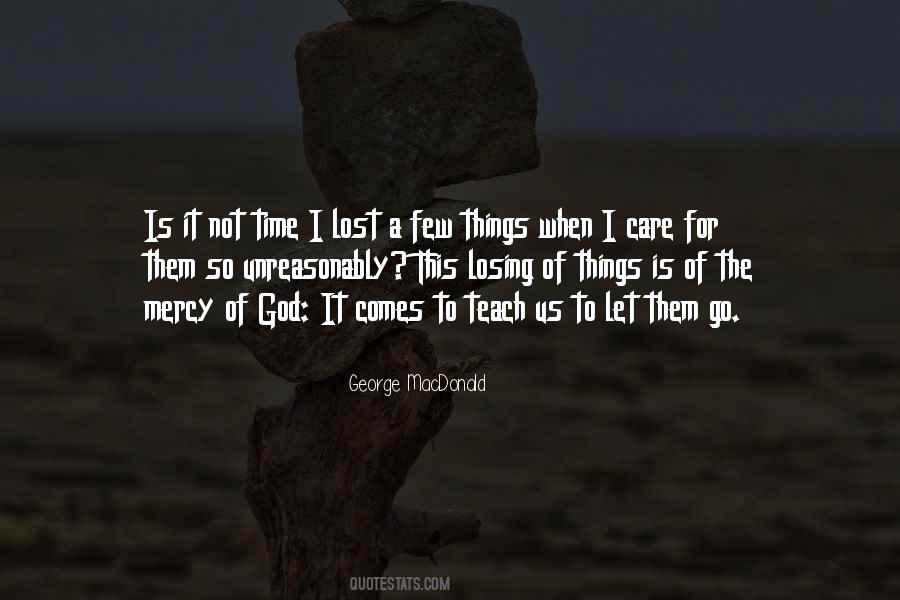 #42. I put everything in God's hands, asking him to give me strength and understanding. I asked him to help me to be strong for my family and that he would continue to take care of us. One day, shortly after that, I woke up really inspired. - Author: Aaron Watson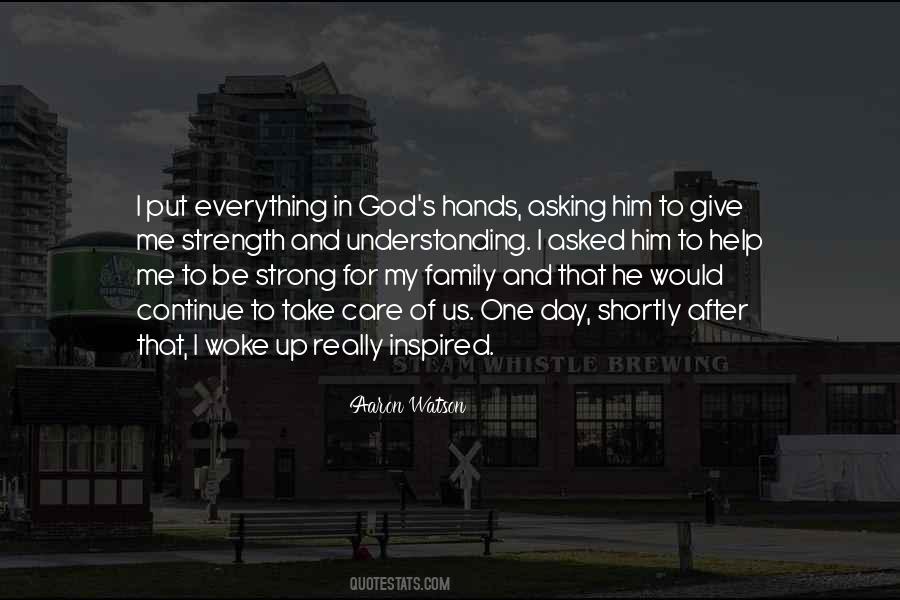 #43. Dean: God exists without qualms. As we roll along this way, I am positive beyond doubt that everything will be taken care of for us - that even you, as you drive, fearful of the wheel - the thing will go along of itself and you won't go off the road and I can sleep. - Author: Jack Kerouac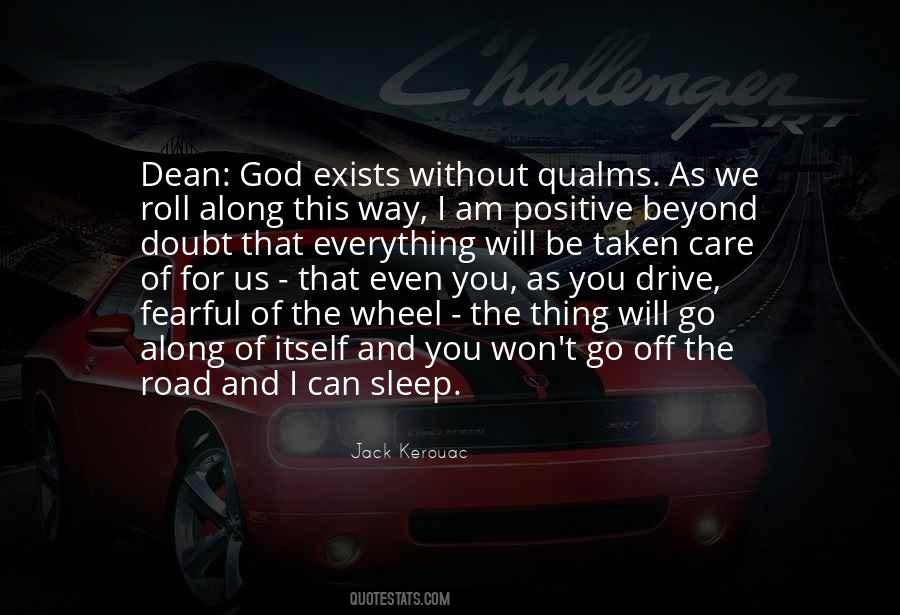 #44. The care of God for us is a great thing, if a man believe it at heart: it plucks the burden of sorrow from him. - Author: Euripides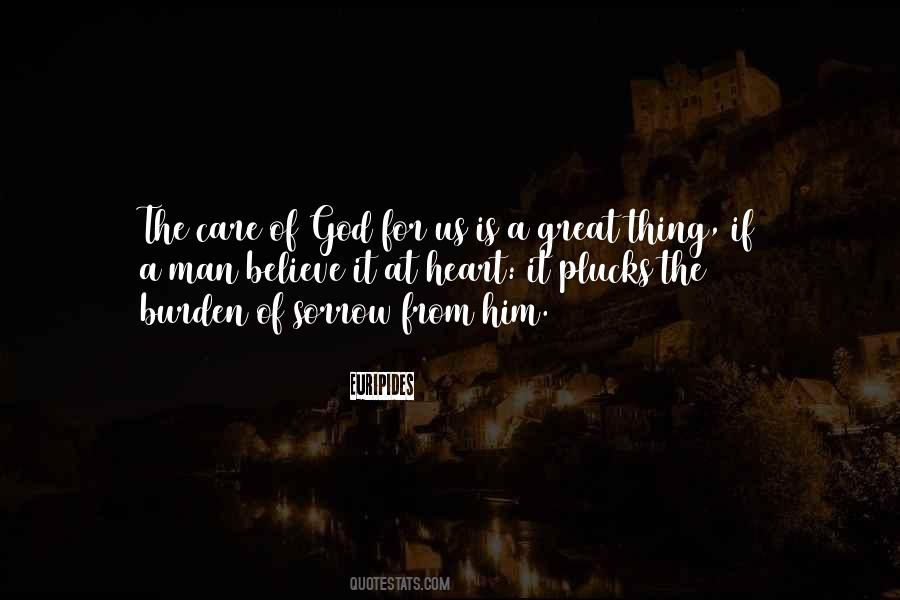 #45. Angels represent God's personal care for each one of us. - Author: Andrew Greeley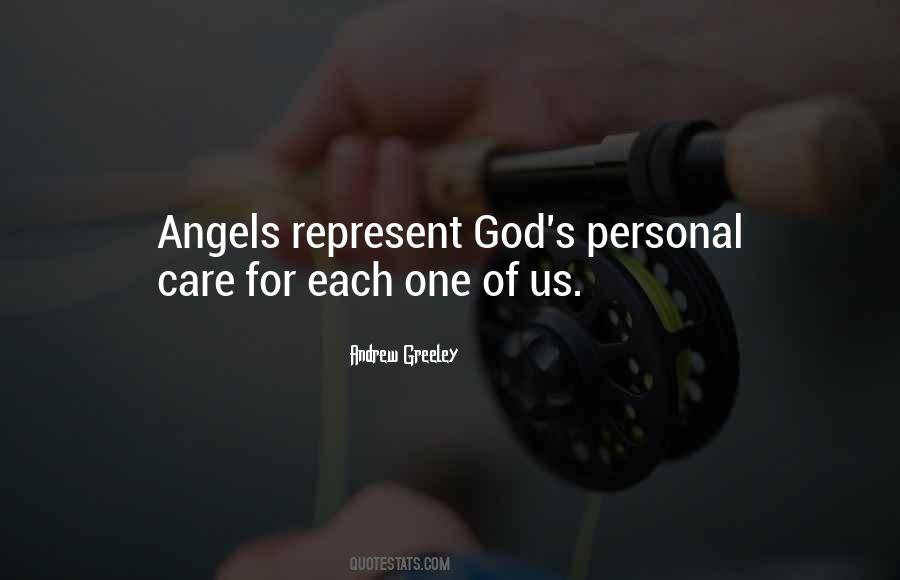 #46. The Bible tells us that God will meet all our needs. He feeds the birds of the air and clothes the grass with the splendor of lilies. How much more, then, will He care for us, who are made in His image? Our only concern is to obey the heavenly Father and leave the consequences to Him. - Author: Charles Stanley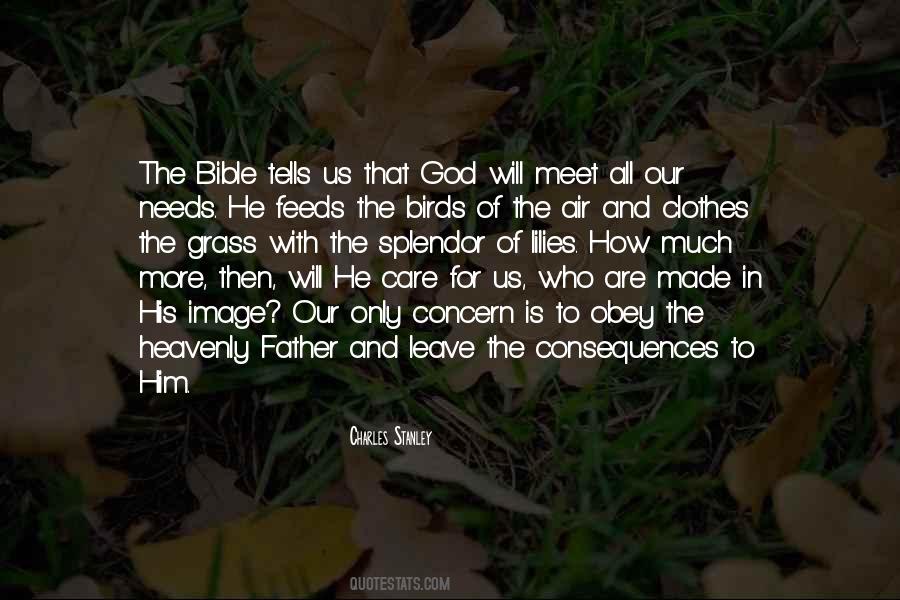 Famous Authors
Popular Topics