List of top 46 famous quotes and sayings about freedom of india to read and share with friends on your Facebook, Twitter, blogs.
Top 46 Quotes About Freedom Of India
#1. The deceiver loses when there is correct response from the deceived...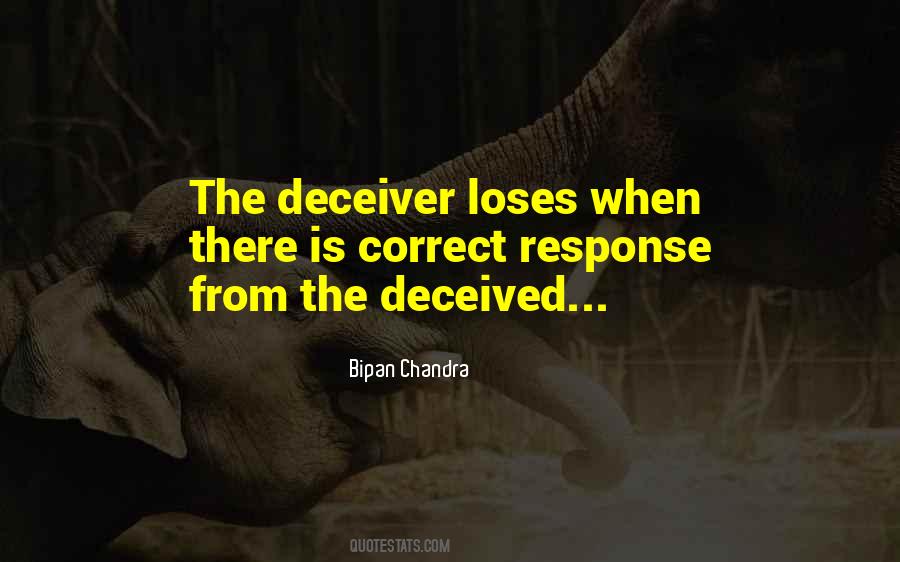 #2. Blood and tears are going to be our lot, whether we like them or not. Our blood and tears will flow; maybe the parched soil of India needs them so that the fine flower of freedom may grow again.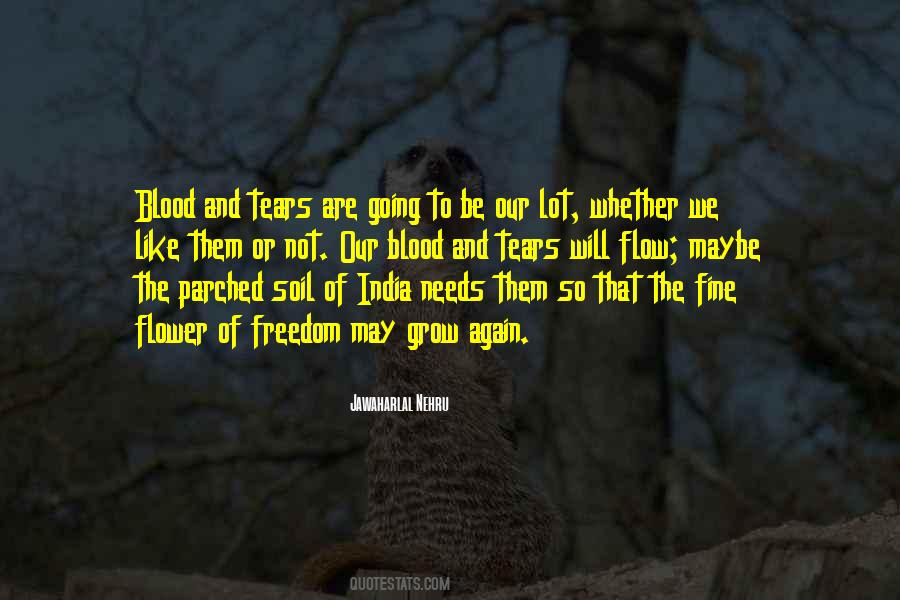 #3. The roots of India's soft power run deep. India's is a civilization that, over millennia, has offered refuge and, more importantly, religious and cultural freedom, to Jews, Parsis, several varieties of Christians, and Muslims.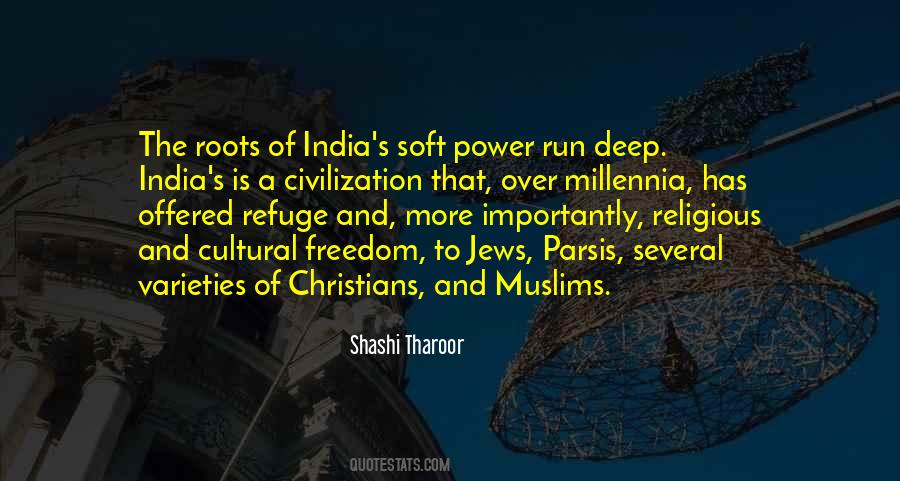 #4. Being in Loyola College exposed me to other options and gave me confidence, apart from the freedom to bunk classes. I became a merchandiser and then a garment manufacturer, and interacting with foreign buyers and manufacturing foreign brands in India gave me a high.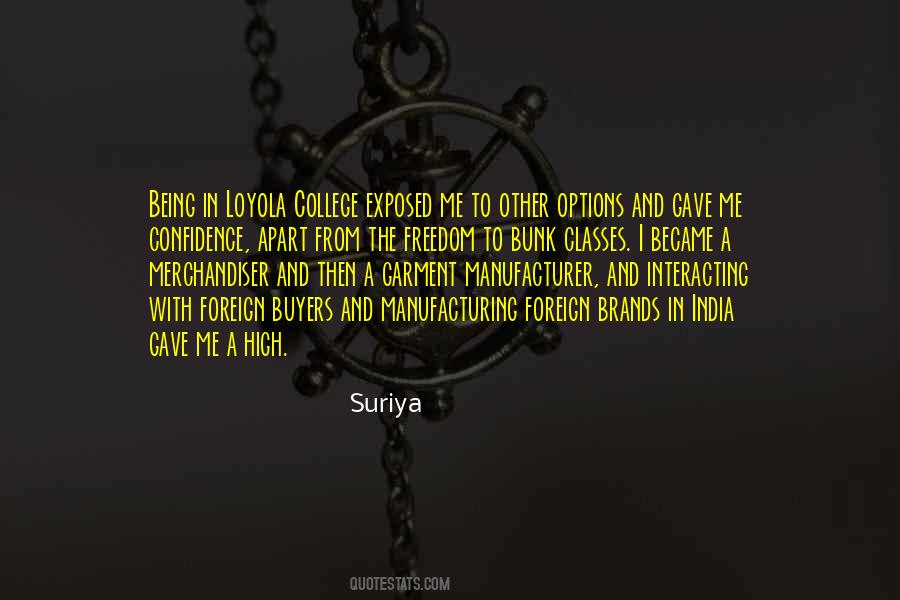 #5. India must achieve the real goal?that is energy independence or an economy which will function well within total freedom from oil, gas or coal imports.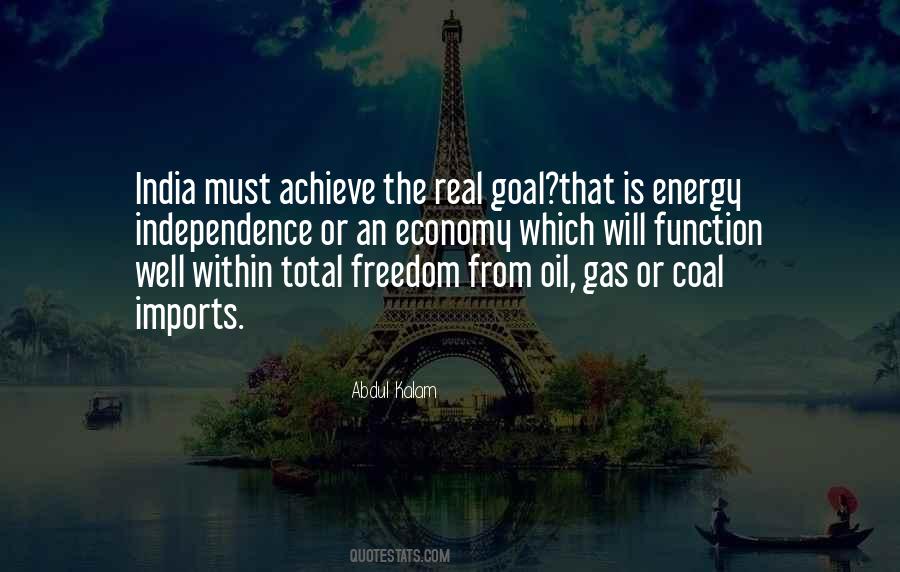 #6. Freedom of India will demonstrate to all the exploited races of the earth that their freedom is very near.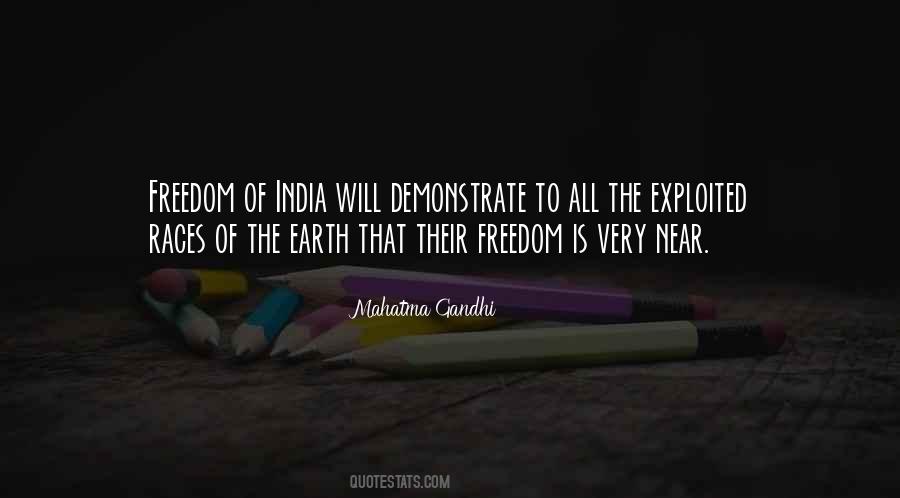 #7. The Charkha in the hands of a poor widow brings a paltry price to her, in the hands of Jawaharlal; it is an instrument of India's freedom.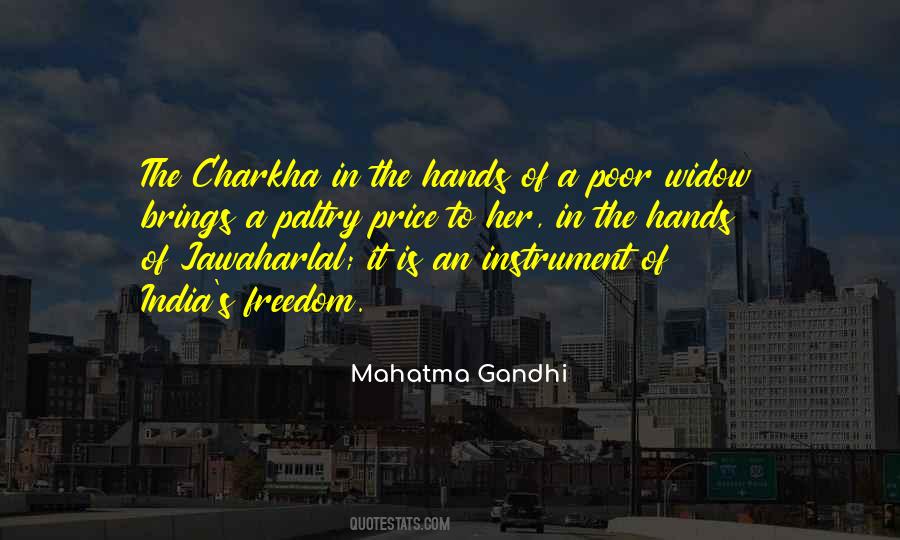 #8. India's freedom must revolutionize the world's outlook upon Peace and War.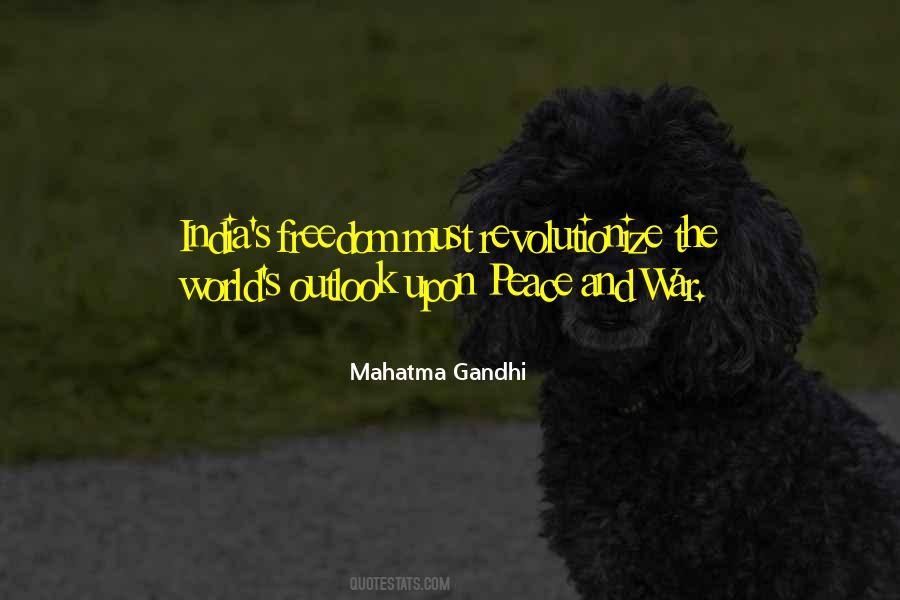 #9. We are in a strange kind of time, where the kind of liberation movements such as anti-apartheid movements and freedom struggles in India need to be reinvented. We need to retool them so that all the gains that our generation has made can be passed on to future generations.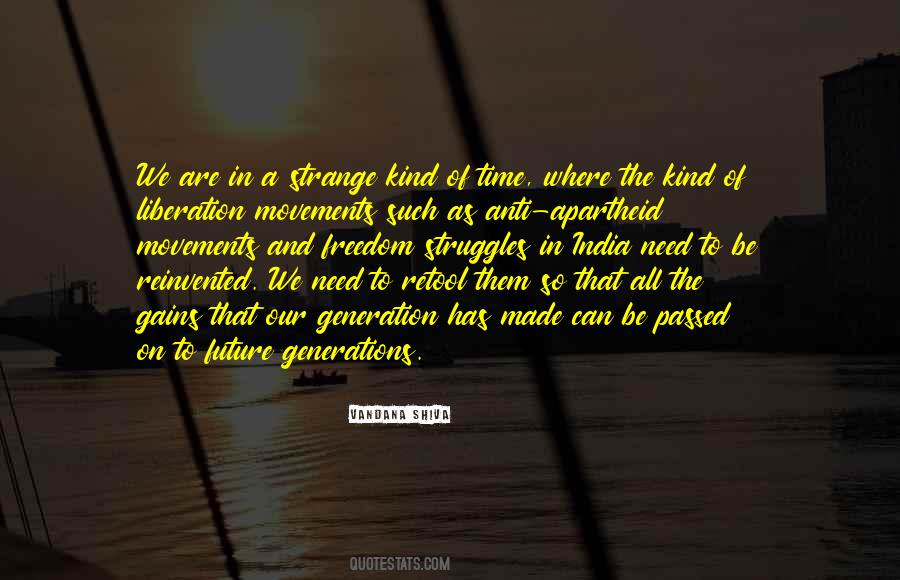 #10. My interest in India's freedom will cease if she adopts violent means, for their fruit will not be freedom but slavery in disguise.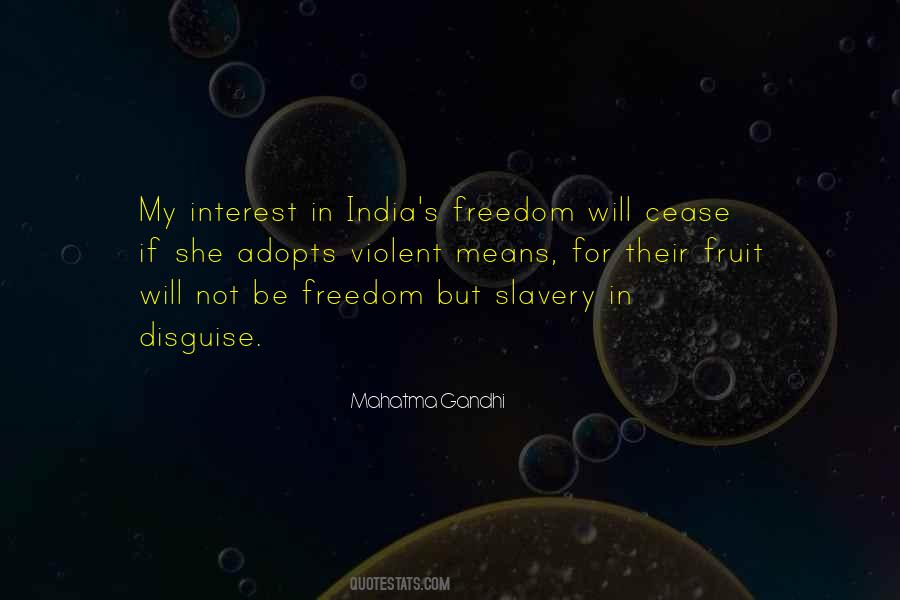 #11. For my own part, I do not want the freedom of India if it means extinction of English or the disappearance of Englishmen.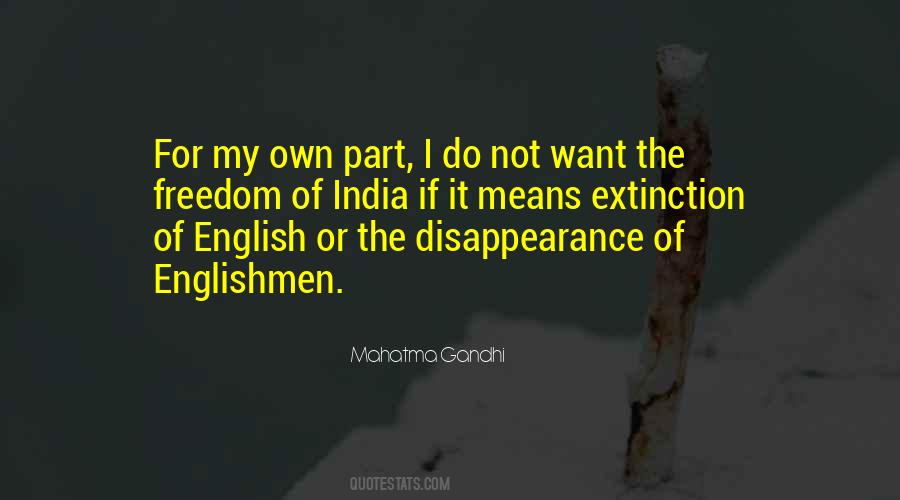 #12. The sword of revolution is sharpened on the whetting stone of ideas-bhagat singh in court during his trial, india's struggle for freedom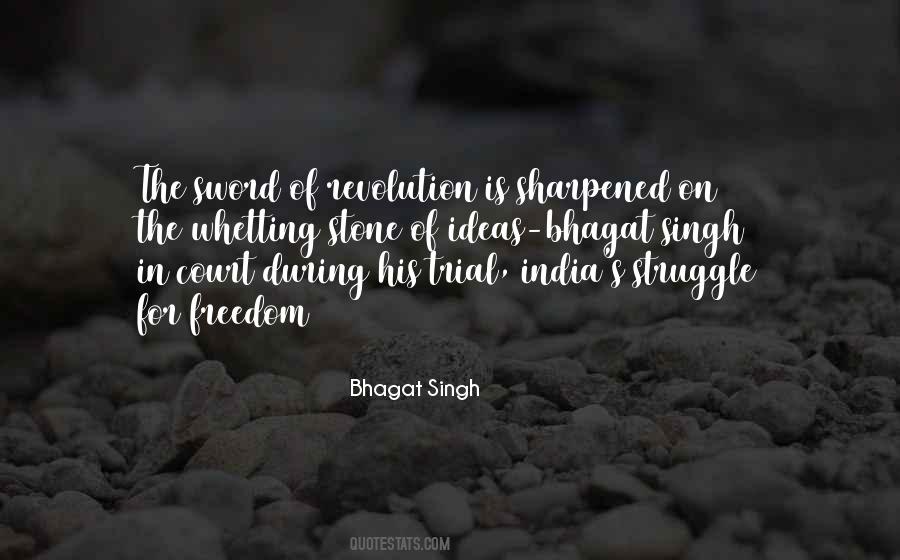 #13. There is every reason for being cautious about founding new universities till India has digested Her newly acquired freedom.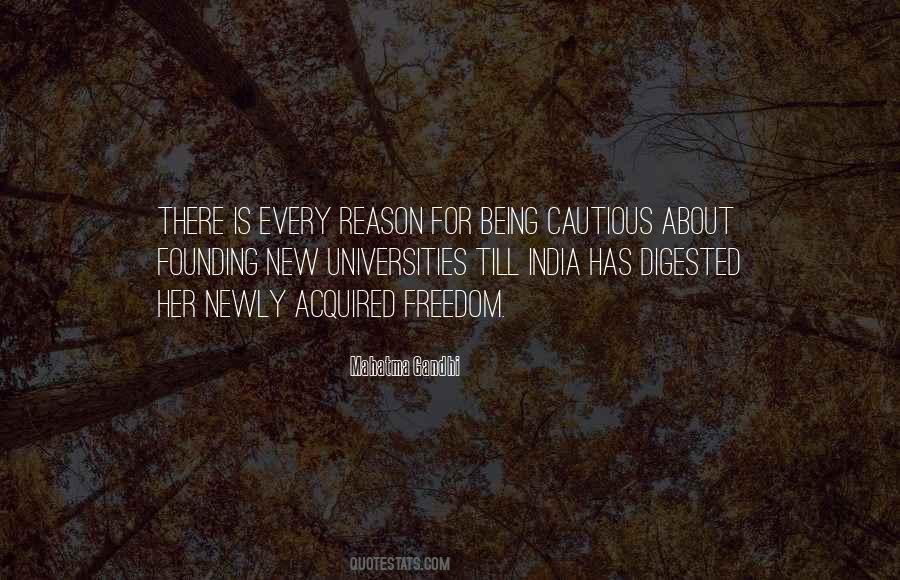 #14. Cleanliness is a freedom movement for an aspiring Nation. Culture of cleanliness will influence the heygine, health, asthetics and natural setting of the nation, which is a new age currency of a country.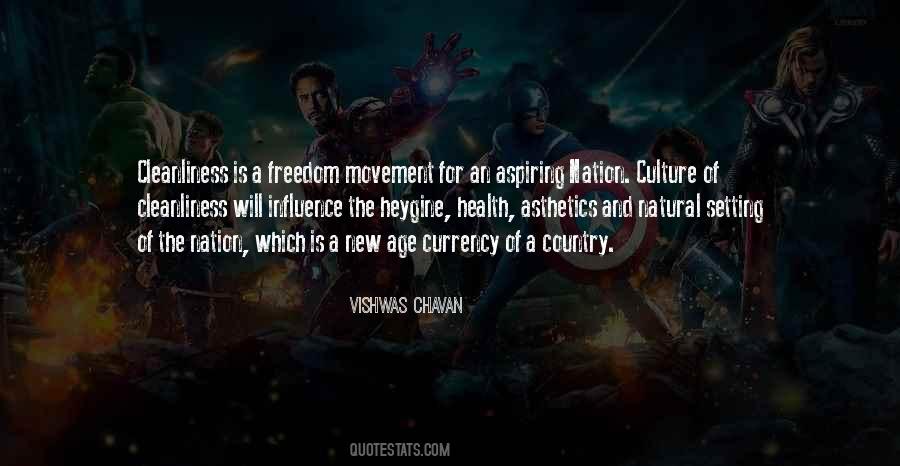 #15. Als it is hard for America to fight wars in the name of freedom, if those people themselves choose for nonfreedom. Can America and England save India from communism, if they vote communist themselves.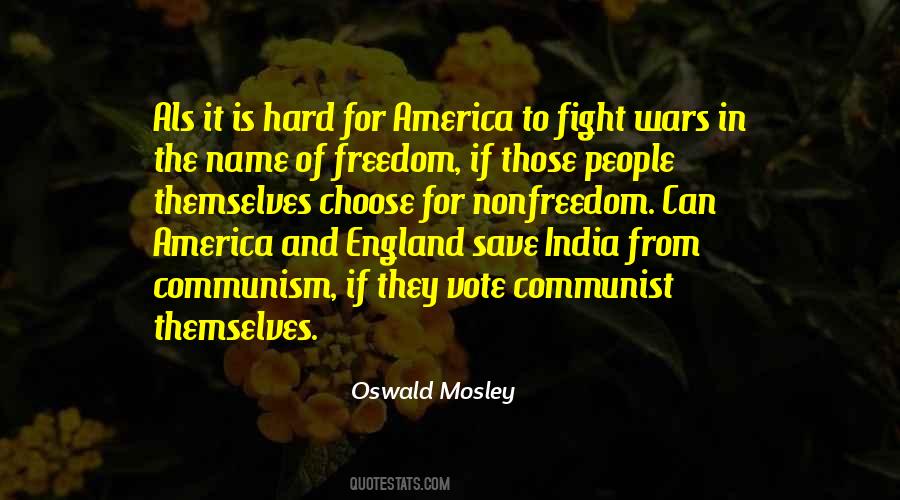 #16. My own life in India, since I came to it in 1893 to make it my home, has been devoted to one purpose, to give back to India her ancient freedom.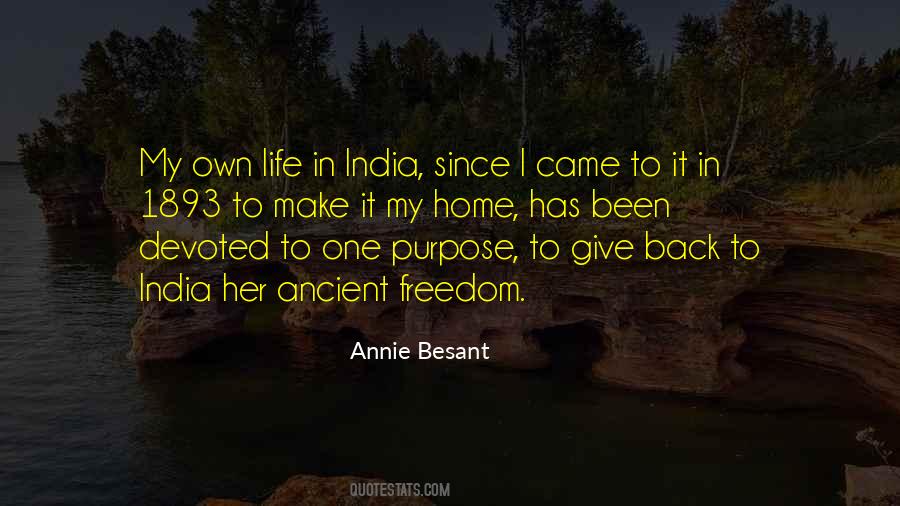 #17. Proving one's innocence is as improbable as going to Pluto for
a honeymoon. It could take away everything you had in life, dear
ones, dreams, hopes and, most importantly, the right to have your
freedom.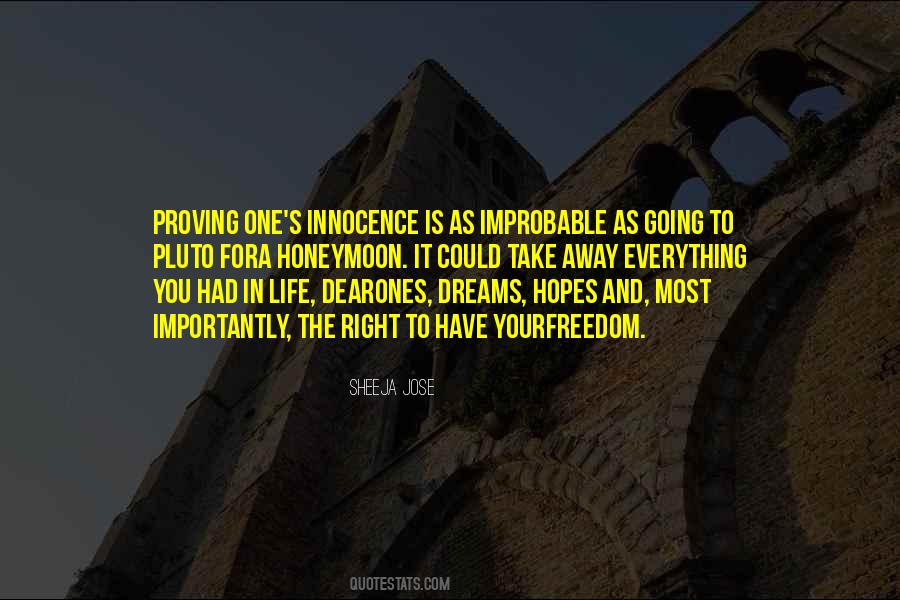 #18. I have that precious commodity - freedom. I can live my life a day at a time, and I am open to whatever the next day brings. I know I sound as if I have been off with some guru in India, but I haven't. I've come to realise the value of being able to decide for oneself.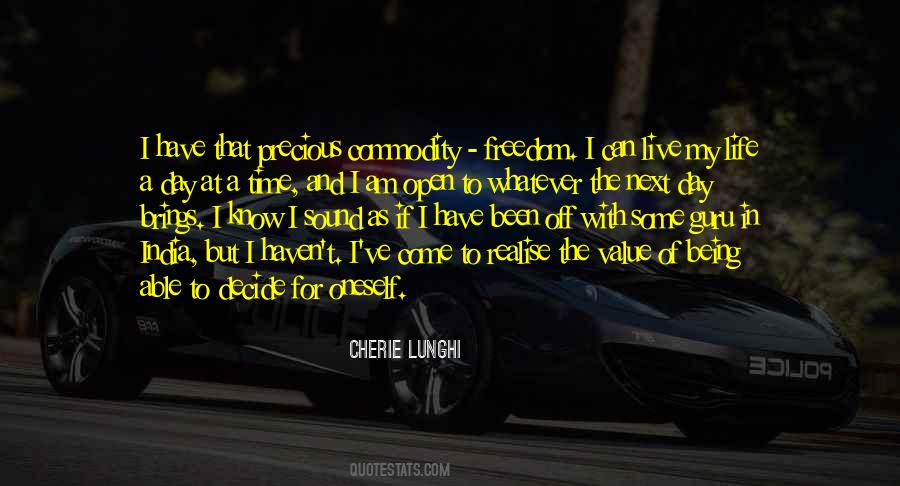 #19. Mahatma Gandhi never compromised on cleanliness. He gave us freedom. We should give him a clean India.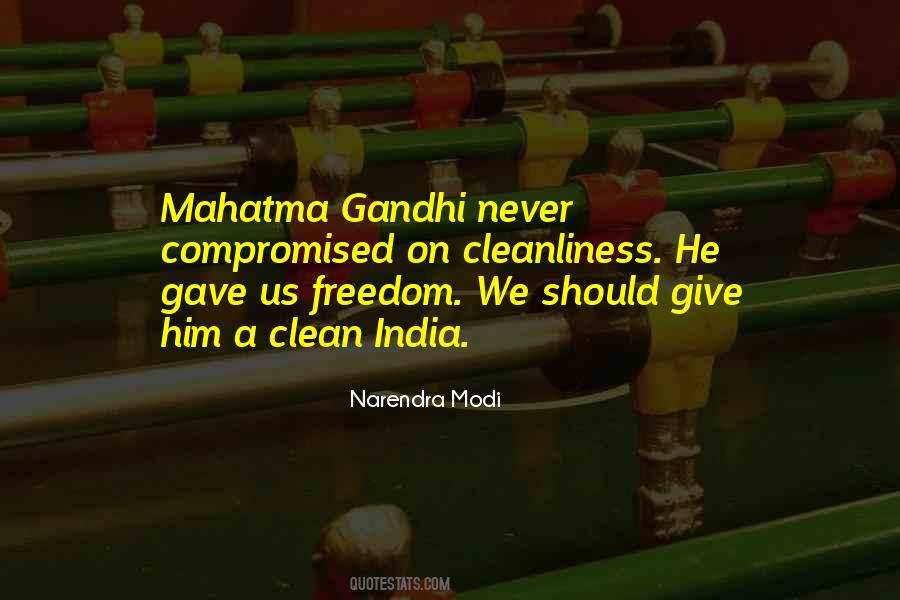 #20. During freedom struggle, It were authors and artists who made the Nation stand with their pen, and now their pen can create an environment of renaissance when Independent India is on the path of Good Governance.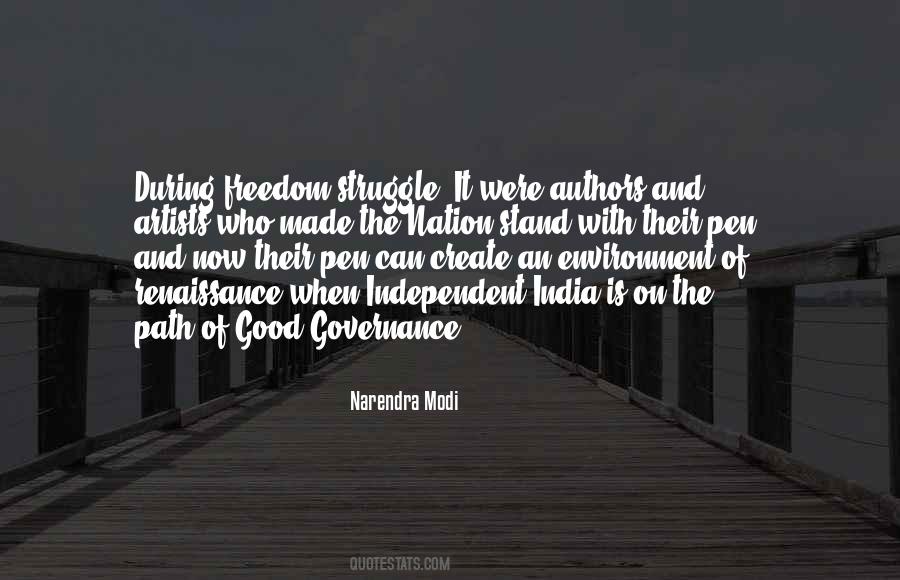 #21. Khadi to me is the symbol of unity of Indian humanity, of its economic freedom and equality and, therefore, ultimately, in the poetic expression of Jawaharlal Nehru, 'the livery of India's freedom'.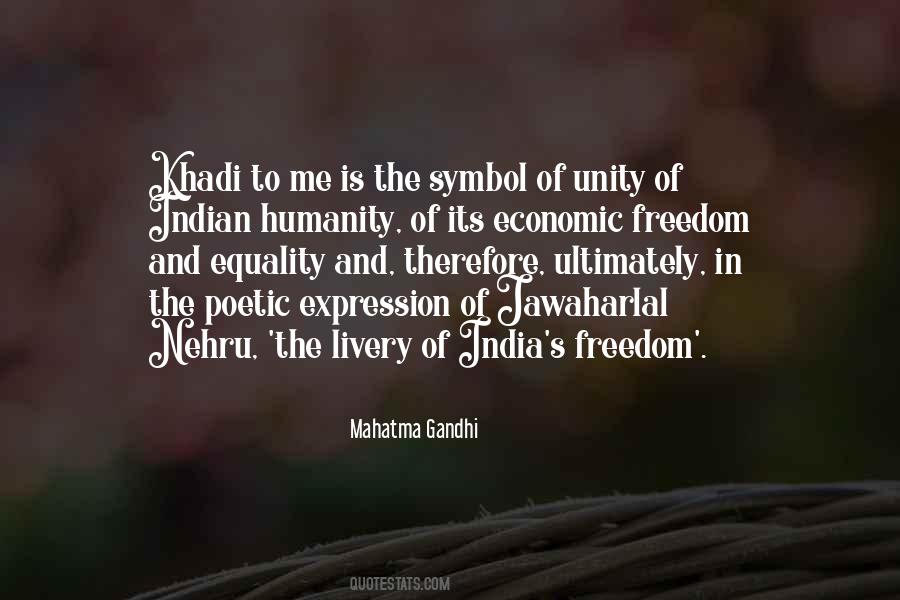 #22. If India won her freedom through truth and non-violence, India would not only point the way to all the exploited Asiatic nations, she would become a torch-bearer for the Negro races.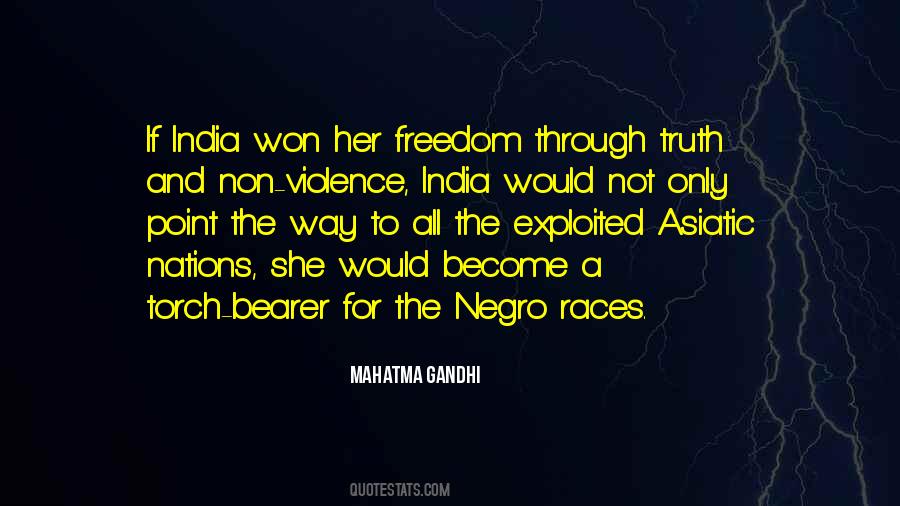 #23. We can't equate democracy with Christianity because the largest democracy on earth is India, which is primarily Hindu. The third largest democracy is Indonesia, which is Islamic. Democracy and freedom are not dependent on Christian beliefs.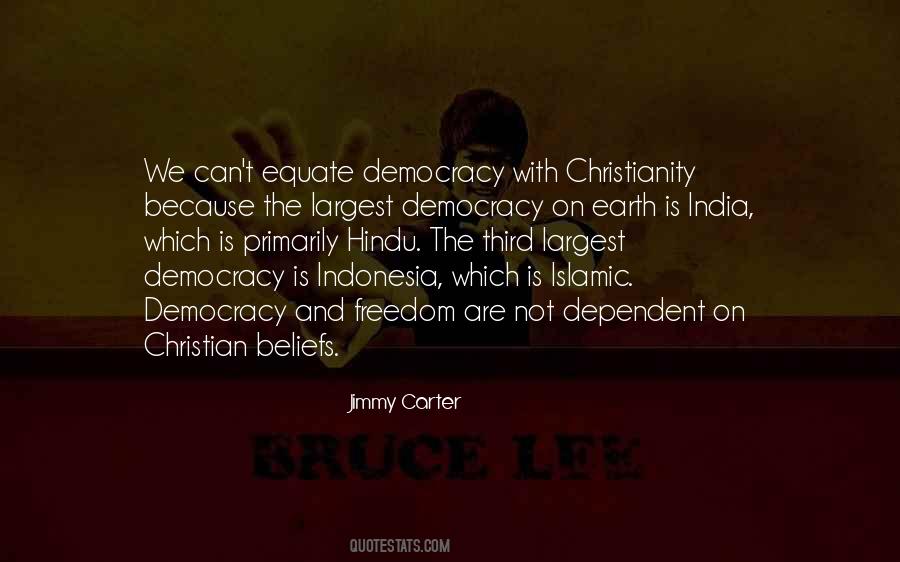 #24. At the stroke of the midnight hour, when the world sleeps, India will awake to life and freedom,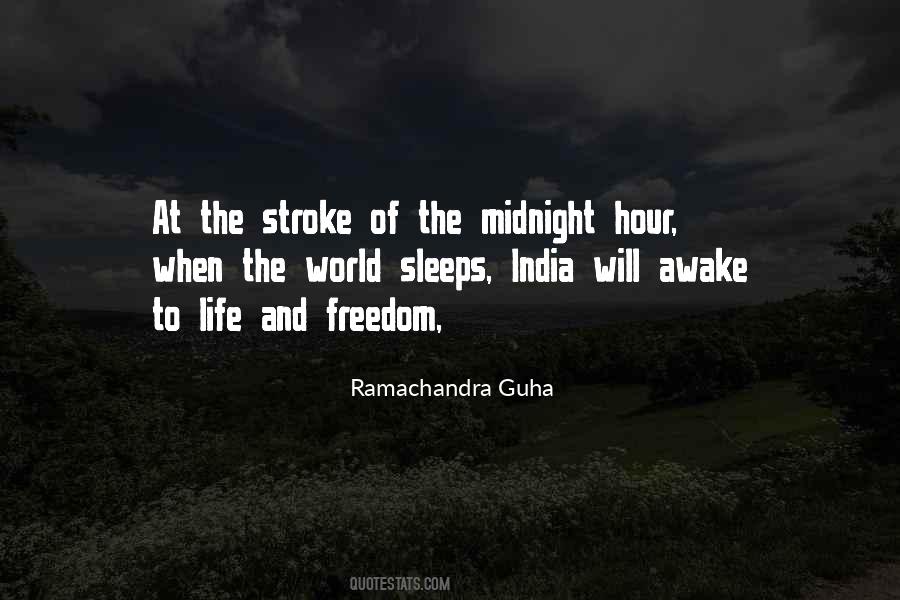 #25. Independence means.. enjoying freedom and empowering others too to let them do so.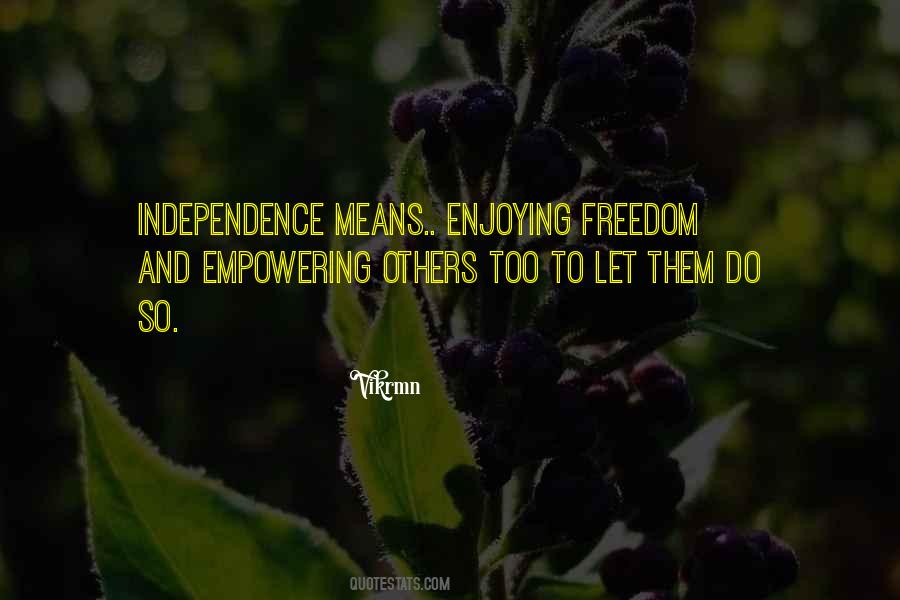 #26. We should have but one desire today - the desire to die so that India may live - the desire to face a martyr's death, so that the path to freedom may be paved with the martyr's blood.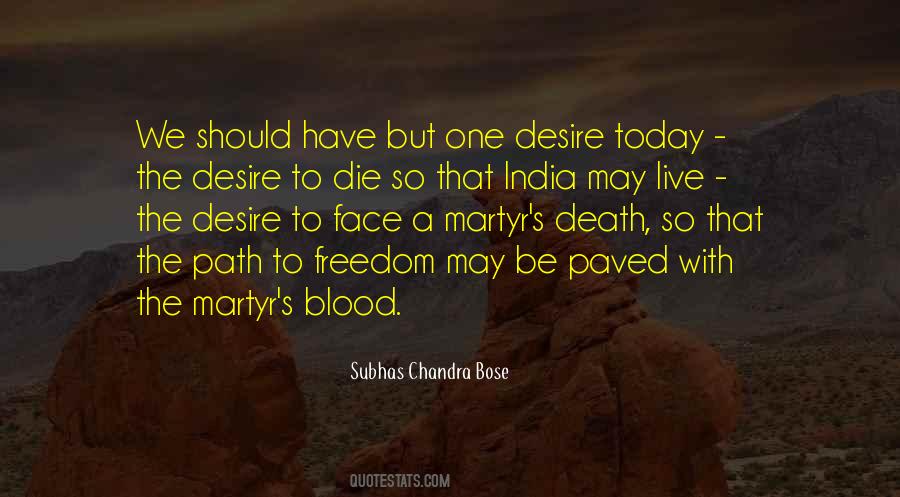 #27. To gain India's freedom, the capacity for suffering must go hand in hand with the capacity for ceaseless labour.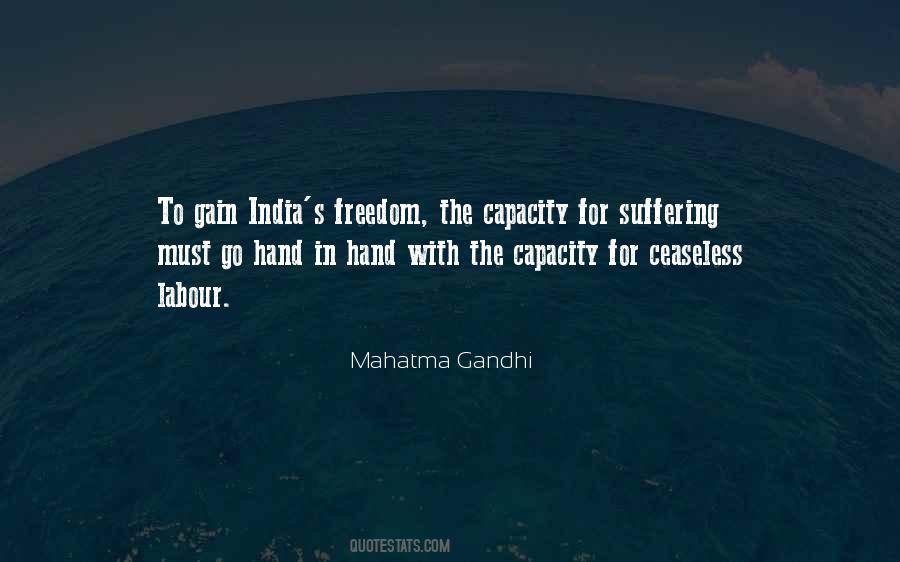 #28. I believe that a prosperous, democratic Pakistan will be a steadfast partner for America, a peaceful neighbor for India, and a force for freedom and moderation in the Arab world.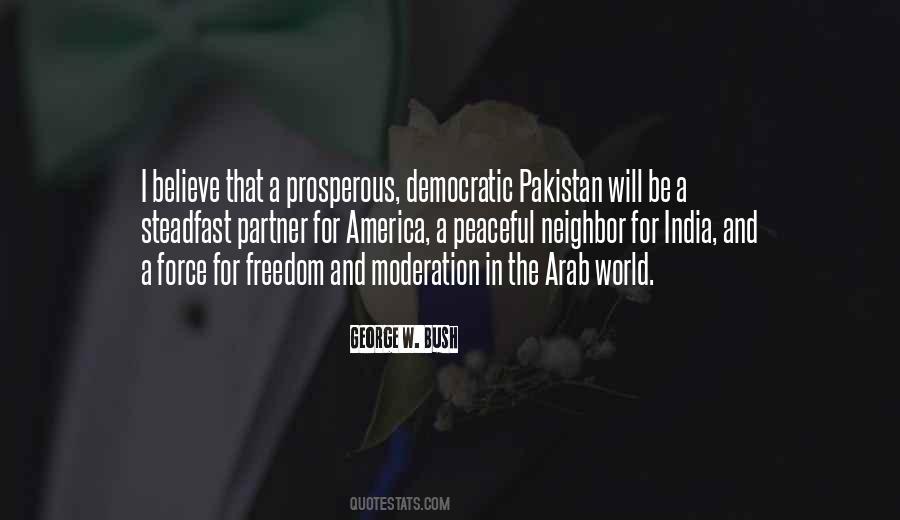 #29. I will only say that many freedom fighters of India found their calling in the institutions of Britain. And many makers of modern India, including several of my distinguished predecessors, from Jawaharlal Nehru to Dr. Manmohan Singh, passed through their doors.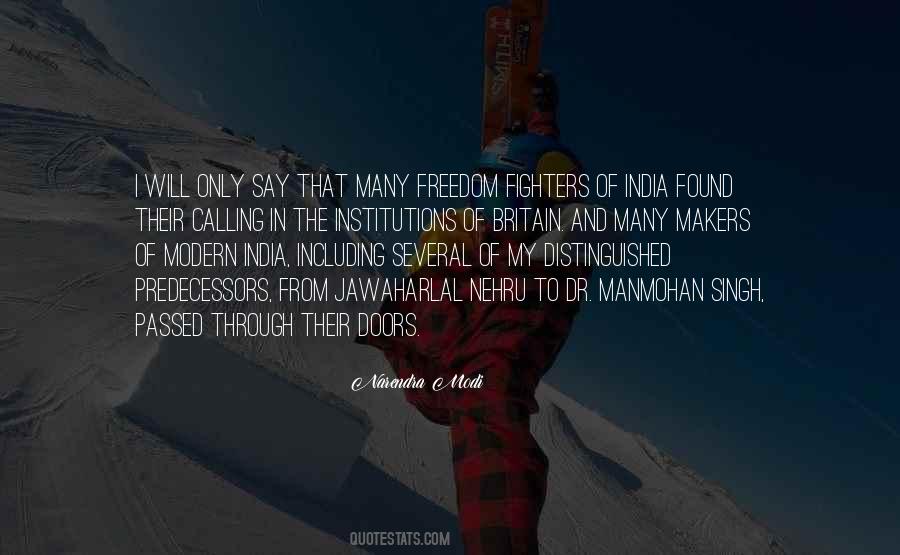 #30. Nothing depends upon the death of an individual, be he ever so great, but much depends upon the freedom of India.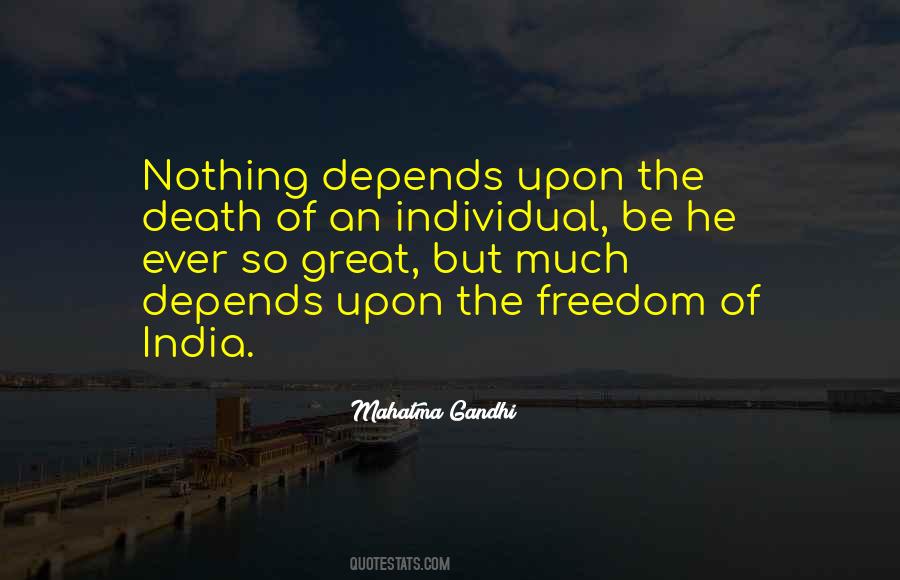 #31. To prosper, a zoo needs parliamentary government, democratic elections, freedom of speech, freedom of the press, freedom of association, rule of law and everything else enshrined in India's Constitution. Impossible to enjoy the animals otherwise. Long-term, bad politics is bad for business.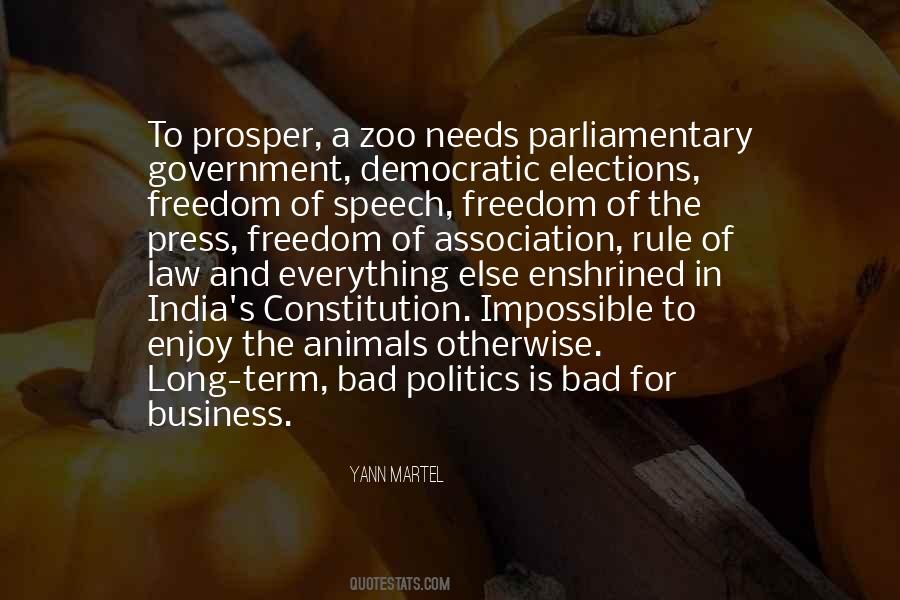 #32. Freedom is for the educated people who fought for it. We were slaves of the English, now we will be slaves of the educated Indians - or the Pakistanis.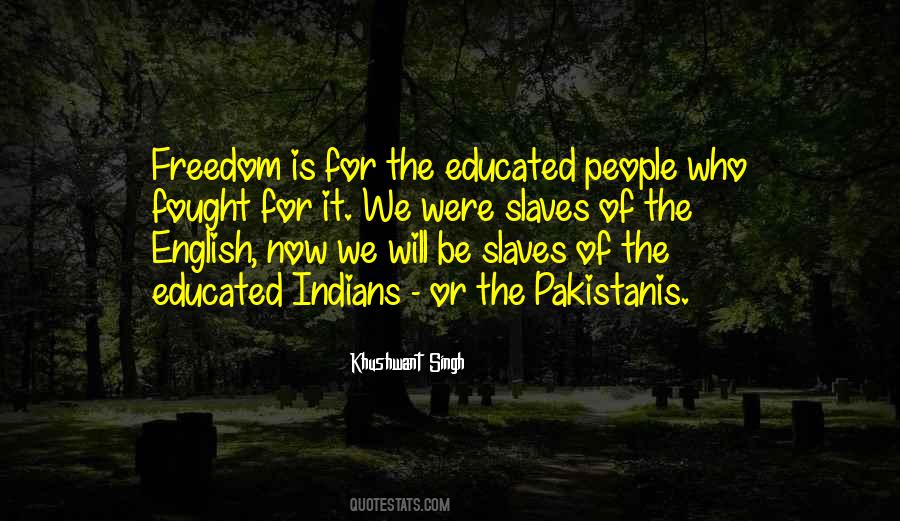 #33. Freedom is not a tea party, India. Freedom is a war.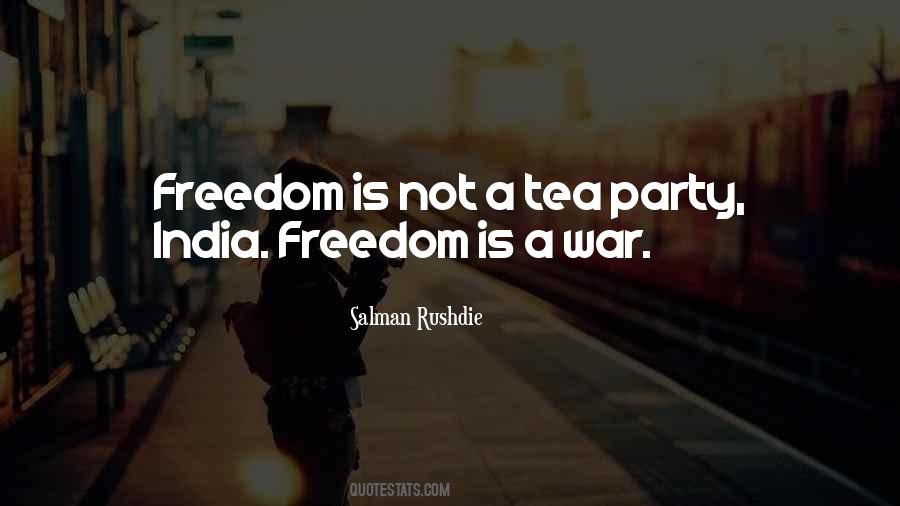 #34. We ask the great masses of India to be patient a short time longer, while the cause of freedom is being fought out, not because we want to delay, but because the hard facts of war make a complete change impossible at the moment.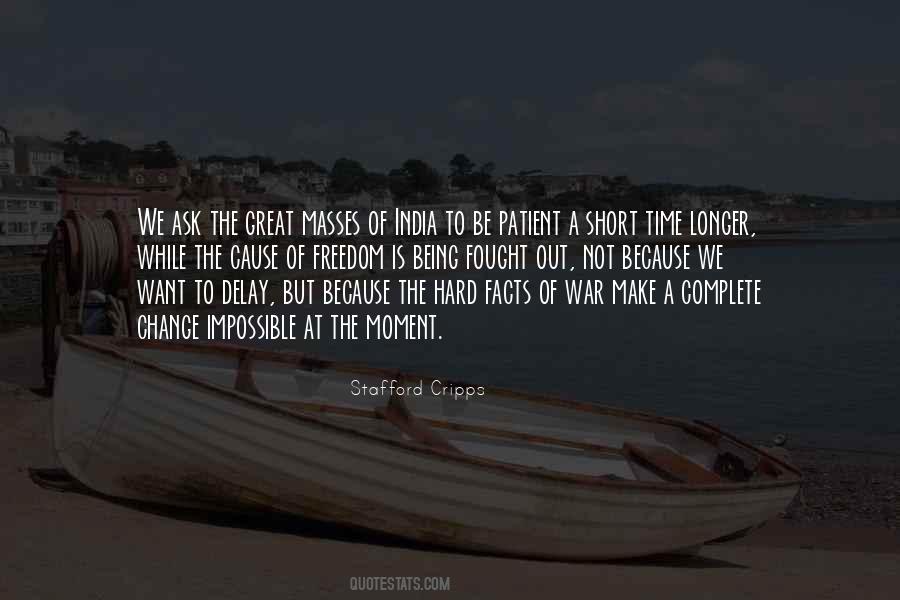 #35. India's freedom will not be won by violence but only by the purest suffering without retaliation.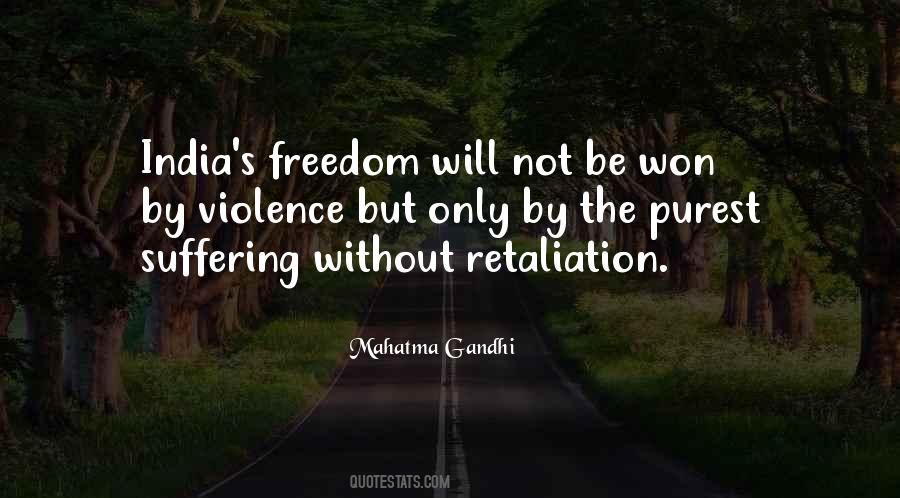 #36. I would far rather that India perished than that she won Her freedom at the sacrifice of truth.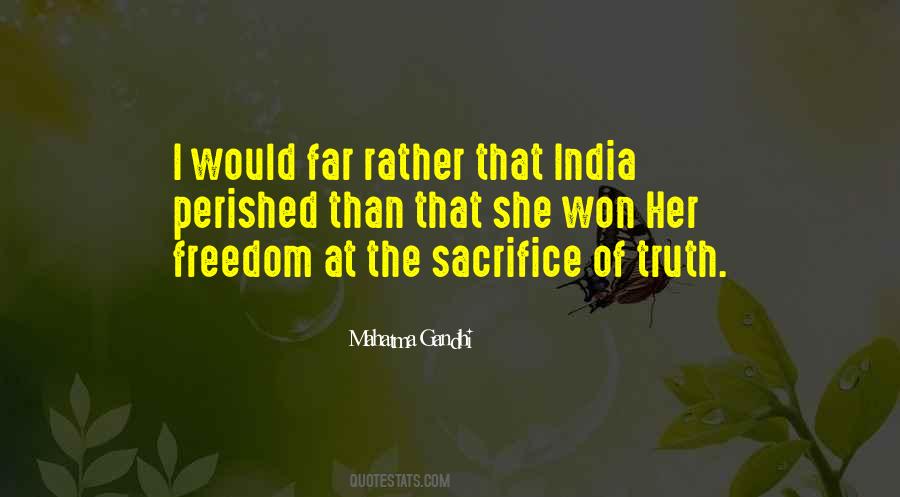 #37. A tyrst with destiny - A the stroke of midnight hour, when the world sleeps, India will awaken to life and Freedom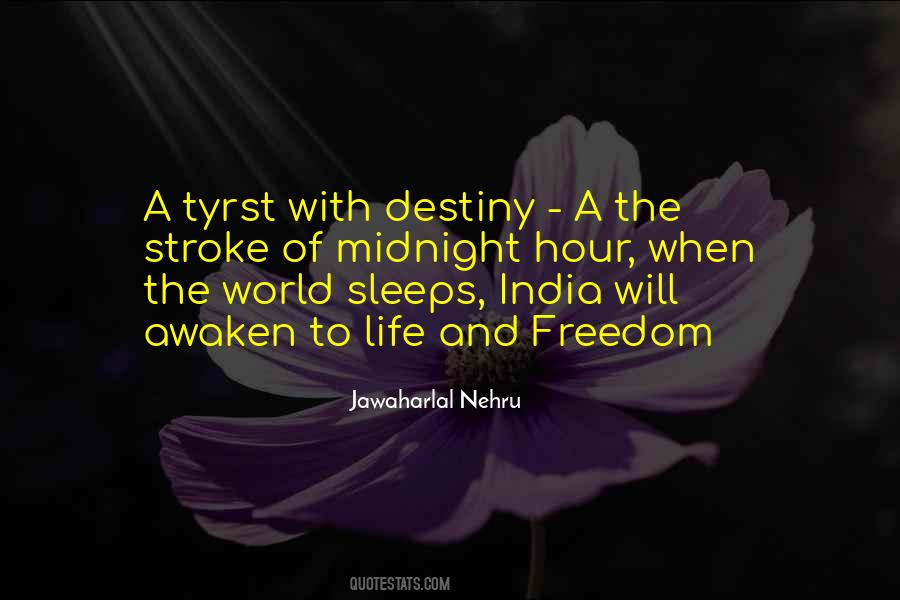 #38. Most modern Indians don't stick to their caste jobs any more. There is more inter-caste marriage, more fluidity, more freedom than ever before. But the outcastes are usually still outcastes, because they are still the ones who tan India's animals, burn its dead, and remove its excrement.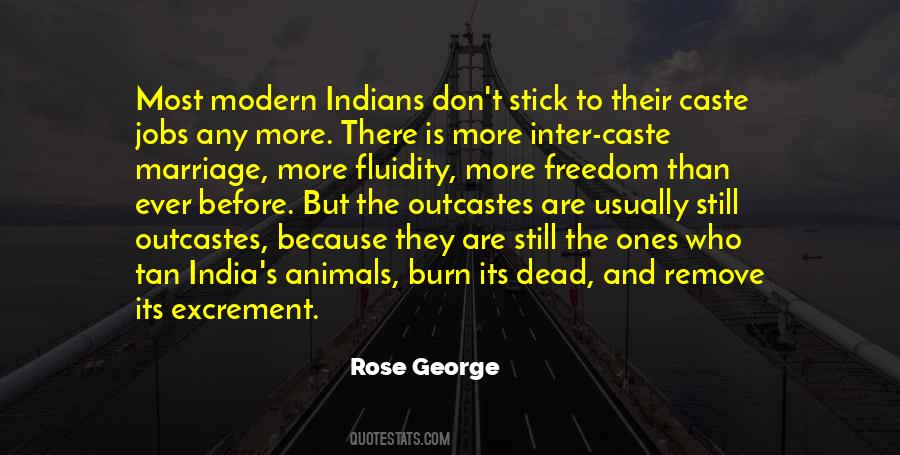 #39. If any Englishman dedicated his life to securing the freedom of India, resisting tyranny and serving the land, I should welcome that Englishman as an Indian.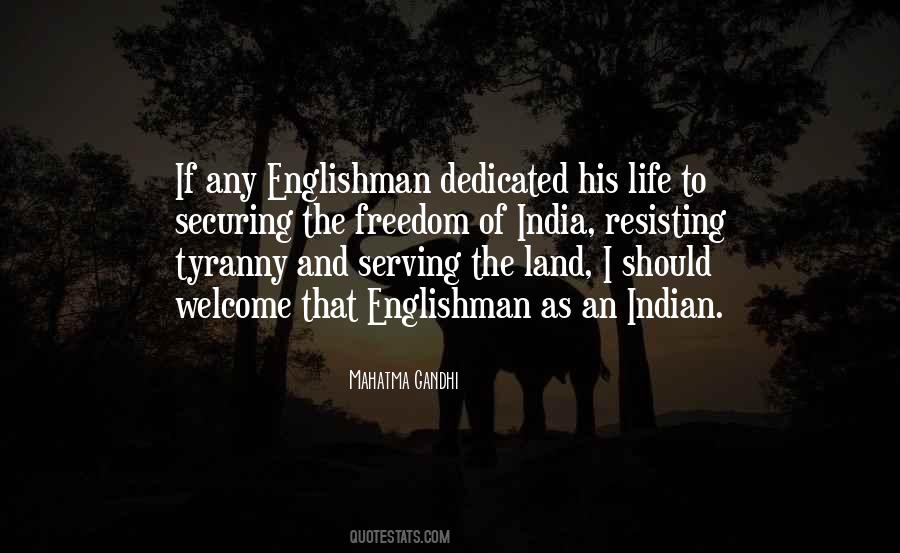 #40. The best thing about India is the freedom that one enjoys here, which is also the worst thing about it.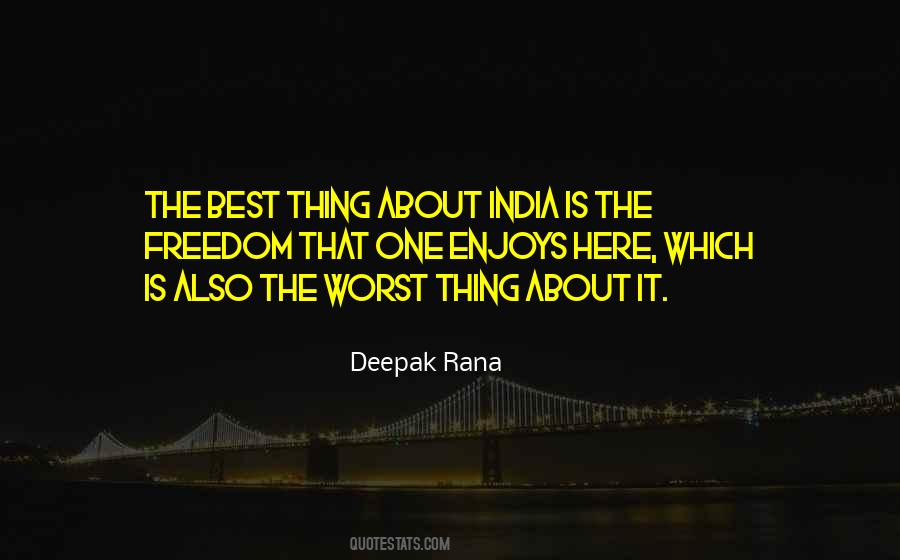 #41. Only about 10 percent of India's population uses the web, making it unlikely that Internet freedom will be a decisive ballot-box issue anytime soon.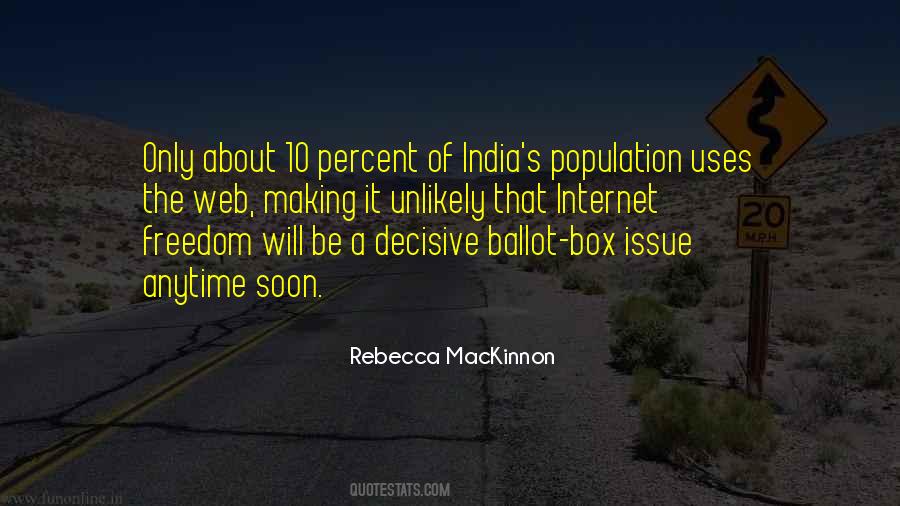 #42. I would not sell the vital interests of the untouchables for the sake of winning the freedom of India.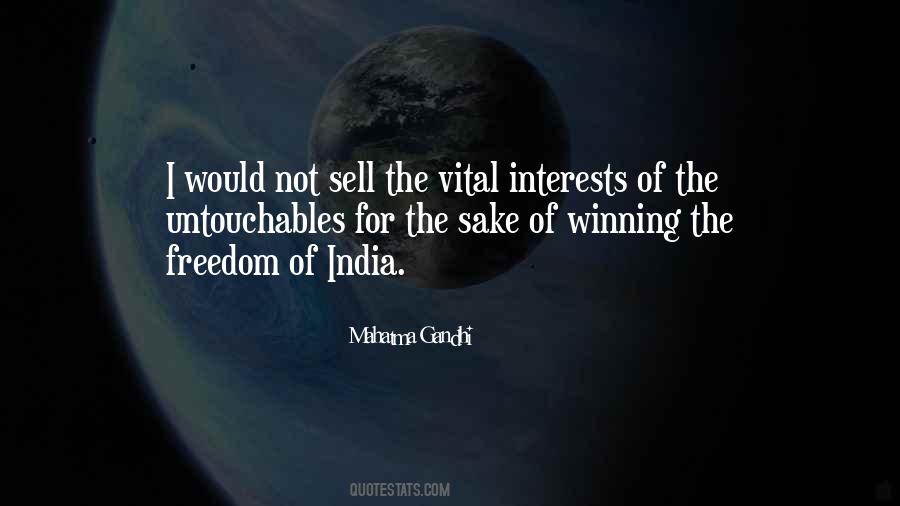 #43. Anything Freed with Guns will Go Back Eventually.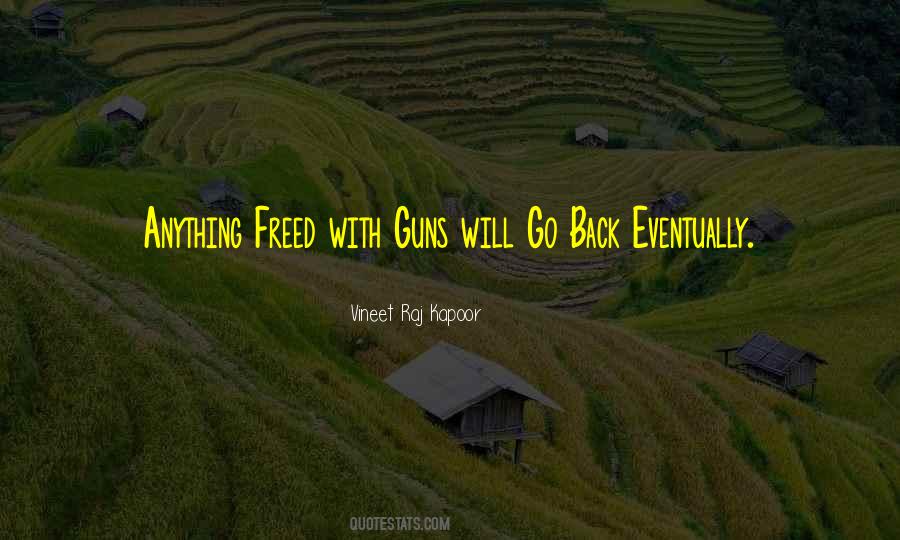 #44. Through realization of freedom of India, I hope to realize and carry on the mission of brotherhood of man.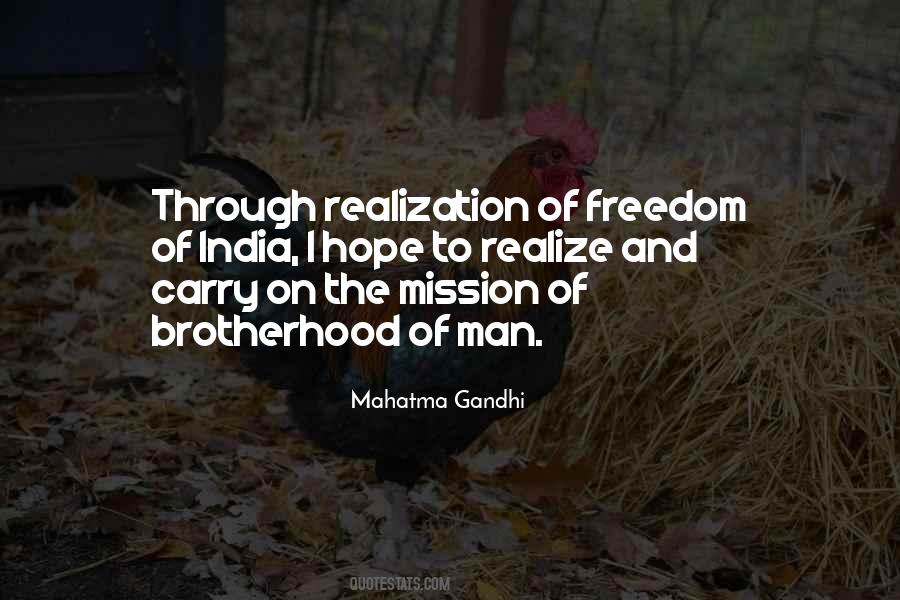 #45. Violent means will give violent freedom. That would be a menace to the world and to India herself.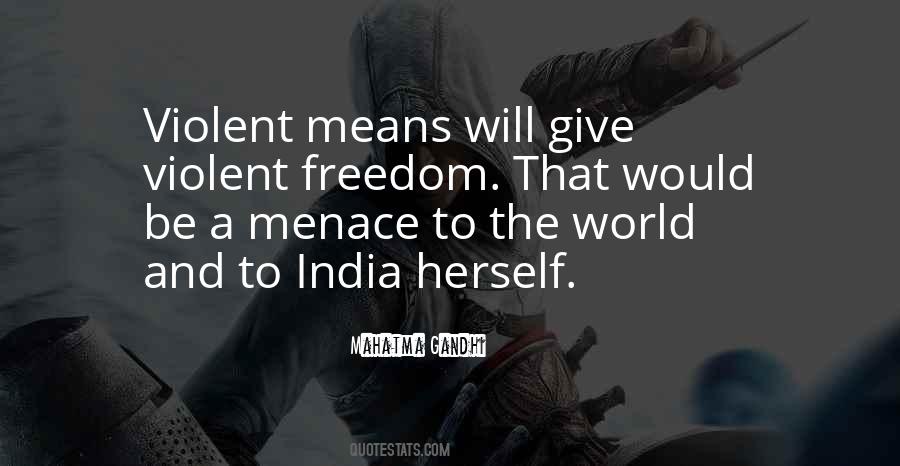 #46. I believe in an India of pluralism and diversity, not of religious bigotry and caste politics. I believe in an India that is secure in itself and confident of its place in the world, an India that is a proud example of tolerance, freedom and hope for the downtrodden.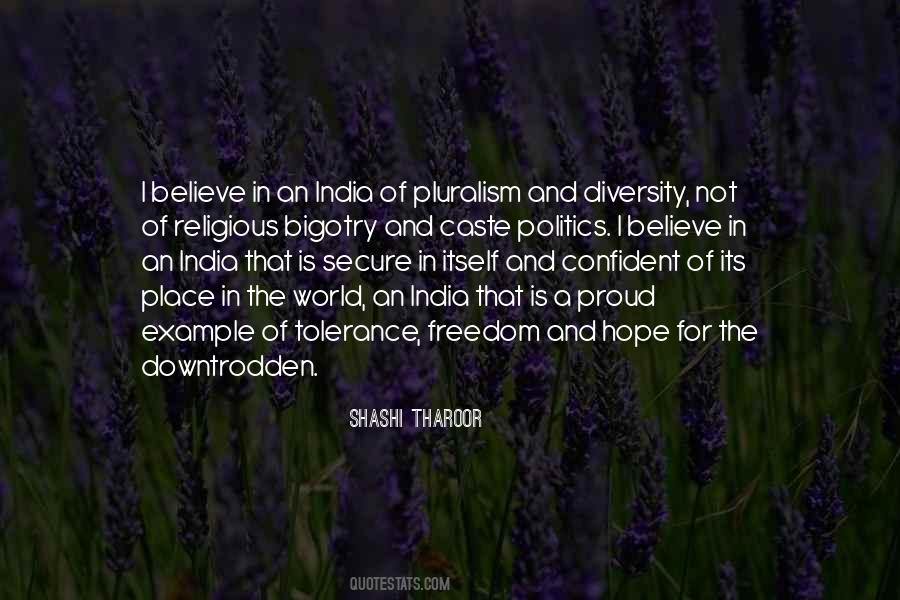 Famous Authors
Popular Topics