Freedom And Security Famous Quotes & Sayings
List of top 99 famous quotes and sayings about freedom and security to read and share with friends on your Facebook, Twitter, blogs.
Top 99 Quotes About Freedom And Security
#1. I believe the Patriot Act strikes the right balance needed to protect our freedom and security. - Author: Bill Owens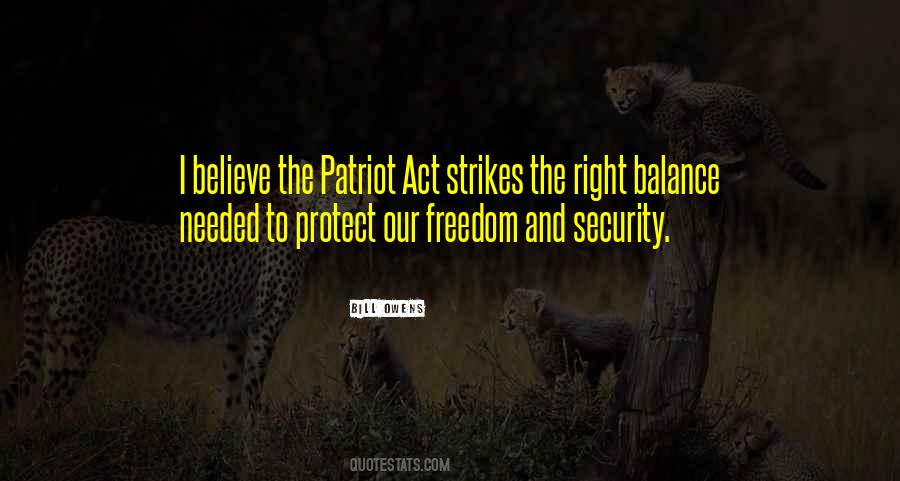 #2. When the fear of losing money and failing becomes too painful inside, a fear we both have, he chooses to seek security and I choose to seek freedom. - Author: Robert T. Kiyosaki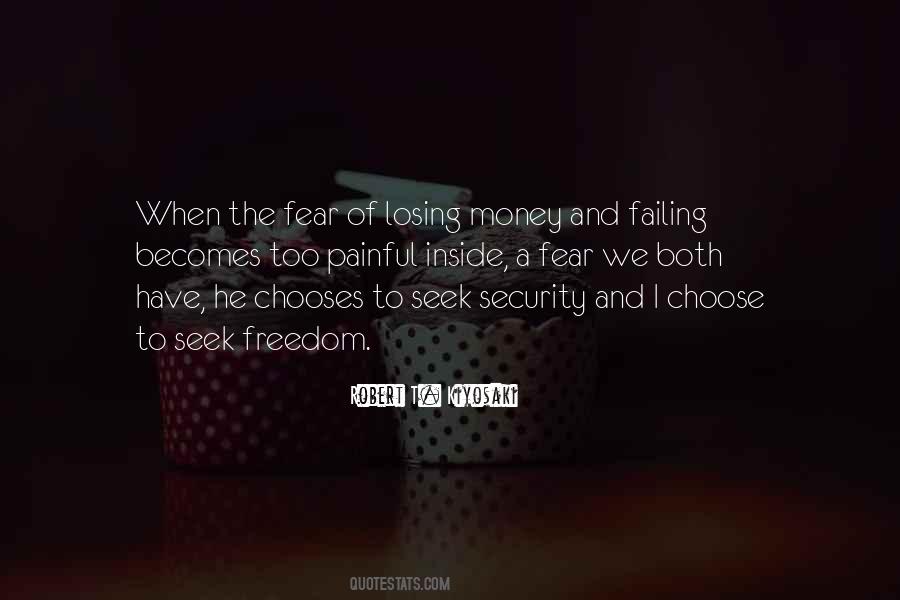 #3. When you abandon freedom to achieve security, you lose both and deserve neither. - Author: Thomas Jefferson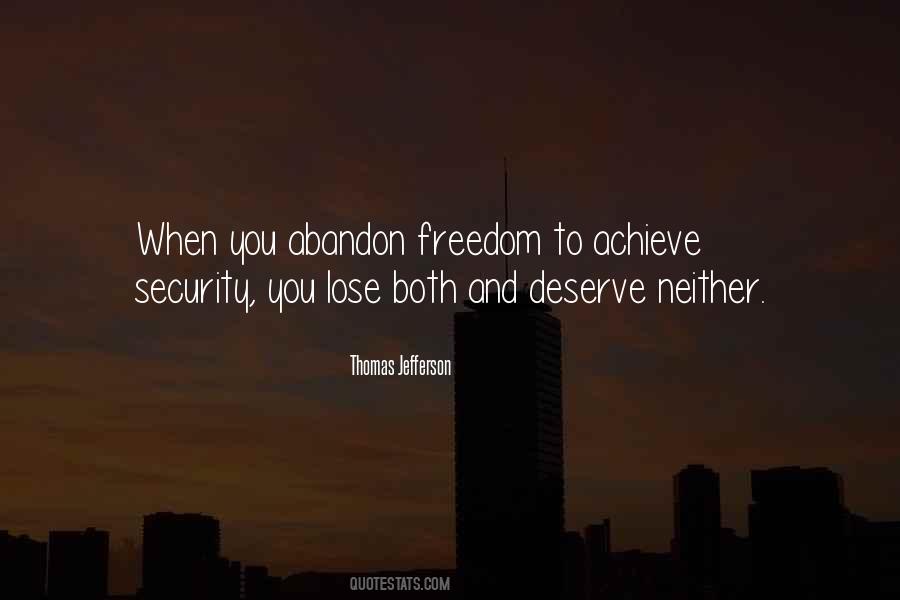 #4. This is American leadership at its best. We stand with people who fight for their own freedom, and we rally other nations on behalf of our common security and common humanity. - Author: Barack Obama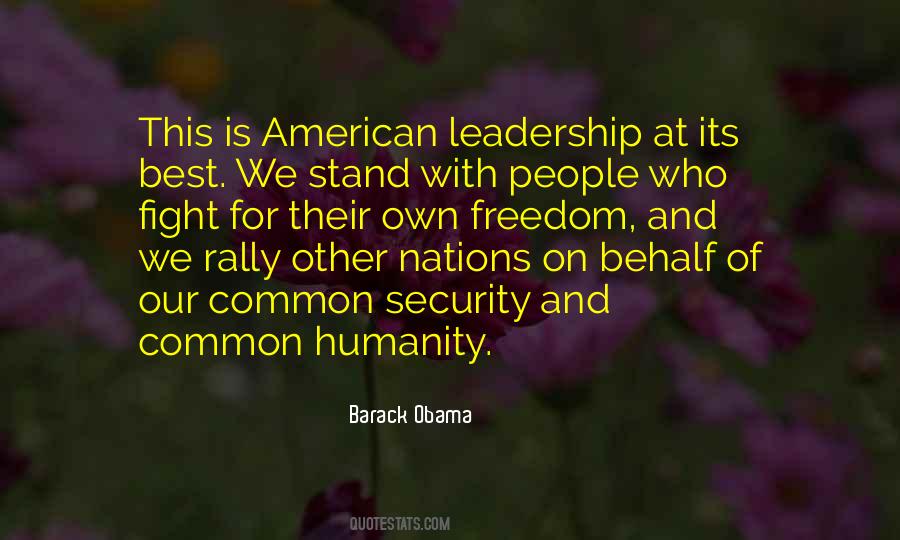 #5. That the whole nation, tired of war, actually only longed for order, quiet, and a little security and bourgeois life. And, secretly it hated the republic, not because it suppressed this wild freedom, but on the contrary, because it held the reins too loosely. - Author: Stefan Zweig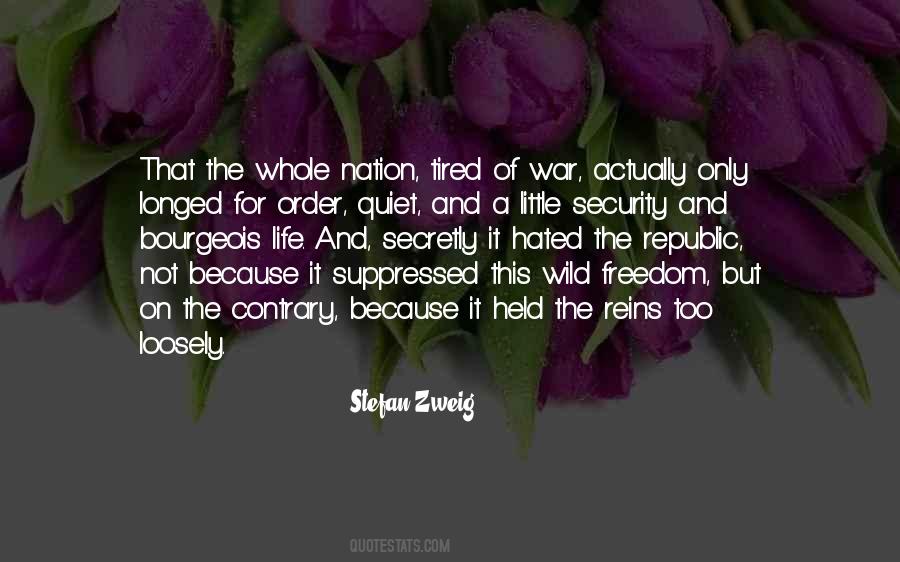 #6. Economic freedom has no security without political freedom, and political freedom can find its security only in economic freedom. - Author: Eugen Richter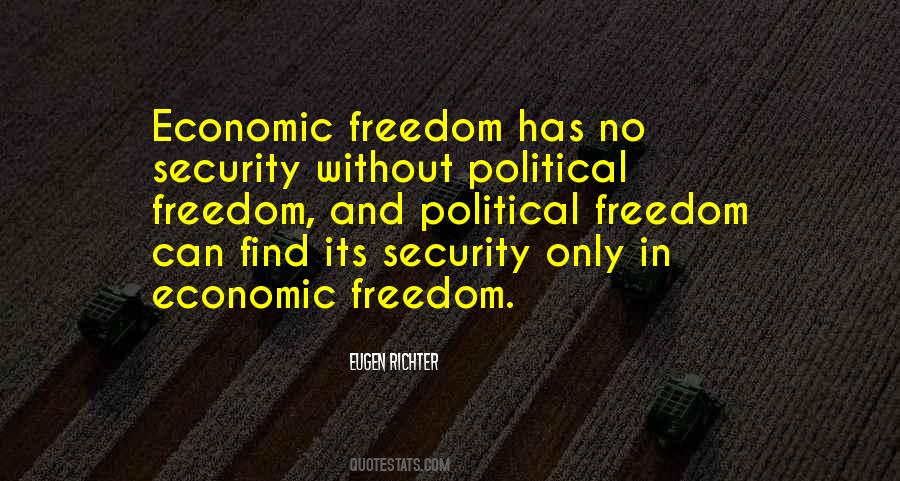 #7. We have to make sure that we are a force for peace and stability in the world, and that we're prepared to defend freedom and the security of the American people. - Author: Thad Cochran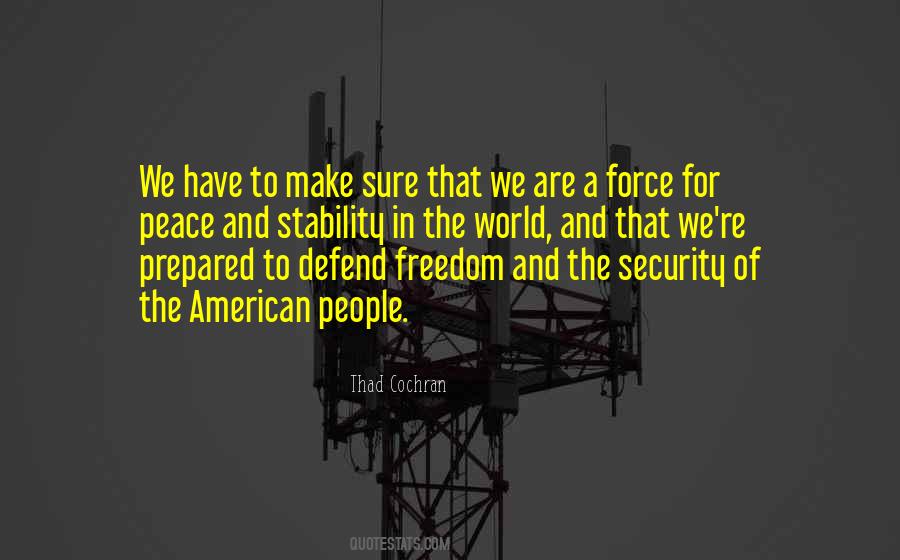 #8. Our constitutional liberties shall not be sacrificed in our search for greater security, for that is what our enemies and all enemies of freedom and democracy hope to achieve. - Author: Tammy Baldwin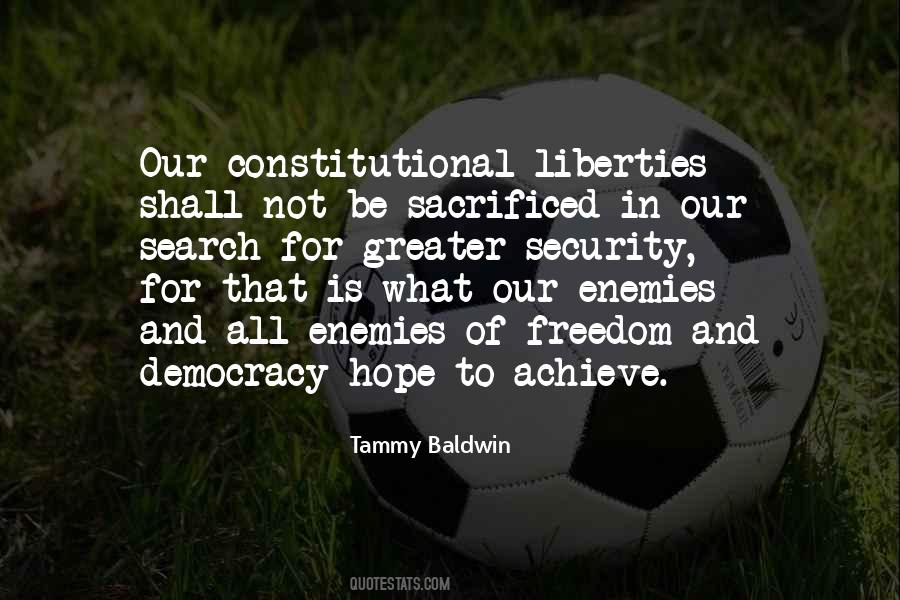 #9. Djuna had wanted a life of desire and freedom, not luxury but beauty, not security but fulfillment, not perfection but a perfect moment like this one ... - Author: Anais Nin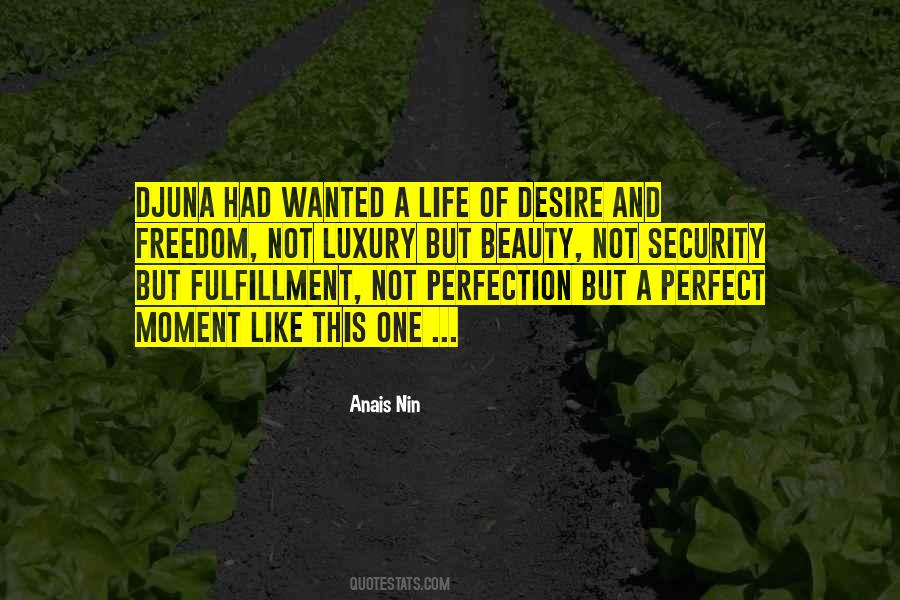 #10. Rather than risk starting their own businesses, most people seek safer environments, preferring job security to freedom and a steady paycheck to greater wealth. Their fear of failing is greater than the joy of freedom. - Author: Robert Kiyosaki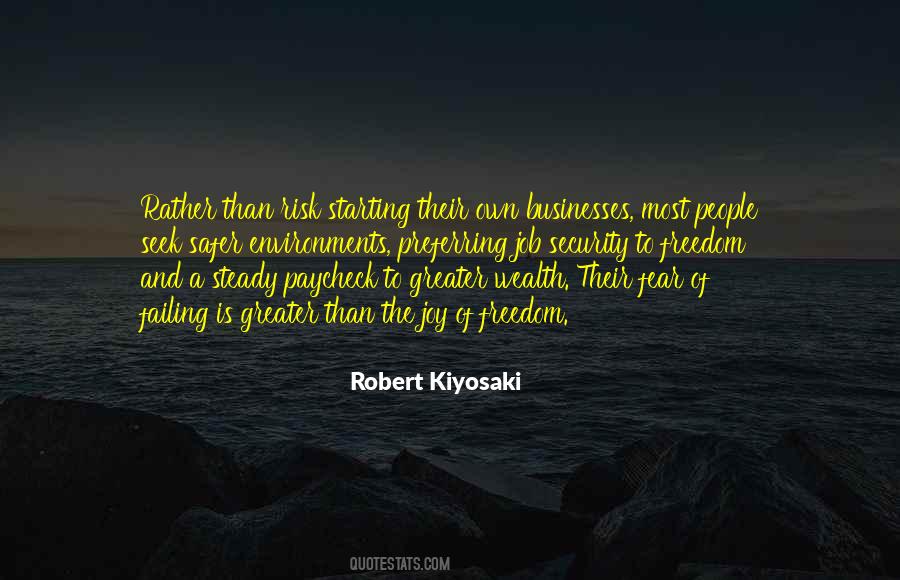 #11. Operation Iraqi Freedom is over, and the Iraqi people now have lead responsibility for the security of their country - Author: Barack Obama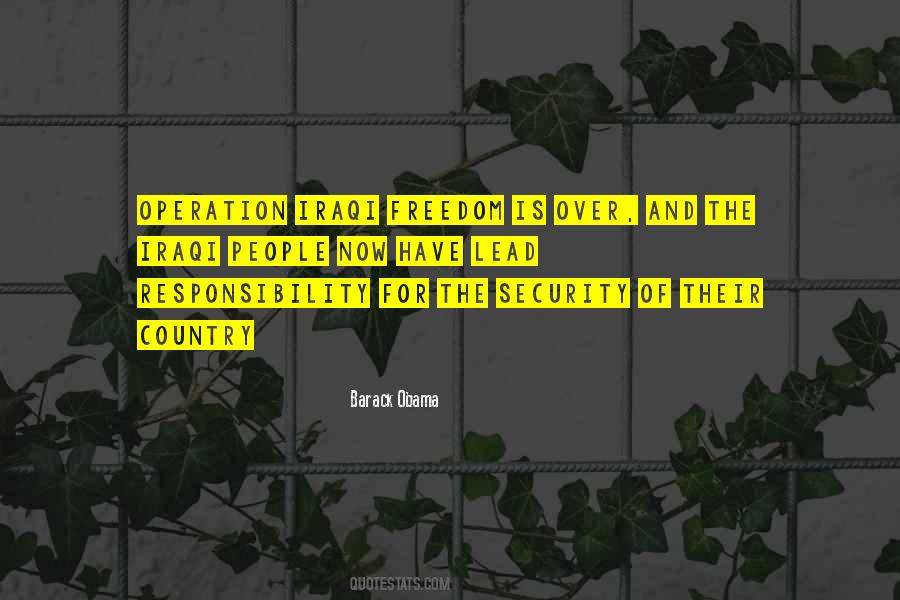 #12. We are expected to believe that anyone who objects to the Department of Homeland Security or the USA Patriot Act is a terrorist, and that the only way to preserve our freedom is to hand it over to the government for safekeeping. - Author: L. Neil Smith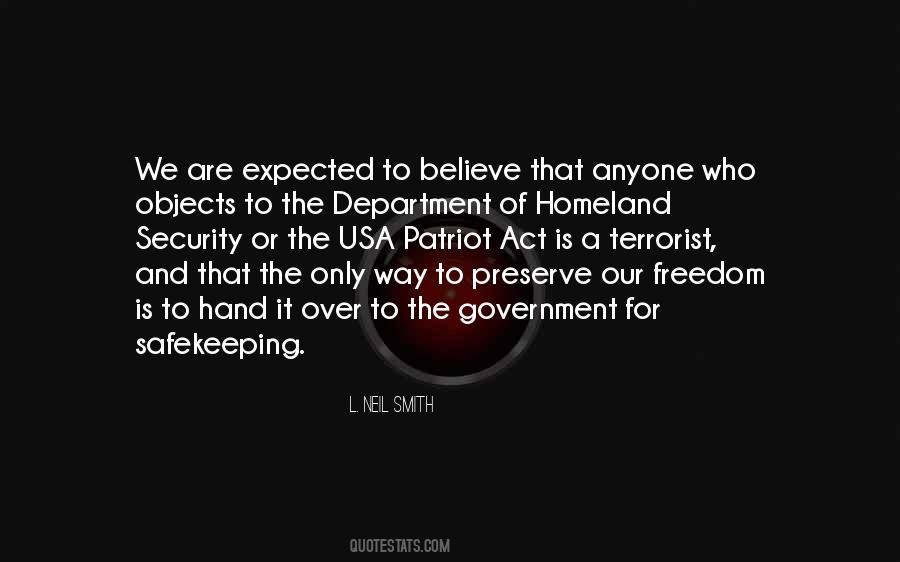 #13. In climbing, there was always a fraction of a second between the security of being locked in and the freedom of an actual rappel. - Author: Paul Aertker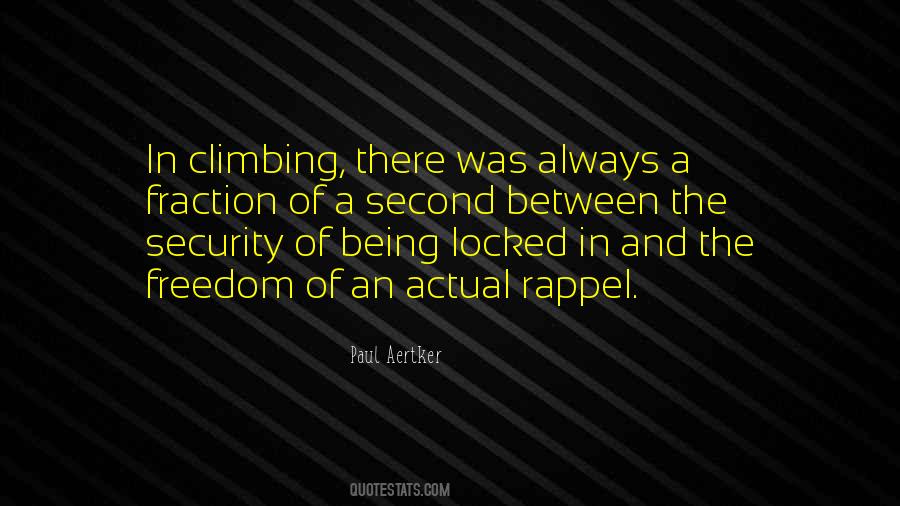 #14. It is through generous giving, that we affirm before the world, our nation's faith in the inalienable right of every man, to a life of freedom, justice and security. - Author: Harry S. Truman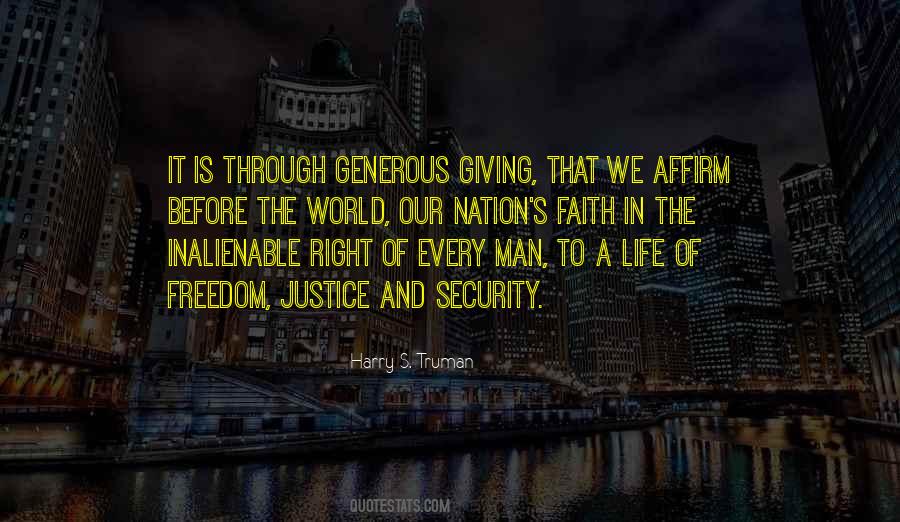 #15. The more men you make free, the more freedom is strengthened, and the more men you give an interest in the welfare and safety of the State, the greater is the security of the State. - Author: Frederick Douglass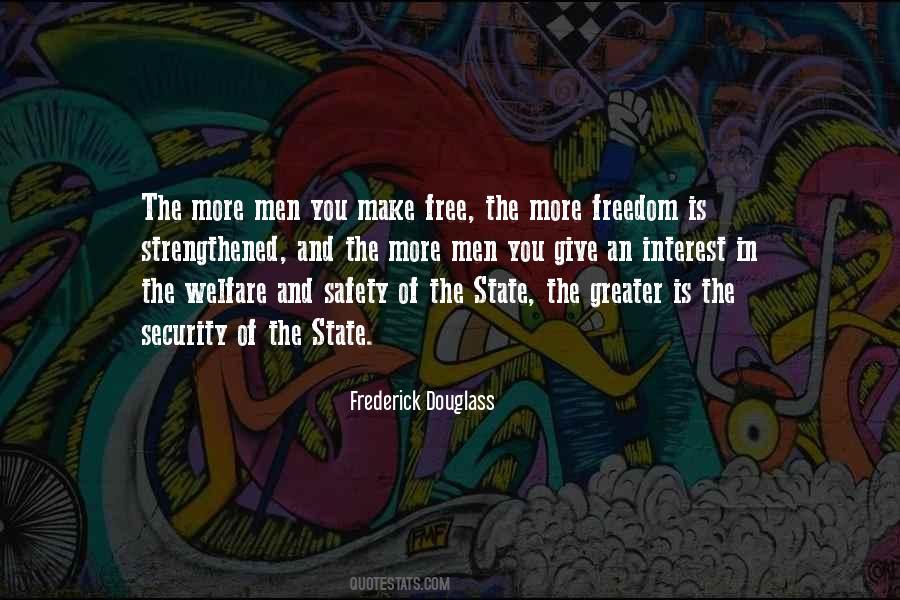 #16. I will not forget this wound to our country or those who inflicted it. I will not yield; I will not rest; I will not relent in waging this struggle for freedom and security for the American people. - Author: George W. Bush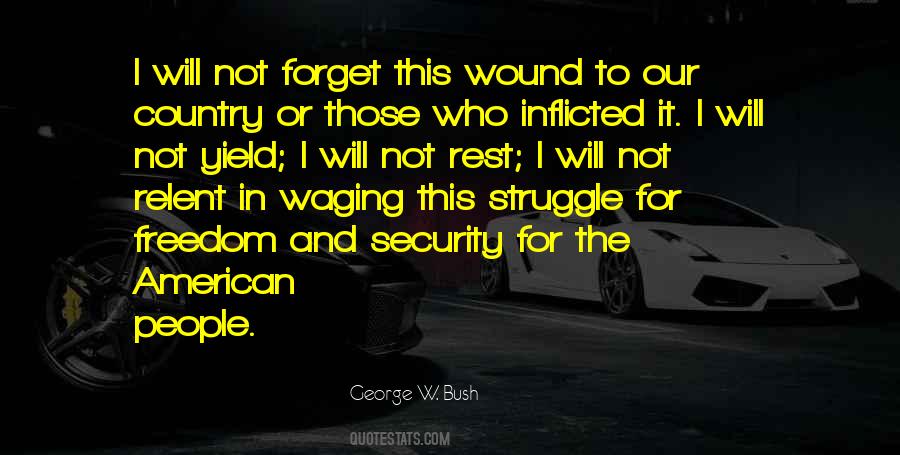 #17. The magic of America is that we're a free and open society with a mixed population. Part of our security is our freedom. - Author: Madeleine Albright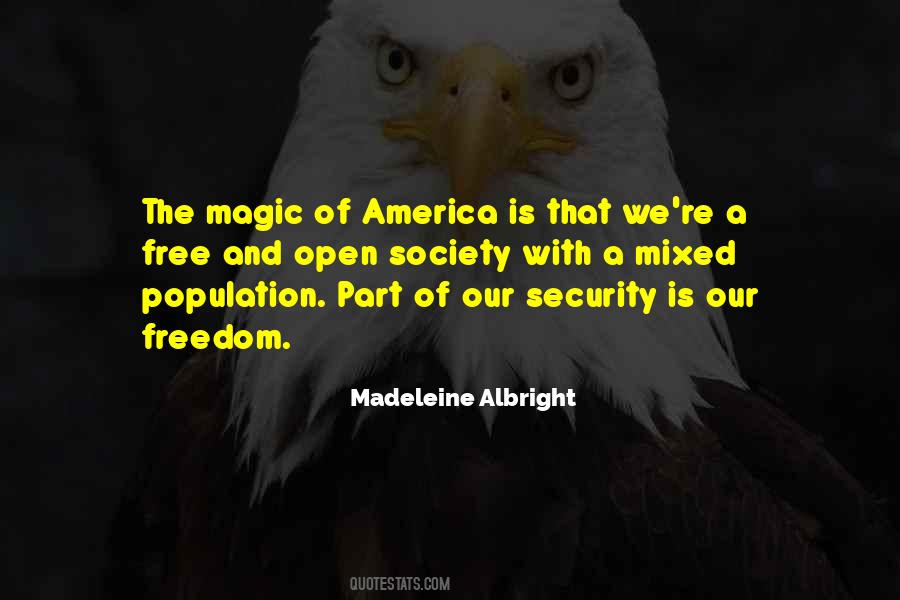 #18. If you want total security, go to prison. There you're fed, clothed, given medical care and so on. The only thing lacking ... is freedom. - Author: Dwight D. Eisenhower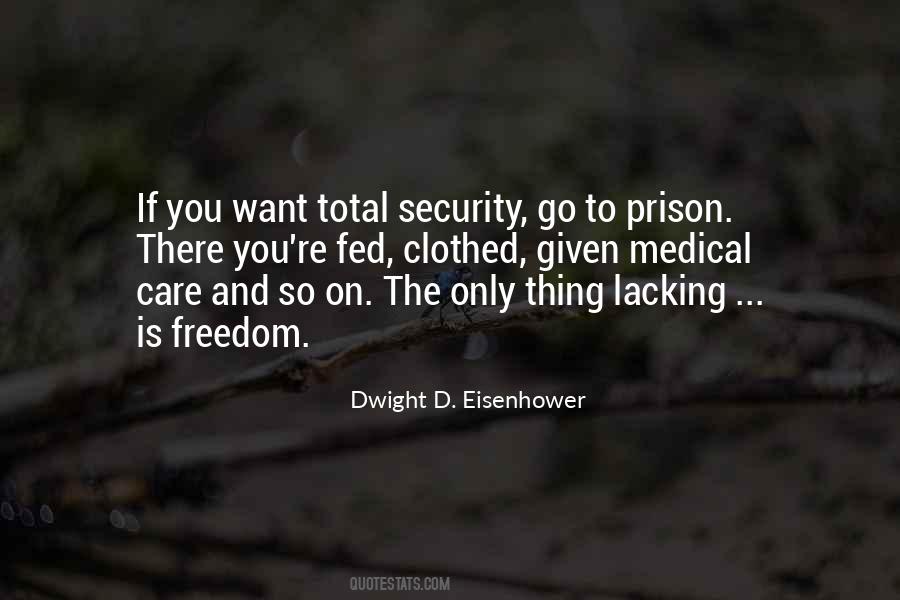 #19. The goal of the EU is to form a region of freedom, security and justice. Freedom in this connection cannot be just the freedom of the strong, but it must be combined with fraternity and equality. - Author: Tarja Halonen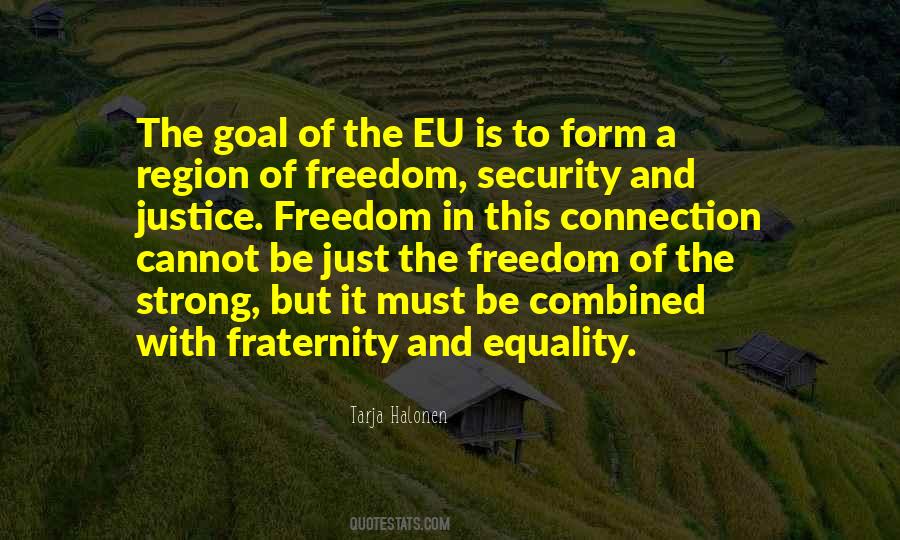 #20. Big Brother in the form of an increasingly powerful government and in an increasingly powerful private sector will pile the records high with reasons why privacy should give way to national security, to law and order [ ... ] and the like. - Author: William O. Douglas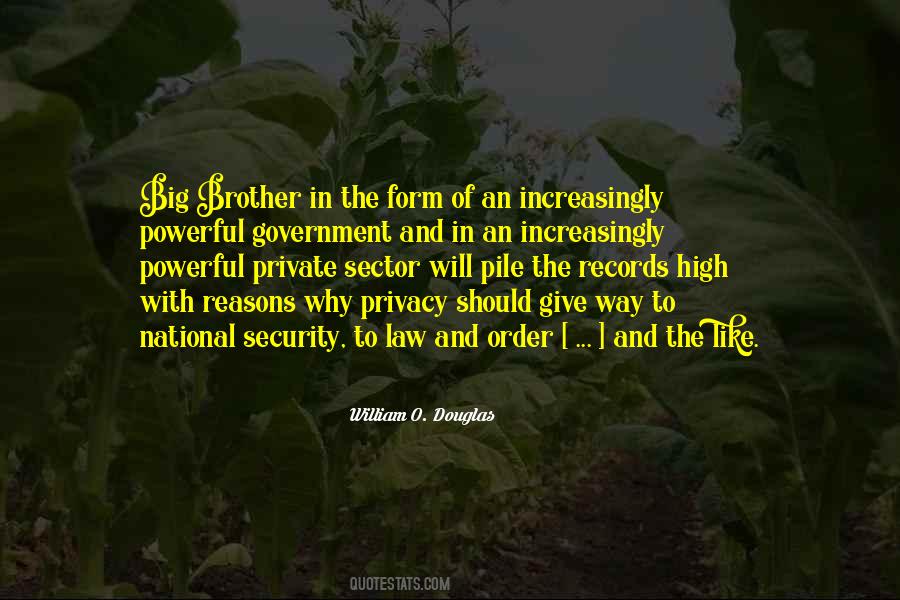 #21. This inevitability of conflict motivates us today and echoes the reminder that freedom is not given away and our national security is not achieved without sacrifice. - Author: Jim Walsh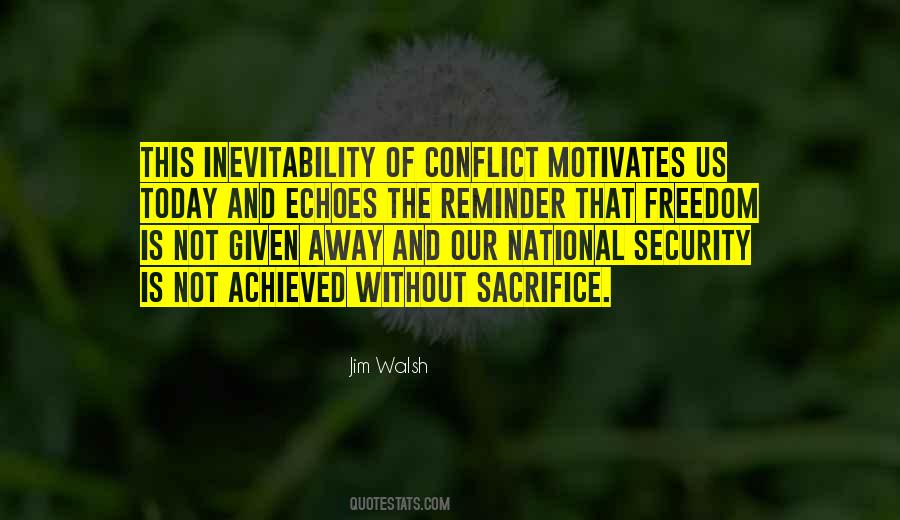 #22. The U.S. cannot impose freedom, security, and unity in Iraq by force. - Author: Peter DeFazio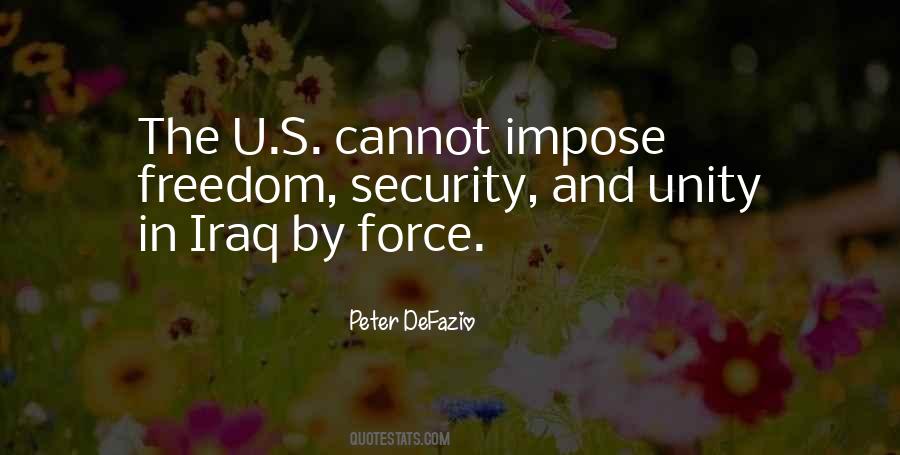 #23. By helping readers understand these mechanics, I hope they will appreciate why freedom is for everyone, why it is essential for our security and why the free world plays a critically important role in advancing democracy around the globe. - Author: Natan Sharansky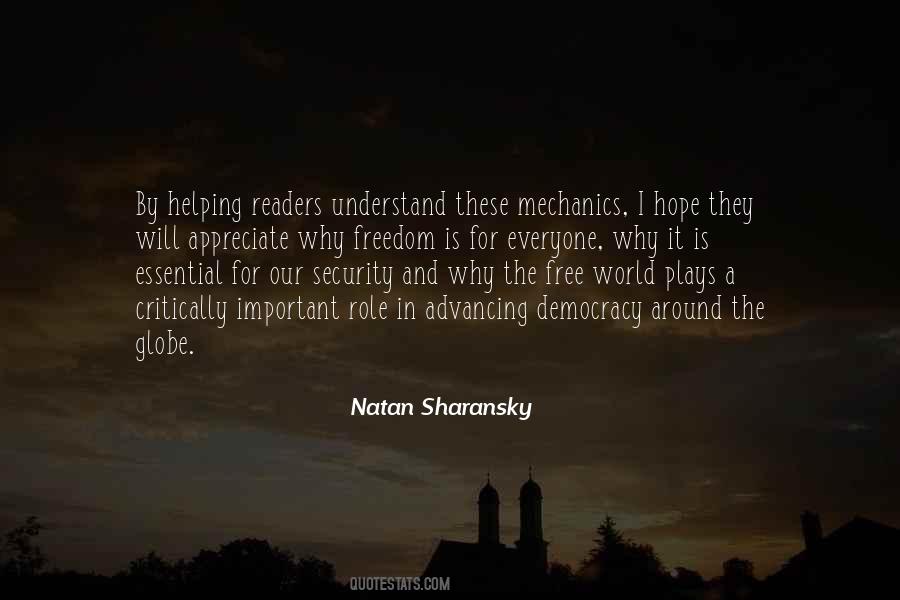 #24. People believe that through the American way of life they can work together to encourage wider ownership of economic activities. In this way, they believe they can develop an economy of abundance which will provide a maximum of security and freedom. - Author: Murray D. Lincoln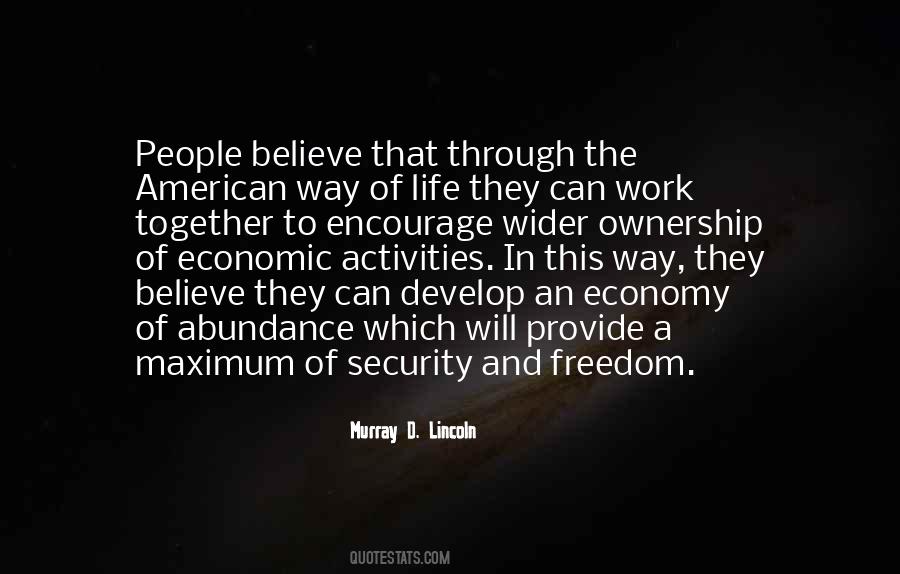 #25. Many will view the compromises that will be made during your negotiations as painful concessions. But why not view them as peace offerings, ones that will provide in return the priceless gifts of hope, security and freedom for our children and our children's? - Author: Abdallah II Of Jordan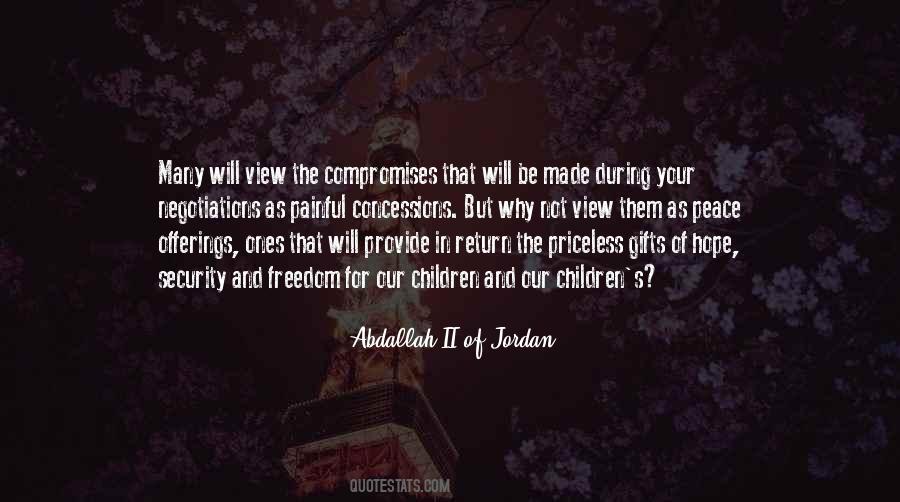 #26. Once two persons are tied together freedom is lost and anger arises. When freedom is lost everything becomes ugly. Love means that freedom remains intact: marriage means that freedom has been dropped. You have bargained for permanence, for security, and you have paid for it with freedom. - Author: Rajneesh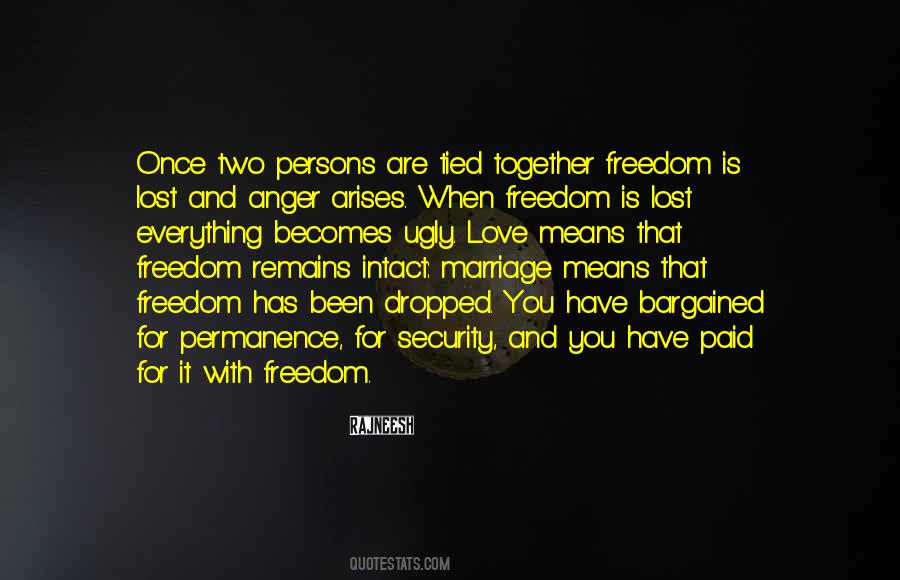 #27. There is no inverse relationship between freedom and security. Less of one does not lead to more of the other. People with no rights are not safe from terrorist attack. - Author: Molly Ivins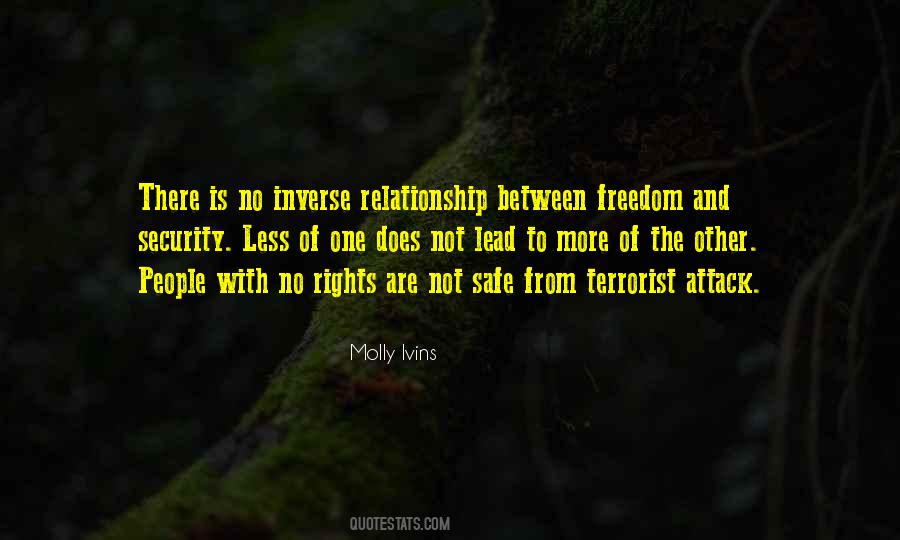 #28. Acting on empathy for people who are down and out requires that we have a social safety net to secure their freedom. So progressives see Social Security, welfare, and universal health care as increasing freedom. Conservatives - Author: George Lakoff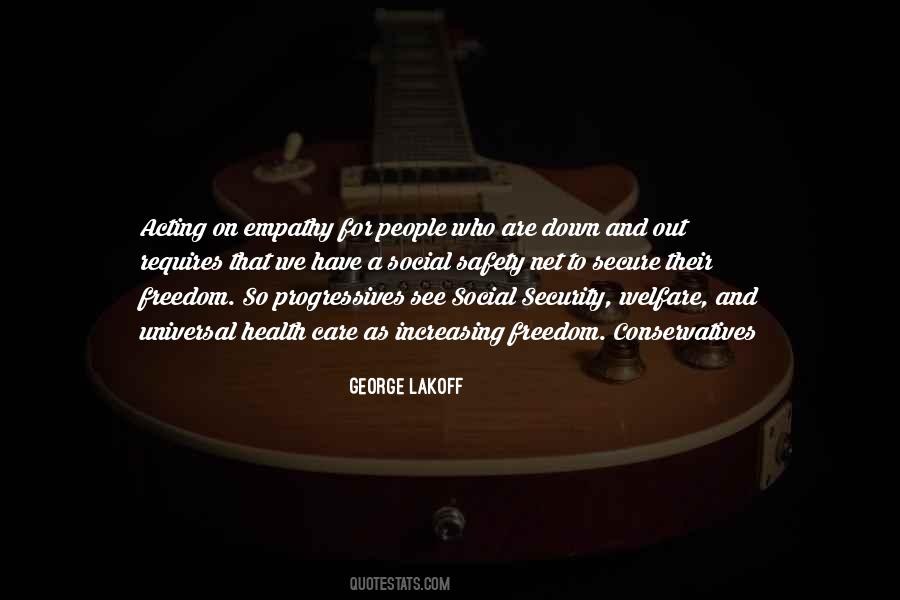 #29. We have to yet really seriously debate the constitutional issues and whether or not we're willing to give up more freedom in order to have more security. - Author: William Cohen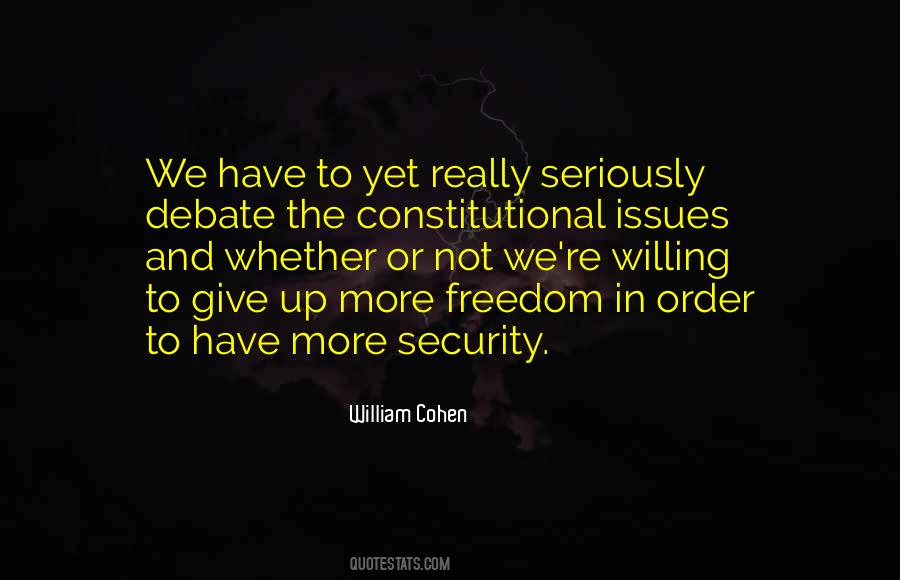 #30. I think the American people have become more reliant upon government and less reliant upon themselves and that they now tend to put security ahead of freedom, but I think freedom is the most important aspect of our lives. - Author: Lyn Nofziger
#31. We have sold our birthright of freedom and justice for a mess of national security. - Author: William Sloane Coffin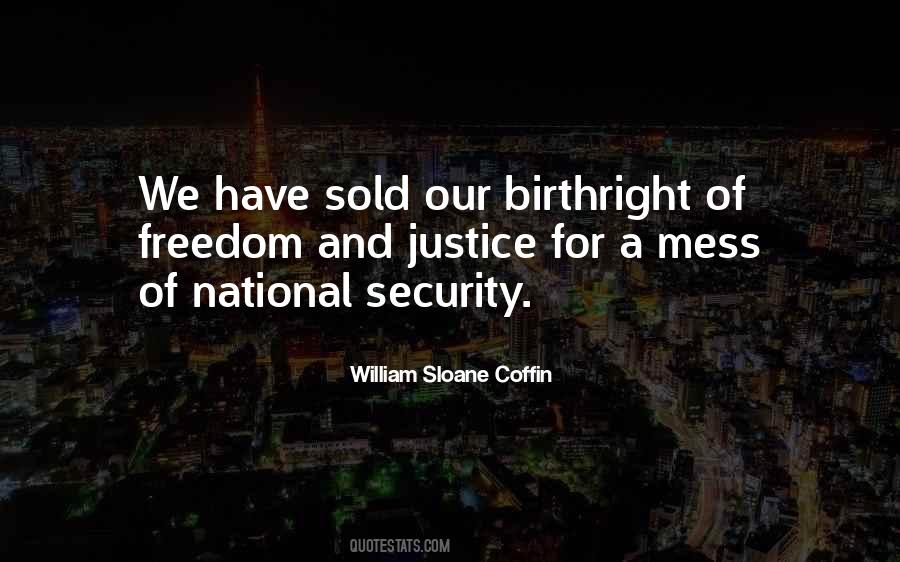 #32. We had become a country that valued security over freedom, power over justice, and war over peace. - Author: Robert Kroese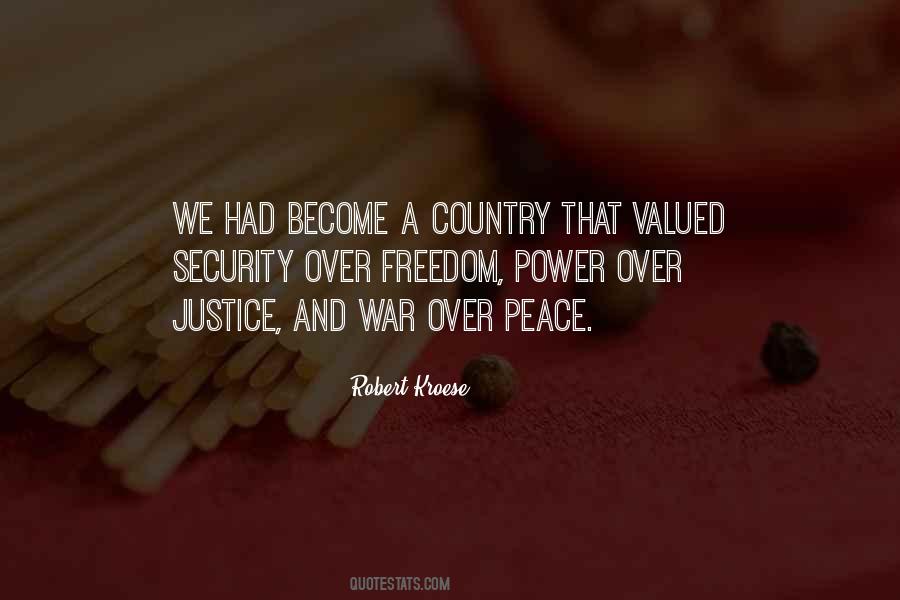 #33. [Liberty] considers religion as the safeguard of morality, and morality as the best security of law and the surest pledge of the duration of freedom. - Author: Alexis De Tocqueville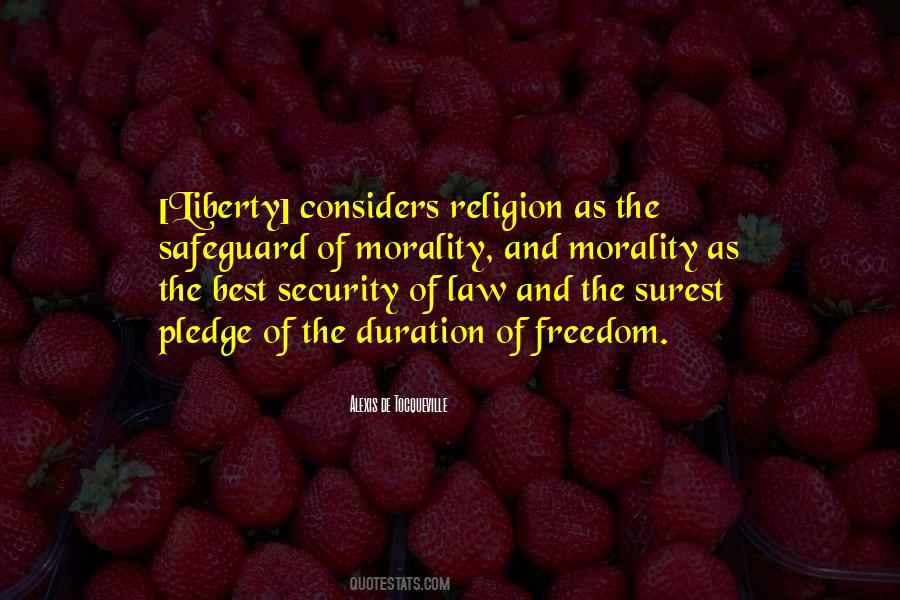 #34. I don't know what's more nerve-wracking, job insecurity or job security. There's opportunities and things you compromise with both. When I had endless freedom of schedule, or when I commit to a movie for two months, then I could manage my music and go on the road. - Author: Juliette Lewis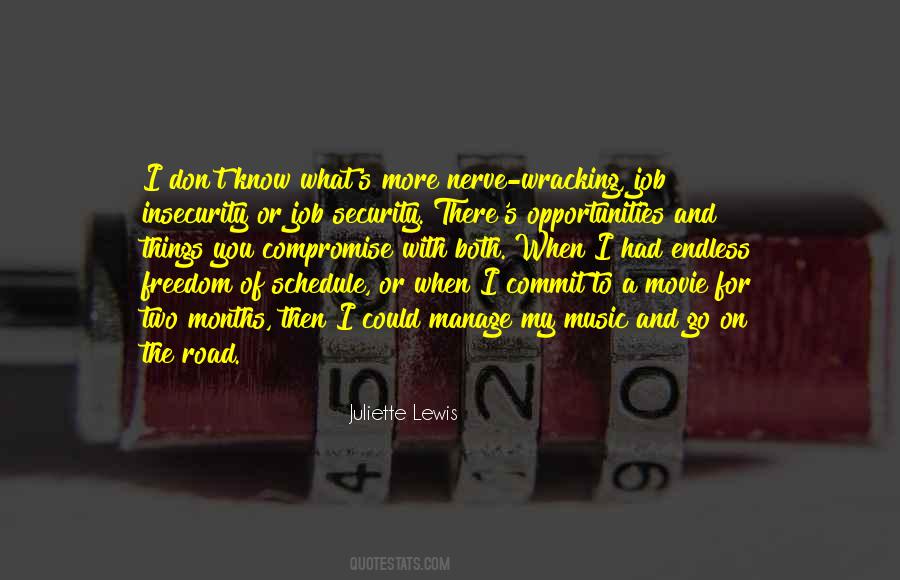 #35. America must remain, at any cost, the custodian of freedom, human dignity and economic security. The United States must be strong, so that no nation may dare attack. - Author: Louis B. Mayer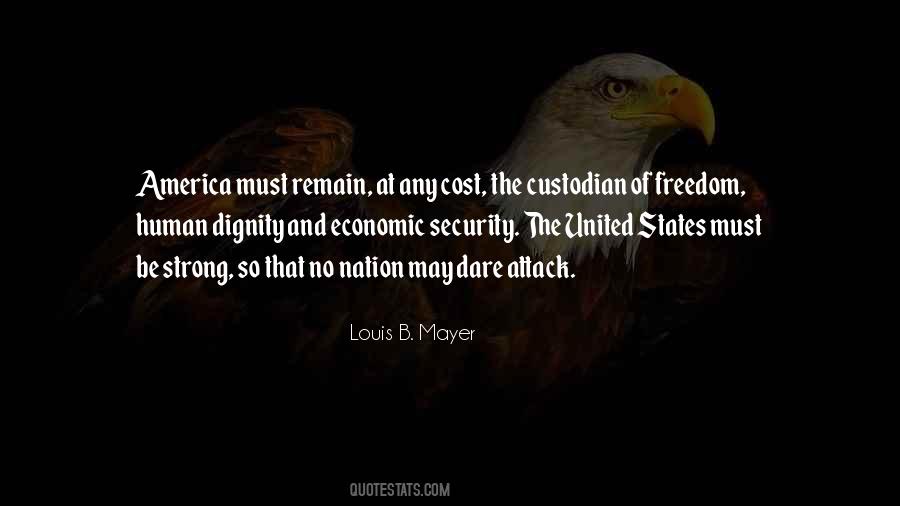 #36. From time to time, the irresponsible acts of the Cuban government remind us that this is far more than about the freedom of one country, but it really is about the stability and security of the region and the national security interests of the United States. - Author: Mel Martinez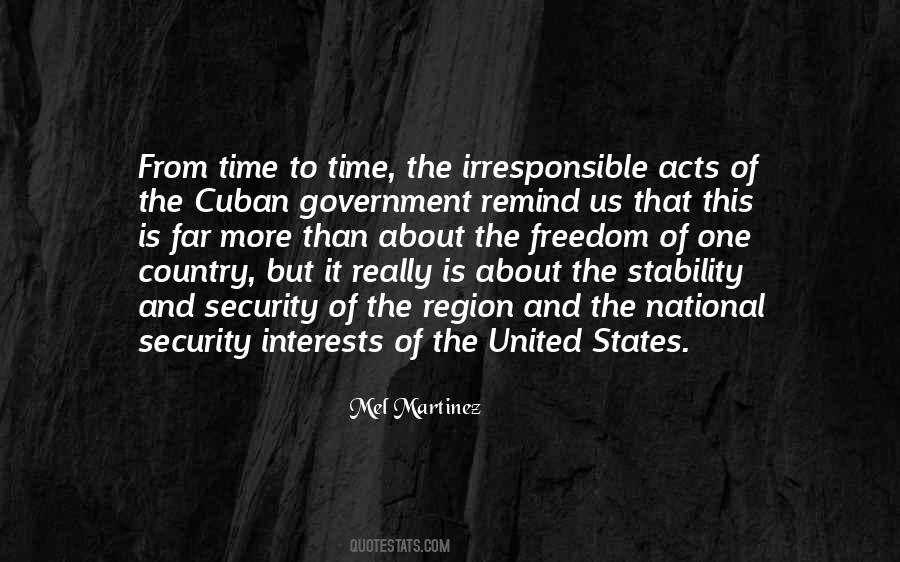 #37. You've just got to do what you think is right, and just make the decisions based upon noble causes. And a noble cause is peace and security and freedom. - Author: George W. Bush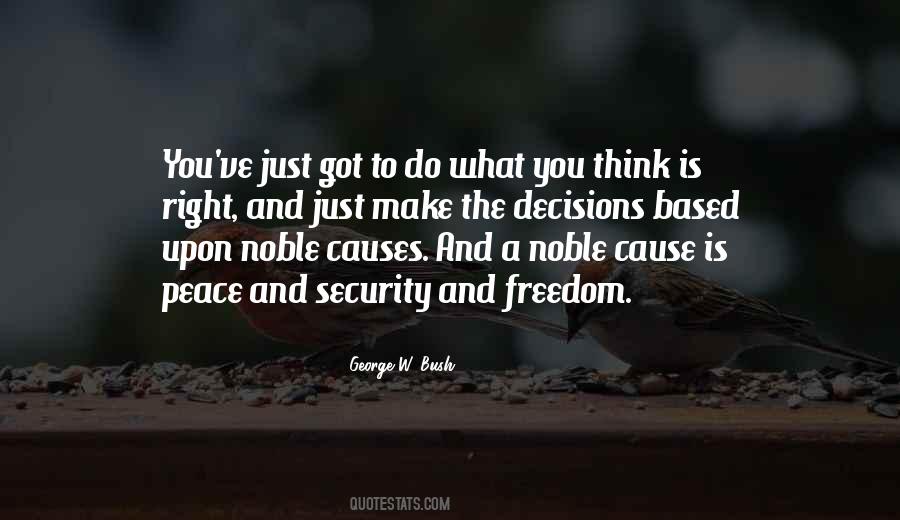 #38. Any society that would give up a little liberty to gain a little security will deserve neither and lose both. - Author: Benjamin Franklin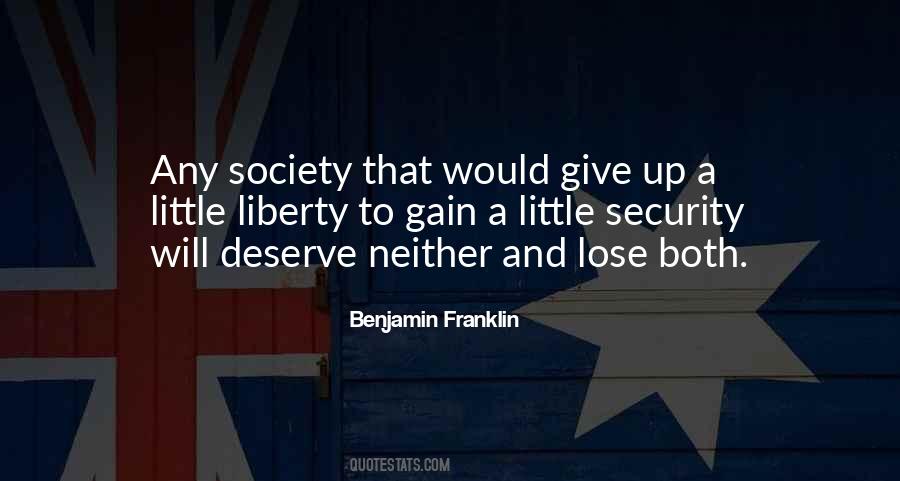 #39. Freedom arises from a multiplicity of sects, which pervades America, and is the best and only security for religious liberty in America. - Author: James Madison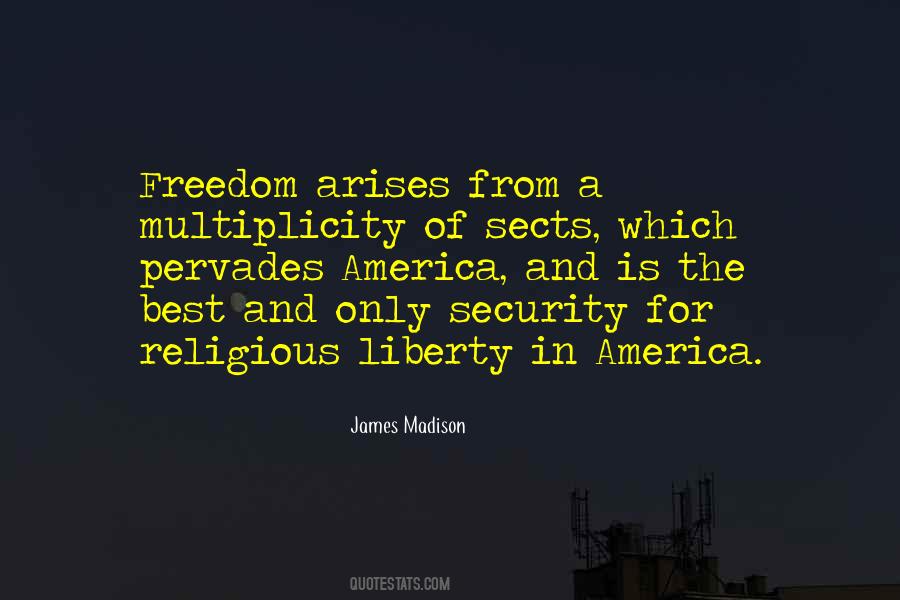 #40. For most people, the price for security is personal freedom. And without freedom, many people spend their lives working for money, rather than living out to their dreams - Author: Robert Kiyosaki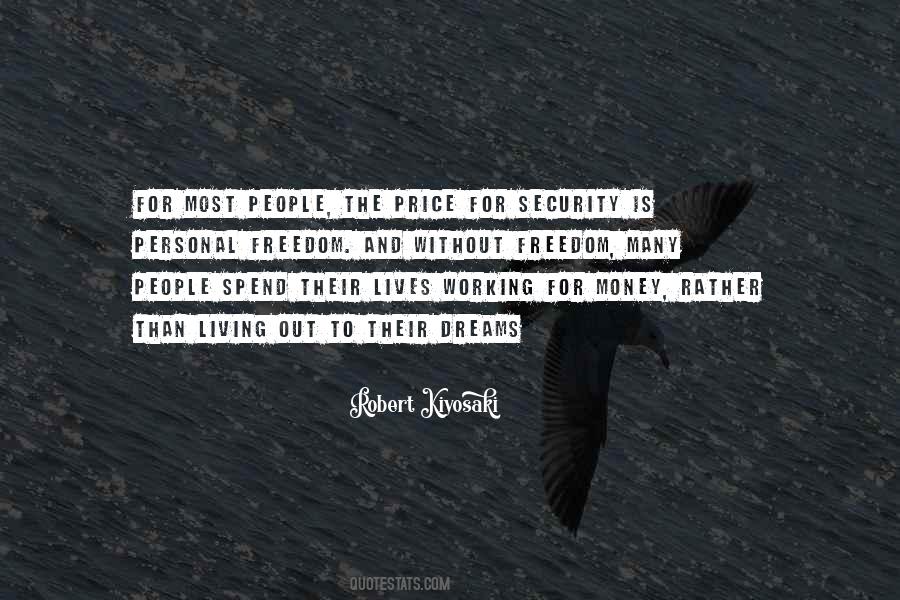 #41. A well-regulated militia, being necessary to the security of a free state, the right of the people to keep and bear arms shall not be infringed. - Author: James Madison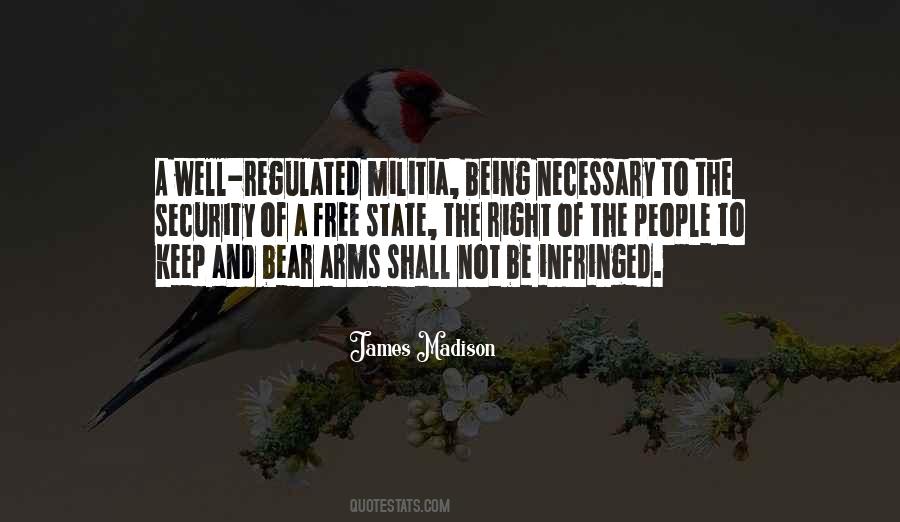 #42. Democracies have been found incompatible with personal security or the rights of property; and in general been as short in their lives as they have been violent in their death. - Author: James Madison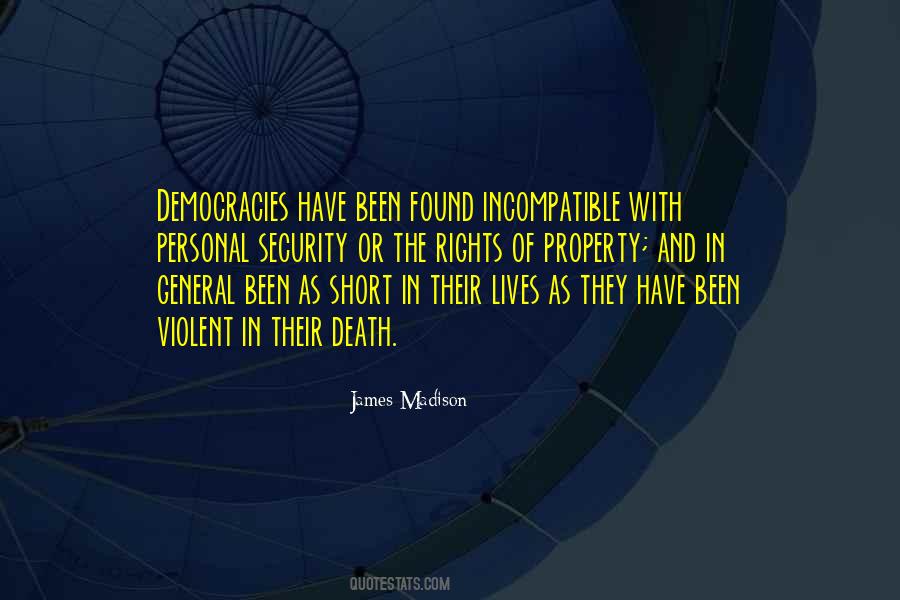 #43. Freedom would be meaningless without security in the home and in the streets. - Author: Nelson Mandela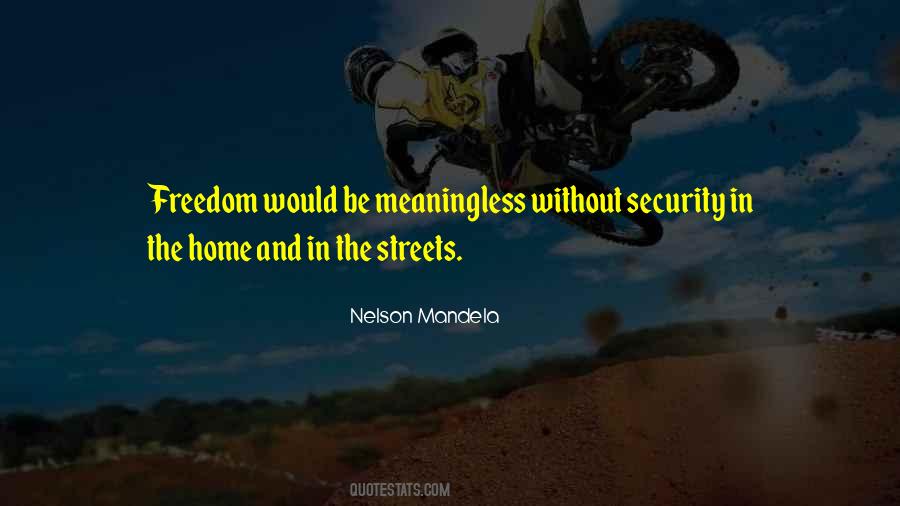 #44. The abortion license has not brought freedom and security to women. Rather, it has ushered in a new era of irresponsibility toward women and children, one that now begins before birth. - Author: Robert Casey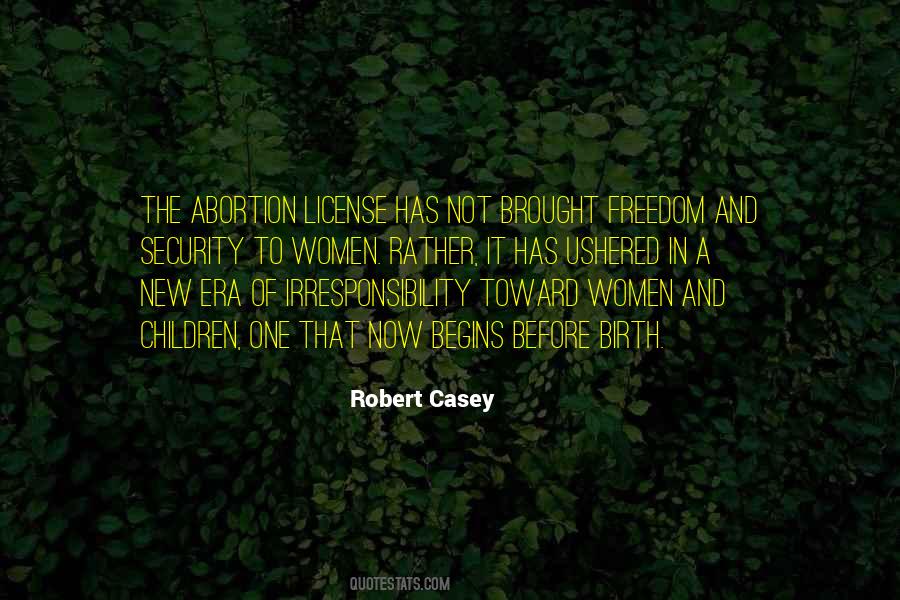 #45. Today the Iraqi and Afghan people are on the path to democracy and freedom. The governments that are rising will pose no threat to others. Instead of harboring terrorists, they're fighting terrorist groups. And this progress is good for the long-term security of all of us. - Author: George W. Bush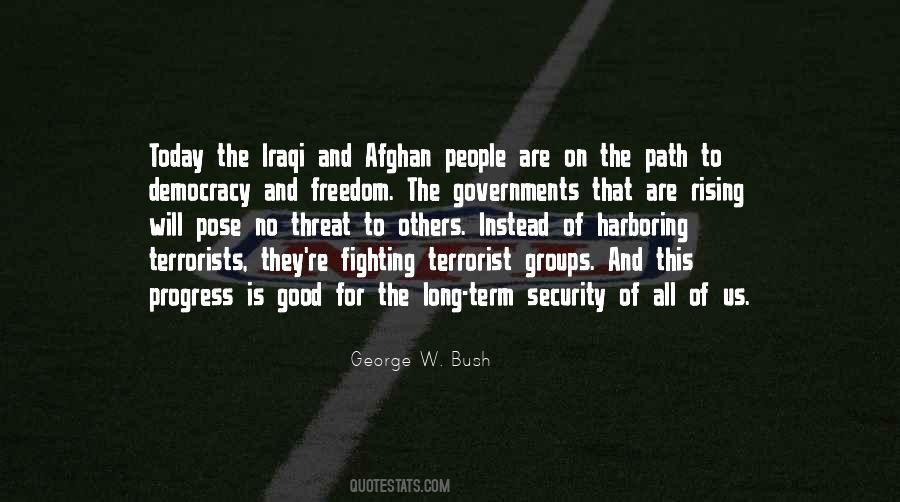 #46. There is more to life than material well-being. Who would claim that the wholly wage-dependent family enjoys the dignity, the security, the range of choice and the autonomy (not to mention the leisure and freedom) of the family even partially supported by capital ownership? - Author: Louis O. Kelso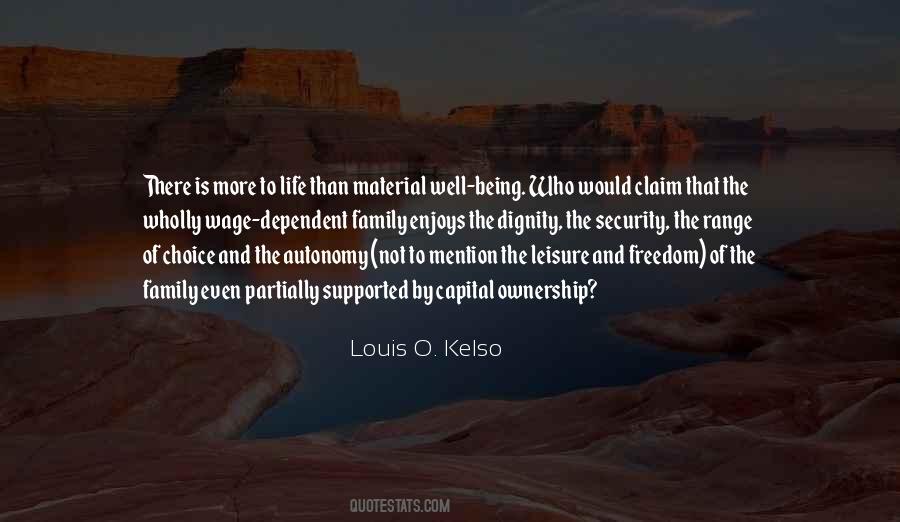 #47. This kind of totalization of security consciousness [after tragedy of 9/11] has the effect within classrooms (and beyond) of constraining the imagination and reinforcing attitudes that privilege the forces of law and order as against the crosscurrents of freedom and dissent. - Author: Richard A. Falk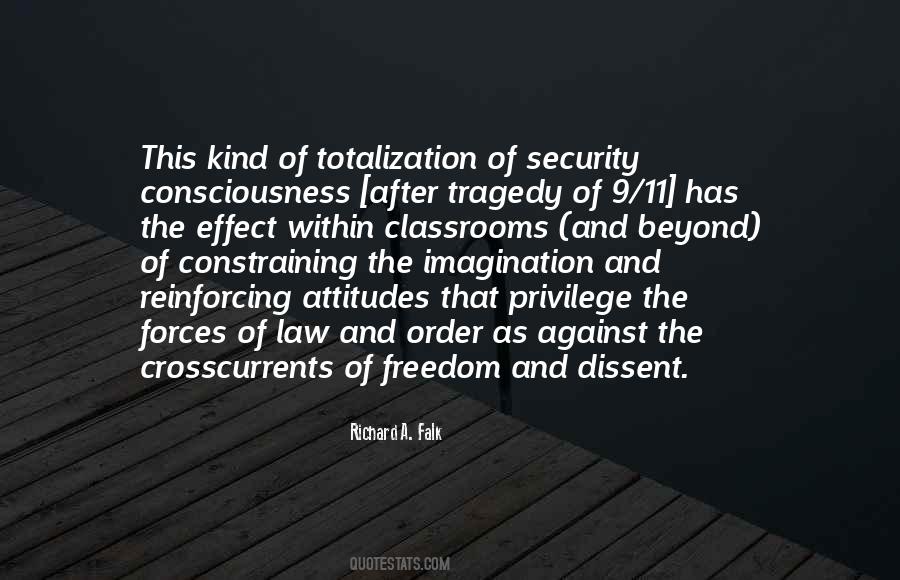 #48. Let us continue to work together to develop and nurture in future generations a culture of human rights, to promote freedom, security and peace in all nations. - Author: Kofi Annan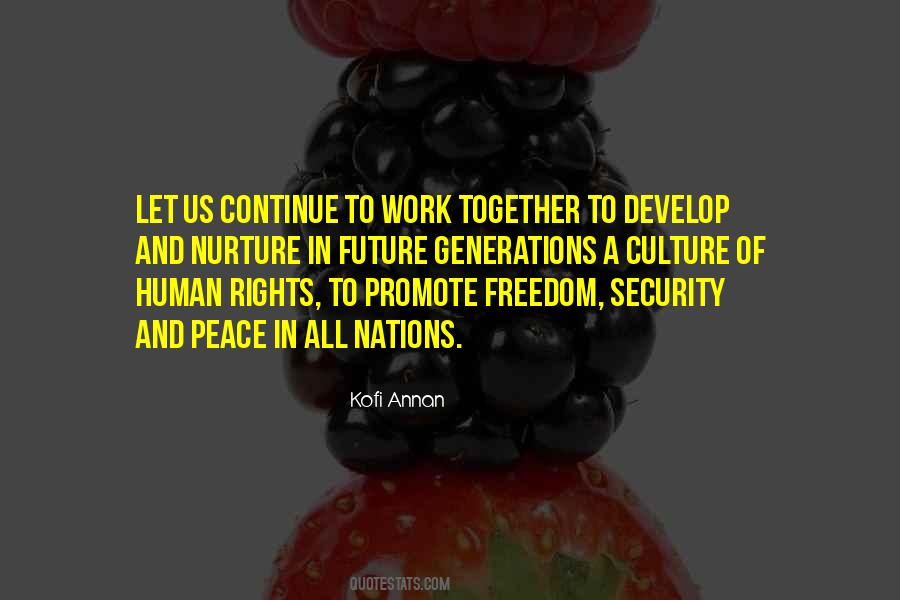 #49. Instead of the god of security, we bow to the greater god of freedom, the freedom to take risks and master danger in order to be intensely alive. - Author: Royal Robbins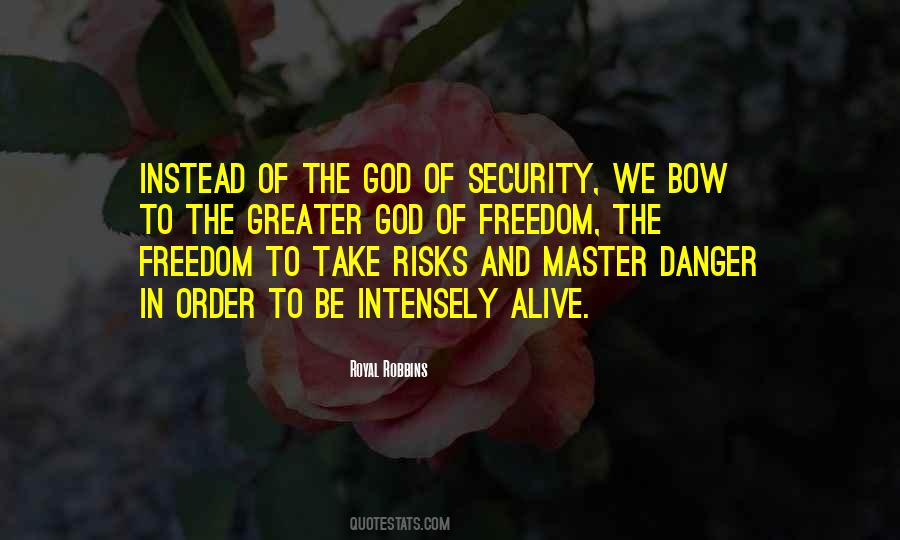 #50. Everyone's goals are the same with very small differences. I mean, the goal of a socialist and the goal of a libertarian are exactly the same. The goals are happiness and security and freedom, and you balance those. - Author: Penn Jillette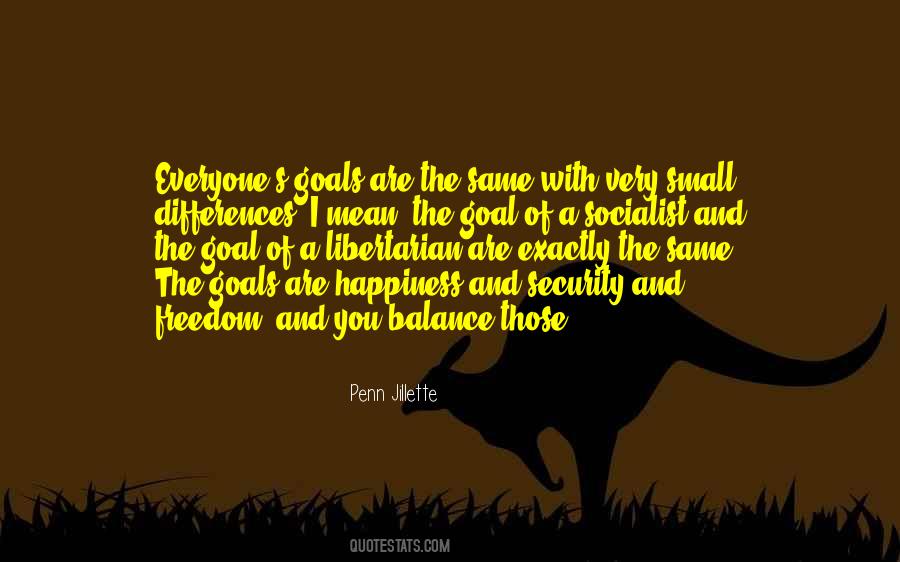 #51. I'm sort of a Freudian about theater; it's always a struggle between freedom and security, between 'Do I stay where I am with my family because I love them or do I follow the thing that makes my heart feel the greatest?' - Author: Bartlett Sher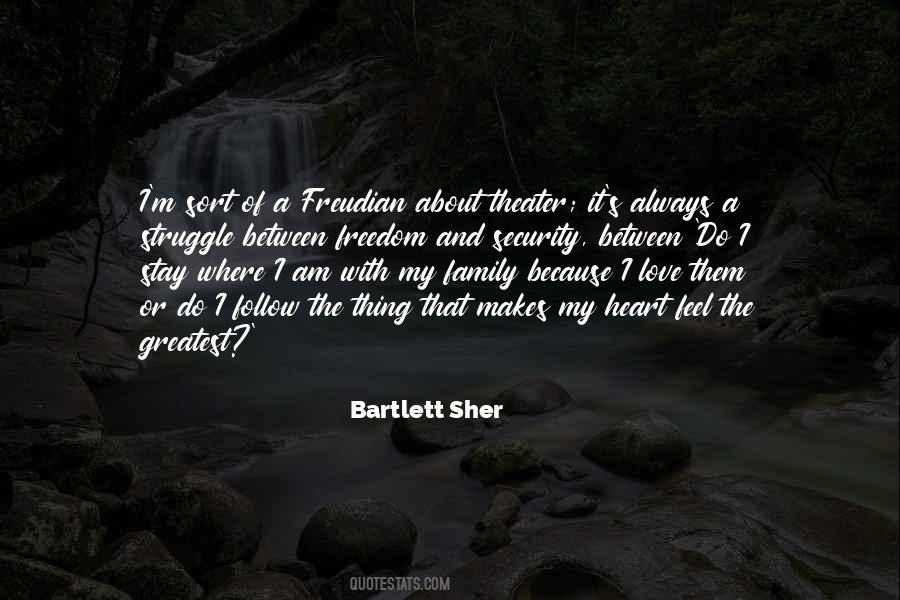 #52. May it be to the world ... to assume the blessings and security of self-government. - Author: Thomas Jefferson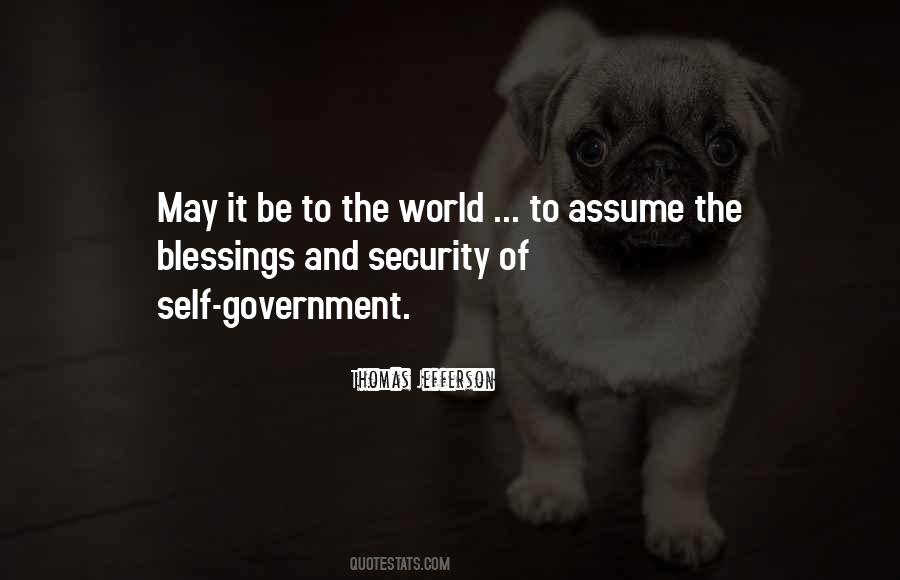 #53. Every ambitious would-be empire, clarions it abroad that she is conquering the world to bring it peace, security and freedom, and it is sacrificing her sons only for the most noble and humanitarian purposes. That is a lie; and it is an ancient lie, yet generations still rise and believe it. - Author: Henry David Thoreau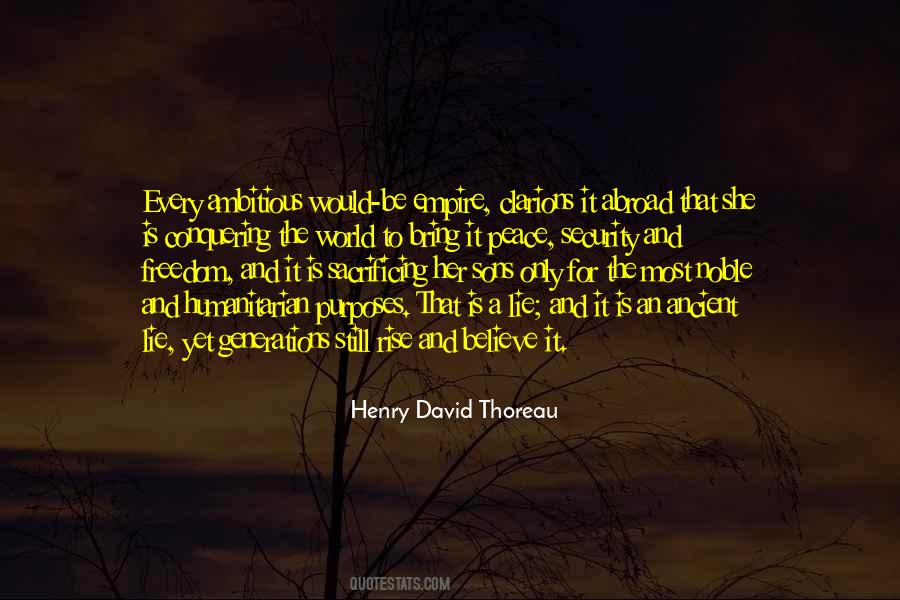 #54. USA Freedom Actdid, however, take away a valuable tool that allowed the National Security Agency and other law - and other intelligence agencies to quickly and rapidly access phone records and match them up with other phone records to see who terrorists have been calling. - Author: Marco Rubio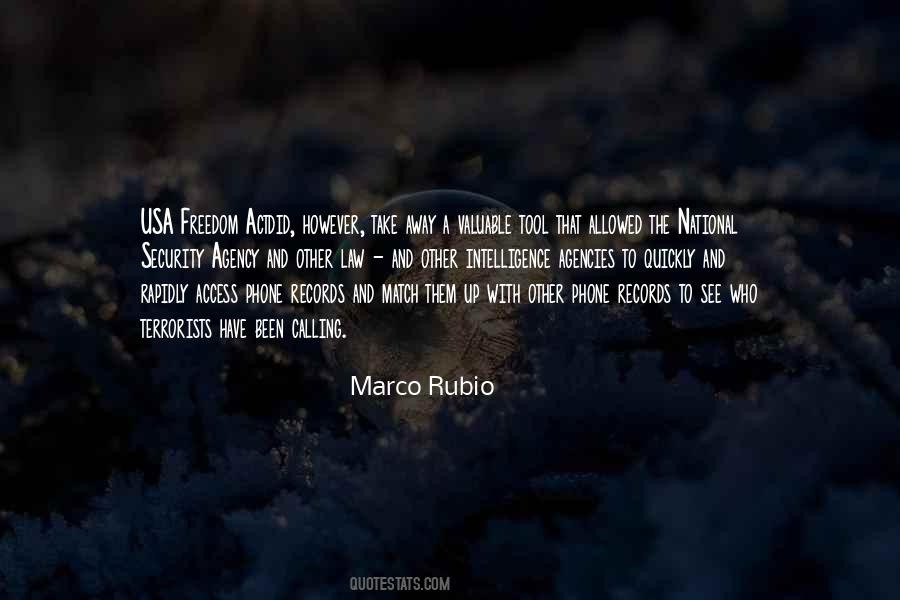 #55. True individual freedom cannot exist without economic security and independence. People who are hungry and out of a job are the stuff of which dictatorships are made. - Author: Franklin D. Roosevelt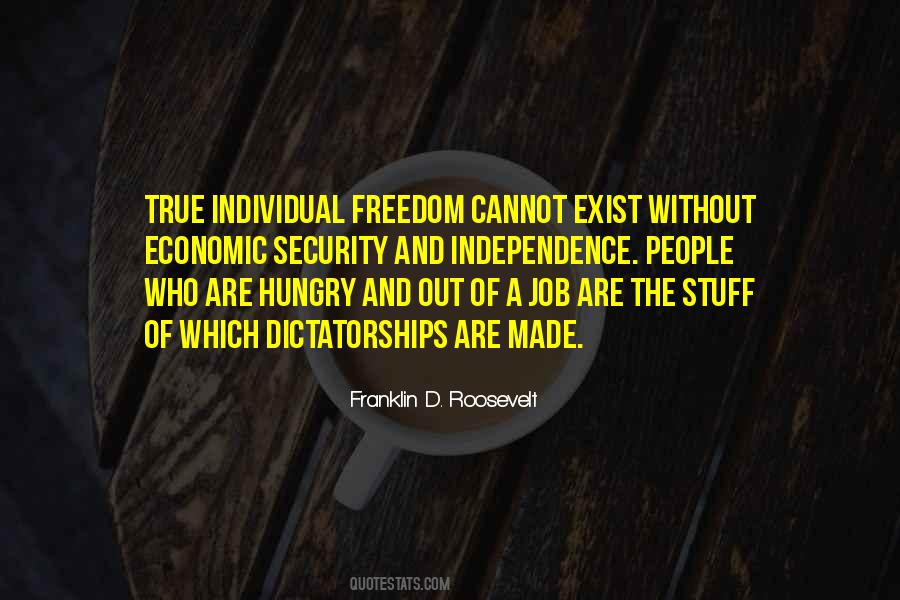 #56. Both kinds of parenting, finally, are forms of overidentification. The helicopter parent turns the child into an instrument of her will. The overindulgent parent projects his own need for limitless freedom and security. In either case, the child is made to function as an extension of somebody else. - Author: William Deresiewicz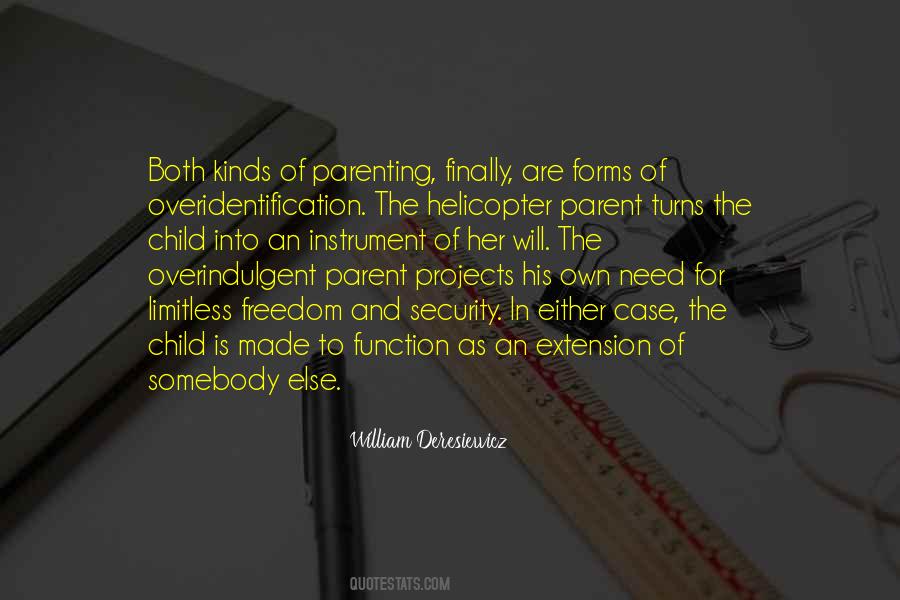 #57. No one can define or measure justice, democracy, security, freedom, truth, or love. No one can define or measure any value. But if no one speaks up for them, if systems aren't designed to produce them, if we don't speak about them and point toward their presence or absence, they will cease to exist. - Author: Donella Meadows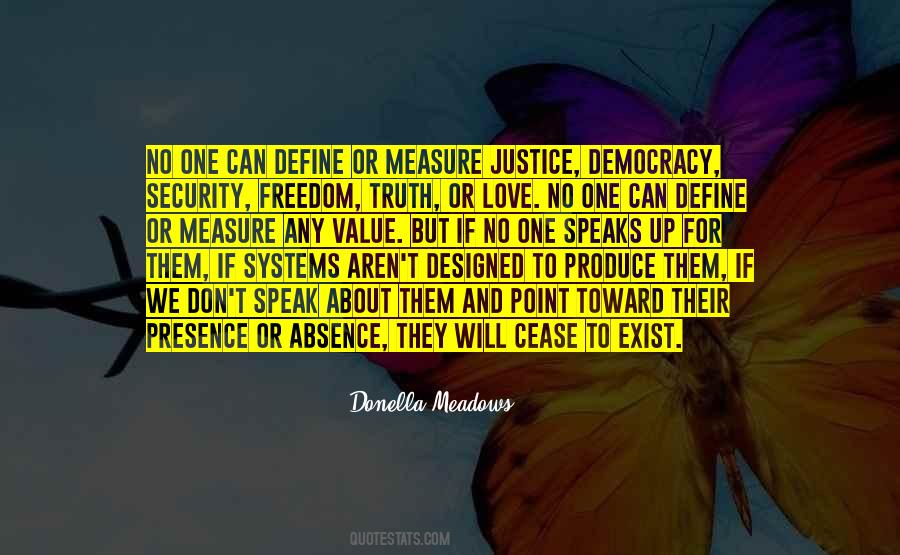 #58. In order to improve the condition of mankind all men must be given the certainty of security through the exchange of safeguards, the assurance of prosperity through an exchange of resources, the reality of freedom through the free movement of information, persons and ideas. - Author: Antoine Pinay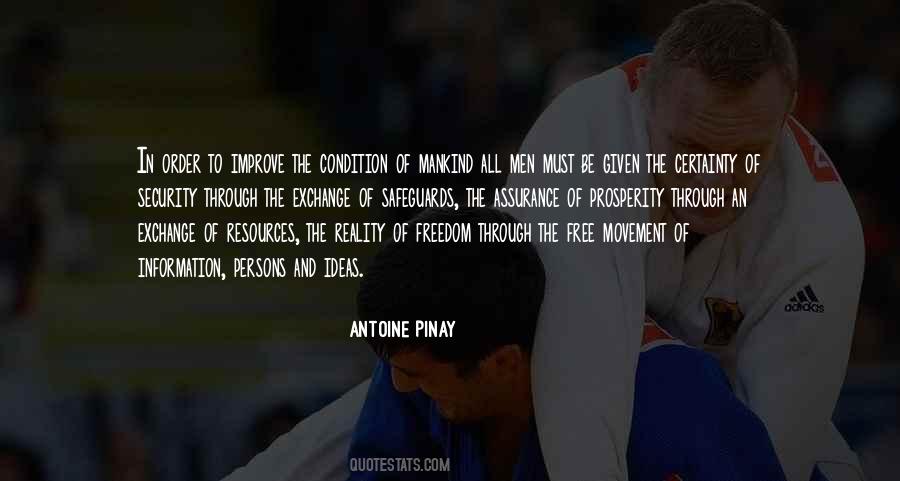 #59. The trade-off between freedom and security, so often proposed so seductively, very often leads to the loss of both. - Author: Christopher Hitchens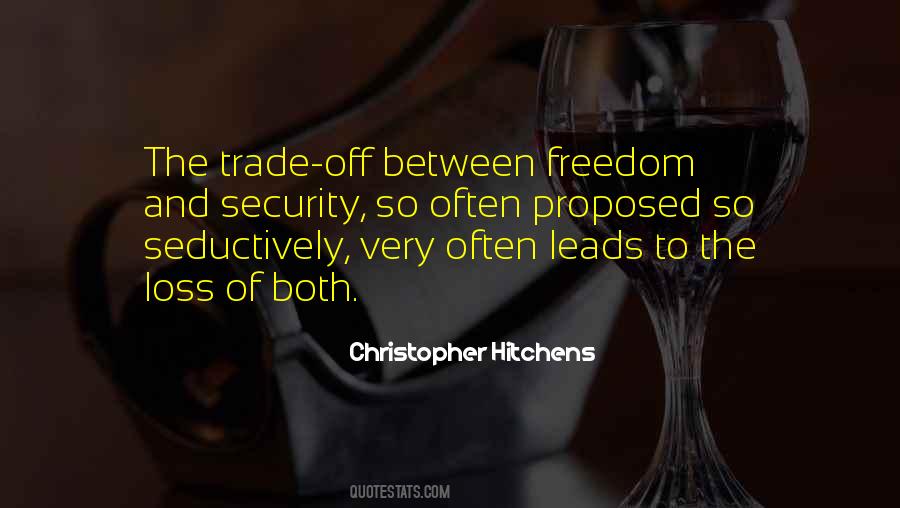 #60. We must rebuild organic communities, where people can come together and have analogue conversations and share stories, art, music and emotions. - Author: Bryant McGill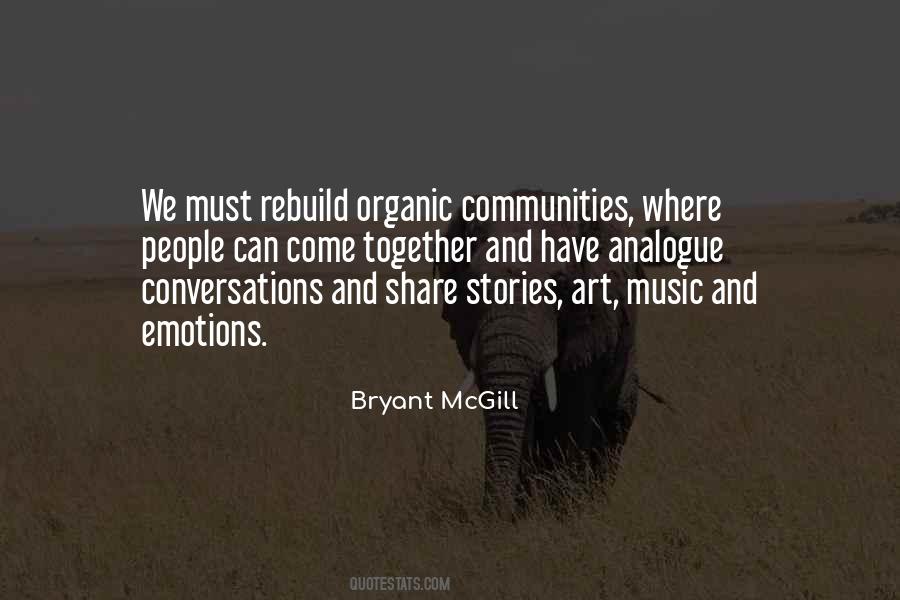 #61. The people of my country want the two freedoms that spell security: freedom from want and freedom from fear. - Author: Aung San Suu Kyi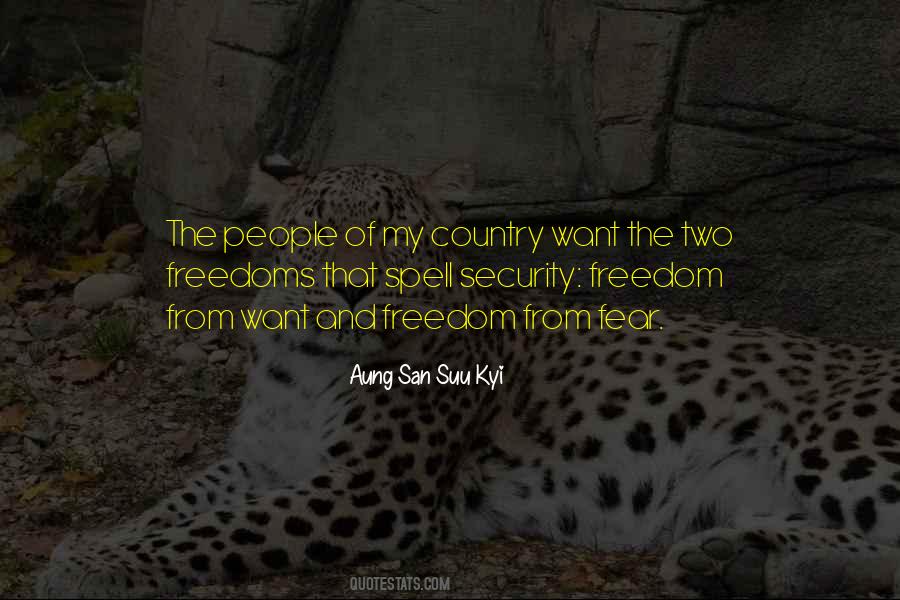 #62. Realistically, it's a risk, I suppose, but in this day and age, you almost have to choose between freedom, which can devolve into chaos, and security, which can become a pair of shackles. - Author: Ann Aguirre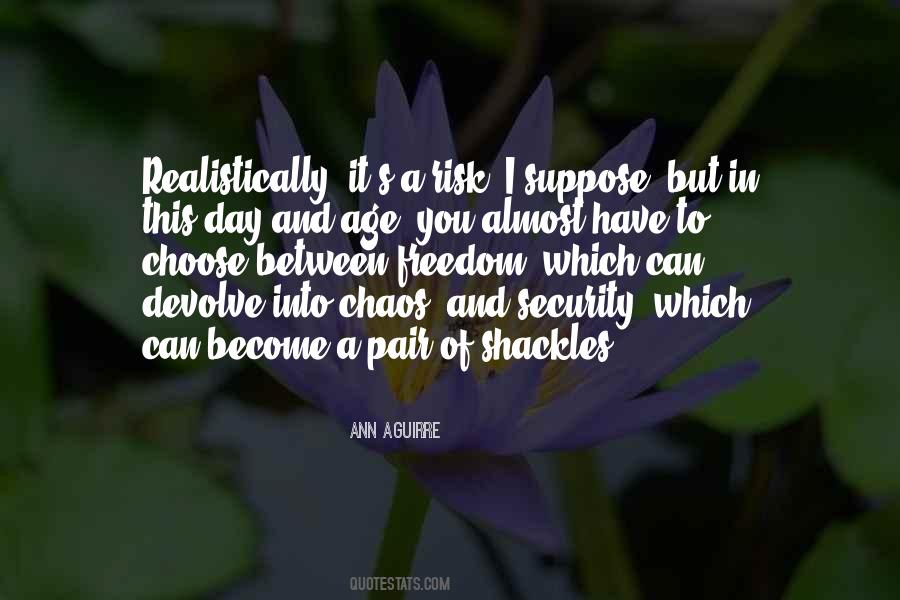 #63. If social stability goes pear-shaped, you have a choice between anarchy and dictatorship. Most people will opt for more security, even if they have to give up some personal freedom. - Author: Margaret Atwood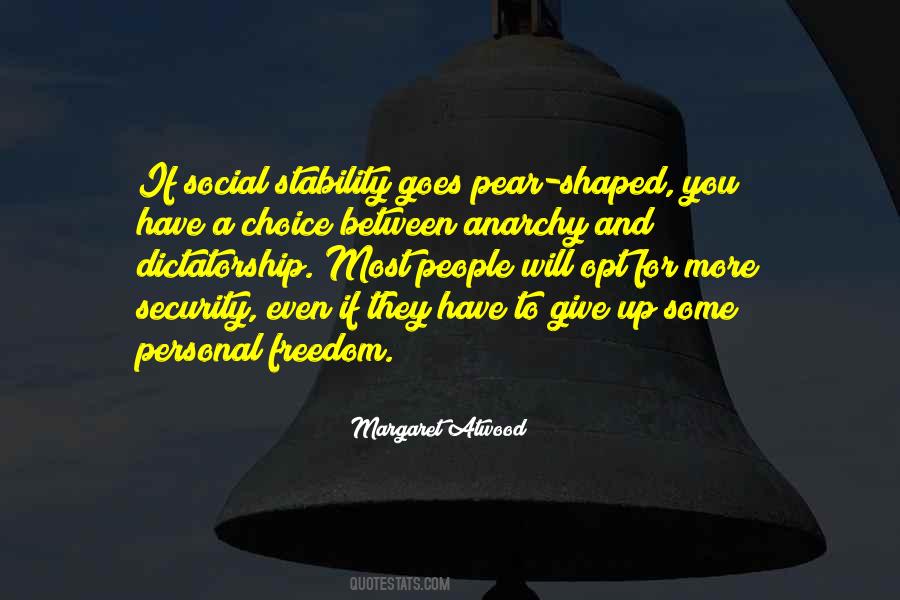 #64. The Obama Administration cares deeply about innovation and about helping to make sure that geeks across the country, those coming up with new discoveries and exciting inventions - and creating jobs along the way - have the freedom and security to keep innovating. - Author: Todd Park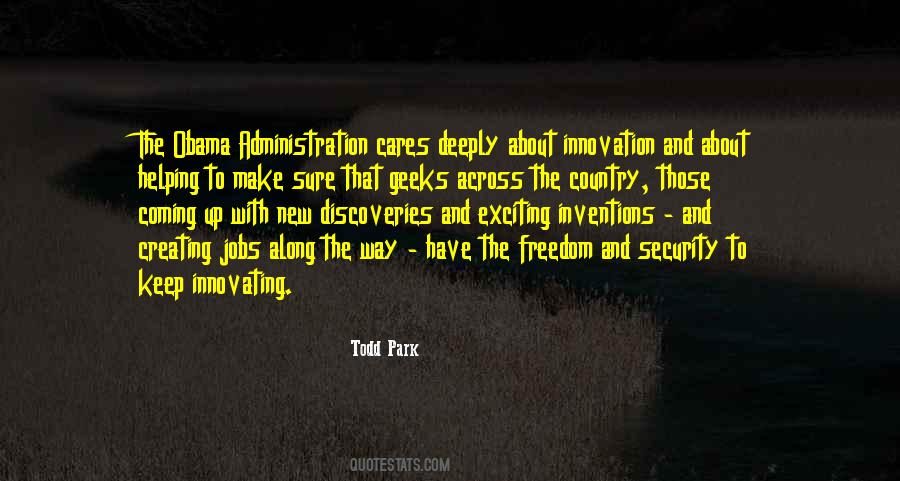 #65. The Internet has fashioned a new and complicated environment for an age-old dilemma that pits the demands of security against the desire for freedom. - Author: Misha Glenny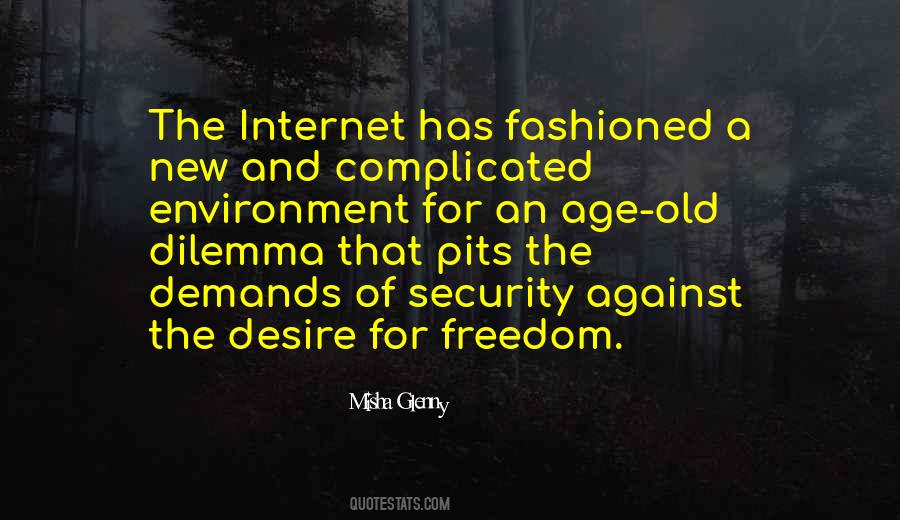 #66. The balance between freedom and security is a delicate one. - Author: Mark Udall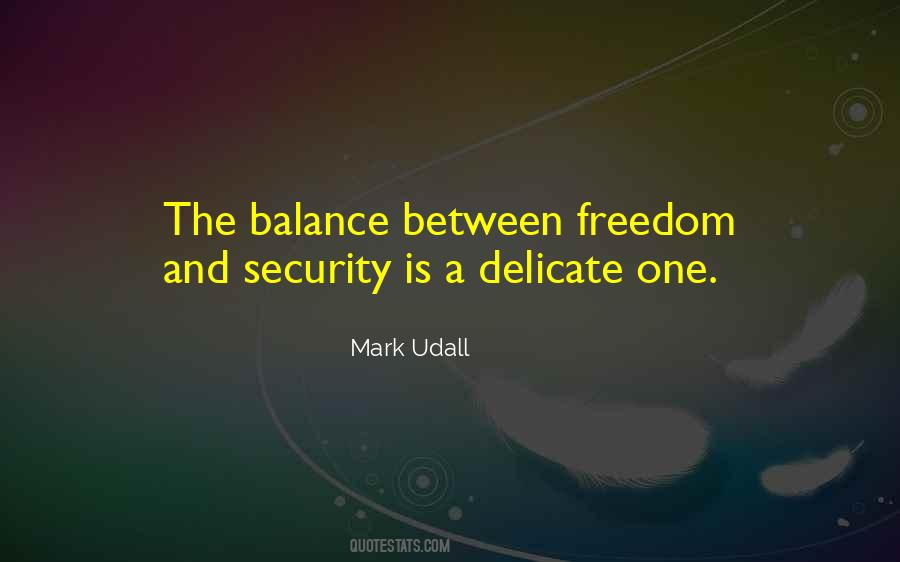 #67. If we seek solace in the prisons of the distant past
Security in human systems we're told will always always last
Emotions are the sail and blind faith is the mast
Without the breath of real freedom we're getting nowhere fast.
(History Will Teach Us Nothing) - Author: Sting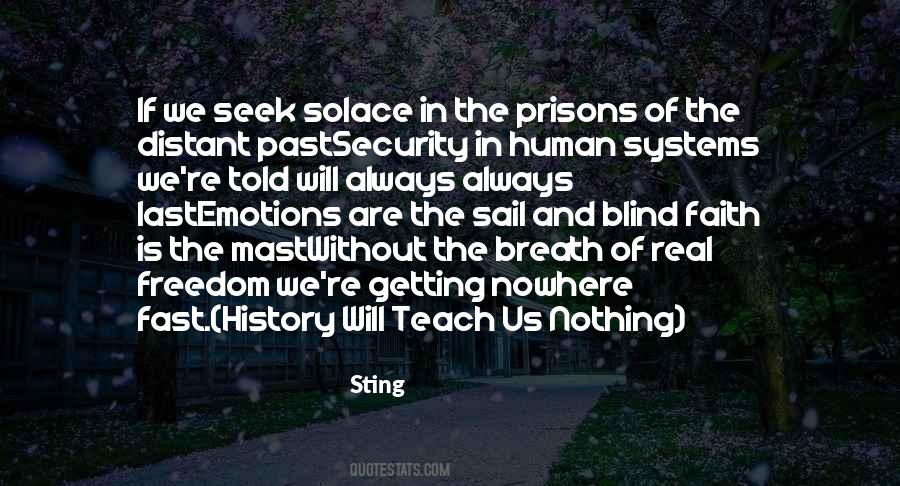 #68. The story of the Western world since 1945 is that, invited to choose between freedom and government 'security,' large numbers of people vote to dump freedom every time - the freedom to make your own decisions about health care, education, property rights, and a ton of other stuff. - Author: Mark Steyn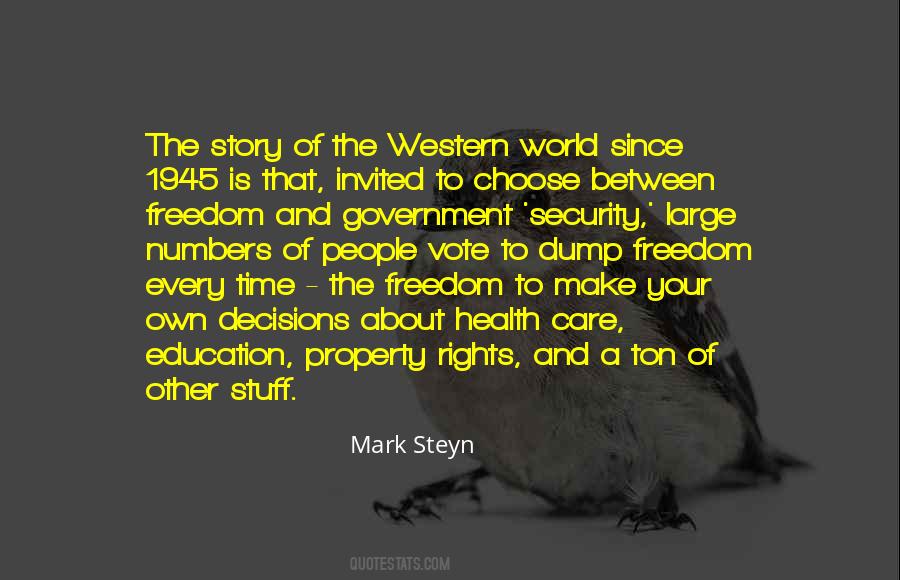 #69. For more than 20 years, on every one of the great issues of freedom and security, John Kerry has been more wrong, more weak and more wobbly than any other national figure. - Author: Zell Miller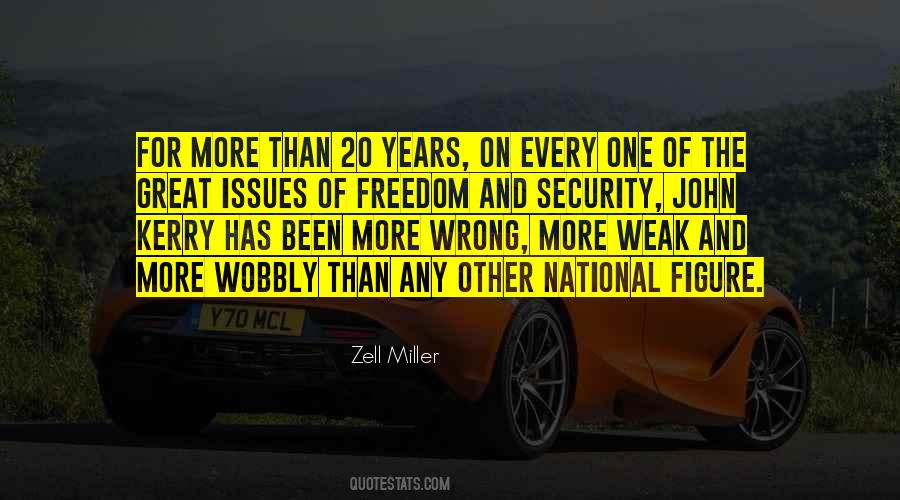 #70. Tyranny and anarchy are alike incompatible with freedom, security, and the enjoyment of opportunity. - Author: Jeane Kirkpatrick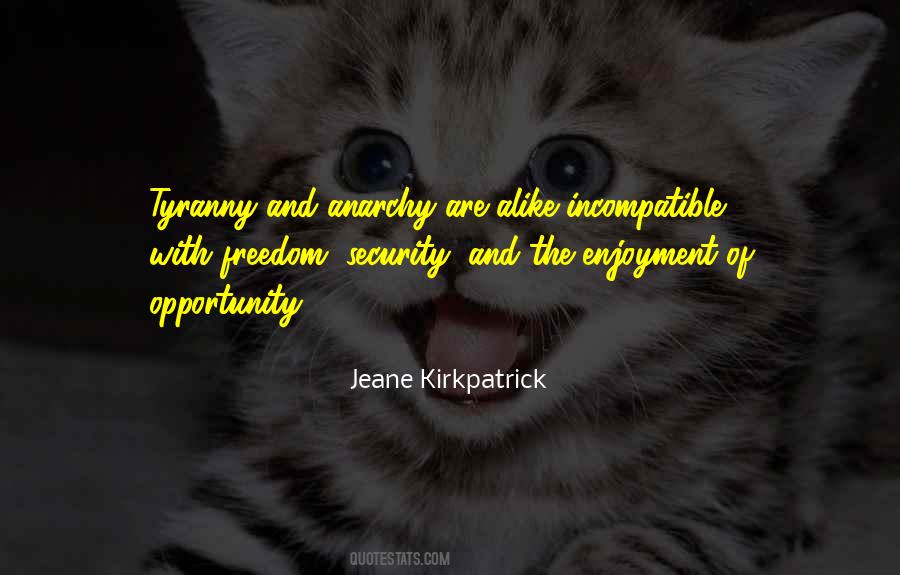 #71. The true source of economic security is self-reliance and economic freedom - Social Security is immoral because it subverts both. - Author: Don Watkins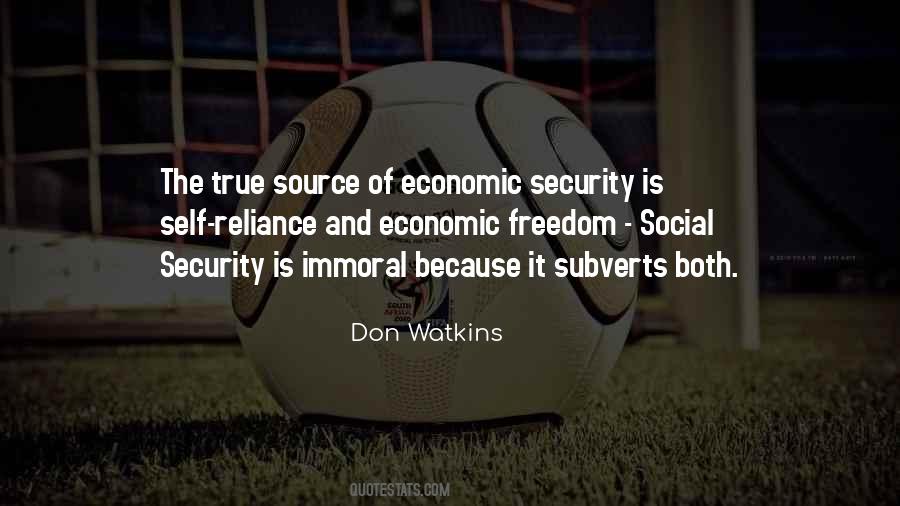 #72. Independence used to be the ticket for liberty. But today, security and freedom, whether it's in the Arab Spring, whether it's in Iraq or whether it's right here in the United States, means working cooperatively and interdependently with others. - Author: Benjamin Barber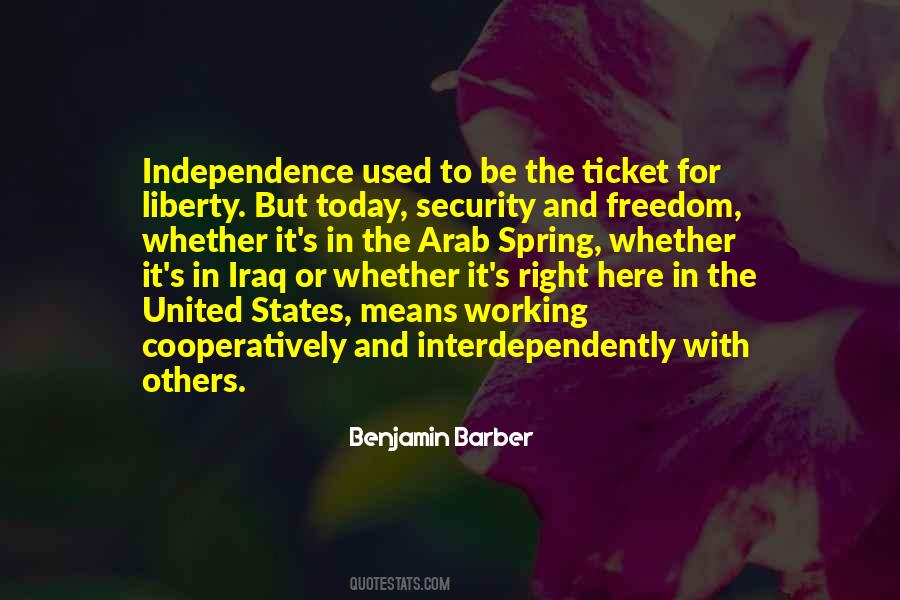 #73. Our freedom is also incomplete, dear compatriots, as long as we are denied our security by criminals who prey on our communities, who rob our businesses and undermine our economy, who ply their destructive trade in drugs in our schools, and who do violence against our women and children. - Author: Nelson Mandela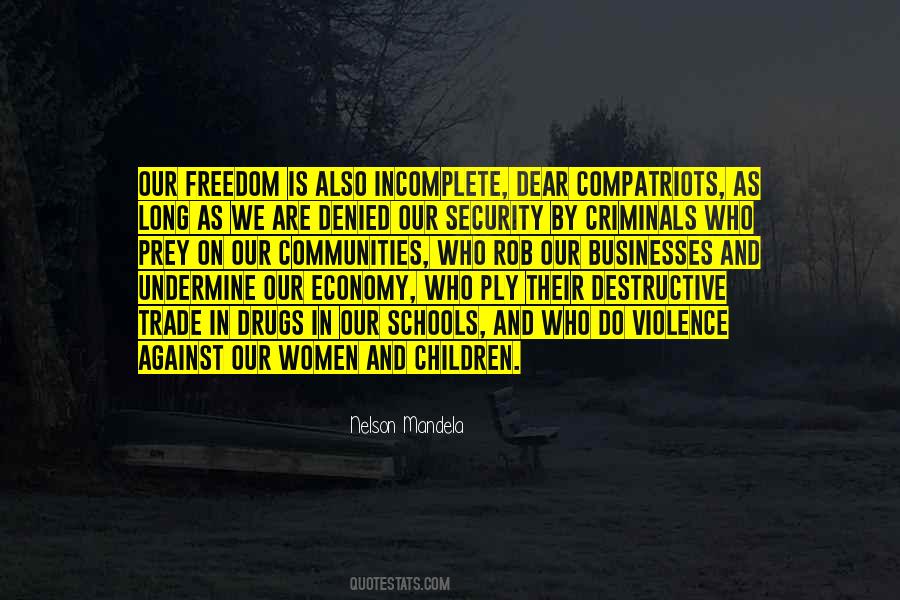 #74. Our long-term security depends on our deep faith in liberty. And we'll continue to promote freedom around the world. - Author: George W. Bush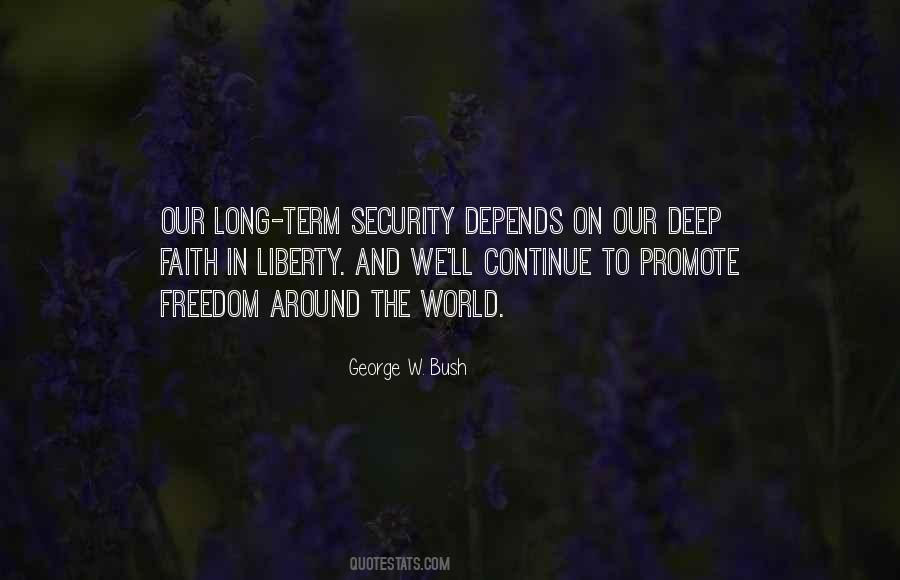 #75. Having established as our goals a lasting world peace with justice and the security of freedom on this earth, we must be prepared to make whatever sacrifices are demanded as we pursue this path to its end. - Author: Dwight D. Eisenhower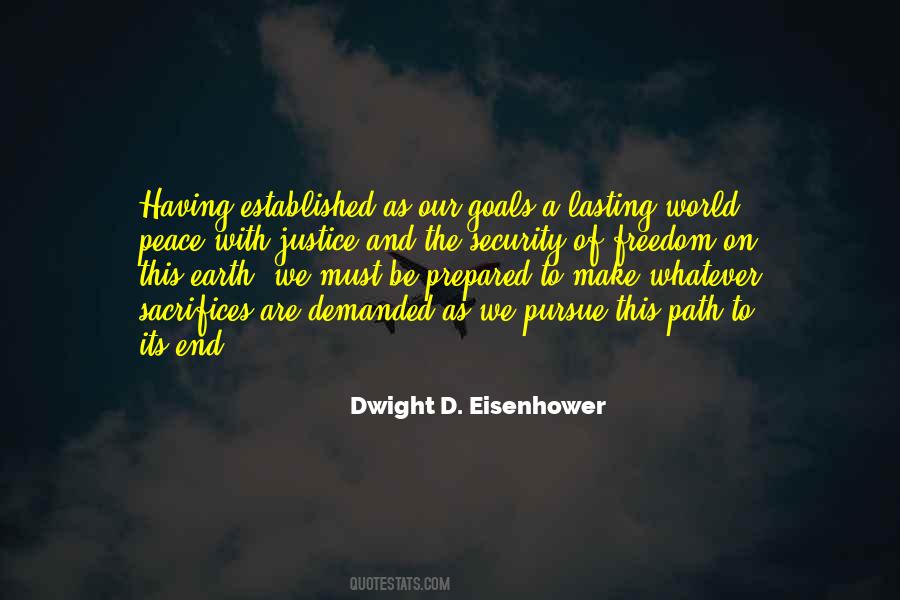 #76. Here then is the origin and rise of government; namely, a mode rendered necessary by the inability of moral virtue to govern the world; here too is the design and end of government, viz. Freedom and security. - Author: Thomas Paine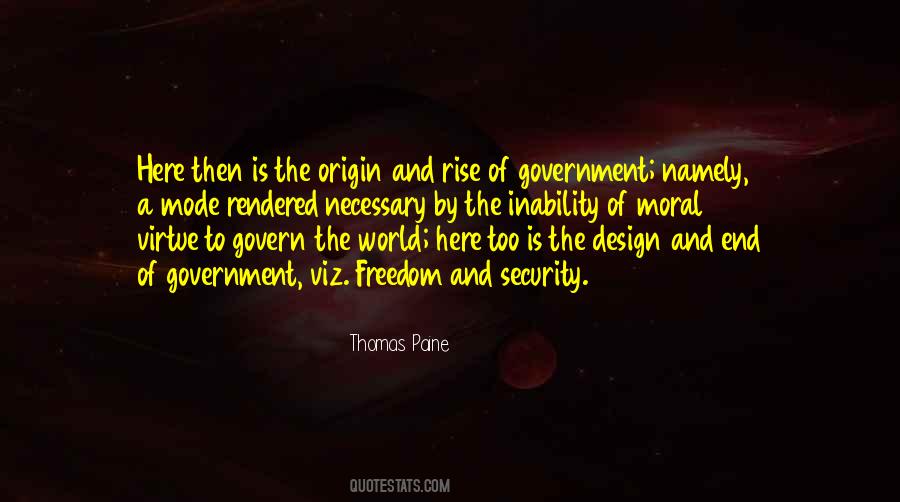 #77. Freedom is not a luxury that we can indulge in when at last we have security and prosperity and enlightenment; it is, rather, antecedent to all of these, for without it we can have neither security nor prosperity nor enlightenment. - Author: Henry Steele Commager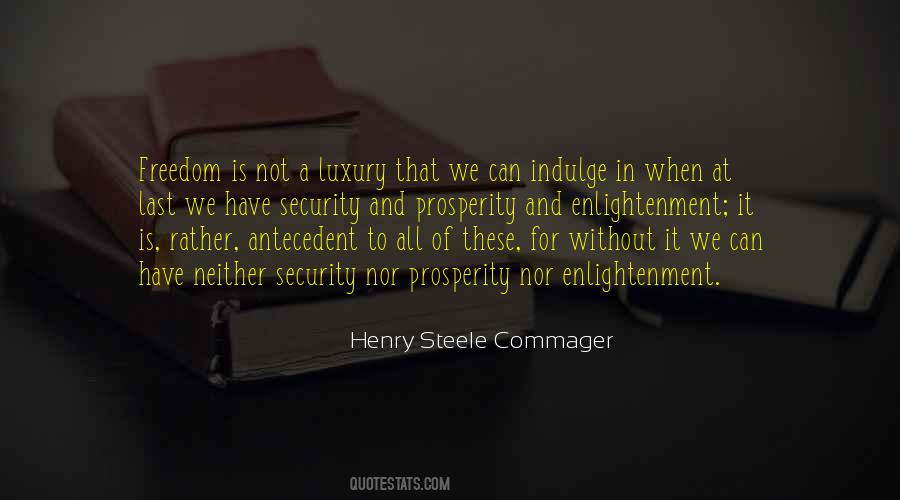 #78. Insecurity must follow the transfer of responsibility from self to others, particularly when transferred to arbitrary and capricious government. Genuine security is a matter of self-responsibility, based on the right to the fruits of one's own labor and freedom to trade. - Author: Leonard Read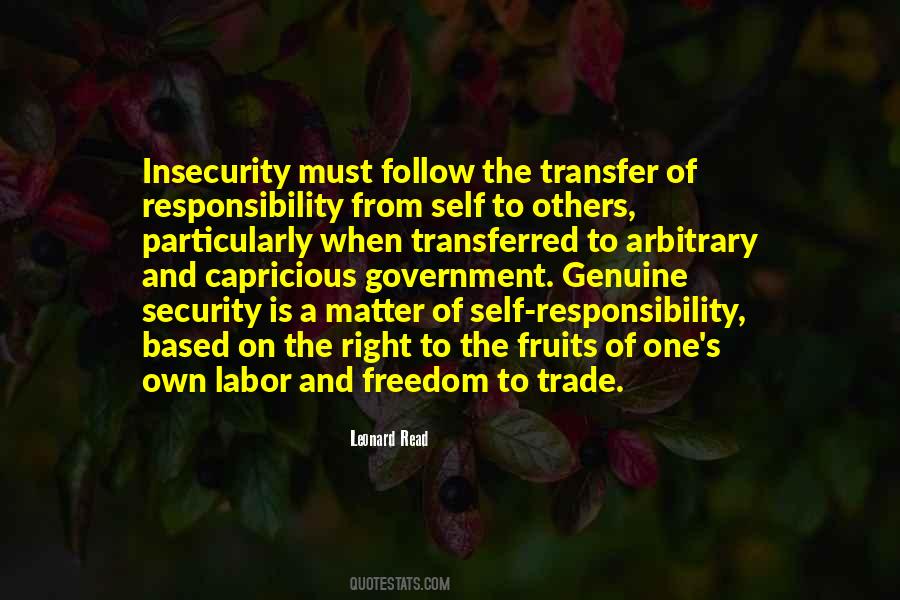 #79. Besides my religious commitment, the greatest single factor that has enabled me to pursue my business and political objectives has been the security and freedom of my home. - Author: Preston Manning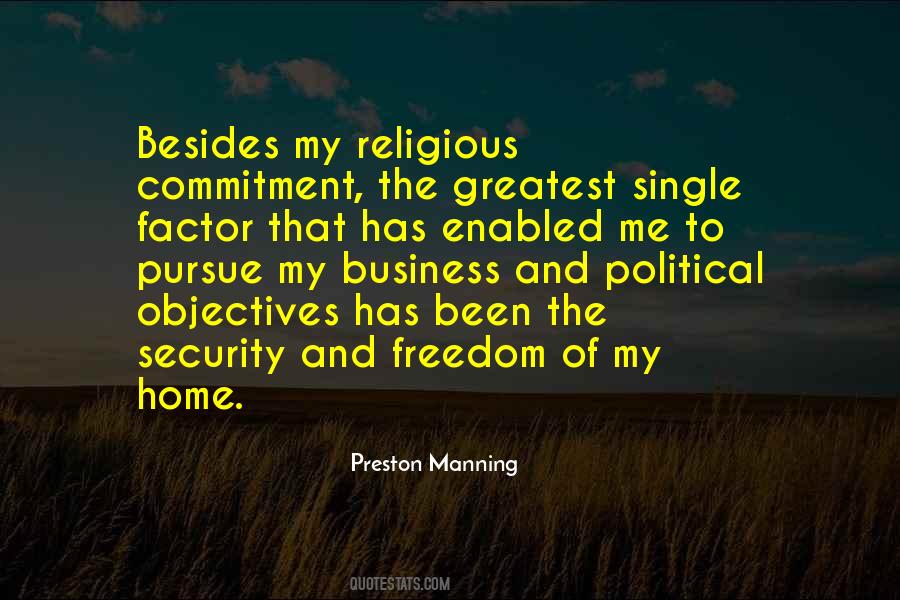 #80. Liberals, it has been said, are generous with other peoples' money, except when it comes to questions of national survival when they prefer to be generous with other peoples' freedom and security. - Author: William F. Buckley Jr.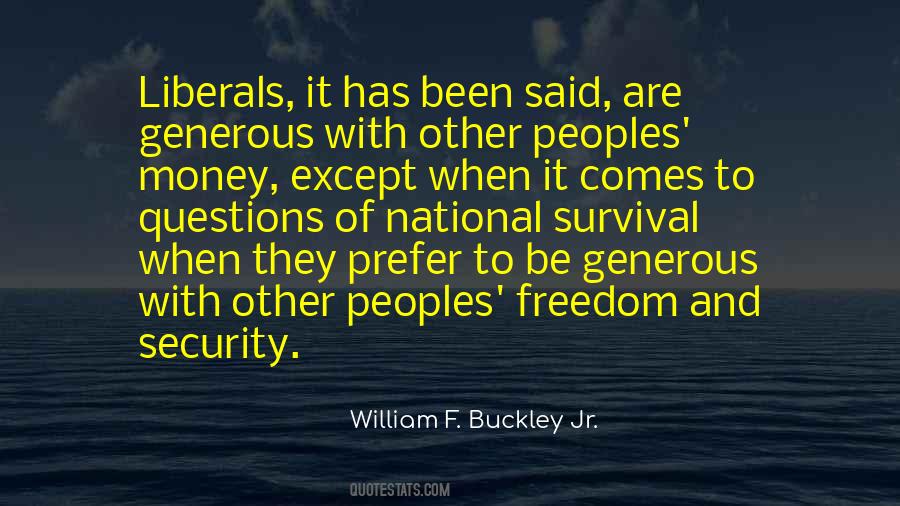 #81. Human beings the world over need freedom and security that they may be able to realize their full potential. - Author: Aung San Suu Kyi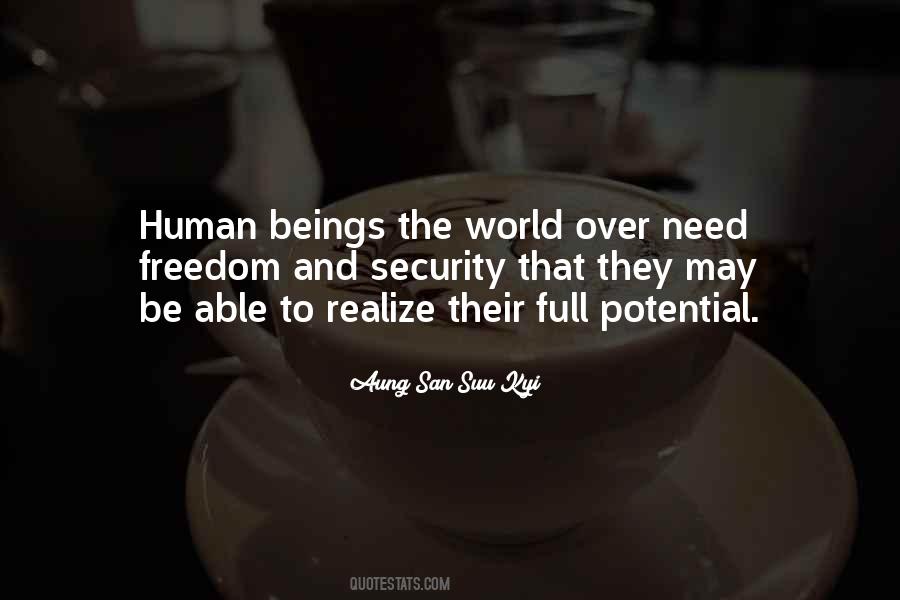 #82. Peace along with freedom and justice are the pillars for attaining both security and stability and will pave the way towards the eradication of oppression, extremism, and terrorism in our world. - Author: Najib Mikati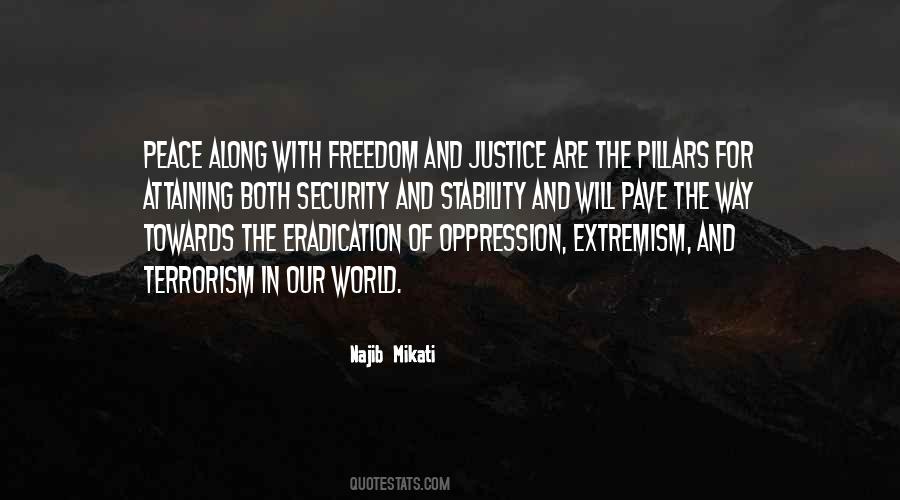 #83. The Product of Freedom and Security is a constant (F X S = k). Giving up freedom for security is beginning to look naive. - Author: Larry Niven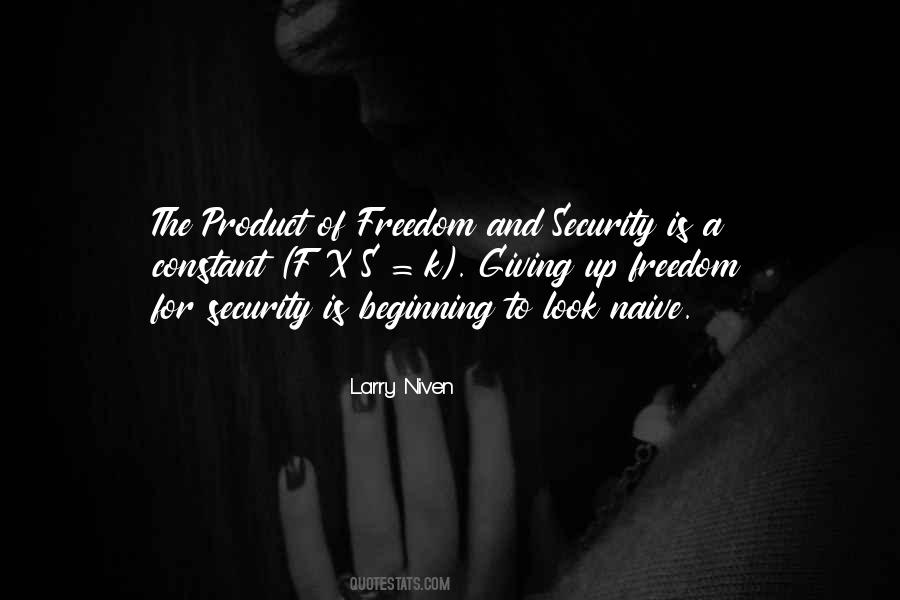 #84. Some in my party threaten to send a message that they don't know a just war when they see it, and more broadly that they're not prepared to use our military strength to protect our security and the cause of freedom. - Author: Joe Lieberman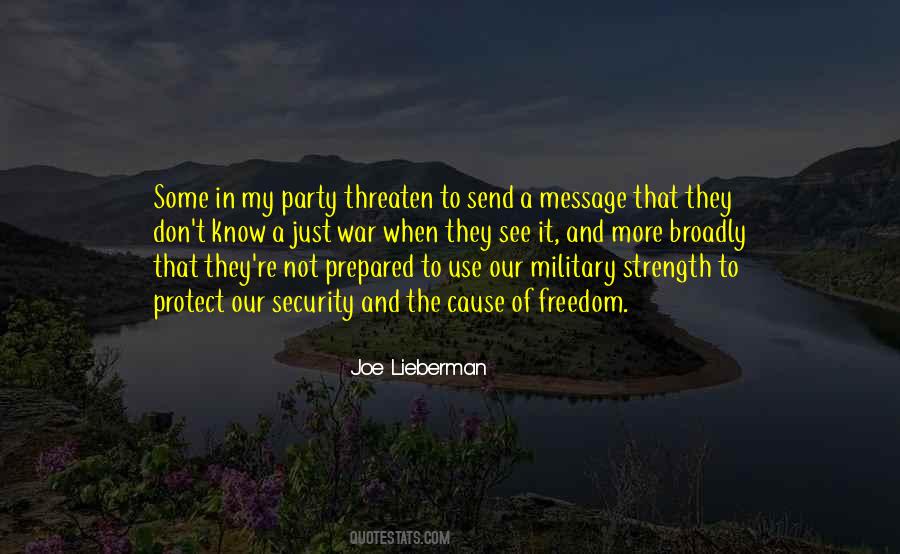 #85. Freedom cannot be trifled with. You cannot surrender it for security unless in a state of war, and then you must guard carefully the methods of so doing. - Author: Arthur Hays Sulzberger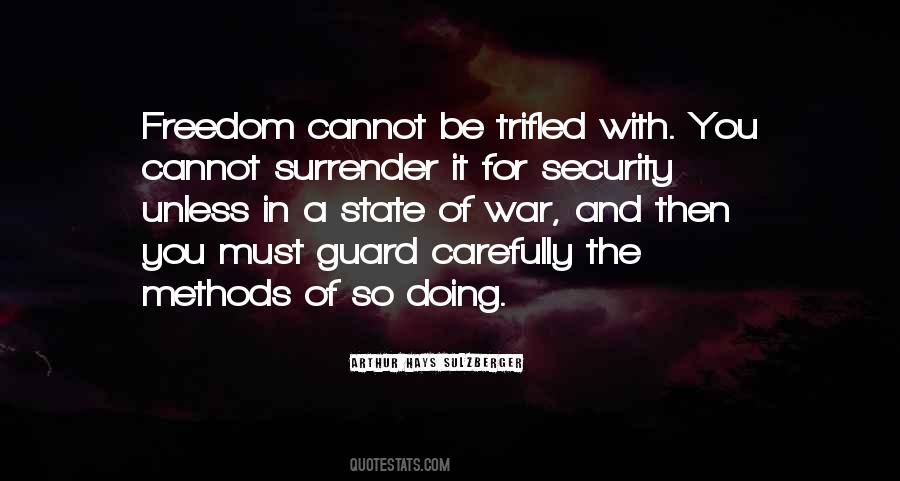 #86. People willing to trade their freedom for temporary security deserve neither and will lose both - Author: Benjamin Franklin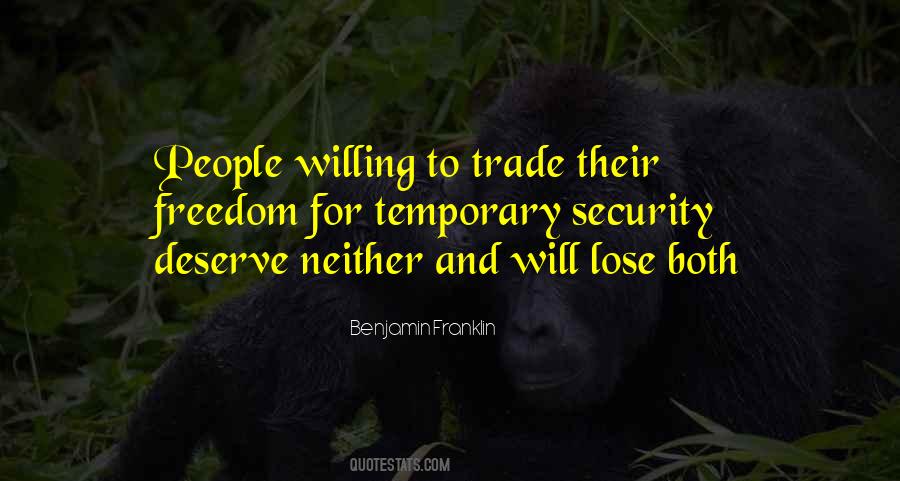 #87. Perfect purity, fullness of joy, everlasting freedom, perfect rest, health and fruition, complete security, substantial and eternal good. - Author: Hannah More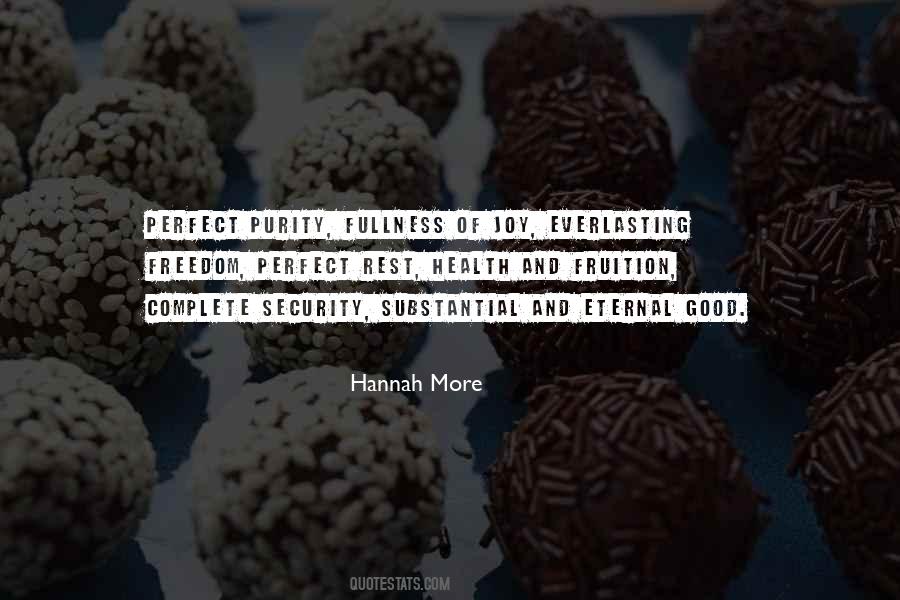 #88. We welcome change and openness; for we believe that freedom and security go together, that the advance of human liberty can only strengthen the cause of world peace. - Author: Ronald Reagan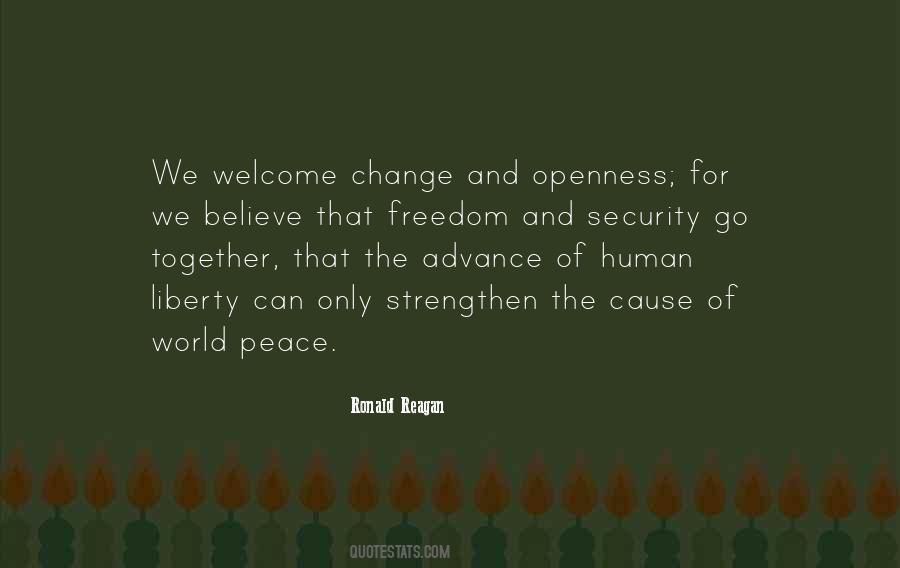 #89. We need to have a measure of love and freedom at all times, even with the ones we love much in our lives. - Author: Auliq Ice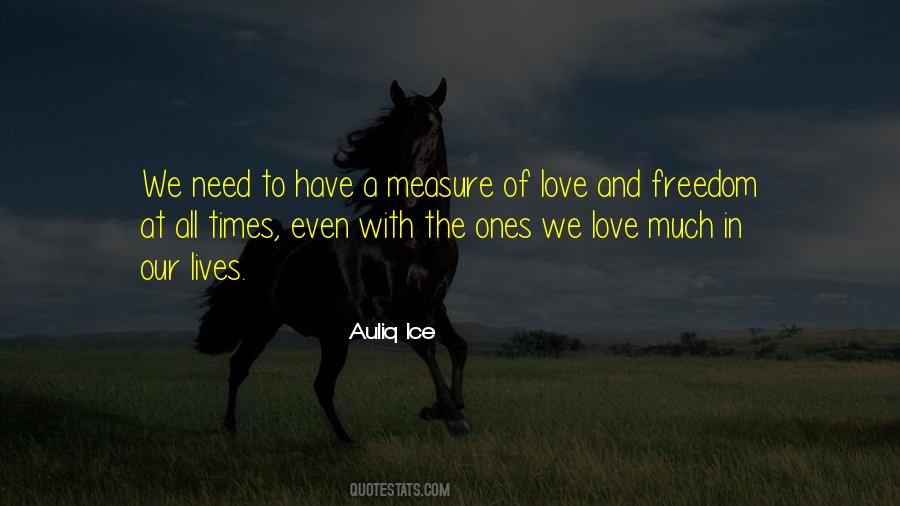 #90. Earthly possessions dazzle our eyes and delude us into thinking that they can provide security and freedom from anxiety. Yet all the time they are the very source of anxiety. - Author: Dietrich Bonhoeffer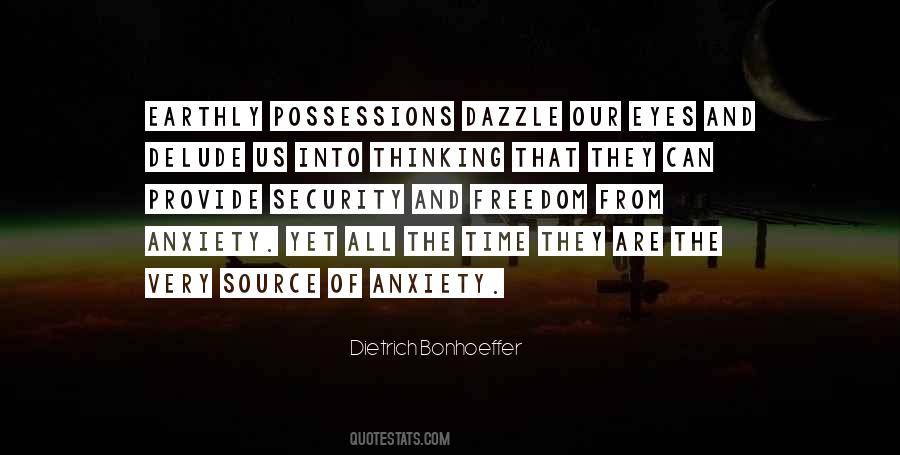 #91. For true liberation, you do not need to fight. You simply have to change your thoughts and drift away from conformity, comfort, security, and certainty of life and embrace and enjoy the possibilities and magnificence of the uncertainty of life. - Author: Debasish Mridha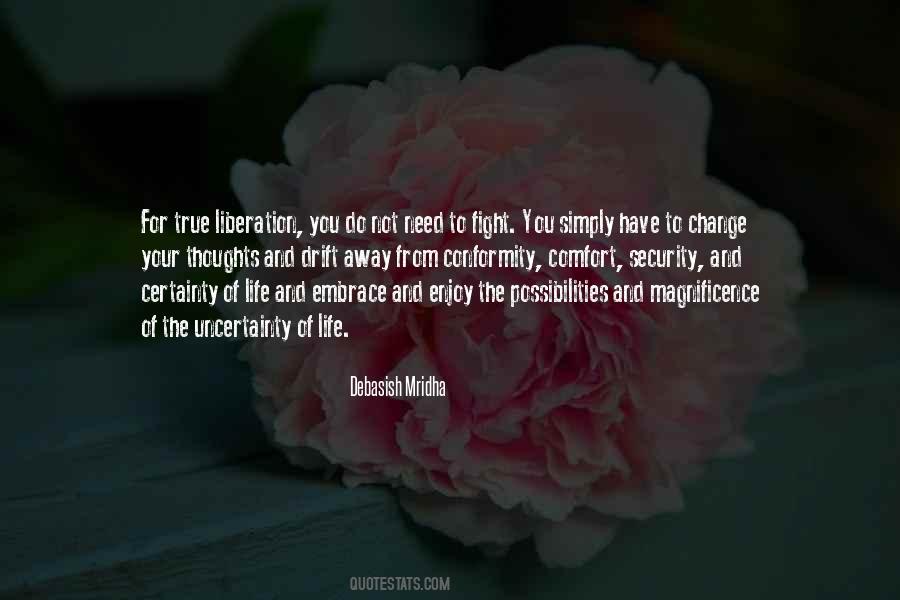 #92. It is the government's job to increase both freedom and security. - Author: Timothy Snyder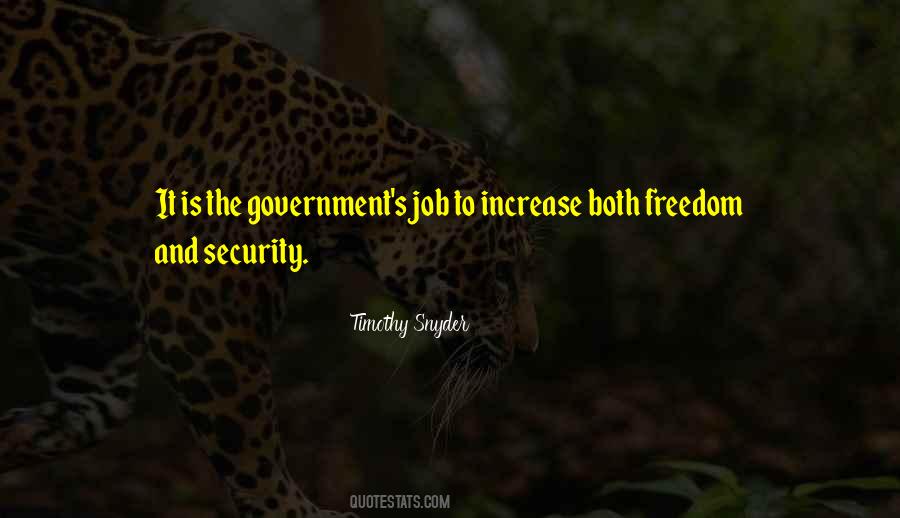 #93. Earthly goods deceive the human heart into believing that they give it security and freedom from worry. But in truth, they are what cause anxiety. - Author: Dietrich Bonhoeffer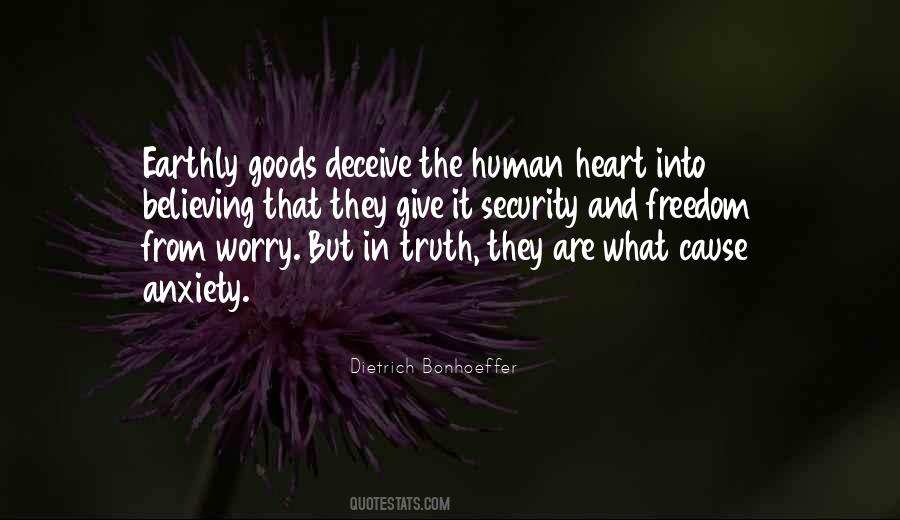 #94. Freedom conceives that the mind and spirit of man can be free only if he be free to pattern his own life, to develop his own talents, free to earn, to spend, to save, to acquire property as the security of his old age and his family. - Author: Herbert Hoover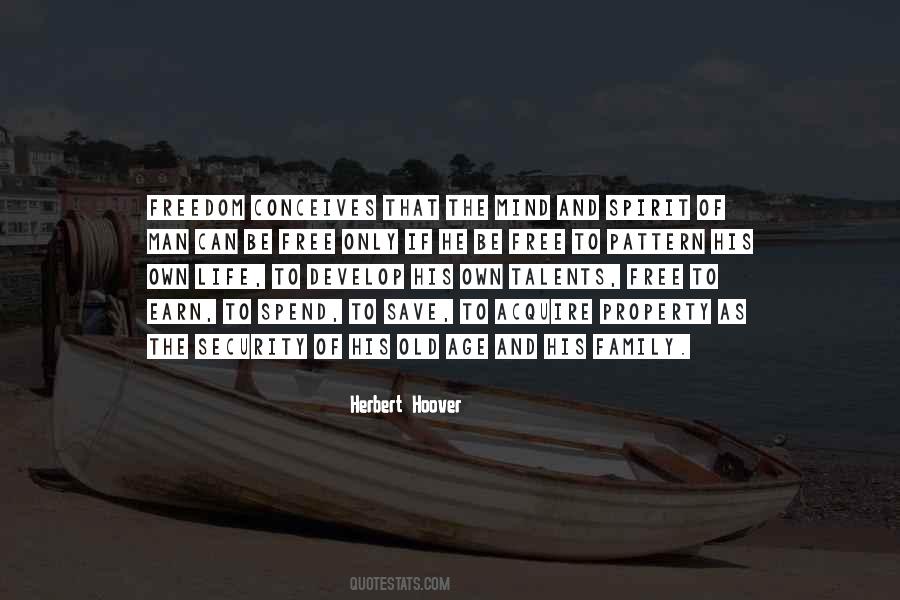 #95. We must plan for freedom, and not only for security, if for no other reason than only freedom can make security more secure. - Author: Karl Popper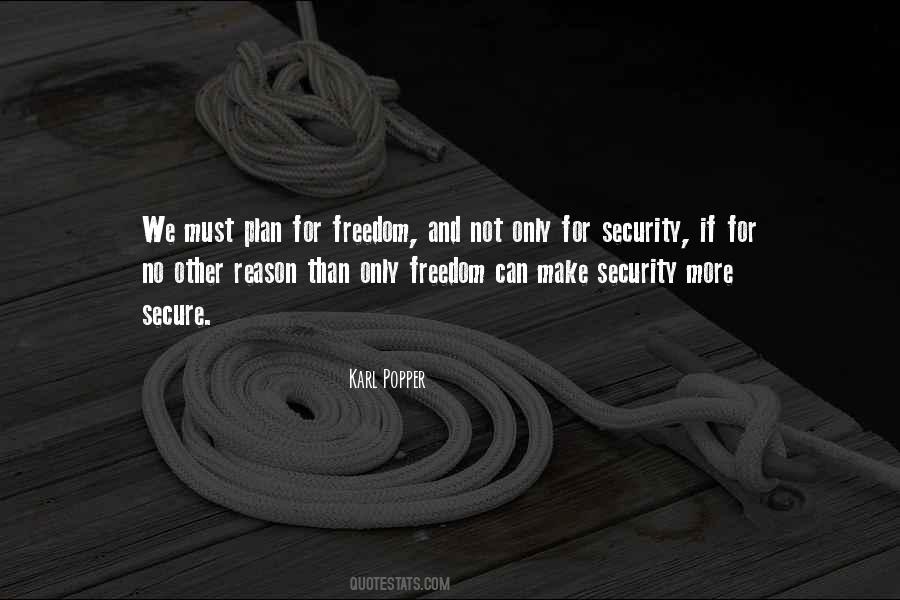 #96. Well we are hoping that the power of the community of free nations is such that our sovereignty our rights are not going to be challenged by anybody who's going try to undermine the freedom, the openness of our societies and our security. - Author: Douglas Feith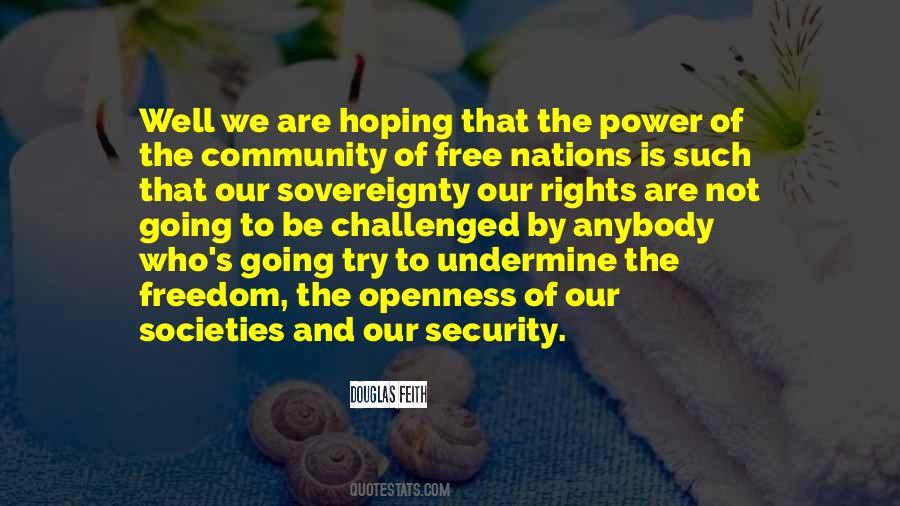 #97. In Christ's grace, there is freedom to be honest and transparent. When we embrace that security and freedom, then we end up pointing others to the only Source of healing and forgiveness. - Author: Matt Chandler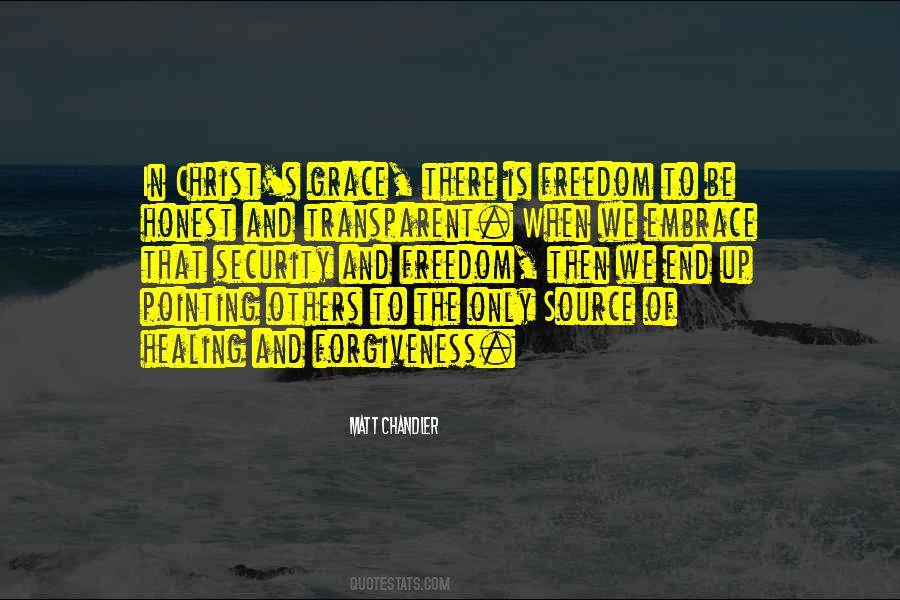 #98. Among the best traitors Ireland has ever had, Mother Church ranks at the very top, a massive obstacle in the path to equality and freedom. She has been a force for conservatism ... to ward off threats to her own security and influence. - Author: Bernadette Devlin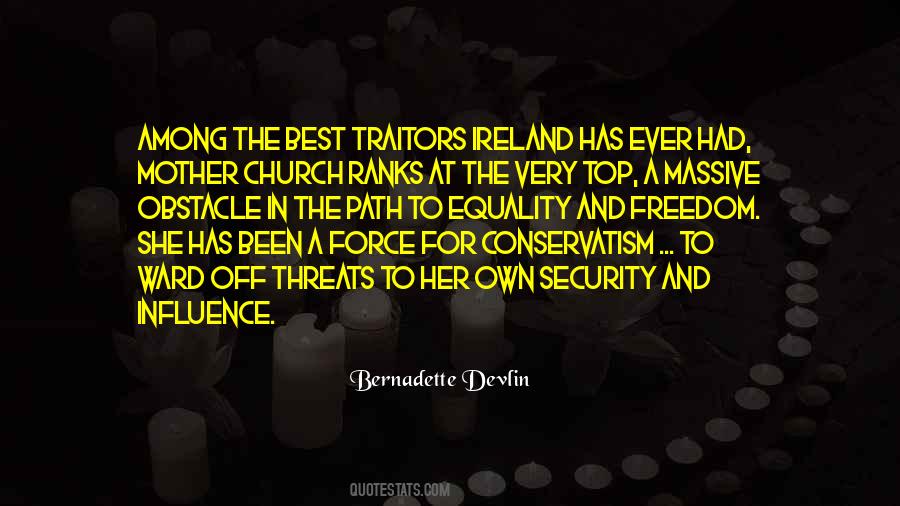 #99. Freedom arises from the multiplicity of sects, which prevades America and which is the best and only security for religious liberty in any society. For where there is such a variety of sects, there cannot be a majority of any one sect to oppress and persecute the rest. - Author: James Madison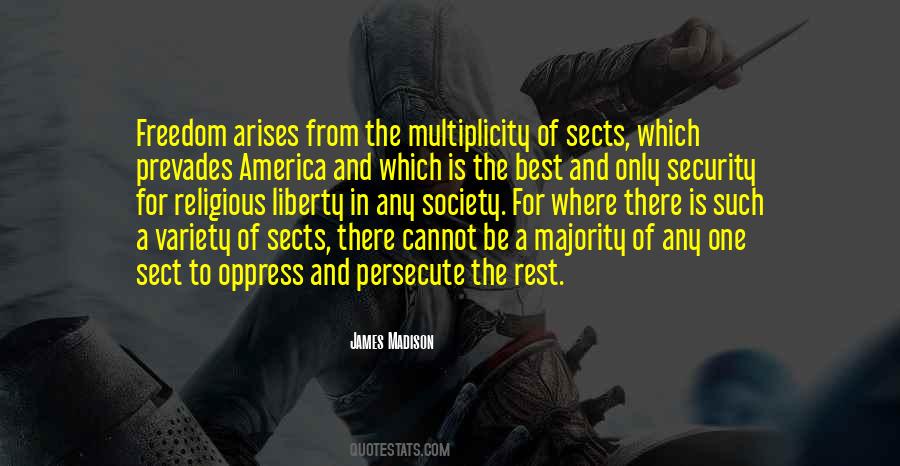 Famous Authors
Popular Topics