Fortune And Love Famous Quotes & Sayings
List of top 66 famous quotes and sayings about fortune and love to read and share with friends on your Facebook, Twitter, blogs.
Top 66 Quotes About Fortune And Love
#1. Writing is a tough business, but never forget the reason why you write. It's for the love of story telling. Fame and fortune may elude you, but that's no reason to give up. Remember, there's always someone ready to listen to a good story. - Author: Robert Bartram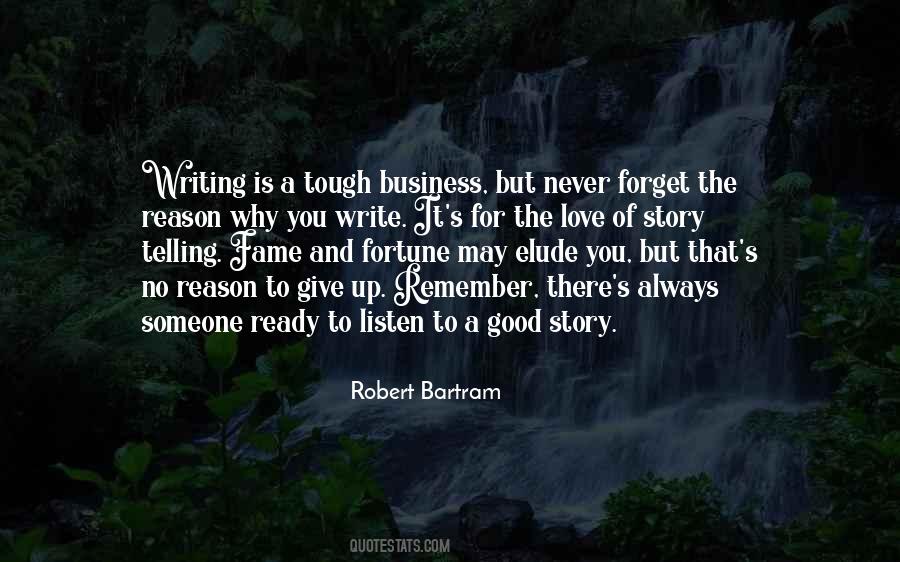 #2. Now the fair goddess, Fortune,
Fall deep in love with thee, and her great charms
Misguide thy opposers' swords! - Author: William Shakespeare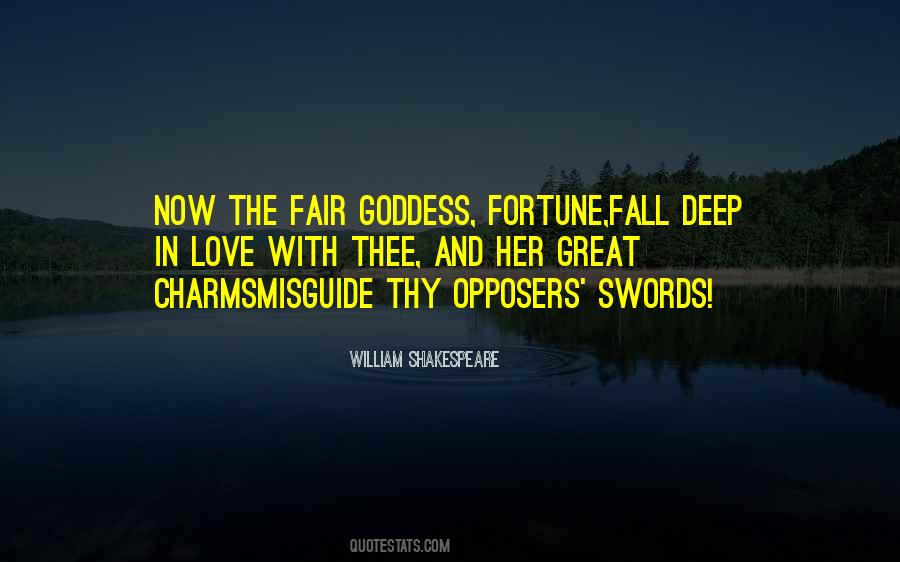 #3. So much of what happened to me is good fortune. But I would say: Try to get a job that gives you some time; get your sleep and a little bit of food; and work as much as you can. There's so much enjoyment in doing what you love. Maybe this will open doors, and you'll find a way to do what you love. - Author: David Lynch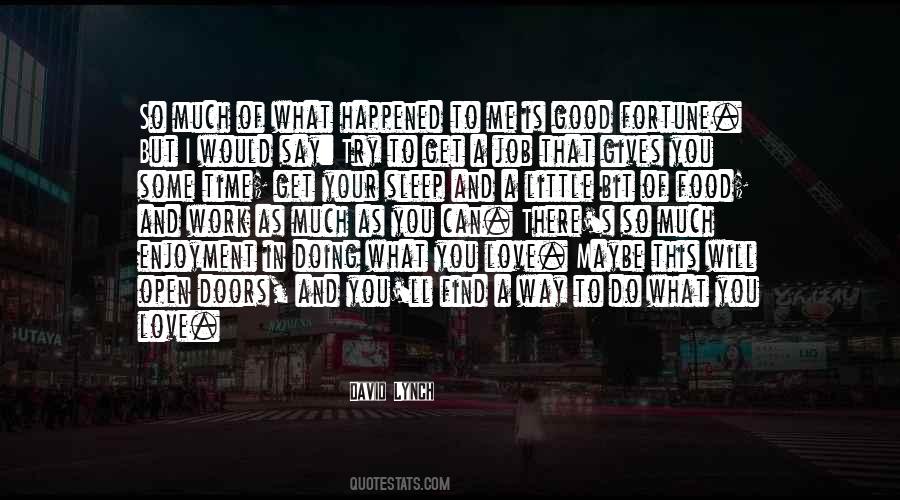 #4. There is no treasure the which may be compared unto a faithful friend; Gold some decayeth, and worldly wealth consumeth, and wasteth in the winde; But love once planted in a perfect and pure minde indureth weale and woe; The frownes of fortune, come they never so unkinde, cannot the same overthrowe. - Author: Marcus Tullius Cicero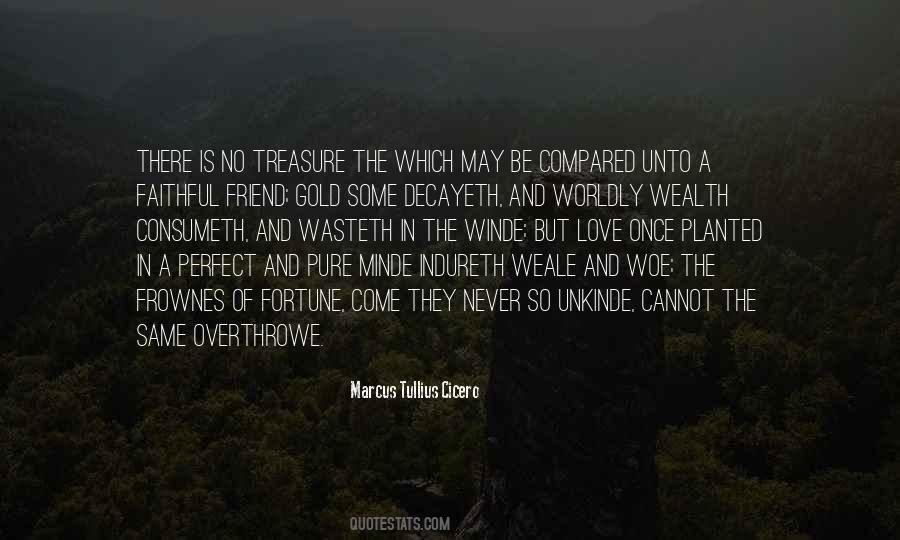 #5. The test of friendship is its fidelity when every charm of fortune and environment has been spent away, and the bare, undraped character alone remains; if love still holds steadfast, and the joy of companionship survives in such an hour, the fellowship becomes a beautiful prophecy of immortality. - Author: Hamilton Wright Mabie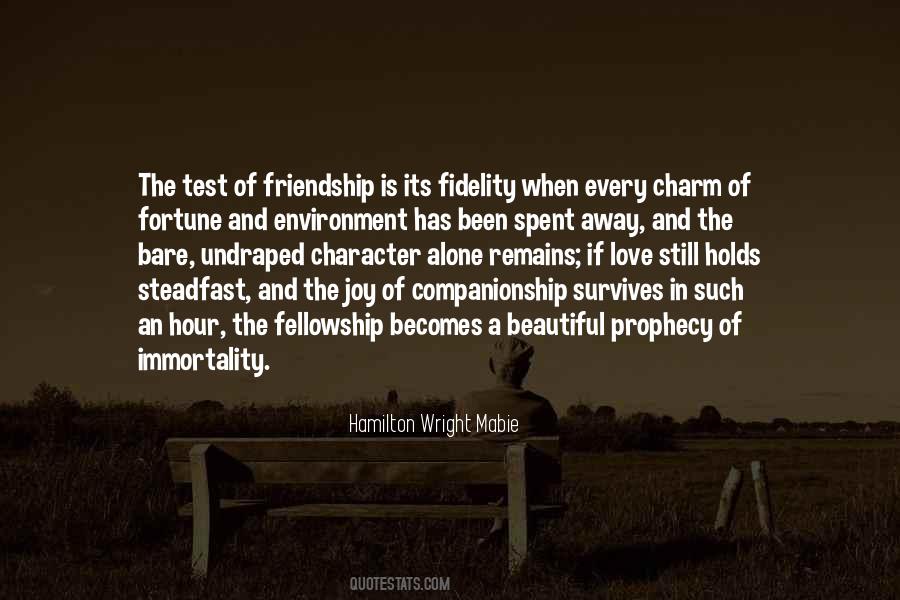 #6. She wants another spin on the wheel of fortune? This was always my problem with her: I could never tell the difference between the feeling of love and the feeling of danger. - Author: Scott Hutchins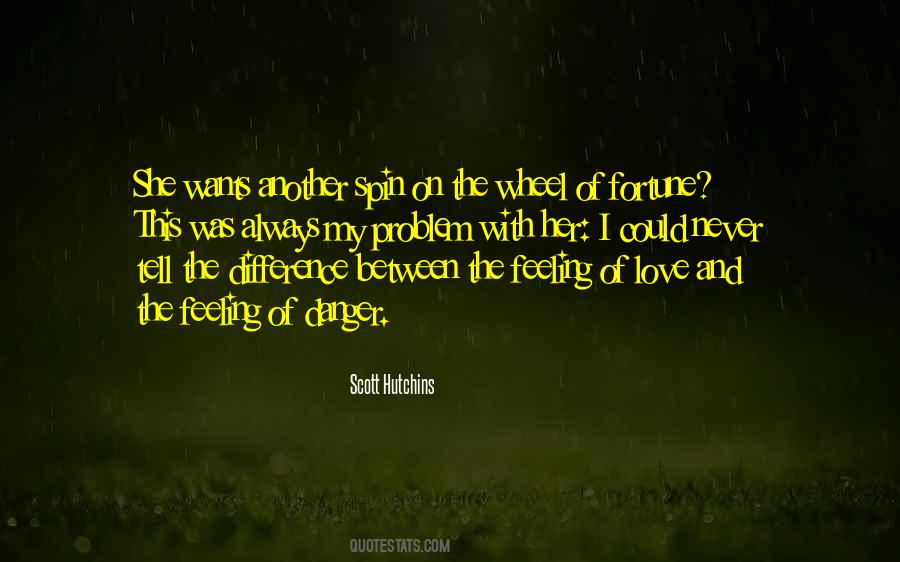 #7. Once someone has had the good fortune to share a true love affair with a Golden Retriever, one's life and one's outlook is never quite the same. - Author: Betty White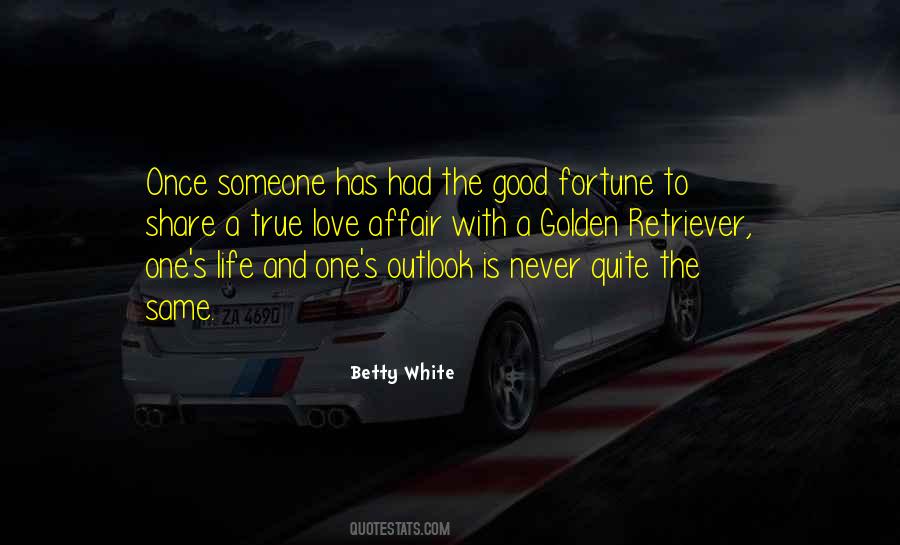 #8. Life is about making mistakes. If you don't take chances, blindfolded and frightened as you are, you're not really living, are you? Heartache makes you stronger. Misery is the stuff of good poetry. You're denying yourself much more than the bad things in life by listening to Zita's fortunes. - Author: Kimberly Karalius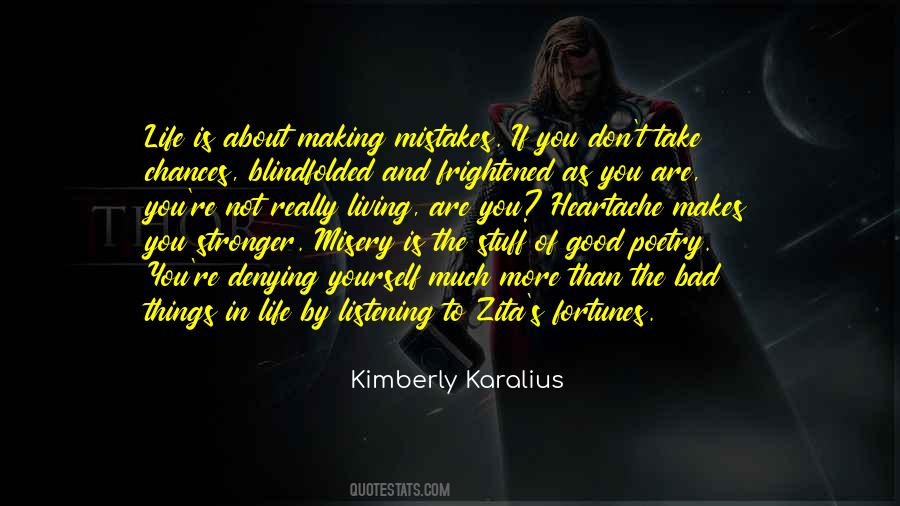 #9. To think that we might easily have gone through life not knowing each other, missing all this free flow of love and ideas and warmth and sharing ... We share really almost everything. (Avis DeVoto to Julia Child) - Author: Joan Reardon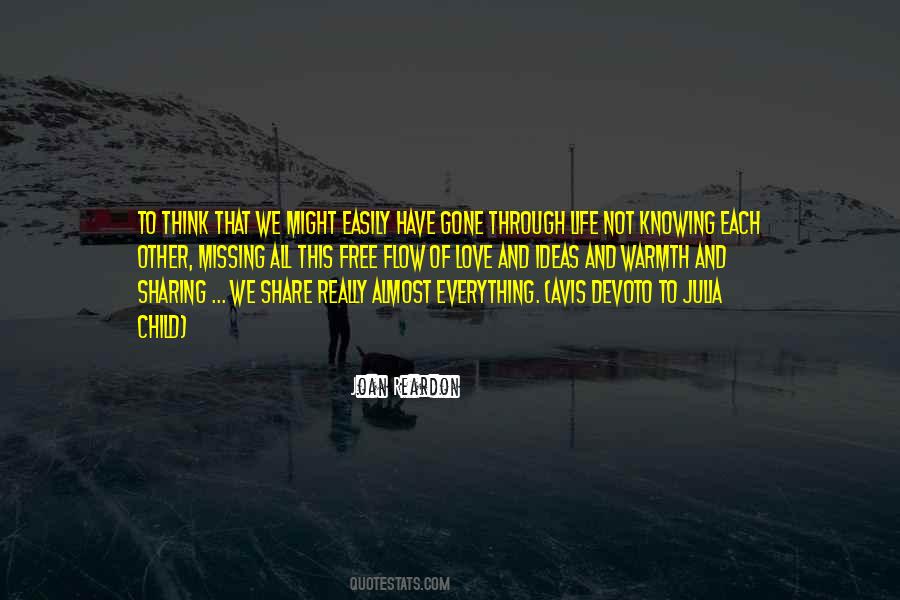 #10. Well...Anyone can promise wealth, happiness, health, and love. Anyone, even the dumbest fortune-teller. But misfortune is a challenge. No one wants to face it. - Author: Kata Mlek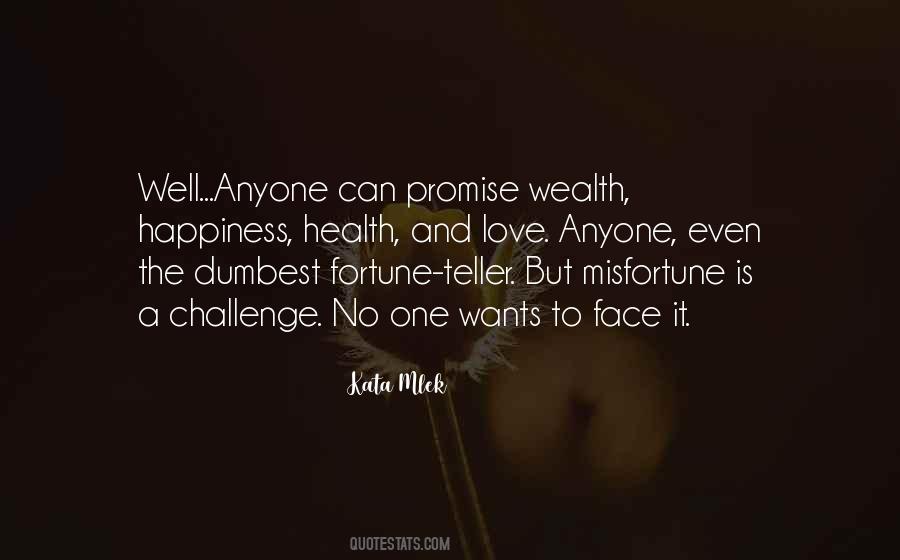 #11. I see a girl, soon to be a woman," Tibb continues. "The girl who will share your life. She will love you, she will betray you, and finally she will die for you. And it will all have been for nothing. All for nothing in the end. - Author: Joseph Delaney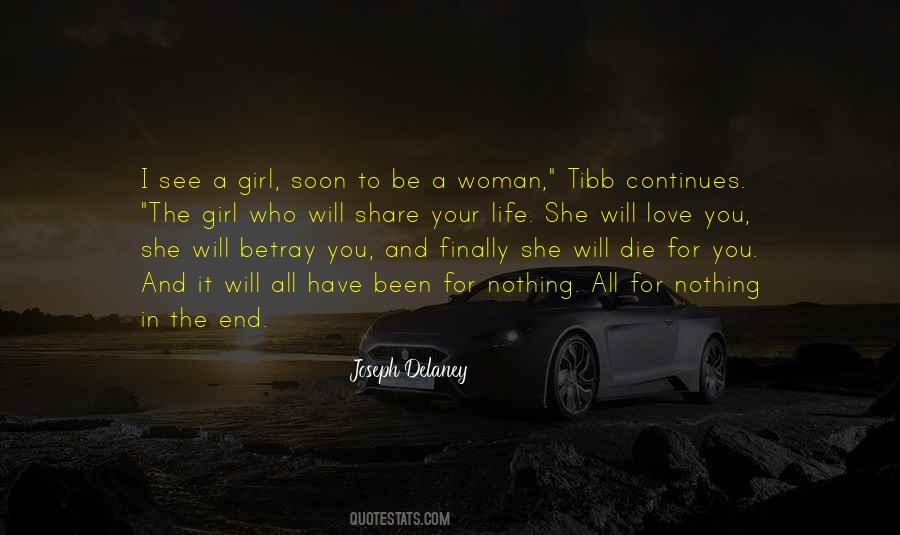 #12. I said Matt was too perfect. I was tired of trying to love him, tired of the burden of being loved. How could anyone live with all that devotion and understanding? The scale was tilted so far in my favor it felt like an unbearable weight, a fortune I was compelled to squander. - Author: James Whitfield Thomson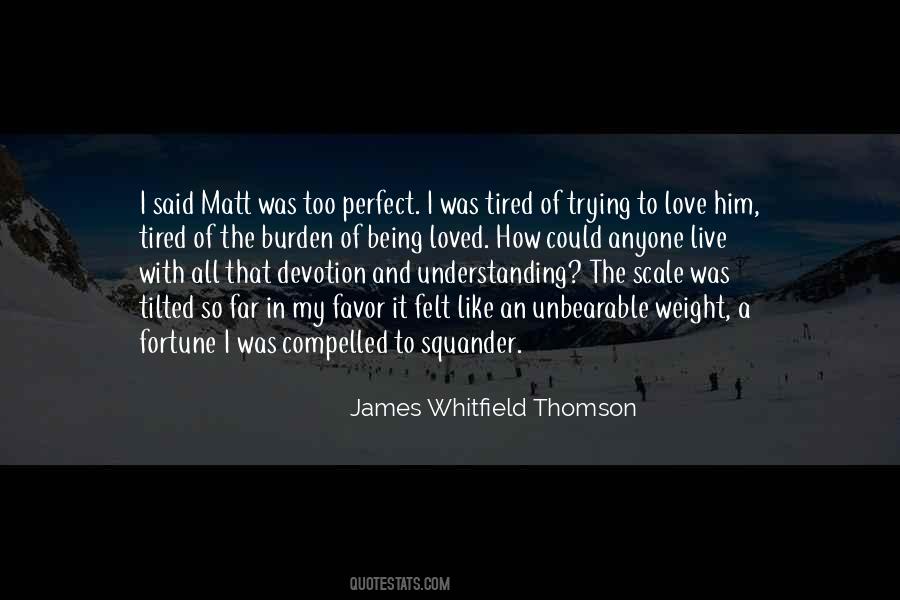 #13. About your easy heads my prayers
I said with syllables of clay.
What gift, I asked, shall I bring now
Before I weep and walk away?
Take, they replied, the oak and laurel.
Take our fortune of tears and live
Like a spendthrift lover. All we ask
Is the one gift you cannot give. - Author: Tana French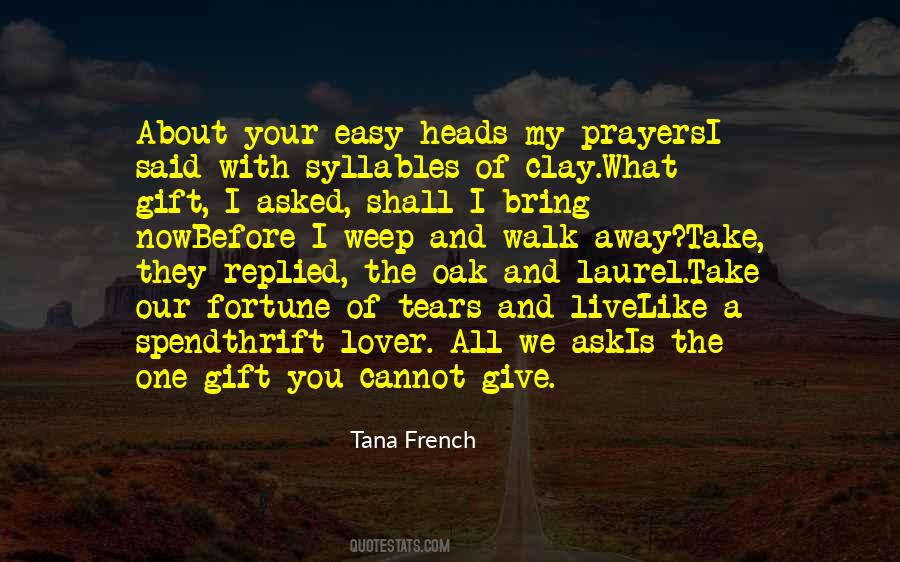 #14. When we harness the natural force of harmony, joy, and love, we create success and good fortune with effortless ease. - Author: Deepak Chopra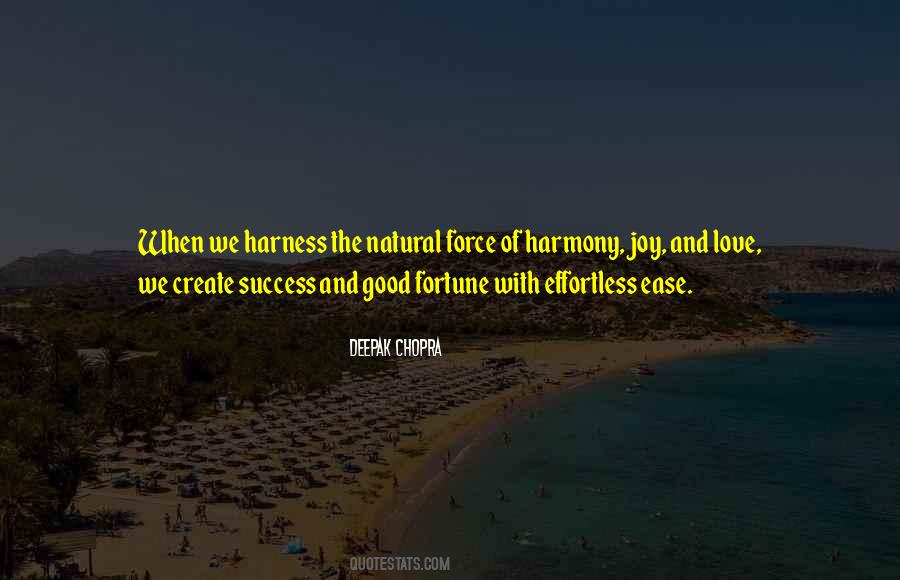 #15. But wild Ambition loves to slide, not stand, And Fortune's ice prefers to Virtue's land. - Author: John Dryden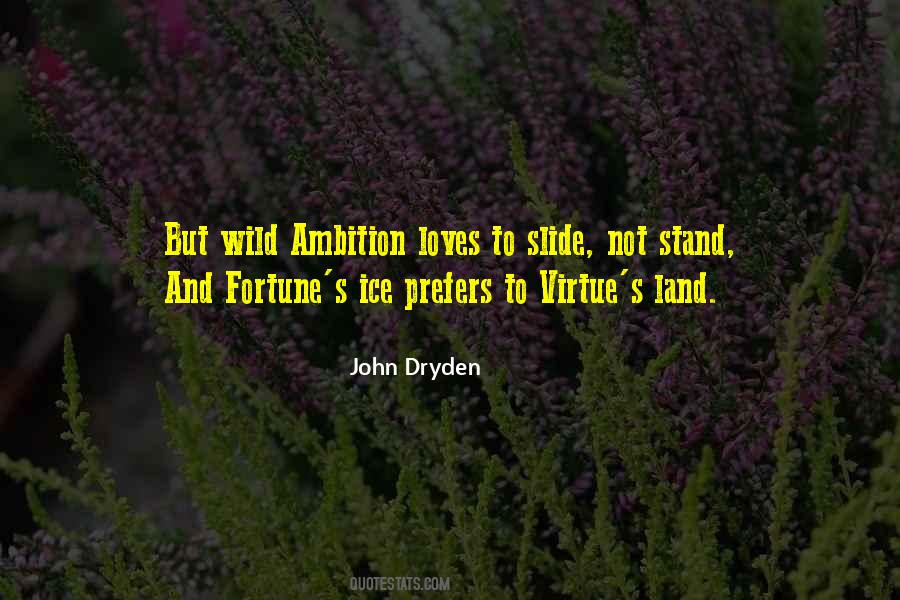 #16. In a world of knowledge and expertise, fame and fortune, status and ranks....nothing has the power to affect change as much as love and compassion. - Author: Ka Chinery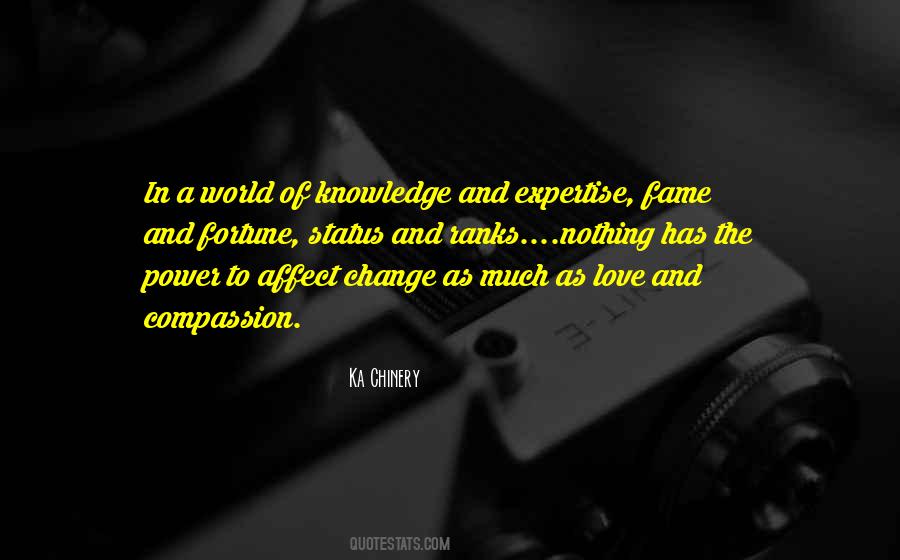 #17. Love had not made them poor. Love had made them wealthy. In that moment, they were royalty, a king of fortune and a queen of destiny, embracing a tiny prince of peace. - Author: Amy Harmon
#18. It was never the fame or fortune that drove me to act. It was something I love and enjoy doing it. A lot of people identify who they are by what they do and that's not me. It's what I do but not who I am. Who I am is a parent. I'm a family man. - Author: Adam Baldwin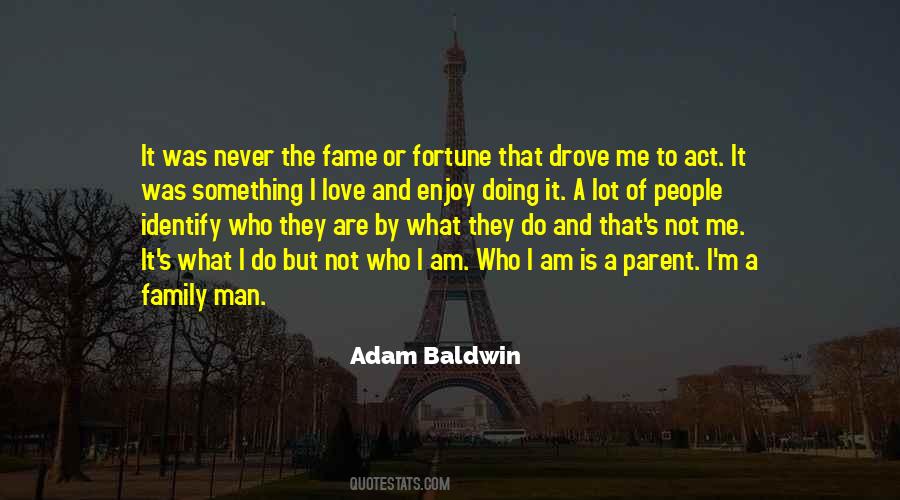 #19. Fortune and love favour the brave.
[Lat., Audentum Forsque Venusque juvant.] - Author: Ovid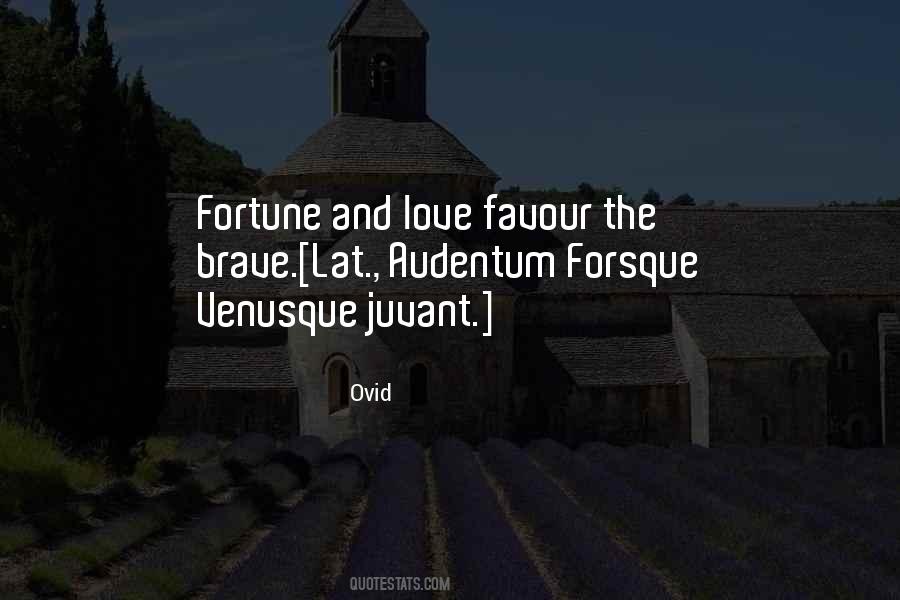 #20. It's always the big question in our lives if you have a lot of success. What do you do with it? Buy more houses, buy more cars, buy more stuff, be wealthy and distant and unengaged? Or do you take all that good fortune that has come towards you and spread the love, do something with it? - Author: Kevin Spacey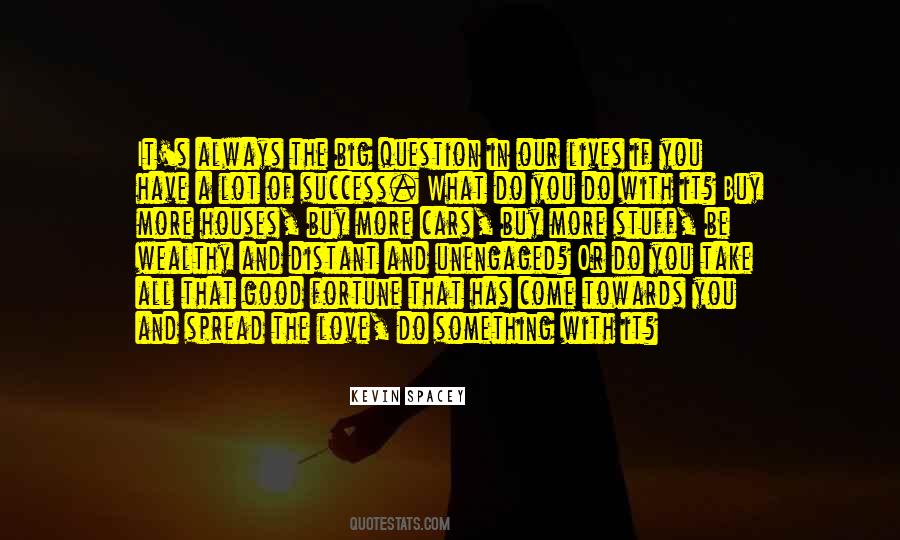 #21. I just felt my good fortune, and I also trust my love for the book, my love for the material, and my reverence for Stephen King. - Author: Bridget Carpenter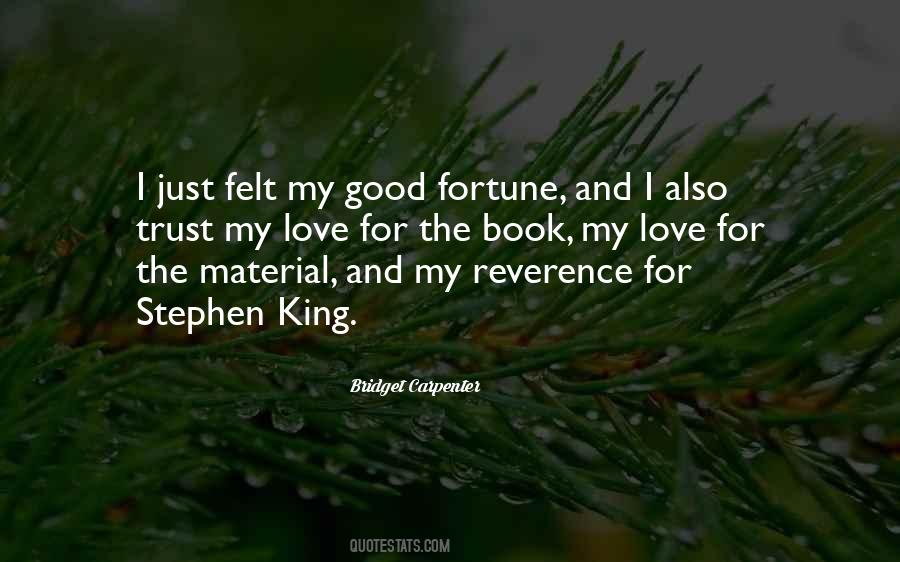 #22. Let us drink together, fellows, as we did in days of yore.
And still enjoy the golden hours that Fortune has in store;
The absent friends remembered be, in all that's sung or said,
And Love immortal consecrate the memory of the dead. - Author: Albert Pike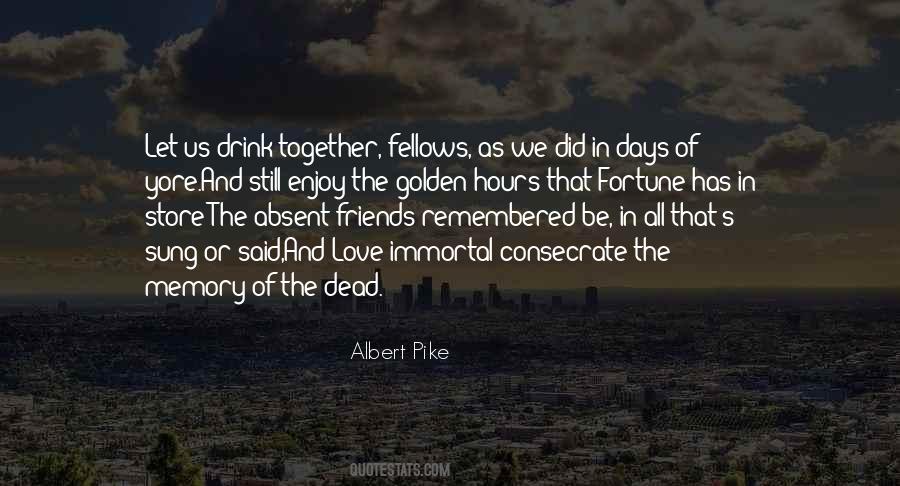 #23. A low self-love in the parent desires that his child should repeat his character and fortune. - Author: Ralph Waldo Emerson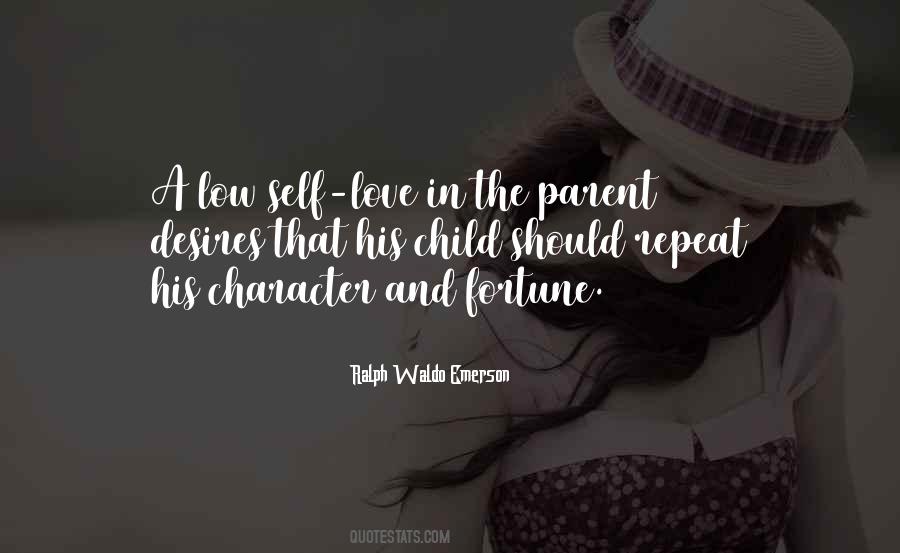 #24. Happy is he who has laid up in his youth, and held fast in all fortune, a genuine and passionate love of reading. - Author: Rufus Choate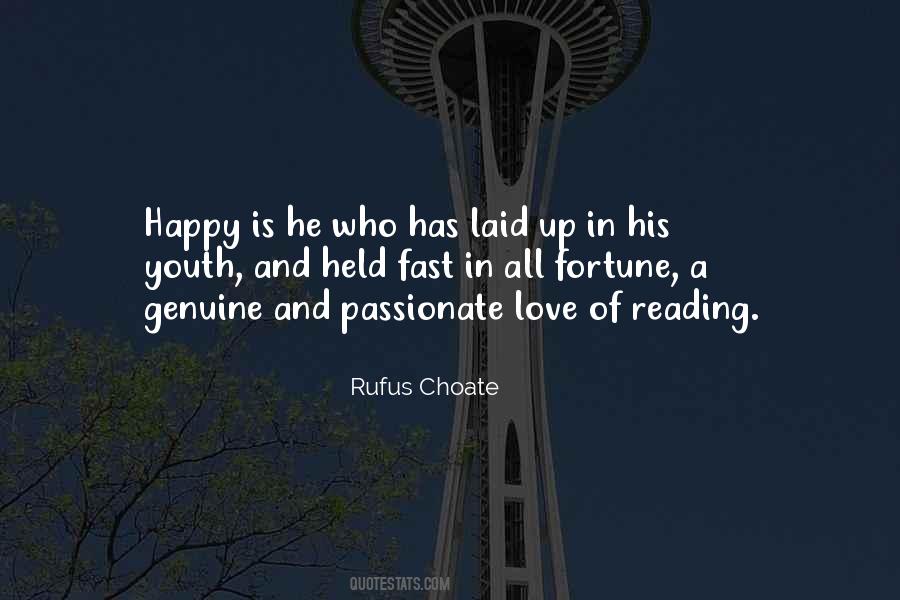 #25. I am no longer alone with myself, and I can only artificially recall the scary and beautiful feeling of solitude. This is the shadow side of the fortune of love. - Author: C. G. Jung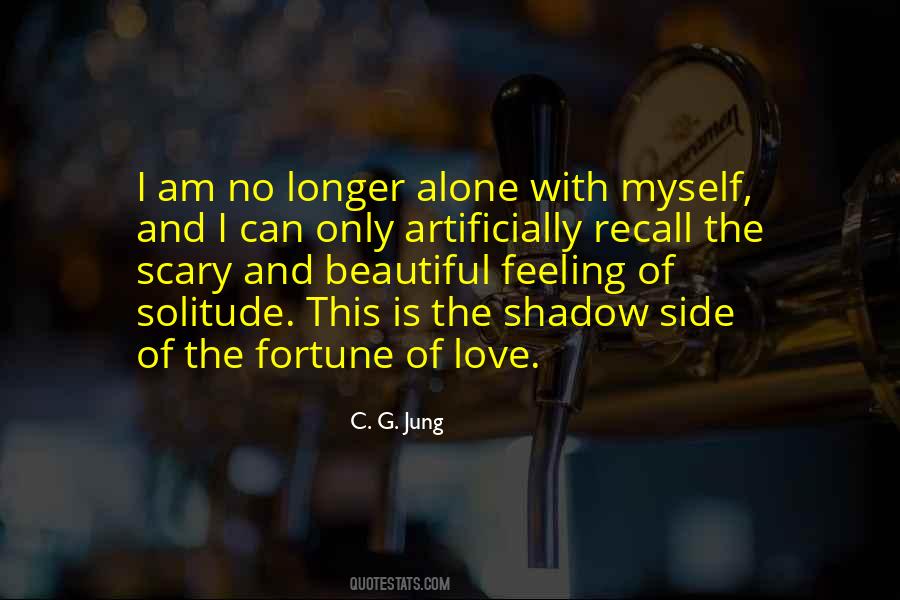 #26. Life, Rose well knew, could throw some hard punches at you, but nothing hurt as much as losing a child, or seeing one of your children hurt and suffering. Becoming a parent changed you forever, as nothing else could. Not good or bad fortune. Not friendships. Not even a man or a woman. - Author: Jennifer Donnelly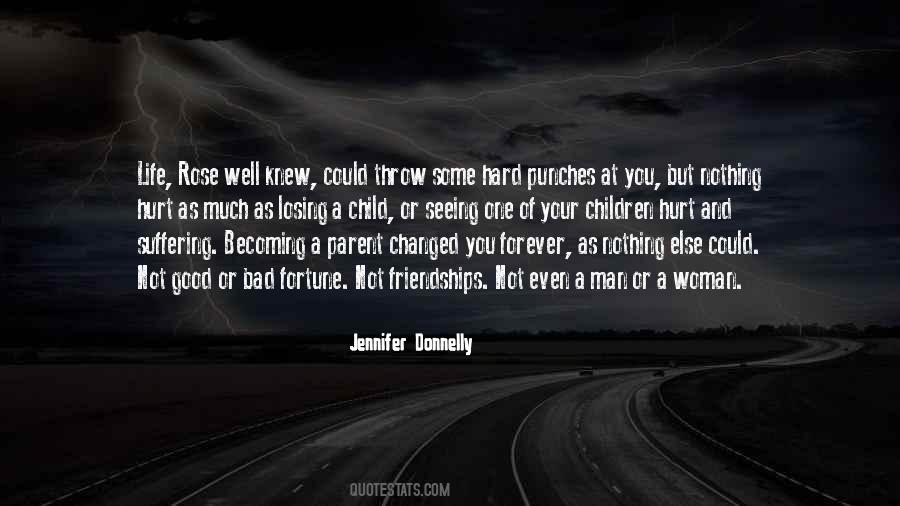 #27. My greatest good fortune in a life of brilliant experiences has been to find you, and to lead my life with you. I don't feel far away from you out here at all. I feel very near in my heart; and also I feel that the nearer I get to honour, the nearer I am to you. - Author: Winston Churchill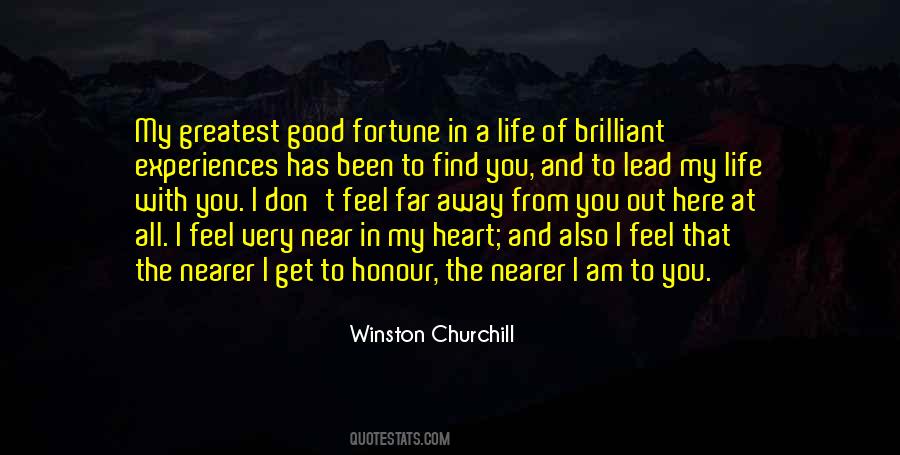 #28. Love, as I see it, is a series of actions. If I ever got remarried-impossible-but if I ever did and my husband never said the words "I love you," but he showed me every day that he did, I would click my heels every morning and be eternally grateful for my good fortune. - Author: Cathy Lamb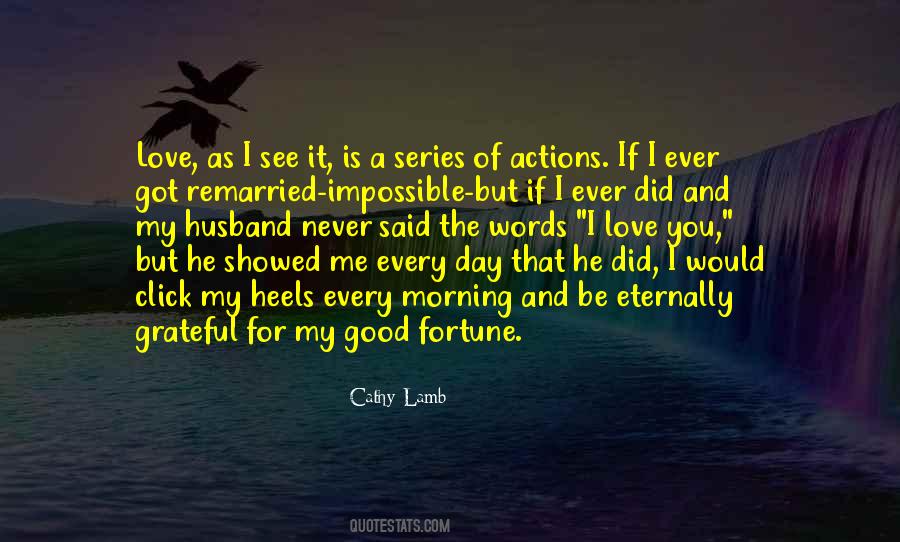 #29. Beli at thirteen believed in love like a seventy-year-old widow who's been abandoned by family, husband, children and fortune believes in God. - Author: Junot Diaz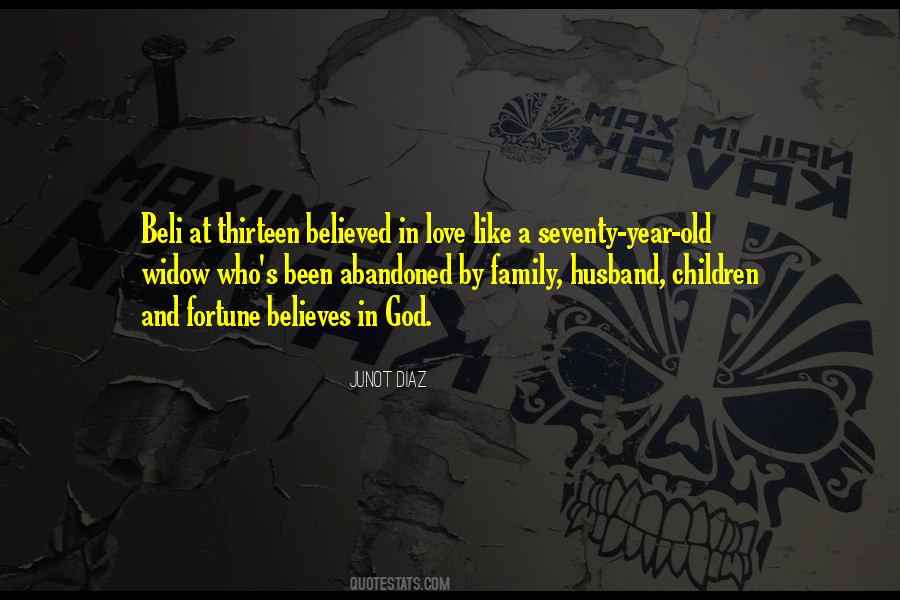 #30. It is at a fair that man can be drunk forever on liquor, love, or fights; at a fair that your front pocket can be picked by a trotting horse looking for sugar, and your hind pocket by a thief looking for his fortune. - Author: E.B. White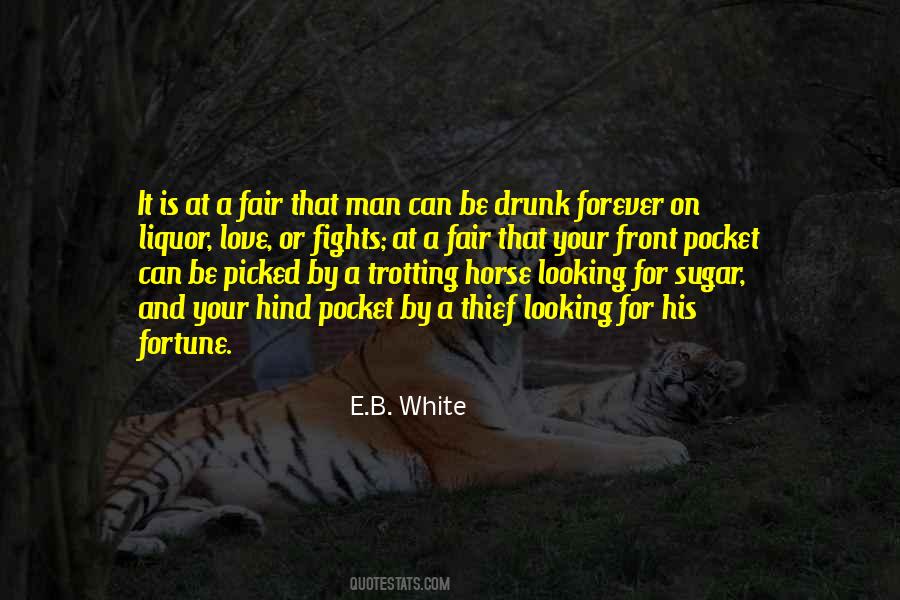 #31. She has a fixation on love. Strong trouble. The girl left her window open one clear night and it crawled into her body while she was asleep. There's no spell can cure it. - Author: Isabel Allende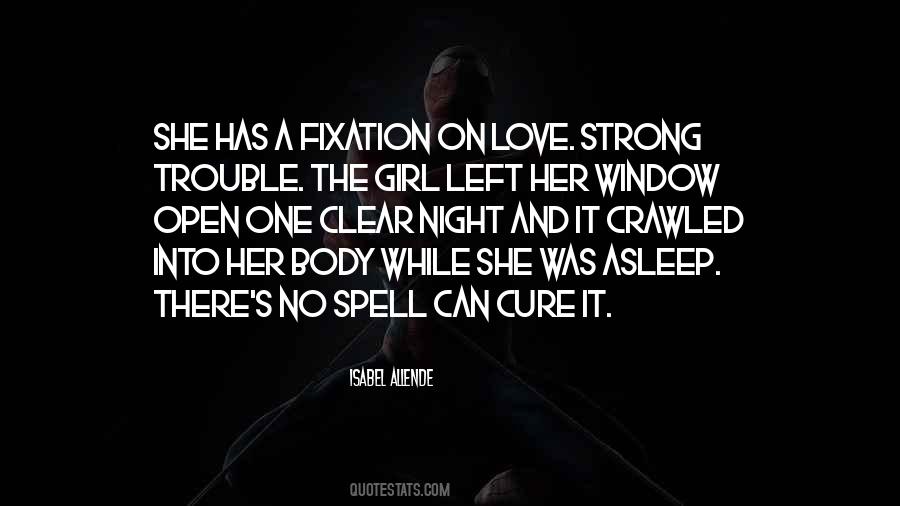 #32. That each day that you love, honor, and respect your own unique point of view, you're a step closer to finding a fortune. - Author: Sarah Ban Breathnach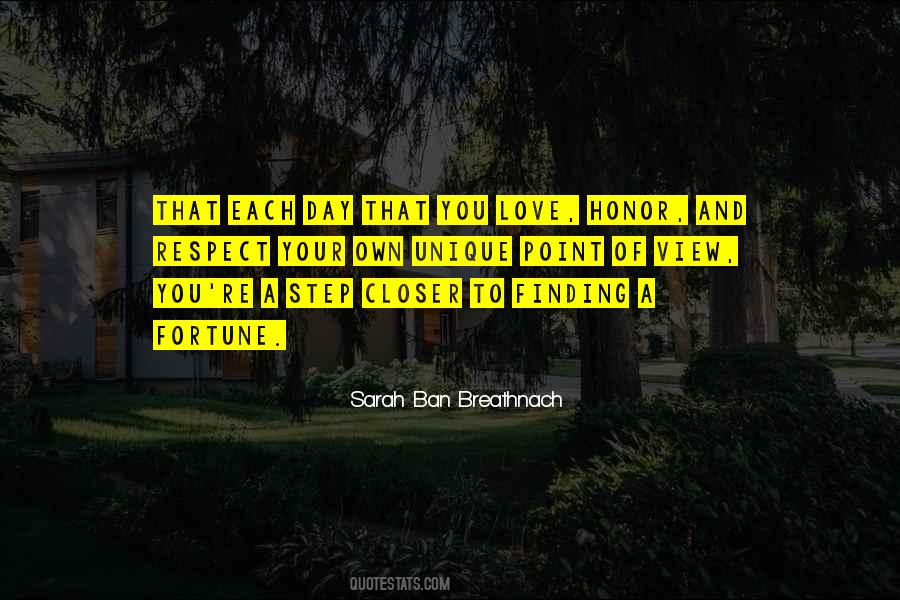 #33. If they gave me a fortune, My treasure would be small: I could lose it all tomorrow And never mind at all. But if I should lose your love, dear, I don't know what I'd do, For I know I'll never find another you. - Author: Tom Springfield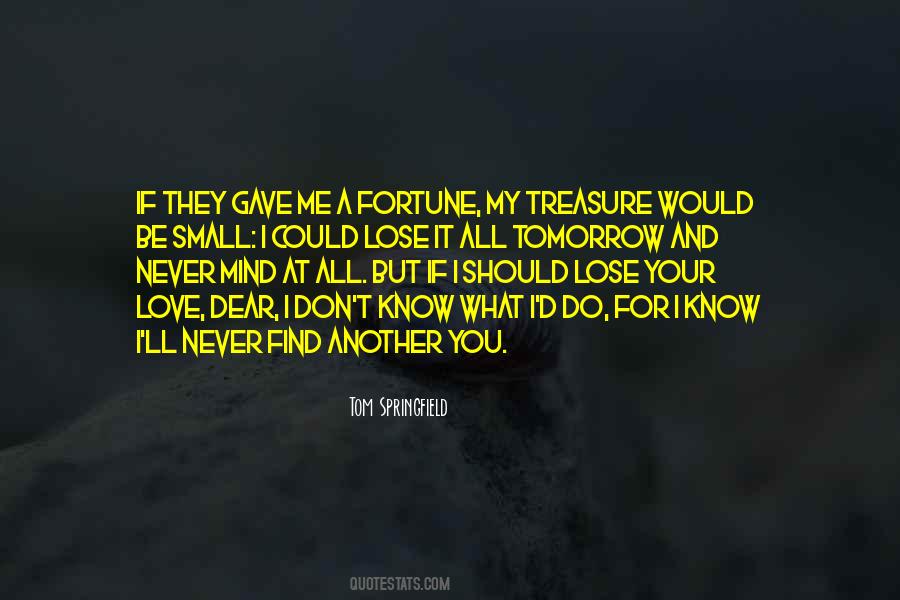 #34. No matter how much money, fame, and fortune you have, it doesn't mean sh** if it's not connected with love. - Author: Adam Lambert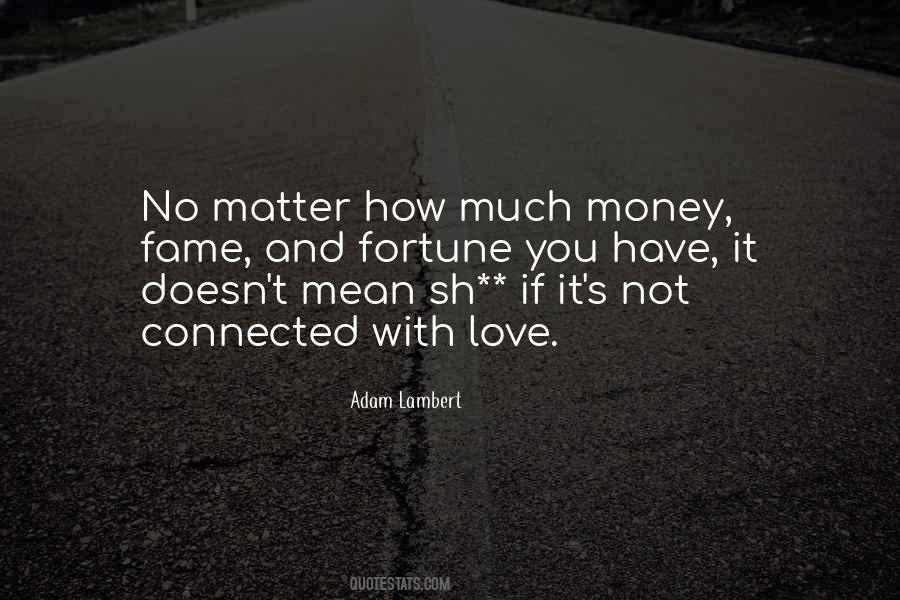 #35. Gipsies, who every ill can cure,
Except the ill of being poor
Who charms 'gainst love and agues sell,
Who can in hen-roost set a spell,
Prepar'd by arts, to them best known
To catch all feet except their own,
Who, as to fortune, can unlock it,
As easily as pick a pocket. - Author: Charles Churchill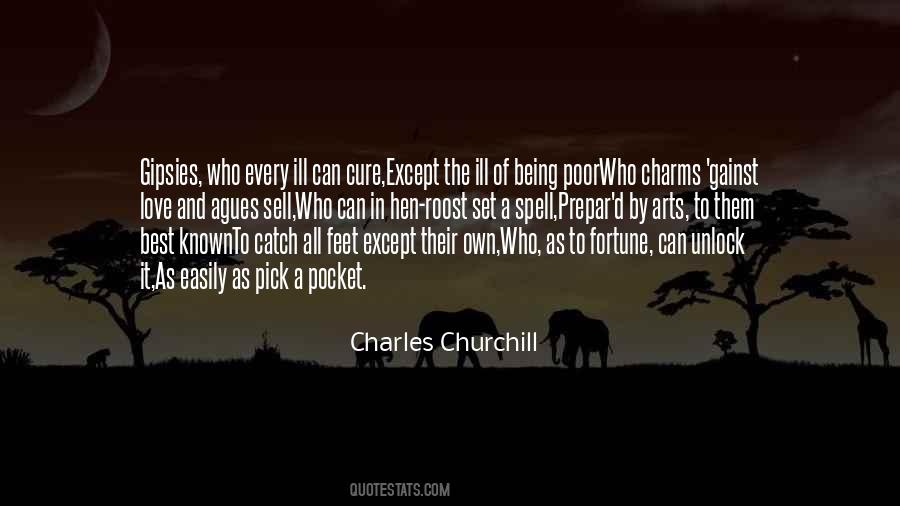 #36. When I was twelve, a fortune teller told me that my one true love would die young and leave me all alone.. Everyone said she was a fraud, that she was just making it up.. I'd really like to know why the hell a person would make up a thing like that. - Author: Tiffanie DeBartolo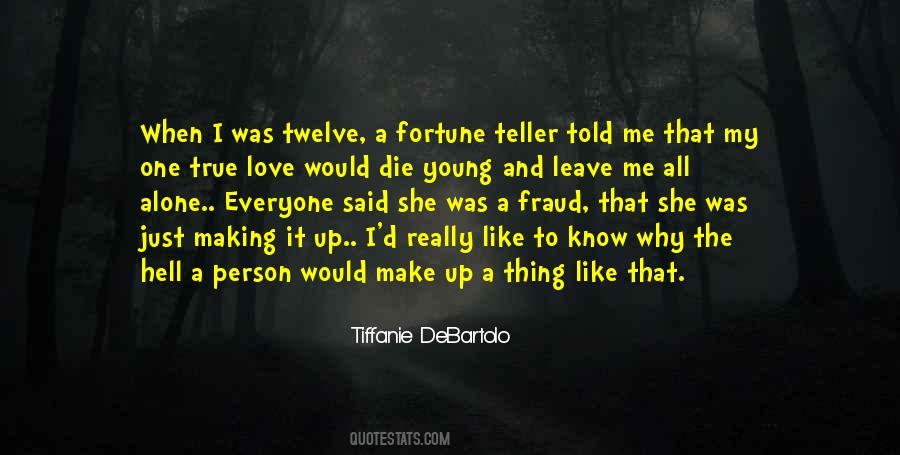 #37. I can't change how I die, but I can decide how I live. And I want to live that life with you." - Oona's Fortune. - Author: Lucy Patton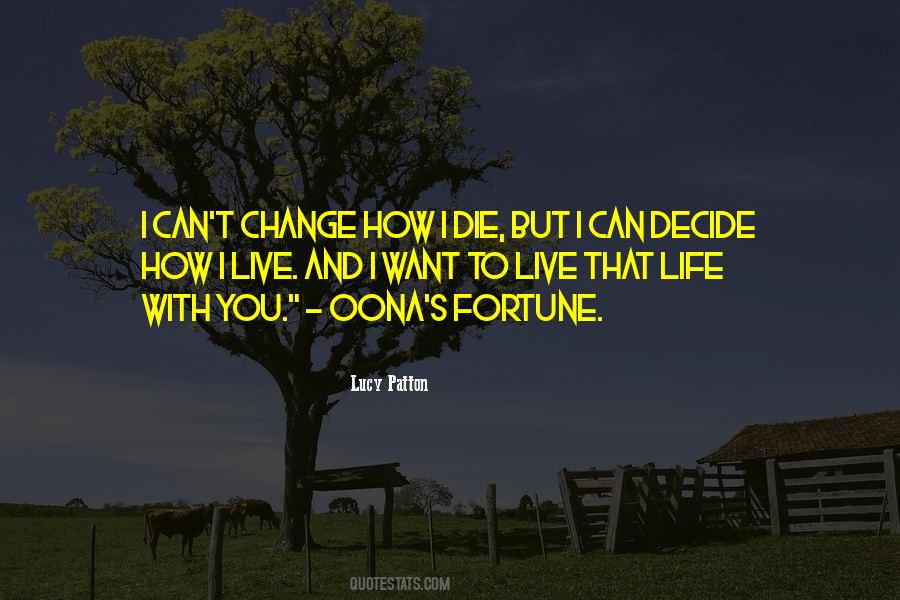 #38. Much as we complain about our condition or feel victimized by fortune or fellow humans, we simply love being alive. We love life in others and in ourselves. We are in love with life. To love life is to love the activities of which it consists and to hope for more. - Author: John Lachs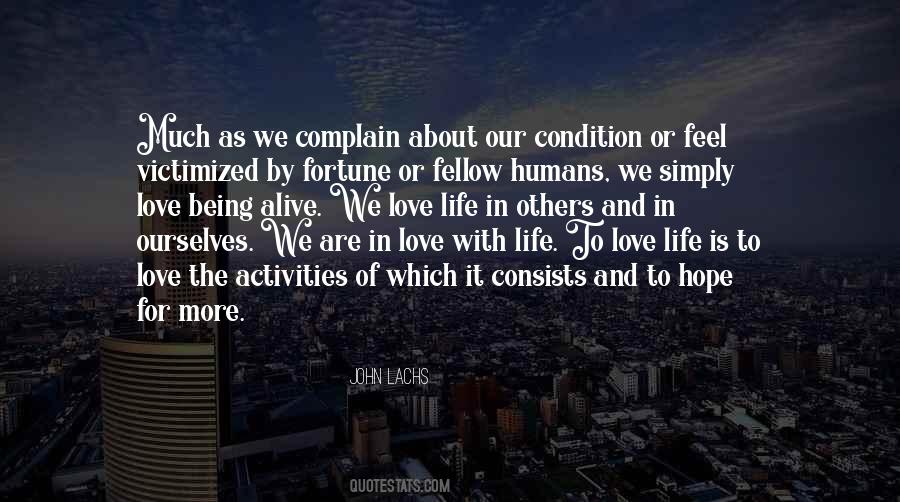 #39. The pleasures and the cares of the luckiest ambition, even of limitless power, are nothing next to the intimate happiness that tenderness and love give. I am man before being a prince, and when I have the good fortune to be in love, my mistress addresses a man and not a prince. - Author: Stendhal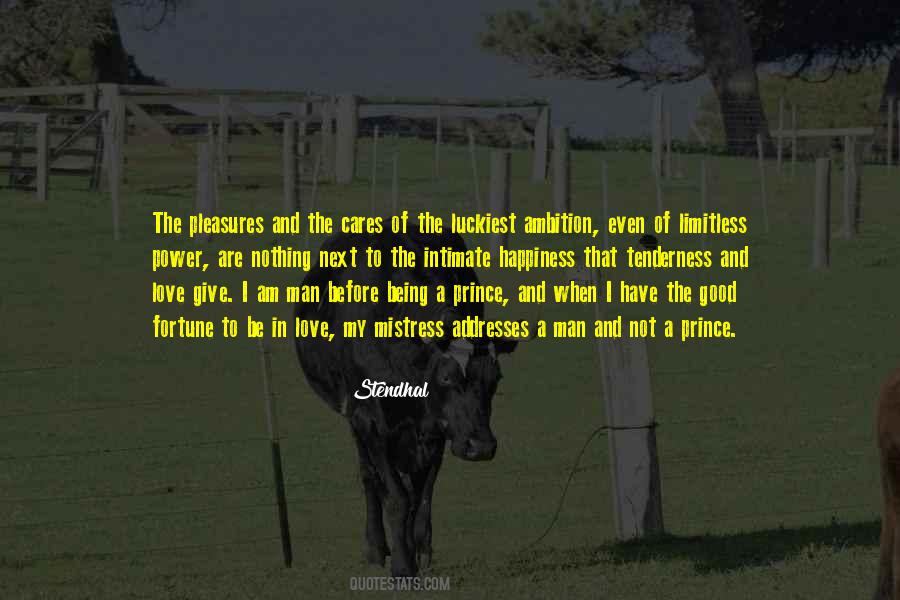 #40. We're all made the same but then born to change. Which then don't make us the same. - Author: Jonathan Anthony Burkett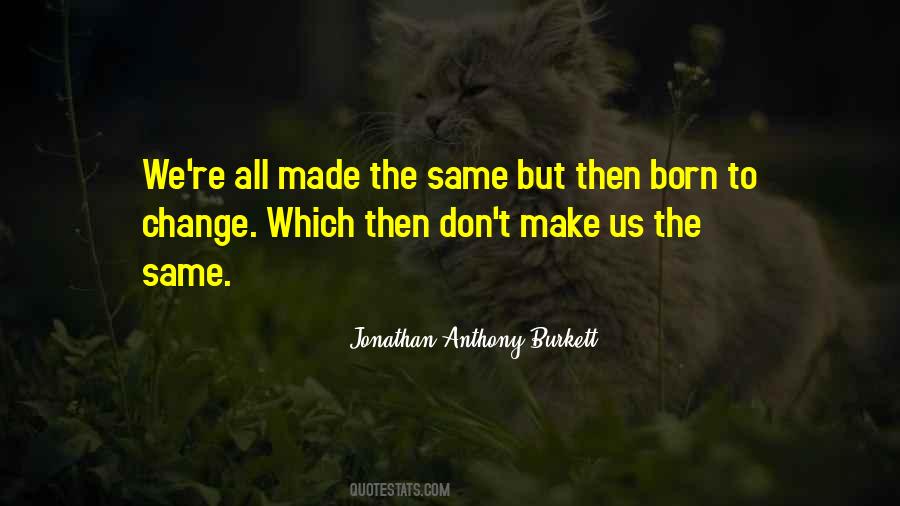 #41. He who wishes to revenge injuries by reciprocal hatred will live in misery. But he who endeavors to drive away hatred by means of love, fights with pleasure and confidence; he resists equally one or many men, and scarcely needs at all the help of fortune. Those whom he conquers yield joyfully - Author: Baruch Spinoza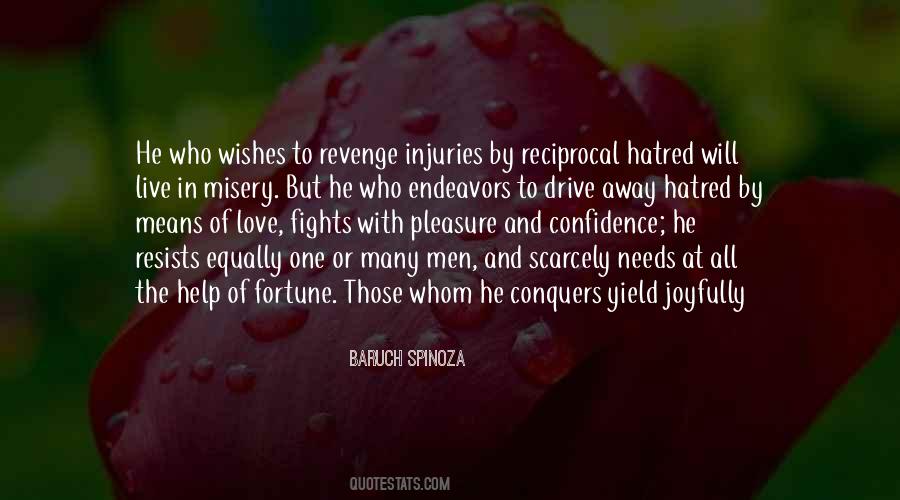 #42. If you can't participate in someone else's good fortune and show them love. How can you get offended when they don't partake in yours. Good fortunes are made to be enjoyed. Like a old wise pimp will say "Don't hate, participate. - Author: J. Wrice Sr.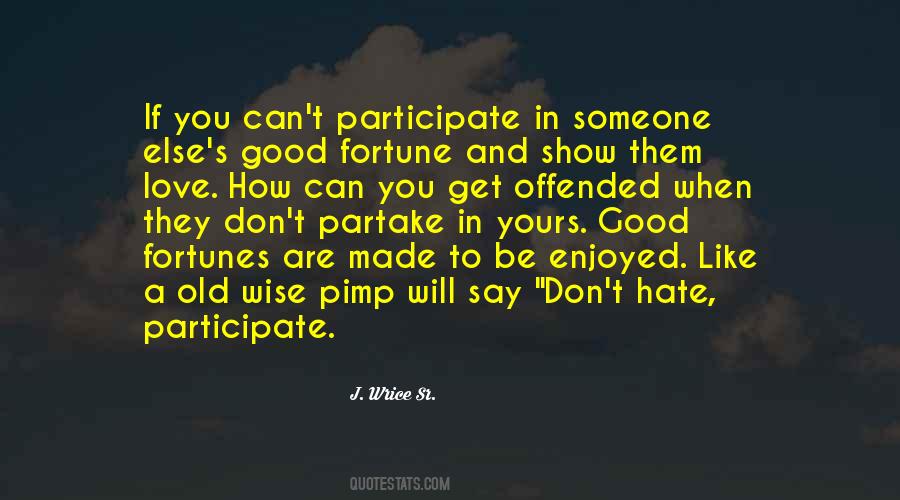 #43. Spirituality is about oneness - one love, one seeker, one soul, and one spirituality that speaks to all people. No matter a person's fame, fortune, or faith, they are one with you. - Author: Emma Mildon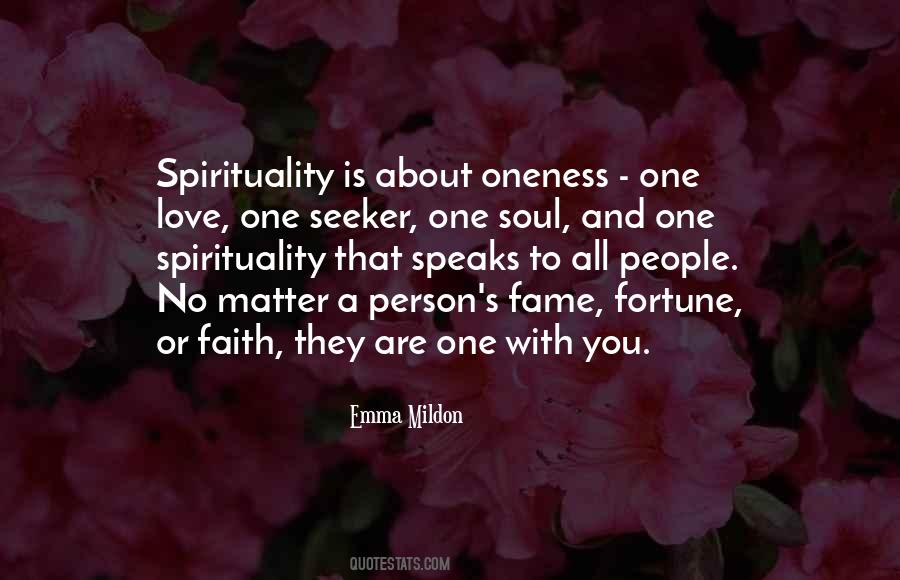 #44. Fortune and love favor the brave. - Author: Ovid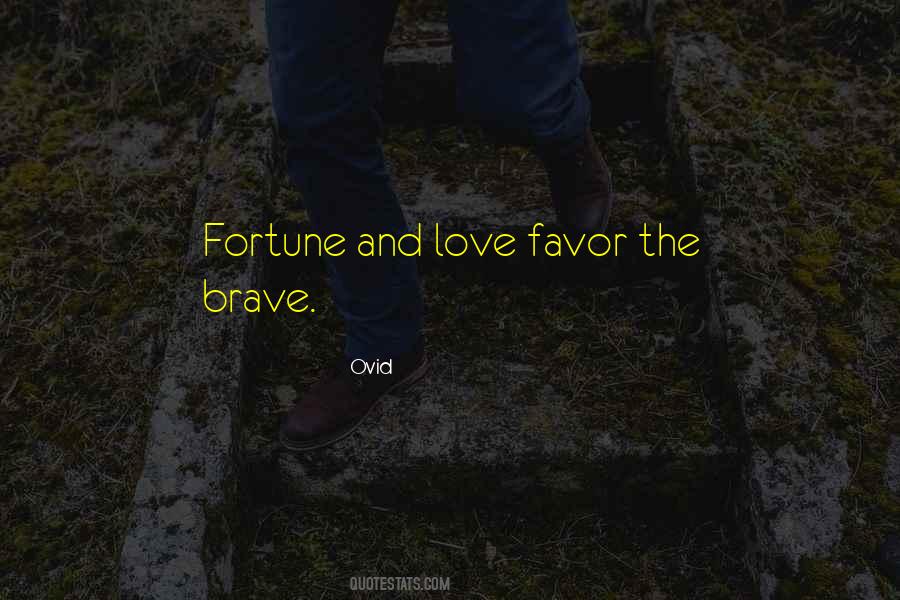 #45. Man is born for uprightness. If a man lose his uprightness and yet live, his escape from death is mere good fortune. - Author: Confucius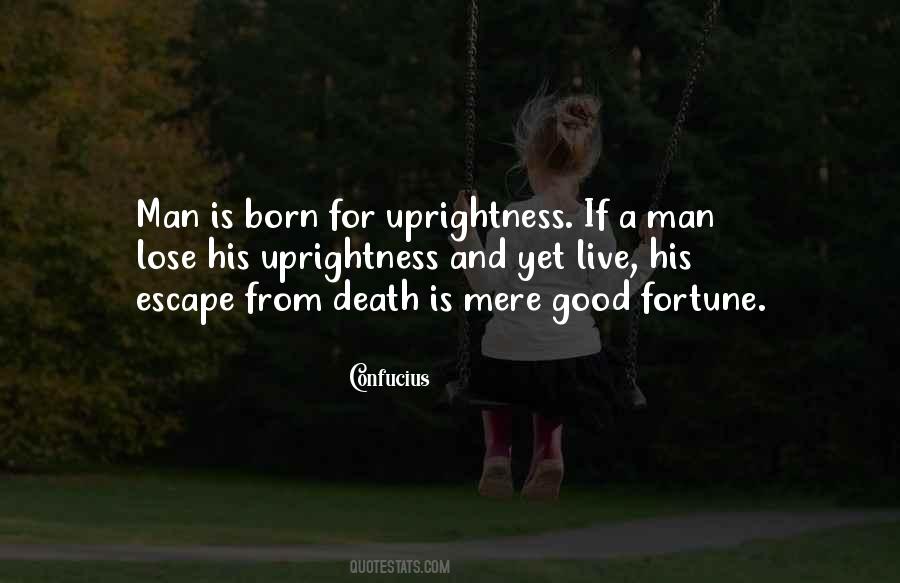 #46. By the accident of fortune a man may rule the world for a time, but by virtue of love and kindness he may rule the world forever. - Author: Laozi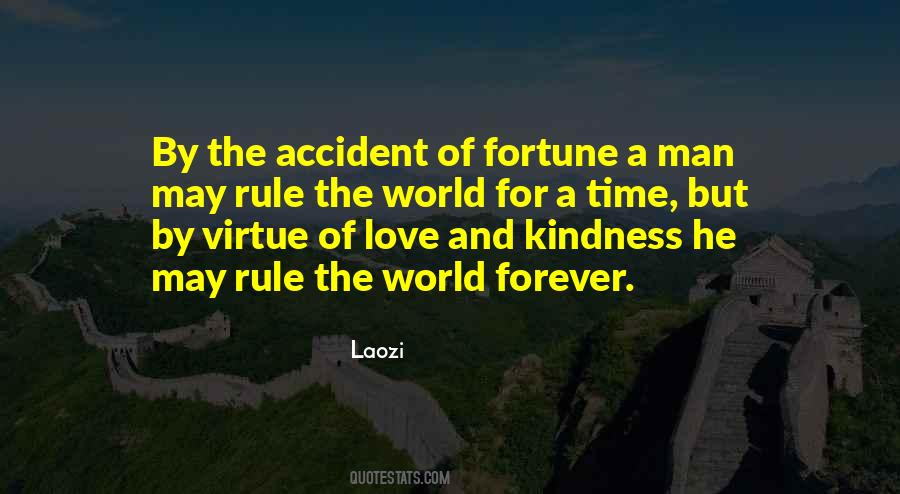 #47. The secret of fortune is joy in our hands. Welcome evermore to gods and men is the self-helping man. For him all doors are flung wide. Him all tongues greet, all honors crown, all eyes follow with desire. Our love goes out to him and embraces him because he did not need it. - Author: Ralph Waldo Emerson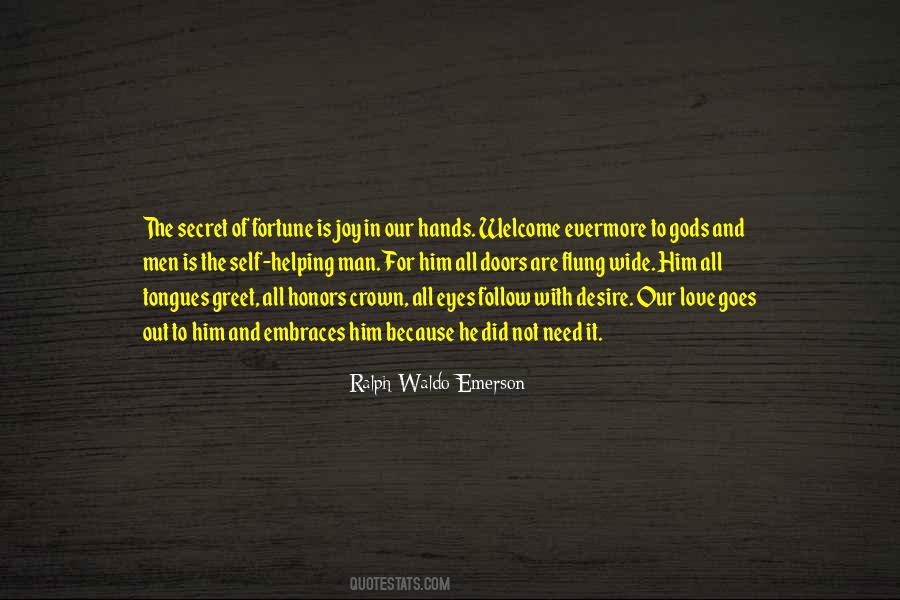 #48. But a good man wouldn't marry you for fortune, and perhaps you shouldn't choose such as one as that."
"Shouldn't I?"
"A good man would marry you for love." he says simply. - Author: Philippa Gregory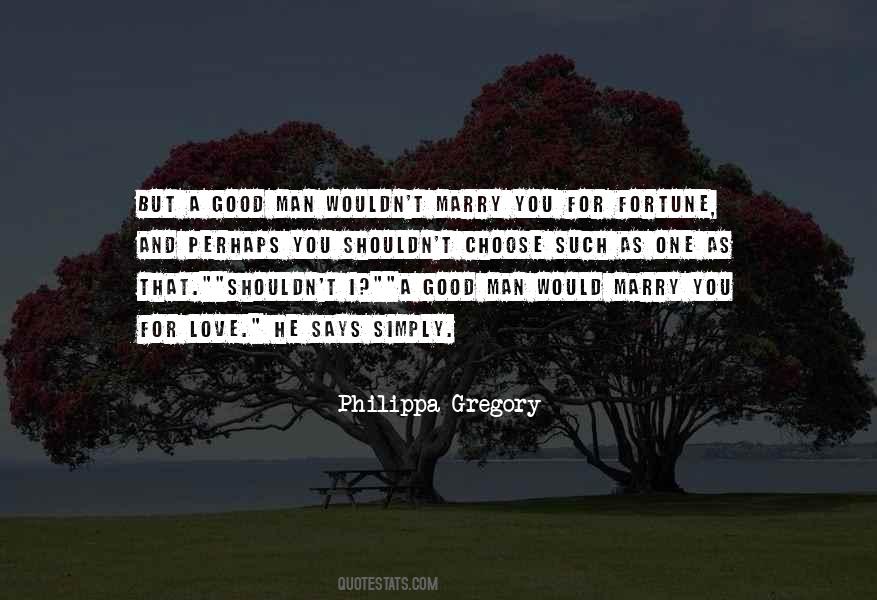 #49. Self-love is almost always the ruling principle of our friendships. It makes us avoid all our obligations in unprofitable situations, and even causes us to forget our hostility towards our enemies when they become powerful enough to help us achieve fame or fortune. - Author: Madeleine De Souvre, Marquise De ...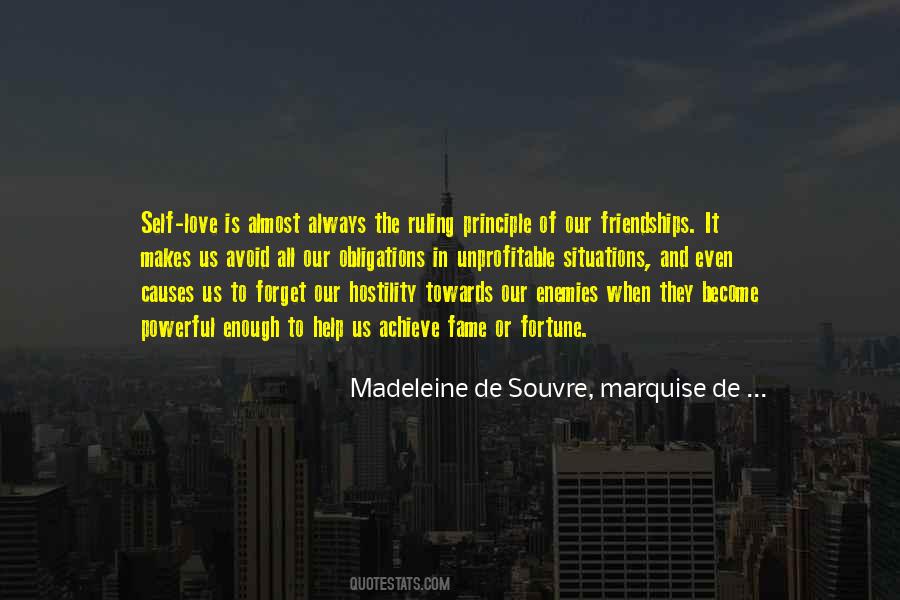 #50. Love of glory, fear of shame, greed for fortune, the desire to make life agreeable and comfortable, and the wish to depreciate others - all of these are often the causes of the bravery that is spoken so highly of by men. - Author: Francois De La Rochefoucauld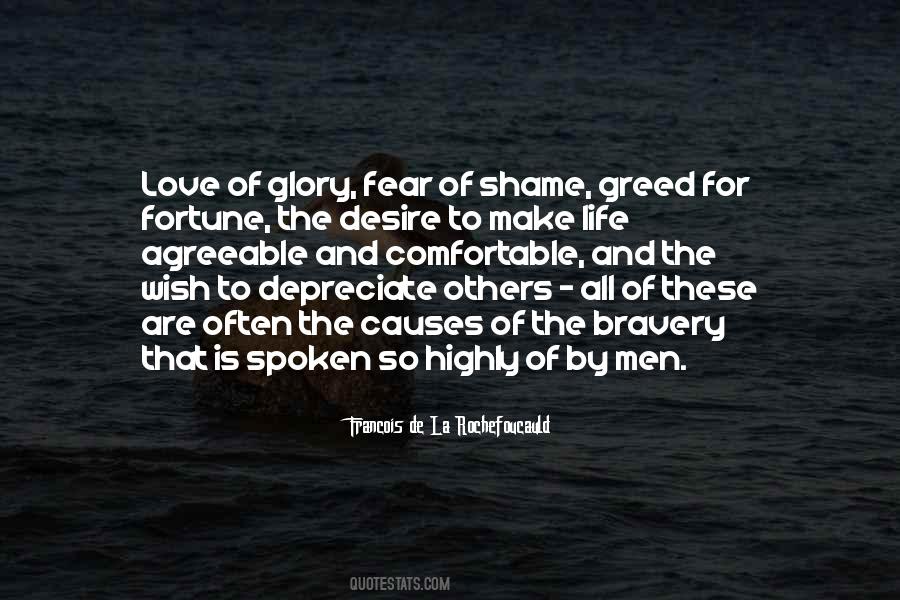 #51. Let me persuade you then
oh, do let me persuade you," said the child, "to think no more of gains or losses, and to try no fortune but the fortune we pursue together. - Author: Charles Dickens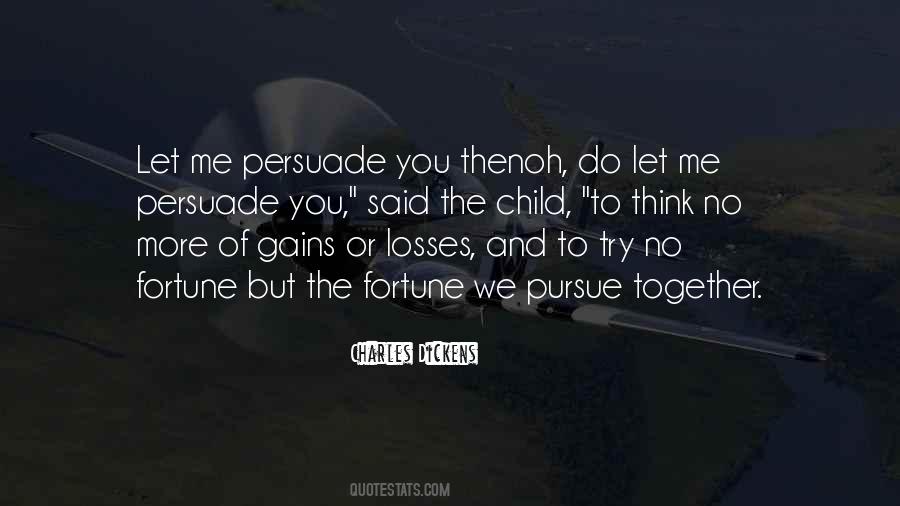 #52. One marked feature of the people, both high and low, is a love for flowers. - Author: Robert Fortune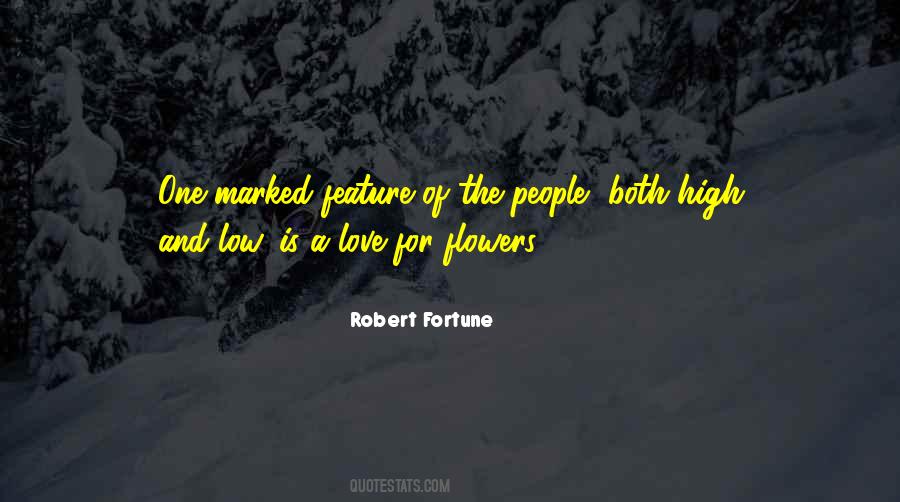 #53. Love longs to be free, a stranger to every worldly desire, lest its inner vision become dimmed, and lest worldly self-interest hinder it or ill-fortune cast it down. - Author: Thomas A Kempis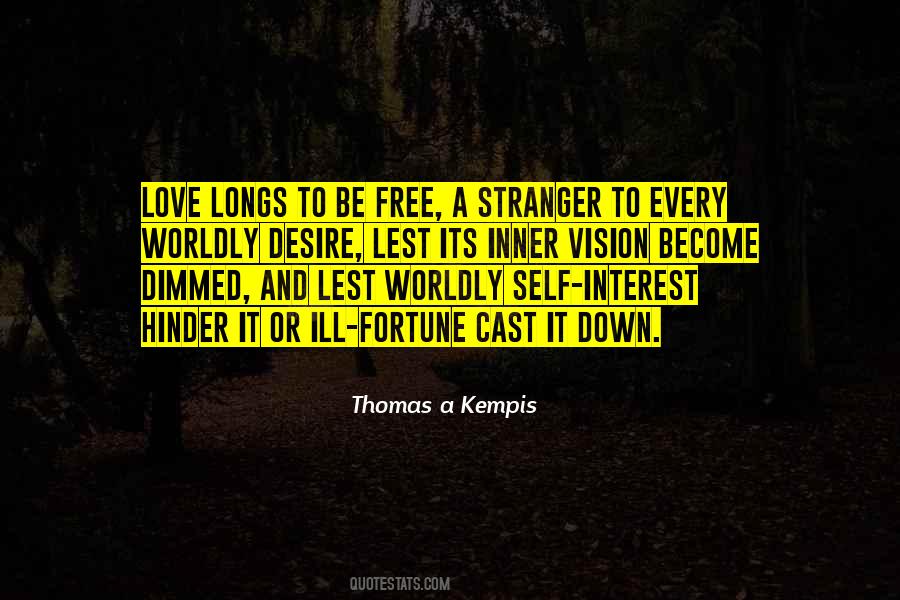 #54. And do you not think less of me for making my fortune in
such a way?" After all, her own sister did.
He gave her an odd look. "There is no shame in being the
mistress of a king. It's a position of great power and influence. I think less of Louis for letting you go. - Author: Jenna Maclaine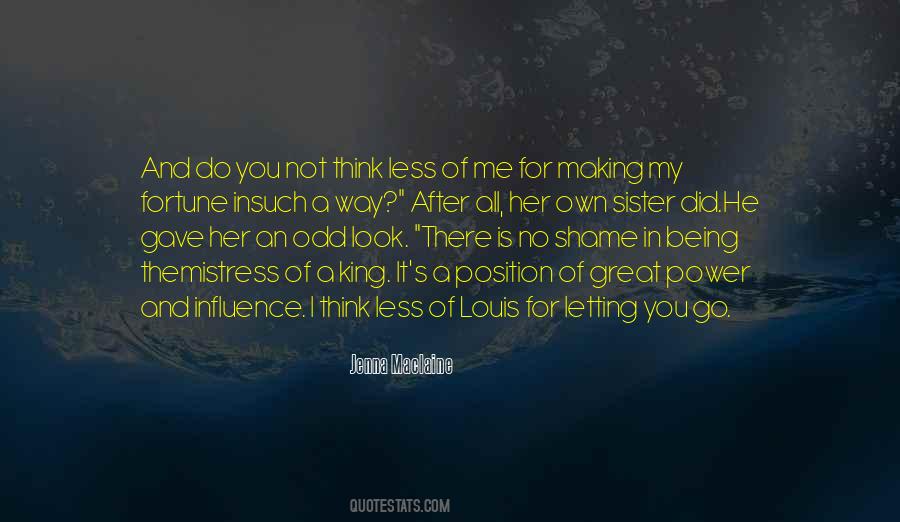 #55. Ah! my poor Bahorel, she is a superb girl, very literary, with tiny feet, little hands, she dresses well, and is white and dimpled, with the eyes of a fortune-teller. I am wild over her. - Author: Victor Hugo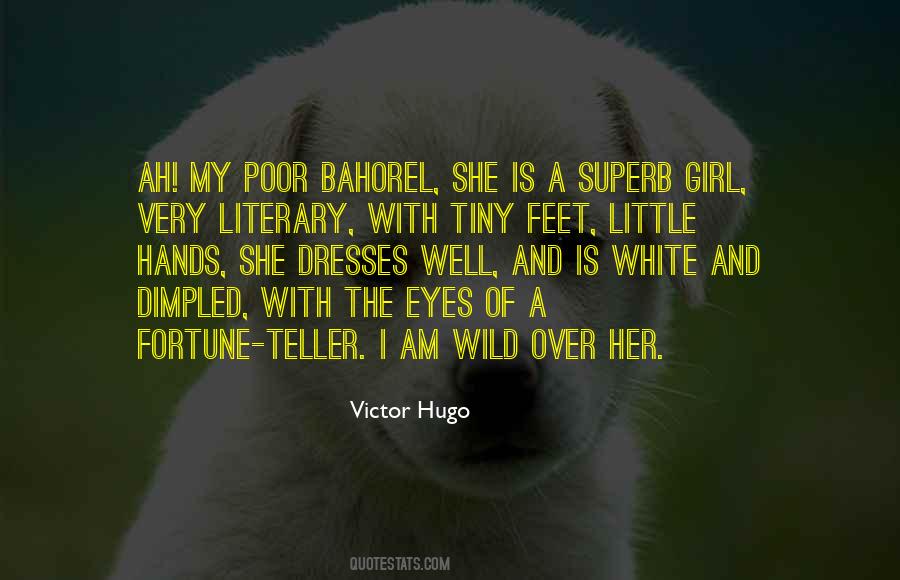 #56. The world is an abundant place. Abundant with opportunity, abundant with good fortune, abundant with ideas, and abundant with love. Reach into that abundance and take what is rightfully yours. It is your inheritance, gifted to you by God. Let yourself have it. - Author: Neale Donald Walsch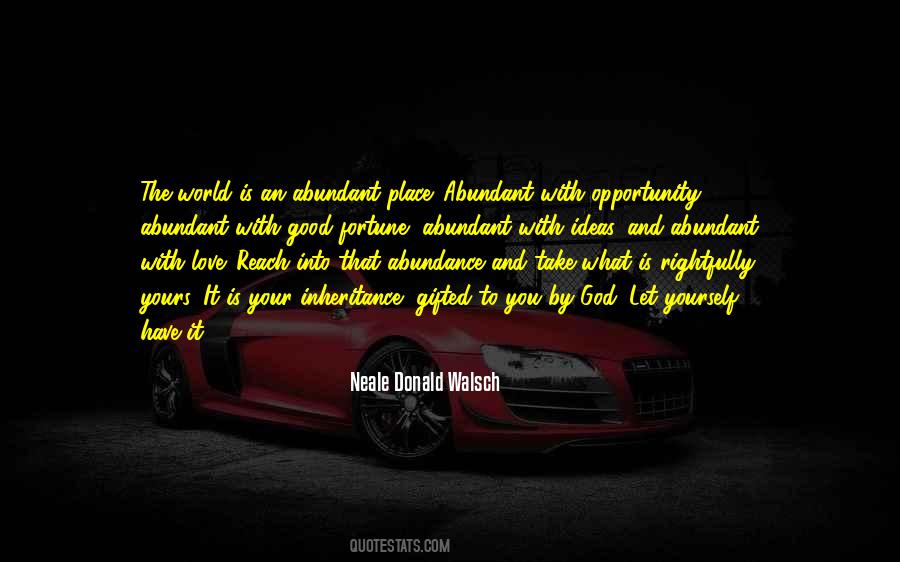 #57. I have the good fortune of knowing both John McCain and Donald Trump well, both men have more in common than the today's media hype would have you believe. Both blazed trails in their careers and love our great nation. - Author: Sarah Palin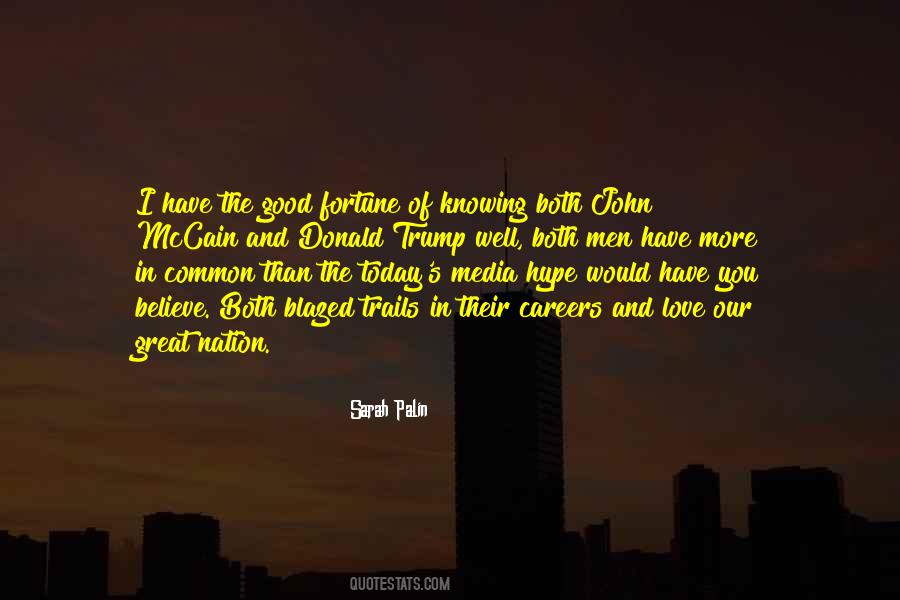 #58. Dont be kind person ,because kind people are losers and they think they doing it right.
I love riches because they destroy kind people like tank and they built their fortune. believing good or bad is just for weak people because strong people create them own role. - Author: K Ibeyk
#59. There is good and reason in us ... with whom fortune plays, and we can be stronger than ... fate, if only for a few hours. ... we can draw closer to one another in times of need, understand and love one another, and live to comfort each other. - Author: Hermann Hesse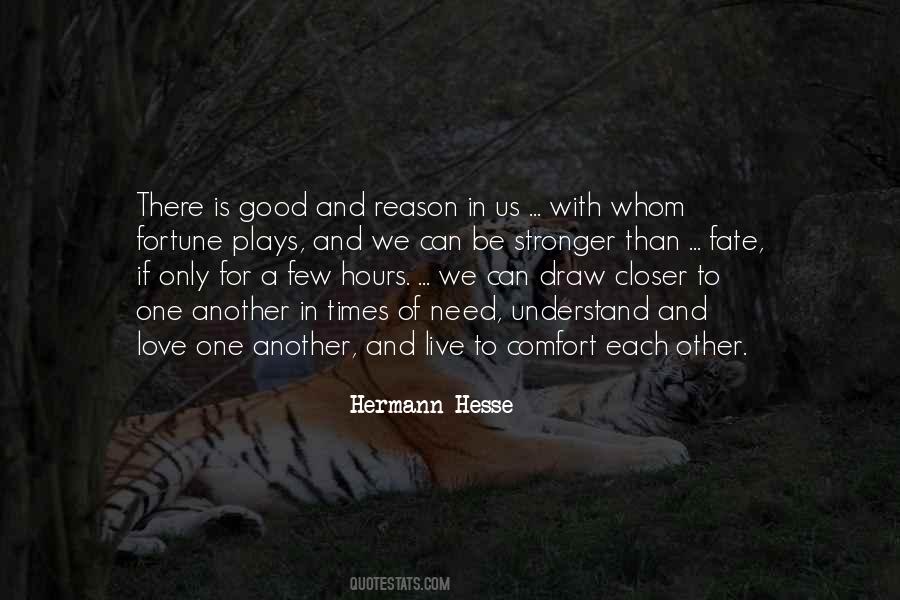 #60. But at the time, I honestly didn't think I was hurting anyone, not even myself. I didn't think much at all, in fact. Yes, I was gorgeous and lucky in love, but I truly believed that I was also a decent person who deserved her good fortune. - Author: Emily Giffin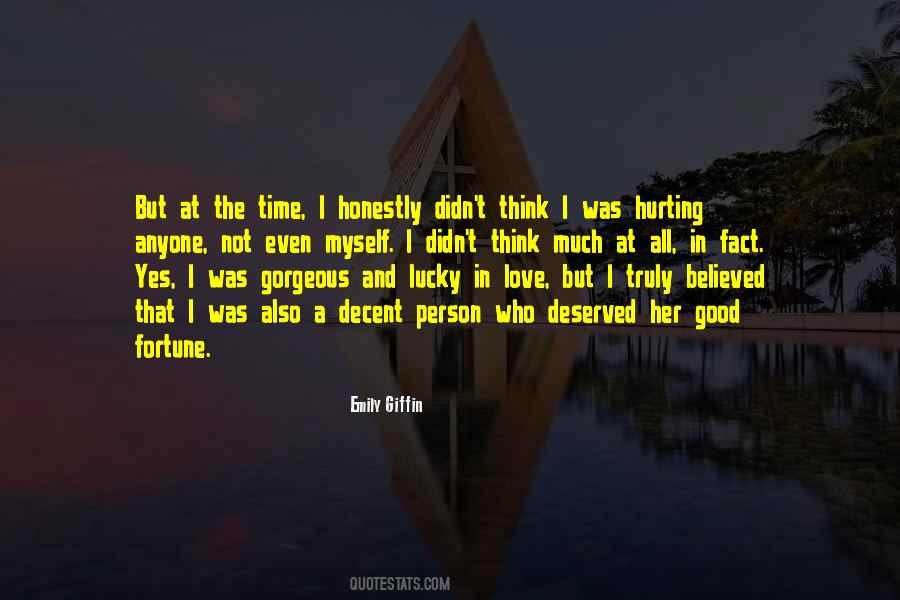 #61. The great charm of poetry consists in lively pictures of the sublime passions, magnanimity, courage, disdain of fortune; or thoseof the tender affections, love and friendship; which warm the heart, and diffuse over it similar sentiments and emotions. - Author: David Hume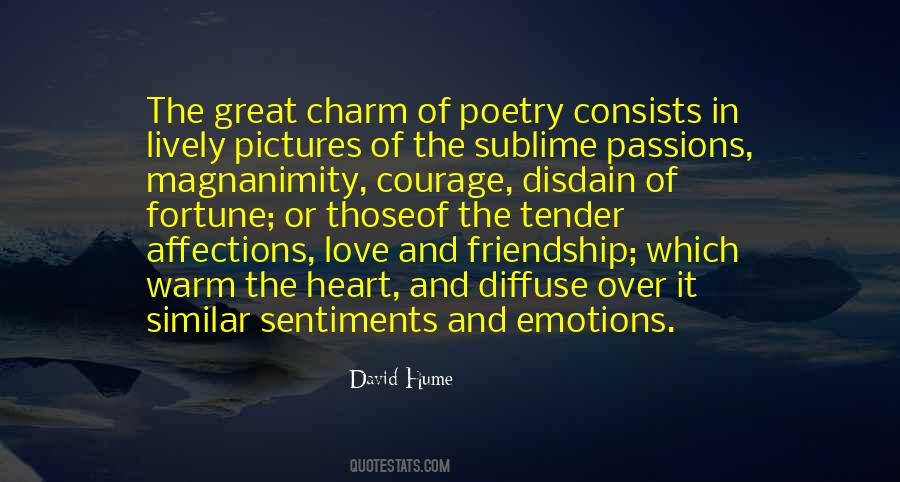 #62. She felt drawing further from her and further from her an Archduke,
(she did not mind that)
a fortune,
(she did not mind that)
the safety and circumstance of married life,
(she did not mind that)
but life she heard going from her, and a lover. - Author: Virginia Woolf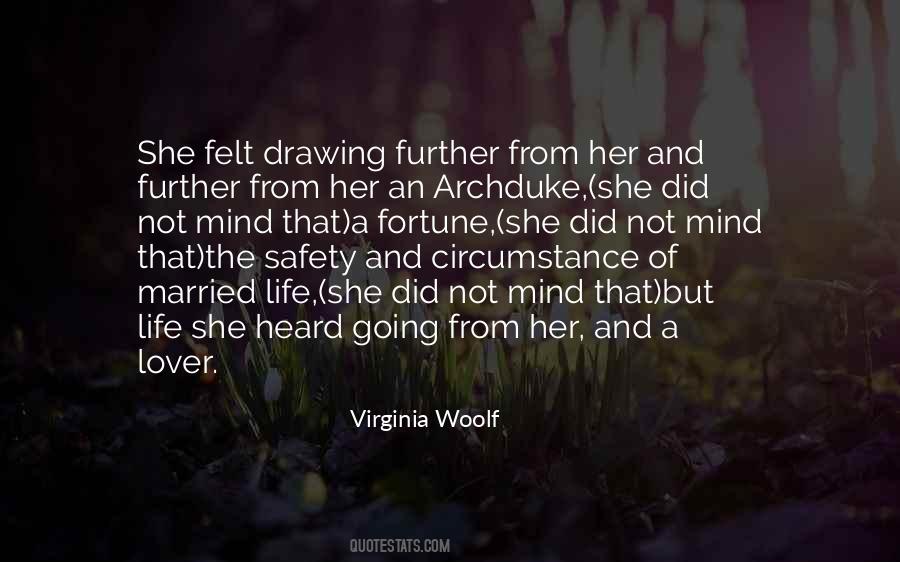 #63. Love is priceless. And all I really want is a good night kiss. So if tears were diamonds, more valuable gold, then a fortune in the corners of my eyes I would hold. - Author: Drew Chadwick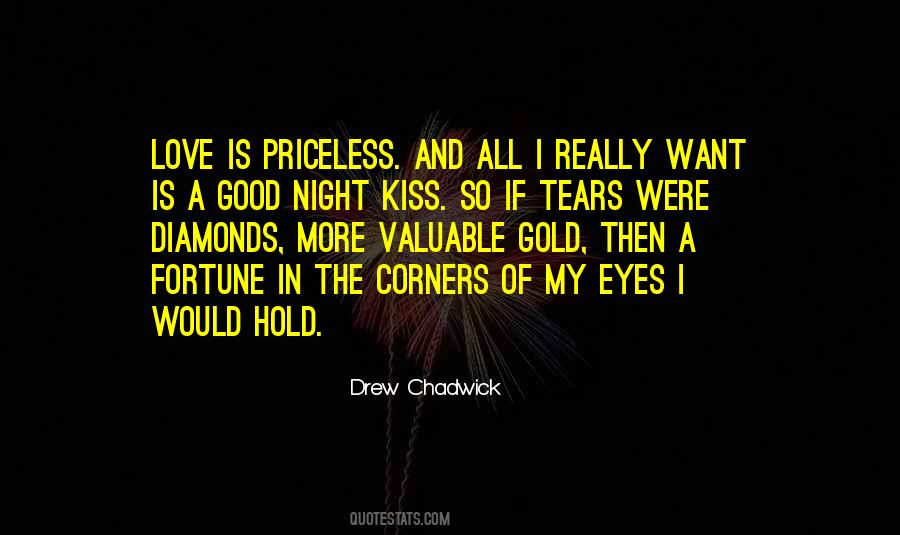 #64. One who hooks his fortune to ahimsa, the law of love, daily lessens the circle of destruction and to that extent promotes life and love. - Author: Mahatma Gandhi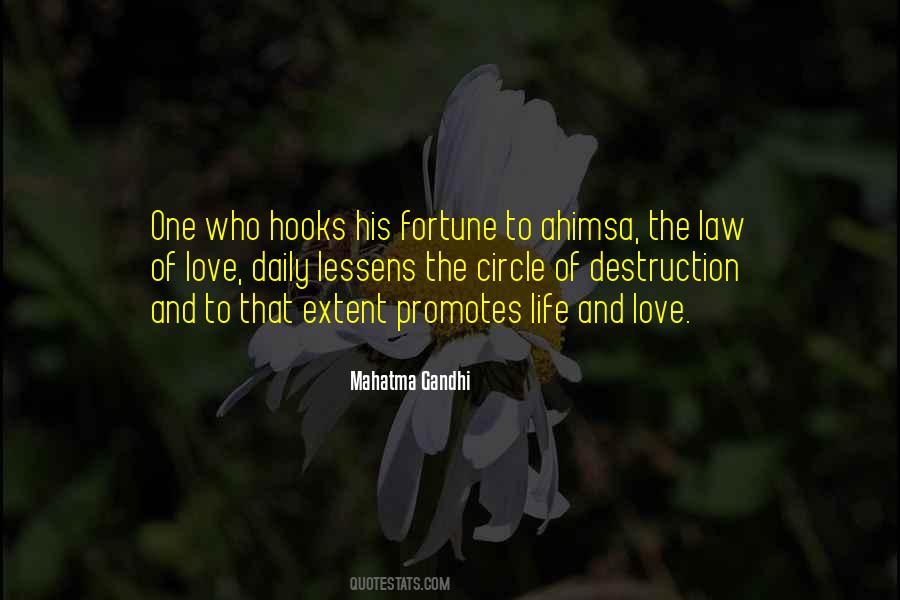 #65. The lazy part of me would love to do a sitcom where I could work three days a week and make a fortune. - Author: Corbin Bernsen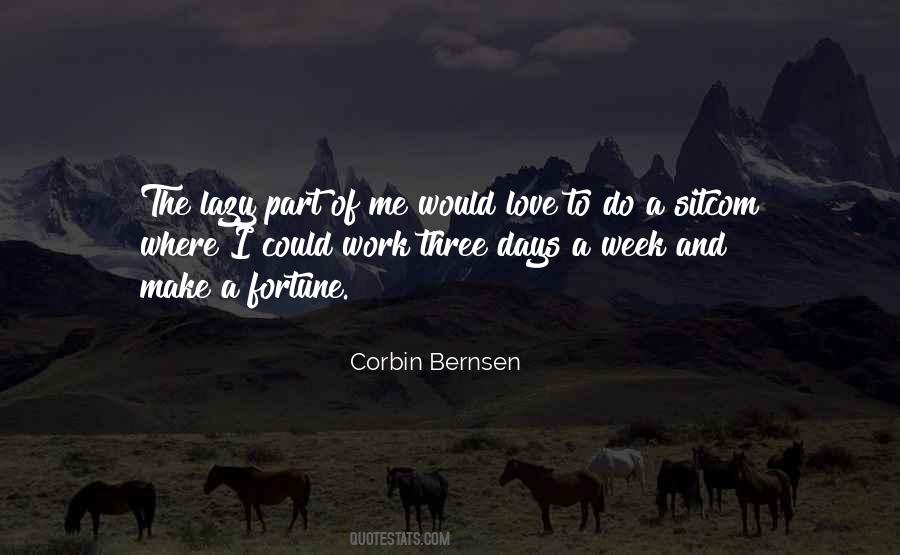 #66. We have to rise above bad fortune. We have to be in the good and enjoy the good, study and work and adventure and friendship and community and love. - Author: Joshua Prager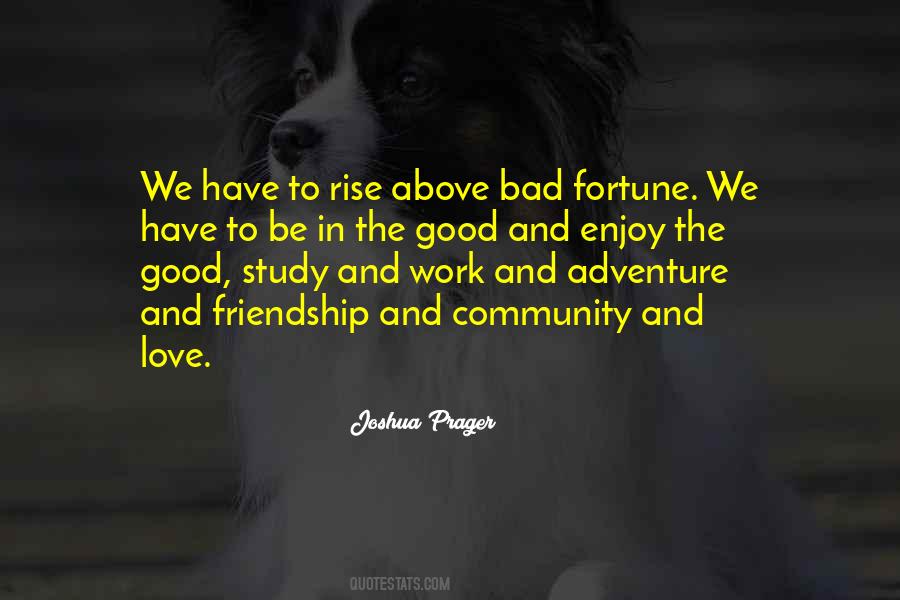 Famous Authors
Popular Topics