Family Legacy Famous Quotes & Sayings
List of top 48 famous quotes and sayings about family legacy to read and share with friends on your Facebook, Twitter, blogs.
Top 48 Quotes About Family Legacy
#1. Love is the human family's most precious legacy. Its richest bequest. Its golden inheritance. - Author: Michael Jackson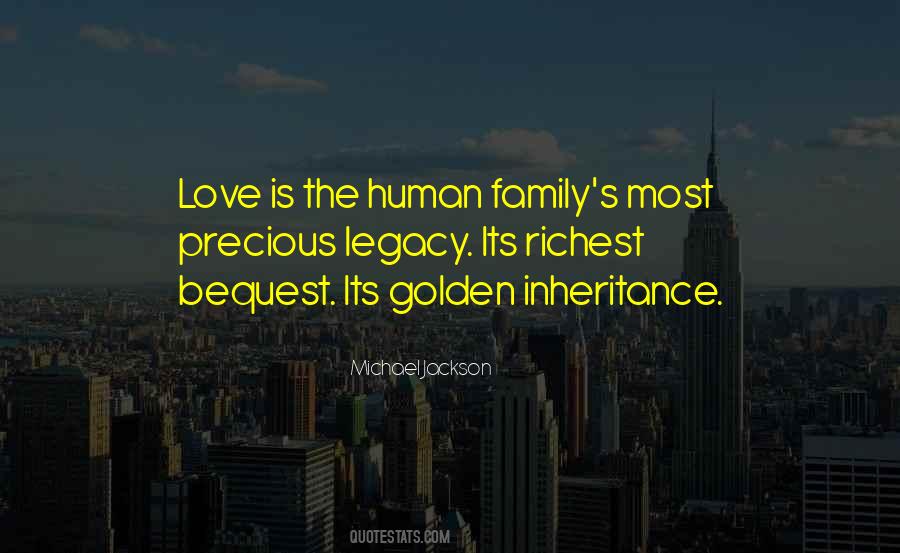 #2. Another family story is forges, one that father and son will laugh about for decades. This is how a legacy is built. One memory at a time. - Author: Mitch Albom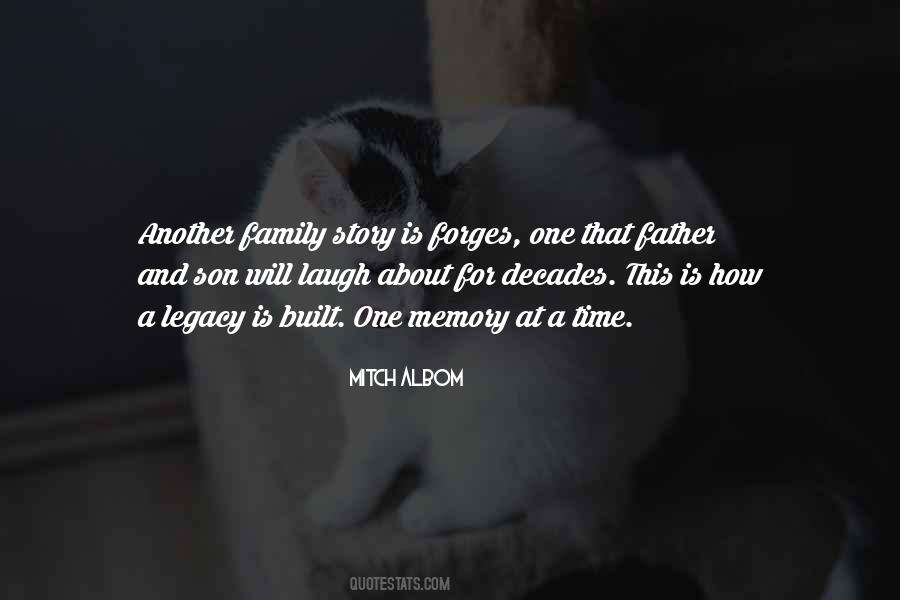 #3. My life has been a poor attempt to imitate the man, I'm just a living legacy to the leader of the band. - Author: Dan Fogelberg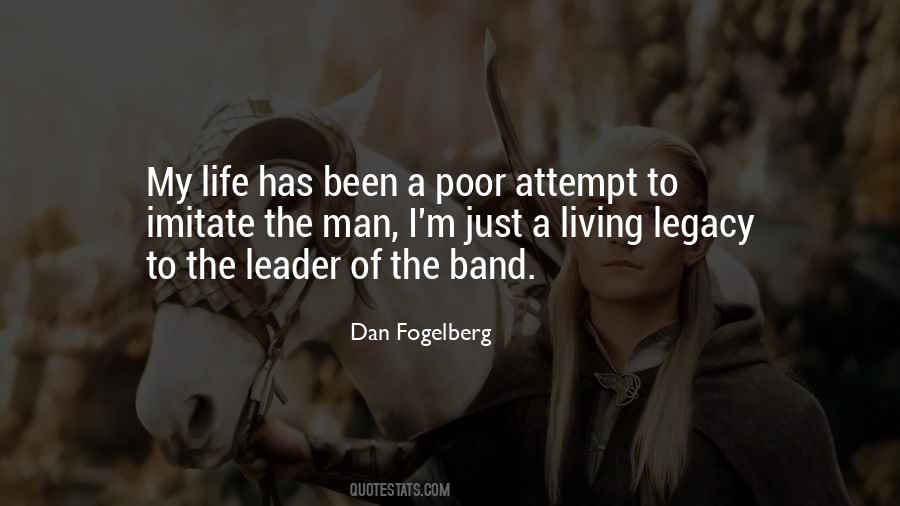 #4. I don't want to make a mistake that would hurt the cause of Christ late in my life, so I'm going to do everything I can to bring many people to Christ. If he can use me in that regard through 'Family Talk,' that will be my greatest legacy. - Author: James Dobson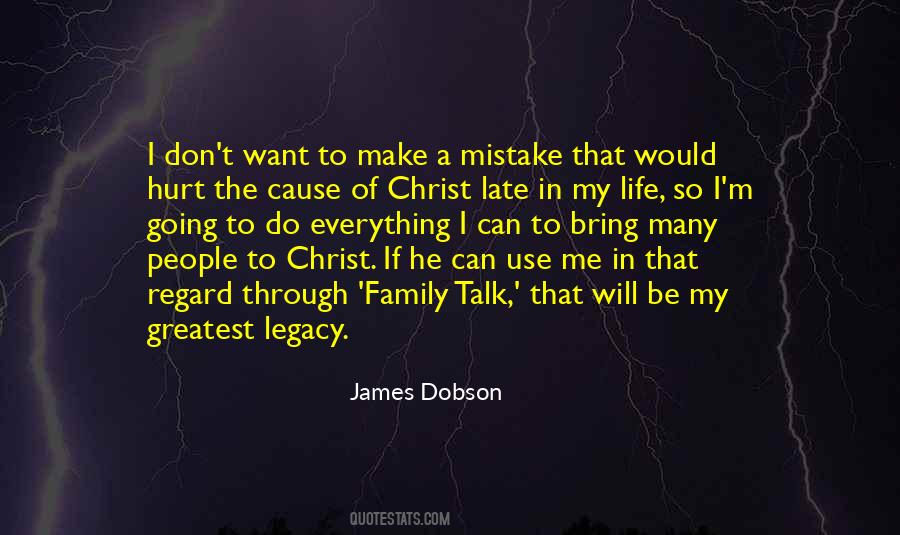 #5. Embrace your beautiful mess of a life with your child. No matter how hard it gets, do not disengage ... Do something - anything - to connect with and guide your child today. Parenting is an adventure of the greatest significance. It is your legacy. - Andy Kerckhoff, from Critical Connection - Author: Andy Kerckhoff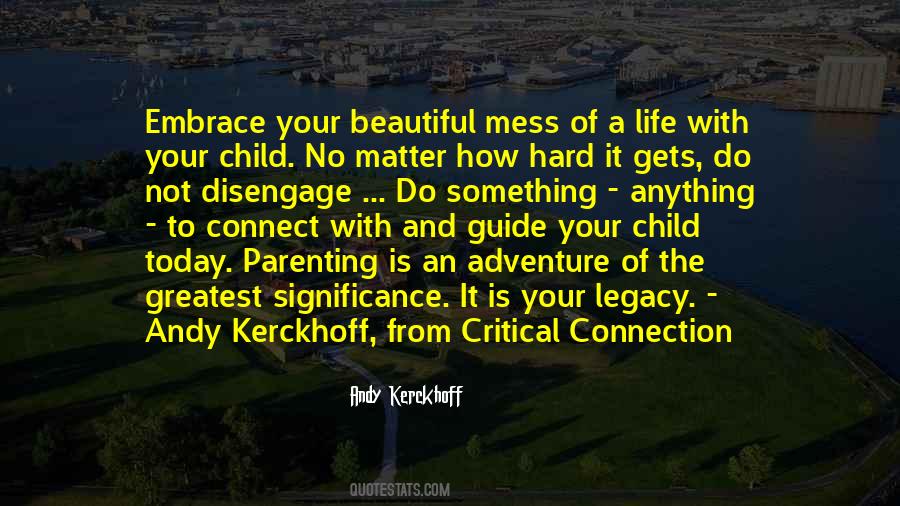 #6. We Unitarian Universalists have inherited a magnificent theological legacy. In a sweeping answer to creeds that divide the human family, Unitarianism proclaims that we spring from a common source; Universalism, that we share a common destiny. - Author: Forrest Church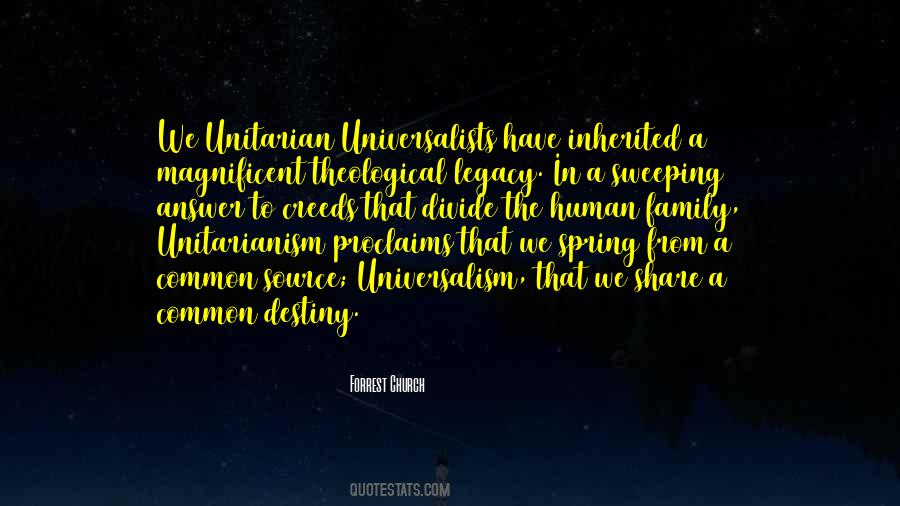 #7. I think the legacy we leave is our family. I don't think it's money. I don't think it's - I'm not saying that charity isn't a great thing. I just think that it's my family. Even now I look and I think, God, I'm lucky if I lost it all. - Author: Michael Buble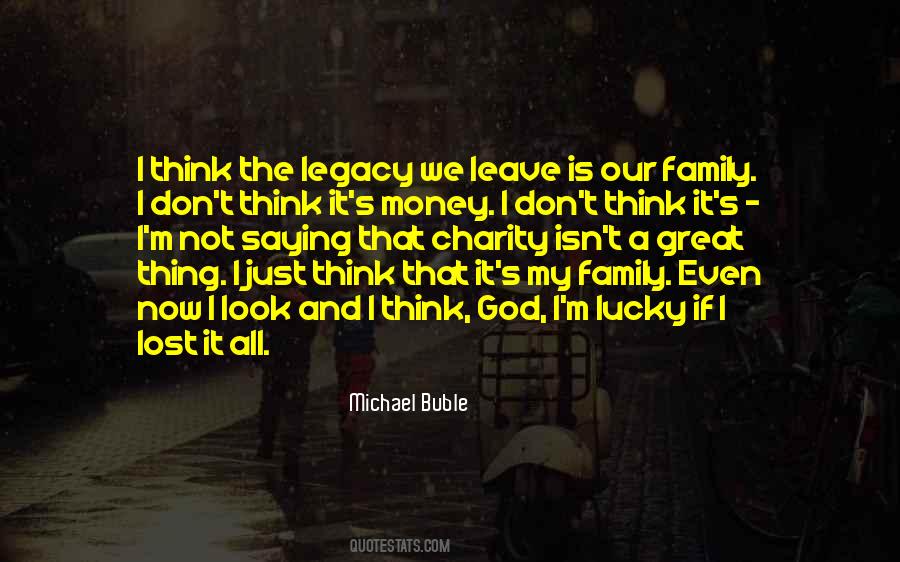 #8. My legacy is not only about legacy, it's about how we as a human family learn to live together within our difference. - Author: Angelique Kidjo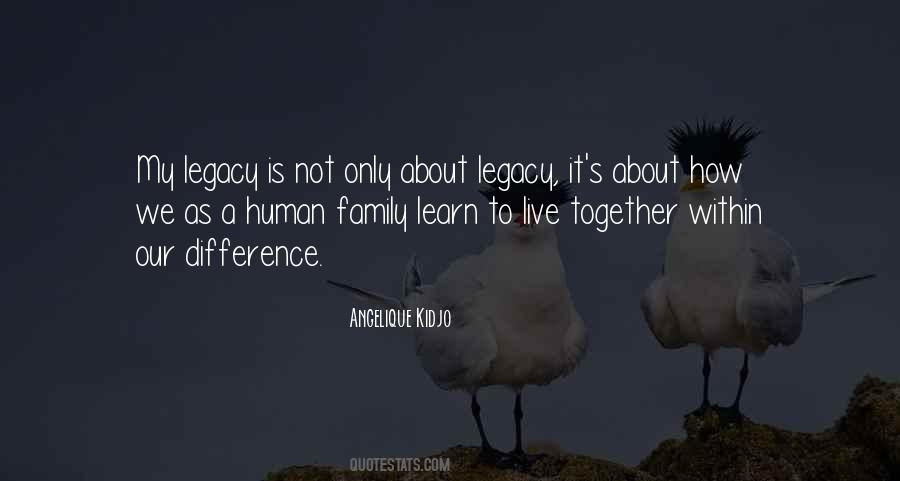 #9. I don't think at that time I realized how important it was and how important it was for me to be here and carry on that legacy in our family of being a photographer. - Author: Kim Weston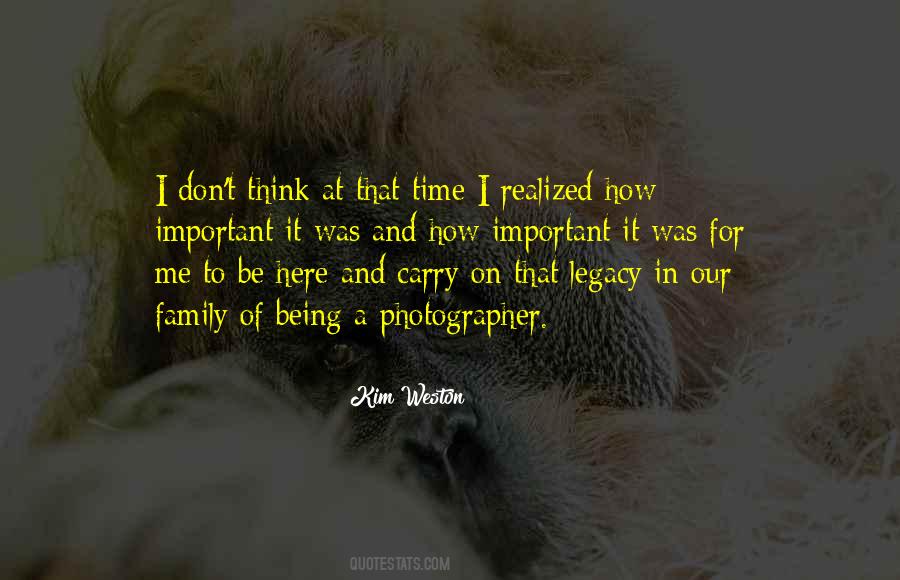 #10. Your ancestors are rooting for you. - Author: Eleanor Brownn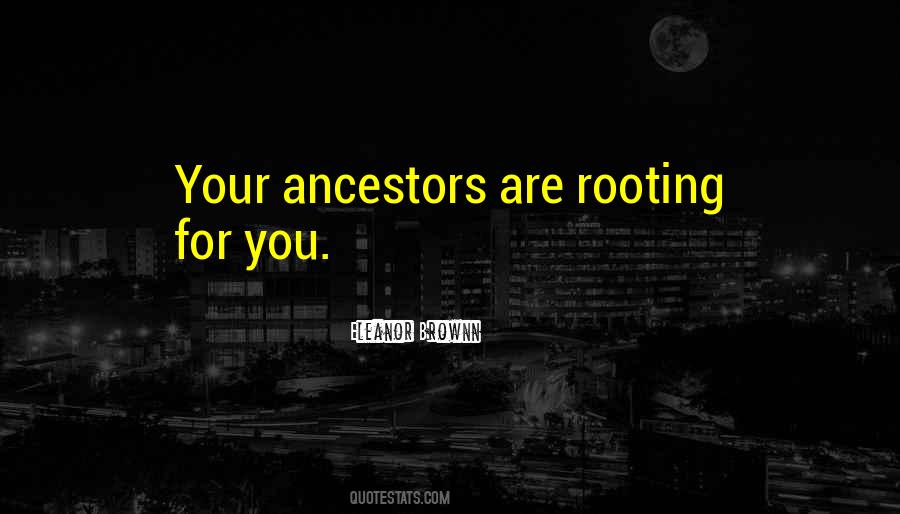 #11. I'm thinking of a legacy that I can be proud of and wealth that my grandchildren can use to go to college. So world domination - in terms of providing for my family - is absolutely my goal. - Author: Nicki Minaj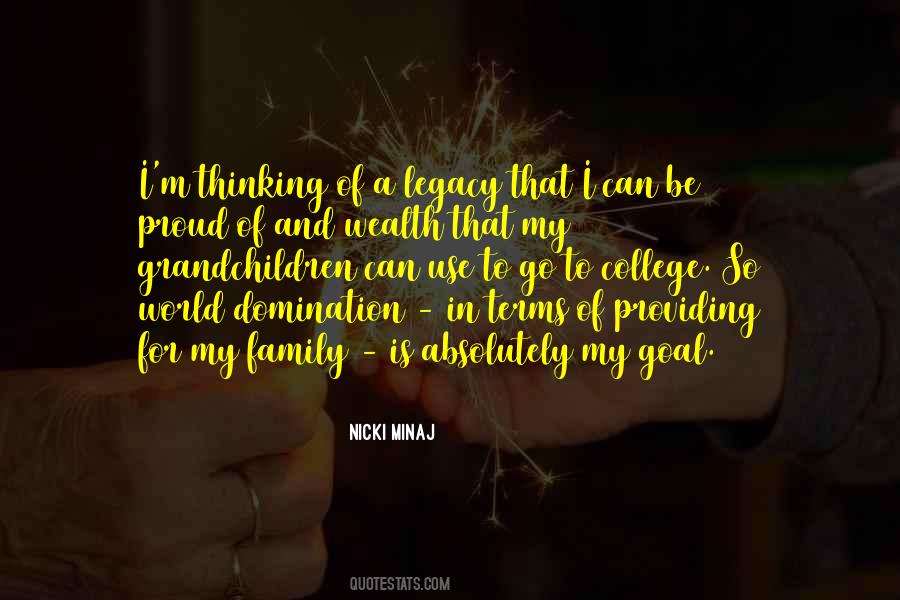 #12. A personal journey is part of the generational relay. Live your legacy then pass it on. - Author: Jo Ann V. Glim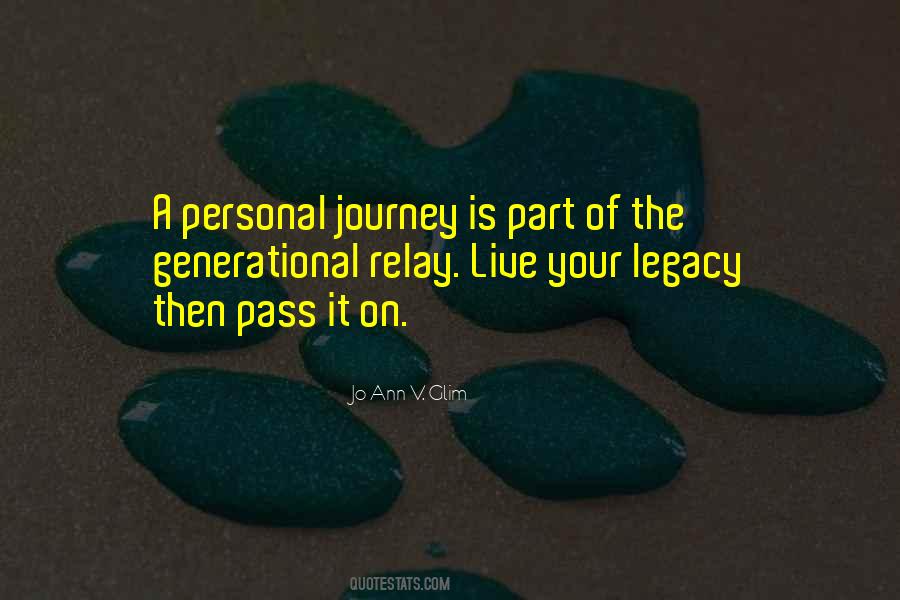 #13. True success - financial, personal, and professional - lies above all in loving your family, working hard, and living your passion. In telling your story. In authenticity, hustle, and patience. In caring fiercely about the big and the small stuff. In valuing legacy over currency. - Author: Gary Vaynerchuk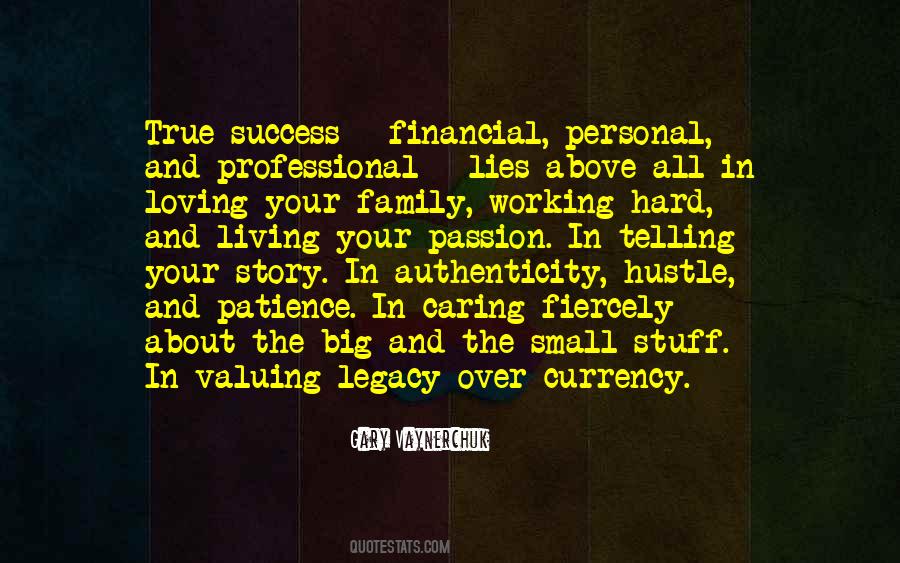 #14. Every parent will leave a personal legacy (though not all parents will leave behind an inheritance). what i give to my children or what i do for my children is not as important as what i leave in them. - Author: Reggie Joiner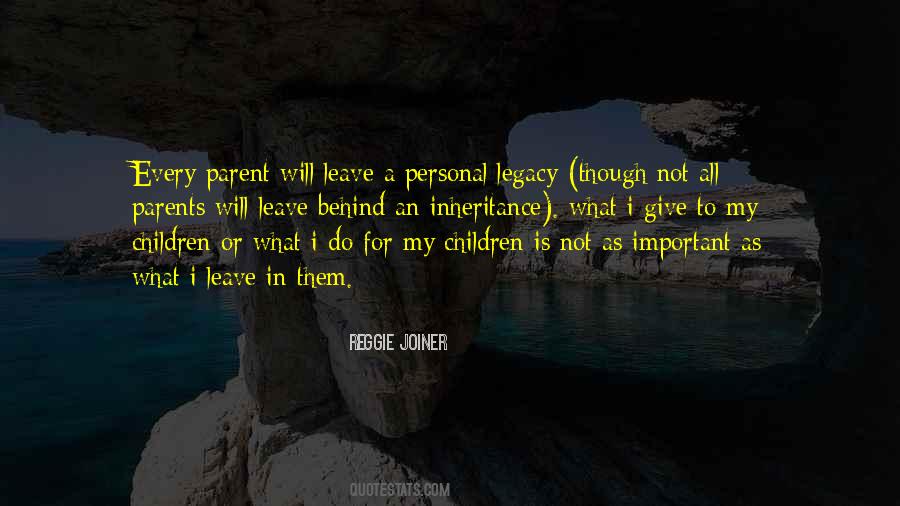 #15. I come from a law enforcement family. My grandfather, William J. Comey, was a police officer. Pop Comey is one of my heroes. I have a picture of him on my wall in my office at the FBI, reminding me of the legacy I've inherited and that I must honor. - Author: James Comey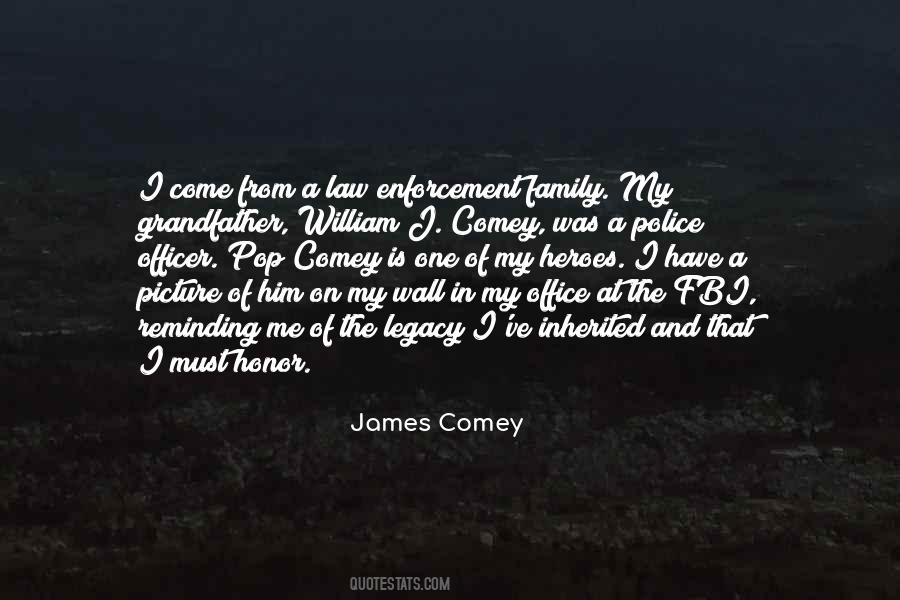 #16. What you do is less important than the difference you make. - Author: Tiffany Dufu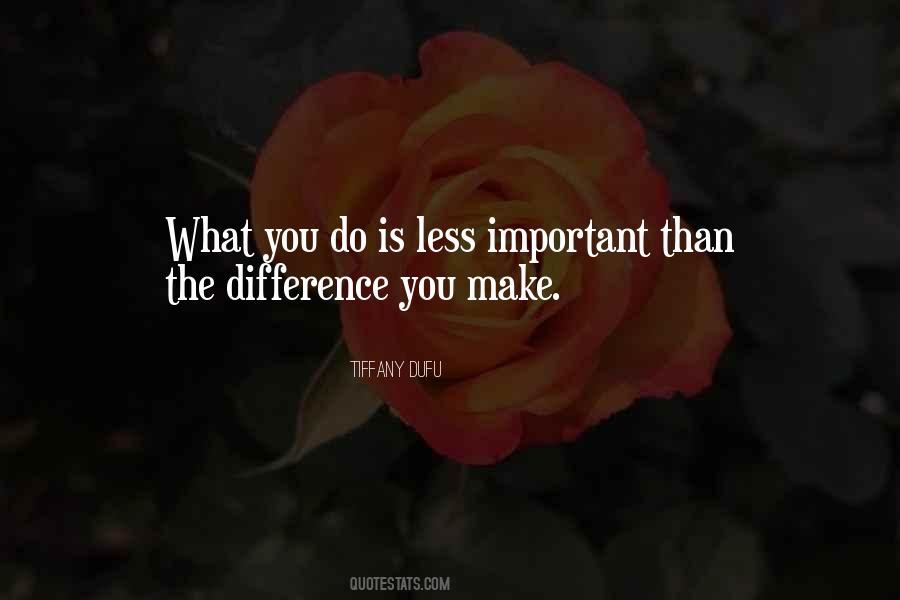 #17. You are the posterity of your family. You are either continuing the progression or regression of your ancestors. - Author: Johnnie Dent Jr.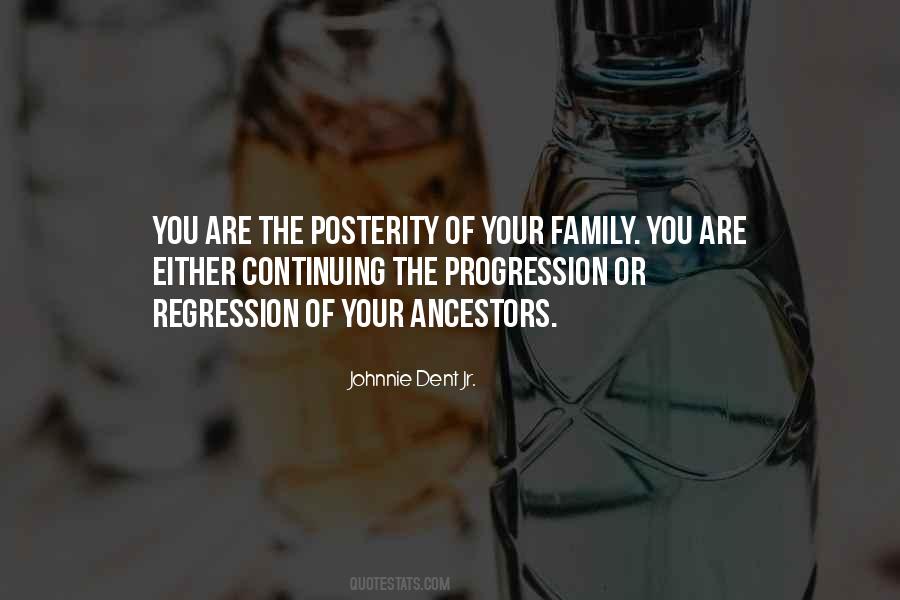 #18. I want my legacy to be greater freedom, greater prosperity and a better way of life for my family, our employees and all Americans. And I wish the same for every nation on earth. - Author: Charles Koch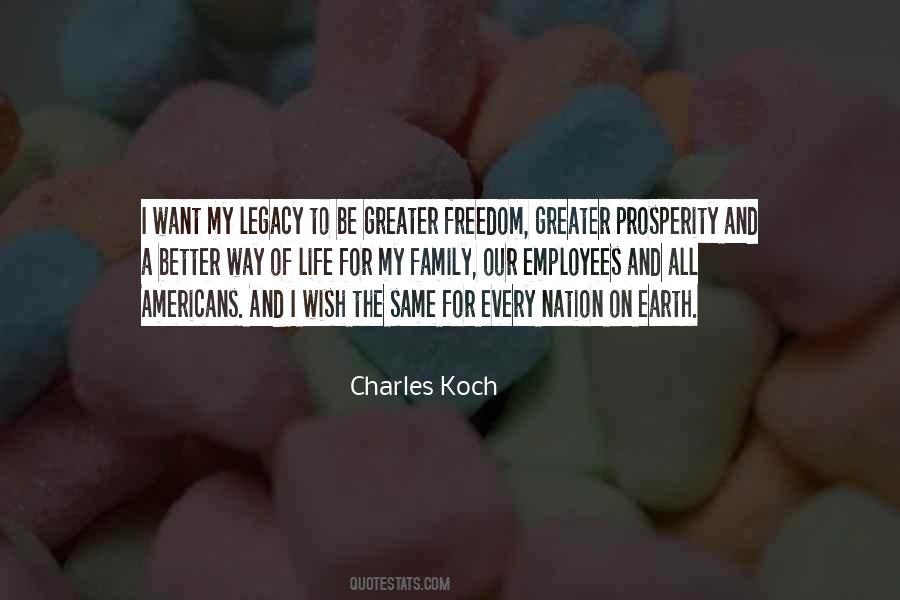 #19. He'd always loved this land, loved how his family had tamed it. It was as much a part of him as his blood. Being involved with him meant moving back here. Being surrounded by bad memories. - Author: Leah Braemel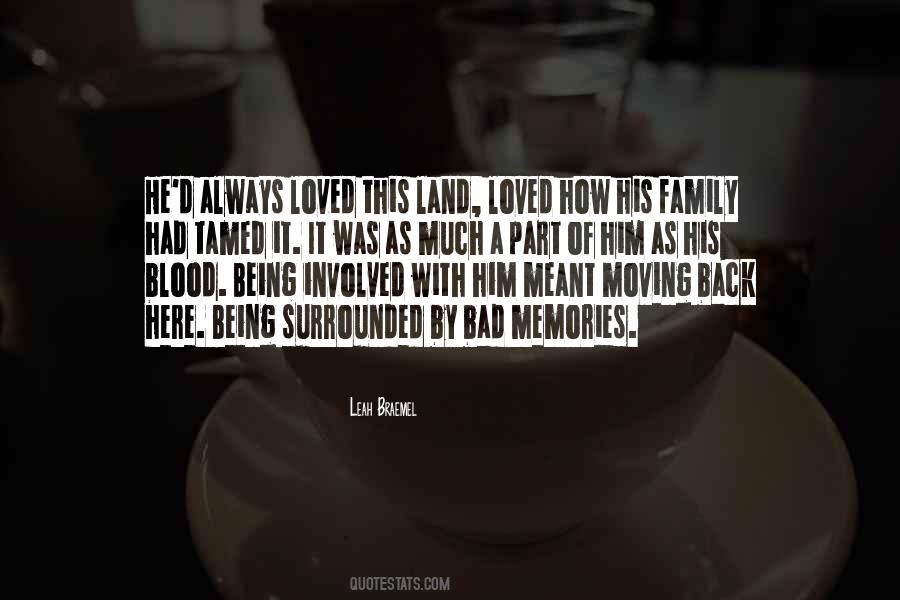 #20. Psychologists suggest that we must reach back at least three generations to look for clues whenever we begin untangling the emotional legacy of any one family's history. - Author: Elizabeth Gilbert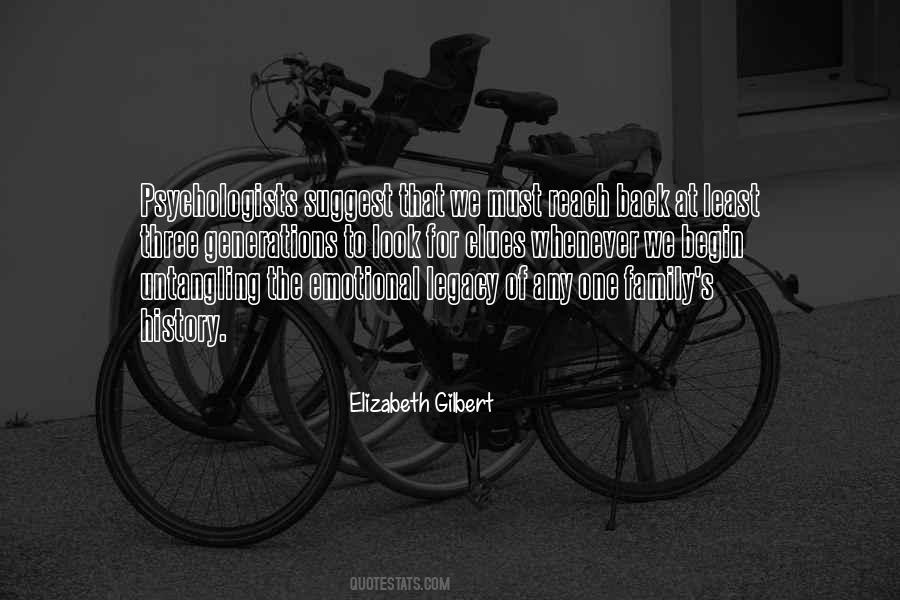 #21. There are many ties that bind, and as many walls that divide. Music and madness. Love and unending time. Race and war. Strum weaves together each element into a larger human tapestry of light and shadow, where a combination of fate and decision can define a family's legacy. - Author: Nancy Young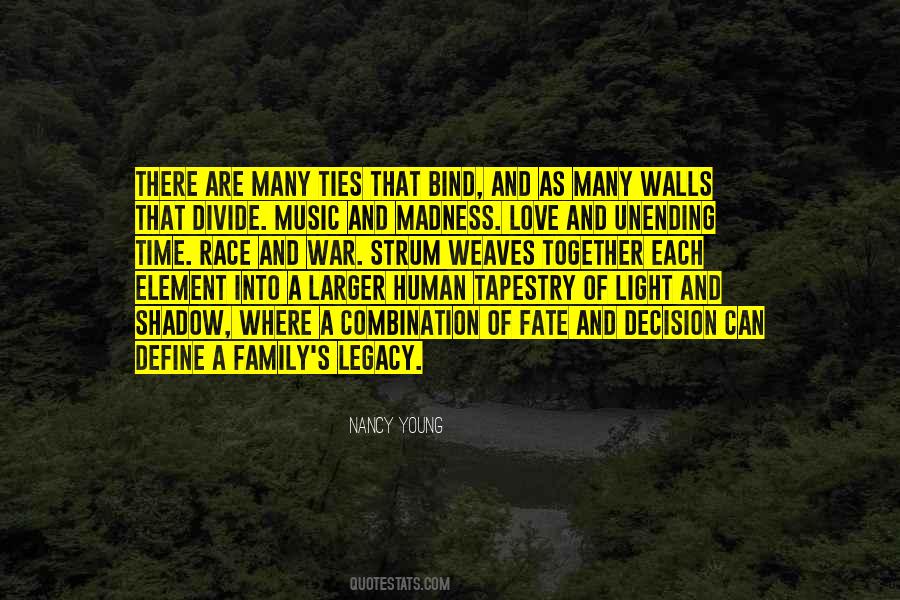 #22. Let us live not only to serve God ourselves; let us live to help our children and their children live for God. - Author: Dillon Burroughs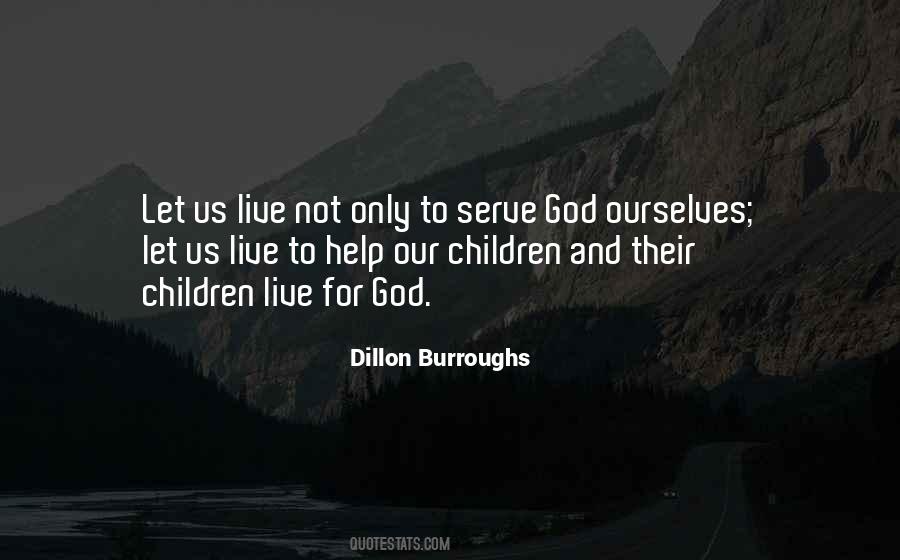 #23. You can become a model of a perfect man or a devoted husband and a father in order to show the role of the a man's responsibility for the family - Author: Sunday Adelaja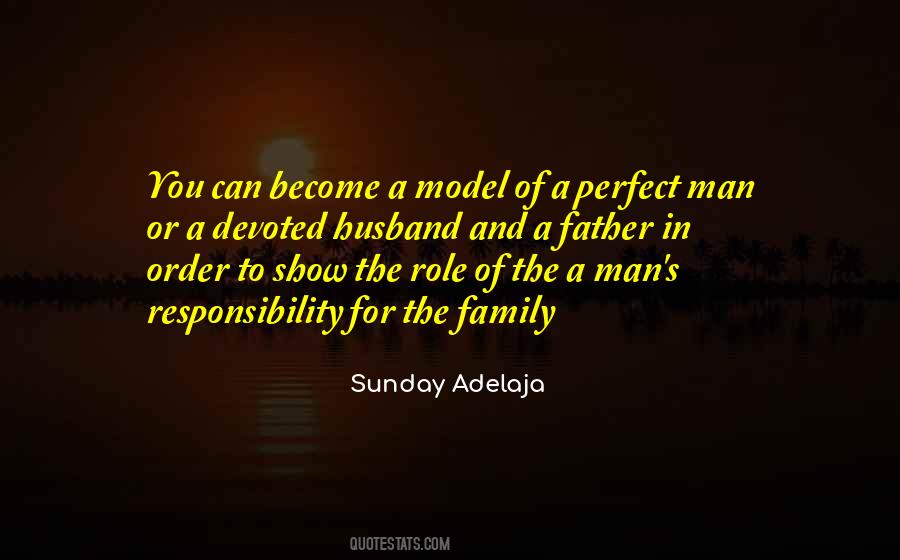 #24. Music and songs have always been a constant part of my life, and still are. My brother Michael, who is a songwriter and composer, is the one who most fully inherited the musical legacy of our family, but I got some part of it - mostly the feel. - Author: Matthew Zapruder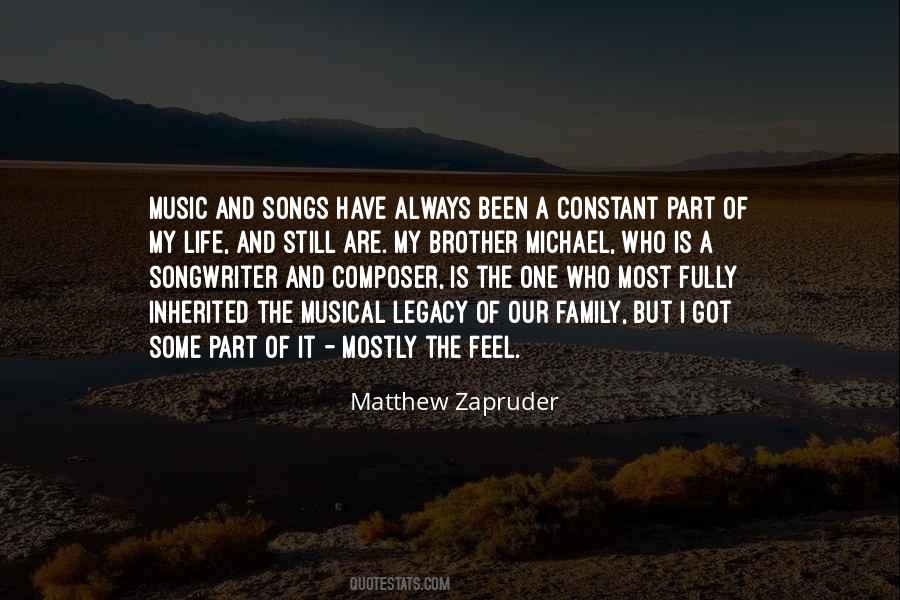 #25. My legacy is in my family, not in my work. For me. I don't know about for other people. I try to forget a lot. - Author: Meshell Ndegeocello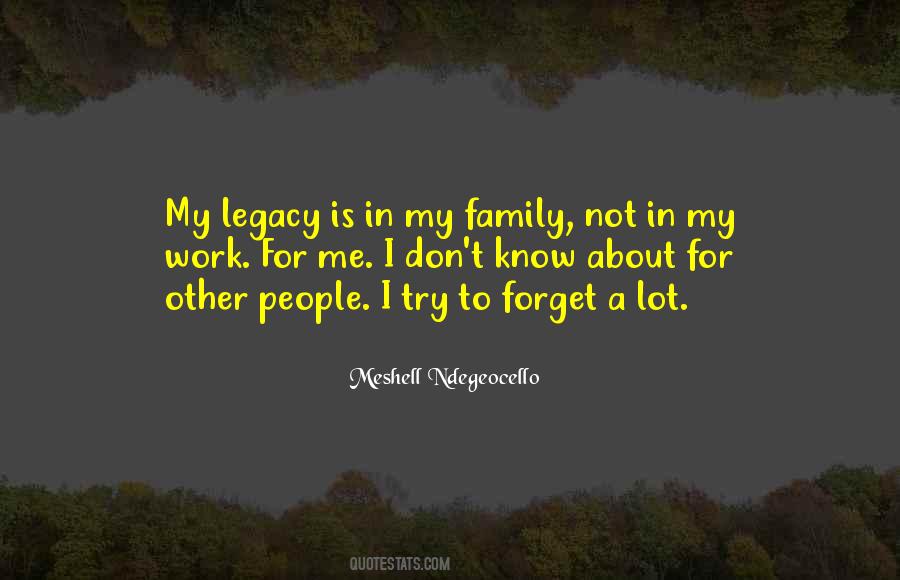 #26. Your family's history does not have to be your future legacy! - Author: Jayce O'Neal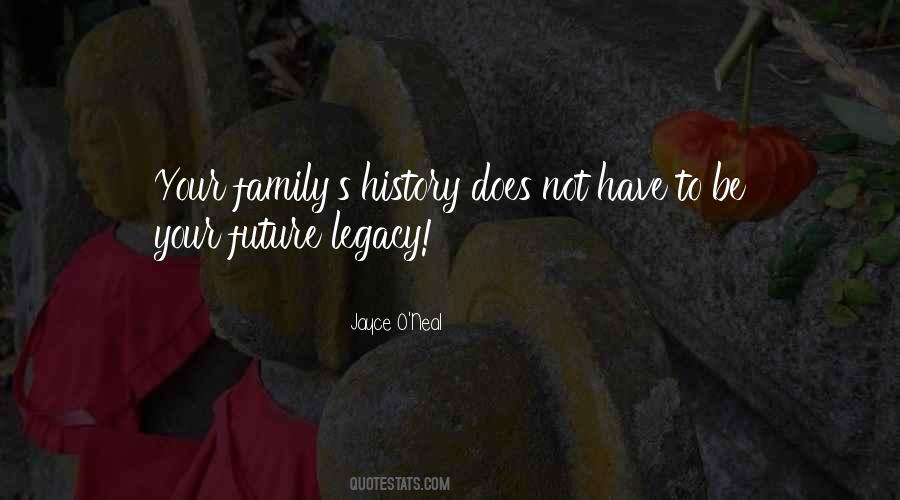 #27. Teach faith as a non-negotiable - What should your family be aware of? Why should they be aware of these things? How will they become aware? When and at what stages must they become aware? - Author: Archibald Marwizi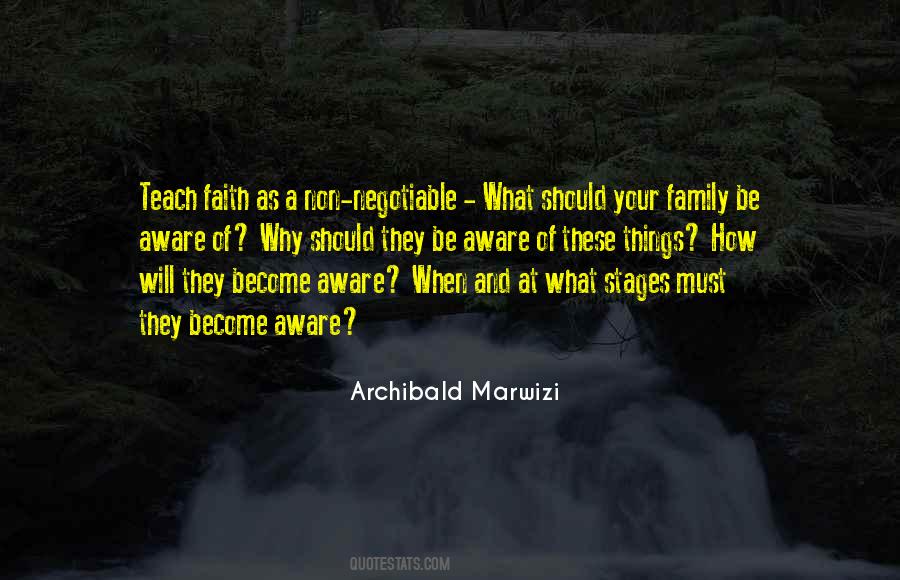 #28. I considered my home sanctuary from the judicial arena, far from the Fernoza Family legacy, and I had no intention of sharing it with anyone. - Author: A.E.H. Veenman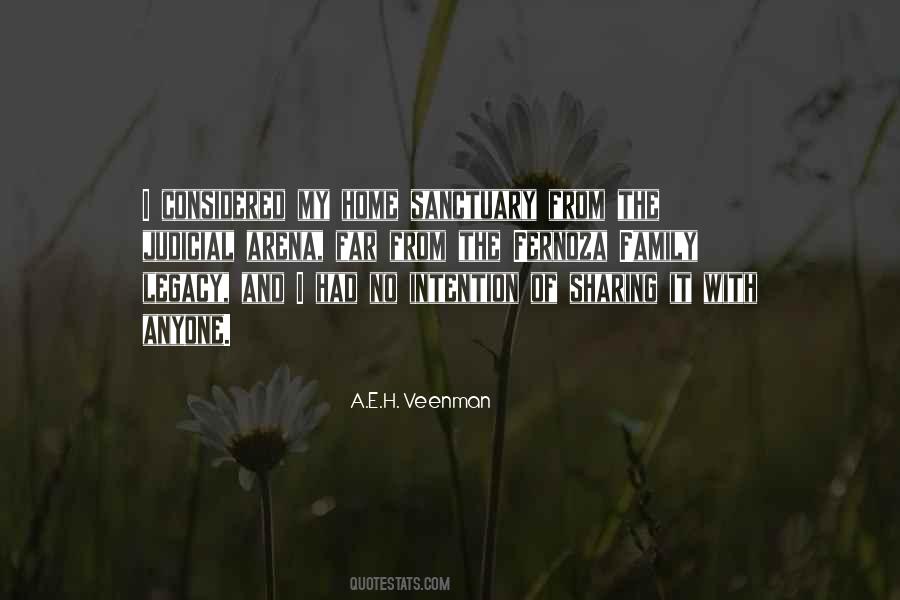 #29. While all the universe and my family are still sleeping, I will walk among the red and blue twinkle-lights of the living room, to sit and gaze upon the pretty white angel atop the tree and say silent prayers, remembering what was good in the world and why I was brought here to remember. - Author: Carew Papritz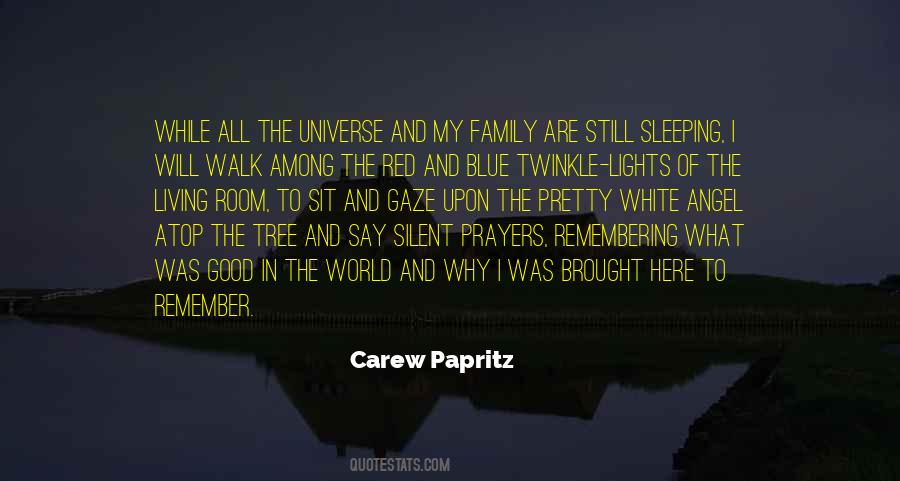 #30. Loss taught me about the frailty and transient nature of man. It taught me humility. It taught me about the urgency of service, of touching lives, of mentoring, of legacy. Of making hay while there is still sunshine and life. - Author: Nana Awere Damoah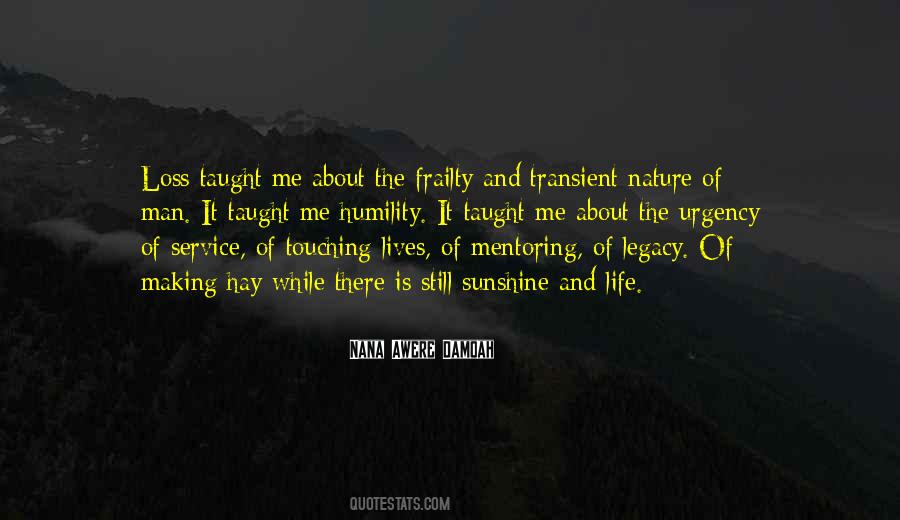 #31. There's more at stake from the ripples we make than simply passing through. - Author: John Tracy Wilson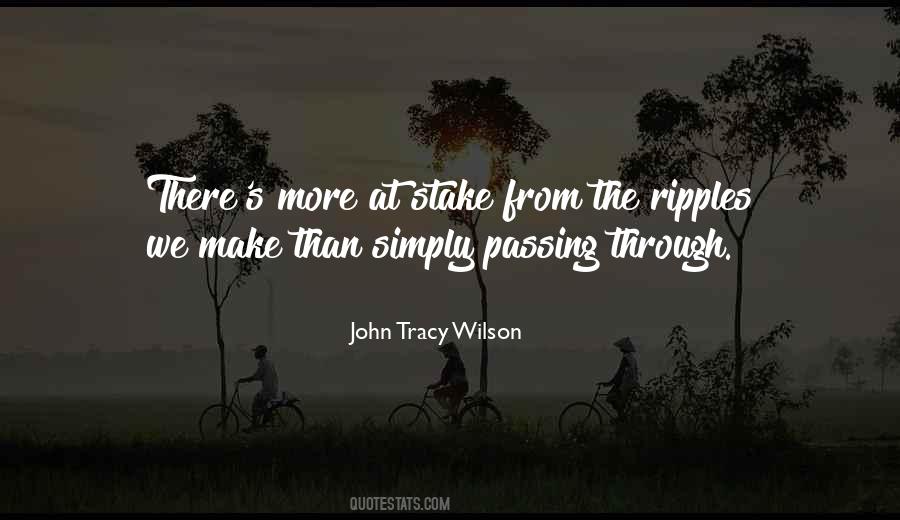 #32. The importance of my legacy is not the golf course, it's what my life is, and what my life is intended to be. The game of golf is a game. My family is my life. - Author: Jack Nicklaus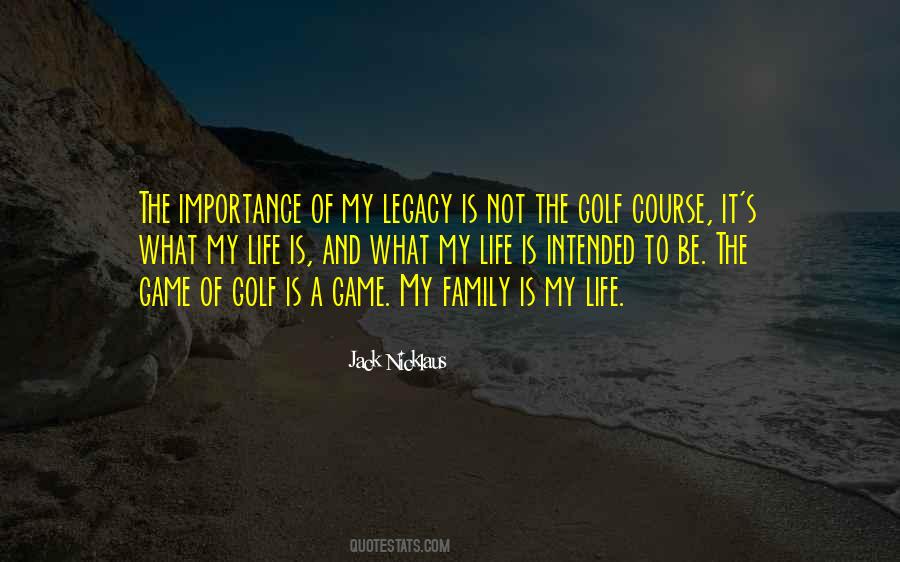 #33. I left the Pumpkins in 2010, and I just took a year off to hang with my family and be with my daughter and my son and my wife, and just get acclimatised to being off the road. Then I started looking at what was going to be the next part of my career/legacy, whatever you want to call it. - Author: Jimmy Chamberlin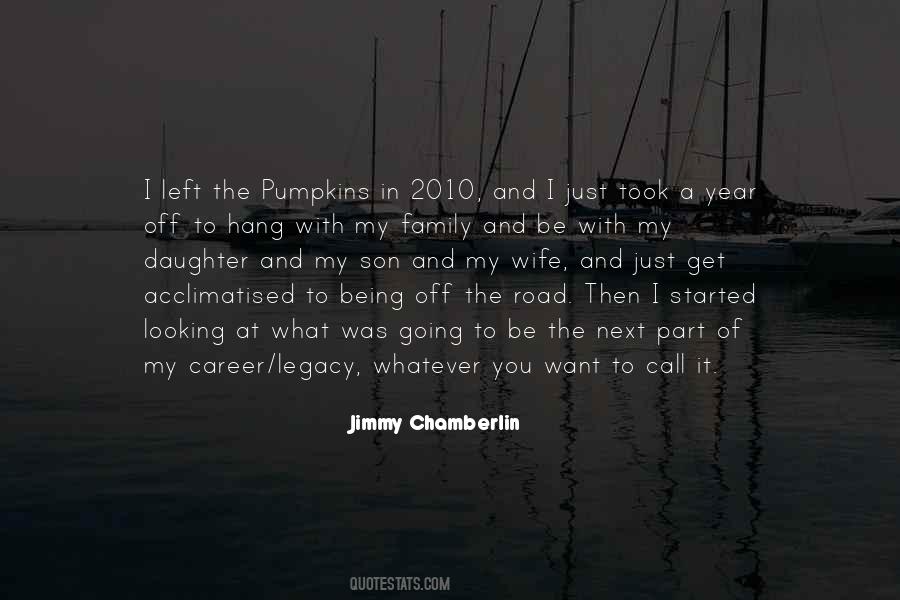 #34. It hit me then that my family is gone, really gone, and even though I have ll these kids, they'll never know my family, so in a way they'll never know me, because they don't know me with my family. I don't have a context for my children. - Author: Martha Moody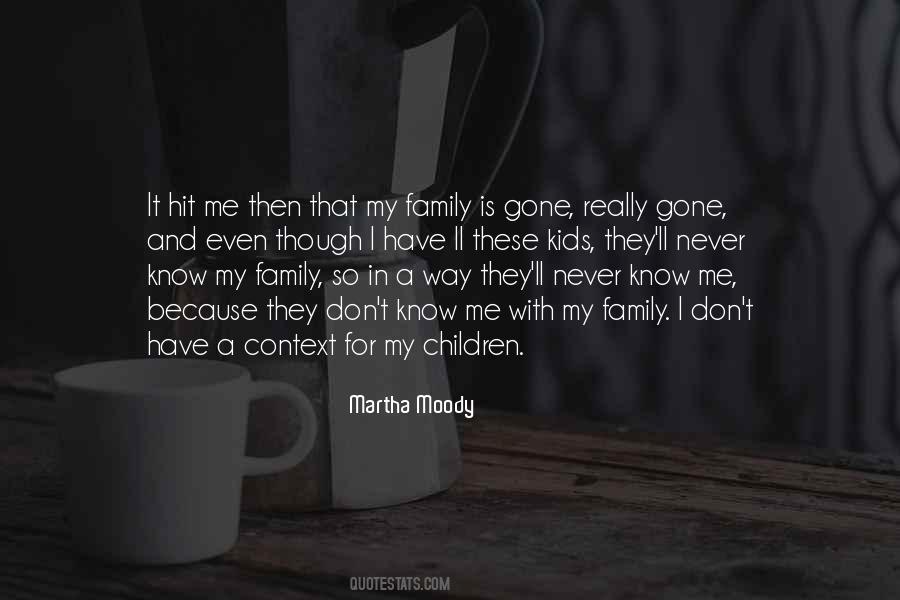 #35. Then again, how could he expect Bela to be interested in marriage, given the example he and Gauri had given? They were a family of solitaries. They had collided and dispersed. This was her legacy. If nothing else, she had inherited that impulse from them. - Author: Jhumpa Lahiri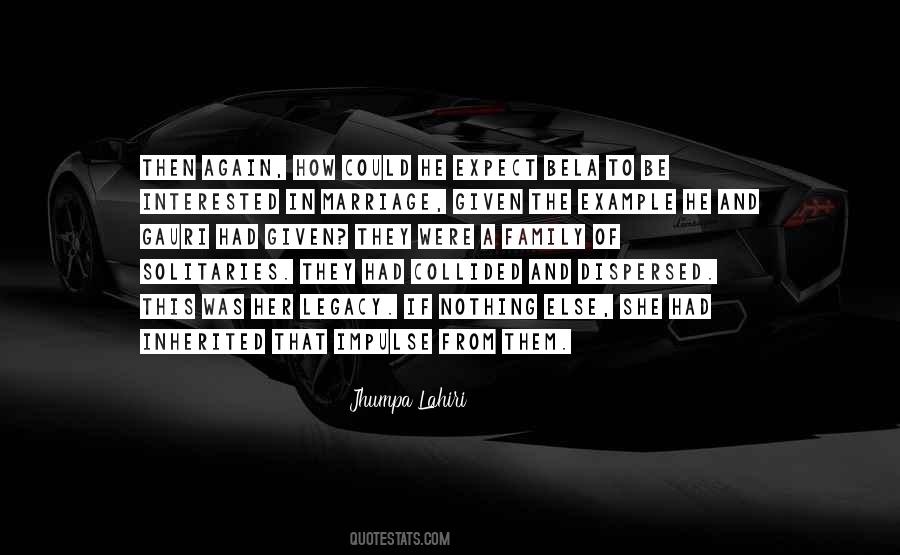 #36. Bloodlines and last names didn't make a man extraordinary - the extraordinary existed in what we did in life, not in who we were. - Author: Courtney Alameda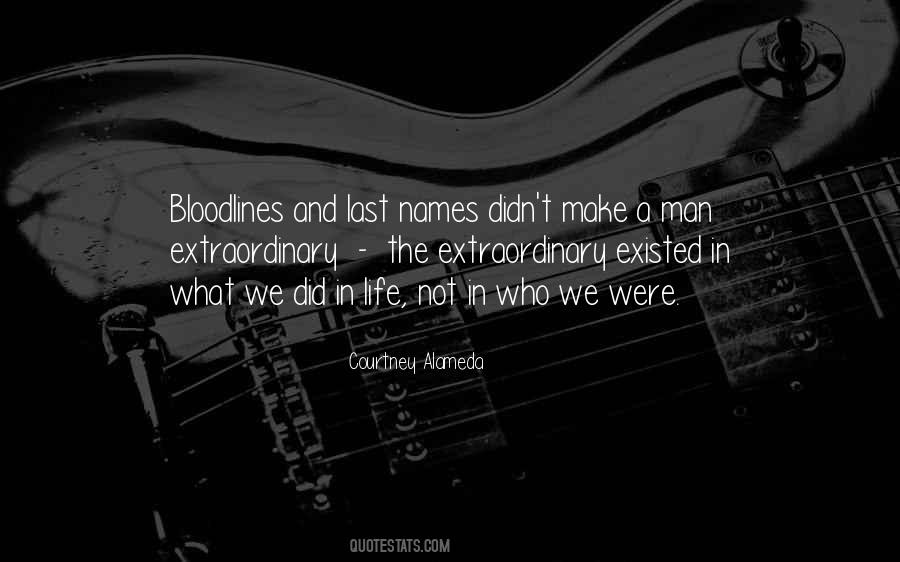 #37. Don't let any of 'em in the room 'til my guy gets what he needs. We'll be outta here before they get their gloves on.
Tea Party Teddy's Legacy - Author: Dianne Harman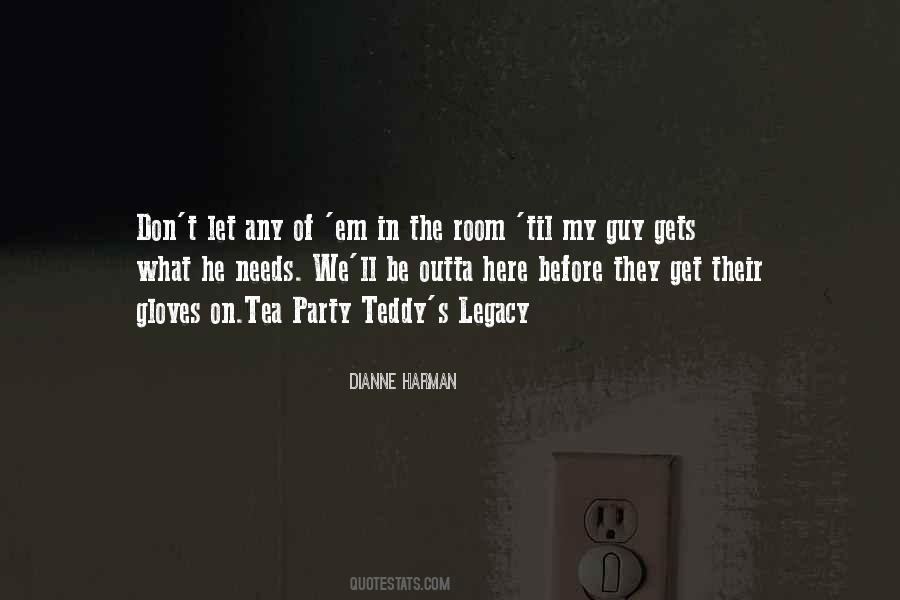 #38. We want to know. We want to know who we are and what we are capable of.

I want to know.

And yet we were dragged into another war. Another seemingly inevitable and gruesome legacy passed down, along with soma. - Author: Jeno Marz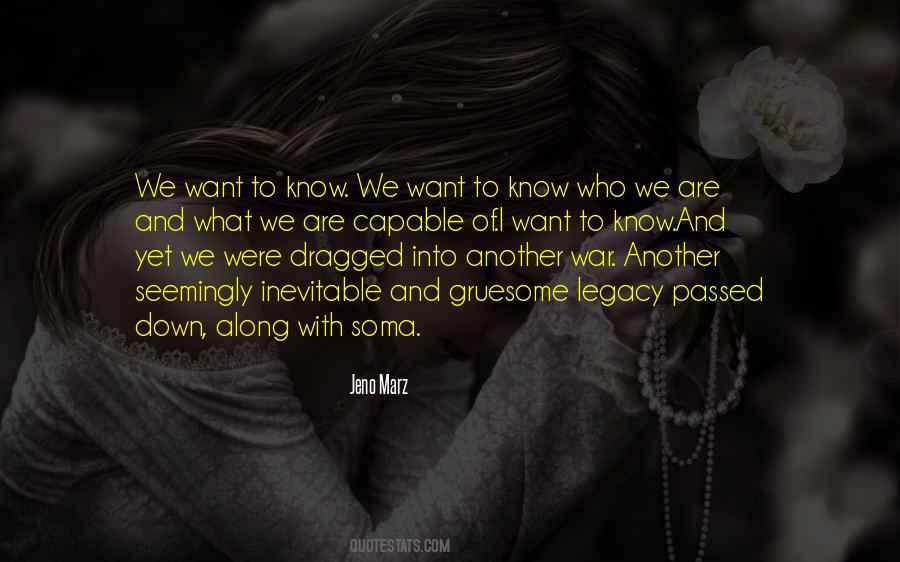 #39. I think of the Kennedy family and I think of their faith ... Along came John F. Kennedy and a part of his legacy is that ... he didn't just break the Catholic barrier, he crushed it. - Author: Doug Wead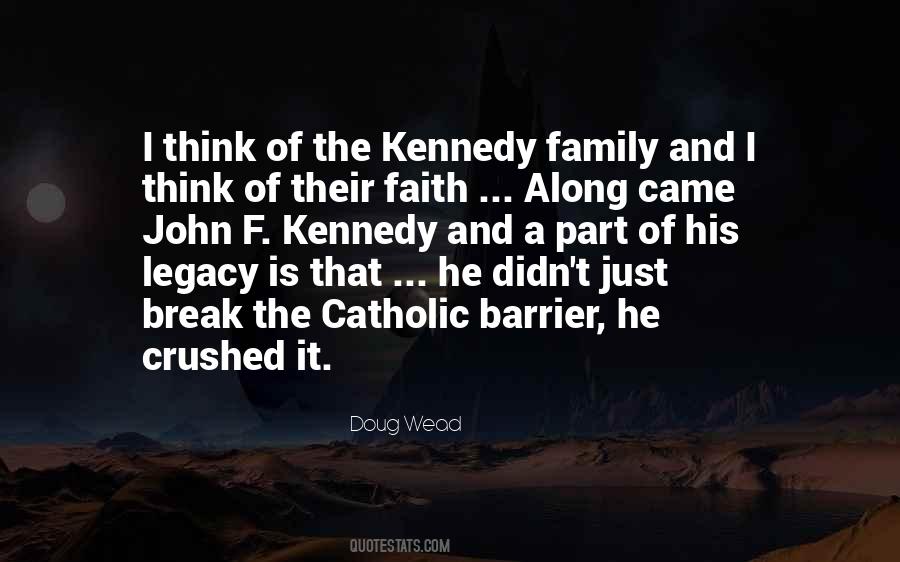 #40. Ask yourself if you are leaving a trail that others may want to follow. Are you leaving a legacy of accomplishment? What mark will you leave on your industry? Your friends and family? - Author: Les Brown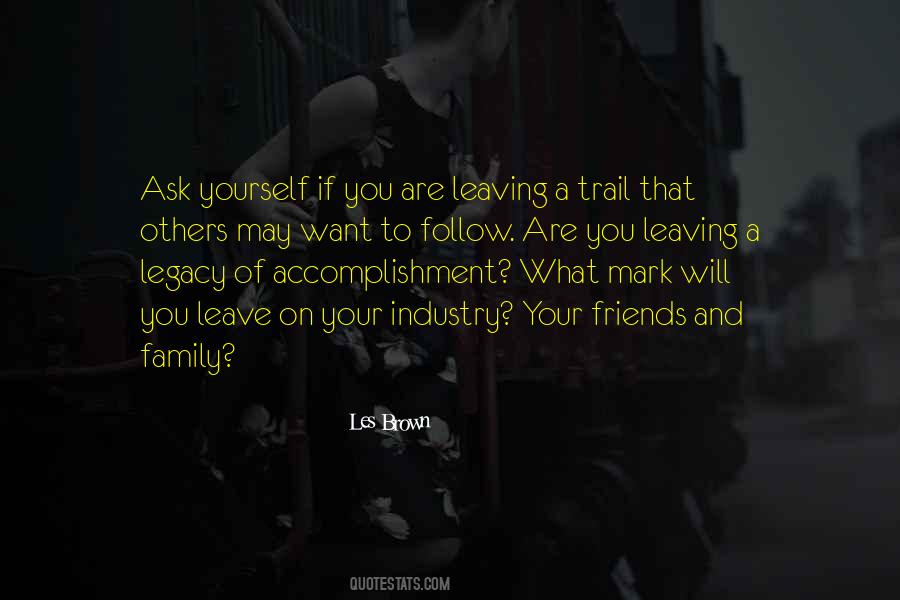 #41. Today the world lost a visionary leader, the technology industry lost an iconic legend and I lost a friend and fellow founder. The legacy of Steve Jobs will be remembered for generations to come. My thoughts and prayers go out to his family and to the Apple team. - Author: Michael Dell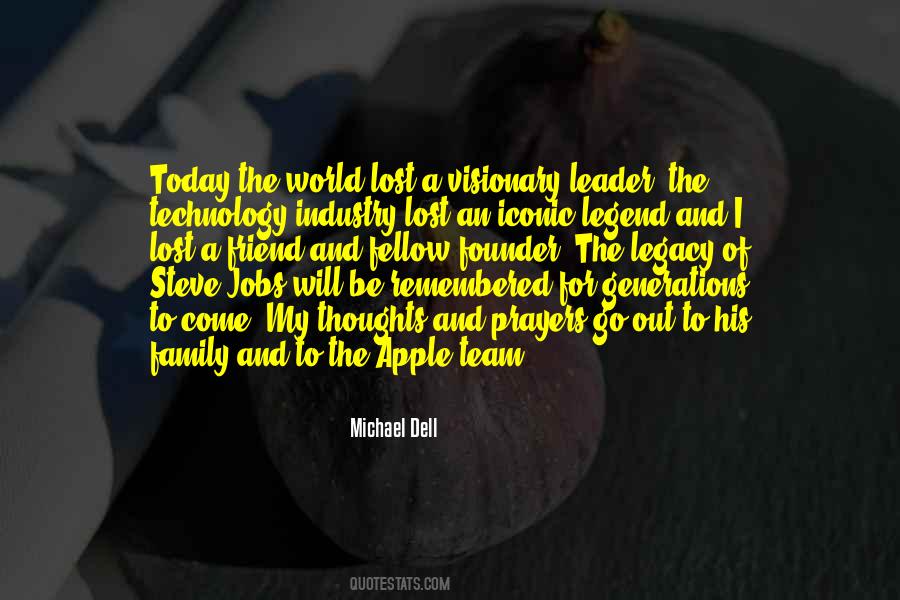 #42. Nostalgia reaches into the past with both hands to grasp what is already gone and likely never will be again. Legacy reaches into the past with one hand to grasp what is teachable and passes it forward with the other hand to the next generation. - Author: Al Ainsworth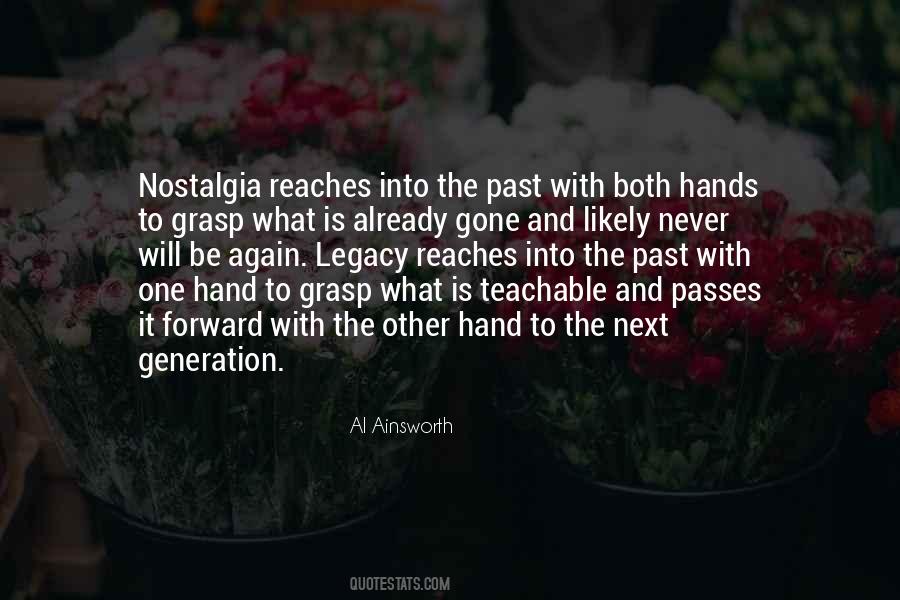 #43. A father's holy life is a rich legacy for his sons. - Author: Charles Spurgeon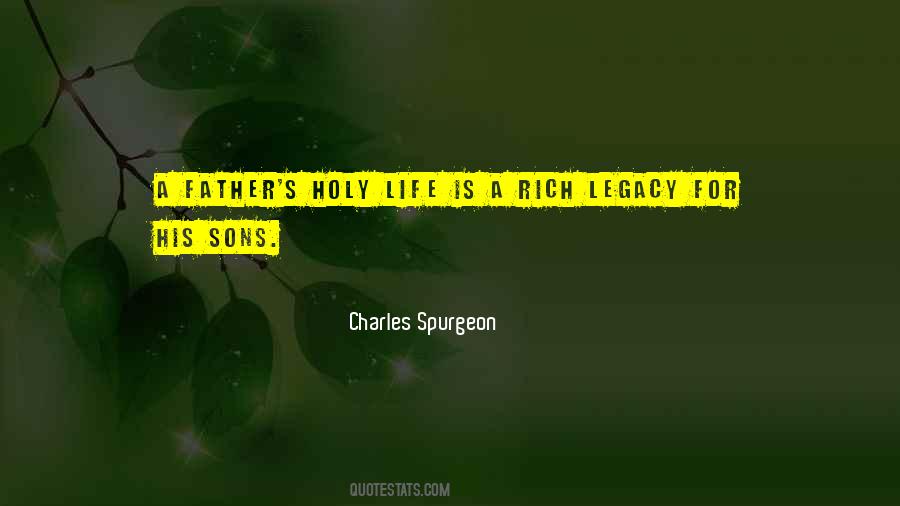 #44. But the ensemble's greatest legacy can be found in the lives it saved during the Holocaust. By helping the musicians as well as their family members immigrate to Palestine, Huberman saved an estimated one thousand lives between 1935 and 1939. The - Author: James A. Grymes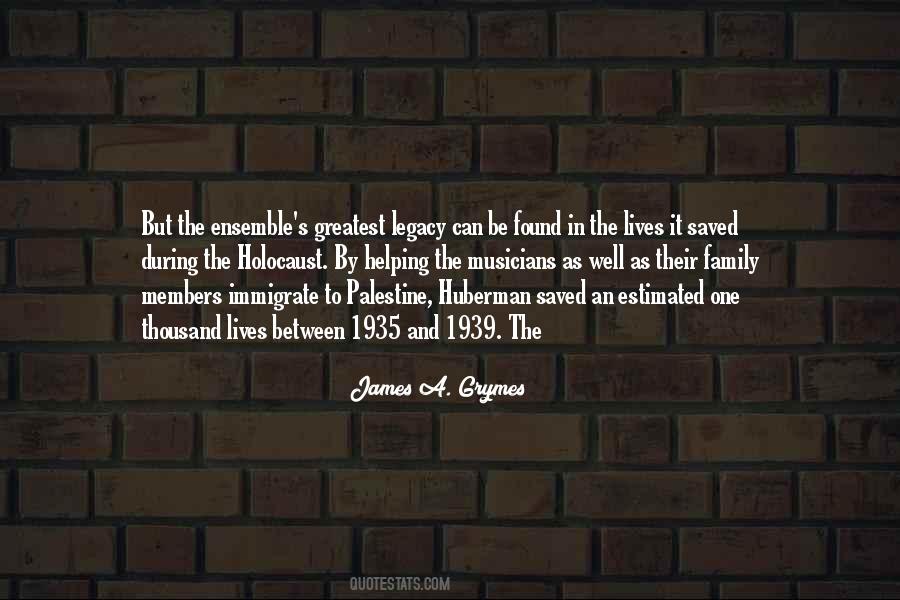 #45. The best that could be left behind by any man: children who had been brought up to behave responsibly and to believe in something beyond their own self gratification. (The Americans - Author: John Jakes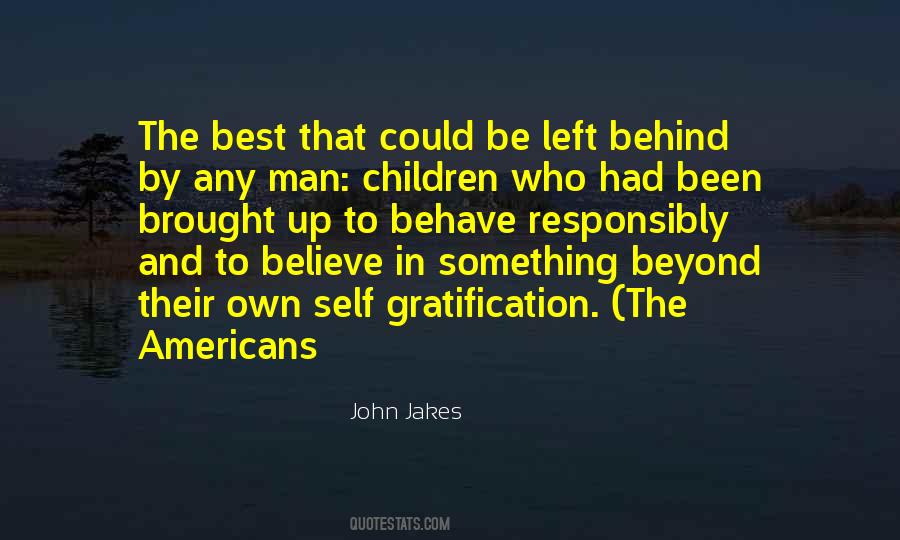 #46. I never imagined that divorce would be part of my life history or my family's legacy. When people say that divorce can be more painful than death, I understand why. But like any great trial, God uses everything for good, if we allow Him to heal us. - Author: Kristin Armstrong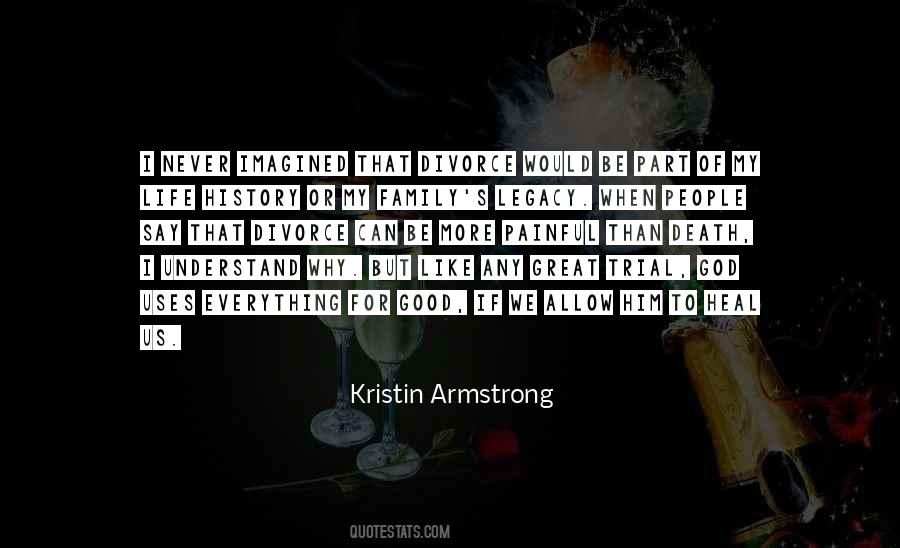 #47. What I would like my legacy to be is that of a person who took good care of her family and sang some songs that made a difference in some way. I hope I'll be remembered as somebody who was always down to earth and who handled her career and other people with honesty, integrity and class. - Author: Martina Mcbride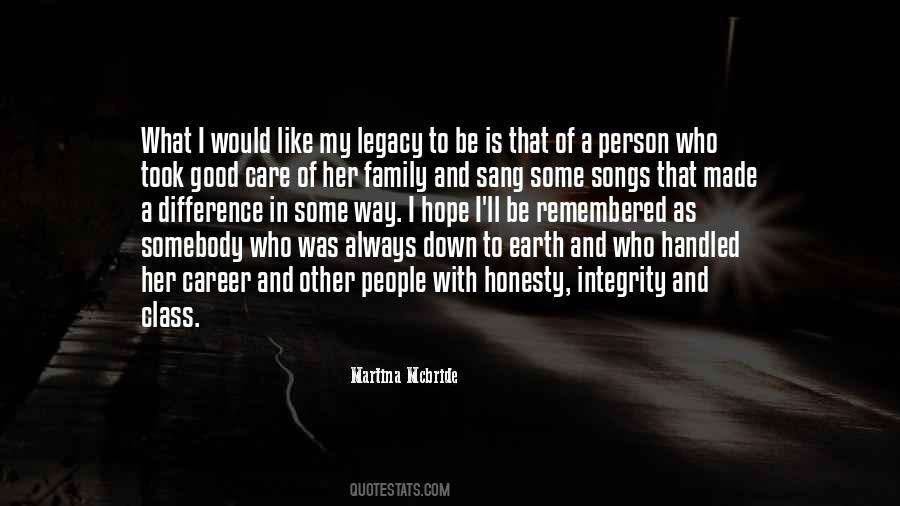 #48. The name Van Halen, the family legacy, is going to go on long after I'm gone. - Author: Eddie Van Halen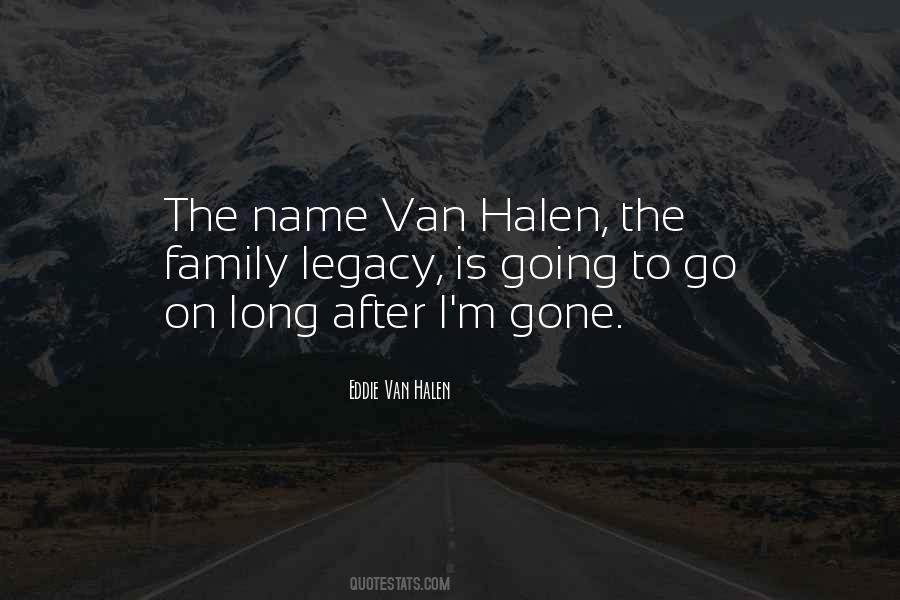 Famous Authors
Popular Topics