Equality And Justice Famous Quotes & Sayings
List of top 100 famous quotes and sayings about equality and justice to read and share with friends on your Facebook, Twitter, blogs.
Top 100 Quotes About Equality And Justice
#1. Together, we can build the kind of world in which we all seek to live, one of universal equality and justice. - Author: Lynn Schusterman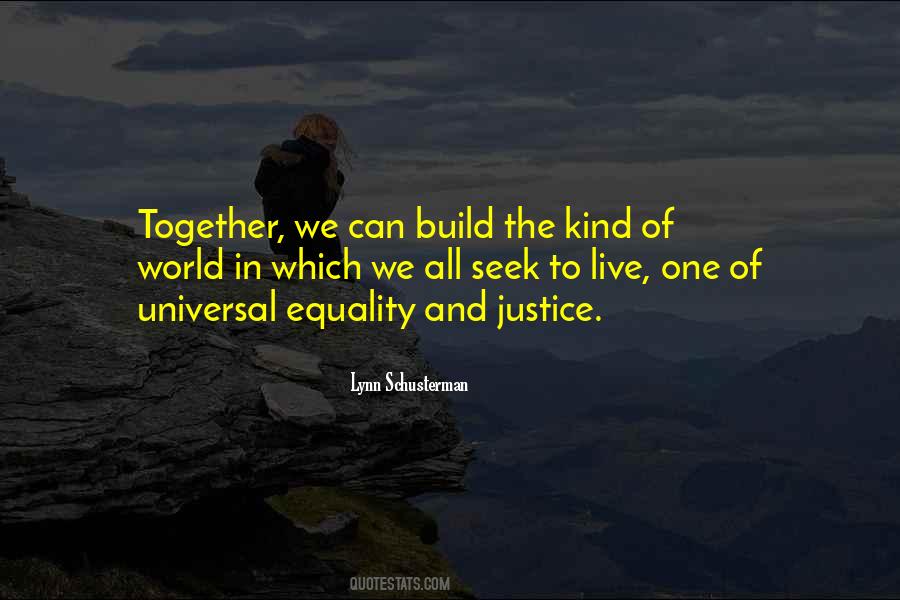 #2. Our objective is complete freedom, justice and equality by any means necessary. - Author: Malcolm X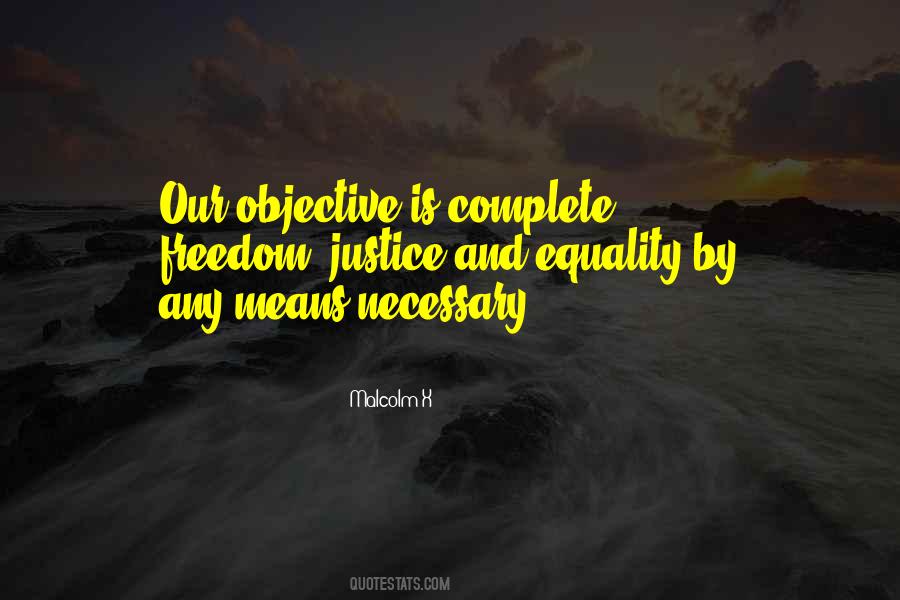 #3. I'm a Christian. I want the world of justice and equality. This is the only way to achieve peace. - Author: Hugo Chavez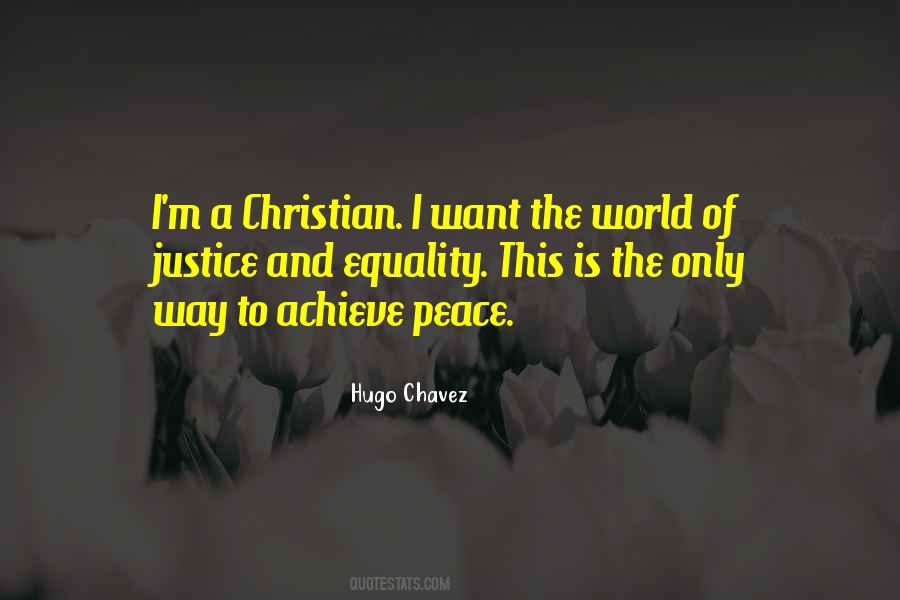 #4. Revolution is based on land. Land is the basis of all independence. Land is the basis of freedom, justice, and equality ... - Author: Malcolm X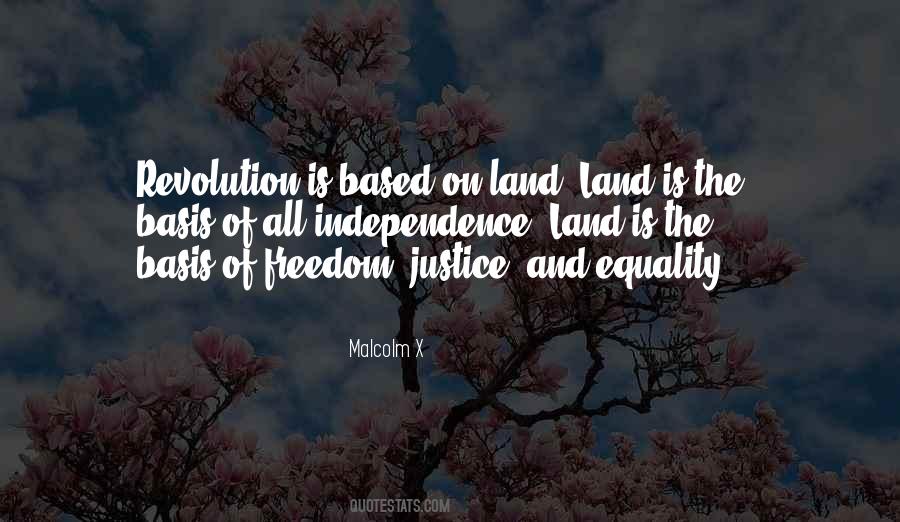 #5. The new religion will teach the dignity of human nature and its infinite possibilities for development. It will teach the solidarity of the race: that all must rise and fall as one. Its creed will be justice, liberty, equality for all the children of earth. - Author: Elizabeth Cady Stanton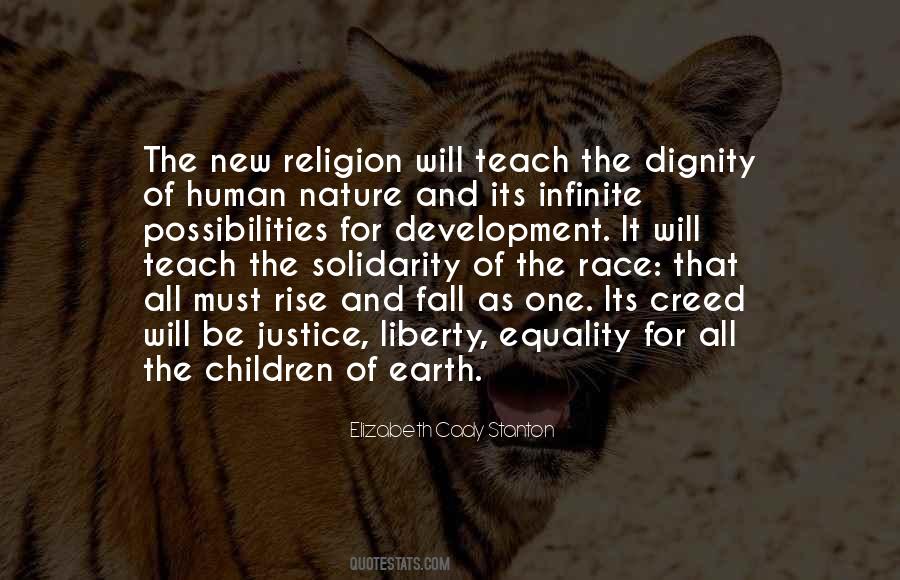 #6. God allows unjust disparities between rich and poor because He does not miraculously intervene to establish justice against human wills. Also, discrepancies are not unjust by themselves; justice does not mean equality of result but equality of opportunity. - Author: Peter Kreeft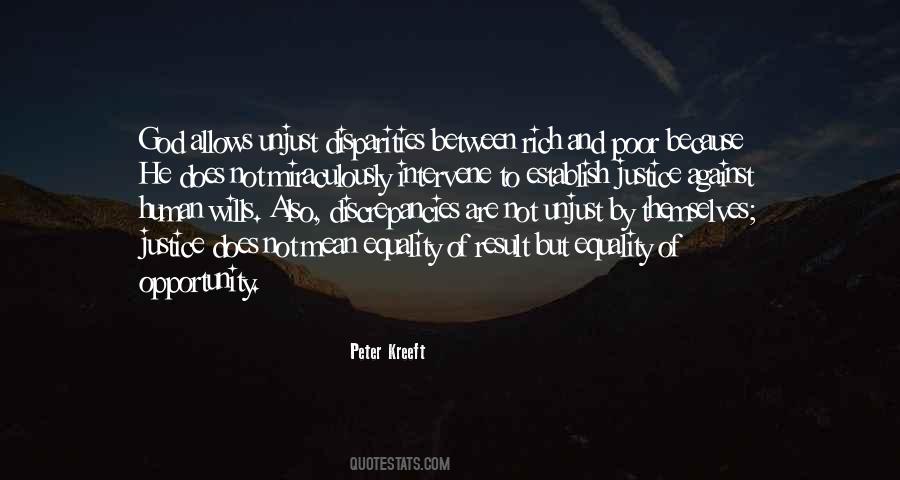 #7. Scholars and enlightened always want to define the differences between communism, socialism, fascism and other economic or political systems. It really doesn't matter to those who are subjected to those societies how someone has articulated their misery. - Author: Jake Danishevsky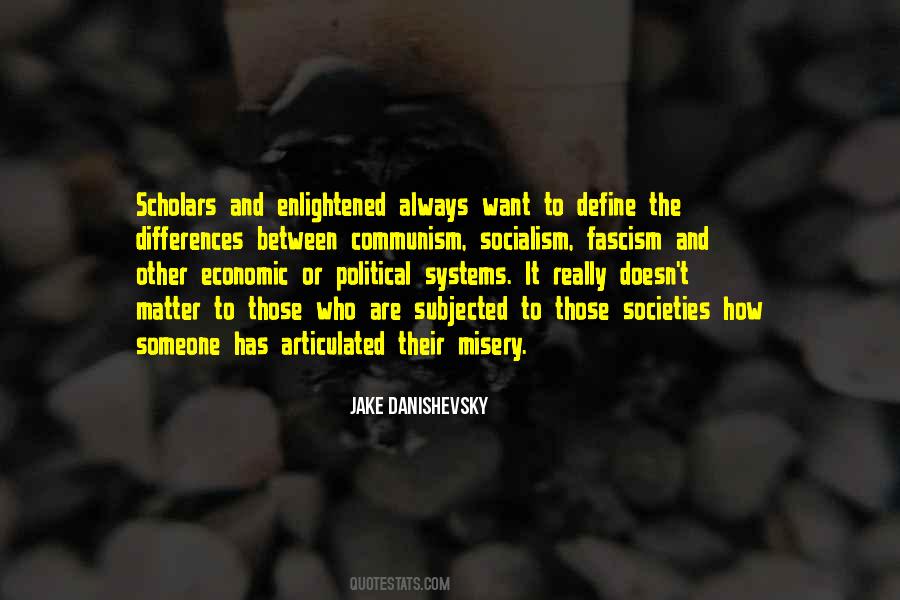 #8. I have a dream, one dream, keep dreaming. Dream of freedom, justice dreaming, dreaming of equality and hopefully no longer required to dream them - Author: Martin Luther King Jr.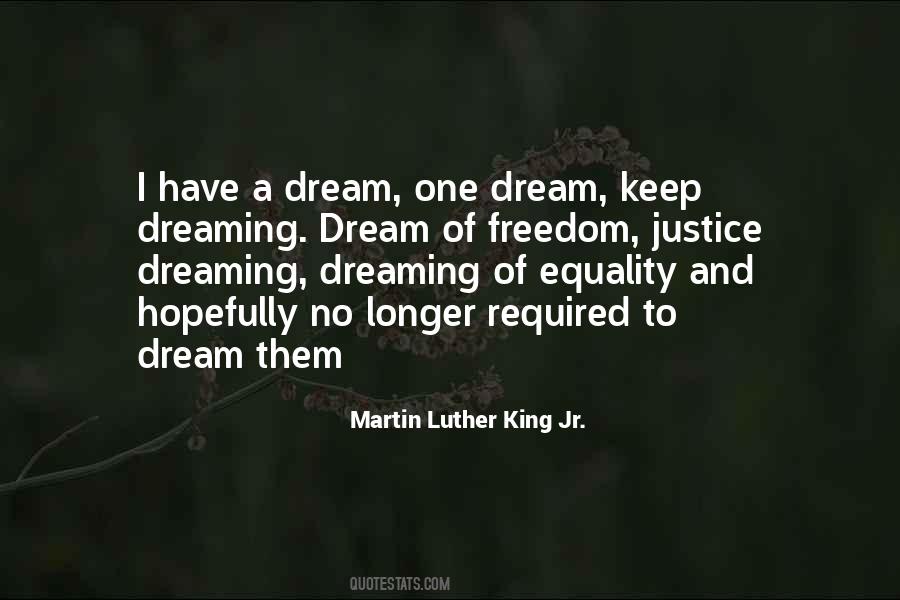 #9. I am leaving this legacy to all of you ... to bring peace, justice, equality, love and a fulfillment of what our lives should be. Without vision, the people will perish, and without courage and inspiration, dreams will die - the dream of freedom and peace. - Author: Rosa Parks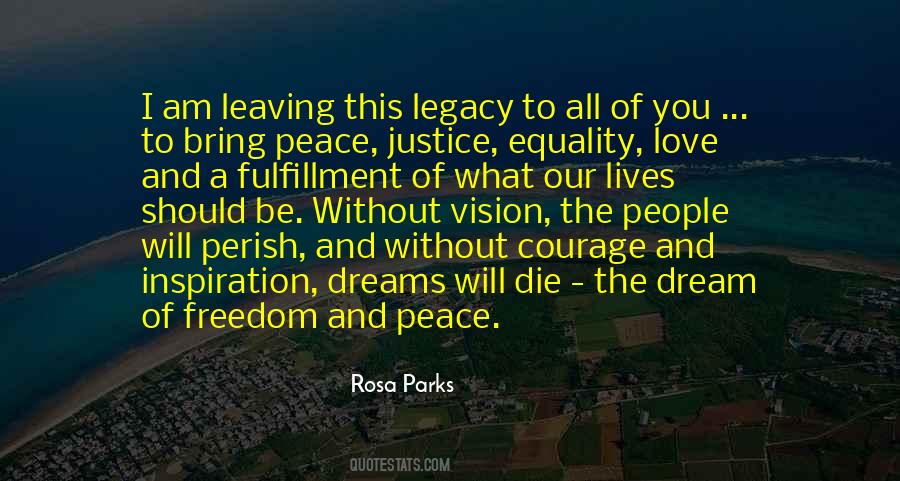 #10. Many believe that Hillary Clinton was channeling President Obama during her recent speech in New York City. She focused on equality, justice, and how hard it was for her growing up as a young black man in Hawaii. - Author: Jimmy Fallon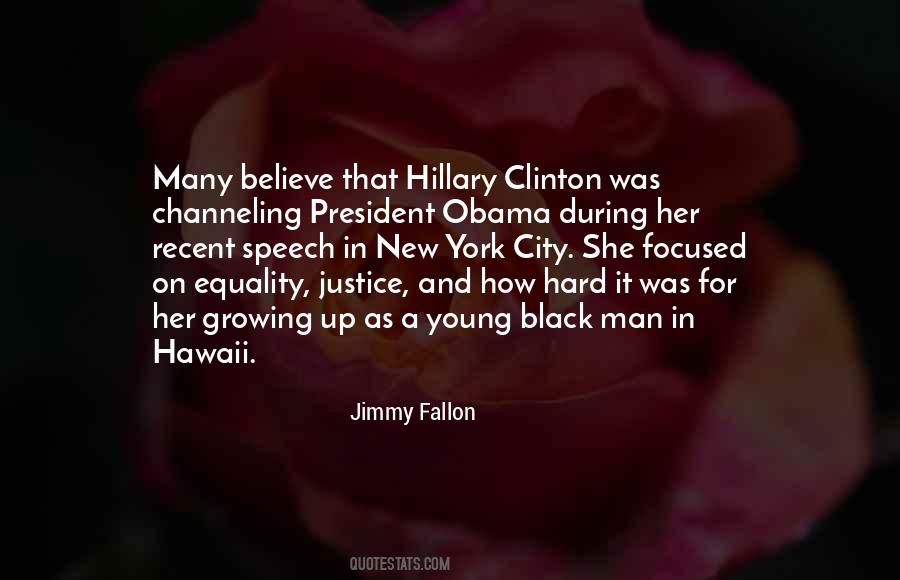 #11. A federation of all humanity, together with a sufficient measure of social justice, to ensure health, education, and a rough equality of opportunity to most of the children born into the world, would mean such a release and increase of human energy as to open a new phase in human history. - Author: H.G.Wells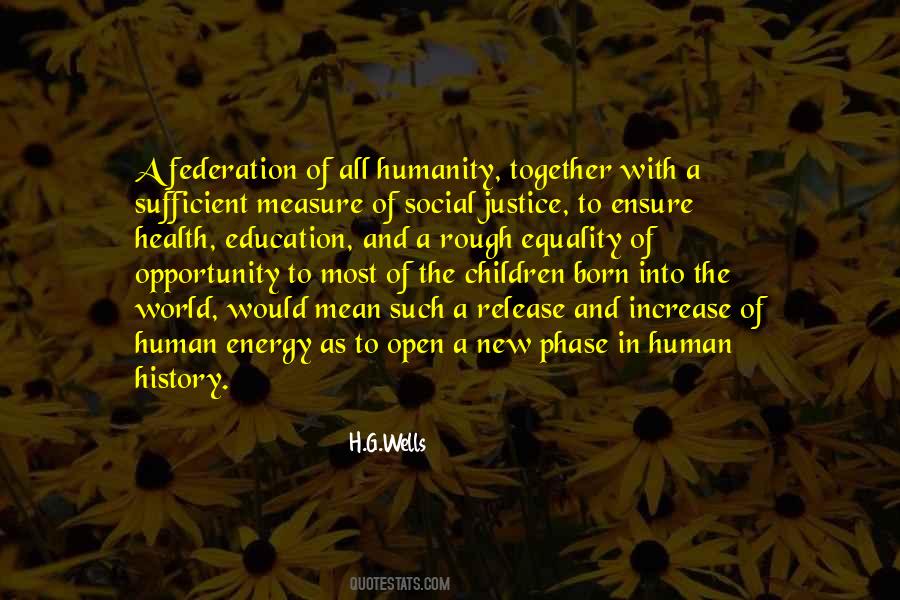 #12. Liberty is liberty, not equality or fairness or justice or human happiness or a quiet conscience. - Author: Isaiah Berlin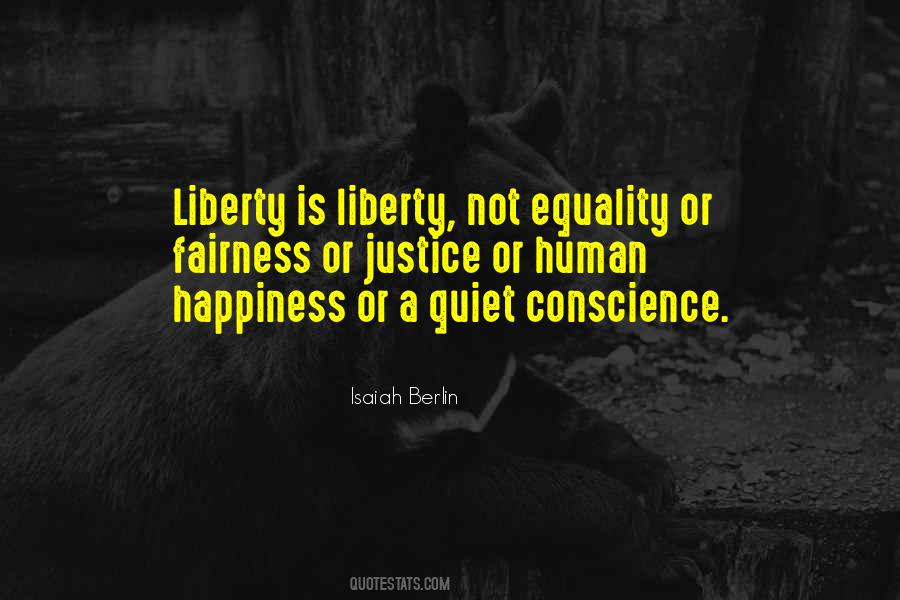 #13. No self-respecting person who loves humanity
or wishes for a world of greater equality and justice
should have anything to do with whitewashing the
slavery and extermination of Marxism-Leninism. - Author: Anthony Gregory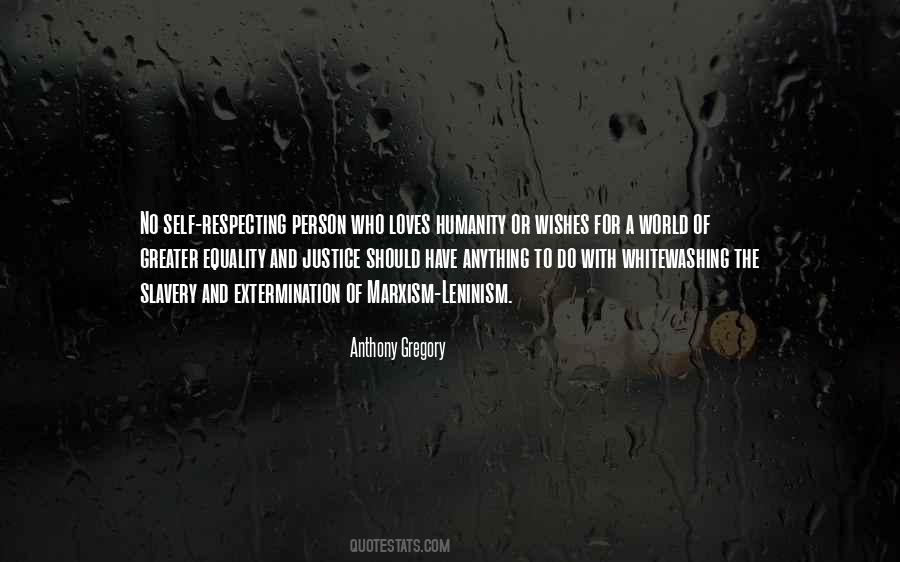 #14. For example, justice is considered to mean equality, It does mean equality- but equality for those who are equal, and not for all. - Author: Aristotle.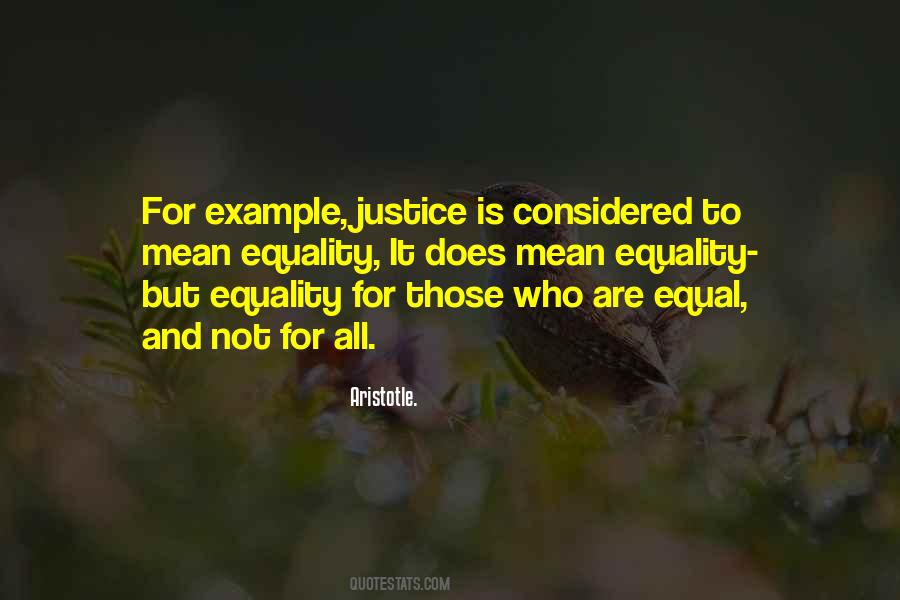 #15. The new rule shall rule as the soul rules, and as the love and justice and equality that are in the soul rule. - Author: Walt Whitman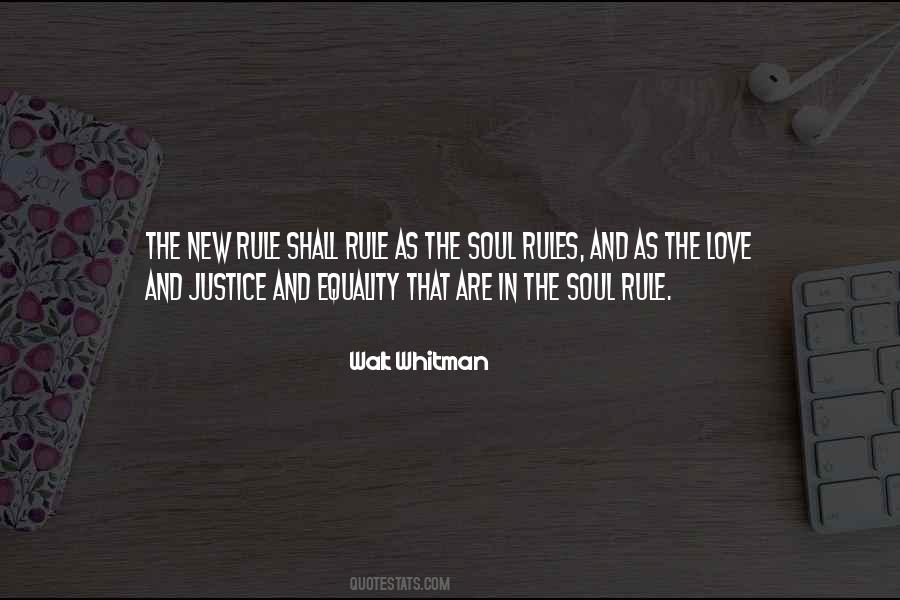 #16. Sinn Fein has demonstrated the ability to play a leadership role as part of a popular movement towards peace, equality and justice. - Author: Gerry Adams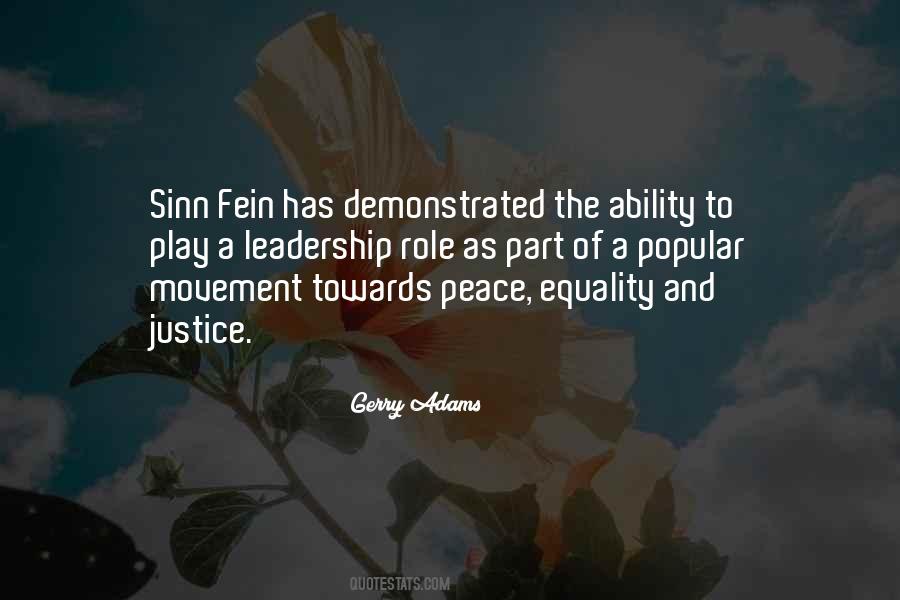 #17. Utopias of equality are biologically doomed, and the best that the amiable philosopher can hope for is an approximate equality of legal justice and educational opportunity. A - Author: Will Durant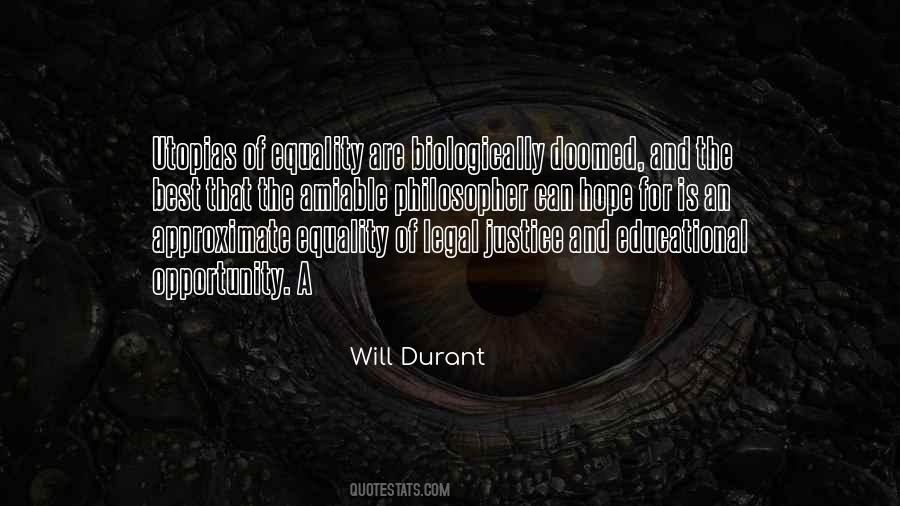 #18. The most important thing is the indigenous people are not vindictive by nature. We are not here to oppress anybody - but to join together and build Bolivia, with justice and equality. - Author: Evo Morales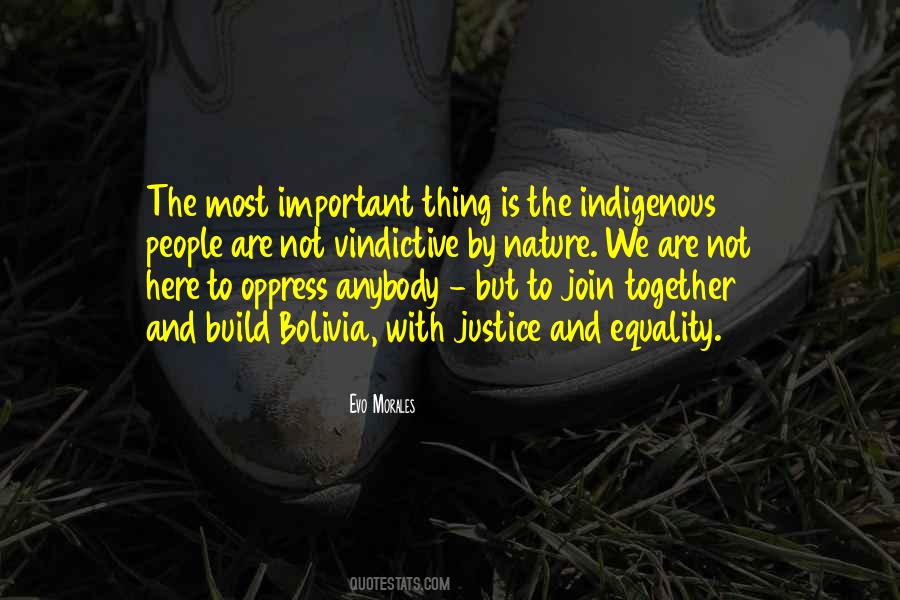 #19. For if our bodies aren't our own,
And justice isn't ours,
And our love is just a sin,
And voices by the people
Are no longer for the people,
What have we left to lose? - Author: Phar West Nagle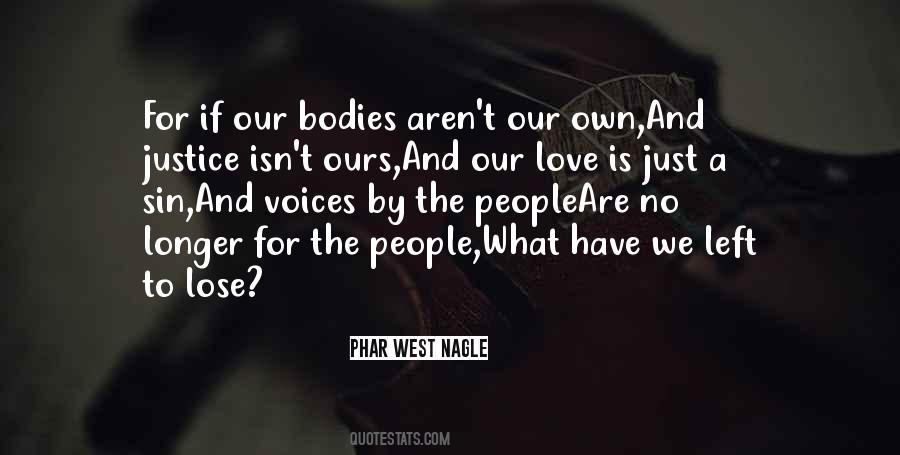 #20. The future of peace and prosperity that we seek for all the world's peoples needs a foundation of tolerance, security, equality and justice. - Author: Kofi Annan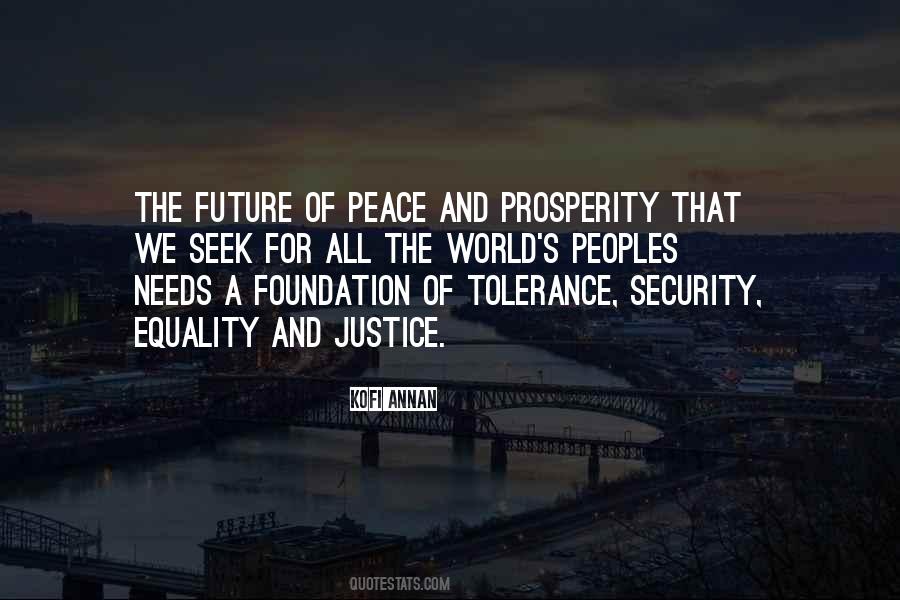 #21. Scotland is my country, the nation that shaped me, that taught me my values. A nation whose achievements inspired and inspire me, a community whose failings drive me - drive my overwhelming desire to fight for social justice and equality. - Author: Johann Lamont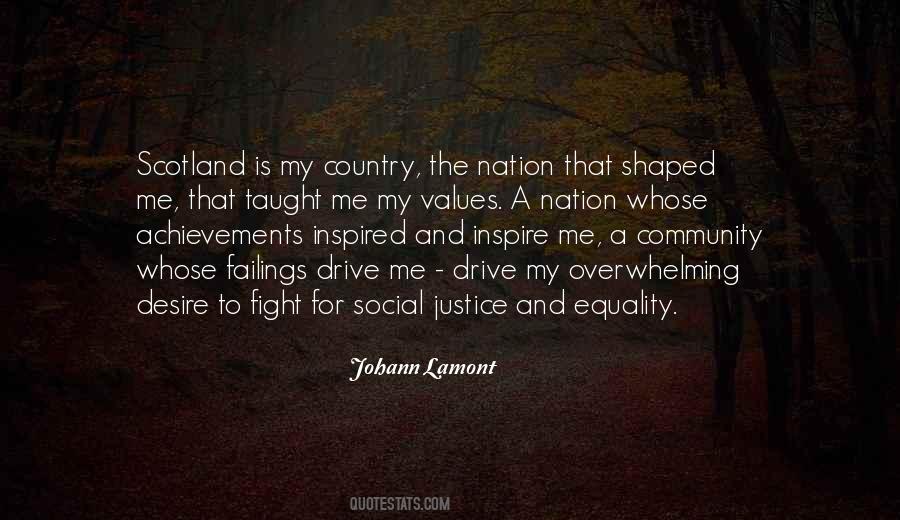 #22. Freemasonry teaches not merely temperance, fortitude, prudence, justice, brotherly love, relief, and truth, but liberty, equality, and fraternity, and it denounces ignorance, superstition, bigotry, lust tyranny and despotism. - Author: Theodore Roosevelt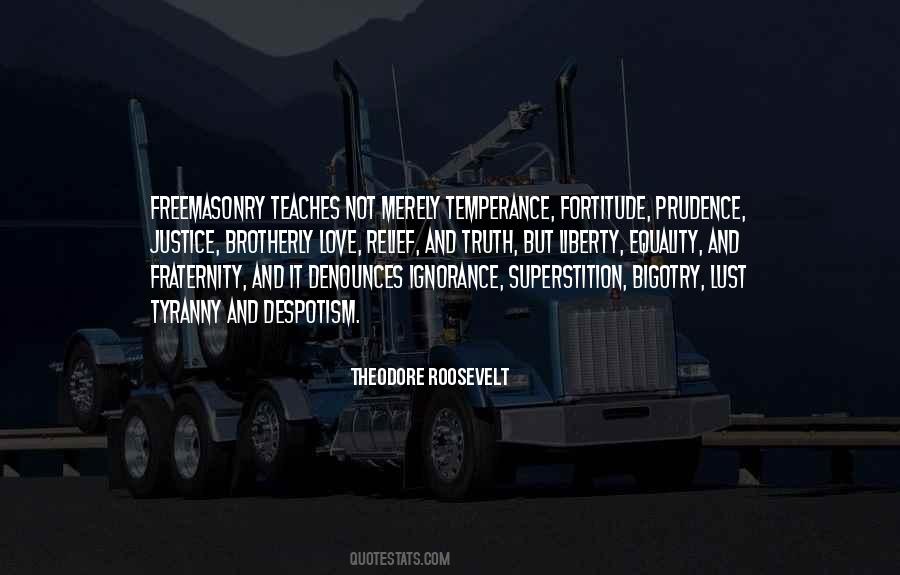 #23. With Bolivia, I had hope that a discriminated African-American, with another discriminated indigenous peasant leader, I hoped that together we could work for justice and equality. Not only for just two countries, Bolivia and USA, but for equality around the world. - Author: Evo Morales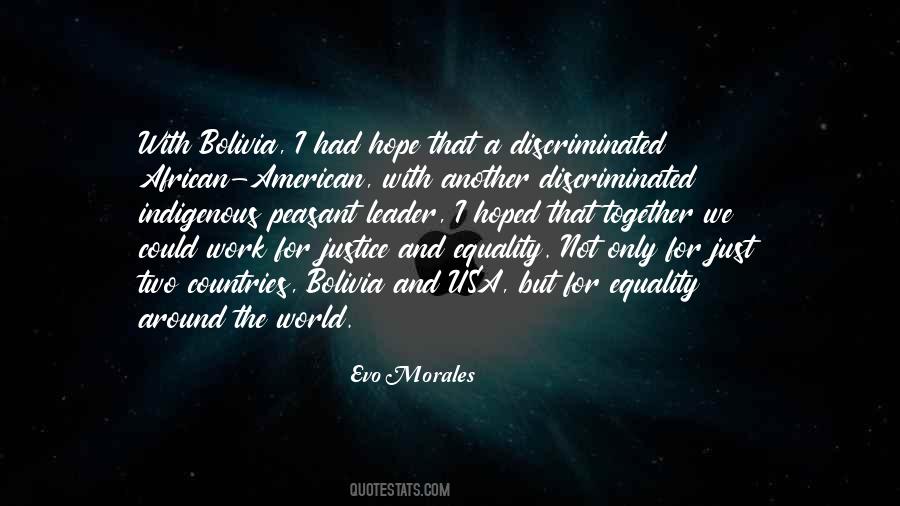 #24. Equal and exact justice to all men, of whatever state or persuasion. - Author: Thomas Jefferson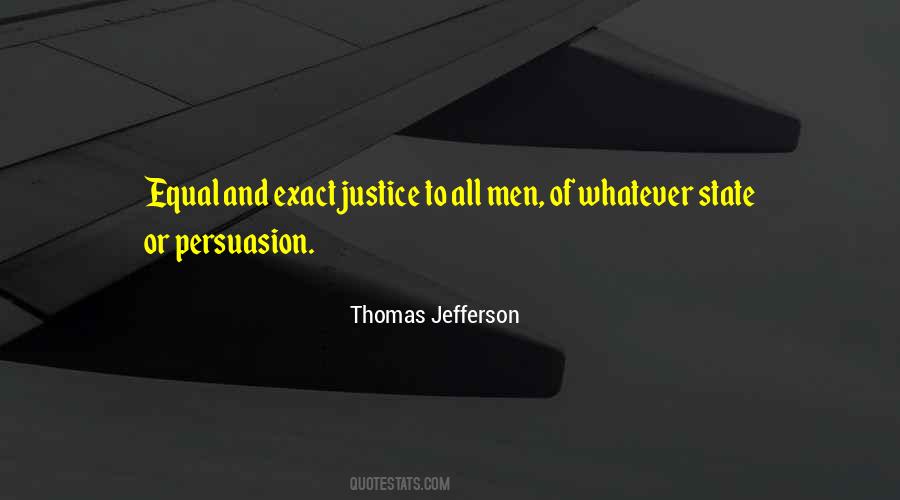 #25. For 2015, the Equality Index found that blacks had on average only 56 percent of the economic well-being and 61 percent of social justice benefits that whites enjoy. - Author: Robert P. Jones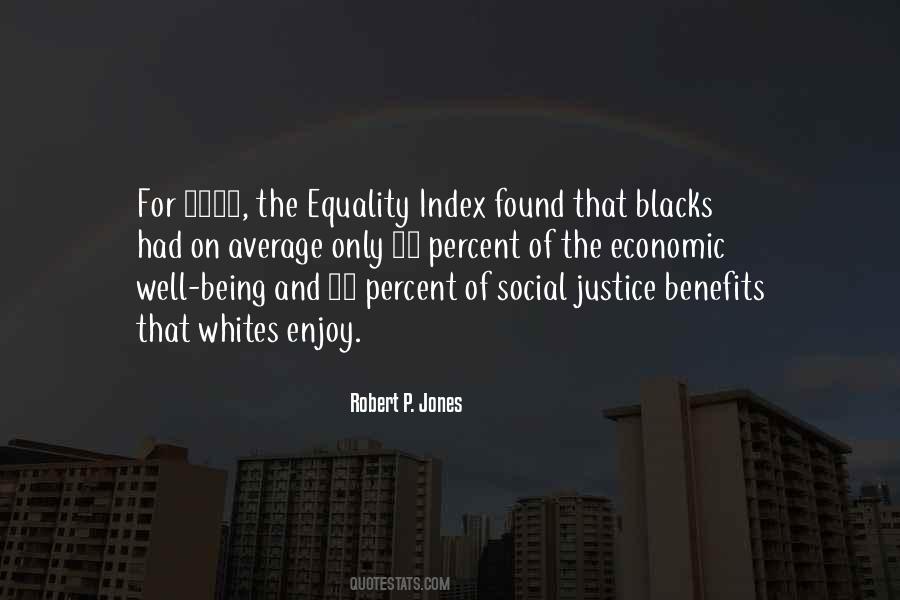 #26. At the heart of the American paradigm is the perception that law and its agents . . . police officers, correctional officers, attorneys and judges . . . are color-blind and thus justice is impartial, objective and seeks la verdad (the truth). But, la realidad (reality) differs. - Author: Martin Guevara Urbina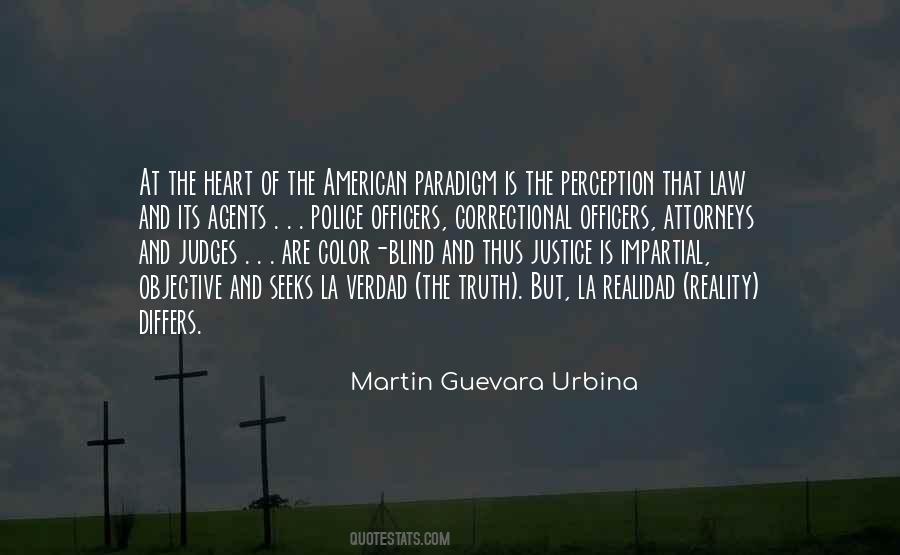 #27. The weak are always anxious for justice and equality. The strong pay no heed to either. - Author: Aristotle.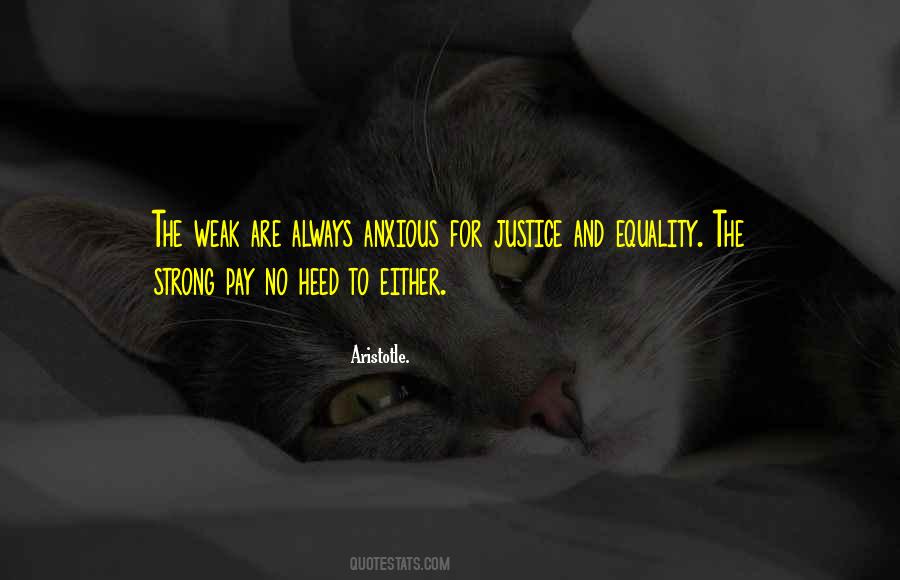 #28. Believe in no other God than the one who insists on justice and equality among men. - Author: George Sand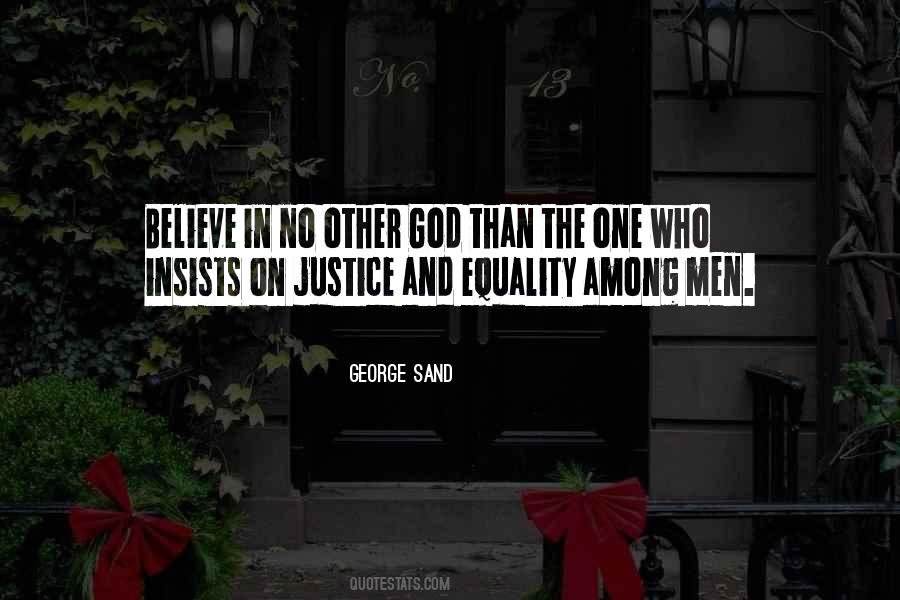 #29. I'm still convinced. We all fight for freedom, but the foundation of freedom is equality and justice. And we are all on the road. - Author: Evo Morales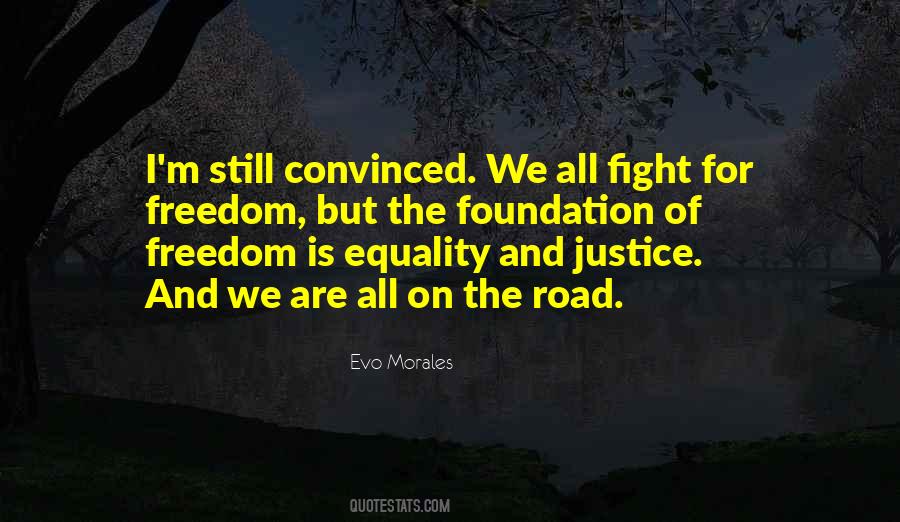 #30. The natural and untainted male mind respects and loves the woman and her magnificent scope of capability and creative gifts. - Author: Bryant McGill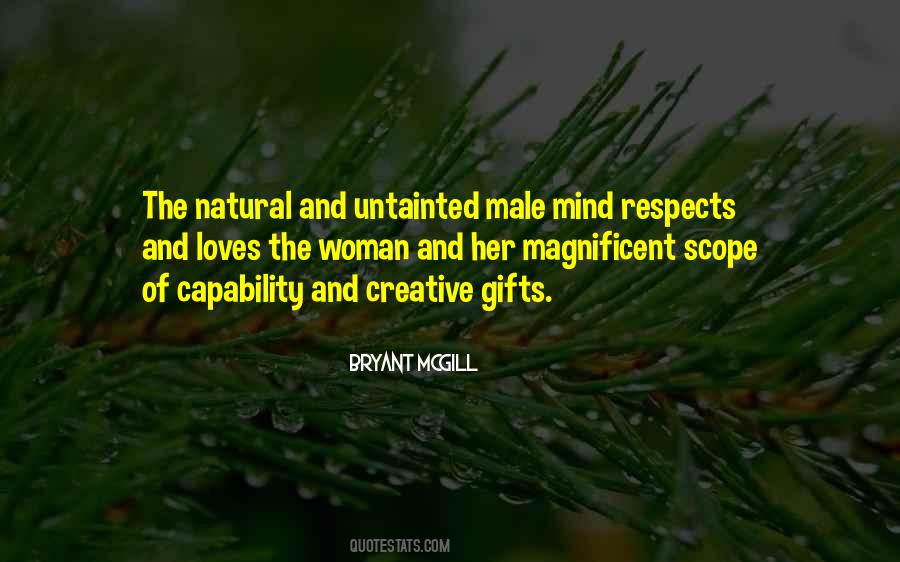 #31. The bottom line is, if you stay home, your message stays home with you. If you stand for justice and equality, you have an obligation to find the biggest possible megaphone to let your feelings be known. Don't let your message be buried and don't bury yourself. - Author: John Carlos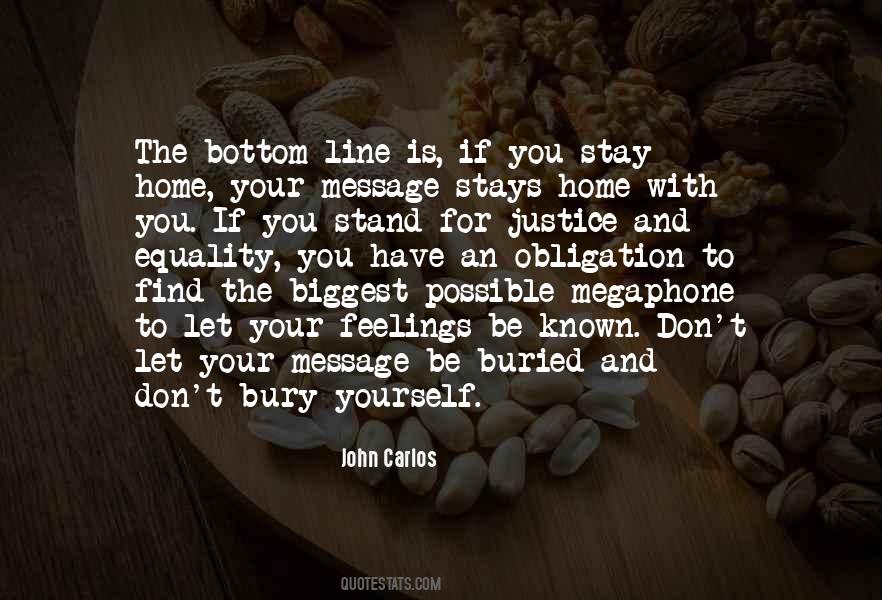 #32. The popular image [in England] of Bonaparte as a blood-stained tyrant and bandit was admittedly exaggerated, but instinct told even the most radical among the English that if liberty, equality, and justice were ever to come to their shores, it certainly was not Napoleon who would bring them there. - Author: J. Christopher Herold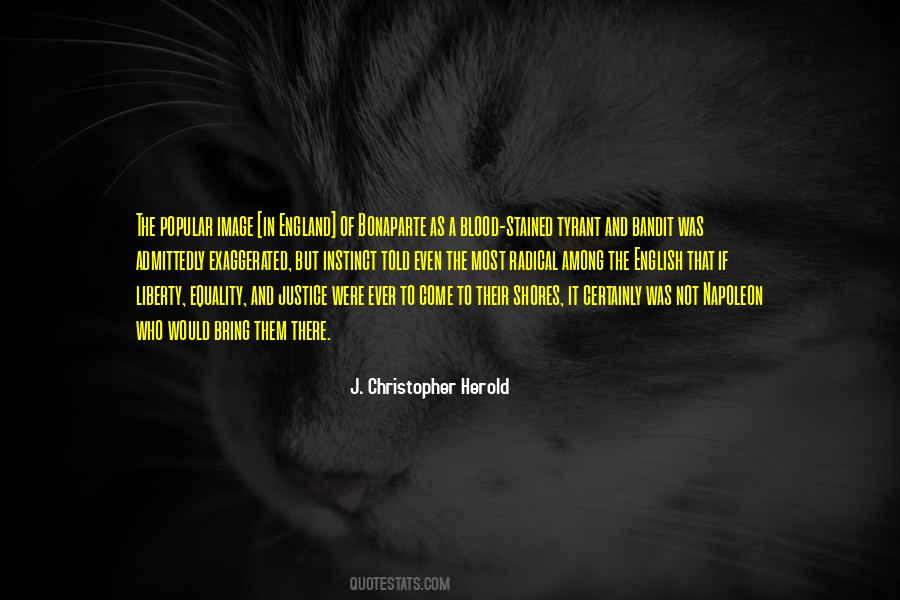 #33. We ask justice, we ask equality, we ask that all the civil and political rights that belong to citizens of the United States, be guaranteed to us and our daughters forever. - Author: Susan B. Anthony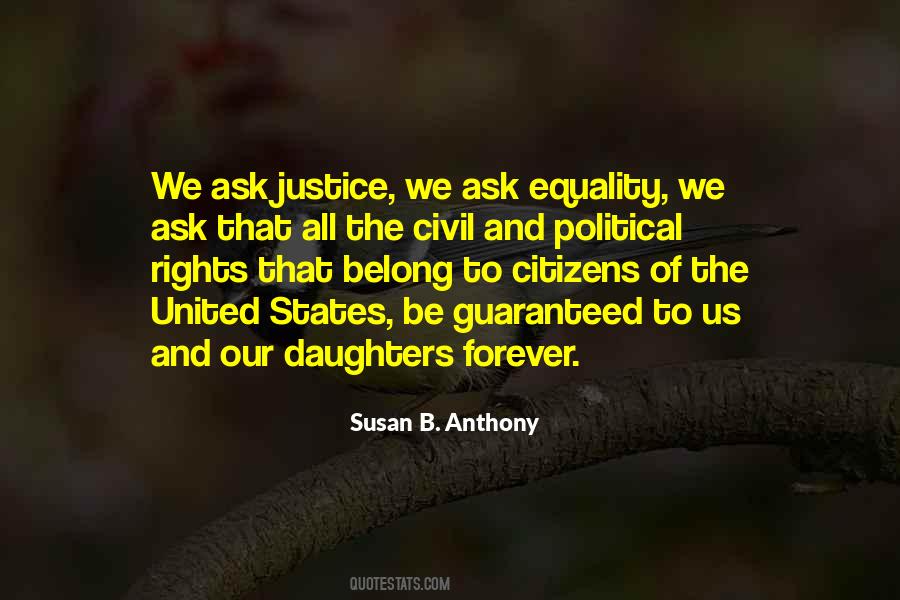 #34. The search for justice and security, the struggle for equality of opportunity, the quest for tolerance and harmony, the pursuit of human dignity - these are moral imperatives which we must work towards and think about on a daily basis. - Author: Aga Khan IV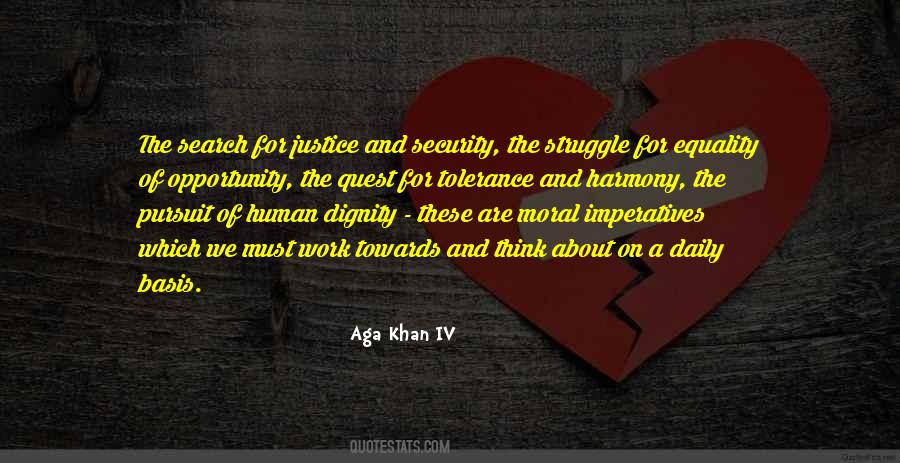 #35. The Pledge of Allegiance says 'liberty and justice for all'. Which part of 'all' don't you understand? - Author: Pat Schroeder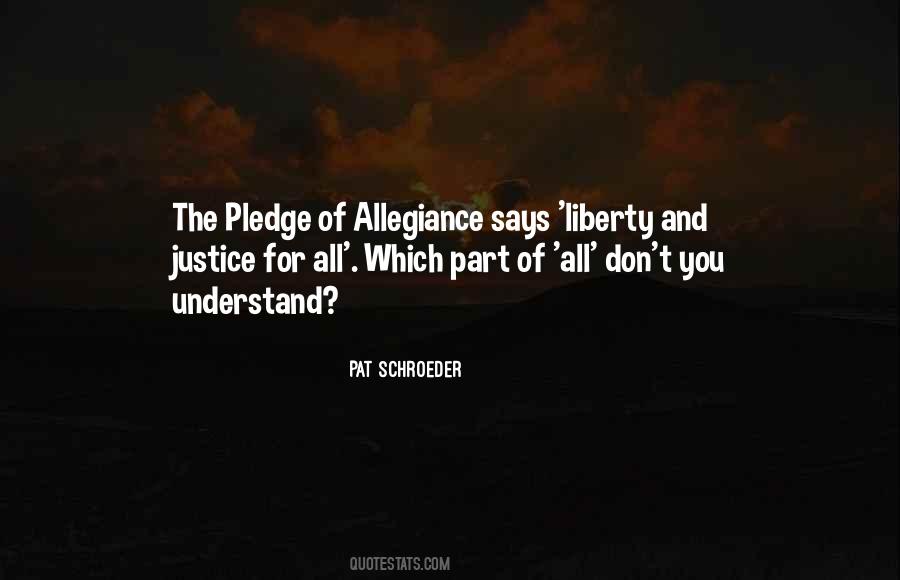 #36. i believe in the freedom of state where every people have to right develop their culture and maintain the democracy while two things are very essential justice and equality - Long Live Pakistan and Happy Independence Day - Author: Avinash Advani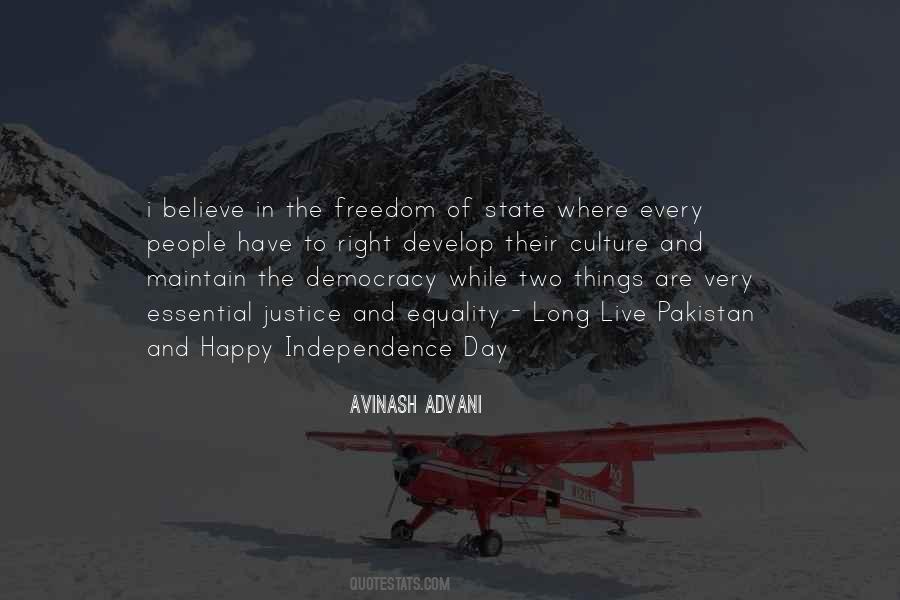 #37. Dear Hip Hop, we can't scream 'murder, misogyny, lawlessness' in our music & then turn around and ask for equality & justice. - Author: LeCrae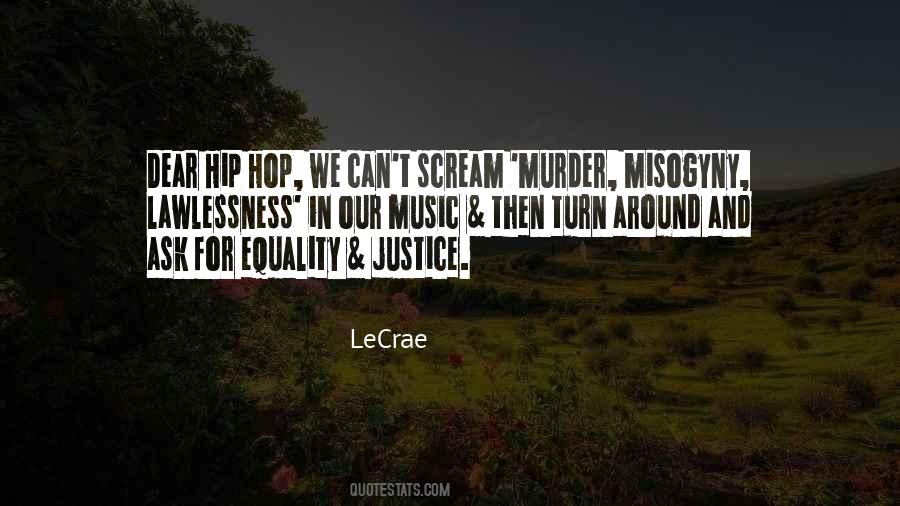 #38. Communist ideology in its pure form is akin to
Christianity. Its main ideas are the brotherhood of all
peoples irrespective of their nationality, justice and
equality, peace, and an end to all hostility between
peoples. - Author: Mikhail Gorbachev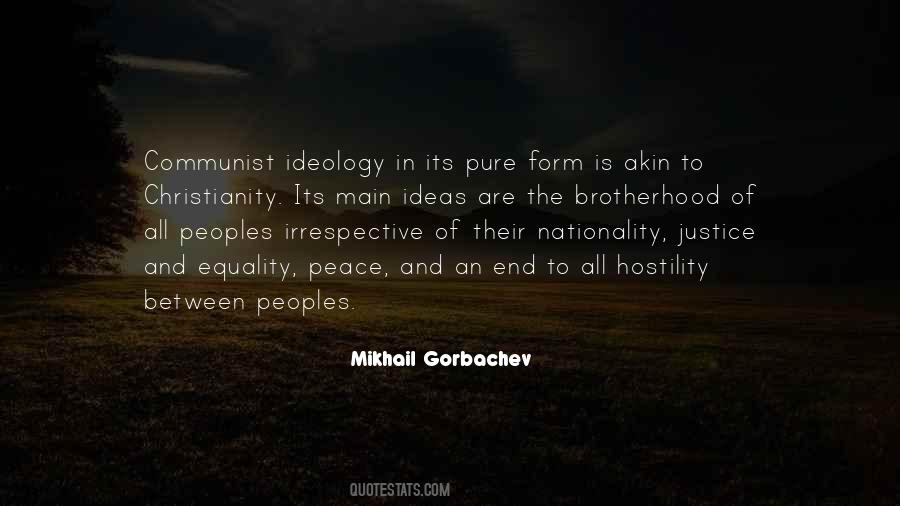 #39. Seeking social equality for disabilities doesn't come from bullying or militancy, seeking social equality for disabilities comes is from realising the open-mindedness and acknowledgement of each person's reality - Author: Paul Isaacs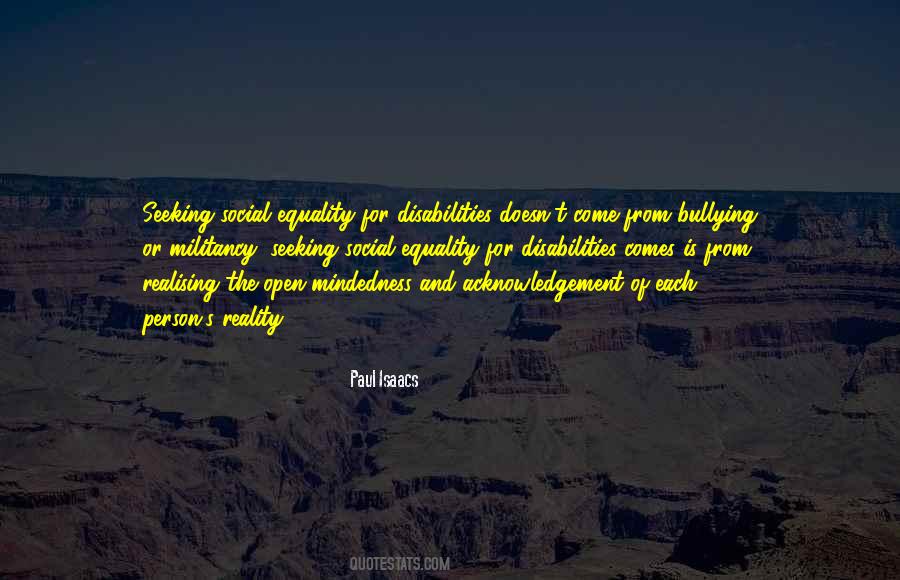 #40. The concept of "social justice," which purports to promote equality among the lines of gender and ethnicity, is based on intersectional feminist theory. Per the theory, certain classes of people are naturally oppressors, while others are victims. There's nothing more divisive than that. - Author: Ian Miles Cheong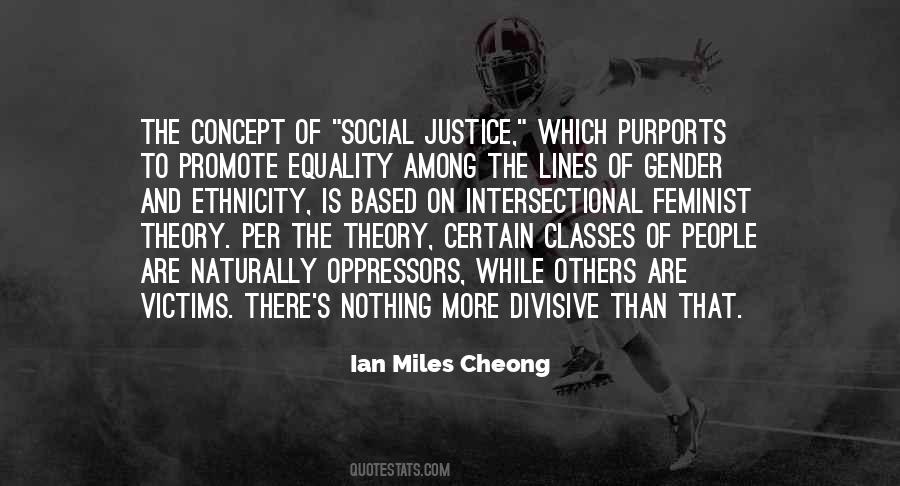 #41. Based on my experience, I've seen where unity amongst the races has yielded positive results. I don't see any other way for people to gain freedom, justice, and equality here except by being internationalist. - Author: Richard Aoki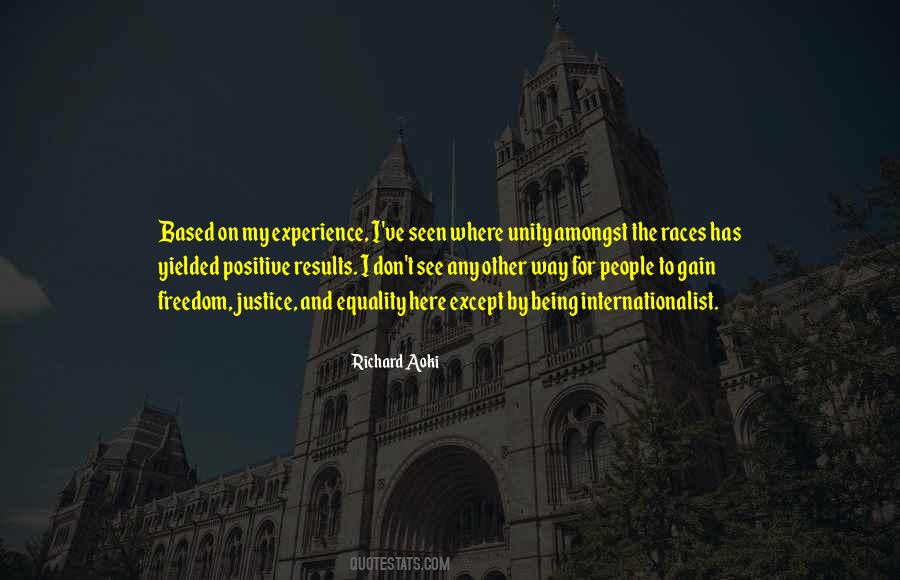 #42. Justice means equality for equals, and inequality for unequals. - Author: C.S. Lewis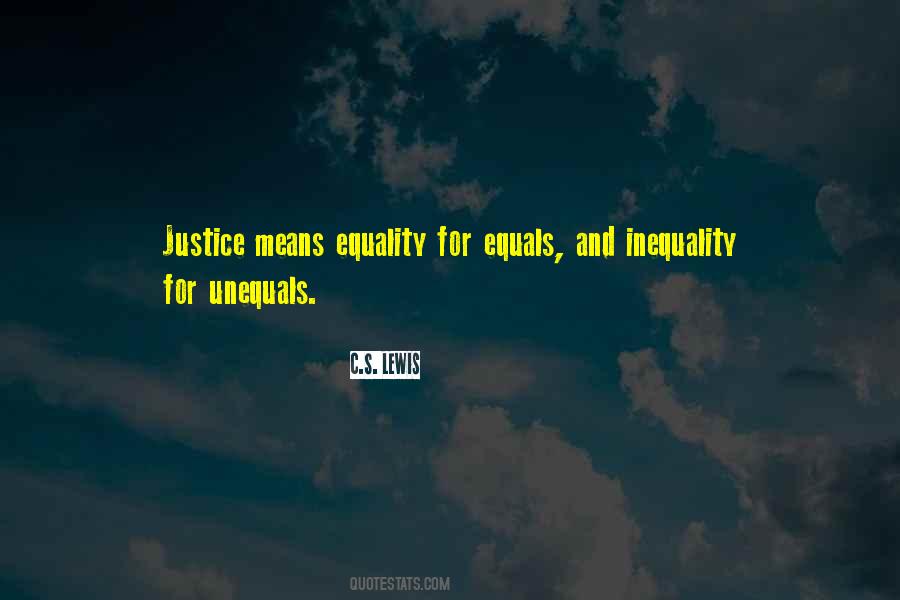 #43. Somewhere along the way, Capitalism reduced the idea of justice to mean just "human rights," and the idea of dreaming of equality became blasphemous. We are not fighting to tinker with reforming a system that needs to be replaced. - Author: Arundhati Roy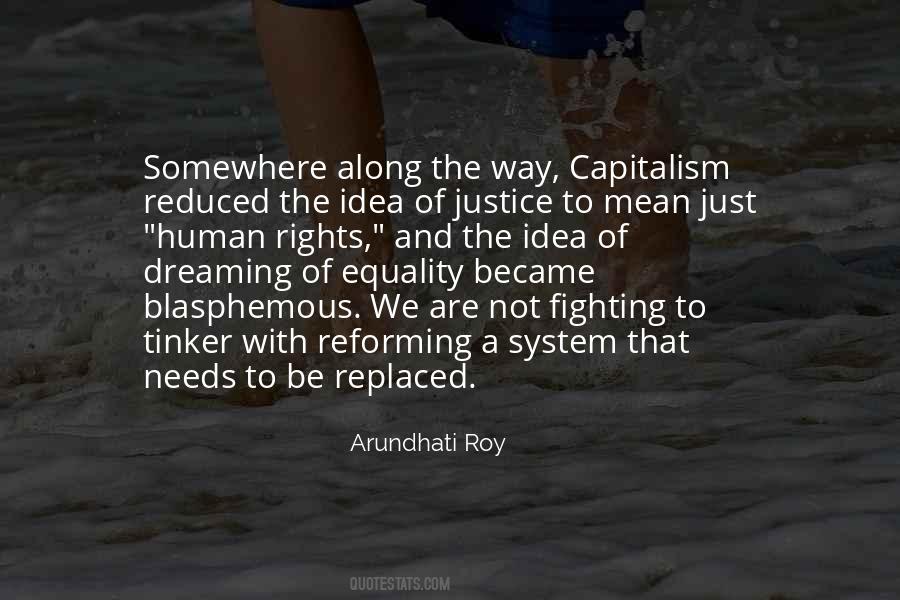 #44. As the House is designed to provide a reflection of the mood of the moment, the Senate is meant to reflect the continuity of the past
to preserve the delicate balance of justice between the majority's whims and the minority's rights. - Author: Lyndon B. Johnson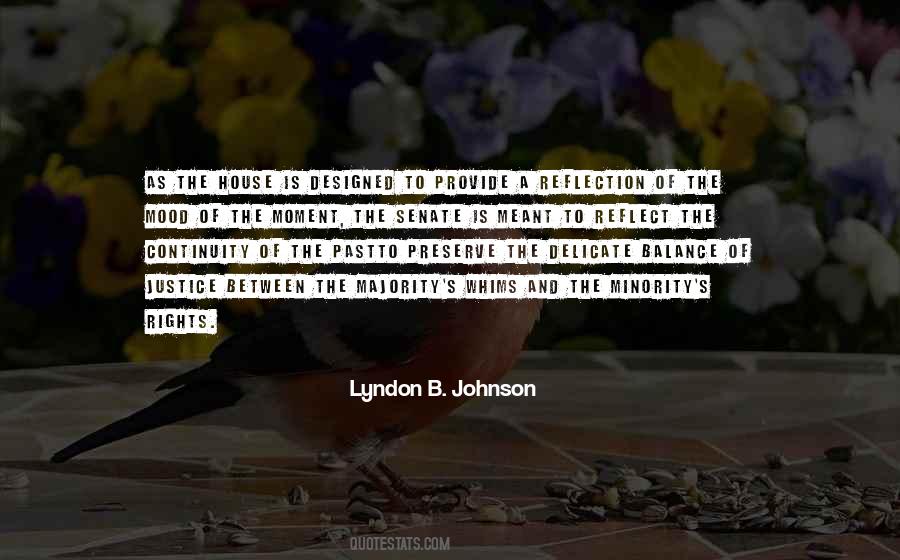 #45. We must return to them their lawful rights, assure equality of justice - and then everybody leave everybody else to hell alone. Paternalistic - we show our prejudice in our paternalism - we downgrade their dignity. - Author: John Howard Griffin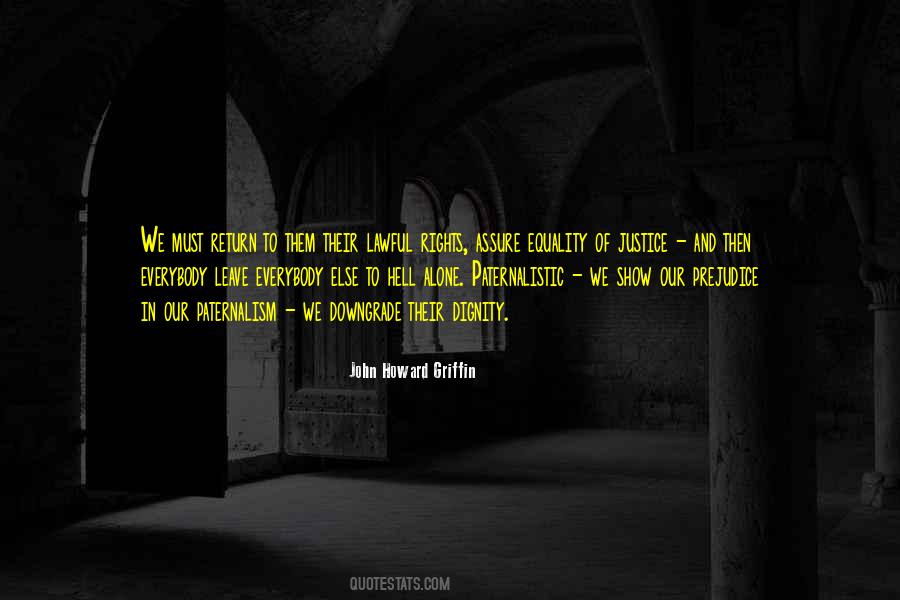 #46. I just try to, in my own way, contribute to making a better Hollywood, to move Hollywood to be a leader in social justice, as it always has been, and not to have any holes in their own backyard while they continue to push for equality and all the things that they always stand up for. - Author: Russell Simmons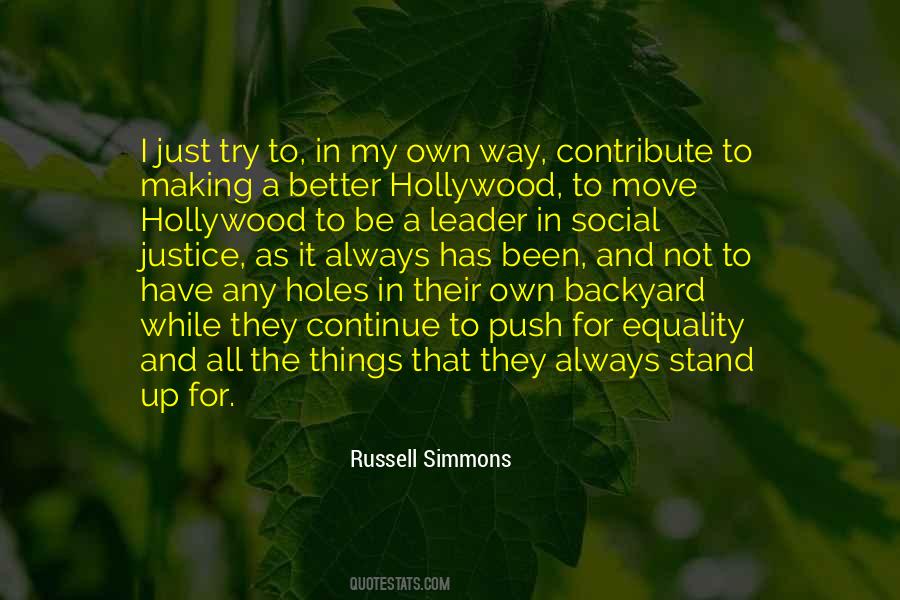 #47. The movement for equality and justice can only be a success if it has both a mass and militant character; the barriers to be overcome require both. - Author: Martin Luther King Jr.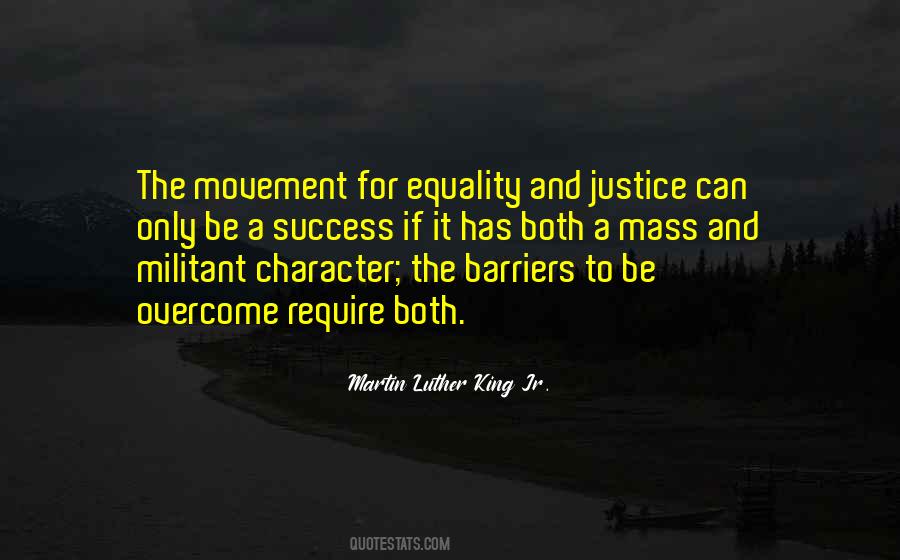 #48. We live in a system that espouses merit, equality, and a level playing field, but exalts those with wealth, power, and celebrity, however gained. - Author: Derrick A. Bell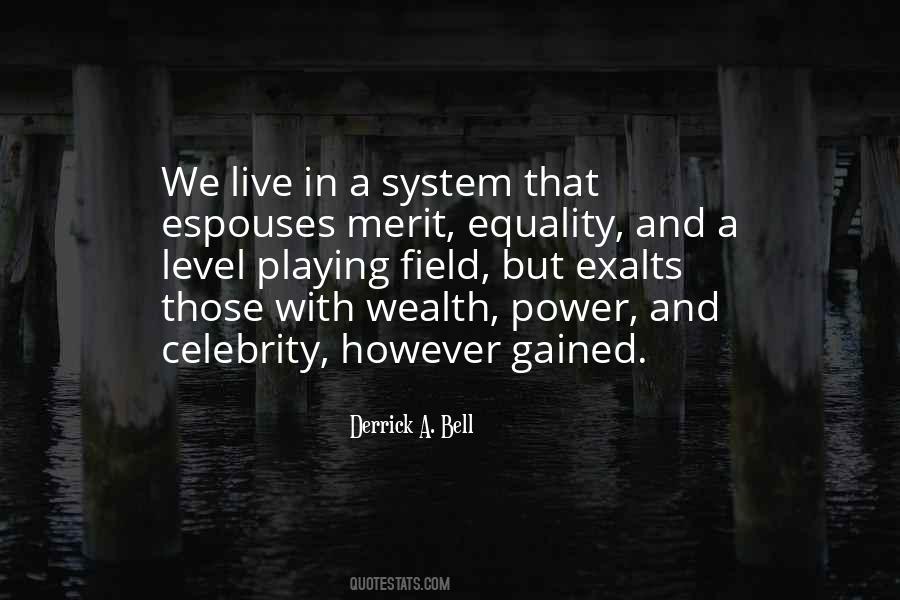 #49. Our world needs brutality and cruelty to sustain its equality and justice. Without it, handsome guys and beautiful ladies will fuck everyone they want. And we all ugly people will wait holding our dicks in our hands. - Author: M.F. Moonzajer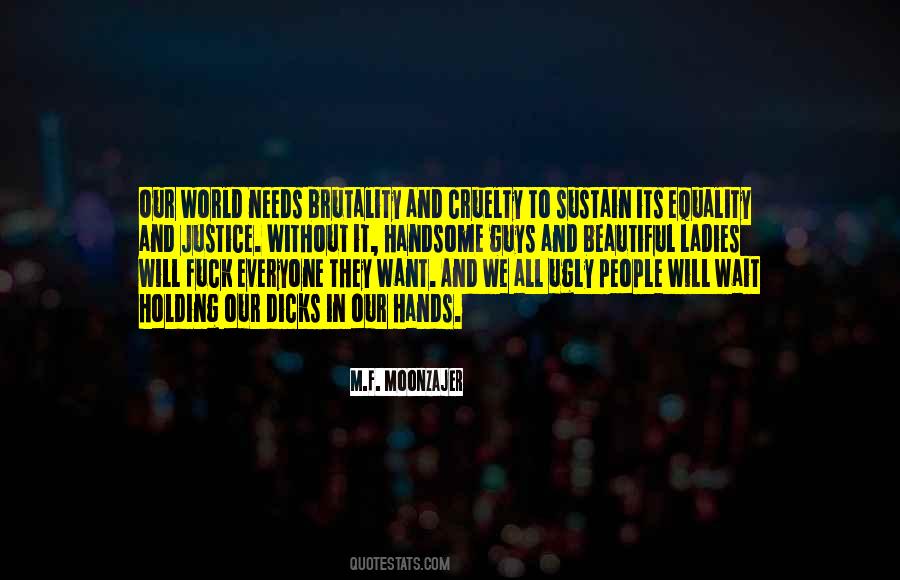 #50. To be something abnormal meant that you were to serve the normal. And if you refused, they hated you ... and often the normal hated you even when you did serve them. - Author: Nnedi Okorafor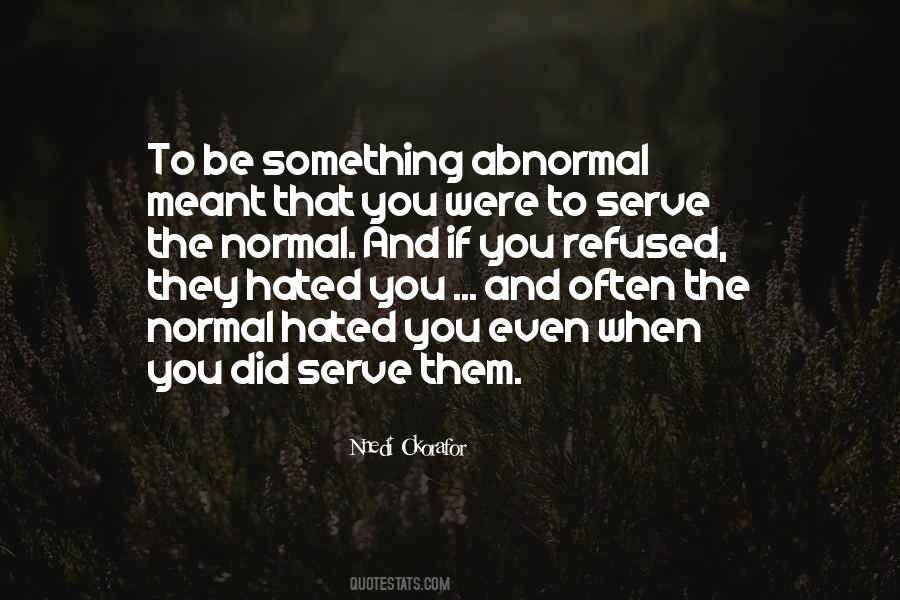 #51. Martin Luther King, Jr. Day is a time to honor the greatest champion of racial equality who taught a nation - through compassion and courage - about democracy, nonviolence and racial justice. - Author: Mark Pryor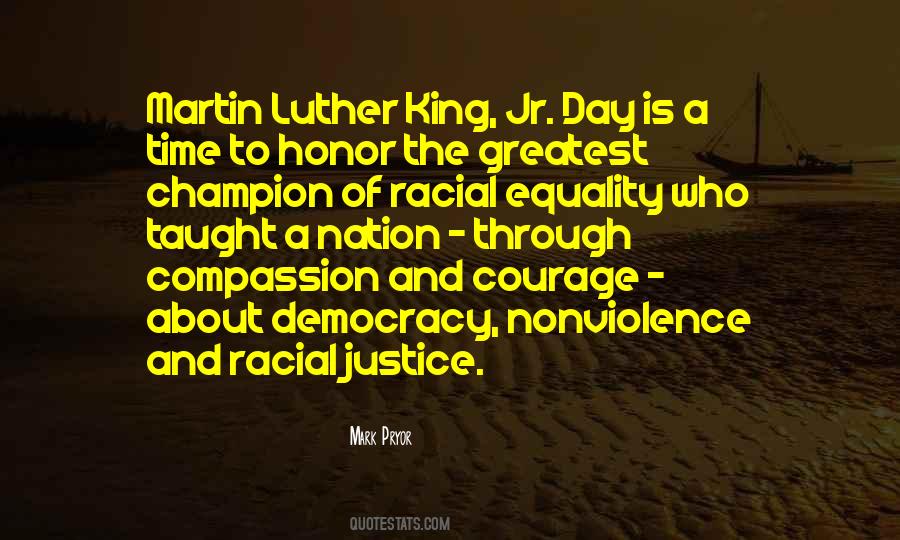 #52. People say that human rights is a Western construct foisted on others. But that's not true. Equality, dignity, respect and justice are as much an integral part of the Islamic tradition. - Author: Cherie Blair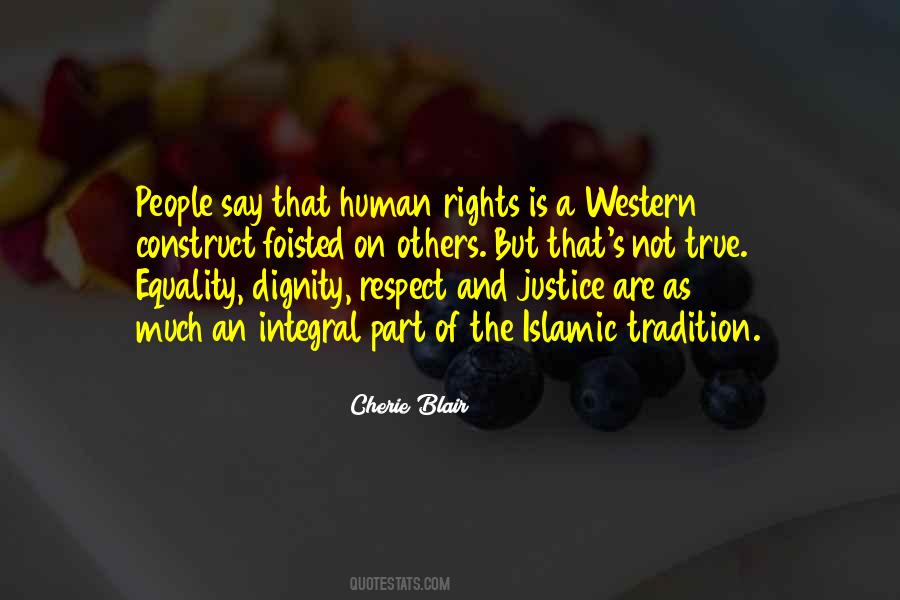 #53. To allow injustice and inequality invites a Ferguson to your community. We must stand together, black, white, brown, red, and yellow and fight for justice and equality for all. It's the only way to avoid more Fergusons. - Author: Jesse Jackson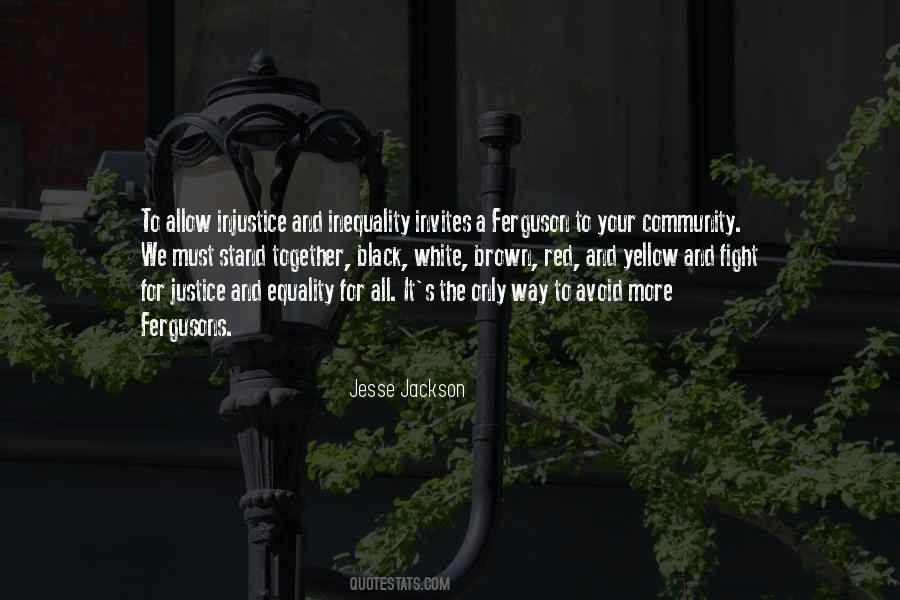 #54. I believe in one God and no more, and I hope for happiness beyond this life. I believe in the equality of man; and I believe that religious duties consist in doing justice, loving mercy, and endeavoring to make our fellow-creatures happy. - Thomas Paine - Author: Zig Ziglar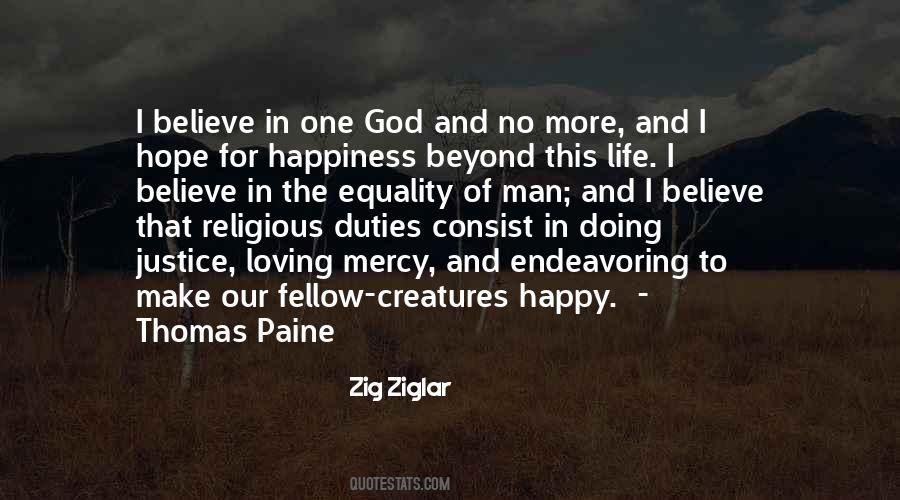 #55. Those who oppose equality, compassion and social justice have been on the wrong side of history time and time again. - Author: Laurence Overmire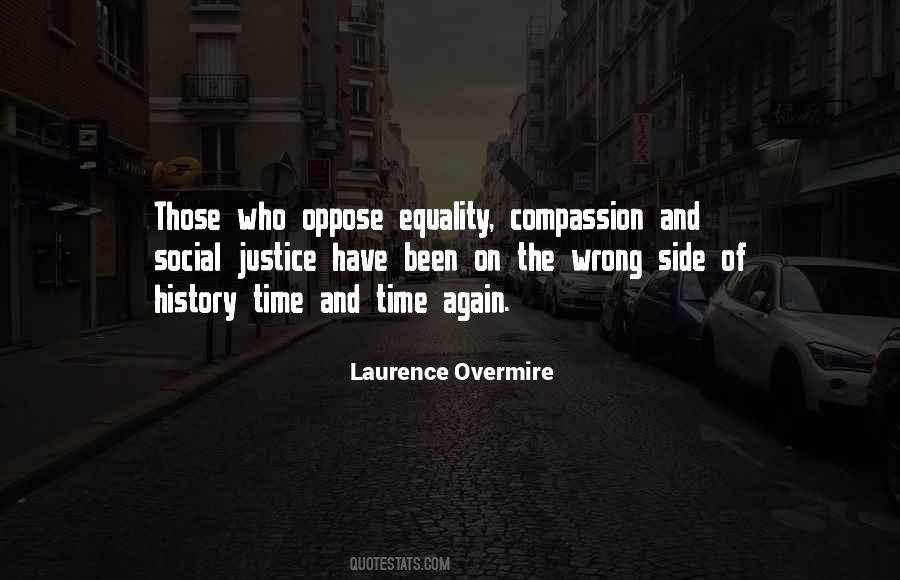 #56. A species that survives by creating must not limit who can create. More creators means more creations. Equality brings justice to some and wealth to all. - Author: Kevin Ashton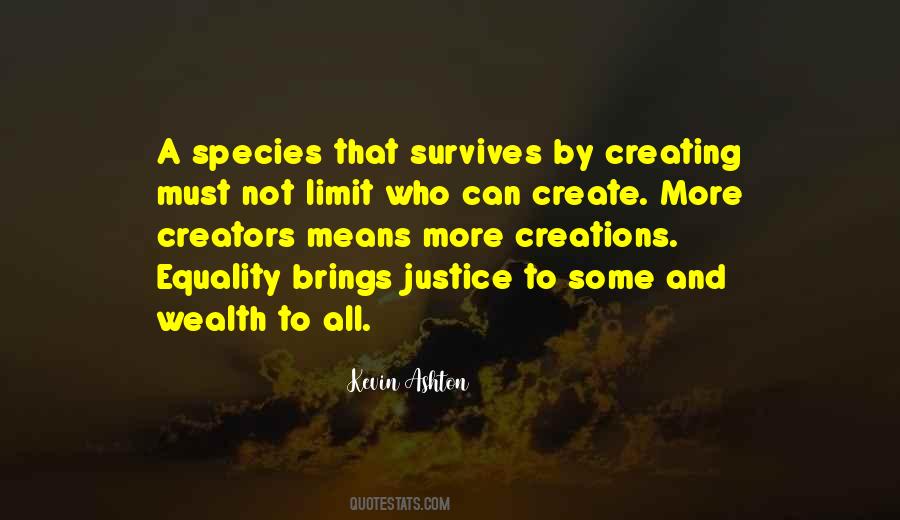 #57. We live in an age in which the fundamental principles to which we subscribe - liberty, equality and justice for all - are encountering extraordinary challenges, ... But it is also an age in which we can join hands with others who hold to those principles and face similar challenges. - Author: Ruth Bader Ginsburg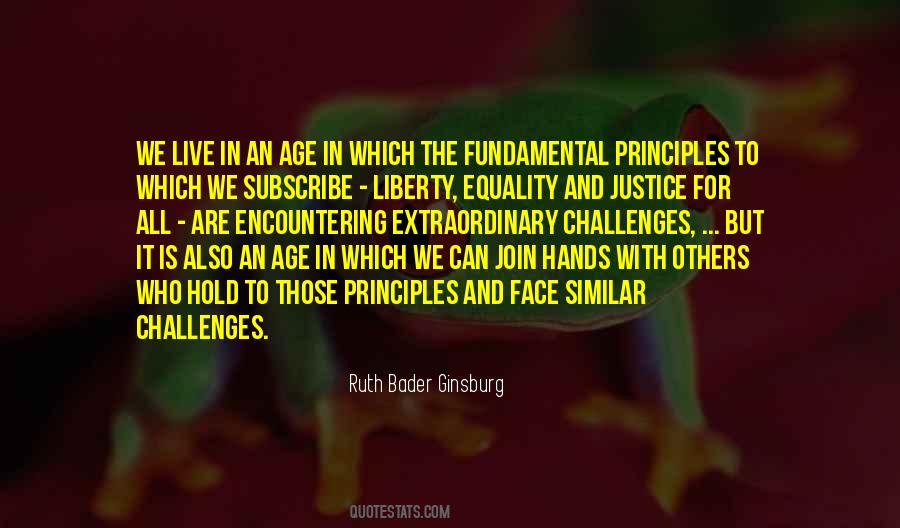 #58. Don't let anyone tell you that great things can't happen in America ... Barriers can come down. Justice and equality can win. - Author: Hillary Clinton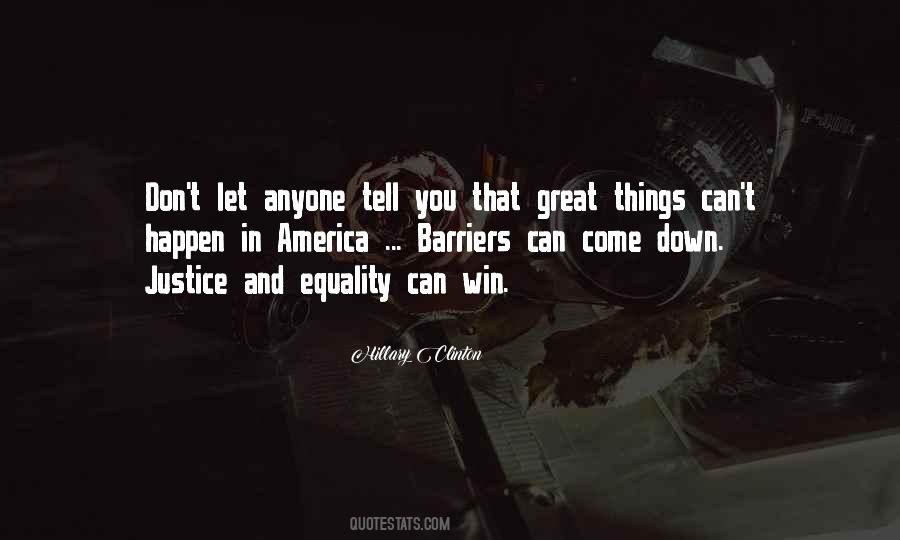 #59. I believe in the equality of man; and I believe that religious duties consist in doing justice, loving mercy, and endeavoring to make our fellow-creatures happy. - Author: Thomas Paine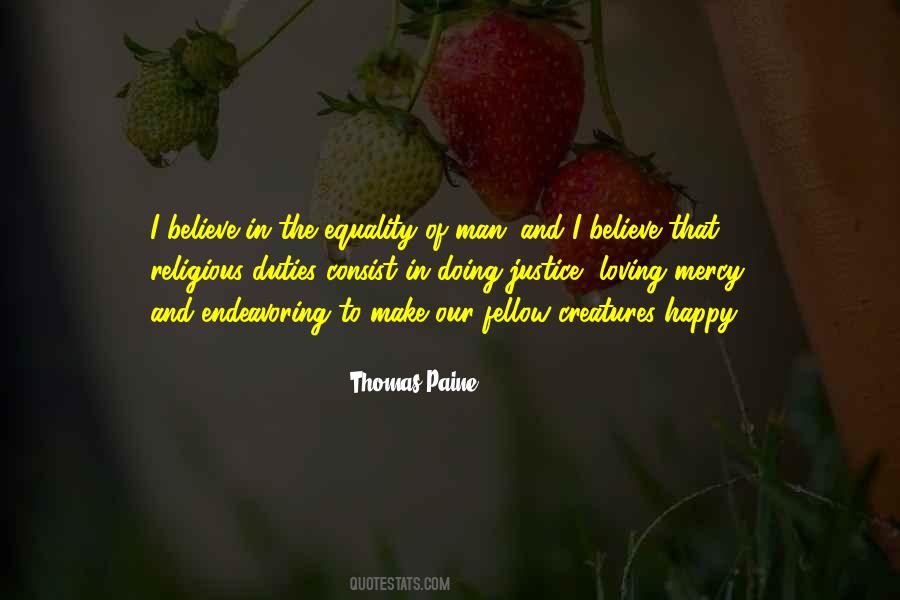 #60. Neoliberalism considers the discourse of equality, justice, and democracy quaint, if not dangerous and must be either trivialized, turned into its Orwellian opposite, or eviscerated from public life. - Author: Henry Giroux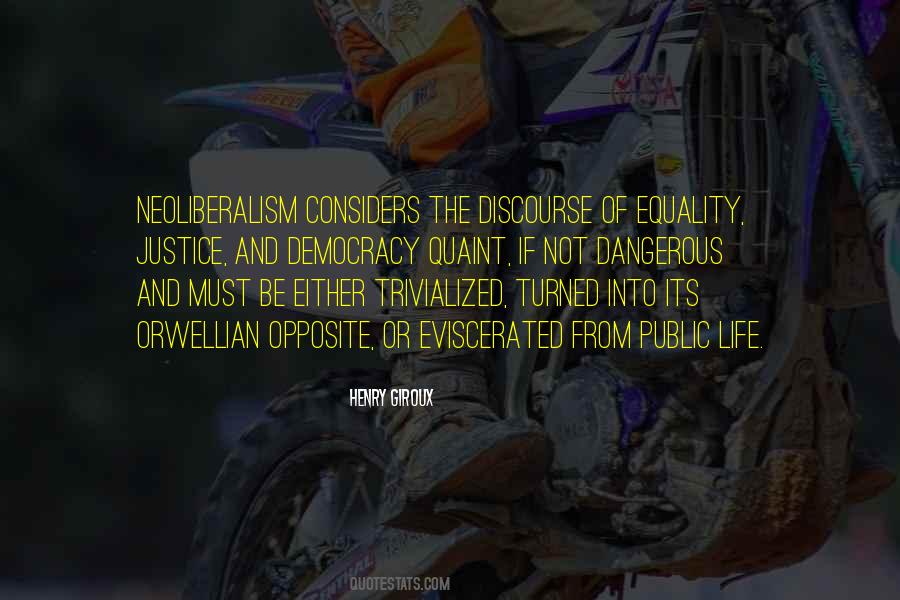 #61. While we meant to invite debate about some ways the word was used this year, that nuance was lost, and we regret that its inclusion has become a distraction from the important debate over equality and justice. - Author: Nancy Gibbs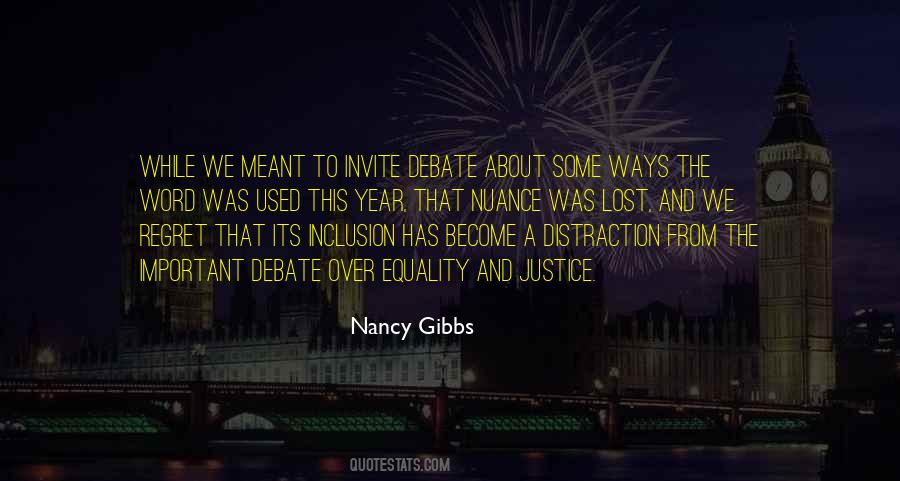 #62. I ask no favors for my sex, I surrender not our claim to equality. All I ask of our brethren is that they will take their feet from off our necks, and permit us to stand upright on the ground which God has designed us to occupy. - Author: Sarah Moore Grimke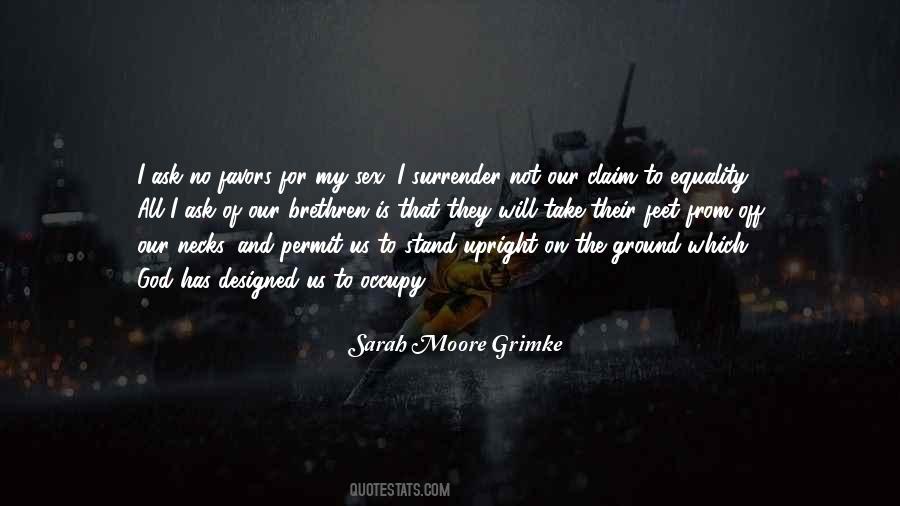 #63. How a member of the church - one who had read the Good Lord's bible - could sit so calmly and watch a man be led to his destruction frightened me. - Author: Jay Grewal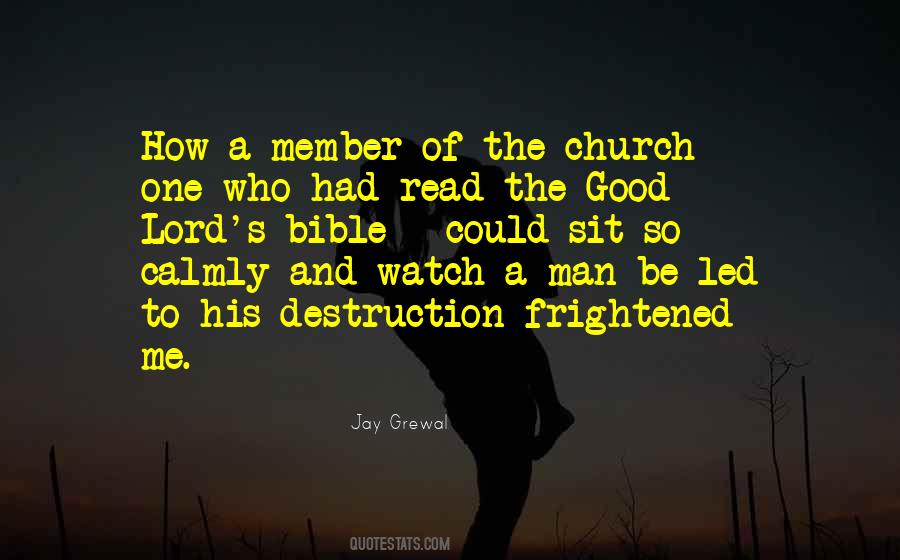 #64. We have talked long enough ... about civil rights,' Lyndon Johnson had said. 'It is time ... to write it in the books of law' - to embody justice and equality in legislation. - Author: Robert A. Caro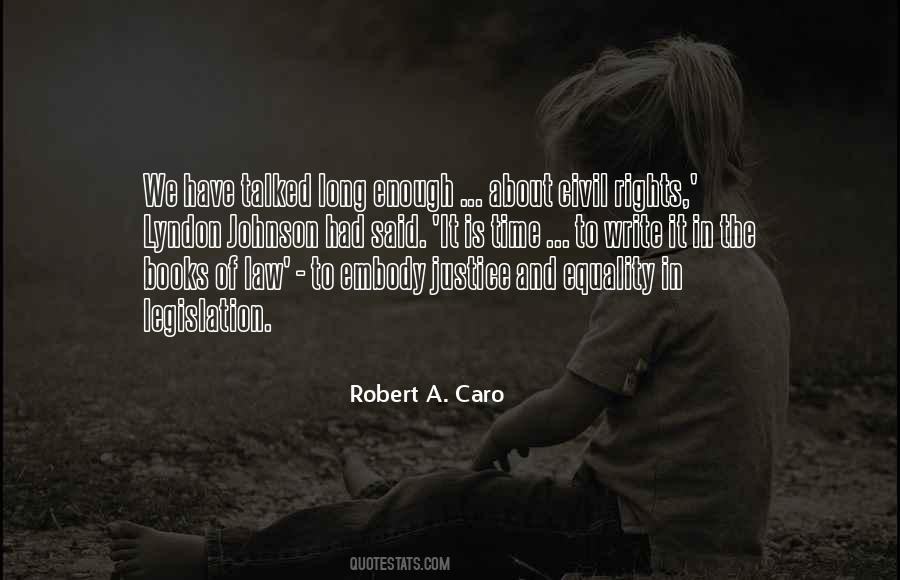 #65. I am passionate about any effort to achieve social justice and equality, particularly for women. - Author: Christy Turlington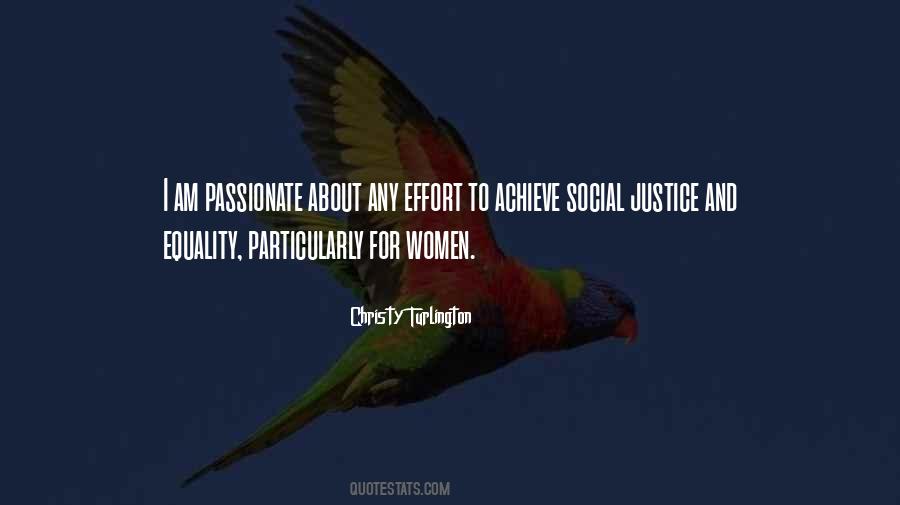 #66. One hour devoted to mourning and lamenting the
Stolen equality of the weak is nobler than a
Century filled with greed and usurpation. - Author: Kahlil Gibran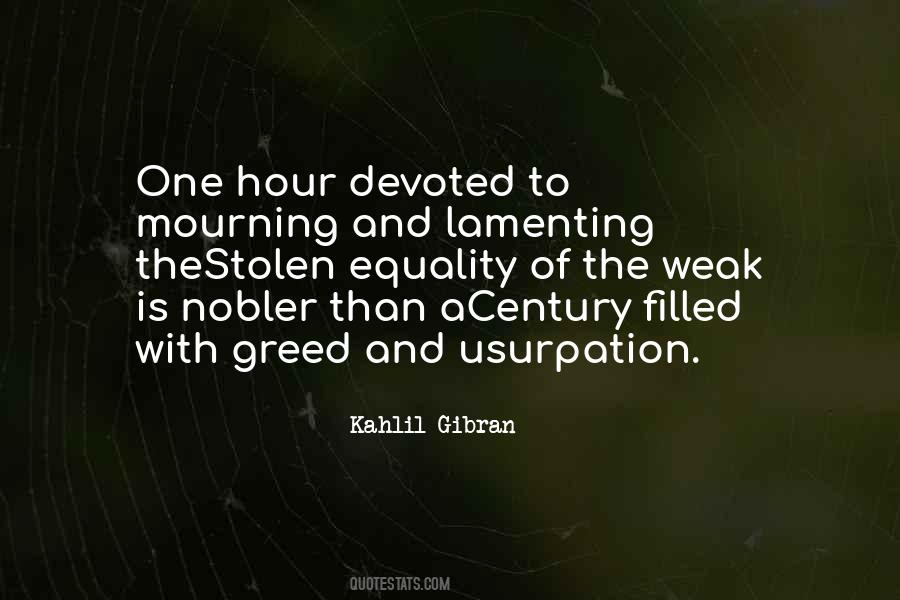 #67. As my audience grew more diverse, I started interjecting social justice advocacy and commentaries about LGBT equality, and it just kept growing more. - Author: George Takei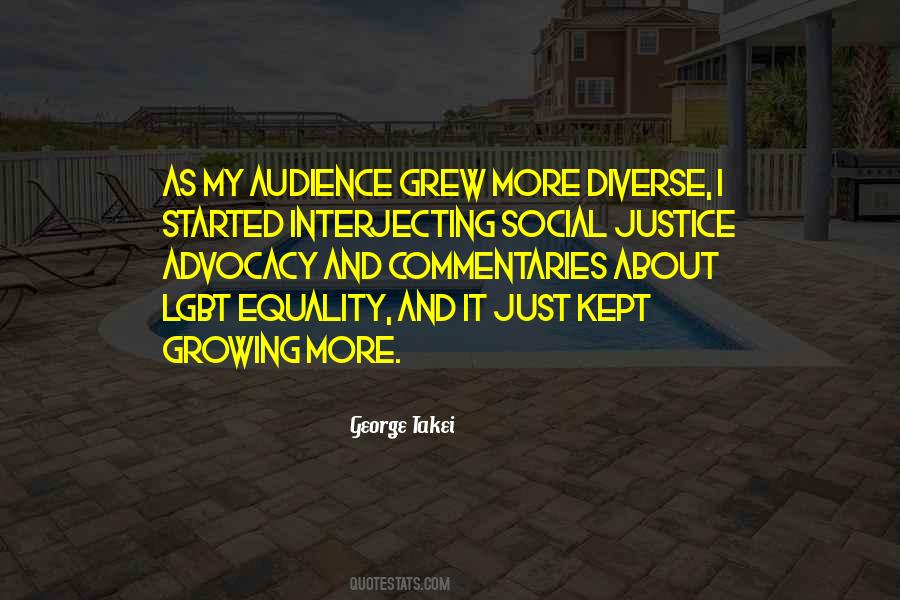 #68. I honestly want to help. I don't believe I feel differently from other people. I think we all want justice and equality, a chance for a life with meaning. - Author: Angelina Jolie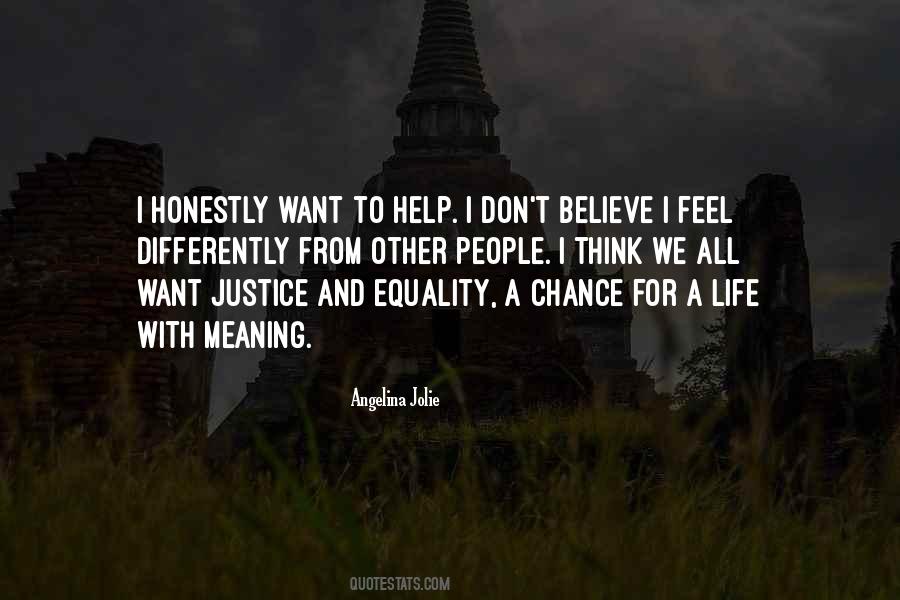 #69. If an offender has committed murder, he must die. In this case, no possible substitute can satisfy justice. For there is no parallel between death and even the most miserable life, so that there is no equality of crime and retribution unless the perpetrator is judicially put to death. - Author: Immanuel Kant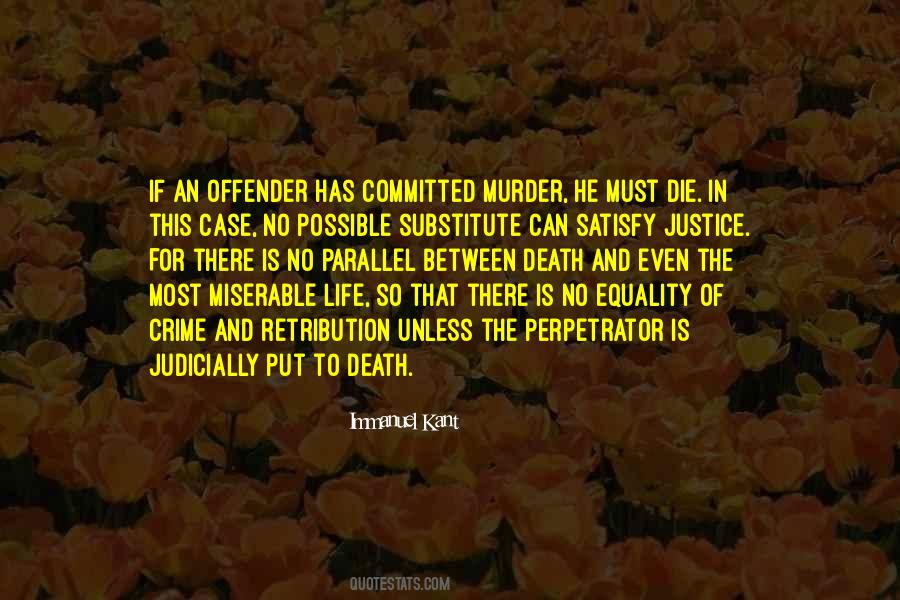 #70. We are in the midst of an exciting canvass ... I am working very hard in politics as well as in other matters. We are determined that Mississippi shall be settled on a basis of justice and political and legal equality. - Author: Hiram Rhodes Revels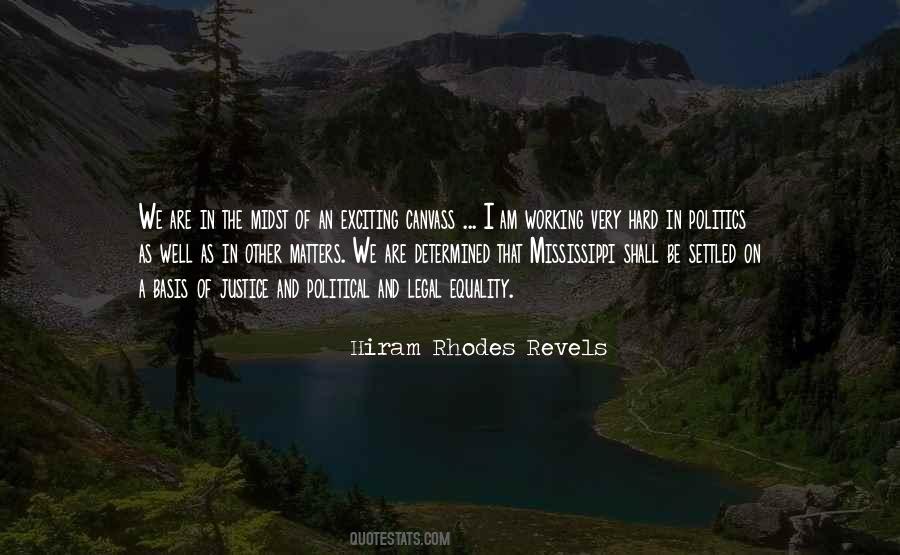 #71. I'll tell you how I'd like to be remembered: As a black man who won the heavyweight title - Who has humorous and who never looked down on those who looked up to him - A man who stood for freedom, justice and equality - And I wouldn't even mind if folks forgot how pretty I was. - Author: Muhammad Ali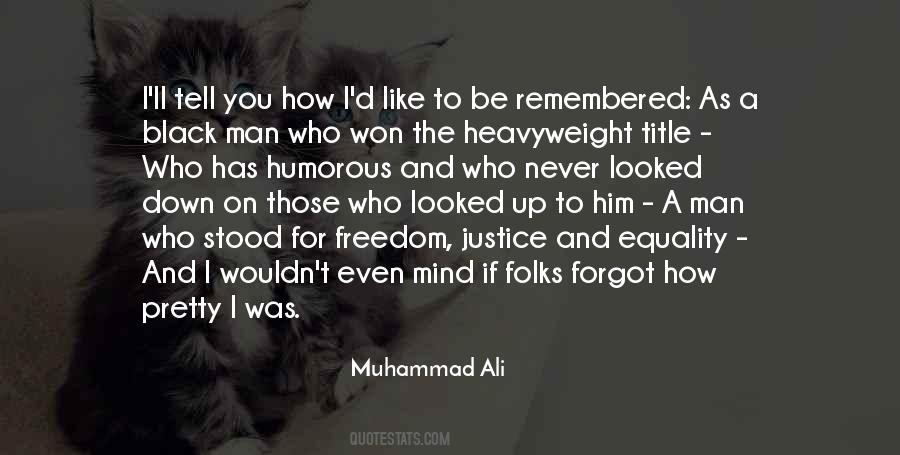 #72. The Constitution is colorblind, and neither knows nor tolerates classes among citizens. - Author: John Marshall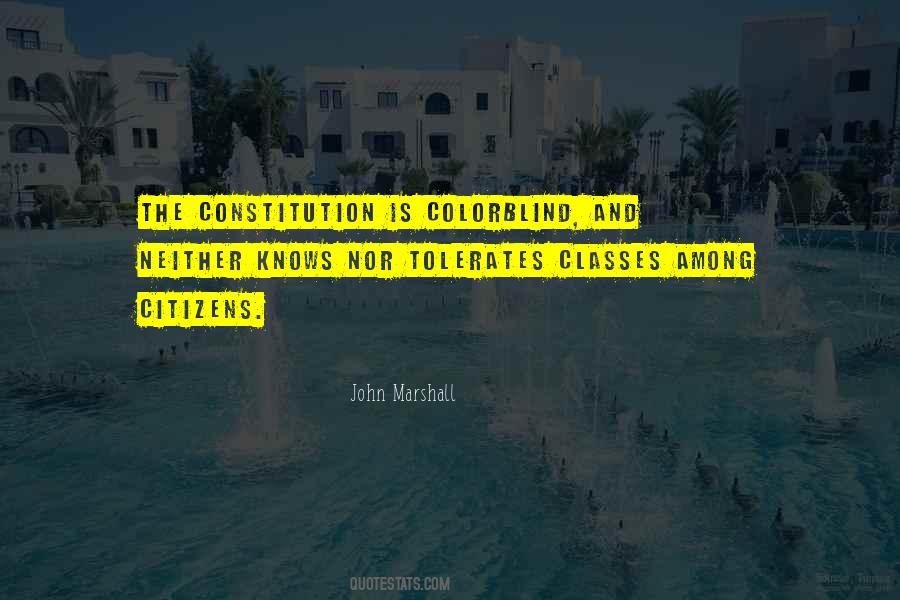 #73. We can do better ... We can't ignore the inequalities that persist in our justice system that undermine our most deeply held values of fairness and equality. - Author: Hillary Clinton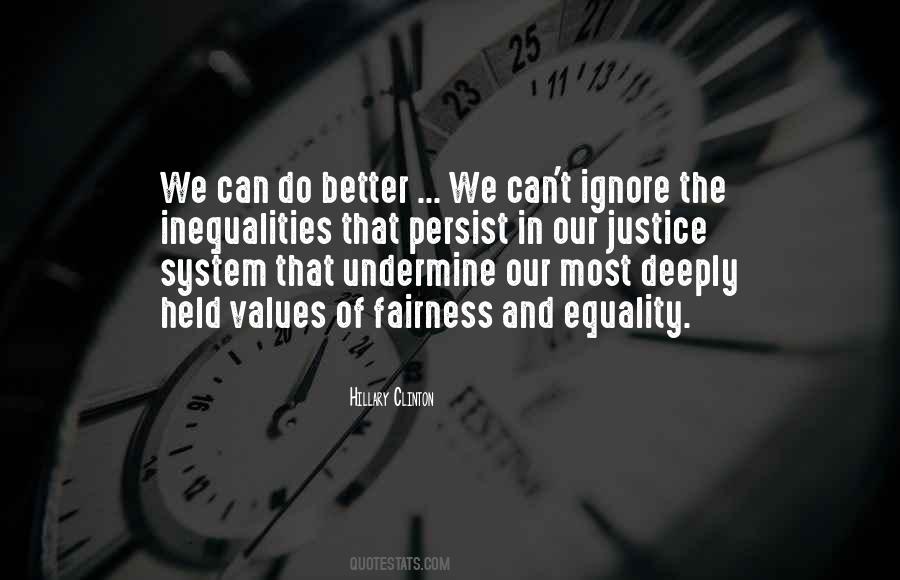 #74. The goal of the EU is to form a region of freedom, security and justice. Freedom in this connection cannot be just the freedom of the strong, but it must be combined with fraternity and equality. - Author: Tarja Halonen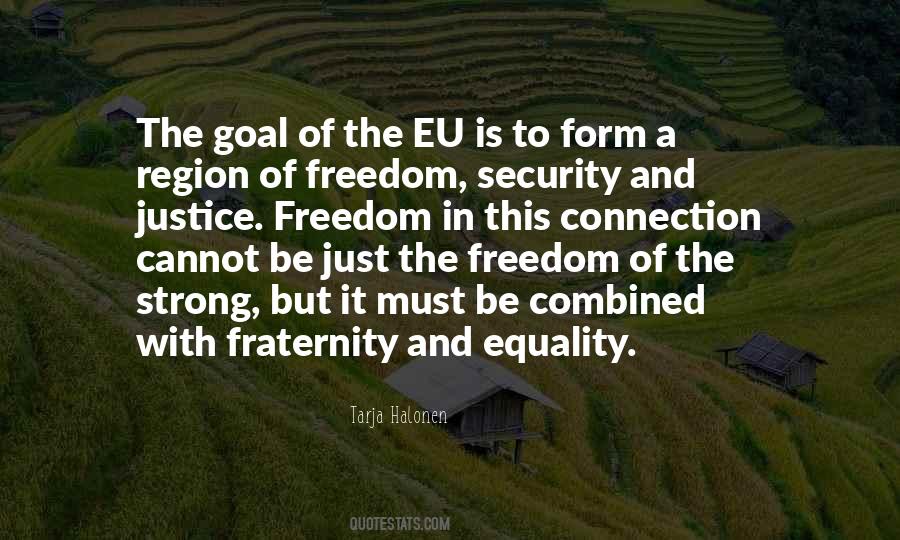 #75. No matter if the science is all phoney, there are collateral environmental benefits ... climate change [provides] the greatest chance to bring about justice and equality in the world. - Author: Christine Stewart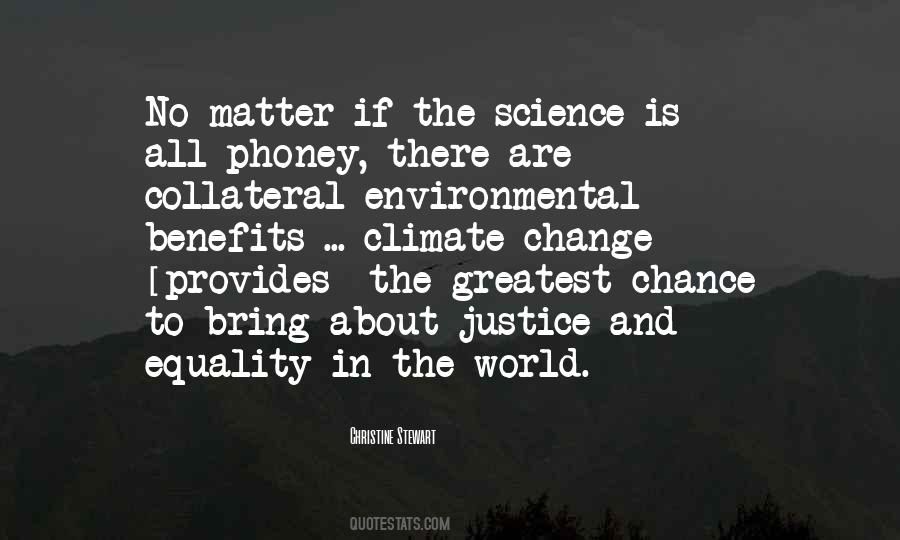 #76. He(Prophet Muhammad) laid the foundation of a universal government. His law was one for all. Equal justice and love for everyone. - Author: B. Margoliouth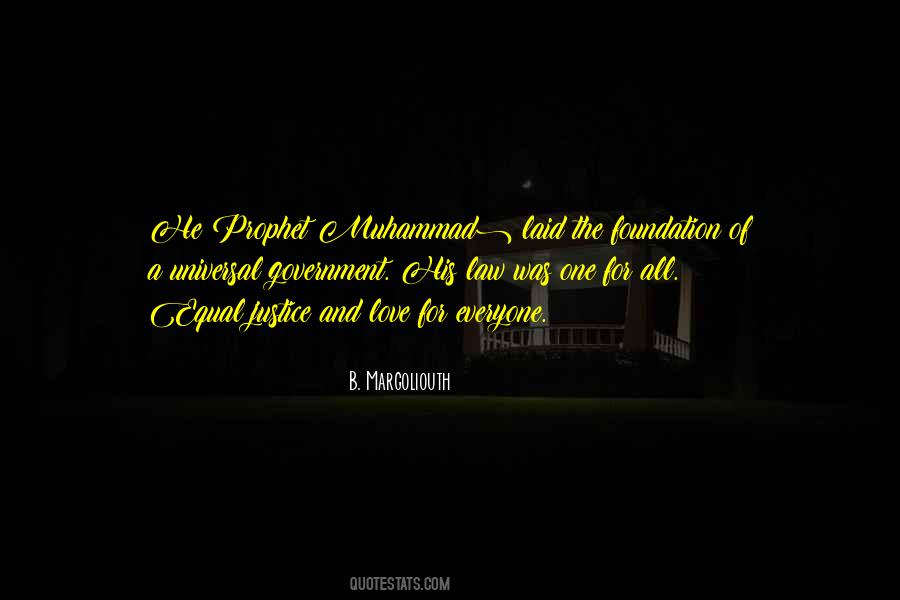 #77. Imperfect though it may be, the Beijing Platform for Action is the strongest statement of consensus on women's equality, empowerment and justice ever produced by governments. - Author: Bella Abzug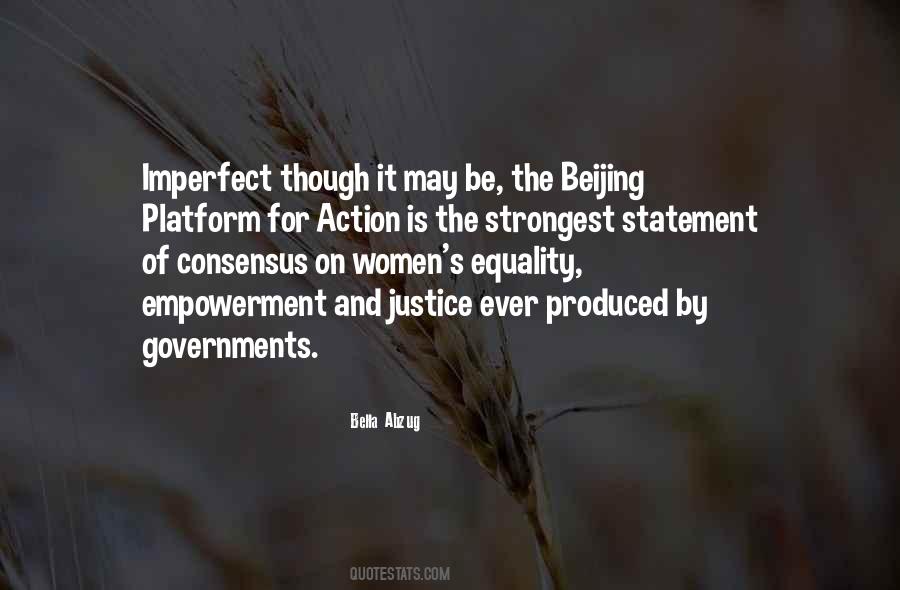 #78. Rosa Parks was the queen mother of a movement whose single act of heroism sparked the movement for freedom, justice and equality. Her greatest contribution is that she told us a regular person can make a difference. - Author: Marc Morial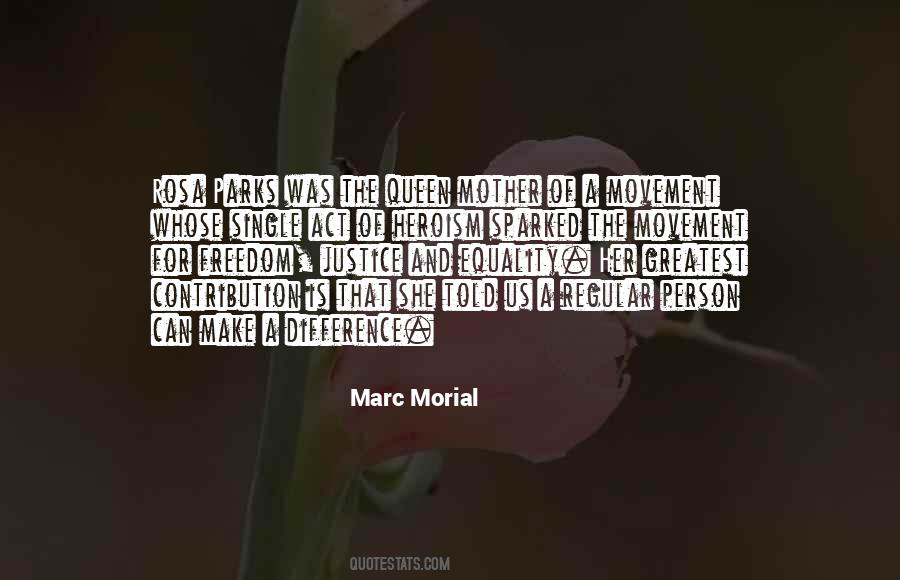 #79. My vision for Scotland is one in which we fight together for the values we are care about: equality, fairness and social justice. Those values are the same whether you live in Dumfries or Carlisle. - Author: Douglas Alexander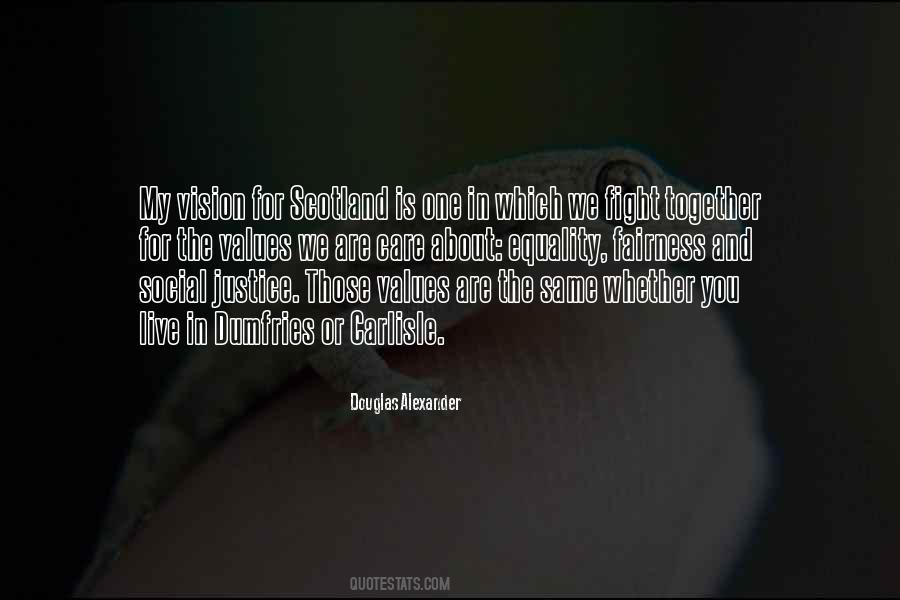 #80. The source of beauty in a man,
It is humbleness and grace;
Equality is the pearl of a king,
Justice his scepter;
Salvation is his crown. - Author: Stephan Attia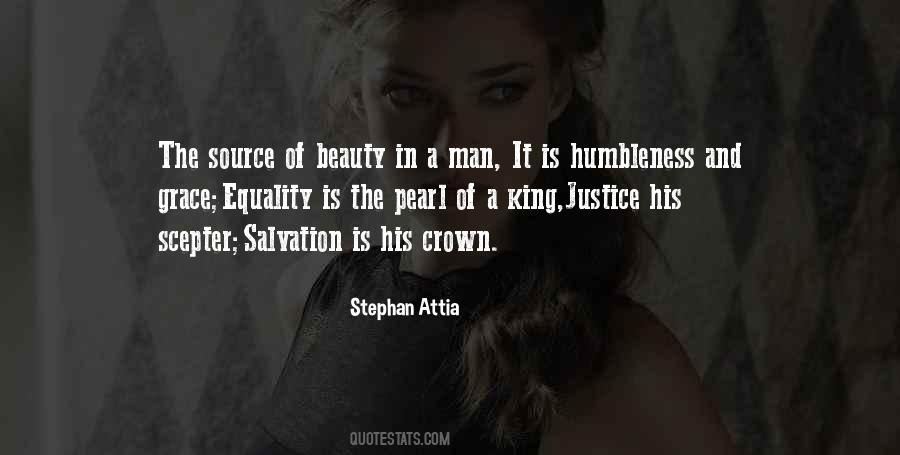 #81. An evident principleis the principle of justice to all peoples and nationalities, and their right to live on equal terms of liberty and safety with one another, whether they be strong or weak. - Author: Woodrow Wilson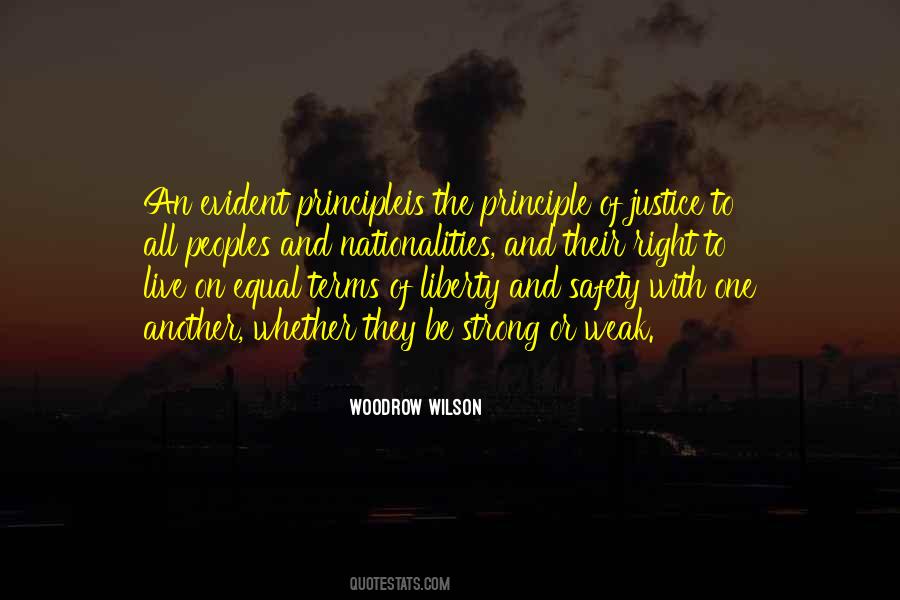 #82. We do know for sure that good Irish Catholics followed their faith in the direction of inclusion, compassion, equality, justice, and a host of other Catholic values when they voted with the majority despite some clergymen's efforts to lead them astray. - Author: Mary E. Hunt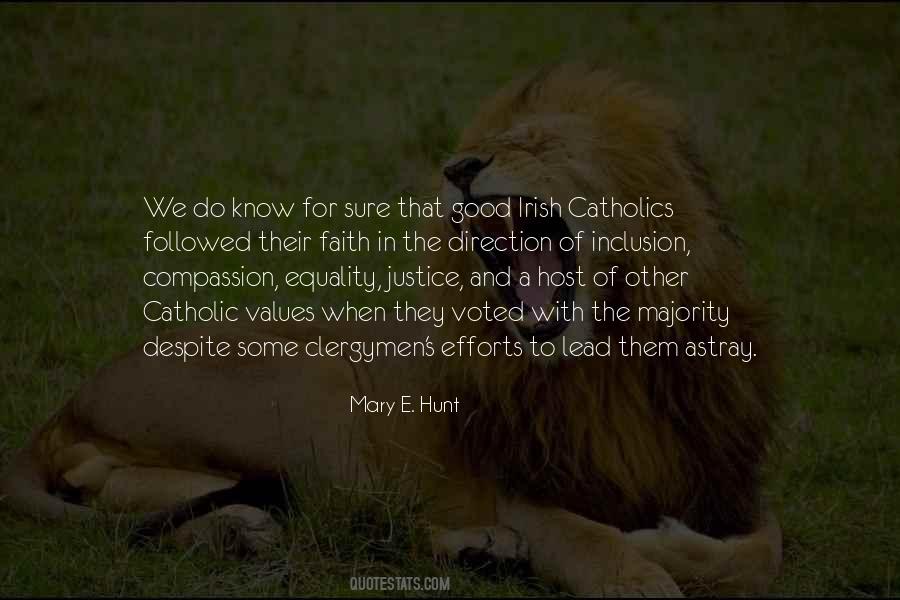 #83. Canada is the homeland of equality, justice and tolerance. - Author: Kim Campbell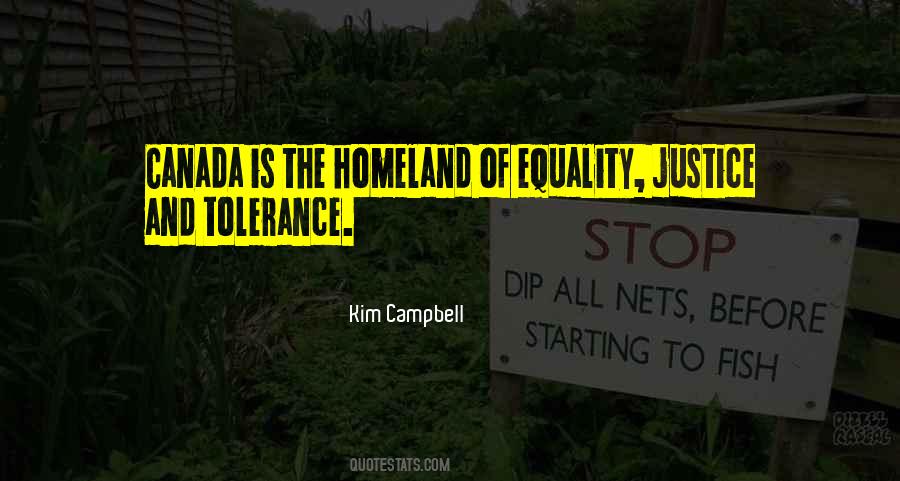 #84. I build no system. I ask an end to privilege, the abolition of slavery, equality of rights, and the reign of law. Justice, nothing else; that is the alpha and omega of my argument: to others I leave the business of governing the world. - Author: Pierre-Joseph Proudhon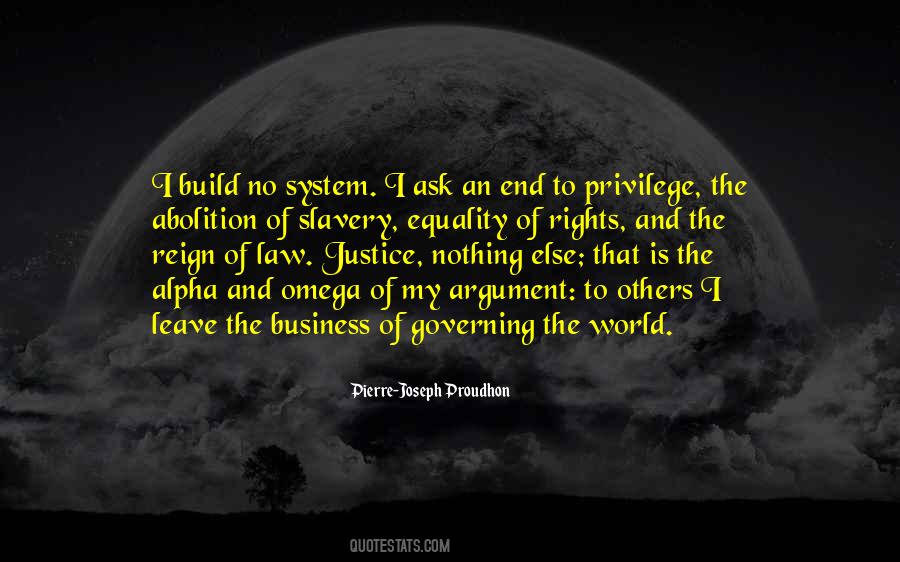 #85. Regarding homophobia in general, the good news is that there is a lot less of it than there used to be. The bad news is that it ever existed in the first place, and the worse news is that it remains far stronger than is healthy for a society dedicated in theory to equality under the law. - Author: Barney Frank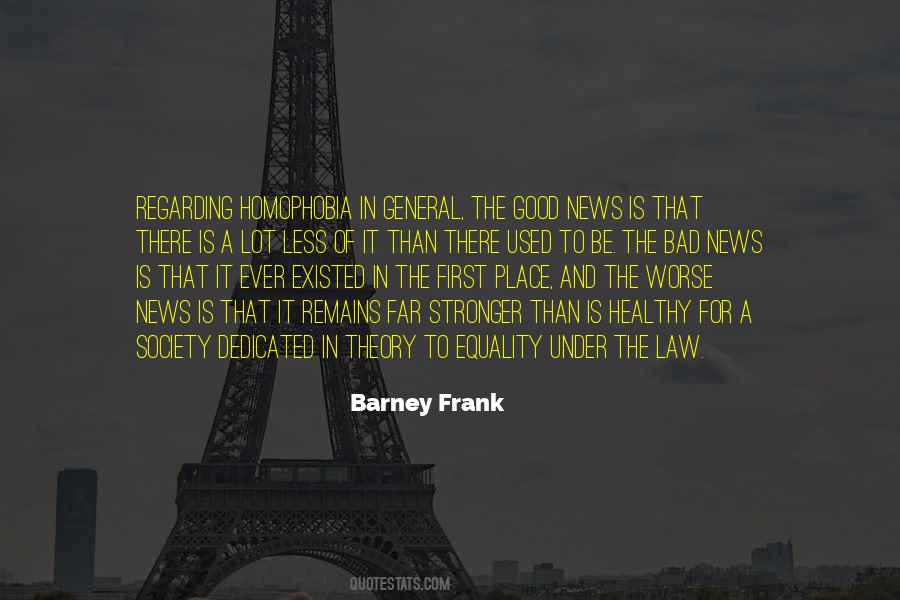 #86. There is no justice in social justice, and there is no equality in social equality. - Author: Brad Thor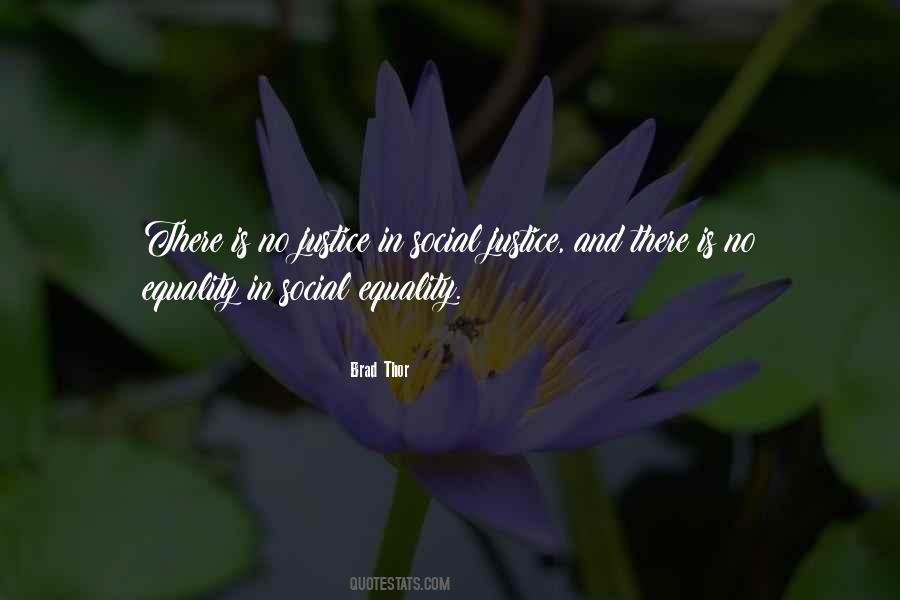 #87. I am passionate about the things that I believe in like equality, free will, justice and love. - Author: Trish Kaye Lleone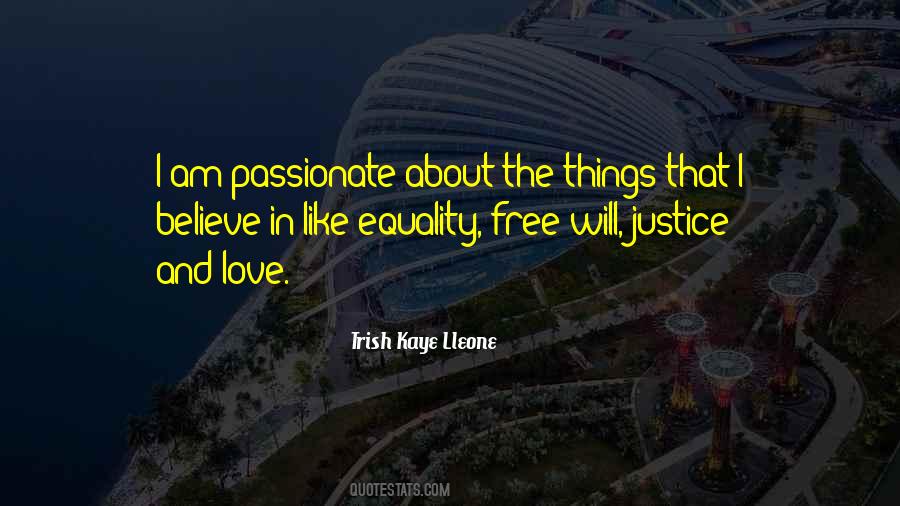 #88. The object of civil society is justice, not truth, virtue, wealth, knowledge, glory or power. Justice is followed by equality and liberty. - Author: John Emerich Edward Dalberg-Acton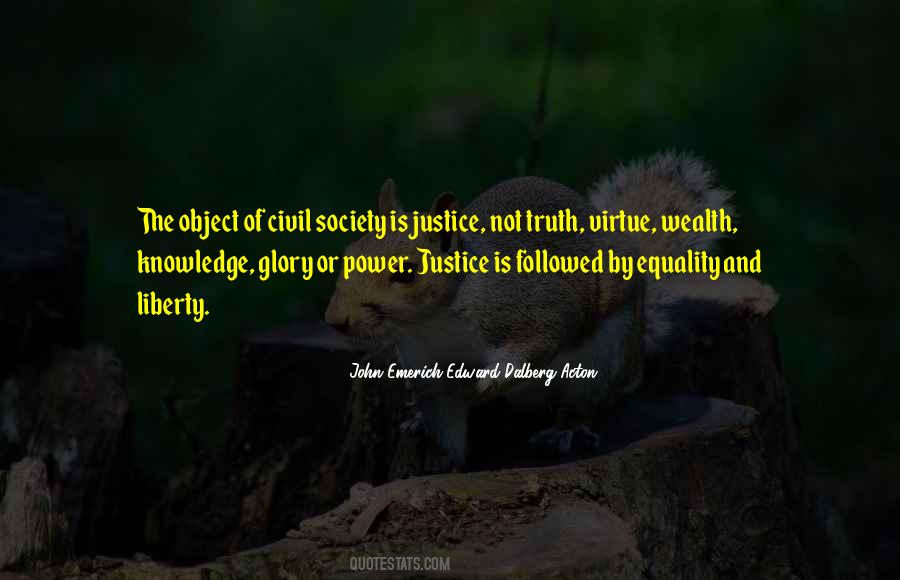 #89. We Americans have a chance to become someday a nation in which all racial stocks and classes can exist in their own selfhoods, but meet on a basis of respect and equality and live together, socially, economically, and politically. - Author: Shirley Chisholm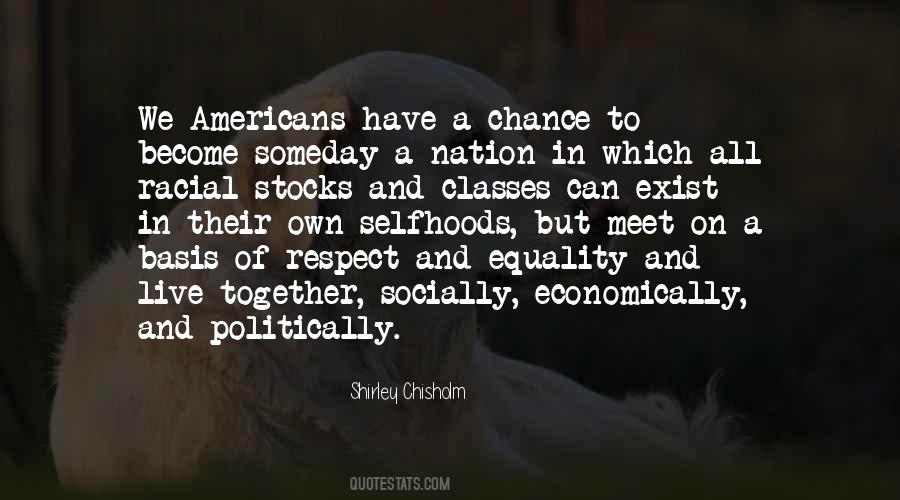 #90. Let a crown be placed thereon, by which the world may know, that so far as we approve of monarcy, that in America the law is King. For as in absolute governments the King is law, so in free countries the law ought to be King; and there ought to be no other. - Author: Thomas Paine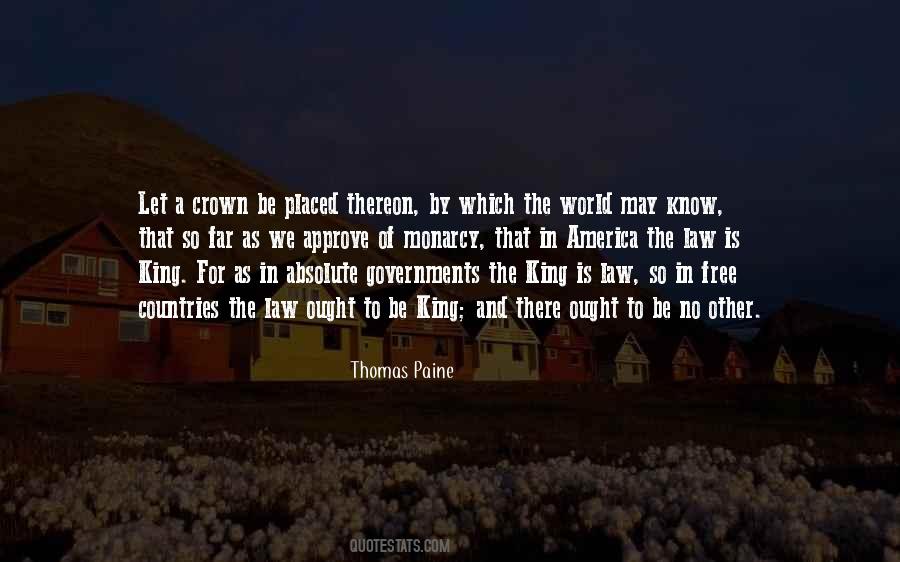 #91. If we truly understand, remember, and love the people of Indonesia, let us accept this principle of social justice, that is, not only political equality, but we must create equality in the economic field, too, which means the best possible well-being. - Author: Sukarno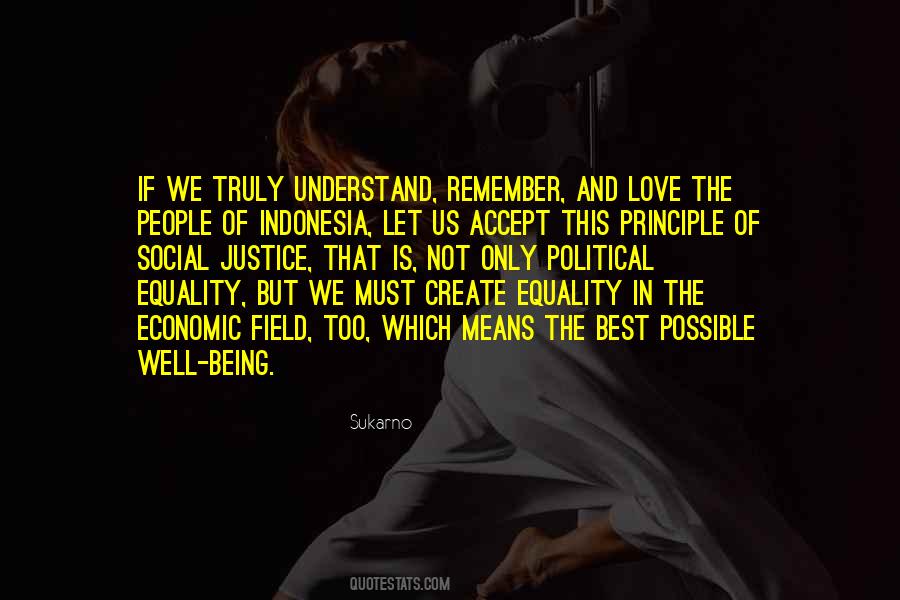 #92. As a young man on the streets of Derry, I saw Ian Paisley as an immortal opponent of everything to do with equality, justice, fairness, and respect for Irishness. - Author: Martin McGuinness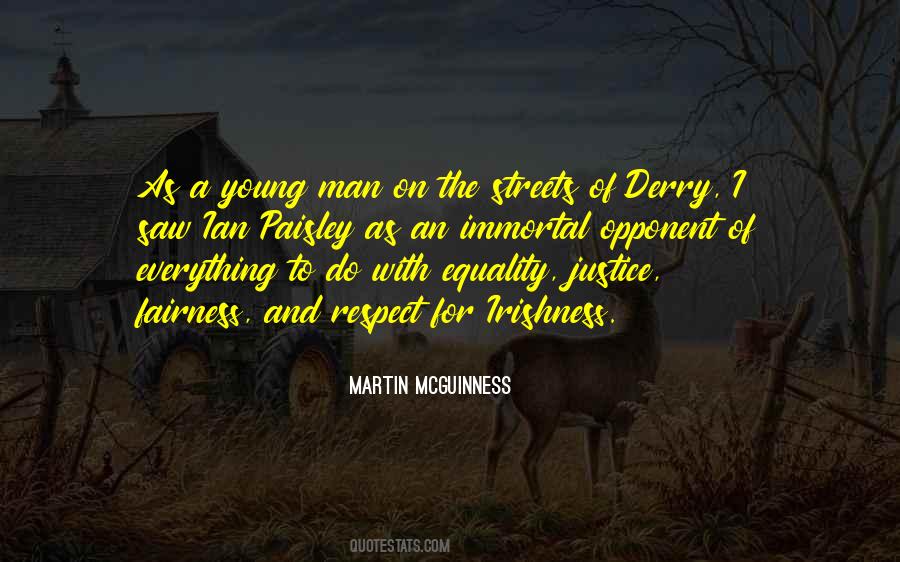 #93. Consequences flow from a justice's interpretation in a direct and immediate way. A judicial decision respecting the incompatibility of Jim Crow with a constitutional guarantee of equality is not simply a contemplative exercise in defining the shape of a just society. It is an order - Author: William J. Brennan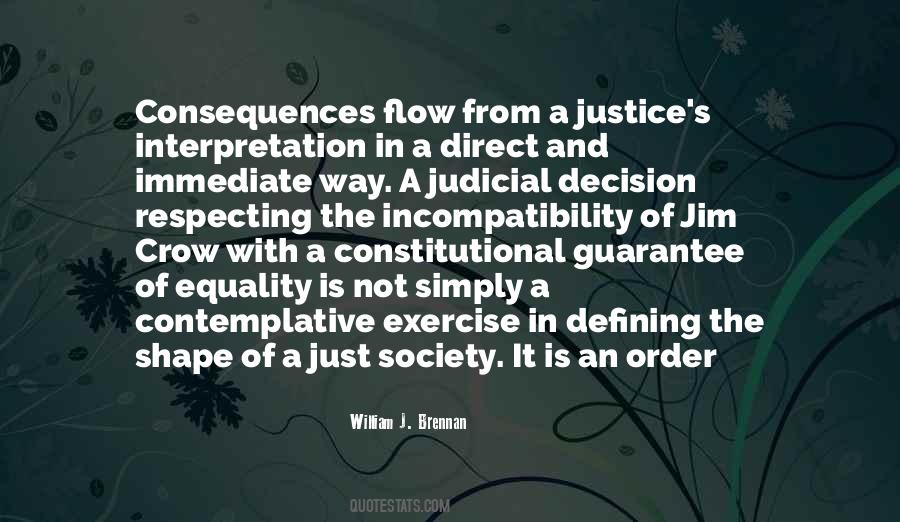 #94. I am a social democrat - I believe in pursuing greater equality and tackling social justice - but ... you can't do that unless you have got a strong economy, unless you have got a vibrant business base earning the wealth that makes that possible. - Author: Nicola Sturgeon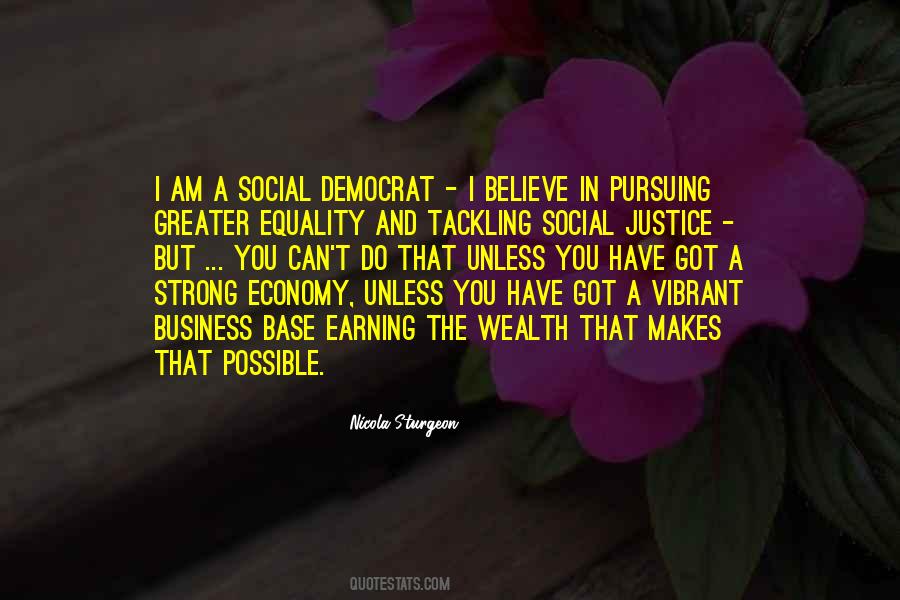 #95. Equality and justice, the two great distinguishing characteristics of democracy, follow inevitably from the conception of men, all men, as rational and spiritual beings. - Author: Robert M. Hutchins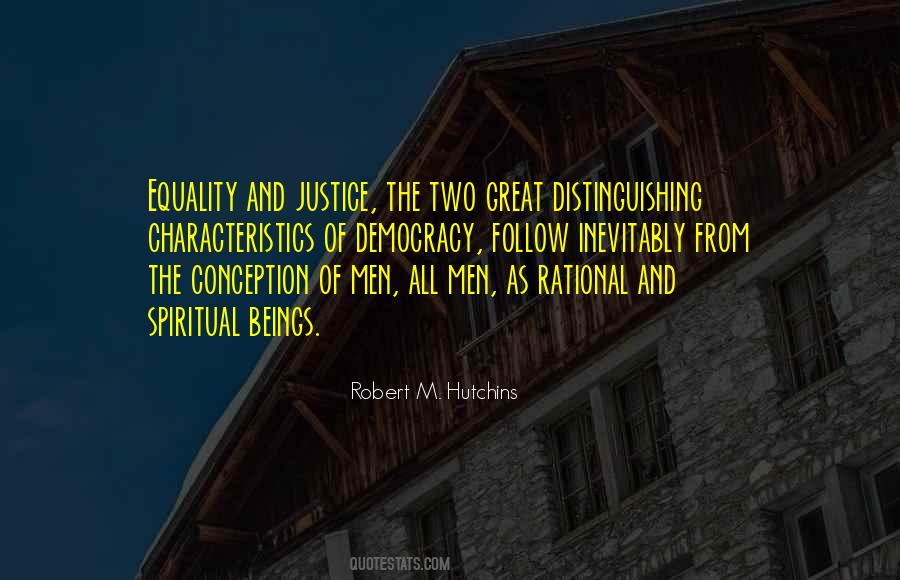 #96. It's annoying, but justice and equality are mates. Aren't they? Justice always wants to hang out with equality. And equality is a real pain. - Author: Bono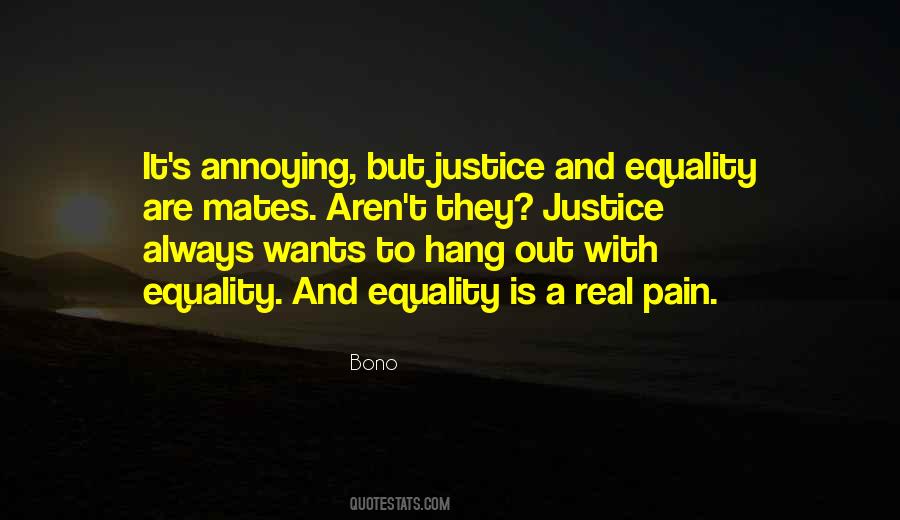 #97. Policies change, and programs change, according to time.But objective never changes. You might change your method of achieving the objective, but the objective never changes. Our objective is complete freedom, complete justice, complete equality, by any means necessary - Author: Malcolm X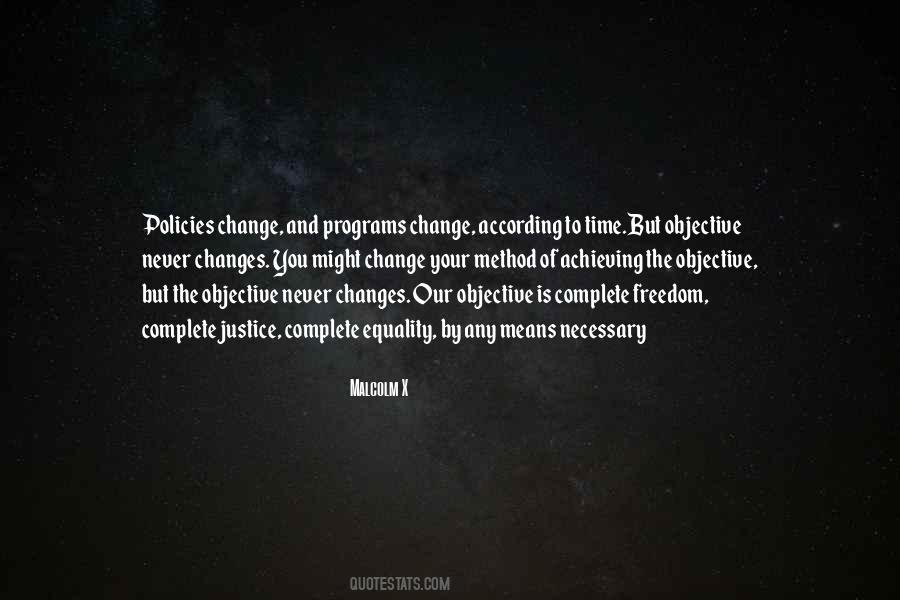 #98. We will not build a society that reflects who we are and that has opportunities for equality or justice if we don't make progress for all participants. - Author: Mitchell Baker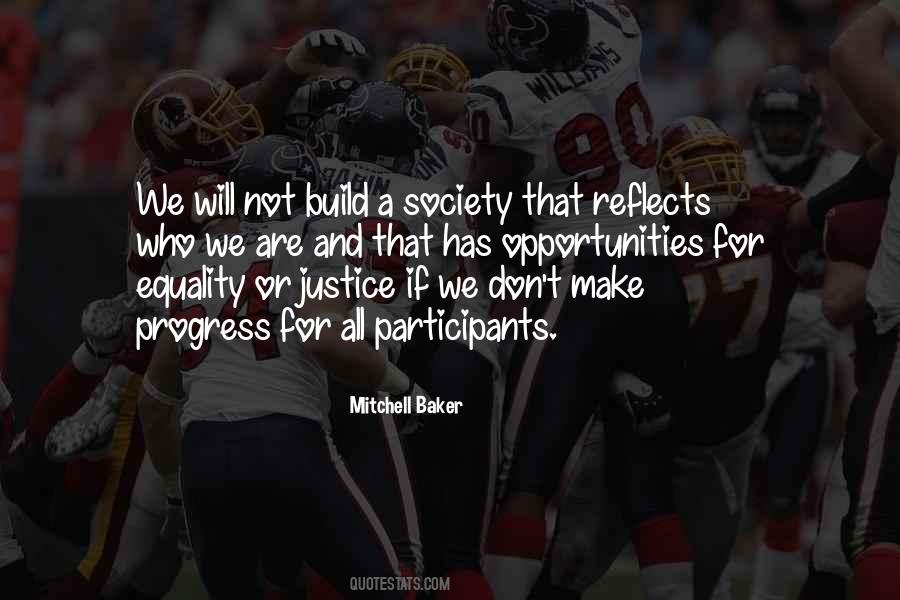 #99. We're more concerned about climate or economic equality or racial justice or anything else that is good for people and the planet, we simply must also spend some time wresting back our money-marinated democracy. This will require getting money out of politics and then getting people back in. - Author: Annie Leonard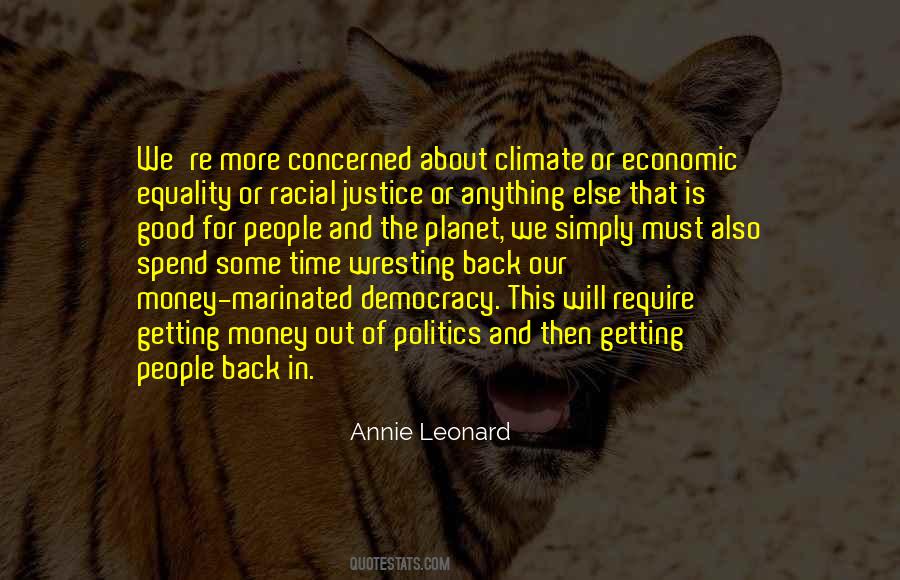 #100. Karma and manifestation work 24/7 to balance the scales. Do justice, in due time. - Author: T.F. Hodge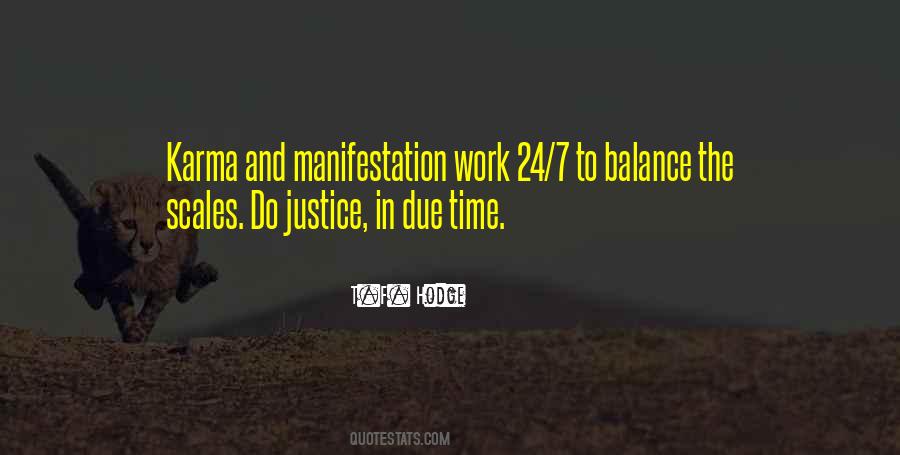 Famous Authors
Popular Topics