Drums And Bass Famous Quotes & Sayings
List of top 32 famous quotes and sayings about drums and bass to read and share with friends on your Facebook, Twitter, blogs.
Top 32 Quotes About Drums And Bass
#1. I've always been playing with other people, and that's how I learned. I got a kit of drums I couldn't play, but I also knew a guitarist and a friend of mine played bass and could teach us bass, and we just played. And I learned ... - Author: Ringo Starr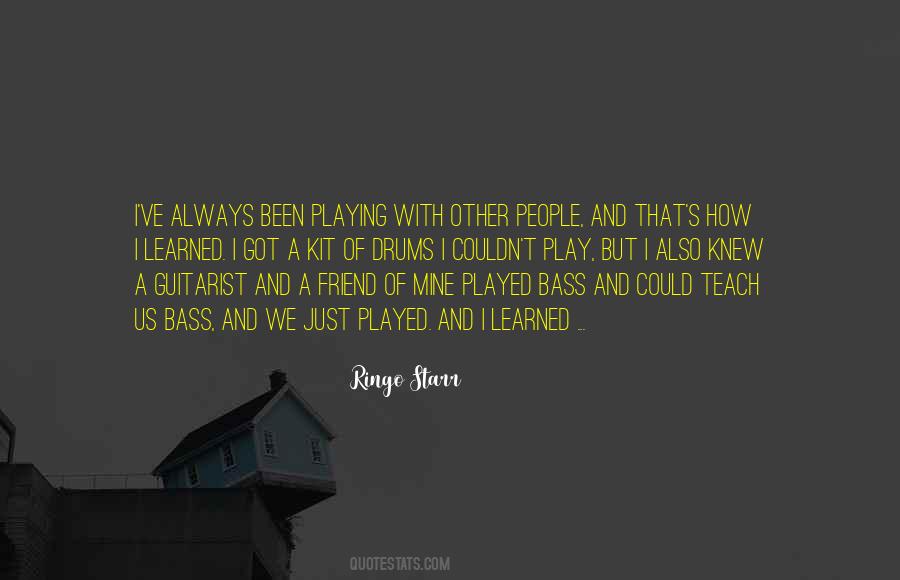 #2. It's really not a stretch. The checks and balances are the same. The drums are the executive branch. The jazz orchestra is the legislative branch. Logic and reason are like jazz solos. The bass player is the judicial branch. One our greatest ever is Milt Hinton, and his nickname is "The Judge." - Author: Wynton Marsalis
#3. Lately Fish and I have been hooking up more, which is a good thing because it's just been a struggle for me as a bass player to play with someone who's so creative on the drums, and lately it's been really good, especially during sound checks. - Author: Mike Gordon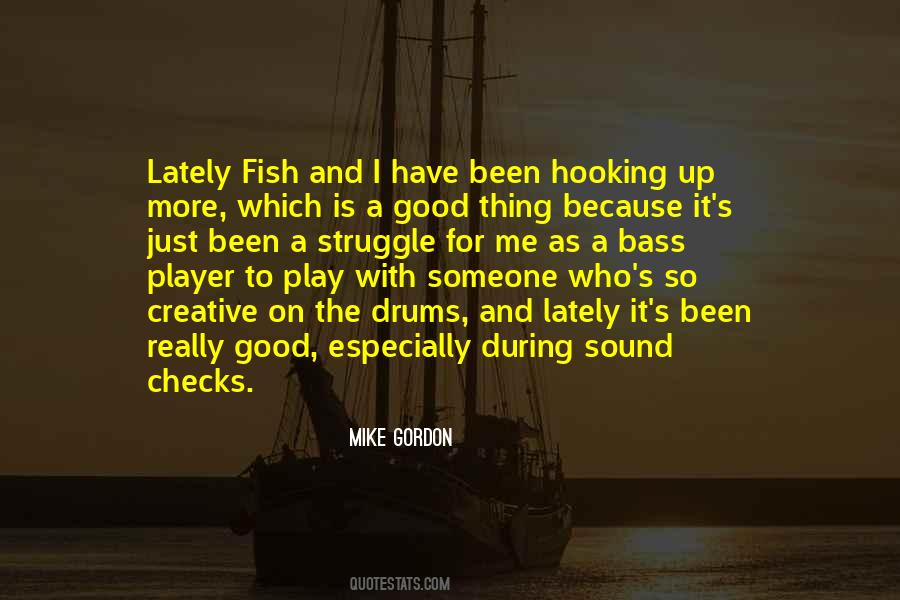 #4. My mom always told me I should have a Plan B. I said that if I'm not going to play guitar I'm going to play drums. And if I'm not going to play drums, I'm going to play bass. I always just wanted to play music. I was completely obsessed. - Author: Gary Clark Jr.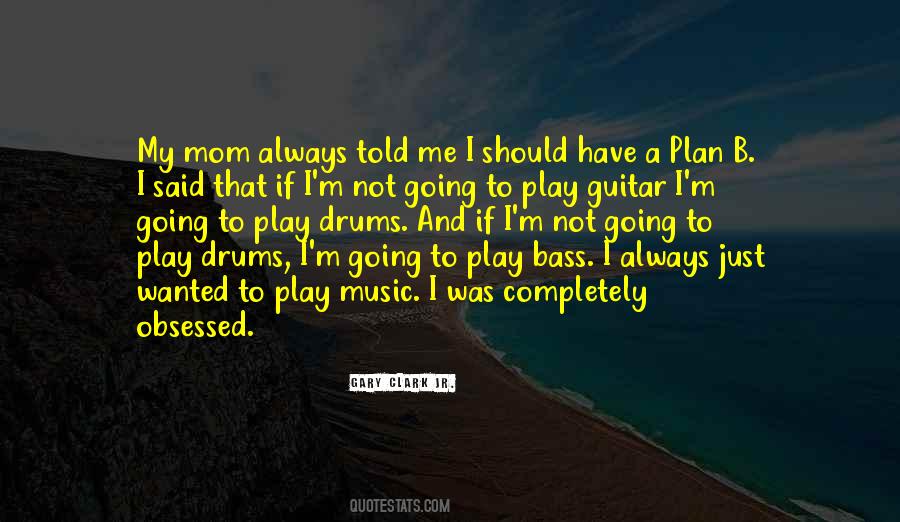 #5. I have always been drawn to percussion and drums, to bass and piano, in music much more then I am drawn to the guitar and the other lead instruments. - Author: Dave Matthews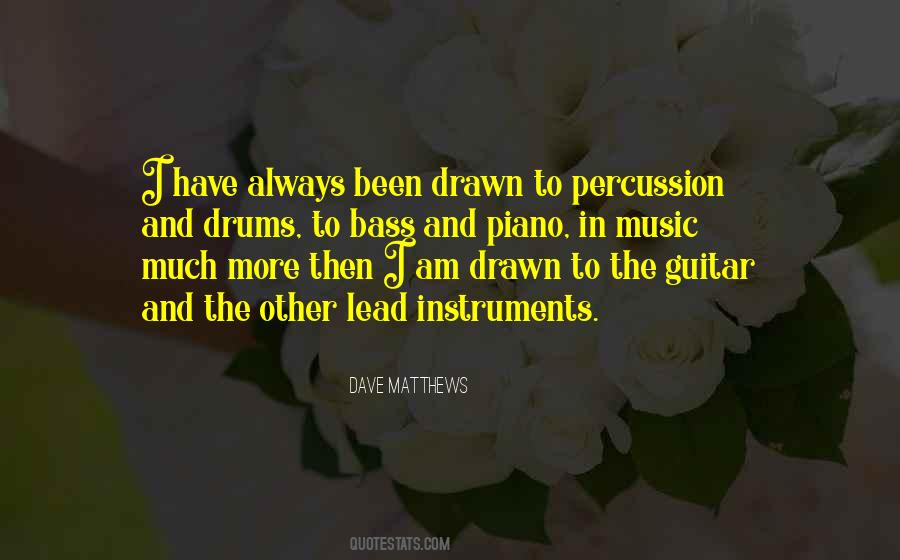 #6. You can't beat 2 guitars, bass, and drums. - Author: Lou Reed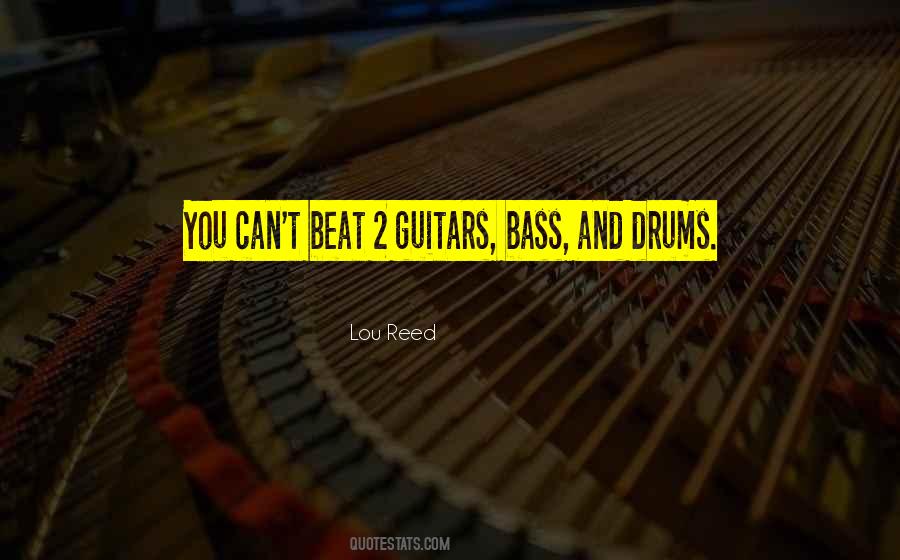 #7. My son, Wolfgang, plays drums, guitars and bass. - Author: Eddie Van Halen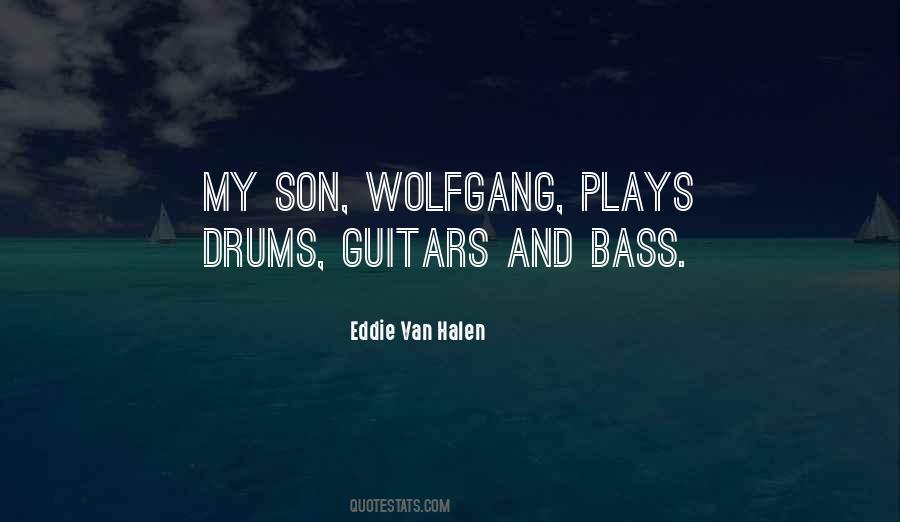 #8. As I said, when we needed to move over to rock'n'roll, Sam and Vernon couldn't quite make the shift. So that's when Larry took over on drums, and we needed a bass player. - Author: Neil Innes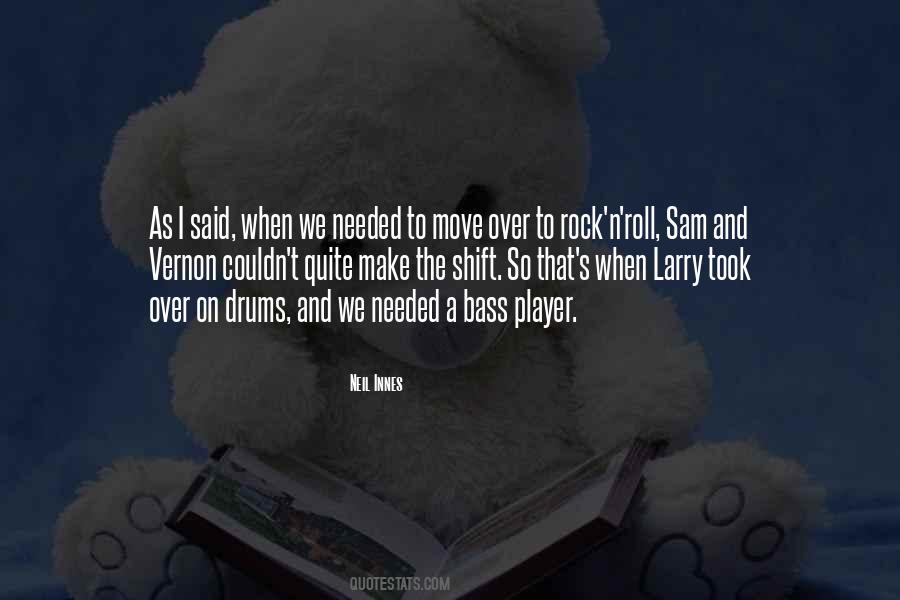 #9. You know, I only claim to play three instruments. My dad is a banker, but a drummer at heart; and my mom used to teach piano lessons when she was younger. So I can play some piano, play a little drums, and fake the bass - but banjo, mandolin, and guitar are my thing. - Author: Charlie Worsham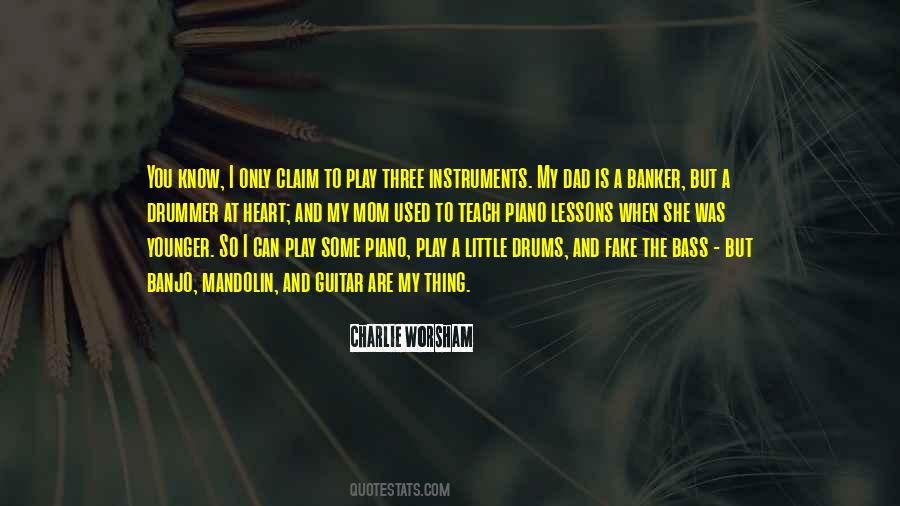 #10. There's individual turntable setups devoted to piano, bass, drums and a set for soloing as well. We like to try and explore the gamut of what a turntable can do. - Author: Eric San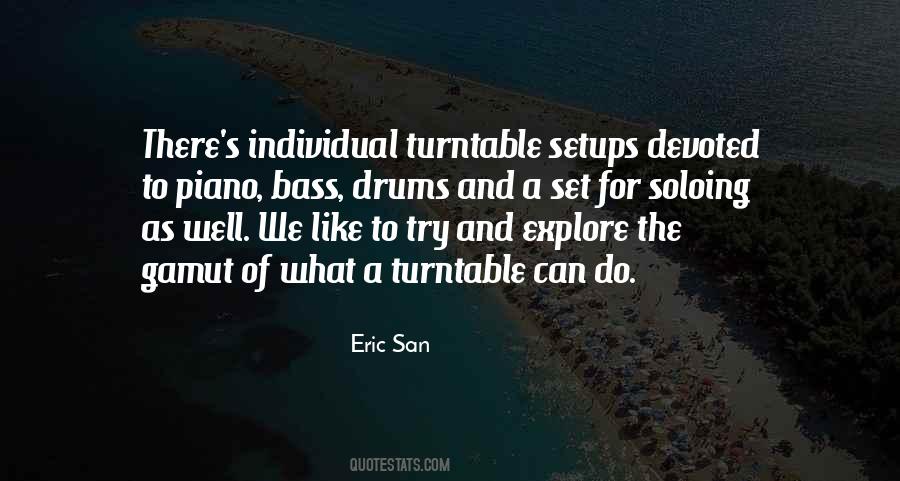 #11. Kat: You can't just buy me a guitar every time you mess up, you know.
Pat: I know, but there's still drums, and a bass, and maybe even someday a tambourine. - Author: David Levithan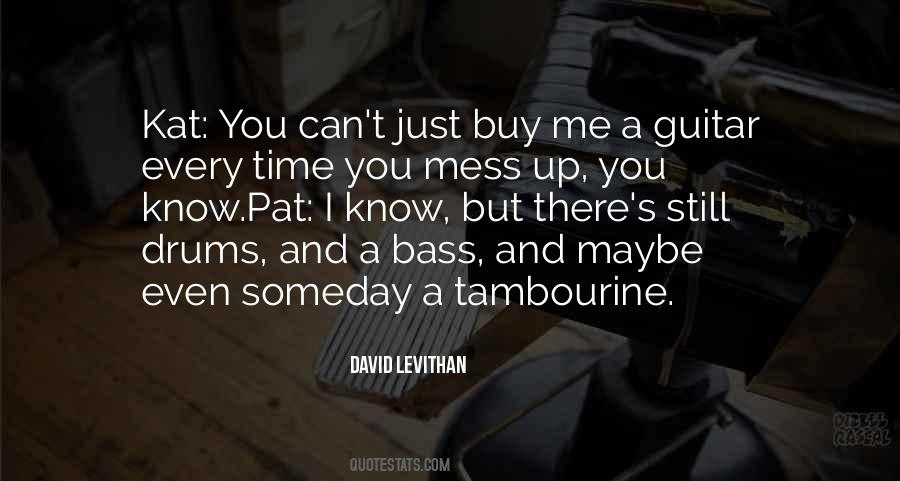 #12. The women went berserk, to the accompaniment of 'When a Man Loves a Woman.' It was all bass and drums; the musical equivalent, Anna decided, of cheap aftershave. - Author: Sue Margolis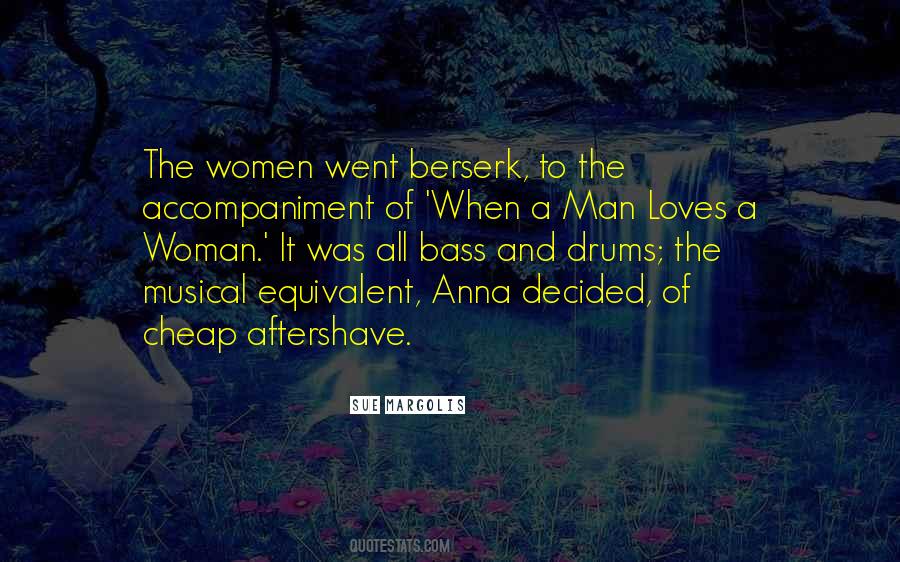 #13. Yes, I love to play drums and bass and guitar and piano. Those are the main instruments I play. That is it. - Author: Jeff Lynne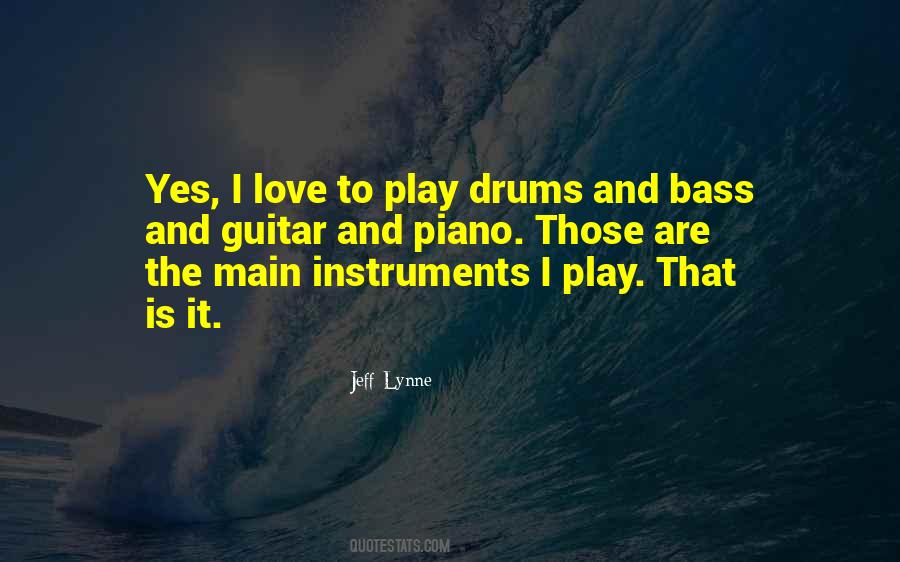 #14. I've never been able to sit round on my own and play drums, practice in the back room, never been able to. I've always played with other musicians. It's how I play, there's no joy for me in playing on my own, bashing away. I need a bass, a piano, guitar, whatever, and then I can play. - Author: Ringo Starr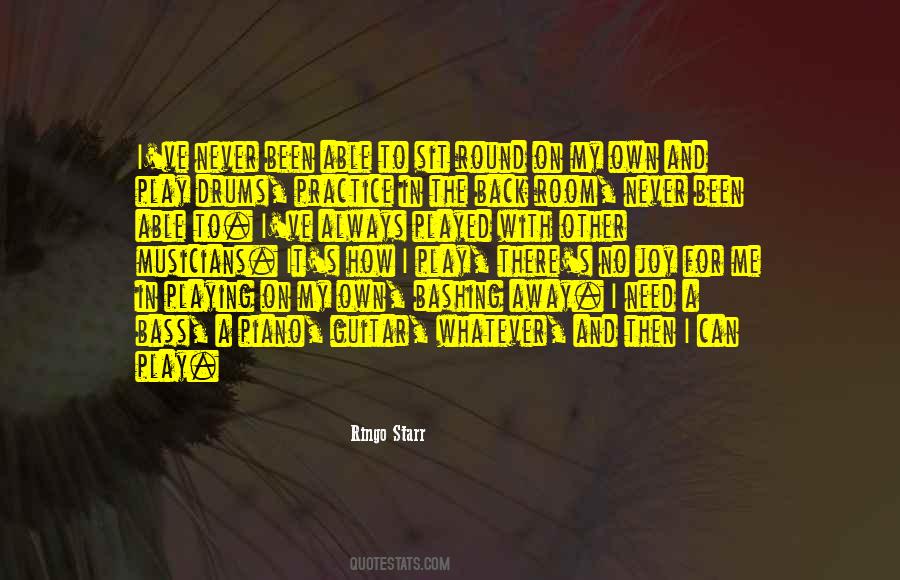 #15. I don't regard myself as a great classical or jazz pianist. I like country music, but I'm not a great player. I just like music. Drums 'n' bass is pretty exciting and I'd love to explore it. - Author: Keith Emerson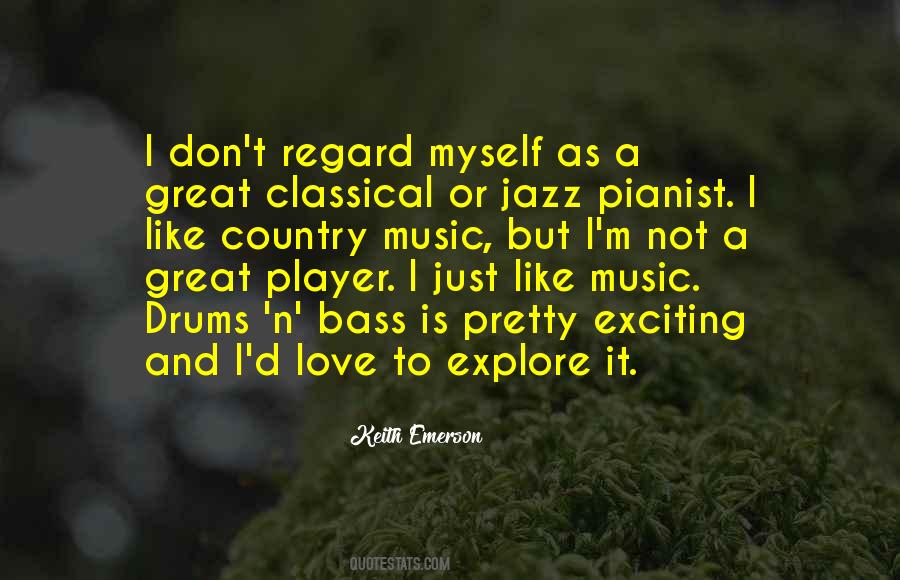 #16. I play a bunch of instruments, like piano, drums, guitar and bass. And the kazoo every now and then. I'm trying to learn how to play the trumpet and the saxophone. That's what I'm learning how to play. - Author: Mac Miller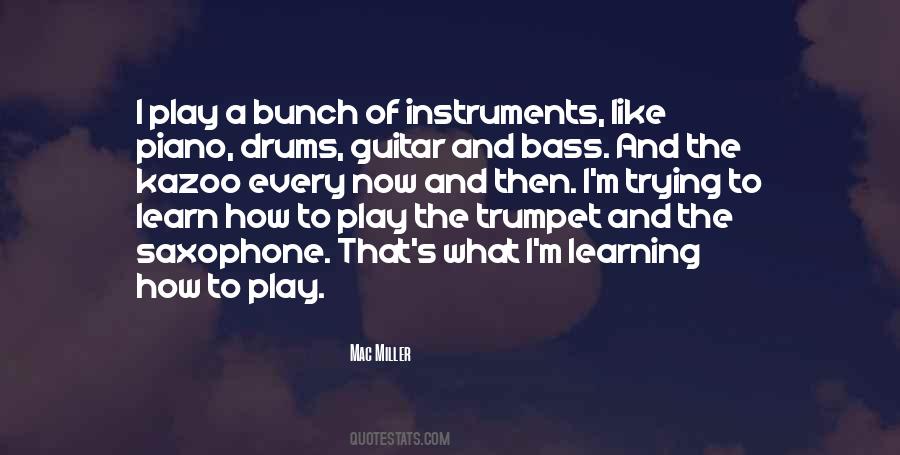 #17. You can't beat two guitars, bass, and drums. - Author: Lou Reed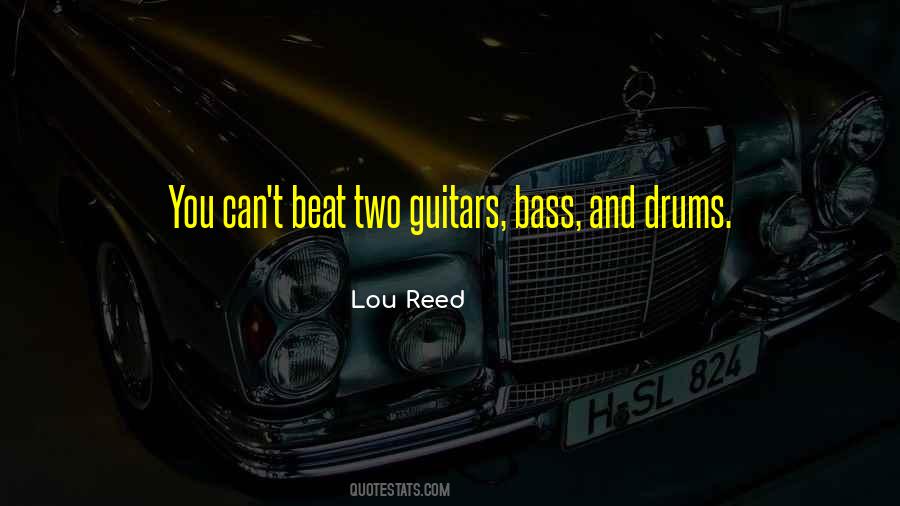 #18. We stopped and listened. Just on the cusp of hearing I detected a rhythmic pounding, more a vibration in the concrete than a sound.
'Drums,' I said and then because I couldn't resist it. 'Drums in the deep.'
'Drum and Bass in the deep,' said Kumar. - Author: Ben Aaronovitch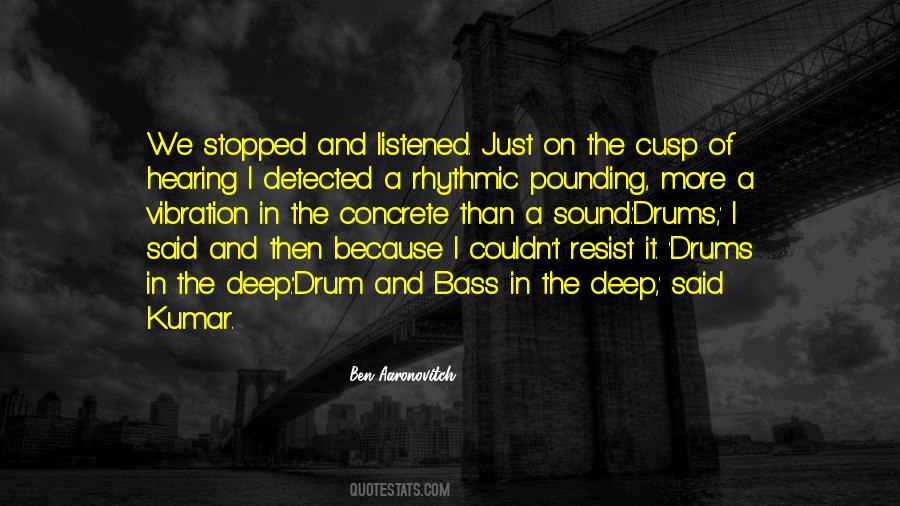 #19. Anything with drums, bass, and guitars is under the pop umbrella. We'll continue to try new sounds as long as we're a band and just by growing up and moving on in your life doesn't mean you hate an earlier part of your life. - Author: Patrick Stump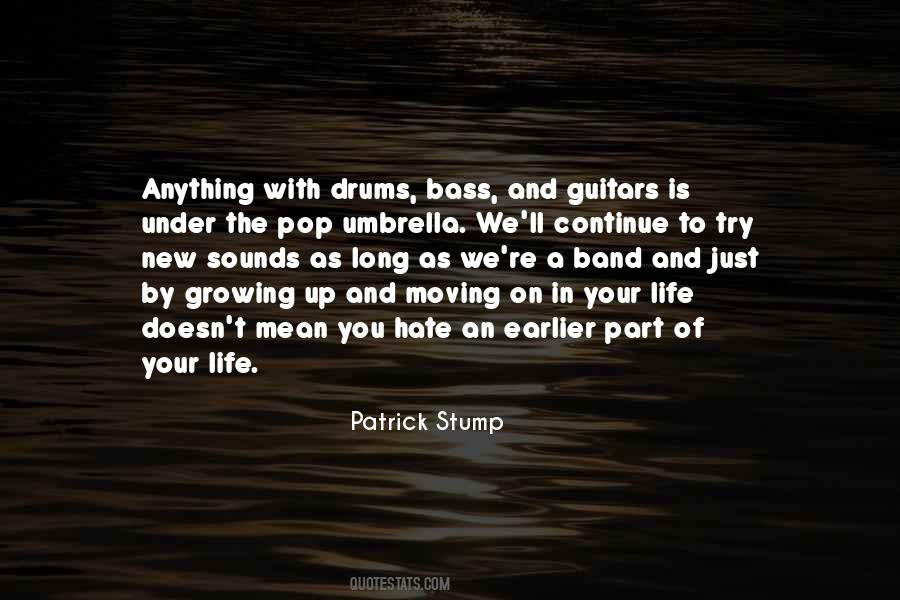 #20. I think that where it came from and the initial birth of it - it did come out of a jam at Bruno's studio, you know? He was playing drums. And Jeff Bhasker, who co-produced the record with us, is on synths, and I was playing bass. - Author: Mark Ronson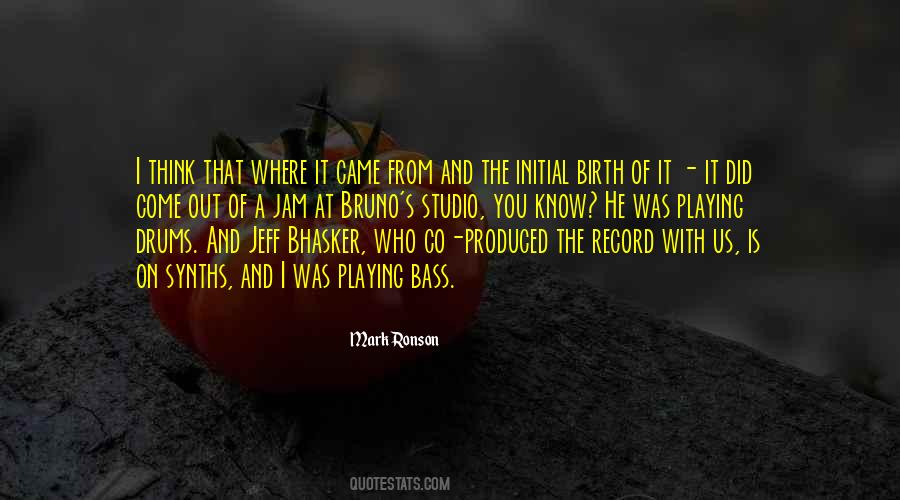 #21. My favorite moments are when the bass falls in the pocket with the drums, the guitar is on top just slicing it, and the melody is scraping across like a sidewinder shattering through the monitor. It's just, ahhh, I love it! That's the jones, the hit, the buzz right there. It gets me off. - Author: Nikki Sixx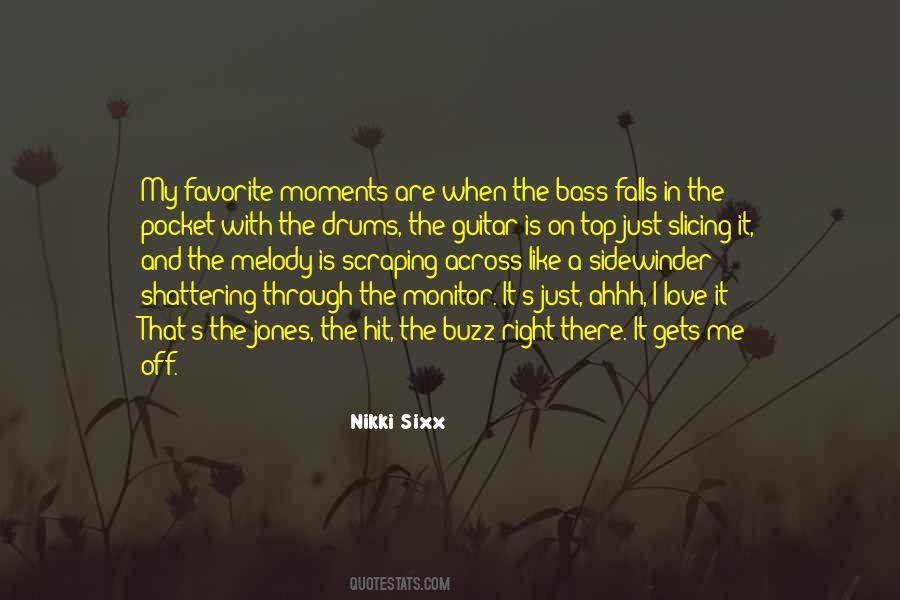 #22. I've been into music for a long time. I started playing drums when I was 8 and piano when I was 10, then bass and guitar when I was 18. - Author: Lukas Haas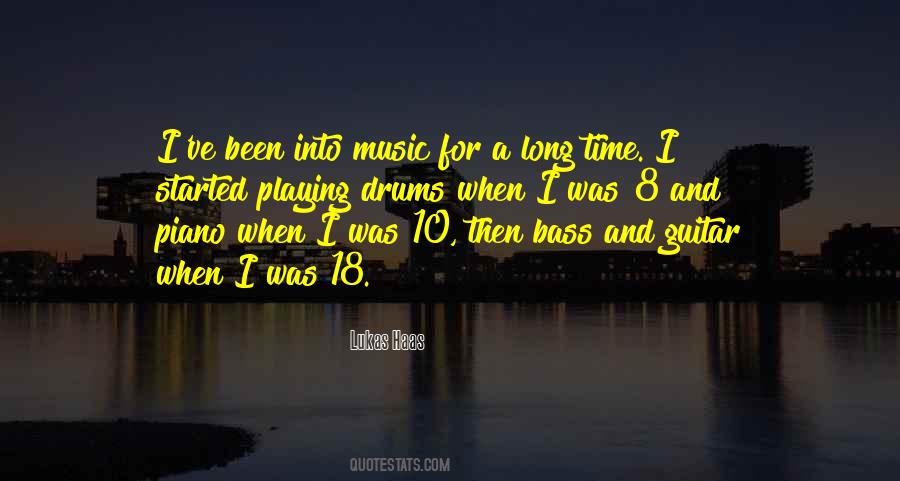 #23. I'm making music for other people to listen to for pleasure. And hopefully, later on maybe they'll listen to it and go, "That bass line, boy, did you hear the way those drums interacted with that?" - Author: Lauryn Hill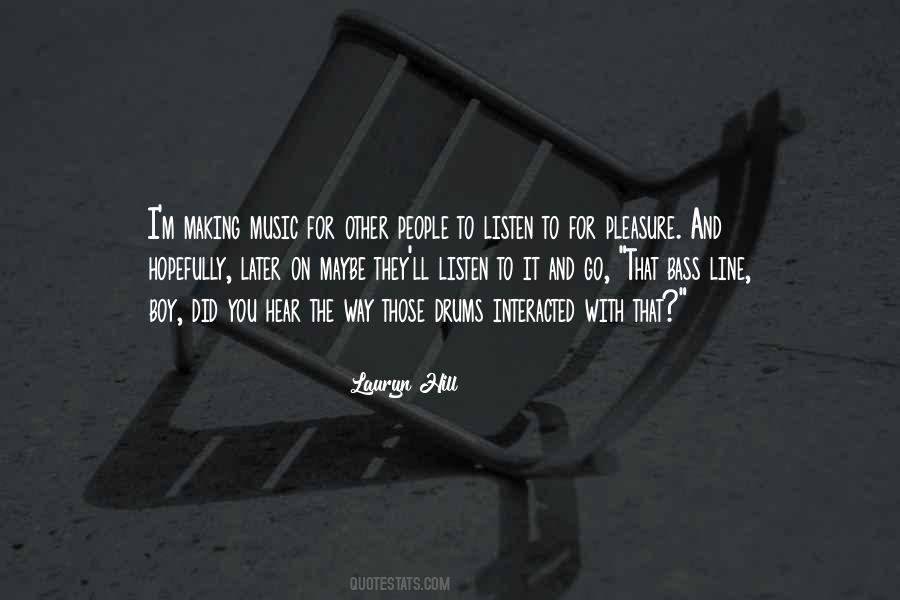 #24. I like to combine the dramatic emotional warmth of strings with the grooves and body business of drums and bass. - Author: David Byrne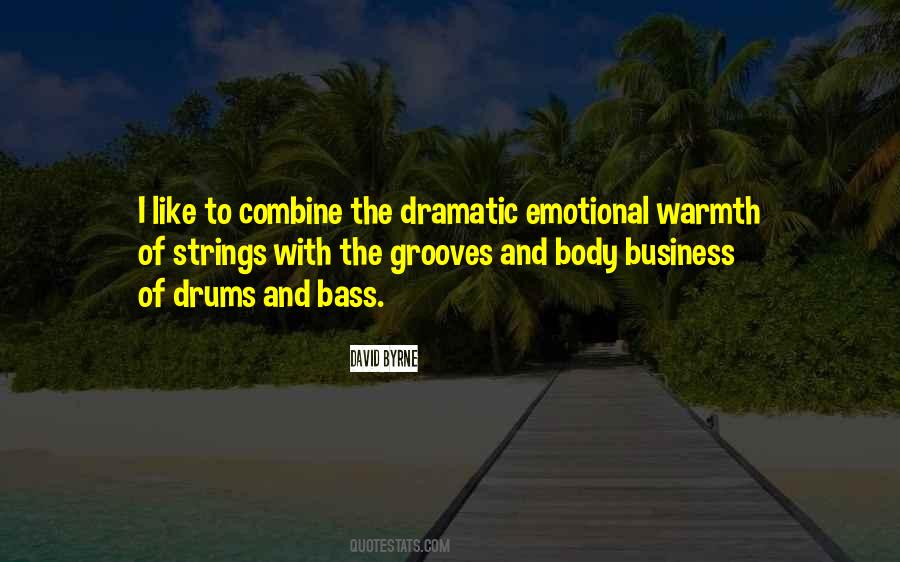 #25. You get this really cool groove when you're playing just piano, bass, and drums where everyone's sort of feeling each other's space, which is the only way to put it, but it really is true, and everyone's sort of sitting in their own pocket. It's kind of jazz-like. - Author: John Darnielle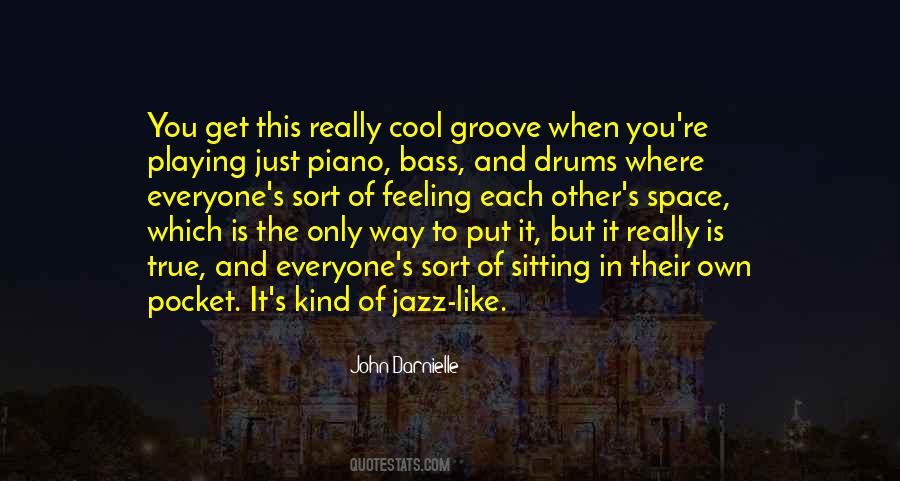 #26. I spent five years, at least, working with Miles. Together, we recorded ESP, Nefertiti, Sorcerer
and I can tell you; each of these albums instantly became jazz classics. Hey, we had Wayne Shorter playing tenor sax, Ron [Carter] on bass, Tony Williams played drums. That was great band we had. - Author: Herbie Hancock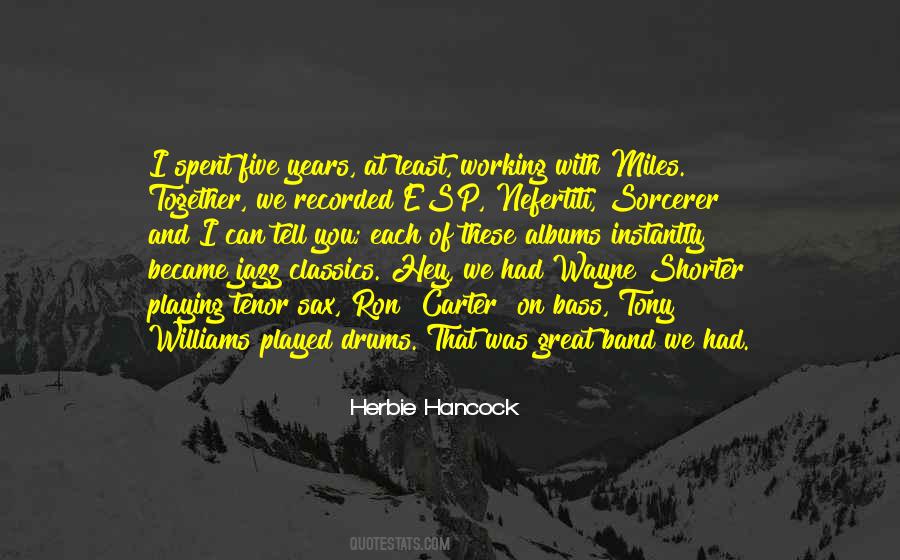 #27. I like guitar. It just turned out that it's the instrument I learned to play. I have a lot of respect for it, and I'm learning more and more every day. For me, the classic band setup - guitars, drums, bass - will stay fresh forever. I don't know. I'm still into it. - Author: Mac DeMarco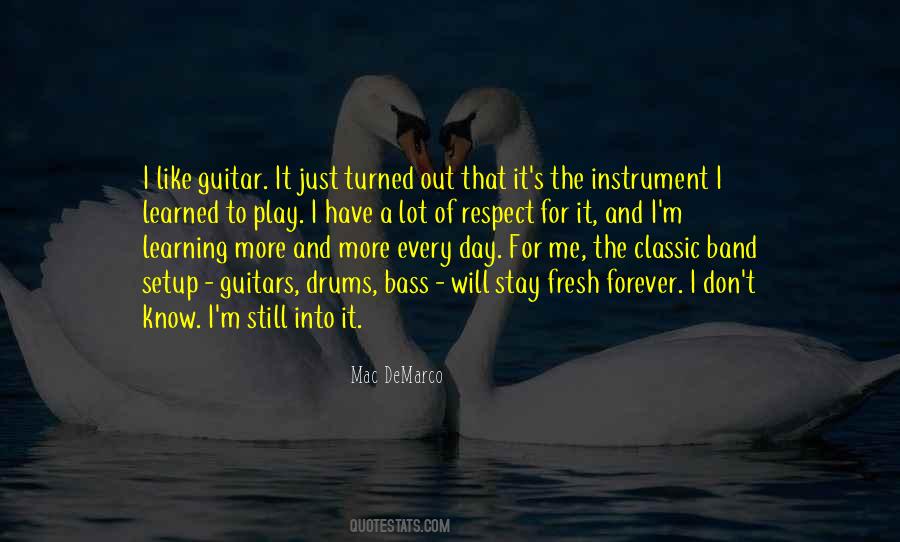 #28. We decided to do some of Merle's things with modern instrumentation. We used a flute, a bass clarinet, a trumpet, a clarinet, drums, a guitar, vibes and a piano. - Author: Tennessee Ernie Ford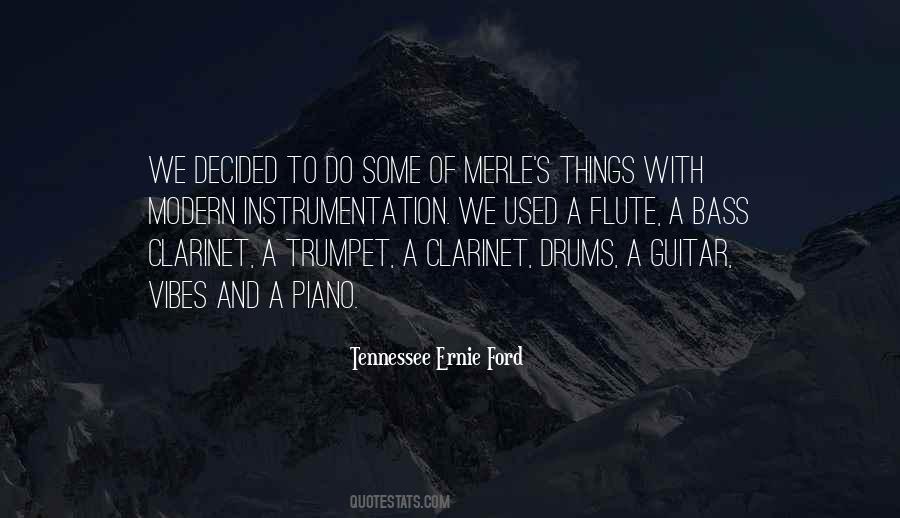 #29. The first song I wrote, in fifth grade, was totally ripped from Jeffrey Lewis. My aunt's boyfriend gave me bass lessons, and I played drums for a year in sixth grade. Around seventh grade, I got a guitar and forgot everything else. - Author: Frankie Cosmos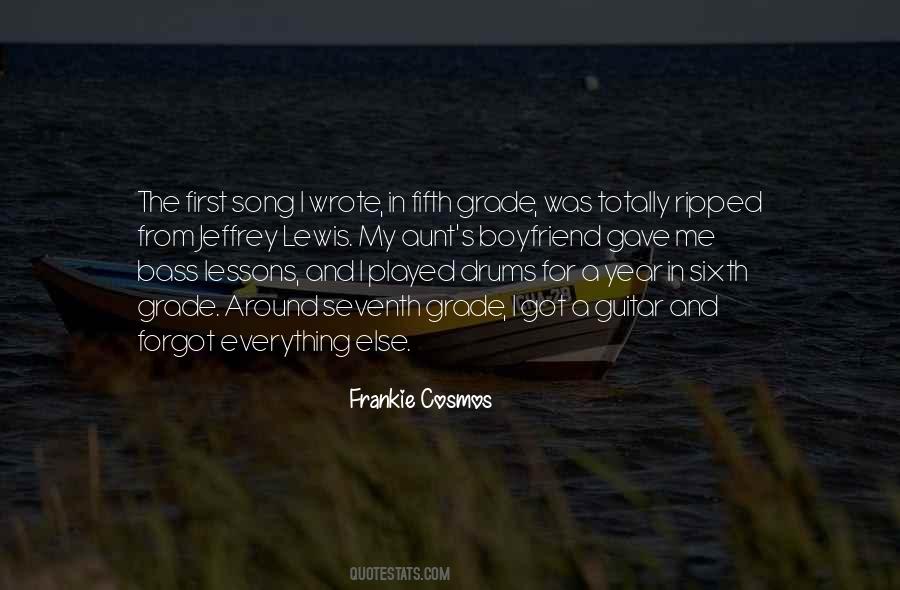 #30. It's really important for the bass and the drums to somehow blend. - Author: Mike Gordon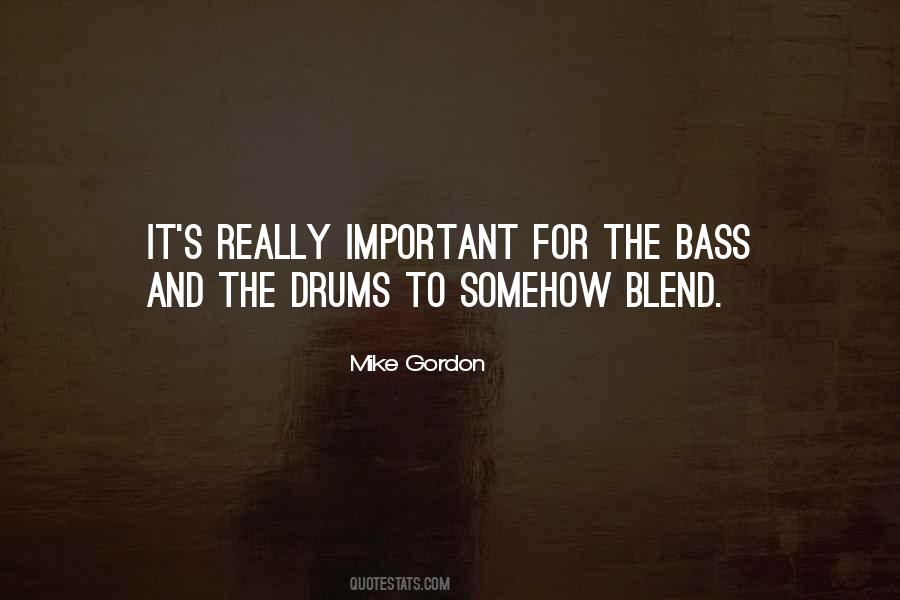 #31. I'm writing new songs for a Broadway version of Tarzan, which is very interesting. I think what I learned from the Brother Bear score side of things, I've brought into the new Tarzan songs. Thinking outside just guitar, bass, drums and keyboards. - Author: Phil Collins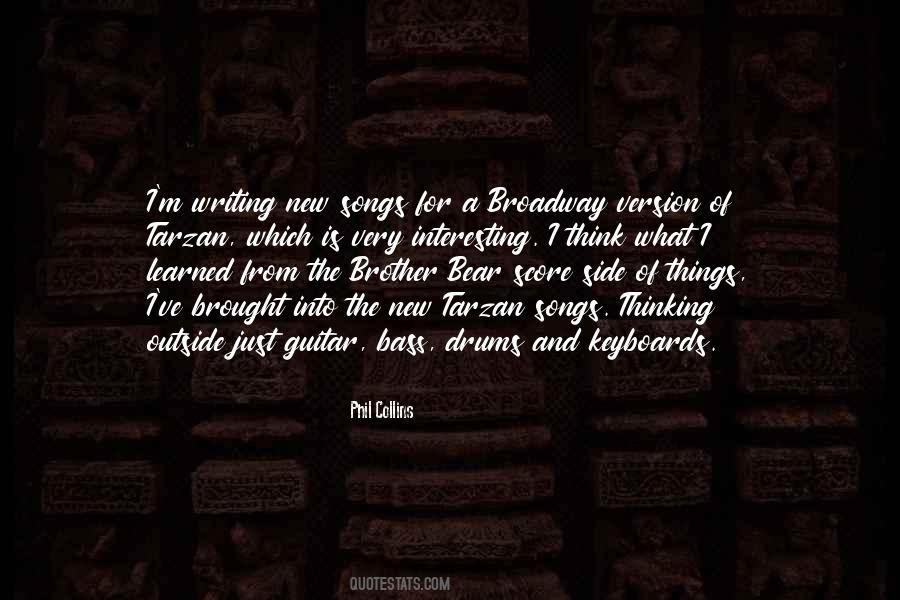 #32. Actually, there was another band where we were three girls, around '84 when I met John Zorn, called Sunset Chorus. It was just bass and drums and guitar- we didn't make any records but we played a lot of different clubs in New York. - Author: Ikue Mori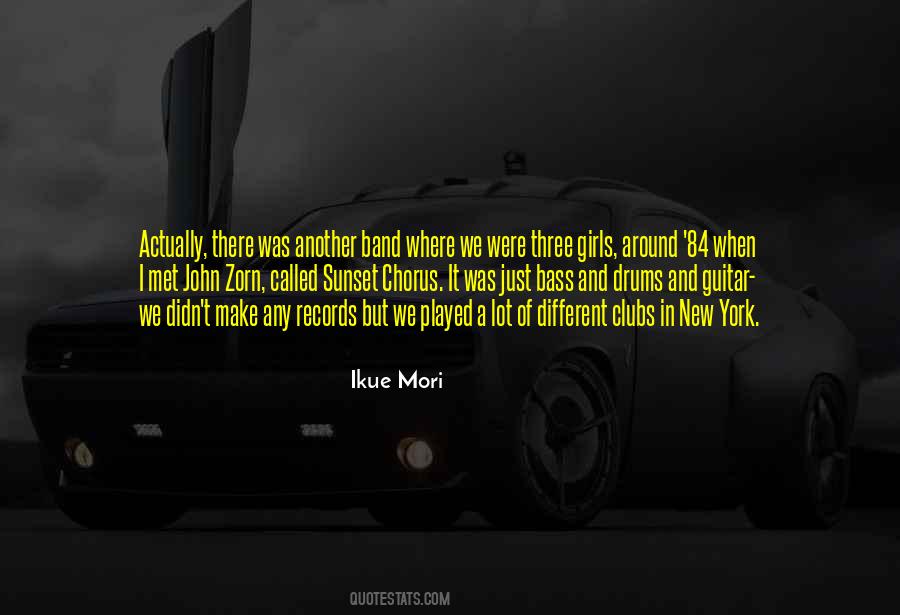 Famous Authors
Popular Topics